October 11 - 17, 2020: Issue 469
Spring is here and wattles are out in bloom: a love letter to our iconic flowers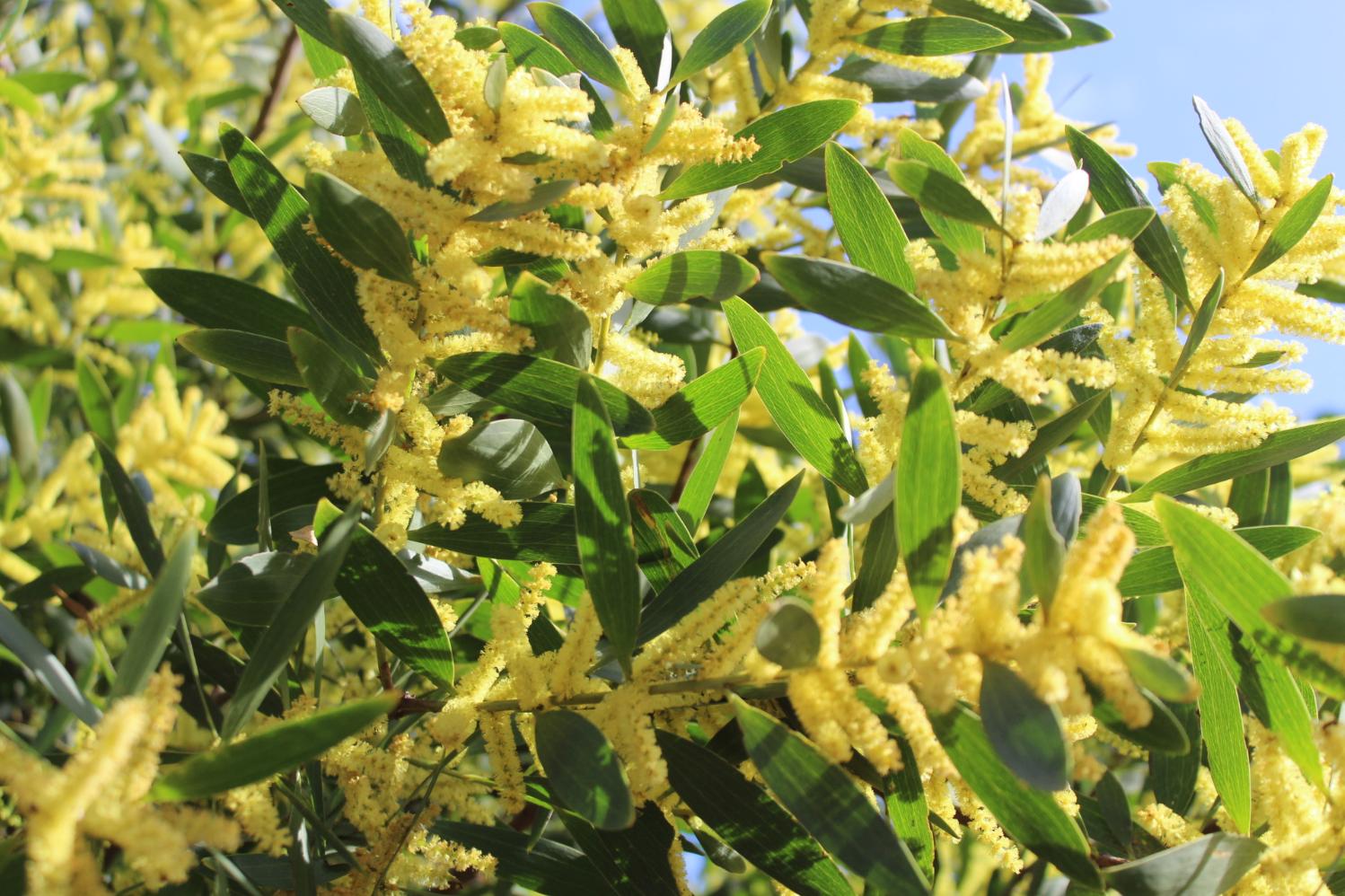 Bright plashes of yellow are everywhere from Wattle blooming. A J Guesdon photo, 2020
by Gregory Moore, Doctor of Botany, University of Melbourne

Spring has arrived, and all over the country the hills and riversides are burnished with the green and gold of Australian wattles, all belonging to the genus Acacia.
It's a spectacular sight, but not a surprising one as there are about 1,000 Australian species in the Acacia genus ranging from very small shrubs to tall, longed-lived trees. They occur in ecosystems from the arid inland to the wet forests of the east coast.
Wattles have been widely used by Indigenous people for millenia, and celebrated by "Wattle Day" on September 1 for more than a century.
But their lineage may be much older. Australian wattles have relatives in Africa, South America, India and parts of Southeast Asia. This distribution suggests the wattles may have originated in Gondwana before the super-continent fragmented about 180 million years ago.
So let's take a closer look at what makes these iconic flowers so special.
Don't blame wattles for your hay fever
Not everyone welcomes the wattles' golden blooms — many blame wattle pollen for their hay fever or asthma.
However, many species of wattle have aggregated pollen, which means it's very heavy and tends to fall straight to ground. You have to be virtually under the plant for it to affect you.
They can cause trouble, but it's more likely your allergy is due to some other inconspicuous plant, such as grass, that you haven't noticed compared to the bright yellow of the wattles. It's worth having an allergy test.
While a majority of wattles flower in spring and summer, a significant group — such as the sunshine wattle (A. botrycephala), Gawler Range wattle (A. iteaphylla) and flax wattle (A linifolia) — flowers in autumn and winter. This can give the impression in some places that they're flowering year-round.
What's more, many species are hardy, and they can help in the process of taking nitrogen from the air and adding to the soil. That means they can be very handy in ancient, nutrient-poor Australian soils.
Many of the smaller shrub wattles may live for only a decade or so, but some, such as mulga (Acacia aneura) can live for centuries and are crucial to the viability and stability of arid inland ecosystems. They can have surprisingly large and deep root systems for such small shrubs or trees. This is to obtain water, but also binds the soil.
However, mulga-munching horses, cattle and other feral grazers threaten the persistence of mulga-dominated communities. If mulga and other inland Acacia species are lost, the soils can become loose and mobile, which results in stable productive land becoming desert.
By any other name
In the early 2000s, there was fierce debate among plant taxonomists about how closely the African and Australian species were related.
The name "Acacia" rightly belonged to the African group, but because there were so many Australian species that would need to be renamed, Australia was allowed to keep the name "Acacia" in 2011 — much to the chagrin of foreign taxonomists.
This resulted in the genus being divided. Australian wattles stayed as Acacia, but African wattles are now in the genera Vachellia or Senegalia, and those from the middle Americas (around Mexico) are Acaciella and Mariosousa.
The different names reflect long, separate histories and different ecological characteristics. (The name changes rankle still with taxonomists!)
There are also weedy wattles in Australia and elsewhere. Many of us know from hard experience that the splendid ornamental tree, Cootamundra wattle (Acacia baileyiana), can become a weed if it grows outside its very restricted natural range in New South Wales. And Australia's black wattle (A. mearnsii) is a significant weed in other parts of the world.
It can come as a bit of a blow to know Australia's floral emblem, golden wattle (A. pycnantha), can be weedy both at home and when it travels abroad (perhaps like some Australians).
Interestingly, most of the Australian wattles lack thorns, unlike their relatives in Africa. In Africa, thorns protect the plants from large mammalian grazers such as giraffes.
Ants love wattles, too
If you don't like ants, it might be worth checking which species of wattle you have in your backyard, or intend to buy.
Many wattles have a very special relationship with some insects. In Central America, ants penetrate the thorns of Bulls Horn wattle trees and establish their colonies. They then defend the tree against other insects, and if branches of another tree touch the host tree, the ants will cause such damage that the other tree will die back.
In Australia, the relationship between ants and wattles is based on food. The hard wattle seeds have a tasty and oil-rich outgrowth called an "aril", which is irresistible to some ant species.
The ants harvest the seeds and take them back to their nest, where they're safe from other hungry grazers until it is damaged by fire or flood and the seeds germinate.
Some wattles, the mulga among them, have little glands at the base of their phyllodes (the modified leaf stalks). These glands secrete a form of sugary syrup that attracts feeding ants. These ants may also protect host trees or perhaps leave the flowers alone to allow a greater seed set to grow.
It's clear wattles have a lot going for them. They are diverse in number, habit, size, longevity and flowering season — there's a wattle for every occasion. For all of these great traits, it's still that green and gold that endears them to Australians.
This article was published first in The Conversation - republished under a Creative Commons Licence and with a donation made to The Conversation to further their excellent works.
If you would like to add more Australian plants to your garden to make this place healthier, restore degraded areas, along with providing food for local wildlife and insects, please visit: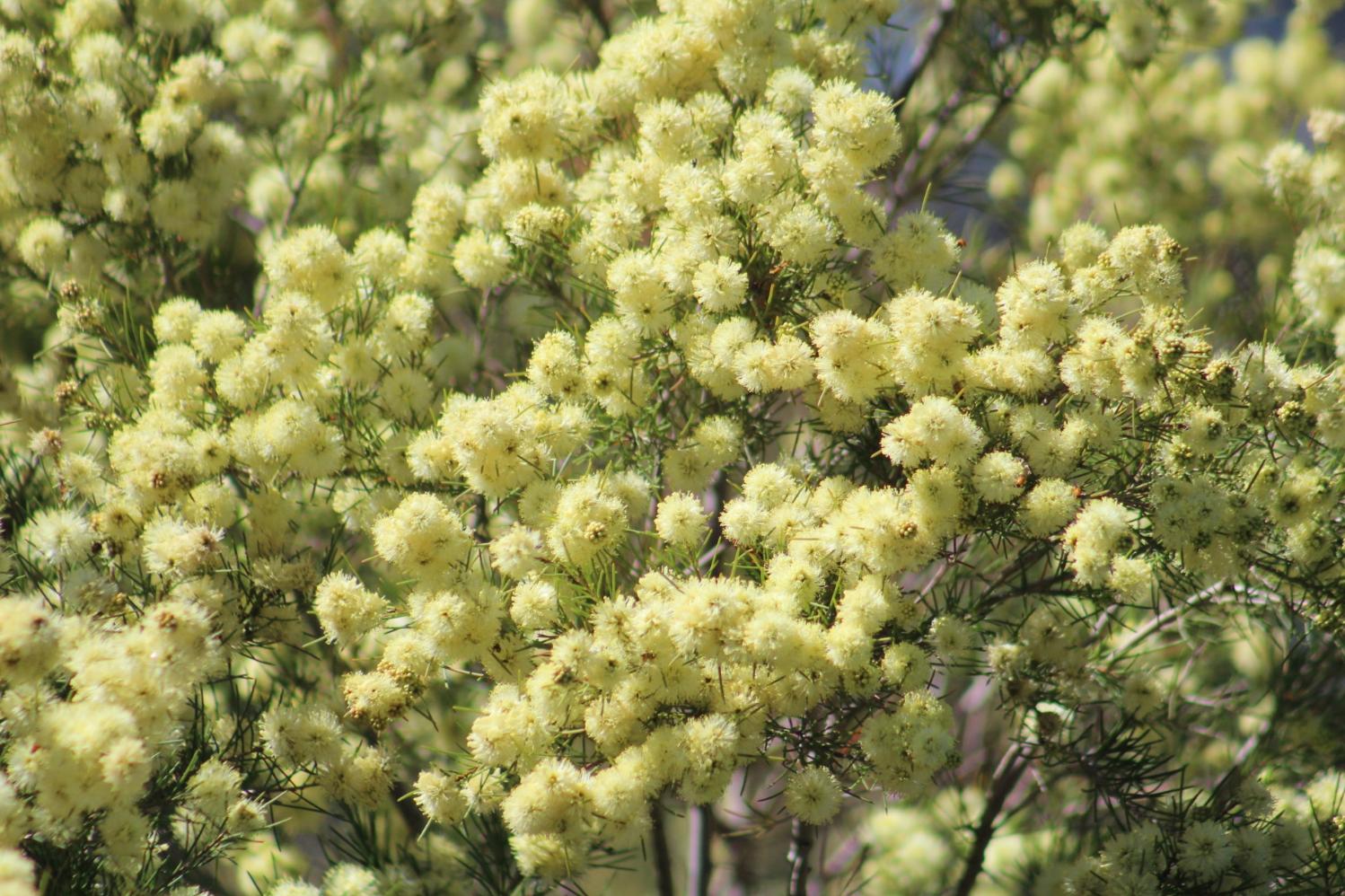 An October blooming acaia - photo by A J Guesdon, 2020
Some Gardening Specials From Johnson Brothers Mitre 10 For Spring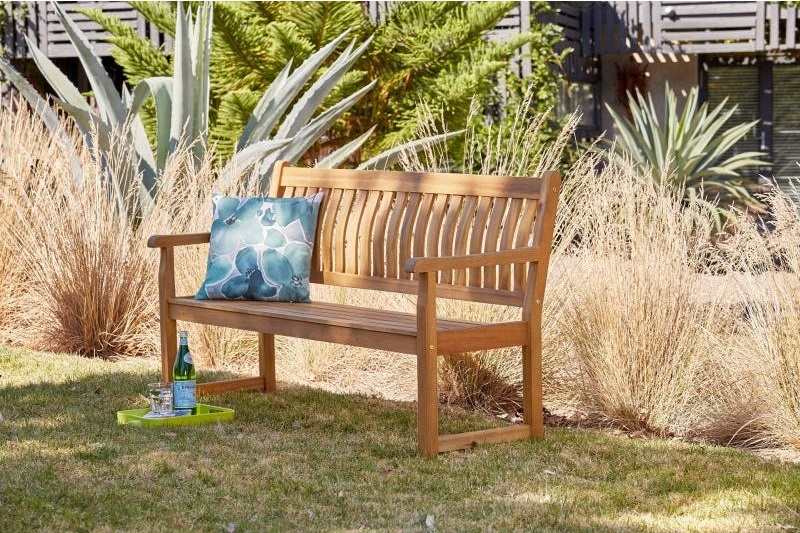 Rosemore Curve Back Timber Bench: $269.00
3 seater bench. Light timber frame. Curved back for comfort.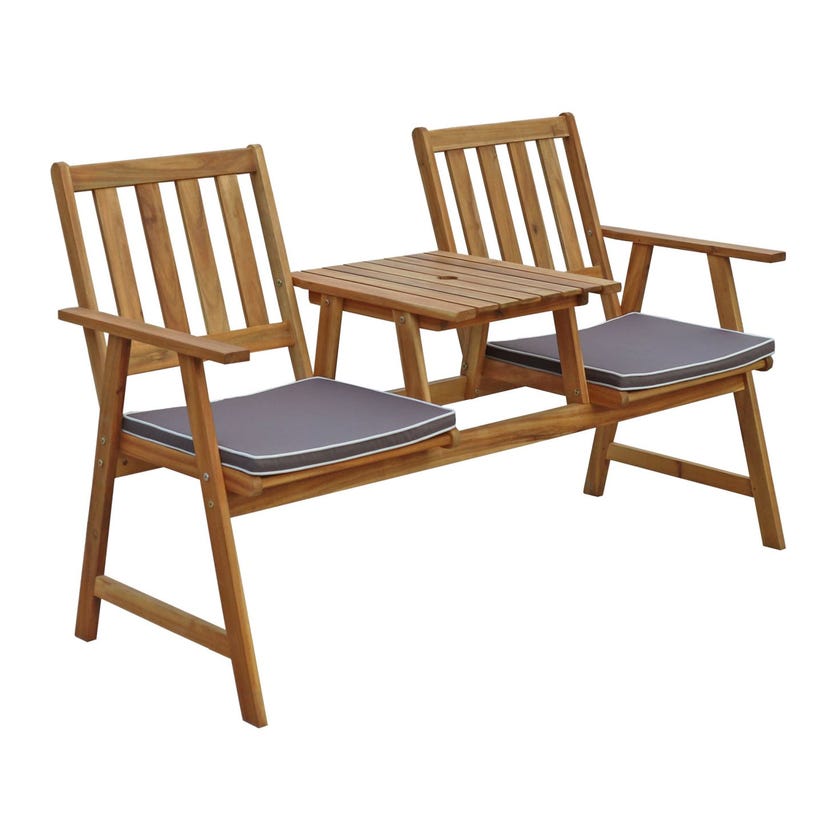 Jack & Jill 2 Seater Oiled Timber Bench: $149.00
Natural teak look FSC Certified Acacia timber. 30mm thick seat cushion in 180g polyester. W1455 x D645 x H920mm. Weight capacity: 120kg per chair. Assembly required.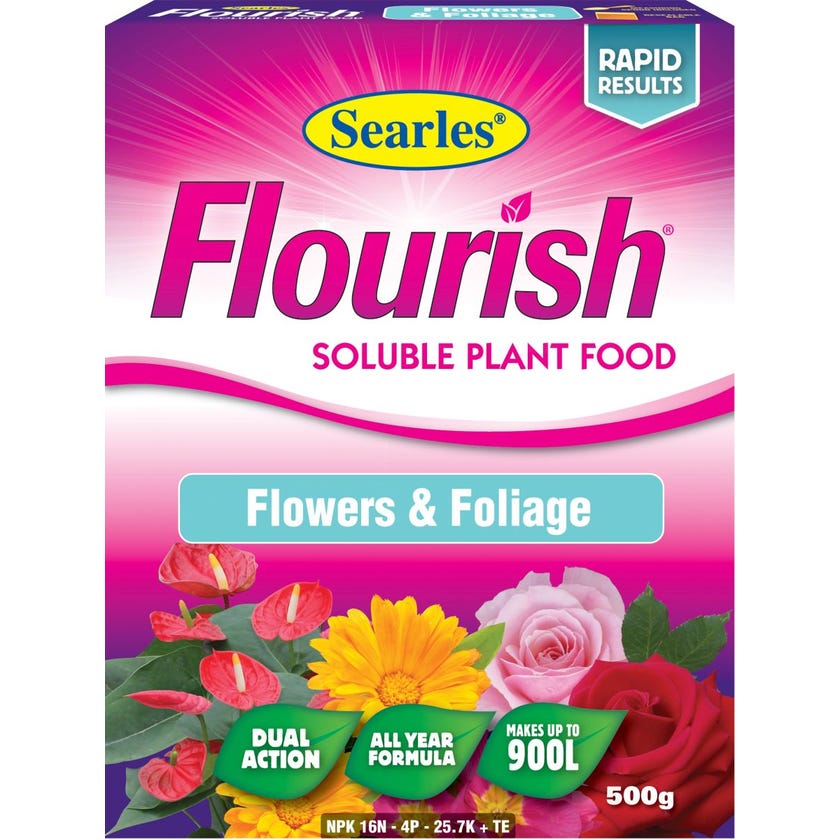 Searle's Flourish Soluble Plant Food Flowers and Foliage 500g: $7.50
Premium ingredients for rapid uptake. Dual Action All year formula Makes up to 900L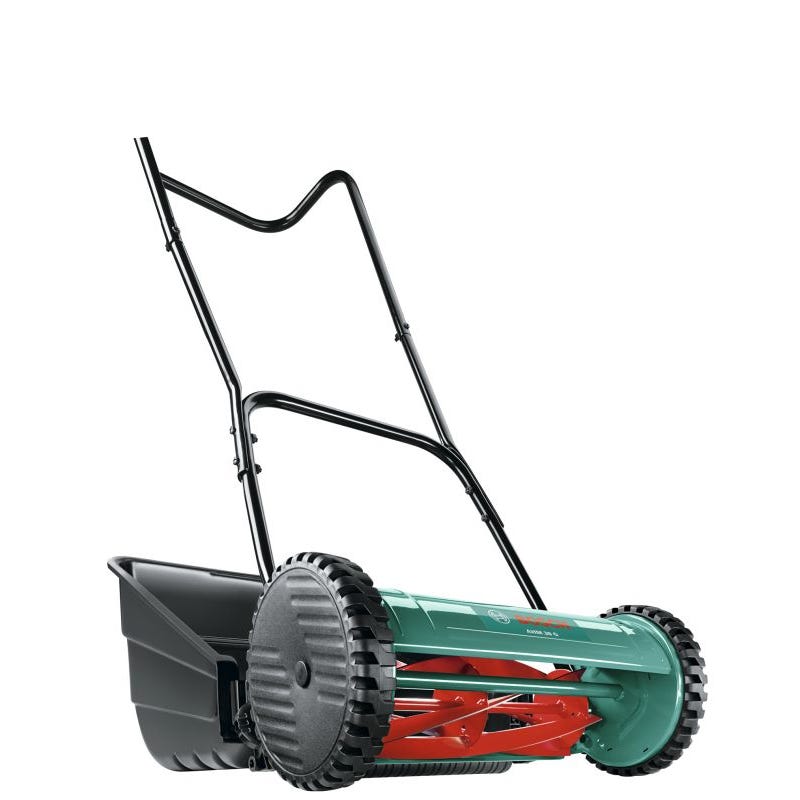 Bosch 380mm Hand Mower: $139.00
380mm. Cylinder cut system. 5 Curved blades. Includes grass catcher.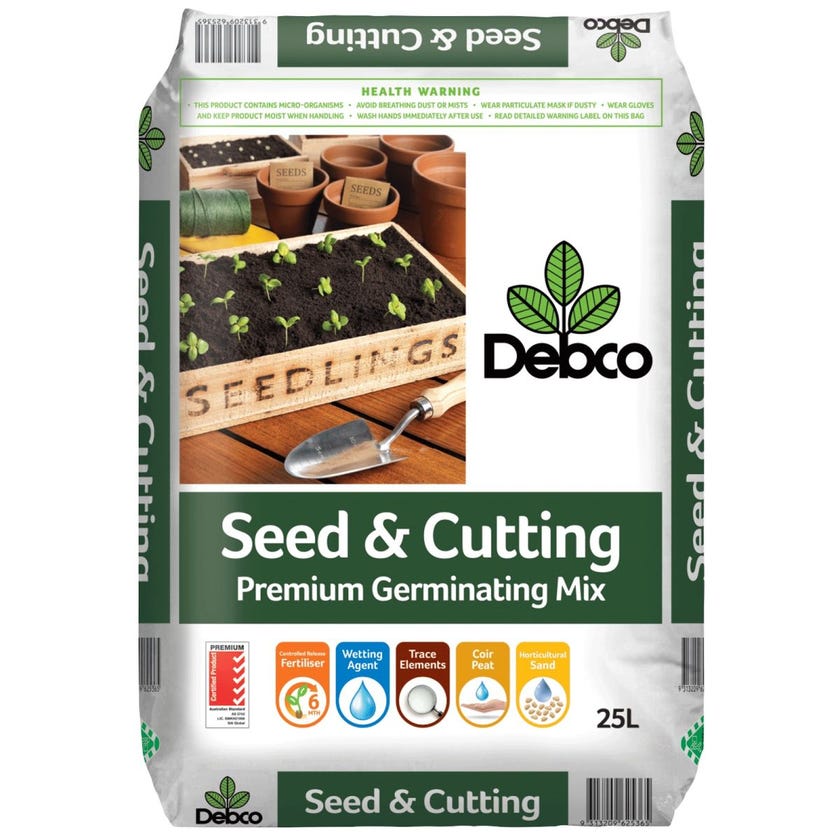 Debco Seed & Cutting Premium Germinating Mix 25L: $10.00
6 month controlled release fertiliser. Added Wetting Agent. Trace Elements. Coir Peat & Horticultural Sand.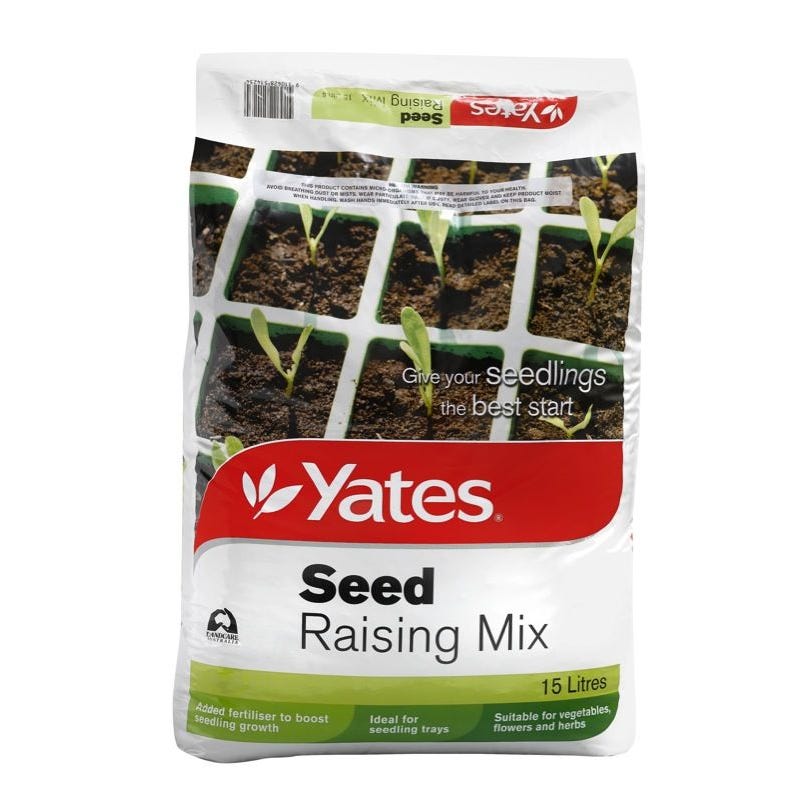 Yates 15L Seed Raising Mix: $11.99
Ideal mix for germination of vegetable, herb and flower seeds and for propagation.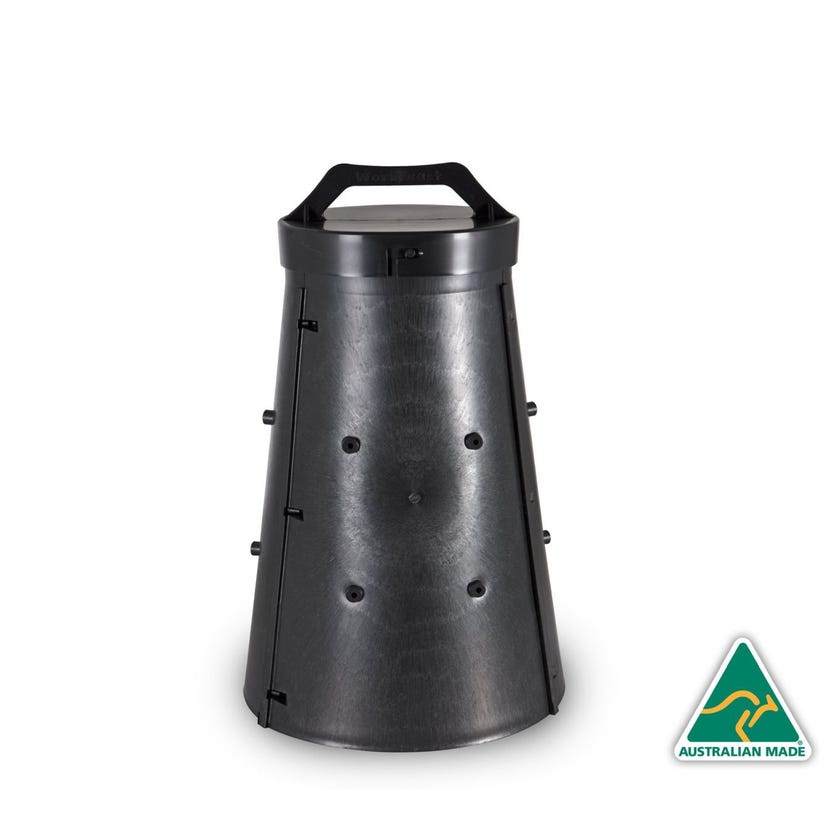 Tumbleweed Worm Farm Kit: $55.00
Worm Feast Bundle Deal; 1 x Worm Feast Worm Farm, 1 x Worm Farm Bedding Block, 1 x Worm Farm & Compost Conditioner. H290 x W150 x D470mm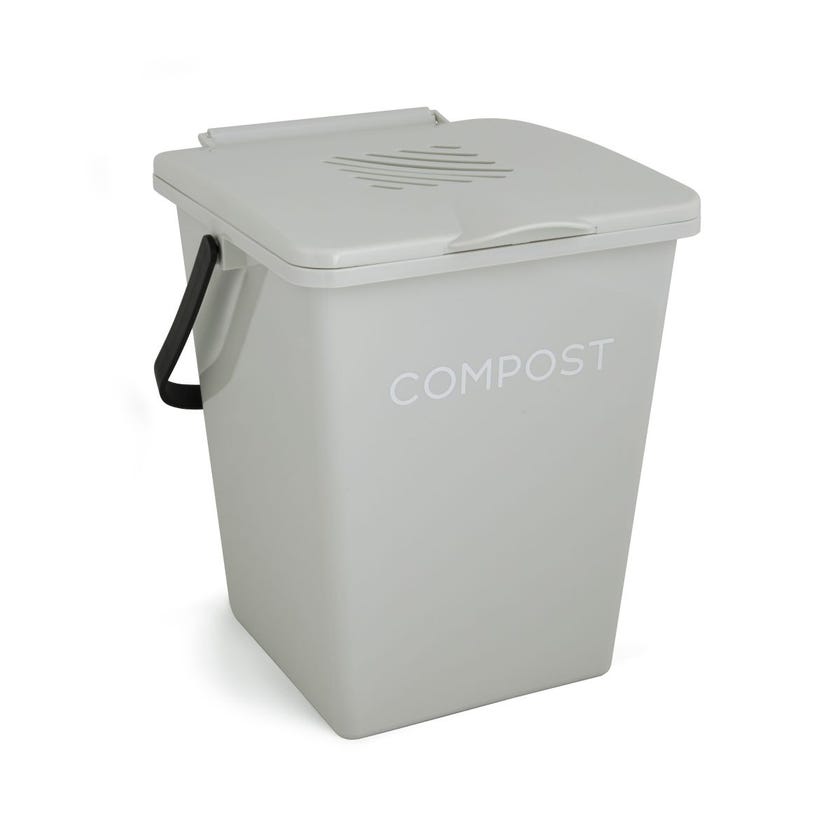 Tumbleweed Compost Organi-Bin Antique White 21x24x27cm: $29.00
Carry handle. Insect proof. Breathable lid with a carbon filter.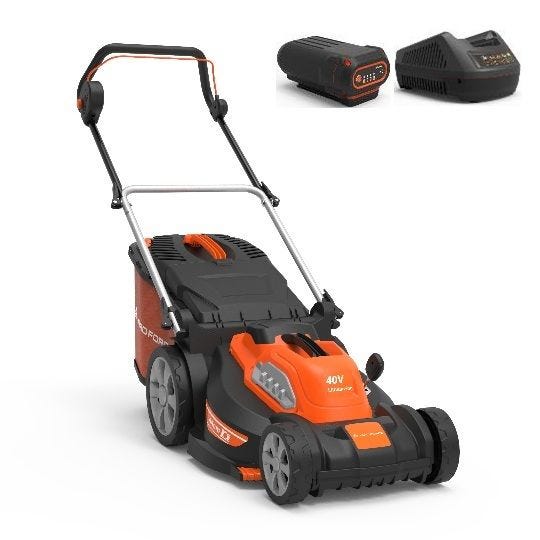 Yard Force 40V Lawn Mower 16 Inch Kit LM G40A: $399.00
The new way to mow. The Yard Force G40A 40V electric lawn mower delivers the power you need for a clean lawn in a quiet, lightweight package. Weighing only 18 kilograms but sporting a 3200 RPM brushless motor and an impressive 16-inch cutting width, the G40A is ideal for small and medium lawns up to 500 m2. It's all electric design means no priming or pulling – just one button and you're ready to mow. The powerful 40V lithium ion-battery pack gives you all the time you need to get your lawn looking pristine, while the ultra-efficient charger gives you a full recharge in just two hours.
A 45L grass bag has all the room you need for even the biggest jobs, while central cutting-height control gives you easy choice of seven different heights, making it simple to give different areas the individual treatment they deserve. Order your new Yard Force lawn mower from Mitre 10 today.
Johnson Brothers Mitre 10 Update: Shop Online Options
Intending to keep our customers and staff safe, we present some additional ways for both our retail and trade customers to do business with us.
Trade and Retail Pick Up
Express Pick up Mona Vale
- Call Johnson Bros Mitre 10 Mona Vale, and we will pick & pack your order and have it ready for you to pick up in 2 hours. (Stocked Lines Only)
- Drive into our undercover Trade Drive-Thru area at 73 Bassett St Mona Vale, and your order will be ready for pick-up.
- Our team members will help you with your load and finalise payment/paperwork
Express Pick up Avalon
- Call Johnson Bros Mitre 10 Avalon, and we will pick & pack your order and have it ready for you to pick up in 2 hours. (Stocked Lines Only)
- Drive into our back lane off Bellevue Avenue, and your order will be ready for pick-up.
- Our team members will help you with your load and finalise payment/paperwork
Online Retail Stores Go Live
We've launched two eCommerce sites offering 2hr pick up in-store and flat rate delivery options on the northern beaches*.
Jbhmv.com.au (Mona Vale)
Jbhav.com.au (Avalon)
With the ability to leave the product on your doorstep, this provides an option of an entirely contactless transaction.
*Flat rate delivery is not available to trade sales, building supplies and trade quantities
** The stock availability is updated nightly, which may mean the stock is unavailable when the order is placed
Trade Delivery to Site
Maybe not new, but certainly worth a mention again!
We can get almost anything delivered quickly onto site!
As always ring the trade desk direct on 9999 0333 and let them know what you need!
Final Thought
Like everyone, we have found ourselves in a new and uncertain environment, but we're setting up (and digging in) for the long haul!
We want to acknowledge that the decision to retain over 120 staff and meet any future challenges head-on, could not have happened without the continued support you provide us as customers.
Thank you and stay safe,
The Johnson Family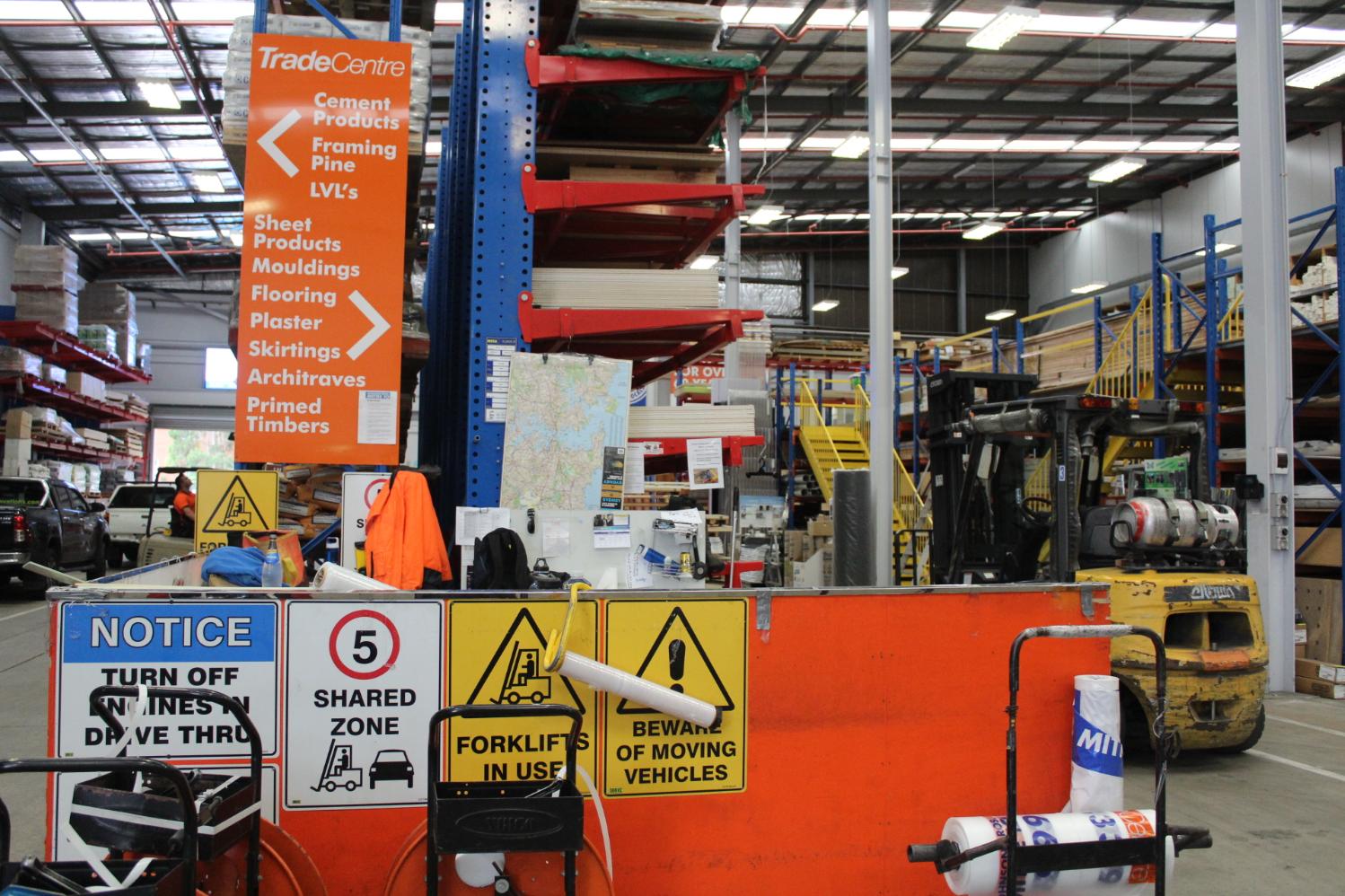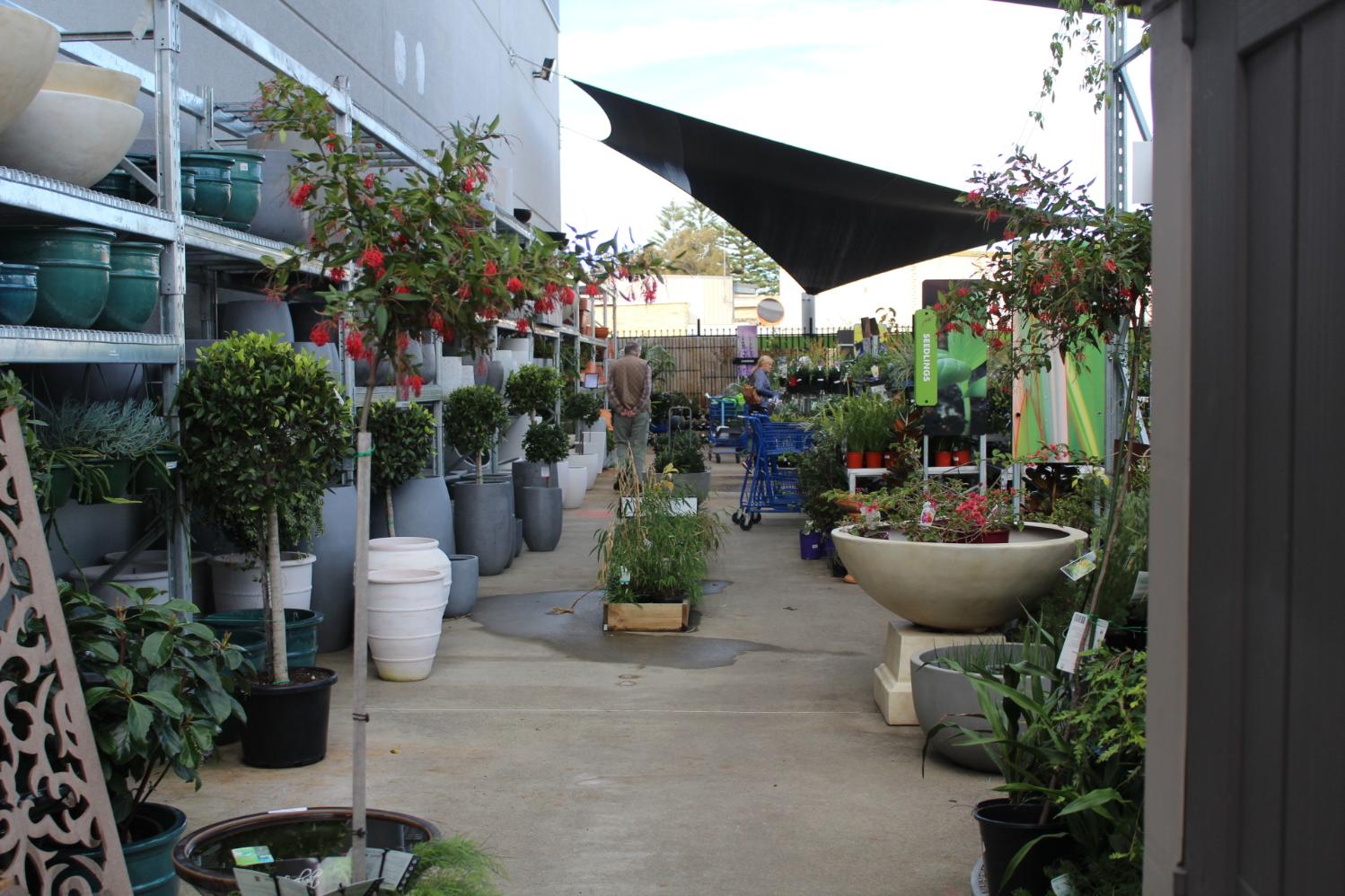 Green Life Garden Centre at Johnson Brothers Mona Vale has a great stock of seedlings, native and other plants and all you need to get gardening in brilliant Autumn weather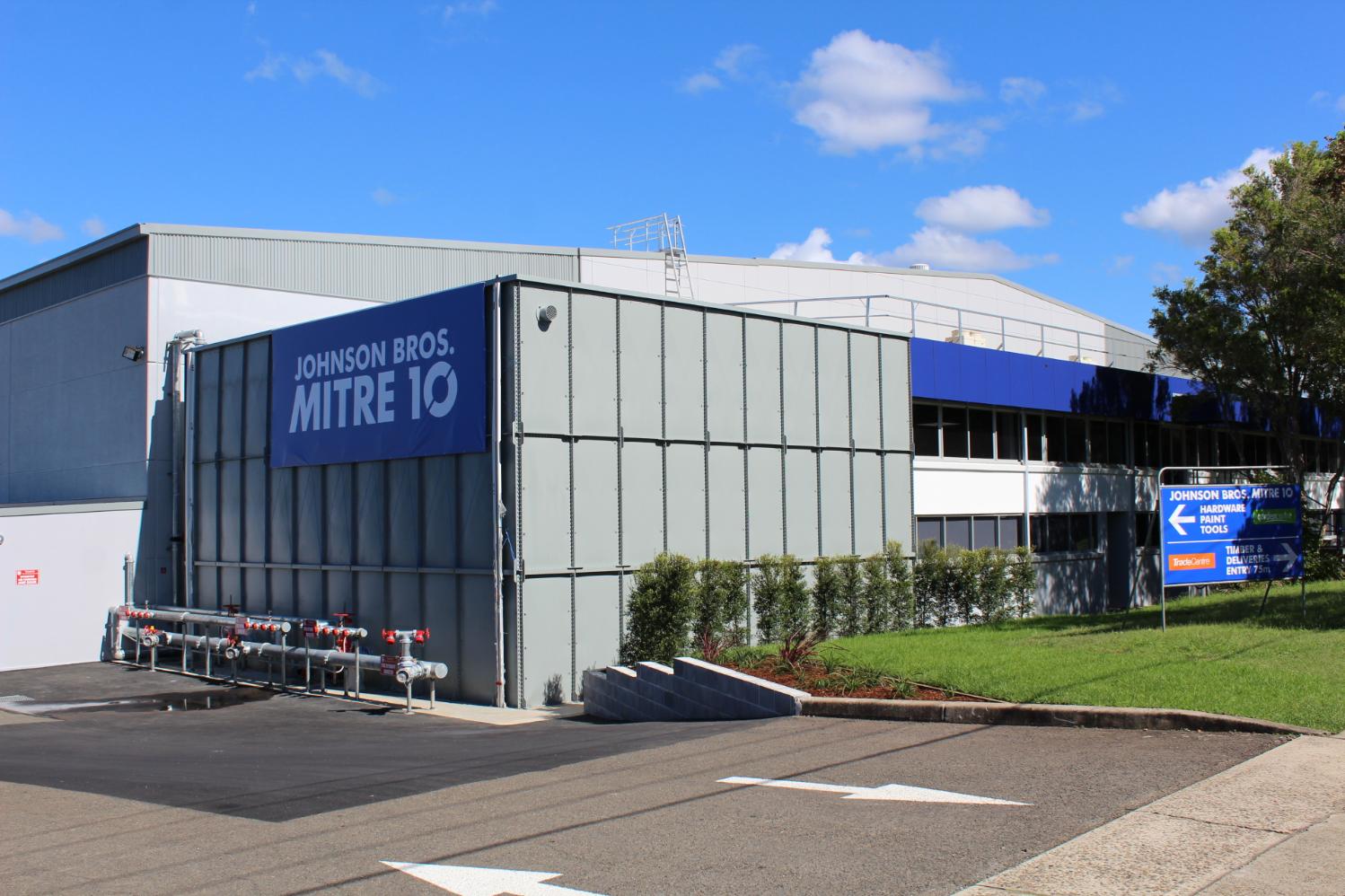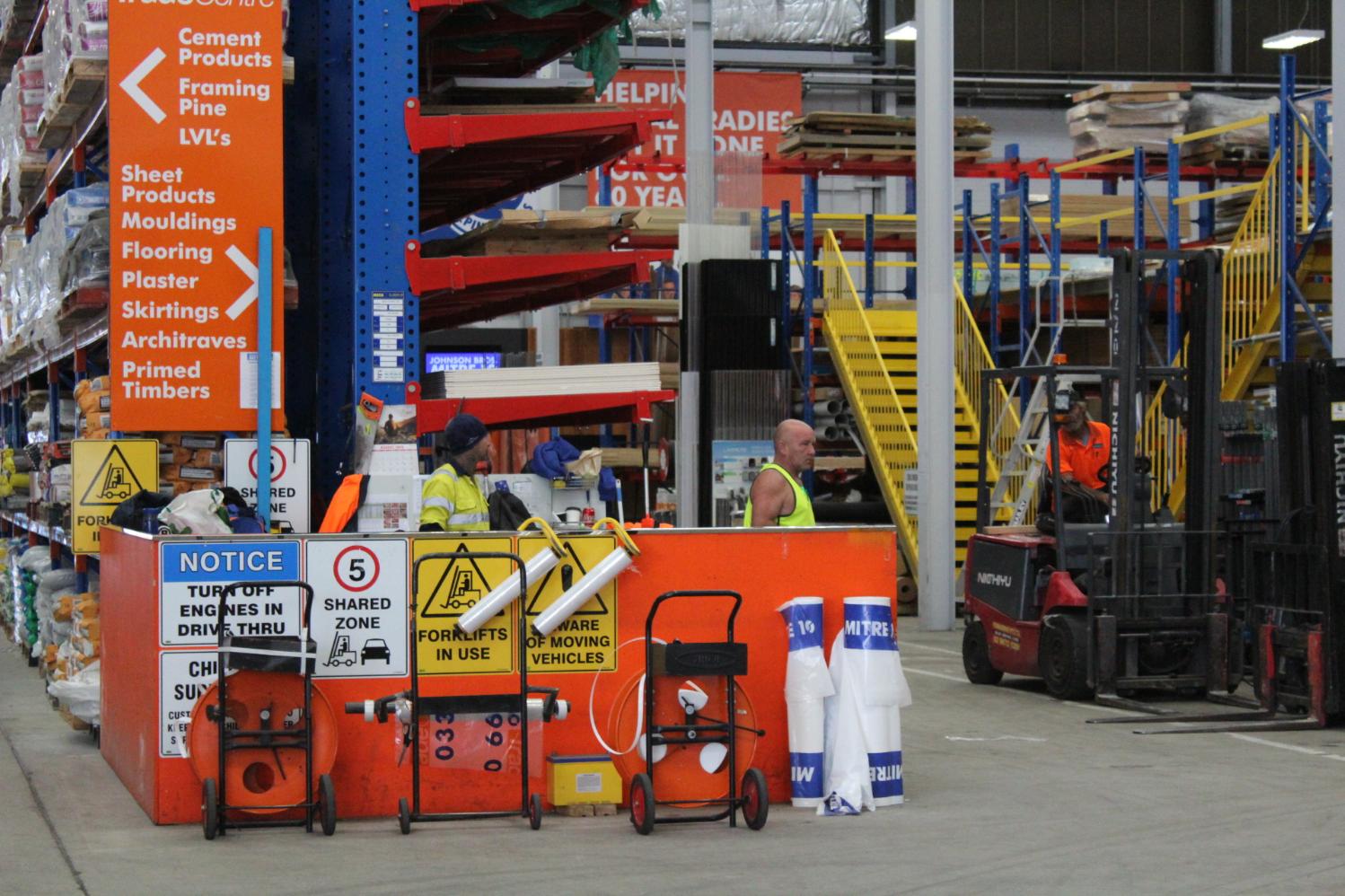 Johnson Brothers Mitre 10 Trade Centre at Mona Vale - everything you need under one roof.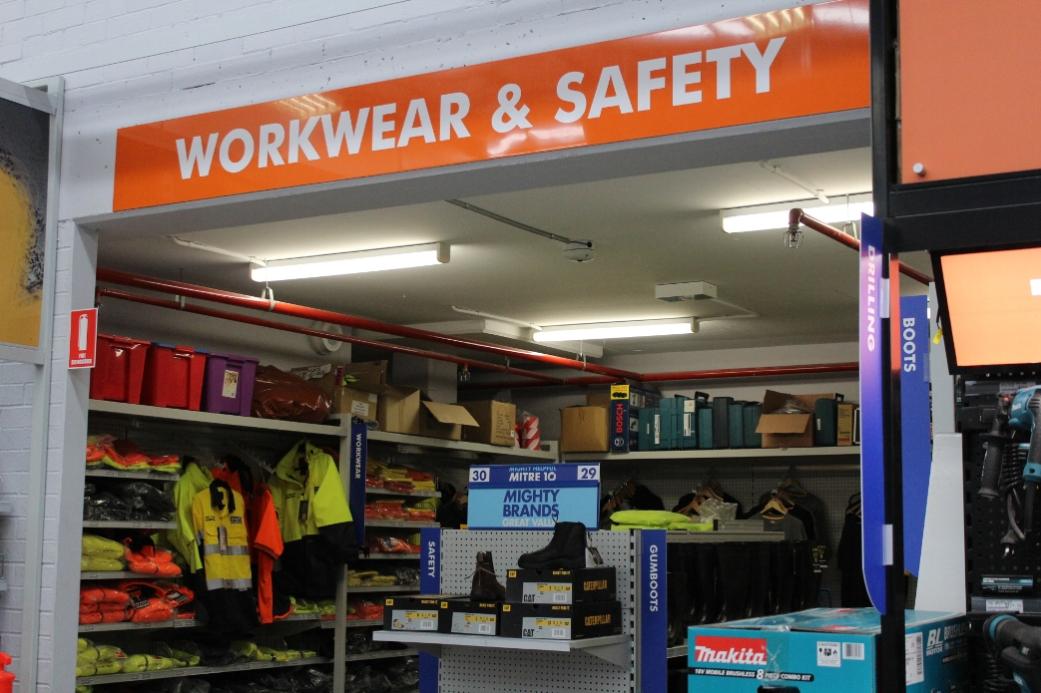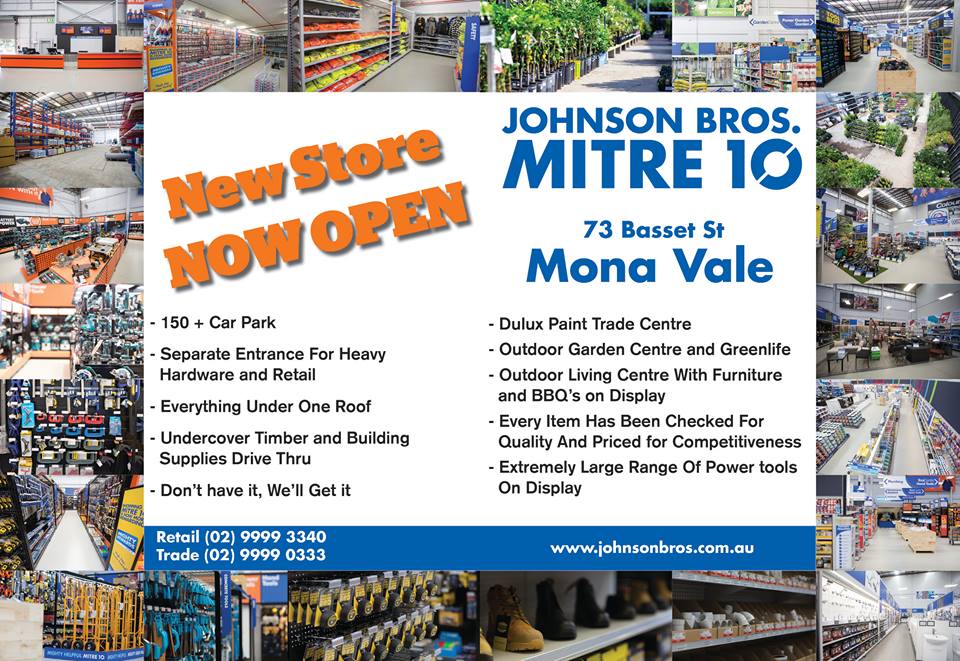 Johnson Brothers Mitre 10 New Store
73 Bassett Street
Mona Vale - Online Store: Jbhmv.Com.Au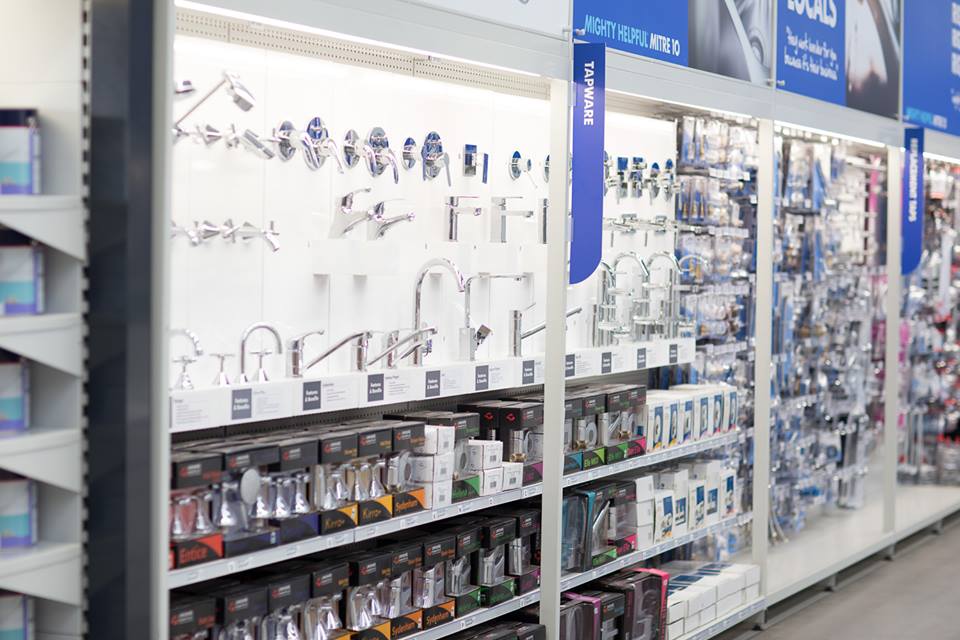 Products advice is available from the trained friendly staff at Narrabeen, Mona Vale and Avalon Johnson Brothers Mitre 10.
Click on logo to visit Johnson Brothers Mitre 10 website
Johnson Bros Mitre 10 - Avalon (02) 9918 3315
Johnson Bros Mitre 10 - Mona Vale (02) 9999 3340
JBH Timber & Building Supplies (02) 9999 0333
JBH Fencing & Landscape Supplies (02) 9970 6333
www.johnsonbros.com.au Online store: jbhmv.com.au

Important
All information and tips in this publication are of a general nature only and neither Johnson Brothers Mitre 10 or Pittwater Online News does not warrant the accuracy or completeness of the information and tips in this publication. This publication is not intended to be a substitute for expert advice.
Johnson Brothers Mitre 10
advises you to always consult an experienced and qualified person when undertaking jobs of this kind (including consulting a qualified tradesperson such as an electrician or plumber where relevant expert services are required).
You should also consider any safety precautions that may be necessary when undertaking the work described in this publication (including wearing any necessary safety equipment such as safety glasses, goggles or ear protectors or hard hats). The information and tips in this publication are provided on the basis that
Johnson Brothers Mitre 10
and
Pittwater Online News
excludes all liability for any loss or damage which is suffered or incurred (including, but not limited to, indirect and consequential loss or damage and whether or not such loss or damage could have been foreseen) for any personal injury or damage to property whatsoever resulting from the use of the information and tips in this publication.
Pittwater Online News and
Johnson Brothers Mitre 10
also advises there may be laws, regulations or by-laws with which you must comply when undertaking the work described in this publication. You should obtain all necessary permissions and permits from council and/or any other relevant statutory body or authority before carrying out any work. Major projects published in this publication always list these and/orlinks to where you may research what your own project requires to meet regulations.