August 13 - 19, 2023: Issue 594

DIY Worm Farm: Spring 2023 Garden Prep. + Father's Day 2023 Gift Ideas
With Spring just a few weeks away now residents will be looking to begin their garden preparations to ensure health soil supports all they want to grow this year - whether it's vegetables and salad ingredients you will be planting out, or boosting already in place plants, a worm farm is a tonic for your garden.
This may even be a good idea for those looking around for something for the dad who loves his garden for Father's Day, September 3rd 2023. A few other ideas for every budget run below -
although
this is
only
a sample of the thousands of products you will find in store.
This Issue how you can make you own worm farm and a few tips for those who are buying the setup.

Worm farms are bins or containers of bedding, compost, and worms that help produce worm casings—a super nourishing fertiliser for plants. Despite the name, you don't have to live on a large property to make your worm farm. As long as you live in a relatively warm area and have some basic gardening supplies, you're ready to get started. In as quickly as 3 months, you may be able to harvest some nourishing casings for your own garden and that will make your plants sing this Spring!
How to make a Worm Farm
a) Poke twenty 0.64 cm (1/4 inch) holes in the bottom of 2 large plastic bins. Flip 2 large, 30 to 38 L plastic bins upside down so the bottoms are facing up. Drill around 20 large holes along the bottom of each bin, which will make it easier to harvest worm casings later on.
If you don't have an electric drill on hand, measure out multiple large holes along the bottom of the bin and cut them out with a box cutter. The easiest way to do this is make a grid of 5 rows and 4 columns.
b) Drill small holes that are 3.8 cm apart along all sides of the bins. Replace the large bit with a 0.16 cm bit. Create a line of small holes that are about 3.8 cm apart just below the rim of each bin. For extra ventilation, drill a second line of holes around the bin that's about 10 cm below each bin's rim. It's important that your worm farm gets a lot of air, which will help them stay healthy and well-nourished.
c) Create 30 holes on both bins' lids with a 0.16 cm drill bit. Make the holes even by drilling 5 rows and 6 columns of small holes along the lids. Set these lids aside for later, since you'll need them when the worm farm is fully assembled.
d) Cut a newspaper into thin, 2.5 cm strips. Take 50 sheets of black-and-white newspaper and begin cutting or ripping it into smaller strips. Don't use any coloured sections of newspaper, as the dyes may be bad for the worms. You'll probably need about 4.5 kg of newspaper to make enough bedding for your farm, but you could supplement this with some bedding material such as cow manure, sawdust.
e) Soak the cut newspaper in lukewarm water for 1 day. Place the newspaper strips in a large bucket or basin of lukewarm water. Let them sit for around a day so they can soak up as much water as possible. Once 24 hours pass, squeeze any leftover water out of the strips and set them aside.
Tip: You don't want the strips to be sopping wet, but more like the consistency of moist soil.
f) Arrange the wet newspaper strips in the bottom 8 in (20 cm) of the bin. Lay out the strips in your plastic bin. Keep in mind that the newspaper serves as the base of the bedding, and will take up the most space in the bin. Place this down first, so the worms have a comfortable place to call home.
g) Add in a handful of leaves on top of the newspaper. Grab some old leaves from your yard and arrange them on top of this newspaper. This gives your worms more material to work with as they nest. You only need to use a thin layer of leaves for this, as the newspaper will be the bulk of the bedding.
h) Mix a scoop of dirt into the bin. Pick up a large portion of soil with a garden trowel and layer it on top of the newspaper and leaves. Note that dirt helps worms digest their food, which will improve your worm farm in the long run. Like the leaves, the dirt can be dumped in a thin layer on top of the newspaper and then mixed in.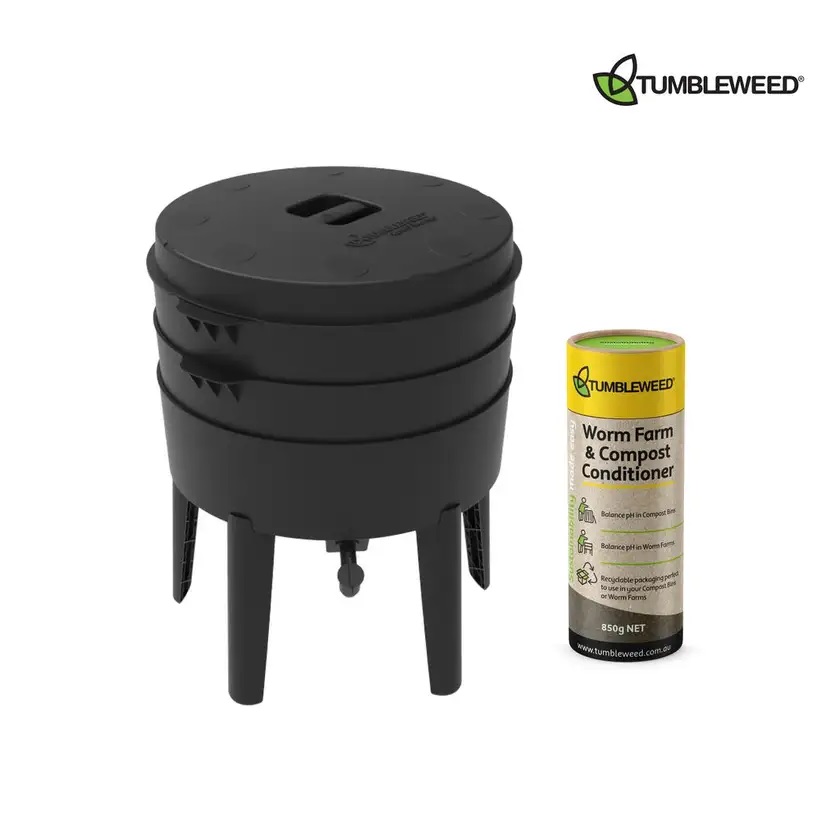 Tumbleweed Can-O-Worms® Kit; $94.00
Made from 100% recycled UV Stabilised Plastic, Includes Worm Farm & Compost Conditioner, 2 x Large capacity working trays, ventilated lid, and collector tray for increased airflow. Worms not included
Tumbleweed Worm Farm Bedding Block: $10.95
Ideal for setting up your worm farm - Expands up to 10x the size- Expands in a big bucket of water- Made from 100% natural coconut fibre. Use when starting your worm farm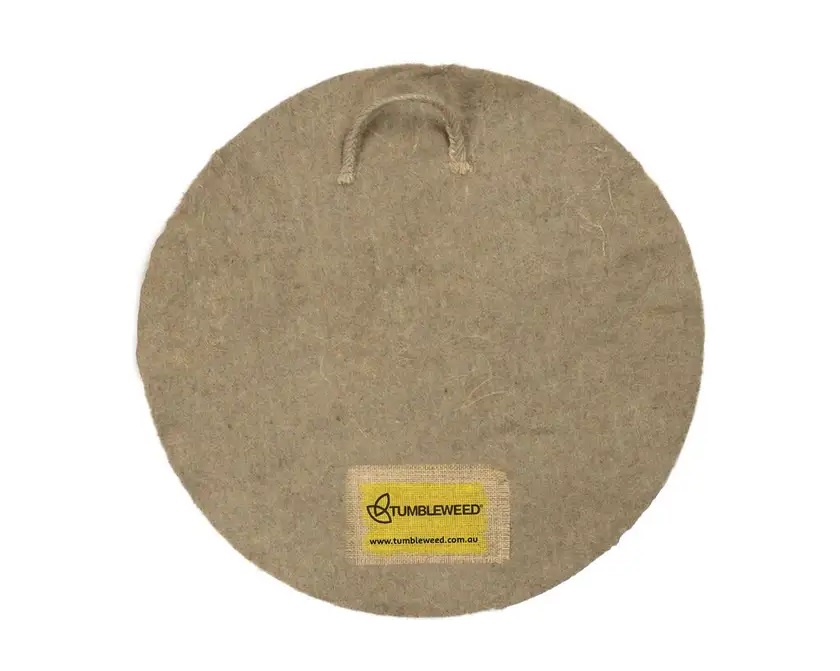 Tumbleweed Worm Blanket Round: $13.45
Suitable for the Can-O-Worms® - Stitched in handle - Made from 100% natural fibres - Ideal thickness to hold in moisture.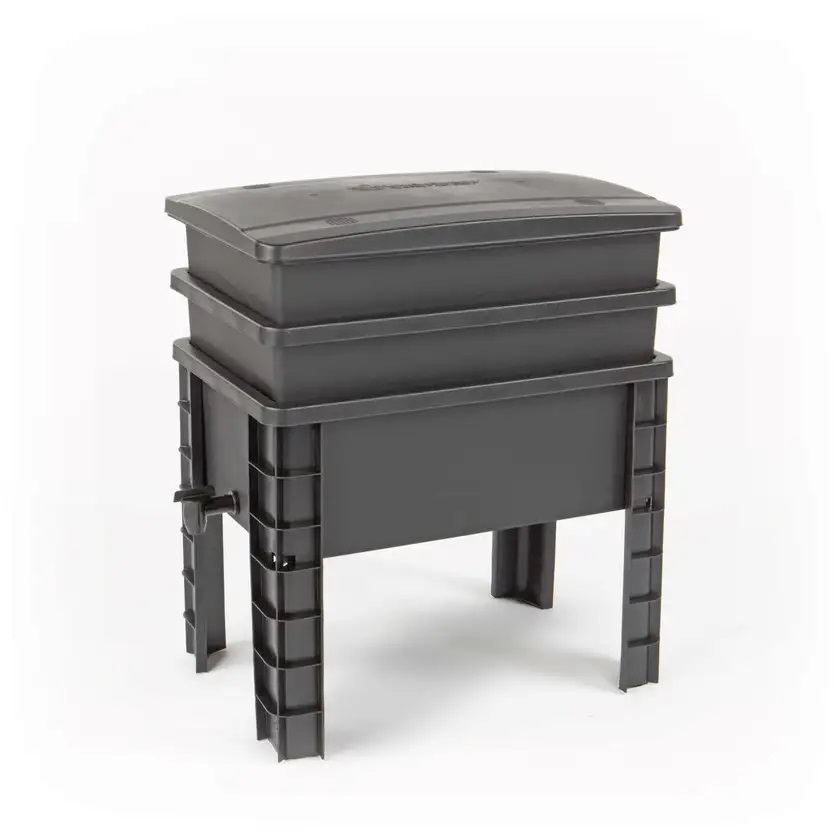 Tumbleweed Worm Factory 56L: $85.00
2 x large capacity working trays - Ventilated collector tray - Recycles 4-5Kg of organic waste every week - Features coir brick with easy snap-in legs - New improved lid design with air vents. Includes an instruction booklet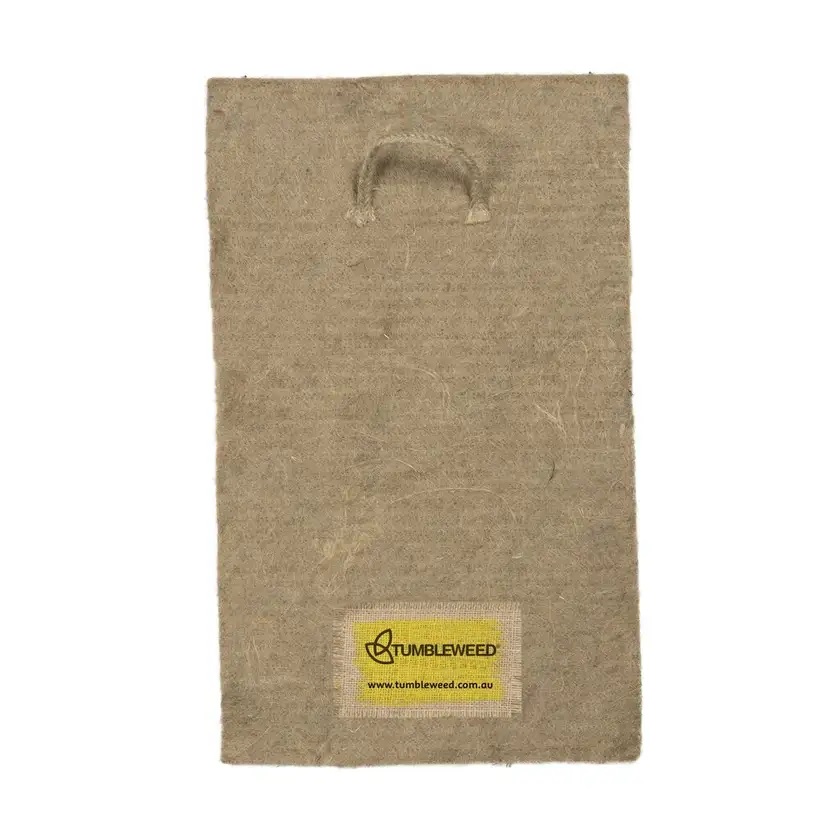 Tumbleweed Worm Blanket Rectangle: $12.50
Suitable for the Worm Café® and Worm Factory® - Stitched in handle - Made from 100% natural fibres - Ideal thickness to hold in moisture.
Introducing the Worms
a) Place a piece of wet cardboard outside overnight to collect some worms. Soak a piece of cardboard under running tap water until it's dripping wet. Arrange this cardboard somewhere outside on a section of open soil. Leave the cardboard out overnight, then check the next day to see how many worms have gathered.
Red wigglers are a great worm to include in your farm, since they can be found in a lot of different places.
Tip: If you don't feel like catching your own worms, you can buy some at a store that sells these - JBH at Mona Vale does.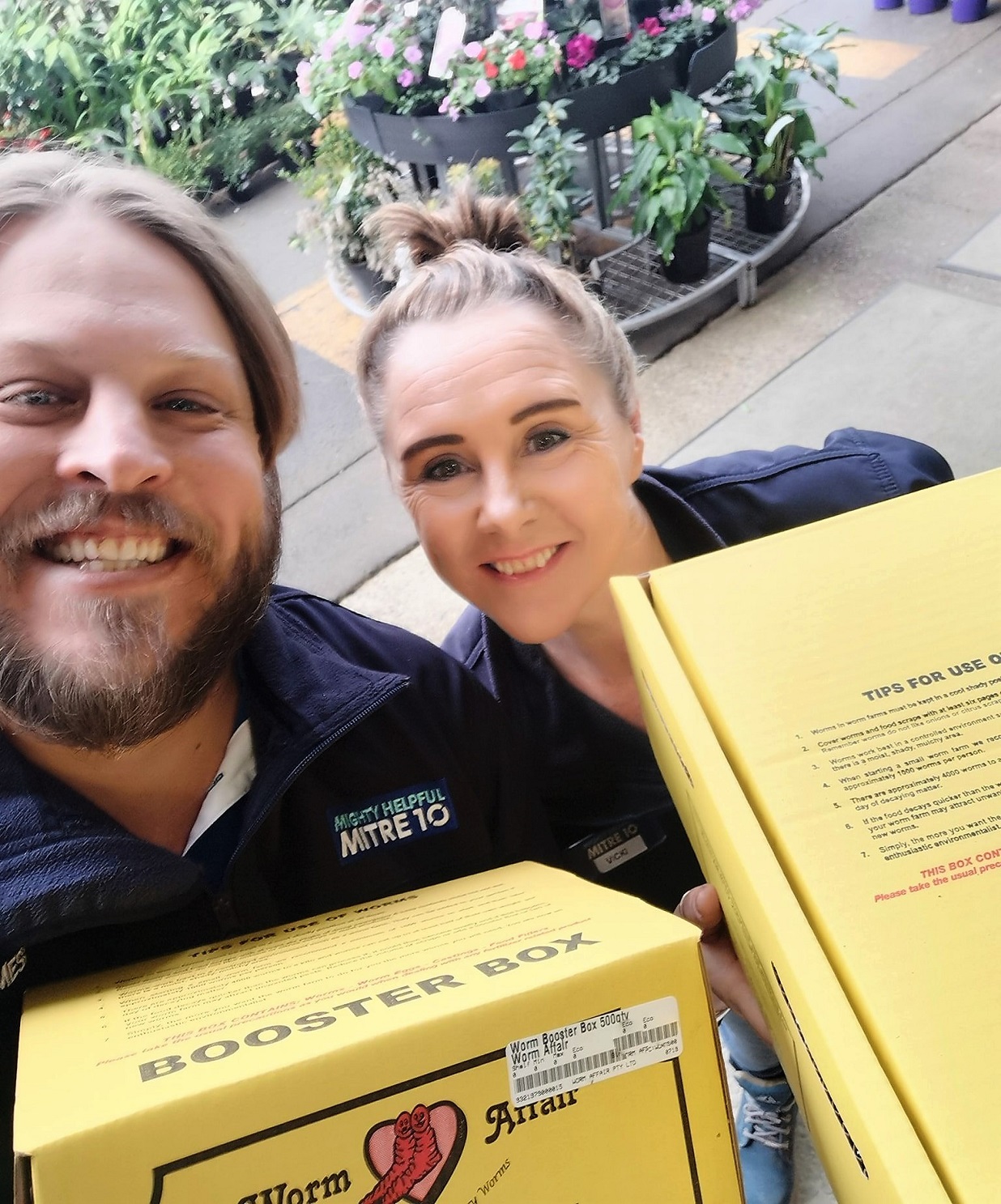 Johnson Brothers at Mona Vale stock worms, and worm farms:

c) Weigh the worms on a scale to see if you have 0.45 kg (1lb). Transfer the worms to a small bucket or container and place it on a scale. Subtract the weight of the bucket to get an idea of how heavy the worms are. For a beginner worm farm, start off by raising 0.45 kg or so of worms.
It's important to know how many worms you have, so you know what to feed them.
c) Transfer the worms into your bin. Pour the worms into the bedding and let them get comfortable in the newspaper, soil, and leaves. Don't worry about moving the worms around manually—they'll find their way around the farm soon enough.
d) Add 0.23 kg of food scraps when first starting your farm. Save your food scraps after each meal in a large bag, then spread them on top of the bedding. Start by adding a small amount of food scraps, like egg shells, fruit and vegetable peels, coffee grounds, dryer lint, and leftover cereal and pasta.
Tips:
Common scraps like apple skin, carrot peels, leftover cereal, discarded coffee grounds, and leftover lint from your dryer are great options to include in your bin.
Don't add leftover meat, animal waste, oily food, leftover dairy products, citrus peels, or onion scraps to your worm bin, as these foods will attract other pests.
Worms will have an easier time eating your food scraps if you break them into small chunks.
Sealing off the Bin
a) Insulate the top of the bin with a piece of dry newspaper. Take a dry section of black-and-white newspaper and layer it on top of the food and bedding. This can prevent your worm farm from smelling really bad, and stops fruit flies from hovering around your farm.
You can also use a piece of wet cardboard instead, as the worms will eat this over several months
b). Place your perforated lid on top of the worm farm. Grab 1 of your lids and secure it on top of the bin. Check that your worm farm has plenty of air and drainage so it stays in great condition
c) Stack the worm farm in a second bin to help with drainage. Place your second, perforated lid face-down in a flat area. Arrange your worm farm in the empty, perforated bin, which you can put on top of the upside-down lid. To give your bins more height, stack them on 4 upside-down cups.
If your lid catches any leftover liquid from the worm farm, you can use it as liquid fertiliser. Sturdy plastic cups may be a good option for this.
d) Move the worm farm to an open area that's between 16 and 27 °C. Find an outdoor or indoor area that's a warm temperature. While your worms will be okay between 4 to 16 °C or 27 to 32 °C temperatures, they'll really thrive in warm conditions. Worm farms do well in a variety of places, like a laundry room, shady outdoor area, garage, or beneath a kitchen sink.
Maintaining the Worm Farm
a) Increase the food scraps you add over the next few weeks. Give your worms time to adjust to their new surroundings. After giving them small rations of scraps for 1-2 weeks, slowly add more food to the bin until you're feeding the worms twice their body weight in scraps. Choose a specific time each week to refill the bin with food scraps so your worms stay nourished.
You may want to mix some of the food scraps beneath some of the newspaper. This can prevent fruit flies from hovering around.
b) Replace the top piece of newspaper on an as-needed basis. Keep an eye on the insulation newspaper and see if it looks soggy or mushy. Remove the wet newspaper and replace it with a clean, dry sheet, so your worm farm stays fresh and insulated. It may help to have a container of dry newspaper near your farm for safekeeping.
c) Fluff and spritz the newspaper bedding with water to keep it damp. Slip on a pair of gloves and move around the bedding to give your worms some fresh air. If the bedding seems dry, spray over it with lukewarm water until it's slightly wet.
d)Replace the bedding as it gets used up by the worms. Examine the bedding whenever you tend to your worm farm. As the worms use up the bedding, add in 5.1 cm of wet newspaper strips.
You may need to replace the bedding if it starts getting really smelly or if fruit flies start gathering around.
e) Harvest the worm casings after about 3-6 months. Look for a black, dirt-like substance collecting in your worm farm. Slide on some gloves and push this black dirt to 1 side of the bin, while pushing the bedding and food to the opposite side. Scoop out these worm casings and place them in a bucket or pot so you can put them to good use.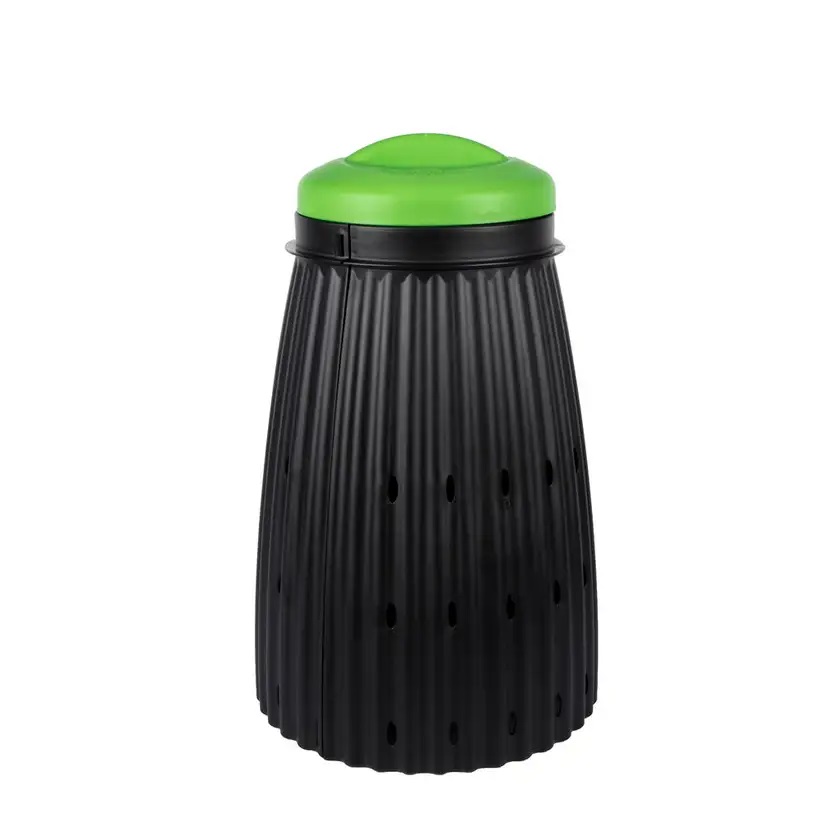 Tumbleweed In-Ground Worm Buffet: $43.00
Comes with an In-Ground Worm Blanket. Scalable solution to suit your garden bed set up. Made from 100% recycled UV Stabilised Plastic. Locking lid restricts pests from entering. Includes easy-fit blanket.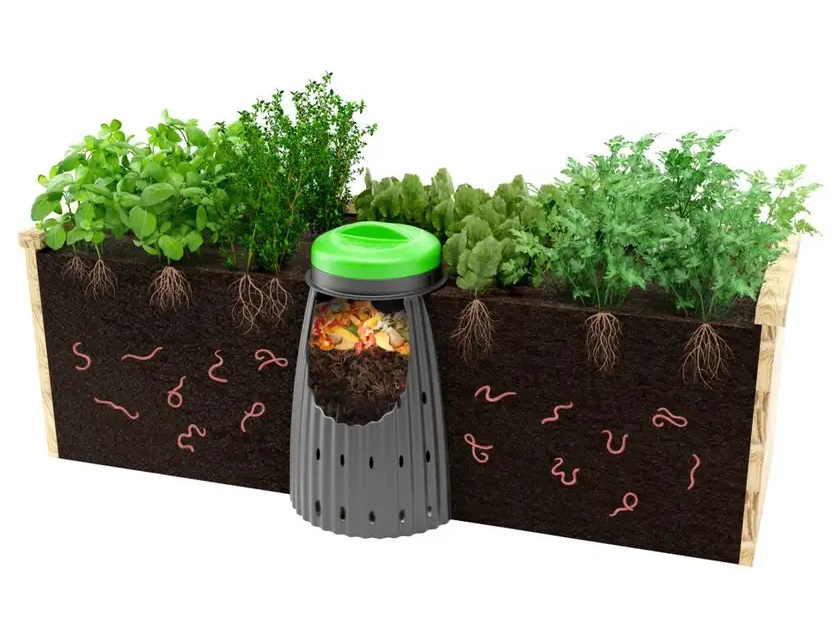 Using the Worm 'tea' and Casings
Over time, your worms will start leaving the casings on 1 side of the bin and living in the other side.
a) Incorporate the casings in your gardening as a source of compost. Add the casings to your potted plant soil in a 1:3 ratio, or use it to fertilise the different plants in your garden. To make a liquid fertiliser or "tea," soak the casings in water, then transfer the liquid to a watering can.
The worm poo is a great soil conditioner and slow-release fertiliser. Add a small amount to potting mix and garden beds, or water it down to make a liquid feed. To do this, add enough water to make a slurry then put a couple of handfuls of slurry in a bucket and fill it with water.
This mix can be used anywhere on garden beds and lawns, where it will help increase your plants' drought tolerance and will also make more nutrients available to them.
For instance, you can add 2.5 to 5.1 cm of worm casings along the base of the plants in your garden, like cucumbers, tomatoes, or your favourite perennial flower. Worm casings aren't great for woody trunks and stems, so steer clear of those.
b) Both the worm poo (worm castings) and worm "tea" are great for gardens. The worm tea is an excellent organic fertiliser, but is best watered down first; mix one part tea to 10 parts water. Use it to feed pot plants or your veggie patch. If the liquid smells bad, it could contain bad bacteria and juices from the food, so pour it through the system again.
c) In dry weather you may need to water your worms — the bedding should be damp but not soaking wet, like a squeezed-out sponge. The temperature of the worm farm should ideally stay between 12°C and 28°C. Polystyrene boxes help regulate the heat, but your worms may still need an old blanket over them on frosty nights, and a moist hessian sack over them or an ice block wrapped in newspaper to keep them cool on hot days.
Father's Day 2023 Gift Ideas For Your Dad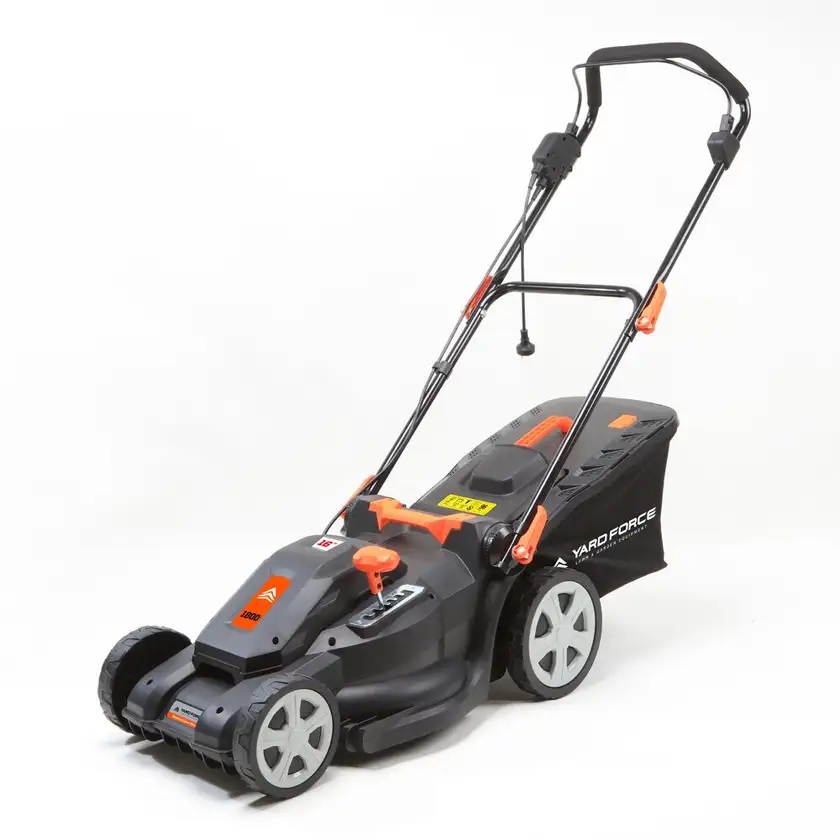 Yard Force 1800W Electric Lawn Mower: $199.00
1800W Power - 400mm Max cutting width - 75mm Cutting height - 45L Grass catcher capacity - Foldable handle - 11kg unpackaged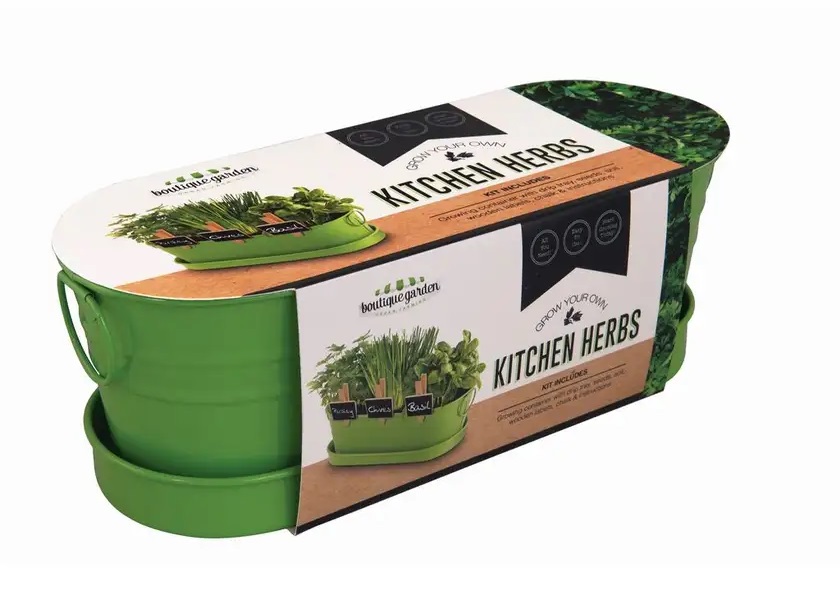 Grow Your Own Kitchen Herbs Windowsill Tin Kit: $17.95
This Kitchen Herbs windowsill kit has everything you need to get started including 3 of the most popular growing herbs in Australia - basil, chives & parsley. Each kit comes with a coloured metal pot with drainage holes and drip tray, seeds, soil pellet and plant tags with chalkboard. Dimensions (mm): 275L x 110W x 95H. Tin made of galvanised steel with zinc coating.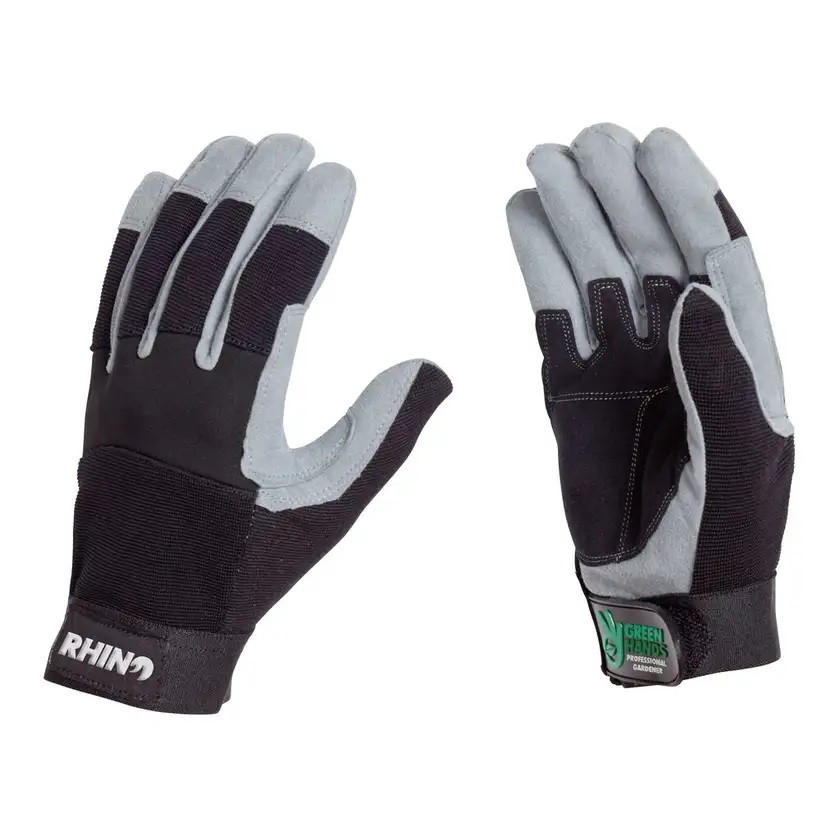 Rhino Professional Garden Gloves: $20.75
Premium synthetic leather construction. Velcro cuff and reinforced palm.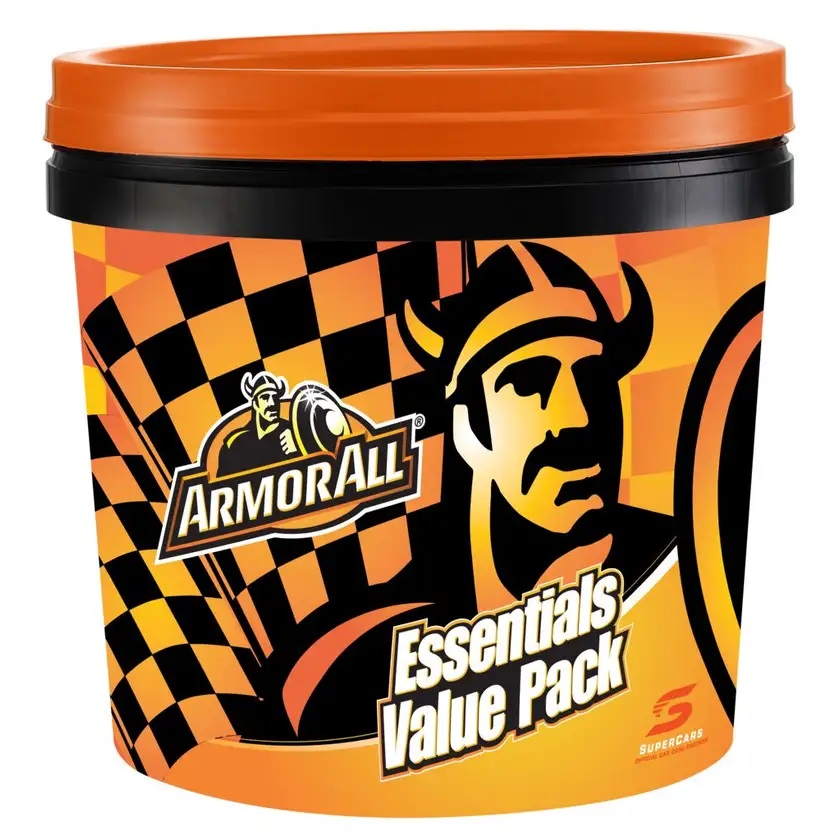 Armor All Essentials Cleaning Bucket - 5 Piece: $35.00
5 Piece gift pack: Car Wash 1L, Windscreen Wash 500ml, Protectant 500ml, Sponge, All Purpose Cloth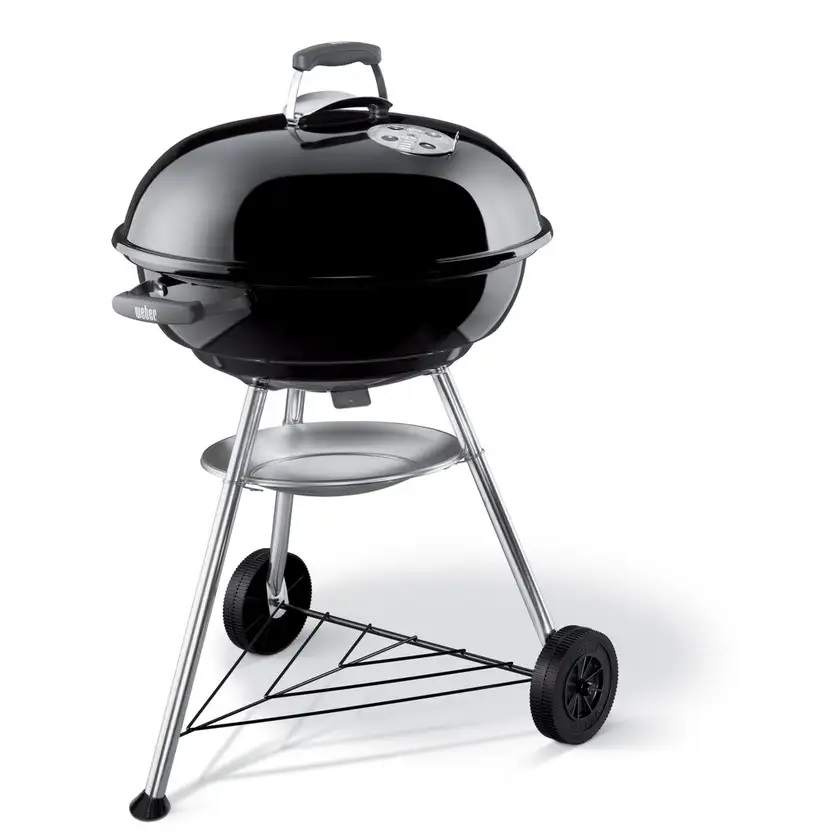 Weber Compact Kettle BBQ Black 570mm: $269.95
This H97 x W63 x D57cm compact kettle BBQ offers same great flavour, compact size with porcelain enamelled bowl and lid. Rapidfire charcoal 'V' grate and 2 Char-Basket charcoal fuel holders. The Complete Australian Barbecue Kettle Cookbook included. Removable no rust aluminium ash catcher and no rust aluminium vents. Glass-reinforced nylon handle and wire bottom shelf for convenient storage. Chrome-plated steel hinged cooking grill and crack proof all weather wheels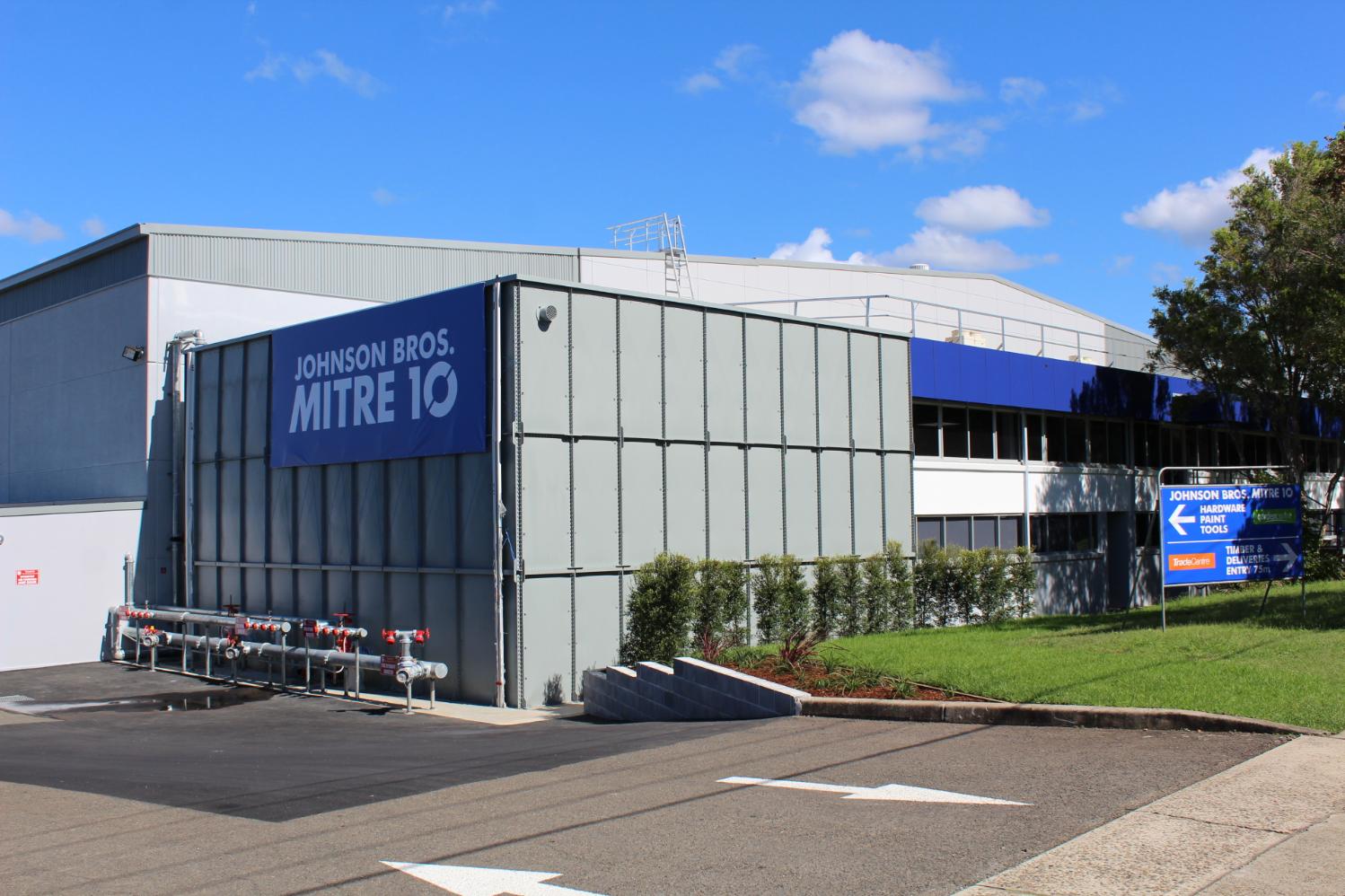 Johnson Brothers Mitre 10: Serving Our Community Since 1955
The Independent Hardware Group has awarded Johnson Bros Mona Vale the best in state at the IHG state awards and heads to the national finals on the Gold Coast in February 2022.
Congratulations to the store in Avalon Beach as well, which won best in village.
Johnson Brothers say; ''Thank you to all of our amazing staff and customers for being awesome!''
IHG is Australia's largest home improvement wholesaler supplying more than 1,500 stores nationwide. These stores cater to a broad range of Trade and DIY customers and range from large format warehouses to convenience operations and Trade centres, as well as frame and truss sites in two States.
Under the IHG network, there is a clear mandate to support the growth of Independents within the hardware sector in Australia by helping them to be 'The Best Store in Town'.
The culture of IHG is built on being a low cost and transparent business partner to members, with an unwavering commitment to protect and grow a sustainable independent hardware sector for the long term.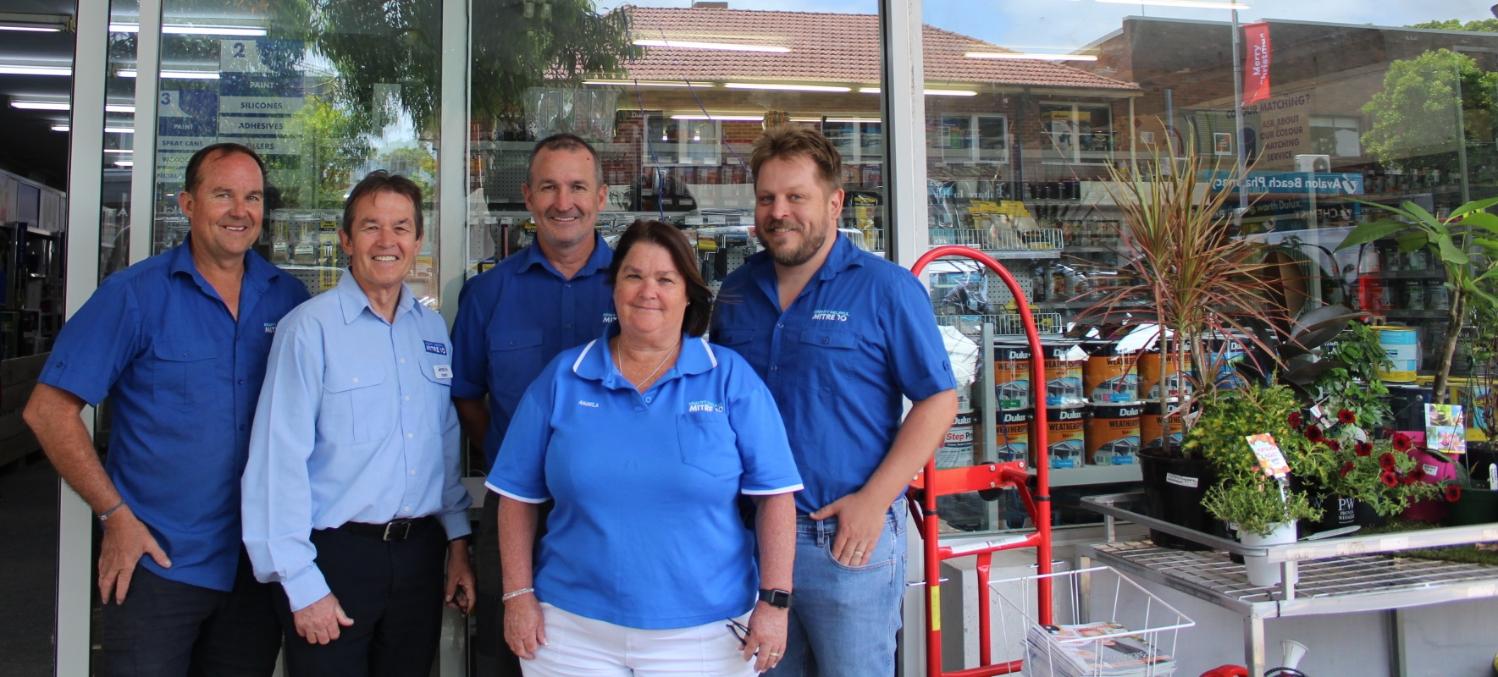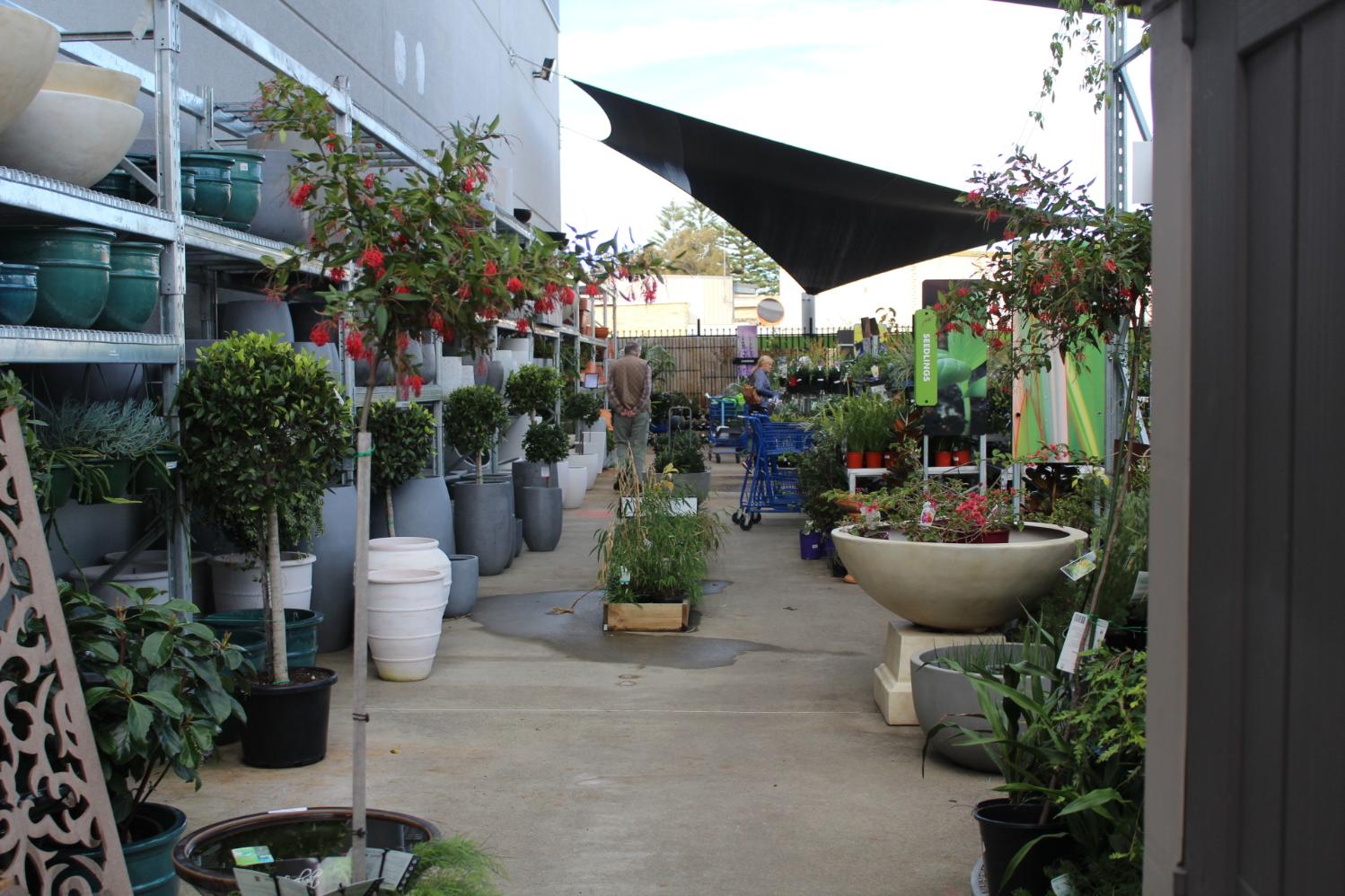 Greenlife garden centre at Johnson Brothers Mona Vale - for all your gardening needs.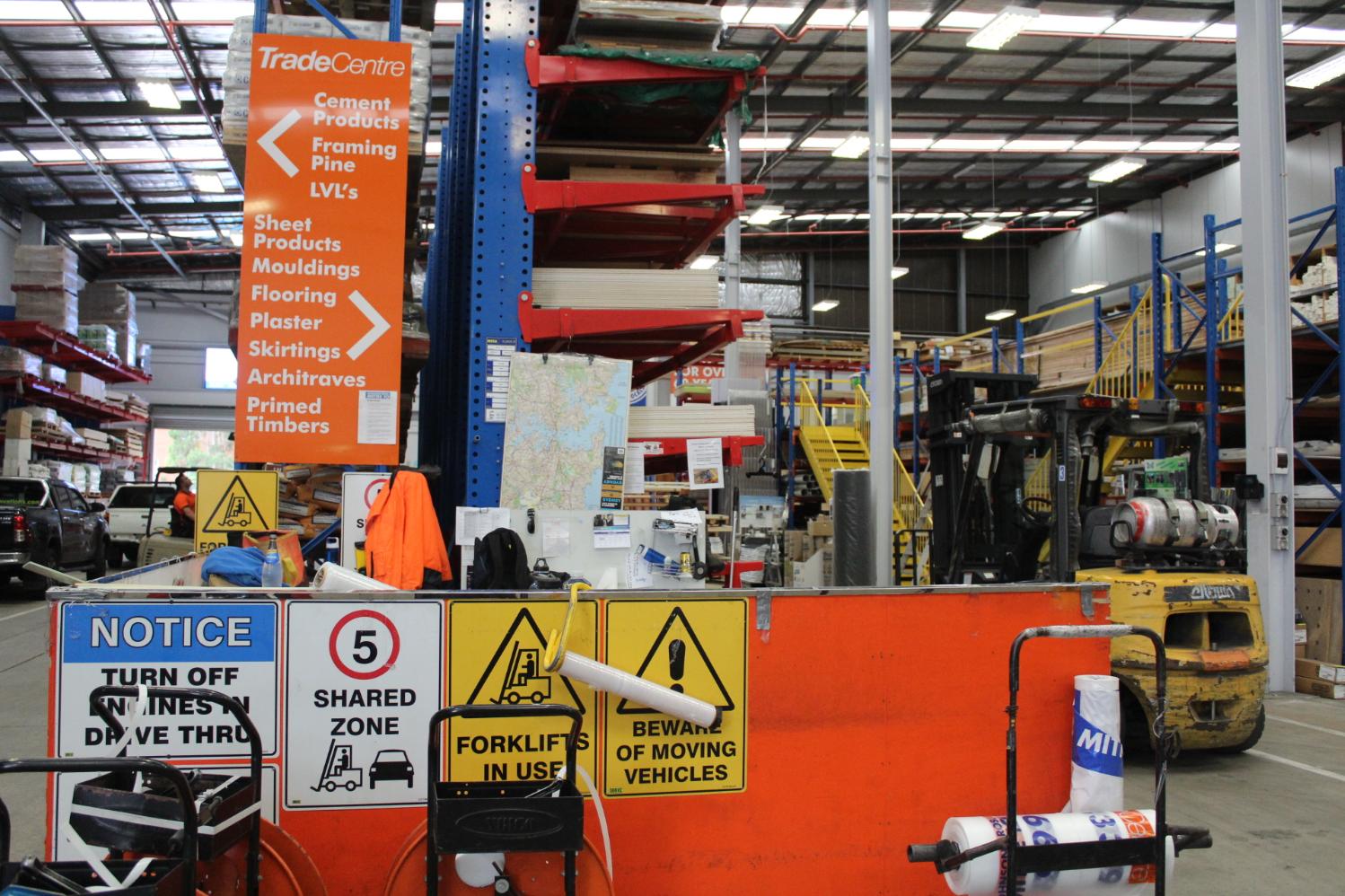 Johnson Brothers Mitre 10 Trade Centre at Mona Vale - everything you need under one roof.
JBH Design Centre
JBH Design Centre is a tool for builders and DIY'ers to assist in the fit out of houses. It has displays of kitchens, Bathrooms, Doors and Storage as well as knowledgeable staff to assist in making house fit out painless.
Visit: http://jbhdc.com.au/
On Facebook: https://www.facebook.com/design.centre.jbh/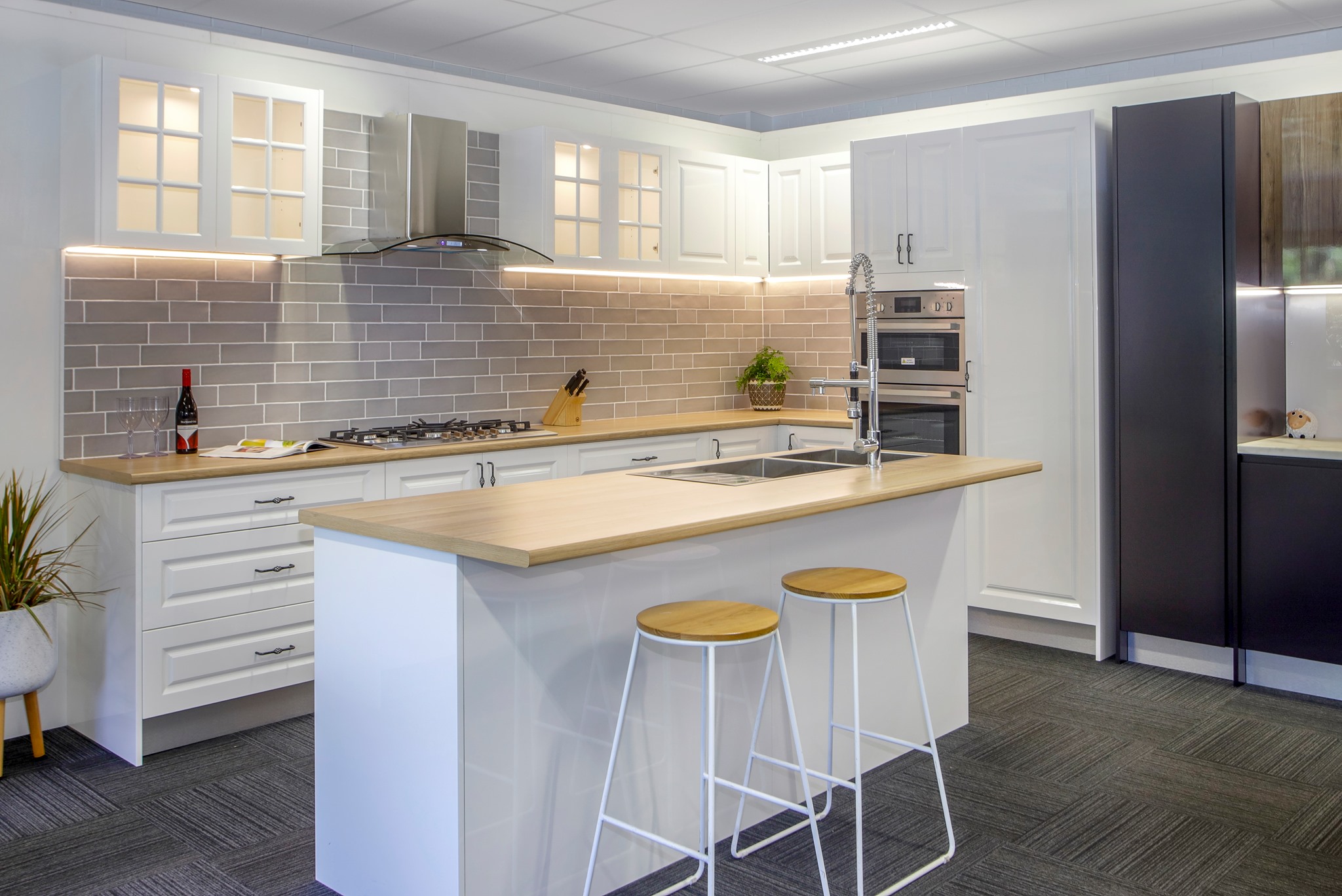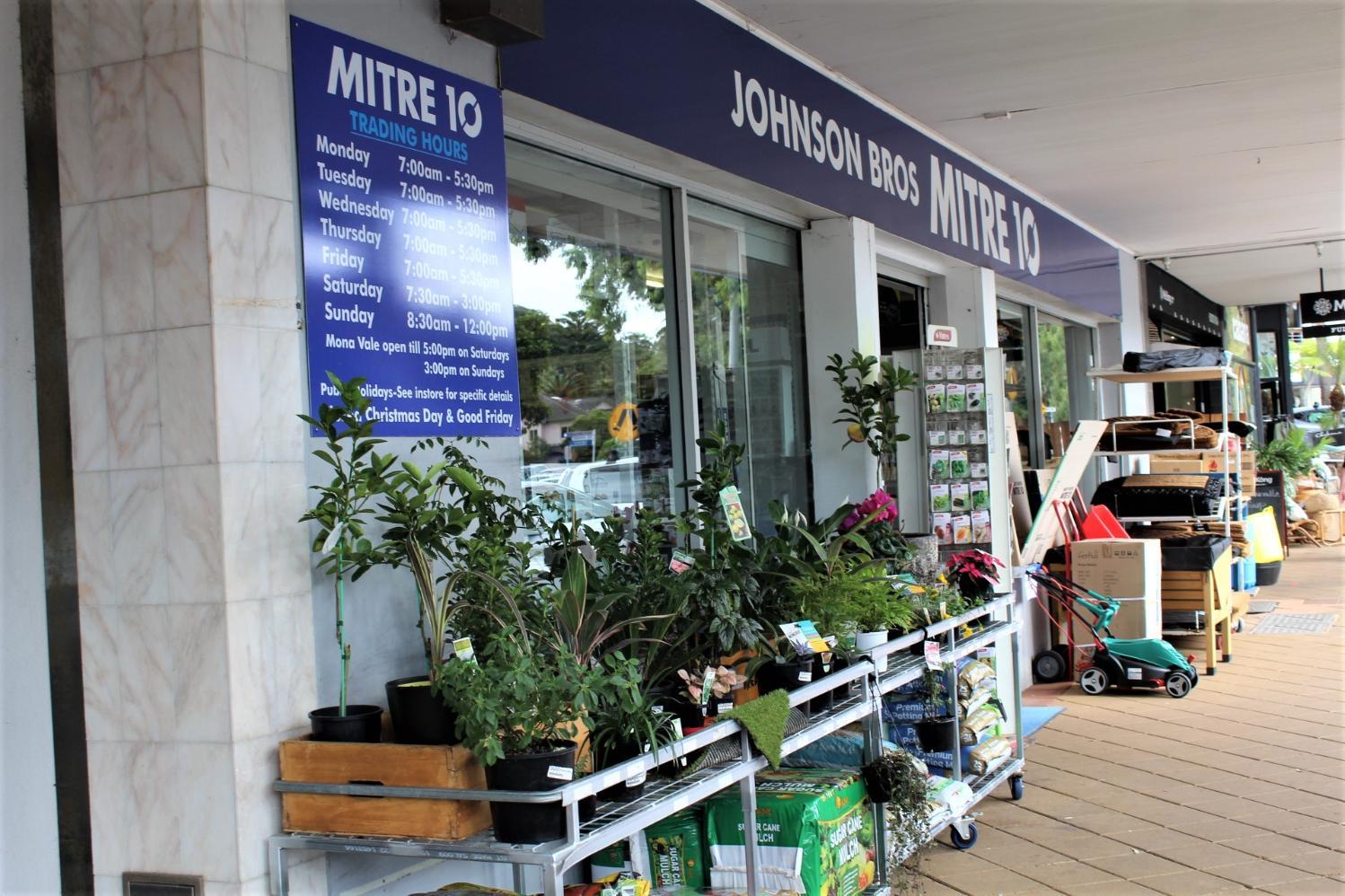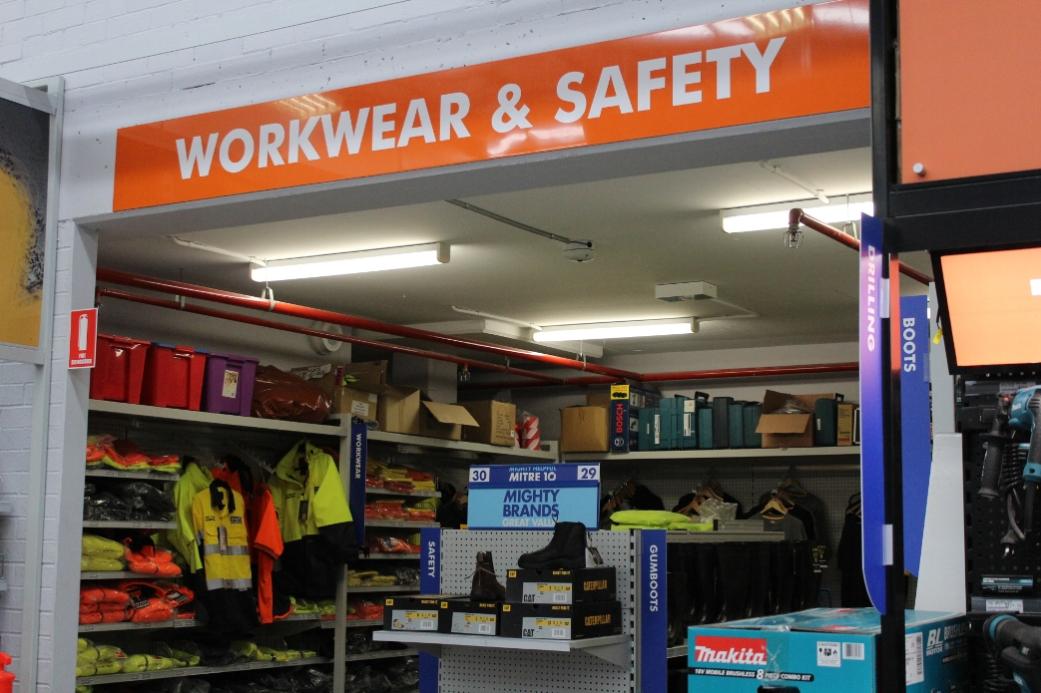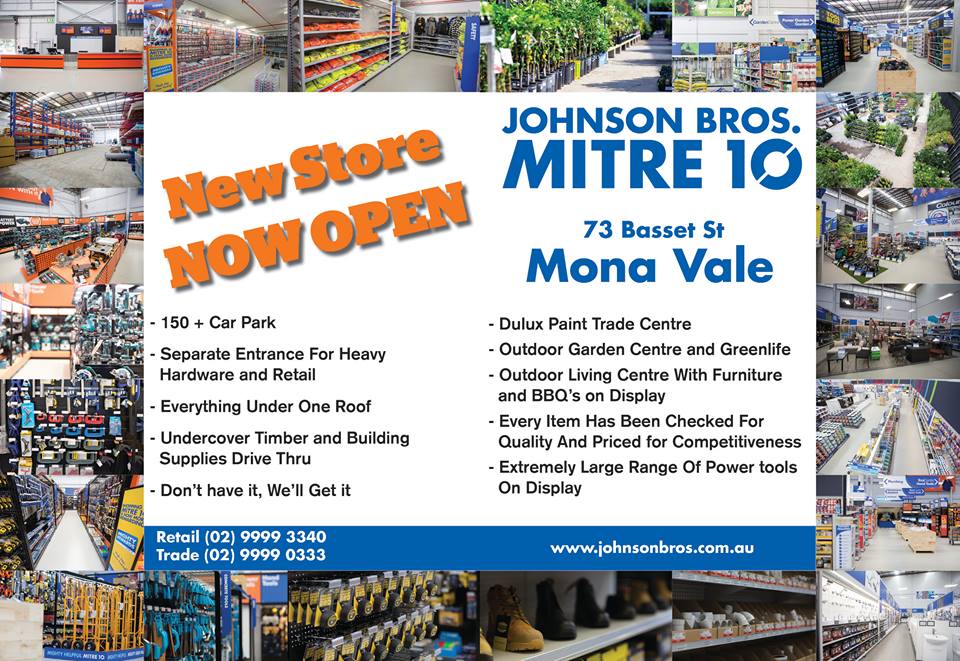 Johnson Brothers Mitre 10 New Store
73 Bassett Street
Mona Vale - Online Store: Jbhmv.Com.Au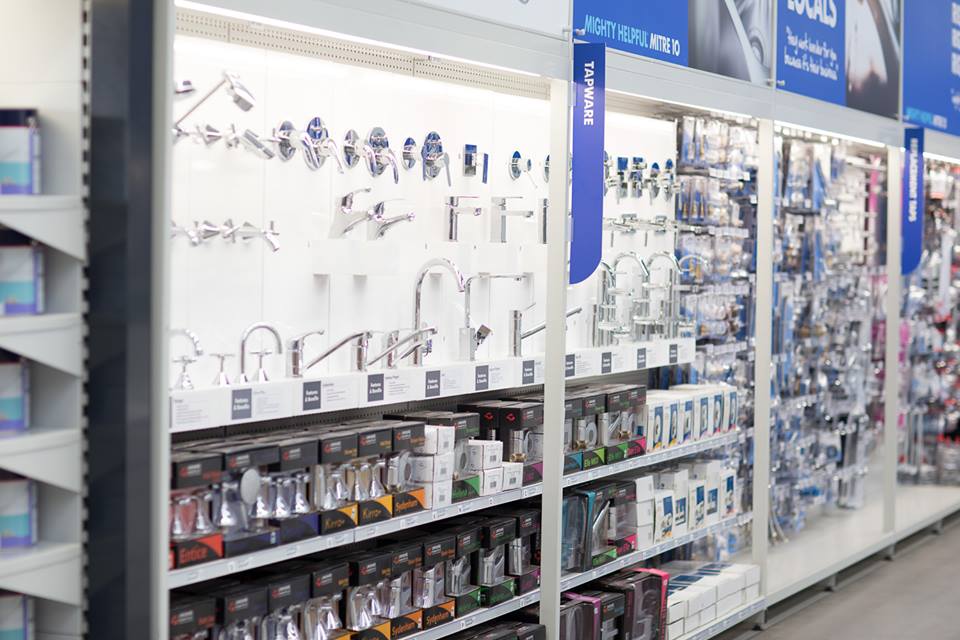 Products advice is available from the trained friendly staff at Narrabeen, Mona Vale and Avalon Johnson Brothers Mitre 10.
Click on logo to visit Johnson Brothers Mitre 10 website
Johnson Bros Mitre 10 - Avalon (02) 9918 3315
Johnson Bros Mitre 10 - Mona Vale (02) 9999 3340
JBH Timber & Building Supplies (02) 9999 0333
JBH Fencing & Landscape Supplies (02) 9970 6333
www.johnsonbros.com.au Online store: jbhmv.com.au

Bob, John and Robert Johnson, 2013 - photo by A J G.
All information and tips in this publication are of a general nature only and neither Johnson Brothers Mitre 10 or Pittwater Online News does not warrant the accuracy or completeness of the information and tips in this publication. This publication is not intended to be a substitute for expert advice.
Johnson Brothers Mitre 10
advises you to always consult an experienced and qualified person when undertaking jobs of this kind (including consulting a qualified tradesperson such as an electrician or plumber where relevant expert services are required).
You should also consider any safety precautions that may be necessary when undertaking the work described in this publication (including wearing any necessary safety equipment such as safety glasses, goggles or ear protectors or hard hats). The information and tips in this publication are provided on the basis that
Johnson Brothers Mitre 10
and
Pittwater Online News
excludes all liability for any loss or damage which is suffered or incurred (including, but not limited to, indirect and consequential loss or damage and whether or not such loss or damage could have been foreseen) for any personal injury or damage to property whatsoever resulting from the use of the information and tips in this publication.
Pittwater Online News and
Johnson Brothers Mitre 10
also advises there may be laws, regulations or by-laws with which you must comply when undertaking the work described in this publication. You should obtain all necessary permissions and permits from council and/or any other relevant statutory body or authority before carrying out any work. Major projects published in this publication always list these and/orlinks to where you may research what your own project requires to meet regulations.