September 25 - October 1, 2022: Issue 556

Spring School Holidays 2022: Handmade Toys - For Youngsters + Oldsters Who Want To Lend A Hand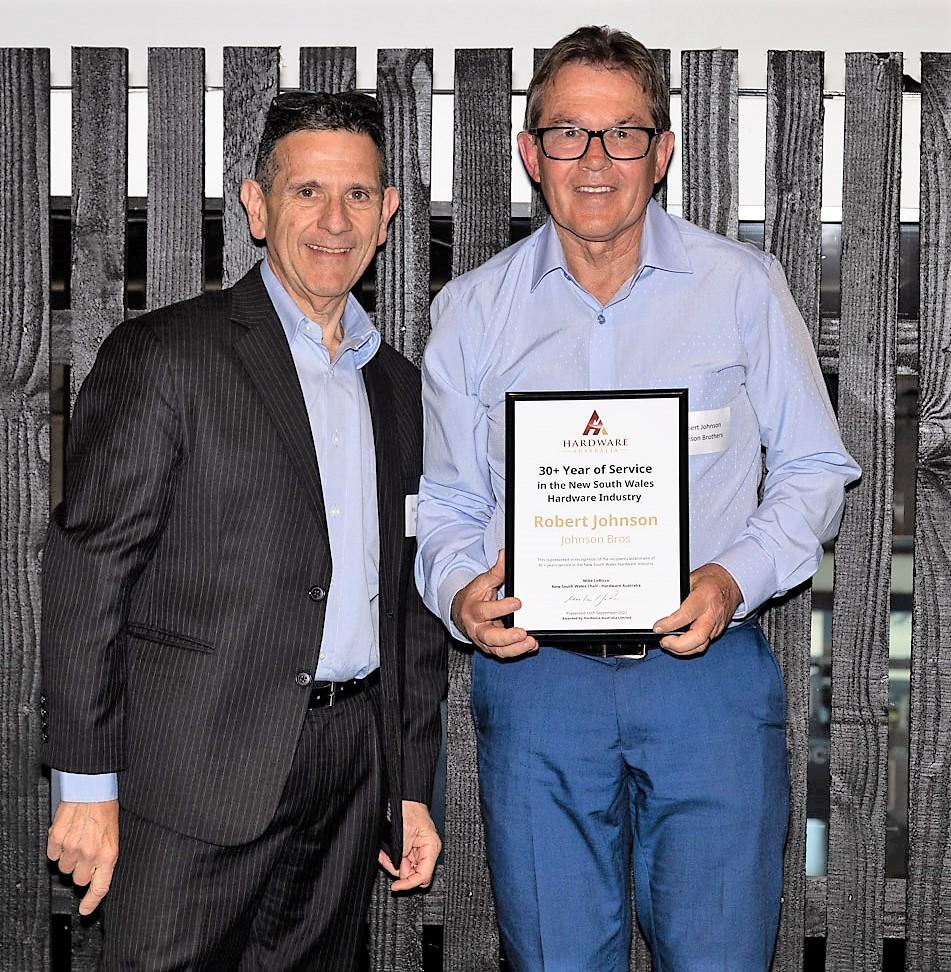 Congratulations to Robert Johnson on receiving the award for "30+ Years of service in the NSW Hardware Industry" from Hardware Australia at their September 2022 Awards (PS... It might be over 40).
Congratulations as well to Johnson Brothers Mitre 10 stores at Mona Vale and Avalon for being named as Finalists in this years' Awards. The best Hardware stores, service and knowledge in our community.
With the Spring School Holidays 2022 upon us, and a few rain days forecast over the next fortnight, we thought a few ideas on how to make some toys to have fun with may appeal. As firm devotees of making 'stuff' with leftover cardboard boxes, ice-cream sticks and even matchboxes when they were around, we can assure you there's nothing better than getting some 'bits of wood' together to build something brilliant with. There are also a LOT more ideas on how to do this than there were when we were youngsters, as well as heaps of resources to find plans and older ideas when you do an online search. We like the Adventure in a Box website, which is loaded with great handmade toy ideas as well as other craft activities for youngsters.
The National Museum of Australia features some wonderful
early Australian toys
, some of which were handmade. For instance, this this toy tractor made from old banana boxes, scrap metal and a piece of string shows the childhood ingenuity of a young boy living in Australia during the Second World War.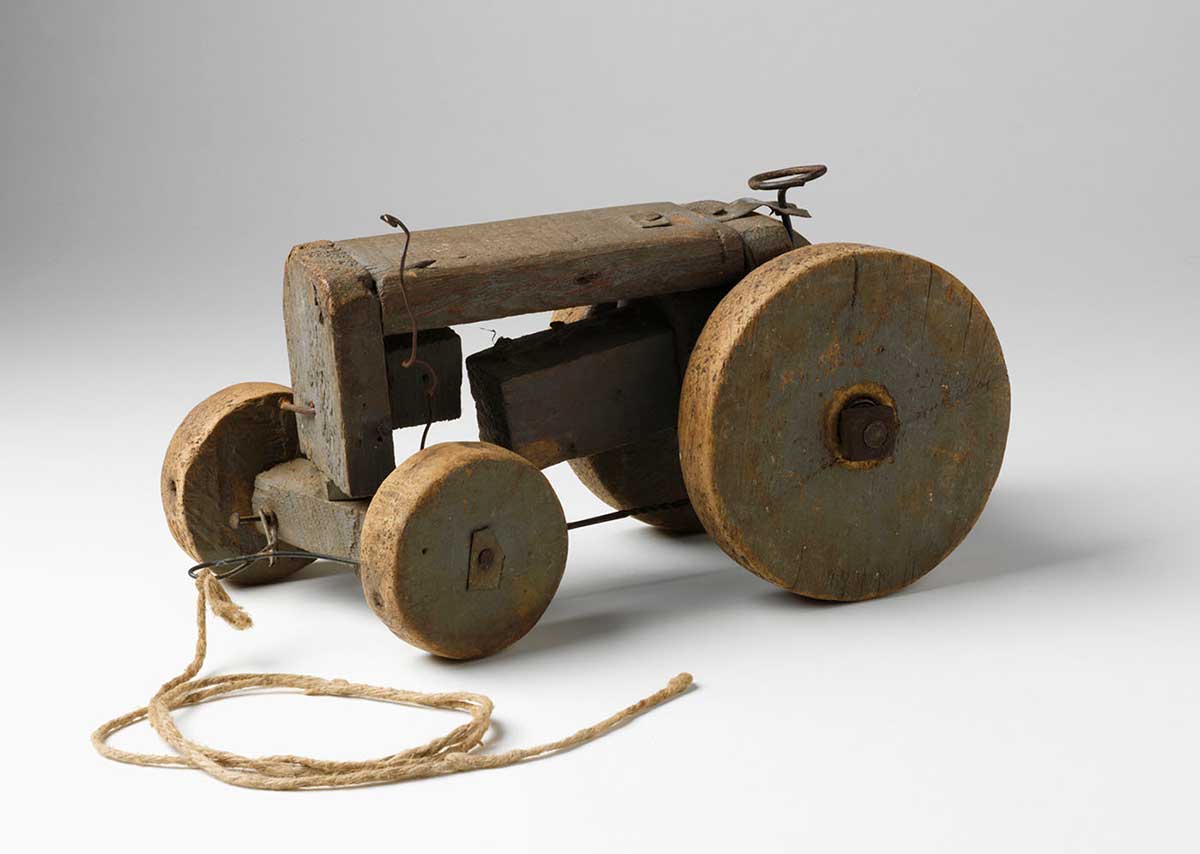 The NMA states;
'Ten-year-old Brian Burns made the tractor when he was living on a farm in northern New South Wales in 1943. The tractor is an example of a 'make-do' response to supply shortages and wartime rationing.

Brian Burns made this tractor in miniature after cajoling his father, Mick, for a Ford Ferguson 9N tractor. The Fergie was quicker, quieter and easier to operate than other tractors on the market. Mick suggested that if Brian wanted the tractor so badly, he should make one himself.

Brian used timber salvaged from banana boxes and made a steering mechanism from bits of steel, wire and string he found in the back shed. He painted the tractor grey, just like the Ford Ferguson he was seeking to replicate.

Commercial toy making was deemed a non-essential industry during war. Factories which had produced toys were required to help with the war effort. Toys grew scarce and Brian's tractor is an excellent example of the notion of 'making do'. Brian valued the tractor highly and it moved with him from house to house for most of his adult life. The National Museum acquired the tractor from Brian's cousin, John McNally. Little of its original grey paint remains, but the spirit of childhood ingenuity continues.'
Here are a few we've collected over the years for you to try out on rainy school holi-days. Johnson Brothers Mitre 10 at Mona Vale stocks a great range of wood and all the other products you will need for these projects, as well as many other items that will keep those young bright minds occupied on something constructive during the Spring break.
Simple Wooden Toy Car
Tools and Materials
20.32 centimetres of 1X4 (19mm x 90mm) pine board – or timber of your choice – hardwoods will last longer and look nicer of you're going to do a simple sand/stain or varnish finish
15.24 centimetres of 3/16 dowel rod
Saw
1.2500 drill bit
0.875 flat wood bit
1.5000 hole saw with .47625 cm guide bit
Drill
Clamp
Non- Toxic Paints (art)
Varnish – optional
Wear Protective gear when cutting out wood – goggles and mask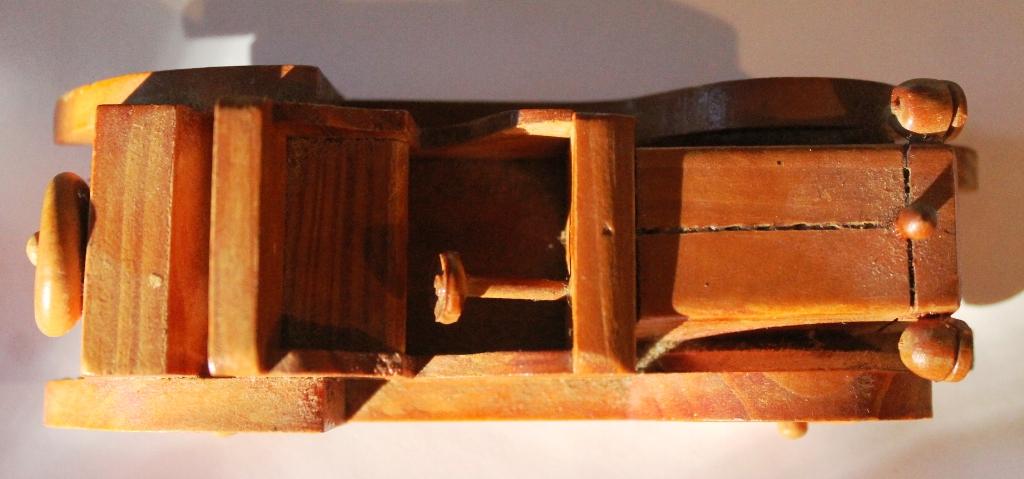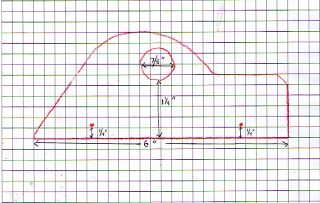 Cut out the pattern and trace it onto one corner of the pine board. Be sure to also mark the holes for the axles and the window. Then, clamping the wood firmly in place, cut along the traced edge with the coping saw.
Drill the two holes for the axles using the drill bit, and then drill out the window using the flat wood bit.
Using the remainder of the 1X4 board, cut out the wheels using the 1.5 hole saw. Then cut the dowel rod in half, so that you have two 7.62 axle pieces.
Sand all the rough edges. Then, insert the dowel rods into the wheels and tamp lightly with a hammer until they slightly protrude from the other side. After that, you can put the axles on the car and tap on the remaining wheels from the other side. Varnish or help your youngster to paint on some numbers and colour prior to varnishing.
Car stencil courtesy of Instructables - click on and 'save as' on your PC.
Toy Wooden Cars – Free Plans, courtesy Woodworking Downunder
1930's Roadster: www.woodworkingdownunder.com/wooden_toy_car_plans.html
1920's Racer: www.woodworkingdownunder.com/toy_car_plans.html
Batmobile: www.woodworkingdownunder.com/batmobile-toy-car.html - All are PDF's at 25 kb per plan
Make Your Own Toy Box: Bigger Project
There is no guarantee that this will stop toys appearing all over the floor but if those who it is made for are encouraged to do a little craft painting and add some designs to wood that can then be varnished and sealed, they may want to put all those toys away once they have finished playing with them.

You can also make this Toy Box a little longer, turning it into a chest, and with a padded cushion added to the top, it become a bench for a youngsters or teenagers room.
If you choose some nice wood and some brass handles this Toy Chest can become a Storage Box for beyond your child's growing years and something they will always treasure. You can adjust our measurements to any other kind of timber available and even the size of the box you create for smaller or larger versions – simply talk to the trained staff at Johnson Brothers Mitre 10 about what you want to build and what will work best for your project.
Materials:
For a 800mm x 400mm x 400mm box:
4x Long rectangle pieces of your choice of material (we used 18mm MDF 800mm length x 400mm height) + lengths of sides, base and top.
2x Square Pieces (18mm MDF 364mm length x 400mm height)= 2 x ends
2 x Hinges – for back of Box
2x 95° Concealed Hinges with Stays (for Inside Box)
4x Heavy Duty Castors (for feet)
18x 4mm X 30mm Chipboard Screws
2 x Large Handles – for ends
1 x Large Handle for Lid
Sandpaper: 220 and 320 grit for sanding between coats of polyurethane
Clear polyurethane: Timber finish
Wood Glue
Paints for decorating if doing so – for those creatives!
Tools:
Tape Measure
Pencil
Screw driver (to match screws head)
Drill
2.5mm drill piece
5mm drill piece
35mm hinge hole cutter drill piece
Level measurer
Safety Glasses (when using drill)
Hearing Protection (when using drill)
Building the box
1. Cut your wood to the size that you require using a circular saw. Lay out all the pieces in front of you to start.
2. Attach the three long rectangular pieces that will make up the bottom and the 2 sides by placing one of the long rectangular pieces flat on the as this will be the base of the box. Then place another piece on top of the base facing the same way, and put it right up to the edge fitting flush to the end.
3.You now make some pilot holes for the screws: measure in from one end on the side piece where you would like your pilot holes to be and mark with a pencil. For this size box, and for it to last, use 5 screws, if your length is 800mm, place one at 200mm, 400mm, and 600mm to fix the middle, and then 2 further fixing screws at 25mm in from each end – as both the sides and bottom are the same length you can measure the pilot holes the same for all 3 pieces.

4. Next measure the same distances on the bottom piece and mark pilot holes. Drill your pilot holes on the bottom piece all the way through and only drill a small entry pilot hole on the side piece.

5. Add your wood glue along the inside of one side piece. Get an extra pair of hands to help when you carefully push the side up against the bottom. Wipe away any excess glue.

6. Whilst holding the glued pieces in place, use the pilot holes pre-drilled for the screws.

7. Now repeat this process on the other side of your toy box you have the 2 largest sides and the bottom piece all in place and secure.

8. Time to add the Ends (remember these fit inside and on top of the base): measure where you want the pilot holes for the end pieces and also the bottom piece – measure 100mm, 200mm and 300mm on the sides of the side pieces and 2 fixing holes of 25mm from both ends. Do the same for the end side pieces that they are going to attach to. For these pilot holes, you want to go all the way through on the side pieces, but only start a small hole for the end pieces.

9. Before pushing it into place, add a thin layer of wood glue to the side that will attach to the bottom and gently push it into place – wipe any excess glue away, and again ask for some assistance to hold it in place whilst you use the screws to secure it all into place – remember to attach the bottom and each side!

10. Add your Lid: The hinges that we recommend for this type of lid are 95° Concealed Hinges, and more specifically the 'Screw On, Full Overlay' variety. This means they will open the lid 95° to get into the toy box, whilst also fitting the lid flush when closed as the hinge is hidden inside the unit. To back these up, and to make your box more decorative, adding two exterior hinges at the back of the box is also recommended. If little fingers are likely to get caught in these, placing them inside the box may be preferred.

11. To fit the exterior hinges, measure in 100mm and once again, mark your drill holes prior to drilling. To fit the interior hinges you need to bore a hole using a hinge hole cutter drill piece, a 35mm version is the standard for this. These enables the top of the hinge fit into the lid and then close flush when it's flat. Once again position the hinges 100mm from each end to allow room for the lid stays. Measure in from each end and mark the position. From here measure 21.5mm from the edge to mark where the centre of the hole is going to be. Once you have the centre, take the drill piece and drill a shallow hole, deep enough to fit the circular head of the hinge into so it is flush with the lid.
Now make a couple of pilot holes for the hinge unit to attach to the toy box side, place the hinge top in the hole just drilled, line up the side to the top and measure 37mm from the edge, and mark one of the holes from the mounting plate. To achieve the correct closure speed you can turn the screw head on the side of the stay so it is safe.
12. Adding your Lid and End Handles: this is a fairly easy step but once again, measure to ensure you get a centre for the ends and the centre for the larger handle you are going to install on the lid. This will keep your Toy Treasure Box looking nice and make pulling it or moving it easier. Once you have marked the centres, set the handle where you want it to be and using your drill, drill the holes through.

13. Attach castors to the base of the toy box using your drill and screws.

14. If the special person this Toy Box/Storage Chest has been designed for wishes to add some colourful decoration, this is the best time to do it. if you are going to stain or seal the wood, give it a good sanding to bring out the grain and smooth the surface so the stain or varnish takes.
Make Your Own Snowglobe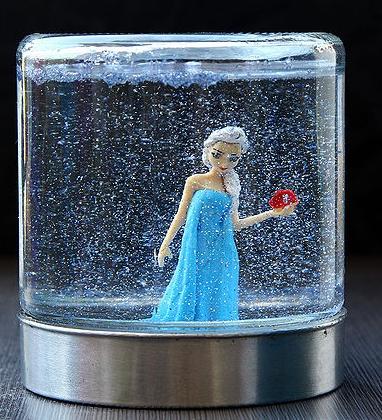 Materials:
Nice jars with lids; round shapes or straight sides
Waterproof glue
Strong epoxy
Glycerine
Glitter – silver or a mix of colours - around 2 x tablespoons per 600ml jar
Minature figures – make sure these are 'rust-proof'
Optional – food colouring for water

You could make bigger versions of these – there are many larger jars used in atrium that can now be bought with lids to match, although you don't want it so big that you cannot shake it up and make a snowstorm!

1. Decide on a theme – do you want a landscape, a zoo, a farm or an underwater version?

2. Once you have assembled all you will need to make your own snowglobe decide how you will arrange you figure or figures on the lid. Glue in place in inside of lid and allow to dry (using a strong epoxy glue or a superglue is best for this).

3. Almost fill the jar with glycerine so your figures, or 'scene' are covered. Add your glitter and some food colouring if you like.

4. Screw in the lid and apply a rim of waterproof glue or a sealant around the join to seal. Make sure you leave this to dry well before giving it a shake to see your very own just created snow globe!

If you have coloured the water, place your snow globe on a windowsill to catch sunlight and add a nice glow to any room it's in.
DIY Dolls House Or Garage Or Boatshed
This idea can be adopted for both girls and boys, becoming a boatshed or a garage in the case for lads, probably just one storey needed there instead of the two storey versions girls may like.
We provide a few simple alternatives, two using wood and another using a bookshelf, which older brothers and sisters could also get involved with, especially if studying woodwork. As in the case of everything, using good solid woods and attention to detail will mean you're building something that will last and can be handed on to another generation of youngsters to enjoy.
Priming wood, adding a few coats of paint to keep the doll house/boatshed easy to clean and using quality fastenings will also add longevity.
Once the structure is built getting those you're building it for involved in decorating and painting the outside or inside with fancy designs puts their stamp on it !
jigsaw
drill
rasp
paint brushes
screwdriver
caulking compound gun / glue gun
chisel
mallet
sharp knife (Stanley knife) and extra blades
drill and drill bits
set square
wood clamps
Wood
Sandpaper
Wood glue
Hinges - L Brackets
Dowel
Paint
Using Traditional Materials
This is a traditional style dollhouse. The instructions can easily be shifted to accommodate any size of doll and house and only basic skills and tools are needed to make this house.
Cut two pieces of wood to be the same size. These will be the sides of your house.
Measure how big in width you want the bottom of the doll house to be. Put the two already cut sides aside until you've got the size you want.
Put the major sides together. Put the bottom and top on the two sides together by nailing one piece into the other. Do this on both sides so that you have a box shape with no face or backing.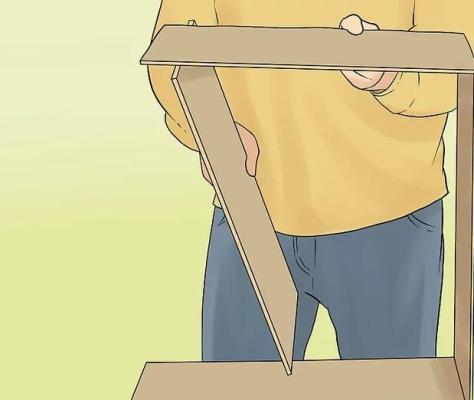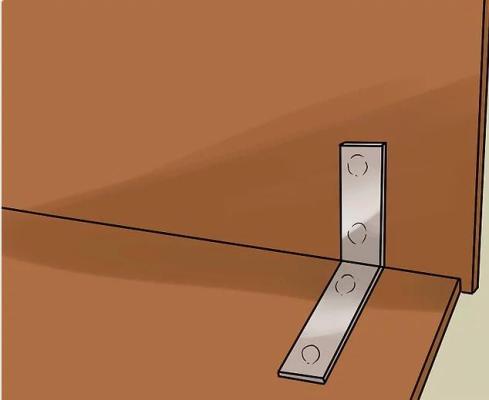 Cut your face out of the wood. Lay the box with the open face down on a piece of plywood. Trace and cut out the resulting shape and nail it into place as well. You can install L brackets at this point in order to make the house stronger.
Cut a shelf piece to the width of the interior. Put this in the middle of the box. Be sure that there is a little hole in this shelf where you can put a ladder so the dolls can get up and down the stairs. Brace up the shelf using a supporting wall below, support "beams" cut from other pieces of wood, or more L brackets.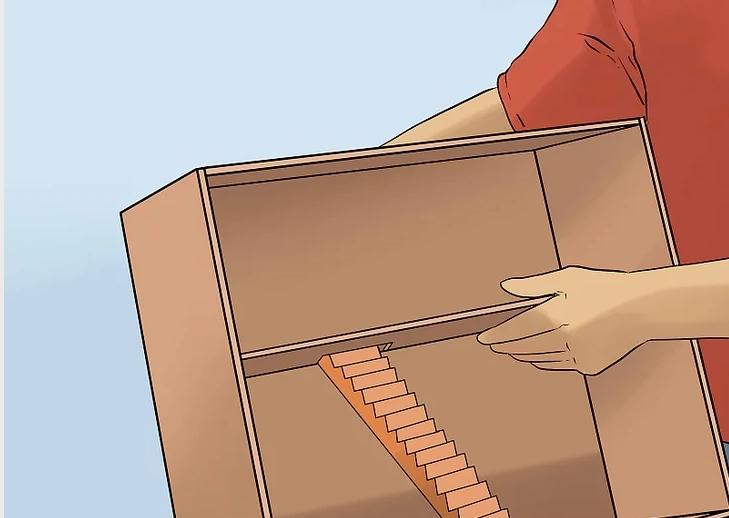 Decorate the walls. You may be able to use extra kitchen tiles for the floor if they are thin or create a mosaic from offcuts of tiles.
Paint -
Move the dolls and furniture in!
This style of dollhouse is great for dolls like Barbies or dolls of a similar or smaller size.
4 pieces of 19mm x 190mm lumber (at least 60cm long each)
4 pieces of 30.48cm x 30.48 cm medium weight chipboard or similar material
A drill with a 2.54 bit
A hand, table, or jigsaw to make basic cuts in the wood
2.54 dowels (either a single stick or 8 single pieces)
Sandpaper
Wood glue
Paint and other materials to create the finished look
Cut your lumber. There are four starting pieces, though two will later be split and cut further. For now, cut all four to 61cm in length.
Drill the attachment points. Line up all four pieces and, using a measuring tape and pen, mark holes at 7.6cm and 15.24 cm from both ends along the narrow strip of the sides (only one side will need the holes). Be very sure that all the holes line up with each other. Each piece of wood should then have four marks. Drill a hole in the center of the side at each of the marks you made, using a 2.5 bit.
Trim the pieces. Leaving two of the pieces at 61cm take the remaining to boards, cut them in half, and then trim an extra 7.6 cm from the inside edges. You should now have two boards that are 61cm long and four boards that are 29.52 cm long.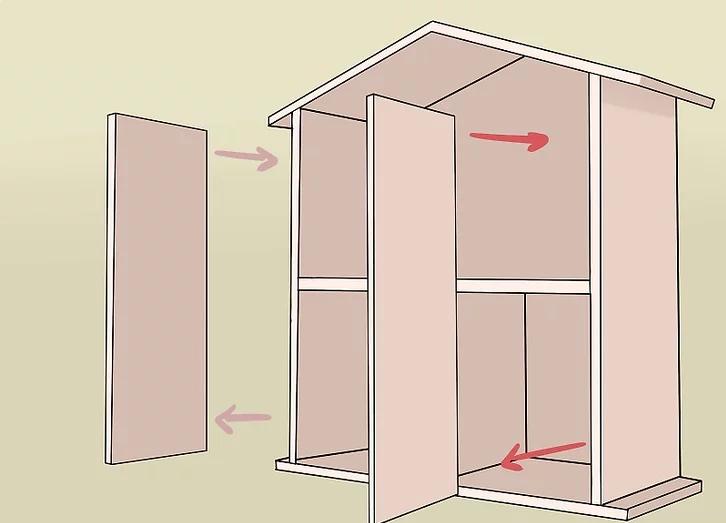 Join the boards. Put some wood glue and a dowel in each of the holes on the 61cm pieces, one hole at a time. Let the glue set and dry and then glue the holes on one of the shorter pieces at a time. Fit the shorter pieces onto the dowels of the larger pieces, so that the trimmed edge is at the center of the larger piece. This should leave you with two final pieces of wood with a 7.6cm gap at the center of one half of each board and a total width of 35.56cm. Sandpaper the edges smooth.
Fit the walls together. These two pieces of wood fit together at these center gaps like a puzzle, the gap pointing up on one piece and down on the other. When together, they form the walls of four connected rooms. This means that you can take them apart whenever you need to and store the dollhouse away or take it with you when you travel.
Add finishing details. Paint or wallpaper the walls, cut doorways, or finish it in any other way you want to. Just remember to keep the directions of the wall straight and to not paint or glue anything in a way which permanently joins the two board together.
Connect your chipboard. The chipboard will make up the floor for the dollhouse, with each 30.48cm x 30.48 square being one of the four rooms. Paint or otherwise finish one side of each of the 4 pieces to match what you want the four rooms to be (bathroom, bedroom, kitchen, etc). When they are dry, arrange them into the order you want them (they must for a large square), then turn them over and tape them together on one side only - t
his will allow you to fold up and store the entire dollhouse out of the way.
Put the walls on the chip board floor and start filling the house with furniture.
This version is a great way to renew and revitalise that bookshelf or adapt one or build one! If you have little boys instead of little girls – how about making this a garage or a boatshed!
Build or buy a deep bookshelf. Find a wooden bookshelf with deep shelves. A shorter shelf, roughly 8.9 cm or 10cm bookshelf is preferable. A larger shelf will need to be secured against a wall so the 'house' is safe to play with.
Adjust the shelves. Adjust the shelves at the correct height to create "rooms" which are about 50cm tall. If you have a double-wide bookshelf at the suggested height, this should give your dollhouse 4 rooms.
If using a bookshelf already built and the shelves cannot be adjusted to the desired height, you can add extra peg holes for the correct height or brace the shelf at the desired height with L brackets.
Add windows if you want them. Use a jigsaw to cut windows from the back or sides of the bookshelf. Sand down any cut edges to avoid injuries for your child.
Consider adding a roof. You can fashion a roof to go on top of the bookshelf by using the Pythagorean theorem and cutting two wooden boards joined with a 45 degree mitered edge at the center so that they form a peak.
Decorate the floors. Use extra floor tiles, carpeting squares, or any other material you want to make the floors of the rooms look how you want them to look.
Decorate the walls. Add wallpaper, paint, or tile to make the walls of each room match the floors and complete the look for that room.
Once everything is dry and ready to go, you can add in your furniture and enjoy your new dollhouse!
These are fairly basic versions - you can go bigger or smaller or more elaborate or simpler. Built sturdily these will provide hours and years of enjoyment and are the kinds of toys children never forget.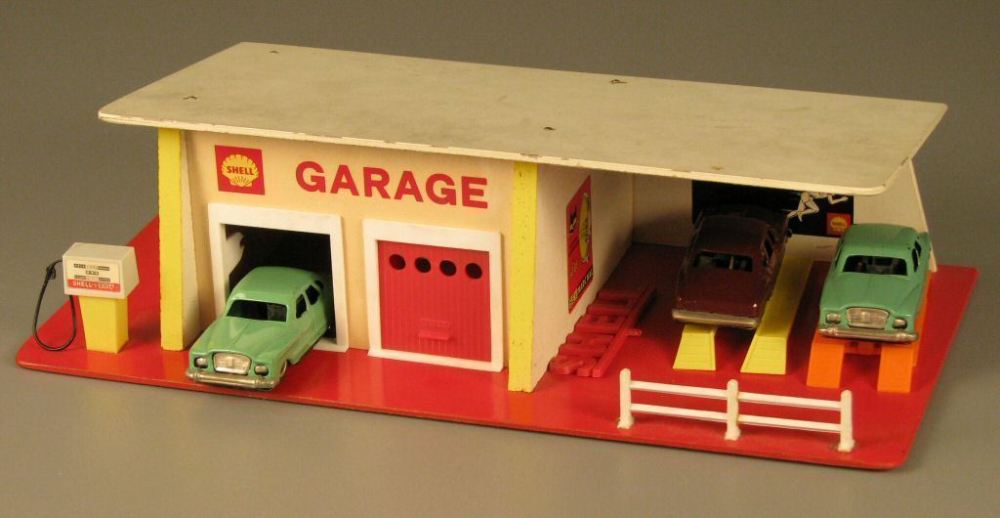 Antique Shell Garage - image courtesy the National Museum of Play
Childs Waggon
You may remember the wagons or billycarts of your youth. Or you may wish to make a garden planter or a platform that makes it easier to move those great big pots that make outdoor areas look fantastic but need moving in some seasons to ensure plant health. If you want a child's toy that is suitable for outdoor use. Either way, this step by step guide will take you through all that you need to know to build your own wagon and build something that will provide years of use.
A good way to get the youngsters involved here is get them thinking about the final look for the waggon (if it's for them), or what will last longest for your use if you're modifying this base idea for using under those larger pot plants.
2 x 1.905cm x 11.43x 60.96  Side 

A

2x 1.905cm x 11.43x 36.83 End 

B

1 x 1.27 x 40.64 x 60.96  Plywood bottom 
2 x 1.905cmx 8.89x 30.48 Side rail 
1x 1.905cm x 11.43x 36.83 Back rail
6x 1.27 x 4.1275 x 23.495 Batten 
8x 1.27x 6.985 x 11.43 Wheel truck 
4x 1.905cm x 1.905 x 6.985 Truck separator block 
2 x 1.905cm x 4.445x 9.525 Wheel mounting block  
1 x 1.905cm x 15.24 x 30.48 Steering yoke   
1 x 1.905cm diameter x 60.96 Dowel (handle shaft) 
1 x 3.175diameter x 12.7 Dowel (handle grip) 
4 wheels – rubber ones will last longest
Sandpaper
Fasteners
4 x 0.9525-diameter x 6.35 hex-head-bolt axle 
(Note: Cut off excess; finished bolt is 6.35cm.)
8 x 1.905 cm diameter washers 
4 x 0.9525 cap nuts 
100-piece pkg 1.905 No. 6 Phillips-head wood screws 
100-piece pkg 2.54 No. 6 Phillips-head wood screws 
1 pack bright finish nails 
2 x hex nuts 
1 x 2.54 cm diameter screw eye 
1 x 1.5875 cm diameter screw eye 
16 x Finish washers 
Adhesives - Finish
600mls polyurethane, 600ml acrylic latex primer, 600mls semigloss dark red acrylic latex, wood filler, wood glue
Drill
Circular saw
Basic hand tools
Dust mask
Build the basic platform for the wagon using your pieces of cut lumber A and B. The platform here is about 40.64cm wide and 60cm long, but you can modify the size easily to fit what you want.
Leave space at one end for attaching handles
Make the front axle swivel assembly by ripping two boards 5cm x 5cm, the same length as the width of your wagon.
Drill a hole in the centre of these two boards for the swivel pin.
Cut a section of pipe (or wood dowel, if preferred) 6.3cm) long to fit in the swivel assembly holes. Use a flat washer as a bushing to allow the swivel to move freely when it is assembled.
Use a large screw or lag bolt to through-bolt the swivel and hold it in place. You may find you need a large fender washer to allow the screw to tighten if the hole is so deep the wood will not hold it.
Drill the ends of the moving section of the front axle swivel assembly for the wheel bolts. A 1x 1.2cm steel bolt works well for this assembly. Drill through the center of each wheel, slide the bolt through, slide a flat washer on the bolt, then stick the bolt into the hole in the end of the axle assembly.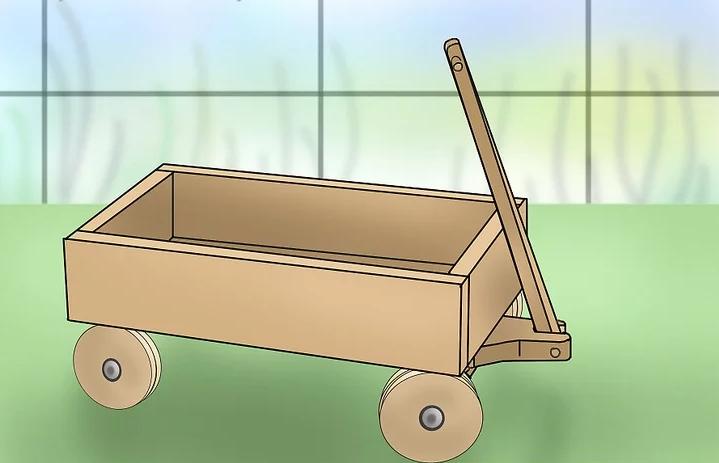 Drill a hole though the axle assembly and the bolt that attaches the wheel to the assembly. Install a wood screw to lock it in place. You might grease the bolt so the wheel will turn freely and to reduce wear on this surface, or you may choose to install a metal bushing in the center of the wheel to reduce wear even further. Attach the assembly to the bottom of the wagon base you started with.
Bend two angle clips to attach the wagon handle with. Here, a 1 inch (2.5cm) by 1/8 inch (3.1mm) piece of aluminium flat stock is a good material to use, being easy to form and drill, and weather/corrosion resistant. Each side of the angle should be about 10cm long, and you will need to drill 3/16 inch (4.7mm) holes for the mounting screws on one side of each piece.
Mount these brackets at the center of the swivel/axle assembly, allowing space for the pull handle to fit between them freely. You might rip this piece of stock 3.8cm square 91cm long before mounting the attaching brackets to make sure they are positioned correctly.
Rip the stock, (described in the step, above), sand the edges smooth, and position it between the brackets so the attaching bolt can be inserted. A 6.3mm bolt 6.3cm long will hold this piece in place. You can dimple the end of the bolt where the threads come out of the nut to prevent it from loosening during use.
Build the yoke that will hold the grip at the other end of the handle. Again, the aluminum flat stock is an easy material to use for this step. Form two matching pieces in a squared zee shape (see illustration), drill it for the mounting screws, and smooth the edges with a file or sandpaper so there isn't a risk of scratches when handling it.
Fit a block of wood 2.5cm square between the ends of the yoke. Then center drill it for a 6.3mm bolt (or all thread rod) to attach it. Be sure to drill as nearly in the center as possible, using a bit long enough to drill completely through.
Thread the bolt or all-thread rod through the yoke, the handle block, and out the other side of the yoke. Then thread a nut on the end (or both, if you are using all-thread rod).
Tighten the assembly. Cut off and grind smooth any protruding bolt threads.
Build the solid rear axle. Cut a board the same length as the width of your wagon, and cut two spacer blocks to support it and allow clearance for the wheels to turn.
Drill and screw the spacer blocks and rear axle into place. Then drill the ends to allow the wheel mounting bolts to be inserted. Drill and pin these bolts into place the same way you did on the swivel assembly.
Adding Sideboards and Finishing
Cut and fasten the sideboards on the wagon platform. Use wood screws or nails to attach these sides.
Sand any rough or splintery edges with a power sander or sandpaper. Be especially careful if this wagon will be used by a child.
Finished!
Tools And Products From Johnson Brothers Mitre 10 To Help You Get These Toys Made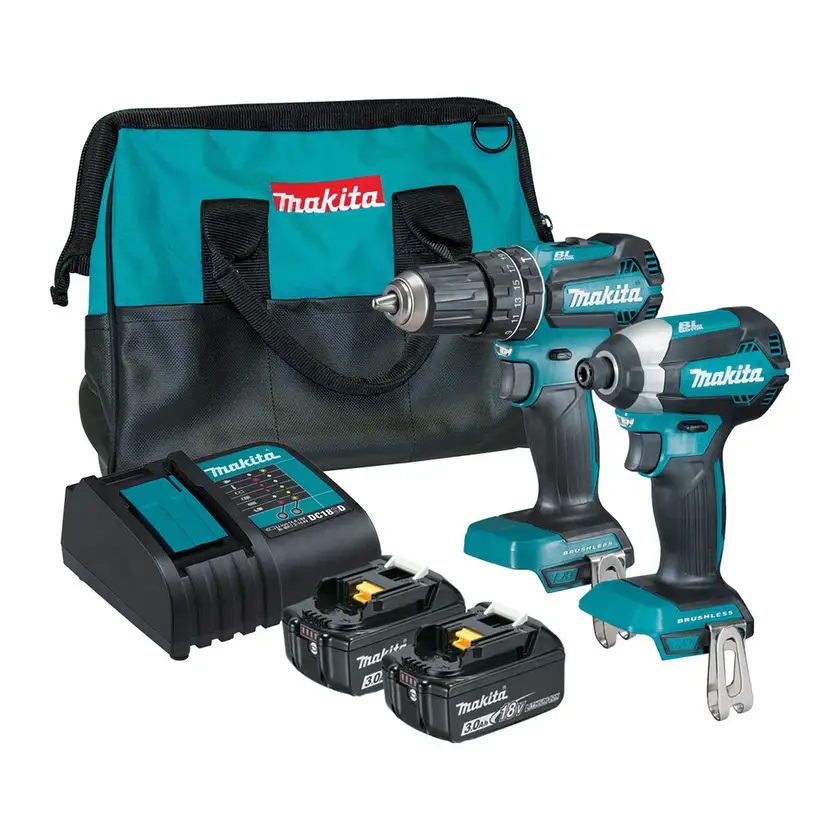 Makita 18V Brushless Combo Kit - 2 Piece: $379.00
Includes: DHP485Z - 18V Brushless Hammer Driver Drill. DTD153Z - 18V Brushless Impact Driver. 2 x BL1830B - 18V 3.0Ah Batteries with Fuel Gauge. DC18SD - Single Port Optimum Charger. Tool Bag.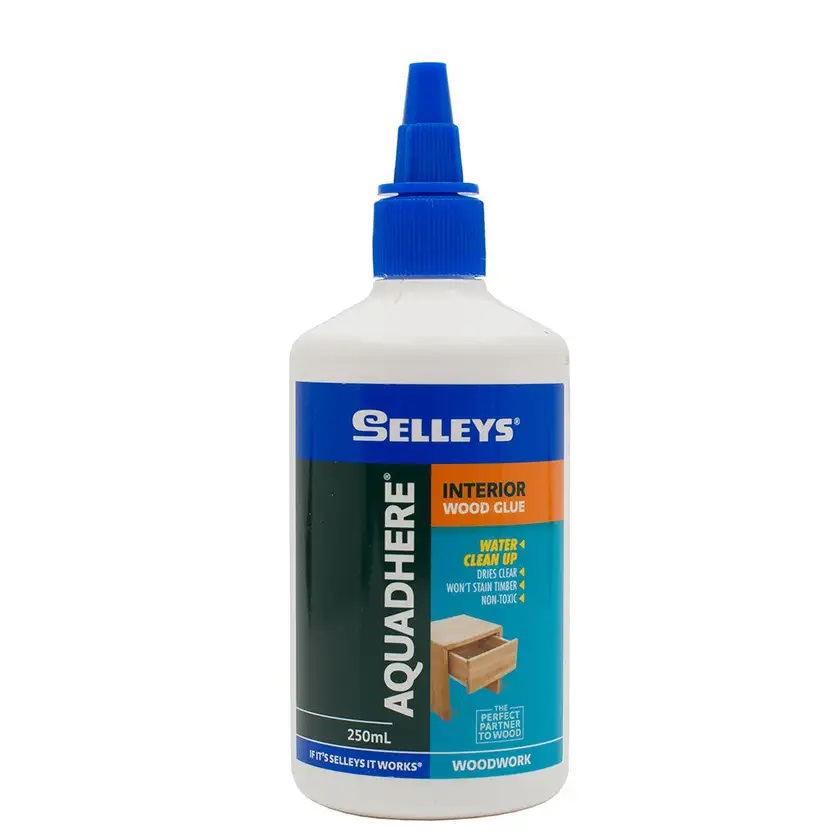 Selleys Aquadhere PVA Wood Glue Interior Adhesive 250ml: $8.45
High-quality interior PVA wood glue suitable for all types of wood. Suitable for end grain glueing. White in colour, but dries clear so won't stain the timber. To fill small gaps, mix with sawdust. Suitable for use on interior wood, cardboard, cloth, paper, mosaics, leather, craft materials.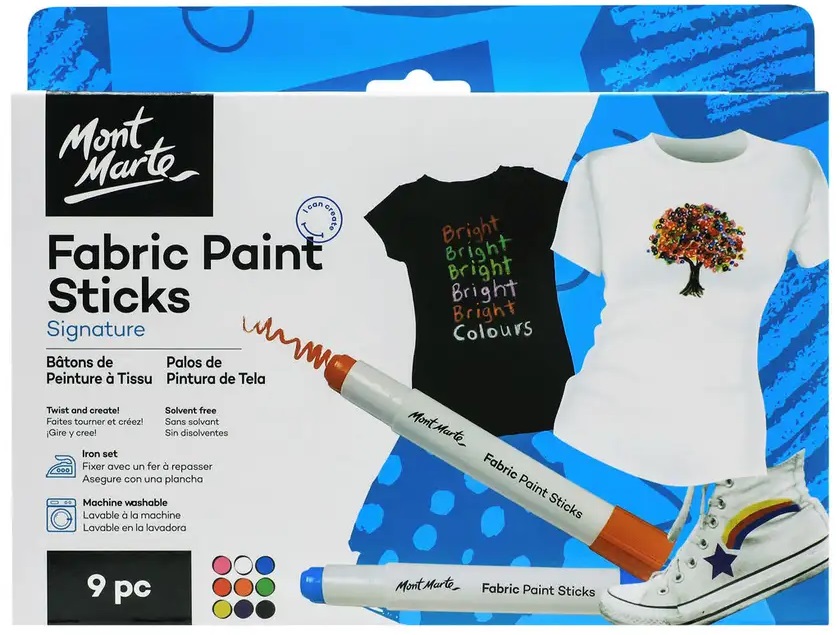 Mont Marte Fabric Paint Sticks - 9 Piece: $16.95
Nine vibrant coloured sticks. Suitable for t-shirts, cushions, bags, fabric shoes and more. The Colour is cured with a hot iron. Machine washable once ironed.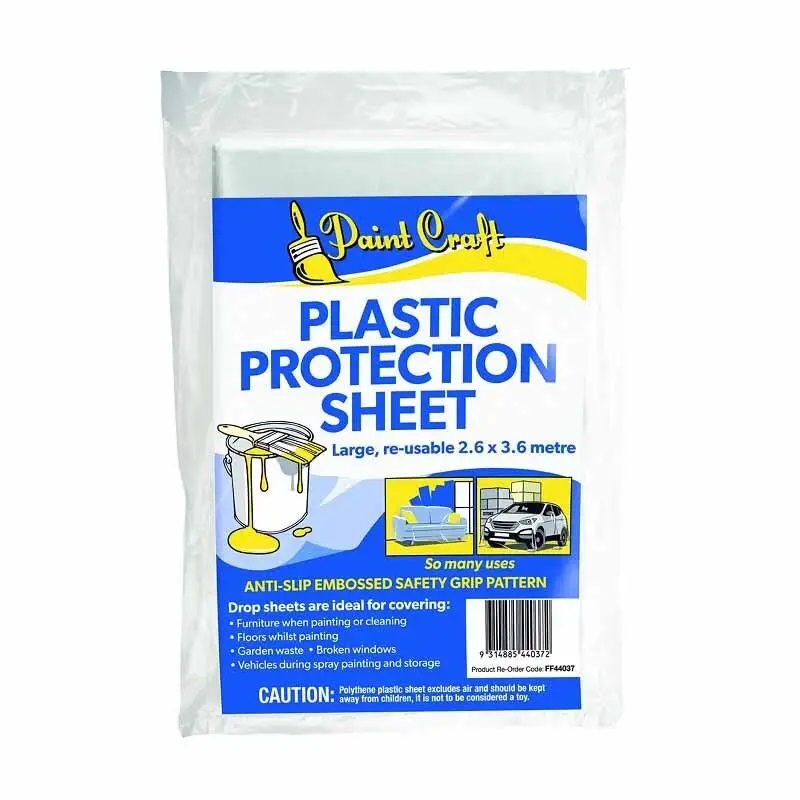 Paint Craft Plastic Protection Sheet Large 2.6 x 3.6m: $2.65
Large 2.6m x 3.6m plastic sheet. Anti-slip embossed safety grip pattern. Ideal for covering the floor while painting.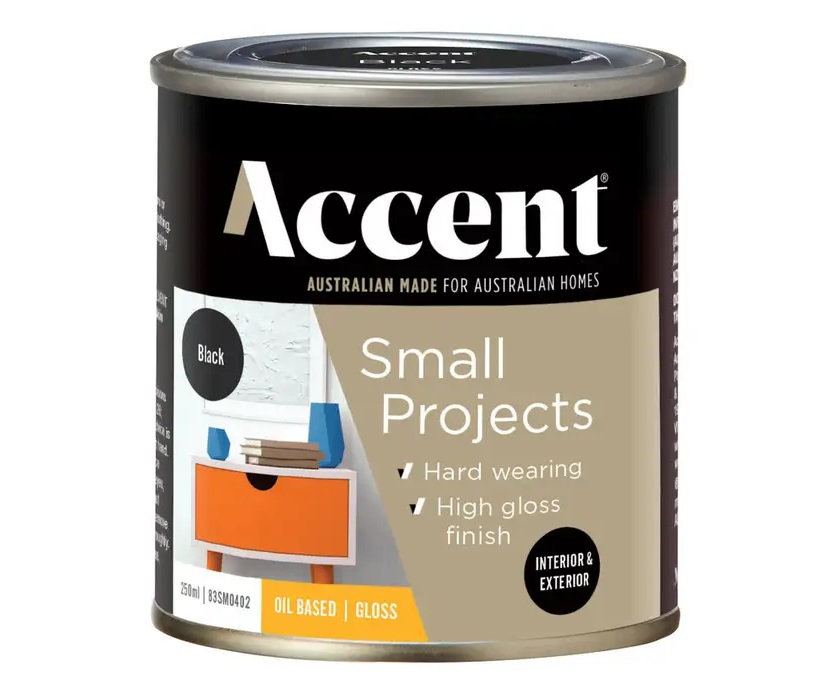 Accent Small Projects Oil Based Gloss 250 mL: From $17.50
Accent Small Projects, perfect for craft projects and home accessories. Suitable for interior and exterior projects. Hard wearing, high gloss finish. Mineral Turpentine clean up. Australian made for Australian homes.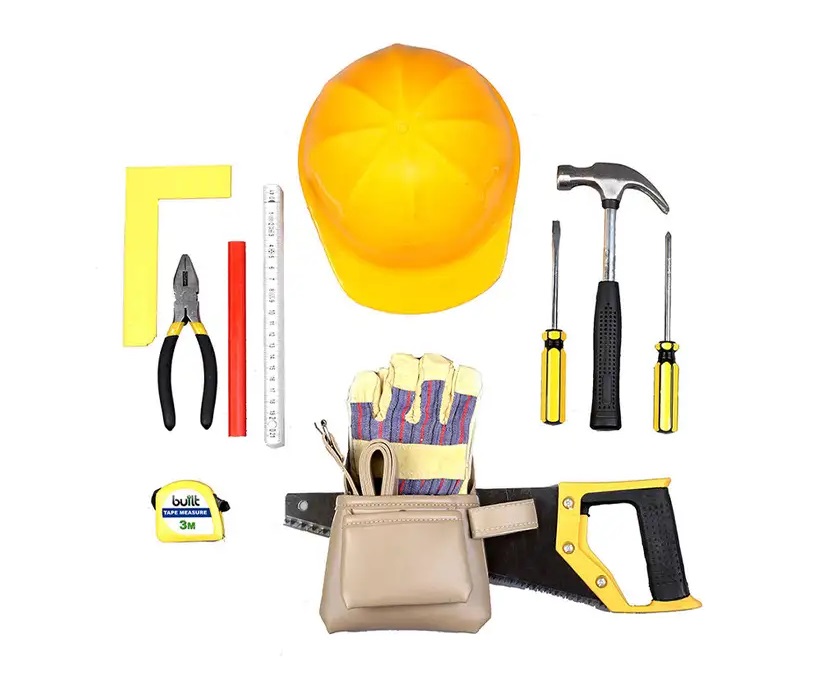 Built Big Kids Tool Kit - 12 Piece: $49.00
1 x Hammer, 2 x Screwdriver, 1 x Cap, 1 x Carpenters Pencil, 1 x Hand Saw, 1 x Tool Bag, 1 x Square, 1 x Pliers, 1 x Level, 1 x Tape Measure, Gloves.
Bahco General purpose 475mm and Fine tooth Toolbox saw 350mm – 2 pack: $30.80
NP-19-U7/8-HP: PrizeCut™ Universal Handsaw for cutting all types of wood 7/8 TPI 19". 300-14-F15/16-HP: Fine tooth Toolbox Saw for Plastics/Laminates/Wood/Soft Metals 15/16 TPI 14".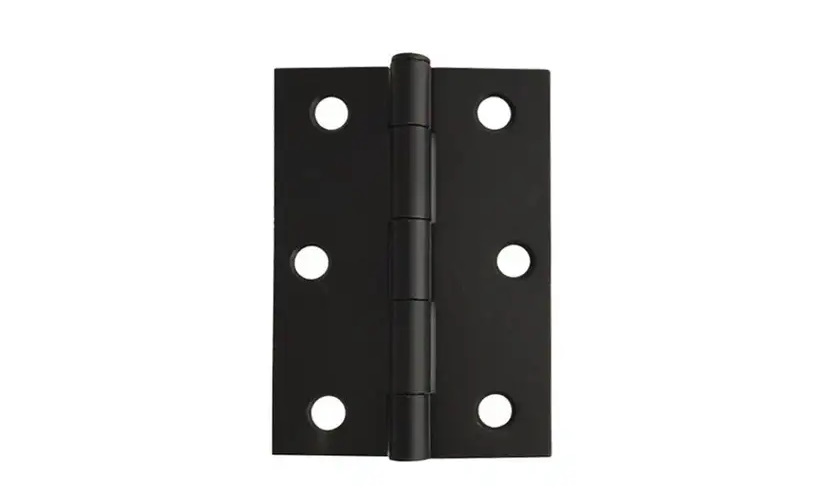 Trio Butt Hinge Light & Narrow Black 85 x 60 x 1.6mm: $3.80 - 85 x 60 x 1.6mm, Light & Narrow, Black (BL), Fixed Pin (FP).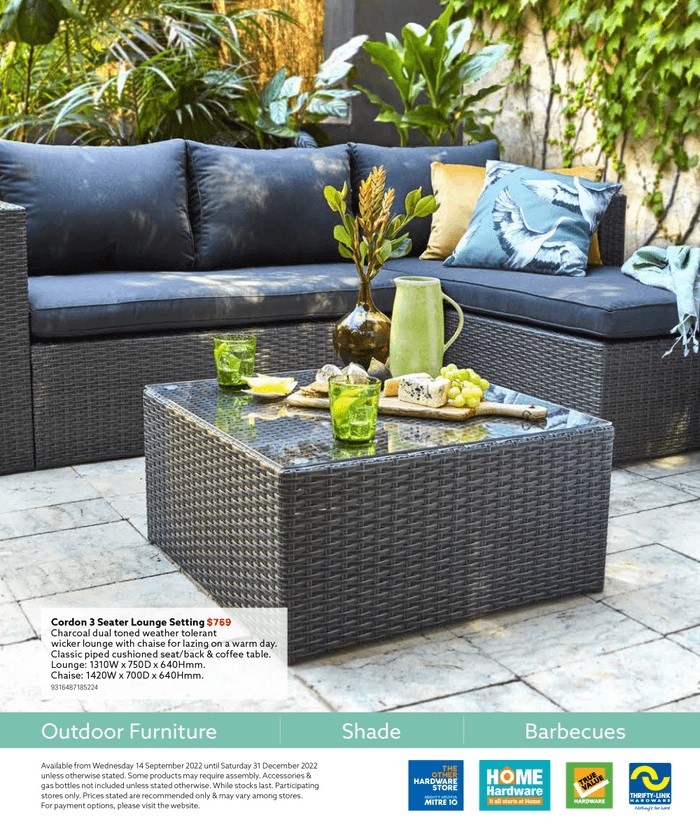 The Spring Outdoors Catalogue runs until December 31st, 2022: filled with great ideas to enjoy your Spring and Summer outdoors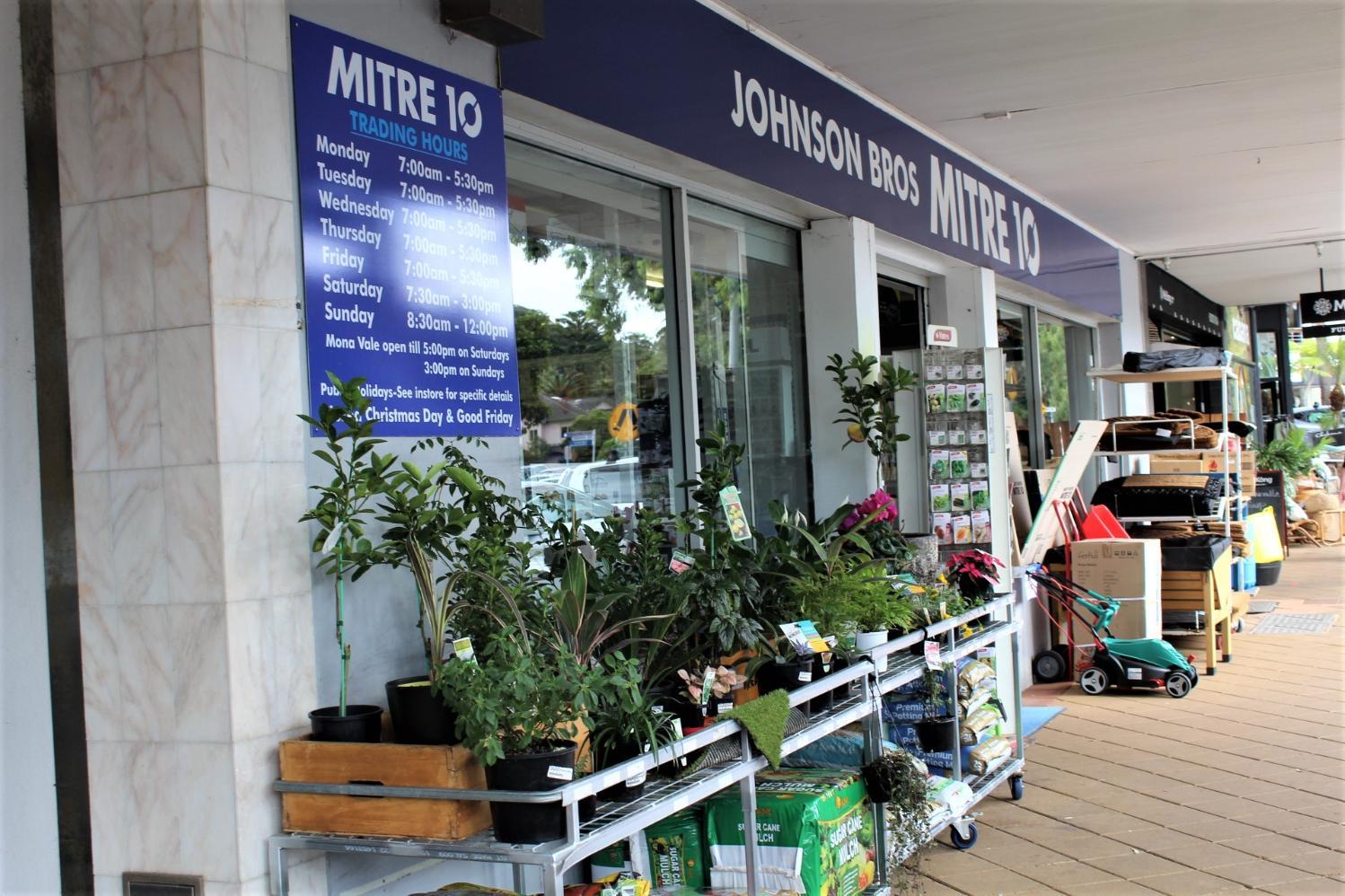 Greenlife garden centre at Johnson Brothers Mona Vale
Johnson Brothers Mitre 10: Serving Our Community Since 1955
The Independent Hardware Group has awarded Johnson Bros Mona Vale the best in state at the IHG state awards and heads to the national finals on the Gold Coast in February 2022.
Congratulations to the store in Avalon Beach as well, which won best in village.
Johnson Brothers say; ''Thank you to all of our amazing staff and customers for being awesome!''
IHG is Australia's largest home improvement wholesaler supplying more than 1,500 stores nationwide. These stores cater to a broad range of Trade and DIY customers and range from large format warehouses to convenience operations and Trade centres, as well as frame and truss sites in two States.
Under the IHG network, there is a clear mandate to support the growth of Independents within the hardware sector in Australia by helping them to be 'The Best Store in Town'.
The culture of IHG is built on being a low cost and transparent business partner to members, with an unwavering commitment to protect and grow a sustainable independent hardware sector for the long term.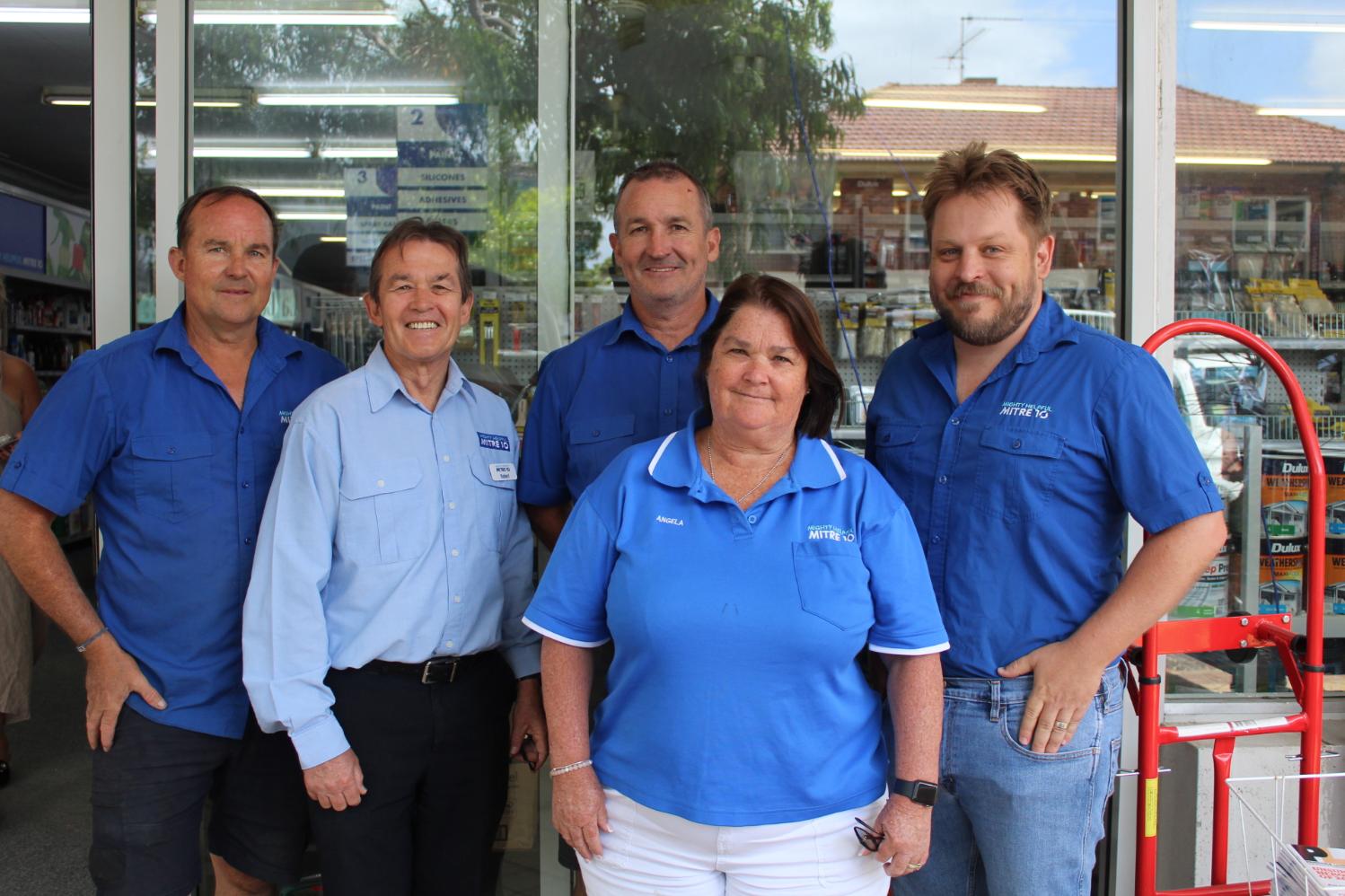 JBH Design Centre
JBH Design Centre is a tool for builders and DIY'ers to assist in the fit out of houses. It has displays of kitchens, Bathrooms, Doors and Storage as well as knowledgeable staff to assist in making house fit out painless.
Visit: http://jbhdc.com.au/
On Facebook: https://www.facebook.com/design.centre.jbh/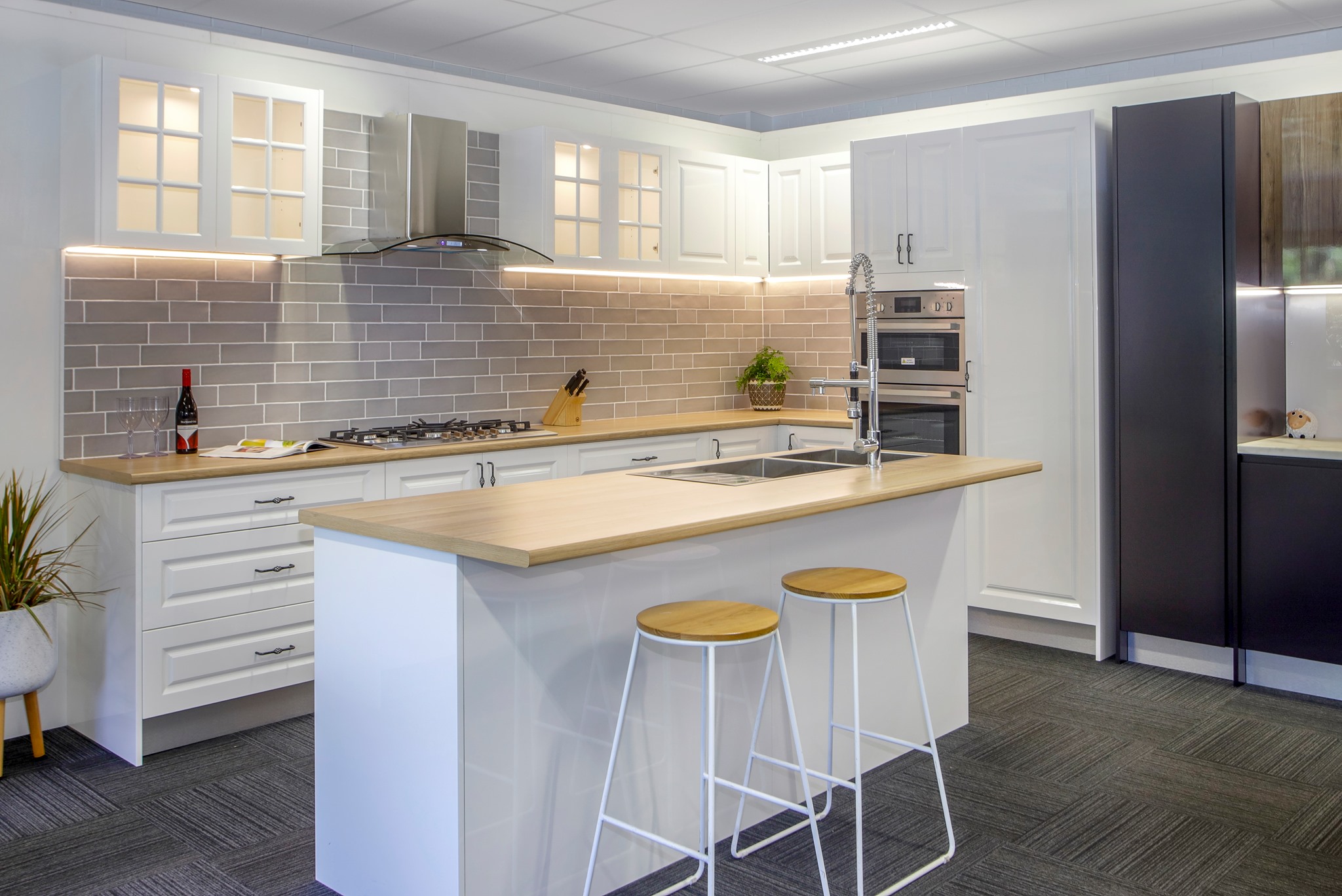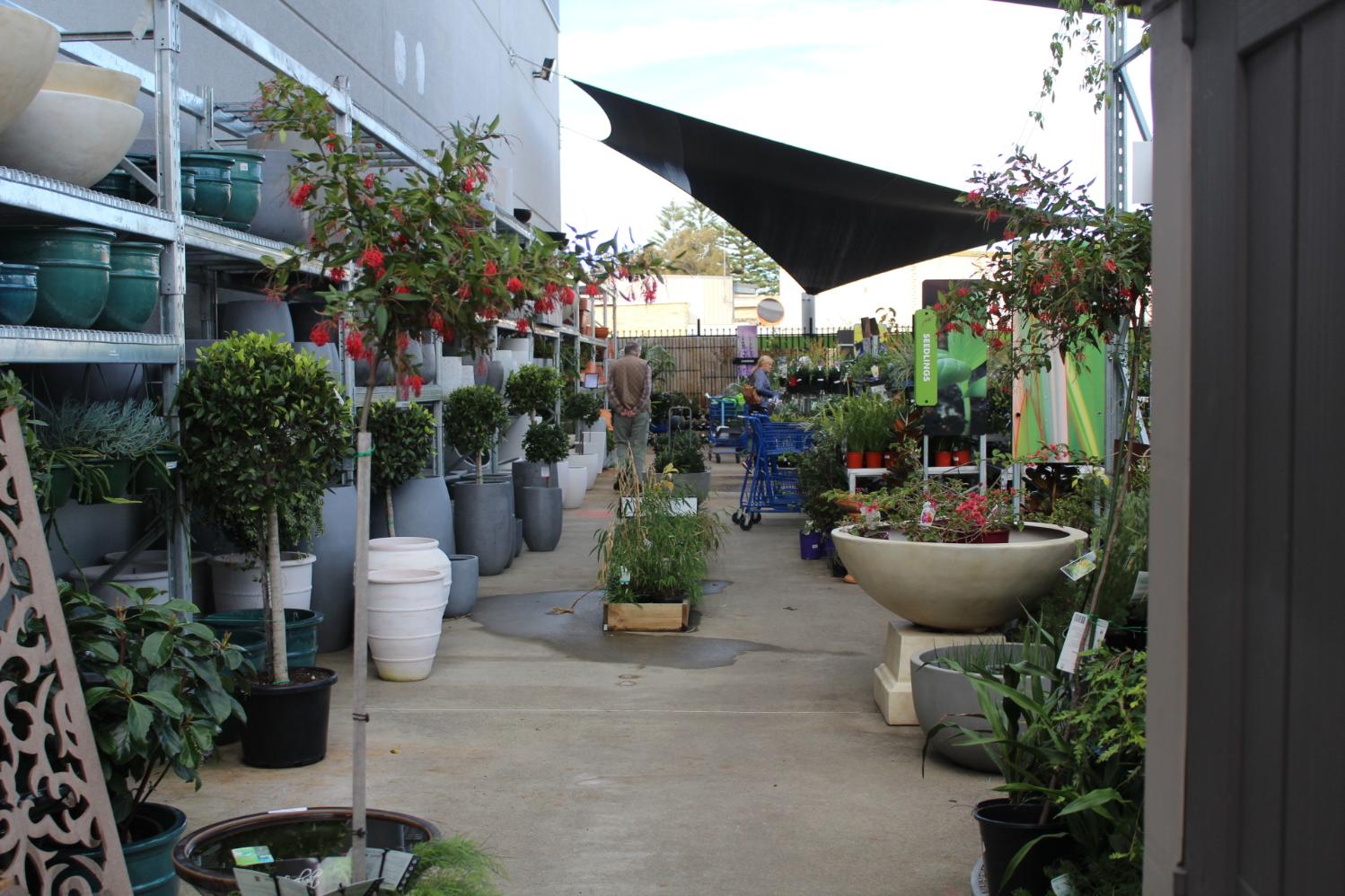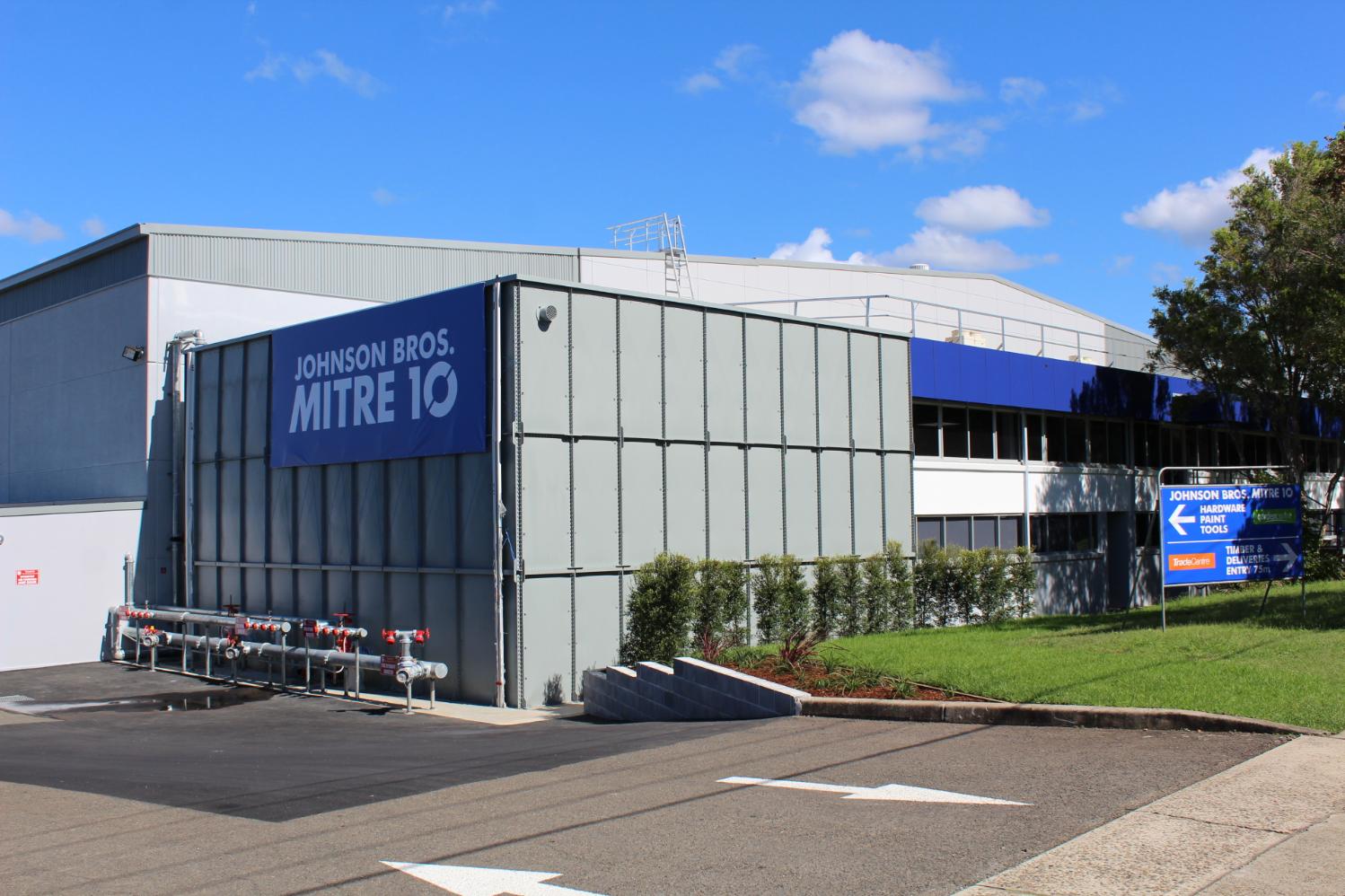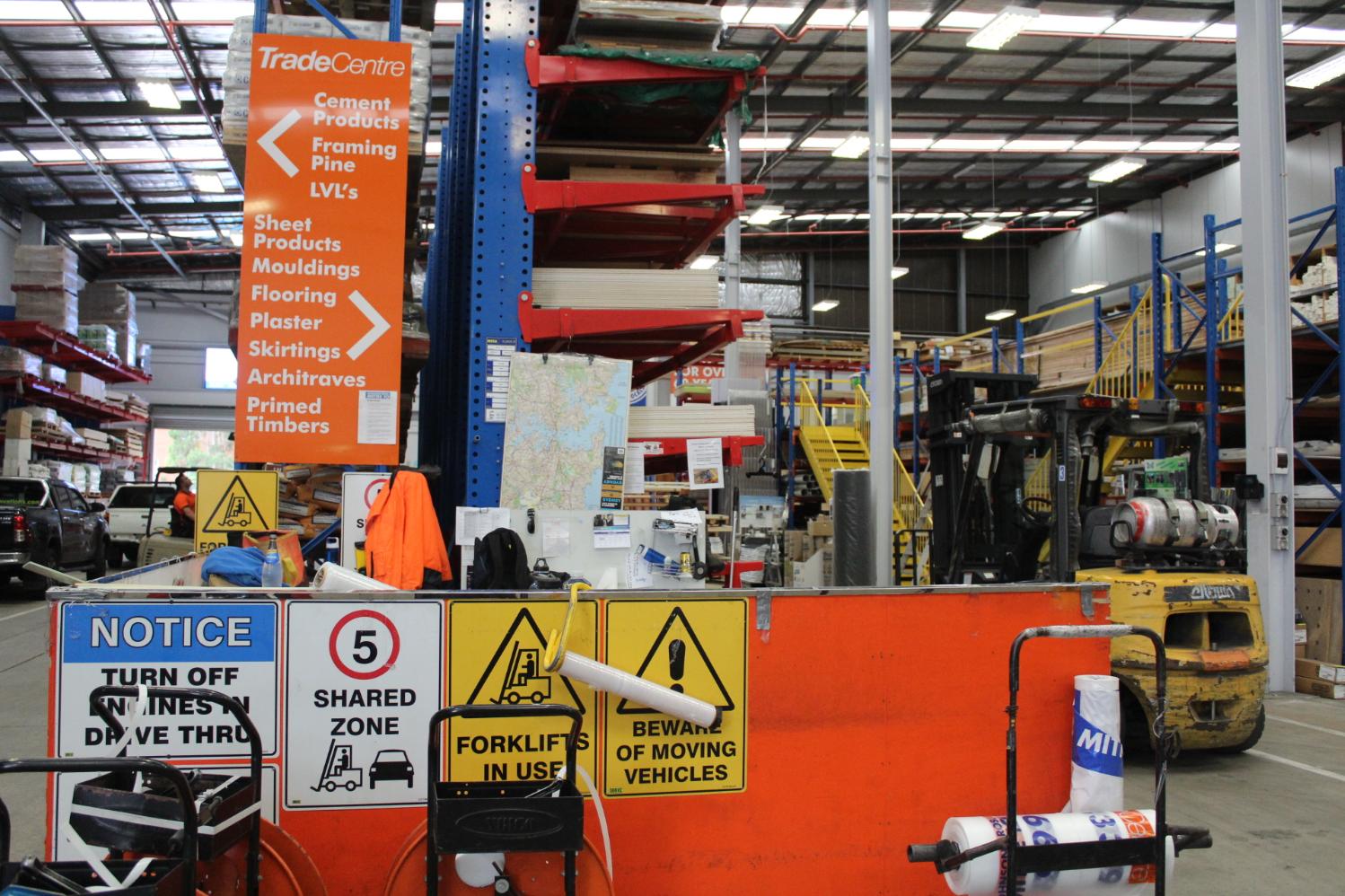 Johnson Brothers Mitre 10 Trade Centre at Mona Vale - everything you need under one roof.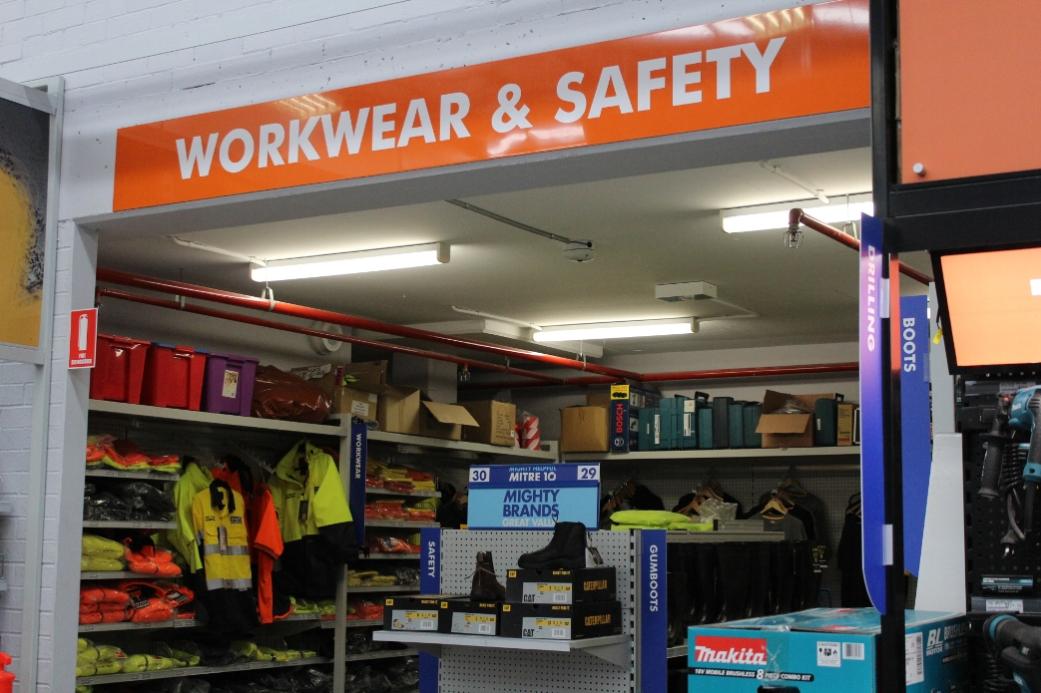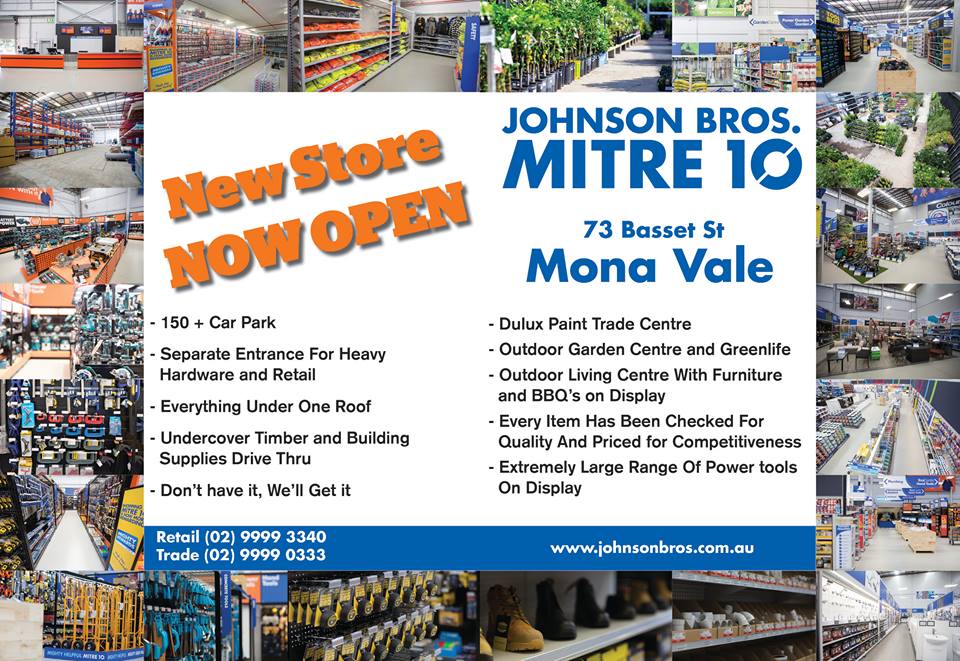 Johnson Brothers Mitre 10 New Store
73 Bassett Street
Mona Vale - Online Store: Jbhmv.Com.Au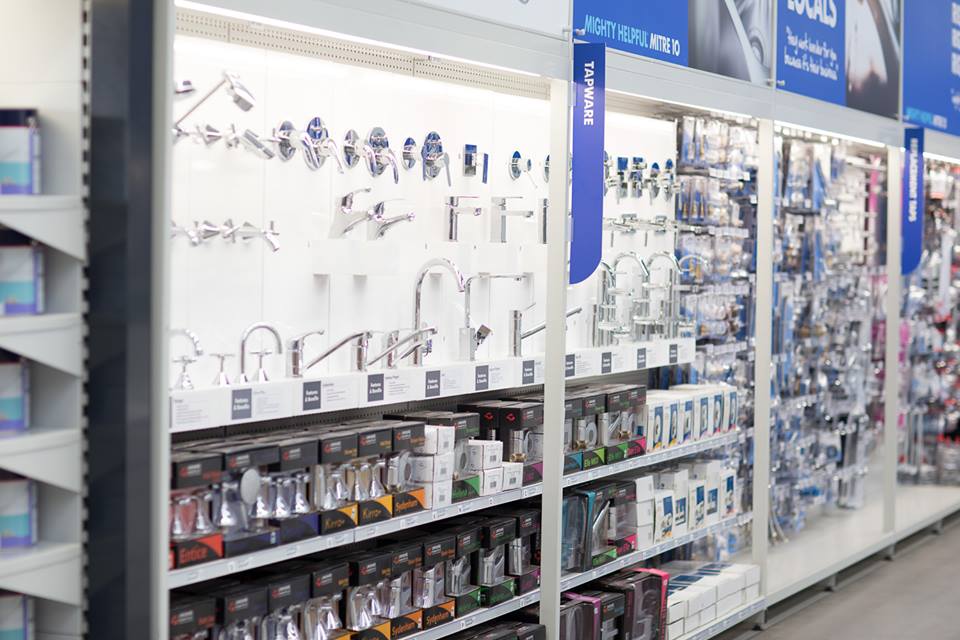 Products advice is available from the trained friendly staff at Narrabeen, Mona Vale and Avalon Johnson Brothers Mitre 10.
Click on logo to visit Johnson Brothers Mitre 10 website
Johnson Bros Mitre 10 - Avalon (02) 9918 3315
Johnson Bros Mitre 10 - Mona Vale (02) 9999 3340
JBH Timber & Building Supplies (02) 9999 0333
JBH Fencing & Landscape Supplies (02) 9970 6333
www.johnsonbros.com.au Online store: jbhmv.com.au

John, Bob and Robert Johnson, 2013 - photo by A J G.
Important
All information and tips in this publication are of a general nature only and neither Johnson Brothers Mitre 10 or Pittwater Online News does not warrant the accuracy or completeness of the information and tips in this publication. This publication is not intended to be a substitute for expert advice.
Johnson Brothers Mitre 10
advises you to always consult an experienced and qualified person when undertaking jobs of this kind (including consulting a qualified tradesperson such as an electrician or plumber where relevant expert services are required).
You should also consider any safety precautions that may be necessary when undertaking the work described in this publication (including wearing any necessary safety equipment such as safety glasses, goggles or ear protectors or hard hats). The information and tips in this publication are provided on the basis that
Johnson Brothers Mitre 10
and
Pittwater Online News
excludes all liability for any loss or damage which is suffered or incurred (including, but not limited to, indirect and consequential loss or damage and whether or not such loss or damage could have been foreseen) for any personal injury or damage to property whatsoever resulting from the use of the information and tips in this publication.
Pittwater Online News and
Johnson Brothers Mitre 10
also advises there may be laws, regulations or by-laws with which you must comply when undertaking the work described in this publication. You should obtain all necessary permissions and permits from council and/or any other relevant statutory body or authority before carrying out any work. Major projects published in this publication always list these and/orlinks to where you may research what your own project requires to meet regulations.