February 23 - March 1, 2014: Issue 151
Things that Drip and Bump in the Night
Is your home talking to you at night? Do you have nice door sized holes in the walls behind your doors? Have you experienced a smashing of glass as a sudden southerly catches open windows and closes them - fast. Is there a constant puddle forming outside your shower screen, breeze whistling through small cracks?
Late Summer weather, with humid days that swell timbers, and sudden cool rushes that make them contract, can cause your house to literally be talking around you or offer up new cracks in ceilings and walls. Houses, like all else, move through the years and 'settle' so even outside of seasons that change from hot to cool quickly, you will see the effects of this. This week we offer a few easy to do yourself maintenance chores.
That Musical Drip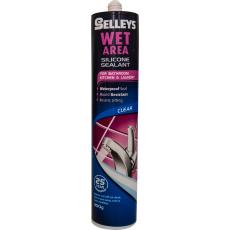 For pools that appear outside of screen showers. The sealants used to make shower areas waterproof, particularly if using glass, do deteriorate over time and maintenance is required. This can be as simple as relining the edges where these meet with a silicone sealant.
SELLEYS WET AREA SILICONES (FROM $9.00 SILICONE SEALANT) 300g. Clear. and SELLEYS WET AREA SILICONE SEALANT – this product is ideal sealant for gaps around showers, baths, spas, sinks and plumbing fixtures. Excellent adhesion is achieved on ceramics, glazed tiles, metal, plastic, rubber, glass, concrete and grouts. Or use SELLEYS WET AREA SPEED SEAL SILICONE – this is great when you know your shower area will need to be used soon after your maintenance work - Superior adhesion to mortar, grout and metals. The product does not lift at the edges and adheres so well to cement and grout that dirt, mould and fungus will not become trapped in the silicone, thereby keeping those unsightly black mould spots away.
These two products are currently on special as part of the Johnson Brothers Mitre 10 Block Busters catalogue.
Taps that are turned off too hard too often can cause the washer within the faucet to wear or jam and cause a constant drip -
MITRE 10: HOW TO REPAIR A LEAKY TAP PRESENTED BY SCOTT CAM
Cracking Up
Cracks – all homes 'settle' over time and small hairline or larger cracks will appear. How to fix small cracks in a plaster wall; First ensure that the crack is clean and dry. If possible, make sure the crack is opened up to a minimum of 1-2mm to ensure that the filler gets into the crack. Using a spatula, fill the crack slowly with Selleys Spakfilla Rapid or Selleys Spakfilla Squeeze & Scrape, making sure that the product gets into the crack. You will only need to use one application with either of these products. Wait 30 minutes for the application to dry (or longer, if the crack is deeper than 2mm), and then sand the area until it is smooth and level. Make sure you clean any dust or filler particles away, and then you're ready to paint. If you're using water-based paints, these can be applied straight away, however oil-based paints should not be applied for 24 hours – this is where keeping a small amount of paints you have used on your walls comes in handy.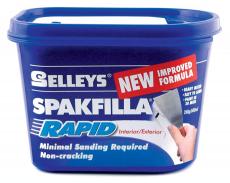 As part of the Block Busters current specials, JOhnson Brothers Mitre 10 is stocking SELLEYS SPAKFILLA (FROM $11.40 SQUEEZE AND SCRAPE) and SELLEYS SPAKFILLA SQUEEZE & SCRAPE. Ready-mixed. Quick-dry formula - ready to paint in 30 minutes. Includes filling spatula for ease of use. $14.85
The other place gaps may appear is between the wall and its architrave, this too is often a result of your house shifting over years. If the gap is too large you may need to enquire about getting your architraves refitted or replaced. If the gap is not too large a simple DIY option is to use one of the products made especially for this purpose. Currently on sale as part of the Block Busters catalogue is SELLEYS NO MORE GAPS (FROM $3.90 MULTI-PURPOSE) 475g. White, and SELLEYS NO MORE GAPS FAST DRY – this products states it is Superior flexibility to cope with building movement, meaning the cracks and gaps will be hidden for longer. Has greater than 300% elongation/stretch and up to +/- 15% movement capability. Superior adhesion to a broad range of surfaces, resulting in a lasting finish. A smooth flawless finish and minimal shrinkage from the sides of the gap or joint, to give you the professional look. Can be painted over with both water and oil based paints, after the surface has skinned. (Approximately 30 minutes after application). Wide joints are best left for 48 hours before painting as some paints shrink during drying that can cause the paint to crack. Is formulated for long term resistance to cracking and crumbling. Is water based, so can be cleaned up easily and quickly with water. Will not stain building materials, and has good resistance to weathering. Ideal for sealing or filling gaps and joints where expansion and contraction occurs such as between a skirting board and a wall,
Things that Go Bump
You probably only have to experience this once – when a sudden wind rushes through your home it can slam doors and windows louder then a two year old in a tantrum will. The result may be a few holes in your gyprock or a shattering of expensive glass if you do not have sliding windows.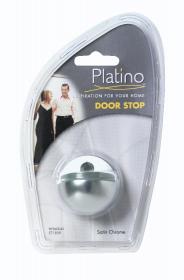 The remedy is to spend a few hours installing door stops behind or on the walls behind your doors. These choices offer either a hinge-mounted and fixed post (also known as wall mounted). Hinge-mounted doorstops remain out of the way and don't require drilling any holes into your wall. Fixed post doorstops require you to drill into your wall to mount them, and are best suited for heavy doors.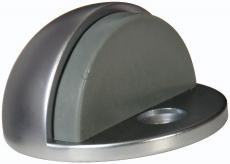 Platino Door Stop 44 x 40mm. Floor mounted. Satin chrome. Modern design. Fittings included.
Installing a floor mounted door stop: Open the door to the point where you want it to stop. Ensure the doorknob is approximately 5 cm from the wall.
Place a pencil at the inside edge of the door, on the side with the hinges, and mark that spot on the floor. Measure 5cm from the pencil mark toward the hinges on the inside of the door. Make another pencil mark 2 ½ cms away, in the direction of the door's swing when opening. Hammer the tip of the awl into the last pencil mark you made on the floor. The awl should be smaller than the diameter of the wood screw. Screw the doorstop, with the rubber pad facing toward the door, to the floor with the wood screws.
Pittwater has a lot of lovely older style homes with swing windows or corded sash windows that may need a little bit of care over time. Johnson Brothers Hardware does stock telescopic window stays and these are fairly simple to renew when they have deteriorated. The sockets you catch the arm on will wear down and become looser so replacement of these will stop wind lifting them out and slamming the window. If you have the old sash cord timber windows and the sash is gone or the window frame swollen these will require a bit more care. The paint on these will flake over time exposed to weather and the sash cords will need replacement for the same reason. As these are a little trickier to maintain we'd recommend calling in an expert or there is a great page here should you wish to do it for yourself.
The great bonus currently running through all JBH Mitre 10 stores is that in conjunction with Channel 9's The Block show, people who spend over $40.00 receive a scratch and win tickets where you may win instant prizes or you may enter the major draw online and possibly win a car!
The current catalogue, with many more specials then we've focused on this week, is available HERE and these run until the 23rd of February, 2014 or visit your local Johnson Brothers Mitre 10 store at either Mona Vale or Avalon where the friendly trained staff will help you with all your late Summer tasks or any other DIY needs.
Products and further friendly advice available at Mona Vale and Avalon Johnson Brothers Mitre 10.
Copyright JBH Mitre 10, 2013. All Rights Reserved .