October 4 - 10, 2015: Issue 234
Keeping Your Garden and Home Cool in Hot Weather: Spring for Summer 2015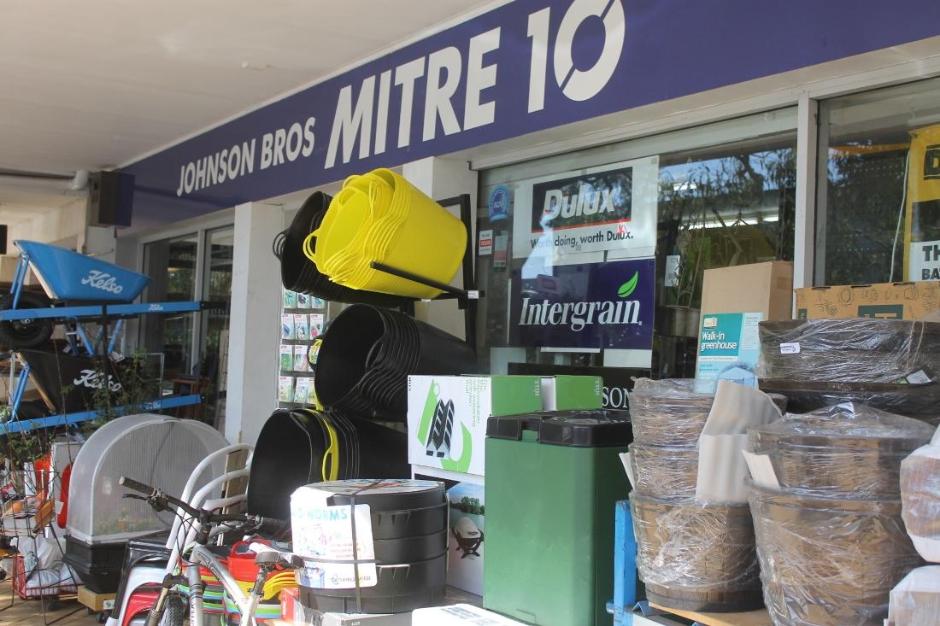 Johnson Brothers Mitre 10 Hardware at Avalon - everything you will need to keep your garden greener this Spring and Summer
The Bureau of Meteorology is predicting a hot Summer this year so Spring may be a good time to do some works around the home to ensure your garden and house are kept cooler and plants are protected during the coming hotter months.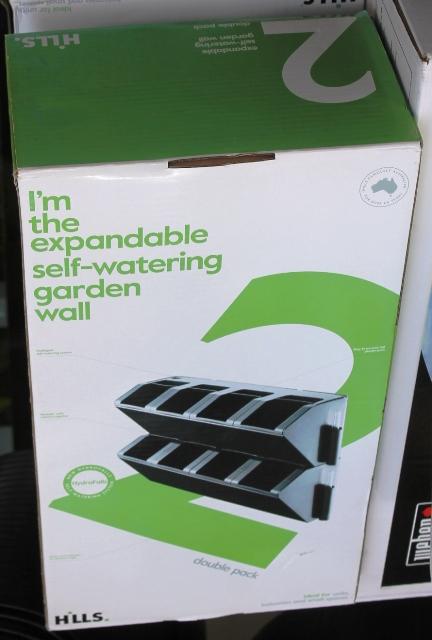 It is also a good time to do the Are You Ready Checklist for Bushfires – tasks like cleaning your gutters of leaves that have accumulated, and doing this regularly, adding in some leaf gutter guards to prevent build up between cleans, or perhaps upgrading your compost bin for yard litter, installing soaker hoses, renewing mulch, creating shady nooks with screens, plants, awnings or shade cloths or placing some nice musical water features for native animals into your garden.
The items featured in this week's Cool It Down Johnson Brothers Mitre 10 'Do Your Spring thing' catalogue filled with great specials runs until October 11th – available to read online
Here are some tips to help you put a stop to scorched lawns and dried-up flower beds, and keep your garden looking healthy all summer long.
Plant Natives
Give your garden the best chance by planting trees and plants native to your area! With the advantage of being able to naturally survive in the harsh Australian summer, these plants require a lot less water and will often thrive in the dry climate. Why not consider redesigning your outdoor area into a water-smart garden?
Remember to include lots of local trees in your design for natural shade protection, which will help your plants, your family, and even your house keep cool in the summer sun. You can also buy lots of different types of specifically designed water wise plants that require less frequent watering.
Create A Shady Arbour
If you don't have the time to build an outdoor Alfresco Area ( Creating an Outdoor Dining Arbour, Gazebo or Patio - Part I Creating an Outdor Dining Arbour, Gazebo or Patio Part II) , a shaded screened arbour, lined with a mix of colourful potted plants and palms in a sheltered corner of your garden or leading out from the back door can be a great alternative and an oasis from heat and noise. Add some perfume by planting some gardenias as well as frangipanis or some wonderful native frangipanis, mint bushes or Leptospermum petersonii 'Little Lemon Scents'. With a few shade cloths, screens you can get from JBH at Narrabeen, a tinkling water feature in the corner and an outdoor table or bench, this will become a breakfast nook or 'green room' you will enjoy outside of perfumed dawns and evenings.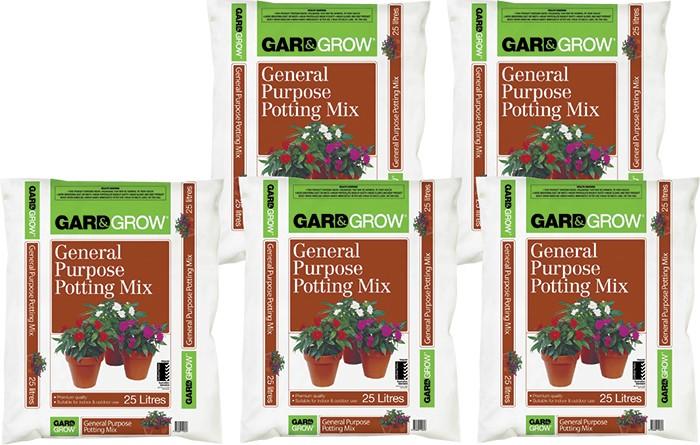 Gard&Grow® General Purpose Potting Mix: 5 for $20.00 - • 25L. • Contains base fertilisers and wetting agents.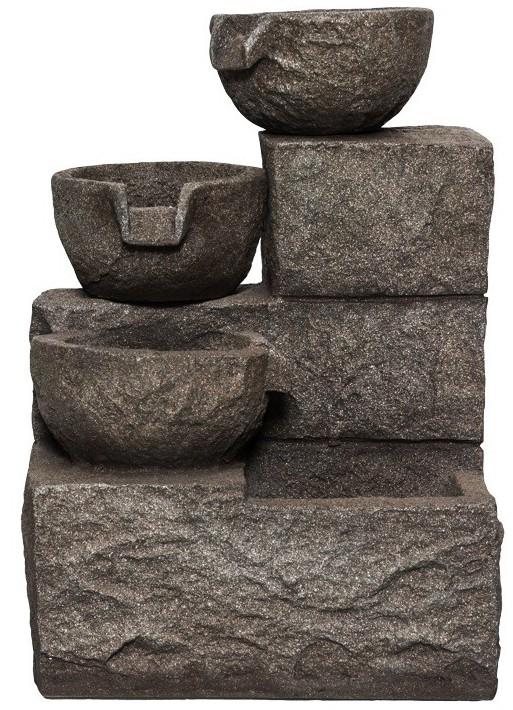 Cascade Water Feature: $189.00 - 57(H) x 40(W) x 27.5(D)cm. Stone effect resin. 10m cable.
For plant and soil Protection – Just Add Mulch
Mulch is your garden's best friend as it can reduce the soil temperature, slow down the evaporation process, help prevent weeds, and even add extra nutrients, which means your plants can absorb the water you give them during the summertime.
You can even include some additional soil wetting agents or seaweed solutions to your mulch, enabling the water to better reach all the way down to the roots of your plants. Soils kept cool and moist are great places for worms and other soil beneficial dwellers.
Seasol Seaweed Concentrate: $20.00 - 2.5L. Promotes growth in all plants.
If applying a woody mulch, remember these can monopolize the soil's supply of nitrogen while they slowly decompose, leading to nutrient deficiencies and lacklustre growth of the mulched plants. Before spreading woody mulches, apply a nitrogen fertiliser.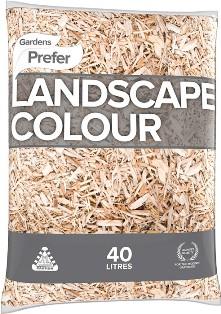 Gardens Prefer Landscape Mulch – Natural: $8.00 - • 40L. • 100% recycled wood products. • Decorative mulch for the garden.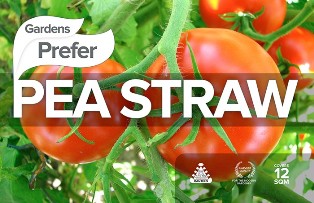 Gardens Prefer Pea Straw Mulch: $15.00 - • 10kg bale. • Covers 12sqm. • Ideal for veggie gardens.
Conserves water, minimises weeds and enriches soil.
Reduce unused lawn areas
Your lawn can drink up approximately 90% of the total water you give to your garden. Reducing your lawn size can reduce your water usage. Work out how much of the lawn you really use and what can be replaced with a sustainable alternatives like native plants, local trees, or paving. In the areas where lawn is called for, for a Summer Backyard Cricket Pitch for example, always choose a variety that is heat and drought tolerant and requires the least amount of water like Couch, Saltene, Buffalo or Kikuyu. For a healthier looking lawn that will feel great beneath bare feet, let it grow a little bit taller (so the roots grow a little deeper). Set your mower to cut at around 6cm in height and mow regularly so weeds don't get a foothold.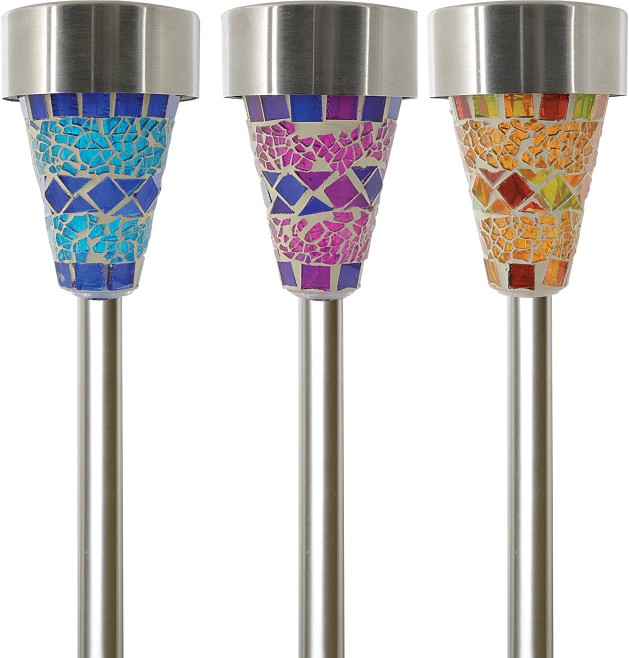 Mirabella Solar Mosaic Lights: $6.00 each • 40(H) x 74(DIA)cm.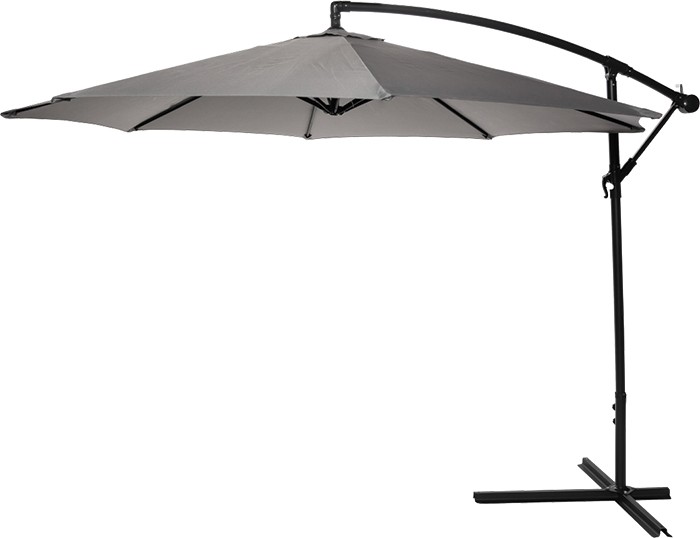 3m Aluminium Cantilever Umbrella: $119.00 - • 8 aluminium ribs.• Crank open/close system.• Includes cross base. • Available in grey or red. Accessories not included. All furniture and BBQ's require assembly. Prices may be higher in some areas due to freight. Some lines may not be in stock at all stores but are available to order.
On Watering
Plants are best watered at night, or early in the morning before the sun reaches its peak. How long to water your garden depends on a number of factors, such as the type of plants and soil structure in your garden, however in high temperatures, regular watering is the key. To calculate the optimal watering level for your garden, there are online resources such as www.SmartGardenWatering.org.au that can help you calculate the exact needs of your specific garden.
Water remains a scarce natural resource in Australia so keeping to our local watering restrictions may ensure there is enough when and where it's needed. Most gardeners recommend watering your garden in the morning to give your plants time to dry out during the day, as there's an increased risk of fungal disease developing if their leaves are wet at night.
You can also make the most of your water by re-using it. Consider installing a greywater system, or catch it in a rainwater tank for personal use outside of your local watering restrictions.
Around the home
Reduce heat gain by closing drapes, shades or blinds, and use shelters to prevent direct sunlight from streaming in through windows of the house. If you do not have tall cooling trees close enough to your home to cast some cool shade, overhangs, latticework, awnings and shade cloths all work well to keep scorching afternoon sun off glass.
Reduce indoor humidity to make room air feel cooler. Minimise middle of the day showering, and cooking. If you must do these then, turn on ventilating fans to help extract warm, moist air from the house.
Turn off heat-generating lights and appliances unless you absolutely need them. Incandescent lights, in particular, generate more heat than you might think.
Keep the heat out of the kitchen - when it's time to cook, opt for the barbecue instead of the range.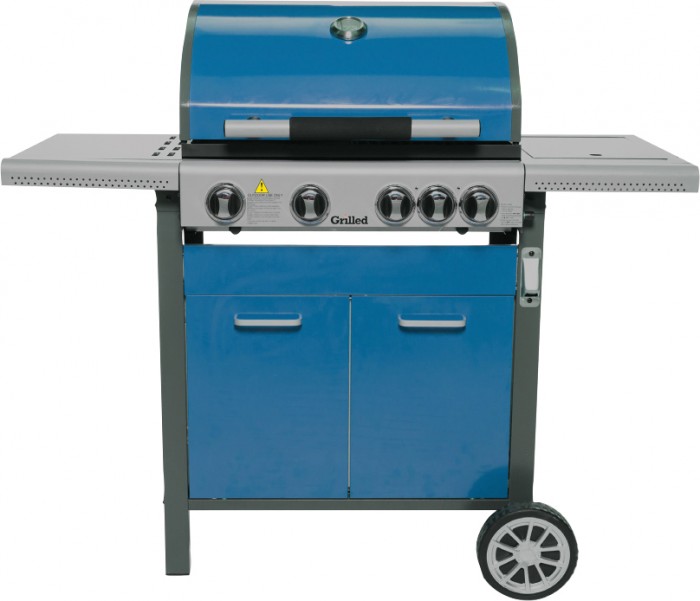 Grilled 4 Burner BBQ with Side Burner: $449.00 - • 116.2(H) x 131.1(W) x 62.7(D)cm. • Cast iron hotplate and grill. • Twin skin, powder coated steel hood. • Available in blue or red. Gas cylinders not included with BBQ's. Accessories not included. All furniture and BBQ's require assembly. Prices may be higher in some areas due to freight. Some lines may not be in stock at all stores but are available to order.
4 Burner Stainless Steel Hooded BBQ With Side Burner: $299.00 • 121(H) x 137.6(W) x 58.5(D)cm. • Cast iron hotplate and grill. • Twin skin, stainless steel hood. Gas cylinders not included with BBQ's. Accessories not included. All furniture and BBQ's require assembly. Prices may be higher in some areas due to freight. Some lines may not be in stock at all stores but are available to order.
Willow 33L Cooler: $49.00 - • Locking lid system integrated into the handle. • Stand wine bottle upright. • Removable lid for easy access.
Products advice is available from the trained friendly staff at Mona Vale and Avalon Johnson Brothers Mitre 10.
Click on logo to visit Johnson Brothers Mitre 10 website
Johnson Bros Mitre 10 - Avalon (02) 9918 3315
Johnson Bros Mitre 10 - Mona Vale (02) 9999 3340
JBH Timber & Building Supplies (02) 9999 0333
JBH Fencing & Landscape Supplies (02) 9970 6333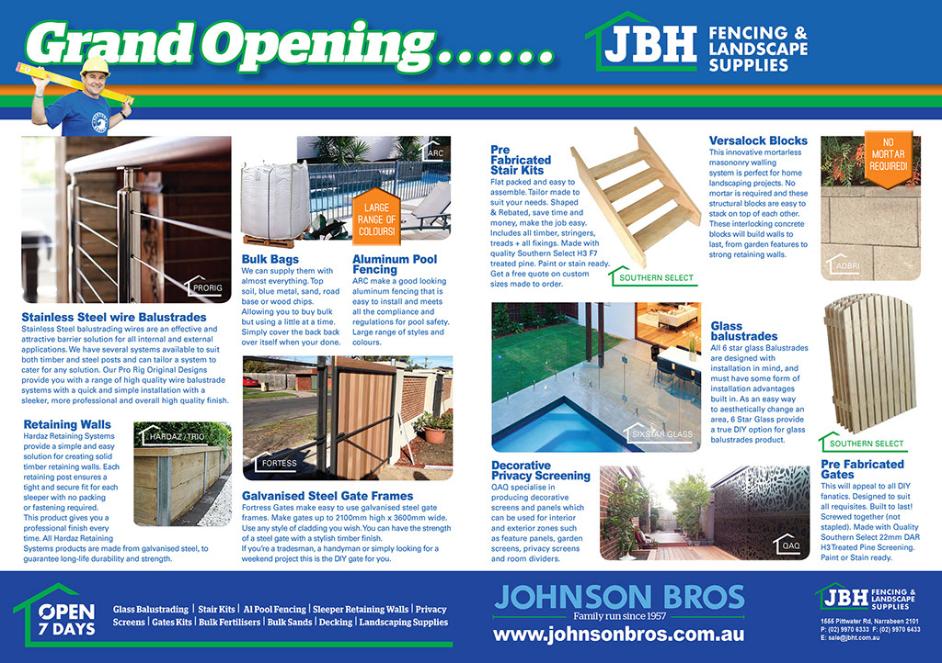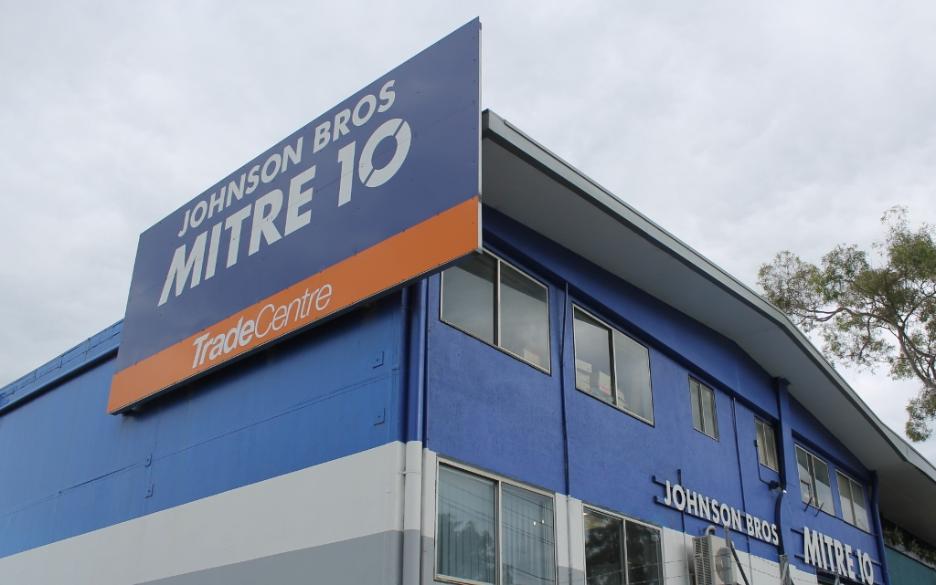 Copyright JBH Mitre 10, 2015. All Rights Reserved .