February 24 - March 2, 2019: Issue 394
2018 Winners Of National Hardware Store Of The Year - Johnson Bros Mitre 10 Mona Vale !!!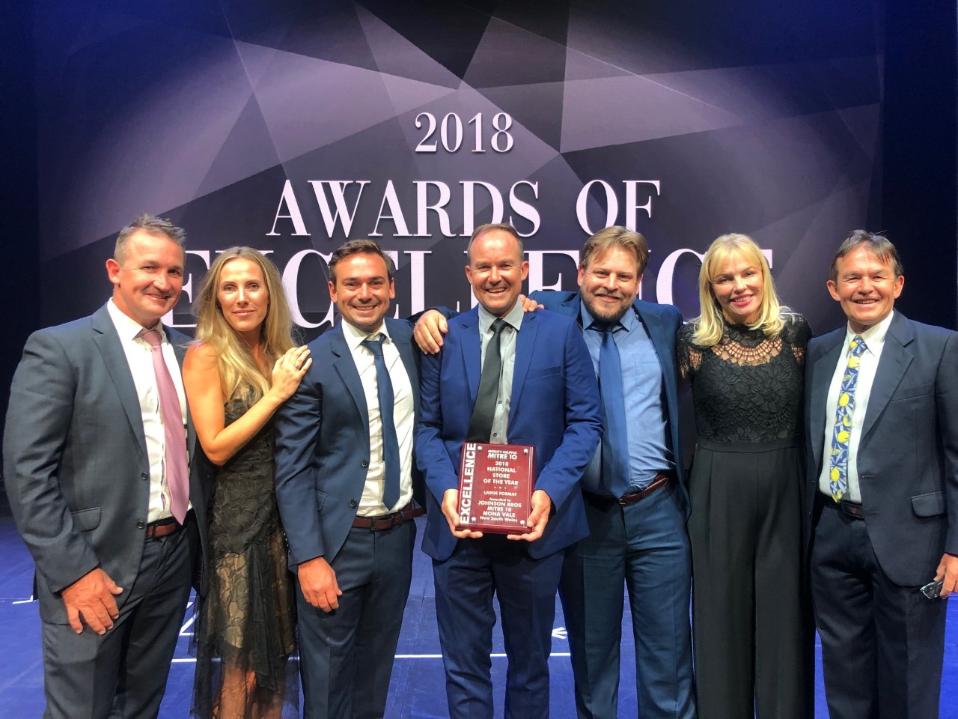 Photo: (L-R) Ged Johnson, Elyse Johnson, Josh Johnson, Peter Johnson, James Johnson, Janelle Johnson, Robert Johnson
At the Awards of Excellence Dinner held at Adelaide Exhibition Centre at approximately 10:30pm on Wednesday the 20th of February 2019, the Johnson Bros Mitre 10 Mona Vale store was announced as the 2018 National Hardware Store of the Year. The national win awarded by the Independent Hardware Group, comes in addition to state wins in the trade store and large format category's as well as a finalist in the Garden Centre category and a previous state win for Hardware Australia's store of the Year.
The National awards are scored across a range of categories including product range, presentation, staff training and customer experience. The customer experience includes heavily weighted mystery shopper results that can ultimately be the deciding factor. "This is the result of years of hard work by a passionate team of staff and 65 years of hard work by a passionate family" says Ged Johnson, Store Manager of Johnson Bros Mitre 10 Mona Vale. "We can't do this without the support of the beaches community and the support of our amazing customers"
Stores are only considered eligible after trading on a new site for a full twelve months. Having opened in April of 2017, The 2018 awards were the first year that the Mona Vale store was eligible for consideration.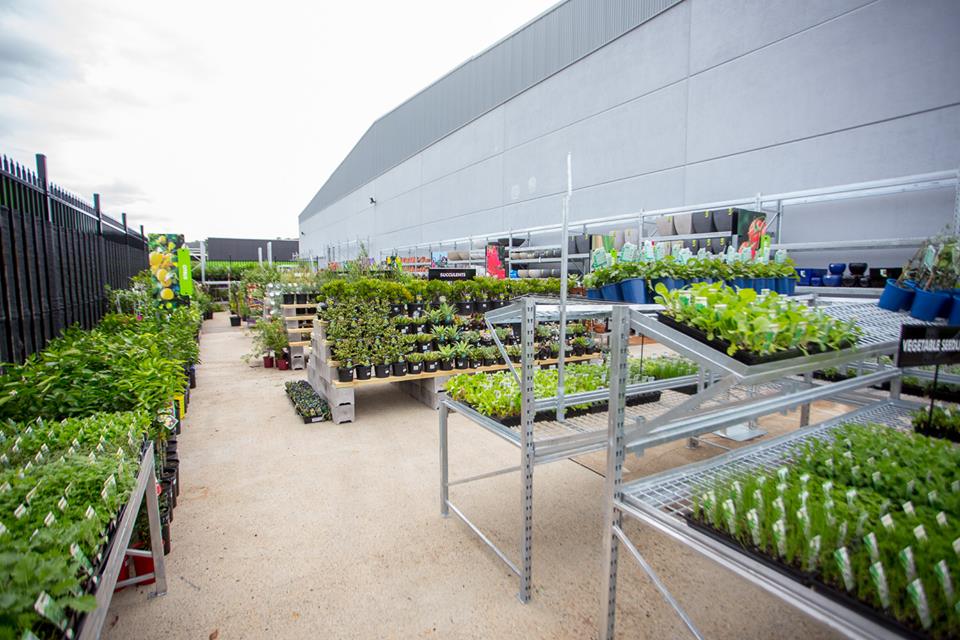 Green Life Garden Centre at Johnson Brothers Mona Vale
End Of Summer Garden To Do List
Weeding and Dead-Heading

Weeds are at their most prolific in the last month of Summer - many have taken a firm hold. As Summer sets in weed seeds become well established and their plants flourish in conditions less suited for vegetables and flowers. Staying on top of your weeding—this month especially—will deter new weeds from seeding themselves, allowing fewer of them to propagate next year.
Fast and Easy Weeding Tips
The most important rule of weeding: Don't leave the roots behind.
Weed after it rains.
If there's no rain in sight, water your garden and start pulling.
Keep a garden fork or trowel in your pocket so you can attack baby weeds the minute you spot them.
If the soil is dry, or if your weeds are too small to pull by hand, use a hoe. Keep the blade sharp for a fast cleanup in large areas. Pick the right hoe. Hoes with triangular blades are good for closely spaced rows and underneath plants. Scuffle or loop hoes are pushed and then pulled back over the soil, doing double-duty as they scrape.
If weeds are shooting up between pavers or in the cracks of a driveway use an old screwdriver to pry them out.
If you can't get weeds up by their roots, chop their heads off every now and then. That will prevent them from setting seeds, and with any luck, they'll eventually die.
Use mulch with a weed preventer mixed in. Some products keep weeds from germinating for up to six months. By then, you'll probably need to add more mulch anyway.
Bare spots encourage weeds to move in, so space plants as recommended on their tags or labels. Mulch unused beds, or sow a cover crop at the end of the season.
Stay on top of the deadheading too, to keep perennial gardens and annual pots looking their best. Pickoff old, spent flowers to allow for healthy new growth and buds to form. Keeping up on this task forces ever-bearing plants to keep producing flowers. If you have a perennial that is just plain unruly, pinching it's flower heads prevent it from seeding and out-competing the other plants in your garden.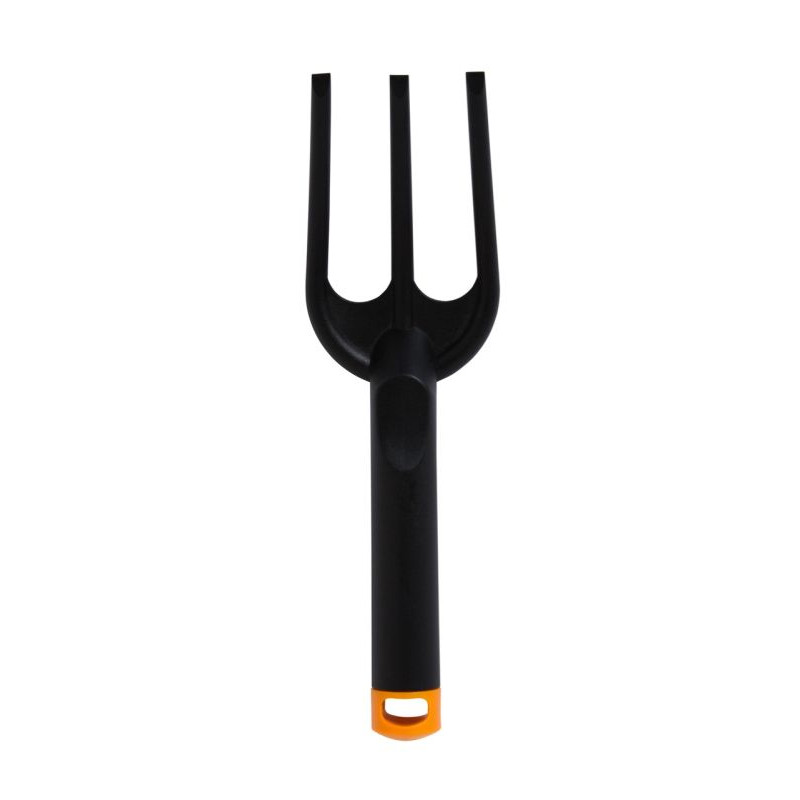 FISKARS NYGLASS WEED FORK: $3.75
Nyglass construction. Corrosion and abrasion resistant. Hanging hole. 25 Year warranty.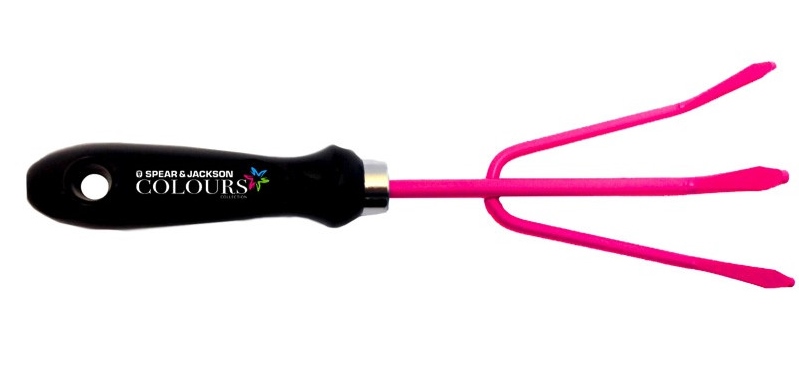 SPEAR & JACKSON CULTIVATOR PINK: $6.75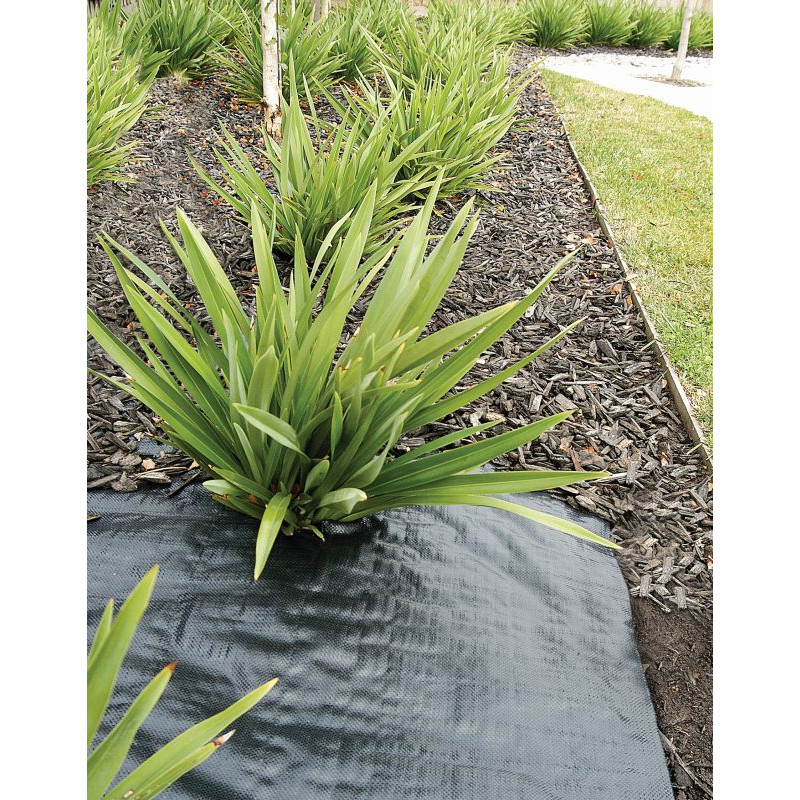 COOLAROO 0.9M X 5.0M WOVEN WEED MAT: $4.99
0.9m x 5.0m. Restricts weed growth. Simple DIY installation. For healthy plants.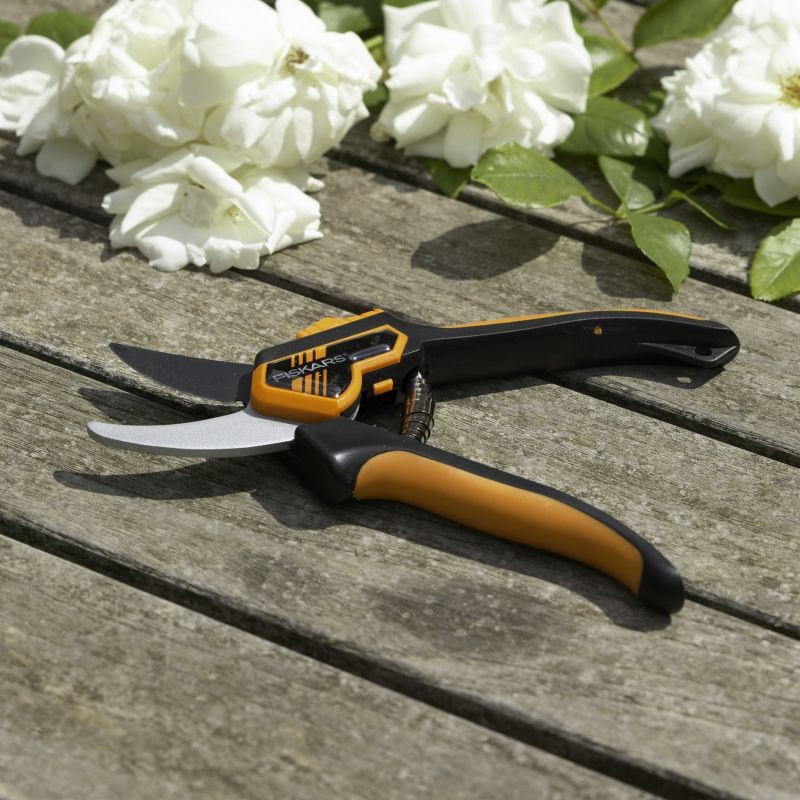 FISKARS EURO MEDIUM BYPASS PRUNER: $25.99
20mm. Medium size. Non-corrosive blade. 25 Year warranty.
Harvesting and Clearing Space
Harvest time is certainly the most awarding season for vegetable growers. While your lettuces and radishes may be passed, tomatoes and squashes are just getting going. Harvest ripened vegetables like cucumbers, broccoli, carrots, and cabbages, too. As you pick your above-ground plants, more vegetable flowers will form to be pollinated. And thinning your root vegetables allows those beside it to grow bigger, while also allowing you to get a jump on your food storage practices.
The end of Summer can turn any landscape (edible or not) into a mess of falling, brown plants trying for one last round of blossoms. Removing their browning portions creates less garden cleanup work later in fall. If your clearing efforts go overboard and whole plants need to be removed, make sure to fill in empty spaces. Use mulch, layer gardening techniques, cover crops, or even Autumn plantings to eliminate weeds.
Autumn Planting
If you live in a zone suitable to Autumn gardening, now is the time to get things started. As days get cooler, kale, lettuce and spinach will grow quickly and complete their harvest before the cold weather arrives. Sow seeds directly into the ground, cover them and keep them soaked to encourage sprouting. If you live in a hardier zone that stays warmer longer, beets, radishes, broccoli, and cabbage can be sown from seed, as well. Even if you can't get more vegetables in the ground, consider planting a cover crop to keep the soil loose, prevent weed build-up, and restore depleted nutrients to the ground.
Preparing Mulch and Compost
If you haven't created one already, a DIY compost pile or bin is a quick, easy and simple weekend effort that will yield excellent returns. Add organic materials like rotted vegetables, plant scraps, and leaves to create a mulch pile that can be used as compost at a later date. By the time the last of the harvest is gone from your garden, your compost and mulch will be ready to spread, enhancing the growing spaces for next year.
Maintaining Shrubs and Trees
If you have shrubs, trees, or other perennials, it's TLC time! Don't deadhead or fertilise anything that won't make it through the cold months ahead, as now is not the time to encourage new growth. Simply prune them back, as needed, once the blooms are over. For shrubs and trees that are still going strong, provide deep drinks of water, especially in hot climates. Late Summer sun can still evaporate any light watering efforts.
All Products shown here to help you get it done are samples of what is available at Johnson Brothers Mitre 10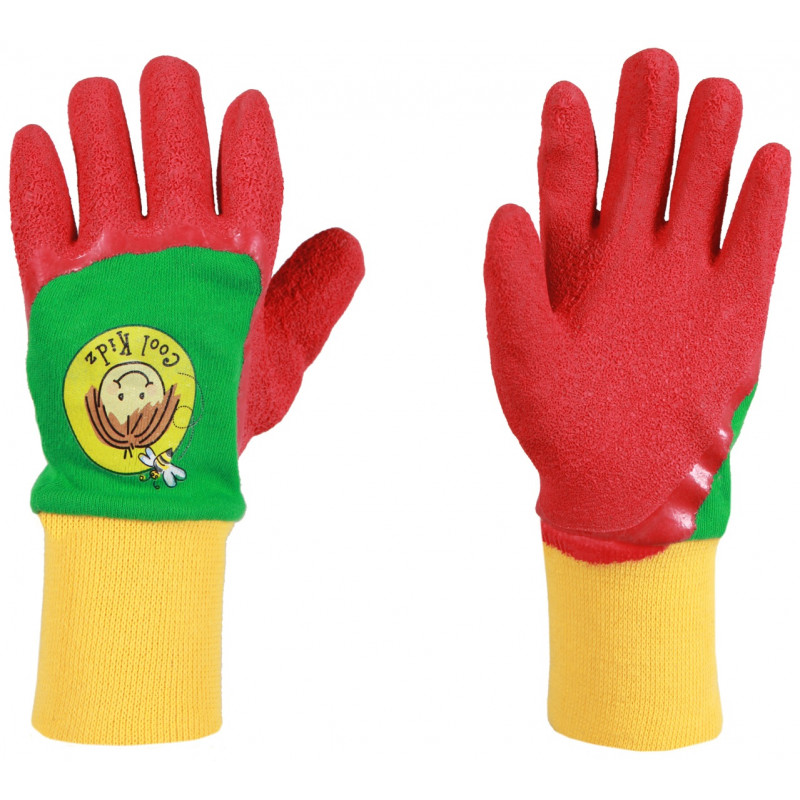 KIDS JUNIOR GARDENER GLOVES: $6.20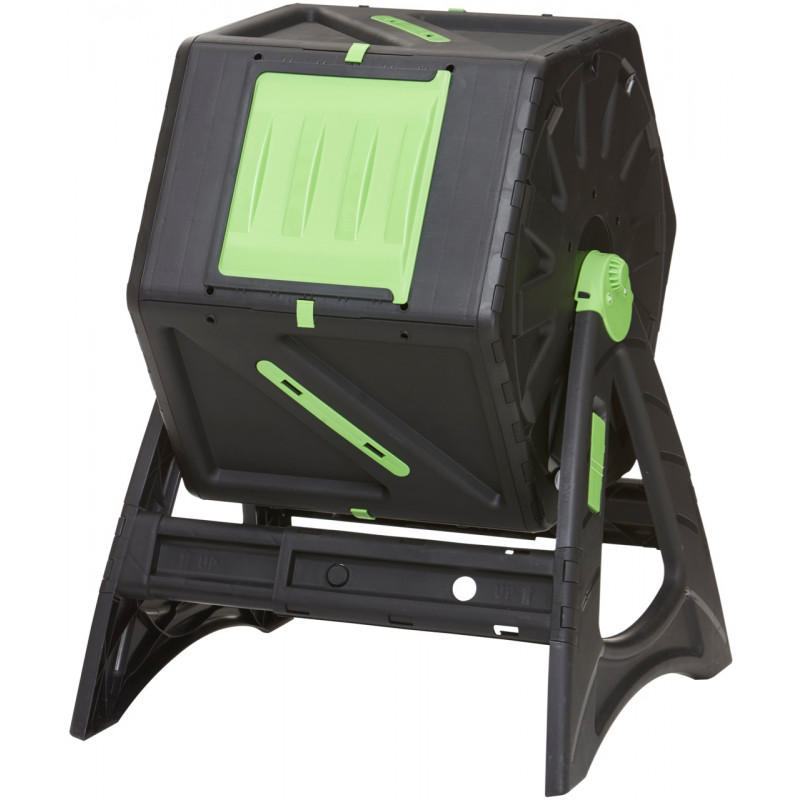 TUMBLING COMPOSTER 105L BLACK: $99.00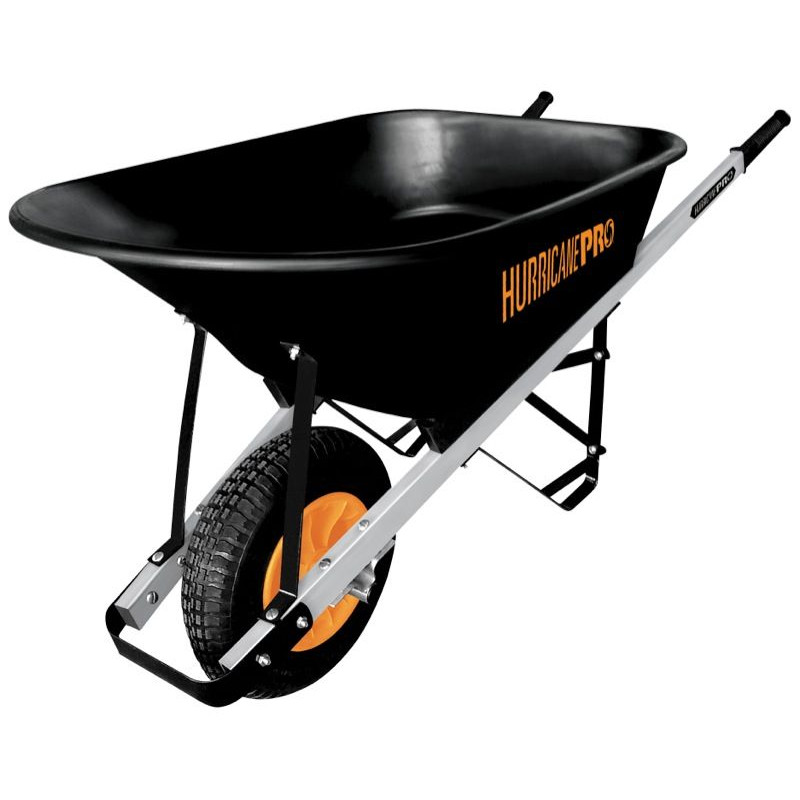 POLY TRAY 100L WHEELBARROW: $79.00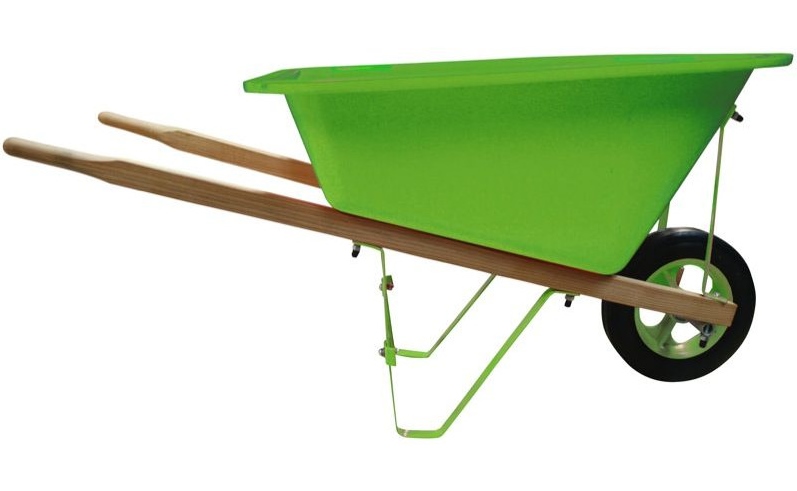 KIDS GREEN POLY TRAY WHEELBARROW: $34.00
Wooden handles. 150mm solid wheel.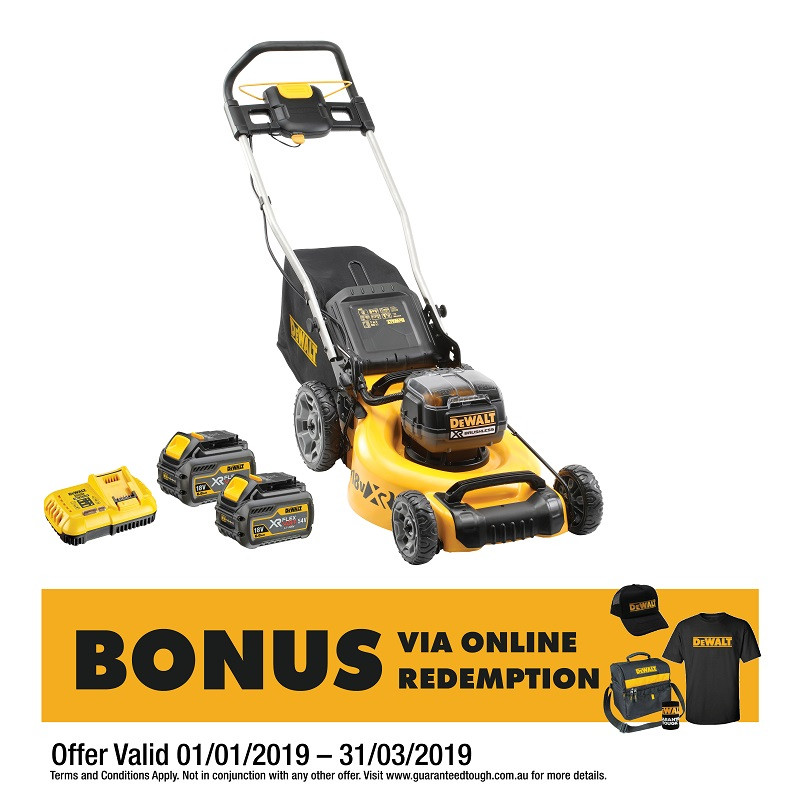 DEWALT 18VX2 XR BRUSHLESS MOWER 6.0AH KIT: $799.00
Brushless motor. 51cm metal deck. 5 Level/ 48cm cutting heights. 55L collection bag and mulching attachment.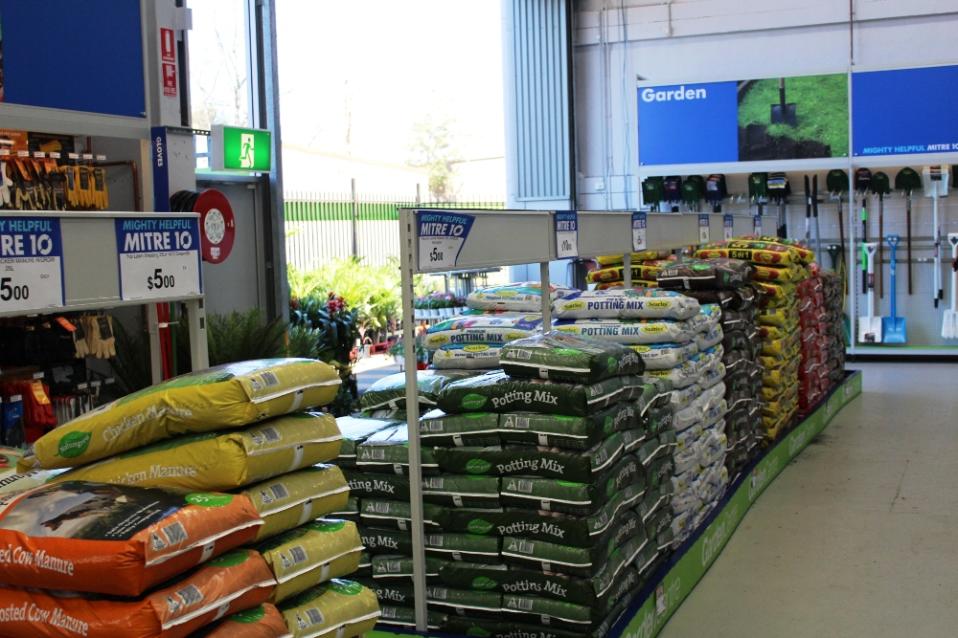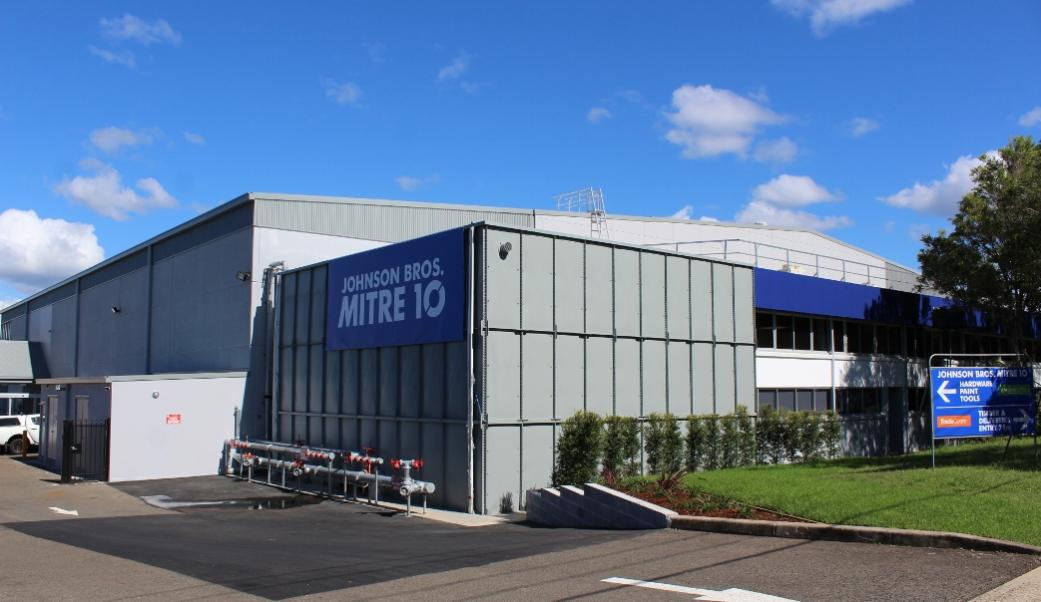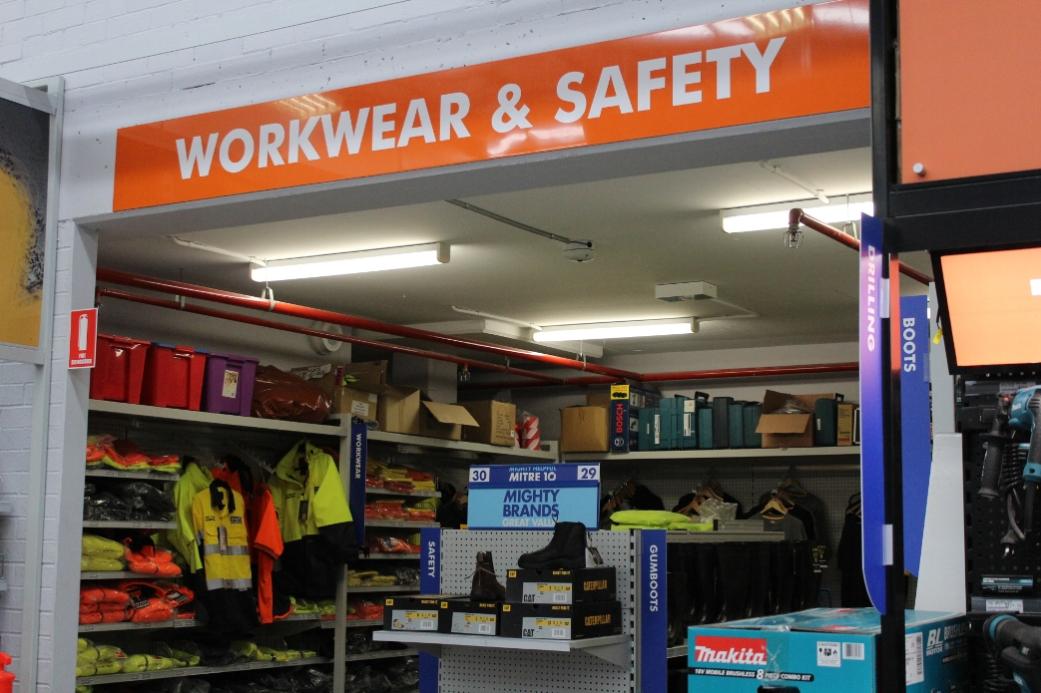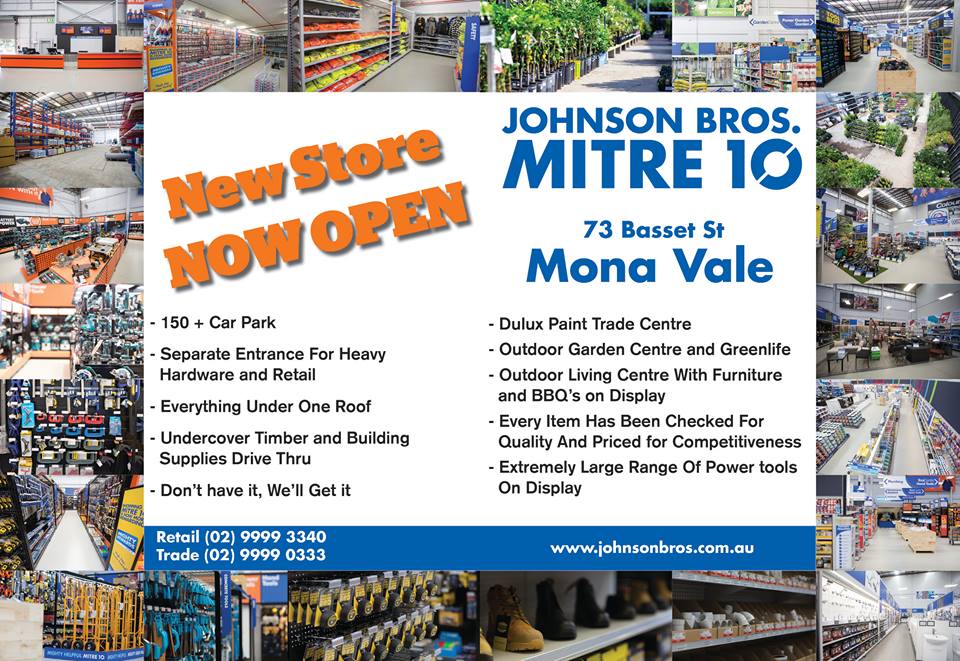 Johnson Brothers Mitre 10 New Store
73 Bassett Street
Mona Vale - Online Store: Jbhmv.Com.Au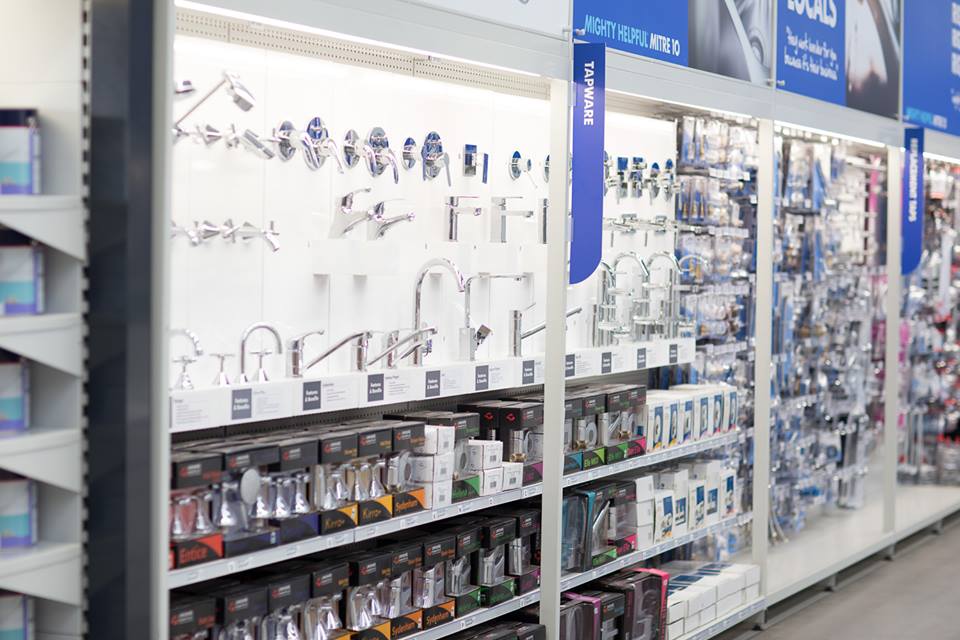 Products advice is available from the trained friendly staff at Narrabeen, Mona Vale and Avalon Johnson Brothers Mitre 10.
Click on logo to visit Johnson Brothers Mitre 10 website
Johnson Bros Mitre 10 - Avalon (02) 9918 3315
Johnson Bros Mitre 10 - Mona Vale (02) 9999 3340
JBH Timber & Building Supplies (02) 9999 0333
JBH Fencing & Landscape Supplies (02) 9970 6333
www.johnsonbros.com.au Online store: jbhmv.com.au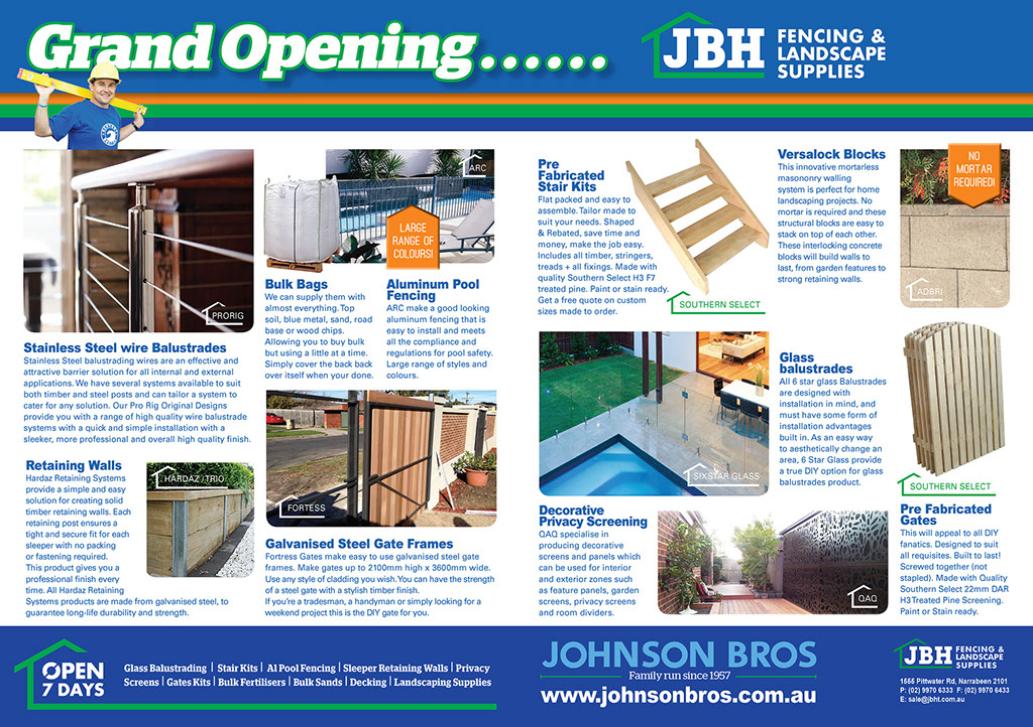 Important
All information and tips in this publication are of a general nature only and neither Johnson Brothers Mitre 10 or Pittwater Online News does not warrant the accuracy or completeness of the information and tips in this publication. This publication is not intended to be a substitute for expert advice.
Johnson Brothers Mitre 10
advises you to always consult an experienced and qualified person when undertaking jobs of this kind (including consulting a qualified tradesperson such as an electrician or plumber where relevant expert services are required).
You should also consider any safety precautions that may be necessary when undertaking the work described in this publication (including wearing any necessary safety equipment such as safety glasses, goggles or ear protectors or hard hats). The information and tips in this publication are provided on the basis that
Johnson Brothers Mitre 10
and
Pittwater Online News
excludes all liability for any loss or damage which is suffered or incurred (including, but not limited to, indirect and consequential loss or damage and whether or not such loss or damage could have been foreseen) for any personal injury or damage to property whatsoever resulting from the use of the information and tips in this publication.
Pittwater Online News and
Johnson Brothers Mitre 10
also advises there may be laws, regulations or by-laws with which you must comply when undertaking the work described in this publication. You should obtain all necessary permissions and permits from council and/or any other relevant statutory body or authority before carrying out any work. Major projects published in this publication always list these and/orlinks to where you may research what your own project requires to meet regulations.