April 26 - May 2, 2020: Issue 447

Pittwater Dodges Major COVID-19 Outbreak So Far –
With No New Cases Since Easter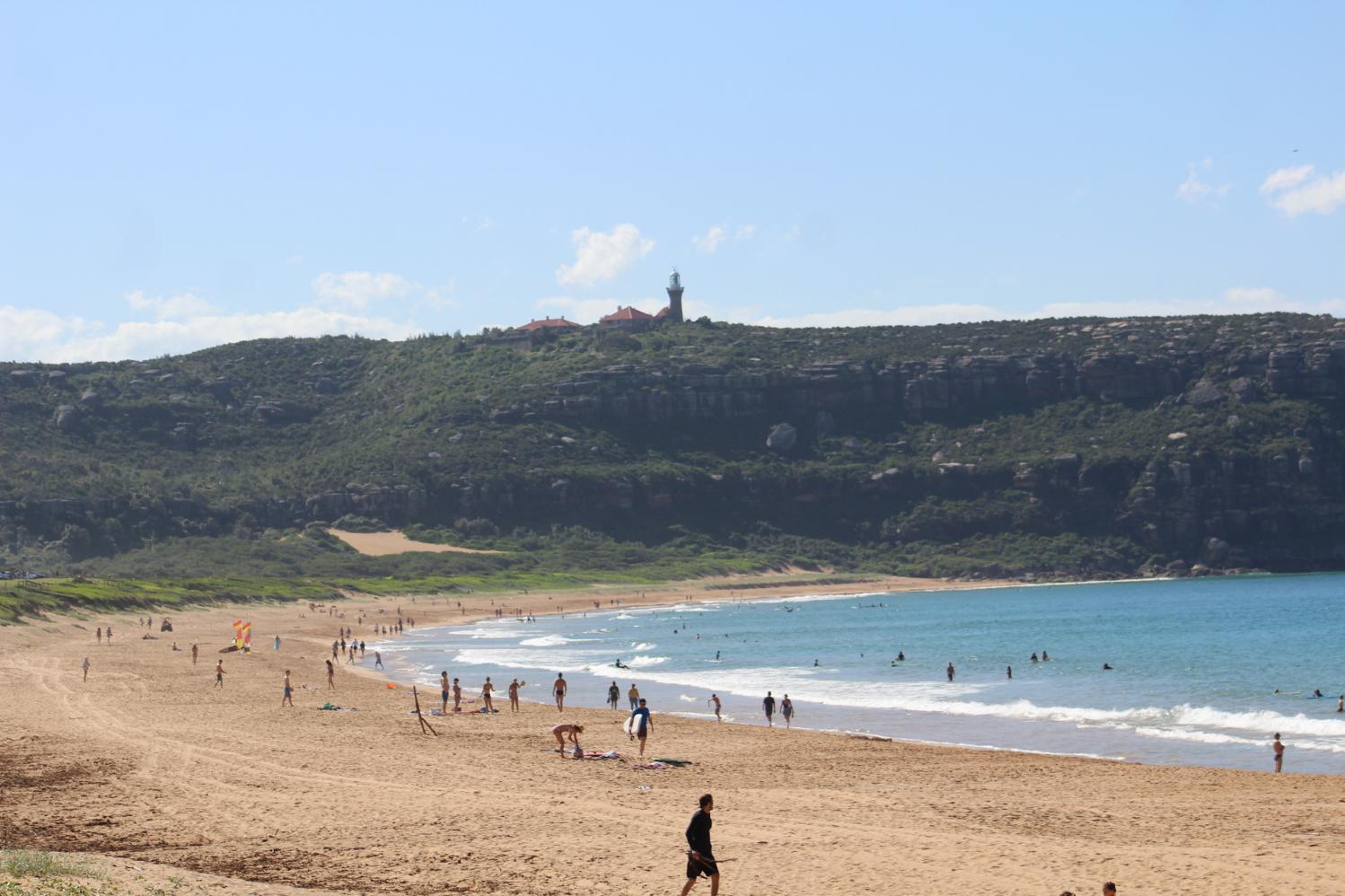 Palm Beach on Saturday April 25, 2020 - AJG photo
by Miranda Korzy

Pittwater has so far dodged a major COVID-19 outbreak but an infectious diseases expert does not see any prospect of us going it alone to relax social distancing.
No new cases of COVID-19 have been recorded in the area extending from Palm Beach to Narrabeen Lagoon and inland to Terrey Hills – roughly coinciding with the former Pittwater Council area – since Good Friday, NSW Health statistics show.
And in total, only 39 cases have been confirmed for the same area, the department's figures from yesterday indicate (see statistics and graph at end of story).
However, Sydney University Infectious Diseases Professor Lyn Gilbert warns that the area cannot implement new social distancing rules on its own.
"I would think it highly impractical, impossible to police/monitor and difficult to justify, within a greater metro area like Sydney," Professor Gilbert said in a statement to Pittwater Online News yesterday.
"Even though there have been more cases in NSW (and Sydney) overall than in some other parts of Australia, the rate has, nevertheless, been low and is becoming lower."
The whole of the Northern Beaches Local Government area accounts for 154 confirmed cases in total, with individual new cases reported on April 13, 14, 18 and 19.
However, NSW Health reports no COVID-19 clusters for the Northern Beaches Council area and it is not listed as an area of concern for community transmission.
Across NSW, 2,994 coronavirus cases have been confirmed, with 2,193 of those patients having recovered.
Professor Gilbert also disagreed with a suggestion that Pittwater as a whole could isolate itself from the rest of the state to prevent new infections spreading to the area.
"It's hard to imagine the residents of Pittwater agreeing to be confined to their own region, even if it meant more freedom within it," she said.
"Moreover, it's hard to image any state government recommending different rules for different regions other than in situations when they may have to impose stricter rules because of an outbreak (as occurred in the North-West region of Tasmania, recently)."
At Northern Beaches Hospital, a spokeswoman yesterday said two patients had been admitted with COVID-19 during last week and were in a stable condition. These were the only patients currently at the hospital infected with the virus.
However, NBH had increased the number of tests being carried out in its COVID-19 clinic to about 100 per day, she said.
Hospital precautions also included checking patients', staff and visitors' temperatures before they entered the facility and asking questions about their health.
"It's quietening down but we're prepared for anything that comes along," the spokeswoman said.
The Link Community Food Care Programs: Care Hamper, Lunch Box and Food Care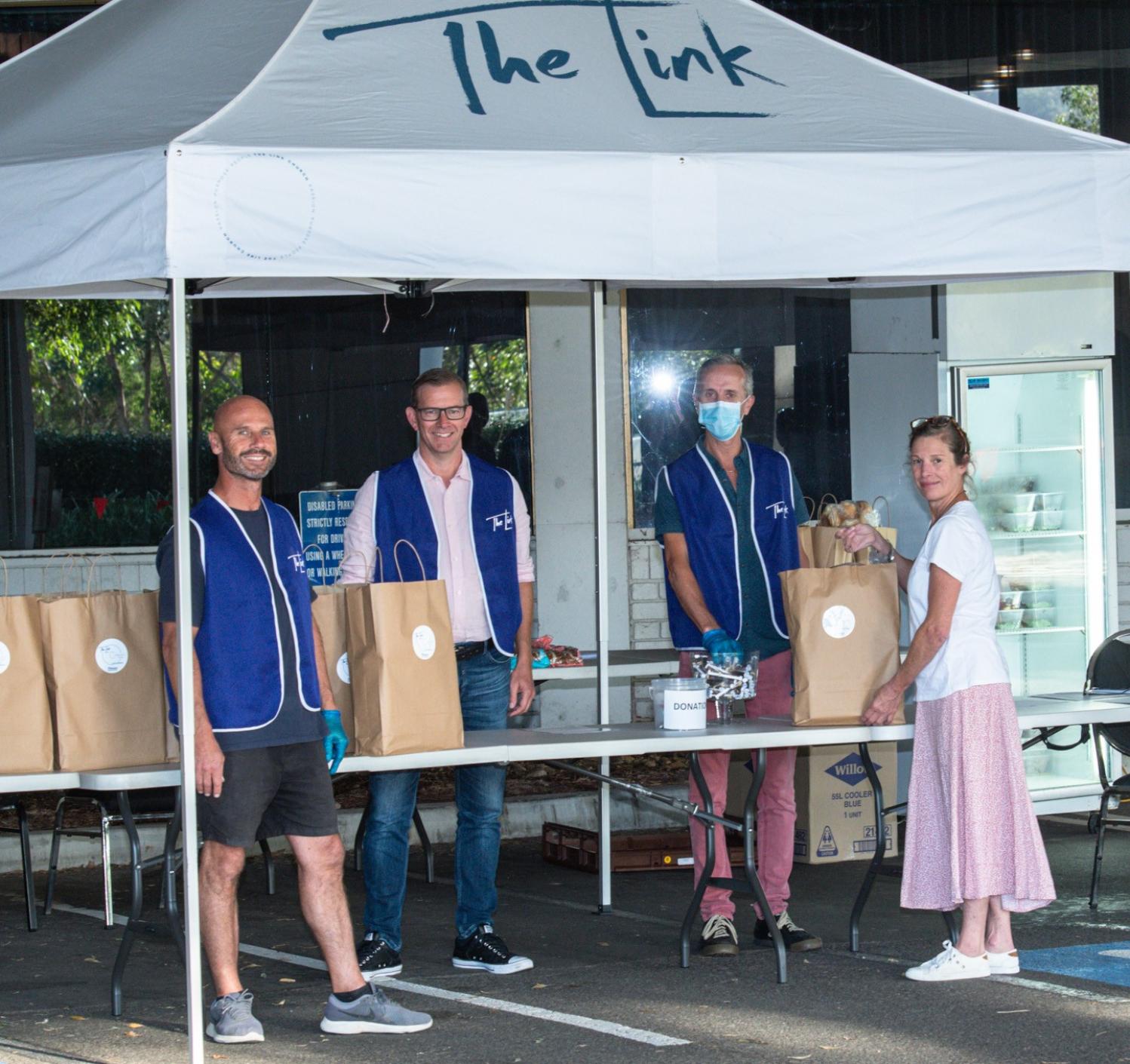 At Pittwater RSL, from left Glenn Wysman, with Wade Orth, Scotty Norris, Nick Laforest, Kirsty Bryant. Photo by Michael Mannington of Community Photography
Website: www.linkcommunityfoodcare.org.au

On Facebook: www.facebook.com/linkcommunitycare
Ph: 9999 0475
Email: info@link.org.au
The Pittwater RSL have begun a partnership between them and The Link Church, North Narrabeen, with a foodcare program to help those in most need in our area during this challenging time. The program is called 'CAREHAMPER' and provides people with staple groceries, bread and a cooked meal professionally prepared by Pittwater RSL chefs. The 'CAREHAMPER' has a value of over $60+ and is being made available for a $10 service and handling fee.
The program is provided as a drive-through service to adhere to social distancing protocols and will be available Monday to Friday from 2pm to 5pm. The 'CAREHAMPER' can be collected from Pittwater RSL, 82 Mona Vale Road, Mona Vale (Enter via the lower carpark entry).
A free home delivery service is available for those unable to leave their home.
The program commenced on Wednesday 22nd April.
Pittwater Online spoke with Glenn Wysman, Lead Pastor at The Link who explained
"We started the Food Care program 8 years ago and these two programs, the Lunchbox and CareHamper, are an expansion of this and our response to needs in the community due to Covid-19."
"The Link Community Care has a consistent and strong history of helping and serving those on the Northern Beaches in most need. Now because of Covid-19, the need for our services has grown exponentially.
"The Lunch Box initiative was started on Wednesday March 15th with thanks to a community donation of 5 thousand dollars. The Pittwater RSL has made a seed donation to commence the Care Hamper initiative and we began that on Wednesday April 22nd." Mr. Wysman explained. "In addition, the Pittwater RSL team are busy cooking lots of yummy meals for each days' collection."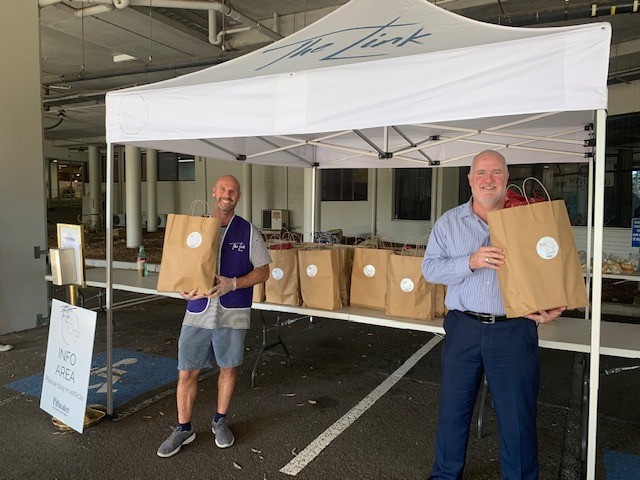 Glenn Wysman, Director/Lead Pastor of The Link with Pittwater CEO, Jason Manning at the launch of the Carehamper program, Wednesday 22 April
The Link church will need the community's help to keep this going though as, with so many recently losing employment, the demand could easily outstrip supply. If you would like to support these programs please see information below on ways to donate and volunteer. Larger organisations and grocers are asked to contact Glenn directly, details above – they do have capacity to store food at a warehouse in Warriewood, so please contact them if you can help.
Anzac Day In Pittwater 2020: Candles, Crosses And Online Commemorative Services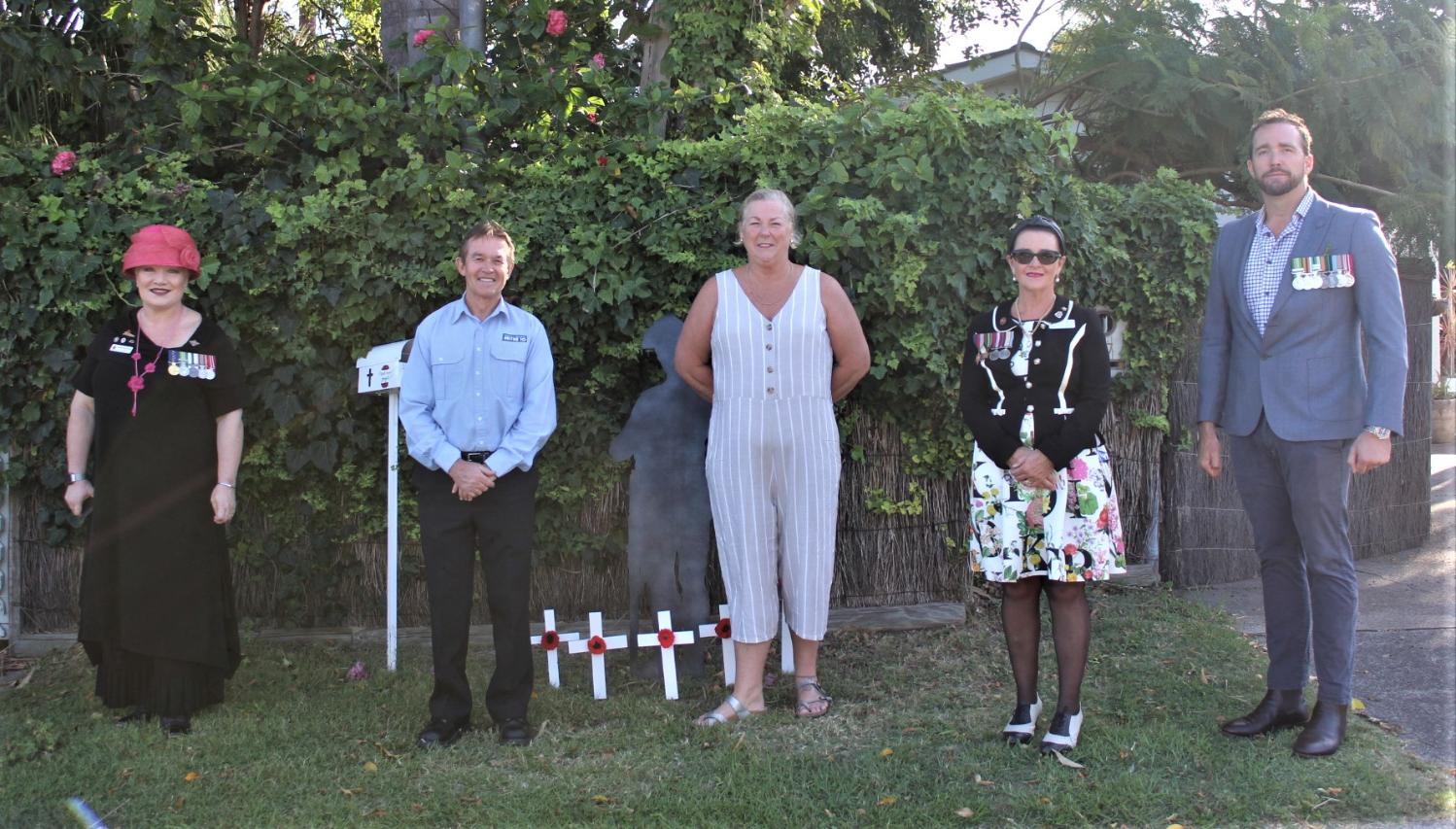 Left to right: Vice President of Avalon Beach RSL Tamara Sloper Harding OAM, Robert Johnson, Director of Johnson Brothers Mitre 10, former NSW Police Snr. Constable Lisa Hewitt, President of Pittwater RSL and Pittwater Woman of the Year 2017, Deborah Carter, Lieutenant Commander Ryan Carmichael RAN Retd.
Thousands of families paid their respects to those who have served and serve still at dawn and in 9am and 11am street events for Anzac Day 2020.
Plans to mark the day despite the closure of public spaces and bans against gatherings commenced in March with RSL NSW encouraging all Australians to honour the service and sacrifice of our brave servicemen and women past and present, but in a different way than we are used to.
"Traditional dawn services and marches are just not possible this year" said RSL NSW Acting State President, Ray James. "But during these difficult and uncertain times, it is vital that we stay true to our values of mateship and camaraderie; that we honour our service personnel and show our ANZAC Spirit."
In support of these qualities, RSL NSW joined other State Branches of the RSL in encouraging Australians to stand together even though we're apart, by taking part in a collective Dawn Service, standing at the end of your driveway or on your balcony at 6am on ANZAC Day and 'Light Up the Dawn', while Pittwater's own James Morrison called on all musicians to sound their bugles, trumpets, cornets, horns, saxaphones, flutes and drums with the Last Post and Reveille.
This initiative saw children making Anzac Day themed art to place on their homes and fences, Lisa Hewitt of Avalon Beach was helped by a team of people to make white crosses to place at driveways, and ended up making 927, those helping including Therese Rushby, of Mater Maria Warriewood for the first 150 crosses, then all her cross makers; Michael Dick, Ian Squires, Daniel Elliott and Chris Elliott, Marty, Eli, Hugh and Rachel Mulholland, Craig, Samantha Womersley, and Mishy, Kelly Lee Schott Ryder, Sonny and Tex, Annie Finn, Dianne Cutrie and Eliza Cutrie and Rebecca Billing painting, and her daughter Ellie Woollard for nailing over 200 crosses together for.
Attached to these were knitted and crocheted poppies knitted by people from all over our area with Tamara Sloper Harding OAM, of Avalon Beach RSL Sub-Branch organising the sound of many crochet and knitting needles flying and getting these to Lisa.
These crosses were then distributed through her own home, Cocoa Bar at Newport and the Bilgola Delicatessen, with Lisa asking for a $10 donation to be put towards PTSD Veterans.
The Johnson family of Johnson Bros Mitre 10, partnered with the Avalon Beach and Pittwater RSL Sub Branch's to get local households to light up the dawn this ANZAC Day by providing over twenty thousand free candles available to pick up from their Mona Vale and Avalon Beach stores.
Looking at a way to show his respect this Anzac Day and to participate in the RSL's "Light Up The Dawn" campaign, Michael Jonson was initially looking at personally supplying candles to his street in Mona Vale.
"In the end, it didn't feel like I was doing enough" said Mr Johnson, a Director of Johnson Brothers Mitre 10. After speaking with his brothers, the family agreed to the business providing a more substantial amount free to the community – 20 thousand candles. To make sure that it was done in a respectful way, Michael reached out to the Avalon Beach and Pittwater RSL Sub-Branches.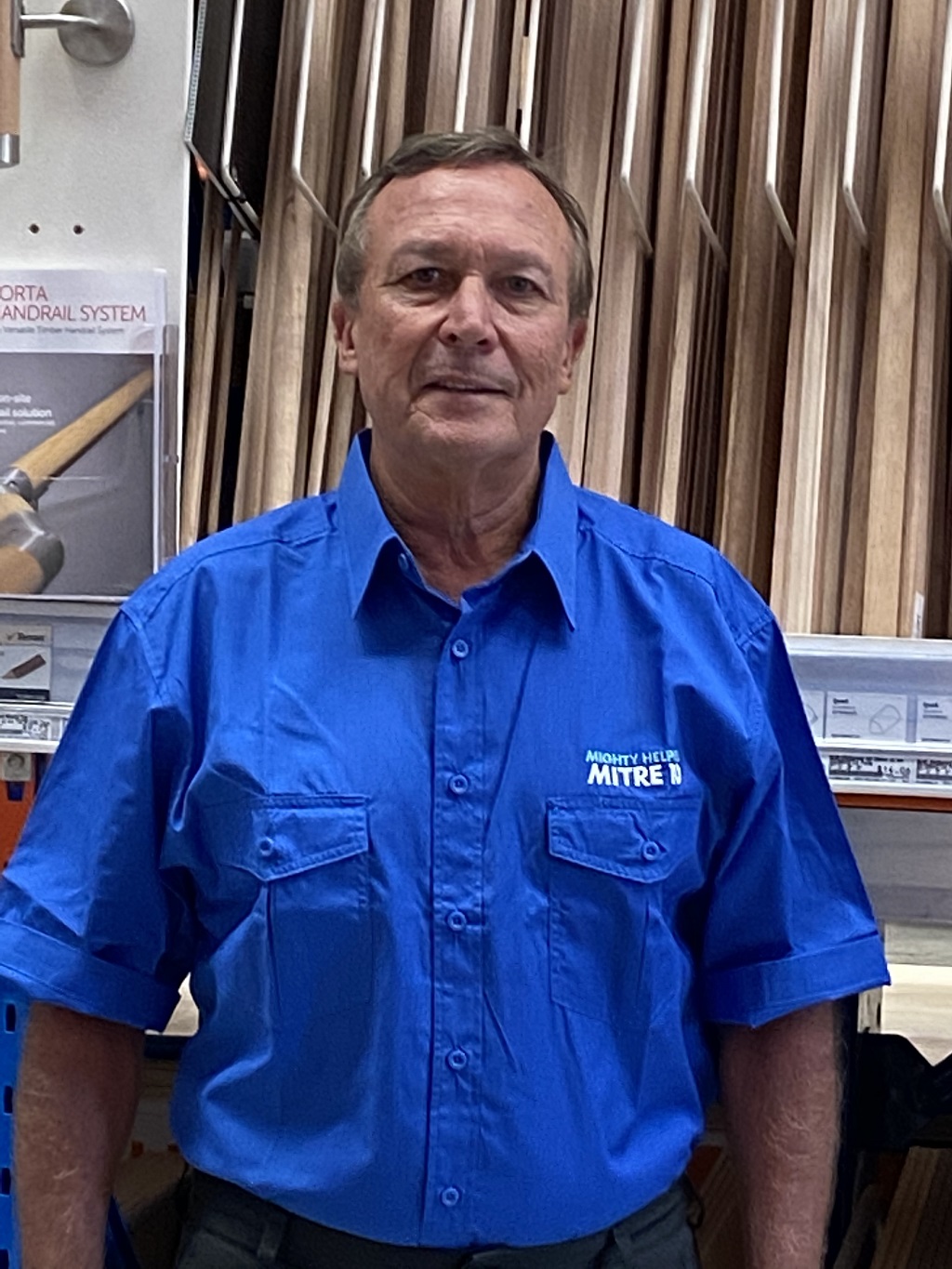 Michael Johnson, Director of Johnson Brothers Mitre 10

In addition to their support, the sub-branches also generously volunteered some of their funds. The candles were distributed across the Northern Beaches by the sub-branches and available for free pick up from Johnson Bros Mitre 10 Avalon and Mona Vale and came with a flyer detailing how to participate in the RSL's "Light Up The Dawn" campaign.
The result was that over twenty thousand candles could be lit up on Saturday morning from this distribution alone.
At 9am in Warriewood a lone bagpiper marched through the suburb, bringing families to within cooee of each other.
The Scotland Island and offshore community Anzac Day service that has been running for more than 40 years went ahead with Ian White MCing an Anzac Day Service at 11am that was live streamed. Local trumpeter Harley Ratcliff played The Last Post and Reveille.
Also at 11am WWII Veteran and Pittwater RSL 'Living Treasure' Tommy Knox of Bangalow Avenue Mona Vale jumped aboard his motorised scooter to do a one man parade down the street for the residents, with bagpipe player Toby Forde, playing. Organised by his grandchildren, the 95 year old was cheered and thanked from the kerbside by residents.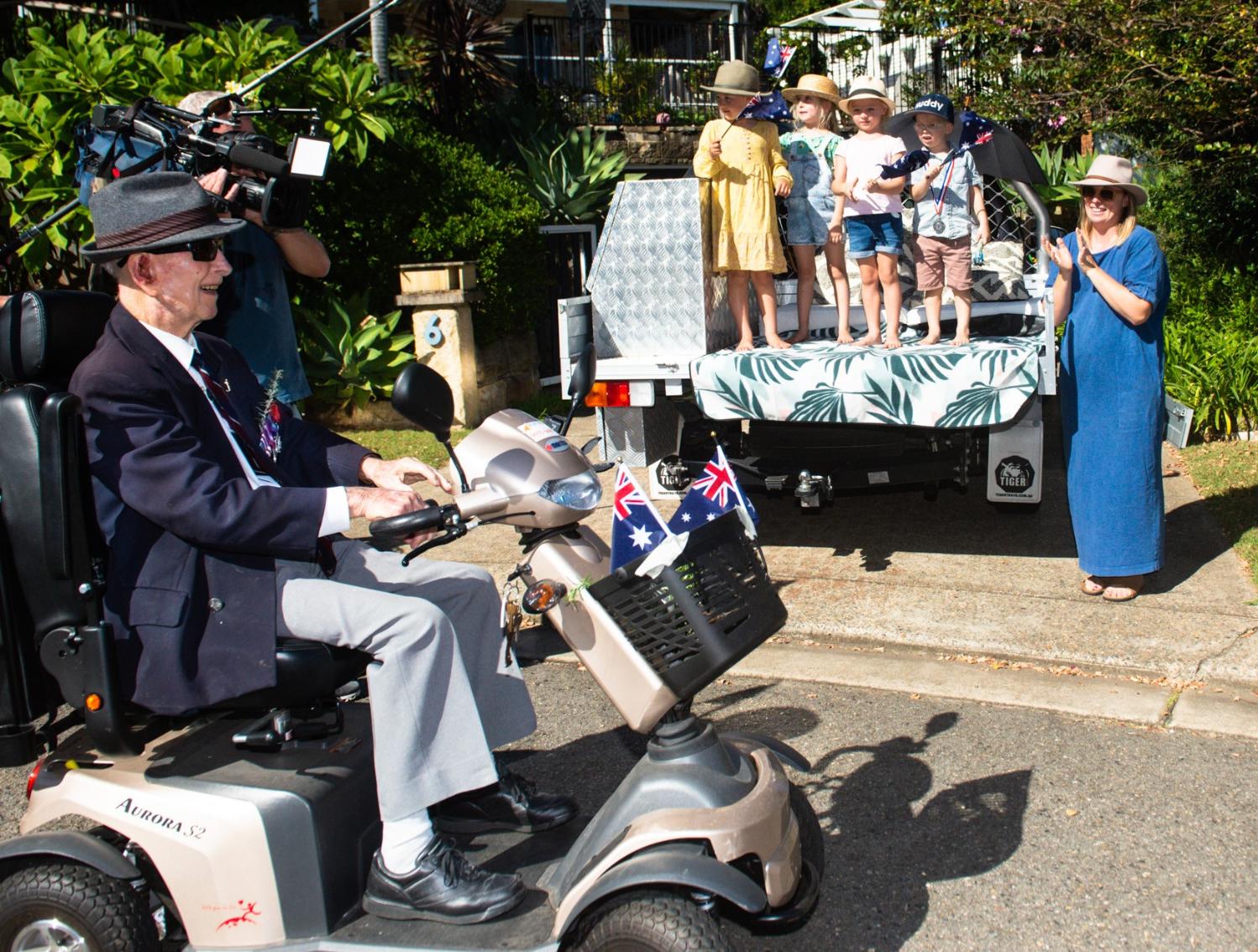 Tommy Knox passing the Twinami family - photo by Michael Mannington
Chloe Carr Of Bungan Beach And Kale Puata Of North Avoca Win 2020 State Award For Junior Lifesavers
Of The Year
2020 NSW Junior Lifesaver of the Year Presentation - video by SLS NSW
The 2020 NSW Junior Lifesavers Of The Year (JLOTY) Have Been Decided.
For the first time in its 32-year history, the process for the selection of the prestigious awards for 13 and 14-year old lifesavers has been completed online due to the COVID-19 pandemic.
Despite not being able to attend the annual camp, the young leaders have spent time working on their digital presentation and interview skills.
Many have also been carrying out tasks to assist their clubs and communities where they can, during the COVID-19 crisis. Everything from engaging the younger Nippers in online activities to helping their club management teams with scanning and even helping with club presentations.
Surf Life Saving NSW Director of Membership Kerry Clancy said it's fantastic to see the youngest lifesavers in the movement step up at this time.
"Each year the calibre of our finalists is raised. This year is no exception and each have been outstanding with the move to digital interviews," said Clancy.
"I commend each one of our 22 finalists from right across the state and I encourage them to continue to be strong and enthusiastic leaders in their clubs and branches," she said.
This year's presentation was hosted on Thursday 16 April by Australian Olympic rowing hopeful and Indoor Rowing World Record holder Georgie Rowe from Collaroy SLSC. Just days after breaking the world half marathon record, Georgie said she was honoured to present the two 2020 NSW Junior Surf Lifesavers of the Year with their awards.
"To have the courage and perseverance to come this far in this award process is an amazing feat," said Rowe. "They have each shown to be valuable members of their club and great representatives of both their clubs and branches through their volunteering and lifesaving skills.
"Some of them have been involved in their clubs since they were six-years old and the passion they have is so inspiring," she said. "They want to develop some amazing projects to help make Surf Life Saving stronger into the future. They all have the world at their feet and I can't wait to see where their passion takes them."
The 2020 NSW Female Junior Lifesaver of the Year is Chloe Carr from Bungan Beach SLSC on Sydney's Northern Beaches.
Chloe is a virtual newcomer to Surf Life Saving, but in her 12 months of being a member she has achieved her SRC (Surf Rescue Certificate), substituted on patrols with members she hadn't met, if nothing else but to expand her knowledge and patrol experience.
Chloe has goals and direction that will not only take her further in Surf Life Saving, but she has shown that she is driven to take what she has learnt on the beach and convert those skills to help her in all areas of her life.
Chloe is not afraid to admit that obtaining her SRC and participating in the JLOTY program has boosted her confidence, taught her how to work in a team and even become a better water person. Through the JLOTY program Chloe has shown that everyone can have a voice.
Chloe would like to encourage more people within her community to participate in Surf Life Saving because she believes that learning about the beach and her community opened her eyes to the world and all its possibilities.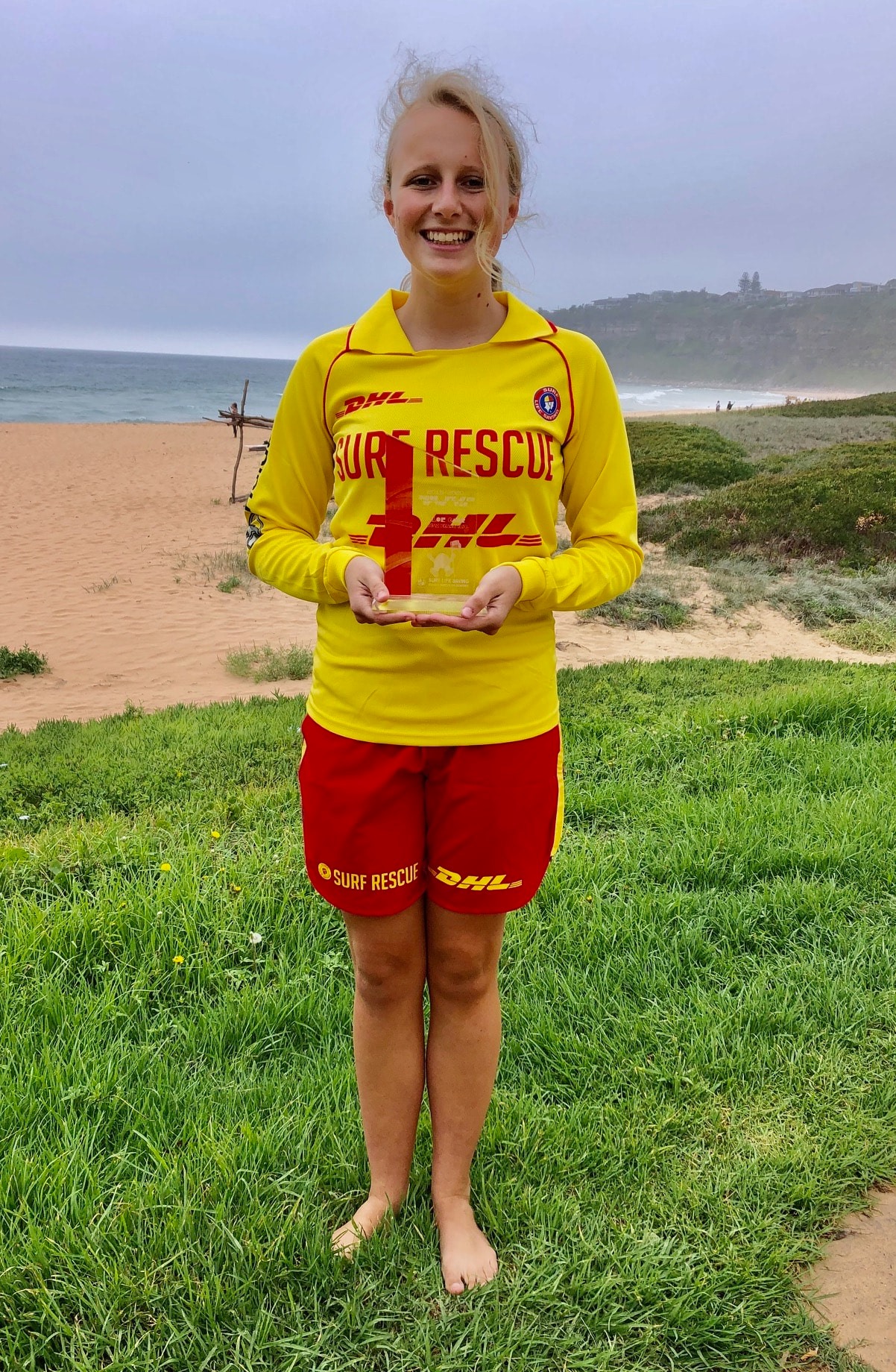 Chloe with her Surf Life Saving Sydney Northern Beaches Branch 2020 JLOTY Award on Bungan Beach - Bungan Beach SLSC photo
The 2020 NSW Male Junior Lifesaver of the Year is Kale Puata from North Avoca SLSC on the Central Coast.
Kale has enjoyed many different areas of Surf Life Saving since starting as a six-year-old. The highlight for him was being part of the Surf Life Saving Central Coast Rookie Program.
After gaining his SRC (Surf Rescue Certificate) he has been involved in leadership camps, fundraising and he also loves competing and representing his club.
Kale would love to see a Rookie Buddy program set up within Surf Life Saving to help build member confidence and experience.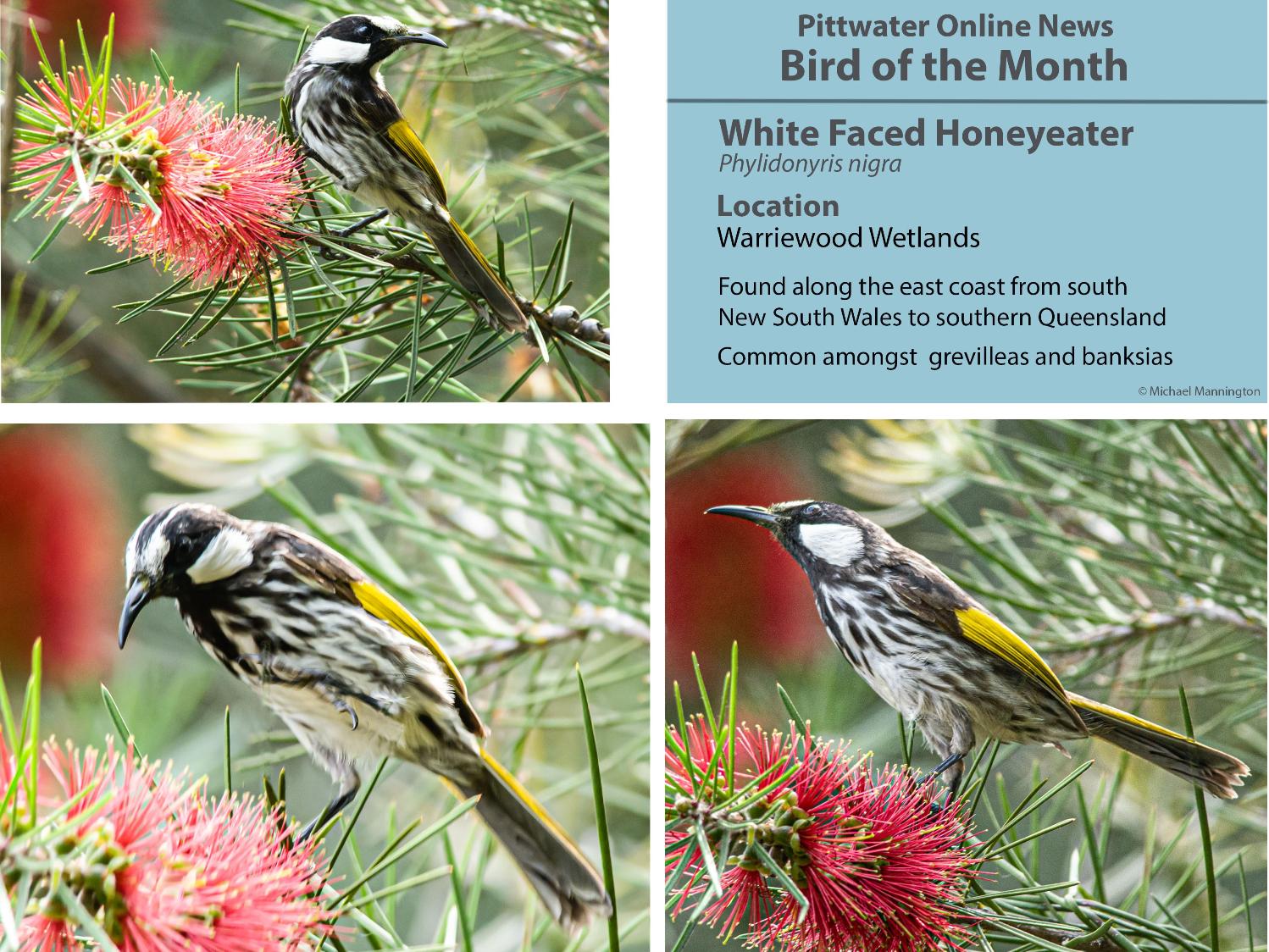 Bird of the Month photography by Michael Mannington of Community Photography.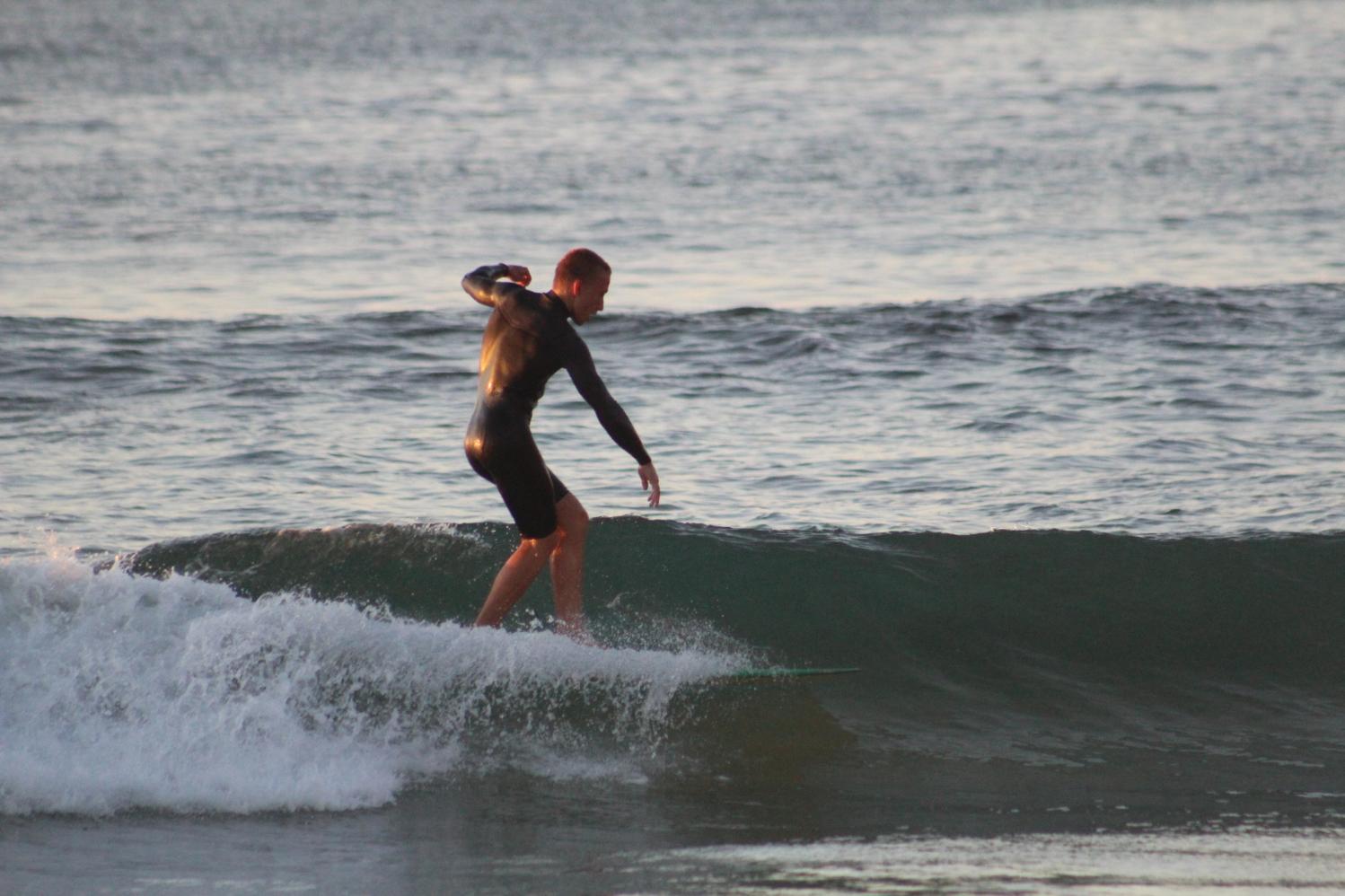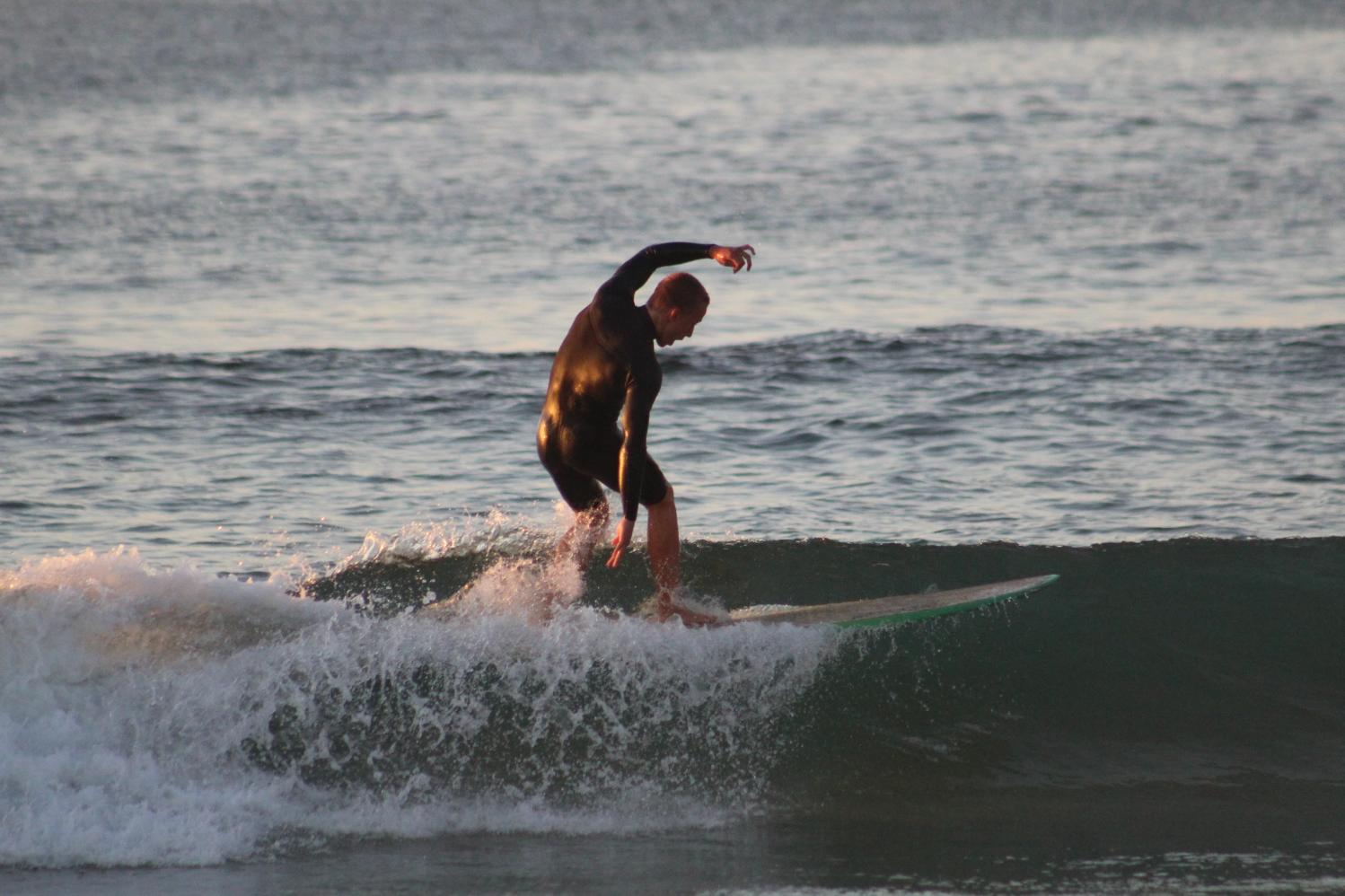 Catching a little shorebreak wave - south Avalon Beach, 7am, April 25, 2020 - photos by A J Guesdon
Past Features Archives (pre 2014)
Pittwater Online News was selected for preservation by the State Library of New South Wales and National Library of Australia. This title is scheduled to be re-archived regularly.
Archived Issues (2014 on) may be accessed here: pandora.nla.gov.au/tep/143700