February 9 - 15, 2020: Issue 437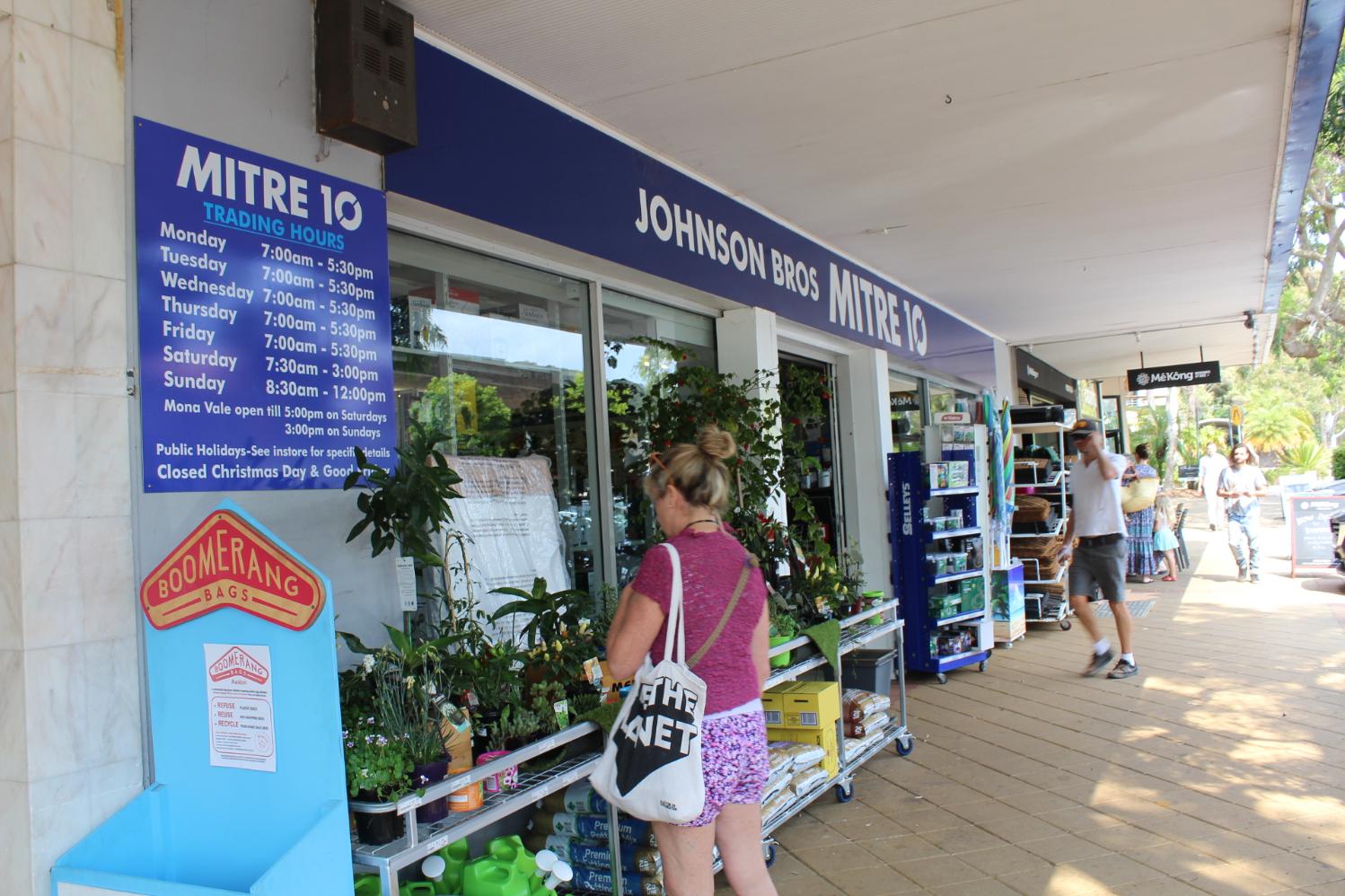 Ah, Summer, when large cicadas fly in through the open window and have to be rescued from your dog, when katydids whizz in and climb the walls with their gossamer wings then pause, stilled, so all the little boys and girls can say 'ooo' and 'ahh', and then that whine at midnight, that dive bombs at your ears, does laps of your arms, poised to strike with a mosquito bite. Just as persistent are flies, drawn in by pet food, or simply blown in by the wind ...and then we have those large bush cockroaches that will also just fly right in and make themselves at home.
The cicadas and beautiful green katydids we may enjoy - but that whine from midnight to four in the morning robs us of sleep and may even cause a bad reaction to bites. The flies will quickly colonise anything left out, even if it's just that roast chicken you just pulled out of the oven and then turned away from for moments to toss the salad going with it - darn flies!
What can we do about that?
We can repair or make and install flyscreens, a project that takes just a few hours and will guarantee you years of mozzie-free and blissful sleep and no fly tracks on your fresh chicken.
Everything for building flyscreens is available at your local Johnson Brothers Mitre 10 hardware stores, which is where we bought what we needed. Some tools are needed for the job, but they are not expensive and you may already have some of them.
The tools needed are:
Tape measure
Mitre box
Hacksaw with a fine-toothed blade
Spline roller
Utility knife
Carpenter's square
Then you will need all the materials to make a flyscreen:
Aluminium frame
Frame corners
Mesh
Spline
Handles if needed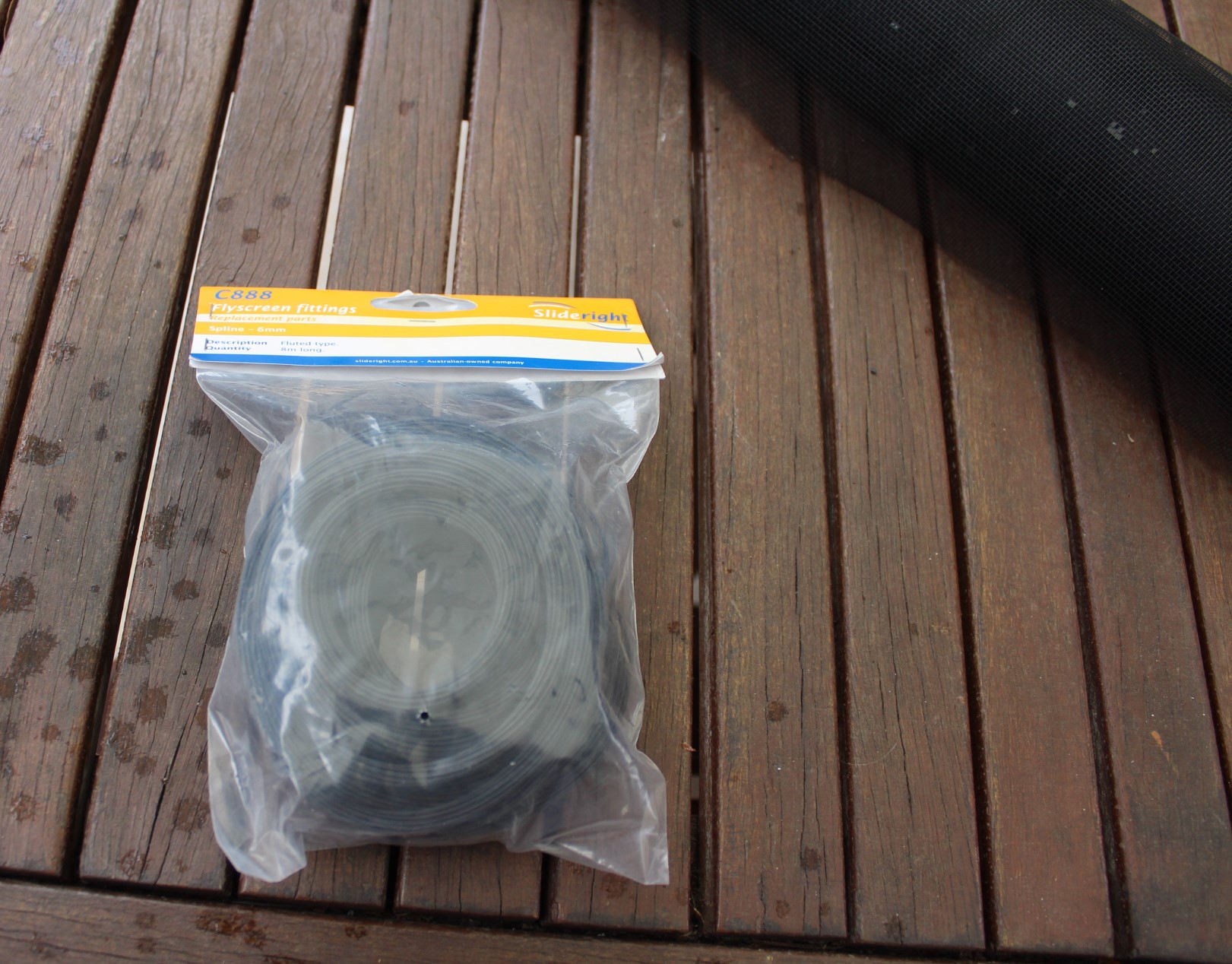 Make sure to buy more than you need. There will be some waste. Mesh comes in a variety of widths. You will need to trim the mesh after installing it, so buy a wider width and when you cut it to length, add an extra 100mm or so - this usually comes in a roll so if you are doing a few windows because you love that salt breeze on hot humid nights, ask the friendly trained staff for some help - just turn up with your measurements and they'll be able to help you out. The aluminium frame will also produce some waste and you will have to trim the spline.
How to build your own flyscreens
Start by measuring the inside of the window or if you are replacing a damaged flyscreen, measure the good sides of an existing flyscreen. If you're measuring a damaged flyscreen, the measurements should be correct. If you measure the inside of the window, subtract about 3mm to make sure the flyscreen will fit into the space.
Flyscreen mitre boxes are available. If you purchase one of these, fasten it to a sawhorse or other stable surface.
Start by cutting the frame: Cut a 45-degree angle, making sure the longer end is the outside of the frame. Make sure the frame is flat and square for perfect mitres. Cut the other side of the frame and repeat until you have completed all four sides.
Assemble the frame using the frame corners. Then check to make sure the frame fits into the window opening.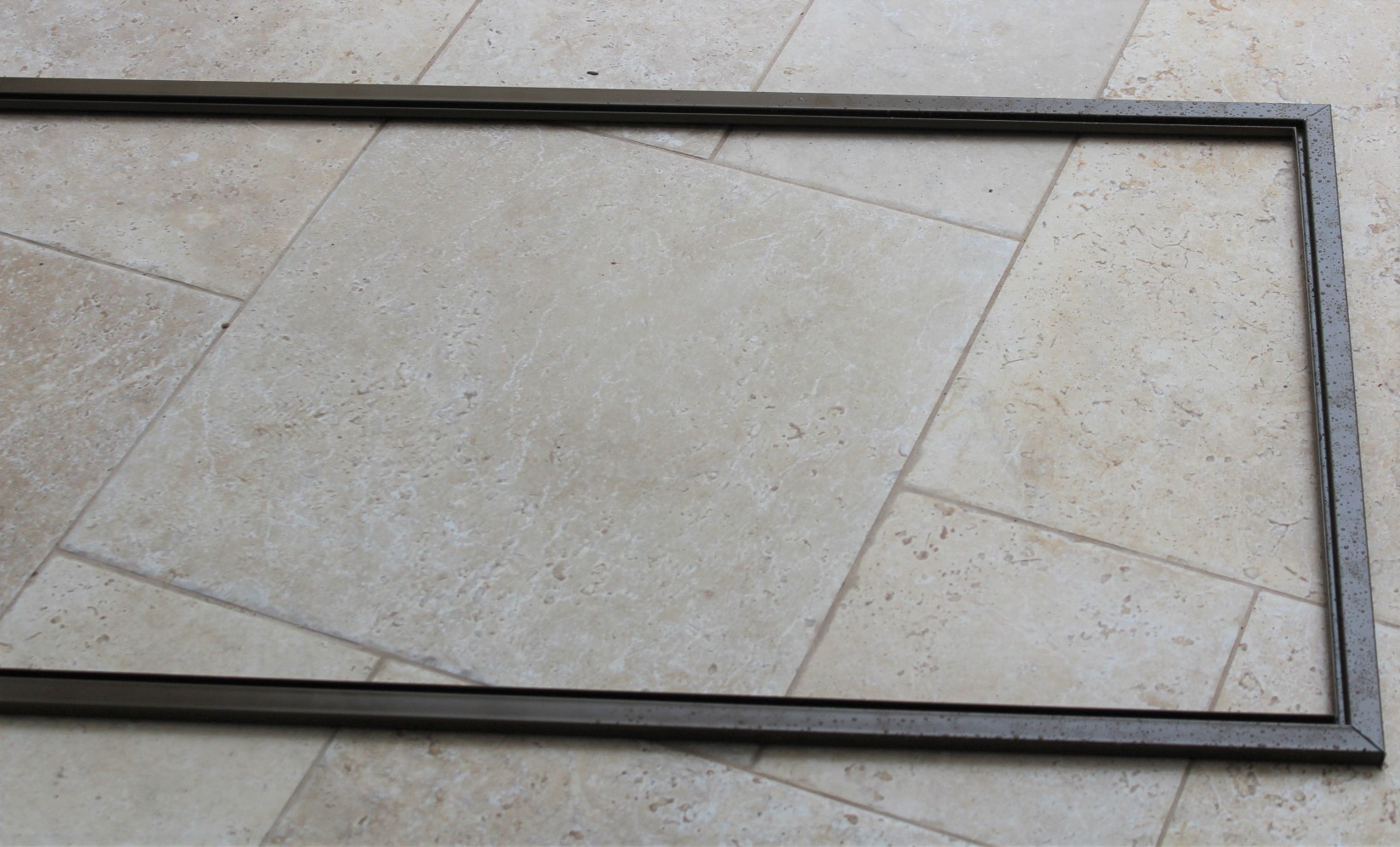 Install the Mesh
The next step is installing the mesh. Cut it longer than you need. This will ensure it is tight. You will use the utility knife to trim it after the spline is installed.
Find a flat, non-abrasive surface to use when installing the mesh. You can also place a blanket on the floor to make sure you don't mark the frame.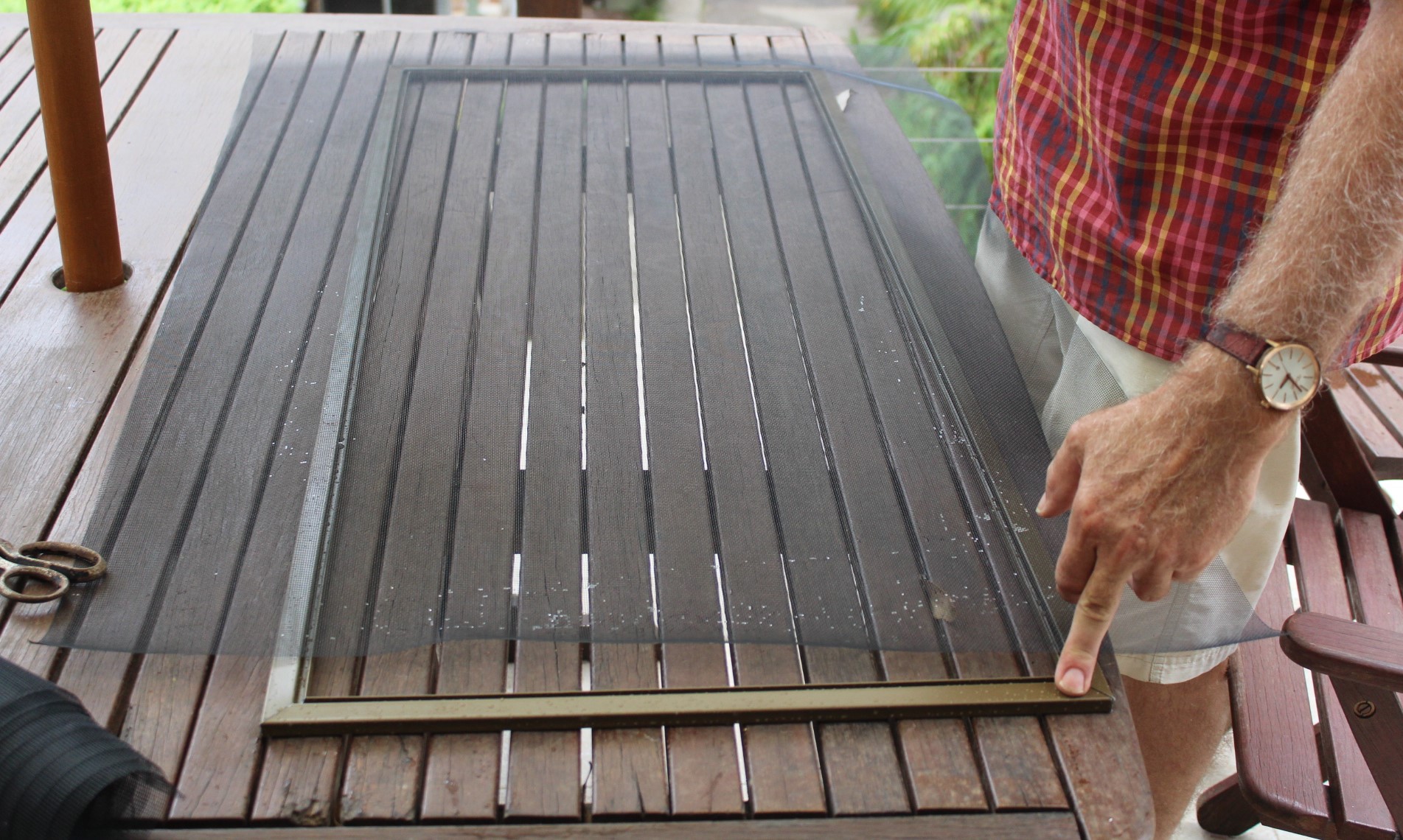 The spline is a long rubber or acrylic "rope." Try it first and if it is hard to install, soak it in hot water to soften the spline - most of these products today are quite flexible though, so that shouldn't be necessary.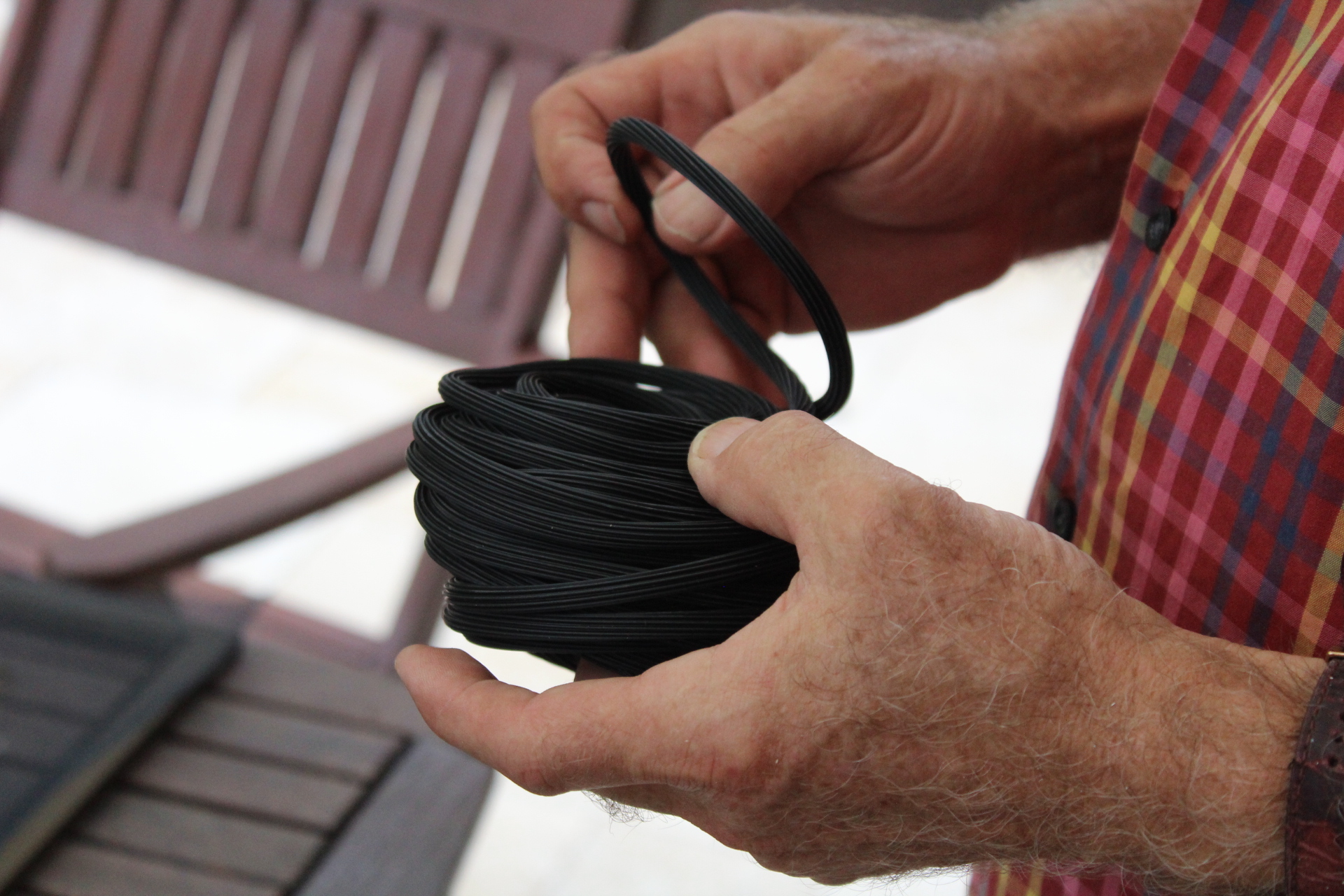 It's a good idea to tap it into one corner first and then move to the middle and other ends of the frame. This will help make the mesh fit tightly. Use a spline roller to install the spline and make sure it is fully secured before moving to the next side. Install the mesh without lumps and after you've finished two sides, make sure it is taut. Finish by installing the two other sides of the frame. You will have waste material. A utility knife will easily cut away the waste.
Once you have trimmed away the excess, use the spline roller to ensure the spline is in tight by rolling the sides once more: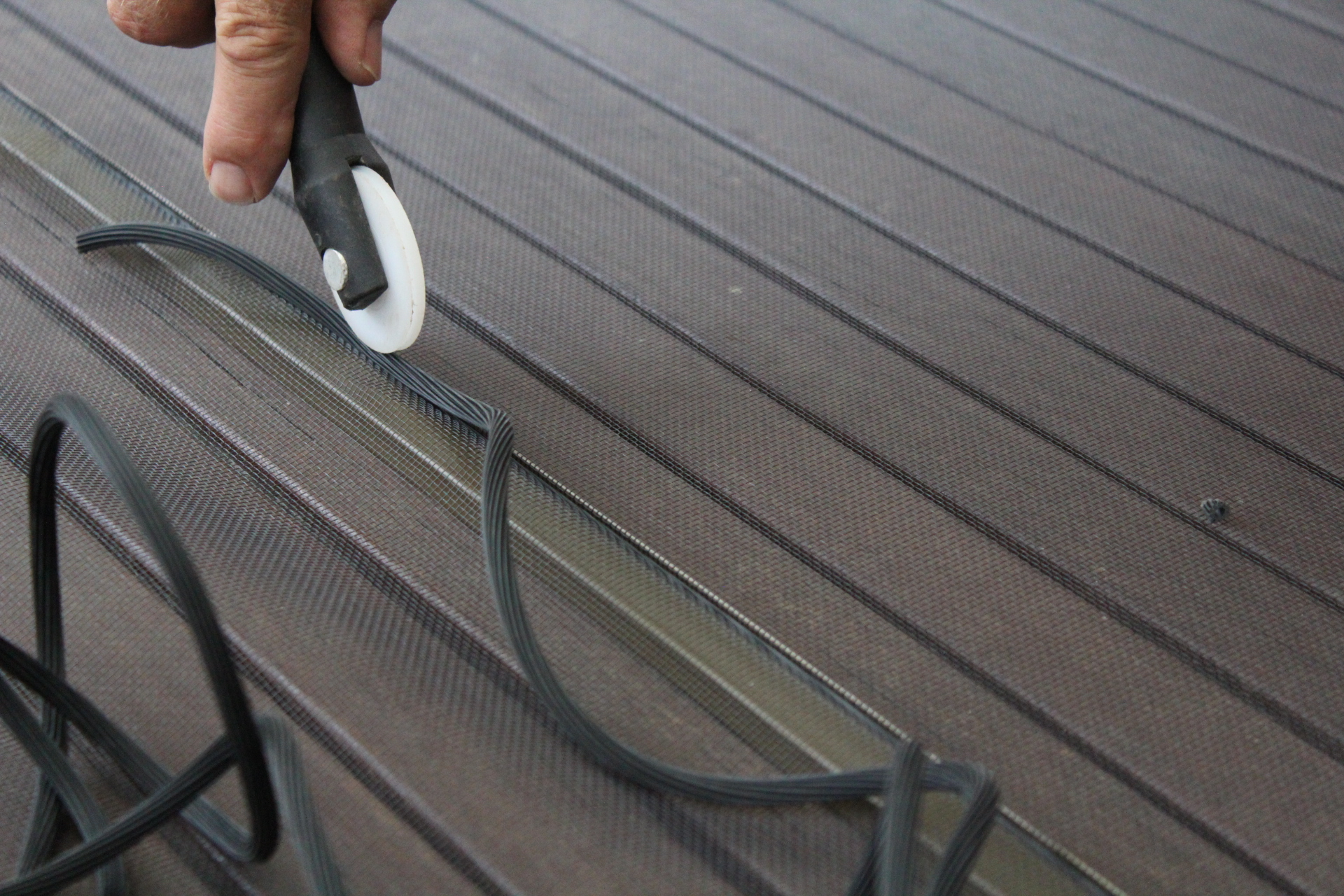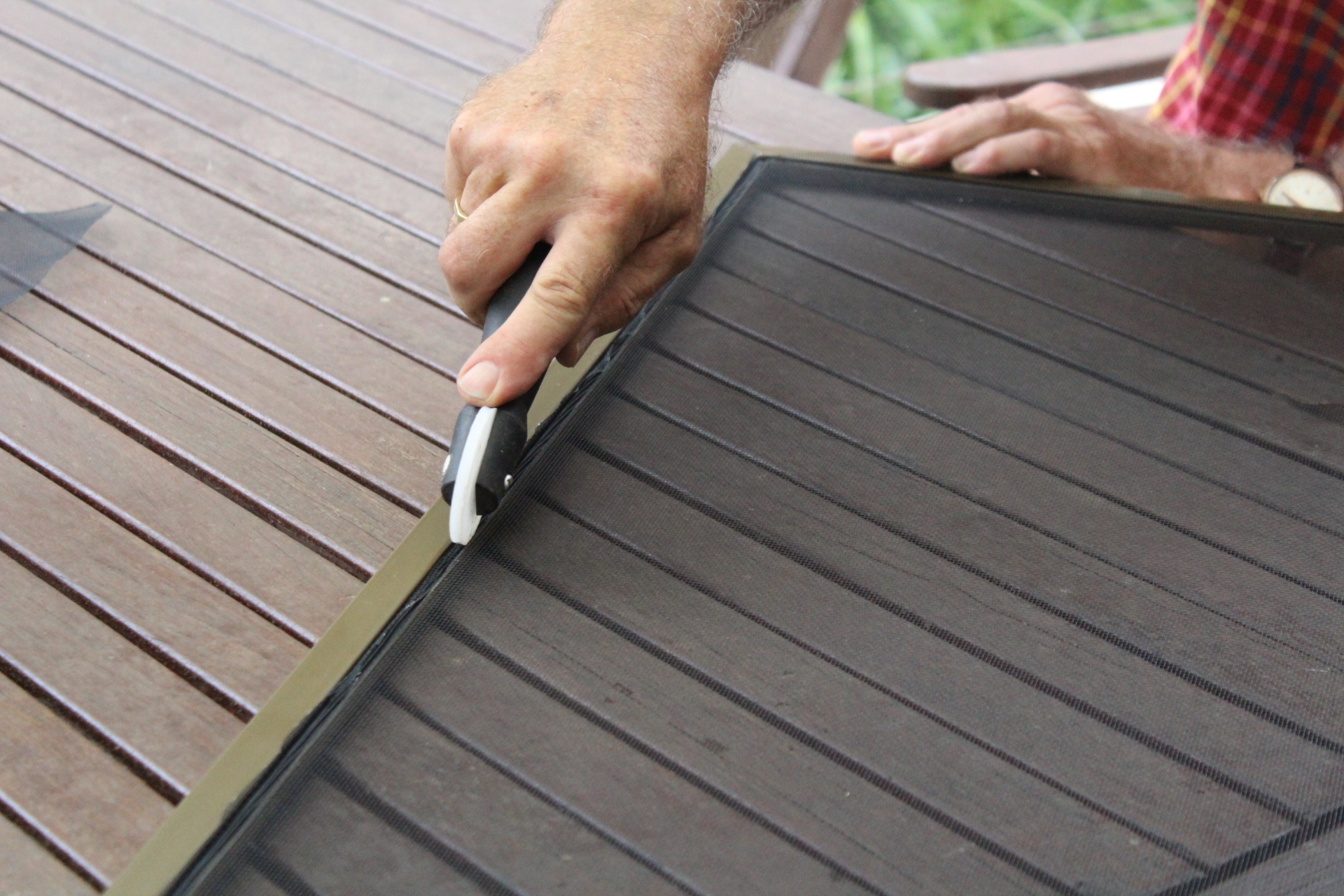 You may also have handles to fit to the flyscreen. Remember to countersink the holes in the aluminium frame using a drill bit that is the width of the inside of the screw. The threads of the screw will hold the handle in place.
We did two frames and installed the screening mesh in an hour and a half, which included going to our local JBH store and back again - why sit in traffic?
The cost is a lot less then buying them or having them installed as well.
And now you will get a full nights' sleep...finally.
Johnson Brothers Mitre 10 Offers Some Great Specials In Their 'Get Back To Work Catalogue - On Sale Until February 15th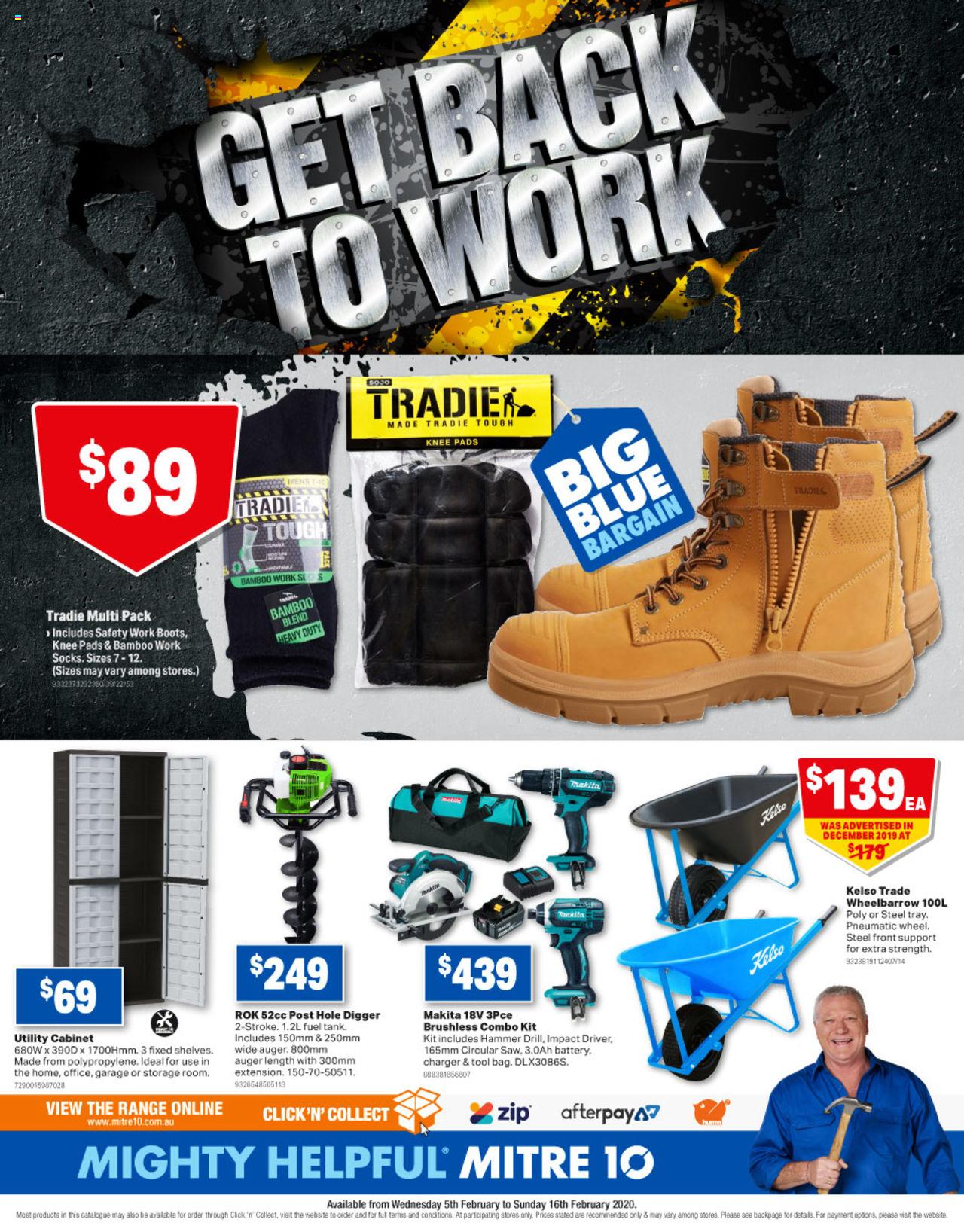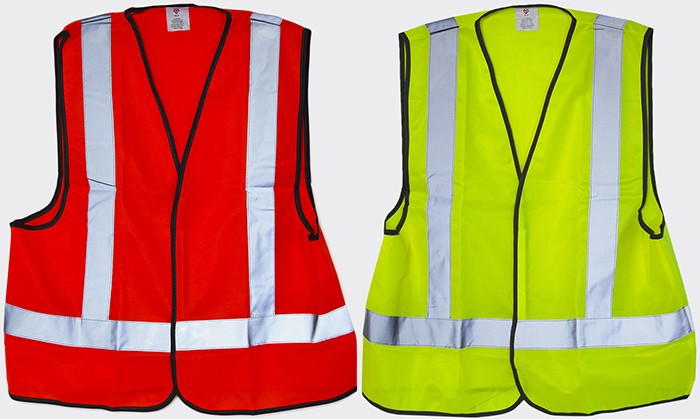 Hi Vis Safety Vest: $5.00
Fluro Yellow or Orange. Washable, durable fabric. Suitable for day & night use. Sizes L - XXL. (Sizes & colours may vary among stores.)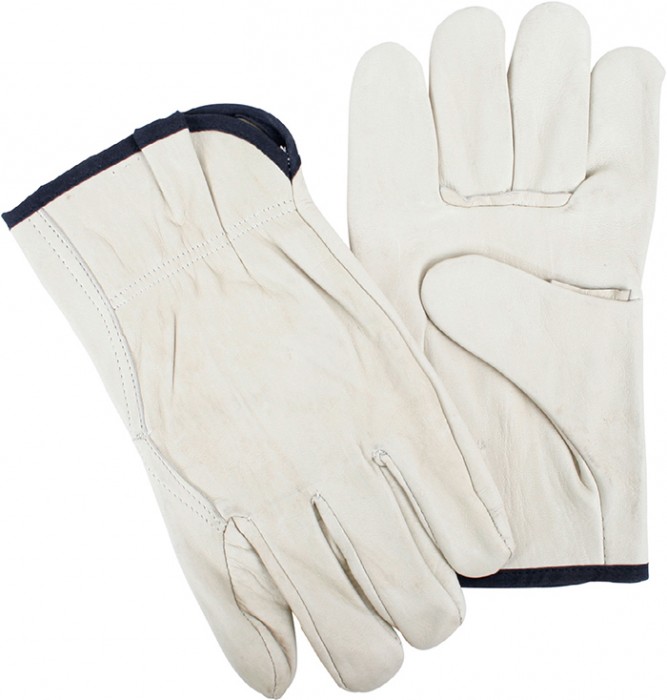 Safety Zone Rigger Gloves: $10.00 per pair
Heavy duty, premium cow grain leather. Elasticated cuffs. Sizes S - XL. (Sizes may vary among stores.)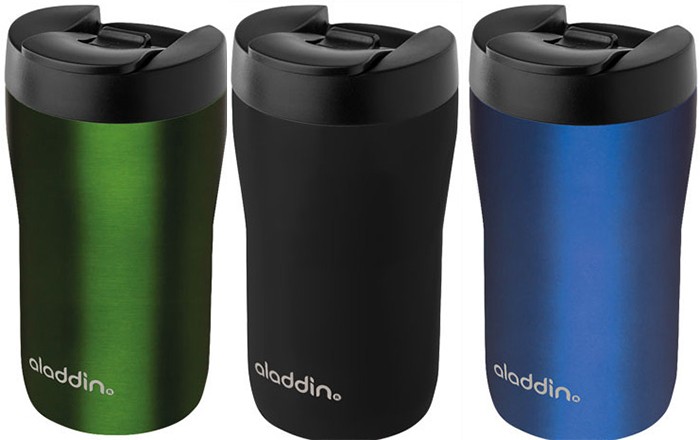 Aladdin Leak Lock Travel Mug 250ml: $10.00
Assorted colours. Stainless steel, easy grip, insulated travel mug. Fits under a regular coffee machine.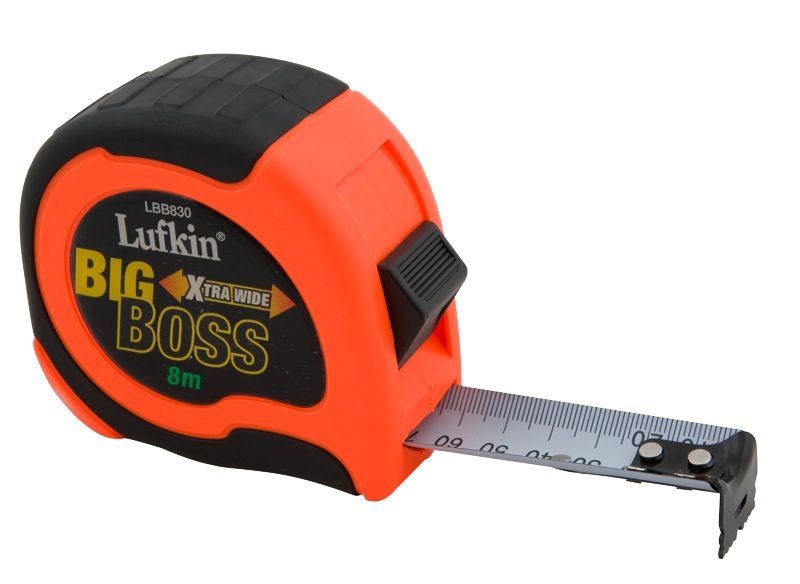 LUFKIN BIG BOSS TAPE MEASURE: $24.00
8m x 30mm. Extra-wide blade for increased durability.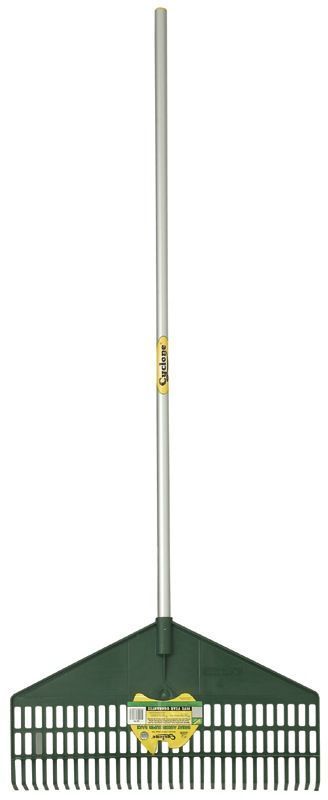 CYCLONE GREAT AUSSIE SUPER RAKE 580MM: $20.00
Ideal for raking litter, leaves, sand and lawn clippings. Plastic rake that can be turned around and used for a scraper for levelling sand and shifting water from concrete driveways and garage floors.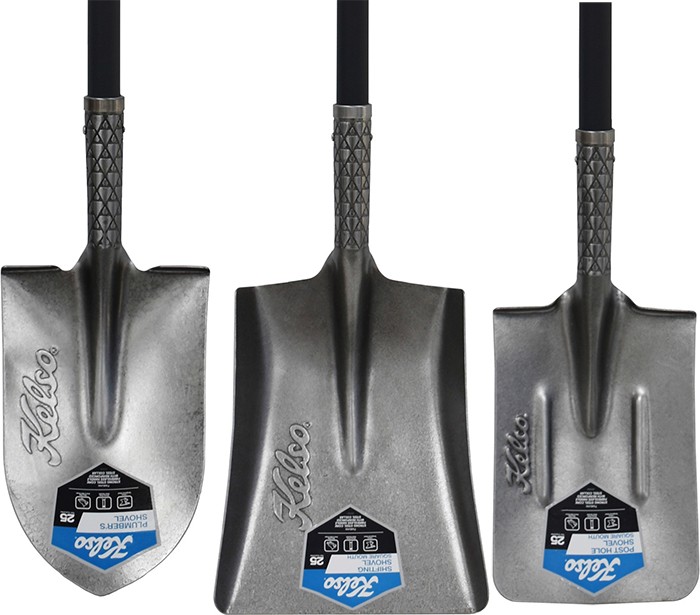 Kelso Fibreglass Long Handled Shovels: $39.00 each
Plumbers, Square Mouth or Square Mouth Post Hole.
Also available: Post Hole Pincer: $49.00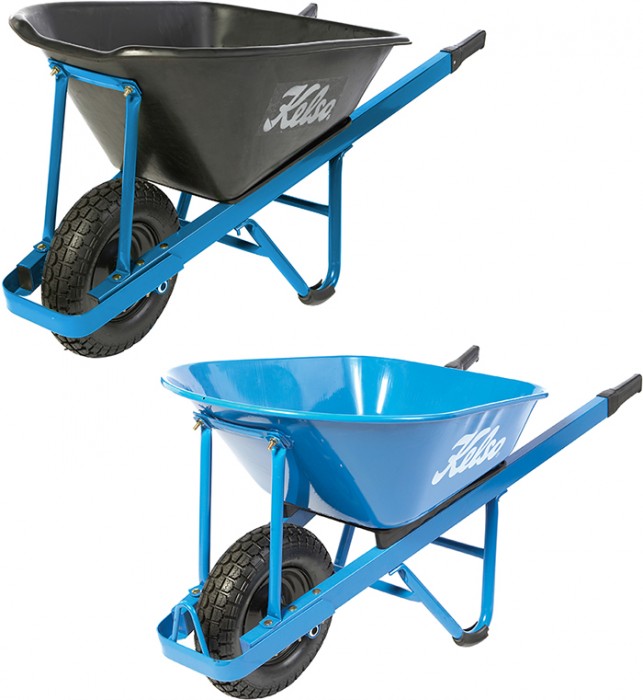 Kelso Professional Wheelbarrow 100L: $249.00 each
Poly or steel tray. Pneumatic wheel. Powder coated steel handles.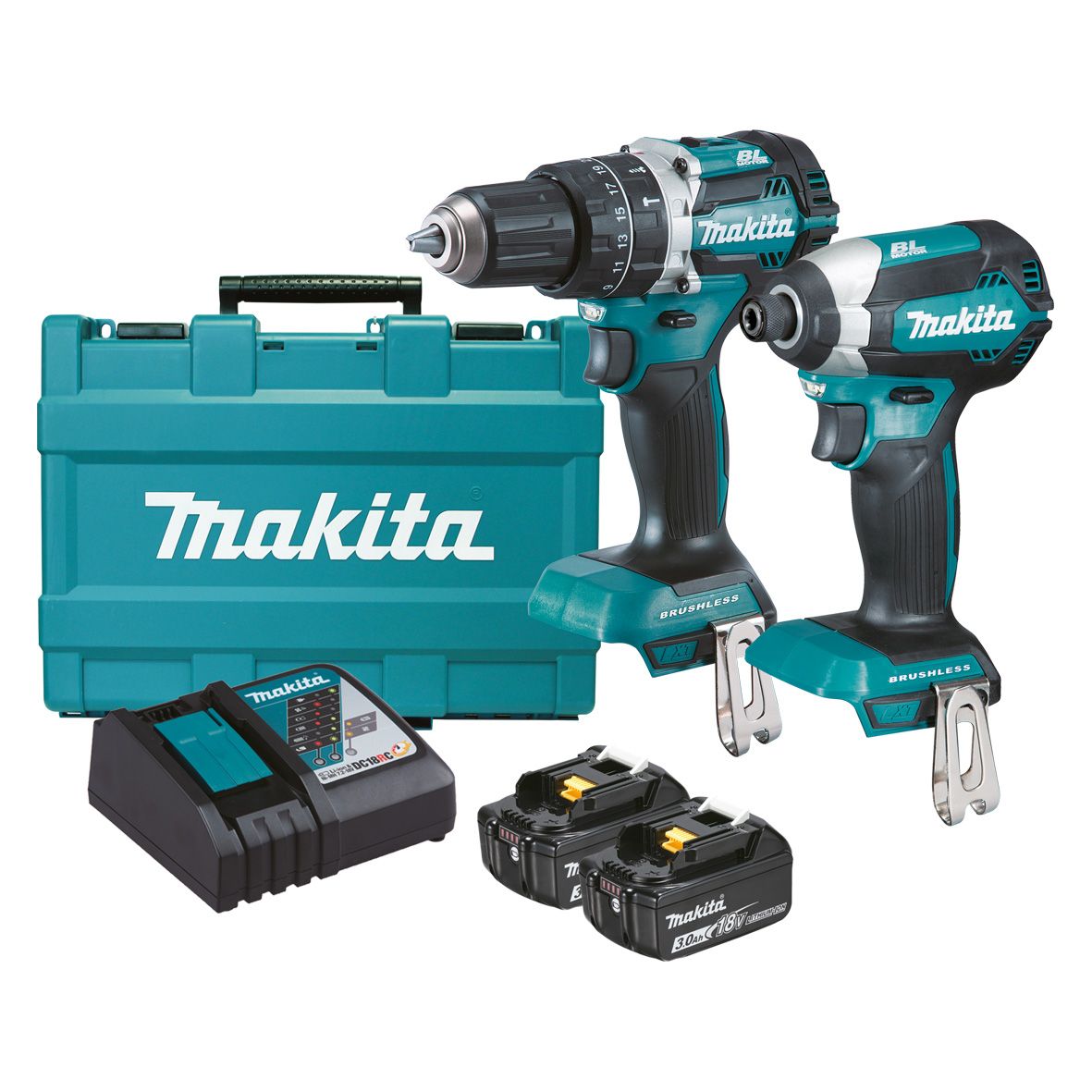 MAKITA 18V BRUSHLESS 2 PIECE COMBO KIT: $399.00
Kit includes: 18V Brushless Hammer Driver Drill, 18V Brushless Impact Driver, 2 x 3.0Ah Battery with Gauge, Fast Charger and 18V Brushless Compact Twin Case.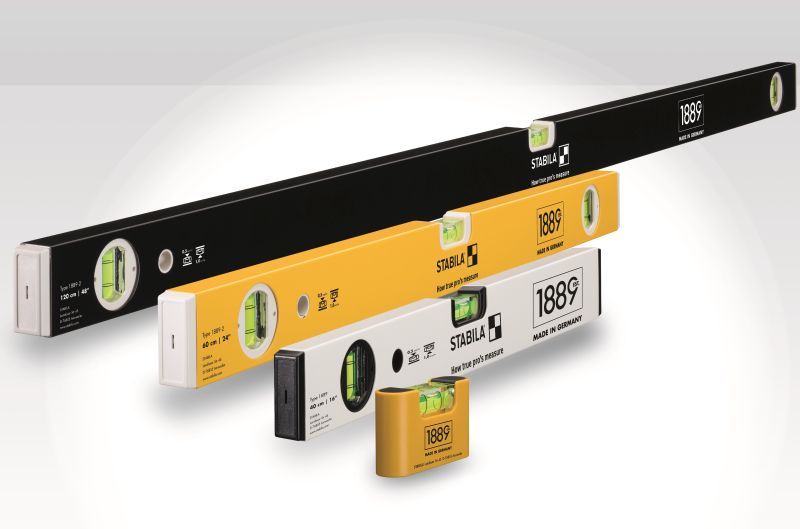 STABILA SPECIAL EDITION LEVEL - 4 PACK: $99.00
Non fade. Non leak. Electrostatic stable vials for lasting accuracy. Includes 70mm, 400mm, 600mm & 1200mm Levels.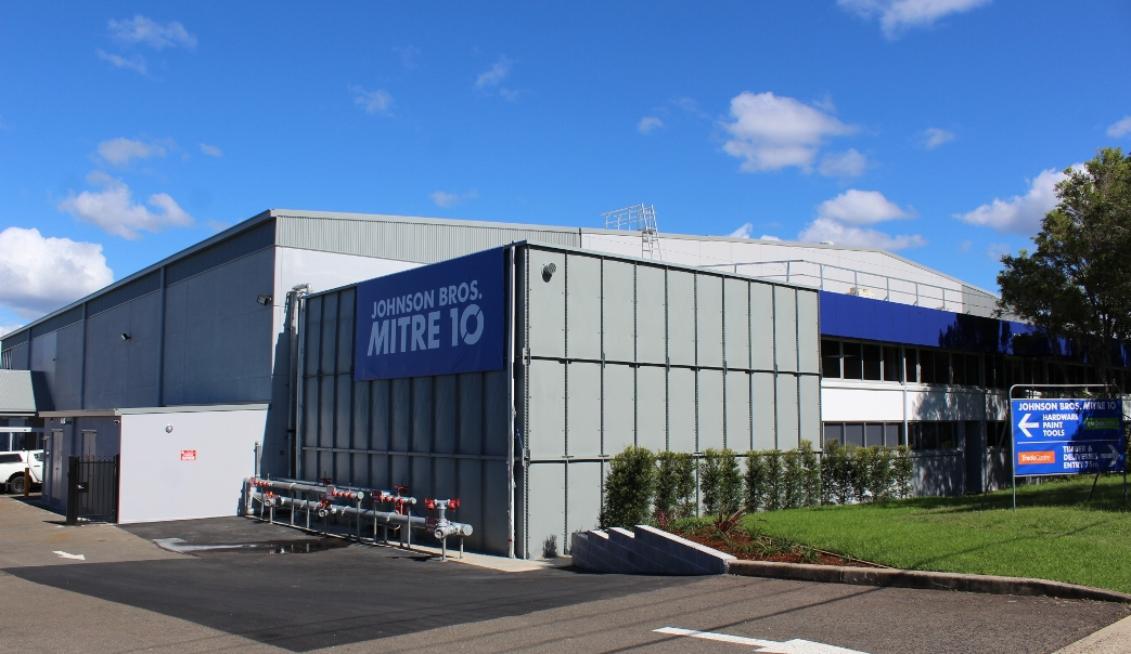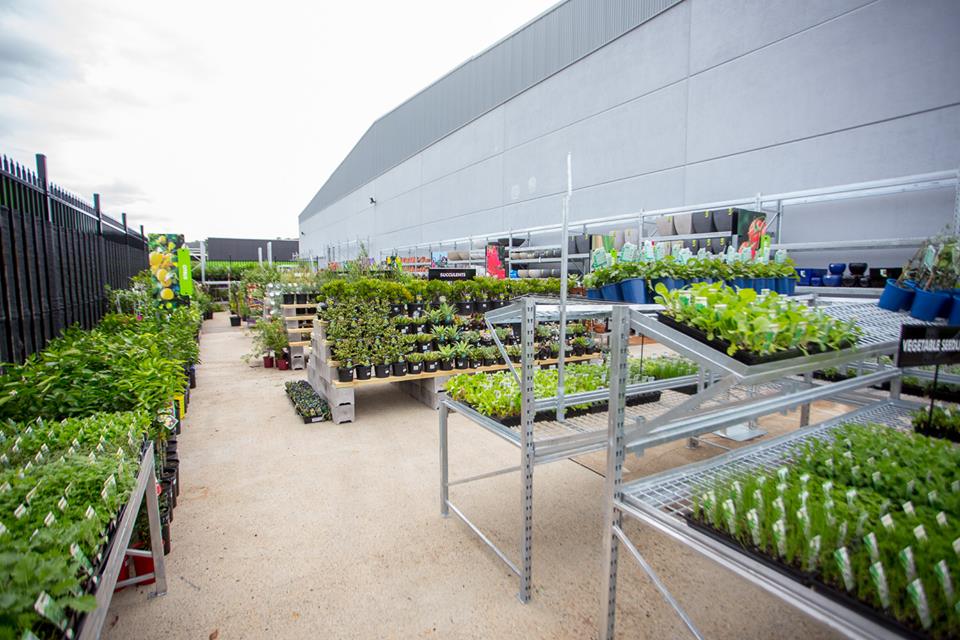 Green Life Garden Centre at Johnson Brothers Mona Vale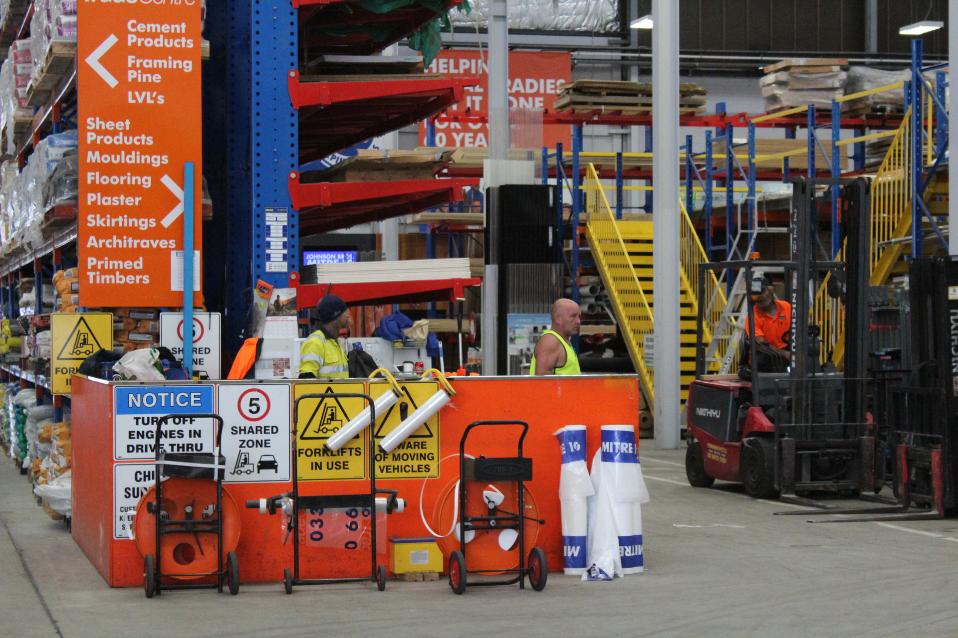 Johnson Brothers Mitre 10 Trade Centre at Mona Vale - everything you need under one roof.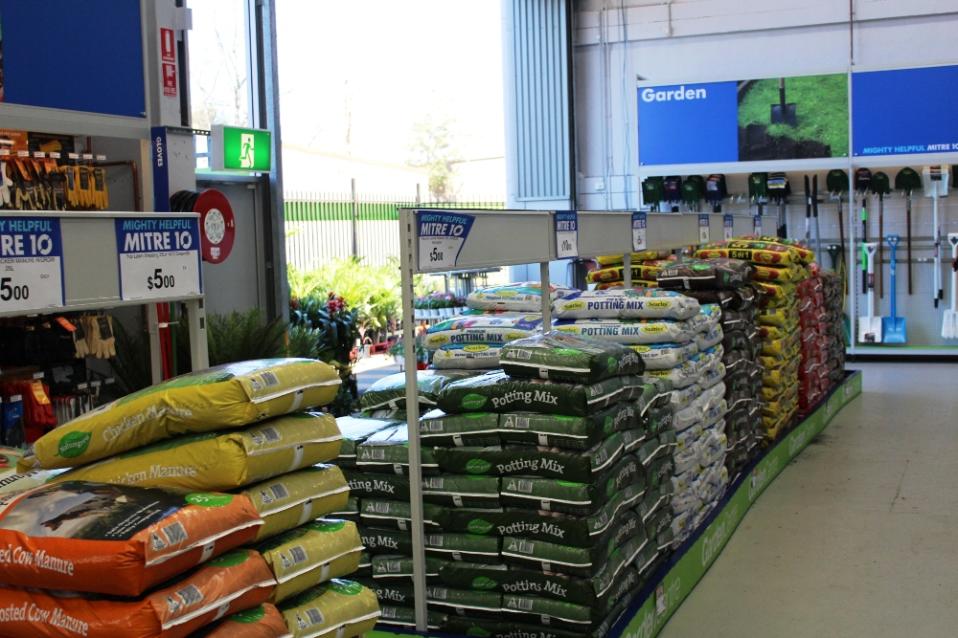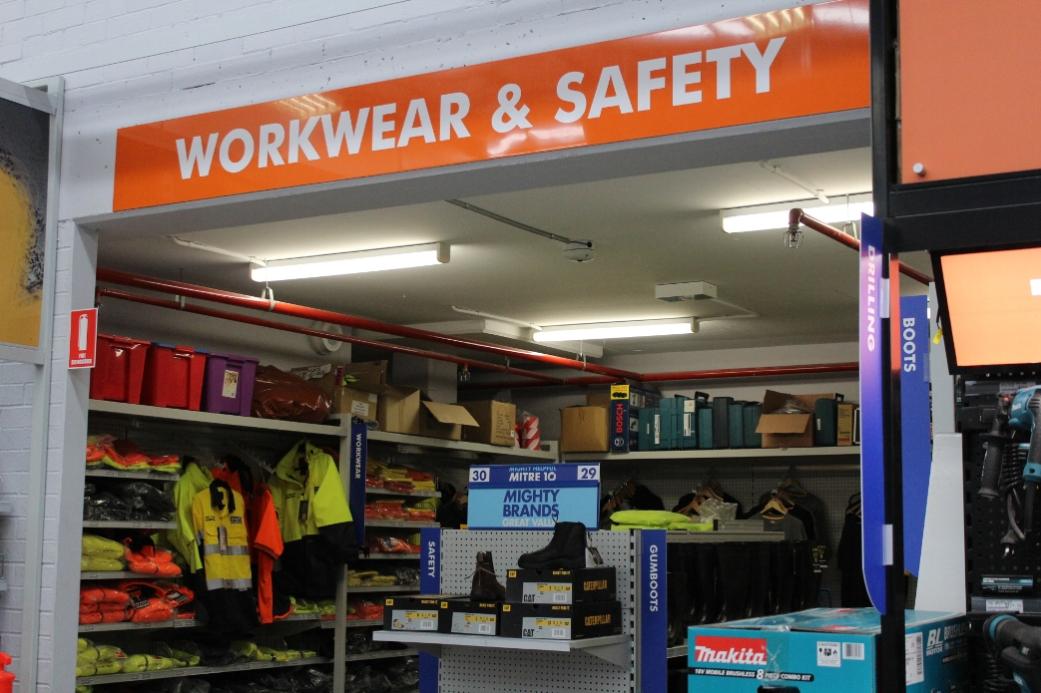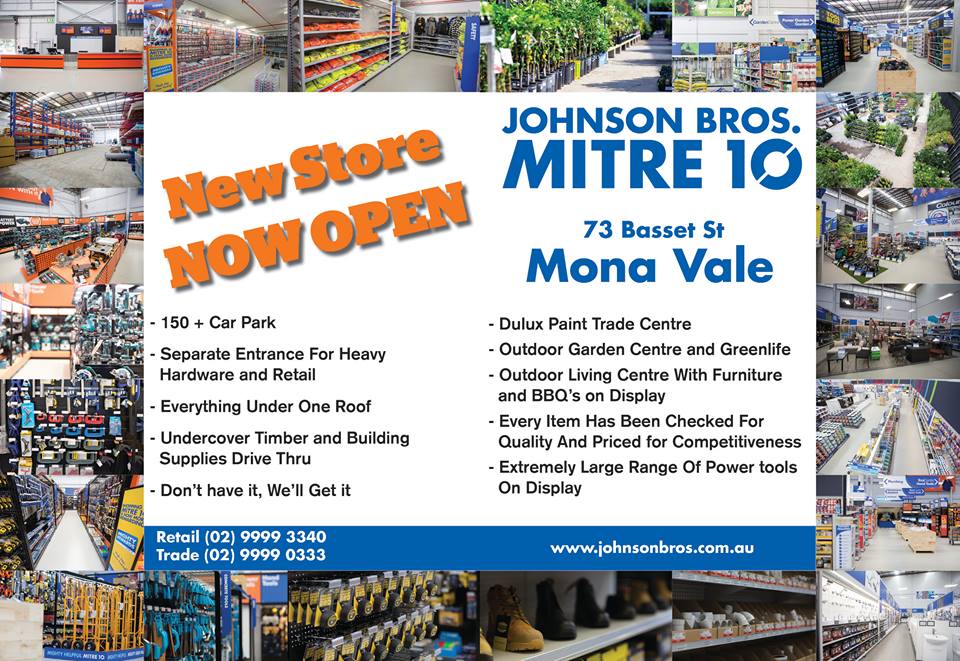 Johnson Brothers Mitre 10 New Store
73 Bassett Street
Mona Vale - Online Store: Jbhmv.Com.Au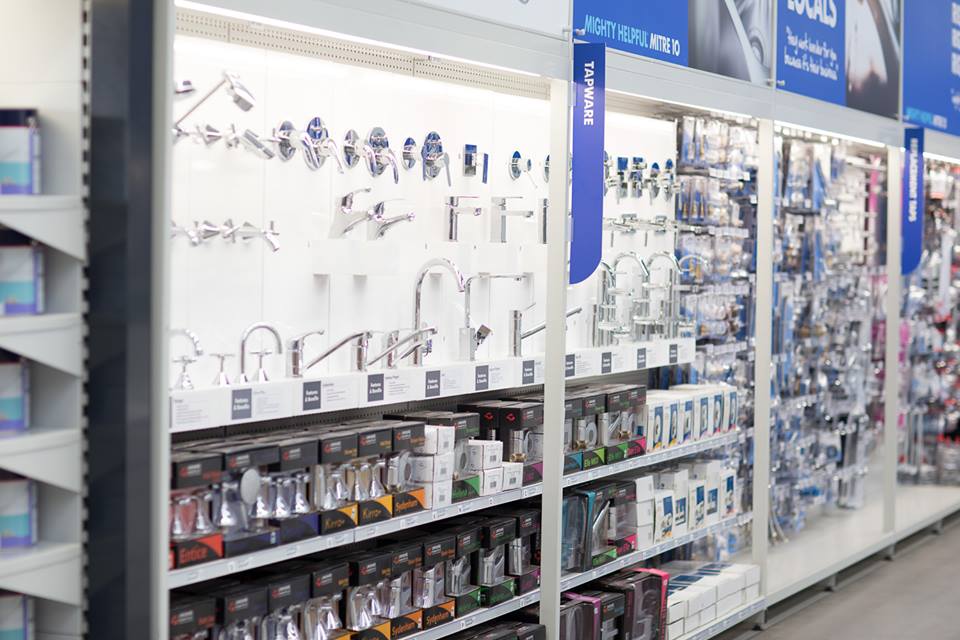 Products advice is available from the trained friendly staff at Narrabeen, Mona Vale and Avalon Johnson Brothers Mitre 10.
Click on logo to visit Johnson Brothers Mitre 10 website
Johnson Bros Mitre 10 - Avalon (02) 9918 3315
Johnson Bros Mitre 10 - Mona Vale (02) 9999 3340
JBH Timber & Building Supplies (02) 9999 0333
JBH Fencing & Landscape Supplies (02) 9970 6333
www.johnsonbros.com.au Online store: jbhmv.com.au

Important
All information and tips in this publication are of a general nature only and neither Johnson Brothers Mitre 10 or Pittwater Online News does not warrant the accuracy or completeness of the information and tips in this publication. This publication is not intended to be a substitute for expert advice.
Johnson Brothers Mitre 10
advises you to always consult an experienced and qualified person when undertaking jobs of this kind (including consulting a qualified tradesperson such as an electrician or plumber where relevant expert services are required).
You should also consider any safety precautions that may be necessary when undertaking the work described in this publication (including wearing any necessary safety equipment such as safety glasses, goggles or ear protectors or hard hats). The information and tips in this publication are provided on the basis that
Johnson Brothers Mitre 10
and
Pittwater Online News
excludes all liability for any loss or damage which is suffered or incurred (including, but not limited to, indirect and consequential loss or damage and whether or not such loss or damage could have been foreseen) for any personal injury or damage to property whatsoever resulting from the use of the information and tips in this publication.
Pittwater Online News and
Johnson Brothers Mitre 10
also advises there may be laws, regulations or by-laws with which you must comply when undertaking the work described in this publication. You should obtain all necessary permissions and permits from council and/or any other relevant statutory body or authority before carrying out any work. Major projects published in this publication always list these and/orlinks to where you may research what your own project requires to meet regulations.