March 12 - 18 2023: Issue 575

A Dry Autumn Forecast: How To Look After Your Garden During Low Rain Seasons + What Plants Thrive In Dry Conditions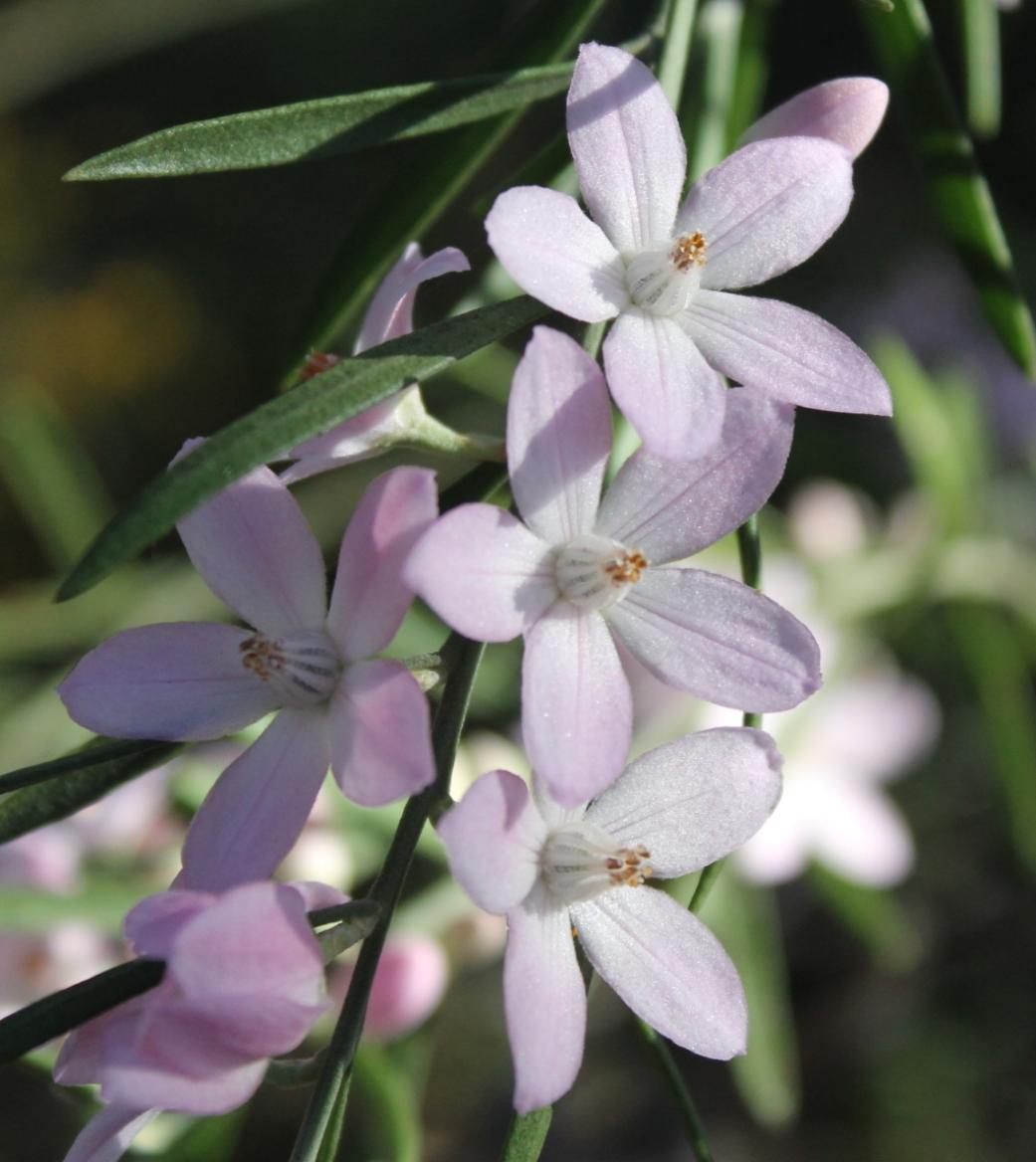 Pink Wax Flower Eriostemon australasius. Photo: AJG

The Bureau of Meteorology has released its long-range forecast for Autumn 2023 and it indicates coming months are likely to be drier and warmer than usual across most of Australia and warmer nights are also likely in coastal areas of the mainland.
Bureau of Meteorology Technical Lead Extended Prediction Dr Andrew Watkins said drier than average conditions have emerged in some areas over Summer, including parts of southern Queensland, western Tasmania and south-west Western Australia.
"Australia's key climate drivers are easing and expected to be neutral over the coming months. When our climate drivers are more neutral, autumn rainfall in southern Australia has generally been lower than average over recent decades," Dr Watkins said.
La Niña is nearing its end in the Pacific Ocean, with conditions likely to be neutral (neither El Niño nor La Niña) during Autumn. The Indian Ocean Dipole is neutral and has little influence on Australia's climate during the northern wet season, which extends through until April.
"With drier conditions emerging in some areas over Summer, and dry and warm conditions likely in autumn, some areas may continue to have below average rainfall over coming months," Dr Watkins said.
Australia's fire agencies have identified that most of Australia has normal bushfire potential during Autumn. However, areas of above normal bushfire risk include parts of New South Wales, Queensland and Western Australia.
This Issue a few tips to help keep your garden healthy this Autumn plus what to plant now for harvesting food from your own place.
Clean out the dead leaves - cut back grasses
As a result the focus this Issue is what you can do in your garden to look after plants and capitalise on any rain that will come. As the BOM has also forecast there is an above normal risk of bushfires, particularly grass fires, removing dead leaves from gutters and cutting back overlong grasses should be on everyone's 'to do' list as we head into what is traditionally called, with these conditions, an 'Indian Summer'.
Leaves collected can go into a compost bin and then be re-used as mulch around the base of plants to help retain moisture.
Contour the garden to direct water
To make the most of the rain that may fall on your garden, contour the land to direct water into certain areas and then plant according. For example, you'll want the more dry-tolerant plants at the top of your 'hills', and those than need more water in the lower sections you direct water flow into.
Of course, installing a rainwater tank, a pond or some other channelling of what 'creek' may come so you can harvest that water will be of long-term benefit for healthy moisture levels in the garden. Even a small pond will attract beneficial insects and frogs - in fact the chirrup of a frog in your garden is a sign of good health in a garden.
If you go the contours route remember these don't need to be large – less than 500mm is fine. There's some tips and tricks available in: Stop Winter Rain Lawn Loss and Soil Erosion on Slopes
Mulch, mulch and mulch some more
To prevent the soil from drying out, lay a protect covering of mulch over the top. Gardeners estimate that the right mulch can reduce the need to water by as much as 60%.
The type of mulch you use will depend on your other gardening objectives. If you're looking to enrich the soil further, an organic mulch such as pea straw, lucerne, or bean is ideal. Another organic option is bark, which takes longer to break down. It adds less to the soil, but by the same token needs to be replaced less often.
For those looking for a low-maintenance option, inorganic mulches like stones or pebbles are best. Keep in mind that these are low – not no – maintenance options – they will still need an occasional weed, even if you lay a weed suppressant mat underneath, and they can create heat islands when sunlight bounces or is retained by the hard surfaces. You will need to think about what you want to plant within or alongside these surfaces as the heat generated will impact on those plants.
Restore the Balance - Plant Australian species that love dry conditions
It's no secret that we live on an island that has vast spaces which are quite dry but still have plant species that thrive in these conditions and that Australia is one of the few places in the world where plants will flower all year round. In Pittwater there are plants that do well on poor or clay soils.
Plants that will do well here and attract birds and wildlife are:
Shrubs and Low Trees:
Sydney Golden Wattle - Acacia longifolia; Myrtle Wattle - Acacia myrtifolia; Hickory Wattle Acacia implexa; Dwarf Apple Angophora hispida; Heath-leaved Banksia Banksia ericifolia; Swamp Banksia Banksia robur; NSW Christmas Bush Ceratopetalum gummiferum; Crimson Bottlebrush Callistemon citrinus; Willow Bottlebrush Callistemon salignus; Healthy Parrot Pea Dillwynia retorta; Common Hop-Bush Dodonaea triquetra; Pink Wax Flower Eriostemon australasius; Bushy Needlebush Hakea sericea; Dagger Hakea Hakea teretifolia; Butterfly Bush Kunzea ambigua; Coastal Tea Tree Leptospermum laevigatum; Pink Tea Tree Leptospermum squarrosum; Swamp Paperbark Melaleuca ericifolia; Broad-leaved Geebung Persoonia levis; Narrow-leaved Geebung Persoonia levis; Graceful Bush-pea Pultenaea flexilis; Coast Rosemary Westringia fruticosa; Grass Tree Xanthorrhoea spp.
Groundcovers, climbers and grasses:
Apple Berry Dumplings Billardiera scandens; Blue Flax Lily Dianella caerulea; Pig Face Carpobrotus glaucescens; Knobby Club Rush Ficinia nodosa; Saw Sedge Gahnia aspera; Golden Guinea Flower Hibbertia scandens; Blady Grass Imperata cylindrica; Dusky Coral Pea Kennedia rubicundra; Spiny-headed Mat-rush Lomandra longifolia; Weeping Meadow Grass Microleana stipoides; Basket Grass Oplismenus sp.; Coastal Geranium Pelargonium australe; Slender Rice-flower Pimelea linifolia; Purple Fan-flower Scaevola ramosissima; Kangaroo Grass Themeda australis;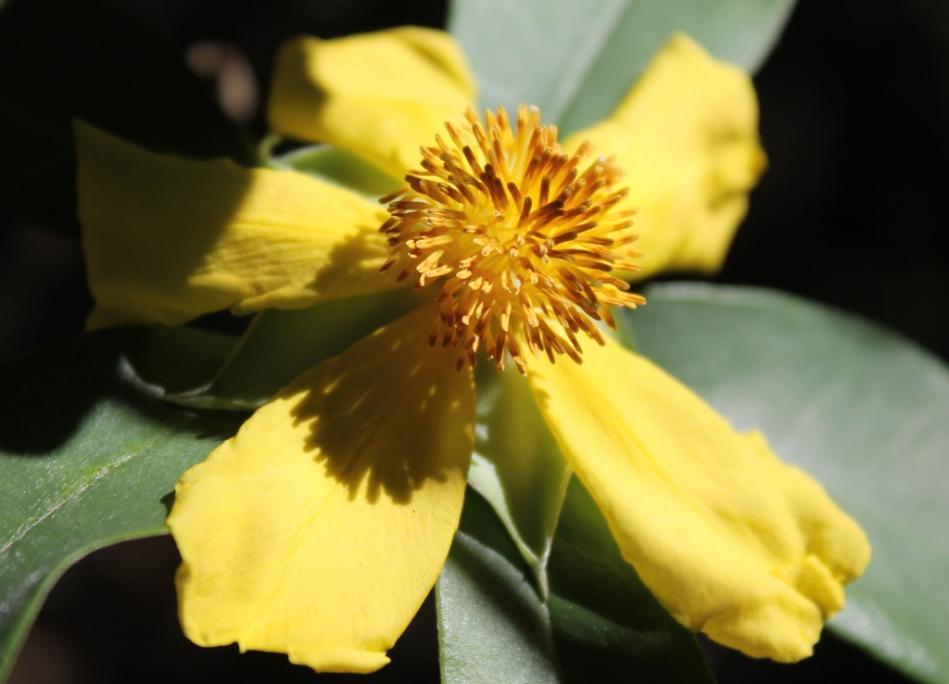 Golden Guinea Flower Hibbertia scandens. Photo: AJG

Water wisely
If and when you do need to water, do so wisely. Water at dawn to avoid excessive evaporation from the heat or sunlight. Use a trickle irrigation system that slowly 'leaks' water onto the ground, giving the soil time to absorb the water and reducing runoff. Water containers by hand to ensure the water is directed exactly where it's needed and not onto the surrounding decking or paving.
What veggies to plant now
For those who love harvesting from their own garden, early Autumn is the time to plant: Beetroot, broad beans, broccoli, brussels sprouts, cabbage, cauliflower, Kale and Spinach, Lettuce and Radishes.
Beetroot: Direct sow seeds in early autumn to harvest in 10-12 weeks.
Broccoli/broccolini: This is the easiest of all the brassica crops to grow. Sow seed, or plant seedlings, through out autumn for harvest in 12-16 weeks.
Brussels sprouts: Plant seedlings in early autumn for harvest in 16-20 weeks. Keep plants well-supported and growing upright with firm soil – if necessary, stake them. Sprouts form on the main stem and mature from the lower part of the stem upwards.
Cabbage/Chinese cabbage: Both forms of cabbage make fantastic veggies to plant in autumn and grow throughout winter. Sow seed or plant seedlings in autumn (crops can also be started in spring). Expect to harvest in 8-16 weeks depending on the variety with smaller cabbages and Chinese cabbage maturing more quickly. Harvest when heads are large and firm.
Cauliflower: Plant seedlings in early autumn for harvest in 14-26 weeks.
Kale: Plant seedlings in autumn and begin harvesting leaves when the plant is well-established, around 7-8 weeks from planting. Like lettuce, only pick what leaves you want at any given time. Simply cut off individual outer leaves but always leave the crown of the plant intact and it will regrow for future harvests.
Spinach: Seed can be sown or seedlings planted almost year round for a continual harvest. Soft-hearted varieties are the best to grow as leaves can be harvested as needed or harvest the full head after 8 weeks.
Lettuce: If you don't want to pay between $4 and $10 a lettuce this Winter, plant some seeds now - these can also be grown easily on unit balconies in pots. As with Kale or Spinach, just harvest the outer leaves as you need them and you should have a good crop, once formed, that will sustain your salads throughout the Autumn-Winter months.
Radish: These are fast-growing veggies to plant in autumn. Direct sow during autumn and spring and pick the tiny red radishes in just 6-8 weeks. Left too long, or allowed to be come stressed, the roots become more peppery in flavour.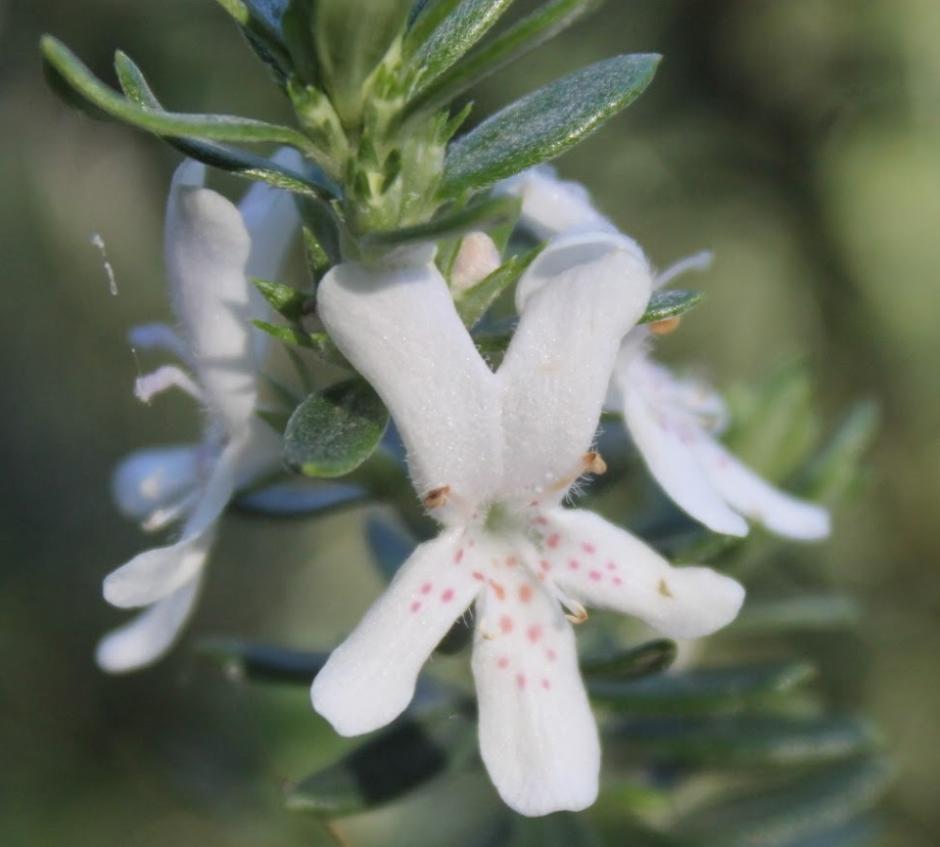 Coastal or Native Rosemary Westringia fruticosa. Photo: AJG
The Johnson Brothers Mitre 10 Stores Stock All You Need For Garden Care This Warm Dry Autumn
- includes specials in the Let's Get Organised Johnson Brothers - Mitre 10 catalogue, on special until March 19, 2023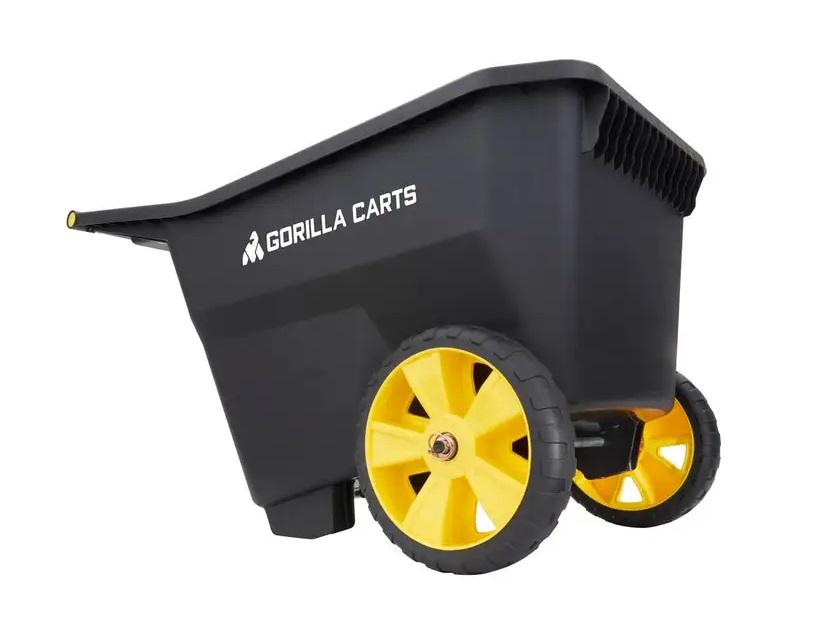 Gorilla Carts Poly Garden Caddy 270kg: $129.00
Maintenance-free poly construction
Lightweight and easy to handle
Push or pull design for increased manoeuvrability
270Kg max load capacity
12inch No-Flat moulded wheels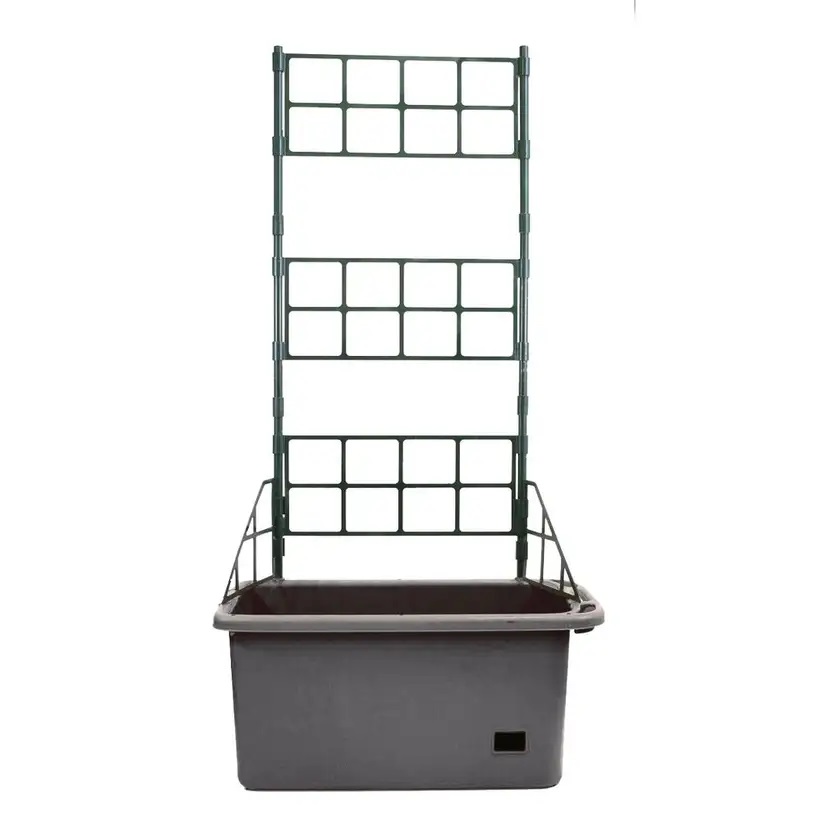 Greenlife Mobile Vege Patch with Trellis: From $74.00
Easy to assemble
Includes trellis, handle & wheels
Self watering insert
Perfect for tomatoes or vine vegetables
H1350 x W750 x D350
Soil and plants not included
Earthcore Garden Hose Fitted: from $18.95
3-layer super braided reinforcement
PVC inner core
UV resistant PVC outer layer
Includes hose end connectors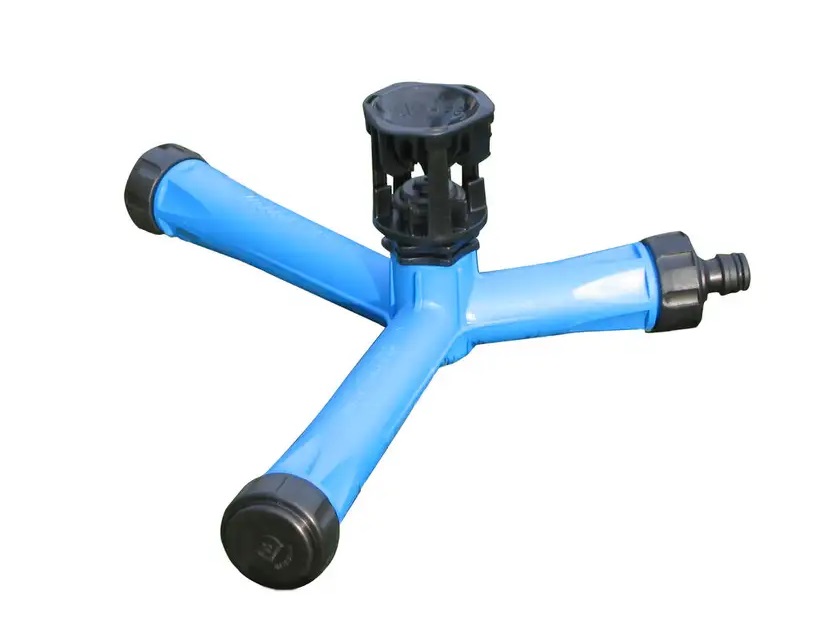 Wobble-Tee Lawn Sprinkler: $34.00 - on sale
15m diameter - Your lawn will be looking healthier in no time
Designed to operate on low to medium pressures
Waters up to 15m diameter
Water efficient sprinkler
Delivers water in large droplets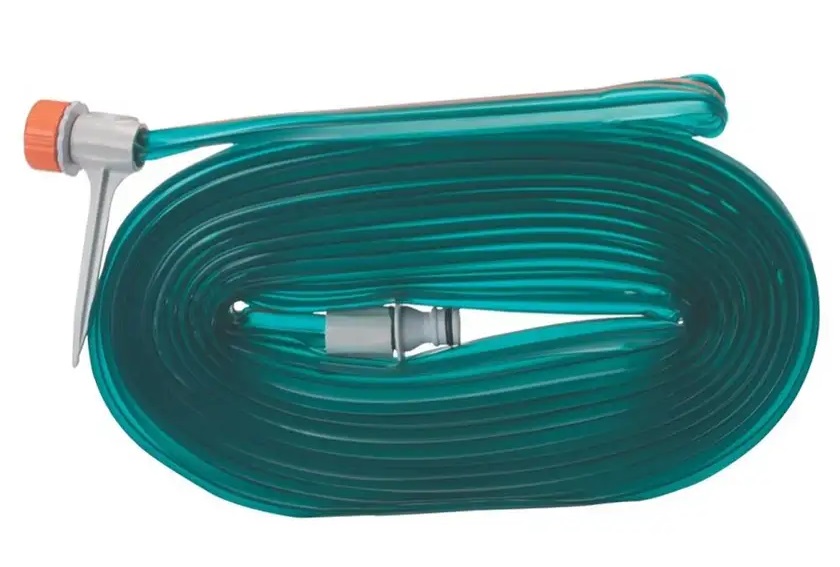 Neta Soaker Hose: From $18.90
Flat profile with twin stripes
Even spray coverage
Fully compatible with standard 13mm micro irrigation fittings
3 year Guarantee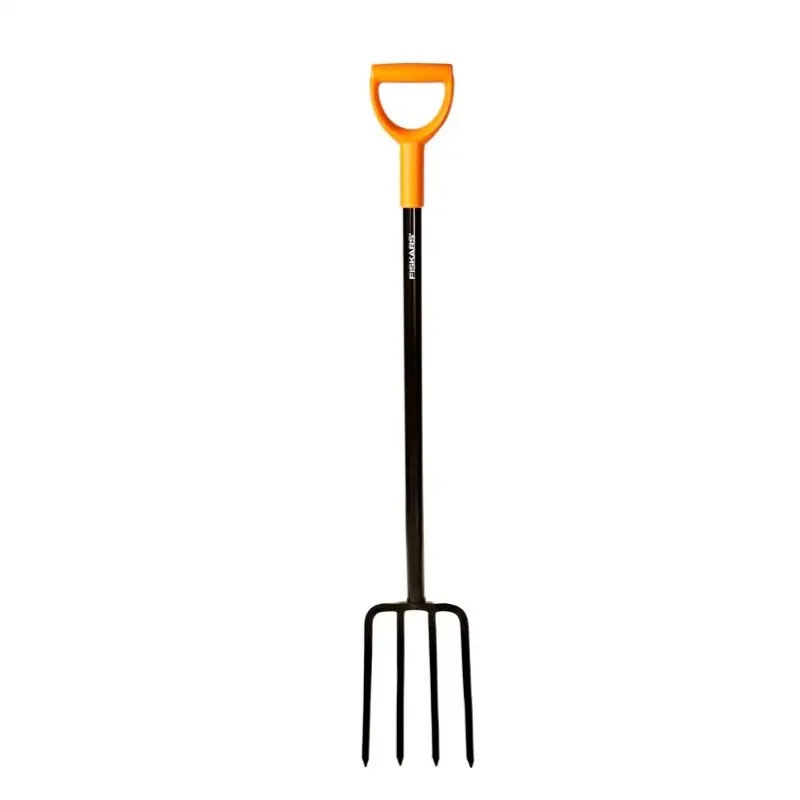 Fiskars Solid Garden Fork: $62.00
Fiskars Solid Garden Fork is a rigid garden fork that is made of durable boron steel material. The built-in rust prevention will ensure years of service, while the angled shaft and D-handle provide comfortable working when digging in your garden. Perfect for aerating, loosening and turning over compacted soil.
Perfect digging companion in its ability to aerate and loosen soil and work for the compost heap
Rigid construction, stiff tines and steel build will give you years of service in the garden
For aerating, loosening and turning over compacted soil
Durable boron steel material
Angled shaft and D-handle for comfortable working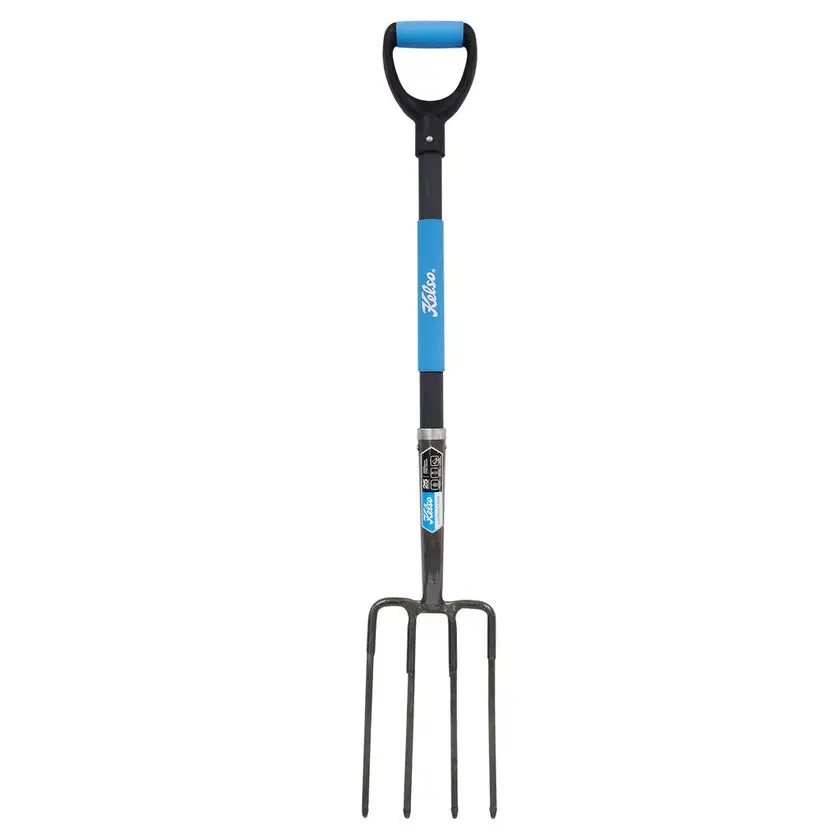 Kelso Garden Fork Fibreglass D Handle: $53.00
The Kelso Garden Fork Fibreglass D Handle is designed to have a strong steel core, fibreglass handle and a reinforced steel collar. The non-slip mid and end grips give comfort and support whilst using it. This garden fork is a multi-purpose tool for heavy-duty jobs such as digging, lifting and turning soil. The Kelso garden fork comes with a heavy-duty steel socket and the D handle is comfortable to use and is reinforced with steel for strength and durability.
Strong steel core fibreglass handle
Non-slip mid and end grips
Heavy-duty steel socket
Reinforced steel collar
Tumbleweed Compost Bin 220L: $62.00 - H770 x D710mm. 100% UV protected recycled plastic.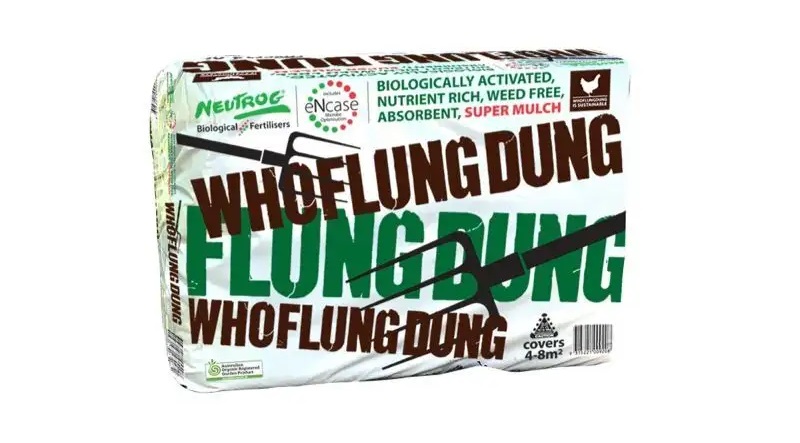 Neutrog Whoflungdung Mulch 20kg: $21.50 - Biologically activated. Nutrient rich. Weed free & absorbent mulch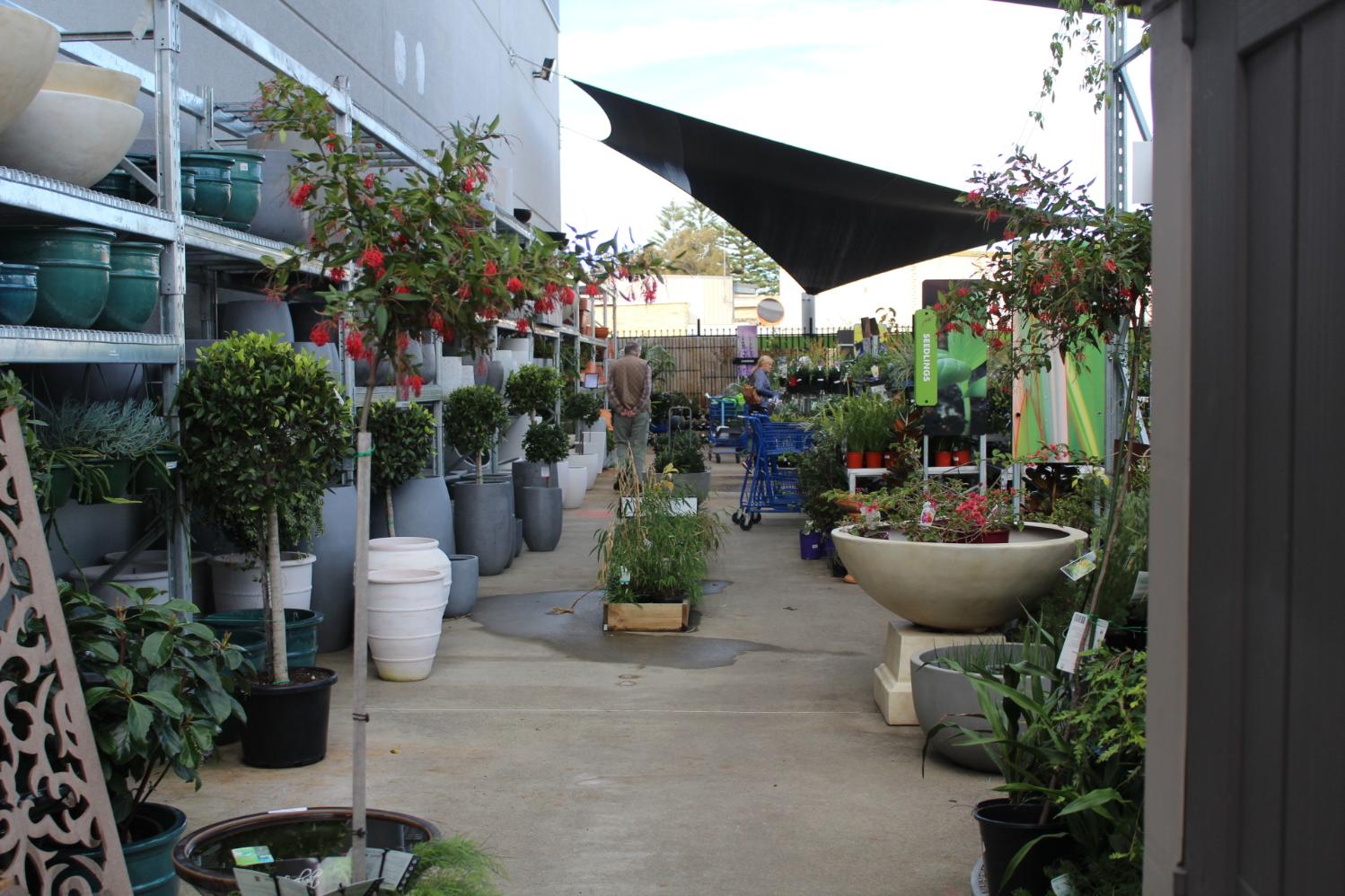 Greenlife garden centre at Johnson Brothers Mona Vale - for all your gardening needs.
Johnson Brothers Mitre 10: Serving Our Community Since 1955
The Independent Hardware Group has awarded Johnson Bros Mona Vale the best in state at the IHG state awards and heads to the national finals on the Gold Coast in February 2022.
Congratulations to the store in Avalon Beach as well, which won best in village.
Johnson Brothers say; ''Thank you to all of our amazing staff and customers for being awesome!''
IHG is Australia's largest home improvement wholesaler supplying more than 1,500 stores nationwide. These stores cater to a broad range of Trade and DIY customers and range from large format warehouses to convenience operations and Trade centres, as well as frame and truss sites in two States.
Under the IHG network, there is a clear mandate to support the growth of Independents within the hardware sector in Australia by helping them to be 'The Best Store in Town'.
The culture of IHG is built on being a low cost and transparent business partner to members, with an unwavering commitment to protect and grow a sustainable independent hardware sector for the long term.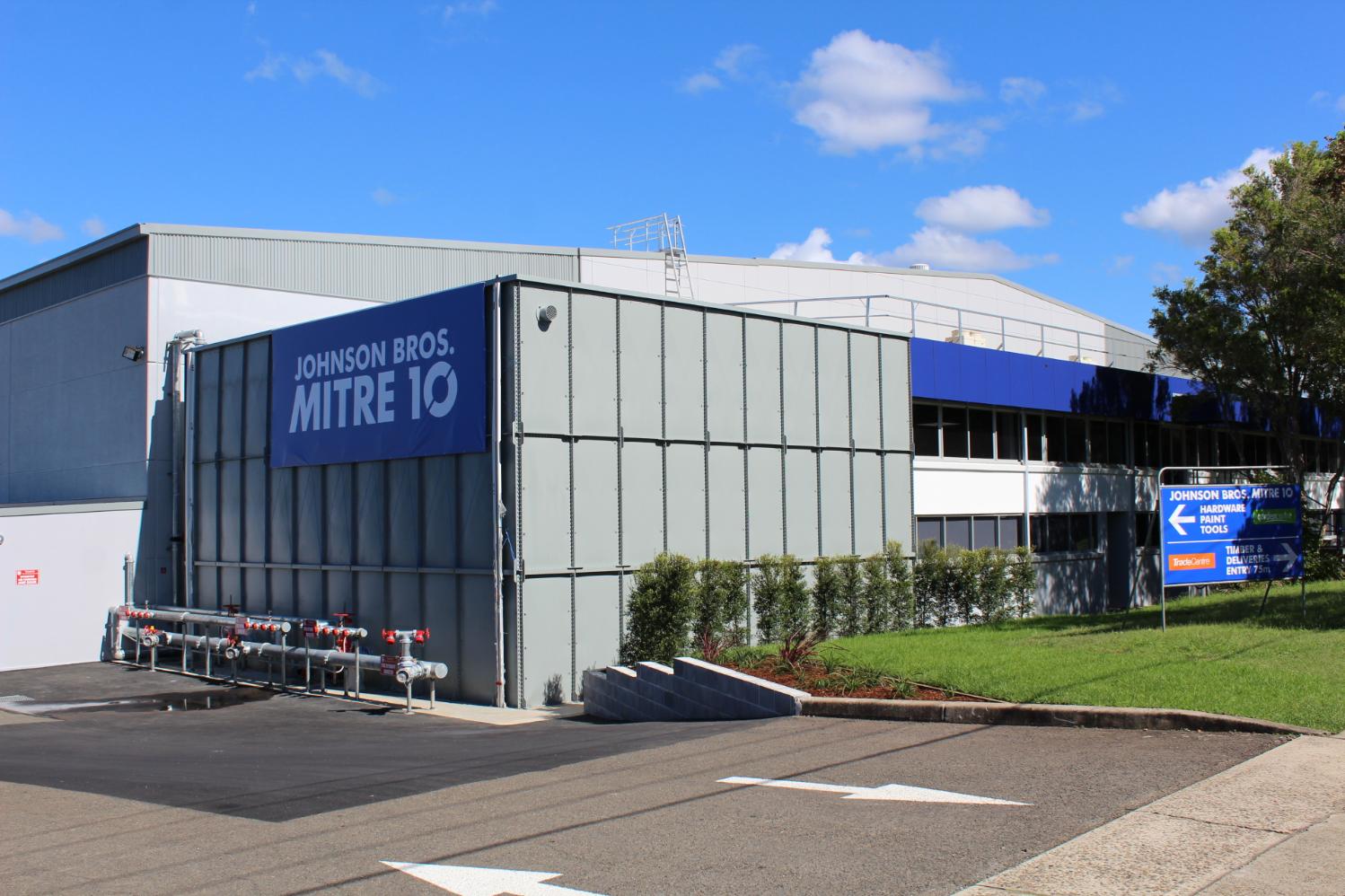 JBH Design Centre
JBH Design Centre is a tool for builders and DIY'ers to assist in the fit out of houses. It has displays of kitchens, Bathrooms, Doors and Storage as well as knowledgeable staff to assist in making house fit out painless.
Visit: http://jbhdc.com.au/
On Facebook: https://www.facebook.com/design.centre.jbh/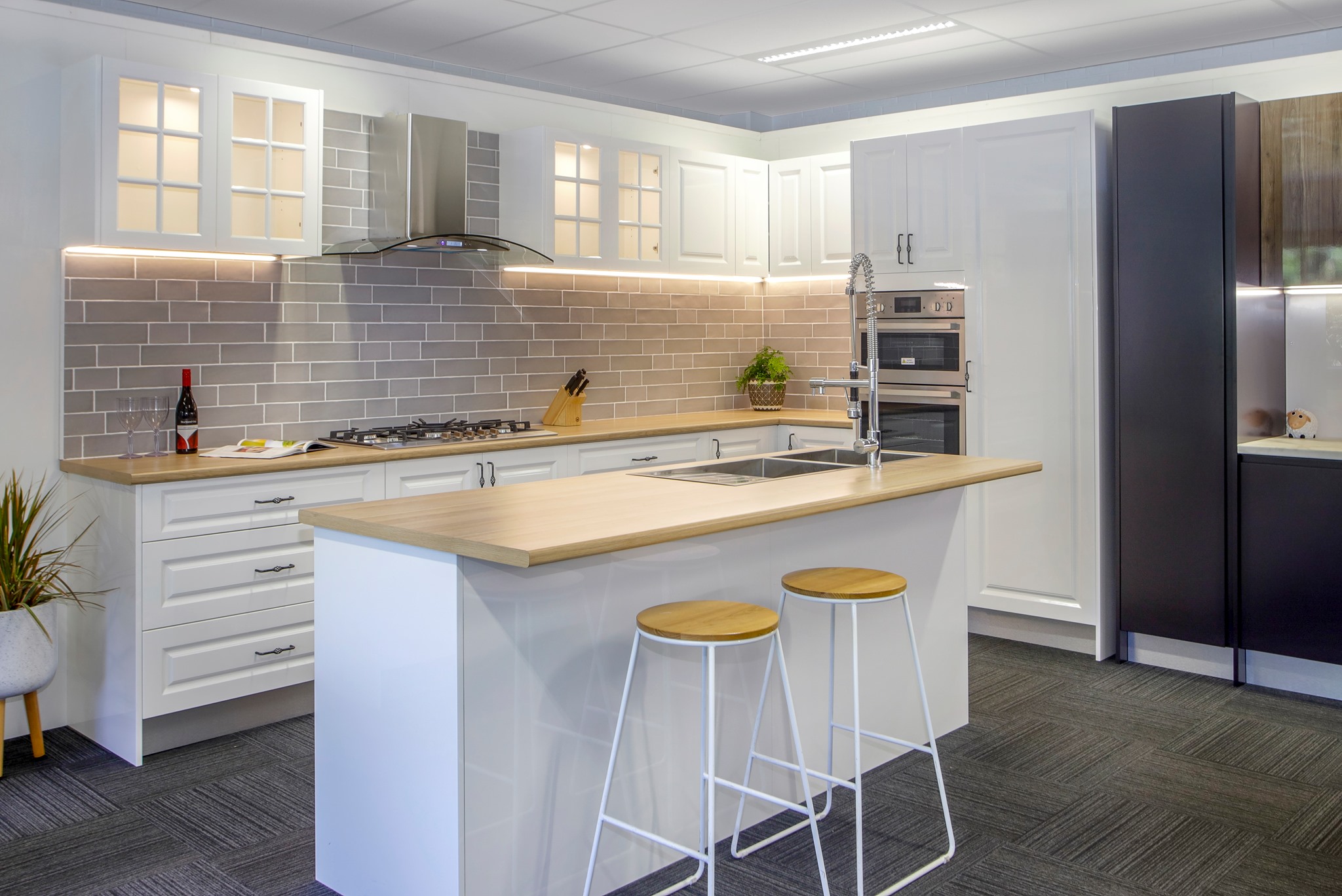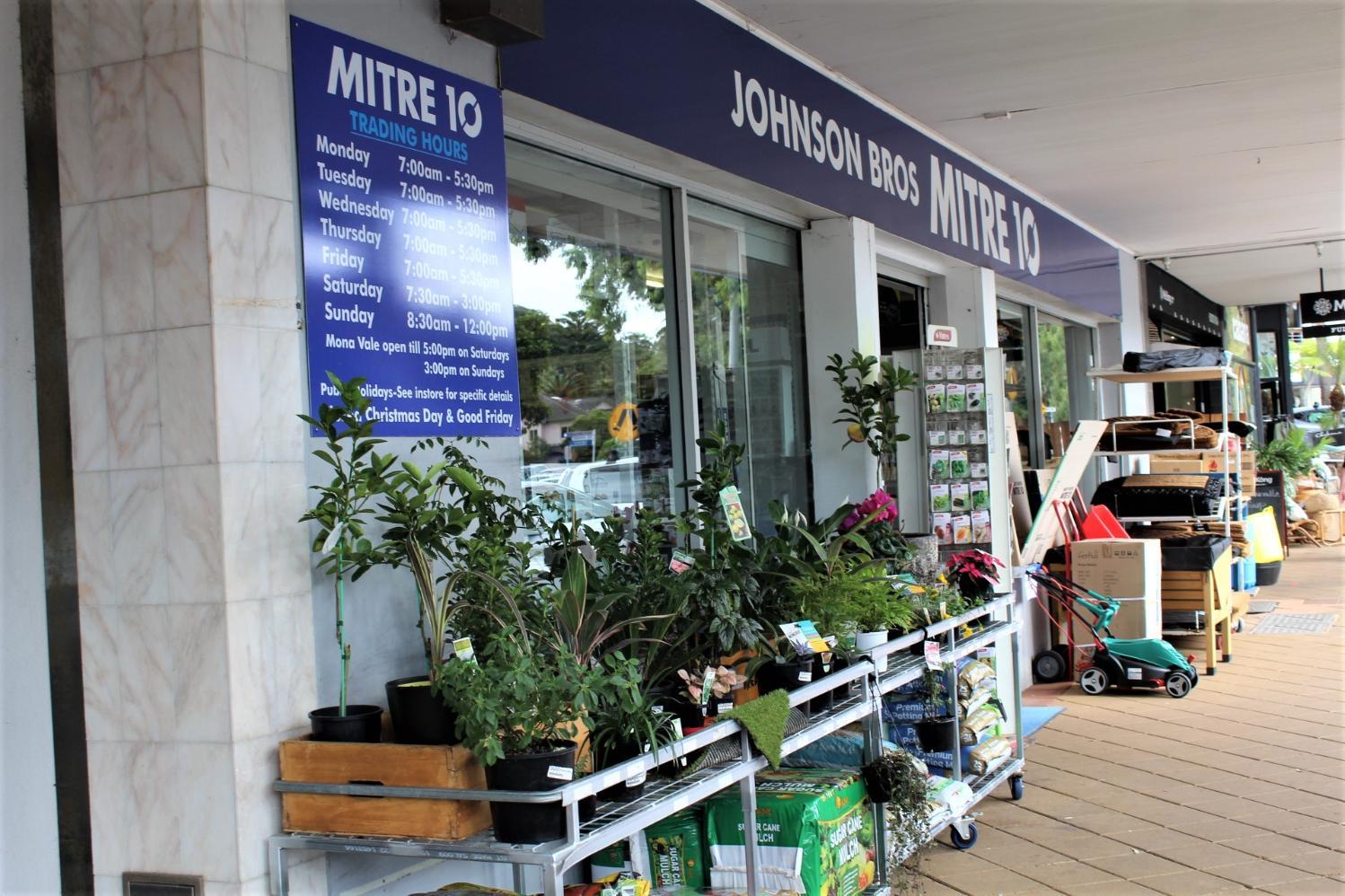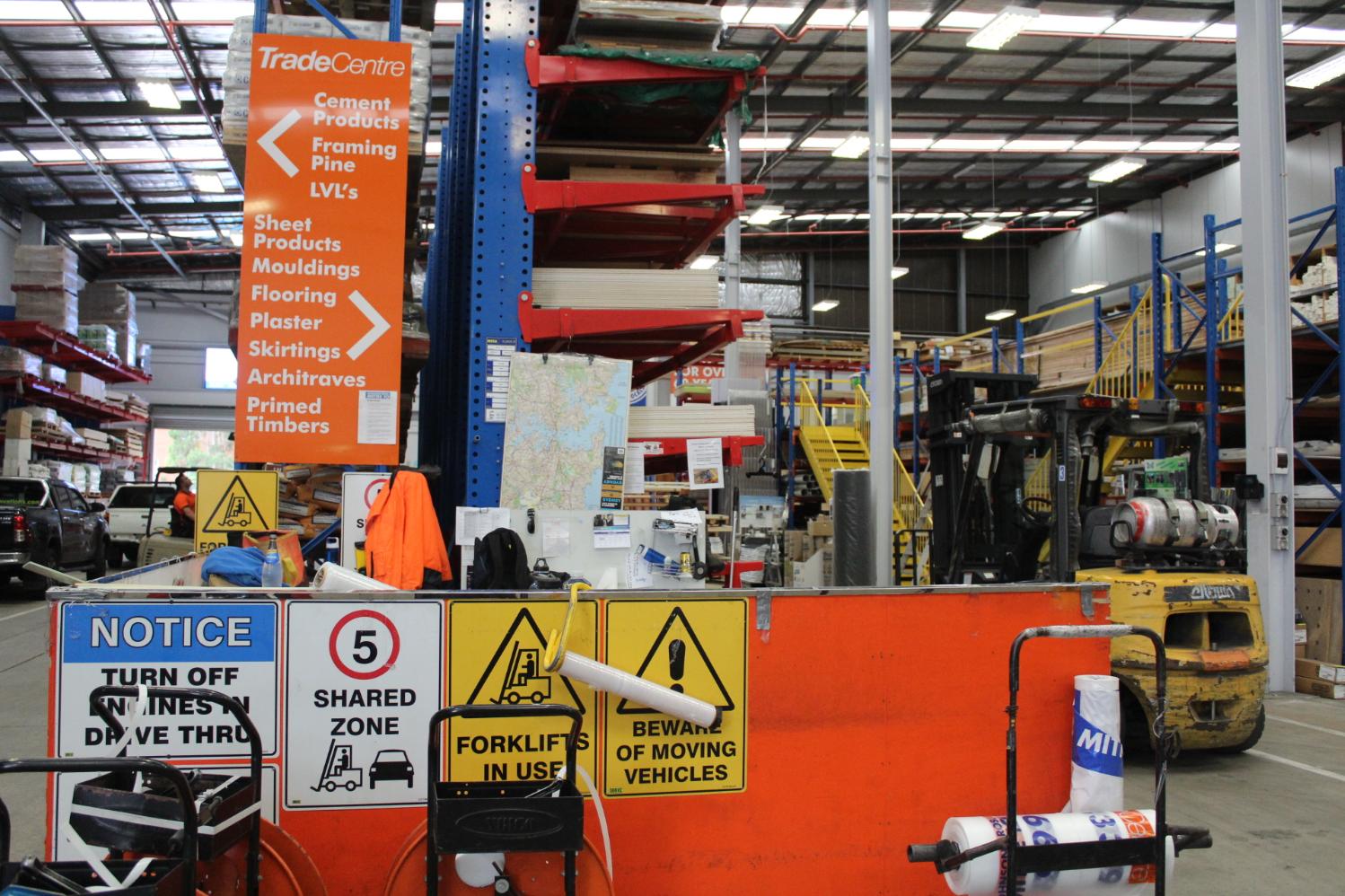 Johnson Brothers Mitre 10 Trade Centre at Mona Vale - everything you need under one roof.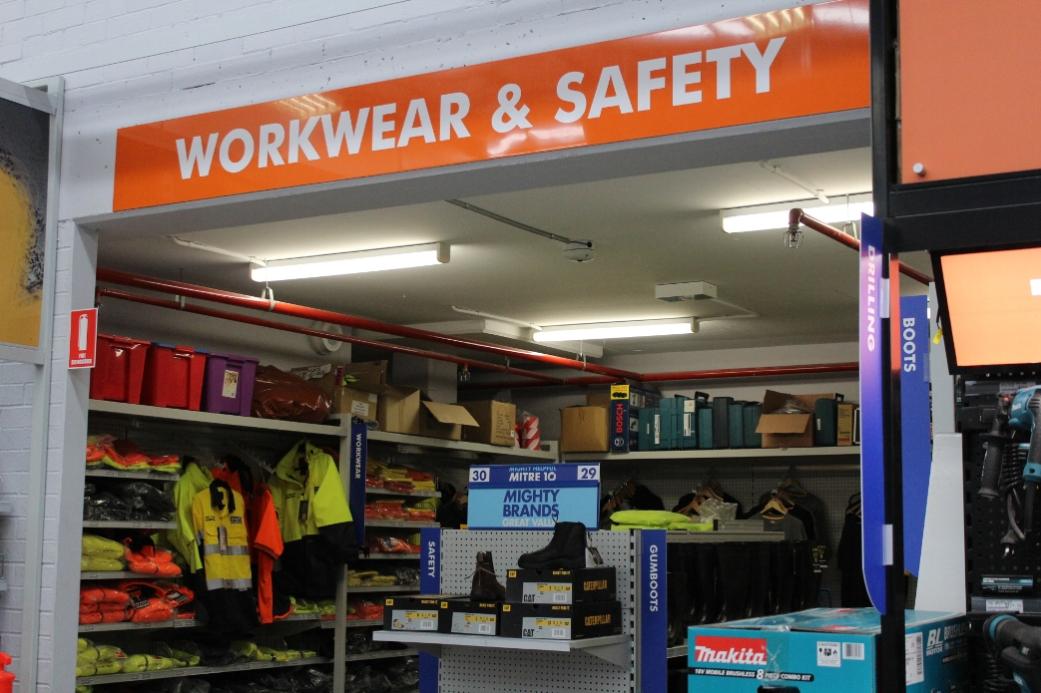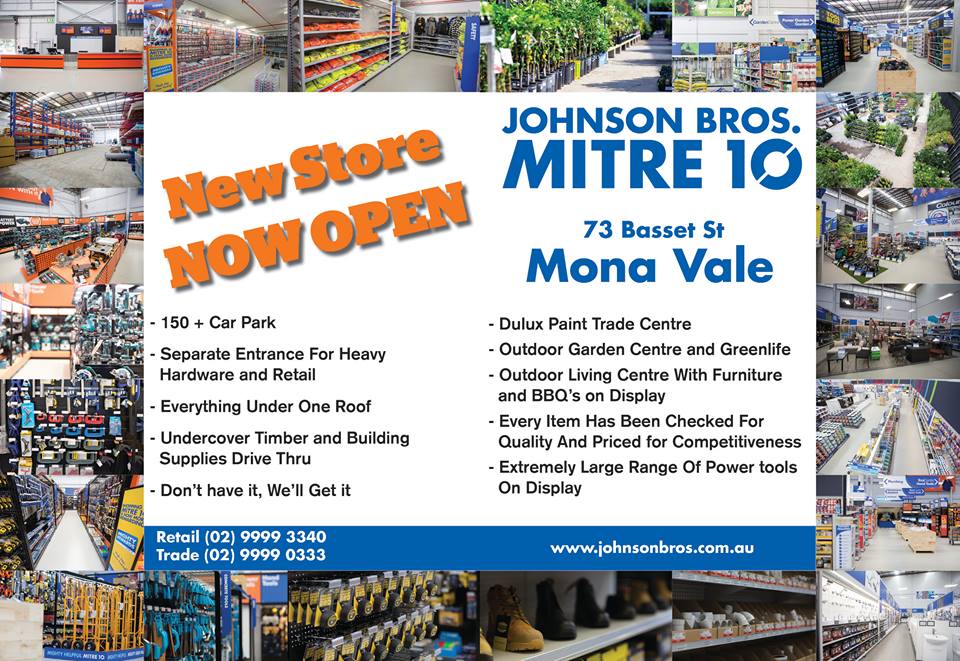 Johnson Brothers Mitre 10 New Store
73 Bassett Street
Mona Vale - Online Store: Jbhmv.Com.Au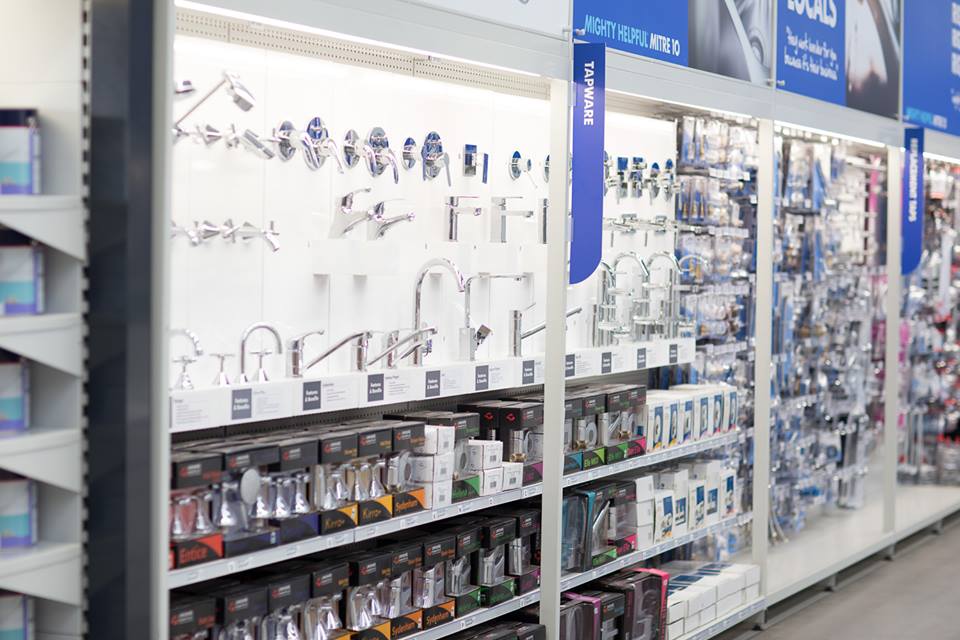 Products advice is available from the trained friendly staff at Narrabeen, Mona Vale and Avalon Johnson Brothers Mitre 10.
Click on logo to visit Johnson Brothers Mitre 10 website
Johnson Bros Mitre 10 - Avalon (02) 9918 3315
Johnson Bros Mitre 10 - Mona Vale (02) 9999 3340
JBH Timber & Building Supplies (02) 9999 0333
JBH Fencing & Landscape Supplies (02) 9970 6333
www.johnsonbros.com.au Online store: jbhmv.com.au

Bob, John and Robert Johnson, 2013 - photo by A J G.
Important
All information and tips in this publication are of a general nature only and neither Johnson Brothers Mitre 10 or Pittwater Online News does not warrant the accuracy or completeness of the information and tips in this publication. This publication is not intended to be a substitute for expert advice.
Johnson Brothers Mitre 10
advises you to always consult an experienced and qualified person when undertaking jobs of this kind (including consulting a qualified tradesperson such as an electrician or plumber where relevant expert services are required).
You should also consider any safety precautions that may be necessary when undertaking the work described in this publication (including wearing any necessary safety equipment such as safety glasses, goggles or ear protectors or hard hats). The information and tips in this publication are provided on the basis that
Johnson Brothers Mitre 10
and
Pittwater Online News
excludes all liability for any loss or damage which is suffered or incurred (including, but not limited to, indirect and consequential loss or damage and whether or not such loss or damage could have been foreseen) for any personal injury or damage to property whatsoever resulting from the use of the information and tips in this publication.
Pittwater Online News and
Johnson Brothers Mitre 10
also advises there may be laws, regulations or by-laws with which you must comply when undertaking the work described in this publication. You should obtain all necessary permissions and permits from council and/or any other relevant statutory body or authority before carrying out any work. Major projects published in this publication always list these and/orlinks to where you may research what your own project requires to meet regulations.