February 19 - 25 2023: Issue 572

End Of Summer Garden To Do List For The Lawn: How To Combat Armyworm + Small Jobs Boost Winter Resilience - Aerate, Weed, Feed, Patch Bare Spots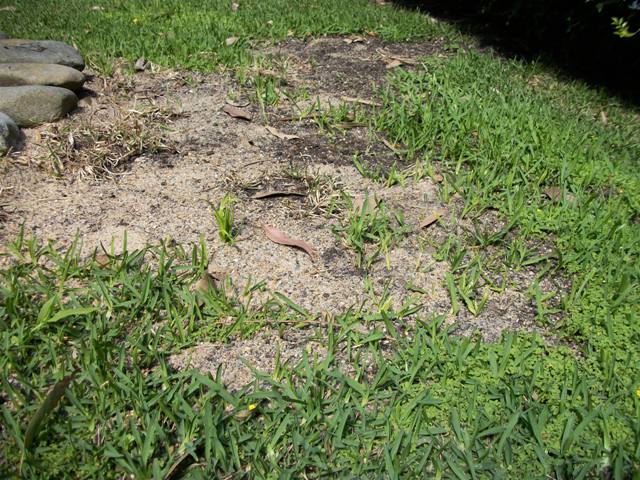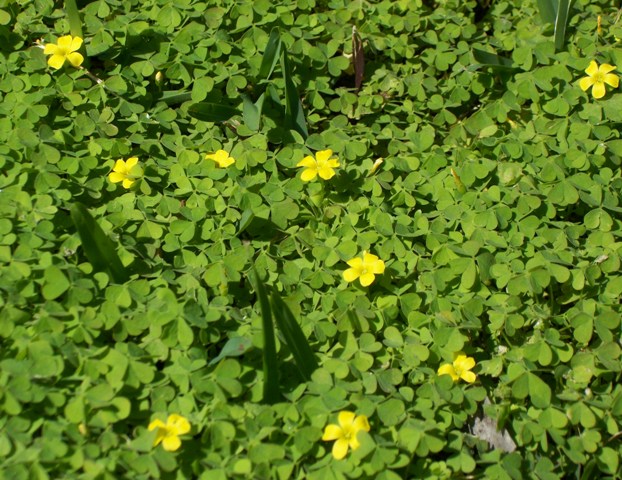 Many of you will have spent all Spring and Summer caring for your lawns in order to prevent the infamous Sydney Summer drying it out. It is important to note however, that Winter can be one of the biggest barriers to a healthy Spring/Summer lawn. Most of the grass varieties used around the Pittwater area are warm weather grasses and hence do not fare well in the depths of Winter.
A few small jobs you can do as we head into the last warm months of Summer/Autumn are:
Treating Lawns for armyworm
Residents have been asking how to combat lawn armyworm these past few weeks as yards around the peninsula find they are popping up everywhere.
Armyworms can be a major pest during Summer and Autumn, causing severe damage to turf on bowling and golf surfaces where they attack leaves, stems and seedheads. Infestations in turf gradually extend outwards from gardens or higher cut turf areas as these plants are used as egg laying sites.

Severe damage is predominantly caused by the later instar stages and as populations increase, the larger armyworms tend to move in groups into unaffected turf areas, hence the name 'armyworm'. The larvae of lawn armyworm are usually most active in the evening or at night, except in overcast weather conditions. During the day they hide under the safety of the lower grass leaves. An armyworm will undergo 6 to 9 instar stages before it is fully developed. This will take 21-35 days and at a mature instar stage the insect will reach 3-4 cm in length. When fully fed the armyworm will work its way into the soil profile where it pupates. 10-14 days later the moths emerge. There may be 2 or 3 generations of armyworm during the Summer and Autumn period.

You need to apply an insecticide in the late afternoon or at dusk after wetting grass and then wet grass after application and reapply in a weeks time as the night moths lay 1000s of eggs and will eat your healthy lawn in a space of a week.
You can use a variety of products:
For fast knockdown you are best to spray the lawn with either Dipel (a more organic method - there are also organic lawn bug killers now on the market) or Yates Baythroid advanced insect killer for lawns (make sure you wet it lightly after spraying) or Scotts Lawn Builder Grub & Insect Control.
By the morning you will see all the grubs on top of the lawn. You will probably need to spray again in a week or two as these grubs produce thousands of eggs and not all are killed in one hit.
For ongoing treatment to keep them away for 6 months get some Acelepryn and use a spreader to cover the lawn.
Maintaining constant plant growth during pest pressure can assist in recovery and reduce symptoms. Make sure you ensure adequate soil moisture and nitrogen are present.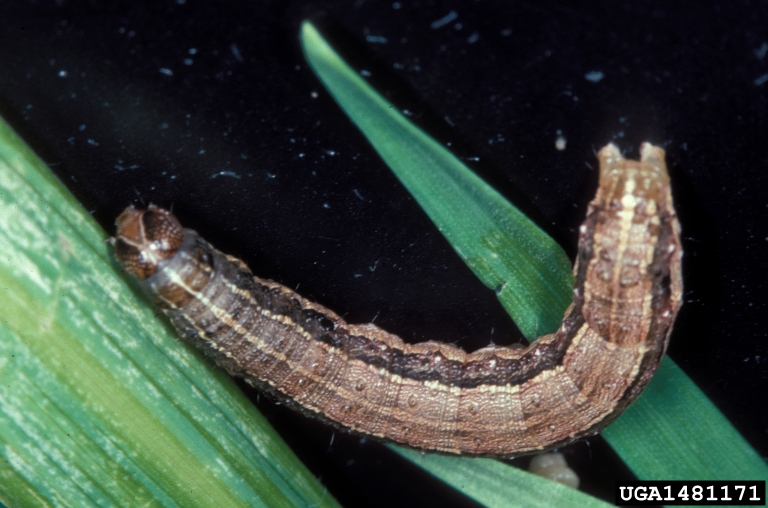 Armyworm caterpillar. Photo: Frank Peairs, Colorado State University, Bugwood.org - This image is Image Number 1481171 at Insect Images, a source for entomological images operated by The Bugwood Network at the University of Georgia and the USDA Forest Service.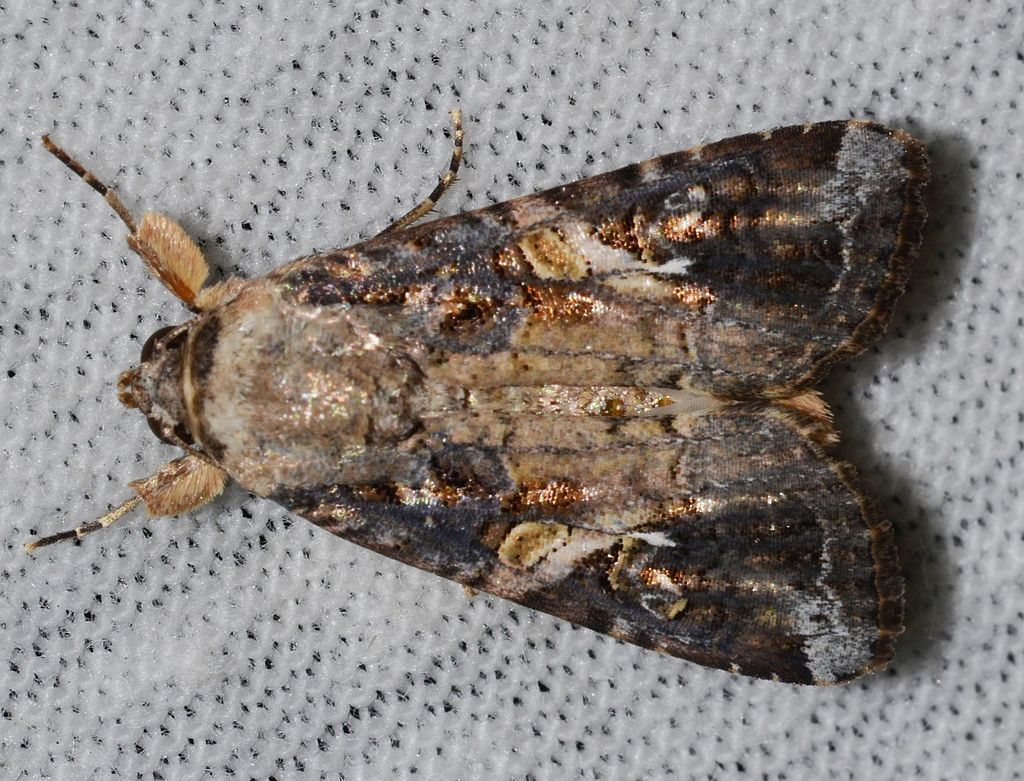 Armyworm Moth. Photo: Andy Reago & Chrissy McClarren. If you see these in your garden the armyworm may be in your lawn. They also will infest vegetables such as corn.
Aerate - Rake
During Winter our lawns and the soil supporting them often becomes compacted while the blades and roots may die off and this will reduce the health of lawn. Raking removes dead blades of grass, leaves and creates aeration and loosens up matted patches. If your lawn's soil is very hard it is suggested you use a steel rake to create points into the lawn to add extra air flow and water and loosen compaction. This will also encourage new growth.

Aeration of lawns is vital, especially over high traffic areas of lawn. By creating small holes in the soil oxygen and water are able to better penetrate and operate in the soil and aeration also breaks up compacted soil that can make growth of the lawn difficult.
Aeration is simple and should be done prior to fertilising so that the nutrients have the best chance of reaching the soil and roots of the grass.
Simply stick a garden fork into the soil to a depth half the length of the prongs. Give the fork a gentle wiggle and pull it back out working your way across the lawn at a spacing equivalent to that of the prongs.
Fix Bare Patches
If you have bare patches due to dog frolics, heavy traffic or water run-off and pooling you will need to re-seed these areas. Applying a slow-release nitrogen fertilizer as you do will benefit the new seedlings. Once the seed has germinated and you have given it the first cut, lawn experts recommend a quick release nitrogen fertilizer to boost its health. Sowing on a still day, due to this seed's weight, is always a good choice. You don't want the seed being blown away before it can grow.
To prevent birds feasting on the seeds while they're sprouting put up a row of flags or a pennant banner as the wind making these flicker will usually deter them from their feast.
Weeding
Along with the grass, weeds also love the wet weather. Now is the time to treat your lawn and garden to remove clover, bindii and weeds, making sure of a couple of dry days. Yates Bindii & Clover weeder is a fantastic product which helps control these weeds in your lawn, without adversely affecting the grass (except Buffalo). There is also Amgrow Chemspray Multiweed All Purpose Lawn Weeder for all lawn types except Buffalo.

Fertilise!
Now is the time to watch for signs of hunger in your lawn as sending it into the winter season weak and hungry is a sure way to find a patchy spring growth. Colour loss, twisting leaves and abnormal sprouting of seed heads are the ones to watch for.
Fertilisers contain three essential nutrients; Nitrogen, Phosphorus and Potassium.
These are the two that you need to build in your lawn before winter:
Nitrogen

; is used by plants to produce Chlorophyll and in turn food through photosynthesis (the greener the grass the higher the chlorophyll content) which is essential to the survival of the plant in the low light winters.

Potassium

; strengthens the roots of a plant and helps protect it against temperature extremes.
A fertiliser that is high in both nitrogen and potassium will provide much needed nutrients to your grass and in turn strengthen it against the winter cold and low light levels.
Seasol is a natural kelp based fertiliser that provides an excellent concentration of both potassium and nitrogen. Studies have show it proves effective against frost damage in many plants and is especially good for you lawn. Johnson Bros stock Seasol for Lawns 2L ready-to-use with hose for only at $15.40. Details on this product below.
If you fertilize your lawn in Autumn your lawn will generally be still using that in Spring. A lighter feeding is recommended for Spring and any organic fertilizer is going to be better for something that is organic itself and for the environment surrounding or adjoined to it.

Get this done now and you will set yourself up for a healthy, strong, and even lawn going into Winter and coming into Spring.
Safety First
Please ensure whenever you are using a chemical product or applying a fertiliser that you wear safety goggles, a good mask and gloves.
As always, whatever the problems you are having with your lawn at this time of year, simply visit your local Johnson Brothers Mitre 10 store and speak to their trained friendly staff for product advice to look after your lawn as armyworm season hits or to prepare your lawn now for a warm Autumn and cold Winter.
The Johnson Brothers Mitre 10 Stores Stock All You Need For Lawn Care This Autumn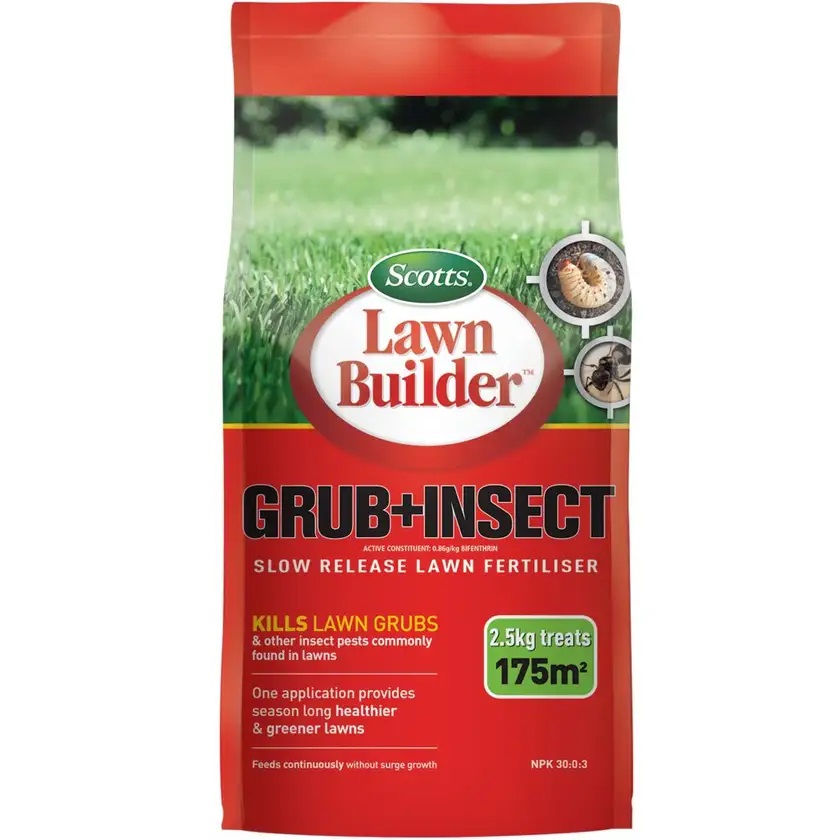 Scotts Lawn Builder Grub & Insect Control 2.5kg: $26.90
Scotts Lawn Builder Grub & Insect Control is the convenient way to feed your lawn and control grub and insect invaders such as armyworms, black beetles, and springtails. Its slow-release fertilizer adds nutrients to feed your lawn for 3 months, so grass grows green and healthy. It also contains bifenthrin, a low-risk new generation insecticide that kills grubs and other insects that damage your grass.
Suitable for all lawns
Controls armyworm, black ant, billbug, stem weevil and a host of other insects that may inhabit lawns from time to time
Slow, continuous feeding for three months
Will not burn when used according to the label directions
No surge growth means less mowing
Deeper roots and stronger plants
Thickens lawns to prevent weeds
Superior results compared to traditional lawn fertilisers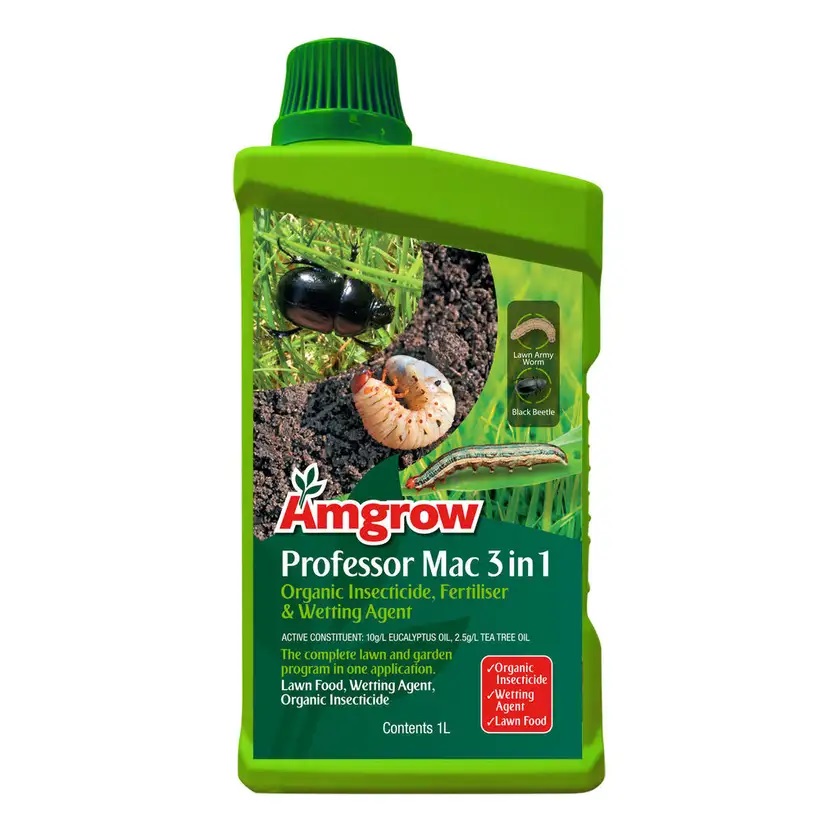 Amgrow Lawn Insecticide Organic 3-in-1 Professor Mac 1L: $20.20
Wetting Agent helps to move the plant extracts into the soil profile where they effectively control the insects before they damage the grass. Complete lawn and garden program in one application - lawn food, wetting agent and organic insecticide. Effective control of lawn army worm and African black beetle. The Amgrow Lawn Insecticide Organic 3-in-1 Professor Mac 1L is an easy to use, organic and environmentally friendly option for controlling pests on your lawn. Containing aerobically composted poultry manure and other natural ingredients, it is a great way to fertilise your lawn while also reducing the need for pesticides.
Amgrow Lawn Insecticide Organic 3-in-1 Professor Mac 1L
Easy to use pellets
Specially formulated fertiliser
Contains aerobically composted poultry manure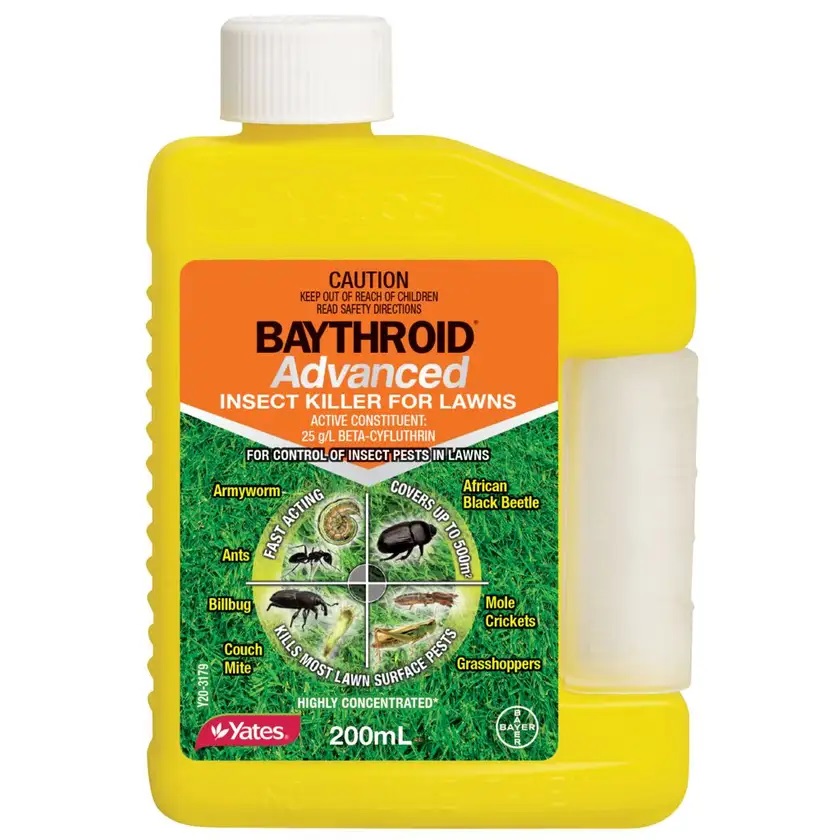 Yates Baythroid Advanced Insect Killer for Lawns 200mL: $36. 26
Yates Baythroid Advanced Insect Killer for Lawns controls common pests in lawns including lawn grubs, adult billbug, adult Argentine, stem weevil, adult scarabs (including African Black Beetle), mole crickets, couch mite, ants & grasshoppers.Fast Acting - fast knockdown of pests with a broad spectrum of activity against most common lawn pests.
For control of insect pests in lawns including lawn grubs, adult billbug, adult Argentine, stem weevil, adult scarabs (including African Black Beetle), mole crickets, couch mite, ants & grasshoppers
Fast Acting - fast knockdown of pests with a broad spectrum of activity against most common lawn pests
Large coverage - covers up to 500m2 for lawn grubs
Liquid concentrate format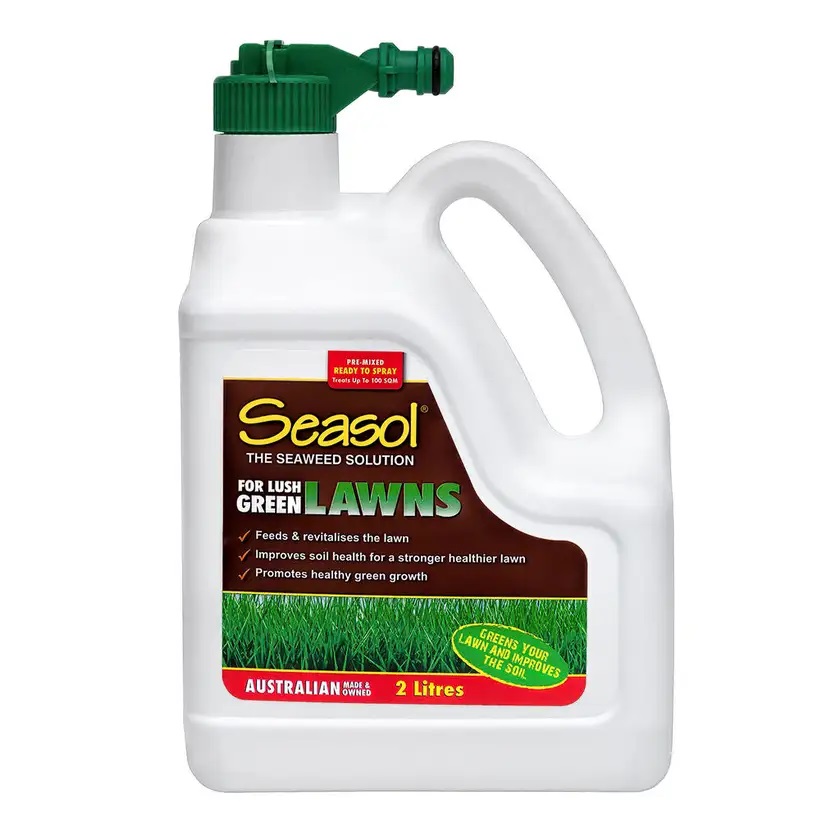 Seasol For Lawns Ready-To-Use Hose On 2L: $15.40
Seasol for Lush Green Lawns is a superior health treatment and liquid fertiliser that combines the benefits of Seasol seaweed solution, a specially formulated nutrient mix, trace elements, concentrated liquid composts and wetting agent. It feeds and revitalises your lawn, but also conditions the soil, which means you are taking care of your lawn above and below the ground. The added wetting agent makes sure that valuable water and nutrients can penetrate the root system, so it's the perfect pick me up for a healthy lawn all year round. It's a fast-acting soluble formulation, so you'll see results in no time.
Feeds and revitalises the lawn
Promotes healthy growth and enhances foliage colour
Stimulates strong healthy root development and beneficial soil micro-organisms
Reduces stress from heat, drought, frost and foot traffic
Conditions the soil, increases soil friability and reduces nutrient leaching
Gets water to where your lawn needs it most, the root system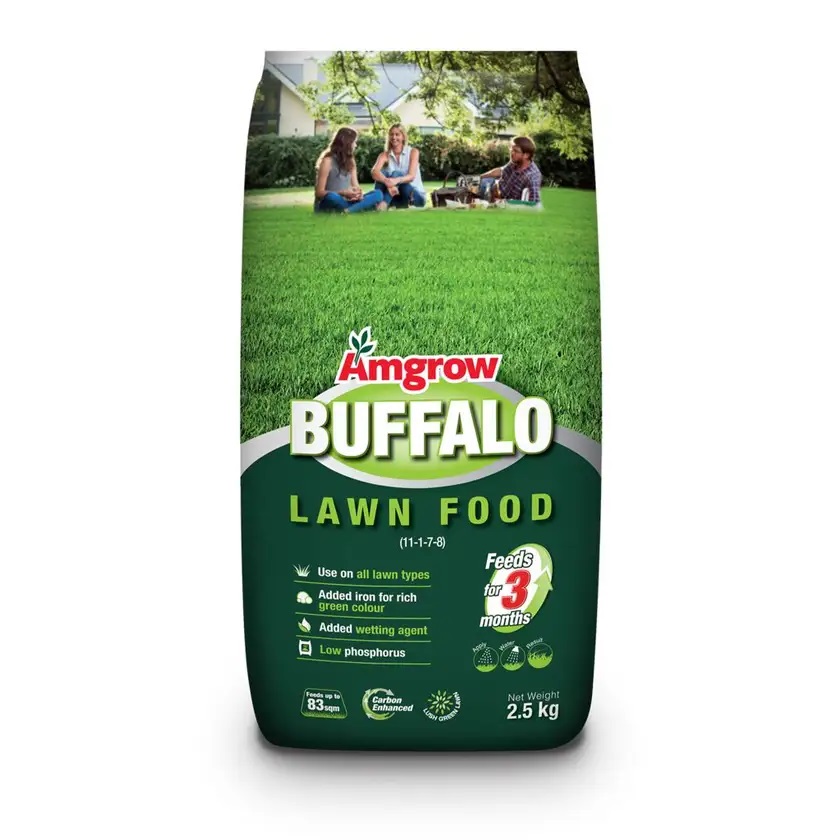 Amgrow Buffalo Lawn Food 2.5Kg: $15.80
Buffalo Lawn Food is a blend of fast and slow-release nutrients that promotes rich green lawns, strong root growth and provides ongoing nutrition. It contains beneficial soil microbes and carbon and the added wettasoil wetting agent helps to establish water-efficient turf. Organically enriched to promote healthy soils, it's suitable for home lawns, sports fields, and any other lawn area.
Blend of fast and slow release nutrients
Promotes rich green lawns and strong root growth
Contains beneficial soil microbes and carbon
Added wettasoil wetting agent
Organically enriched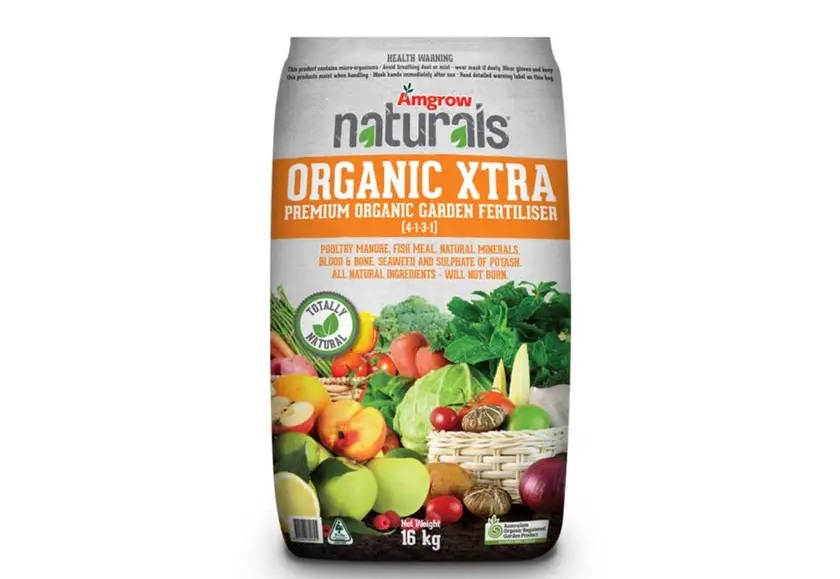 Amgrow Naturals Organic Xtra Premium Fertiliser 16Kg: $39.15
Amgrow Naturals Organic Xtra is a premium, 100% organic fertiliser that is BFA certified and suitable for the whole garden. The slow release of nutrients will continue feeding the plants for up to 3 months. It also increases earthworm activity and is safe and easy to use. This fertiliser contains poultry manure, fish meal, natural minerals, blood and bone, seaweed, and sulphate of potash.
Excellent for roses, palms, flowering plants, shrubs, pots, vines, fruit and citrus trees, vegetables, lawns and natives
Will not burn
BFA-certified and suitable for the whole garden
Slow release of nutrients increases earthworm activity
Safe and easy to use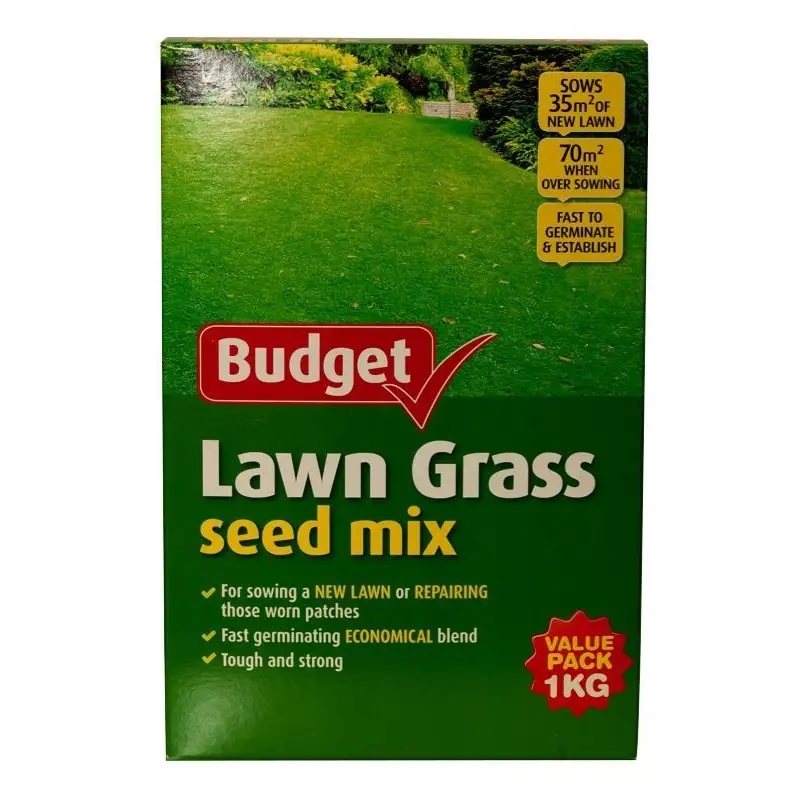 Yates Budget Lawn Grass Seed Mix 1kg: $13.90

The Yates Budget Lawn Grass Seed Mix offers a highly cost-effective solution for growing a soft, hard-wearing and beautifully green family lawn. Fast to germinate and establish, this tough grass seed mix can be used for both sowing a brand new or repairing those bare or worn-out patches in your existing lawn. The seed mix is supplied in economical 1kg packs for maximum convenience. This amount is suitable for sowing up to 35 square metres of new lawn or covering up to 70 square metres when over seeding. The blend features a mix of annual rye, perennial rye and creeping red fescue seeds, and is mixed with bentonite to help with soil improvement.
Lawn grass seed mix - ideal for sowing a new lawn or over seeding
Fast to germinate and establish
Strong and tough economical blend
Shipped in 1kg packs for convenience
Suitable for 35m2 new lawn coverage or 70m2 over sowing coverage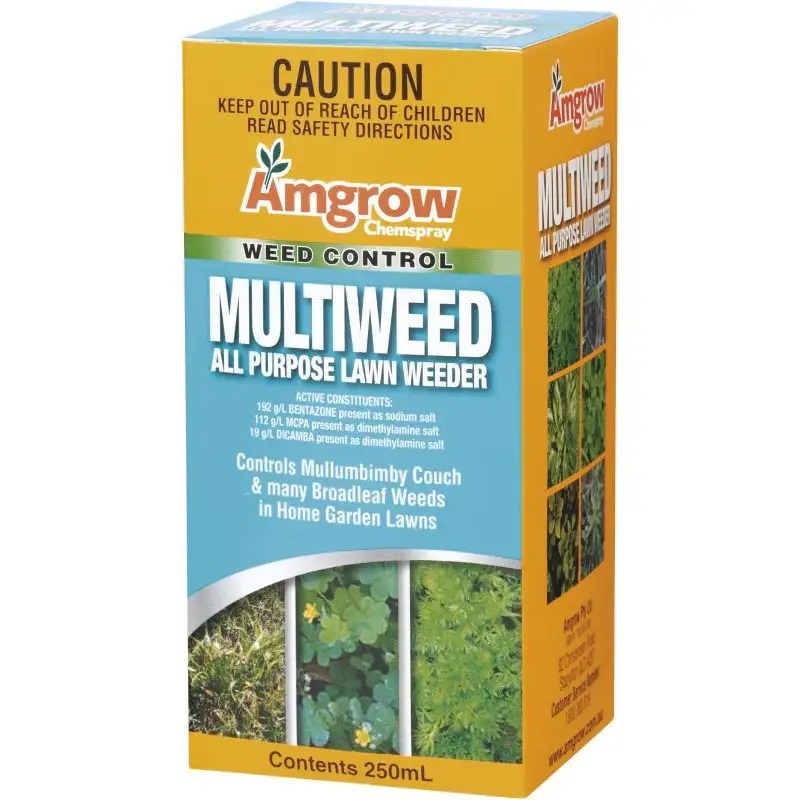 Amgrow Chemspray Multiweed All Purpose Lawn Weeder 250ml: $23.90

Amgrow Chemspray Multiweed All Purpose Lawn Weeder 250mL, Control of Chickweed and other considered weeds in the lawn which can be handled by this product. The active ingredient is Trichlorofon. It controls Mullumbimby couch, creeping oxalis, bindii, sow thistle, dandelion, flatweeds, cudweed, fleabane, dock. Not suitable for use on Buffalo lawns.
Controls Mullumbimby couch, creeping oxalis, bindii, sow thistle, dandelion, flatweeds, cudweed, fleabane, dock, chickweed, clover and lambs tongue

Can be used on most types of lawns including couch, blue couch, fescue, carpet, centipede, kentucky blue and ryegrass
Not suitable for use on Buffalo lawns
Treats 125 square metres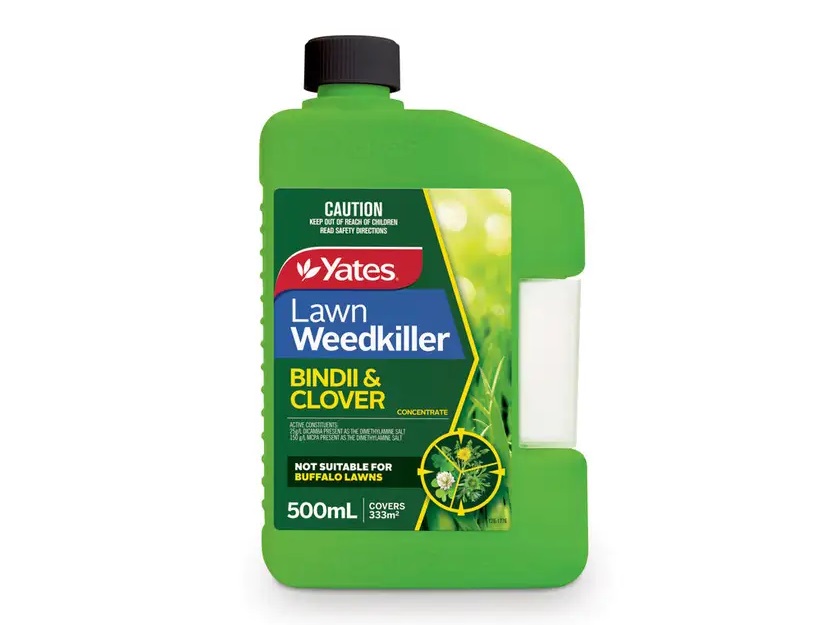 Yates Bindii & Clover Weeder Concentrate 500ml: $12.00
Yates Bindii and Clover herbicide is an economical, broad-spectrum weed killer designed to control bindii, clover and other broadleaf weeds such as dandelions in many types of lawns (not suitable for use on buffalo lawns. For best results, apply when weeds are actively growing and rain is not expected within 12 hours.
Combination of two selective weedkillers, which allows a broad spectrum of weeds to be controlled including thistle, clover and bindii
Economical – 500ml treats more than 330m² of lawn
Comes with very handy built in measure - which allows for accurate dosing
Can be used on common lawn types (not suitable for buffalo)
Child resistant cap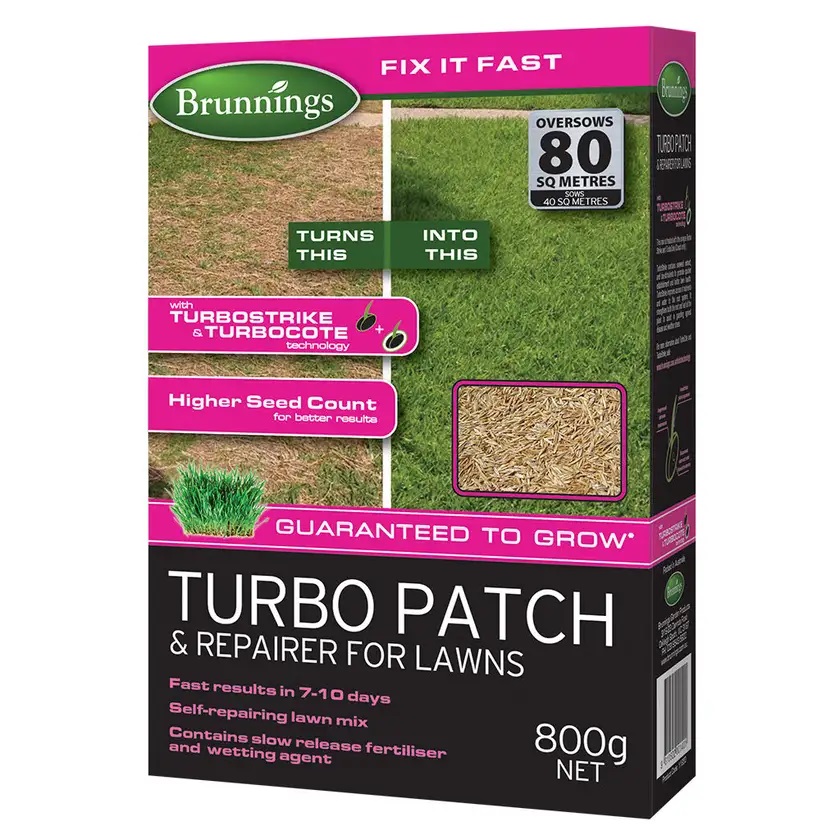 Brunnings Turbo Patch & Repairer for Lawns 800g: $24.00
Brunnings Turbo Patch & Repairer for Lawns is ideal for repairing unsightly patches or for planting small areas of lawn. It suits most lawn situations and is blended with Slow Release Fertiliser and wetting agent to assist in moisture uptake for the young seedlings while providing important nutrients during the critical plant development phase. This results in a high density lawn with excellent vigour and a dark green colour.
Repair spots and small areas of lawn quickly and easily with Brunnings Turbo Patch & Repairer for Lawns. Pre-mixed with seed, fertiliser and wetting agent and fortified with our TurboStike & Turbocote technology to naturally help reduce soil erosion, encourage germination and speed up results. Easy to use, simply spread over the intended area, lightly rake in and keep moist.
Higher Seeds Count for better results
Faster results in 7 to 10 days
Self-repairing lawn mix
Contains slow release fertiliser and wetting agent
TurboStike & TurboCote Technology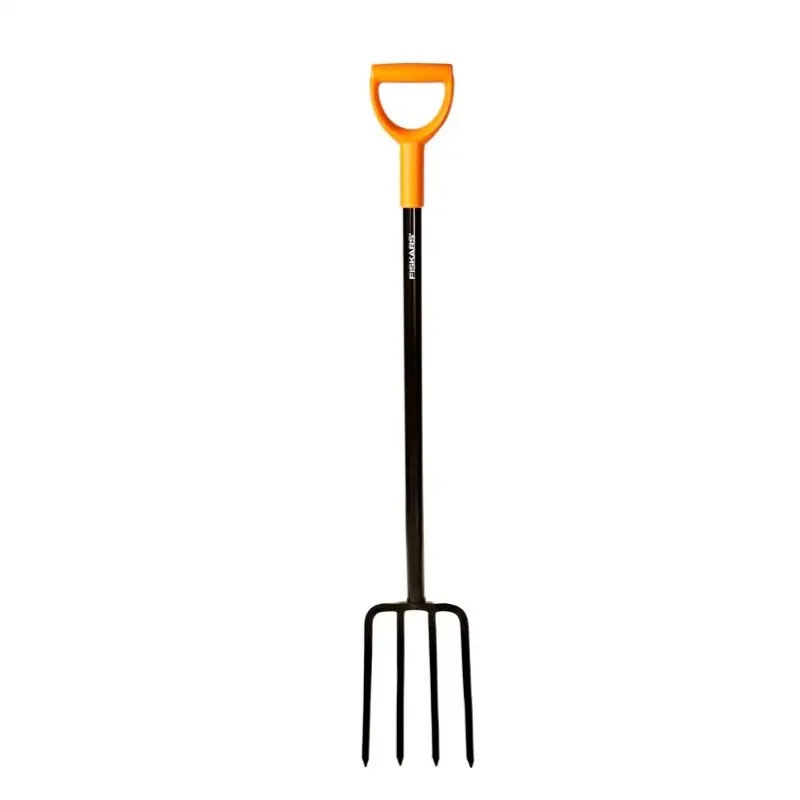 Fiskars Solid Garden Fork: $62.00
Fiskars Solid Garden Fork is a rigid garden fork that is made of durable boron steel material. The built-in rust prevention will ensure years of service, while the angled shaft and D-handle provide comfortable working when digging in your garden. Perfect for aerating, loosening and turning over compacted soil.
Perfect digging companion in its ability to aerate and loosen soil and work for the compost heap
Rigid construction, stiff tines and steel build will give you years of service in the garden
For aerating, loosening and turning over compacted soil
Durable boron steel material
Angled shaft and D-handle for comfortable working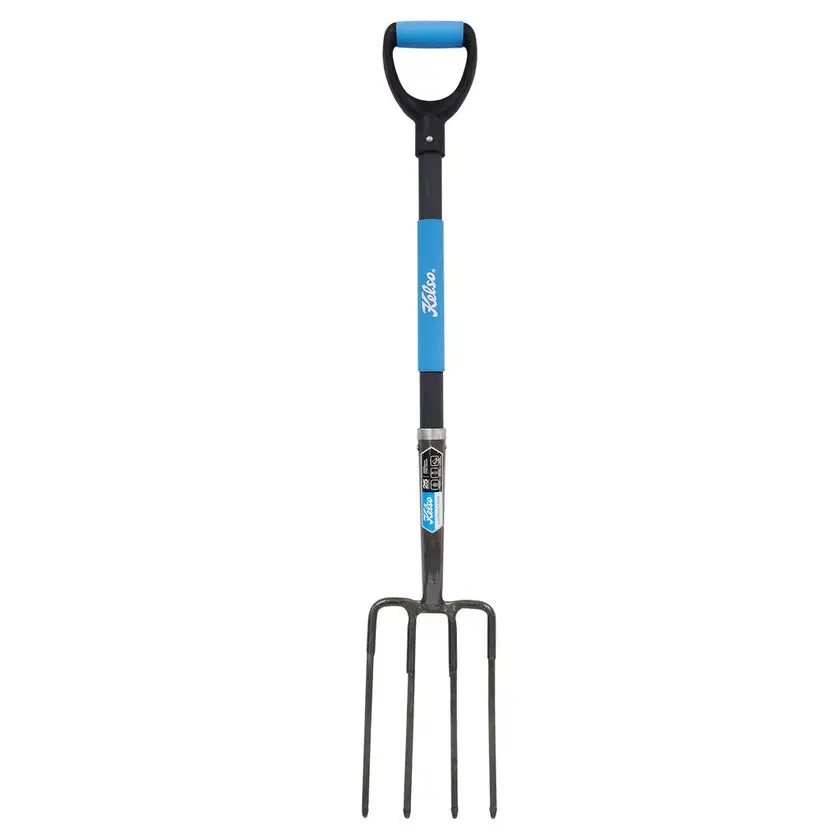 Kelso Garden Fork Fibreglass D Handle: $53.00
The Kelso Garden Fork Fibreglass D Handle is designed to have a strong steel core, fibreglass handle and a reinforced steel collar. The non-slip mid and end grips give comfort and support whilst using it. This garden fork is a multi-purpose tool for heavy-duty jobs such as digging, lifting and turning soil. The Kelso garden fork comes with a heavy-duty steel socket and the D handle is comfortable to use and is reinforced with steel for strength and durability.
Strong steel core fibreglass handle
Non-slip mid and end grips
Heavy-duty steel socket
Reinforced steel collar
Tumbleweed Compost Bin 220L: $62.00 - H770 x D710mm. 100% UV protected recycled plastic.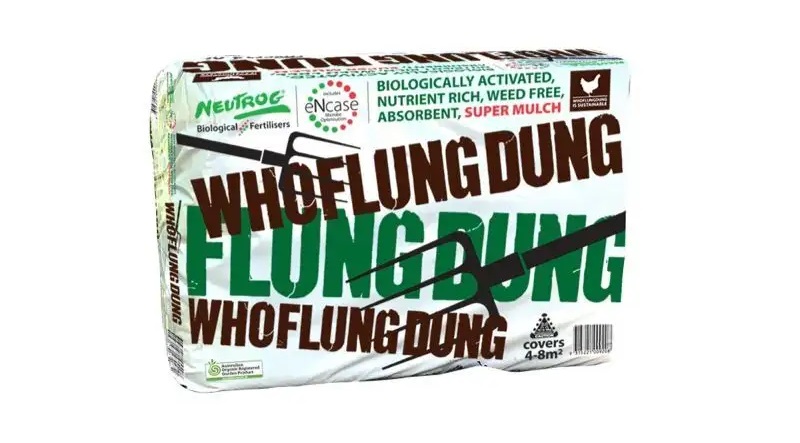 Neutrog Whoflungdung Mulch 20kg: $20.00 - Biologically activated. Nutrient rich. Weed free & absorbent mulch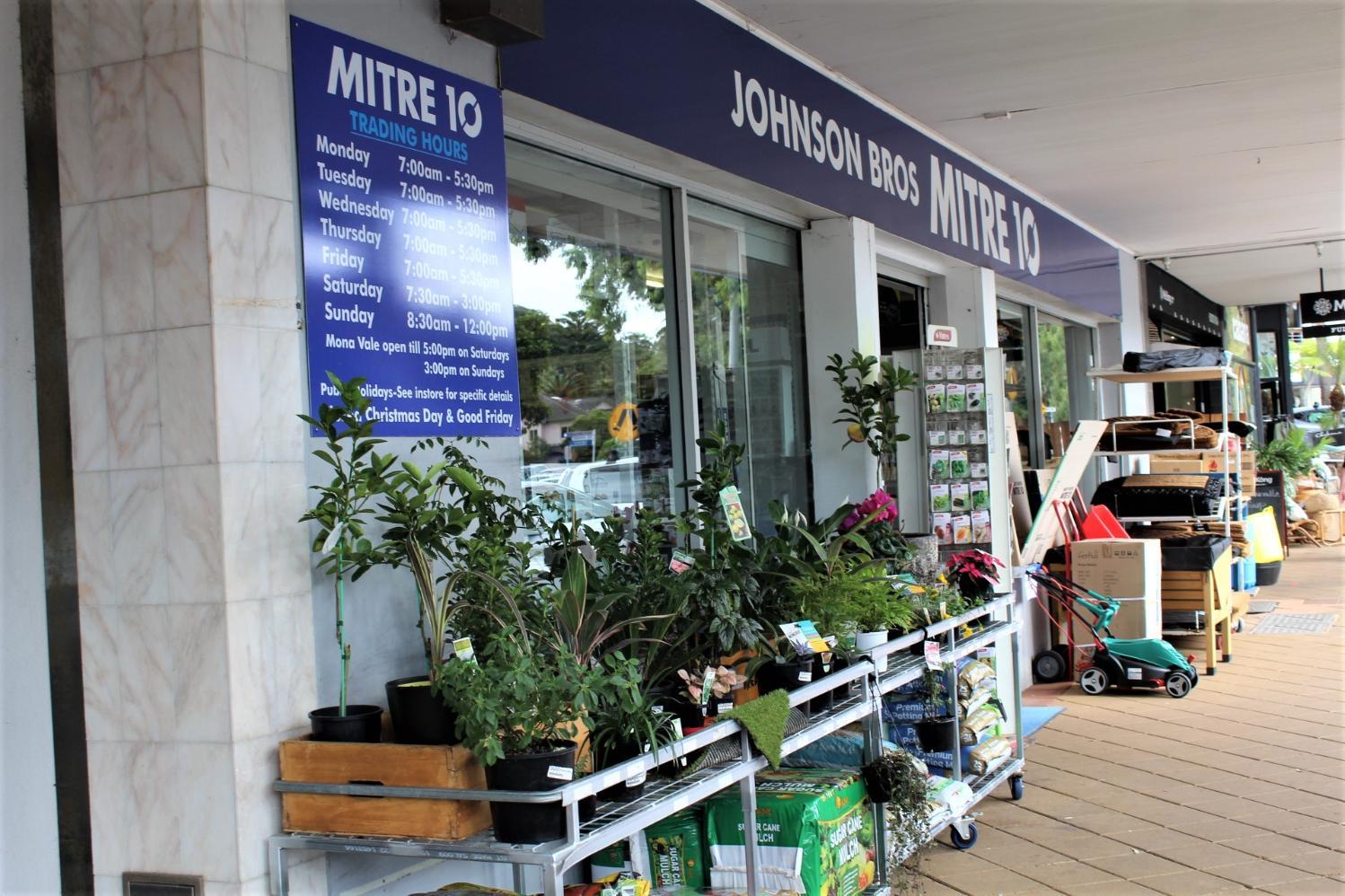 Greenlife garden centre at Johnson Brothers Mona Vale
Johnson Brothers Mitre 10: Serving Our Community Since 1955
The Independent Hardware Group has awarded Johnson Bros Mona Vale the best in state at the IHG state awards and heads to the national finals on the Gold Coast in February 2022.
Congratulations to the store in Avalon Beach as well, which won best in village.
Johnson Brothers say; ''Thank you to all of our amazing staff and customers for being awesome!''
IHG is Australia's largest home improvement wholesaler supplying more than 1,500 stores nationwide. These stores cater to a broad range of Trade and DIY customers and range from large format warehouses to convenience operations and Trade centres, as well as frame and truss sites in two States.
Under the IHG network, there is a clear mandate to support the growth of Independents within the hardware sector in Australia by helping them to be 'The Best Store in Town'.
The culture of IHG is built on being a low cost and transparent business partner to members, with an unwavering commitment to protect and grow a sustainable independent hardware sector for the long term.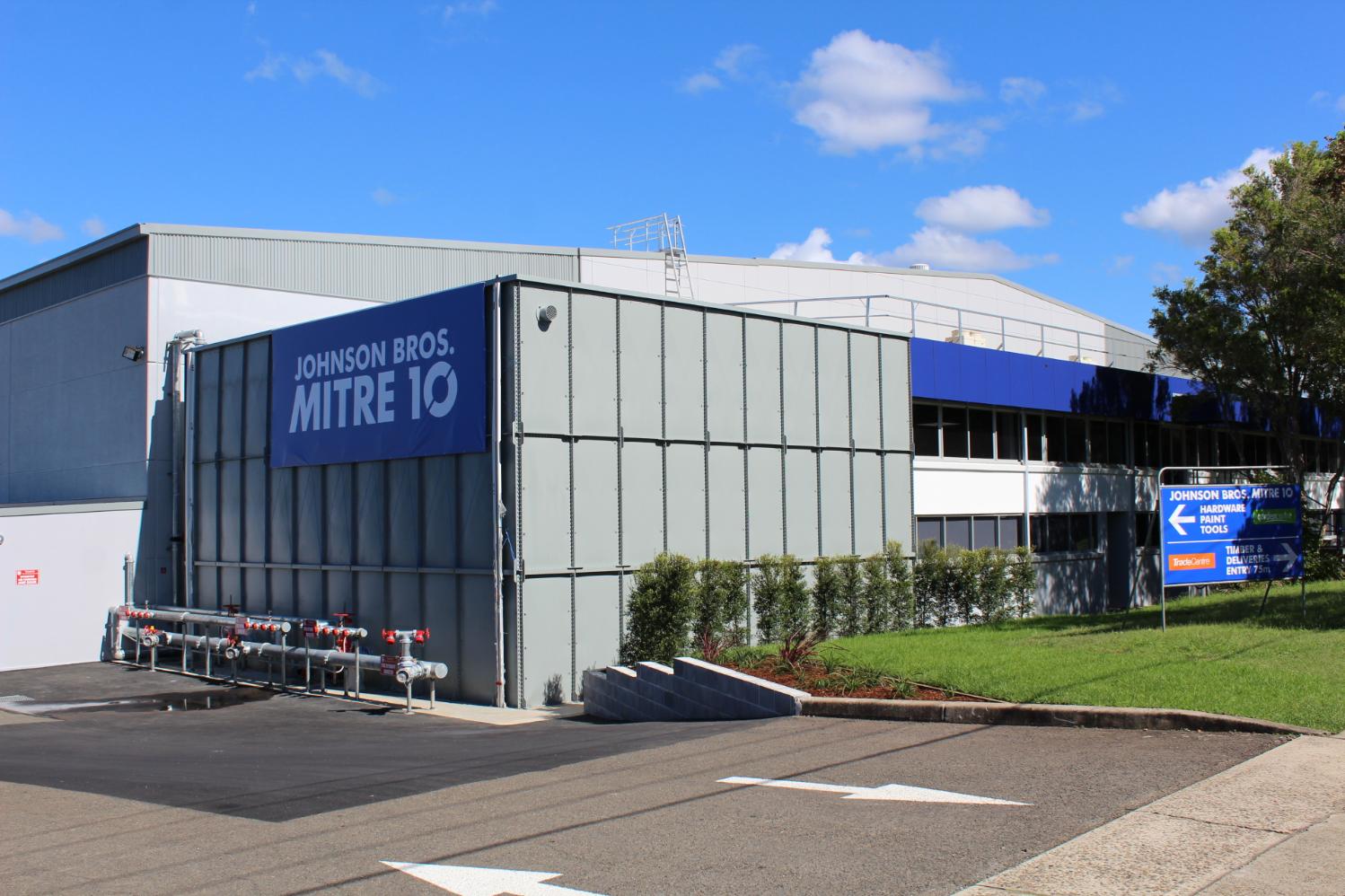 JBH Design Centre
JBH Design Centre is a tool for builders and DIY'ers to assist in the fit out of houses. It has displays of kitchens, Bathrooms, Doors and Storage as well as knowledgeable staff to assist in making house fit out painless.
Visit: http://jbhdc.com.au/
On Facebook: https://www.facebook.com/design.centre.jbh/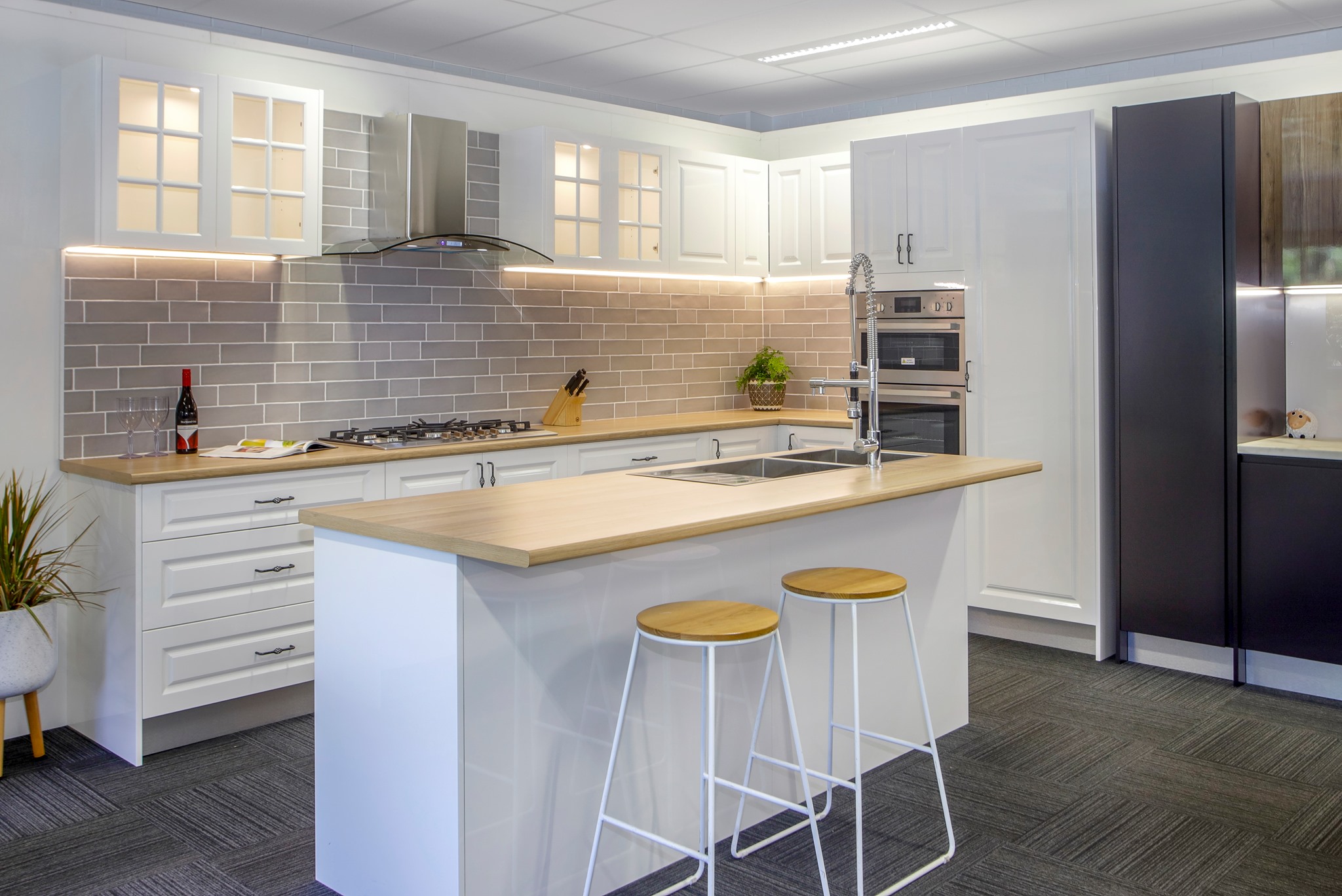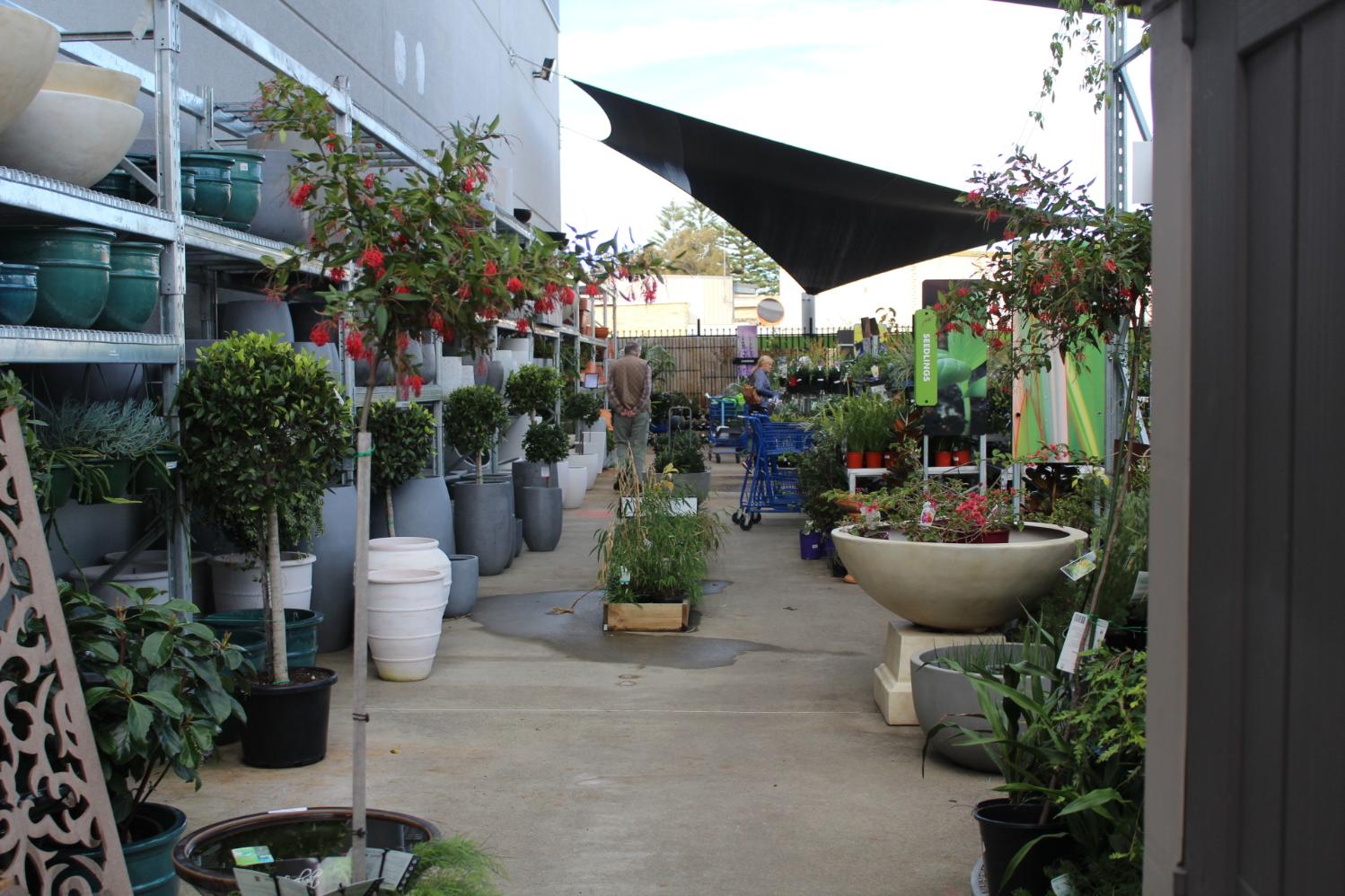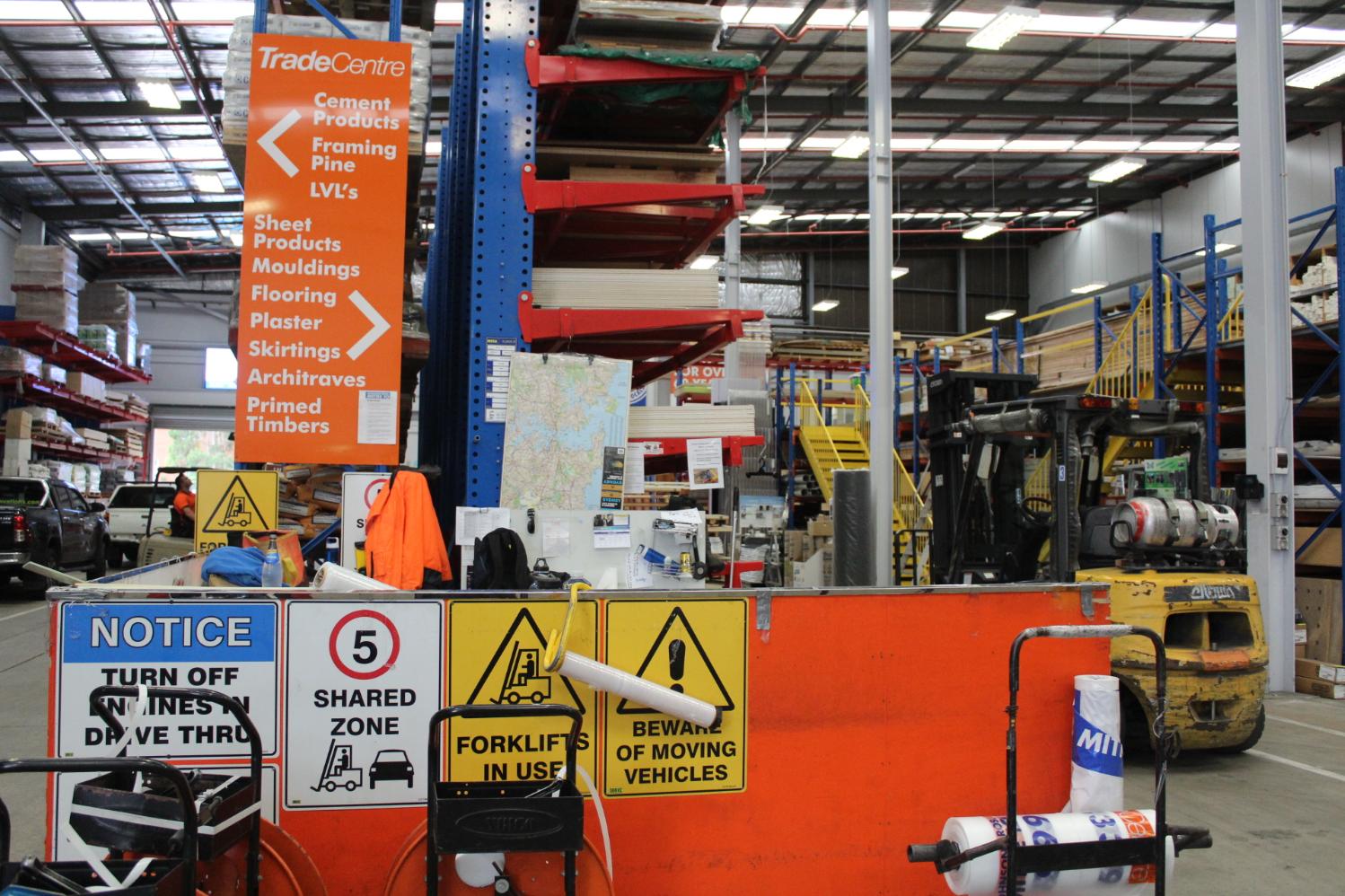 Johnson Brothers Mitre 10 Trade Centre at Mona Vale - everything you need under one roof.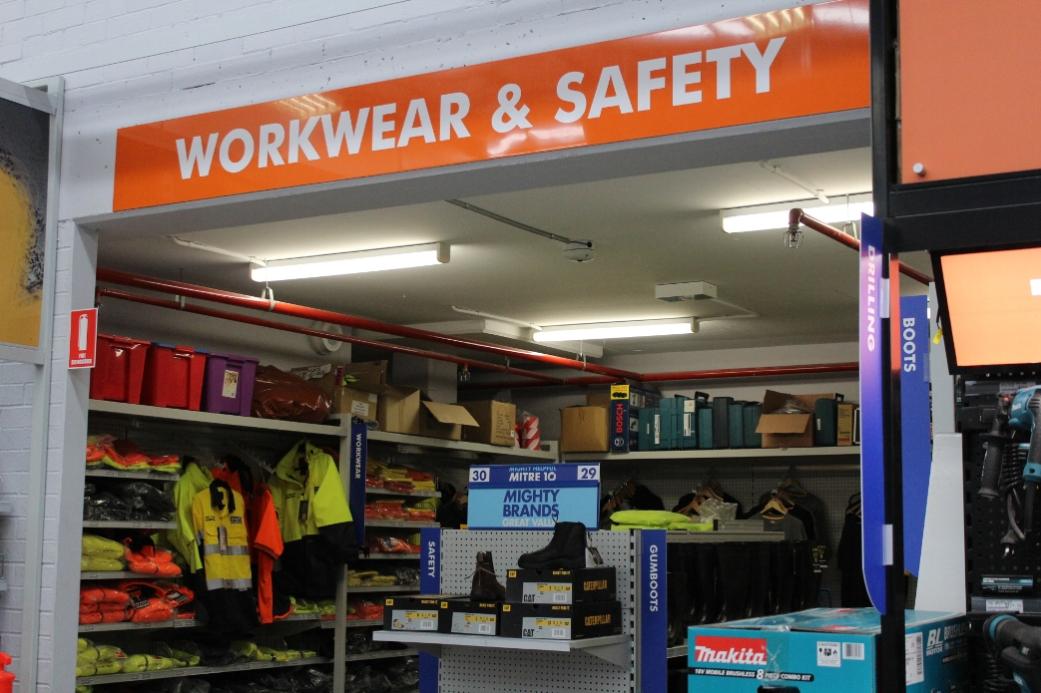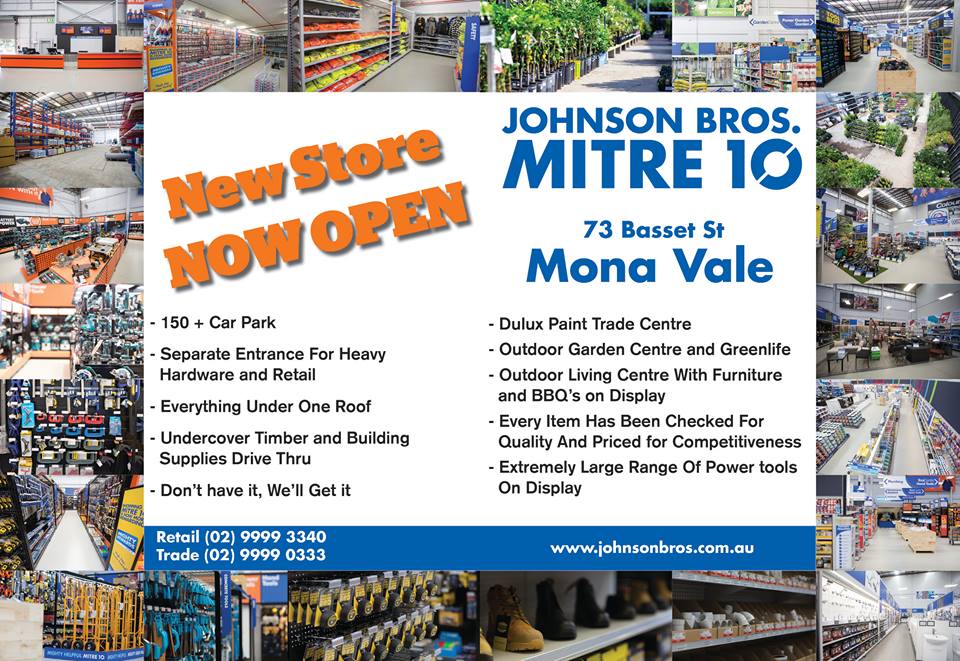 Johnson Brothers Mitre 10 New Store
73 Bassett Street
Mona Vale - Online Store: Jbhmv.Com.Au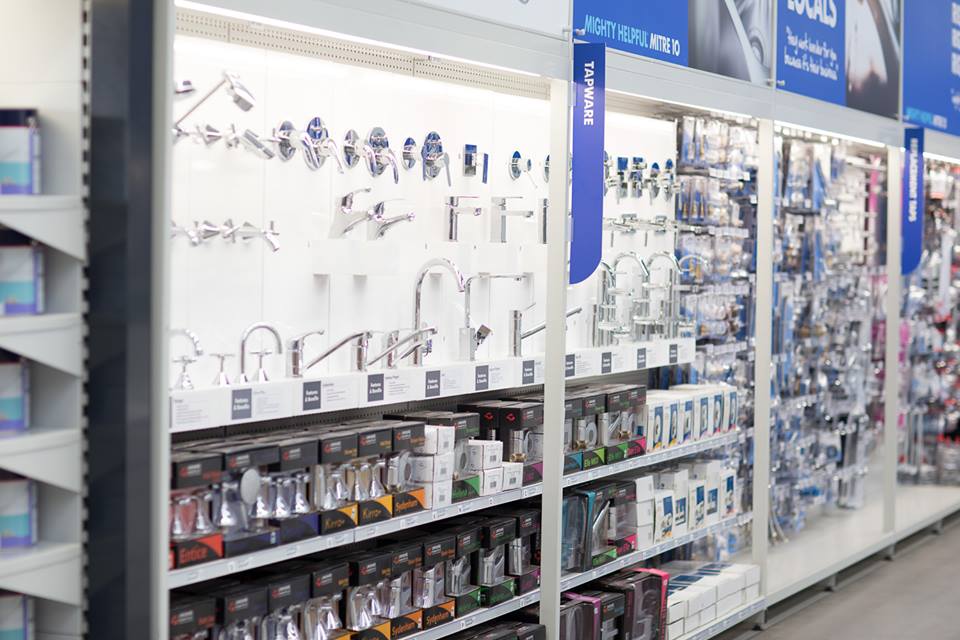 Products advice is available from the trained friendly staff at Narrabeen, Mona Vale and Avalon Johnson Brothers Mitre 10.
Click on logo to visit Johnson Brothers Mitre 10 website
Johnson Bros Mitre 10 - Avalon (02) 9918 3315
Johnson Bros Mitre 10 - Mona Vale (02) 9999 3340
JBH Timber & Building Supplies (02) 9999 0333
JBH Fencing & Landscape Supplies (02) 9970 6333
www.johnsonbros.com.au Online store: jbhmv.com.au

Bob, John and Robert Johnson, 2013 - photo by A J G.
Important
All information and tips in this publication are of a general nature only and neither Johnson Brothers Mitre 10 or Pittwater Online News does not warrant the accuracy or completeness of the information and tips in this publication. This publication is not intended to be a substitute for expert advice.
Johnson Brothers Mitre 10
advises you to always consult an experienced and qualified person when undertaking jobs of this kind (including consulting a qualified tradesperson such as an electrician or plumber where relevant expert services are required).
You should also consider any safety precautions that may be necessary when undertaking the work described in this publication (including wearing any necessary safety equipment such as safety glasses, goggles or ear protectors or hard hats). The information and tips in this publication are provided on the basis that
Johnson Brothers Mitre 10
and
Pittwater Online News
excludes all liability for any loss or damage which is suffered or incurred (including, but not limited to, indirect and consequential loss or damage and whether or not such loss or damage could have been foreseen) for any personal injury or damage to property whatsoever resulting from the use of the information and tips in this publication.
Pittwater Online News and
Johnson Brothers Mitre 10
also advises there may be laws, regulations or by-laws with which you must comply when undertaking the work described in this publication. You should obtain all necessary permissions and permits from council and/or any other relevant statutory body or authority before carrying out any work. Major projects published in this publication always list these and/or links to where you may research what your own project requires to meet regulations.