October 21 - 27, 2018: Issue 380
Garden Care for Heavy Rain Days + Non-Toxic Snail and Slug Debug Ideas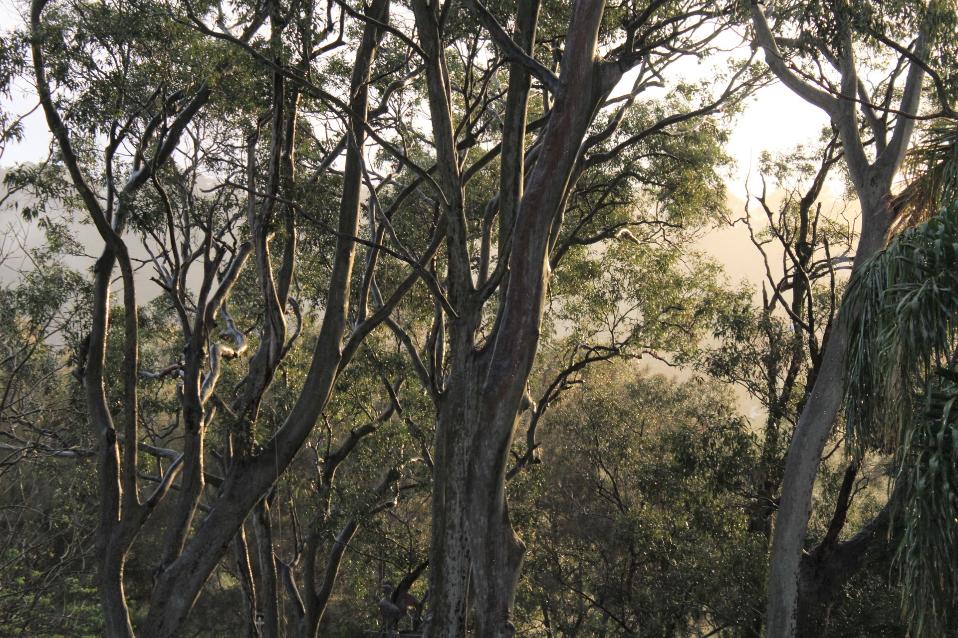 More rain and patches of sun = humidity over the next few weeks.
Rain can make the soil in your garden great for planting. Too much rain can make the soil compact, wash away dirt around just sprouting vegetables or new flowers and cause taller thinner plants to lose that upright burst they had.
Although this is great weather for installing a rainwater tank, doing shed and undercover work, such as cuttings, there are also some tasks worth investigating in your garden to see if you need to apply a little TLC. The weather forecast for the next 14 days predicts more rain, as well as sun periods and high humidity. Perfect for some plantings out and weeding but also a reason to get in the garden and ensure everything will be thriving and ultra green when the next dry spell comes along.
Remove damaged shoots, broken branches and limbs
Before a rain storm, remove any dead shoots and limbs from your plants to make them as streamline as possible and reduce the risk of snapping and tangling. The wet weather we have been having for a while now can also weaken some tree branches. If anything looks as though it will fall, throw a rope around that limb and give it a pull, ensuring you are standing back if it does give way. For higher branches it is better to engage a professional and keeps the tree healthier and in the ground, as well as saving the plants beneath it or your roof tiles if they are what's beneath taller trees.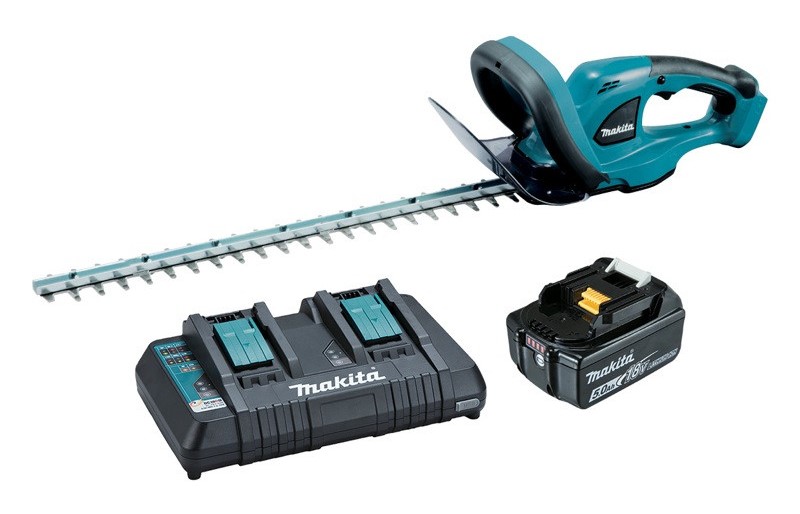 MAKITA 18V HEDGE TRIMMER KIT: $269.00
Includes 1 x 5.0Ah Battery & Charger. 520mm Double Action Blade.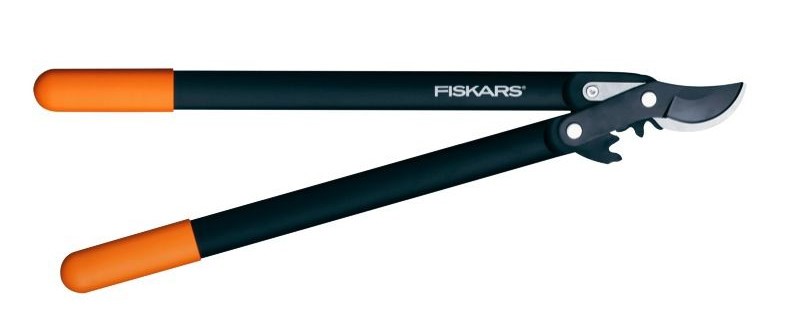 FISKARS POWERGEAR II LOPPER BYPASS SMALL L72: $49.00
28mm. Small size. Scissor head. PowerGear technology.
Perfect Weeding Weather
When the soil in your garden is wet it's a great time to get out there and pull out those weeds. The soil around the roots is softer and you are more likely to be able to pull the whole plant free without leaving something which will resprout quickly.
Support taller thinner plants plants
Heavy rain can put your taller plants with shallow root systems at risk, especially when combined with strong winds. Push a wooden or metal stake support into the ground and gently tie the plant to it. This will give these plants a little extra protection from damage and prevent it from snapping.
Don't Lose your Soil through Poor Drainage and Runoff
To avoid water collecting in a pool anywhere in your garden and potentially drowning the nearby plants, make sure there is adequate drainage. Proper runoff that slopes away from that patch of garden will ensure you don't end up with water where you don't want it.
Visit: Stop Winter Rain Lawn Loss and Soil Erosion on Slopes
During Heavy Downpours Cover the most delicate plants
Use a waterproof covering such as tarpaulin to cover young and fragile plants, including herbs and vegetables, if the rain if hard and persistent. Make sure the covering is slanted in the correct direction to ensure adequate drainage away form surrounding foliage.
Turn your compost
Ensure the entirety of your rich compost is watered by mixing the damp with the dry under layers. Better yet, get one of these;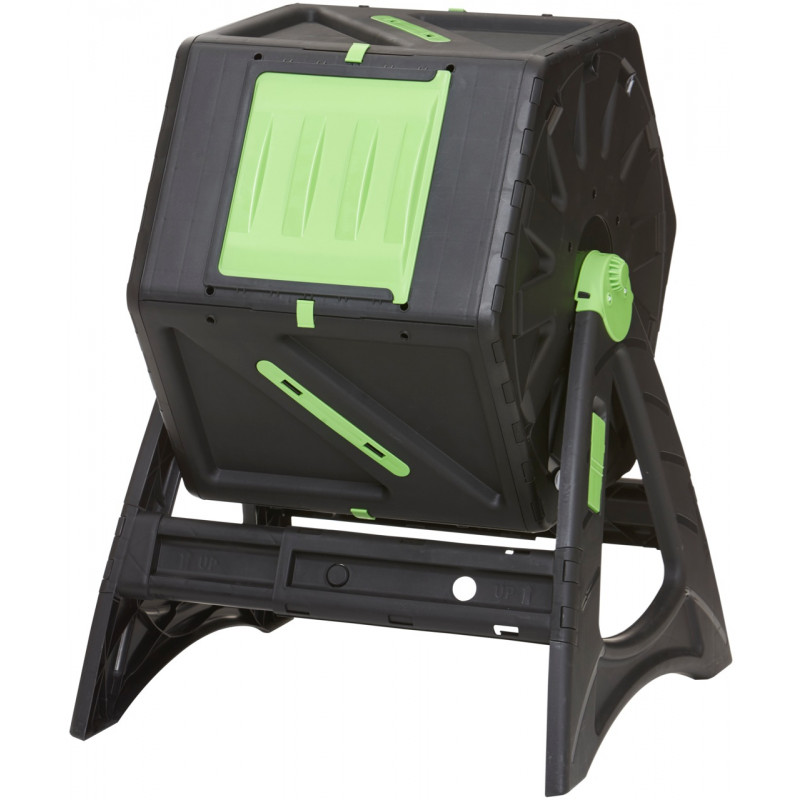 COMPOSTER 105L BLACK(Tumbling): $99.00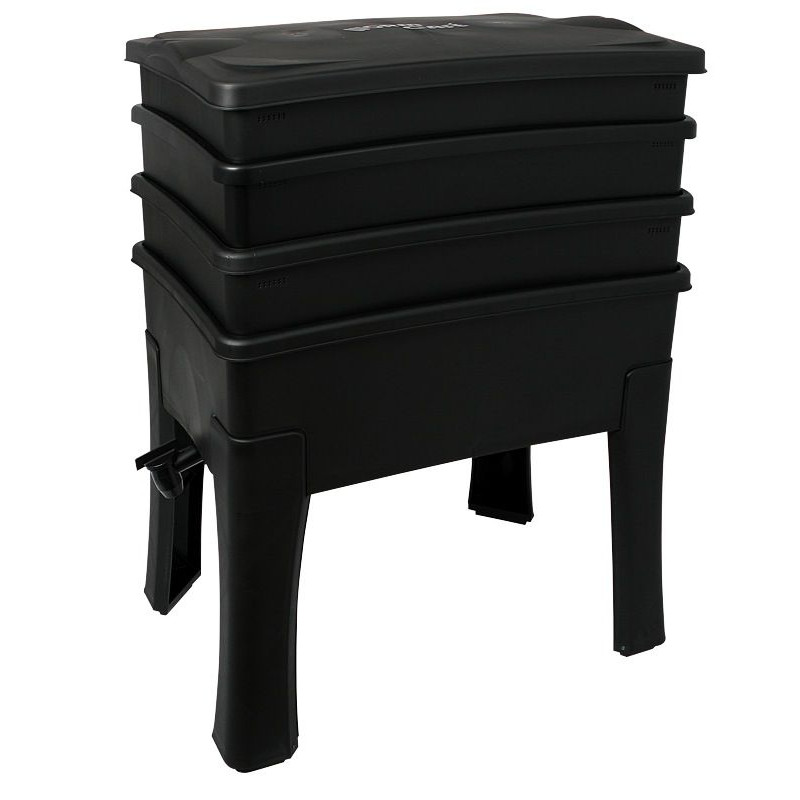 WORM FARM CAFE RECTANGULAR: $84.90

Check Vegetable roots
Once the rain has stopped, make sure there are no exposed roots following soil erosion. Recover them with soil or compost before they dry out and risk harming the plant.
Check your pots and planters
These can easily become flooded if the drainage is compromised. Check pots and planters before, during and after rain and cover if necessary.
Pick a Green Edible Posy

Many plants that flourish in these conditions also taste better after a good drenching - lettuce and varieties of herbs such as mint will be sweet and tender after a good shower.
Keep those slugs and snails at bay!
Moist conditions are paradise to snails and slugs. A few chemical free alternatives to keeping those happy munchers at bay:
Beer, yes - beer! Slugs love beer. Half bury a container in your flowerbed and fill it with beer. Those voracious slugs will be unable to resist and end up slithering into the container. You can move this beer slug pool around the garden to different areas you have spotted them in.
Copper tape placed in a ring around plants reacts with slug slime and gives them a little electric shock. They won't hang around long.
Egg shells are another alternative as the sharper edges will prevent slugs from crossing that torrid terrain!

There are also species you can plant that will repel the slugs. If you add some of these beside those they love to munch or plant a rim of them around a vegetable plot, they'll probably move next door, to another area altogether. Try; the Allium giganteum, Strong smelling mint, Chives, Garlic, Fennel, Foxgloves, Geraniums.
The most obvious method is picking them off by hand, If you can't stand touching them, wear your garden gloves and spend a half hour in your garden when the evening comes in. For those who don't want their garden gloves getting slimy, lay down a damp newspaper. Slugs will slither under it to seek shelter and then you can collect the paper and the slugs.
If you haven't installed a pond yet, it may be time to think about adding this feature. A pond or water feature will attract frogs to your garden and guess what frogs like to eat? Yes; slugs and snails. Visit: DIY Summer Projects: Install A Fountain Or Water Feature

Your kitchen variety salt is another time-honoured slug eradication tool. Either sprinkle a little on slugs directly or collect them up and dunk them in to a bucket of salty water.
Seaweed is another slug repellent 'plant' and also a great food boost for your garden. In N.S.W., collecting seaweed from beaches is permitted within habitat protection zones and general use zones. It must be for personal use and not attached to the sea still or any rock platform. Collecting more than 20 litres per person per day requires a permit, and bear in mind many creatures that live in the sand need this stuff too - don't be greedy. NB: Collecting is not allowed in sanctuary zones, which provide the highest level of protection to biodiversity and natural and cultural features. (per NSW DPI).
Mulch it around the perimeter of your plant bed, but make sure it's not in direct contact with your plant stems as they won't benefit from the salt. You can also buy seaweed in powdered form but it may not be as effective and as the raw ingredient although worth adding in at this time of the year as this stimulates the microbial fungi and will also protect your plants from diseases they can catch form soil.

Seaweed has 60 trace minerals and ready-to-go nutrients including nitrogen, potassium, phosphate, and magnesium. It also contains hormones to encourage plant growth. Unlike other garden amendments, such as manure, seaweed does not need to decompose before being a benefit to your garden.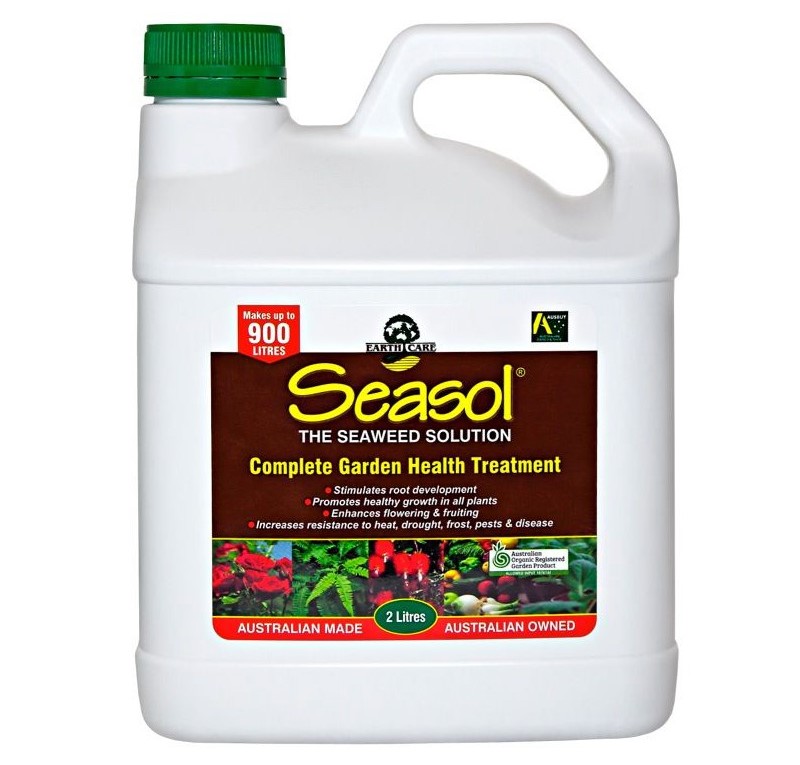 SEASOL FERTILISER CONCENTRATE 2L: $19.95

Lastly, stop cleaning your hairbrush into the bin. Placing a protective barrier of hair around plants will entangle and deter slugs.
And there you have it, some simple solutions that won't add 'toxic' to the place your children, or grandchildren play.
Of course, all this rain may mean we're in for an outbreak of ticks as soon as the sun reappears and stays - that's next. A few added extras to follow on from the earlier Summer De-bug; Mosquitoes, flies, cockroaches and ants - how to keep the outdoors insects where they belong and Attracting Insectivore Birds to Your Garden: DIY Natural Tick Control
For now - let's revel in this long wanted rain!
Also- if you want to get ready to do some deck work or spruce up some interiors walls - Wattyl currently have a bonus of something sweet (Promotion runs 1/10/18 – 30/11/18, while stocks last. Redeemed in store at the time of purchase/collection. Participating Mitre 10 stores only. Excludes trade accounts. Full details at ihg.wattyl.com.au )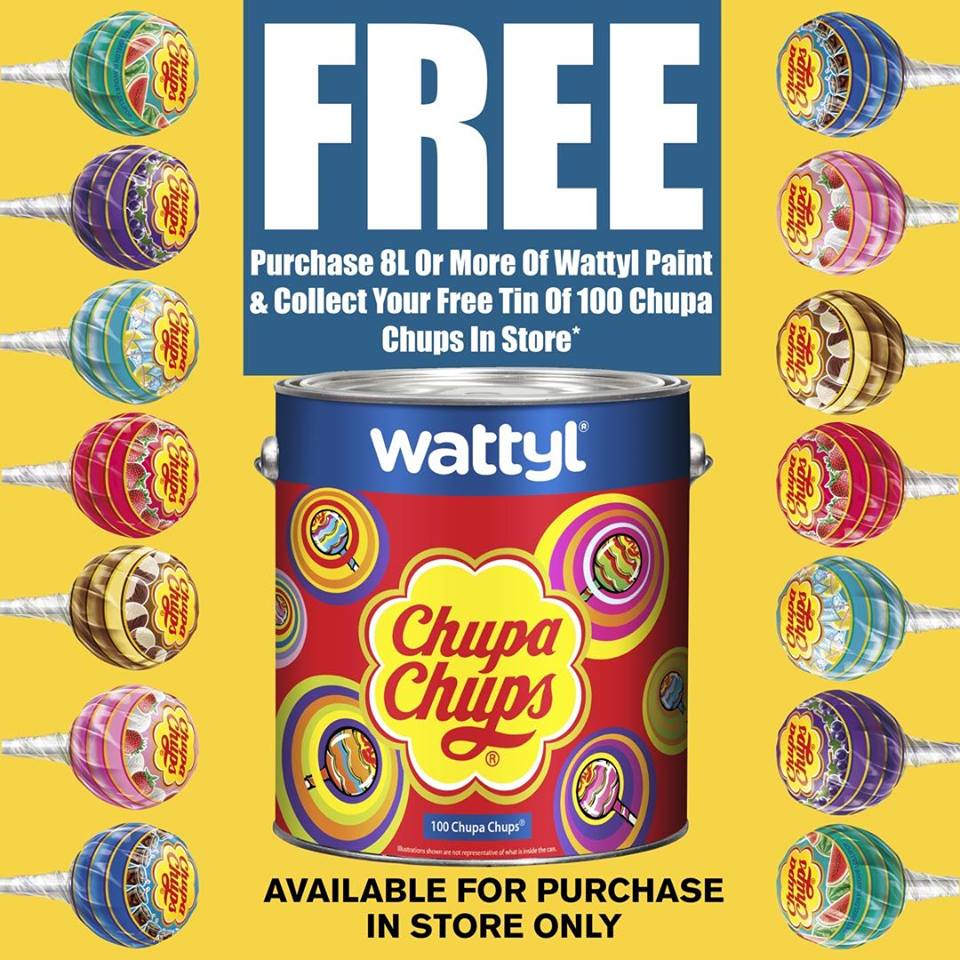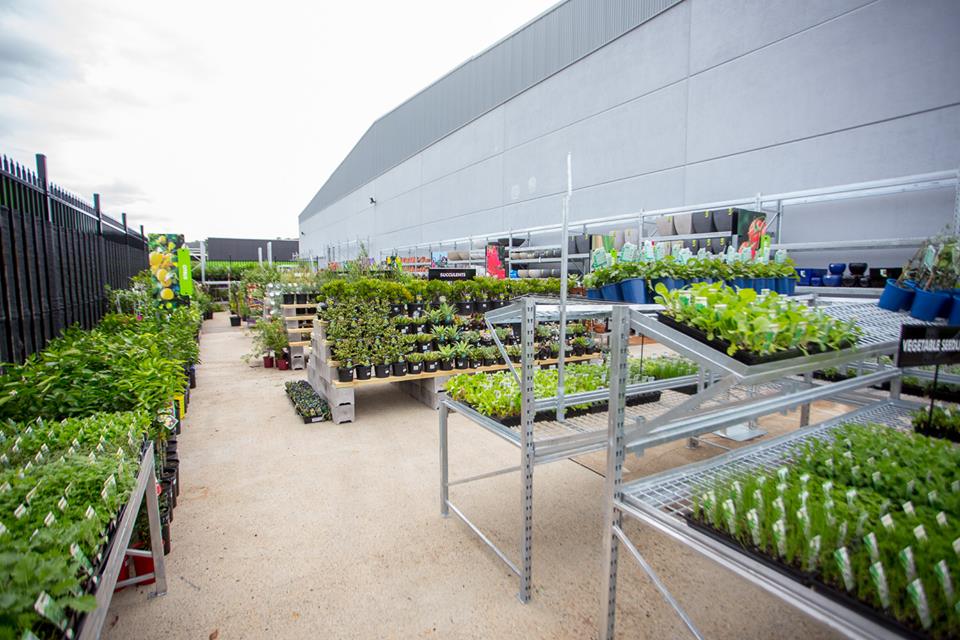 Green Life Garden Centre at Johnson Brothers Mona Vale
Tools And Products To Help You Get It Done At Family Friendly Prices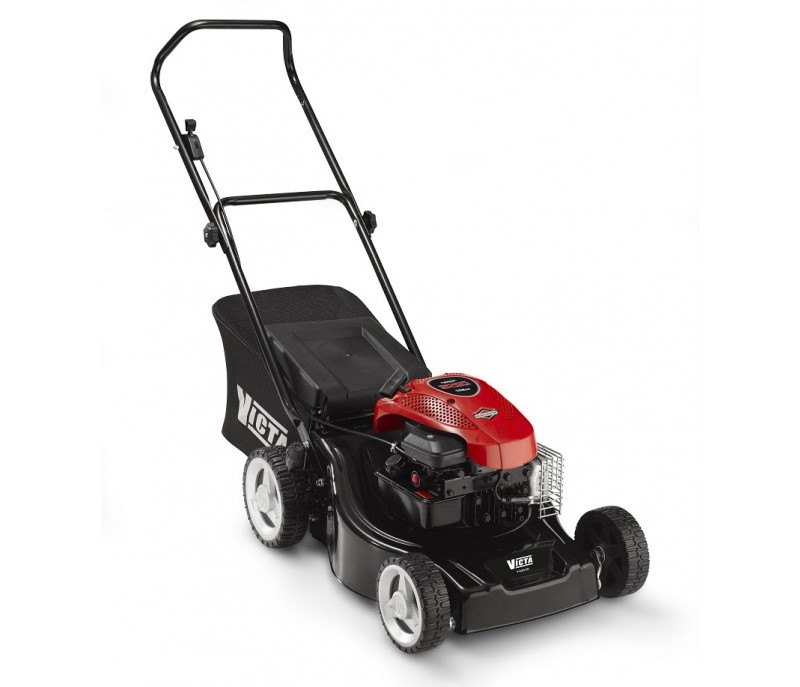 VICTA HAWK 125CC 16" LAWNMOWER: $359.00
125CC Engine. 16" Deck. 12 month Domestic Warranty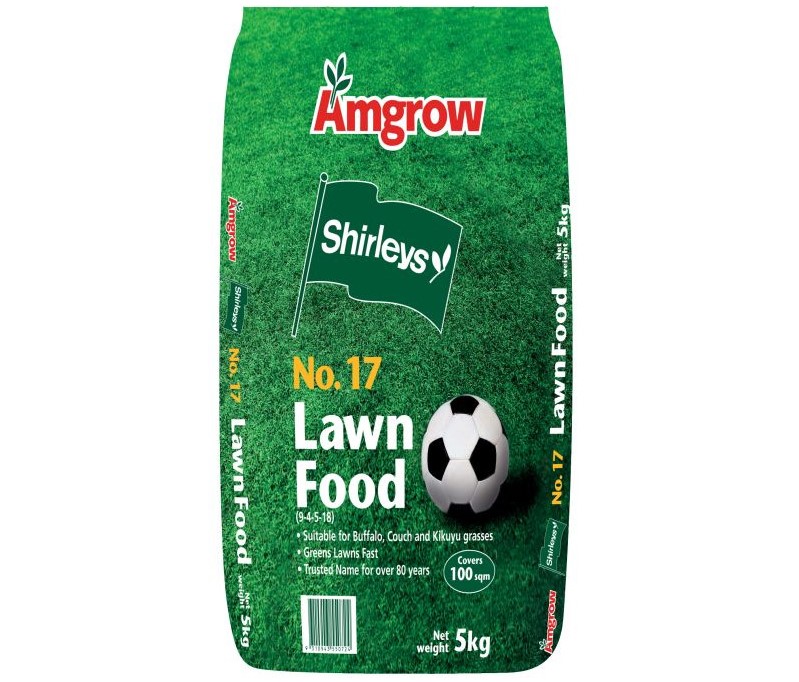 AMGROW 5KG SHIRLEY'S LAWN FERTILISER: $14.95
5kg. Traditional lawn food. Greens lawns fast. Granular formulation.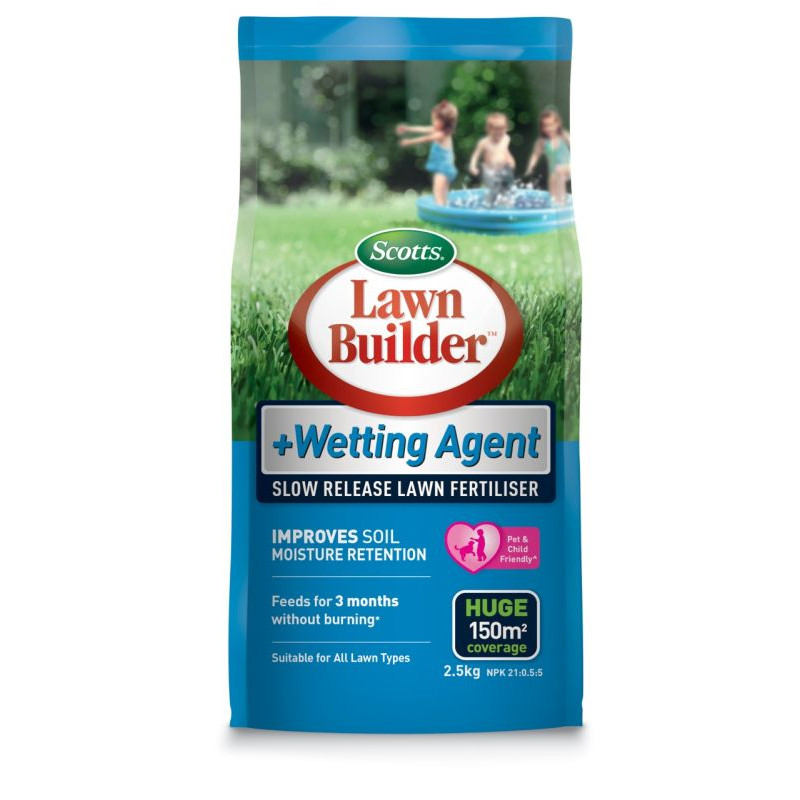 LAWN BUILDER WETTING AGENT LAWN FERTILISER 2.5KG: $26.00
2.5kg. 3 Month slow release lawn fertiliser. With wetting agent. Suitable for all lawns.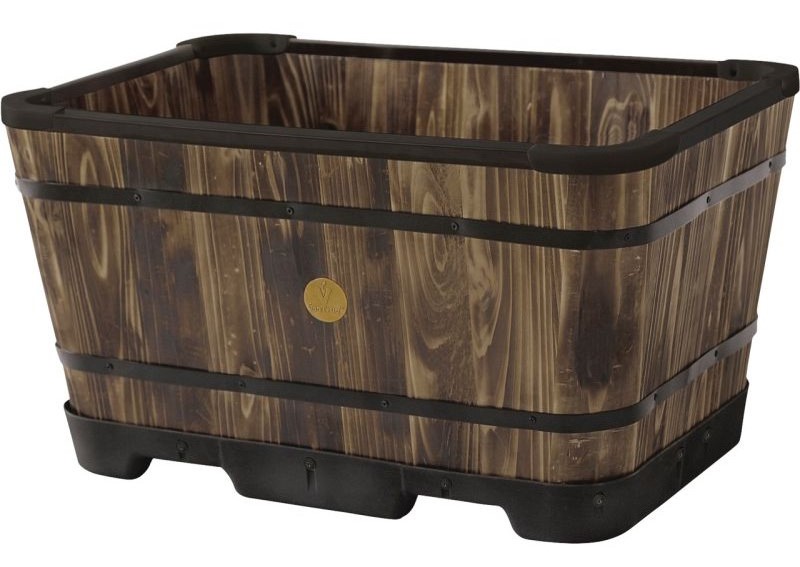 60CM WOODEN PLANTER TROUGH: $89.00
100% FSC sustainable wood. Plastic base provides maximum drainage & ventilation. Burnt oak finish.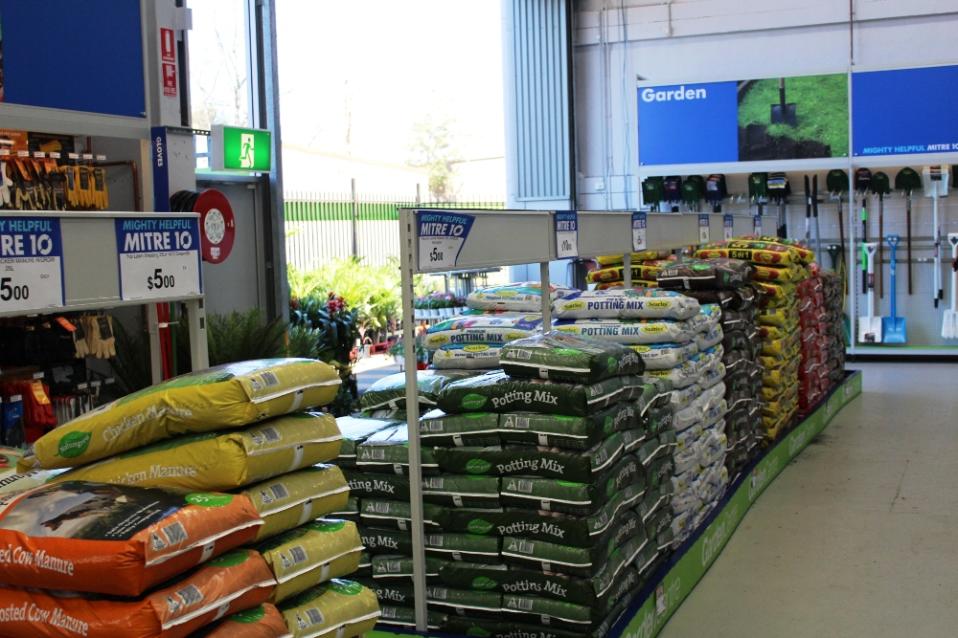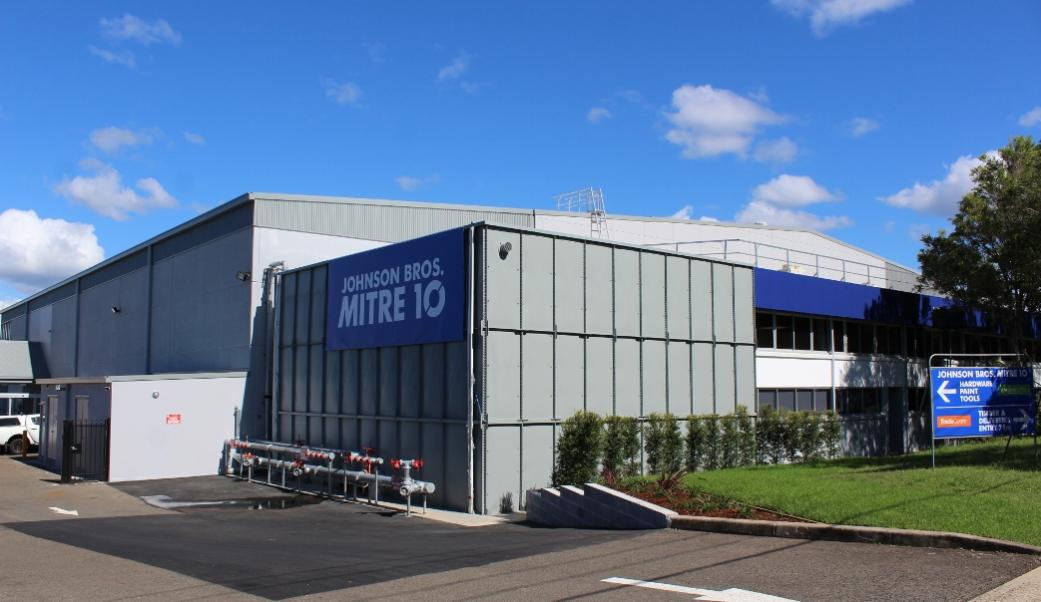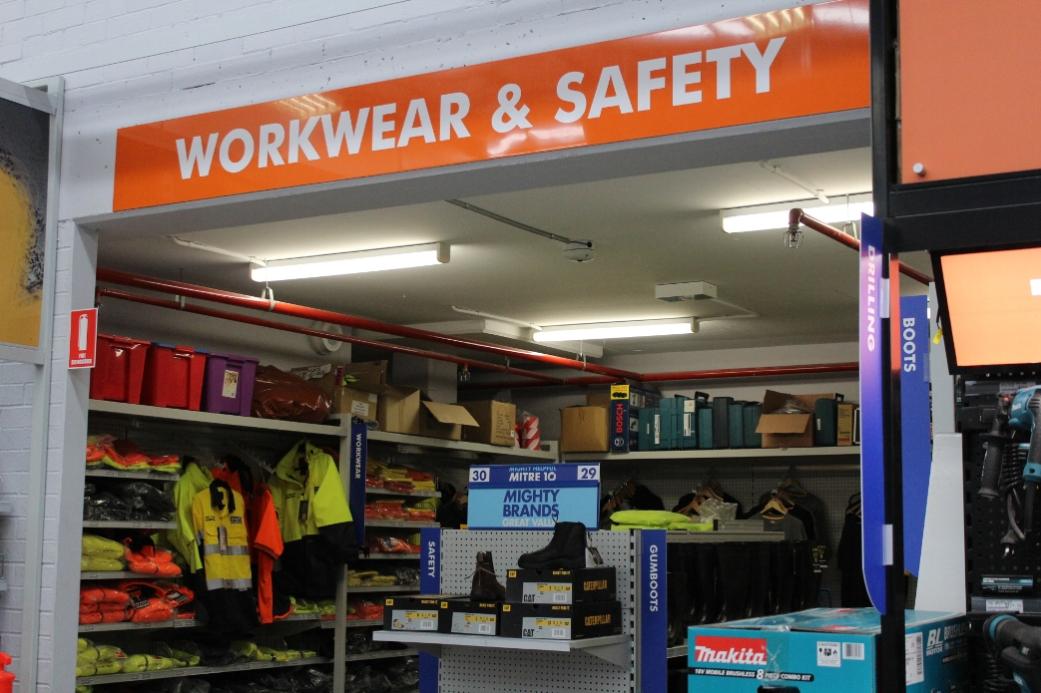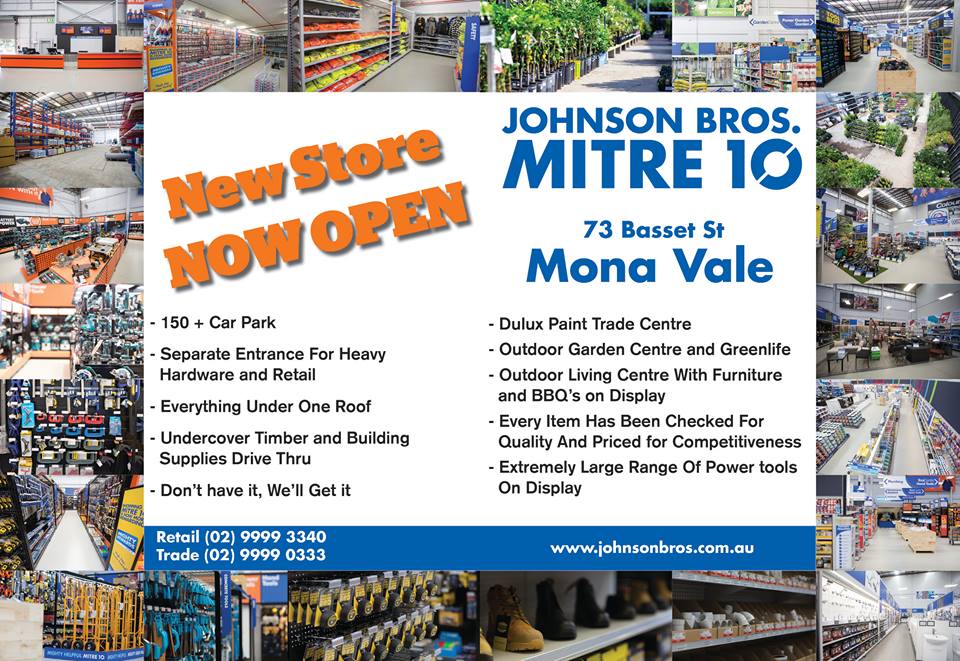 Johnson Brothers Mitre 10 New Store
73 Bassett Street
Mona Vale - Online Store: Jbhmv.Com.Au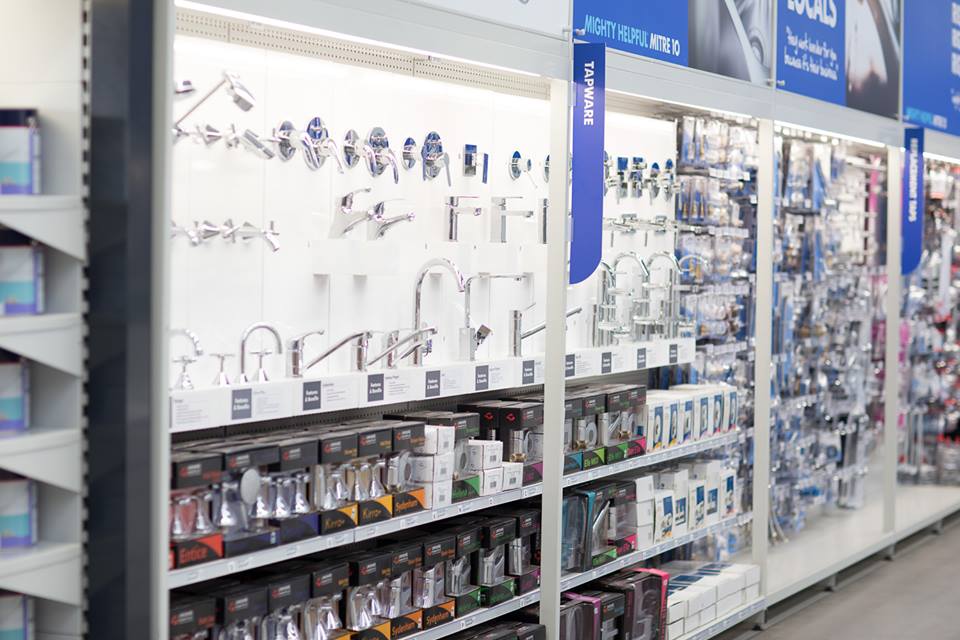 Products advice is available from the trained friendly staff at Narrabeen, Mona Vale and Avalon Johnson Brothers Mitre 10.
Click on logo to visit Johnson Brothers Mitre 10 website
Johnson Bros Mitre 10 - Avalon (02) 9918 3315
Johnson Bros Mitre 10 - Mona Vale (02) 9999 3340
JBH Timber & Building Supplies (02) 9999 0333
JBH Fencing & Landscape Supplies (02) 9970 6333
www.johnsonbros.com.au Online store: jbhmv.com.au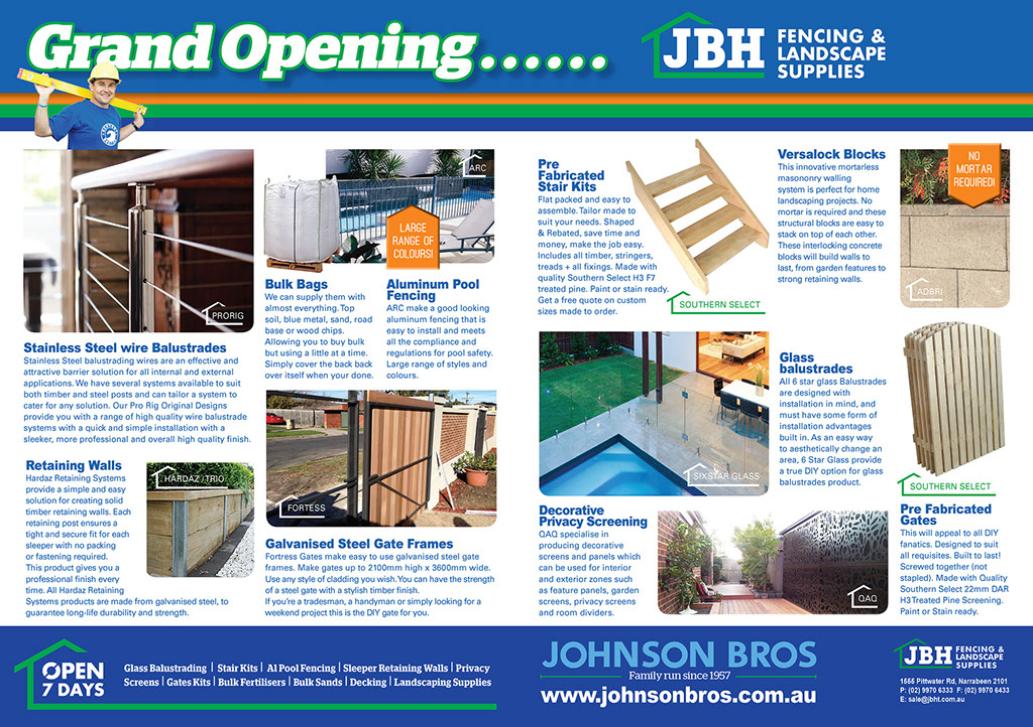 Important
All information and tips in this publication are of a general nature only and neither Johnson Brothers Mitre 10 or Pittwater Online News does not warrant the accuracy or completeness of the information and tips in this publication. This publication is not intended to be a substitute for expert advice.
Johnson Brothers Mitre 10
advises you to always consult an experienced and qualified person when undertaking jobs of this kind (including consulting a qualified tradesperson such as an electrician or plumber where relevant expert services are required).
You should also consider any safety precautions that may be necessary when undertaking the work described in this publication (including wearing any necessary safety equipment such as safety glasses, goggles or ear protectors or hard hats). The information and tips in this publication are provided on the basis that
Johnson Brothers Mitre 10
and
Pittwater Online News
excludes all liability for any loss or damage which is suffered or incurred (including, but not limited to, indirect and consequential loss or damage and whether or not such loss or damage could have been foreseen) for any personal injury or damage to property whatsoever resulting from the use of the information and tips in this publication.
Pittwater Online News and
Johnson Brothers Mitre 10
also advises there may be laws, regulations or by-laws with which you must comply when undertaking the work described in this publication. You should obtain all necessary permissions and permits from council and/or any other relevant statutory body or authority before carrying out any work. Major projects published in this publication always list these and/orlinks to where you may research what your own project requires to meet regulations.