January 26 - February 1, 2020: Issue 435
The Inaugural Sydney Edible Garden Trail - Learn how to help your garden survive the heat, drought,
and water restrictions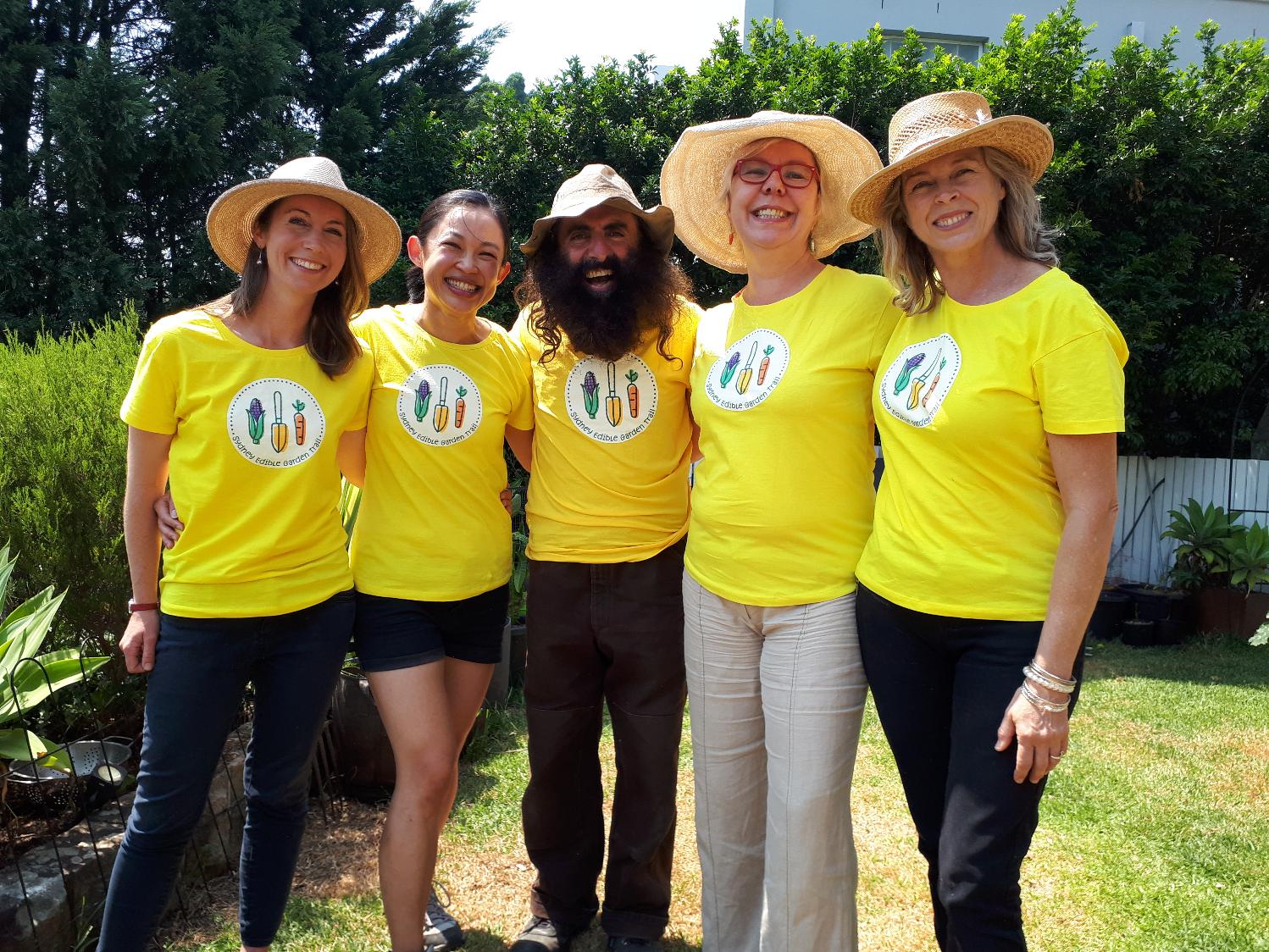 Photo: Costa and the SEGT team - image supplied
The Edible Garden Trail will run over 21 and 22 March 2020 with backyard growers, school and community gardens, large and small, opening their gardens to the public. This is a community not-for-profit event with all profits going to participating school and community gardens.
Early bird tickets are now for sale. Buy now or register your edible garden to be part of the trail to go in the draw to win a Waterups wicking bed worth $395. Visit: www.sydneyediblegardentrail.com. NB: Registrations close the end of January 2020.
Water restrictions at a time when your edible garden desperately needs watering might seem like a disaster, but can also be an opportunity to learn more efficient, eco-friendly skills.
A lot of the things you do for yourself on hot days are applicable to plants – staying hydrated and covering up!
Writer and permaculturist, Cat Dorey, has pulled together some of the things the inaugural Sydney Edible Garden Trail garden hosts are doing to keep their gardens alive.
1. Keeping hydrated – start with the soil Make sure you have a good volume of compost in your soil (30–50% depending on the soil quality). This improves soil structure, keeps microbes happy, and helps retain water. After rain or watering, the top soil often looks wet, but just a few centimetres down it can be bone dry. Always look closer and consider getting a moisture meter – a probe you can stick into the soil to check water content. If your soil has dried out completely it might become hydrophobic and have trouble rehydrating, especially with sandy soils and potted plants. The water sits on top of the soil instead of properly saturating it, or takes the path of least resistance, running down the inside wall of the pot and straight out the bottom. Submersing pots in a tub of water can really help! Soak them until the air bubbles are all gone, and drain in an empty tub to save that precious water. You might need to add a soil hydrating agent to address hydrophobic soil, but be careful as many commercial ones are synthetic and not biodegradable.
Gardening Australia's Jerry Coleby-Williams has some great suggestions for organic wetting agents, including making your own from food-grade thickener, agar agar (algin), derived from seaweed. You might find that using a seaweed solution in your watering can more regularly in summer is enough.
2. Cover up – mulch! Always have a generous layer of mulch covering your soil. As well as suppressing weeds, mulch stops the soil drying out and can reduce watering by about 50%. Organic mulches like pea, sugarcane, or lucerne, break down slowly and add more organic matter to the soil. A layer of about 3–5cm is fine as you want water to get through. Be aware that some of the finely chopped mulches can create a thick mat that doesn't let water through, especially after repeatedly drying out. Leaves and grass mowings can be useful free mulches, but these tend to form mats. A mix of the two is better. Wood chips can work well under fruit trees. For any large, unplanted beds, cover them with cardboard or plastic sheeting to maintain moisture until you're ready to plant, or plant some green manure as a living mulch to improve the soil.
3. Find or make some shade On those really scorching days even the hardiest plants can struggle and suffer leaf burn. Build shade covers to protect them. A basic frame made from bamboo or plant stakes can be effective for holding up shade cloth. You can use old fly screens, safety netting from old trampolines, and even old sheets. For smaller plants try cardboard boxes, wicker baskets, or wire baskets covered in cloth. Temporarily move potted plants to areas that get more shade. Remember that unglazed terracotta pots are permeable and, while they stay cooler, lose water faster than glazed pots. Pots can get very hot in the direct sun and bake the soil inside, so if you can't move them, consider shading or wrapping them in hessian sacks or cardboard.
Group herb pots around larger 'pot ponds' so those that need more shade can be protected by other larger pots. In the longer term, think about how you plant your vegetable beds – taller hardier plants can provide shade for others.
4. Build resistance and apply first aid Make sure plants are getting nutrients regularly to keep them strong and healthy so they are more resistant to, and can recover from, water loss, heat stress, and sunburn. Use lots of good compost, worm castings, well-rotted manures, and seaweed emulsions. Plants grown with seaweed emulsions are more tolerant to drought and revive quicker when treated with seaweed following heat stress.
5. Choose hardy plants. There are some edibles that just don't cope in the heat, and as the changing climate means that Sydney weather will get hotter for longer, we all need to rethink what we can grow, where, and when. For really hot areas, drought tolerant Mediterranean herbs can work well.
6. Clever ways to water Hoses might seem like the quick and efficient way to water plants, especially when we're limited to using a bucket or watering can, but there are better ways. Some plants don't like being watered from above, and it can encourage fungal growth. Watering only the top of the soil can be fine for more shallow rooted plants, but much of the water can run off or evaporate.
Why not use the water restrictions as motivation to try out some of these more efficient watersaving methods?
Watering spikes: a variety of manufacturers make a cone-shaped plastic spike or peg filled with sand or made from a permeable ceramic that lets the water leach out slowly and deeper into the soil. You could also make your own version from the many ideas online.
Ollas: (Oh-yahs) An ancient form of irrigation, these unglazed ceramic pots are buried in your garden with just the neck sticking out. They're filled with water which leaches out slowly into the soil when it's dry. You can even make them by sticking two terracotta pots together, mouth to mouth, with silicone glue and with one end plugged, or with one pot and a saucer on top. Eco Bag Tree waterer: this 25 L permeable bag, from Green Harvest, sits around the trunk of a tree slowly releasing water for up to a month. Great for young fruit trees as they get established!
Self-watering pots and beds: A whole article could be written on different ways to make these selfwatering or 'wicking' devices. The basis of all wicking devices is that you have a water reservoir built within the pot or bed, below the soil and plants, which allows the water to move up through the soil by capillary action. Some designs have an overflow outlet to ensure that the plants don't drown with too much water. Other designs have the pot or tub sitting above the water reservoir with a synthetic cords or fabric 'wicks' hanging from the pot into the reservoir that conducts water up into the soil. You can buy a variety of pots that come with a water reservoir in the bottom and some manufacturers make a basic kit to convert your own pot. Just remember that it's hard for soil to wick water up further than about 30 cm. A wicking bed uses this idea on a larger scale within a raised vegetable bed. You can buy ready-made wicking beds, like the small Vegepods, or the modular system developed by our SEGT sponsors, Water-ups from Down-Under or custom-made beds from Very Edible Garden Wicking beds, or make your own. There are many resources online on how to build them.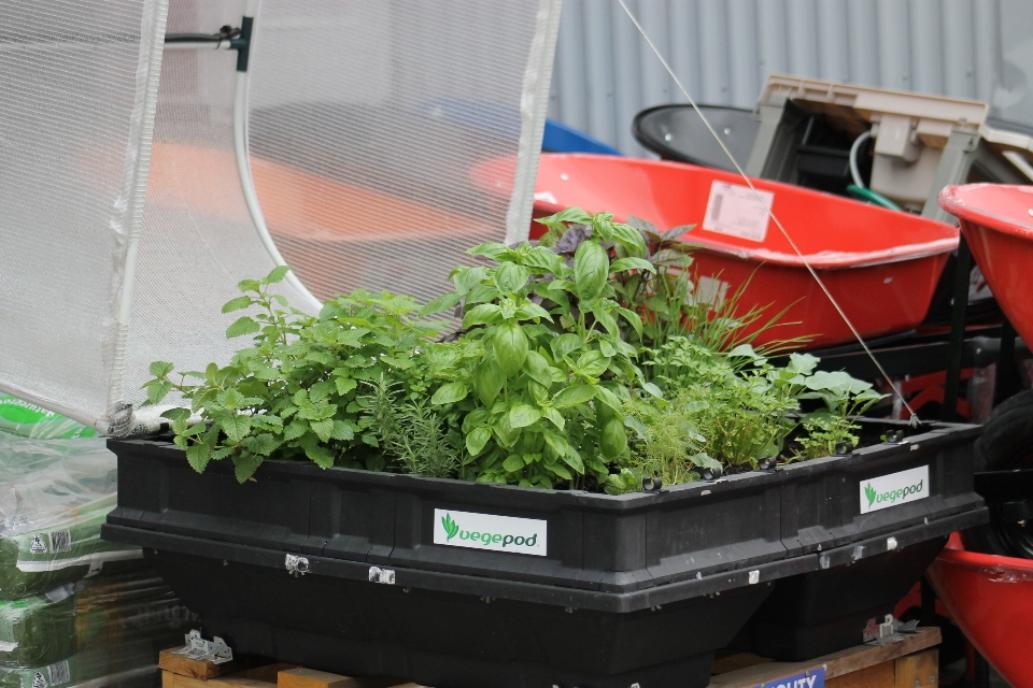 Vegepods are a great idea for the junior gardener or for those who like to pick fresh produce straight from their Unit balcony.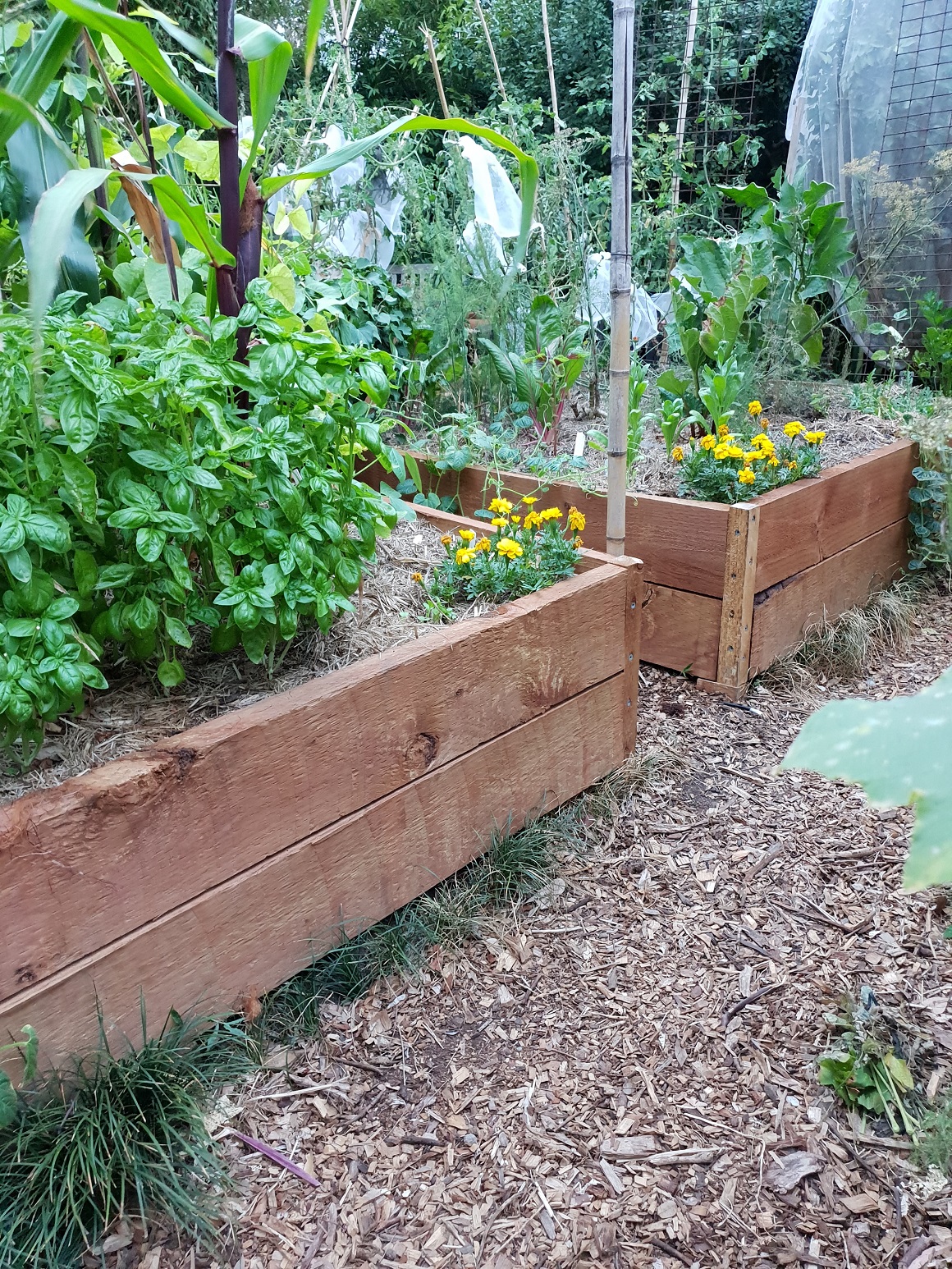 Water ups wicking beds - in a Lane Cove SEGT garden.

Finally, it's a good time to get familiar with, or revisit, the 12 permaculture design principles.
Every one of these principles, from 'Observe and interact' through to 'Creatively use and respond to change' are important right now! Learn from other gardeners by joining a local permaculture group or one of the many online groups, and really engage with your own garden to see what works and what doesn't.
The 12 Principles of Permaculture
Observe and Interact
Catch and Store Energy
Obtain a Yield
Apply Self-Regulation and Feedback
Use and Value Renewables
Produce No Waste
Design from Patterns to Details
Integrate Don't Segregate
Use Small, Slow Solutions
Use and Value Diversity
Use Edges and Value the Marginal
Creatively Use and Respond to Change
The Edible Garden Trail will run over 21 and 22 March 2020 with backyard growers, school and community gardens, large and small, opening their gardens to the public. This is a community not-for-profit event with all profits going to participating school and community gardens.
Early bird tickets are now for sale. Buy now or register your edible garden to be part of the trail to go in the draw to win a Waterups wicking bed worth $395.
To find out more and get your tickets, please visit www.sydneyediblegardentrail.com.
Northern Beaches area Gardens are listed HERE - NB: some more may be added in to please revisit prior to March 21st.
Johnson Brothers Mitre 10 Water Saving Ideas During Level 2 Restrictions Plus 'Don't Sweat Summer' Specials
Greywater Hoses
In times of Level 2 water restrictions, every drop counts. Drop in to see us for a range of ideas like the greywater hoses (modelled here by Scott) to take your washing machine water to your yard.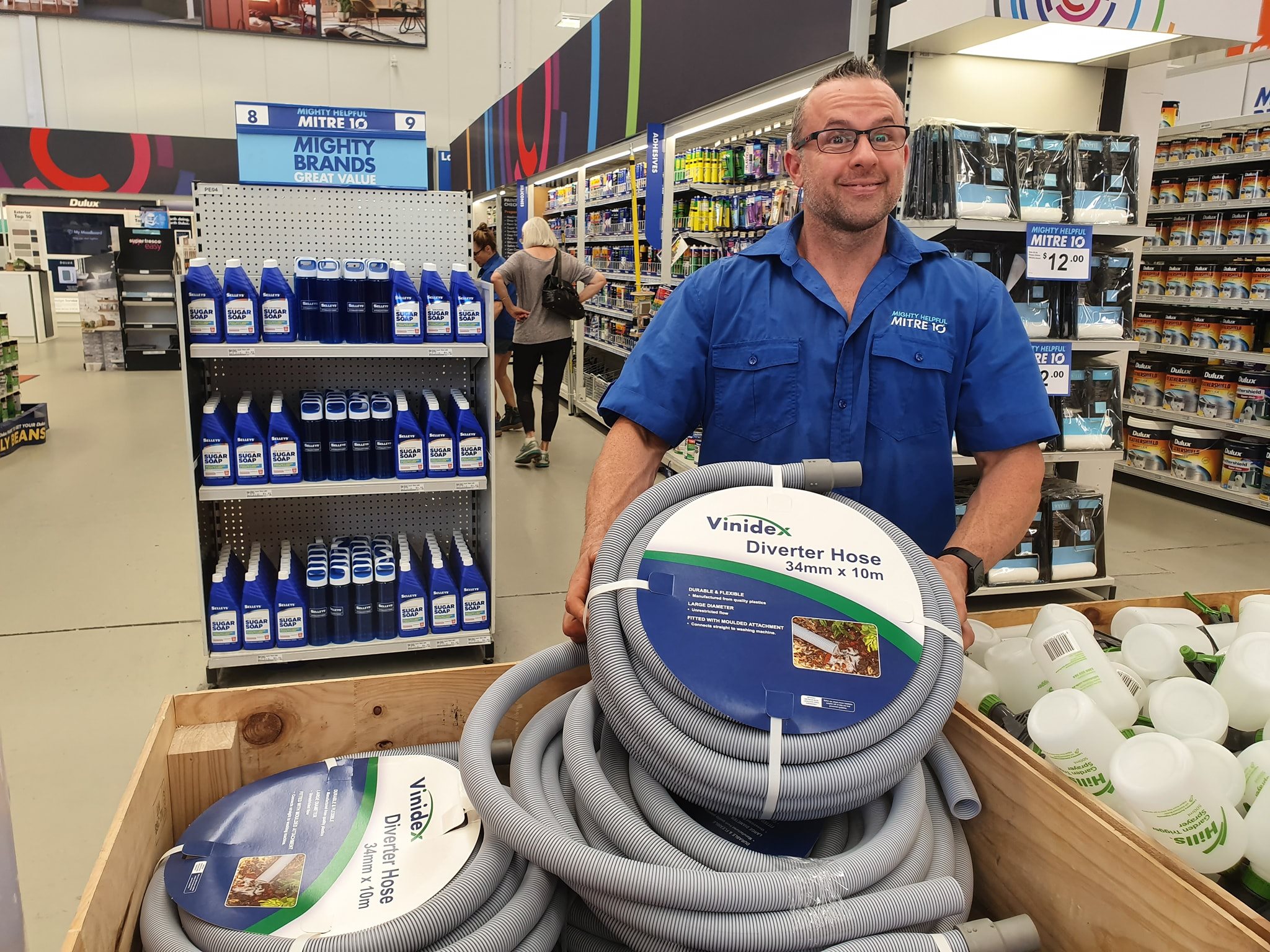 Keeping your soils Wetta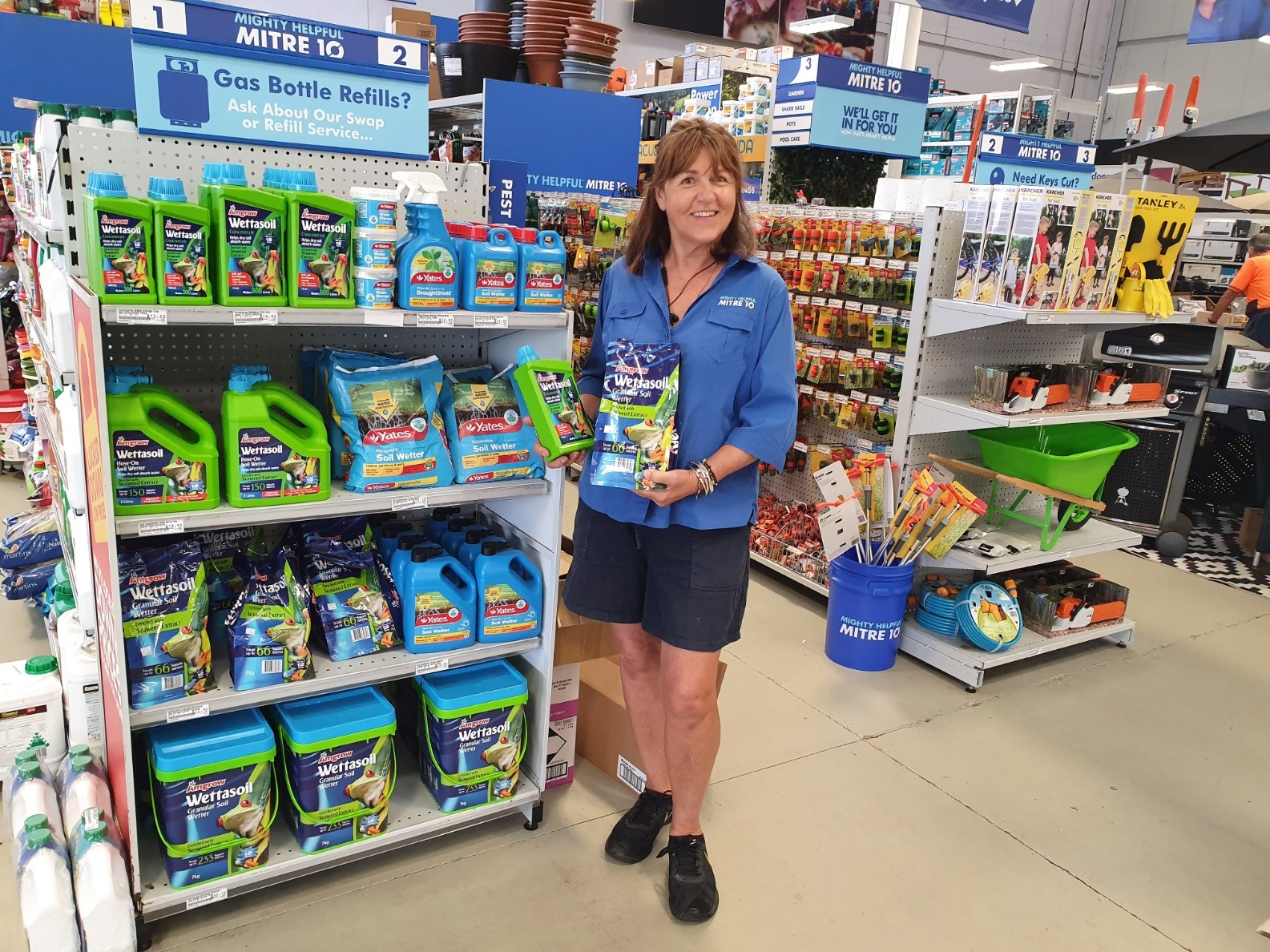 Come and speak to us about water saving options to help your plants and lawns flourish in times of water restrictions . Helen is seen here modeling Amgrow's Wettasoil range with the 1L liquid Concentrate on the left and the 2kg Granular Soil Wetter on the right.
Johnson Bros Mitre 10 - Mona Vale: Our January Catalogue 'Don't Sweat Summer' is Out! - Browse http://bit.ly/2MgyChL and shop in store.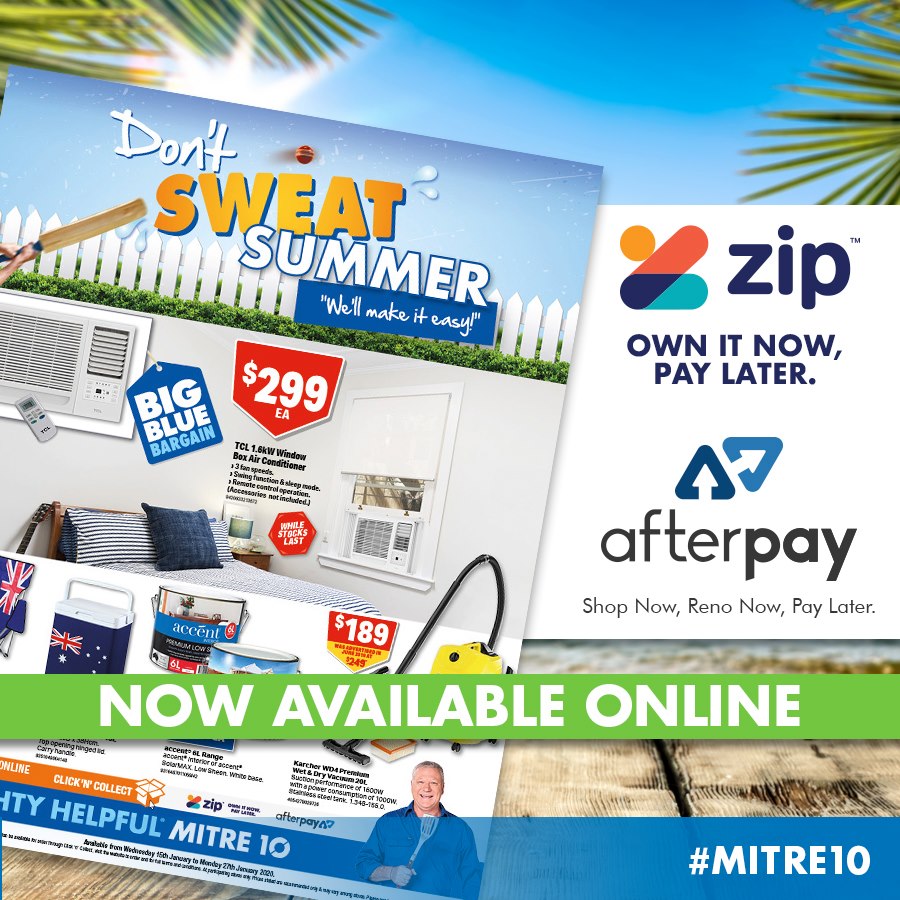 From the 'Don't Sweat Summer catalogue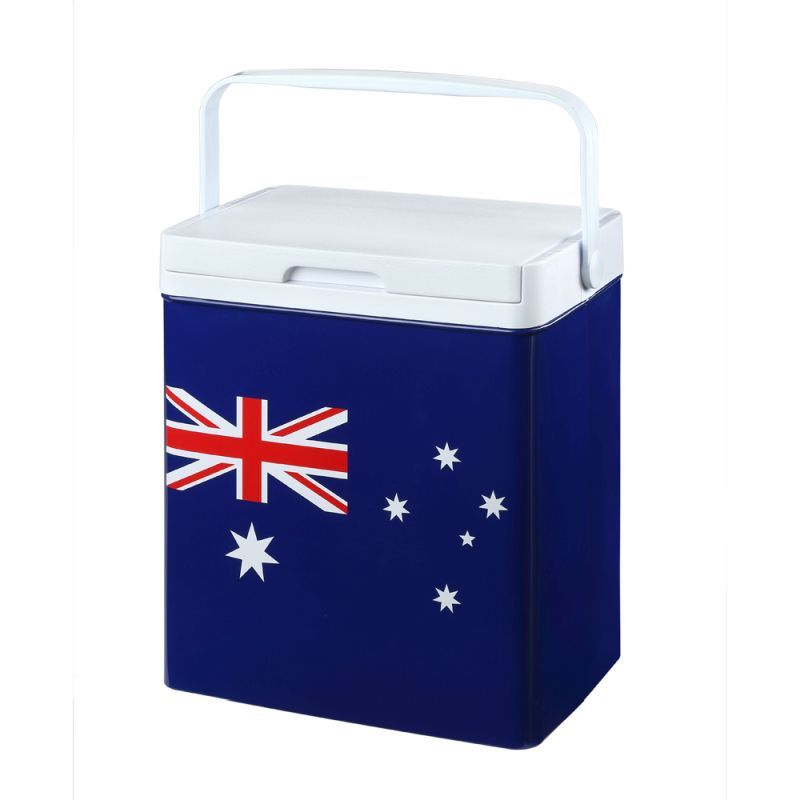 AUSSIE FLAG COOLER 18L: $35.00 36W x 25D x 38Hcm. Top opening hinged lid. Carry handle.
ICEZONE PERFORMANCE COOLER 18L BLUE: $99.00 4-9 day ice retention. 30(H) x 46(W) x 31(D). Concealed Hinges. Quick release stainless steel latches. Reversible non-slip or easy glide feet. Shoulder strap. Adjustable handles. Variable flow drainage. Secure locking points. Easy clean surface.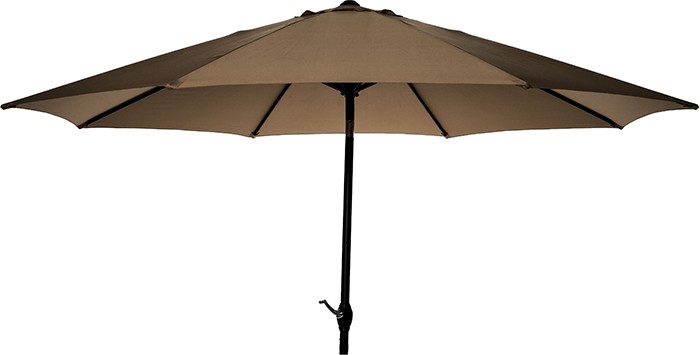 3m Aluminium Market Umbrella: $89.00 - Taupe single layer polyester canopy. 8 aluminium ribs. Crank open/close system. Tilt function.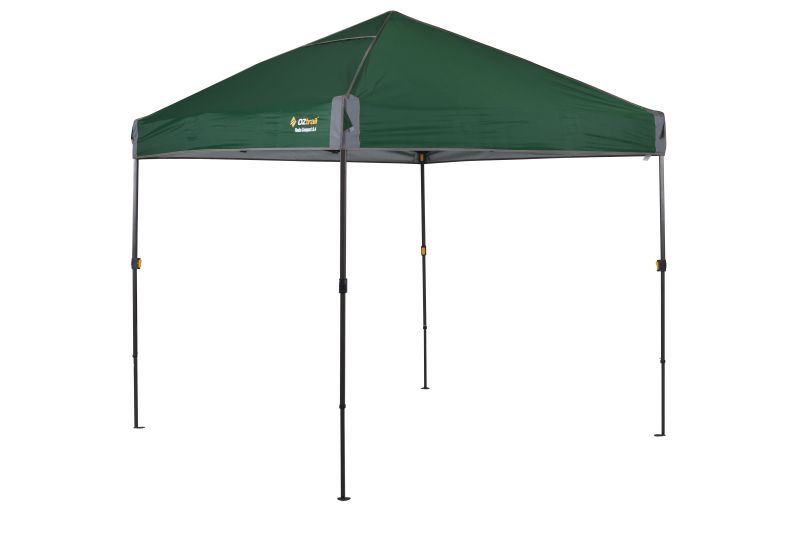 OZTRAIL FIESTA GAZEBO GREEN 2.4 X 2.4M: $199.00 - Ideal for providing ample shade for small groups. Green. 98% UV rated. Includes heavy duty wheeled carry bag for easy transportation & storage.


ONIX 40CM PEDESTAL FAN: $13.90 - 3 speed settings. 60cm sturdy cross base. Fixed and oscillating function. Tilt adjustable. Check out our co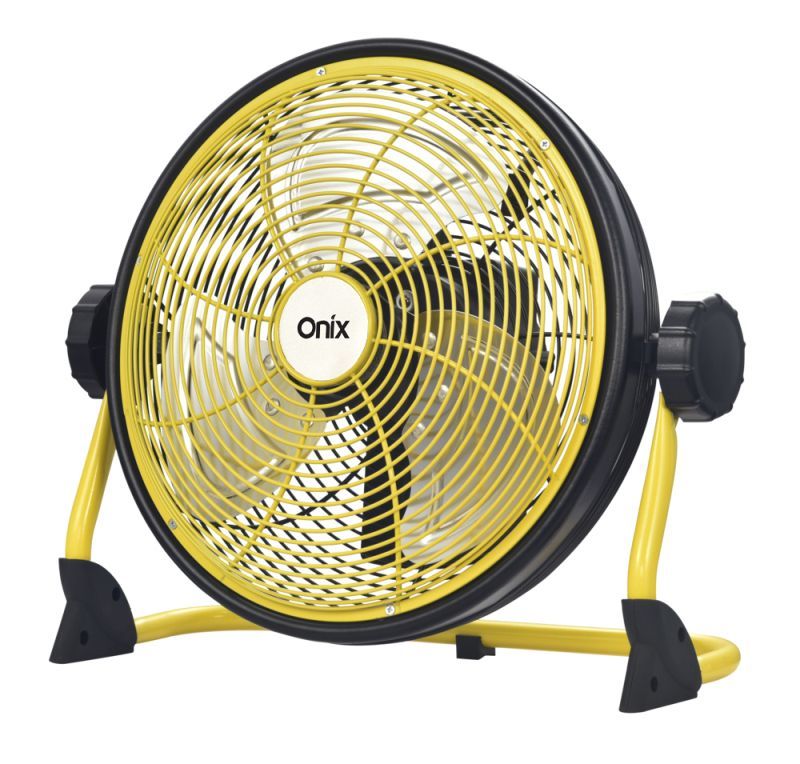 ONIX 30CM DC RECHARGEABLE FLOOR FAN: $149.00 - 12 (30cm) Rechargeable DC floor fan. Variable Speed settings. 3 Aluminium fan blades. Tilt adjustable head.
Outdoor Living - Beauty of Nature
Breeze through our outdoor living range http://bit.ly/2Z66ggi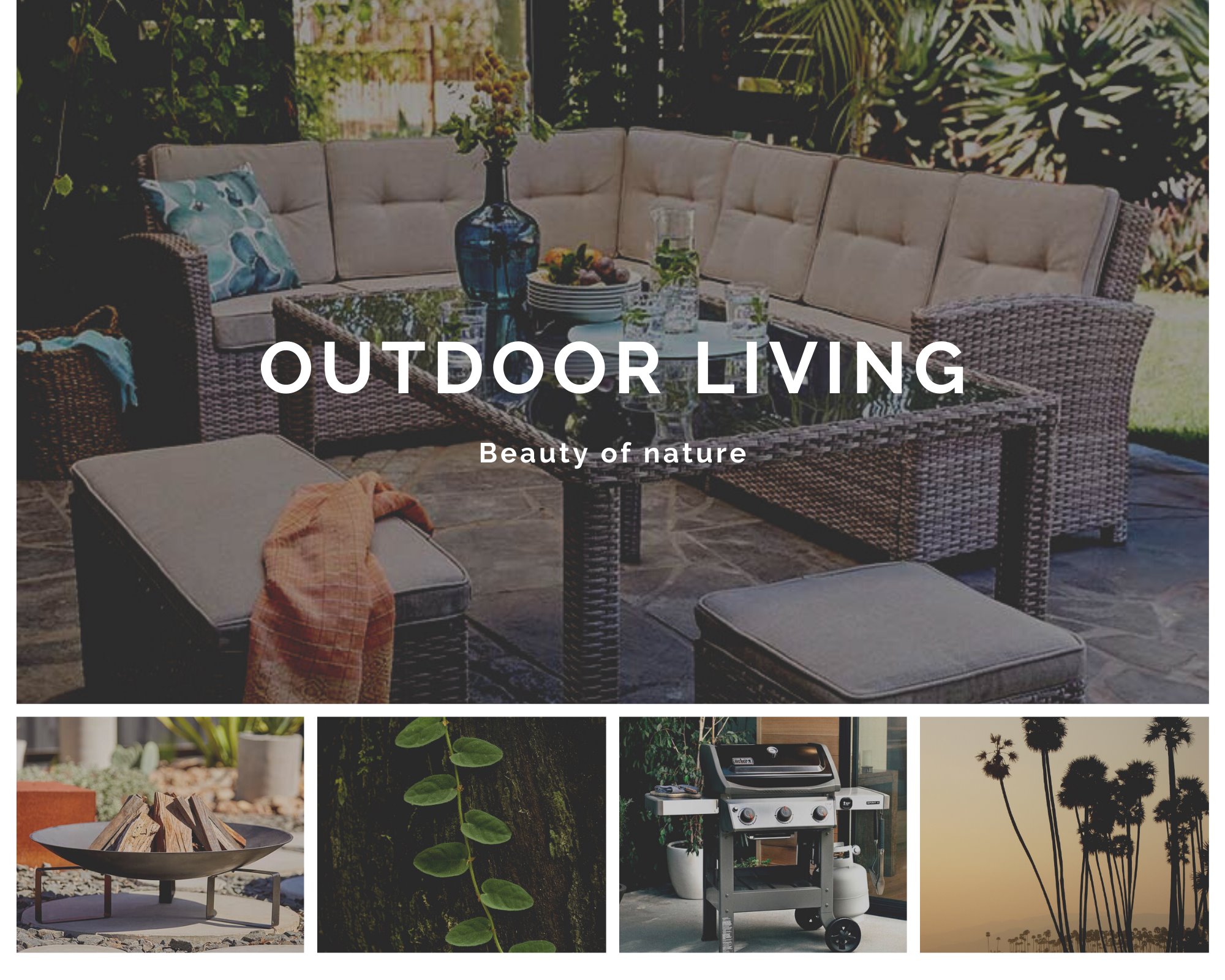 Mozzies Gone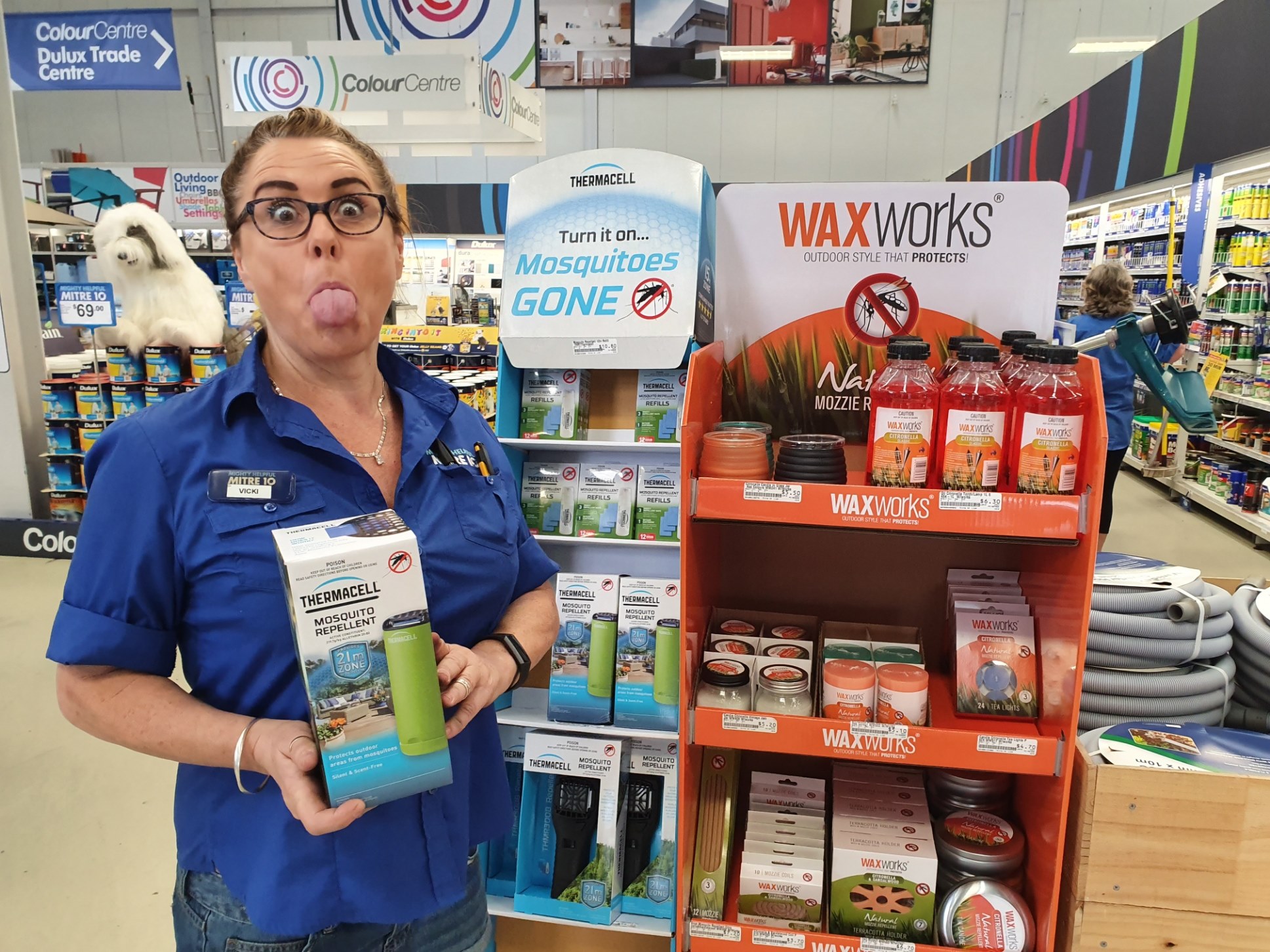 Thermacell Mosquitoes repellents are really good at getting rid of unwanted pests.... except for the one holding it :)
New Brushless Planer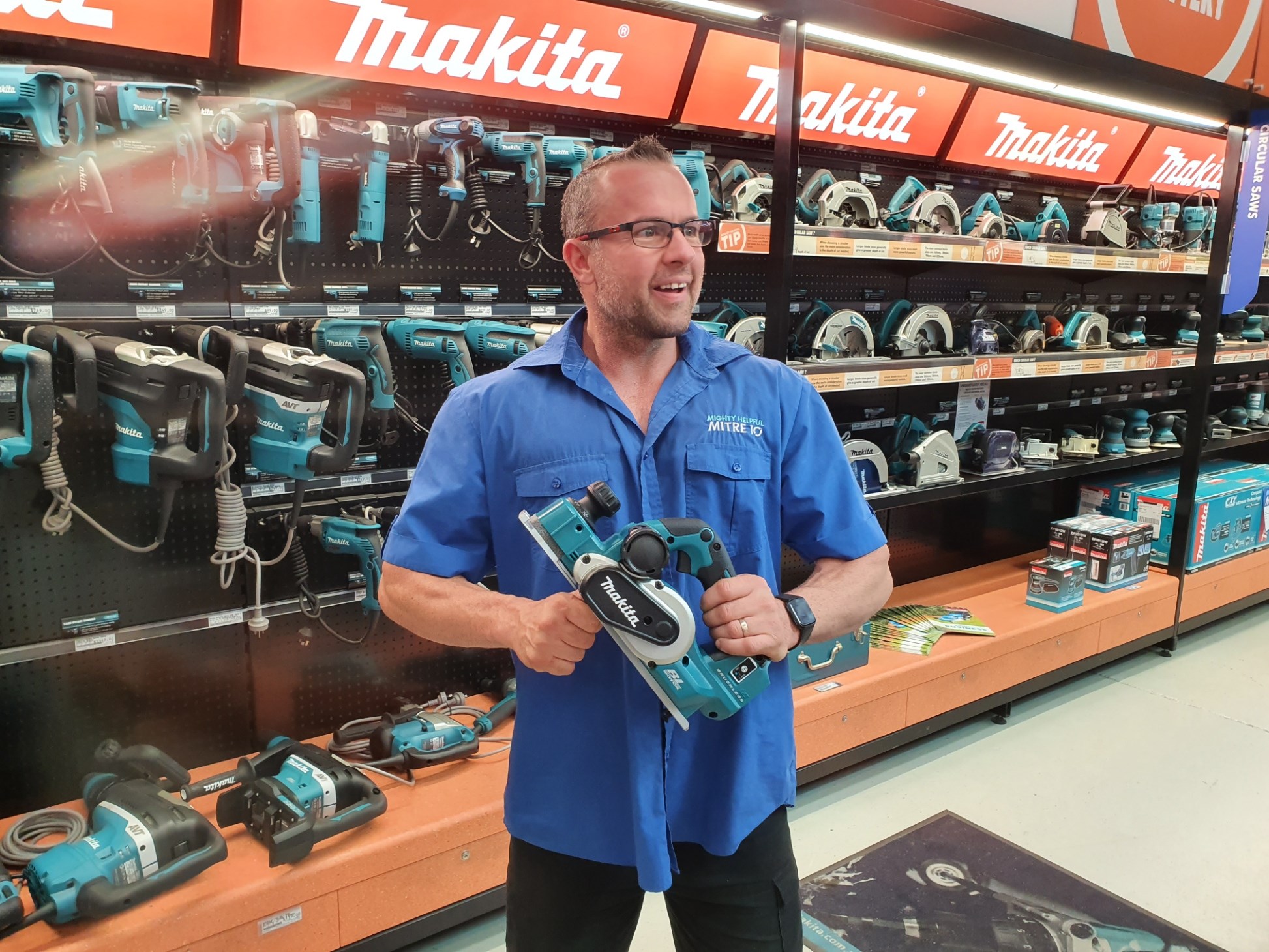 JUST ARRIVED - The new Makita Planer! - It's BRUSHLESS..... just like Scotty!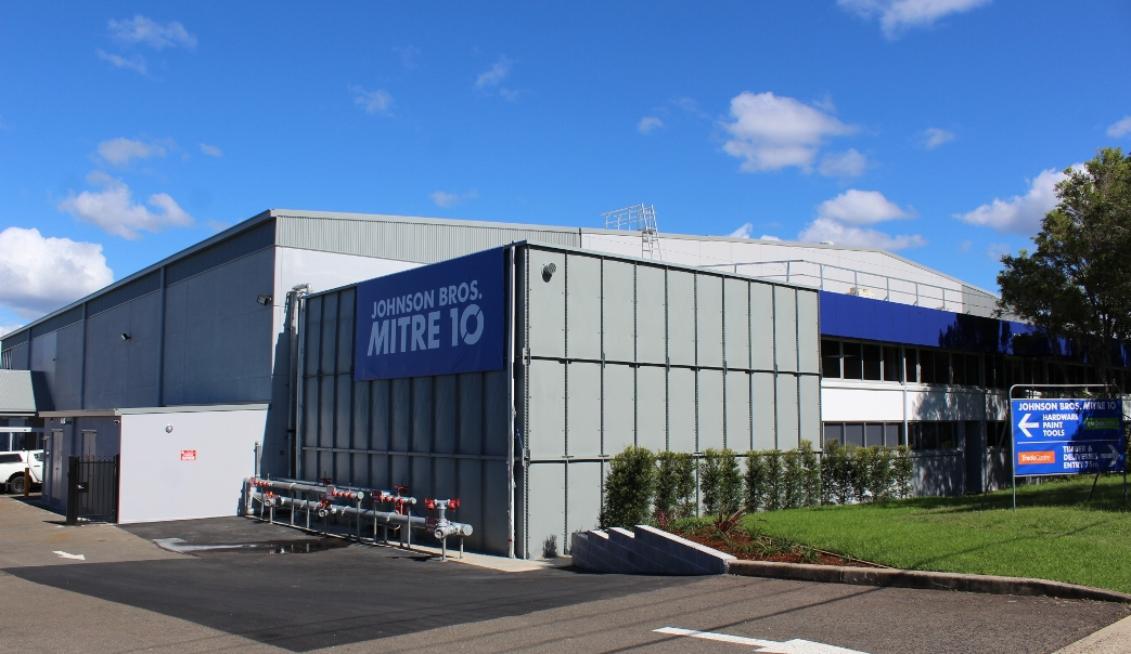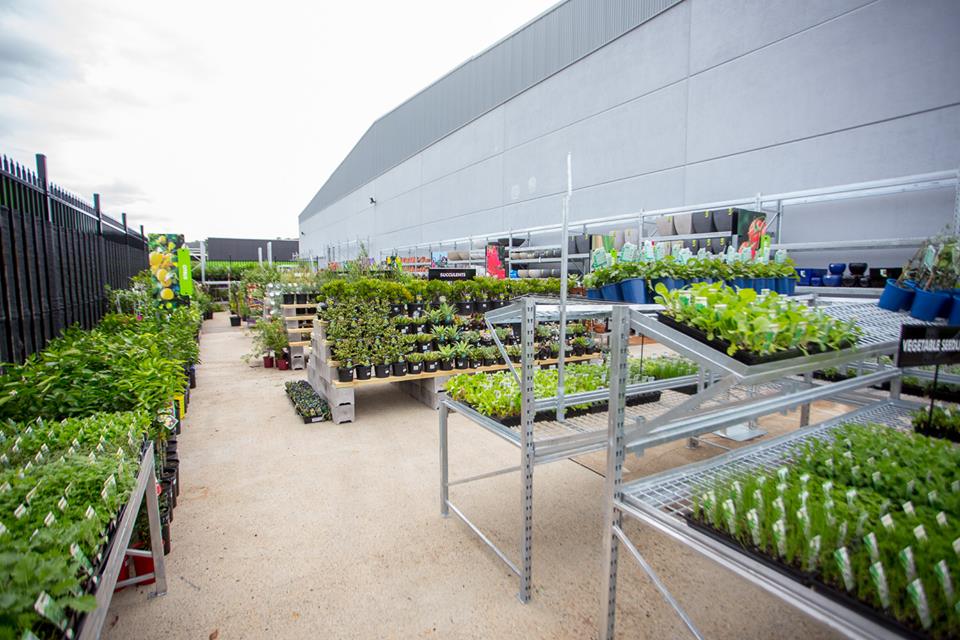 Green Life Garden Centre at Johnson Brothers Mona Vale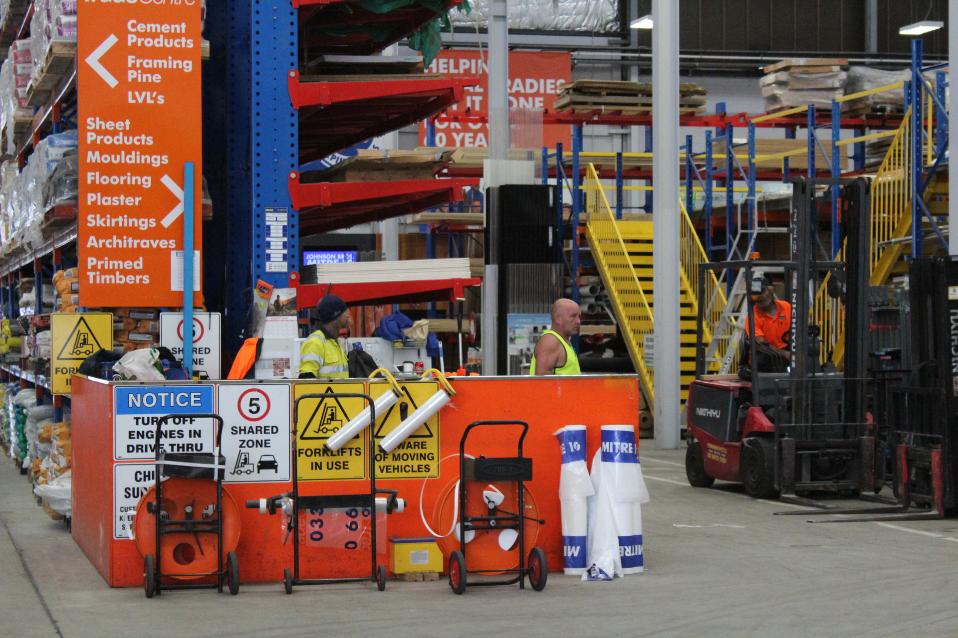 Johnson Brothers Mitre 10 Trade Centre at Mona Vale - everything you need under one roof.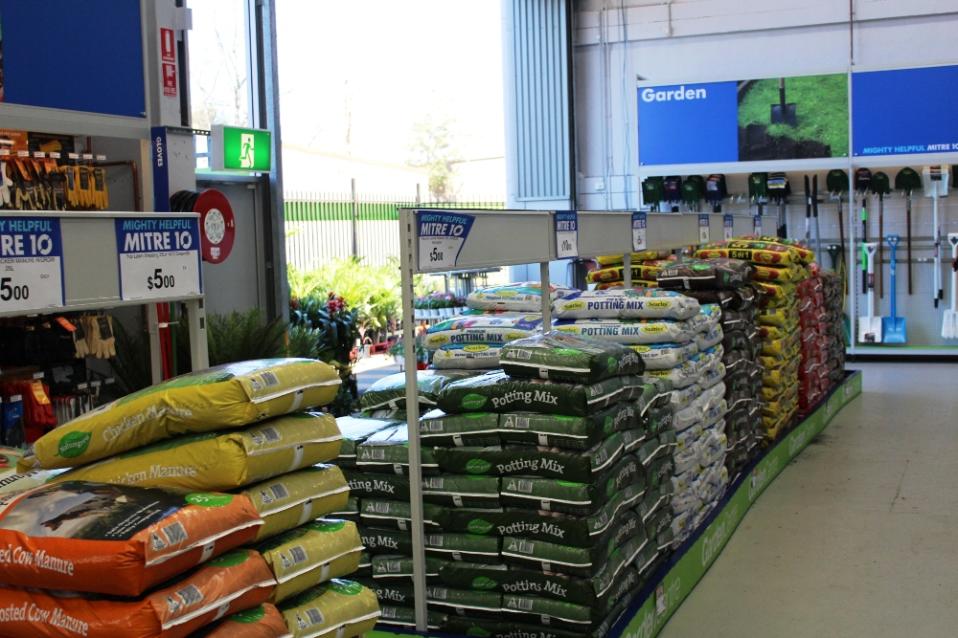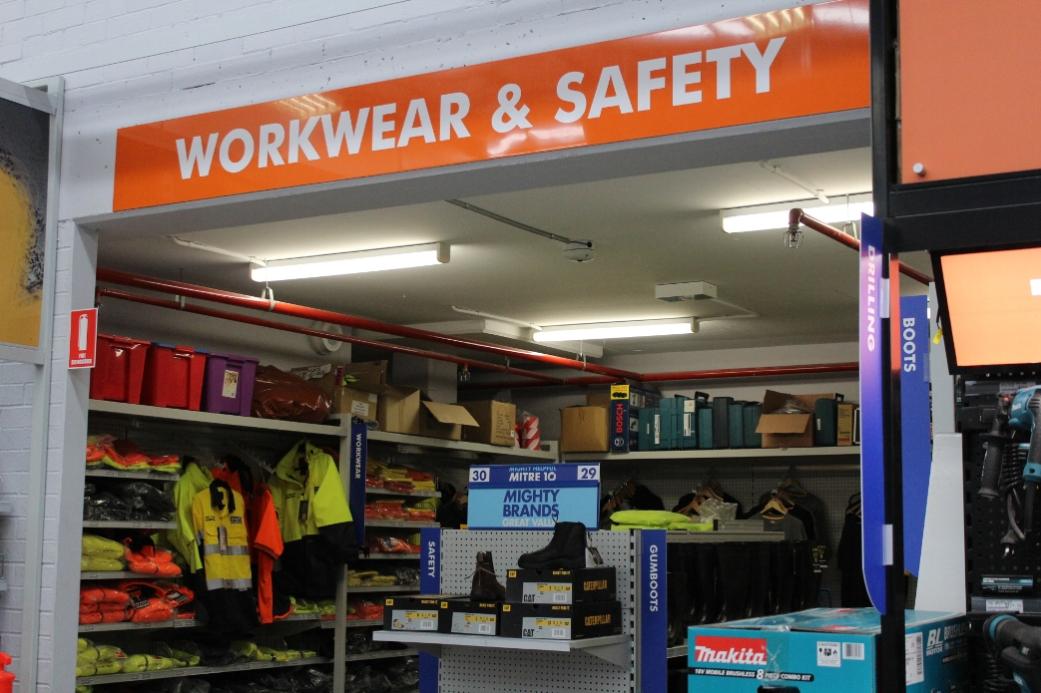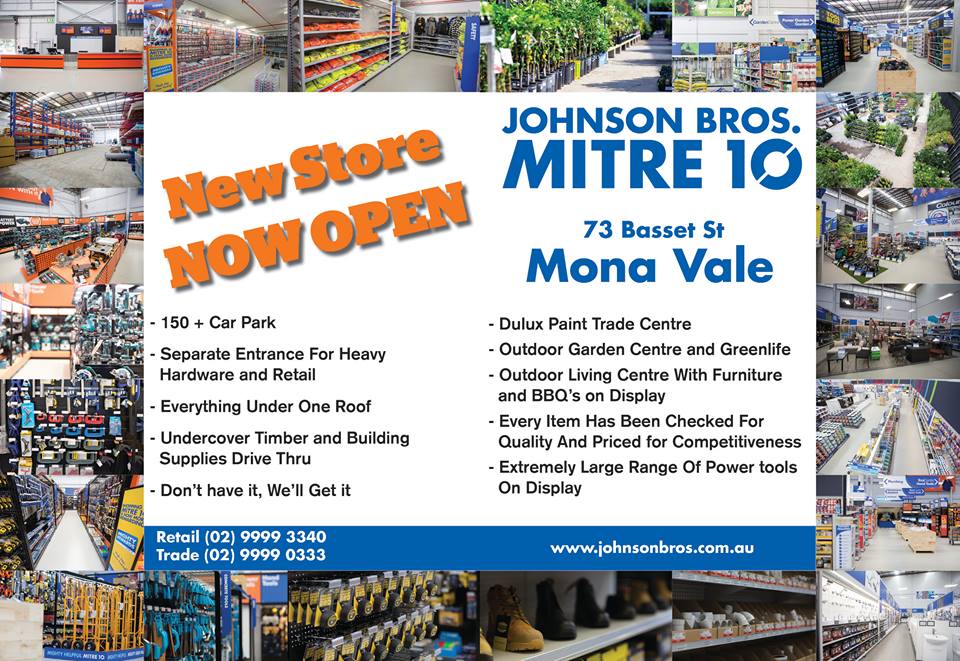 Johnson Brothers Mitre 10 New Store
73 Bassett Street
Mona Vale - Online Store: Jbhmv.Com.Au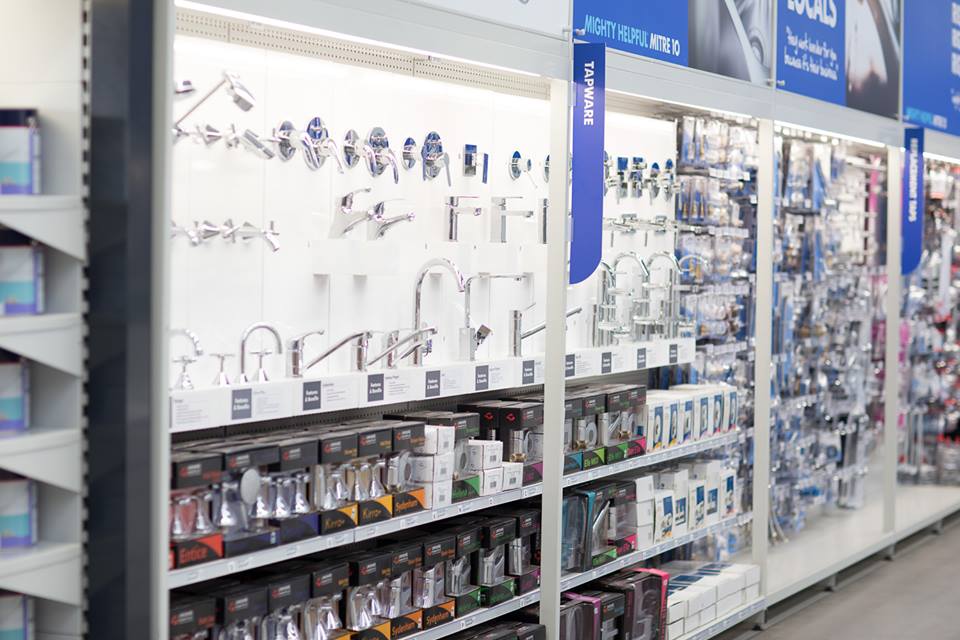 Products advice is available from the trained friendly staff at Narrabeen, Mona Vale and Avalon Johnson Brothers Mitre 10.
Click on logo to visit Johnson Brothers Mitre 10 website
Johnson Bros Mitre 10 - Avalon (02) 9918 3315
Johnson Bros Mitre 10 - Mona Vale (02) 9999 3340
JBH Timber & Building Supplies (02) 9999 0333
JBH Fencing & Landscape Supplies (02) 9970 6333
www.johnsonbros.com.au Online store: jbhmv.com.au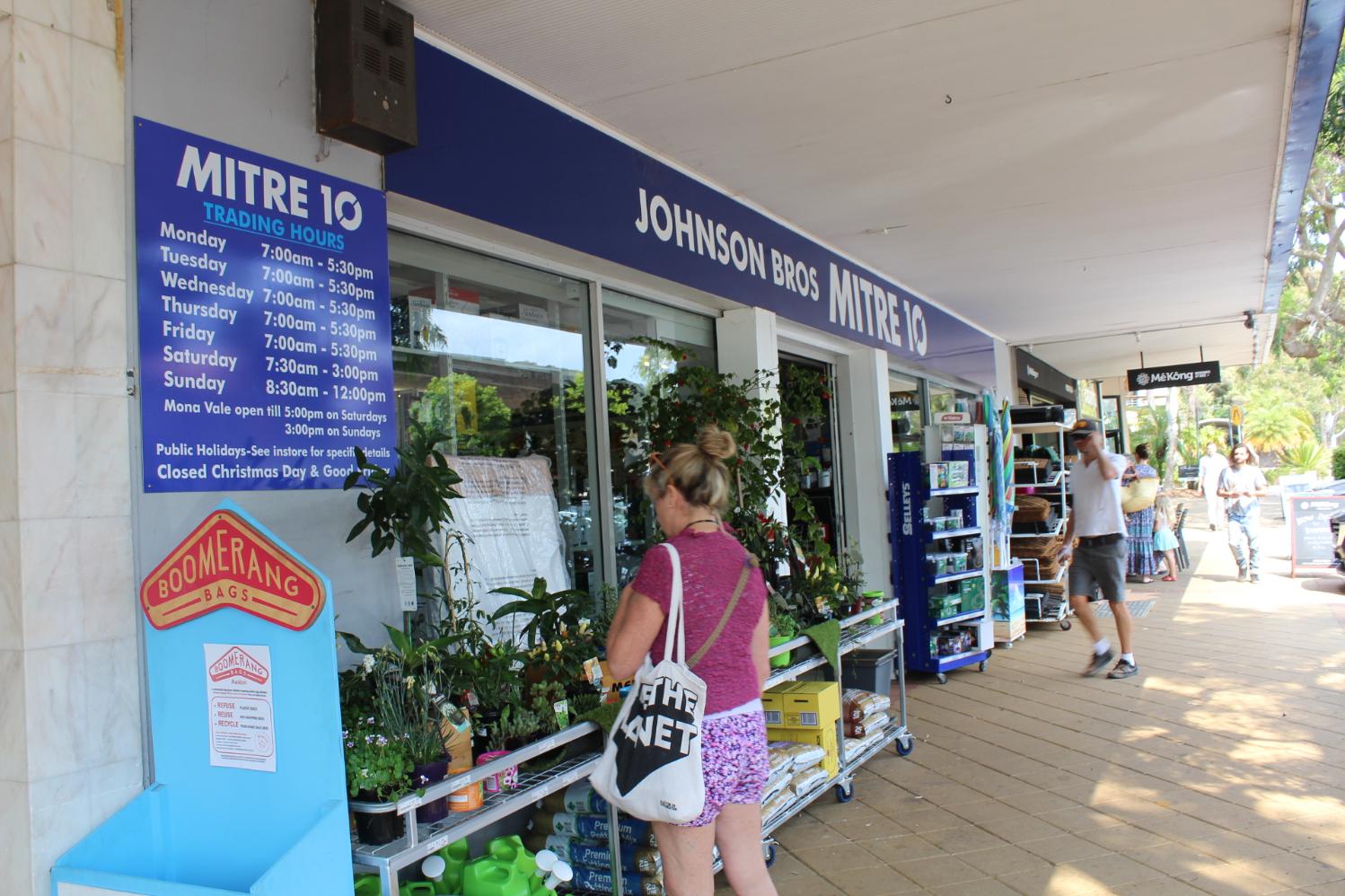 Important
All information and tips in this publication are of a general nature only and neither Johnson Brothers Mitre 10 or Pittwater Online News does not warrant the accuracy or completeness of the information and tips in this publication. This publication is not intended to be a substitute for expert advice.
Johnson Brothers Mitre 10
advises you to always consult an experienced and qualified person when undertaking jobs of this kind (including consulting a qualified tradesperson such as an electrician or plumber where relevant expert services are required).
You should also consider any safety precautions that may be necessary when undertaking the work described in this publication (including wearing any necessary safety equipment such as safety glasses, goggles or ear protectors or hard hats). The information and tips in this publication are provided on the basis that
Johnson Brothers Mitre 10
and
Pittwater Online News
excludes all liability for any loss or damage which is suffered or incurred (including, but not limited to, indirect and consequential loss or damage and whether or not such loss or damage could have been foreseen) for any personal injury or damage to property whatsoever resulting from the use of the information and tips in this publication.
Pittwater Online News and
Johnson Brothers Mitre 10
also advises there may be laws, regulations or by-laws with which you must comply when undertaking the work described in this publication. You should obtain all necessary permissions and permits from council and/or any other relevant statutory body or authority before carrying out any work. Major projects published in this publication always list these and/orlinks to where you may research what your own project requires to meet regulations.