May 4 - 10, 2014: Issue 161
Eradicating Noxious Weeds From Your Yard
Noxious weeds are those plant species declared by NSW Agriculture and Council under the Noxious Weeds Act, 1993. They are declared because they threaten human health and property, agricultural productivity and natural biological diversity.
A comprehensive listing of all noxious weeds within Pittwater Councils' control area is available here. We are also running a page this week on identifying these noxious weeds within our Council's area so you can easily recognise them with photos of these plants.
In the May-June Cooee - published by Pittwater Council, an updated list of Noxious Weeds Council submitted as a list of environmentally invasive weed trees, shrubs and groundcovers for consideration of elevated noxious weed status is listed. Subsequently, in February 2014, the Department of Primary Industries announced that Weed Control Order No. 30 was gazetted resulting in many of these 'wish list' weeds being included in the new legislation.
See Pittwater's Noxious Weeds; Update of Lists May 2014... page here.
There are also Environmental weeds, these are introduced plants which have invaded natural ecosystems either from properties adjoining reserves or from people dumping garden refuse in these. These weeds become highly invasive due to their rapid growth, high fecundity (seed production and longevity) and very effective dispersal methods. Some of these environmental weeds are also classified as noxious weeds.
Noxious and environmental weeds compete with native plants for sunlight, moisture and nutrients. They can dominate and stifle the germination of native plants and all councils have a responsibility to manage these within their areas. Landholders are also required to manage or eradicate certain species within the 5 classes of noxious weeds where they are found on their property.
A lot of these invasive and noxious weeds can be controlled by going to the 'root' of the problem – that is, literally ignoring all the vines and leaves and shoots of flowers and going for the heart of the plant, especially in the case of a noxious weed like asparagus fern. In the case of this plant you only need to cut out the crown or central growing point. The white bulbs on the roost are only for water storage and can't grow when the rest of the plant is gone. This will stop the spread. Ensure you pick up any berries if these are present.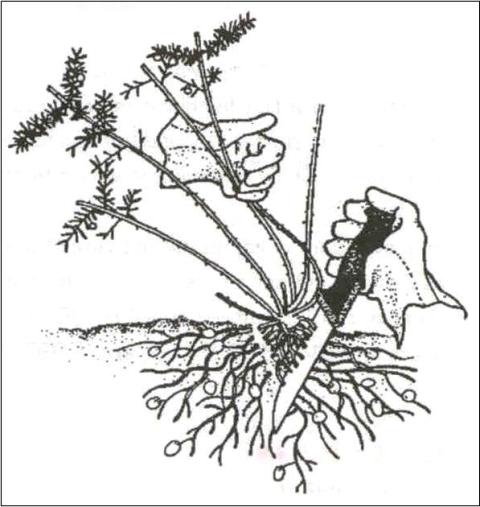 Graphic courtesy Pittwater Natural Heritage Association.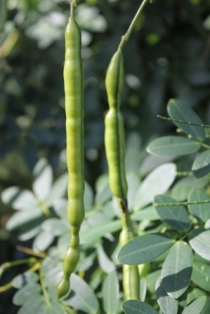 Other invasive weeds, such all the kinds of vines slowly strangling our native vegetation, can be pulled down gently so they don't damage what they have become a parasite on, and the roots similarly pulled up, but as well know, alike bamboo, these will recur unless you 'get to the roots' here too. Try to control vines before seed has formed to avoid this problem, but if fruits are present (even if they are still green), they should be collected as carefully as possible and destroyed.
Plants such as Cassia, which can quickly grow into small tress, should be pulled out as soon as they appear. Be sure to gather up any seed pods too and add these to the composting methods listed below.
Getting rid of the Invaders and Keeping Your Lawn Green
Many people don't wont to spray wholesale – it kills things that benefit their soil, such as ants and the roots of plants we want to retain – in scenarios like this the invasive and noxious weed may be treated with what is called a 'herbicide painting/daubing' – that is – cutting the vine or core woody part at its source and then dabbing, while cut is still fresh, a product such as Gard&Grow or Round Up on it as this will then travel back through the roots and kill the rest of the plant without killing your nice lawn or anything else living around it. We've used this method to successfully rid our yard of bamboo and other invasive root spreading vines.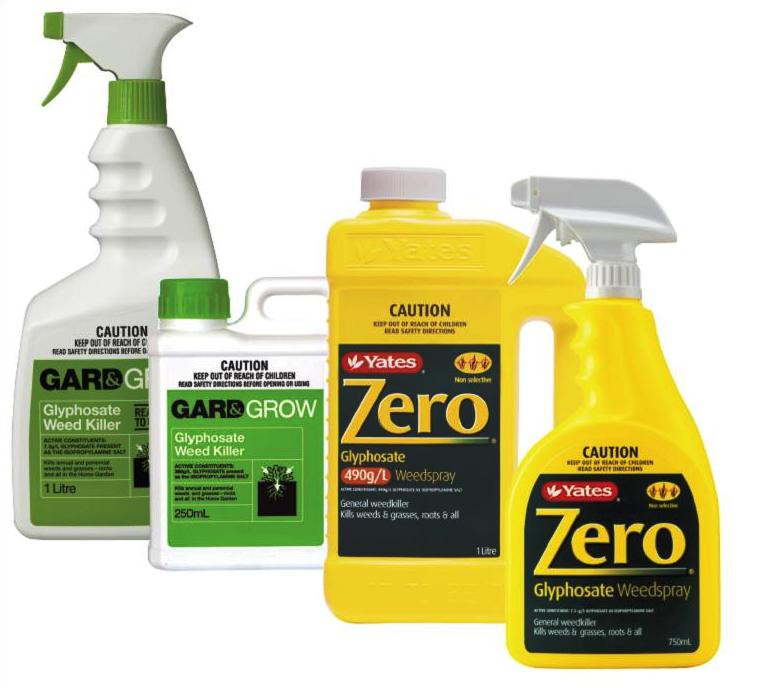 Safety First
The important thing to remember when handling spiky weeds such as asparagus fern is to wear the right equipment. You will need good gardening gloves, a proper gardening knife and a strong maddock or fork to lever the root system out with. When handling chemicals always wear gloves, a mask and wash any exposed skin area after use.
How to compost invasive weeds
It is possible to compost invasive weeds, however it is essential that they first go through a "pre-compost" process in order to ensure that they die. This can be done in a few steps: Put the weeds in a large plastic bag or polyethylene sack with a handful of soil and water; Tie the top and leave for at least two months, until there are no green shoots or other signs of life. Add them to your compost heap as a green(If you leave them for long enough, they will turn into soil).
There is also another way to handle noxious weeds. Put them into a closed tall garbage bin and cover them with water (or submerge them in a sack). Leave them for 2-3 months by which time the water will turn a green/ brown colour – this can then be used as fertiliser for your plants. Empty the solids into your compost bin.
For advice on the best products to use to rid your yard and Pittwater of these noxious and invasive weeds, speak to the friendly trained staff at Johnson Brothers Mitre 10 at either their Avalon or Mona Vale stores. They are well stocked with everything you may need to rid your land of these plants from gloves to garden forks to compost and garbage bins.
Products and further friendly advice available at Mona Vale and Avalon Johnson Brothers Mitre 10.
Click on logo to visit Johnson Brothers Mitre 10 website

Copyright JBH Mitre 10, 2013. All Rights Reserved