April 20 - 26, 2014: Issue 159
Prepare Your Yard for Winter
Autumn yard clean-up starts with the gutters, which requires setting up a ladder to reach them. Remember to always have someone holding the bottom of the ladder and don't try to stretch that extra two or three feet. Get down and move the ladder! For those who don't like ladders, there are a couple of options. First, you can have gutter guards installed to keep leaves out. Second, there are leaf blower extensions that can reach up into the gutter and blow leaves out. Either way, you'll need to be sure that the joints where the gutter meets the downspouts are cleaned out.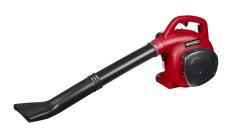 ROCKWELL 32CC PETROL BLOWER 2-stroke. 260kph wind speed. Automatic recoil. $88.00
Once they are clean, take a hose and pour some water into your gutters and watch where it goes. Do you need extensions to direct the water away from your foundation and prevent leaks? When diverting water, be sure to avoid driveway and walkways, which could become slip[pery with constant excess water flowing over them during winter.
Lawn Care
Leaf cleanup is a necessary but never-ending battle. Leaves left scattered for the winter will smother the lawn. Don't worry, however, about getting every last leaf out of the plant beds. As they breakdown, leaves can help insulate plants and provide them with valuable nutrients.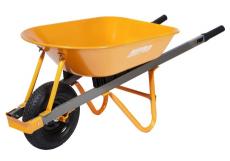 MIPRO® GALVANISED WHEELBARROW ($89.00) 80L. Galvanised steel tray. Pneumatic wheel. Steel tray support and leg assembly. Ready to assemble.
As for what do to with all the leaves you've raked, remember to recycle them in your own compost pile. If you are using the leaves on your own compost pile, either grind them up or run them over with a lawn mower to speed decomposition. To move large piles of leaves, we recommend piling them onto a tarp and dragging them to their destination be it compost pile or trash bag.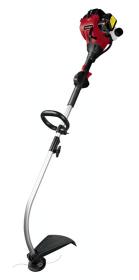 ROCKWELL 26CC PETROL LINE TRIMMER ($99.00) 2-stroke. 420mm cut diameter. Ezi-Fit Line System. Automatic recoil.
Once the leaves are collected, cut your lawn one last time before the winter, trimming it as short as possible to prevent matting, disease and rodent damage. When you are done mowing, run the lawn mower itself until it runs out of gas. Gas left to sit in the tank over the winter will gum up the carburettor so it won't run as well next Spring. Also, change the oil, grease the engine and pull and inspect the spark plug. Before you replace it, place several drops of five-weight oil in the hole and pull the start cord several times to lubricate the engine so it won't rust. In the Spring, you'll only have to add gas, sharpen the blades and start mowing again.
Early in Winter, it's a good idea to fertilize the lawn with a high phosphorus mixture to promote root growth over the winter, so the grass will green sooner come Spring. Autumn is also a great time to fertilize trees and shrubs. We don't recommend pruning ornamental trees and shrubs, as they can contract dieback and suffer from winter desiccation.
Perennial Favorites
Your perennials will need to be cut back as they fade. While you are at it, scratch some super phosphate fertilizer into the soil around them. In the garden, remove leftover vegetation and put it in the compost pile.
Current Block Busters Catalogue (to 21.4.2014) HERE
Johnson Brothers Mitre 10 Exclusive Specials (to 30.4.2014) HERE
Products and further friendly advice available at Mona Vale and Avalon Johnson Brothers Mitre 10.