February 24 - March 2, 2019: Issue 394

Save Mona Vale Hospital Supporters Dawn Vigil As Tender For New Works Close: Next Protest Meeting At Mona Vale Village Green - March 16th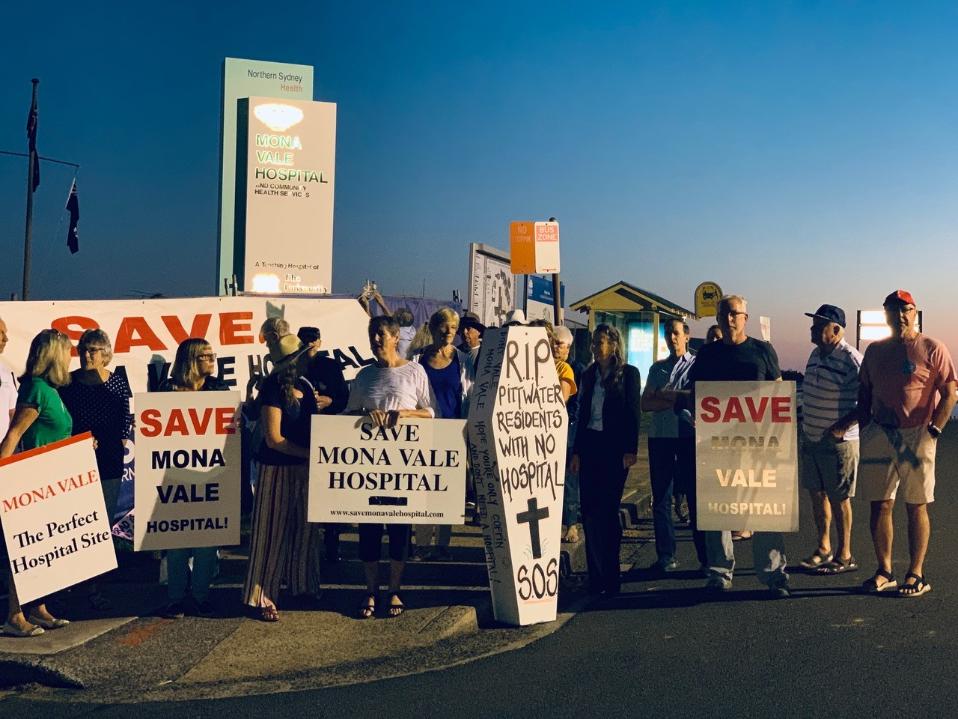 Pittwater residents overwhelmingly said they want a full Emergency Department restored at Mona Vale Hospital, in a week that saw two hospital protests and another planned.
Save Mona Vale Hospital chairman Parry Thomas said that a survey carried out by the group last week showed 94 per cent of Pittwater residents want Mona Vale Hospital Emergency restored.
Only three per cent said they did not, and another three per cent did not know, in the survey conducted at three shopping centres, Mr Thomas said.
Currently, Mona Vale Hospital Urgent Care Centre only treats minor injuries and illnesses and the nearest Emergency Department for Pittwater residents is at Northern Beaches Hospital, at Frenchs Forest.
The community is keeping up the pressure to restore acute services such as emergency, surgery and maternity restored to Mona Vale Hospital.
Protesters were at the hospital before dawn on Monday after receiving information that work was beginning on clearing out the main building ready for demolition, Mr Thomas said.
Two demountable buildings and a chemical store have already been demolished.
"It is hard to know exactly what is happening, but two semi trailers arrived, one with pipes and one with digging machines as well as many tradies in utes," he said.
"There is a published plan that leases much of the site to private developers.
"This would destroy any opportunity to re-open Mona Vale Hospital as an acute services hospital."
Mona Vale Hospital denied that demolition was taking place, stating on their Facebook page that: "reports that demolition is taking place are inaccurate. Works continue to build the new palliative care unit, geriatric assessment unit and helipad."
Parent Chris Sadrinna organised an event to gather stories of misadventures at Dunbar Park on Saturday, February.
In a parody of TV show MASH, Chris set up a SHAM tent, Hawaiian shirts were the order of the day and live music was played all afternoon.
"Do we need a Mobile Army Surgical Tent to take care of ourselves?" asked Chris Sadrinna.
People shared their stories and signed the petition calling for services to be restored at Mona Vale Hospital.
"We collected thirty-five stories and will use these to seek accountability," he said. "We need information and change."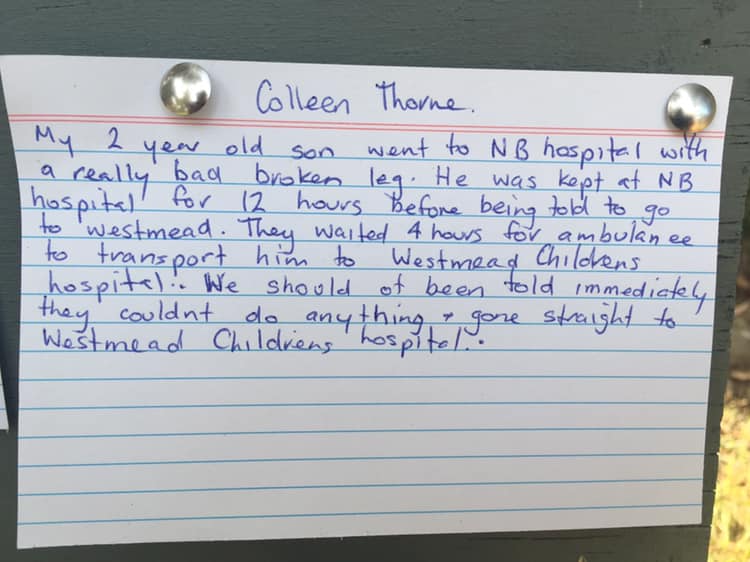 One S*H*A*M* story
Chris, a local actor, was inspired to create the event following his two-year-old daughter's misdiagnosis at Northern Beaches Hospital, a dash to Mona Vale Urgent Care Centre as she turned blue and eventual treatment at Royal North Shore, via Sydney Children's Hospital, Randwick.
The next protest is planned for 2pm on March 16 at Mona Vale Village Green with speakers and the local stars, The Rions, playing live music.
Mona Vale Hospital Vigil
By Pittwater Pathways
Rumours abound re demolition of the main Mona Vale hospital building following the closing of a tender on February 13th, 2019 for 'Decommission Existing Helipad, New Geriatric & Palliative Care Building, New Service Road, Construction & Development of the Village Green
TRADES INVOLVED
Architectural
2000 Demolition. ...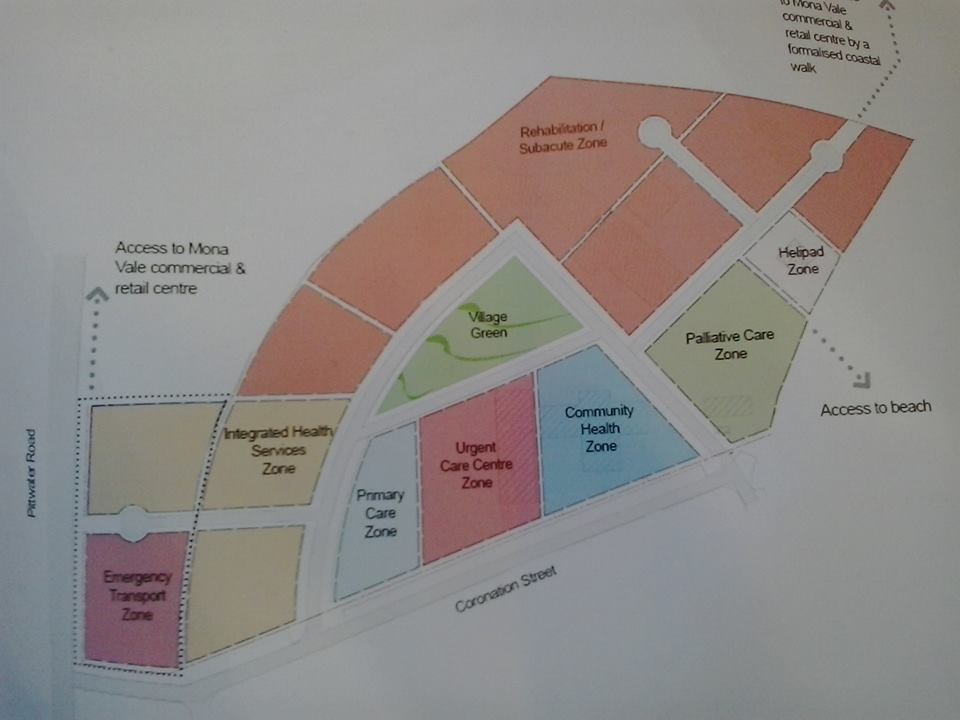 'MVH Hospt. Village Green post 2018' - title and photo courtesy Mark Horton -
Visit HERE
Environment, Safety And Traffic In Palm Beach To Be Impacted By Off Leash Dog Trial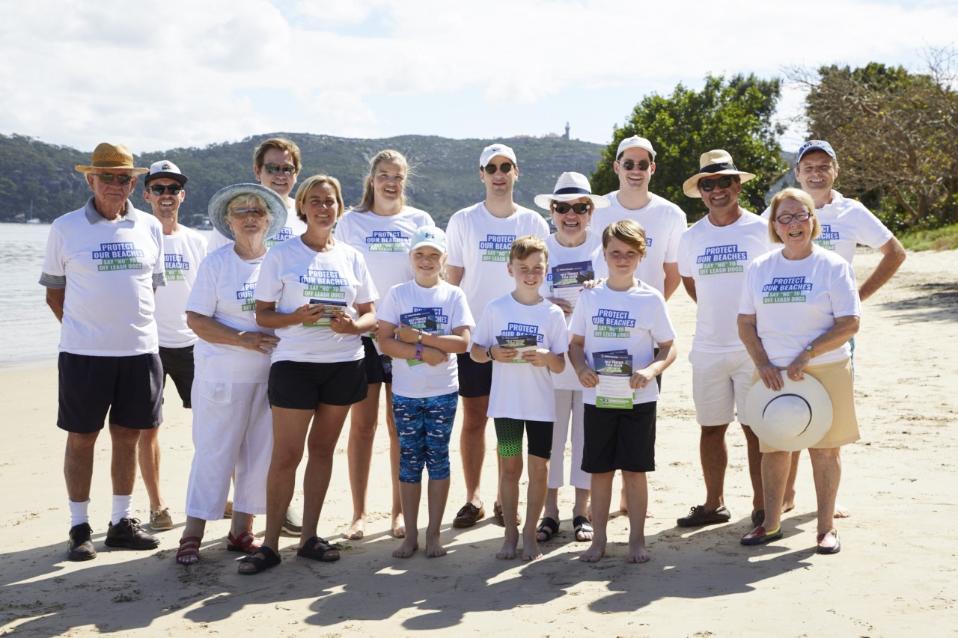 Photo: Volunteers from Palm Beach Protection Group - supplied.
February 19, 2019: Media release - Palm Beach Protection Group

A proposal to allow dogs to roam off leash on the Pittwater side of Palm Beach would increase ocean pollution, threaten bird life and marine life; and would increase the risk of dog attacks on families and visitors, according to a new grassroots community group.
Volunteers from the Palm Beach Protection Group came together on the weekend to letterbox flyers and discuss the impact of the proposed trial at Station Beach, where dogs would be allowed to run off leash.
Palm Beach Protection Group's Richard Kovacs said allowing dogs to roam off leash on the beach is completely in conflict with the family-friendly nature of the beach.
"Station Beach is one of the most child and family friendly beaches on the peninsula and we are particularly concerned about safety and potential dog attacks on the young and old," said Robert Constable who has lived on Station Beach for more than 35 years.
"Not all dogs are dangerous off leash, but there were nearly 700 dog attacks across Sydney in the first half of last year, including 38 on the Northern Beaches.
"The proposed trial times and area is totally incompatible with the current usage of the beach – dog owners already ignore existing signage and no amount of signage will be able to enforce where dogs are allowed to be off leash," Mr Kovacs said.
A similar trial to allow dogs off leash on Station Beach in 2008 was rejected by the then Pittwater Council due to environmental concerns.
"These concerns remain today – the seagrass is a vital for our fragile eco-system including seahorses that are endemic to NSW. The pollution from dog faeces presents an issue for the environment and human health. There would also be nothing to stop dogs roaming onto the adjacent golf course, across the road and onto the ocean side of Palm Beach," said Mr Kovacs.
"Added to this, since 2008, there has been a further increase in visitors and tourists to Palm Beach. The completion of the Barrenjoey Walkway in 2018 has increased visitor numbers and the beach has remained vulnerable since the June 2016 storms," Mr Kovacs said.
"This trial will dramatically increase traffic and parking congestion, with a similar trial at Wanda Beach in the Sutherland Shire in 2004 attracting up to 2,000 dogs per day on weekends," Mr Kovacs said.
The Wanda Beach trial was abandoned after three weeks due to two serious dog attacks, limited enforcement resources, dogs being off leash in prohibited areas and dog faeces being left on the beach and in the sand dune area.
"Our group supports off leash areas, but there are already 28 off leash dog parks in the Northern Beaches Council area. Dogs don't belong on beaches where the environment is impacted and where families, children and important wildlife gather," said local resident Diana Hrdina.
"We believe this trial would create a dangerous precedent whereby all beaches on the peninsula could become open to off leash dogs.
"We're asking people who care about our beaches to vote 'No' to the proposed trial on the Council's website before public submissions close on Thursday 28 February," said Mrs Hrdina.
For more information, visit www.protectpalmbeach.com.au, and follow the Palm Beach Protection Group on Facebook: www.facebook.com/protectpalmbeach.
To vote 'No' to the trial, visit the Council's website: yoursay.northernbeaches.nsw.gov.au/stationbeachtrial.
Successful Resuscitation Of 57 Year Old Man By Avalon Beach SLSC Bronze Squad Member: AED Awareness Courses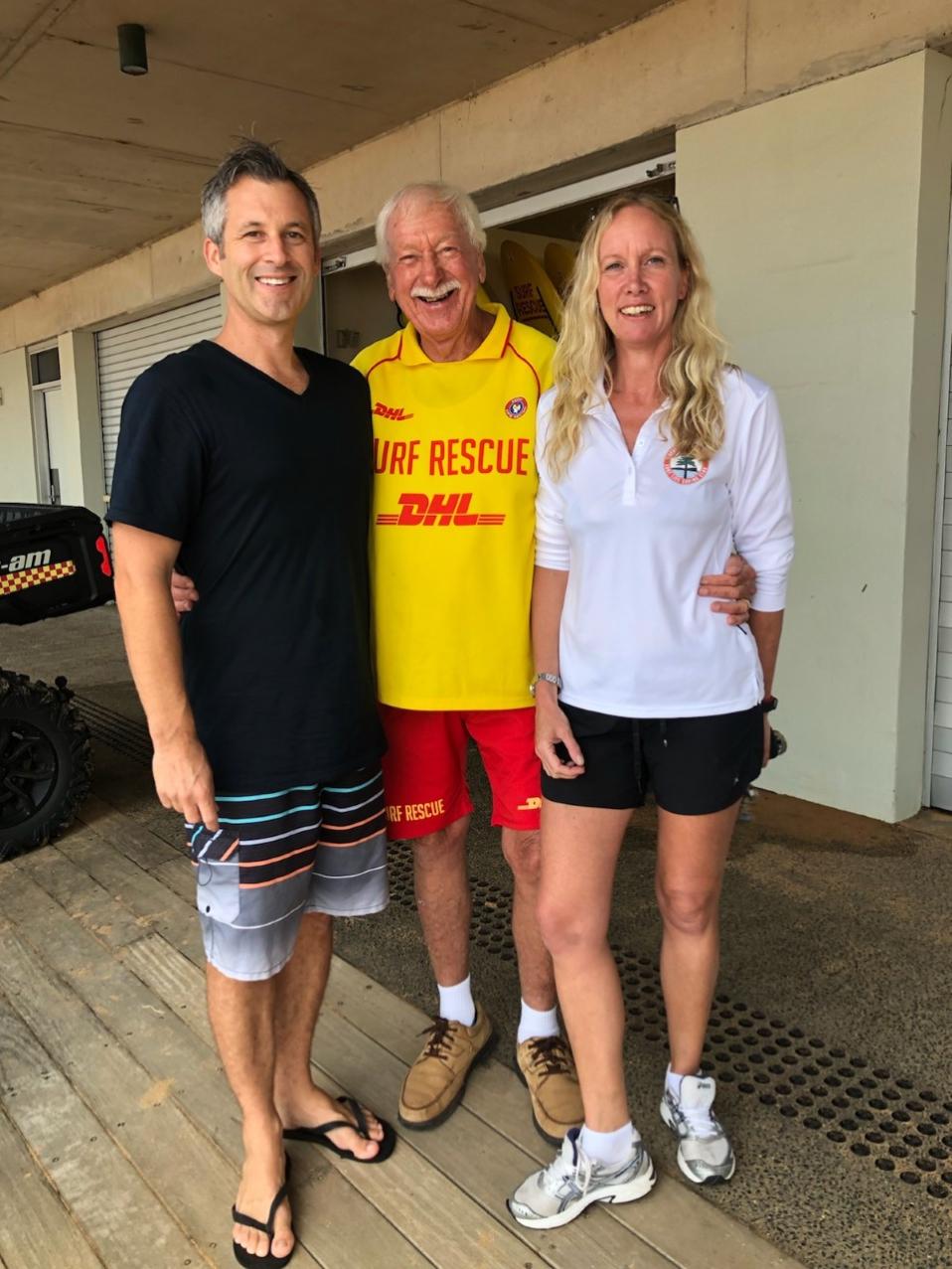 Cain Byrnes (not in patrol shirt yet as he is undergoing training to entitle him to wear one! Probationary) with ABSLSC Life Member Roger Sayers and Louise Billia, his trainer.
Cain Byrnes , a member of Avalon Beach SLSC who is one of our current bronze squad performed a successful resuscitation last week at a Futsal competition.
Cain, aged 38, praised the training he received during the recent training given by Avalon Beach SLSC training team.
While Cain was preparing for his game, a 57 year-old male collapsed on another court. Bystanders were calling for help. Cain immediately responded, moving to help the gentleman who was on his back, on the ground, unconscious.
"I took the head, airway, breathing and led the resus. I recruited a willing bystander, placed his hands over the sternum and told him to press down a third of the chest, showing him how deep and how fast. He did a great job with his compressions, timing and counting, while I delivered breaths checking for effective rise of the chest. After the first cycle we had a return of breathing, but it was erratic and shallow. His pulse was weak, and he soon went back into cardiac arrest." Cain explained.
"A few more cycles followed, during which time I recruited other teammates to do vital jobs: providing regular updates to the 000 operator, checking on ambulance, getting scissors to cut clothing for AED etc. The patient came back a second time; again short lived, cardiac arrest, CPR recommenced. We really needed that AED.
After approximately 8-10 minutes of continuous CPR the AED arrived. Whilst continuing CPR I talked another teammate through turning it on and getting pads ready for me to apply, which I did. Under the instruction of the AED I asked everyone to clear so an accurate uncontaminated analysis of the heart rhythm could be obtained. Soon after the AED said those words "stand clear, preparing shock". Then "SHOCK PATIENT". I cleared everyone and delivered the 1st defibrillation."
The AED instructed Cain and his co-helpers to recommence CPR. A quick assessment of the patient verified that he still wasn't breathing, nor had a pulse. CPR was recommenced. Two minutes (or so) passed again when the AED did its thing. Once again it was time to "SHOCK PATIENT". The second defibrillation was delivered, just before the rapid response paramedic arrived.
Thankfully, this time things were looking better, the patient was breathing.
"I assisted the paramedic to put on his monitoring equipment and oxygen and could see a heart rhythm on his monitor, although the patient was still unconscious. When the next ambulance arrived I handed the patient over to them, he was breathing and had a strong pulse." Mr. Byrnes said
The gentleman was taken to hospital and he is expected to make a full recovery.
The incident highlights the valuable work Avalon Beach SLSC's Bronze courses provide for the individual and the community and shows the importance of knowing what to do and the potential difference you can make. There is no doubt the outcome for the patient may have been very different if Cain hadn't had the recent training provided by our club.
Cain's experience also highlights the value of having AED's within reach. Woolworths Avalon Beach have recently installed a public access AED.
Avalon Beach SLSC are running awareness courses to teach members of the public how to use the AED. Two one hour community awareness defib and CPR session will be held at the Avalon Beach Surf Life Saving Club on the 13th of March at 11:00am or 7:00pm. Book in via our website: avalonbeachslsc.com.au

These sessions are Free.
The courses offered by ABSLSC illustrate one of the many reasons Avalon Beach SLSC is National SLSA Club of the Year!!
By Roger Sayers
Life Member of Avalon Beach SLSC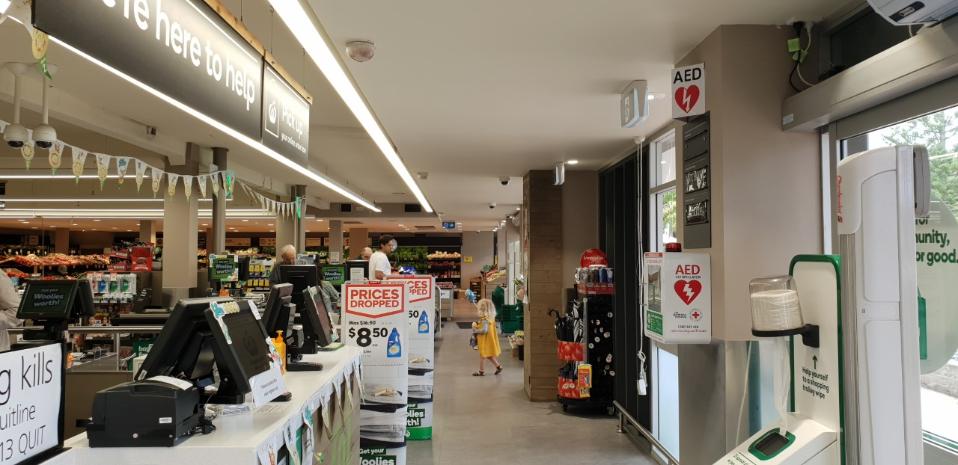 Where the AED is in Woolies Avalon Beach
Kelly Slater To Start 2019 Season At Vissla Sydney Surf Pro.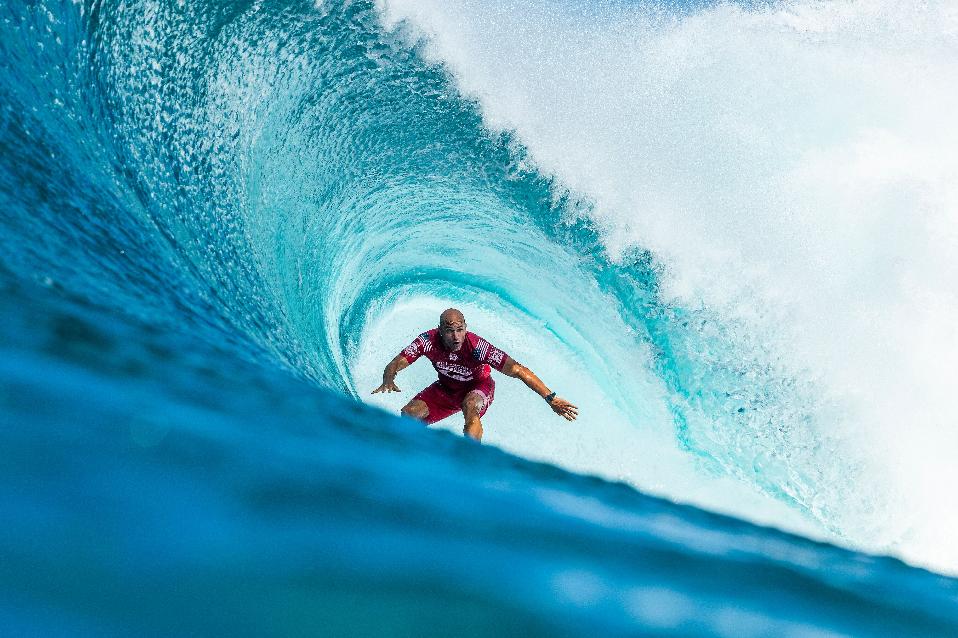 Photo by Kelly Cestari / WSL
From Surfing NSW

The 2019 Vissla Sydney Surf Pro World Surf League Qualifying Series 6000 event has been bolstered with 11-time WSL Champion Kelly Slater confirming that he will return to Manly to compete this March.
Having competed at Manly Beach a number of times throughout his career, even winning the event in 1997, Slater has a strong affiliation with the Northern Beaches of Sydney
"I've always loved the northern beaches and having lived part-time in Avalon for 15 years, I miss it and am looking forward to getting back to some old familiar territory. I'm also getting a nice warmup prior to jumping back on tour full-time after close to a year and a half hiatus from competition," said Slater.
The event is the second major Qualifying Series event of the WSL season and will play a pivotal role for competitors hoping to qualify for the elite Championship Tour that Slater has dominated for over two decades.
"Manly became a mainstay for a number of years on tour. There's a lot of history dating back to surfing being introduced at Freshwater some hundred years ago by Duke and many years later hosting some classic events with legendary performances by Larry Blair and Wayne Lynch. The more recent years have shown some serious highlights for tour surfers such as Julian Wilson and as a jumpstart for rookies and us grinders looking to stamp their mark on the start of the year. It should be a fun week," said Slater.
Surfing NSW CEO Luke Madden expressed his excitement at Slater's addition to the event and believes his involvement will bolster an already massive year for the Vissla Sydney Surf Pro.
"I think it's fair to say that Surfing NSW is over the moon to have Kelly confirmed for the 2019 Vissla Sydney Surf Pro," said Madden. "His involvement will strengthen and enhance what was already looking like being a huge event. We can't wait."
The Vissla Sydney Surf Pro is a collaboration between World Surf League and Surfing NSW to run Sydney's largest surfing event at the iconic Manly Beach.
Manly Beach will once again play host to world surfing's elite when the Vissla Sydney Surf Pro returns from the 16 – 24 March 2019.
The World Surf League (WSL) Qualifying Series (QS) 6,000 rated events will feature some of the world's best surfers as they look to kick their 2019 competitive campaigns into gear prior to the start of the 2019 Championship Tour (CT).
The Vissla Sydney Surf Pro will this year also host a number of off-beach activations and festivities that will be centralised around the Corso area. Drop into the Steyne Hotel any time of the day to soak up the essence of Manly. Take a stroll down The Corso to enjoy the artisan markets and impeccable gourmet treats, cafes, restaurants and bars.
It's an event for the whole family, and every member of the local and wider community to enjoy. Surfing brings people together and what better place than Manly to host the perfect balance of surfing, beach life and festival vibes.
You can stay connected via #SydneySurfPro and the Surfing NSW Facebook, Instagram, Twitter & YouTube channels.
"We wanted the best possible environment for the surfers and the local community and maximise the interaction between surfers and the fans," said Luke Madden, CEO of Surfing NSW. "This will help to create an amazing experience for all."
For more information and 2018 highlights, check out sydneysurfpro.com. The live broadcast will be available on worldsurfleague.com
The Vissla Sydney Surf Pro is proudly supported by the NSW Government. The event is also proudly supported by Vissla, Sisstrevolution, Northern Beaches Council, WSL, KeySun and Surfing NSW.
NSW Win Interstate Surfboat Championships: Local Surf Club Crews Dominate 2019 Team Navy ASRL Finals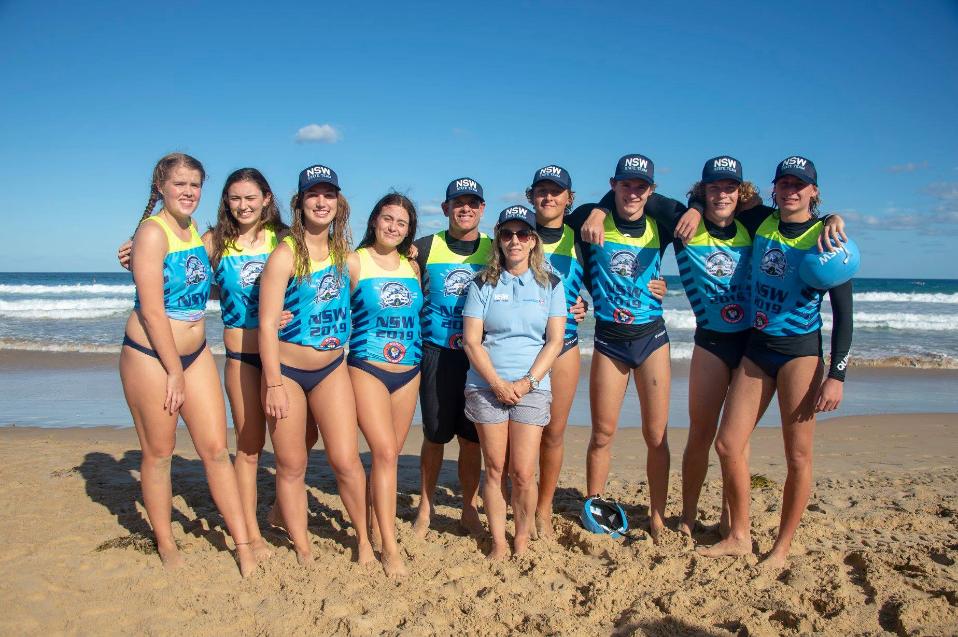 Avalon Beach SLSC NSW Representatives Surf Boat teams with Assistant Team Manager – Donna Wishart - Lachlan Mills, Jordan Hawke, Regan Dale, Charlie Lewis, Peter Carter (Sweep), Robyn Husband, Imogen Ponton, Ella Brady and Sophie Jones. Photo credit to Malcolm Trees

It came down to a nail-biting final relay to determine who would claim victory in the Interstate Surfboat Championships at Elouera Beach on Friday February 15th. NSW successfully defended the title for another year.
Going into the final relay event, NSW and Victoria were tied on equal points with traditional rivals Queensland hot on their heels. South Australia and Western Australia also fielded full teams for this year's challenge.
Racing for double points, the eight-leg all division relay could have gone anyone's way with the lead boat changing a number of times during the race. The NSW team showed great fight, rowing solidly in each leg to come across the line in first place.
The crews competing for NSW this year were deserving of their place in the team after amassing points at various selection carnivals throughout the season.
North Cronulla SLSC demonstrated its depth in surfboats by having four crews selected to compete. National Club of the Year, Avalon Beach SLSC, fielded two junior crews with Palm Beach and Elouera rounding out the team.
NSW Team Manager Greg Heard said while all the crews performed solidly, it was the way the team came together and worked as one that made the difference to the result.
"It was great to see these clubs who are usually competing against each other, join forces to take on some of the best crews from around the country.
"Everyone supported each other, encouraging and cheering on the other crews when it was their turn to race. The atmosphere and excitement on the beach was great," said Greg Heard.
The 2019 Interstates championships were run alongside the 2019 ASRL Opens, with many a Northern Beaches surf boat crew among the finalists and those who won medals.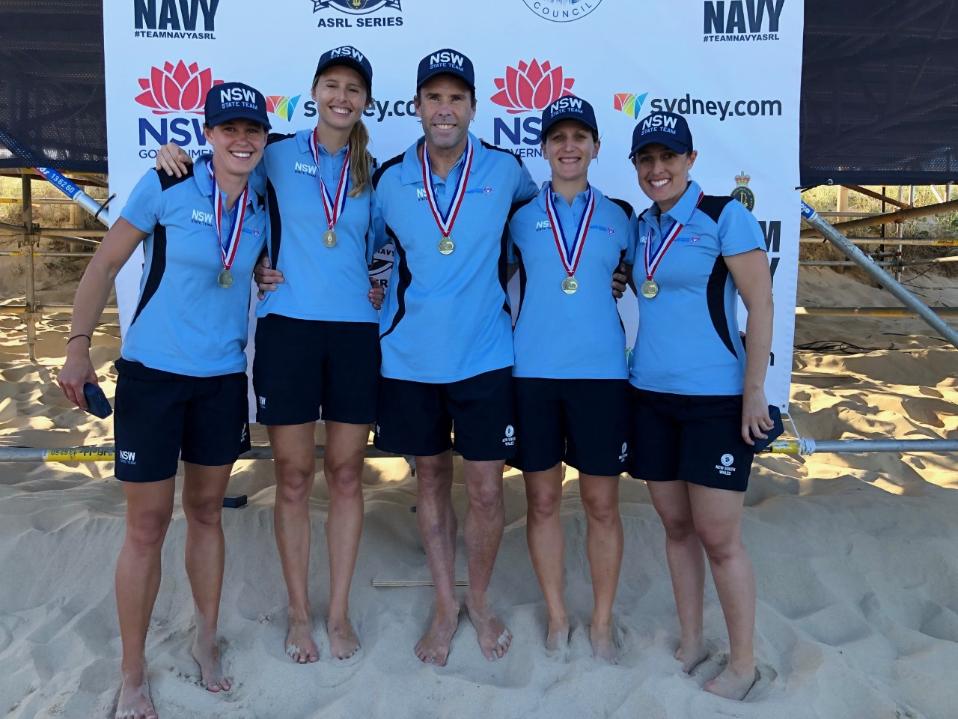 Palm Beach SLSC Reserve Female NSW Representatives Surf Boat Team - Peter Spence (Sweep), Stephanie Spence, Jordan Toombes, Jenniva Altherr and Alexis Bell
2018 Winners Of National Hardware Store Of The Year - Johnson Bros Mitre 10 Mona Vale !!!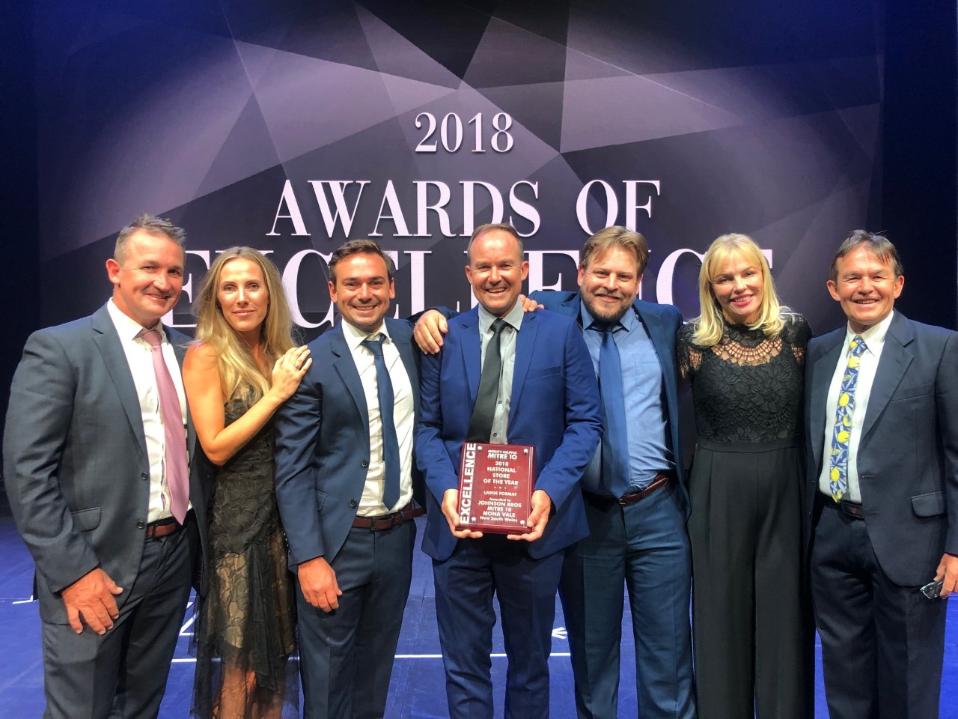 Photo: (L-R) Ged Johnson, Elyse Johnson, Josh Johnson, Peter Johnson, James Johnson, Janelle Johnson, Robert Johnson
At the Awards of Excellence Dinner held at Adelaide Exhibition Centre at approximately 10:30pm on Wednesday the 20th of February 2019, the Johnson Bros Mitre 10 Mona Vale store was announced as the 2018 National Hardware Store of the Year. The national win awarded by the Independent Hardware Group, comes in addition to state wins in the trade store and large format category's as well as a finalist in the Garden Centre category and a previous state win for Hardware Australia's store of the Year.
The National awards are scored across a range of categories including product range, presentation, staff training and customer experience. The customer experience includes heavily weighted mystery shopper results that can ultimately be the deciding factor. "This is the result of years of hard work by a passionate team of staff and 65 years of hard work by a passionate family" says Ged Johnson, Store Manager of Johnson Bros Mitre 10 Mona Vale. "We can't do this without the support of the beaches community and the support of our amazing customers"
Stores are only considered eligible after trading on a new site for a full twelve months. Having opened in April of 2017, The 2018 awards were the first year that the Mona Vale store was eligible for consideration.
Summer Becomes Autumn Pittwater 2019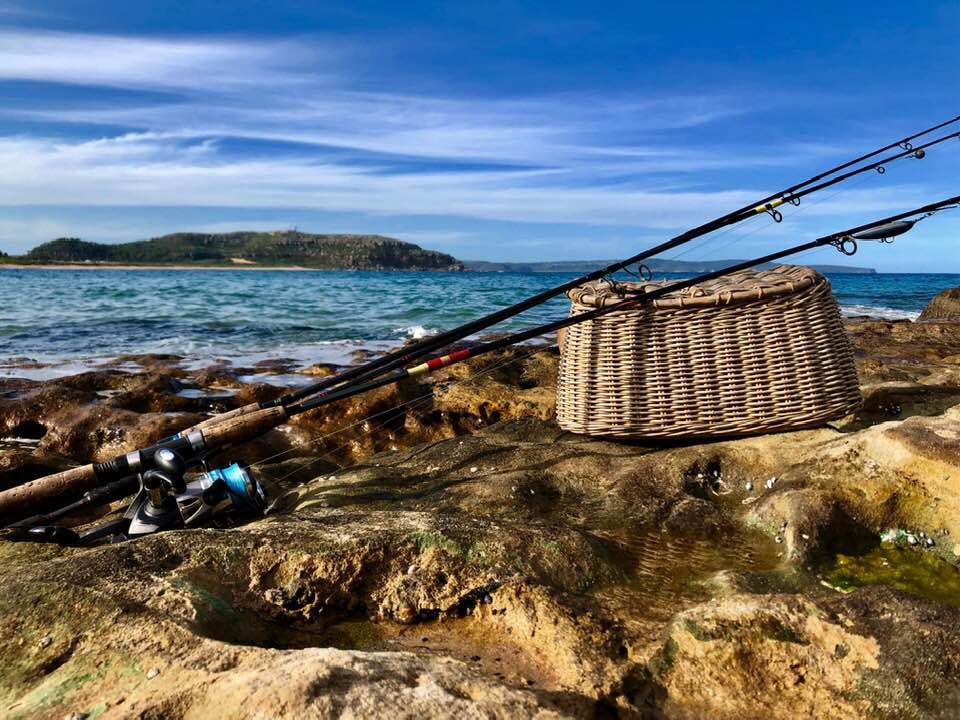 Palm Beach with Fishing Basket and Rods - Feb. 2019 - photo by Adriaan van der Wallen
Past Features Archives (pre 2014)
Pittwater Online News was selected for preservation by the State Library of New South Wales and National Library of Australia. This title is scheduled to be re-archived regularly.
Archived Issues (2014 on) may be accessed here: pandora.nla.gov.au/tep/143700