March 23 - 29, 2014: Issue 155
Autumn Chores - Organising Your Tool Shed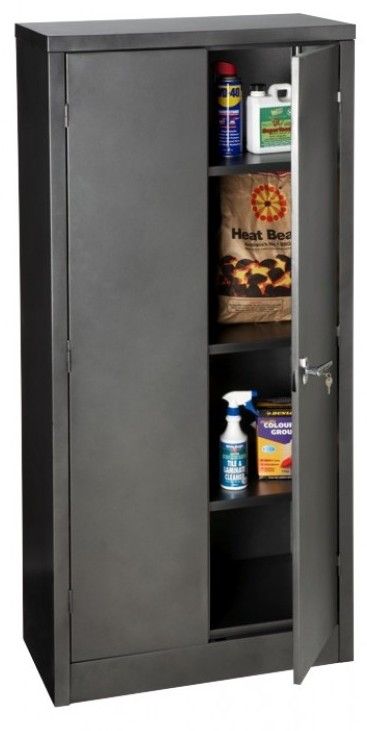 Are all your tools, sandpapers, screws, nuts, bolts and sundry items within easy reach? Are you shuffling between drills and bulky items on the floor or all over your workbench while trying to actually use your workbench? Are you thinking it might be easier to just build a whole new shed and start anew there rather than clean up or cull all those little items that have been accumulating?
Before it gets too wet to move stuff around with dry access to outdoor areas to place your shed's contents on while you sort it all out, and with great specials on shelves and workbenches available at present through Johnson Brothers Mitre 10, it may be time to tackle that area so you will, in turn, become enthusiastic about creating and fixing in there once again.
With open plan shelving, even though you may need to a little dusting every now and then, everything is within easy reach – vital when you're trying to get anything done. For items less frequently used you can store them away where they won't get damaged until needed.
Geelong 2 Door Metal Cabinet
- $179.00 762(W) x 381(D) x 1680(H)mm. Heavy gauge steel. Adjustable shelves. Powder coated. Lockable. Ready to assemble.
Is it Still of Practical Use?
Eliminate junk from the shed. Pull every item out of the tool shed. As you handle each one, look at it closely. If it's broken, not under warranty, and not repairable, chuck it. Do it quickly, before you talk yourself out of it. Broken tools are space wasters so don't keep them around unless they belong in a museum and then ensure they get to one.
Throw away anything that you haven't used for quite a while – the old adage with this of course is that as soon as you get rid of it, you need it, so if you are going to take up carving wood again in the future, clean and oil these tools and place them where they will be ten years from now. If they are still in good condition you may be able to sell them, but be mindful that anything covered in rust or broken should be repaired, refurbished or replaced for safety.
Sort your inventory.
Lay all 'keepers' on the lawn. As you empty the tool shed, sort every item by use. Put all garden tools in one pile and all lawn equipment in another. Put hand tools such as screwdrivers and hammers together with screws and nails. Make as many piles as necessary, but keep them organised.
Think About How to Set Out Your Shed
Prioritise your tools. Decide which are the most important to have at your fingertips. You may be stacking items, and it's imp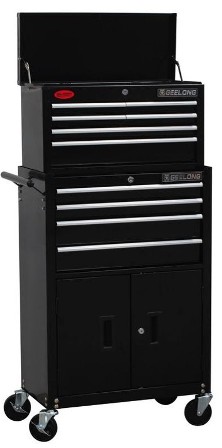 ortant not to bury commonly used tools at the bottom.
Take advantage of unused space. Add shelving and hooks to the ceiling and walls of your tool shed. Decide which tools will go up, and then install shelves and hooks to create a custom fit. Be certain they are strong enough to handle the weight. Damage can occur when tools fall to the floor.
Protect small tools by storing them in plastic containers, keeping similar items together. Keep smaller items such as seeds and nails in sealed jars and containers.
This
Geelong Tool Box Chest
is great value and on sale at present for $219.00 and with castors is a great way to store your tools and also move them to a work area or away from your work bench when that space is needed. • Trolley: 620(W) x 340(D) x 940(H)mm, Chest: 600(W) x 260(D) x 340(H)mm. Industrial powder coating. Aluminium trims.
Side handles. Ball bearing slides. Castors. Lockable.
Installing adjustable shelving units places your larger tools within easy reach. Place your least used items on the bottom shelves and those you use more often at eye level – drills, sanders etc. where you can grab them.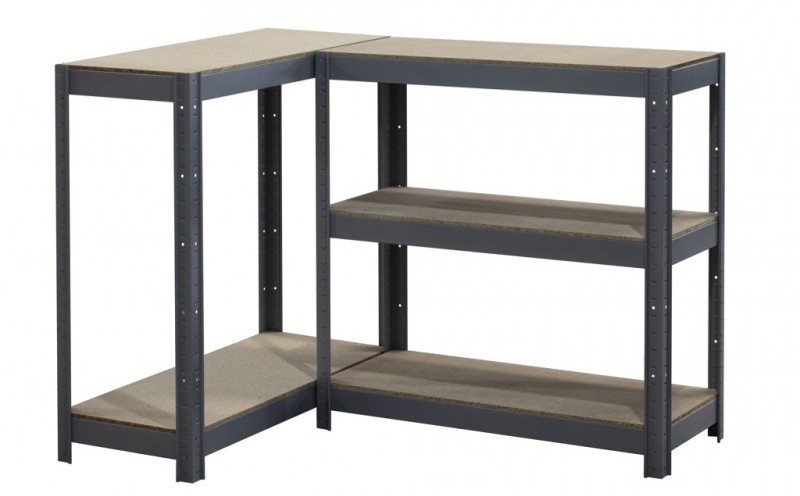 Geelong 5 Shelf Unit
$129.00. 915(W) x 415(D) x 1800(H)mm. Laminated shelves. Concealed edges. Powder coated. Ready to assemble. 350kg load capacity per shelf- S
Finally a great idea for sandpaper storage – a concertina file is a good way to store sandpapers of different grades.
Products and further friendly advice available at Mona Vale and Avalon Johnson Brothers Mitre 10.
Copyright JBH Mitre 10, 2013. All Rights Reserved .