February 7 - 13, 2021: Issue 482

Dealing With Dampness Inside The Home: The Wet Summer Of 2020/2021
Peron's Tree Frog - Careel Bay, Summer of 2021, A J Guesdon photo
It's been a wet wet Summer; humid, raining and when it's not raining, drizzling.
Now is a good time to give wood furniture an extra polish to prevent mould, treat any leather seats with some TLC and see where else 'interior dampness' may be affecting the quality of air inside the home or damaging walls, windows and floors.

High levels of indoor humidity aids the increase of bacteria, viruses, mites and fungi, and can lead to respiratory infections and illnesses: "The majority of adverse health effects caused by relative humidity would be minimised by maintaining indoor levels between 40 and 60%." [1.]
This week we look at how to prevent and treat dampness to keep your home free from 'creeping dank' and the problems associated with this.
Condensation
The warmth inside a home will cause moisture to evaporate into the air. If you always keep your windows and doors shut, fresh air can't replace this water-laden air.
When humid air comes into contact with a cold surface, it cools and condenses - depositing droplets of water. In cold weather, the temperature of your external walls and windows is lower than the air indoors - so moisture will condense and run down your window panes, and into your gyprock, window ledges and even affect wooden architraves at the base of glass doorways.
Dampness occurring in a modern house in good condition is usually due to condensation. To reduce it, you can extract the moist air with an extractor fan, reduce the moisture in the air by improving your ventilation and install insulation so the inner surfaces of your walls and windows don't get so cold. Cleaning extractor fans and vents will maximise their function of removing moisture from interior rooms.
Damp rooms in Winter occurs when a room gets too cold and the air can't absorb the moisture. By turning up the heating the air can absorb more moisture. Ensure rooms continue to have ventilation during these months so the damp air can escape as well.
If there's widespread damp or mould on your upstairs walls and ceilings a lack of ceiling ventilation or insulation can be the problem. To remedy this, you'll need to have insulation installed and check the air vents for your ceiling are not blocked.
If you have a persistent problem with mould in some areas of your home, year round whether from humidity in warm months and condensation during cooler months, it may be a good idea to apply a mould-resistant paint to these surfaces to prevent mildew. Make sure you clean the areas you are going to repaint well first or the mould will leach through your new work.
There are a great range of dehumidifiers available that will extract moisture from these rooms, and many of these also 'clean' the air, great for a damp salty air environment like ours – just remember some portable versions need to have their water tanks emptied regularly – you will be surprised how much accumulates and how quickly.
A few other simple ways of keeping dampness down within the home are to:
Open windows when there is no rain and some breeze. This will increase airflow through the house, which will reduce humidity.
Externally vent all water-vapour producing appliances such as washing machines, clothes dryers, showers and stoves. Venting into the roofspace can cause condensation problems, especially when the house has a metal roof.
Install extractor fans in the kitchen, bathroom and laundry.
Cover pans when cooking and let steam escape by opening a window or using an extractor fan.
Dry clothes outdoors whenever possible.
Keep furniture away from walls to improve air flow in the room.
Don't fill your cupboards to bursting point, especially those where cloth is stored.
Close kitchen and bathroom doors to prevent steam travelling into colder rooms.
Wipe surfaces when moisture settles to stop mould forming.
Damp spots appearing on ceilings and becoming black with mould indicate there is a lack of ventilation in your roof cavity (the space between tiles and ceiling), a cracked or leaking tile (see re-point your roof) or that guttering may be leaking or that the flashing may have cracked or become dislodged, allowing water through. You'll need to refit the loose flashing, or replace it if it's damaged with the same type of flashing or a self-adhesive flashing strip.
Cleaning debris from your guttering regularly and apply a sealant to small areas that have deteriorated or aren't sealed properly and replacing those that are beyond repair will prevent water being funneled into the roof cavity.
Penetrating Damp
Penetrating damp is caused by water seeping through the walls at any point (as opposed to rising damp, which is confined to the lower part of ground-floor walls). You may see damp patches appear when strong winds drive rain against the wall of your house, and disappear when the weather improves.
A semi-permanent damp patch can be caused by a leaking gutter or a crack in the brick mortar. If a whole wall is showing signs of damp, it may mean that old bricks have lost their weatherproof facings and become porous.
Penetrating damp is less likely to affect your home if it has cavity walls. If water does cross the cavity, it's usually because mortar has spread onto a wall tie.
Old bricks can become porous and let water penetrate though the wall. Replace the bricks, or repoint and treat the area with an exterior silicone water-repellent fluid.
Cracks in brickwork or damaged pointing in the joints will allow water through to your wall too. Where this appears have a look at the exterior of the structure and replace the damaged bricks and fill any gaps in the mortar.
If the brickwork is secure, mortar on a wall tie in the cavity could be bridging the gap and allowing water to cross to the inner wall. The only way to solve this is to remove some bricks, inspect the cavity and rake out or chip off any mortar on the wall ties.
Rising Damp
Rising damp is confined to the lower part of walls (up to a height of about one metre) and to solid floors, and is caused by water soaking up from the ground.
If you have a modern house, it will be protected by a waterproof barrier that's built into the walls 150mm above the ground (the damp-proof course) and another one that's laid under concrete floors (the damp-proof membrane).
If there's a gap or breach in your damp-proof barrier, water from the ground can be drawn up into the structure of your house. This can happen if the plastic membrane under your floor has been torn (by sharp stones, for instance).
If you live in an old house built without a damp-proof barrier, it could well suffer from rising damp. While the problem is made worse by wet weather, it never completely dries out even in summer. If you spot signs of rising damp, you may need to call in professional help to find out the cause and remedy it.
One way you can protect your home from this is to ensure there is no build up of earth against your exterior walls; this will cause water to breach your damp-proof course and let water seep through. You'll need to remove the earth and let your wall dry out.
You can also ensure an adequate flow of air ventilates the area beneath your floor by installing an Edmonds Ecofan.
Preventing Flooding around your home
As severe wet weather appears to be occurring more often, and more forecast before Autumn and Winter are through, homes are prone to flooding.
A few measures you can take to prevent this around the home:
Keep your gutters and downpipes clear of any leaves and debris.
If surface water isn't draining properly you may have a blocked Stormwater drain – check these to clear of debris washed into and if the problem persists and you have pools that don't disperse, it is time to contact your plumber before the problem becomes worse.
Ensure outside ground surfaces slope away from your house's walls.
Reference
1. Indirect health effects of relative humidity in indoor environments. A V Arundel, E M Sterling, J H Biggin, and T D Sterling. Environmental Health Perspectives. 1986 Mar; 65: 351–361. Retrieved from: www.ncbi.nlm.nih.gov/pmc/articles/PMC1474709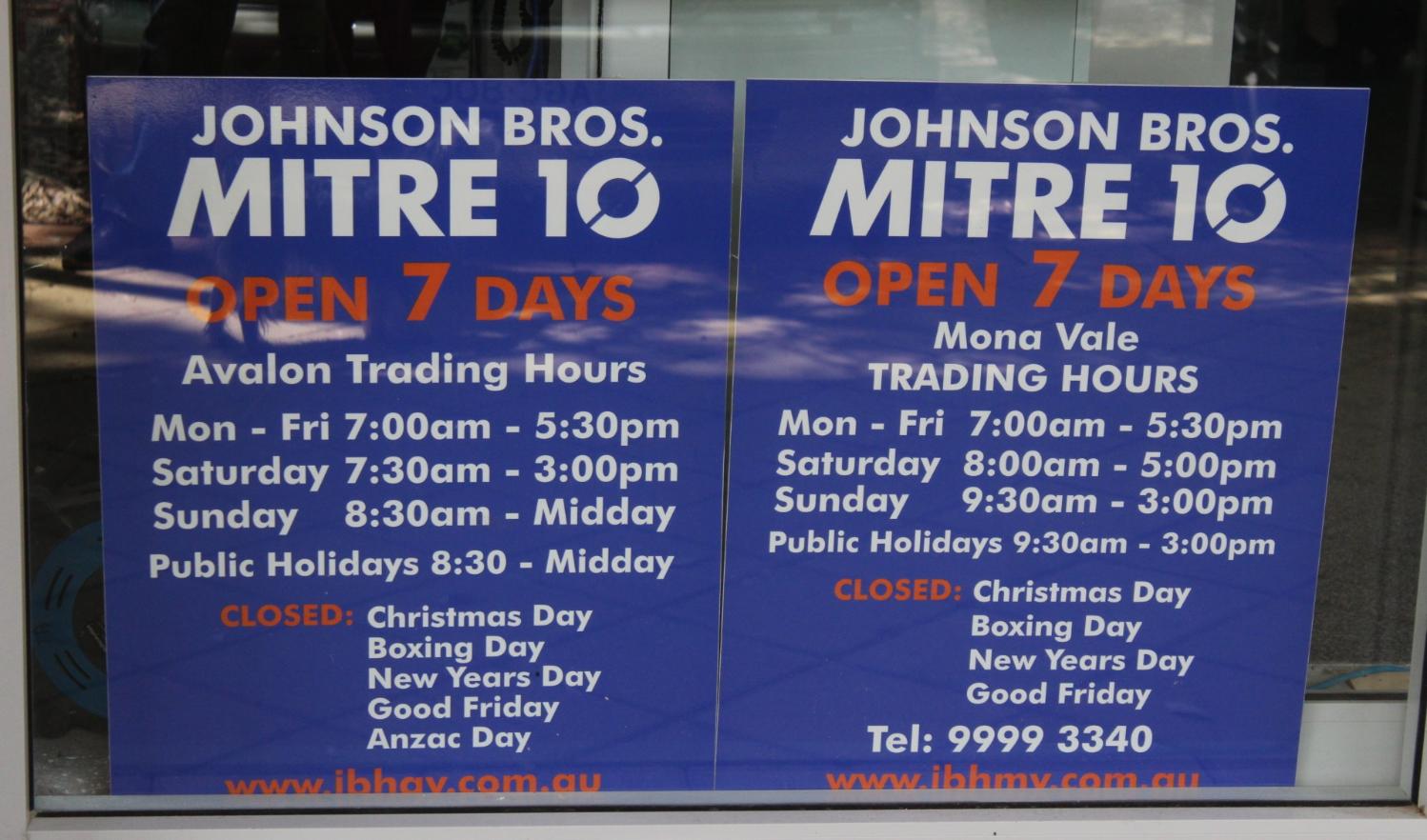 Nothing By Halves, Johnson Bros. Mitre 10
Published January 2021 by Mitre 10
John and Bob Johnson started off with a small hardware business in the Northern Beaches of Sydney in 1955 and built it up into the thriving business it is today.
Community was always close to the hearts of John and Bob – both long time and active members of their local fire brigade and Lions Club.
Both brothers had 10 kids each - many of who are still working in the business today.
Strong values, community involvement and an emphasis on being dependable is clearly the legacy that the beloved John Johnson imparted on the business, something his sons and daughters proudly carry on to this day.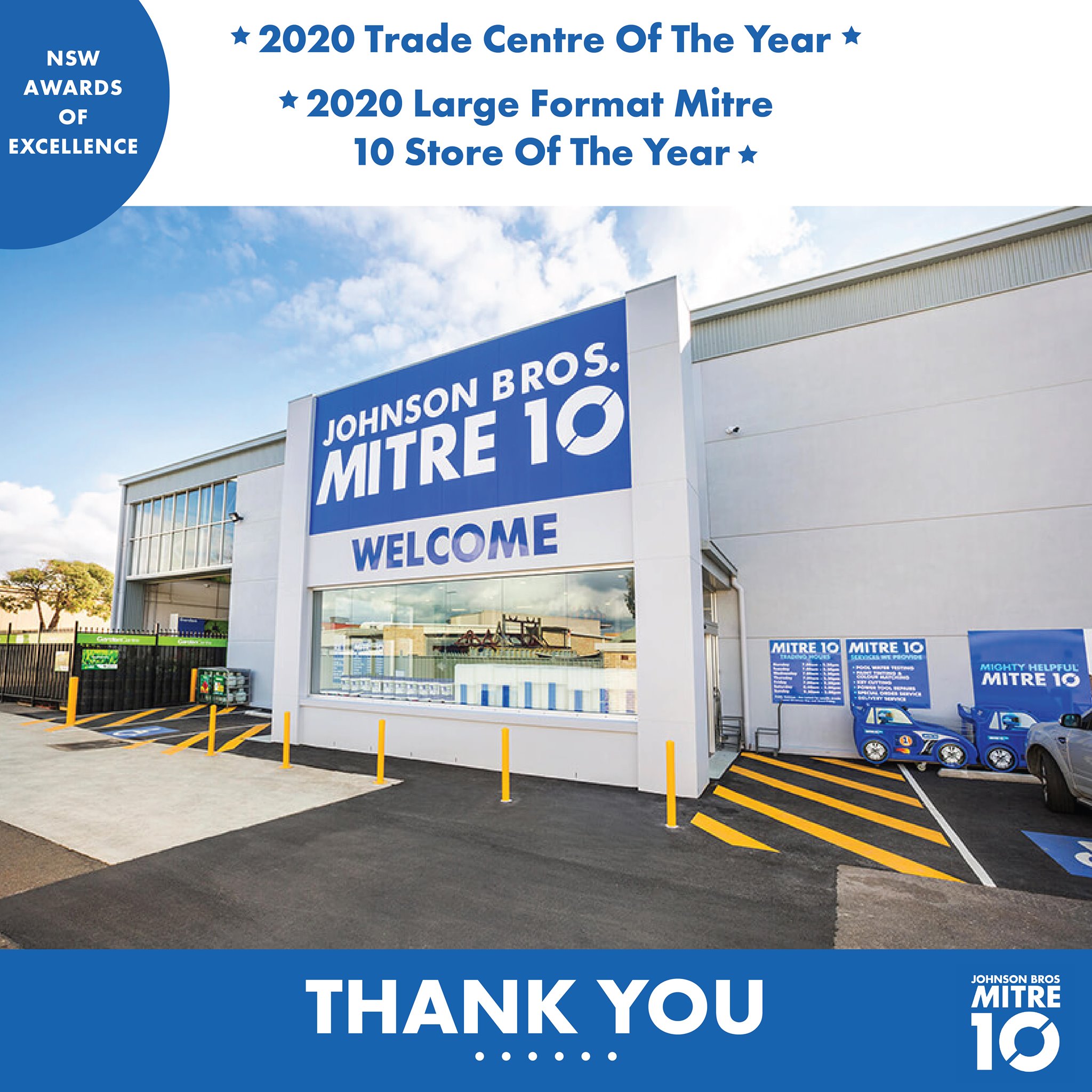 We want to thank all of you for supporting and trusting us through this 2020, without you we could not be receiving these two important awards.
Thank you for being our customer and thanks to all our great staff for making this possible especially though this full of surprises year.
Great Specials From Johnson Brothers Mitre 10 To Help Woth Dampness Inside The Home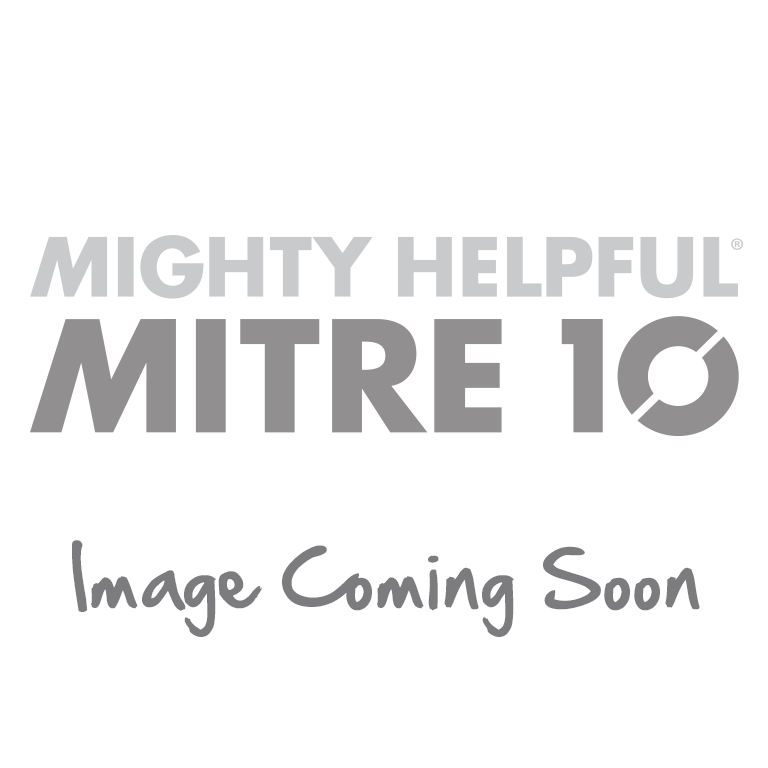 Dunlop 4 Litre Damp Proof Waterproofing: $93.50
Prevents raising damp, efflorescence, negative hydrostatic pressure. Apply to damp or new concrete. Easy to use, brush on to required thickness. Conforms to the Building Code of Australia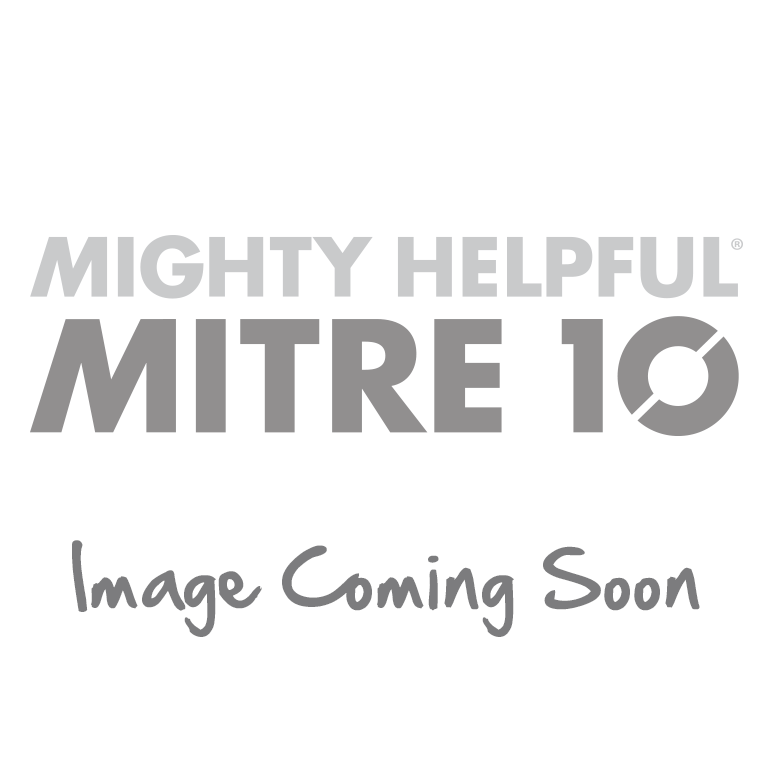 Gripset Betta Damp Stop Waterproofing Primer 1L: $56.07
Damp Stop is a unique primer and protective coating that protects surfaces against rising damp and moisture ingress through walls and floors. Designed to protect surfaces such as concrete, masonry and general porous mineral surfaces to prevent the entry of dampness or moisture vapour into the built environment. Betta Damp Stop is one component requiring no mixing, while offering the advantages of being solvent free and odourless. Also suitable as an anti-dust treatment for aged cement floors and dusty cement screeds.
Colour: Light Yellow. Sizes: 1Litre and 4Litre.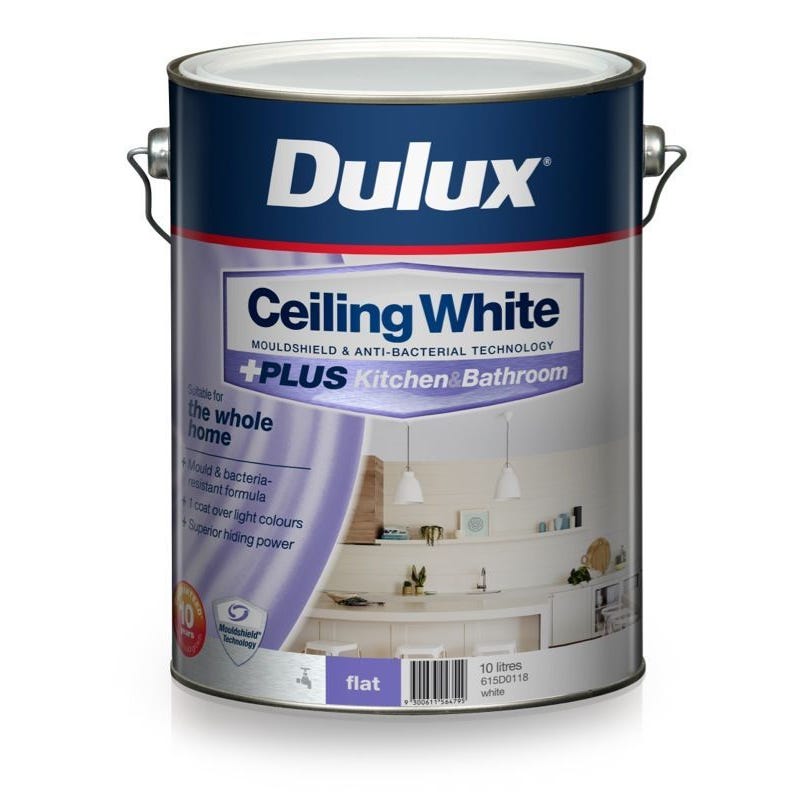 Dulux Ceiling White Plus Kitchen & Bathroom: From $46.50
Advanced whole-of-home formulation for damp and dry areas. Flat finish. Superior hiding power. 10 year anti-mould guarantee. One coat over light colours.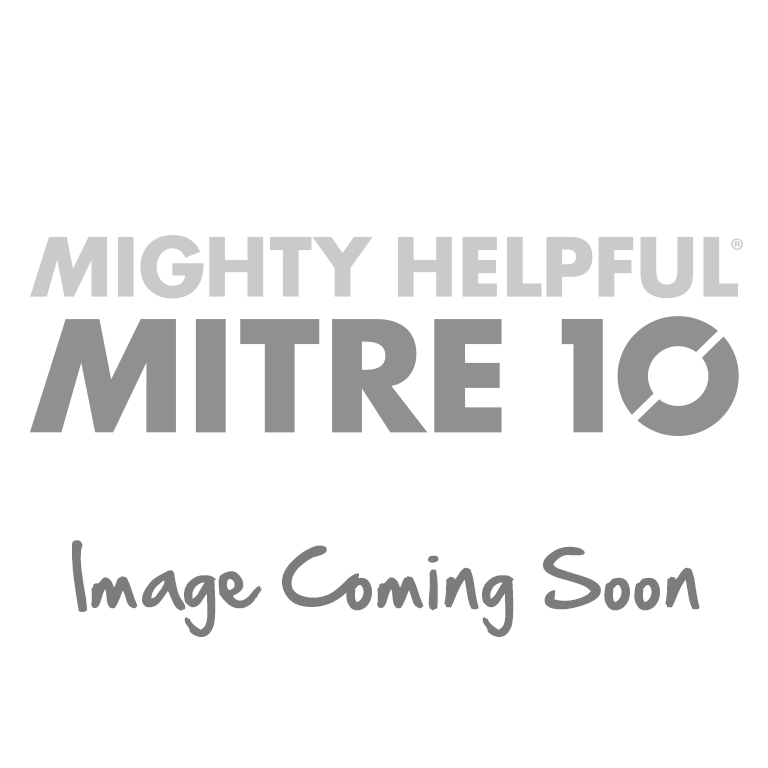 Zilch Refillable Dehumidifier 300g: $4.35
Helps prevent dampness, mould or mildew. Absorbs up to 600ml.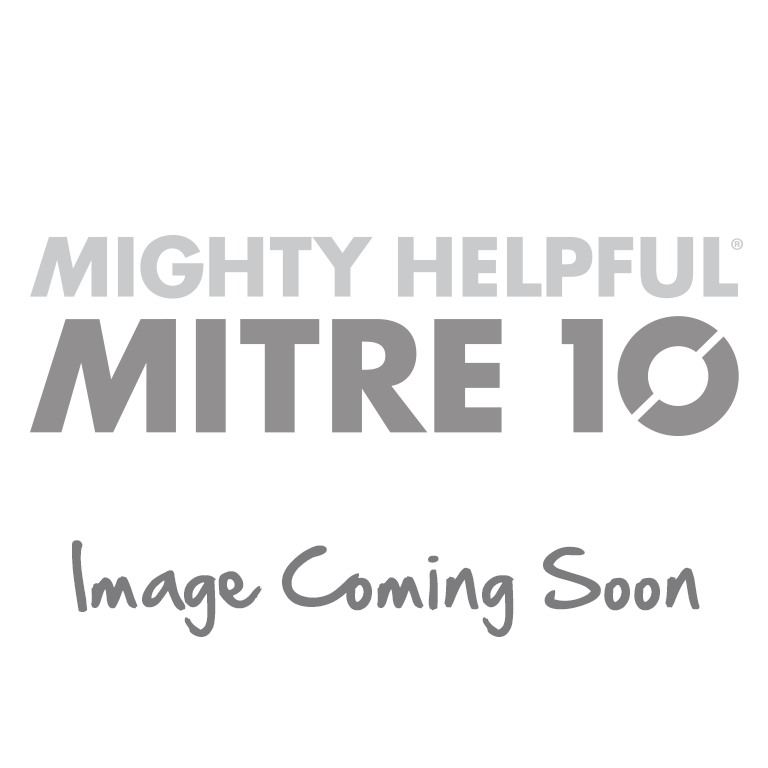 Zilch 3.4kg Dehumidifier Refill: $15.00
Helps prevent dampness, mould or mildew. Use with Zilch 300g Refillable unit.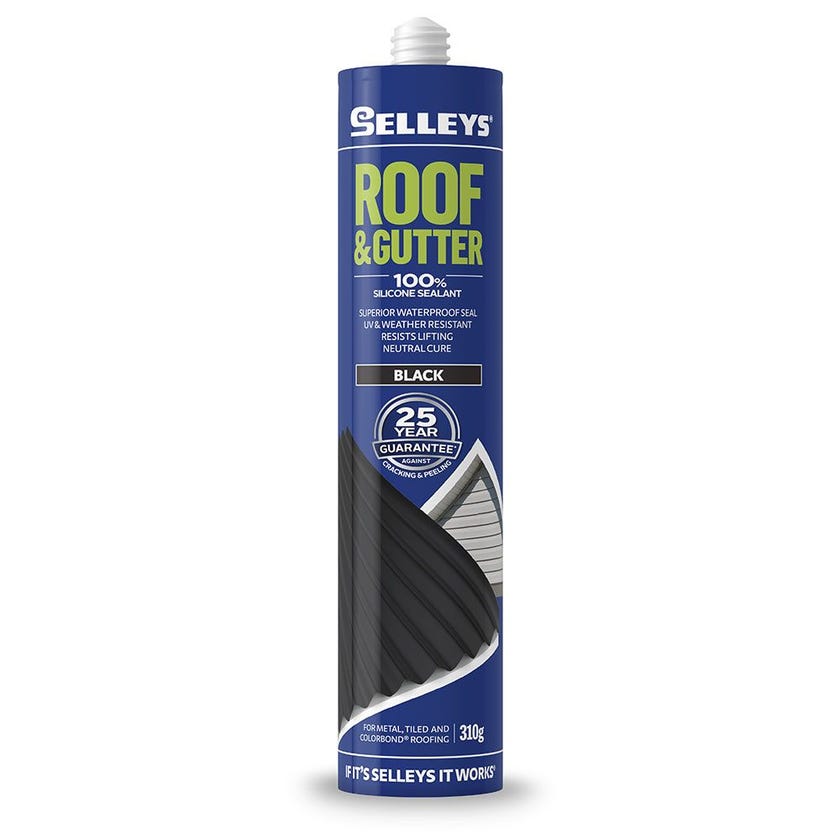 Selleys Roof & Gutter Silicone Sealant: From $11.50
UV and weather resistant. Superior waterproof seal - superior adhesion and resistant to lifting, provides a long-lasting, flexible seal. Non corrosive neutral cure formula. Has superior flexibility +/- 25% movement capability. Available in a range of colours.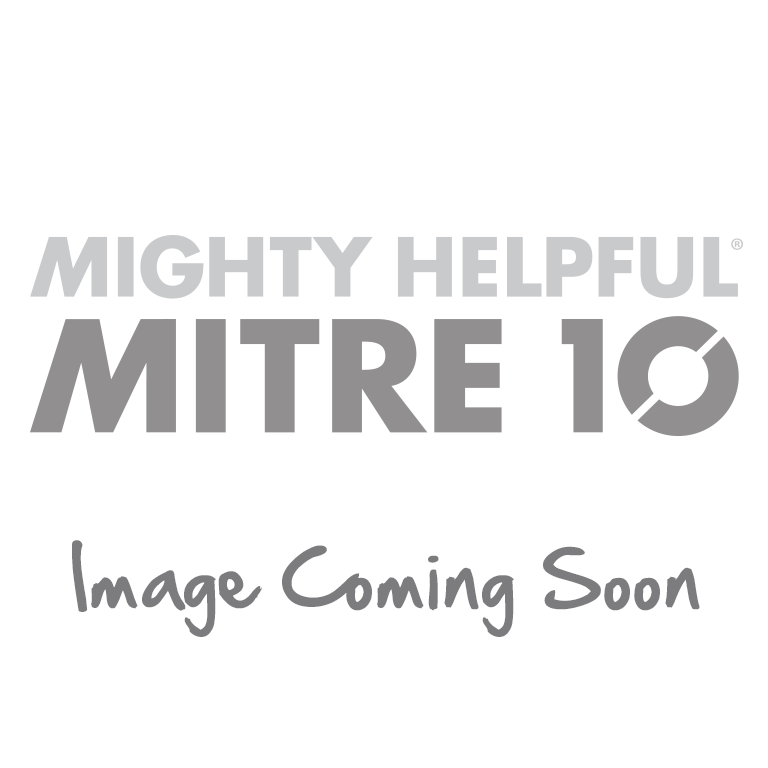 Selleys All Clear Sealant 260g: $13.75
Works on wet oily and dirty surfaces*. Crystal clear finish. Paintable. Mould and mildew resistant.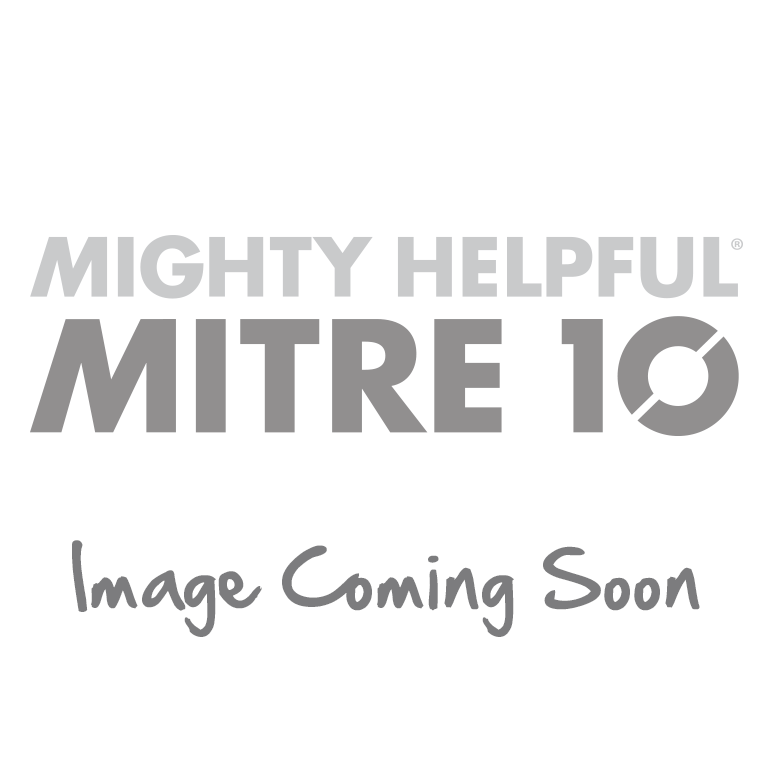 Selleys Sugar Soap Wipes - 25 Pack: $6.60
Delivers trusted cleaning performance of Selleys Original Sugar Soap. Quick & easy to use. Perfect for wiping down painted walls and other surfaces. Dual sided: smooth side for surface wiping, textured side for deeper clean.
Johnson Brothers Mitre 10 Update: Shop Online Options
Intending to keep our customers and staff safe, we present some additional ways for both our retail and trade customers to do business with us.
Trade and Retail Pick Up
Express Pick up Mona Vale
- Call Johnson Bros Mitre 10 Mona Vale, and we will pick & pack your order and have it ready for you to pick up in 2 hours. (Stocked Lines Only)
- Drive into our undercover Trade Drive-Thru area at 73 Bassett St Mona Vale, and your order will be ready for pick-up.
- Our team members will help you with your load and finalise payment/paperwork
Express Pick up Avalon
- Call Johnson Bros Mitre 10 Avalon, and we will pick & pack your order and have it ready for you to pick up in 2 hours. (Stocked Lines Only)
- Drive into our back lane off Bellevue Avenue, and your order will be ready for pick-up.
- Our team members will help you with your load and finalise payment/paperwork
Online Retail Stores Go Live
We've launched two eCommerce sites offering 2hr pick up in-store and flat rate delivery options on the northern beaches*.
Jbhmv.com.au (Mona Vale)
Jbhav.com.au (Avalon)
With the ability to leave the product on your doorstep, this provides an option of an entirely contactless transaction.
*Flat rate delivery is not available to trade sales, building supplies and trade quantities
** The stock availability is updated nightly, which may mean the stock is unavailable when the order is placed
Trade Delivery to Site
Maybe not new, but certainly worth a mention again!
We can get almost anything delivered quickly onto site!
As always ring the trade desk direct on 9999 0333 and let them know what you need!
Final Thought
Like everyone, we have found ourselves in a new and uncertain environment, but we're setting up (and digging in) for the long haul!
We want to acknowledge that the decision to retain over 120 staff and meet any future challenges head-on, could not have happened without the continued support you provide us as customers.
Thank you and stay safe,
The Johnson Family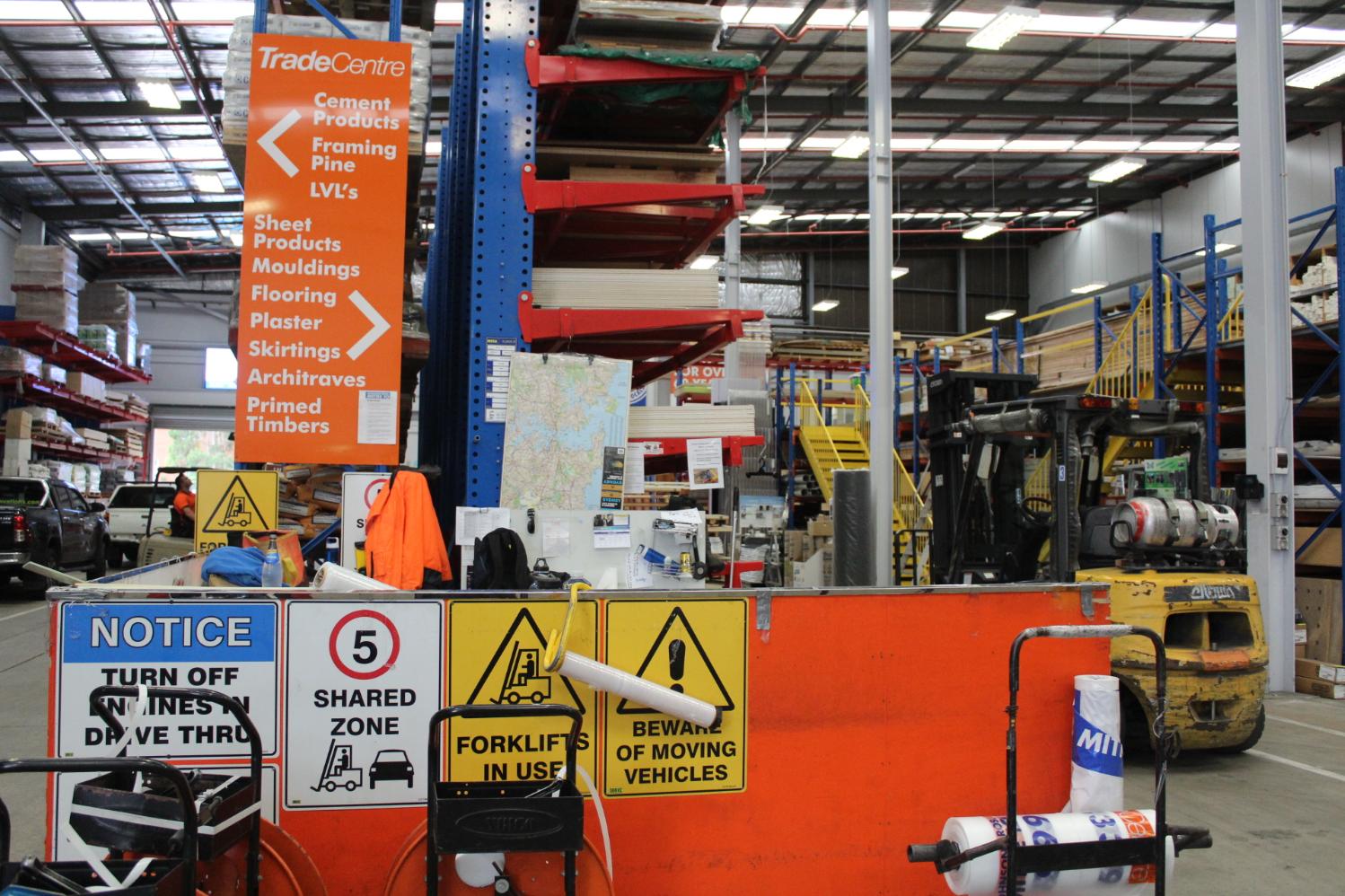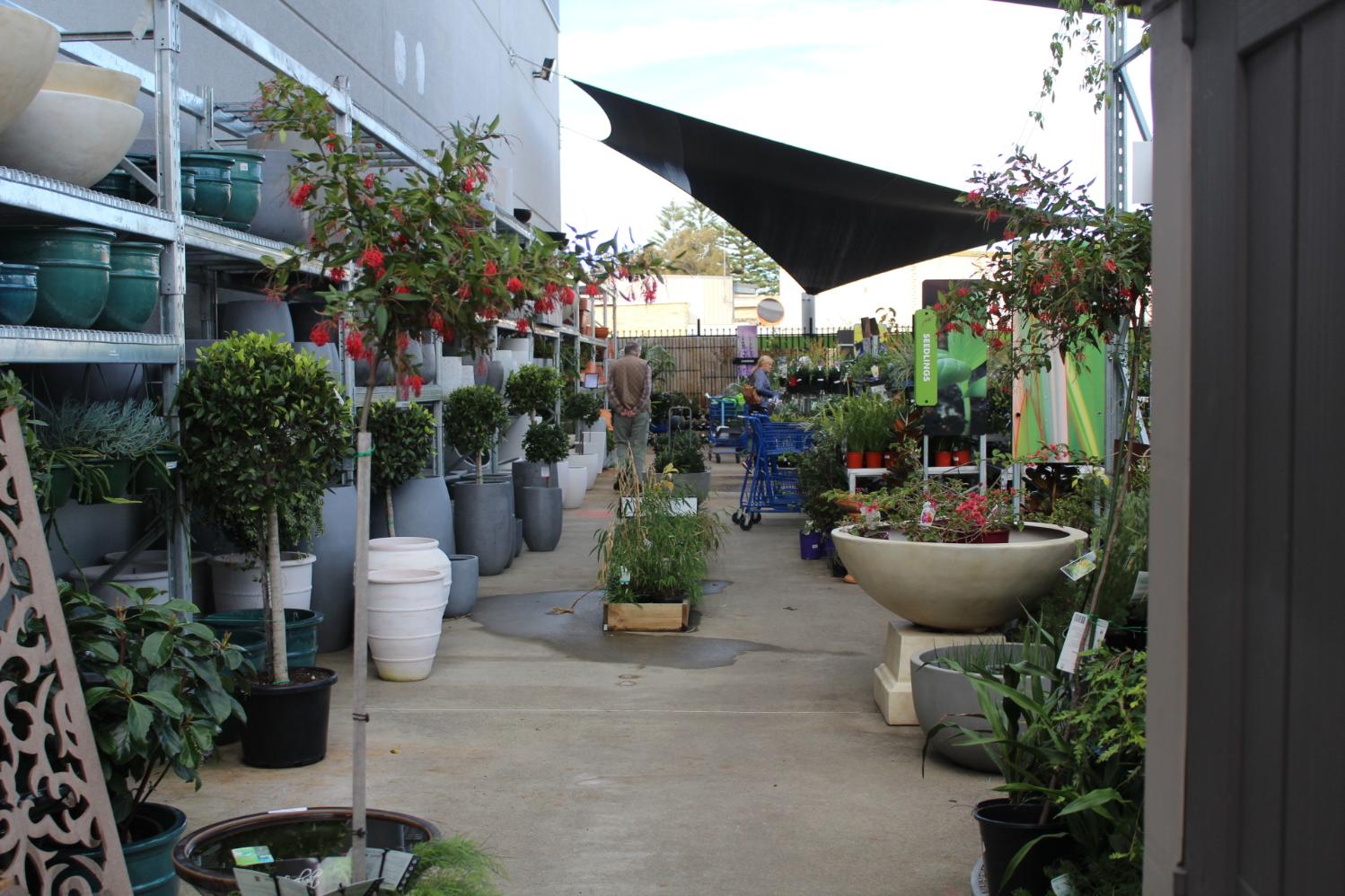 Green Life Garden Centre at Johnson Brothers Mona Vale has a great stock of seedlings, native and other plants and all you need to get gardening in brilliant Autumn weather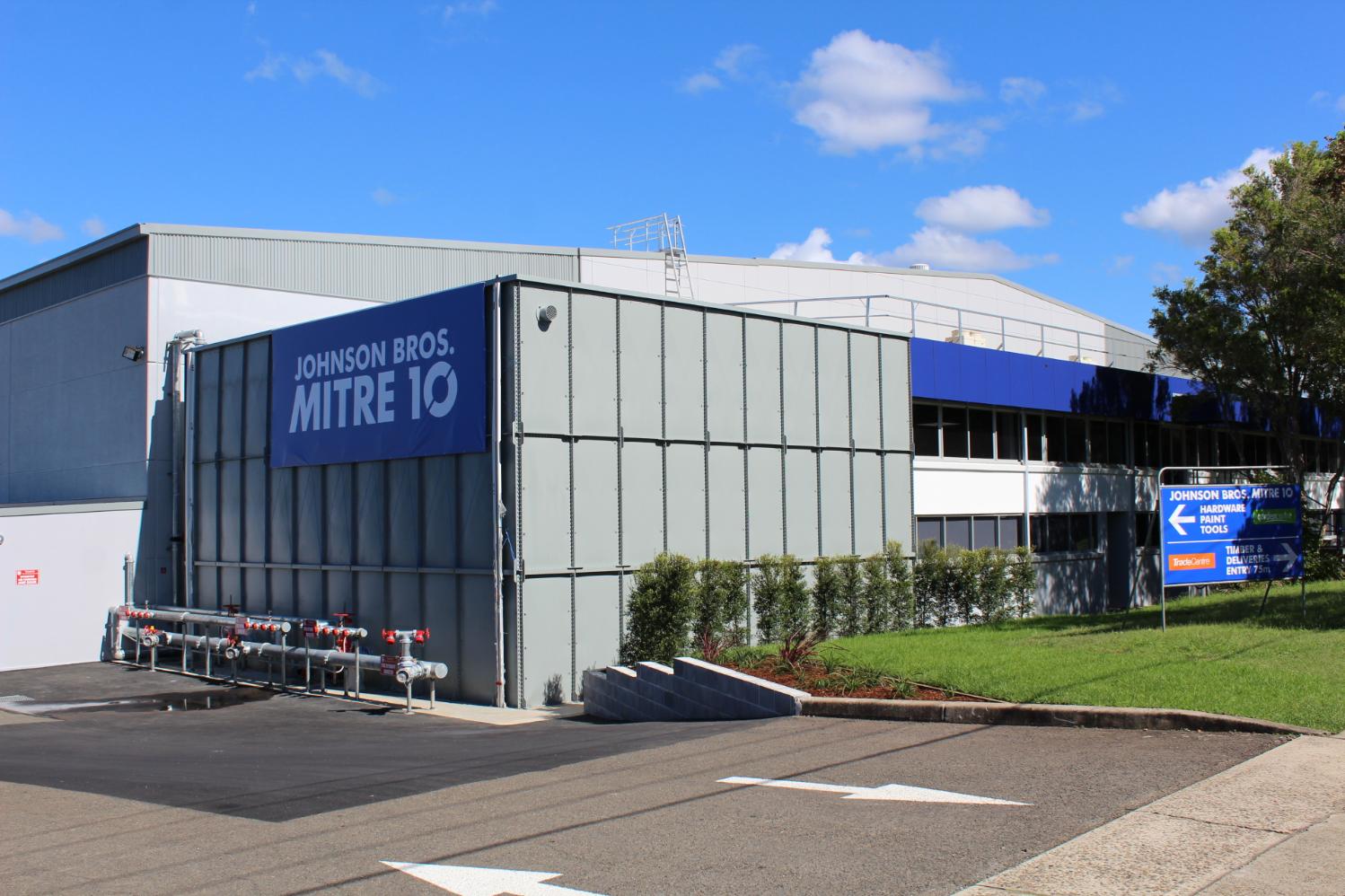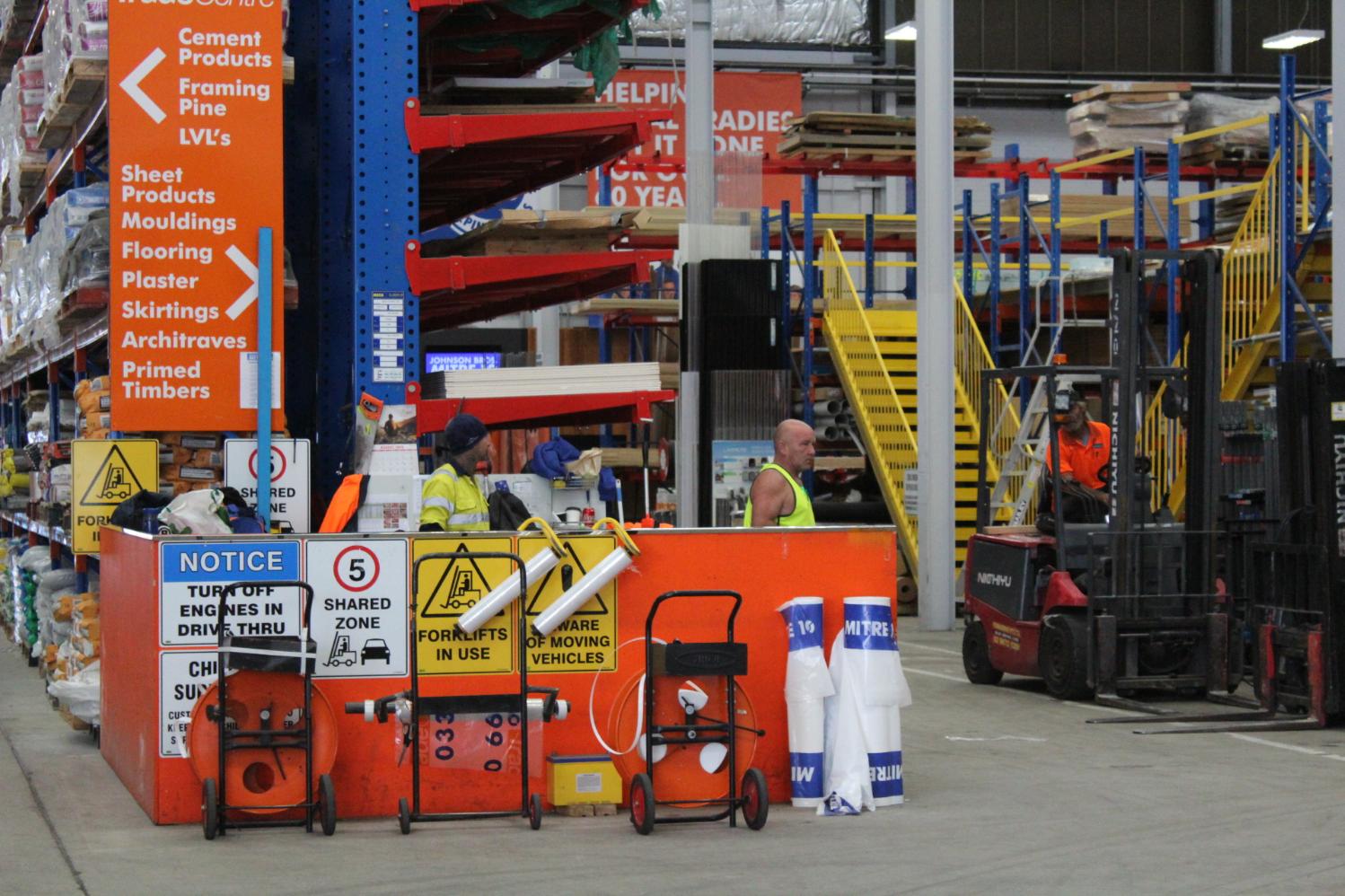 Johnson Brothers Mitre 10 Trade Centre at Mona Vale - everything you need under one roof.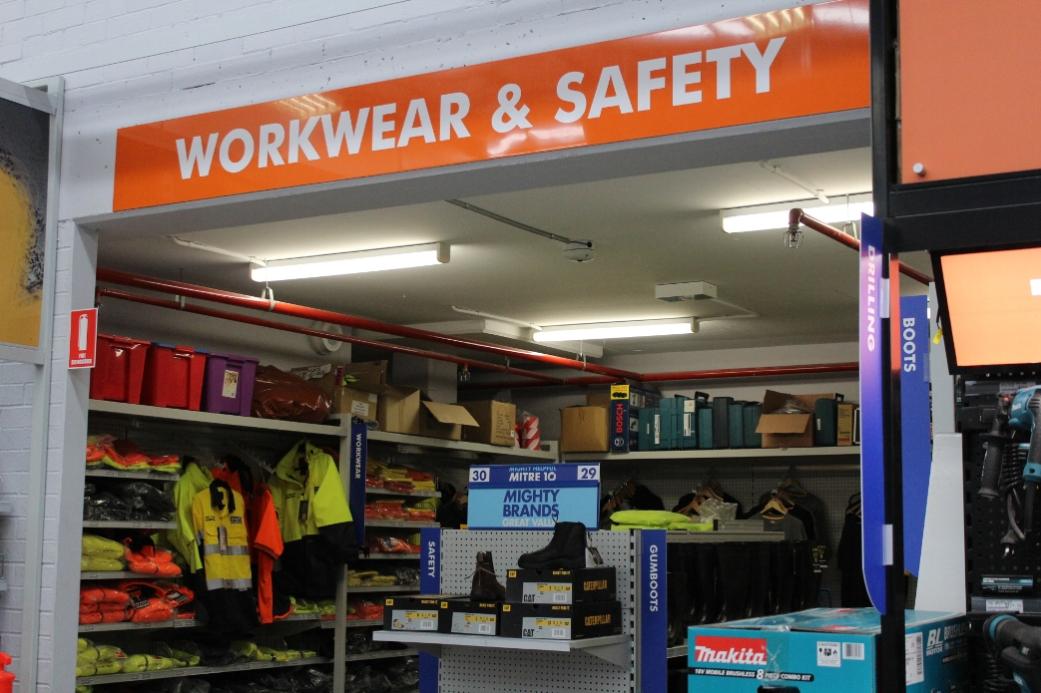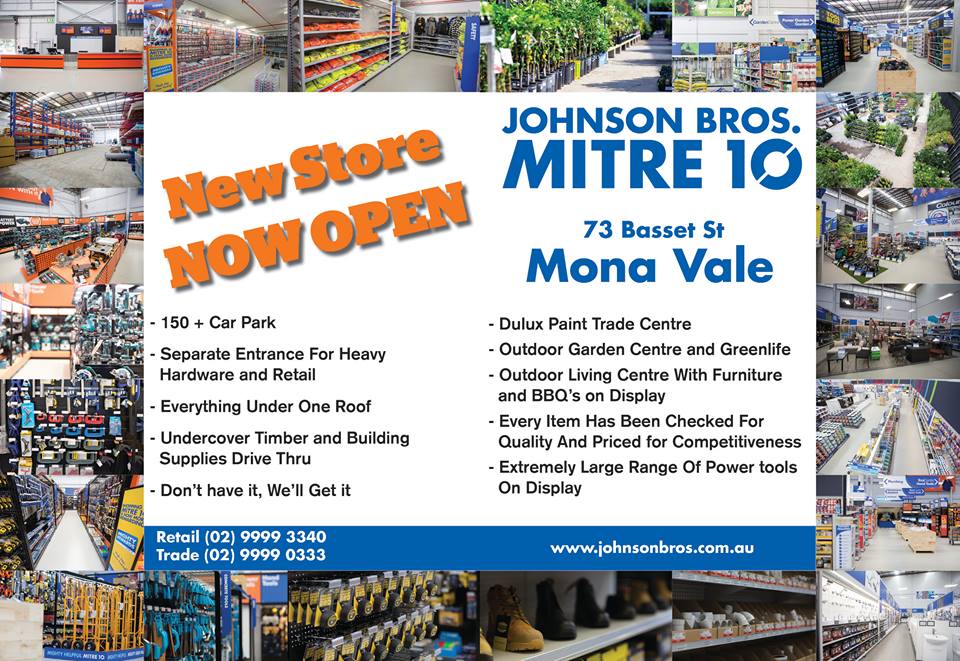 Johnson Brothers Mitre 10 New Store
73 Bassett Street
Mona Vale - Online Store: Jbhmv.Com.Au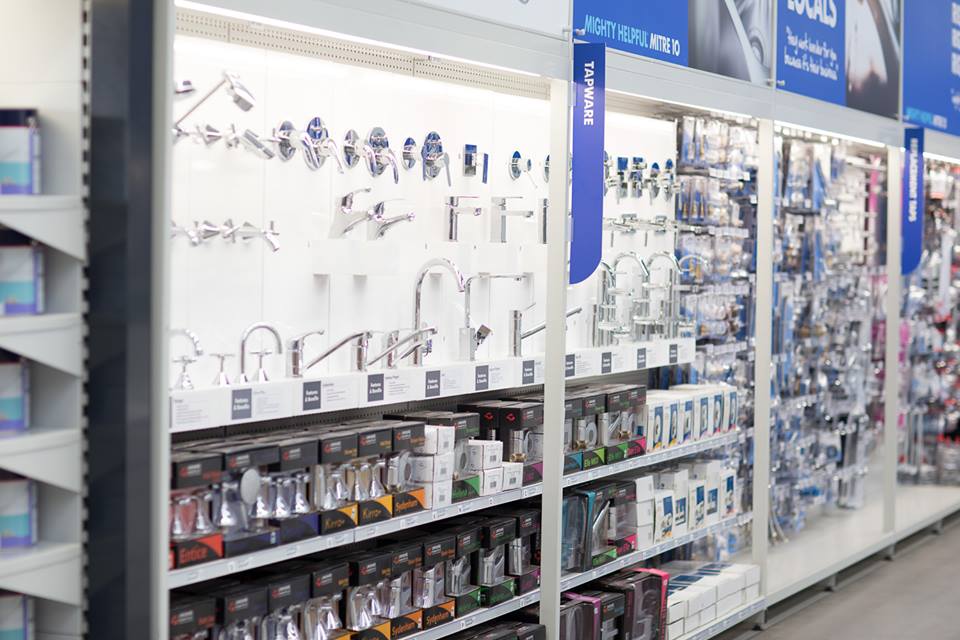 Products advice is available from the trained friendly staff at Narrabeen, Mona Vale and Avalon Johnson Brothers Mitre 10.
Click on logo to visit Johnson Brothers Mitre 10 website
Johnson Bros Mitre 10 - Avalon (02) 9918 3315
Johnson Bros Mitre 10 - Mona Vale (02) 9999 3340
JBH Timber & Building Supplies (02) 9999 0333
JBH Fencing & Landscape Supplies (02) 9970 6333
www.johnsonbros.com.au Online store: jbhmv.com.au

John, Bob and Robert Johnson, 2013 - photo by A J Guesdon.
Important
All information and tips in this publication are of a general nature only and neither Johnson Brothers Mitre 10 or Pittwater Online News does not warrant the accuracy or completeness of the information and tips in this publication. This publication is not intended to be a substitute for expert advice.
Johnson Brothers Mitre 10
advises you to always consult an experienced and qualified person when undertaking jobs of this kind (including consulting a qualified tradesperson such as an electrician or plumber where relevant expert services are required).
You should also consider any safety precautions that may be necessary when undertaking the work described in this publication (including wearing any necessary safety equipment such as safety glasses, goggles or ear protectors or hard hats). The information and tips in this publication are provided on the basis that
Johnson Brothers Mitre 10
and
Pittwater Online News
excludes all liability for any loss or damage which is suffered or incurred (including, but not limited to, indirect and consequential loss or damage and whether or not such loss or damage could have been foreseen) for any personal injury or damage to property whatsoever resulting from the use of the information and tips in this publication.
Pittwater Online News and
Johnson Brothers Mitre 10
also advises there may be laws, regulations or by-laws with which you must comply when undertaking the work described in this publication. You should obtain all necessary permissions and permits from council and/or any other relevant statutory body or authority before carrying out any work. Major projects published in this publication always list these and/or links to where you may research what your own project requires to meet regulations.