inbox and environment news: Issue 605
November 12 - 18, 2023: Issue 605
North Narrabeen's Laura Enever Sets New World Record For Largest Wave Surfed Paddle-In (Female)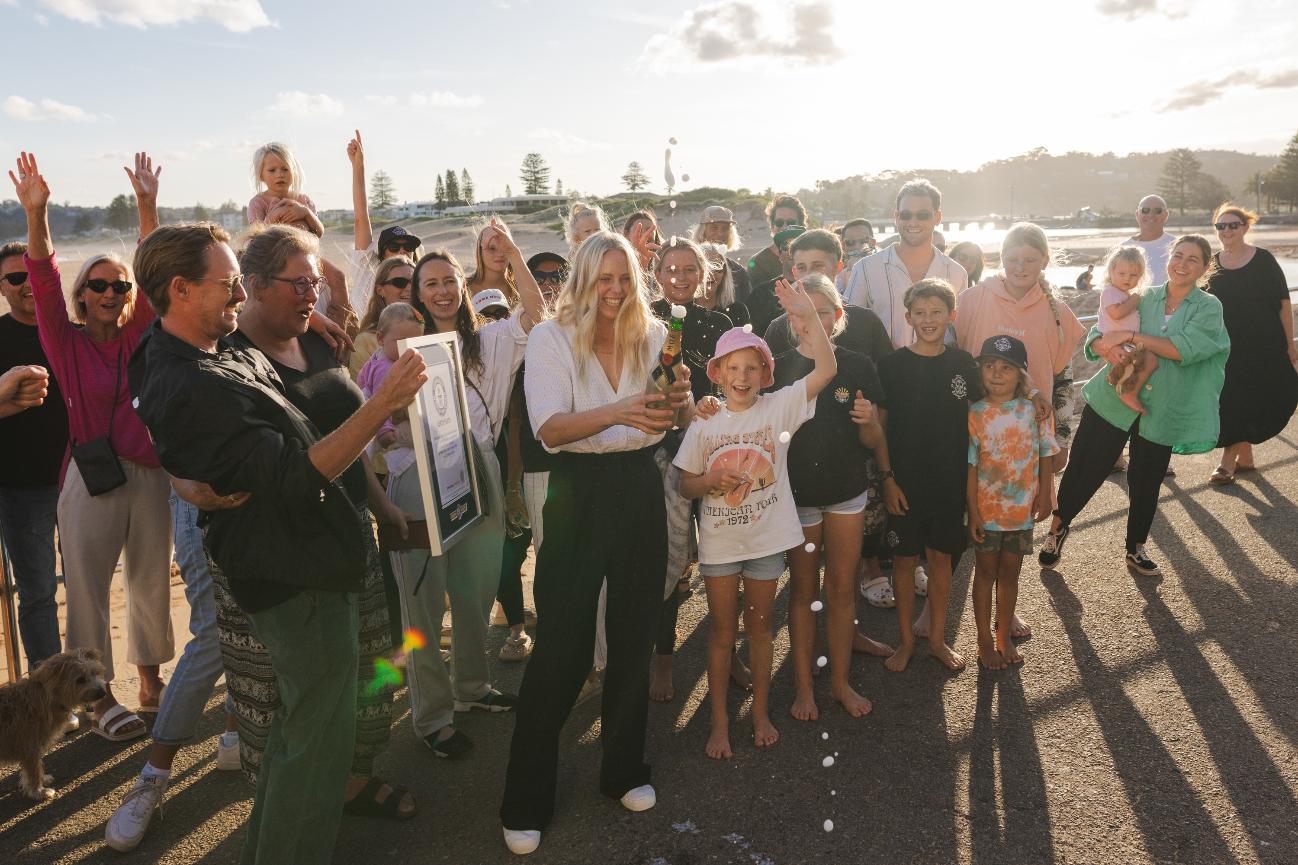 Laura celebrating with family and friends at North Narrabeen. Photo: WSL / Matt Dunbar
Wednesday, November 8, 2023
The World Surf League (WSL) announces that Laura Enever (AUS) has set a new GUINNESS WORLD RECORDS™ title for the Largest wave surfed paddle-in (female). The WSL officially analysed, measured, and verified Enever's 2023 record-breaking ride at 43.6 feet (13.3 meters) as part of the WSL Big Wave Record Chase, making it the biggest wave ever paddled into by a woman.
Enever, who is 31 years old and from North Narrabeen, successfully surfed a wave measuring 43.6 feet (13.3 meters) from trough to crest at Outer Reef, the big-wave break on the North Shore of Oahu, on January 22, 2023.
"I knew it was big when I paddled into it, and then when I took off, I looked down, and I knew it was definitely the biggest wave I've ever caught," said Enever. "I knew it was the wave of my life, the whole way it all came together and the way I committed, backed myself, told myself to go, and trusted I could do it. The ride was such a breakthrough for me and a moment that will be special and monumental in my surf career. To get awarded this months later is really cool, I can't believe it.
"I would never be in this position if it wasn't for all the big wave surfers who have come before me and paved the way, especially the really brave, courageous females who have always inspired me and made me feel like I could get out there and give it a crack. So, thank you to all the amazing women. I'm just constantly in awe. Andrea Moller held this record before me, and it's an honor to hold that record and keep pushing big wave surfing. And I know that the next girls, the next generation of female big wave surfers, are going to do the same."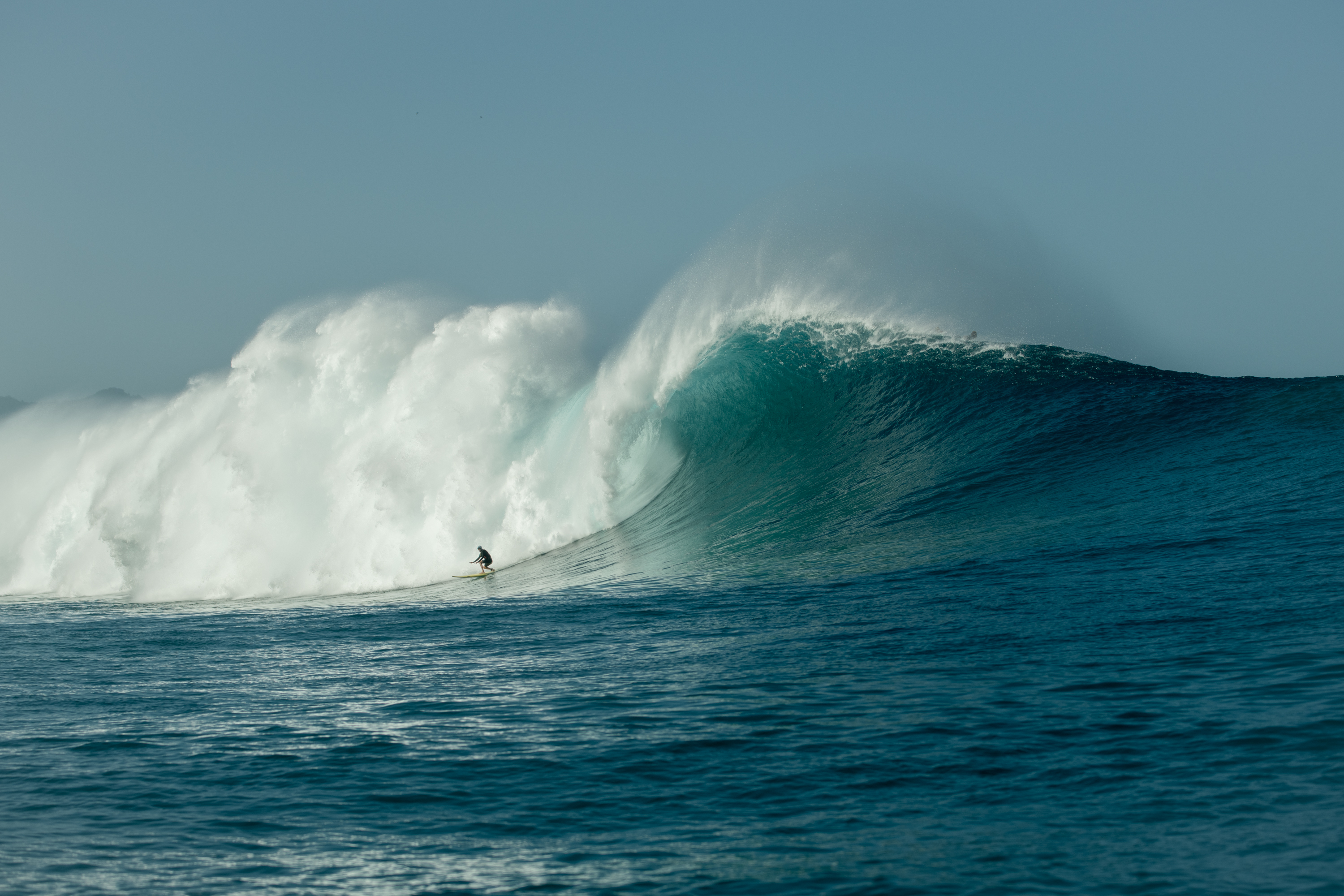 Photo; WSL / Daniel Russo
Enever's World Record adds to an already stellar surfing career. She was the ISA Junior World Champion and Triple Crown Rookie of the Year in 2008, and World Junior Champion in 2009. In 2011, Enever qualified for the WSL Championship Tour, where she competed for seven years, consistently finishing in the Top 10. She has gone on to compete in WSL Big Wave events and push the limits of big wave surfing.
"Huge congratulations to Laura for this incredible achievement," said Jessi Miley-Dyer, WSL Chief of Sport. "Laura is fearless, committed, and a real inspiration, and I'm so proud to celebrate her. These World Records really allow us to shine the spotlight on athletes like Laura who are pushing the boundaries of Big Wave surfing."
Enever was awarded the GUINNESS WORLD RECORDS™ certificate in her hometown of Narrabeen in New South Wales, Australia, where she celebrated the accomplishment with her family and friends.
"I've worked my whole life to be a professional surfer and to be on the World Tour," continued Enever. "I was there, and I gave that up for this pull and urge to surf big waves. I was just thinking I just wanted to go do this for me, and to be here today and to have a GUINNESS WORLD RECORDS™ title for the biggest paddle, I can't believe it."
Enever's record bettered Andrea Moller's previous record by just one foot, which was caught on January 16, 2016, at Pe'ahi, Maui. Moller, an internationally recognized waterwomen, pioneer of big wave surfing, and respected paramedic, held the record for seven years. She was the first woman to paddle into a wave at Pe'ahi, the first woman to catch a wave in the prestigious Eddie Aikau big wave contest, and an advocate for equality and progression in big wave surfing.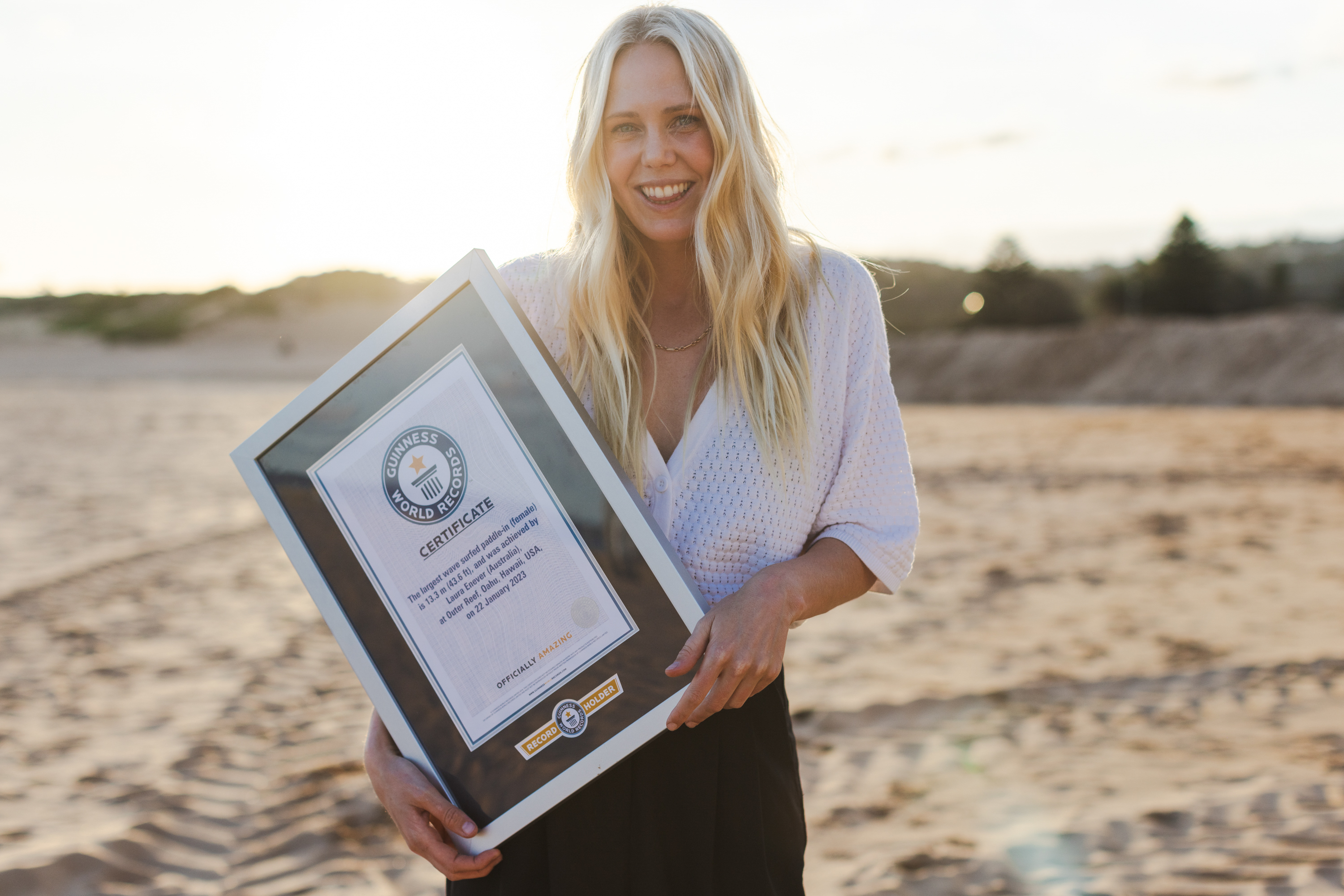 Photo: WSL / Matt Dunbar

About the Measurement Process
The WSL Science Team, led by Michal Pieszk, Senior Research and Development Engineer of the Kelly Slater Wave Company (KSWC), collaborated on the analysis of the largest waves ridden in the Paddle-In category during the 2022/23 WSL Big Wave Record Chase season. The team used a range of wave-measuring techniques using video footage, detailed information about the site, the location of the videographers and location of the wave, to determine the wave height
Several frames from the video footage were extracted and geometrically corrected based on camera positions and angles. Using known objects such as jet skis and actual measurements of Enever's body geometry, it was possible to calibrate the images for conversion from pixels to feet. The location of the trough and crest of the wave was determined from analysis of the video from two different angles.
For more information, please visit WorldSurfLeague.com.
Australian Schoolgirls Sevens Teams Announced: Congratulations Khyliah, Lili And Brooke!
The Australian Schools Rugby Union 'ASRU' is delighted to announce the Australian Schoolgirls Sevens Team 2023. The team will represent Australia at the Global Youth Sevens tournament, to be held on the Gold Coast 9-10 December 2023.
Announced in early October, three local athletes form part of the team; Khyliah Gray, Lili Boyle and Brooke Bosland.
"I am very proud to announce the inaugural Australian Schoolgirls Sevens Team which will represent Australia at the Global Youth Sevens tournament in December," said Sarah Ridgewell, ASRU executive responsible for Girl's Sevens.
"This is a very exciting development for the Australian Schools Rugby Union 'ASRU' and all female student athletes.
"The ASRU has a proud and established tradition with the Australian Schoolboys XVs teams, and we know that the Australian Schoolgirls Sevens will follow this path, offering extraordinary opportunities for our student athletes.
"I would like to thank all the teachers, schools and School Sport bodies around the country for supporting this high performance pathway for our female student athletes.
"I would also like to thank Rugby Australia for their ongoing support with our program, transitioning our female athletes and staff into the high performance sevens space. For many of the girls in this inaugural team, this is their first step to fulfilling their aspirations of a professional rugby career and of course Olympic honours.
"We wish the girls all possible success at the Global Youth Sevens."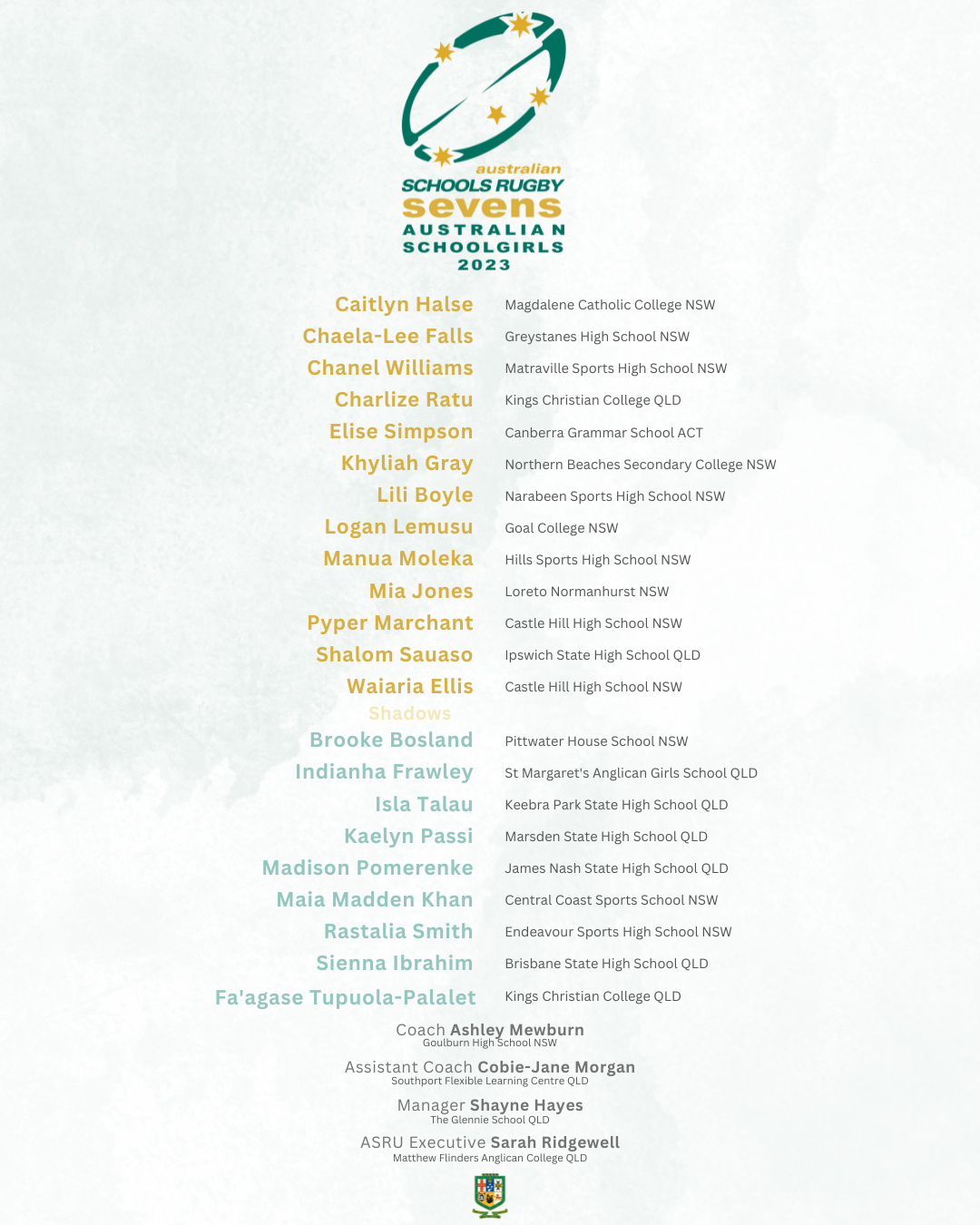 Manly Junior Class NSW - Round 1 Regatta
The RPAYC welcomes competitors in the 2023 Manly Junior NSW State Tiles to Pittwater for Regatta 1.
Racing will be held over the

weekend of 25 and 26 of November, 2023.
The NSW State Titles are held across 2 weekends by the NSW Manly Junior Association and host clubs.
Round 1 will be hosted by Royal Prince Alfred Yacht Club (RPAYC) on 25 & 26 November 2023.
Round 2 will be hosted by Hornsby Ku-ring-gai Sailing Club (HKSC) on 10 & 11 February 2024.
There will be Open, Novice and Rookie divisions this season.
The Rookie division is a fantastic opportunity to get out on the water and practise racing against other boats with similar experience levels. There will be an option for children who complete the Rookie course to go on and race in the Novice State Titles if they would like (additional fees apply).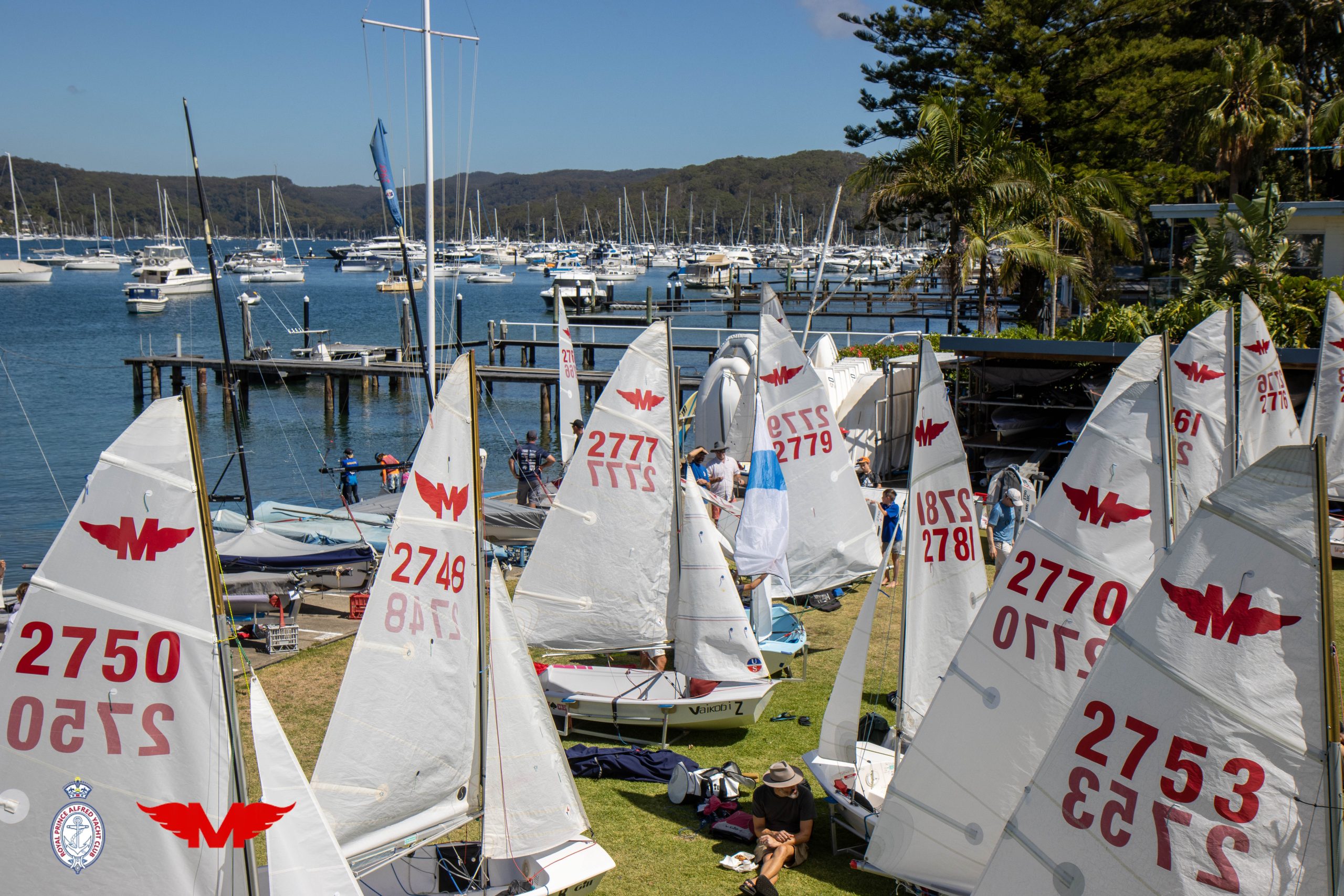 Warning: Multiple Types Of High-Dose MDMA Tablets (Ecstasy) Circulating In NSW
​NSW Health is warning the public of high-dose MDMA tablets (ecstasy) currently circulating in NSW.
Three types of high dose MDMA tablets have recently been found in NSW:
blue diamond shaped tablet with 'punisher' logo contained 216 mg MDMA
blue skull shaped tablet with 'MYBRAND' logo and text contained 216 mg MDMA
yellow square tablet with 'SpongeBob' smiley face markings contained 160 mg MDMA.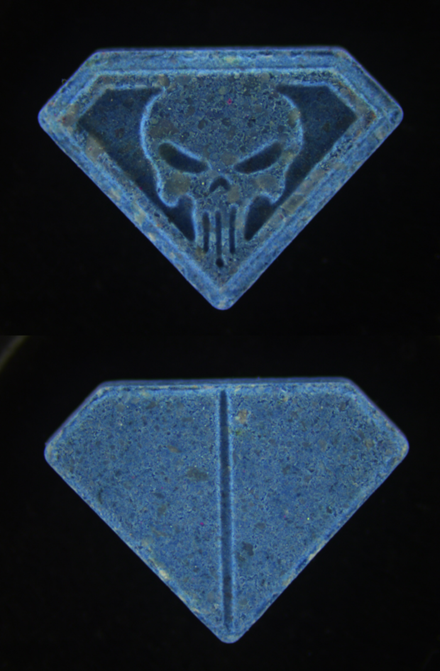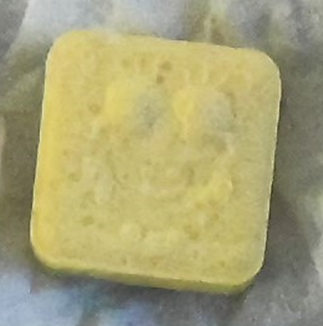 These tablets contain up to twice the average amount of MDMA usually contained in tablets circulating in NSW.
Other drugs including cathinones, ketamine and ketamine analogues have recently been detected in some MDMA tablets and capsules.
Medical Director of the NSW Poisons Information Centre, Dr Darren Roberts, said consuming high doses of MDMA has been linked to recent cases of serious illness and death in NSW.
"MDMA can cause severe agitation, raised body temperature, seizures or fits, irregular heart rhythm and death," Dr Roberts said.
"The amount of MDMA in a tablet or capsule can vary a lot, even within the same batch. The health risks from MDMA are greatly increased if high amounts (including multiple doses) are consumed over a short period.
"Other risks include taking MDMA in combination with other stimulants, such as amphetamines, cocaine or cathinones.
"Hot environments, such as at music festivals, increase the risk of harm from MDMA. Taking a break from dancing, seeking shade, and drinking water are important measures to reduce the risk of overheating.
"It is very important to remember, if you or a friend has taken drugs and feel unwell, you won't get into trouble for seeking medical care. If you or a friend feels unwell, please seek help immediately by calling Triple Zero (000).
"There are teams of well-trained peer volunteers from programs such as DanceWize NSW and medical providers who are ready to support you at many major festivals. Other event staff are also trained to help patrons."
For information about the potential adverse effects of MDMA, please contact the NSW Poisons Information Centre on 13 11 26.
For support and information with alcohol, MDMA and other drugs, please contact the Alcohol and Drug Information Service on 1800 250 015. This is a 24/7 service offering confidential and anonymous telephone counselling and information. NUAA also provides a range of harm minimisation resources and advice and can be reached on 1800 644 413.
The Cocos (Keeling) Islands. Australian Colour Diary 12
Published 10 Nov 2023 by NFSA
From the Film Australia Collection. Made by The National Film Board 1960. Directed by Jack S Allan. The Cocos (Keeling) Islands, Northwest of Australia in the Indian Ocean, provide a valuable link for Australia to the rest of the world.
School Leavers Support
Explore the School Leavers Information Kit (SLIK) as your guide to education, training and work options in 2022;
As you prepare to finish your final year of school, the next phase of your journey will be full of interesting and exciting opportunities. You will discover new passions and develop new skills and knowledge.
We know that this transition can sometimes be challenging. With changes to the education and workforce landscape, you might be wondering if your planned decisions are still a good option or what new alternatives are available and how to pursue them.
There are lots of options for education, training and work in 2022 to help you further your career. This information kit has been designed to help you understand what those options might be and assist you to choose the right one for you. Including:
Download or explore the SLIK here to help guide Your Career.
School Leavers Information Kit (PDF 5.2MB).
School Leavers Information Kit (DOCX 0.9MB).
The SLIK has also been translated into additional languages.
Download our information booklets if you are rural, regional and remote, Aboriginal or Torres Strait Islander, or living with disability.
Support for Regional, Rural and Remote School Leavers (PDF 2MB).
Support for Regional, Rural and Remote School Leavers (DOCX 0.9MB).
Support for Aboriginal and/or Torres Strait Islander School Leavers (PDF 2MB).
Support for Aboriginal and/or Torres Strait Islander School Leavers (DOCX 1.1MB).
Support for School Leavers with Disability (PDF 2MB).
Support for School Leavers with Disability (DOCX 0.9MB).
Download the Parents and Guardian's Guide for School Leavers, which summarises the resources and information available to help you explore all the education, training, and work options available to your young person.
School Leavers Information Service
Are you aged between 15 and 24 and looking for career guidance?
Call 1800 CAREER (1800 227 337).
SMS 'SLIS2022' to 0429 009 435.
Our information officers will help you:
navigate the School Leavers Information Kit (SLIK),
access and use the Your Career website and tools; and
find relevant support services if needed.
You may also be referred to a qualified career practitioner for a 45-minute personalised career guidance session. Our career practitioners will provide information, advice and assistance relating to a wide range of matters, such as career planning and management, training and studying, and looking for work.
You can call to book your session on 1800 CAREER (1800 227 337) Monday to Friday, from 9am to 7pm (AEST). Sessions with a career practitioner can be booked from Monday to Friday, 9am to 7pm.
This is a free service, however minimal call/text costs may apply.
Call 1800 CAREER (1800 227 337) or SMS SLIS2022 to 0429 009 435 to start a conversation about how the tools in Your Career can help you or to book a free session with a career practitioner.
Word Of The Week: Artist
Word of the Week returns in 2023 simply to throw some disruption in amongst the 'yeah-nah' mix.
Noun
1. a person who creates art (such as painting, sculpture, music, or writing) using conscious skill and creative imagination. 2. a person who works in one of the performing arts, as an actor, musician, or singer; a public performer: a mime artist; an artist of the dance. 3. a person skilled in any of the arts. 4. a skilled performer. 5. a skilled performer
Also: obsolete : one skilled or versed in learned arts. archaic : a PHYSICIAN and archaic : an ARTISAN
From 1580s, "one who cultivates one of the fine arts," from French artiste (14c.), from Italian artista, from Medieval Latin artista, from Latin ars. Originally especially of the arts presided over by the Muses (history, poetry, comedy, tragedy, music, dancing, astronomy), but also used 17c. for "one skilled in any art or craft" (including professors, surgeons, craftsmen, cooks). Since mid-18c. especially of "one who practices the arts of design or visual arts."
From early 13c., "skill as a result of learning or practice," from Old French art (10c.), from Latin artem (nominative ars) "work of art; practical skill; a business, craft," from ar(ə)-ti- (source also of Sanskrit rtih "manner, mode;" Greek artizein "to prepare"), suffixed form of root ar- "to fit together." Etymologically akin to Latin arma "weapons" , also arə-, Proto-Indo-European root meaning "to fit together."
In Middle English usually with a sense of "skill in scholarship and learning" (c. 1300), especially in the seven sciences, or liberal arts. This sense remains in Bachelor of Arts, etc. The meaning "human workmanship" (as opposed to nature) is from late 14c. The meaning "system of rules and traditions for performing certain actions" is from late 15c. The sense of "skill in cunning and trickery" is attested by late 16c. (the sense in artful, artless). The meaning "skill in creative arts" is recorded by 1610s; especially of painting, sculpture, etc., from 1660s.
The source of/evidence for this words' existence provided by: Sanskrit irmah "arm," rtih "manner, mode;" Armenian arnam "make," armukn "elbow;" Greek arti "just," artios "complete, suitable," artizein "to prepare," arthron "a joint;" Latin ars (stem art-) "art, skill, craft," armus "shoulder," artus "joint," arma "weapons;" Old Prussian irmo "arm;" German art "manner, mode."
Compare Artisan: 1. a worker who practices a trade or handicraft: craftsperson. a skilled artisan. 2. a person or company that produces something (such as cheese or wine) in limited quantities often using traditional methods.
The term "artisan" originates back in the middle ages. Borrowed from the French, the term was given to those who worked in a skilled trade; making pieces or providing certain services. During the Middle Ages, the term "artisan" was applied to those who made things or provided services. It did not apply to unskilled manual labourers. Artisans were divided into two distinct groups: those who operated their own businesses and those who did not. The former were called masters, while the latter were the journeymen and apprentices.
One misunderstanding many people have about this social group is that they picture them as "workers" in the modern sense: employed by someone. The most influential group among the artisans were the masters, the business owners. The owners enjoyed a higher social status in their communities, and often organised into guilds.
An artisan (from French: artisan, Italian: artigiano) is a skilled craft worker who makes or creates material objects partly or entirely by hand. These objects may be functional or strictly decorative, for example furniture, decorative art, sculpture, clothing, food items, household items, and tools and mechanisms such as the handmade clockwork movement of a watchmaker. Artisans practice a craft and may through experience and aptitude reach the expressive levels of an artist.
The adjective "artisanal" is often used in describing hand-processing in contrast to an industrial process, such as in the phrase artisanal mining. Thus, "artisanal" is sometimes used in marketing and advertising as a buzz word to describe or imply some relation with the crafting of handmade food products, such as bread, beverages, cheese or textiles. Many of these have traditionally been handmade, rural or pastoral goods but are also now commonly made on a larger scale with automated mechanisation in factories and other industrial areas.
Artisans were the dominant producers of commodities before the Industrial Revolution. In ancient Greece, artisans were drawn to agoras (central public space in ancient Greek city-states) and often built workshops nearby.
A guild is an association of artisans and merchants who oversee the practice of their craft/trade in a particular territory. The earliest types of guild formed as organizations of tradespeople belonging to a professional association. They sometimes depended on grants of letters patent from a monarch or other ruler to enforce the flow of trade to their self-employed members, and to retain ownership of tools and the supply of materials, but most were regulated by the local government. Guild members found guilty of cheating the public would be fined or banned from the guild. A lasting legacy of traditional guilds are the guildhalls constructed and used as guild meeting-places.
Typically the key "privilege" was that only guild members were allowed to sell their goods or practice their skill within the city. There might be controls on minimum or maximum prices, hours of trading, numbers of apprentices, and many other things. Critics argued that these rules reduced free competition, but defenders maintained that they protected professional standards.
One of the legacies of the guilds: the elevated Windsor Guildhall originated as a meeting place for guilds, as well as a magistrates' seat and town hall.
An important result of the guild framework was the emergence of universities at Bologna (established in 1088), Oxford (at least since 1096) and Paris (c. 1150); they originated as guilds of students (as at Bologna) or of masters (as at Paris).
The Artisan class included: Armorer, Blacksmith, Bladesmith, Cooper, Dyer, Furrier, Glassblowing, Gunsmith, Hatter, Joiner, Locksmith, Nailsmith, Potter, Ropemaker, Saddler, Shoemaker, Stonemason, Tailor, Tanner, Weaver, Wheelwright.

Shokunin is a Japanese word for "artisan" or "craftsman", which also implies a pride in one's own work. In the words of shokunin Tashio Odate:
Shokunin means not only having technical skill, but also implies an attitude and social consciousness... a social obligation to work his best for the general welfare of the people, [an] obligation both material and spiritual.
Traditionally, shokunin honoured their tools of trade at New Year's – the sharpened and taken-care of tools would be placed in a tokonoma (a container or box still found in Japanese houses and shops), and two rice cakes and a tangerine (on top of rice paper) were placed on top of each toolbox, to honour the tools and express gratitude for performing their task.
The 8-hour day
Australian stonemasons were responsible for bringing about the 8 hour day in Australia. The National Museum of Australia provides the following insight:
Between 1830 and 1833 the first Australian unions were formed by associations of skilled workers such as shipwrights, printing compositors and cabinet-makers.
However, these early trade unions faced stiff opposition from employers and government. In 1840 the government used convict compositors to help break a strike by the Society of Compositors.
As the colony started to grow in the early part of the 19th century, new businesses, including many shops, started up. With the advent of street lighting in 1841, shop employees had to work later and later until they were typically working 14 hours a day. Such long hours led to the formation of the Early Closing Movement, which in 1844 sought to have working hours reduced from 14 to 12 hours a day.
Convict transportation to New South Wales ceased in 1840. From then, all new felons were diverted to Tasmania, which led to the formation in 1847 of the Anti-Transportation League in that colony. The league succeeded in stopping transportation to the east coast by 1852. The end of transportation created a shortage of workers that increased dramatically through the 1850s as a great many working men moved to the goldfields. Unions were now in a much better position to campaign for better working conditions.
Eight-hour day campaign
On 4 February 1853 the Operative Masons' Society was re-formed at a meeting in Clark's Hotel, Collingwood, Melbourne. The union had suspended operations because so many members had moved to the goldfields. One of the organisers was James Stephens, a mason recently arrived from Britain where he had been a member of the Chartist movement, which advocated for a more representative parliamentary system. He had participated in the 1839 Newport Rising riot where police killed 20 Chartist protesters.
The resurrection of the Operative Masons' Society is viewed as the start of the eight-hour movement in Australia, because a committee was formed to confer with building contractors on the introduction of the eight-hour day. The eight-hour day had first been proposed by Robert Owen in 1817 at his socialist community in New Lanark, Scotland. The sentiments of the movement were captured by the slogan, 'Eight hours labour, eight hours recreation, eight hours rest'.
The union put forward three main arguments for a shorter working day. The first was that Australia's harsh climate demanded reduced hours. The second was that labourers needed time to develop their 'social and moral condition' through education. The third was that workers would be better fathers, husbands and citizens if they were allowed adequate leisure time.
On 26 March 1856 workers called a public meeting at the Queen's Theatre to make a stand on improving working conditions. At the meeting it was announced that 'the time has arrived when the system of 8 hours should be introduced into the building trades and that after the 21st of this month we promise to work 8 hours and no longer'.
Negotiations between the union and the building companies broke down and on 21 April 1856 stonemasons, led by Stephens, downed tools at the construction site of the law faculty buildings at Melbourne University and walked off the job.
As Stephens said, 'It was a burning hot day and I thought the occasion a good one, so I called upon the men to follow me, to which they immediately consented, when I marched them … to Parliament House.'
Stonemasons from other construction sites along the way joined the march until they eventually reached the Belvedere Hotel where a banquet was organised to mark the event.
In the months to come, negotiations with employers and the government continued until an agreement was reached whereby stonemasons would work an eight-hour day but collect the same wage they had previously been paid for 10 hours.
Initially only a minority of workers, mainly in the building trades, won the eight-hour day. Most workers, including women and children, generally worked longer hours for less pay.
The fight for working conditions continued throughout the 19th century. It was not until 1916 that the Eight Hours Act was passed in Victoria and New South Wales.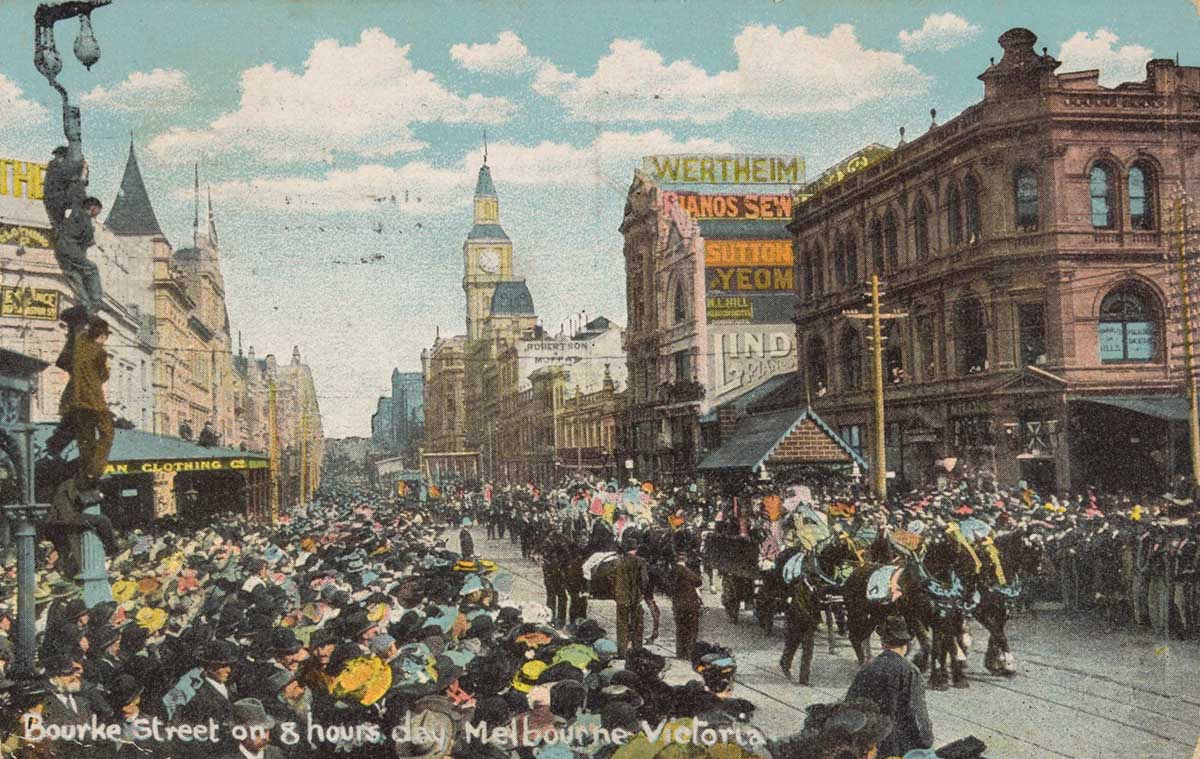 An eight-hour day parade in Bourke Street, Melbourne, 1907. Image NMA

It would not be until January 1948 that the Commonwealth Arbitration Court approved a 40-hour, five-day working week for all Australians.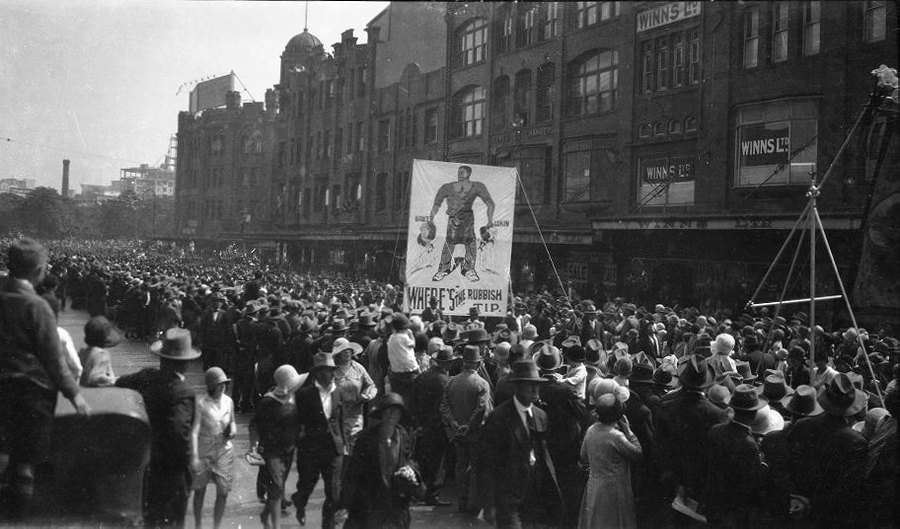 A Labor Day march in Sydney in the 1930s.

A 19th-century workers ditty:
Eight hours to work,
Eight hours to play,
Eight hours to sleep,
Eight bob a day.
A fair day's work,
For a fair day's pay.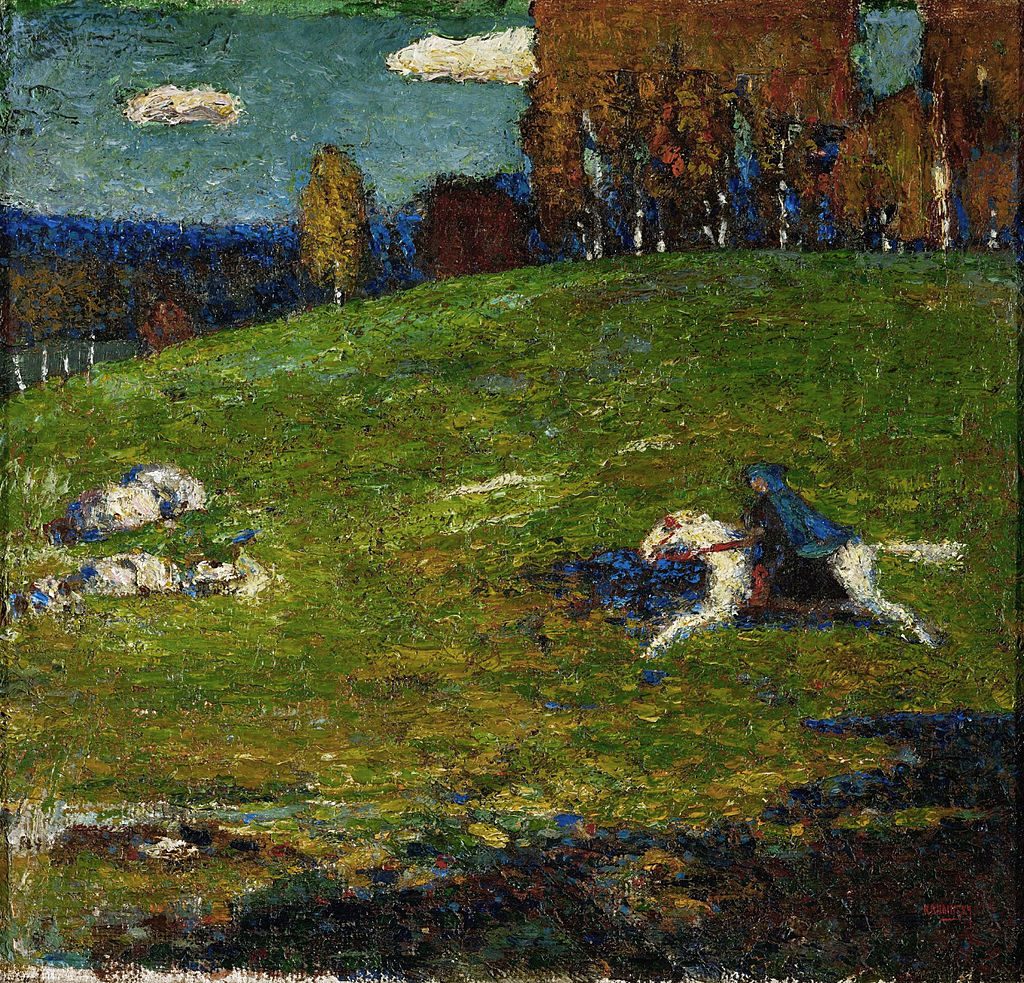 Wassily Kandinsky, 1903,
The Blue Rider
(Der Blaue Reiter), oil on canvas, 52.1 x 54.6 cm, Private Collection, before Collection Emil Bührle, Zurich
Yellow-Red-Blue, 1925, Musée National d'Art Moderne, Paris
Older Australians And Their Carers Tell Government What They Want From The New Aged Care Act
Older Australians and those close to them want human rights embedded in a new Aged Care Act, according to a submission to the government being released today.
13 organisations, including advocacy organisations for older people and carers, have today released the findings of their joint inquiry into the Foundation of the Aged Care Act based on direct information from older Australians and other key stakeholders.
The Federal Government has committed to implementing the Royal Commission recommendation to develop a rights based aged care act and has been consulting widely on what a new Aged Care Act should look like.
Key findings presented to the Federal Government in the submission include:
Mechanisms for monitoring and enforcing the rights of older people need to be implemented.
A change culture implementation plan is recommended to outline how rights will be embedded into daily aged care operations.
A future complaints system must be person-centred, robust and effective, with alternative was of handling complaints, overseen by a statutory Complaints Commissioner.
Supported decision-making must be the foundation of decision-making in aged care, with an assumption that older people can make decisions for themselves.
Council on the Ageing (COTA) Australia CEO Patricia Sparrow:
"Putting the voice of older Australians at the centre of the discussion around the future of our aged care system is crucial.
"What we've found is that while of course older people have a diverse range of views, the vast majority are united on many things including on the need to embed human rights in the new Aged Care Act being developed by government, on putting safeguards in place to ensure every Australian can get access to the quality aged care they deserve, and on improving our aged care system for generations to come.
"For too long older Australians, whether due to systemic ageism or other factors, have not been given ownership of their lives when the time comes for them to access aged care. It's time that changed."
Older Persons Advocacy Network (OPAN) CEO Craig Gear OAM:
"The overwhelming majority of older people who attended our consultations support a new rights-based Aged Care Act – and they want us to get on with it.
"A significant number of older people also told us that the Act won't be worth the paper it is written on if it isn't supported by the necessary regulatory levers and enforcement pathways.
Carers Australia CEO Jane Bacot-Kilpatrick
"It is essential the rights of older people and their carers be included in the new Aged Care Act and the sustainability of funding for high quality aged care services is achieved.
"Australia's family and friend carers are a core axis of the aged care triangle along with consumers and service providers, and they are key to the economic sustainability of system.
"Aged care reforms must be carer inclusive."
National Seniors Australia's Chief Operating Officer, Chris Grice:
"At the top of a long list of lessons from the Royal Commission into Aged Care Quality and Safety and the experience of the COVID-19 pandemic is that reform of the aged care system must embed the human rights of older people at its foundation."Creating an Aged Care Act and system explicitly built on a human-rights approach will empower older people to expect and claim quality, safe care as their right.
"It will also support and guide providers to deliver services that meet those expectations."
Federation of Ethnic Communities' Councils of Australia (FECCA) Chief Executive Officer, Mary Ann Baquero Geronimo:
"A new rights-based Aged Care Act is critical to have an aged care system that reflects multicultural Australia and embeds diversity at the core of its practices. Older person from culturally and linguistically diverse backgrounds aspire for an aged care system that supports them to maintain their cultural heritages, ensures that they are free from discrimination because of their race, ethnicity, religion, or their need for language support, and allows them to take action if their rights are violated."
Signatory organisations include:
Association of Independent Retirees (AIR); Carers Australia; Council on the Ageing (COTA) Australia; Dementia Australia; Elder Abuse Action Australia (EAAA); Federation of Ethnic Communities' Councils of Australia; Legacy; LGBTIQ + Health Australia; National Seniors Australia; Older Persons Advocacy Network (OPAN; National Association of People With HIV Australia; Partners in Culturally Appropriate Care (PICAC) Alliance; The Returned and Services League of Australia (RSL).
Spotlight On Water Safety For Seniors In NSW This Summer: 43% Increase In Drownings In Past 12 Months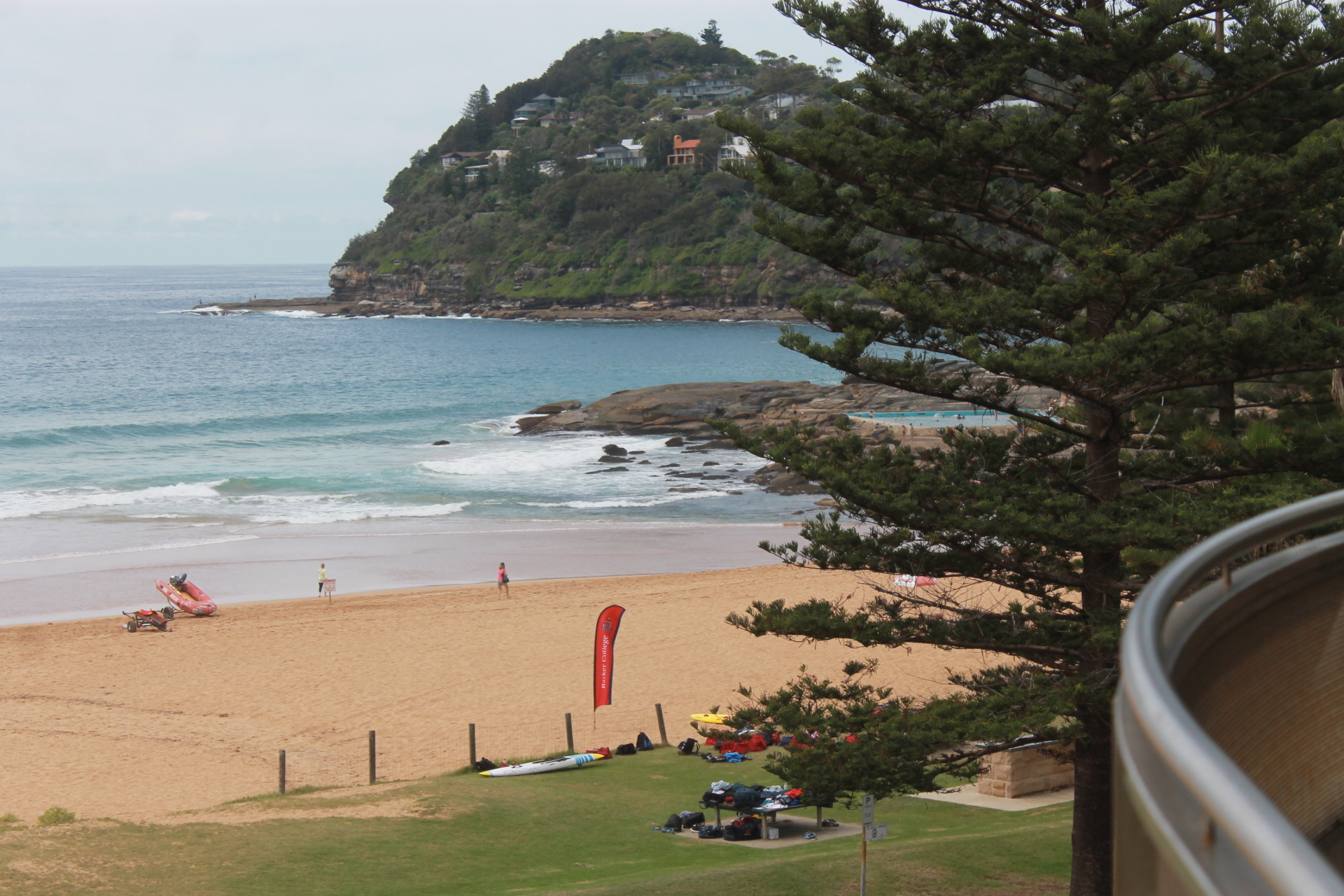 The NSW Government is partnering with Royal Life Saving NSW in its Active Adults campaign to highlight the importance of water safety for seniors this summer.
The Active Adults campaign encourages participation, and the low impact nature of aquatic activity makes it an ideal form of activity and recreation.
Research from Royal Life Saving NSW shows that in the past 12 months there were 281 drowning deaths, with 57% an adult 45 years and older. Those aged over 65 represented 27% of fatal drownings and there's been a 43% increase in the past 20 years.
The top three drowning deaths of those 65 years and older were swimming and recreating (32%), fall (16%) and boating (9%).
People over 65 are encouraged to follow these five tips to enjoying aquatic recreation:
share the fun with someone.
wear a lifejacket when on the water.
check any medications don't interfere with your ability to swim.
watch your step around water.
know your limits and avoid taking risks.
Royal Life Saving NSW is a leader in drowning prevention and water safety education in the state.
Toolkits and guides are available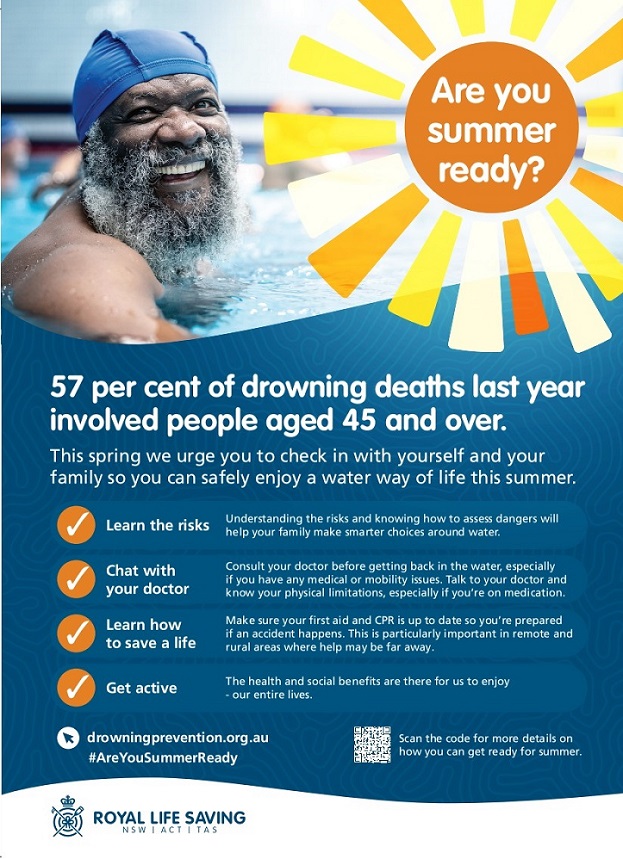 Minister for Seniors Jodie Harrison said:
"With a hot summer expected, there was need for older people to keep water safety top of mind when planning a day in, on or near the water.
"There's been a concerning increase in drowning deaths in older people and we want to make sure our seniors can enjoy the water safely – whether it is participating in watersport or simply walking around it.
"We know that when we focus on water safety in young people, we get results, with a 33% decrease in drowning deaths in 0-4 year olds.
"By partnering with Royal Life Saving NSW on this campaign, the Government wants to amplify the message that water recreation is a great way to stay active and fit, while emphasising that water safety must remain top of mind for people of all ages, especially for our seniors."
Minister for Emergency Services Jihad Dib said:
"Australia is lucky to have great beaches, lakes and rivers that many enjoy spending time at.
"Now as the weather starts heating up, it's a good time to focus on how everyone can stay safe in and around water."
"Raising awareness of the dangers for older people, such as watching out for trip and fall hazards near water, is important for making sure everyone can enjoy a day out at the beach."
CEO of Royal Life Saving NSW Michael Ilinsky said:
"Preventing drowning in older people is a priority because Australians are remaining more active into their later years and are well-placed to realise the benefits of fun fitness and recreation activities.
"Participation rates show older Australians are highly motivated to stay connected with their communities, however 75 per cent of people over 65 are under-active.
"We want people of all ages and abilities to be ready to enjoy the summer. The Active Adults campaign will ensure we're providing appropriate water safety education to keep people active, social and safe."
Telehealth Recommendations Will Impact Access To Healthcare: AMA
The Medicare Benefits Schedule Review Advisory Committee's (MRAC) is consulting on recommendations as part of a review of Medicare funded telehealth services and is expected to provide its final recommendations to the federal government later this year.
Australian Medical Association President Professor Steve Robson said while the AMA supports many of the draft recommendations proposed by the review, others would seriously impact patient access to non-GP specialist services, including mental health care.
"There are serious concerns amongst the profession about the proposed removal of funding for an initial consultation with a specialist," Professor Robson said.
"Removing this funding will make it more difficult for patients to access healthcare in a timely fashion, while some patients will have to travel hundreds of kilometres to see a specialist," Professor Robson said.
"These services already require a referral from a GP with accompanying information about a patient's condition and any decision on whether a specialist consultation should be face-to-face or via telehealth should be a clinical one."
Professor Robson said MRAC appeared dismissive of research showing the positive benefits of telehealth and taking the same approach that is applied to GP telehealth consultations was inappropriate in the context of a referred service.
"It looks like little more than a cost-cutting exercise that will limit access for patients."
"The benefits of telehealth can't be ignored by MRAC with the AMA's Health is the Best Investment report finding the estimated benefit of telehealth from reduced travel in 2021–22 was $1.35 billion, and that further integration of telehealth across the whole health system could save up to around $14 billion each year."
Professor Robson said there were some positive recommendations in the report that will strengthen telehealth delivery for Australians and remove loopholes that have allowed businesses to provide Medicare funded telehealth for patients they have never met before or do not have a valid referral.
"These services exploit current MBS rules to provide little more than prescriptions with no continuity of care. The introduction of telehealth has been a very positive development in the Australian health care system and after several years of experience it works best for patients when it is part of continuous and collaborative models of care. Telehealth should also remain available for emergency situations and to support patients who would otherwise be unable to access appropriate care."
Beats, Bards And Bongos: Sydney Stories With Warren Fahey
Published by NFSA
Stories from the Sydney Push and early folk revival where 'critical drinking' joined critical thinking and music. This episode is part of the 'Sydney Stories with Warren Fahey' series.
Sydney abounds with curious history. Some stories are known and many have disappeared over time. Cultural historian and storyteller Warren Fahey has created a dozen video stories of the city's past; each offering a unique slice of Sydney's hidden history.
Sydney Stories with Warren Fahey features footage from the collection of the National Film and Sound Archive of Australia. It was created with assistance from the City of Sydney Creative Fellowships Fund and support of The Vine Foundation. The grants were under the auspice of the Folk Federation of New South Wales.
- The curious history of Sydney's libertarian movement and the emergence of beats, bodies & widgies, and folk music.
Synopsis
There was a time in Sydney's past, in the post WW2 years of the late 1940s and through the 1950s, when the sounds of bongos, beat poetry and passionate debate echoed across the city. Sydney was a much smaller world and it was easier to identify an intellectual sub-culture - in this case the self-proclaimed Sydney Push, a libertarian movement which would persist through to the early seventies.
In the late fifties and sixties the conversation over coffee tables changed to equal rights, censorship, Ban the Bomb, and, later, the rights and wrongs of the Vietnam War. The music changed too, for it was the sound of folk music that best accompanied talk of protest and social change.
The late seventies witnessed more change as pub rock shattered the conversation. Television also seized the minds of the masses as Australia quickly moved from a nation of people who once entertained each other, to a people who 'got entertained', mainly from television. Even hotels installed television sets - sealing the fate of both conversation and music.
The Sydney Push, possibly taking its name from the rebellious larrikin street gangs of the past, who called their gangs 'pushes', was a fluid clan of left-wing intellectuals and philosophers, mostly arts and philosophy students, rebels and creatives, who frequented Sydney coffee shops and pubs.
The Sydney Push coincided with the arrival of the beat generation.
In 1959 the Australian Women's Weekly announced: 'Call them another lost generation, call them junior existentialists, call them beatniks — they're still the most colourful band of scatter-brained adolescents ever to appear in Sydney.'
Folk music is also part of this story. Sydney experienced a decade of popularity for folk music between 1955 and 1965 with many now legendary performers like Gary Shearston, Marion Henderson and Declan Affley emerging to sing down through the years.
3,000 More Staff For Services Australia
The Australian Government states it is putting people back at the centre of government services, with thousands of new jobs created to improve Centrelink and Medicare services.
The Government states the former Liberal government decimated Services Australia's frontline to make way for malicious, profit making programs like Robodebt, where people were an afterthought.
The Labor Federal Government has announced it is making an immediate $228 million funding injection to frontline and service delivery staffing at the agency this financial year.
The 3,000 new recruits will work in smart centres in capital cities and regional centres, including Port Macquarie and Coffs Harbour in NSW, Toowoomba and Maryborough in Queensland, and Ballarat and LaTrobe Valley in Victoria. The recruitment has started, with more than 800 people already accepting jobs and starting the onboarding process.
One of the key recommendations of the Royal Commission into Robodebt outlined that the Government should facilitate "easy and efficient engagement options of online, in person and telephone communication which is sensitive to the particular circumstances of the customer cohort".
It is only by funding the return of humans to government services, to have a people-centred approach and get away from the robo-systems beloved by the last Liberal government, that we can ensure Robodebt never happens again.
This comes as Services Australia has fewer public servants per capita than at any other time, as a result of the former Liberal government gutting 3,800 staff at the agency.
Minister for the NDIS and Government Services, Bill Shorten stated,
"I am committed to getting things done and this announcement is an example of what that looks like for all Australians who use government services.
"The Liberals wickedly used the illegal Robodebt scheme to decimate contact channels so people could not connect with Services Australia and make complaints.
"More than 3,800 frontline staff were ripped out of Services Australia, making the agency's job to help Australians increasingly difficult.
"These 3,000 new staff are the first step in returning people to frontline Services Australia roles after 10 years of Liberal neglect.
"The new staff will be critical to reducing call wait times, speeding up claim payments and giving Australians back some time in their busy lives.
"Services Australia will be bringing on the staff as quickly as possible, with more than 800 Australians already accepting jobs at the agency.
"Like most things the former Liberal government did, they created a mess that we will now clean up.
"This includes the tragic Robodebt disaster and the almost $200 million wasted on the failed Entitlement Calculation Engine, which are both examples of the Liberals' toxic management.
"The Albanese Labor Government will ensure Robodebt never happens again by bringing human oversight back into government services.
"We are committed to restoring Services Australia's funding, replenishing its workforce and getting the Agency back on track - and we're going to get it done sooner rather than later.
"These extra resources are on top of the additional 850 emergency response staff provided for in the current budget to complement base staffing levels. The contingency to manage natural disasters has already been called on for the present Queensland bushfires response.
A New Men's Table At Narrabeen
Even with 6 Men's Tables on the northern beaches, we keep on getting requests for more ... so we are having an Intro Dinner or an Entree on
November 13, Monday at the Mind Cafe (thank you to Guy Morel).
The Men's Table is a community of men who get together for dinner monthly to talk about what's going on in their lives, both good and bad and everything in between.
If you are keen or curious or one of the many men who have already called us but were told that all Entrees and Tables were full, do sign up for these newly scheduled intro dinner.
You'll find out everything you want to know about this fast-growing community of men, get a chance to meet other men from the area, and get a taste of the Table experience. No fee, you pay only for your own meal.
6:30 pm arrival for 7:00 pm sharp kick off – 9:00 pm
1356 Pittwater Rd, Narrabeen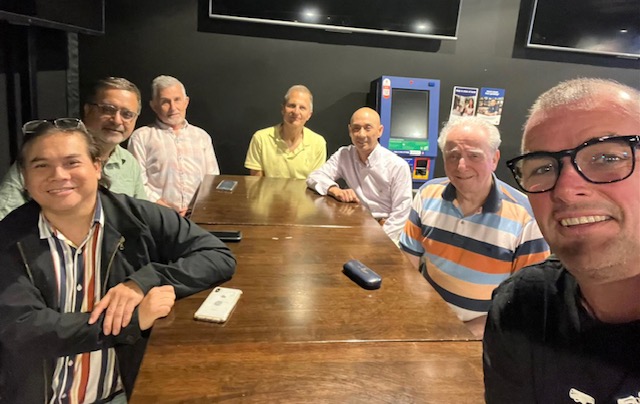 Ecotherapy Walks Available In Warriewood - Narrabeen
Many of you would know about the Japanese term for it: shinrin-yoku or "forest bathing". The Germans call it Waldeinsamkeit, the enlightened feeling of solitude in the woods.
Us Australians may know it as eco-therapy or, perhaps disparagingly, "tree hugging". Although personally, I don't go for a walk anywhere each morning without saying 'G'day' to the trees along the way and giving them a nice friendly pat and some even get the aforementioned hug. It sets you up for the day!
Currently CCNB (Community Care Northern Beaches) are offering Guided Ecotherapy Walks through the Warriewood Wetlands and at Narrabeen on alternate weeks.
Ecotherapy is the healing and nourishing effect of being in nature. Science is catching up with this free, age-old practice of looking to nature for improved health and wellness.
Learn how to deeply experience nature and build your mindfulness muscle on this slow wander and reap the mind and body benefits.
Your ecotherapy guide, Sarah Freeman, will take you on a mindful wander through nature to help you connect with yourself, you senses and the natural world around you.
The location alternates between Warriewood Wetlands and the rainforest section of the Narrabeen Lagoon.
During the activity there will be periods of silent mindful walking to practice connection with nature and opportunities to reflect on and share your experiences.
The benefits of Ecotherapy include:
Connect with nature to feel grounded and calm
Increase your ability to access creative thinking to help with important decision making
Understand the science – calming the nervous system and accessing the brains prefrontal cortex
Connecting to place and understanding that we are 'a part' of the earth not 'apart' from it
Mindful connection to the earth helps reduce feelings of anxiety, stress, fear, and depression
Mindful connection promotes feelings of joy, creativity, strength, and resilience
Totally free and easily accessible form of (self-guided) therapy to increase wellbeing
The Wetland walk goes slowly. The route is under 2km in total and the group will stop and start along the route.
Please note that the Warriewood location is not wheelchair friendly. To enjoy ecotherapy from a wheelchair, please attend our Narrabeen Lagoon location on an alternate date.
When: 10am – 12pm Wednesdays
Where: Warriewood Wetlands, Jacksons Rd, Warriewood NSW 2101. Meet on the footpath in front of the Wetlands Sign, Next to Warriewood Square Service Entrance.
Cost: Free
What to bring: Water, hat, sunscreen, mozzie repellent; and wear good footwear and clothing to keep you warm when sitting outside.
Contact information:
CCNB, Harriet Buddo; 0406 690 984
Narrabeen Ecotherapy walk:
Wednesday, 15 November 2023
- 10:00 am to 11:30 am
Where: Jamieson Park, The Esplanade, Narrabeen - Meet on the grass area to the right of the boat ramp at Jamieson Park.
Warriewood again on Wednesday, 22 November 2023 - 10:00 am to 11:30 am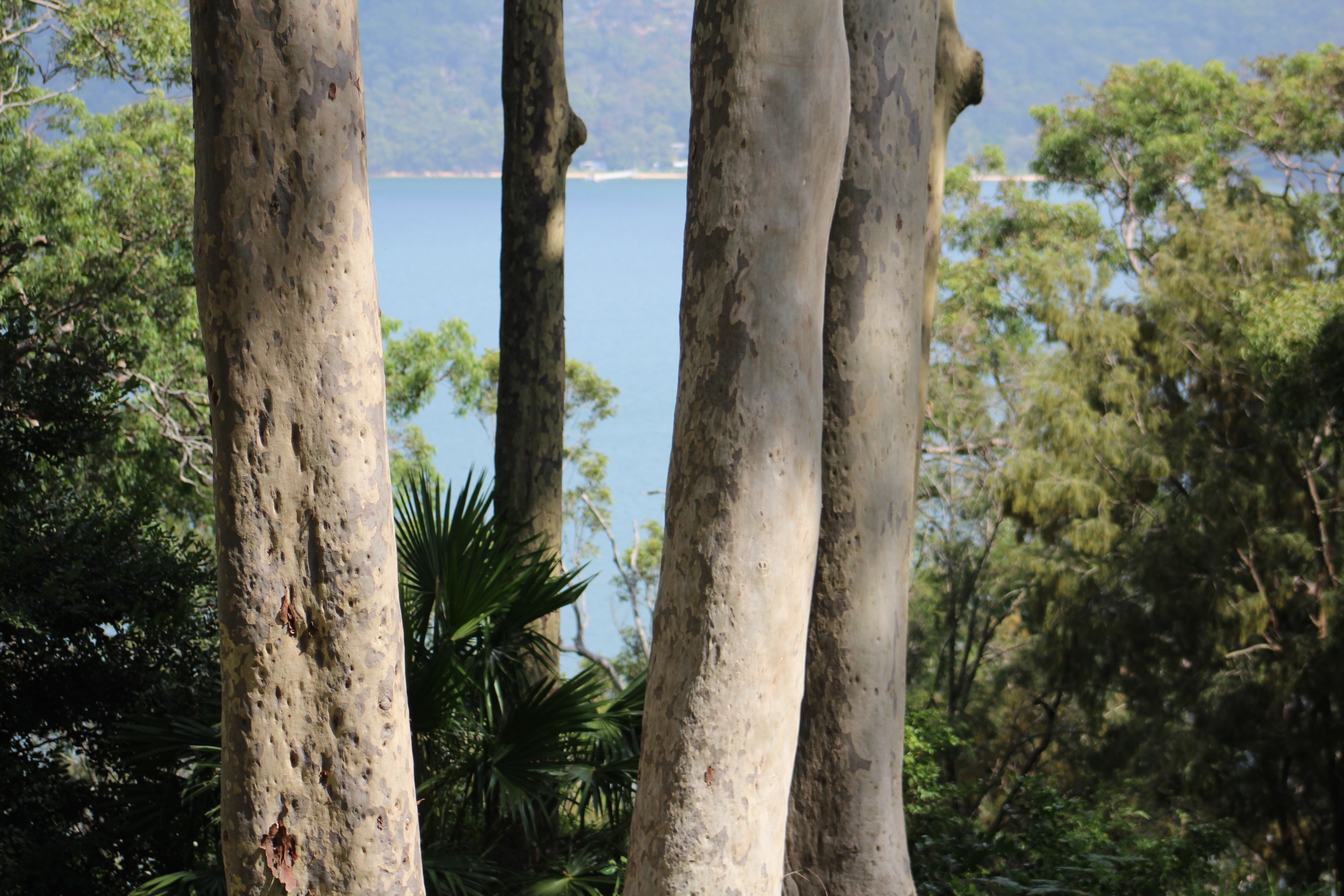 NSW Government Announces New $2.5 Million Fund To Investigate Impact Of Screen-Related Addiction In Young People
The Minns Labor Government has stated it is delivering on its commitment to tackle screen-related addiction in young people with a new research fund established to investigate the impact of problematic screen use on children's development and learning.
To establish a screen-related addiction research fund, the NSW Government has pledged $2.5 million to support new research into the impacts of problematic screen use.
The NSW Government's Centre for Education Statistics and Evaluation (CESE) will oversee the fund, with the grants awarded through a competitive process.
Research findings will deliver a comprehensive database of knowledge on how screen use affects young people and students at school, which can be used to inform stronger government policy.
Funding of up to $500,000 will be available to successful applications for tender grants, and up to $200,000 will be offered to successful recipients of partnership grants.
Partnership grants will be offered where research into problematic screen-use is already underway, after applications are competitively assessed. Open tender grants will be offered to projects with novel screen-related research proposals.
Issues that may be looked at include:
What are the key sources of problematic screen time for young people in NSW?
What impact is screen use having on the learning, wellbeing and behaviour of children?
Strategies to counter the negative impacts of problematic screen use
Whether today's students are impacted by screens in the same ways as other generations
And the impact on teaching as a result of changing digital technologies.
The grants will be advertised in two rounds with the first beginning in late 2023.
Applicants will be asked to deliver their research by 2026.
This announcement comes after the Minns Labor Government successfully banned mobile phones for students in all NSW public schools from the beginning of Term 4, after consultation with teachers, students and parents.
New South Wales Premier Chris Minnssaid,
"We all know young people love their devices – be it mobile phones, gaming devices or their computers.
"Many parents are worried about screen time and how it might be affecting their children and how they learn, but the impacts of devices on children are largely unknown.
"Investing in this research fund will help create a growing body of knowledge on this issue to inform our government policies, but it will also help inform parents in NSW."
Minister for Education and Early Learning Prue Car stated:
"Students spend a lot of their time on devices – so it is important that we find out how this new reality is impacting children and their development.
"Many parents I speak with are worried about the impact screen time is having on their children, and it is important we help to provide parents all the facts they need to make informed decisions.
"Investing in research is vital, so the Government can form evidence-based policies that we know will have a positive impact on our students, teachers and larger school cohort moving into the future."
More Paramedics And Call Takers Join NSW Ambulance
Almost 50 new paramedic interns and trainee emergency call takers will join NSW Ambulance after they were officially inducted into the service at a ceremony on November 3rd 2023.
Minister for Health Ryan Park congratulated the 24 graduate paramedics and 24 trainee emergency medical call takers, who will start in their new roles in the coming weeks.
"This is the seventh class of NSW Ambulance graduates this year and I'm proud to see them graduate to serve their communities," Mr Park said.
"Our paramedics are on the frontline of healthcare in NSW, caring for people when they are at their sickest and most vulnerable.
"I know these new recruits will continue this tradition of dedication and service."
NSW Ambulance Chief Executive Dr Dominic Morgan welcomed the new starters, who were welcomed and honoured at a ceremony at Sydney Olympic Park, attended by family and friends.
Dr Morgan said the new recruits would provide welcome reinforcements during a busy time for emergency health care.
"I know all who are graduating today have worked incredibly hard throughout their training," Dr Morgan said.
"I thank them for their commitment and warmly welcome them into NSW Ambulance.
The graduate paramedics will be posted across NSW for 12 months to complete their on-road internships before taking permanent positions in metropolitan and regional areas.
The emergency medical call takers will be posted to Triple Zero (000) control centres in Sydney, Dubbo and Charlestown.
"As demand for our services continues to grow, we remain committed to providing world-class care to our patients," Dr Morgan said.
The graduates started their new roles the following day.
Minister Orders Operational Review Of Icare As Next Phase Of Reform Begins
The Minns Labor Government has launched an operational review into icare to cut excessive spending, waste and salary costs.
The review comes after the NSW Government had to top up the insurer with a $669 million transfer shortly after coming to government.
The number of senior executives and their remuneration will be scrutinised as part of the review, in line with the NSW Government's commitment to freeze the pay and cut the number of senior executives across the government. Medical, income and other support provided to injured workers are not impacted by this review.
The review will be led by Treasury, after the Minns Government passed new laws to provide it with powers to obtain information and records on icare spending.
Savings identified in the review will flow through to individuals and businesses across New South Wales by putting downward pressure on workers compensation premiums and protecting benefits to injured workers.
The review is expected to report in time for icare to identify permanent savings in its net cost of operations by 1 March 2024.
The review follows previous reforms to icare implemented by the Minns Government, including the passage of new laws in August to put worker and business representatives onto the icare board.
Minister for Work Health and Safety, Sophie Cotsis said,
"Sadly, it will take years to correct the workers compensation mess that we inherited and I don't want to give anyone false hope.
"We will remain unrelenting in our pursuit of best practice and best governance at icare, this review continues the long but necessary road of reform that began within weeks of Labor coming to government.
"Businesses need access to a scheme with affordable premiums and workers need to be supported when things go wrong at work".
NB: Pittwater Online News Reports Are All Researched, Investigated And Written By Local Reporters
Disclaimer: These articles are not intended to provide medical advice, diagnosis or treatment. Views expressed here do not necessarily reflect those of Pittwater Online News or its staff.