November 5 - 11, 2023: Issue 604
Mother Brushtail Killed On Barrenjoey Road: Baby Cried All Night - Powerful Owl Struck At same time at Careel Bay During Owlet Fledgling season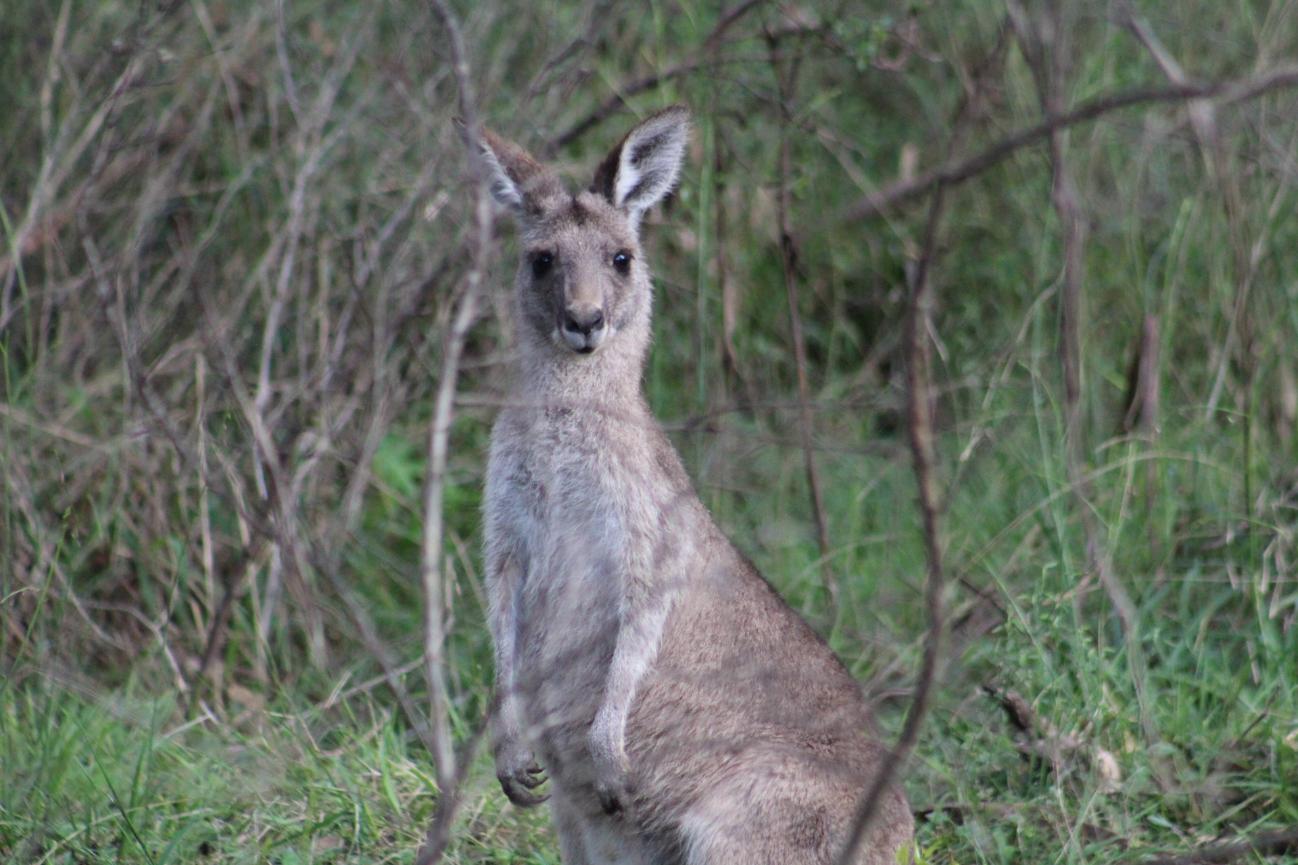 This brushtail possum had a baby clinging to its back, which fortunately was not hit, but mum was killed.
A person staying in the hostel witnessed the hit and run and immediately posted on the Facebook community group 'Avalon What's On' - calling for help and stayed with the bub, still clinging to mum, after moving them from the the road.
Naturally, the community was devastated.
They've been crossing that valley or flat or going up that hill, as part of their historical range built into their DNA, long before a road with a speed limit that kills was put through their home.
It's worse over the Narrabeen bridge. Wildlife carers towards Dee Why, Brookvale, Balgowlah and Manly state those that have come into care are starving, they have barely got through this last Winter.
People who continue to speed to and from Palm Beach at night on Fridays and Saturdays, and through the back streets across Pittwater, mean local Sydney Wildlife and WIRES rescuers and carers are facing this call out thousands of times each year, literally - usually several times a day during Spring and then again in late Summer and Autumn, when bubs leave their mums.
And that's for those that may still be alive after being struck by a car, attacked by a cat or dog, made homeless by the felling of their tree and found to have rehomed themselves in an 'unsuitable environment' like your roof.
There are calls to mitigate this, and there are ways residents can contribute to making this happen - more on that in Issue 605 as a local organisation that started addressing this years ago shares the relaunch of addressing the problem - right here, right now.
An hour or so after Helen attended the call, with people still distressed and wondering where the baby was, Helen posted:
Early the next morning a member of the community group, still distraught, spoke about the obvious bonds between these mothers and bubs.
Helen understood, shared;
'Rose' - now an orphan. Photo: Helen.
Yet again, this now northbound speeder, did not stop - but the car strike was witnessed, and a call for help put out and answered immediately - this time by Tom.
Decades ago, 1983, as a teenager I witnessed another Powerful Owl that had been struck in this exact same spot - in the middle of the north bound lane - and one then another car going over it. Neither stopped. These are big birds - there's no way they didn't see it.
After the second one it flapped a wing, was trying to get up. I was able to go and cover it with my jacket and carry it to Ray, then the vet at North Avalon.
A year later, in the exact same spot, a girlfriend was driving behind a vehicle that struck a Brushtail Possum, and sped on. I asked her to stop, wrapped this one up too and we took it to Ray, just 200 metres down the road.
The Powerful Owl, tragically, didn't make it; and this was, again, during the time of year when they are breeding and feeding young - but 60 seconds after Ray took the Brushie out the back I could hear it erupting when placed in a cage prior to examination. Ray grinned; ''That one will probably be ok.''
After losing billions of animals in the 2019/2020 fires, and seeing wildlife species turning up where they haven't been seen before, even here, starving, and the daily multiple road deaths, residents are asking; 'what can I do to help?'.
What can I do to Help?: the short list
Residents can help by becoming a wildlife carer; even if you cannot rescue and care for wildlife in your home you can help source food, volunteer for a shift on the 24/7 lines kept going by Sydney Wildlife Rescue and WIRES volunteers or other activities they need a hand with.
You can make a donation, this helps buy food and medicines for sick animals, supports running costs, and helps run training courses. These organisations are not-for-profit and rely on community support to do their work all day and night all year long. They are both tax deductible organisations re; donations.
You can join your local bushcare group and help restore habitat in local reserves in the bush and along the dunes. There are numerous local groups that have toiled for decades to restore habitat and more hands are always needed - again, you don't have to do a full 4 hour shift, one or two hours is more than welcome. The full list of Pittwater Bush Care groups runs below.
You can do the right thing if you find a possum has made your roof a home because its home tree has been destroyed - see below.
You can stand up and speak out when you see local public reserves being deliberately destroyed, demand the council start prosecuting those responsible instead of 'working with' them to 'formalise' and further the illegal and indefensible - after all, that's a process that was commenced under Warringah Council over a decade ago - should that be imposed on and rolled out through Pittwater? A big fat fine and ensuring those responsible pay for restoration works and rare plants is more likely to stop them in their tracks - and inspire finding a win-win solution for all.
The proliferation of illegal tracks during the recent years of Covid lockdowns is well documented, as is the injuries and hospitalisations of youngsters as a result. A great sport and way to get a mental health boost when needed then, and now, and a wonderful way to connect with others and the environment, there has been ongoing unchecked damage done to public parks, bush reserves, compounded by bullying behaviours, assaults and ongoing intimidation of others who challenge the destruction.
You can speak up next year when the Federal Government tables its own Australian Nature Law Reforms in 2024.
BirdLife Australia updated members on November 1 2023 about a meeting with the Albanese government and have joined other leading environment groups calling on the Minister for the Environment to run a broader public consultation before introducing these critical reforms to parliament next year.
Currently local fauna species are rated as worth next to nothing in NSW under 'offsets' and that can be called out by you as well.
"It is noted that the off-set requirement could be met by total payment of $8,850,139.39 into the Biodiversity Conservation Fund in accordance with the NSW Biodiversity Offsets Scheme."
You can stand up and support those in south-western Sydney who are trying to save Sydney's last koalas - we used to have koalas, and we lost them through dog attacks, destruction of habitat and their food trees thereby, and the putting up of fences and roads in their pathways across the land through the seasons.
And does it matter that the koala in NSW is now listed as Endangered at State and Federal level?
Not at all; hand over your 400 bucks, kill a koala food tree, kill koalas.
Finally, you can talk to all those living around you who want the daily deaths on Pittwater roads to stop, approach Transport for NSW as a group or individually, ask them to install fauna rope bridges across the places where it is well known, has been for decades now, our other 'residents' are being killed. TfNSW requires data and maps for this - more on the group who are relaunching the ways to mitigate wildlife road deaths, which also sprang from right here, next Issue - and one extra simple and easy thing for those asking 'what can I do?' to get that through.
A photo of what they look like runs below. These were installed after, not before, as requested, too much wildlife was killed during the build of the hospital up the Parkway no one can reach after a thimbleful of rain floods it due to the erosion and weed spread being caused by those illegally destroying the public council reserve and national park above it, residents allege.
The people who stood up and spoke up for these to be installed were all from that local wildlife road deaths prevention organisation along with wildlife rescuers and others. They even got creative with it; stood where the critters had been killed dressed as them, waving signs. They never shut up, never backed down, never let themselves be bullied into silence.
Below are details of the latest Wakehurst Parkway consult from TfNSW, which commences tomorrow.
Transport for NSW (Transport) proposes to carry out road improvements along Wakehurst Parkway between Frenchs Forest Road, Frenchs Forest and Pittwater Road, North Narrabeen.




These include intersection upgrades and focus on improving safety and capacity for this key road link in Sydney's northern beaches.

A Review of Environmental Factors (REF) including Biodiversity Development Assessment Report (BDAR) has been prepared for the proposal. These documents outline the proposed work, potential construction and environmental impacts and mitigation measures.




The documents will be available for viewing on the project webpage

from Monday 6 November.

The

REF is on public display until 5pm Wednesday 20 December




The

Wakehurst Parkway project team

will be

at Oxford Falls Main Hall at Oxford Falls Peace Park

on Thursday

16 November from 3pm to 6pm

, and

at Bilarong Community Hall

on Saturday

18 November from 10am to 2pm

.



Possums In Your Roof?: Do The Right Thing
Possums in your roof? Please do the right thing
On the weekend, one of our volunteers noticed a driver pull up, get out of their vehicle, open the boot, remove a trap and attempt to dump a possum on a bush track. Fortunately, our member intervened and saved the beautiful female brushtail and the baby in her pouch from certain death.
It is illegal to relocate a trapped possum more than 150 metres from the point of capture and substantial penalties apply. Urbanised possums are highly territorial and do not fare well in unfamiliar bushland. In fact, they may starve to death or be taken by predators.
While Sydney Wildlife Rescue does not provide a service to remove possums from your roof, we do offer this advice:
✅ Call us on (02) 9413 4300 and we will refer you to a reliable and trusted licenced contractor in the Sydney metropolitan area. For a small fee they will remove the possum, seal the entry to your roof and provide a suitable home for the possum - a box for a brushtail or drey for a ringtail.
✅ Do-it-yourself by following this advice from the Department of Planning and Environment:
❌ Do not under any circumstances relocate a possum more than 150 metres from the capture site.
Thank you for caring and doing the right thing.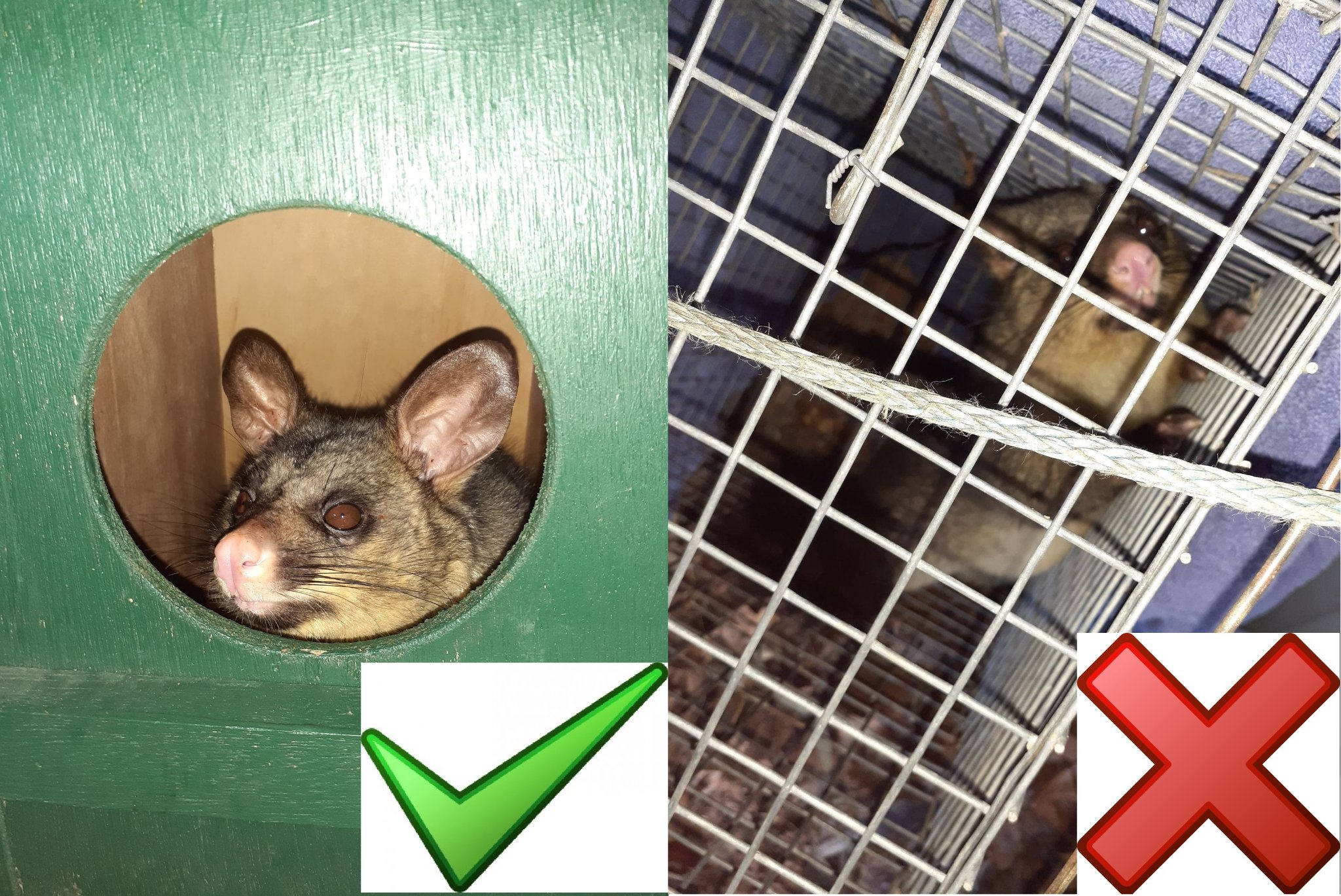 Sydney Wildlife photos
Aviaries + Possum Release Sites Needed
Pittwater Online News has interviewed
Lynette Millett OAM
(WIRES Northern Beaches Branch)
needs more bird cages of all sizes for keeping the current huge amount of baby wildlife in care safe or 'homed' while they are healed/allowed to grow bigger to the point where they may be released back into their own home.
If you have an aviary or large bird cage you are getting rid of or don't need anymore, please email via the link provided above.
There is also a pressing need for release sites for brushtail possums - a species that is very territorial and where release into a site already lived in by one possum can result in serious problems and injury.
If you have a decent backyard and can help out, Lyn and husband Dave can supply you with a simple drey for a nest and food for their first weeks of adjustment.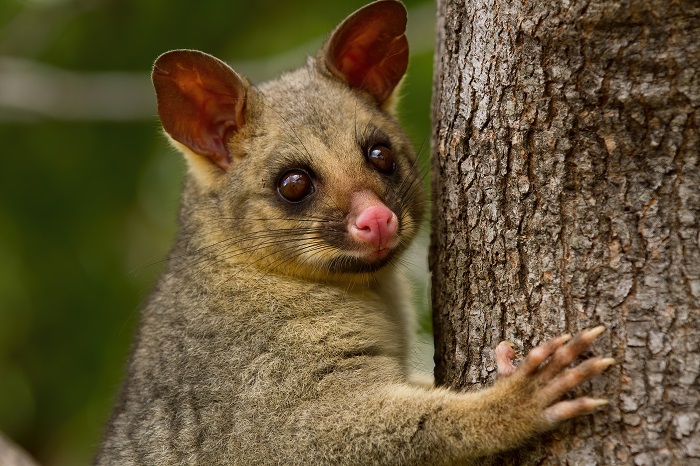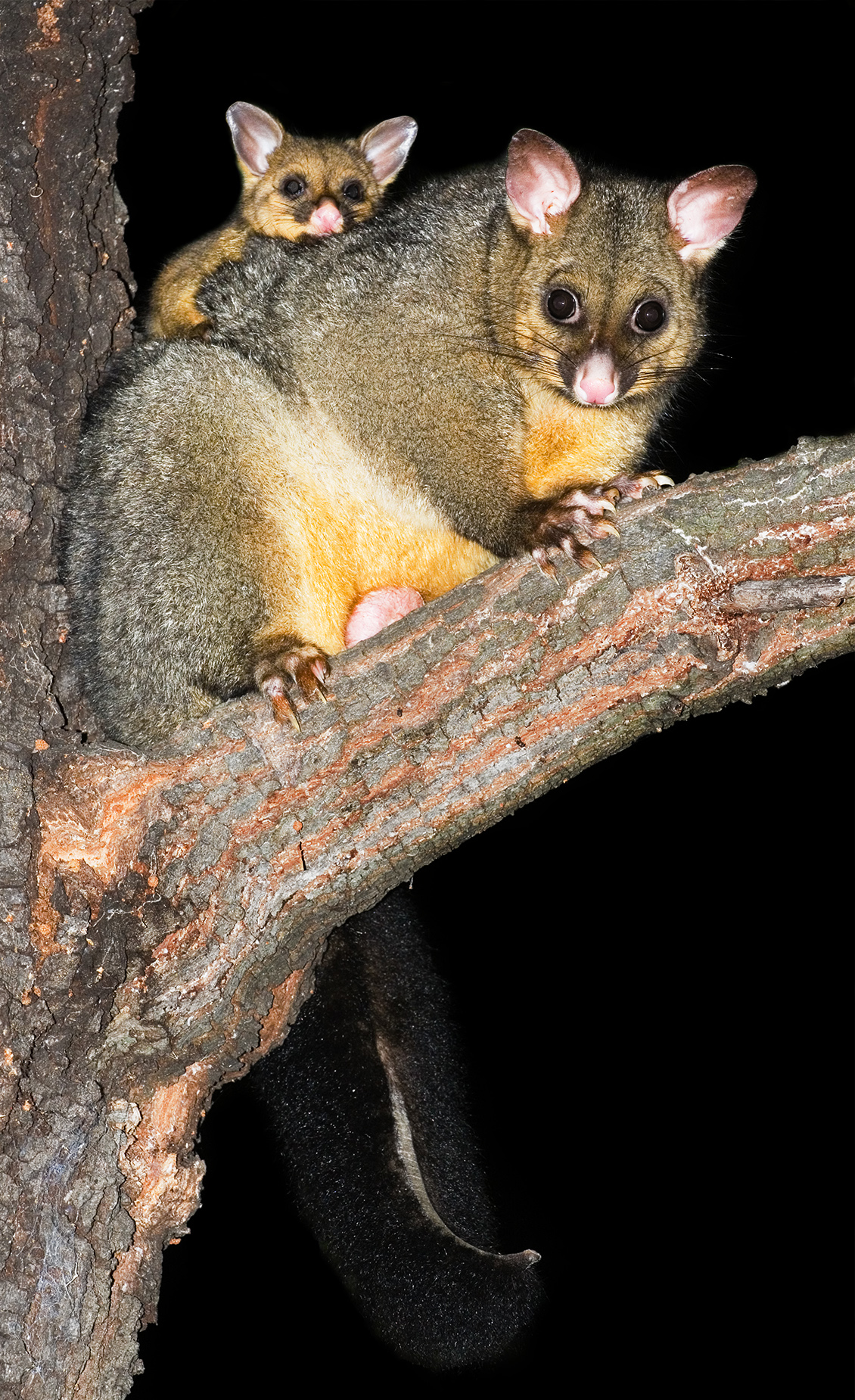 Photo: J J Harrison
Bushcare In Pittwater
For further information or to confirm the meeting details for below groups, please contact Council's Bushcare Officer on 9970 1367 or visit Council's bushcare webpage to find out how you can get involved.
BUSHCARE SCHEDULES
Where we work Which day What time
Avalon
Angophora Reserve 3rd Sunday 8:30 - 11:30am
Avalon Dunes 1st Sunday 8:30 - 11:30am
Avalon Golf Course 2nd Wednesday 3 - 5:30pm
Careel Creek 4th Saturday 8:30 - 11:30am
Toongari Reserve 3rd Saturday 9 - 12noon (8 - 11am in summer)
Bangalley Headland 2nd Sunday 9 to 12noon
Bayview
Winnererremy Bay 4th Sunday 9 to 12noon
Bilgola
North Bilgola Beach 3rd Monday 9 - 12noon
Algona Reserve 1st Saturday 9 - 12noon
Plateau Park 1st Friday 8:30 - 11:30am
Church Point
Browns Bay Reserve 1st Tuesday 9 - 12noon
McCarrs Creek Reserve Contact Bushcare Officer To be confirmed
Clareville
Old Wharf Reserve 3rd Saturday 8 - 11am
Elanora
Kundibah Reserve 4th Sunday 8:30 - 11:30am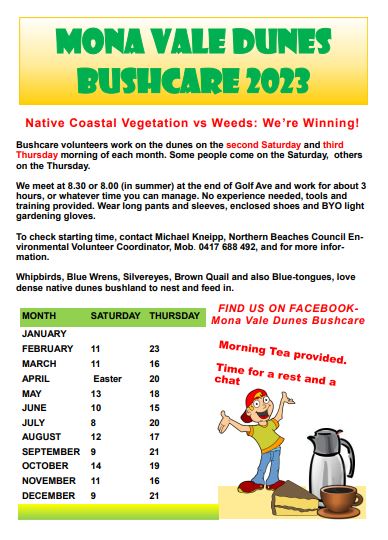 Mona Vale
Mona Vale Beach Basin 1st Saturday 8 - 11am
Mona Vale Dunes 2nd Saturday +3rd Thursday 8:30 - 11:30am
Newport
Bungan Beach 4th Sunday 9 - 12noon
Crescent Reserve 3rd Sunday 9 - 12noon
North Newport Beach 4th Saturday 8:30 - 11:30am
Porter Reserve 2nd Saturday 8 - 11am
North Narrabeen
Irrawong Reserve 2nd Saturday 2 - 5pm
Palm Beach
North Palm Beach Dunes 3rd Saturday 9 - 12noon
Scotland Island
Catherine Park 2nd Sunday 10 - 12:30pm
Elizabeth Park 1st Saturday 9 - 12noon
Pathilda Reserve 3rd Saturday 9 - 12noon
Warriewood
Warriewood Wetlands 1st Sunday 8:30 - 11:30am
Whale Beach
Norma Park 1st Friday 9 - 12noon
Western Foreshores
Coopers Point, Elvina Bay 2nd Sunday 10 - 1pm
Rocky Point, Elvina Bay 1st Monday 9 - 12noon
Friends Of Narrabeen Lagoon Catchment Activities

Bush Regeneration - Narrabeen Lagoon Catchment
This is a wonderful way to become connected to nature and contribute to the health of the environment. Over the weeks and months you can see positive changes as you give native species a better chance to thrive. Wildlife appreciate the improvement in their habitat.
Belrose area - Thursday mornings
Belrose area - Weekend mornings by arrangement
Contact: Phone or text Conny Harris on 0432 643 295
Wheeler Creek - Wednesday mornings 9-11am
Contact: Phone or text Judith Bennett on 0402 974 105
Community Gardens, Environment Groups And Organisations In Pittwater