September 10 - 16, 2023: Issue 598

The Hub At Kimbriki
Includes: Bikes4Life - Peninsula Toy Repair Group - Reverse Garbage - Boomerang Bags – Kimbriki
Profile By Donna Cliff

As you descend into the Kimbriki precinct, you'll notice the previous administration building on the left side. This building, now known as THE HUB, has become the home of several community groups carefully selected based on their initiatives and alignment to a shared circular economy vision.
HUB stands for 'the effective centre of an activity, region, or network,' perfectly representing the collaboration and collective efforts of these community groups. As part of the larger movement to rethink, reduce, re-use and recycle society's previously loved items, the four HUB residents exemplify these principles and work together to support each other and Kimbriki Resource Recovery Centre.
Introducing the 4 groups residing at The HUB Kimbriki:
Bikes4Life

Peninsula Toy Repair Group

Reverse Garbage

Boomerang Bags – Kimbriki
Find out more at: kimbriki.com.au
This week a few insights into what the 4 groups working a The Hub, Kimbriki do and how you can get involved.
Bikes4Life
Give Your Used Bikes to a Child's Future
Bikes 4 Life is a not-for-profit organisation on a mission to replace the cycle of poverty with a cycle of hope. They achieve this by recycling and restoring discarded bikes to alleviate poverty and social injustice in Australia and overseas. By providing bikes to families in marginalised impoverished communities, Bikes 4 Life improves their standard of living, enhances employment opportunities, and ensures children can attend schools more regularly.
Donate your unwanted bikes and help a less fortunate family's future! Whilst many kids benefit from Bikes 4 Life activities, they try to avoid referring to children's bikes specifically as they get too many. Bikes 4 Life main focus is on repairing adult and teen bikes which are more useful for all family members with mountain bikes best for overseas and remote locations.
Bikes 4 Life manager, Mark Nicholson, runs weekly workshops every Wednesday from 2-4 pm at The HUB, Kimbriki. Mark and other dedicated volunteers sort through donated bikes and conduct repairs to prepare them for their new homes.
Recently, 333 bikes were sent from Bikes 4 Life at The HUB to Siem Reap, Cambodia, along with essential medical supplies, making a significant impact on the lives of local families.
For more information, please email: Mark, Warehouse Manager, mark@bikes4life.com.au and Clive, Sydney Manager, clive@bikes4life.com.au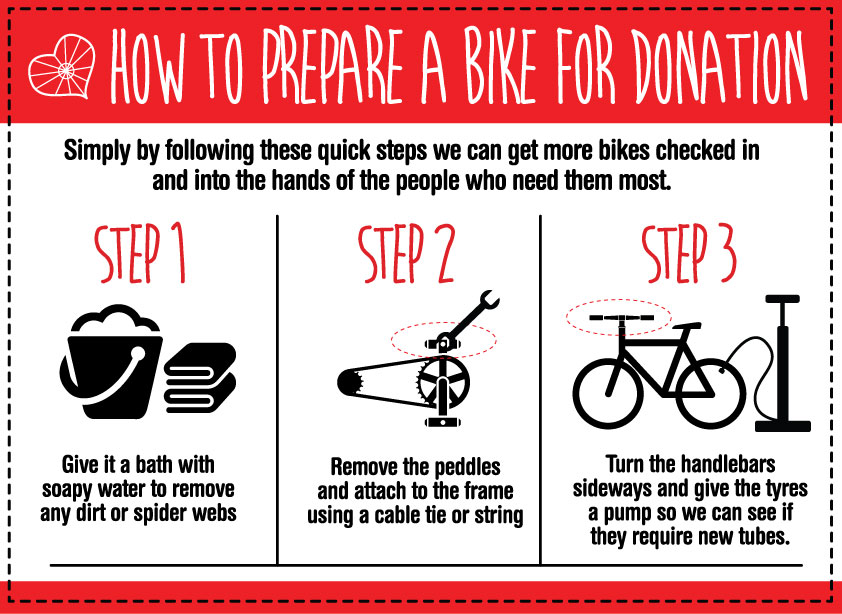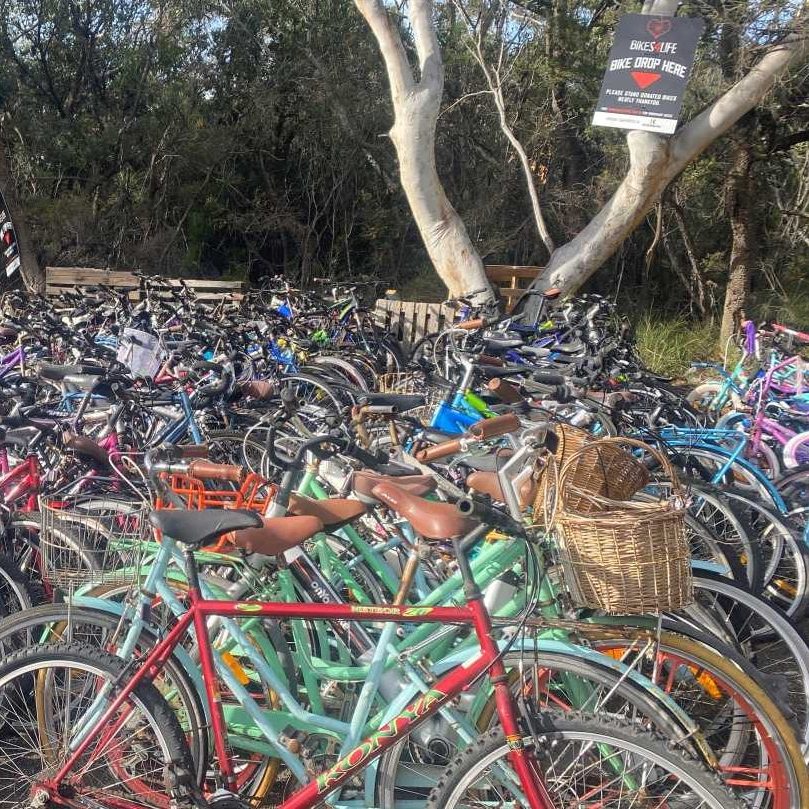 333 bikes were sent from Bikes 4 Life at The HUB to Siem Reap, Cambodia, along with essential medical supplies
_________________________________________________________________________________________________________________________________________
Peninsula Toy Recyclers
Bringing Smiles to Children's Faces
The Peninsula Senior Citizens Toy Repairers was established in 1975, originally known as the Warringah Senior Citizens Toy Repairers. Its primary goals were to create a beneficial organisation within the community, provide an engaging activity for senior citizens, bring joy to underprivileged children, and contribute to toy recycling efforts, reducing landfill waste.
Over the span of 45 years, the group has not only achieved these objectives but surpassed them. Beyond positively impacting local children, their reach now extends to children in various parts of the world. Comprising over 30 dedicated senior retirees, both male and female, they tirelessly devote countless hours each week to ensure that disadvantaged children in impoverished communities have access to toys, books, games, puzzles, and more. They graciously accept toys in any condition, restoring them to near-new status whenever possible. Their unwavering efforts have resulted in the processing and distribution of thousands of toys throughout the years.
Throughout their journey, the group has faced numerous challenges. Without a permanent home, they have operated from garden sheds, demountables, and various buildings. They have endured acts of vandalism and graffiti. In 1998, a devastating fire destroyed their entire stock, which was ready for distribution to children during the Christmas season. Even during the recent pandemic, they managed to adapt and continue operating in a reduced format, adhering to health guidelines.
With the support of the community, local tradespeople, businesses, and contributions from Rotary, the group established their present workshop in Ingleside. Since the fire incident, they have experienced continuous growth and currently serve nearly 80 recipients who benefit from their resources. The group actively supports numerous local and international charities and non-profit organisations. They maintain a substantial stock of toys readily available for immediate dispatch.
However, due to the development at the current site in Ingleside, the Peninsula Toy Recyclers found themselves in need of a more stable and permanent home. In late 2022, they received an invitation from Kimbriki CEO, Peter Davis, to relocate to The HUB at Kimbriki. In recent months, the dedicated volunteers have started the process of relocating their bustling and extensive operations.
Their impact has reached children in poverty-stricken countries through various agencies. These include organisations in Cambodia, P.N.G, Sri Lanka, Sierra Leone, Ghana, Toga, Fiji, Samaritans Purse, Network Heaven, Operations Christmas Child, and Operations Food for Life which distribute school resources and provide hundreds of soft toys to children living in poverty, particularly those residing in rubbish dumps around Port Moresby who have never received toys before.
The group has also supported drought-stricken farmers through Rotary and Lions Clubs, as well as contributed to fundraisers for Rotary and provided toys to Aboriginal children in Redfern and Brewarrina. Additionally, many healthcare professionals have utilised the toys to assist children coping with trauma, anxiety, and stress-related issues.
While the group engages in numerous humanitarian causes that are too many to mention, they remain true to the founding ideals of the organisation.
HOW YOU CAN DONATE: If you wish to contribute, you can donate toys by dropping toys off at the Kimbriki Resource Recovery Centre's Toy Repair Shed (pictured below), located at Household Problem Waste (Drop-off Point 3), during the centre's opening hours from 7am to 5pm, seven days a week.
VOLUNTEERS: For those interested in learning more about their work and willing to travel to Ingleside, please email Terry – cookt308@gmail.com to inquire about volunteer opportunities.
SAVE-THE-DATE
PRE-LOVED TOYS
Toys include everything that kids would love to play with, from: fluffy animals, to dolls, to board games, to puzzles, to musical instruments, to sports equipment, to electronic games, to bicycles and to dress up clothes for girls and boys.
Saturday 4th November 2023
9am till 2pm
at The Hub Kimbriki
(turn off on the left as you head down the hill into the Kimbriki site)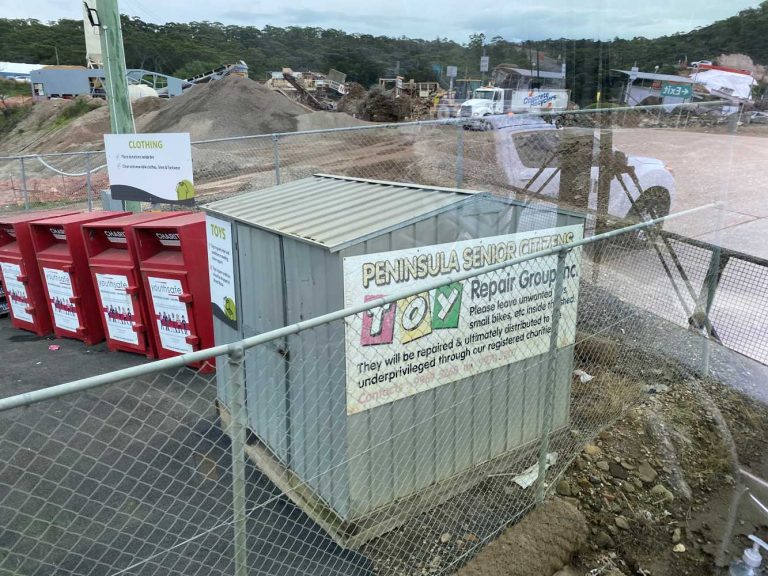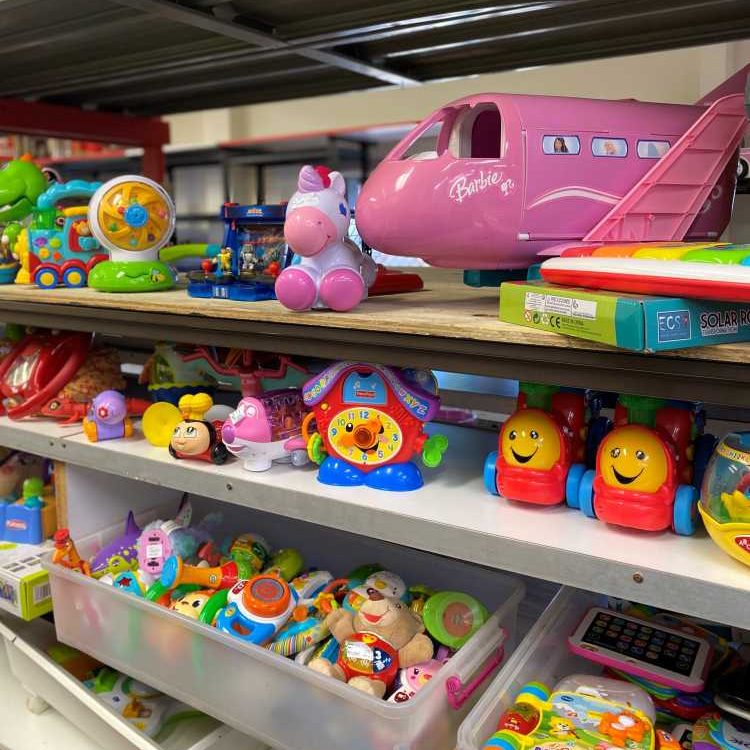 _________________________________________________________________________________________________________________________________________

Reverse Garbage
Reverse Garbage was established almost 50 years ago by a group of enterprising inner-west Sydney teachers motivated to reduce their community's impact on the environment. They raised money to purchase a truck and started salvaging discarded industrial resources from local factories and reusing the materials in classrooms across the area.
Today, the self-funded, not-for-profit organisation has evolved into Australia's largest creative reuse and sustainability education centre, comprising a retail warehouse in Marrickville, which is open 7 days per week. The site also includes an Education Hub with two fun and quirky learning spaces, plus an outdoor terrace and edible garden. In 2022, Reverse Garbage and Kimbriki formed a partnership whereby public workshops would be delivered on-site at The HUB.
Reverse Garbage attracts a diverse range of customers, including artists, crafters, home renovators, students and educators, with many travelling far and wide for an eclectic and unique shopping experience. Through our retail operation we divert close to 60,000 tonnes of waste from landfill per year, and host close to 14,000 participants through our various educational offerings and public programs. For more details, please see Reverse Garbage.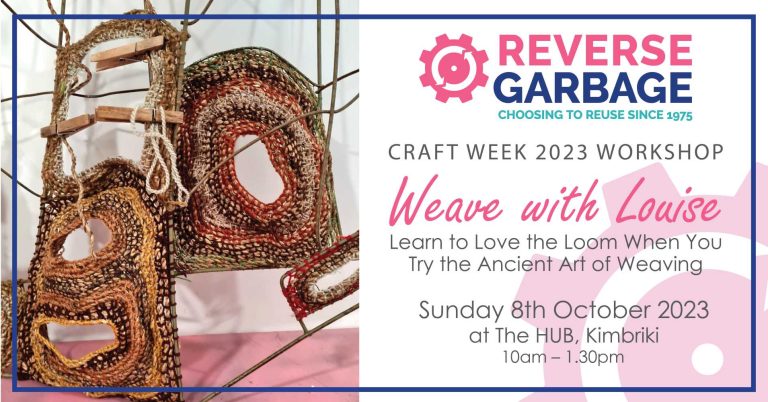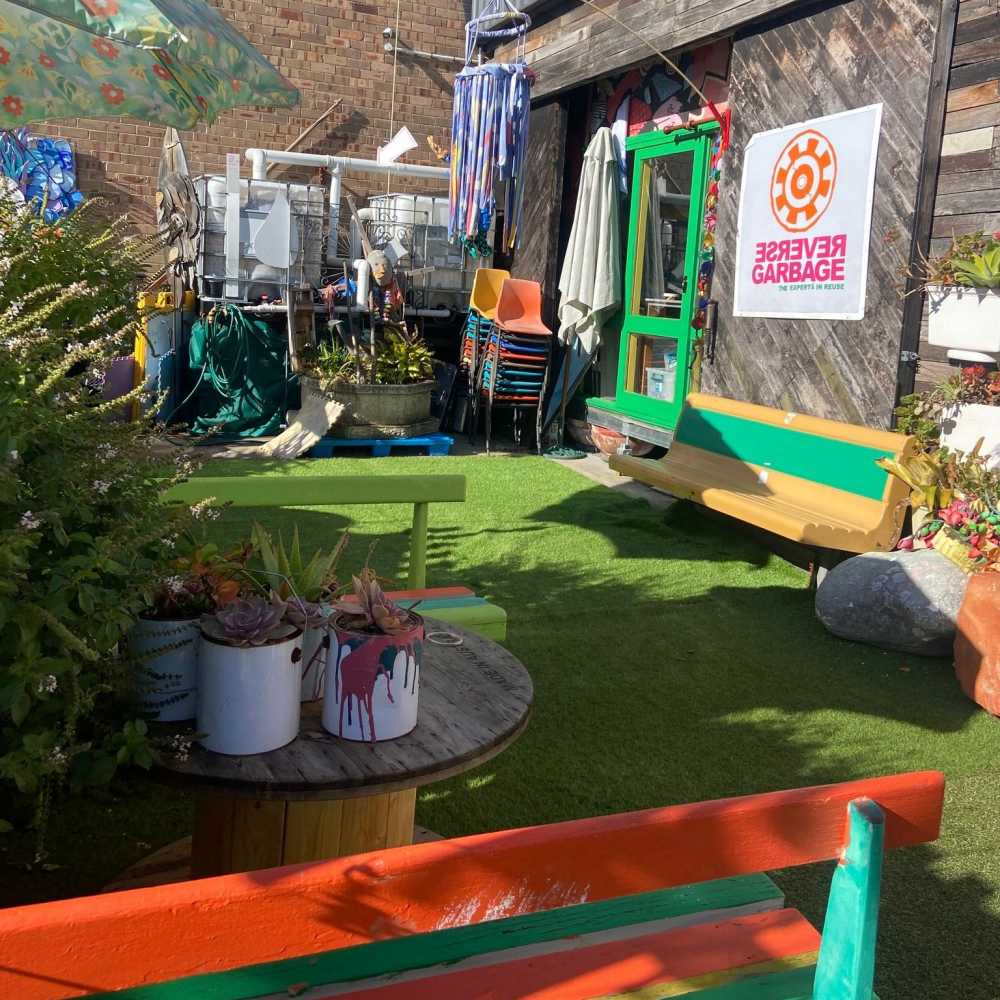 _________________________________________________________________________________________________________________________________________

Boomerang Bags
Kimbriki
Boomerang Bags started in Australia and now is a global, grassroots movement with the newly created Boomerang Bags – Kimbriki with Tanya Leishman and Marina Barker. Boomerang Bags Kimbriki is a small team of volunteers who are part of the wider Boomerang Bags Northern Beaches groups at Avalon and Manly.
The aim is to connect and empower local communities to tackle plastic pollution at its source by making bags, diverting waste, starting conversations, fostering sustainable behaviour, and having lots of fun!
The answer stared the founders of Boomerang Bags in the face, from the one million plastic bags being used every minute, the 10.46 million tonnes of fabric waste created each year, and the willingness and generosity of people from all fabrics of society to do something about it. Founders created a platform that supports the diversion of post-consumer material (waste) into reusable bags to replace plastic bags and, most importantly, start conversations.
The initiative spread enthusiastically and is now in over 1,100 communities worldwide. Hundreds of thousands of plastic bags have been saved from landfills, and behaviour change went way beyond the bag to other single-use plastics and sustainable living. Not to mention the immeasurable social impact of the conversations, connections, and new friendships created in the process!
All around the world people are finding a reuse for old fabric like sheets and doona covers which were destined for landfill. Tanya recently visited Copenhagen, Denmark and met up with a like-minded sewer, Ingrid. Now Denmark has its first Boomerang Bags community group.
"Knowing that you are a part of an international movement to reduce plastic makes you feel good. It's solidarity in sustainability. I love connecting with Ingrid from Denmark and others around Australia as we all share our craft and ideas to engage our community," said Tanya.
Chipping away reducing plastic use and providing fabric bags for community groups and shops is always rewarding. One project we are working on is providing small cloth bags for the Mona Vale PS Crochet Club. Teacher's Aide Amanda is learning to sew with us up at Boomerang Bags Kimbriki. Together we are making the bags for the kids' craft, and they get a lesson on sustainability too!
JOIN – You and our local community can be involved in any or all of this process. Contact Boomerang Bags – Kimbriki – 0425 226 247 or join the Facebook group – Boomerang Bags Northern Beaches Kimbriki
DONATE – If you have a cupboard full of leftover quilting fabric, doona covers, or pillowcases, find and contact your nearest community, and they will gladly give your pre-loved materials a new home and new life!
Tanya Leishman and Marina Barker