June 20 - 26, 2021: Issue 499
Turimetta Beach Reserve: Old & New Images + Some History - June 2021 Stroll From North Narrabeen To Warriewood Beach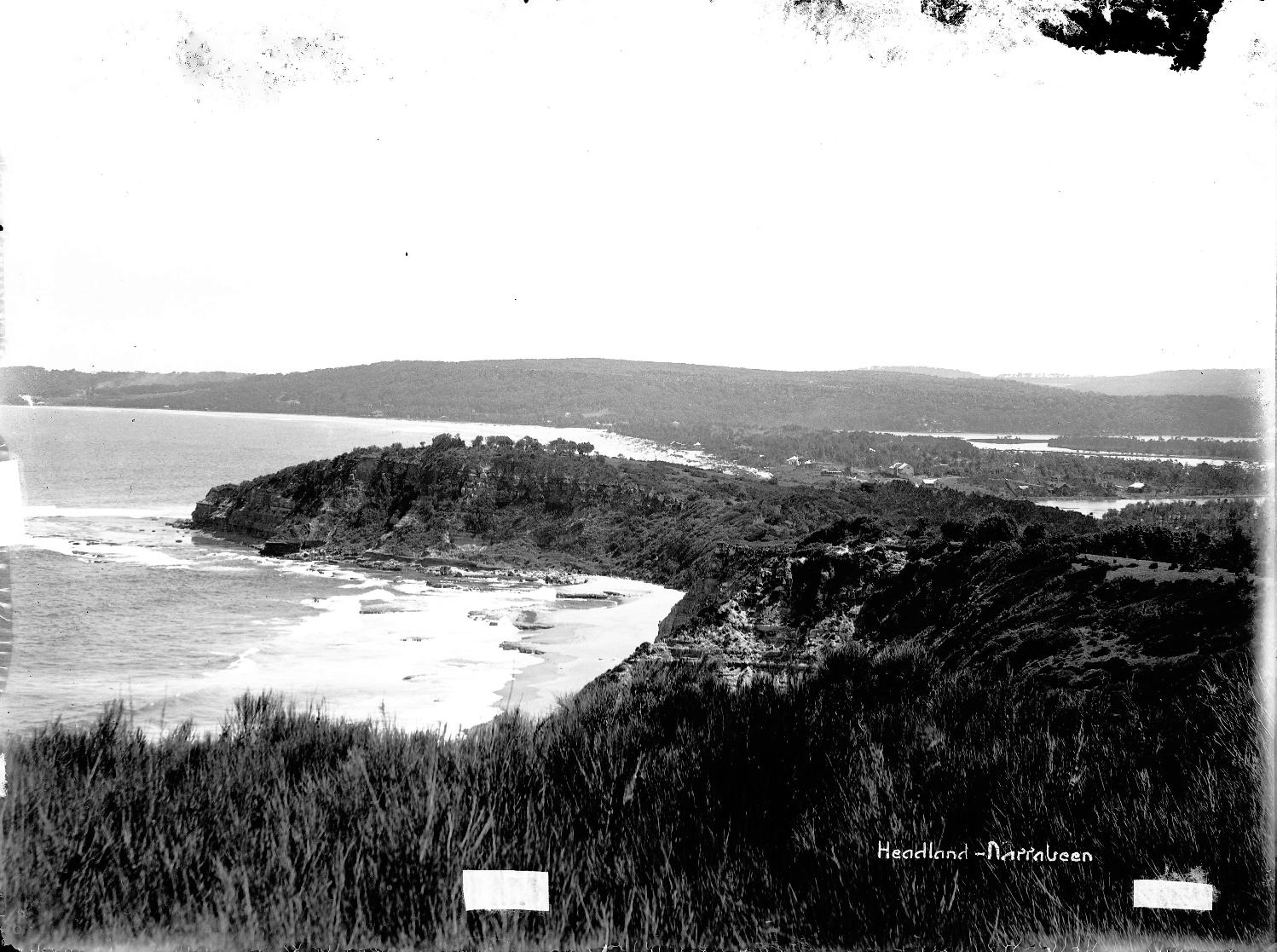 Narrabeen Headland circa 1900- 1910, cpourtesy NSW State Records and Archives, Item: FL12803
Also known as 'Little Narrabeen' and once spelled 'Taramatta' and 'Turamulla', the beach and reserve area between Narrabeen and Warriewood is named for an area that once extended from North Narrabeen to Mona Vale.
The 'Turimetta' name, is believed to be a local Aboriginal clan or family name. In this area, the suffix "etta" was part of a family names. Also spelled 'Turrametta' - other sources state the meaning of the word is associated with 'a beautiful place'.
The elements of the word itself 'etta' is similar to Parramatta and Turramurra. Parramatta Council states; 'For over 60,000 years, the area comprising present day Parramatta has been occupied by the Burramattagal people, a clan of the Darug, who first settled along the upper reaches of the Parramatta River. Burramattagal is thought to be derived from the Aboriginal word for 'place where the eels lie down' to breed (within the Parramatta River). The Burramattagal have a close connection with the river, from which they caught fish, eels, and other food.''
Ku Ring-gai Council states, in regard to the word 'Turramurra'; 'Turramurra is an Aboriginal word which is thought to mean either high hill, big hill, high place, or small watercourse. The Aboriginal reference of high hill covered the range from Pymble to Turramurra. Early European settlers referred to the area as Eastern Road. The name Turramurra was adopted when the railway station was built in 1890.'
Similarly, Cabramatta is claimed to be from Aboriginal words "cabra" (an edible freshwater grub) and "matta" (place or locality). Also said to mean "Higher up the water" or the "Head of the waters".
The element 'Tarra' also appears from 1807 on as a name for Dawes Point on the northern side of Campbells Point, whereas Tarrangera 'guy where the fishermans hut is' From vocabulary … c.1790-1792: 362 - Possibly somewhere in Sydney Cove as this name is listed after other placenames in Sydney Cove.
So possibly Turrimetta, Taramatta and Turamulla infers a place where the fish are as well.
Tarramatta Park was the 4 hectare and 1 rood reserve we now call 'Village Park' in Mona Vale, only it's not 4 hectares in size any longer and doesn't have a horse trough, a tennis court or cricket pitch and isn't the scene of many a community gala event prior to a dance at Booth's Hall. Formally opened in September 1905, amid gay celebrations, the building of fencing etc. was overseen by the patriarch of the Stringer family, who lived in what is now 'Park' street, Mona Vale.
The North Narrabeen - Turimetta Head was among the first Narrabeen Reserves set aside as a public land place for people for recreation. Records from the past via TROVE, Warringah Shire Council meetings, when these minutes were still handwritten, as recorded in Pittwater Roads II: Where The Streets Have Your Name - Narrabeen, provide:
A few years ago the whole of the southern shore of Narrabeen Lagoon was available for access at all points by anglers and others, but certain portions of the foreshore have been built upon, and barbed wire fences have been erected at the water's edge so that the old paths have been blocked
, and people desirous of getting to the entrance of the lagoon are required to make a long detour or wade through the water. The matter has aroused considerable attention at Manly and the village of Narrabeen, and it was brought before the Amateur Fishermen's Association on Tuesday evening by petition.
The petition was to the effect that intervention was sought in the matter of preventing the alienation to any private persons of any part of the foreshore of the lagoon which lies between the main entrance of the lagoon on the north and the mainland on the south, such portion being part of the beach washed by the waters of the sea on its eastern side and by the waters of the lagoon on the western side. It was urged that the land was in reality nothing more than wind-swept and water-washed sea beach, unsuitable in character for building upon, ill-defined as to boundaries, and deemed to belong to the Crown. Further, it was claimed that it was a favourite resort of fishers, picnickers, and pleasure seekers, and the alienation of it would deprive the public of an advantage to which they had been accustomed and had come to reasonably regard as their right.
The association decided to heartily endorse the petition, and represent the matter to the Minister for Lands. NARRABEEN LAGOON. (
1901, April 18
).
The Sydney Morning Herald
(NSW : 1842 - 1954), p. 8. Retrieved from http://nla.gov.au/nla.news-article14341918
A letter from Mr. M'Pherson, secretary to the Narrabeen Progress Association was read at the last meeting of the Manly Council, which called the aldermen's attention to the fact that an application had been made to grant under the Real Property Act a title to certain lands at the mouth of the Narrabeen Lagoon, comprising the whole of the sand spit which forms the southern part of the entrance to the Lagoon
, also asking the aldermen to co-operate in a united protest to the Department of Lands against any alienation from the Crown. The reading of the missive caused some discussion among the aldermen, some declaring that 'a land grab' was being attempted. It was pointed out what the consequences were when a religious body secured a similar piece of land at Deewhy Lagoon. Several petitions are going the rounds of Manly, and are being extensively signed. The spot required is much thought of as a camping ground for fishing parties from Manly and the city. The aldermen determined to be cautious, and resolved to ask for further particulars. MUNICIPAL MATTERS. (
1901, April 22
).
Evening News
(Sydney, NSW : 1869 - 1931), p. 3. Retrieved from http://nla.gov.au/nla.news-article112568594
At the last meeting of the Manly Council a letter was read from the secretary of the Narrabeen Progress Association, thanking the aldermen for their promised assistance in the association's efforts in the matter of maintaining the public right to certain land at Narrabeen, and sending further particulars.
The land, included in the application lies on the northern foreshore of the lagoon, near the mouth, and is a favorite fishing ground. There is much interest taken in the matter by residents of Manly and district, and every effort Is being made to get the Government to' let matters stand as at present, so as excursionists may have the use of the spot as a camping and fishing ground.
MUNICIPAL MATTERS. (
1901, April 29
).
Evening News
(Sydney, NSW : 1869 - 1931), p. 3. Retrieved from http://nla.gov.au/nla.news-article112564307
Local Land Board Office,
Sydney, 13th July, 1910.
ATTENTION is invited to
an application by William Booth to surrender in exchange for Crown Land. The area to be surrendered being

about 10 1/2 acres fronting Narrabeen Lagoon

and the land to be exchanged being about 29 acres of portion 40, both areas being in the parish of Narrabeen,
county of Cumberland.
A heliograph illustrating the proposal is exhibited at the Offices of the Local Land Board, Sydney.
Objections (if any) should be in writing, and should be forwarded to the District Surveyor, Sydney, not later than 10th August, 1910.
The proposal will be considered by the Local Land Board at Sydney at its next sitting, on a date to be fixed.
T. W. CONOLLY,
Acting District Surveyor. Government Gazette Notices (
1910, July 20
).
Government Gazette of the State of New South Wales
(Sydney, NSW : 1901 - 2001), p. 3898. Retrieved from http://nla.gov.au/nla.news-article226764932
RESERVE FOR NARRABEEN.
The Metropolitan District Land Board held an inquiry into the proposed exchange of land on the northern head of Narrabeen Beach. The parties to the transfer were the Crown and William Booth. After exhaustive inquiry
the board decided to recommend the exchange.
The land includes the Narrabeen headland, and about six or seven acres of level ground, having a large frontage to the mouth of the Narrabeen Lake.
RESERVE FOR NARRABEEN. (
1910, September 22
).
The Sydney Morning Herald
(NSW : 1842 - 1954), p. 11. Retrieved from http://nla.gov.au/nla.news-article15173819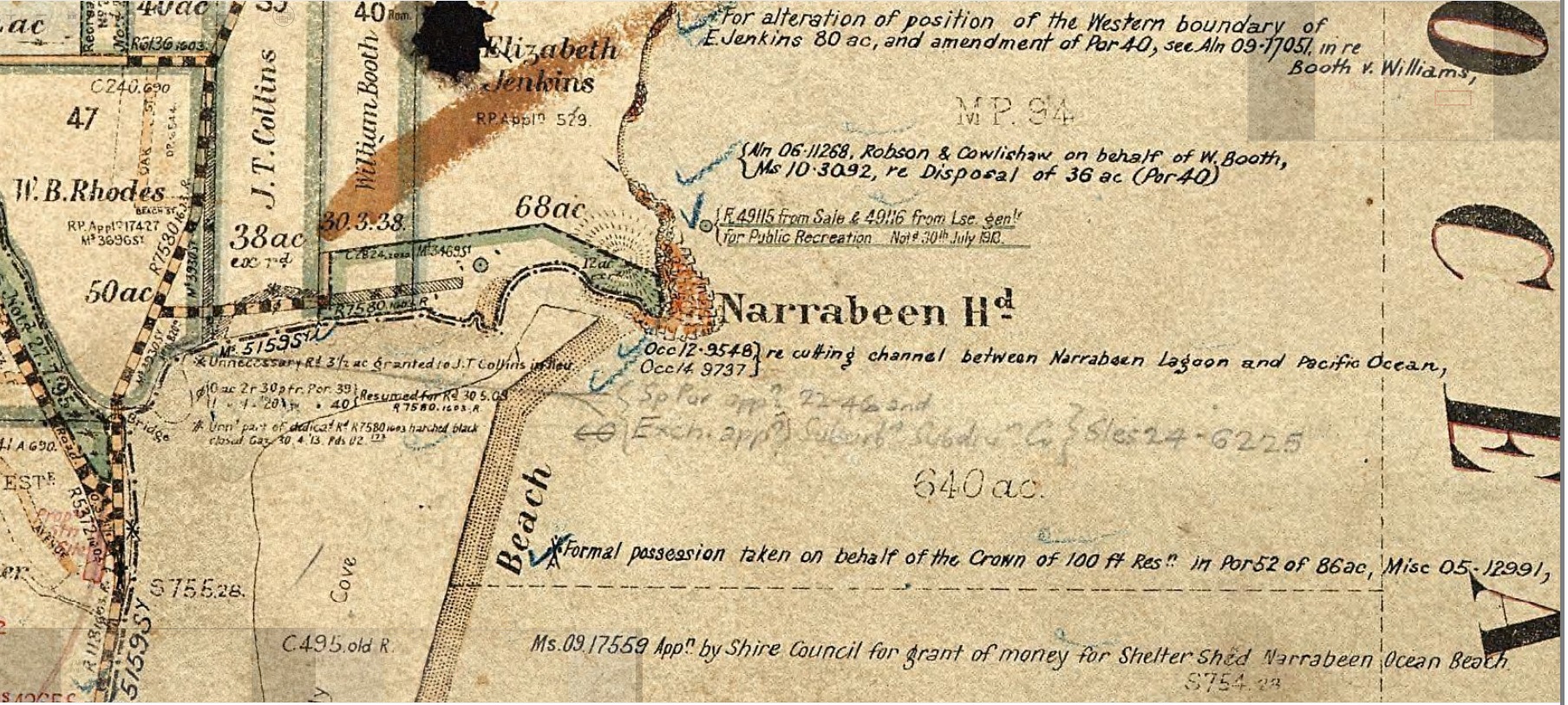 NSW Land Registry Services - HLRV Turimetta Head portion Birdwood - Section from Map cancelled July 1924

Warringah Shire Council would require the Salvation Army to allocate more reserves along the beachfront towards Warriewood beach as part of its 1920's Narrabeen Park Estate subdivisions - which went on into the 1930's.
PARKS FOR THE PEOPLE. — AT NARRABEEN, CRONULLA, AND VAUCLUSE. contemplated government resumptions.
Parks for the people would appear to be a policy which is being encouraged by the present Minister for Lands, Mr. G. S. Beeby. who yesterday outlined some new proposals in this respect.
AN IDEAL PARK
The Government, the Minister stated, are resuming two pieces of land from the Salvation Army, portion of their property known as Long Reef Point, between Narraboen and Manly, comprising an area of 177 acres. Mr. Beeby considers the locality ideally situated for park purposes,
there boing a frontage of nearly two miles to the ocean; sheltered, and well timbered, and with these natural advantages it should prove a great boon to campers and picnickers. When the tramway to Collaroy Beach is completed it would give the people easy access to the park. Part of the land fronts the . main road, and a considerable portion of the expenditure on the purchase, the Minister states, could he recouped by the Government later on by a subdivision of these frontages. A subdivision of this kind cannot, however, bo made under the existing law, and the 'authority of Parliament will be necessary before any of the land can be disposed of. But, apart altogether' from the question of sale, the Minister- believes that at the price fixed it will be one of the most satisfactory resumptions for recreation purposes that could be made. PARKS FOR THE PEOPLE. (
1911, November 11
).
The Daily Telegraph
(Sydney, NSW : 1883 - 1930), p. 13. Retrieved from http://nla.gov.au/nla.news-article239203598
No. 14,164. APPLICANT:—
William Booth, London, England
. LAND:—Oounty Cumberland, parish Narrabeen, Shire Warringah,
259 acres, on Pacific Ocean and Narrabeen Lagoon; and on Manly to Pittwater-road
,—l
ands granted as 60 acres (portion 13 of parish) 60 acres (portion 14 of parish), and 80 acres (portion 15 of parish) to Elizabeth Jenkins, exclusive of road 1 chain wide from Manly to Pitt water, and resumed road 1 chain wide near Narrabeen deducted from the total area
, and
adjoining properties of W. Booth, H. F. Hallorahan,
trustees of E. H. Macpherson and Crown Land.

NOTICE UNDER REAL PROPERTY ACT. (

1912, June 5

). Government Gazette of the State of New South Wales (Sydney, NSW : 1901 - 2001), p. 3564. Retrieved from http://nla.gov.au/nla.news-article221608059
TO THE EDITOR OF THE HERALD.
Sir, - I have noted correspondence in your paper in reference to reserves and resumptions at Narrabeen Beach
, and I certainly think with your correspondents that the Councillors have been very lax in their dealings with these matters.
When it was proposed at the last shire meeting to approach a land company with the object of getting a piece of ground for a re-serve and lookout, Councilor McIntosh pro-duced an old map of Mount Ramsay, showing that a reserve was set apart, but this reserve will be of little use if it is allowed to be sold, as other marked reserves have been sold. One I can refer to in particular. This reserve has been known and used as a right-of-way to my knowledge for the past 22 years; yet the council allowed this to be sold some little time back without an effort; and if this is allowed in one case, what is the use of councillors drawing attention to reserves marked on plans, when the same thing is likely to be repeated.
Some years ago the land along the Narrabeen Beach could have been reserved for a nominal sum. Now it would mean the expenditure of a large amount of money. The chance has been allowed to slip through their fingers; and when it is noted that they will not enforce the keeping of reserves marked on plans, it seems to me that the methods of our councillors in matters of this sort could be improved on. I am. etc.
Sept. 2.
HENRY J. ACKLAND.
NARRABEEN BEACH. (
1912, September 4
).
The Sydney Morning Herald
(NSW : 1842 - 1954), p. 15. Retrieved from http://nla.gov.au/nla.news-article28132323
NARRABEEN BEACH.
TO THE EDITOR OF THE HERALD.
Sir,-I notice through your columns of the 27th ultimo a letter signed by "H R M William," a country visitor,
urging the resumption of the land that adjoins Narrabeen beach for recreation purposes
A fellow-feeling makes us wondrous kind I might state that
I wrote the local shire council on this matter when first formed
, and told them that
they should resume this land at all costs, as it would not only be history for themselves, but for their children that survived them, to do so
The ground could have then been bought for about 10s per foot, but to day It is a consideration My recommendation to that body of gentlemen was the resumption of all that portion of land separated by road and beach as far north as the Narrabeen Hotel, and another step from thence onward to the mouth of the lake It has been an observant Government that has built this tram line well off the main road but there are other matters that will need study to be In keeping with such good work and that is resumptions.
I am etc,
STANLEY C TWIGHT.
NARRABEEN BEACH. (
1912, September 3
).
The Sydney Morning Herald
(NSW : 1842 - 1954), p. 4. Retrieved from http://nla.gov.au/nla.news-article15332201
Warringah Shire Council handwritten minutes of meetings records:
Owner of land at Narrabeen dedicated for a park - to be sold for £2200.00 as per Warringah Shire Council Meeting of January 31, 1916 - became Birdwood Park - Mr Charles De Burgh Kirwan - confirmed in Minutes dated Feb. 14th, 1916.
Next Meeting, (February 28th, 1916) an Item states Kershaw, Mathers & Lane stating that
Mrs Ada Louise Gilder was prepared to purchase the land in the name of C De Burgh Kirwan at Narrabeen Lake
(see councils application for Governor's Approval per last meeting of February 16th)
for £2200.00 and sell same to council on terms set out in letter dated Feb, 1916.
Meeting of March 16th Narrabeen Land - association be informed the an endeavor to get government to purchase the land had met with failure.
It was resolved that the
terms be £250 cash down and £500 at the end of 1918 ; £500 at the 1st of March 1920; £500 at 1st of March 1922 and the balance on the 1st of March 1924.
payable quarterly 6% interest
March 27, 1916 Meeting;
July 17, 1916 Meeting Governor approval to purchase land from A L Gilde.
Councils records show the loan was discharged towards the end of 1924 and that Ada was quite happy to allow them to postpone payments due in March when these could not be met.
Warringah Shire Minutes of Meetings February 23, 1920 record, Re; Birdwood Park Purchase: "Birdwood Park", Narrabeen, c (

Lot 9, Section 63, D. P. 6768) having an area of 4 ac. 1 r. 21 ½ per.) was purchased with weatherboard cottage out-buildings, and fencing, in 1916 for £2200 on terms

, viz £250 on signing of Contract, £500 on 1st March, 1918, £500 on 1st March,1920, £500 on 1st March, 1922, and £450 on 1st March, 1923, and unpaid instalments to bear interest at rate of 6%. To date £750 has been paid off the purchase money, and £ 386/5/- In interest, making a total of £1136/5/-. £1450 of the purchase is still owing, of which £500 falls due for payment on 1st prox.
BIRDWOOD PARK. The land purchased by the Warringah Shire Council to give the public a right of way to Narrabeen Beach has been christened Birdwood Park. BIRDWOOD PARK (1916, December 28). The Sun (Sydney, NSW : 1910 - 1954), p. 4 (FINAL EXTRA). Retrieved from http://nla.gov.au/nla.news-article223373938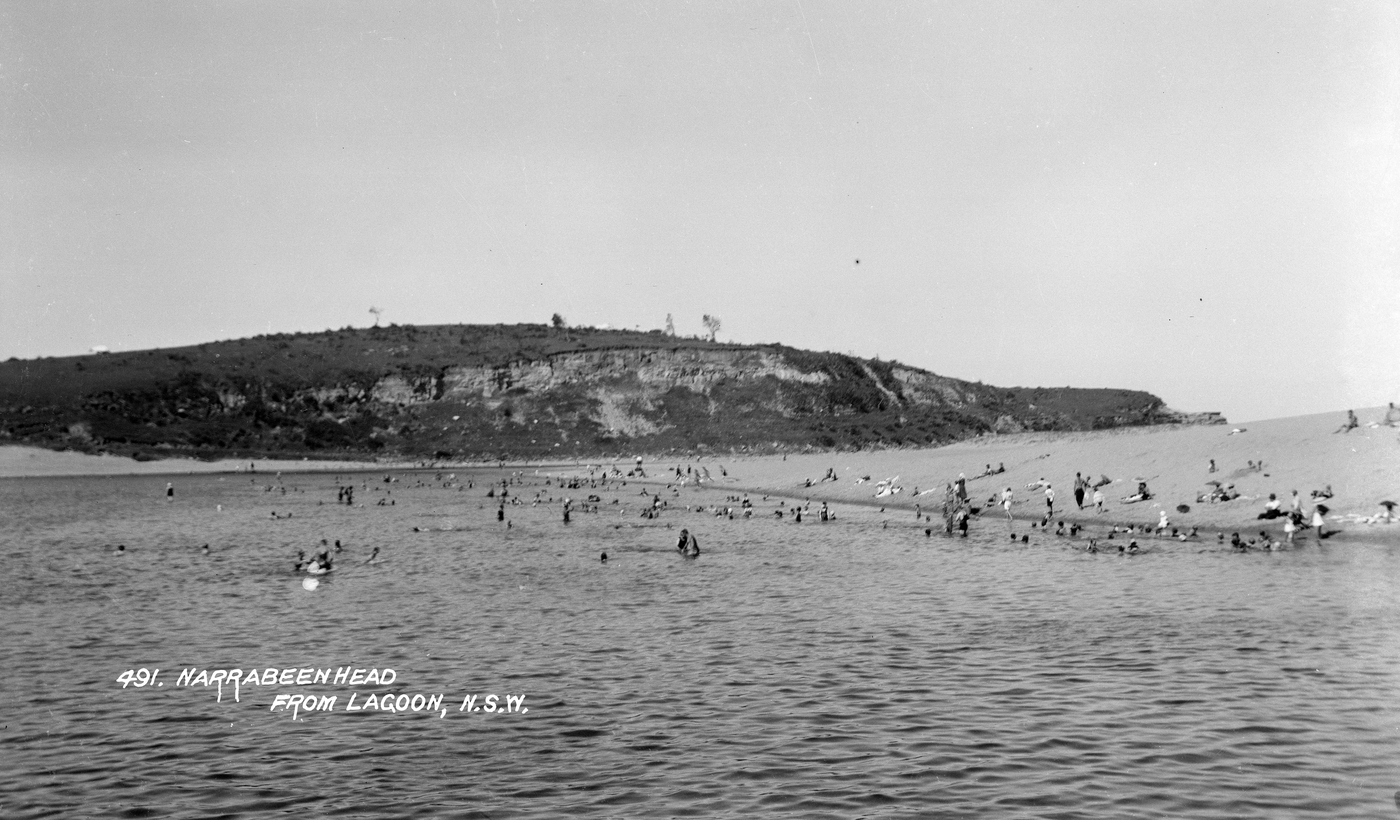 Narrabeen Head from Lagoon, circa 1928, from Album 'Samuel Wood - postcard photonegatives of Narrabeen,' - Item a1470094h, courtesy State Library of NSW

Field Marshal William Riddell Birdwood, 1st Baron Birdwood, GCB, GCSI, GCMG, GCVO, CIE, DSO (13 September 1865 – 17 May 1951) was a British Army officer. He saw active service in the Second Boer War on the staff of Lord Kitchener. He saw action again in the First World War as Commander of the Australian and New Zealand Army Corps during the Gallipoli Campaign in 1915, leading the landings on the peninsula and then the evacuation later in the year, before becoming commander-in-chief of the Fifth Army on the Western Front during the closing stages of the war. He went on to be general officer commanding the Northern Army in India in 1920 and Commander-in-Chief, India, in 1925.
Birdwood was made Baronet of Anzac and of Totnes, in the County of Devon, on 29 December 1919. He toured Australia to great acclaim in 1920, visiting Narrabeen and the site named to honour him:
GENERAL BIRDWOOD.
ACTIVE TIME IN SYDNEY.
Yesterday Sir William and Lady Birdwood enjoyed a launch trip in delightful weather on the waters of Kuring-gai Chase, and a motor Journey to Newport and Manly, thus gaining an excellent opportunity of seeing some of the beautiful scenery about Sydney. The party included Sir George Fuller and other Ministers. 0n the way from Newport to Manly a call was made at Furlough House, Narrabeen, where the guests were received by Lady Fuller and Mrs. Cooper Day, secretary of Furlough House, and entertained at afternoon tea. General Birdwood was very much interested in the scheme for enabling soldiers' wives and dependents to enjoy a holiday at this pleasant spot.
To-day, about 11.40 a.m., General Birdwood will inspect the Matraville Garden Village for soldiers. Originally this engagement was fixed for 3 p.m., and the change involves the cancellation of a large part of the programme arranged for the day. The Senior Cadets and Boy Scouts, who were notified to muster at Beauchamp-road at 2.30 p.m., will not be required. Many prominent citizens had accepted invitations to the village, and the board will welcome any who can attend the less picturesque event in the morning. After General Birdwood has inspected the village, which now consists of 50 fine cottages, he will motor to the city, and lunch, as arranged, with the Voluntary Workers' Association, at 189 Pitt-street.
In the evening he will be the guest of the Imperial Service Club, at dinner at the Town Hall.
Sir William and Lady Birdwood will visit the Bankstown Soldiers' Settlement Poultry Farms to-morrow afternoon, arriving at the settlement about 3 o'clock, and will be met by Mr. Ashford.
On Monday, Sir William Birdwood will be engaged all day with the Red Cross Society. Commencing at 10.45 a.m. there will be a re-view of V.A.D.'s on the grounds outside Government House, when General Birdwood will probably deliver a short address. He will then visit the weaving, toy-making, and basket-ware industries before going to Rose Hall for lunch. At 2.30 he will visit the Blinded Soldiers' Tearoom in Pitt-street, and then cross to North Sydney, where he will inspect the Graythwaite Convalescent Home.
On Monday evening Sir William Birdwood will dine at the Australian Club.
On Tuesday there will be a display by 10,000 Public School children at the Sydney Cricket Ground, in honour of General and Lady Bird-wood. A feature will be a tableau of welcome, and a general rehearsal for this event will be held at the Sydney Cricket Ground on Monday, commencing at 11.15 a.m., and lasting until about 3 p.m.GENERAL BIRDWOOD. (1920, April 10). The Sydney Morning Herald (NSW : 1842 - 1954), p. 13. Retrieved from http://nla.gov.au/nla.news-article15870061 - More available in North Narrabeen Rock Pool: Some History
While visiting this subject its worth noting that this council also worked towards securing the Collaroy Beach as well. This was purchased from a Mr. Herbert Kaspar Bors.
The meeting of

August 26th, 1918

records;
Mr. H. K. Bors: waited on the Council in regard to his application for permission to build on Lot 8, Section 2, Mount Ramsay Estate, Collaroy, and also in regard to the Council's proposal to purchase Lots 7/8 for public recreation purposes, and it was decided that the matter should be dealt with at next meeting
A few years later
September 19th, 1921
Collaroy Beach resumption H.K. Bors agreeing to Section 2, Mount Ramsay Estate to the Council providing that the period for payment be
.....as proposed . - Resumption by the Council. Resolved, ...Underwood) That the proviso, be accepted. Resolved, - (ers. Quirk,... )
That the Minister for Lands be now written to, to point out what the Council has done in acquiring these two allotments, and asking for a deputation to urge assistance in purchasing the retaining two or three adjoining lots.
Minutes of Meeting of
4th October. 1921;
That the Council endeavor to
purchase from the owner, Mr. H. Davis, a strip of land in Lot 2, Sec. 11 :access to Oaks Estate
,

with

11 ft. frontage to Oaks Avenue and 1 ft. to Deewhy the Reserve at the rear, for the purpose of widening the means of access between the two reserves.

Resolved, - (Cr5. Parr, Corkery) That the Council offer Mr. Davis the sum of £85 for such strip of land, and agree to pay all costs of the transfer and of the issue of a fresh F Certificate of Title.
3. Resolved, - (Cs's. Parr, Greenwood) That
a

pplication be made for the Governor's Approval to the Council purchasing from H. K. Bors for the sum of £1500,

Lots 7 and 8. Section 20 Mount Ramsay Estee, Collaroy Beach, for public recreation. purposes, and that the Seal of the Council be affixed to such application
. Resolved, - (Cr5. Greenwood, Corkery) That the draft Agreement drawn up..by Messrs. MacGregor & Palmer, Mr. Bors Solicitors, and revised by Messrs. Maund & Christie, the Council's Solicitors, be approved, provided that the interest on the unpaid purchase money date from 1st October, and that a proviso be inserted reserving to the Council the right to pay off the whole of the purchase money or to increase the amount of the instalments, at any time, should it desire to do so.
Turimetta Beach, Reserve and Turimetta Headland is located east of Narrabeen Park Parade in the suburb of Warriewood. It is a prominent headland vegetated primarily with heath vegetation.
Turimetta beach is one of the less disturbed ocean beaches in the Pittwater area and is a popular spot with locals for this reason.
This land is council owned, having been handed over to Warringah Council from the Cumberland County Council in 1964. The reserve in the Tenure documents is known as Warriewood Beach Reserve. It was recommended that this be changed to Turimetta Headland Reserve.
Turimetta Headland Reserve is a Wildlife Protection Area and has a number of vegetation communities which provide habitat for many threatened and significant fauna species. Winter-flowering Banksias attract large numbers of migratory and nomadic honey eaters and lorikeets. The small Raptors, the Black-shouldered Kite (Elanus notatus) and the Australian Kestrel (Falco cenchroides) are often found in this area and large raptors such as the White-bellied Sea-eagle and the threatened Osprey are also occasionally observed, and have been since bird-watchers first visited the site to make records. Visit: G . E. Archer Russell (1881-1960) and His Passion For Avifauna From Narrabeen To Newport
The area has been the focus of volunteer bush care work, the state government and councils to restore it over many years. Turimetta Beach is popular with surfers and features some wonderful local Artists sculptures in its rocks, and the presence of these rocks and a rockshelf at the North Narrabeen end of the beach, make it a popular place for photographers - the rush of water over these stones, sunrise reflected over the sheets of tides, make for spectacular images.
Turimetta Beach is a small 350m long beach between Turimetta and Narrabeen Head backed by 20 to 30m high shale bluffs. The beach receives waves averaging 1.5m which break close to shore, and often has a heavy shore break. Two or three rips usually form at each end of the beach and in the centre amongst the rocks. Popular with swimmers this unpatrolled beach is also host to good surfing breaks along the beach and is best in North Easterly winds.

A tour of the North Narrabeen Beach Headland trail which runs through Turimetta Head (Turimetta Beach) and finally down to Warriewood Beach, this is a nice easy half hour walk.

This Issue some great photos taken by Kevin Murray on June 12th, 2021 along with some from earlier years, including some from 1900 onwards - including one from 1920/1921.
Turimetta Beach And Surrounds: Old Photos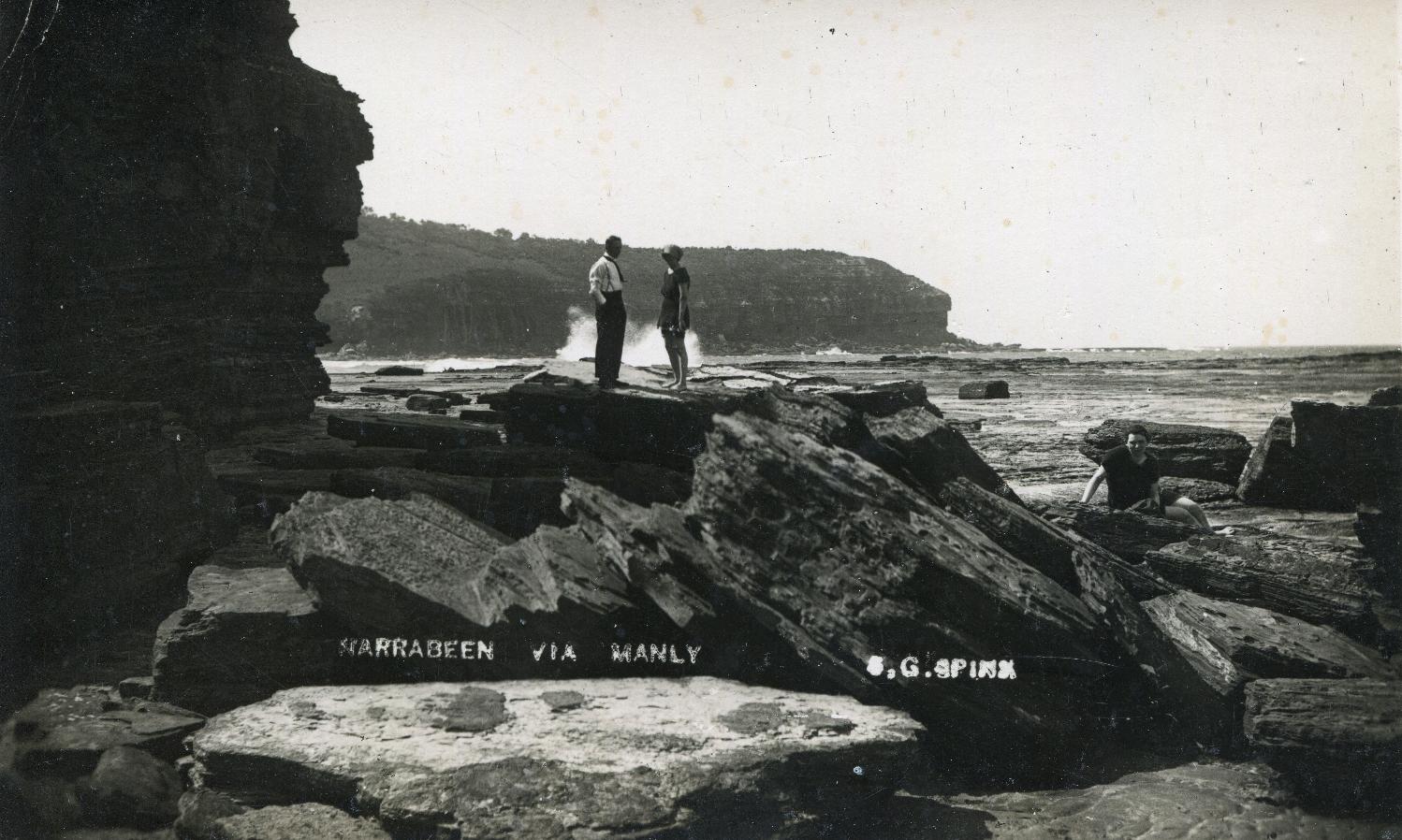 Postcard, private collection - North Narrabeen - Turimetta, 1920.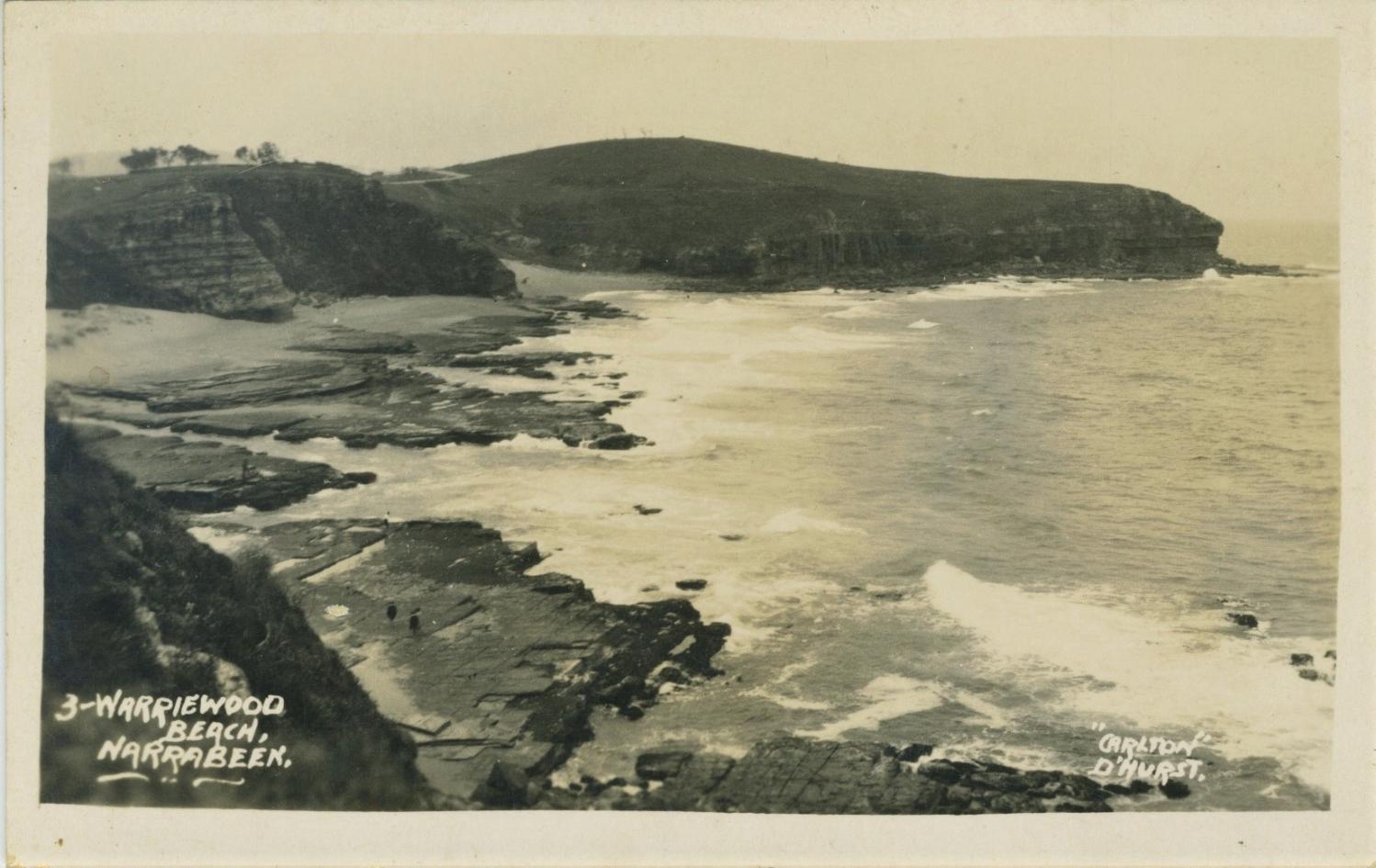 Turrimetta - North Narrabeen- Warriewood view, circa 1928, postcard from private collection of Geoff Searl OAM, President Avalon Beach Historical Society.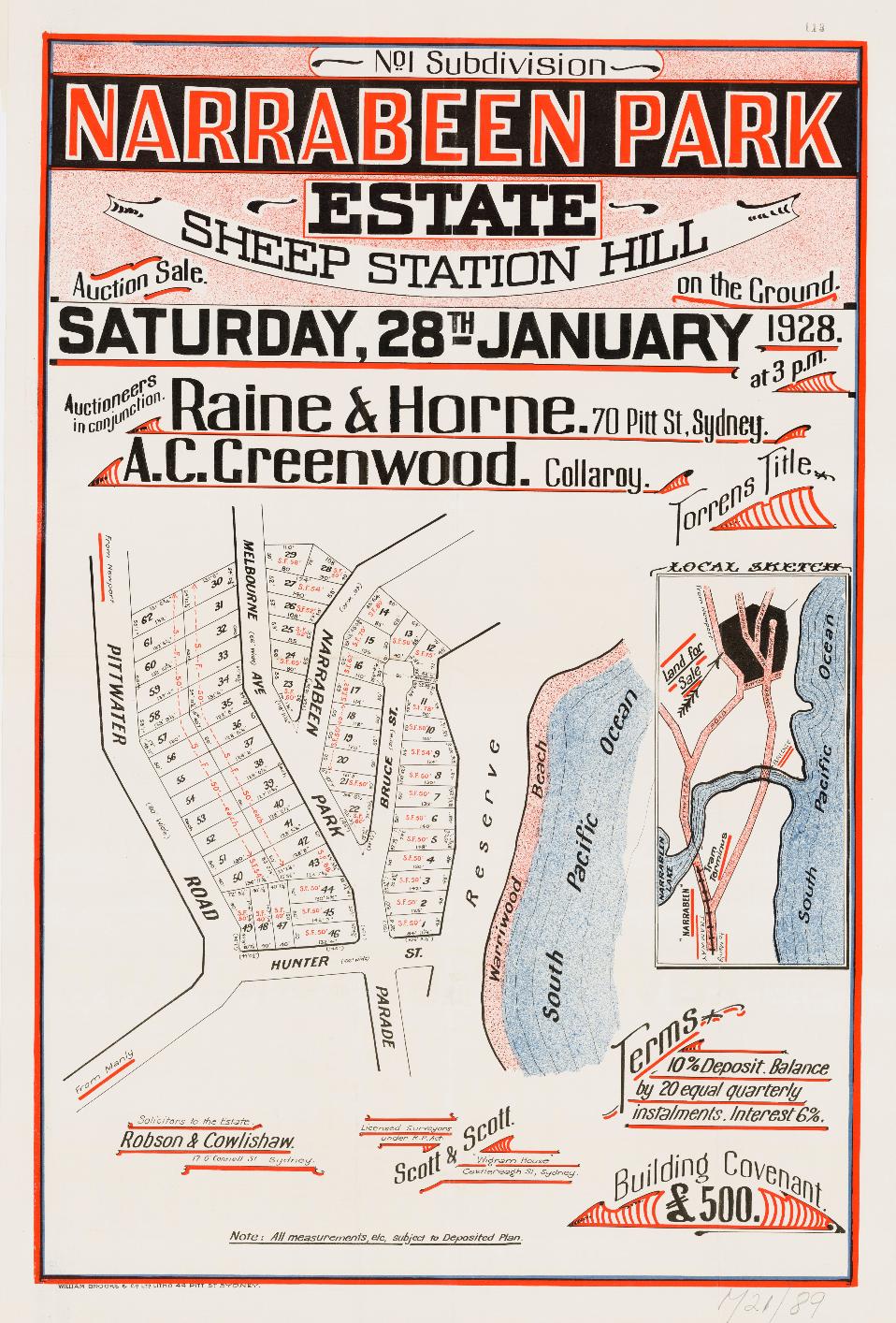 No. 1 Subdivision - Narrabeen Park Estate - Sheep Station Hill Jan 28, 1928. Item No.: c046820089, courtesy State Library of NSW, Album: Narrabeen Subdivision Plans - Bruce Street, Hunter Street, Melbourne Avenue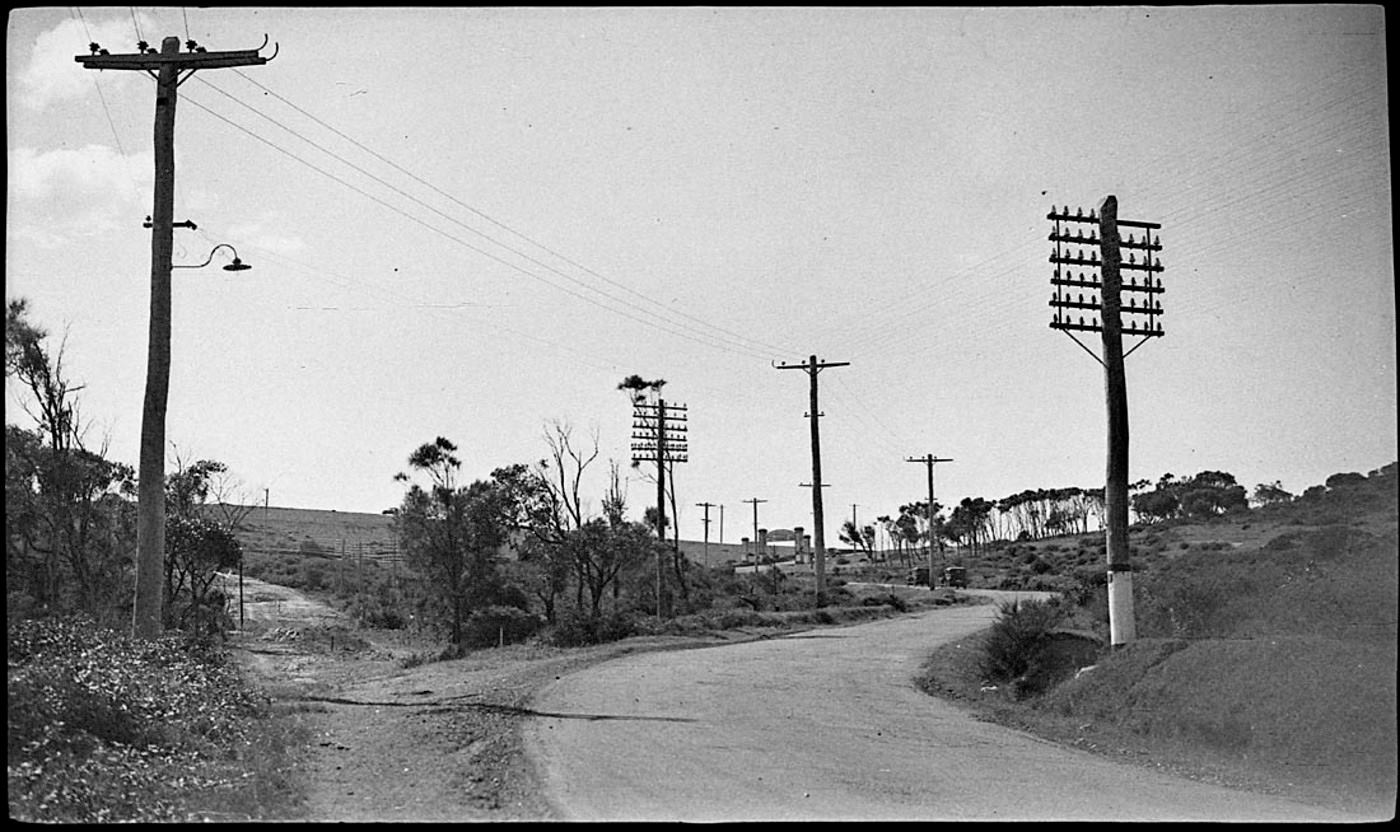 'Palm Beach Road, near Mona Vale' photo by Albert James Perier, courtesy State Library of NSW - 1920s (1928-1929)
Note the spelling of 'Warriewood' in this advertisement
OCEANSIDE LOTS
NARRABEEN PARK NEW AREA OPENED
Separated from Warriwood beach only by a public reserve, is the first subdivision of Narrabeen Park Estate, which will be sold by auction next Saturday, by Messrs. Raine and Horne, in conjunction with A. C. Greenwood. This estate is on the high land Just north of Narrabeen beach, and has Warriwood beach Immediately In front of It. The main Pittwater- road passes It, and the new road over the bridge closer to the beach runs through the estate. Four business sites and 58 residential lots are to be sold in this subdivision, which is on u slope of the hill, that gives it wide views of beach and lake. Narrabeen Is the terminus of the northern tram service, while modern 'buses also supply transportation to Manly. Terms .of sale will be ten per cent. deposit and the balance In five years. OCEANSIDE LOTS (1928, January 25). The Sun (Sydney, NSW : 1910 - 1954), p. 14 (LAST RACE EDITION). Retrieved from http://nla.gov.au/nla.news-article224225740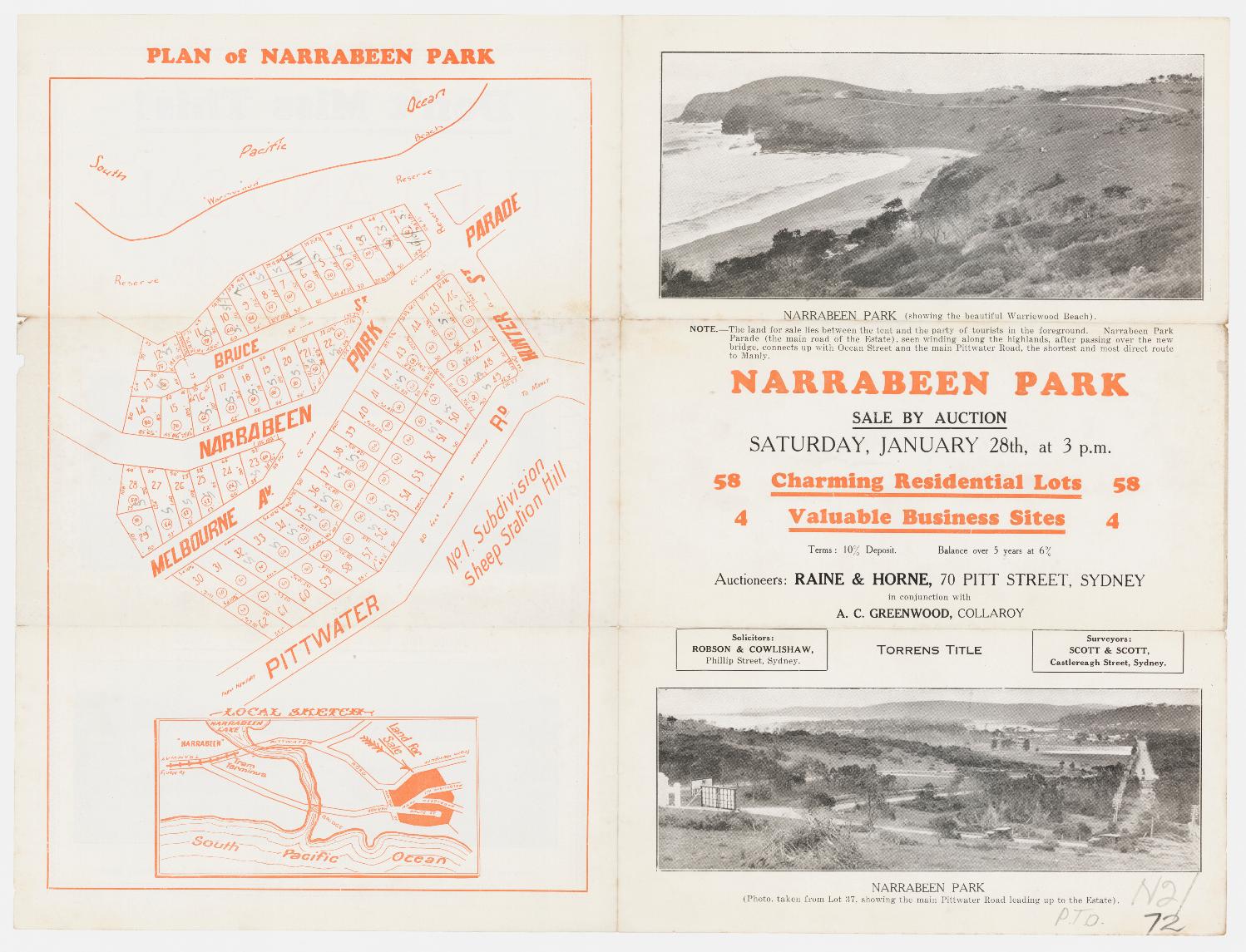 Narrabeen Park Parade 1928 subdivision pamphlet. Items c050370073 and c050370074, from and courtesy State Library of NSW, Album: Narrabeen Subdivision Plans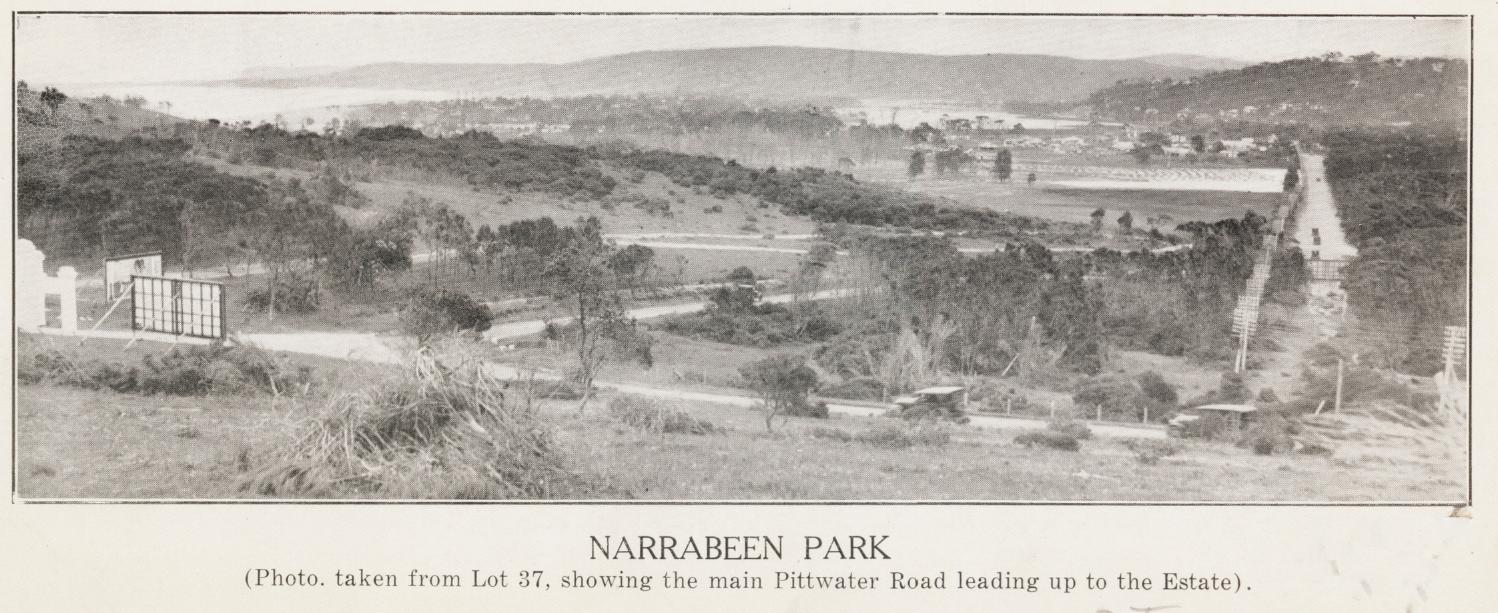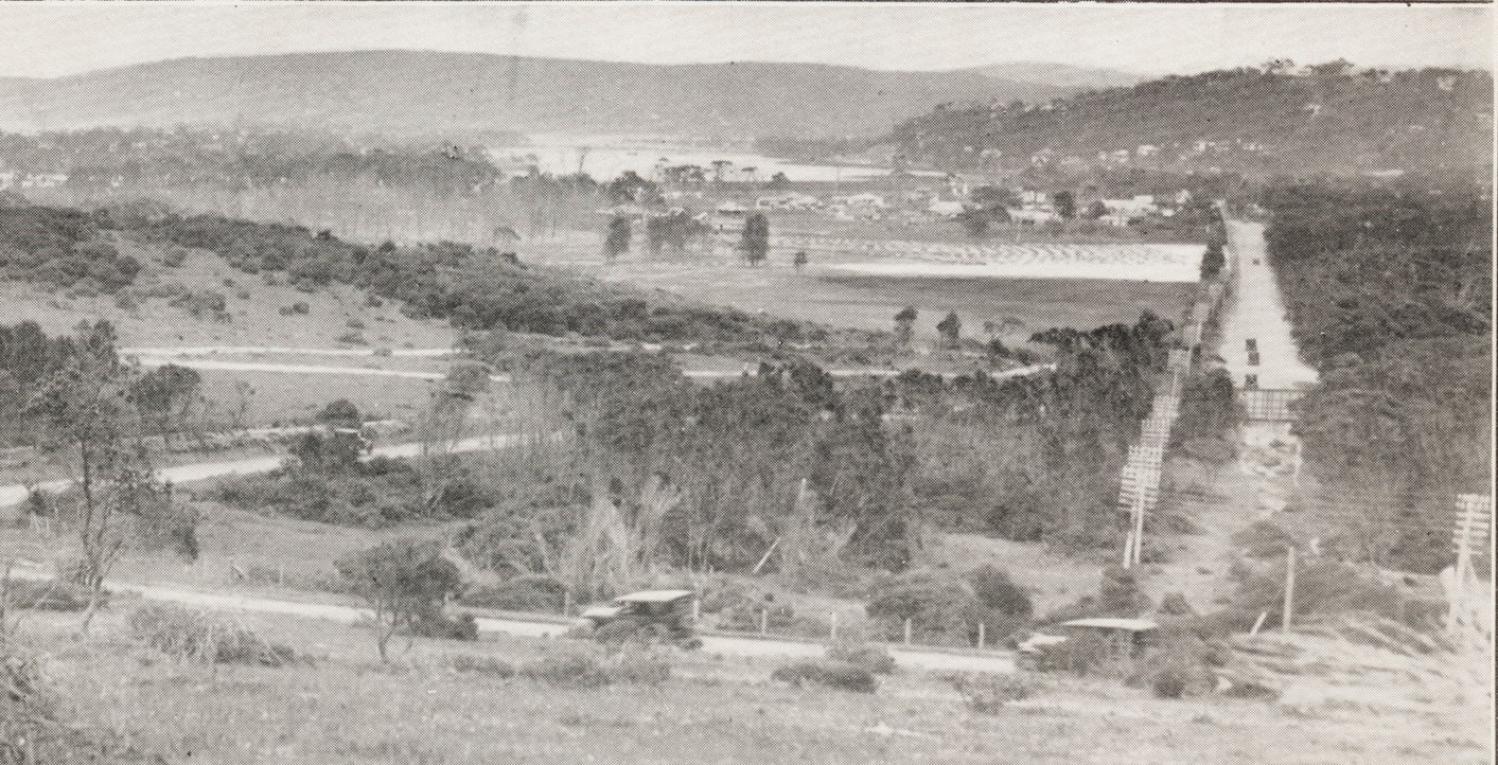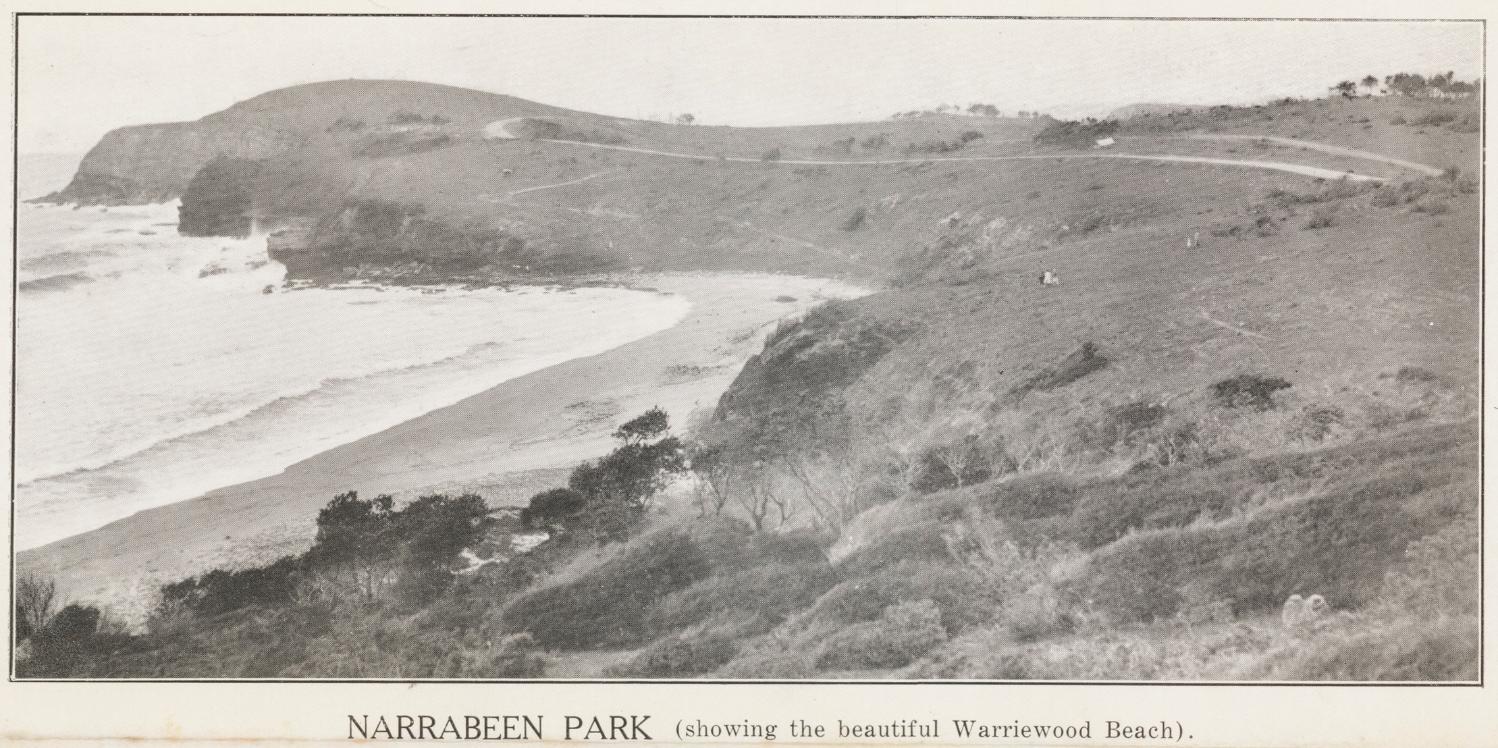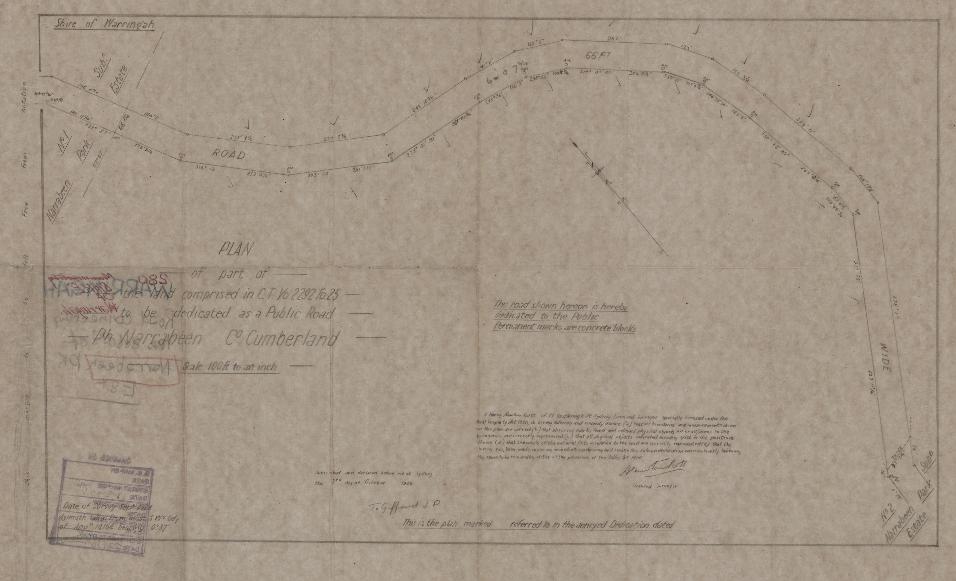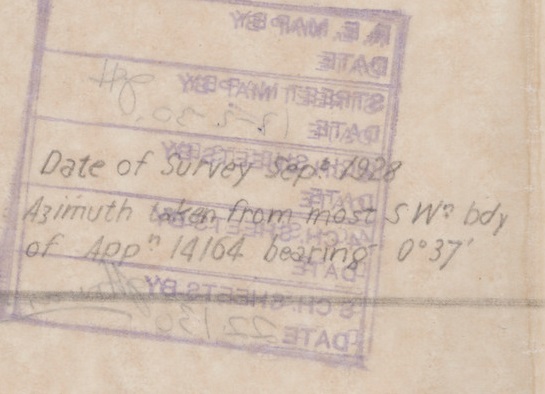 Road to be Dedicated as a Public Road (Cook Terrace added for Nov. 1928) - Plan of part of the land comprised in CT Vol. 2292 to 25 to -
Date of Survey, Sept., 1928
Item No.: c050370188 - Narrabeen Park Estate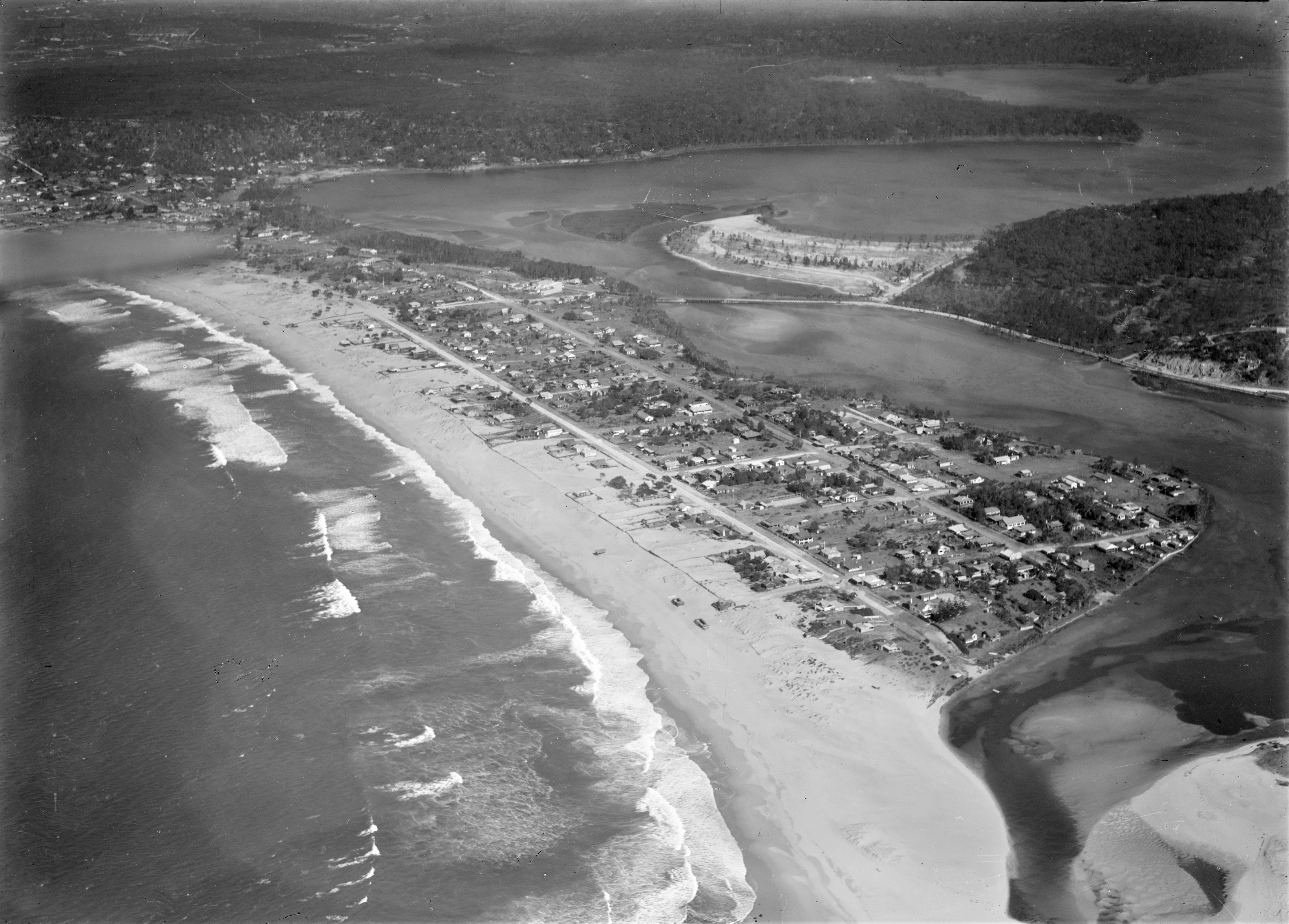 Narrabeen Lagoon aerial, from album Milton Kent aerial views of Bondi, Cronulla, Granville, Haberfield, Middle Harbour, Narrabeen, Mascot, Sydney, Sydney Harbour, Tempe, between 1926-1938, Item: c111660015, courtesy Mitchell Library, State Library of New South Wales - and sections from to show details; NB - no Bridge from Ocean street across Lagoon present, and old Nth. NSLSC still on beach - so pre-1927 and showing the larger section now reclaimed where Wimbledon Avenue will be formed.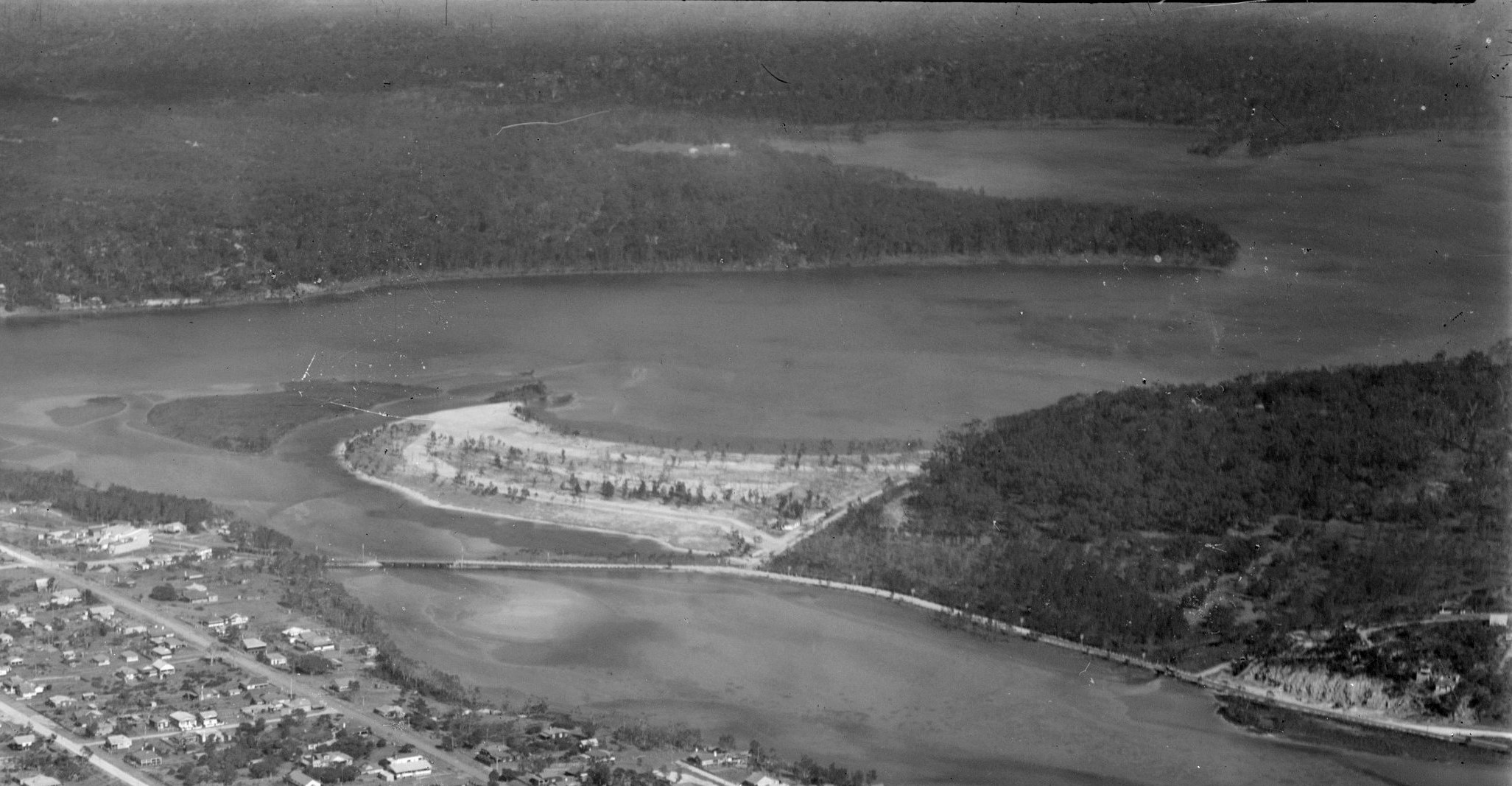 Striking Aerial Views : Newcastle and Narrabeen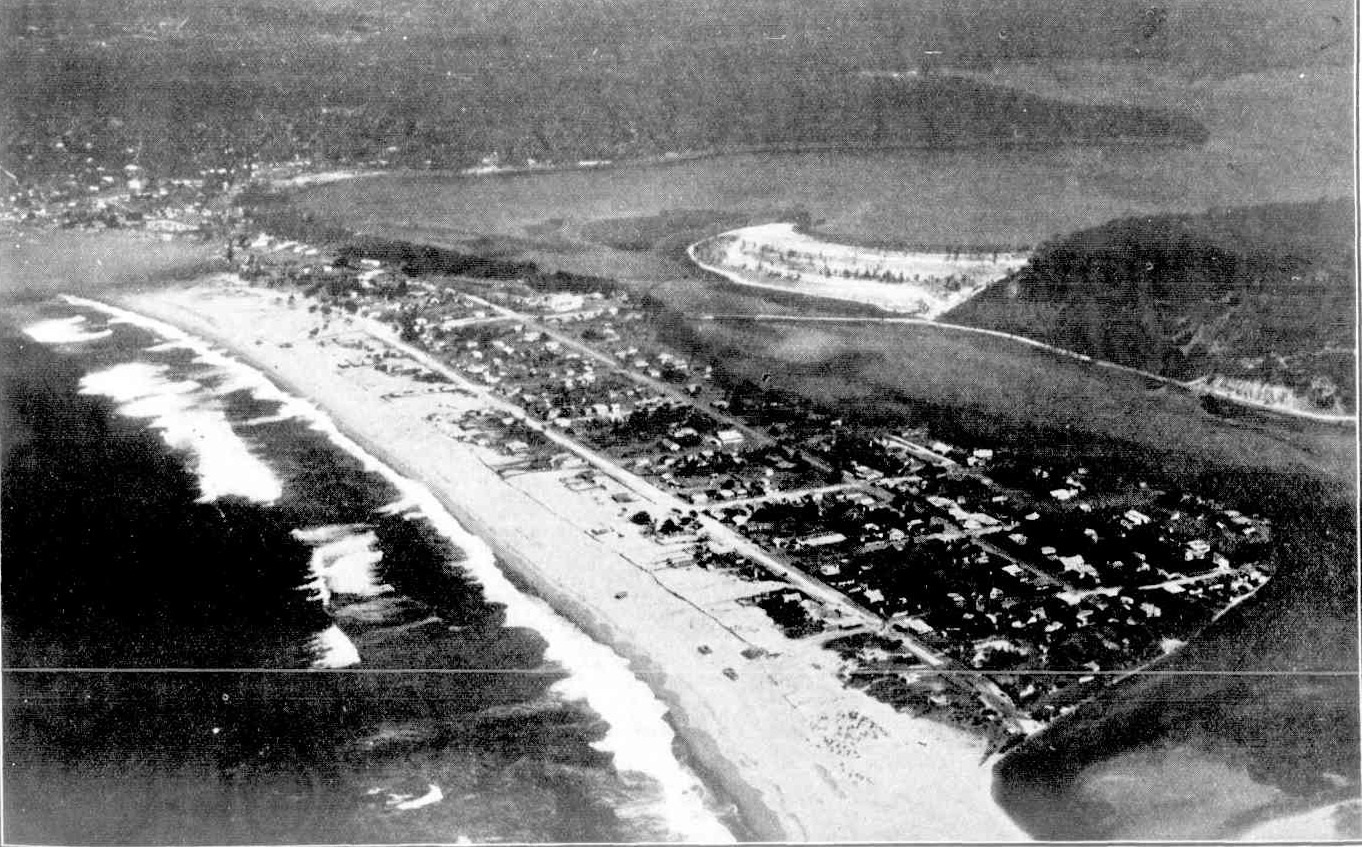 NARRABEEN, BETWEEN OCEAN AND LAKE. This fine strip of ocean beach runs from North Narrabeen through South Narrabeen to Collaroy (on the left). Narrabeen proper is situated on the peninsula in the centre of the picture. The main road from Manly to Newport, Avalon, and Palm Beach runs through the upper portion of Narrabeen, crossing the lake by the bridge, beyond which is seen a portion of low -lying land now being reclaimed. Striking Aerial Views : Newcastle and Narrabeen (1928, August 22). Sydney Mail (NSW : 1912 - 1938), p. 17. Retrieved from http://nla.gov.au/nla.news-article158401835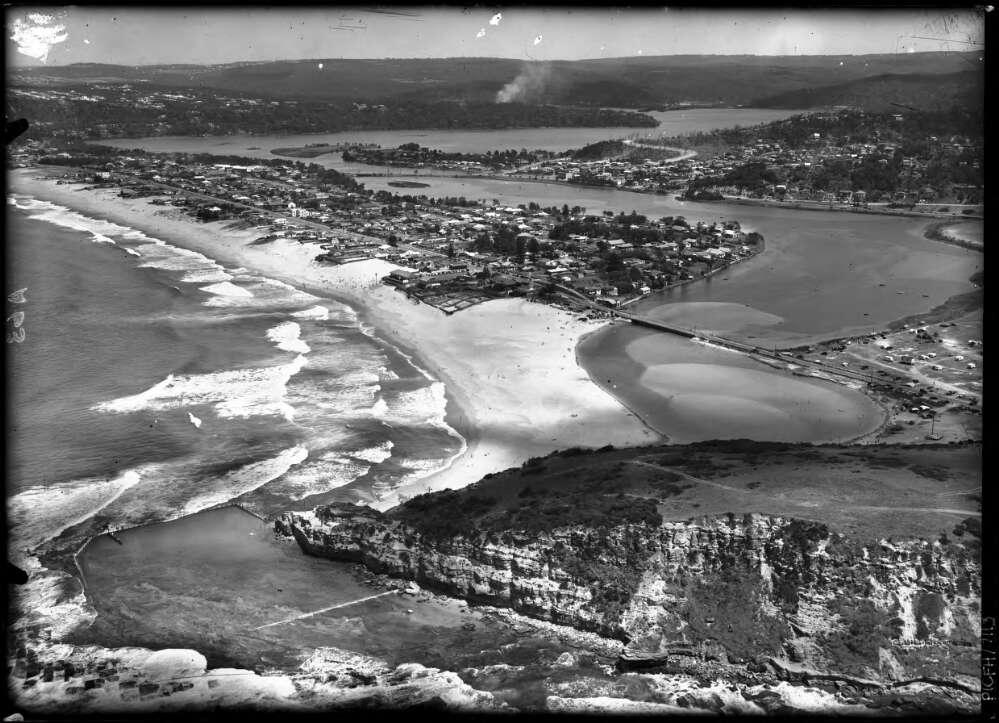 Hurley, Frank. (circa 1950). Narrabeen & Lakes, larger shot with pool in f[oreground] [New South Wales] [Aerial views, Sydney, New South Wales] Retrieved from http://nla.gov.au/nla.obj-160005062
Turimetta Beach And Surrounds: June 2021 Photos
Begin with a wooden stair climb to the top of the Narrabeen Headland, where dirt paths curve around to various lookouts, providing views down Narrabeen Beach towards Collaroy Beach, over the Narrabeen Lagoon and beyond. The trail continues until you reach a path that continues across the top of Turimetta Beach.
After a short street path walk you are back into the reserve where dirt paths and steps take you around the Turimetta Headland. You then commence your descent into Warriewood Beach itself and the lookout north to Mona Vale Beach and the Mona Vale Basin.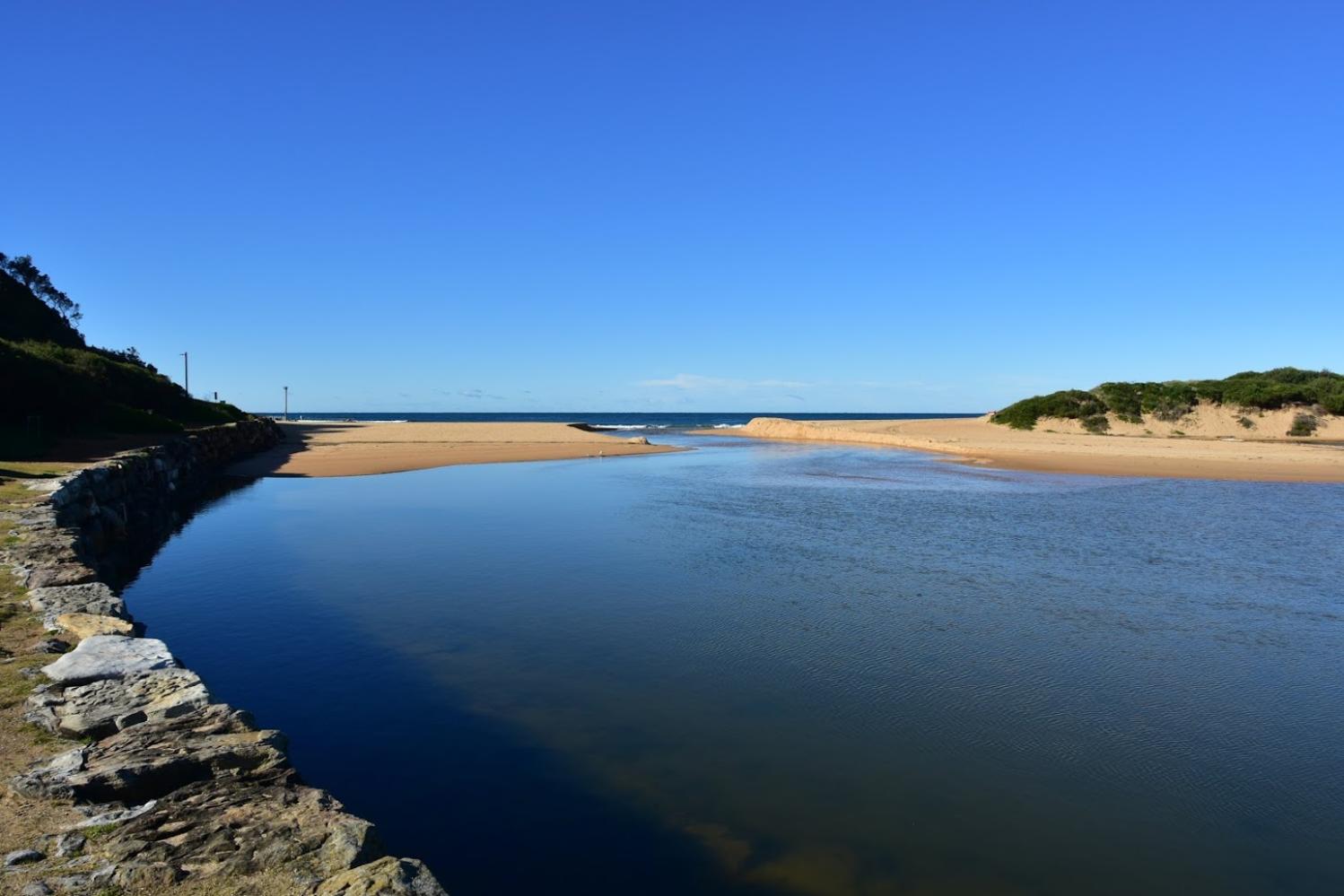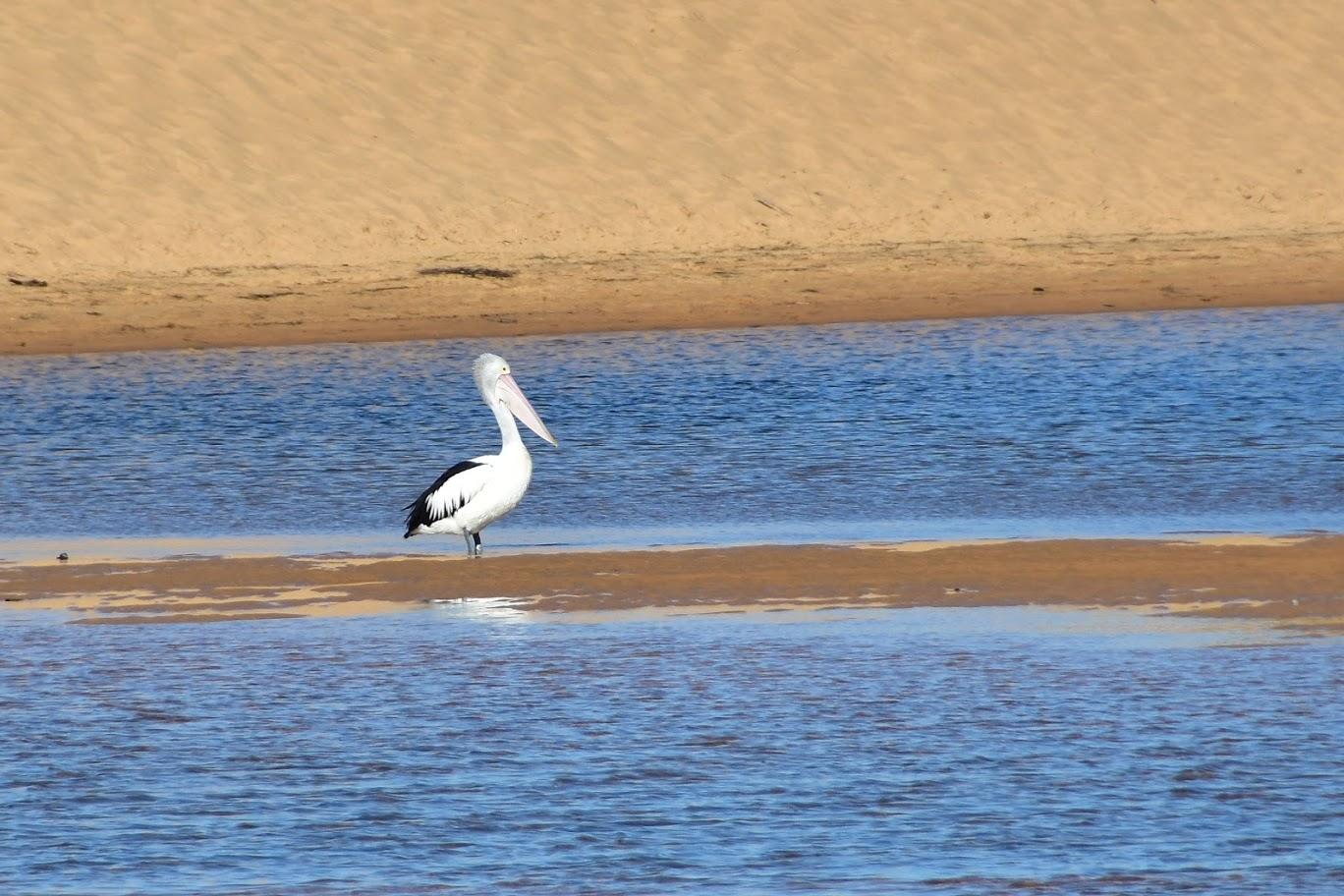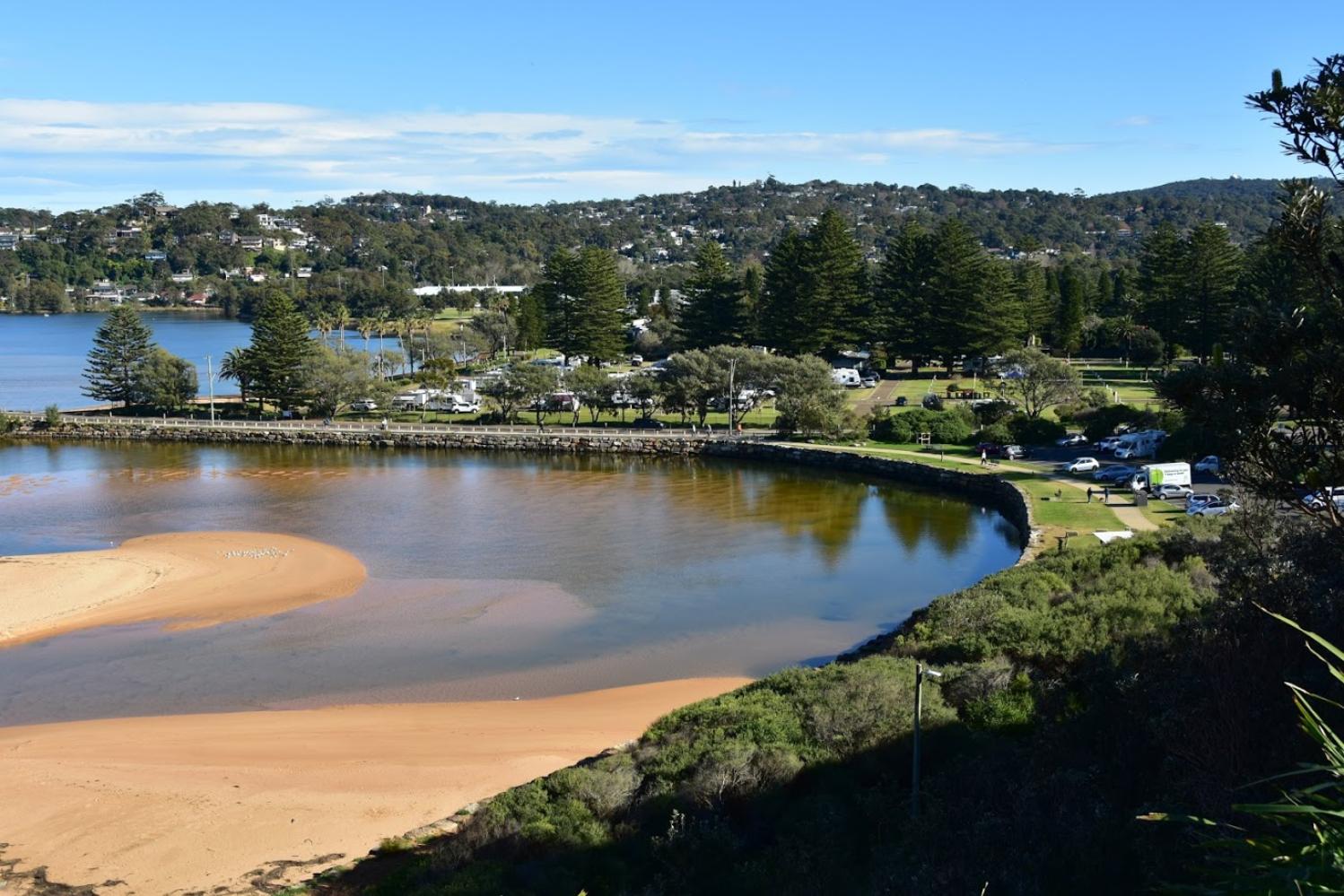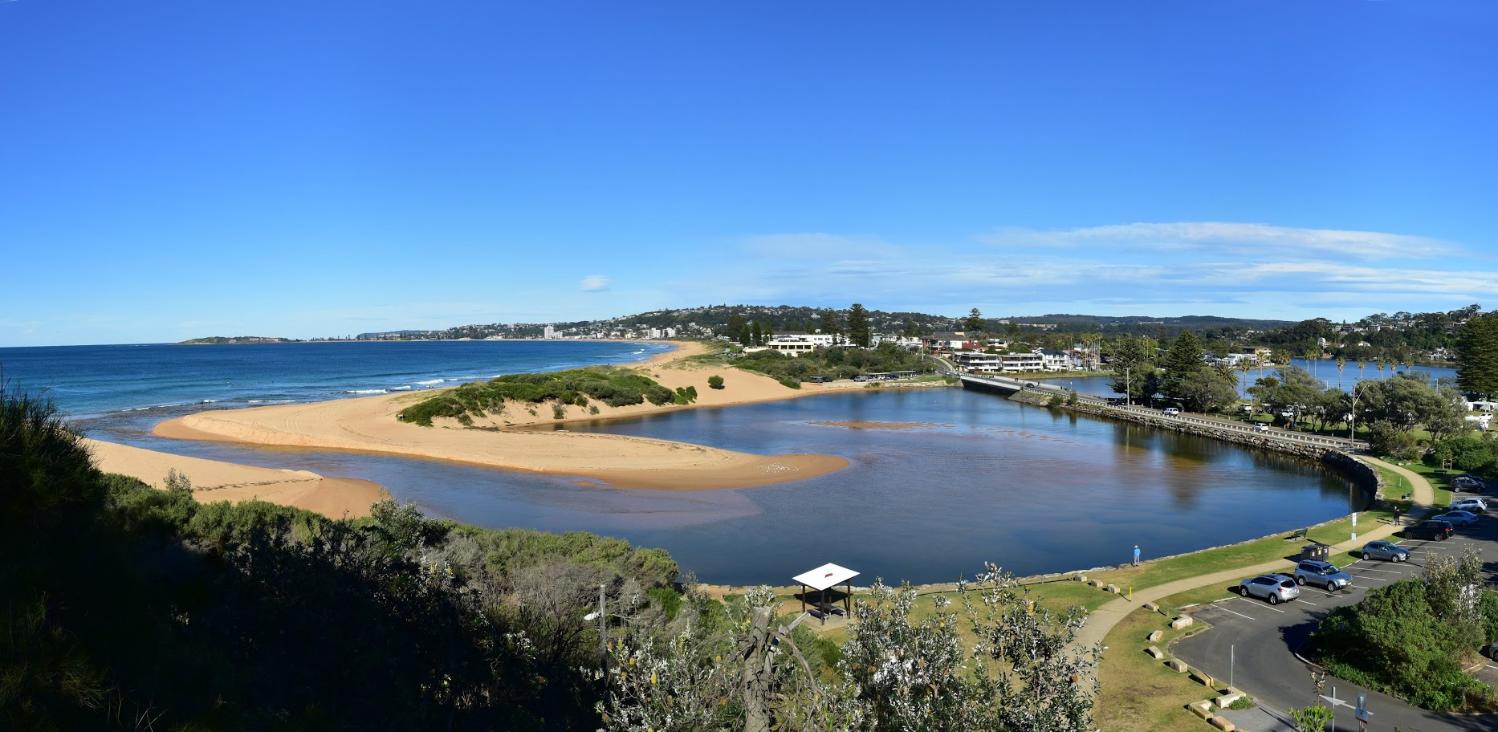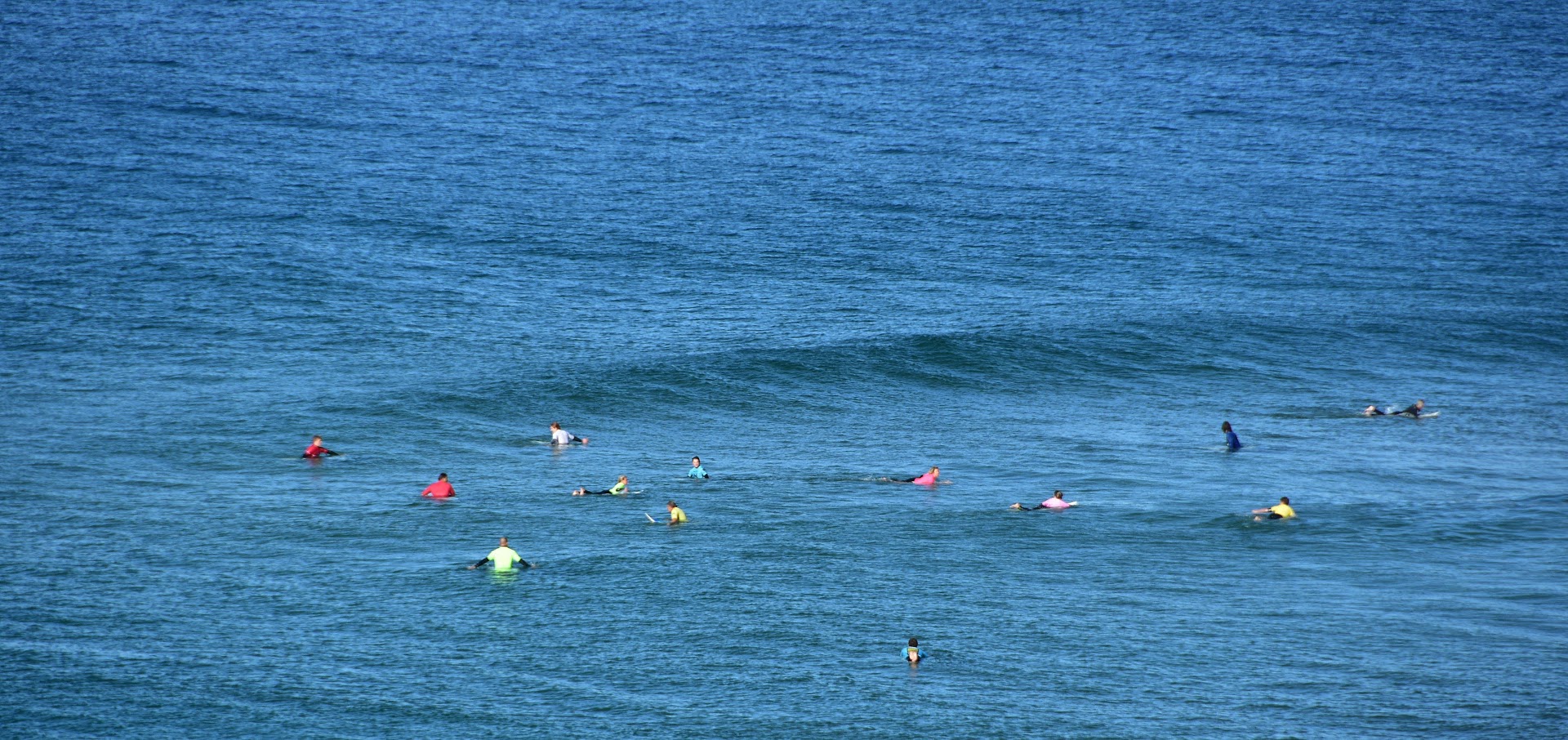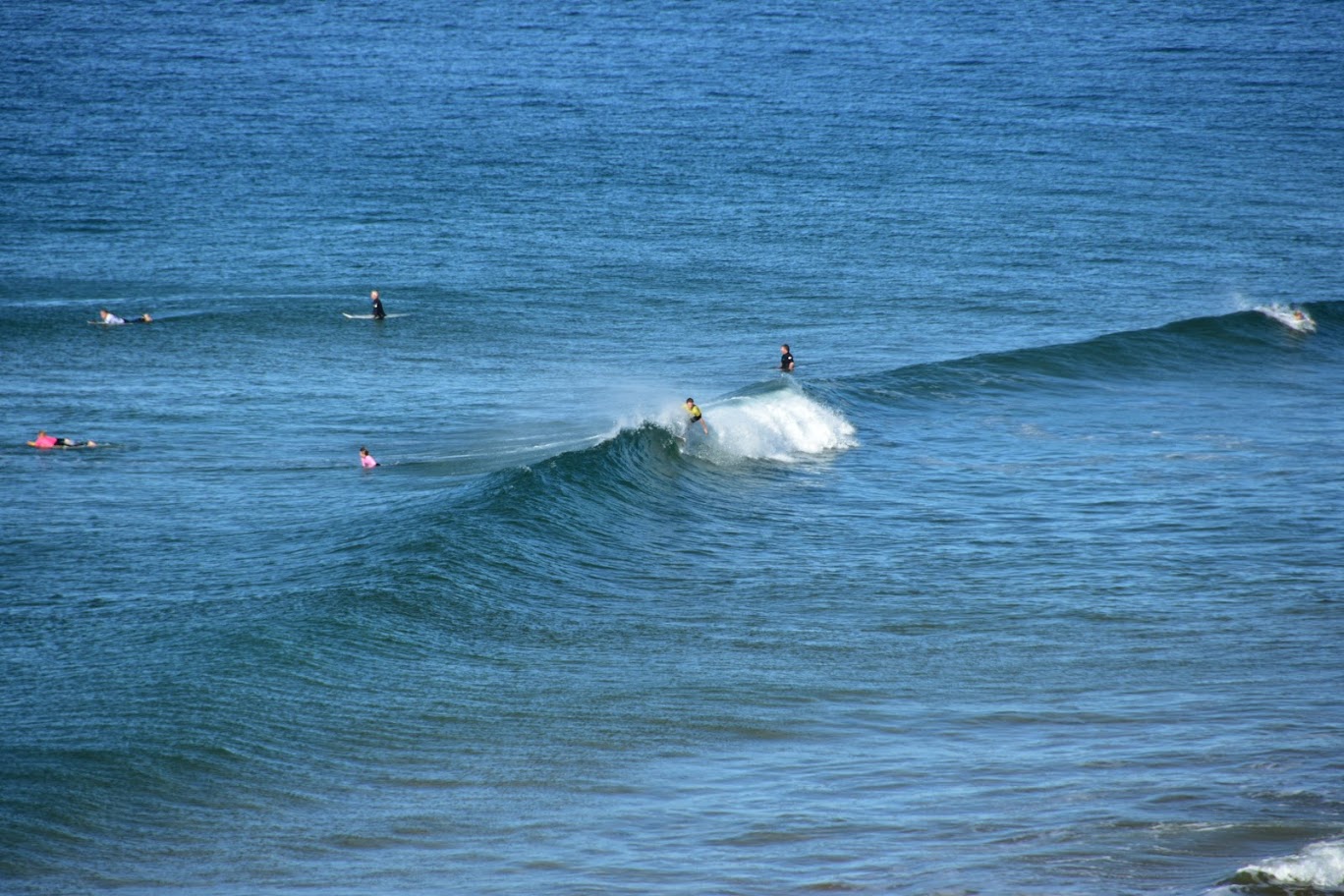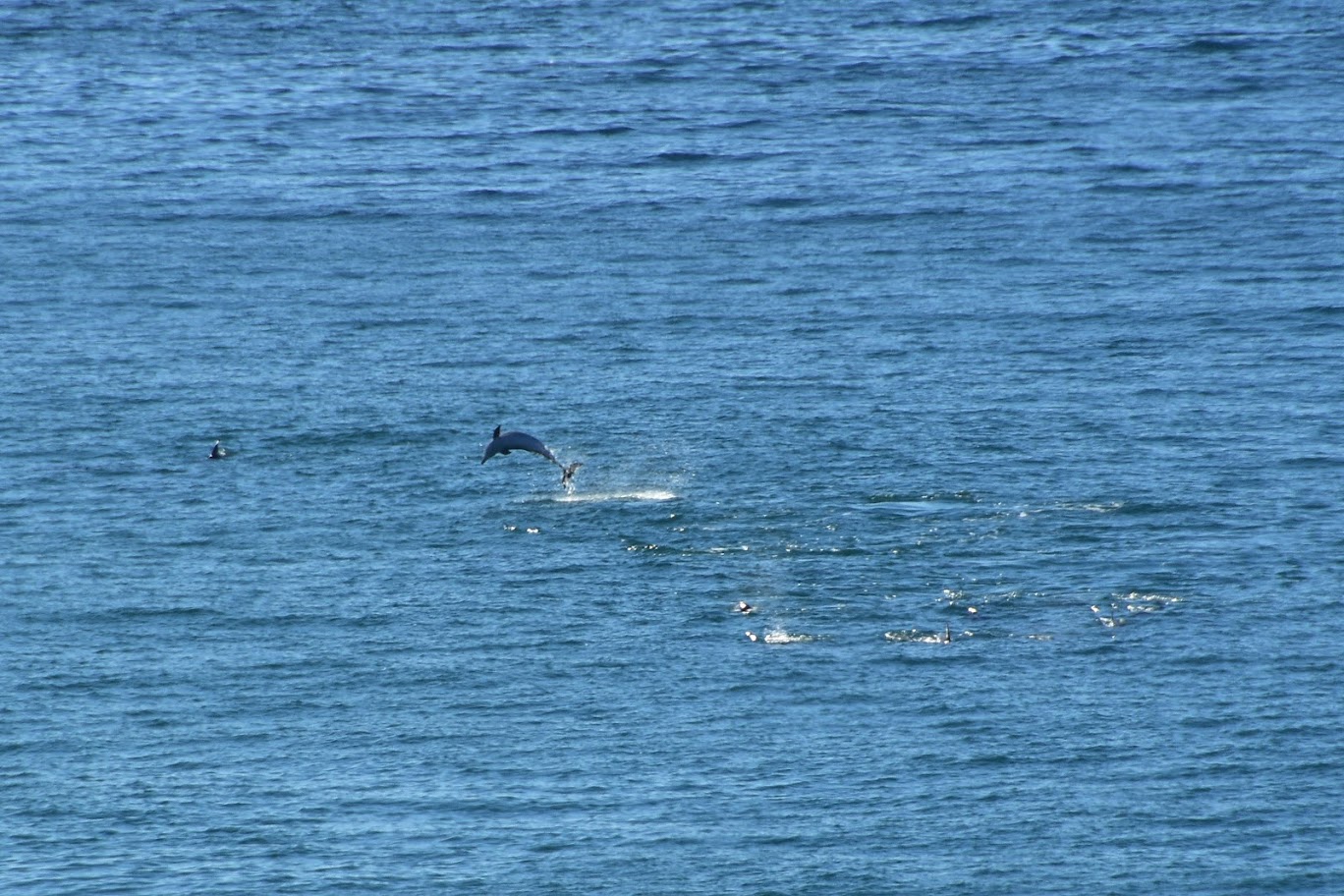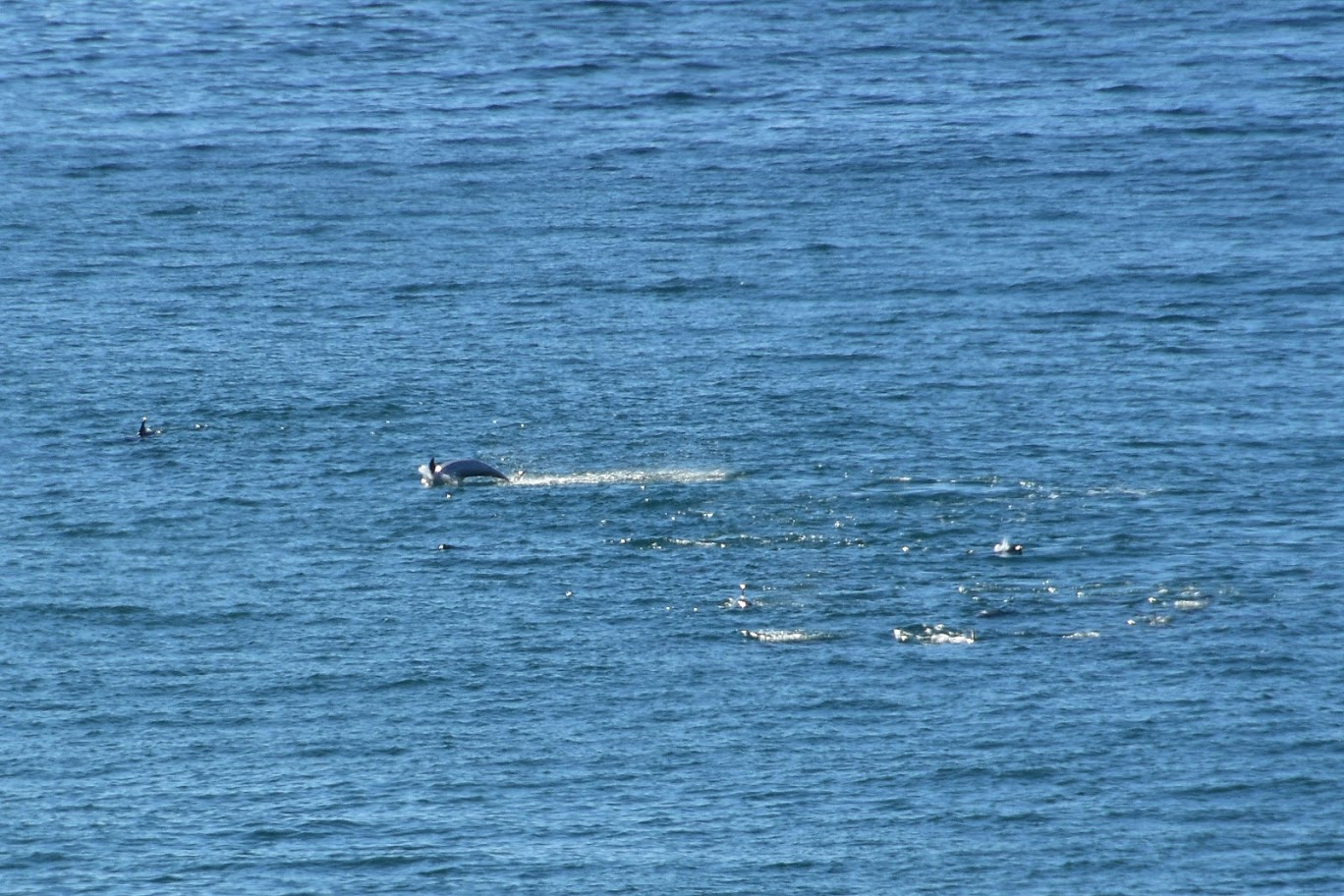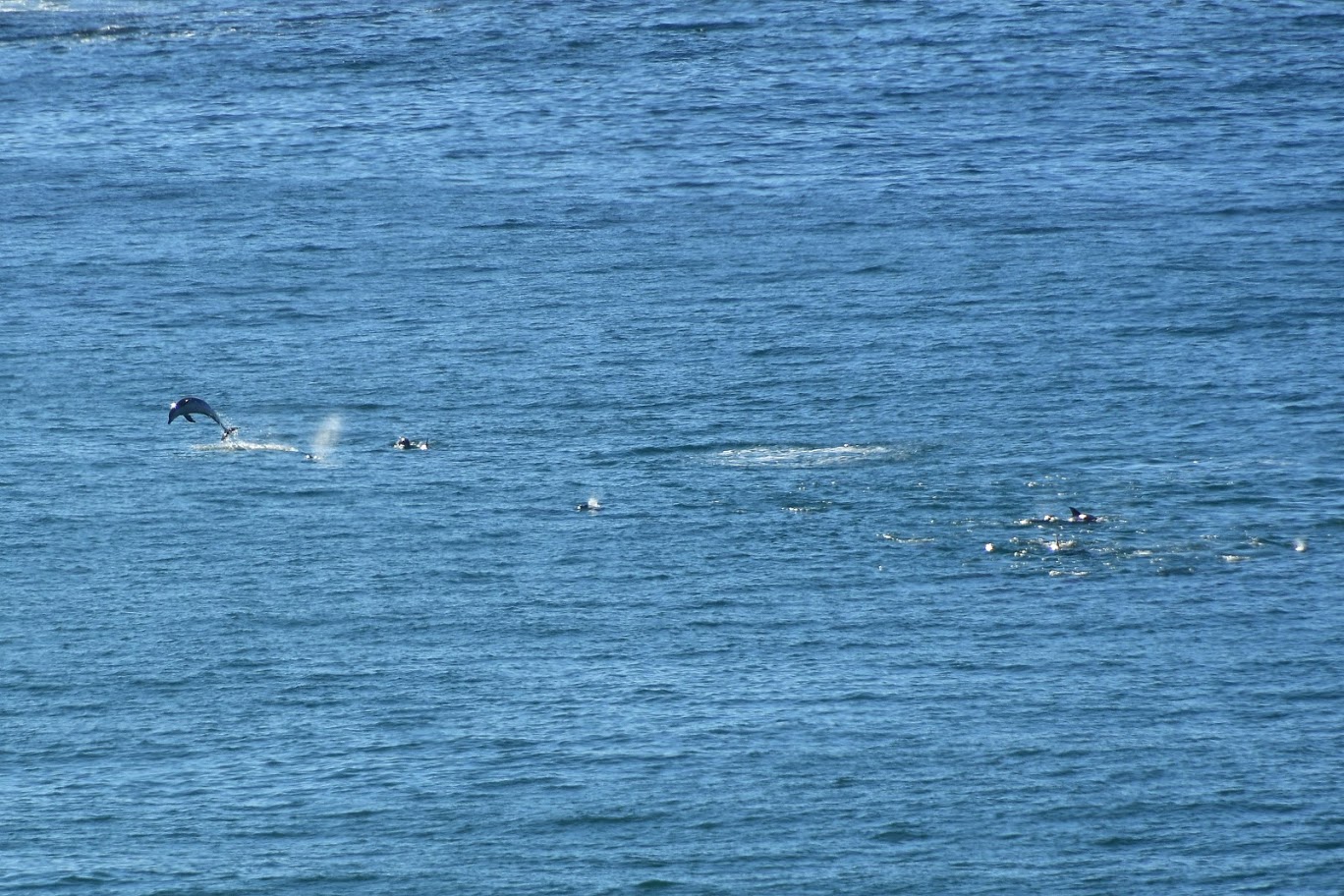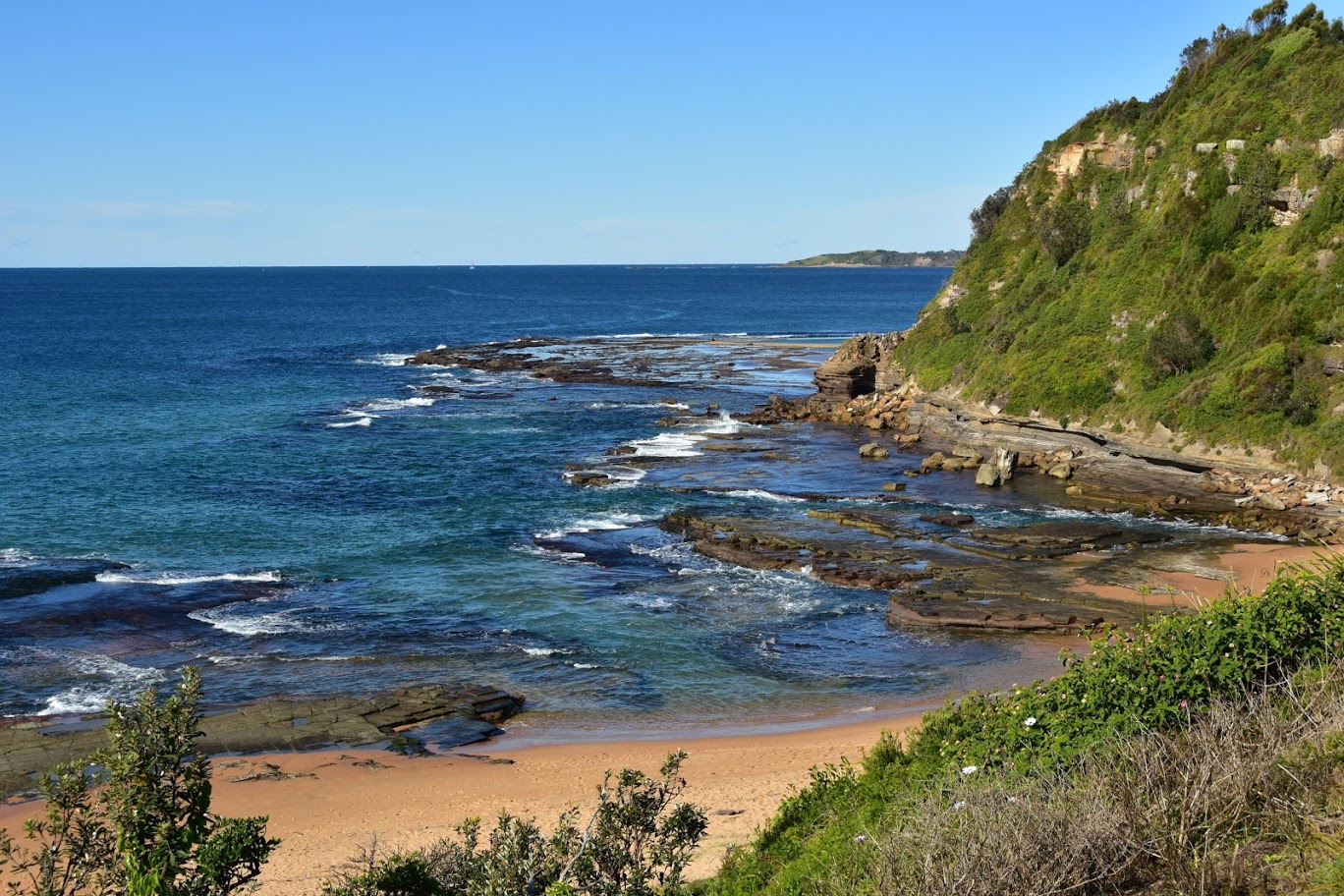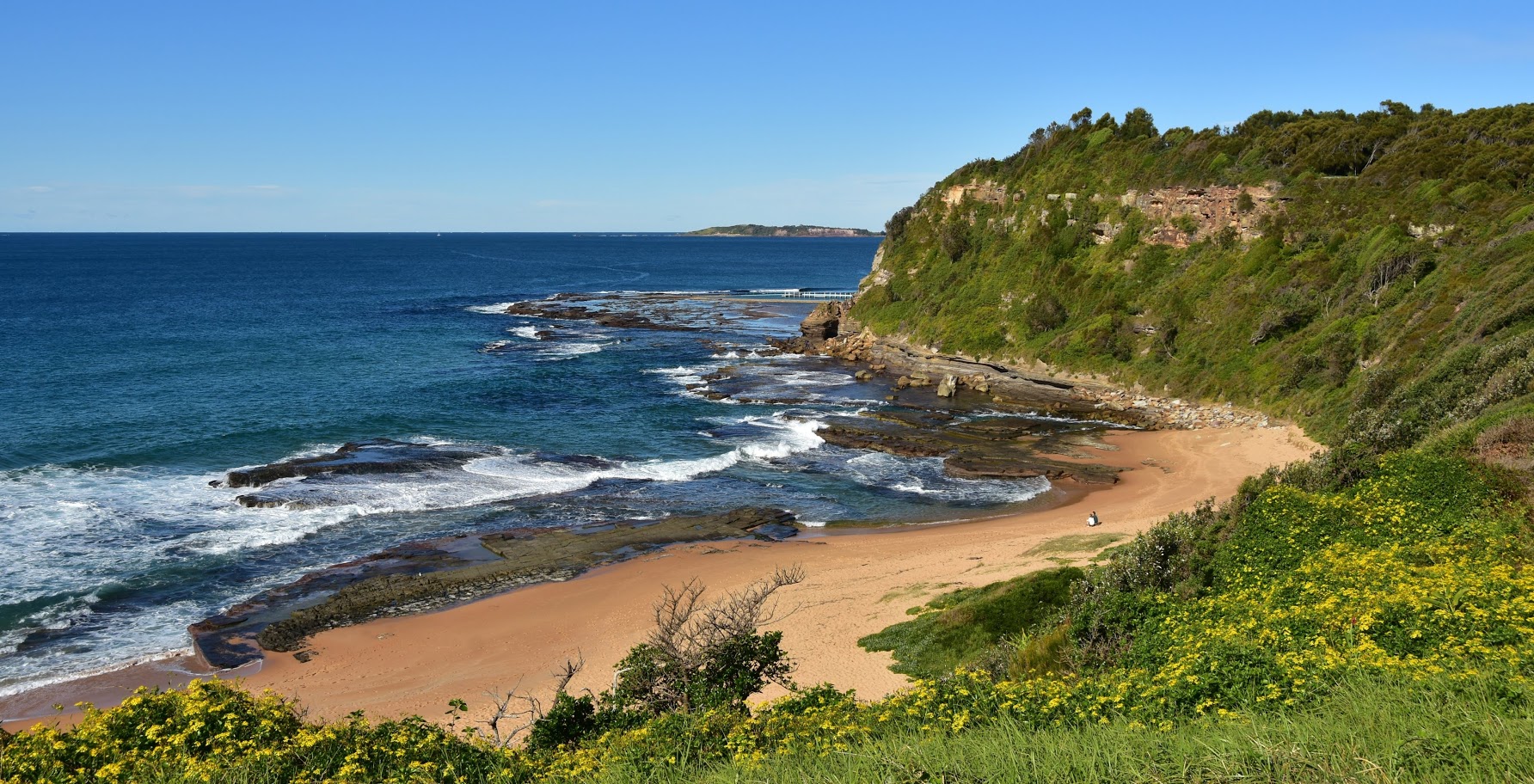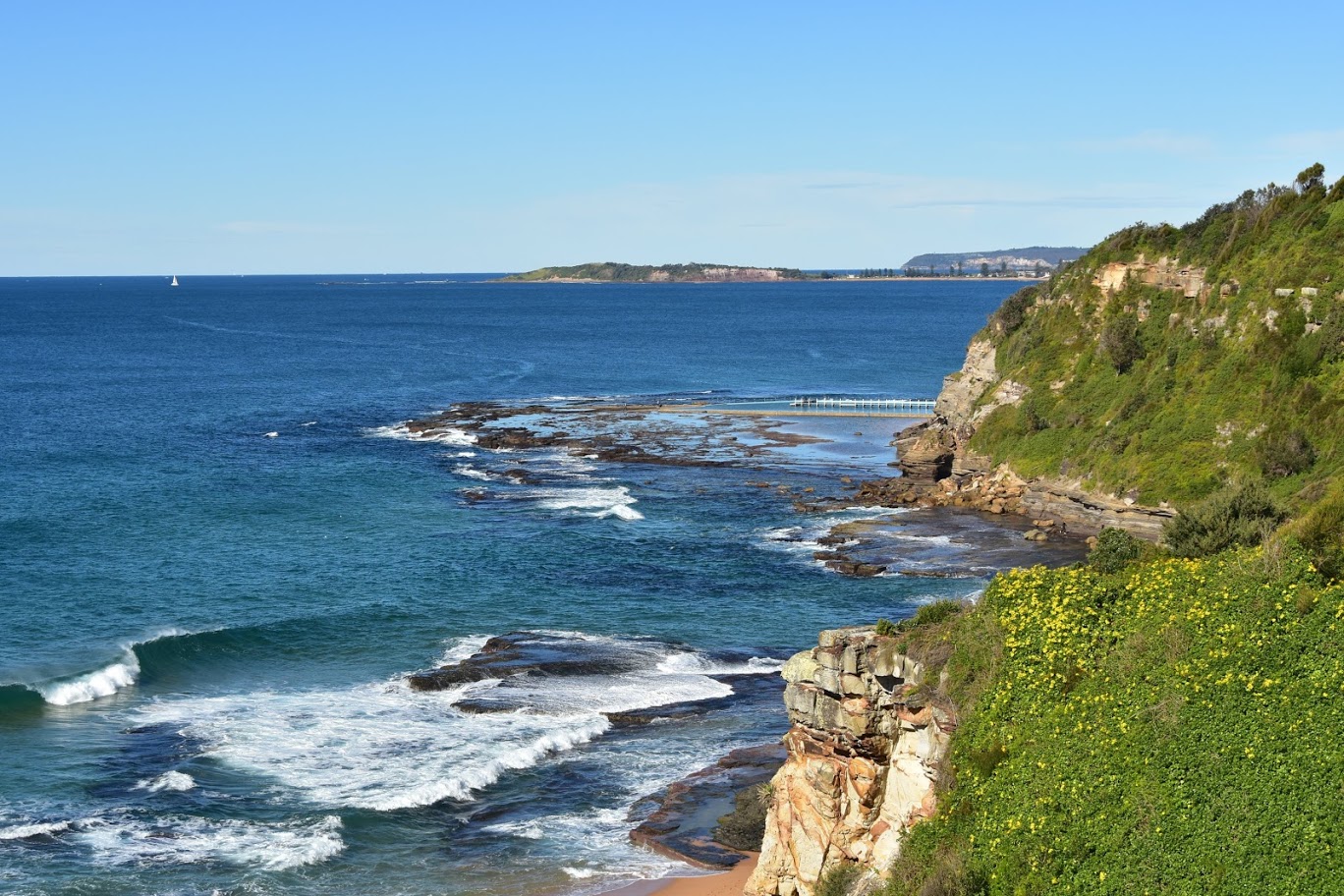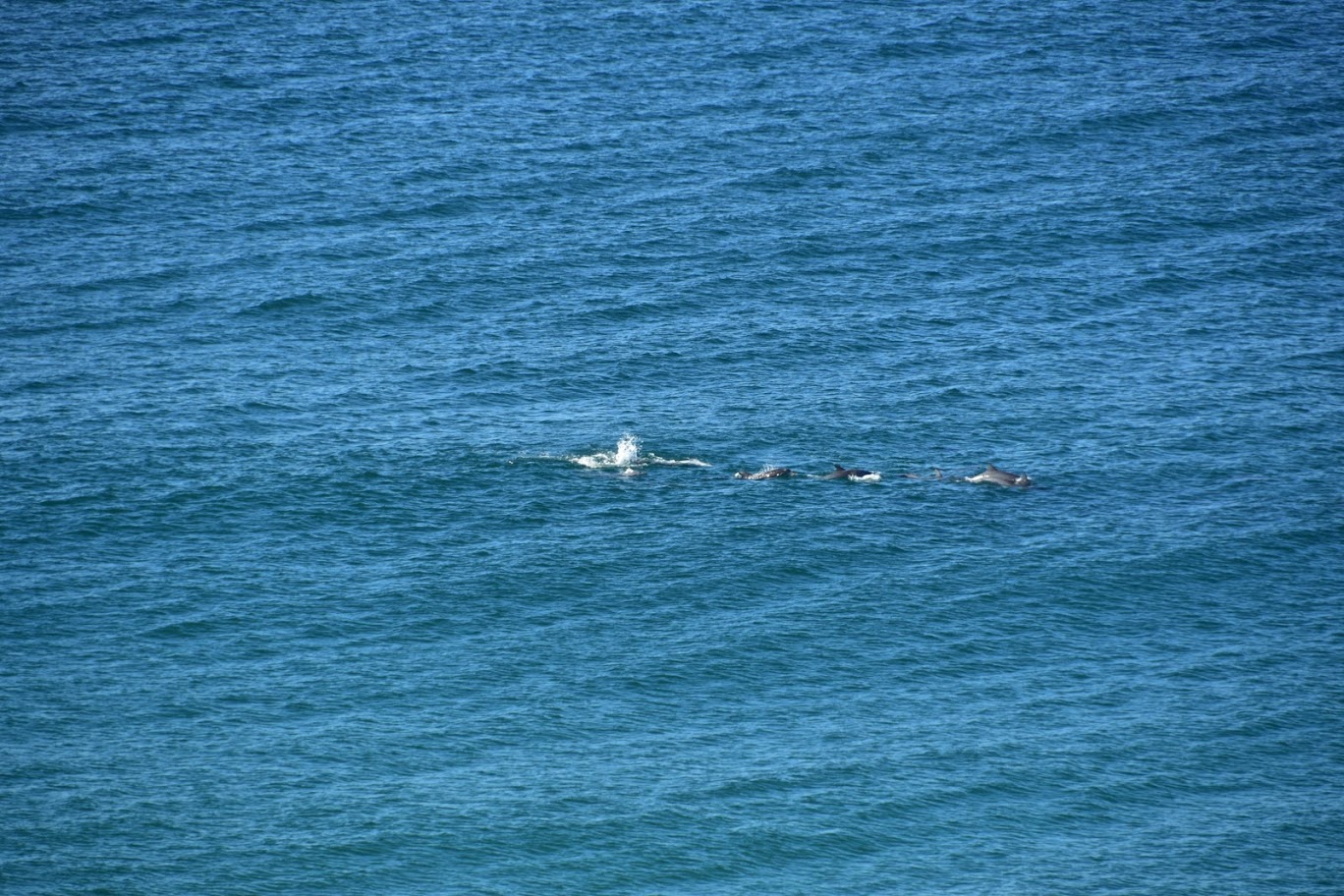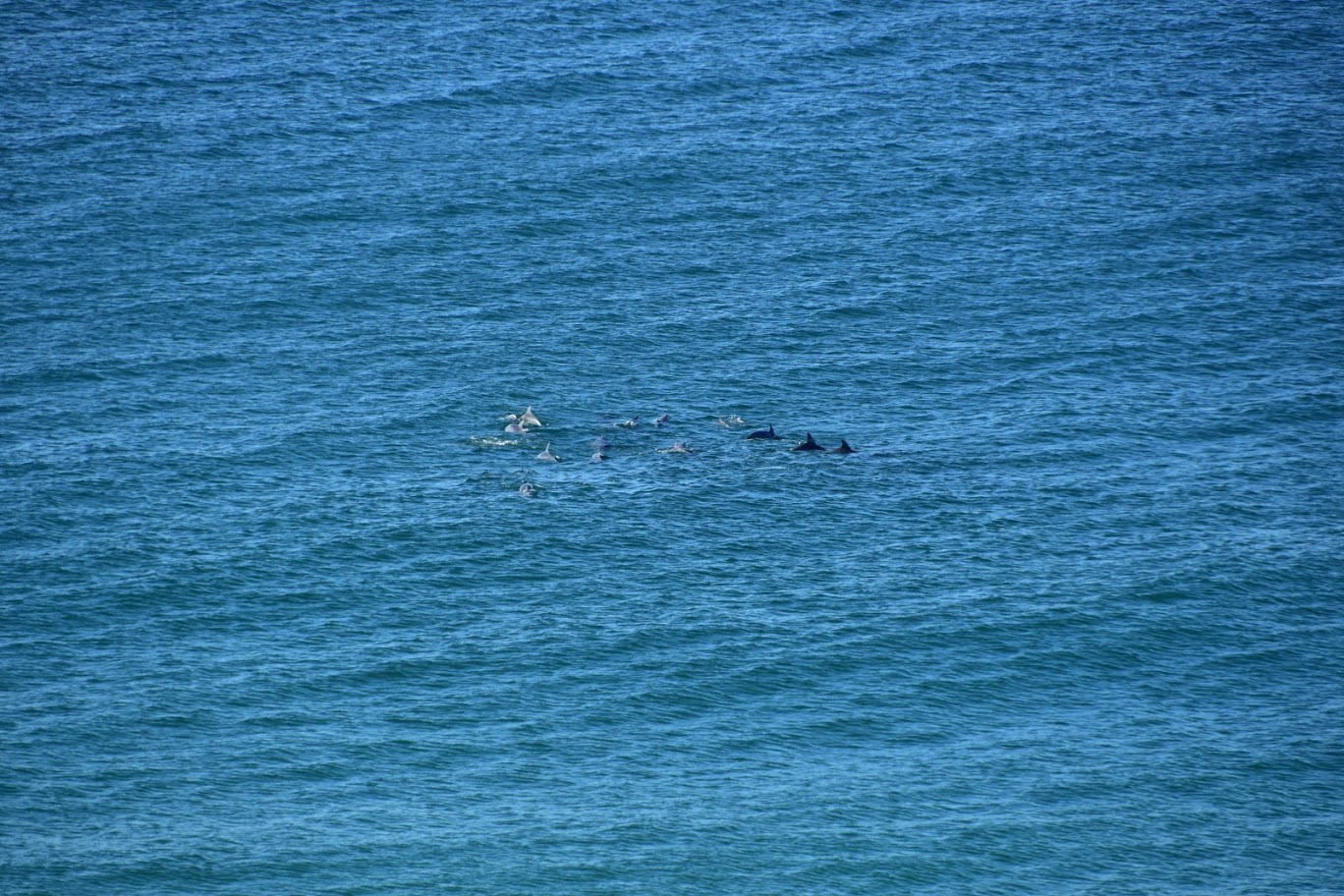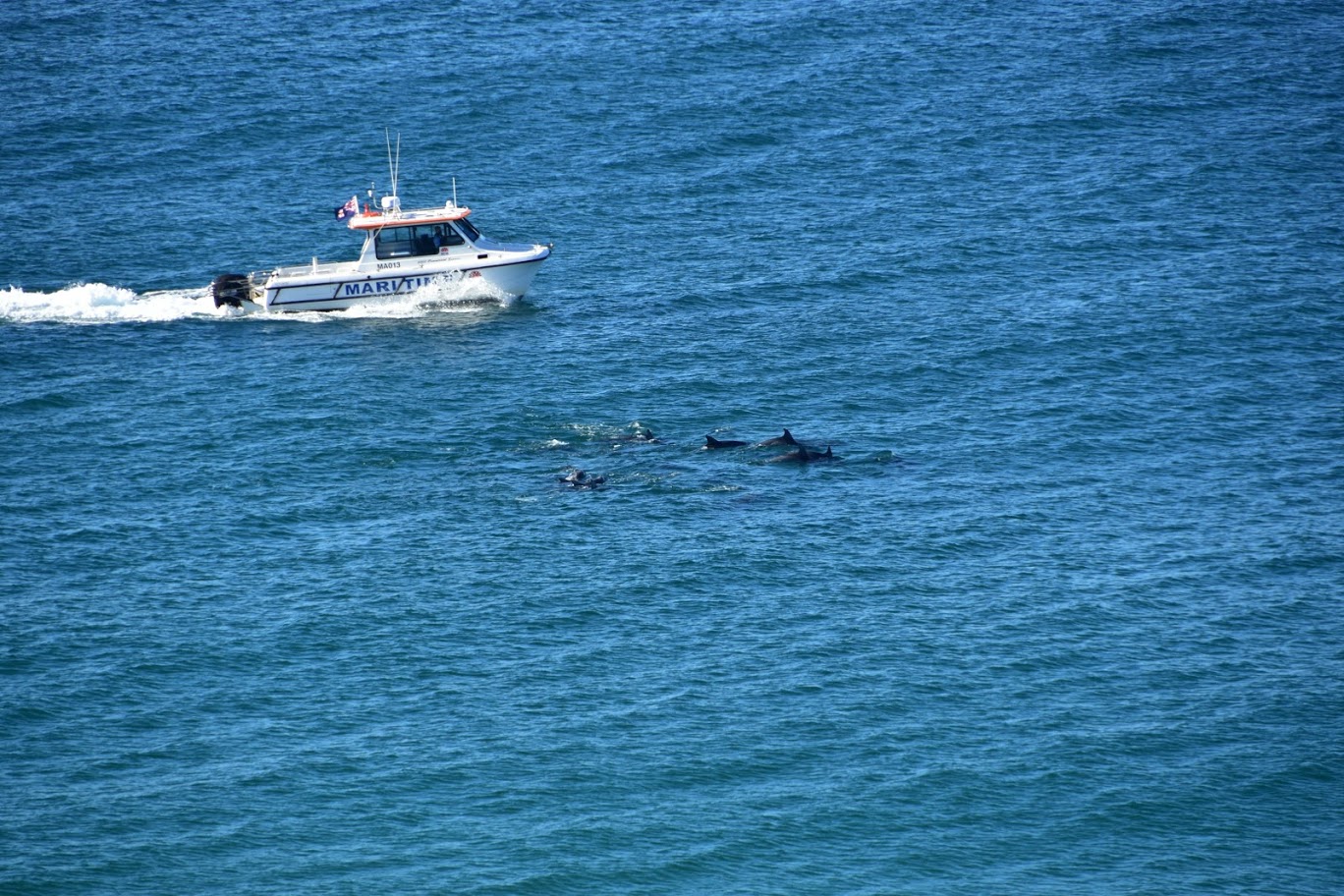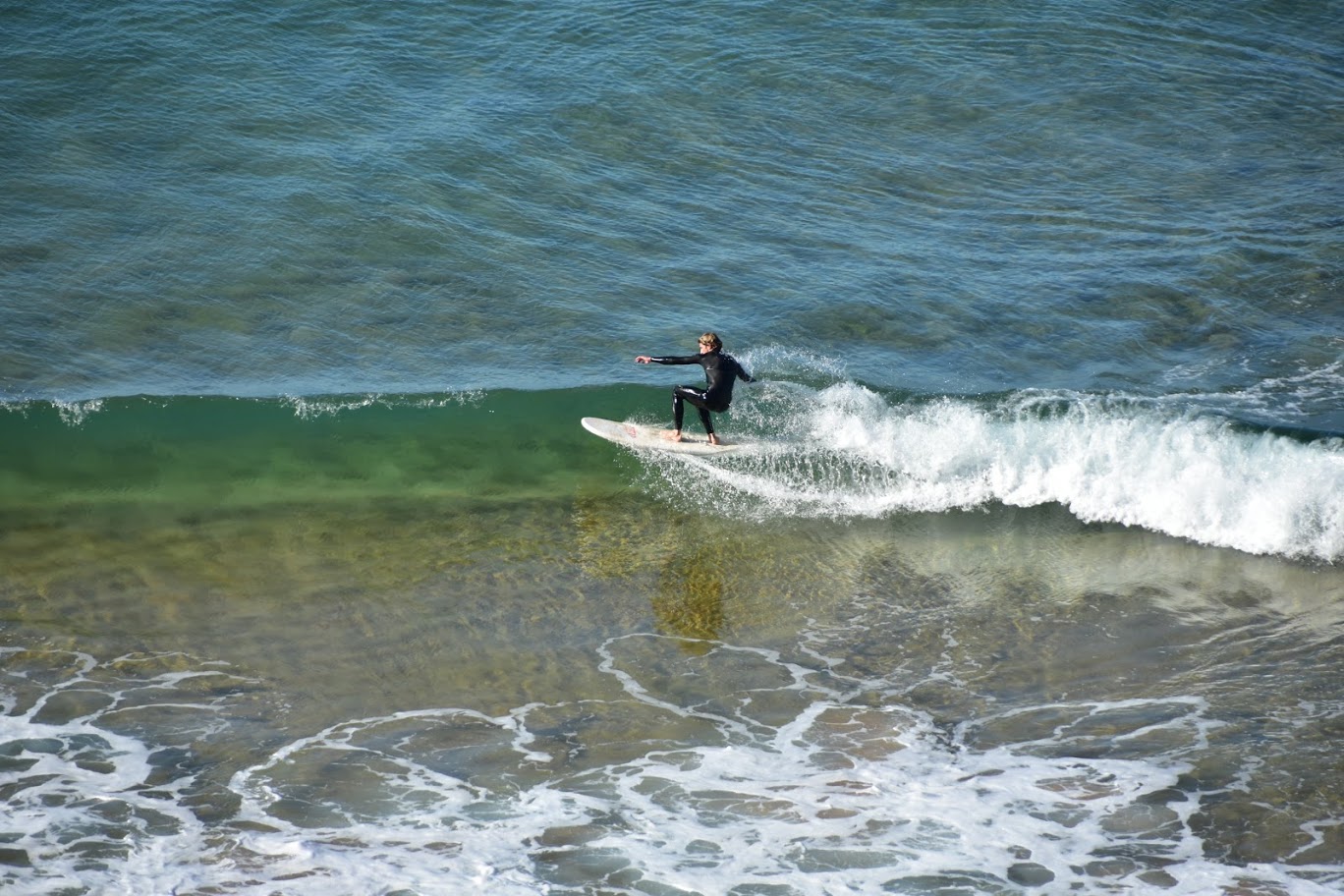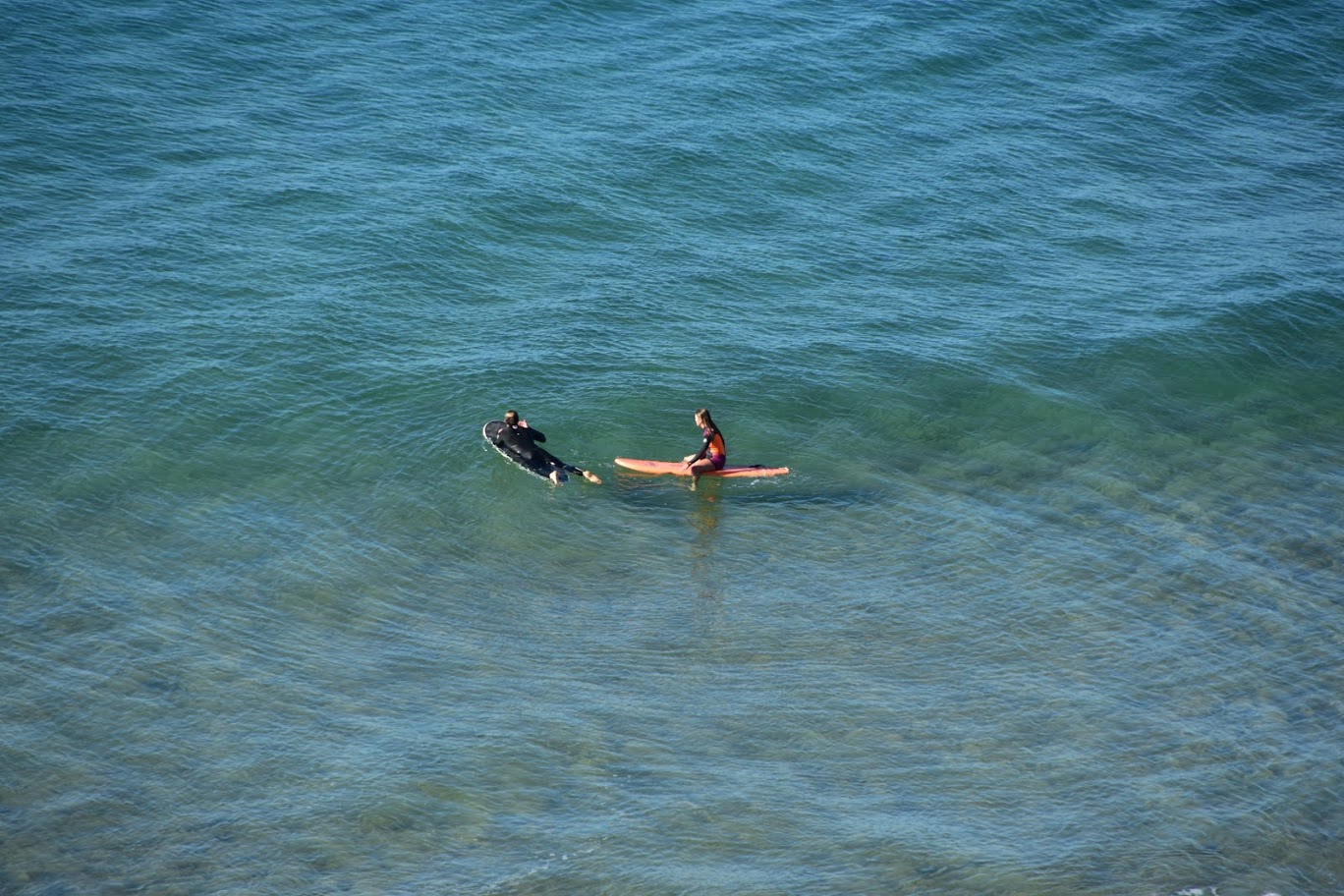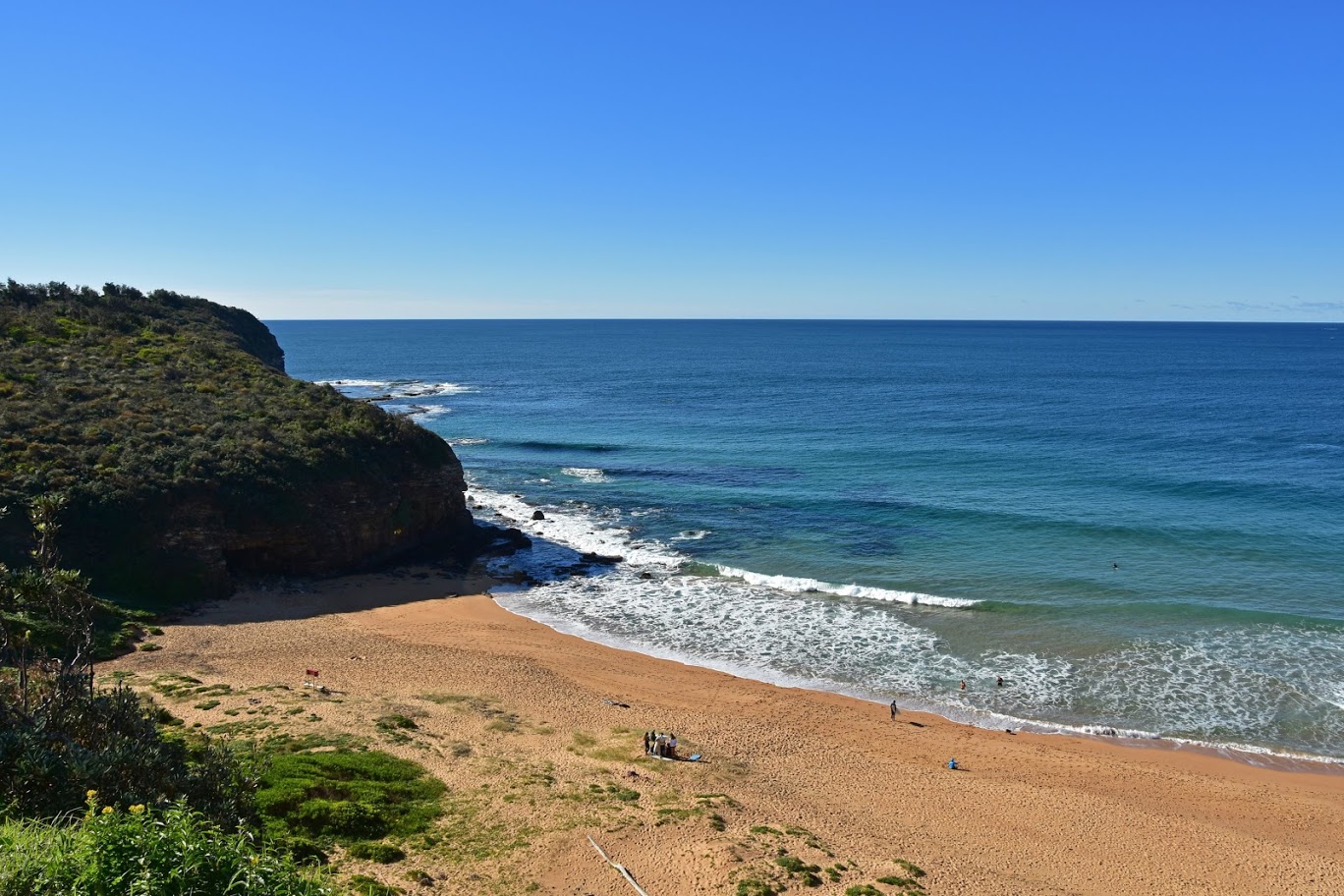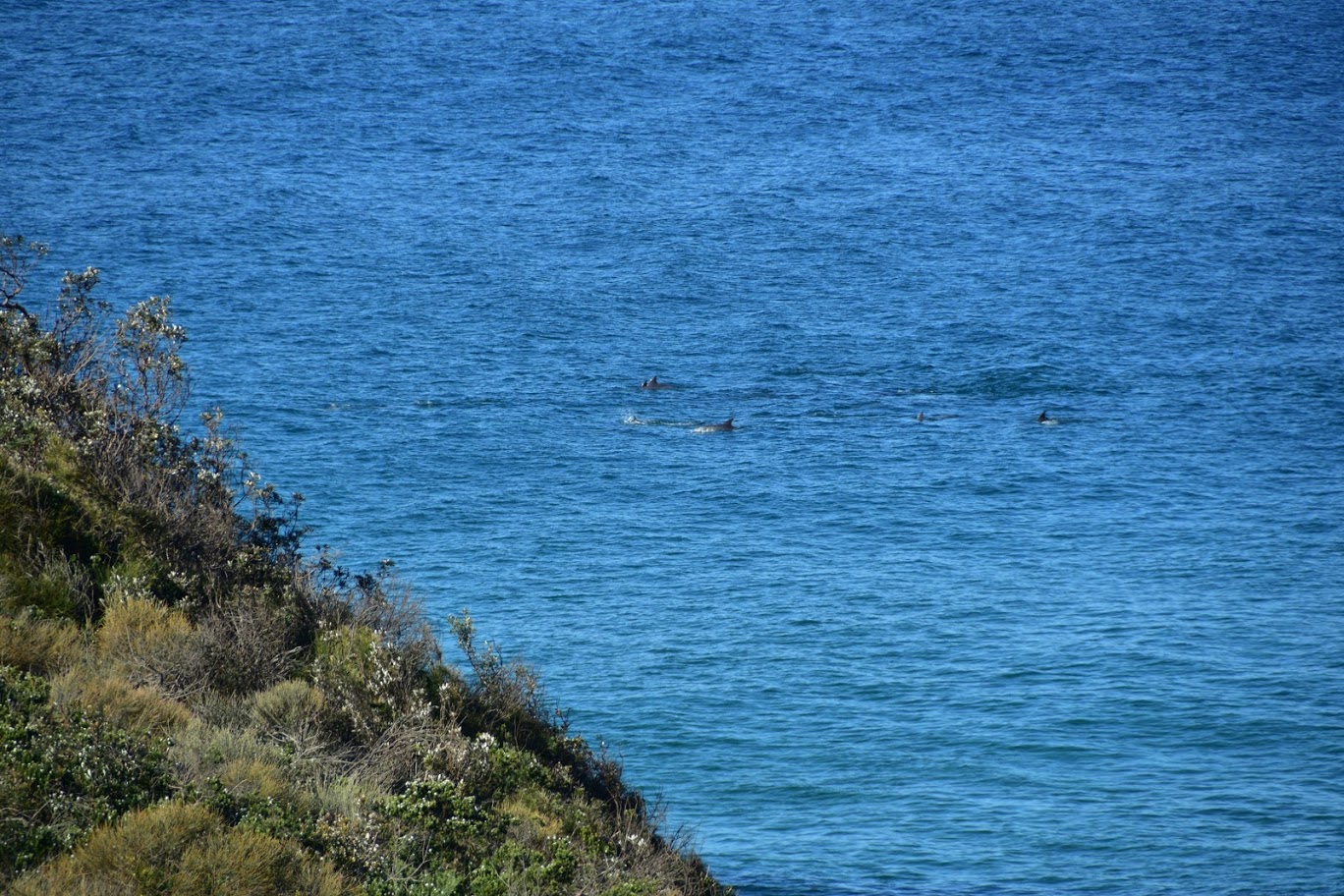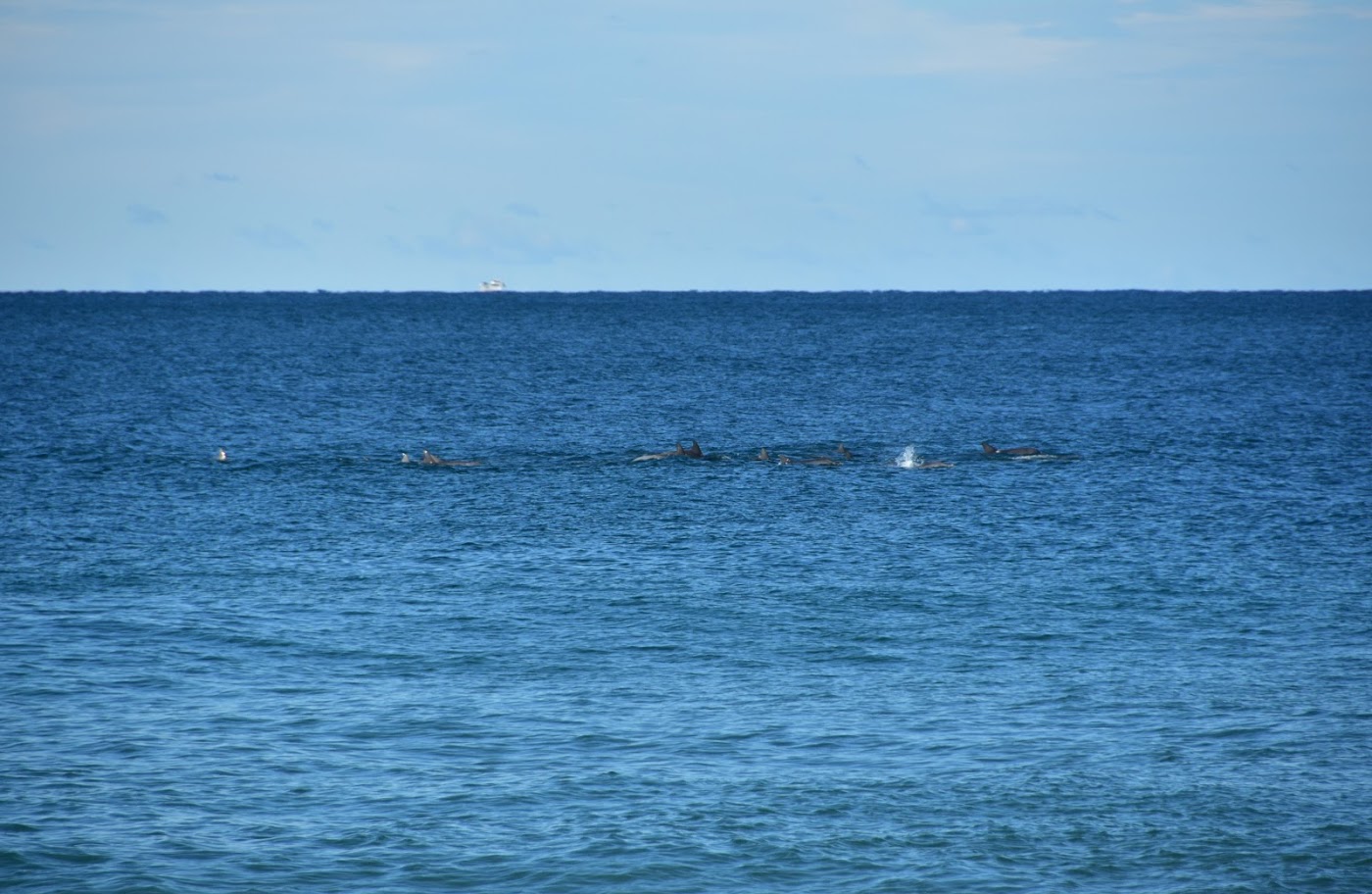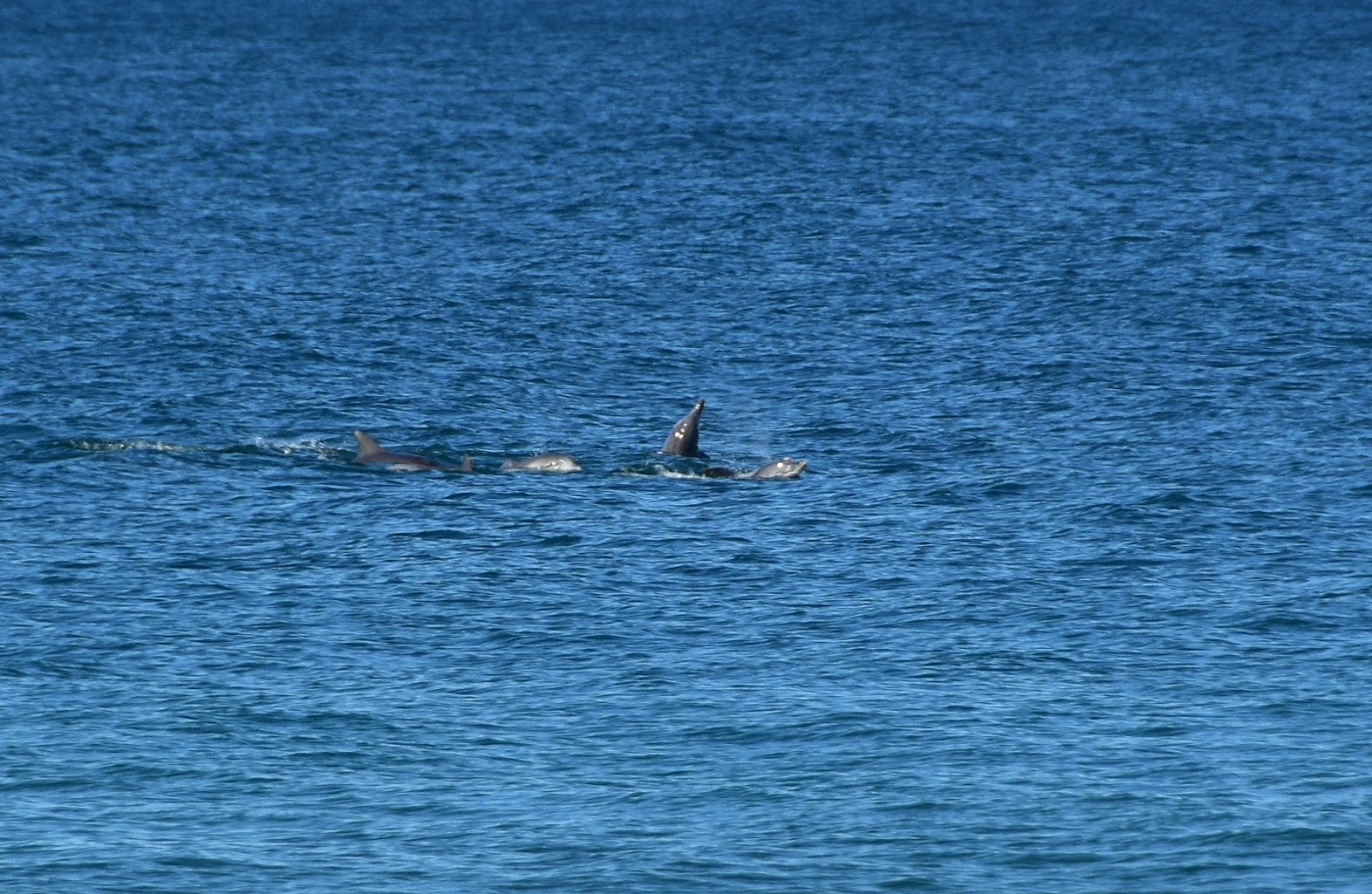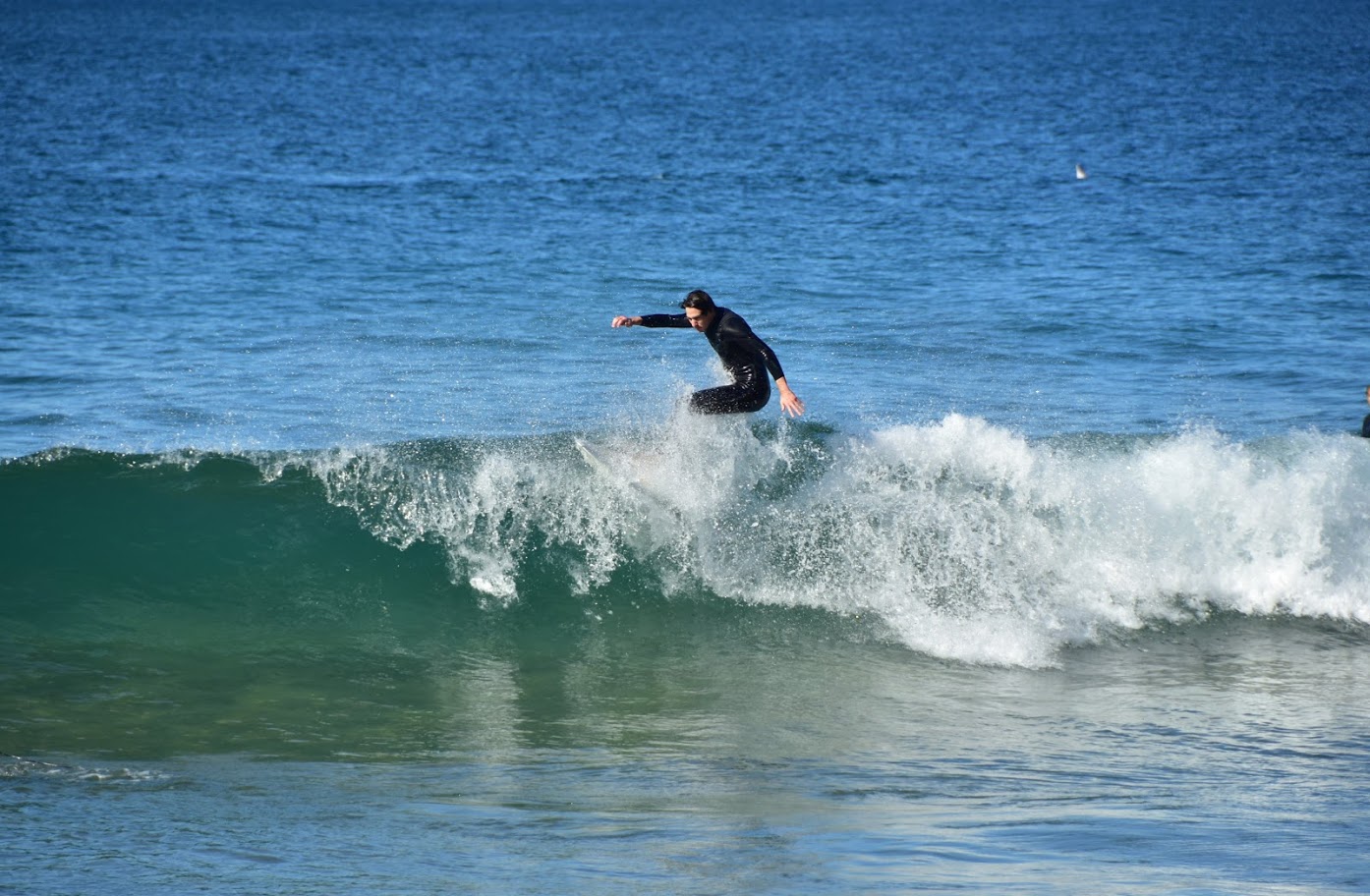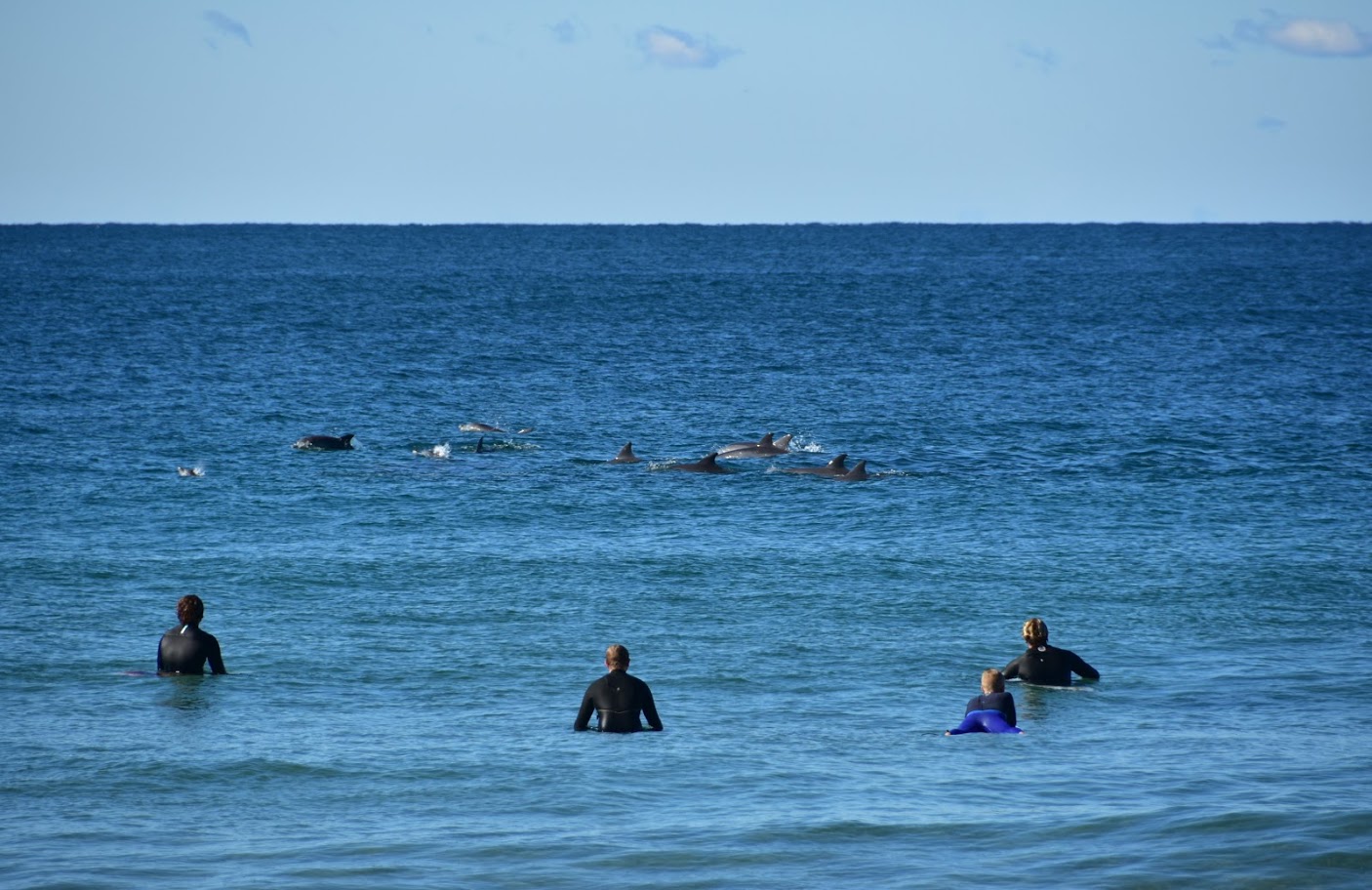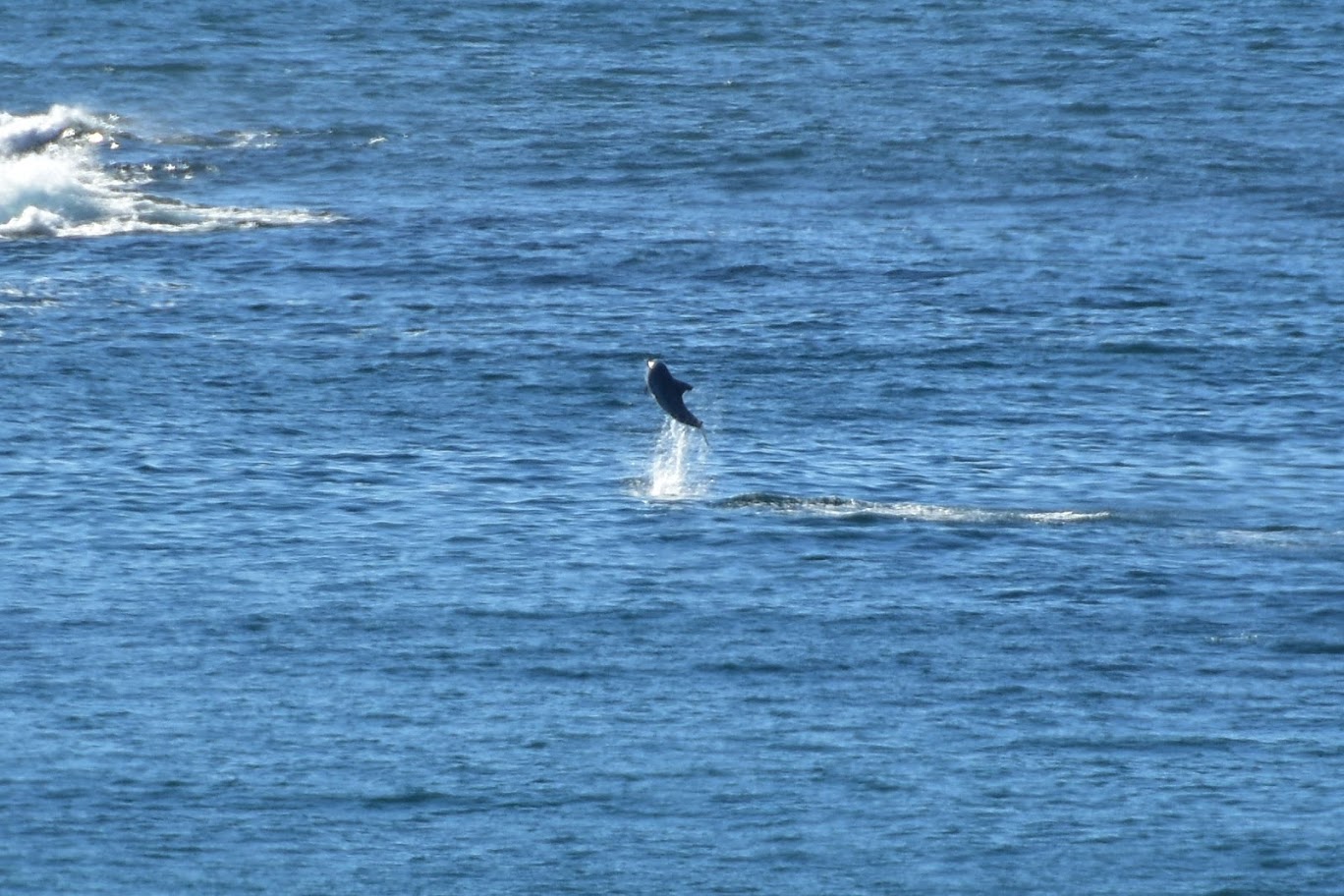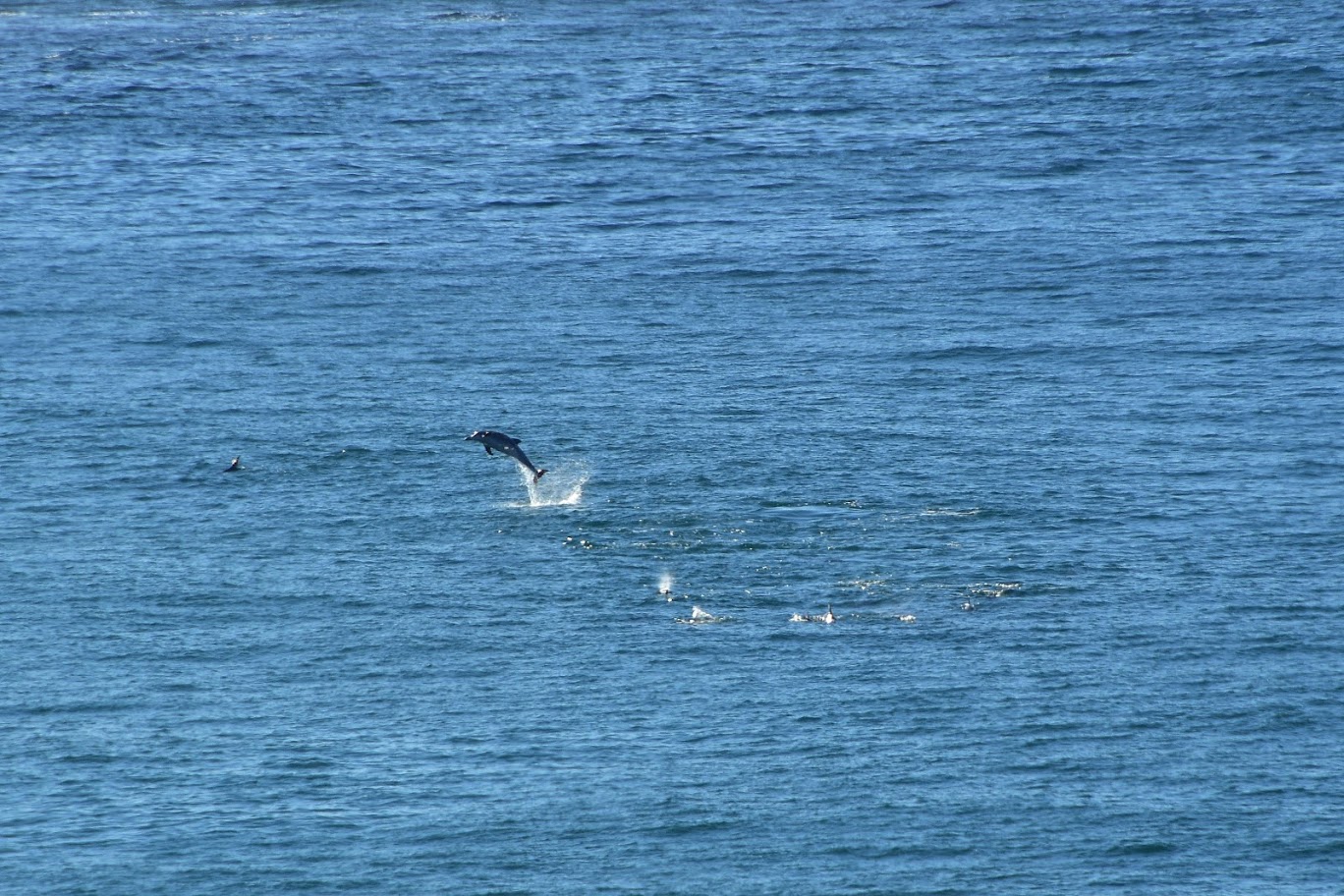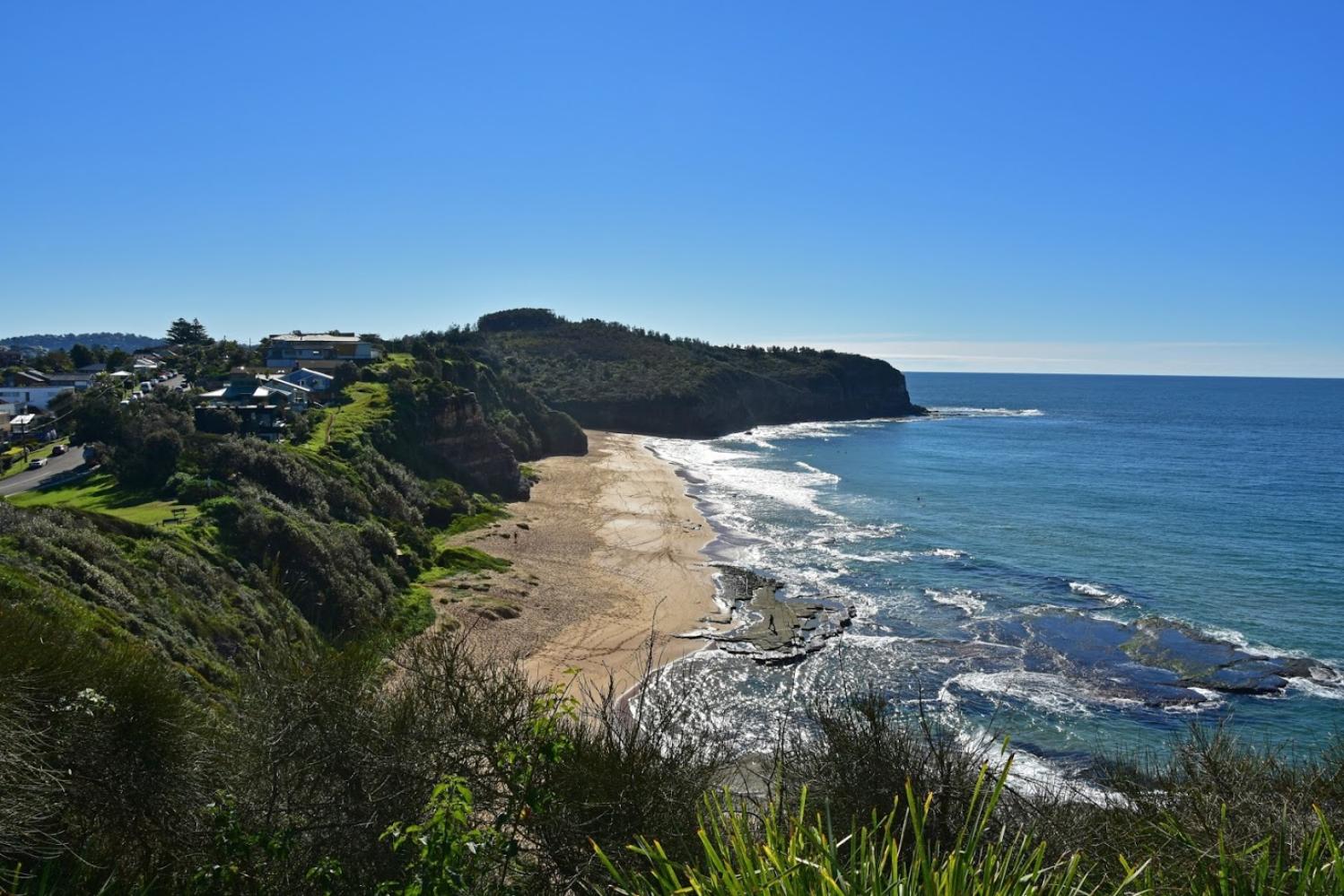 View over Turimetta Beach from North Narrabeen headland.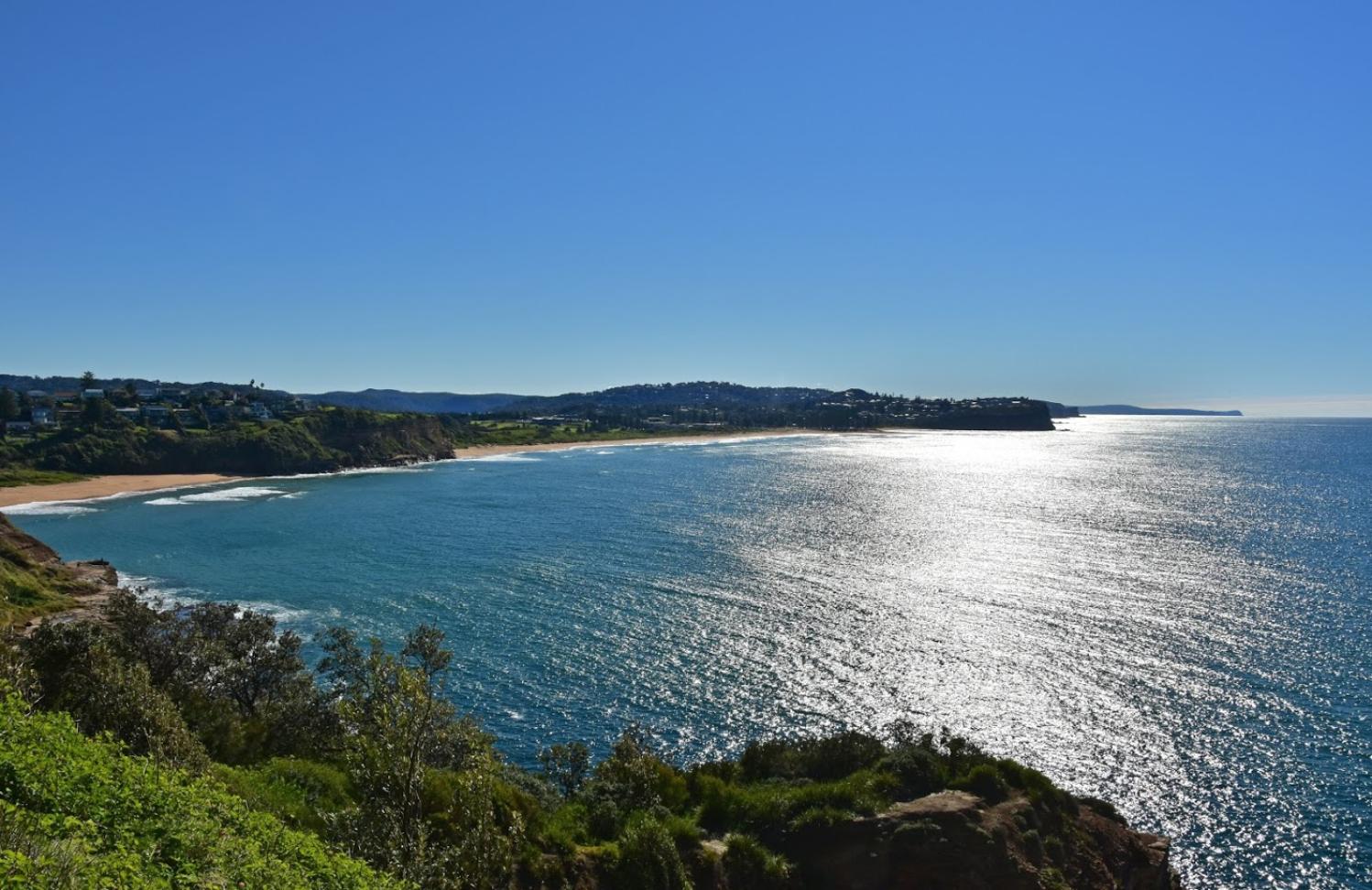 The View North to Mona Vale Beach from Warriewood headland.
References
Pittwater Roads II: Where The Streets Have Your Name - Mona Vale, Bongin Bongin, Turimetta and Rock Lily

Turimetta Headland Reserve, Plan of Management - Pittwater Council, Adopted October 21 2002

From Turimetta Headland Reserve Pittwater Council Information board for Bicentennial Coastal walkway

Aboriginal placenames : naming and re-naming the Australian landscape / editors, Luise Hercus, Harold Koch. 2009. Australian National University Press. From: https://press-files.anu.edu.au/downloads/press/p17331/pdf/book.pdf
Warringah Shire Council Minutes of Meetings from 1906 on
TROVE - National Library of Australia
State Library of New South Wales