August 6 - 12, 2023: Issue 593 Website: www.electrifymackellar.org
Facebook: www.facebook.com/groups/electrifymackellar
On Sunday July 30th The Life Electric Community Net Zero Expo organised by the Avalon-Palm Beach Business Chamber hosted stall holders providing expert advice on solar, EVs and other renewables solutions.
As part of the Expo Dr. Sophie Scamps, MP for Mackellar, hosted a Q and A with Dr. Saul Griffith, Inventor and Rewiring Australia Founder and Founding member of Electrify 2515, and John Grimes, Chief Executive of the Smart Energy Council, Australia's peak independent smart energy body. The Life Electric Community Net Zero In Conversation with Dr. Scamps report runs this Issue.
Among the stalls showcase was Electrify Mackellar, officially launching at the event, with Founder and Academic Selena Griffith GAICD FEAD FSSE FIH, sister of Saul Griffith, and past Pittwater Councillor, on hand to introduce the organisation to visitors.
This Issue Selena Electrify Mackellar provides some information on what Electrify Mackellar is and can do to support our community on its journey to a decarbonised future right now.
What is 'Electrify Mackellar'?
We are Mackellar community members helping other Mackellar community members electrify local homes and businesses to save money and reduce carbon emissions through electrification.
Why has this been launched?
We want to make it easy for everyone through providing information, tools and connections to help you understand the benefits and cost savings, plan your transition, and access government subsidies, low interest loans and bulk buy savings.

This is a plan that would decarbonise Mackellar as urgently as the science demands and deliver huge savings for households. Our research shows that Australia can lead the world by electrifying our homes and vehicles and powering them with renewable energy.
In the Mackellar Electorate we could achieve:
$4,750
Average household savings per year on energy and vehicle costs by 2030.
$278,000,000
Total household savings per year across our electorate by 2030.
1,710 jobs
Direct and indirect jobs created from community savings and installation work.
100%
Reduction in household energy emissions.
How Home Electrification Works
The technology to decarbonise and electrify households exists today. Electrifying a home and vehicle will save the average Australian household around $5,000 a year in the long run.
The "average" Australian household currently uses ~102kWh of energy per day, and spends over $5,000 per year on energy related costs. Much of this energy use is due to the inefficiency of conventional fuels like natural gas and petrol. These fuels are both expensive and highly polluting. The average household releases about 11,000 kg of CO2-e greenhouse gas into the atmosphere every year from its energy use activities.
If we electrify the "average" Australian household, with solar panels on the roof, a home battery, electric vehicles in the garage, and replacement of gas appliances with efficient electric ones, we can save thousands per year in household costs for the average home by 2030. The thermodynamic efficiency gains from new appliances and vehicles drops energy use significantly to just ~37 kWh, and Australia's world leading solar can generate most of the homes energy needs, lowering energy bills by thousands. Not only does home electrification rapidly reduce our emissions, it saves us money on energy bills too.
How Home Electrification Saves Money
Electric appliances use the least amount of energy, and Australian solar rooftop electricity is the cheapest form of home energy in the world. Combine the two, and the way to save the most on energy is to run electrified homes powered mainly with rooftop solar.
An electric car costs about 8 cents per km to drive if charged from the grid, compared to a petrol car which costs about 12 cents per km in fuel (when petrol is at $1.43/L). Charging an electric car with rooftop solar reduces this even further, to about 1 cent a km, over 10 times less than a petrol car.
Heating the water for a shower with a gas water heater costs about 89 cents with standard gas prices (2019).An electric heat pump water heater costs just 21 cents to provide the same hot shower using grid electricity. Using rooftop solar, that shower is costs just 5 cents, over 10 times less than a gas shower.
Heat pumps for room heating provide the same cost benefits compared with gas heaters. An electric induction stovetop is cheaper than a gas stove and also provides health benefits inside the home, as the invisible pollutants from gas stoves cause significant negative health impacts.
Electrification at the community level
‍The benefits are amplified when entire suburbs, communities and regions electrify their homes. Changing the way energy is created and used will reinvigorate local communities and economies by keeping savings in local areas and injecting millions of dollars into well-paid, skilled jobs.
Generating more electricity at the community level
The communities of tomorrow will stay connected to the grid, while generating far more energy locally using the cheapest home energy in the world - Australian rooftop solar. Staying on the grid will continue to balance community electricity needs, while producing most of our energy from community rooftop solar. This will mean the lowest possible energy prices for households.
Keeping more money in the community
The bulk of current household fossil fuel spending is on petrol and diesel products imported from overseas. This is money that is not being reinvested into Australian jobs, businesses or community infrastructure. Electrification of our homes will keep this money in the local community, both in it's new clean infrastructure, and in the economic savings made by homes.
‍‍‍Investing in local jobs
‍The electrification of homes will save money for communities, and also require the upgrading and renovation of thousands of homes, generating local jobs. This will generate local jobs for the installation of solar panels, batteries, electric vehicle chargers, heating systems, and cooktops. These are skilled, local jobs that can't be taken offshore.
‍Zero-emissions communities
‍Australia has the climate, technology and solar track record to create the world's first zero-emissions communities. Modelling demonstrates this is achievable and will see broad benefits for communities. The Rewiring Australia study Castles and Cars modelled the energy and economic impacts of home electrification for the average individual household. We have built on this model to quantify the economic and jobs benefits that electrification will have for communities and regions.​
Subsidies to bring down costs and scale up the industry
The cost of electrifying homes is dropping and will continue to as the renewable industries grow. But the scale of mass electrification means we need to accelerate cost reductions and scale up Australia's electrification industry. The Federal Government must invest in early commercial deployment of the products and technology needed to electrify homes. Over the 2020s $12 billion of federal government funding is all that is needed to turbocharge all 11 million Australian households to make the switch to solar energy and storage for homes and vehicles, regardless of their postcode or financial constraints. By around 2026 electrification will be commercially driven and not require subsidies for most homes. While $12 billion sounds like a lot, it equates to less than 10% of Covid stimulus spending and far less than current fossil fuel subsidies. Almost half of this money could be captured by uncommitted funds from the Clean Energy Finance Corporation.
How do people get involved?

Your first step towards home electrification is to register with us and we'll be in contact to help you start your journey.
You can register your interest here: www.electrifymackellar.org/register
You can also visit our 'Learn' webpage on the Electrify Mackellar site 9 ways to Electrify as well as find out about the Solar, Electric Vehicle, Hot Water, space Heating, and Cooking and Lighting Rebates that are available right now to help you on your journey to help Electrify Mackellar. Visit: www.electrifymackellar.org/learn
This page will be updated as new initiatives become available at a state and federal government level.
For instance, in May 2023 the Hon Dr Jim Chalmers MP, Treasurer, announced $1.3 billion to establish the Household Energy Upgrades Fund. This fund will provide $1 billion to the Clean Energy Finance Corporation (CEFC) to turbocharge financing options for household energy upgrades – partnering with banks and other lenders on upgrading homes with battery‑ready solar PV, modern appliances and other improvements to keep them warmer in winter and cooler in summer. This will help more than 110,000 households lower their energy bills.
The Fund also includes $300 million to support upgrades to social housing, $310 million for the Small Business Energy Incentive, to provide businesses with annual turnover of less than $50 million, an additional 20 per cent deduction on spending that supports electrification and more efficient use of energy.
And $36.7 million to expand and upgrade the Nationwide House Energy Rating Scheme to apply to existing homes. Many older homes don't meet modern energy efficiency standards, and at the moment Australians have access to more information on the energy efficiency of their washing machines than they do their homes. This investment means people will be able to seek a home energy rating, so Australians can make the best choices for their hip pocket when it comes to energy upgrades and renting and purchasing homes.
On July 22nd 2023 the Clean Energy Finance Corporation (CEFC) announced it has received a new Investment Mandate, which comes into effect 22 July 2023.
The Clean Energy Finance Corporation Investment Mandate Direction 2023 is available here.
The new Investment Mandate replaces the previous Investment Mandate.
Among other changes, the new Investment Mandate provides direction for how the CEFC will invest new budget allocations of $20.5 billion for Rewiring the Nation, the Household Energy Upgrades Fund and the Powering Australia Technology Fund
Whether it's organising events with energy, holding stalls at Warriewood markets to demonstrate an electric BBQ or connecting you with neighbours who have been through the electrification and renewable energy journey - the Electrify Mackellar team are on the ground to help.
Let's Electrify Mackellar!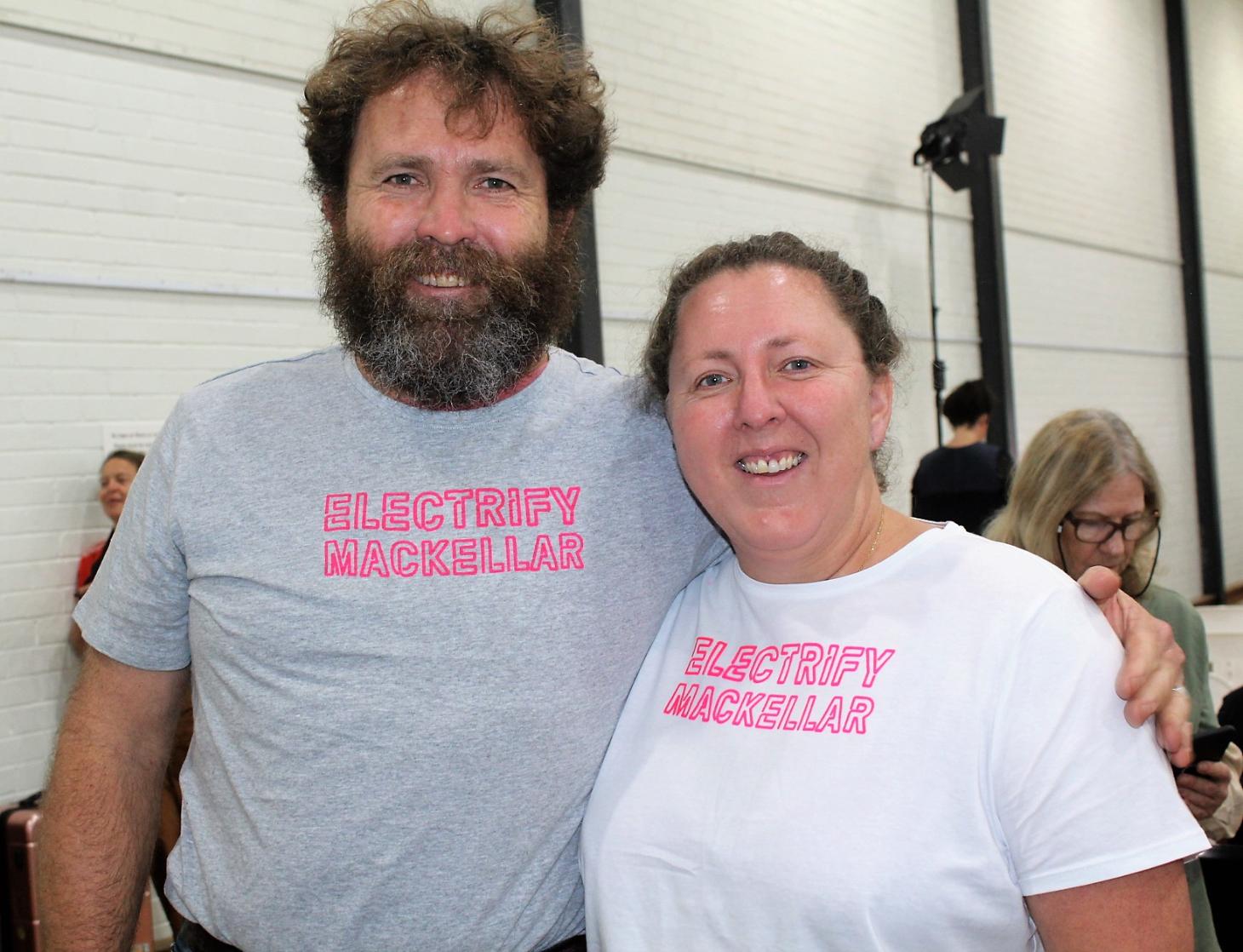 Saul and Selena Griffith at the Life Electric Net Zero Expo