November 1 - 7, 2020: Issue 472

Irrawong Reserve: Warriewood To Ingleside Escarpment Walk
Photos By Joe Mills
Warriewood Wetland is part of a significant habitat corridor that takes in the Ingleside Escarpment, Irrawong Reserve and the wetlands. This corridor has been identified as having some of the highest fauna values in the Sydney Metropolitan CMA (DECC 2008). The track to the waterfall is accessible from Garden Street or end of Irrawong Road (corner of Epworth Avenue) in Warriewood.
You can read about how this area became a Pittwater Reserve in A History Of The Campaign For Preservation Of The Warriewood Escarpment by Angus Gordon and David Palmer, some of the Restoration works in Irrawong Reserve – Big Bushcare Day Out and Grant Announcement (September 2012), Rare Frog Spotted in Pittwater (March 2013) and Mullet Creek Bush Care Project Update – May 2013 as well as Bush Regeneration Near Creeks In The Narrabeen Lagoon Catchment with some Historical insights available in Eeling In Warriewood's Creeks and Yabbying In Warriewood's Creeks and Pittwater Roads II: Where The Streets Have Your Name - Warriewood, Pittwater Roads II: Where The Streets Have Your Name - 'Green Hills', Elanora Heights, and Ingleside, Waratah Farm: Ingleside, The Narrabeen Plum and Ingleside Powder Mill: Pittwater Fields Of Dreams I.
The Mullet Creek bushcare group (also known as Irrawong Bushcare) meets on the third Saturday afternoon of each month. This group continue to meet after the grant project was completed. For details on how to get involved contact Northern Beaches Council's bushcare officer Michael Kneipp on 0417 688 492.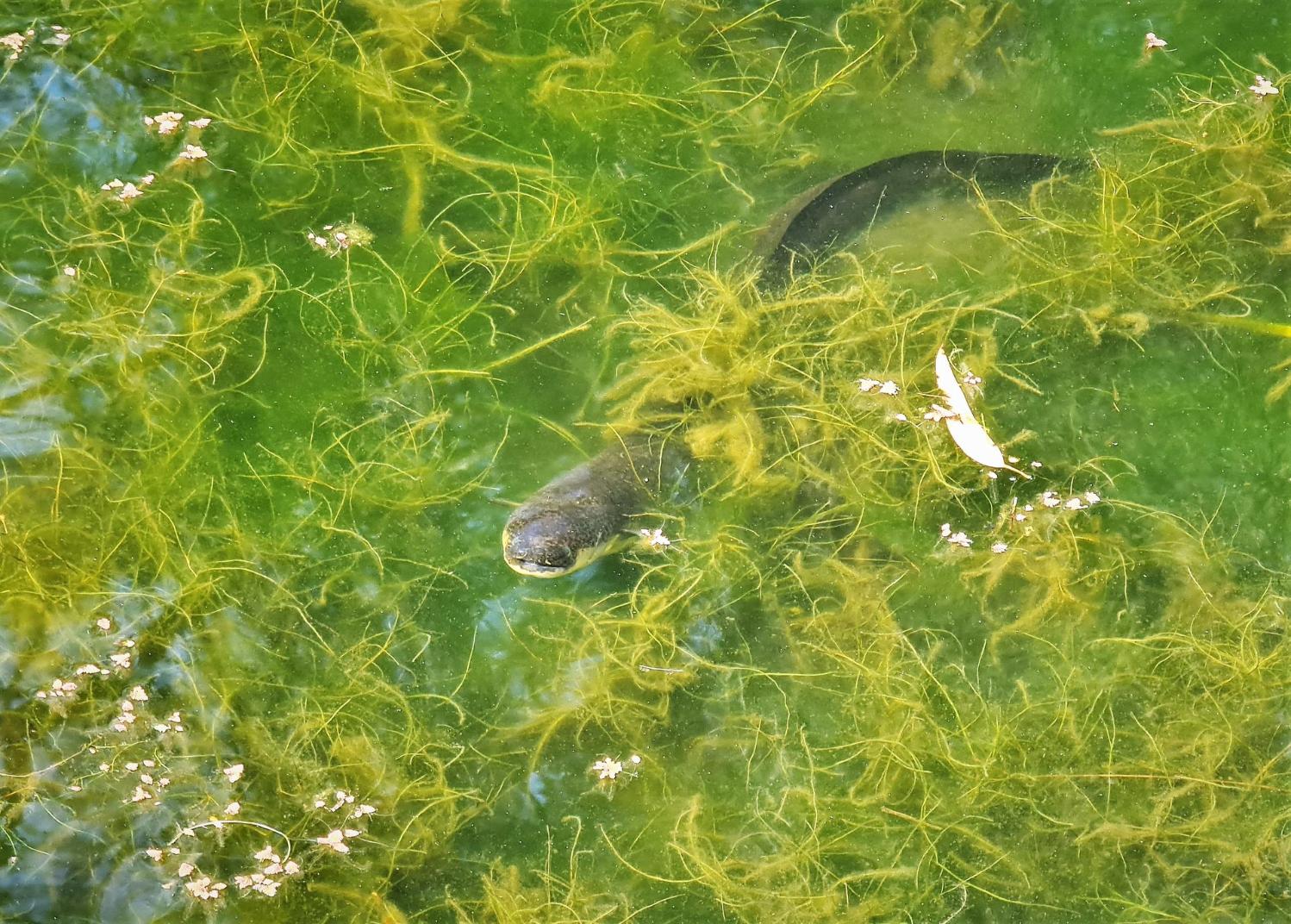 Eel in Warriewood Wetlands, October 2020 - photo by
Joe Mills
Warriewood Wetland is the largest remaining sandplain wetland in the northern Sydney region. Around 6,000 years ago the wetlands were flooded during sea level rise and were rapidly filled with sand under relatively wet conditions. There is pollen evidence that indicates a freshwater swamp developed in the area at least 1,500 years ago (Dodson 1995 in Water Resources Consulting Services 1997).
Mullet Creek is the primary surface water input to Warriewood Wetland (Manly Hydraulics Laboratory 1998). This waterway flows along the south-western boundary of the wetlands, resulting in high flows associated with heavy rainfall bypassing the majority of the wetland area. Fern Creek provides a lesser input from the north of the catchment and other minor drains enter from developed areas around the wetlands.
Surface water inputs from Narrabeen Creek may have been significant in the past but are now apparently limited to flood events which cause infrequent overbank flow into the north-east of the wetlands. Extensive urban development in the catchment has also increased impervious surface areas leading to accelerated runoff rates which have changed the nature of surface flows and flood events in the lower catchment.
The wetland also provides very important habitat for a number of threatened species and migratory birds. It forms the lowland end of a significant biodiversity corridor running from the Ingleside Escarpment through Irrawong Reserve to the Warriewood Wetland.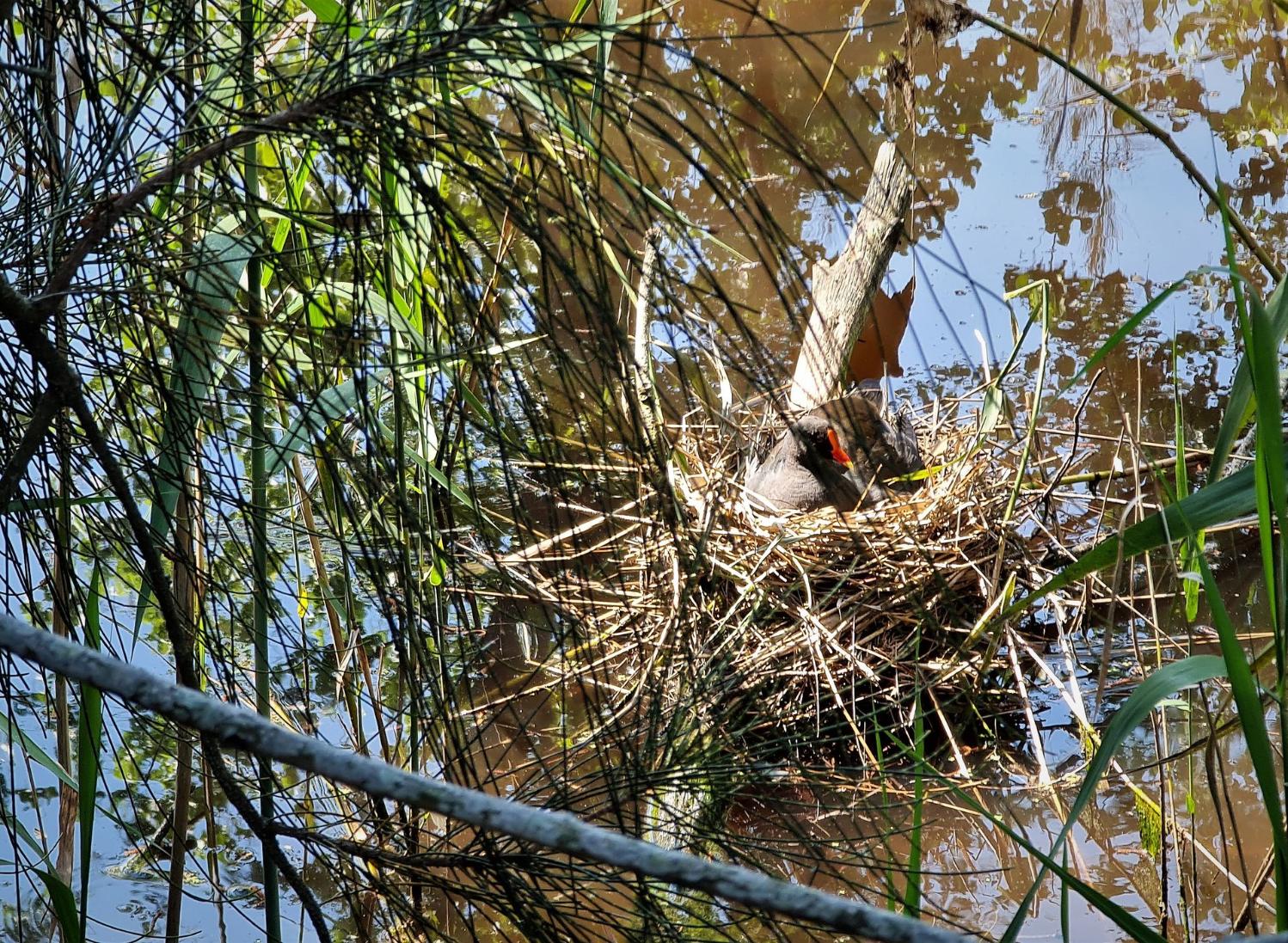 Dusky Moorhen, Gallinula tenebrosa, nesting in Warriewood Wetlands, October 2020 - photo by Joe Mills
There are tracks beyond the waterfall but as these are steep and has many steps, you need to exercise caution and this is not suitable as a walking track unless you have a good level of fitness. To the falls and around Warriewood wetlands is a level walk though via a series on installed boardwalks, and wheelchair accessible. So everyone can take a stroll and see the birds here, especially at this time of year when so many are nesting or returning as seasonal visitors.
Joe's trek: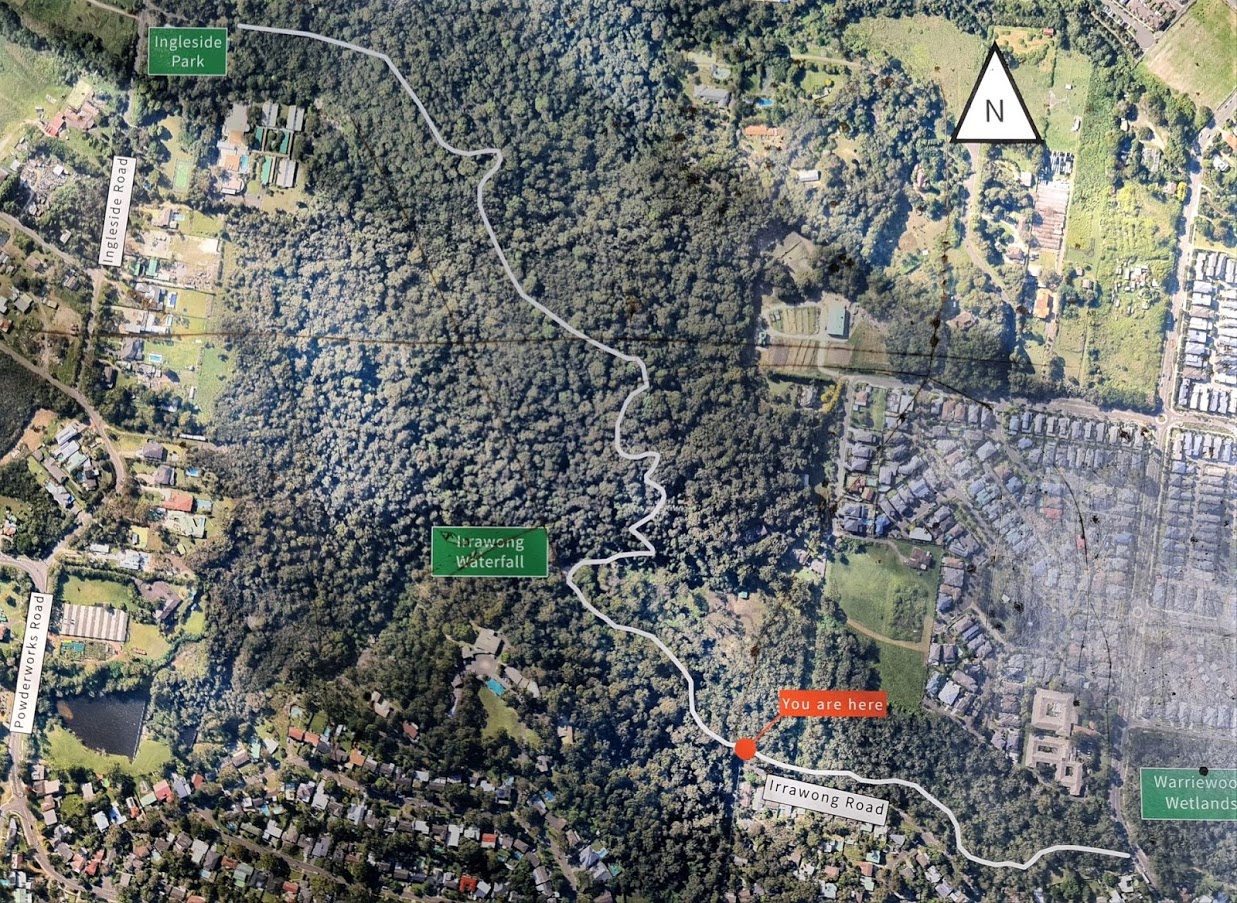 We thank Joe for providing a pictorial insight for those who may be unable to access this area. Certainly is a beautiful place and a wonderful way to celebrate Spring 2020: