April 10 - 23, 2022: Issue 534
Duck Holes: McCarrs Creek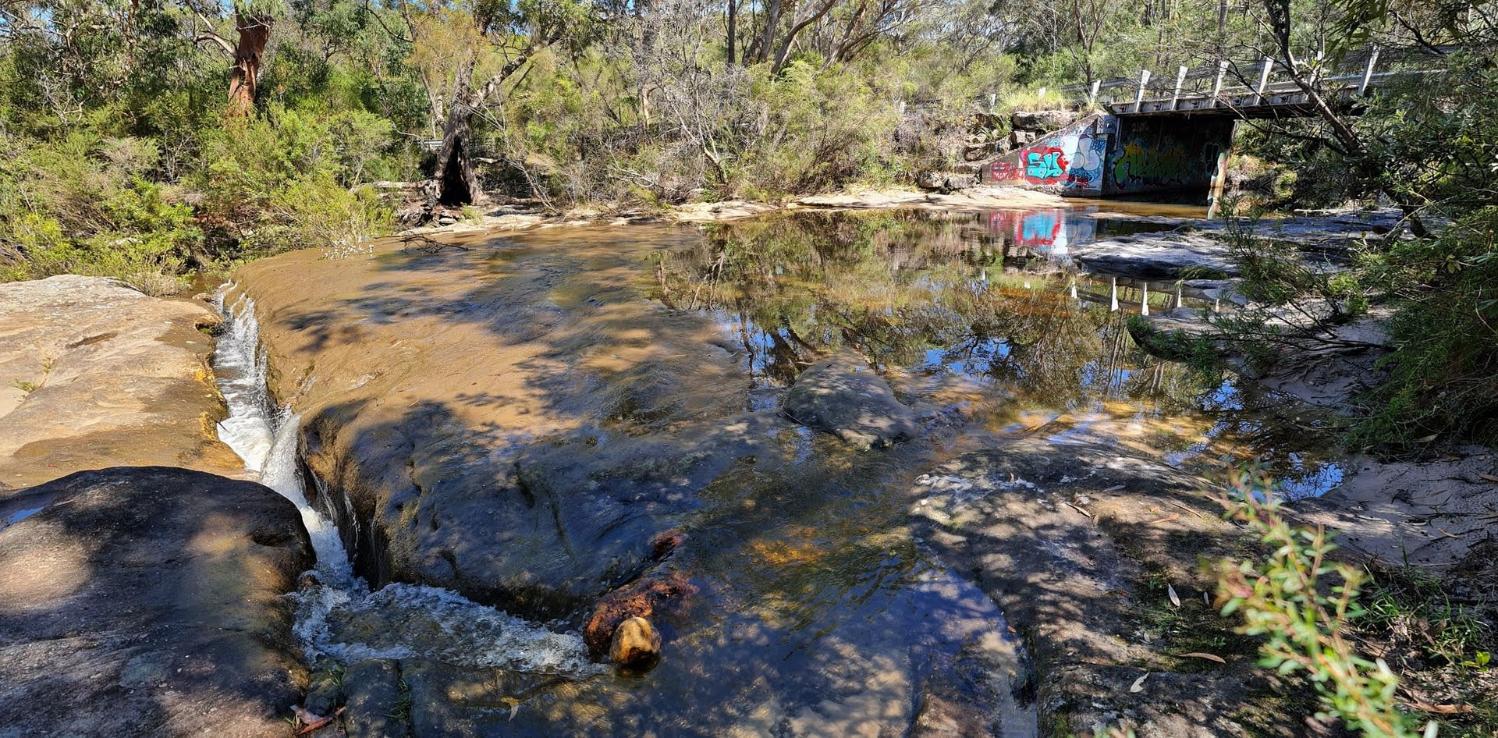 photos by Joe Mills, April 4, 2022
McCarr's Creek has been a place for smugglers to hide their casks of rum and a place of illegal stills, a proposed depot and runway for air mail services via seaplanes, part of where was searched when a Stinson went down in 1937 on its ways from Brisbane to Sydney, a camp for soldiers at the duck ponds in 1942, a sand mining operation from 1950 up until the 1970's as well as a favoured place for swimming, picnicking, fishing and orcharding since Pittwater's earliest settlement by Europeans.
The water channel was originally named Pitt Inlet by Gov. Phillip and appeared on maps in the 1830s as South West Arm. Some sources state the origin of the current name is not known but it has been appearing as such alongside 'South West Arm' spelt "MacAa's Creek". Opinions stated the person in question may be John Macarthur of The Rum Rebellion fame. He owned a farm at Pennant Hills from which naturalist George Caley embarked in 1805 to explore a ridge from Thornleigh to Fox Valley, Warrawee and Turramurra and then on to Cowan Creek.
Shelagh and George Champion inform us that George Caley did not go to Cowan Creek. He was following the ridge now known as Mona Vale Road, and yes, the water did drain northward, followed by southward into Middle Harbour around Belrose, where the grevillea caleyi still grows. He went on to Narrabeen Lagoon, going on the north side and returning on the south side. The name in fact comes from a James McCarr or McGrath, who was living with Ann Haynes near McCarr's Creek in 1820.
Ann Haynes came to the settlement in 1806 aboard the William Pitt. In 1821 she was convicted of stealing 28 sheaves of wheat from John Williams, who also was District Constable and Pound Keeper, appointed 1820. (HAYNES Ann Alias: FOSS, Ann
Ship: William Pitt 1806; 20 Nov 1837, Recommended Absolute Pardon [4/4489; Reel 800 Page 007] Ann Haynes; Stealing 28 sheaves of wheat from John Williams at Broken Bay, 1821, Reel 1975 2703 [SZ794] 60, 97Appendix J: Schedule of case papers, 1821 - Court of Criminal Jurisdiction: Informations, depositions and related papers, 1796-1824; Session: Jul-Aug 1821. NSW State Records).
McCarrs Creek's source is in a recreation reserve near Mona Vale Road, Tumbledown Dick not far from the head of Wirreanda Creek. The upper section is shallow before it drops to a ten metre wide pool at Upper Gledhill Falls. (named after Percy Walter Gledhill, 1890-1962, of the Manly Warringah and Pittwater Historical Society). The main site starts as a six metre wide pool at then becomes very narrow, ending at a lower pool at Lower Gledhill Falls. McCarrs Creek Reserve, around 5 hectares, is located at the junction of McCarrs Creek and Cicada Creek in Church Point. Ku-ring-gai Chase National Park is adjacent . The plant systems here range from Mangroves and Saltmarsh on the shoreline, planted Swamp Oak and a small remnant strip of Narrabeen slopes forest along the edge of the Road Reserve. Tall spotted gums shelter an understorey of sandstone escarpment and native grasslands, bushflowers and many grass trees. Many tales of this deep water tidal creek being a haven for sharks have also accompanied its history.
The tributaries of Mc Carrs Creek are Wirrenanda Creek which runs from north of Mona Vale Road down to the main creek, Cicada Glen Creek (apparently while camping beside the creek, early explorers found the sound of cicadas deafening, hence its name) which begins near Mona Vale Road then flows through Ingleside and Ku-ring-gai Chase National Park before flowing into McCarrs Creek at McCarrs Creek Reserve in Church Point and Crystal Creek. Crystal creek begins as a shallow six metre pool then drops twenty metres down a waterfall into another shallow pool and runs as many smaller rock pools which are home to Freshwater Crayfish. Lying wholly within the Ku-ring-gai Chase National Park it remains pristine and relatively undisturbed.
The Pittwater Environmental Foundation have been involved in McCarrs Creek Foreshore Restoration at Bothams Beach. Their Project's Description: The forest here is Pittwater Spotted Gum forest, an endangered ecological community. The project provides bush regeneration and community education and engagement. Work funded by a second grant will be completed late May 2012. Bush regeneration restores habitat for native fauna and to assist this, the grant has provided six boxes for Sugar or Squirrel Gliders, which are likely to live in the area.
McCarrs Creek has always been noted for its beauty and the amount of local fauna that flourishes there:
McCarr's Creek, Pittwater.
The upper part of McCarr's Creek, Pittwater, which may be reached by rowing-boat, is a veritable bird sanctuary. The sylvan retreat at the limit of tidal water is one mile from Church Point, and is called the Silent Pool on account of the serenity of the spot. It is enclosed by steep hills covered with the vegetation of Kuring-gai Chase on one side. Livistona palms grow here to perfection. While you glide quietly along there comes the swishing sound of the coachwhip bird from forest brakes, with a final crack like the stockman's whip. At eventide the dominant notes of the bell-magpie or "currawong" ring out a valediction to the visitor.
This spot is only approachable on the floodtide, and the creek should be dredged to keep the channel open (as has been done at Narrabeen lagoon and Curl Curl Creek, near Manly), in order that this bird sanctuary maybe rendered more accessible.
To those who seek adventure and exercise a climb up the rugged, picturesque gully is recommended. Through dense bracken and vines, over logs and boulders and waterfalls, a climb of one hour and twenty minutes will lead to the "Duckhole," which is a sequestered pond at the confluence of two mountain brooks, the right-hand branch and the mainstream of the upper reaches of the creek. The calls of magpies, peewees, crows, and currawongs will be heard in this quarter. Coming down the gully again, one hears the melodious fluting of bush birds to the accompanying song of small cascades. Further down an exquisite glimpse of the greenish water of the Silent Pool Is obtained from the seclusion of the forest. A BIRD SANCTUARY. (
1930, December 20
).
The Sydney Morning Herald
(NSW : 1842 - 1954), p. 11. Retrieved from http://nla.gov.au/nla.news-article16740448
Since the above was run research by the Champions found that there was no one in the Pittwater area named McCarr and they believe the name is a corruption of McGrath. A photograph dated circa 1902 held by the Warringah Library is captioned "McGrats Creek, Pitt Water". From this it would seem the person who scratched the caption into the emulsion on the back of the glass negative from which the photo was printed accidentally omitted the "h" in McGrath.
This hidden gem is just off McCarr's Creek Rd in the National Park which has a pretty little waterfall and a deep swimming hole. Travel up McCarr's Creek Rd from Pittwater end and park opposite the Duck Holes walking track and its a very short walk of about 100m down to the swimming hole. There is a bit of climbing to do to get in and out, so this is not suitable for very young children and can be very slippery after rains. Ensure the location of rocks under the water before jumping in, or take the easier sandy route into the water. Do not go in the water after we have had torrential rains, it is very fats flowing and prone to flooding. Also bear in mind that this is the home of wildlife and you are just a visitor.