December 9 - 15, 2012: Issue 88
Oceanwatch and Hawkesbury-Neapean Catchment Management Authority Healthy Waterways Clean Up Day at Careel Bay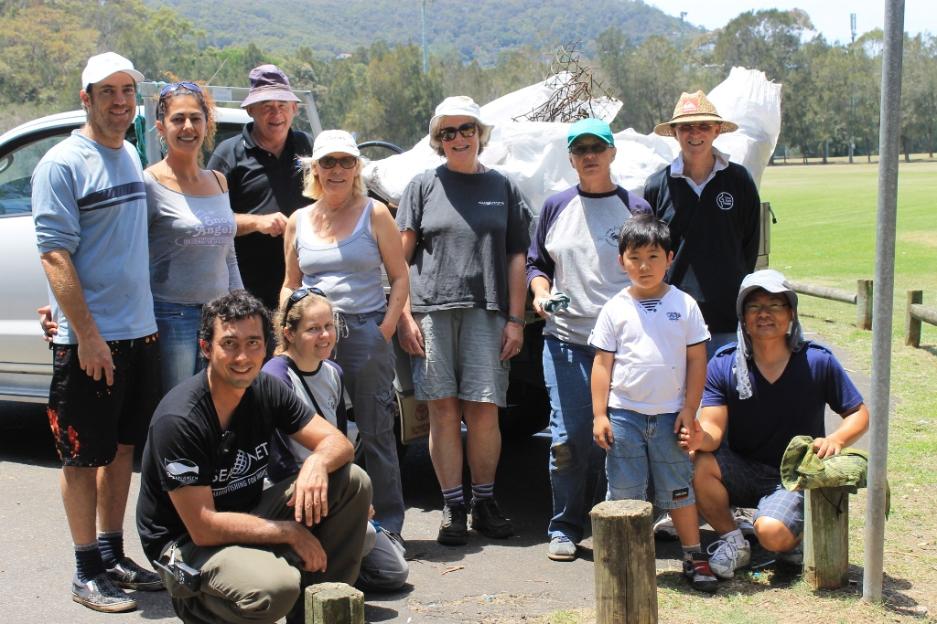 Some of the Pittwater residents who cleaned up Careel Bay Creek and Bay and its surrounds on Saturday morning in front of the ute filled with rubbish. Photo by A J Guesdon.
Oceanwatch and Hawkesbury-Neapean Catchment Management Authority Healthy Waterways Clean Up Day at Careel Bay
For over thirty years one staff member has been collecting rubbish from our estuary foreshores, along the beaches and in the rock platforms that separate these. The 1980's this was mainly paper rubbish deposited every foot of the beach and most rubbish would be collected after Summer weekends when those who don't live here think someone is being paid to collect their laziness or couldn't carelessness. In the last decade or more the refuse has become increasingly plastic bottles, caps and bags, stryrofoam, or shining packaging like that on potato chips that may be mistaken for silvery fish by aquatic creatures and waterbirds. Some days garbage bags full were collected, on other days only one or two filled to the brim. No matter how much is collected though this is a tide, that unfortunately, keeps coming to shore as though the ocean and estuary are saying "You can have that back."
On Saturday morning around fifteen Pittwater Residents led by Bec Mooy and Eduardo Gallo from the Hawekesbury Neapean Catchment Authority and Oceanwatch respectively collected a ute and a half of rubbish from the creek and mangroves and the foreshore of Careel Bay. Items dragged from where they had obviously been dumped by residents included an old fish trap, car tyres, a rusting car battery, a big cardboard box filled with Styrofoam, plastic bottles and at least thirty small plastic bags of dog faeces. In one spot amongst the mangrove edges twenty empty cigarette packets and two hundred cigarette butts were collected; clearly a 'let's sneak off and have a smoke' dump place for those who don't want to be seen, or aren't allowed, to slowly kill themselves and the environment with what is acknowledged as toxic.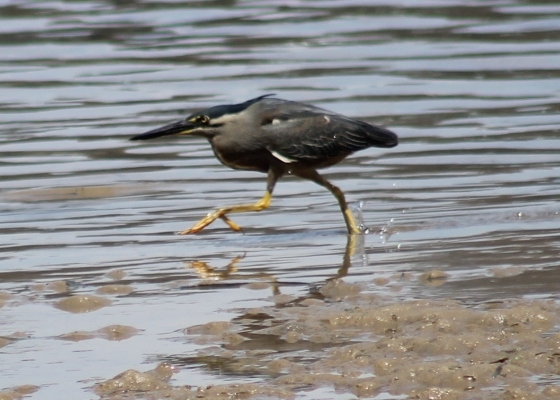 As part of the Environmental Education Strategy for NSW Coastal Boaters and Fishers, five marine clean up events have taken place in 2012 at various locations in the south and north, along the Hunter and Central rivers.
The coastal areas in NSW are: Northern Rivers CMA, Hunter Central Rivers CMA, Hawkesbury Nepean CMA, Sydney Metropolitan CMA and Southern Rivers CMA. Yesterday's (8.12.2012) Clean Waterways focus on Careel Bay was funded by a grant from the Hawkesbury-Nepean Catchment Management Authority was the last of these. Bec Mooy tells us there will be further clean ups along the Hawkesbury in coming months and that McMaster's SLSC has been funded by the HNCMA to do clean ups on the water.
The hope yesterday was to attract boating and fishing folk to the clean up as part of the focus was education. One sailor attending, a Pittwater resident and yachtsman on the estuary for a long time, found all sorts of bits off boats he could identify and even a cover for a light he could reuse.
For almost three hours these volunteers ranging in age from eight to eighty two worked side by side finding everything small and large that is polluting this beautiful bay, its mangroves and its creek.
While along the foreshore a Striated Heron, White Faced Herons, the Royal Spoonbill spotted a few weeks back, Australian Ibises and an Australian White Heron picked their ways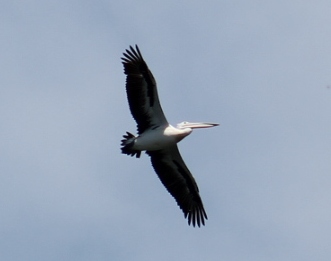 over the mangroves at low tide amongst plovers, Native Ducks and seagulls seeking fish. Above us an Australian Pelican circled majestically, riding a thermal higher and higher. Pelicans are an ancient symbol of change. Seeing this one watching the workers below bodes well for the future of New South Wales waterways if our Government continues to fund such initiatives and finds in our communities people who are more then willing to make a difference, to be those who are not so careless…or lazy.
The Healthy Waterways Project has also included:
Healthy Waterways: Better boating, more fish
Click here to download the brochure.
The five Coastal Catchment Management Authorities (CMA) in partnership with the Boat Owners' Association of NSW (BOA), Boating Industry Association of NSW (BIA), Recreational Fishing Alliance of NSW (RFA), NSW Maritime and Department of Primary Industries (Fisheries) are undertaking an Environmental Education Strategy for NSW Coastal Boaters and Fishers.
The aims of the project are to:

Raise the awareness of boaters and fishers to key aquatic environmental issues.
Encourage, if needed, changes in behaviour to reduce impacts on our aquatic natural resources.
Identify aquatic champions among boating and fishing groups to be trained and deliver peer education
Encourage individuals to "get involved" in aquatic habitat rehabilitation projects e.g. marine debris clean up days.
Healthy Waterways
The NSW CMAs are currently implementing community group presentations across Coastal NSW. The presentation highlights aquatic environmental issues and how boaters & fishers can help to reduce impacts on the aquatic environment. If you are a member of a boating and/or fishing club and would like to know how to organise a presentation to your group please contact the Sydney Metropolitan CMA on (02) 98957898 or email the Project Manager, John Naughton at John.Naughton@smcma.nsw.gov.au for further information.
BOATERS AND FISHERS PRESENTATIONS
One of the key educational outcomes of the project was the delivery of community group presentations across coastal NSW. The presentation format has been trialled with 5 major boating and fishing associations and refined to reflect comments and advice received. A SMCMA staff training day was held in August 2011 with a focus on tailoring community group presentations to reflect local aquatic environmental issues. Presentations across the 5 Coastal CMA regions commenced in November 2011.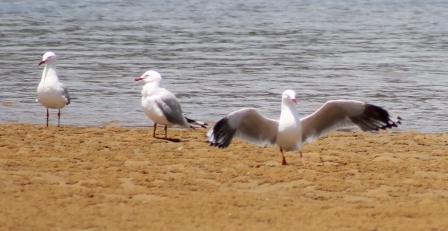 AQUATIC VOLUNTEERING: GENERAL INFORMATION
There are lots of volunteer groups around Sydney who work on improving the aquatic environment and have fun doing it. There are underwater diving groups and fishing groups who do monitoring, , marine debris clean ups and community awareness raising. There are Fishcare volunteers who are spreading the word about fish habitat issues and responsible fishing practices to anglers, community groups and schools. There is also the Fish Habitat Network where fishing groups actually do fish habitat rehabilitation work. There are also Bushcare groups working on saltmarsh and mangrove areas.

If you are interested in making a difference to the aquatic environment, and look for an aquatic volunteer group based on location (so that you can volunteer close to home) please click on the following link Find A Volunteer Group.
To find out more about becoming a Fishcare Volunteer visit: www.dpi.nsw.gov.au/fisheries/recreational/info/fvp
To find out more about the Fish Habitat Network visit: www.fishhabitatnetwork.com.au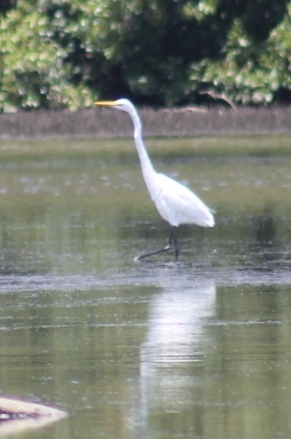 Sydney Metropolitan Catchment Management Authority has merged with Hawkesbury-Nepean Catchment Management Authority
The NSW Government recently announced that the Sydney Metropolitan Catchment Management Authority has been merged with the Hawkesbury-Nepean Catchment Management Authority as part of the changes to the regional service delivery model.
From January, 2014 Local Land Services, a new regionally-based organisation will replace the Catchment Management Authorities, Livestock, Health & Pest Authorities and incorporate agricultural services currently provided by Agriculture NSW.
The Hawkesbury-Nepean Catchment Management Authority's area of operation now includes all the areas previously covered by the Sydney Metropolitan Catchment Management Authority. This website will now become an archived website. For more information about Hawkesbury Nepean Catchment Management Authority, and to find out about upcoming events visit www.hn.cma.nsw.gov.au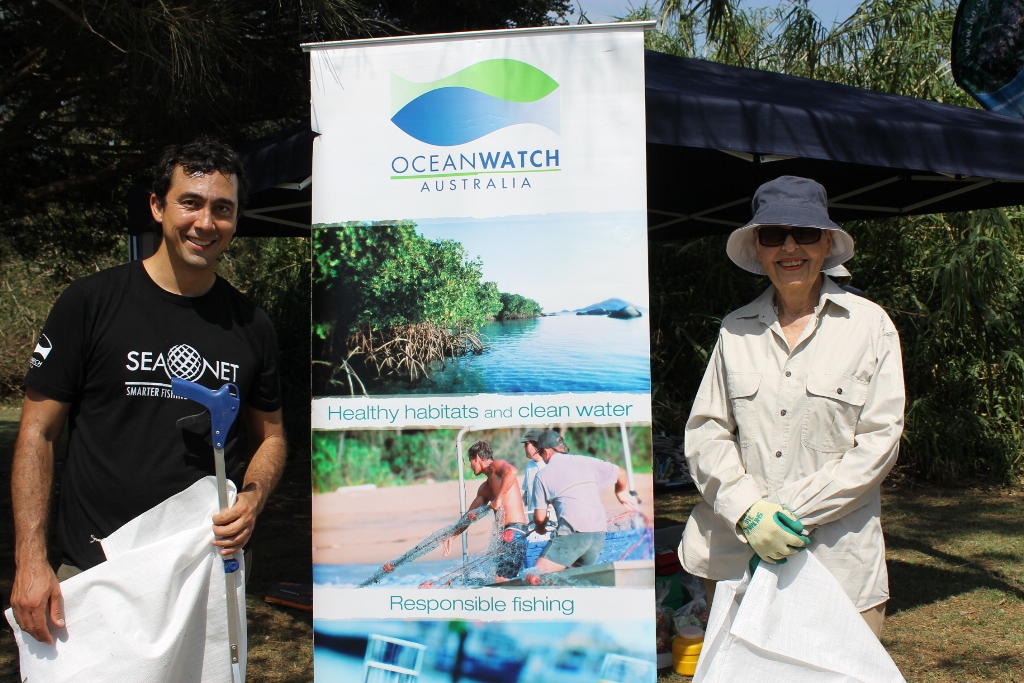 Eduardo Gallo and Careel Bay resident Nina Bardsley. Photo by A J Guesdon.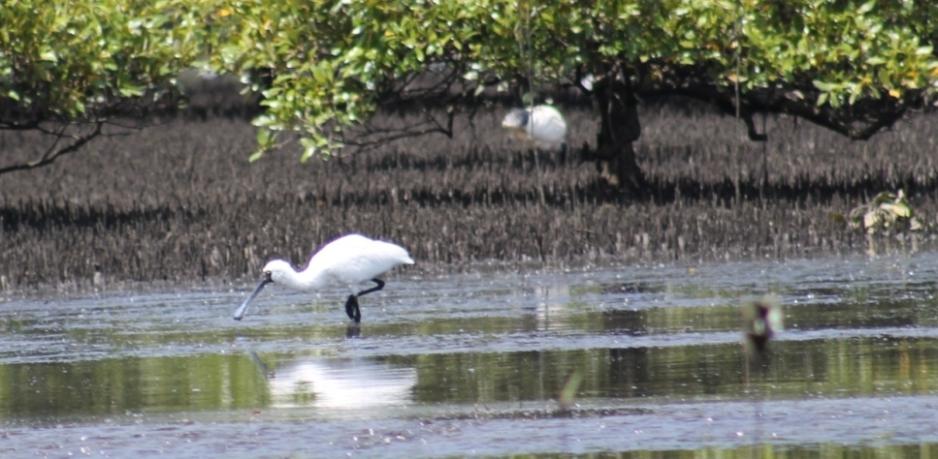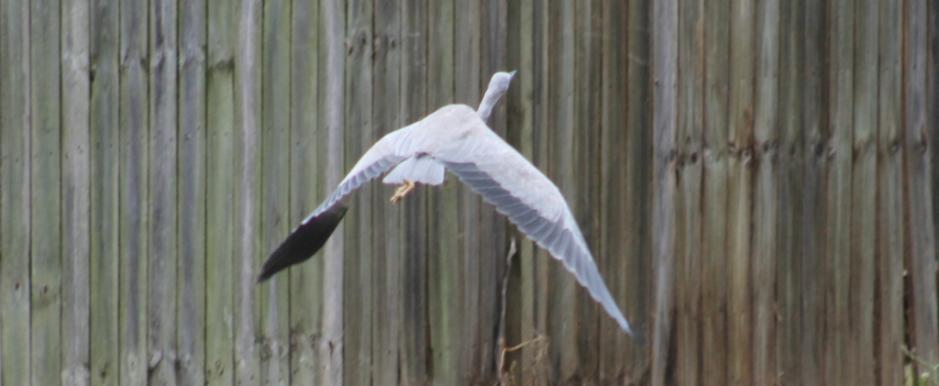 Report and All Photos by A J Guesdon, December, 2012.