October 2 - 8, 2016: Issue 283
Lock Crowther Regatta 2016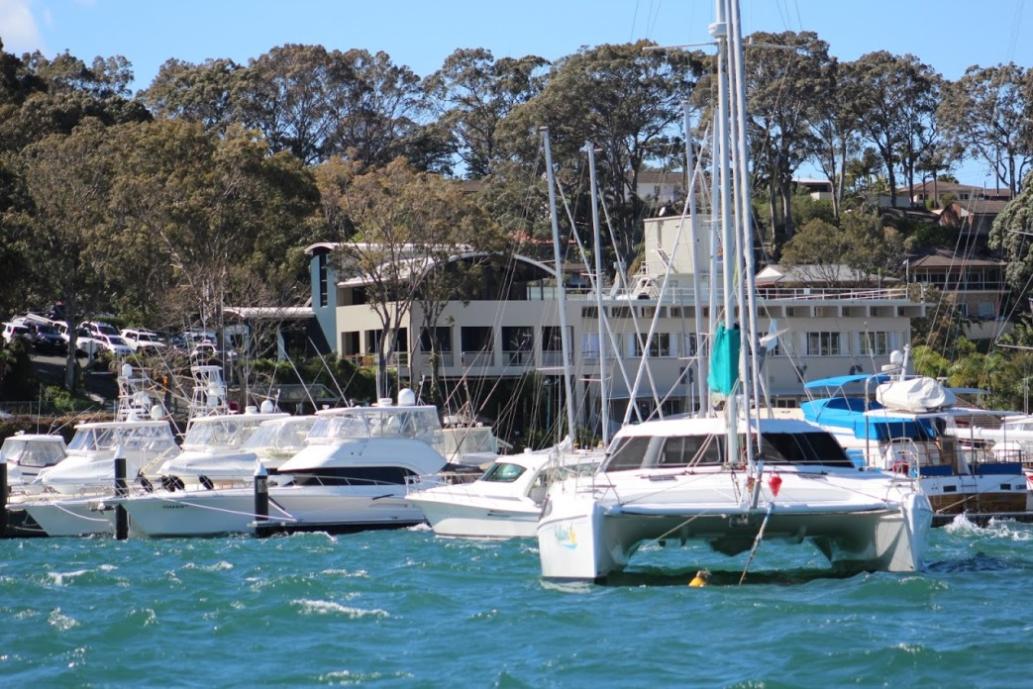 Starting with the Ocean Race on Friday, followed by a barbecue Friday night, where 50 plus sailors, Skippers and families were treated to some great food and good music, the 21st running of the Lock Crowther Regatta, hosted by the Royal Motor Yacht Club's Multihull Division and the club itself, began in great style.
Saturday proved a little testier though, gale force winds with white caps and waves coming out of Elvina Bay when the start boat went out to set up the marks caused Rob Brown OAM and those aboard to confer with Alan Brand.
The RMYC has a strict 'safety first' policy, which goes double for the Multihull Division and craft like Multihulls, built to fly in even a slight breeze, and so after an hour, with the Northwest- Westerly rising, the morning races were abandoned.
Back on the dock Alan Brand said,
"It's disappointing. We put so much into Lock's Regatta over so many months to make sure everything runs well and smoothly and provide a great time for the entrants onshore as much as great sailing inshore and offshore. The only thing we can't control is the weather though, and we have to put our visitors and sailors safety first and foremost every time."
"We'll have a look this afternoon and may be able to begin the races for the Cruising Division and the Race boats then."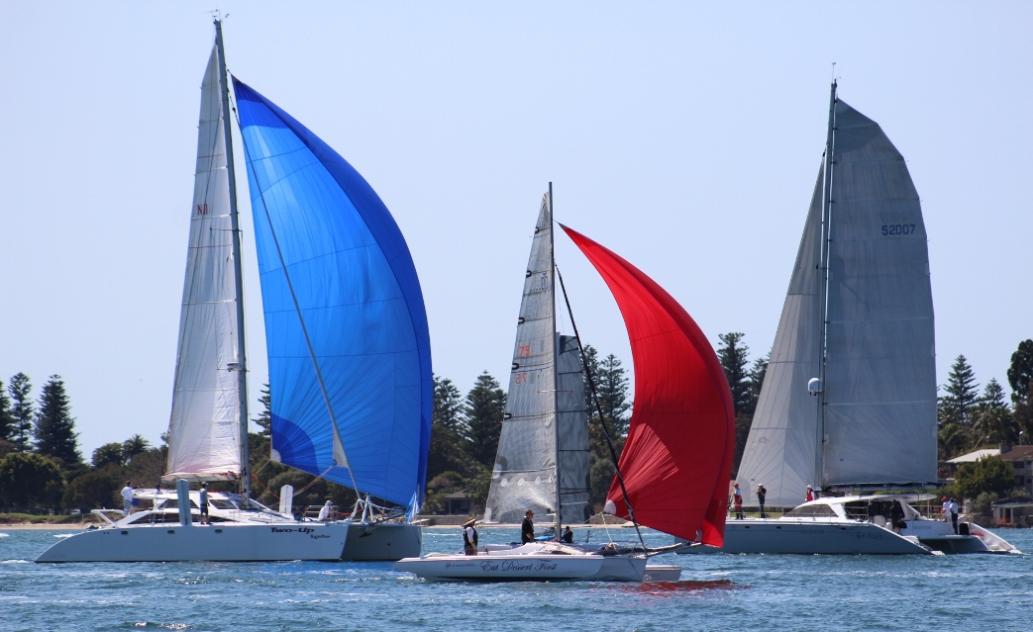 Lock Crowther Multihull Regatta 2016, hosted by RMYC Multihull Division - Day 2, Sunday Spinnaker run back from Barrenjoey - AJG photo
Blast Off 2016 Shares Blasts From The Past To Enrich Next Generation Of Surfers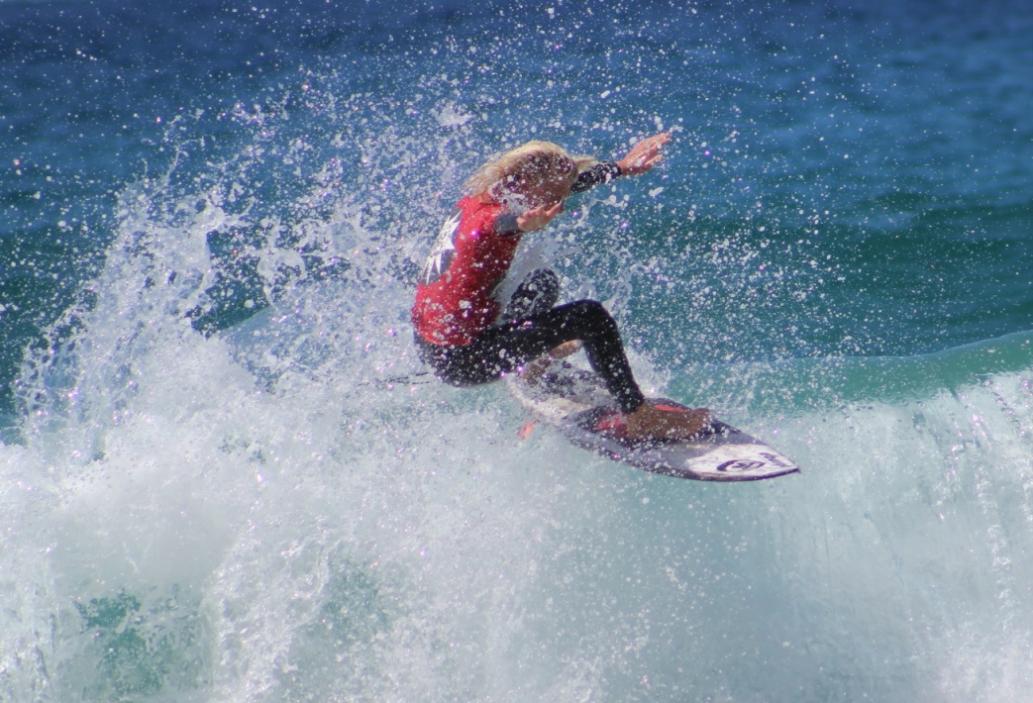 Day 2 BL's Blast Off 2016 - Whale Beach
In and out of the water this year it was all about sharing the passion and experience as well as good doses of past stories to deepen the understanding of the hundreds of young and upcoming surfers who took part in this year's Blast Off.
Education was and is so much a part of Blast Off each year, wrapped up in fun activities, that it sticks.
Bernard Midget Farrelly was spoken of at Blast Off Idol, Barton Lynch recalling Midget, even when battling for his health, was stating he would be taking on short boards soon, that he'd been studying videos of Mick Fanning and reckoned this would be his next foray into the aquatic resonances.
Commentators, many of whom have known BL for decades, could easily recall Barton's wins as a junior and even prompt him to share what music he used to amp himself up with prior to going into the water - the answer: 'Sweet Baby James' by James Taylor - pretty cruisey really, and then would play that song loudly for those out in the water, inspire their own glides.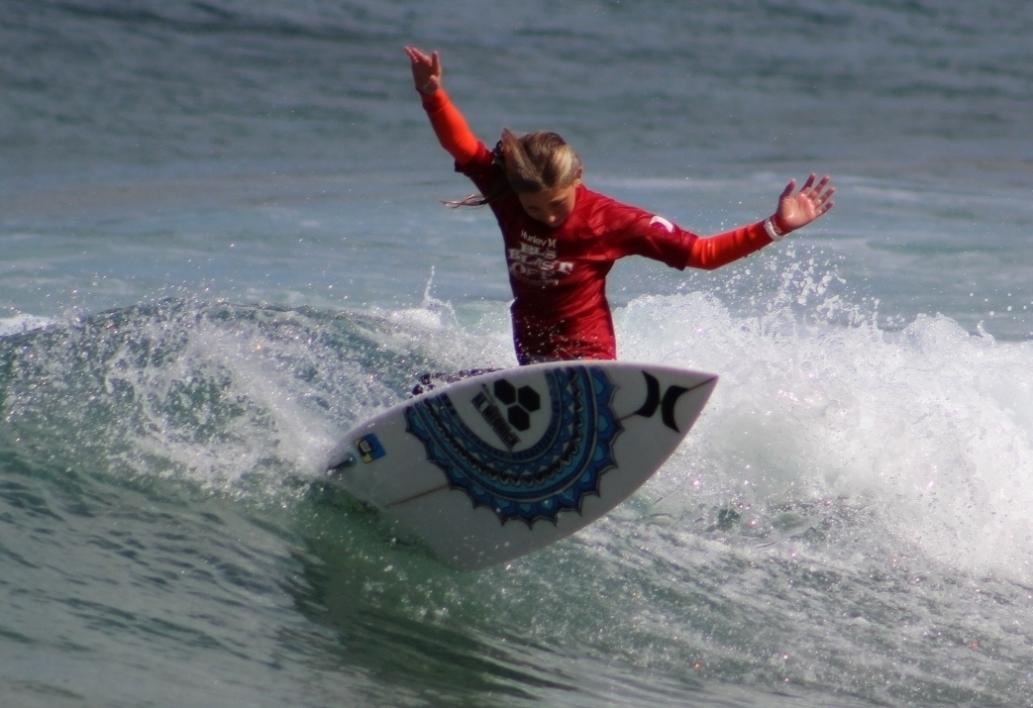 Cedar Leigh-Jones - winner 12's girls Blast Off 2016 - Day 4 North Avalon
Seal Attacked By Shark Rests On North Avalon Rockshelf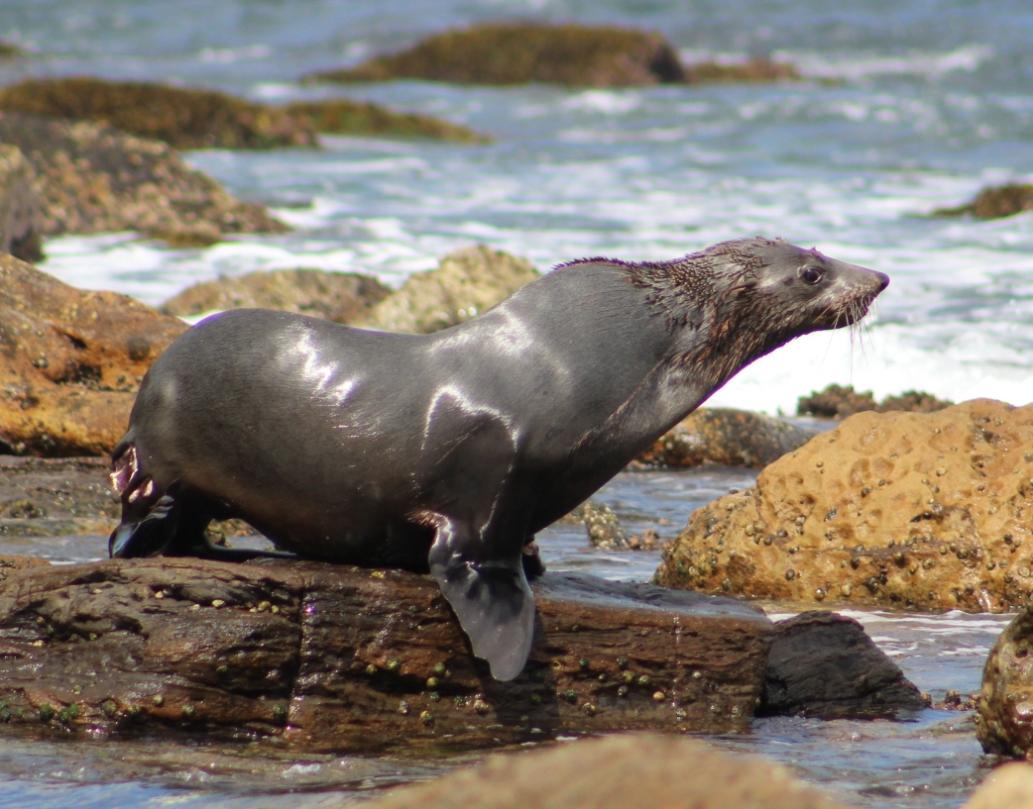 Seal resting on North Avalon Rocks - Thursday September 29, 2016 - Photo by A J Guesdon
Although this news service does not run images that may distress, the poor seal shown above had been attacked by a shark on Thursday and a large wound could be seen on its other side. It came ashore to rest and to feel safer.
If you see a seal that looks like it is in distress or has a wound please notify ORRCA on 02 9415 3333.
This seal seeking shelter is a reminder that we share our saltwater environment with all that lives here and need to follow guidelines put in place to look after them as much as ourselves.
Seals are protected in New South Wales. It is an offence to interfere with or approach within 40 metres of an adult and 80 metres of a pup seal or sea lion. Maximum penalties for individuals include fines of up to $110, 000. 00 and imprisonment for two years.
Fortunately
Shona Lorigan, Vice President of ORRCA, her husband and son were quickly on the scene and asked people to keep their distance and that one couple, taking their dog for a walk off the leash along the rockshelf, come back and take another route that afternoon. They stayed until dark.
ORRCA Volunteers stayed at North Avalon until 7 p.m. on Friday as well but the seal did not come ashore again.
On Saturday afternoon Shona said the seal had been seen further south near the Eastern Suburbs and ORRCA Volunteers were keeping an eye out.
"The State Government and Taronga Zoo have been informed but at this stage the best we can all do, should this fully grown seal swim north again, is give it that minimum of 40 metres space to feel safe and rest."
"Unfortunately
it is the stress incurred by being forced back into the water to avoid human fans that may cause the demise of these aquatic marvels."
"This is a fully grown adult seal though, in great condition and so has everything in terms of succeeding from this. As long as an infection doesn't develop, the wound should heal."
"Our (ORRCA's) only concern at this stage is this particular Kiwi is hauling out shallow, which they don't normally do, they prefer to go straight up the rocks. The wound to the flipper may be causing this."
" We did have a seal with a similar wound 12 months ago at Newcastle though and six months later this one was spotted happily jumping on and off shelves there."
If anyone does see the seal this way, or south, please maintain that 40 metres distance and contact ORRCA to report your sighting.
ORRCA - 24 Hour Hotline Phone: 02 9415 3333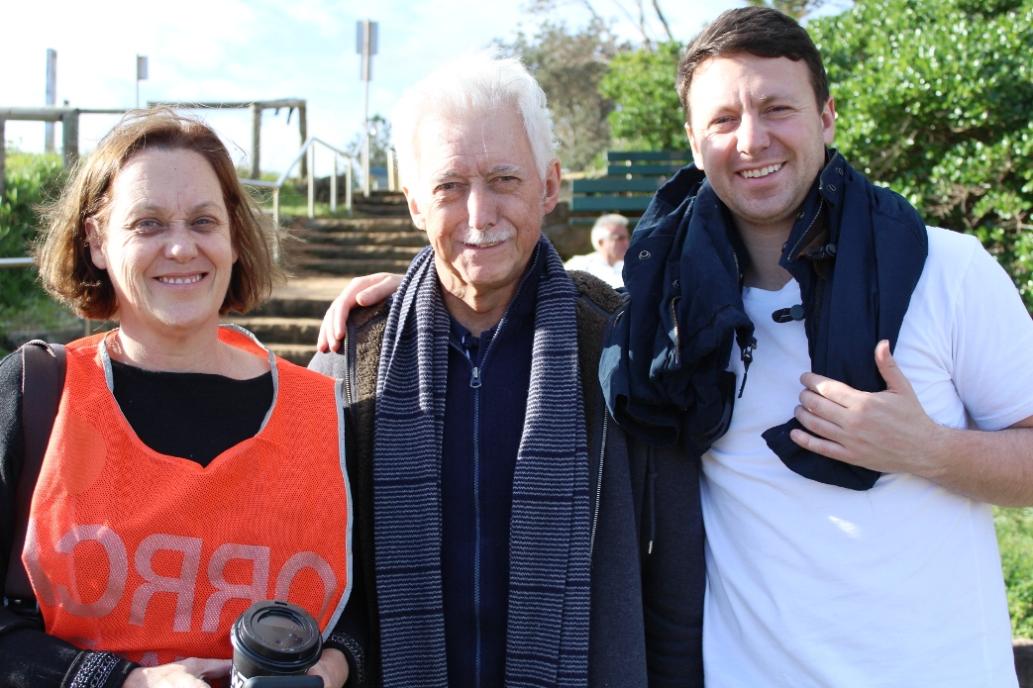 Shona Lorigan, Vice President of ORRCA, with her husband and son, Colm and Mike Lorigan at North Avalon on Thursday.
Pittwater From On High #2!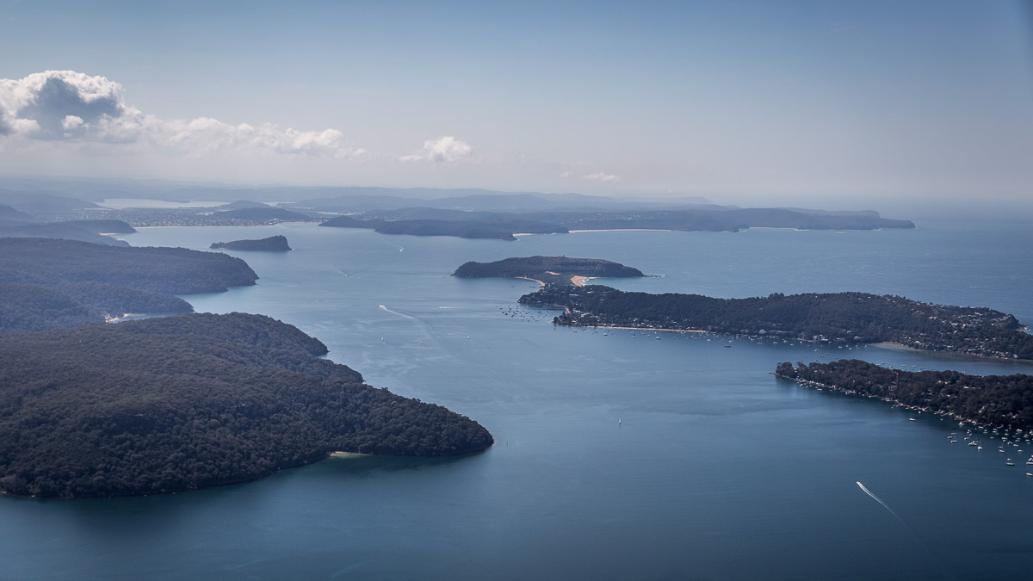 Pittwater from a plane, September 2016 - photo © Dave Whiteman 2016
Photographer David Whiteman is our October
Artist of the Month
and opens the
Profiles of the Week
for this second month of Spring 2016.
Dave was raised in Newport during the 1950's, attended Pittwater High School before serving as part of the NSW Police Force and then developing computer programs. He would like those who want to attend the upcoming Pittwater High School Reunion, 1963 to 1972, to get in touch and put October 22nd at the RMYC in their diaries.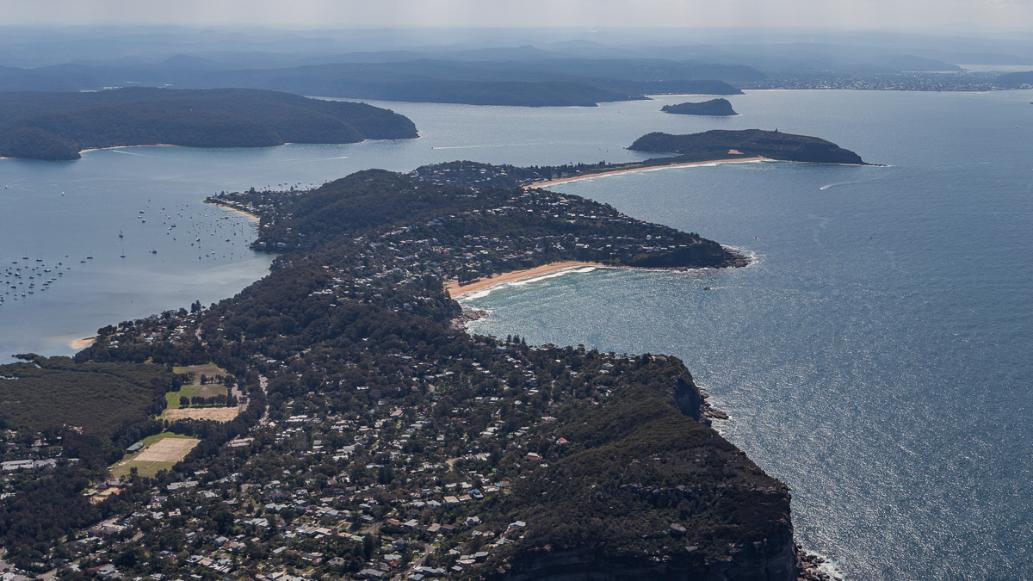 Palm Beach from a plane, September 2016 - photo © Dave Whiteman 2016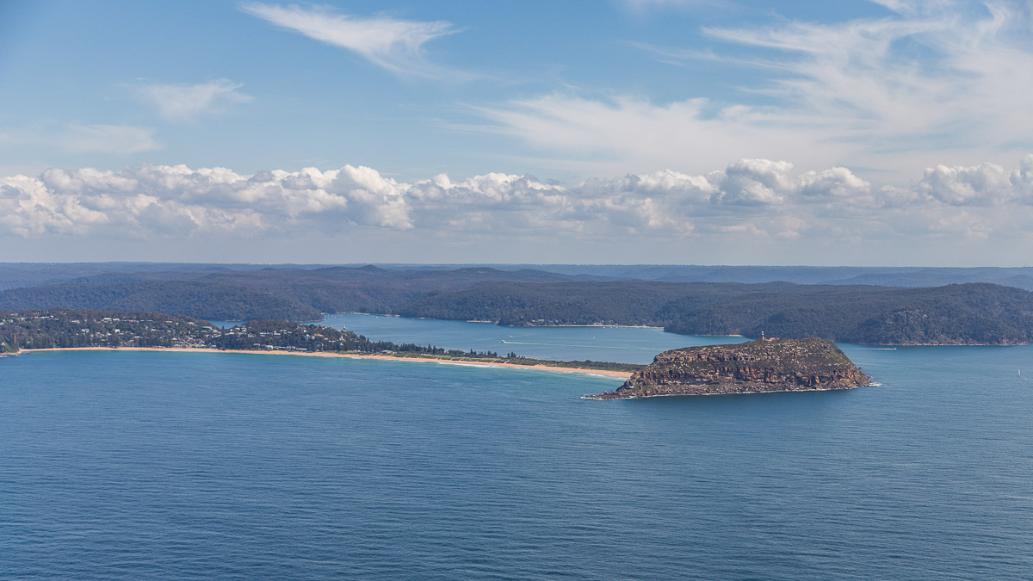 Barrenjoey and Palm Beach from a plane, September 2016 - photo © Dave Whiteman 2016
Native Bee On Red Bottlebrush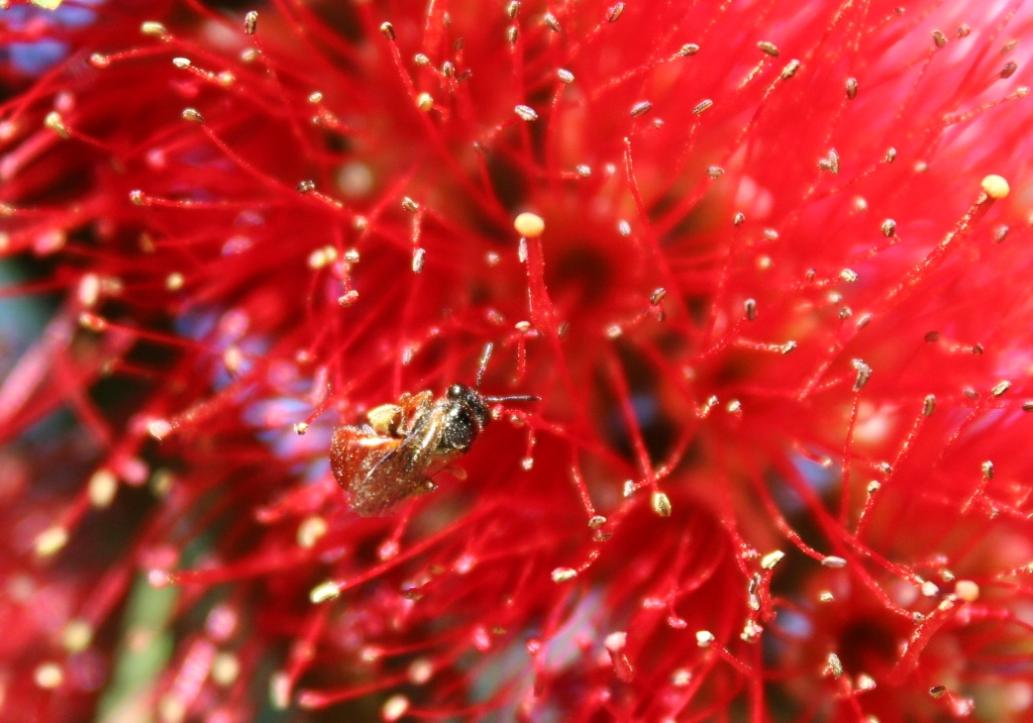 Native bee gathering pollen from Red Bottlebrush - October 1st, 2016 - A J Guesdon picture
Become A Native Bee Keeper!
Northern Beaches Council is helping to address the shrinking population of native bees by hosting two workshops with entomologists Dr Tim Heard and Dr Tobias Smith

on Sunday 16 October

.
"The native bee workshop is an important initiative for Council as it teaches local residents how to safely keep native bees at home."
"It is a hugely popular event with the Northern Beaches community as many people are looking for ways to improve the environment on a local level ," said Dave Lowery, Education Coordinator at Coastal Environment Centre.
During the sessions Dr Heard and Dr Smith from Sugar Bag Bees will share their expert knowledge of native bees.
"Our workshop introduces people to the broad diversity of Australian native bees and how to work with then," said Dr Heard.
"They are very seldom seen, but essential for the health of our environment."
The workshop includes:
how to encourage native bees into the garden

how to keep native stingless social bees in hives

hive management including design and protection from natural enemies

how to use them for pollination and honey production.
The workshop will be held at the Coastal Environment Centre at Lake Park Road, North Narrabeen 9am-12pm.
A second workshop will be held from 1-4pm for people who already have hives and are seeking further advice and practical help in splitting their existing hives.
Cost for each session is $20 and includes a copy of Tim Heard's latest publication, The Australian Native Bee Book.
Native Bee Keeping Workshop
Sunday 16 Oct, 9am-12noon and 1-4pm
CEC Lake Park Rd, North Narrabeen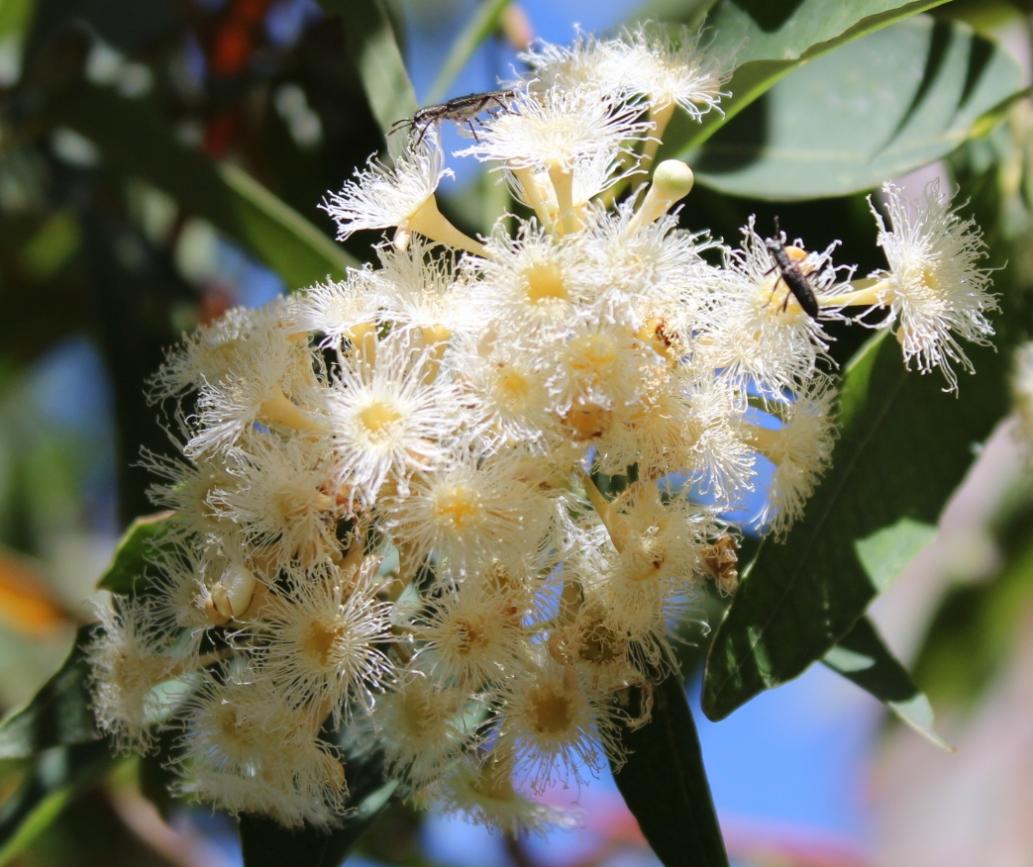 Spring In Pittwater: 2016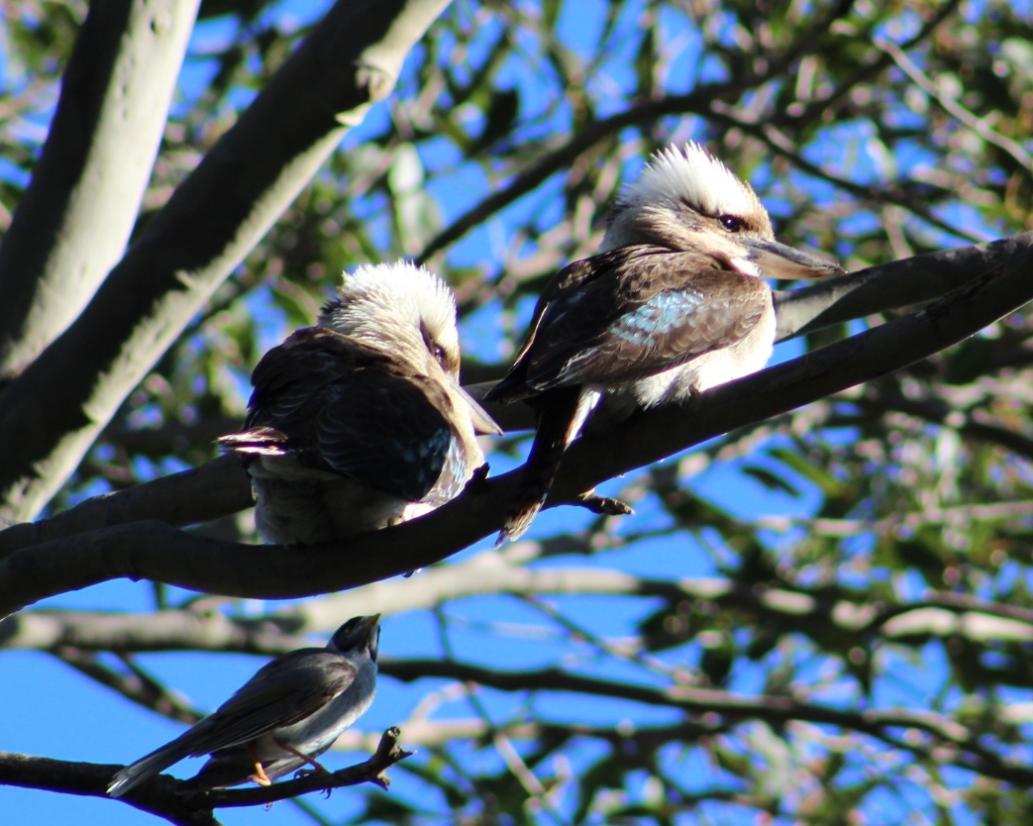 Fledgling Kookaburras - two again this Spring - Birds in our Backyard - September 28th, 2016.- A J Guesdon photo
Aussie Backyard Bird Count
Did you take part in Bird Count last year?
This year, the Aussie Backyard Bird Count will be back, bigger and better than ever. With more than a million birds counted last year, how many will we see in 2016? It's all happening during
Bird Week, 17–23 October
. Let's make every bird count!
Discover the Aussie Backyard Bird Count app!
Past Features Archives (pre 2014)
Pittwater Online News was selected for preservation by the State Library of New South Wales and National Library of Australia. This title is scheduled to be re-archived regularly.
Archived Issues (2014 on) may be accessed here: pandora.nla.gov.au/tep/143700