November 6 - 12, 2011: Issue 31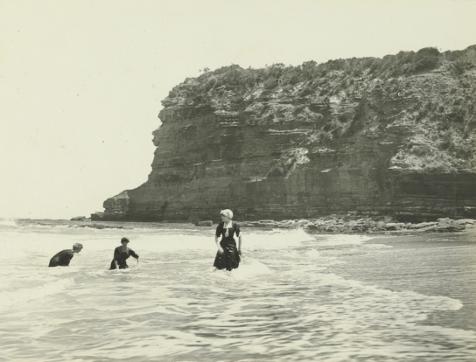 Top: Members of the Allen Family swimming in 1913. PicNo:3292031h from NSW State Library. Above 1962 Frank Hurley photo nla24768552. Below; On Balgowlah Beach or Dalleys. circa 1915. Government Printing Office 1 - 33119. Courtesy State Library of NSW.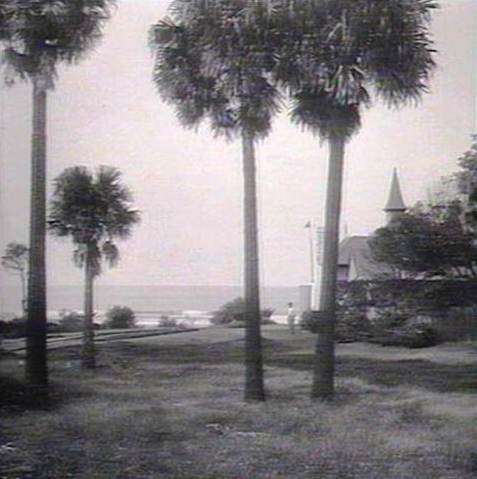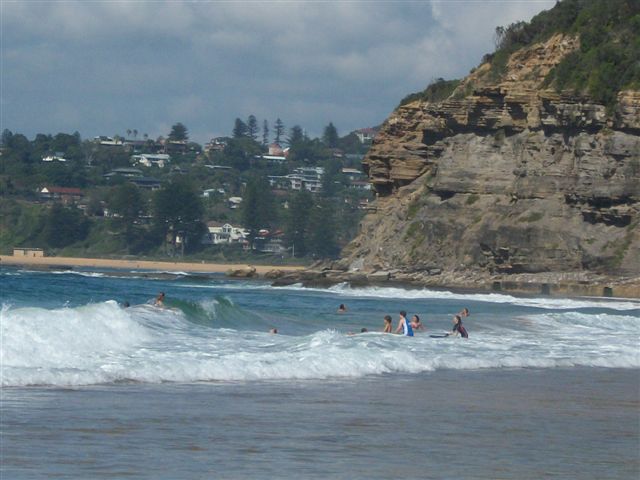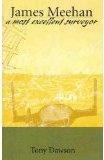 James Meehan : a most excellent surveyor by Tony Dawson
James Meehan made an immense contribution to land development in early New South Wales; he stated at the Bigge Commission of inquiry that he had measured every farm in the early colony. He measured land grants and leases for over two decades with the Office of Surveyor General from the early 1800s.
Published 2003: limited availability: order here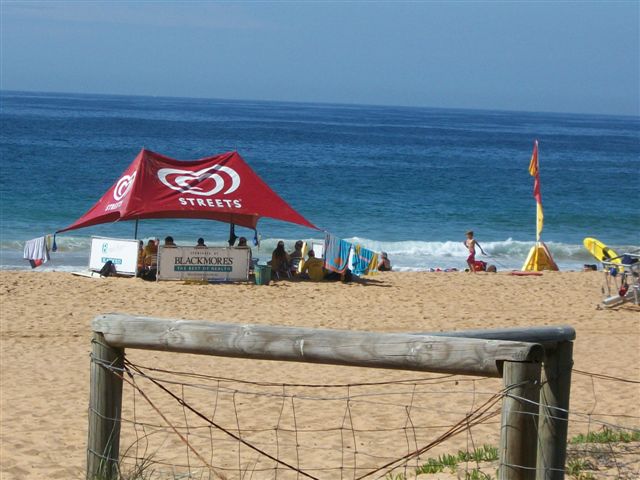 Bilgola Beach and Valley
Bilgola is named after an Aboriginal word meaning "swirling waters" and seems to have been a popular fishing spot for our original custodians prior to the arrival of settlers. First mapped by Government Surveyor James Meehan, the word 'Belgoula' was noted in his records of 1814. This 'swirling waters'name seems very appropriate when you cast your eyes over the long list of people who have drowned in the undertows and rips off this beach prior to the formation of a Surf Club in 1949. Although the western bends protect the plants the northern face is exposed to southerlies and has borne the brunt of many summer storms. During the weekend of 8th - 9th of June 1974 gale force winds devastated a house along the Serpentine and the beach itself as well as other structures from Patonga to Manly. (See file below).
The beach itself, after being named 'Belgoula' was then named 'Dalley's beach' after William Bede Dalley (1831 – 1888) one time Attorney General and Acting Premier of New South Wales who had a beach house in the 1870's named Bilgola House. The beach is 500m long, faces south east and is bordered by a high headland, Bilgola Head to the north and the lower, shale predominated, Newport Head and rocks to the south. The beach has a single sand bar cut by two shifting beach rips and permanent rips against the rocks at each end. The southern rip is called the 'Newport Express' as it flows fast over the rocks and carries the unwary south to Newport. It is also one of the quieter amphitheatres of sand and water in Pittwater and this stillness, due to Bilgola's form, causes sea mists to linger during season overlaps and create, with moonlit and still water, the stuff of visions. Many artists, writers and actors have resided within its natural enclave.
The landscape was once a deep tidal cove, which still shows in the 'bends' which curve around the walls of a 400m wide valley. The green reserve surrounding the Bilgola Bends western and northern slopes is known as Hewitt Park. A sandstone escarpment in the uppermost section of the Reserve drops over 75 metres as a very steep slope. A reserve at the south end of the beach, with a constructed track which winds around the headland through to Newport beach has been named Hamilton Reserve. Attunga Reserve, at 7.95 hectares is located over the ridgeline which separates Bilgola and Newport beaches. At the north end of the beach the A (Arthur) J Small Lookout, with a panoramic view south and north, is bounded by thick coastal scrubland. There are two rainfall influenced intermittent creeks, both boulder lined, which drain from Bilgola plateau, one at mid slope and one at the northern end. The northern creek can become a waterfall as it enters this Reserve.
The gully structure of Bilgola has preserved some areas close to their original state and supports a Cabbage-tree Palm Forest (Livistona australis), Lilly Pilly (Acmena smithii) and Guioa (Guioa semiglauca) with emergent eucalypts such as Broad-leaved White Mahogany (E. umbra). An understorey plant world of low tree and shrub layer species include Forest Oak (Allocasuarina torulosa), Veiny Wilkiea (Wilkiea huegeliana), Bolwarra (Eupomatia laurina), Bastard Rosewood (Synoum glandulosum), Mock Olive (Notelaea longifolia) and Sweet Pittosporum (Pittosporum undulatum). The ground layer is dominated by ferns. Common ground layer plants include Rasp Fern (Doodia aspera), Jasmine Morinda (Morinda jasminoides), Settler's Flax (Gymnostachys anceps), Native Grape (Cissus hypoglauca), False Bracken Fern (Calochaena dubia), Lawyer Vine and Harsh Ground-fern (Hypolepis muelleri). Also present are small areas of forest or woodland community where the trees are of lower height than the forest on the upper slopes. Here Smooth-barked Apple (Angophora costata), Rough-barked Apple (Angophora floribunda) and Black She-oak (Allocasuarina littoralis) grow. Associated small tree species include Bangalay (E. botryoides), Cheese Tree (Glochidion ferdinandi), Coast Banksia (Banksia integrifolia) and Blueberry Ash (Elaeocarpus reticulatus).
The fruits of the trees are favoured by species such as the Topknot Pidgeon and seasonal migrants such as the Koel and Channel-billed Cuckoo. Up until 2000 a few koalas had been spotted still living along Bilgola Bends. Predator foxes have been seen at the edge of the road at dusk. The ridgeline, and open scrubland of Attunga reserve, lends itself to raptors both daylight loving, hawks, eagles, peregrine flacons and nocturnal owls. All have been spotted in this area recently and in past years. Birdline NSW reports of white-tailed Tropicbird off the headland in May and Eastern Koel on the top of the ridge in August of this year show this provides a haven for many land and coastal birds in their due seasons.
Bilgola has been a holiday destination for over a hundred years and we will revisit this in our Summer Houses series in December on these History pages but those first built stood out from the landscape and were in what were the classic designs of their times. In 1870 William Bede Dalley built what was named 'Bilgola Cottage'. This premises was visited by many persons associated with this gentleman and his children, including a Dame Melba.
Bilgola was once a bit of a dumping site for refuse and also: NARRABEEN LAKES. Protest Against Shell-dredging Scheme.
The Parks and Playgrounds Movement decided yesterday to co-operate with other public bodies in a deputation to the Minister for Local Government to protest against the granting of a lease by the Mines Department to a public company for the dredging of Narrabeen Lakes. Mr. A. J. Small (chairman) said that the company proposed to obtain shells for lime-stone. The dredging of the lakes for this purpose would be detrimental to the surroundings. At present the water in the lakes was shallow and safe for children and non-swimmers, but if the dredging was allowed a dangerous channel, 20 feet deep, would be created down the centre of the main lake. The waters would be stirred up, big holes would be created, and the beauty of Narrabeen Lakes would be spoilt.
The meeting also decided to protest against the action of the Main Roads Department in establishing a quarry on the hillside of Bilgoela Beach. The road from Sydney to Palm Beach, it was stated, was the most beautiful coast drive in the State, and the establishment of the quarry at Bilgoela ruined a delightful vista. The whole of the hillside over-looking the beach was being devastated.
The Main Roads Department, it was stated, was usually very helpful in preserving natural surroundings, but on this occasion no thought or consideration had been given to the question of town planning. NARRABEEN LAKES. (1934, December 6). The Sydney Morning Herald (NSW : 1842 - 1954), p. 15. Retrieved from http://nla.gov.au/nla.news-article28021345
The Bilgola Surf Life Saving Club was formed in the summer of 1949 when a small band of locals commenced patrols on Bilgola Beach. This Club has now served the local community and our visitors for over 60 years.
Further; in files to left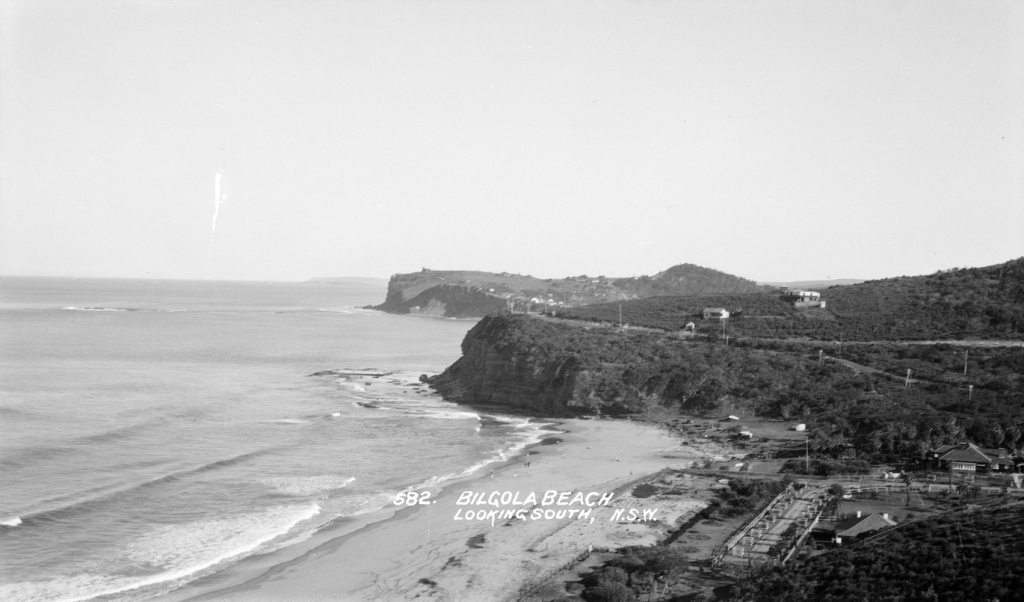 Samuel Wood - ca. 1928 Bilgola Beach 1928: Digital Order No. a1470001 Courtesy the State Library of NSW.
Bilgola Beach and Valley threads collected and collated by A J Guesdon, 2011.