April 14 - 20, 2013: Issue 106
Black Swans on Narrabeen Lagoon - First Time in Decades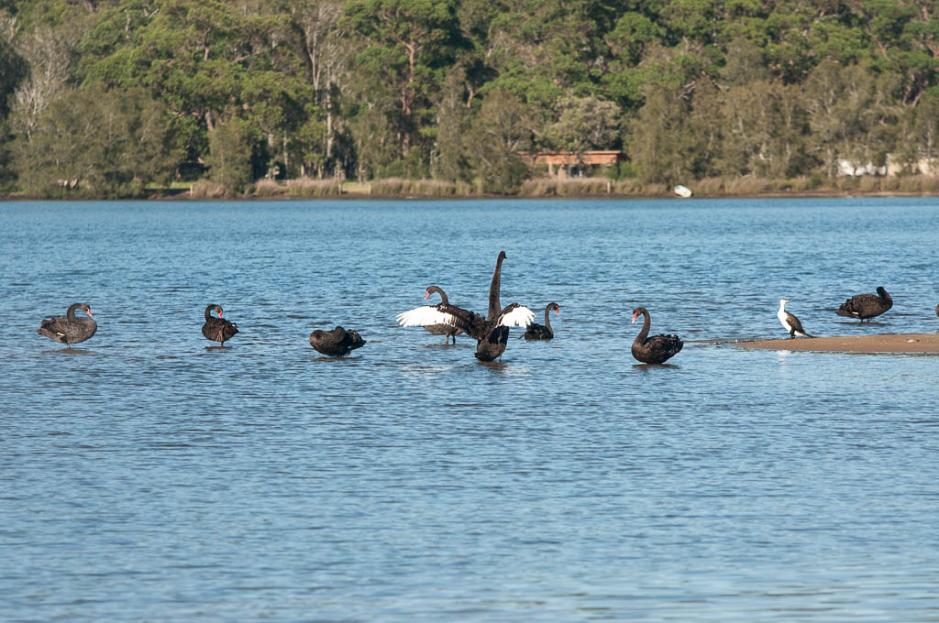 Black Swans on Narrabeen Lagoon - Photo by Michael Mannington.
On Monday evening Kerry Smith, Warrieowod bird-watcher for over 50 years, told us there was a flock of black swans on Narrabeen Lagoon. As we happened to be driving past we stopped, and sure enough, a flock of twenty birds could be seen in the distance despite the growing dusk.
On Tuesday morning Marita Macrae of PNHA and Pittwater Environmental Foundation, also a bird-watcher for decades, kindly took us to the lagoon once more so we could photograph and marvel at these wondrous birds. Pete Juniper of AAMR Environmental - who was undertaking bushcare alongside the lagoon area and has done so for over four years – said he has been seeing them for around six months – so they arrived in Spring 2012.
Black Swans, Cygnus atratus, which are vegetarian, are clearly flourishing here again and returning due to ongoing focus of Warringah and Pittwater Councils, of Friends of Narrabeen Lagoon Catchment and other great local environmental groups, on returning the environment to the environment in our wetlands and bush. Another likely factor is people's growing awareness that what goes down the stormwater drains is not filtered prior to entering our creeks, lagoons, lakes and oceans and adjusting themselves accordingly.
The swan flock clearly had one who thought he was in charge, two couples who are clearly in love, and siblings who were standing on one foot together - a way of cooling themselves.
We also saw with them on their sandbank a Great Egret, a Snake Bird- Darter, a Little Pied Cormorant and a Pelican. We asked Volunteer Photography founder Michael Mannington to pop down on Wednesday and get a few more photos, some of which, along with AJG's, feature as part of this week's Pictorial.

Above and below: Bird council at Narrabeen Lagoon - Photos by A J Guesdon.
As Marita remarked to our on-staff bird-watcher: "There you see the Moslems and the Christians getting on quite well together!"
If you want to get a bit more 'hands on' in contributing to restoration works associated with our wetlands and Irrawong reserve planting along Mullet Creek Day is occurring on the 21st of April – details in Community News.