October 23 - 29, 2022: Issue 559

Stony Range Regional Botanical Garden: A Great Place To Get Involved As Volunteer This Spring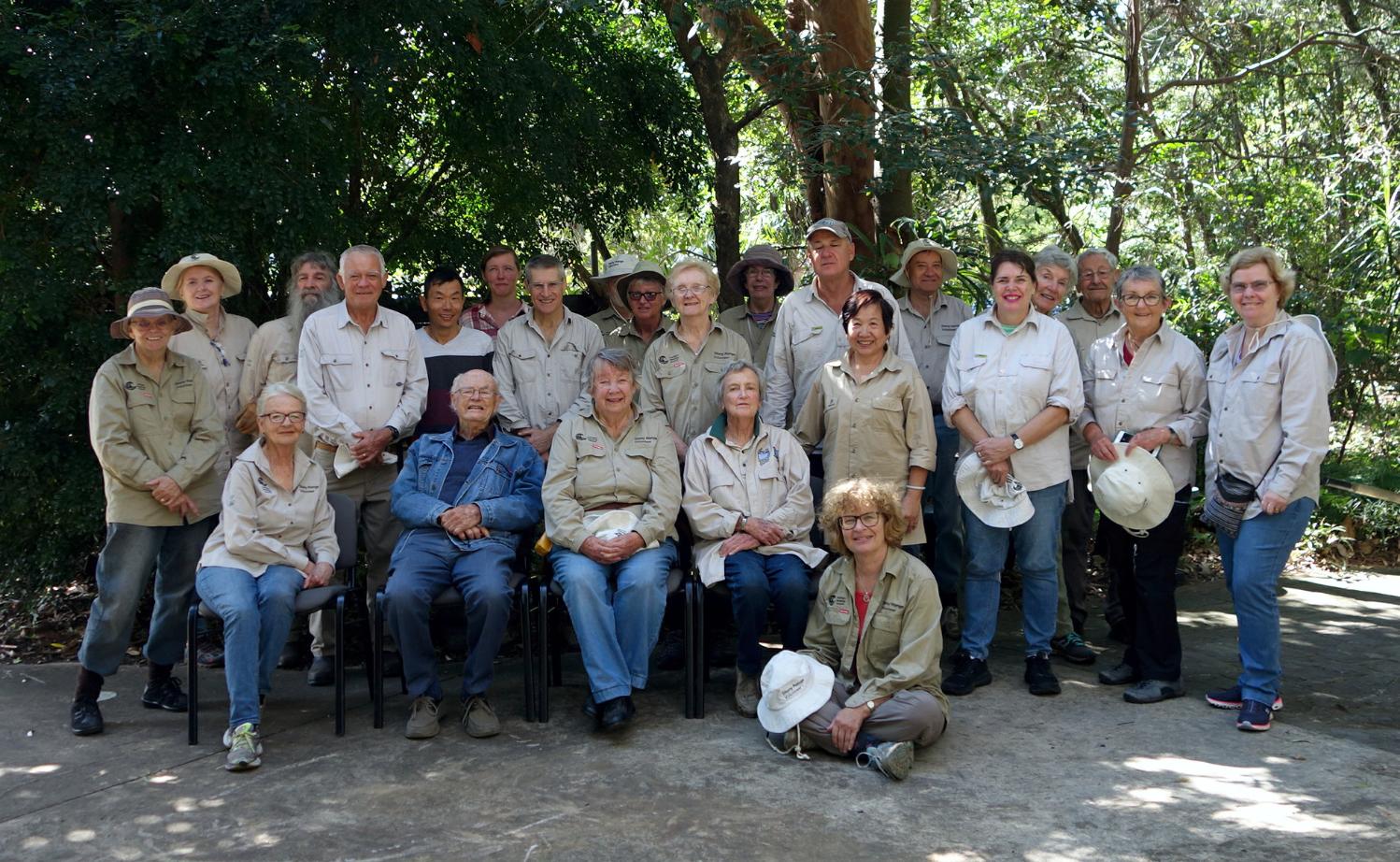 The wonderful Stony Range Flora and Fauna Reserve Volunteers - 2021 photo.
Stony Range Regional Botanic Garden
810 Pittwater Rd, Dee Why
Facebook
Email: stonyrange@gmail.com
For those who want to get involved as a volunteer in a local garden or bushcare group, Stony Range Regional Botanical Garden offers a wide variety of options to 'dig in' simply because this space is has so much going on in its spaces.
Stony Range Botanic Garden has several microclimates: the rainforest gully, the sandstone heath, and the lush ecosystem of the Federation Cascades. The waterfalls that form the Federation Cascades were constructed by volunteers in 2001 to commemorate 100 years of Federation in Australia. Since then they have created their own ecosystem and now abound in lush plants and ferns.
Intricate walkways take visitors to these microclimates. The main circuit takes approximately 20 minutes to complete and in 2013 was extended to include the accessible sensory track - where people of all abilities can experience the Australian bush like never before. Signs along the sensory track point to plants you can touch, taste, smell, and look at, to observe the garden with all your senses. There are also side tracks for the energetic and inquisitive.
After half a century of growth, the rainforest gully is regarded as one of Alec Blombery's (one of the garden's founding members) greatest achievements in the reserve. When Stony Range was first created, the area along the main creekline was badly infested with noxious weeds such as lantana and privet. Today, it is a cool oasis populated with cedar, coachwood, flame trees, hoop pine, lilly pilly, ferns and palms.
The site of the sandstone heath in the upper area of the reserve was part of the stone quarry which was reclaimed with soil fill. Today there is a collection of grasses, grevilleas and banksias which all create a picturesque display at different times of the year.
The Nursery is open on a Tuesday morning and Saturday afternoon when volunteers are present and you can get some great rootstock for your own garden and invest in helping the garden.

Stony Range volunteers have a variety of activities to suit all levels of participation. Volunteer sessions run on Tuesday mornings 9am-12pm and Saturday afternoons 2-4pm.
The Volunteer position is described as:
Requirements:
No previous experience is required
Interest in the cultivation, care and display of Australian native plants in a bushland environment
Plant work is manual and requires a reasonable level of fitness, however the tasks available can accommodate a range of fitness levels and interests
Enjoy working as part of a team in a social and supportive environment
Commitment to Council's workplace values of Trust, Teamwork, Respect, Integrity, Service and Leadership
Key Tasks and Responsibilities:
Use basic hand-tools to propagate, plant out, replace, prune, weed, mulch, fertilise and water plants
Minor landscape construction and maintenance, removal of unwanted vegetation from minor plant renewal and general maintenance activities
Help plan and organise field work within Stony Range (optional)
Help plan, organise and participate in Stony Range events, especially the annual Spring Festival (optional)
Communicate with visitors, both casually and in organised talks, and lead small group walks (optional).
Report maintenance and associated issues to Supervisor or Council representative
Liaise with Council staff, visitors and fellow volunteers
What to Wear: Long sleeved shirt, long pants, enclosed shoes and a hat. Shirt and hat will be provided to volunteers. Additional PPE will be provided as required.
If you would like to become a volunteer contact volunteer@northernbeaches.nsw.gov.au.

Next Sunday, October 30th, which the BOM states will be 'fine', the annual Stony Range Spring Festival will take place.
This year's celebration has an especial aspect as the 60th anniversary celebrations had to be postponed in 2021 due to Covid lockdowns.
As a result, and to celebrate the 61 years since the opening of Stony Range Botanic Garden of Australian Bushland, the volunteers, together with the Northern Beaches Group of the Australian Plants Society, will be providing plenty of advice and native plants for sale at their Spring Festival on Sunday 30th of October.
There will be displays, music, live native animals, fun activities for children, plus a sausage sizzle and coffee shop with homemade cakes. There will also be a sale of native plants, where you can take advantage of expert cultivation advice from Stony Range Botanic Garden volunteers and members of Australian Plants Society Northern Beaches Group.
Stony Range was established in the 1950's for the propagation and display of native plants from all over Australia. Volunteers both maintain and improve the 3.3 ha Range which provides the local community with varied opportunities to see and learn about Australian plants. This is provided in a relaxing bushland setting away from the busy adjacent urban environment.

Northern Beaches Council Mayor Michael Regan has paid tribute to this great place for people, saying;
''What was once a rock quarry, Stony Range Garden has been transformed into a 3.3-hectare tranquil oasis tucked away amongst a busy industrial area.
It is truly a hidden gem and a feast for the senses along with being accessible to people of all abilities. You can take a stroll along the paths, view the magnificent array of native plants, sit in solitude, or pack a picnic and enjoy your surrounds – it is a really special place.
A small army of dedicated volunteers in partnership with council has been dedicating their time, love and passion for the garden for more than 60 years to ensure this peaceful bushland retreat is maintained.
It is unfortunate, due to COVID restrictions that their 60th anniversary celebrations were cancelled.
We are in awe of all the dedicated volunteers who have over the years cared for this precious garden - we are truly grateful. Keep up the great work.''
Below run some of Joe Mills great photos taken on his visits to Stony Range Flora and Fauna Reserve, but as stated above, this beautiful green space is now awash with flowers and well worth a visit, either to the Spring Festival on October 30th this year, or anytime you need to step away from the traffic and under the trees.
The Nursery is open on a Tuesday morning and Saturday afternoon when volunteers are present when you can get some great rootstock for your own garden and invest in helping the garden.
Come and visit soon and keep up to date with what's happening on their Facebook page at: www.facebook.com/StonyRange
As part of Pittwater Online's celebrations of Spring a History page on Stony Range provides a few insights from 'way back when' the site was a quarry.
That's available in Stony Range Regional Botanical Garden: Some History On How A Reserve Became An Australian Plant Park
Stony Range Regional Botanic Garden is an oasis of Australian native plants located at Dee Why, in the heart of the Northern Beaches. Step away from the traffic and noise and give yourself a place of peace.

Joe Mills, Pittwater Online's Parks and Reserves photographer, provides a few pictures taken during his visits: