December 14 - 20, 2014: Issue 193
Palm Beach Sailing Club's Christmas Sail and 2014 - A Great Year!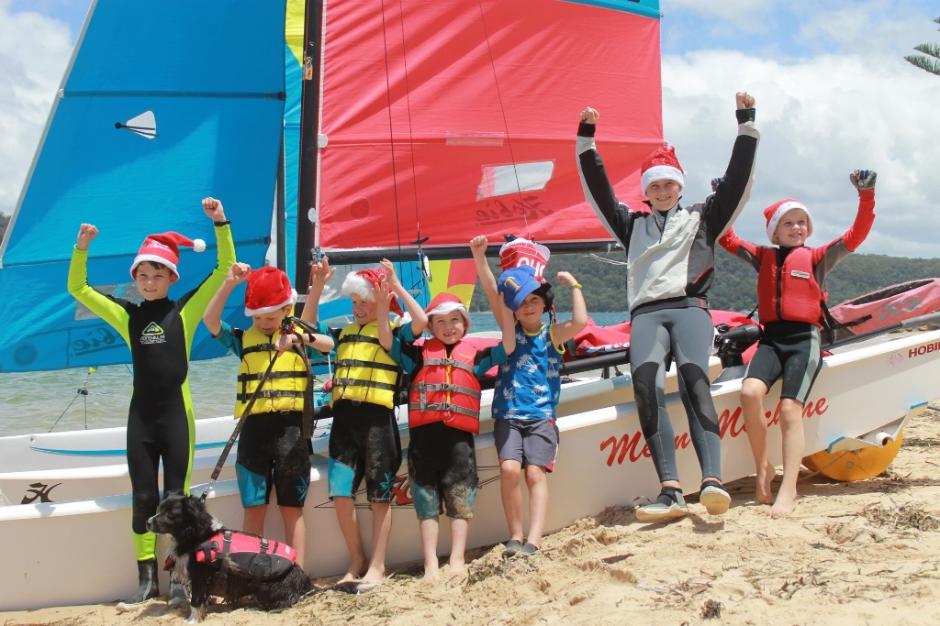 13 December 2014
That wonderful family orientated sailing club, PBSC, had their last sail of the year yesterday, Saturday December 13th and as is customary, members donned some Christmas cheer before taking to Pittwater.
Yesterday's course, as briefed by Upu Kila, was a Long Distance Race, with marks off Taylors, Longnose and Gonzales and three laps to be sailed with a beach finish. Upu's wife Charmaine gave a further insight into this kind of course, explaining that in New Guinea, where Upu began his sailing days, ten laps is the norm.
2014 has been a great year for the club, with members participating in local events such as Bart's Bash and the Lock Crowther Multihull Regatta as well as running their own bigger than ever Beware the Bullet's Regatta just a few weeks back.
This week's Pictorial celebrates a great 2014 for one of the best sailing clubs in Pittwater - the PBSC fliers!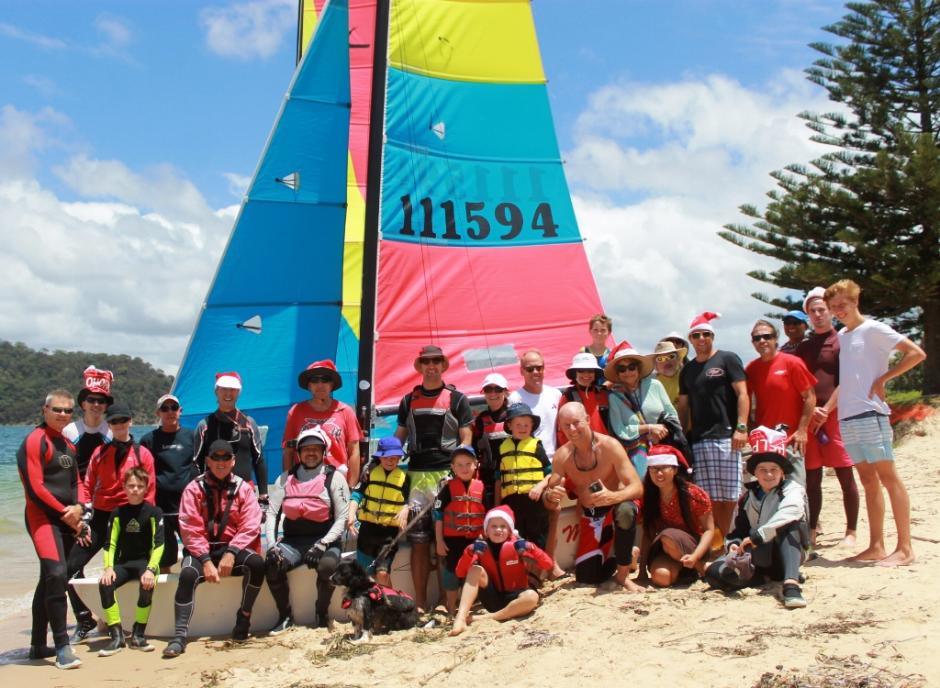 Pittwater Sailors Excel in ISAF Sailing World Cup Melbourne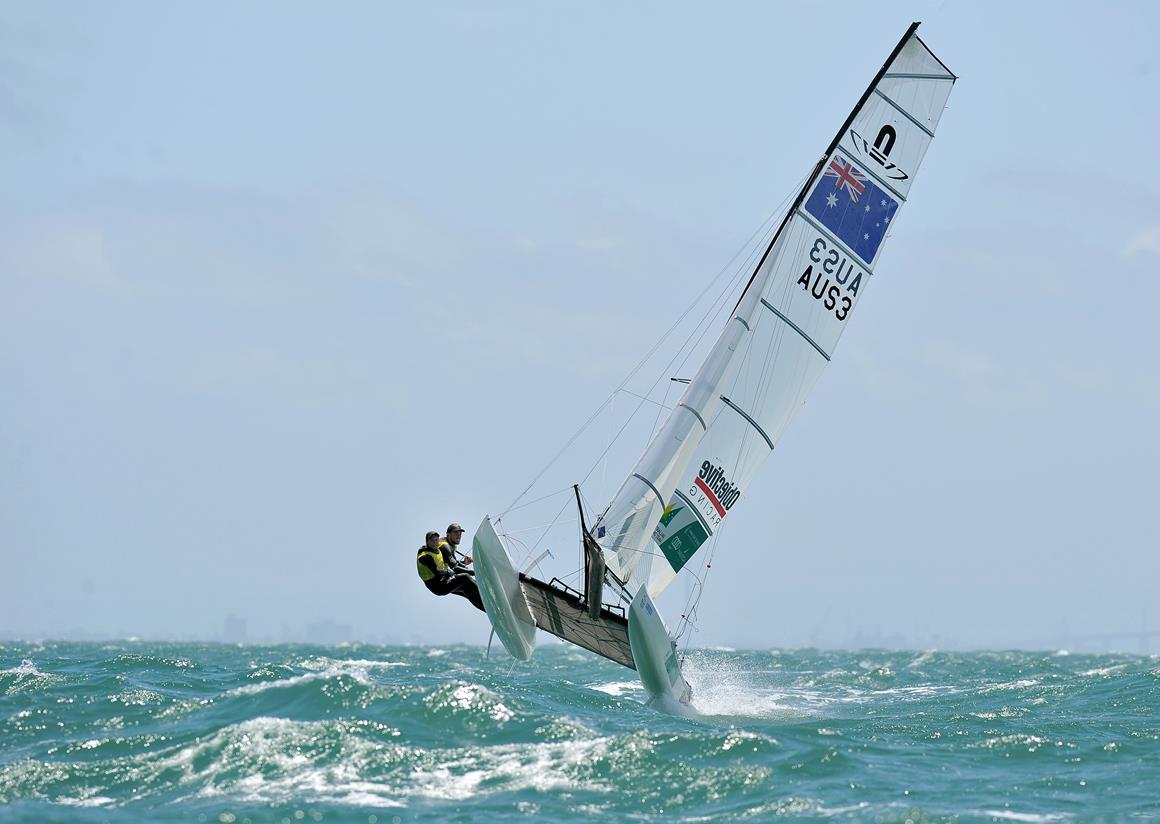 Jason Waterhouse and Lisa Darmanin - photo ©Sport the Library -Jeff Crow.
13 December 2014
Further south PBSC and RPAYC members have competed in the 2014 ISAF Sailing World Cup Melbourne, the first qualification regatta for the 2015 ISAF Sailing World Cup, and are sitting at 1st, 2nd and 4th places in the Nacra 17, and have taken 1st and 2nd places in the completed SKUD 18 races.
Report by Lisa Ratcliff - HERE
Summer 2014- Please Do Not Discard Fishing Tackle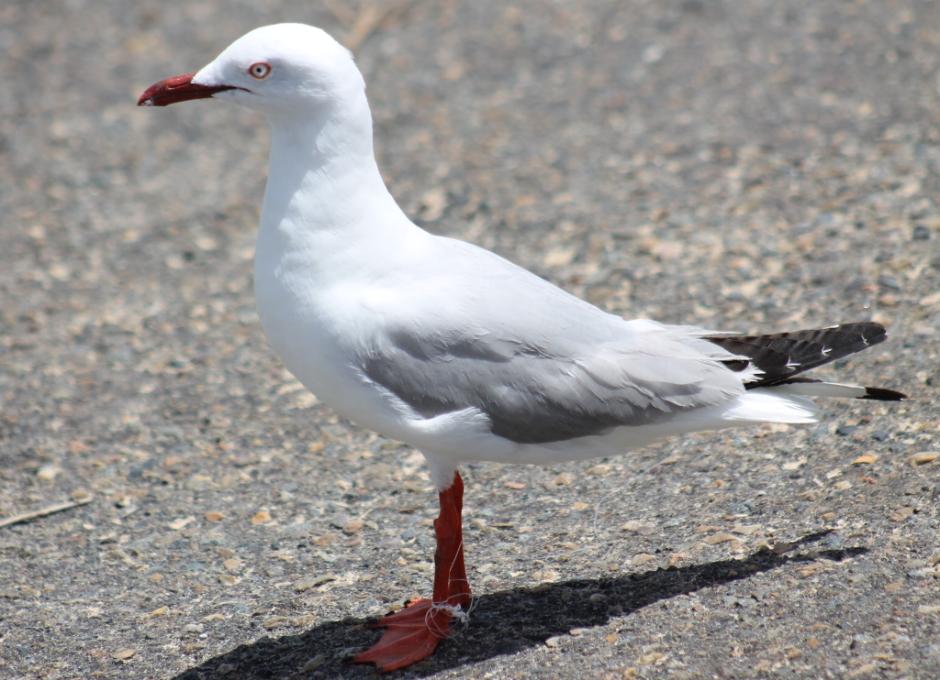 Picture by A J Guesdon, 2014.
Photographed on Saturday afternoon, this seagull has fishing line entangled around its foot. Our fish and marine mammals, birds and reptiles become entangled in old or discarded fishing lines or snagged by hooks, resulting in serious injury or death. Shore birds entangled in lines on our rock platforms and beaches are hard to catch and diificult to treat. Land birds may incorporate old fishing line into their nests, sometimes with disastrous effects for hatching chicks. Please be mindful of this when fishing in Pittwater this Summer and take all your plastics, fishing lines and old hooks home to dispose of in a way that won't harm all else that lives here.
If you do come across any wildlife that requires assistance please contact Sydney Wildlife or WIRES - volunteers are trained in the care of injured animals.