April 18 - 24, 2021: Issue 490

NSW Seniors Festival 2021 Celebration By Local Seniors: It's In Our Nature To Connect To Beaches, Bays, Birds, Bush, Beauty

The biggest Festival for Seniors in our hemisphere is the NSW Seniors Festival, with a great range of events and activities available locally and through the State Government. Those currently running and coming up until the end of the month locally may be seen in:
Seniors Festival 2021

:

Local Events

+ Mona Vale and Dee Why Mini Expos Will Showcase Local Seniors Groups
while those being run under the auspices of the government can be seen in
www.seniorsfestival.nsw.gov.au/home
The theme for the 2021 Festival is
In Our Nature.
The premise being that d
uring challenging times, it's In Our Nature to connect, whether it's online, or out in the sunshine.
In our area a great number of our Seniors connect to the bush, the beaches, the bays, whether through surf sports or sailing or just paddling and enjoying the views, and the local flora and fauna, birds being a big hearable and seeable drawcard whether in our own gardens or in the National Parks and many local reserves we are fortunate to have as part of our home.
Many of our local elders are also great photographers who are mindful that some of their peers may not be able to access these places or do these walks and so capture their hikes to show the way and what was seen - pure poetry in images is often the result with requests for 'more!' visual tours from all.
This Issue we share one of former Artist of the Month and Profilee
Kevin Murray
's latest 'walk' along the Cowan Track - images that underline that, locally, it's
In Our Nature
to connect through sharing our common love for this place.
Plus one from
Joe Mills
, another local senior photographer who has featured as an Artist of the Month and shared some insights into his own contributions to Australia, and here.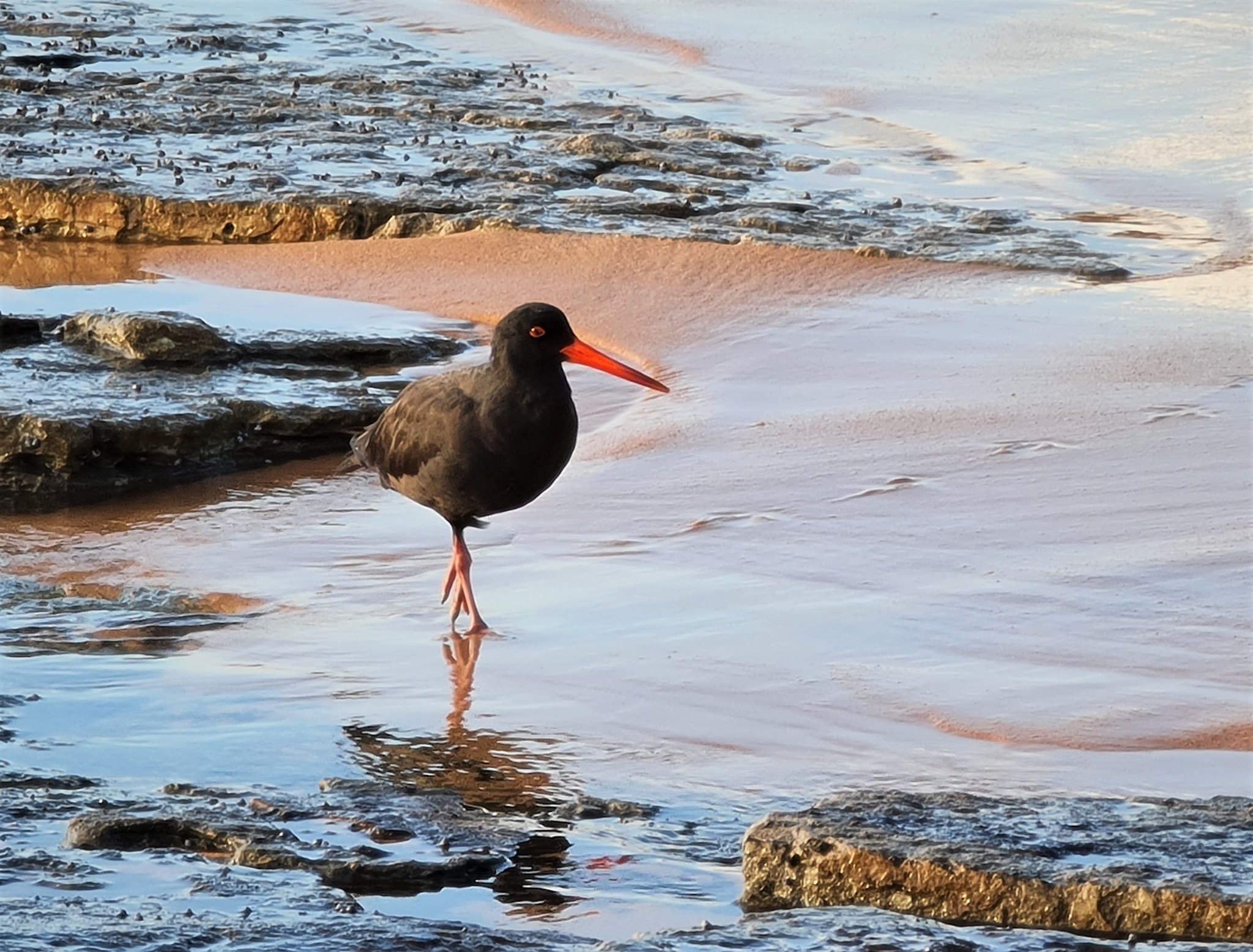 Sooty Oystercatcher on Turimetta Beach - one of a pair that lives at Turimetta and North Narrabeen Rock Platform - photo by Joe Mills, April 7th, 2021
Cowan Track Walk
Our 8K walk along the Cowan Track in Kuringai Chase NP today, April 13, 2021 - photos by Kevin Murray - model (for scale) Glenys Murray