May 7 - 13, 2017: Issue 311
Narrabeen Lagoon State Park Expansion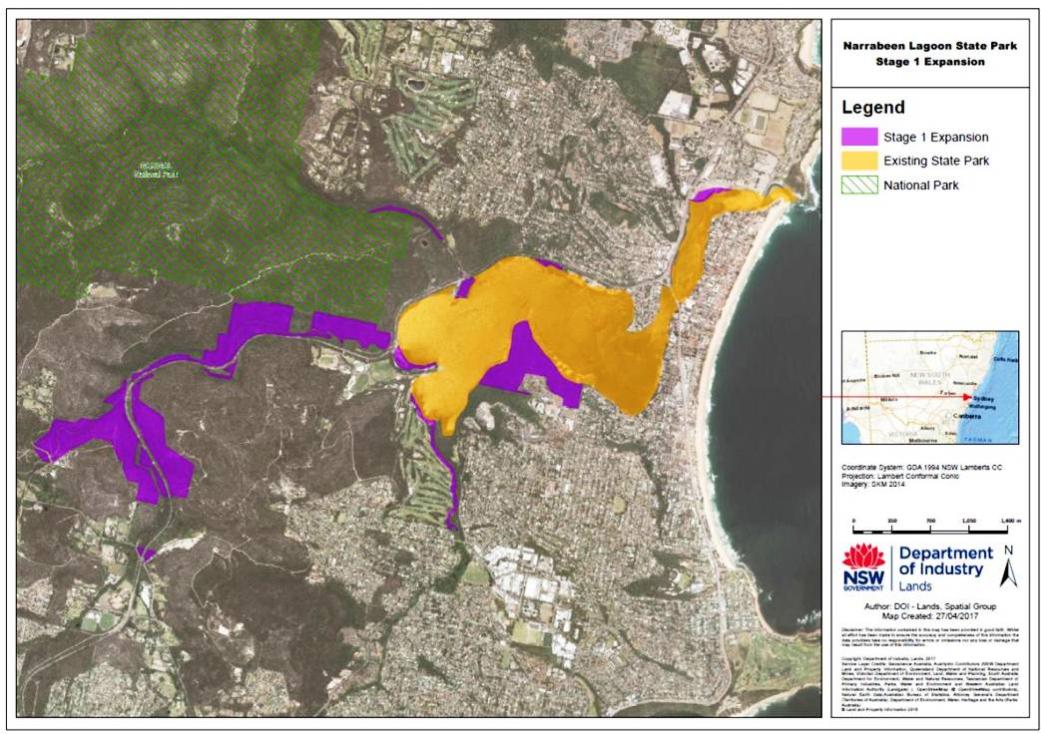 Narrabeen Lagoon State Park Expansion
May 3, 2017
Member for Pittwater Rob Stokes today announced Narrabeen Lagoon State Park will be expanded by over 140 hectares.
The State Park was established by the NSW Government in 2014 to help ensure greater environmental protection for the lagoon and its surrounding catchment.
Negotiations between the newly formed Northern Beaches Council and the NSW Department of Industry – Lands have seen seven Crown reserves added to the State Park.
"Narrabeen Lagoon is one of the largest coastal lagoons in Sydney and sits within an important ecosystem - supporting a variety of native animals through a network of wildlife protection areas," Rob Stokes said.
"This expansion to the State Park preserves the area's status for public recreation and tourism along with protecting its environmental characteristics.
"Seven additional Crown reserves now come under the management of the Narrabeen Lagoon State Park Trust meaning facilities for public recreation can continue to be supported and the area's natural habitats protected.
"The State Park originally covered 247.2 hectares. This expansion adds a further 140.5 hectares, bringing the total to 387.7 hectares".
Northern Beaches Council Administrator Dick Persson AM welcomed the expansion of the Park, acknowledging its many public and environmental benefits.
"Narrabeen Lagoon is one of the jewels in the crown of the Northern Beaches and a popular recreational location, with abundant opportunities for bushwalking, cycling and water sports.
"Including these Crown reserves in the State Park means we will have a single Trust managing one of Sydney's most popular parks and will ensure this wonderful natural resource is preserved for future generations," Mr Persson said
Previously and/or related: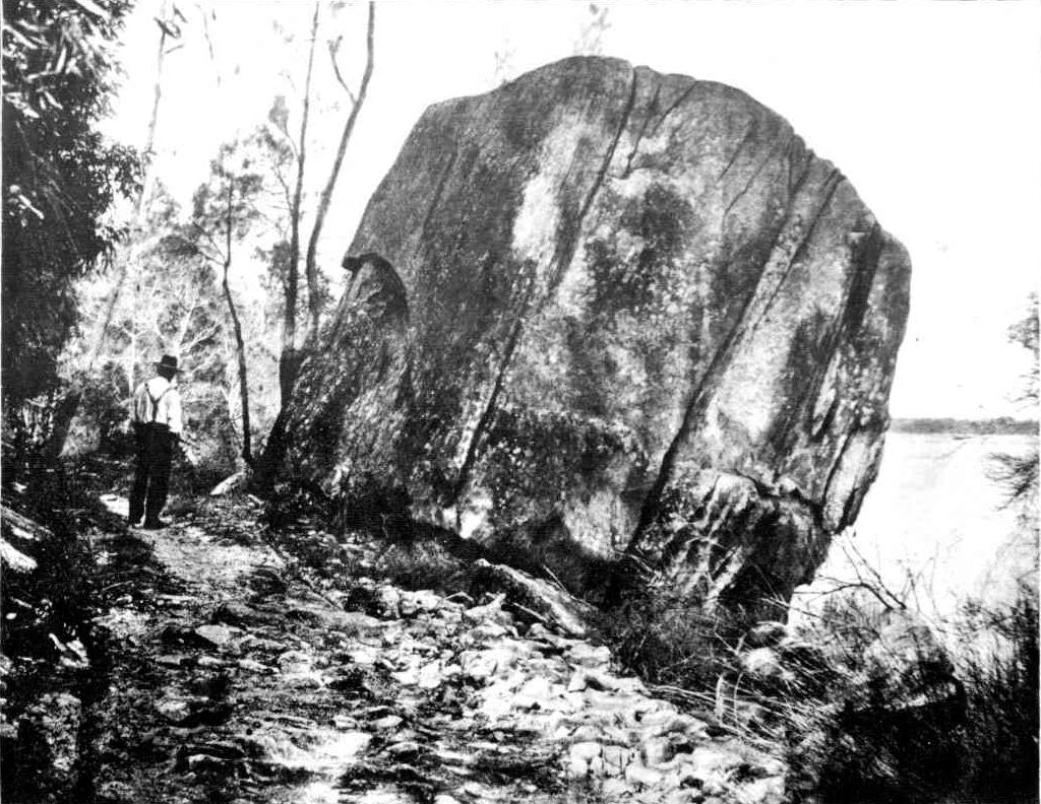 VIEWS NEAR NARRABEEN, SYDNEY.
BY THE NARRABEEN LAKE.
A WOODLAND SCENE.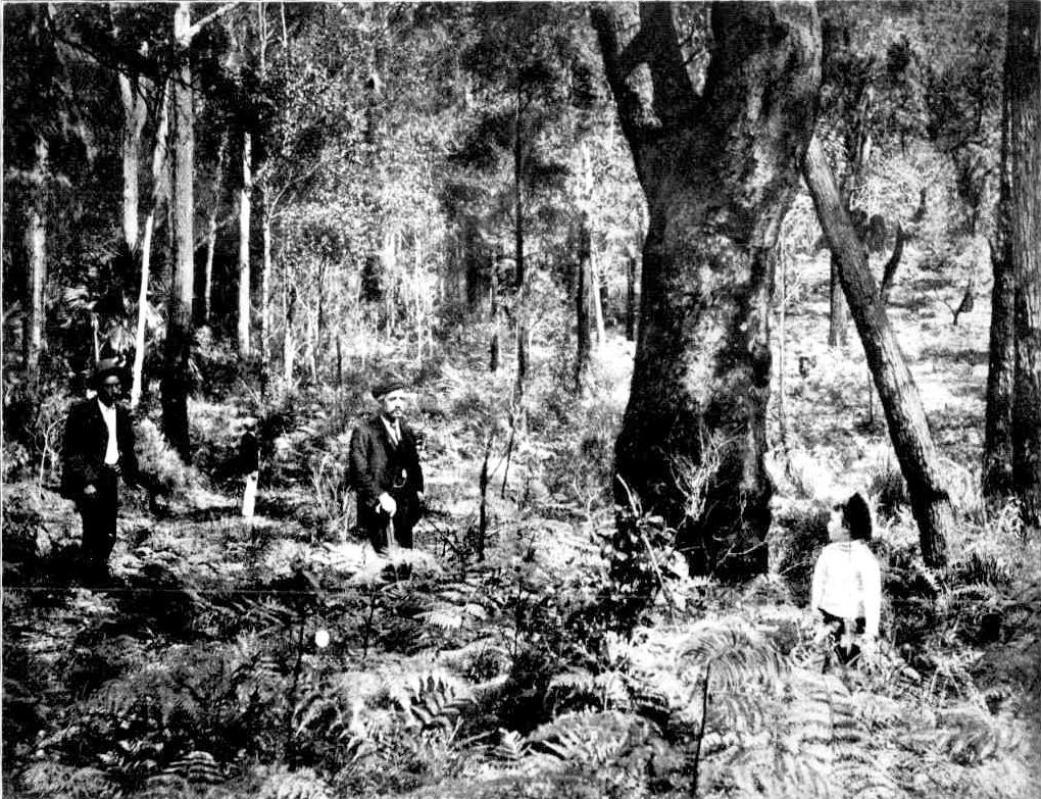 Shadowed in grand and sombre majesty
By wood-grown hills and dark and twilit dales,
Fed by the streams from out those self same vales,
And sheltered by the self-same woodlands free,
We gaze upon this great enrapturing scene :
Clear, placid, limpid lake of Narrabeen,
Dropped round her shores in scattered harmony,
The homes of worthy citizens: wherein the days
Pass by like winged hours, heavenly,
For Spring reigns ever o'er the palms serene,
That skirt the shores of sunkiss'd Narrabeen.
— 'EDRIE,' Glenorie, N.S.W.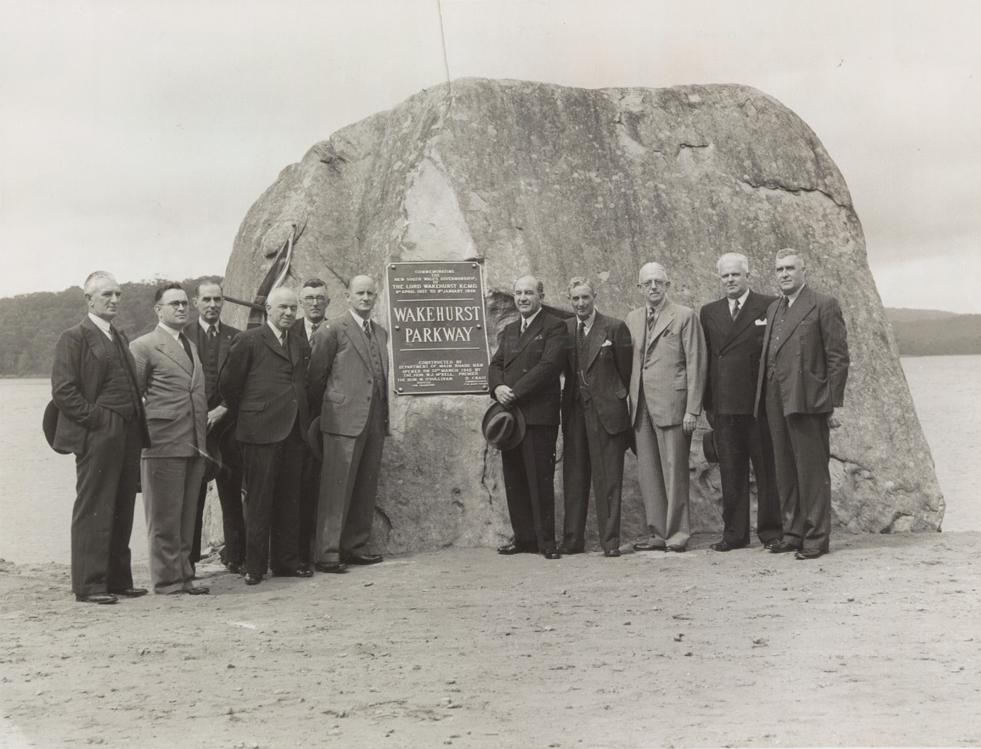 Not the same boulder - but of interest:
Official Opening of Wakehurst Parkway. Opened March 22nd, 1946 - Alderman J. Anderson Mayor of Manly, Mr E.D. Darby M.L.A, Mr H.M. Sherrard Assistant Commissioner for Main Roads, Mr S.A. Storey M.L.A, Mr F. Laws Metropolitan Engineer, Department of Main Roads, Councillor W.L. Harris, President Warringah Shire, Honourable W.J. Mc Kell M.L.A, Premier of NSW, the late Mr D. Craig formerly Commissioner for Main Roads, Honourable M. O'Sullivan, M.L.Q Minister for Transport, Mr L.A. Robb Official Secretary to the Governor of NSW, Mr... - courtesy State Archives and Records NSW. Also available via Mitchell Library, State Library of NSW. Image No.: Government Printing Office 1 - 37800, dated 2/1946.
NEW ROAD LINK WITH LAKES AREA
A new road, officially opened last weekend, from the top of The Spit hill to the north side of Narrabeen Lakes, will provide a fine scenic drive for motorists, reports the N.R.M.A.
Constructed by the Department of Main Roads and officially named "Wakehurst Parkway" the road runs from Seaforth past Dalwood Homes to Roseville Bridge -Dee Why road in French's Forest, thence to the main Palm Beach road, which it joins immediately north of Narrabeen Lakes.
The new road will form an important link in the main road system and, when public transport has been instituted, will assist materially in developing the Warringah area from Narrabeen to Hawkesbury River. Ultimately a new bridge will be constructed at The Spit with an improved approach connecting with the new road. NEW ROAD LINK WITH LAKES AREA (
1946, March 31
).
Truth
(Sydney, NSW : 1894 - 1954), p. 20. Retrieved from
http://nla.gov.au/nla.news-article168768869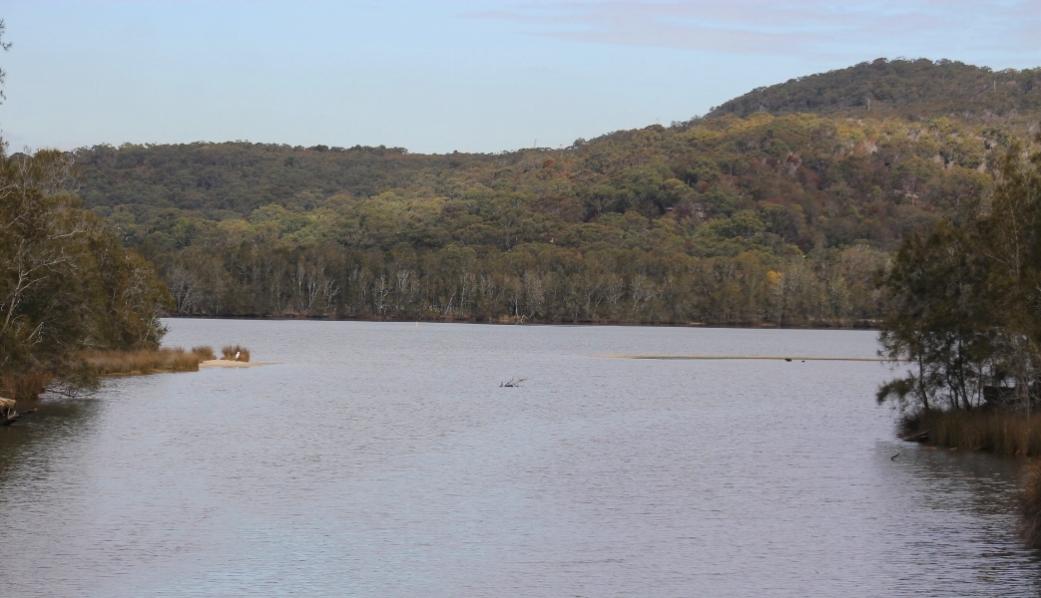 View over Narrabeen Lagoon to the green hills of Narrabeen Lagoon State Park - A J Guesdon photo.