August 28 - September 3, 2022: Issue 552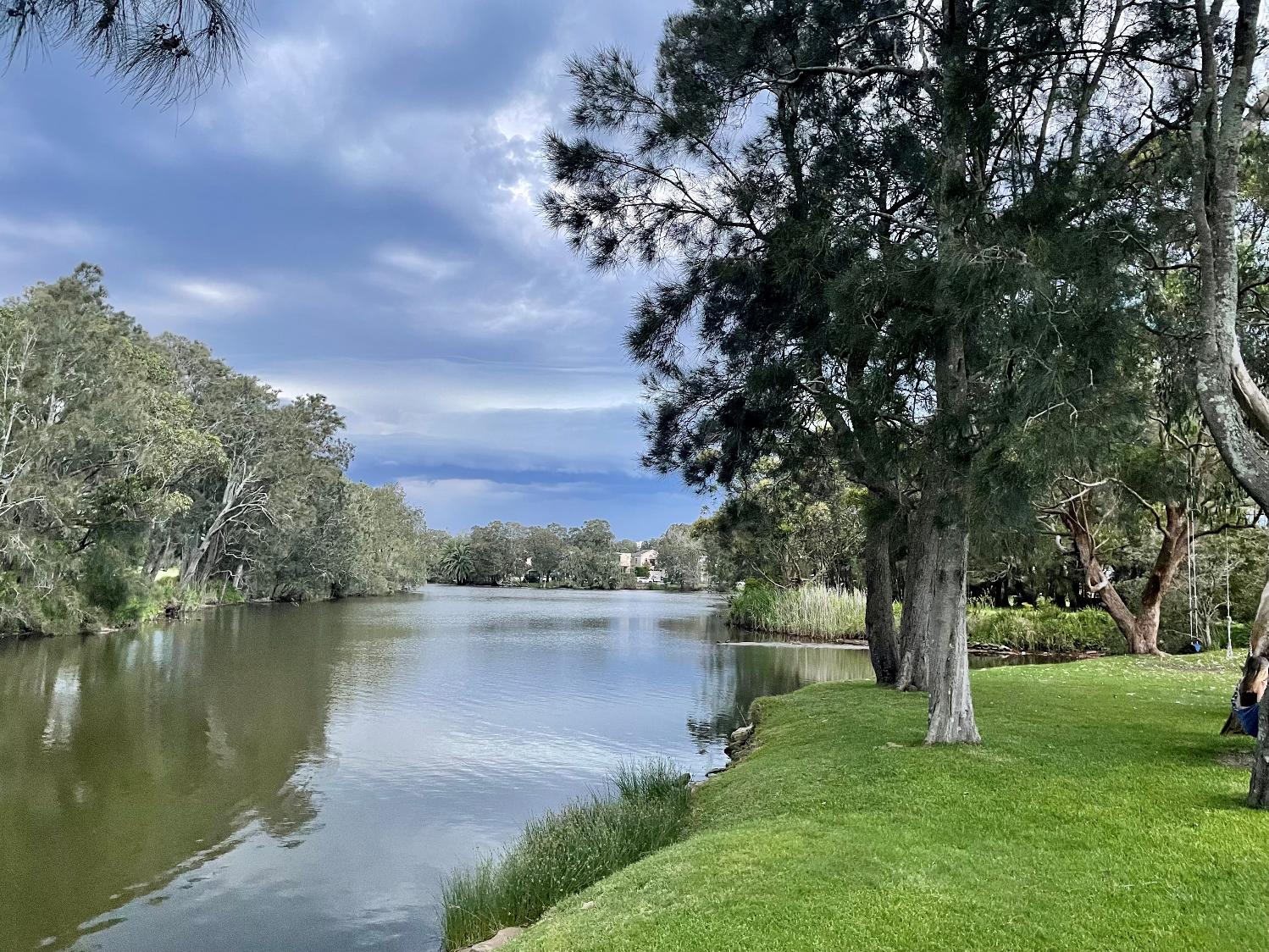 Manly Lagoon Friends website: www.manlylagoonfriends.org
On Facebook: www.facebook.com/manlylagoonfriendsorg
Instagram: www.instagram.com/manlylagoonfriendsorg
On June 22nd 2022 MP for Manly, The Hon. James Griffin, also NSW Minister for the Environment, made a Private Members Statement in the NSW Parliament about a newly formed residenmts group, Friemds of Manly Lagoon.
Mr Griffin said:
I acknowledge the outstanding work of Manly Lagoon Friends, which has been newly formed by the wonderful Queenscliff resident Mel Koeman. Manly Lagoon Friends is focused on advocating for the preservation, regeneration and sustainable management of the Manly Lagoon ecosystem and its catchment creeks. It is working to educate the community on the value of Manly Lagoon and to inform the community about any management actions and decisions that face the lagoon. For the benefit of members, Manly Lagoon is an asset of the Manly electorate that is enjoyed for its natural beauty. People go there of a weekend and during the week to enjoy its wonderful proximity to the beach, to have a stroll or to go kayaking. At the eastern end of the lagoon there is a fantastic playground that is enjoyed by local families with kids, where they can play, ride bikes or walk the dog.

The aim of Manly Lagoon Friends is to foster enthusiasm for community custodianship of the lagoon in the present day and into the future so that all can enjoy the great beauty it has to offer to both those who live in Manly and those who are just visiting. Key focus areas for Manly Lagoon Friends include taking a community‑minded approach to flood risk management, mitigation and response; monitoring the lagoon's water quality through regular testing of algae abundance and water clarity; managing urban effects on the lagoon such as local construction, industrial zone monitoring and playing field maintenance; and the regeneration and maintenance of surrounding riparian habitat.

Manly Lagoon Friends is working on a number of projects, including a bird count survey, floating wetlands and various public art installations. It sees collaboration with government as an important part of its operations, and I look forward to supporting the group with various grant applications, information and support where it can be provided. Manly Lagoon Friends recently held a clean‑up day, which it is proposing to run on Sundays of each month. It ran one recently on 18 June. The day was a great success, with volunteers of all ages coming along to help clean up litter and waste from the waterway and its surrounding reserves. The group did this all the way from Lakeside Crescent, at the lagoon's western end, to where it empties at Queenscliff Beach, on the eastern side.

Manly Lagoon Friends is planning to hold various sporting association events, community forum events and annual fundraising events to encourage people right throughout the community to become conservationists and to foster enthusiasm for ecological custodianship. As the member for Manly and, in particular, as the environment Minister, I look forward to working with Manly Lagoon Friends well into the future. I commend the group for its work and for coming together as like-minded, community‑minded people. In particular, I commend Mel Koeman for a fantastic, community‑based initiative that goes to the heart of environmentalism and conservation. I look forward to seeing all the great work that Manly Lagoon Friends goes on to do.
With Spring 2022 commencing Thursday September 1st, this Season we'd like to share some insights into local residents who volunteer to help look after the places we love, commencing with Manly Lagoon Friends.
Our heartfelt thanks to Mel Koeman for providing insights into the Manly Lagoon Friends.
When and why did Manly Lagoon Friends begin?
Manly Lagoon Friends is a new community-based association registered in March 2022.
Manly Lagoon is a beautiful waterway that offers so much to the community that we all value. It faces a number of stressors which threaten its ecological health, water quality and ability to cope with its urban surrounds and the effects of climate change.
Manly Lagoon Friends began out of the realisation that this stressed waterway needed friends to advocate for it.
What are the aims of Manly Lagoon Friends?
Manly Lagoon Friends advocates for the protection, preservation and regeneration of the lagoon environment on behalf of the community.
The Objects of our Association are:
To ADVOCATE for the protection, preservation, regeneration and sustainable management of the Manly Lagoon environment, including the three catchment creeks Manly Creek, Burnt Bridge Creek and Brookvale Creek, all public land within the catchment, and Queenscliff Beach.
To ENGAGE with Council, Community and Key Stakeholders to provide strategic focus for sustainable management actions, with the objective of maintaining, protecting and enhancing the Manly Lagoon coastal environment.
To EDUCATE the community on the value of the Manly Lagoon system, to inform community on management actions affecting the lagoon and facilitate community based projects
This is a historically significant part of Manly – does Manly Lagoon Friends share some of that history?
Manly Lagoon certainly has a history!
Stuart Somerville, a well known local after whom the Queenscliff Bridge was renamed, was a founder of Queenscliff Amateur Swimming Club, a long-time member of the Queenscliff Surf Life Saving Club, and a proponent of efforts to clean up Manly Lagoon. He even gave swimming lessons in the lagoon in the 1970s! Now his son Scott and grandson Jake sit on our executive committee, continuing the efforts to work towards a healthier lagoon.
What projects do you have in mind to do in the future?
We are in the process of working closely with Council and our local government members to facilitate some wonderful projects for the lagoon and the community. Collaboration takes time and effort, but the rewards are worth it!
How do people get involved?
* Become members! Manly Lagoon needs friends!
Visit: https://www.manlylagoonfriends.org/membership
* Follow us on Instagram and Facebook, and join our Clean Up Days when you can.
* Volunteering your time and expertise is a positive way to get involved.
* Join one of our Bush Care Groups or our Bird Count group.
Are you having clean up days – and is there a schedule available for those?
We had our first clean up day in June which was a fun and productive day! Our next one is planned for Sunday September 11th. Details will be on our website and social media. It's a family friendly way for the community to get together and show they care. We are yet to have a schedule available as best laid plans are affected by school holidays, public holidays, sporting events etc. Our loose schedule is one every season - that way we can experience the seasonal changes of the lagoon environment!
What's so special about Manly Lagoon?
Manly Lagoon is one of many coastal estuaries that sit within an urban environment. This brings nature close to those who live and visit the area, which makes for a special engagement with the natural environment. There are many reserves, sporting grounds, two golf courses, many walk and bike paths, multiple park benches and spaces to enjoy around the lagoon. And then it enters the sea at Queenscliff Beach, an iconic part of Manly, and World Surfing Reserve.
Conversely, this also means the urban pressures put a huge load on the lagoon and its catchment. This is why we have the responsibility of taking care of it, of being custodians for a healthier lagoon for a sustainable future.
Mel; why did you personally want to start the Manly Lagoon Friends?
I am a local who enjoys the lagoon and its surrounding nature every day. My family surfs at Queenscliff where the lagoon enters the Tasman sea. I couldn't stand by and watch while the lagoon struggled to cope with pollution, urban pressures, and extreme weather events. I believe in taking care of the environment I am lucky to be living in, and am motivated to leave it better than when I arrived.
Does the Manly Lagoon Friends have a 'motto' or phrase that best illustrates what the group aims to achieve?
Manly Lagoon Friends are 'Working Towards a Better Lagoon'.
Manly Lagoon Friends website: www.manlylagoonfriends.org
On Facebook: www.facebook.com/manlylagoonfriendsorg
Instagram: www.instagram.com/manlylagoonfriendsorg