March 25 - 31, 2018: Issue 353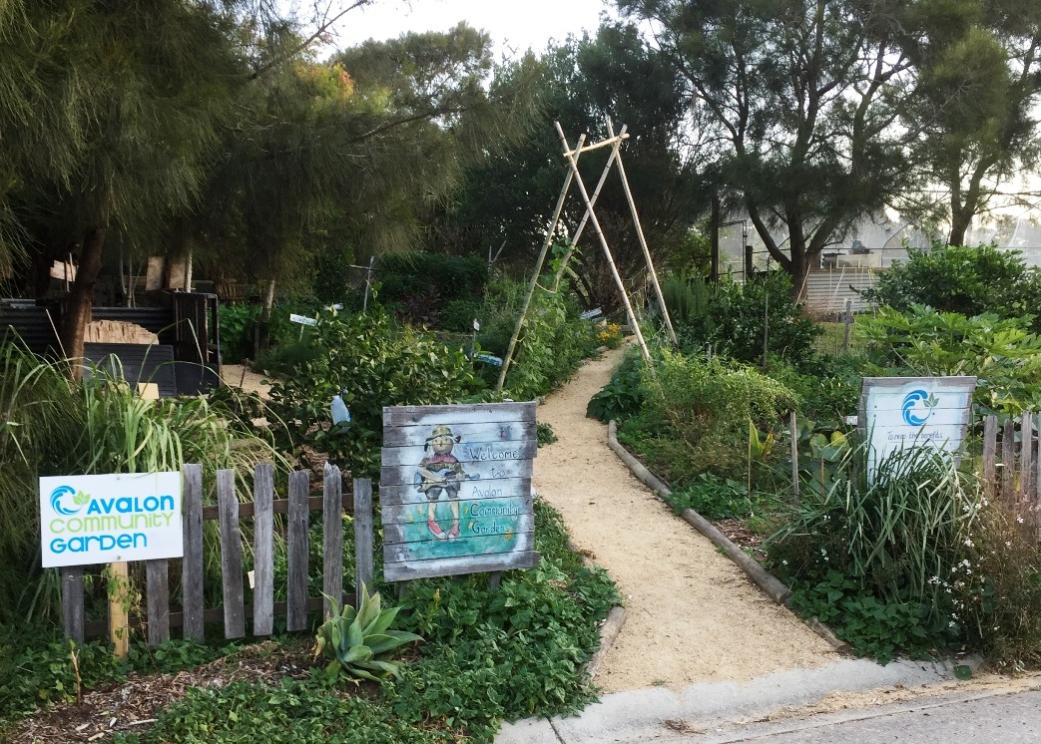 Community Gardens give community members of all ages the opportunity to learn about the benefits of home grown vegetables and healthy eating, in both urban and suburban areas. There's few things more satisfying then getting your hands in good earth or gardening beside those who have knowledge and insights on how to do this to the optimum.
This week we share an insight into one of our own locally grown community gardens who are holding their Zest for Life Festival on Sunday, April 10th.
Why and when was the Avalon Community Gardens formed?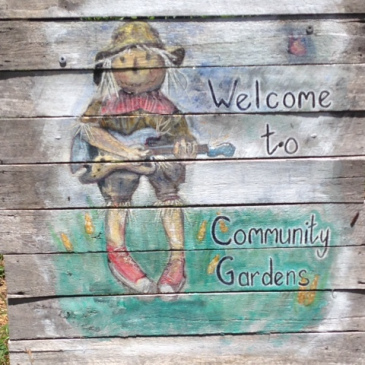 The Avalon Community Garden was started as the Pittwater Community Gardens and was first established in 2010 in the grounds of Barrenjoey High School, after the Principal Ian Bowsher offered space and encouragement to a band of committed organic gardeners. With this land we now have a beautiful integrated permaculture and bush regeneration garden.
We were looking for land in the Pittwater area to develop into the first of many community gardens, with the aim to share skills, knowledge and to grow delicious organic food. And the garden isn't just about food, it is also about community connection, sharing ideas and celebrating our abundance.
Now we have established an organic vegetable garden built by the local community on Sydney's Northern Beaches. Here a group of like minded people have built a garden to grow natural, organic vegetables. The Garden was created in 2010 in the grounds of Barrenjoey High School and has been nurtured and developed since by an enthusiastic team of locals.
The name was changed in 2017 to better reflect our location.
What services does it provide?
Long established community gardens show us that community gardens can do a lot more than simply provide fresh produce.
They provide benefits for individuals and for the community as a whole. Community gardens provide education on gardening, recycling and sustainable use of natural resources.
They develop community connections and provide a means of engaging youth, children, the elderly and the disabled and otherwise marginalised individuals in mutually enjoyable and rewarding activities, thus helping to develop more functional and resilient communities.
People involved in community gardens say they improve wellbeing by increasing physical activity and reducing stress, providing opportunities to interact meaningfully with new friends, give time for relaxation and reflection as well as an opportunity to improve their interconnectedness with nature.
The garden provides a space for members to garden and learn - from the making of compost, managing worm farms, creating garden beds, planting, weeding and growing vegetables, herbs and fruit. We have teams for various jobs such as the compost team and the watering team. We also have a Chook Team to take care of our 'girls', who eat the vegetable scraps, create chook manure and lay eggs! The gardeners share the harvest, and the gardening knowledge.
We also provide gardening lessons once a week to the Montessori students, and plan to work with the High School students through their curriculum. We also provide the school canteen with a garden to grow produce which can be used in the canteen menus.
Through our fund-raising activities, such as film nights, the Spring Festival, Clothes Swap or a Community Open Day, such as the Zest for Life Festival on April 8th, or working bees with diverse groups from the wider community e.g. the Sikh Community, we have developed a truly inclusive, caring place where everyone is appreciated for their contribution to the garden and the community.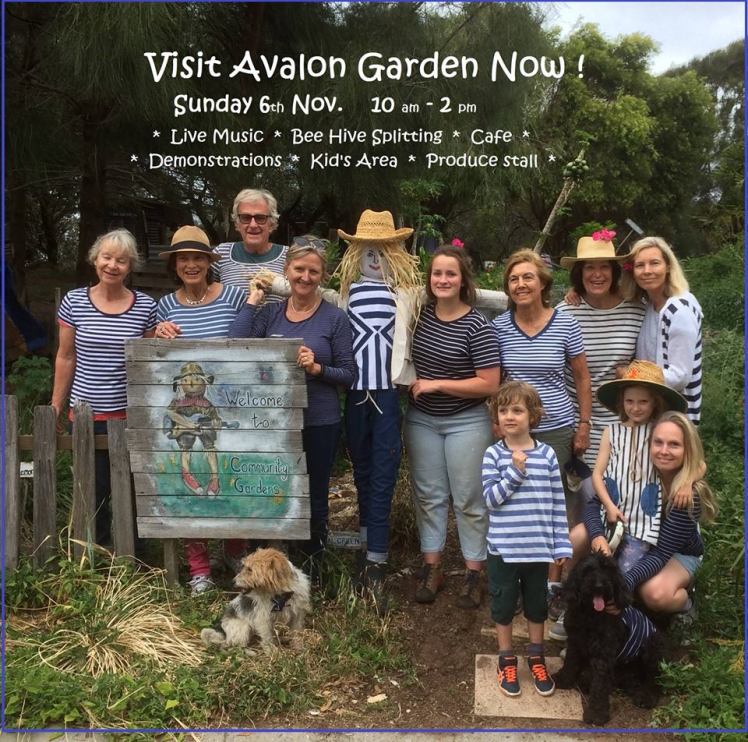 Past event - 'Avalon Now', November 2016
The garden has changed and developed over the years and is broken into many separate areas, including an indoor netted zone for plants and vegetables that are most susceptible to pests, a composting zone, broken into various composting stages, worm farms, a chook house/palace for the three resident hens, and various sections, raised beds, veggie pods, and recycled boats, baths, and bric a brac that have been turned into great beds for growing seasonable vegetables.
Members of the garden can look after certain areas, or contribute where their skills are best suited and their own level of commitment.
Recycled boat regains use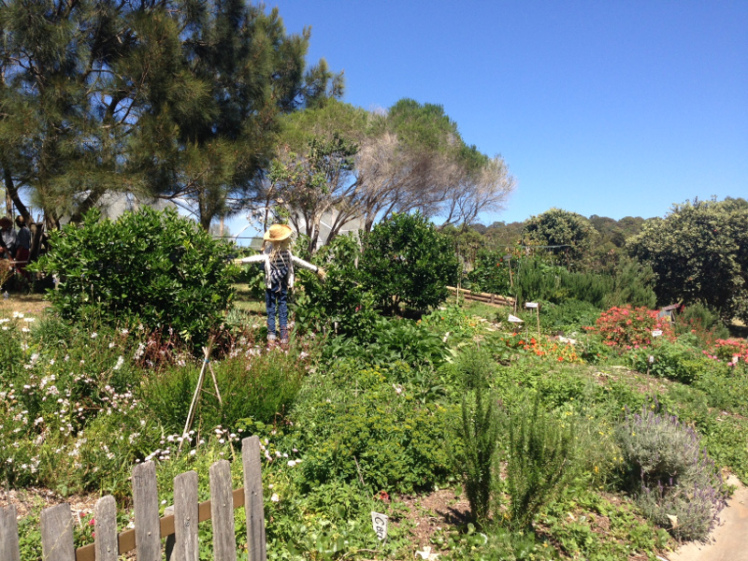 A view from the bottom of the garden.

Organics and permaculture
Incorporating permaculture principles in the design and operation of the garden shows it is possible to create systems that are ecologically sound and economically viable while being firmly based on organic principles. The design and operation aims to minimise work and enhance productivity by, among other things:
Making the most out of the natural characteristics of landscapes and structures,

Using the inherent qualities and natural relationships between plants and animals,

Ensuring healthy soil development through composting and/or worm farming,

Planning for gardens and structures to effectively harvest and manage water, and

Caring for and respecting the needs of people.
Whom may apply to use these services – members?
Avalon Community Garden is open to everyone, so new members are always welcome. Members are from all walks of life: tradies, professionals, young, old, novices and gurus. New members are always welcome whatever their skills, experience and interests might be and the level of commitment they feel comfortable with.
Come and enjoy the benefits of community gardening:
growing your own pesticide free food;

being part of a connected and resilient community;

improving your well-being, increased physical activity and reduced stress;

opportunities to interact meaningfully with new friends;

time for relaxation and reflection;

improved connection with nature, and

recycling and sustainable use of natural resources.
To get involved, take a look at our Facebook page or come and share morning tea at the Garden on a Sunday. You can find us within the grounds of Barrenjoey High School via the southern entrance at 2 Tasman Rd, Nth Avalon.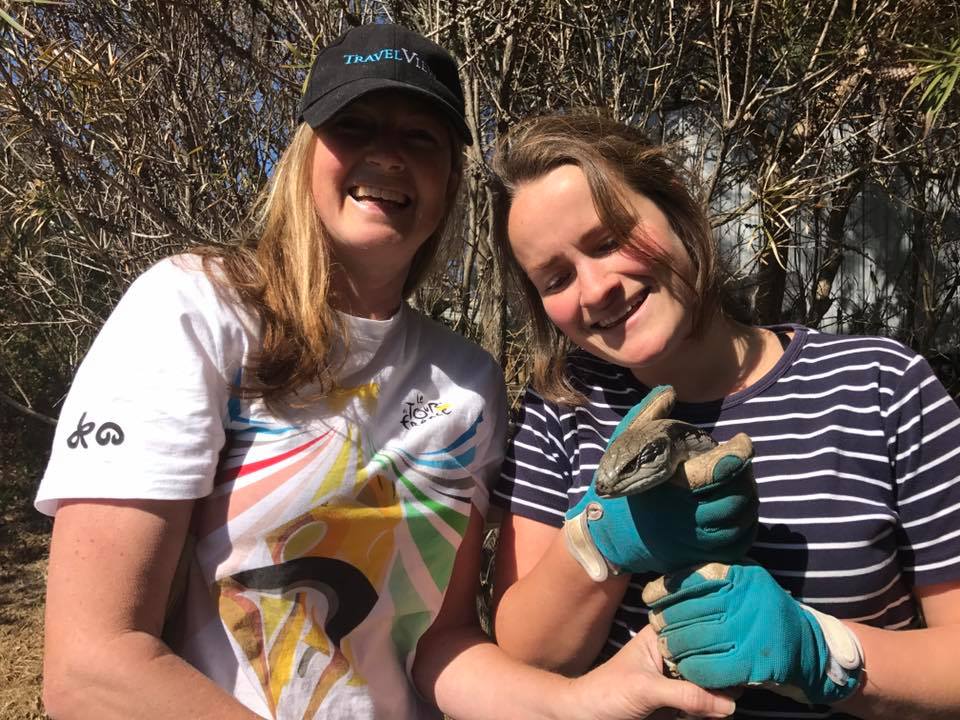 Jess, Michaela and our friendly blue tongue

Why Join
We are always looking for new members to join the community and benefit from being involved in the shared garden. Some of the most obvious benefits are outlined below, but each member has their own story, and their own reasons for joining and enjoying taking part.
1. Become an active part of the local Avalon community.
Becoming a member will introduce to a whole new group of individuals who are active in the community, from people who have been living in the area for many years, to newcomers to Avalon and the surrounding areas. As well as the the taking care of the garden, there are social activities, and other causes centered around health, well-being and natural living that the participants are involved in.
2. Enjoy the numerous health Benefits of being active, and getting your hands in the soil.
There is something therapeutic about getting your hands in the soil, and basking in the energy of the garden. Its a natural environment with chickens, members dogs, and other wildlife sharing the space, which is located right next to the beach. In the summer months there is no better way than cleaning the soil from your hands, by enjoying a refreshing swim in North Avalon beach.
3. Learn new skills, meet new people, and mentor others with your own unique skills.
There are a wide variety of skills, occupations and knowledge withing the Avalon Community Garden. Part of the fun is acquiring new knowledge, whether its garden related or on a completely separate topic. This is a sharing community that assist and help each other with learning new skills. Part of this process also involves yourself sharing your knowledge and skills with others. Everyone has something unique which they bring to the group.
4. Share in the wonderful harvest that the garden brings to its members.
All that hard work does not go to waste. Each week the vegetables that are in season are harvested and shared between the members. You will never need to buy herbs again, and you can enjoy the pumpkins, beans, lettuce, tomatoes, silverbeet, kale, peppers, spinach, rhubarb and more picked straight from the garden and onto the plate.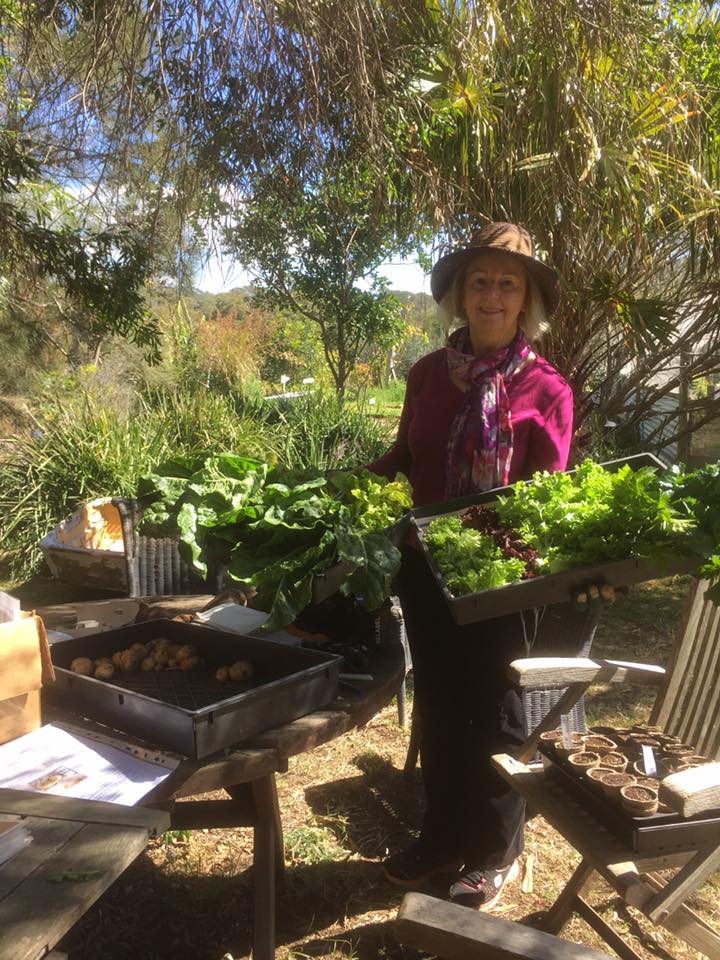 Phyllis with some of a recent harvest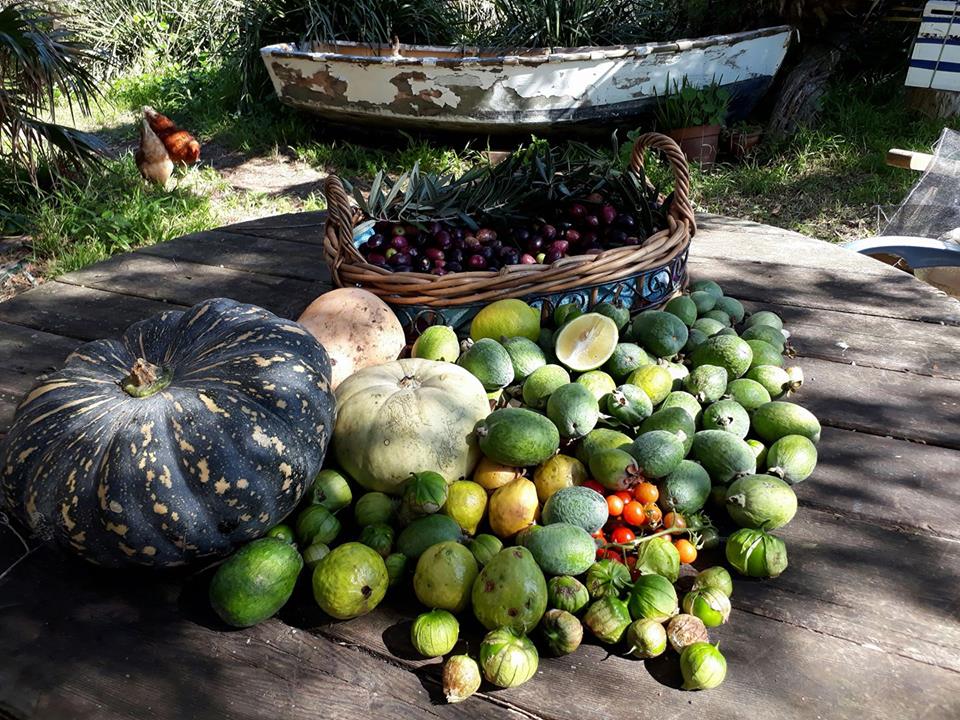 April 16, 2017: Today's harvest. Basket full of olives, pumpkins, fejoas, guavas, tomatillos, lemons, limes and tomatoes.

5. Enjoy the space.
The garden is located in the beautiful Pittwater region of Sydney, within Barrenjoey High School, adjacent to the sandy Avalon beach. The garden itself has been described as a 'mini-paradise', and is a wonderful space to spend time in, but the added bonus is its situated next to a beautiful beach. The space is both relaxing and uplifting, and we are all grateful to spend time there.
To become a single member is $25 a year and for a family $40 a year - which covers our insurance and help with the purchase of tools etc.Join here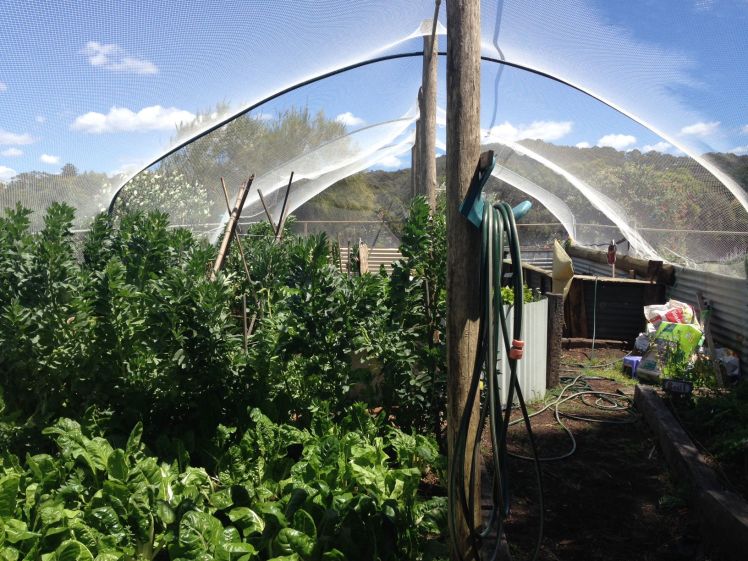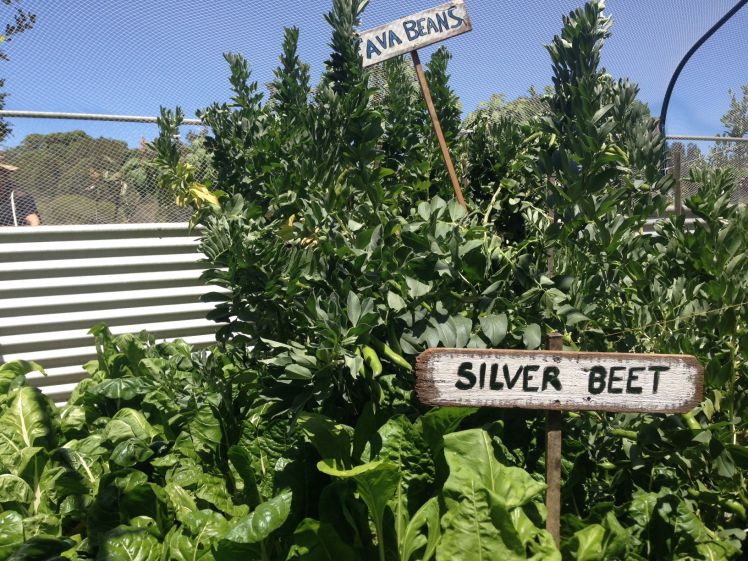 Inside the netted enclosure

What are the hours for meetings?
We encourage anyone interested to come up to the community garden on Sundays from 10 - 12 noon so we can show them around and 'meet and greet'. We also have an Afternoon in the Garden on Wednesdays from 4 p.m. to 6./6.30 p.m. for those who like to do something midweek.
We have a monthly meeting - second Monday of every month. We also have the occasional coffee meetings at Relish Cafe when events are underway to 'touch base' on details which can't wait for the monthly meeting! We hold our AGM in December.
Are there any plans to develop other services?
The plans are to continue to embrace the local schools and educate the students in good organic gardening practices - led by a wonderful bunch of enthusiastic gardeners. We will also be holding more film nights, talks, Open days and workshops at the garden. Also, we provide advice to anyone who wants to establish their own community garden.
What areas of gardening is on offer at open days?
The focus is on commonsense gardening - knowing about working with the land such as aspect, terrain, soil type and how to make the most of the land with good soil conservation practices, compost making and weed management. Next step is to create good microbial soil activity with the addition of worm tea, weed wee, and the correct components to make a super compost.
Then it is choosing seasonal fruit, vegetable and herb seedlings or seeds from organic providers, and using good planting practices to grow in abundance!
How should people contact the Avalon Community Garden?
Please visit: avaloncommunitygarden.wordpress.com
What is the Avalon Community Gardens motto?
Building Connections, Health and Happiness With Community Gardening.

Avalon Community Garden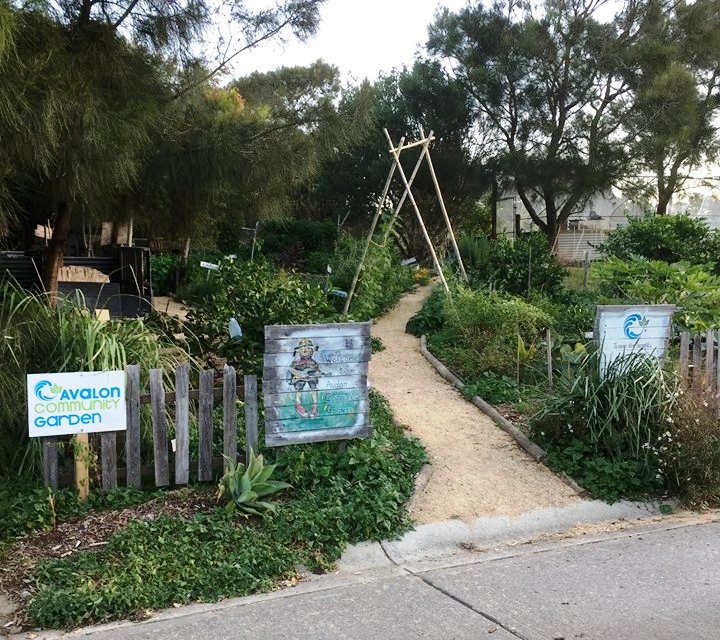 Zest For Life Festival
Hosted by Avalon Community Garden
Sunday, April 8 at 10 AM - 2 PM
In the Grounds of Barrenjoey High School, via Tasman Road gates, North Avalon.
Add some zest to your life at Avalon Community Garden. Hear amazing legends speak about their passion for the planet, for soil, for plastic free living, caring for the Oceans and much more.
Indulge in the Garden's Natural Food Café, open all day for lunch, organic produce, tea, coffee and cakes.
Relax listening to some cool beats from a bevy of Avalon's talented performers.
For the kids there is craft & painting, music al entertainment, gardening and their own café!
Take a tour through the Garden grounds whilst visiting our eco partners' stalls.
Plus a day of eco workshops, films, talks and fun activities:
10:10
Smoke ceremony and welcome to country
Neil Evers - Aboriginal elder of the Guringai people.
11:00
The Importance of Soil talk
Peter Rutherford - Eco House and Garden, Kimbriki.
11:30
Making Compost From Food Scraps workshop.
Tim Seaton - Coastal Environment Centre / ACG.
12:00
No Plastic Please talk.
Robbie Luscombe-Newman – Living Ocean.
12:30
Plastic Free Lifestyle film - Living Ocean.
12:30
Aspara Gus entertains the kids
Luke Escombe - The Veggie Plot.
1:00
No more gladwrap on your sangers – make your own beeswax wrap workshop.
Tim Seaton – The Coastal Environment Centre / ACG.
1:30
Make your own essential oil sunscreen workshop.
Phyllis Agius – ACG.
1:30
Make and retain good soil on steep sites using Hugelkulture method.
Sam Gibbons – ACG.