August 20 - 26, 2023: Issue 595
The Chiltern Trail On The Verge Of Spring 2023
by Kevin Murray and Joe Mills
August 10, 2023

A terrific walk on a terrific day... 6.8 kilometres on the Chiltern Track at Ingleside, with Glenys and Joe. Whew! I took a picture or two that you might enjoy...

(Did I mention it was 6.8 kilometres?)

Kevin M.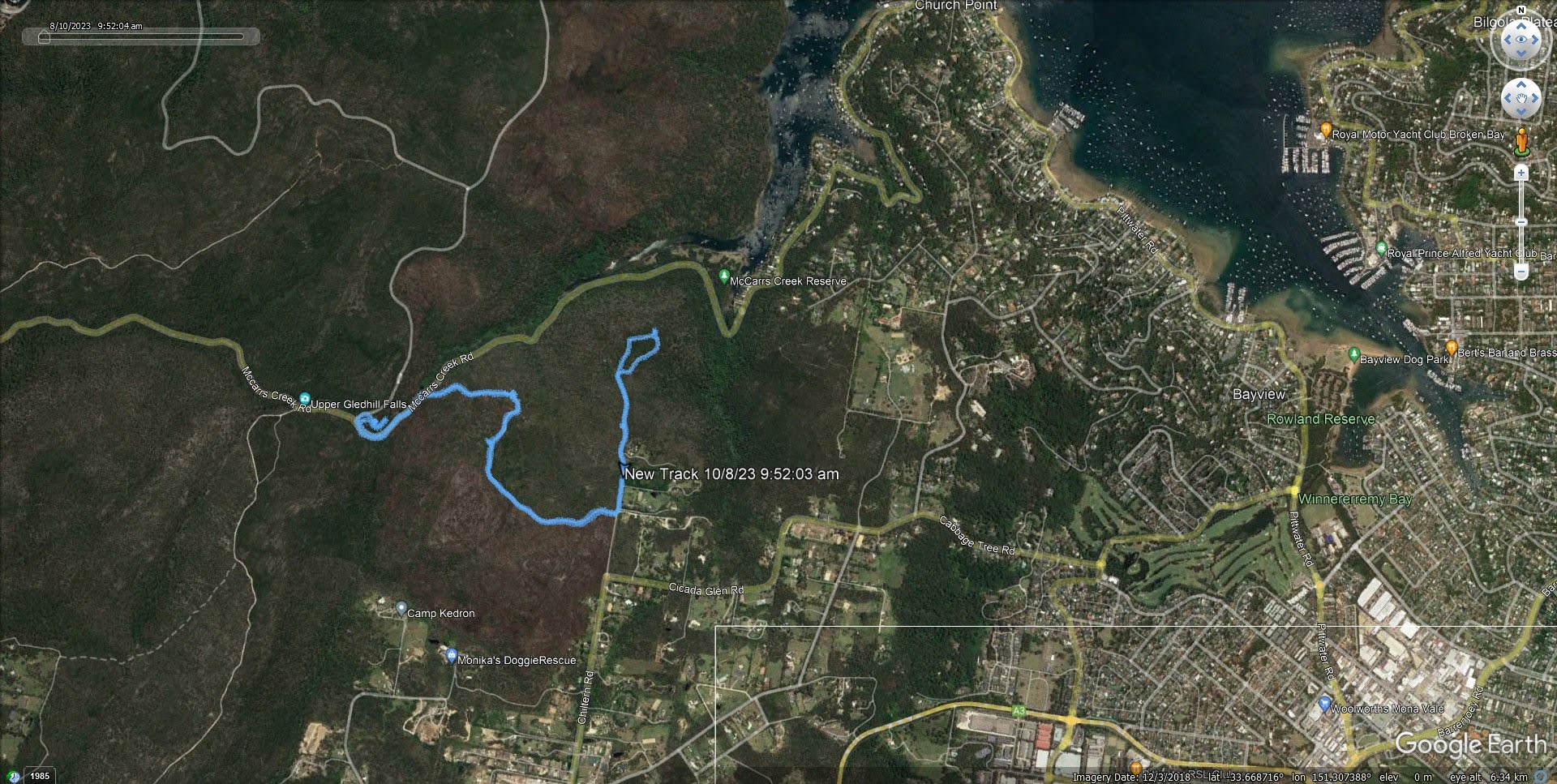 The Chiltern Track, in Ku-ring-gai NP, running from Chiltern Rd Ingleside to McCarrs Creek Rd, is a firetrail through wonderful bushland, full of interest at all seasons. This is a great place to spot birds, with 144 local species recorded
in e-bird
at present, so take some binoculars if a birder or just listen for their songs. This is also a place where you will see bushflowers bloom year round, and especially in the weeks leading into Springs' official months.
Chiltern has a meaning of, relating to, or being chalky, sandy, gravelly, and loamy soils of England that are naturally dry and lie in dry situations.
The Warringah Shire Council meeting held December 20th 1954 records:
Street Names – Shire Engineer's Report
h) Stating that attempts are being made to establish a Progress Association in the area between Ingleside and Church Point, the proposed name being ''Cicada Glen'', that letters from the provisional Hon. Secretary refer to Chiltern Road, running north from Mona Vale Road some distance west of the road to the new sanitary depot; and suggesting that the Council officially name this road Chiltern Road. Resolved, - That this suggestion be adopted. (Crs. Hewitt, McKay)
The Chiltern Trail is a firetrail that goes from the end of Chiltern Road in Ingleside down to McCarrs Creek Road.
This affords you great views over the district, stretches to t he Lower Gledhill Falls, where McCarrs Creek plunges over a cliff into a pool. You can also access from the other side of the creek by following McCarrs Creek from The Duckhole.
You can also access Crystal Creek, which is to the east of the trail as it flows down to McCarrs Creek Road.
Length: 6.8 km - you need to be fit will take 2-3 hours in and back. Best walked in Autumn, Winter or Spring.
One for those of us who aren't quite as fit as this happy trio - thank you very much Glenys, Kevin and Joe - BEAUTIFUL!