June 2 - 28, 2014: Issue 168
The White Cockatoos of Charles Harpur Father of Australian Poetry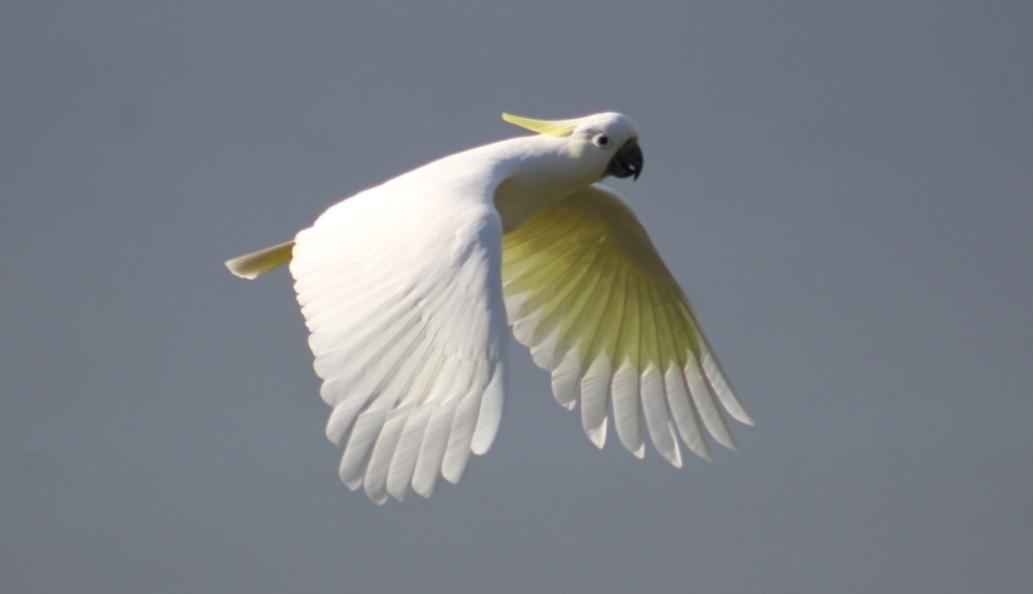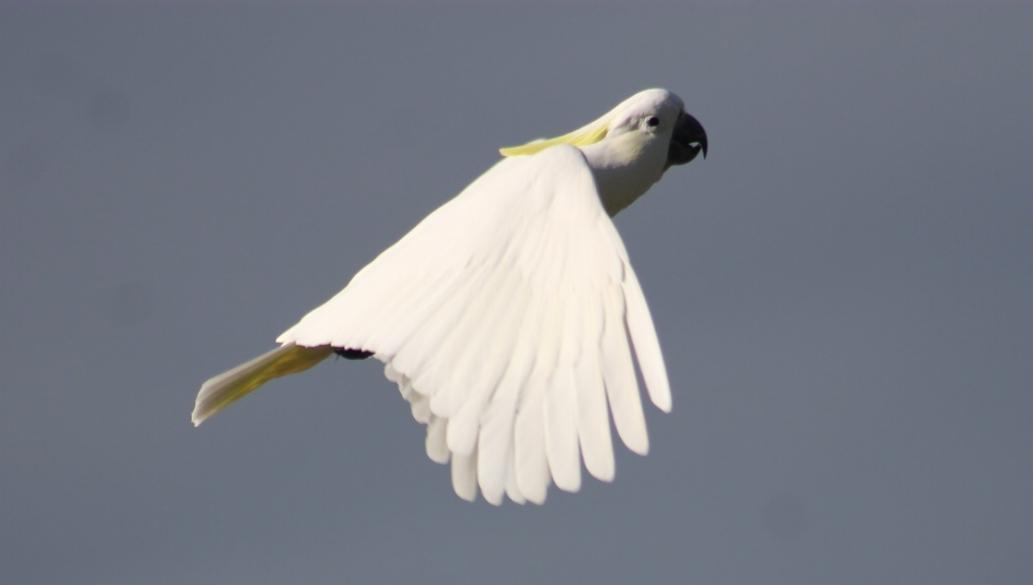 The White Cockatoos of Charles Harpur – Father of Australian Poetry
For Children
Pittwater has a number of sulphur crested cockatoo flocks who many of you would see gathering near the Norfolk Pines along beachfronts to feast on their seeds or on the lawns beside these to eat their roots. Sulphur-crested Cockatoo (
Cacatua galerita
), eat in small to large groups, with one or more members of the group watching for danger from a nearby perch, which some say inspired Banjo Paterson's '
White Cockatoos
', in which is related just this 'lookout' or calling in the other birds of a flock to feast on ripened corn. You may have noticed the Sulphur-crested Cockatoo will bite off the leaves and twigs of some branches in trees which people who know about birds think may be a beak trimming or conditioning exercise.
Their eggs are laid in tree hollows, which is prepared by both father and mother cockatoo and both birds also incubate and care for the chicks. The chicks remain with the parents all year round and family groups will stay together indefinitely. Perhaps the reason we may notice these birds calling to their fellow cockatoos across the valleys and seeming to be together when they visit trees in our yards.
These birds can live up to 70 years as pets and between 20-40 years in the wild, there is even stories record of some living up to 100 years or more as pets, so a few generations of humans may get to know the same bird!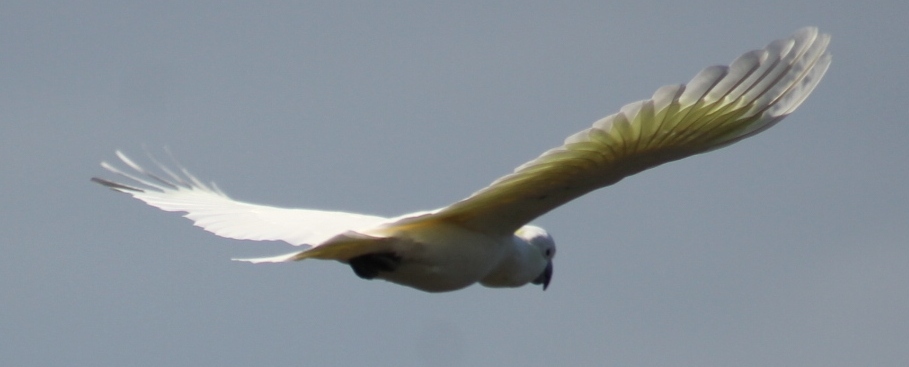 This made us wonder how many people may have met the same cockatoo during the years one may live. As these birds usually stay in one area, quite often near where they're born, perhaps we are all seeing the same birds and people who came before us said 'Hello Cocky!' to them too.
A little investigation, yes you can be your own sleuth, you will find out things you never knew!, led us to find stories and poems written by early European settlers to Australia (colonists they were called, and Sydney a colony) and one, which again by investigating the tenuous threads that come together behind the face of all things, appears to have been written by a gentleman who was the son of a schoolteacher born not so far from where we live.
This is what he wrote 158 years ago: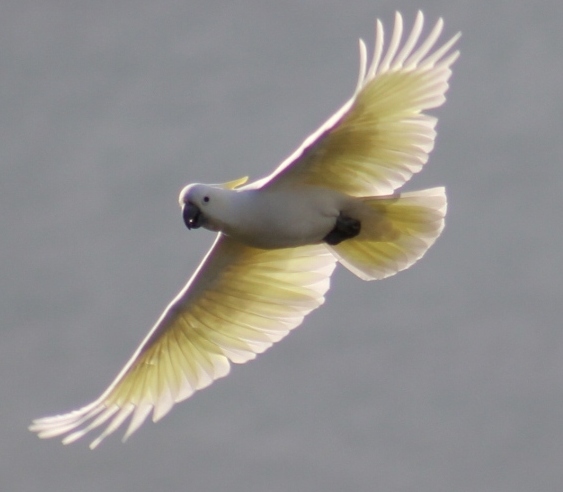 EARLY SUMMER.
'Tis the Early Summer season
With its skies so clear and blue;
And the wide warm fields are glad with corn
As green as ever grew;
And the hill side growing wattles are
All golden to the view;
And the Woods are whitened over
By the loud cockatoo.
O there is a conscious smiling
In a heaven so clearly blue;
And it must-it must be a felt joy
That thus comes blooming through
The great mother heart of Nature when
The golden year is new:
And the woods are snowed all over
By the white cockatoo.
*
*
When the forest trees come into bloom-sooner or later according to the goodness or badness of the season-the white cockatoo suddenly appear in some localities in vost number; for the blooms of these forest trees, particularly those of the so-called apple, contain a good deal of sacharine matter, and it is upon these at this season that the cockatoo food. And while thus engaged, they will hang more or less thickly all about the wide-spread boughs of an apple-tree, for instance, like large patches and detached fragments of snow. As many as a thousand, perhaps, may be seen hanging in this manner about the umbrage of half a dozen such trees standing clumped together, and as many as five thousand, or more, similarly disposed, or multitudinously drifting hither and thither in flight, within the compass of a couple of English miles.
C. H.
II. (
1856, June 2
).
Empire
(Sydney, NSW : 1850 - 1875), p. 3. Retrieved from
http://nla.gov.au/nla.news-article60248650
Now that
'C.H.'
signature of a person's initials at the bottom of this little poem and article explanation made us wonder 'who is 'C.H.' ?'. To find out we looked at where this was published…
The Empire
, year; 1856 – now who started and owned and ran the
Empire
in 1856 and who did this owner know who may have the initials
'C.H.'
?
The answer?;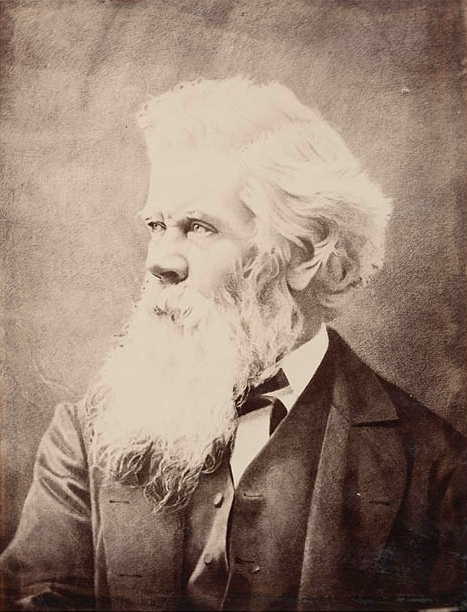 Henry Parkes
founded the
Empire
and was its editor/proprietor until the business failed in August 1858. He made it "
a newspaper destined to be the chief organ of mid-century liberalism and to serve as the rallying and reconciliation point for the sharpest radical and liberal minds of the day
".
Sir Henry Parkes, GCMG (27 May 1815 – 27 April 1896) was the Father of the Australian Federation. As the earliest advocate of a Federal Council of the colonies of Australia, a precursor to the Commonwealth of Australia, he was the most prominent of the Australian Founding Fathers.

Henry Parkes was described during his lifetime by The Times as "the most commanding figure in Australian politics". Alfred Deakin described him as "though not rich or versatile, his personality was massive, durable and imposing, resting upon elementary qualities of human nature elevated by a strong mind. He was cast in the mould of a great man and though he suffered from numerous pettinesses, spites and failings, he was in himself a large-brained self-educated Titan whose natural field was found in Parliament and whose resources of character and intellect enabled him in his later years to overshadow all his contemporaries".
Parkes was tall, with rugged facial features, a leonine mane of hair and a commanding personality. He was a persuasive orator, too, who eschewed flights of rhetoric and spoke as a plain man to plain men, with great effect, in spite of occasional difficulties in controlling his aspirates. He had no schooling worthy of the name but had read widely. It has been said of him that he lacked gracious manners and was too conscious of his intellectual superiority, but his kindly reception in the UK by the likes of Thomas Carlyle and Alfred, Lord Tennyson, suggests that he was not without charm. He was the 7th Premier of New South Wales
.
He was interested in early Australian literary men, having been a friend of both Charles Harpur and Henry Kendall.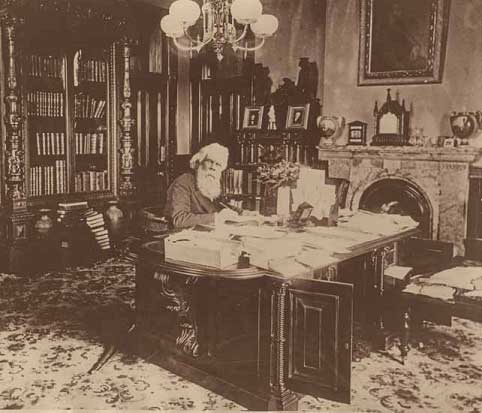 Ok; so as well as being part of making Australia Australia, it seems Mr. Parkes was a friend of some of Australia's earliest published poets, in fact he published them himself! Lyrical thinking leads to lyrical support of those who have the spark of poets within them.
He even wrote some 'sonnets' himself (the term sonnet is derived from the Italian word
sonetto
;from Old Provençal sonet
a little poem
, from son
song
, from Latin sonus
a sound
):
Attempts at Sonnet Writing by Henry Parkes
–
dedication to Henry Halloran and Charles Harpur:
[No heading]. (
1851, April 12
).
Empire
(Sydney, NSW : 1850 - 1875), p. 6. Retrieved from
http://nla.gov.au/nla.news-page5984902
this page Includes:
TO CHARLES HARPUR.
Men first in Glory's race shall turn aside
To scan thy posied beauties, sweet and wild;
Woman, whose eve on Geuius ever smiled,
Shall muse o'er thee, like a dream-curtained bride.
Thy country, with a high and honouring pride,
Shall count the Harp wherewith thou hast beguiled
Care from her children's hearts, among the up-piled
Trophies of Fame, untouched by Time's dark tide.
Then cheer thee with the hope which shall prolong
Joy's visit to thy bosom, and inspire
New energy divine for deathless song,
Australia's first-born to Urania's lyre !
Thy memory may not die, while there are young
And gentle hearts to feel the poet's fire.
June, 1843.

Fine, so this little poem and its information about white cockatoos is more than likely by 'C.H.' = Charles Harpur – which then creates the question; 'who is Charles Harpur?'
Well, Mr Harpur, who spent a lot of time in the bush and loved being outdoors, and would have seen many of our birds, was deemed by many to be the 'Father of Australian Poetry' perhaps by virtue of being one of our early much published poets but also because he had a pure lyrical voice which communicated quite succinctly and eloquently the scenes, beauties and perhaps even a little of the 'breath' of Australia, inspiring people to admit they loved the wonders of this brand new land where, at first, people had been a little frightened. Australia was not like the green rolling hills of Ireland, Scotland, Wales and England, she is, in the words of a Lovvett Bay poet, and the lady after whom our electorate is named, Dorothea Mackellar; "A land of sweeping plains, Of ragged mountain ranges, Of droughts and flooding rains. I love her far horizons, I love her jewel-sea,…"
So who is Mr Harpur ? – more investigating tells us: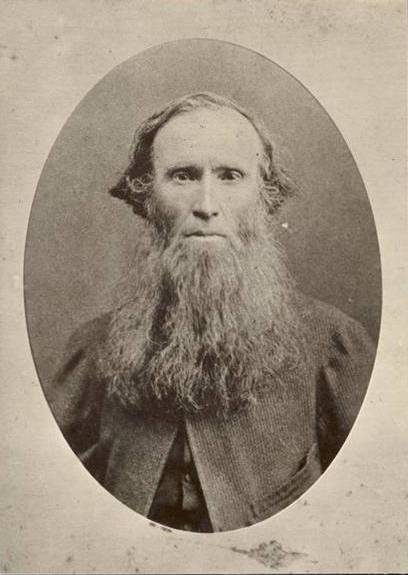 Charles Harpur
(23 January 1813 – 10 June 1868) was an Australian poet. Harpur was born on the 23rd of January 1813 at Windsor, New South Wales, the third child of Joseph Harpur — originally from Kinsale, County Cork, Ireland, parish clerk and master of the Windsor district school — and Sarah, née Chidley (from Somerset; both had been transported as convicts) Harpur received his elementary education in Windsor. This was probably largely supplemented by private study; he was an eager reader of William Shakespeare. Harpur followed various avocations in the bush and for some years in his twenties held a clerical position at the post office in Sydney.
Harpur's early poetic aspirations found an outlet in the form of numerous newspaper publications, through which his work became well known. He published his first poem
The Wreck
on the 20th of December 1833, in the
Australian
, at age 20. This was followed by hundreds of others over the next 35 years. He gathered cuttings of these individual works into scrapbooks and wrote them out in anthologies, which he tried to get published, but there were few publishers in Australia in the early 19th century, so his lack of success is unsurprising. In all he is credited with over 700 poems, which he continuously revised, so that in all some 2,200 versions are extant. In his verse he tried to capture the wild beauty of a country into which he had been one of the first Europeans born. Among his more striking works are The Nevers of Poetry -- a series of pithy instructions on poetic craft, and The Creek of the Four Graves, describing the deaths of an aborigine and three settlers in a nightime attack on their camp.
In Sydney, he met Henry Parkes, Daniel Deniehy, Robert Lowe and W. A. Duncan, who in 1845 published Harpur's first little volume
,
Thoughts, A Series of Sonnets,
which has since become very rare. Harpur had left Sydney two years before and was farming with a brother on the Hunter River. In 1850, he married Mary Doyle and engaged in sheep farming for some years with varying success. In 1853, he published The Bushrangers: a Play in Five Acts, and other Poems.
In 1858, he was appointed Gold Commissioner at Araluen with a good salary. He held the position for eight years and also had a farm at Eurobodalla.
Two verse pamphlets,
A Poets Home
and
The Tower of a Dream
, appeared in 1862 and 1865 respectively.

In 1866, Charle's Harpur's position as a Gold Commissioner was abolished at a time of retrenchment, and in March 1867 he had a great sorrow when his second son was killed by the accidental discharge of his own gun. Mr Harpur never recovered from the blow. He contracted tuberculosis in the hard winter of 1867, and died on 10 June 1868. He was survived by his wife, two sons and two daughters. One of his daughters, writing many years later, mentioned that he had left his family an unencumbered farm and a well-furnished comfortable home.

Harpur was the first Australian poet worthy of the name. He may have been slightly influenced by William Wordsworth but he is not really a derivative poet, and his best work is excellent. He is represented in several Australian anthologies.
Photograph of Mr Harpur courtesy National Library of Australia, image no.: nla23436164v. Charles Harpur. (2013, November 19). In Wikipedia, The Free Encyclopedia. Retrieved from
http://en.wikipedia.org/w/index.php?title=Charles_Harpur&oldid=582332053
You don't have to rely on what other people say about a person, you can actually go and find out things for yourself. Just remember when being your own dectective that you must view all you find as perhaps incorrect until you lay your eyes on irrefutable proof; when we did a bit of searching for the unmodified words and stories about Mr Harpur we found five different birth years stated to be his from people who claimed to be 'experts'! Yes; four of these were wrong!...or, as we have spoken of before, did not have access to original birth certificates or the people whose story this actually is – even there, memory can be tricky and remembered wrong.
About Consumption: This was an early name for tuberculosis, is a disease we thankfully don't have cases of in Australia anymore but it still affects many people worldwide. There once were epidemics here. It affects the lungs mostly and Mr. Harpur lived in times when medicines to fight this disease had not been developed, the first of these did not occur until 1906.
But we are not looking at how Mr Harpur passed away but how he lived in this page.
It is for his stirring and lovely celebrations of Australia that he is best remembered, his exhortations to live a full life and love all as much as you can: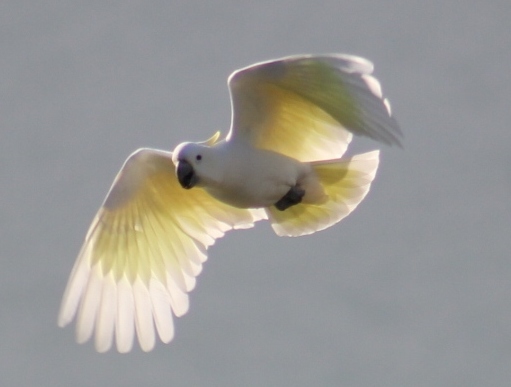 ONWARD !
Progress ! 'Tis the life that rages
Through the world's predestined ages,
Never resting, ever breasting
The unrefluent waves of Time,
At the Almighty word sublime —
God's great one word
Silent never, pealing ever
Onward !
Have the blasts of sorrow worn thee,
Have the rocks of danger torn thee,
And thus shifted, wreck-like drifted,
Wouldst thou find a port in Time?
Vain the quest! That word sublime —
God's great one word,
Silent never, pealeth ever
Onward !
Hast thou done all loving duty,
Hast thou clothed thy soul with beauty,
And would'st rest then, wholly blest then,
In some sunny lapse of Time ?
Vain the hope ! That word sublime —
God's great one word,
Silent never, pealeth ever
Onward!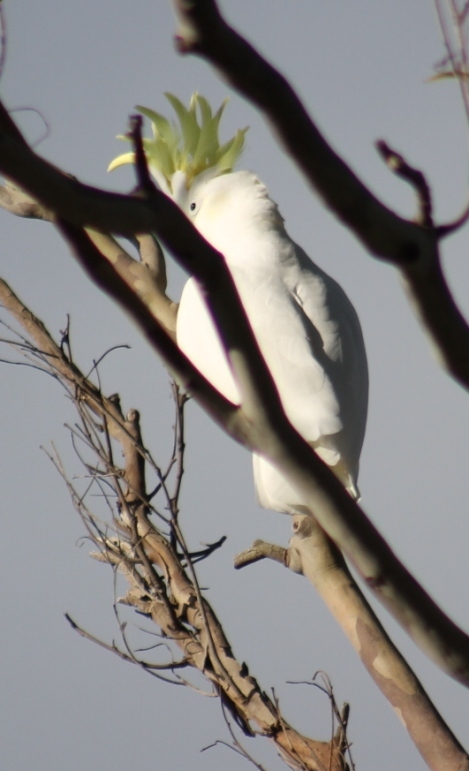 Hast thou won the heart of Glory,
Hast thou charmed the tongue of Story,
And wouldst pause then, for applause then,
Underneath the stars of Time ?
Vain the lure ! That word sublime —
God's great one word,
Silent never, pealeth ever
Onward !
Truth and Virtue hast thou wrought for,
Faith and freedom hast thou fought for,
And then shrinkest, for thou thinkest
Paid is all thy debt in Time ?
Vain the thought! that word sublime —
God's great one word,
Silent never, pealing ever
Onward!
Loss is gain's propelling neighbour,
Power produced is further labor;
All our caring and preparing
For a quiet stand in Time,
Breaks, wave-like, at that word sublime —
God's great one word
Silent never, pealing ever
Onward !
Form is soul, and soul projection
Tow'rds an ultimate perfection,
Never standing, still expanding
Underneath the Suns of Time,
Quickened by that word sublime —
God's great one word
Silent never, pealing ever
Onward !
From endeavour to endeavour,
Journeying with the hours for ever,
Or aspiring, or acquiring,
This, O Man ! is life in Time,
Urged by that primal word sublime —
God's great one word
Silent never, pealing ever
Onward !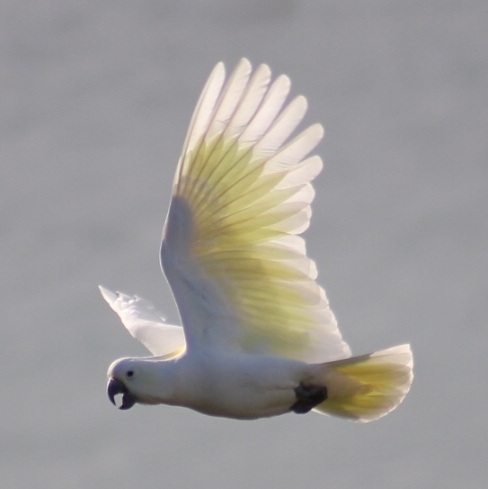 Nor repine thou, nor faint doubtward
That it is so : The whole Outward
With its raging worlds, unstaying,
Thunders through the vast of Time,
Struck by that sole word sublime —
God's great one word
Silent never, pealing ever
Onward !
And as Soul is form's projection
Tow'rds an ultimate perfection,
Nought from good can exclude man
Either in or out of Time,
So long as that command sublime —
God's great one word
Silent never, pealeth ever
Onward !
Charles Harpur. (
1874, March 14
).
Australian Town and Country Journal
(Sydney, NSW : 1870 - 1907), p. 13. Retrieved from
http://nla.gov.au/nla.news-article70473095
He was even celebrated by another early Australian poet of great renown who, being another quite near resident of ours, would most certainly have seen the glorious Pittwater:
CHARLES HARPUR.
Where Harpur lies, the rainy streams,
And wet hill-heads and hollows weeping,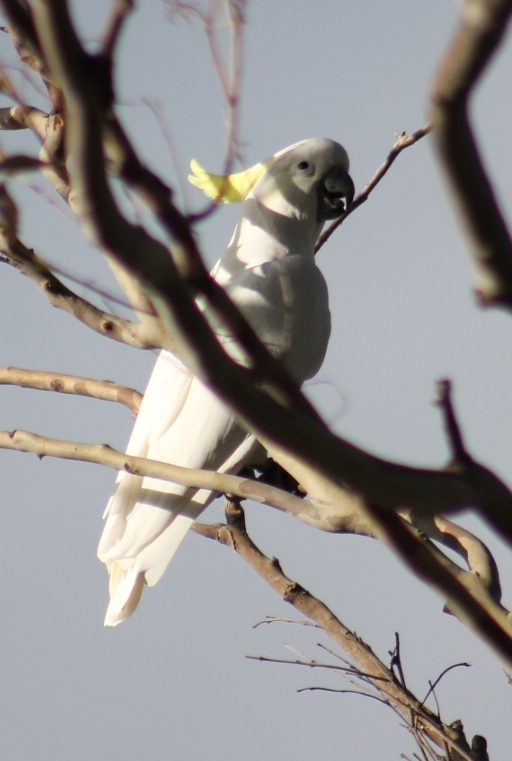 Are swift with wind, and white with gleams,
And hoarse with sounds of storms unsleeping.
Fit grave it is for one whose song
Was tuned by tones he caught from torrents,
And filled with mountain-breaths, and strong
Wild notes of falling forest-currents.
So let him sleep ! the rugged hymns
And broken lights of woods above him !
And let me sing how Sorrow dims
The eyes of those that used to love him.
As April in the wilted wold
Turns faded eyes on splendours waning,
What time the latter leaves are old,
And ruin strikes the strays remaining.
So we that knew this singer dead,
Whose hands attuned the Harp Australian,
May set the face and bow the head,
And mourn his fate and fortunes alien.
The burden of a perished faith
Went sighing through his speech of sweetness,
With human hints of Time and Death,
And subtle notes of incompleteness.
But when the fiery power of Youth
Had passed away and left him nameless,
Serene as Light and strong as Truth
He lived his life untired and tameless.
And, far and free, this man of men
With wintry hair and wasted feature,
Had fellowship with gorge and glen,
And learned the loves and runes of Nature.
Strange words of wind and rhymes of rain,
And whispers from the inland fountains,
Were mingled in his various strain
With leafy breaths of piny mountains.
But, as the under-currents sigh
Beneath the surface of a river,
The music of Humanity
Dwelt in his forest-psalms for ever.
No soul was he to sit on heights
And live with rooks apart and scornful :
Delights of men were his delights,
And common troubles made him mournful.
The flying forms of unknown powers
With lofty wonder caught and filled him,
But there were days of gracious hours
When sights and sounds familiar thrilled him.
The pathos won by wayside things,
The passion found in simple faces,
Struck deeper than the life of springs
Or strength of storms and sea-swept places.
But now he sleeps, the tired bard,
The deepest sleep, and lo, I proffer
These tender leaves of my regard
With hands that falter as they offer.
HENRY KENDALL.
CHARLES HARPUR. (
1868, July 7
).
The Sydney Morning Herald
(NSW : 1842 - 1954), p. 5. Retrieved from
http://nla.gov.au/nla.news-article13168996
But
Henry Kendall
is another investigation for another day…


We hope you have enjoyed this little insight into 'the father of Australian poetry' and will write a few poems about this beautiful place yourselves, or find out more about the people who came before us by being your own detective…
Remember…

We shall not cease from exploration, and the end of all our exploring will be to arrive where we started and know the place for the first time.
T. S. Eliot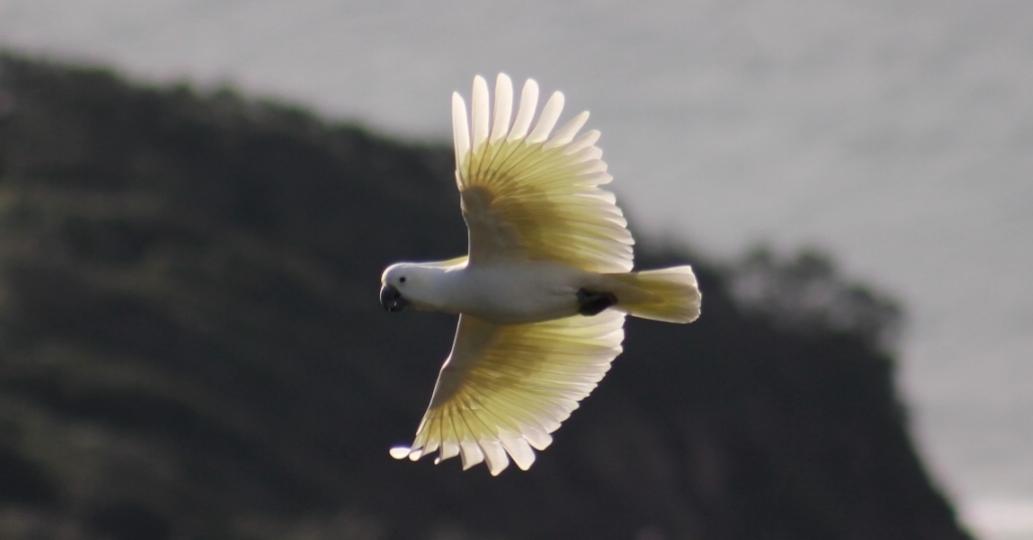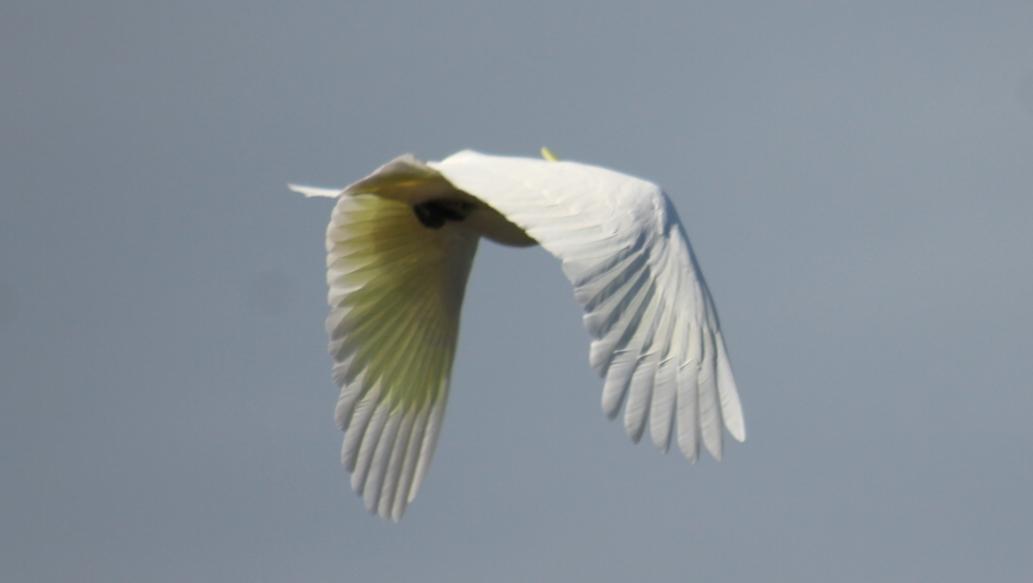 The White Cockatoos of Charles Harpur - Father of Australian Poetry - threads collected and collated by A. J. Guesdon, 2014 - Pictures by same.