October 30 - November 5, 2016: Issue 287
Glossy Black-cockatoo Returns to Pittwater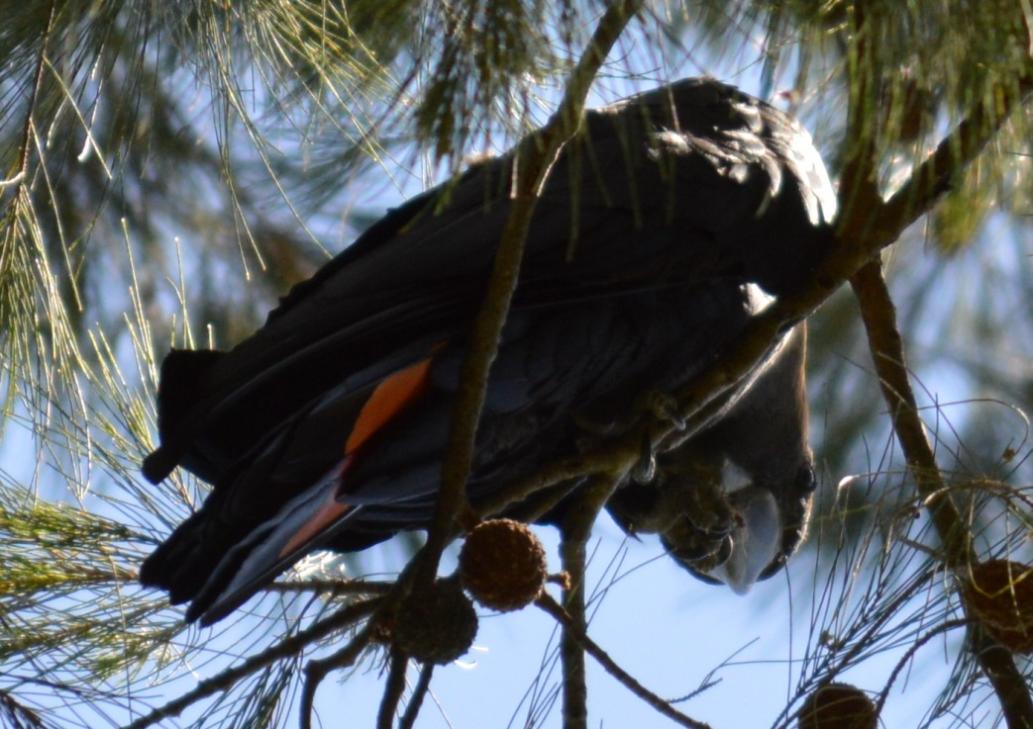 Glossy Black-cockatoo, Calyptohynchus lathami - photo by Paul Wheeler
Each Spring the Glossy Black-cockatoo,
Calyptohynchus lathami
, returns to bushland reserves in Pittwater to feast on she-oak. Heard and seen in Mackay Reserve by Palm Beach residents each year, a pair turned up at Clareville last weekend and were snapped by regular contributor Paul Wheeler.
Paul reports that they were there all day, feeding on the she-oaks. She-oaks (trees and shrubs of the genera Allocasuarina and Casuarina), the seeds of which are almost their only food source, have become more prevalent in Pittwater in recent years due to no bushfires and these trees attract the birds to places such as Mackay and Angophora Reserves. They have also been seen at Brown's Bay as well as Ku-ring-gai Chase and Garigal National Parks.
In Pittwater, as elsewhere in coastal New South Wales, the main food species are Forest Oak Allocasuarina torulosa and Black She-oak A. littoralis.

The glossy black cockatoo (Calyptorhynchus lathami), is the smallest member of the subfamily Calyptorhynchinae found in Australia. Adult glossy black cockatoos may reach 50 cm (19.5 in) in length. The glossy black cockatoo was first described by Dutch naturalist Coenraad Jacob Temminck in 1807. The scientific name honours the English ornithologist John Latham.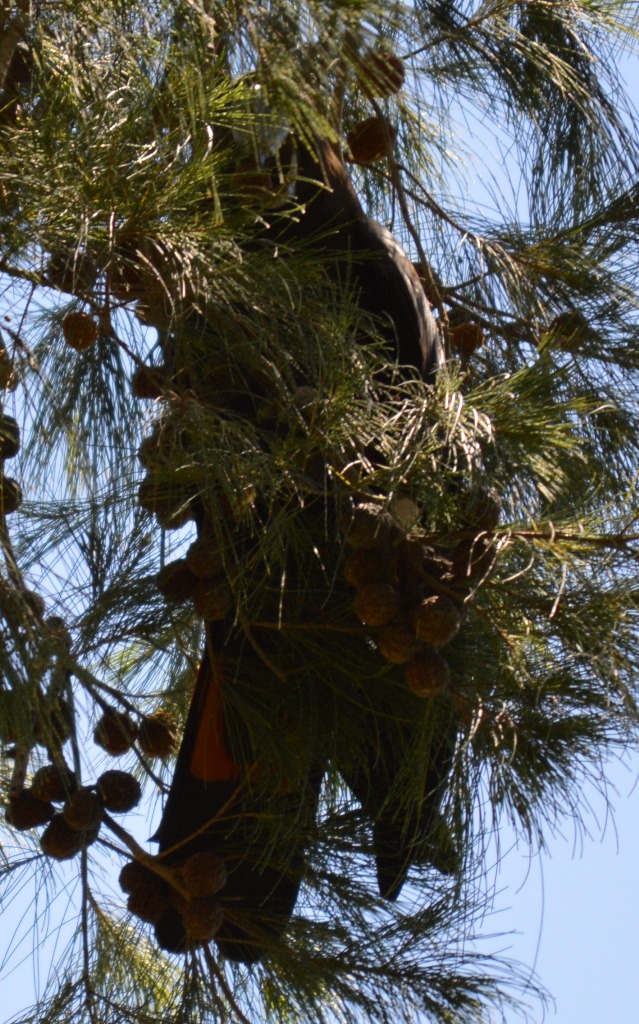 The glossy black cockatoo's closest relative is the red-tailed black cockatoo; the two species form the subgenus Calyptorhynchus within the genus of the same name. They are distinguished from the other black cockatoos of the subgenus Zanda by their significant sexual dimorphism and calls of the juveniles; one a squeaking begging call, the other a vocalisation when swallowing food.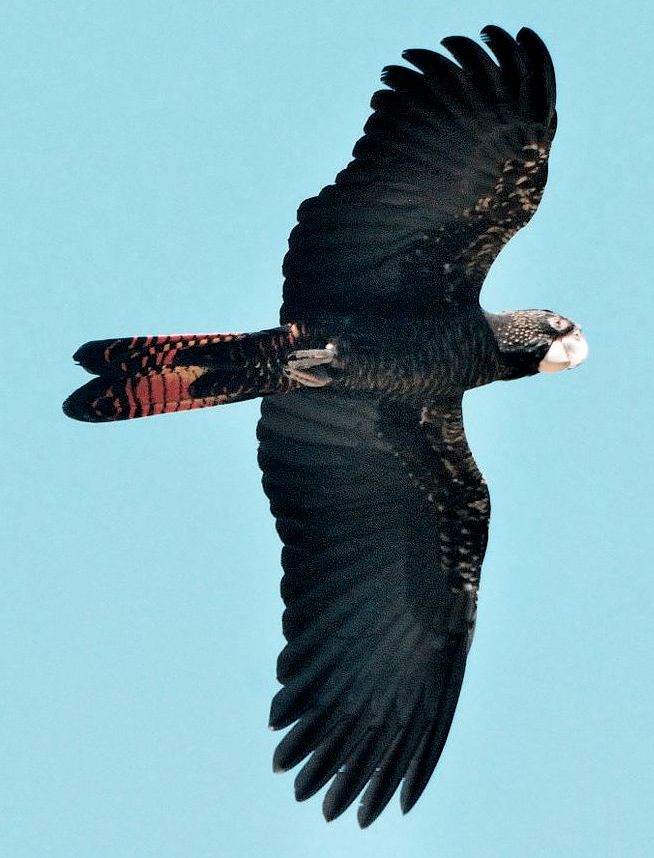 Red-tailed Black Cockatoo Calyptorhynchus banksii also known at the Banksian or Bank's Black Cockatoo flying at Australia Zoo, Australia. Photo courtesy Richard Fisher.

The red-tailed black cockatoo (Calyptorhynchus banksii) species complex was first described by the ornithologist John Latham in 1790 as Psittacus banksii, commemorating English botanist Sir Joseph Banks.
The red-tailed black cockatoo also has the distinction of being the first bird from Eastern Australia illustrated by a European, as a female, presumably collected at Endeavour River in north Queensland, was sketched by Banks' draughtsman Sydney Parkinson in 1770.
English naturalist George Shaw described Psittacus magnificus from a specimen collected somewhere in the Port Jackson (now Sydney) region. For many years, the species was referred to as Calyptorhynchus magnificus, proposed by Gregory Mathews in 1927. For several decades, Mathews' proposal was accepted by many authorities, although it was unclear whether the original Port Jackson reference had actually referred to the red-tailed black or, more likely, the glossy black cockatoo.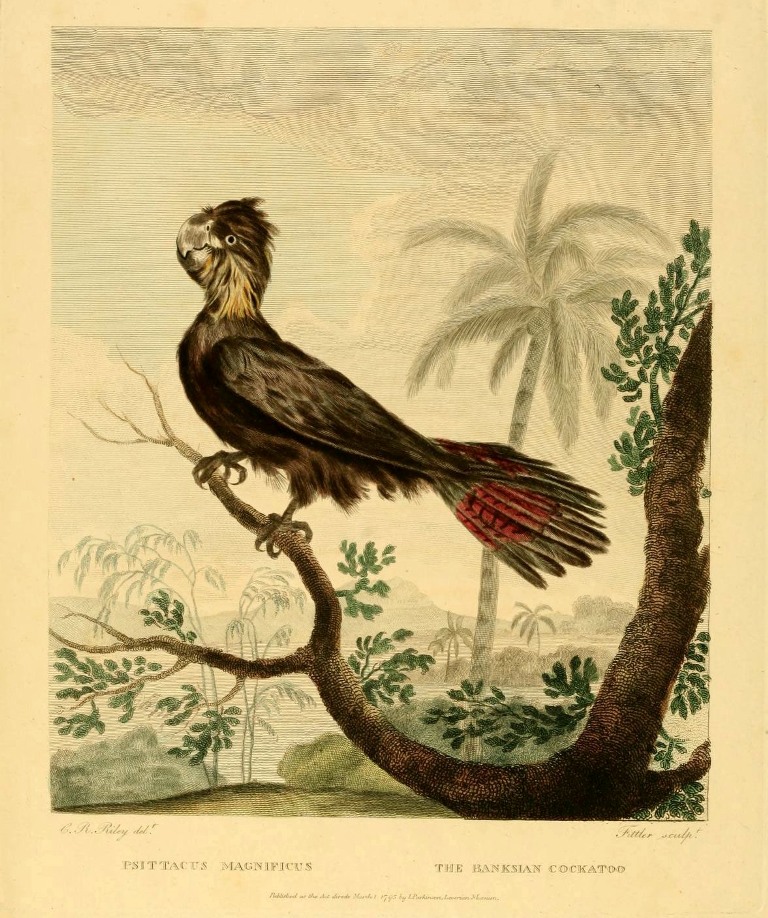 Calyptorhynchus banksii, 1792 by George Shaw - courtesy Biodiversity Heritage Library.

Subspecies
The three subspecies were proposed by Schodde et al. in 1993, although parrot expert Joseph Forshaw has reservations due to their extremely minimal differences.
C. l. lathami: (Rare) The eastern subspecies found between southeastern Queensland and Mallacoota in Victoria, with isolated pockets in Eungella in central Queensland and the Riverina and Pilliga forest. It is associated with casuarina woodland.
C. l. erebus Occurs in central Queensland from Eungulla near Mackay south to Gympie
C. l. halmaturinus: (Endangered) The Kangaroo Island subspecies has been listed by the Australian Government as endangered. Restricted to the northern and western parts of the island, the population may be as low as 100 individuals. It feeds on the Drooping She-oak (Allocasuarina verticillata) and the Sugar Gum (Eucalyptus cladocalyx) In particular, the bird specialises in the most recent season's cones of Allocasuarina verticillata over older cones of that species and Allocasuarina littoralis. It holds the cones in its foot and shreds them with its powerful bill before removing the seeds with its tongue.
The male glossy black cockatoo is predominantly black with a chocolate brown head and striking caudal red patches. The female is a duller dark brown, with flecks of yellow in the tail and collar. The female's tail is barred whereas the male's tail is patched. An adult will grow to be about 46–50 cm (18–19.5 in) in length. The birds are found in open forest and woodlands. [1.]
Like most species of parrots, the glossy black cockatoo is protected by the Convention on International Trade in Endangered Species of Wild Fauna and Flora (CITES) with its placement on the Appendix II list of vulnerable species, which makes the import, export, and trade of listed wild-caught animals illegal.
They are listed as a Vulnerable species in New South Wales (Threatened Species Conservation Act). At a national level, the subspecies lathami is classified as rare.

Pairs produce a single egg between March and June each year and incubated within debris in a hollow within a eucalypt. Likewise the Glossy Black has a preference for roosting in ecualyptus trees.
Hollows large enough for nesting by species such as the Glossy Black-cockatoo usually do not form in eucalypt trees less than about 200 years old. [2.]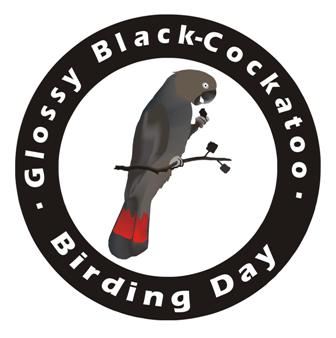 Coincidentally, October 30th 2016 is Glossy Black-cockatoo Birding Day in Queensland. The Glossy Black-Cockatoo is listed as a threatened species in Queensland and the eastern subspecies Calyptorhynchus lathami lathami is distributed throughout south-eastern Queensland (SEQ). The status of the SEQ population is difficult to determine as the species is cryptic in its behaviour and use of natural habitats such that despite a number of agencies maintaining databases for many years there is still little knowledge of the estimated population size and distribution of the species in the region.
To address this shortcoming, the Glossy Black Conservancy initiated the Glossy Black-Cockatoo Birding Days in 2009. The first event was run as a pilot survey on the Gold Coast, SEQ. Following on from the success of this first event surveys have been held throughout the region (SEQ and north-eastern NSW) since. The annual surveys have adopted a staggered survey schdule with dates alternating between October and May in successive years. This decision was based on feedback from members of the community reporting higher reporting rates at different times of the years across the reigon. Future surveys are expected to continue with this approach but there is the potential in include surrounding shires to expand the range of the surveys.
The objective of the census is to gain a better understanding of the Glossy Black-Cockatoo distribution, habitat use and popualtion deographics over time. The surveys are intended to provide the foundations for a long-term monitoring program that in time will be able to assess trends in the population (such as changes in distribution, recruitments etc.) These ongoing efforts will also provide valuable information for determining areas that are heavily frequented by the birds, but also those that might be important refuge areas.
Find out more and help out, our Queensland readers, here: www.glossyblack.org.au
References
1. Glossy black cockatoo. (2016, June 2). In Wikipedia, The Free Encyclopedia. Retrieved from https://en.wikipedia.org/w/index.php?title=Glossy_black_cockatoo&oldid=723323926

2. Pittwater Council.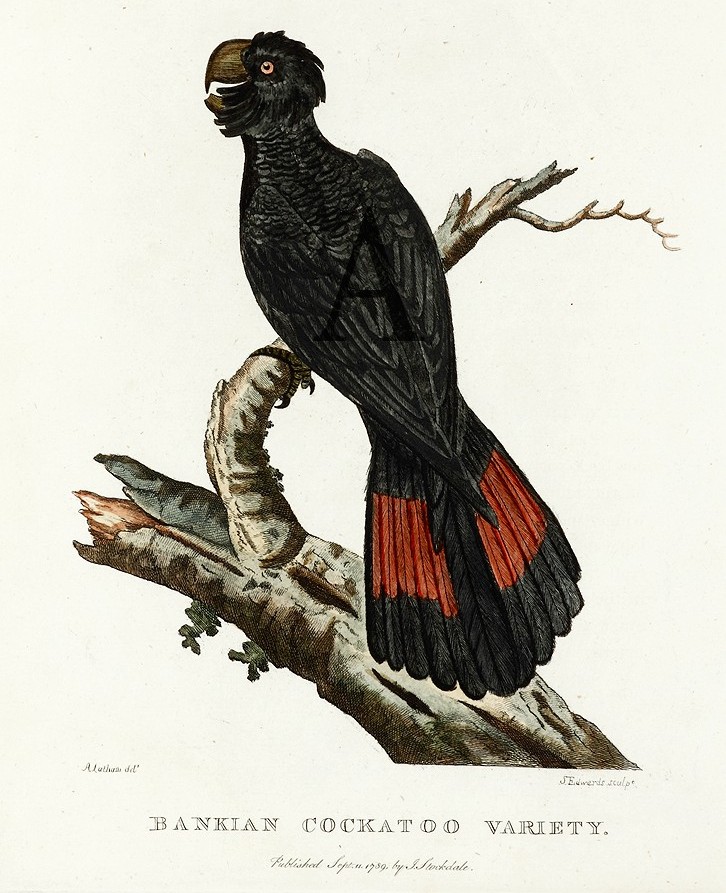 Bankian Cockatoo Variety. sic by Ann Latham circa 1789 - Copper engraving hand coloured. Ann Latham was John Latham's daughter, and she assisted her father in painting birds, mammals and butterflies for her father. She also recorded the first Australian bird species sent to London. The watercolours were made before her marriage in 1795 to a surgeon in Winchester. After 1795 Ann stopped helping her father.
John Latham (1740-1837) is considered to be the Father of Australian Ornithology for the scientific descriptions he provided for birds sent from the convict colony of Sydney Cove in 1788. Latham studied anatomy under the surgeon John Hunter and after practicing medicine and making his fortune he retired from practice in 1796 devoting his life to ornithology. He became the leading English ornithologist of his day, a time that coincided with the discovery of Australia's east coast by James Cook and the establishment of a penal colony at Botany Bay.