March 29 - April 4, 2015: Issue 208
CURRAWONG STATE PARK ESTABLISHED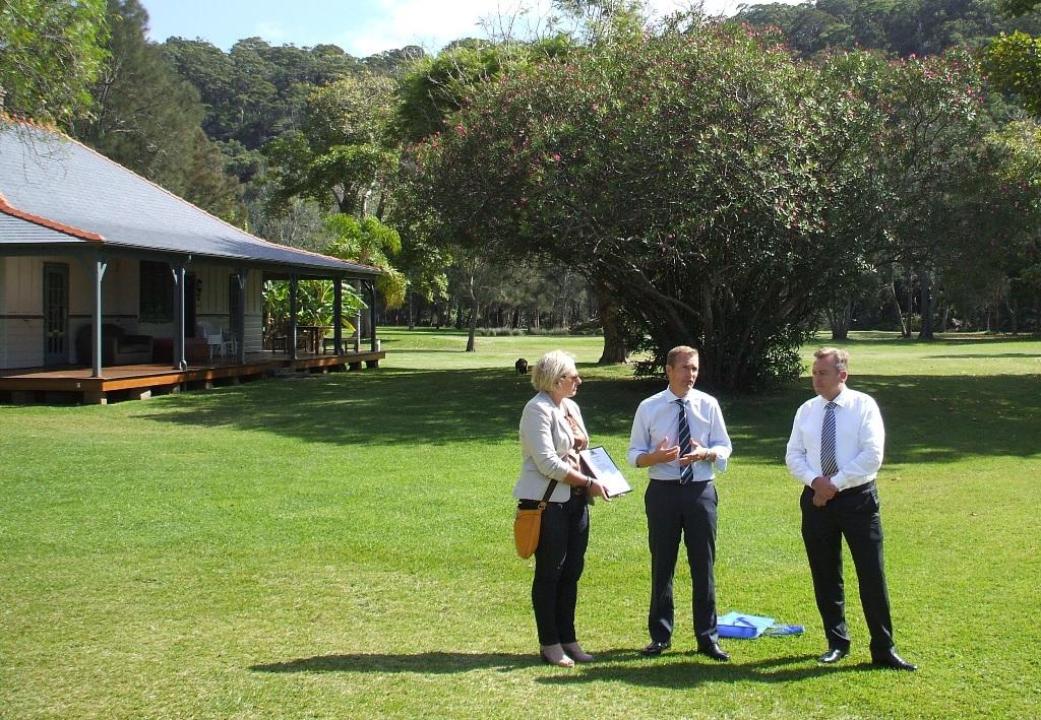 Mayor of Pittwater, Cr. Jacqueline Townsend with MP for Pittwater Rob Stokes and Minister for Resources and Energy Anthony Roberts
CURRAWONG STATE PARK ESTABLISHED
25 March 2015
Environment Minister and Member for Pittwater Rob Stokes today announced the establishment of the Currawong State Park on Pittwater's western foreshore.
The declaration of the new State Park means the much-loved and heritage listed location is now firmly in public ownership and permanently protected for community use.
"This new State Park secures Currawong in community hands and ensures its ongoing protection," Mr Stokes said.
"For many years a dark cloud hovered over Currawong's future as the unions pursued its sale and an outrageous residential subdivision.
"This announcement follows years of community campaigning and the contribution of countless local supporters.
"Currawong is a special place with an incredible history and it's now safely secured for future generations to enjoy."
Lands Minister Kevin Humphries said an advisory committee will be formed, which will include local residents, to provide advice and help steer the management and direction of the new State Park.
"The creation of this State Park reflects the significance of Currawong to the people of NSW," Mr Humphries said.
"Currawong is a unique and serene place and is used for a range of tourism, heritage and recreational activities, all less than 50km from the Sydney CBD.
"The entire site of Currawong was listed on the State Heritage Register in 2008 and is surrounded by the Ku-ring-gai Chase National Park.
"Pittwater Council is the appointed Trust Manager for Currawong and will be supported by a new advisory committee to comprise of;
a. An independent Chair
b. Two representatives of Pittwater Council
c. One representative of Crown Lands; and
d. Two representatives of the Friends of Currawong.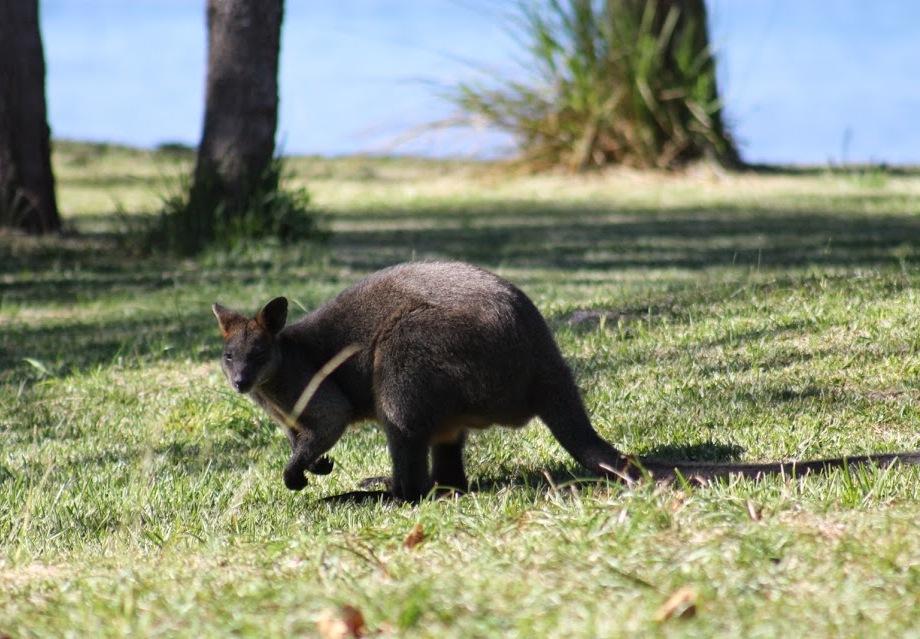 _____________________________________________________
Management of Currawong in good hands
25 March 2015
Pittwater Mayor Jacqui Townsend applauded the recent announcement that the Currawong State Park had officially been established.
Environment Minister and Member for Pittwater Rob Stokes made the official declaration at the beautiful Pittwater western foreshore location today.
Mayor Townsend said, as appointed trust manager of the Currawong holiday retreat, Council will continue to upkeep and manage this much-loved facility with great care," said Cr Townsend.
General Manager Mark Ferguson said Council had been managing the eco holiday retreat for the last four years and had already carried out some significant upgrades.
"As custodian of the facility, we will continue to protect the heritage of the buildings and surrounding area.
"Last year Council undertook significant conservation work on the main home of Midholme at Currawong," he said.
"This was made possible through the generosity of the Friends of Currawong and Pittwater Environmental Foundation who funded the project," added Mr Ferguson.
"Council staff worked alongside other skilled local tradesmen, with original materials retained and restored and any new ones matched to the original as closely as possible.
Mark Ferguson said as trust manager for Currawong, Council will continue to work closely with representatives of Crown Lands and the Friends of Currawong so that Currawong remains a unique and serene place for tourism, heritage and recreation.
For more information regarding Currawong Beach Cottages and availability of accommodation visit www.currawong.com.au
________________________________________________________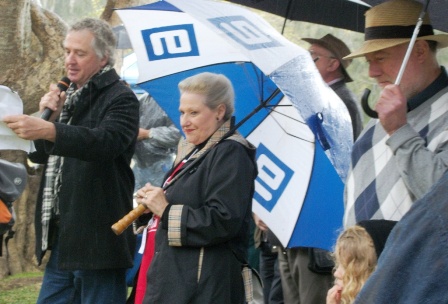 1000 people attended the celebration of Australia's newest State Park at Currawong Beach on Sunday 29th of May, 2011.
On Wednesday, March 25th, Currawong State Park was officially declared by Pittwater's MP, and Minister for the Environment, Minister for Heritage, Minister for the Central Coast and Assistant Minister for Planning, Hon. Rob Stokes.
Right: Shane Withington at Currawong on Sunday May 29th, 2011 with Hon. Bronwyn Bishop and then Mayor Harvey Rose
On Friday we spoke with Shane Withington, Pittwater gentleman, actor, musician and president of the Friends of Currawong, the Pittwater community organisation that led the decades long battle to save Currawong.
Currawong State Park has been officially declared this week, how does that feel?
It's a wonderful feeling. This is twenty years almost to the day when it all started for me and this is the crowning glory of the whole fight to have it put back into public ownership and become a state park. It's more than we could have ever wanted, the fact that Currawong is now protected forever.
If you could nominate three standout signposts along that 20 years, what would they be?
The defeating of the Maharishi Mahesh project for a 240 room resort for the corporate elite. That would be the first one.
Its Heritage Listing would definitely be the second. And the defeat of the Union movements desire to put 25 McMansions on the site – those would be the three big ones.
The Friends of Currawong can rest easier now – what was it like being part of this community organisation?
They're a terrific group of intelligent people who know how to fight, and, know how to party.
Any final words sir?
I just want to encourage everyone in Australia to come and stay at the site and keep it an active viable community owned place for a holiday.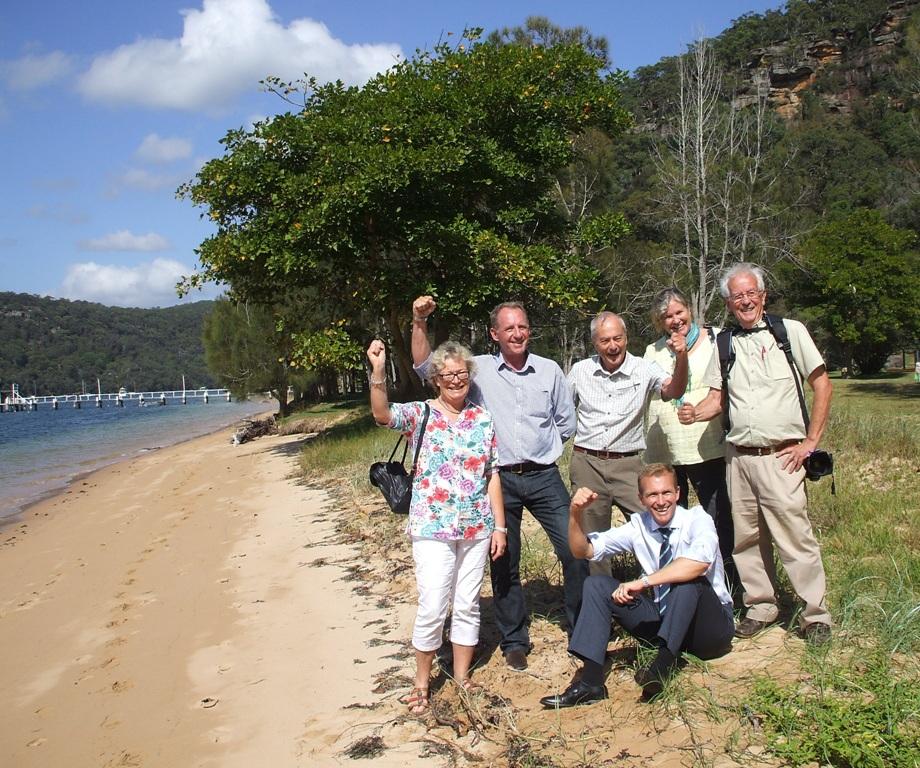 Friends of Currawong members Sue Martin, Geoff Bentley, Ken Hughes, Polly Thompson and Michael Mannington with MP for Pittwater Rob Stokes.
___________________________________________________
Currawong Beach Cottages Information at: www.currawong.com.au