March 3 - 9, 2013: Issue 100
Cayley and son: the life and art of Neville Henry Cayley and Neville William Cayley – by Dr. Penny Olsen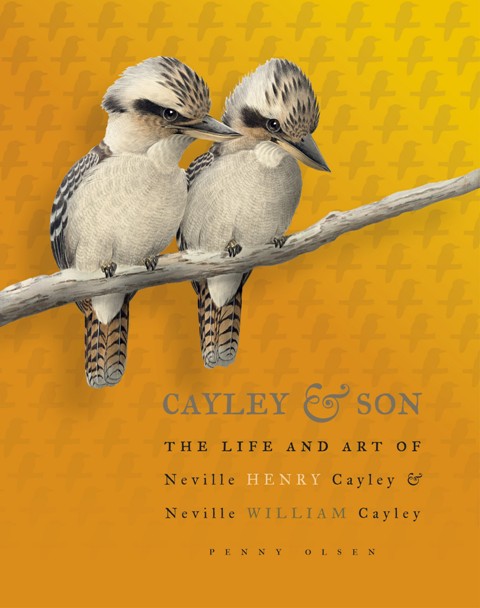 The National Library of Australia continues to make available online a wide range of Australian pictures, paintings and photographs. Their database is a treasure trove of newer and older Australian historic records, many of which cannot be seen elsewhere and allow people who cannot visit Canberra to see what has been filed away for decades. We have spent many long delightful hours searching through their records and are continually astonished by the wide range of everything Australian now being made available. Many of these items, if researched and collected into simple accessible volumes, are allowing younger generations and those who remember these artists and key people, to view and appreciate so much of our culture that prior to their work and the work of leading authors of our time, remained out of reach.
Released this week is a wonderful new book on the Cayley's by Doctor Penny Olsen, Cayley and son: the life and art of Neville Henry Cayley and Neville William Cayley. The Cayley's, senior and junior with the brush and pen invested much of our knowledge in Australian birds and their works are celebrated worldwide. Cayley and son: the life and art of Neville Henry Cayley and Neville William Cayley is the latest offering from the National Library by celebrated author and Cayley expert Penny Olsen. We have an advance copy and the book is very attractive; it is a substantial size, lavishly illustrated and handsomely designed. Both Cayelys are important figures in the history of Australian ornithology, particularly Neville junior, and this is the first book ever published on the Cayleys. This is a must have for anyone with an interest in the history of Australian ornithology or those with a soft spot for Neville junior's classic What Bird is That?
Cayley and Son charts the lives and works of Australian bird artists Neville Henry Cayley (1854–1903) and his son Neville William (1886–1950). Peripatetic, often impecunious, and with a reputation for hard drinking, Neville Henry was a nevertheless a highly talented artist, whose dreams of publishing a 'big bird book'—a comprehensive publication on Australian birds—never came to fruition. His son Neville William was also a keen artist. 'Buoyant' in personality, sometimes outspoken and argumentative, he was a pioneer of the surf lifesaving movement before turning his attention to the painting of birds. Taking a more scientific approach than his father, he was to complete the classic field guide known to bird enthusiasts throughout Australia: What Bird Is That?.
From the depictions of gamebirds in Neville Henry's work, to his son's focus on conservation and education, the history of the two men is also a social history of Australia, and their work can be read as a barometer of changing attitudes to wildlife and its conservation.
Cayley and Son features a biographical essay on each of the two men, followed by a portfolio of their paintings. With over 100 colour plates of works from the collections of the National Library of Australia, it is a book for art- and bird-lovers alike.
Penny Olsen is a research scientist and natural history writer. Based at the Australian National University in Canberra, she is the author of numerous publications including Glimpses of Paradise: The Quest for the Beautiful Parrakeet (2007), Brush with Birds: Bird Art in the National Library of Australia (2008) and Upside Down World: Early European Impressions of Australia's Curious Animals (2010). Penny Olsen completed her BSc hons on Antechinus at ANU in 1969 and found work as an Experimental Officer with the CSIRO, where she studied the ecology of water rats and the effect of predation on feral mouse populations. In 1981 she took a few years off to raise her children, but carried on research on birds of prey. From 1984 to 1989 she was President of the Australasian Raptor Association. She went back to university to do a PhD on the breeding ecology of raptors, which she completed in 1991. Post-doctoral research into sex allocation in peregrine falcons led to her research on lifetime reproduction, for which she was granted an ARC Fellowship. In 1997 she was awarded the D.L.Serventy Medal for services to ornithology by the Royal Australasian Ornithologists Union. Since 1999 she has been a consultant to various government departments and a visiting Fellow at ANU. She also writes books and worked as Editor of the Birds Australia quarterly magazine, Wingspan until 2009.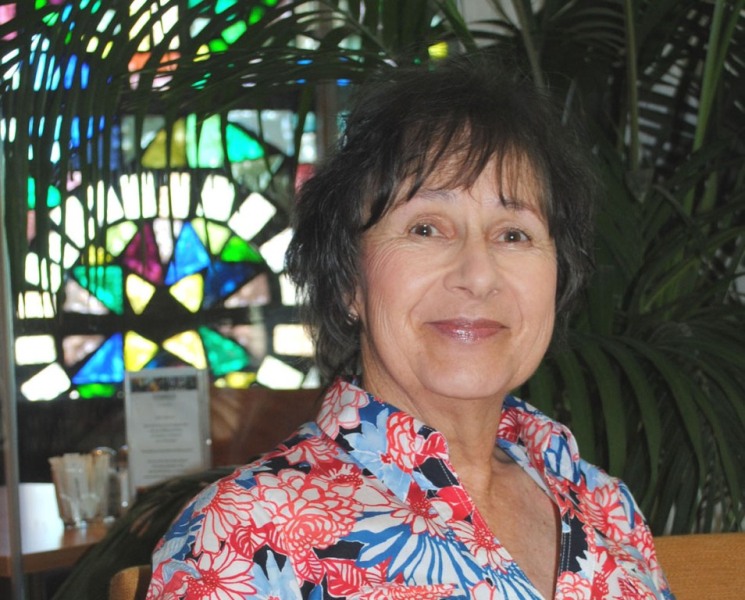 Penny Olsen by Alan Davidson, 2013.
Penny Olsen's 2001 book Feather and Brush attracted a number of awards, including The Australian's 2002 award for Excellence in Educational Publishing, and the Royal Zoological Society of NSW's Whitley Award in 2002 for Best Ilustrated Book. Penny Olsen was awarded the D.L.Serventy Medal in 1997 for Outstanding Contributions to Australian Ornithology by the Royal Australasian Ornithologists Union.
Dr Olsen kindly agreed to answer a few questions about this beautiful new book:
What was the original inspiration for this extensive work on the Cayleys?
In some ways the inspiration goes way back. Like a lot of Australians, I was a Cayley kid or at least Cayley young adult. Neville William Cayley's What Bird Is That? was the only comprehensive field guide available, so it was on my shelves, bought with my first real paycheck. When I returned to university as a mature age PhD candidate, a Cayley Scholarship (established by Neville William in honour of his father, administered by the Gould League and financed by some of the profits from What Bird Is That?) helped to cover the costs of my fieldwork. In more recent years, since I began writing about early Australian natural history, I have often wondered why there has never been a book on the Cayleys—they were so important in putting Australia's birds in the public eye. The extensive collection of Cayley artwork in the Australian National Library was the final push. The library publishes books that interpret and showcase their collections, so the opportunity arose to publish. The resulting book in based around the library's Cayleys, with a few gaps filled by work from private Cayley collectors.
How long did it take to complete this work?
It took about 4 months to actually research and write, and select illustrations, then, of course there are the additional the editing, design and proof reading stages.
How difficult is it to track down those historical threads that bring the people or subject matter to life for current readers?
You have to be dogged and think a bit laterally but it gets easier and easier with so much becoming available online here and overseas. There are always frustrations but the research is the part that I enjoy the most—its exciting finding new information and making new connections, bringing it all together—the Bingo moment! The Cayleys were both wonderful characters, as well as men of their time, so I didn't shirk from what might be interpreted as their flaws and I made an effort to research them in the context of the development of Australia, the building of an Australian identity.
What is your favourite Neville Henry Cayley work?
My favourite Neville Henry: I can never decide. Today I fancy the larder or cool-room full of gamebirds on pp. 32-33, other favourites are the shelducks p. 50 or the poor Sulphur-crested Cockatoo on p. 71. By today's standards they are all rather macabre. The gamebirds are well and truly dead, hanging to cure, with blood dripping and the odd dislodged feather, and the cockatoo, billed at the time as the oldest cockie in existence, looks like its suffering from beak and feather disease. Nonetheless, they are beautiful paintings—Cayley senior at his best.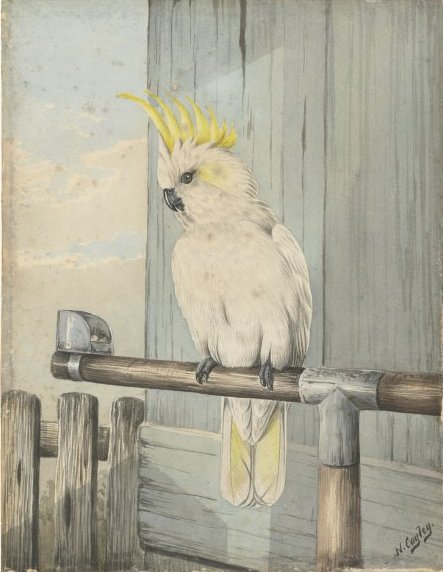 White Cockatoo by Neville Cayley. 1854-1903. nla.pic-an6952710 courtesy National Library of Australia
If you could be an Australian bird for a day, which one would you be and why?
If I could be a bird for a day: I would have to say a bird of prey. I have worked on raptors for much of my career and have a soft spot for anything with talons. No doubt a friend (Raoul Slater of bird guide fame) drew on that when he wrote an article on an imagined dinner conversation in which the guests characterise each other as a bird. I was among his guests and described as a bird of prey soaring above, surveying the others. I wasn't sure whether to be flattered or offended, but I guess it says something about the way I research and write, if not the reason that I do so.
Purchase at all good book stores or online at: http://bookshop.nla.gov.au/book/cayley-and-son.do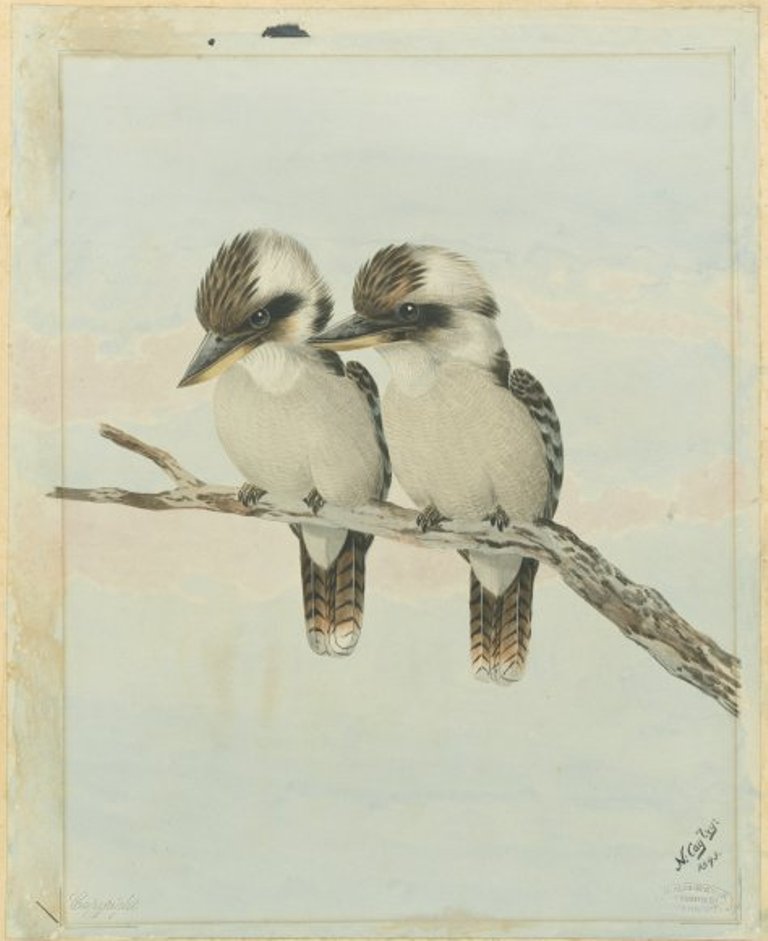 One of our favourites: Kookaburra by Neville Cayley, 1854-1903. Created 1893, nla.pic-an6843370, courtesy National Library of Australia
Copyright Penny Olsen and National Library of Australia, 2013. Photo of Penny Olsen by Alan Davidson, 2013.