April 7 - 13, 2019: Issue 400

Mona Vale Dunes And Avalon Beach Dunes Bushcare Groups
Beach dunes are a feature of the Northern Beaches, particularly along the peninsula. Our beaches and their backdrop dunes, so familiar, are only about 6000 years old, forming as the sea rose after the last ice age.
Until the 1970s dunes were regarded as a good source of sand, to be removed. The remaining land would then be levelled and turned to what was seen as a better use, such as land to be developed, parking, a road. Imagine Bondi Beach, before the concreting and building happened! We can see how at Collaroy, with the benefit of hindsight and experience, this was not a good decision. This beach is one of the most affected by storm damage on the NSW coast. The sea often threatens houses built where the dunes used to be, and also Pittwater Road.
Beaches backed by dunes can be resilient in what is a dynamic landscape. Vegetated dunes capture windblown sand, and surrender it in big storms, as the sea and wind claim it back to the beach. An active beach zone should be left undeveloped allowing sand to come and go with winds and tides.
Bushcare volunteers celebrate the special vegetation that keeps our dunes stable and provides habitat for local fauna, specially small birds which use the dense native vegetation to feed and escape the bully birds such as Noisy Miners and Currawongs.
On Mona Vale Dunes we have nesting Willie Wagtails and Eastern Whipbirds and have been visited by Yellow-tailed Black Cockatoos and Brown Quail. However weeds such as Asparagus Fern, Morning Glory, Lantana and Turkey Rhubarb have to be controlled to protect native dune vegetation.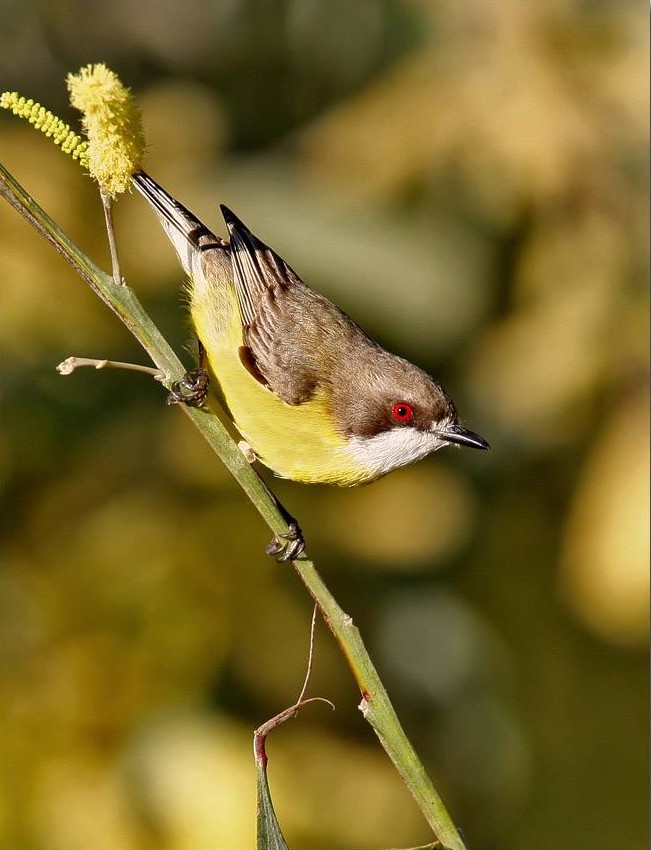 White-throated Warbler - photo Neil Lazarus

Volunteer bushcarers meet at Mona Vale Dunes on the second Saturday and third Thursday of each month. Some people go both days. At Avalon Dunes the first Sunday of each month is the work morning. Work starts usually at 8.30 and goes for 3 hours, including morning tea. Northern Beaches Council provides a supervisor to guide work at Mona Vale and volunteers supervise at Avalon Dunes.Both groups are covered by NB Council insurance for volunteers. Council bush regeneration contractors work on both dunes but need our help as their hours are limited.
Have a look at the Facebook pages for more information and to keep in touch.
Facebook page for Mona Vale Dunes Bushcare where you can keep up to date with progress and find out how to get involved. Visit: www.facebook.com/Mona-Vale-Dunes-Bushcare

Facebook page for Avalon Dunes Bushcare where you can keep up to date with progress and find out how to get involved.
Visit: www.facebook.com/AvalonDunesBushcare
Volunteer bushcarers meet at Mona Vale Dunes on the second Saturday and third Thursday of each month. Some people go both days. At Avalon Dunes the first Sunday of each month is the work morning.

Avalon Dunes Bushcare
After a long break, we'll be back on Sunday April 7. NB Council has changed management so that destructive camps are quickly cleared away and better weed control is happening - we're encouraged! We volunteers need some help, so why not join us at 8.30near the Montessori School. We finish at 11.30, but even half an hour of your help would be great.
Wear long pants, long sleeves and hat. BYO Gloves. We bring tools and morning tea.
Mona Vale Beach Sand Dunes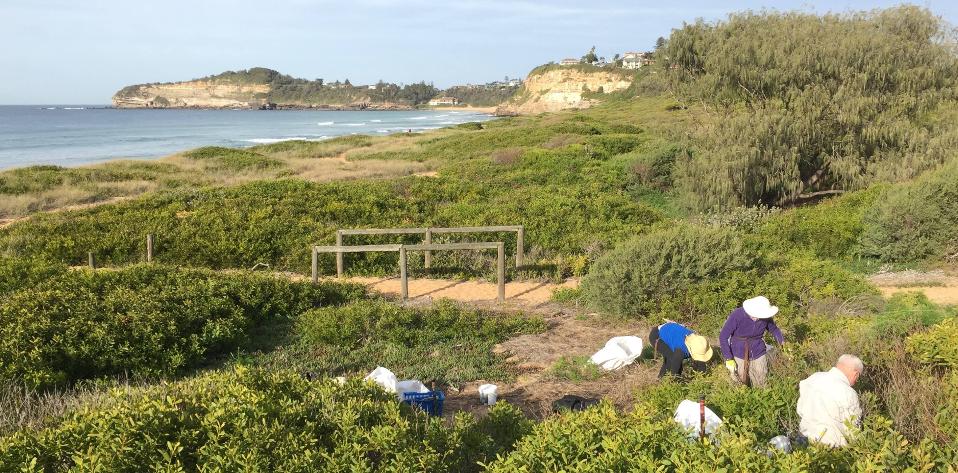 Here is Mona Vale Dunes bushcare group at work.
To suit most of us, we meet on two days of the month, so people
come on either the second Saturday morning and the third Thursday - sometimes both!
With a view like this, you can see why we love this place. Our morning teas are legendary, by the way.
This photo may be from the 1970s and shows the dunes dangerously exposed to wind erosion, with not even today's dense weeds to stabilise it. Buildings on left are at end of Golf Ave.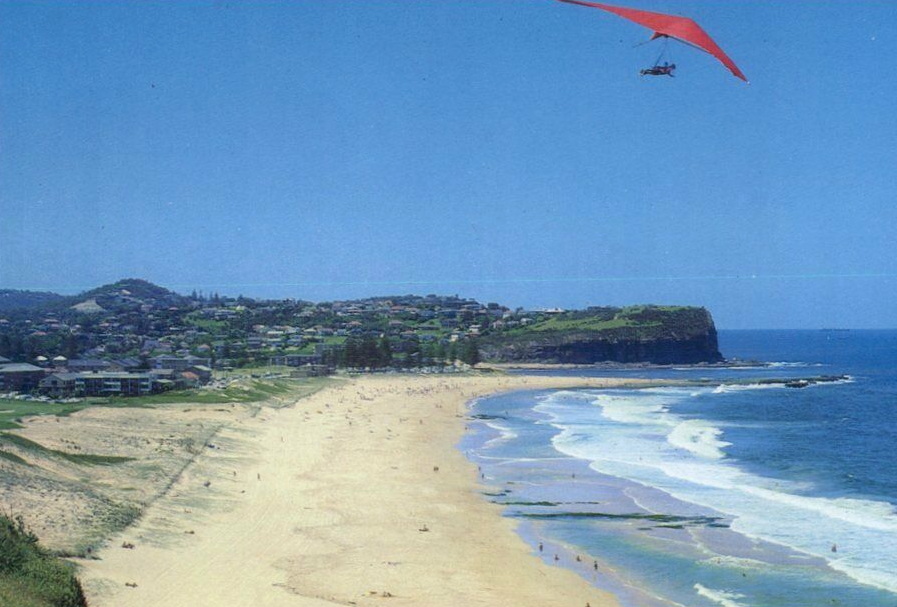 View over dunes in 1969 from balcony at beach end of Golf Ave. We are lucky the destruction stopped when it did.We need our coastal dunes well vegetated and stabilised.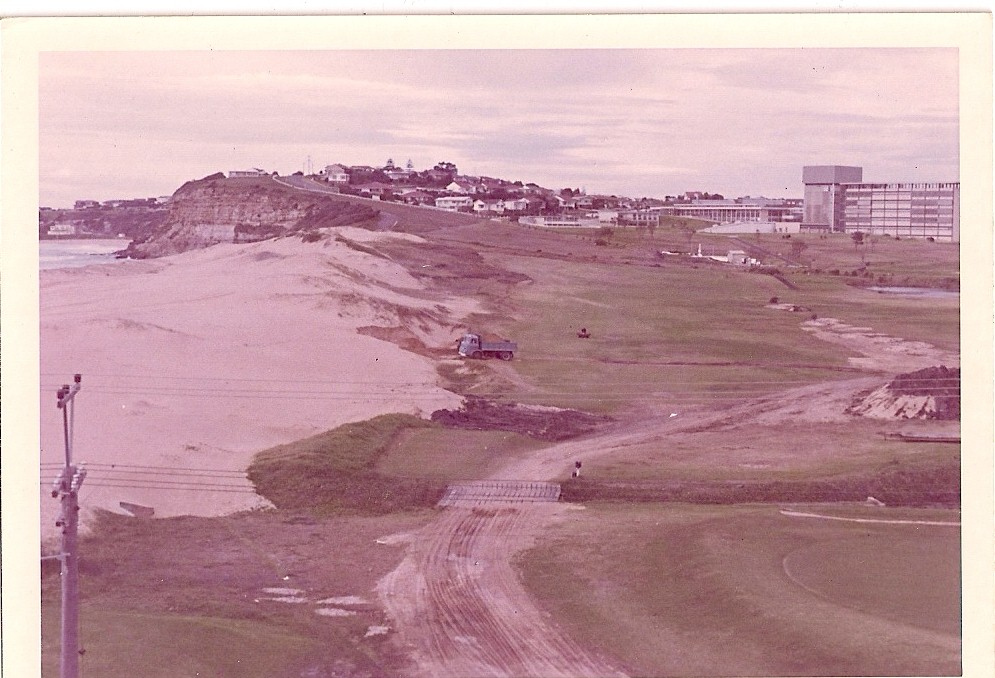 Danina with her Asparagus Fern crown. Probably our worst weed, it's on Australia's list of Weeds of National Significance (WoNS). We can see why. A great feeling when you finally get out that crown. The white water tubers are only for water storage and can stay behind.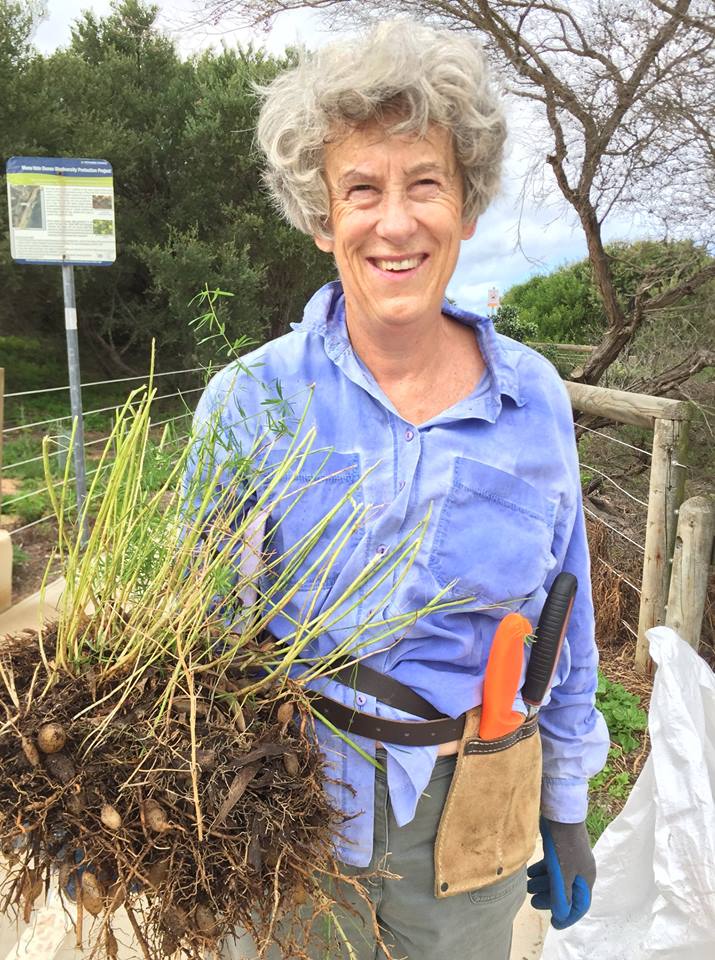 Mona Vale Dunes - birds' eye view.
Golf Avenue is our usual entry point
, at top right of image.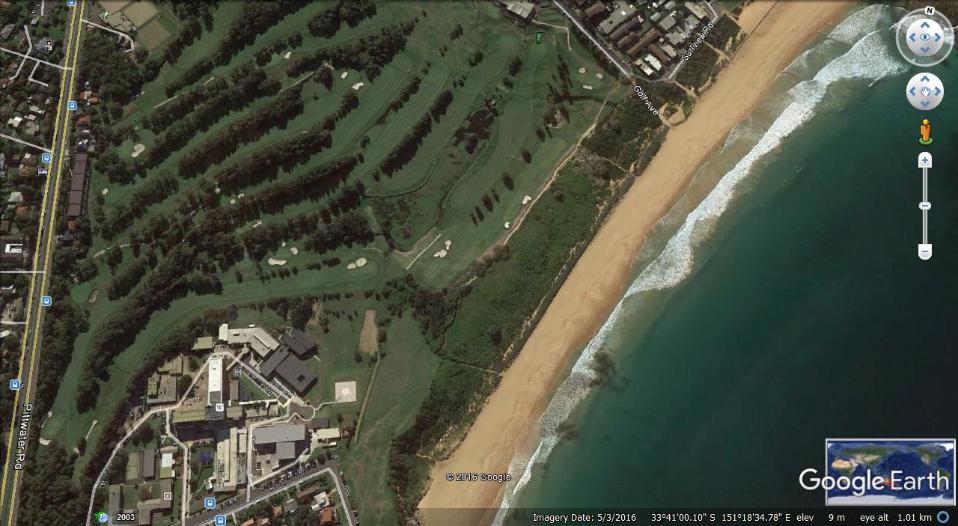 Our Profile picture is Beach Correa, Correa alba. This lovely little shrub flowers for most of the year, happy in wind and salty spray, a great dune stabiliser.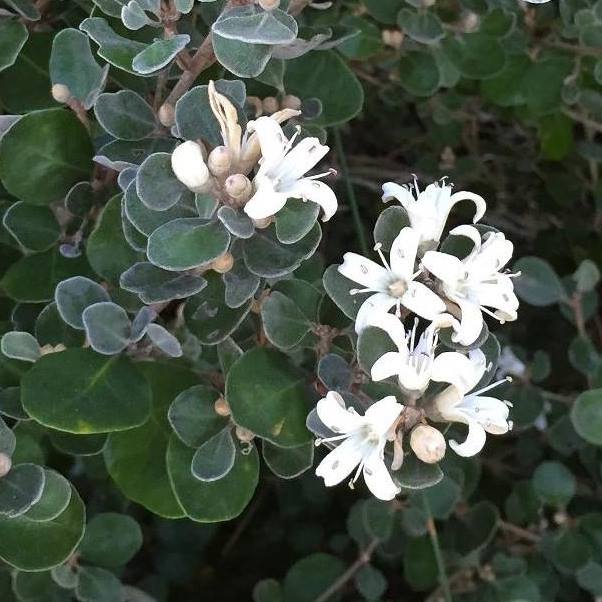 Mona Vale Dunes covers over 8 ha of our Sydney Northern Beaches coastline.
The dunes and bushland have been nearly lost in the past to weeds like lantana and asparagus fern, and to sand removal. Much remains under dense weed, but with steady weeding and some planting of tubestock native plants, the northern area is recovering, and is a home for birds and other animals.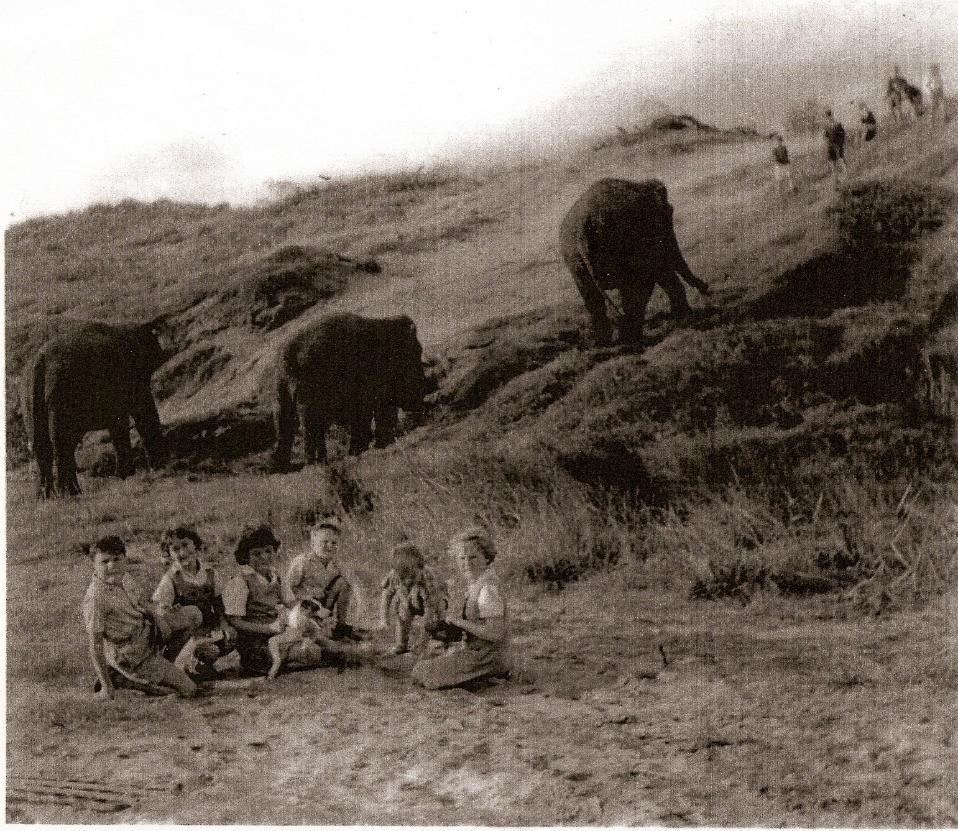 Circus comes to Avalon. Elephants graze in the dunes in the 1960s. Poor dunes! No wonder the sand began to blow.
For most of the late 1960s, commercial interests had been removing tons of sand from the northern dune, which included a huge spur buttressing this dune. Repeated requests from the Trust for a court injunction from Warringah Shire Council to stop this destructive activity were constantly ignored.
The Avalon Preservation Trust ( now the Avalon Preservation Association) sent a telegram to the Minister for Local Government requesting cessation of the work and was advised that the State Planning were seeking to acquire the land for recreation purposes. The Trust was also informed that the council had the situation in hand. In truth neither had the situation in hand at all, so some members of the Trust took it upon themselves to stage a sit-in and create a vehicular barricade to stop the trucks from accessing the sand-loading equipment. Apparently this had the desired effect and a further injunction was successful.
How much sand would have been left had the Trust members not brought about this action?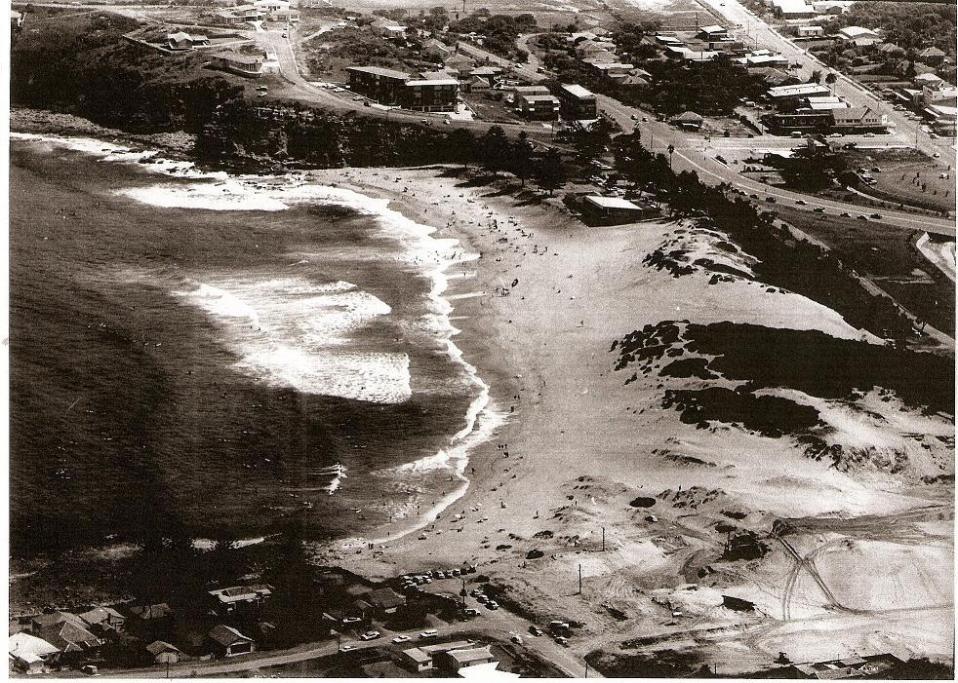 1964 - sand is being removed, dunes disappearing. Thank goodness local heroines stopped this! Our dunes would have gone to building sites..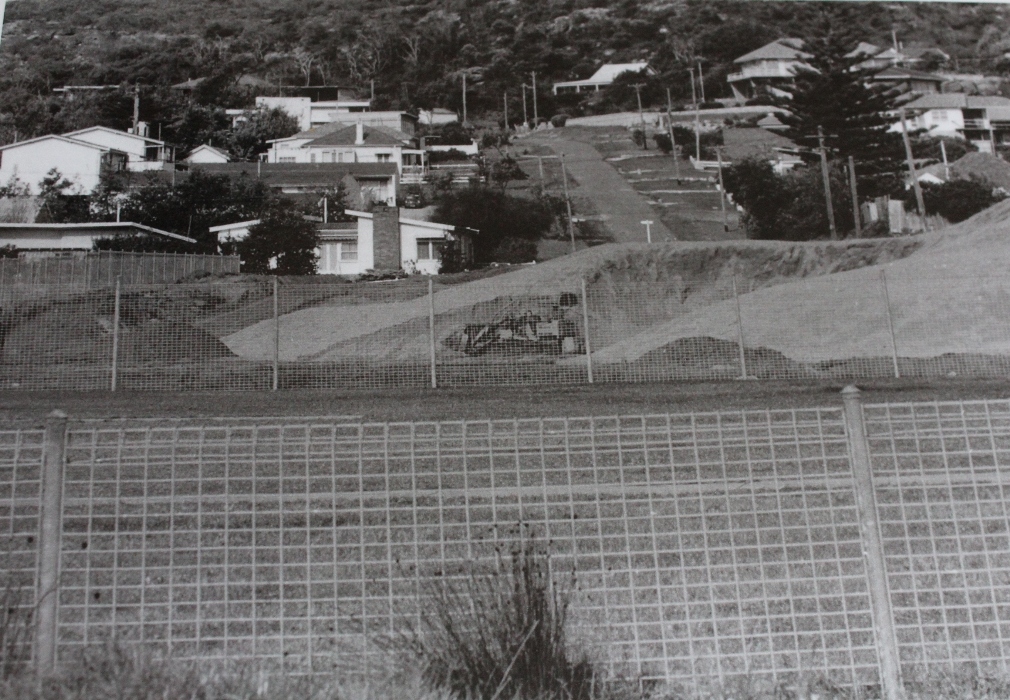 The corner of Tasman Road and Marine Parade Avalon during the sanding mining.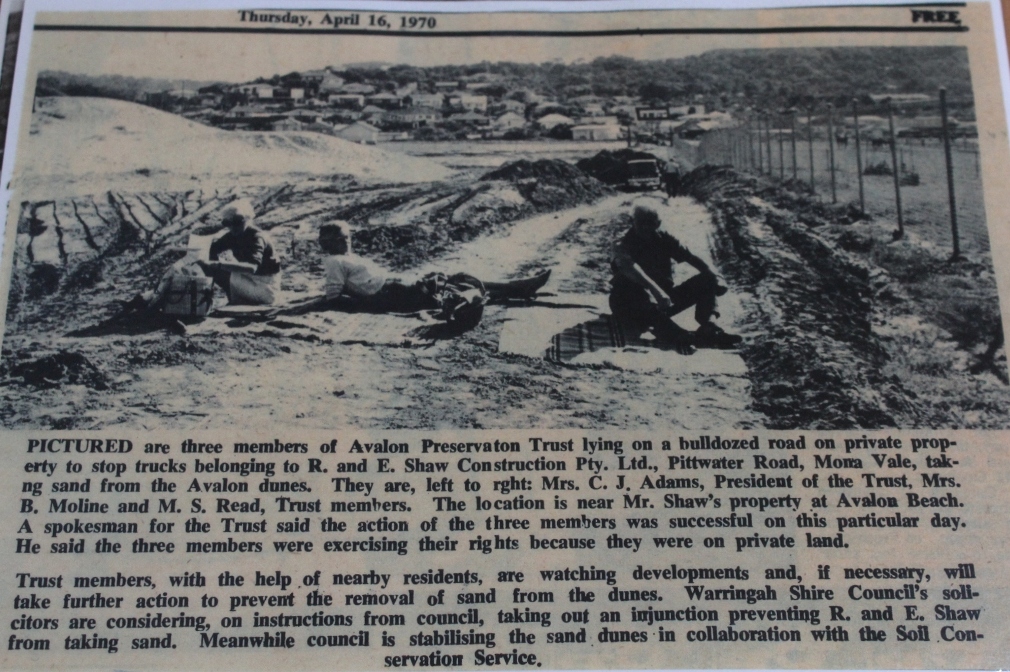 '
The Avalon News
'
article on same - photo by
John Stone
- six cars were parked along the front of where the photographer has stood to take this
photo
- this stopped access to the site by the sand
miners
.
In 1989 volunteer works commenced under the
Friends of Avalon Dunes Dune-Care Group to remove Bitou - this now covered 80% of the dunes.
In a 2013 interview with Marita Macrae, who had just received the Ruth Readford Award for Lifetime Achievement*, Marita shared an insight into the beginnings of this group.
The restoration and maintenance of the Avalon sand dunes has been a long term and quite big project – how did that start?
It had various beginnings. I was always interested in gardening and when I had the opportunity to do Horticulture in the late 1980s, part of this was a Bush Regeneration course. While doing this I learnt about Bitou bush. Also, Warringah Council as it was at this time, around 1989, started on the dunes as they were about 80% Bitou.
The dunes are divided into paddocks, and you can see tracks between these. Warringah Council started in the one nearest to the surf club. They had a grant and got a tractor in there and pulled out lots and lots of Bitou. They then planted some natives – Coastal teatree, some Beach Spinifex and Coastal Banksias and that was it. The idea of those plants was to stabilise the sand after they'd pulled out the Bitou.
Unfortunately Bitou is a terrible seeder, producing thousands and thousands of seedlings. In 1989 I used to watch what was happening. I had a young Labrador, Toby, which I used to take for walks behind dunes and watch the Bitou bush seedlings there. The area to the north was still mostly Bitou. You can't just start a job like that and walk away from it or the project would be a waste of money.
At the beginning of 1990 there two people, myself and a man who left Avalon a couple of years later, approached the Council and suggested we form a volunteer group to maintain what had been started and to continue it. That's how it really began.
What was the name of this volunteer group?
We called it Friends of Avalon Dunes Dune-Care Group, which was a bit of a mouthful. But in those days, the early 1990's, it was part of a lot of work to control Bitou right along the NSW coastline, mainly on dunes, and also in the forests behind dunes. There were lots and lots of groups working at this – mainly north up the coast but also as far down as Tathra on the south coast There were lots of very good volunteer groups working along the coast and we just became one of those.
Ruth Readford I met when we got started in the early 1990s soon after we'd got started. I hadn't known her before but she lived at this time at Ballina. She was a very good leader and organiser. She initiated telephone link ups and Dune Care conferences. We would meet in small groups and talk about our projects. She has written a book about community dune care at Ballina.
The restoration works which began in 1990 have an ongoing maintenance though – you have just reformed the group?
We were working on the Avalon dunes for about 20 years and during that time we'd had quite a few different grants. The Catchment Management Authority grant in the early 1990's, a State Government grant, NSW Environment Trust grant and several Coastcare grants. I cannot take credit for receiving those grants. I helped write them but I had a great deal of help from Pittwater Council staff, particularly Paul Hardie. He always worked as a volunteer as well, right from the very start, despite having a young family. Eventually the Council, after our grants projects were completed, took on maintenance and engaged bushcare contractors to work on the dunes.
We thought everything was going well – the fact is that Bitou is a very obvious weed and people like to do big obvious weeds; they're satisfying to do because you can see what you've done when the work is done.
There are a lot of other weeds there though that benefited from the disappearance of the Bitou, Morning Glory in particular.
About a year ago I noticed that the dunes were still looking pretty weedy so I suggested about September 2012 we reform the group. We've been working one morning a month ever since.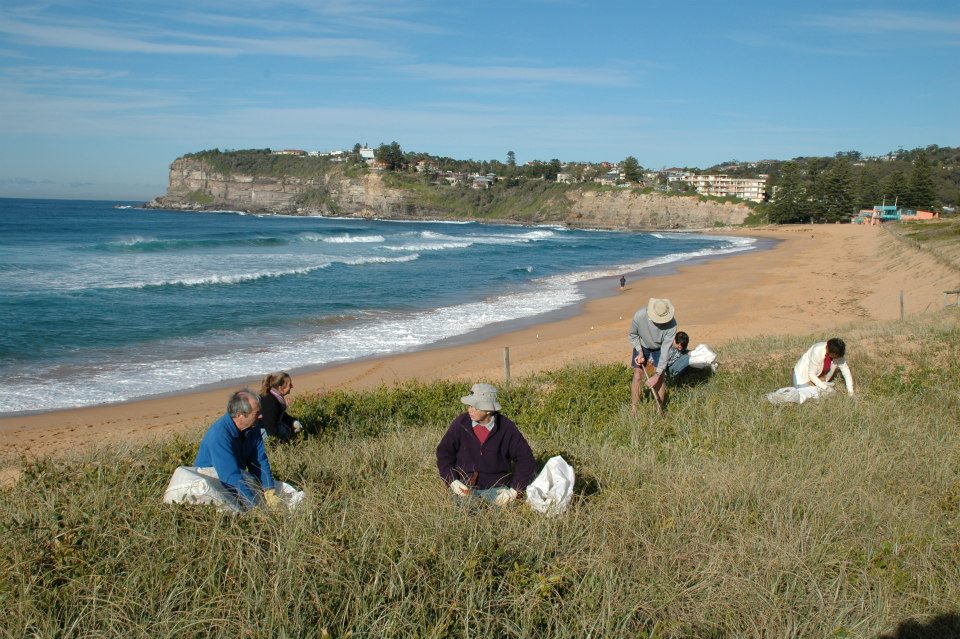 Avalon Dunes - weeding with a view in 2013 - Weeding Spinifex grass - not much else grows in this windy salty place.

When and where does this group meet?
On the first Sunday of each month at 8.30am. We're only working on a small section at this stage and have been meeting at the back of the dunes near the little bridge over Careel creek. Out major weed that we've been tackling is Morning Glory, which we've been doing for years. It's a very time consuming insidious weed.
Although the Council still has contractors working here I think this one is best tackled by volunteers who don't mind doing the fiddly work that you need to do to try and control it. This is not so easy for contractors that need to be able to show where they've been working to their employers. If they have a team of six people working a whole day on Morning Glory, you will not be able to see much difference. I think this is a weed better tackled by us volunteers. Many are happy to do this, others would rather find Asparagus Fern, Turkey Rhubarb or Bitou and tackle that.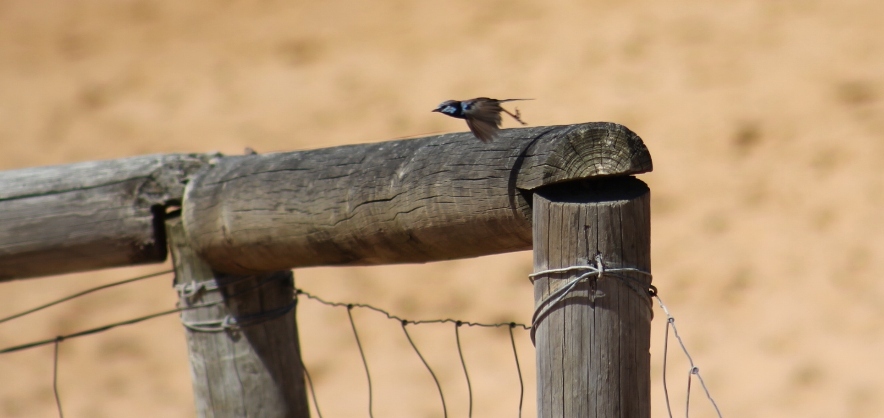 _______________________________
*The Ruth Readford Award for Lifetime Achievement honours an individual who has dedicated significant energies, time and commitment to improving planning and/or management of the NSW coast. The Selection Criteria is described as: Positive impact of actions of individual either through employment or volunteer effort; length of time involved in coastal issues; and recognition by the broader community of individual's contribution to coastal management.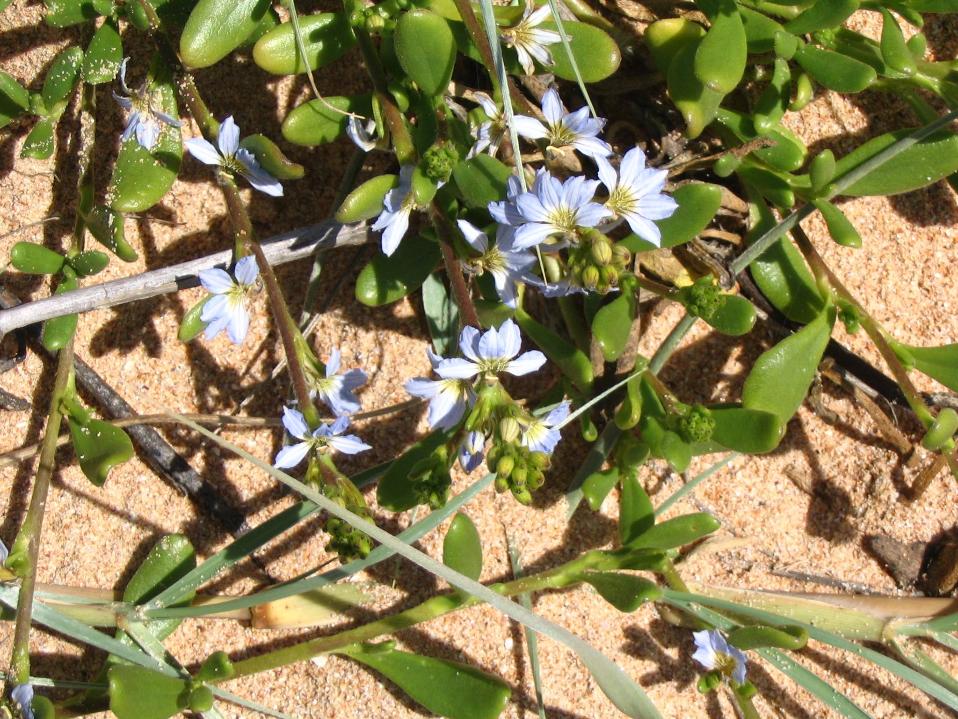 Scaevola calendulacea - a tough dune plant that loves the sun and doesn't mind some salt spray.