October 18 - 24, 2015: Issue 236
Bird Songs: Bird Week 2015

Bird Songs – poems about our birds by youngsters
In the past few issues we have shared a few pages about and insights into Australian's love of birds. The first of these, about the first official '
Bird Days' in Australia
, spoke of Bird Days beginning in schools around the country and of the Gould League – Mr. Gould being an avid bird lover.
Today is the 2015 Aussie Backyard Bird Count day and all this week is Bird Week – it seems fitting that those poems (or songs) sung by the young poets of yesterday should be heard today. Some of these were written specifically for Bird Days of years ago and others were round the year inspirations, but all appeared in children's columns and pages and were by and for them.
We hope you all see a few wonderful local birds this week, in trees, on the ground or on the water, or at least listen closer to hear their wonderful songs at dawn, at dusk, during the night if owls or in the big sky during the day:
The following, which is the winning poem and is entitled 'Birds.' was written by E. W. Williamson:—
Birds
Along the river gullies.
And by the mountain fen.
We all would love a concert
Of songs that never end.
And In between the mountains,
We hear the Lyre bird call
From just behind the fountain,
'Tis the sweetest song of all.
We hear familiar laughter.
High In the gum- tree tall;
It is the Jackass calling.
He's the greatest of them all.
And up in Heaven's great curtain.
The Crow his Journey makes,
.While the Martin stays in marshes,
On the margin of the lakes.
WINNING POEM. (
1924, November 6
).
Daily Advertiser
(Wagga Wagga, NSW : 1911 - 1954), p. 3. Retrieved October from
http://nla.gov.au/nla.news-article143339338
ORIGINAL POEM
As I walked In my garden,
I had a dreadful fright,
I found a tiny baby bird,
All in a sorry plight.
It was so cold and hungry,
I fed It with some bread,.
And gave it some cool water. :
Then bathed its poor cold head.
I put it in a tiny, cage,
And hung it by my door,
One day, Its' big brown mother came,
And took it home once more.
ORIGINAL POEM. (
1932, January 12
).
The Newcastle Sun
(NSW : 1918 - 1954), p. 8. Retrieved from
http://nla.gov.au/nla.news-article165376057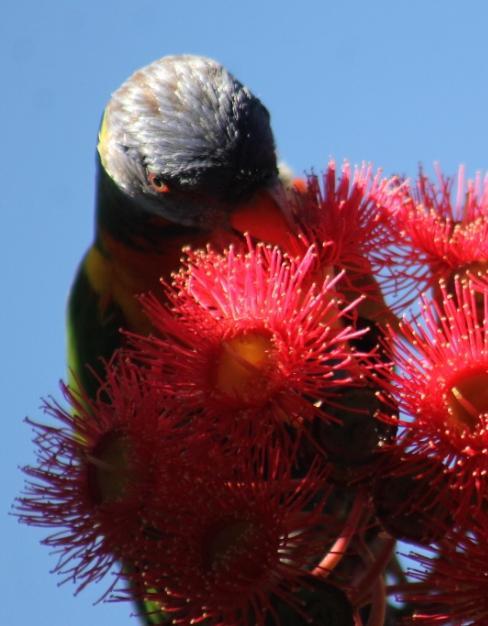 To a Lyre-Bird
(Winning Gould League Poem, 1935.)
AT early dawn we hear thy call,
Thou wonder-bird of sombre hue.
At evening, too, thy voice is heard
In mimicry both strange and true.
The kooka's laugh, the coachwhip's crack,
The golden whistler's liquid note.
The catbird's cry, the parrot's call,
In quick succession gaily float.
In search of deftly woven nest
The bushland glades we softly tread,
And see thee on thy dancing mound
Thy lyre-shaped tail in arc-like spread.
The while thou callest to thy mate
In ringing tones so loud and clear,
Commingled with such varied calls
We pause in wonderment to hear.
The curlew's wail, the cooee's call,
The bower-bird's wheeze so harsh and strong,
And thrush's clear melodious notes,
In rhythmic cadence float along.
Be this our aim; thy life to guard,
Dear bird of marvellous mimic powers,
Long may we hear thy welcome voice
Throughout this pleasant land of ours.
—Agnes W. Livingstone.
Making Friends with the Birds at School. (
1936, September 9
).
Sydney Mai
l (NSW : 1912 - 1938), p. 48. Retrieved from
http://nla.gov.au/nla.news-article160636280
Bird Day Poem
The magpie and the butcher-bird
Are singing all the year,
They wake the echoes in the woods,
Their songs are rich and clear.
And how can human hearts be sad,
When they are ever near? .
O, who would call my country sad,
Or call its bushland drear?
—Samuel Cornstalk.
COLLECTED POEMS. (
1939, November 16
).
Glen Innes Examiner
(NSW : 1908 - 1954), p. 3. Retrieved, from
http://nla.gov.au/nla.news-article178520520