February 22 - 28, 2015: Issue 203
SLS SNB 2015 Branch Championships Masters Water Events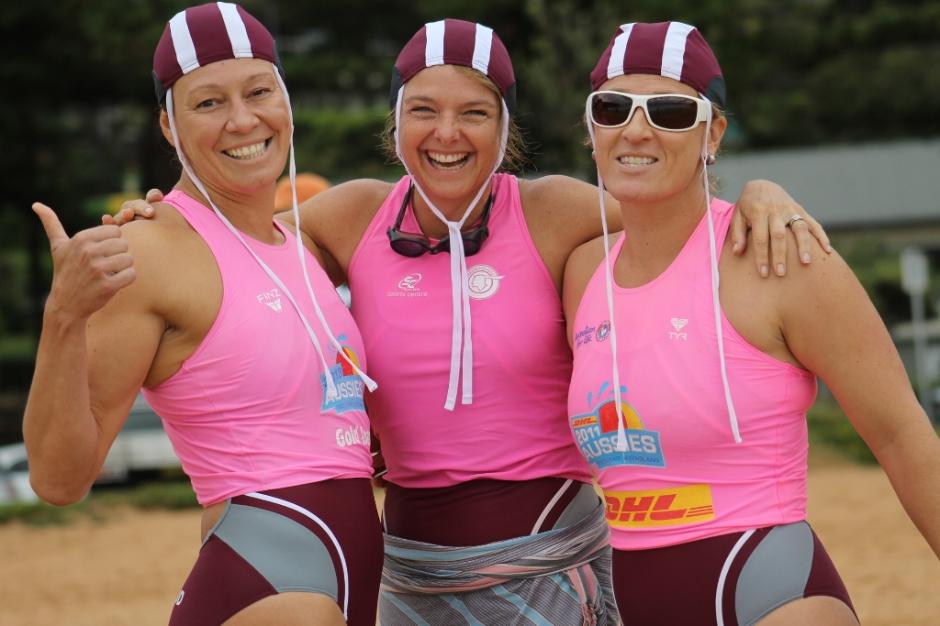 Warriewood SLSC members excelled yesterday at Masters Water Events - and had a great time doing so.
The Surf Life Saving Sydney Northern Beaches 2015 Branch Championships Masters Water events were held yesterday (Saturday 21st of February) hosted by Palm Beach SLSC.
The Junior Branch Championships will run today, Sunday 22nd February, the last events for club's to add to their overall placing.
The Masters Beach Events, held Saturday 14th of February, saw Queenscliff Masters leading with 165 points, with Newport on 49 and Palm Beach on 41.5. Dee Why secured 36 points, Collaroy 31, Warriewood 20.5, North Narrabeen 18, Manly and Mona Vale 9 points each and North Curl Curl and North Steyne were on 8 points each too.
The Opens Results in all surf sports from last Saturday placed Newport on a whopping 682.5 points and Manly on 485.5. Collaroy finished on 241 points, Freshwater 188.5, Queenscliff 162.5, Mona Vale 111, North Curl Curl 96, Palm Beach 58, Dee Why 18, South Curl Curl 14, Bungan 11, Whale Beach 9, North Steyne 8, South Narrabeen 5, Bilgola 4, Warriewood 3 and Narrabeen 2.
Juniors events added Manly 14, Freshwater 13 and Collaroy 12 points to their club's tallies.
More HERE
Boost For Pittwater's Boating Facilities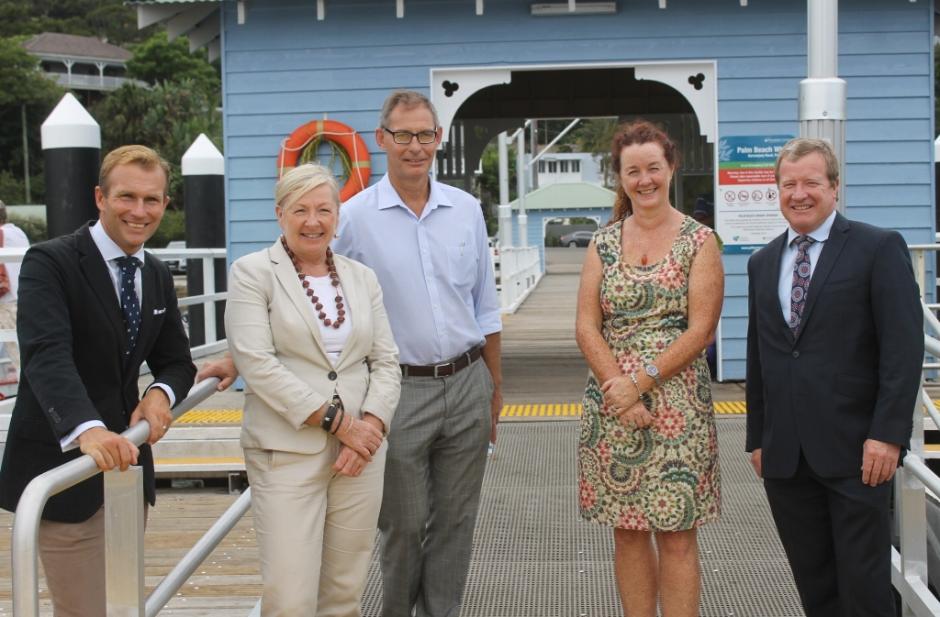 L to r: Hon. Rob Stokes, MP for Pittwater Cr. Jacqueline Townsend, Mayor of Pittwater, Howard Glenn from the NSW Roads and Maritime Services (RMS), Cr. Kylie Ferguson, Deputy-Mayor of Pittwater, Mark Ferguson, General Manager of Pittwater Council.
photo by A J Guesdon
20 February 2015
Member for Pittwater Rob Stokes today officially opened the new Palm Beach Ferry Wharf and announced a further $1.4 million for boating infrastructure projects throughout Pittwater.
The Palm Beach Ferry Wharf is one of Pittwater's key commuter hubs and provides a vital link between the Central Coast and western foreshore communities.
Full Story HERE
50 Shades of Grey for Sydney 38 Championships - Hosted by RPAYC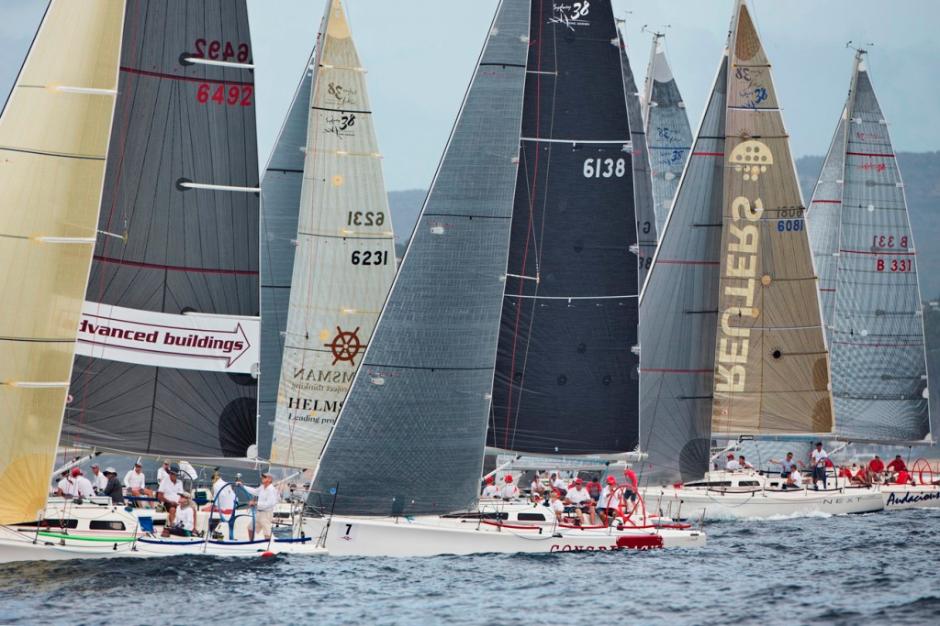 Event: Performance Boating Sydney Yachts Pittwater Regatta, February 20-22 hosted by the Royal Prince Alfred Yacht Club at Newport, Sydney
High humidity, barely any breeze, sloppy seas and 50 shades of grey sky and ocean off the exclusive northern beaches suburb of Palm Beach added up to a difficult opening day of the Sydney 38 Australian Championship, part of the Performance Boating Sydney Yachts Pittwater Regatta.
Each and every crewmember worked hard to keep what momentum they could muster. The trimmers sweated, the tacticians concentrated without let-up and the steerer worked overtime to prevent the boat from slowing down, and all the while the rest of the crew used their weight to keep the hull flat and balanced.
Reports by Lisa Ratcliff Day 1: 50 shades of grey for Sydney 38 champs and Day 2: Slow motion Sydney Yachts regatta and Day 3:
Phoenix rises from the doldrums as Australian Sydney 38 champion HERE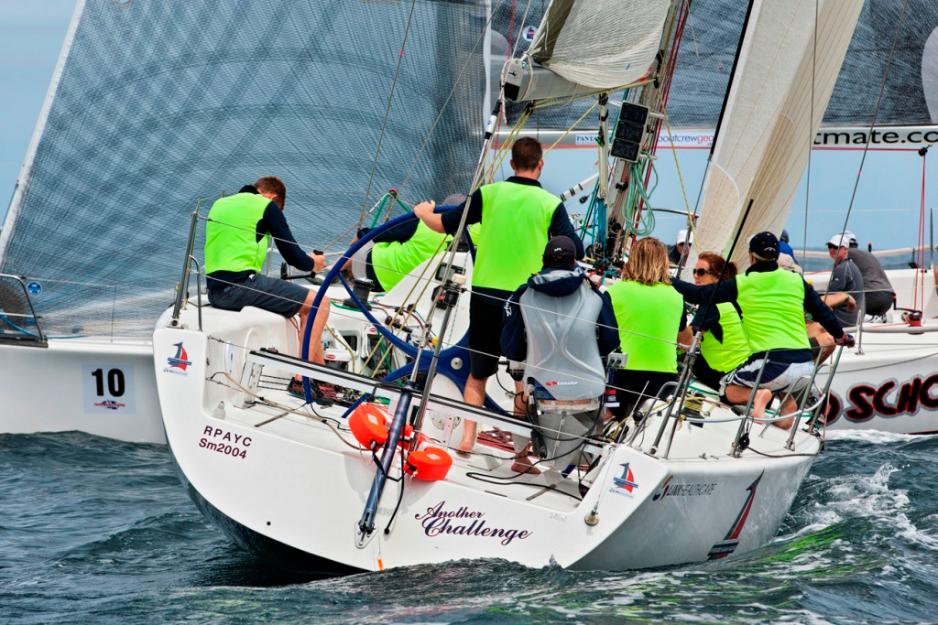 Road crew on Another Challenge - Day 2 Sydney 38 championships - photo by Andrea Francolini
Georgia Miller Young Athlete of the Year - Sport NSW Awards – Daniel Fitzgibbons and Liesl Tesch – Team of the Year with a Disability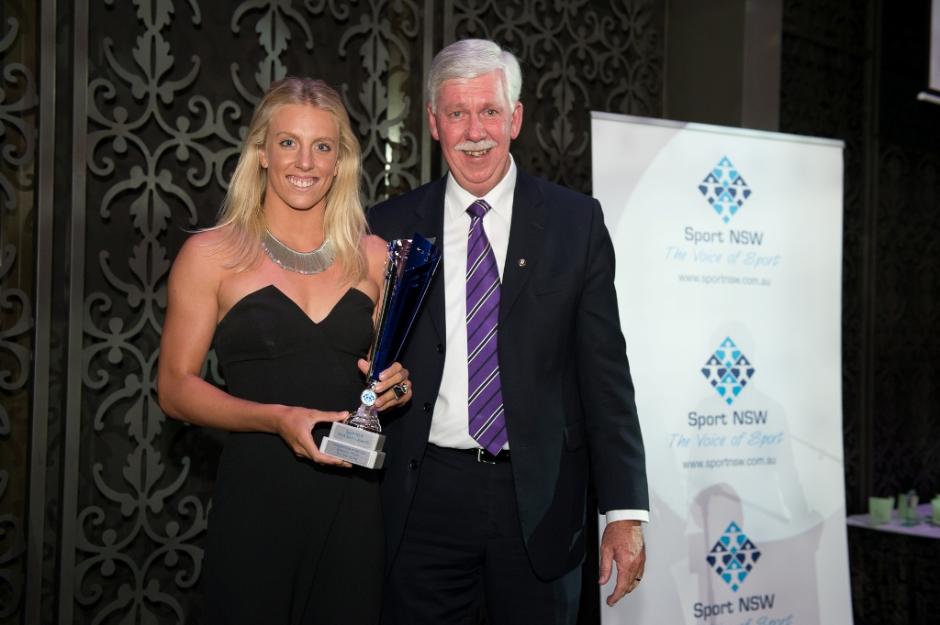 Georgia receiving the Young Athlete of the Year Award presented by Matt Miller (no relation) -CEO of the Office of Sport in Premier and Cabinet, NSW Government. Photo by Narrativepost.com.au
Newport SLSC's Georgia Miller was announced as Sport NSW's Young Athlete of the Year at an awards dinner at the prestigious Curzon Hall, Marsfield on Thursday evening (February 19th, 2015).
Royal Prince Alfred Yacht Club sailors and Paralympic Gold Medallists Daniel Fitzgibbons and Liesl Tesch were awarded Team of the Year with a Disability at the same ceremony.
This week's announcements mark the 20th anniversary of Sport NSW's Sports Awards recognising New South Wales' leading athletes, teams, coaches, administrators, volunteers and organisations and celebrating their outstanding achievements in high performance and community sport levels.
We spoke to Georgia on Friday to congratulate her and see what's coming up for this talented lady.
We also have the report and all results of awards winners - Gilmore claims top NSW Sports Award by Cheryl Battaerd - Sport NSW CEO HERE
Let's get Sailing back into the Paralympic Games 2020 – Spread the Word to #ReinstateSailing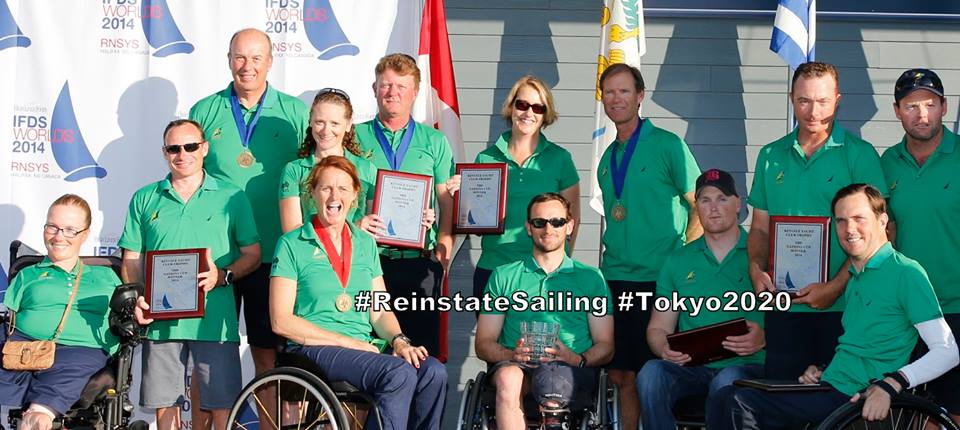 Picture courtesy Australian Sailing Team.
The recent decision of the International Paralympic Committee (IPC) not to include sailing on the Tokyo 2020 Paralympic Games sports programme shocked the international sailing community.
The news was an enormous disappointment for the sport of sailing worldwide, in our country and for our Australian Sailing Team and Squad athletes who are working hard, not only towards Rio 2016, but also towards Tokyo 2020.
We will now work together with ISAF, and the 139 Member National Authorities (MNAs), to fight for sailing to be reinstated at the Paralympic Games and together we believe we can make this work.
Let's feed back information to make IPC want sailing back in the Games. Let's spread the news how important Paralympic sailing is for our sport as well as for an integrated sports world as a whole.
More HERE
Juvenile Bush Turkey in Our Backyard Pittwater's Summer - 2015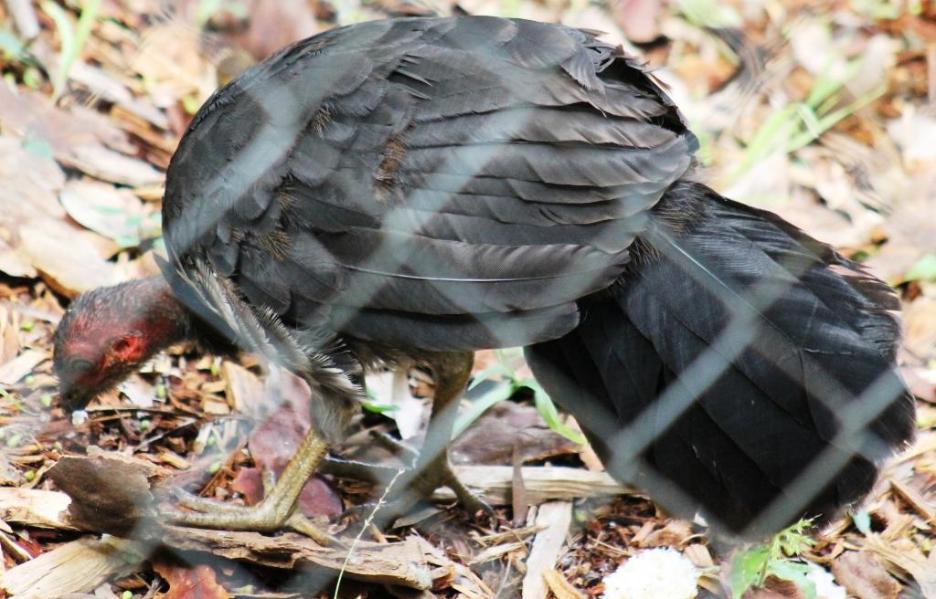 Barely a foot long - one of this year's youngsters - photographed 21.2.2015 - by A J Guesdon