October 4 - 10, 2015: Issue 234
Lock Crowther Multihull Regatta 2015 Steams Up Pittwater's Estuary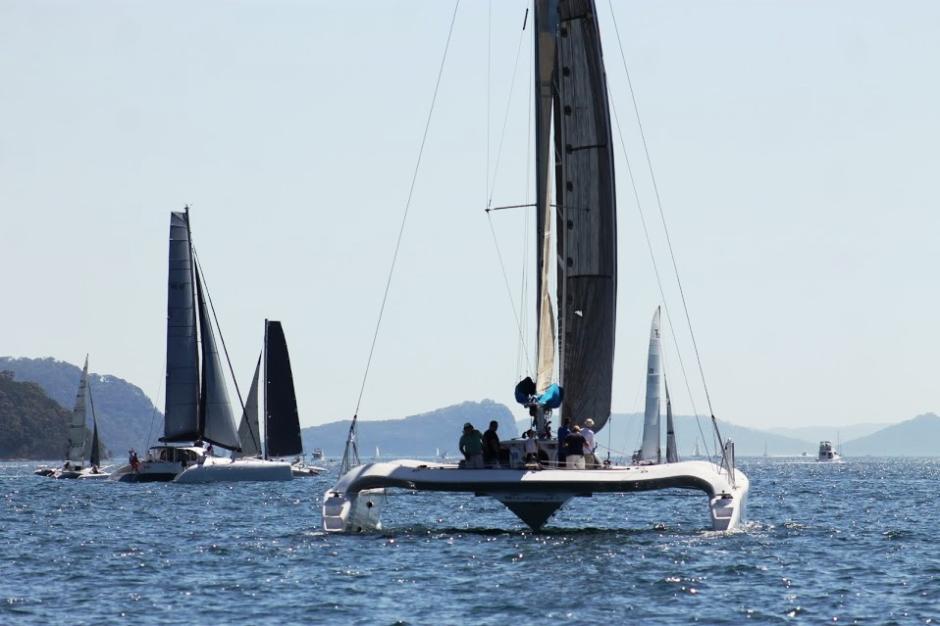 Established in 1996 the Lock Crowther Regatta has been hosted annually by the RMYC as a tribute to Australia's pioneer multihull designer. Mr. Crowther's designs date back to the early sixties and can still be seen in most harbours around the world. The LCMR offers Multihull owners competitive racing for Grand Prix Multis as well as cruisers. An invitation is extended also to "off the beach" multihulls to participate and Dick Clarke, past Commodore of the Palm Beach Sailing Club, took up the challenge and had his flyer 'Bad Dog' ready for a run across the water yesterday morning.
More HERE
Darren Bundock and Nina Curtis Win Silver Medal at 2015 Nacra 17 European Championship in Barcelona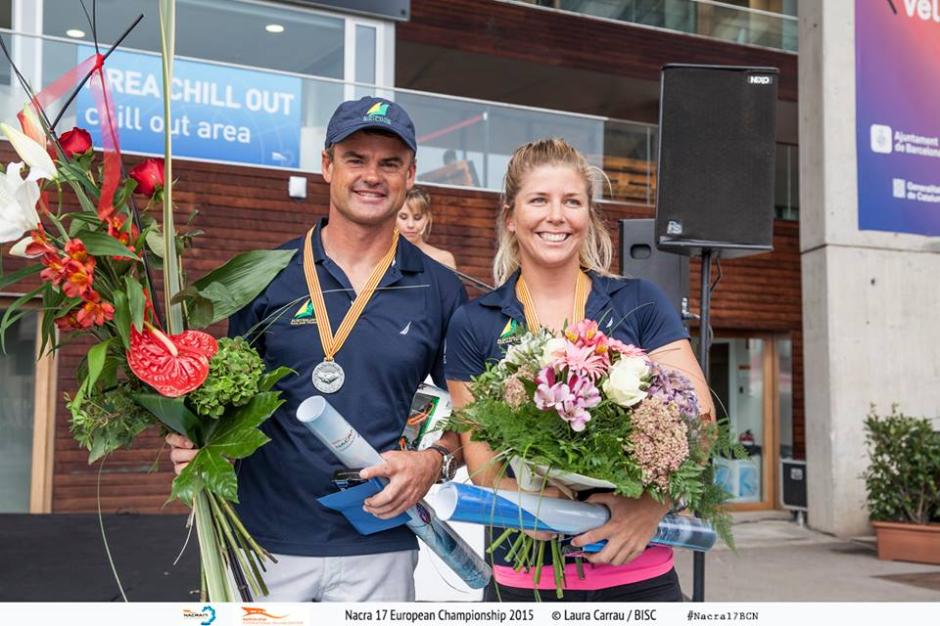 Darren Bundock and Nina Curtis at 2/3am Australian time this morning (Sunday 4th October 2015) - Silver Medallists!
The Nacra 17 European Championship kicked-off in Barelona, Spain earlier this week with Olympic silver medallists Darren Bundock and Nina Curtis representing the Australian Sailing Team.
On Saturday October 4th after they defending their 2nd place after four races on Friday, the Bundock/Curtis Team maintained their position to secure the Silver Medal. At 2 a.m. this morning, which suddenly became 3 a.m. as the clocks went forward, the Barcelona International Sailing Center released the above wonderful picture.
Hosted at the Barcelona International Sailing Center (BISC) 43 teams from 24 countries competed in Barcelona in a high-profile fleet, which included thirteen Olympic medallists and defending European champion and dual Olympic medallist Iker Martinez.
The mixed-gender, multi-hull catamaran Nacra 17 will be new on the Olympic racing schedule for Rio 2016 with two Australian Sailing Team crews currently competing for selection.
More HERE
NO Amalgamation Chant Becomes Louder in Pittwater: Rally at MP's Office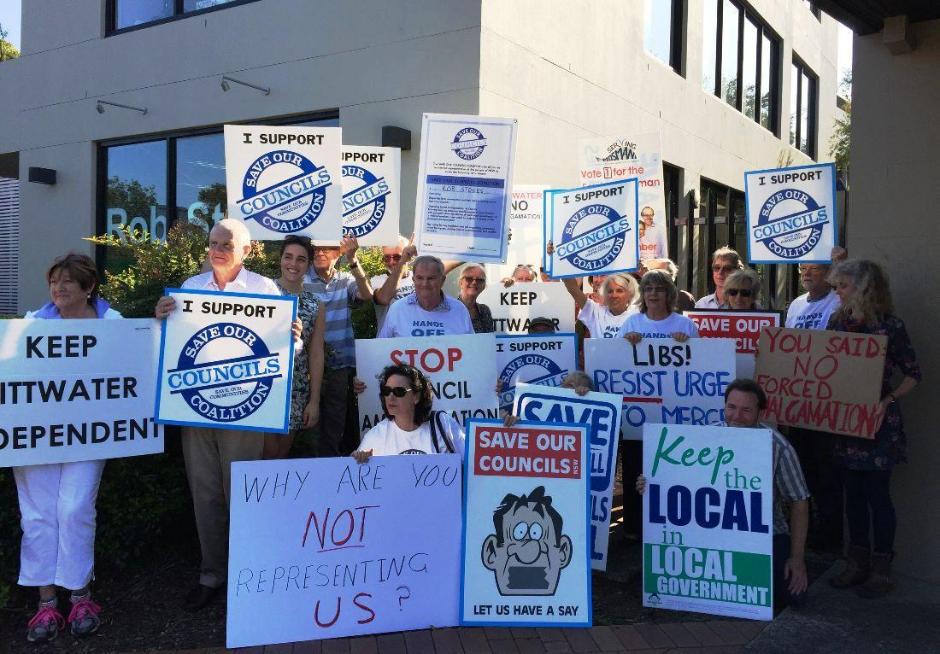 Pittwater and Warringah Residents show Local Pittwater MP A Few Signs that Need to be Read - Thursday October 1st, 2015
Residents and councillors take the "No Forced Amalgamation" message to Planning Minister Rob Stokes' electorate office.
On Thursday 1 October 2015 a Rally held outside Rob Stokes Electorate Office in Mona Vale to state Pittwater will not willingly accede to any amalgamation with Manly or Warringah also underlined continued talk of forced amalgamations are an assault on the rights of residents who have elected their Local Government representatives and an insult to the people who voted for their State Government representatives.
"Liberal MPs in safe Coalition-held seats are being placed on notice by their local communities that an overwhelming majority of people do not support the Baird Government's forced council amalgamation policy," said Save Our Councils spokeswoman and Save Our Strathfield member Nella Gaughan.
More than 85 per cent of residents in the Pittwater LGA are against forced amalgamation and members of the Pittwater Forever group are determined to fight to keep their local council from being swallowed up by a mega council.
The State Government has indicated it would support amalgamation of Pittwater, Warringah and Manly Councils.
In other news, the Minister of Local Government announced this week that Marcia Doheny, announced as being appointed to the position of Chief Executive, Office of Local Government on Monday 27 April 2015, has resigned. Tim Hurst, Executive Director – Regions at the Department of Planning and Environment, will act in the role of OLG Chief Executive.
ASC, BYRA, and RPAYC Youth Sailors at 2015 Yachting NSW Youth Championships This Long Weekend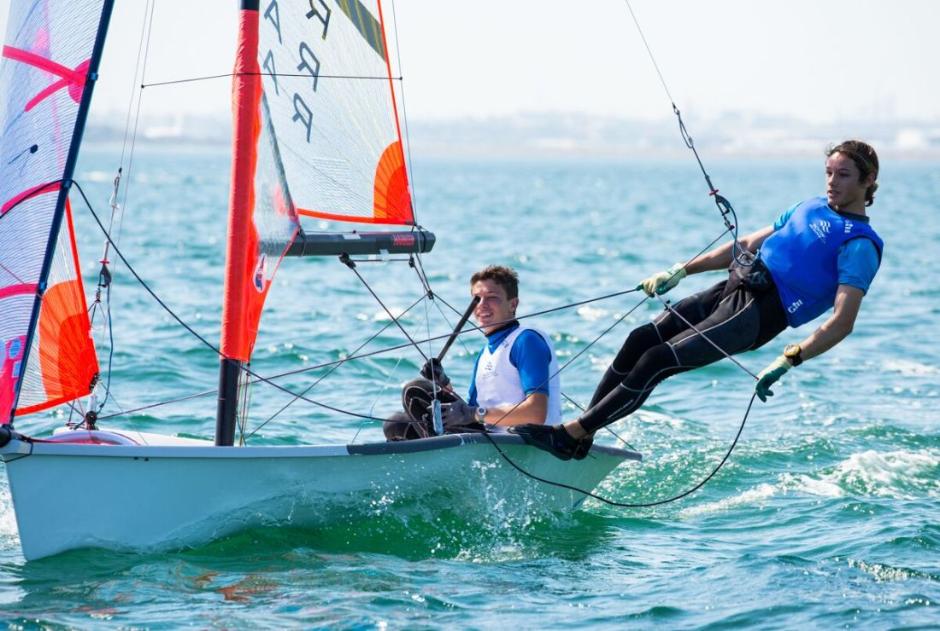 29er leaders Jim Colley & Kurt Hansen - photo by Robin Evans
Youth Sailors from Avalon Sailing Club, Bayview Yacht Racing Association and Royal Prince Alfred Yacht Club are racing in all classes except two in Yachting NSW Youth Championships, 3-5 October 2015 hosted by Georges River 16' Skiff Sailing Club with racing on Botany Bay, Sydney.
Day One and Day Two reports by Pittwater's own Lisa Ratcliff
HERE
Submariner, sailor and boating safety advocate take out NSW Maritime Awards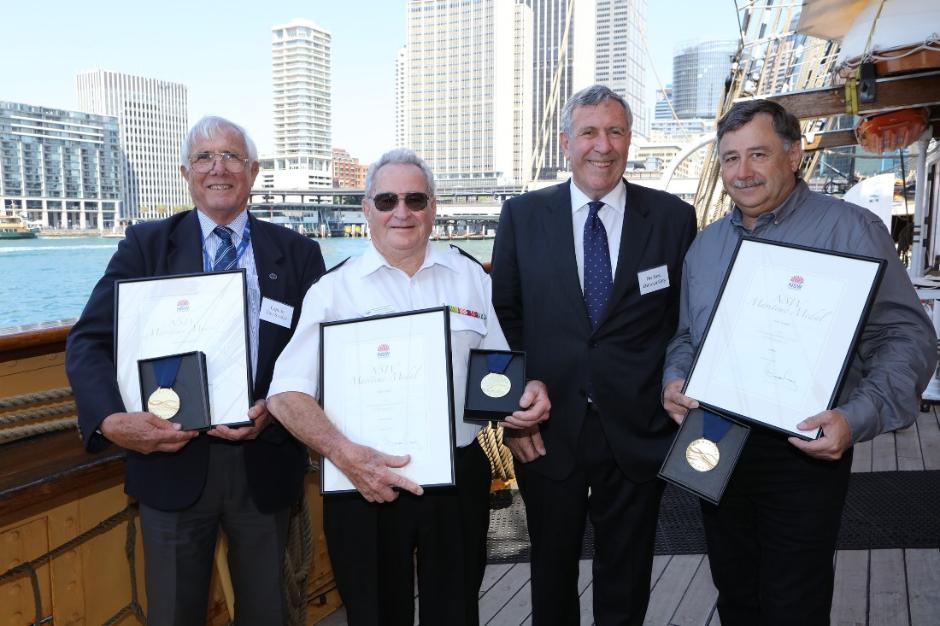 Captain Tim Swales, David Lyall The Hon. Duncan Gay, Minister for Roads, Maritime and Freight, Peter Hunter at the NSW Maritime Medal Awards 2015 on board the James Craig tall ship this week.
October 02, 2015
Minister for Maritime Duncan Gay today awarded this year's Maritime Medals, recognising outstanding and sustained contributions to the boating community in NSW.
The awards were presented on board the historic tall ship James Craig on Sydney Harbour.
"I congratulate all of this year's nominees, who were all of a high standard and showed extraordinary commitment to the boating community," Mr Gay said.
"The 2015 finalists were nominated by their peers, selected by highly regarded members of the boating community and are all well-deserved."
This year's winners were Captain Tim Swales and Mr David Lyall in the community category and Mr Peter Hunter in the safety category.
Member for Manly Mike Baird congratulated Captain Swales from his electorate.
"Tim is a former Royal Navy submarine commander who has been Commodore of the Sydney Heritage Fleet since 1990," Mr Baird said.
"The Fleet that Tim commands, is an internationally acclaimed, volunteer based organisation, dedicated to preserving and keeping an active service of impressive vessels of historic significance."
Member for Pittwater Rob Stokes was also proud of his local winner, David Lyall, who has been President and Commodore of Avalon Sailing Club where he has organised events and conducted training for people of all ages, including people with disabilities.
"David has also played leading roles and been a long-time advocate for safe, responsible and enjoyable boating through his volunteer work for Marine Rescue NSW and the Boat Owners Association."
The third winner, Peter Hunter has been involved as a volunteer safety ambassador and advocate for safe, responsible and enjoyable use of personal watercraft (PWC) for more than 15 years.
Peter's work has contributed to improved safety outcomes in PWC use in NSW, which includes a decline in fatal incidents statewide.
More HERE
Surf Lifesavers Make The Most Of Development Camp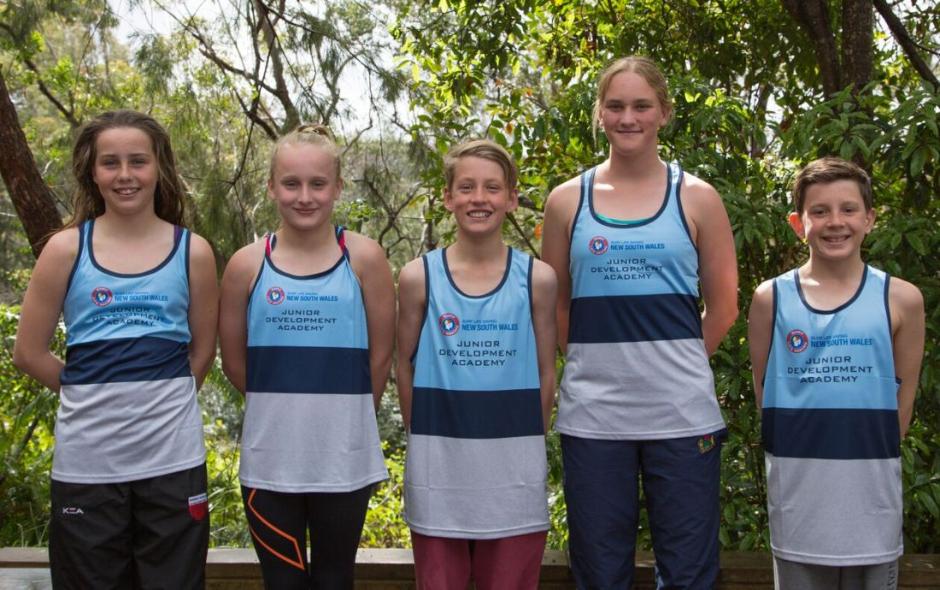 From Left to Right: Lauren Bourgeouis – Freshwater SLSC, Emma Brodgen – North Curl Curl SLSC, Joel Piper – North Narrabeen SLSC, Amy Polikowski – Manly SLSC, Brandon Bartlem – Newport SLSC - photo by Jamie Nilsson SLS/NSW
Sydney Northern Beaches youngsters are excited for the surf sports season ahead after gaining skills and a lifetime of experience at a three-day Surf Life Saving NSW camp.
The young surf lifesavers included Brandon Bartlem from Newport, Joel Piper from North Narrabeen, Lauren Bourgeouis from Freshwater, Emma Brodgen North Curl Curl and Amy Polikowski from Manly.
The representatives made the most of their time at the Surf Life Saving NSW Junior Development Academy Camp, previously known as the Talented Athlete Program Camp.
The camp is for athletes aged 12-14 across all eleven branches who have demonstrated potential in any of the water disciplines.
More HERE
National Bird Week 2015, the Aussie Back Yard Bird Count: and Australia's First Bird Counts - a 115 Year Legacy
Superb Fairy-wren (Malurus cyaneus) Careel Bay Mangroves - picture/s by A J Guesdon, 2015
Celebrate National Bird Week 2015 by taking part in the biggest citizen science project to hit Aussie shores!
From 19-25 October, thousands of people from across the country are heading out into their backyards, local parks or favourite open spaces to take part in the second annual AUSSIE BACKYARD BIRD COUNT!
To get involved all you need is 20 minutes, your 'green patch' of choice, and some keen eyesight (or binoculars!) And it doesn't matter if you're a novice or an expert—Birdlife Australia will be there to help you out along the way. Simply record the birds you know and look up those you don't on their Aussie Bird Count app (updated version available for download in September) or their website. You'll instantly see live statistics and information on how many people are taking part near you and the number of birds and species counted across your neighbourhood and the whole of Australia!
Register now and Birdlife Australia will keep you up to date with exciting Aussie Backyard Bird Count news!
Register at: aussiebirdcount.org.au
Read all about the first 'Bird and Arbour Day's in Australia and who started our early zoos in
National Bird Week 2015, the Aussie Back Yard Bird Count: and Australia's First Bird Counts - a 115 Year Legacy
-
HERE
The First Koel Sings us into the Second Month of Spring In Pittwater: 2015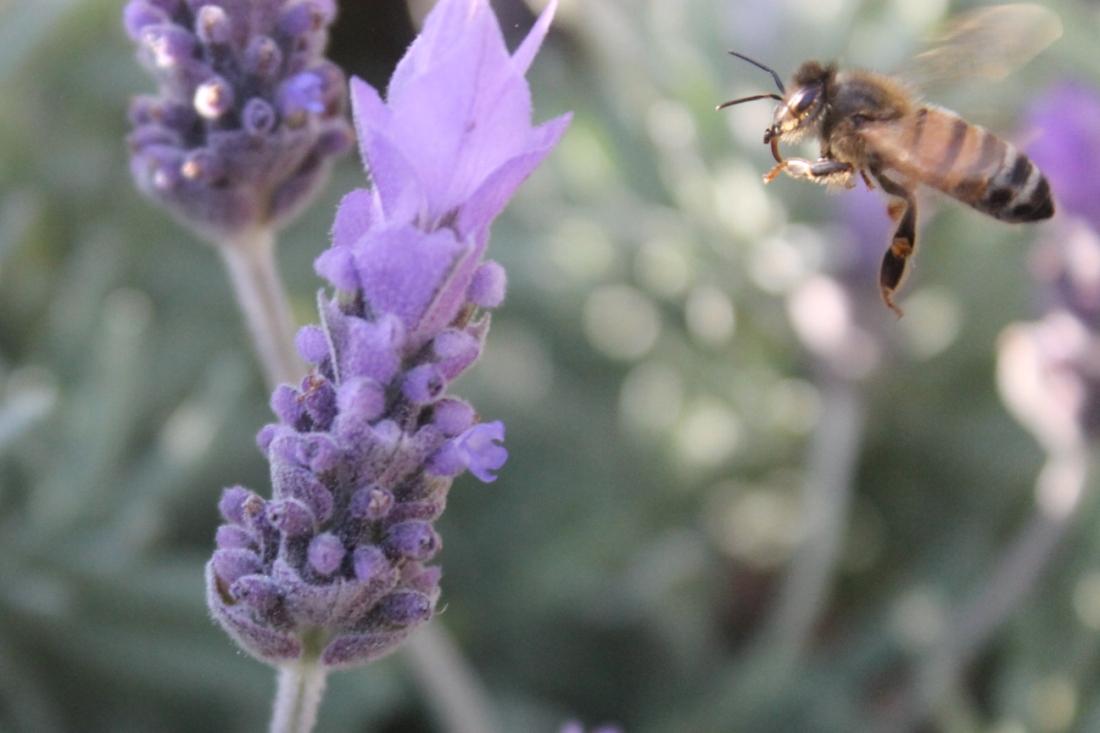 Lavender Bee - picture by A J Guesdon, 3.10.2015