May 31 - June 6, 2015: Issue 216
Pittwater Waterbirds - A Celebration for World Oceans Day 2015 - June 8th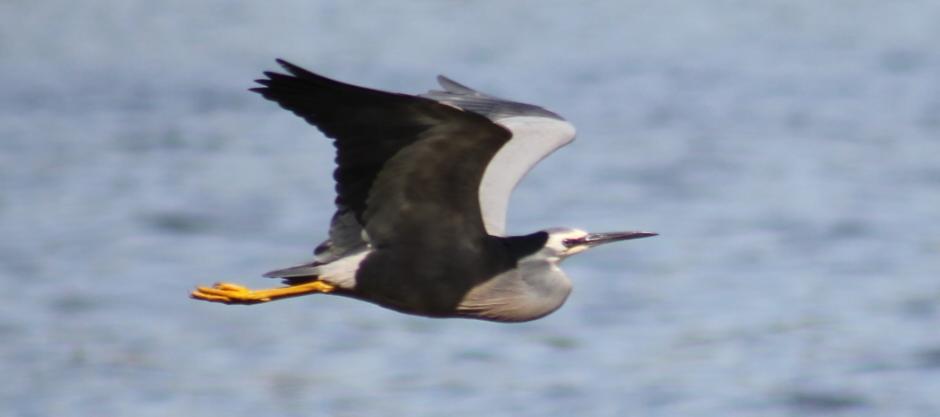 The Gentle Water Bird
by John Shaw Neilson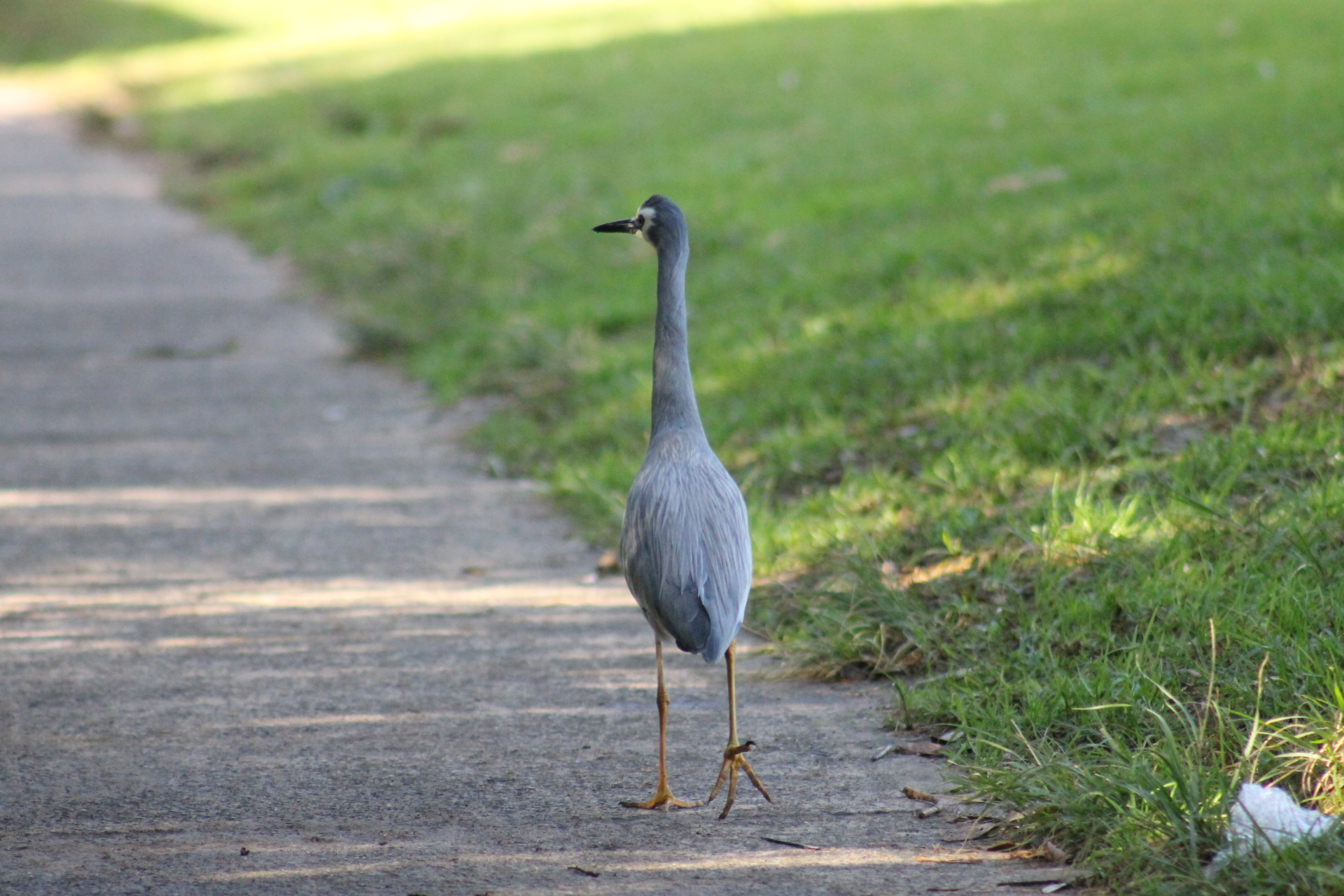 (FOR MARY GILMORE.)
In the far days, when every day was long,
Fear was upon me and the fear was strong,
Ere I had learned the recompense of song.
In the dim days I trembled, for I knew
God was above me, always frowning through,
And God was terrible and thunder-blue.
Creeds the discoloured awed my opening mind,
Perils, perplexities-what could I find?-
All the old terror waiting on mankind.
Even the gentle flowers of white and cream,
The rainbow with its treasury of dream,
Trembled because of God's ungracious scheme.
And in the night the many stars would say
Dark things unaltered in the light of day;
Fear was upon me ever in my play.
There was a lake I loved in gentle rain;
One day there fell a bird, a courtly crane;
Wisely he walked, as one who knows of pain.
Gracious he was and lofty as a king;
Silent he was, and yet he seemed to sing
Always of little children and the Spring.
God? Did he know him? It was far he flew-
God was not terrible and thunder-blue;-
It was a gentle water-bird I knew.
Pity was in him for the weak and strong,
All who have suffered when the days were long,
And he was deep and gentle as a song.
As a calm soldier in a cloak of grey
He did commune with me for many a day
Till the dark fear was lifted far away.
Sober-apparelled, yet he caught the glow;
Always of heaven would he speak, and low,
And he did tell me where the wishes go.
Kinsfolk of his it was who long before
Came from the mist (and no one knows the shore)
Came with the little children to the door.
Was he less wise than those birds long ago
Who flew from God (He surely willed it so)
Bearing great happiness to all below?
Long have I learned that all his speech was true:
I cannot reason it-how far he flew
God is not terrible nor thunder-blue.
Sometimes, when watching in the white sunshine,
Someone approaches-I can half define
All the calm beauty of that friend of mine.
Nothing of hatred will about him cling,
Silent-how silent-but his heart will sing
Always of little children and the Spring.
SHAW NEILSON.
THE GENTLE WATER BIRD. (
1926, April 10
).
The Sydney Morning Herald
(NSW : 1842 - 1954), p. 11. Retrieved from
http://nla.gov.au/nla.news-article28060046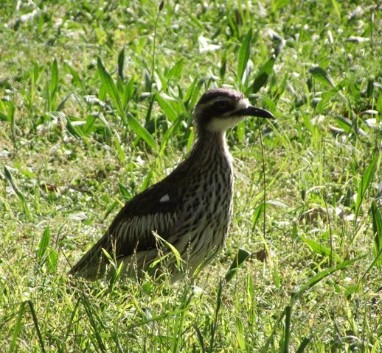 A BIRD SANCTUARY.
McCarr's Creek, Pittwater.
(BY J. S. N. WHEELER.)
The upper part of McCarr's Creek, Pitt-water, which may be reached by rowing-boat, is a veritable bird sanctuary. The sylvan retreat at the limit of tidal water is one mile from Church Point, and is called the Silent Pool on account of the serenity of the spot. It is enclosed by steep hills covered with the vegetation of Kuring-gai Chase on one side. Livistona palms grow here to perfection.
While you glide quietly along there comes the swishing sound of the coachwhip bird from forest brakes, with a final crack like the stockman's whip. At eventide the dominant notes of the bell-magpie or "currawong" ring out a valediction to the visitor.
This spot is only approachable on the floodtide, and the creek should be dredged to keep the channel open (as has been done at Narrabeen lagoon and Curl Curl Creek, near Manly), in order that this bird sanctuary maybe rendered more accessible.
To those who seek adventure and exercise a climb up the rugged, picturesque gully is recommended. Through dense bracken and vines, over logs and boulders and waterfalls, a climb of one hour and twenty minutes will lead to the "Duckhole," which is a sequestered pond at the confluence of two mountain brooks, the right-hand branch and the mainstream of the upper reaches of the creek. The calls of magpies, peewees, crows, and currawongs will be heard in this quarter.
Coming down the gully again, one hears the melodious fluting of bush birds to the accompanying song of small cascades. Further down an exquisite glimpse of the greenish water of the Silent Pool is obtained from the seclusion of the forest.
Pittwater Waterbirds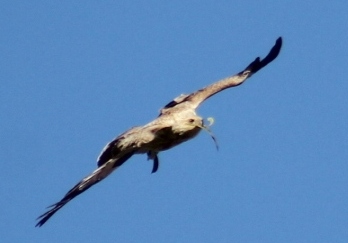 In creeks, wetlands, on rock shelves, beaches and the estuary, Pittwater is a haven for over 30 kinds of waterbirds. From ducks to petrels and shearwaters, egrets, spoonbills, herons, darters, bush stone curlews and pelicans, from soaring above us as hawks, kites and sea eagles, or waddling at ground level, as little penguins on Lion Island, this place is enriched by the sight and sound of all these aquatic birds.
In Warriewood's valley lives the Dusky Moorhen and Chestnut teal. On Narrabeen's rock shelf a pair of Sooty Oystercatchers return each year.
At Careel creek a never seen before Buff-banded Rail was photographed recently and still there, with family, a month ago. In the mangroves at Bayview and Careel Bay a veritable community of waterbirds comes and goes with the receding tides to feast, or comes and goes in migration with each season each year. Heron Cove, named for the birds, is a place in Pittwater.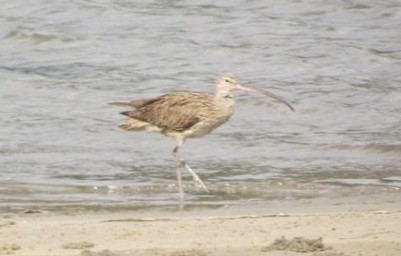 In the bays are woodhens, in Narrabeen lagoon black swans have returned, while Winnererremy Bay hosts regal Australian pelicans sailing quietly through the mangrove tiers, fishing. On the fields and sand dunes beside these places Masked Lapwing Plovers, Fairy wrens, and Willy Wagtails chirruping up the air.
All we need do to keep them here is keep our dogs out of their habitats, pick up the choking plastic brought back in by the rising tides, and don't dump our rubbish to begin with in these wetlands, creeks and ocean rims.
World Oceans Day runs next weekend, the June Queen's Birthday long weekend. Monday the 8th will be a great day to get out and celebrate Pittwater's beauty, especially all her ocean and aquatic beauties and these wonderful birds.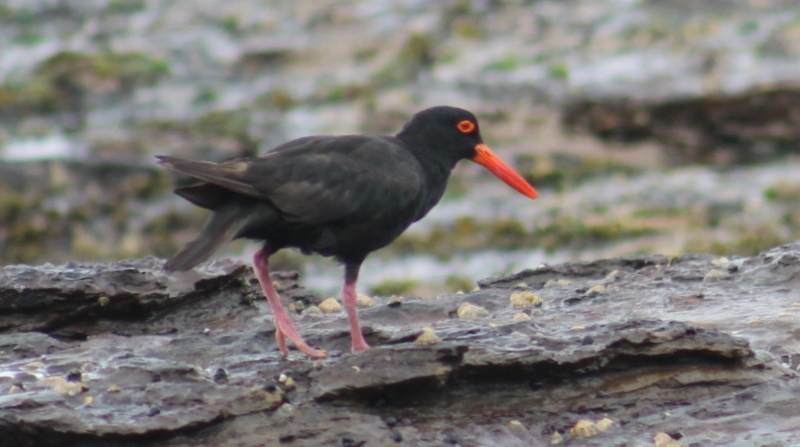 Sooty oystercatcher Haematopus fuliginosus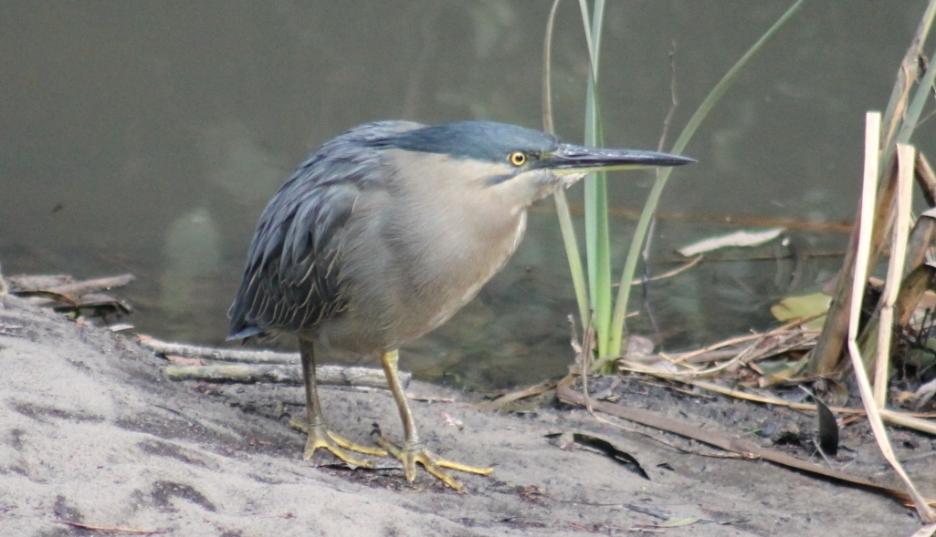 Mangrove or Striated Heron Butorides striata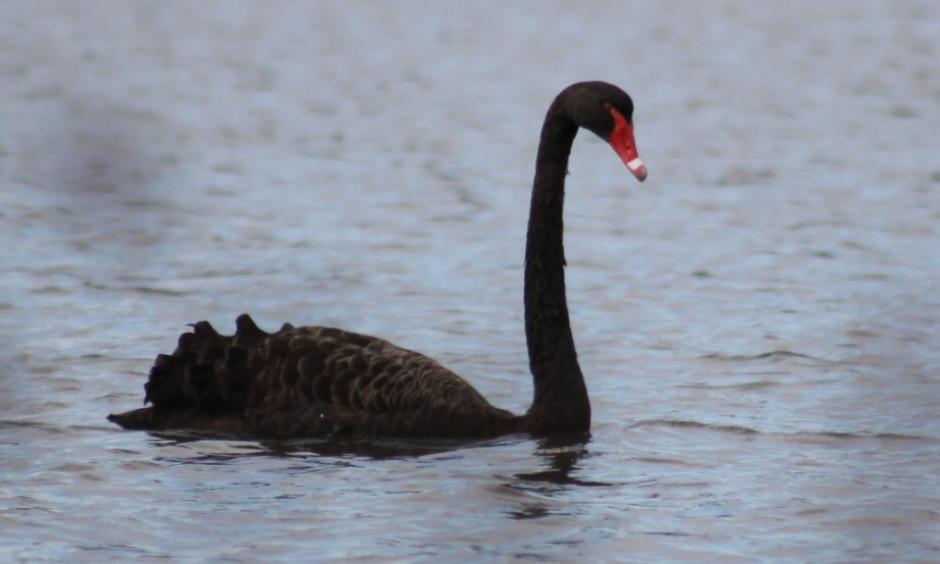 Black swan Cygnus atratus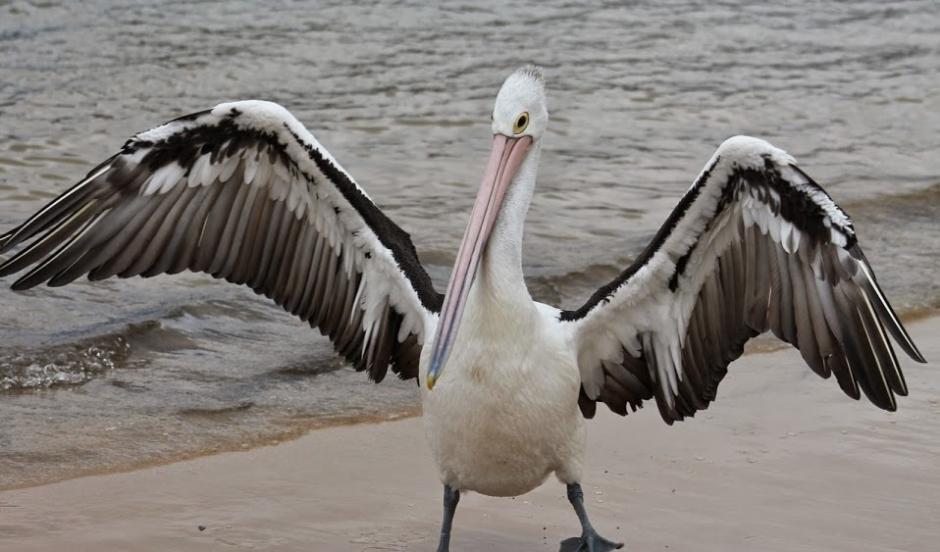 Australian pelican Pelecanus conspicillatus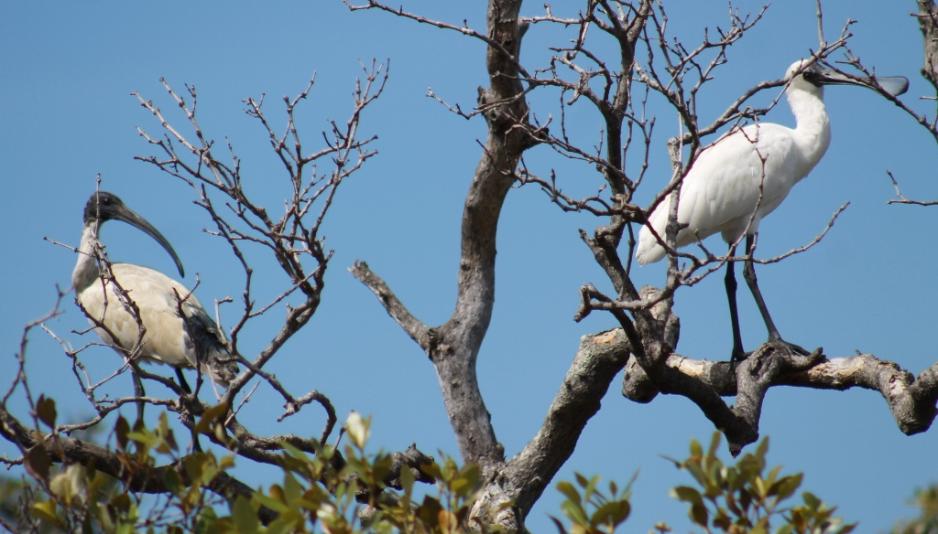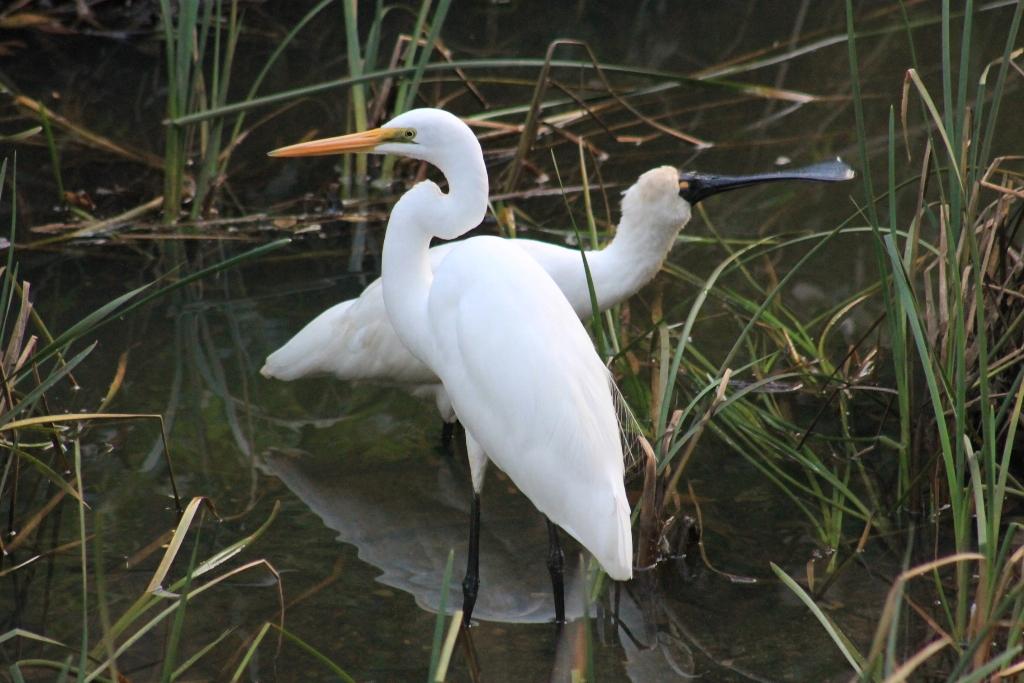 Great egret Ardea alba and Royal spoonbill Platalea regia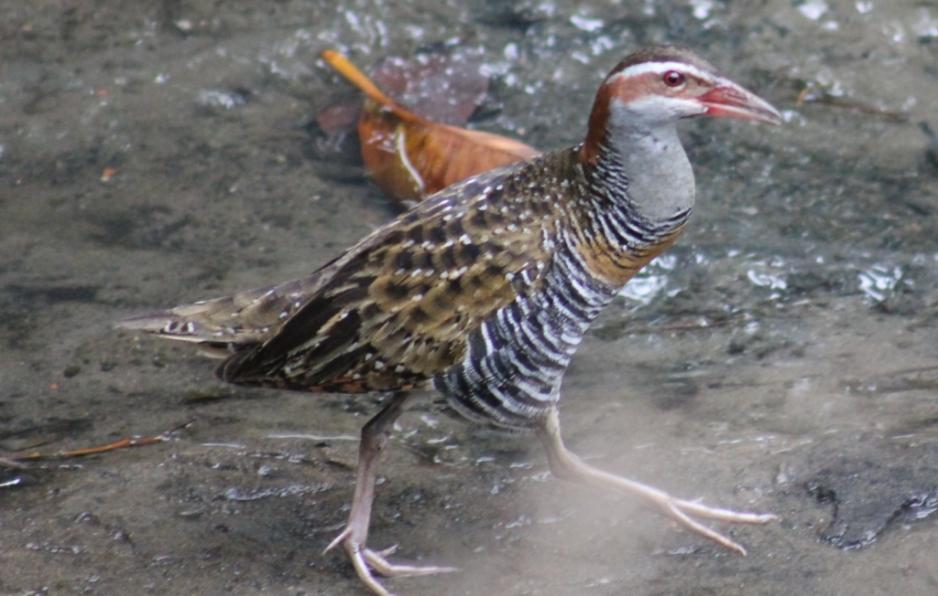 Buff-banded rail Gallirallus philippensis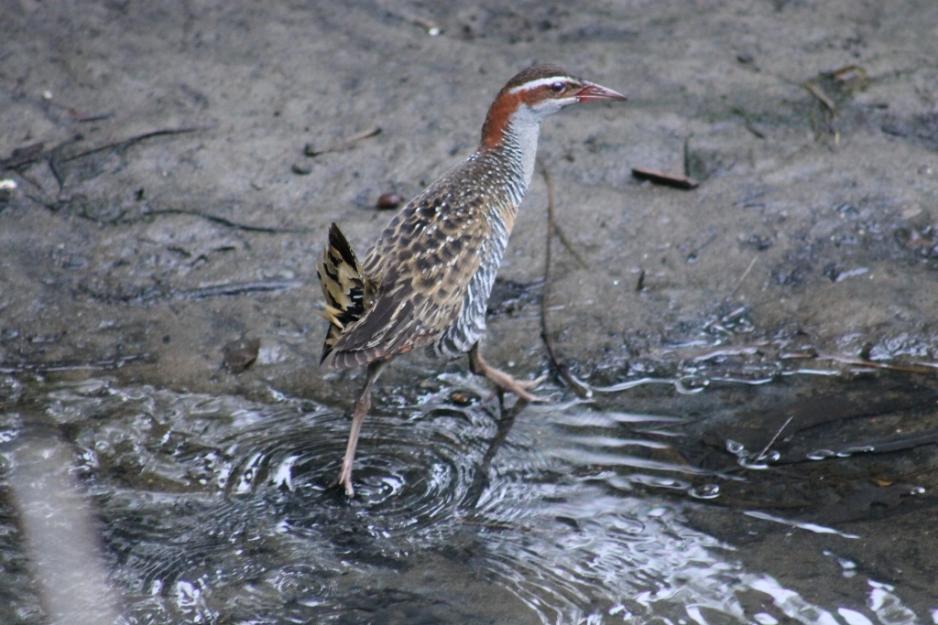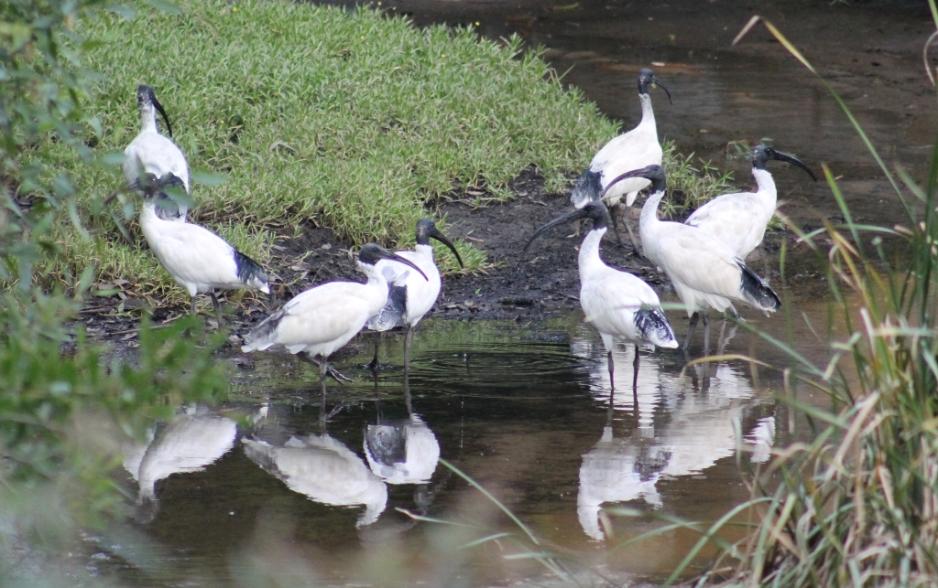 Australian white ibis Threskiornis moluccus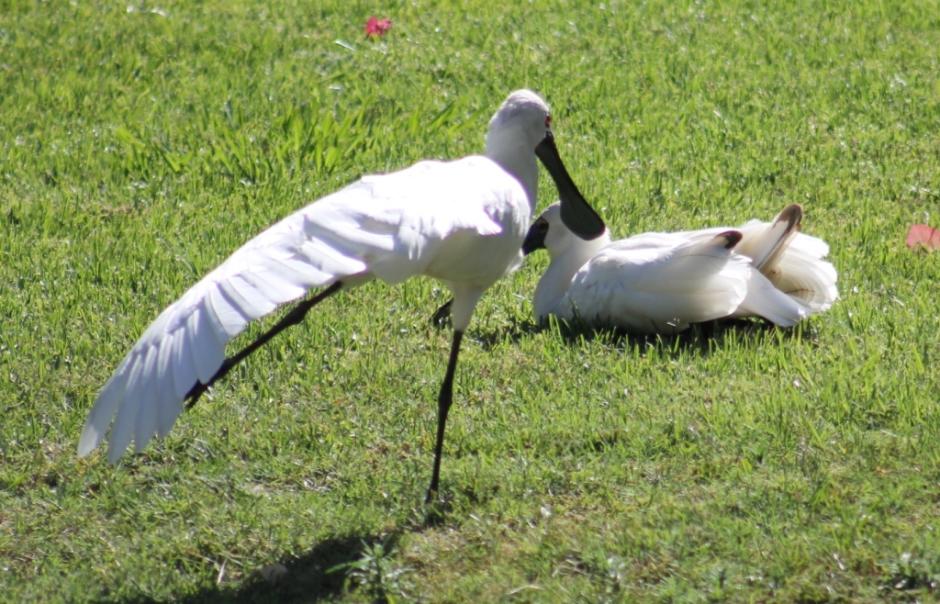 Royal spoonbill Platalea regia - pair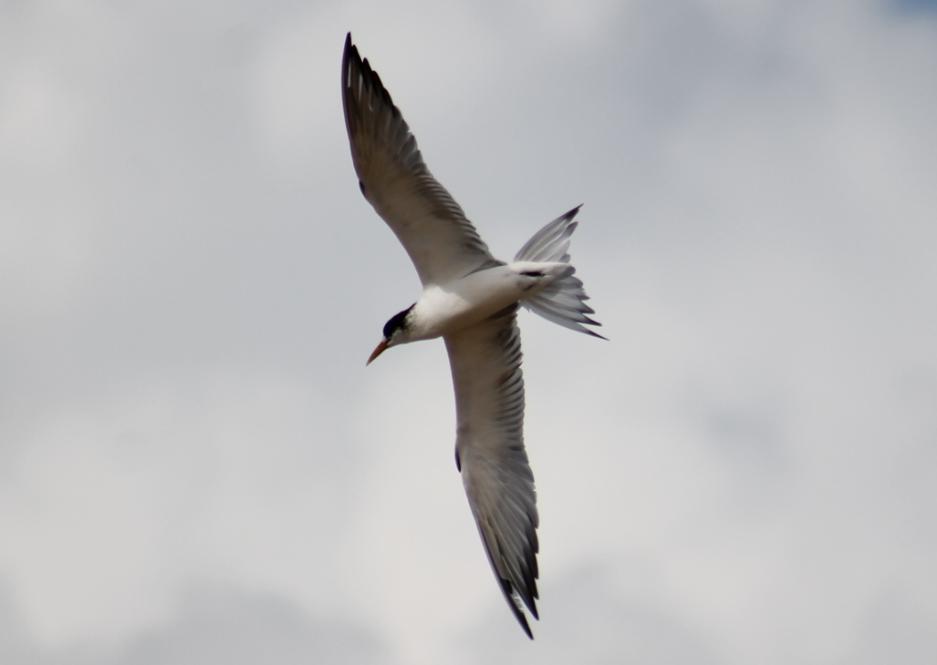 Little Tern Sternula albifrons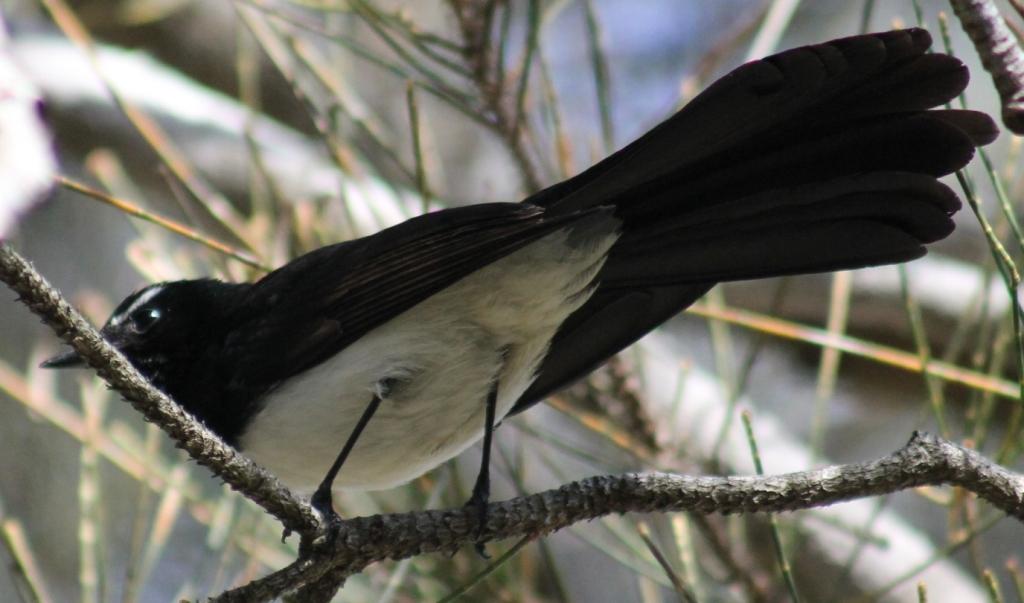 Willy Wagtail Rhipidura leucophrys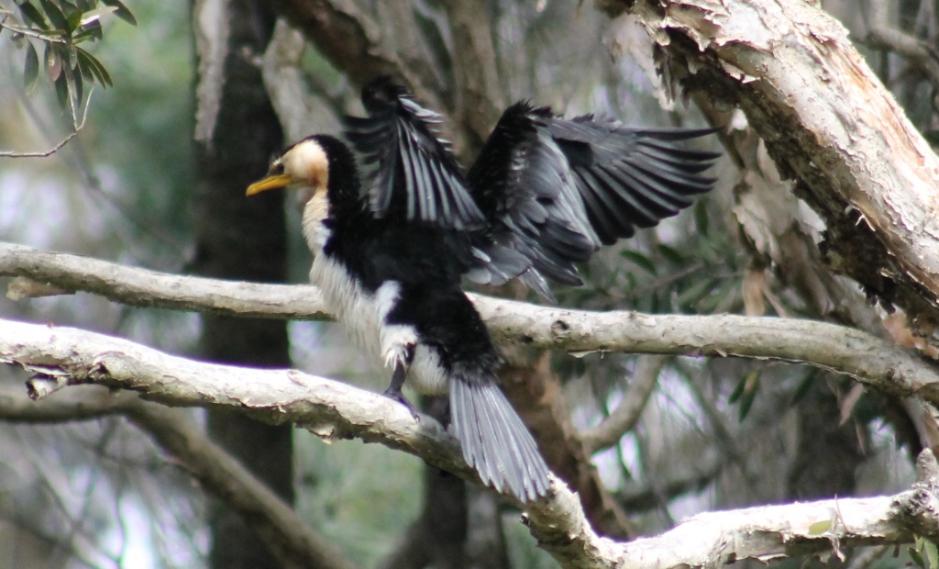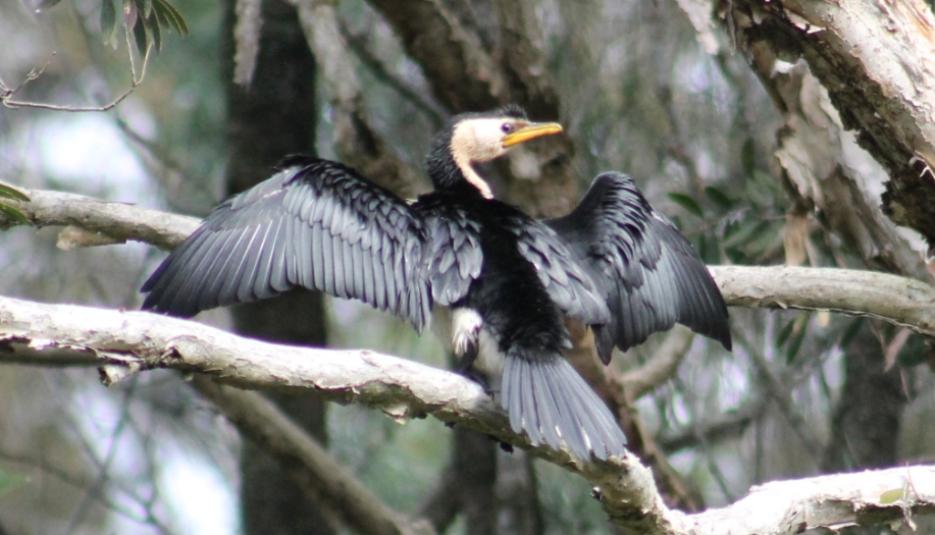 Australian Pied Cormorant Phalacrocorax varius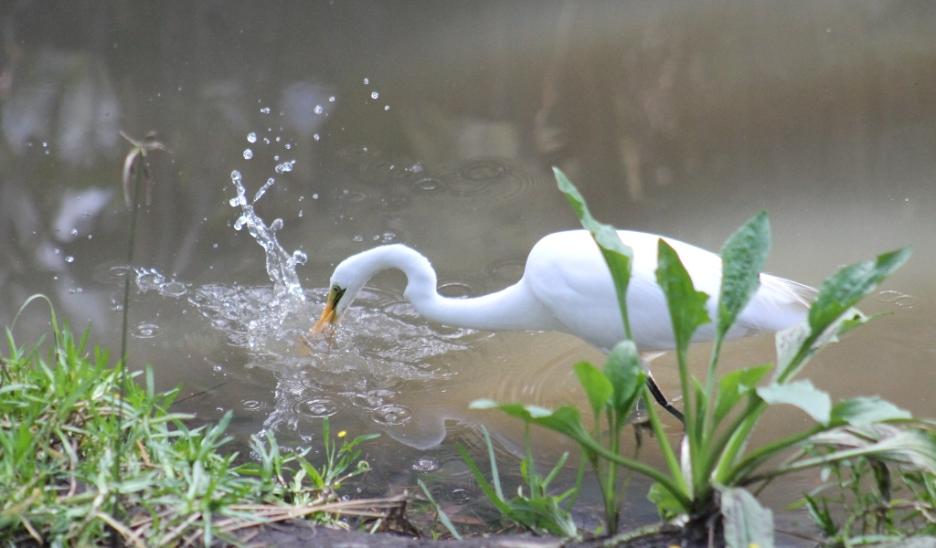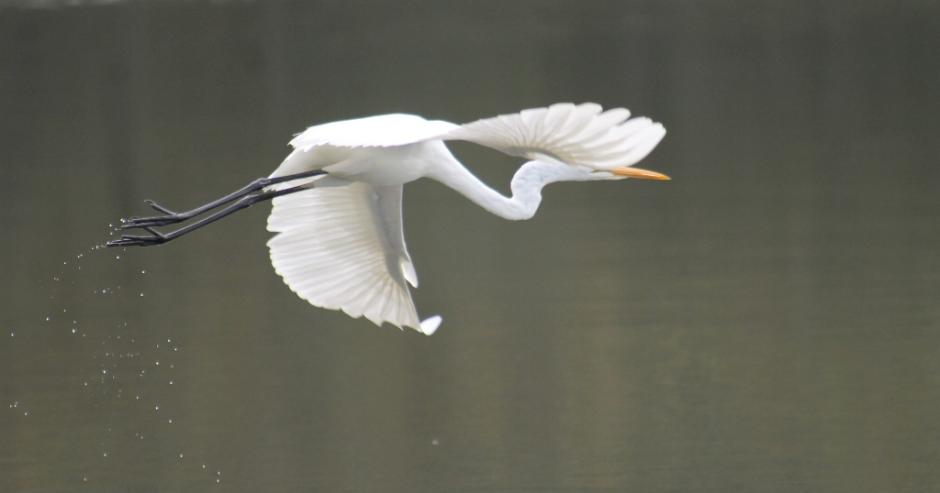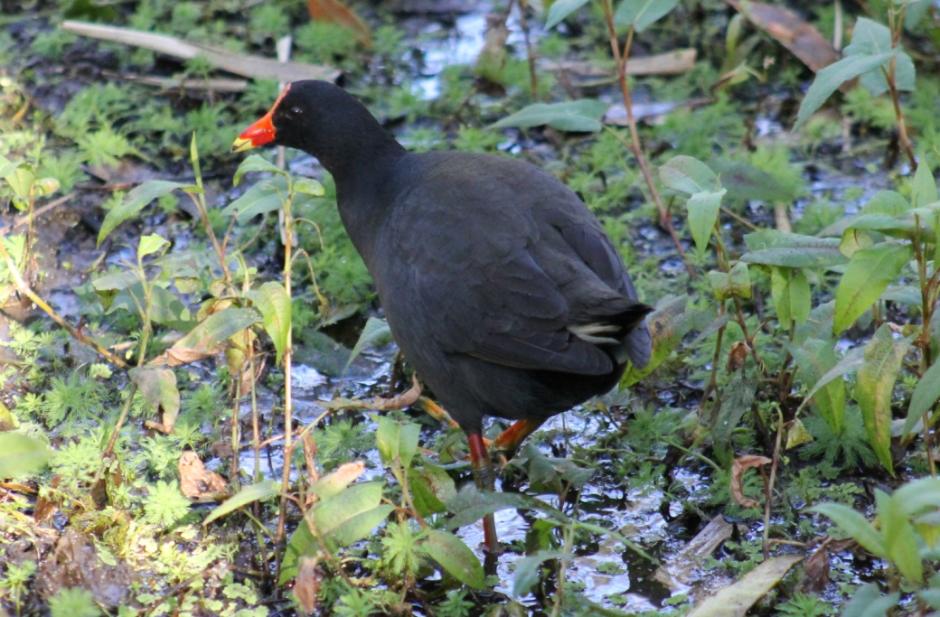 Dusky Moorhen - Gallinula tenebrosa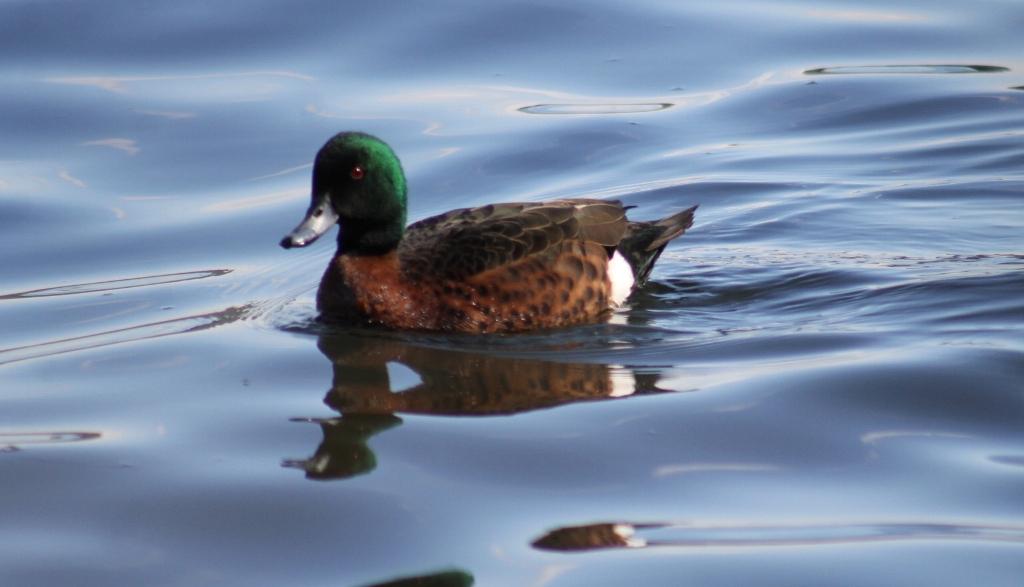 Chestnut teal - Anas castanea
Pictures by A J Guesdon, 2011- 2015.