November 20 - 26, 2011: Issue 33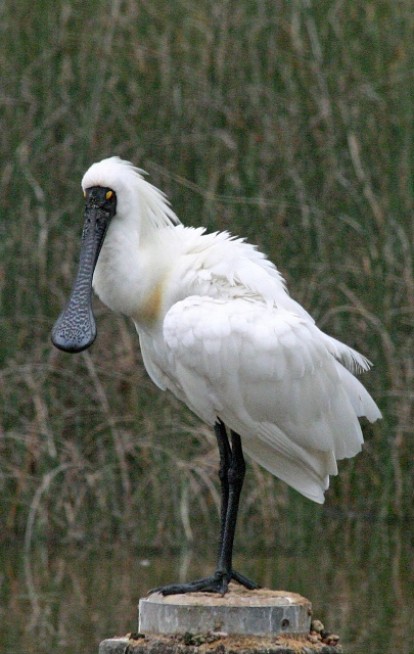 Above: A Royal Spoonbill platalea regia at Warriewood Wetlands, 2009, by and courtesy of Ian Sanderson.
Below: Mullet Creek Falls by and courtesy of Derrick Jessop (when it hasn't rained).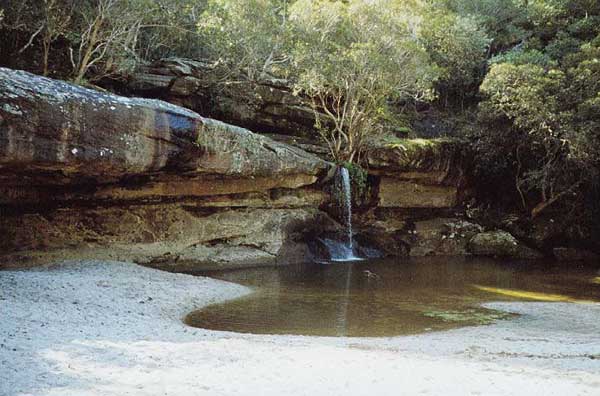 Below: Mr and Mrs Jones walking down Garden Street (they lived at 150) followed by four cows. Picture Courtesy of Local Studies Department of Mona Vale Library.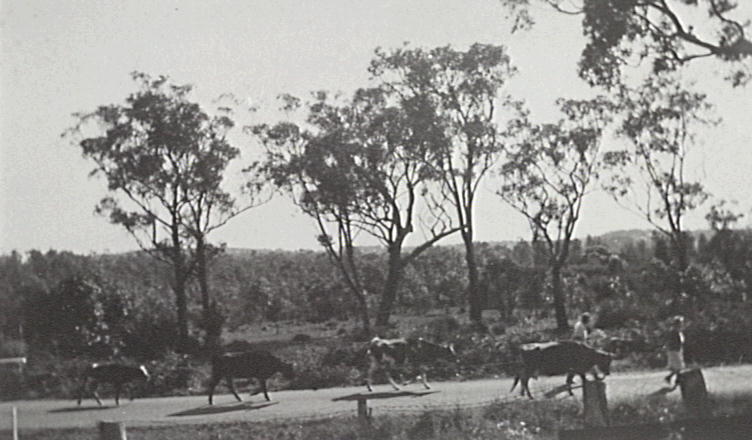 Copyright Pittwater Online News, 2011. All Rights Reserved.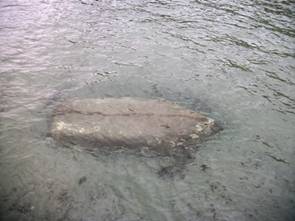 Mullet Creek
Warriewood
Scarred trees are along the length of Mullet Creek, denoting it was a sacred place to our original custodians as well as a source of abundant food and fresh, pure water. The area itself is marked as 'swamp' on early nineteenth century maps but it was and is part of Warriewood's Wetlands and home to more then 170 species of birds, some migratory, with Dusky Moorhens and wood ducks sheltering in its reed beds or lyrebirds and bush turkeys in its heathlands and forests. Frogs and native mammals such as echidnas, swamp wallabies, gliders and bandicoots also flourish along its lengths.
Mullet creek is formed from two flows, one from the north which runs from Mona Vale Road via the Westpac Training Centre and Ingleside Park and the other from the south, originating at Monash Golf club. The northern branch has a waterfall that flows very quickly after heavy rains. Both become one through the Irrawong reserve and form the southern border of Warriewood. The creek accounts for 18% of the water that flows into Narrabeen lagoon. Mullet creek is the largest remaining sandplain wetland in Sydney and supports the largest remaining stand of Swamp Mahogany (eucalyptus robusta) in Sydney. Cabbage trees were once predominant on the flat areas, Melaleuca ericifolia (Swamp Paperbark) still grows in the scrubland, while Swamp Sclerophyll Forest, Freshwater Wetlands and every wildflower these varying areas support bloom in their due seasons.
The first land grants were made to John Lees (40 acres), Philip Schaffer (50 acres), and James Wheeler (80 acres) all along the south bank of Mullet Creek. James Jenkins was the first settler granted land in the valley in 1829 and he established Cabbage Tree Hill farm. Tomatoes, celery, cabbages, peas, potatoes, in fact every kind of vegetable imaginable was grown here with claims of as many as three crops a year from the same plot of land. Poultry, sheep and cattle also grew fat on the deep rich soil of the valley with stories of prize ewes being sung in Sydney newspapers from 1906 onwards. As more and more waves of migrants, such as Yugoslavians, moved into the valley from the 1920's onwards the demands on the soil and creeks grew. Damming of some parts as well as the chemical run off from industrialised areas began to contaminate the pure waters while introduced weeds choked its banks and thinner shallower lengths. In 1996 Pittwater Council purchased what is the Warriewood Wetlands as a conservation measure. This is only part of the saving of Mullet creek and its environs though.
*PNHA along with the Ingleside Residents Association and (the then) Pittwater Residents Association played a key role in preserving large areas of bushland on the escarpment when a major subdivision was proposed, then rejected by Pittwater Council, for the so-called Burrawang Ridge Estate by development company (Healesville Holdings) in 1994 in the most northerly area of the escarpment south of Mona Vale. A further proposal for subdivision around September 1999 was also rejected by the Council, and, after a meeting that the Pittwater Escarpment Committee held at Pittwater RSL in February 2000, a land swap was arranged to compensate the owners. The bushland reserve of Ingleside Park had long been established just south of this land.
However south of this reserve, another major area of bushland in private ownership, was the Heydon Estate, covering the upper reaches of Mullet Creek. A deal between Pittwater Council, the NSW Government and the owners resulted in this area also being conserved as bushland. So now Warriewood, so changed by housing subdivision, at least has a beautiful bushland backdrop.
The success in saving the bushland on the escarpment was a great win-win situation for all - the bushland and its flora and fauna, the people of Pittwater and the owners of the land. Development would have caused enormous damage to the bushland and watercourses for buildings, infrastructure and bushfire hazard-reduced areas.
In 2003 PNHA received a grant Community Caring for Warriewood Wetland and Irrawong Reserves for over $24000. This provided for $22 000 of contract bush regeneration work. A generous donation from the son of the former owner of Warriewood Wetland, Henry Roth, contributed to the publication of PNHA's Introductory Field Guide to Birds of Warriewood Wetland and Irrawong Reserves. Profits from this book have provided for at least $14500 for wetland conservation and erection of nestboxes for Sacred Kingfishers. Our regular Breakfast with the Birds activities began with this grant and continue to be very popular.
*This information is from Marita Macrae of PNHA, whom we thank for her generous help with this vital part of Mullet Creek's history.
Whichever end of this lovely bubbling creek you roam into it is evident that it's story is one that encompasses our human journey of embracing Nature, then taking her for granted, only to turn around and know we must restore, maintain and protect her. The purer the water and the land it flows through, the purer its song will be. After all, poesis, from where springs 'poem' and 'poet', is a word that was derived from the sound of water, the sound of oceans, streams and creeks.
Further:
Bushcare groups:
Warriewood Wetlands
Where: End of Katoa Place, Narrabeen
When: 1st Sunday of every month, 8:30am to 11:30am
Warriewood Wetlands - Watergum Drive
Where: At Watergum Drive, near the bushcare sign.
When: 2nd Sunday of every month, 9am to 12pm
Pittwater Council's Fauna List:
Mullet Creek Information from Pittwater Council: http://www.pittwater.nsw.gov.au/environment/water/creeks/mullet_creek
There are Mullet Creeks at Wollongong and Dapto too.
Pittwater Council's Restoration of.
Research; in file to left