May 21 - 27, 2017: Issue 313

Please note this page has been reset to run this week's Environment Features at the base of the page in full spreads.
Relevant News, Public Consultations and local Environment Organisations, Groups and Bushcare days times remain in the two column spread.
Have Your Say on NSW Government's Biodiversity Reforms
Wednesday, May 10, 2017: Media Release - The Hon. Niall Blair,
Minister for Primary Industries,
Minister for Regional Water,
Minister for Trade and Industry and The Hon.
Gabrielle Upton,
Minister for the Environment
The NSW Government will undertake one more round of public consultation before its improved and
simpler land management reforms take effect.
NSW Minister for Primary Industries Niall Blair said the new system would provide strong
environmental safeguards, while ensuring routine farm work was exempt from regulation.
"These landmark reforms will allow our farmers to produce the food and fibre that we need and
increase their productivity, while also producing better outcomes for our environment," Mr Blair said.
"I am proud we will very soon deliver on an election commitment we made to farmers to repeal the
unfair and ineffective Native Vegetation Act."
This package is the final stage of the NSW Government's land management and biodiversity
conservation reforms.
NSW Environment Minister Gabrielle Upton said the reforms were backed by an unprecedented
investment of $100 million in the Saving Our Species program, as well as $240 million over five years,
and $70 million each year after that, for private land conservation.
"These reforms also put in place strong protections for native plants and animals including threatened
species," Ms Upton said.
The regulations, codes and guidelines and other documents released for public comment are:
Facts sheets and guides
that provide detailed information on key topic areas are also available to assist you in making a submission.
Consultation closes on 21 June and the reforms will commence on 25 August 2017. how to Make a submission here
Amendments to Pittwater Local Environmental Plan
Proposed amendments are summarised as follows.
Amendment 1 – Clarifies a height control in Warriewood Valley that only applies to certain streets.
Amendment 2 – Specifies height limits for detached dual occupancies, rural workers dwellings and granny flats.
Amendment 3 – Amends the height limit on one property (individual letter to be sent)
Amendment 4 – Deletes a clause relating to Warriewood Sewerage Treatment Plant. This clause was deleted from the 1993 LEP but was put into the 2014 LEP as an error by the Department
Amendment 5 – Amends mapping relating to one property (individual letter to be sent)
Amendment 6 – This amendment is proposed to be removed from the planning proposal due to commentary already received from Roads and Maritime Services (Mona Vale Road Upgrades). It applied to one property.
Amendment 7 – Inserts higher detailed maps for Elanora and Newport commercial centres to better specify height limits. No actual changes to height limits.
Amendment 8 - Amends one clause relating to building on the foreshores
Amendment 9 – Allows an additional permitted use for 'access structures ancillary to a dwelling' to be constructed over land zoned for road widening. Portions relating to Mona Vale Road will be removed from the planning proposal due to commentary already received from Roads and Maritime Services (Mona Vale Road Upgrades). (individual letters to be sent)
Amendment 10 - Amends land zoning of Council land in Warriewood from R3 Medium Density Residential to RE1 Public Recreation (land has come into Council ownership – creekline corridor).
Amendment 11 – Removes a property from the land acquisition map. (Land has come into council ownership)
Amendment 12 – Changes the minimum lot sizes for three properties in Warriewood. (individual letters to be sent)
The current Pittwater Local Environmental Plan 2014 (PLEP 2014) was a translation of the previous Pittwater Local Environmental Plan 1993. However during the translation and implementation of the new plan, a number of minor errors were identified. A number of other 'house-keeping' matters to improve the plan have also been identified and are included within the proposal. This planning proposal intends to rectify those errors and improve the operation of the plan.
Read details of the changes:
Make a submission
• mail marked 'Minor Amendments Pittwater LEP' to Northern Beaches Council, PO Box 882, Mona Vale NSW 1660.
For any enquiries contact the Strategic Planning Team (Mona Vale) on 9970 1111.
Submissions close 22 May 2017
Meeting of Aboriginal Custodians caring for NSW's National Parks
Media release: 16 May 2017 - NPWS
More than 50 Aboriginal Joint Management Custodians from across NSW will meet today on Worimi Conservation Lands (Djukal Buna or big beach) near Newcastle to share their culture and experiences co-managing the state's national parks.
Petrice Manton, Chairperson of the Worimi Conservation Lands Board of Management said the Board is delighted to welcome the National Parks and Wildlife Service (NPWS) and Custodians who have travelled from as far away as Byron Bay, Broken Hill and Narooma.
"This year celebrates 10 years since the NSW Government handed back 4000 hectares of land at Stockton Bight to the Worimi Traditional Owners, to be jointly-managed as the Worimi Conservation Lands," Ms Manton said.
"This meeting is an important networking opportunity for Custodians to collaborate on issues and challenges as well as celebrate the successes.
"Aboriginal people have been conservationists of their own lands for thousands of years.
"Joint management demonstrates that we are still here and we are still doing it and this arrangement continues to support Aboriginal people to have a real say in how our lands are managed.
"We are happy to be working in partnership with NPWS who are celebrating their 50th year," Ms Manton said.
Michael Wright, NPWS Executive Director said this is the 14th meeting of Custodians representing 30 Aboriginal Joint Management Boards and Committees.
"It's important to reflect and acknowledge the contribution of Aboriginal people to the management of national parks on their traditional lands," said Mr Wright.
"This meeting is an opportunity to do that and to share ideas on how joint management can continue to support Aboriginal peoples' continuous connection to their lands and culture.
"Joint management acknowledges that Aboriginal people are past, present and future custodians of these parks and the ongoing management of these protected areas benefits from Aboriginal knowledge and practices.
"I am very pleased to be here, to listen and share stories on how our state's parks are managed in partnership for conservation outcomes as well as social and economic benefits," Mr Wright said.
Today's meeting includes a trip to the Worimi Conservation Lands where the Custodians will learn about Worimi culture and Country. It follows the 2016 meeting of Custodians in Broken Hill hosted by the Mutawintji National Park Board of Management.
Applications open for Threatened Species Recovery Fund
Media release: 5 May 2017 - The Hon. Josh Frydenberg MP

Minister for the Environment and Energy
The Turnbull Government invites community organisations across Australia to apply for funding under the Government's Threatened Species Recovery Fund to help fight extinction.
Through the Threatened Species Strategy, the Government is committed to turning around the fortunes of nationally-threatened species like the bilby, numbat, mountain pygmy possum, eastern bettong, cassowary, swift parrot and Australia's endangered eucalyptus trees.
The $5 million Threatened Species Recovery Fund, through the National Landcare Programme, makes funds available for projects that can help meet the targets and objectives in the Threatened Species Strategy through strengthened community involvement in the recovery efforts.
The Fund will provide seed money and community grants—worth between $20,000 and $250,000 (GST exclusive)—for local projects that strongly align with the targets and objectives of the Strategy. The grants will be awarded to eligible groups through a competitive process.
This Fund further highlights the Turnbull Government's commitment to protecting our native species.
Since the appointment of the Threatened Species Commissioner in June 2014, the Government has mobilised more than $211 million for projects that support and protect our threatened species.
We have delivered Australia's first Threatened Species Strategy which sets out clear and measurable targets to secure the future of 20 priority birds, 20 priority mammals and 30 priority plants by 2020. It also commits to eradicating feral cats from five islands and establishing 10 mainland wildlife enclosures free of feral cats.
In February this year, I launched Australia's first Threatened Species Prospectus, which invites business, industry and the philanthropic sector to partner with government to invest in over 50 science-based projects that fight extinction.
Community project proposals for support from the Fund that leverage private sector investment and align with projects in the Prospectus are encouraged.
More information on the Threatened Species Recovery Fund, including details on how to apply, can be found on the National Landcare Programme website:
Applications close on 15 June 2017.
Heat on for Australia's Great Barrier Reef when global temperatures hit 1.5C
May 15, 2017: University of New South Wales

If global temperatures hit 1.5°C above pre-industrial conditions -- the target negotiated at the 2015 Paris Agreement -- it will be twice as likely that we will see a repeat of the extreme ocean heat that severely damaged the Great Barrier Reef in 2016.
If the world pushes temperatures up to 2°C more than the pre-industrial world, then it almost triples the odds of the heat associated with a mass bleaching event.
These findings from University of Melbourne Scientists at the ARC Centre of Excellence for Climate System Science, reported in Nature Climate Change, are the result of research looking at how Australian extremes in heat, drought, precipitation and ocean warming will change in a world 1.5°C and 2°C warmer than pre-industrial conditions.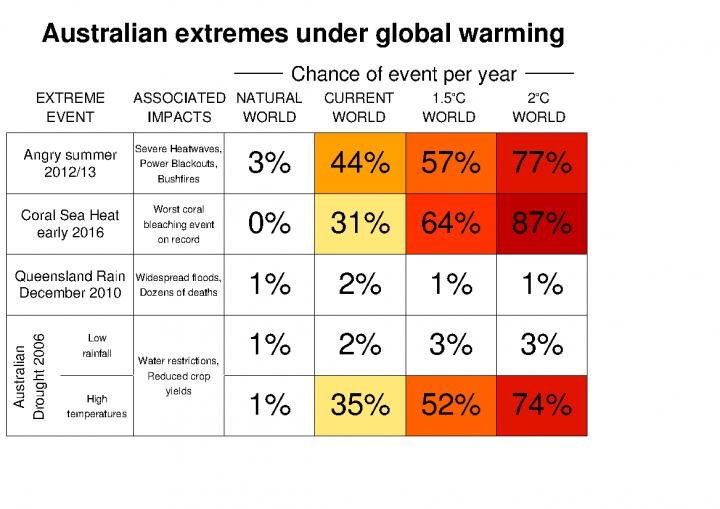 How specific extreme events will change under 1.5°C and 2°C.
Credit: Image courtesy of University of New South Wales
"Most of the action occurred in changes to extreme heat, with big increases in events similar to the Angry Summer of 2012/13. Events like this occurred in most years once global temperatures reached 1.5°C and 2°C warmer than pre-industrial times," said lead author Dr Andrew King.
"But the heat of 2016 in the Coral Sea was unprecedented in our modelling of the pre-industrial period. There was no event where the Coral Sea was as warm as we saw in 2016 but as the globe warms these events will grow in number."
The researchers also looked at other extreme events, like the southeast Australian drought of 2006 and the rain events that led to widespread flooding in Queensland in 2010, to see whether they would occur more often as global temperatures increased.
Rainfall did not show any clear change because the impacts of natural variability, like the El Niño Southern Oscillation, monsoons, Indian Ocean temperatures and the Madden-Julian Oscillation, had more influence on precipitation than rises in global temperatures.
There were some increases in drought intensity as a result of increased heat but the weak reduction in rainfall meant only a slight increase in the frequency of droughts was detected.
The results came after modelling thousands of years under four different scenarios -- pre-industrial conditions, current conditions, the world at 1.5°C and at 2°C -- on supercomputers at National Computational Infrastructure.
The researchers then looked at four key extreme Australian events -- the Angry Summer 2012/13; the Coral Sea marine heatwave of 2016; the severe rain event in Queensland in 2010; and the 2006 drought in southeast Australia -- to model how often similar events could occur under each scenario.
"It quickly became clear that keeping global temperatures under 1.5°C had a clear benefit for Australia in terms of reducing extreme events and the costs that come with them," Dr King said.
"It also gave us a grim warning about what would happen to the Great Barrier Reef if we fail to act on the Paris agreement. Sea temperatures of the scale and frequency we have seen do not bode well for the future of one of our greatest natural wonders."
Andrew D. King, David J. Karoly, Benjamin J. Henley.
Australian climate extremes at 1.5 °C and 2 °C of global warming.
Nature Climate Change, 2017; DOI:
10.1038/nclimate3296
2017 Eco Schools Grants Program open for applications
Media release: 26 April 2017
Educators and school communities are once again encouraged to apply for an Eco Schools Grant to ignite and nurture their students' passion to learn about the environment.
Eighty grants of $3,500 each are now available under the NSW Environmental Trust Eco Schools Grants program, which has supported a variety of environmental projects in schools from waste management to worm farms for nearly 20 years.
Office of Environment and Heritage Executive Director Ian Hunter said the grants help provide curriculum-based environmental education for children and the program proudly funded its 1000th project last year.
"Eco Schools Grants recognise the important work of educators in environmental conservation projects and I encourage schools to apply for one of the eighty grants," Mr Hunter said.
"Research shows that when young people develop an appreciation of the environment early on it influences their behaviours later in life.
"Schools are uniquely placed to teach students about sustainability, why it's important to take care of our environment and what good environmental citizenship looks like," Mr Hunter said.
Teachers from Bonnyrigg High School in Sydney's west used their Eco Schools Grant to bring history and science to life through environmental education with a medieval food garden.
"Students learned about garden functionality, soil health and sustainable living. Science students also used the plants to study photosynthesis and helped their school create a resource to facilitate hands-on learning for years to come," Mr Hunter said.
"Grants this year will be offered to student-focused environmental management projects, including water and energy conservation, recycling, bush regeneration, habitat improvement and food gardens.
"Schools are also encouraged to develop projects for students with special needs," Mr Hunter said.
Interested schools in NSW are encouraged to register on the Sustainable Schools NSW website and grant applications can be submitted until Monday 19 June, 2017.
All registered schools in NSW can apply for funding for new projects or a separate additional stage of a previous project. Schools currently delivering an existing Eco Schools Grant funded project are not eligible.
Photo - Bonnyrigg Highschool Eco Schools Grants Garden
Educators and school communities are once again encouraged to apply for an Eco Schools Grant to ignite and nurture their students' passion to learn about the environment. Photo
Courtesy OEH
Energy Locals for 100% Carbon Neutral Plans
From Surf Life Saving NSW
Interested in 100% carbon neutral plans, huge solar feed in tariffs and Australian owned and operated in your energy provider? Look no further than SLSNSW's newest partner Energy Locals to see how they will revolutionise your energy plan:
energylocals.com.au/providers/slsnsw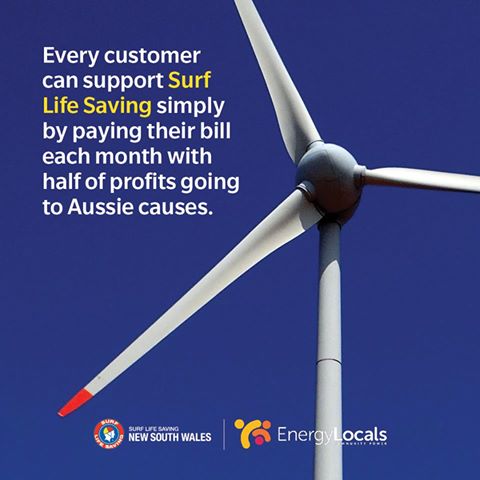 If Victoria can ban CSG, NSW can too!
By The Wilderness Society
Coal seam gas (CSG) threatens our water, our health and our climate. Many jurisdictions around the world are permanently banning this dangerous industry, most recently Victoria. We do not need or want risky coal seam gas in NSW.
It's clear that the industry has no social licence in our state, yet vast and critical areas—as well as human health—are still under threat from CSG across the state.
Call on the new Premier Berejiklian and the new Planning Minister Roberts to follow Victoria's lead and ban this harmful and risky industry in NSW.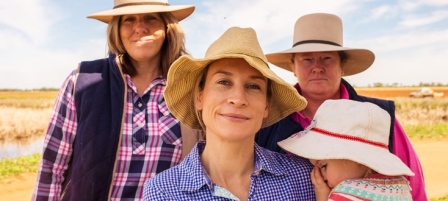 Bushcare in Pittwater
For further information or to confirm the meeting details for below groups, please contact Council's Bushcare Officer on 9970 1367
BUSHCARE SCHEDULES
Where we work Which day What time

Avalon
Angophora Reserve 3rd Sunday 8:30 - 11:30am
Avalon Dunes 1st Sunday 8:30 - 11:30am
Avalon Golf Course 2nd Wednesday 3 - 5:30pm
Careel Creek 4th Saturday 8:30 - 11:30am
Toongari Reserve 3rd Saturday 9 - 12noon (8 - 11am in summer)
Bangalley Headland 2nd Sunday 9 to 12noon

Bayview
Winnererremy Bay 4th Sunday 9 to 12noon

Bilgola
North Bilgola Beach 3rd Monday 9 - 12noon
Algona Reserve 1st Saturday 9 - 12noon
Plateau Park 1st Friday 8:30 - 11:30am

Church Point
Browns Bay Reserve 1st Tuesday 9 - 12noon
McCarrs Creek Reserve Contact Bushcare Officer To be confirmed

Clareville
Old Wharf Reserve 3rd Saturday 8 - 11am

Elanora
Kundibah Reserve 4th Sunday 8:30 - 11:30am

Mona Vale
Mona Vale Beach Basin 1st Saturday 8 - 11am
Mona Vale Dunes 2nd Saturday+3rd Thursday 8:30 - 11:30am

Newport
Bungan Beach 4th Sunday 9 - 12noon
Crescent Reserve 3rd Sunday 9 - 12noon
North Newport Beach 4th Saturday 8:30 - 11:30am
Porter Reserve 2nd Saturday 8 - 11am

North Narrabeen
Irrawong Reserve 3rd Saturday 2 - 5pm

Palm Beach
North Palm Beach Dunes 3rd Saturday 9 - 12noon

Scotland Island
Catherine Park 2nd Sunday 10 - 12:30pm
Elizabeth Park 1st Saturday 9 - 12noon
Pathilda Reserve 3rd Saturday 9 - 12noon

Warriewood
Warriewood Wetlands 1st Sunday 8:30 - 11:30am

Whale Beach
Norma Park 1st Friday 9 - 12noon

Western Foreshores
Coopers Point, Elvina Bay 2nd Sunday 10 - 1pm
Rocky Point, Elvina Bay 1st Monday 9 - 12noon
Myna Action Group
Pittwater Natural Heritage Association (PNHA)
Indian Mynas - what a pest - like flying rats.
Indian Mynas are displacing our native birds.
They often nest in and around shops where their food source is. I took this one down this morning in Avalon (no chicks or eggs but I disturbed the female). There were literally hundreds of tiny bits of plastic in the nest which makes you think that all this plastic would be swilling down the stormwater drains into the sea.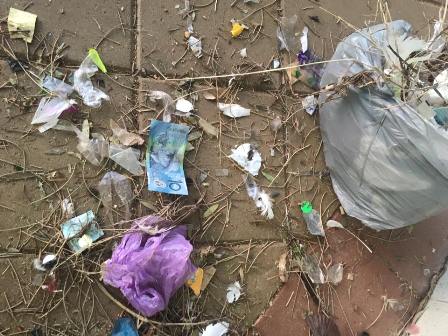 Wildlife Carers and Organisations in Pittwater: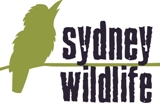 Sydney Wildlife rescues, rehabilitates and releases sick, injured and orphaned native wildlife. From penguins, to possums and parrots, native wildlife of all descriptions passes through the caring hands of Sydney Wildlife rescuers and carers on a daily basis. We provide a genuine 24 hour, 7 day per week emergency advice, rescue and care service.
As well as caring for sick, injured and orphaned native wildlife, Sydney Wildlife is also involved in educating the community about native wildlife and its habitat. We provide educational talks to a wide range of groups and audiences including kindergartens, scouts, guides, a wide range of special interest groups and retirement villages. Talks are tailored to meet the needs and requirements of each group.
Found an injured native animal? We're here to help.
Keep the animal contained, warm, quiet and undisturbed. Do not offer any food or water.
Call Sydney Wildlife immediately on 9413 4300, or take the animal to your nearest vet. Generally there is no charge.
Find out more at: www.sydneywildlife.org.au

Southern Cross Wildlife Care was launched over 6 years ago. It is the brainchild of Dr Howard Ralph, the founder and chief veterinarian. SCWC was established solely for the purpose of treating injured, sick and orphaned wildlife. No wild creature in need that passes through our doors is ever rejected.
People can assist SCWC by volunteering their skills ie: veterinary; medical; experienced wildlife carers; fundraising; "IT" skills; media; admin; website etc. We are always having to address the issue of finances as we are a non commercial veterinary service for wildlife in need, who obviously don't have cheque books in their pouches. It is a constant concern and struggle of ours when we are pre-occupied with the care and treatment of the escalating amount of wildlife that we have to deal with. Just becoming a member of SCWC for $45 a year would be a great help. Regular monthly donations however small, would be a wonderful gift and we could plan ahead knowing that we had x amount of funds that we could count on. Our small team of volunteers are all unpaid even our amazing vet Howard, so all funds raised go directly towards our precious wildlife. SCWC is TAX DEDUCTIBLE.
Find out more at: southerncrosswildlifecare.org.au/wp/
Think before you print ; A kilo of recycled paper creates around 1.8 kilograms of carbon emissions, without taking into account the emissions produced from transporting the paper. So, before you send a document to print, think about how many kilograms of carbon emissions you could save by reading it on screen.

What Does PNHA do?
On-ground bush regeneration. eg: Asparagus Fern Out Days
Activities: guided walks, bird-watching
Quaterly informative newsletter, online or paper
Members email group for leaset environmental news and events
AGM with Guest Speaker
Free advice for members on managing gardens for Native Vegetation and fauna habitat
Lobbies Pittwater Council and State Government on inappropriate management practices and development
Provides support to Council for PNHA-approved grant applications for environmental projects
Publications: Introductory Field Guide to Birds of Warriewood Wetlands & Irrawong Reserve, $20.00rrp, attractive cards with photos of Pittwater scenes, flora and fauna $2.00
Email: pnhainfo@gmail.com Or click on Logo to visit website.
Create a Habitat Stepping Stone!
Over 50 Pittwater households have already pledged to make a difference for our local wildlife, and you can too! Create a habitat stepping stone to help our wildlife out. It's easy - just add a few beautiful habitat elements to your backyard or balcony to create a valuable wildlife-friendly stopover.
How it works
1) Discover: Visit the website below to find dozens of beautiful plants, nest boxes and water elements you can add to your backyard or balcony to help our local wildlife.
2) Pledge: Select three or more elements to add to your place. You can even show you care by choosing to have a bird appear on our online map.
3) Share: Join the Habitat Stepping Stones Facebook community to find out what's happening in the natural world, and share your pics, tips and stories.
What you get
• Enjoy the wonders of nature, right outside your window. • Free and discounted plants for your garden. • A Habitat Stepping Stone plaque for your front fence. • Local wildlife news and tips. • Become part of the Pittwater Habitat Stepping Stones community.
Get the kids involved and excited about helping out! www.HabitatSteppingStones.org.au
No computer? No problem -Just write to the address below and we'll mail you everything you need. Habitat Stepping Stones, Department of Environmental Sciences, Macquarie University NSW 2109. This project is assisted by the NSW Government through its Environmental Trust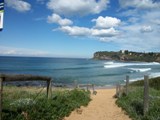 "I bind myself today to the power of Heaven, the light of the sun, the brightness of the moon, the splendour of fire, the flashing of lightning, the swiftness of wind, the depth of the sea, the stability of the earth, the compactness of rocks." - from the Prayer of Saint Patrick
Fears 179 koalas lost to bulldozers
18 May 2017: WWF Australia
As part of a major campaign to save koalas, WWF-Australia today released an analysis to show tree-clearing likely killed 179 koalas in southeast Queensland in just two years, further pushing them towards localised extinctions.
Releasing his findings on Endangered Species Day (May 19), WWF-Australia conservation scientist Dr Martin Taylor said after bulldozers destroyed their forest homes the koalas would have perished.
The koalas were from the Moreton Bay region and had orthopaedic repairs on their broken limbs and was luckily able to be released. Dr Taylor said Qld Government landclearing reports showed that over 44 sq km of koala bushland – equal to about 4,400 rugby league fields – were bulldozed in SEQ from mid-2013 to mid-2015, following the weakening of tree protection by the former state government.
"Bulldoze their trees and you kiss the koalas goodbye – they're forced to look for new homes and are then killed by cars or dogs. The only solution is state government action to rein in excessive tree-clearing," said Dr Taylor.
Research shows more than 2,000 koalas suffering fractures were taken to wildlife hospitals in SEQ over a 13-year period.
Vehicle collisions and dog attacks caused 93% of the fractures and only 2% of the injured koalas survived.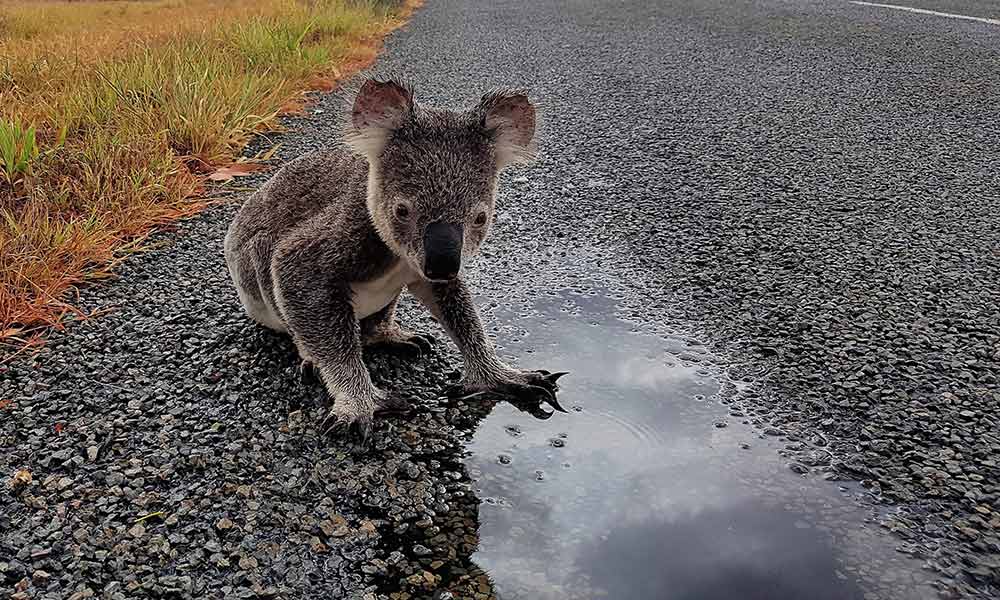 Koala drinking beside a central Queensland road, March 2017 © Sue Gedda / WWF-Aus

RSPCA Qld also holds grave fears for the long-term survival of koalas in southeast Queensland.
"From March 31st 2016 to April 1st 2017, a staggering 323 koalas came into our Wildlife hospital at Wacol," said RSPCA Qld's Michael Beatty.
"A large percentage of these were victims of traffic accidents and dog attacks and of course these incidents are linked to habitat destruction. There are also increasing concerns about where koalas can be safely re-released," Mr Beatty said.
On the Koala Coast, koalas have declined by about 80% from 1996-2014 and in Pine Rivers koalas have declined by about 55% from 1996-2014.
It's estimated the rate of the Koala Coast and Pine Rivers declines will result in local extinctions for some populations within a small number of generations.
A new report prepared for WWF-Australia by Dr Christine Adams-Hosking shows that koalas are declining throughout Queensland – not just SEQ – with the destruction of trees forcing koalas into increasingly fragmented pockets of habitat.
53% decline in koalas across Qld
A panel of experts estimated that in Queensland overall, koalas have declined by 53% over the past three koala generations and the next three koala generations **
In southern inland Queensland, there has been an 80% decline in koala numbers, from an estimated 59,000 in 1995 to 11,600 in 2009.
In Central Queensland, 62 koala road deaths were recorded in a three-year period as traffic volume steadily increased as the mining industry expanded.
Researchers calculated that in some locations, koalas have on average less than 40 seconds to cross the road, and a much shorter window during peak periods.
WWF-Australia's koala campaign
wwf.org.au/savekoalas
aims to save the iconic species and other wildlife by protecting forests.
WWF-Australia is encouraging people to create and send a digital origami koala, called a KIMBY (Koala in my back yard), to key Queensland politicians to encourage them to take action to stop excessive tree-clearing.
*The University of Queensland study modelled koala density in forests in eight Local Government Areas: Moreton Bay Regional Council, Sunshine Coast Regional Council, Noosa Shire Council, Ipswich City Council, Brisbane City Council, Redland City Council, Logan City Council and Gold Coast City Council.
** A koala generation is 6 to 8 years – the time from birth to peak reproduction.
Most koala populations in QLD and NSW have declined

There are many areas where koalas are rapidly declining

Koalas are currently persisting in increasingly fragmented pockets of

habitat

In QLD, koalas have declined by 53% over the past and future three koala

generations

In NSW, koalas have declined by 26% over the past and future three

koala generations

On the Koala Coast, koalas have declined by 80.25% from 1996-2014

On the Koala Coast, koalas declined by 51% from 2006-2008

In Pine Rivers, koalas declined by 54.28% from 1996-2014

In southwest QLD, koalas declined by 80% between 1995-2009

In the Pilliga Forests of western NSW, koalas have declined by 80%

In Coffs Harbour, koala populations are stable to gradually declining

In the Campbelltown LGA, koala populations are stable or increasing

In the Eden region, koala probability of occurrence has declined at an

average rate of 70% every 10 years

The Port Macquarie-Hastings LGA has an estimated 2,000 koalas, with

200 – 250 koalas admitted annually to its hospital

On the Tweed Coast, occupancy by koalas has halved in recent years

In Lismore, there has been an average range contraction of about 30%

over the last three koala generations

In the Byron region, existing coastal populations may be unsustainable

in the absence of improved connectivity and decreasing habitat cover

In Ballina, the koala population has high mortality and low breeding

success which will inevitably lead to its extinction

New threats such as climate change and mining continue, while the longstanding

threats to koalas remain

In arid and semi-arid regions of QLD and NSW, habitats that may have

once provided refugia during times of drought are now highly disturbed

and are unlikely to provide the required level of protection for the koala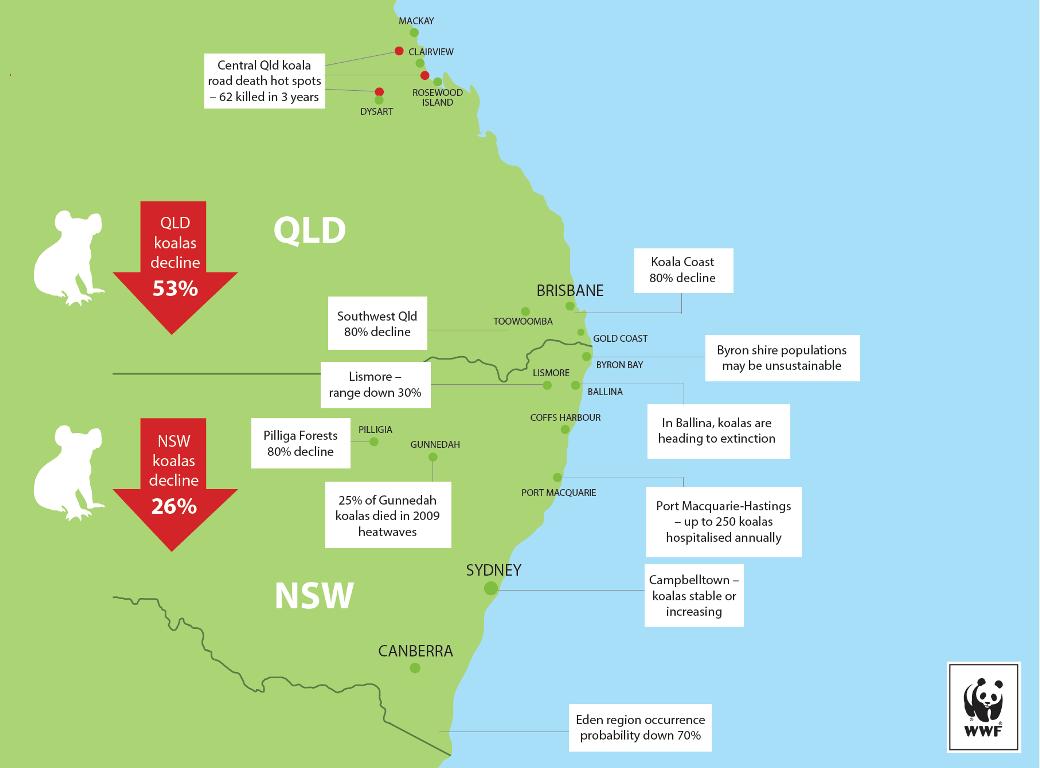 Brandis intervenes in W&J court action against Adani
May 18, 2017 by Wangan Jagalingou

Traditional Owners fighting Adani appalled at improper political interference
The Attorney General, George Brandis, has intervened in a Federal Court hearing in which the Traditional Owners fighting Adani's proposed coal mine are seeking to strike out a fake agreement Adani claims to have for the mine to proceed.
Senator Brandis' intervention follows his second failure to rush through changes to the Native Title Act. The Attorney General has asked the Court to not make a ruling, but wait for the political process around the Native Title Bill to conclude. The Bill has not passed the Senate because of a lack of consultation with Traditional Owners around the country, and concern about key provisions.
Senior spokesperson for the Wangan and Jagalingou (W&J) Traditional Owners Council, Adrian Burragubba, said, "The Attorney General has made an extraordinary and political intervention in matters before the court. Intervening in our case shows Brandis is working in billionaire Adani's interests, not ensuring the proper administration of justice. Again, Brandis is making Native Title all about Adani's mine instead of good law reform.
"Brandis should apply himself to good law reform, and let the court do its work. Instead he's trying to influence the decisions of a judge in favour of a mining company.
"The Wangan and Jagalingou Council are seeking Federal Court orders to strike out the purported Indigenous Land Use Agreement [ILUA] filed by Adani Mining with the National Native Title Tribunal. The ILUA would authorise 'extinguishment' of our native title and allow the mine to proceed against our strong objections and our right to say 'No'.
"The Federal Government has been attempting to push through amendments to the Native Title Act to overturn the ruling in McGlade and protect Adani's interests. Along with other Traditional Owners, we continue to demand proper consultations and the necessary time to achieve consent for Native Title amendments", he said.
Youth spokesperson for the W&J Traditional Owners Council, Ms Murrawah Johnson, said, "Adani didn't negotiate and achieve the free prior informed consent of the W&J people. The meeting, which Adani and its barrackers claim achieved consent, with a 294 to 1 vote, is as fake as its ILUA. It is not a true expression of the W&J Traditional Owners.
"Over 220 of the attendees at Adani's meeting are people who have never been involved in the W&J claim or decision making, and who are identified with other nations and claims, or didn't identify an apical descent line.
"Many people were bussed in and paid for at Adani's considerable expense. The majority of the claim group, which have three times rejected an ILUA with Adani, refused to participate in this stitch up of a meeting. They stayed away." she said.
Lawyer for the W&J Traditional Owners Council, Mr Colin Hardie, said, "My clients have four strong grounds against Adani's purported ILUA. Since the law was confirmed in the recent Federal Court decision in McGlade, Adani do not even have a document that could be considered for registration.
"This is no mere technical hitch, but a fundamental failure of Adani to gain the consent of many of the families and primary Traditional Owners for their proposed mine. The absence of signatures on the document is because applicants were exercising their consciences and following the mandate to reject the deal, given to them by their families and the claim group on three occasions".
The Upper House next sits on June 13.

BACKGROUND
The ILUA litigation
W&J are seeking Federal Court orders to strike out the purported Indigenous Land Use Agreement [ILUA] filed by Adani Mining with the National Native Title Tribunal. The ILUA would authorise 'extinguishment' of native title and allow the mine to proceed. This is one of four legal actions W&J have underway.

The ILUA litigation includes four grounds; one of which is that Adani does not have a valid ILUA capable of registration, since the law was confirmed in the recent Federal Court decision in McGlade. The Federal Government has been attempting to push through amendments to the Native Title Act to overturn the ruling in McGlade and protect Adani's interests.

The Attorney-General intervened under s 84A(1) of the Native Title Act 1993 saying "the Court should not determine the issue raised by the Applicants' primary argument until the fate of the Native Title Amendment (Indigenous Land Use Agreements) Bill 2017 is known".

W&J claim group have three times rejected an Indigenous Land Use Agreement with Adani – in December 2012, October 2014 and March 2016. Adani does not have the consent of the Traditional Owners for its mine.

The W&J Council vow to do everything in their power to stop Adani's proposed mega-coal mine proceeding, and will fight all the way to the High Court if necessary.

Adani's planned Carmichael mine – the biggest in Australian history – would destroy a vast tract of W&J's ancestral lands and waters in the Galilee Basin.
Queensland Government Breaks Election Promise to protect the reef - further fast tracking of Adani's Reef wrecking coal mine
Thursday 18 May 2017:
Australian Marine Conservation Society
Today the Australian Marine Conservation Society (AMCS) responds to a story on
ABC online
that the Queensland Government is offering a royalty holiday to Adani that could cost the state $320 million in lost revenue.
Imogen Zethoven, Fight For Our Reef Campaign Director said:
"The Queensland government made an election commitment that Adani must ensure its project is viable in an open, competitive marketplace. They also promised Labor would not do any secret deals."
"It's a tragic irony that as our Reef is in grave danger from climate change and coral bleaching our government is courting one of the world's biggest coal mines, playing russian roulette with our Reef's future.
"As Queenslanders still recover from the devastating effects of Cyclone Debbie, it's sickening that our government is considering giving a billionaire a royalty holiday, as reported by the ABC. This is a project that will make extreme weather events like Cyclone Debbie more destructive and coral bleaching events more severe and frequent."
"Adani can not be trusted with our Reef.
We've already witnessed this at Abbot Point
, where during Cyclone Debbie they broke their permit to pollute by 800%, at a discharge point right next to our Great Barrier Reef. They can't cope with their existing infrastructure - expanding their facilities three fold is a recipe for disaster.
"The Carmichael project is a catastrophe in waiting - for our climate, tourism jobs, our economy and our Reef. Two thirds of our Reef has already suffered severe coral bleaching in the last two years. AMCS and our supporters are asking the Premier to keep her election promises - and to not give special treatment to this Reef wrecking development."
Adani's legacy revealed – rehabilitation fails even mining industry standards
May 15, 2017: Media Release - Lock the Gate
The Adani Carmichael mine would leave more than 3,300 hectares – an area 30 times the size of the Brisbane CBD – in a completely un-rehabilitated state, analysis by the Lock the Gate Alliance reveals today.
"Overall the Carmichael Mine would bequeath an enormous, dangerous legacy for Queensland," said Rick Humphries from the Lock the Gate Alliance.
"Adani plans to leave a series of very large pit voids and a huge area of waste rock dumps that will severely degrade any future land use. In fact Adani is not even prepared to give assurances that any of these areas will be suitable for grazing after mining.
"The pit voids alone would cover more than 3,300 hectares, including high walls hundreds of metres deep. These large holes would remain in perpetuity and would permanently drain millions of litres of precious groundwater from surrounding aquifers."
"The waste rock dumps would cover a massive 8300 hectares and contain acid-producing mine waste. Adani has chosen the lowest cost option to cover this waste meaning these dumps would fail over the long term.
"The mine would divert 88km of streams which would not be reinstated, the groundwater issues would not be addressed and the voids and dumps would leave a fundamentally altered and degraded landscape with a diminished economic and ecological value.
"Our analysis shows that rehabilitation plans for the Carmichael coal mine do not even come close to meeting mining industry standards and commitments, here or internationally.
"This is in stark contrast to the Mineral Council of Australia's public commitment – 'to ensure that this land is available for subsequent economic activities, conservation or community use'," he said.1
Qld fires on ahead with gas development
Media Release: Monday, May 15, 2017 - Minister for State Development and Minister for Natural Resources and Mines
The Honourable Dr Anthony Lynham
The Palaszczuk Government will soon release another 395 square kilometres of land for gas development to supply to the hungry east coast Australian market.
Natural Resources and Mines Minister Dr Anthony Lynham told today's Australian Petroleum Production and Exploration Association annual convention in Perth that two new parcel of lands totalling 395 square kilometres would be released in the Surat Basin in the next two months.
Any gas produced will only be able to be sold in Australia. This comes on top of the 58 square kilometres the government released in February.
"This initiative shows again that Queensland is ahead of the pack on gas supply policy action," Dr Lynham said.
"We had a positive response from industry to the first pilot release of land in February and it's clear there's an appetite in the market to develop Queensland's gas reserves.
"Releasing more land will drive employment and investment in regional Queensland and eventually add to the gas currently available for domestic use.
The Palaszczuk Government has already:
put 58 square kilometres of land to tender, to be awarded by July
has a Gas Action Plan underway
commenced work with small to medium gas explorers on opportunities to progress to production.
Dr Lynham told APPEA members he would continue to seek funds from the Turnbull Government for a gas pipeline to open up the Galilee and Bowen Basins.
"New pipelines will help open up new potential gas producing areas like the Galilee and Bowen Basins and connect with major east coast energy users in centres like Townsville," he said.
The new tenders should be awarded before the end of the year.
Successful tenders will be required to complete environmental and other requirements before any land tenure can be granted, including negotiating land access agreements with landowners and native title parties.
210 new jobs as Sun Metals solar powers North Queensland Clean Energy Boom
JOINT STATEMENT: Media Release
Premier and Minister for the Arts
The Honourable Annastacia Palaszczuk
Minister for Main Roads, Road Safety and Ports and Minister for Energy, Biofuels and Water Supply
The Honourable Mark Bailey
Wednesday, May 17, 2017
Construction has begun on Queensland's largest industrial solar project which will see 1.3 million solar panels installed at the Sun Metals zinc refinery in North Queensland.
Premier Annastacia Palaszczuk, Energy Minister Mark Bailey, Minister Assisting the Premier on North Queensland Coralee O'Rourke and Member for Thuringowa Aaron Harper were in Townsville today to tour the refinery and project site which, when completed, will deliver a new 125 megawatt renewable energy power station.
The Premier said this style of expansion was a prime example of the role renewable energy will play in the State's future industrial landscape.
"Upon completion Sun Metals will be the largest single site user of renewable energy," Ms Palaszczuk said.
"This is a unique project and is a great example of an innovative company investing in its future and North Queensland."
"This investment will help Sun Metals to secure its output by stabilising production costs, and will provide even more job security to the refinery's 291 employees."
Mr Bailey said this impressive solar project would also see the creation of 210 solar powered jobs during construction.
"Through government-owned Powerlink, the Palaszczuk Government will facilitate connection of Sun Metal's new power station to the grid," Mr Bailey said.
"This solar farm will see renewable energy added into Korea Zinc's mix of base-load power required to run its zinc production line – with the solar farm supplying about a third of the refinery's current baseload power needs.
"Use of renewable energy in this way not only demonstrates it as a reliable energy source for large-scale industry, but that Korea Zinc is committed to the people of North Queensland, to minimising carbon emissions and protecting the Great Barrier Reef."
Mrs O'Rourke said this was another example of the clean energy boom which is occurring in Queensland under the Palaszczuk Government.
"Since January 2016, Queensland has seen an unprecedented level of renewable energy investment activity in North Queensland with over 780 MW of large-scale projects either commencing construction or securing financial support," she said.
"These projects will deliver $1.6 billion of infrastructure spending to the north, while creating over 1,400 construction jobs."
Sun Metals Chief Executive Officer Yun Choi said since its 1996 opening the refinery has played a significant economic role in Townsville and Queensland.
"Current refinery operations see Sun Metals produce 225,000 tons of Zinc per annum using over 900,000 megawatt-hours of electricity per year," Mr Choi said.
"The development of the Sun Metals Corporation solar farm will see an additional 125 megawatt capacity of generation available to the National Electricity Market, underpinning the Queensland Government's solar energy development policy, and a marked reduction in the carbon footprint of the refinery's operations.
"The SMC Solar Farm investment of $199 million is the first step in Korea Zinc ensuring the long term viability of the existing refinery and also underpinning the potential for its expansion using world class new technology, with an investment decision due in late 2017.
"An expanded refinery would see an additional $267 million invested and is expected to support up to 827 construction jobs during peak construction and an additional 100 permanent refinery workers once operational, all within North Queensland.
"The refinery expansion will also see an increase in broader economic activity for Townsville with significant increase in Townsville Port activities, uplift for local suppliers and contractors and also, via use of new refining technology, reduced water usage and environmental outputs.
"We welcome the support of the Queensland Government and we look forward to partnering to facilitate the expansion of the refinery creating new investment, new jobs and a long term uplift for Port of Townsville operations and the wider Townsville community," Mr Choi said.
The Sun Metals solar project is expected to be completed in early 2018 and fully commissioned and providing renewable energy into the refinery's energy mix by April 2018.
A short-lived gas shortfall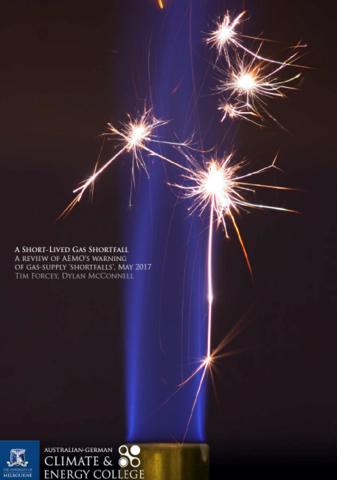 May 18, 2017: Authors: Tim Forcey, Dylan McConnell - Australian-German Cliate and Energy College, University of Melbourne
Abstract: With the publication of the 9th March 2017 Gas Statement of Opportunities (GSOO), the Australian Energy Market Operator (AEMO) cautioned that within 18 months, "shortfalls" of gas supply could lead to shortfalls in the supply of electricity generated by burning gas. AEMO suggested solutions to potential shortfalls that included the construction of new pipelines or Coal Seam Gas (CSG) fields.
Right: Front Page of report
Our report investigates AEMO's gas-and-electricity-system modelling results as well as the communications that followed. We explore reasonable alternate conclusions that can be drawn by analysing AEMO's published modelling inputs, assumptions, and results, and by contemplating future real-world events.
We find that although a "gas-price crisis" exists in eastern-Australia, a gas-supply shortfall is very unlikely to occur. Our review finds that the size of AEMO's forecast shortfall is very small, amounting to no more than around 0.2% of annual supply.
In addition, only eleven days after announcing its supply-gap concerns, AEMO essentially closed the gap when it published, on its website, updated (lower) electricity-demand forecasts that therefore lead to less demand for electricity generated by burning gas.
In this report we also consider alternative solutions to gas shortfalls, and find that there is no need to expand gas-supply infrastructure.
New Report: No Gas Shortage in Australia, Renewables Cheaper Than Gas
May 18, 2017: Media release - Lock the Gate
A report by Melbourne University's Climate and Energy College released today, debunks the myth of a gas shortage and shows the federal government's push for more fracking across Australia is senseless, says Lock the Gate Alliance.
"This report confirms that there is no current or predicted gas supply shortage in Australia and so no basis for the push by the Federal Government and the gas industry to expand unconventional gasfields against the wishes of local communities," Lock the Gate's Phil Laird said.
"Escalating domestic gas prices have been caused not by a shortage in supply, but by gas exporters distorting our market and gouging domestic consumers," Mr Laird said.
The report, titled 'A Short-lived Gas Shortfall', which was commissioned by Lock the Gate and The Wilderness Society, finds that:
The 2018 shortfall predicted in gas supply by the Australian Energy Market Operator on 9th March 2017 to much fanfare effectively 'vanished' just 11 days later due to an updated forecast.

Increased gas prices are not a result of a shortage but due to gas companies exporting much of their gas.

Wind and solar PV are cheaper forms of bulk energy than combined cycle gas turbines, and in some cases, the cost even of new-build renewable energy and storage is cheaper than generating electricity at existing gas power stations.

Storage technologies are competitive with open cycle gas turbines in providing flexible capacity.
"The report finds the falling costs of renewable energy and storage technologies, and the increasing gas costs, means that gas will not be a transition fuel in Australia. It's now a bridge to nowhere.
"This report strengthens the resolve of farmers, Traditional Owners and communities across Australia to protect their water supplies and existing industries from unconventional gas.
"The NSW Government should take note and drop its ill-considered support for the Narrabri Gas Project which is not needed and will only deliver even more expensive gas," Mr Laird said.
Energy and mining sectors emit 80 per cent of the state's carbon pollution, and their emissions are still climbing
May 18, 2017: Media Release -
Nature Conservation Council
Sector-by-sector pollution data released today by the federal Clean Energy Regulator reveals mining and coal-and-gas power stations emit more than 80 per cent of NSW's carbon pollution. [1]
"The figures also show emissions from these dirty sectors are increasing," Nature Conservation Council CEO Kate Smolski said.
"It's time to take climate pollution seriously. Nobody wants more heatwaves, floods, bleached corals and shrinking snow seasons."
"This demonstrates the hopeless failure of state and federal governments to address this problem, and underlines the urgent need for the state government to develop plans for rapidly ramping up renewables investment and for the orderly closure of the state's coal-fired power stations.
"Our outdated electricity system is damaging the climate far more than any other sector in NSW."
Pollution from the electricity and utilities sector during the reporting period (2014-15 to 2015-16) rose 6% to 53 million tonnes, accounting for about 60 per cent of reported emissions.
92% of this came from the big five coal-fired power stations: Liddell, Bayswater, Eraring and Vales Point in the Hunter and Central Coast regions; and Mount Piper near Lithgow.
Climate pollution from mining comes in second, with an additional 21.4% of reported emissions. Mining emissions remained steady during the two reporting periods (2014-15 to 2015-16) at 19 million tonnes.
"Together, these two sectors account for 80 per cent of the problem," Ms Smolski said.
"It's clear a transition from coal and gas to clean energy must be a top priority for NSW.
"With only 7% of electricity in NSW coming from wind and solar, we lag well behind other states.
"People are looking to the Berejiklian government to turbo-charge the switch from a dirty polluting coal to a safe, secure and sustainable electricity system."
Ms Smolski said the government must slash carbon pollution, increase the reliability of our power supply, and promote jobs by:
Setting enforceable targets to source 50% of NSW's electricity from renewables by 2025 and 100% by 2030.
Planning for the quick, orderly closure of antiquated coal-fired power stations, ensuring the transition is fair for power-station workers and communities.
Creating incentives for storage technologies like batteries and pumped hydro to make our electricity grid more stable and reliable.
ANZSIC Division
REFERENCES
Sowing new seeds of knowledge about the drivers of plant diversity
May 17, 2017: University of Queensland
A new study of Australian wildflower communities is improving understanding of how climatic stress controls plant diversity, based on the strategies different species use to survive, grow and reproduce.
"Plant diversity tends to be lower in more stressful environments," says University of Queensland School of Biological Sciences' lecturer, and CSIRO researcher, Dr John Dwyer.
"However, we have a surprisingly poor understanding of the processes behind this observed pattern."
The study by Dr Dwyer and co-author Professor Daniel Laughlin from the University of Waikato in New Zealand, aims to advance ecological knowledge to better manage Australia's unique ecosystems and landscapes.
"We viewed each plant species as a combination of different characteristics, or 'traits', that determines how they tolerate stress, obtain resources, grow and reproduce," he said.
"Using this approach, we studied combinations of traits within natural wildflower communities along gradients of temperature and rainfall in the Western Australian wheatbelt."
The researchers predicted that many species with different combinations of traits should be able grow together in cool, wet areas where conditions are relatively benign.
"As we moved into more arid communities, we predicted that correlations between traits would strengthen, indicating that species need to combine traits in specific, coordinated ways to tolerate the harsher conditions; and indeed that is what we found," he said.
"Specifically, in semi-arid communities the height of species was positively correlated with seed mass.
"This makes sense, because growing tall is risky in drier regions, but having larger seeds reduces this risk because they are packed with more resources from the mother plant."
Dr Dwyer says the study is not only relevant to Western Australian wildflower communities.
"The next step is to investigate trait coordination in other systems, such as rainforests.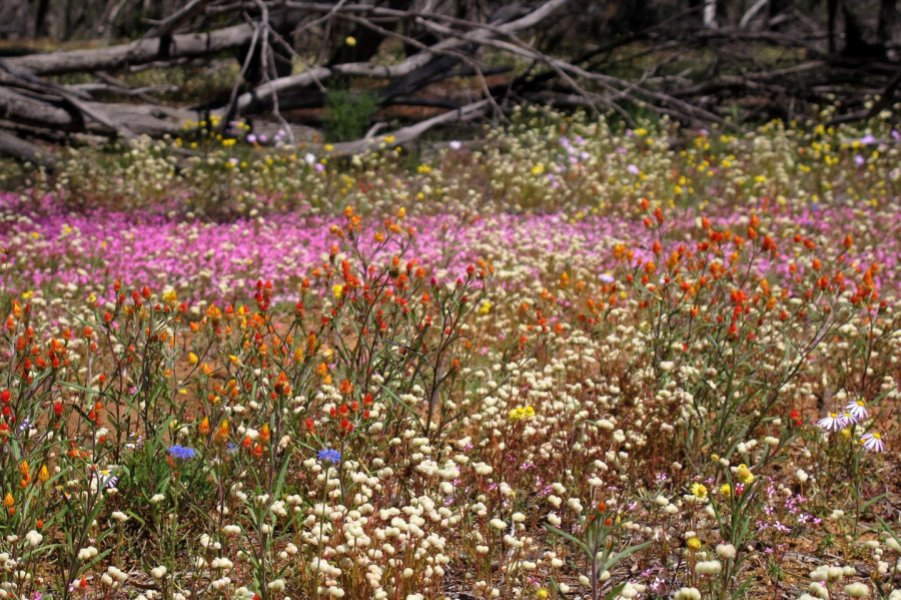 This is part of the Western Australian study area.
Credit: Xingwen Loy
"We also think our approach can be used to identify native plant species that are likely to struggle under climate change, and to select hardy species for restoration projects."
John M. Dwyer, Daniel C. Laughlin.
Constraints on trait combinations explain climatic drivers of biodiversity: the importance of trait covariance in community assembly.
Ecology Letters, 2017; DOI:
10.1111/ele.12781
Dingo fence study shows dingo extermination leads to poorer soil
May 9, 2017: University of New South Wales

A comparison of conditions in the outback on either side of Australia's dingo fence has revealed that extermination of these apex predators not only affects the abundance of other animals and plants, but also reduces the quality of the soil.
The UNSW study indicates greater control of kangaroo numbers is needed across a third of the Australian continent where dingoes are rare, to reduce damage on ecosystems.
"We have shown for the first time that the presence of dingoes is linked to healthier soils, because they suppress the numbers of kangaroos that graze on the vegetation," says study senior author UNSW Associate Professor Mike Letnic.
The research by Associate Professor Letnic and his honours research student Timothy Morris is published in the journal Proceedings of the Royal Society B.
The dingo fence was erected more than a century ago to keep dingoes out of eastern Australia, and extends approximately 5600 kilometres across the states of South Australia, New South Wales and Queensland.
Dingoes are common on the western side of the fence, but rare on the other side, due to intensive control measures including poisoning, trapping and shooting over many decades. This latter area includes most of NSW and Victoria, and southern Queensland and southern South Australia.
"The fence provides a unique opportunity to test the effects of the removal of an apex predator on herbivore abundance, vegetation and nutrients in the soil," says Mr Morris.
The researchers studied four sites -- a national park site and a pastoral site on each side of the fence in the Strzelecki Desert. They drove along outback dirt tracks at night over a period of four years to count dingoes and kangaroos. They also collected dingo scats to determine what they ate, and measured levels of phosphorus, nitrogen and carbon in the soil.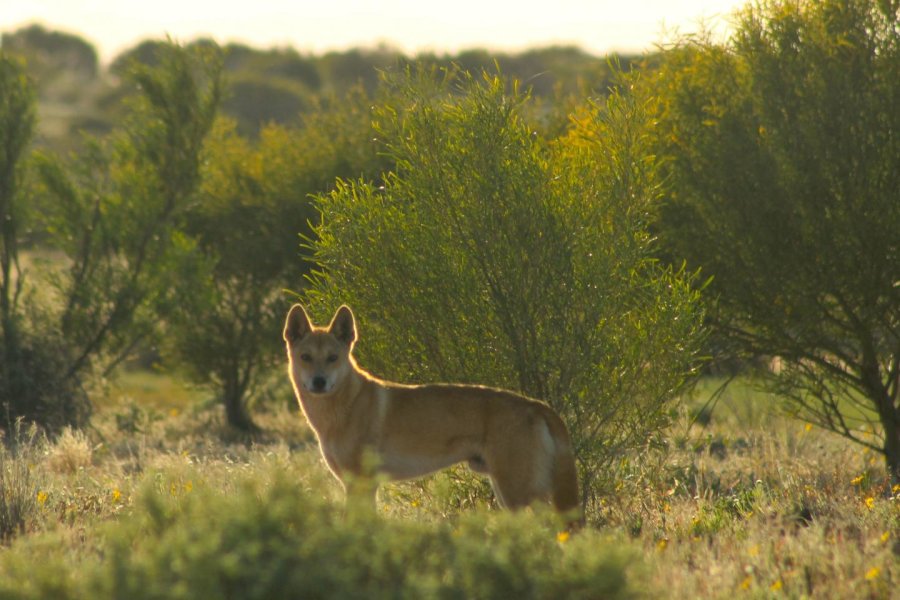 This is a dingo in the Australian outback.
Credit: Anna Normyle
Kangaroo numbers were high at the two study sites on the "inside" of the fence where dingoes were rare, with just one dingo and 3245 kangaroos spotted, compared with 85 dingoes and only eight kangaroos at the two study sites "outside" the fence.
The researchers also found that where dingoes were rare, overgrazing by large numbers of kangaroos reduced the vegetation cover and led to lower levels of phosphorus, nitrogen and carbon in the soil, compared with areas where dingoes were common.
"Our novel finding goes against the conventional wisdom that apex predators like dingoes have little impact on soil," says Associate Professor Letnic.
"We show that removal of dingoes leads to a trophic cascade that extends right down to the depletion of soil nutrients. Allowing dingo populations to increase could enhance the productivity of ecosystems across vast areas of the country by reducing herbivore numbers.
"We need to rethink the idea that kangaroos have benign impacts on ecosystems. Kangaroo numbers are very high across the approximately one third of the continent where dingoes are rare, and are having damaging impacts on soils and vegetation.
"Some of our national parks are at risk of becoming kangaroo 'farms'. We need to be pragmatic about reducing kangaroo numbers so as to reduce their impact on ecosystems," he says.
Herbivores can influence soil quality by reducing vegetation cover, which reduces leaf litter and accumulation of soil nutrients, as well as allowing water and wind to wash and blow away more topsoil. In turn, poor soil leads to reduced vegetation growth.
Travel distances of juvenile fish key to better conservation
May 16, 2017
Marine reserves -- sections of the ocean where fishing is prohibited -- promote coral reef sustainability by preventing overfishing and increasing fish abundance and diversity. But to be effective, they need to be sized right, and in a way that accounts for how far juvenile fish travel away from their parents after spawning.
Scientists at the Woods Hole Oceanographic Institution (WHOI), along with researchers from Australia, France, and Saudi Arabia, have successfully measured the dispersal distances of two coral reef fish species across a 3,000 square mile section of the ocean -- an area the size of Yellowstone National Park. The study, published in the May 8, 2017, issue of the journal Nature Ecology & Evolution, marks the largest, most comprehensive study of larval dispersal ever conducted and has important implications for the sizing and spacing of marine reserves.
"How far fish will disperse in their lifetimes is critical when you start thinking about how marine reserves should be designed," said Simon Thorrold, co-author of the study and a senior scientist at WHOI. "This is the first time we've been able to measure dispersal distances on spatial scales that are relevant to marine reserves, which means we can now provide data that informs management on optimal spacing and sizing."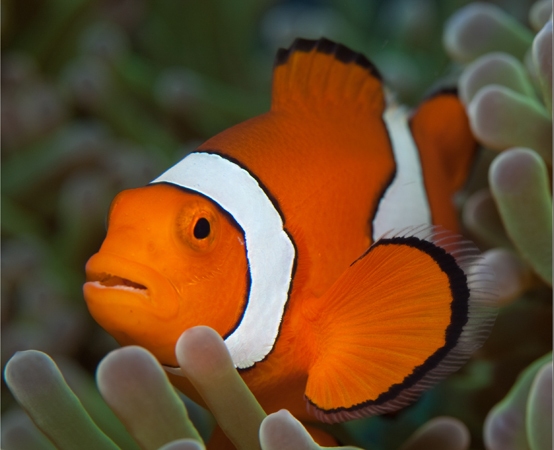 As part of the largest, most comprehensive study of larval dispersal ever conducted, scientists were able to determine that most of the juvenile clownfish stayed relatively close to home, settling at mean distances of 10-15 kilometers from their natal reefs.
Credit: Simon Thorrold, Woods Hole Oceanographic Institution
Size matters
Marine reserves come in many shapes and sizes. But if a reserve is too small, it can't accommodate enough larvae to sustain populations. And if it's too big, larvae will simply stay within the confines of the reserve without contributing to surrounding fisheries -- a critical secondary role marine reserves need to play to improve fisheries management.
To get a read on fish dispersal in the past, scientists relied on population genetics approaches that lacked the power to measure dispersal over space and time scales relevant to protected areas of the ocean. More recently, ecologists have turned to computer-generated models of water currents to track particles through virtual oceans. According to Thorrold, this approach also has limitations since there was no way to verify the accuracy of the models. "The software can generate a lot of cool-looking graphs, but it was impossible to test the skill of those models in any real way."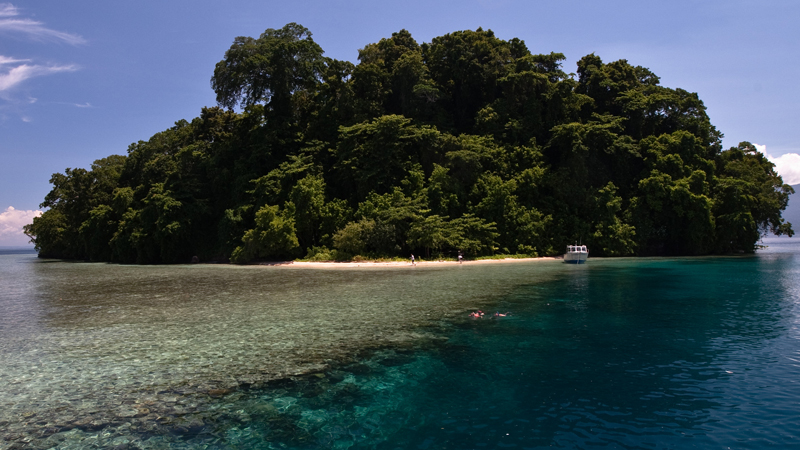 A biodiversity hotspot, Restoff Island in Kimbe Bay, Papua New Guinea, is home to hundreds of coral reef fish species, and is one of eight sites sampled by the research team. (Photo by Simon Thorrold, Woods Hole Oceanographic Institution)

An empirical approach
To overcome these limitations, Thorrold and his colleagues took direct measurements of dispersal distances in the field. They collected DNA samples from thousands of adult and juvenile clownfish and butterflyfish throughout Kimbe Bay, Papua New Guinea, in 2009 and 2011. The entire sampling process occurred underwater, with the 30-person science team spending thousands of man-hours on SCUBA over several weeks in the field each year.
When the scientists returned to the lab, they used DNA parentage analysis, a sequencing technique that allowed them to match the juveniles up with their parents based on the DNA samples and spawning and settlement location data. From that, they were able to determine that most of the juvenile clownfish stayed relatively close to home, settling at mean distances of 10-15 kilometers from their natal reefs. The butterflyfish dispersed further, averaging distances of 43-64 kilometers before settling into their new habitats.
"Since we knew the respective locations of the adults and babies, we were able to come up with the exact linear distances that the larvae had dispersed. We're no longer talking about estimates," said Thorrold.
Benefits beyond design
In addition to helping inform the design of protected areas, the measurements can help to test the ability of reserves to perform key conservation functions. For example, one way a marine reserve network may improve fish population sustainability is through the so-called "rescue effect." In theory, if fish in a reserve suffer catastrophic mortality, the reserve can be repopulated by larvae from other reserves within the network. Thorrold and colleagues were able to track larvae from one reserve to another in the study area, confirming that rescue effect is likely to occur in real-world reserve networks.
The dispersal measurements could also allow fisheries managers to monitor the effectiveness of existing reserves, helping answer the question of whether or not a particular reserve is contributing to fish populations beyond its boundaries. This, according to Thorrold, has been a big unknown.
"If you can trace larvae from one reserve to a place that's fished, you can come up with a direct measure of how many fish the reserve is contributing to exploited populations beyond the reserve," he said. "This helps when trying to convince fishermen that networks of marine reserves are a good management tool."
Future work
According to Thorrold, as coral reef seascapes continue to face pressure from human-made stressors, marine reserves will continue to serve as an important conservation management tool. As such, it will become increasingly important to be able to provide direct measurements of larval dispersal, and find ways to apply the information to other regions of the ocean.
"The next thing we are working on is developing a coupled bio-physical model of the area that will allow us to take the results from this study and generalize them to other coral reef seascapes around the world," he said. "Limited resources for ocean management, particularly in the developing world, means that we need to maximize the chances of successful conservation outcomes from these efforts. These types of scientific insights will be critical for ongoing efforts to promote resilience of coral reef ecosystems in the face of human exploitation and climate change."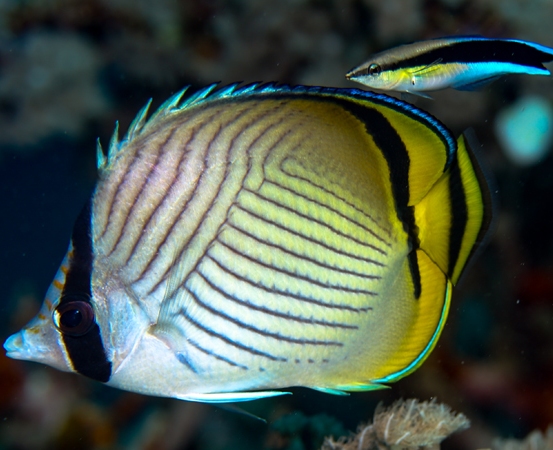 How far fish will disperse in their lifetimes is critical when you start thinking about how marine reserves should be designed, according to WHOI biologist Simon Thorrold, co-author of the new study. The research team found that butterflyfish dispersed further than clownfish, averaging distances of 43-64 kilometers before settling into their new habitats. (Photo by Simon Thorrold, Woods Hole Oceanographic Institution)

Glenn R. Almany et al.
Larval fish dispersal in a coral-reef seascape
. Nature Ecology and Evolution, May 2017 DOI:
10.1038/s41559-017-0148
The Woods Hole Oceanographic Institution
is a private, non-profit organization on Cape Cod, Mass., dedicated to marine research, engineering, and higher education. Established in 1930 on a recommendation from the National Academy of Sciences, its primary mission is to understand the ocean and its interaction with the Earth as a whole, and to communicate a basic understanding of the ocean's role in the changing global environment. For more information, please visit
www.whoi.edu
.
Aftermath of supereruption shows Toba magma system's great size
May 16, 2017

The rare but spectacular eruptions of supervolcanoes can cause massive destruction and affect climate patterns on a global scale for decades -- and a new study has found that these sites also may experience ongoing, albeit smaller eruptions for tens of thousands of years after.
In fact, Oregon State University researchers were able to link recent eruptions at Mt. Sinabung in northern Sumatra to the last eruption on Earth of a supervolcano 74,000 years ago at the Toba Caldera some 25 miles away.
The findings are being reported this week in the journal Nature Communications.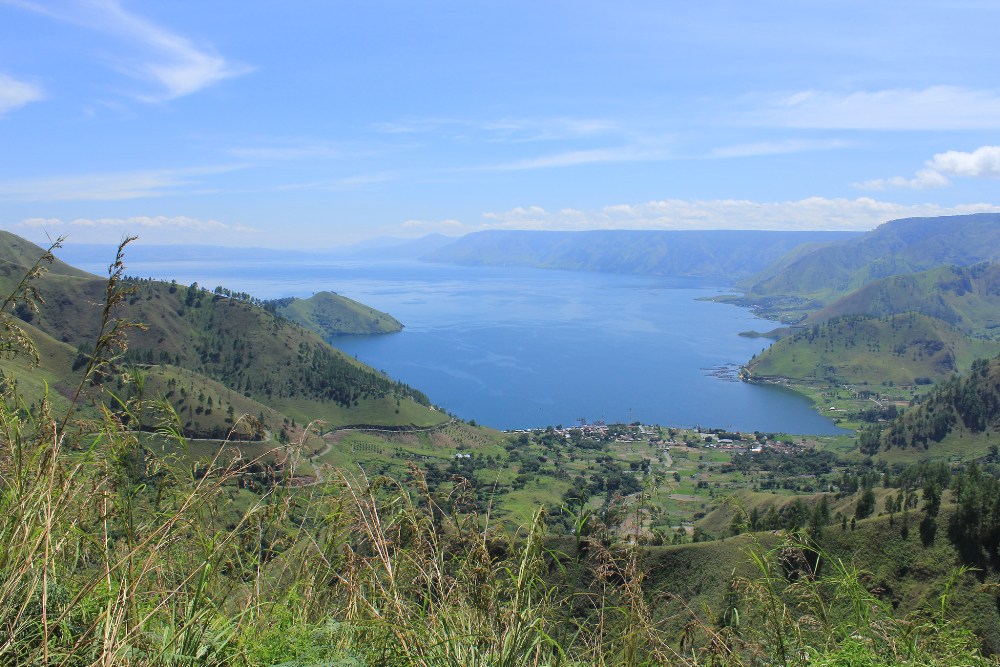 Southward view of the northern third of the Lake Toba depression produced by the supereruption 74,000 years ago.
Credit: Photo by Shan de Silva; Image courtesy of Oregon State University
"The recovery from a supervolcanic eruption is a long process, as the volcano and the magmatic system try to re-establish equilibrium -- like a body of water that has been disrupted by a rock being dropped into it," said Adonara Mucek, an Oregon State doctoral candidate and lead author on the study.
"At Toba, it appears that the eruptions continued for at least 15,000 to 20,000 years after the supereruption and the structural adjustment continued at least until a few centuries ago -- and probably is continuing today. It is the magmatic equivalent to aftershocks following an earthquake."
This is the first time that scientists have been able to pinpoint what happens following the eruption of a supervolcano. To qualify as a supervolcano, the eruption must reach at least magnitude 8 on the Volcano Explosivity Index, which means the measured deposits for that eruption are greater than 1,000 cubic kilometers, or 240 cubic miles.
When Toba erupted, it emitted a volume of magma 28,000 times greater than that of the 1980 eruption of Mount St. Helens in Washington state. It was so massive, it is thought to have created a volcanic winter on Earth lasting years, and possibly triggering a bottleneck in human evolution.
Other well-known supervolcano sites include Yellowstone Park in the United States, Taupo Caldera in New Zealand, and Campi Flegrei in Italy.
"Supervolcanoes have lifetimes of millions of years during which there can be several supereruptions," said Shanaka "Shan" de Silva, an Oregon State University volcanologist and co-author on the study. "Between those eruptions, they don't die. Scientists have long suspected that eruptions continue after the initial eruption, but this is the first time we've been able to put accurate ages with those eruptions."
Previous argon dating studies had provided rough ages of eruptions at Toba, but those eruption dates had too much range of error, the researchers say. In their study, the OSU researchers and their colleagues from Australia, Germany, the United States and Indonesia were able to decipher the most recent volcanic history of Toba by measuring the amount of helium remaining in zircon crystals in erupted pumice and lava.
The helium remaining in the crystals is a remnant of the decaying process of uranium, which has a well-understood radioactive decay path and half-life.
"Toba is at least 1.3 million years old, its supereruption took place about 74,000 years ago, and it had at least six definitive eruptions after that -- and probably several more," Mucek said. "The last eruption we have detected occurred about 56,000 years ago, but there are other eruptions that remain to be studied."
The researchers also managed to estimate the history of structural adjustment at Toba using carbon-14 dating of lake sediment that has been uplifted up to 600 meters above the lake in which they formed. These data show that structural adjustment continued from at least 30,000 years ago until 2,000 years ago -- and may be continuing today.
The study also found that the magma in Toba's system has an identical chemical fingerprint and zircon crystallization history to Mt. Sinabung, which is currently erupting and is distinct from other volcanoes in Sumatra. This suggests that the Toba system may be larger and more widespread than previously thought, de Silva noted.
"Our data suggest that the recent and ongoing eruptions of Mt. Sinabung are part of the Toba system's recovery process from the supereruption," he said.
The discovery of the connection does not suggest that the Toba Caldera is in danger of erupting on a catastrophic scale any time soon, the researchers emphasized. "This is probably 'business as usual' for a recovering supervolcano," de Silva said. It does emphasize the importance of having more sophisticated and frequent monitoring of the site to measure the uplift of the ground and image the magma system, the researchers note.
"The hazards from a supervolcano don't stop after the initial eruption," de Silva said. "They change to more local and regional hazards from eruptions, earthquakes, landslides and tsunamis that may continue regularly for several tens of thousands of years.
"Toba remains alive and active today."
As large as the Toba eruption was, the reservoir of magma below the caldera is much, much greater, the researchers say. Studies at other calderas around Earth, such as Yellowstone, have estimated that there is between 10 and 50 times as much magma than is erupted during a supereruption.
Adonara E. Mucek, Martin Danišík, Shanaka L. de Silva, Axel K. Schmitt, Indyo Pratomo, Matthew A. Coble.
Post-supereruption recovery at Toba Caldera.
Nature Communications, 2017; 8: 15248 DOI:
10.1038/ncomms15248