Native Title law now tainted by Adani:
Traditional Owners slam passage of Native Title amendments
Traditional Owners fighting Adani's proposed coal mine have expressed profound disappointment at the passage of Attorney General Brandis' amendments to the Native Title Act, stressing that while Mabo's legacy has been diminished they will continue to fight for their rights.
Senior spokesperson for the W&J Traditional Owners Council, Adrian Burragubba, says, "Adani's problems with the Wangan and Jagalingou people are not solved this week. The trial to decide the fate of Adani's supposed deal with the Wangan and Jagalingou Traditional Owners is scheduled for the Federal Court in March 2018.
"Our people are the last line of legal defence against this mine and its corrosive impact on our rights, and the destruction of country that would occur.
"Senator Brandis has been disingenuous in prosecuting his argument for these changes to native title laws, while the hands of native title bureaucrats and the mining lobby are all over the outcome.
"This swift overturning of a Federal Court decision, without adequate consultation with Indigenous people, was a significant move, not a mere technical consideration as the Turnbull Government has tried to make out.
"It is appalling and false for George Brandis to pretend that by holding a 'workshop' with the CEOs of the native title service bodies, he has the unanimous agreement of Traditional Owners across Australia. No amount of claimed 'beseeching' by the head of the Native Title Council, Glen Kelly, can disguise this.
"The public were not properly informed about the bill, and nor were Indigenous people around the country, who were not consulted and did not consent to these changes.
"We draw the line today. We declare our right to our land. There is no surrender. There is no land use agreement. We are the people from that land. We're the rightful Traditional Owners of Wangan and Jagalingou country, and we are in court to prove that others are usurping our rights", he said.
Spokesperson for the W&J Traditional Owners Council, Ms Murrawah Johnson, says, "Whatever else this change does, we know that the Turnbull Government went into overdrive for Adani's interests.
"Brandis' intervention in our court case challenging the sham ILUA was about Adani. Most of what Senator Matt Canavan had to say in arguing his ill-informed case for native title changes was about Adani. The Chairman of Senate Committee inquiring into the bill, Senator Ian McFarlane, referring to the native title amendments as "the Adani bill" was about Adani. And the PM telling Chairman Gautam Adani that he'd fix native title was about Adani".
"We are continuing to fight Adani in court and our grounds are strong. If anyone tells you this is settled because the bill was passed, they are lying", she said.
Adrian Burragubba says, "The Labor Opposition seems to understand this, even though they supported passage of the bill. Senator Pat Dodson went so far as to say this bill does not provide some kind of green light for the Adani mine, as some suggest.
"Pat Dodson acknowledged that W&J have several legal actions afoot against Adani and we are glad that in the midst of this dismal response to the rights of Indigenous people some MPs, including the Greens who voted against the bill, recognise the serious claim we have to justice.
Mr Dodson said in the Senate that: "most of this litigation will be entirely unaffected by the passage of this bill. In particular, there are very serious allegations of fraud that have been made against Adani regarding the processes under which agreements with the Wangan and Jagalingou people were purportedly reached. And those proceedings, which may impact on the validity of any ILUA, will only commence hearings in March next year. Other legal action is also underway, including a case challenging the validity of the licences issued by the Queensland government."
Unfinished business: Adani, the State and Indigenous rights
June 12, 2017: University of Queensland

University of Queensland researchers have released a report into the uncertainty and contest surrounding the future of the proposed Carmichael coal mine, highlighting "unfinished business" between Adani, the State and the Wangan and Jagalingou Traditional Owners Council.
School of Social Science Associate Professor Dr Kristen Lyons released the report at an event attended by Wangan and Jagalingou Traditional Owners Council spokesperson Murrawah Johnson.
"The report raises issues that are of immediate relevance, with Parliament meeting to discuss, for a third time, amendments to the Native Title Bill," she said.
"This has been widely described as a rushed process, by a Government apparently determined to push through their 'Adani Bill' and support the go-ahead of Adani's proposed Carmichael mine.
"Our report describes 'unfinished business' between Adani and the Wangan and Jagalingou Traditional Owners Council, with the Council's legal campaigns – set to run until at least 2018 – offering the last legal line of defence against the go-ahead of the mine."
Dr Lyons said the report described the resistance of the Wangan and Jagalingou Traditional Owners Council to the proposed mine on the basis that it would cause irreversible destruction to their country.
The Wangan and Jagalingou are centring their Indigenous rights in the transition to a low carbon future.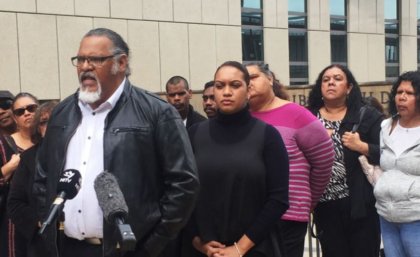 Members of the W&J Traditional Owners Council outside the Federal Court
Earth Justice organisation Managing Attorney Martin Wagner, who wrote the report's foreword, said the story of the Wangan and Jagalingou fight against government and corporate power was an important cautionary tale highlighting the implications for Australian society of the unfinished business between the State and Aboriginal and Torres Strait Islander peoples.
The report, available
here
, was written by Dr Lyons, School of Political Science and International Studies Senior Lecturer Morgan Brigg, and School of Economics Professor John Quiggin.
Shelf sediments reveal climate shifts through the eons
June 11, 2017: University of Queensland

Climate change around Antarctica can severely affect Australia's rainfall and even influence the distribution of wet and dry zones across southeast Asia, an international study has revealed.
Chelsea Korpanty of The University of Queensland's School of Biological Sciences worked on the study, which was led by Dr Jeroen Groeneveld from the Center of Marine and Environment Sciences at the University of Bremen, Germany.
Ms Korpanty said global climate underwent significant change about 14 million years ago when the Antarctic ice sheet expanded.
"The new study presents shallow-marine sediment records from the Australian continental shelf, providing the first empirical evidence linking high-altitude cooling around Antarctica to climate change in the subtropics during the Miocene era," she said.
"Our data is consistent with the inference that expansion of sea ice around Antarctica resulted in a northward movement of the westerly winds.
"In turn, this may have pushed tropical atmospheric circulation, shifting the main rainfall belt over large parts of Southeast Asia."
The study used sediment cores drilled along the west coast of Australia during International Ocean Discovery Program Expedition 356 with the research vessel JOIDES Resolution, providing a long-term history of how rainfall and aridity changed on Earth from 16 to six million years ago.
Ms Korpanty worked aboard the JOIDES in 2015 as a sedimentologist alongside scientists from 29 different international institutes and with expertise across paleontology, sedimentology, and physical geological properties.
The results of the expedition, and the data published in the paper, provided an unprecedented climate record for western Australia, capturing when and how Antarctic climate changes affected Australian climate conditions.
Dr Groeneveld said the new study had the enormous advantage of using a complete and thus continuous sediment record which had not been influenced by potential drilling disturbances.
"Today the climate in western Australia varies from north to south - in the north the seasonal monsoon brings pronounced dry and wet seasons, farther south the climate is dry throughout the year, and in the south the westerly winds bring rain during the Australian winter," he said.
Expedition 356 aimed to determine how this climate gradient developed over longer time periods, especially in the Miocene and Pliocene (16-six million years ago).
Dr Groeneveld said that over longer timescales, tectonic changes played an important role, such as in the closing of the Indonesian Gateway and the northward movement of Australia away from Antarctica.
"Global climate during the Miocene era was much warmer than today, and at the end of the middle Miocene a large part of Antarctica became glaciated and continued to cool the Southern Ocean into the late Miocene."
The researchers used the natural gamma-ray data acquired with downhole logging during the expedition to reconstruct variations in river runoff and dust and relate these to a history of precipitation and aridity for western Australia.
The findings are published in
Science Advances
(
Australian shelf sediments reveal shifts in Miocene Southern Hemisphere westerlies
doi:
10.1126/sciadv.1602567
)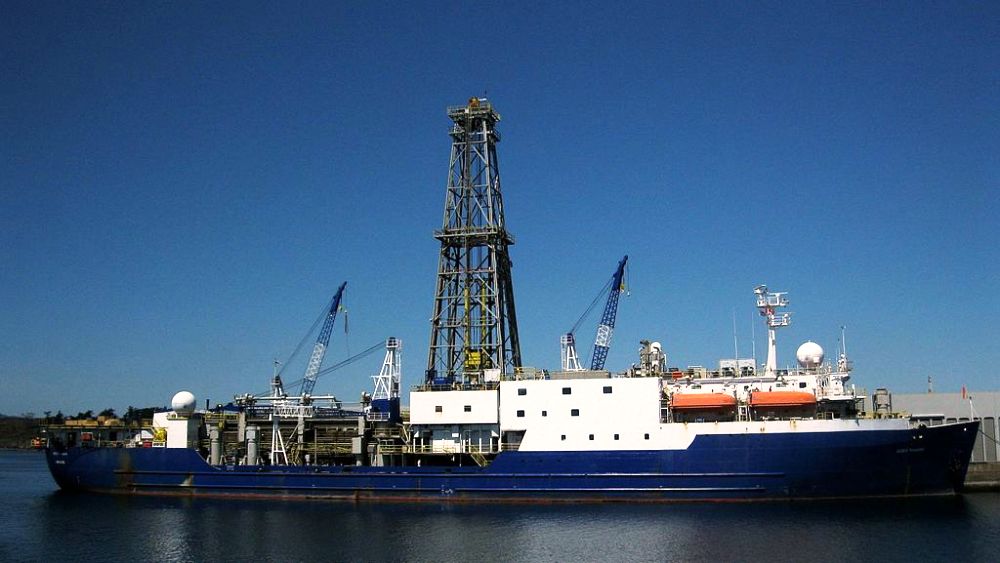 The research vessel
JOIDES Resolution
, photo by John Newcombe. Wikipedia Creative Commons.
Australia Post gives green thumb to Aussie succulents with new stamps
14th June 2017
Australia Post celebrates Australian succulent plants with a new stamp issue out in post offices across the country from Tuesday 20 June.
Australia Post Philatelic Manager, Michael Zsolt said, "Many Australians have a passion for the great outdoors and for gardening. We believe these stamps will pique the interest of nature-lovers and gardeners alike, providing a window onto some of our amazing native succulent species".
Succulents occur through most regions in Australia and the term "succulence" or "succulent" refers to a plant's capacity for holding water. Besides water-storing capacity, two criteria for determining this group are a plant's ability to withstand long periods of dry without severe leaf loss and the ability to not only survive but continue to grow with minimal food, water and care, making them a popular choice of plant for gardens and courtyards.
The four domestic base-rate ($1) stamps were designed by Melbourne-based Janet Boschen Design and feature the following species:
Portulaca cyclophylla is found throughout central Western Australia. This species of the Portulaca genus is unusual in having large, showy blooms of up to 3.5 centimetres in diameter, with an extended central stigma.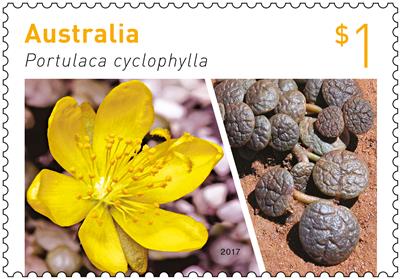 Tecticornia verrucosa is found in north, central and south-western central Western Australia; western Northern Territory; and north-western South Australia. This unusually formed plant is blue-green and fleshy; the stems turn a purplish-pink as the plant matures and develop a thin interior woody core.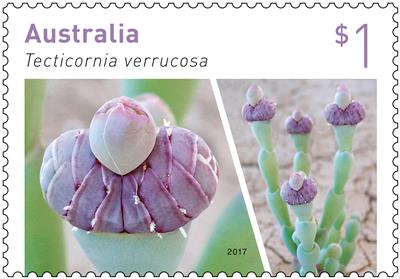 Calandrinia creethae is found in central Western Australia and is commonly known as Jelly Beans, named for the clusters of smooth, globular succulent leaves that comprise this plant. Traditionally, species in the Calandrinia genus have been important to Aboriginal people, who gathered its seeds to ground into meal.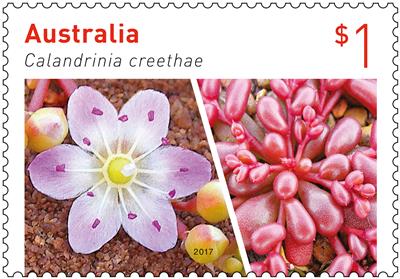 Gunniopsis quadrifida is distributed in south-western Western Australia; southern Northern Territory; northern South Australia; south-western Queensland; and north-western New South Wales. This perennial low-growing shrub has rounded linear, greenish leaves and its fleshy flowers open up, with four leaf-like outer "petals" and white to cream centres.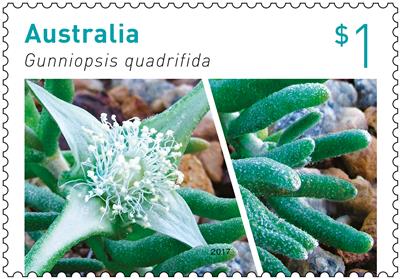 The products associated with this stamp issue are a first day cover, stamp pack, set of four maxicards, four gutter strips of 10 x $1 stamps with design, roll of 100 x $1 self-adhesive stamps and a booklet of 10 x $1 self-adhesive stamps.
The Australian Succulents stamp issue is available from participating Post Offices, via mail order on 1800 331 794 and online at auspost.com.au/stamps from 20 June 2017 while stocks last.
Visit the Australia Post Collectables website
auspostcollectables.com.au
and stay up-to-date with new Australian stamp issues. The Australia Post Collectables website is a central resource for stamp collectors and philatelic enthusiasts across the globe.
World's largest marine pollution project
June 8, 2017: CSIRO

CSIRO is undertaking the world's largest marine pollution survey, working with countries across the globe to help them assess and reduce the amount of litter entering the oceans.
Some of the world's top 20 polluters will take part in the project including China, Bangladesh, Indonesia, Vietnam and the United States, plus other countries including Australia, South Korea and Taiwan.
CSIRO senior scientist Dr Denise Hardesty said the project would provide hard numbers on the amount of litter entering the ocean by using real data collected on coastlines and cities across the globe.
"Up until now we've been relying on estimates from 2010 World Bank data, so this will be the first time anyone has brought together a group of countries to look at exactly how much litter is entering the oceans," Dr Hardesty said.
"We will be able to see where the hotspots lie by looking at how people, wind, the shape of the land and storm water moves rubbish into the ocean and then give advice on how to improve this based on science-based interventions."
Representatives from five partner countries will meet next week in Korea for the project's first training workshop.
Our Seas of East Asia Network's Dr Sunwook Hong will lead South Korea's involvement in the project and said taking a global approach was essential to tackle the problem.
"By coordinating our approach we will be able to achieve some quick wins and know where to set our sights for more long-term goals," Dr Hong said.
The project was announced two months after Dr Hardesty presented to the world's first G20 summit on marine pollution, and on World Ocean Day which in 2017 is focused on plastic pollution.
"We know that almost all litter starts off in someone's hand, and from there it finds it ways from land to the ocean, where it breaks up into smaller pieces," Dr Hardesty said.
"This means if we can stop the rubbish from entering the ocean, we can make real headway in resolving the problem.
"Along with causing marine and environmental problems, things like plastic bags can also cause storm water drains to become blocked, leading to significant localised flooding and serious health risks for local people."
The project follows years of marine debris research led by Dr Hardesty and her team which has published significant findings including quantifying the amount of litter on the entire Australian coastline and reporting on the number of seabirds and other wildlife eating plastic.
The project is a collaboration between CSIRO, the Oak Family Foundation and Schmidt Marine Technology Partners.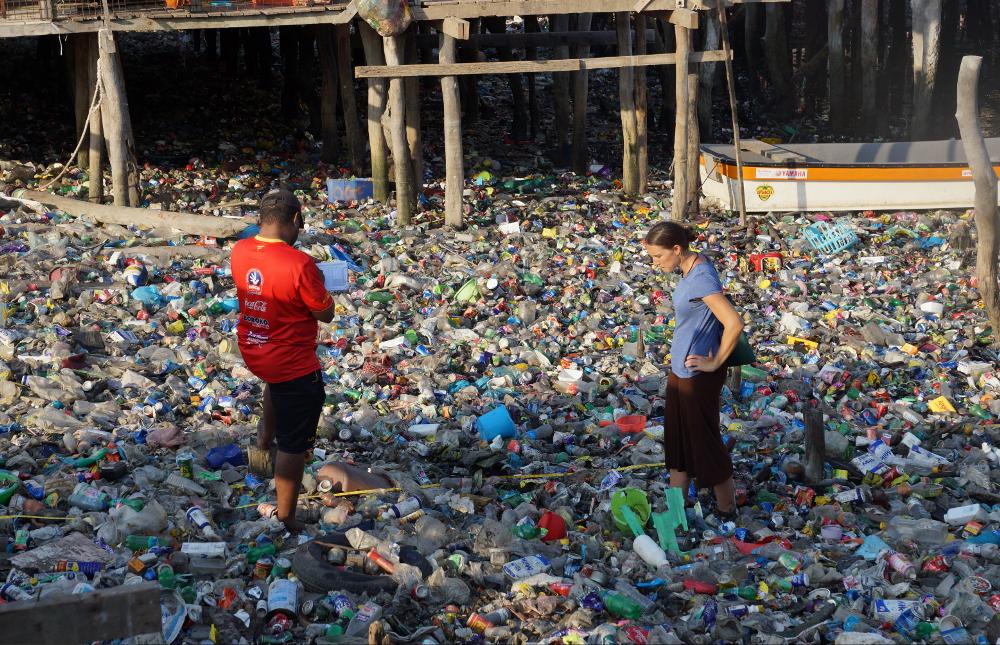 Ocean pollution choking parts of Port Moresby. ©Sustainable Coastlines
Hydroelectric dams may jeopardize the Amazon's future
June 14, 2017: University of Texas at Austin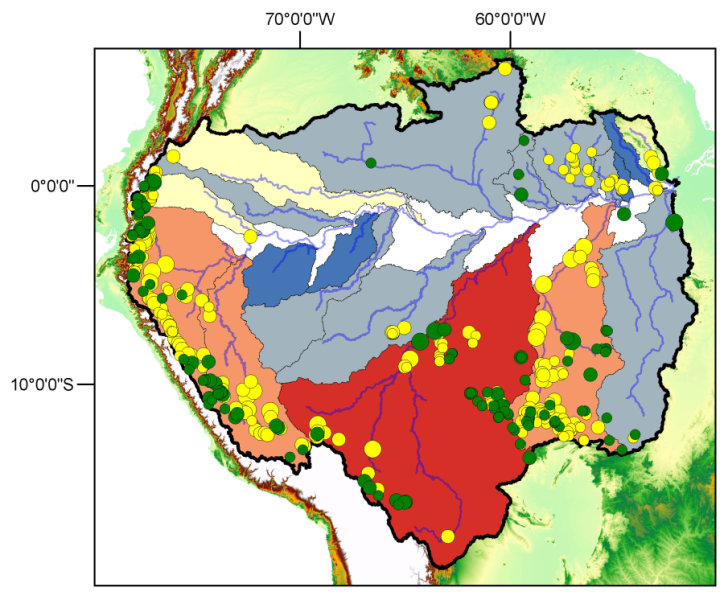 Map depicting the Amazon's 19 sub-basins and the existing or under construction (green) and planned (yellow) hydroelectric dams.
Credit: Illustration by Edgardo Latrubesse
Hundreds of built and proposed hydroelectric dams may significantly harm life in and around the Amazon by trapping the flow of rich nutrients and modifying the climate from Central America to the Gulf of Mexico. These findings, published in Nature, emerge from a multidisciplinary, international collaboration of researchers from 10 universities, led by scientists at The University of Texas at Austin.
To meet energy needs, economic developers in South America have proposed 428 hydroelectric dams, with 140 currently built or under construction, in the Amazon basin -- the largest and most complex network of river channels in the world, which sustains the highest biodiversity on Earth. The rivers and surrounding forests are the source of 20 percent of the planet's fresh water and valuable ingredients used in modern medicine.
While these hydroelectric dams have been justified for providing renewable energy and avoiding carbon emissions, little attention has been paid to the major disturbances dams present to the Amazon floodplains, rainforests, the northeast coast of South America and the regional climate, the researchers said.
Rivers in the Amazon basin move like a dance, exchanging sediments across continental distances to deliver nutrients to "a mosaic of wetlands," said Edgardo Latrubesse, UT Austin geography and the environment professor and lead author of the study. Sediment transported by rivers provides nutrients that sustain wildlife, contribute to the regional food supplies and modulate river dynamics that result in high habitat and biotic diversity for both aquatic and nonaquatic organisms.
"People say 'oh another dam, another river.' It's not. It's the Amazon," said Latrubesse, who is a faculty affiliate of the Teresa Lozano Long Institute of Latin American Studies. "We have to put the risks on the table and change the way people are looking at the problem. We are massively destroying our natural resources, and time urges us to find some rational alternatives for preservation and sustainable development."
In the study, Latrubesse and collaborators introduced the Dam Environmental Vulnerability Index (DEVI), which was developed to determine the current and potential impacts of dams on rivers and their ecosystems in the Amazon basin. DEVI values quantify on a scale of 0 to 100 an area's vulnerability to potential land use change, erosion, runoff pollution, trapped sediment and overall changes to river systems due to dams.
"To not have an integrated approach is to deny how nature works in the Amazon basin," said Victor Baker, University of Arizona Regents' Professor of Hydrology and Atmospheric Sciences and co-author of the study." Our role is to show how nature works and that nature is integrated."
Researchers found that many of the existing dams are located in areas of high sediment yield, such as the Andean Cordillera, which provides more than 90 percent of the detrital sediment to the entire system.
The Marañon and Ucayali rivers are the most vulnerable in this area (DEVI of 72 and 61, respectively), with 104 and 47 dams planned or constructed dams on each river, respectively. The researchers estimated 68 to 80 percent of the area upstream of the lowermost planned dam in these rivers will remain unprotected from dam influence, modifying the rivers' dynamics, altering the creation of oxbow lakes and branches, decreasing floods and floodplain sediment storage, and putting thousands of species of birds, fish and trees at risk.
The Madeira River, which accounts for about half of the Amazon River system's total sediment transported from Bolivia and Peru and is home to the most diverse fish population in the Amazon, has the highest DEVI values (greater than 80) and faces extreme risks of potential land use change, erosion, runoff pollution and trapped sediment. Here, two huge dams were recently constructed, the Santo Antônio and Jiaru dams, which led to a 20 percent decrease in the average sediment concentration in the Madeira despite unusually high flood dischargesNature in 2014 and 2015. Researchers expect a greater amount of the nutrient-rich sediment to soon be trapped by the additional trapping effect of 25 dams planned further upstream.
Other large rivers in the central highlands of Brazil are also being impacted, the researchers said. Investigation of the Tapajós River -- where the main riverstem has not yet been directly disrupted, but 28 dams were recently constructed in its major tributaries -- showed that the river and all its major tributaries will be impounded if developers move forward with 90 proposed dams and deforestation continues at its current rate.
"Think about putting dams in the Mississippi connecting artificial lakes from Memphis to New Orleans," Latrubesse said. "It would be a scandal because it wouldn't be sustainable. But this is what is proposed for the Tapajós River."
Baker stressed that the Amazon is "the most important river basin on the planet. It's a microcosm of our issues of today involving environment, energy and health of the planet."
Amazon sediments nourish the largest preserved mangrove region of South America, along the coastline of northeast Brazil and the three Guianas, and past research has shown the sediments affect rainfall and storm patterns from the Amazon basin to Gulf of Mexico, Latrubesse said.
"The dimension of the impacts can be not only regional, but also on an interhemispheric scale," Latrubesse said. "If all the planned dams in the basin are constructed, their cumulative effect will trigger a change in sediment flowing into the Atlantic Ocean that may hinder the regional climate."
Edgardo M. Latrubesse, Eugenio Y. Arima, Thomas Dunne, Edward Park, Victor R. Baker, Fernando M. d'Horta, Charles Wight, Florian Wittmann, Jansen Zuanon, Paul A. Baker, Camila C. Ribas, Richard B. Norgaard, Naziano Filizola, Atif Ansar, Bent Flyvbjerg, Jose C. Stevaux.
Damming the rivers of the Amazon basin.
Nature, 2017; 546 (7658): 363 DOI:
10.1038/nature22333
Large Canadian Arctic climate change study cancelled due to climate change
June 13, 2017: University of Manitoba
The Science Team of the Canadian Research Icebreaker CCGS Amundsen has cancelled the first leg of the 2017 Expedition due to complications associated with the southward motion of hazardous Arctic sea ice, caused by climate change.
This regrettably postpones the much-anticipated Hudson Bay System Study (BaySys) involving 40 scientists from five universities across Canada. Timing was key for this $17 million, four-year, University of Manitoba-led project.
The need to deal with extreme ice conditions in the south meant the ship would arrive too late on site to meet research objectives.
The Arctic deployment of the Canadian Research Icebreaker CCGS Amundsen is undertaken through a long-standing collaboration between the Canadian Coast Guard (CCG) and University-led Arctic science in Canada.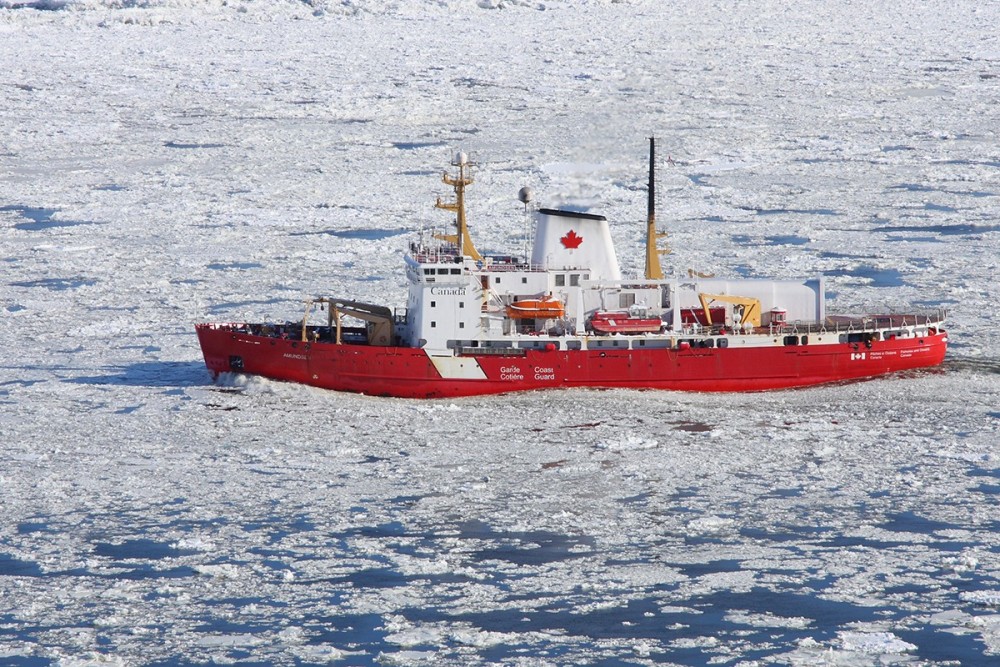 The research icebreaker CCGS Amundsen. Image courtesy of University of Manitoba

This productive partnership has been providing Canadian researchers and their international colleagues with the ability to monitor and understand the impacts of climate change and resource development on Arctic marine and coastal ecosystems and northern communities since 2003.
This year the Expedition Logistics and Science Teams accelerated the mobilization of the 2017 Arctic Expedition to permit departure of the Amundsen six days ahead of schedule.
This would allow CCG to carry out critical marine safety and security operations in the unusually severe ice conditions in the Strait of Belle Isle and along the northeast coast of Newfoundland before beginning the Science Mission.
Unfortunately, the conditions required much more extended support than anticipated. Fleet management issues and inadequate alternative ships forced the cancellation of the science program due to significant safety concerns.
This decision to cancel the BaySys 2017 program was not made lightly. Although the cancellation was due to circumstances beyond control of the Expedition Team, every effort was made to develop a viable option to allow this valuable work to proceed.
The decision to terminate the 2017 program has significant impacts on partners and the large number of graduate students involved.
"Considering the severe ice conditions and the increasing demand for Search And Rescue operations (SAR) and ice escort, we decided to cancel the BaySys mission. A second week of delay meant our research objectives just could not be safely achieved -- the challenge for us all was that the marine ice hazards were exceedingly difficult for the maritime industry, the CCG, and science," says Dr. David Barber, Expedition Chief Scientist and BaySys Scientific Lead.
Dr. Barber and his team of experts were able to use the state-of-the-art equipment onboard the Amundsen to confirm that a significant proportion of the sea ice present originated from the high Arctic.
He noted that, "Climate-related changes in Arctic sea ice not only reduce its extent and thickness but also increase its mobility meaning that ice conditions are likely to become more variable and severe conditions such as these will occur more often."
The Sea Ice Research Team collected a comprehensive dataset on the physics of the ice, ocean and atmosphere in the area and these data will contribute to the understanding of these events and assist Canada in preparing for climate change driven increases in marine ice hazards.
"This extremely unfortunate event is not expected to affect the remainder of the 2017 Amundsen Expedition resuming on July 6. We believe that the oceanographic studies will proceed as planned and do not anticipate an impact on the Nunavik Inuit Health Survey, says Dr. Louis Fortier, Scientific Director of the Amundsen and ArcticNet Science programs. "The Amundsen Science Team is committed to working with Canadian Coast Guard and our industrial partners to plan a 2018 BaySys program."
The research of our scientists clearly indicate that climate change is not something that is going to happen in the future -- it is already here. Research results from scientists onboard the Amundsen and innovative Networks like ArcticNet show the impacts of climate change in Canada's Arctic and Arctic Ocean affect not only northern ecosystems and communities, but also the environments and people living in the south of Canada -- as so dramatically seen off the coast of Newfoundland.
The provision of the best information possible is essential for proper planning, decision-making and adaptation to the realities of climate change.
This experience, and climate change conditions currently affecting Churchill, Man., clearly illustrates that Canada is ill prepared to deal with the realities of climate change.
Plastic made from sugar and carbon dioxide
June 13, 2017: University of Bath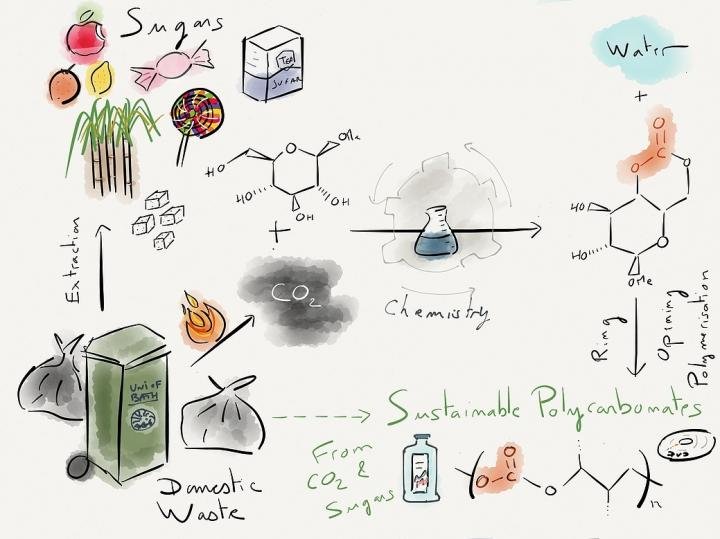 This is a graphic showing how sugar and carbon dioxide is converted to plastic.
Credit: Georgina Gregory
Some biodegradable plastics could in the future be made using sugar and carbon dioxide, replacing unsustainable plastics made from crude oil, following research by scientists from the Centre for Sustainable Chemical Technologies (CSCT) at the University of Bath.
Polycarbonate is used to make drinks bottles, lenses for glasses and in scratch-resistant coatings for phones, CDs and DVDs
Current manufacture processes for polycarbonate use BPA (banned from use in baby bottles) and highly toxic phosgene, used as a chemical weapon in World War One
Bath scientists have made alternative polycarbonates from sugars and carbon dioxide in a new process that also uses low pressures and room temperature, making it cheaper and safer to produce
This new type of polycarbonate can be biodegraded back into carbon dioxide and sugar using enzymes from soil bacteria
This new plastic is bio-compatible so could in the future be used for medical implants or as scaffolds for growing replacement organs for transplant
Polycarbonates from sugars offer a more sustainable alternative to traditional polycarbonate from BPA, however the process uses a highly toxic chemical called phosgene. Now scientists at Bath have developed a much safer, even more sustainable alternative which adds carbon dioxide to the sugar at low pressures and at room temperature.
The resulting plastic has similar physical properties to those derived from petrochemicals, being strong, transparent and scratch-resistant. The crucial difference is that they can be degraded back into carbon dioxide and sugar using the enzymes found in soil bacteria.
The new BPA-free plastic could potentially replace current polycarbonates in items such as baby bottles and food containers, and since the plastic is bio-compatible, it could also be used for medical implants or as scaffolds for growing tissues or organs for transplant.
Dr Antoine Buchard, Whorrod Research Fellow in the University's Department of Chemistry, said: "With an ever-growing population, there is an increasing demand for plastics. This new plastic is a renewable alternative to fossil-fuel based polymers, potentially inexpensive, and, because it is biodegradable, will not contribute to growing ocean and landfill waste.
"Our process uses carbon dioxide instead of the highly toxic chemical phosgene, and produces a plastic that is free from BPA, so not only is the plastic safer, but the manufacture process is cleaner too."
Dr Buchard and his team at the Centre for Sustainable Chemical Technologies, published their work in a series of articles in the journals Polymer Chemistry and Macromolecules.
In particular, they used nature as inspiration for the process, using the sugar found in DNA called thymidine as a building block to make a novel polycarbonate plastic with a lot of potential.
PhD student and first author of the articles, Georgina Gregory, explained: "Thymidine is one of the units that makes up DNA. Because it is already present in the body, it means this plastic will be bio-compatible and can be used safely for tissue engineering applications.
"The properties of this new plastic can be fine-tuned by tweaking the chemical structure -- for example we can make the plastic positively charged so that cells can stick to it, making it useful as a scaffold for tissue engineering." Such tissue engineering work has already started in collaboration with Dr Ram Sharma from Chemical Engineering, also part of the CSCT.
The researchers have also looked at using other sugars such as ribose and mannose. Dr Buchard added: "Chemists have 100 years' experience with using petrochemicals as a raw material so we need to start again using renewable feedstocks like sugars as a base for synthetic but sustainable materials. It's early days, but the future looks promising."
This work was supported by Roger and Sue Whorrod (Fellowship to Dr Buchard), EPSRC (Centre for Doctoral Training in Sustainable Chemical Technologies), and a Royal Society research Grant.
Georgina L. Gregory, Gabriele Kociok-Köhn, Antoine Buchard.
Polymers from sugars and CO2: ring-opening polymerisation and copolymerisation of cyclic carbonates derived from 2-deoxy-d-ribose.
Polym. Chem., 2017; 8 (13): 2093 DOI:
10.1039/C7PY00236J
Avalon Boomerang Bags: An Idea that's Spreading to stop plastic bag use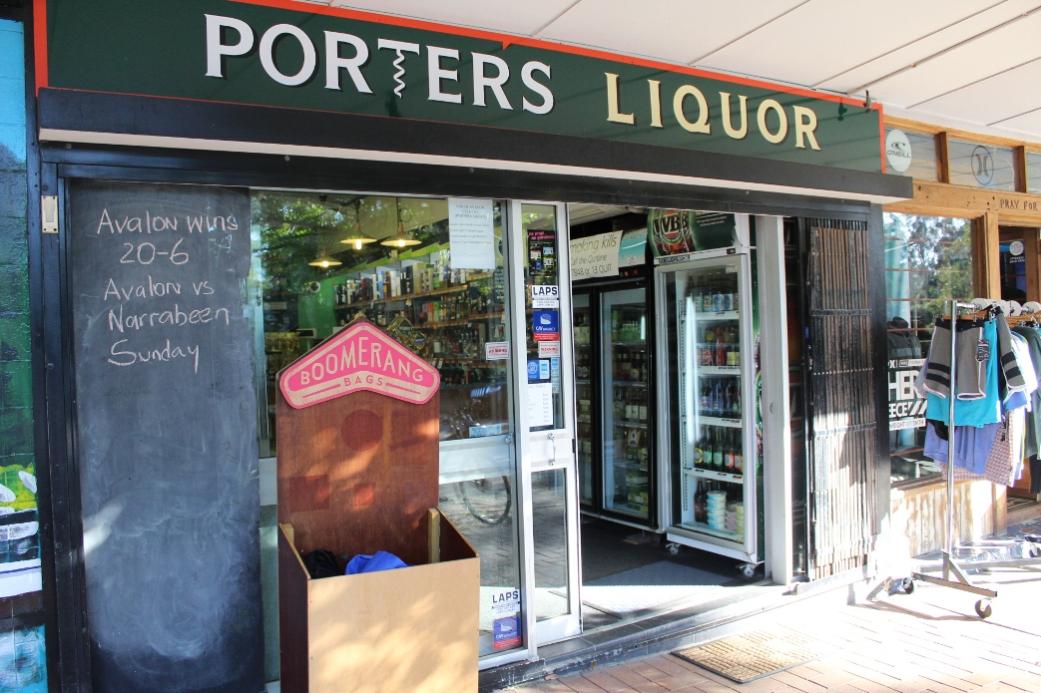 Avalon Boomerang Bags - now at North Avalon shops - A J Guesdon photo, 25.5.2017
Avalon Boomerang Bags
Unit 20/14 Polo Ave Mona Vale
Boomerang Bags is a bag-share initiative involving the installation of a number of 'Boomerang Bag' boxes throughout any given business district, shopping centre, street or market. Each box is stocked with re-useable bags for customers to borrow if they have forgotten to bring their own.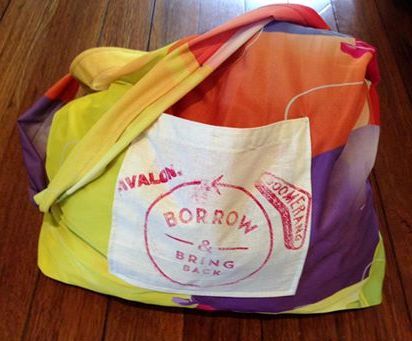 Unlike the traditional purchase-and-keep approach, Boomerang Bags are free, and local community members are responsible for returning the bags once they're no longer required. The availability of free re-useable bags reduces the reliance of local businesses to supply bags to all customers, and encourages a mentality of re-use among local communities, thereby reducing the amount of plastic bag material entering our landfills and waterways.
So who makes the Boomerang Bags? Well, you do! Boomerang Bags are made by local communities for local communities, and are sewn from recycled and donated materials.
Get in touch if you'd like to donate materials, join us making bags, or implement Boomerang Bags in your own local area!