Hotter, longer, more frequent - marine heatwaves on the rise
April 11, 2018: by Alvin Stone, University of New South Wales
Marine heatwaves have increased over the past century as a direct result of warming oceans, with significant impacts on biodiversity, fisheries, tourism and aquaculture.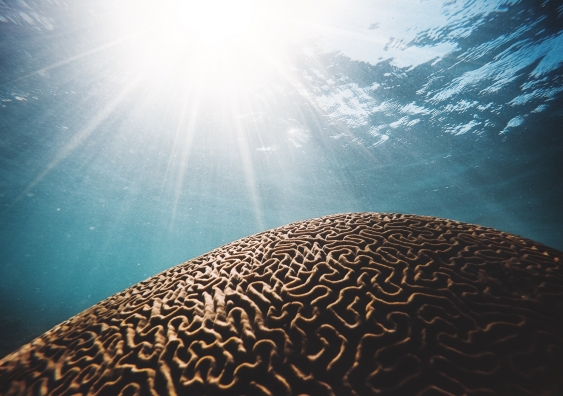 Brain coral under a hot sun. Image: Daniel Hjalmarsson Unsplash

An international study by researchers from the newly launched ARC Centre of Excellence for Climate Extremes and the Institute of Marine and Antarctic Studies reveals that marine heatwaves have increased globally over the past century in number, length and intensity as a direct result of warming oceans.
The results are published in the journal Nature Communications.
From 1925-2016, the frequency of marine heatwaves increased on average by 34% and the length of each heatwave increased by 17%. Together this led to a 54% increase in the number of marine heatwave days every year.
"Our research also found that from 1982 there was a noticeable acceleration of the trend in marine heatwaves," says lead author and Associate Investigator from the ARC Centre of Excellence for Climate System Science, Dr Eric Oliver, who is now based in Dalhousie University, Canada.
"While some of us may enjoy the warmer waters when we go swimming, these heatwaves have significant impacts on ecosystems, biodiversity, fisheries, tourism and aquaculture. There are often profound economic consequences that go hand in hand with these events."
Some recent examples show just how significant marine heatwave events can be.
In 2011, Western Australia saw a marine heatwave that shifted ecosystems from being dominated by kelp to being dominated by seaweed. That shift remained even after water temperatures returned to normal.




In 2012, a marine heatwave in the Gulf of Maine led to an increase in lobsters but a crash in prices that seriously hurt the industry's profits.




Persistent warm water in the north Pacific from 2014-2016 led to fishery closures, mass strandings of marine mammals and harmful algal blooms along coastlines. That heatwave even changed large-scale weather patterns in the Pacific Northwest.




More recently still, Tasmania's intense marine heatwave in 2016 led to disease outbreaks and slowing in growth rates across aquaculture industries. (

Record-breaking marine heatwave cooks Tasmania's fisheries - ARC)

The researchers used a variety of observational datasets to reveal the trend of increasing marine heatwaves, combining satellite data with a range century long datasets taken from ships and various land based measuring stations. They then removed the influences of natural variability caused by the El Nino Southern Oscillation, the Pacific Decadal Oscillation and the Atlantic Multidecadal Oscillation to find the underlying trend.
"There was a clear relationship between the rise in global average sea-surface temperatures and the increase in marine heatwaves, much the same as we see increases in extreme heat events related to the increase in global average temperatures," says co-author and UNSW scientist, Dr Lisa Alexander, a chief investigator with the UNSW-based Centre for Climate Extremes.
"With more than 90% of the heat from human caused global warming going into our oceans, it is likely marine heatwaves will continue to increase. The next key stage for our research is to quantify exactly how much they may change.
"The results of these projections are likely to have significant implications for how our environment and economies adapt to this changing world," she says.
Eric C. J. Oliver, Markus G. Donat, Michael T. Burrows, Pippa J. Moore, Dan A. Smale, Lisa V. Alexander, Jessica A. Benthuysen, Ming Feng, Alex Sen Gupta, Alistair J. Hobday, Neil J. Holbrook, Sarah E. Perkins-Kirkpatrick, Hillary A. Scannell, Sandra C. Straub, Thomas Wernberg.
Longer and more frequent marine heatwaves over the past century.
Nature Communications, 2018; 9 (1) DOI:
10.1038/s41467-018-03732-9
Eric C. J. Oliver, Jessica A. Benthuysen, Nathaniel L. Bindoff, Alistair J. Hobday, Neil J. Holbrook, Craig N. Mundy, Sarah E. Perkins-Kirkpatrick.
The unprecedented 2015/16 Tasman Sea marine heatwave.
Nature Communications, 2017; 8: 16101 DOI:
10.1038/ncomms16101
Planning for the future with climate change – we owe this to you
April 12th, 2018
RT HON JACINDA ARDERN, Prime Minister of New zealand
Tena koutou katoa
I want you for a moment to think about what you will be doing in 2048. Hopefully you will of course have graduated. You may well have a mortgage. A partner. Kids. If my attempts to predict the future as a teenager was anything to go by, you will also travel on a hover board.
But what will our world be like? Our environment, and New Zealand's place in the world?
The idea of having to think about the what ifs 30 or even 40 years before it happens is an overwhelming prospect. But the truth is, we have to.
I know that decisions we make today have a long lasting impact. But the temptation in politics for too long, has been to do everything in three year cycles. Not too think too far ahead least you have to make hard decisions. But if there is one issue that proves we just can't operate like that anymore, its climate change.
And that is why I am here. As young people I know that you have a good grasp of the important issues of the day. You have been a part of some of the most significant. But climate change is not just another movement that is increasingly being led by you, it is one that will also cost you unless we take action.
There is another reason we are here today. I have always been a big believer of evidence informed policy making. I had to remind myself of that the first time I ever spoke about climate change 10 years ago at a public meeting, and was booed very loudly by a group that included my grandmother.
Evidence matters. Science matters. And that is why I want to acknowledge the Climate Change experts and researchers here at Victoria University who have done such excellent work to raise the profile of the problem. Your own campaigns over the last few years helped inform us and keep action on climate change on the agenda. Professors James Renwick and Tim Naish are just a few of your great spokespeople, thank you to you and your teams.
But while you do the work, it is ultimately us as politicians who have the chance to make that work a reality. And I can think of no better place start doing that, than right here in New Zealand.
When I spoke with Al Gore a few months ago I said that New Zealand's role in climate change is anchored in who we are as a nation – we were the first to give women the vote, we were around the table when we established the United Nations, we were at the forefront of the anti-nuclear movement and this feels like the next stage for New Zealand to make a stand on an issue.
We are anchored in the Pacific – surrounding us are nations, including ourselves, who will be dramatically impacted by climate change. You can't avoid seeing the impact around us, especially in the Pacific as warmer sea temperatures contribute to more storms, as we see more droughts and fires, and more extreme weather in general. That's just the obvious impact of climate change. There's also sea level rise, ocean acidification, the movement of mosquito borne diseases like zika and dengue.
Tens of thousands of New Zealanders and Pacific peoples live on the coastline and will be affected by rising sea levels. That means people may need people to move their homes, breaking up communities and causing stress and hardship. , Underground infrastructure and fresh water sources could be inundated with sea water, and crops that have previously been a staple will change or even disappear. For the pacific, this is not just a hypothetical, it is real.
On my recent visit to Samoa and Tonga I saw the damage to homes. It was devastating and wide spread. And it wasn't just homes that were effected. Schools, parliament buildings, businesses and infrastructure like power lines that were taken out by coconut trees. Families struggling to fix their homes were sending children to school where they had to learn in tents supplied by UNICEF. The damage from these storms is immense and the reconstruction period is long and hard.
I have said in the past that I believe we have a duty to our pacific neighbours to raise the need for mitigation and adaptation in the face of these challenges. Increasingly though I have come to see that we are the pacific. When we raise these issues, and when we act on them, it will be as much about Tokelau as it is about us.
And action is taking place already. And not just by us.
Around the world we see oil companies investing billions of dollars in clean energy. Companies are investing in charging stations for electric vehicles. Oil companies themselves are looking to the future and that includes renewables. We all know we are going to have to do things differently.
Norwegian-based Energy Company Statoil has developed its own climate road map in support of the Paris Climate Agreement. It includes by 2020 putting 25 percent of its research funding into developing new energy and energy efficiency solutions, and making decisions that support a low carbon future.
You might have seen in the news over the weekend that oil giant Shell issued a report in 1988 predicting climate change and noting that with fossil fuel combustion being a major source of CO2 in the atmosphere, a forward looking approach by the energy industry was needed. They followed that up some 30 years later by this week saying they strongly support the Paris Agreement and the need for society to transition to a lower carbon future, while also extending the economic and social benefits of energy to everyone. To quote shell "successfully navigating this dual challenge requires sound government policy and cultural change to drive low-carbon choices for businesses and consumers. It requires cooperation between all segments of society."
I completely agree.
And that is why I am here with our partners, New Zealand First and our Regional Economic Development Minister Shane Jones, and the Green Party and our Climate Change Minister James Shaw, along with Energy and Resources Minister Megan Woods.
They are here because we together made it a priority as a Coalition Government to make a fresh start in tackling this problem.
In striking a balance I would like to acknowledge the manner in which New Zealand First and the Green Party were able to join Labour in finding a pathway that both protects existing permit holders while signalling our shift towards a just transition in the sector.
We have a Minister for Climate Change, James Shaw, who represents us internationally, as well as leading the agenda at home. Just a few weeks ago he spoke to Intergovernmental Panel on Climate Change Working Group on Land, being held in Christchurch. There were 120 scientists and experts, from 59 countries there.
I'm sure he was proud to be able to tell them that we have committed to the goal of becoming a net zero emission economy by 2050, with an interim step of making our electricity system 100 percent renewable by 2035. They're ambitious goals we should all be proud of.
And we have to be ambitious about what we can do to make a difference. Because in this enourmous challenge we are facing, also lies opportunity for us. If we create a plan.
And this government has a plan.
Firstly, sustainable, low emission food production promises to be a valuable opportunity if we can get it right.
We are also encouraging and incentivising innovation and investment to deliver a clean, green carbon neutral New Zealand – and the Green Investment Fund will support this. It aims to stimulate up to $1 billion of new investment in low carbon industries by 2020, kick-started by a Government investment of $100 million.
As part of our regional development work and under the leadership of Minister Shane Jones, we have started a programme to plant 1 billion trees in the next 10 years. This will contribute to reducing CO2 emissions, both through C02 absorption and by reducing erosion.
We are setting up an Independent Climate Commission of experts who will develop carbon budgets right through to 2050. That means they'll set the amount of carbon we can afford to put into the atmosphere each year to get us to carbon neutrality, while ensuring we have enough energy available to run our economy and country.
We also have to make sure that we are focused on just transitions – that in areas where fossil fuels have played a major role, we don't switch off the tap overnight, that we make decisions 30 years in advance and invest in those regions. We have asked MBIE to start work co-ordinating this activity.
But just transitions have to start somewhere. And unless we start thinking about the when and the how now, we run the risk of local communities experiencing a jarring shock just because we didn't think beyond short electoral cycles.
And that is why we have to consider the future of oil and gas exploration in New Zealand. Not for tomorrow, but for 30 or 40 years time.
The need to transition to a low carbon economy is understood and agreed on by both sides of parliament as well as widely supported by this industry.
So it comes as no surprise that we have been considering what to do about the future of oil and gas exploration. We have previously talked about the 'block offer' where areas of land and sea are offered to companies for oil and gas exploration.
In considering this we have been clear about two things:
We need to give certainty.




We need a plan.



Certainty means being clear that we need to honour existing permits. And as a government, we are committed to that. In honouring these permits, we protect current jobs and businesses and provide time to work on change for the future together.
New Zealand First accentuated its support for protecting the rights of existing permit holders and this we agreed to, to ensure certainty for all those in the industry currently holding exploration and mining permits.
There are currently exploration permits that cover an area roughly the size of the North Island, and a number of mining permits. These all have a long shelf life, and a long lead time. Nothing will end tomorrow.
But certainty is also about setting our expectations for the future. And that is what we have done today.
Today we announced that onshore block offers will now be limited to acreage in the Taranaki region.
We have also announced that we will no longer be granting any new offshore oil and gas exploration permits.
This is another step on our transition away from fossil fuels and towards a carbon neutral economy.
Some will say that is not enough to prevent climate change. Of course that's true. But as you know now, this is not the only thing this Government is doing to address climate change. The Block Offer is only one part of our plan. Climate Change Minister James Shaw may tell you more after this speech.
And this announcement is also only the beginning of our work on Just transitions. While I am reassuring people today that we are not going to rip their jobs from under them, nor leave communities to cope with change on their own, we also need to talk to them face to face about the 30 year plan.
We've seen before the enormous social damage done in the 1980s due to rapid, uncaring change. I'm a child of the 80's – I grew up at a time when this country was going through incredibly difficult economic change in a very short period. People lost jobs suddenly, communities were gutted, families were displaced. I saw plenty of evidence of that growing up in Murupara and Morrinsville.
We will not let that happen here. I want to thank New Zealand first. Supporting our regions and ensuring we have a plan for the longer term, and honour our existing commitments has been a key point of advocacy for them. And last week Shane Jones started that by investing $20 million in the Taranaki region as we work towards the future.
This Government has set ambitious targets for our country – hitting these targets will have huge benefits for everyone. We protect our environment, have a healthier environment, create new jobs in new industries and can live up to our reputation as a leader on the world stage.
We have been a world leader on critical issues to humanity by being nuclear free, the first to support women's' vote and now we could be a world leading in becoming carbon neutral.
We owe this to future generations – but ultimately, we owe it to you.
[speech given at Victoria University, Wellington]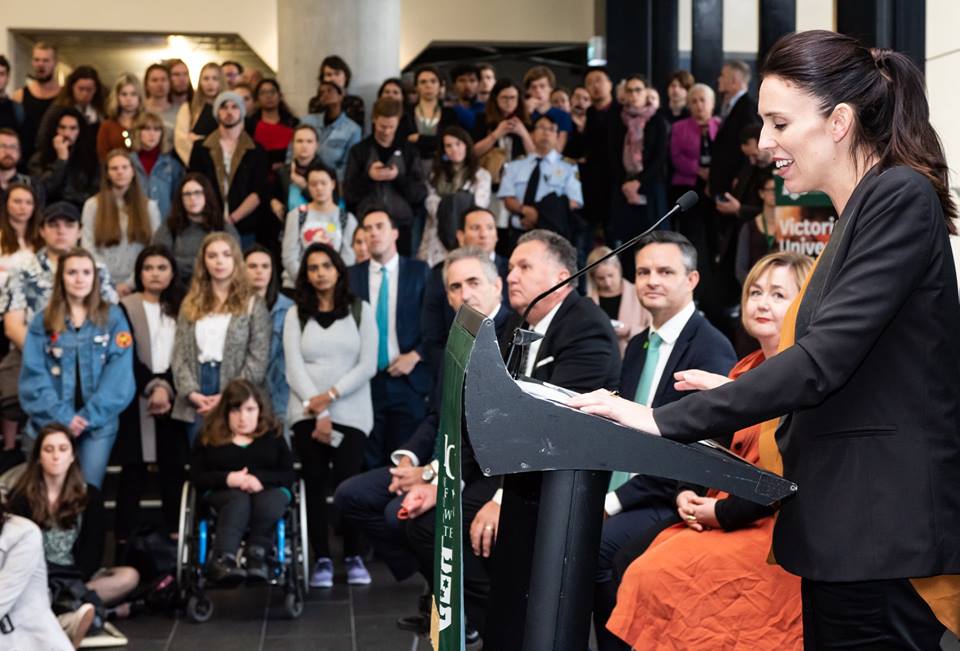 Prime Minister Jacinda Ardern at Victoria University of Wellington, photo by Victoria University of Wellington

An historic day for action on climate change
April 12th, 2018
HON JAMES SHAW, Climate change Minister, Government of New Zealand
Tena koutou, tena koutou, tena koutou katoa.
This is an historic day.
Today ends all new oil and gas exploration in the waters around Aotearoa New Zealand.
What a win.
It's a win for the Green Party and a win for all of us who care about the environment and the impacts of climate change.
Today will go down in history as the moment New Zealand said fossil fuels are not our future.
Today we have drawn that line in the sand.
As I have said many times, the world cannot burn most of the fossil fuel reserves that have already been discovered without causing catastrophic global warming.
Anyone who wants to take real action on climate change, but still wants to keep looking for new coal or oil, simply isn't serious.
Today's decision shows this Government is serious.
As the Green Party has been saying since we formed 20 years ago, ENVIRONMENTAL SUCCESS is ECONOMIC SUCCESS.
Business now understands that.
More and more farmers now understand that.
Our well-being and the well-being of our planet demand that we move to cleaner, low-emission ways of doing business and living our lives.
That doesn't mean shuffling off into a cave with a candle.
It means embracing smart science, smart technology, and smart use of people and resources that can deliver cleaner, low-emission returns.
More oil exploration can't do that.
But the expertise that's been built up in that industry can be turned to more environmentally sustainable and economically sustainable enterprise.
The Prime Minister talked about applying skills from the oil industry to mining silica to use in solar panels.
Here's something else.
This country needs some pretty big infrastructure upgrades – to ensure safe drinking water systems and storm water systems and sewerage systems.
That's work that needs expertise in drilling, pipe construction and reticulation, and that's expertise that exists in the oil industry.
Countries who've signed up to the Paris Agreement have committed to mobilize at least $1 TRILLION in Green Investment by 2030.
Business consultancy, PwC, says New Zealand's share of the global clean energy market could be worth up to $22 BILLION a year, if we implement clean energy policies to encourage it – like we did today.
This University and others in New Zealand get it.
Just go to Victoria University's Faculty of Engineering home page.
What are two of the newest courses offered for study?
Bachelors degrees in SUSTAINABLE ENERGY SYSTEMS.
Our job, as a Government, is to provide the leadership and the plan to help ensure New Zealand is part of the world's green, sustainable economy.
Decisions, like the one announced by the Prime Minister today demonstrate that leadership.
Establishing a Zero Carbon Act, and an independent Climate Change Commission demonstrates that leadership.
Our commitment to 100 percent renewable electricity generation by 2035 demonstrates that leadership.
And our goal for New Zealand to be a net zero emissions economy by 2050 demonstrates that leadership.
CONCLUSION
There will be those who'll criticize today's decision.
My question to them is – what's your solution?
Because sticking to business-as-usual in oil exploration will leave people like you - studying here - with bigger, more difficult, more costly problems to solve later.
Leaving decisions - like the one announced today - for future generations to make only delays and limits the options and opportunities that can come from a managed transition to a new low-emissions economy.
Clinging to old forms of energy that have helped put us on a collision course with climate change is not sensible, nor is it responsible leadership.
[
speech given at Victoria University, Wellington
]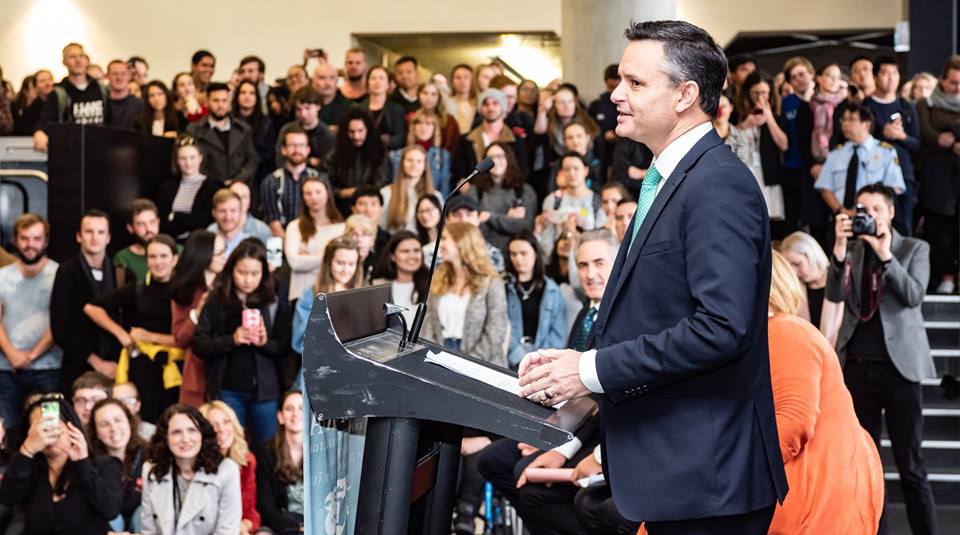 The Hon. James shaw at Victoria University of Wellington, photo by Victoria University of Wellington

Welcome end to new offers for offshore oil exploration
April 11, 2018 WWF New Zealand
WWF-New Zealand welcomes today's announcement by Prime Minister Jacinda Ardern that the government will not issue any further block offers for offshore oil and gas exploration. While Energy and Resources Minister Dr Megan Woods releases a block offer for limited onshore oil exploration today, the government is announcing that it will progressively reduce new block offers for onshore oil exploration to zero.
In response, WWF-New Zealand CEO Livia Esterhazy said "This is a huge step forward for New Zealand, and a landmark moment in the transition to a clean energy economy.
"Modelling by University College London suggests that globally we need to leave about 80% of existing coal reserves, almost half of existing gas reserves and about a third of existing oil reserves un-burned to give us a reasonable chance of limiting warming to two degrees.
"This is the coal, oil and gas that has already been found and is already on the books. That is why the decision to stop opening more and more of Aotearoa's ocean territory to oil exploration is a big step towards unlocking a safe climate future.
"We hope that the New Zealand oil and gas industries will take today's announcements as a signal to use their technical skills, expertise, and resources to develop and deploy renewable energy technologies. That's the way of the future.
"What's more, today's announcement will be welcome news for New Zealand's critically endangered Māui dolphins. They live only off the west coast of the North Island, and over 30% of their habitat is already open for oil exploration. Seismic blasting for oil can both have physical impacts on dolphins and cause long-term behavioural changes.
"Today's announcement is good news for our ocean life, for our children, and for their children."
Nanoscale coating enables solar cells to absorb 20 percent more sunlight
April 14, 2018: National Institute of Standards and Technology (NIST)
Trapping light with an optical version of a whispering gallery, researchers at the National Institute of Standards and Technology (NIST) have developed a nanoscale coating for solar cells that enables them to absorb about 20 percent more sunlight than uncoated devices. The coating, applied with a technique that could be incorporated into manufacturing, opens a new path for developing low-cost, high-efficiency solar cells with abundant, renewable and environmentally friendly materials.
The coating consists of thousands of tiny glass beads, only about one-hundredth the width of a human hair. When sunlight hits the coating, the light waves are steered around the nanoscale bead, similar to the way sound waves travel around a curved wall such as the dome in St. Paul's Cathedral in London. At such curved structures, known as acoustic whispering galleries, a person standing near one part of the wall easily hears a faint sound originating at any other part of the wall.
Whispering galleries for light were developed about a decade ago, but researchers have only recently explored their use in solar-cell coatings. In the experimental set up devised by a team including Dongheon Ha of NIST and the University of Maryland's NanoCenter, the light captured by the nanoresonator coating eventually leaks out and is absorbed by an underlying solar cell made of gallium arsenide.
Using a laser as a light source to excite individual nanoresonators in the coating, the team found that the coated solar cells absorbed, on average, 20 percent more visible light than bare cells. The measurements also revealed that the coated cells produced about 20 percent more current.
The study is the first to demonstrate the efficiency of the coatings using precision nanoscale measurements, said Ha. "Although calculations had suggested the coatings would enhance the solar cells, we could not prove this was the case until we had developed the nanoscale measurement technologies that were needed," he noted.
This work was described in a recent issue of Nanotechnology by Ha, collaborator Yohan Yoon of NIST and Maryland's NanoCenter, and NIST physicist Nikolai Zhitenev.
The team also devised a rapid, less-costly method of applying the nanoresonator coating. Researchers had previously coated semiconductor material by dipping it in a tub of the nanoresonator solution. The dipping method takes time and coats both sides of the semiconductor even though only one side requires the treatment.
In the team's method, droplets of the nanoresonator solution are placed on just one side of the solar cell. A wire-wound metal rod is then pulled across the cell, spreading out the solution and forming a coating made of closely packed nanoresonators. This is the first time that researchers have applied the rod method, used for more than a century to coat material in a factory setting, to a gallium arsenide solar cell.
"This is an inexpensive process and is compatible with mass production," said Ha.
Dongheon Ha, Yohan Yoon, Nikolai B Zhitenev.
Nanoscale imaging of photocurrent enhancement by resonator array photovoltaic coatings.
Nanotechnology, 2018; 29 (14): 145401 DOI:
10.1088/1361-6528/aaab0c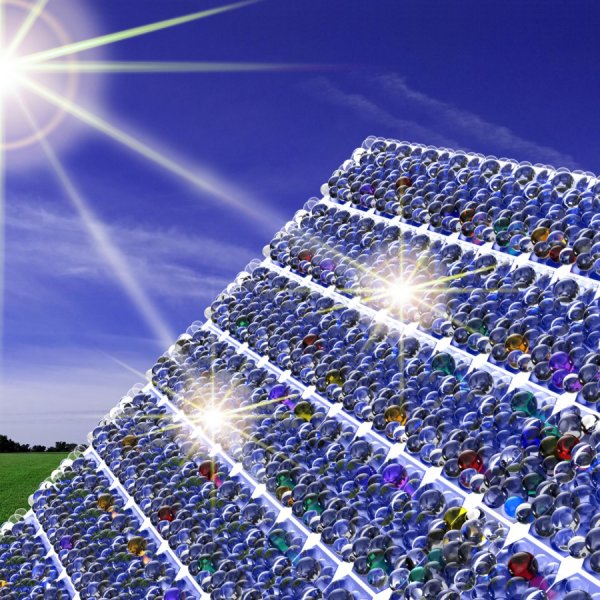 Caption: This is illustration shows the nanoresonator coating, consisting of thousands of tiny glass beads, deposited on solar cells. The coating enhances both the absorption of sunlight and the amount of current produced by the solar cells.
Credit: K. Dill, D. Ha, G. Holland/NIST
Dubbo Businesswoman Wins 2018 Rural women's award
April 11th, 2018: Media release
Minister for Primary Industries, Niall Blair and Member for Dubbo, Troy Grant have
congratulated Dubbo's Jillian Kilby as the winner of the AgriFutures Australia 2018
NSW-ACT Rural Women's Award.
Premier, Gladys Berejiklian presented Ms Kilby with the award at a gala dinner at NSW
Parliament House last night.
Mr Blair said Jillian's vision of helping regional start-ups become commercial
successes by increasing the capability, capacity and confidence of business owners
– particularly women living in rural, regional and remote Australia – was inspiring.
"With her $10,000 bursary Ms Kilby will conduct a Regional Start-ups Insight Study to
better understand the needs of regional business owners, especially those who are
on the cusp of starting a new business," Mr Blair said.
"A key focus will be women who are considering creating new businesses but need
support to take their idea from concept to reality.
"When women in business thrive, communities thrive too and can generate positive
impacts for regional areas.
"I want to encourage women to continue to step outside their comfort zones and
provide the support they need to pursue professional and personal goals."
Mr Grant said Ms Kilby approaches life optimistically, with the logical thinking of a civil
engineer, the roll-up-your-sleeves attitude of a farmer's daughter from Coonamble,
and an altruistic passion to create change across rural communities.
"Ms Kilby is well known and recognised right across the region. She is a strong
advocate for regional NSW and women everywhere," Mr Grant said.
"I look forward to seeing Ms Kilby continue to shine a light on regional business and
prosper as a leader in our community."
The NSW Government congratulates the three exceptional finalists Ginny Stevens,
Shanna Whan and Olympia Yarger, who through their vision, commitment and
leadership are making contributions to the primary industries sector and their regional
communities.
Each finalist will receive a $1,000 NSW DPI Leadership Bursary for skills and
leadership development.
Ms Kilby will now go on to compete for the National AgriFutures Australian Rural
Women's Award later this year at Parliament House, Canberra.
The AgriFutures Australia NSW-ACT Rural Women's Award is coordinated by the
NSW Rural Women's Network a program within the Department of Primary Industries
with support by NSW Farmers, Office of Environment & Heritage and The Country
Women's Association of NSW.
2018 NSW-ACT AgriFutures Rural Women's Award finalists
Jillian Kilby, Dubbo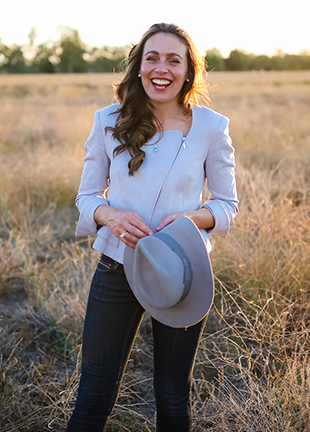 Finalist of the 2018 NSW-ACT AgriFutures Rural Women's Award
Jillian approaches life optimistically, with the logical thinking of a civil engineer, the roll-up-your-sleeves attitude of a farmer's daughter from Coonamble, and an altruistic passion for change.
Her company, The Infrastructure Collaborative, has served the infrastructure needs of 50 Local Governments in Regional NSW since 2009 when it was established from a 50,000 acre property west of Walgett. Now based in Dubbo, Jillian serves clients in Australia and the United States, where she is able to cross-pollinate learnings from a diverse set of work assignments.
Jillian enjoys taking a Design Thinking approach learned at Stanford University to solve problems and shift infrastructure projects from Government planning shelves to be shovel ready. When working on roads, Jillian refocuses infrastructure conversations around productivity for agriculture and mining, safety for school buses and access for tourism. Most importantly, she thrives when facilitating in an environment where there has traditionally been a lack of collaboration.
Jillian's project is to improve the commercial success of start-ups by increasing the capability, capacity and confidence of regional business owners. Her bursary would go towards developing the business concept and include conducting a Regional Start-ups Insight Study. The project lives within a bigger eco system to develop more effective space and services for new and growing business owners within Dubbo and the wider catchment.
Holding a Bachelor of Civil Engineering from the University of Sydney, a Master of Business Administration and Master of Public Policy from the University of Stanford, Jillian joins the rural Women's Award Alumni ready to learn, give back, and meet new people as part of this experience.
Ginny Stevens, Mangoplah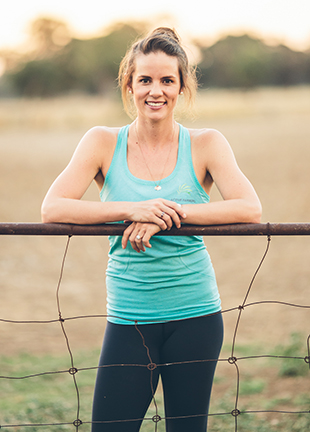 Finalist of the 2018 NSW-ACT AgriFutures Rural Women's Award
Ginny lives with her husband Andy and twins Henry and Isabella in Mangoplah in the Riverina. Having grown up on the family farm in Tasmania she has always been passionate about agriculture and staying active.
Initially, Ginny's interest with wellbeing was sparked during her year working as a jillaroo on a cattle station in the Northern Territory, where she learnt some lifelong lessons about team work, resilience and buoyancy. Then during her agribusiness banking career she became even more concerned with the growing level of mental illness and suicide in rural communities.
As a result Ginny was inspired to develop a proactive program, Active Farmers, to bring together farmers and rural communities to help improve the physical and mental health of participants and to build community resilience.
In 2015 Ginny she established the 'Active Farmers' program in her home town of Mangoplah and in 2017 made the brave decision to leave her Agribusiness banking career to expand the 'Active Farmers' network.
Active Farmers is currently available in 20 communities across regional areas of Eastern Australia with interest from an additional 60 groups.
Through exercise and interaction, Ginny says the participants become more aware of their health and they also develop a greater sense of community.
Ginny would use the Award bursary to expand the service to three additional small farming communities with little or no access to health care providers, and to create a series of case studies which will inspire other communities to join this fast growing network and take their health seriously.
Her vision is to ensure that more people understand the strong connection between being physically fit and well connected within their community to being mentally strong. She believes that healthier and happier and more productive community members will mean stronger, more productive Primary Industries.
Shanna Whan, Narrabri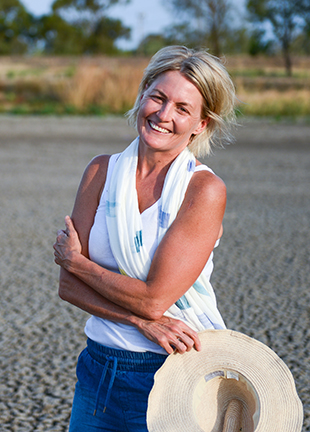 Finalist of the 2018 NSW-ACT AgriFutures Rural Women's Award
Narrabri-based Shanna Whan is a self-employed health ambassador who divides her time between travelling in her freelance photography role and working to tackle the complex issue of alcohol abuse in rural Australia.
Shanna's own health battle to be alcohol-free has inspired her to bring an honest and well overdue conversation about modern day addiction out into the open to help to reduce the numbers of high-risk, high-functioning community members slipping through the cracks in rural and remote Australia.
Since graduating as a health coach, Shanna is tackling head-on the fierce stigmas that remain around everyday alcohol abuse and what she's coined 'casual alcoholism'. Her raw authenticity in sharing her lived experience with humour and candour is giving the rural health sector and communities unprecedented insight into the issue.
There are many barriers to people seeking help with alcoholism and Shanna hopes to address these through an online platform that enables rural people to 'virtually' gather, chat, learn and share.
Members will have access to webinars, live support meetings, blogs and facts and links to alcohol-related therapies, experts, recovery groups and treatment centres.
Through integrating a holistic health and wellness approach, Shanna aims to provide community members who are battling with alcohol addiction a safe environment to access the support and information they need to change their lives.
Olympia Yarger, Fyshwick ACT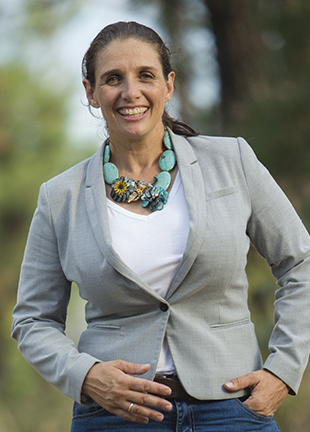 Finalist of the 2018 NSW-ACT AgriFutures Rural Women's Award
Olympia Yarger is passionate about rural and regional communities. As the Founder and CEO of Goterra, an insect farm based in Canberra, she is committed to playing a vital role in changing the landscape of Livestock feed and redefining how we look at sustainable waste management solutions.
During her career Olympia has worked across many different agricultural industries and her roots are firmly in farming. After 14 years in America with her U.S Marine husband, she returned to Australia in 2014 with plans to pursue her farming interests.
Realising that the farming landscape had changed significantly, and the opportunity for purchasing and effectively running a small to medium sustainable enterprise was not available, Olympia researched alternate farming options which eventually led her to insect farming.
In 2016 she realised a need to unlock access to and leverage the current food and agricultural waste in rural and regional Australia and set about to address this gap by designing a modular mobile system that processes food waste onsite.
Olympia's business processed 20 tonne of food and agriculture waste in 2017 and this year (2018) that figure will increase to over 200 tonne – turning those wastes into an alternative livestock feed compound for primary producers and human food products, like protein bars, crackers and cakes.​
With the breadth and range of the insect protein industry only just starting to emerge Olympia is committed to developing the processes and industry standards necessary to bring sustainable insect protein feeds to the Australian market.
If she were to win the Award Olympia would use the Award bursary to educate people on the opportunities available to establish regionally based insect farms by developing an online education series and creating a digital handbook of best practice to grow the industry.
Extensive seagrass meadows discovered in Indian Ocean through satellite tracking of green turtles
April 11, 2018: Swansea University and Deakin University.
Research led by Swansea University's Bioscience department has discovered for the first time extensive deep-water seagrass meadows in the middle of the vast Indian Ocean through satellite tracking the movement of green sea turtles.
A new study by Swansea University and Deakin University academics, published in the recent Marine Pollution Bulletin, reported how the monitoring of the turtles -- which forage on seagrasses -- tracked the species to the Great Chagos Bank, the world's largest contiguous atoll structure in the Western Indian Ocean.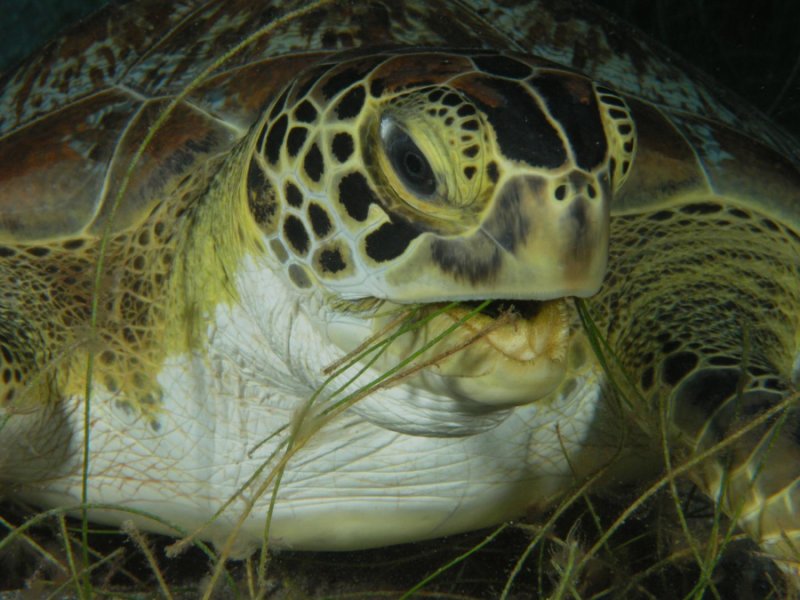 This is a green turtle with seagrass in the Caribbean. Credit: Swansea University

This area lies in the heart of one of the world's largest Marine Protected Areas (MPAs) and the study involved the use of in-situ SCUBA and baited video surveys to investigate the day-time sites occupied by the turtles, resulting in the discovery of extensive monospecific seagrass meadows of Thalassondendron ciliatum.
These habitats are critically important for storing huge amounts of carbon in their sediments and for supporting fish populations.
At three sites that extended over 128?km of the Great Chagos Bank, there was a high seagrass cover (average of 74%) at depths to 29 metres.
The mean species richness of fish in the seagrass meadows was 11 species per site, with a mean average of 8-14 species across the aforementioned three sites.
Results showed a high fish abundance as well as a large predatory shark recorded at all sites and given that the Great Chagos Bank extends over approximately 12,500?km and many other large deep submerged banks exist across the world's oceans, the results suggest that deep-water seagrass may be far more abundant than previously suspected.
Reports of seagrass meadows at these depths with high fish diversity, dominated by large top predators, are relatively limited.
Dr Nicole Esteban, a Research Fellow at Swansea University's Biosciences department, said: "Our study demonstrates how tracking marine megafauna can play a useful role to help identify previously unknown seagrass habitat.
"We hope to identify further areas of critical seagrass habitat in the Indian Ocean with forthcoming turtle satellite tracking research."
Dr Richard Unsworth, from Swansea University's Biosciences department, said: "Seagrasses struggle to live in deep waters due to their need for high light, but in these crystal clear waters of Chagos these habitats are booming.
"Given how these habitats are threatened around the world it's great to come across a pristine example of what seagrass meadows should look like."
This research was led by the Bioscience department at Swansea University, alongside the involvement of researchers at Deakin University.
N. Esteban, R.K.F. Unsworth, J.B.Q. Gourlay, G.C. Hays.
The discovery of deep-water seagrass meadows in a pristine Indian Ocean wilderness revealed by tracking green turtles
. Marine Pollution Bulletin, 2018; DOI:
10.1016/j.marpolbul.2018.03.018
New study reveals that the centre of the world's marine biodiversity is in danger
April 12, 2018:
Swansea University
Research led by Swansea University's Bioscience department have found that the world's centre of biodiversity is under widespread threat of losing a key marine resource.
Writing about the findings in the recent Science of the Total Environment journal, researchers examined the risks to seagrass meadows throughout the vast Indonesian archipelago that makes up a key part of the famed Coral Triangle – a marine area located in the western Pacific Ocean.
This area is widely known as the centre of the world's biodiversity and the meadows are the 'Prairies of the Sea'. They are highly productive shallow water marine and coastal habitats comprised of marine plants, and these threatened areas provide important food and shelter for animals in the sea.
The research led by Dr Richard Unsworth indicates that up to 90% of the seagrass meadows that they examined in Indonesia have been extensively damaged and degraded over the past five years.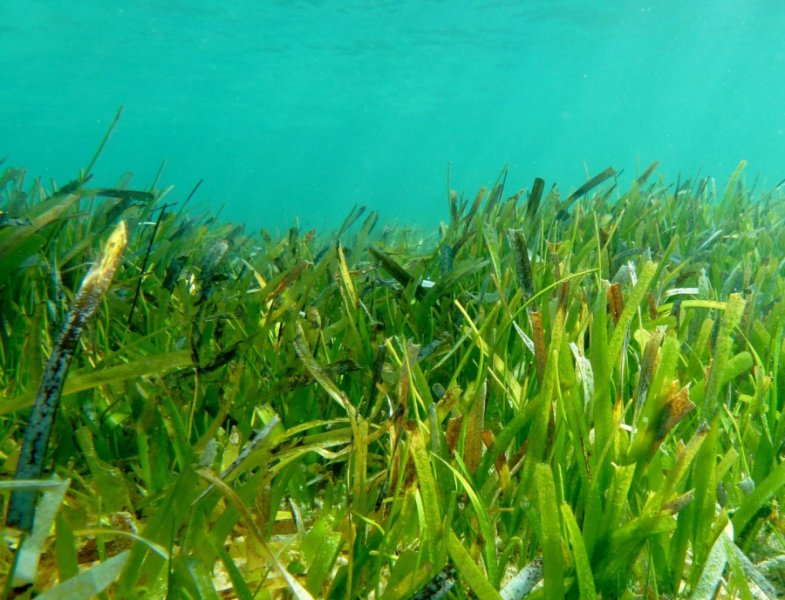 Seagrass meadows in the vast Indonesian archipelago. Credit: Dr. Richard Unsworth

In the findings, researchers also discuss solutions to the problems these productive ecosystems face, including the importance of community-led conservation action. In the study they also discuss examples where seagrass conservation has been.
For example, in a series of small islands in Eastern Indonesia, seagrasses were threatened by sediment and nutrient run-off from the land due to the degradation of riverbanks. As a result, replanting of riparian vegetation along the rivers as an incentive scheme with local farmers has reduced the flow of these pollutants into the sea.
Seagrass meadows in the vast Indonesian archipelago
Dr Richard Unsworth, from Swansea University's Biosciences department, led the study and said:
"Our research is for the first time recording how an area of the world so critically important for its biodiversity is rapidly losing a key marine resource.
"This loss of seagrass is a terrible problem as the habitats in Indonesia have a major significance for daily food supply and general livelihoods. Without seagrass as a fishery habitat many people in Indonesia would not be able to feed their families on a daily basis."
Dr Leanne Cullen-Unsworth from Cardiff University added:
"The ecological value of seagrass meadows is irrefutable, yet the loss of these systems in Indonesia is accelerating. Seagrass meadows in Indonesia are mostly ignored in the conservation arena.
"As a result, they're often not monitored, poorly researched and largely and unmanaged, leading to a tragedy of the seagrass commons."
Professor Rohani Ambo-Rappe of Hasanuddin University, Indonesia, a collaborator on the research, stated:
"Declining seagrass health is the result of shifting environmental conditions due largely to coastal development, land reclamation, and deforestation, as well as seaweed farming, overfishing and garbage dumping.
"The poor state of Indonesia's seagrasses will compromise their resilience to climate change and result in a loss of their ability to lock away carbon dioxide and provide important fisheries habitats."
Richard K.F. Unsworth, Rohani Ambo-Rappe, Benjamin L. Jones, Yayu A. La Nafie, A. Irawan, Udhi E. Hernawan, Abigail M. Moore, Leanne C. Cullen-Unsworth.
Indonesia's globally significant seagrass meadows are under widespread threat
. Science of The Total Environment, 2018; 634: 279 DOI:
10.1016/j.scitotenv.2018.03.315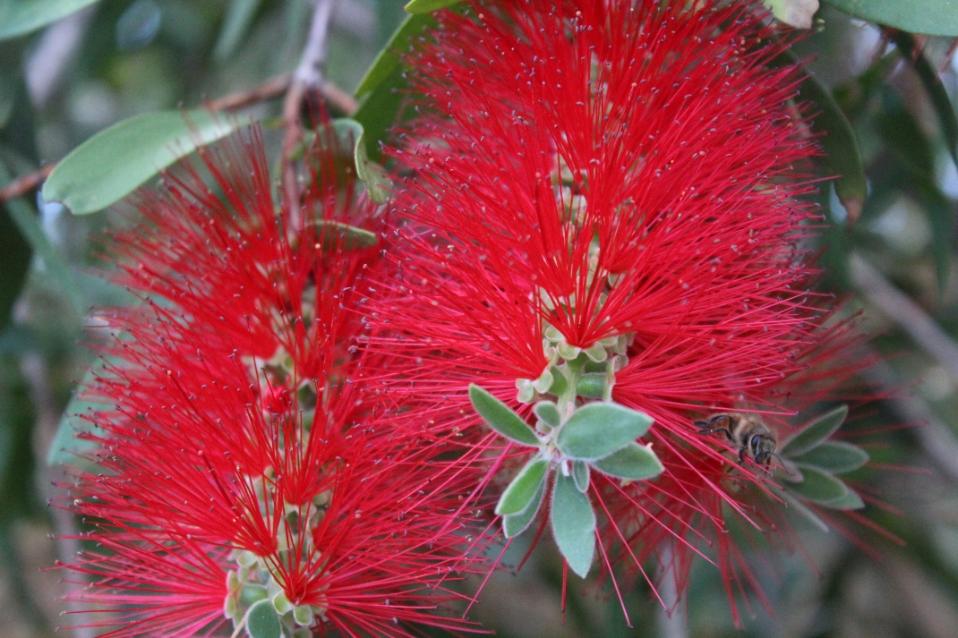 Melaleuca citrina, commonly known as common red, crimson or lemon bottlebrush, is a plant in the myrtle family, Myrtaceae and is endemic to New South Wales and Victoria in Australia. (Some Australian state herbaria continue to use the name Callistemon citrinus. Callistemon lanceolatus is an older name.)
This is a hardy and adaptable species, common in its natural habitat. It is widely cultivated, not only in Australia, often as a species of Callistemon. It was one of the first Australian plants to be grown outside the country, having been taken to England in 1770 by Joseph Banks. Its showy red flower spikes, present over most of the year in an ideal situation, account for its popularity.
Melaleuca citrina was first formally described in 1802 by the French botanist Georges Louis Marie Dumont de Courset in Le Botaniste Cultivateur. The species had previously been known as Metrosideros citrina, in turn named by William Curtis in the Botanical Magazine in 1794, based on a flowering plant growing at Lord Cremorne's estate. That plant had grown from a root collected in 1770 at Botany Bay by Joseph Banks during the first voyage of James Cook to Australia. Curtis noted that the leaves "when bruised give forth an agreeable fragrance." The specific epithet (citrina) alludes to the similarity of the aromatic property of leaves of this species and those of citrus plants.
Callistemon citrinus is regarded as a synonym of Melaleuca citrina by the Royal Botanic Gardens, Kew.
This flower, as a flower essence (Australian Bush Flower Essences - ABFE), helps people move through major life changes and the overwhelm that often goes with those changes, especially retirement, menopause, adolescence or death, etc. It 'brushes' out the past and allows the person to move on. So relative to being seen and blooming during Autumn too!
Victoria researchers study deep-water communities in Fiordland
April 11th, 2018
A Victoria University of Wellington (N.Z.) research team has uncovered new insights on marine life in the rarely explored deeper waters of Doubtful, Dusky, and Breaksea Sounds in the Fiordland (Te Moana o Atawhenua) Marine Area.
Led by Associate Professor James Bell, the Victoria University research team used funding from the Department of Conservation (DOC) to complete the trip and spent ten days aboard the DOC vessel, Southern Winds, in Fiordland researching marine life living up to 300 metres below the sea.
The team included five PhD students and a recent graduate of Victoria University, Dr Joseph Marlow.
"This is one of the first studies to measure the abundance of the different organisms in these deep water environments," says Associate Professor Bell. "We were able to record the marine life unique to the area, such as sharks and black coral, which occur at amazingly shallow depths in the fiords. Based on our observations so far, we think we'll be able to describe the characteristics of many species that haven't been described before, which is very exciting."
The research team used a Baited Underwater Video System (BUV) to identify carnivorous and scavenging fish living up to 300 metres deep. The system uses a container filled with bait to attract the fish, and then records them using a camera attached to the baiting system. The team also used a remotely-operated underwater vehicle to survey the seabed in shallower areas of the fiords (down to 130 metres), recording the incredibly diverse anemones, sponges, coral, and brachiopods (shellfish similar in appearance to clams) living there.
The data gathered by the expedition will provide important information to help protect the area from the impact of humans.
"As well as describing the deep-water communities and supporting ongoing management, this work will provide data that can be used in the future to assess any changes that might occur as a result of humans, such as climate change or pollution," says Associate Professor Bell.
"This trip was a fantastic opportunity for our PhD students to be part of a pretty unique research trip to one of the more remote parts of New Zealand," says Associate Professor Bell. "It was also a great opportunity to provide research expertise for DOC, as well as support the ongoing work by local conservation group the Fiordland Marine Guardians."
The research group produced the following video from footage taken during their trip.
The first part of the video shows footage taken using the BUV. This video shows some of the common species encountered: hapuku, spiny dogfish, blue cod, terakihi, sevengill sharks, red gurnards and hagfish.
The second part of the video shows footage taken by the remotely-operated underwater vehicle. The footage highlights the diversity at the benthic level (the bottom of a body of water including the sea floor) of the fiords; revealing extensive brachiopod beds (a species of shellfish similar in appearance to clams), large anemones, diverse gatherings of sponges and a variety of deep sea coral species.
PITTWATER YHA OFFERS FREE BEDS FOR GREEN HEARTS
Pittwater YHA opens its doors to green-hearted and green-thumbed guests who'll save the gorgeous Ku-ring-gai Chase National Park from imminent asparagus fern invasion. Yes, seriously.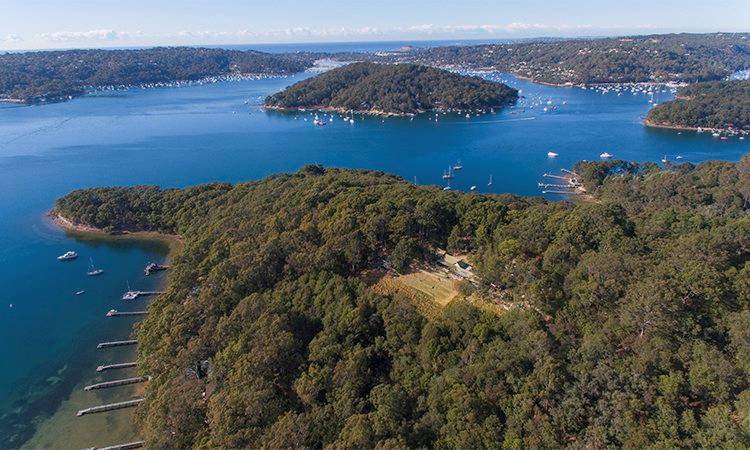 WHAT IS IT?
Bush Regeneration sees eco-conscious, kind hearted humans restore and rehabilitate the gorgeous, sprawling Aussie bush from its weed-infested, degraded state into a healthy, thriving plant community, which will prosper and delight forevermore. Far from just weed removal; Regenerators focus on habitat, drainage, weed sources and establishing native communities. These are big words which probably don't make much sense – but we have an interactive learning opportunity for you!
WHERE IS IT?
Ku-ring-gai Chase National Park, Sydney's protected north coast, is home to rock engravings, red ochre rock paintings, the fuzziest wildlife you ever did see and the most breathtaking views a Sydneysider or visitor could comprehend; and is currently under threat from invasive asparagus fern; which needs removing. Who knew your Auntie's fave veggie could be so aggressive?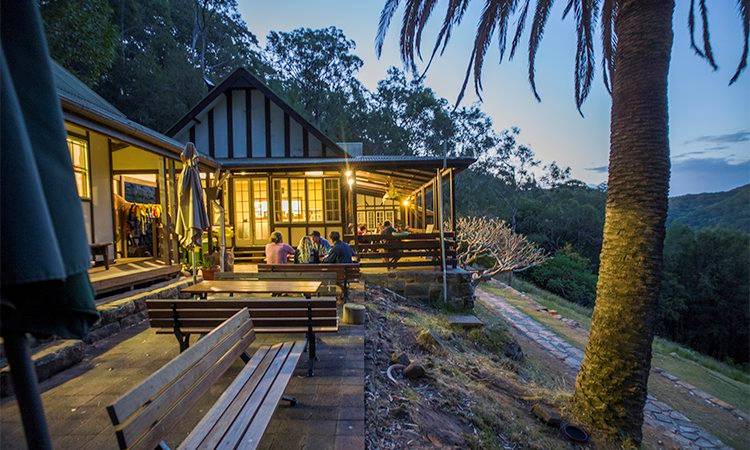 ALRIGHT - SIGN ME UP!
The blissed-out, babbling-brooked, spectacular-viewed, fresh-aired oasis that is our Pittwater YHA, alongside the Northern Beaches Council, are offering you fine green-thumbed and hearted folk the opportunity to volunteer alongside professional Regenerators for a weekend of Pittwater Restoration from May 11 – 13, 2018. Spend two mornings of tending to the gorgeous surrounds and you'll be rewarded with two nights' accommodation, two days of meals (morning teas, BBQ lunches and evening dinners) and kayak use throughout your stay. Plus, you'll be chuffed with yourself for doing your bit for the planet and our futures.
Along with your towels, two sheets, a pillowcase and, sturdy shoes, sunscreen and your breakfasts; you'll need a $20 contribution for the weekend. For all the T&Cs; head to Pittwater YHA, shoot them an email or give them a ring on (02 9999-5748) – the only thing those guys love more than a regenerated bushland is chatting to ladies and gentleman who are keen on the idea!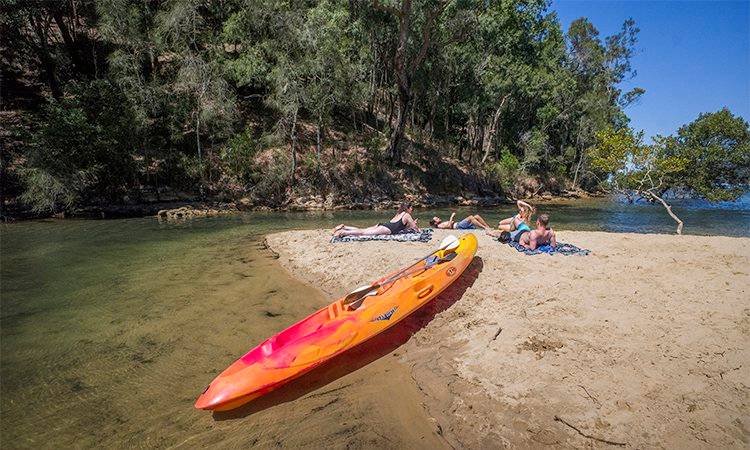 Powerful Owl Release
March 18, 2018:

Avalon Preservation Association
PNHA's Jacqui Marlow has advised that a Powerful Owl chick has been released in Plateau Park following its recuperation in Taronga Park.
If you see it there being harassed, or even if you see it at all, can you please phone her on 0458 194 127.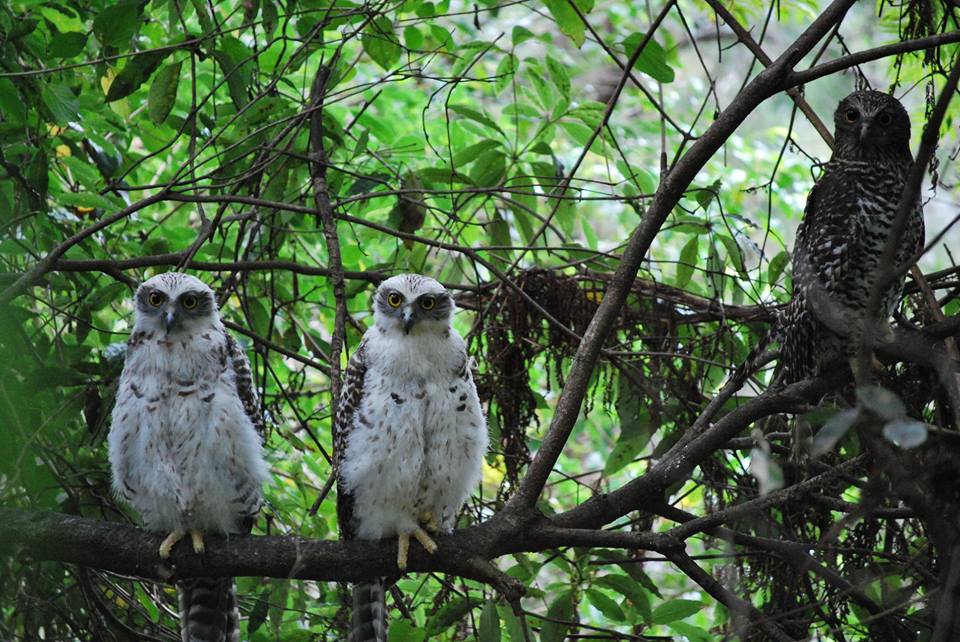 Powerful owl family - photo courtesy PNHA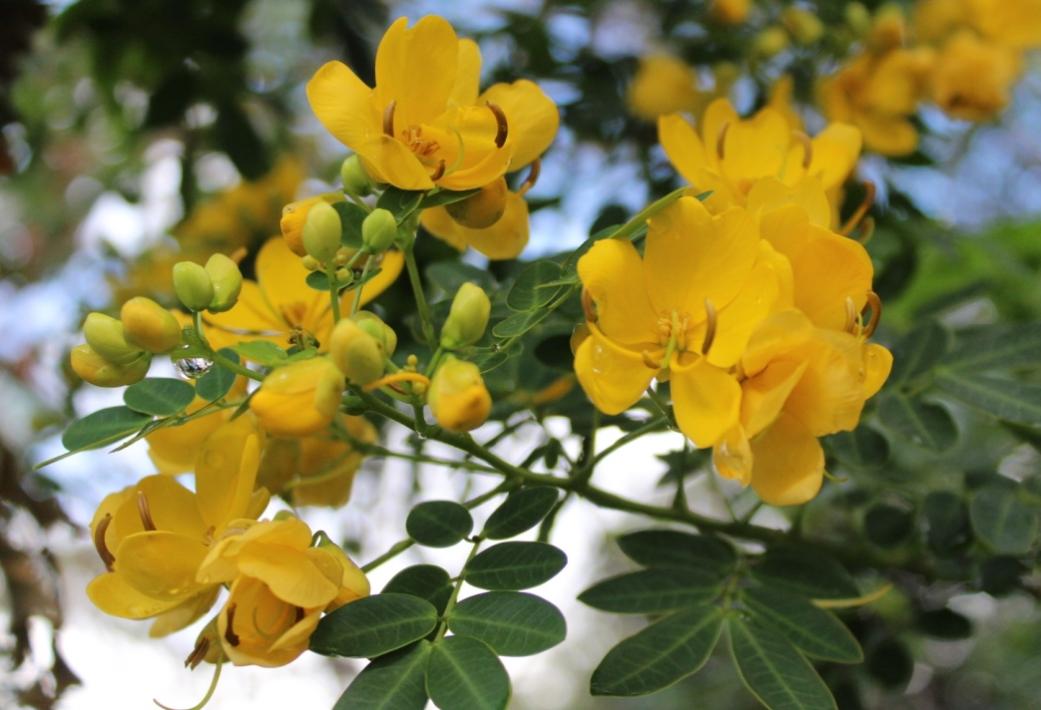 Cassia (Senna pendula). Also known as Senna and Arsenic Bush. Originating in South American, Cassia is a perennial sprawling multi-stemmed shrub or tree up to 5m tall.
This weed replaces native vegetation and establishes in a wide range of native plant communities, including coastal heath and scrubland, hind dunes and riparian corridors. The large seed pods are eaten by birds and other animals which spreads the weed further.
Currently flowering - please pull out and get rid of if you have in your garden or join a local Bushcare Group to help Pittwater rid itself of this weed.


International Year of the Reef (IYOR)
The Third International Year of the Reef (IYOR 2018) @IYOR2018 / #IYOR2018
At the 31st General Meeting (November 2016 in Paris, France), the International Coral Reef Initiative declared 2018 as the third International Year of the Reef and encourages to:
strengthen awareness globally about the value of, and threats to, coral reefs and associated ecosystems;




promote partnerships between governments, the private sector, academia and civil society on the management of coral reefs;




identify and implement effective management strategies for conservation, increased resiliency and sustainable use of these ecosystems and promoting best practices; and




share information on best practices in relation to sustainable coral reef management.



History

1997 was declared the first International Year of the Reef (IYOR), in response to the increasing threats on coral reefs and associated ecosystems, such as mangroves and sea grasses around the world. IYOR was a global effort to increase awareness and understanding on the values and threats to coral reefs, and to support related conservation, research and management efforts. Over 225 organizations in 50 countries and territories participated, and over 700 articles in papers and magazines were generated, and hundreds of scientific surveys were undertaken.
Recognising that, ten years later, there continued to be an urgent need to increase awareness and understanding of coral reefs, and to further conserve and manage valuable coral reefs and associated ecosystems, the International Coral Reef Initiative designated 2008 as the second International Year of the Reef, IYOR 2008 (Resolution to Designate 2008 as the International Year of the Reef).
IYOR 2008 was a year-long campaign of events and initiatives hosted by governments and non-governmental organizations around the world, to promote conservation action and strengthen long-term collaborations for coral reef conservation.
IYOR 2008 Goals were the following:
Strengthen awareness about ecological, economic, social and cultural value of coral reefs and associated ecosystems




Improve understanding of the critical threats to reefs and generate both practical and innovative solutions to reduce these threats




Generate urgent action to develop and implement effective management strategies for conservation and sustainable use of these ecosystems.



Nations, organizations, and individuals around the world celebrated the International Year of the Reef 2008 (IYOR 2008): from international organizations to village children, to raise awareness about the value and importance of coral reefs and to motivate people to take action to protect them. A tremendous amount of material was produced in several languages during that year, including educational DVDs, posters, children's books, and much more. More than 630 events were organized in over 65 countries and territories around the world. IYOR 2008 has now come to an end, but the spirit lives on... To learn more about the IYOR 2008 accomplishment, download the IYOR Report.
Recognizing that public awareness is an essential element of coral reef conservation and is necessary to ensure that the value of and the threats to coral reefs are understood by the general public, and that sufficient resources are devoted to conservation and sustainable use of coral reefs and associated ecosystems; noting the importance of developing relevant public awareness initiatives that reflect national and regional priorities as well as local culture and knowledge concerning coral reefs and to facilitate public involvement in coral reef conservation related activities in all countries; and acknowledging the success of the International Year of the Reef 2008 in raising awareness of the importance of coral reefs and associated ecosystems; ICRI members adopted a recommendation on continuing coral reef awareness efforts.
The International Coral Reef Initiative (ICRI) is an informal partnership between Nations and organizations which strives to preserve coral reefs and related ecosystems around the world.
Although the Initiative is an informal group whose decisions are not binding on its members, its actions have been pivotal in continuing to highlight globally the importance of coral reefs and related ecosystems to environmental sustainability, food security and social and cultural wellbeing. The work of ICRI is regularly acknowledged in United Nations documents, highlighting the Initiative's important cooperation, collaboration and advocacy role within the international arena.
Brief history
The Initiative was founded in 1994 by eight governments: Australia, France, Japan, Jamaica, the Philippines, Sweden, the United Kingdom, and the United States of America. It was announced at the First Conference of the Parties of the Convention on Biological Diversity in December 1994, and at the high level segment of the Intersessional Meeting of the U.N. Commission on Sustainable Development in April 1995. ICRI now counts more than 60 members.
Objectives
ICRI emerged out of the recognition that coral reefs and related ecosystems found in tropical and sub-tropical regions are facing serious degradation, primarily due to anthropogenic stresses. Many nations face similar threats to coral reefs and related ecosystems as well as similar management problems. Recognising this, ICRI's objectives are to:
Encourage the adoption of best practice in sustainable management of coral reefs and associated ecosystems




Build capacity




Raise awareness at all levels on the plight of coral reefs around the world.



ICRI adopted a 'Call to Action' and a 'Framework for Action' as its foundational documents. Both documents set the four cornerstones of ICRI: Integrated Management; Science; Capacity Building and Review.
________________________________________
Locally: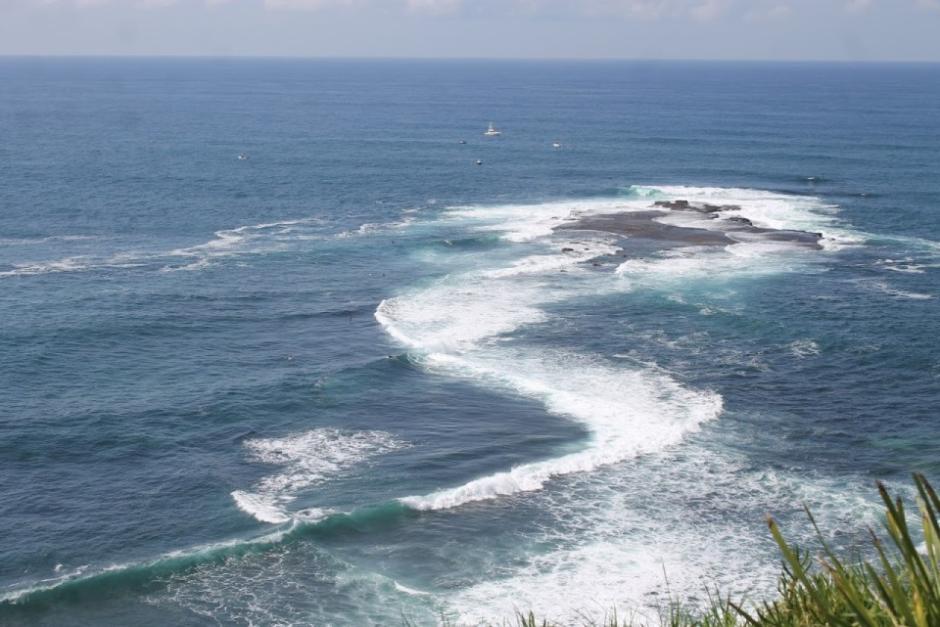 Crosswaves - Newport Reef