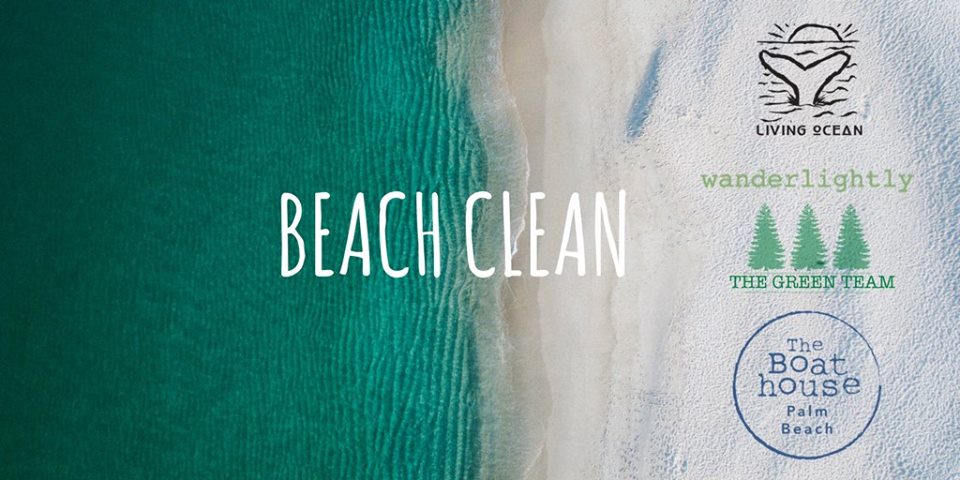 Palm Beach Cleanup
Sunday, November 12 at 9 AM - 11 AM
Join Living Ocean, The Green Team & Wander Lightly for a Christmas beach clean at Palm Beach.
With the Ocean predicted to have more plastic than fish in it by 2050 it is the best present you can give the Planet this Christmas!
The Boathouse has ever so generously offered to provide some refreshments and a free coffee or tea (when you bring your own reusable cup; they have them onsite if you forget)
Meet at The Boathouse on the Pittwater side of Palm Beach
Living Ocean will spare some time after the clean up to record all data on the day which will be uploaded to the Tangaroa Blue Marine debris data base & for their Mirco Plastics research project.
Helpers required so please leave a comment if you are abe to spare some time.
9am - 10am - Beach Clean
10am – Tally counting for Tangaroa Blue
All welcome & dont forget to bring a bucket or bag to collect trash in & a pair of gloves to keep your mitts safe!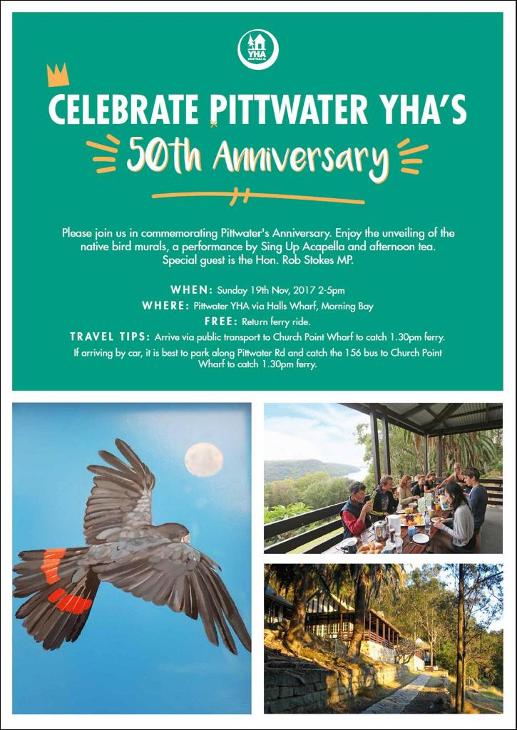 Sydney's Drinking Water should not be polluted by rogue coal mine
Monday, October 9, 2017 :Jeremy Buckingham - Greens NSW
The Greens NSW energy and resources spokesperson Jeremy Buckingham today criticised the Berejiklian Government for plans to introduce special legislation to allow the Springvale coal mine near Lithgow to pollute Sydney's drinking water and weaken protections for water quality in the Environmental Planning and Assessment Act.
"Once again we see the big coal and energy companies essentially blackmailing the government to intervene in a decision by the courts. The government should let the Court do its job as the parties to the case were aware of the consequences of the decision and were prepared to negotiate a sensible set of orders," said Greens MP Jeremy Buckingham.
"Undermining the integrity of the courts and the Planning Act with special legislation is a shonky way to govern.
"In the past we've seen corrupt former mining minister Ian Macdonald intervene with special retrospective legislation for the BHP Caroona coal project, and we saw the current Liberal-National government change the law to downgrade environmental and social considerations in planning decisions after Rio Tinto's Warkworth coal mine's extension was overturned by the Land and Environment Court.
"The proposed changes to the Act means that an existing mine can be extended or modified just as long as it pollutes the water catchment just a little less that it currently does. This is a significant weakening of protections for our drinking water quality and has significant implications for other areas, such as mining under the Illawarra Escarpment.
"Centennial Coal is a rogue operator with 913 recorded licence breaches at the Springvale mine between 2000 and 2015. Environmentalists have been warning for years about destruction and pollution from this mine - it's not like the government was in the dark.
"The government should have stood up to the blackmail and made Centennial Coal fast-track its waste water pipeline and water treatment plant and commit to stop its constant licence breaches and destruction of the environment.
"Mt Piper power station has a coal unloading facility onsite for the delivery of coal by truck from mines other than Springvale, while the nearby rail line used to supply the now closed Wallarawang power station only a few kilometres away.
"This is a lazy approach by the NSW Government, putting the interests of one coal mine ahead of Sydney's drinking water.
"This shows the vulnerability of coal-fired power stations that they are so reliant on a constant coal supply from mines that destroy the environment. Nature provides solar and wind with a consistent and free supply of energy.
"Aging coal-fired power stations are now lurching from one crisis to another. This highlights the failure of the NSW government to invest in renewable energy.
"The Greens will oppose this legislation and call on the government and Labor to maintain the integrity of our planning system and the protection of the drinking water supply for millions of people."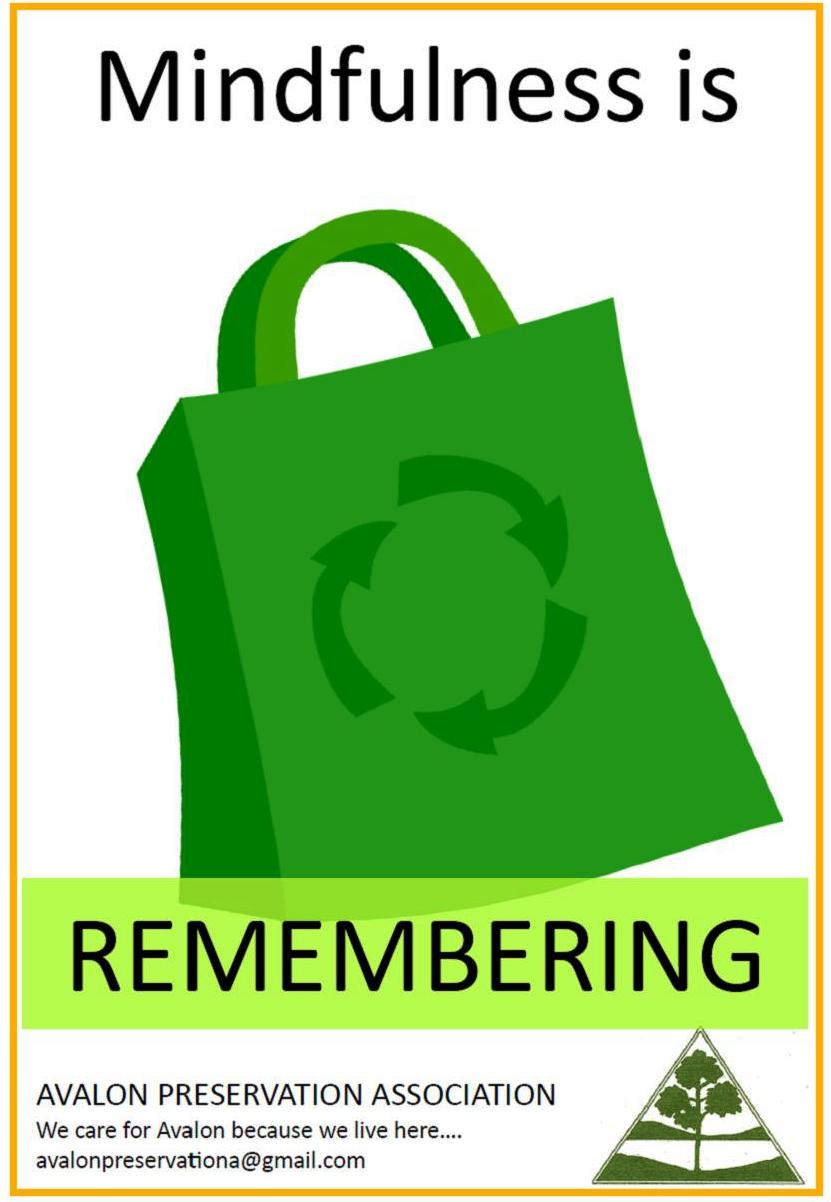 Bushcare in Pittwater
For further information or to confirm the meeting details for below groups, please contact Council's Bushcare Officer on 9970 1367
BUSHCARE SCHEDULES
Where we work Which day What time

Avalon
Angophora Reserve 3rd Sunday 8:30 - 11:30am
Avalon Dunes 1st Sunday 8:30 - 11:30am
Avalon Golf Course 2nd Wednesday 3 - 5:30pm
Careel Creek 4th Saturday 8:30 - 11:30am
Toongari Reserve 3rd Saturday 9 - 12noon (8 - 11am in summer)
Bangalley Headland 2nd Sunday 9 to 12noon

Bayview
Winnererremy Bay 4th Sunday 9 to 12noon

Bilgola
North Bilgola Beach 3rd Monday 9 - 12noon
Algona Reserve 1st Saturday 9 - 12noon
Plateau Park 1st Friday 8:30 - 11:30am

Church Point
Browns Bay Reserve 1st Tuesday 9 - 12noon
McCarrs Creek Reserve Contact Bushcare Officer To be confirmed

Clareville
Old Wharf Reserve 3rd Saturday 8 - 11am

Elanora
Kundibah Reserve 4th Sunday 8:30 - 11:30am

Mona Vale
Mona Vale Beach Basin 1st Saturday 8 - 11am
Mona Vale Dunes 2nd Saturday+3rd Thursday 8:30 - 11:30am

Newport
Bungan Beach 4th Sunday 9 - 12noon
Crescent Reserve 3rd Sunday 9 - 12noon
North Newport Beach 4th Saturday 8:30 - 11:30am
Porter Reserve 2nd Saturday 8 - 11am

North Narrabeen
Irrawong Reserve 3rd Saturday 2 - 5pm

Palm Beach
North Palm Beach Dunes 3rd Saturday 9 - 12noon

Scotland Island
Catherine Park 2nd Sunday 10 - 12:30pm
Elizabeth Park 1st Saturday 9 - 12noon
Pathilda Reserve 3rd Saturday 9 - 12noon

Warriewood
Warriewood Wetlands 1st Sunday 8:30 - 11:30am

Whale Beach
Norma Park 1st Friday 9 - 12noon

Western Foreshores
Coopers Point, Elvina Bay 2nd Sunday 10 - 1pm
Rocky Point, Elvina Bay 1st Monday 9 - 12noon
Friends Of Narrabeen Lagoon Catchment Activities

This walk will only take about 2 hrs walking, but a few small pampas grass clumps need removal and we will have morning tea in the creek bed or on a high rock ledge.
Please bring gloves and morning tea.
Terrey Hills to Morgan Rd
Saturday 4/11 7.30-11.30 am
Start at Terrey Hills cross the Deep Creek catchment valley and walk along feeder creek and end at Morgan Rd. Please bring gloves, old screwdriver and am tea. Plan is to include 30 min weeding. Carpool required.
Spotlight Walk
-
8:15pm Monday Nov 27
This walk will take place after Jayden Walsh has shown pictures and talked about amphibians and reptiles in Narrabeen Lagoon Catchment.
8:15pm Meet at Katoa Close. Spaces limited to 30 people
Spotlight Walk
-
8pm Friday Dec 15
Spotlighting walk - meet at start of Slippery Dip Trail. Spaces limited to 20 people
Wildlife Walk
-
7:30am Friday January 19, 2018
Meet at end of Deep Creek Carpark. Spaces limited to 30 people
Bush Regeneration - Narrabeen Lagoon Catchment
This is a wonderful way to become connected to nature and contribute to the health of the environment. Over the weeks and months you can see positive changes as you give native species a better chance to thrive. Wildlife appreciate the improvement in their habitat.
Belrose area - Thursday mornings
Belrose area - Weekend mornings by arrangement
Contact: Phone or text Conny Harris on 0432 643 295
Wheeler Creek - Wednesday mornings 9-11am
Contact: Phone or text Judith Bennett on 0402 974 105
Eco Paddle on Narrabeen Lagoon
Black Swan have returned to the lagoon after 20 years - come and see these majestic creatures! This paddle will visit the Western Basin, Deep and Middle Creeks. Beautiful Deep Creek attracts migratory birds from as far away as Russia and Middle Creek has been the subject of a substantial remediation programme. A relaxing 2 to 3 hour afternoon paddle. No previous kayaking experience required, tuition given. BYO boat or a hire kayak can be arranged for you at cost.
Spike in particulate air pollution prompts calls for action
October 11, 2017: Lock the Gate
Lock the Gate is calling for the EPA and the Department of Planning to act on long overdue recommendations to properly address and prevent cumulative impacts of open cut coal mining on air quality.
Data from Government air quality monitors shows 37 days when the average concentration of PM10 particulate pollution was above regulatory limits at five Hunter Valley locations in the last three months.
There has been a significant expansion of open cut coal mining in the region in the last five years and coal mining is known to be the largest source of PM10 pollution.
Lock the Gate Alliance spokesperson Georgina Woods said, "Despite a commitment five years ago to do so, NSW still doesn't have a cumulative impact assessment guideline for mining operations. This failure most affects the Hunter Valley, where there are a large number of open cut coal mines in close proximity.
"The people of the Hunter region are being badly let down by this Government. This poor air quality isn't just ugly, it's damaging people's health and contributing to early death.
"None of the mines are being made accountable for air quality that is damaging people's health because it's a problem they're all making together. We need a way to pause on new mine projects and expansion projects when the region is already at critical thresholds like this.
"Alarmingly, the Government still considering more open cut pits in the worst affected area, like the new super-pit United Wambo project, when they still haven't set basic thresholds to protect people from cumulative health damage. There has to be a limit, and we've reached it."
Background: air quality in the Hunter Valley
The Strategic Regional Land Use Plan for the Upper Hunter in 2012 committed the Government to "Develop a cumulative impact assessment methodology to manage the cumulative health and amenity impacts of mining and coal seam gas proposals. This methodology will consider whether cumulative impact thresholds or tipping points can be adequately described and predicted." This action has never been taken.




Recent air quality in the central part of the Hunter, where coal mining is most intense has been breaching national and state standards.




In the last three months, there have been 37 instances of daily average readings of PM10 exceeding the 50 micrograms per cubic metre protection measure.




Daily average coarse particle pollution (PM10) concentrations have reached more than double the national standard of 50 micrograms per cubic metre in Camberwell.




Communities at Singleton, Camberwell and Warkworth, not far from the proposed United Wambo 'super pit' have had PM10 concentrations above national standards dozens of times in the last three months.




Coarse particle pollution can trigger heart attacks and strokes. Particulate matter has been deemed carcinogenic by the World Health Organisation. There is no threshold below which PM pollution does not contribute to respiratory and cardiovascular illness.




The NSW EPA estimates that coal mining is responsible for 87.6% of PM10 pollution in the Hunter Valley.



Bird Walks and Talks 2017: PNHA
Come and see and hear some of our fantastic native birds, many of which you'll never see in your garden. Join in a
Sunday guided bird walk with Pittwater Natural Heritage Association. All walks start at 8am and end about 10am.
November 26
Warriewood Wetlands. Meet end of Katoa Close, north Narrabeen.
Bring binoculars if possible. Drink, hat and comfortable shoes.
Ph Kerry on 0402 605 721.
You don't need to book but if we know you're coming we'll watch out for you. Call if in doubt about weather as we won't go out if it's raining.

Update on Baleen 2D HR Seismic Survey
(The survey comprises 46 2D lines of total length 208km.) -
NOPSEMA 'Not reasonably satisfied – opportunity to modify EP'
Decision date: 03/08/2017
Titleholder action Resubmission due date 3: 02/09/2017
Extension of timeframe: 17/08/2017 Titleholder action: 15/10/2017

Extension of timeframe: 05/10/2017 Titleholder action: 31/10/2017

From Decision notification:
Basis of decision
NOPSEMA has assessed the environment plan in accordance with its assessment policies and procedures.
On completion of assessment, NOPSEMA has decided that it is not reasonably satisfied that the
environment plan meets the criteria below as set out in regulation 10A of the Environment Regulations:
(a) is appropriate for the nature and scale of the activity
(b) demonstrates that the environmental impacts and risks of the activity will be reduced to as low as
reasonably practicable
(c) demonstrates that the environmental impacts and risks of the activity will be of an acceptable level
(d) provides for appropriate environmental performance outcomes, environmental performance standards
and measurement criteria
(e) includes an appropriate implementation strategy and monitoring, recording and reporting
arrangements
(g) demonstrates that:
(i) the titleholder has carried out the consultations required by Division 2.2A
(ii) the measures (if any) that the titleholder has adopted, or proposes to adopt, because of the
consultations are appropriate
Titleholder requirements
For OMR decision In accordance with regulation 10, the titleholder is required to modify and resubmit the
environment plan. Upon resubmission of the plan, NOPSEMA will continue to assess the submission in
accordance with its assessment policies and make a decision under regulation 10. After a titleholder has
been provided with reasonable opportunity to modify and resubmit an environment plan, NOPSEMA will
make a final decision on whether to accept or refuse to accept the environment plan.
Long Reef Walks 2017/18 Season
If you'd like to join us on a walk please contact me a couple of weeks before the walk date to make a booking. FREE GUIDED WALKS of Long Reef Aquatic Reserve with NSW Department of Industry & Investment Fishcare Volunteers will be held on the following date:
Dates for 2017
Sunday 8 October 2017 3:30pm – 5:30pm
Sunday 5 November 2017 3:00pm – 5:00pm
Sunday 3 December 2017 2:00pm – 4:00pm
Dates for 2018
Sunday 14 January 2018 1:00pm – 3:00pm
Sunday 18 February 2018 4:00pm – 6:00pm
Sunday 18 March 2018 3:00pm – 5:00pm
Sunday 15 April 2018 1:00pm – 3:00pm
~ Walks are held subject to weather conditions ~
Bookings are preferred.
Phil Colman, who keeps us updated on the Fishcare Volunteer Walks, has said, when sending in these monthly dates for the new season walks;
"I am only too happy to take individuals or small groups of senior school students out when I might be able to help them with their studies, give them possible projects or whatever.
Keep in mind that I am totally dictated to by tides, but am retired and basically available at any time. I am not, by the way, looking for payment. If I can steer someone in the direction of marine study, I'm paid enough!"
New "Coastal Management Guide" Teaching Resource Released
Researchers from UNSW Water Resaerch Laborsatory (WRL) in partnership with the NSW Office of Environment and Heritage, have developed a new 'Coastal Management Guide' designed for High School teachers involved in STEM (Science, Technology, Engineering, and Mathematics) education: http://www.narrabeen.wrl.unsw.edu.au/teaching/
The Guide is designed to assist teachers to engage their students (target ages 11 – 16 years) in the complex issues of Coastal Management, with coastal erosion as the "attractor". Background information spanning topics such as 'the dynamic coast', 'what are the issues', 'managing for the future' and 'how do we measure coastal change' is presented. A broad range of fully developed independent and guided student activities are provided for use inside and outside the classroom, including hands-on experiments, analysis of media reporting, and role-playing.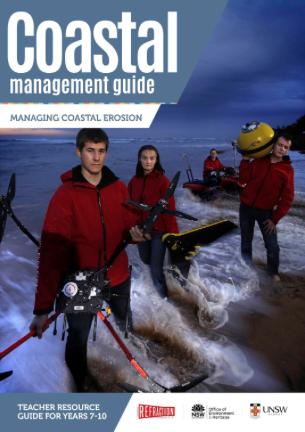 The Guide targets Australian High School STEM curriculum areas (Years 7–10) of Physical Sciences, Human Society & its Environment (HSIE), Geography, Earth & Environmental Sciences and Maths. More broadly, it is anticipated that the Guide's educational themes and activities will provide a useful and stimulating resource in any classroom where 'living at the coast' can provide a launching point into diverse areas of secondary school STEM education.
If Victoria can ban CSG, NSW can too!
By The Wilderness Society
Coal seam gas (CSG) threatens our water, our health and our climate. Many jurisdictions around the world are permanently banning this dangerous industry, most recently Victoria. We do not need or want risky coal seam gas in NSW.
It's clear that the industry has no social licence in our state, yet vast and critical areas—as well as human health—are still under threat from CSG across the state.
Call on the new Premier Berejiklian and the new Planning Minister Roberts to follow Victoria's lead and ban this harmful and risky industry in NSW.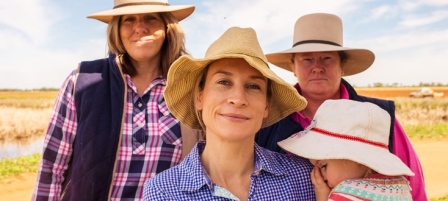 Petition: Rescind Adani's Unlimited Water License and support Aussie farmers!
As Queensland farmers, water is crucial for our livelihoods. As our climate gets hotter and drier, our water resources are even more precious. We call on the Queensland Premier to rescind the unlimited, free 60-year water license they are proposing to grant to the Adani coal mine.
Background:
My name is Angus Emmott and I'm proud to be a third generation grazier from Longreach in outback Queensland. I'm committed to a sustainable future for farming in Australia and ask you for your support to protect our precious groundwater.
In Queensland, the proposed Adani-owned Carmichael coal mine has been granted unlimited access to groundwater. The mine, the biggest of nine proposed for the Galilee Basin west of Rockhampton, is expected to draw 26 million litres of water per day from its pits. Over its life this mine alone would total 355 billion litres of water and modelling already demonstrates that 2 springs will be shut down.
As farmers we are angry about the special deal struck by the Queensland government to give Adani free water for its proposed coal mine. I am launching this petition today to call upon Premier Annastacia Palaszczuk to support Aussie farmers and to rescind the water licenses that allow Adani access to unlimited water for 60 years.
All over the country, farmers are battling to stop fossil fuel mining and fracking on their land. Nearly 90% of Queensland is currently drought declared, so why are we giving an Indian billionaire access to unlimited groundwater for a new coal mine?
I'm asking all Australians, to stand with me in calling upon the Premier to rescind this approval before irrevocable damage is done to our groundwater systems and the long term sustainability of Queensland agriculture.
Angus Emmott with Farmers for Climate Action
Avalon Boomerang Bags 2017 Workshops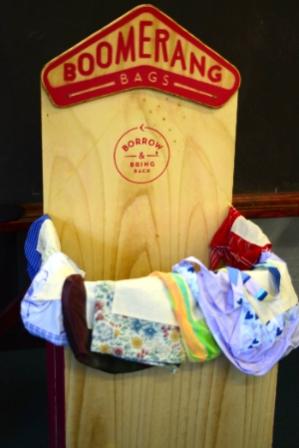 Boomerang Bag Working Bees run in Mona Vale on Tuesdays 11:30am- 5pm.
For those of you unable to come to workshops there are many other ways to get involved, just let us know you're willing by leaving a comment or sending us a message.
Pictured is a Boomerang Bag Box.
The boxes are located at:
Avalon Organics
Hertford Chemist
Avalon Wholefood
Fresh Fruit and Veg
Johnson Bros Mitre Ten
Avalon Meats
Avalon Rec Centre
Watch this space for another venue soon.
A huge thank you to everybody who has helped Boomerang Bags Avalon get this far. But the work is not over yet. Materials and more hands always welcome Facebook page Profile

What Does PNHA do?
On-ground bush regeneration. eg: Asparagus Fern Out Days
Activities: guided walks, bird-watching
Quaterly informative newsletter, online or paper
Members email group for leaset environmental news and events
AGM with Guest Speaker
Free advice for members on managing gardens for Native Vegetation and fauna habitat
Lobbies Pittwater Council and State Government on inappropriate management practices and development
Provides support to Council for PNHA-approved grant applications for environmental projects
Publications: Introductory Field Guide to Birds of Warriewood Wetlands & Irrawong Reserve, $20.00rrp, attractive cards with photos of Pittwater scenes, flora and fauna $2.00
Email: pnhainfo@gmail.com Or click on Logo to visit website.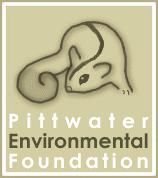 Pittwater's Environmental Foundation
Pittwater Environmental Foundation was established in 2006 to conserve and enhance the natural environment of the Pittwater local government area through the application of tax deductible donations, gifts and bequests. The Directors were appointed by Pittwater Council.
About 33% (about 1600 ha excluding National Parks) of the original pre-European bushland in Pittwater remains in a reasonably natural or undisturbed condition. Of this, only about 400ha remains in public ownership. All remaining natural bushland is subject to encroachment, illegal clearing, weed invasion, feral animals, altered drainage, bushfire hazard reduction requirements and other edge effects. Within Pittwater 38 species of plants or animals are listed as endangered or threatened under the Threatened Species Act. There are two endangered populations (Koala and Squirrel Glider) and eight endangered ecological communities or types of bushland. To visit their site please click on logo above.
Newport Community Gardens
Anyone interested in joining our community garden group please feel free to come and visit us on
Sunday at 10am at the Woolcott Reserve in Newport!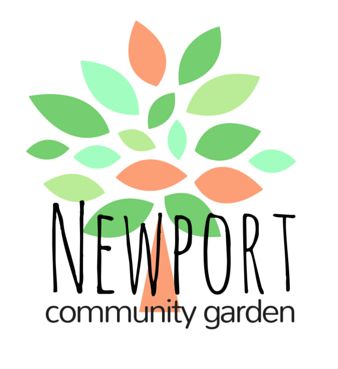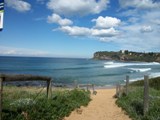 "I bind myself today to the power of Heaven, the light of the sun, the brightness of the moon, the splendour of fire, the flashing of lightning, the swiftness of wind, the depth of the sea, the stability of the earth, the compactness of rocks." - from the Prayer of Saint Patrick
Scientists develop tool which can predict coastal erosion and recovery in extreme storms
October 11, 2017
The damage caused to beaches by extreme storms on exposed energetic coastlines and the rate at which they recover can now be accurately predicted thanks to new research led by the University of Plymouth.
Working with the University of New South Wales, scientists have developed a computer model which uses past wave observations and beach assessments to forecast the erosion and/or accretion of beach sediments over the coming year.
They believe it could be a sea change for coastal managers, giving them the opportunity to make decisions that could protect communities from severe wave damage.
In a study, published in Coastal Engineering, the academics say deriving sufficient knowledge and understanding to forecast erosion and accretion with a level of confidence is arguably the 'holy grail' for coastal scientists and engineers.
In seeking to address that, they have developed a traffic light system based on the severity of approaching storms, which will highlight the level of action required to protect particular beaches.
Dr Mark Davidson, Reader in Coastal Processes at the University of Plymouth, led the research. He said: "In the past, coastal managers have always tended to be responsive. They have been unable to fully predict how their areas might respond over periods of up to a year, and to assess any pre-emptive measures they could take. This research goes some way to changing that, enabling us to warn people in advance about how beaches will respond and helping officials take the steps they need to protect themselves and their communities."
The new tool was tested on two beaches -- Perranporth in North Cornwall and Narrabeen, just north of Sydney -- which experience very differing wave and climatic conditions.
Measured and/or modelled wave data are used to generate around a thousand potential shoreline predictions and based on a statistical analysis of these, potential shoreline positions are displayed in traffic like system, whereby green signifies normal displacement ranges, amber would be considered high and red are extreme.
The period tested included the Pasha Bulker storm sequence recorded at Narrabeen in 2007, and the extreme storms of 2013/14, known to be the most energetic storms to hit Europe's Atlantic coastline in more than six decades.
In both cases, the methodology was able to predict both storm erosion and subsequent recovery, giving a clear indication of the intensity of storms in terms of their impact on the coast.
Dr Davidson added: "Beaches play a crucial role in the lives of coastal communities, acting as a defence but also in creating leisure opportunities. Gaining a greater knowledge of how they might be affected by weather is therefore essential, both in the short and long term. We have never been able to forecast over a longer period of time before, and are now looking at ways to expand this tool so that its accuracy and benefits can be increased."
Mark A. Davidson, Ian L. Turner, Kristen D. Splinter, Mitchel D. Harley.
Annual prediction of shoreline erosion and subsequent recovery.
Coastal Engineering, 2017; 130: 14 DOI:
10.1016/j.coastaleng.2017.09.008
Commercial use of protected plants: Public consultation
Draft NSW management plans for the commercial use of protected plants have been released for public comment.
A public exhibition of draft management plans outlining the commercial use of protected plants provides an important opportunity for members of the community to have their say.
Submissions close 9 November 2017.
About the draft management plans
The Office of Environment and Heritage (OEH) has prepared draft wildlife trade management plans setting out the licensing requirements applying under NSW legislation (Biodiversity Conservation Act 2016) for the growing, harvesting and sale of protected whole plants and cut flowers.
The development of these management plans is a requirement of the Environment Protection and Biodiversity Conservation Act 1999 administered by the Australian Government.
The plans are subject to review, public consultation and re-approval by the Australian Government every five years.
The two current NSW management plans concerning the commercial use of protected plants are due to expire soon.
Draft NSW management plans for 2018–22, which will replace the current plans, have been issued for public consultation.
OEH issues licences under the Biodiversity Conservation Act 2016 to persons seeking to harvest and grow whole protected native plants for commercial purposes.

This plan outlines the legislation and licensing requirements for the cut flower industry.
The plan also describes management procedures for the industry including plant tagging requirements, monitoring harvest sustainability, and record keeping requirements.
The plan includes a summary of changes from the previous plan.
Harvesting plants from the wild can pose risks to both the harvest site itself and the conservation of native plant populations.

This plan describes the proposed regulatory framework for managing the commercial harvest, salvage and growing of protected whole plants such as grass trees, staghorns, orchids and cycads.
The plan describes proposed licensing arrangements for persons or businesses that harvest whole protected plants or propagate whole protected plants for sale.
The plan also sets out the operational framework under which licensed activities can be undertaken including tagging, reporting and site management obligations.
The plan includes a summary of changes from the previous plan.
More information
Find information about current licensing arrangements at commercial use of protected plants.
Have your say
Public exhibition for the draft NSW management plans for 2018–22 is from 12 October to 9 November. Anyone can review the draft NSW management plans and provide comments.
Your submission, in whole or part or as part of a summary, may be made publicly available on our website. If you do not want your submission made public in this way, please indicate this on your submission.
You can provide your written submission in the following ways:
By email
Email your submission to: wildlife.reforms@environment.nsw.gov.au
By mail
Post your submission to:
Plant Management Plan Consultation
National Parks and Wildlife Service
PO Box 1967
Hurstville NSW 1481
Online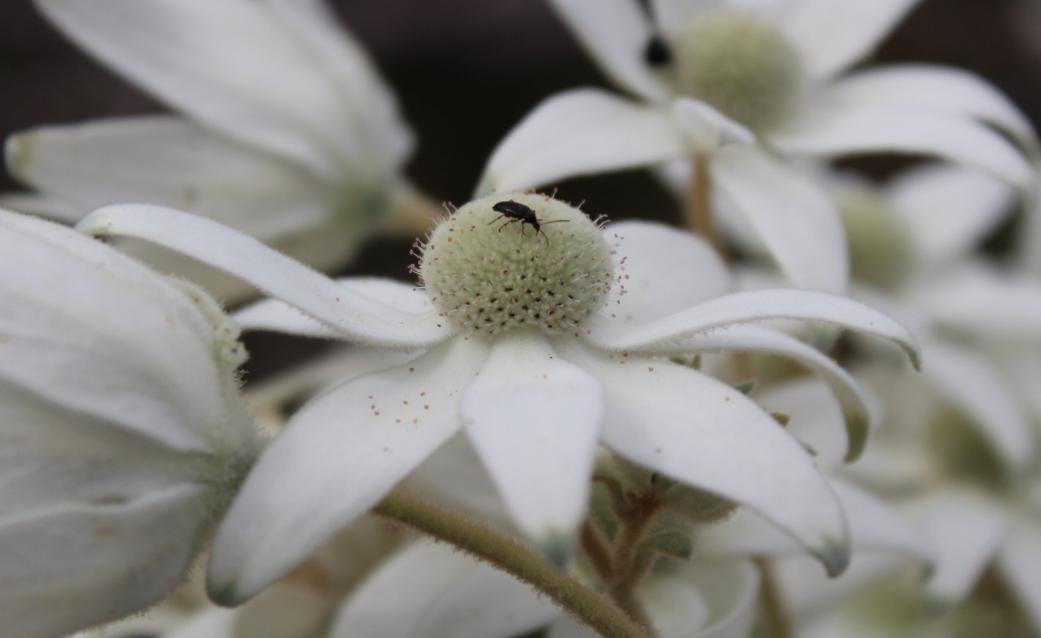 Breeding failure of nearly 20,000 Adélie penguins
A colony of over 18,000 pairs of Adélie penguins in Terre Adélie, Antarctica, suffered a catastrophic breeding failure at the start of 2017 with only two chicks surviving. WWF is demanding greater protections of the waters off East Antarctica next week at a crucial international meeting in Hobart, Australia where proposals for a new Marine Protected Area (MPA) will be considered.
Surviving mostly on a diet of krill, a small shrimp like crustacean, Adélie penguins are generally faring well in East Antarctica, but declining in the Antarctic peninsula region where climate change is well established. However, this significant breeding failure at this particular colony in East Antarctica has been linked to unusually extensive sea ice late in the summer, meaning the adult penguins had to travel further to forage for food for their chicks. As a result the chicks starved.
The Commission for the Conservation of Antarctic Marine Living Resources (CCAMLR), comprising 25 member states and the EU, are meeting on the 16th October 2017 in Hobart, where they will consider a proposal for a new Marine Protected Area (MPA) for the waters off East Antarctica. The proposal for an MPA, led by Australia and France with the EU, has been on the table at CCAMLR for eight years but has yet to be agreed.
Nevertheless, expectations are running high as last year CCAMLR adopted the Ross Sea MPA, the largest protected area in the world. An MPA would help to secure a future for the amazing wildlife and marine biodiversity of East Antarctica, including Adélie and emperor penguins.
Four years ago, the same colony which numbered 20,196 pairs at the time, failed to produce a single chick. Again heavy sea ice, combined with unusually warm weather and rain, followed by a rapid drop in temperature, resulted in many chicks becoming saturated and freezing to death.
WWF has been supporting penguin research by French scientists working for the French National Center for Scientific Research (CNRS) in the region since 2010.
Rod Downie, Head of Polar Programmes at WWF said:
'Adélie penguins are one of the hardiest and most amazing animals on our planet. This devastating event contrasts with the image that many people might have of penguins. It's more like 'Tarantino does Happy Feet', with dead penguin chicks strewn across a beach in Adélie Land.
'The risk of opening up this area to exploratory krill fisheries, which would compete with the Adélie penguins for food as they recover from two catastrophic breeding failures in four years, is unthinkable. So CCAMLR needs to act now by adopting a new Marine Protected Area for the waters off East Antarctica, to protect the home of the penguins'.
The MPA proposal originally comprised seven large marine areas off the coast of East Antarctica but subsequently reduced to four. However, it is anticipated that only three of those (MacRobertson, Drygalski, and the D'Urville Sea-Mertz region, where the Petrel Island Adélie colony is located) will be adopted this year. The D'Urville Sea Mertz region in particular needs to be set aside as off limits to krill fisheries in order to protect the foraging and breeding grounds of Adélie penguins.
WWF expects the other four areas, comprising Gunnerus, Enderby, Prydz Bay, and Wilkes to be brought back in front of CCAMLR in future years.
Yan Ropert-Coudert, senior penguin scientist at the CNRS who leads the Adélie penguin programme at Dumont D'Urville research station, adjacent to the colony, said:
"The region is impacted by environmental changes that are linked to the breakup of the Mertz glacier since 2010. An MPA will not remedy these changes but it could prevent further impacts that direct anthropogenic pressures, such as tourism and proposed fisheries, could bring".
Christopher Johnson, Senior manager, WWF Antarctic Program, said:
"The death of so many Adélie penguin chicks shows just how tough life can be in Antarctica.
The last thing these penguins need is more pressure.
"That's why it's crucial CCAMLR locks in an MPA in East Antarctica to help secure a future for Adélie penguins and all the other amazing wildlife and marine biodiversity.
"After CCAMLR adopted the Ross Sea MPA last year, expectations are running high for another significant achievement this year".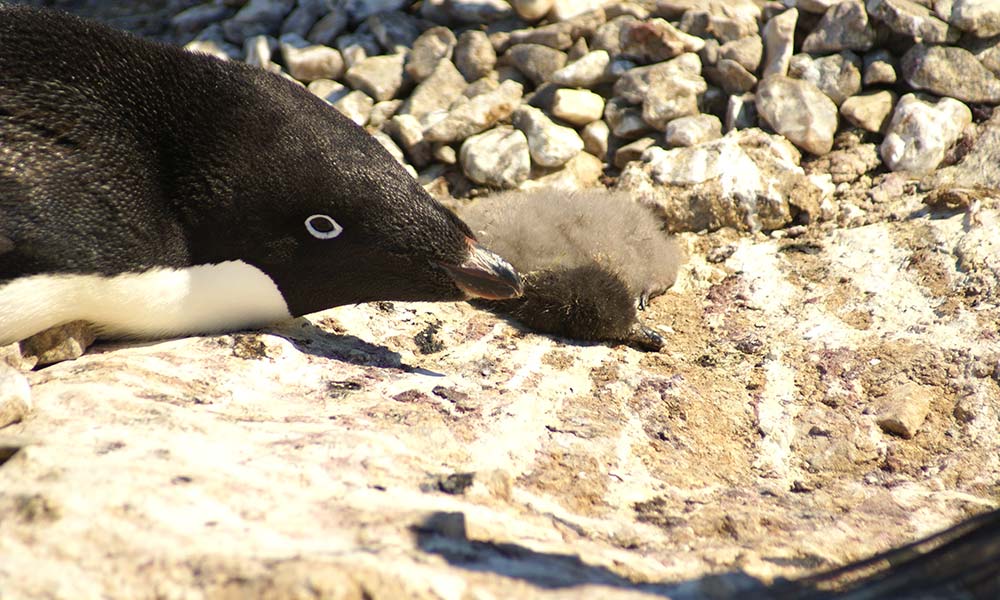 One of the many dead Adélie penguin chicks found on Petrels Island in the Antarctica. Photograph: Y Ropert-Coudert/CNRS/IPEV
Forestry Corporation of NSW fined $8,000 for licence breach
11 October 2017: EPA

Last Thursday, the Forestry Corporation of NSW was convicted in the Land and Environment Court and fined $8,000 following a plea of guilty to an offence that occurred during logging operations in Glenbog State Forest, near Bemboka in the south east of NSW.
NSW Environment Protection Authority (EPA) Chief Environmental Regulator Mark Gifford, said the Forestry Corporation of NSW conducts logging operations throughout the state and should be aware of its responsibilities.
"Rocky outcrops are protected landscape features," Mr Gifford said.
"The Forestry Corporation of NSW holds a licence under the Threatened Species Conservation Act 1995 that requires it to thoroughly search for rocky outcrops in order to protect the outcrops and surrounding trees from logging."
"During logging operations in 2013, the Forestry Corporation of NSW failed to thoroughly search for a rocky outcrop in Compartment 2330 of Glenbog State Forest and as a result the outcrop was not identified or protected. Up to 52 trees were felled at the location and there was minor machinery damage caused to the outcrops themselves," Mr Gifford said.
The EPA then carried out a thorough investigation, including field inspections, issuing statutory notices and conducting interviews.
"While the rocky outcrop area did not contain any known threatened flora species the features of the affected area afford unique habitat refuges and need to be identified and protected from logging," Mr Gifford said.
"The Forestry Corporation of NSW had management and control over the logging operations. The Court's decision is a clear message to the Forestry Corporation of NSW that it must not neglect its responsibilities to search for rocky outcrops in the field before logging starts."
Mr Gifford said the EPA places the upmost importance on protecting NSW's many native forests by requiring that logging operations are conducted in an ecologically sustainable way.
"The EPA maintains an active native forestry compliance program to help ensure compliance with licence conditions and promote continuous improvement in environmental performance," Mr Gifford said.
"Protection measures will be further improved through upcoming NSW forestry regulatory reforms that will provide a modern legal and environmental framework to protect our native forests and endangered species."
Edmondson Regional Park now open for visitors
October 10, 2017: OE&H

The National Parks and Wildlife Service (NPWS) has formally opened the new Cabramatta Creek precinct of Edmondson Regional Park to the public.
Edmondson Regional Park
opening - 8 October 2017 Daniel Chalker, Lex Dadd, Lester Ives join NPWS Ranger Toni Clarke at a smoking ceremony as part of the welcome at the opening of the Cabramatta Creek precinct at Edmondson Regional Park, 8 October 2017
NPWS Director Deon van Rensburg said the 48 hectare parcel of land, officially opened at a community event on Sunday 8 October to coincide with the 50th anniversary celebrations for NPWS, will be managed by NPWS and will offer important habitat for endangered species as well as bushland for the enjoyment of the growing number of residents of the area.
"I'm thrilled to announce the opening of the Cabramatta Creek precinct as the first stage of the planned 150 hectare Edmondson Regional Park," Mr van Rensburg said.
"Edmondson Regional Park will provide a range of recreational visitor experiences such as bushwalking and nature appreciation for the new surrounding communities, and will help protect biodiversity in the area.
"The main management focus of the Cabramatta Creek precinct is conservation of the critically endangered Cumberland Plain Woodland ecological community, and significant effort has gone into removing the dominant weed species African Olive.
"Protecting this endangered ecological community will in turn protect the foraging habitat for other endangered species such as the grey headed flying fox and swift parrot.
"Formerly the site of the Ingleburn army training camp, this reserve will surround the Edmondson Park town centre which is in early stages of construction, and will provide a network of open space and protected areas within the newly established residential areas of Edmondson Park and Bardia in Sydney's South West Growth Centre," Mr van Rensburg said.
Planning for the remainder of
Edmondson Regional Park
includes cycleways, walking tracks, picnic areas, BBQ facilities and areas of open space for families and group events.
The precinct was formally opened on the weekend with an Aboriginal Welcome and smoking ceremony, NPWS Discovery Ranger activities, an ecology talk and discussions about native gardens provided by the environment team from Liverpool City Council, as well as a native plant giveaway. Ingleburn Military Precinct Association also opened the nearby Bardia Barracks for the day, with ex-servicemen giving a presentation on the military history of the area.
Breeding salt-tolerant plants
October 10, 2017
Soil erosion is considered as a problem that puts the nutrition of the human population at jeopardy. One of its aspects is soil salination, which affects in particular dry regions of Earth, where farmers are forced to irrigate their fields heavily. Large quantities of the salts dissolved in the water, such as sodium and chloride, are diffused into the soil and remain there after the water has evaporated. The salt stunts the crops and can even make soils infertile in the long run.
"All approaches so far to breed salt-tolerant plants must be considered more or less as failures," says Professor Rainer Hedrich, plant scientist at the Julius-Maximilians-Universität (JMU) Würzburg in Bavaria, Germany. They all aimed at making crop plants grow on saline soils and to identify salt-tolerant breed lines in the process. But this approach cannot work.
And that is for a reason: "Our crop plants are the result of many years of breeding. During that time, man has sheltered them from nearly all negative environmental influences, so that they have lost a lot of their natural resilience," explains Hedrich. "As soon as these elite lines come in contact with too much salt, they usually die."
Salt-tolerant plants serve as model
So Rainer Hedrich, together with Professor Sergey Shabala (University of Tasmania), set out to develop a new strategy. The two scientists placed their bet on plants that are naturally salt-tolerant.
One such plant is quinoa (Chenopodium quinoa). It comes from the Andes, where it has been been used as food for 7,000 years. Meanwhile the seeds of this South American pseudo-cereal, which are free from gluten and rich in vitamins, have found their way to European supermarket shelves.
The plant absorbs salt from the soil and stores it in bladder-shaped cells on the surface of its leaves. This protects the salt-sensitive metabolic processes, and the plant can grow well even on saline soils.
Without bladder cells quinoa suffers from salt stress
The researchers have found a simple way of proving that it is really the bladder cells that ensure the plant's salt tolerance. "Just a few light brush strokes over a quinoa leaf cause the bladder cells to fall off," says Professor Shabala. Stripped of their salt bladders, these plants grow on non-saline soils just as well as non-brushed specimens. But an exposure to common salt stunts their growth significantly.
The round to oval bladder cells of quinoa have a diameter of almost half a millimeter. They are veritable giants in the kingdom of plants, and can usually be seen even with the naked eye. Their storage capacity is up to 1000 times higher than that of any normal cell of the leaf surface.
The price of salt disposal is sugar
To get an insight into the "operating system" of quinoa and its bladder cells, the work group of Professor Jian-Kang Zhu (University of Shanghai) has decoded the Andes cereal's DNA. Professor Hedrich's team then compared the active genes of leaves and bladder cells. The necessary bioinformatic analyses were performed by experts from the University of Shanghai and from the team of Georg Haberer from the Helmholtz Center Munich.
The result: Even without salt treatment, there are genes working in the bladder cells which are in other species only active when the plant is under stress. They include transporters carrying sodium and chloride ions into the bladder cell. A stimulation with salt triggers the activation of further genes needed to maintain the signal path for the stress hormone ABA.
Storing the salt consumes energy. This energy is generated by the bladder cells from sugar molecules which they specially import from the leaf for that purpose. The bladder cells receive the required energy from the leaf and reciprocate by absorbing the toxic salt," explains Hedrich.
Crossbreeding salt tolerance into crop plants
The new findings have been published in the Cell Reports journal. They are to be used in the long term for the breeding of salt-tolerant plants. "The first step is made," says Professor Hedrich. "We will now use a combination of developmental genetics and the functional analysis of salt transport proteins to understand the molecular mechanisms that produces and maintains the salt tolerance in quinoa."
The JMU research team wants to learn from quinoa lines equipped with a very large or a very low number of salt bladders. It has a large pool to draw on: about 2000 wild and cultivated varieties of the plant from the Andes are known so far. The ultimate outcome of their work might be not only the breeding of quinoa varieties with an even higher salt tolerance but also the crossbreeding of salt tolerance genes into related crop plants such as sugar beets or spinach.
Changsong Zou, Aojun Chen, Lihong Xiao, Heike M Muller, Peter Ache, Georg Haberer, Meiling Zhang, Wei Jia, Ping Deng, Ru Huang, Daniel Lang, Feng Li, Dongliang Zhan, Xiangyun Wu, Hui Zhang, Jennifer Bohm, Renyi Liu, Sergey Shabala, Rainer Hedrich, Jian-Kang Zhu, Heng Zhang.
A high-quality genome assembly of quinoa provides insights into the molecular basis of salt bladder-based salinity tolerance and the exceptional nutritional value.
Cell Research, 2017; DOI:
10.1038/cr.2017.124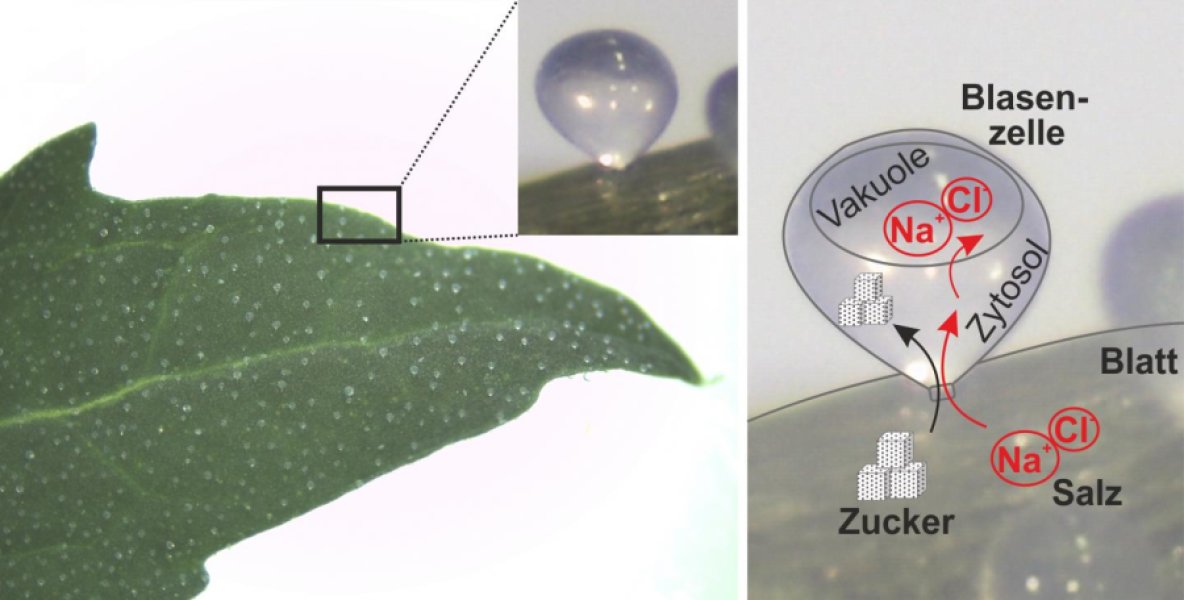 Quinoa leaf with typical salt bladders. On the right, you see the plant transporting the dissolved salts sodium and chloride first into the bladder and then in its vacuoles. The sugar carried along with them provides the necessary energy.
Credit: Jennifer Böhm
Indonesian fishing vessel and crew apprehended
10 October 2017
Media release from the Australian Fisheries Management Authority and Department of Immigration and Border Protection
Maritime Border Command (MBC) together with the Australian Fisheries Management Authority (AFMA) have apprehended an Indonesian fishing vessel about 190 nautical miles off the Northern Territory coast, suspected of illegally fishing inside the Australian Fishing Zone (AFZ).
MBC, a multi-agency task force within the Australian Border Force (ABF), tasked HMAS Pirie to intercept the vessel after it was spotted by an MBC Dash-8 aircraft on Saturday 7 October.
HMAS Pirie intercepted and boarded the vessel and found approximately 200kg of fish, including whole shark. Officers also found about 100kg of baitfish on board.
INDONESIAN FISHING VESSEL APPREHENDED NORTH OF DARWIN OCTOBER 2017
Two longlines, each carrying 200 hooks, were also located near where the vessel was first spotted inside the AFZ.
The five crew have been brought to Darwin for further investigation by AFMA over possible breaches of Australian fisheries laws.
MBC Commander Rear Admiral Peter Laver said the significant aerial and surface surveillance capability within the AFZ is having a noticeable impact on illegal fishing in Australian waters.
"No matter where these fishermen are from or what methods they use, if they are inside our waters we will be watching them and if they are found to be doing the wrong thing they will be intercepted and will face the full force of the law," Rear Admiral Laver said.
"Illegal fishers risk losing their vessel and being brought to Australia to face significant fines or even jail time – it's just not worth it."
AFMA's General Manager Fishing Operations Peter Venslovas said that thanks to surveillance and capacity building with our regional partners, there had been a dramatic reduction in illegal foreign fishing over the last decade. Numbers have plummeted from 367 a year to just 15 last year.
"Not only do Australian government agencies work together to combat illegal foreign fishing, but we share information and provide training to our international counterparts," Mr Venslovas said.
"These levels of cooperation are essential if we are to continue to successfully target those seeking to plunder Australia's marine resources."
The Indonesian crew arrived in Darwin earlier today.
It's Magpie swooping season
by BirdLife Australia
It's that time of year again. As the days gradually begin to grow longer and the weather warms up, many birds begin to build their nests and lay their eggs. Their number includes Australian Magpies.
Because magpies are one of the most common birds in built-up areas, as well as in rural environments, they often come into contact with us. For most of the year, people are happy to interact with magpies, but with the arrival of the breeding season, the situation's not always so happy.
Magpie breeding season is dreaded by many people because of the perception that at this time of year the birds relentlessly swoop at people, both on foot or riding bicycles, as well as dogs and anything else that moves.
Though wide-held, this perception is not altogether accurate.
Although it's true that spring is magpie swooping season, it should be noted that not all magpies swoop at people. In fact, it is generally quite a small proportion of them that are aggressive towards humans. Most of the birds that attack are males, though, indeed, most male magpies don't attack, and those that do usually only become aggressive when people venture too close to the nest tree.
Although the timing of swooping behaviour varies between the different regions of Australia, most swooping activity occurs in mid- to late spring, during the brief period when there are magpie chicks in the nest, with the intensity of attacks increasing gradually as the nestlings grow. Few magpies attack before their eggs have hatched, and the attacks usually drop off after the chicks have fledged (left the nest). It's a brief window, but one that can be traumatic for people being swooped.
There are a few things you can do to prevent being swooped, but nothing is guaranteed to work.
The most sensible method is to avoid walking or riding near trees where magpies are nesting.

If you can't avoid the area, try wearing a hat or carrying an umbrella for protection; cyclists can attach a forest of cable-ties to their helmets.

Attach eye spots to the back of your hat.

Wave a stick above your head as you walk past.

Keep an eye on the bird; he's much less likely to attack if he knows he's been sussed.

Above all, don't harass the birds. Though tempting, it will only make them more aggressive. And remember, harming magpies is against the law.
For more information, see Magpie Alert, by Darryl Jones (UNSW Press, Sydney).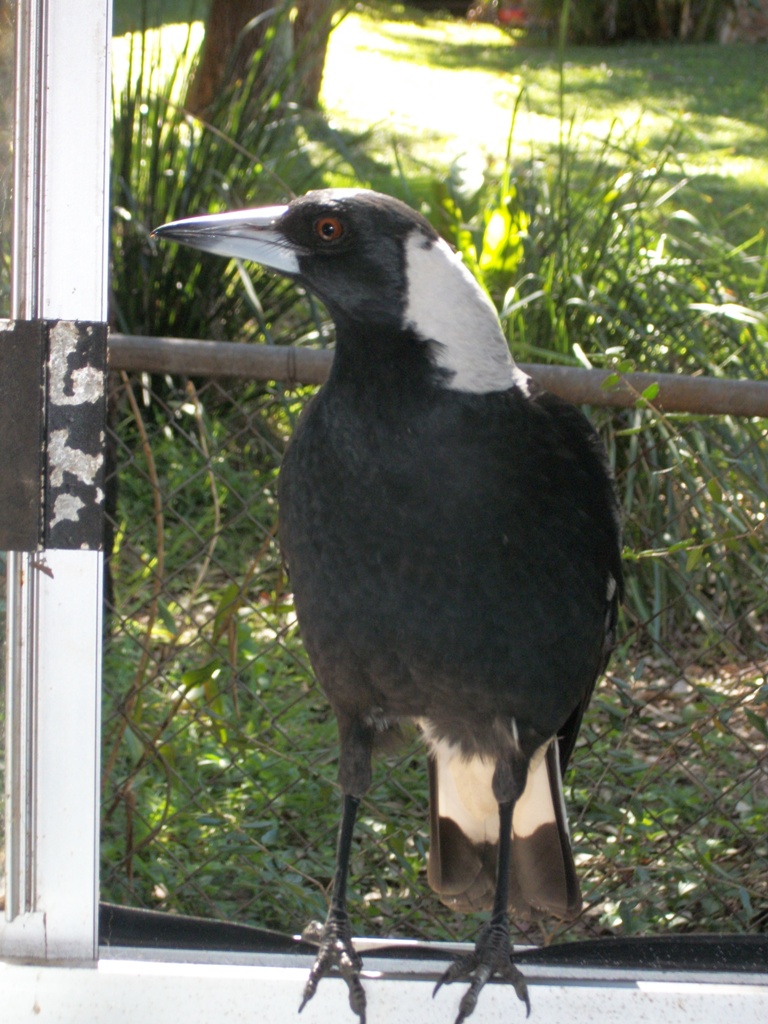 Avalon Boomerang Bags: An Idea that's Spreading to stop plastic bag use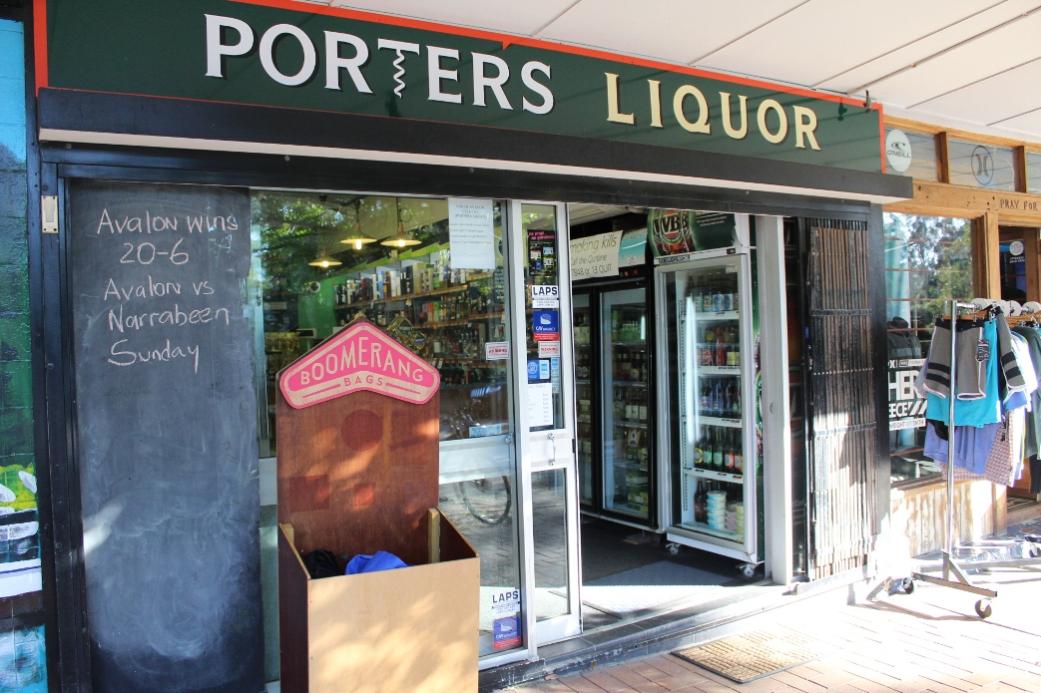 Avalon Boomerang Bags - now at North Avalon shops - A J Guesdon photo, 25.5.2017
Avalon Boomerang Bags
Unit 20/14 Polo Ave Mona Vale
Boomerang Bags is a bag-share initiative involving the installation of a number of 'Boomerang Bag' boxes throughout any given business district, shopping centre, street or market. Each box is stocked with re-useable bags for customers to borrow if they have forgotten to bring their own.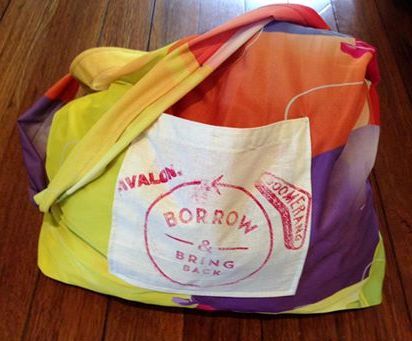 Unlike the traditional purchase-and-keep approach, Boomerang Bags are free, and local community members are responsible for returning the bags once they're no longer required. The availability of free re-useable bags reduces the reliance of local businesses to supply bags to all customers, and encourages a mentality of re-use among local communities, thereby reducing the amount of plastic bag material entering our landfills and waterways.
So who makes the Boomerang Bags? Well, you do! Boomerang Bags are made by local communities for local communities, and are sewn from recycled and donated materials.
Get in touch if you'd like to donate materials, join us making bags, or implement Boomerang Bags in your own local area!