August 20 - 26, 2017: Issue 326

Asparagus Fern
Asparagus Fern is our worst weed in Pittwater. The Bush Invaders is by PNHA member and primary school teacher Sylvia Saszczak. Share to spread the message about this horror weed.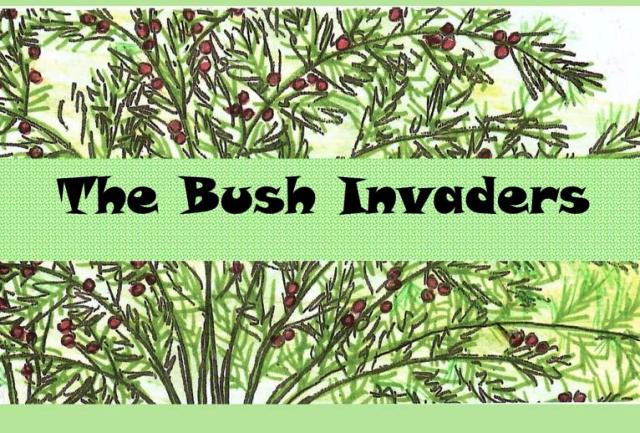 PNHA Birdwatching August 2017
Sunday 27 August, 8am
Chiltern Track, Ingleside (Birds and Wildflowers)
A great place to see some wonderful bushland, and birds such as yellow-tufted and white-eared honeyeaters we don't see on our other walks. We'll have an expert plant guide to answer your plant questions. Join us to celebrate the (almost) end of winter!
Meet at 8am at the Fire Trail gate, on the left near the end of Chiltern Rd, Ingleside. Bring binoculars, water, hat, insect repellent, and morning tea if you wish. Families welcome.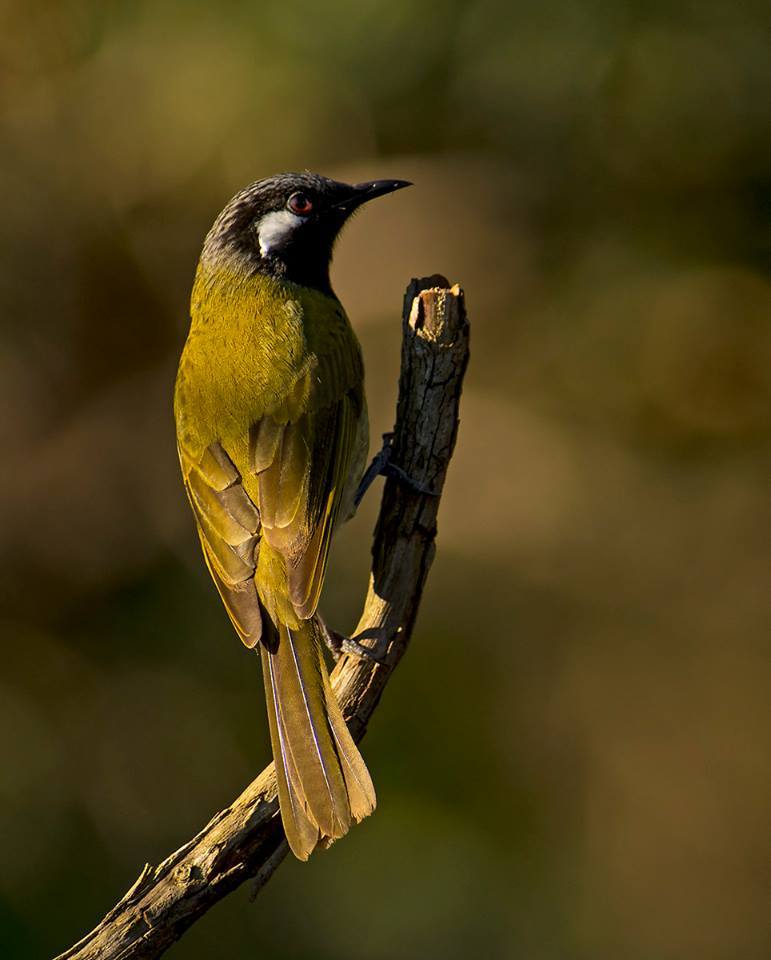 White-eared honeyeater Photo by Neil Fifer
Innovative technology converts commercial vehicles to run on electricity
Media release: 14 August 2017 - The Hon. Josh Frydenberg MP, Minister for the Environment and Energy

The Turnbull Government, through the Clean Energy Innovation Fund, is providing $5 million in finance to help automotive technology manufacturer SEA Electric convert medium-duty trucks and commercial vans to run on electricity.
The Victorian based manufacturer has developed three electric vehicle drive system models that will convert fuel operated commercial vehicles to electric when fitted.
The investment will help SEA Electric increase their manufacturing capacity to support the growing demand for clean energy vehicle technologies.
This innovative technology would benefit freight, delivery and waste collection businesses looking to transition to lower emission vehicles.
Increasing the uptake of electric vehicles is an important part of the Turnbull Government's broader strategy to reduce emissions.
The Clean Energy Innovation Fund is operated by the Clean Energy Finance Corporation (CEFC) in conjunction with the Australian Renewable Energy Agency to drive innovation in clean energy technologies.
Transport-related emissions is a key area of focus for the CEFC, especially investing in projects that reduce carbon emissions, achieve industry-leading levels of energy efficiency and contribute to productivity and cleaner air in our cities and regions.
As part of the Turnbull Government's technology neutral approach to emissions reduction, the Government is also providing support for the uptake of low emissions vehicles through the Green Vehicle Guide and the Emissions Reduction Fund.
Wetlands reconnection flow Murrumbidgee River and Yanco Creek - environmental water delivery now complete
Media release: 15 August 2017: NSW OE&H
River users in the Murrumbidgee Valley are advised that the delivery of environmental water from Burrinjuck and Blowering dams, to enable a reconnection flow to Murrumbidgee wetlands, has now successfully ceased.
The flow commenced on 24 July 2017 with the peak of this release now approaching Hay.
Numerous wetlands have been re-connected using nearly 220 gigalitres of water held by the NSW Government and the Commonwealth Environmental Water Holder.
This water has helped to improve breeding and foraging habitat for native fish and birds and to stimulate growth of wetland plants, which helps to improve water quality.
Water managers from the NSW Office of Environment and Heritage (OEH), along with WaterNSW will continue to monitor the flow as it reaches Balranald.
OEH ecologists have commenced monitoring the water delivery event and evaluating the responses of different animals and plants in the connected wetlands.
The delivery of this water has been a co-operative effort involving NSW OEH, WaterNSW, the Commonwealth Environmental Water Holder, Murrumbidgee Irrigation Limited, Coleambally Irrigation, DPI Water and landholders along the Murrumbidgee River system. For additional information:
Update on Baleen 2D HR Seismic Survey
(The survey comprises 46 2D lines of total length 208km.) -
NOPSEMA 'Not reasonably satisfied – opportunity to modify EP'
Decision date: 03/08/2017
Titleholder action Resubmission due date3: 02/09/2017
From Decision notification:
Basis of decision
NOPSEMA has assessed the environment plan in accordance with its assessment policies and procedures.
On completion of assessment, NOPSEMA has decided that it is not reasonably satisfied that the
environment plan meets the criteria below as set out in regulation 10A of the Environment Regulations:
(a) is appropriate for the nature and scale of the activity
(b) demonstrates that the environmental impacts and risks of the activity will be reduced to as low as
reasonably practicable
(c) demonstrates that the environmental impacts and risks of the activity will be of an acceptable level
(d) provides for appropriate environmental performance outcomes, environmental performance standards
and measurement criteria
(e) includes an appropriate implementation strategy and monitoring, recording and reporting
arrangements
(g) demonstrates that:
(i) the titleholder has carried out the consultations required by Division 2.2A
(ii) the measures (if any) that the titleholder has adopted, or proposes to adopt, because of the
consultations are appropriate
Titleholder requirements
For OMR decision In accordance with regulation 10, the titleholder is required to modify and resubmit the
environment plan. Upon resubmission of the plan, NOPSEMA will continue to assess the submission in
accordance with its assessment policies and make a decision under regulation 10. After a titleholder has
been provided with reasonable opportunity to modify and resubmit an environment plan, NOPSEMA will
make a final decision on whether to accept or refuse to accept the environment plan.
Muogamarra Season 2017
Hidden wildflower garden open for just six weekends
31 July 2017: NPWS and NSW OE&H
A hidden wildflower garden with a rare collection of botanical treasures and native plant species will open its gates this August and September for six weekends only.
NSW National Parks and Wildlife Service (NPWS) Area Manager Michele Cooper said Muogamarra Nature Reserve-just north of Sydney-is home to more than 900 species of native plants as well as the remnants of an ancient volcano.
"Muogamarra is home to a vast range of Australian wildflowers such as native orchids, towering Gymea lily, pink Boronia, eriostemon and old-man Banksia, which makes it a spectacular wildflower destination," said Ms Cooper.
"This unique array of flora and fauna is one reason why we need to limit the opening times to just six weekends each year to allow it to flourish, to preserve the fragile ecosystems and to protect the reserve's Aboriginal cultural heritage.
"This year during our open season, visitors can join a Discovery guided tour on foot or on a kayak and discover the secrets of this special place," she said.
Some of the walking tracks in the reserve provide outstanding views of the Hawkesbury, Aboriginal rock engravings and convict built roads, and other tracks wind through rainforest and historic relics.
One of the guided walks leads people down to Peat's Crater, which is an unusual volcanic structure called a diatreme that is not found in many parts of Australia.
"By joining a guided walk you'll will see and learn all the secrets of the reserve that you might miss by going on your own," said Ms Cooper.
The launch weekend (12-13 August) will also mark the 50th anniversary of NPWS.
"The Muogamarra open season will launch on Saturday 12 August with a Welcome to Country by Uncle Ray Davison, cultural workshops throughout the day delivered by Aboriginal Discovery Ranger Jess Sinnott, and activities for young children including free show bags for the first 50 children," said Ms Cooper.
"While visitors can certainly come along on any of the weekends during our open season and explore the park at their own pace, keep in mind that the Discovery walks and kayak tours will need to be
pre-booked online
as numbers are limited and places can fill up quickly," she said.
Muogamarra Nature Reserve will open to the public every Saturday and Sunday from Saturday 12 August until Sunday 17 September 2017.
What's on
Discovery tours include the Muogamarra Highlights Walk (new in 2017), Muogamarra Bird Gully Walk, Muogamarra Lloyd Trig Walk and Muogamarra Peats Bight Walk.




A kayaking tour is also available: Paddle our Parks Muogamarra, the first of which will take place on Saturday 12 August.




An event in celebration of the NPWS 50 Year Anniversary will take place on the first weekend (12 - 13 August).



More information
Prior bookings are essential for the guided walks and kayak tours and can be made by visiting the NPWS website:
Muogamurra Nature Reserve is located on the western side of the Pacific Highway, 3.35 kilometres north of Cowan Station.
A park access fee applies during the 6 annual open weekends of $15 for adults, $10 for children, and $40 for families of 2 adults and 2 children.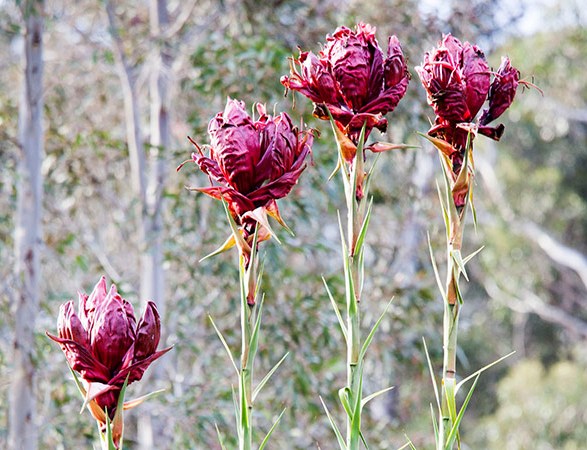 Have Your say On Marine Park Draft Plans
21 July 2017: Media release - Australian Government, Director of National Parks
Australia is surrounded by magnificent oceans and a marine environment that is the envy of the world. Our marine parks are distinctive and diverse, home to marine life found nowhere else.
And from today you can have your say on how we will manage our marine parks into the future.
The Director of National Parks Sally Barnes has released five draft plans to manage 44 Australian Marine Parks over the next 10 years.
"Our marine parks protect important marine habitats and species," Ms Barnes said.
"They also support people's livelihoods and the Australian lifestyle. They provide places for people to watch wildlife, dive and snorkel, go boating, and fish. They create jobs in industries like fishing and tourism, and are a source of food and energy."
Ms Barnes said Australian Marine Parks recognised our oceans as a shared resource -– protecting our environment and supporting the sustainability of our fishing industry and the communities whose livelihoods rely on it.
"I'd encourage everyone to take a look at these five plans my team at Parks Australia have put together," she said.
"This is your chance to influence how we'll manage a large area of our marine environment over the next 10 years. We want to hear from you, all of you. It's your passion that will make marine parks work for everyone."
Australian Marine Parks (also known as Commonwealth marine reserves) were established in 2012 to protect our oceans. This was a significant contribution to Australia's marine parks which now cover more than 3.3 million square kilometres of ocean – that's an area the size of India.
"Before creating these plans, my team and I met with many of you from across our country. We listened to many people, fishers, conservationists, tourism operators, traditional owners and coastal communities before writing these plans," Ms Barnes said.
"These draft plans balance our commitment to protect the marine environment, while supporting a sustainable fishing industry, promoting tourism and providing cultural, recreational and economic benefits for coastal communities."
Australian Marine Parks are located in Commonwealth waters that start at the outer edge of state and territory waters, generally no less than three nautical miles (5.5 km) from the shore, and extend to the outer boundary of Australia's exclusive economic zone, 200 nautical miles (about 370 km) from the shore. The draft plans cover Commonwealth waters off the coast of New South Wales, Queensland, Western Australia, South Australia and the Northern Territory.
Individual marine parks have been carefully zoned to include representative examples of Australia's marine habitats and features. This builds the resilience of our marine environment to withstand pressures, including some of the impacts of climate change, cyclones, marine pollution, and invasive species.
Ms Barnes has considered comments from over 54,000 submissions providing feedback on the preparation of draft plans. She has also considered the recommendations from the independent review of Commonwealth marine reserves released in 2016; the best available science; the expertise of traditional owners on managing sea country; and experiences from those managing Australian and international marine parks.
"Finalising these plans makes us one of the world's leaders in marine protection. Already our country's marine parks cover 36 per cent of waters around this country. That's more than comparable to many similar countries, like the United States, France, Canada, Mexico or Chile," Ms Barnes said.
"I truly believe that we will enhance our international reputation as marine park managers with these plans. But I want to hear your thoughts on whether we've got that balance right. Doing nothing is not an option for anyone – we want to provide certainty to all. So please have a read of the plans, and let us know what you think."
To reduce any impacts on commercial fishers, the Australian Government will make funding available to assist those directly affected by the new arrangements.
We are seeking your feedback on whether we have the balance right in these draft plans. Please send your feedback on these draft plans or the proposed renaming by 20 September 2017, by:
1. Filling in our feedback form, available at: parksaustralia.gov.au/marine
3. Writing (free of charge) to:
Australian Marine Parks Management Planning Comments
Department of the Environment and Energy
Reply Paid 787
Canberra ACT 2601
To help us to consider your feedback, please:
• Say what you would like to see kept or changed in the plan/s and why
• Refer your points to a specific marine park or use, where appropriate
• Give sources of any information you refer to, where possible.
Please note, comments sent after 11.59 pm AEST Wednesday 20 September 2017 or to an address other than those listed above cannot be considered.
Comments may be made public. Personal information provided to us will be dealt with in accordance with the Australian Privacy Principles.
Further information and our privacy notice is available at
www.parksaustralia.gov.au/marine
. Your personal information may be disclosed to the Minister, relevant government agencies, the Australian Parliament and where required by law.
Your submission may also be published online by the Director of National Parks. Please tell us in your submission if you do not want it published. Your submission will still be considered in the Director's Report on the Preparation of the Management Plans, and may be provided to the Minister and tabled before Parliament.
Important facts and figures
With 36 per cent of Australia's waters included in marine parks, we are well ahead of both the international benchmark 'Aichi target' of 10 per cent by 2020, and a recent World Conservation Congress resolution calling for 30 per cent by 2030.
According to data from the IUCN's World Database on Protected Areas, we compare very favourably with the United States of America (41 per cent), New Zealand (30 per cent), the United Kingdom (28 per cent), Mexico (22 per cent), Canada (less than 1 per cent), and France (15 per cent).
Under the zoning proposed in the draft plans, the portion of green (or no take) zones within all of the marine parks managed by the Commonwealth would be 25 per cent.
There is no reliable 'league table' against which we can compare this with other nations as methodology and reporting differ considerably, but we are among the closest nations to meeting the 2016 call by the World Conservation Congress four countries to designate 30 per cent of their marine parks to have no extractive activities.
Thanks to our carefully targeted approach to zoning, the same number of conservation features are protected in green zones in the plans released today as those in 2012.
Australia's biodiversity hotspots and sites of ecological significance, including Coral Sea reefs and the Bremer Reserve are protected in these plans.
97 per cent of waters within 100 kilometres of the coast are open for recreational fishing.
By intelligently zoning conservation areas like this, we have halved the economic impact on commercial fishers compared with 2012, from $8.2 million to $4.1 million a year (that's less than 0.3 per cent of total income generated by Australia's wild catch fisheries). This zoning will also enable a continued Australian tuna fishing industry based out of northern Queensland.
The Australian Government has committed an additional $56.1 million over four years to fund the management of Australian Marine Parks.
Our more balanced approach means there is a significant increase in yellow zones – where the seafloor is protected, but activities like diving and fishing are allowed. Our green zones are based on the best available science – while minimising impacts on our important tourism and fishing industries.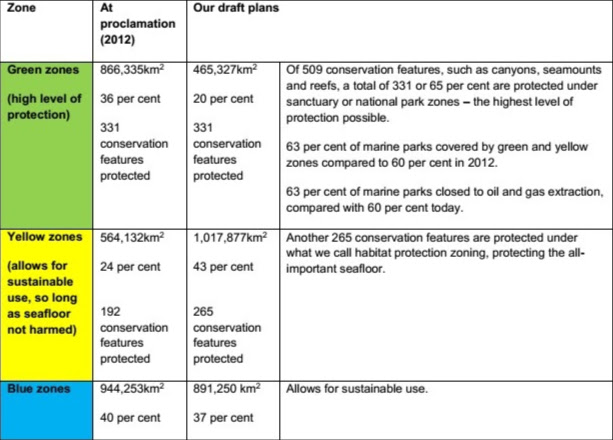 Have your say on new environmental measures for scrap metal businesses
Media release: 26 July 2017 - EPA
The NSW Environment Protection Authority (EPA) is inviting the community to have a say on proposed minimum environmental standards for scrap metal facilities.
The scrap metal industry in NSW ranges from small car wrecking yards to large metal processing facilities, and plays an important role in diverting waste from landfill and recovering resources.
While many operators in the industry are doing the right thing, some scrap metal businesses have shown poor environmental controls and inadequate management practices. Common issues across the industry have required regulatory action by the EPA and other agencies. These issues include management of oils and solvents, air pollution and odour issues, noise and vibration, fire risks and the on-site management of waste. Inadequate management of these issues can lead to pollution incidents, including soil and groundwater contamination.
To address these environmental concerns, the EPA has drafted a consultation paper that outlines proposed minimum environmental standards across the scrap metal industry. These standards include things like putting controls in place for the safe storage and disposal of liquids and chemicals, no burning of waste on site, measures to minimise noise and vibrations, and the construction of bunds to manage any spills. If adopted these standards would be legislated and apply across the industry.
EPA Executive Director Waste and Resource Recovery Steve Beaman said the proposed standards were an important step in the right direction.
"Many scrap metal businesses are doing the right thing but there are some outliers putting the environment at risk," Mr Beaman said.
"It's important for the community – including people working in the scrap metal business – to have their say on these proposed environmental standards so that when they come into force, they accurately reflect the challenges and realities of the industry."
To view the consultation paper and provide feedback please visit the EPA website
The submission period closes at 5pm on 18 September 2017.

Planning for the future of Royal National Park: Have your say
Tell us what you think about the future management of Australia's oldest national park.
Plans of management guide what happens in our national parks, and how we manage them. The existing plan of management for Royal National Park, Heathcote National Park and Garawarra State Conservation Area dates back to 2000.
The NSW National Parks and Wildlife Service (NPWS) is preparing a new plan of management for Royal National Park, Heathcote National Park and Garawarra State Conservation Area.
The future management of Royal National Park, one of the busiest parks in NSW, involves some particularly complex and important issues.
NPWS has prepared six discussion papers to explore and generate discussion about these issues.
These discussion papers are the first stage in the development of a new plan of management.
The discussion papers cover a range of issues, many of which have previously been identified as being of interest to the community.
Have your say
Read the discussion papers and send us your comments before 5pm, 28 August 2017 in any of the following ways:
By post:
The Planner, NPWS
PO Box 144
Sutherland, NSW 1499.
There will be another opportunity to have your say when the draft plan of management is completed and put on public exhibition. If you'd like to be notified when the draft plan is available, please register your details at the Royal National Park community engagement portal.
Discussion papers
View the discussion papers below and tell us what you think about the issues raised in them. Your comments will contribute to the development of a draft plan of management.
Related material
Myna Action Group
Pittwater Natural Heritage Association (PNHA)
Indian Mynas - what a pest - like flying rats.
Indian Mynas are displacing our native birds.
They often nest in and around shops where their food source is. I took this one down this morning in Avalon (no chicks or eggs but I disturbed the female). There were literally hundreds of tiny bits of plastic in the nest which makes you think that all this plastic would be swilling down the stormwater drains into the sea.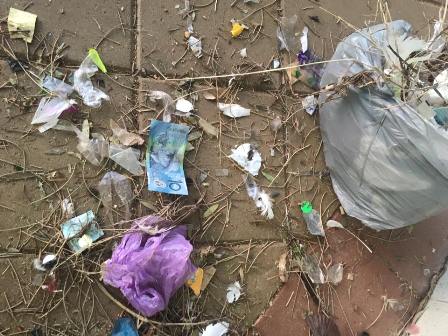 Living Ocean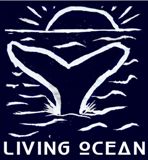 Living Ocean was born in Whale Beach, on the Northern Beaches of Sydney, surrounded by water and set in an area of incredible beauty.
Living Ocean is a charity that promotes the awareness of human impact on the ocean, through research, education, creative activity in the community, and support of others who sustain ocean health and integrity.
And always celebrating and honouring the natural environment and the lifestyle that the ocean offers us.
Our whale research program builds on research that has been conducted off our coastline by our experts over many years and our Centre for Marine Studies enables students and others to become directly involved.
Through partnerships with individuals and organizations, we conceive, create and coordinate campaigns that educate all layers of our community – from our 'No Plastic Please' campaign, which is delivered in partnership with local schools, to film nights and lectures, aimed at the wider community.
Additionally, we raise funds for ocean-oriented conservation groups such as Sea Shepherd.
Donations are tax-deductable
Wildlife Carers and Organisations in Pittwater: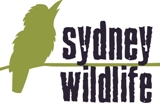 Sydney Wildlife rescues, rehabilitates and releases sick, injured and orphaned native wildlife. From penguins, to possums and parrots, native wildlife of all descriptions passes through the caring hands of Sydney Wildlife rescuers and carers on a daily basis. We provide a genuine 24 hour, 7 day per week emergency advice, rescue and care service.
As well as caring for sick, injured and orphaned native wildlife, Sydney Wildlife is also involved in educating the community about native wildlife and its habitat. We provide educational talks to a wide range of groups and audiences including kindergartens, scouts, guides, a wide range of special interest groups and retirement villages. Talks are tailored to meet the needs and requirements of each group.
Found an injured native animal? We're here to help.
Keep the animal contained, warm, quiet and undisturbed. Do not offer any food or water. Call Sydney Wildlife immediately on 9413 4300, or take the animal to your nearest vet. Generally there is no charge. Find out more at: www.sydneywildlife.org.au

Southern Cross Wildlife Care was launched over 6 years ago. It is the brainchild of Dr Howard Ralph, the founder and chief veterinarian. SCWC was established solely for the purpose of treating injured, sick and orphaned wildlife. No wild creature in need that passes through our doors is ever rejected.
People can assist SCWC by volunteering their skills ie: veterinary; medical; experienced wildlife carers; fundraising; "IT" skills; media; admin; website etc. We are always having to address the issue of finances as we are a non commercial veterinary service for wildlife in need, who obviously don't have cheque books in their pouches. It is a constant concern and struggle of ours when we are pre-occupied with the care and treatment of the escalating amount of wildlife that we have to deal with. Just becoming a member of SCWC for $45 a year would be a great help. Regular monthly donations however small, would be a wonderful gift and we could plan ahead knowing that we had x amount of funds that we could count on. Our small team of volunteers are all unpaid even our amazing vet Howard, so all funds raised go directly towards our precious wildlife. SCWC is TAX DEDUCTIBLE.
Find out more at: southerncrosswildlifecare.org.au/wp/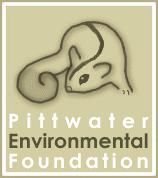 Pittwater's Environmental Foundation
Pittwater Environmental Foundation was established in 2006 to conserve and enhance the natural environment of the Pittwater local government area through the application of tax deductible donations, gifts and bequests. The Directors were appointed by Pittwater Council.
About 33% (about 1600 ha excluding National Parks) of the original pre-European bushland in Pittwater remains in a reasonably natural or undisturbed condition. Of this, only about 400ha remains in public ownership. All remaining natural bushland is subject to encroachment, illegal clearing, weed invasion, feral animals, altered drainage, bushfire hazard reduction requirements and other edge effects. Within Pittwater 38 species of plants or animals are listed as endangered or threatened under the Threatened Species Act. There are two endangered populations (Koala and Squirrel Glider) and eight endangered ecological communities or types of bushland. To visit their site please click on logo above.
Report illegal dumping
NSW Government
The RIDonline website lets you report the types of waste being dumped and its GPS location. Photos of the waste can also be added to the report.
The Environment Protection Authority (EPA), councils and Regional Illegal Dumping (RID) squads will use this information to investigate and, if appropriate, issue a fine or clean-up notice. Penalties for illegal dumping can be up to $15,000 and potential jail time for anybody caught illegally dumping within five years of a prior illegal dumping conviction.
Think before you print ; A kilo of recycled paper creates around 1.8 kilograms of carbon emissions, without taking into account the emissions produced from transporting the paper. So, before you send a document to print, think about how many kilograms of carbon emissions you could save by reading it on screen.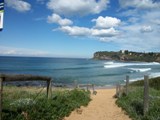 "I bind myself today to the power of Heaven, the light of the sun, the brightness of the moon, the splendour of fire, the flashing of lightning, the swiftness of wind, the depth of the sea, the stability of the earth, the compactness of rocks." - from the Prayer of Saint Patrick
Adding silicon to soil to strengthen plant defenses
August 15, 2017

To help plants better fend off insect pests, researchers are arming them with stones.
The University of Delaware's Ivan Hiltpold
and researchers from the Hawkesbury Institute for the Environment at Western Sydney University in Australia are examining the addition of silicon to the soil in which plants are grown to help strengthen plants against potential predators.
The research was published recently in the journal Soil Biology and Biochemistry and was funded by Sugar Research Australia. Adam Frew, currently a postdoctoral research fellow at the Charles Sturt University in Australia, is the lead author on the paper.
Hiltpold, assistant professor of entomology and wildlife ecology in UD's College of Agriculture and Natural Resources, said the basis of the project was to assess the impact of arbuscular mycorrhizal fungi on a plant's nutritional quality and also on root pests, using sugar cane and root-feeding insects, primarily cane grubs -- the voracious larvae of the cane beetle.
"This research demonstrated a cascading effect," said Hiltpold. "We have silicon and other plant nutrients in the soil, we have the fungi that is interacting with the plant and metabolites, and all that plant chemistry has an impact on insect development."
Silicon is the world's second most abundant element after oxygen in Earth's crust, but because it is in a stone or mineral form, it is not readily available for use by plants.
By amending the soil with silica, a form of silicon that plants can easily take up, the researchers helped the plants build up tiny particles called phytoliths, or "plant stones," to defend against herbivorous insects and possibly rodents.
"The plant builds up these sorts of stones in its tissues, which will reduce the digestibility of the plant material because digesting stones is not very easy," said Hiltpold. "Also, these stones wear the mouth parts of insects and possibly rodents. If your teeth are not really cutting any more, then you cannot eat as much as you could. All of that added together will reduce the impact of herbivory on the plant."
In experiments with two sugarcane varieties grown in a greenhouse, root-feeding insects, primarily the cane grub, fed on the plants. The immune function of the insects was assessed by measuring their immune response to entomopathogenic nematodes -- small organisms that kill insects in the soil -- while insect growth and root consumption were assessed in a feeding trial.
The researchers found that high levels of silicon concentrations decreased insect growth and root consumption, the latter by 71 percent.
Because the silicon doesn't affect grazing livestock, Hiltpold said that it also will not affect humans when, for example, a person consumes boiled carrots or sweet corn.
Hiltpold said they chose the cane grub for their study because it is a major pest in Australia.
"Sugar cane is a big industry in Australia, and these larvae are really causing a lot of damage to it. These grubs can be pretty big -- their diameter can be as big as my thumb," Hiltpold said. "As soil pests, they are really hard to control because they are hard to reach with insecticides and they are hard to monitor. We don't really know where they are before we see the damage on the plant, and then usually it's too late. Having options to control them is always good."
The option of using silicon to naturally strengthen the plant's defenses against the cane grub would be both environmentally friendly and economically attractive to growers, as they would not have to spray as much to protect their crops.
"The idea of amending crops with silicon in general is that, OK, we have this element that is naturally present. The only thing is that it's not bio-available so it cannot be taken up by the plant as is, but if we add a little bit of bioavailable silicon to the field, then it boosts the plant's biomass," said Hiltpold. "The plant productivity is increased and also the plant defenses are increased because the silicon accumulates in the tissue above and below ground and helps the plants to cope with insect as well as mammal herbivory."
Hiltpold said this research could be applicable to other types of plants besides sugarcane.
He also said that in addition to the plants' interaction with the silicon, the fungi had a surprising impact on the insects.
"We don't exactly know if it's via the plant or directly from the exposure to the fungi, but the insect immune system was triggered when the plants were treated with the fungi," said Hiltpold. "That could be useful in an integrated management view because triggering an immune system if there is no invader, no pathogen exposure, might have a cost on the growth or performance of the insect, so that will eventually have a beneficial impact on the plant because the insect is doing less well and doing less damage. I think that was an interesting finding that was never demonstrated before."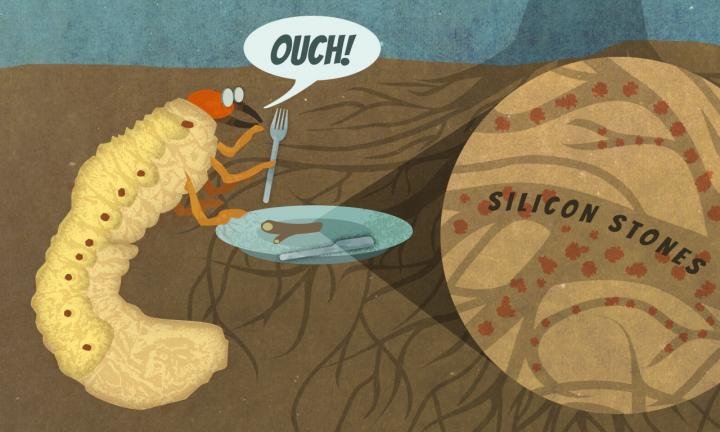 To help plants better fend off insect pests, researchers are considering arming them with silicon.
Credit: Illustration by Jeff Chase/ University of Delaware
Article by Adam Thomas

Adam Frew, Jeff R. Powell, Ivan Hiltpold, Peter G. Allsopp, Nader Sallam, Scott N. Johnson.
Host plant colonisation by arbuscular mycorrhizal fungi stimulates immune function whereas high root silicon concentrations diminish growth in a soil-dwelling herbivore
. Soil Biology and Biochemistry, 2017; 112: 117 DOI:
10.1016/j.soilbio.2017.05.008
Urban floods intensifying, countryside drying up
August 14, 2017: University of New South Wales

An exhaustive global analysis of rainfall and rivers shows signs of a radical shift in streamflow patterns, with more intense flooding in cities and smaller catchments coupled with a drier countryside.
Drier soils and reduced water flow in rural areas -- but more intense rainfall that overwhelms infrastructure and causes flooding and stormwater overflow in urban centres. That's the finding of an exhaustive study of the world's river systems, based on data collected from more than 43,000 rainfall stations and 5,300 river monitoring sites across 160 countries.
The study, by engineers at University of New South Wales in Sydney and which appears in the latest issue of the journal Scientific Reports, explored how rising local temperatures due to climate change might be affecting river flows.
As expected, it found warmer temperatures lead to more intense storms, which makes sense: a warming atmosphere means warmer air, and warmer air can store more moisture. So when the rains do come, there is a lot more water in the air to fall, and hence, rainfall is more intense.
But there's been a growing puzzle: why is flooding not increasing at the same rate as the higher rainfall?
The answer turned out to be the other facet of rising temperatures: more evaporation from moist soils is causing them to become drier before any new rain occurs -- moist soils that are needed in rural areas to sustain vegetation and livestock. Meanwhile, small catchments and urban areas, where there are limited expanses of soil to capture and retain moisture, the same intense downpours become equally intense floods, overwhelming stormwater infrastructure and disrupting life.
"Once we sorted through the masses of data, this pattern was very clear," said Ashish Sharma, a professor of hydrology at UNSW's School of Civil and Environmental Engineering. "The fact that we relied on observed flow and rainfall data from across the world, instead of uncertain model simulations, means we are seeing a real-world effect -- one that was not at all apparent before."
"It's a double whammy," said Conrad Wasko, lead author of the paper and postdoctoral fellow at UNSW's Water Research Centre. "People are increasingly migrating to cities, where flooding is getting worse. At the same time, we need adequate flows in rural areas to sustain the agriculture to supply these burgeoning urban populations."
Global flood damage cost more than US$50 billion in 2013; this is expected to more than double in the next 20 years as extreme storms and rainfall intensify and growing numbers of people move into urban centres. Meanwhile, global population over the next 20 years is forecast to rise another 23% from today's 7.3 billion to 9 billion -- requiring added productivity and hence greater water security. The reduction in flows noted by this study makes this an even bigger challenge than before.
"We need to adapt to this emerging reality," said Sharma. "We may need to do what was done to make previously uninhabitable places liveable: engineer catchments to ensure stable and controlled access to water. Places such as California, or much of the Netherlands, thrive due to extensive civil engineering. Perhaps a similar effort is needed to deal with the consequences of a changing climate as we enter an era where water availability is not as reliable as before."
"Climate change keeps delivering us unpleasant surprises," said Mark Hoffman, UNSW's Dean of Engineering. "Nevertheless, as engineers, our role is to identify the problem and develop solutions. Knowing the problem is often half the battle, and this study has definitely identified a major one."
Rainfall data used in the study was collected from the Global Historical Climatology Network, which contains records from over 100,000 weather stations in 180 countries and is managed by the U.S. National Oceanic and Atmospheric Administration. River flow data came from the Global Runoff Database, run by Germany's Federal Institute of Hydrology, which relies on river discharge information collected daily or monthly from more than 9,300 stations in 160 countries.
Flood in the city of Gera in June 2016.
Credit: © science photo
Conrad Wasko, Ashish Sharma.
Global assessment of flood and storm extremes with increased temperatures.
Scientific Reports, 2017; 7 (1) DOI:
10.1038/s41598-017-08481-1
Call for community comment on Mawson's Huts management plan
The community is invited to comment on the management plan for the site considered the birthplace of Australia's Antarctic endeavours, Mawson's Huts.
The Huts were home to the Australasian Antarctic Expedition led by Sir Douglas Mawson between 1911–14.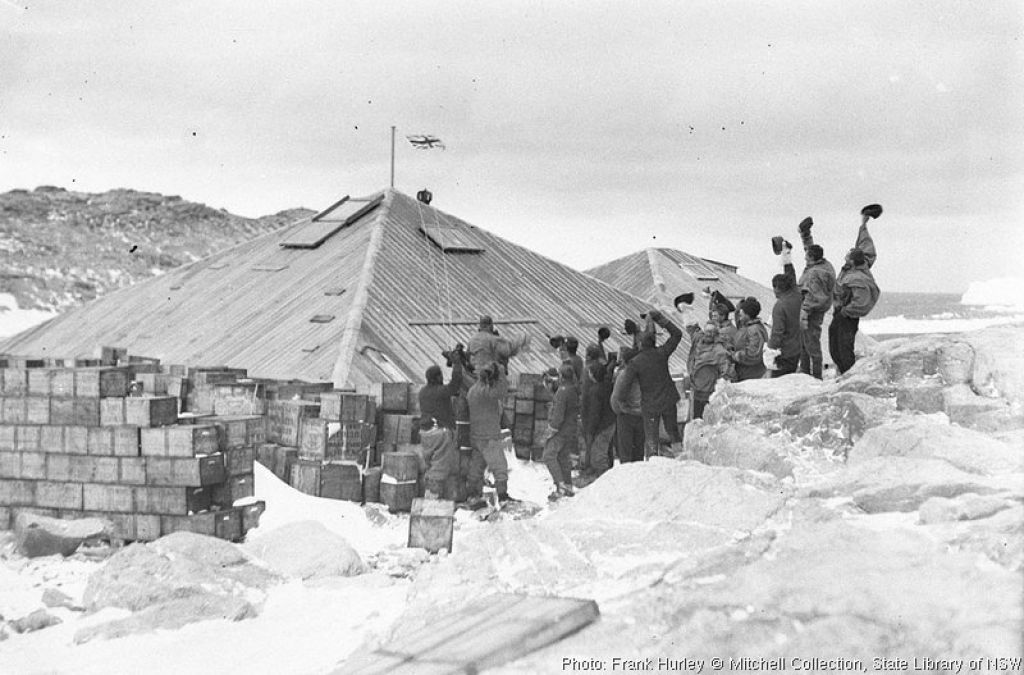 Raising the flag at Cape Denison after the erection of the hut, March 1912. (Photo: Frank Hurley)

The site is listed as a National Heritage place and Commonwealth Heritage place, with the Huts and surrounding area also protected under the Antarctic Treaty system.
The Australian Antarctic Division, which has responsibility for the management of the historic site, prepared the current version of the Mawson's Huts Historic Site management plan in 2013. This plan is now up for its five year review and the public are invited to comment until 16 September.
Invitation to comment
Mawson's Huts are a collection of buildings located at Cape Denison, Commonwealth Bay, in the far eastern sector of the Australian Antarctic Territory.
Mawson's Huts, Cape Denison
Mawson's Huts are a collection of buildings located at Cape Denison, Commonwealth Bay, in the far eastern sector of the Australian Antarctic Territory. The buildings were built and occupied by the Australasian Antarctic Expedition (AAE) of 1911–14, led by geologist and explorer Dr (later Sir) Douglas Mawson.
Mawson's Huts are of national and international heritage significance. They are rare in a world context as one of just six complexes surviving from the 'Heroic Era' of Antarctic exploration: a period of great human adventure, exploration, research and discovery on the last continent to be explored.
The buildings are unique in the context of Australian history as the only surviving site representing the work of an Australian Antarctic expedition during this period. The site also has great heritage values for Australia's Antarctic interests, since Douglas Mawson's AAE was the foundation of the modern Australian Antarctic science program.
Mawson's huts have suffered over the years from the effects of wind, ice and time. A number of recent expeditions by the AAD and the Mawson's Huts Foundation (a non-profit organisation whose expeditions have been largely funded by the Australian Government) have sought to stabilise the remains.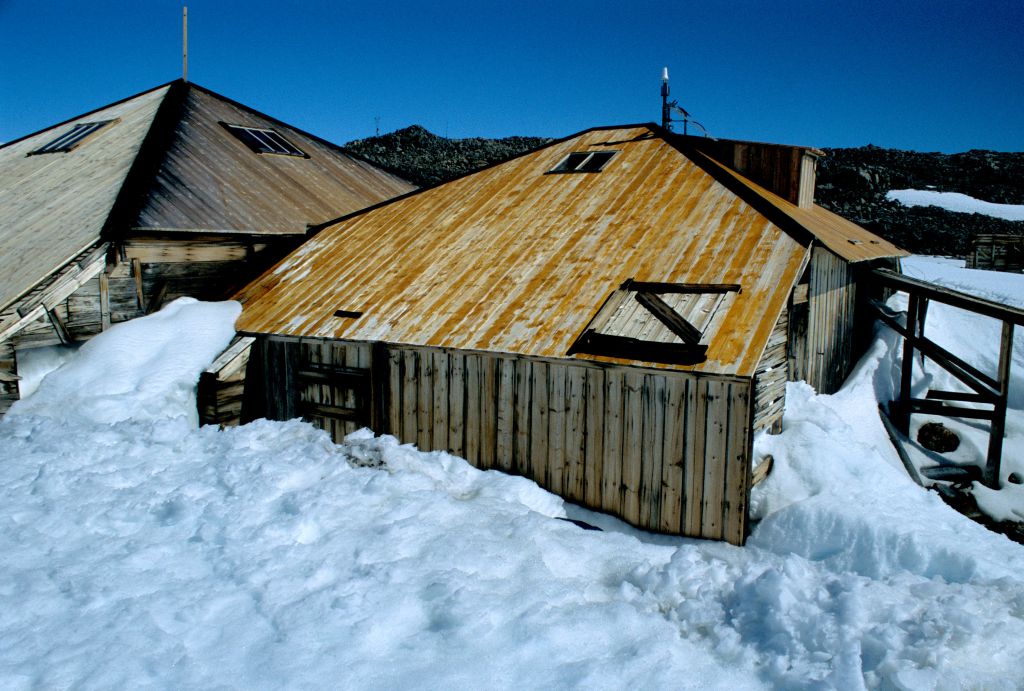 Mawson's main hut at Cape Denison, Commonwealth Bay (Photo: Peter McCabe)

Mawson's Huts Historic Site Management Plan
In 2001, the Mawson's Huts Foundation commissioned a conservation management plan for the site, which guided works at the site for several years. In 2007, the AAD developed a management plan, to meet its obligations arising from the inclusion of the site on the National Heritage List (in 2005) and Commonwealth Heritage List (in 2004), and to reflect the provisions of the Antarctic Treaty management plans for the Cape Denison Antarctic Specially Protected Area (ASPA) and Antarctic Specially Managed Area (ASMA).
In 2014, ASMA No. 3 was de-designated and the boundary of ASPA No. 162 expanded to coincide with the previous ASMA boundary.
The Department of the Environment and Energy, Australian Antarctic Division, is conducting a review of the Mawson's Huts Historic Site Management Plan. Public comments are now being sought. Please send your comments on the management plan by Saturday 16 September 2017.
COMMONWEALTH OF AUSTRALIA
Environment Protection and Biodiversity Conservation Act 1999
Notice under sections 324W and 341X
Invitation to comment on a Management Plan for a National Heritage place and Commonwealth Heritage place - Mawson's Huts Historic Site
The Department of the Environment and Energy, Australian Antarctic Division, is conducting a review of The Mawson's Huts Historic Site Management Plan. Public comments are now sought:
(i) as to whether this management plan is consistent with the National Heritage management principles;
(ii) on the effectiveness of the management plan in protecting and conserving the National Heritage management values of the site;
(iii) whether this management plan is consistent with the Commonwealth Heritage Management Principles; and
(iv) on the effectiveness of the plan in protecting and conserving the Commonwealth Heritage.
Mawson's Huts Historic Site Management Plan review
Territories, Environment and Treaties Section
Australian Antarctic Division
203 Channel Highway
Kingston TAS 7050
New Guinea's Yoda bat gets happy: New species officially recognised
August 10, 2017
An unusual breed of fruit bat -- previously nicknamed 'Yoda' due to its resemblance to the Star Wars Jedi Master -- has now officially been registered as a new species and renamed the happy (Hamamas) tube-nosed fruit bat.
Discovered in a remote rainforest of Papua New Guinea, the bat's unusual features immediately saw it affectionately referred to as the 'Yoda bat'.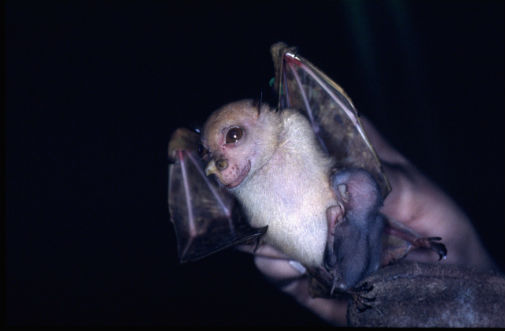 Happy tube-nosed fruit bat (credit: Dr Deb Wright)

However, after thorough research examining literature and some 3000 specimens in 18 museums around the world, a University of York researcher has now formally distinguished and registered the new species.
Dr Nancy Irwin, an Honorary Research Fellow in York's Department of Biology, explains: "The species is very difficult to tell apart from other tube-nosed bat species. Bat species often look similar to each other, but differ significantly in behaviour, feeding and history.
"Most of the morphological characteristics that separate this bat from other species are associated with a broader, rounder jaw which gives the appearance of a constant smile.
"Since most remote Papuans have never seen Star Wars, I thought it fitting to use a local name: the Hamamas -- meaning happy -- tube-nosed fruit bat."
The happy tube-nosed fruit bat's formal name, Nyctimene wrightae sp. nov., is named after the conservationist Dr Deb Wright, who devoted 20 years to building conservation programmes and long-term scientific capacity in Papua New Guinea.
Nyctimeninae were one of the first species of bat described in records dating back to 1769, and later in 1860 Alfred Russel Wallace -- British naturalist and one of the fathers of evolution -- collected two further species.
The bats' tube noses, bright colours, thick stripe on the back and spots have attracted attention for some 250 years, but researchers are still finding new hidden species in the group.
Dr Irwin continues: "There were no illustrations of the cyclotis group of bats which made identifying bats really difficult. So difficult was it that Papua New Guinea produced stamps illustrating the bats but could not allocate a species name.
"Now, with photographs, illustrations and a key of the other species in the group, it makes it possible to distinguish between three species of the group.
"Taxonomy is often the forgotten science but until a species is recognised and has a name, it becomes difficult to recognize the riches of biodiversity and devise management. Fruit bats are crucial to rainforest health, pollinating and dispersing many tree species, therefore it is essential we know what is there and how we can protect it, for our own benefit."
Nancy Irwin.
A new tube-nosed fruit bat from New Guinea, Nyctimene wrightae sp. nov., a re-diagnosis of N. certans and N. cyclotis (Pteropodidae: Chiroptera), and a review of their conservation status.
Records of the Australian Museum, 2017; 69 (2): 73 DOI:
10.3853/j.2201-4349.69.2017.1654
Giant Lobster Ale
By Wilderness Society

We're on a mission to stop extinction and save a legend. The Tasmanian giant freshwater lobster lives deep in the rainforest, but plans for logging in its habitat are clouding this extraordinary and already endangered creature's future.
Fortunately, we've got a plan too – beer. Introducing Giant Lobster Ale. The beer that stops extinction.
The dog-sized snapper
The lobster is as big as a corgi, lives for decades, and the freshwater mountain streams of Northern Tasmania is the only place on Earth where you can find one — but the most legendary thing about the lobster? It opens beers with its massive claws.
As legend has it, the early bushmen of Tasmania would befriend these gentle forest giants and get them to crack coldies with their powerful pincers.*
*Don't even think about trying it, the lobster is a protected species these days.
Democracy lobster
Sadly, the lobster is disappearing because its rainforest home is being destroyed by logging.
We know that a vital Recovery Plan for the lobster is making its way to the desk of Environment Minister Josh Frydenberg. So we'll send him the first beer off the production line as a tasty reminder to ensure the species' survival.
All profits from made from Giant Lobster Ale will go straight back into the campaign to protect this legendary creature for good.
The best lobster beer you've ever had
What would we know about brewing beer? Not much. That's why we're teaming up with the incredible, multi-award winning craft brewer in Tasmania – Moo Brew. Moo Brew beers win at international competitions, and they use the best Tasmanian ingredients to create the freshest, tastiest beers around in the country. So you're not just saving a species, you're also getting a refreshing, highly drinkable beer.
The Challenges
We're teaming up with one of Australia's leading craft breweries so many of the biggest challenges are taken care of.
Other challenges:
- Not using a protected species as a bottle opener.
- Not drinking all the beer ourselves.
- Keeping it frosty en route to Frydenberg's office.
Commit to Keeping the Giant Freshwater Lobster (and having a brew or two) HERE
Mystery of how first animals appeared on Earth solved
August 16, 2017: Australian National University
Research led by The Australian National University (ANU) has solved the mystery of how the first animals appeared on Earth, a pivotal moment for the planet without which humans would not exist.

Lead researcher Associate Professor Jochen Brocks said the team found the answer in ancient sedimentary rocks from central Australia.
"We crushed these rocks to powder and extracted molecules of ancient organisms from them," said Dr Brocks from the ANU Research School of Earth Sciences.
"These molecules tell us that it really became interesting 650 million years ago. It was a revolution of ecosystems, it was the rise of algae."
Dr Brocks said the rise of algae triggered one of the most profound ecological revolutions in Earth's history, without which humans and other animals would not exist.
"Before all of this happened, there was a dramatic event 50 million years earlier called Snowball Earth," he said.
"The Earth was frozen over for 50 million years. Huge glaciers ground entire mountain ranges to powder that released nutrients, and when the snow melted during an extreme global heating event rivers washed torrents of nutrients into the ocean."
Dr Brocks said the extremely high levels of nutrients in the ocean, and cooling of global temperatures to more hospitable levels, created the perfect conditions for the rapid spread of algae. It was the transition from oceans being dominated by bacteria to a world inhabited by more complex life, he said.
"These large and nutritious organisms at the base of the food web provided the burst of energy required for the evolution of complex ecosystems, where increasingly large and complex animals, including humans, could thrive on Earth," Dr Brocks said.
The research is published in Nature, and the findings will be presented at the Goldschmidt Conference in Paris, France, this week.
Co-lead researcher Dr Amber Jarrett discovered ancient sedimentary rocks from central Australia that related directly to the period just after the melting of Snowball Earth.
"In these rocks we discovered striking signals of molecular fossils," said Dr Jarrett, an ANU Research School of Earth Sciences PhD graduate.
"We immediately knew that we had made a ground-breaking discovery that snowball Earth was directly involved in the evolution of large and complex life."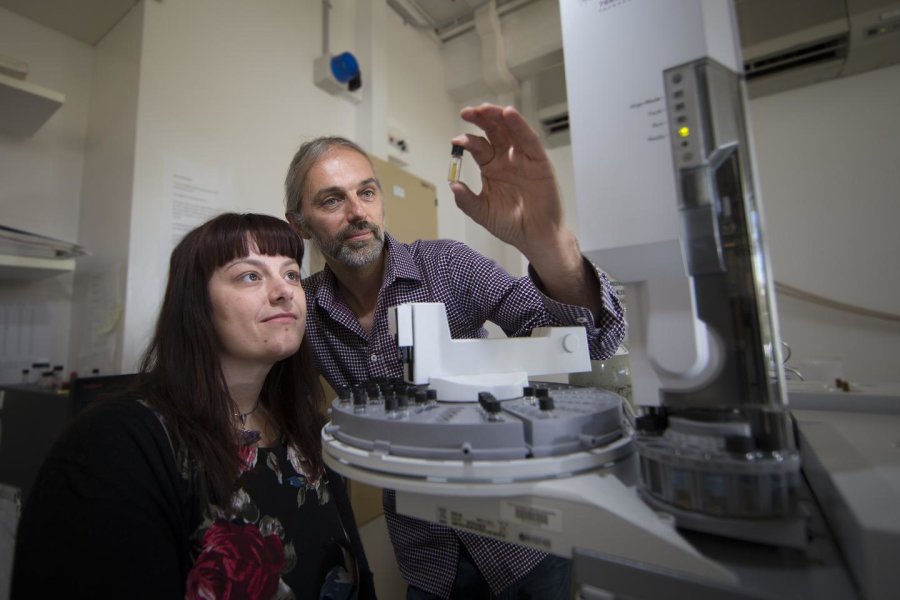 Associate Professor Jochen Brocks and Dr. Amber Jarrett with an oil sample taken ancient sedimentary rocks.
Credit: Stuart Hay, ANU
Jochen J. Brocks, Amber J. M. Jarrett, Eva Sirantoine, Christian Hallmann, Yosuke Hoshino, Tharika Liyanage.
The rise of algae in Cryogenian oceans and the emergence of animals.
Nature, 2017; DOI:
10.1038/nature23457
Seven complete specimens of new flower, all 100 million years old
August 15, 2017: Oregon State University
A Triceratops or Tyrannosaurus rex bulling its way through a pine forest likely dislodged flowers that 100 million years later have been identified in their fossilized form as a new species of tree.
George Poinar Jr., professor emeritus in Oregon State University's College of Science, said it's the first time seven complete flowers of this age have been reported in a single study. The flowers range from 3.4 to 5 millimeters in diameter, necessitating study under a microscope.
Poinar and collaborator Kenton Chambers, professor emeritus in OSU's College of Agricultural Sciences, named the discovery Tropidogyne pentaptera based on the flowers' five firm, spreading sepals; the Greek word for five is "penta," and "pteron" means wing.
"The amber preserved the floral parts so well that they look like they were just picked from the garden," Poinar said. "Dinosaurs may have knocked the branches that dropped the flowers into resin deposits on the bark of an araucaria tree, which is thought to have produced the resin that fossilized into the amber. Araucaria trees are related to kauri pines found today in New Zealand and Australia, and kauri pines produce a special resin that resists weathering."
This study builds on earlier research also involving Burmese amber in which Poinar and Chambers described another species in the same angiosperm genus, Tropidogyne pikei; that species was named for its flower's discoverer, Ted Pike. Findings were recently published in Paleodiversity.
"The new species has spreading, veiny sepals, a nectar disc, and a ribbed inferior ovary like T. pikei," Poinar said. "But it's different in that it's bicarpellate, with two elongated and slender styles, and the ribs of its inferior ovary don't have darkly pigmented terminal glands like T. pikei."
Both species have been placed in the extant family Cunoniaceae, a widespread Southern Hemisphere family of 27 genera.
Poinar said T. pentaptera was probably a rainforest tree.
"In their general shape and venation pattern, the fossil flowers closely resemble those of the genus Ceratopetalum that occur in Australia and Papua-New Guinea," he said. "One extant species is C. gummiferum, which is known as the New South Wales Christmas bush because its five sepals turn bright reddish pink close to Christmas."
Another extant species in Australia is the coach wood tree, C. apetalum, which like the new species has no petals, only sepals. The towering coach wood tree grows to heights of greater than 120 feet, can live for centuries and produces lumber for flooring, furniture and cabinetwork.
So what explains the relationship between a mid-Cretaceous Tropidogyne from Myanmar, formerly known as Burma, and an extant Ceratopetalum from Australia, more than 4,000 miles and an ocean away to the southeast?
That's easy, Poinar said, if you consider the geological history of the regions.
"Probably the amber site in Myanmar was part of Greater India that separated from the southern hemisphere, the supercontinent Gondwanaland, and drifted to southern Asia," he said. "Malaysia, including Burma, was formed during the Paleozoic and Mesozoic eras by subduction of terranes that successfully separated and then moved northward by continental drift."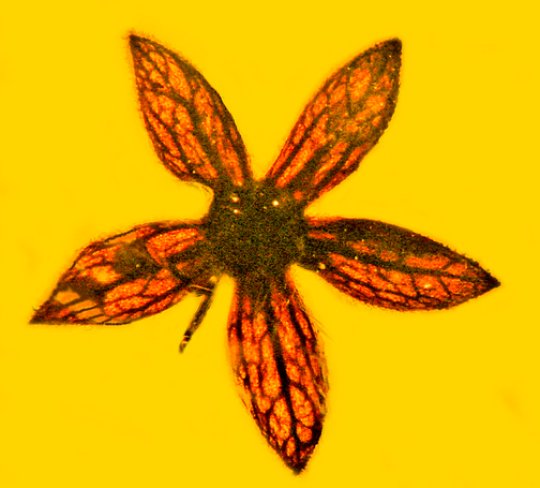 Tropidogyne pentaptera. 100-million-year-old fossilized flower identified and named by OSU researchers George Poinar Jr. and Kenton Chambers.
Credit: Image courtesy of George Poinar Jr., Oregon State University
George O. Poinar, Kenton L. Chambers.
Tropidogyne pentaptera, sp. nov., a new mid-Cretaceous fossil angiosperm flower in Burmese amber.
Palaeodiversity, 2017; 10 (1): 135 DOI:
10.18476/pale.v10.a10
Look out for those below during whale season — even if you're way above
15/08/2017: Media Release -
Great Barrier Reef Marine Park Authority
With the whale migration season well underway for 2017, whale-watching enthusiasts and visitors to the Great Barrier Reef Marine Park are reminded to keep a safe distance, for the safety of the whales and onlookers.
Great Barrier Reef Marine Park Authority
operations support manager Dr Mark Read said thousands of humpback whales migrate to the Reef's warmer waters around this time of year to mate, calve and socialise.
"The humpback whale population has been increasing steadily for the last 40 to 50 years, with an estimated 30,000 whales expected to migrate along the east coast of Australia this season," he said.
"With this population increase it has become increasingly important for people to abide by approach distances — there are more whales around, more people out on the water and whale watching is more popular.
"We've also seen an increase in drone users in the Marine Park which has resulted in an influx of great aerial photos of whales, however visitors must remember safe approach distance rules still apply to drones; as it currently stands they are considered aircraft.
"Aircraft including drones are prohibited from operating below 1000 vertical feet, or within a horizontal distance of 300m of a whale."
A recent interaction between a humpback whale and a Whitsundays fishing vessel left several people hospitalised, highlighting the need for people to be mindful of safe boating practices during whale season.
"Posting an extra watch person when in areas frequented by whales, reducing speed, and taking extra care when travelling at night are some of the simple things people can do to reduce the risk," Dr Read said.
"Boat strikes are a serious issue for both the whales and people, and we want Marine Park users to take extra caution on the water during whale season."
This season has also seen a number of humpback whale strandings.
"As with any wild population, a certain number of deaths can be expected, and some will be calves. Whale calves are sometimes separated from their mothers and become stranded," Dr Read said.
"Unfortunately natural strandings do happen, and will occur more frequently as the humpback population continues to increase."
Marine Park users can report sick, injured, stranded or dead whales using the free Eye on the Reef app which will automatically alert wildlife rangers and rescuers to the location using the app's GPS function. You can also email or call 1300 ANIMAL (1300 264 625).
Whale sightings can also be reported to the Great Barrier Reef Marine Park Authority's Sightings Network using the Eye on the Reef App.
Key points to remember:
Know the law — legally, vessels must stay at least 100 metres from whales in the Marine Park and 300 metres in the Whitsunday Whale Protection Area. It's also a requirement to stay at least 300 metres away from a whale calf throughout the Marine Park. Disturbing a calf may cause it to stop feeding and leave its mother, who may become aggressive if she feels her calf is under threat.




Reduce your vessel speed to minimise the risk of collision in areas where whales have been sighted.




Jet skis must stay at least 300 metres away from the animals throughout the Marine Park.




Do not get in the water if you see a whale — if you are already in the water do not disturb, chase or block the path of a whale and if possible, return to your vessel.



Further information about responsible Reef practices is available
here.
It's nearly Magpie swooping season
by BirdLife Australia
It's that time of year again. As the days gradually begin to grow longer and the weather warms up, many birds begin to build their nests and lay their eggs. Their number includes Australian Magpies.
Because magpies are one of the most common birds in built-up areas, as well as in rural environments, they often come into contact with us. For most of the year, people are happy to interact with magpies, but with the arrival of the breeding season, the situation's not always so happy.
Magpie breeding season is dreaded by many people because of the perception that at this time of year the birds relentlessly swoop at people, both on foot or riding bicycles, as well as dogs and anything else that moves.
Though wide-held, this perception is not altogether accurate.
Although it's true that spring is magpie swooping season, it should be noted that not all magpies swoop at people. In fact, it is generally quite a small proportion of them that are aggressive towards humans. Most of the birds that attack are males, though, indeed, most male magpies don't attack, and those that do usually only become aggressive when people venture too close to the nest tree.
Although the timing of swooping behaviour varies between the different regions of Australia, most swooping activity occurs in mid- to late spring, during the brief period when there are magpie chicks in the nest, with the intensity of attacks increasing gradually as the nestlings grow. Few magpies attack before their eggs have hatched, and the attacks usually drop off after the chicks have fledged (left the nest). It's a brief window, but one that can be traumatic for people being swooped.
There are a few things you can do to prevent being swooped, but nothing is guaranteed to work.
The most sensible method is to avoid walking or riding near trees where magpies are nesting.

If you can't avoid the area, try wearing a hat or carrying an umbrella for protection; cyclists can attach a forest of cable-ties to their helmets.

Attach eye spots to the back of your hat.

Wave a stick above your head as you walk past.

Keep an eye on the bird; he's much less likely to attack if he knows he's been sussed.

Above all, don't harass the birds. Though tempting, it will only make them more aggressive. And remember, harming magpies is against the law.
For more information, see Magpie Alert, by Darryl Jones (UNSW Press, Sydney).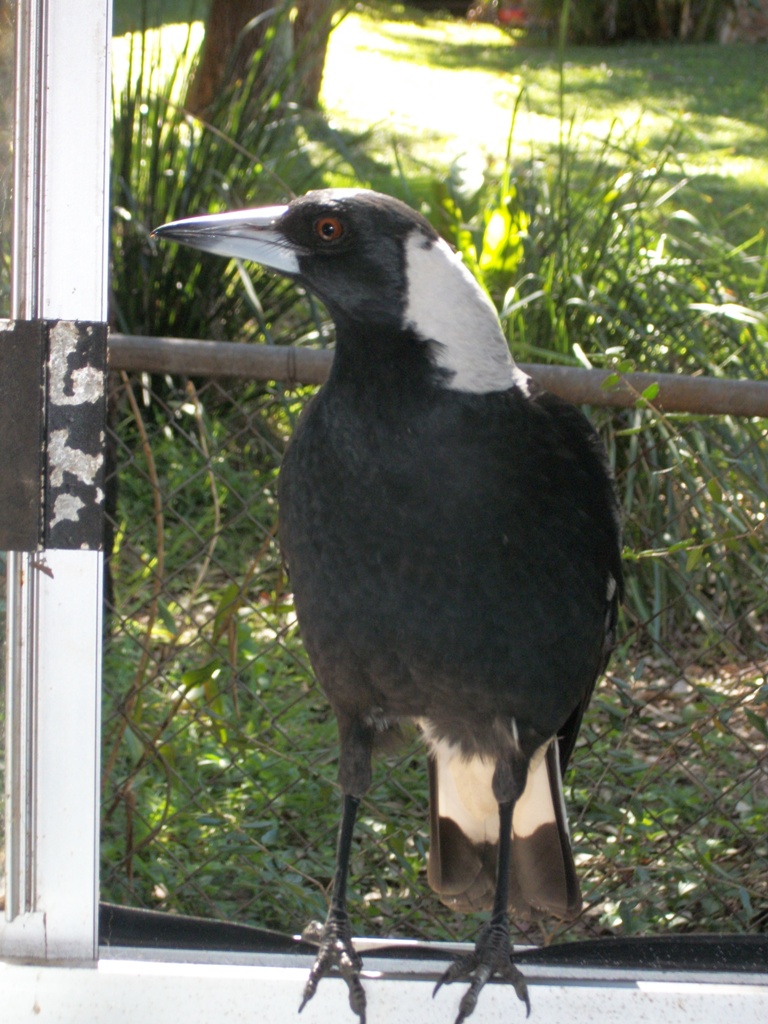 Avalon Boomerang Bags: An Idea that's Spreading to stop plastic bag use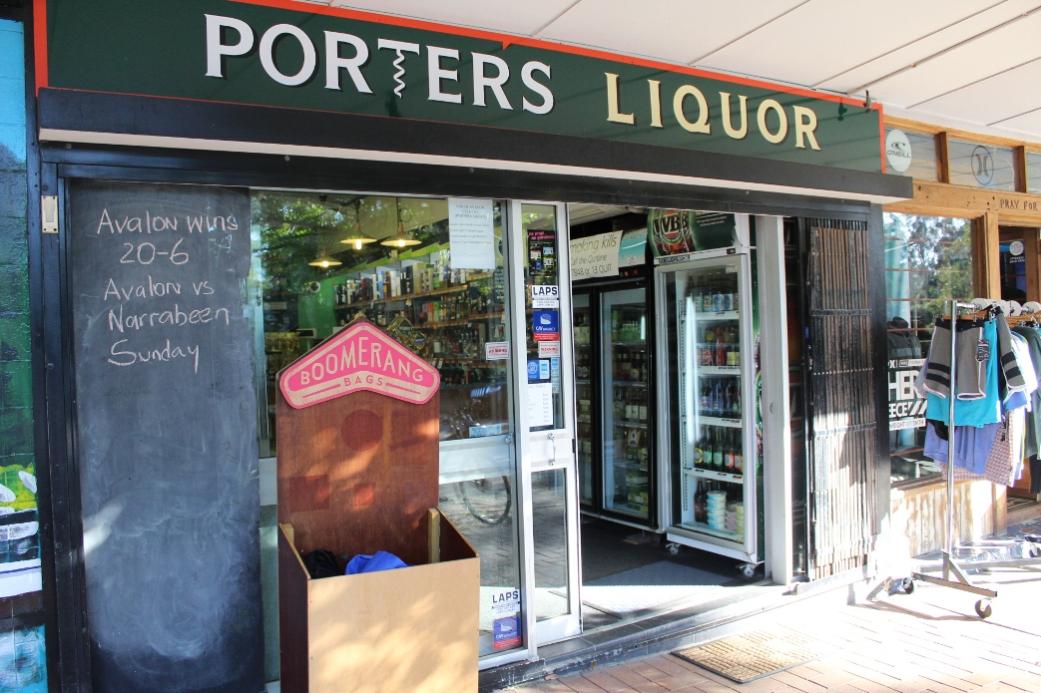 Avalon Boomerang Bags - now at North Avalon shops - A J Guesdon photo, 25.5.2017
Avalon Boomerang Bags
Unit 20/14 Polo Ave Mona Vale
Boomerang Bags is a bag-share initiative involving the installation of a number of 'Boomerang Bag' boxes throughout any given business district, shopping centre, street or market. Each box is stocked with re-useable bags for customers to borrow if they have forgotten to bring their own.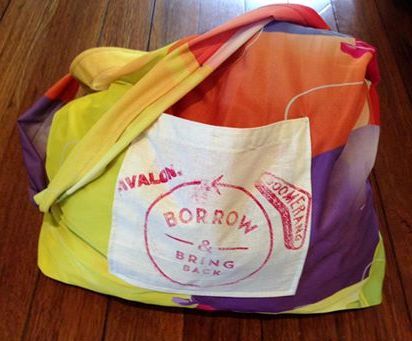 Unlike the traditional purchase-and-keep approach, Boomerang Bags are free, and local community members are responsible for returning the bags once they're no longer required. The availability of free re-useable bags reduces the reliance of local businesses to supply bags to all customers, and encourages a mentality of re-use among local communities, thereby reducing the amount of plastic bag material entering our landfills and waterways.
So who makes the Boomerang Bags? Well, you do! Boomerang Bags are made by local communities for local communities, and are sewn from recycled and donated materials.
Get in touch if you'd like to donate materials, join us making bags, or implement Boomerang Bags in your own local area!