September
22 - 28, 2019: Issue 422
Mona Vale Road upgrade: Fauna Fencing Being Installed
Friday September 20, 2019
A Transport for NSW spokesperson has stated this morning:
''Fauna fencing is now being installed along the Mona Vale Road East upgrade corridor.
Fencing is also being installed opposite the Mona Vale Road West upgrade as part of early work, on the southern side of the road between Kimbriki Road and Tumburra Street at Ingleside.
The fauna fencing is being progressively installed as road work continues and will aim to minimise the likelihood of fauna crossing Mona Vale Road.
The fencing will be 1.8 metres high and dug into the ground to ensure all fauna cannot make their way under the fence.''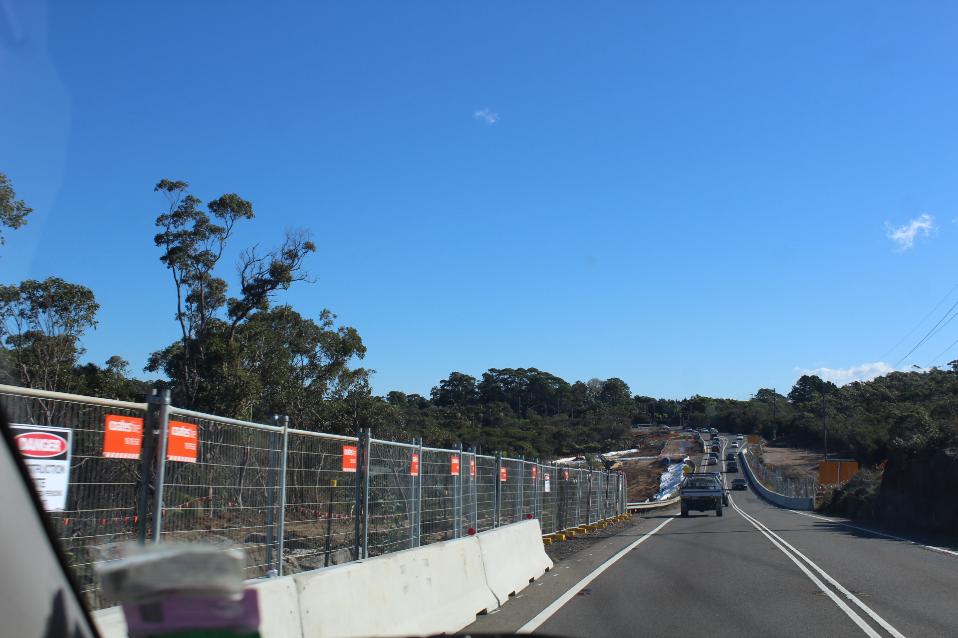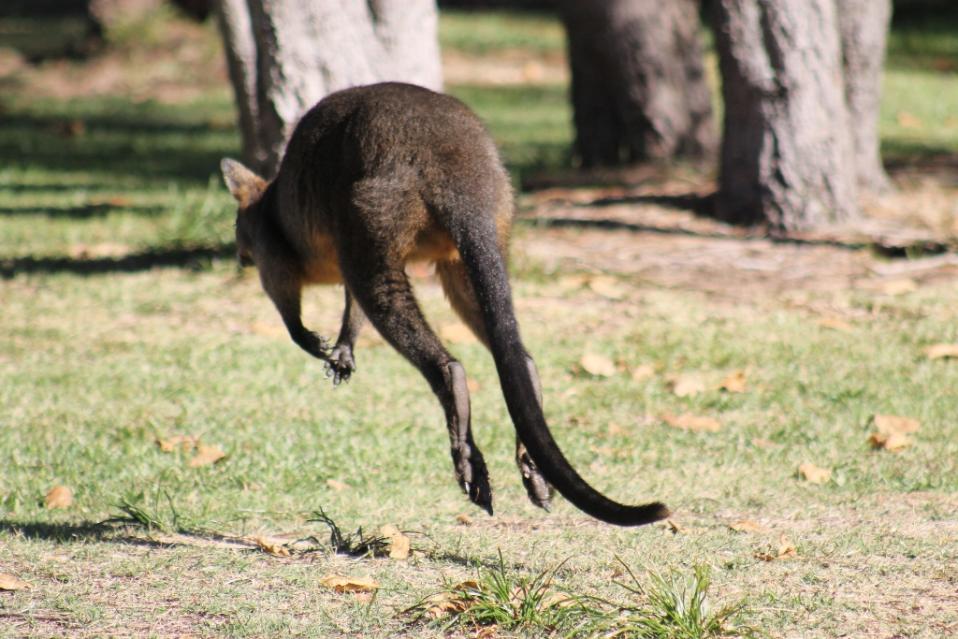 A Wet Day in Pittwater
photo by Michael Mannington, September 18th, 2019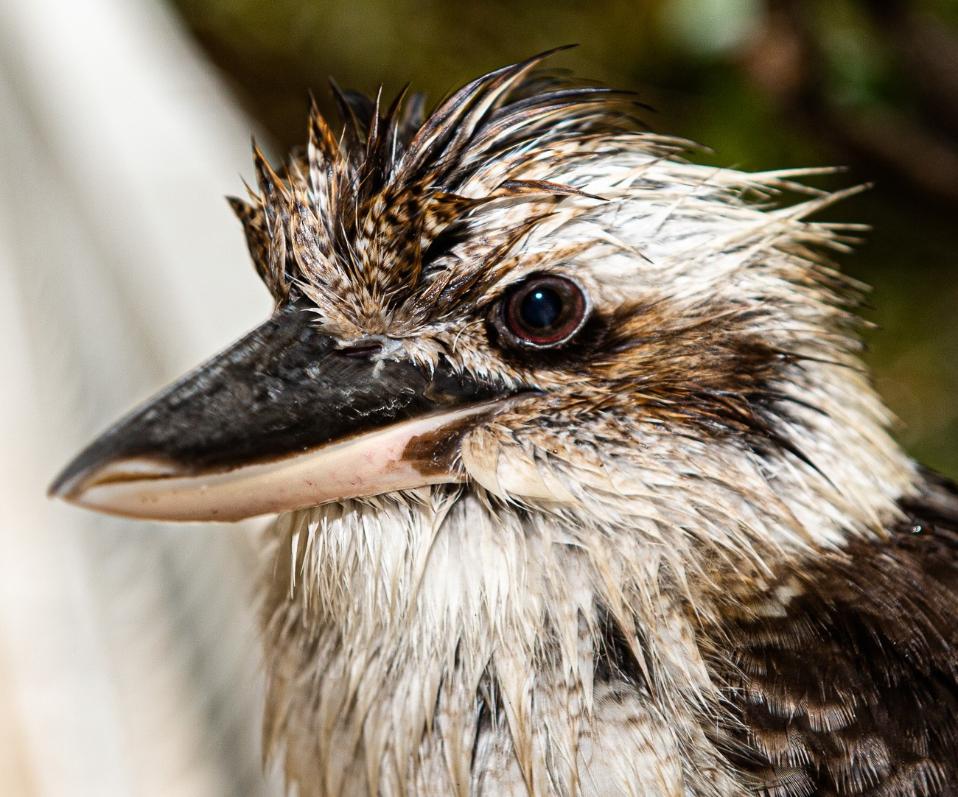 Bad hair day in Pittwater
photo by Michael Mannington, Thursday September 19, 2019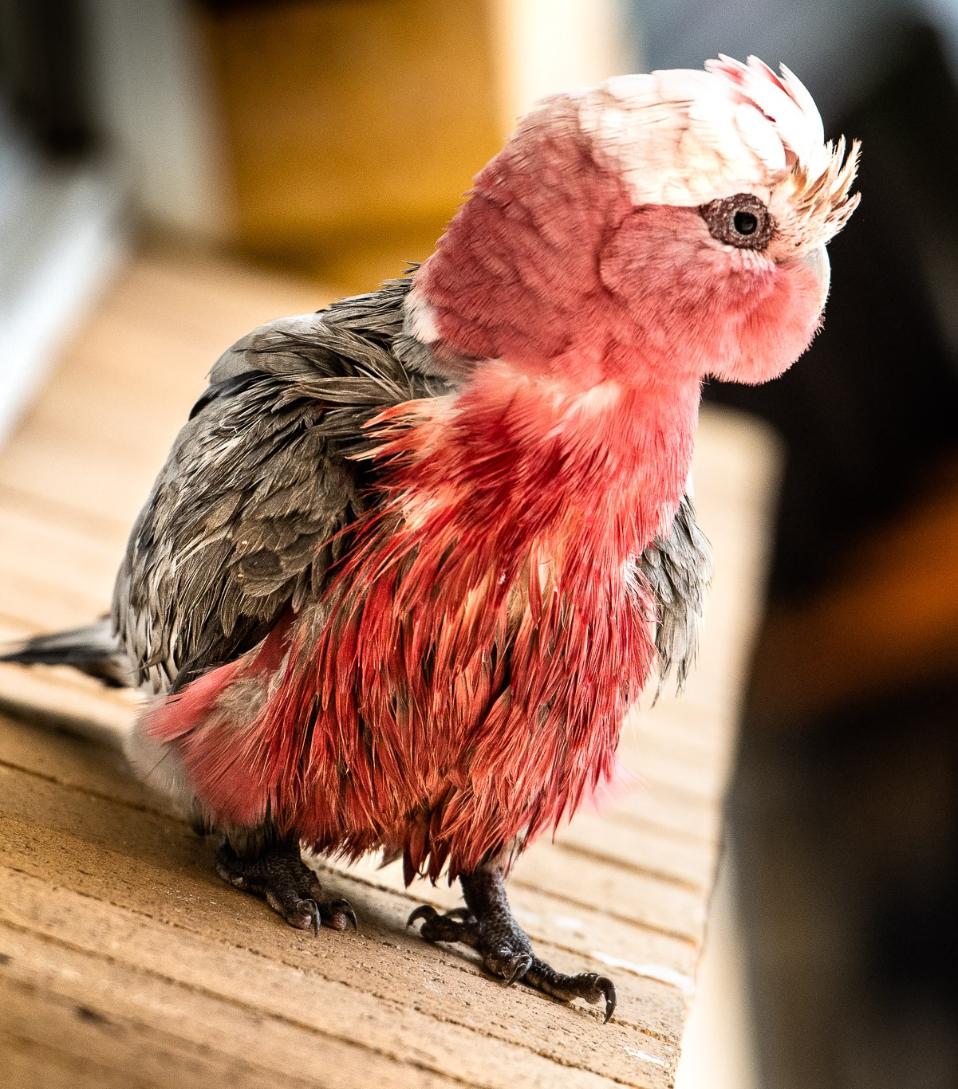 New Study Finds U.S. And Canada Have Lost Almost 3 Billion Birds since 1970
September 19, 2019
A study published today in the journal Science reveals that since 1970, bird populations in the United States and Canada have declined by 29 percent, or almost 3 billion birds, signalling a widespread ecological crisis. The results show tremendous losses across diverse groups of birds and habitats — from iconic songsters such as meadowlarks to long-distance migrants such as swallows and backyard birds including sparrows.
"Multiple, independent lines of evidence show a massive reduction in the abundance of birds," said Ken Rosenberg, the study's lead author and a senior scientist at the Cornell Lab of Ornithology and American Bird Conservancy. "We expected to see continuing declines of threatened species. But for the first time, the results also showed pervasive losses among common birds across all habitats, including backyard birds."
The study notes that birds are indicators of environmental health, signaling that natural systems across the U.S. and Canada are now being so severely impacted by human activities that they no longer support the same robust wildlife populations.
The findings show that of nearly 3 billion birds lost, 90 percent belong to 12 bird families, including sparrows, warblers, finches, and swallows — common, widespread species that play influential roles in food webs and ecosystem functioning, from seed dispersal to pest control.
Among the steep declines noted:
Grassland birds are especially hard hit, with a 53-percent reduction in population — more than 720 million birds — since 1970.
Shorebirds, most of which frequent sensitive coastal habitats, were already at dangerously low numbers and have lost more than one-third of their population.
The volume of spring migration, measured by radar in the night skies, has dropped by 14 percent in just the past decade.
"These data are consistent with what we're seeing elsewhere with other taxa showing massive declines, including insects and amphibians," said coauthor Peter Marra, senior scientist emeritus and former head of the Smithsonian Migratory Bird Center and now director of the Georgetown Environment Initiative at Georgetown University. "It's imperative to address immediate and ongoing threats, both because the domino effects can lead to the decay of ecosystems that humans depend on for our own health and livelihoods — and because people all over the world cherish birds in their own right. Can you imagine a world without birdsong?"
Evidence for the declines emerged from detection of migratory birds in the air from 143 NEXRAD weather radar stations across the continent in a period spanning over 10 years, as well as from nearly 50 years of data collected through multiple monitoring efforts on the ground.
"Citizen-science participants contributed critical scientific data to show the international scale of losses of birds," said coauthor John Sauer of the U.S. Geological Survey (USGS). "Our results also provide insights into actions we can take to reverse the declines." The analysis included citizen-science data from the North American Breeding Bird Survey coordinated by the USGS and the Canadian Wildlife Service — the main sources of long-term, large-scale population data for North American birds — the Audubon Christmas Bird Count, and Manomet's International Shorebird Survey.
Although the study did not analyse the causes of declines, it noted that the steep drop in North American birds parallels the losses of birds elsewhere in the world, suggesting multiple interacting causes that reduce breeding success and increase mortality. It noted that the largest factor driving these declines is likely the widespread loss and degradation of habitat, especially due to agricultural intensification and urbanisation.
Other studies have documented mortality from predation by free-roaming domestic cats; collisions with glass, buildings, and other structures; and pervasive use of pesticides associated with widespread declines in insects, an essential food source for birds. Climate change is expected to compound these challenges by altering habitats and threatening plant communities that birds need to survive. More research is needed to pinpoint primary causes for declines in individual species.
"The story is not over," said coauthor Michael Parr, president of American Bird Conservancy. "There are so many ways to help save birds. Some require policy decisions such as strengthening the Migratory Bird Treaty Act. We can also work to ban harmful pesticides and properly fund effective bird conservation programs. Each of us can make a difference with everyday actions that together can save the lives of millions of birds — actions like making windows safer for birds, keeping cats indoors, and protecting habitat."
The study also documents a few promising rebounds resulting from galvanized human efforts. Waterfowl (ducks, geese, and swans) have made a remarkable recovery over the past 50 years, made possible by investments in conservation by hunters and billions of dollars of government funding for wetland protection and restoration. Raptors such as the Bald Eagle have also made spectacular comebacks since the 1970s, after the harmful pesticide DDT was banned and recovery efforts through endangered species legislation in the U.S. and Canada provided critical protection.
"It's a wake-up call that we've lost more than a quarter of our birds in the U.S. and Canada," said coauthor Adam Smith from Environment and Climate Change Canada. "But the crisis reaches far beyond our individual borders. Many of the birds that breed in Canadian backyards migrate through or spend the winter in the U.S. and places farther south — from Mexico and the Caribbean to Central and South America. What our birds need now is an historic, hemispheric effort that unites people and organizations with one common goal: bringing our birds back."
Rosenberg, K. V., A. M. Dokter, P. J. Blancher, J. R. Sauer, A. C. Smith, P. A. Smith, J. C. Stanton, A. Panjabi, L. Helft, M. Parr, and P. P. Marra. 2019. Science. Vol. 365., Issue 6461.
Mona Vale Garden Club's 48th Spring Flower Show
Saturday, 28 September 2019 - 10:00am to 3:00pm
Wonderful display of flowers, potted plants, vegetables, herbs and floral art. Plants, white elephant goods and cakes for sale. Raffles. Refreshments available.
Gold coin entry; $2.00 - children no charge
Ted Blackwood Hall
Cnr Jacksons & Boondah Roads
Warriewood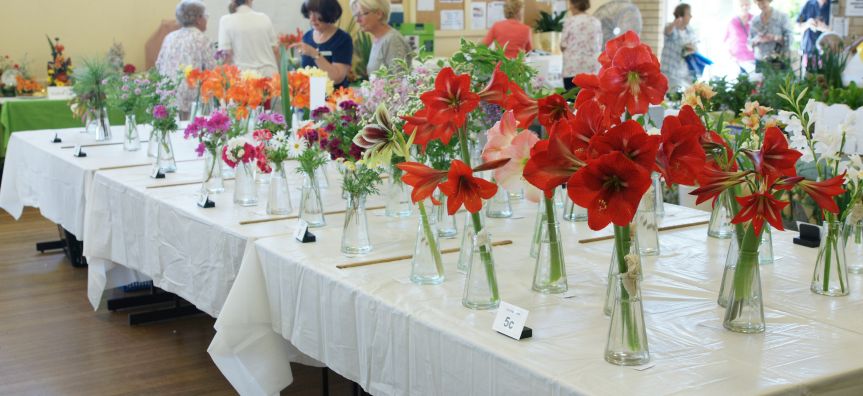 New Bylong Valley coal mine refused – climate impacts considered
18 September: EDO NSW
On behalf of our client, the Bylong Valley Protection Alliance, the Environmental Defenders Office (EDO NSW) warmly welcomes today's decision by the Independent Planning Commission to reject the proposed greenfield Bylong coal mine, in part because of its projected greenhouse gas emissions.
This the first IPC decision in relation to a greenfield coal mine since the judgement of February 2019, when EDO NSW acted for Groundswell Gloucester to successfully stop the Rocky Hill coal mine, partly on the basis of expert climate science evidence. EDO NSW – on behalf of our client - commissioned expert evidence on the carbon budget from Dr Will Steffen and this was presented to the IPC.
David Morris, EDO NSW CEO, said, "This is another significant step towards avoiding dangerous climate change. We assisted our client, the Bylong Valley Protection Alliance, to put forward equivalent expert evidence to that relied on by the Land and Environment Court when it refused the Rocky Hill coal mine at Gloucester in February.
"It is clearer than ever that the Rocky Hill judgement sets a best-practice standard when considering new fossil fuel developments. This mine would have been even bigger – in fact much bigger - than Rocky Hill, with concomitantly bigger carbon impacts. In helping to stop this development, we acted in the public interest to constrain emissions and climate change impacts."
Warwick Pearse, Secretary of the Bylong Valley Protection Alliance, said, "The IPC is to be applauded for recognising the need to consider the climate impacts of new coal projects. The serious threats to water and agriculture in the Bylong Valley have also been recognised by the IPC and they have decided that the long term, adverse and irreversible effects of coal mining in the Bylong Valley outweigh the short-term gain in local jobs."
The Bylong proposal by KEPCO Bylong Australia Pty Ltd was for a mine with a life of 25 years, including both open-cut and underground longwall mining in a rural area. The proposed mine had been recommended for approval by the then NSW Department of Planning and Environment, which makes today's IPC refusal particularly notable.
In its Statement of Reasons for Decision, the Commission found (in summary):
the groundwater impacts would be unacceptable
no evidence to support the Applicant's claim that impacted Biophysical Strategic Agricultural Land (BSAL) can be rehabilitated post-mining to BSAL-equivalent
given the expected level of disturbance to the existing natural landscape, the Commission does not consider that a recreated landscape post-mining will retain the same aesthetic, scenic, heritage and natural values; and
greenhouse gas aspects of the Project remain problematical.
"The Project is not in the public interest because it is contrary to the principles of ESD (ecologically sustainable development) – namely intergenerational equity because the predicted economic benefits would accrue to the present generation but the long-term environmental, heritage and agricultural costs will be borne by the future generations," the Commission concluded.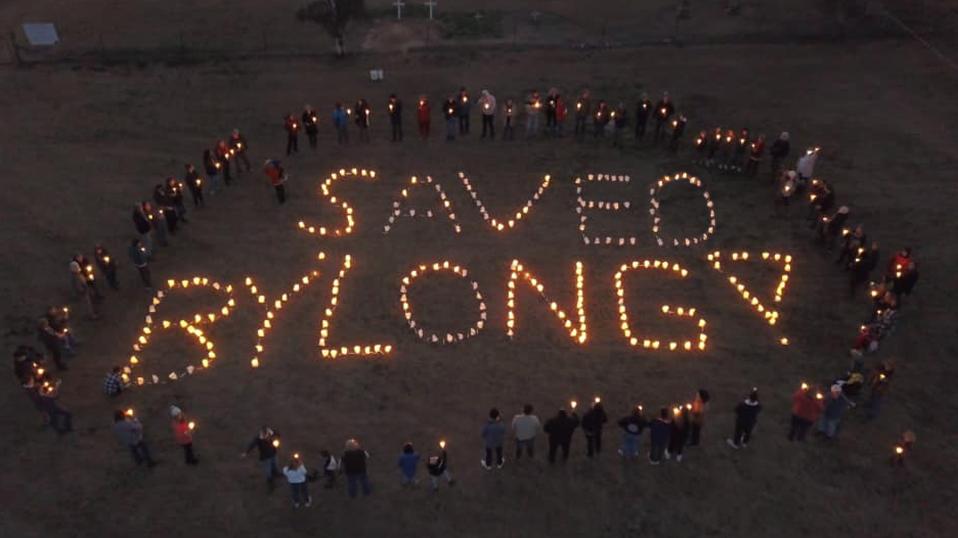 Bylong Valley Protection Alliance (Battle for Bylong) photo
Bylong victory: Jubilation as NSW Independent Planning Commission stops damaging coal mine
September 18, 2019
Landholders and community groups have reacted with joy and relief after the Independent Planning Commission announced it had refused approval to a controversial coal mine in the secluded Bylong Valley, and have congratulated the NSW Government on letting the independent process run its course.
The Commission handed down its decision today and cited unacceptable impacts on groundwater, strategic agricultural land, and the heritage values of the Bylong Valley, as well as the mine's impact on climate change and intergenerational equity.
Lock the Gate Alliance spokesperson Georgina Woods said, "This is the right decision from the Commission and it shows New South Wales is getting its priorities right, safeguarding strategic farmland and water resources from destruction and depletion for coal mining.
"We warmly congratulate the NSW Government on allowing this independent process to proceed to protect our precious land and water for the long-term.
"The Bylong Valley is a very special place, not just for the farmers that produce wool, beef, and fodder there, but for people around the state that recognise its extraordinary beauty and rich cultural and natural heritage.
"In a week when school children are preparing to strike from school for their future, we warmly welcome the Independent Planning Commission's recognition that this coal mine would be contrary to the principle of intergenerational equity.
"It was the wrong place for a coal mine, and this is the wrong time for NSW to be opening up new areas for coal exploitation as the world shifts away from coal in a bid to halt global warming."
Bylong Valley landholder and sheep farmer Phill Kennedy said, "We're over the moon that the Commission has made the right decision. This valley is hugely productive and stunningly beautiful.
"Thanks to this sensible decision, It's going to keep producing food and wool for New South Wales for a long time to come.
"The productivity of the valley will also greatly increase when properties come back into private hands again, rather than those of KEPCO."
Warwick Pearse from
Bylong Valley Protection Alliance
said, "We applaud the IPC - this is a wonderful decision. Bylong Valley will be safe from mining, and continue to be the productive and beautiful valley it has been for many years."
"It underlines the need to actually give legal protection for prime agricultural land. This farmland should never have been put at risk in the first place."
The IPC's Statement of Reasons for refusing the mine is available here: https://www.ipcn.nsw.gov.au/resources/pac/media/files/pac/projects/2018/10/bylong-coal-project/determination/bylong-coal-project-ssd-6367--statement-of-reasons-for-decision.pdf
Lock the Gate Alliance welcomes reports today (September 19, 2019) from Korean news agencies suggesting KEPCO, which wanted to build a coal mine in the Bylong Valley, appears unlikely to make any appeal against the Independent Planning Commission's decision yesterday to refuse the project.
The Korean Government owned company was quoted in major newspaper Hankyung saying, "although it is possible to challenge the IPC's decision, it would be very difficult to change the outcome," and that "KEPCO has not decided whether it would file an administrative action, resubmit the application, or entirely abandon the project," in response to the decision.
It was also reported the company made an operating loss in the first has of 2019 approximated USD 775M.
Lock the Gate Alliance NSW spokesperson Georgina Woods said KEPCO's avenues for appeal were extremely limited, in part due to the NSW Government's attempts to stifle opportunities for local communities to challenge resource approvals in court.
"A narrow judicial review is the only kind of appeal available to KEPCO because the NSW Government routinely strips merits appeal rights for major resource projects to stop what the mining industry calls 'lawfare,' but which is actually a crucial balance we have long argued should be retained," she said.
"In a judicial review, the Court can set aside a consent, but it would be referred back to the IPC to be decided again."
Ms Woods said it was then likely the same decision would be made and it appeared KEPCO has reached the same conclusion.
"The Commission made a decision that protects strategic agricultural land and water resources from destruction and depletion for coal mining," she said.
"It ruled that the proposal would have unacceptable impacts on groundwater, strategic agricultural land, and the heritage values of the Bylong Valley, as well as the mine's impact on climate change and intergenerational equity.
"It's hard to see how KEPCO, or any company for that matter, could build a coal mine in this incredible part of the world without creating these impacts so we would advise them to abandon the idea."
Qld govt loses bid to overturn orders ending lethal shark control measures in Great Barrier Reef Marine Park
September 18, 2019
An application by the Queensland Department of Agriculture and Fisheries (QDAF) appealing the orders made by the Administrative Appeals Tribunal to end the lethal nature of the shark control program in the Great Barrier Reef Marine Park has been dismissed by the Federal Court this afternoon.
In April this year, following a legal challenge run by EDO NSW on behalf of the Humane Society International Australia (HSI), the Tribunal found that the Shark Control Program within the Marine Park must avoid the lethal take of shark species.
QDAF applied to the Federal Court to overturn the Tribunal's decision. Today the Full Court of the Federal Court has dismissed the appeal.
"We're delighted for our client HSI that this important decision stands," said David Morris, CEO of Environmental Defenders Office NSW. "We were disappointed that the Queensland Government chose not to respect the decision of the impartial, independent umpire in this matter. The decision to appeal demonstrated an unwillingness to listen to the evidence and invest in ensuring that the Great Barrier Reef Marine Park Shark Control Program meets contemporary environmental standards".
"The Administrative Appeals Tribunal found that there was overwhelming scientific evidence that the lethal component of the Shark Control Program does not reduce the risk of unprovoked shark interactions".
"In light of the known environmental harm that this program causes to the World Heritage listed Great Barrier Reef, it is vital that the Queensland Shark Control Program catches up to the rest of the world and moves to a non-lethal program.
The Tribunal decision grants permission to the Great Barrier Reef Marine Park Authority for its Shark Control Program but requires it to:
avoid the lethal take of sharks and remove the list of target sharks from the permit;
ensure drum lines are attended to as quickly as possible when sharks are captured, and require that the euthanasia of sharks caught on drum lines is only undertaken on animal welfare grounds;
ensure all tiger, bull and white sharks caught on drum lines are tagged then released so that their movements can be monitored and researched;
ensure SMART (Shark Management Alert in Real Time) drum lines are trialled and implemented as soon as reasonably possible;
conduct research into alternative non-lethal shark control measures; and
require research to be conducted into the at-risk tiger shark population.
September is Biodiversity Month
Biodiversity Month is held in September each year and aims to promote the importance of protecting, conserving and improving biodiversity both within Pittwater and Australia and across the world.
.
Our Readers have shown they value the magnificent native birds and animals we are so lucky to have living here, and many residents contribute to restoring local reserves and habitat through volunteer work as Bush Carers.
.
However, more Australian native species are headed for extinction. We already have the highest rate of mammal extinctions in the world… in fact, we're the fourth worst for all animal extinctions globally. This month what can we all do as individuals to increase Pittwater's biodiversity and protect the original inhabitants?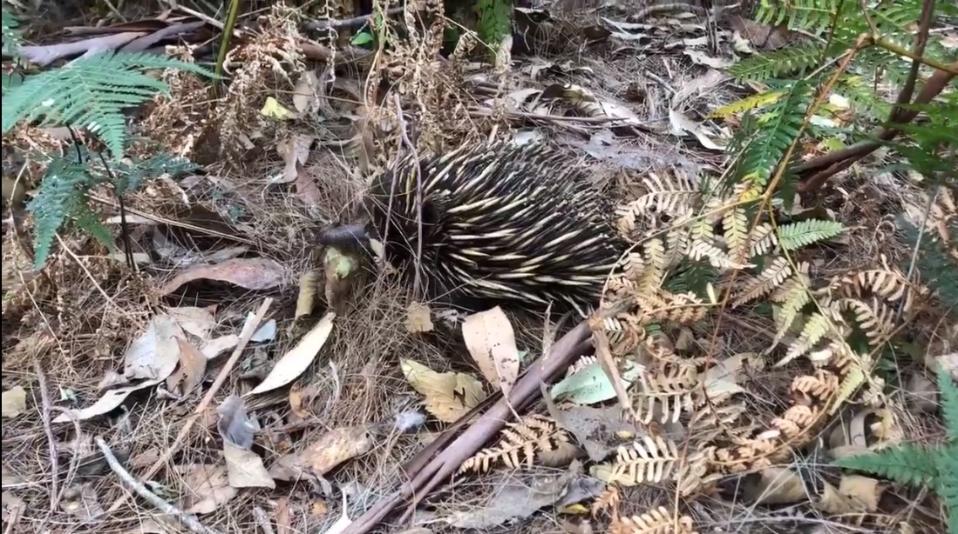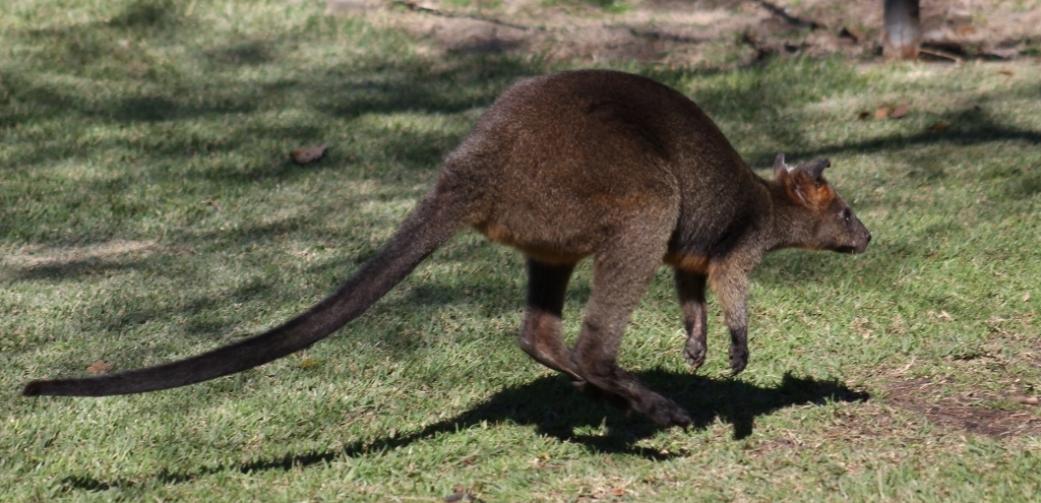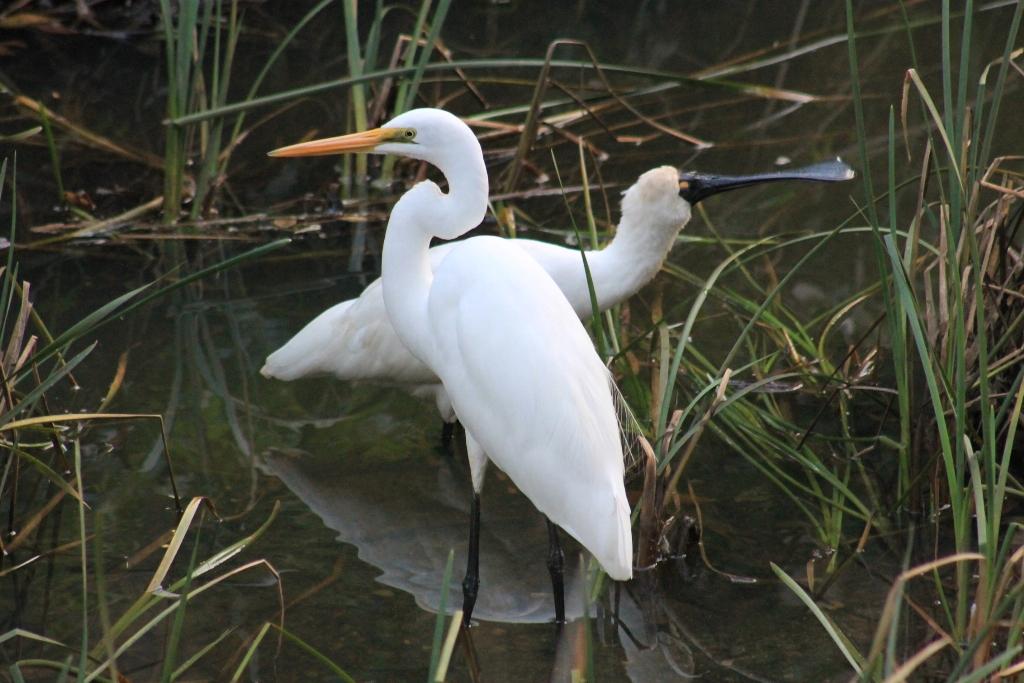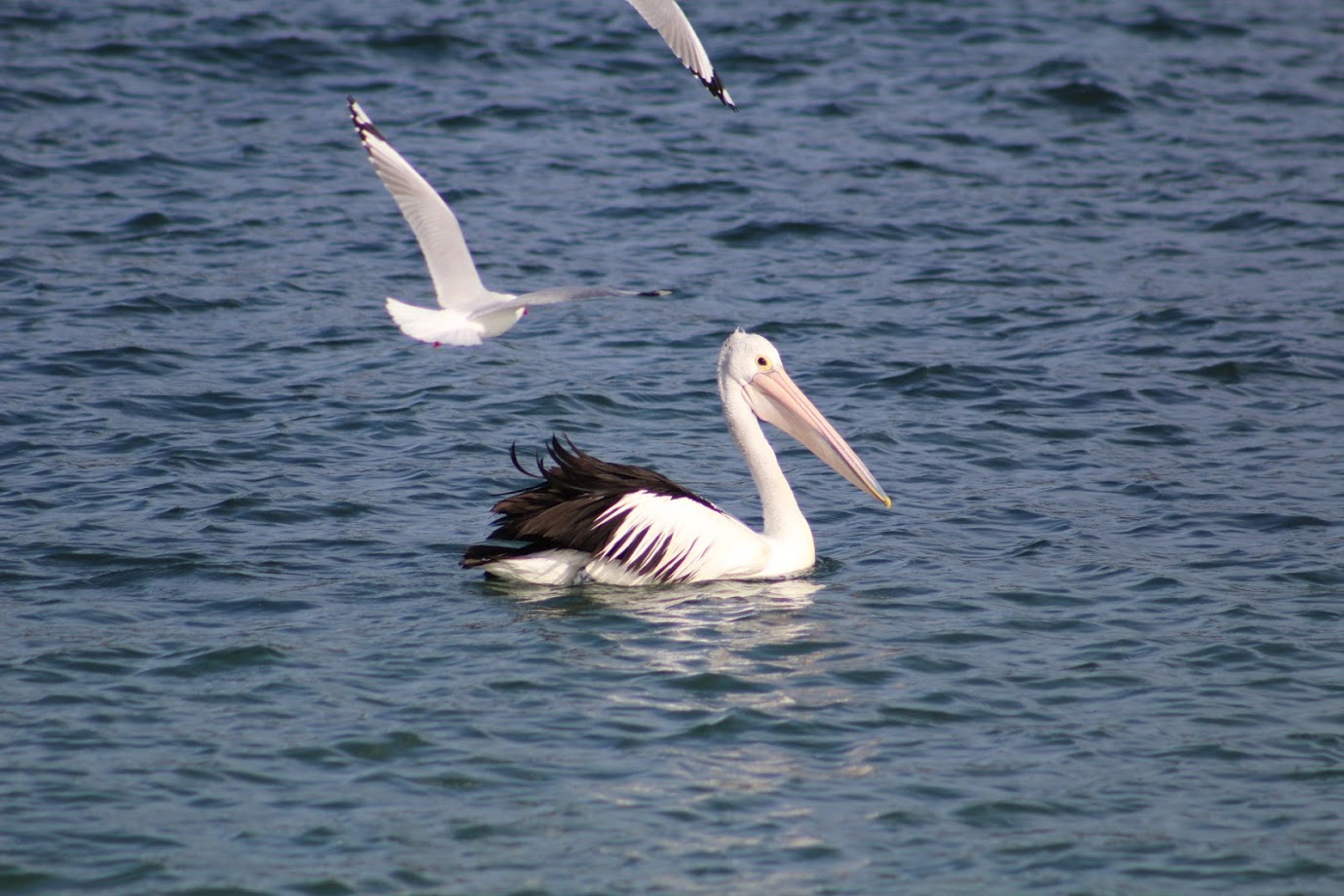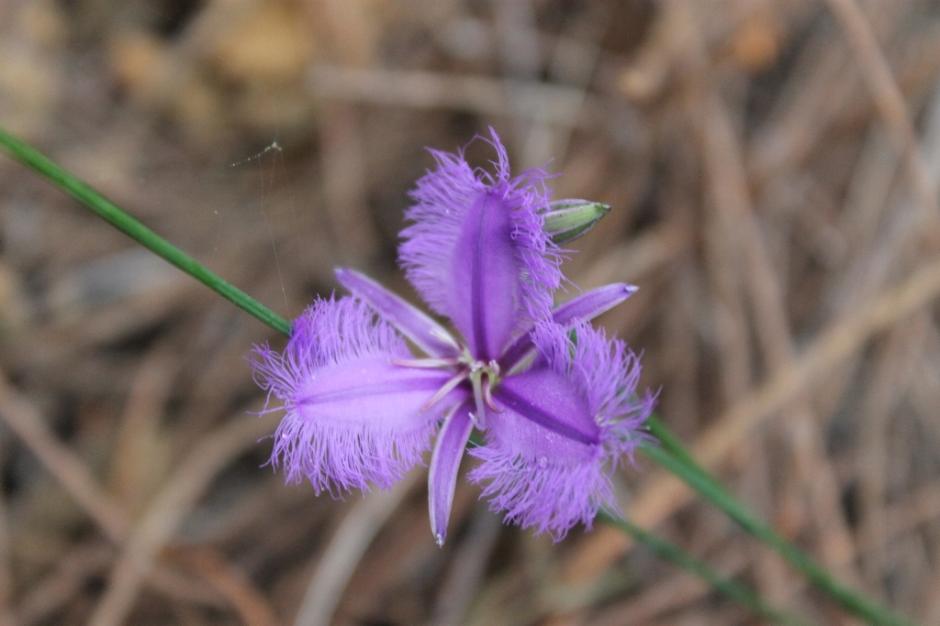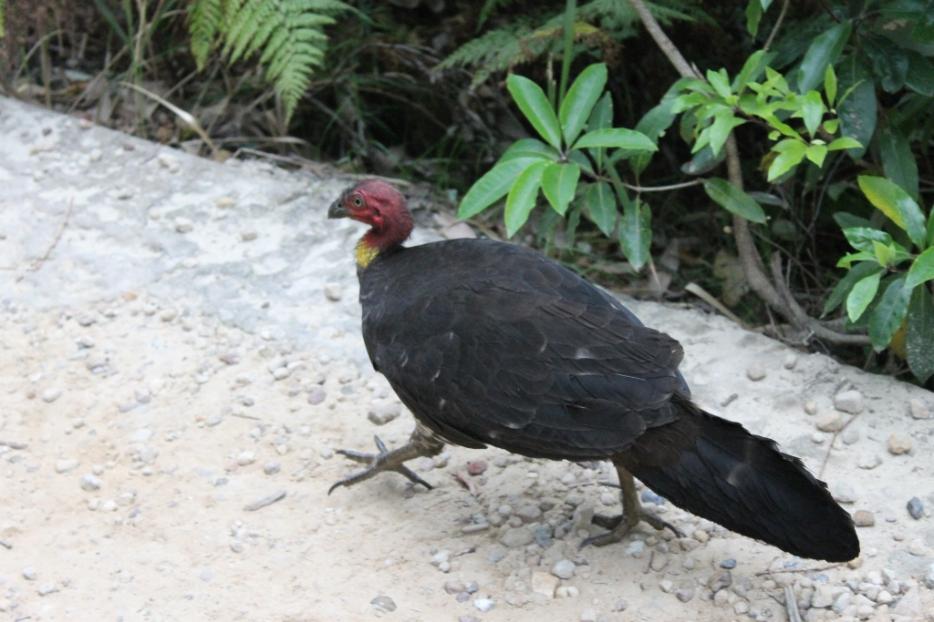 Photos: Echidna by Lynleigh Greig, Sydney Wildlife, Wallaby at Currawong by A J Guesdon, Egret and Spoonbill in Careel Creek by A J Guesdon, Pelican on Station Beach by A J Guesdon,
Fringed Violet (
Thysanotus tuberosus
) and
Bush Turkey (
Alectura lathami
)
on Barrenjoey Headland by A J Guesdon.
Rethinking scenario logic for climate policy
September 18, 2019: International Institute for Applied Systems Analysis
Current scenarios used to inform climate policy have a weakness in that they typically focus on reaching specific climate goals in 2100 -- an approach which may encourage risky pathways that could have long-term negative effects. A new IIASA-led study presents a novel scenario framework that focuses on capping global warming at a maximum level with either temperature stabilization or reversal thereafter.
Scenarios can be seen as stories of possible futures that allow the description of factors that are difficult to quantify, such as those that influence the interconnected energy-economy-environment system. They are useful in terms of providing a way to explore how the future could evolve, and how today's decisions could affect longer-term systemic outcomes. The resulting information is commonly used by policymakers to inform decisions around issues like the measures we should take to limit global warming to well-below 2°C and preferably even 1.5°C relative to preindustrial levels, as stipulated in the Paris Agreement.
According to the authors of the study published in Nature, the vast majority of these scenarios, however, do not actually provide answers to these questions. They explain that while the scientific community has been creating scenarios that try to hit a climate target in 2100, they have been doing so without caring about how much warming we would be committing to over the coming decades, or whether that climate target was temporarily exceeded. This contrasts strongly with the near term climate change impacts and decisions policymakers and society actually care about. This dissonance became clear to the authors through their involvement as leading authors in the scientific assessments of the Intergovernmental Panel on Climate Change. The current approach has also resulted in a large literature of pathways that favor risky strategies with little emissions reductions in the near term, along with a strong reliance on CO2 removal in the second half in the century. In their study, the researchers resolve this issue and present a new scenario logic in which these important societal value judgments have to be explicitly decided on.
"Once we became aware that virtually all scenarios that are used to inform climate policy are biased towards risky pathways that for no good reason put a disproportionally large burden on younger generations, we started looking for a new logic that could resolve the issue. We were looking for a new way of designing long-term climate change mitigation scenarios that are more closely aligned with the intentions of the UN Paris Agreement on Climate Change," explains Joeri Rogelj, a senior researcher with the IIASA Energy Program and lead author of the study.
The study draws on insights from physical science to propose a new simple mitigation scenario framework that focuses on capping global warming at a specific maximum level with either temperature stabilization or reversal thereafter. It makes intergenerational trade-offs regarding the timing and stringency of mitigation action an explicit design criterion and provides a framework in which future CO2 removal deployment can be explored independently of variations in desired climate outcomes in light of social, technological, or ethical concerns. In this regard, the authors focus on three key issues: the time by which global CO2 emissions become net zero, the total amount of CO2 emitted until then, and the amount of CO2 that is annually removed from the atmosphere by human activities in the far future.
In terms of achieving net zero CO2 emissions, however, the authors note that this is not yet sufficient to meet the emission reduction requirements spelled out in the Paris Agreement, where a balance between sinks and sources of all greenhouse gases is required. The study's proposed scenario logic will allow modelers to translate geophysical and political science insights in a quantitative framework and defines how models that simulate the energy-economy-environment system can be used to determine climate change mitigation scenarios in line with current policy discussions. The staged design of the new scenario framework also allows researchers to explore mitigation investment decisions at various points in time, where choices at one time could influence the possibilities available at others.
"This new logic illustrates in a much clearer way how the choices we make as a society about emissions reductions in the next two to three decades determine the maximum level of warming, as well as our reliance on CO2 removal to return global warming to safer levels in the longer term. Interestingly, this logic also shows that once a transformation to a carbon neutral society is achieved, annual investments in the energy sector are pretty much equal to those expected for a world in which we didn't tackle climate change at all. Additional climate change mitigation investments thus play a role in the next decades, but don't have to be a continuous burden on future generations," concludes Rogelj.
Rogelj J, Huppmann D, Krey V, Riahi K, Clarke L, Gidden M, Nicholls Z, & Meinshausen M.
A new scenario logic for the Paris Agreement long-term temperature goal
. Nature, 2019 DOI:
10.1038/s41586-019-1541-4
Actions to save coral reefs could benefit all ecosystems
September 18, 2019: ARC Centre of Excellence for Coral Reef Studies
Scientists say bolder actions to protect coral reefs from the effects of global warming will benefit all ecosystems, including those on land.
In an article published in Nature today two researchers from the ARC Centre of Excellence for Coral Reef Studies at James Cook University (Coral CoE at JCU) say the world's reefs will disappear by 2070 if climate change continues on its current path. Even well-protected World Heritage-listed coral reefs have been increasingly damaged by regional and global bleaching since 1980.
Prof Tiffany Morrison and Prof Terry Hughes suggest a new, holistic approach to safeguarding coral reefs by focussing on land as well as the ocean.
"We must take a new, bolder approach to tackle the underlying causes of coral reef decline," lead author Prof Morrison said. "This means fixing the causes on a global, as well as local, scale -- both in the sea and on land."
As an example, to protect the Great Barrier Reef, Prof Morrison suggests policymakers in Australia should replace coal-fired power with renewable energy sources, develop land-based aquaculture, and restore or rehabilitate terrestrial vegetation and wetlands in the 425,000-square-kilometre catchment of the Great Barrier Reef.
"Done strategically, these actions can reduce global emissions, capture carbon, curb agricultural runoff onto coastal reefs while also enhancing people's livelihoods and food security," she said.
The Nature article argues that current approaches to coral reef conservation are failing as protecting local biodiversity on reefs and trying to restore damaged corals are the main focus.
"Current approaches to protect coral reefs are not enough to stem the ongoing decline," Prof Hughes said.
"Attempts to grow corals in aquaria or underwater nurseries are futile unless we address the major threats," he said.
"Reefs won't disappear if we tackle the root cause of their decline; global carbon emissions need to be slashed to 45% of 2010 levels by 2030."
The authors suggest that a bolder, scaled-up approach to the stewardship of land and sea -- focused initially on coral reefs -- could itself help society meet this goal.
Coral reefs cover only 0.5% of the ocean floor, but they support almost 30% of the world's marine fish species. 400 million people depend on reefs for work, food and protection from waves, storms and floods.
"What we're suggesting is not impossible," the authors said. "Countries such as Costa Rica, states such as California and cities such as Copenhagen have all taken up initiatives to curb greenhouse gas emissions and provide alternative economic opportunities that set powerful examples for the rest of the world."
The article urges scientists, policymakers, non-governmental organisations and philanthropists to develop similarly bold strategies to protect reefs, other ecosystems and people in a warming world.
Tiffany H. Morrison, Terry P. Hughes, W. Neil Adger, Katrina Brown, Jon Barnett, Maria Carmen Lemos.
Save reefs to rescue all ecosystems.
Nature, 2019; 573 (7774): 333 DOI:
10.1038/d41586-019-02737-8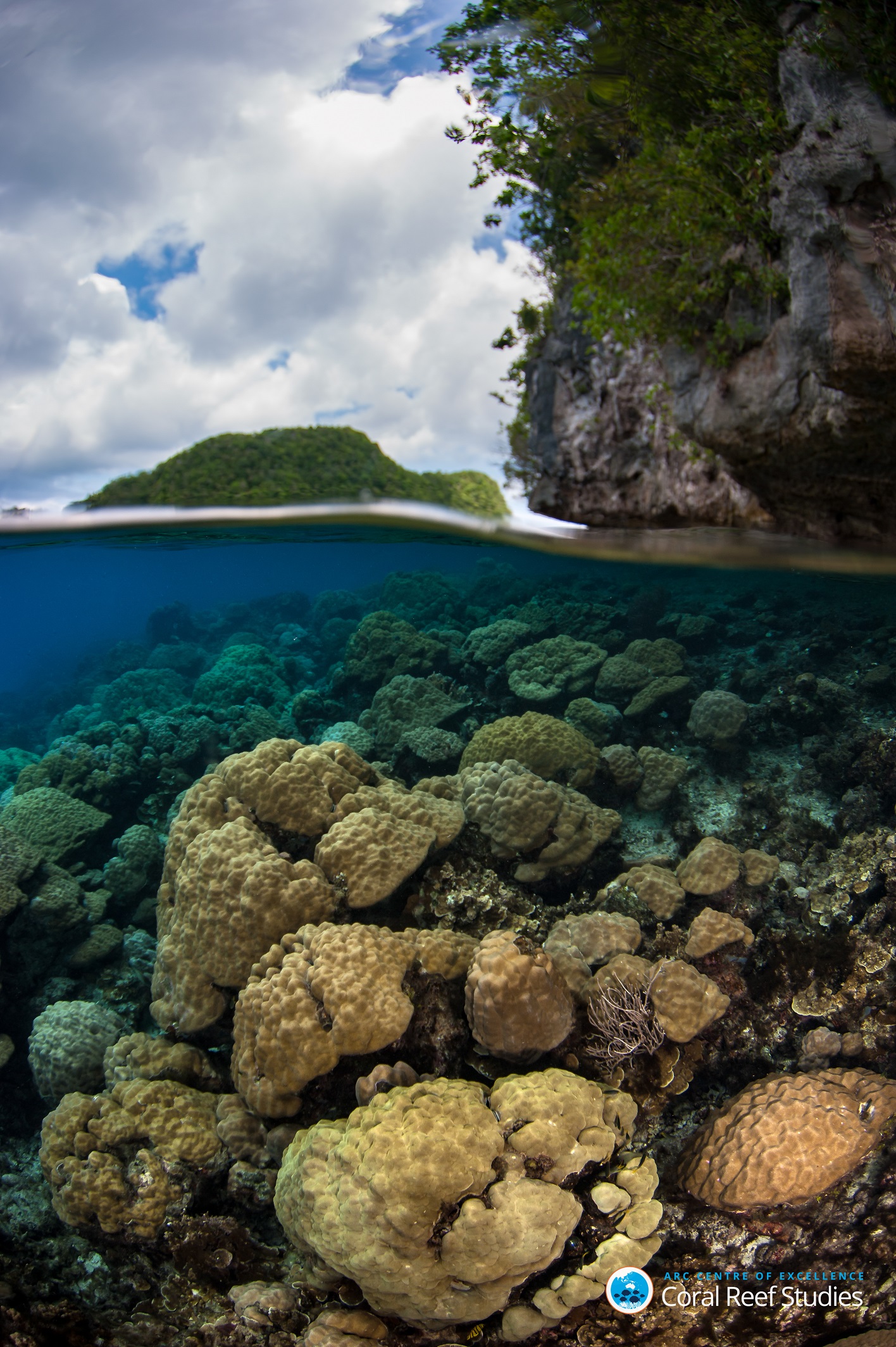 Ninety-one percent of reefs on the World Heritage-listed Great Barrier Reef bleached from thermal stress in 2016. Credit: Mark Priest

Shark pups lose gains in stressed environments
September 17, 2019: ARC Centre of Excellence for Coral Reef Studies
A prominent JCU shark researcher is part of an international team that found shark babies can't reach their physical peak if they're born into environments degraded by human-induced stressors, including climate change.
Dr Jodie Rummer from the ARC Centre of Excellence for Coral Reef Studies at James Cook University (Coral CoE at JCU) is a co-author of a new study that compared the foraging and condition of two populations of newborn reef sharks: one in St Joseph atoll in Seychelles and the other in Moorea, French Polynesia.
"We found that although shark pups are born larger, heavier and better conditioned in Moorea, they soon lost their physical advantage over the pups in St Joseph," Dr Rummer said.
St Joseph is an uninhabited, remote and small atoll in the outer islands of Seychelles, where no environmental changes happened at the time of the study. However, Moorea is a popular tourist destination -- one that is still recovering from a loss of up to 95 percent of its live coral cover about five years before the four-year study commenced.
"At birth, newborn sharks receive extra fat reserves from their mother," said Ms Ornella Weideli, lead author from the Save Our Seas Foundation D'Arros Research Centre (SOSF-DRC) and PhD student at the Centre de Recherches Insulaires et Observatoire de l'Environnement (CRIOBE) in France.
"These energy reserves sustain them during the first days and weeks after birth," Ms Weideli said. "The 'energy boost' is important, as sharks are independent from their mothers from the moment they are born."
A total of 546 young sharks were captured and measured in that time. What they ate was also analysed. The study found the amount of energy reserves varied between locations.
"Bigger mothers give birth to bigger babies, which is what happens in Moorea," Dr Rummer said. "But that doesn't necessarily mean the babies will eat and grow quickly after that."
Instead, the bigger pups from Moorea soon lost their advantage in size, weight, and condition.
"Against our expectations, the larger pups from Moorea that received greater energy reserves started foraging for food later in life, which resulted in considerable declines in their body condition," Ms Weideli said.
"On the contrary, despite being smaller and lighter for their size, the pups from St Joseph started foraging for food earlier in life and became more successful predators than their Polynesian counterparts."
The authors think the bigger pups lost their physical advantage because Moorea was experiencing a degraded quality and quantity of prey, coupled with human-induced stressors such as over-fishing, climate change and coastal development.
This new study is crucial for informing critical shark nursery areas, sanctuaries, and marine protected areas.
The corals in Moorea bleached earlier this year during very hot temperatures after the completion of the study. Dr Rummer says the sharks in this area will now have an even more difficult time growing and surviving, as the conditions around them continue to degrade and water temperatures rise.
"Sharks are at risk from human-induced stressors because they may not be able to adapt fast enough to keep pace with the changes that are happening in their environment," Dr Rummer said.
"They are slow growers and take a long time to reach sexual maturity. When they do reach sexual maturity, they only have a few babies. Even fewer survive," she said.
"Not enough generations are being born fast enough to make the genetic changes to adapt to what's going on in their habitats."
"Mitigating human-induced stressors, especially during shark pupping season, is key to protecting these species and the ecosystems they support."
Ornella C. Weideli, Ian A. Bouyoucos, Yannis P. Papastamatiou, Gauthier Mescam, Jodie L. Rummer, Serge Planes.
Same species, different prerequisites: investigating body condition and foraging success in young reef sharks between an atoll and an island system.
Scientific Reports, 2019; 9 (1) DOI:
10.1038/s41598-019-49761-2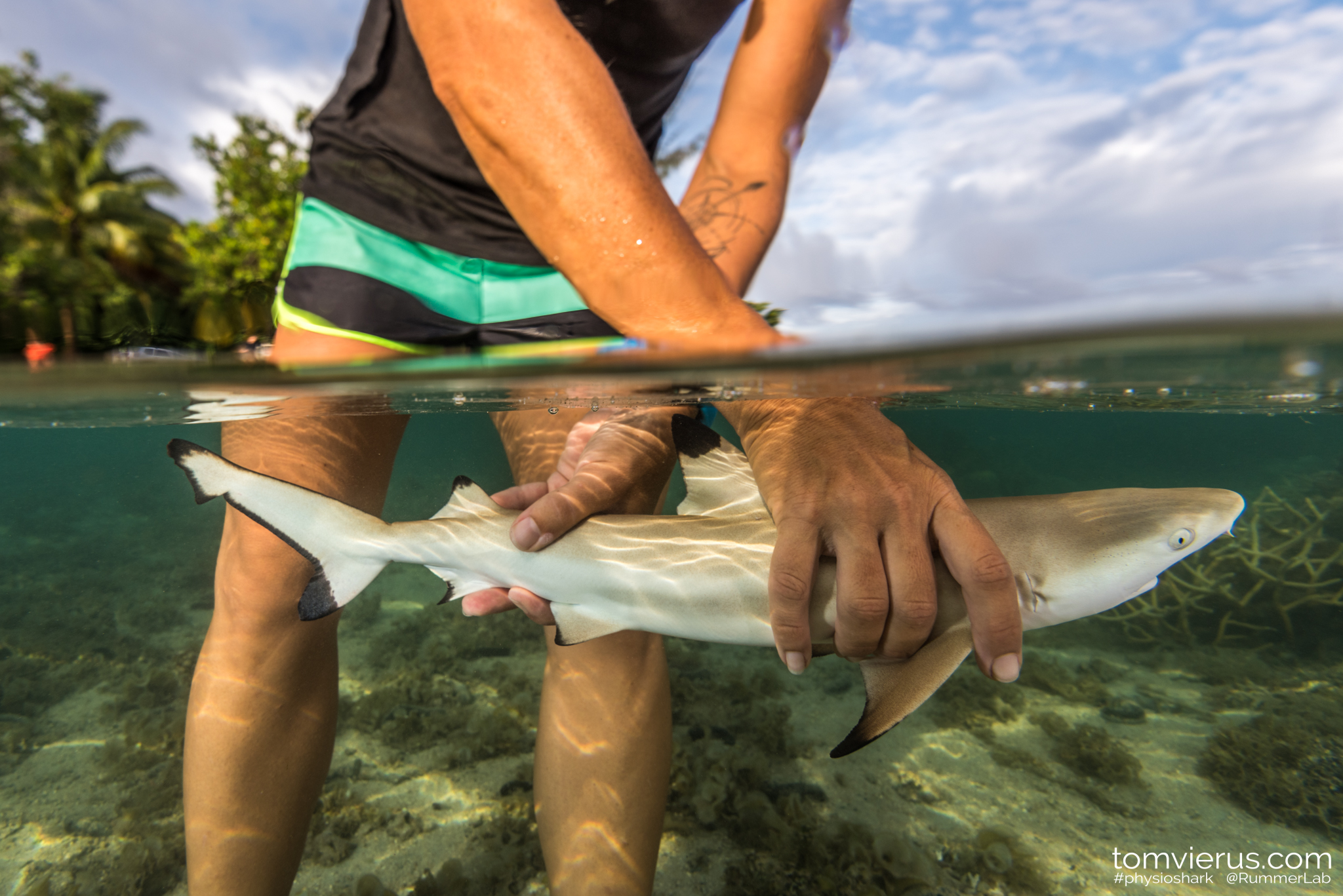 Jodie Rummer on a Moorea reef with shark. Photo Credit to Tom Vierus.
Aussie Bread Tags Collection Points
Collecting bread tags enables us to provide wheelchairs that change the life of disabled people in need, as well as keeping the tags out of landfill to help to preserve the environment.
Bread Tags for Wheelchairs was started in South Africa in 2006 by Mary Honeybun. It is a community program where individuals and organisations collect bread tags, which are sold to recyclers. The money raised pays for wheelchairs for the less fortunate which are purchased through a local pharmacy. Currently about 500kg of bread tags are collected a month in South Africa, funding 2-3 wheelchairs.
We have been collecting bread tags nationally in Australia since September 2018 and now have more than 100 collection points across the country. In February 2019 we started local recycling through Transmutation - Reduce, Reuse and Recycle in Robe, SA, where our tags are recycled into products such as door knobs and bowls. Tags from some states are still sent to South Africa where a plastics company called Zibo recycles them into seedling trays.
These humble bits of polystyrene can make a real difference so get your friends, family, school, workplace and church involved. Ask school tuck shops and boarding school kitchens, child care centres, aged care facilities, hospitals, cafes and fast food outlets to collect for you - they get through a lot of bread!
All the information and signage for collecting or setting up a public collection point is
on our website
.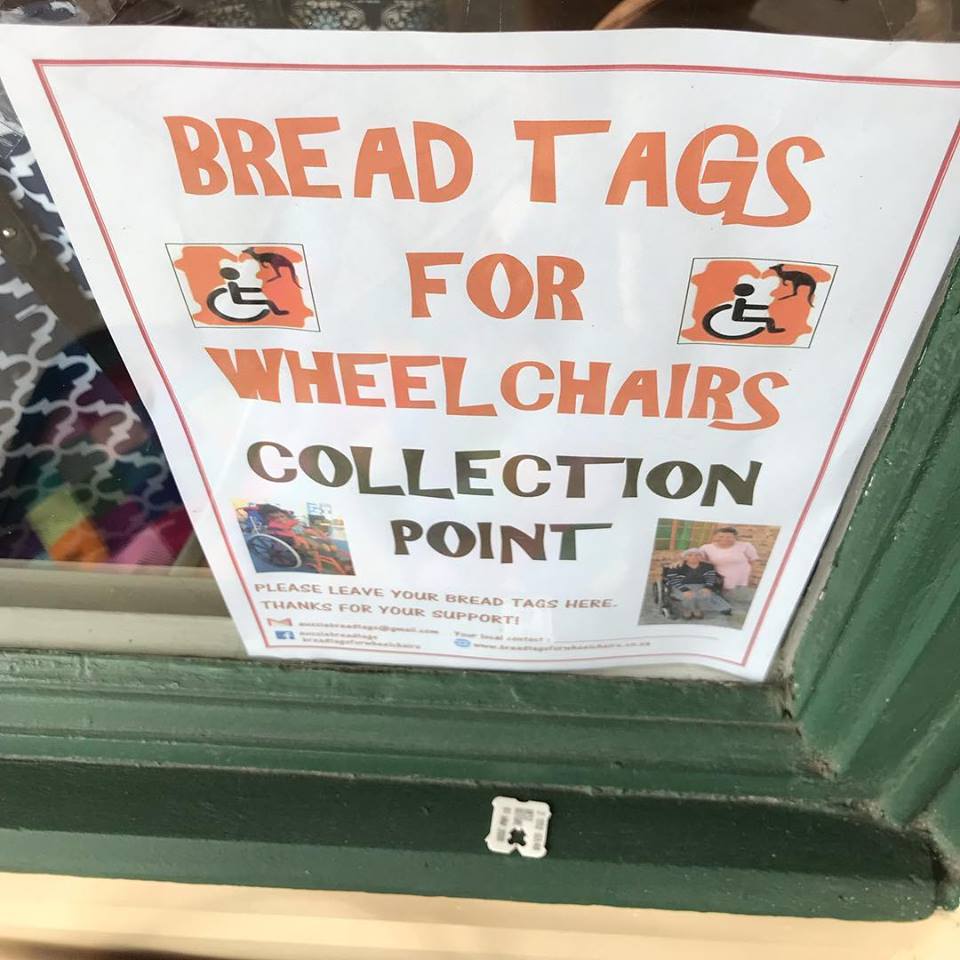 March Against the Central Coast Coal Mine 2 - WYONG
Saturday, October 26, 2019 at 2:30 PM – 4:30 PM
2 Hely St, Wyong
DID YOU KNOW THAT THE STATE LIBERAL GOVERNMENT APPROVED AN ENORMOUS SOUTH KOREAN GOVERNMENT-BACKED COAL MINE (WALLARAH 2) RIGHT IN THE MIDDLE OF THE CENTRAL COASTS WATER SUPPLY??
This will directly affect the following communities; the Yarramalong and Dooralong valleys, Blue Haven and Wyee areas, Olney State Forest and Jilliby State Conservation Area and have detrimental impacts on the broader landscape of our beautiful Central Coast.
Join us and March Against the Central Coast Coal Mine!!
> Saturday 26th October
> Time of Event: 2.30pm - 4.30pm
> Meeting point: Outside Wyong Council
'March Against the Central Coast Coal Mine 2' is our next peaceful demonstration march with the aim to raise awareness of the recently State Liberal Government approved enormous South Korean Government-backed Coal mine right in the middle of the Central Coasts water supply.
A coal mine that is only 5 minutes from Wyong and 20 minutes from Gosford - 28 years of non-stop destruction of our land, air, our water and our children's future.
Together with the community, we will be uniting outside Central Coast Council (2 Hely Street, Wyong) building at 2.30pm to hear a few great guest speakers, then to have a colourful and musical march against the Government's recent approval of the Wallarah 2 Coal Project.
Over 200 people joined the Erina march in July, which was just amazing. Lets double those numbers at this next event in Wyong! Please get sharing this event and spreading the news so we have a bigger, stronger community voice in Wyong protecting our land, water and wildlife. For more info, check out this short film from our last event outlining the situation: https://bit.ly/2TstQyr
Run by the passionate team from Coast Environmental Alliance (CEA)
There are 16 known endangered species, such as the yellow-bellied glider and the sheath-tailed bat, spotted tailed quoll as well as irreplaceable Aboriginal sites in the locality also.
This will be devastating to our area! So we must call on our official State representative, Adam Crouch, to stand up with us, and represent the people he swore an oath to serve, and call on the Liberal Government to stop this mine from going ahead.
While the Government has suggested that the risk to our water supply is minimal, ANY risk of contaminating our water supply is totally unacceptable.
The Liberal Government knows full well there is a risk to our water, that is why they have PROMISED to stop it in the past. Then as soon as elected, they approved it.
••••• Why meet outside Central Coast Council at Wyong? •••••
Historically, Council has been supportive of stopping the Central Coast Coal mine, but since the recent approval of the mine, have done nothing to draw attention to the issue through the media.
We need our local elected leaders to publically call on the State Government to stop this from going ahead.
Right now is an absolutely critical time where we really need our local Councillors and other politicians to publicly stand up and support the community.
Also, it's a good location for the gathering. Only 5 minutes from where the proposed mine will be located.
••••• Why on a Saturday? •••••
Our last March was on a Friday afternoon during work hours. We did this so we could draw attention to the issue in peak-hour traffic. And we certainly accomplished that.
We have made this event on a Saturday so hopefully more people can attend (due to not having to work) so we can build on our numbers from last time.
••••• What is the purpose of a second rally? •••••
Our first rally was great! But unfortunately it was largely ignored by the mainstream media.
We need to build our numbers to a point where this issue can no longer be ignored by the media or our elected leaders.
••••• Who should attend?•••••
Anyone who believes that our community is entitled to breathing clean air, drinking clean water and maintaining a healthy environment in the place we are so privileged to call home.
** Event Details **
When: Saturday 26th October
Time: 2.30pm -4.30pm
Meeting: Central Coast Council, Wyong Office (2 Hely Street, Wyong)
March: Led by drummers, musicians and colourful members of the community we will march to the main road to stand up for the Land of the Central Coast.
Guest speakers from local environmental groups will be at this event to share ways we can get involved in helping to stop Wallarah 2 and what action we have taken to date.
Get creative! Dress up, bring your instruments and your furry friends and the whole family - Lets UNITE to show that PEOPLE POWER is much stronger than the 'people in power'!
Lets make this fun and creative through different forms of expression. Dress in colour, bring musical instruments, and let us come together in solidarity for our precious and unique local environment.
Some ideas for signs that are relevant could include wording such as:
"Save Our Water!"
"Protect our land, water and air"
"Stand up for our wildlife"
"Say NO to Wallarah 2"
This event will go ahead RAIN, HAIL OR SHINE.
PLEASE SHARE THIS EVENT FAR AND WIDE FOR WE NEED MANY VOICES TO CREATE ONE POWERFUL VOICE
*** SOME DISTURBING FACTS ABOUT THE W2CP ***
• 68 percent of the water from this catchment supplies drinking water to the whole Central Coast and will be at serious risk of contamination from the mine
• Round the clock noise, light pollution at night, air and dust pollution from trucks, machinary, railway and traffic
• Extraction of up to 5 Million tonnes of thermal coal per year
• The total greenhouse gas emissions over the life of the mine will be over 264 million tonnes of CO2
• The Jilliby SCA alone provides critical habitat for over 150 native animal species, including 16 threatened species and more than 130 species of birds
• Jilliby is an important cultural and historical area for Aboriginal people. There are more than 40 recorded Aboriginal sites in Jilliby, and the adjacent Watagans National Park also includes art sites, axe-grinding grooves and open campsites.
• Subsidence of up to 2.6 metres beneath a state forest area; increased flooding impacts for more than 170 property owners that could require lifting or relocating homes and increased flooding impacts affecting 15 bridges and roads
Barrenjoey Seal Colony Growing
Jools Farrell, local ORRCA member, reminds us that at present the Australian Fur Seal Colony at Barrenjoey is growing. In mid July there were 9 but there will be a lot more as we had up to 20 last year.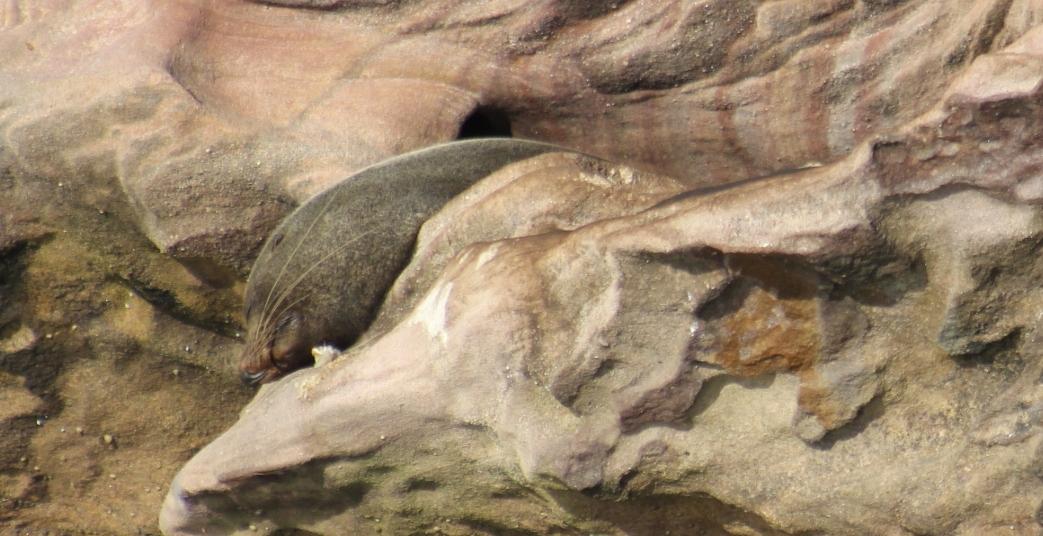 Please remember that legally you must stay a minimum of 40 metres away from seals, especially if they come ashore on the estuary beaches or ocean beaches to rest.
Also please keep an eye out for them if you are out in a boat as they do venture out of this spot to feed on the estuary or around Barrenjoey Headland. In recent years they have been seen everywhere from Barrenjoey to Clareville and Church Point.
Please do not attempt to feed them as they get plenty of food here in Pittwater.
Please also do not attempt to swim with them, Jools asks.
If you do see a seal in distress, please contact ORRCA on their 24/7 hotline: 9415 3333.
Archie's Pittwater Clean Up
I am a Seabin Ambassador, I started this campaign because I want to take a stand against ocean plastics!
My goal is to raise enough money to bring a minimum of 20 Seabins to Pittwater NSW as I want to give The Northern Beaches the opportunity to reduce its plastic pollution impact on the ocean. Its amazing how much accidental rubbish comes down our creeks and into our waterways
I need your help to raise money to buy the Seabins a revolutionary ocean cleaning technology which is essentially a floating rubbish bin that operates 24/7 catching all floating debris in the water.
The Seabin helps clean the ocean of floating debris which in turn creates cleaner oceans and we all benefit from this in one way or another. I mean, who really wants to swim in pollution? Not me that's for sure!
Did you know that 300 million tons of plastic are produced in the world every year, half of which is for single use products, from this more than 8 million tons of plastic is dumped into our oceans every year. We need to do something about it and now with the purchase of a Seabin we can all participate and make a difference!
Join me and my campaign to help ensure cleaner oceans!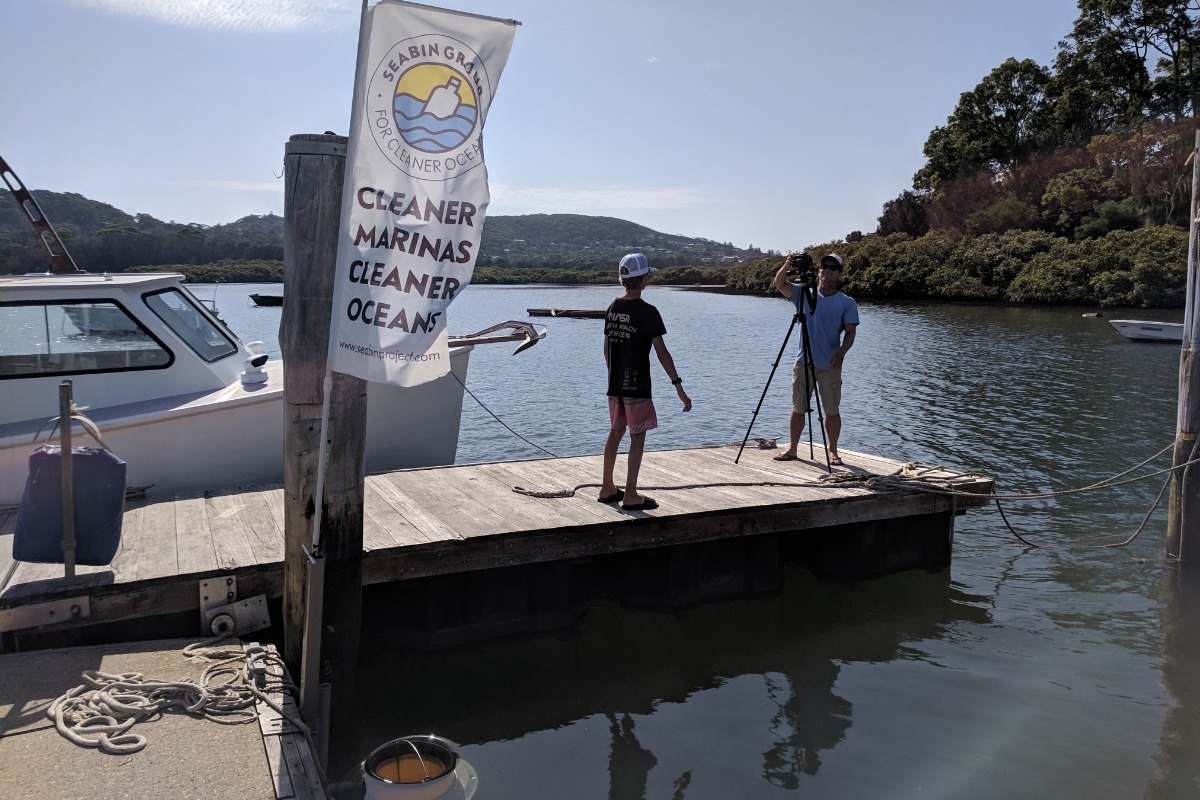 The Seabin is a floating rubbish bin that is located in the water at marinas, docks, yacht clubs and commercial ports.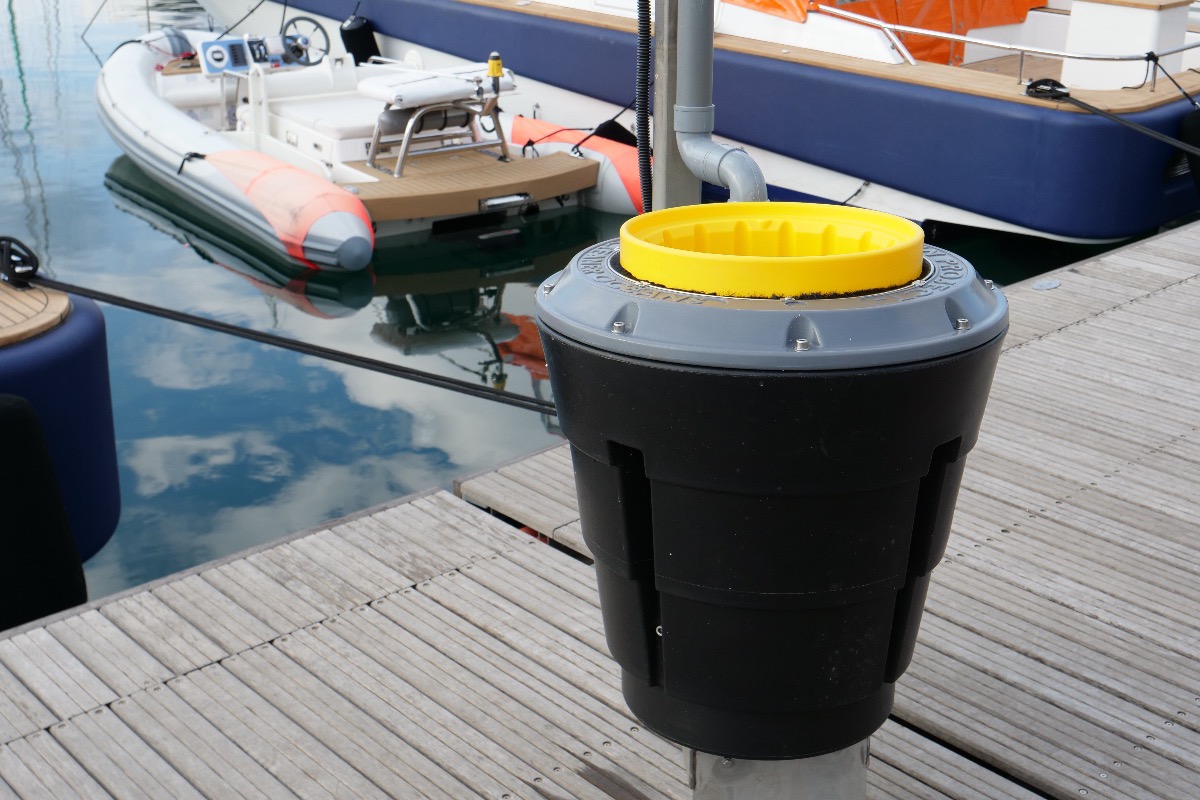 The Seabin can catch an average of 3.9kgs of floating debris per day which adds up to 1.4 tons per year. (depending on weather conditions and debris volumes) The Seabins is catching large plastic bags, bottles, plastic straws, coffee cups, food wrappers, surface oils and micro plastics down to 2 mm small.
How can a Seabin contribute to cleaner oceans?
The Seabin contributes to cleaner oceans by removing 1.4 tons of floating debris per unit per year. The location of the Seabin in marinas is ideal and where it matters most, close to the source of entry for floating debris. Ports and Marinas are perfect locations to stop floating debris from entering the open ocean and ocean plastics are also brought in by wind and currents.
Are the Seabins a danger to marine life?
The fish According to the team at Seabin, stay away from the surface of the water where the Seabin sucks in the water. They are deterred by the force of the water current. If there are swarms of jellyfish or bait fish it is recommended that the Seabins are turned off until the swarms pass. If a fish was to accidentally go into the Seabin, it would be caught in the Seabin and stay submerged in water until the marina staff retrieve the filter and throw the fish still alive back into the water.
Water is sucked in from the surface and passes through a catch bag inside the Seabin, with a submersible water pump capable of displacing 25.000 LPH (liters per hour). The water is then pumped back into the marina leaving litter and debris trapped in the catch bag to be disposed of properly.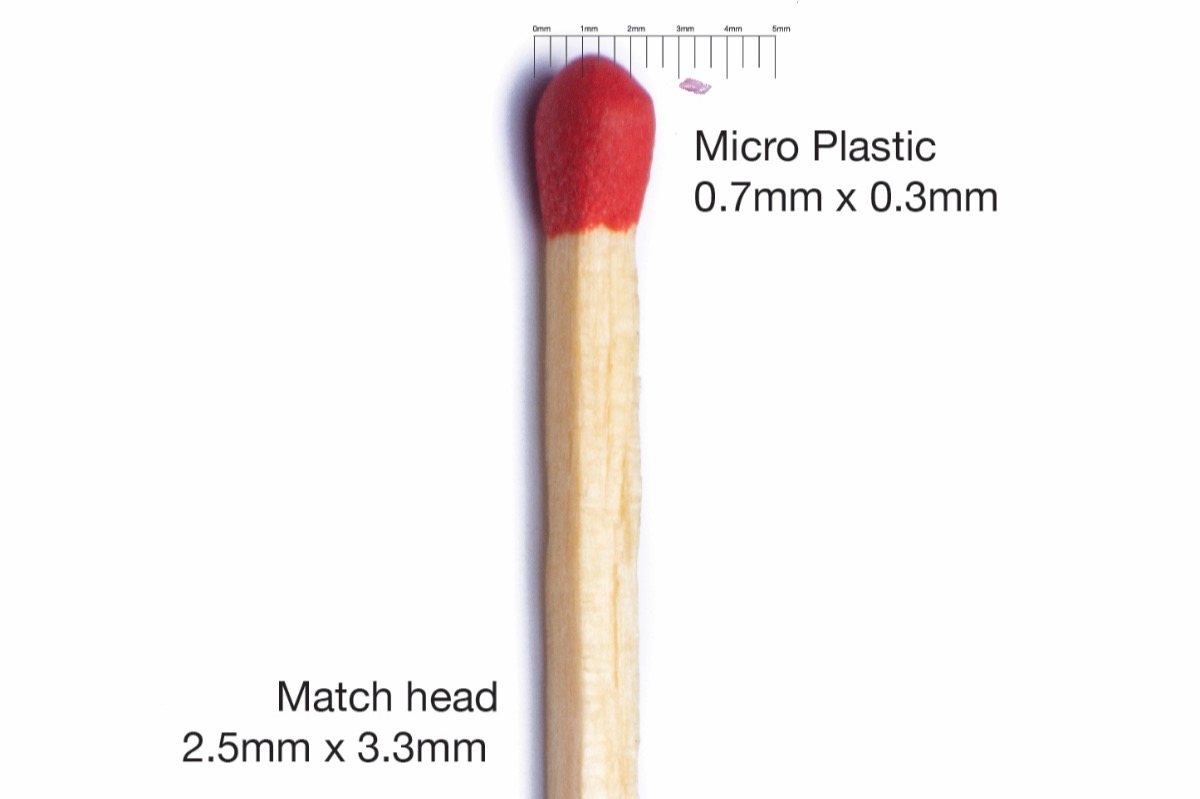 Who is responsible for the Seabin?
This is the best part of it all, the marina will be the one responsible for the upkeep of the Seabins and also they will be paying for the energy consumption of the Seabin which is around $2 - $3 a day.
The marina enjoys a cleaner marina and the rest of us and the marine life enjoy cleaner oceans with less floating debris polluting our oceans!
Seabins part of a whole solution
Seabins whole solution is Technology, Education, Science, Research and Community. The reason for this is that Technology alone is not the solution to stopping ocean plastics, education is the real solution.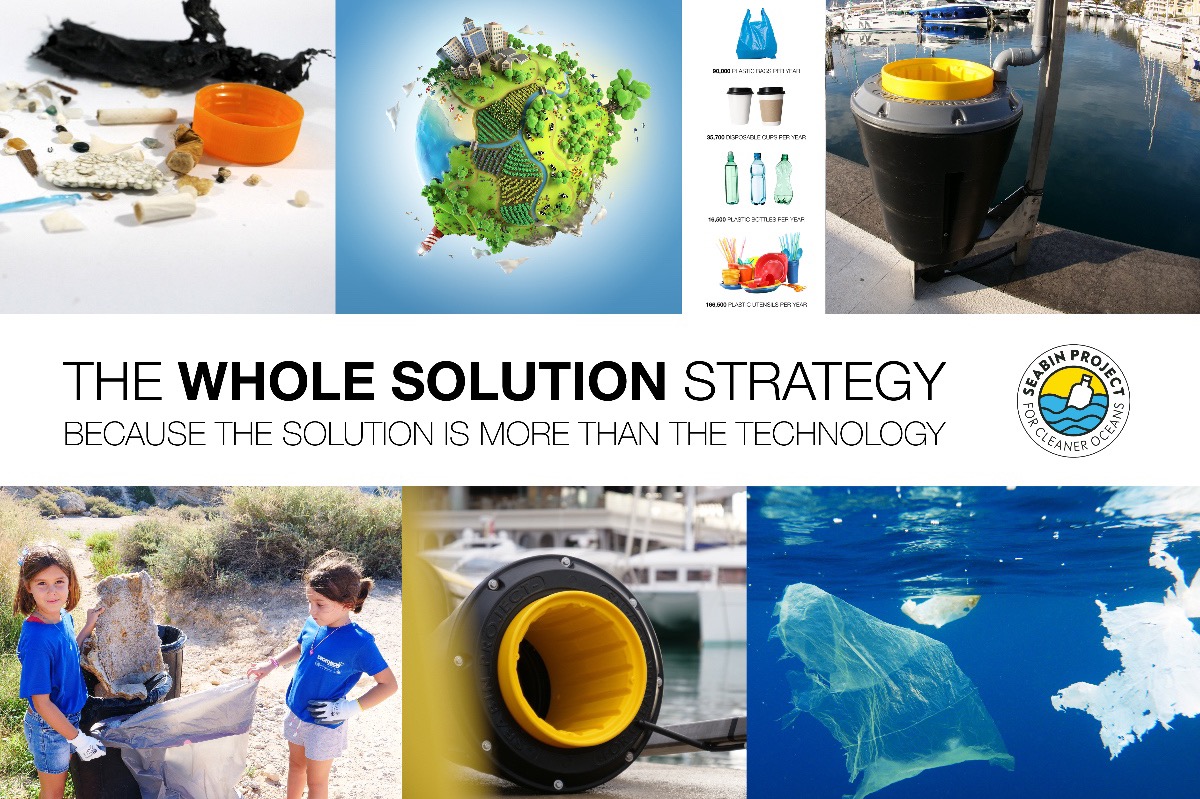 Great! Can our local community be involved also?
Yes! The team at Seabin have interactive programs and lessons designed for schools, community and youth to interact with the Seabins and have over 2000 school students engaged around the world, this is something that we can do locally also with support from the team at Seabin Project.
What will we be doing if we participate in these programs?
You would be joining an international community contributing important data and feedback on ocean plastics to the Seabin central data base. Renowned scientists, universities and environmental agencies are all a part of the programs also.
The lessons range from identifying ocean plastics to data collection of what the Seabins are catching weekly. The data collection is a very easy activity and where we can all see the measurable impact of debris the Seabins are taking out of the water in all weather conditions.
It's as simple as counting how many plastic bags, plastic particles, food wrappers and then noting it down on a spreadsheet or app. Weather conditions and location information is also entered into the data base.
How can you help our campaign and make a difference in the world?
Every contribution to this crowdfunding campaign helps, be it $1 or $50 dollars, it all adds up and bring us closer to our goal.
Even if you cannot afford a donation, please help by sharing this campaign with your friends and family on social media. The more people that know about the campaign the better!
Thanks everyone for taking the time to check out our campaign!
FAQS SHEET
Seabin Project FAQs
Q: Can someone pay out the crowdfunding campaign goal?
A: Yes! We need help! The more money we can raise, the more Seabins we can buy.
Q: Why crowdfund a Seabin?
A: Until now, the Seabins were not for the everyday person to purchase because marinas ports and yacht clubs are the target market for Seabin Group. This is a way where everyday people can give something back to the oceans.
Q: How do Seabins work in tidal areas?
A: Seabins at present are designed for floating docks and pontoons. The Seabins move up and down with the tide on the floating dock.
Q. How are the pumps run?
A. The pumps are currently electric, and around $2-$3 a day to run.
Q: When are the Seabins available?
A: Depending on your countries location, Seabins will be available Feb 2019.
Q: Do any fish get sucked into the Seabins? What about smaller marine life?
A: There is a possibility of fish to enter the Seabins, however in the last 2 years of development, the Seabins have only caught a handful of small bait fish. Most of which have been thrown back into the water alive. The fish simply stay away from the flow of water entering the Seabin and with the current fine tuning of the Seabin, the risk is now minimal.
Q: I don't have any money to donate, how can I help?
A: Don't worry! Your amazing anyways and thanks for even contacting us. We need help to share this project around with any media we can. Social media platforms like Facebook, Instagram, Twitter, websites, bloggers. Also with newspapers, magazines, tv, radio and journalists. Also friends and family!
Green Team Beach Cleans 2018!
The Green Team is back for 2019!
It has been estimated that we will have more plastic than fish in the ocean by 2050...These beach cleans are aimed at reducing the vast amounts of plastic from entering our oceans before they harm marine life.
Anyone and everyone is welcome! If you would like to come along, please bring a bucket, gloves and hat. Kids of all ages are also welcome!
The Green Team is a
Youth-run, volunteer-based environment initiative from Avalon, Sydney. Keeping our area green and clean.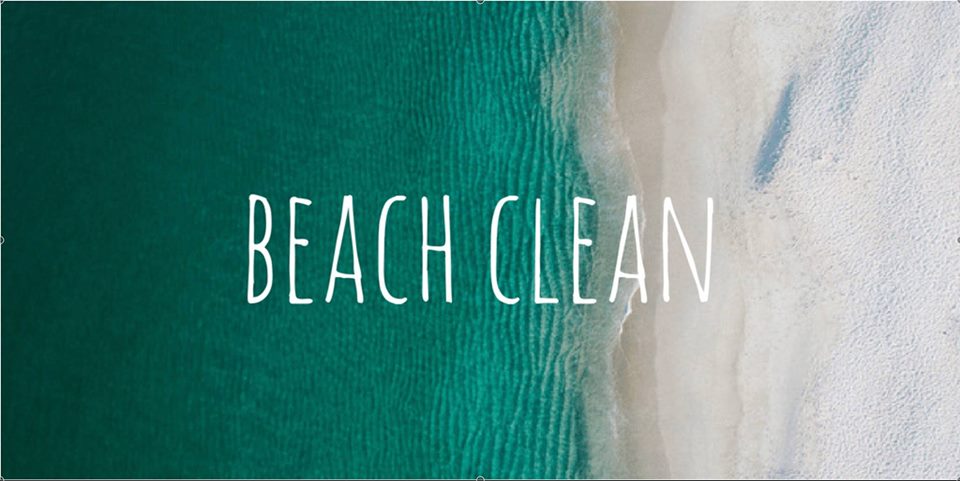 Create a Habitat Stepping Stone!
Over 50 Pittwater households have already pledged to make a difference for our local wildlife, and you can too! Create a habitat stepping stone to help our wildlife out. It's easy - just add a few beautiful habitat elements to your backyard or balcony to create a valuable wildlife-friendly stopover.
How it works
1) Discover: Visit the website below to find dozens of beautiful plants, nest boxes and water elements you can add to your backyard or balcony to help our local wildlife.
2) Pledge: Select three or more elements to add to your place. You can even show you care by choosing to have a bird appear on our online map.
3) Share: Join the Habitat Stepping Stones Facebook community to find out what's happening in the natural world, and share your pics, tips and stories.
What you get
• Enjoy the wonders of nature, right outside your window. • Free and discounted plants for your garden. • A Habitat Stepping Stone plaque for your front fence. • Local wildlife news and tips. • Become part of the Pittwater Habitat Stepping Stones community.
Get the kids involved and excited about helping out! www.HabitatSteppingStones.org.au
No computer? No problem -Just write to the address below and we'll mail you everything you need. Habitat Stepping Stones, Department of Environmental Sciences, Macquarie University NSW 2109. This project is assisted by the NSW Government through its Environmental Trust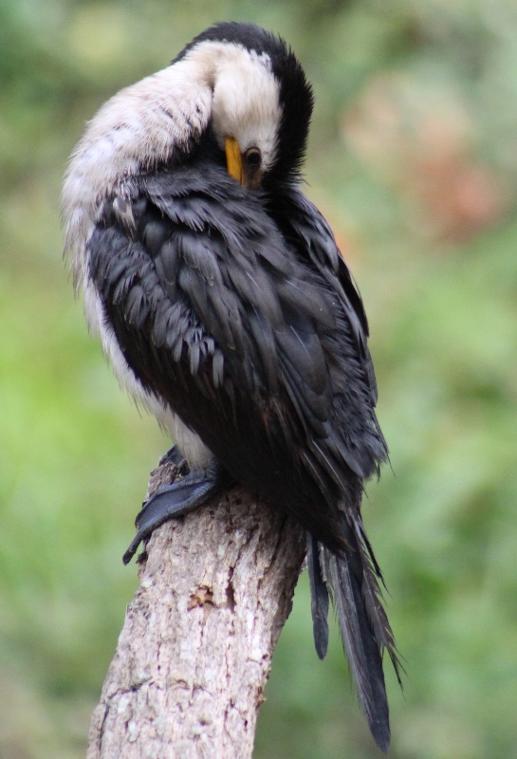 Living Ocean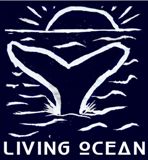 Living Ocean was born in Whale Beach, on the Northern Beaches of Sydney, surrounded by water and set in an area of incredible beauty.
Living Ocean is a charity that promotes the awareness of human impact on the ocean, through research, education, creative activity in the community, and support of others who sustain ocean health and integrity.
And always celebrating and honouring the natural environment and the lifestyle that the ocean offers us.
Our whale research program builds on research that has been conducted off our coastline by our experts over many years and our Centre for Marine Studies enables students and others to become directly involved.
Through partnerships with individuals and organizations, we conceive, create and coordinate campaigns that educate all layers of our community – from our 'No Plastic Please' campaign, which is delivered in partnership with local schools, to film nights and lectures, aimed at the wider community.
Additionally, we raise funds for ocean-oriented conservation groups such as Sea Shepherd.
Donations are tax-deductable
Newport Community Gardens
Anyone interested in joining our community garden group please feel free to come and visit us on
Sunday at 10am at the Woolcott Reserve in Newport!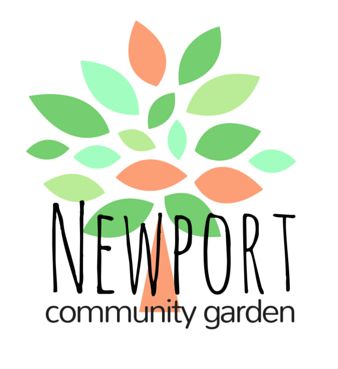 Avalon Preservation Association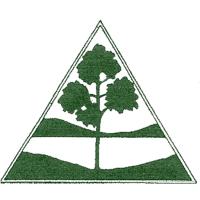 The Avalon Preservation Association, also known as Avalon Preservation Trust. We are a not for profit volunteer community group incorporated under the NSW Associations Act, established 50 years ago. We are committed to protecting your interests – to keeping guard over our natural and built environment throughout the Avalon area.
Membership of the association is open to all those residents and/or ratepayers of Avalon Beach and adjacent areas who support the aims and objectives of our Association.
Permaculture Northern Beaches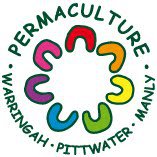 Manly • Warringah • Pittwater | Sydney
Permaculture Northern Beaches (PNB) is an active local group based on Sydney's Northern Beaches. Our parent body is Permaculture Sydney North.
PNB hold monthly permaculture related events on the 4th Thursday of each month at 7:15pm at the Nelson Heather Community Centre, Banksia Room, 5 Jacksons Rd, Warriewood
Report illegal dumping
NSW Government
The RIDonline website lets you report the types of waste being dumped and its GPS location. Photos of the waste can also be added to the report.
The Environment Protection Authority (EPA), councils and Regional Illegal Dumping (RID) squads will use this information to investigate and, if appropriate, issue a fine or clean-up notice. Penalties for illegal dumping can be up to $15,000 and potential jail time for anybody caught illegally dumping within five years of a prior illegal dumping conviction.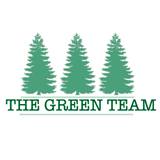 The Green Team
Profile
This Youth-run, volunteer-based environment initiative has been attracting high praise from the founders of Living Ocean as much as other local environment groups recently.
Creating Beach Cleans events, starting their own, sustainability days - 'action speaks louder than words' ethos is at the core of this group.
Avalon Boomerang Bags
Avalon Boomerang Bags was introduced to us by Surfrider Foundation and Living Ocean, they both helped organise with the support of Pittwater Council the Recreational room at Avalon Community Centre which we worked from each Tuesday. This is the Hub of what is a Community initiative to help free Avalon of single use plastic bags and to generally spread the word of the overuse of plastic.
Find out more and get involved.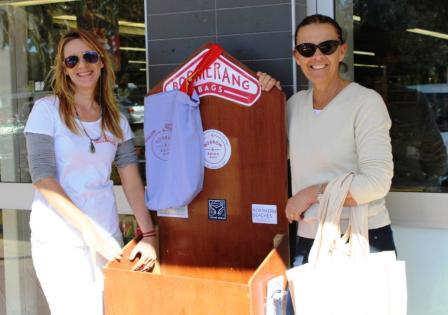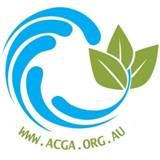 Avalon Community Garden

Community Gardens bring people together and enrich communities. They build a sense of place and shared connection.
Avalon Community Garden is a community led initiative to create accessible food gardens in public places throughout the Pittwater area. Our aim is to share skills and knowledge in creating fabulous local, organic food. But it's not just about great food. We also aim to foster community connection, stimulate creative ideas for community resilience and celebrate our abundance. Open to all ages and skills, our first garden is on the grounds of Barrenjoey High School (off Tasman Road). Become part of this exciting initiative to change the world locally.
Wildlife Carers and Organisations in Pittwater: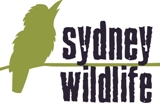 Sydney Wildlife rescues, rehabilitates and releases sick, injured and orphaned native wildlife. From penguins, to possums and parrots, native wildlife of all descriptions passes through the caring hands of Sydney Wildlife rescuers and carers on a daily basis. We provide a genuine 24 hour, 7 day per week emergency advice, rescue and care service.
As well as caring for sick, injured and orphaned native wildlife, Sydney Wildlife is also involved in educating the community about native wildlife and its habitat. We provide educational talks to a wide range of groups and audiences including kindergartens, scouts, guides, a wide range of special interest groups and retirement villages. Talks are tailored to meet the needs and requirements of each group.
Found an injured native animal? We're here to help.
Keep the animal contained, warm, quiet and undisturbed. Do not offer any food or water. Call Sydney Wildlife immediately on 9413 4300, or take the animal to your nearest vet. Generally there is no charge. Find out more at: www.sydneywildlife.org.au

Southern Cross Wildlife Care was launched over 6 years ago. It is the brainchild of Dr Howard Ralph, the founder and chief veterinarian. SCWC was established solely for the purpose of treating injured, sick and orphaned wildlife. No wild creature in need that passes through our doors is ever rejected.
People can assist SCWC by volunteering their skills ie: veterinary; medical; experienced wildlife carers; fundraising; "IT" skills; media; admin; website etc. We are always having to address the issue of finances as we are a non commercial veterinary service for wildlife in need, who obviously don't have cheque books in their pouches. It is a constant concern and struggle of ours when we are pre-occupied with the care and treatment of the escalating amount of wildlife that we have to deal with. Just becoming a member of SCWC for $45 a year would be a great help. Regular monthly donations however small, would be a wonderful gift and we could plan ahead knowing that we had x amount of funds that we could count on. Our small team of volunteers are all unpaid even our amazing vet Howard, so all funds raised go directly towards our precious wildlife. SCWC is TAX DEDUCTIBLE.
Find out more at: southerncrosswildlifecare.org.au/wp/
Pittwater's Environmental Foundation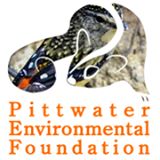 Pittwater Environmental Foundation was established in 2006 to conserve and enhance the natural environment of the Pittwater local government area through the application of tax deductible donations, gifts and bequests. The Directors were appointed by Pittwater Council.
About 33% (about 1600 ha excluding National Parks) of the original pre-European bushland in Pittwater remains in a reasonably natural or undisturbed condition. Of this, only about 400ha remains in public ownership. All remaining natural bushland is subject to encroachment, illegal clearing, weed invasion, feral animals, altered drainage, bushfire hazard reduction requirements and other edge effects. Within Pittwater 38 species of plants or animals are listed as endangered or threatened under the Threatened Species Act. There are two endangered populations (Koala and Squirrel Glider) and eight endangered ecological communities or types of bushland. To visit their site please click on logo above.
Avalon Boomerang Bags 2019
WORKSHOPS are held Tuesdays during the school term
at the Avalon Recreation Centre 11.30 - 3.30pm
Everyone is welcome; come for an hour or come for all 4, we'll even provide a cuppa and guaranteed laughs. Non-sewers also very useful.
Pop in with your excess fabric donations or spare enviro bag donations. We also sell our very handy Boomerang Bag coffee cups, stainless steel drink bottles and other enviro products and of course, our "Bought to Support" bags.
These two koalas lost their mothers to deforestation
I call on you to urgently end the deforestation and land-clearing crisis by making potential koala habitat, threatened species habitat, and other high-conservation-value areas off limits to clearing, and by repealing the land-clearing codes.
I also urge you to invest in a restoration and conservation fund and deliver the world-class mapping, monitoring, and reporting the community expects.
Newport Community Garden: Working Bee Second Sunday of the month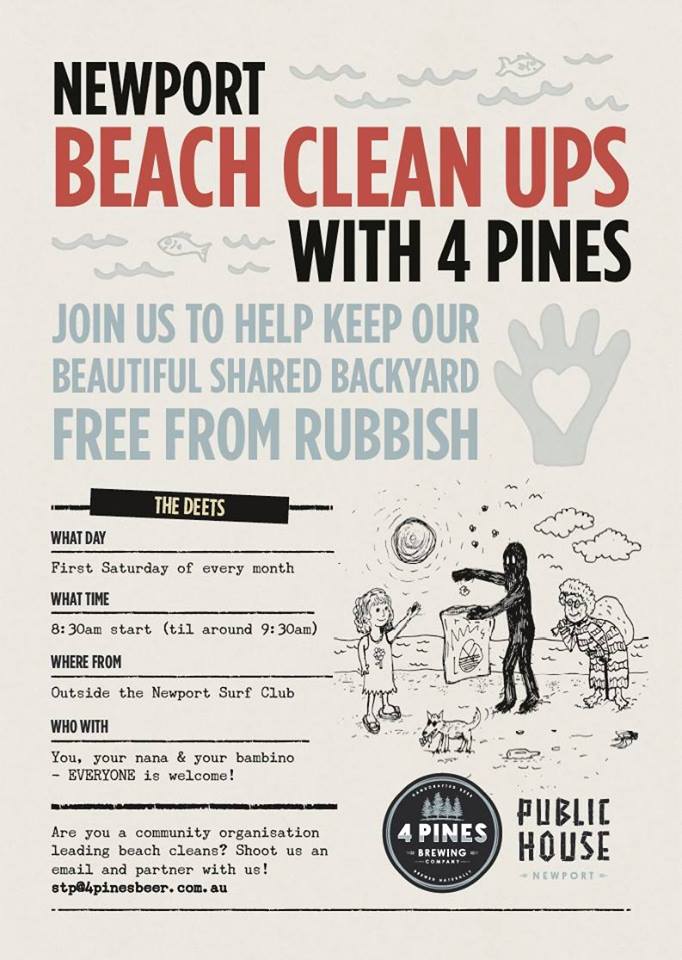 4 Pines Brewery Newport will be providing up-cycled malt bags from the brewery to store the trash and keep it from our shores.
Do you get a beer?
Absolutely! 4 Pines will hand out tokens to participants which will be redeemable for a fresh cold beer back at Public House.
Bushcare in Pittwater
For further information or to confirm the meeting details for below groups, please contact Council's Bushcare Officer on 9970 1367
BUSHCARE SCHEDULES
Where we work Which day What time

Avalon
Angophora Reserve 3rd Sunday 8:30 - 11:30am
Avalon Dunes 1st Sunday 8:30 - 11:30am
Avalon Golf Course 2nd Wednesday 3 - 5:30pm
Careel Creek 4th Saturday 8:30 - 11:30am
Toongari Reserve 3rd Saturday 9 - 12noon (8 - 11am in summer)
Bangalley Headland 2nd Sunday 9 to 12noon

Bayview
Winnererremy Bay 4th Sunday 9 to 12noon

Bilgola
North Bilgola Beach 3rd Monday 9 - 12noon
Algona Reserve 1st Saturday 9 - 12noon
Plateau Park 1st Friday 8:30 - 11:30am

Church Point
Browns Bay Reserve 1st Tuesday 9 - 12noon
McCarrs Creek Reserve Contact Bushcare Officer To be confirmed

Clareville
Old Wharf Reserve 3rd Saturday 8 - 11am

Elanora
Kundibah Reserve 4th Sunday 8:30 - 11:30am

Mona Vale
Mona Vale Beach Basin 1st Saturday 8 - 11am
Mona Vale Dunes 2nd Saturday+3rd Thursday 8:30 - 11:30am

Newport
Bungan Beach 4th Sunday 9 - 12noon
Crescent Reserve 3rd Sunday 9 - 12noon
North Newport Beach 4th Saturday 8:30 - 11:30am
Porter Reserve 2nd Saturday 8 - 11am

North Narrabeen
Irrawong Reserve 2nd Saturday 2 - 5pm

Palm Beach
North Palm Beach Dunes 3rd Saturday 9 - 12noon

Scotland Island
Catherine Park 2nd Sunday 10 - 12:30pm
Elizabeth Park 1st Saturday 9 - 12noon
Pathilda Reserve 3rd Saturday 9 - 12noon

Warriewood
Warriewood Wetlands 1st Sunday 8:30 - 11:30am

Whale Beach
Norma Park 1st Friday 9 - 12noon

Western Foreshores
Coopers Point, Elvina Bay 2nd Sunday 10 - 1pm
Rocky Point, Elvina Bay 1st Monday 9 - 12noon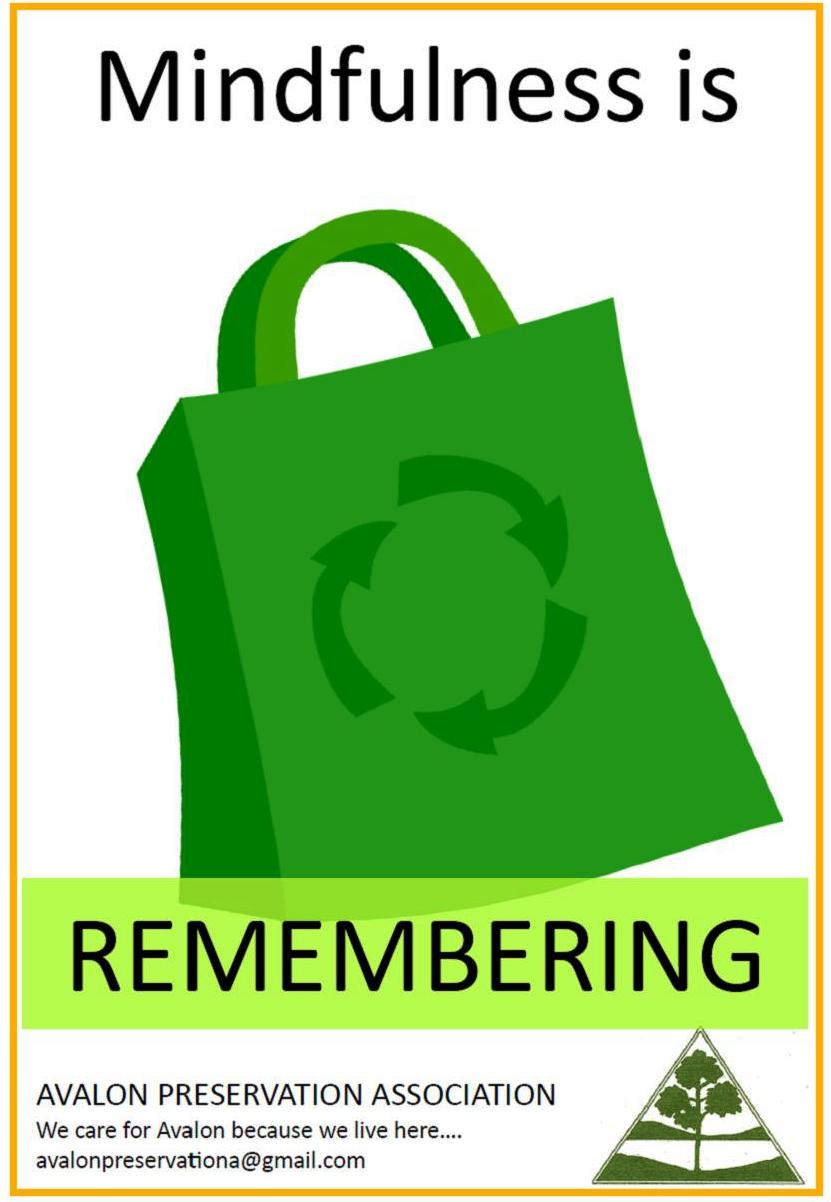 Permaculture Northern Beaches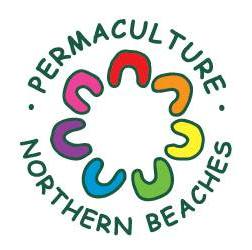 Want to know where your food is coming from?
Do you like to enrich the earth as much as benefit from it?
Find out more here:

What Does PNHA do?
About Pittwater Natural Heritage Association (PNHA)
With urbanisation, there are continuing pressures that threaten the beautiful natural environment of the Pittwater area. Some impacts are immediate and apparent, others are more gradual and less obvious. The Pittwater Natural Heritage Association has been formed to act to protect and preserve the Pittwater areas major and most valuable asset - its natural heritage. PNHA is an incorporated association seeking broad based community membership and support to enable it to have an effective and authoritative voice speaking out for the preservation of Pittwater's natural heritage. Please contact us for further information.
Our Aims
To raise public awareness of the conservation value of the natural heritage of the Pittwater area: its landforms, watercourses, soils and local native vegetation and fauna.




To raise public awareness of the threats to the long-term sustainability of Pittwater's natural heritage.




To foster individual and community responsibility for caring for this natural heritage.




To encourage Council and the NSW Government to adopt and implement policies and works which will conserve, sustain and enhance the natural heritage of Pittwater.



Act to Preserve and Protect!
Email: pnhainfo@gmail.com Or click on Logo to visit website.
Think before you print ; A kilo of recycled paper creates around 1.8 kilograms of carbon emissions, without taking into account the emissions produced from transporting the paper. So, before you send a document to print, think about how many kilograms of carbon emissions you could save by reading it on screen.
Friends Of Narrabeen Lagoon Catchment Activities

Bush Regeneration - Narrabeen Lagoon Catchment
This is a wonderful way to become connected to nature and contribute to the health of the environment. Over the weeks and months you can see positive changes as you give native species a better chance to thrive. Wildlife appreciate the improvement in their habitat.
Belrose area - Thursday mornings
Belrose area - Weekend mornings by arrangement
Contact: Phone or text Conny Harris on 0432 643 295
Wheeler Creek - Wednesday mornings 9-11am
Contact: Phone or text Judith Bennett on 0402 974 105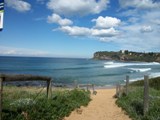 "I bind myself today to the power of Heaven, the light of the sun, the brightness of the moon, the splendour of fire, the flashing of lightning, the swiftness of wind, the depth of the sea, the stability of the earth, the compactness of rocks." - from the Prayer of Saint Patrick