January 17 - 23, 2021: Issue 479
Time of Burran
Gadalung Marool (hot and dry) January - March
The behaviour of the male kangaroos becomes quite aggressive in this season, and it is a sign that the eating of meat is forbidden during this time. This is a health factor; because of the heat of the day meat does not keep, and the likelihood of food poisoning is apparent. The blooming of the Weetjellan (Acacia implexa) is an important sign that fires must not be lit unless they are well away from bushland and on sand only, and that there will be violent storms and heavy rain, so camping near creeks and rivers is not recommended.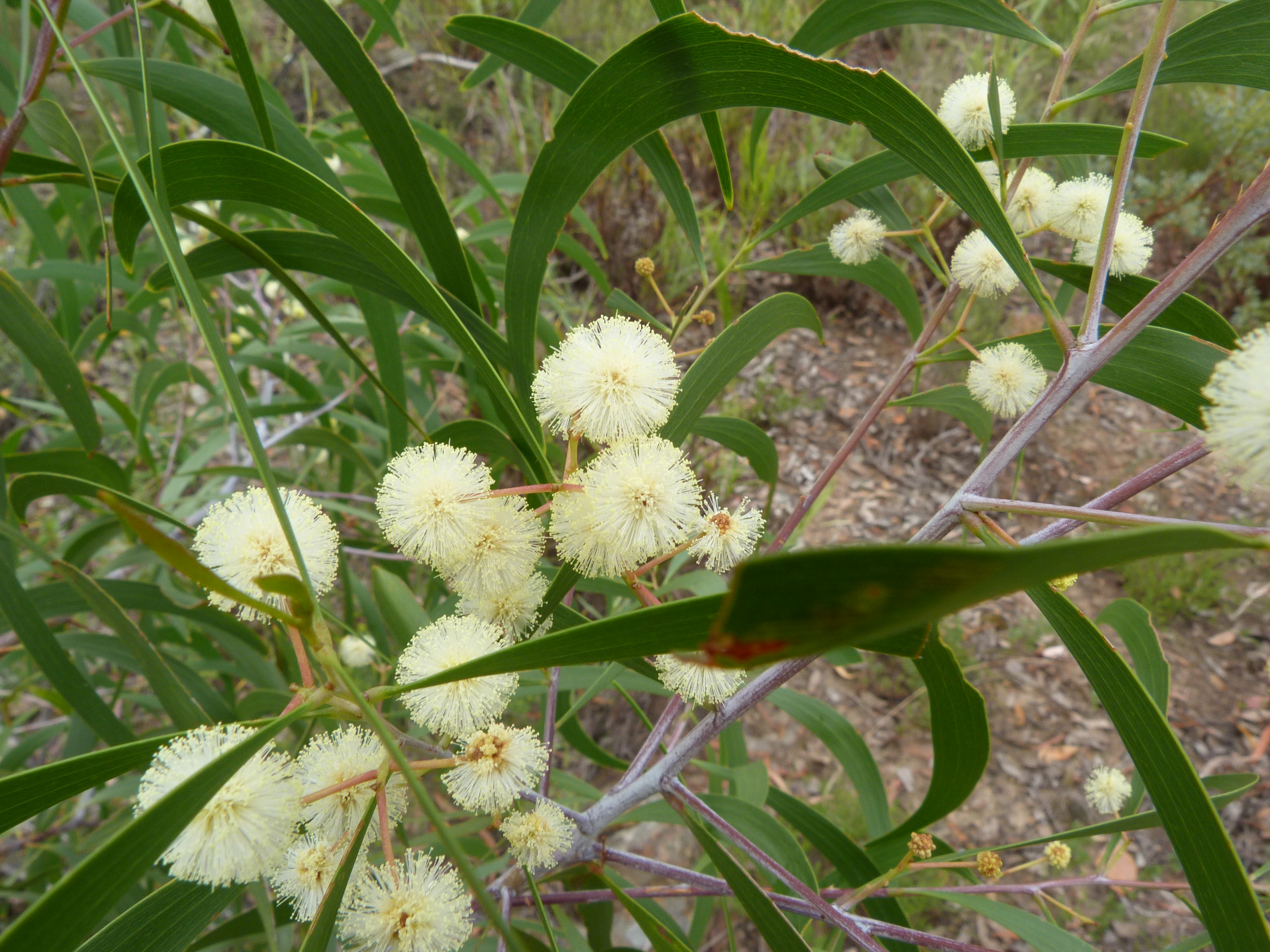 Acacia implexa, commonly known as lightwood or hickory wattle, is a fast-growing Australian tree, the timber of which was used for furniture making. The wood is prized for its finish and strength. The foliage was used to make pulp and dye cloth. The Ngunnawal people of the ACT used the bark to make rope, string, medicine and for fish poison, the timber for tools, and the seeds to make flour.
It is widespread in eastern Australia from central coastal Queensland to southern Victoria, with outlying populations on the Atherton Tableland in northern Queensland and Tasmania's King Island. The tree is commonly found on fertile plains and in hilly country it is usually part of open forest communities and grows in shallow drier sandy and clay soils.
Acacia implexa flowers - photo by Donald Hobern.
Coastal Environment Centre turns 30 in 2021
Narrabeen's Coastal Environment Centre will reach 30 years of service to the community later this year. The CEC was officially opened on December 13th 1991 by the then Premier Nick Greiner and the then Mayor of Warringah, Councillor Brian Green. The Centre passed to the newly constituted Pittwater Council with the secession from Warringah and grew to become Pittwater's environmental flagship and a highly regarded regional community environmental education centre with a string of awards to its credit.
In 2012 Pittwater Council's award-winning Coastal Ambassadors program was extended along the entire NSW coast, thanks to financial support from the NSW Environmental Trust. The Coastal Ambassadors program was started by the Council's Coastal Environment Centre in 2005. Every year since then, the program has trained volunteers from surf clubs and other community groups to become 'ambassadors' for the local marine environment.
Typically, Coastal Ambassadors receive up to 6 weeks training in environmental education on coastal issues, which they then use to teach other volunteers, schoolchildren and visitors about the importance of looking after the coastline.
Since its inception in 2005 the CEC has trained hundreds of Coastal Ambassadors and the program has the backing and support of Surf Life Saving Sydney Northern Beaches, community groups such as Eco Divers and the Surfrider Foundation and the NSW Environmental Trust. One example of the program's success is that many of Sydney's northern beaches surf clubs have now undertaken energy audits and measures to improve their club's sustainability targets.
The CEC also hosts a wide range of initiatives and groups, such as Youth Leading the Way program introduced by OzGreen or hosts local forums, such as those made available by the Friends of Narrabeen Lagoon Catchment (FoNLC).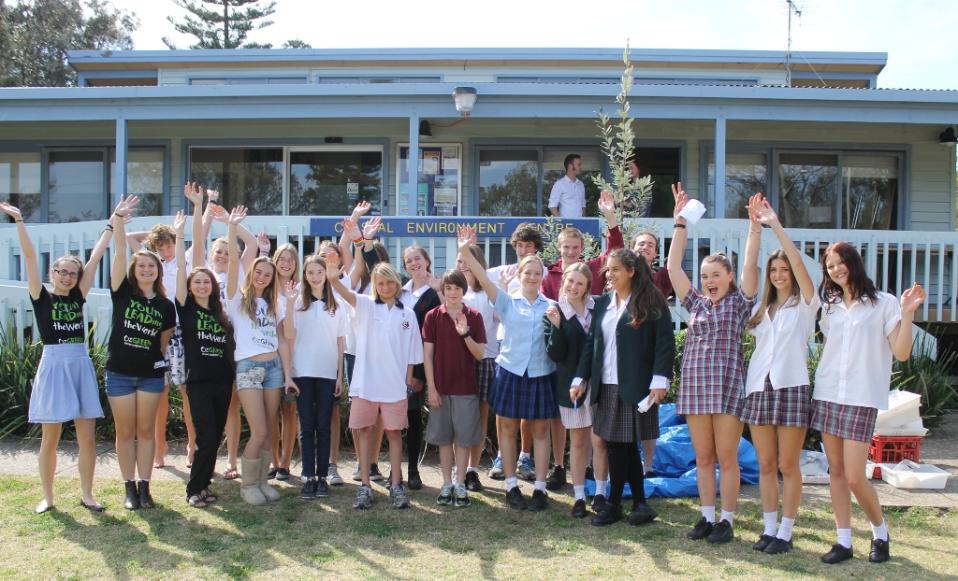 YLTW Program at CEC in 2013 - A J Guesdon photo
Council also presents and offers a wide range of programs and events annually for all ages - the Narrabeen Rockshelf platform walk and talk in the Narrabeen Aquatic Reserve is just one brilliant offering to connect the next generation with their environmental inheritance. Well worth keeping an eye out for, these educational walks and talks are for all ages and interests.
You find out more and keep up to date as we approach that 30th milestone later this year by visiting: environment/coastal-environment-centre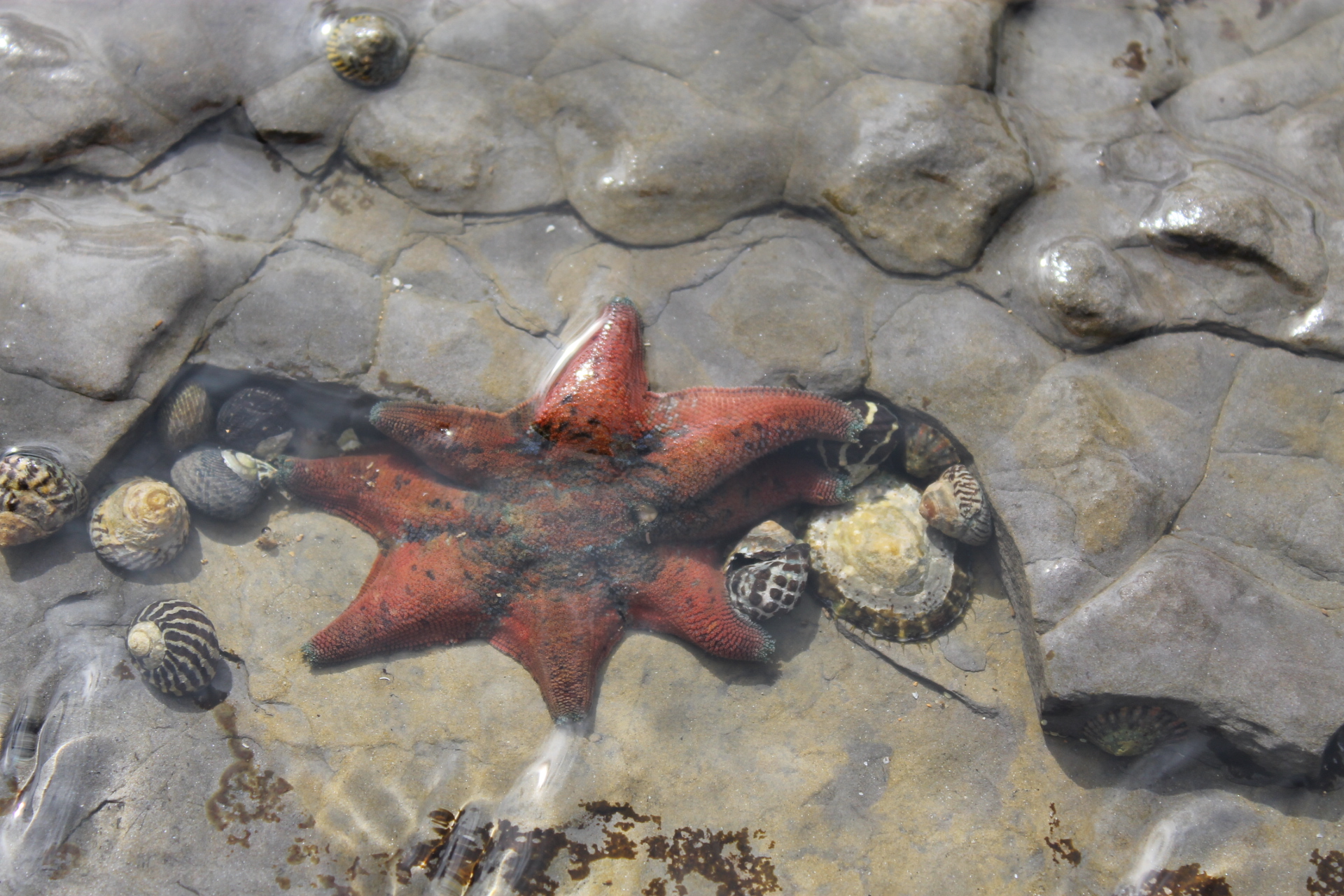 One of the many colourful wonders to be seen on North Narrabeen's Rock platform - A J Guesdon photo.
Numb ray (Hypnos monopterygius) In Pittwater at present
Residents report large numbers of Hypnos monopterygius, also known as the coffin ray or Australian numbray, are in the Pittwater estuary at present. This sluggish and nocturnal coffin ray frequents sandy or muddy habitats, where it can bury itself during daytime. It can produce a powerful electric shock reaching 200 volts for attack and defense.
The unusual pear-like shape of the coffin ray distinguishes it from all other rays. Its body is flabby, with two large, kidney-shaped electric organs visible on both sides of the head. The pectoral fins form a greatly enlarged disc about as wide as long, that is thick at the centre and thin at the margins. The leading margin of the disc is straight to gently concave. The eyes are minute and can be elevated on short stalks.
There are also sightings of stingrays (with barbs) being present. The number of stingray incidents in New South Wales is the second highest form of injury caused by marine life in the state, closely behind bluebottle stings, according to figures by NSW Ambulance.
These too are seen in calmer waters. Lacerations on feet and lower legs are the predominant injuries caused by stingrays with barbs, although cases of poisoning from being stung can also occur. There are toxins on those barbs and often pieces of barb can be left behind. Please seek medical advice if you have been stung by a stingray.
Hot water inactivates the toxins "which are usually painful and irritating but rarely cause serious complications". Ice packs can be used for pain relief if hot water is unavailable.
How to treat stingray wounds
Get yourself out of the water and somewhere safe.
Place the injured area in hot water, not scalding, for about 20 minutes.
Control any bleeding.
If the barb is imbedded, do not remove it.
Seek medical treatment either with a doctor or emergency department.
Ref: https://aci.health.nsw.gov.au/.../ndec/marine-stings-nmg
Numbray in Sydney - Photo by and courtesy Sylke Rohrlach
Ross River Fever In Pittwater: What You Can Do To Beat Those Mosquitoes
Recent damp and humid weather is bringing out the mozzies, LOTS of mozzies - a reminder that Ross River Fever and Barmah Forest virus are now in our area and there are a few tips you can follow to keep you and your family safe:
1. It is important that if you're spending a lot of time outdoors in these areas, especially close to wetlands and bush land areas at dawn and dusk when mosquitoes are most active, that you take action to reduce the risk of being bitten. Cover up with long sleeved shirts and long pants and apply an insect repellent. Choose a repellent that contains either DEET (diethlytoluamide), picaridin, or oil of lemon eucalyptus. Apply it to all exposed skin to ensure there is a thin even coat – a dab "here and there" doesn't provide adequate protection.
2. You can also reduce the incidences of mosquitoes breeding by removing any shallow dishes of water or, if you have these out to feed wildlife and birds, regularly change the water so the stagnant water climate for them to breed is removed. Outbreaks can occur when local conditions of rainfall, tides and temperature promote mosquito breeding, so if we have rain followed by a warm day, check any receptacles in your garden and make sure they are emptied of water.
3. It is also a good idea to ensure you're not being bitten while asleep - repair any flyscreens that are damaged, or install them where absent. There are also a range of plants you can incorporate into your garden that repel mosquitoes and attract mosquito eating insects, such as dragonflies, or birds, possums, frogs and bats that will also reduce their numbers by eating them.
4. Similarly, if you're out and about in our wetland areas not chasing off or disturbing the wildlife that lives there, such as turtles or ducks, with ducklings just a few days old known to eat mosquitoes, will help. They eat them - we need this wildlife.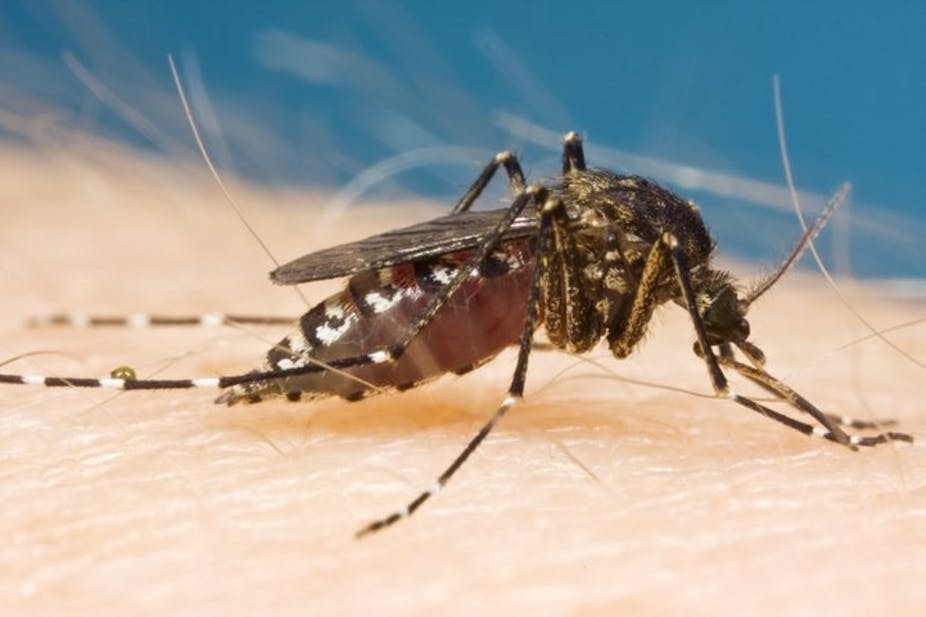 The saltmarsh mosquito, Aedes vigilax, transmits Ross River virus in many coastal regions of Australia. Photo: Mr Stephen Doggett (Medical Entomology, Pathology West - ICPMR Westmead)
Kookaburra fledgling feed-time: 2 new babies this year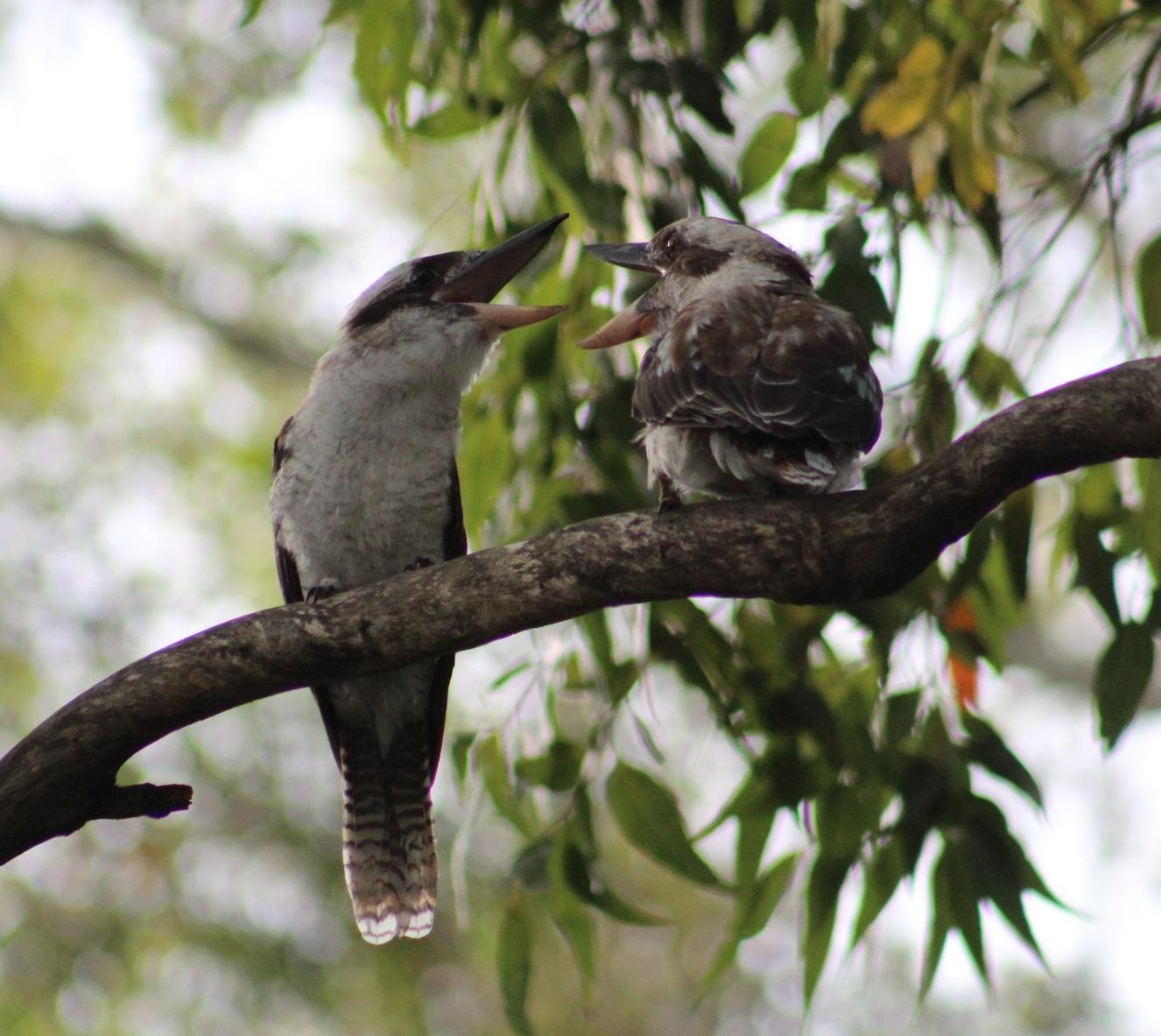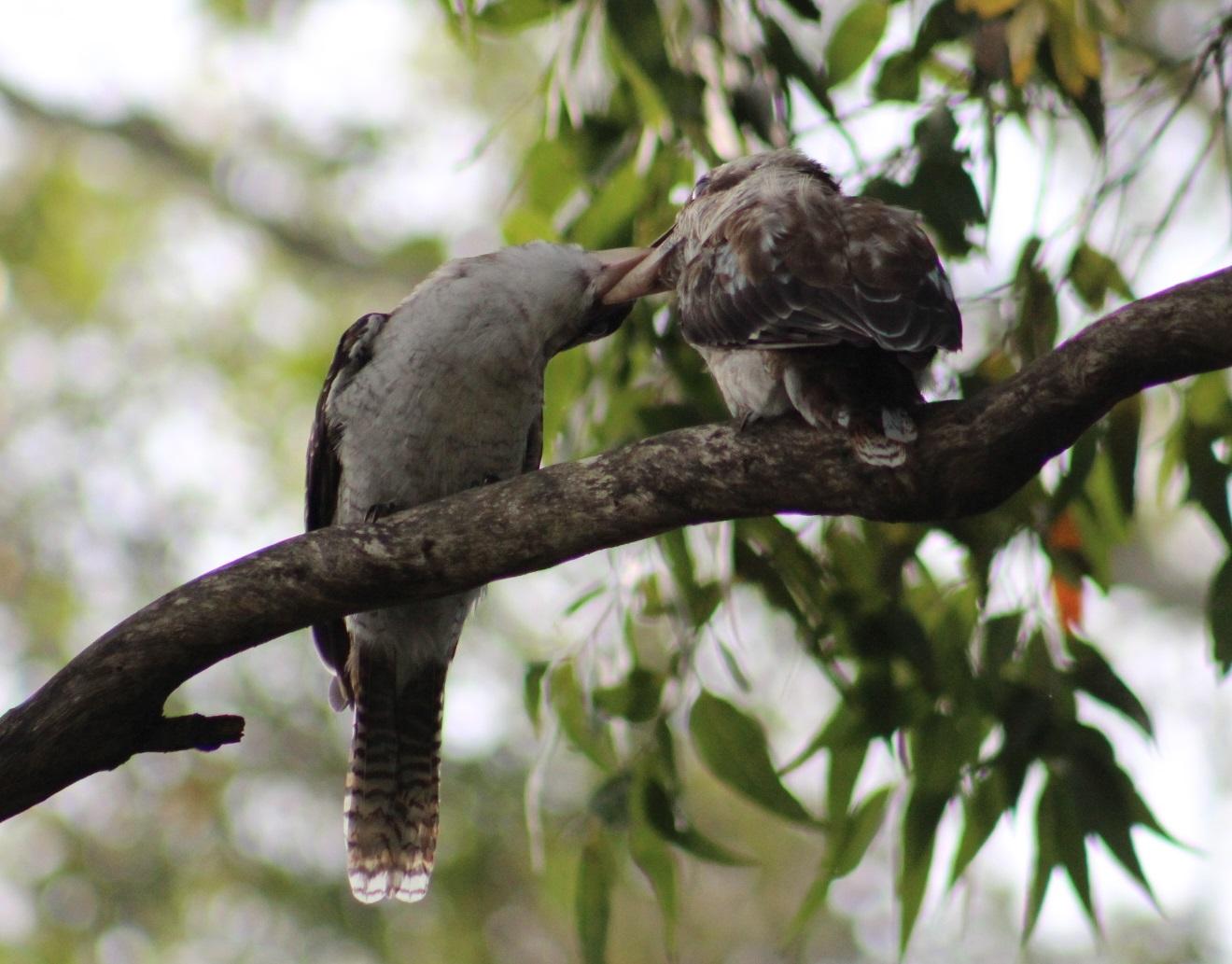 Careel Bay, January 15, 2020. Photos by A J Guesdon.
Upcoming activities for Friends of Narrabeen Lagoon Catchment:

Sun 21 February 2021: 7.30 am Walk & Weed along the Narrabeen Lagoon catchment transverse walk.
Start at Oxford Falls walk for 3 1/2 hours, weed for 30min, continue 30min walk and car pool back to start.
Bring gloves and long handled screwdriver if available.
Walk grade: medium.
Bookings essential. Conny 0432 643 295
https://www.narrabeenlagoon.org.au/
Friends of Narrabeen Lagoon Catchment are pleased to announce the next forum will be held on 22 Feb 2021 at 7 pm .
Presenter: Jayden Walsh
Jayden is a keen observer of nature and has some stunning photographs and information to share.
The focus will be on wildlife that lives near the Narrabeen Lagoon and that, if you are fortunate, you may see when on the Narrabeen Lagoon walkway.
For details on how to book for this event are on the website. At: https://www.narrabeenlagoon.org.au/Forums/forums.htm
Narrabeen Beach & Lagoon Clean Up 2021
Narrabeen Beach and Lagoon
Sunday, 26 January 2020 from 10:00am
Price: free · Duration: 2 hr 15 min
Our clean ups are always the last Sunday of every month at 10am and our next clean up is in Narrabeen. Please see the map for meeting point. All welcome to this family friendly event! (We just ask you to leave your political messages at home) The more the merrier. We start on time and clean for about an hour and then we count all the rubbish and submit the data to a marine debris research data base. We have gloves, bags and buckets. Do a good deed for the planet and make new friends at the same time. No need to bring anything but a smile!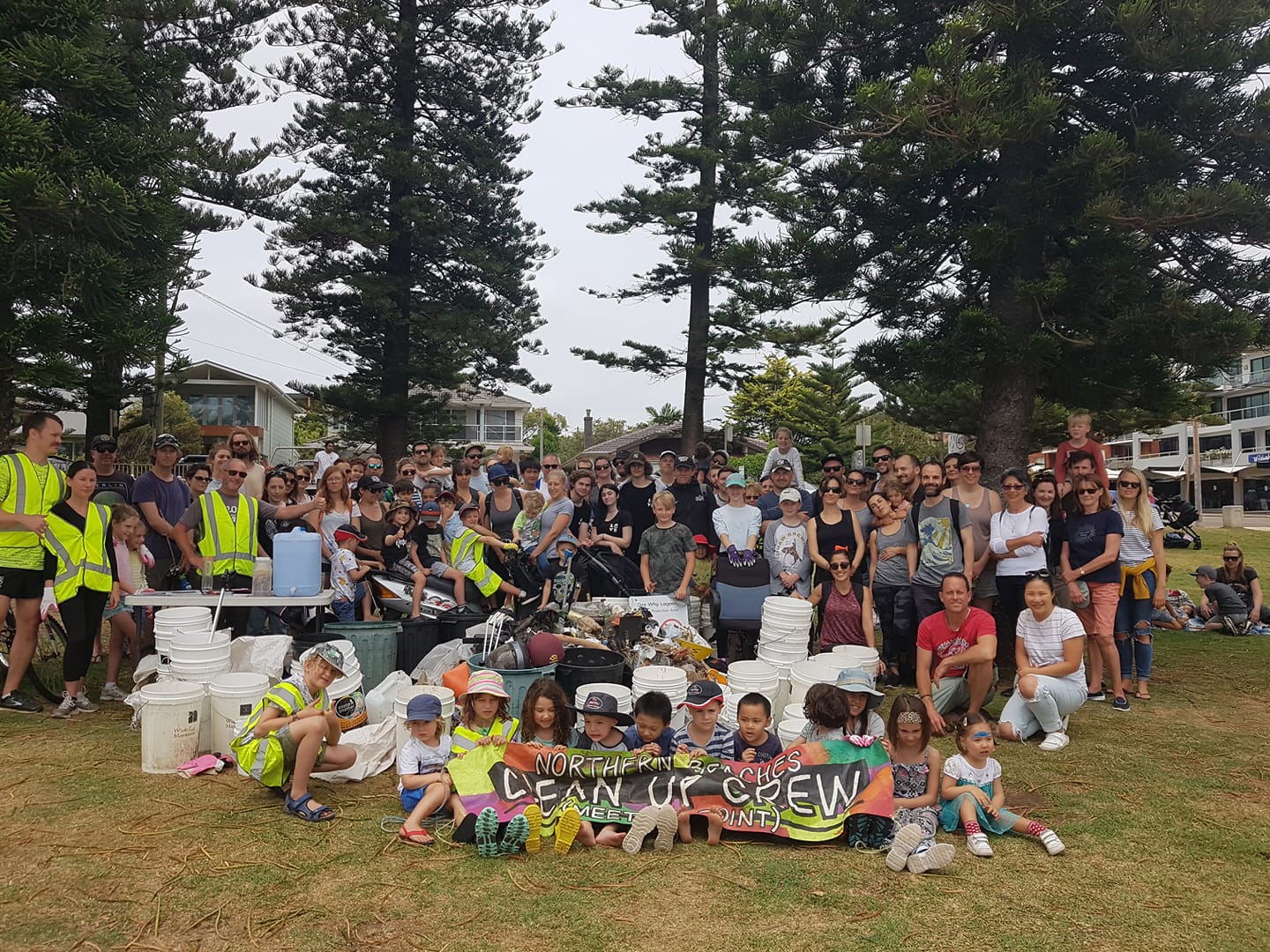 Bushcare in Pittwater
For further information or to confirm the meeting details for below groups, please contact Council's Bushcare Officer on 9970 1367
BUSHCARE SCHEDULES
Where we work Which day What time
Avalon
Angophora Reserve 3rd Sunday 8:30 - 11:30am
Avalon Dunes 1st Sunday 8:30 - 11:30am
Avalon Golf Course 2nd Wednesday 3 - 5:30pm
Careel Creek 4th Saturday 8:30 - 11:30am
Toongari Reserve 3rd Saturday 9 - 12noon (8 - 11am in summer)
Bangalley Headland 2nd Sunday 9 to 12noon
Bayview
Winnererremy Bay 4th Sunday 9 to 12noon
Bilgola
North Bilgola Beach 3rd Monday 9 - 12noon
Algona Reserve 1st Saturday 9 - 12noon
Plateau Park 1st Friday 8:30 - 11:30am
Church Point
Browns Bay Reserve 1st Tuesday 9 - 12noon
McCarrs Creek Reserve Contact Bushcare Officer To be confirmed
Clareville
Old Wharf Reserve 3rd Saturday 8 - 11am
Elanora
Kundibah Reserve 4th Sunday 8:30 - 11:30am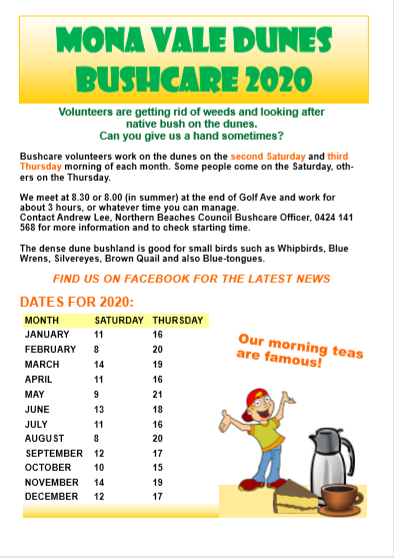 Mona Vale
Mona Vale Beach Basin 1st Saturday 8 - 11am
Mona Vale Dunes 2nd Saturday +3rd Thursday 8:30 - 11:30am
Newport
Bungan Beach 4th Sunday 9 - 12noon
Crescent Reserve 3rd Sunday 9 - 12noon
North Newport Beach 4th Saturday 8:30 - 11:30am
Porter Reserve 2nd Saturday 8 - 11am
North Narrabeen
Irrawong Reserve 2nd Saturday 2 - 5pm
Palm Beach
North Palm Beach Dunes 3rd Saturday 9 - 12noon
Scotland Island
Catherine Park 2nd Sunday 10 - 12:30pm
Elizabeth Park 1st Saturday 9 - 12noon
Pathilda Reserve 3rd Saturday 9 - 12noon
Warriewood
Warriewood Wetlands 1st Sunday 8:30 - 11:30am
Whale Beach
Norma Park 1st Friday 9 - 12noon
Western Foreshores
Coopers Point, Elvina Bay 2nd Sunday 10 - 1pm
Rocky Point, Elvina Bay 1st Monday 9 - 12noon


Gardens and Environment Groups and Organisations in Pittwater
NSW Government response to Independent Panel's first flush recommendations
December 22, 2020
The NSW Government agrees in principle to all but one of the 10 Independent Panel's recommendations into the management of the 2020 Northern Murray-Darling Basin first flush event.
Minister for Water, Property and Housing Melinda Pavey said the independent assessment was done to provide key findings to help inform methods of future assessment as well as the future management of flows.
"In February, heavy rain fell over the northern basin and, for the first time in NSW's history, DPIE – water placed an embargo on floodplain harvesting being 'actively' diverted to protect a first flush of water through to the Lower Darling," Mrs Pavey said.
"The assessment was undertaken to provide clarity as to what we can do better in the same scenario. Many of the proposed actions identified by the panel are closely aligned with, or are already being implemented through, existing projects.
"Several will require further exploration with the community and timeframes will need to be extended accordingly."
The Panel found the event was managed effectively resulting in good outcomes, but better transparency, including communication would have reduced community concerns.
"The Panel's recommendations primarily relate to improving transparency and communication – these principles are consistent with several key initiatives already underway," Mrs Pavey said.
"These include the State Water Strategy, regional water strategies, Aboriginal Water Strategy, review of north-west flow targets, remake of the Barwon-Darling Water Sharing Plan, and the Western Weirs project."
The full NSW Government response is available on the department's website: Northern Basin First Flush Assessment.
Amended Barwon-Darling Water Sharing Plan improving connectivity
January 12, 2021
Under the Water Sharing Plan for the Barwon-Darling, the Resumption of Flows Rule will be activated on 12 January 2021 for the first time.
Minister for Water, Property and Housing Melinda Pavey said this milestone is a great example of NSW leading the way in achieving a proper balance between social, economic, environmental and cultural water management.
"The NSW Government is implementing some of the most significant reforms in a generation to improve water management across the State," Mrs Pavey said.
"Active management protects environmental water in the river system by changing how flows are managed, and when licence holders can and cannot access water from the river. This will reduce the need for temporary water restrictions to protect environmental flows.
The Resumption of Flows Rule was incorporated into the Barwon-Darling Unregulated Water Sharing Plan in July 2020, and requires holders of A, B and C class licences not to pump when flows resume along the river after a prolonged dry period.
"We need these new environmental water rules because the old access rules for licence holders did not differentiate between flows from rainfall and releases that benefit the environment," Mrs Pavey said.
The first flow of water after a dry period can trigger significant social, cultural and environmental outcomes. These flows maintain and connect vital refuge pools for fish and other water dependent biota, improve water quality, and replenish town water supplies.
Prior to the new rules, licence holders could pump when the commence-to-pump threshold was reached, even if part of the flow was released to benefit the environment. This meant held environmental water could be extracted, and may not have benefitted the environment the way it is intended to.
In some cases its removal from the system prevented flows from passing downstream to replenish the lower reaches of the river and towns such as Wilcannia.
"Including these reforms in the NSW Water Sharing Plans ensures they are enduring and certain," Mrs Pavey said.
The resumption of flow rule will be triggered due to the flow at Wilcannia being below 200ML/day for 90 days.
Pumping can resume in line with existing access announcements once there is a forecast for river flow at Wilcannia of 400 ML/day for a minimum of 10 days, or a forecast of a cumulative flow to pass Bourke of 30,000 megalitres.
Information confirming the status of the Resumption of Flows Rule will be available on the WaterNSW water insights portal.
Visit the resumption of flow rule (PDF 340.1 KB) in the Barwon-Darling water sharing plan for more information.
Shorebird Identification Booklet
The Migratory Shorebird Program has just released the third edition of its hugely popular Shorebird Identification Booklet. The team has thoroughly revised and updated this pocket-sized companion for all shorebird counters and interested birders, with lots of useful information on our most common shorebirds, key identification features, sighting distribution maps and short articles on some of BirdLife's shorebird activities.
The booklet can be downloaded here in PDF file format: http://www.birdlife.org.au/documents/Shorebird_ID_Booklet_V3.pdf
Paper copies can be ordered as well, see http://www.birdlife.org.au/projects/shorebirds-2020/counter-resources for details.
Download BirdLife Australia's children's education kit to help them learn more about our wading birdlife
Shorebirds are a group of wading birds that can be found feeding on swamps, tidal mudflats, estuaries, beaches and open country. For many people, shorebirds are just those brown birds feeding a long way out on the mud but they are actually a remarkably diverse collection of birds including stilts, sandpipers, snipe, curlews, godwits, plovers and oystercatchers. Each species is superbly adapted to suit its preferred habitat. The Red-necked Stint is as small as a sparrow, with relatively short legs and bill that it pecks food from the surface of the mud with, whereas the Eastern Curlew is over two feet long with a exceptionally long legs and a massively curved beak that it thrusts deep down into the mud to pull out crabs, worms and other creatures hidden below the surface.
Some shorebirds are fairly drab in plumage, especially when they are visiting Australia in their non-breeding season, but when they migrate to their Arctic nesting grounds, they develop a vibrant flush of bright colours to attract a mate. We have 37 types of shorebirds that annually migrate to Australia on some of the most lengthy and arduous journeys in the animal kingdom, but there are also 18 shorebirds that call Australia home all year round.
What all our shorebirds have in common—be they large or small, seasoned traveller or homebody, brightly coloured or in muted tones—is that each species needs adequate safe areas where they can successfully feed and breed.
The National Shorebird Monitoring Program is managed and supported by BirdLife Australia.

This project is supported by Glenelg Hopkins Catchment Management Authority and Hunter Local Land Services through funding from the Australian Government's National Landcare Program. Funding from Helen Macpherson Smith Trust and Port Phillip Bay Fund is acknowledged.
The National Shorebird Monitoring Program is made possible with the help of over 1,600 volunteers working in coastal and inland habitats all over Australia.
The National Shorebird Monitoring program (started as the Shorebirds 2020 project initiated to re-invigorate monitoring around Australia) is raising awareness of how incredible shorebirds are, and actively engaging the community to participate in gathering information needed to conserve shorebirds.
In the short term, the destruction of tidal ecosystems will need to be stopped, and our program is designed to strengthen the case for protecting these important habitats.
In the long term, there will be a need to mitigate against the likely effects of climate change on a species that travels across the entire range of latitudes where impacts are likely.
The identification and protection of critical areas for shorebirds will need to continue in order to guard against the potential threats associated with habitats in close proximity to nearly half the human population.
Here in Australia, the place where these birds grow up and spend most of their lives, continued monitoring is necessary to inform the best management practice to maintain shorebird populations.
BirdLife Australia believe that we can help secure a brighter future for these remarkable birds by educating stakeholders, gathering information on how and why shorebird populations are changing, and working to grow the community of people who care about shorebirds.

To find out more visit: http://www.birdlife.org.au/projects/shorebirds-2020/shorebirds-2020-program
Aussie Bread Tags Collection Points
Collecting bread tags enables us to provide wheelchairs that change the life of disabled people in need, as well as keeping the tags out of landfill to help to preserve the environment.
Bread Tags for Wheelchairs was started in South Africa in 2006 by Mary Honeybun. It is a community program where individuals and organisations collect bread tags, which are sold to recyclers. The money raised pays for wheelchairs for the less fortunate which are purchased through a local pharmacy. Currently about 500kg of bread tags are collected a month in South Africa, funding 2-3 wheelchairs.
We have been collecting bread tags nationally in Australia since September 2018 and now have more than 100 collection points across the country. In February 2019 we started local recycling through Transmutation - Reduce, Reuse and Recycle in Robe, SA, where our tags are recycled into products such as door knobs and bowls. Tags from some states are still sent to South Africa where a plastics company called Zibo recycles them into seedling trays.
These humble bits of polystyrene can make a real difference so get your friends, family, school, workplace and church involved. Ask school tuck shops and boarding school kitchens, child care centres, aged care facilities, hospitals, cafes and fast food outlets to collect for you - they get through a lot of bread!
All the information and signage for collecting or setting up a public collection point is
on our website
.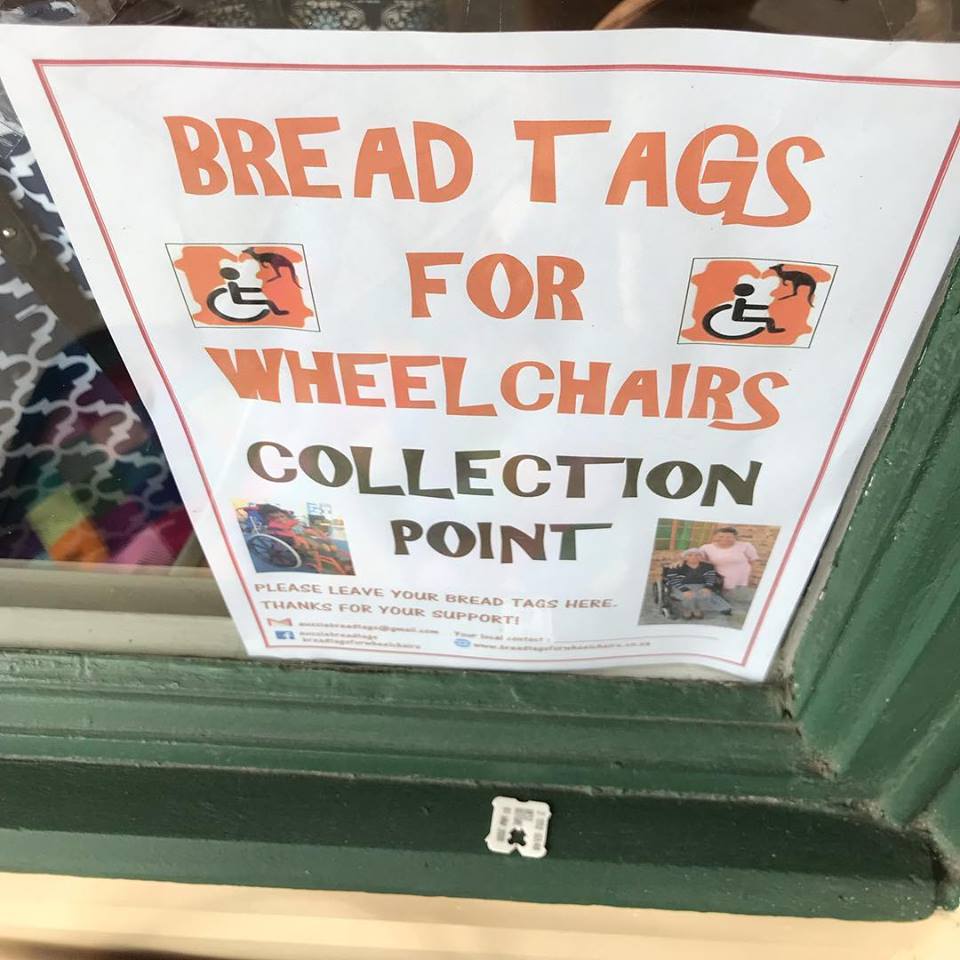 Green Team Beach Cleans
It has been estimated that we will have more plastic than fish in the ocean by 2050...These beach cleans are aimed at reducing the vast amounts of plastic from entering our oceans before they harm marine life.
Anyone and everyone is welcome! If you would like to come along, please bring a bucket, gloves and hat. Kids of all ages are also welcome!
The Green Team is a
Youth-run, volunteer-based environment initiative from Avalon, Sydney. Keeping our area green and clean.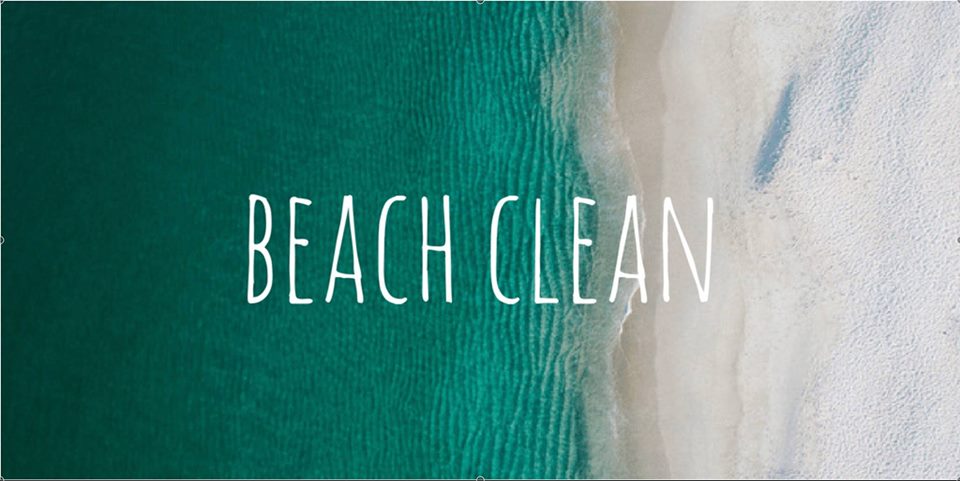 Create a Habitat Stepping Stone!
Over 50 Pittwater households have already pledged to make a difference for our local wildlife, and you can too! Create a habitat stepping stone to help our wildlife out. It's easy - just add a few beautiful habitat elements to your backyard or balcony to create a valuable wildlife-friendly stopover.
How it works
1) Discover: Visit the website below to find dozens of beautiful plants, nest boxes and water elements you can add to your backyard or balcony to help our local wildlife.
2) Pledge: Select three or more elements to add to your place. You can even show you care by choosing to have a bird appear on our online map.
3) Share: Join the Habitat Stepping Stones Facebook community to find out what's happening in the natural world, and share your pics, tips and stories.
What you get
• Enjoy the wonders of nature, right outside your window. • Free and discounted plants for your garden. • A Habitat Stepping Stone plaque for your front fence. • Local wildlife news and tips. • Become part of the Pittwater Habitat Stepping Stones community.
Get the kids involved and excited about helping out! www.HabitatSteppingStones.org.au
No computer? No problem -Just write to the address below and we'll mail you everything you need. Habitat Stepping Stones, Department of Environmental Sciences, Macquarie University NSW 2109. This project is assisted by the NSW Government through its Environmental Trust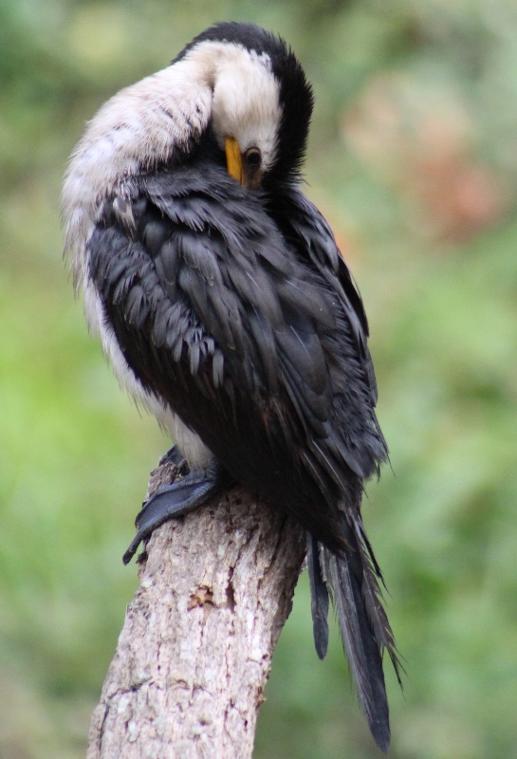 Newport Community Gardens
Anyone interested in joining our community garden group please feel free to come and visit us on
Sunday at 10am at the Woolcott Reserve in Newport!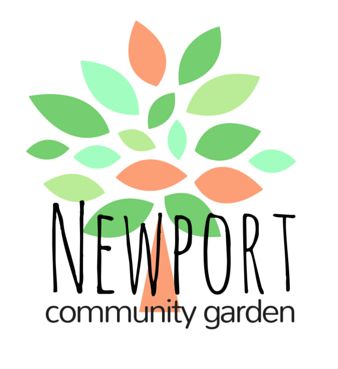 Avalon Preservation Association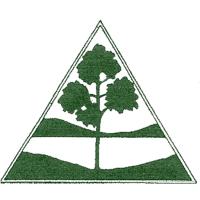 The Avalon Preservation Association, also known as Avalon Preservation Trust. We are a not for profit volunteer community group incorporated under the NSW Associations Act, established 50 years ago. We are committed to protecting your interests – to keeping guard over our natural and built environment throughout the Avalon area.
Membership of the association is open to all those residents and/or ratepayers of Avalon Beach and adjacent areas who support the aims and objectives of our Association.
Report illegal dumping
NSW Government
The RIDonline website lets you report the types of waste being dumped and its GPS location. Photos of the waste can also be added to the report.
The Environment Protection Authority (EPA), councils and Regional Illegal Dumping (RID) squads will use this information to investigate and, if appropriate, issue a fine or clean-up notice. Penalties for illegal dumping can be up to $15,000 and potential jail time for anybody caught illegally dumping within five years of a prior illegal dumping conviction.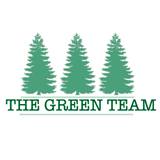 The Green Team
Profile
This Youth-run, volunteer-based environment initiative has been attracting high praise from the founders of Living Ocean as much as other local environment groups recently.
Creating Beach Cleans events, starting their own, sustainability days - 'action speaks louder than words' ethos is at the core of this group.
Avalon Boomerang Bags
Avalon Boomerang Bags was introduced to us by Surfrider Foundation and Living Ocean, they both helped organise with the support of Pittwater Council the Recreational room at Avalon Community Centre which we worked from each Tuesday. This is the Hub of what is a Community initiative to help free Avalon of single use plastic bags and to generally spread the word of the overuse of plastic.
Find out more and get involved.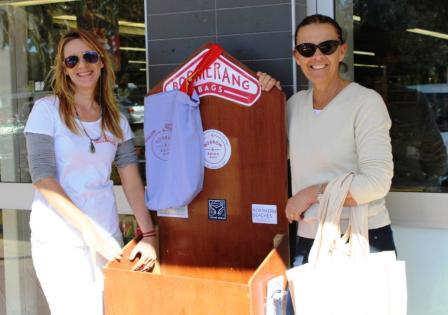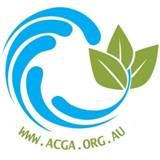 Avalon Community Garden

Community Gardens bring people together and enrich communities. They build a sense of place and shared connection.
Avalon Community Garden is a community led initiative to create accessible food gardens in public places throughout the Pittwater area. Our aim is to share skills and knowledge in creating fabulous local, organic food. But it's not just about great food. We also aim to foster community connection, stimulate creative ideas for community resilience and celebrate our abundance. Open to all ages and skills, our first garden is on the grounds of Barrenjoey High School (off Tasman Road). Become part of this exciting initiative to change the world locally.
Wildlife Carers and Organisations in Pittwater: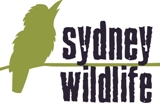 Sydney Wildlife rescues, rehabilitates and releases sick, injured and orphaned native wildlife. From penguins, to possums and parrots, native wildlife of all descriptions passes through the caring hands of Sydney Wildlife rescuers and carers on a daily basis. We provide a genuine 24 hour, 7 day per week emergency advice, rescue and care service.
As well as caring for sick, injured and orphaned native wildlife, Sydney Wildlife is also involved in educating the community about native wildlife and its habitat. We provide educational talks to a wide range of groups and audiences including kindergartens, scouts, guides, a wide range of special interest groups and retirement villages. Talks are tailored to meet the needs and requirements of each group.
Found an injured native animal? We're here to help.
Keep the animal contained, warm, quiet and undisturbed. Do not offer any food or water. Call Sydney Wildlife immediately on 9413 4300, or take the animal to your nearest vet. Generally there is no charge. Find out more at: www.sydneywildlife.org.au

Southern Cross Wildlife Care was launched over 6 years ago. It is the brainchild of Dr Howard Ralph, the founder and chief veterinarian. SCWC was established solely for the purpose of treating injured, sick and orphaned wildlife. No wild creature in need that passes through our doors is ever rejected.
People can assist SCWC by volunteering their skills ie: veterinary; medical; experienced wildlife carers; fundraising; "IT" skills; media; admin; website etc. We are always having to address the issue of finances as we are a non commercial veterinary service for wildlife in need, who obviously don't have cheque books in their pouches. It is a constant concern and struggle of ours when we are pre-occupied with the care and treatment of the escalating amount of wildlife that we have to deal with. Just becoming a member of SCWC for $45 a year would be a great help. Regular monthly donations however small, would be a wonderful gift and we could plan ahead knowing that we had x amount of funds that we could count on. Our small team of volunteers are all unpaid even our amazing vet Howard, so all funds raised go directly towards our precious wildlife. SCWC is TAX DEDUCTIBLE.
Find out more at: southerncrosswildlifecare.org.au/wp/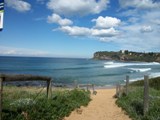 "I bind myself today to the power of Heaven, the light of the sun, the brightness of the moon, the splendour of fire, the flashing of lightning, the swiftness of wind, the depth of the sea, the stability of the earth, the compactness of rocks." - from the Prayer of Saint Patrick
Newport Community Garden: Working Bee Second Sunday of the month
Living Ocean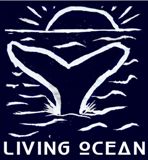 Living Ocean was born in Whale Beach, on the Northern Beaches of Sydney, surrounded by water and set in an area of incredible beauty.
Living Ocean is a charity that promotes the awareness of human impact on the ocean, through research, education, creative activity in the community, and support of others who sustain ocean health and integrity.
And always celebrating and honouring the natural environment and the lifestyle that the ocean offers us.
Our whale research program builds on research that has been conducted off our coastline by our experts over many years and our Centre for Marine Studies enables students and others to become directly involved.
Through partnerships with individuals and organizations, we conceive, create and coordinate campaigns that educate all layers of our community – from our 'No Plastic Please' campaign, which is delivered in partnership with local schools, to film nights and lectures, aimed at the wider community.
Additionally, we raise funds for ocean-oriented conservation groups such as Sea Shepherd.
Donations are tax-deductable
Bushcare in Pittwater
For further information or to confirm the meeting details for below groups, please contact Council's Bushcare Officer on 9970 1367
BUSHCARE SCHEDULES
Where we work Which day What time

Avalon
Angophora Reserve 3rd Sunday 8:30 - 11:30am
Avalon Dunes 1st Sunday 8:30 - 11:30am
Avalon Golf Course 2nd Wednesday 3 - 5:30pm
Careel Creek 4th Saturday 8:30 - 11:30am
Toongari Reserve 3rd Saturday 9 - 12noon (8 - 11am in summer)
Bangalley Headland 2nd Sunday 9 to 12noon

Bayview
Winnererremy Bay 4th Sunday 9 to 12noon

Bilgola
North Bilgola Beach 3rd Monday 9 - 12noon
Algona Reserve 1st Saturday 9 - 12noon
Plateau Park 1st Friday 8:30 - 11:30am

Church Point
Browns Bay Reserve 1st Tuesday 9 - 12noon
McCarrs Creek Reserve Contact Bushcare Officer To be confirmed

Clareville
Old Wharf Reserve 3rd Saturday 8 - 11am

Elanora
Kundibah Reserve 4th Sunday 8:30 - 11:30am

Mona Vale
Mona Vale Beach Basin 1st Saturday 8 - 11am
Mona Vale Dunes 2nd Saturday+3rd Thursday 8:30 - 11:30am

Newport
Bungan Beach 4th Sunday 9 - 12noon
Crescent Reserve 3rd Sunday 9 - 12noon
North Newport Beach 4th Saturday 8:30 - 11:30am
Porter Reserve 2nd Saturday 8 - 11am

North Narrabeen
Irrawong Reserve 2nd Saturday 2 - 5pm

Palm Beach
North Palm Beach Dunes 3rd Saturday 9 - 12noon

Scotland Island
Catherine Park 2nd Sunday 10 - 12:30pm
Elizabeth Park 1st Saturday 9 - 12noon
Pathilda Reserve 3rd Saturday 9 - 12noon

Warriewood
Warriewood Wetlands 1st Sunday 8:30 - 11:30am

Whale Beach
Norma Park 1st Friday 9 - 12noon

Western Foreshores
Coopers Point, Elvina Bay 2nd Sunday 10 - 1pm
Rocky Point, Elvina Bay 1st Monday 9 - 12noon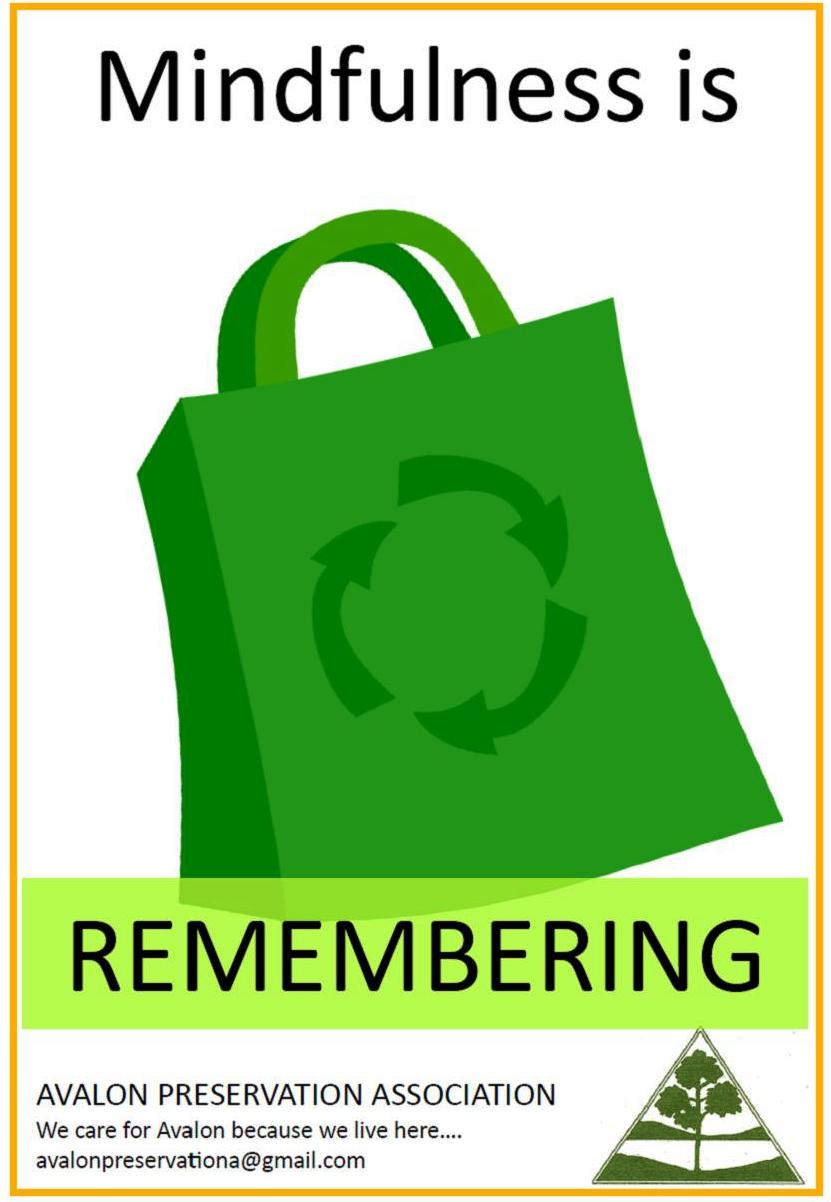 Permaculture Northern Beaches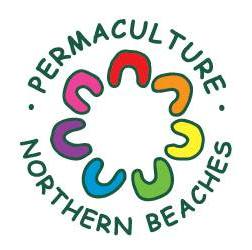 Want to know where your food is coming from?
Do you like to enrich the earth as much as benefit from it?
Find out more here:

What Does PNHA do?
About Pittwater Natural Heritage Association (PNHA)
With urbanisation, there are continuing pressures that threaten the beautiful natural environment of the Pittwater area. Some impacts are immediate and apparent, others are more gradual and less obvious. The Pittwater Natural Heritage Association has been formed to act to protect and preserve the Pittwater areas major and most valuable asset - its natural heritage. PNHA is an incorporated association seeking broad based community membership and support to enable it to have an effective and authoritative voice speaking out for the preservation of Pittwater's natural heritage. Please contact us for further information.
Our Aims
To raise public awareness of the conservation value of the natural heritage of the Pittwater area: its landforms, watercourses, soils and local native vegetation and fauna.




To raise public awareness of the threats to the long-term sustainability of Pittwater's natural heritage.




To foster individual and community responsibility for caring for this natural heritage.




To encourage Council and the NSW Government to adopt and implement policies and works which will conserve, sustain and enhance the natural heritage of Pittwater.



Act to Preserve and Protect!
Email: pnhainfo@gmail.com Or click on Logo to visit website.
Think before you print ; A kilo of recycled paper creates around 1.8 kilograms of carbon emissions, without taking into account the emissions produced from transporting the paper. So, before you send a document to print, think about how many kilograms of carbon emissions you could save by reading it on screen.
Friends Of Narrabeen Lagoon Catchment Activities

Bush Regeneration - Narrabeen Lagoon Catchment
This is a wonderful way to become connected to nature and contribute to the health of the environment. Over the weeks and months you can see positive changes as you give native species a better chance to thrive. Wildlife appreciate the improvement in their habitat.
Belrose area - Thursday mornings
Belrose area - Weekend mornings by arrangement
Contact: Phone or text Conny Harris on 0432 643 295
Wheeler Creek - Wednesday mornings 9-11am
Contact: Phone or text Judith Bennett on 0402 974 105
Pittwater's Environmental Foundation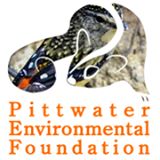 Pittwater Environmental Foundation was established in 2006 to conserve and enhance the natural environment of the Pittwater local government area through the application of tax deductible donations, gifts and bequests. The Directors were appointed by Pittwater Council.
About 33% (about 1600 ha excluding National Parks) of the original pre-European bushland in Pittwater remains in a reasonably natural or undisturbed condition. Of this, only about 400ha remains in public ownership. All remaining natural bushland is subject to encroachment, illegal clearing, weed invasion, feral animals, altered drainage, bushfire hazard reduction requirements and other edge effects. Within Pittwater 38 species of plants or animals are listed as endangered or threatened under the Threatened Species Act. There are two endangered populations (Koala and Squirrel Glider) and eight endangered ecological communities or types of bushland. To visit their site please click on logo above.