April 23 - 29, 2017: Issue 309

Seed Pods for Natives Now in Fruit In Pittwater
Thanks to the
Pittwater Natural Heritage Association (PNHA) for this photo of a s
eed pod of a small local native shrub
Pittosporum revolutum
which splits open, inviting hungry birds and animals to eat its attractive fruit and spread the seeds. This one snapped in Avalon Beach, Sydney. The pods follow clusters of small yellow flowers - a nice plant for the garden!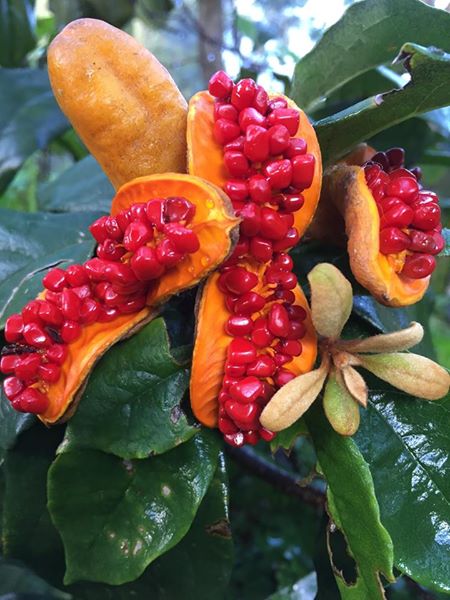 Get ready Australia… ABC's War on Waste starts in May
April 20, 2017: ABC
Australia generates a staggering amount of waste every year and alarmingly our waste is growing at double the rate of our population. Presenter and provocateur Craig Reucassel (The Chaser) tackles this growing issue in the thought-provoking, three-part series War on Waste, premiering Tuesday 16th May at 8.30pm on ABC and iview.
No stranger to confrontation, Craig takes on the supermarkets, challenges Australians to go waste free, discovers what really happens to our recycling and how Australia's obsession with fast fashion is causing an even faster waste problem.
He tackles the immense problem of food waste, with millions of tonnes of food from our homes, supermarkets, farms and businesses ending up in landfill every year, uncovering why we are throwing out so much food and what we can do about it. Plastic bags are causing a huge problem for the environment and with over 4-5 billion plastic bags thrown out every year, Craig explores how we can do things differently.
The daily morning coffee fix creates nearly a billion disposable coffee cups which end up in landfill each year, so Craig starts a campaign to reduce this unnecessary waste stream. #ByoCoffeeCup
To gauge our nation's current attitudes and habits toward waste and recycling and how they may change after watching War on Waste, a public survey has been launched. The survey will help to understand where Australians are at and where we need to go to create change. You can access the survey at:
It's time for all Australians to wake and declare a War on Waste. With some simple ideas and small changes, we can all do our bit to care for the world we live in now and into the future.
Citizen scientists help identify shorebird extinction threat
April 21st, 2017 - article compiled by Deborah Smith/UQ Media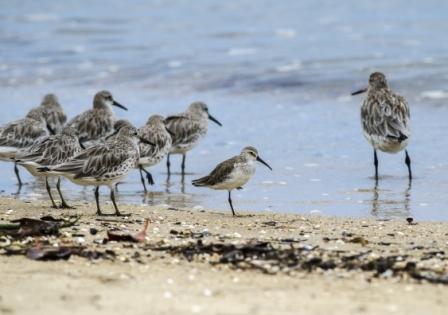 A critically endangered curlew sandpiper in a mixed flock of migratory shorebirds at Cairns Esplanade in Queensland. Photo: Nick Murray.
Degradation and destruction of mudflats in north-east Asia has contributed to a dramatic decline in the number of migratory shorebirds in Australia, new research shows.
The study, by an international team of citizen scientists and researchers including UNSW's Dr Nick Murray, found that species of godwit, curlew and sandpiper are among those under threat in Australia, due to the loss of mudflats thousands of kilometres away.
Many species of birds follow the East Asian Australasian Flyway migratory path from their non-breeding grounds in Australia to breeding sites in the Arctic, resting and refuelling along the way in the Yellow Sea between China and South Korea.
"The more a species relies on the disappearing Yellow Sea mudflats, the faster they are declining," says study first author Assistant Professor Dr Colin Studds of the University of Maryland in the US.
To reach their conclusions, the researchers analysed citizen science data collected between 1993 and 2012 on 10 key species of shorebird.
"We are indebted to the volunteers across Australia and New Zealand who have counted the number of migratory birds over a period of decades, making this research possible," says Dr Murray.
"Even though the birds spend only one or two months of the year at the mudflats in the Yellow Sea, our study shows this is the most important factor in determining the decline in their populations."
In the past 50 years, about 65% of the tidal flats along 4000 kilometres of coastline between China and South Korea have been lost to development.
Australia has signed agreements with China, Korea and Japan to protect migratory birds, yet the birds have continued to decline.
"Every country along the migration route of these birds must protect habitat and reduce hunting to prevent the birds declining further or even going extinct," says study senior author Associate Professor Richard Fuller of the University of Queensland.
"We are particularly excited that China and Korea have recently begun the process of listing parts of the Yellow Sea as World Heritage Sites."
The study, published in
Nature Communications
, involved researchers from across Australia and from the US, the UK and New Zealand.
Walk With Penguins In Immersive 3D Experience
Published on 19 Apr 2017 by BirdLife International
For the first time, you can instantly transport yourself to a sub-antarctic penguin colony and immerse in the lives of Southern Rockhopper, King, Magellanic, and Gentoo Penguins. Watch in full HD as the penguins return from challenging journeys back to their colonies of fuzzy chicks.
Despite being loved the world over, penguins are the world's second most threatened group of marine birds, with 10 of the 18 species threatened with extinction due to competition with fisheries, bycatch, marine pollution, disease, habitat disturbance and climate change.
The world's largest nature conservation partnership, BirdLife International, has worked with London-based virtual reality and post-production specialist, Visualise, to create Walk with Penguins, an engaging 3D 360 short nature film used to connect audiences with penguin protection.
For the first time, you can instantly transport yourself to a sub-antarctic island and immerse in the lives of penguins—thanks to a new 3D 360-degree film launched today.
Amidst the sound of trumpeting parental calls, with wind buffeting against its fluffy feathers, a King Penguin chick walks right up to you and stares you in the eye. You duck your head as an albatross soars overhead, whilst another nests on a rock ledge just above you. As penguins squabble for a shower you feel almost splashed by water, and you sense the exposure as you peer over a cliff and watch a line of Southern Rockhoppers Eudyptes chrysocome jump up the steep slope to their colony. When you take off the virtual reality headset, with a bit of a dizzy wobble, you feel like you have seen the world from the perspective of a penguin—and it's a tough realisation.
BirdLife has worked with virtual reality producer, Visualise, to create Walk with Penguins, an engaging 3D 360 short nature film—the first of its kind—to bring the daily challenges and lives of remote penguin colonies to you, and to raise awareness about threats to penguins, the second-most threatened group of seabirds (after albatrosses).
You can watch online in high-quality 360 video on YouTube (embedded below—click to view full-screen), or for the full experience, watch via the YouTube app or
Google Cardboard app
, using a cheap cardboard frame that allows you to use your phone as a virtual reality headset. The only thing that is missing is the smell of a real colony…
Executive Producer – Matt Shannon
Creative Director – Will McMaster
Director of Photography – Jonathan Curran
1st Assistant – Joe Packman
Music & Sound Design: Henrik Oppermann
Senior VFX Artist: Tom Hawksley & David Robinson
Colour Grading: Jonathan Curran
Producer: Alex McMaster and Sophia Georgiou
Script: Luca Bonaccorsi, Shaun Hurrell, Alex Dale
Music Composer: Renée Abe
Voice Over: Matt Hopper
Special thanks to:
Margaret Balaskas, Rory Crawford, John Croxall, the staff at Falklands Conservation, and supporters of the Osaka Gala Dinner and Tokyo Gala Dinner.
Copyright: 2017 BirdLife International & Visualise - article by Shaun Hurrell
Historic Acland court case set to close today after extensive evidence of water impacts
April 20, 2017: Media Release - Lock the Gate
The court case challenging the New Acland coal mine on the Darling Downs is set to close today, making it one of the biggest cases in the history of Queensland's Land Court.
Lock the Gate Alliance says the scale of the case reflects the immense impacts this mine would have.
"Over several months of evidence, the Court has heard of the serious impacts the Acland Stage 3 coal expansion would have on groundwater, farming businesses and the health of families," Carmel Flint from Lock the Gate said.
"Hearings were re-opened two weeks ago following a request from New Acland Coal to submit further evidence.
"Once the Land Court hands down its recommendation it will fall to the Queensland Government to make a final decision.
"Hard-working farmers and community members have given up countless hours of their time and travelled back and forth to Brisbane to protect the precious water resources and rich farmland of the Darling Downs," Ms Flint said.
In summary, the evidence has shown:
Flawed groundwater modelling: The case showed flawed and unreliable groundwater modelling, potentially placing farmers' critical groundwater supplies at risk.
Noise and dust risks and complaints: Evidence showed there was a high risk of the project exceeding air quality limits unless controls were in place. The Court heard the community's complaints about coal dust and noise levels and requests for data have fallen effectively on deaf ears for the past decade, including more than 100 complaints to New Hope and 30 to the state environment department.
Over-inflated job figures: The project's original environmental impact statement stated the project would produce an average of 2,953 jobs per annum, yet in court this figure was reduced to 680 net jobs nationally.
Limited royalties to Queensland government: In court it was revealed an estimated $500M in royalties from the expansion would flow to the coal company and a small number of property owners, instead of to the Queensland Government which would receive just 7% of this, severely limiting financial benefits from royalties to taxpayers.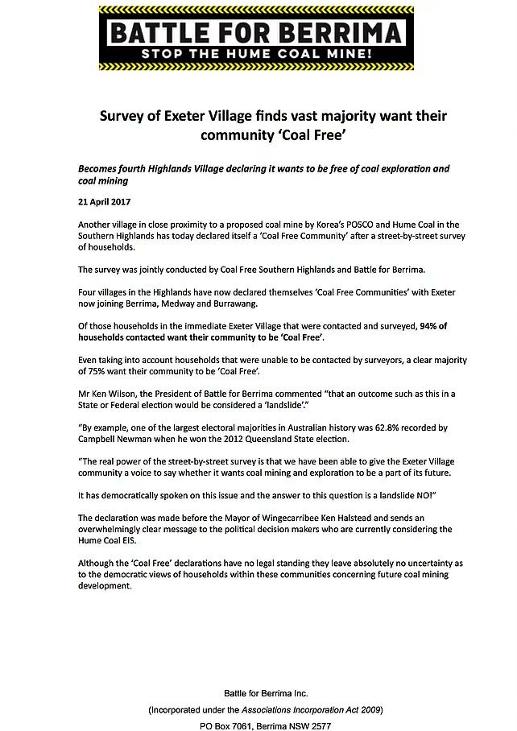 Battle For Berrima A new 'Coal Free' declaration is coming
Published on 4 Apr 2017 by Battle For Berrima Inc.
Exeter joins Berrima, Medway and Burrawang as 'a Coal Free Community'.
Coral reefs struggle to keep up with rising seas leave coastal communities at risk
April 20, 2017

In the first ecosystem-wide study of changing sea depths at five large coral reef tracts in Florida, the Caribbean and Hawai'i, researchers found the sea floor is eroding in all five places, and the reefs cannot keep pace with sea level rise. As a result, coastal communities protected by the reefs are facing increased risks from storms, waves and erosion. The study, by the US Geological Survey (USGS), is published today in Biogeosciences, a journal of the European Geosciences Union.
At two sites in the Florida Keys, two in the US Virgin Islands, and in waters surrounding the Hawaiian island of Maui, coral reef degradation has caused sea floor depths to increase and sand and other sea floor materials to erode over the past few decades, the Biogeosciences study found. In the waters around Maui, the sea floor losses amounted to 81 million cubic meters of sand, rock and other material -- about what it would take to fill up the Empire State Building 81 times, or an Olympic swimming pool about 32,000 times, the USGS researchers calculated.
As sea levels rise worldwide due to climate change, each of these ecologically and economically important reef ecosystems is projected to be affected by increasing water depths. The question of whether coral colonies can grow fast enough to keep up with rising seas is the subject of intense scientific research.
But the USGS study, published on April 20, 2017 in the journal Biogeosciences, found the combined effect of rising seas and sea floor erosion has already increased water depths more than what most scientists expected to occur many decades from now. Other studies that do not factor in sea floor erosion have predicted seas will rise by between 0.5 and 1 metre by 2100.
"Our measurements show that seafloor erosion has already caused water depths to increase to levels not predicted to occur until near the year 2100," said biogeochemist Kimberly Yates of the USGS' St. Petersburg Coastal and Marine Science Center, the study's lead author. "At current rates, by 2100 sea floor erosion could increase water depths by two to eight times more than what has been predicted from sea level rise alone."
The study did not determine specific causes for the sea floor erosion in these coral reef ecosystems. But the authors pointed out that coral reefs worldwide are declining due to a combination of forces, including natural processes, coastal development, overfishing, pollution, coral bleaching, diseases and ocean acidification (a change in seawater chemistry linked to the oceans' absorption of more carbon dioxide from the atmosphere).
For each of the five coral reef ecosystems, the team gathered detailed sea floor measurements from the National Oceanic and Atmospheric Administration taken between 1934 and 1982, and also used surveys done from the late 1990s to the 2000s by the USGS Lidar Program and the US Army Corps of Engineers. Until about the 1960s sea floor measurements were done by hand, using lead-weighted lines or sounding poles with depth markings. From approximately the 1960s on, most measurements were based on the time it takes an acoustic pulse to reach the sea floor and return. The USGS researchers converted the old measurements to a format comparable with recent lidar data.
They compared the old and new sets of measurements to find the mean elevation changes at each site. The method has been used by the US Army Corps of Engineers to track other kinds of sea floor changes, such as shifts in shipping channels. This is the first time it has been applied to whole coral reef ecosystems. Next the researchers developed a computer model that used the elevation changes to calculate the volume of sea floor material lost.
They found that, overall, sea floor elevation has decreased at all five sites, in amounts ranging from 0.09 metres to 0.8 metres. All five reef tracts also lost large amounts of coral, sand, and other sea floor materials to erosion.
"We saw lower rates of erosion -- and even some localised increases in seafloor elevation -- in areas that were protected, near refuges, or distant from human population centers," Yates said. "But these were not significant enough to offset the ecosystem-wide pattern of erosion at each of our study sites."
Worldwide, more than 200 million people live in coastal communities protected by coral reefs, which serve as natural barriers against storms, waves and erosion. These ecosystems also support jobs, provide about one-quarter of all fish harvests in the tropical oceans, and are important recreation and tourism sites.
"Coral reef systems have long been recognised for their important economic and ecological value," said John Haines, Program Coordinator of the USGS Coastal and Marine Geology Program. "This study tells us that they have a critical role in building and sustaining the physical structure of the coastal seafloor, which supports healthy ecosystems and protects coastal communities. These important ecosystem services may be lost by the end of this century, and nearby communities may need to find ways to compensate for these losses."
The study brought together ecosystem scientists and coastal engineers, who plan to use the results to assess the risks to coastal communities that rely on coral reefs for protection from storms and other hazards.
Kimberly K. Yates, David G. Zawada, Nathan A. Smiley, Ginger Tiling-Range.
Divergence of seafloor elevation and sea level rise in coral reef ecosystems
. Biogeosciences, 2017; 14 (6): 1739 DOI:
10.5194/bg-14-1739-2017
Call for public comment on draft seabird Threat Abatement Plan
15th March 2017

Public comment is now being sought on the draft Threat abatement plan for the incidental catch (or bycatch) of seabirds during oceanic longline fishing operations (Threat abatement plan for incidental catch of seabirds). The public consultation period is open until 30 June 2017.
The draft Threat abatement plan for incidental catch of seabirds provides a national strategy to guide the activities of government, industry and research organisations in abating the impact of oceanic longline fishing operations on seabirds in Commonwealth fisheries.
Further information about the existing Threat abatement plan 2014 for the incidental catch (or bycatch) of seabirds during oceanic longline fishing operations is available at the
Threat Abatement Plan – seabirds page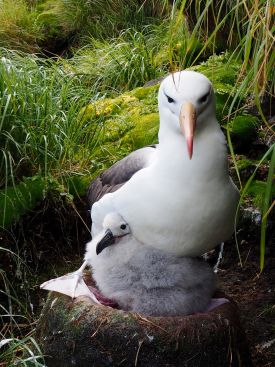 A black-browed albatross with chick, on Macquarie Island. (Photo: Kim Kliska)
Bushcare in Pittwater
For further information or to confirm the meeting details for below groups, please contact Council's Bushcare Officer on 9970 1367
BUSHCARE SCHEDULES
Where we work Which day What time

Avalon
Angophora Reserve 3rd Sunday 8:30 - 11:30am
Avalon Dunes 1st Sunday 8:30 - 11:30am
Avalon Golf Course 2nd Wednesday 3 - 5:30pm
Careel Creek 4th Saturday 8:30 - 11:30am
Toongari Reserve 3rd Saturday 9 - 12noon (8 - 11am in summer)
Bangalley Headland 2nd Sunday 9 to 12noon

Bayview
Winnererremy Bay 4th Sunday 9 to 12noon

Bilgola
North Bilgola Beach 3rd Monday 9 - 12noon
Algona Reserve 1st Saturday 9 - 12noon
Plateau Park 1st Friday 8:30 - 11:30am

Church Point
Browns Bay Reserve 1st Tuesday 9 - 12noon
McCarrs Creek Reserve Contact Bushcare Officer To be confirmed

Clareville
Old Wharf Reserve 3rd Saturday 8 - 11am

Elanora
Kundibah Reserve 4th Sunday 8:30 - 11:30am

Mona Vale
Mona Vale Beach Basin 1st Saturday 8 - 11am
Mona Vale Dunes 2nd Saturday+3rd Thursday 8:30 - 11:30am

Newport
Bungan Beach 4th Sunday 9 - 12noon
Crescent Reserve 3rd Sunday 9 - 12noon
North Newport Beach 4th Saturday 8:30 - 11:30am
Porter Reserve 2nd Saturday 8 - 11am

North Narrabeen
Irrawong Reserve 3rd Saturday 2 - 5pm

Palm Beach
North Palm Beach Dunes 3rd Saturday 9 - 12noon

Scotland Island
Catherine Park 2nd Sunday 10 - 12:30pm
Elizabeth Park 1st Saturday 9 - 12noon
Pathilda Reserve 3rd Saturday 9 - 12noon

Warriewood
Warriewood Wetlands 1st Sunday 8:30 - 11:30am

Whale Beach
Norma Park 1st Friday 9 - 12noon

Western Foreshores
Coopers Point, Elvina Bay 2nd Sunday 10 - 1pm
Rocky Point, Elvina Bay 1st Monday 9 - 12noon
Permaculture Northern Beaches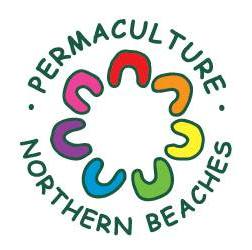 Want to know where your food is coming from?
Do you like to enrich the earth as much as benefit from it?
Find out more here:

What Does PNHA do?
On-ground bush regeneration. eg: Asparagus Fern Out Days
Activities: guided walks, bird-watching
Quaterly informative newsletter, online or paper
Members email group for leaset environmental news and events
AGM with Guest Speaker
Free advice for members on managing gardens for Native Vegetation and fauna habitat
Lobbies Pittwater Council and State Government on inappropriate management practices and development
Provides support to Council for PNHA-approved grant applications for environmental projects
Publications: Introductory Field Guide to Birds of Warriewood Wetlands & Irrawong Reserve, $20.00rrp, attractive cards with photos of Pittwater scenes, flora and fauna $2.00
Email: pnhainfo@gmail.com Or click on Logo to visit website.
Avalon Boomerang Bags 2016 Workshops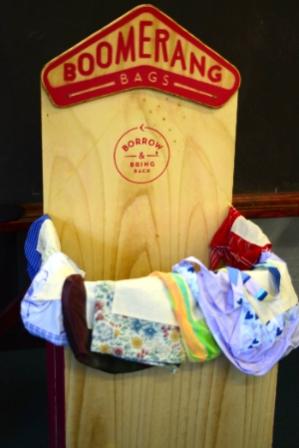 Boomerang Bag Working Bees run in Avalon Community Centre on Tuesdays 11:30am- 5pm.
For those of you unable to come to workshops there are many other ways to get involved, just let us know you're willing by leaving a comment or sending us a message.
Pictured is a Boomerang Bag Box.
The boxes are located at:
Avalon Organics
Hertford Chemist
Avalon Wholefood
Fresh Fruit and Veg
Johnson Bros Mitre Ten
Avalon Meats
Avalon Rec Centre
Watch this space for another venue soon.
A huge thank you to everybody who has helped Boomerang Bags Avalon get this far. But the work is not over yet. Materials and more hands always welcome Facebook page Profile
Newport Community Gardens
Anyone interested in joining our community garden group please feel free to come and visit us on
Sunday at 10am at the Woolcott Reserve in Newport!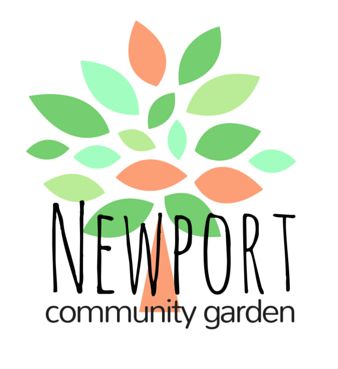 Report illegal dumping
NSW Government
The RIDonline website lets you report the types of waste being dumped and its GPS location. Photos of the waste can also be added to the report.
The Environment Protection Authority (EPA), councils and Regional Illegal Dumping (RID) squads will use this information to investigate and, if appropriate, issue a fine or clean-up notice.
Penalties for illegal dumping can be up to $15,000 and potential jail time for anybody caught illegally dumping within five years of a prior illegal dumping conviction.
This is the first time RIDonline has been opened to the public. Since September last year, the EPA, councils, RID squads and public land managers have used it to report more than 20,000 tonnes of illegally dumped waste across more than 70 local government areas.
The NSW Government has allocated $58 million over five years to tackle illegal dumping as part of its $465.7 million Waste Less Recycle More initiative. NSW Premier Mike Baird has also committed to reducing the volume of litter by 40%, by 2020 to help keep NSW's environment clean.