August 19 - 25, 2018: Issue 372
Funding For Dundundra Falls Reserve
Friday August 17th, 2018
Member for Pittwater Rob Stokes today announced Dundundra Falls Reserve at Terrey Hills has been awarded NSW Government funding to assist with the protection of its spectacular native bushland.
A grant of $77,505 has been provided under the NSW Government's Restoration and Rehabilitation Program to help preserve and enhance the reserve's native vegetation and fauna habitat.
Dundundra Falls Reserve covers 38 hectares of Crown Land and is carefully managed by an enthusiastic and passionate group of local volunteers and expert bush regenerators. The Reserve serves as an important natural buffer between the residential areas of Terrey Hills and Ku-ring-gai Chase National Park.
"Dundundra Falls Reserve is an enormously significant area of our community," Rob Stokes said today.
"The reserve is home to a variety of threatened flora and fauna species and two endangered ecological communities.
"The strategic location of Dundundra Falls Reserve, on the fringe of Ku-ring-gai Chase National Park, means it serves as an important line of defence against domestic stormwater runoff and noxious weeds.
"An enormous amount of work is carried out by local volunteers and bush regenerators to ensure this little-known yet spectacular area of our community is maintained and improved.
"I'm delighted the NSW Government is continuing to support the management and preservation of Dundundra Falls Reserve," Rob Stokes said.
_________________________
Bushcare Group details at: dundundrafalls.weebly.com
Entries open for 2018 NSW Farmers of the Year Award
July, 24, 2018: NSW DPI
NSW Minister for Primary Industries and outgoing NSW Farmers President Derek Schoen have announced applications for the prestigious NSW Farmer of the Year award have opened for 2018.
Speaking at the NSW Farmers Annual Conference today, Minister Blair said the award is both a celebration and recognition of farming excellence through the diverse range of enterprises across NSW.
"Our farmers represent some of the most innovative, industrious primary producers in the country and produce some of the highest quality food and fibre to be found anywhere in the world," Minister Blair said.
"The state's $15 billion primary industries sector is going from strength to strength under the stewardship of our farmers, who demonstrate drive and determination to run efficient, profitable and sustainable businesses."
Mr Schoen has served as a judge of the award throughout his Presidency and said the 2017 finalists represented the breadth of NSW's farming sector.
"From biodynamic, organic egg farming to a commercial cropping enterprise gaining efficiencies through environmental practices, from young guns through to farmers who have had a life-long commitment to farming excellence, the calibre of applications to the NSW Farmer of the Year award continues to be hugely impressive," he said.
"The award helps identify outstanding farmers who are pushing the boundaries within their industry and in farming generally, and recognises people with outstanding management skills who demonstrate a combination of innovation, profitability, sustainability and community involvement.
"I strongly encourage all farmers in the primary industries sector to enter to become the 2018 NSW Farmer of the Year."
The successful 2018 Farmer of the Year will be awarded $10,000, and finalists will receive $2,000.
The award is an initiative of the NSW Department of Primary Industries and NSW Farmers, with support from SafeWork NSW and Fairfax Agricultural Media.
The application process is now online, where you can both apply and nominate a farmer by visiting
www.nswfarmeroftheyear.com.au
with entries
closing 26 September 2018.
New rules to help Mulloway recovery
August 6, 2018: NSW DPI
The NSW Government is working with fishers to ensure the future of one of NSW's most prized fish species.
Minister for Primary Industries, Niall Blair, said Mulloway is a highly regarded sportfish and an important commercial species.
"In 2013, the NSW Government introduced a recovery plan with a number of new rules to halt the decline of Mulloway stock and help the recovery of the species," Mr Blair said.
"Despite efforts by fishers, a recent scientific review showed Mulloway are still overfished.
"In order for stocks to recover, the review recommended that more action needed to be taken.
"Given the seriousness of the issue, I asked both the commercial and recreational advisory councils to come up with actions for their sectors, with each council establishing expert working groups to investigate the best options."
The advisory councils provided advice on this important issue, which included:
The removal of the possession limit of 10 Mulloway between 45 and 70 cm that currently applies to Estuary General meshing net fishers. This will mean that a 70 cm Mulloway minimum size limit will apply to all fishers.
A reduction in the recreational bag limit from two to one.
The changes come into effect on 1 September 2018 and will be closely monitored by NSW DPI. An advisory campaign will also ensure all fishers are aware of the new rules.
"I know this has been a tough call but it's needed to ensure Mulloway stocks grow," Mr Blair said.
"The reduction in the recreational bag limit from two to one still provides opportunities for fishers to catch these magnificent fish and if they wish, keep a fish for the table.
"It will also ensure that consumers can still access wild caught Mulloway now and into the future."
Both councils will continue to look at other measures, including investigating options where commercially-caught Mulloway can be differentiated to reduce black market opportunities, further monitoring to ensure the effectiveness of these actions, as well as more research on fishing gear technologies to reduce bycatch of Mulloway.
Green Team Beach Cleans 2018!
The Green Team is back for 2018!
It has been estimated that we will have more plastic than fish in the ocean by 2050...These beach cleans are aimed at reducing the vast amounts of plastic from entering our oceans before they harm marine life.
Anyone and everyone is welcome! If you would like to come along, please bring a bucket, gloves and hat. Kids of all ages are also welcome!
The Green Team is a
Youth-run, volunteer-based environment initiative from Avalon, Sydney. Keeping our area green and clean.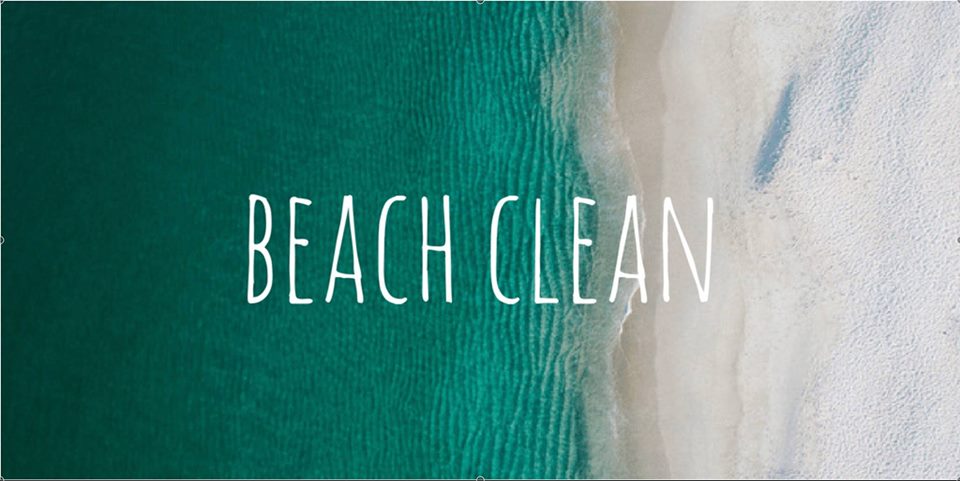 Create a Habitat Stepping Stone!
Over 50 Pittwater households have already pledged to make a difference for our local wildlife, and you can too! Create a habitat stepping stone to help our wildlife out. It's easy - just add a few beautiful habitat elements to your backyard or balcony to create a valuable wildlife-friendly stopover.
How it works
1) Discover: Visit the website below to find dozens of beautiful plants, nest boxes and water elements you can add to your backyard or balcony to help our local wildlife.
2) Pledge: Select three or more elements to add to your place. You can even show you care by choosing to have a bird appear on our online map.
3) Share: Join the Habitat Stepping Stones Facebook community to find out what's happening in the natural world, and share your pics, tips and stories.
What you get
• Enjoy the wonders of nature, right outside your window. • Free and discounted plants for your garden. • A Habitat Stepping Stone plaque for your front fence. • Local wildlife news and tips. • Become part of the Pittwater Habitat Stepping Stones community.
Get the kids involved and excited about helping out! www.HabitatSteppingStones.org.au
No computer? No problem -Just write to the address below and we'll mail you everything you need. Habitat Stepping Stones, Department of Environmental Sciences, Macquarie University NSW 2109. This project is assisted by the NSW Government through its Environmental Trust
Wildlife Carers and Organisations in Pittwater: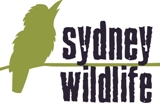 Sydney Wildlife rescues, rehabilitates and releases sick, injured and orphaned native wildlife. From penguins, to possums and parrots, native wildlife of all descriptions passes through the caring hands of Sydney Wildlife rescuers and carers on a daily basis. We provide a genuine 24 hour, 7 day per week emergency advice, rescue and care service.
As well as caring for sick, injured and orphaned native wildlife, Sydney Wildlife is also involved in educating the community about native wildlife and its habitat. We provide educational talks to a wide range of groups and audiences including kindergartens, scouts, guides, a wide range of special interest groups and retirement villages. Talks are tailored to meet the needs and requirements of each group.
Found an injured native animal? We're here to help.
Keep the animal contained, warm, quiet and undisturbed. Do not offer any food or water. Call Sydney Wildlife immediately on 9413 4300, or take the animal to your nearest vet. Generally there is no charge. Find out more at: www.sydneywildlife.org.au

Southern Cross Wildlife Care was launched over 6 years ago. It is the brainchild of Dr Howard Ralph, the founder and chief veterinarian. SCWC was established solely for the purpose of treating injured, sick and orphaned wildlife. No wild creature in need that passes through our doors is ever rejected.
People can assist SCWC by volunteering their skills ie: veterinary; medical; experienced wildlife carers; fundraising; "IT" skills; media; admin; website etc. We are always having to address the issue of finances as we are a non commercial veterinary service for wildlife in need, who obviously don't have cheque books in their pouches. It is a constant concern and struggle of ours when we are pre-occupied with the care and treatment of the escalating amount of wildlife that we have to deal with. Just becoming a member of SCWC for $45 a year would be a great help. Regular monthly donations however small, would be a wonderful gift and we could plan ahead knowing that we had x amount of funds that we could count on. Our small team of volunteers are all unpaid even our amazing vet Howard, so all funds raised go directly towards our precious wildlife. SCWC is TAX DEDUCTIBLE.
Find out more at: southerncrosswildlifecare.org.au/wp/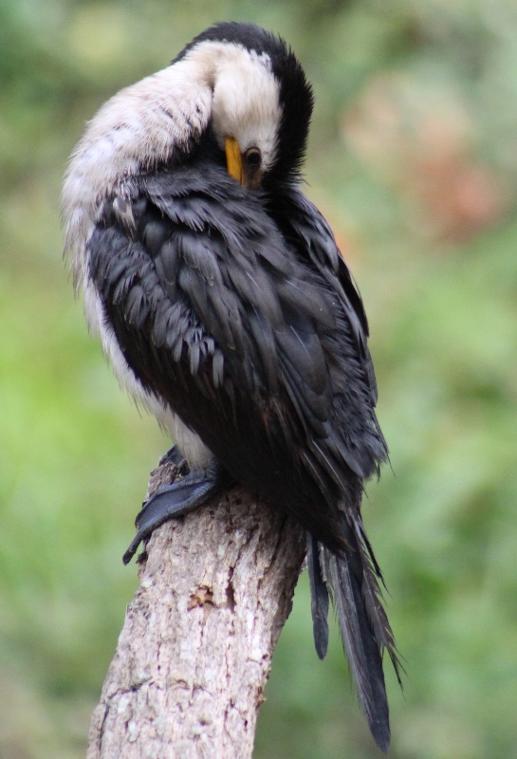 Living Ocean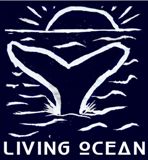 Living Ocean was born in Whale Beach, on the Northern Beaches of Sydney, surrounded by water and set in an area of incredible beauty.
Living Ocean is a charity that promotes the awareness of human impact on the ocean, through research, education, creative activity in the community, and support of others who sustain ocean health and integrity.
And always celebrating and honouring the natural environment and the lifestyle that the ocean offers us.
Our whale research program builds on research that has been conducted off our coastline by our experts over many years and our Centre for Marine Studies enables students and others to become directly involved.
Through partnerships with individuals and organizations, we conceive, create and coordinate campaigns that educate all layers of our community – from our 'No Plastic Please' campaign, which is delivered in partnership with local schools, to film nights and lectures, aimed at the wider community.
Additionally, we raise funds for ocean-oriented conservation groups such as Sea Shepherd.
Donations are tax-deductable
Report illegal dumping
NSW Government
The RIDonline website lets you report the types of waste being dumped and its GPS location. Photos of the waste can also be added to the report.
The Environment Protection Authority (EPA), councils and Regional Illegal Dumping (RID) squads will use this information to investigate and, if appropriate, issue a fine or clean-up notice. Penalties for illegal dumping can be up to $15,000 and potential jail time for anybody caught illegally dumping within five years of a prior illegal dumping conviction.
Pittwater's Environmental Foundation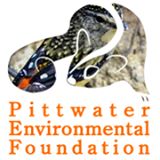 Pittwater Environmental Foundation was established in 2006 to conserve and enhance the natural environment of the Pittwater local government area through the application of tax deductible donations, gifts and bequests. The Directors were appointed by Pittwater Council.
About 33% (about 1600 ha excluding National Parks) of the original pre-European bushland in Pittwater remains in a reasonably natural or undisturbed condition. Of this, only about 400ha remains in public ownership. All remaining natural bushland is subject to encroachment, illegal clearing, weed invasion, feral animals, altered drainage, bushfire hazard reduction requirements and other edge effects. Within Pittwater 38 species of plants or animals are listed as endangered or threatened under the Threatened Species Act. There are two endangered populations (Koala and Squirrel Glider) and eight endangered ecological communities or types of bushland. To visit their site please click on logo above.
Permaculture Northern Beaches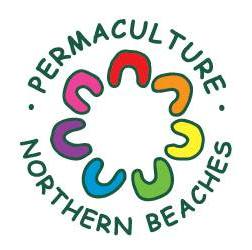 Want to know where your food is coming from?
Do you like to enrich the earth as much as benefit from it?
Find out more here: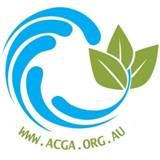 Avalon Community Garden

Community Gardens bring people together and enrich communities. They build a sense of place and shared connection.
Avalon Community Garden is a community led initiative to create accessible food gardens in public places throughout the Pittwater area. Our aim is to share skills and knowledge in creating fabulous local, organic food. But it's not just about great food. We also aim to foster community connection, stimulate creative ideas for community resilience and celebrate our abundance. Open to all ages and skills, our first garden is on the grounds of Barrenjoey High School (off Tasman Road). Become part of this exciting initiative to change the world locally.
Newport Community Gardens
Anyone interested in joining our community garden group please feel free to come and visit us on
Sunday at 10am at the Woolcott Reserve in Newport!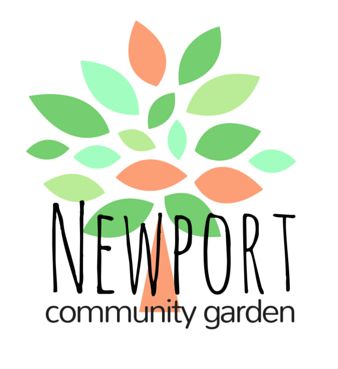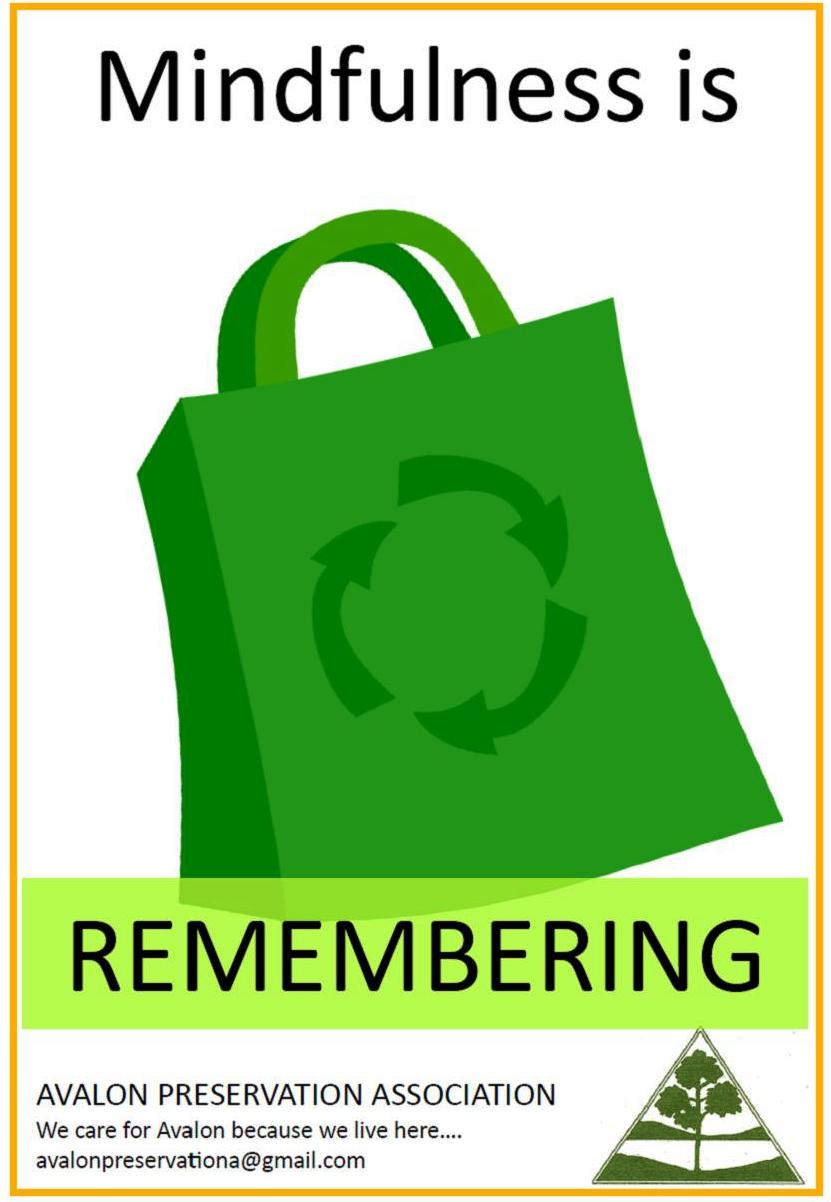 Katandra Season 2018
Open Days at Katandra Bushland Sanctuary are suspended for a few weeks as there was a hazard reduction burn around the yurt on Saturday July 28th. The last fire here was in January 1994, so it is overdue for a burn, which will really bring on the wildflowers in a couple of years.

Visit Katandra's
Profile
for more details and pop up and visit from August 12th.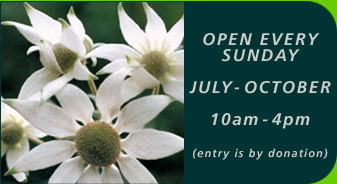 Newport Community Garden: Working Bee Second Sunday of the month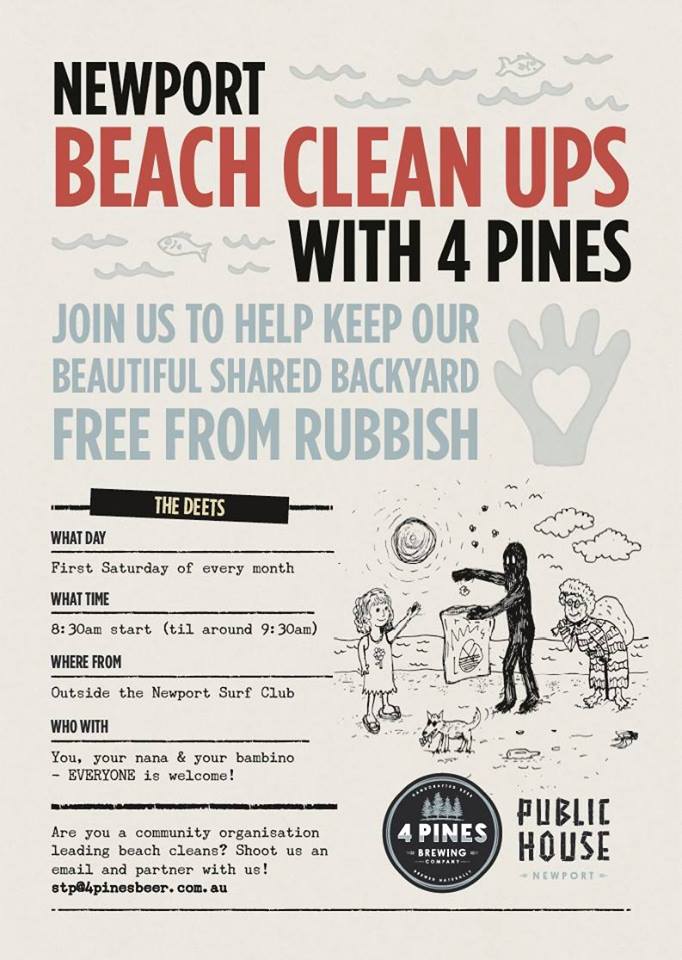 4 Pines Brewery Newport will be providing up-cycled malt bags from the brewery to store the trash and keep it from our shores.
Do you get a beer?
Absolutely! 4 Pines will hand out tokens to participants which will be redeemable for a fresh cold beer back at Public House.
Stony Range Spring Fair
Sunday, September 9 at 9 AM - 4 PM
Stony Range Regional Botanic Garden
810 Pittwater Road, Dee Why
Hosted by Stony Range Regional Botanic Garden and Australian Plants Society Northern Beaches Group
FREE
Join in the fun at the Stony Range 'Bush Dreaming Spring Festival Sunday 9th September 2018
Native plant sales and advice, displays and walks.
Children's activities, live native animals.
Sculptures, photographs, live music.
BBQ and coffee shop, home made cakes
10:30am is the official opening with Welcome to Country.
Cultivation advice from the members of Stony Range Botanic Garden & Australian Plants Society Northern Beaches Group.

Mona Vale Garden Club's 47th Spring Flower Show
Saturday, 22 September 2018 - 10:00am to 3:00pm
Everyone is invited to come to an exhibition of flowers, pot plants, vegetables, herbs and floral art.
There will also be sales of:
plants

white elephant goods

cakes

refreshments

Entry: Adults $2, children free
All profits will be donated to local charities.
Contact Information
Mona Vale Garden Club Inc
Name: Pauline
Phone: 0418 221 907
Ted Blackwood Hall
Cnr Jacksons & Boondah Roads
Warriewood NSW 2102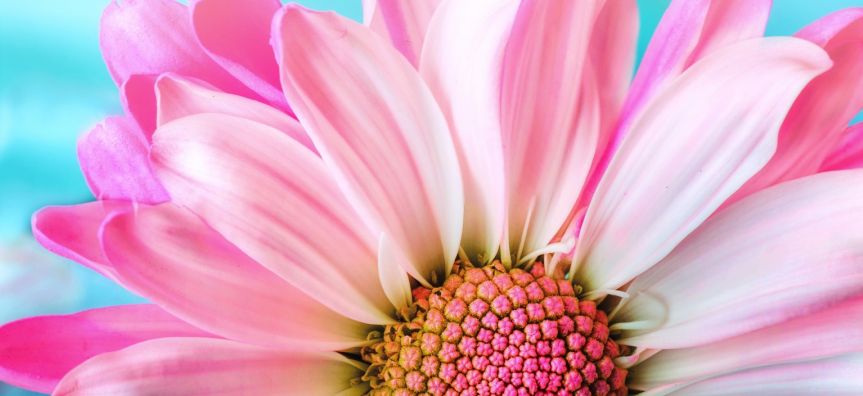 Bee Keeping Talk at warriewood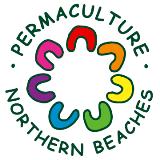 Thursday, September 27, 2018
7:15pm – 9:00pm
Nelson Heather Centre
4 Jacksons Rd.
Warriewood
At tonight's meeting hear about native and European honey bees and what PNB is doing as part of our bee program on the Northern Beaches of Sydney. Native bees are an important part of our biodiversity chain as well as a great source of nutritious honey.
Sydney has over 200 species of native bees many of which are solitary bees that require habitat in our gardens. You can also promote bees by providing a chemical free garden for them to pollinate. PNB has a program for selling native bees hives to supporters or program hives for free to community organisations.
More information on this and a lot more will be available on the night.
Paul Hoskinson is the bee team leader for PNB and also was a key driver in the setting up of the Northern Beaches Beekeepers Association.
'If bees were to disappear for the globe, humankind would have only four years left to live' Albert Einstein. Bees help us with pollination and are a vital part of our ecosystem. This will be a night not to be missed!
Doors open 7:15 pm at the Banksia Room, Nelson Heather Centre, 4 Jacksons Rd. Warriewood. All welcome, entry by donation. No need to book.
There will also be a swap table - enjoy honey tasting + bring along plants, books, pots to swap.
Organic teas and coffee available, bring a plate of food to share also.
PNHA Newsletter 76
Read about wild life in the 'Burbs - How to identify local owl calls, the Wing Tag project and PNHA's latest campaign news.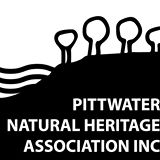 Friends Of Narrabeen Lagoon Catchment August 2018 Forum

Next forum: Creeks in the Catchment
7pm Monday August 27, 2018
Coastal Environment Centre, Pelican Path,
Lake Park Road, Narrabeen
Presenters: Staff members from Northern Beaches Council will outline the works needed to control erosion and protect
against flooding. Plus information about the bush regeneration projects in near creeks in the catchment.
Are you concerned about any of these issues?
* Water quality in creeks
leading to Narrabeen Lagoon
* Health of aquatic wildlife
* Creek flooding
* Blockages in creeks
* Erosion of creek banks
* Rubbish in creeks
* Weeds in riparian zones?
Bring your concerns and questions to the forum on August 27 and find out more about creek care from Council staff.
Entry is free but we ask for a donation to cover expenses.
Greening your Home - Eco Retrofitting the Suburbs - special event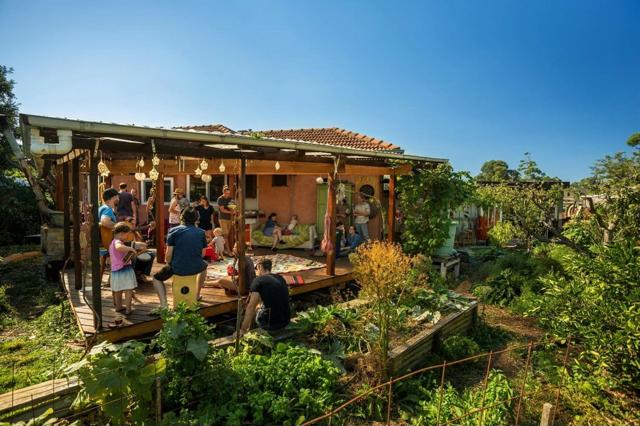 There's no need for a 'tree-change' or 'sea-change' - Permaculture has made a shift to the suburbs
An extraordinary evening is planned for up to 400 people at Dee Why RSL on Tuesday 9th October at 7pm.
'Our aim is to better equip residents of the Northern Beaches and beyond to live sustainably in the suburbs.' said Michelle Sheather, Permaculture Northern Beaches Green Home team leader. 'Over the last 18 months, PNB's Green Home project has run dozens of workshops, meetings and courses on organic living, sustainable building, clean energy and wise use of resources.'
The culmination of the project, made possible by a community grant from Northern Beaches Council, is the October 9 special event on Eco Retrofitting the Suburbs. The panel of speakers for one night only, is David Holmgren, Jo Gillies and Costa Georgiadis. The talks will show how ordinary Australians can downshift and retrofit their houses, gardens, and lifestyles to be more sustainable and resilient.
David Holmgren, is one of the founders of permaculture, a leading ecological thinker, teacher, respected writer and speaker. He promotes permaculture as a realistic pathway to sustainability and a powerful way of life. David's talk will introduce his best-selling new book RetroSuburbia - the downshifter's guide to a resilient future (2018) that empowers us to make positive changes to everyday actions extending from the household out into neighbourhood and wider community activity.
Jo Gillies is founder and director of Archisoul Architects in Manly. She has worked with clients across the Northern Beaches to design sustainable houses that suit our climate, region and lifestyle. Jo will speak on aspects of sustainable house design including passive solar, energy options and which materials can be used to lessen our environmental footprint. Design efficiencies for existing buildings and how do an eco-friendly retrofit will be discussed. Jo will show that good design principals can create a sense of community and soul for the household.
Costa Georgiadis has been the host of Gardening Australia, the ABC's iconic gardening show, since 2012. He is a landscape architect who has a passion for plants and people. For Costa, soil and water are central to absolutely everything. Costa has written the forward for the book 'Don't be afraid to throw open RetroSuburbia on any page at any time and dive into the possible …' says Costa.
Come along to be part of this great evening.
A donation of $5 is recommended as entry fee.
The talk night will be during the school holidays, older children and teenagers are most welcome with an adult. A raffle with prizes of eco products and a copy of David's book will be held on the night.
Permaculture is a design system for sustainable living in your home, garden and lifestyle. It originated in Tasmania in the 1970s with co-founders Bill Mollison and David Holmgren and is now practiced worldwide. The word is the merging of permanent/sustainable and culture.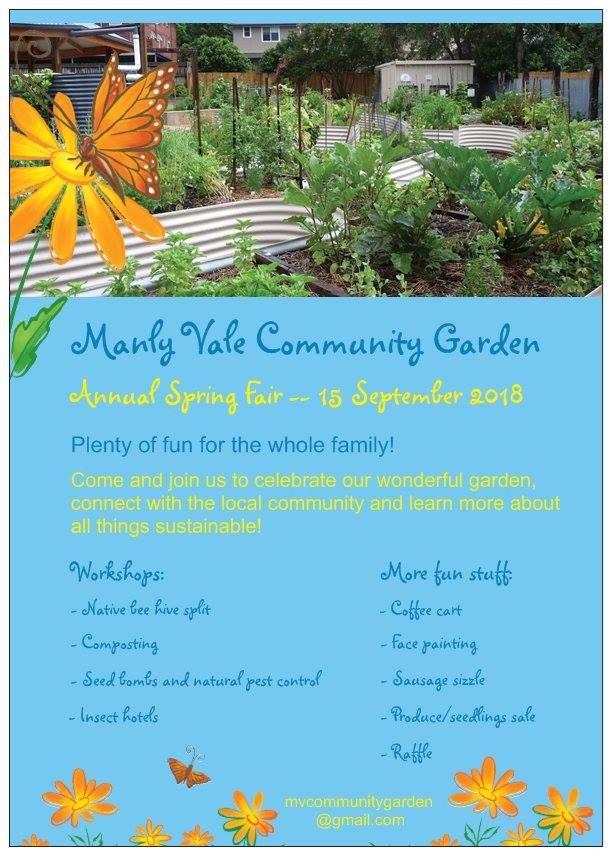 Permaculture Northern Beaches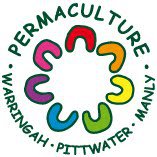 Manly • Warringah • Pittwater | Sydney
Permaculture Northern Beaches (PNB) is an active local group based on Sydney's Northern Beaches. Our parent body is Permaculture Sydney North.
PNB hold monthly permaculture related events on the 4th Thursday of each month at 7:15pm at the Nelson Heather Community Centre, Banksia Room, 5 Jacksons Rd, Warriewood
Fight against Phytophthora in NSW gets $174,000 boost
August 8, 2018: NSW Office of Environment & Heritage
Researchers from the Office of Environment and Heritage (OEH) and the Royal Botanic Gardens Sydney have received $174,000 to start a conservation project to fight disease affecting many endangered plants in NSW.
"Many threatened species in NSW are at risk of the root rot pathogen called Phytophthora cinnamomi, which poses a significant threat to the survival of many plant species and ecosystems," Dr Edward Liew, Manager, Plant Pathology, Royal Botanic Gardens said.
"This new project will inform management actions to reduce the spread of Phytophthora and will complement existing work being done under the Office of Environment and Heritage's Saving our Species program to help individual species threatened by the disease."
Phytophthora attacks the roots of plants and is spread through water and along root systems. At least 83 threatened plant species and threatened ecological communities are either known to be susceptible to this disease, or are located near habitat that may be vulnerable to the disease.
"Limiting the disease's spread and managing infected sites using hygiene and quarantine protocols is the most practical and powerful way to address this threat," said Dr Liew.
The first step for the project will be to undertake soil sampling and testing to better understand the geographic distribution of Phytophthora and the sites where it is found. This information will help produce a map, identifying the main spots where the disease is found and the plant species most at risk.
"There is currently no statewide map of Phytophthora risk areas in NSW, so this new resource will be a key tool to identify and prioritise sites for management and monitoring and where to deploy strategies to stop new occurrence of the disease in unaffected areas.
"The project will also evaluate the effectiveness of a range of hygiene methods to limit the spread of the disease, and identify the most effective techniques which will be used to develop a set of hygiene protocols for NSW.
"Most of the contemporary hygiene measures like boot scrubbing stations or vehicle wash down facilities have had very little research on their effectiveness in helping stop the spread of Phytophthora, so it is important we test and evaluate these methods", Dr Keith McDougall Snr Threatened Species Officer, OEH said.
The NSW Government has invested $100 million over 5 years in the Saving our Species program which aims to secure as many threatened species as possible in the wild for the next 100 years.
Friends Of Narrabeen Lagoon Catchment Activities

Bush Regeneration - Narrabeen Lagoon Catchment
This is a wonderful way to become connected to nature and contribute to the health of the environment. Over the weeks and months you can see positive changes as you give native species a better chance to thrive. Wildlife appreciate the improvement in their habitat.
Belrose area - Thursday mornings
Belrose area - Weekend mornings by arrangement
Contact: Phone or text Conny Harris on 0432 643 295
Wheeler Creek - Wednesday mornings 9-11am
Contact: Phone or text Judith Bennett on 0402 974 105
Bushcare in Pittwater
For further information or to confirm the meeting details for below groups, please contact Council's Bushcare Officer on 9970 1367
BUSHCARE SCHEDULES
Where we work Which day What time

Avalon
Angophora Reserve 3rd Sunday 8:30 - 11:30am
Avalon Dunes 1st Sunday 8:30 - 11:30am
Avalon Golf Course 2nd Wednesday 3 - 5:30pm
Careel Creek 4th Saturday 8:30 - 11:30am
Toongari Reserve 3rd Saturday 9 - 12noon (8 - 11am in summer)
Bangalley Headland 2nd Sunday 9 to 12noon

Bayview
Winnererremy Bay 4th Sunday 9 to 12noon

Bilgola
North Bilgola Beach 3rd Monday 9 - 12noon
Algona Reserve 1st Saturday 9 - 12noon
Plateau Park 1st Friday 8:30 - 11:30am

Church Point
Browns Bay Reserve 1st Tuesday 9 - 12noon
McCarrs Creek Reserve Contact Bushcare Officer To be confirmed

Clareville
Old Wharf Reserve 3rd Saturday 8 - 11am

Elanora
Kundibah Reserve 4th Sunday 8:30 - 11:30am

Mona Vale
Mona Vale Beach Basin 1st Saturday 8 - 11am
Mona Vale Dunes 2nd Saturday+3rd Thursday 8:30 - 11:30am

Newport
Bungan Beach 4th Sunday 9 - 12noon
Crescent Reserve 3rd Sunday 9 - 12noon
North Newport Beach 4th Saturday 8:30 - 11:30am
Porter Reserve 2nd Saturday 8 - 11am

North Narrabeen
Irrawong Reserve 2nd Saturday 2 - 5pm

Palm Beach
North Palm Beach Dunes 3rd Saturday 9 - 12noon

Scotland Island
Catherine Park 2nd Sunday 10 - 12:30pm
Elizabeth Park 1st Saturday 9 - 12noon
Pathilda Reserve 3rd Saturday 9 - 12noon

Warriewood
Warriewood Wetlands 1st Sunday 8:30 - 11:30am

Whale Beach
Norma Park 1st Friday 9 - 12noon

Western Foreshores
Coopers Point, Elvina Bay 2nd Sunday 10 - 1pm
Rocky Point, Elvina Bay 1st Monday 9 - 12noon
Avalon Preservation Association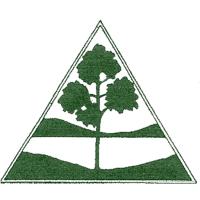 The Avalon Preservation Association, also known as Avalon Preservation Trust. We are a not for profit volunteer community group incorporated under the NSW Associations Act, established 50 years ago. We are committed to protecting your interests – to keeping guard over our natural and built environment throughout the Avalon area.
Membership of the association is open to all those residents and/or ratepayers of Avalon Beach and adjacent areas who support the aims and objectives of our Association.

What Does PNHA do?
About Pittwater Natural Heritage Association (PNHA)
With urbanisation, there are continuing pressures that threaten the beautiful natural environment of the Pittwater area. Some impacts are immediate and apparent, others are more gradual and less obvious. The Pittwater Natural Heritage Association has been formed to act to protect and preserve the Pittwater areas major and most valuable asset - its natural heritage. PNHA is an incorporated association seeking broad based community membership and support to enable it to have an effective and authoritative voice speaking out for the preservation of Pittwater's natural heritage. Please contact us for further information.
Our Aims
To raise public awareness of the conservation value of the natural heritage of the Pittwater area: its landforms, watercourses, soils and local native vegetation and fauna.




To raise public awareness of the threats to the long-term sustainability of Pittwater's natural heritage.




To foster individual and community responsibility for caring for this natural heritage.




To encourage Council and the NSW Government to adopt and implement policies and works which will conserve, sustain and enhance the natural heritage of Pittwater.



Act to Preserve and Protect!
Email: pnhainfo@gmail.com Or click on Logo to visit website.
Avalon Boomerang Bags
Avalon Boomerang Bags was introduced to us by Surfrider Foundation and Living Ocean, they both helped organise with the support of Pittwater Council the Recreational room at Avalon Community Centre which we worked from each Tuesday. This is the Hub of what is a Community initiative to help free Avalon of single use plastic bags and to generally spread the word of the overuse of plastic.
Find out more and get involved.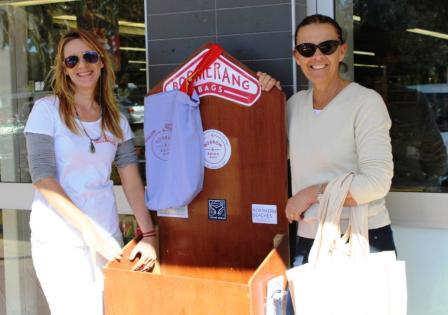 Myna Action Group
Pittwater Natural Heritage Association (PNHA)
Indian Mynas - what a pest - like flying rats.
Indian Mynas are displacing our native birds.
They often nest in and around shops where their food source is. I took this one down this morning in Avalon (no chicks or eggs but I disturbed the female). There were literally hundreds of tiny bits of plastic in the nest which makes you think that all this plastic would be swilling down the stormwater drains into the sea.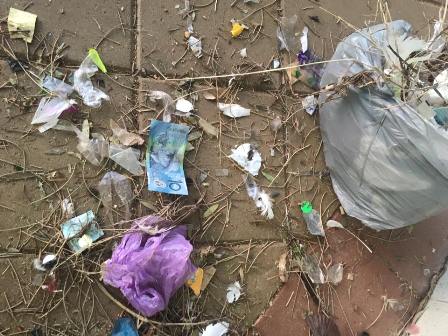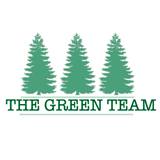 The Green Team
Profile
This Youth-run, volunteer-based environment initiative has been attracting high praise from the founders of Living Ocean as much as other local environment groups recently.
Creating Beach Cleans events, starting their own, sustainability days - 'action speaks louder than words' ethos is at the core of this group.
Think before you print ; A kilo of recycled paper creates around 1.8 kilograms of carbon emissions, without taking into account the emissions produced from transporting the paper. So, before you send a document to print, think about how many kilograms of carbon emissions you could save by reading it on screen.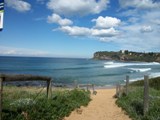 "I bind myself today to the power of Heaven, the light of the sun, the brightness of the moon, the splendour of fire, the flashing of lightning, the swiftness of wind, the depth of the sea, the stability of the earth, the compactness of rocks." - from the Prayer of Saint Patrick
Earth at risk of heading towards 'hothouse Earth' state
August 7, 2018: Stockholm Resilience Centre
Keeping global warming to within 1.5-2°C may be more difficult than previously assessed, according to researchers.
An international team of scientists has published a study in Proceedings of the National Academy of Sciences (PNAS) showing that even if the carbon emission reductions called for in the Paris Agreement are met, there is a risk of Earth entering what the scientists call "Hothouse Earth" conditions. A "Hothouse Earth" climate will in the long-term stabilize at a global average of 4-5°C higher than pre-industrial temperatures with sea level 10-60 m higher than today, the paper says. The authors conclude it is now urgent to greatly accelerate the transition towards an emission-free world economy.
"Human emissions of greenhouse gas are not the sole determinant of temperature on Earth. Our study suggests that human-induced global warming of 2°C may trigger other Earth system processes, often called "feedbacks," that can drive further warming -- even if we stop emitting greenhouse gases," says lead author Will Steffen from the Australian National University and Stockholm Resilience Centre. "Avoiding this scenario requires a redirection of human actions from exploitation to stewardship of the Earth system."
Currently, global average temperatures are just over 1°C above pre-industrial and rising at 0.17°C per decade.
The authors of the study consider ten natural feedback processes, some of which are "tipping elements" that lead to abrupt change if a critical threshold is crossed. These feedbacks could turn from being a "friend" that stores carbon to a "foe" that emits it uncontrollably in a warmer world. These feedbacks are: permafrost thaw, loss of methane hydrates from the ocean floor, weakening land and ocean carbon sinks, increasing bacterial respiration in the oceans, Amazon rainforest dieback, boreal forest dieback, reduction of northern hemisphere snow cover, loss of Arctic summer sea ice, and reduction of Antarctic sea ice and polar ice sheets.
"These tipping elements can potentially act like a row of dominoes. Once one is pushed over, it pushes Earth towards another. It may be very difficult or impossible to stop the whole row of dominoes from tumbling over. Places on Earth will become uninhabitable if "Hothouse Earth" becomes the reality," adds co-author Johan Rockström, Executive Director of the Stockholm Resilience Centre and incoming co-Director of the Potsdam Institute for Climate Impact Research.
Hans Joachim Schellnhuber, Director of the Potsdam Institute for Climate Impact Research, says, "We show how industrial-age greenhouse gas emissions force our climate, and ultimately the Earth system, out of balance. In particular, we address tipping elements in the planetary machinery that might, once a certain stress level has been passed, one by one change fundamentally, rapidly, and perhaps irreversibly. This cascade of events may tip the entire Earth system into a new mode of operation."
"What we do not know yet is whether the climate system can be safely 'parked' near 2°C above preindustrial levels, as the Paris Agreement envisages. Or if it will, once pushed so far, slip down the slope towards a hothouse planet. Research must assess this risk as soon as possible."
Cutting greenhouse gases is not enough
Maximising the chances of avoiding a "Hothouse Earth" requires not only reduction of carbon dioxide and other greenhouse gas emissions but also enhancement and/or creation of new biological carbon stores, for example, through improved forest, agricultural and soil management; biodiversity conservation; and technologies that remove carbon dioxide from the atmosphere and store it underground, the paper says. Critically, the study emphasizes that these measures must be underpinned by fundamental societal changes that are required to maintain a "Stabilized Earth" where temperatures are ~2°C warmer that the pre-industrial.
"Climate and other global changes show us that we humans are impacting the Earth system at the global level. This means that we as a global community can also manage our relationship with the system to influence future planetary conditions. This study identifies some of the levers that can be used to do so," concludes co-author, Katherine Richardson from the University of Copenhagen.
Will Steffen, Johan Rockström, Katherine Richardson, Timothy M. Lenton, Carl Folke, Diana Liverman, Colin P. Summerhayes, Anthony D. Barnosky, Sarah E. Cornell, Michel Crucifix, Jonathan F. Donges, Ingo Fetzer, Steven J. Lade, Marten Scheffer, Ricarda Winkelmann, and Hans Joachim Schellnhuber.
Trajectories of the Earth System in the Anthropocene.
PNAS, 2018 DOI:
10.1073/pnas.1810141115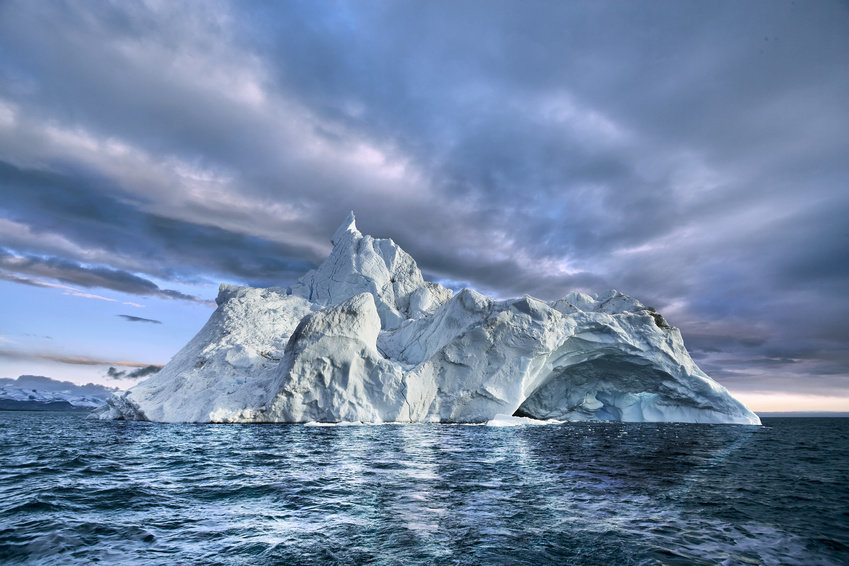 Iceberg floating in near Greenland. Credit: © the_lightwriter / Fotolia

Delightful Diamond Firetails - Capertee Valley
By Birds in Back Yards TV (BIBYTV)
These Diamond Firetails (Stagonopleura guttata) were filmed during May and June 2018 visits to a private property in the Capertee Valley, NSW. Given the number of juveniles seen, the Diamond Firetails appear to be thriving here. (Indeed, they have been recorded nesting on the property.) They are one of several threatened bird species in NSW and are listed as Vulnerable because their numbers and range have declined. Their preferred habitats – i.e. grassy eucalypt woodlands, open forests and natural temperate grasslands – are particularly susceptible to destruction, degradation, modification and fragmentation due to suitability for agriculture and other development. As predominantly seed eaters, Diamond Firetails can utilise some exotic grasses and weeds, but these plants reduce the availability of suitable food overall and roosting/nesting shrubs and trees. (The Diamond Firetails we observed regularly used trees as a vantage and calling point, a behaviour not apparent in the other finch species on this site.) Environmental modification also favours larger, more aggressive birds such as the Noisy Miner and Pied Currawong, both of which can interfere with reproductive success.
The Capertee Valley appears to be a stronghold for the Diamond Firetail, relatively speaking. As the area has been significantly modified since the early 1800s for agriculture (grazing mostly), their presence is heartening. However, there are special factors here that need to be recognised. For starters, the valley is fringed by national parks (e.g. Wollemi National Park, Gardens of Stone National Park and Capertee National Park). While the prime bird habitat is woodland on the valley floor, the forested slopes of the national parks provide refuge and connectivity for several species. Additionally, remnant woodland can be found throughout the valley and many landholders have actively preserved and/or restored this crucial habitat on private property. Where we filmed the Diamond Firetails is one such place.
Although this restoration has had wonderful results, it takes some years and considerable dedication to provide a rich diverse environment similar to natural grassy woodland. Our first action to ensure the future of threatened birds should be the preservation of existing natural habitat, as well as expanding potential habitat through ongoing tree-planting programs.
Yellomundee Living Culture Camp 2018
Published on 6 Aug 2018 by NSW National Parks and Wildlife Service
The six Aboriginal language groups across the Greater Blue Mountains World Heritage Area celebrate living and breathing culture at the Yellomundee Living Country Culture Camp 2018, Shaws Creek Aboriginal Place, Yarrumundi NSW alongside the Darug Caring as Country project with Uncle Lex Dadd, Macquarie University and Newcastle University.
Mojave Desert birds crashed over the last century due to climate change
August 7, 2018: University of California - Berkeley
Bird communities in the Mojave Desert straddling the California/Nevada border have collapsed over the past 100 years, most likely because of lower rainfall due to climate change, according to a new University of California, Berkeley, study.
A three-year survey of the area, which is larger than the state of New York, concludes that 30 percent, or 39 of the 135 bird species that were there 100 years ago, are less common and less widespread today. The 61 sites surveyed lost, on average, 43 percent of the species that were there a century ago.
"Deserts are harsh environments, and while some species might have adaptations that allow them to persist in a desert spot, they are also at their physiological limits," said Kelly Iknayan, who conducted the survey for her doctoral thesis at UC Berkeley. "California deserts have already experienced quite a bit of drying and warming because of climate change, and this might be enough to push birds over the edge. It seems like we are losing part of the desert ecosystem."
The collapse could have an impact on desert plants that rely upon birds to spread their seeds and for pollination, she said, as well as on a host of creatures that prey on the birds.
Though the decline has happened across the entire Mojave Desert, sites with available water saw less decline, suggesting that dehydration is a major factor. To halt further losses, the authors suggest, it may be necessary in the short-term to create additional water resources and limit groundwater pumping, which depletes desert springs. The best long-term solution is to reduce greenhouse gas emissions and reverse climate change, the authors say.
The loss of bird species has happened even though much of the Mojave Desert is protected national park or preserve, including Death Valley National Park, one of the nation's largest.
"This is a shot across the bow of our nation's national jewels, telling us that climate change is already having an adverse impact even in our largest national parks and wilderness areas, and that we have got to reduce dependence on fossil fuels by smartly employing green energy," said Steven Beissinger, senior author of the study and a UC Berkeley professor of environmental science, policy and management.
Iknayan and Beissinger will report their findings this week in the journal Proceedings of the National Academy of Sciences.
Raptors are down, ravens are up
The UC Berkeley team found a 42 percent drop in the number of bird species at Mojave sites. Raptors, with their meat-based diet, were one of the groups of birds that declined the most, including the American kestrel, prairie falcon, turkey vulture and sharp-shinned hawk -- all fairly common in the early 20th century.
Rarer birds, such as the Virginia's warbler, red crossbill, mountain quail and Lawrence's goldfinch, are now even rarer.
Birds that are more adapted to the desert -- the roadrunner and cactus wren, for example -- and birds that can live in a variety of habitats, such as the Bewick's wren and California towhee, fared better. Those adapted to grassland or forest did worse.
"A lot of these birds aren't exclusively limited to the desert," Iknayan said, noting declines in relatively widespread mockingbirds, killdeer and various sparrows and flycatchers. "Protecting their populations across the whole range can help a lot of these species to persist into the future."
The only birds more common today in the Mojave are the common raven and four exotics: the great-tailed grackle, which migrated northward from the U.S. Southwest and Mexico; an imported gamebird called the chukar; and the purposely introduced Eurasian collared dove and European starling.
Beissinger refers to the widespread decline as a collapse because it has occurred across the whole desert bird community, unlike changes in bird communities elsewhere, which consist of some declining and some increasing species. The 42 percent decrease in species richness across the Mojave contrasts markedly with a 2 percent decline in richness at sites in the Sierra Nevada revealed by similar surveys.
Breeding bird surveys conducted by citizen scientists dating back to the 1970s confirm the drop in abundance in the Mojave, "which is why we think we are seeing a new, lower baseline" for desert bird populations, he said.
"Studies elsewhere have found that climate change typically makes places unfavorable for some birds but opens the door for others to come in," Iknayan said. "In the desert we are not seeing increases in any of our species except for the common raven. There are a lack of climate change winners in the system."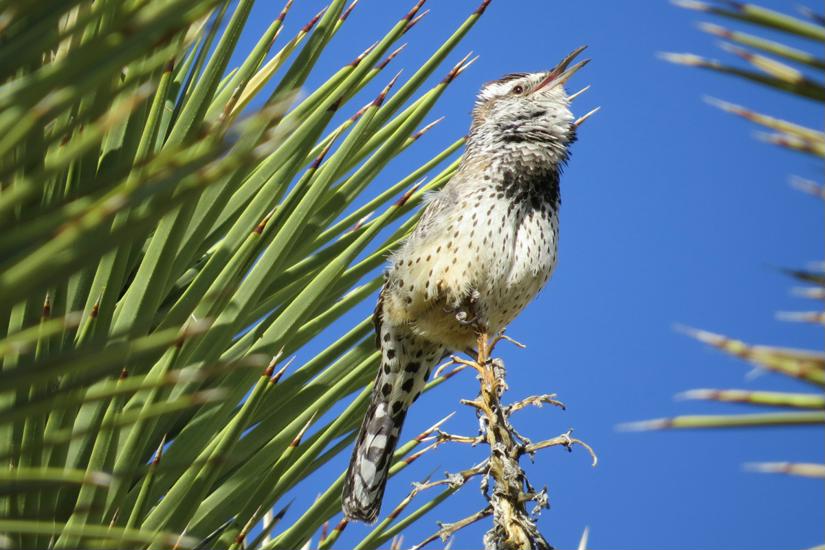 Cactus Wren - photo by Chelsea Hofmeier photo

Taking good notes
Beissinger leads the Grinnell Resurvey Project to survey again areas of California that UC Berkeley biologists surveyed nearly 100 years ago, starting in 1908 with the arrival of Joseph Grinnell to head the campus's Museum of Vertebrate Zoology. The goal of the project is to understand the changes wrought by human occupation of the state, including the impact of global warming and climate change.
Thanks to Grinnell, who introduced a now-widely used method of recording field notes, today's scientists have detailed data about bird and mammal populations and occurrence throughout the state, ranging from the Sierra Nevada and Cascade ranges to the Coast Ranges and Central Valley, and encompassing Southern California and, most recently, the deserts of the state's southeast. Grinnell and his students conducted and dutifully recorded their observations between 1908 and after his death in 1940.
Iknayan and her colleagues visited the 61 Mojave sites, including 9 in Nevada, that Grinnell and his colleagues visited between 1908 and 1947. She spent three consecutive days at each site walking a path as close to Grinnell's as possible, stopping at 10 places along each path and recording all the birds she saw or heard within 7 minutes.
She and Beissinger then conducted a statistical analysis to take account of the fact neither Grinnell nor Iknayan detected all the birds living at a site. The result was a chart of "occupancy" for each of the 135 birds, representing the proportion of surveyed sites the birds actually inhabited, even if undetected, in the early 1900s and now.
They subsequently correlated occupancy with other data for the sites, such as long-term change in average annual temperature, average maximum temperature and average yearly rainfall as well as similar measures for recent years. They also looked at the history of fire, grazing and other habitat changes.
The upshot was that the most significant change associated with bird declines was a long-term decrease in precipitation. Sites that had reduced rainfall suffered more loss of species than sites that remained wetter. The long-term change in maximum temperature at a site was unrelated to species loss.
"The study is clearly showing an erosion of the number of species and the diversity at these sites that is pretty striking," Beissinger said. "The Mojave Desert is now nearly half empty of birds. Is this a bellwether of changes to come in other protected areas?"
The Grinnell Resurvey Project is supported by the National Science Foundation (DEB-1457742, DEB-1501757, DGE-1106400), National Geographic Society, National Park Service and Museum of Vertebrate Zoology.
Kelly J. Iknayan, Steven R. Beissinger.
Collapse of a desert bird community over the past century driven by climate change.
Proceedings of the National Academy of Sciences, 2018; 201805123 DOI:
10.1073/pnas.1805123115
For The First Time, Scientists Are Putting Extinct Mammals On The Map
August 8, 2018: Aarhus University

The blue color shows the range of brown bear today. The red color shows, where you would also find brown bears today, had they not been driven away by human activity.
Credit: Soeren Faurby, University of Gothenburg
Researchers from Aarhus University and University of Gothenburg have produced the most comprehensive family tree and atlas of mammals to date, connecting all living and recently extinct mammal species -- nearly 6,000 in total -- and overturning many previous ideas about global patterns of biodiversity.
While others have tried to map the ranges of all mammals or figure out their family tree, previous studies always left out one crucial group of mammals: species driven to extinction by humans.
"This is the first time we've been able to comprehensively include extinct species like the Tasmanian tiger or the woolly mammoth as well as account for human-induced regional range losses among extant species in such a large database, and it's really changing our beliefs about what is 'natural' or not," said biologist Søren Faurby of the University of Gothenburg in Sweden, who co-led the assembly of the database and the study, which was resently published in the scientific magasine Ecology.
Scientist often use maps of mammal species ranges to investigate patterns of biodiversity or to predict how climate change will affect species. But these maps are incomplete because they don't show species' natural ranges, only where they occur today. Many species have had their ranges drastically reduced by humans, for instance, through overhunting and habitat destruction.
"Brown bears may be emblematic of Alaska or Russia today but their range used to stretch all the way from Mexico to Northern Africa before widespread hunting by humans. If we want to predict how a warming climate will affect these bears, we can't leave out these natural areas of their range," said Faurby.
Tasmanian tigers and mammoths back on the map
It is also important to include species that have been totally exterminated.
"If we are studying global patterns of biodiversity, we really need to start considering species like the Tasmanian tiger that was hunted to extinction less than 100 years ago, a mere eye blink in geological time," said paleontologist and co-leader Matt Davis of Aarhus University in Denmark.
We associate large mammals like elephants and lions with Africa today, but for most of the last 30 million years, big animals roamed all over the Earth. It was only relatively recently that humans drove many of these large mammals extinct, leaving a world depauperate of giants.
"Even a species like the woolly mammoth, that we think of as prehistoric, lived up to the time the Great Pyramid was being built," Davis said.
Old maps and new algorithms
Assembling a database that included every species of mammal was no easy task. It took the research team, headquartered at Aarhus University, months just to stitch together existing datasets and fill in missing holes in the data.
They then poured over old maps and checked museum records to see where species natural ranges might be without the interference of modern humans.
Adding extinct species to the mammal family tree and making modern ranges for them was even harder. The scientists combined DNA evidence and data from fossil dig sites around the world with a powerful new computer algorithm to predict where extinct species fit in with mammals that are alive today.
New baselines for restoration
"This comprehensive database has already provided much needed evidence to inform restoration baselines and to provide re-assessments of several hotly debated ideas in biology, but this is just the beginning" said Jens-Christian Svenning, professor at Aarhus University and leader of the Aarhus team.
He expects that other researchers, conservationists, and educators will also find the easy to use and publicly available database valuable.
"We are already using the database to quantify and map human-induced biodiversity deficits and assess restoration potential across the globe.
Søren Faurby, Matt Davis, Rasmus Østergaard Pedersen, Simon D. Schowanek, Alexandre Antonelli, Jens-Christian Svenning.
PHYLACINE 1.2: The Phylogenetic Atlas of Mammal Macroecology.
Ecology, 2018; DOI:
10.1002/ecy.2443
Powerful Owl Release
March 18, 2018:

Avalon Preservation Association
PNHA's Jacqui Marlow has advised that a Powerful Owl chick has been released in Plateau Park following its recuperation in Taronga Park.
If you see it there being harassed, or even if you see it at all, can you please phone her on 0458 194 127.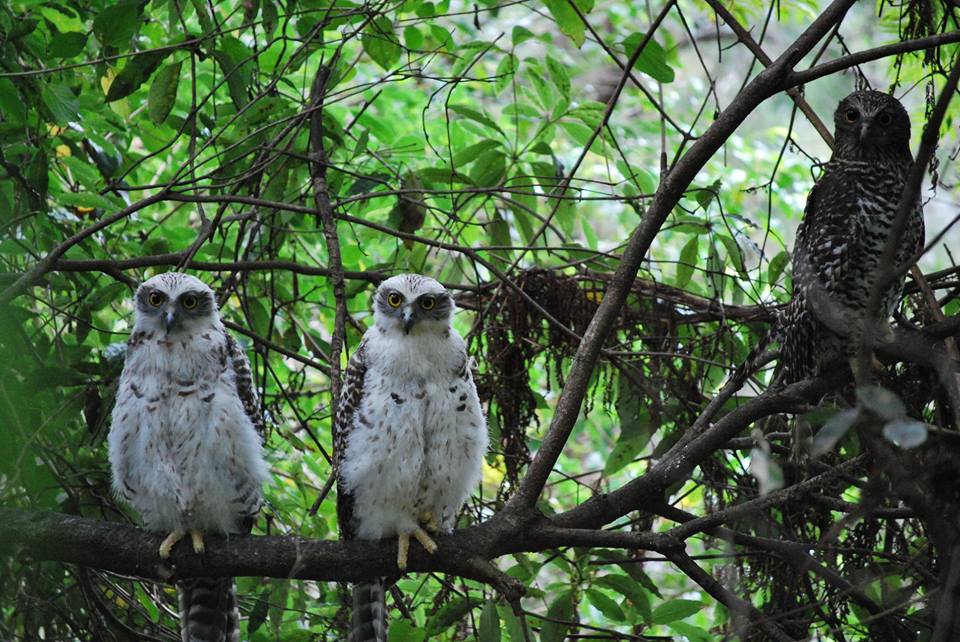 Powerful owl family - photo courtesy PNHA


International Year of the Reef (IYOR)
The Third International Year of the Reef (IYOR 2018) @IYOR2018 / #IYOR2018
At the 31st General Meeting (November 2016 in Paris, France), the International Coral Reef Initiative declared 2018 as the third International Year of the Reef and encourages to:
strengthen awareness globally about the value of, and threats to, coral reefs and associated ecosystems;




promote partnerships between governments, the private sector, academia and civil society on the management of coral reefs;




identify and implement effective management strategies for conservation, increased resiliency and sustainable use of these ecosystems and promoting best practices; and




share information on best practices in relation to sustainable coral reef management.



History

1997 was declared the first International Year of the Reef (IYOR), in response to the increasing threats on coral reefs and associated ecosystems, such as mangroves and sea grasses around the world. IYOR was a global effort to increase awareness and understanding on the values and threats to coral reefs, and to support related conservation, research and management efforts. Over 225 organizations in 50 countries and territories participated, and over 700 articles in papers and magazines were generated, and hundreds of scientific surveys were undertaken.
Recognising that, ten years later, there continued to be an urgent need to increase awareness and understanding of coral reefs, and to further conserve and manage valuable coral reefs and associated ecosystems, the International Coral Reef Initiative designated 2008 as the second International Year of the Reef, IYOR 2008 (Resolution to Designate 2008 as the International Year of the Reef).
IYOR 2008 was a year-long campaign of events and initiatives hosted by governments and non-governmental organizations around the world, to promote conservation action and strengthen long-term collaborations for coral reef conservation.
IYOR 2008 Goals were the following:
Strengthen awareness about ecological, economic, social and cultural value of coral reefs and associated ecosystems




Improve understanding of the critical threats to reefs and generate both practical and innovative solutions to reduce these threats




Generate urgent action to develop and implement effective management strategies for conservation and sustainable use of these ecosystems.



Nations, organizations, and individuals around the world celebrated the International Year of the Reef 2008 (IYOR 2008): from international organizations to village children, to raise awareness about the value and importance of coral reefs and to motivate people to take action to protect them. A tremendous amount of material was produced in several languages during that year, including educational DVDs, posters, children's books, and much more. More than 630 events were organized in over 65 countries and territories around the world. IYOR 2008 has now come to an end, but the spirit lives on... To learn more about the IYOR 2008 accomplishment, download the IYOR Report.
Recognizing that public awareness is an essential element of coral reef conservation and is necessary to ensure that the value of and the threats to coral reefs are understood by the general public, and that sufficient resources are devoted to conservation and sustainable use of coral reefs and associated ecosystems; noting the importance of developing relevant public awareness initiatives that reflect national and regional priorities as well as local culture and knowledge concerning coral reefs and to facilitate public involvement in coral reef conservation related activities in all countries; and acknowledging the success of the International Year of the Reef 2008 in raising awareness of the importance of coral reefs and associated ecosystems; ICRI members adopted a recommendation on continuing coral reef awareness efforts.
The International Coral Reef Initiative (ICRI) is an informal partnership between Nations and organizations which strives to preserve coral reefs and related ecosystems around the world.
Although the Initiative is an informal group whose decisions are not binding on its members, its actions have been pivotal in continuing to highlight globally the importance of coral reefs and related ecosystems to environmental sustainability, food security and social and cultural wellbeing. The work of ICRI is regularly acknowledged in United Nations documents, highlighting the Initiative's important cooperation, collaboration and advocacy role within the international arena.
Brief history
The Initiative was founded in 1994 by eight governments: Australia, France, Japan, Jamaica, the Philippines, Sweden, the United Kingdom, and the United States of America. It was announced at the First Conference of the Parties of the Convention on Biological Diversity in December 1994, and at the high level segment of the Intersessional Meeting of the U.N. Commission on Sustainable Development in April 1995. ICRI now counts more than 60 members.
Objectives
ICRI emerged out of the recognition that coral reefs and related ecosystems found in tropical and sub-tropical regions are facing serious degradation, primarily due to anthropogenic stresses. Many nations face similar threats to coral reefs and related ecosystems as well as similar management problems. Recognising this, ICRI's objectives are to:
Encourage the adoption of best practice in sustainable management of coral reefs and associated ecosystems




Build capacity




Raise awareness at all levels on the plight of coral reefs around the world.



ICRI adopted a 'Call to Action' and a 'Framework for Action' as its foundational documents. Both documents set the four cornerstones of ICRI: Integrated Management; Science; Capacity Building and Review.
________________________________________
Locally: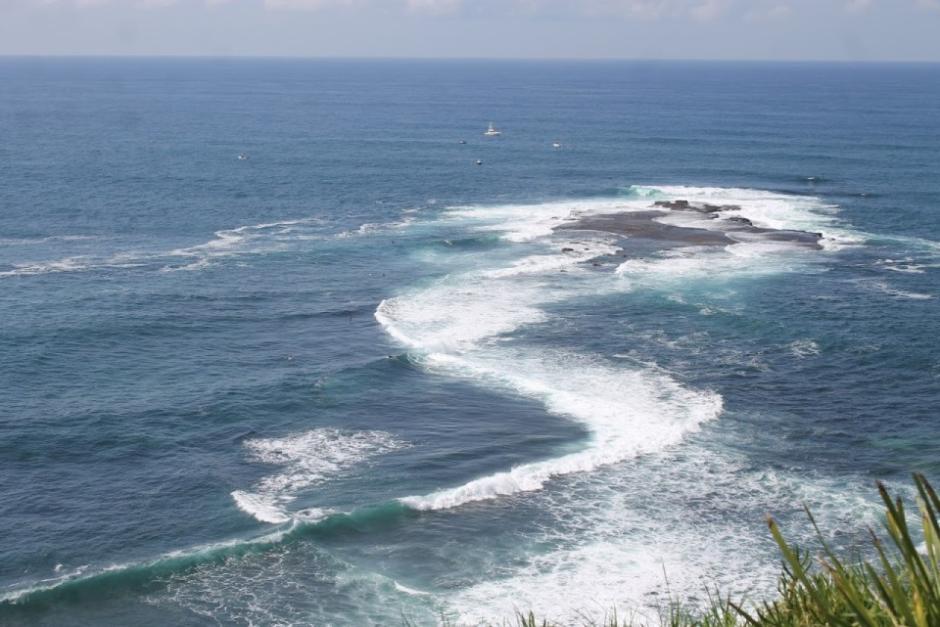 Crosswaves - Newport Reef