April 5 - 11, 2020: Issue 445

April fools day announcement 2020 no joke: Victorian and Federal Government renew 10 year logging plans for Bushfire ravaged areas in gippsland and exemptions for loggers on threatened species in these areas
Wednesday, April 1st, 2020
Legal exemption for the logging industry from federal environment law was signed off on Monday for another ten years in spite of the horrific impacts of the bushfires on forests and wildlife. Regional Forest Agreements (RFAs) are agreements between State and Federal governments which give logging a special exemption from Federal environment laws (the EPBC Act). Logging is the only extractive industry which receives legal exemption, and will be disastrous for threatened species and forests devastated by the fires.
East Gippslands' Goongerah Environment Centre organisation said in a statement on Wedesday;
''Given the extensive impacts of the bushfires on forests and wildlife the agreements should have been left to expire to give species a chance to recover. RFAs have allowed logging in thousands of hectares of threatened species habitat for over 20 years, and this will continue now they've been renewed. This will have devastating consequences for wildlife already on the brink of extinction.''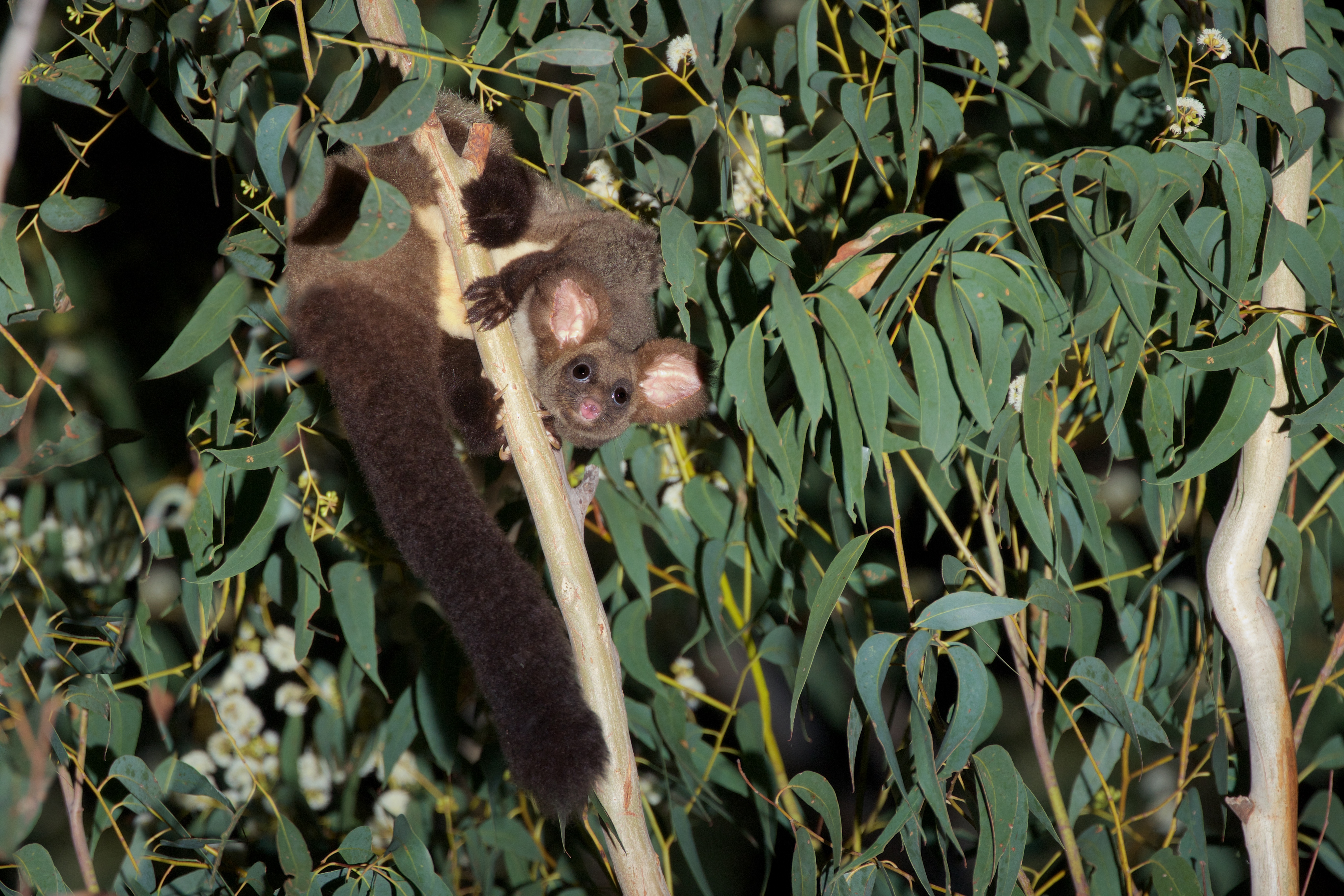 Threatened Greater Glider, Federally listed on the EPBC Act which logging receives special exemption through the RFAs photo by Caleb McIrea

''Last year the Victorian state government rolled over short-term RFAs in order to continue the archaic 20-year agreements under the guise of 'modernisation', but there is nothing 'modern' about the continued exemption. The review included submissions and community consultation across Victoria. As a result of the consultation a report was released which revealed that protecting native forests from logging was identified by the majority of respondents as being the most important way of improving forests for all Victorians. After 20 years of the contracts, the 'modern' view is that they should be scrapped, but the Victorian and Federal governments will continue to give the logging industry special exemption from Federal laws for another decade.''
A scientific advisory panel has been created to make scientific recommendations and assessments on the RFAs, one of the key recommendations is a reassessment of the Comprehensive Adequate and Representative (CAR) reserve system. The CAR reserve system, which is a key part of the exemptions, has been gravely impacted by the bushfires. According to analysis of spatial data of the reserve system in East Gippsland and fire extent mapping, over two thirds of East Gippsland's parks, reserves, and SPZ's (Special Protection Zones) which constitute the CAR reserve system are within the fire extent. Of 104 parks managed by Parks Victoria, 34 were entirely burnt out. Map depicting bushfire impacts on East Gippsland reserves. Credit: Fauna and Flora Research Collective (FFRC)
Initial assessments into the impacts of the bushfire were laid bare in a government report:
Over 62% of Long-footed Potoroo habitat has burnt (EPBC listed)
Over 40% of Sooty Owl habitat has burnt
Over 25% of Greater Glider habitat has burnt (EPBC listed)
70% Warm temperate rainforests have burnt
30% cool temperate rainforests have burnt
''These figures were calculated while the bushfires were still very active, and are only initial indications of the impacts to threatened species and Environmental Vegetation Communities (EVCs). The Federal government has also released a list of provisional species which need urgent action and management plans. They acknowledge that threatened species are in a dire state following the fires and require immediate protection measures, but are signing off on agreements that allow logging of their habitat for the next decade. This is an appalling and unacceptable response to the bushfires.'' the Goongerah Environment Centre states.
In November last year the Victorian Labor government announced protection for 96,000 hectares of forest across Victoria. These forests were designated as 'Immediate Protection Areas (IPAs) for the threatened Greater Glider. Based on an analysis of Victorian government spatial data that depicts the extent of the IPAs and mapping of the extent of fire impacted forests in East Gippsland, approximately 90% or of recently protected forest within the East Gippsland IPA is now burnt, including the ancient forests of Kuark, one of the most heavily impacted areas. Areas that were set aside for protection have burnt, and now the exemptions will allow logging in some of the last remaining critical unburnt habitat.
''Under the dodgy agreements the last remaining fragments of unburnt forests in East Gippsland will continue to be logged. These areas are crucial for the recovery of threatened species and urgently need protection. You can take action by emailing Premier Daniel Andrews here.'' the group says
''The Victorian and Federal governments have rolled over these 10-year agreements with no consideration of the impacts of the bushfires, which are still yet to be fully understood or assessed. Allowing logging to continue to be exempt from Federal environment laws will spell disaster for fire-affected threatened species across Victoria. The RFAs have fuelled a massive decline in wildlife and biodiversity, and now that's set to continue for another decade. But threatened species are running out of time.
Renewal of the exemptions is a blatant disregard of the impacts of the recent bushfires on threatened species habitat and is in direct contravention of the purpose of the review. While we are experiencing an unprecedented health crisis due to COVID-19, governments are sneaking through laws which will have lasting detrimental impacts to environmental values across Victoria.''
There is no way to "modernise" these archaic agreements, they exist solely to give the logging industry special exemption from Federal Environment laws. Over 66% of East Gippsland's reserve system is within the fire extent. Every patch of forest that's left in East Gippsland should be protected in light of the devastating fires and these agreements left to expire.
The bushfires have wreaked havoc on forests and wildlife in East Gippsland. The Victorian government cannot continue to ignore calls from scientists and Victorian communities to scrap the exemption for the logging industry. Given so much of the reserve system has burnt, its likely the agreements won't even be legal.
Environmental Justice Australia (EJA) have released a detailed report about the failure of the RFAs. They say; "The consequences of the fires and the impact on CAR reserves also raise legal issues in relation to whether the agreements continue to be binding, whether RFAs are legally valid, and whether exemptions to the Environment Protection and Biodiversity Act 1999 founded on RFAs continue to apply."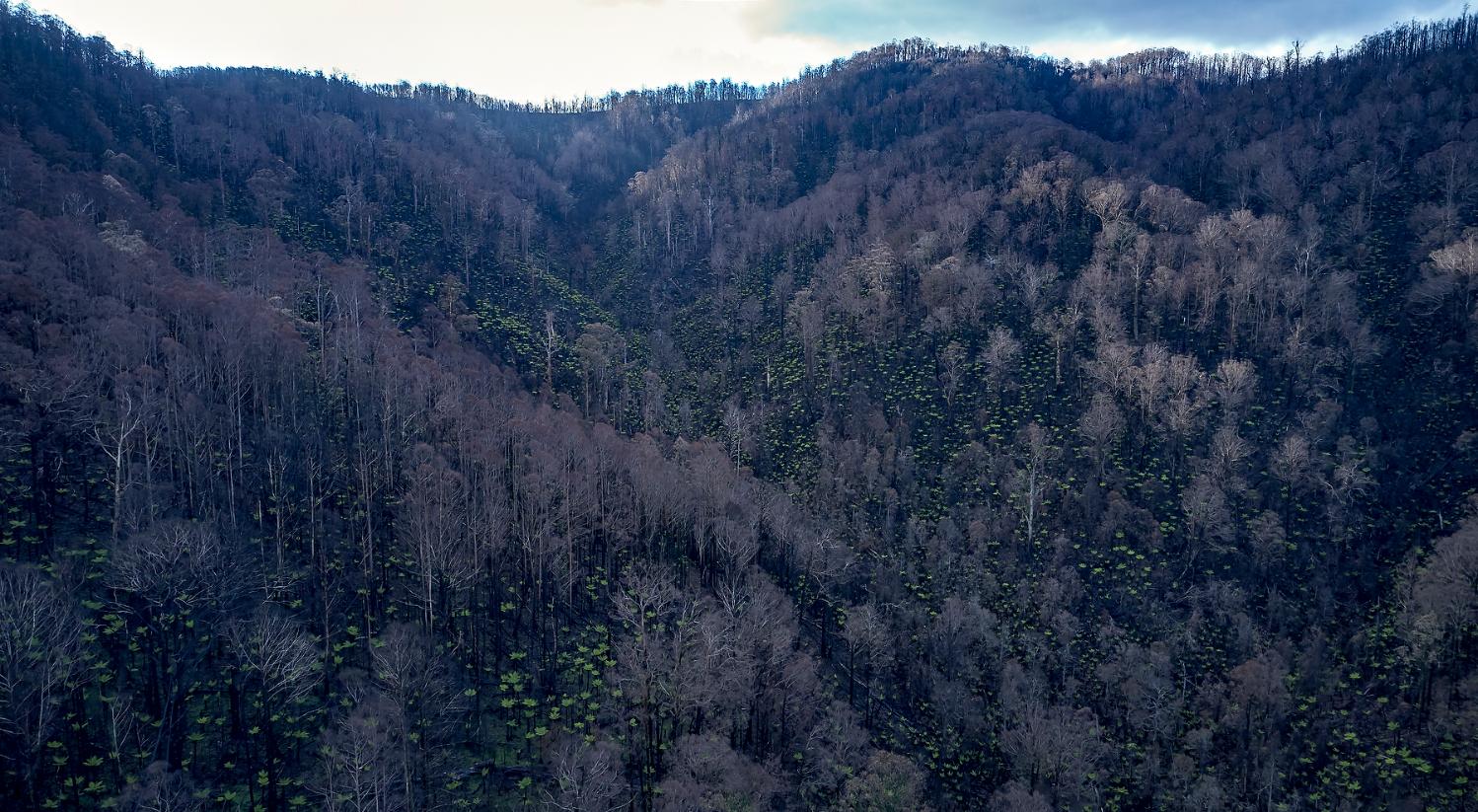 Fire sensitive rainforest gullies which may never recover, Kuark East Gippsland - Goongerah Environment Centre photo
Natural Resources Commission Report on Land Management
March 31, 2020: NSW Department of Planning, Industry and Environment
In 2019 the NSW Government commissioned advice from the Natural Resources Commission about the land management and biodiversity conservation laws.
The NSW Government has received the Commission's report, Land management and biodiversity conservation reforms, final advice on a response to the policy review point.
The NSW Government's response to the report recommendations:
Recommendations Government response
1. If the implementation of the Native Vegetation Regulatory (NVR) Map remains a NSW Government priority, Environment, Energy and Science Group (EES) implement a staged release of the Native Vegetation Regulatory Map:
1.1 The first stage should involve the immediate release of all categories of the map for woody vegetation-dominant landscapes on a region-by-region basis. This needs to be supported by processes to improve map accuracy, including a process to resolve disagreements on map accuracy that remain following EES's normal appeal process that is overseen by an independent body.
1.2 The second stage should involve the release of all categories of the map for native grassland-dominant landscapes, once there is more confidence in the accuracy of the mapping of native grassland.
Noted
2. The NSW Government strengthen compliance frameworks by:
2.1 Reviewing the roles, responsibilities and resourcing for monitoring and enforcing compliance with certifications and notifications to clear and set asides under the Land Management (Native Vegetation) Code.
Supported - LLS will review the roles, responsibilities and resourcing for monitoring and compliance with certificates and notifications.
2.2 Developing clear processes to monitor and report on compliance with certifications and notifications to clear and set asides under the Land Management (Native Vegetation) Code. Monitoring and reporting processes should be developed with consideration of best practice principles, including ensuring monitoring can identify incidents of non-compliance and compliance risks in a timely way.
Supported - LLS will consider and develop appropriate processes to monitor and report on compliance with certifications and notifications under the Land Management (Native Vegetation) Code
2.3 Reviewing the drivers of high rates of unexplained clearing and address identified issues.
Supported - EES and LLS will work collaboratively to identify and review drivers of unexplained clearing and address identified issues.
2.4 Developing processes to ensure six monthly monitoring and reporting of unexplained clearing as part of the trigger framework.
Supported - Government supports the development of a process to allow for the monitoring of unexplained clearing.
3. The NSW Government undertake an immediate review of Part 3 (pasture expansion) of the Land Management (Native Vegetation) Code to address risks to biodiversity values state-wide resulting from high rates of certifications and notifications to clear under this part of the Code.
Supported in principle - A review of Part 3 (pasture expansion) of the Land Management (Native Vegetation Code) will be included in the three year review.
4. The NSW Government replace the existing policy review trigger with the immediate implementation of the Commission's proposed trigger framework.
Trigger 1: Policy implementation: That all core policies of the reform are operational within 18 months of commencement of reforms
Land Management (Native Vegetation) Code
NVR Map
Biodiversity Conservation Investment Strategy
Private Land Conservation Agreements
Single measure of assessing biodiversity value under the Biodiversity Offsets Scheme
Coordinated reform specific Monitoring, evaluation and reporting (MER) framework
Trigger 2: Compliance: Annual areas of unexplained clearing should not exceed pre-reform average (6,350 ha/annum) (EES[lead]/LLS)
Trigger 3: Biodiversity - state wide: Annualised combined area of set asides and conservation agreements is less than two times the area approved for clearing (certification and notifications under Parts 3-6 of the code) (LLS/BCT).
Trigger 4: Biodiversity – regional: Using a 'traffic-light' risk rating system, LLS regional risk to biodiversity from clearing under the reforms exceeds 'high risk' thresholds: The risk rating system considers the area of land approved to be cleared and area of set asides in each LLS region. (LLS)
Trigger 5: Socioeconomic: State-wide investment in conservation agreements falls below 80% of budget (BCT)
Trigger 6: Code clearing: Reported for consideration without threshold – cumulative area approved to clear under Parts 3 – 6 of the code by ha (LLS)
Supported in principle - A new trigger framework will be considered by the Ministers responsible for the Biodiversity Conservation Act and the Local Land Services Act
5. The Environment, Energy and Science Group, Local Land Services and the Biodiversity Conservation Trust provide a quarterly report on the status of triggers to the Cluster Ministers Group for the Planning, Industry and Environment Cluster.
Supported in principle - Six monthly reporting on triggers and other key indicators will be provided to a Departmental governance group that will be established to oversee implementation of the LMBC reforms and report to Ministers responsible for the Biodiversity Conservation Act and the Local Land Services Act (see response to recommendation 8).
6. Previous reporting on triggers to Cabinet is replaced by reporting on an annual or exceptional basis if thresholds are exceeded to ensure Cabinet remains informed.
Noted - See response to 5.
7. If a coordinated, reform specific MER program remains a NSW government priority, the NSW Government implement an overarching MER framework within six months that is informed by the Commission's proposed MER framework so that sufficient data is collected to inform the three- and five-year reviews to the best possible extent.
Supported in principle - The Government supports sufficient monitoring to occur to enable reporting to be done in response to recommendation 5 above.
8. The Secretary of the Planning, Industry and Environment Cluster establish an overarching steering committee (with independent Chair) comprised of relevant agencies to oversee coordination and implementation across the whole reform, including:
the implementation of the trigger and MER frameworks
alignment of strategic priorities, including conservation investment
responses to emerging issues
landholder engagement and capacity building
data and information sharing.
Supported in principle - The Department will establish a governance group to oversee the LMBC reforms and report to the Ministers responsible for the Biodiversity Conservation Act and the Local Land Services Act. The group will:
monitor key risks
oversee the three-year review of the reforms
prepare for the five-year statutory review of the Biodiversity Conservation Act 2016 and Part 5A of the Local Land Services Act 2013.
Terms of Reference will be finalised by the governance group for Ministers' consideration and approval.
8.1 The steering committee should have an independent chair appointed by the Secretary (such as a representative of the Secretary's Office).
Not supported - The governance group will be co-chaired by the Coordinator General, Environment, Energy and Science and Coordinator General, Regions, Industry, Agriculture and Resources and report directly to the Ministers responsible for the Biodiversity Conservation Act and the Local Land Services Act.
9. As part of the three-year review, the NSW government should consider:
9.1 Barriers to landholder engagement with the native vegetation panel. This review should include the role and responsibilities of the Panel under the Local Land Services Act 2013 and potential opportunities to increase the options available to the NV panel to assist with applications that fall outside of the Code.
Supported - A review of the barriers to landholder engagement with the Native Vegetation Panel (including issues relating to the Biodiversity Offsets Scheme) will be included in the three-year review.
9.2 Whether adequate processes are in place for agencies and the broader community to nominate areas to be recommended by EES for declaration as an Area of Outstanding Biodiversity Value (AOBV).
Noted
Reminder of Closed areas: Ku-ring-gai Chase National Park visitor areas and facilities are closed
Applies from Tue 31 Mar 2020, 10.41am. Last reviewed: Fri 03 Apr 2020: NPWS
Many high visitation areas and facilities within Ku-ring-gai Chase National Park are closed until further notice to protect the health and safety of our visitors and staff. The closed areas include:
Bobbin Head Information Centre
All large picnic shelters
All picnic and barbecue facilities (including picnic tables)
All playgrounds
Brooklyn Dam campsites
Barrenjoey Headland and Barrenjoey Lighthouse
Berowra track remains closed between Apple Tree Bay and the intersection of Mount Ku-ring-gai track until further notice, while staff fix extensive storm damage.
The closure of toilets and other facilities will be decided on a case-by-case basis, with necessary site assessments considering the management of health and safety risk to visitors and staff, as well as available resourcing to maintain facilities. Access to sanitation products and running water cannot be guaranteed. We recommend bringing hand soap, hand wipes and toilet paper with you to maintain good hygiene as advised by the NSW Government.
If you wish to exercise in a national park, you should choose a park close to your home. Visitors are reminded that non-essential travel is currently not permitted. If your planned visit is for a purpose other than exercise, you should reconsider your plans as you may be in breach of the current public health orders. If you arrive at a national park or other public space and it is too crowded to practice social distancing, it is your responsibility to leave the area. Do not wait to be instructed by NPWS or police.
If you're visiting the park, please bring a card to pay vehicle entry fees.
For more information about closures, call the NPWS Contact Centre on 1300 072 757, the NPWS North Western Sydney area office on 02 8448 0400 or the NPWS Sydney North area office on 02 9451 3479.
Penalties apply for non-compliance. Please check our COVID-19 update for further information.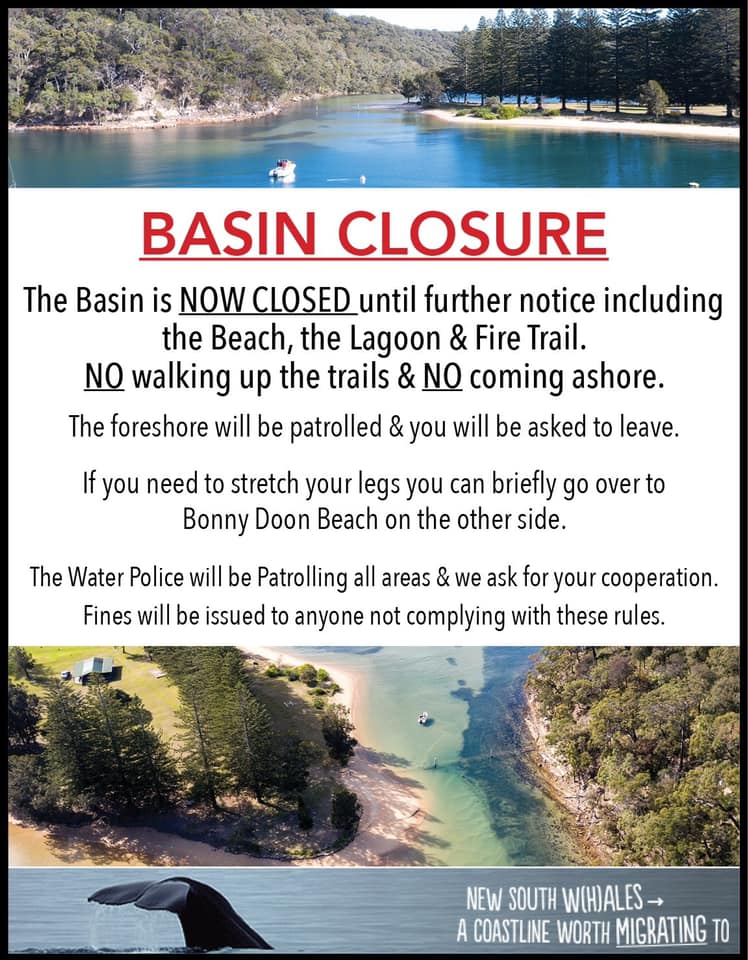 Birding At Home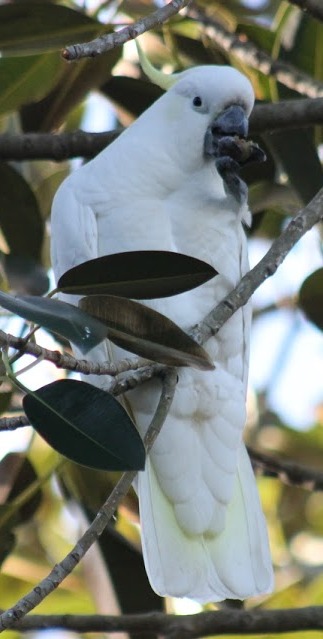 As COVID-19 causes so much heartbreak and sadness around the world, I'm inspired by the bravery of our frontline workers and the spirit of cooperation as we all work together to get through this.
I can assure you BirdLife Australia is continuing its fight to stop extinctions and protect nature, even if many of us are doing this from our own homes. We need you now more than ever.
Thank you to everyone for staying at home as much as possible to stop the spread of the virus and save lives. I know self-isolation can be challenging and stressful at times so what we need right now is nature.
I am so grateful that no matter where you live, you can still see birds and take comfort from them.
Please visit our new Birding at Home page to find out how you and your household can continue to enjoy the beauty of our feathered friends.
You'll find activities to occupy kids while our movements are restricted, links to our Autumn Birds in Backyards survey and Bird Finder, and information on how you can act to protect birds forever.
To help everyone who is now Birding at Home, we are also kicking off a regular live series on Facebook where our bird experts will be taking questions and talking about what we love best - birds.
The first event will be Backyard Birding for Beginners, hosted by Sean Dooley on Thursday April 9th. Even if you are an expert birder, I encourage you to join in for a chat – and please spread the word to all the bird and nature lovers in your life. Sean is also keen to answer your backyard birding questions – so if you've got a query, get involved!
Event details:
BirdLife Australia Facebook
Backyard Birding for Beginners with Sean Dooley
Thursday April 9
12:00pm AEST / 11:30am ACST / 10:00am AWST
These are difficult times and it's important to support each other. We hope our new resources will help you get through these unprecedented times.
Paul Sullivan, CEO
BirdLife Australia
P.S. We'll be having new bird experts every week to talk about a new topic, including Amanda Lilleyman in the NT on shorebirds and Holly Parsons to talk about bird friendly gardens. Make sure you have liked us on Facebook to get notifications!
New department of regional NSW to take on urgent needs of the bush
April 2nd, 2020: NSW Department of Planning, Industry and Environment
The NSW Government today established the new Department of Regional NSW to better coordinate support for communities, businesses and farmers in the bush that have endured drought, bushfire and flood and now face the impact of the COVID-19 pandemic.
Deputy Premier and Minister for Regional NSW John Barilaro said the department will bring together Primary Industries, Local Land Services, Resources and Geoscience and regional coordination across government to form a central agency dedicated to regional issues.
"We are urgently responding to the desperate needs of people in the regions and this new agency will work to ensure community wellbeing, resilient economies and strong key regional industries," Mr Barilaro said.
"We know that the issues faced by the people of Cootamundra are very different to those faced in Coogee and so it is imperative we have a government designed to properly support every corner of this State.
"The COVID-19 pandemic has made a big impact on what has already been a devastating start to 2020, as farmers continue to suffer through the worst drought in recorded history and towns torn apart by bushfires continue to feel the effects months on.
"The new Department of Regional NSW will be a voice in government for people in the bush and will have a laser-like focus on the challenges and opportunities unique to regional communities, helping them to get through hardships many of us have not seen in our time.
"This department will allow a more streamlined response to regional issues as experts in areas such as primary industries, land management, resources, regional development, drought response and bushfire recovery work closer together than ever before."
Mr Barilaro said the department will drive the delivery of recent bushfire and COVID-19 stimulus and industry recovery packages along with the NSW Government's drought initiatives, $1.7 billion Regional Growth Fund and $4.2 billion Snowy Hydro Legacy Fund.
"I said that regional communities would get their fair share and to date, we have fulfilled that commitment, from securing billions in funding to the urgent measures we have rolled out for farmers, business owners and families," Mr Barilaro said.
The Department of Regional NSW will be led by incoming Secretary Gary Barnes, currently the Coordinator General, Regional NSW, Department of Planning, Industry and Environment.
Flows resume in the Lower Darling River and temporary water restriction repealed
March 30, 2020
The NSW Department of Planning, Industry and Environment today announced the lifting of the temporary water restriction for the Lower Darling River, now that flows have resumed.
As a result of recent rainfall events across the northern NSW Murray-Darling Basin and subsequent inflows to the Barwon-Darling River system, it is anticipated that 290 to 380 gigalitres (GL) will flow into the Menindee Lakes, with flows starting to enter the lakes on 10 March.
Based on the forecast, there will be enough water captured in the Menindee system to provide connectivity to the Murray and deliver high priority needs, including critical environmental needs along the Lower Darling for at least 12 to 18 months – possibly longer.
The repeal of the temporary water restriction will allow access to remaining water in high security and general security accounts in 2019-20. This will not impact on the ability to supply water for critical needs. It is expected that full allocations for town water, domestic and stock and high security allocations for the rest of this water year will also be announced in the next Water Allocation Statement on Wednesday 1 April 2020.
This is consistent with the approach taken in the northern valleys, where suspensions of carryover water were lifted in the Border Rivers and Upper and Lower Namoi Rivers once 12 months of water for critical needs was available in storage.
Water releases to the Lower Darling River from Menindee Lakes began on Thursday 26 March, commencing at 500 megalitres (ML)/day to a peak of 3,000 ML/day by Sunday. Releases will now be held at 3,000 ML/day for the next 7 days and then reduced by 250 ML/day back to a flow of 300 ML/day. This will create the pulse flow necessary to manage water quality and associated fish risks. These are the first significant flows to occur in the Lower Darling River since 2016.
Although the releases will provide substantial benefits to fish communities in the lower Darling, there is the risk that when flows first enter the refuge pools there may be a short-term risk and resulting fish deaths from the initial turn-over of poor quality water.
Further information about the lifting of temporary water restriction.
Information regarding flows into the Lower Darling River is available on the department's website.
Please report any fish deaths or observations to the Fishers Watch Phoneline on 1800 043 536.
First record of quolls at Tilbuster, north of Armidale in 17 years
April 1, 2020
A chicken thief at Tilbuster north of Armidale has proved to be the first local sighting of threatened spotted-tailed quoll for 17 years.
NSW National Parks and Wildlife Service Saving our Species Officer Adam Fawcett said that this was the first confirmed sighting in the area, north of Armidale since 2003.
"A local resident between Mt Duval and the Devils Pinch made the surprising find after setting up a camera to catch what he thought would be a feral cat.
"Chickens had been lost regularly in over a few weeks, so he put out an infra-red motion sensor camera to see how the animal was getting into the chicken pen and, to his surprise, captured images of a spotted-tailed quoll.
"The resident wasn't concerned with the presence of the quoll - a simple plugging of the hole in his netting stopped the quoll raiding the chook pens, Mr Fawcett said.
Spotted-tailed Quolls are listed as a Vulnerable species in NSW. Large populations are known to occur throughout the gorge areas east of Armidale including several national parks such as Oxley Wild Rivers, New England and Guy Fawkes River National Parks and adjacent forested areas.
"Spotted-tailed quolls are the largest native marsupial predator in NSW and while there are scattered historic records in the area north of Armidale, this is the first confirmed record since 2003.
"This is an especially important find given the severe recent drought and its impact on vegetation.
"Threats to spotted-tailed quolls include loss of habitat and being hit by vehicles as they cross roads, but one of the biggest issues is animals being shot or poisoned in response to attacks on domestic chickens and aviaries.
"As demonstrated in this case, it is easy enough to make these structures quoll-proof.
"Securing the spotted-tailed quoll is part of the NSW Saving Our Species program. Surveys are planned to occur later this year across the range of this species in NSW to gain an overall picture of the health of the population in NSW.
"NPWS is always interested in new records of spotted-tailed quolls. Both the NPWS and New England Local Land Services can provide advice on how to improve poultry runs and aviaries to make them quoll-proof if you are having issues with this species at home, " Mr Fawcett said.
Anybody with records of spotted-tailed quolls or other threatened species can contribute them to the NSW Wildlife Atlas by contacting Environment Line on 1300 361 967 or info@environment.nsw.gov.au. Alternatively, records can be entered direct to the Wildlife Atlas via the online portal.
The Saving our Species program is the NSW Government's commitment to securing the future of the State's threatened plants and animals. To find out more, or to get involved with Saving our Species visit Help save our threatened species.
Honeyeaters send lightning-fast warning signals
March 31, 2020
New Holland honeyeaters are experts at sounding the alarm when there's danger, according to new research from biologists at The Australian National University (ANU) and the University of Cambridge.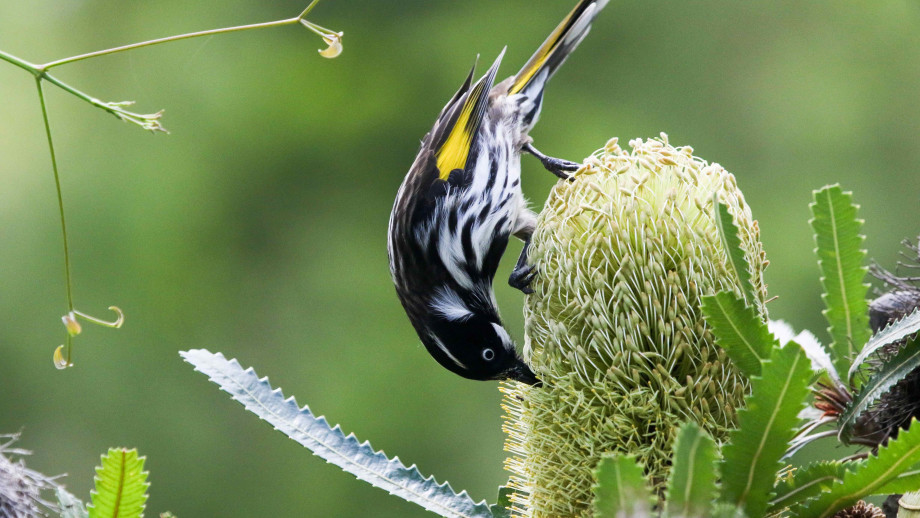 Honeyeater Feeding - photo by Jessica McLachlan

Study authors, Dr Jessica McLachlan and Professor Rob Magrath, found honeyeaters can spread the word in the blink of an eye, using a two-stage alarm.
It's particularly effective when they are threatened by fast-moving birds of prey.
"When a hawk is swooping down, its target has only a fraction of a second to flee to cover - a split second can make the difference between life and death," Dr McLachlan said.
"But animals often signal urgent danger using repeated notes, which makes sure others hear the warning but it takes a long time to deliver.
"So there's a problem. How to send a lightning-fast message in a long call?"
New Holland honeyeaters solve this problem elegantly. They 'front-load' information about urgency into the first note of their alarm call, so other honeyeaters can respond quickly.
The clever honeyeaters follow this up with more notes to reinforce the message and signal how long to remain hidden.
"They use a long call, with lots of notes, to make sure the message is heard," Professor Magrath said. "And the more notes, the more urgent the danger.
"But they also modify the first note to indicate if it's necessary to take immediate cover. So it's a two-part message that is quick, reliable and informative."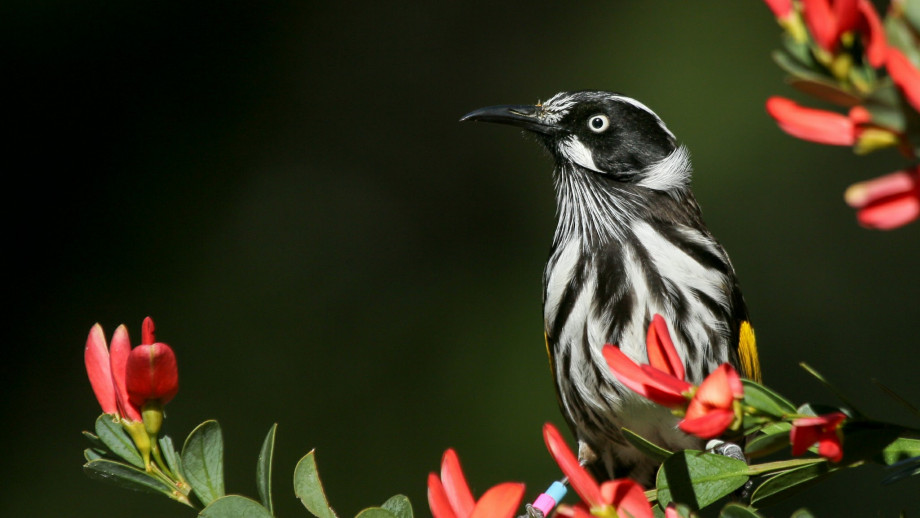 Honeyeater on Alert - photo by Jessica McLachlan

The technique is so effective the authors expect to see other species adopt it.
"Many other species modify alarm calls as the threat increases, but there is surprisingly little known about how fast they convey the message," Professor Magrath said.
The researchers conducted their study in Canberra's Australian National Botanic Gardens over a period of several years.
"These birds live in the Gardens and are used to having people around. This helped us to record natural interactions with their predators, such as sparrowhawks and currawongs, and to video the honeyeaters' responses to different alarm calls," Professor Magrath said.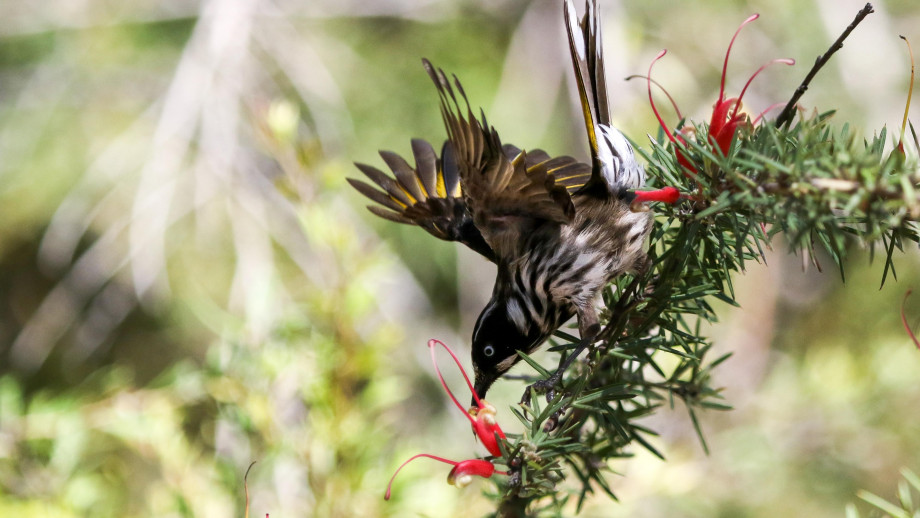 Honeyeater Fleeing - photo by Jessica McLachlan

The research is published in the journal Proceedings of the Royal Society B.
Even If The Parks Are Closed You Can Still Go Google Trekking
A few years ago Pittwater Online shared some great news about the state government working with Google in what is called 'Google Trekker' - our own local MP, Rob Stokes, Member for Pittwater was the State Environment Minister at that time, so it was great to hear about this first-hand from him - he loves the great outdoors!

Back in June 2014 the work began of mapping our National Parks - by actually walking through them with a camera - this is what the ranger walking with the camera looked like - they started with doing 16 parks to begin with: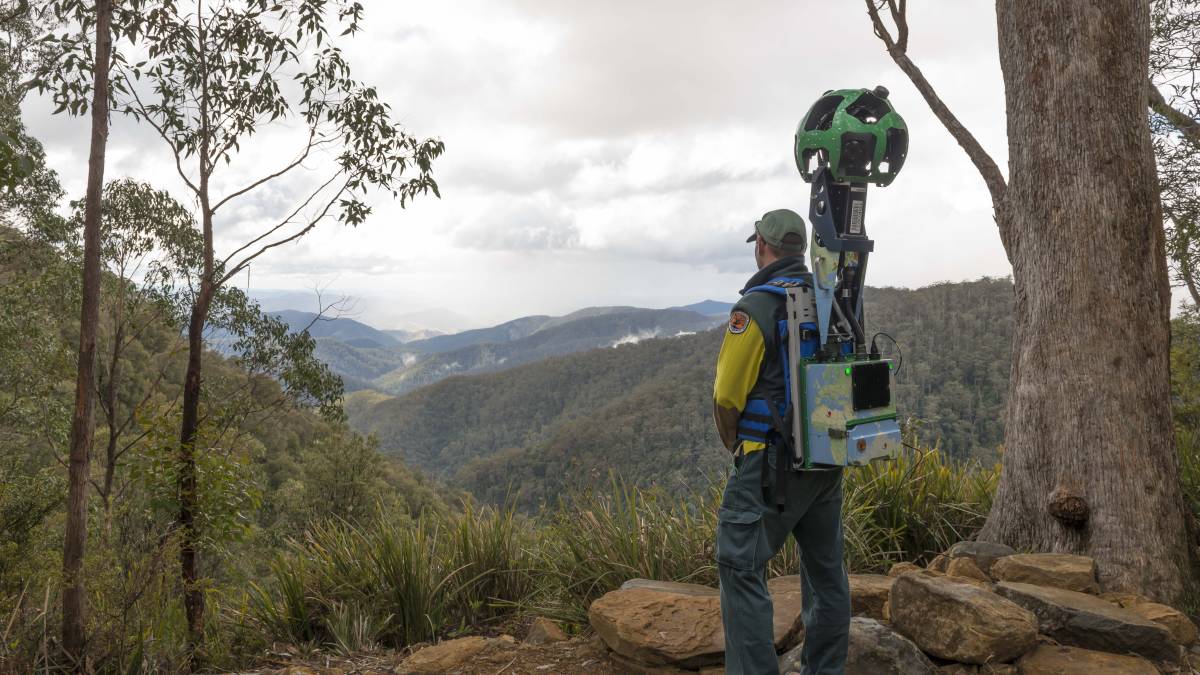 OEH - NPWS photo
Then in November 2014 Environment Minister Rob Stokes launched Google Street View imagery of some of the most picturesque and visited national parks in NSW.
Mr Stokes said the NSW National Parks and Wildlife Service is the first organisation in Australia to be part of the Google program, which sees organisations borrow the Trekker technology to collect imagery of hard to reach places and help map the world.
"NPWS have captured 360-degree imagery of 25 parks from Kosciuszko to Cape Byron, covering over 400 kilometres of walking tracks and 700 kilometres of roads and trails," Mr Stokes said then.
"This new service means people can scope out walks before they travel, or get a glimpse of places they would otherwise find inaccessible.
"People who have been unable to make it to the bottom of that gorge or the top of that ridge can now see all the sites our national parks have to offer.
"In conjunction with the NSW National Parks website, this imagery will give people another great way to plan their park visits, check walking tracks for suitability and learn about the area beforehand.
"We have a lot to be proud of in NSW with some of the most beautiful and remote places on the planet.
"These maps will ensure people who may not have the ability to walk in some of these popular locations will still have the opportunity to experience our vast natural beauty from their lounge rooms on the other side of the world."
Basically, Google Trekker allows you to explore our National Parks as though you were on their bush tracks. You can Discover new places with a virtual tour of walking tracks, lookouts and campgrounds on the coast, deep within rainforests, and even in Outback NSW. You can get 360 degree views of these incredible landscapes and go on your own virtual adventure.
Working in partnership with Google, NSW National Parks (NPWS) has captured imagery in over 50 national parks using Google's special backpack-mounted trekker. With more than 1350km of Google Trekker footage, there are hundreds of experiences to discover.
You can also visit beautiful and historic places all over the world via Google Trekker - but let's start with places around us to begin with.
Where would you like to visit today?: Here are some of our favourite Street View virtual tours - just click on the links to take a look around for yourself
Sydney and Surrounds
North Coast NSW
South Coast NSW
Country NSW
Snowy Mountains- Kosciuszko National Park

Outback NSW and Murray-Riverina
Please note: The backpack-mounted trekker has been specifically designed to go off the grid. Occasionally, trained NPWS staff take Google Trekker into ecologically sensitive areas so we can give you a peek of places you would otherwise never see.
When you explore these walking tracks for yourself, remember to always to stay on marked tracks, so we can continue to protect these special places for generations to come.
On Friday At Sydney Wildlife Waratah Park Rehabilitation Facility: Coco!
Coco the boy doing what wallabies do, finding the best food sources in the park. Who cares if it is in someone else's enclosure??!
Images sent in by Volunteer Carer - Joan Reid - thanks Joan!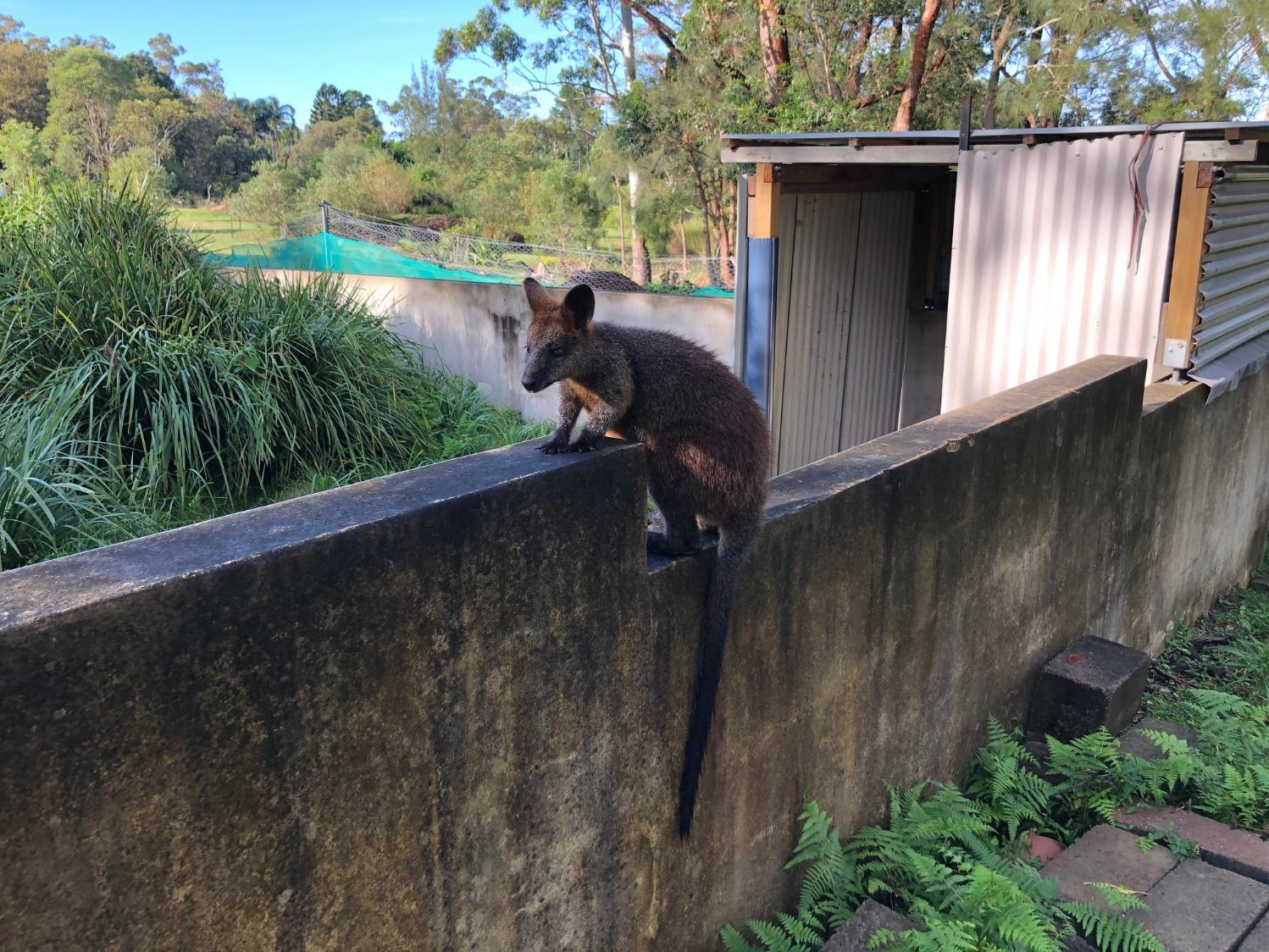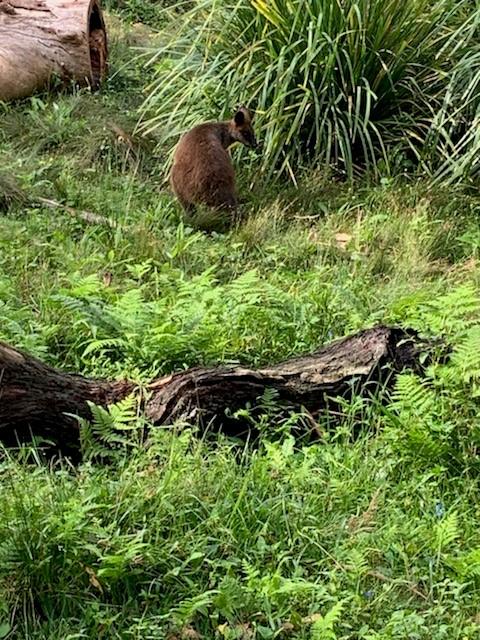 A KOOKABURRA'S OUTLOOK: 1933
Has anyone ever paused to think what feelings exist in the minds of birds towards aeroplanes? I have. Now, at least, I have the satisfaction of knowing the view the Kookaburra takes. There is, in a garden on the North Shore, a high flagpole, and here a group of kookaburras has assembled every evening for some years to discuss and enjoy the humorous Incidents of their day.
One evening recently there was only one of the group present, and he sat in solitary state on the pinnacle of the pole. Presently the stillness of the perfect autumn evening was shattered by the noisy approach of an aeroplane. Right overhead it came, the pilot flying his machine very low, as if to knock the bird from his proud position. The kookaburra turned his head, watched the 'plane's approach, and continued to watch It in a supercilious manner until It passed out of sight. Then, with a chuckle, he flew off to a gum tree where his cronies were awaiting him. Just long enough had elapsed for him to tell his story when the stillness of the perfect autumn evening was again shattered-this time by raucous laughter Every bird laughed loud and long at this mechanical trespasser In their demesne. The joke, apparently, was based on the fact that, although this bird was infinitely bigger than they were, he could not kill a snake. Furthermore, in spite of his gawky size, he was only a fledgling, and could not be trusted out without fear of a spill. It was some time before their wheezy chuckles finally ceased and peace was again restored.
These cheery fellows certainly have a fine sense of humour.
A KOOKABURRA'S OUTLOOK. (
1933, July 1
).
The Sydney Morning Herald
(NSW : 1842 - 1954), p. 9. Retrieved from http://nla.gov.au/nla.news-article16987295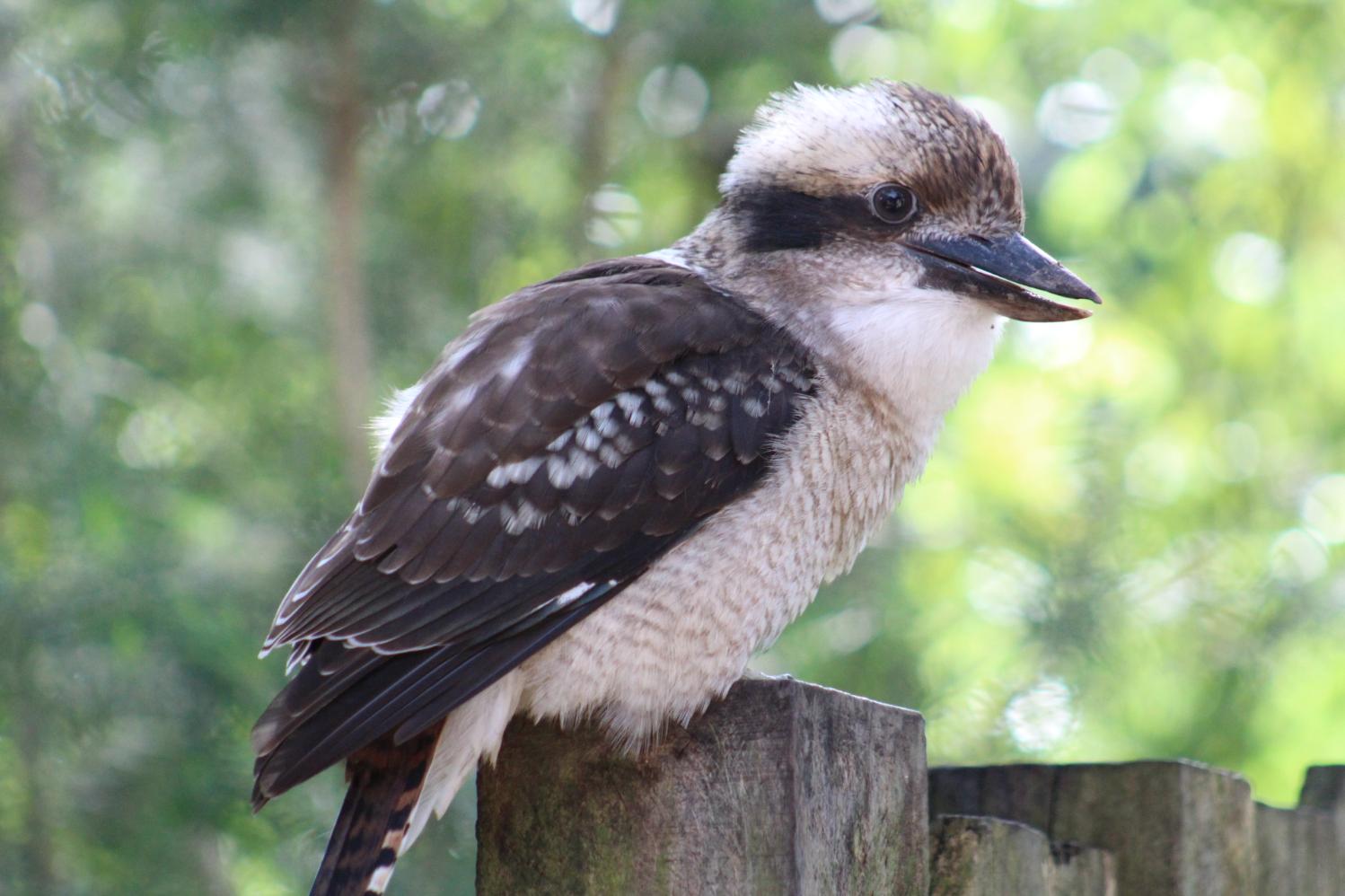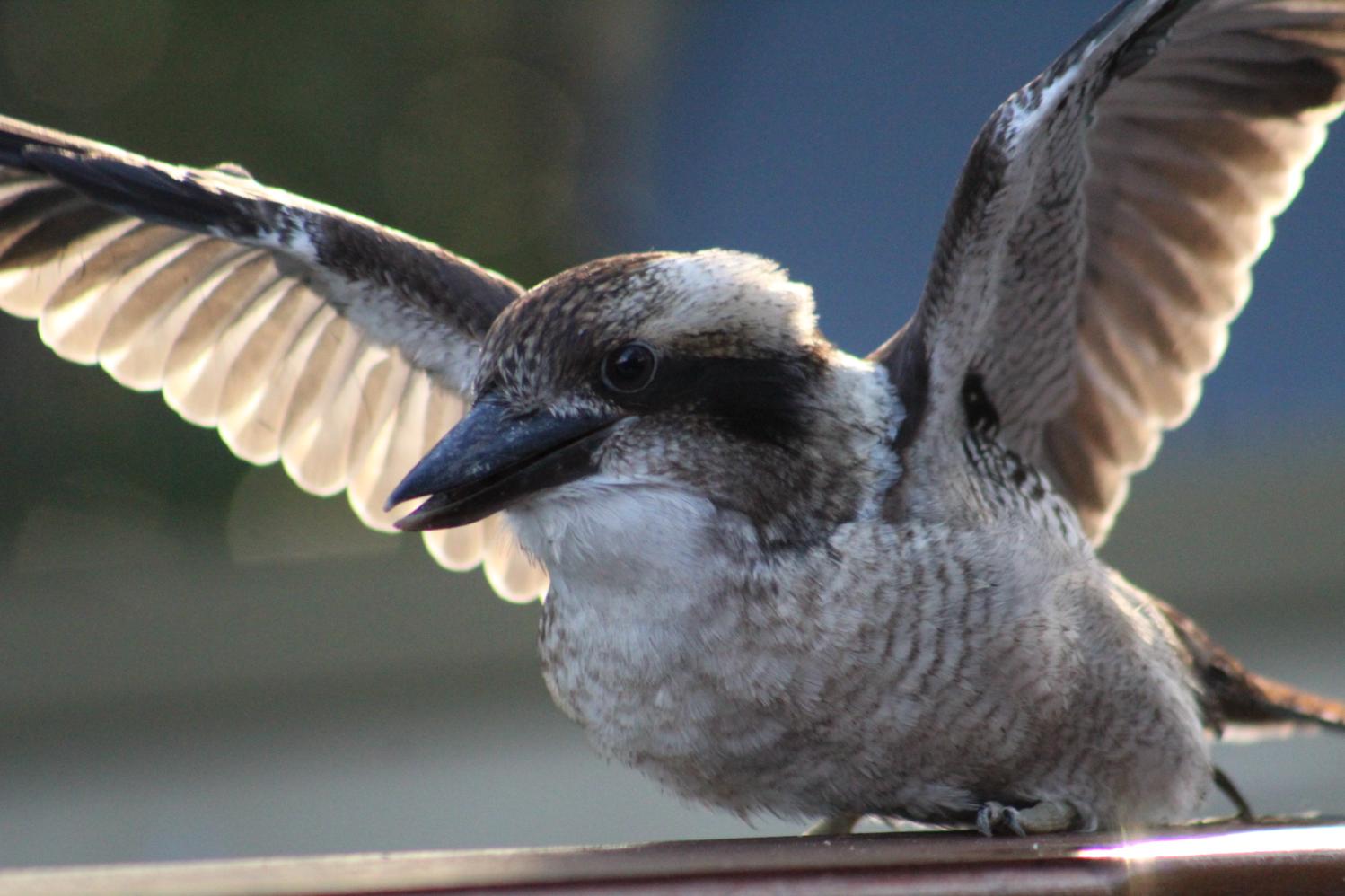 Feathered Friends
WHEN I was staying down
at Pittwater this year, Cinderella
, there were myriads of birds, from the kookaburras, who woke us early in the morning with their boisterous laughter, to the merry Willy-wagtail, who hopped on the wharf all day. Very early indeed in the morning the bush echoes and re-echoes with the
mirth of several kookaburras — beaks open, feathers ruffled, and throats vibrating with the rush of sound. Then come the sparrows. These arrive in big flocks and chatter happily in the trees the livelong day.
By far the most stately is the blue crane, who patrols the rocks in majestic solitude, for never have I seen two of them looking for food together. His name suits the crane wonderfully, too, for, watching him, one, may see his long, slender blue neck craned forward over pools to catch a glimpse of the fish he loves. When flying he is a very graceful figure; but a beautiful,
well-shaped
bird, the seagull, whose spotless white livery gleams in the sunlight, is quite his equal.
Next come the honey-eaters, those tiny little things with the long, slender, curving; bills, sharp at the end, and so useful for probing the nectaries of any flowers they may fancy.
Then comes the magpie, the most prevalent specimen of which is the black magpie, whose smooth soaring flight and clarion call are his chief beauties, although his jet black coat is very handsome. But most numerous are the crows — those big black birds whose hoarse cries linger in the still morning air or make the bush melancholy at dusk.
Nevertheless, with regard to voice the butcherbird is the king, for his clear, trilling note rings true and joyful through the early morning or the late afternoon. These are only a few of the birds, Cinderella, and there are many, many more who help to fill the air with happy song. Feathered Friends (

1931, April 1

). Sydney Mail (NSW : 1912 - 1938), p. 55. Retrieved from http://nla.gov.au/nla.news-article159791833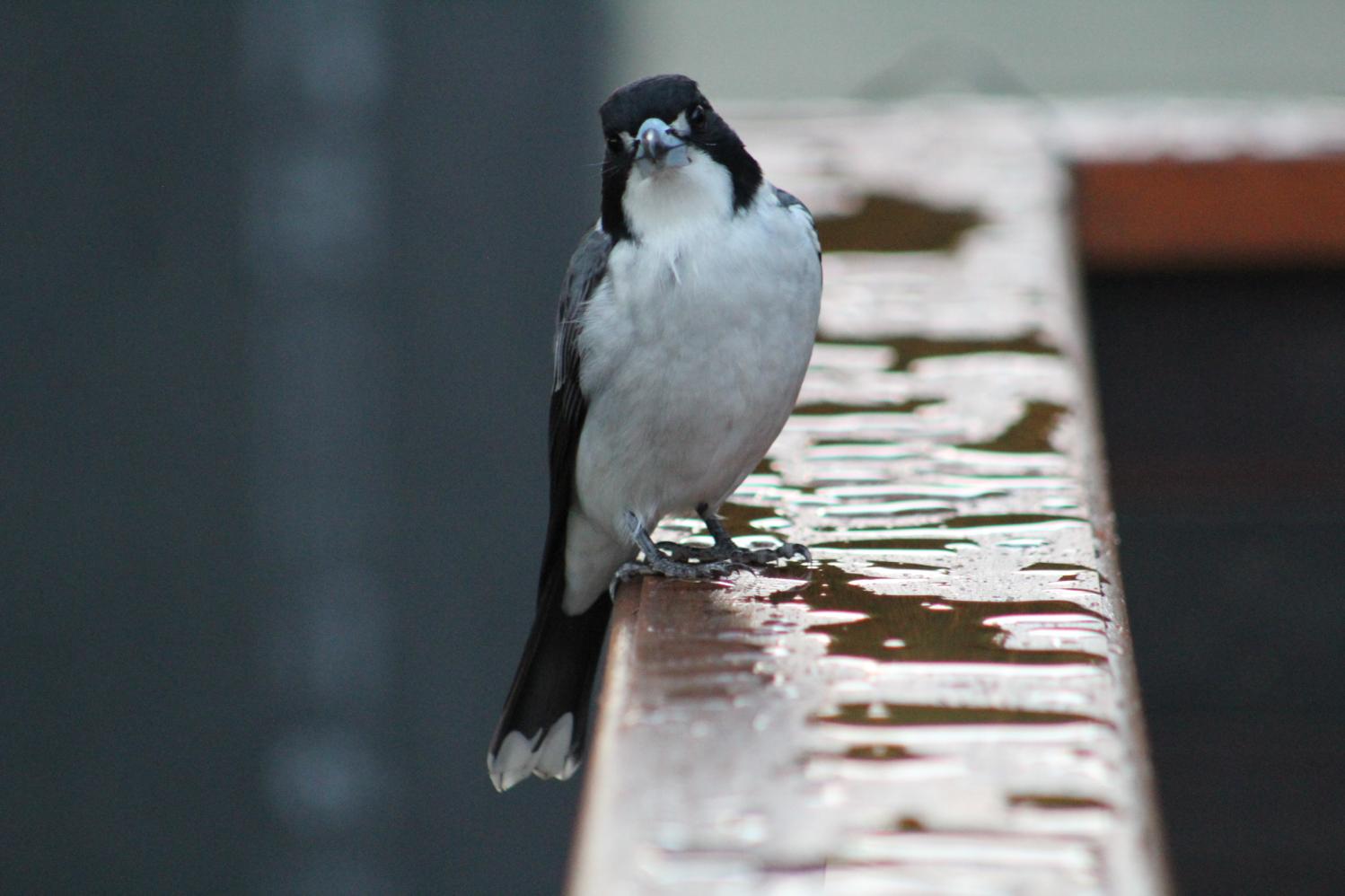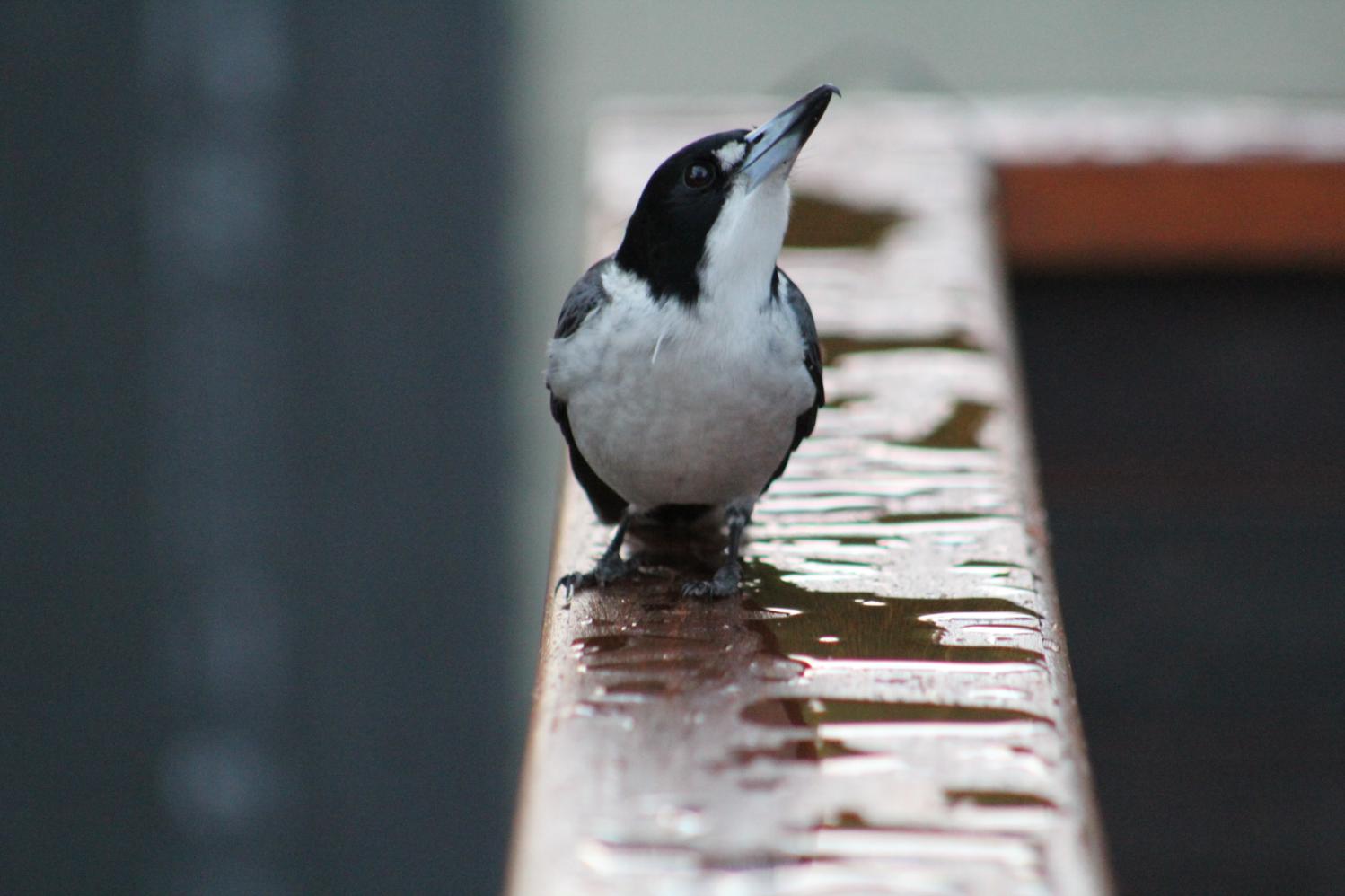 Weed Cassia Now Flowering: Please pull out and Save our Bush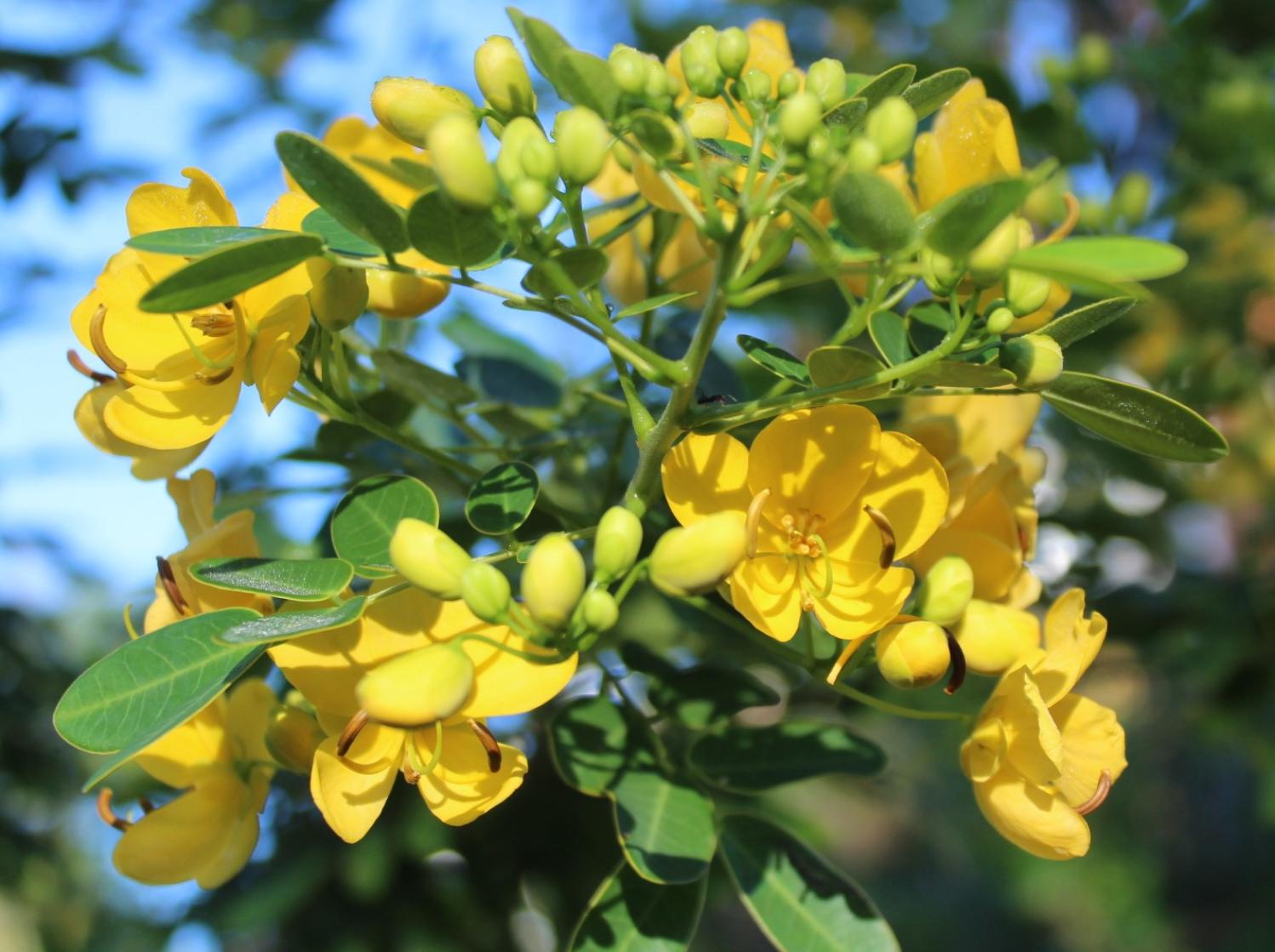 Cassia (Senna pendula). Also known as Senna and Arsenic Bush. Originating in South American, Cassia is a perennial sprawling multi-stemmed shrub or tree up to 5m tall.
This weed replaces native vegetation and establishes in a wide range of native plant communities, including coastal heath and scrubland, hind dunes and riparian corridors. The large seed pods are eaten by birds and other animals. You may be seeing this bright burst of yellow everywhere as it is currently flowering - please pull out and get rid of if you have in your garden.
Please Help Sydney Wildlife Rescue: Donate your cans and bottles and nominate SW as recipient
You can Help Sydney Wildlife help Wildlife. Sydney Wildlife Rescue is now listed as a charity partner on the return and earn machines in these locations:
Pittwater RSL Mona Vale
Northern Beaches Indoor Sports Centre NBISC Warriewood
Woolworths Balgowlah
Belrose Super centre
Coles Manly Vale
Westfield Warringah Mall
Strathfield Council Carpark
Paddy's Markets Flemington Homebush West
Woolworths Homebush West
Caltex Concord road Concord West
Bondi Campbell pde behind Beach Pavilion
Westfield Bondi Junction car park level 2 eastern end Woolworths side under ramp
UNSW Kensington
Enviro Pak McEvoy street Alexandria.
Every bottle, can, or eligible container that is returned could be 10c donated to Sydney Wildlife.
Every item returned will make a difference by removing these items from landfill and raising funds for our 100% volunteer wildlife carers. All funds raised go to support wildlife.
It is easy to DONATE, just feed the items into the machine select DONATE and choose Sydney Wildlife Rescue.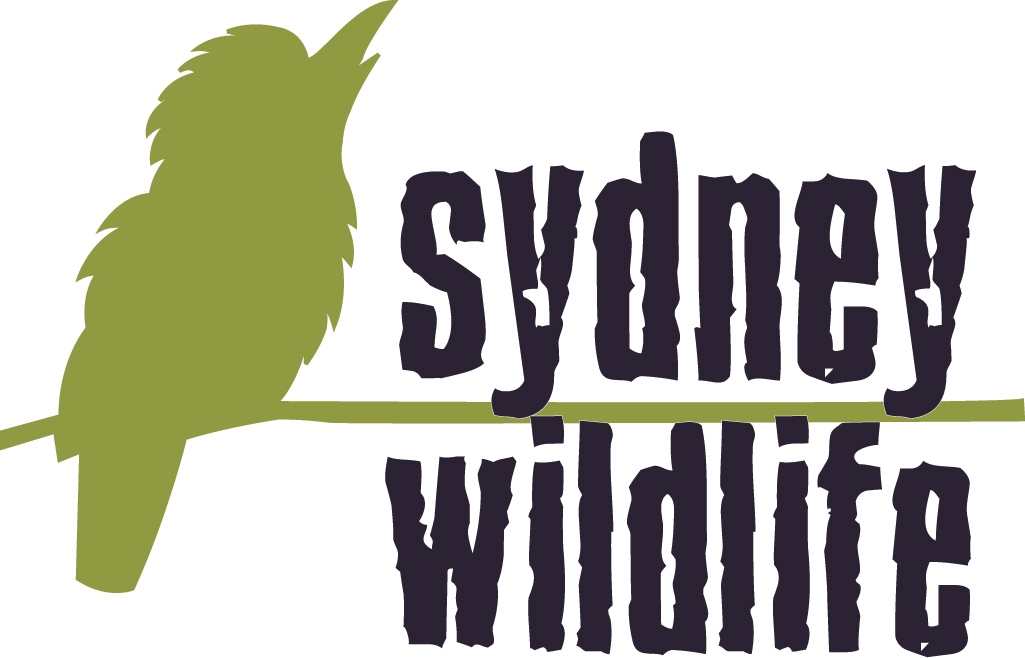 Bushcare in Pittwater
For further information or to confirm the meeting details for below groups, please contact Council's Bushcare Officer on 9970 1367
BUSHCARE SCHEDULES
Where we work Which day What time
Avalon
Angophora Reserve 3rd Sunday 8:30 - 11:30am
Avalon Dunes 1st Sunday 8:30 - 11:30am
Avalon Golf Course 2nd Wednesday 3 - 5:30pm
Careel Creek 4th Saturday 8:30 - 11:30am
Toongari Reserve 3rd Saturday 9 - 12noon (8 - 11am in summer)
Bangalley Headland 2nd Sunday 9 to 12noon
Bayview
Winnererremy Bay 4th Sunday 9 to 12noon
Bilgola
North Bilgola Beach 3rd Monday 9 - 12noon
Algona Reserve 1st Saturday 9 - 12noon
Plateau Park 1st Friday 8:30 - 11:30am
Church Point
Browns Bay Reserve 1st Tuesday 9 - 12noon
McCarrs Creek Reserve Contact Bushcare Officer To be confirmed
Clareville
Old Wharf Reserve 3rd Saturday 8 - 11am
Elanora
Kundibah Reserve 4th Sunday 8:30 - 11:30am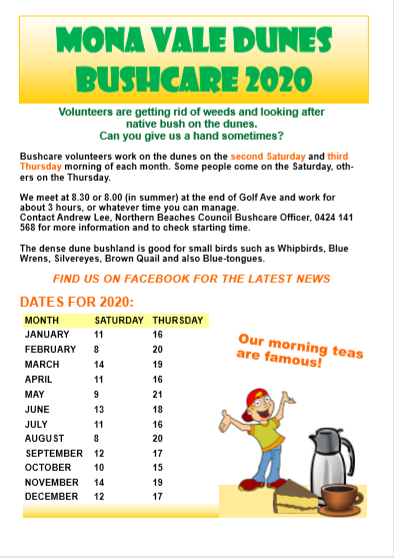 Mona Vale
Mona Vale Beach Basin 1st Saturday 8 - 11am
Mona Vale Dunes 2nd Saturday +3rd Thursday 8:30 - 11:30am
Newport
Bungan Beach 4th Sunday 9 - 12noon
Crescent Reserve 3rd Sunday 9 - 12noon
North Newport Beach 4th Saturday 8:30 - 11:30am
Porter Reserve 2nd Saturday 8 - 11am
North Narrabeen
Irrawong Reserve 2nd Saturday 2 - 5pm
Palm Beach
North Palm Beach Dunes 3rd Saturday 9 - 12noon
Scotland Island
Catherine Park 2nd Sunday 10 - 12:30pm
Elizabeth Park 1st Saturday 9 - 12noon
Pathilda Reserve 3rd Saturday 9 - 12noon
Warriewood
Warriewood Wetlands 1st Sunday 8:30 - 11:30am
Whale Beach
Norma Park 1st Friday 9 - 12noon
Western Foreshores
Coopers Point, Elvina Bay 2nd Sunday 10 - 1pm
Rocky Point, Elvina Bay 1st Monday 9 - 12noon


Gardens and Environment Groups and Organisations in Pittwater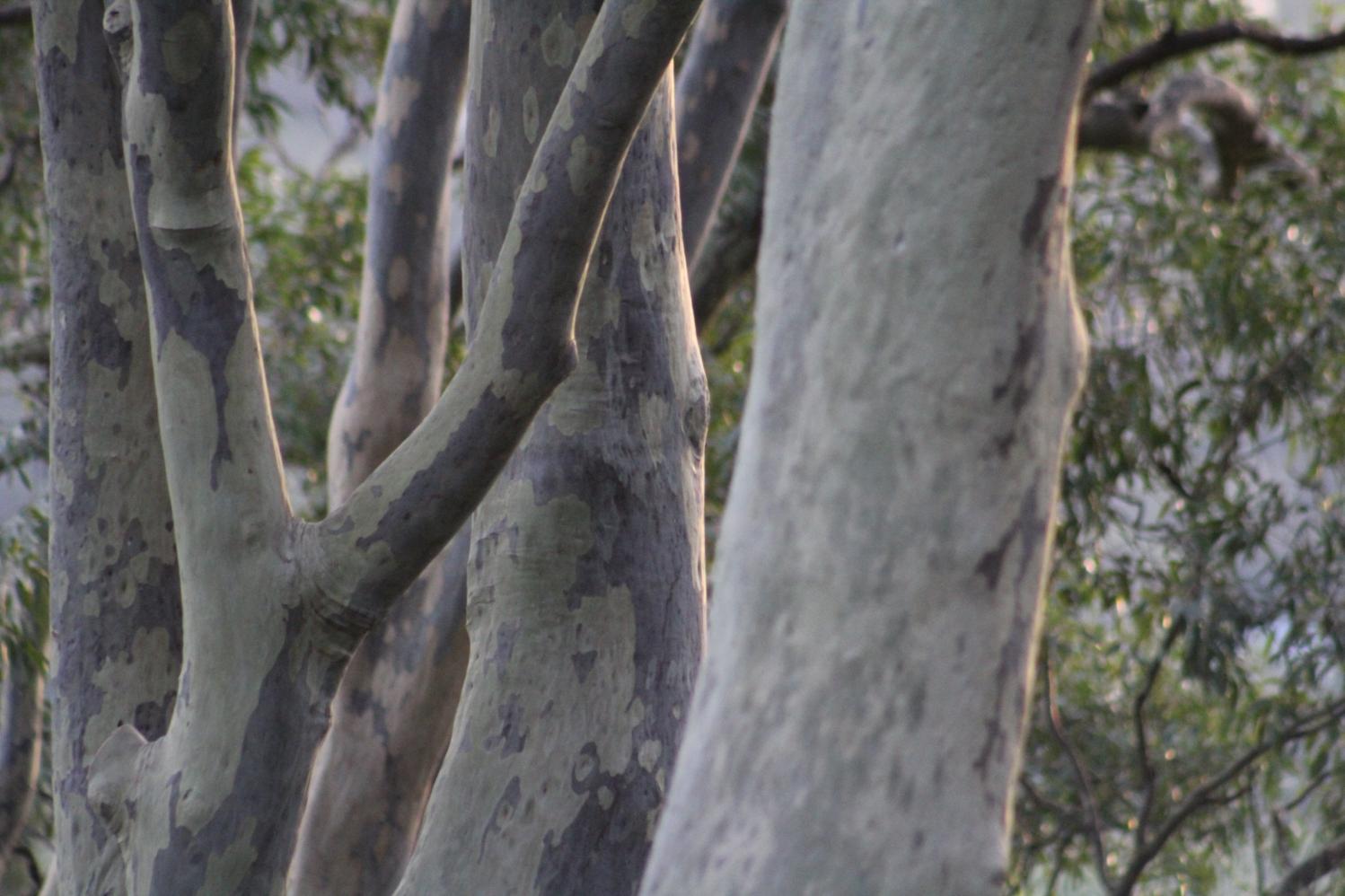 Aussie Bread Tags Collection Points
Collecting bread tags enables us to provide wheelchairs that change the life of disabled people in need, as well as keeping the tags out of landfill to help to preserve the environment.
Bread Tags for Wheelchairs was started in South Africa in 2006 by Mary Honeybun. It is a community program where individuals and organisations collect bread tags, which are sold to recyclers. The money raised pays for wheelchairs for the less fortunate which are purchased through a local pharmacy. Currently about 500kg of bread tags are collected a month in South Africa, funding 2-3 wheelchairs.
We have been collecting bread tags nationally in Australia since September 2018 and now have more than 100 collection points across the country. In February 2019 we started local recycling through Transmutation - Reduce, Reuse and Recycle in Robe, SA, where our tags are recycled into products such as door knobs and bowls. Tags from some states are still sent to South Africa where a plastics company called Zibo recycles them into seedling trays.
These humble bits of polystyrene can make a real difference so get your friends, family, school, workplace and church involved. Ask school tuck shops and boarding school kitchens, child care centres, aged care facilities, hospitals, cafes and fast food outlets to collect for you - they get through a lot of bread!
All the information and signage for collecting or setting up a public collection point is
on our website
.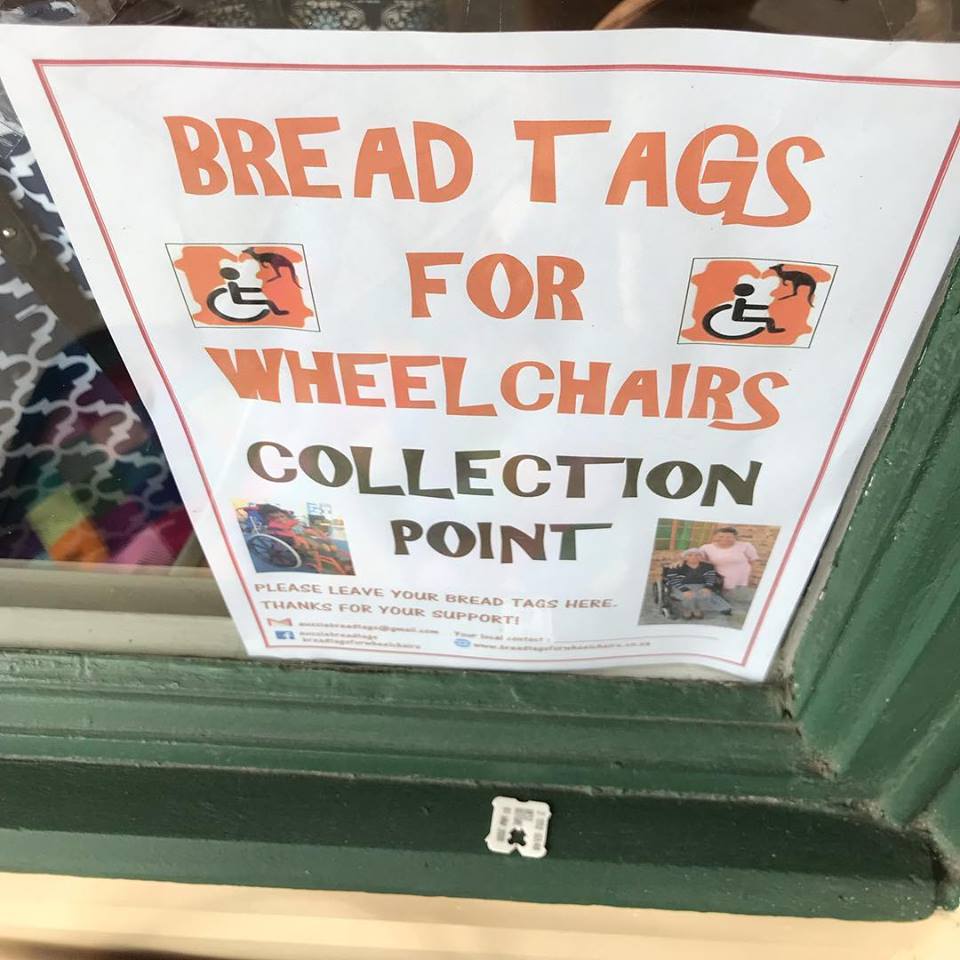 Green Team Beach Cleans 2019!
The Green Team is back for 2019!
It has been estimated that we will have more plastic than fish in the ocean by 2050...These beach cleans are aimed at reducing the vast amounts of plastic from entering our oceans before they harm marine life.
Anyone and everyone is welcome! If you would like to come along, please bring a bucket, gloves and hat. Kids of all ages are also welcome!
The Green Team is a
Youth-run, volunteer-based environment initiative from Avalon, Sydney. Keeping our area green and clean.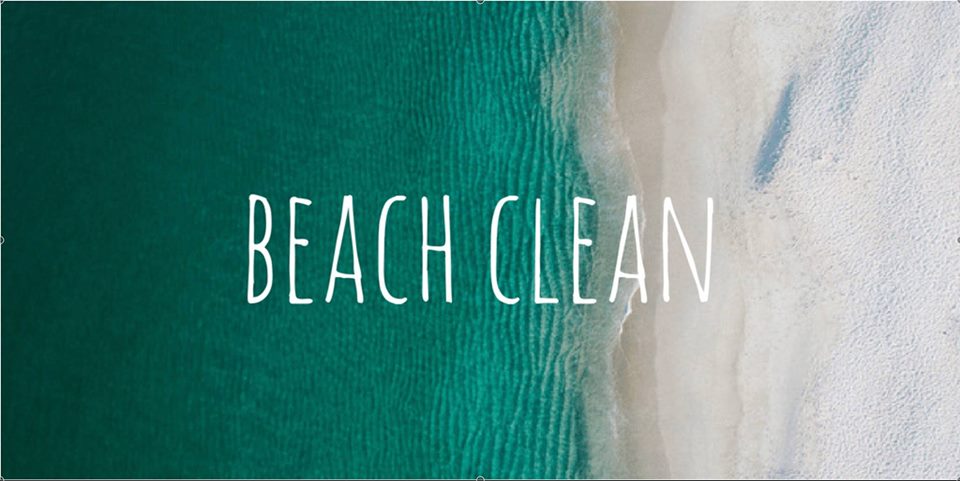 Create a Habitat Stepping Stone!
Over 50 Pittwater households have already pledged to make a difference for our local wildlife, and you can too! Create a habitat stepping stone to help our wildlife out. It's easy - just add a few beautiful habitat elements to your backyard or balcony to create a valuable wildlife-friendly stopover.
How it works
1) Discover: Visit the website below to find dozens of beautiful plants, nest boxes and water elements you can add to your backyard or balcony to help our local wildlife.
2) Pledge: Select three or more elements to add to your place. You can even show you care by choosing to have a bird appear on our online map.
3) Share: Join the Habitat Stepping Stones Facebook community to find out what's happening in the natural world, and share your pics, tips and stories.
What you get
• Enjoy the wonders of nature, right outside your window. • Free and discounted plants for your garden. • A Habitat Stepping Stone plaque for your front fence. • Local wildlife news and tips. • Become part of the Pittwater Habitat Stepping Stones community.
Get the kids involved and excited about helping out! www.HabitatSteppingStones.org.au
No computer? No problem -Just write to the address below and we'll mail you everything you need. Habitat Stepping Stones, Department of Environmental Sciences, Macquarie University NSW 2109. This project is assisted by the NSW Government through its Environmental Trust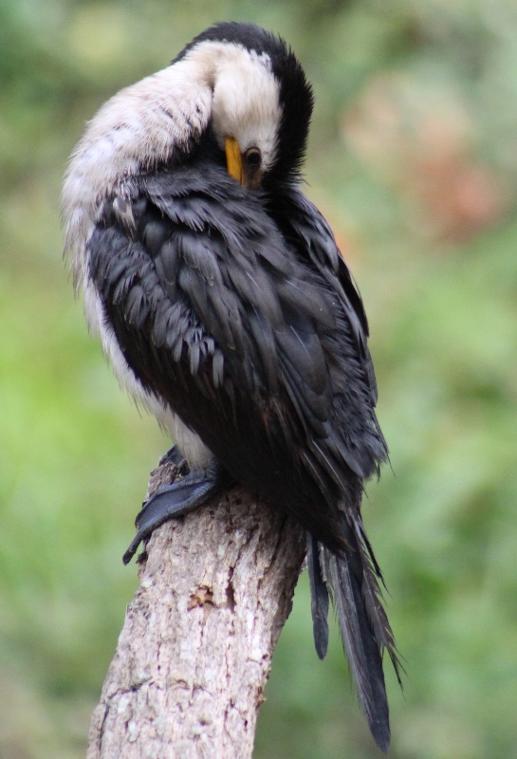 Living Ocean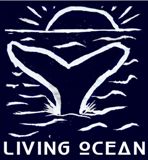 Living Ocean was born in Whale Beach, on the Northern Beaches of Sydney, surrounded by water and set in an area of incredible beauty.
Living Ocean is a charity that promotes the awareness of human impact on the ocean, through research, education, creative activity in the community, and support of others who sustain ocean health and integrity.
And always celebrating and honouring the natural environment and the lifestyle that the ocean offers us.
Our whale research program builds on research that has been conducted off our coastline by our experts over many years and our Centre for Marine Studies enables students and others to become directly involved.
Through partnerships with individuals and organizations, we conceive, create and coordinate campaigns that educate all layers of our community – from our 'No Plastic Please' campaign, which is delivered in partnership with local schools, to film nights and lectures, aimed at the wider community.
Additionally, we raise funds for ocean-oriented conservation groups such as Sea Shepherd.
Donations are tax-deductable
Newport Community Gardens
Anyone interested in joining our community garden group please feel free to come and visit us on
Sunday at 10am at the Woolcott Reserve in Newport!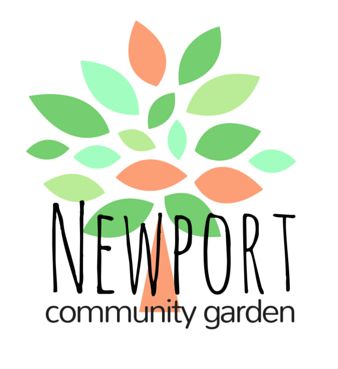 Avalon Preservation Association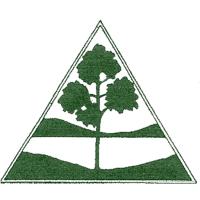 The Avalon Preservation Association, also known as Avalon Preservation Trust. We are a not for profit volunteer community group incorporated under the NSW Associations Act, established 50 years ago. We are committed to protecting your interests – to keeping guard over our natural and built environment throughout the Avalon area.
Membership of the association is open to all those residents and/or ratepayers of Avalon Beach and adjacent areas who support the aims and objectives of our Association.
Permaculture Northern Beaches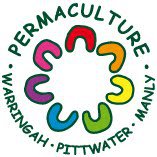 Manly • Warringah • Pittwater | Sydney
Permaculture Northern Beaches (PNB) is an active local group based on Sydney's Northern Beaches. Our parent body is Permaculture Sydney North.
PNB hold monthly permaculture related events on the 4th Thursday of each month at 7:15pm at the Nelson Heather Community Centre, Banksia Room, 5 Jacksons Rd, Warriewood
Report illegal dumping
NSW Government
The RIDonline website lets you report the types of waste being dumped and its GPS location. Photos of the waste can also be added to the report.
The Environment Protection Authority (EPA), councils and Regional Illegal Dumping (RID) squads will use this information to investigate and, if appropriate, issue a fine or clean-up notice. Penalties for illegal dumping can be up to $15,000 and potential jail time for anybody caught illegally dumping within five years of a prior illegal dumping conviction.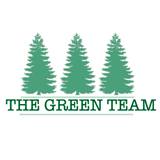 The Green Team
Profile
This Youth-run, volunteer-based environment initiative has been attracting high praise from the founders of Living Ocean as much as other local environment groups recently.
Creating Beach Cleans events, starting their own, sustainability days - 'action speaks louder than words' ethos is at the core of this group.
Avalon Boomerang Bags
Avalon Boomerang Bags was introduced to us by Surfrider Foundation and Living Ocean, they both helped organise with the support of Pittwater Council the Recreational room at Avalon Community Centre which we worked from each Tuesday. This is the Hub of what is a Community initiative to help free Avalon of single use plastic bags and to generally spread the word of the overuse of plastic.
Find out more and get involved.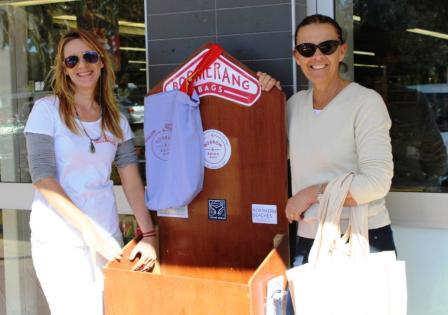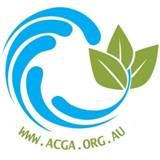 Avalon Community Garden

Community Gardens bring people together and enrich communities. They build a sense of place and shared connection.
Avalon Community Garden is a community led initiative to create accessible food gardens in public places throughout the Pittwater area. Our aim is to share skills and knowledge in creating fabulous local, organic food. But it's not just about great food. We also aim to foster community connection, stimulate creative ideas for community resilience and celebrate our abundance. Open to all ages and skills, our first garden is on the grounds of Barrenjoey High School (off Tasman Road). Become part of this exciting initiative to change the world locally.
Wildlife Carers and Organisations in Pittwater: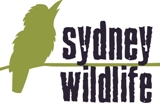 Sydney Wildlife rescues, rehabilitates and releases sick, injured and orphaned native wildlife. From penguins, to possums and parrots, native wildlife of all descriptions passes through the caring hands of Sydney Wildlife rescuers and carers on a daily basis. We provide a genuine 24 hour, 7 day per week emergency advice, rescue and care service.
As well as caring for sick, injured and orphaned native wildlife, Sydney Wildlife is also involved in educating the community about native wildlife and its habitat. We provide educational talks to a wide range of groups and audiences including kindergartens, scouts, guides, a wide range of special interest groups and retirement villages. Talks are tailored to meet the needs and requirements of each group.
Found an injured native animal? We're here to help.
Keep the animal contained, warm, quiet and undisturbed. Do not offer any food or water. Call Sydney Wildlife immediately on 9413 4300, or take the animal to your nearest vet. Generally there is no charge. Find out more at: www.sydneywildlife.org.au

Southern Cross Wildlife Care was launched over 6 years ago. It is the brainchild of Dr Howard Ralph, the founder and chief veterinarian. SCWC was established solely for the purpose of treating injured, sick and orphaned wildlife. No wild creature in need that passes through our doors is ever rejected.
People can assist SCWC by volunteering their skills ie: veterinary; medical; experienced wildlife carers; fundraising; "IT" skills; media; admin; website etc. We are always having to address the issue of finances as we are a non commercial veterinary service for wildlife in need, who obviously don't have cheque books in their pouches. It is a constant concern and struggle of ours when we are pre-occupied with the care and treatment of the escalating amount of wildlife that we have to deal with. Just becoming a member of SCWC for $45 a year would be a great help. Regular monthly donations however small, would be a wonderful gift and we could plan ahead knowing that we had x amount of funds that we could count on. Our small team of volunteers are all unpaid even our amazing vet Howard, so all funds raised go directly towards our precious wildlife. SCWC is TAX DEDUCTIBLE.
Find out more at: southerncrosswildlifecare.org.au/wp/
Pittwater's Environmental Foundation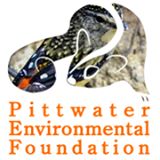 Pittwater Environmental Foundation was established in 2006 to conserve and enhance the natural environment of the Pittwater local government area through the application of tax deductible donations, gifts and bequests. The Directors were appointed by Pittwater Council.
About 33% (about 1600 ha excluding National Parks) of the original pre-European bushland in Pittwater remains in a reasonably natural or undisturbed condition. Of this, only about 400ha remains in public ownership. All remaining natural bushland is subject to encroachment, illegal clearing, weed invasion, feral animals, altered drainage, bushfire hazard reduction requirements and other edge effects. Within Pittwater 38 species of plants or animals are listed as endangered or threatened under the Threatened Species Act. There are two endangered populations (Koala and Squirrel Glider) and eight endangered ecological communities or types of bushland. To visit their site please click on logo above.
Avalon Boomerang Bags 2019
WORKSHOPS are held Tuesdays during the school term
at the Avalon Recreation Centre 11.30 - 3.30pm
Everyone is welcome; come for an hour or come for all 4, we'll even provide a cuppa and guaranteed laughs. Non-sewers also very useful.
Pop in with your excess fabric donations or spare enviro bag donations. We also sell our very handy Boomerang Bag coffee cups, stainless steel drink bottles and other enviro products and of course, our "Bought to Support" bags.
These two koalas lost their mothers to deforestation
I call on you to urgently end the deforestation and land-clearing crisis by making potential koala habitat, threatened species habitat, and other high-conservation-value areas off limits to clearing, and by repealing the land-clearing codes.
I also urge you to invest in a restoration and conservation fund and deliver the world-class mapping, monitoring, and reporting the community expects.
Newport Community Garden: Working Bee Second Sunday of the month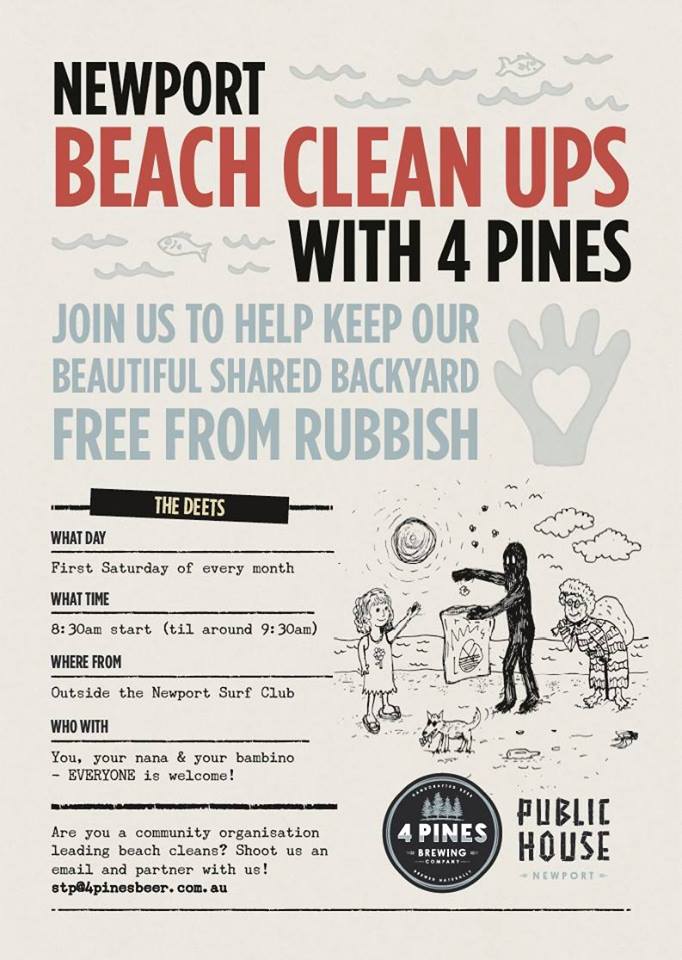 4 Pines Brewery Newport will be providing up-cycled malt bags from the brewery to store the trash and keep it from our shores.
Do you get a beer?
Absolutely! 4 Pines will hand out tokens to participants which will be redeemable for a fresh cold beer back at Public House.
Bushcare in Pittwater
For further information or to confirm the meeting details for below groups, please contact Council's Bushcare Officer on 9970 1367
BUSHCARE SCHEDULES
Where we work Which day What time

Avalon
Angophora Reserve 3rd Sunday 8:30 - 11:30am
Avalon Dunes 1st Sunday 8:30 - 11:30am
Avalon Golf Course 2nd Wednesday 3 - 5:30pm
Careel Creek 4th Saturday 8:30 - 11:30am
Toongari Reserve 3rd Saturday 9 - 12noon (8 - 11am in summer)
Bangalley Headland 2nd Sunday 9 to 12noon

Bayview
Winnererremy Bay 4th Sunday 9 to 12noon

Bilgola
North Bilgola Beach 3rd Monday 9 - 12noon
Algona Reserve 1st Saturday 9 - 12noon
Plateau Park 1st Friday 8:30 - 11:30am

Church Point
Browns Bay Reserve 1st Tuesday 9 - 12noon
McCarrs Creek Reserve Contact Bushcare Officer To be confirmed

Clareville
Old Wharf Reserve 3rd Saturday 8 - 11am

Elanora
Kundibah Reserve 4th Sunday 8:30 - 11:30am

Mona Vale
Mona Vale Beach Basin 1st Saturday 8 - 11am
Mona Vale Dunes 2nd Saturday+3rd Thursday 8:30 - 11:30am

Newport
Bungan Beach 4th Sunday 9 - 12noon
Crescent Reserve 3rd Sunday 9 - 12noon
North Newport Beach 4th Saturday 8:30 - 11:30am
Porter Reserve 2nd Saturday 8 - 11am

North Narrabeen
Irrawong Reserve 2nd Saturday 2 - 5pm

Palm Beach
North Palm Beach Dunes 3rd Saturday 9 - 12noon

Scotland Island
Catherine Park 2nd Sunday 10 - 12:30pm
Elizabeth Park 1st Saturday 9 - 12noon
Pathilda Reserve 3rd Saturday 9 - 12noon

Warriewood
Warriewood Wetlands 1st Sunday 8:30 - 11:30am

Whale Beach
Norma Park 1st Friday 9 - 12noon

Western Foreshores
Coopers Point, Elvina Bay 2nd Sunday 10 - 1pm
Rocky Point, Elvina Bay 1st Monday 9 - 12noon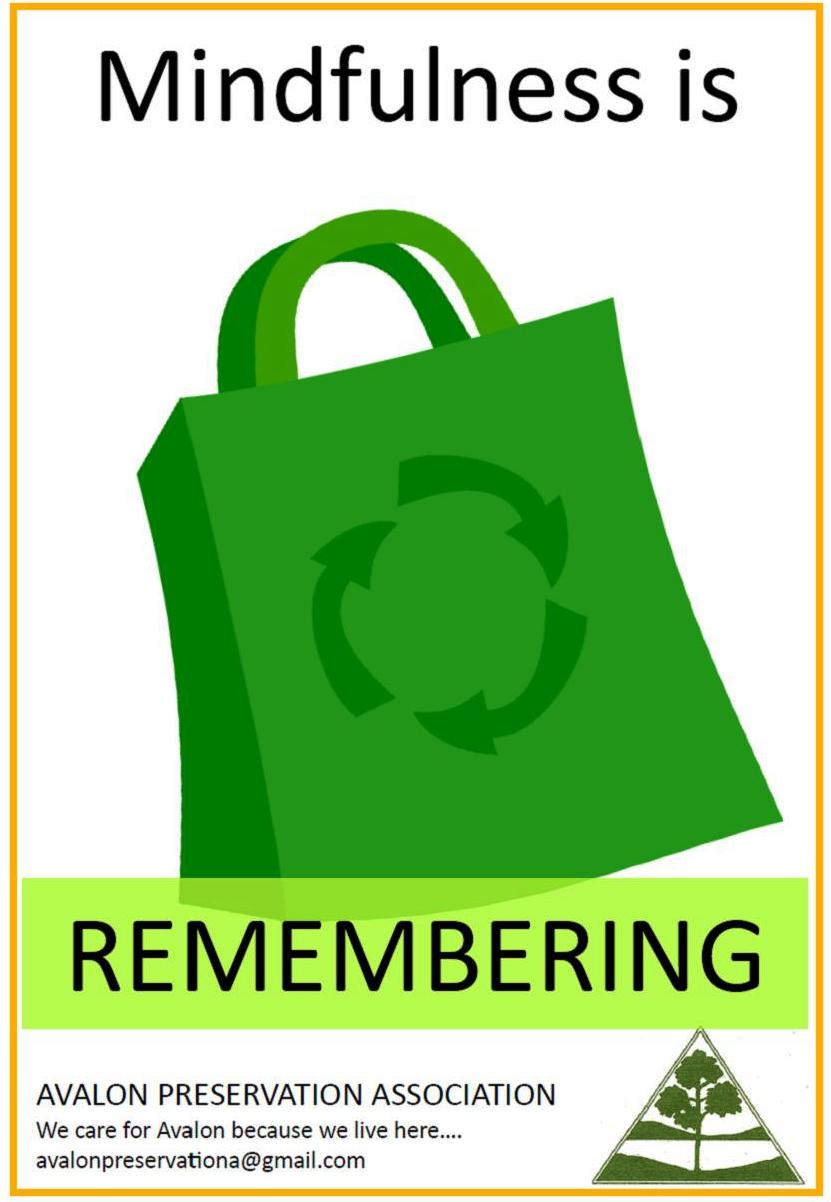 Permaculture Northern Beaches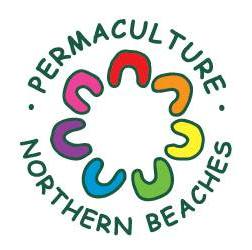 Want to know where your food is coming from?
Do you like to enrich the earth as much as benefit from it?
Find out more here:

What Does PNHA do?
About Pittwater Natural Heritage Association (PNHA)
With urbanisation, there are continuing pressures that threaten the beautiful natural environment of the Pittwater area. Some impacts are immediate and apparent, others are more gradual and less obvious. The Pittwater Natural Heritage Association has been formed to act to protect and preserve the Pittwater areas major and most valuable asset - its natural heritage. PNHA is an incorporated association seeking broad based community membership and support to enable it to have an effective and authoritative voice speaking out for the preservation of Pittwater's natural heritage. Please contact us for further information.
Our Aims
To raise public awareness of the conservation value of the natural heritage of the Pittwater area: its landforms, watercourses, soils and local native vegetation and fauna.




To raise public awareness of the threats to the long-term sustainability of Pittwater's natural heritage.




To foster individual and community responsibility for caring for this natural heritage.




To encourage Council and the NSW Government to adopt and implement policies and works which will conserve, sustain and enhance the natural heritage of Pittwater.



Act to Preserve and Protect!
Email: pnhainfo@gmail.com Or click on Logo to visit website.
Think before you print ; A kilo of recycled paper creates around 1.8 kilograms of carbon emissions, without taking into account the emissions produced from transporting the paper. So, before you send a document to print, think about how many kilograms of carbon emissions you could save by reading it on screen.
Friends Of Narrabeen Lagoon Catchment Activities

Bush Regeneration - Narrabeen Lagoon Catchment
This is a wonderful way to become connected to nature and contribute to the health of the environment. Over the weeks and months you can see positive changes as you give native species a better chance to thrive. Wildlife appreciate the improvement in their habitat.
Belrose area - Thursday mornings
Belrose area - Weekend mornings by arrangement
Contact: Phone or text Conny Harris on 0432 643 295
Wheeler Creek - Wednesday mornings 9-11am
Contact: Phone or text Judith Bennett on 0402 974 105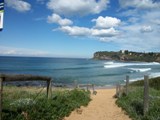 "I bind myself today to the power of Heaven, the light of the sun, the brightness of the moon, the splendour of fire, the flashing of lightning, the swiftness of wind, the depth of the sea, the stability of the earth, the compactness of rocks." - from the Prayer of Saint Patrick