Botanists give new hope to rare local plants
December 7, 2017 NSW OE&H

National Parks and Wildlife Service (NPWS) botanists in Limpinwood Nature Reserve discover hope for several threatened plant species, plants so rare they are only known to exist along one escarpment within Gondwana Rainforests of Australia World Heritage area on the NSW/Qld border.
Saving Our Species Project Officer Justin Mallee said the discovery of nearly 1000 rare Green Waxberry (Gaultheria viridicarpa) plants in high altitude rainforests of Limpinwood Nature Reserve was a pleasant surprise.
"We knew a handful of these very rare plants existed along the top of the cliff line but what we didn't know was how many plants were growing on the cliff faces or their condition," Mr Mallee said.
To survey the plants, NPWS engaged the skills of botanist Lui Weber, who got a special abseiling conservation permit, to abseil down the cliff face to conduct a threatened species assessment.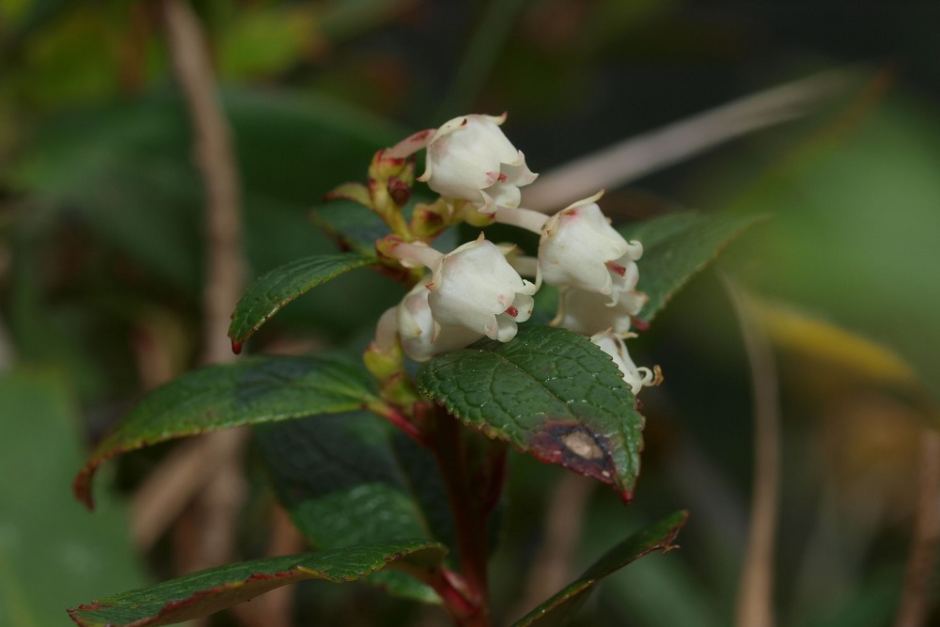 Green waxberry - Photo
by Lui Weber - Office of Environment and Heritage.
Mr Mallee said nearly 1000 Green Waxberry plants were found growing along the escarpment on either side of a rocky summit.
"The mossy cliffs of Limpinwood Nature Reserve are the only place in the world where these plants are found, so the discovery of a bigger population is fantastic news for this threatened species and really boosts this plant's chance of long-term survival," said Mr Mallee.
The survey work, undertaken as part of the NSW Government's Saving Our Species program, also uncovered a large population of Lamington Eyebright, Euphrasia bella.
Mr Mallee said this species, was last known as a small population of only 5 plants recorded in 1982.
"Ninety-Four Lamington Eyebright plants were counted as part of this survey, a huge boost to our knowledge of this population," said Mr Mallee.
A further threatened plant, Wollumbin Dogwood Ozothamnus vagans was also re-discovered during the survey. Although known to exist in small populations in the Border Ranges area, 182 individuals were counted along the cliffs.
The aim of the survey was to document the extent of the populations of these threatened plants, assess their habitat condition and record potential threats. This information will be used by NPWS to undertake management actions needed to help care for the plants in the future.
What we found was that the plants biggest threat is climate change, due to their location in a fragile high-altitude environment.
NPWS will now actively manage the plants via regular population monitoring, ongoing weed assessment and control, monitoring for disease and disease prevention.
"We are now focusing on ongoing management to help protect these rare species. This type of survey work adds to our knowledge of exactly what's out there and how to best manage it," said Mr Mallee.
Bringing nature back – to cities
1 December 2017: Media Release - Ecological Society of Australia

There are many benefits of bringing nature back into urban areas, but new research shows that besides using the right species for the local environment, their social acceptability, economic use and Indigenous significance need to be carefully considered.
'Nature in all its forms provides a remarkable range of benefits in cities,' said Dr Luis Mata, from RMIT's Interdisciplinary Conservation Science Research Group. 'There is great enthusiasm to bring trees, shrubs, grasses, insects, spiders, birds and mammals back into urban areas. Nature-based solutions such as green roofs and pop-up parks are happening across the world.'
Dr Mata said benefits include improving people's physical and psychological health, protection from future climate change, and conservation of threatened species. 'Nature-based solutions re-enchant people with nature, which helps them appreciate and conserve nature outside cities as well. Also, nature in cities connects people with the local Indigenous culture and history.'
However, Dr Mata said that the theory of benefiting from bringing nature back is one thing, but landscape designers, architects, health practitioners and others need to incorporate all aspects of nature in deciding how to bring it back.
'Broader planning is required before development. We're in need of biodiversity-sensitive urban design, where developers specifically aim to deliver on-site biodiversity benefits.'
Dr Mata and his colleagues have developed a new decision-making tool that includes the ecological feasibility of each species, its conservation value, economic use, cultural significance in the context of Indigenous culture, and social acceptability.
'We want to see all these things included in decisions about what nature to bring back into cities. For example, people deciding on re-naturing actions need to guarantee that the nature coming back is not harmful, and that the targeted species are charismatic and attractive to people.'
Dr Mata said that as cities grow globally, bringing nature back to them will be increasingly relevant for future generations. 'Protecting and bringing nature back into cities is a major sustainability goal. Future generations of an ever-increasing population of urban residents are relying on it.'
Dr Mata's work contributes to the National Environmental Science Program - Clean Air and Urban Landscapes Hub (NESP-CAUL). He presented his results to EcoTAS 2017, the joint conference of the Ecological Society of Australia and the New Zealand Ecological Society, held this week in the Hunter Valley.
Oceans book launches at critical time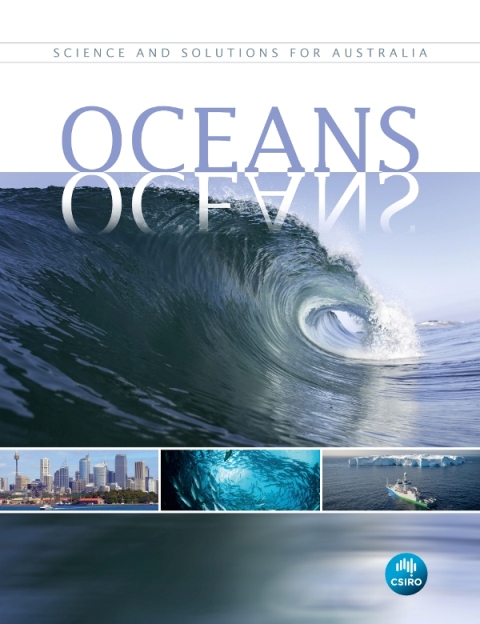 CSIRO has launched
Oceans: Science and Solutions for Australia
(Oceans), a book bringing together the latest science to explain the crucial role oceans play in the lives of all Australians.
CSIRO Oceans and Atmosphere Director Dr Tony Worby said Australia faced several opportunities and challenges, with three of the world's four major oceans in its marine estate.
"Australia's oceans cover almost 14 million square kilometres, nearly twice the area of our land, and hold the key to our climate, weather, economy, international security, and social well-being," Dr Worby said.
"It is important that we strike a balance between our national economic and resource requirements, while ensuring long term sustainability of our marine estate and this is key research focus for CSIRO and the Australian marine science community.
"Our oceans do the heavy lifting with respect to carbon dioxide and heat absorption and their capacity to continue to do these things is one of many areas we are focused on through our climate research.
"The effects of ocean warming can be seen already as tropical fish are found further south from warming coastal waters, cold water species decline in some regions, and coral bleaching becomes more frequent.
"There has never been a more important time to focus on marine research."
Oceans editor and CSIRO Chief Research Scientist Dr Bruce Mapstone said national and international collaboration was essential, with Australia having stewardship of the third largest marine estate in the world and the largest in the Southern Hemisphere.
"The book focuses on Australia's marine estate which includes the Indian, Pacific and Southern Oceans, however many of the topics covered have global relevance because of the interconnectedness of the world's oceans," Dr Mapstone said.
"Collaboration is the only way we can tackle the breadth of marine research Australia and the world need to fully understand our oceans.
"Indigenous coastal peoples have had cultural and livelihood connections with Australia's oceans for thousands of years and their knowledge is extremely valuable.
"Importantly, this book takes complex and detailed research and translates it into clear English that can be understood by policy makers and just as importantly students, some of whom are Australia's future marine scientists."
Oceans: Science and Solutions for Australia has been authored by scientists from CSIRO and other Australian research agencies and is available for free download:
Oceans [PDF 21.5MB]
or to order a hardcopy through CSIRO Publishing visit:
Oceans.
NNTT registration of contested Adani land deal to be fought hard in Court by W&J
Brisbane, 8 December 2017: Media Release -
Wangan and Jagalingou (W&J) Traditional Owners Family Council
Traditional Owners of the Wangan and Jagalingou (W&J) Traditional Owners Family Council say they are troubled by the decision of the National Native Title Tribunal (NNTT) to register an Indigenous Land Use Agreement (ILUA) for Adani before a legal challenge to the ILUA scheduled for March 2018 can be heard in the Federal Court.
W&J representatives say they have never given consent or signed the ILUA and are not bound by it. The ILUA was rejected by W&J again at a claim group meeting only days ago.
Representatives of the native title claim group have filed an application in the Federal Court for an injunction against Adani and the Queensland Government, to restrain them should they attempt to use the registration of the ILUA to extinguish their native title, under its terms, before their challenge is resolved in the courts.
Wangan and Jagalingou (W&J) Traditional Owners Council Spokesperson Adrian Burragubba said, "We expected the Native Title Tribunal to tick the boxes and register Adani's sham land use agreement. It is still subject to a legal challenge in March 2018 and we will pursue this and seek to reverse any decisions that are made in the meantime.
"Our lawyers are immediately writing to the state government and are urgently pursuing an injunction. Our legal team have prepared for the eventuality that the tribunal would place the ILUA on the register.
"The tribunal knew this was not a clean process or an uncontested document, and despite receiving evidence this week that the Claim Group had de-authorised the ILUA, they proceeded to register it. We are looking at our options for judicial review of the Tribunal decision," Mr Burragubba concluded.
Linda Bobongie, the Coordinator for the W&J Applicant, one of the convenors of the claim group meeting last weekend, and Chairperson of the W&J Traditional Owners Council, said, "It is a matter of justice that W&J's court challenge to this ILUA be heard before the state acts to extinguish our native title for the mine. Our lawyers are seeking a response from the new Queensland Government that they will not act on any provisions of this ILUA document that will harm our rights or lead to the destruction of our country and heritage.
"We are contesting Adani's purported land use agreement in the courts, and the Government would have its thumb on the scales of justice if it moved to support the mine and extinguish our native title before the trial. We have said no. The Government and Adani do not have our consent", Ms Bobongie concluded.
Background
On 2 December, for the fourth time since 2012, W&J Traditional Owners voted unanimously at an authorisation meeting of the claim group to reject an Indigenous Land Use Agreement (ILUA) with Adani, underlining their sustained opposition to the mine.
The claim group meeting put beyond any doubt that the Wangan and Jagalingou Traditional Owners Council speaks for the claim group against the Adani mine. The authorisation meeting passed a resolution to confirm that the Council advocates for the traditional culture of the claim group, and supports the W&J people to remain connected to our country.
The Traditional Owners have filed an application for an injunction in the Federal Court against Adani and the Queensland Government, to restrain them should they attempt to extinguish their native title, under the 'Adani ILUA', before the Federal Court hearing of W&J's litigation against the purported ILUA, set for March 2018.
The W&J Council will fight all the way to the High Court if necessary to defend their rights and protect their country from the destruction of the Carmichael Mine.
Resolutions of the W&J authorisation meeting on the Adani ILUA, 2 December 2017
This meeting of the Wangan and Jagalingou claim group:
Does not authorise the Indigenous Land Use Agreement between the Wangan and Jagalingou People and Adani Mining Pty Ltd and the State of Queensland ("the Adani ILUA").




Does not authorise the Applicants to sign the Adani ILUA and to the extent that some Applicants have already signed it, determines that they no longer have the authority of the claim group to do so and declares that their signatures are to be treated as nullity.




Do not consider the Adani ILUA to be binding on the Wangan and Jagalingou people.




Determines that the Applicants are not to continue to seek to register the Adani ILUA and directs Colin Hardie of Just Us Lawyers to submit to the Registrar of the Native Title Tribunal and to the Federal Court that the Adani ILUA should not be registered and is invalid.




Directs the Applicants to immediately communicate to the Registrar, National Native Title Tribunal and to the Federal Court the objection of the Applicant to the registration of the Adani ILUA purportedly executed by members of the Applicant.




Abhors the provisions of the Adani ILUA that provide for the extinguishment and surrender of our Native Title.




Objects strenuously to the Carmichael Mine.




Considers that the Adani ILUA does not provide adequate compensation for the detrimental effect that the Adani Mining project will have on our culture and traditional lands.




Deplores the degradation that the Adani Mining project will wreak on our culture, environment and our ancestral lands.



This meeting of the Wangan and Jagalingou claim group directs the Applicants not to further engage with Adani Mining Pty Ltd or any other entity on behalf of Adani to negotiate or renegotiate any ILUA relating to the Carmichael Mining project unless and until authorisation is given to the Applicants at a lawful authorisation meeting and express approval is given by the claim group for such further negotiations.
This meeting notes the Adani Carmichael Coal Mine ILUA assessment prepared by Economics Consulting Services and that it is an interim report. This meeting directs the Applicants to further engage Economics Consulting Services to obtain a full assessment of the benefits package proposed by Adani.
New species of extinct marsupial lion discovered in Australia
December 6, 2017

A team of Australian scientists has discovered a new species of marsupial lion which has been extinct for at least 19 million years. The findings, published in the Journal of Systematic Palaeontology, are based on fossilised remains of the animal's skull, teeth, and humerus (upper arm bone) found by University of New South Wales (UNSW) scientists in the Riversleigh World Heritage Area of remote north-western Queensland.
Named in honour of palaeoartist Peter Schouten, Wakaleo schouteni was a predator that stalked Australia's abundant rainforests some 18 to 26 million years ago in the late Oligocene to early Miocene era. This meat-eating marsupial is estimated to have been about the size of a dog and weighed around 23 kilograms.
The new species is about a fifth of the weight of the largest and last surviving marsupial lion, Thylacoleo carnifex, that weighed in at around 130 kilograms and which has been extinct for 30,000 years. Members of this family, the Thylacoleonidae, had highly distinct large, blade-like, flesh-cutting premolars that they used to tear up prey.
The discovery comes just a year after the fossilised remains of a kitten-sized marsupial lion were found in the same famous fossil site in Queensland. The UNSW scientists named that miniature predator Microleo attenboroughi after broadcasting legend Sir David Attenborough.
With this new find, the researchers believe that two different species of marsupial lion were present in the late Oligocene at least 25 million years ago. The other, originally named Priscileo pitikantensis, but renamed Wakaleo pitikantensis, was slightly smaller and was identified from teeth and limb bones discovered near Lake Pitikanta in South Australia in 1961.
This latest discovery reveals that the new species (W. schouteni) exhibits many skull and dental features of the genus Wakaleo but it also shared a number of similarities with P. pitikantensis -- particularly the presence of three upper premolars and four molars, previously the diagnostic feature of Priscileo. Further similarities of the teeth and humerus which are shared with W. schouteni indicate that P. pitikantensis is a species of Wakaleo.
According to the authors, these dental similarities distinguish W. schouteni and W. pitikantensis from later species of this genus, all of which show premolar and molar reduction, and suggest that they are the most primitive members of the genus.
Lead author Dr Anna Gillespie, a palaeontologist from the University of New South Wales (UNSW) in Sydney, Australia says that the latest finding raises new questions about the evolutionary relationships of marsupial lions: "The identification of these new species have brought to light a level of marsupial lion diversity that was quite unexpected and suggest even deeper origins for the family."
Anna K. Gillespie, Michael Archer, Suzanne J. Hand.
A new Oligo–Miocene marsupial lion from Australia and revision of the family Thylacoleonidae.
Journal of Systematic Palaeontology, 2017; 1 DOI:
10.1080/14772019.2017.1391885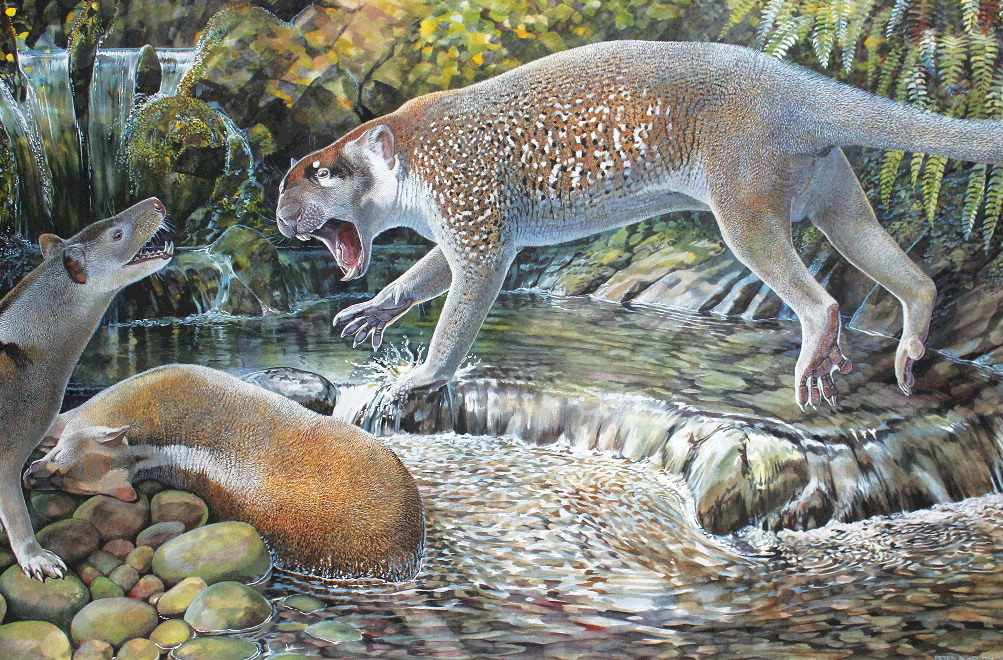 Reconstruction of Wakaleo schouteni challenging the thylacinid Nimbacinus dicksoni over a kangaroo carcass in the late Oligocene forest at Riversleigh. Credit: Illustration by Peter Schouten in the Journal of Systematic Palaeontology
Surprise in the kangaroo family tree
December 4, 2017
Ironically, it is jumping genes that indicate the need for a reorganization of the kangaroos' phylogenetic tree. According to a new study by a Senckenberg scientist, published recently in the journal "Scientific Reports," the swamp wallaby is more closely related to the remaining wallaby species and the large red and grey kangaroos and wallaroos than previously assumed. Together with her Australian colleagues from QUT in Brisbane, the researcher was the first to examine the relationships within the kangaroo genus Macropus on the basis of retrotransposons, genes that literally jump across the genetic material.
Like their larger relatives, the kangaroos, the smaller wallabies are an iconic part of the fauna "down under." Even the Australian National Rugby Team is named after them. However, one wallaby stands out among the rest -- the swamp wallaby. It is the only marsupial that is able to switch to "turbo speed" during reproduction, becoming pregnant again before giving birth to the first set of offspring. The animal, which is widespread on the east coast of Australia, also differs from the other wallabies in its appearance, e.g., the shape of its teeth and its more crouched hop.
Until now, the swamp wallaby was placed in its own genus, Wallabia, which only comprises one single species. However, this outsider role is actually not justified -- as recently shown by the molecular-genetic studies at the Senckenberg Biodiversity and Climate Research Centre.
"At the genetic level, the swamp wallaby does not represent a sister genus to the other wallabies, but it belongs to the genus Macropus, like all remaining wallaby species. Thus, it is not only more closely related to the other wallabies than previously thought, but also to Australia's icons, the large red and grey kangaroos and the wallaroos," explains Dr. Maria Nilsson, head of the study.
Of all things, it was retrotransposons -- genes that literally jump across the genetic material -- that shed new light on the relationships among wallabies and kangaroos. These mobile genetic elements are able to make copies of themselves and reinsert these at a different location in the genome. If they occur in the same areas in different species, these species have a common ancestry.
Nilsson elaborates: "Therefore, such jumping genes are also referred to as molecular fossils, which allow inferences on the phylogenetic history. They occur in almost all organisms; due to their properties, they have gained an increasing importance in evolutionary research in recent years."
According to the analysis, the modern subgenera of the kangaroo genus Macropus as well as the swamp wallaby subsequently evolved from a common ancestor approximately five to seven million years ago. During this time period, the forests in Australia began to open up, many later being replaced by spreading grasslands. This habitat was colonized by new species of large red and grey kangaroos and wallaroos. "The wallabies and the swamp wallaby arose at a later date, and they inhabit woodlands," says Nilsson.
Even in this genetic analysis, the swamp wallaby retains a special status. Although it now falls within the genus Macropus, it constitutes a subgenus within it -- and, not surprisingly, this subgenus only consists of one lone species.
The research also still leaves some mystery to be solved as fellow researcher, Matthew Phillips, Associate Professor at the Queenland University of Technology points out in conclusion: "Although we show that the swamp wallaby clearly falls within Macropus, we also found some evidence for a small portion of it' s genome being a relic of an ancient, now extinct kangaroo. It might be interesting to investigate this further."
William G. Dodt, Susanne Gallus, Matthew J. Phillips, Maria A. Nilsson.
Resolving kangaroo phylogeny and overcoming retrotransposon ascertainment bias.
Scientific Reports, 2017; 7 (1) DOI:
10.1038/s41598-017-16148-0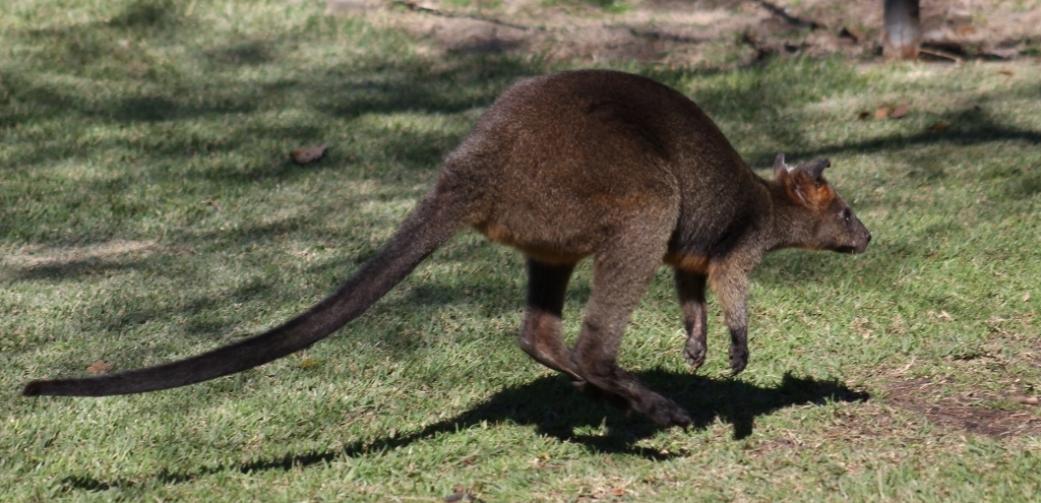 The swamp wallaby (Wallabia bicolor) is more closely related to the remaining wallaby species and the large red and grey kangaroos and wallaroos than previously assumed.
Ice core may unlock secrets of Australia's wild weather
4th December 2017
Scientists hope a deep field mission to recover a 2000 year old Antarctic ice core will shed light on the long-term influences that impact Australian weather and climate.
Preparations to set up an ice core drilling camp at Mount Brown, 330 kilometres inland of Australia's Davis research station, began over the weekend.
Five researchers and two deep field support specialists will spend 50 days drilling a core to a depth of around 350 metres this summer.
The Australian Antarctic Program project is led by Dr Tessa Vance from the Antarctic Climate and Ecosystems Cooperative Research Centre.
Dr Vance said there is little information on how weather patterns formed in the Indian Ocean have changed over time periods longer than a few decades, and how this then impacts Australia.
"The region is known as a 'cyclone nursery' as it's where many storms are 'born' before they head from west to east across the Southern Ocean and impact both Australia and East Antarctica."
"A new ice core record from Mount Brown South will provide us with a snapshot of the climate history of the Indian Ocean and hopefully an insight into climate variability in Australia over the last one to two millennia."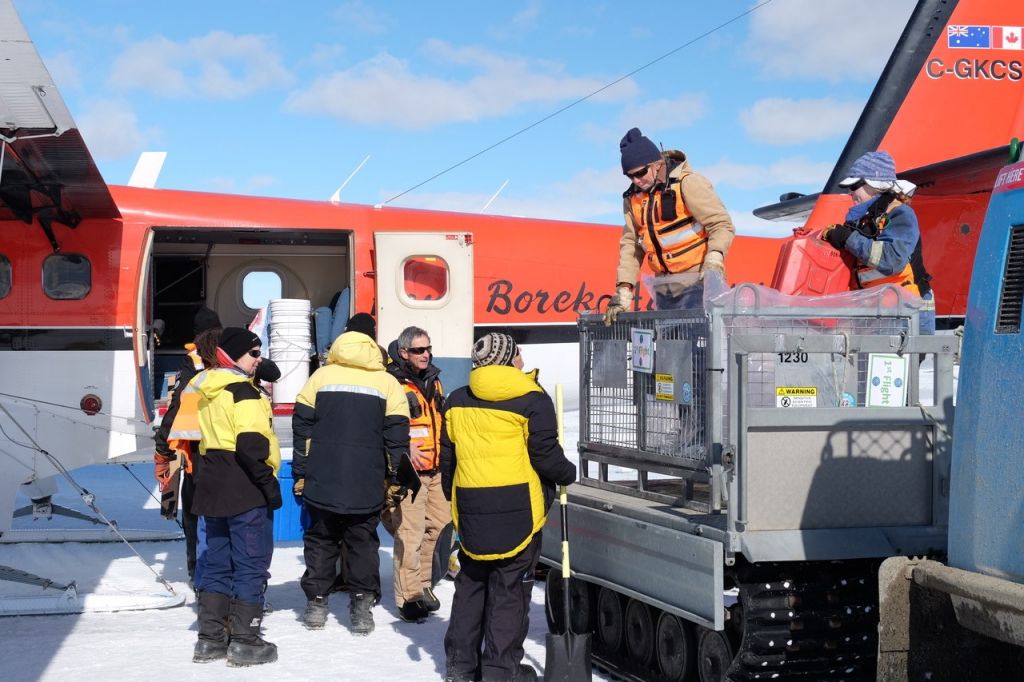 Loading up the Twin Otter with gear for the field camp. (Photo: Paul Vallelonga)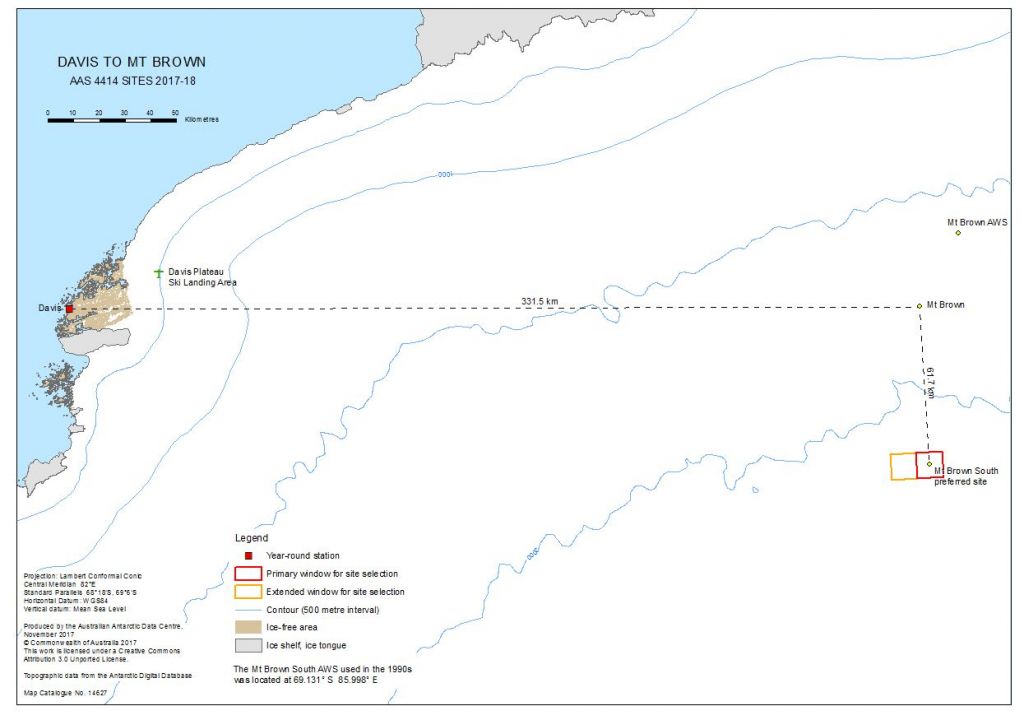 The Mt Brown camp site. (Photo: Australian Antarctic Division)

The chemical constituents in Antarctic ice cores including traces of hydrogen and oxygen, sulphur from volcanoes, and sea salts, along with the amount of snowfall per year, provide information on past climate and climate processes.
In 2015, scientists developed a 1000 year record of drought in eastern Australia from the existing Law Dome ice core.
"The Law Dome record showed us that prolonged droughts in eastern Australia are part of the natural climate cycle," Dr Vance said.
"We hope an ice core from Mount Brown will provide us with another snapshot of climate variability in the Indian and south west Pacific Oceans, and more insight into long-term climate variability in Australia."
The scientists have used satellite and continental surveys gathered over many years to find the best drill location in East Antarctica.
The ice cores will be brought back to Australia in March on the icebreaker Aurora Australis.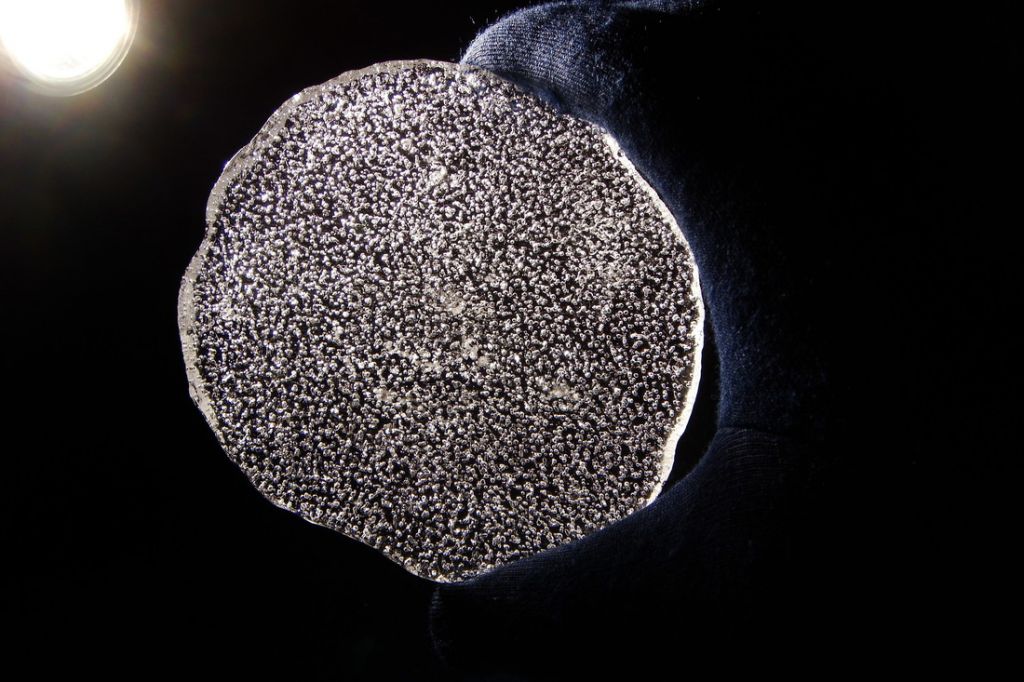 Ice cores including traces of hydrogen and oxygen, sulphur from volcanoes, and sea salts. (Photo: Tas van Ommen)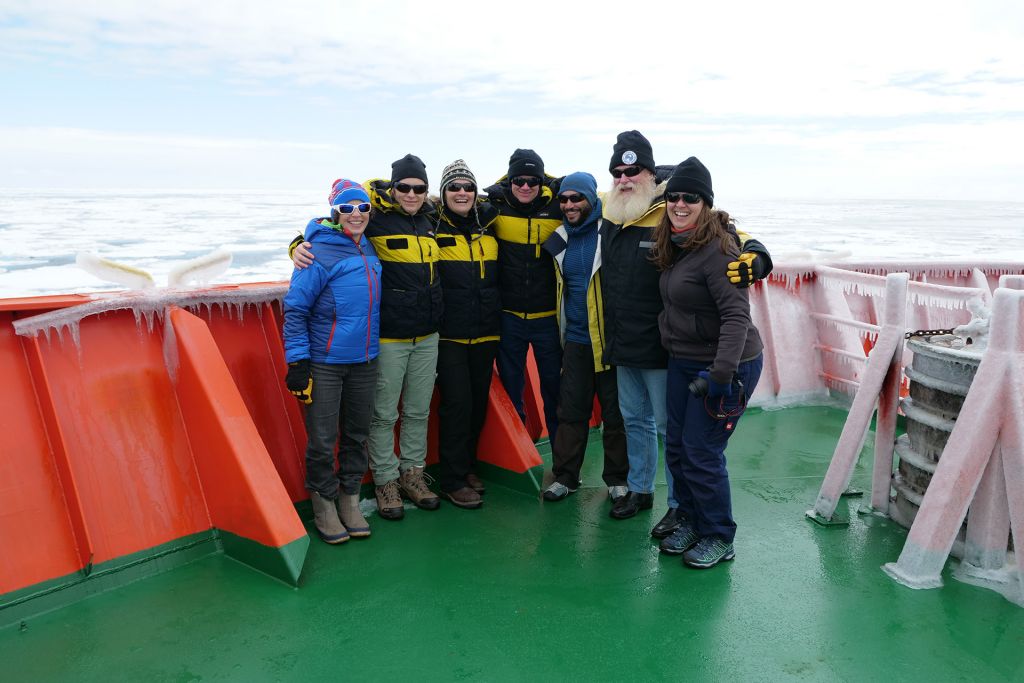 The team sailed to Davis research station on the Aurora Australis. (Photo: Martin Walch)
As parks become backyards, smart street furniture essential
December 7, 2017: by Lucy Carroll, UNSW

An interdisciplinary team from UNSW will give parks and urban spaces in the Georges River area a makeover as part of the federal government's Smart Cities and Suburbs Program.
Public spaces in south Sydney will be transformed by urban planners and industrial designers from UNSW Sydney as part of the first federal grants awarded by the
Smart Cities and Suburbs Program
.
The UNSW Built Environment interdisciplinary team was awarded more than $650,000 to work with Georges River City Council to install "responsive" technology such as smart sensors on street furniture and amenities to monitor and respond in real time to their use.
Senior Lecturer Nancy Marshall said the project, Smart Social Spaces: Smart Street Furniture Supporting Social Health, would respond to the pressures of high urban density and apartment living resulting in parks and plazas being used as urban backyards.
Marshall said the 18-month project would involve using social media and behaviour mapping to track foot traffic and movement patterns to capture data on how often public space was used.
"We are asking people to live in two-bedroom apartments with families so the need for healthy open local spaces is critical. There is so much opportunity for smart cities to improve efficiencies from council service providers so people do feel comfortable going to local parks with great facilities," Marshall said.
The team will install digital Internet of Things (IoT) sensors to measure sound, use and flow of water on picnic tables, bins, barbeques, seats, ash receptacles, bubblers and lights to get immediate data sent to the council.
"The aim is for the council to receive live messages, for example sensors on bins will detect fullness, register if ash receptacles are overheating or if a street bollard is damaged. This will help providers to know exactly which bins are ready to be emptied and when to send service teams out," Marshall said.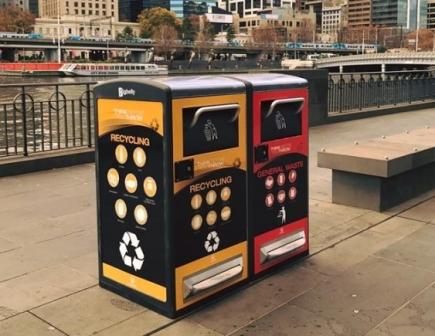 New-generation bins use fullness-level sensors and software to alert providers when collection is needed. Photo: Solar Bins Australia
The project's co-lead, Industrial Design Senior Lecturer Dr Christian Tietz, will design a range of public furniture prototypes for the local parks that will include cooking facilities, water, WiFi and shaded seating that asks users to log in or authorise them to use equipment via a unique identifier.
Marshall said the team would be mentored by the city of Tel Aviv, a hub for smart city technology that has pioneered personalised "digital cards" that give real-time notifications about what's happening in a neighbourhood and free WiFi across the city.
The project also includes Nancy Marshall, Kate Bishop, Linda Corkery, Christine Steinmetz, Susan Thompson, Miles Park and Homa Rahmat from UNSW Built Environment.
Green talent recognised with international award
December 6, 2017: University of Tasmania

One of the world's leading young environmental researchers has chosen to continue her ground-breaking work at the Australian Maritime College.
Pratiksha Srivastava, who was working at the Institute of Minerals and Materials Technology, Bhubaneswar, India, is one of 25 winners of the
International Green Talent Awards
.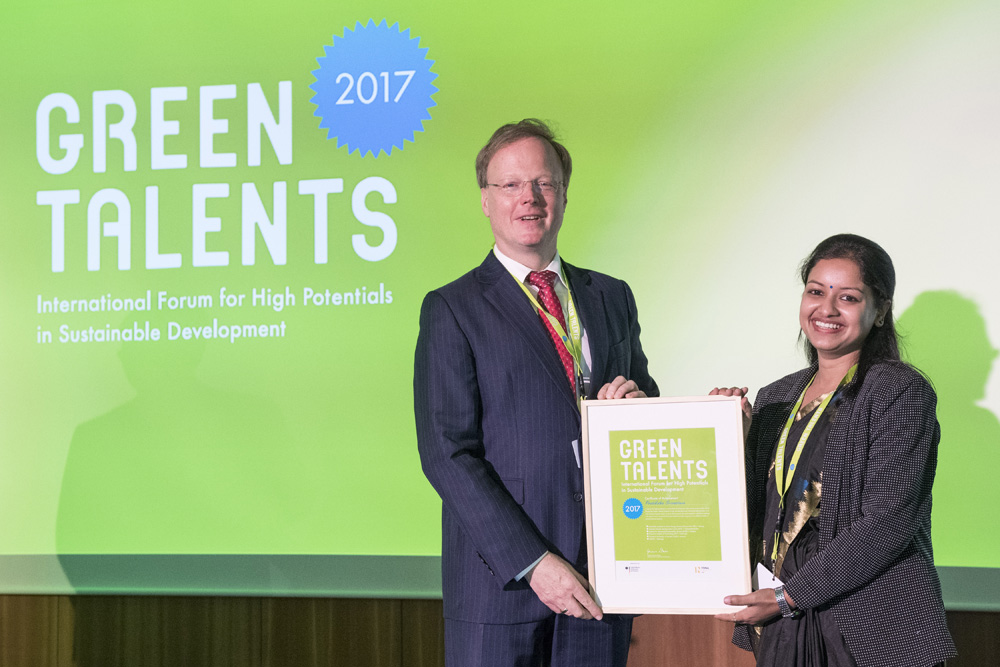 General Director Matthias Graf von Kielmansegg and Green Talent Pratiksha Srivastava. © DLR-PT / Hans-Christian Plambeck
Conferred under the patronage of the German Research Minister, Professor Johanna Wanka, the awards provide young researchers with a platform for sharing their views on green concepts to improve environmental sustainability.
A high-ranking jury of experts selected 25 up and coming scientists out of 602 applicants from more than 95 countries. Their prize is one of the coveted tickets to go to the Green Talents – International Forum for High Potentials in Sustainable Development.
Raised in a small village in India, Ms Srivastava has drawn on her personal experiences to direct her career into wastewater treatment and sanitation technologies with the aim of improving the lives of villagers in her home country.
"Coming from a small village, I was aware of the villagers' situation. Most of the time they and their cattle share the same water resources for drinking, bathing and other tasks," she said.
"While pursuing my university education, I learned more about environmental issues and was fascinated to study these issues in detail to try and solve these problems for the villagers."
Ms Srivastava identified a number of constraints to improving the quality of life in Indian villages including the lack of technical know-how, very poor infrastructure, a shortage of electricity and poverty.
She recognised the implementation of a low-cost solution for wastewater treatment and sanitation was likely to be one of the best options to improve the situation.
Ms Srivastava focussed on constructed wetlands, which is a low-cost and simple technology, appropriate for Indian conditions.
A series of shallow, densely-planted man-made ponds, constructed wetlands help filter water through physical and biological processes. They can run on solar energy without the need for any chemical and mechanical equipment, have almost no operation and maintenance costs and can be built with local resources.
But while constructed wetland technology has several advantages, it has a slow wastewater treatment rate and a high land-use footprint.
So to improve the performance and speed of treatment in constructed wetlands, Ms Srivastava and her supervisor successfully developed a novel technology named Integrated Constructed Wetlands Microbial Fuel Cell (CW –MFC).
Using this approach, the performance efficiency of the constructed wetlands almost doubled. The CW-MFC has a reduced land-use footprint and in something of a world-first, can generate electricity.
The new technology is gaining much interest at a global level from key constructed wetlands scientists.
Ms Srivastava and her research group also designed and built a unique zero-discharge water recyclable community toilet which is working in Bhubaneswar. It is integrated with constructed wetlands and innovative septic tanks.
Her research deals with biotechnology, microbiology, process engineering, electrochemistry, inorganic chemistry, botany and environmental science and engineering.
Ms Srivastava is now in the early phases of her PhD at AMC, where she is focussing on the development of marine microbial fuel cells for various environmental applications.
"Terrestrial resource based microbial fuel cell technology have limited applications, while marine resources are vast and have enormous potential. I wish to use this technology for marine applications and want to develop next-generation microbial fuel cells for various applications using marine resources like marine bacteria or marine sludge," she said.
While it's a long way from her home in India, Ms Srivastava is excited by the opportunity to study at AMC, after hearing about the institution through a colleague and then researching it on the internet.
"The University of Tasmania's AMC is providing me with world-class facilities and expertise for doing and improving my work."
Ms Srivastava's PhD is supervised by Drs Vikram Garaniya and Rouzbeh Abbassi from AMC, and Dr Trevor Lewis from the School of Physical Sciences.
"My supervisors have vast experience and are very supportive. In fact, I cannot progress much further in the work without the significant support of AMC lecturers and staff," she said.
Dr Garaniya is proud the AMC has attracted such a highly talented scholar and grateful for funding support through the Tasmanian Community Fund to enable Ms Srivastava to take up the PhD opportunity.
For Ms Srivastava, studying a PhD at AMC provides the chance to bridge a gap in her research and collaborate with experts, but perhaps more importantly, allows her to develop technologies that will significantly improve the lives of people around the world.
"I am really hopeful that our work will lead to innovative microbial fuel cells based technology which will solve some of the wastewater treatment and other environmental problems as it will be cheaper, faster and easily manageable."
Avalon Boomerang Bags: An Idea that's Spreading to stop plastic bag use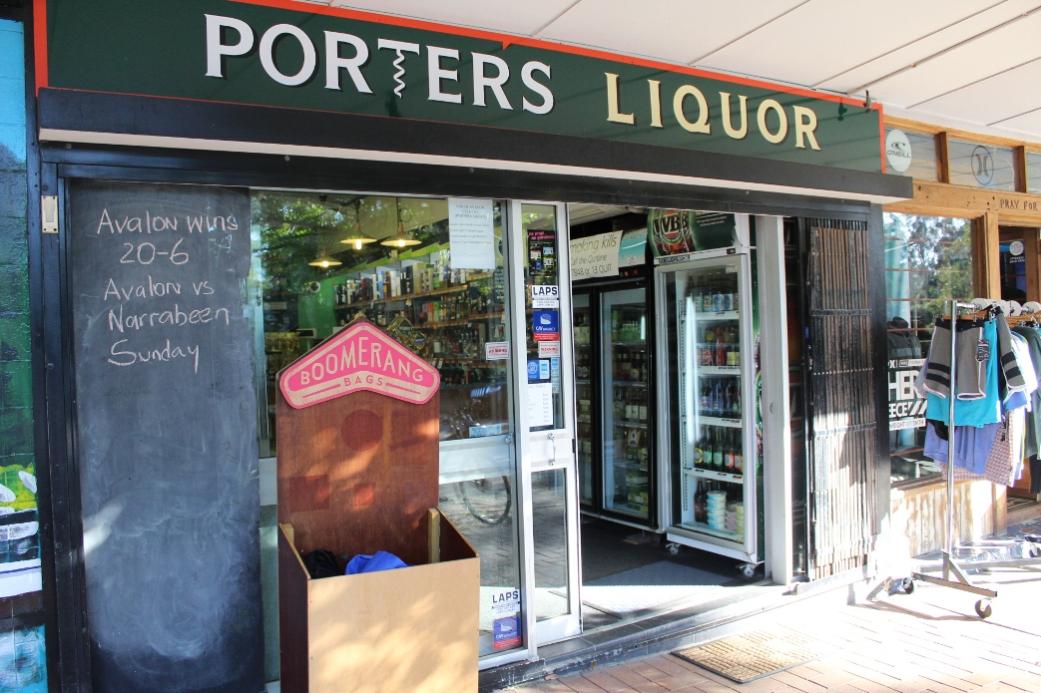 Avalon Boomerang Bags - now at North Avalon shops - A J Guesdon photo, 25.5.2017
Avalon Boomerang Bags
Unit 20/14 Polo Ave Mona Vale
Boomerang Bags is a bag-share initiative involving the installation of a number of 'Boomerang Bag' boxes throughout any given business district, shopping centre, street or market. Each box is stocked with re-useable bags for customers to borrow if they have forgotten to bring their own.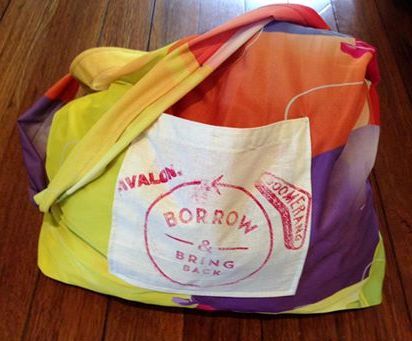 Unlike the traditional purchase-and-keep approach, Boomerang Bags are free, and local community members are responsible for returning the bags once they're no longer required. The availability of free re-useable bags reduces the reliance of local businesses to supply bags to all customers, and encourages a mentality of re-use among local communities, thereby reducing the amount of plastic bag material entering our landfills and waterways.
So who makes the Boomerang Bags? Well, you do! Boomerang Bags are made by local communities for local communities, and are sewn from recycled and donated materials.
Get in touch if you'd like to donate materials, join us making bags, or implement Boomerang Bags in your own local area!