May 27 - June 2, 2018: Issue 361

World Environment Day 2018 - Beat Plastic Pollution: If You Can't Reuse It, Refuse It
"
Beat Plastic Pollution", the theme for World Environment Day 2018
, is a call to action for all of us to come together to combat one of the great environmental challenges of our time. Chosen by this year's host, India, the theme of World Environment Day 2018 invites us all to consider how we can make changes in our everyday lives to reduce the heavy burden of plastic pollution on our natural places, our wildlife – and our own health.
While plastic has many valuable uses, we have become over reliant on single-use or disposable plastic – with severe environmental consequences. Around the world, 1 million plastic drinking bottles are purchased every minute. 500 billion disposable plastic bags are used worldwide every year. In total, 50 per cent of the plastic we use is single use.
Nearly one third of the plastic packaging we use escapes collection systems, which means that it ends up clogging our city streets and polluting our natural environment. Every year, up to 13 million tons of plastic leak into our oceans, where it smothers coral reefs and threatens vulnerable marine wildlife. The plastic that ends up in the oceans can circle the Earth four times in a single year, and it can persist for up to 1,000 years before it fully disintegrates.
Plastic also makes its way into our water supply – and thus into our bodies. What harm does that cause? Scientists still aren't sure, but plastics contain a number of chemicals, many of which are toxic or disrupt hormones. Plastics can also serve as a magnet for other pollutants, including dioxins, metals and pesticides.
If you can't reuse it, refuse it
This year's World Environment Day provides an opportunity for each of us to embrace the many ways that we can help to combat plastic pollution around the world. And
you don't have to wait until 5 June to act.
There are so many things that we can do – from asking the restaurants you frequent to stop using plastic straws, to bringing your own coffee mug to work, to pressuring your local authorities to improve how they manage your city's waste. Here are some other specific ideas:
Bring your own shopping bags to the supermarket




Pressure food suppliers to use non-plastic packagin




Refuse plastic cutlery




Pick up any plastic you see the next time you go for a walk on the beach



What else can we do to tackle this problem? Share your ideas on social media using the hashtag #BeatPlasticPollution.
What is dust made of?
Published May 24, 2018 by TED Ed.
Less than a tenth the size of an ant, a dust mite's whole world is contained in the dusty film under a bed or in a forgotten corner. This realm is right under our noses, but from our perspective, the tiny specks of brilliant color blend together into a nondescript grey. What are these colorful microscopic particles? Michael Marder explores the science of dust.
Lesson by Michael Marder, animation by Mette Ilene Holmriis.
MIDNIGHT OIL - Read About It (Live)
MIDNIGHT OIL - Read About It (Live)05 Nov 1994 - «Big Backyard Concert» The Domain, Sydney, NSW
headspace Brookvale
headspace Brookvale provides services to young people aged 12-25. If you are a young person looking for health advice, support and/or information,headspace Brookvale can help you with:
• Mental health • Physical/sexual health • Alcohol and other drug services
• Education and employment services
If you ever feel that you are:
• Alone and confused • Down, depressed or anxious • Worried about your use of alcohol and/or other drugs • Not coping at home, school or work • Being bullied, hurt or harassed • Wanting to hurt yourself • Concerned about your sexual health • Struggling with housing or accommodation • Having relationship problems • Finding it hard to get a job
Or if you just need someone to talk to… headspace Brookvale can help! The best part is our service is free, confidential and youth friendly.
headspace Brookvale is open from Monday to Friday 9:00am-5:30pm so if you want to talk or make an appointment give us a call on (02) 9937 6500. If you're not feeling up to contacting us yourself, feel free to ask your family, friend, teacher, doctor or someone close to you to make a referral on your behalf.
When you first come to headspace Brookvale you will be greeted by one of our friendly staff. You will then talk with a member of our headspace Brookvale Youth Access Team. The headspace Brookvale Youth Access Team consists of three workers, who will work with you around whatever problems you are facing. Depending on what's happening for you, you may meet with your Youth Access Worker a number of times or you may be referred on to a more appropriate service provider.
A number of service providers are operating out of headspace Brookvale including Psychologists, Drug & Alcohol Workers, Sexual Health Workers, Employment Services and more! If we can't find a service operating withinheadspace Brookvale that best suits you, the Youth Access Team can also refer you to other services in the Sydney area.
eheadspace provides online and telephone support for young people aged 12-25. It is a confidential, free, secure space where you can chat, email or talk on the phone to qualified youth mental health professionals.
Click here to go to eheadspace
For urgent mental health assistance or if you are in a crisis please call the Northern Sydney 24 hour Mental Health Access Line on 1800 011 511
Need Help Right NOW??
kids help line: 1800 55 1800 - www.kidshelpline.com.au
lifeline australia - 13 11 14 - www.lifeline.org.au
headspace Brookvale is located at Level 2 Brookvale House, 1A Cross Street Brookvale NSW 2100 (Old Medical Centre at Warringah Mall). We are nearby Brookvale Westfield's bus stop on Pittwater road, and have plenty of parking under the building opposite Bunnings. More at: www.headspace.org.au/headspace-centres/headspace-brookvale
NCYLC is a community legal centre dedicated to providing advice to children and young people. NCYLC has developed a Cyber Project called Lawmail, which allows young people to easily access free legal advice from anywhere in Australia, at any time.
NCYLC was set up to ensure children's rights are not marginalised or ignored. NCYLC helps children across Australia with their problems, including abuse and neglect. The AGD, UNSW, KWM, Telstra and ASIC collaborate by providing financial, in-kind and/or pro bono volunteer resources to NCYLC to operate Lawmail and/or Lawstuff.
New "Coastal Management Guide" teaching resource released
Researchers from UNSW Water Resaerch Laborsatory (WRL) in partnership with the NSW Office of Environment and Heritage, have developed a new 'Coastal Management Guide' designed for High School teachers involved in STEM (Science, Technology, Engineering, and Mathematics) education: http://www.narrabeen.wrl.unsw.edu.au/teaching/
The Guide is designed to assist teachers to engage their students (target ages 11 – 16 years) in the complex issues of Coastal Management, with coastal erosion as the "attractor". Background information spanning topics such as 'the dynamic coast', 'what are the issues', 'managing for the future' and 'how do we measure coastal change' is presented. A broad range of fully developed independent and guided student activities are provided for use inside and outside the classroom, including hands-on experiments, analysis of media reporting, and role-playing.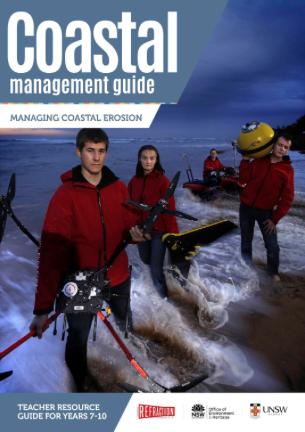 The Guide targets Australian High School STEM curriculum areas (Years 7–10) of Physical Sciences, Human Society & its Environment (HSIE), Geography, Earth & Environmental Sciences and Maths. More broadly, it is anticipated that the Guide's educational themes and activities will provide a useful and stimulating resource in any classroom where 'living at the coast' can provide a launching point into diverse areas of secondary school STEM education.
Youth Source: Northern Sydney Region
A directory of services and resources relevant to young people and those who work, play and live alongside them.
Aboriginal,
Accommodation,
Alcohol & Other Drugs,
Community Service,
Counselling,
Disability,
Education & Training,
Emergency Information,
Employment,
Financial,
Gambling,
General Health & Wellbeing
Government Agency,
Hospital & GP,
Legal & Justice,
Library
Mental Health,
Multicultural,
Nutrition & Eating Disorders,
Parenting
Relationships,
Sexual Health,
University,
Youth Centre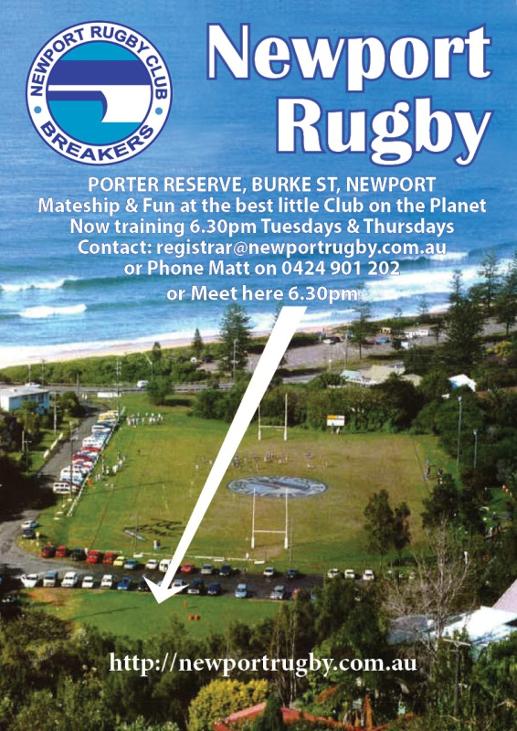 Send In Your Stuff
Pittwater Online News is not only For and About you, it is also BY you.
We will not publish swearing or the gossip about others. BUT: If you have a poem, story or something you want to see addressed, let us know or send to:
pittwateronlinenews@live.com.au
All Are Welcome, All Belong!
The Project Gutenberg Library of Australiana
Australian writers, works about Australia and works which may be of interest to Australians.This Australiana page boasts many ebooks by Australian writers, or books about Australia. There is a diverse range; from the journals of the land and sea explorers; to the early accounts of white settlement in Australia; to the fiction of 'Banjo' Paterson, Henry Lawson and many other Australian writers.
The list of titles form part of the huge collection of ebooks freely downloadable from Project Gutenberg Australia. Follow the links to read more about the authors and titles and to read and/or download the ebooks.
Needed: School For Plastic Bottle Cap Mural Project
I - Eco Artist & Designer Angela van Boxtel -am looking for a school that be interested in a Plastic Bottle Cap Mural project for their school. (There will be no fee to the school and all services and materials will be included free of charge into the project.) I am looking to do a project with a local Northern Beaches School primary school as part of my educational outcome of my Artist in Residency at Kimbriki.
I am interested in a school that already has a sustainable angle in their education program or focuses on healthy eating habits in their canteen or has a green team of parents at the school of some sort.
The fifth of June is World Environmental Day and this year the theme is focused on plastic pollution and encouraging all to make a stand to ban and diminish our plastic waste.
My bottle cap murals focus on the issue of single use plastics and the possibilities for reuse of these plastics into fun and educational tools.
So if you think your school would be interested then please email me with a short blurb why your school would be interested in such a project.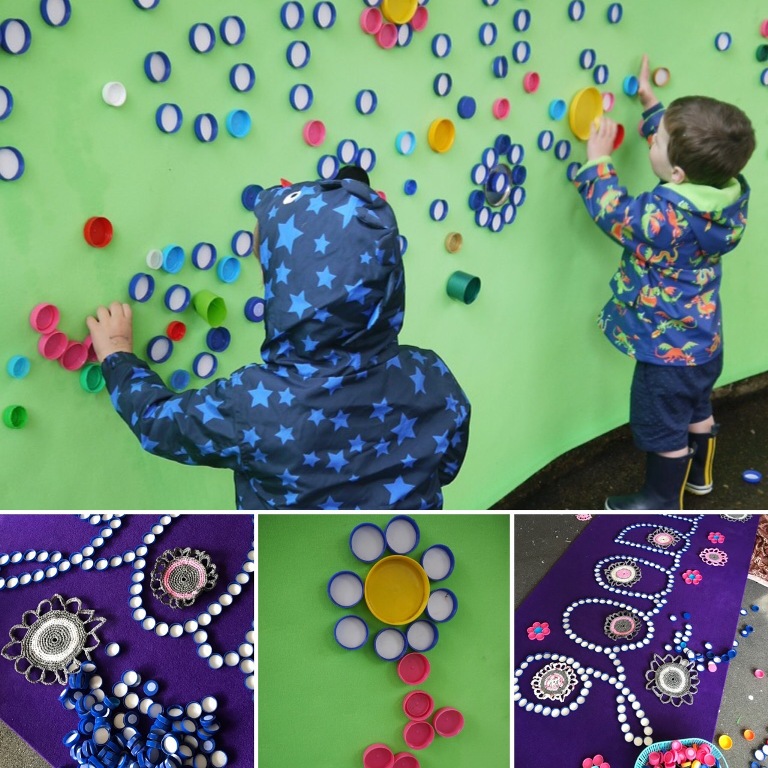 A while ago Pittwater Online News ran an item when Angela was collecting bottle caps for these projects. The Manly based artist is a frequent visitor to Pittwater, taking part in art projects and the summer series of ocean swims that support local surf clubs, both as a photographer and participant.
Eco Art & Designer Angela van Boxtel offers you interesting and fascinating creative projects and workshops in how to reduce waste and educate your audiences in an enticing and interactive way.
The Artist believes 'Less is more' and as such a strategy, less waste - less costs, eventually pays for it self.
Angela has worked with many local councils, at festivals and events and with schools and businesses.
Her creative ideas are engaging, original and ever evolving. They have captured an international following and lots of media attention over the years.
As an Artist & Designer she works closely with environmental groups to stay on top of important issues. Her Bottle cap Murals have featured at public places and festivals such as the Blackmores Open Day, Ocean Care Day Festival, Body, Mind & Spirit Festival, and the As Sustainable as Possible Festival.
Please email her on angela@angelavanboxtel.com if your school would be interested before June 1st 2018
More info on Eco Art & Design Angela van Boxtel at www.angelavanboxtel.com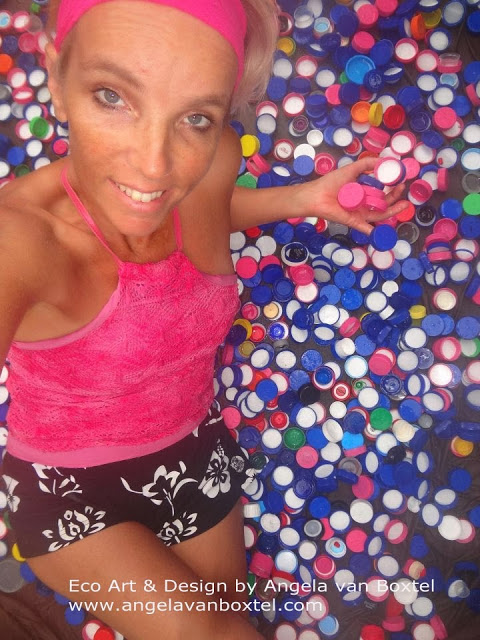 Aussie high school student wins top prize at international science and engineering fair
May 21, 2018: from CSIRO
2018 BHP Billiton Foundation Science and Engineering Award winner Oliver Nicholls has taken home the top prize and $US75,000 as winner of the Gordon E. Moore Award at the Intel International Science and Engineering Fair (Intel ISEF) announced in Pittsburgh, Pennsylvania on Friday night.
The 19-year-old from Barker College in Sydney secured the win with his fully-autonomous robotic window cleaner that is designed to reduce human injury and decrease the costs of window cleaning on medium rise commercial buildings. The small robotic device uses drones, motors and propellers to navigate building facades and clean windows using water and micro-fibre scrubbers.
Australian students excelled at the international competition, with five of Australia's 2018 BHP Billiton Foundation Science and Engineering Awards finalists securing a total of 11 major award wins against a field of over 1800 high school students from 75 countries.
CSIRO Education and Outreach Director Mary Mulcahy said it was another example of Australia's great science being recognised on the global stage.
"Australia is one of the best places in the world to start a career in science, technology, engineering and mathematics (STEM). By having our high school students winning international awards, we are further strengthening our international reputation as an innovative country," Ms Mulcahy said.
BHP Billiton Foundation Executive Director James Ensor said seeing Australian high school students winning at an international level would inspire others to pursue independent research projects.
"Studying STEM topics fosters innovative thinking and problem solving abilities that will help to address sustainable development challenges," Mr Ensor said.
"We believe that by supporting STEM education and achievement in young people, we are investing in Australia's future problem solvers."
The BHP Billiton Foundation Science and Engineering Award finalists attended Intel ISEF as part of the BHP Billiton Foundation Science and Engineering Awards Australian delegation and STANSW's Young Scientist delegation.
The Intel International Science and Engineering Fair (Intel ISEF), a program of Society for Science & the Public is the world's largest international pre-college science competition. Each year over 1800 high school students from more than 75 countries, regions, and territories are awarded the opportunity to showcase their independent research and compete for on average $4 million in prizes. The BHP Billiton Foundation and Intel Foundation provide support for the BHP Billiton Foundation Science and Engineering Awards Australian delegation attending the fair.
BHP Billiton Foundation Science and Engineering Award winners at Intel ISEF
Oliver Grant Nicholls, Barker College, NSW, Australia
1st place overall, Gordon E. Moore Award, with a prize value of $US75,000
1st place and Best in Category in the Physical Sciences Robotics and Intelligent Machines category
IEEE Foundation Second Place Award
National Aeronautics and Space Administration Second Award of $US750
Project: Autonomous window cleaning robot for commercial high rise buildings
Oliver Nicholls combined his knowledge in mathematics, physics and design to design an autonomous robotic window cleaner. His design aims to reduce injury and decrease the commercial costs of window cleaning. The final product went through rigorous prototyping, testing and evaluation to show commercial viability.
Angelina Arora, Sydney Girls High School, NSW, Australia
4th place in Physical Sciences, Environmental Engineering category.
Angelina also won a scholarship to Arizona University.
Project: Shrimp Shell Bioplastics: A new solution to the world's growing plastic problem
Concerned about the damage plastics do to the environment, especially the ocean, Angelina Arora set out to develop a bioplastic made from prawn shell and sticky protein from the silk of silkworms. The plastic completely degrades leaving nothing harmful behind. She tested the strength, elongation, clarity, solubility, deconstruction and endurance of the plastic as well as other plastics made out of potato, corn and tapioca. Angelina hopes this plastic could replace current plastic shopping bags and other packaging to reduce the environmental impact in landfill and in the ocean.
Caitlin Roberts, Friends School, Hobart, Tas, Australia
3rd place in the Life Sciences, Biomedical Sciences category.
Project: The protease inhibiting effect of almonds
Caitlin's project looked at the digestive properties of almonds. She compared the rate of protein digestion of skim milk when either activated or natural almonds were consumed and how this process occurs. This research contributes to a body of research aimed at understanding how nutritional intake can be optimised.
Jade Moxey and Macinley Butson, Sapphire Coast Anglican College, NSW, and The Illawarra Grammar School, NSW
3rd Place in the Physical Sciences, Environmental Engineering category
King Abdul-Aziz & his Companions Foundation for Giftedness and Creativity $US20,000 Scholarship for Sustainable Initiatives with Water Technology
Qatar Foundation, Research & Development First Award of $US1000
Project: The SAS System (Sanitation and Sterilisation)
Jade and Macinley worked together on a portable sanitation and sterilisation system to provide both clean potable drinking water and sterile water for medical use. It also has the potential to be used in emergency response and disaster relief situations.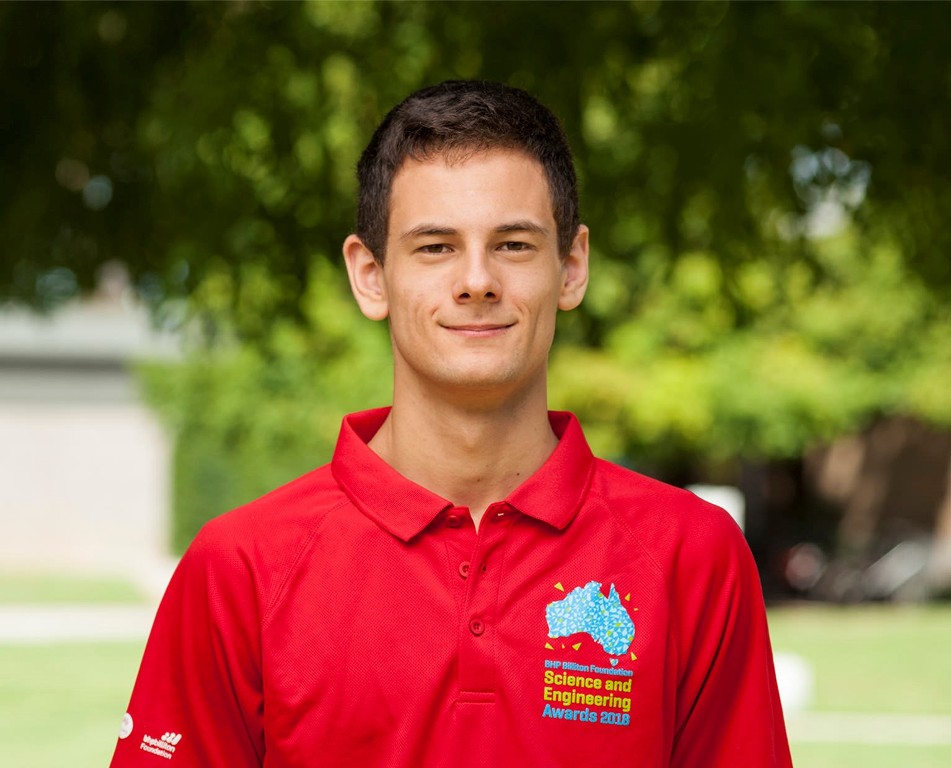 Oliver Nicholls has taken home the top prize as winner of the Gordon E. Moore Award at the Intel International Science and Engineering Fair (Intel ISEF) announced in Pittsburgh, Pennsylvania.
The Game Changer Challenge 2018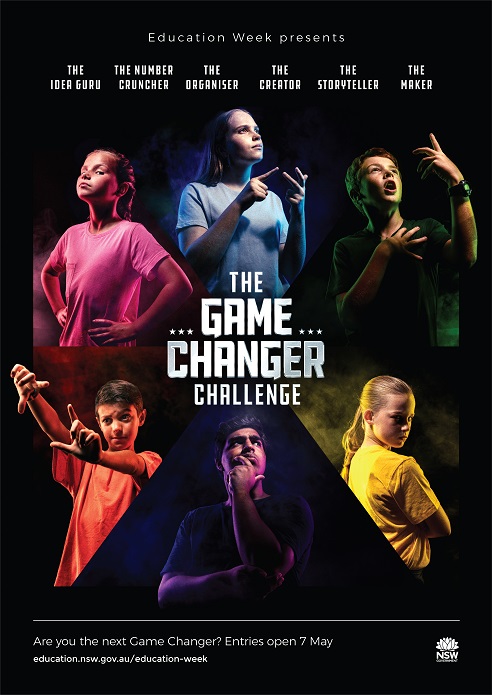 A competition like no other is about to arrive in NSW public schools.
It'll require creativity, collaboration and future-thinking. Are you up for the challenge?
The Game Changer Challenge, coming to a school near you from May 7.
We live in a rapidly changing world - an era of accelerated innovation and increasing uncertainty. This world requires students who are deep thinkers, critical and reflective, and empathetic and creative to solve the big challenges of today and adapt to an unknown future.
Flourishing in this complex world begins with a great education and to co-design that we need your help.
This Education Week the Department of Education is running the inaugural Game Changer Challenge. Sixteen teams from schools across NSW will be flown to Game Changer HQ in Sydney during Education Week to compete in a three-day design-thinking program where, working alongside leading industry professionals, teams will go head-to-head to craft the school of the future.
What will the school of the future look like? What subjects will you study? Will you go on excursions to the moon? Will each student have a robot to help with their homework? Will homework even exist?
For your school's chance to be part of the first Education Week Game Changer Challenge, assemble a team of six students and two teachers, shoot a 60-second video showing us your vision for the school of the future and
submit your entry by Sunday, 10 June
.
In a snapshot, follow these five easy steps:
Assemble your Game Changer team and get ready to shape the face of education. Each team may include up to six students and two teachers. Principals/teachers from any discipline and students from Year 5 - Year 12 are eligible to attend. Schools may submit only one team.
Register your expression of interest by Friday, 18 May
so we know to look out for your entry. Email:
EdWeek@det.nsw.edu.au
with your school's name and "The Game Changer Challenge EOI" in the subject line. In the body of the email please indicate which operational directorate your school lies in.
Start creating! Make a 60-second video introducing your school and your teammates, and tell us your game-changing idea for the school of the future. Guidelines for what to include in the video can be found here.
Fill out your application form and upload your video:
You will need to use your DoE Google ID to login
(eg. firstname.lastname1@education.nsw.gov.au)
Followed by your Single Sign On (SSO)
eg. Firstname.lastname1 and password
Please ensure teams are available to travel to Sydney for the workshop between Monday, 6 August and Thursday, 9 August.
Step 5
Wait for the announcement. A panel of department and industry experts will be judging the videos and selecting the 16 teams coming to Sydney during Education Week. Finalists will be announced on Monday, 25 June.
We are sure you have plenty of questions about this exciting new program so we have prepared three resources:
If you still have an unanswered question, please email
EdWeek@det.nsw.edu.au
with your school's name and "The Game Changer Challenge QUESTION" in the subject line.