November 17 - 23, 2019: Issue 429

Our Youth page is for young people aged 13+ - if you are younger than this we have news for you in the Children's page
News items and articles run at the top of this page. Information, local resources, events and local organisations, sports groups etc. are at the base of this page. All Previous pages for you are listed in Past Features
For you this week: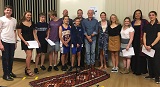 Profile
Spark Tank Grant Winners 2019: Young Adults Seize Opportunity For Mentorship With Brilliant Ideas And Projects
Six teams of young people competed for over $4000 in funding and professional business mentoring at the Avalon Rec. Centre Annex at the end of October. Fourteen youth ranging in ages from 12 to 23 gave their business pitches live in front of a packed house and a judging panel made up of prominent local business men and women.
The business pitch event named Spark Tank, is similar to the TV show Shark Tank®. It was hosted by Share the Spark, an ACNC approved charity that helps young people build resilience and learn life skills. Each team who participated in the event included at least one person they know who is going through a hard time.
"We had over 60 application downloads," said Kimberly Clouthier, a Share the Spark director, "and every single entry we received was either about helping the environment or helping people. It was really heart-warming to see such selfless proposals."
"All the pitches were outstanding," said Crystal Petzer one of the six judges on the panel, "It was a real struggle between us to decide how to award the funding. Everyone deserved the whole lot!"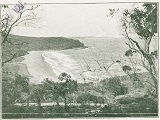 History
Pittwater Roads II: Where The Streets Have Your Name - Whale Beach
- Overlapping Careel Bay at one end, and
Careel Bay House
, and Palm Beach at its other end past the
Jonah's
ridge along Bynya road, the development of roads and then homes and holiday houses at Whale Beach formed part of the subdivisions at either end of its bay-like cove.
The earliest sub-divisions of Whale Beach show two Reserves or 'parks' to link the Careel Bay side with this beach and provide easy access, over those hills, to the beach itself, and to the estuary, and in linking to the Pittwater estuary, access to the main road and transport to and from this place during the years when public transport was infrequent and most people came to this end of the peninsula via the estuary itself aboard ferries or launches. Those linked pathways are still intact and used by walkers over those hills through Dolphin Crescent, with one towards the Barrenjoey road-Careel Bay perimeter and one at the back of the crescent itself linking onto Whale Beach road just opposite Rayner road.

The role of Warringah Shire Council played a huge role here in requiring that reserves be dedicated to council as part of any subdivision. In some land speculators they found ready supporters, who not only set aside pathways and whole blocks but larger allotments to ensure succeeding generations would have access to bush reserves and that breath of air beneath eucalypts with views of the estuary and coastline. McKay Reserve atop the Whale Beach to Palm Beach hills is one such place.
When the Barranjoey Land Company was formally registered in June 1911 the first directors were named as Harry Wolstenholme, E T Jones, John Thompson Ralston, James Young, and Herbert Russell Nolan. Many of these partners were either students together at Newington College, the well-known Wesleyan School at Stanmore, or related through marriages.
Schoolies Week Revellers Reminded to Be Beach Safe
Friday 15 November 2019: Surf Life Saving NSW
As thousands of NSW Year 12 graduates make their final preparations for the traditional Schoolies week, which officially kicks off from Saturday, surf lifesavers are again issuing a warning to those looking to cool off during the celebrations; alcohol, drugs and the ocean are a dangerous combination.
An influx of school leavers will be heading to holiday hotspots across the state, with sea, sun, and fun sure to be an important part of the festivities which marks the end of 13 years of study and end-of-year exams.
One of the more popular destinations for the class of 2019 is Byron Bay and surrounding regions. Preparations are well underway by the area's lifesavers and lifeguards in anticipation of the expected surge of visitors set to descend on the town. Byron Bay's Main Beach alone receives over 10,000 visitors a day during Schoolies week.
"For us, Schoolies week really is the start of summer and one of our busiest periods of the year," said Far North Coast Lifeguard Coordinator Scott McCartney.
"Our message to everyone, but particularly to school leavers visiting from outside the area, is to make that extra effort and swim between the red and yellow flags at a patrolled location.
"Come and have fun but give yourself plenty of time to recover before going for a swim after a big night out.
"Every year we respond to emergency call-outs where people have gone for an early morning swim, with alcohol still in their system, and have found themselves in need of assistance" he said.
Surf Life Saving NSW is encouraging visitors to head to Main Beach Kingscliff, Byron Bay's Main Beach or Lennox Head where Lifeguards will be on patrol for the three-week Schoolies period. All local surf clubs will be patrolling over the weekends.
Additionally, the Far North Coast Branch of Surf Life Saving has activated their Support Operations team for the entire duration of the festivities. That means jet skis, four-wheel drives and duty officers are available to respond to emergencies if required.
The impact of Schoolies week also extends down the coast to towns including Port Macquarie, Forster, South West Rocks and Batemans Bay which have all experienced a surge in popularity with schoolies in recent years.
Surf Life Saving NSW CEO Steven Pearce hopes that the key message of "watching out for your mates" will get through to all teenagers visiting the beach during Schoolies week.
"While our lifesavers and lifeguards are all extremely well-trained, it is important for everyone to know the dangers and to watch out for your friends while enjoying the water.
"There are many wonderful beaches across NSW, and they are great places to relax after the stress of exams, but it is crucial for everyone to be aware of the importance of surf safety.
"Please take the time to familiarise yourself with local conditions, always swim between the flags during patrolled hours, ask lifeguards or lifesavers for advice and avoid the temptation of swimming after consuming alcohol or swimming at night," Mr Pearce said.
Far North Coast Patrolled Beaches - Schoolies Weeks (16 November to 8 December).
Duranbah - Lifeguards (7 days per week). Starts 1 December.
Kingscliff - Lifeguards (Mon-Fri). Volunteer Surf Lifesavers (Weekends). Currently operational.
Byron Main Beach - Lifeguards (Mon-Fri). Volunteer Surf Lifesavers (Weekends). Currently operational.
Lennox Head - Lifeguards (Mon-Fri). Volunteer Surf Lifesavers (Weekends). Currently Operational.
Schoolies Safety Checklist:
Only swim at a patrolled beach, between the red and yellow flags
Don't swim under the influence of alcohol or drugs
Never swim at night
Ask a surf lifesaver or lifeguard for advice
Look after your mates, and know where your group is while in the water
Call triple-zero (000) to report an in-water emergency.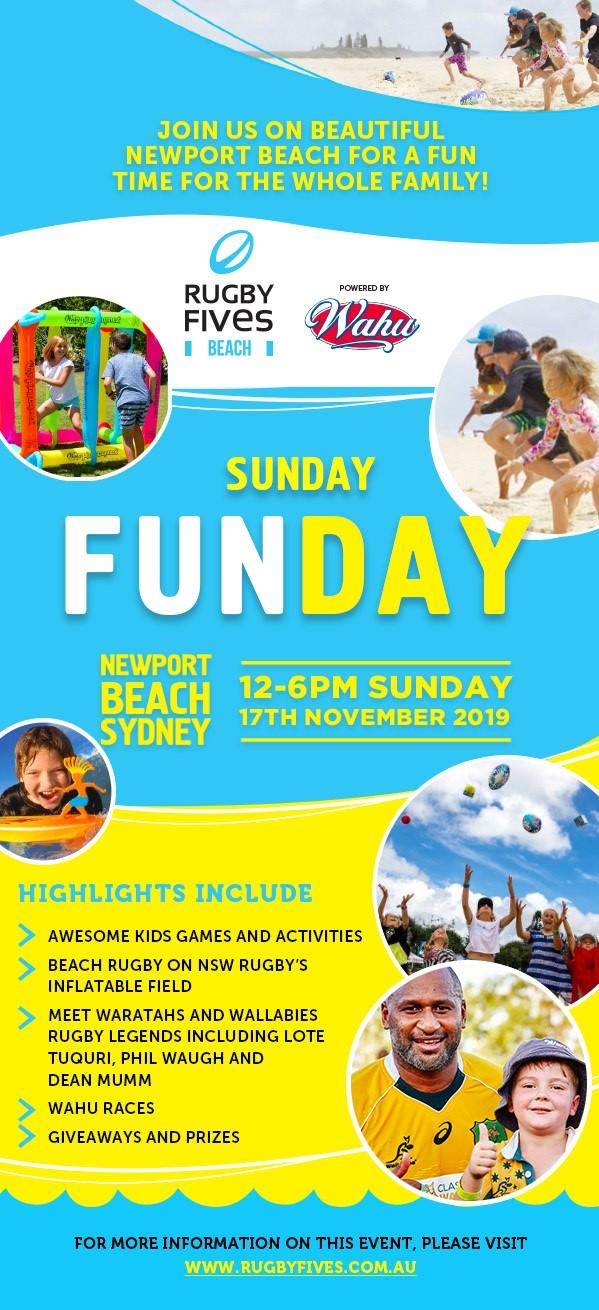 WSL Sydney Surf Pro "Drops In" To Manly for 2020-2022
Friday November 15th, 2019
Manly will host the World Surf League's newest event – the Sydney Surf Pro – over the next three years.
The NSW Government, through its tourism and major events agency Destination NSW, has secured the event exclusively for Sydney as part of the new global WSL Challenger Series.
The WSL Sydney Surf Pro will include men's and women's events and is locked in for Manly from 2020 to 2022, with the first event to take place between 8-14 March next year.
Member for Manly James Griffin said Manly is Australia's home of surfing and has successfully hosted countless international, national and local surfing contests.
"Manly staged the first-ever world championships in May 1964, and in March this year our iconic four-kilometre beach attracted 11-time world champion Kelly Slater to compete," Mr Griffin said.
"I made a commitment that not only would we retain a pro surfing event, but would grow it to ensure Manly had a diverse calendar of events that locals are proud of and we showcase our beautiful part of the world. This announcement delivers on that commitment.
"Where better to kick off the WSL Challenger Series than in the hub of surf culture that is Manly?"
Minister for Jobs, Investment, Tourism and Western Sydney Stuart Ayres said the event positioned NSW and Manly firmly on the map for the enthusiastic world surfing fraternity.
"The WSL Sydney Surf Pro will be the first event of the Challenger Series, so fans and athletes worldwide will be sizing up the competition as the action unfolds at Manly," Minister Ayres said.
"We expect that over the next three years the Sydney Surf Pro will deliver $3.7 million in visitor spend for NSW from more than 4,000 visitors and over 25,000 visitor nights.
"NSW is loved by surfers and travelers alike for our unforgettable coastline, world-class hospitality and the State's incomparable calendar of sport, art, culture and lifestyle events."
The WSL Challenger Series, announced in September, is a new level of competition that provides athletes with more opportunities at the highest level to qualify for the elite Championship Tour.
WSL Asia Pacific General Manager Andrew Stark is thrilled that one of Australia's most iconic beaches will be a part of this exciting new series.
"Manly has such a rich history in Australian and International surfing. Holding the inaugural WSL Challenger Series event here will continue this lineage of historical surfing moments which WSL is really excited about.
"We're thrilled that Destination NSW have come on board to ensure Australia will have a stop on the newly announced WSL Challenger Series. We look forward to returning to Manly and delivering a fantastic and truly international event in Sydney."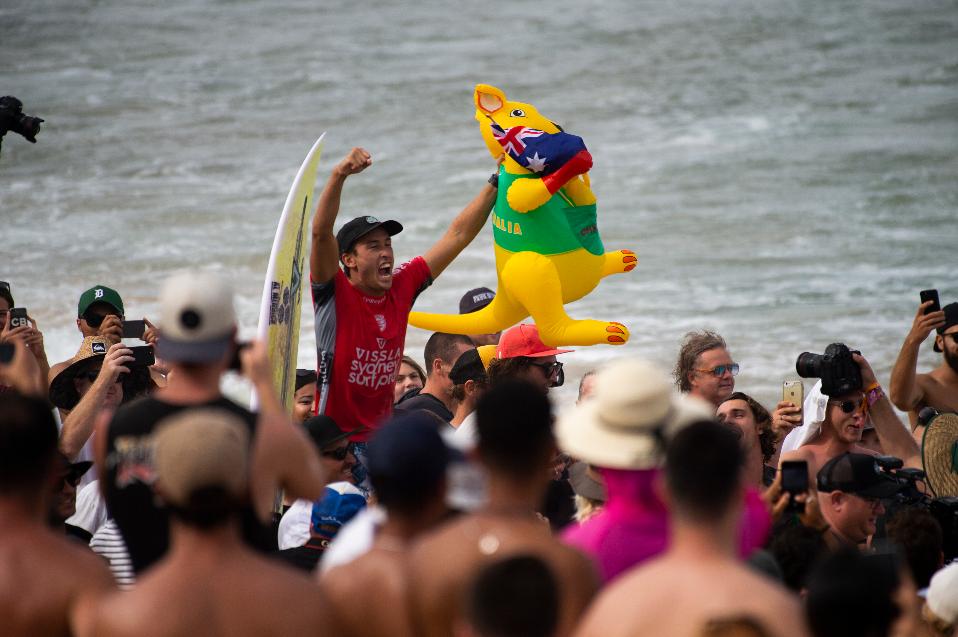 Jordy Lawler wins Sydney Surf Pro 2019 - photo by Ethan Smith/Surfing NSW
Stage set for women's qualification showdown at Port Stephens Toyota Pro pres. by Sisstrevolution
A field of almost 100 of the world's best female surfers have touched down in New South Wales ahead of the 2019 Port Stephens Toyota Pro presented by Sisstrevolution, World Surf League (WSL) Qualifying Series (QS) 6000 event.
Being the final event on the 2019 Qualifying Series it will be the last chance for competitors to gain all-important QS points as they look to book themselves a spot on the elite Championship Tour (CT) in 2020.
Former CT competitor Chelsea Tuach (BRB) has struggled to find her way back to the 'dream tour' since being relegated at the end of her rookie season in 2016. The Barbados representative has arrived in Port Stephens sitting just one spot outside of the qualification cut off meaning a solid result here will almost guarantee her a spot back where she belongs in 2020.
"Coming into this event I'm sitting quite a few spots higher than at the same time over the last few years so I'm definitely feeling a bit more pressure this time around," Tuach said. "I love having that pressure though because this is where I want to be at this end of the season. Since falling off the CT at the end of 2016 it's taken me a few years to find my feet and get back in a position to qualify so I'm stoked to be going for it this year. I also know if it doesn't happen this year, it wasn't meant to be, and I'll come into the QS in 2020 with a much stronger seed."
Former WSL Australia / Oceania Regional QS Champion Mikaela Greene (AUS) has only just returned to competitive surfing after taking almost two years off to star in a reality renovation television show. Greene was awarded the wildcard into the Port Stephens Toyota Pro and although she isn't in range of qualifying, she is stoked to get the opportunity to mix it with the best as she warms up for the 2020 QS season.
"I've got no pressure on me coming into this event which feels really nice," Greene said. "Obviously I want to do well and the better I do the better my seed will be in 2020 but it's nice knowing that my year won't be decided by this contest. I'm a really competitive person so it feels amazing to be back at a surfing event and preparing to compete. I can't wait to get the jersey on and get my feet back in the wax and play some part in the qualification race over the next few days."
Having already guaranteed her spot as a rookie on the 2020 CT, Isabella Nichols (AUS) comes into the final event of the 2019 QS season feeling far more relaxed than previous years. With goal number one taken care of, the 2016 WSL World Junior Champion is now solely focussed on a win at Birubi Beach his weekend.
"It's nice to come into this event without really needing a result," Nichols said. "Winning the entire QS would be awesome and there are three of us that are really close, so I'd need a win here to do that. I'd like to win the event and it's definitely the goal but there are so many hungry competitors here, so it won't be easy. There is so much riding on this event and I definitely think it is the most important of the year for the women – I'm nervous for all of the girls that are so close to qualifying. I can't wait to watch it all unfold over the weekend."
With 6000 points on offer, anyone in the top 30 has a mathematical chance at clinching one of the 6 spots on offer meaning the scenarios will be ever-changing throughout the weekend. That coupled with appearances from CT surfers including Bronte Macaulay (AUS), Paige Hareb (NZL), Sage Erickson (USA), Nikki Van Dijk (AUS), and Macy Callaghan (AUS) to name a few will make the 2019 Port Stephens Toyota Pro one of the most exciting events on the WSL calendar.
The 2019 Port Stephens Toyota Pro pres. by Sisstrevolution women's QS6,000 event will run from November 15 – 17. To watch the event live, head to www.worldsurfleague.com or download the free WSL App.
The 2019 Port Stephens Toyota Pro pres. by Sisstrevolution is proudly brought to you by Port Stephens Toyota, Sisstrevolution, Port Stephens Council, Newcastle Airport, AirAsia, PRD Nationwide, Crest Cafe, Kaos Surf, Middle Rock Holiday Resort, Wanderers Retreat, Bondi Chai, WSL and Surfing NSW.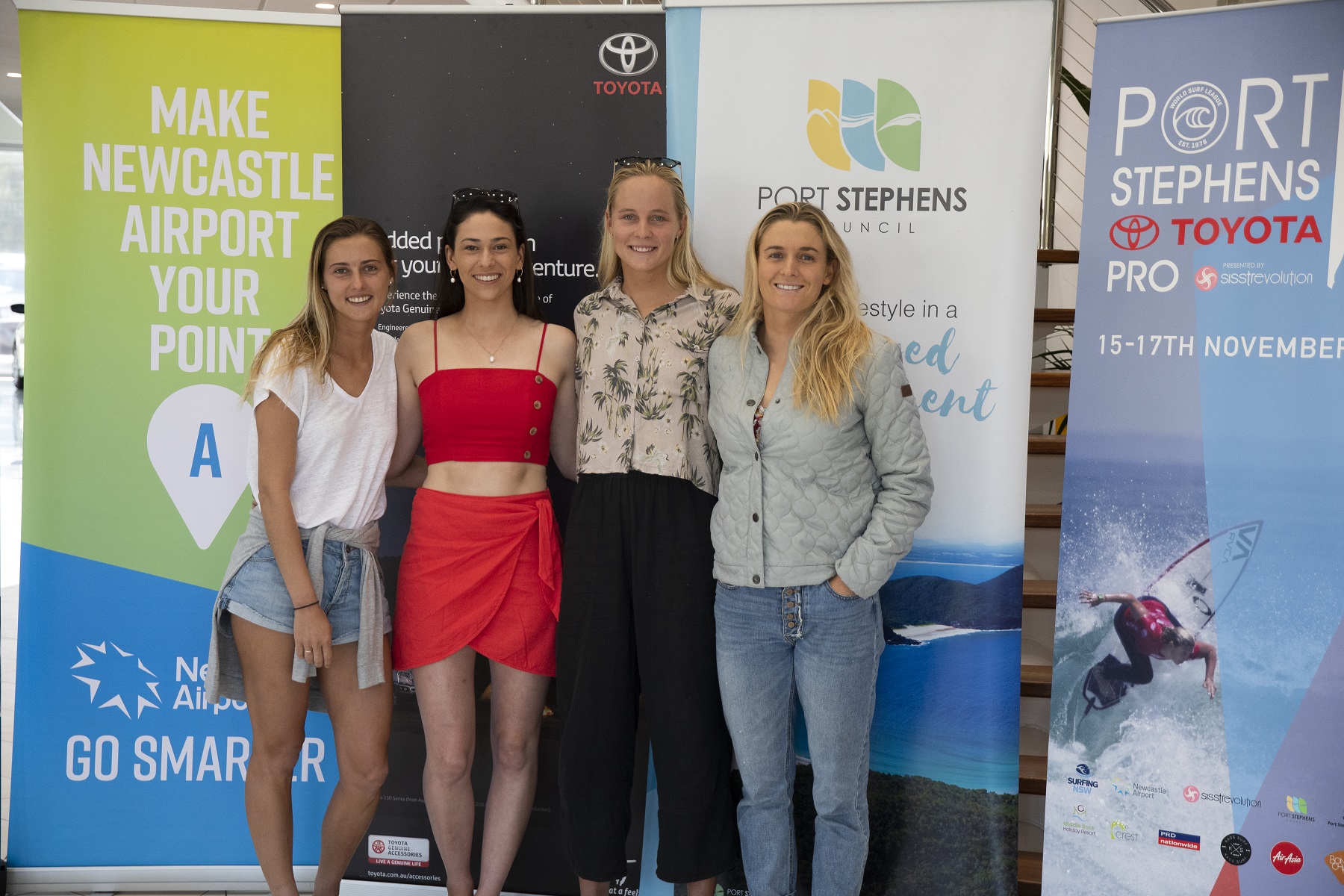 Photo: (L-R) Chelsea Tuach (BRB), Mikaela Greene (AUS), Isabella Nichols (AUS) and Bronte Macaulay (AUS) gathered for the launch of the 2019 Port Stephens Pro at Birubi Beach. Image by Ethan Smith / Surfing NSW
The 2019 Comedy Wildlife Photographer Of The Year Is:
Sarah Skinner
Thursday, November 14th, 2019
Taken in Botswana, the winning entry shows the wonderful moment of a cub and adult lion 'playing'...although the thought of what might have happened next, truly makes the eyes water!
Commenting on the good news, Sarah said:
"I am absolutely delighted to be awarded the title as Overall Winner in the Comedy Wildlife Photography Awards2019. It certainly warms my heart to know that this image will spread some laughter and happiness around the world. I am happy to report that this cub continues to thrive in the pride, having seen her again in October this year. I can only hope and encourage everyone, as a collective to each do our part in the conservation of all wildlife species, so that future generations can enjoy them, in the same way that I have done during my career as a wildlife photographer. Long may lions walk the plains………."



Sarah's image wins her some incredible prizes; A fantastic safari in the Masai Mara, Kenya, courtesy of Alex Walker's Serian, along with the unique handmade trophy from the Wonder Workshop in Tanzania, an Airport Advantage bag from THINK TANK, and an iPad preloaded with the Affinity Photo's award-winning software.
This year has been fantastic, and it is almost unfair to have to select an outright winner. But thanks to all your entries we are managing to reach more and more people with our conservation message - the most important part of this competition.
What is the Comedy Wildlife Photography Awards?
The Comedy Wildlife Photography Awards, ingeniously titled to avoid any confusion, was the result of two factors: Firstly, a need for a photography competition that was light hearted, upbeat, possibly unpretentious and mainly about wildlife doing funny things. 4 years on and these objectives seem to have been met. Secondly, and way more importantly, this competition is about conservation.
None of us are perfect, all of us at some point will fly somewhere, drive somewhere, cook something, burn something and probably provide some direct input into the general warming of the globe. Indirectly, we will also have some impact on the animals that share this planet with us. So the end result?
By entering this competition it gives both Paul and Tom and the rest of you talented photographers a chance to do a little bit for conservation. How? Well… you are now obviously going to go to your office, home, pub, club or wherever and talk about the dire need for us all to be conservationists in our own little way. Also, perhaps you will go to Born Free's website and have a look at the work they do and spread that word as well.
It's not a lot necessarily but it is the right step forwards. And one step leads to the next step. With your help and the help of Born Free it's way more than we could possibly have done without them and without you.
We hope that you feel the same way, keep clicking and keep appreciating the other living things that we live with.
One of us is the Founder and an inspired wildlife photographer (@pj_hicks) and the other one is the grown up Chair of the Judges and Competition Director and Landscape photographer (yawn - but admittedly he has won not one but TWO awards...? Shut it Tom) (@sullamphoto)
One of our favourites among this year's Finalists and those Commended: 'Surfing….South Atlantic Style!' photo by Elmar Weiss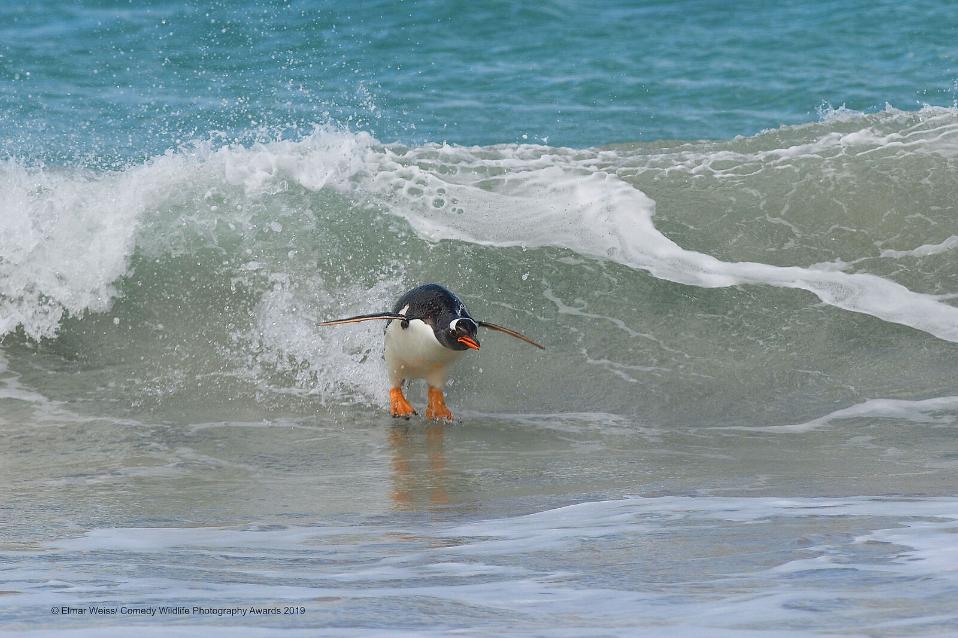 '
Surfing….South Atlantic Style!'
photo by Elmar Weiss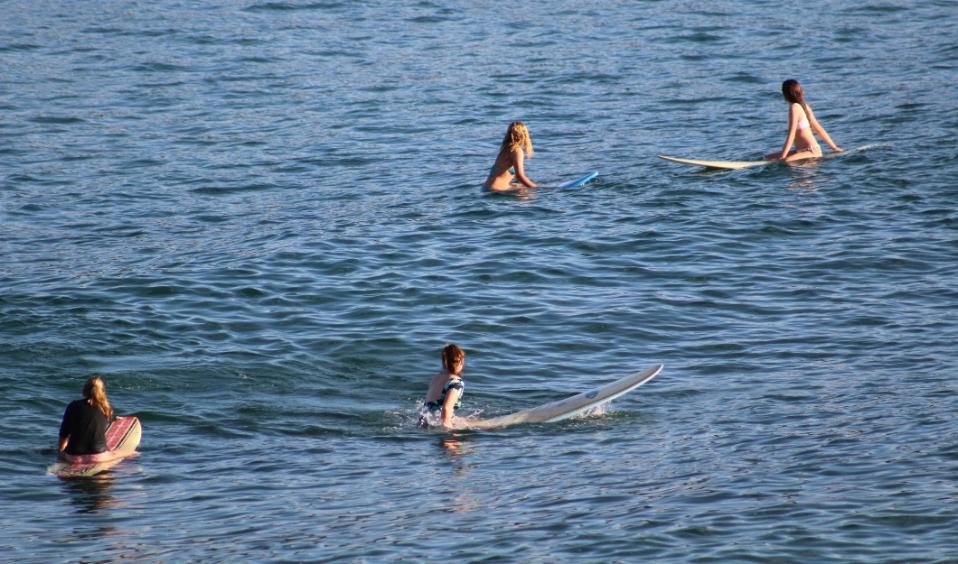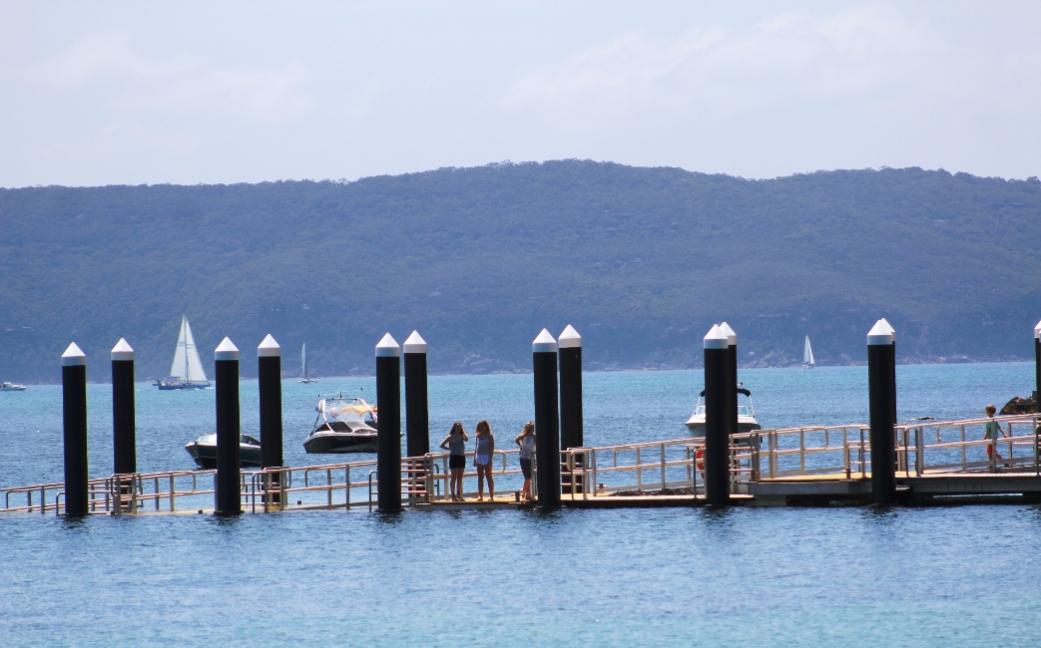 Avalon Youth Hub: More Meditation Spots
Due to popular demand our meditation evenings have EXPANDED. Two sessions will now be run every Wednesday evening this term at the Hub. Both sessions will be facilitated by Merryn at Soul Safaris.
6-7pm - 12 - 15 year olds welcome
7-8pm - 16 - 25 year olds welcome
No experience needed. Learn and develop your mindfulness and practice meditation in a group setting.
BIG THANKS The Burdekin Association for funding these sessions!
Green Team Beach Cleans
The Green Team is back for 2019!
It has been estimated that we will have more plastic than fish in the ocean by 2050...These beach cleans are aimed at reducing the vast amounts of plastic from entering our oceans before they harm marine life.
Anyone and everyone is welcome! If you would like to come along, please bring a bucket, gloves and hat. Kids of all ages are also welcome!
We will meet in front of the surf club.
Hope to see you there!
The Green Team is a
Youth-run, volunteer-based environment initiative from Avalon, Sydney. Keeping our area green and clean.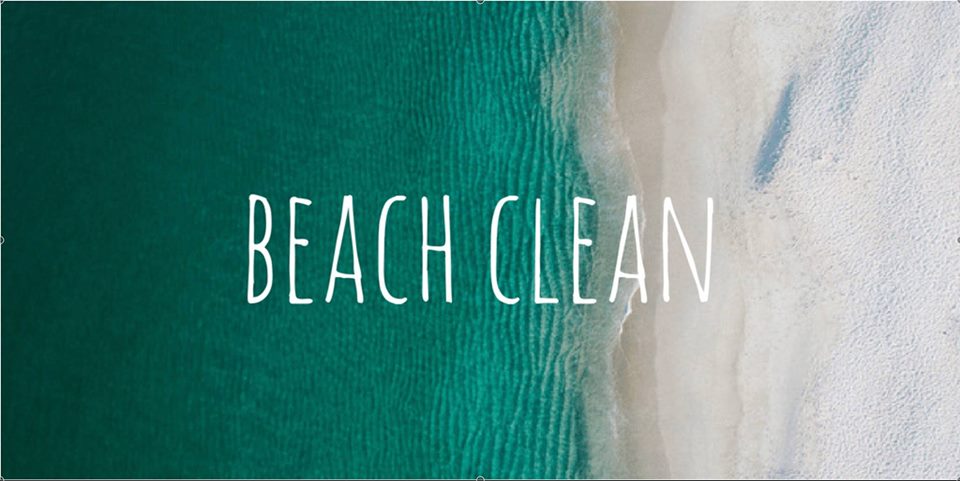 The Project Gutenberg Library of Australiana
Australian writers, works about Australia and works which may be of interest to Australians.This Australiana page boasts many ebooks by Australian writers, or books about Australia. There is a diverse range; from the journals of the land and sea explorers; to the early accounts of white settlement in Australia; to the fiction of 'Banjo' Paterson, Henry Lawson and many other Australian writers.
The list of titles form part of the huge collection of ebooks freely downloadable from Project Gutenberg Australia. Follow the links to read more about the authors and titles and to read and/or download the ebooks.
Profile: Ingleside Riders Group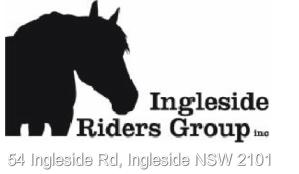 Ingleside Riders Group Inc. (IRG) is a not for profit incorporated association and is run solely by volunteers. It was formed in 2003 and provides a facility known as "Ingleside Equestrian Park" which is approximately 9 acres of land between Wattle St and McLean St, Ingleside. IRG has a licence agreement with the Minister of Education to use this land. This facility is very valuable as it is the only designated area solely for equestrian use in the Pittwater District.
IRG promotes equal rights and the respect of one another and our list of rules that all members must sign reflect this.
Cyberbullying
Research shows that one in five Australian children aged 8 to 17 has been the target of cyberbullying in the past year. The Office of the Children's eSafety Commissioner can help you make a complaint, find someone to talk to and provide advice and strategies for dealing with these issues.
Make a Complaint
The Enhancing Online Safety for Children Act 2015 gives the power to provide assistance in relation to serious cyberbullying material. That is, material that is directed at a particular child with the intention to seriously embarrass, harass, threaten or humiliate.
IMPORTANT INFORMATION
Before you make a complaint you need to have:
copies of the cyberbullying material to upload (eg screenshots or photos)

reported the material to the social media service (if possible) at least 48 hours ago

at hand as much information as possible about where the material is located

15-20 minutes to complete the form
Visit: esafety.gov.au/complaints-and-reporting/cyberbullying
Our mission
The Office of the Children's eSafety Commissioner is Australia's leader in online safety. The Office is committed to helping young people have safe, positive experiences online and encouraging behavioural change, where a generation of Australian children act responsibly online—just as they would offline.
We provide online safety education for Australian children and young people, a complaints service for young Australians who experience serious cyberbullying, and address illegal online content through the Online Content Scheme.
Our goal is to empower all Australians to explore the online world—safely.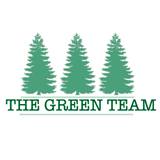 The Green Team
Profile
This Youth-run, volunteer-based environment initiative has been attracting high praise from the founders of Living Ocean as much as other local environment groups recently.
Creating Beach Cleans events, starting their own, sustainability days - 'action speaks louder than words' ethos is at the core of this group.
Sync Your Breathing with this - to help you Relax
Send In Your Stuff
Pittwater Online News is not only For and About you, it is also BY you.
We will not publish swearing or the gossip about others. BUT: If you have a poem, story or something you want to see addressed, let us know or send to:
pittwateronlinenews@live.com.au
All Are Welcome, All Belong!
Apprenticeships and traineeships info
Are you going to leave school this year?
Looking for an apprenticeship or traineeship to get you started?
It lists the group training organisations (GTOs) that are currently registered in NSW under the Apprenticeship and Traineeship Act 2001. These GTOs have been audited by independent auditors and are compliant with the National Standards for Group Training Organisations.
If you are interested in using the services of a registered GTO, please contact any of the organisations listed here:
There are also some great websites, like
1300apprentice
, which list what kind of apprenticeships and traineeships they can guide you to securing as well as listing work available right now.

Profile Bayview Yacht Racing
Association (BYRA)
1842 Pittwater Rd,

Bayview
BYRA has a passion for sharing the great waters of Pittwater and a love of sailing with everyone aged 8 to 80 or over!
headspace Brookvale
headspace Brookvale provides services to young people aged 12-25. If you are a young person looking for health advice, support and/or information,headspace Brookvale can help you with:
• Mental health • Physical/sexual health • Alcohol and other drug services • Education and employment services
If you ever feel that you are:
• Alone and confused • Down, depressed or anxious • Worried about your use of alcohol and/or other drugs • Not coping at home, school or work • Being bullied, hurt or harassed • Wanting to hurt yourself • Concerned about your sexual health • Struggling with housing or accommodation • Having relationship problems • Finding it hard to get a job
Or if you just need someone to talk to… headspace Brookvale can help! The best part is our service is free, confidential and youth friendly.
headspace Brookvale is open from Monday to Friday 9:00am-5:30pm so if you want to talk or make an appointment give us a call on (02) 9937 6500. If you're not feeling up to contacting us yourself, feel free to ask your family, friend, teacher, doctor or someone close to you to make a referral on your behalf.
When you first come to headspace Brookvale you will be greeted by one of our friendly staff. You will then talk with a member of our headspace Brookvale Youth Access Team. The headspace Brookvale Youth Access Team consists of three workers, who will work with you around whatever problems you are facing. Depending on what's happening for you, you may meet with your Youth Access Worker a number of times or you may be referred on to a more appropriate service provider.
A number of service providers are operating out of headspace Brookvale including Psychologists, Drug & Alcohol Workers, Sexual Health Workers, Employment Services and more! If we can't find a service operating withinheadspace Brookvale that best suits you, the Youth Access Team can also refer you to other services in the Sydney area.
eheadspace provides online and telephone support for young people aged 12-25. It is a confidential, free, secure space where you can chat, email or talk on the phone to qualified youth mental health professionals.
Click here to go to eheadspace
For urgent mental health assistance or if you are in a crisis please call the Northern Sydney 24 hour Mental Health Access Line on 1800 011 511
Need Help Right NOW??
kids help line: 1800 55 1800 - www.kidshelpline.com.au
lifeline australia - 13 11 14 - www.lifeline.org.au
headspace Brookvale is located at Level 2 Brookvale House, 1A Cross Street Brookvale NSW 2100 (Old Medical Centre at Warringah Mall). We are nearby Brookvale Westfield's bus stop on Pittwater road, and have plenty of parking under the building opposite Bunnings. More at: www.headspace.org.au/headspace-centres/headspace-brookvale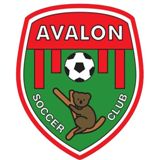 Profile:
Avalon Soccer Club
Avalon Soccer Club is an amateur club situated at the northern end of Sydney's Northern Beaches. As a club we pride ourselves on our friendly, family club environment. The club is comprised of over a thousand players aged from 5 to 70 who enjoy playing the beautiful game at a variety of levels and is entirely run by a group of dedicated volunteers.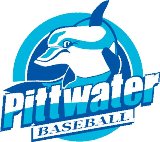 Profile:
Pittwater Baseball Club
Their Mission: Share a community spirit through the joy of our children engaging in baseball.
Year 13
Year13 is an online resource for post school options that specialises in providing information and services on Apprenticeships, Gap Year Programs, Job Vacancies, Studying, Money Advice, Internships and the fun of life after school. Partnering with leading companies across Australia Year13 helps facilitate positive choices for young Australians when finishing school.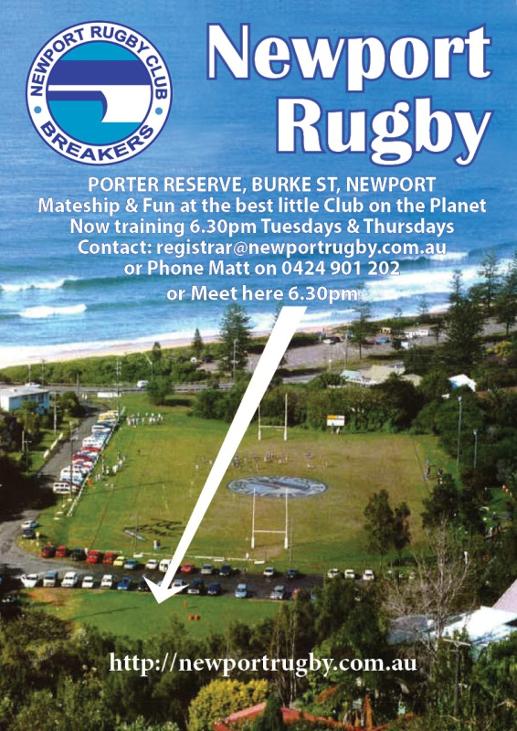 Driver Knowledge Test (DKT) Practice run Online
Did you know you can do a practice run of the DKT online on the RMS site? - check out the base of this page, and the rest on the webpage, it's loaded with information for you!
The DKT Practice test is designed to help you become familiar with the test, and decide if you're ready to attempt the test for real.
Experienced drivers can also take the practice test to check their knowledge of the road rules.
Unlike the real test, the practice DKT allows you to finish all 45 questions, regardless of how many you get wrong. At the end of the practice test, you'll be advised whether you passed or failed.
NCYLC is a community legal centre dedicated to providing advice to children and young people. NCYLC has developed a Cyber Project called Lawmail, which allows young people to easily access free legal advice from anywhere in Australia, at any time.
NCYLC was set up to ensure children's rights are not marginalised or ignored. NCYLC helps children across Australia with their problems, including abuse and neglect. The AGD, UNSW, KWM, Telstra and ASIC collaborate by providing financial, in-kind and/or pro bono volunteer resources to NCYLC to operate Lawmail and/or Lawstuff.
Kids Helpline
If you're aged 5-25 the Kids Helpline provides free and confidential online and phone counselling 24 hours a day, seven days a week on 1800 55 1800. You can chat with us about anything… What's going on at home, stuff with friends. Something at school or feeling sad, angry or worried. You don't have to tell us your name if you don't want to.
You can Webchat, email or phone. Always remember - Everyone deserves to be safe and happy. You're important and we are here to help you. Visit: https://kidshelpline.com.au/kids/
Youth Source: Northern Sydney Region
A directory of services and resources relevant to young people and those who work, play and live alongside them.
The
YouthSource directory
has listings from the following types of service providers:
Aboriginal,
Accommodation,
Alcohol & Other Drugs,
Community Service,
Counselling,
Disability,
Education & Training,
Emergency Information,
Employment,
Financial,
Gambling,
General Health & Wellbeing,
Government Agency,
Hospital & GP,
Legal & Justice,
Library,
Mental Health,
Multicultural,
Nutrition & Eating Disorders,
Parenting,
Relationships,
Sexual Health,
University,
Youth Centre