February 26 - March 4, 2017: Issue 302

For you this week:
Aquatics: Grommets Shine As The 2017 Australian Open Of Surfing Kicks Off At Manly by Surfing NSW
Pictures: Summer 2017 in Pittwater: Videos and Stories and Pictures of the Season

Collector's Corner: Dicken's The Old Curiosity Shop bought at The Old Curiosity Shop

Food: Autumn's Feast of Fresh Produce Brings What's Best for Your Body's Health
Profile: CONVICTS NYC: Avalon GROMS - Founded by Australians living in the USA, Convicts is a global brand with an Australian spirit. This week they published a great Profile called 'Avalon GROMS' put together by former Avalon local Peter Maiden, a founder of Convicts, and one of those 'Aussies now living in New York'. They're allowing us to share it with you so you can get a taste of how good something can be when it's done right – this is dynamic, fresh and unabashed celebrations of this next generation of artists in all walks of life who are clearly right here right now, using the platforms that back up that credo through text, images and high quality video.
Our Focus – Bullied Project Launches
The ABC has launched Our Focus – Bullied, a pan-ABC project coordinated by the Content Collaborations team.
This encompasses online resources on the Our Focus website, a collection of iview programs, an ABC2 program hosted by Tara Moss called Cyberhate, and an ABC TV series hosted by Ian Thorpe called Bullied.
Cyberhate explores the darkest corners of the web to uncover the cyber violence that impacts so many people today, while Bullied gives a compelling insight into the issue of bullying that brings victims and their classmates together in an effort to help understand the impacts of bullying and create strategies for change.
Sanya, China awarded 2017 Youth Sailing World Championships
Wednesday 22 February 2017
World Sailing, the world governing body of the sport, is pleased to announce that Sanya, China will host the 2017 edition of the Youth Sailing World Championships.
As the premier event in youth sailing, more than 400 sailors from over 60 nations are expected to compete on the waters off Hainan Island from 09-16 December 2017.
The 2017 selection process opened in November 2016 after the Israeli Sailing Association exercised the right to withdraw from hosting the 2017 edition as a final contract had not been concluded.
World Sailing received bids from Mar del Plata, Argentina, Melbourne, Australia and Sanya, China. The Youth Worlds Evaluation Panel made the recommendation of Sanya, China to World Sailing's Board of Directors who approved the selection.
On the awarding of Sanya, Kim Andersen, World Sailing President, commented, "World Sailing is thrilled to take the 2017 Youth Sailing World Championships to the city of Sanya this December. The Youth Worlds is where stars of the future are born and Sanya will provide the best young sailors with an opportunity to showcase their skills and talent.
"Sanya is an ambitious host city and has exceptional experience of running world class sailing events and welcoming international visitors. We're excited about working with the Sanya organising authority over the coming months to deliver the event.
"World Sailing received an excellent response from the community when the process to select a 2017 venue was reopened and I thank all of our members who submitted an interest in hosting."
Zhenling Xu, Deputy Mayor of Sanya, said, "It is great news that our city will host the 2017 Youth Sailing World Championships and I am excited to bring youth sailing to Sanya. Working with World Sailing, the Sanya organising team are confident that the event will be successful and an extraordinary experience for everyone attending."
Based on Hainan Island, Sanya is China's most southernmost city and lies on the South China Sea coast. Known for its tropical climate, with an average year round temperature of 25 degrees, Sanya hosted stopovers on the 2011-12 and 2014-15 editions of the Volvo Ocean Race. In addition, Sanya welcomes international sailing teams for the annual Round Hainan Regatta and hosted World Sailing's 2015 Annual Conference.
The Notice of Race for the 2017 Youth Worlds as well as the registration process for attending sailors and coaches will be published on the event website (
http://www.worldsailingywc.org
) over the coming weeks.
By Daniel Smith - World Sailing
About the Youth Worlds
The Youth Worlds was first held in Sweden in 1971. The 2017 Youth Sailing World Championships will be the 47th edition of the championship.
Past notable winners include American's Cup skippers, Chris Dickson (NZL), Russell Coutts (NZL), Dean Barker (NZL); Olympic medallists, Nathan Outteridge (AUS), Iain Jensen (AUS), Robert Scheidt (BRA), Amelie Lux (GER), Ben Ainslie (GBR), Iain Percy (GBR), Alessandra Sensini (ITA), Elise Rechichi (AUS) and Tessa Parkinson (AUS); Volvo Ocean Race sailors like Stuart Bannatyne (NZL) and Richard Clarke (CAN).
The most successful Youth World Champions are Great Britain's Sally Cuthbert and Poland's Zofia Klepacka having won four successive titles in the Laser II and Mistral respectively.
Italy is the current holder of the Nations Trophy, awarded annually to the top performing nation at the Youth Worlds. France is the most success nation through the history of the Championship, winning the Nations Trophy on a record 11 occasions and holding a record 79 medals: 29 gold, 31 silver and 19 bronze.
ASIC launches First Business App to help young people starting a small business
Thursday 16 February 2017

First Business was developed by ASIC in collaboration with the Australian Taxation Office, to assist young people considering going into business for themselves. The mobile app provides practical tips, checklists, case studies and links to additional information relating to developing and running a small business.
'ASIC's vision is to allow markets to fund the real economy and economic growth. Small businesses play an essential role in this and account for around 45% of employment and 35% of output nationally,' [1] said Mr Medcraft.
'We also know that a large number of new sole trader and micro-businesses are started by young adults. A lack of business knowledge, experience and planning are some of the challenges they face when starting out.'
'For its part, ASIC wants to support young people to be successful in business by providing access to tools and resources to build their financial capability and help them with the financial decisions they'll need to make,' he said.
The key features of the new mobile app include:
a business health check to help young people decide if they are ready to start a business;

a starting your business checklist to assist with ongoing obligations, including registrations, licences, tax and super responsibilities and legal requirements;

business case studies including advice on what can go wrong and how to avoid this; and

a networking section with tips and ideas on how to develop your business network.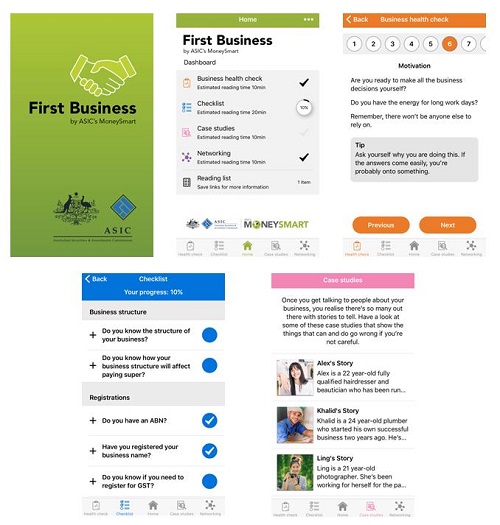 Newport Breakers 2017 Player Registration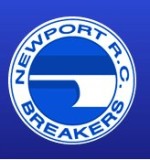 Are you looking for a game of rugby?
The Newport Breakers are gearing up for a super season of rugby with 4 teams chomping at the bit to play in 2017!
Do you want to play with a passionate club rich with over 54 years of history?
How about a club that has long been the Suburban Production Line for Wallaby and Super Rugby Representatives?
Or how about a club that is home to many generations of players who all share pride in the Blue and White jersey and wouldn't dream of playing for another club?
Then Newport Breakers Rugby is the club for you.
All players will need to fill out a Registration form for 2017 which can be downloaded
here
.
Formal Pre-Season Training commences on in February down at Porter Reserve and then every Tuesday and Thursday from 6:30pm [TBC].
Spread the word and let's rip in!
Early Bird Registration,
Pay Before 28th Feb 2017
Colts: $150 Seniors: $200
After 28th Feb 2017 Colts: $180 Seniors: $220
We've got 3 options for you to pay your fees this year. Pay either via EFT to the Account Number below with your name in the reference, via Direct Debit or even easier with cash at training:
EFT Details...
Newport Rugby Club
BSB 082-116
Account #63760 2084
Please put your name in for us to reference.
Any questions please contact Newport's Registrar: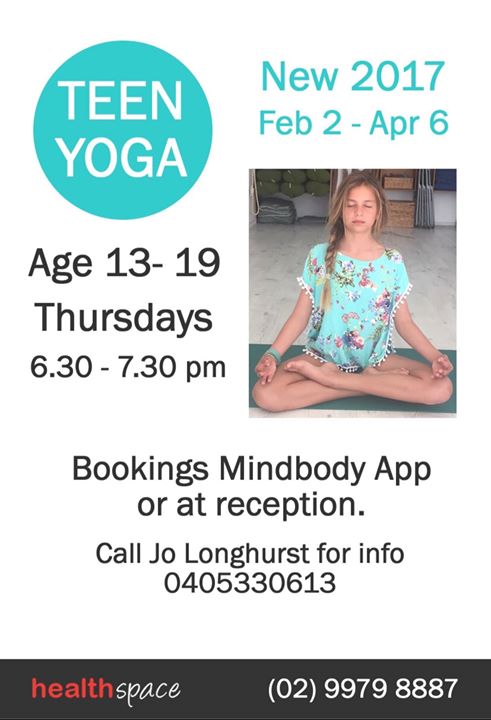 New vocational education loan program commences
January 2017: Media Release - Senator the Hon Simon Birmingham,
Minister for Education and Training
The Turnbull Government's new affordable, sustainable and student-focussed vocational education and training student loans program kicked off today – ending Labor's failed VET FEE-HELP scheme.
Minister for Education and Training Simon Birmingham said the New Year marked the start of a new era for vocational education in Australia, with the VET Student Loans program designed to support students to undertake industry-linked and value-for-money courses at quality training providers.
"The Turnbull Government's VET Student Loans program incorporates the lessons learnt from the disastrous VET FEE-HELP scheme that the Auditor-General highlighted last month," Minister Birmingham said.
"VET Student Loans includes a range of new measures to protect students and taxpayers, address skills shortages and ultimately restore the reputation of the vocational education sector.
"Labor's 2012 VET FEE-HELP changes opened the floodgates to shonky providers who ripped off vulnerable students and taxpayers but the new safeguards we've put in place mean students can have confidence that the training they are receiving is aligned to workplace needs and strong employment outcomes, and is being delivered by training providers who have met the tougher benchmarks we have set.
"The support the Government and taxpayers will provide through VET Student Loans will help Australians get the right skills and education they need to find a career that combines their passions with long-term job prospects."
Minister Birmingham said thousands of VET FEE-HELP students had already opted in to the new program and all training organisations which had applied had been assessed and notified whether they could deliver courses through VET Student Loans during the transition period to July 2017.
"Since we outlined the details of VET Student Loans in October, the Turnbull Government and the Department of Education and Training have been working to ensure a quick and smooth transition from Labor's failed VET FEE-HELP scheme for the training sector and for affected students," Minister Birmingham said.
"Already more than 26,000 students have opted to finish their course under VET FEE-HELP, and 193 training organisations have been granted provisional approval to deliver courses under the new program until the end of June 2017.
"We are still actively contacting VET FEE-HELP students who have not completed their course and have yet to indicate if they wish to be grandfathered. I encourage any student who was a part of the VET FEE-HELP scheme to get in touch with us before they resume studies in 2017 and no later than 31 March to ensure they continue to be supported to complete their study.
"Applications are also now open for training organisations who want to offer VET Student Loans to students in courses from 1 July 2017. Providers have until 19 February to apply and will need to demonstrate a strong track record of delivering high quality training and achieving employment outcomes for students.
"These stringent requirements will ensure that only high quality providers, committed to delivering high quality training and strong employment outcomes for Australian students, employers and taxpayers will be approved."
Sync Your Breathing with this - to help you Relax
headspace Brookvale
headspace Brookvale provides services to young people aged 12-25. If you are a young person looking for health advice, support and/or information,headspace Brookvale can help you with:
• Mental health • Physical/sexual health • Alcohol and other drug services
• Education and employment services
If you ever feel that you are:
• Alone and confused • Down, depressed or anxious • Worried about your use of alcohol and/or other drugs • Not coping at home, school or work • Being bullied, hurt or harassed • Wanting to hurt yourself • Concerned about your sexual health • Struggling with housing or accommodation • Having relationship problems • Finding it hard to get a job
Or if you just need someone to talk to… headspace Brookvale can help! The best part is our service is free, confidential and youth friendly.
headspace Brookvale is open from Monday to Friday 9:00am-5:30pm so if you want to talk or make an appointment give us a call on (02) 9937 6500. If you're not feeling up to contacting us yourself, feel free to ask your family, friend, teacher, doctor or someone close to you to make a referral on your behalf.
When you first come to headspace Brookvale you will be greeted by one of our friendly staff. You will then talk with a member of our headspace Brookvale Youth Access Team. The headspace Brookvale Youth Access Team consists of three workers, who will work with you around whatever problems you are facing. Depending on what's happening for you, you may meet with your Youth Access Worker a number of times or you may be referred on to a more appropriate service provider.
A number of service providers are operating out of headspace Brookvale including Psychologists, Drug & Alcohol Workers, Sexual Health Workers, Employment Services and more! If we can't find a service operating withinheadspace Brookvale that best suits you, the Youth Access Team can also refer you to other services in the Sydney area.
eheadspace provides online and telephone support for young people aged 12-25. It is a confidential, free, secure space where you can chat, email or talk on the phone to qualified youth mental health professionals.
Click here to go to eheadspace
For urgent mental health assistance or if you are in a crisis please call the Northern Sydney 24 hour Mental Health Access Line on 1800 011 511
Need Help Right NOW??
kids help line: 1800 55 1800 - www.kidshelpline.com.au
lifeline australia - 13 11 14 - www.lifeline.org.au
headspace Brookvale is located at Level 2 Brookvale House, 1A Cross Street Brookvale NSW 2100 (Old Medical Centre at Warringah Mall). We are nearby Brookvale Westfield's bus stop on Pittwater road, and have plenty of parking under the building opposite Bunnings. More at: www.headspace.org.au/headspace-centres/headspace-brookvale
Our Youth page is for young people aged 13+ - if you are younger than this we have stuff for you on the Children's page
All Previous pages for you listed in Past Features
Send In Your Stuff
Pittwater Online News is not only
For
and
About
you, it is also
BY
you.
We will not publish swearing or the gossip about others (this is the opposite of what we stand for) BUT: If you have a poem, story or something you want to see addressed, let us know or send to: pittwateronlinenews@live.com.au
All Are Welcome, All Belong !
EXPRESS YOURSELF 2017
HSC Visual Arts from Sydney's Northern Beaches
Manly Art Gallery & Museum, 3 Mar – 2 Apr 2017
Express Yourself
is a vibrant and dynamic annual exhibition, this year showcasing the talent and creativity of the 2016 crop of HSC Visual Arts students from Sydney's Northern Beaches.
The exhibition kicks off at the Manly Art Gallery & Museum on Friday 3 March at 6pm and will be opened by Tristan Sharp, Director Programs & Engagement, Museum of Applied Arts & Sciences.
Express Yourself celebrates the work of over 40 emerging young artists from 18 secondary schools in the region and includes multi-media, digital, sculpture, graphics and drawing. The outstanding technical and artistic calibre of the works in Express Yourself reflect the artistic strength of the students in Sydney's Northern Beaches region, and the high quality of teaching and learning in Visual Arts at the HSC level.
Displayed alongside the artworks are statements written by the students expanding on the inspirations and influences that informed their works and their journeys through this unique and demanding creative process.
The winners of the 2017 Manly Art Gallery & Museum Society Youth Art Award and Theo Batten Bequest Youth Art Award will be announced on the opening night. These two awards are granted annually to students featured in the exhibition. Manly Art Gallery & Museum Society presents a $3000 award and the Theo Batten Youth Art Award of $5000 is awarded to a student who is continuing tertiary studies in the arts.
TEACHERS' PREVIEWFri 3 Mar, 5 - 6pm
OFFICIAL OPENING
Fri 3 Mar, 6 - 8pm
ART TALK + WALKSat 11 Mar 2017, 2 - 3pm

Express Yourself
artists walk through the exhibition and discuss their works with the curators.
Manly Art Gallery & Museum is on West Esplanade Reserve (close to Manly Ferry Wharf). The Gallery is open 10am-5pm Tuesday-Sunday. Free Entry
For information, telephone 9976 1421 or email
artgallery@northernbeaches.nsw.gov.au
This Exhibition is part of
Art Month Sydney
.
AFMA's new school of fish
22 February 2017: from AFMA

At the Australian Fisheries Management Authority (AFMA) we just love our graduates. Each year participants of the AFMA Graduate Program partake in three rotations across AFMA and the Department of Agriculture and Water Resources.
Today we introduce one of our graduates, Elisa Plati, who is spending her first rotation in the Foreign Compliance Policy Section of AFMA's Fisheries Operations Branch. During this time she will be working with Parks Australia and the Australian Border Force on ghost net activity.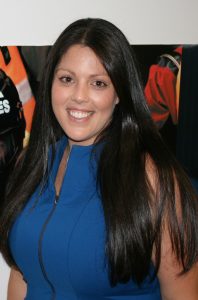 Elisa shared with us what she looks forward to in her graduate year with AFMA.
Can you tell us a bit about your background?
I'm originally from Sydney and have only recently moved to Canberra to take up this fantastic opportunity with AFMA grad program. I completed an undergraduate degree in Marine Science and a postgraduate Diploma in Biodiversity and Conservation at Macquarie University. After a break for a couple years I went on to complete a Masters in Fishing Policy at Wollongong University. It was during my masters course that I discovered a passion for fisheries management.
Outside of my six years of study, I spent an exciting year in South Africa working for research/conservation groups. My main focus was examining great white shark behaviours off the south coast of South Africa. I also worked on turtle conservation in Guatemala as a research intern.
What made you interested in coming to AFMA for the grad program?
As my background is very hands on and research based, I am looking forward to understanding the other side of things, how policies and procedures work and putting theory into practice. For my grad year I hope to increase my understanding of how Australian fisheries works alongside other countries and Regional Fisheries Management Organisations to combat illegal, unregulated and unreported fishing and reduce bycatch.
What are you looking forward to the most for your Grad year?
I think participating in the grad program will be an interesting and eye-opening experience to learn about the Commonwealth regulator side of fisheries management and how AFMA works with its various stakeholders, but especially industry, recreational fishers and environmental organisations.
I am very interested and passionate about conservation and sustainability, so that will definitely be something that drives me at AFMA. Working on policies and management that strive for best practice and reduces the impact on bycatch and the environment are key areas that interest me and I can't wait get involved.
AFMA welcomes Elisa!
Every year AFMA runs a graduate program to help develop the next generation of AFMA leaders. For the past few years, AFMA has partnered with our portfolio agency, the Department of Agriculture and Water Resources on this program giving AFMA graduates an opportunity for an external rotation, and departmental graduates a chance to do a rotation at AFMA.
Want to know more about working at AFMA? Visit
afma.gov.au
or follow us at
Facebook
.
Details on how to apply for next year's Graduate Program will be released soon.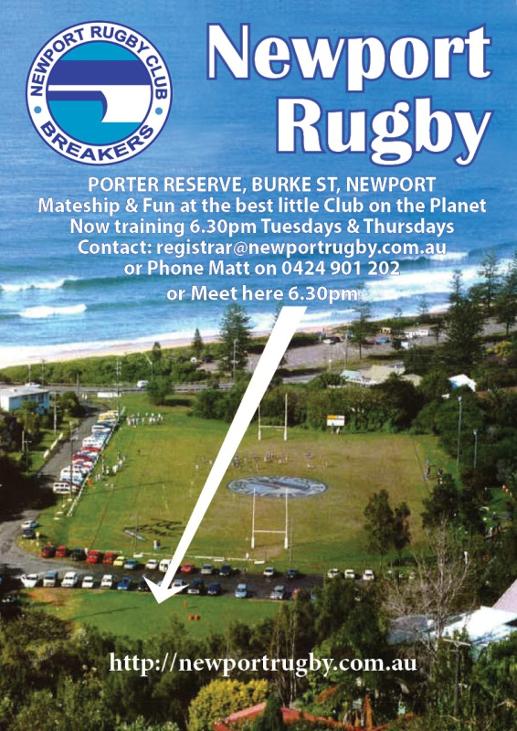 Board Collector Surf Swap
Boards Bands Beers Burgers
Featuring
STAB Magazine Filmlyfe Film festival

Films and Q&A with surfing and shaping legends

"Show and Shine" 100 Vintage surfboards display

Pre-1990 surfboards for sale and swap.

Warung of Knowledge

Free Vintage appraisals

"The best of the cutting edge", new surfboards and contemporary shapers

Photography, art, clothing and accessories stalls

Micro brewery beers and gourmet food stalls
Calling on collectors the reserve a spot to display and sell their boards and volunteers to be part of the family and help us wrangle surfboards and crowds.
If your interested in coming along, having a stall, displaying some boards or volunteering, drop us a line - Email:
info@boardcollectorsurfswap.com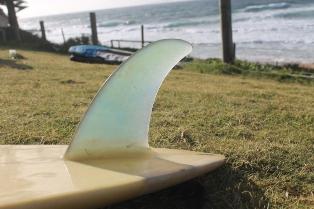 Rotary Global Grant Scholarship In 2017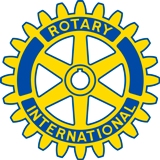 Invitation to a young person interested in international postgraduate study to apply for a Rotary District 9685 Global Grant Scholarship
The purpose of the Global Grant Scholarship program is to support international study at post graduate level.
Rotary District 9685 supports the Global Grant Scholarship Program of The Rotary Foundation and will offer one Global Grant Scholarship in 2017. This scholarship program is funded by a District 9685 grant of US$15,000 which is matched by the Rotary Foundation providing a scholarship to the total value of US$30,000.
Applications are invited from candidates who work or live within District 9685. The scholarship is awarded through a globally competitive process. Relevant details include:
The scholarship will be for an amount from US$30,000.

The scholarship must be aligned to one or more Rotary's six areas of focus.

The Scholarship must be for overseas study at a post-graduate level at a recognised university or institution.

The Scholar must provide confirmation of admission to his/her selected university or institution.

The period of study may be used to contribute towards gaining a higher degree or qualification.

The applicant must not have commenced the proposed year of study at his/her selected university or institution prior to applying for the scholarship.

The applicant must be proficient in the language of instruction of the host country.
During the course of study Scholars are expected to interact with local Rotarians and Rotary clubs and should always be mindful that they serve in the role of ambassadors of District 9685 and Rotary to the community where they will be studying.
We are seeking candidates with the following attributes:
A proven record of success in his/her academic field or vocation.

Commitment to a career in one of Rotary's six areas of focus.

Demonstrated personal commitment to community service.

Personal qualities to be a good ambassador for Rotary and Australia.

Excellent leadership skills and potential.

Well-defined and realistic goals.

Concrete ideas for advancing within his/her chosen field.

Commitment to participate in Rotary activities.

Sincerity about maintaining a lifelong relationship with Rotary after the scholarship period.
Exclusions: The Applicant cannot be: (1) a Rotarian; (2) an employee of a club, district, or other Rotary entity, or of Rotary International; (3) the spouse, a lineal descendant (child or grandchild by blood or stepchild, legally adopted or not), the spouse of a lineal descendant, or an ancestor (parent or grandparent by blood) of any person in the foregoing two categories.
Scholarship Application Process and Timeline
Scholar Applicants must be sponsored by a Rotary Club in District 9685. Applications forms
are available online
and should be submitted to the local Rotary Club in January – March 2017. The Club will assess the applicant's suitability based on interview, the completed application form and referees' reports. Nominations from the Rotary Clubs must be forwarded to the District 9685 Scholarship Committee by 31st March 2017 District interviews and selection will be held in April 2017. The selected candidate and his/her Sponsor Clubs will be notified of the District 9685 decision in May 2017. The District Scholarship Committee will proceed with the on-line grant application process of The Rotary Foundation together with the selected Applicant in May 2017. Please note that the final decision in the selection of the District 9685 Global Grant Scholar is by The Rotary Foundation. An early decision is expected to allow the student to depart at the beginning of August 2017.
Closing Date for Applications:
Applications must be received by Pam Pritchard, Chair of District 9685 Global Grant Scholar Committee, by 31 March, 2017 to 5 Kapunda Place, Belrose, 2085
Rotary District 9685
is one of two districts covering the Sydney metropolitan area in Australia. The District covers an area of almost 4,500 square miles (11,650 square kilometres). Its boundaries stretch from the Blue Mountains to the Sea north of Sydney Harbour, reaching across the Hawkesbury River and north to Toukley on the Central Coast. Within its boundaries are the business districts of North Sydney, Chatswood, Gosford, Penrith, and the Ryde industrial area. The Blue Mountains define its western boundary, beautiful beaches define its eastern border, and rural communities make up its western and northern borders.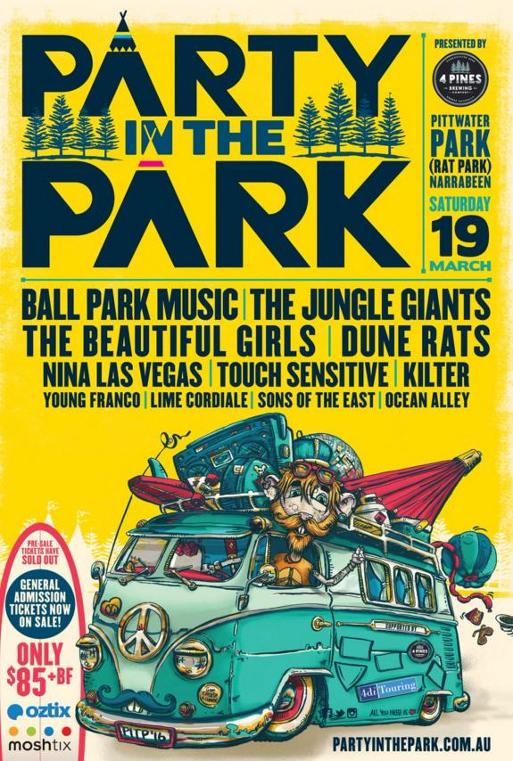 Av Green Team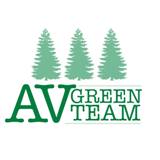 This Youth-run, volunteer-based environment initiative has been attracting high praise from the founders of Living Ocean as much as other local environment groups recently.
Turning up for Beach Cleans, or starting their own, underlines an 'action speaks louder than words' ethos is at the core of this group.
All Welcome!
Cyberbullying
Research shows that one in five Australian children aged 8 to 17 has been the target of cyberbullying in the past year. The Office of the Children's eSafety Commissioner can help you make a complaint, find someone to talk to and provide advice and strategies for dealing with these issues.
Make a Complaint
About this form
The Enhancing Online Safety for Children Act 2015 gives the power to provide assistance in relation to serious cyberbullying material. That is, material that is directed at a particular child with the intention to seriously embarrass, harass, threaten or humiliate.
IMPORTANT INFORMATION
Before you make a complaint you need to have:
copies of the cyberbullying material to upload (eg screenshots or photos)

reported the material to the social media service (if possible) at least 48 hours ago

at hand as much information as possible about where the material is located

15-20 minutes to complete the form
Visit: esafety.gov.au/complaints-and-reporting/cyberbullying
Our mission
The Office of the Children's eSafety Commissioner is Australia's leader in online safety. The Office is committed to helping young people have safe, positive experiences online and encouraging behavioural change, where a generation of Australian children act responsibly online—just as they would offline.
We provide online safety education for Australian children and young people, a complaints service for young Australians who experience serious cyberbullying, and address illegal online content through the Online Content Scheme.
Our goal is to empower all Australians to explore the online world—safely.
Kids Helpline
If you're aged 5-25 the Kids Helpline provides free and confidential online and phone counselling 24 hours a day, seven days a week on 1800 55 1800.
You can chat with us about anything… What's going on at home, stuff with friends. Something at school or feeling sad, angry or worried. You don't have to tell us your name if you don't want to.
You can Webchat, email or phone. Always remember - Everyone deserves to be safe and happy. You're important and we are here to help you. Visit: https://kidshelpline.com.au/kids/
NCYLC is a community legal centre dedicated to providing advice to children and young people. NCYLC has developed a Cyber Project called Lawmail, which allows young people to easily access free legal advice from anywhere in Australia, at any time.
NCYLC was set up to ensure children's rights are not marginalised or ignored. NCYLC helps children across Australia with their problems, including abuse and neglect. The AGD, UNSW, KWM, Telstra and ASIC collaborate by providing financial, in-kind and/or pro bono volunteer resources to NCYLC to operate Lawmail and/or Lawstuff.
In 2014, Lawmail helped over 1600 people, with 211 of these cases involving help to children under 18 with online safety. A further 337 children were helped with family disputes, child abuse or neglect. An amazing 1.1 million children, young people and their advocates accessed Lawstuff' s pages including those dealing with child abuse or violence, and 224, 000 of these viewed the new pages relating to online safety and mobile phones.
NLA Ebooks - Free To Download
The National Library of Australia provides access to thousands of ebooks through its website, catalogue and eResources service. These include our own publications and digitised historical books from our collections as well as subscriptions to collections such as Chinese eResources, Early English Books Online and Ebsco ebooks.
Ebooks are books published in an electronic format. They can be read by using a personal computer or an ebook reader.
This guide will help you find and view different types of ebooks in the National Library collections.
Peruse the NLA's online ebooks, ready to download -
HERE
The Project Gutenberg Library of Australiana
Australian writers, works about Australia and works which may be of interest to Australians.This Australiana page boasts many ebooks by Australian writers, or books about Australia. There is a diverse range; from the journals of the land and sea explorers; to the early accounts of white settlement in Australia; to the fiction of 'Banjo' Paterson, Henry Lawson and many other Australian writers.
The list of titles form part of the huge collection of ebooks freely downloadable from Project Gutenberg Australia. Follow the links to read more about the authors and titles and to read and/or download the ebooks.
RARE 1901 CRICKET FOOTAGE BROUGHT BACK TO LIFE BY NFSA!
February 22nd, 2017
The National Film and Sound Archive of Australia (NFSA) has built a custom-made device in order to digitise and publish a rare 'Kinora' reel featuring 1901 footage of legendary cricketers K.S. Ranjitsinhji and C.B.Fry. It is now available on YouTube (
http://bit.ly/kinora
).
NFSA experts then photographed all 465 frames in the reel to create a 19-second film, showing the famous cricketers (who played for Sussex and England in the early 1900s) in action for the first time in more than 100 years. The footage was taken in Hove, England, and the reel was recently donated to the NFSA by cricket historian Glenn Gibson.
The Kinora was the world's first home movie entertainment system. It followed the same principle as a flip book: a reel with a series of photographic images was placed in a player, and by turning the crank handle the images were displayed one after another, creating the illusion of movement. As the image was not projected, viewing was limited to one person or a small group.
The NFSA does not have any Kinora players, which are very rare. Due to the circular construction of the reel it was not possible for it to be laid flat on a scanner to digitise the photographic images, so the NFSA experts had to build a device that could replicate the mechanism of a Kinora player, in order to photograph each frame individually.
NFSA Curator Jeff Wray explained: 'In the absence of a Kinora player, and with such a significant donation, we had to find a way to capture the moving image. Our Conservation team suggested adapting a film winder to replicate the original Kinora mechanism, and a metal ruler to hold the images so they could flick through the reel without damaging them. Our custom-made machine allowed the reel to be viewed, and held the images in place to be photographed, one by one.'
The resulting 465 high definition photo frames were animated and stabilised using advanced compositing software, to produce a moving image close to the original. The resulting film shows Ranji and C.B. Fry in batting action.
The custom-made device will be used to digitise the six remaining Kinora reels in the NFSA collection, which deal with various subjects such as a woman dancing, the launching of a life boat, and a man reacting to reading a letter.
ABOUT THE KINORA
The Kinora was the first home movie entertainment system and was invented by Lumière in France in 1897. The rights were later purchased by the British Mutoscope & Biograph Company.
The Kinora followed the same principle as a flip book. Instead of being bound in a book, the photographic images were attached to a reel which could then be rotated by a crank handle, bringing the images into motion. Kinora reels ran for approximately 30 seconds and could be purchased or rented for home use. Topics that could be viewed ranged from the everyday (man reading a letter) and topical (launching of a lifeboat) to historical events and moving images of sportspeople and entertainers of the day. Reels of family members could also be made at photographic studios, and from 1908 a camera was available for people to purchase and make their own Kinora home movies. As the popularity of cinema increased, interest in Kinoras waned. Following a factory fire in 1914, Kinora ceased production.
Rare 1901 cricket footage brought back to life by NFSA
Published on 21 Feb 2017
The National Film and Sound Archive of Australia (NFSA) has built a custom-made device in order to digitise and publish this rare 'Kinora' reel featuring 1901 footage of legendary cricketers K.S. Ranjitsinhji and C.B.Fry.
NFSA experts then photographed all 465 frames in the reel to create a 19-second film, showing the famous cricketers (who played for Sussex and England in the early 1900s) in action for the first time in more than 100 years. The footage was taken in Hove, England, and the reel was recently donated to the NFSA by cricket historian Glenn Gibson.
NASA & TRAPPIST-1: A Treasure Trove Of Planets Found
Published on 22 Feb 2017 by NASA Jet Propulsion Laboratory
Seven Earth-sized planets have been observed by NASA's Spitzer Space Telescope around a tiny, nearby, ultra-cool dwarf star called TRAPPIST-1. Three of these planets are firmly in the habitable zone.
Over 21 days, NASA's Spitzer Space Telescope measured the drop in light as each planet passed in front of the star. Spitzer was able to identify a total of seven rocky worlds, including three in the habitable zone, where liquid water might be found.
The video features interviews with Sean Carey, manager of the Spitzer Science Center, Caltech/IPAC; Nikole Lewis, James Webb Space Telescope project scientist, Space Telescope Science Institute; and Michaël Gillon, principal investigator, TRAPPIST, University of Liege, Belgium.
The system has been revealed through observations from NASA's Spitzer Space Telescope and the ground-based TRAPPIST (TRAnsiting Planets and PlanetesImals Small Telescope) telescope, as well as other ground-based observatories. The system was named for the TRAPPIST telescope.
NASA's Jet Propulsion Laboratory, Pasadena, California, manages the Spitzer Space Telescope mission for NASA's Science Mission Directorate, Washington. Science operations are conducted at the Spitzer Science Center at Caltech in Pasadena. Spacecraft operations are based at Lockheed Martin Space Systems Company, Littleton, Colorado. Data are archived at the Infrared Science Archive housed at Caltech/IPAC. Caltech manages JPL for NASA. For more information about Spitzer, visit
http://www.nasa.gov/spitzer
and
http://spitzer.caltech.edu
.
NASA Telescope Reveals Largest Batch Of Earth-Size, Habitable-Zone Planets Around Single Star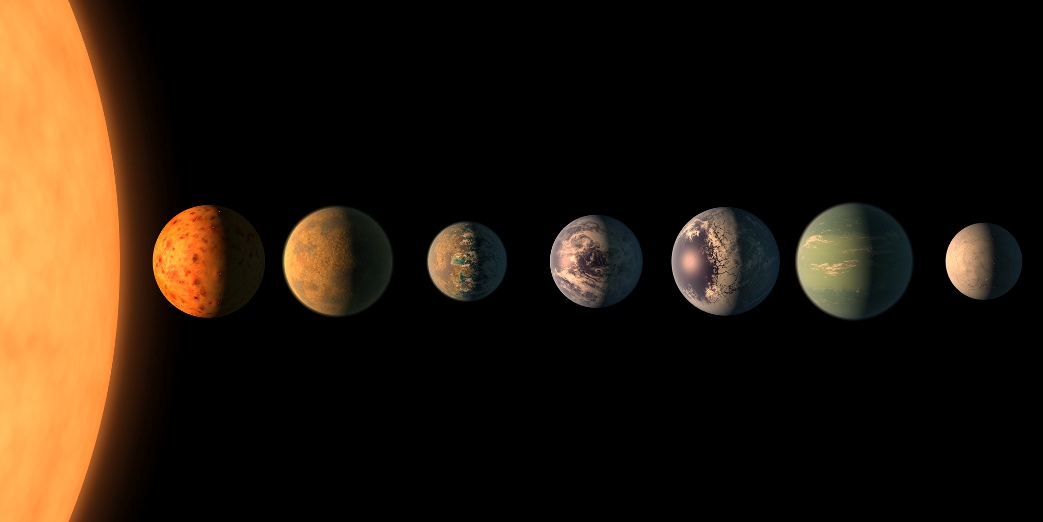 This artist's concept shows what each of the TRAPPIST-1 planets may look like, based on available data about their sizes, masses and orbital distances.
Credits: NASA/JPL-Caltech
NASA Telescope Reveals Largest Batch Of Earth-Size, Habitable-Zone Planets Around Single Star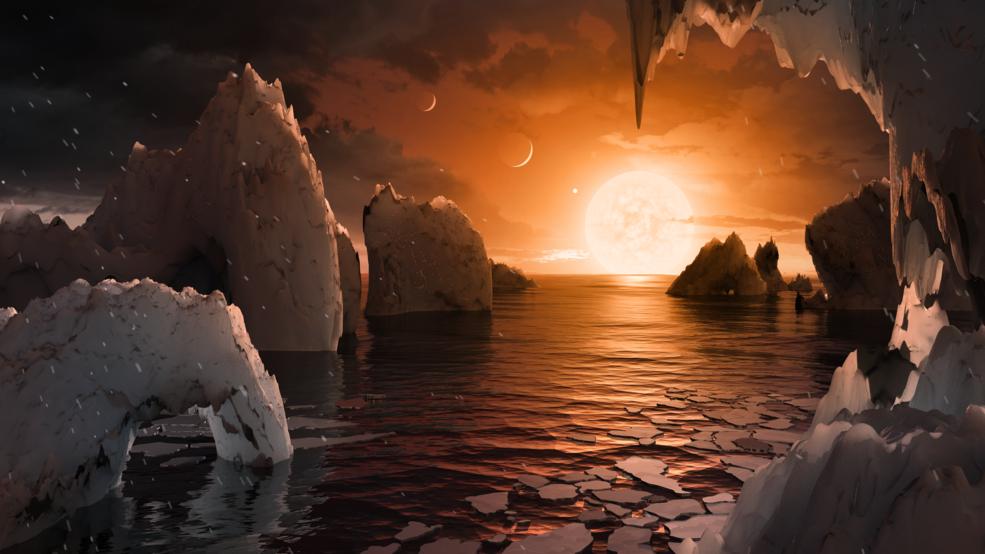 This illustration shows the possible surface of TRAPPIST-1f, one of the newly discovered planets in the TRAPPIST-1 system. Scientists using the Spitzer Space Telescope and ground-based telescopes have discovered that there are seven Earth-size planets in the system.
Credits: NASA/JPL-Caltech
February 23, 2017: by NASA
The discovery sets a new record for greatest number of habitable-zone planets found around a single star outside our solar system. All of these seven planets could have liquid water – key to life as we know it – under the right atmospheric conditions, but the chances are highest with the three in the habitable zone.
"This discovery could be a significant piece in the puzzle of finding habitable environments, places that are conducive to life," said Thomas Zurbuchen, associate administrator of the agency's Science Mission Directorate in Washington. "Answering the question 'are we alone' is a top science priority and finding so many planets like these for the first time in the habitable zone is a remarkable step forward toward that goal."
At about 40 light-years (235 trillion miles) from Earth, the system of planets is relatively close to us, in the constellation Aquarius. Because they are located outside of our solar system, these planets are scientifically known as exoplanets.
This exoplanet system is called TRAPPIST-1, named for The Transiting Planets and Planetesimals Small Telescope (TRAPPIST) in Chile. In
May 2016
, researchers using TRAPPIST announced they had discovered three planets in the system. Assisted by several ground-based telescopes, including the European Southern Observatory's Very Large Telescope, Spitzer confirmed the existence of two of these planets and discovered five additional ones, increasing the number of known planets in the system to seven.
The new results were published Wednesday in the journal Nature, and announced at a news briefing at NASA Headquarters in Washington.
Using Spitzer data, the team precisely measured the sizes of the seven planets and developed first estimates of the masses of six of them, allowing their density to be estimated.
Based on their densities, all of the TRAPPIST-1 planets are likely to be rocky. Further observations will not only help determine whether they are rich in water, but also possibly reveal whether any could have liquid water on their surfaces. The mass of the seventh and farthest exoplanet has not yet been estimated – scientists believe it could be an icy, "snowball-like" world, but further observations are needed.
"The seven wonders of TRAPPIST-1 are the first Earth-size planets that have been found orbiting this kind of star," said Michael Gillon, lead author of the paper and the principal investigator of the
TRAPPIST
exoplanet survey at the University of Liege, Belgium. "It is also the best target yet for studying the atmospheres of potentially habitable, Earth-size worlds."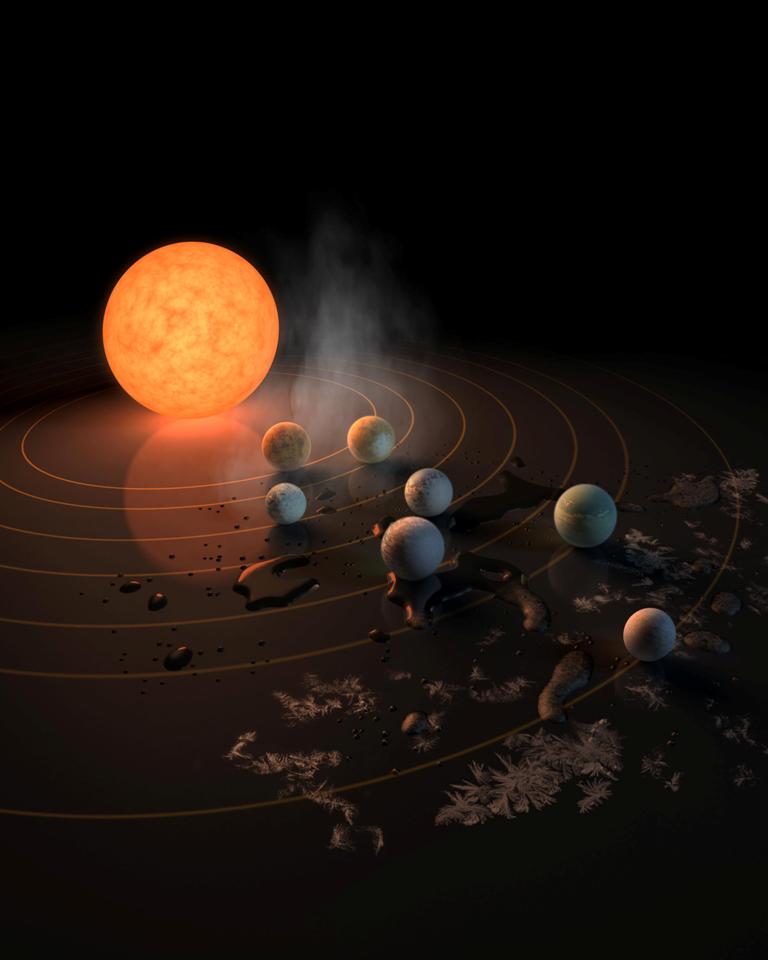 The TRAPPIST-1 star, an ultra-cool dwarf, has seven Earth-size planets orbiting it. This artist's concept appeared on the cover of the journal
Nature
on Feb. 23, 2017.
Credits: NASA/JPL-Caltech
In contrast to our sun, the TRAPPIST-1 star – classified as an ultra-cool dwarf – is so cool that liquid water could survive on planets orbiting very close to it, closer than is possible on planets in our solar system. All seven of the TRAPPIST-1 planetary orbits are closer to their host star than Mercury is to our sun. The planets also are very close to each other. If a person was standing on one of the planet's surface, they could gaze up and potentially see geological features or clouds of neighboring worlds, which would sometimes appear larger than the moon in Earth's sky.
The planets may also be tidally locked to their star, which means the same side of the planet is always facing the star, therefore each side is either perpetual day or night. This could mean they have weather patterns totally unlike those on Earth, such as strong winds blowing from the day side to the night side, and extreme temperature changes.
Spitzer, an infrared telescope that trails Earth as it orbits the sun, was well-suited for studying TRAPPIST-1 because the star glows brightest in infrared light, whose wavelengths are longer than the eye can see. In the fall of 2016, Spitzer observed
TRAPPIST-1
nearly continuously for 500 hours. Spitzer is uniquely positioned in its orbit to observe enough crossing – transits – of the planets in front of the host star to reveal the complex architecture of the system. Engineers optimized Spitzer's ability to observe transiting planets during Spitzer's "warm mission," which began after the spacecraft's coolant ran out as planned after the first five years of operations.
"This is the most exciting result I have seen in the 14 years of Spitzer operations," said Sean Carey, manager of NASA's Spitzer Science Center at Caltech/IPAC in Pasadena, California. "Spitzer will follow up in the fall to further refine our understanding of these planets so that the James Webb Space Telescope can follow up. More observations of the system are sure to reveal more secrets."
Following up on the Spitzer discovery, NASA's Hubble Space Telescope has initiated the screening of four of the planets, including the three inside the habitable zone. These observations aim at assessing the presence of puffy, hydrogen-dominated atmospheres, typical for gaseous worlds like Neptune, around these planets.
"The TRAPPIST-1 system provides one of the best opportunities in the next decade to study the atmospheres around Earth-size planets," said Nikole Lewis, co-leader of the Hubble study and astronomer at the Space Telescope Science Institute in Baltimore, Maryland. NASA's planet-hunting Kepler space telescope also is studying the TRAPPIST-1 system, making measurements of the star's minuscule changes in brightness due to transiting planets. Operating as the K2 mission, the spacecraft's observations will allow astronomers to refine the properties of the known planets, as well as search for additional planets in the system. The K2 observations conclude in early March and will be made available on
the public archive
.
Spitzer, Hubble, and Kepler will help astronomers plan for follow-up studies using NASA's upcoming James Webb Space Telescope, launching in 2018. With much greater sensitivity, Webb will be able to detect the chemical fingerprints of water, methane, oxygen, ozone, and other components of a planet's atmosphere. Webb also will analyze planets' temperatures and surface pressures – key factors in assessing their habitability.
NASA's Jet Propulsion Laboratory (JPL) in Pasadena, California, manages the Spitzer Space Telescope mission for NASA's Science Mission Directorate. Science operations are conducted at the Spitzer Science Center, at Caltech, in Pasadena, California. Spacecraft operations are based at Lockheed Martin Space Systems Company, Littleton, Colorado. Data are archived at the Infrared Science Archive housed at Caltech/IPAC. Caltech manages JPL for NASA.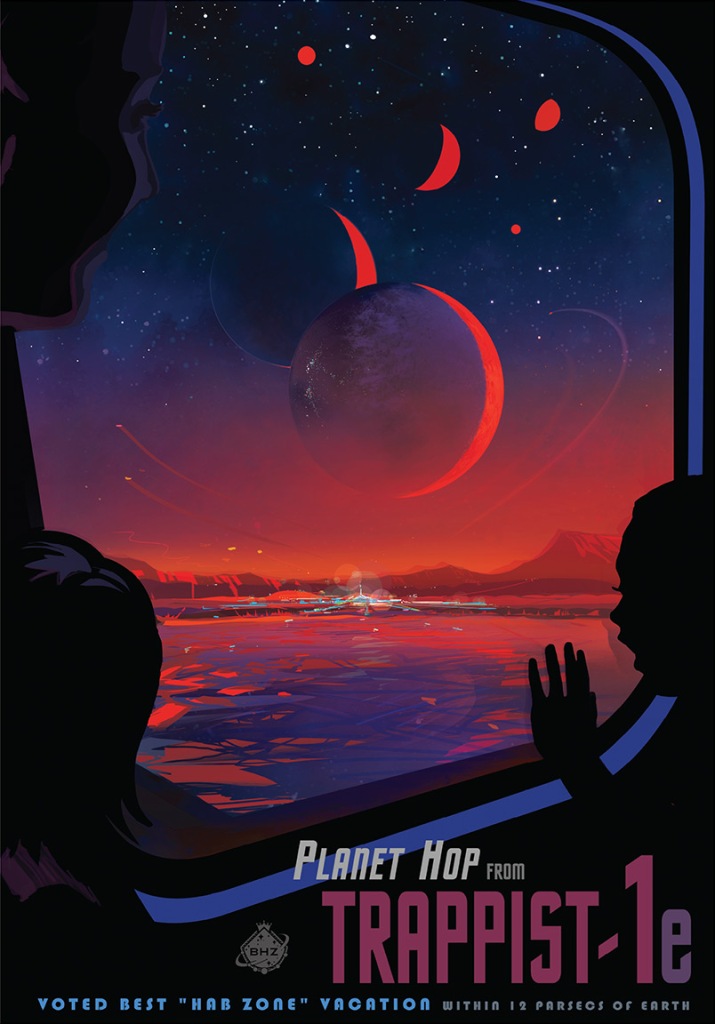 This poster imagines what a trip to TRAPPIST-1e might be like.
Credits: NASA/JPL-Caltech