March 22 - 28, 2020: Issue 443

Our Youth page is for young people aged 13+ - if you are younger than this we have news for you in the Children's page. News items and articles run at the top of this page. Information, local resources, events and local organisations, sports groups etc. are at the base of this page. All Previous pages for you are listed in Past Features
Kookaburra Fledglings This Week: Bigger - Ready To Flap And Feed On Their Own Two Wings!
The
kookaburra fledglings in the Pittwater Spotted Gums
above were still quite vocal at the beginning of this week and could be heard among the pre-dawn calls of their parents and the adult couple that support and are part of this family unit. Kookaburra, the name is thought to be a loanword from Wiradjuri
guuguubarra
, a word that sounds like the bird's call, which you hear as it's beginning to get light and at the break of day.
By Friday, March 20th, 2020, their calls to the adults out finding food for them were not so constant and not so insistent - they were even seen getting a few bugs for themselves to eat.
After they begin to fly the fledglings are fed by the adults of the group for up to 13 weeks and instead of being forced out of the home territory, most stay to help their parents defend boundaries and protect further offspring.
Kookaburras eat lizards, snakes, insects, mice and even other small birds. They are social birds, and this newly fledgling pair have become accustomed to one delighted camera 'stalking' them over the past few weeks, but will still set to flight from the trees way above the ground when the furry small canine, also part of the camera contingent, starts yelling her head off at them.
Kookaburras will accept handouts from humans and will swoop on raw or cooked meat from barbecues left unattended. It is not advised to feed birds meat as this does not include calcium and other nutrients essential to maintain their health. Remainders of mince on the bird's beak can fester and cause serious health problems. As it's still quite warm, and insects of all kinds seem to be everywhere at present, as well as snakes
alike that seen being eaten last Issue
by one of these kookaburra fledglings - they don't need your help with a feed.
Sunday March 15 And Monday March 16, 2020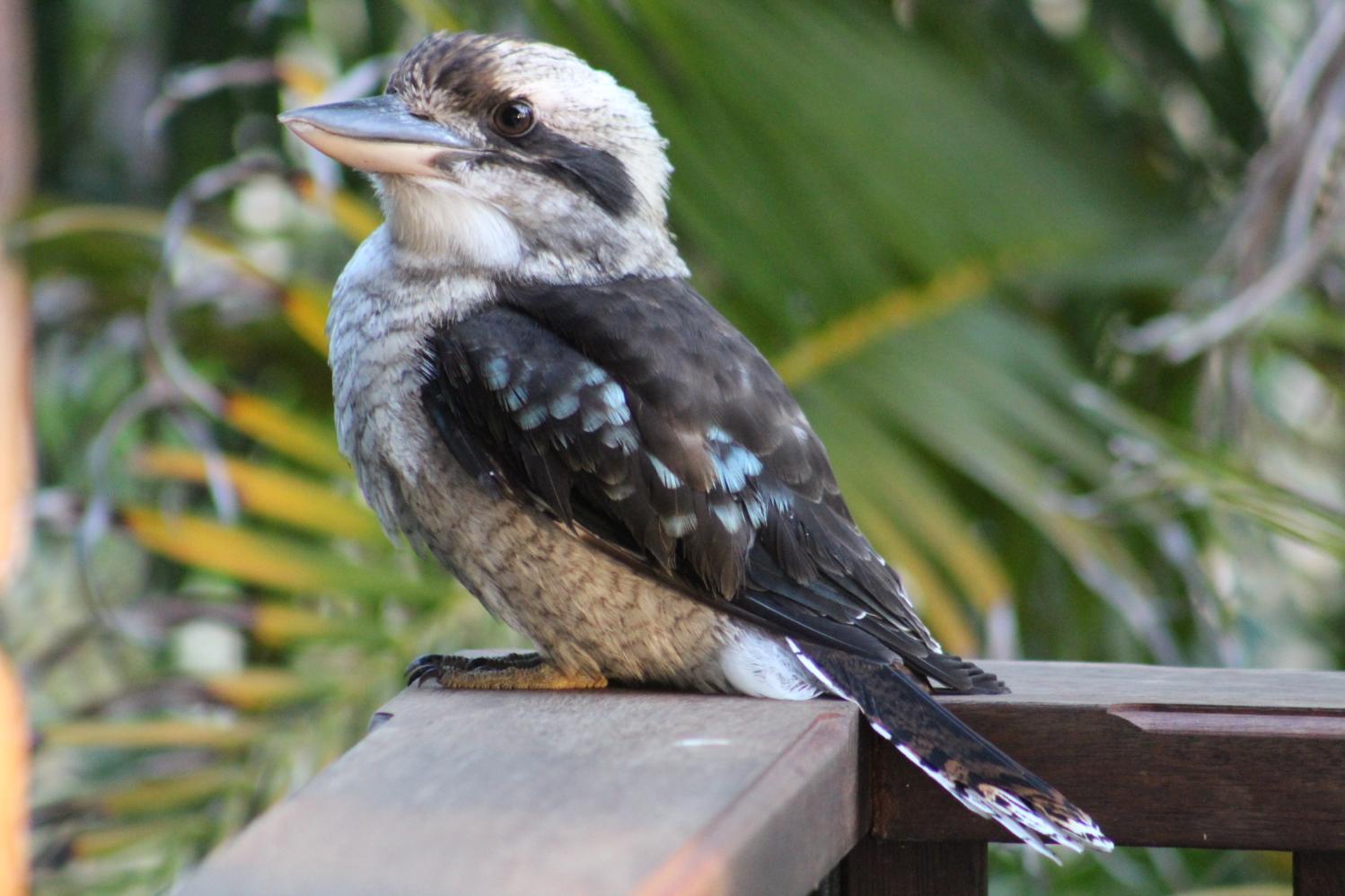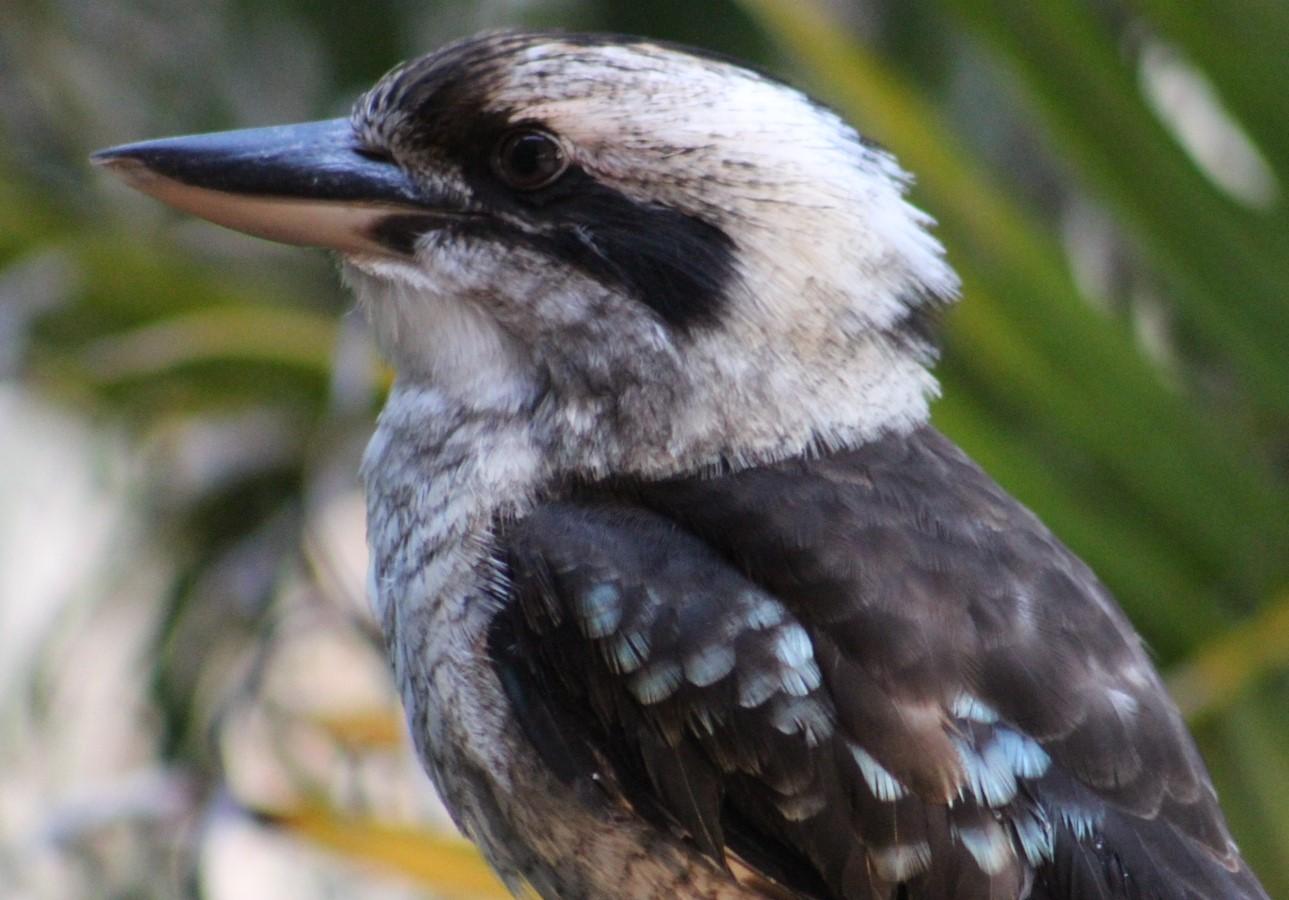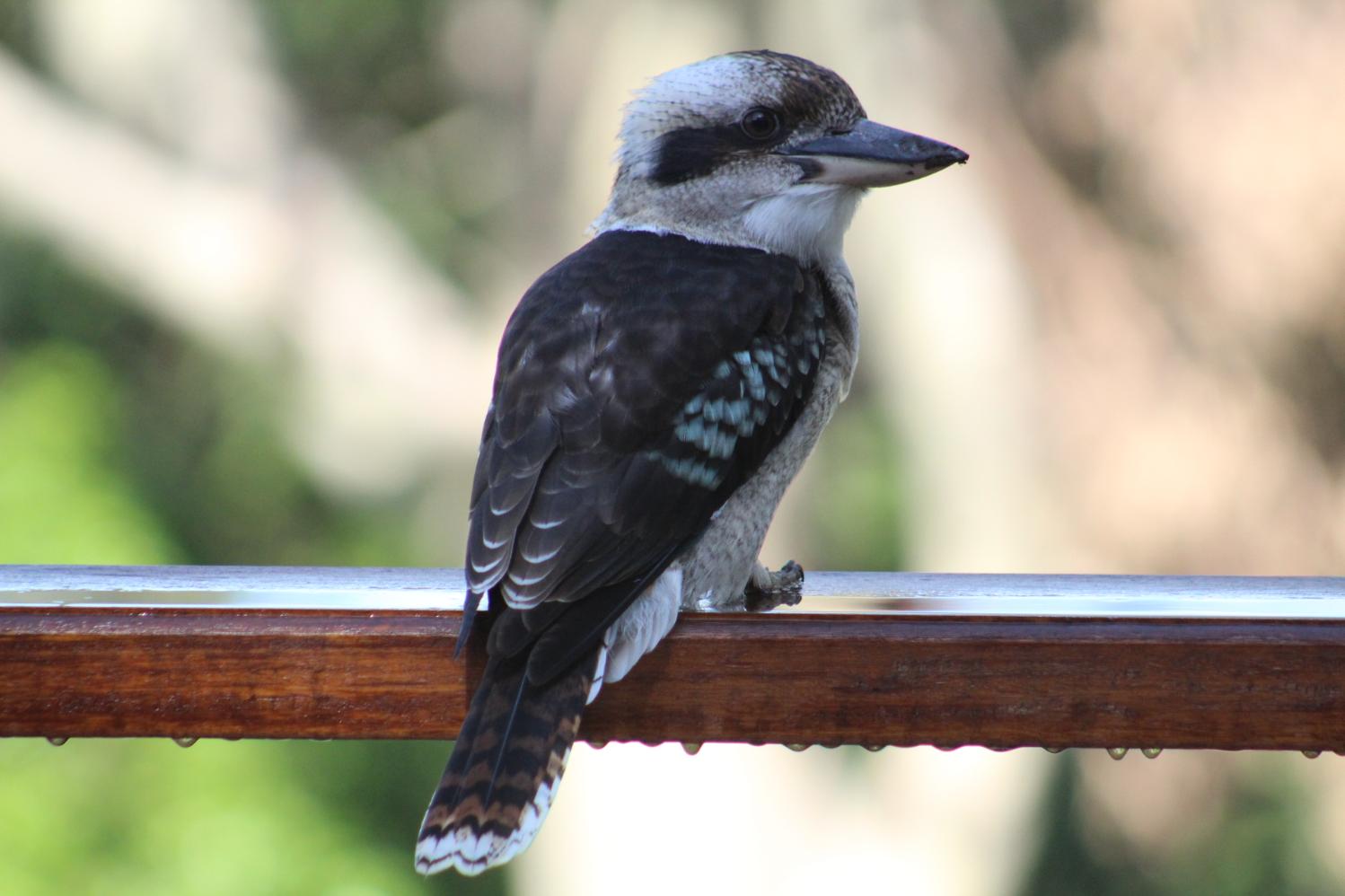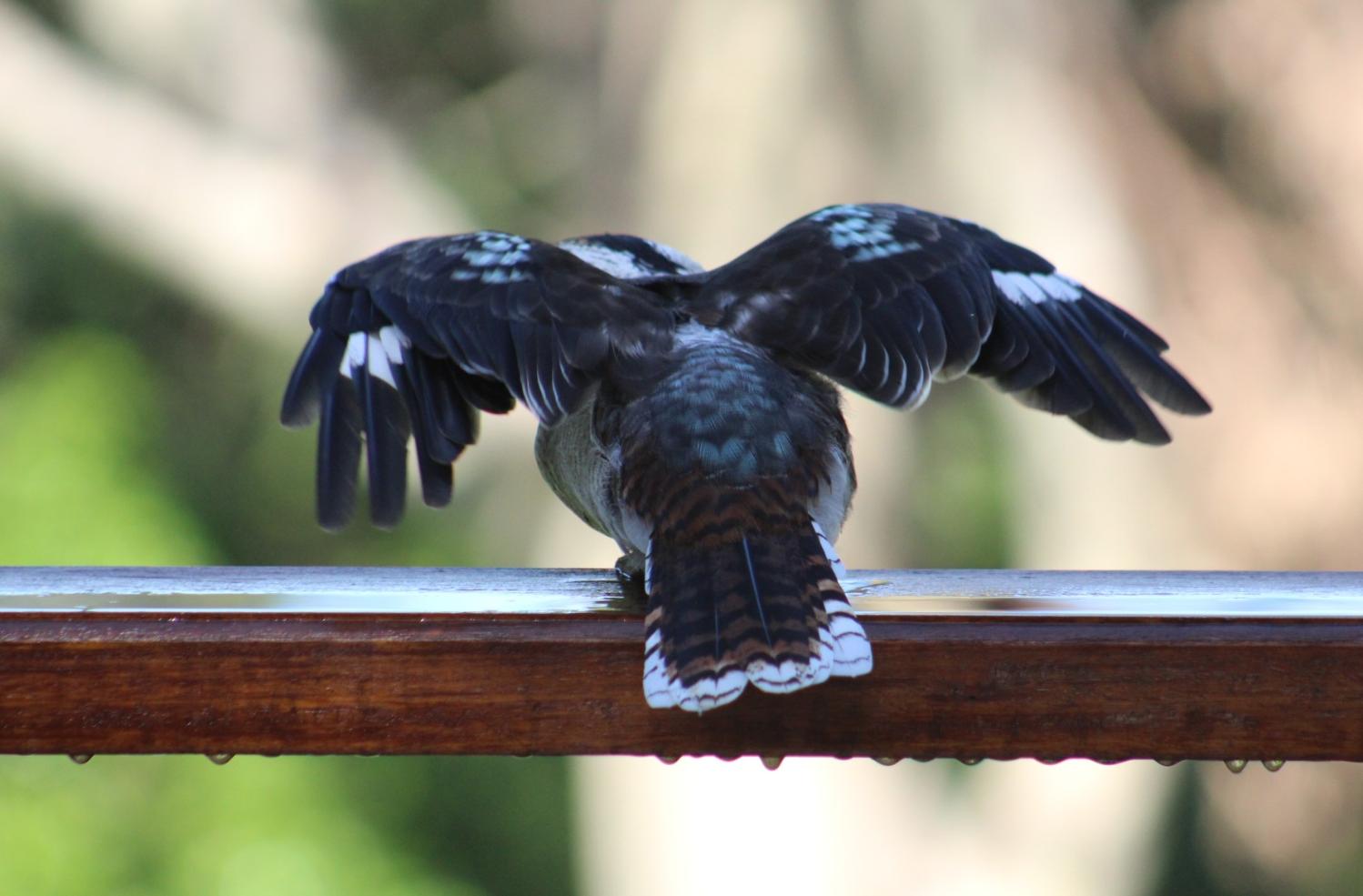 Morning Of March 20th, 2020 - Fledglings And Parents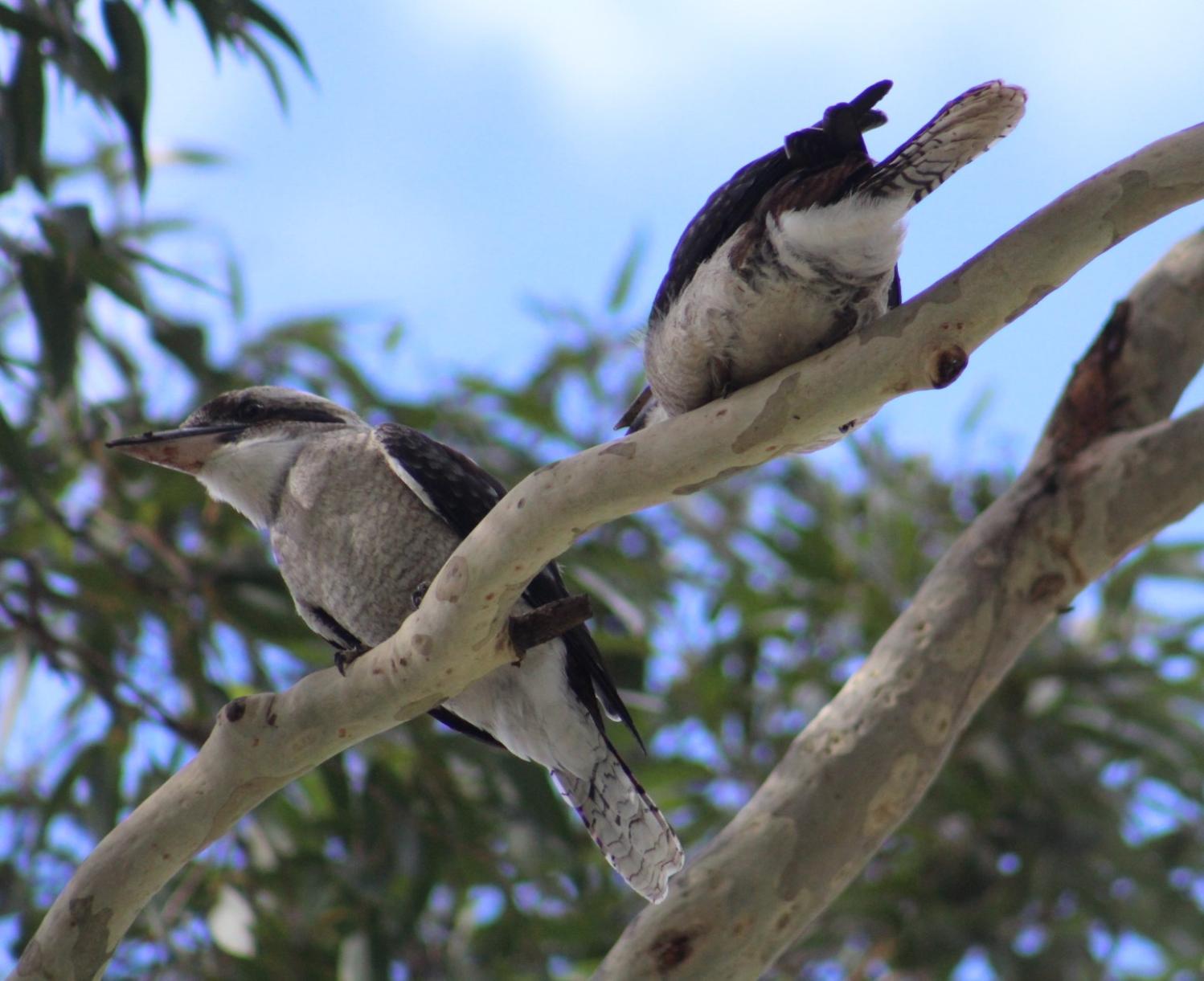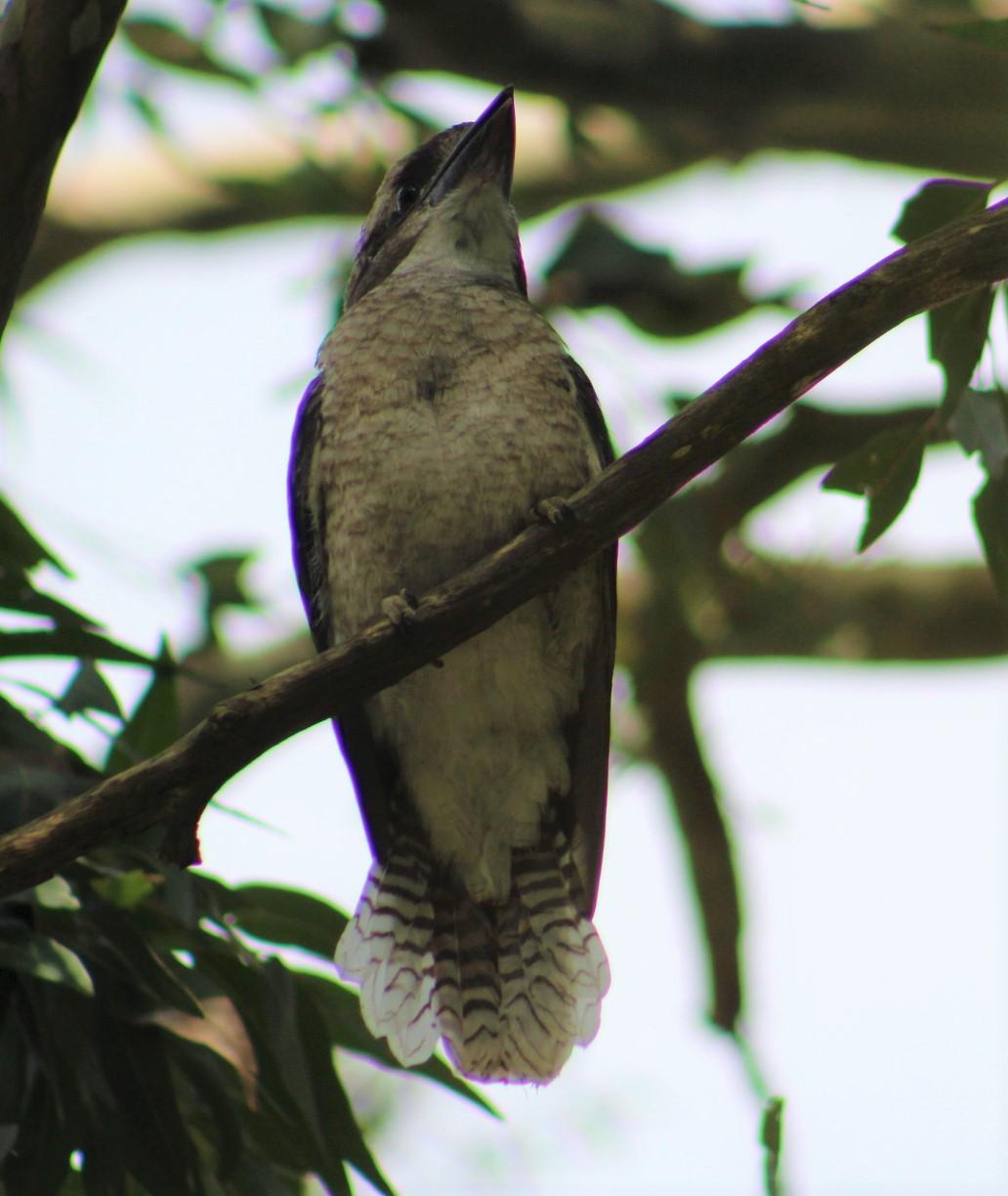 Late Afternoon - Friday March 20th, 2020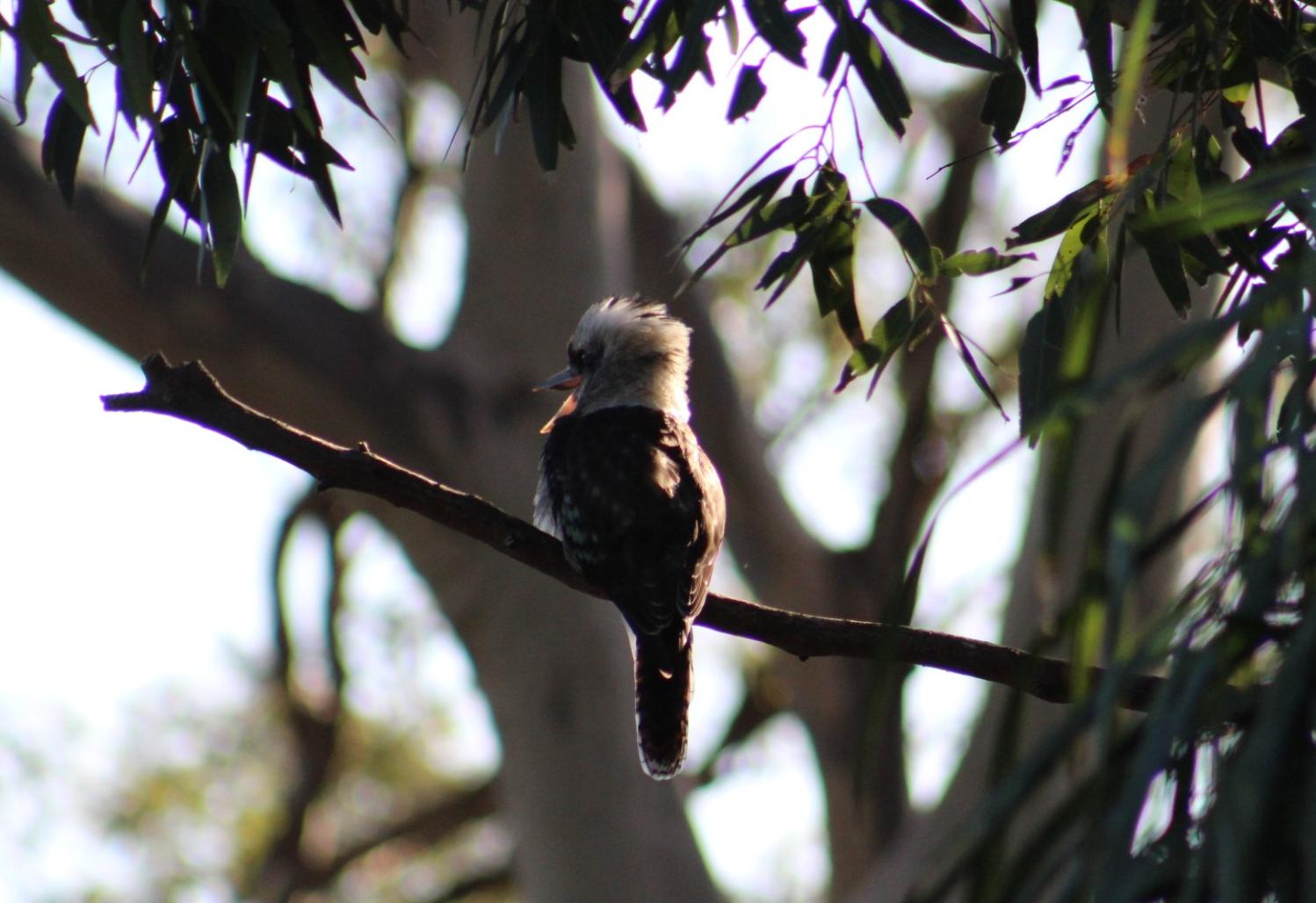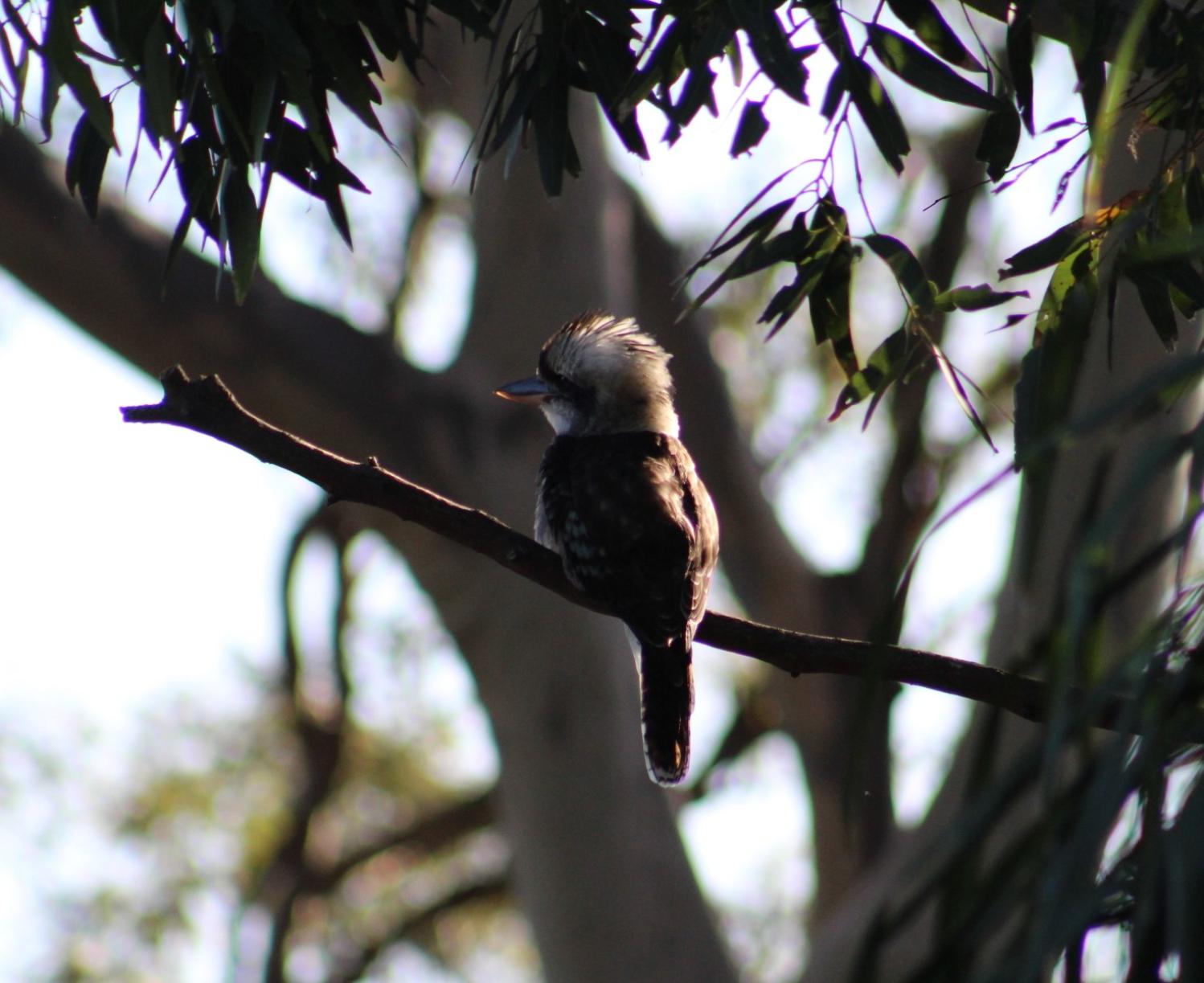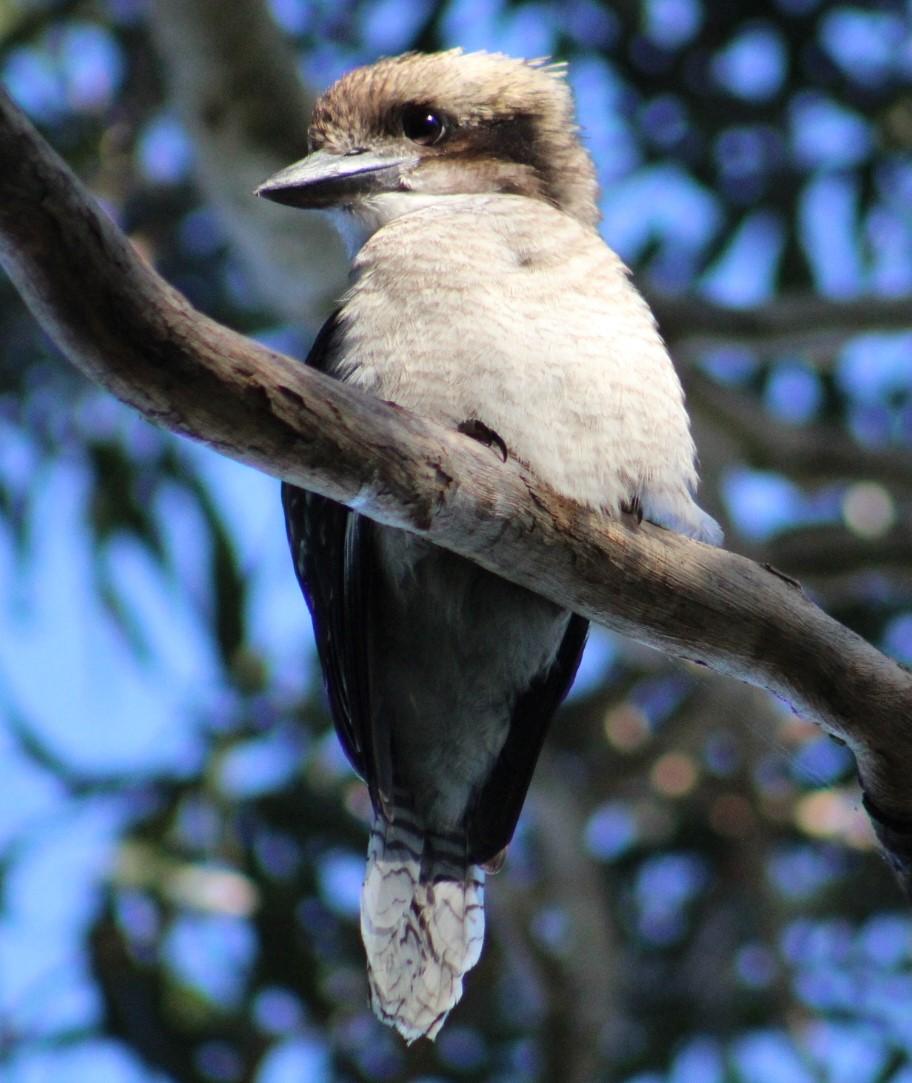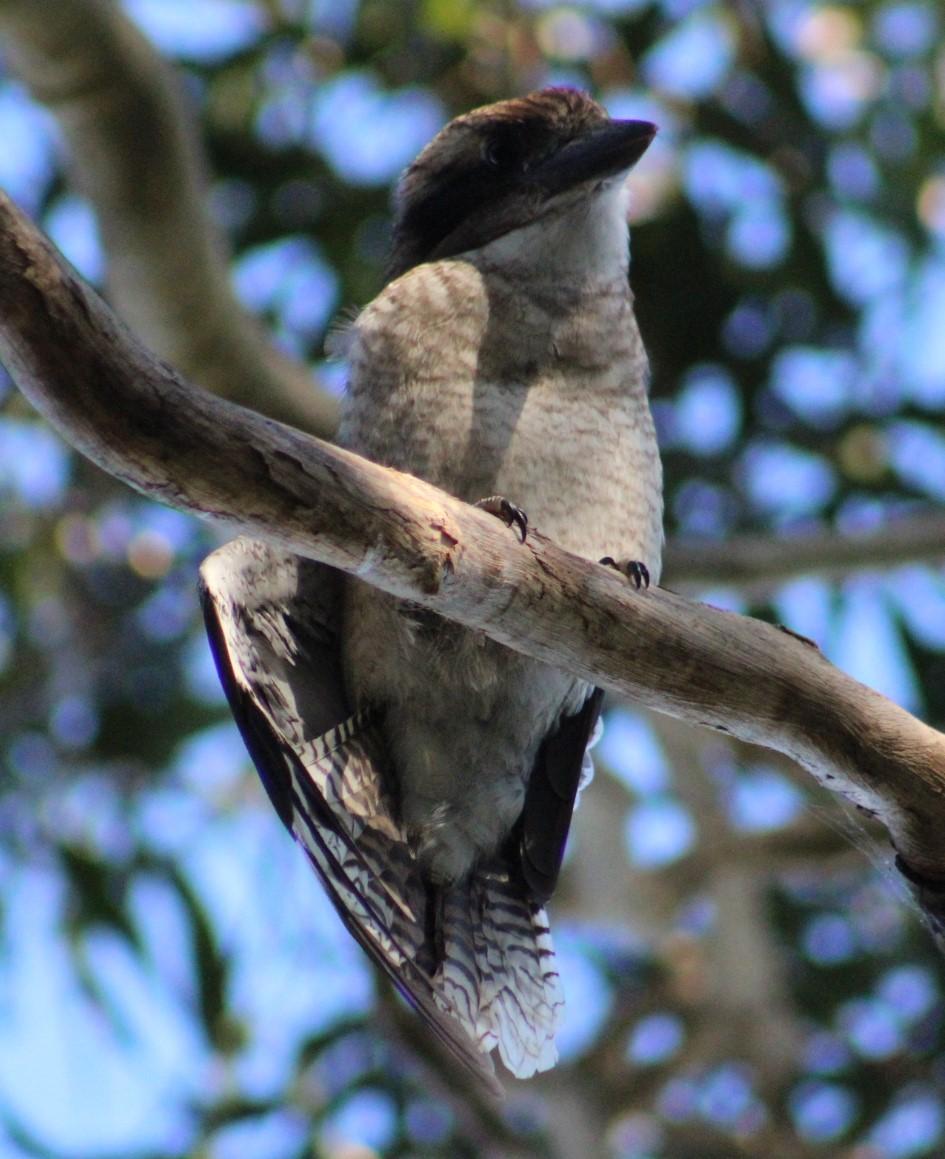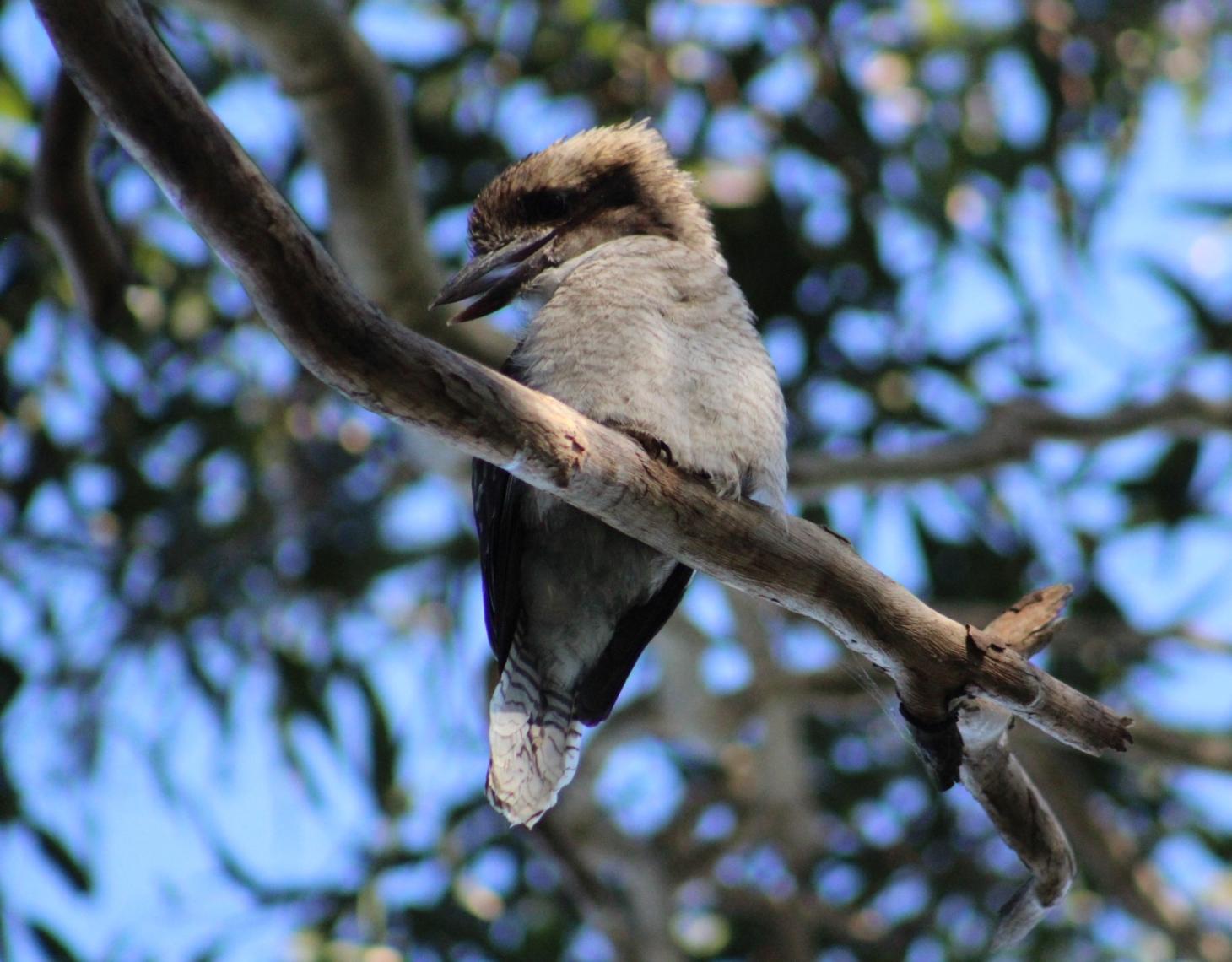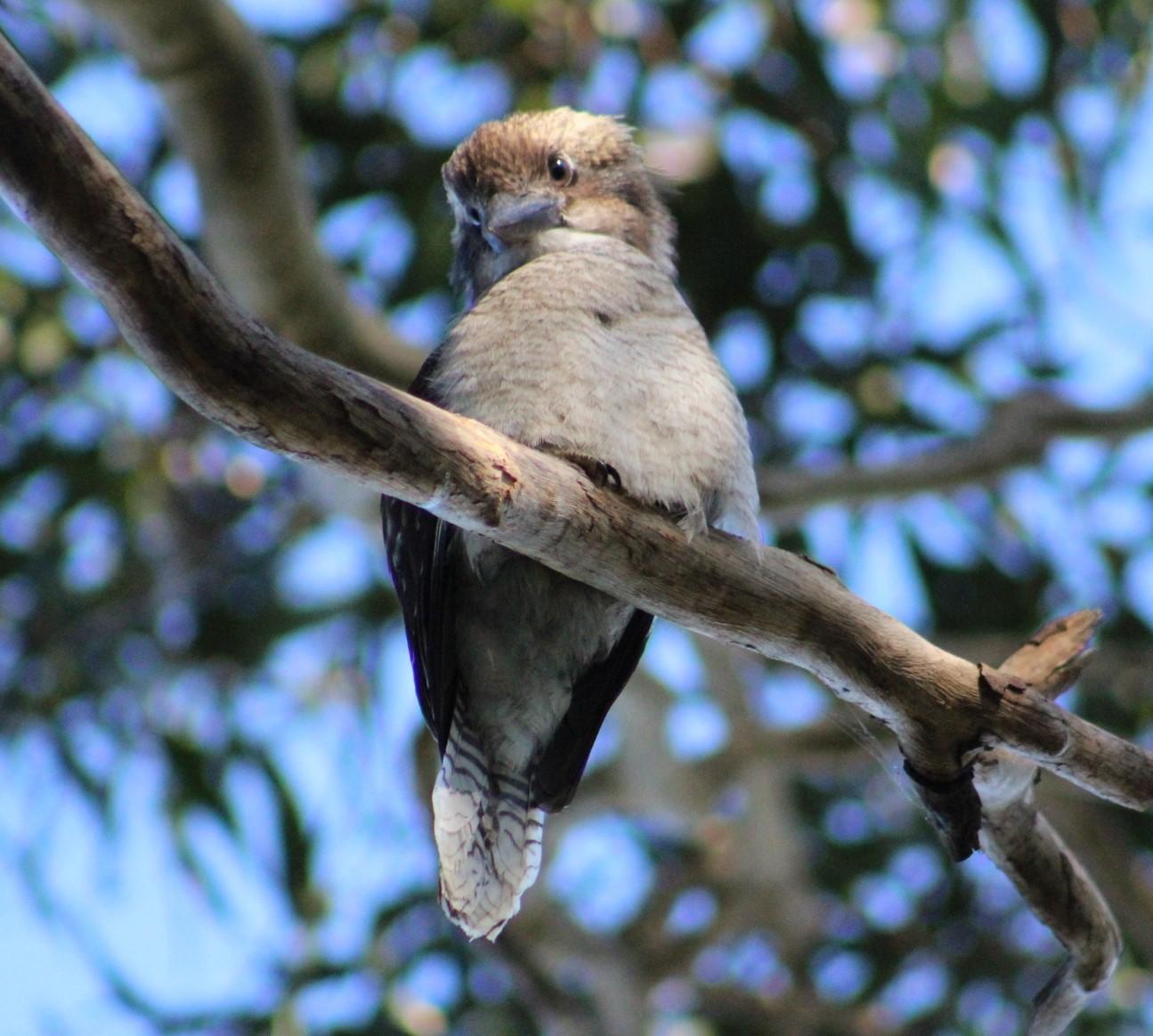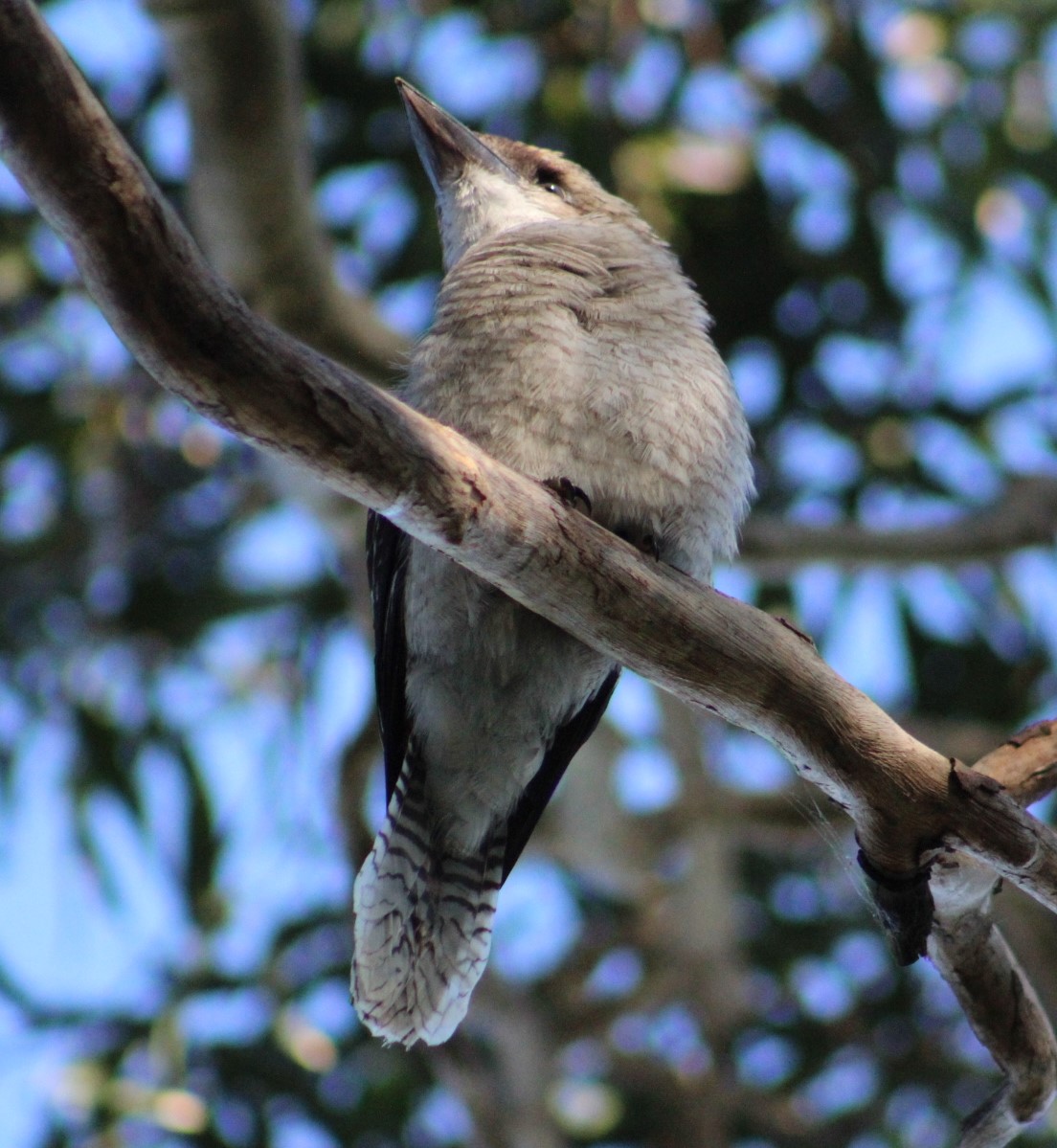 Saturday Afternoon, March 21, 2020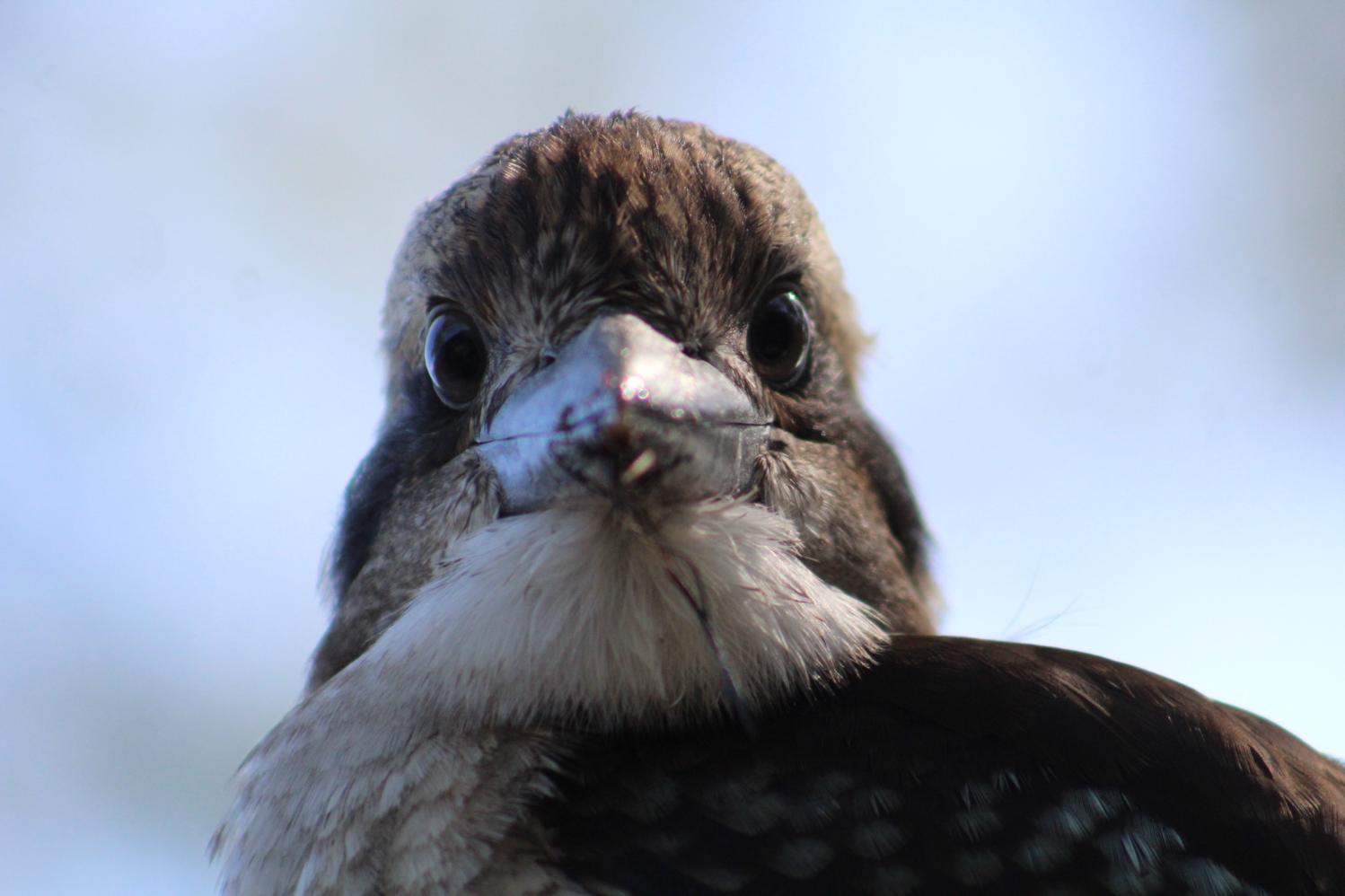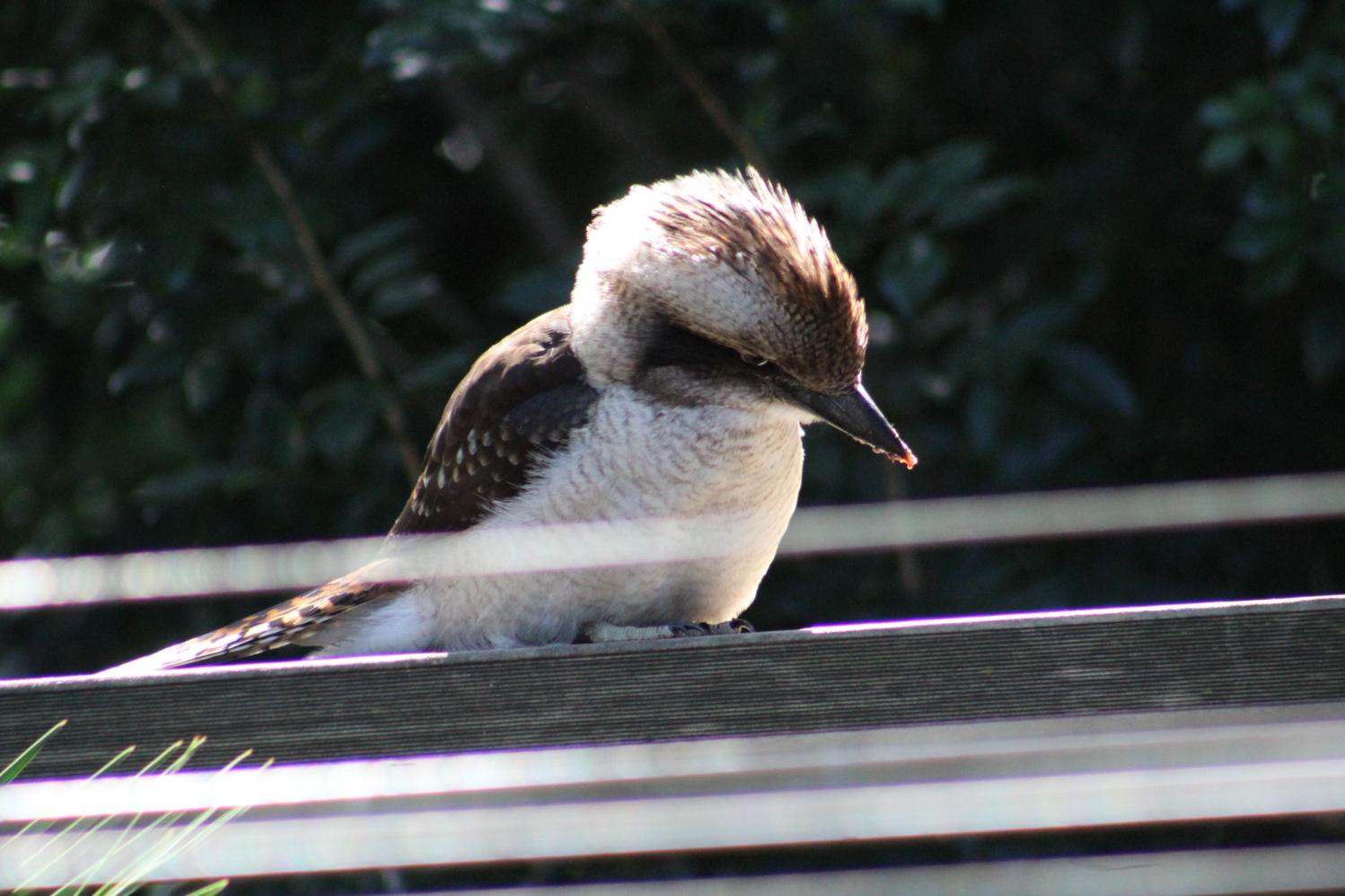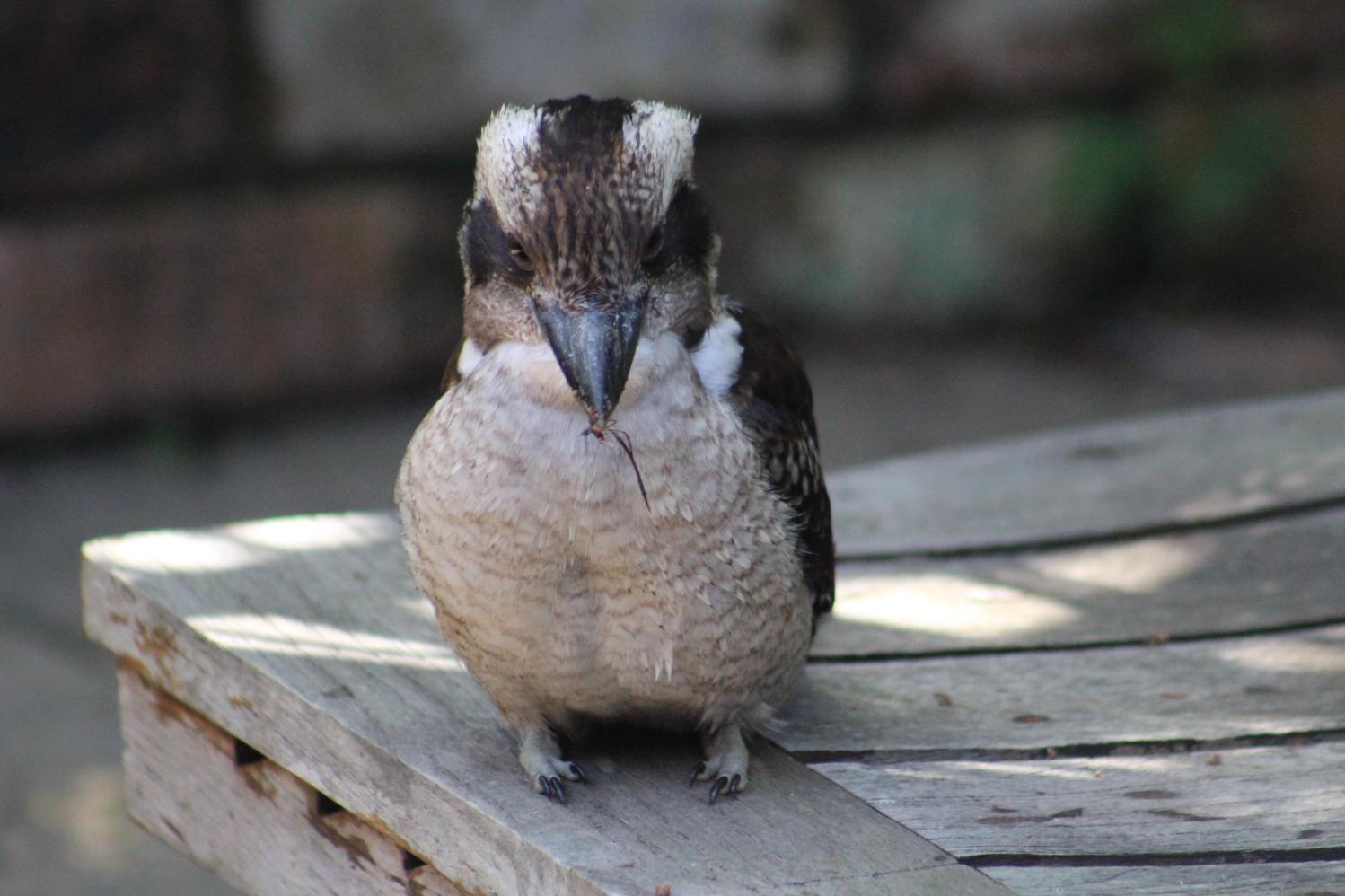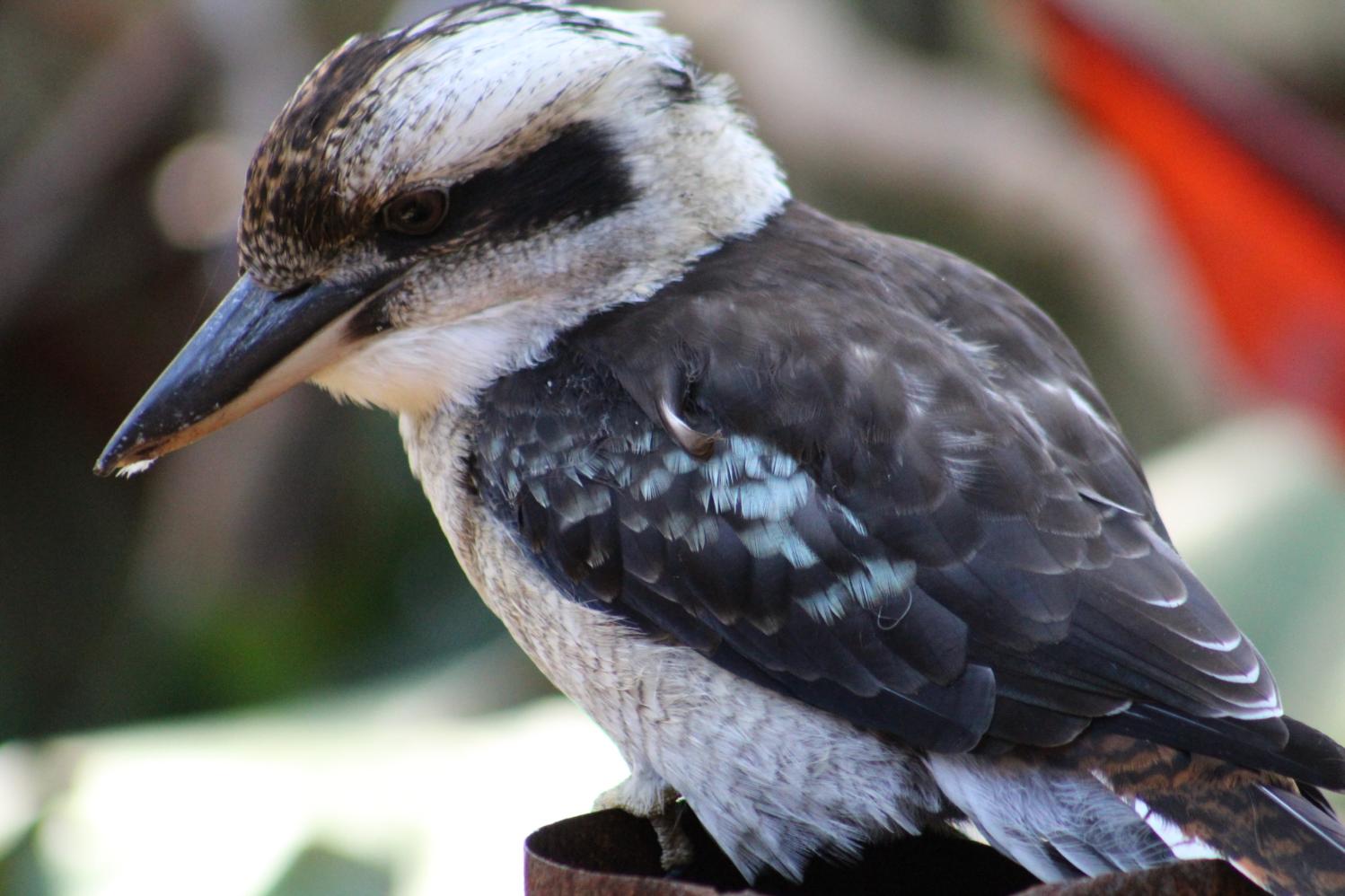 The Magpie Fledgling This Week
Monday afternoon, March 16th - eating what looked like a mouse: the parent magpie had just given the youngster this and was just out of range for the camera -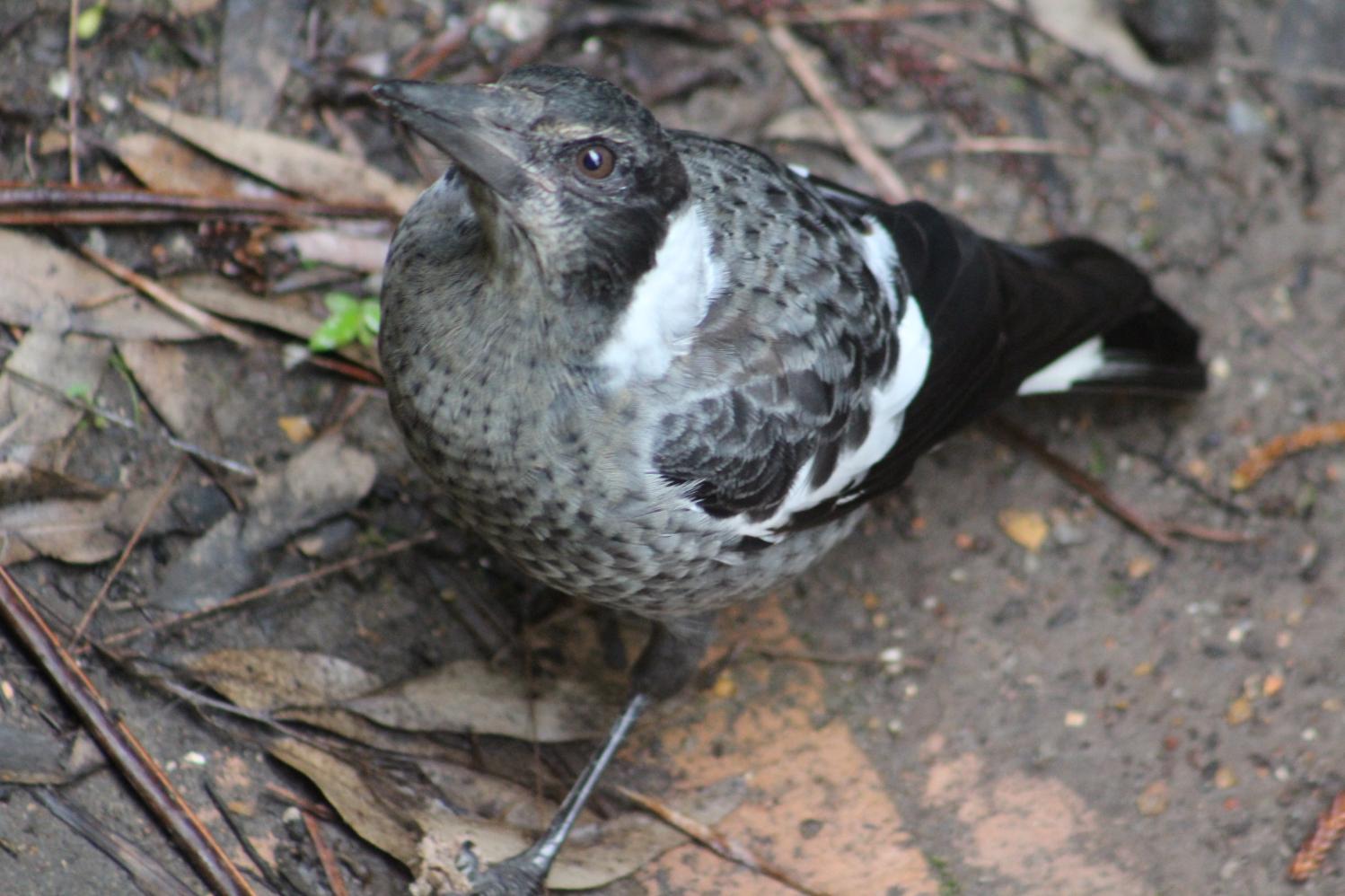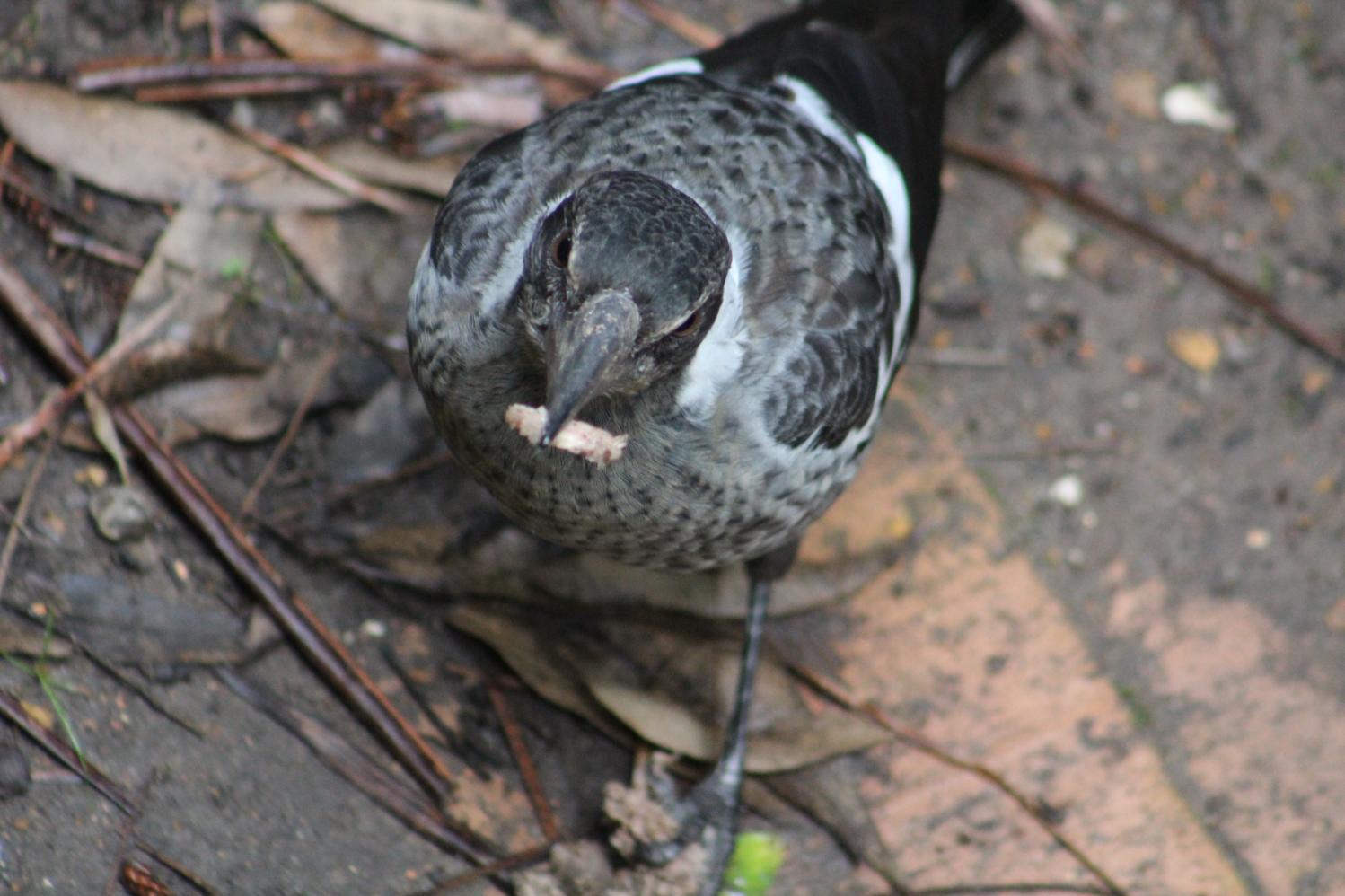 Pecking at ants and gum leaves and carolling: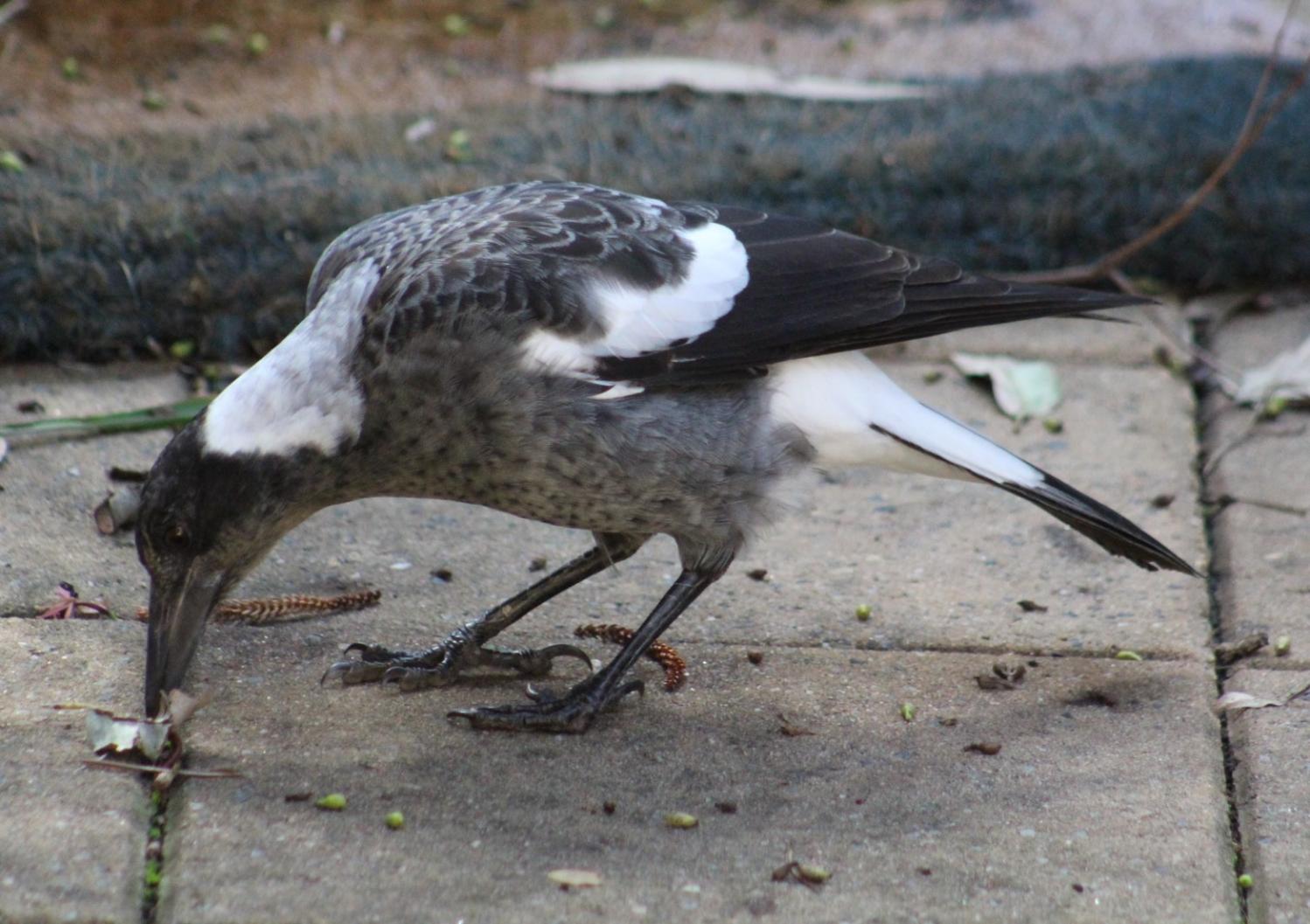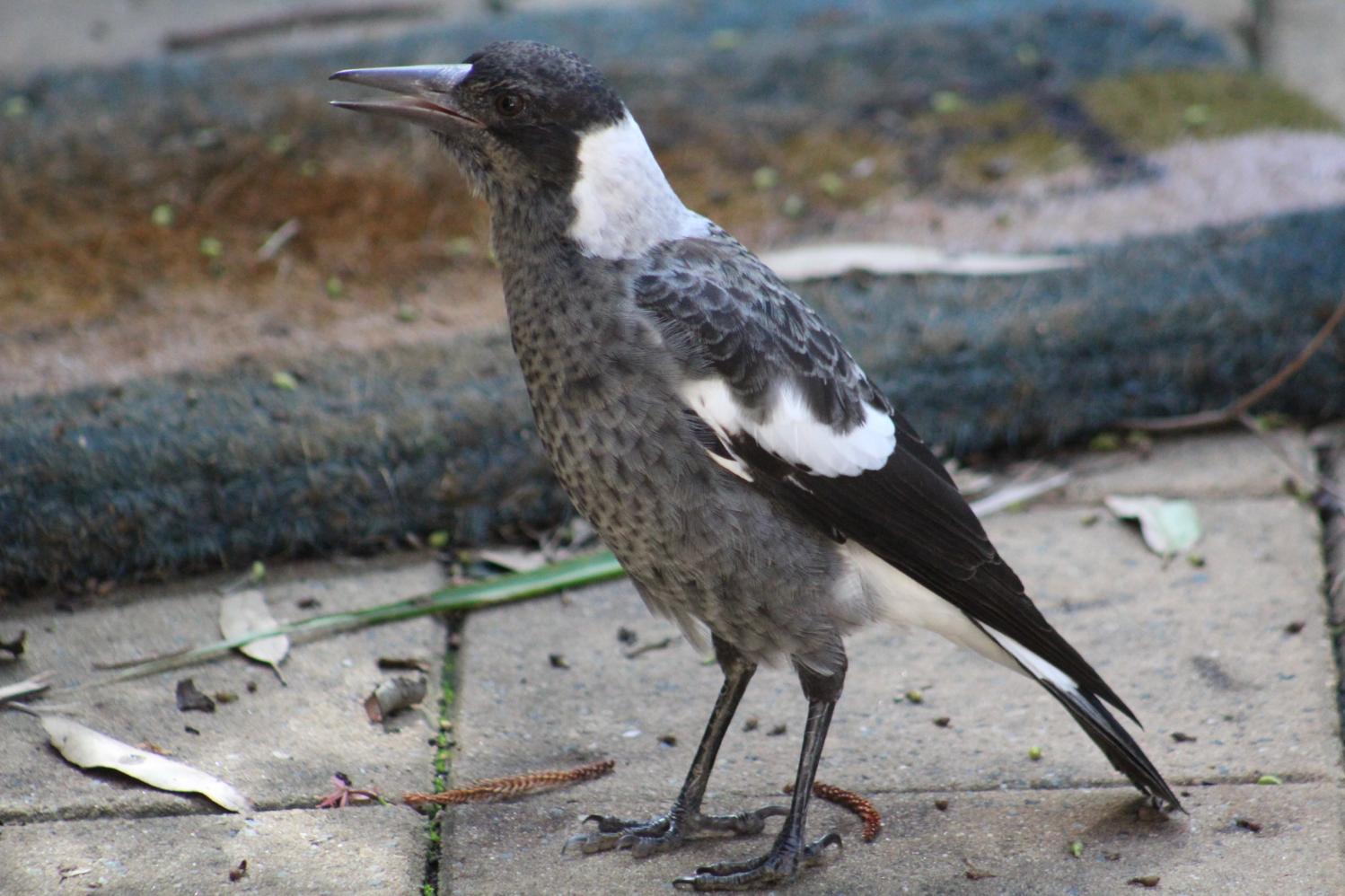 The Rainbow Lorikeets This Week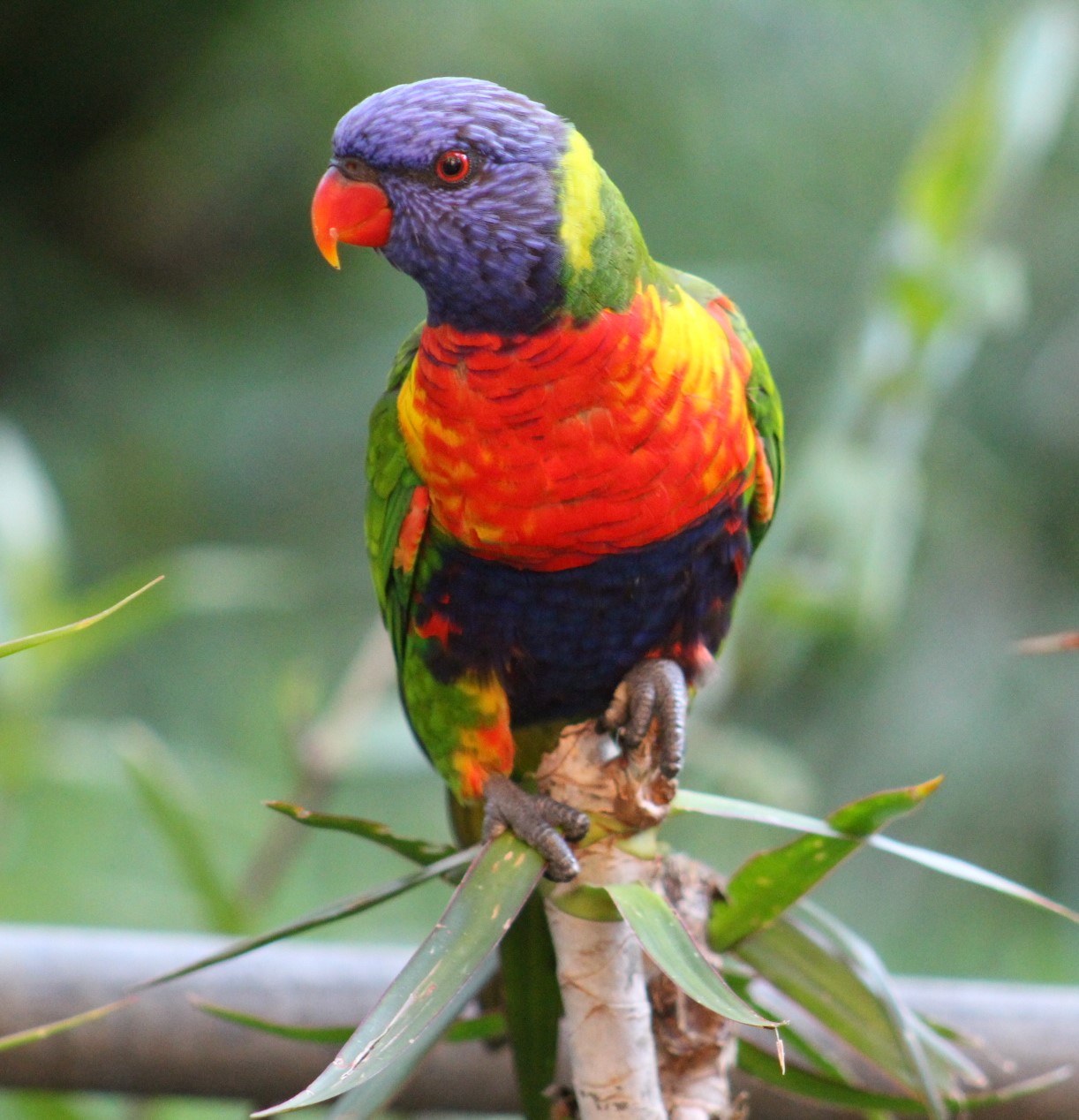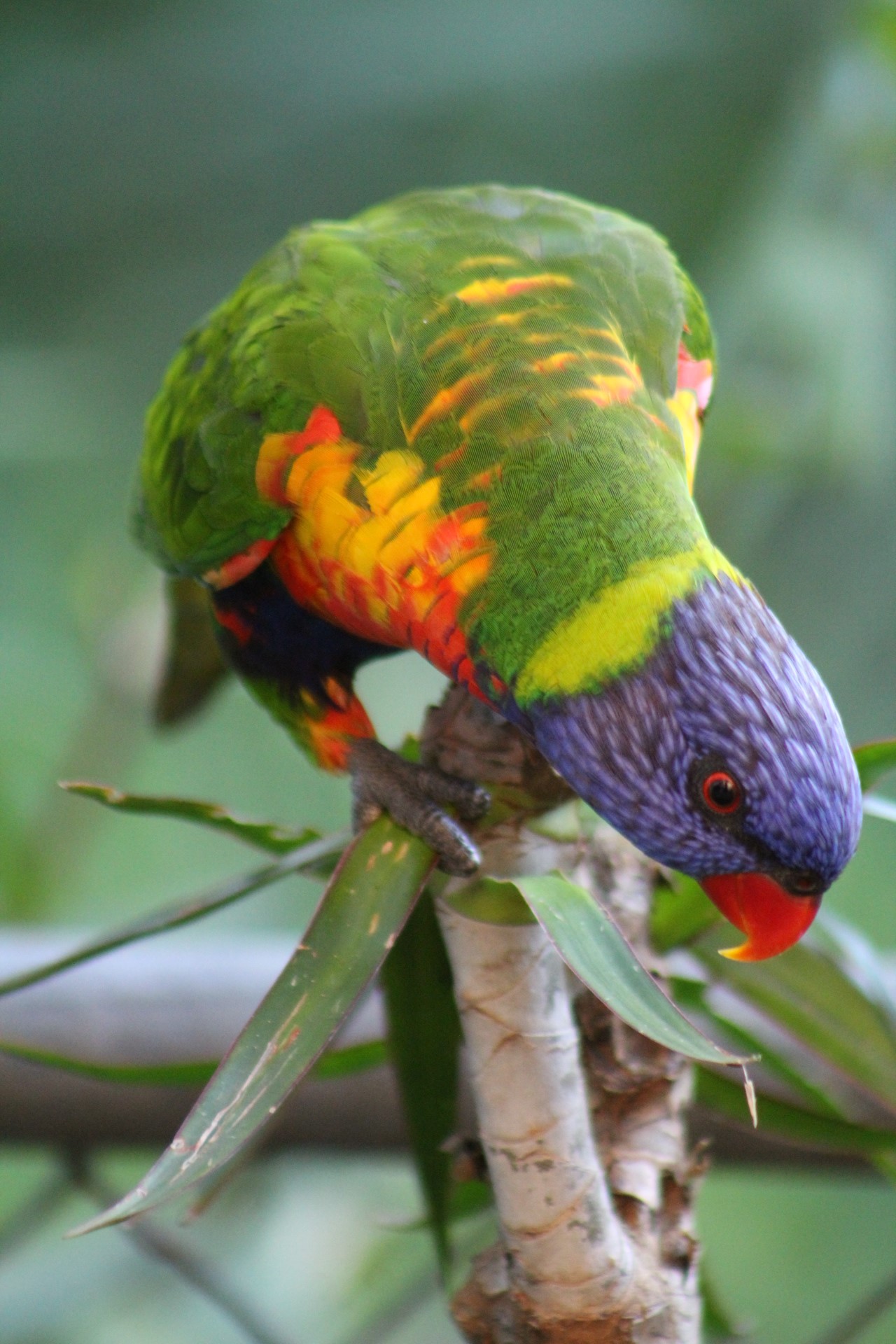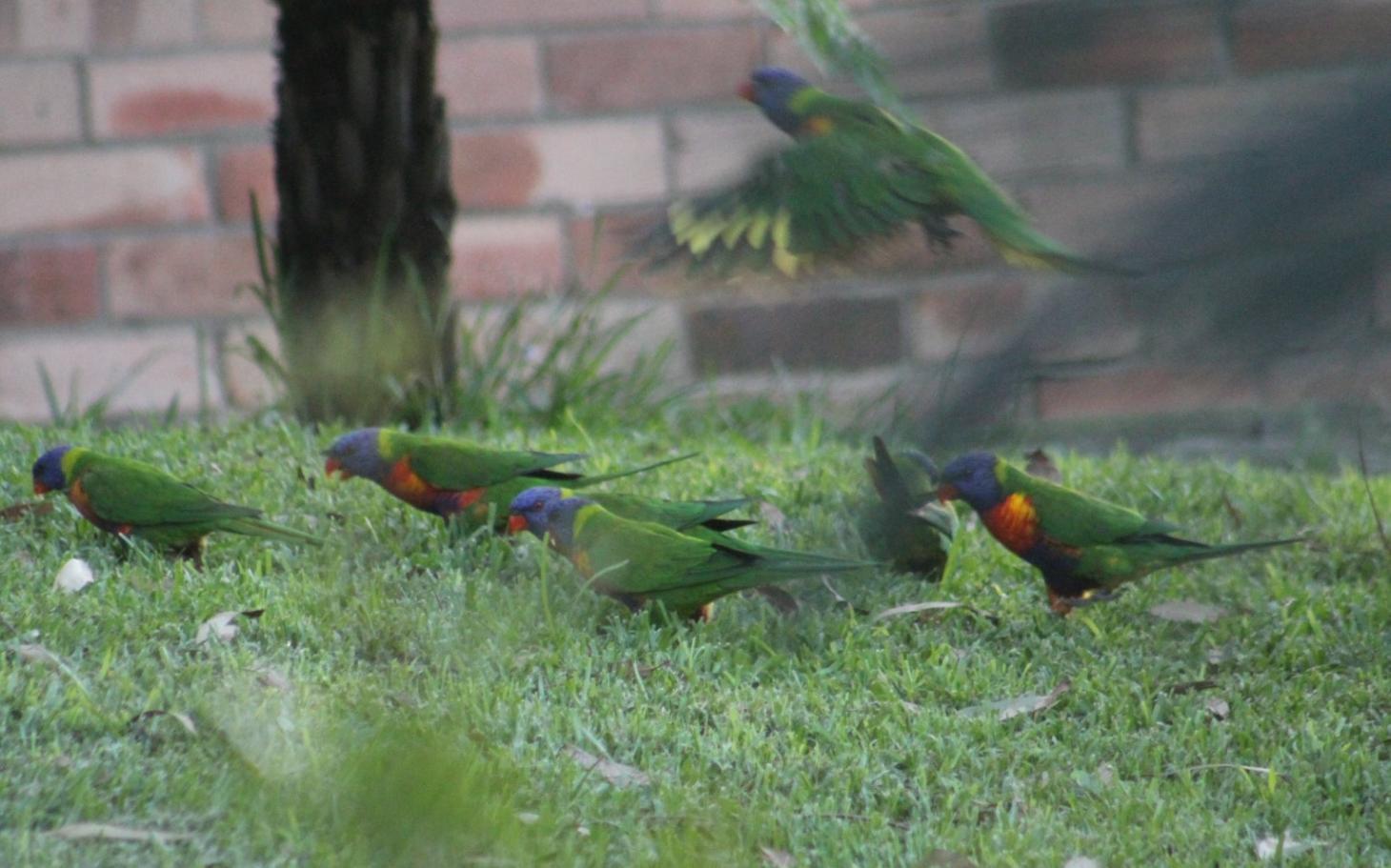 Dorothea Mackellar Poetry Awards 2020
It's been a few years since we reminded you of this one - but it's on again, entries close June 30th, and this may be the year you send yours in!
Named for a lady poet who had a lovely place at Lovett Bay and for whom our electorate is named - The Dorothea Mackellar Poetry Awards are back!
2020 OPTIONAL THEME: "WE USED TO LIVE THERE"
"Our poets are encouraged to take inspiration from wherever they may find it, however if they are looking for some direction, competition participants are invited to use this year's optional theme to inspire their entries."
In 2020, the Dorothea Mackellar Memorial Society has chosen the theme "We Used to Live There." Instantly a nostalgic feeling of home and belonging washes over you, but we're sure Australian students will surprise us with their interpretations. As always, it is an optional theme, so please write about whatever topic sparks your poetic genius.
For a copy of the wonderful theme poster, please click here.
About
In 1983, Mrs Maas (OAM PHF), with the support of volunteer judges Rosemary Dobson and Joan Phipson and local poet Anne Bell, orchestrated the foundation of the Dorothea Mackellar Memorial Society Inc. – the body that now hosts the Dorothea Mackellar Poetry Awards. It comprises a volunteer committee of community members from a wide range of backgrounds.
The poetry competition has grown from 300 entries in 1984 to tens of thousands of entries each year from school students across the nation. The competition also has a dedicated following from teachers whose support is integral to its continued success.
Jean Isherwood was also deeply touched by My Country and in 1983 set herself the task of painting a series of watercolours that she hoped would reflect the beauty described in the verses. This collection can be viewed at the Mackellar Centre.
THE DOROTHEA MACKELLAR SCULPTURE
The Dorothea Mackellar statue is now one of Gunnedah's most visited landmarks.
For the historians, the bronze statue was constructed in 1983 by a well know sculptor Dennis Adams and faces towards Kurrumbede and The Rampadells, the Mackellar family holdings in the early 20th century.
The parkland around the memorial has been developed and dedicated to the founder of the Dorothea Mackellar Memorial Society, Mrs Maas.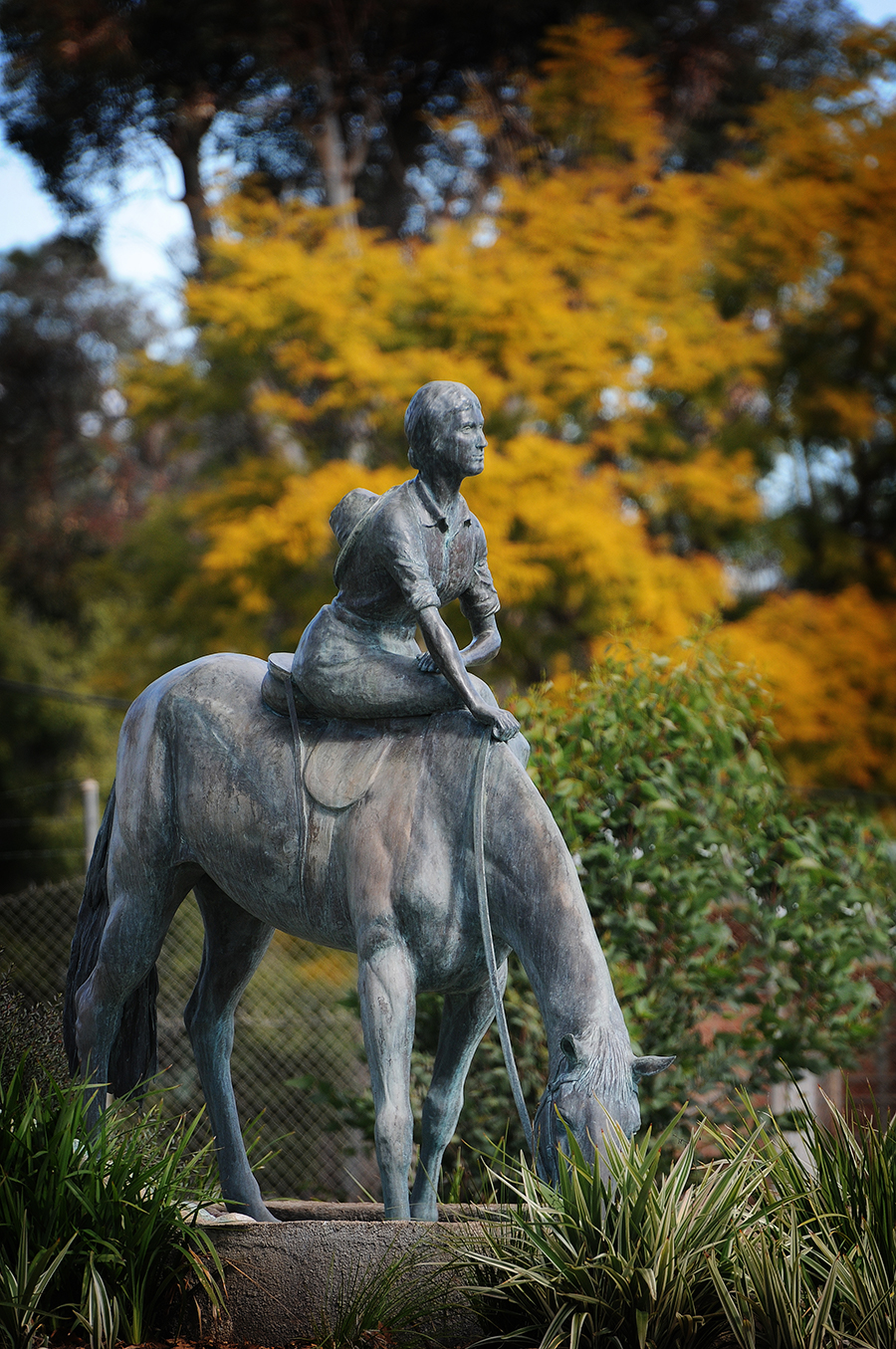 Dorothea Mackellar Statue
HOW TO ENTER
*PLEASE NOTE: If you're registering as an individual student, put your HOME address in your personal details and not your SCHOOL'S address! The address you list is where your participation certificate will be posted!*
ONLINE SUBMISSION
(primary school and secondary school, anytime during the competition period)
Teacher/parent - registration completed online (invoice will be emailed within 2 weeks of registration)
Log in to your page
Enter student details and submit poem(s) (cut and paste or type in poem content direct to the webpage) PLEASE DO NOT UPLOAD POEMS AS ATTACHMENTS AS THAT FUNCTION IS FOR POSTAL ENTRIES ONLY.
Repeat step 3 for every student/individual poem
SUBMISSION VIA MAIL (ADMINISTRATION FEE APPLIES- SEE CONDITIONS OF ENTRY FOR DETAILS)
(primary only)
PLEASE CONSIDER ONLINE ENTRY TO HELP US SAVE TIME AND REDUCE HUMANITY'S ENVIRONMENTAL FOOTPRINT.
Teacher/parent - registration completed online (invoice will be emailed within 2 weeks of registration)
Print out and complete entry form for/by each student. Entry form available here.
Print out poems (text must be in a easily distinguishable font – Arial, Times New Roman, hand-written poems not accepted)
Glue completed entry form to the back of each entry
Teacher to collate all entries, enclose entry fee or a confirmation of payment and mail to the Dorothea Mackellar Poetry Awards, PO Box 113, Gunnedah, NSW, 2380
Mailed entries are individually scanned and submitted online by the Awards' organisers. Please consider online entry to help us save valuable time during this hectic period and reduce our environmental footprint. We can all make a difference.
USEFUL TIPS
Have a read of the judges' reports from the previous year. They contain some very helpful advice for teachers and parents alike!
It is recommended for schools to appoint a coordinator for the competition.
Only a teacher/parent can complete the registration form on behalf of the student/child.
Log-in details: username is the email address and a password of your choice.
Log-in details can be given to other teachers/students for poem submission in class/at home.
Log-in as many times as necessary during the competition period.
Teachers can view progress by monitoring the number and content of entries.
Individual entries are accepted if the school is not participating or a child is home schooled. Parent needs to complete the registration form with their contact details. Please indicate 'individual entry' under school name and home postal address under school address.
Invoice for the entry fee will be sent to the registered email address within 2 weeks.
'Participation certificate only' option available for schools where pre-selection of entries has been carried out. Poems under this option will not be sent to judges, students will still receive participation certificate for their efforts.
Please read the Conditions of Entry before entering. Entries accepted: March 1 to June 30, results announced during early September.
NEED SOME INSPIRATION?
Check out our learning resources or browse the previous years' themes and winning entries.
For more, please visit: https://www.dorothea.com.au/How-to-Enter-awards
AWARD CATEGORIES AND PRIZES
Lower Primary (Years K – 3)
Winner: $300, trophy and prize pack
Runner-up: $150 and prize pack
Upper Primary (Years 4 – 6, Inc. Year 7 in SA)
Winner: $400, trophy and prize pack
Runner-up: $200 and prize pack
Assisted Learning Primary
Winner: $400, trophy and prize pack
Runner-up: $200 and prize pack
Entries to be submitted by the teacher, eligibility criteria:
students on assisted learning programs
students with English as a second language.
Junior Secondary (Years 7 – 9)
Winner: $500, trophy and prize pack
Runner-up: $300 and prize pack
Senior Secondary (Years 10 – 12)
Winner: $500, trophy and prize pack
Runner-up: $300 and prize pack
Assisted Learning Secondary
Winner: $500, trophy and prize pack
Runner-up: $300 and prize pack
Entries to be submitted by the teacher, eligibility criteria:
students on assisted learning programs
students with English as a second language.
Schools' Award
For schools that demonstrate effort, achievement and a high standard of entries, awarded at the judges' discretion.
Winner Primary: $1000, trophy and prize pack
Winner Secondary: $1000, trophy and prize pack
Prize Packs
Prize packs include a unique trophy and a wonderful collection of books from a number of publishing houses and local businesses.
Find out more at: www.dorothea.com.au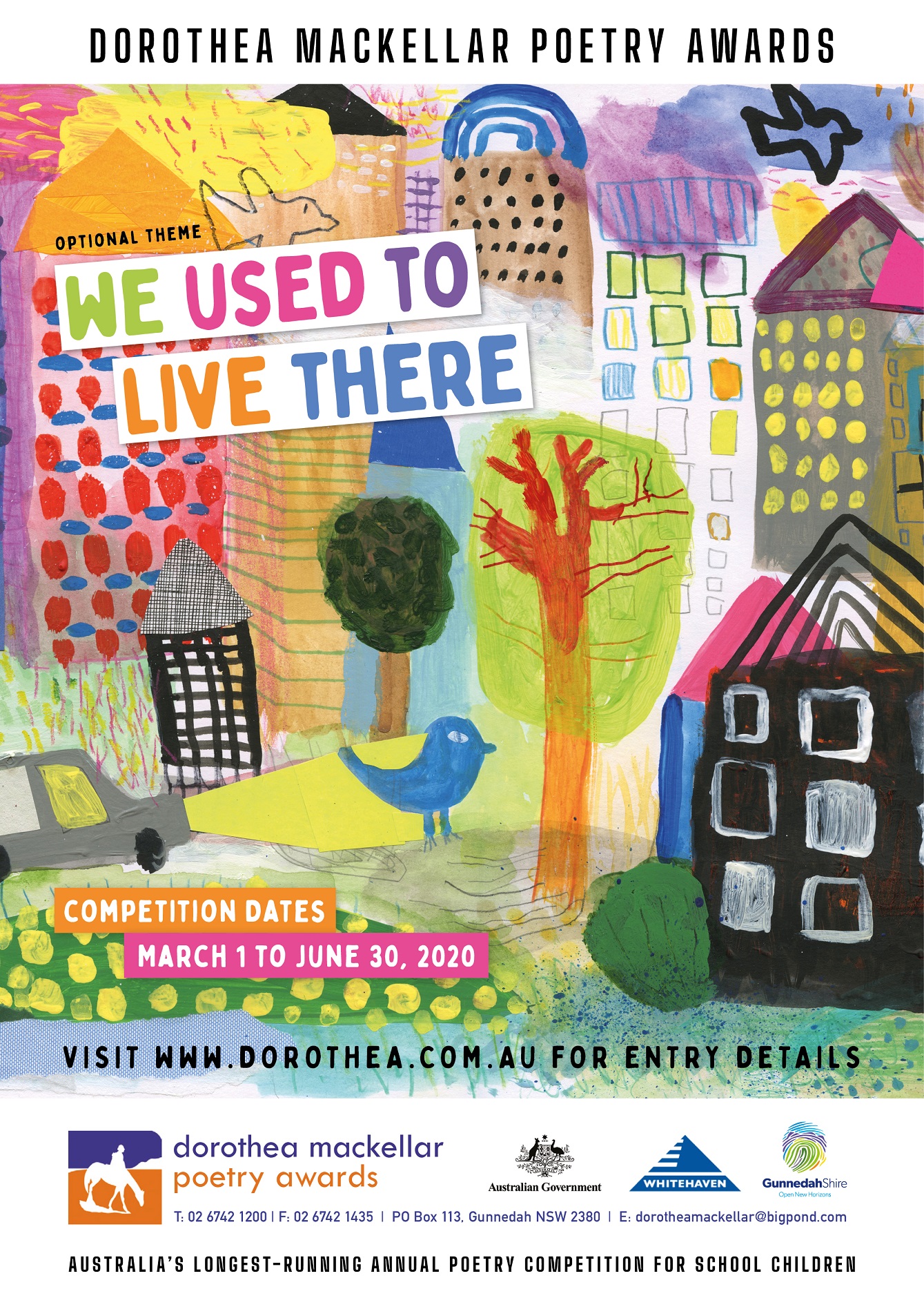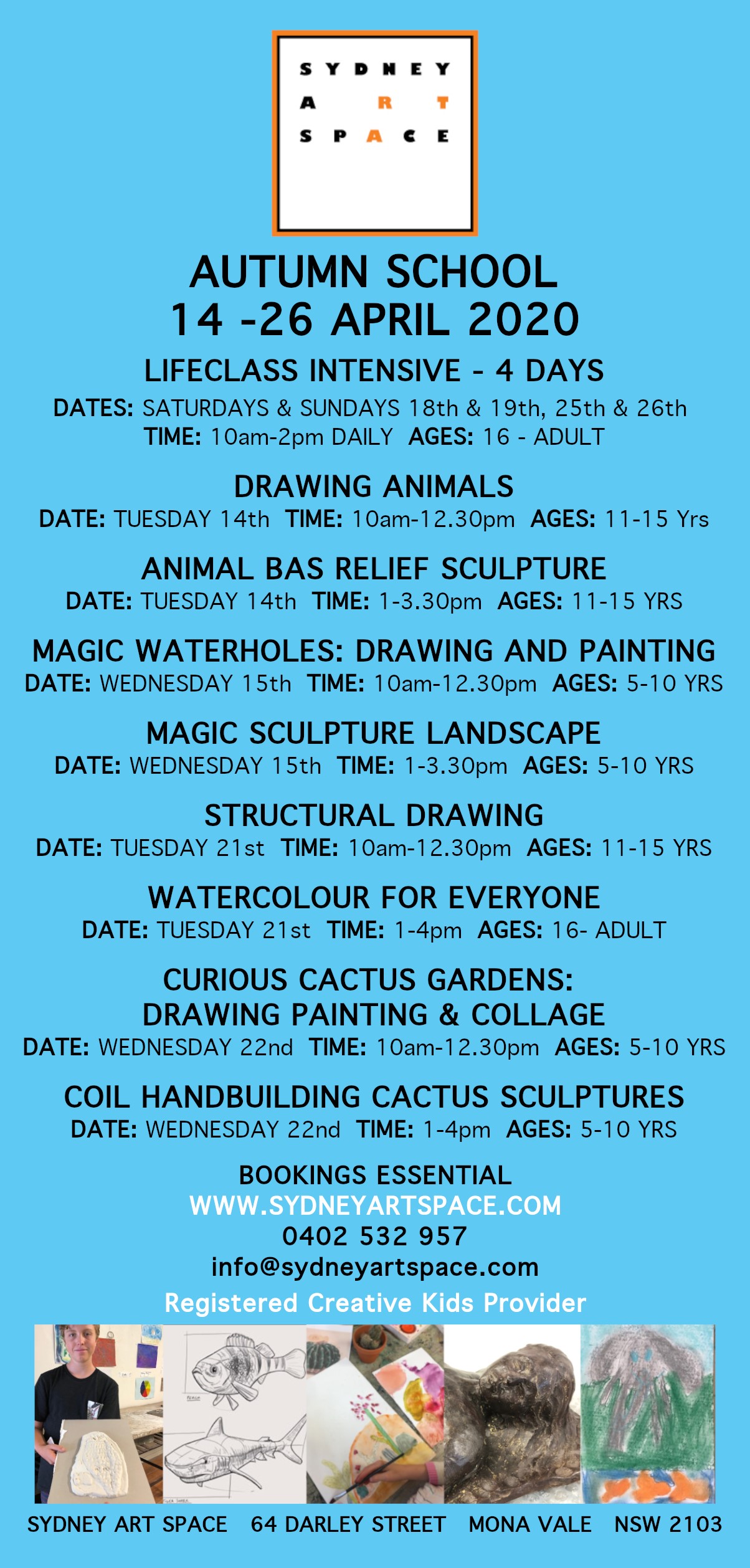 Youth Law Australia: providing online assistance to children with legal problems
March 17, 2020: Kassi Klower, UNSW
Ensuring children have free access to legal assistance empowers and protects them.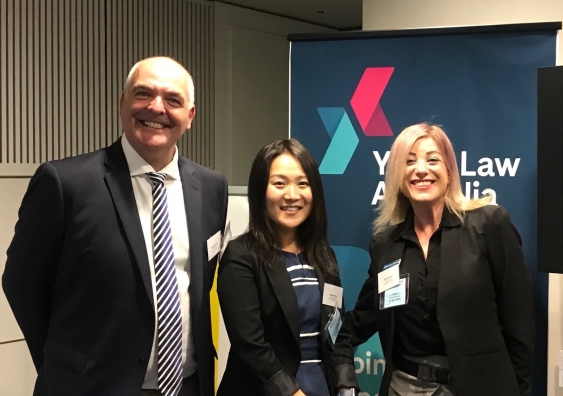 Youth Law Australia Director Matthew Keeley (left) and Principal Solicitor Ahram Choi (middle). Photo: supplied.
When 16-year-old Sarah* was removed from Australia by her mother and left in another country with no passport and threatened to be married against her will, she reached out to Youth Law Australia, a not-for-profit organisation that provides free, comprehensive and confidential legal advice online to people under the age of 25.
"This matter really stuck with me because of the level of assistance we provided [Sarah]. Her advocate in Australia was able to connect her to us and we were able to give her legal advice, practical guidance on how to stay safe, and engage a lawyer to provide her with representation and bring her back safely," says Ahram Choi, the Principal Solicitor for YLA.
Ms Choi says a high percentage of children and young people face legal issues. "The literature around legal need has identified that more than 50 percent of young people between 18 and 24 experience a legal problem every year, and we estimate about a quarter of young people under 18 experience a legal problem every year," she says.
"Not all community legal aid will be able to advise young people on things like their civil issues. It's definitely an underserviced area."
Previously called the National Children's and Youth Law Centre, YLA was established in 1993. In the last financial year, they provided advice on more than 1500 legal matters from children all over Australia submitted through their online portal, from school uniform breaches and cyber-bullying matters through to issues of forced marriage and child abuse.
The online model works because it responds to how young people reach out for help, says YLA Director Matthew Keeley. "If we truly believe in helping children, we have to be available to them through the channels they prefer. Currently that's 24/7, through web form, phone or email. With more resources we could introduce live chat, text and other modes, ensuring every child's communication needs or preferences are addressed," he says.
"When young people reach out for help and don't get it, they may [incorrectly] surmise there's no point, so engendering a culture of help-seeking and finding is at the core of what we do."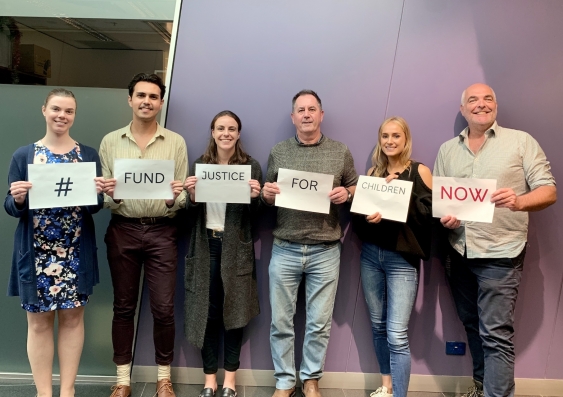 Youth Law Australia. Photo: supplied.
The law is often complicated, and children are particularly vulnerable in the legal system, so it is vital to explain the law in ways that make sense to them, says Mr Keeley. The centre educates and empowers them, putting them in a better position to protect themselves and increase their legal literacy.
If young people know "they can talk to a lawyer or counsellor, but also recognise that what has happened to them isn't just morally wrong or unfair, but it is legally wrong" then the Centre has fulfilled its aim, says Maree Selvaraj, former project officer for YLA.
It's important to ensure young people know they "have the right to seek a solution to that [legal] problem, regardless of age," Ms Selvaraj says.
Ms Selvaraj worked with the YLA TeachLaw program that produces learning materials for teachers to educate young people in schools about their legal rights and responsibilities.
YLA relies on the generosity of organisations and volunteers who donate resources and time to the centre. UNSW provides the centre with facilities. Being based at UNSW means they are uniquely positioned to be research collaborators with both the Faculty of Law and the Social Policy Research Centre. There is a healthy stream of student volunteers and interns applying to work for YLA, and pro bono organisations, solicitors and law firms also donate time to draft legal advice through the online portal.
YLA also has a long history of leading children's rights monitoring and reporting in Australia. They were integral in creating the National Children's Commissioner role, and often make submissions to law reform inquiries or parliamentary inquiries, and report to the United Nations.
The centre liaises with other child rights-focused organisations to improve policy and legal practice.
"We were very influential in the framing of the Enhancing Online Safety for Children Act in 2014 and 2015, for example. The practice we created here of generating cease-and-desist notices to online bullies and other abusers formed the basis of similar notices within the legislation, and shows how our legal practice, research and advocacy can come together to affect positive change," says Mr Keeley
For two decades, they have held leadership roles in the Child Rights Task Force, a delegation of NGOs that speak to the United Nations on Australia's compliance with the Convention on the Rights of the Child. Due to inadequate government funding, they have been forced to resign from leading the taskforce.
"Not being able to participate in children's rights implementation and advocacy to the level we should is a loss to the Australian community. Our unique insights and knowledge of the many legal problems confronting children all over Australia are now not able to be incorporated in those law reform and legal service planning contexts," says Mr Keeley.
"The thing that is most profound about this organisation is that we aim to be there for any child in Australia, on any legal matter, at any time. We make no discrimination of any kind as to jurisdiction, legal matter or type of person we will assist. No other legal service in Australia can say this."
*Name has been changed
To find out more about the services that Youth Law Australia provide, visit their website.
Baby Boom For The Bellinger River Snapping Turtle
March 16, 2020: Taronga Zoo
Taronga's zoo-based population of the critically endangered Bellinger River Snapping Turtle has received a significant boost with the hatching of 35 turtle babies this year.
Endemic to the Bellinger River on the mid north coast of NSW, this species of short-necked freshwater turtle was almost completely wiped out in 2015 when a novel virus infiltrated the river.
A NSW Government emergency response team was formed to investigate and coordinate the rescue of a group of healthy turtles to establish an insurance population. Taronga is working closely with NSW Department of Planning Industry and Environment (DPIE), Western Sydney University and Symbio Wildlife Park to save this species.
DPIE scientists managed to retrieve 16 healthy turtles from the river in 2015, which were later relocated to a special quarantine breeding facility at Taronga Zoo in Sydney.
"This is our fourth successful breeding season of the Bellinger River Snapping Turtle, and we now have nearly 100 of these turtles living at our quarantine facility at Taronga Zoo," says Adam Skidmore, a Taronga reptile keeper who cares for the species. "The hatchlings are doing really well – eating lots and growing – and we are really happy with their development."
"During the breeding season we check the nests daily,' says Adam. "We then remove the eggs, weigh and measure them and place them in our incubator. We then check on them daily and wait for them to hatch, which can take up to 70 days."
The Bellinger River Snapping Turtle recovery project is coordinated by the NSW's Government's Saving our Species (SoS) program. The project aims to release the healthy turtles bred at Taronga back to the Bellinger River. Threatened species officers from SoS have coordinated two release events to date, and are tracking and monitoring the progress of the turtles now living back in the Bellinger River.
"We have so far released 20 snapping turtles back into their natural environment and we are delighted to say their survival rate has been extremely high," said SoS Threatened Species Officer Gerry McGilvray.
"This species could have been wiped out if not for the rapid response from Saving our Species and its partners. Releasing animals bred in captivity at Taronga represents a big step on the path to securing this species in the wild."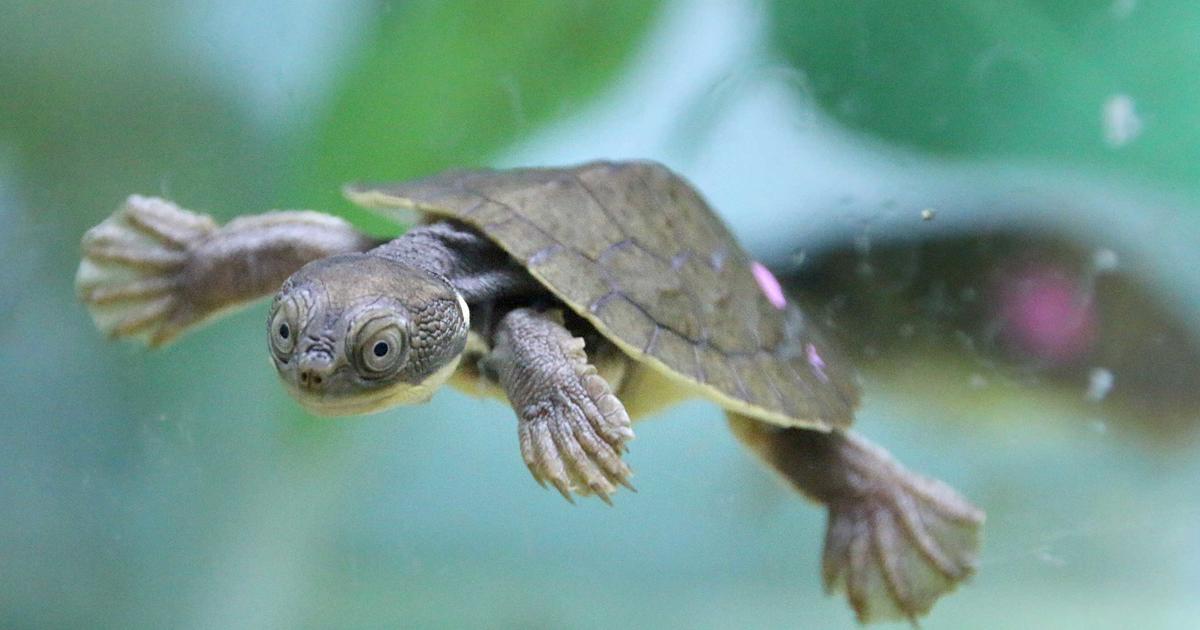 Bellinger River Snapping Turtle - photo by Taronga Zoo
Zoos Victoria Now Live Streaming Animals: Bringing The Zoo To You
On Wednesday this week Zoos Victoria commenced live streaming videos of some of the animals they look after so people can see what's happening without having to leave home.
''We've set up a few live stream cameras from Melbourne Zoo and Werribee Open Range Zoo, so you can enjoy the zoo from anywhere.'' Zoos Victoria stated on a webpage dedicated to the live streaming setups.
'See Melbourne Zoo's three baby Snow Leopard cubs as they play under mum's watchful eye in their den. Enjoy the penguins as they go about their busy day; look up high and spot the giraffes as they spend most of the day eating; and check out the lazy lions of Werribee Open Range Zoo as they lord over their very own Pride Rock.
Can't see them? That's because our animals live in areas that are much bigger than what a camera can capture and they have the choice to wander wherever they please. Check back in later to spot them.' Zoos Victoria says.
Pittwater Online has embedded the Penguin Cam below but you can also visit the Snow Leopard Cub Cam, Giraffe Cam and Lion Cam - just click on the links we've place here and enjoy!
While On Turtles: Turtlely Cute Hatchlings Cause For Shellabration
In eggciting news, the first hatchlings have emerged from one of eight turtle nests being monitored along the NSW coast by volunteers from the NSW TurtleWatch program.
The nest was laid at Port Macquarie in December and the hatchlings found during a nest inventory last week.
NSW TurtleWatch Project Officer Holly West said northern NSW beaches can provide important nesting habitat for green and loggerhead turtles, listed as vulnerable and endangered, respectively, in NSW.
"People should keep their eyes out from now until May for turtle hatchlings on north coast beaches.
"Our volunteers are like expectant parents at this time of year, eagerly awaiting signs our efforts have paid off.
"When we see those indications of hatchlings emerging from the nest, it's an exhilarating feeling to think another lot of hatchlings have made it to the ocean.
"We did have some fears for the Port Macquarie nest after evidence of fox disturbance, but National Parks and Wildlife Service (NPWS) rangers undertook some preventative measures including installing predator mesh to deter digging.
"After a nest has hatched NPWS conduct a nest inventory that will give us vital information about the success of the nest. This information can be used to help future monitoring and conservation efforts. The Port Macquarie inventory revealed over 90% of hatchlings from more than 100 eggs made their way to the ocean.
"15 live hatchlings were uncovered during the excavation and released after sunset.
"This has been a great start for the NSW coast turtle hatching season and our volunteers stand watch over another 7 nests in the Tweed, Clarence Valley, Coffs Harbour and Port Macquarie areas.
"While we try to intervene as little as possible, we have worked with NPWS and council staff to give two nests a helping hand this year.
"
One green turtle laid eggs on Manly Beach and we have relocated all 144 eggs from this nest to the Coffs Coast as they would not have survived in Manly due to the cool temperatures experienced there.
"Another nest laid on the Tweed Coast over the Australia Day weekend had to be relocated as it was laid below the high tide line.
"Fingers crossed we get some successful hatchlings from these and all of our other nests," Ms West said.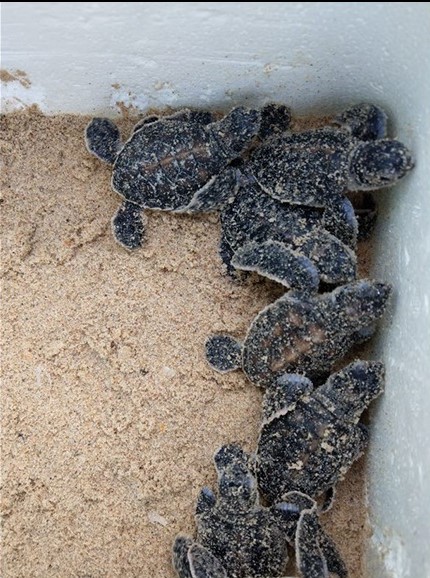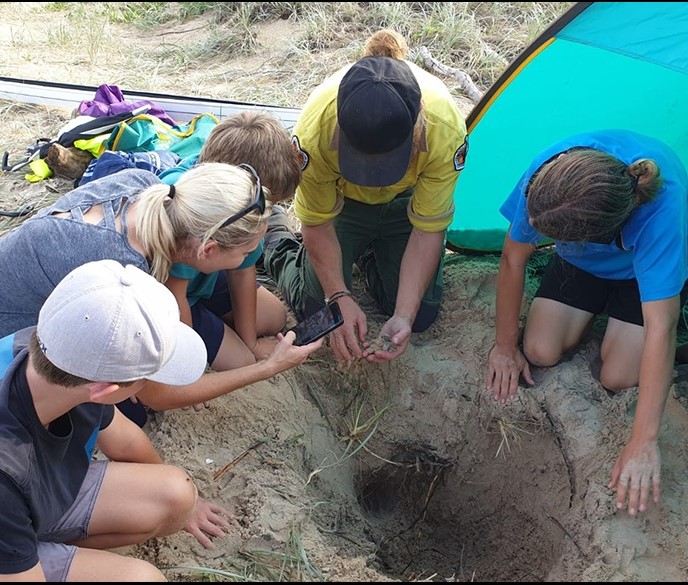 Turtle hatchling stragglers Photo: NSW TurtleWatch Ranger Shaun Kerrigan and TurtleWatch volunteers at a turtle nest Photo: NSW TurtleWatch

To help hatchlings please remember to keep our beaches free from marine debris, sea turtles dig in the dark so keep lights low and keep your eyes peeled for hatchlings while walking the beach. If you see a hatchling on the beach, please contact Australian Seabird Rescue immediately on 02 6686 2852 or environment line 1300 361 967
The NSW TurtleWatch program is an initiative of the Department of Planning, Industry and Environment's
Saving our Species Program
with
Australian Seabird Rescue
. It is a citizen science program involving volunteers collecting valuable data for marine turtles nesting in NSW and their potential threats.
Frabjous Days With Fuscous Honeyeaters – Capertee Valley
Published March 18, 2020 by BIBY TV
These Fuscous Honeyeaters (Ptilotula fusca) were filmed between early August and early October 2019 in the Capertee Valley (NSW). The precise location is a conservation property in the Glen Alice section of this geological wonder. Despite all the water scenes, 2019 was a drought year (like 2017 and 2018) with rainfall well under average. The year had a promising start however, with more than half the yearly total occurring in January. After an exceptionally low figure for February, March saw topped-up soil moisture and dams due to somewhat above average rain. But then the long dry period kicked in. Between early April and mid September it was alarmingly dry, with a likely total of less than 20mm across this time (based on own observations and nearby weather stations). If the birds of the valley had to rely on natural water sources, then options would have been limited as ephemeral creeks were largely dry and the Capertee River was a series of (shrinking) water holes. But at the filming site, the situation seemed more benign as all the usual storages (ex-farm dams and an old quarry) had some water. A bird bath and small pond evaporate quite quickly so we replenished them with tank water. Come mid September, there was cause for celebration, with hope-inducing around-average rainfall for this month. (The location photo was taken early October. In an average year the scene would be greener.) But our joy was short-lived. The October to December 2019 period was the driest on record for this time of year, with the hotter weather now evaporating exposed water more rapidly. Late October also brought the beginning of Australia's largest forest fire on record (Gospers Mountain fire), which was ignited by lightning not far from this property.
Across the period related to this video though, we were buoyed by an abundance of birdlife visiting the various water sources. Honeyeaters in general were especially numerous and active, with all species foraging for variety of foods (e.g. insects, lerps and nectar). While Fuscous Honeyeaters are often described as plain or dowdy, we think their subtle colouring is stunning in sunshine (and we had plenty due to the drought). Moreover, their rollicking calls were a wonderful soundtrack to our visits (particularly in August and July). We have included a continuous sound file across the three photos. (Other calls in that section are Little Corella, Australian Raven and Little Lorikeet). Just as our worry went up a notch over the lack of rain, mid September falls were a huge relief. In short, our Fuscous filming days could be described as rather frabjous! Now we are all facing another difficult challenge in the form of Covid-19. But the good news from the valley is that late summer 2020 rain has the river flowing, dams replenished and the greenest pasture we have ever seen. And thanks to the hardworking local brigades, supportive community, the NPWS and visiting fire-fighters, much of the valley was spared the ravages of fire, including this property.
You may notice slight differences between individual Fuscous Honeyeaters. Young Fuscous are usually duller or browner with less distinct plumes on their necks. Nonetheless, we have observed variations in colouring and plumes across adults too. Breeding adult birds have an entirely black bill, while juveniles and non-breeding adults have more yellow. (Juveniles also have a fleshy orange-yellow gape.) Eye colour also changes for breeding birds.
Avalon Youth Hub: More Meditation Spots
Due to popular demand our meditation evenings have EXPANDED. Two sessions will now be run every Wednesday evening this term at the Hub. Both sessions will be facilitated by Merryn at Soul Safaris.
6-7pm - 12 - 15 year olds welcome
7-8pm - 16 - 25 year olds welcome
No experience needed. Learn and develop your mindfulness and practice meditation in a group setting.
BIG THANKS The Burdekin Association for funding these sessions!
Green Team Beach Cleans
The Green Team is back for 2019!
It has been estimated that we will have more plastic than fish in the ocean by 2050...These beach cleans are aimed at reducing the vast amounts of plastic from entering our oceans before they harm marine life.
Anyone and everyone is welcome! If you would like to come along, please bring a bucket, gloves and hat. Kids of all ages are also welcome!
We will meet in front of the surf club.
Hope to see you there!
The Green Team is a
Youth-run, volunteer-based environment initiative from Avalon, Sydney. Keeping our area green and clean.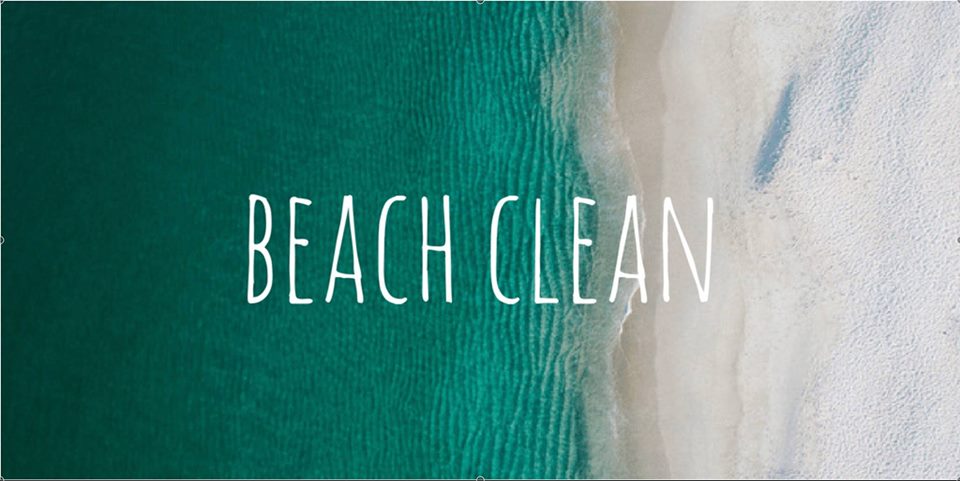 The Project Gutenberg Library of Australiana
Australian writers, works about Australia and works which may be of interest to Australians.This Australiana page boasts many ebooks by Australian writers, or books about Australia. There is a diverse range; from the journals of the land and sea explorers; to the early accounts of white settlement in Australia; to the fiction of 'Banjo' Paterson, Henry Lawson and many other Australian writers.
The list of titles form part of the huge collection of ebooks freely downloadable from Project Gutenberg Australia. Follow the links to read more about the authors and titles and to read and/or download the ebooks.
Profile: Ingleside Riders Group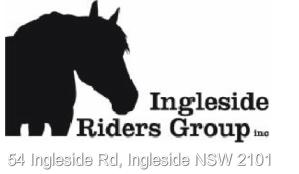 Ingleside Riders Group Inc. (IRG) is a not for profit incorporated association and is run solely by volunteers. It was formed in 2003 and provides a facility known as "Ingleside Equestrian Park" which is approximately 9 acres of land between Wattle St and McLean St, Ingleside. IRG has a licence agreement with the Minister of Education to use this land. This facility is very valuable as it is the only designated area solely for equestrian use in the Pittwater District.
IRG promotes equal rights and the respect of one another and our list of rules that all members must sign reflect this.
Cyberbullying
Research shows that one in five Australian children aged 8 to 17 has been the target of cyberbullying in the past year. The Office of the Children's eSafety Commissioner can help you make a complaint, find someone to talk to and provide advice and strategies for dealing with these issues.
Make a Complaint
The Enhancing Online Safety for Children Act 2015 gives the power to provide assistance in relation to serious cyberbullying material. That is, material that is directed at a particular child with the intention to seriously embarrass, harass, threaten or humiliate.
IMPORTANT INFORMATION
Before you make a complaint you need to have:
copies of the cyberbullying material to upload (eg screenshots or photos)

reported the material to the social media service (if possible) at least 48 hours ago

at hand as much information as possible about where the material is located

15-20 minutes to complete the form
Visit: esafety.gov.au/complaints-and-reporting/cyberbullying
Our mission
The Office of the Children's eSafety Commissioner is Australia's leader in online safety. The Office is committed to helping young people have safe, positive experiences online and encouraging behavioural change, where a generation of Australian children act responsibly online—just as they would offline.
We provide online safety education for Australian children and young people, a complaints service for young Australians who experience serious cyberbullying, and address illegal online content through the Online Content Scheme.
Our goal is to empower all Australians to explore the online world—safely.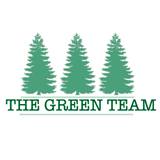 The Green Team
Profile
This Youth-run, volunteer-based environment initiative has been attracting high praise from the founders of Living Ocean as much as other local environment groups recently.
Creating Beach Cleans events, starting their own, sustainability days - 'action speaks louder than words' ethos is at the core of this group.
Sync Your Breathing with this - to help you Relax
Send In Your Stuff
Pittwater Online News is not only For and About you, it is also BY you.
We will not publish swearing or the gossip about others. BUT: If you have a poem, story or something you want to see addressed, let us know or send to:
pittwateronlinenews@live.com.au
All Are Welcome, All Belong!
Apprenticeships and traineeships info
Are you going to leave school this year?
Looking for an apprenticeship or traineeship to get you started?
It lists the group training organisations (GTOs) that are currently registered in NSW under the Apprenticeship and Traineeship Act 2001. These GTOs have been audited by independent auditors and are compliant with the National Standards for Group Training Organisations.
If you are interested in using the services of a registered GTO, please contact any of the organisations listed here:
There are also some great websites, like
1300apprentice
, which list what kind of apprenticeships and traineeships they can guide you to securing as well as listing work available right now.

Profile Bayview Yacht Racing
Association (BYRA)
1842 Pittwater Rd,

Bayview
BYRA has a passion for sharing the great waters of Pittwater and a love of sailing with everyone aged 8 to 80 or over!
headspace Brookvale
headspace Brookvale provides services to young people aged 12-25. If you are a young person looking for health advice, support and/or information,headspace Brookvale can help you with:
• Mental health • Physical/sexual health • Alcohol and other drug services • Education and employment services
If you ever feel that you are:
• Alone and confused • Down, depressed or anxious • Worried about your use of alcohol and/or other drugs • Not coping at home, school or work • Being bullied, hurt or harassed • Wanting to hurt yourself • Concerned about your sexual health • Struggling with housing or accommodation • Having relationship problems • Finding it hard to get a job
Or if you just need someone to talk to… headspace Brookvale can help! The best part is our service is free, confidential and youth friendly.
headspace Brookvale is open from Monday to Friday 9:00am-5:30pm so if you want to talk or make an appointment give us a call on (02) 9937 6500. If you're not feeling up to contacting us yourself, feel free to ask your family, friend, teacher, doctor or someone close to you to make a referral on your behalf.
When you first come to headspace Brookvale you will be greeted by one of our friendly staff. You will then talk with a member of our headspace Brookvale Youth Access Team. The headspace Brookvale Youth Access Team consists of three workers, who will work with you around whatever problems you are facing. Depending on what's happening for you, you may meet with your Youth Access Worker a number of times or you may be referred on to a more appropriate service provider.
A number of service providers are operating out of headspace Brookvale including Psychologists, Drug & Alcohol Workers, Sexual Health Workers, Employment Services and more! If we can't find a service operating withinheadspace Brookvale that best suits you, the Youth Access Team can also refer you to other services in the Sydney area.
eheadspace provides online and telephone support for young people aged 12-25. It is a confidential, free, secure space where you can chat, email or talk on the phone to qualified youth mental health professionals.
Click here to go to eheadspace
For urgent mental health assistance or if you are in a crisis please call the Northern Sydney 24 hour Mental Health Access Line on 1800 011 511
Need Help Right NOW??
kids help line: 1800 55 1800 - www.kidshelpline.com.au
lifeline australia - 13 11 14 - www.lifeline.org.au
headspace Brookvale is located at Level 2 Brookvale House, 1A Cross Street Brookvale NSW 2100 (Old Medical Centre at Warringah Mall). We are nearby Brookvale Westfield's bus stop on Pittwater road, and have plenty of parking under the building opposite Bunnings. More at: www.headspace.org.au/headspace-centres/headspace-brookvale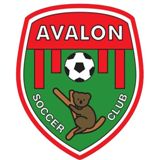 Profile:
Avalon Soccer Club
Avalon Soccer Club is an amateur club situated at the northern end of Sydney's Northern Beaches. As a club we pride ourselves on our friendly, family club environment. The club is comprised of over a thousand players aged from 5 to 70 who enjoy playing the beautiful game at a variety of levels and is entirely run by a group of dedicated volunteers.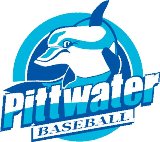 Profile:
Pittwater Baseball Club
Their Mission: Share a community spirit through the joy of our children engaging in baseball.
Year 13
Year13 is an online resource for post school options that specialises in providing information and services on Apprenticeships, Gap Year Programs, Job Vacancies, Studying, Money Advice, Internships and the fun of life after school. Partnering with leading companies across Australia Year13 helps facilitate positive choices for young Australians when finishing school.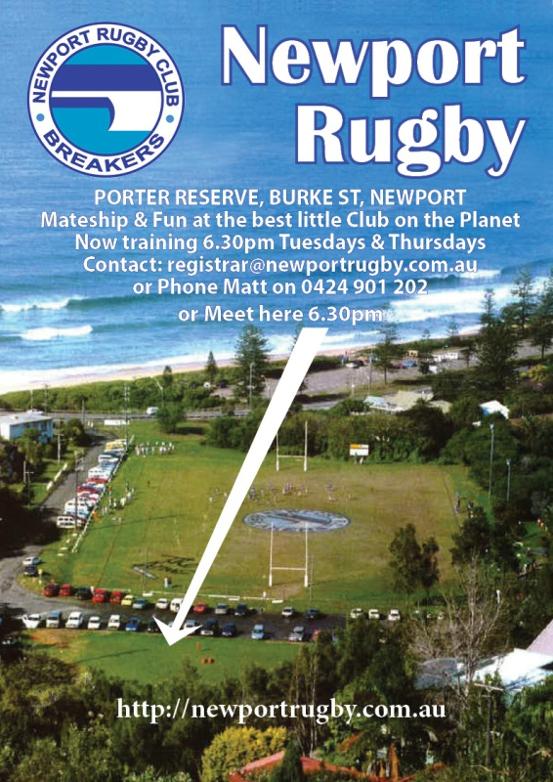 Driver Knowledge Test (DKT) Practice run Online
Did you know you can do a practice run of the DKT online on the RMS site? - check out the base of this page, and the rest on the webpage, it's loaded with information for you!
The DKT Practice test is designed to help you become familiar with the test, and decide if you're ready to attempt the test for real.
Experienced drivers can also take the practice test to check their knowledge of the road rules.
Unlike the real test, the practice DKT allows you to finish all 45 questions, regardless of how many you get wrong. At the end of the practice test, you'll be advised whether you passed or failed.
NCYLC is a community legal centre dedicated to providing advice to children and young people. NCYLC has developed a Cyber Project called Lawmail, which allows young people to easily access free legal advice from anywhere in Australia, at any time.
NCYLC was set up to ensure children's rights are not marginalised or ignored. NCYLC helps children across Australia with their problems, including abuse and neglect. The AGD, UNSW, KWM, Telstra and ASIC collaborate by providing financial, in-kind and/or pro bono volunteer resources to NCYLC to operate Lawmail and/or Lawstuff.
Kids Helpline
If you're aged 5-25 the Kids Helpline provides free and confidential online and phone counselling 24 hours a day, seven days a week on 1800 55 1800. You can chat with us about anything… What's going on at home, stuff with friends. Something at school or feeling sad, angry or worried. You don't have to tell us your name if you don't want to.
You can Webchat, email or phone. Always remember - Everyone deserves to be safe and happy. You're important and we are here to help you. Visit: https://kidshelpline.com.au/kids/
Youth Source: Northern Sydney Region
A directory of services and resources relevant to young people and those who work, play and live alongside them.
The
YouthSource directory
has listings from the following types of service providers:
Aboriginal,
Accommodation,
Alcohol & Other Drugs,
Community Service,
Counselling,
Disability,
Education & Training,
Emergency Information,
Employment,
Financial,
Gambling,
General Health & Wellbeing,
Government Agency,
Hospital & GP,
Legal & Justice,
Library,
Mental Health,
Multicultural,
Nutrition & Eating Disorders,
Parenting,
Relationships,
Sexual Health,
University,
Youth Centre