November 18 - 24, 2018: Issue 384

For you this week:
Front Page Issue 384: Doggie Rescue's 2019 Calendar Is Out!

Warriewood Development Approved By NSW Planning Dept.; Confirms Community Perception Of False Claims Of 'Consultation' Or 'Affordable Housing'

Artists of the Month: November 2018 - The Avalon Mixed Palette Art Show: Lorrie Morgan and Debby Waters, founders of the Pittwater Community Arts, have brought together an eclectic mix of works from 35 Artists for the 14th consecutive year. A few samples of this year's works

Barrenjoey High Performance Space Funding Tops $1.2 Million - from Member for Pittwater, The Hon. Rob Stokes

Improvements to Bus Services North of Mona Vale - from Member for Pittwater, The Hon. Rob Stokes

Michael Glasheen Art Exhibition To Go On The Road - To Support Newport Acquisition Of Crown To The Sea Land Add-In To 'Complete The Loop': Governor Phillip Park, Palm Beach weekend of December 1/ 2, Porter Reserve, Newport December 8/9 and outside Pasadena for December 15/16

Farr 40 RPAYC One Design Trophy 2018: Day 1 Races off Palm Beach by Jennie Hughes

Lifesavers Support Environmental Message: mobile collections are taking place during Summer - see where and when for here

Pictures: Palm Beach Longboarders Old Mal/Old Log Rally 2018 by Palmy Longboarders, Fiona Roberts, Adriaan van der Wallen
Aquatics: Be Water Safe, Not Sorry This Summer
Reflections by George Repin: MONUMENT TO THE HEROIC DEFENDERS OF LENINGRAD
Food: Sky Thai: Lunch Combo Authentic is the word that springs to mind here – seasonal vegetables, great spices tastes and sprigs of fresh herbs and generous portions, so much so that no dinner was required.
Profile

:
John Forbes
John has represented Australia in 3 Olympic Games in sailing catamarans (Barcelona 1992, Sydney 2000, Athens 2004). He was a
Bronze Medallist in Barcelona,
Silver Medallist in Sydney and placed
6th in Athens.
During his
18 years of intense international sailing regatta at an elite level he was
7 x World Champion,
4 x European Champion and
10 x Australian Champion.
He has been a member of Palm Beach Sailing Club for 30 years. Now 48 years old and sailing with 17 year old daughter Bronte, he has re-entered the sailing scene to enjoy teaching his daughter the beautiful skill of sailing high speed catamarans and passing on his wealth of knowledge to all the teams whom he competes with.
In fact, family, and running the family business, are now his focus, with joy undiminished for getting out among those salty breezes - which is where it all began - with family, among salty breezes.
Stay safe during schoolies
Published November 6, 2018 by NSW Police
Review into university freedom of speech
Wednesday 14 November 2018: Media Release -The Hon Dan Tehan MP, Federal Minister for Education
The rules and regulations protecting freedom of speech on university campuses will be reviewed.
Former Chief Justice of the High Court Robert French will review existing material regarding free speech, including codes of conduct, enterprise agreements, policy statements and strategic plans.
The review will:
Assess the effectiveness of the Higher Education Standards Framework (the Standards) to promote and protect freedom of expression and freedom of intellectual inquiry in higher education.

Assess the effectiveness of the policies and practices to address the requirements of the Standards, to promote and protect freedom of expression and intellectual inquiry.

Assess international approaches to the promotion and protection of free expression and free intellectual inquiry in higher education settings, and consider whether any of these approaches would add to protections already in place in the Australian context.

Outline realistic and practical options that could be considered to better promote and protect freedom of expression and freedom of intellectual inquiry, including:

revision/clarification of the Standards

development of a sector-led code of conduct.
Minister for Education Dan Tehan said Australian universities were autonomous bodies that have their own policies, procedures and practices regarding freedom of speech on campus.
"Universities are important institutions where ideas are debated and challenged. We must ensure our universities are places that protect all free speech, even where what is being said may be unpopular or challenging," Mr Tehan said.
"The best university education is one where students are taught to think for themselves, and protecting freedom of speech is how to guarantee that.
"If necessary, the French Review could lead to the development of an Australian version of the Chicago Statement, which is a voluntary framework that clearly sets out a university's commitment to promoting freedom of speech."
Mr French said: "I have agreed to undertake the Review requested by the Government on a cooperative and consultative basis with the university sector and respecting the legitimate institutional autonomy of Australian universities. An important object of the review will be the production of a resource including a Model Code which can be used as a point of reference in any consideration by universities of their existing rules and guidelines relating to the protection of freedom of speech on campus."
Universities Australia have been consulted on the review.
The Royal Agricultural Society of NSW offers support as 2019 sees agriculture compulsory in classrooms
Commencing in 2019, the iconic Royal Agricultural Society of NSW (RAS) is offering a range of courses to help both teachers and their students in understanding the inclusion of agriculture which will become mandatory for Years 7 to 8 in Technology and a new focus in the Kindergarten to Year 6 Science & Technology Syllabi in NSW.
The core objectives of the RAS have not changed since incorporation and our mission has always been to forge the future of agriculture which is fundamental to everything we do.
"The RAS develops youth and education programs to support agricultural development, encourage agricultural careers, foster new leaders, and educate people about food, fibre and farming," said Tracey Blane, RAS Manager of Agricultural Development.
Teacher Professional Development courses are available through the RAS including 'Agriculture and Food in the Classroom', 'Transforming Milk into Camembert' and the soon to be released, Knowing and Growing teacher professional development workshops.
Knowing and Growing is a combined initiative with the Royal Agricultural Society (RAS), Primary Industries Education Foundation Australia (PIEFA) & Department of Primary Industries NSW (DPI).
Knowing & Growing has been designed by teachers and educational professionals to ensure maximum learning with an extensive range of creative and engaging syllabus based resources. Topics include where food comes from, sustainable agriculture, investigation of managed environments and creating design solutions to authentic problems or opportunities.
The RAS also offers a number of school incursions and excursions. Excursions include the ever popular Schools Program at the Sydney Royal Easter Show that see up to 15,000 students experiencing a slice of country life through targeted hands-on sessions, themed pavilions, farm animals and new agricultural technology in action. For Primary students, the RAS opens the education precinct for Primary School Preview Day the day before the Show officially opens.
AgVision is the NSW leading Agricultural and Agribusiness hands-on careers expo. In 2019 it will again return to Sydney Showground attracting up to 700 Secondary students who participate in hands-on experiences, attend workshops and network with industry professionals.
Throughout the year the RAS offers Farm Days at Sydney Showground allowing all students to gain a greater knowledge of where their food and fibre comes from and develop a deeper understanding of agricultural industries.
Contact RAS if you would like assistance, or to find out more about our vast education programs including our Teacher Development.
headspace Brookvale
headspace Brookvale provides services to young people aged 12-25. If you are a young person looking for health advice, support and/or information,headspace Brookvale can help you with:
• Mental health • Physical/sexual health • Alcohol and other drug services
• Education and employment services
If you ever feel that you are:
• Alone and confused • Down, depressed or anxious • Worried about your use of alcohol and/or other drugs • Not coping at home, school or work • Being bullied, hurt or harassed • Wanting to hurt yourself • Concerned about your sexual health • Struggling with housing or accommodation • Having relationship problems • Finding it hard to get a job
Or if you just need someone to talk to… headspace Brookvale can help! The best part is our service is free, confidential and youth friendly.
headspace Brookvale is open from Monday to Friday 9:00am-5:30pm so if you want to talk or make an appointment give us a call on (02) 9937 6500. If you're not feeling up to contacting us yourself, feel free to ask your family, friend, teacher, doctor or someone close to you to make a referral on your behalf.
When you first come to headspace Brookvale you will be greeted by one of our friendly staff. You will then talk with a member of our headspace Brookvale Youth Access Team. The headspace Brookvale Youth Access Team consists of three workers, who will work with you around whatever problems you are facing. Depending on what's happening for you, you may meet with your Youth Access Worker a number of times or you may be referred on to a more appropriate service provider.
A number of service providers are operating out of headspace Brookvale including Psychologists, Drug & Alcohol Workers, Sexual Health Workers, Employment Services and more! If we can't find a service operating withinheadspace Brookvale that best suits you, the Youth Access Team can also refer you to other services in the Sydney area.
eheadspace provides online and telephone support for young people aged 12-25. It is a confidential, free, secure space where you can chat, email or talk on the phone to qualified youth mental health professionals.
Click here to go to eheadspace
For urgent mental health assistance or if you are in a crisis please call the Northern Sydney 24 hour Mental Health Access Line on 1800 011 511
Need Help Right NOW??
kids help line: 1800 55 1800 - www.kidshelpline.com.au
lifeline australia - 13 11 14 - www.lifeline.org.au
headspace Brookvale is located at Level 2 Brookvale House, 1A Cross Street Brookvale NSW 2100 (Old Medical Centre at Warringah Mall). We are nearby Brookvale Westfield's bus stop on Pittwater road, and have plenty of parking under the building opposite Bunnings. More at: www.headspace.org.au/headspace-centres/headspace-brookvale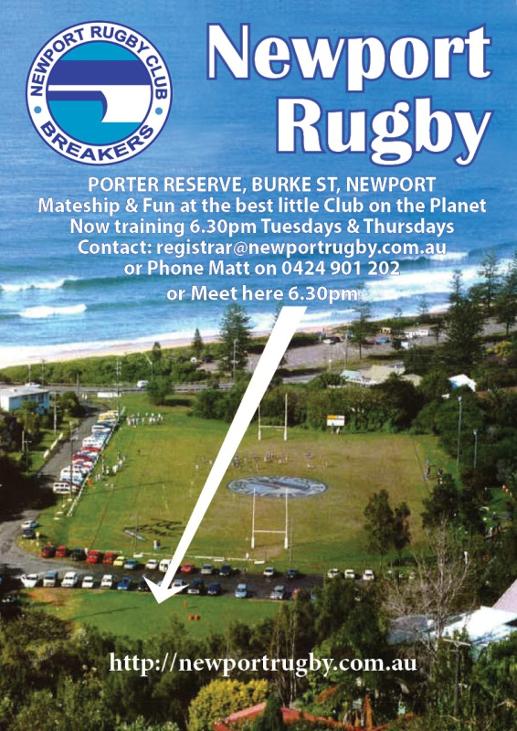 The Project Gutenberg Library of Australiana
Australian writers, works about Australia and works which may be of interest to Australians.This Australiana page boasts many ebooks by Australian writers, or books about Australia. There is a diverse range; from the journals of the land and sea explorers; to the early accounts of white settlement in Australia; to the fiction of 'Banjo' Paterson, Henry Lawson and many other Australian writers.
The list of titles form part of the huge collection of ebooks freely downloadable from Project Gutenberg Australia. Follow the links to read more about the authors and titles and to read and/or download the ebooks.
Cyberbullying
Research shows that one in five Australian children aged 8 to 17 has been the target of cyberbullying in the past year. The Office of the Children's eSafety Commissioner can help you make a complaint, find someone to talk to and provide advice and strategies for dealing with these issues.
Make a Complaint
The Enhancing Online Safety for Children Act 2015 gives the power to provide assistance in relation to serious cyberbullying material. That is, material that is directed at a particular child with the intention to seriously embarrass, harass, threaten or humiliate.
IMPORTANT INFORMATION
Before you make a complaint you need to have:
copies of the cyberbullying material to upload (eg screenshots or photos)

reported the material to the social media service (if possible) at least 48 hours ago

at hand as much information as possible about where the material is located

15-20 minutes to complete the form
Visit: esafety.gov.au/complaints-and-reporting/cyberbullying
Our mission
The Office of the Children's eSafety Commissioner is Australia's leader in online safety. The Office is committed to helping young people have safe, positive experiences online and encouraging behavioural change, where a generation of Australian children act responsibly online—just as they would offline.
We provide online safety education for Australian children and young people, a complaints service for young Australians who experience serious cyberbullying, and address illegal online content through the Online Content Scheme.
Our goal is to empower all Australians to explore the online world—safely.
Driver Knowledge Test (DKT) Practice run Online
Did you know you can do a practice run of the DKT online on the RMS site? - check out the base of this page, and the rest on the webpage, it's loaded with information for you!
The DKT Practice test is designed to help you become familiar with the test, and decide if you're ready to attempt the test for real.
Experienced drivers can also take the practice test to check their knowledge of the road rules.
The practice test looks and operates like the real test. It consists of 45 questions drawn from the DKT Question Bank, and is available in the same languages as the real test.
Unlike the real test, the practice DKT allows you to finish all 45 questions, regardless of how many you get wrong. At the end of the practice test, you'll be advised whether you passed or failed.
Profile: Ingleside Riders Group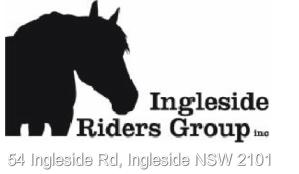 Ingleside Riders Group Inc. (IRG) is a not for profit incorporated association and is run solely by volunteers. It was formed in 2003 and provides a facility known as "Ingleside Equestrian Park" which is approximately 9 acres of land between Wattle St and McLean St, Ingleside. IRG has a licence agreement with the Minister of Education to use this land. This facility is very valuable as it is the only designated area solely for equestrian use in the Pittwater District.
IRG promotes equal rights and the respect of one another and our list of rules that all members must sign reflect this.
Late Spring in Pittwater: November 17, 2018
Angophoras are now in flower as well as shedding bark, a cheeky Sulphur-crested cockatoo atop a sign, two Butcher Bird fledglings pretend to feed each other while waiting for mum and dad to bring back MORE FOOD and White Faced heron fishing - Birds spotted in Careel Creek environs and restored by bushcare thoroughfare.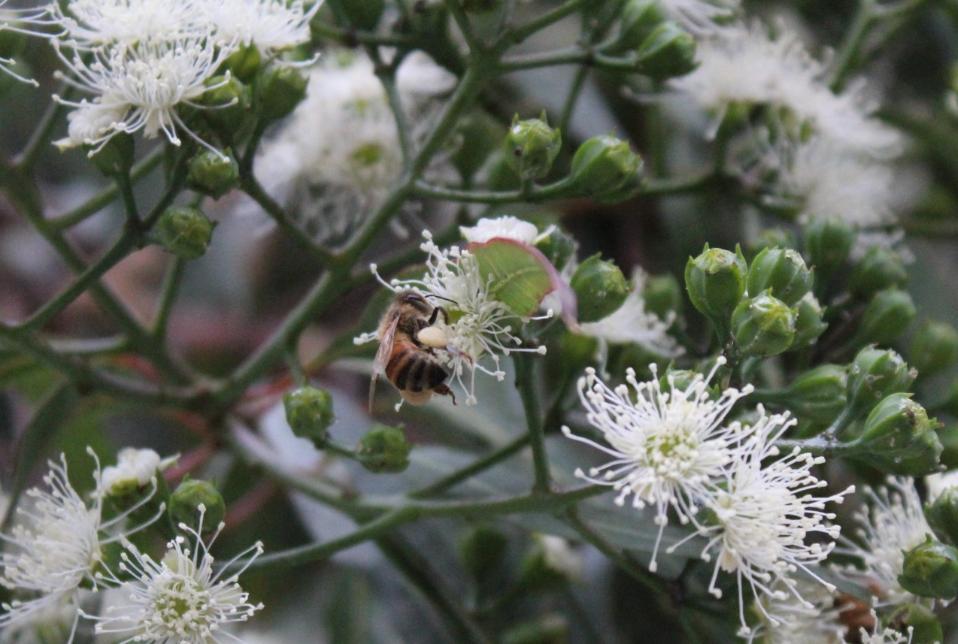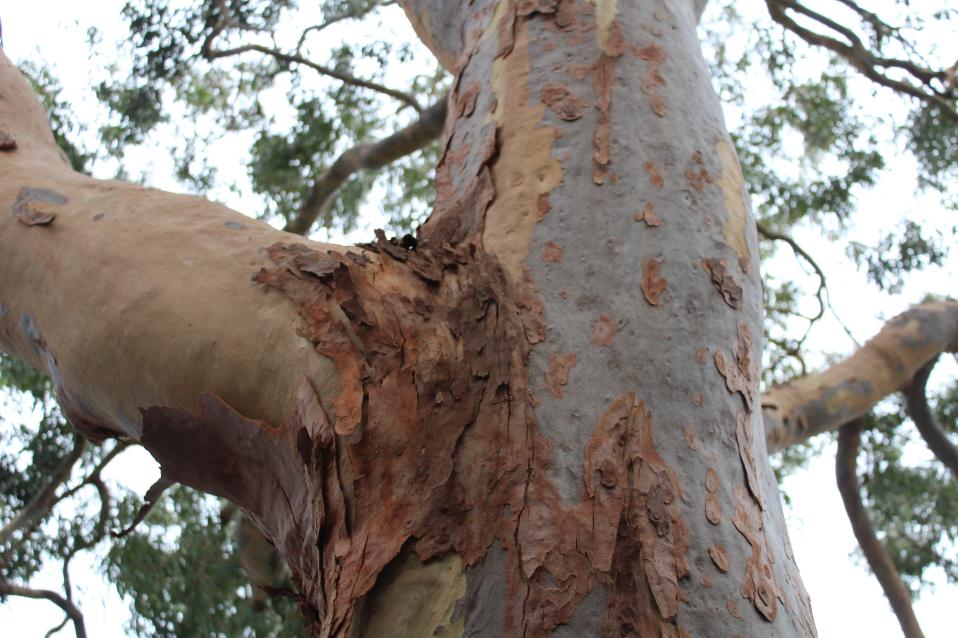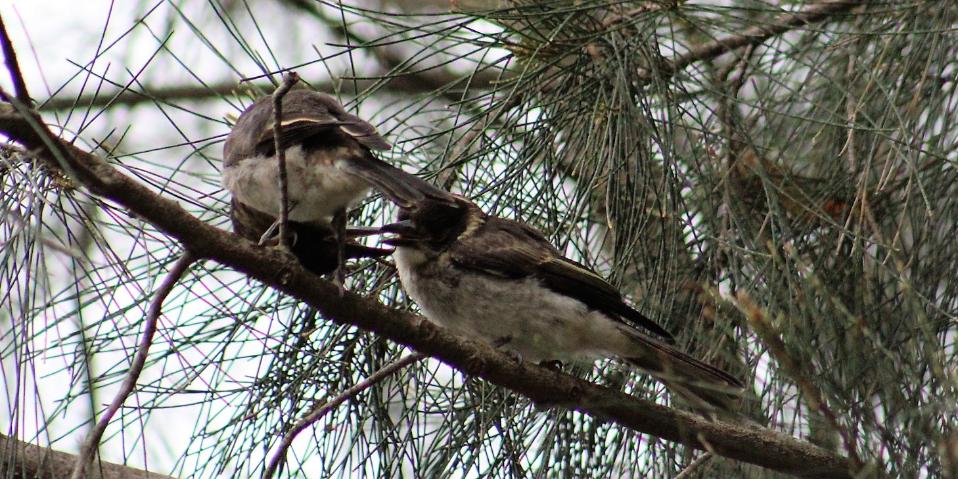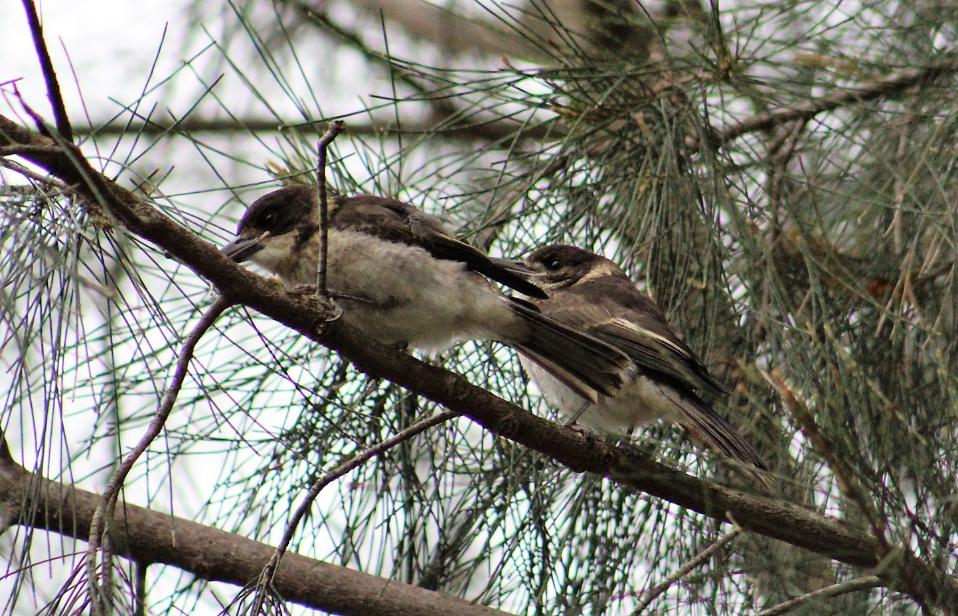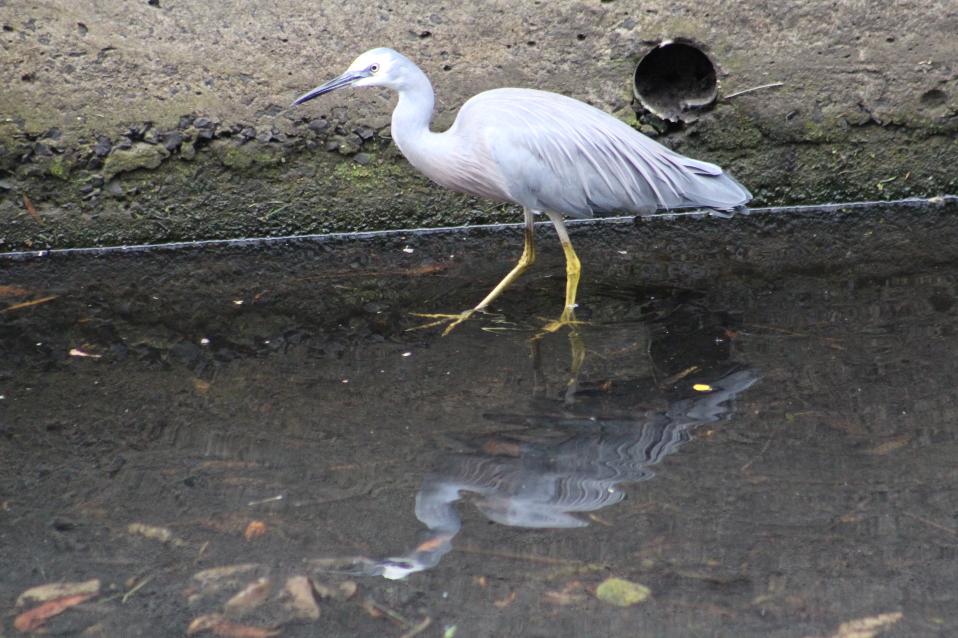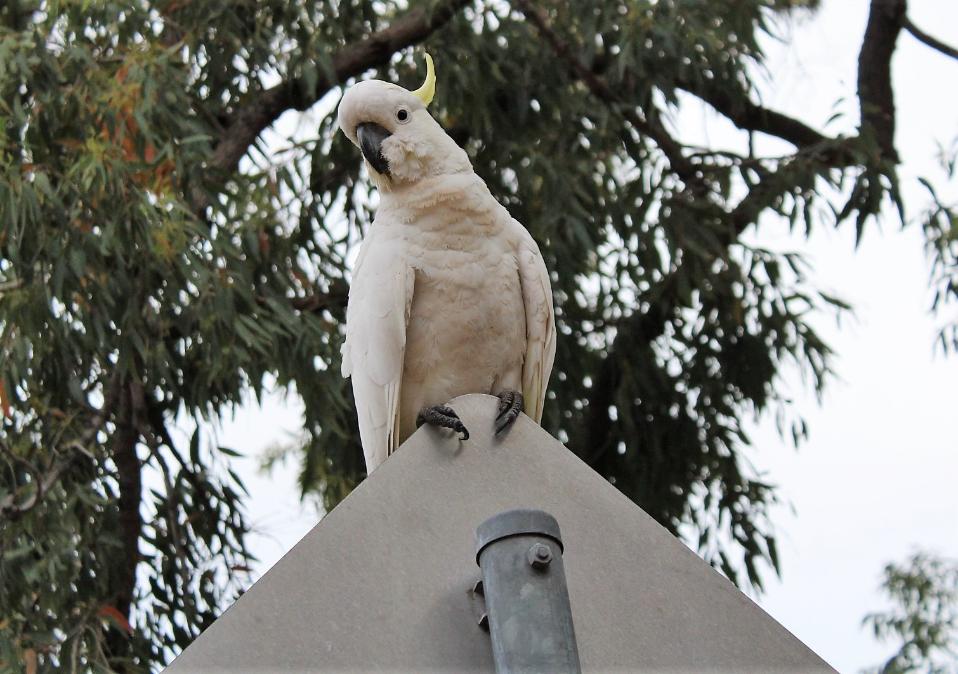 School Strike 4 Climate Change: Big School Walk Out On November 30th, 2018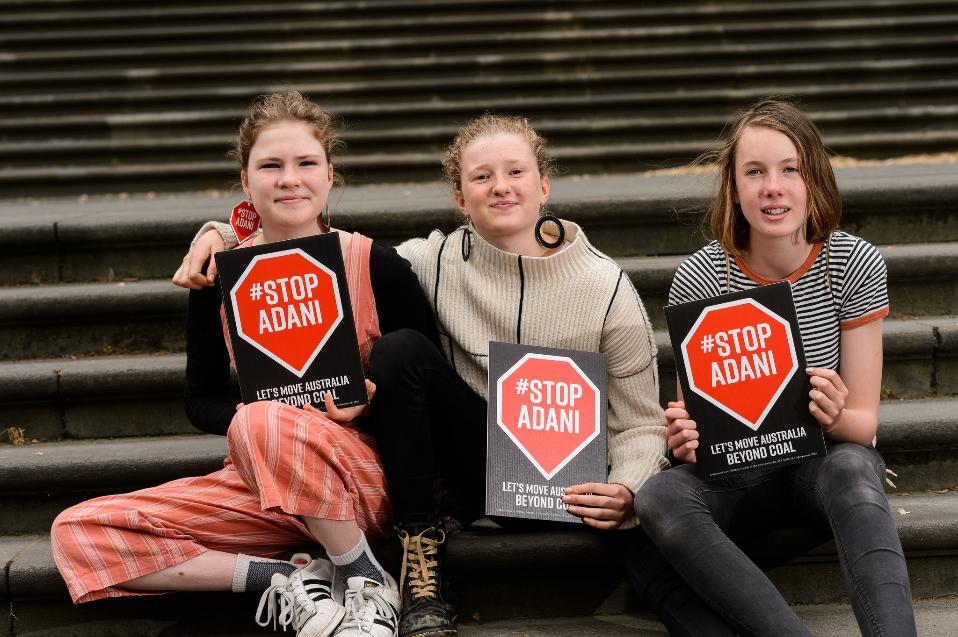 Milou Albrecht 14 yo (right), Harriet O'Shea Carre 14 yo (centre),Nimowei Johnson 13 yo (right), Castlemaine School Strikers
Students Launch School Strike Nationally On Parliament Steps
Melbourne, Victoria, 7th November.
School students from central Victoria have begun striking from school to protest political inaction on climate change and the Adani coal mine, kicking off a month of action across the nation during November.
School students aged 5-18 are now organising school walk out events in cities and towns across Australia, including Cairns, Brisbane, the Sunshine Coast, Sydney, Albury, Lismore, Bowral, the Southern Highlands, Canberra, Melbourne, Hobart, Adelaide, Perth and more.
Today students have been gathering with other kids on the steps of Victorian Parliament to announce that strike actions will culminate in a Big Walk Out day of action in Brisbane, Melbourne, Sydney on 30 November 2018.
Harriet O'Shea Carre, Milou Albrecht, Callum Bridgefoot and classmates in central Victoria kicked off the month of action, inspired by 15 year old Swedish student Greta who started striking this year and strikes with other kids every Friday. The idea for the Australian strikes came from the Castlemaine students, who contacted the Australian Youth Climate Coalition for help.
14 year old High School student Harriet O'Shea Carre said "As young people, we will inherit the decisions that our politicians are making about climate change. When they approve giant new coal mines like Adani's, are they thinking about how this will affect us?
"We learn in school that scientists think we have just a decade to avoid the worst impacts of climate change and yet our politicians are busy helping rich companies mine and burn more coal that will only make this worse.
"Education is immensely important, and a key way for us to learn how to make a difference in the world. But we already know we need to do more to stop climate change and still our politicians aren't doing anything. That's why we are striking. We are temporarily sacrificing our education to tell our politicians to save our futures from projects like the Adani coal mine that will make climate change, bushfires, droughts and cyclones worse."
Callum Bridgefoot, 11 years old, said "Some of us are striking for a day, others a week, others one day each week. While we're on strike, we'll be visiting our Federal politicians to let them know what we are doing and why. We can't vote yet, but we will one day and our views are important. We will be speaking with other young people in our areas too.
"On November 30, many of us will strike together in capital cities as part of Big School Walk Out events. We are inspired by how many students are keen to join us. We are going to keep taking action until our politicians start acting and stop digging up more fossil fuels.
"We will make politicians care about our futures. They they need to start taking urgent action to move Australia beyond fossil fuels to 100% renewable energy."
Jean Hinchliffe, 14 years old, said "As young people, we have spent our whole lives hearing about climate change and its disastrous impacts. We know that it is a real problem that needs urgent action taken against it, and we can clearly see that almost nothing is being done about it by our politicians."
"As a generation, we are sick of this mass inaction. This is our future that is on the line, and sitting around waiting until we can vote and lead the country just isn't enough."
"We are striking to demand that the government will stop approving any new sources of fossil fuels (such as the Adani coal mine), and will take immediate action to move Australia past unsustainably sourced power to fully renewable energy."
The Sydney School Strike 4 Climate Change Big School Walk Out takes place on Friday November 30th with students meeting outside Parliament House, Macquarie Street. Details here: https://www.facebook.com/events/352019415545363/
For more information: www.schoolstrike4climate.com
Twitter https://twitter.com/StrikeClimate
Facebook https://www.facebook.com/groups/1933369976972843/ (for the strikers and their parents)
Instagram https://www.instagram.com/climatestrike/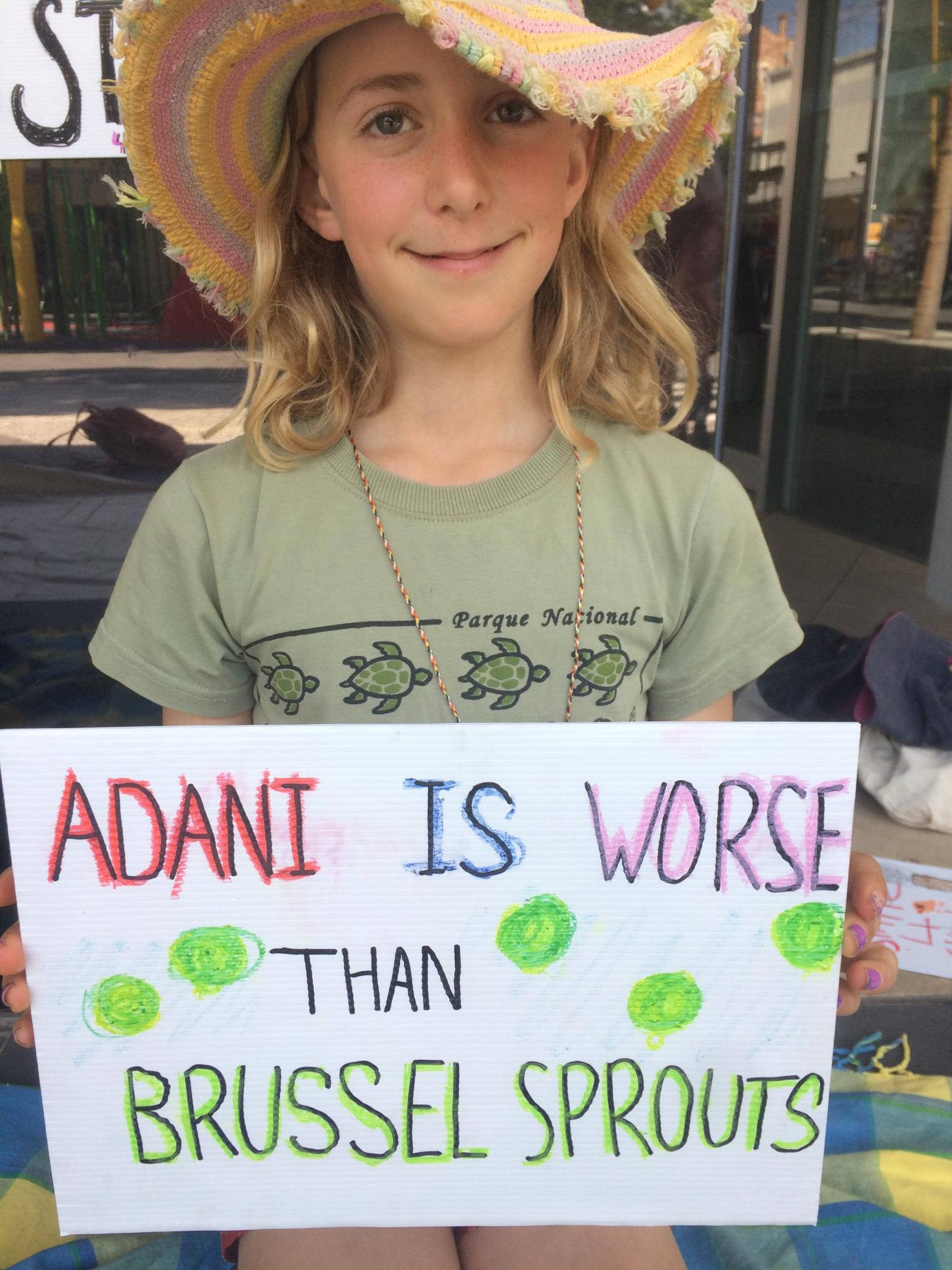 Day 1 of the campaign - at Bendigo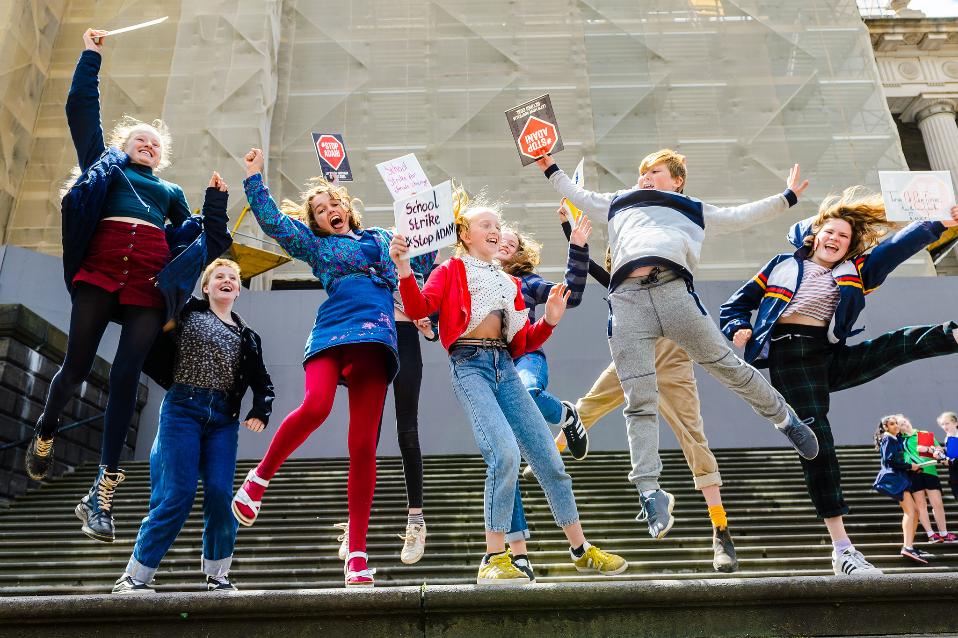 At the Melbourne Launch of the Big School Walk Out 4 Climate Change
NB: Pittwater Online News is not encouraging any student to not attend school on November 30th. We are a News Service and our job is to bring you your news.
The NSW Department of Educations' School Attendance Policy is available online HERE and states that 'Parents are required to explain the absences of their children from school promptly and within seven days to the school. An explanation for absence must be provided to the school within 7 days of the first day of any period of absence.'

Although there are circumstances where exemptions from school attendance is granted, this isn't listed among them.
THE SENTIMENTAL BLOKE With The Volantinsky Quartet
THE SENTIMENTAL BLOKE was first screened 100 years ago this coming November. It is regarded as the supreme achievement of Australia's Silent Film era. The heartfelt, sympathetic storytelling, its mixture of comedy with realistic Woolloomooloo backgrounds, and its Australian box office success played a major role in defining Australian national character on screen. The film is an adaptation of C.J. Dennis' much-loved poem about an ex-convict who experiences the love of a good woman for the first time.
This newly restored copy will be presented with a live 100 minute musical accompaniment, composed and performed by The Volatinsky Quartet. The Quartet composed the music for this silent film, whose original score has long been lost. They play an exotic combination of instruments, with Russian-trained Lucy Voronov (cimbalom & hammer-dulcimer), impro-cellist Anatoli Torjinski (from Odessa), Kiev-trained mandolin/guitarist Stephen Lalor and master percussionist Jess Ciampa - all laced with the flavours of Russia, the Balkans and Australian quirky classics. They have been a headline act at WomAdelaide, Woodford and Fairbridge Festivals & their music is often heard on ABC FM.
The 100 minute film was directed by the famous Raymond Longford and the cast features the love of his life Lottie Lyell. It was lost for decades until found in a vault at New York's Eastman Kodak, filed mistakenly as THE SENTIMENTAL BLONDE.
One of the prints made from the new negative was screened to renewed enthusiasm at the 1955 Sydney Film Festival, and its director Raymond Longford was discovered to be still alive, working as a nightwatchmen on the Sydney waterfront. The National Film and Sound Archive have allowed us this copy to celebrate its 100th anniversary.
Avalon resident, Film Producer Bill Leimbach, will introduce the film
and tell some of the story behind the making of this landmark collaboration of Raymond Longford & Lottie Lyell. The film transformed Lottie into Australia's first international film star. But she also contributed to the screenplay, art direction, editing and production. The British press called their film, "The best that has been made in Australia".
Lyell and Longford went on to form a very influential and pioneering partnership, making two or three films a year - half hour pieces, totally silent. They started a relationship but Longford could not marry her as his wife Melena would not give him a divorce until 1926 – the year after Lottie Lyell died – at the age of 35.
Today the couple are remembered with a most prestigious award named in their honour, the LONGFORD LYELL AWARD - the Australian film industry's highest accolade for an individual for their "unwavering commitment over many years to excellence in the film and television industries and has, through their body of work, contributed substantially to the enrichment of Australian screen culture". Since the introduction of the award by the AFI in 1968, winners have included Peter Weir, Tim Burstall, Bud Tingwall, David Stratton, George Miller, Phillip Adams, Phillip Noyce, Jack Thompson, Geoffrey Rush and Cate Blanchett.
Avalon Bowling Club will come alive with The Volantinski Quartet on stage accompanying the 100th anniversary of the film, playing to 150 lovers of film, history and exotic music.
Leimbach said, "I saw this SENTIMENTAL BLOKE accompanied by the QUARTET at a film festival in Queensland earlier this year. Everyone had such a wonderful festive night. I approached the Quartet to ask if they could come down to NSW and do the same. They answered excitedly, they would love to - they live in Elanora Heights!"
Don't miss this fantastic opportunity. There will be food, bar drinks and plenty of fun as we laugh and cry and dance in the memory of this great Australian achievement.