May 19 - 25, 2019: Issue 405

New Mural Going In At Newport Public School
Meg Minkley from
A Drawing A Day
working on a mural at Newport PS on May 14th, 2019. This is the second mural Meg has done at Newport PS - first is
HERE
Entries Open For The Northern Beaches Art Prize
The Northern Beaches Art Prize is on again. With a prize pool of $27,000 on offer, it is the region's most prestigious art competition, with a history spanning over 50 years.
The prize is open to all permanent Australian residents, aged 10 years and over. It represents a marvellous opportunity to exhibit your creative talents, while being rewarded for your efforts.
Mayor Regan said the competition continues to play an integral role in showcasing the incredible talent of local artists within our own cultural community.
"It's amazing the calibre of entries from people who may not normally feel inclined to enter art competitions."
Last year's General category winner Jacquie Maynard said winning the competition boosted her confidence.
"Having worked on my own for many years, it was really good to have my art acknowledged by others. It was a great feeling to be chosen from some hundreds of entries.
"It was even better that both the judges asked to buy my winning painting on the night, and one of them did."
"I encourage all would-be artists, young and old, to have a go," she said.
The competition's successful entries will be displayed at the Creative Space in North Curl Curl from 9 August to 18 August for General and Small Sculpture, and 30 August to 8 September for Waste-to-Art and Youth.
For information on last year's winners and their successful entries, please go to
Council's website
.
Northern Beaches Art Prize - Categories
Two-dimensional original paintings or drawings in any medium; printmaking and collage. Excludes sculpture and digitally produced works.
Open to artists 19 years and over.
Freestanding plinth based, non-site-specific, three-dimensional objects. Should not exceed 40cm in any dimension.
Open to artists aged 19 years and over.
Original works of art: sculpture, clothing, collage and jewellery. Artworks must be made from reused or recycled materials.
Open to artists aged 10 years and over.
Two-dimensional original paintings or drawings in any medium; printmaking and collage. Excludes sculpture and digitally produced works
Open to artists in two categories - 10 to 14 years and 15 to 18 years.
After submitting your Art Prize Entry Form, you will be directed to finalise the payment for your submission. Payment must be made for your submission to be completed.
Adult - First entry $35
Adult - Subsequent entries $25
Concession - $15 (valid student/senior concession card holders must be submitted with entry)
Manly Arts Festival - Expressions Of Interest Open
Briefing Session at MAG&M: Thursday 23 May, 6PM to 8.30PM
Expressions of interest close 2 June at 5PM
Thursday, 16 May 2019: NBC
Northern Beaches Council is calling for expressions of interest to be a part of the exciting line-up of talent at the Manly Arts Festival, now in its 26th year.
The Festival that runs from 6 – 29 September is well-known for its eclectic mix of exciting events featuring prominent musicians, performers and visual artists in venues such as artist studios, Manly Art Gallery & Museum, the Creative Space at Curl Curl and Glen Street Theatre.
Each year Northern Beaches Council joins forces with artists and cultural organisations with the support of local businesses to develop a creative and entertaining arts program for our residents and visitors.
Artists, musicians, performers, arts organisations and the community are invited to participate in the festival by running their own events to celebrate the creative activity on the Northern Beaches area.
Venues such as galleries, cafes, restaurants, surf clubs, community centres and other spaces are also invited to host and/or organise arts-related events during the Festival.
Mayor Regan said Council was committed to supporting cultural initiatives and genuine opportunities for participation in the creative arts on the Northern Beaches.
On Thursday 23 May, an Arts Festival briefing session will be held at the Manly Art Gallery and Museum from 6PM to 8.30PM to learn more about participating in the Festival.
"Come along to this session and meet the Festival team, ask questions, meet other members of our creative community and share ideas," Mayor Regan said.
The deadline for expressions of interest is 2 June at 5PM.
To register for the briefing session and to apply for participation in the Festival, please go to
Council's website
2019 Hilarie Lindsay Young Writers Short Story Competition
For Australian School Children
Closing date: 31 August 2019
Section 1: Years 10, 11 & 12. Up to 2500 words. Prize $150
Section 2: Years 7, 8 & 9. Up to 2500 words. Prize $150
Section 3: Years 5 & 6. Up to 1500 words. Prize $100
Section 4: Year 4 and under. Up to 1500 words. Prize $50
Terms and Conditions
The entry fee is $3.00 (please note that entries that do not include the fee will be disqualified)
Entries should be typed on A4 paper, double spaced in 12pt font.
The student's name should NOT appear on the entry.
Entries should be made via this online entry form where possible
Should an online submission not be available students may request an entry form from compconvenor@fawnsw.org.au. In that case, send entry by email to compconvenor@fawnsw.org.au, which must contain the entry as a MS Word attachment, a scanned copy of the entry form, and the Direct Deposit receipt number. Alternatively, posted entries will be accepted and should be mailed to the address on the entry form, and be accompanied by a cheque or postal order made out to The Fellowship of Australian Writers NSW.
The details for direct Deposit are as follows:
BSB: 082-936 Account No. 172389833 Account Name Fellowship of Australian Writers.
Please use the competitor's name and the competition as the payment details (ie J Doe Hilarie Lindsay), and attach a copy of the payment receipt to the entry form.
Entries must be student's own work, unpublished and not having won any competition at time of entry.
Closing date for the competition is 31st August 2019
Winners will be announced at the FAW NSW Annual Presentation Luncheon in November.
Results will be published in Writers Voice and on the FAW NSW website.
Hilarie Lindsay MBE OAM (born 1922) is an Australian toy manufacturer and writer of short stories, poetry, instructional texts, biography and other genres. She is a former president of the Toys and Games Manufacturers' Association of Australia and of the Society of Women Writers (Australia), who has been inducted into the Australian Toy Association Hall of Fame and the National Pioneer Women's Hall of Fame, Alice Springs. Her best-known work, The Washerwoman's Dream, described by one reviewer as "enthrallingly readable", has become an Australian classic.

Driver Knowledge Test (DKT) Practice run Online
Did you know you can do a practice run of the DKT online on the RMS site? - check out the base of this page, and the rest on the webpage, it's loaded with information for you!
The DKT Practice test is designed to help you become familiar with the test, and decide if you're ready to attempt the test for real.
Experienced drivers can also take the practice test to check their knowledge of the road rules.
Unlike the real test, the practice DKT allows you to finish all 45 questions, regardless of how many you get wrong. At the end of the practice test, you'll be advised whether you passed or failed.
headspace Brookvale
headspace Brookvale provides services to young people aged 12-25. If you are a young person looking for health advice, support and/or information,headspace Brookvale can help you with:
• Mental health • Physical/sexual health • Alcohol and other drug services
• Education and employment services
If you ever feel that you are:
• Alone and confused • Down, depressed or anxious • Worried about your use of alcohol and/or other drugs • Not coping at home, school or work • Being bullied, hurt or harassed • Wanting to hurt yourself • Concerned about your sexual health • Struggling with housing or accommodation • Having relationship problems • Finding it hard to get a job
Or if you just need someone to talk to… headspace Brookvale can help! The best part is our service is free, confidential and youth friendly.
headspace Brookvale is open from Monday to Friday 9:00am-5:30pm so if you want to talk or make an appointment give us a call on (02) 9937 6500. If you're not feeling up to contacting us yourself, feel free to ask your family, friend, teacher, doctor or someone close to you to make a referral on your behalf.
When you first come to headspace Brookvale you will be greeted by one of our friendly staff. You will then talk with a member of our headspace Brookvale Youth Access Team. The headspace Brookvale Youth Access Team consists of three workers, who will work with you around whatever problems you are facing. Depending on what's happening for you, you may meet with your Youth Access Worker a number of times or you may be referred on to a more appropriate service provider.
A number of service providers are operating out of headspace Brookvale including Psychologists, Drug & Alcohol Workers, Sexual Health Workers, Employment Services and more! If we can't find a service operating withinheadspace Brookvale that best suits you, the Youth Access Team can also refer you to other services in the Sydney area.
eheadspace provides online and telephone support for young people aged 12-25. It is a confidential, free, secure space where you can chat, email or talk on the phone to qualified youth mental health professionals.
Click here to go to eheadspace
For urgent mental health assistance or if you are in a crisis please call the Northern Sydney 24 hour Mental Health Access Line on 1800 011 511
Need Help Right NOW??
kids help line: 1800 55 1800 - www.kidshelpline.com.au
lifeline australia - 13 11 14 - www.lifeline.org.au
headspace Brookvale is located at Level 2 Brookvale House, 1A Cross Street Brookvale NSW 2100 (Old Medical Centre at Warringah Mall). We are nearby Brookvale Westfield's bus stop on Pittwater road, and have plenty of parking under the building opposite Bunnings. More at: www.headspace.org.au/headspace-centres/headspace-brookvale
Green Team Beach Cleans 2018!
The Green Team is back for 2018!
It has been estimated that we will have more plastic than fish in the ocean by 2050...These beach cleans are aimed at reducing the vast amounts of plastic from entering our oceans before they harm marine life.
Anyone and everyone is welcome! If you would like to come along, please bring a bucket, gloves and hat. Kids of all ages are also welcome!
We will meet in front of the surf club.
Hope to see you there!
The Green Team is a
Youth-run, volunteer-based environment initiative from Avalon, Sydney. Keeping our area green and clean.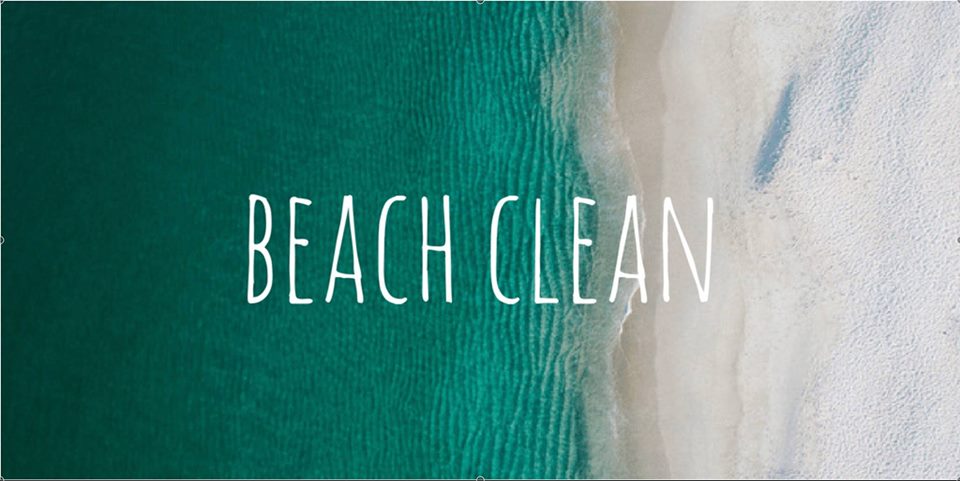 The Project Gutenberg Library of Australiana
Australian writers, works about Australia and works which may be of interest to Australians.This Australiana page boasts many ebooks by Australian writers, or books about Australia. There is a diverse range; from the journals of the land and sea explorers; to the early accounts of white settlement in Australia; to the fiction of 'Banjo' Paterson, Henry Lawson and many other Australian writers.
The list of titles form part of the huge collection of ebooks freely downloadable from Project Gutenberg Australia. Follow the links to read more about the authors and titles and to read and/or download the ebooks.
Send In Your Stuff
Pittwater Online News is not only For and About you, it is also BY you.
We will not publish swearing or the gossip about others. BUT: If you have a poem, story or something you want to see addressed, let us know or send to:
pittwateronlinenews@live.com.au
All Are Welcome, All Belong!
Our Youth page is for young people aged 13+ - if you are younger than this we have stuff for you on the Children's page
All Previous pages for you listed in Past Features
Tangalooma Dive Site
Originally a whaling station, Tangalooma Island Resort (formerly known as Tangalooma Wild Dolphin Resort) is a resort on the west side of Moreton Island in Queensland, Australia. It lies on the eastern shore of Moreton Bay and is known for its resort accommodation, dolphin-feeding program, sand dunes and wreck diving. Swimming is popular along the white beaches. It has a population of over 300 and receives more than 3500 visitors every week as it is only about 70 minutes from Brisbane by express catamaran. Moreton Island National Park is 98% of the island, though there are three small townships there: Bulwer, Kooringal and Cowan Cowan.
The adjacent waters are protected as the Moreton Bay Marine Park. Tangalooma is the aboriginal word meaning "where the fish gather".
The island is home to Queensland's oldest operating lighthouse located at Cape Moreton on the northern tip of the island.
The township of Cowan was home to the Australian soldiers during WWII and many relics remain on the island.
Access to the park was restricted during a clean-up of oil from the 2009 southeast Queensland oil spill.

Tangalooma Ship Wrecks
Located to the north of Tangalooma Island Resort is a total of 15 vessels that were deliberately scuttled between the 1960s through to the 1980s.
These wrecks have now become a man-made ecosystem providing a haven for local marine life including dolphins, sea turtles, wobbegongs and over 200 species of fish. The Wrecks are popular with boats as they provide a calm place to anchor and are known as a great snorkelling location.
Snorkelling Tangalooma Wrecks
Snorkelling the wrecks near the Tangalooma Resort on Moreton Island
Astra Aerolab To Open In The Hunter Valley
May 16, 2019: NSW Government
A new defence and aerospace technology park in the Hunter will create up to 5500 jobs during construction, and service and maintain Australian fighter jets.
The new Astra Aerolab precinct will allow aviation companies to establish themselves in the region and support the Royal Australian Air Force combat aircraft, including the F-35A Joint Strike Fighter.
F-35A Joint Strike Fighter-planes
BAE Systems Australia, one of the largest defence contractors in Australia, will employ around 400 highly skilled people to support the Joint Strike Fighter fleet during the 30-plus years of the aircraft's service life.
Newcastle Airport and BAE Systems Australia also signed an agreement giving the defence contractor an option to lease land on stage one of the Astra Aerolab site.
The NSW Government has provided $11.7 million to the 76-hectare precinct near Williamtown airport for vital infrastructure, including an access road, power, water, gas, sewer and data connections.
Deputy Premier John Barilaro said the funding towards the Astra Aerolab precinct is helping to create jobs for aerospace engineers, aviation, IT and avionics specialists and attracting workers to the Hunter region.
"I want to thank Newcastle Airport, the City of Newcastle and Port Stephens Council for their hard work and commitment to making this precinct a reality," Mr Barilaro said.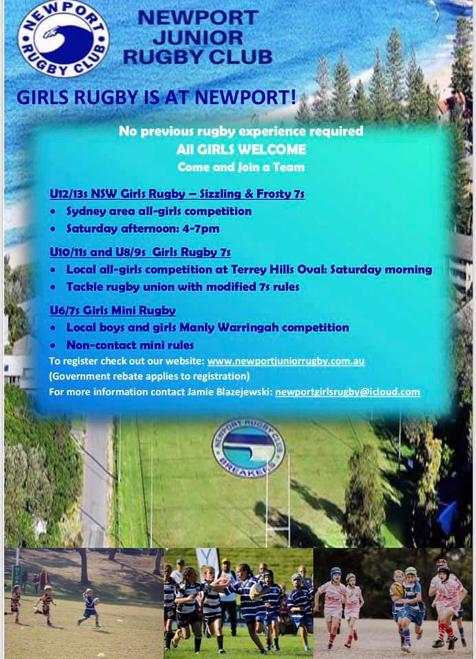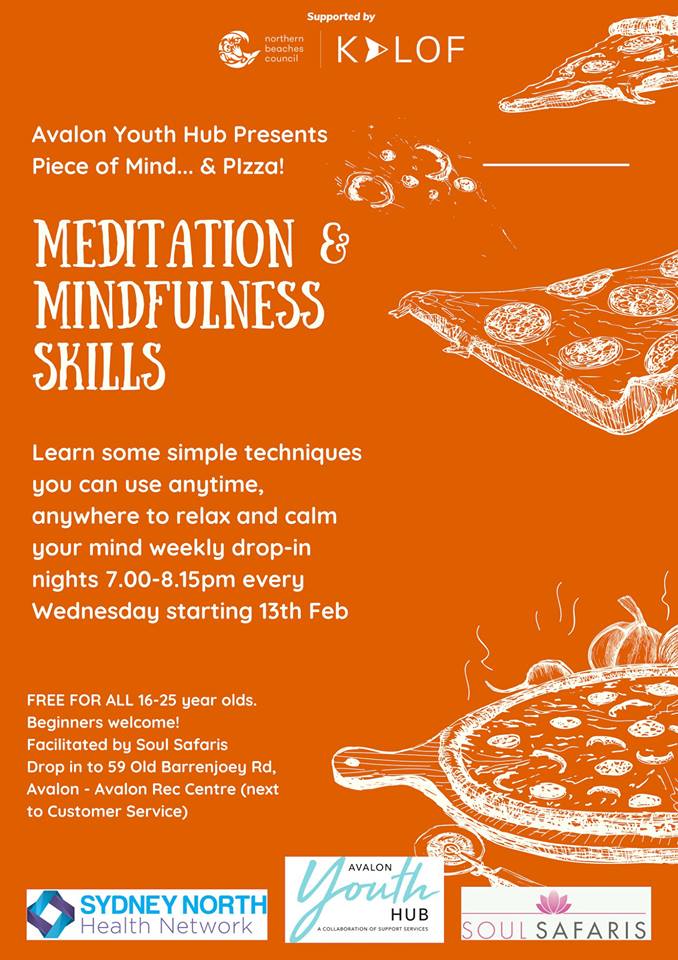 Year 13
Year13 is an online resource for post school options that specialises in providing information and services on Apprenticeships, Gap Year Programs, Job Vacancies, Studying, Money Advice, Internships and the fun of life after school. Partnering with leading companies across Australia Year13 helps facilitate positive choices for young Australians when finishing school.
Youth Source: Northern Sydney Region
A directory of services and resources relevant to young people and those who work, play and live alongside them.
The
YouthSource directory
has listings from the following types of service providers:
Aboriginal,
Accommodation,
Alcohol & Other Drugs,
Community Service,
Counselling,
Disability,
Education & Training,
Emergency Information,
Employment,
Financial,
Gambling,
General Health & Wellbeing,
Government Agency,
Hospital & GP,
Legal & Justice,
Library,
Mental Health,
Multicultural,
Nutrition & Eating Disorders,
Parenting,
Relationships,
Sexual Health,
University,
Youth Centre
Sync Your Breathing with this - to help you Relax
NCYLC is a community legal centre dedicated to providing advice to children and young people. NCYLC has developed a Cyber Project called Lawmail, which allows young people to easily access free legal advice from anywhere in Australia, at any time.
NCYLC was set up to ensure children's rights are not marginalised or ignored. NCYLC helps children across Australia with their problems, including abuse and neglect. The AGD, UNSW, KWM, Telstra and ASIC collaborate by providing financial, in-kind and/or pro bono volunteer resources to NCYLC to operate Lawmail and/or Lawstuff.

Profile Bayview Yacht Racing
Association (BYRA)
1842 Pittwater Rd,

Bayview
BYRA has a passion for sharing the great waters of Pittwater and a love of sailing with everyone aged 8 to 80 or over!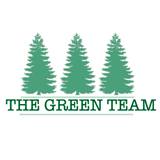 The Green Team
Profile
This Youth-run, volunteer-based environment initiative has been attracting high praise from the founders of Living Ocean as much as other local environment groups recently.
Creating Beach Cleans events, starting their own, sustainability days - 'action speaks louder than words' ethos is at the core of this group.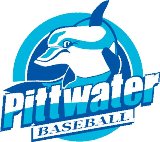 Profile:
Pittwater Baseball Club
Their Mission: Share a community spirit through the joy of our children engaging in baseball.
Profile: Ingleside Riders Group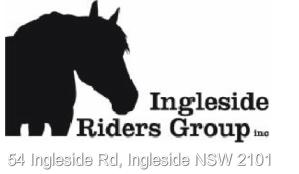 Ingleside Riders Group Inc. (IRG) is a not for profit incorporated association and is run solely by volunteers. It was formed in 2003 and provides a facility known as "Ingleside Equestrian Park" which is approximately 9 acres of land between Wattle St and McLean St, Ingleside. IRG has a licence agreement with the Minister of Education to use this land. This facility is very valuable as it is the only designated area solely for equestrian use in the Pittwater District.
IRG promotes equal rights and the respect of one another and our list of rules that all members must sign reflect this.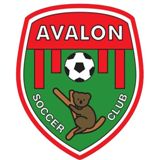 Profile:
Avalon Soccer Club
Avalon Soccer Club is an amateur club situated at the northern end of Sydney's Northern Beaches. As a club we pride ourselves on our friendly, family club environment. The club is comprised of over a thousand players aged from 5 to 70 who enjoy playing the beautiful game at a variety of levels and is entirely run by a group of dedicated volunteers.
Cyberbullying
Research shows that one in five Australian children aged 8 to 17 has been the target of cyberbullying in the past year. The Office of the Children's eSafety Commissioner can help you make a complaint, find someone to talk to and provide advice and strategies for dealing with these issues.
Make a Complaint
The Enhancing Online Safety for Children Act 2015 gives the power to provide assistance in relation to serious cyberbullying material. That is, material that is directed at a particular child with the intention to seriously embarrass, harass, threaten or humiliate.
IMPORTANT INFORMATION
Before you make a complaint you need to have:
copies of the cyberbullying material to upload (eg screenshots or photos)

reported the material to the social media service (if possible) at least 48 hours ago

at hand as much information as possible about where the material is located

15-20 minutes to complete the form
Visit: esafety.gov.au/complaints-and-reporting/cyberbullying
Our mission
The Office of the Children's eSafety Commissioner is Australia's leader in online safety. The Office is committed to helping young people have safe, positive experiences online and encouraging behavioural change, where a generation of Australian children act responsibly online—just as they would offline.
We provide online safety education for Australian children and young people, a complaints service for young Australians who experience serious cyberbullying, and address illegal online content through the Online Content Scheme.
Our goal is to empower all Australians to explore the online world—safely.
Kids Helpline
If you're aged 5-25 the Kids Helpline provides free and confidential online and phone counselling 24 hours a day, seven days a week on 1800 55 1800. You can chat with us about anything… What's going on at home, stuff with friends. Something at school or feeling sad, angry or worried. You don't have to tell us your name if you don't want to.
You can Webchat, email or phone. Always remember - Everyone deserves to be safe and happy. You're important and we are here to help you. Visit: https://kidshelpline.com.au/kids/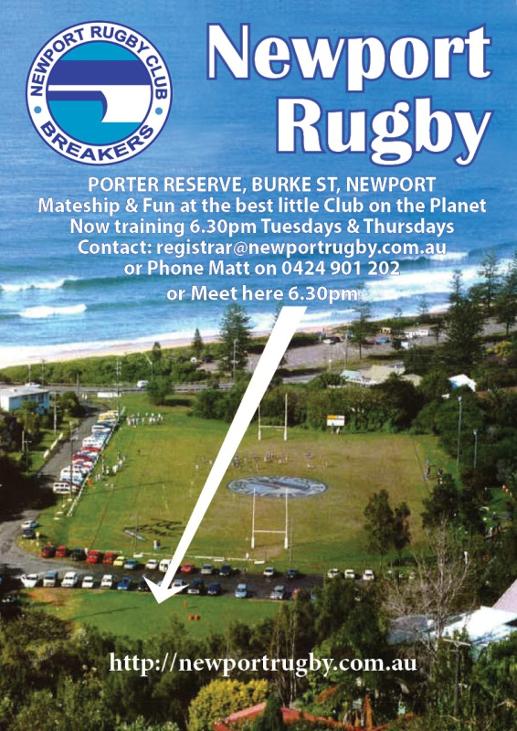 High school student to make a splash on world stage
17 May 2019
A high school student from the state's south is one of only eight athletes representing Australia at the World Deaf Swimming Championships.
Overcoming barriers is part of life for talented Albury student Brooke King, who is hearing impaired.
The 14-year-old from James Fallon High School in Albury is the youngest athlete selected for the Australian team at the 2019 World Deaf Swimming Championships.
The championships, which will see Brooke compete in Sao Paulo, Brazil in August, is one of two elite level competitions for deaf and hard of hearing athletes. Hearing impairment is not an eligible category for the Paralympics.
Brooke's hard work and commitment was acknowledged at the Public Education Foundation Awards on Wednesday, where she was among 86 recipients of the Harding Miller Education Foundation Scholarship. The scholarship provides practical support to lift educational outcomes and career aspirations of high potential girls.
Brooke has previously competed at the National Deaf Games, and represented her school at the NSW Combined High School championships.
She told WIN News Albury that she was on the back foot and not able to hear the starting siren when she competed at the Australian Open Championships.
"The light is slower than the actual noise, so I look at that and when it beeps, and then I go, then I'm usually behind everyone, and then I have to take the 50 metres to catch up to them," she said.
James Fallon High School principal Jennifer Parrett said the school community was looking forward to seeing Brooke compete in Sao Paulo. "She's worked incredibly hard," Mrs Parrett said.
Brooke's passion for swimming isn't just competitive, with her ambition to study marine biology after high school.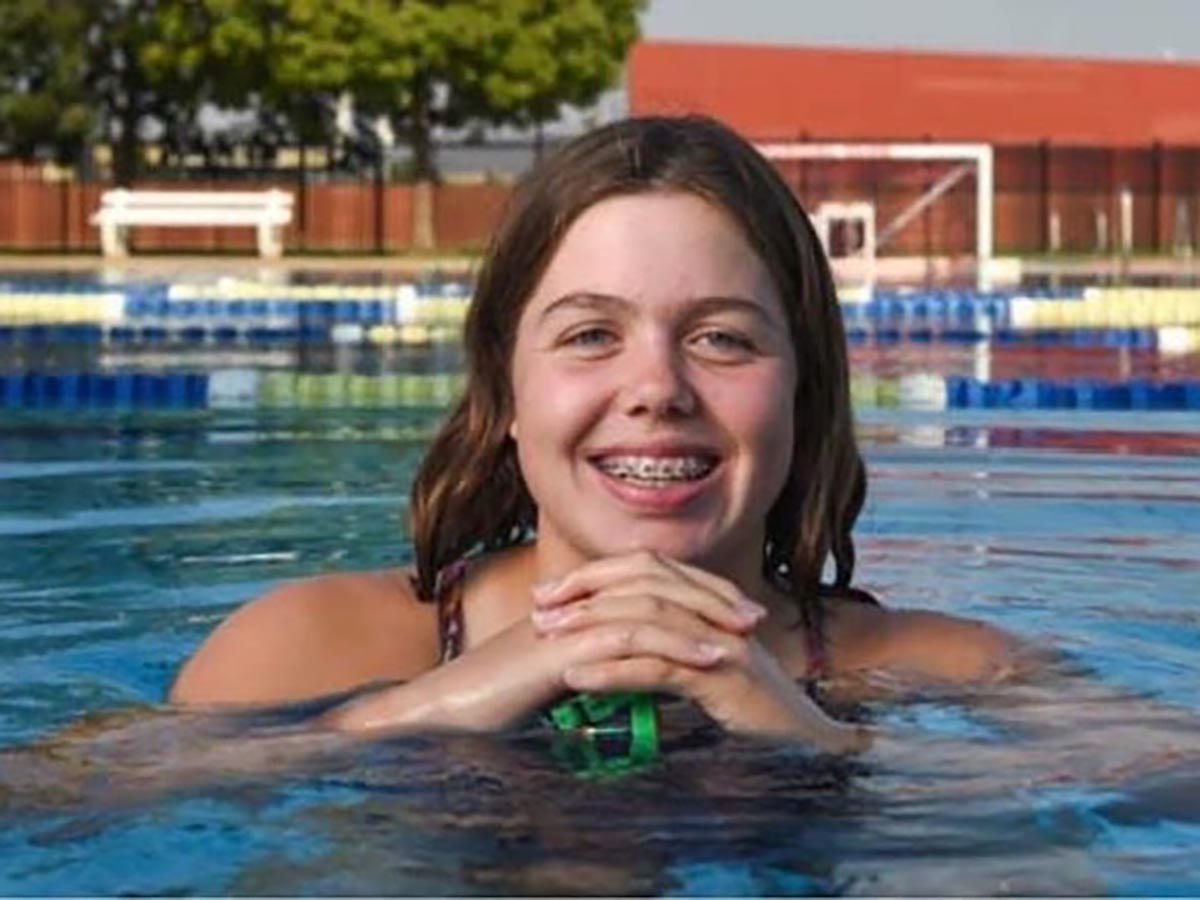 Brooke King was awarded a scholarship this week to support high potential girls.
Curious Kids: what's the tallest skyscraper it's possible to build?
May 16, 2019
Answered by Philip Oldfield, Associate Professor in Architecture, UNSW
What's the tallest skyscraper it's possible to build? – Sophie, aged 7, Perth.
Great question! The world's current tallest skyscraper is the Burj Khalifa in Dubai. It's 828 metres tall, which is over two-and-a-half times as tall as any skyscraper in Australia.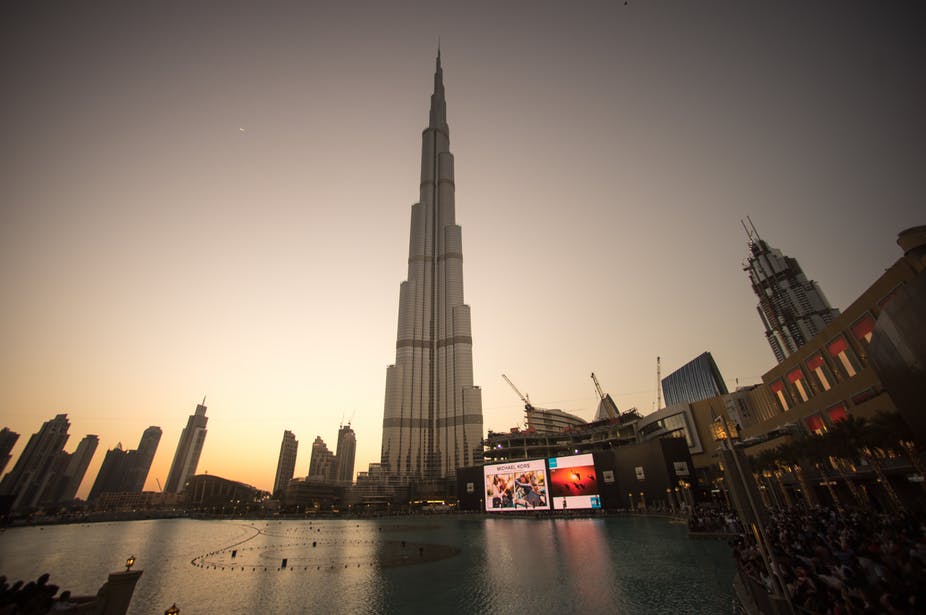 The world's current tallest skyscraper is the Burj Khalifa in Dubai. It's 828 metres tall. But we could go taller. Flickr/Cristian Viarisio, CC BY

However, there is a skyscraper being built in Jeddah, Saudi Arabia, that will be over 1,000 metres tall when it's finished. This will be the first building to ever rise over a kilometre high. It will also have 167 floors on top of each other!
So, how tall could we build a skyscraper? It would be difficult, but we could probably build a tower over 2,000 metres tall, which would be like ten normal skyscrapers on top of each other!
This is probably not a very good idea though. Building such a mega-tall skyscraper would use a huge amount of concrete and steel. Using lots of these materials when we don't need to can be bad for the environment. It's usually much better for the environment if we build smaller skyscrapers, maybe up to 300 metres tall.
In fact, there are lots of challenges when you design and build a mega-tall skyscraper.
Stopping the wind
The biggest difficulty is the wind. It blows on a skyscraper and tries to push it over, so you need to design a structure that keeps the building stable. The wind can also make a tower sway from side to side, so that people at the very top can even feel seasick.
Architects and engineers have lots of technologies to help stop this. Some of the tallest skyscrapers in the world have a giant pendulum at the top, inside the building, called a "tuned mass damper".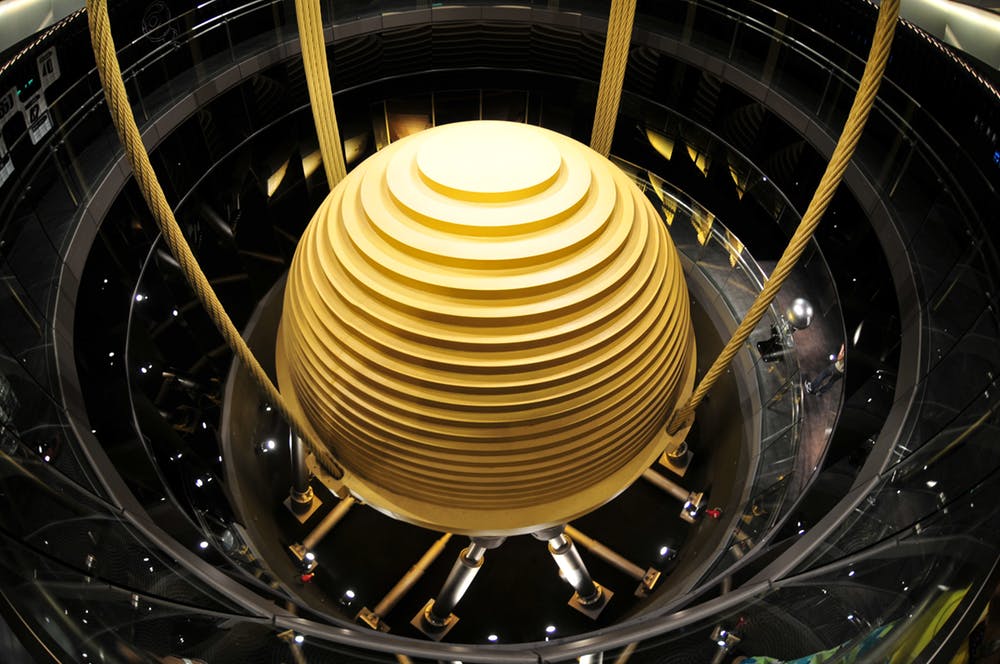 Here's the tuned mass damper inside a very tall building in Taiwan called the Taipei 101 building. Flickr/riNux, CC BY
Imagine a ball of steel the size of a house hanging from ropes inside a skyscraper. When the wind blows, the pendulum swings back and forth, absorbing the energy of the wind, to stop the building swaying.
Other buildings have pools of water at the top. When the wind blows it makes the water slosh around. Giant paddles in the pool absorb the water's movement, which stops the building from swaying.
Another way to stop the wind is to use a clever skyscraper shape. When the wind blows on a skyscraper it creates swirls of air called vortices – like whirlpools in the sky.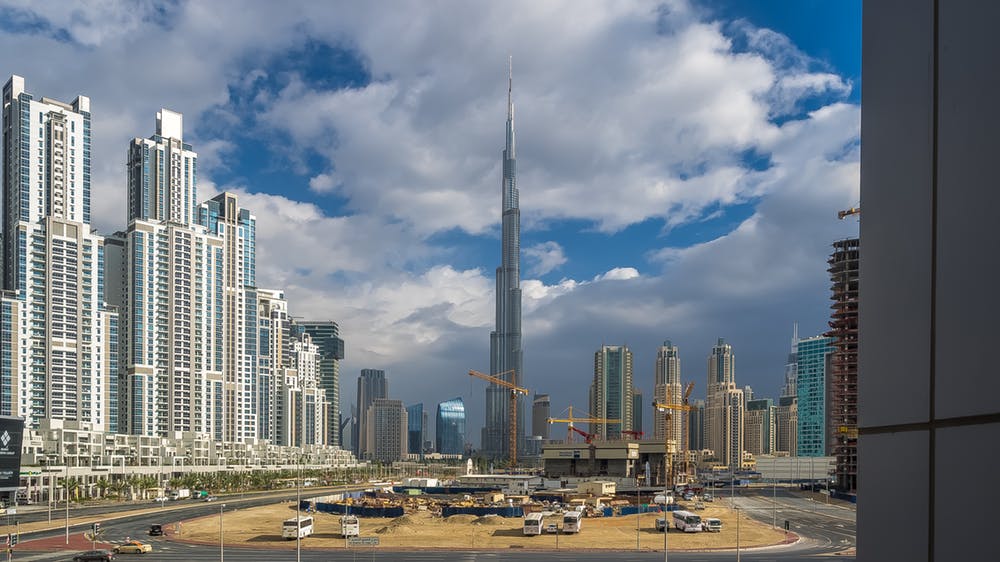 The Burj Khalifa building in Dubai is thin at the top and wide at the bottom, with giant steps down the side. Flickr/Adam, CC BY
If these happen regularly, it can make the building sway back and forth. The Burj Khalifa building in Dubai is thin at the top and wide at the bottom, with giant steps down the side. The steps make the vortices happen at different heights to help stop the building from swaying in the wind.
Getting to the top
Another big challenge is how do you get to the top of a building that is one kilometre tall? Walking up the stairs isn't an option as there would be more than 3,000 steps!
Taking the lift would be a good idea, but you'd need a very fast lift. Otherwise it would take ages to get up or down the building.
Some of theses lifts can travel at 70km/h, the speed of cars on a highway. At that speed you would go past five floors every second and soon be at the top.
You would also need lots of lifts in a kilometre-high skyscraper. The Jeddah Tower will have 59 of them! They will have super-strong carbon fibre ropes to carry the lift, as normal ropes just aren't strong enough.
_________________________________
Please tell us your name, age and which city you live in. We won't be able to answer every question but we will do our best.
CC BY-ND
Life in Australia: Melbourne in 1966
Published on 13 May 2019 by NFSA Films
From The Film Australia Collection. Made by The Commonwealth Film Unit 1966. Directed by Douglas White. Episode 10 of the Life in Australia series. This series was made to encourage immigration to Australia and to highlight the various social activities, employment and educational opportunities and lifestyles of the various cities and regional centres throughout Australia. This film shows an idyllic picture of life in the Victorian capital of Melbourne in the mid 1960s.
Striated Pardalotes In The Capertee Valley
Published on 17 May 2019 by BIBY TV
These Striated Pardalotes (Pardalotus striatus) were filmed in March 2019 in the Capertee Valley, NSW. The footage shows at least three individuals visiting an artificial pond across one and a half hours on a single day. In the first scenes the camera is trained directly on the water, while other footage shows how the pardalotes survey the pond area from overhead branches before flying to ground level. Note the slight difference in white wing-stripe width. The second bird shown is almost certainly the subspecies ornatus, as might be the first one. Differences in head plumage suggest that the first bird could be younger (say, transitioning from juvenile to adult). But the third pardalote (at 2.33 mark) seems to have a wider stripe and is thus likely to be subspecies substriatus, although a hybrid between the two subspecies is another possibility.
These pretty little birds are Australia's largest pardalote. Nonetheless, they are just as hard to glimpse in the tree canopy as their even tinier relative, the Spotted Pardalote. Both species can be found in the open forests, woodlands, revegetated areas and paddock trees of the Capertee Valley. Although they typically forage in the foliage of tree crowns, filming opportunities arise when they visit the understorey and ground for nesting and drinking. But generally, they are more often heard than seen. One of the Striated Pardalote calls is part of the soundtrack for the second and third photos. The Spotted Pardalote can also be heard more subtly. (The sound for Photo 1 was collected at the same time as the photo was taken, which was earlier than the filming session. The trees shown are only metres away from the pond.)
Australia Post Abuzz With Native Bee Stamps
Some of Australia's native bees are set to appear on a striking commemorative stamp issue to be released by Australia Post this May.
Speaking on the stamp release, Australia Post Philatelic Manager Michael Zsolt said it was an opportunity to learn about the diversity of Australia's native bees.
"We have a great diversity of native bees and they play an important role as pollinators of native flora. These beautiful stamps remind us of how integral the often solitary native bee is, and they'll be of interest to nature lovers and collectors alike."
The four domestic base-rate ($1) stamps feature artwork from renowned Australian wildlife illustrator Kevin Stead and include:
$1 Resin Bee (Megachile macleayi)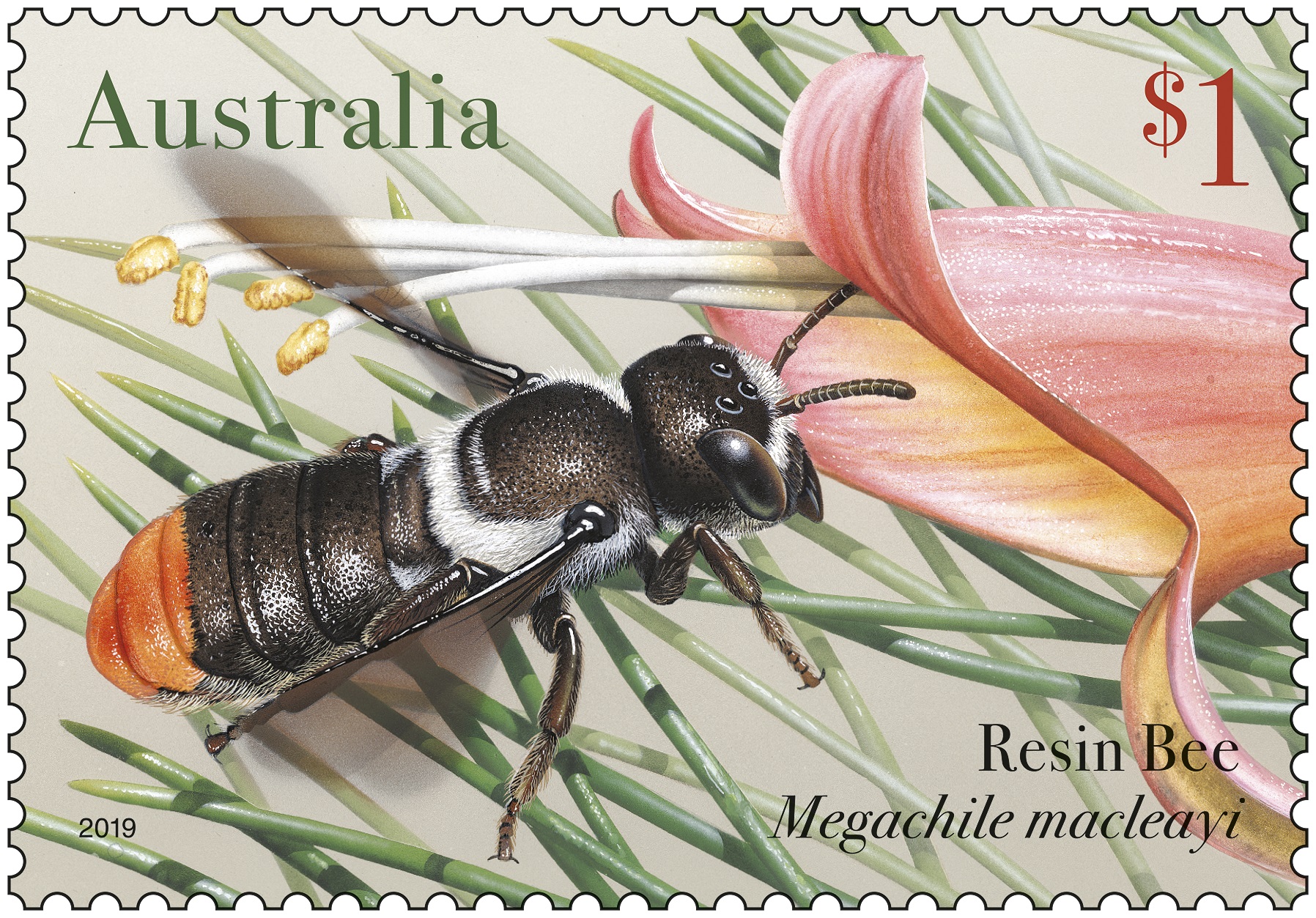 The Resin Bee, from the family Megachilidae, builds its nest in narrow holes in timber, constructing the nest and sealing the entrance with gums and resins it collects from leaves and plants. This solitary bee, which is found across northern Australia, prefers nectar from legume flowers.
$1 Green and Gold Nomia Bee (Lipotriches australica)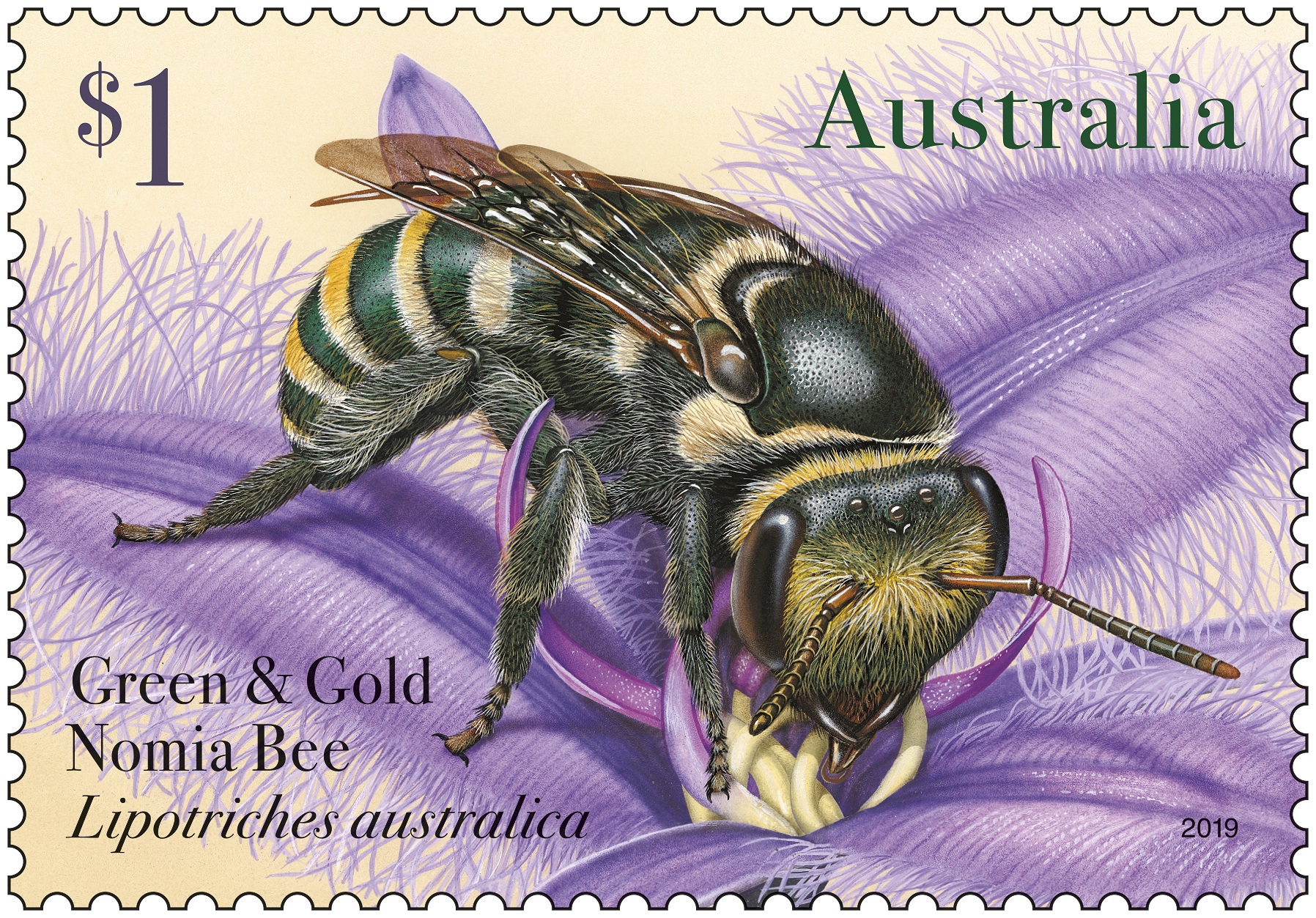 From the family Halictidae and found throughout eastern Australia, the solitary Green and Gold Nomia Bee nests in the ground. After looking for mates and foraging for nectar during the day, clusters of numerous male bees spend the night clinging or "roosting" together on tree twigs or grass stems.
$1 Wasp-mimic Bee (Hyleoides concinna)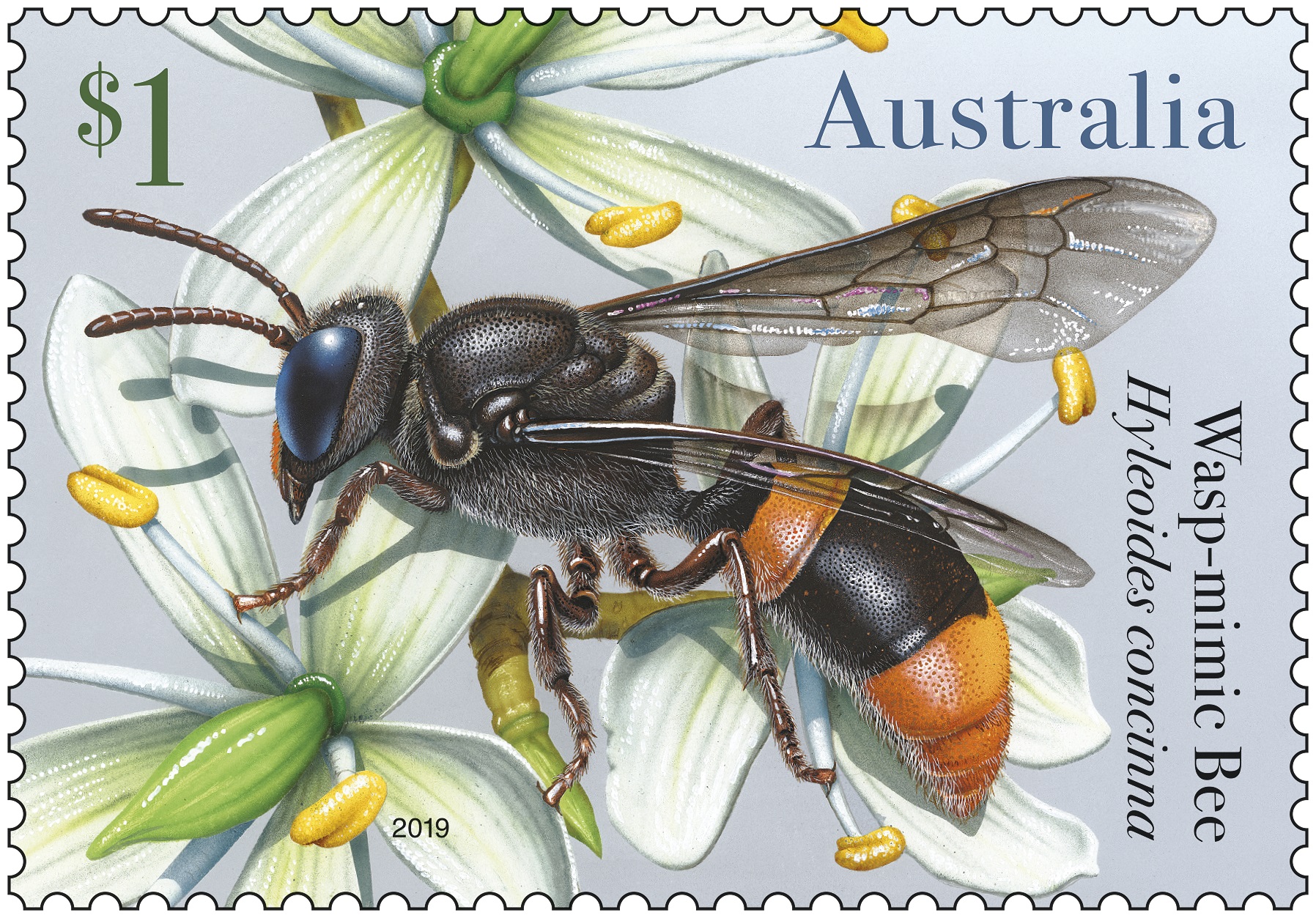 The solitary Wasp-mimic Bee from the family Colletidae can most frequently be seen feeding from eucalypt flowers in eastern Australia from southern Queensland to Tasmania. It convincingly disguises itself as a black and orange wasp in order to fool and deter predators.
$1 Neon Cuckoo Bee (Thyreus nitidulus)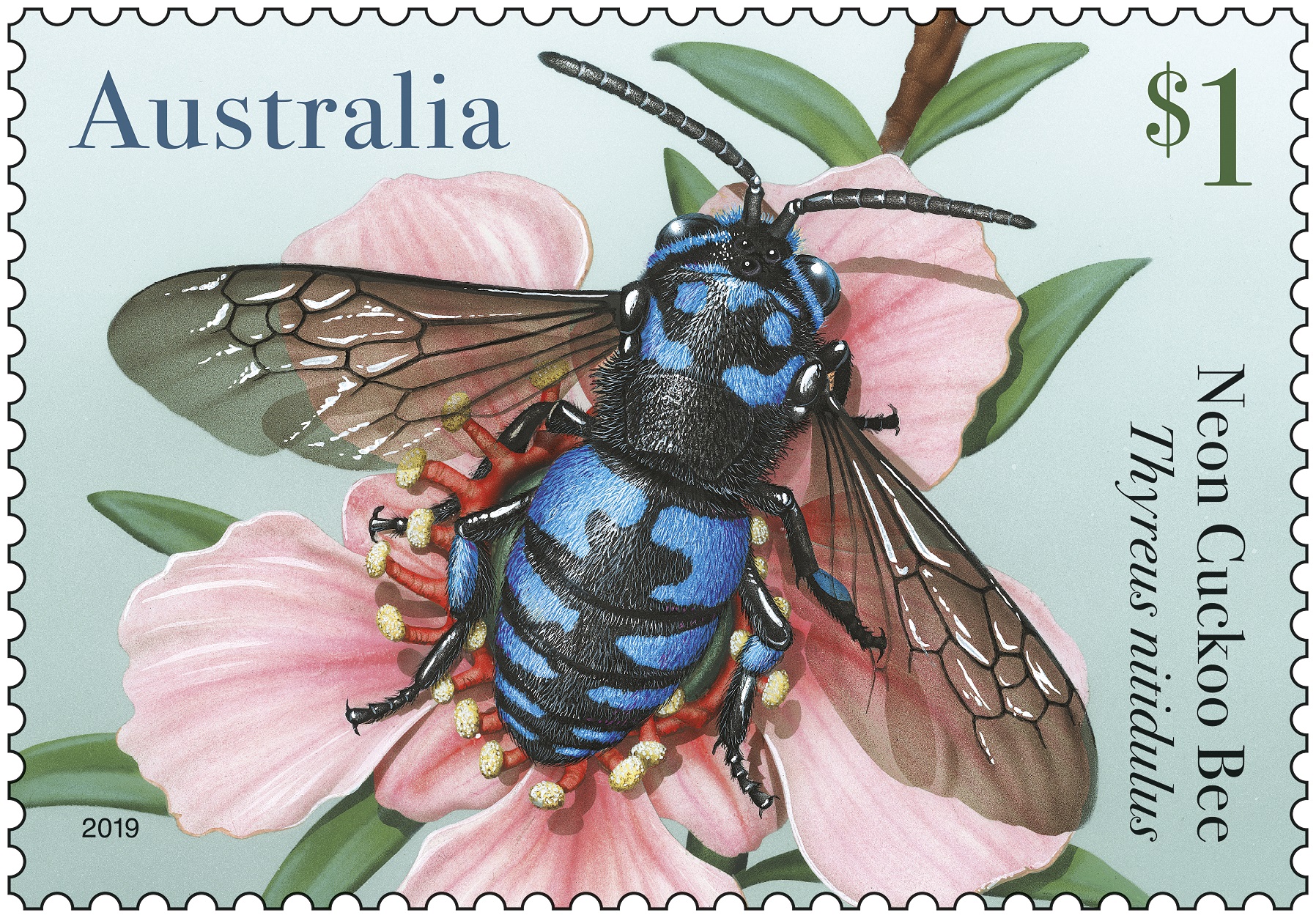 The striking, bright metallic blue Neon Cuckoo Bee from the family Apidae is so named because it opportunistically lays its eggs on the pollen balls inside the ground nests of the Blue-banded Bee (Amegilla cingulata). This solitary cleptoparasitic bee, which has no need to collect pollen from flowers, is found across eastern and northern Australia.
Products associated with this issue include first day cover; stamp pack, medallion cover, booklet collection and booklet of 10 x 4 $1 self-adhesive.
The stamp and associated products are available at participating Post Offices, via mail order on 1800 331 794, and online at
auspost.com.au/stamps
, from Tuesday 14 May 2019 while stocks last.
Archie's Pittwater Clean Up
I am a Seabin Ambassador, I started this campaign because I want to take a stand against ocean plastics!
My goal is to raise enough money to bring a minimum of 20 Seabins to Pittwater
as I want to give The Northern Beaches the opportunity to reduce its plastic pollution impact on the ocean. Its amazing how much accidental rubbish comes down our creeks and into our waterways
I need your help to raise money to buy the Seabins a revolutionary ocean cleaning technology which is essentially a floating rubbish bin that operates 24/7 catching all floating debris in the water.
The Seabin helps clean the ocean of floating debris which in turn creates cleaner oceans and we all benefit from this in one way or another. I mean, who really wants to swim in pollution? Not me that's for sure!
Did you know that 300 million tons of plastic are produced in the world every year, half of which is for single use products, from this more than 8 million tons of plastic is dumped into our oceans every year. We need to do something about it and now with the purchase of a Seabin we can all participate and make a difference!
Join me and my campaign to help ensure cleaner oceans!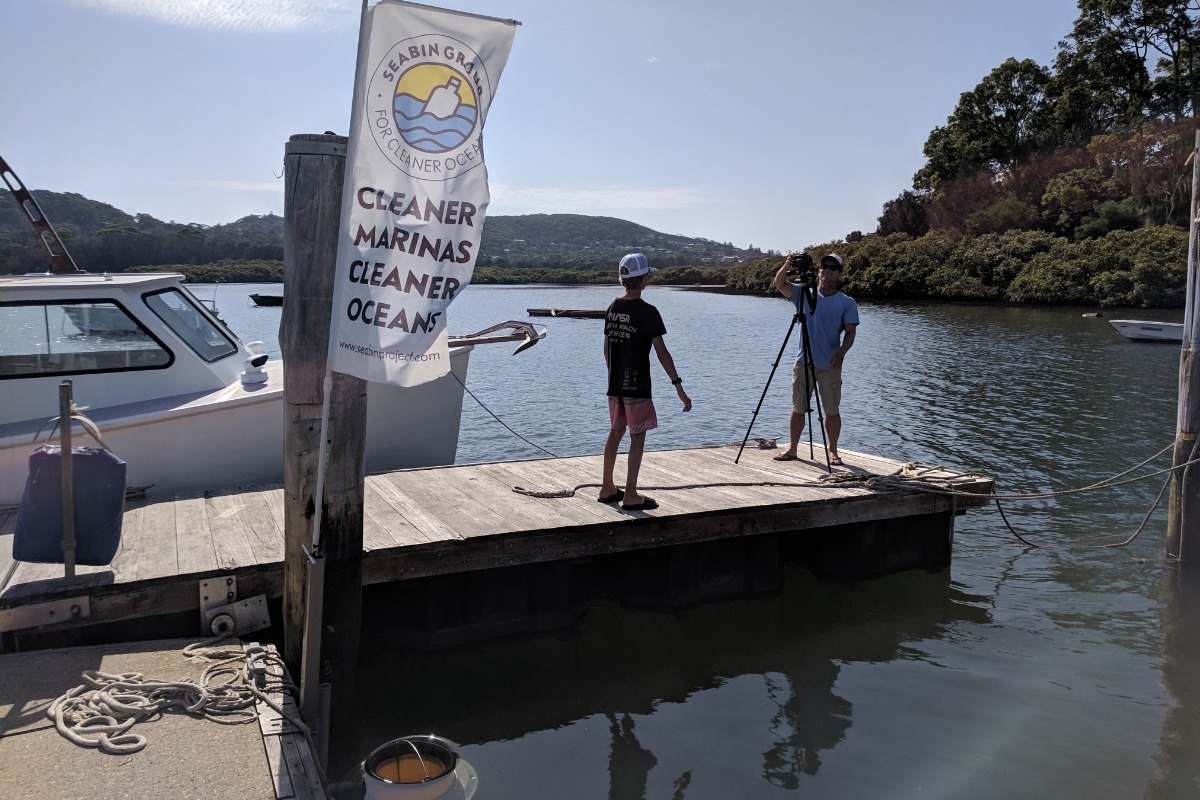 The Seabin is a floating rubbish bin that is located in the water at marinas, docks, yacht clubs and commercial ports.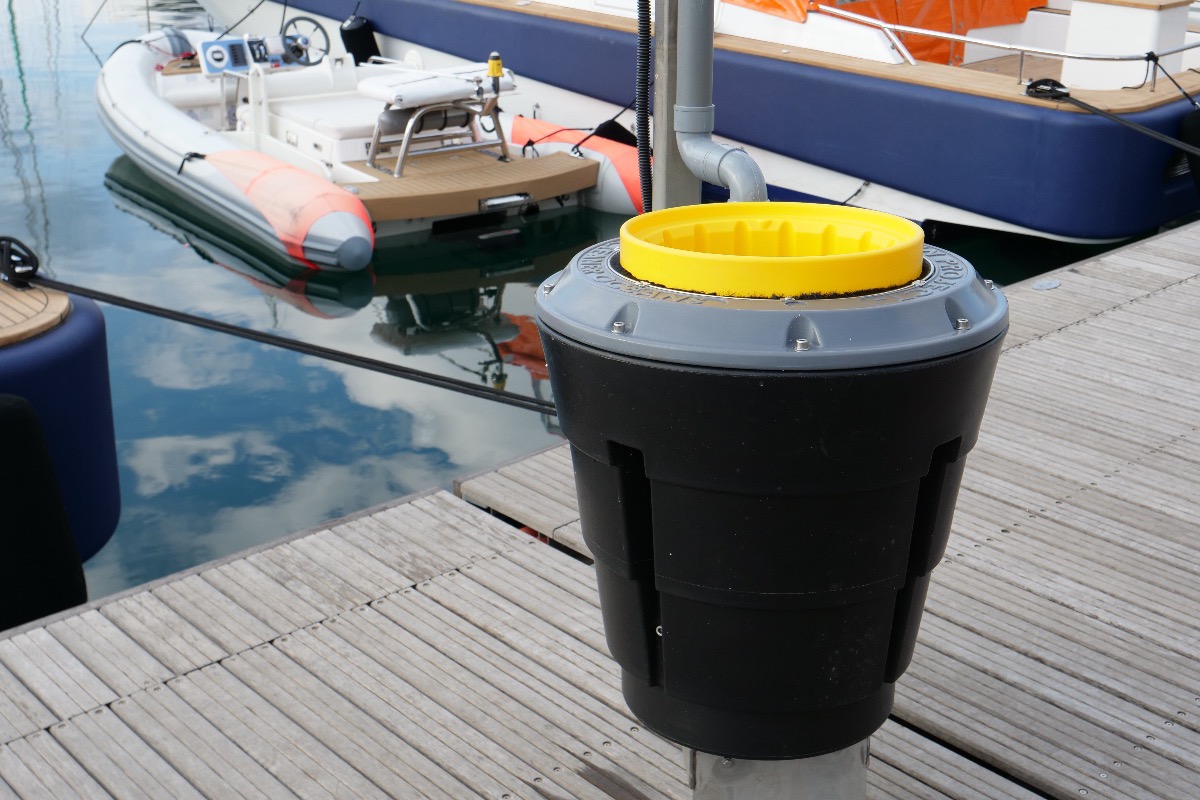 The Seabin can catch an average of 3.9kgs of floating debris per day which adds up to 1.4 tons per year. (depending on weather conditions and debris volumes) The Seabins is catching large plastic bags, bottles, plastic straws, coffee cups, food wrappers, surface oils and micro plastics down to 2 mm small.
How can a Seabin contribute to cleaner oceans?
The Seabin contributes to cleaner oceans by removing 1.4 tons of floating debris per unit per year. The location of the Seabin in marinas is ideal and where it matters most, close to the source of entry for floating debris. Ports and Marinas are perfect locations to stop floating debris from entering the open ocean and ocean plastics are also brought in by wind and currents.
Are the Seabins a danger to marine life?
The fish According to the team at Seabin, stay away from the surface of the water where the Seabin sucks in the water. They are deterred by the force of the water current. If there are swarms of jellyfish or bait fish it is recommended that the Seabins are turned off until the swarms pass. If a fish was to accidentally go into the Seabin, it would be caught in the Seabin and stay submerged in water until the marina staff retrieve the filter and throw the fish still alive back into the water.
Water is sucked in from the surface and passes through a catch bag inside the Seabin, with a submersible water pump capable of displacing 25.000 LPH (liters per hour). The water is then pumped back into the marina leaving litter and debris trapped in the catch bag to be disposed of properly.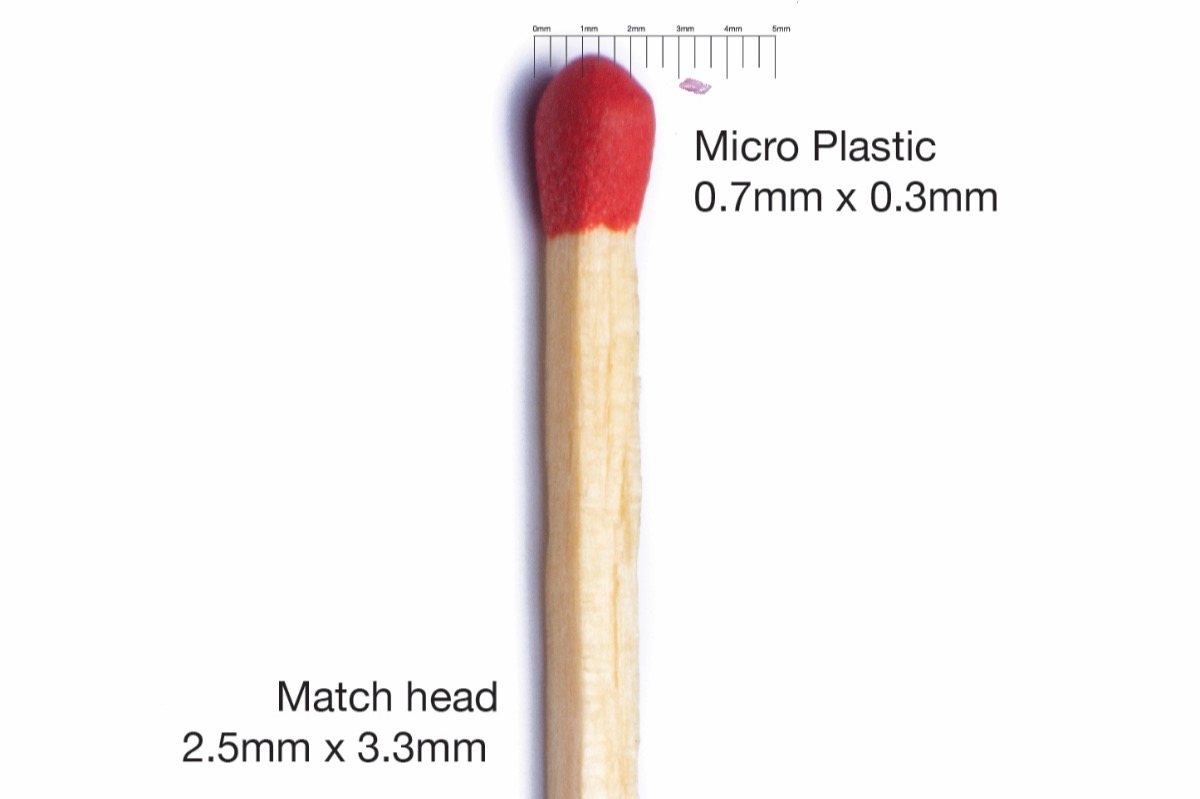 Who is responsible for the Seabin?
This is the best part of it all, the marina will be the one responsible for the upkeep of the Seabins and also they will be paying for the energy consumption of the Seabin which is around $2 - $3 a day.
The marina enjoys a cleaner marina and the rest of us and the marine life enjoy cleaner oceans with less floating debris polluting our oceans!
Seabins part of a whole solution
Seabins whole solution is Technology, Education, Science, Research and Community. The reason for this is that Technology alone is not the solution to stopping ocean plastics, education is the real solution.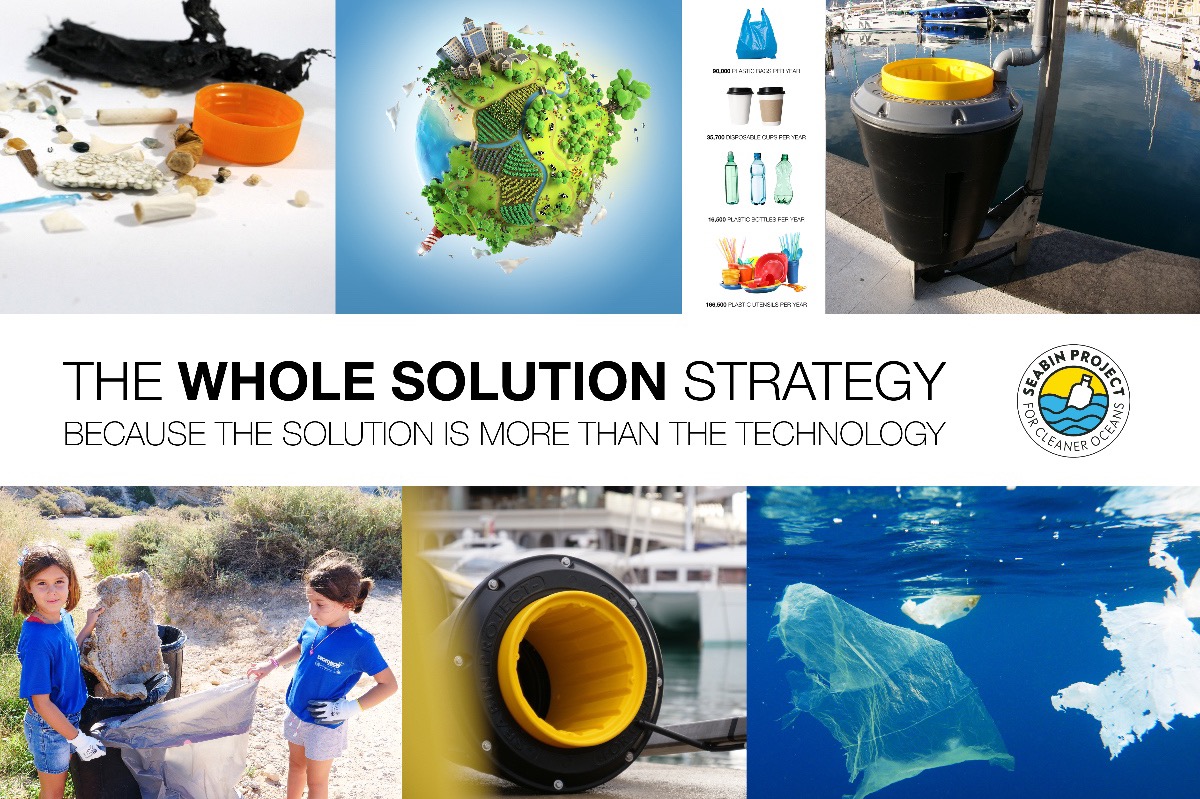 Great! Can our local community be involved also?
Yes! The team at Seabin have interactive programs and lessons designed for schools, community and youth to interact with the Seabins and have over 2000 school students engaged around the world, this is something that we can do locally also with support from the team at Seabin Project.
What will we be doing if we participate in these programs?
You would be joining an international community contributing important data and feedback on ocean plastics to the Seabin central data base. Renowned scientists, universities and environmental agencies are all a part of the programs also.
The lessons range from identifying ocean plastics to data collection of what the Seabins are catching weekly. The data collection is a very easy activity and where we can all see the measurable impact of debris the Seabins are taking out of the water in all weather conditions.
It's as simple as counting how many plastic bags, plastic particles, food wrappers and then noting it down on a spreadsheet or app. Weather conditions and location information is also entered into the data base.
How can you help our campaign and make a difference in the world?
Every contribution to this crowdfunding campaign helps, be it $1 or $50 dollars, it all adds up and bring us closer to our goal.
Even if you cannot afford a donation, please help by sharing this campaign with your friends and family on social media. The more people that know about the campaign the better!
Thanks everyone for taking the time to check out our campaign!
FAQS SHEET
Seabin Project FAQs
Q: Can someone pay out the crowdfunding campaign goal?
A: Yes! We need help! The more money we can raise, the more Seabins we can buy.
Q: Why crowdfund a Seabin?
A: Until now, the Seabins were not for the everyday person to purchase because marinas ports and yacht clubs are the target market for Seabin Group. This is a way where everyday people can give something back to the oceans.
Q: How do Seabins work in tidal areas?
A: Seabins at present are designed for floating docks and pontoons. The Seabins move up and down with the tide on the floating dock.
Q. How are the pumps run?
A. The pumps are currently electric, and around $2-$3 a day to run.
Q: When are the Seabins available?
A: Depending on your countries location, Seabins will be available Feb 2019.
Q: Do any fish get sucked into the Seabins? What about smaller marine life?
A: There is a possibility of fish to enter the Seabins, however in the last 2 years of development, the Seabins have only caught a handful of small bait fish. Most of which have been thrown back into the water alive. The fish simply stay away from the flow of water entering the Seabin and with the current fine tuning of the Seabin, the risk is now minimal.
Q: I don't have any money to donate, how can I help?
A: Don't worry! Your amazing anyways and thanks for even contacting us. We need help to share this project around with any media we can. Social media platforms like Facebook, Instagram, Twitter, websites, bloggers. Also with newspapers, magazines, tv, radio and journalists. Also friends and family!