March 19 - 25, 2017: Issue 305

Youth Week 2017 options
31st of March to the 9th of April.
There are Four events scheduled by the local council for local Youth for Youth Week 2017, one at Frenchs Forest, one at Manly, one at Curl Curl and one at North Sydney.
Art Decko
Two workshops on Friday 31st March and Saturday 1st April from 4.30pm to 7.30pm. Cost - $30 includes deck, workshops and entry into the exhibition. Link on where to sign up below.

Exhibition Tuesday, April 4, 2017 - to Saturday, April 15, 2017 - 4:00pm
Creative Space -
105 Abbott Road,
North Curl Curl
Saturday April 1, 2017
St Leonards Park, cnr. Miller Street and Falcon Street, North Sydney This is a FREE, ALL-AGES event which is run as part of the Northern Sydney Councils Youth Week celebrations. (Drug, Alcohol and Smoke Free Event)
Northern Composure Band Competition
Heats 1 & 2 (March 24th)
Final April 7th
Yoyo's Youth Centre - Forestway Shopping Centre, Frenchs Forest.
$10 Entry (no pass outs).
All age drug and alcohol free event - security present.
April 10th, 2017
10am - 2pm
Manly Library
1 Market Pl., Manly
There are 9 events on through the Central Coast Council, including informative educational resources open days and a skate competition, a family day and more, or if you want to travel further afield, Camden Council is running 16 events, including a Say No to Bullying workshop and forum, yoga, a disco for people with a disability, an AFL clinic, an author talk, two movies, a youth outreach evening, skate clinic, comedy workshop, Rockwave Dance Party - plus much more, most of these free.
If Camden is too far to crash their parties, you could stay on the bus south and check out some of the 12 events the City of Sydney Council is putting on - Hear Us Out, a photography event, A free Busking Showcase, featuring some of Sydney's most creative and diverse street performers aged 12 -25, with special guests!
The Showcase will be held at Pitt Street Mall on Thursday, 6 April 2017 from 5pm – 8pm. PERUSE their
other
great ideas that encompass sports, festivals, arts and empowerment of YOU HERE or find others at:
www.youthweek.nsw.gov.au
Art Decko 2017
C/- KALOF
Applications NOW OPEN for ARTDECKO 2017!
Cost- $30 (includes a deck, support from expert artists and entry into the Art Decko Exhibition)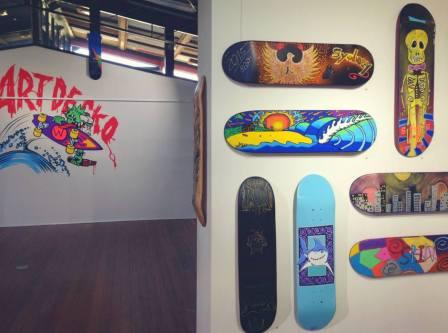 $4m to put students' STEM learning into action
16 March 2017: Media Release - Senator the Hon Arthur Sinodinos AO, Minister for Industry, Innovation and Science

The Australian Government will invest $4 million over the next four years to help Australian school students put their science, technology, engineering and mathematics (STEM) learning into action.
The Maker Projects initiative opened today for grant applications from eligible Australian schools and community organisations to help set up dedicated maker spaces that offer students hands-on experience in practical aspects of design, technology, innovation and entrepreneurship as well as STEM engagement activities.
Around 75 per cent of the jobs of the future will require qualifications in science, technology, engineering or mathematics. So it's never been more important to properly equip Australia's schools to encourage our young people to engage with a range of technologies as creators as well as consumers.
The initiative will offer grants of between $2,000 and $5,000 to cover the costs of tools, equipment, software and consumables needed to establish maker spaces that encourage experimentation and tinkering in a supervised and accessible environment.
It will also support community organisations with grants of between $5,000 and $20,000 to expand existing STEM engagement activities and link young people with local experts, inventors, entrepreneurs and industries.
The Maker Projects initiative is part of the four-year, $29.8 million Inspiring Australia science engagement programme encouraging community participation in science and technology as outlined in the $1.1 billion National Innovation and Science Agenda.
It builds on existing successful school and community-based 'maker' activities, like local Maker Faires, Coderdojo coding clubs, and the Questacon Smart Skills Initiative. These activities allow young people to design and build in the real and digital world, make movies and stop-motion animation and learn the art of creating.
These activities will expand Australian students' horizons beyond the school curriculum towards the everyday experiences of engineers, scientists and innovators, giving them the skills they need for critical 21st Century jobs.
Maker Projects grants will be allocated to eligible applicants on a 'first in' basis until the annual allocation is exhausted. To apply or for more information, visit www.business.gov.au/mp
Applications for AFMA's 2018 school of fish now open!
10 March 2017: AFMA
Here at the Australian Fisheries Management Authority (AFMA) we may not have a café downstairs selling paleo pear and banana bread, but if you want a fulfilling career where you can make a real difference in the management of Australian fisheries, then look no further than AFMA's Graduate Program.
While we may be gill-ty of using a pun or two, that aside, at AFMA you will get to use your degree to work directly with the stakeholders your decisions effect and apply your knowledge to help ensuring efficient and sustainable management of Commonwealth fish resources.
AFMA is looking for skilled and motivated graduates who are passionate about making a difference in the world of marine resource management.
AFMA has again partnered with the Department of Agriculture and Water Resources (DAWR) to deliver the Graduate Development Program for 2018.
As a valued member of AFMA's team, you will enjoy a diverse work program consisting of three different work rotations across AFMA and DAWR over the year to equip you with the skills and knowledge required for a rewarding career in the Australian Public Service.
More information on the graduate program, including available positions, can be found at
afma.gov.au
. Or follow us on
Facebook
to see what AFMA is all about!
Click on the links below to read about what some of our current and past grads had to say about the program and/or a rotation at AFMA.
Applications close 12 April 2017.
The history of chocolate
Published on 16 Mar 2017 by Ted Ed.

If you can't imagine life without chocolate, you're lucky you weren't born before the 16th century. Until then, chocolate only existed as a bitter, foamy drink in Mesoamerica. So how did we get from a bitter beverage to the chocolate bars of today? Deanna Pucciarelli traces the fascinating and often cruel history of chocolate.
Lesson by Deanna Pucciarelli, animation by TED-Ed.
THE BIG PINEAPPLE - $50K TO TURN ONE SCRIPT INTO A FULL FEATURE
How It Works

Some of the best filmmakers started with small budgets and big ideas. Steven Soderbergh, Katheryn Bigelow, Chris Nolan, Robert Roderiguez, Ava Duvernay, Lena Dunham, Doug Liman, Darren Aronovsky, Duplass Brothers, Dee Rees all began their careers with initial budgets ranging anywhere from one thousand to one hundred thousand dollars.
Here in Australia, we often think that first features need a hefty price tag in order to be taken seriously. Not FFS. We are prioritising good ideas made well and have designed a program to give one team a very visible shot at feature filmmaking supported by some very generous and entrepreneurial partners. We want you to think of what you can make now through the pooling of resources and talents and we will reward you with not only a 50k cash budget but your post production cost subsidised through our partners.
Send us the one page synopsis and we will blind judge, selecting the ten best ideas for features. Those ten ideas we will then ask for additional information for - some excerpts of the script, mood boards, pitch videos, anything that will show us that you're rip-roaring and ready to go. From there we will choose three projects and our Jury, made up of female indie directors who have all nailed the indie film scene, will decide on one project to move to production.
We'll contract you, arm you with as much mentorship and support as we can muster and give you the cash. Once the cameras finish rolling, you'll move into post supported by the industry's best and from there we will begin to get you ready for your World Premiere at FFS 2018.
Your film will have a warm Australian reception and we'll commit to getting you the screenings you need to tick Screen Australia's 'commercial release' clause to help you apply for future funding. Then you'll be cut loose. You'll have your first feature done and dusted and you'll be free to travel with your film to international festivals in order to get your name out there, and get those networks expanding.
We want to see new voices in Australian cinema succeed and we encourage everyone, regardless of experience to apply. You gotta start somewhere.
What You Need
A team of four people, either proposed or confirmed and a bloody great idea for a feature. Think about the story you can tell without a boat load of extras or a production design that requires gold furnishings (unless you can get these things for free).
We want people of all genders coming up with ideas but know that you will only be successful if you pass the four ticks meaning that of the following five roles, four must be fulfilled by a female or female-identifying creative:
- writer
- producer
- director
- cinematographer
- lead protagonist or who the film is about
We have no preference for genre but be aware that you will have to make it within the budget we give you (no additional funds can be added) and it will need to be ready for FFS 2018. So you'll be working from script to shoot quickly and from shoot to premiere even faster. This is a program for doers and we know that given half a chance, you'll come up with solid gold.
You can enter as many times as you like so think of this as your time in an elevator with the head of a studio - give us everything you've got and we promise to pay attention.
APPLICATIONS CLOSE MARCH 31 2017.
ENTER of Find Out More HERE
Be Part Of Something Beautiful
Bureau calls for Australian Weather Calendar 2018 entries
The Bureau of Meteorology's Capture the Weather photo competition gives entrants the chance to feature in the 2018 edition of the iconic Australian Weather Calendar.
This year, judges will be on the hunt for 13 unique images that capture Australian weather in a dramatic, captivating or creative setting. Interesting interpretations of frost, clouds, rainbows or sunshine have been the top picks in previous years.
The competition closes on 31 March 2017,
giving amateur and professional photographers one more month to scour the Australian countryside for the perfect cloud formation, rainbow or lightning strike and capture the moment to share with the world.
Winners could have their image displayed in homes across Australia and overseas as part of a weather calendar tradition that has spanned more than 30 years.
CEO and Director of Meteorology Dr Andrew Johnson is looking forward to seeing images submitted for the 2018 calendar, published jointly by the Bureau and the Australian Meteorological and Oceanographic Society.
"We encourage photographers to send in work showcasing the diversity of Australian landscapes and weather including images that show the interaction of extraordinary weather phenomena with industry, infrastructure or communities."
You can view the winning images for 2017 by grabbing one of the final remaining Australian Weather Calendars online at
shop.bom.gov.au
.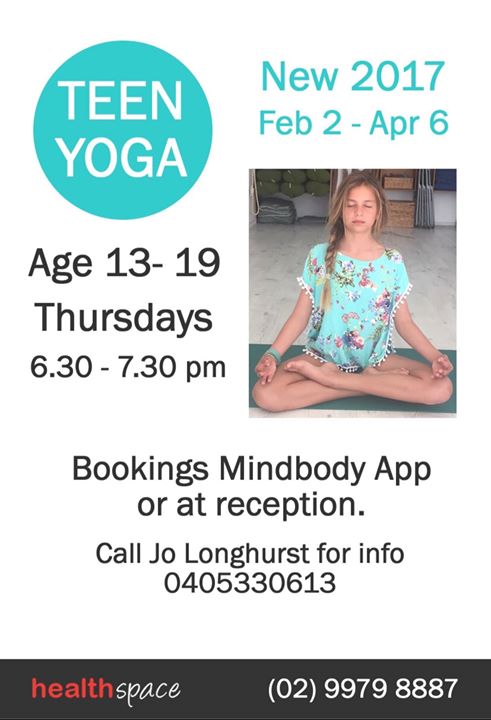 Sync Your Breathing with this - to help you Relax
headspace Brookvale
headspace Brookvale provides services to young people aged 12-25. If you are a young person looking for health advice, support and/or information,headspace Brookvale can help you with:
• Mental health • Physical/sexual health • Alcohol and other drug services
• Education and employment services
If you ever feel that you are:
• Alone and confused • Down, depressed or anxious • Worried about your use of alcohol and/or other drugs • Not coping at home, school or work • Being bullied, hurt or harassed • Wanting to hurt yourself • Concerned about your sexual health • Struggling with housing or accommodation • Having relationship problems • Finding it hard to get a job
Or if you just need someone to talk to… headspace Brookvale can help! The best part is our service is free, confidential and youth friendly.
headspace Brookvale is open from Monday to Friday 9:00am-5:30pm so if you want to talk or make an appointment give us a call on (02) 9937 6500. If you're not feeling up to contacting us yourself, feel free to ask your family, friend, teacher, doctor or someone close to you to make a referral on your behalf.
When you first come to headspace Brookvale you will be greeted by one of our friendly staff. You will then talk with a member of our headspace Brookvale Youth Access Team. The headspace Brookvale Youth Access Team consists of three workers, who will work with you around whatever problems you are facing. Depending on what's happening for you, you may meet with your Youth Access Worker a number of times or you may be referred on to a more appropriate service provider.
A number of service providers are operating out of headspace Brookvale including Psychologists, Drug & Alcohol Workers, Sexual Health Workers, Employment Services and more! If we can't find a service operating withinheadspace Brookvale that best suits you, the Youth Access Team can also refer you to other services in the Sydney area.
eheadspace provides online and telephone support for young people aged 12-25. It is a confidential, free, secure space where you can chat, email or talk on the phone to qualified youth mental health professionals.
Click here to go to eheadspace
For urgent mental health assistance or if you are in a crisis please call the Northern Sydney 24 hour Mental Health Access Line on 1800 011 511
Need Help Right NOW??
kids help line: 1800 55 1800 - www.kidshelpline.com.au
lifeline australia - 13 11 14 - www.lifeline.org.au
headspace Brookvale is located at Level 2 Brookvale House, 1A Cross Street Brookvale NSW 2100 (Old Medical Centre at Warringah Mall). We are nearby Brookvale Westfield's bus stop on Pittwater road, and have plenty of parking under the building opposite Bunnings. More at: www.headspace.org.au/headspace-centres/headspace-brookvale
Our Youth page is for young people aged 13+ - if you are younger than this we have stuff for you on the Children's page
All Previous pages for you listed in Past Features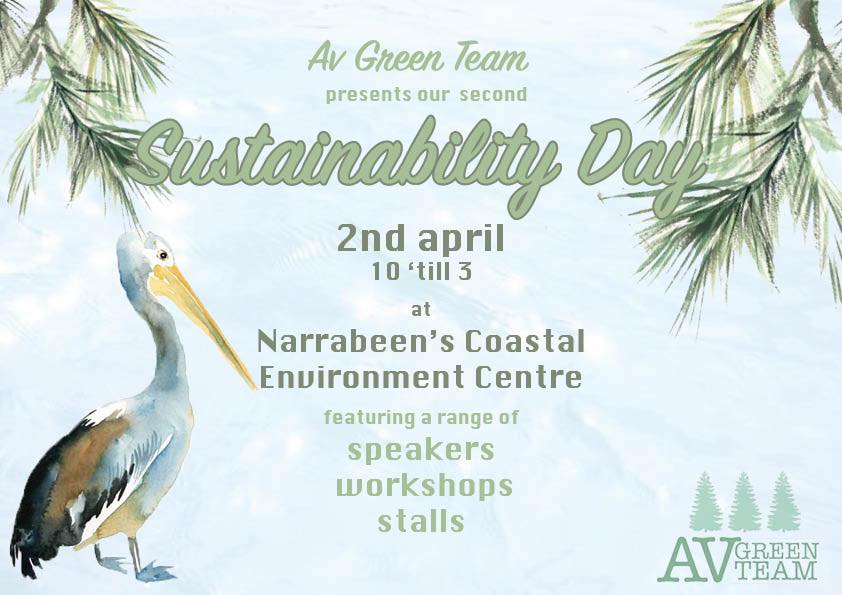 Av Green Team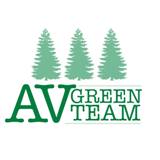 This Youth-run, volunteer-based environment initiative has been attracting high praise from the founders of Living Ocean as much as other local environment groups recently.
Turning up for Beach Cleans, or starting their own, underlines an 'action speaks louder than words' ethos is at the core of this group.
All Welcome!
Coastal Wings
An amazing video by UNSW Water Research Laboratory drone pilot Chris Drummond highlighting some of the amazing footage he captured in 2016 around Sydney and NSW.
2017 NSW Training Awards nominations
March 13, 2017: NSW Government
Nominate an outstanding individual, employer or training organisation before 24 March 2017.
he NSW Training Awards are conducted by Training Services NSW and recognise the achievements of individuals, employers and training organisations involved in Vocational Education and Training (VET).
Award categories for individuals include:
Aboriginal and Torres Strait Islander Student of the Year Award

Apprentice of the Year Award

School-based Apprentice of the Year Award

Trainee of the Year Award

VET Teacher/Trainer of the Year Award

VET in Schools Student of the Year Award

Vocational Student of the Year Award
Deputy Premier and Minister for Skills, John Barilaro, said the NSW Training Awards are the premier recognition for Vocational Education and Training (VET) in NSW.
"These awards provide a platform for us to celebrate the achievements of all those involved in the success of
Smart and Skilled
– the government's training framework which provides eligible students in NSW with access to high-quality, affordable training that meets the needs of industry and which leads to jobs," he said.
Winners from the NSW Training Awards will be announced in September. The winners have the opportunity to compete with other states and territories to be named the best in Australia at the Australian Training Awards.
EXPRESS YOURSELF 2017
HSC Visual Arts from Sydney's Northern Beaches
Manly Art Gallery & Museum, 3 Mar – 2 Apr 2017
Express Yourself
is a vibrant and dynamic annual exhibition, this year showcasing the talent and creativity of the 2016 crop of HSC Visual Arts students from Sydney's Northern Beaches.
The exhibition kicks off at the Manly Art Gallery & Museum on Friday 3 March at 6pm and will be opened by Tristan Sharp, Director Programs & Engagement, Museum of Applied Arts & Sciences.
Express Yourself celebrates the work of over 40 emerging young artists from 18 secondary schools in the region and includes multi-media, digital, sculpture, graphics and drawing. The outstanding technical and artistic calibre of the works in Express Yourself reflect the artistic strength of the students in Sydney's Northern Beaches region, and the high quality of teaching and learning in Visual Arts at the HSC level.
Displayed alongside the artworks are statements written by the students expanding on the inspirations and influences that informed their works and their journeys through this unique and demanding creative process.
The winners of the 2017 Manly Art Gallery & Museum Society Youth Art Award and Theo Batten Bequest Youth Art Award will be announced on the opening night. These two awards are granted annually to students featured in the exhibition. Manly Art Gallery & Museum Society presents a $3000 award and the Theo Batten Youth Art Award of $5000 is awarded to a student who is continuing tertiary studies in the arts.
Manly Art Gallery & Museum is on West Esplanade Reserve (close to Manly Ferry Wharf). The Gallery is open 10am-5pm Tuesday-Sunday. Free Entry
For information, telephone 9976 1421 or email
artgallery@northernbeaches.nsw.gov.au
This Exhibition is part of
Art Month Sydney
.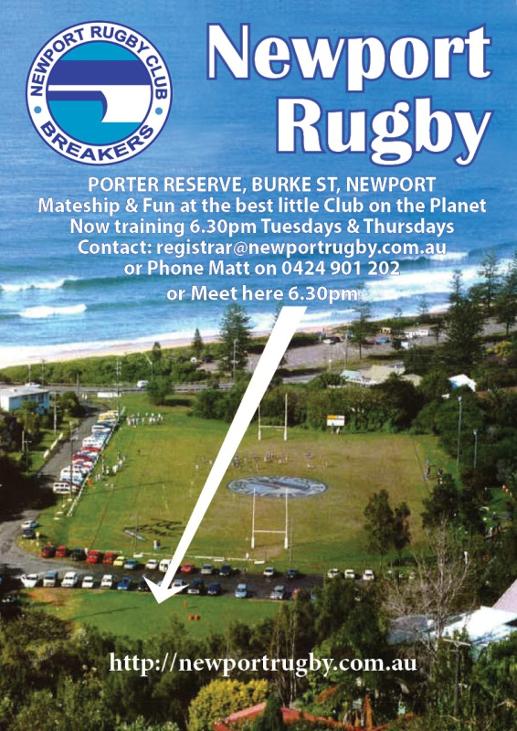 Board Collector Surf Swap
Featuring
STAB Magazine Filmlyfe Film festival

Films and Q&A with surfing and shaping legends

"Show and Shine" 100 Vintage surfboards display

Pre-1990 surfboards for sale and swap.

Warung of Knowledge

Free Vintage appraisals

"The best of the cutting edge", new surfboards and contemporary shapers

Photography, art, clothing and accessories stalls

Micro brewery beers and gourmet food stalls
Calling on collectors the reserve a spot to display and sell their boards and volunteers to be part of the family and help us wrangle surfboards and crowds.
If your interested in coming along, having a stall, displaying some boards or volunteering, drop us a line - Email:
info@boardcollectorsurfswap.com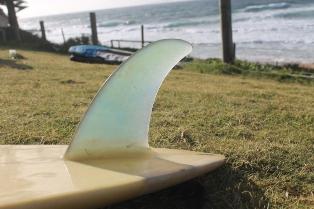 Cyberbullying
Research shows that one in five Australian children aged 8 to 17 has been the target of cyberbullying in the past year. The Office of the Children's eSafety Commissioner can help you make a complaint, find someone to talk to and provide advice and strategies for dealing with these issues.
Make a Complaint
About this form
The Enhancing Online Safety for Children Act 2015 gives the power to provide assistance in relation to serious cyberbullying material. That is, material that is directed at a particular child with the intention to seriously embarrass, harass, threaten or humiliate.
IMPORTANT INFORMATION
Before you make a complaint you need to have:
copies of the cyberbullying material to upload (eg screenshots or photos)

reported the material to the social media service (if possible) at least 48 hours ago

at hand as much information as possible about where the material is located

15-20 minutes to complete the form
Visit: esafety.gov.au/complaints-and-reporting/cyberbullying
Our mission
The Office of the Children's eSafety Commissioner is Australia's leader in online safety. The Office is committed to helping young people have safe, positive experiences online and encouraging behavioural change, where a generation of Australian children act responsibly online—just as they would offline.
We provide online safety education for Australian children and young people, a complaints service for young Australians who experience serious cyberbullying, and address illegal online content through the Online Content Scheme.
Our goal is to empower all Australians to explore the online world—safely.
Kids Helpline
If you're aged 5-25 the Kids Helpline provides free and confidential online and phone counselling 24 hours a day, seven days a week on 1800 55 1800.
You can chat with us about anything… What's going on at home, stuff with friends. Something at school or feeling sad, angry or worried. You don't have to tell us your name if you don't want to.
You can Webchat, email or phone. Always remember - Everyone deserves to be safe and happy. You're important and we are here to help you. Visit: https://kidshelpline.com.au/kids/
NCYLC is a community legal centre dedicated to providing advice to children and young people. NCYLC has developed a Cyber Project called Lawmail, which allows young people to easily access free legal advice from anywhere in Australia, at any time.
NCYLC was set up to ensure children's rights are not marginalised or ignored. NCYLC helps children across Australia with their problems, including abuse and neglect. The AGD, UNSW, KWM, Telstra and ASIC collaborate by providing financial, in-kind and/or pro bono volunteer resources to NCYLC to operate Lawmail and/or Lawstuff.
In 2014, Lawmail helped over 1600 people, with 211 of these cases involving help to children under 18 with online safety. A further 337 children were helped with family disputes, child abuse or neglect. An amazing 1.1 million children, young people and their advocates accessed Lawstuff' s pages including those dealing with child abuse or violence, and 224, 000 of these viewed the new pages relating to online safety and mobile phones.
The Project Gutenberg Library of Australiana
Australian writers, works about Australia and works which may be of interest to Australians.This Australiana page boasts many ebooks by Australian writers, or books about Australia. There is a diverse range; from the journals of the land and sea explorers; to the early accounts of white settlement in Australia; to the fiction of 'Banjo' Paterson, Henry Lawson and many other Australian writers.
The list of titles form part of the huge collection of ebooks freely downloadable from Project Gutenberg Australia. Follow the links to read more about the authors and titles and to read and/or download the ebooks.
New vocational education loan program commences
January 2017: Media Release - Senator the Hon Simon Birmingham,
Minister for Education and Training
The Turnbull Government's new affordable, sustainable and student-focussed vocational education and training student loans program kicked off today – ending Labor's failed VET FEE-HELP scheme.
Minister for Education and Training Simon Birmingham said the New Year marked the start of a new era for vocational education in Australia, with the VET Student Loans program designed to support students to undertake industry-linked and value-for-money courses at quality training providers.
"The Turnbull Government's VET Student Loans program incorporates the lessons learnt from the disastrous VET FEE-HELP scheme that the Auditor-General highlighted last month," Minister Birmingham said.
"VET Student Loans includes a range of new measures to protect students and taxpayers, address skills shortages and ultimately restore the reputation of the vocational education sector.
"Labor's 2012 VET FEE-HELP changes opened the floodgates to shonky providers who ripped off vulnerable students and taxpayers but the new safeguards we've put in place mean students can have confidence that the training they are receiving is aligned to workplace needs and strong employment outcomes, and is being delivered by training providers who have met the tougher benchmarks we have set.
"The support the Government and taxpayers will provide through VET Student Loans will help Australians get the right skills and education they need to find a career that combines their passions with long-term job prospects."
Minister Birmingham said thousands of VET FEE-HELP students had already opted in to the new program and all training organisations which had applied had been assessed and notified whether they could deliver courses through VET Student Loans during the transition period to July 2017.
"Since we outlined the details of VET Student Loans in October, the Turnbull Government and the Department of Education and Training have been working to ensure a quick and smooth transition from Labor's failed VET FEE-HELP scheme for the training sector and for affected students," Minister Birmingham said.
"Already more than 26,000 students have opted to finish their course under VET FEE-HELP, and 193 training organisations have been granted provisional approval to deliver courses under the new program until the end of June 2017.
"We are still actively contacting VET FEE-HELP students who have not completed their course and have yet to indicate if they wish to be grandfathered. I encourage any student who was a part of the VET FEE-HELP scheme to get in touch with us before they resume studies in 2017 and no later than 31 March to ensure they continue to be supported to complete their study.
"Applications are also now open for training organisations who want to offer VET Student Loans to students in courses from 1 July 2017. Providers have until 19 February to apply and will need to demonstrate a strong track record of delivering high quality training and achieving employment outcomes for students.
"These stringent requirements will ensure that only high quality providers, committed to delivering high quality training and strong employment outcomes for Australian students, employers and taxpayers will be approved."
NLA Ebooks - Free To Download
The National Library of Australia provides access to thousands of ebooks through its website, catalogue and eResources service. These include our own publications and digitised historical books from our collections as well as subscriptions to collections such as Chinese eResources, Early English Books Online and Ebsco ebooks.
Ebooks are books published in an electronic format. They can be read by using a personal computer or an ebook reader.
This guide will help you find and view different types of ebooks in the National Library collections.
Peruse the NLA's online ebooks, ready to download -
HERE
Sydney Harbour Bridge Celebrates 85th Birthday
That bridge across the harbour turns 85 today, Sunday March 19th.
The National Film and sound Archive has launched an Online

Exhibition

to celebrate (links below) and a great Intro film.
Plans to build a bridge were discussed as early as 1815, when convict and noted architect Francis Greenway reputedly proposed to Governor Lachlan Macquarie that a bridge be built from the northern to the southern shore of the harbour. In
April 1825
, Greenway wrote a letter to an earlier named "
The Australian
" newspaper stating that such a bridge would "give an idea of strength and magnificence that would reflect credit and glory on the colony and the Mother Country".
Nothing happened then but the idea stayed around. In 1840, naval architect Robert Brindley proposed that a floating bridge be built. Engineer Peter Henderson produced one of the earliest known drawings of a bridge across the harbour around 1857. One our research in TROVE, below, shows a version drawn up in 1873. A suggestion for a truss bridge was made in 1879, and in 1880 a high-level bridge estimated at $850,000 was proposed.
In 1900, the then Lyne government committed to building a new Central railway station and organised a worldwide competition for the design and construction of a harbour bridge. Local engineer Norman Selfe submitted a design for a suspension bridge and won the second prize of £500. In 1902, when the outcome of the first competition became mired in controversy, Selfe won a second competition outright, with a design for a steel cantilever bridge. This one didn't get built either though.
In 1914 Dr. John Bradfield, after whom the Bradfield Highway is named, was appointed "Chief Engineer of Sydney Harbour Bridge and Metropolitan Railway Construction". His idea for a cantilever bridge without piers, work which earned him the legacy as the "father" of the bridge, did gain more popular and government support but construction was suspended due to money available being poured in World War I.

After the cessation of hostilities, and a renewed demand for a bridge linking the city with the north shore, Dr. Bradfield and officers of the NSW Department of Public Works prepared a general design for a single-arch bridge based on New York City's Hell Gate Bridge. The tender was awarded to the English firm Dorman Long and Co Ltd, of Middlesbrough, known as the contractors who constructed the similar Tyne Bridge of Newcastle Upon Tyne, for an arch bridge at a quoted price of £4,217,721 11s 10d.
The building of the bridge coincided with the construction of that system of underground railways in Sydney's CBD, known today as the City Circle, and the bridge's design reflected this. The bridge was designed to carry six lanes of road traffic, flanked on each side by two railway tracks and a footpath. Both sets of rail tracks were linked into the underground Wynyard railway station on the south (city) side of the bridge by symmetrical ramps and tunnels. The eastern-side railway tracks were intended for use by a planned rail link to the Northern Beaches; in the interim they were used to carry trams from the North Shore into a terminal within Wynyard station, and when tram services were discontinued in 1958, they were converted into extra traffic lanes. The Bradfield Highway, which is the main roadway section of the bridge and its approaches, is named in honour of Bradfield's contribution to the bridge. [1.]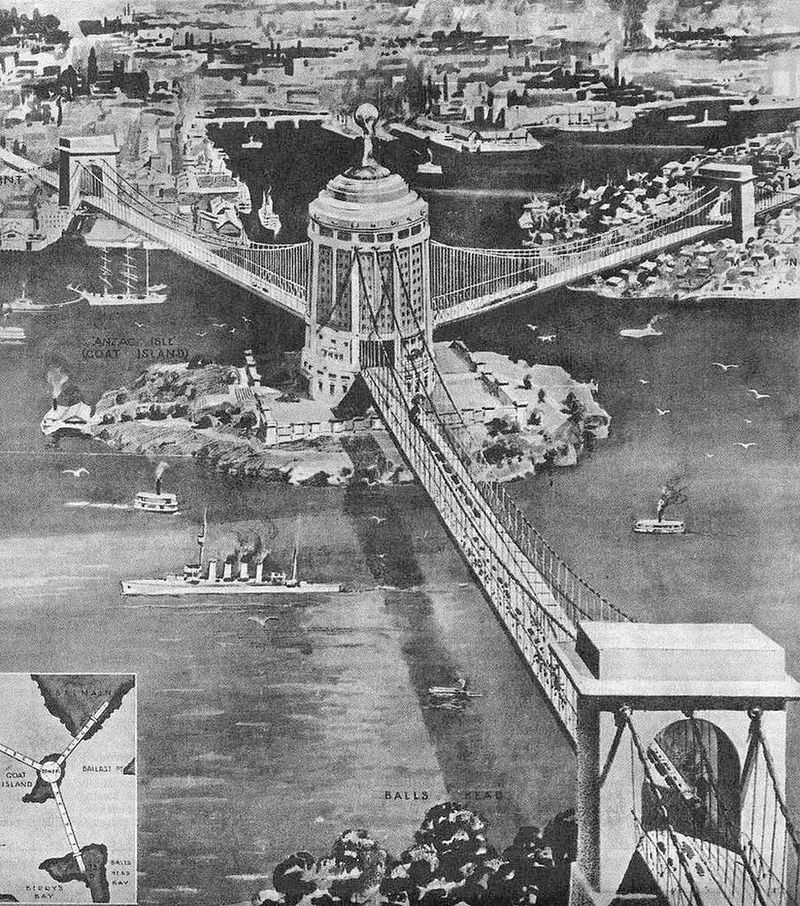 Stowe's 1922 Proposal - Original publication: National Archives of Australia
A unique three-span bridge was proposed in 1922 by Ernest Stowe with connections at Balls Head, Millers Point, and Balmain with a memorial tower and hub on Goat Island.
The official ceremony to mark the "turning of the first sod" occurred on 28 July 1923, on the spot at Milsons Point on the north shore where two workshops to assist in building the bridge were to be constructed.
An estimated 469 buildings on the north shore, both private homes and commercial operations, were demolished to allow construction to proceed, with little or no compensation being paid. Work on the bridge itself commenced with the construction of approaches and approach spans, and by September 1926 concrete piers to support the approach spans were in place on each side of the harbour.
Arch construction itself began on 26 October 1928. The southern end of the bridge was worked on ahead of the northern end, to detect any errors and to help with alignment. The cranes would "creep" along the arches as they were constructed, eventually meeting up in the middle. In less than two years, on Tuesday, 19 August 1930, the two halves of the arch touched for the first time. Workers riveted both top and bottom sections of the arch together, and the arch became self-supporting, allowing the support cables to be removed. On 20 August 1930 the joining of the arches was celebrated by flying the flags of Australia and the United Kingdom from the jibs of the creeper cranes.
The deck for the roadway and railway were built on top of the crossbeams, with the deck itself being completed by June 1931, and the creeper cranes were dismantled. Rails for trains and trams were laid, and road was surfaced using concrete topped with asphalt.
The last stone of the north-west pylon was set in place on 15 January 1932, and the timber towers used to support the cranes were removed.
On 19 January 1932, the first test train, a steam locomotive, safely crossed the bridge. Load testing of the bridge took place in February 1932, with the four rail tracks being loaded with as many as 96 steam locomotives positioned end-to-end. The bridge underwent testing for three weeks, after which it was declared safe and ready to be opened.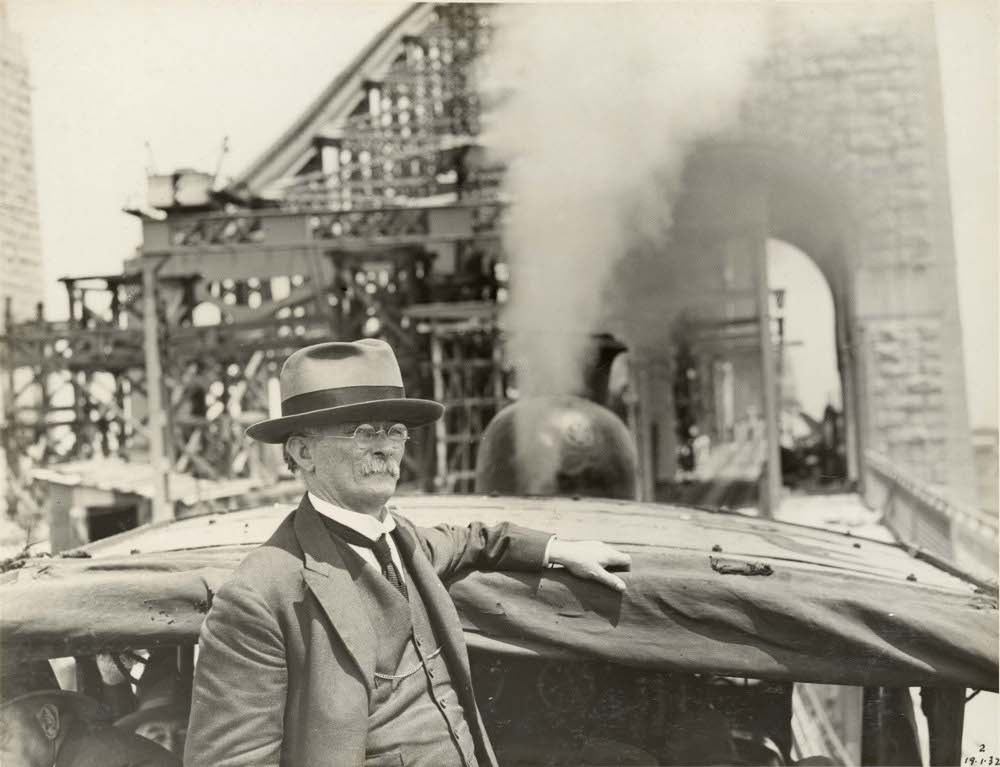 Dr. John Bradfield riding the first test train across the bridge on 19 January 1932, courtesy State Records of NSW Flickr collection.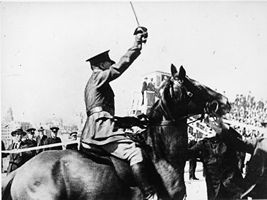 The construction worksheds were demolished after the bridge was completed, and the land that they were on is now occupied by Luna Park.
The bridge was formally opened on Saturday, 19 March 1932. The then Premier, Jack Lang, was meant to cut the ribbon, but some of you may well know that Captain Francis de Groot danced forward on his horse and cut the ribbon! de Groot was a member of the right-wing New Guard of Australia, formed in Sydney, Australia in February 1931 as a paramilitary offshoot from a conservative tradition defending loyalty to King and Empire, sound government, law and order, individual liberty and property rights. In particular, the movement was formed in response to the policies adopted by Jack Lang, the leader of the Labor Party and Premier of New South Wales.
DEMOLISHED FOR THE HARBOUR BRIDGE.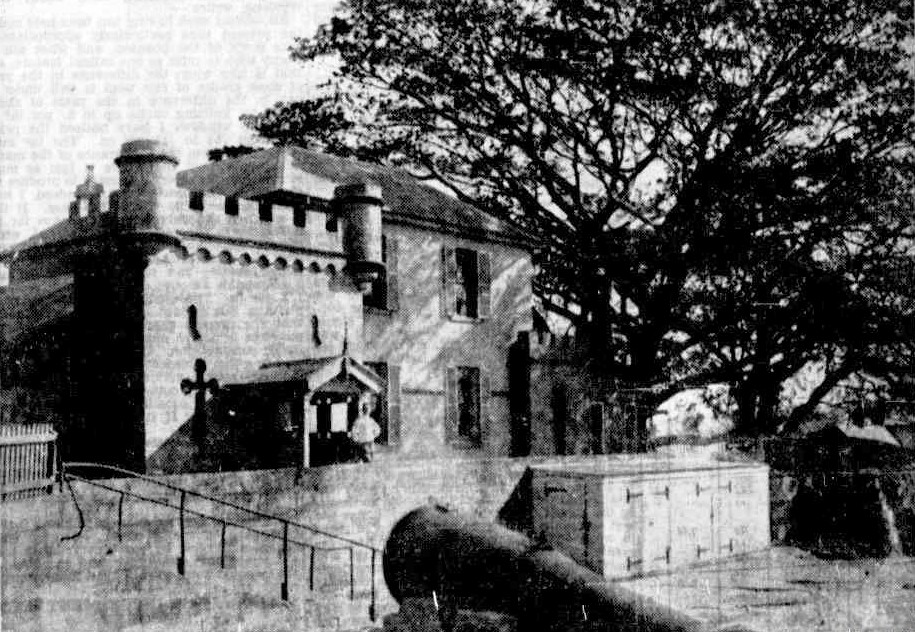 The Fort, the residence of the late Captain Hixson, at Dawes Point. At the right-hand end will be
seen the top of the old military quarters.
DEMOLITION OF HISTORIC BUILDING.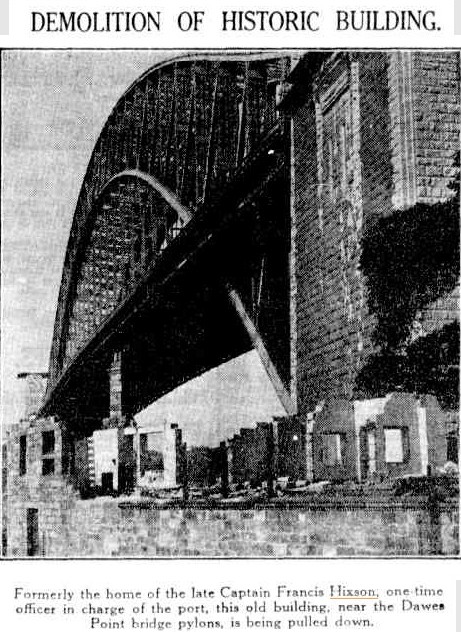 Formerly the home of the late Captain Francis Hixson, one-time officer in charge of the port, this old building, near the Dawes Point bridge pylons, is being pulled down. DEMOLITION OF HISTORIC BUILDING. (
1932, February 4
).The Sydney Morning Herald (NSW : 1842 - 1954), p. 12. Retrieved from
http://nla.gov.au/nla.news-article16838759
Yet more proof that every community is connected to every other community through threads that weave time's events. Such people, and threads, have enriched and continue to enrich us all, merely by making an acquaintance with these little parts of the whole picture.
Hannah Macluran and Dr. Bradfield on Sydney Harbour bridge prior to opening - courtesy Avalon Beach Historical Society
The 1873 Harbour Bridge notions and design:
BLUE'S POINT, NORTH SHORE, SYDNEY.
The scenery on the North Shore of Sydney Harbor is grand and beautiful in the
extreme. Early chroniclers informs us that the North Shore was considered in many respects the most suitable for
the founding of a city, and that it was only the stream of fresh water which was found flowing into Sydney Cove which led to the site on the southern side of tho harbor being chosen. Not long ago at a meeting of members of the Sydney Exchange, the chairman predicted that at no very dis-tant date their edifice would be in the centre of the city, and that St. Leonard's would be-come to Sydnoy what Brooldyn is to New York. A plan for a bridge to connect the city with the North Shore was prepared some time ago, and it is anticipated that before many years the population will have in
creased to such an extent on both sides of the harbor as to necessitate the erection of such a structure. The close proximity of North Shore to Sydney (712 yards from Dawes Point to Blue's Point, between which places steamers ply every five minutes) ren-ders it a pleasant haunt for spending a half holiday in enjoying magnificent views of the city, and in visiting some of the hundreds of places of interest with which the
district abounds.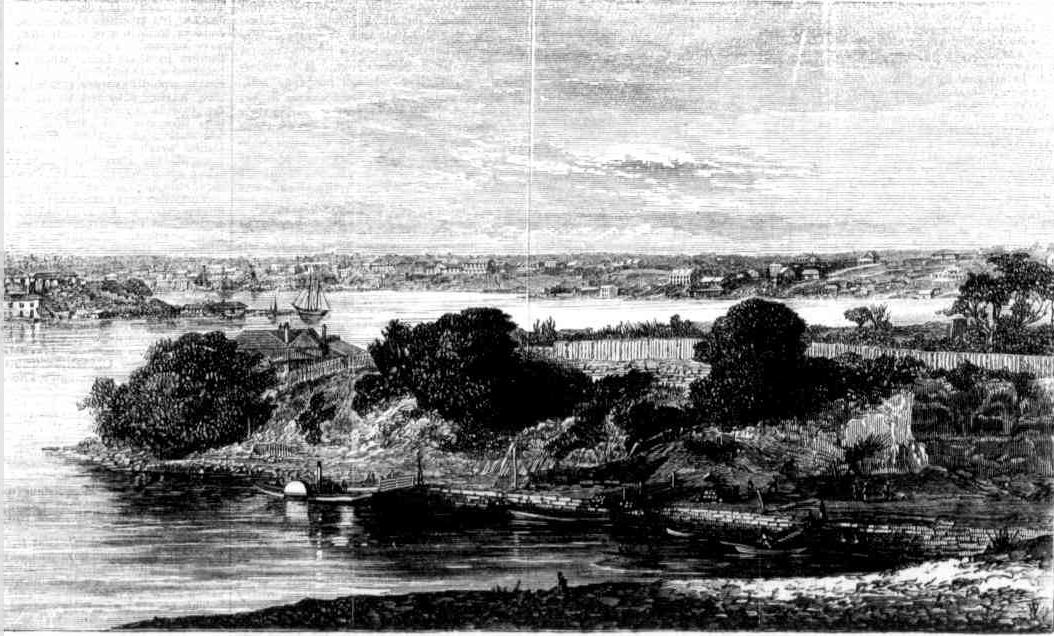 Blue's Point — the native name of which is Warung — is a prominent tongue of land on the North Shore, and situated in the western part of St. Leonard's, opposite Sydney. It derives its name from an old inhabitant, William Blue, a colored man — more familiarly known in days long past as " The Old Commodore." He resided for a great number of years on this point — which was granted to him — as also a con-
siderable tract of land, in the neighbourhood. In our sketch we show three of the 18 ton rifled guns recently received by the New South Wales Government per Thyatira from England. These are intended for the fortit-cations at North Shore, and are ready for conveyance to their respective positions, The dimensions of each are as follows : — Calibre of bore, 10 inches ; length over all, 15 feet 4 inches ; length of bore, 14 feet
5.75 inches ; number of grooves, 7 each 1.5 inches wide and about one-fourth of an inch deep. Twist in bore, 1 in 100 at the breech, increasing to 1 in 40 at the muzzle. Weight of projectiles, Palliser shot, 400 pounds ; Palliser shell, 390 pounds empty ; common shell, 368 lb. empty ; bursting charges of shells, Palliser 10 pounds ; common shell, 32 pounds ; charges of powder per gun, shot, 60 pounds ;
shell, 64 pounds. The work of landing those guns was one of considerable difficulty, and required more than ordinary forethought and care. The Thyatira was taken to Pyrmont and placed under the massive shears belong-ing to the A.S.N. Company, and the guns were then slung into punts fitted for their reception. By these they were conveyed to their landing places, three to the Circular Quay for the Southern Shore defences, and the three shown in our illustration to Blue's Point. BLUE'S POINT, NORTH SHORE, SYDNEY. (
1873, February 21
).
Illustrated Australian News for Home Readers
(Melbourne, Vic. : 1867 - 1875), p. 28. Retrieved from
http://nla.gov.au/nla.news-article60446036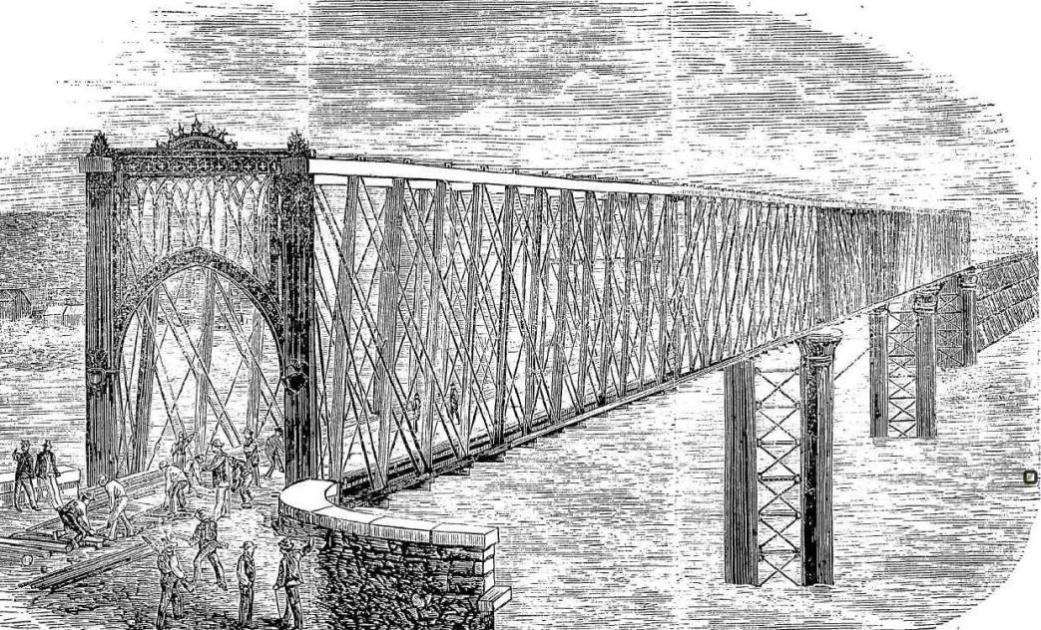 DESIGN FOR A BRIDGE TO CONNECT SYDNEY WITH NORTH SHORE
(SEE PAGE 181.) Sydney Town Talk. (
1873, August 9
).
Australian Town and Country Journal
(Sydney, NSW : 1870 - 1907), p. 17. Retrieved from
http://nla.gov.au/nla.news-article70480242
Reference.
Sydney Harbour Bridge. (2017, March 15). In Wikipedia, The Free Encyclopedia. Retrieved from https://en.wikipedia.org/w/index.php?title=Sydney_Harbour_Bridge&oldid=770507181

Sydney Harbour Bridge: The people's bridge
Published on 16 Mar 2017 by National Film and Sound Archives (NFSA)
Sydney Harbour Bridge compile 2017.
Showcasing footage from the NFSA's Film Australia and National Collections. Edited by Richard Carter.
This Sydney icon will celebrate 85 years on 19 March, 2017. The NFSA is launching a new online exhibition and curated collection to celebrate the Sydney Harbour Bridge!
Explore archival footage of the 'coathanger' throughout history - from its construction and controversial opening, to its multifaceted role as one of Australia's most recognisable icons. Listen to songs; see former bridge rigger Paul Hogan inviting the world to visit Australia from the top of the bridge, and more!
Corroboree Frog Habitat Trial Is A Hop In The Right Direction
Media release: 17 March 2017- NPWS
More than 300 Southern Corroboree Frogs were released into remote enclosures in Kosciuszko National Park yesterday as part of a massive effort to save this critically endangered species.
Gabriel Wilks from the National Parks and Wildlife Service (NPWS) said the frogs were successfully placed into specially-constructed frog enclosures within the park as part of efforts to return healthy populations of this species back into the wild.
"The newly built enclosures are in very remote locations in the national park where these frogs were once found," Ms Wilks said.
"The eight specially constructed enclosures are 7 meters in diameter and essentially look like a bottomless swimming pool with native vegetation, logs and small ponds placed inside.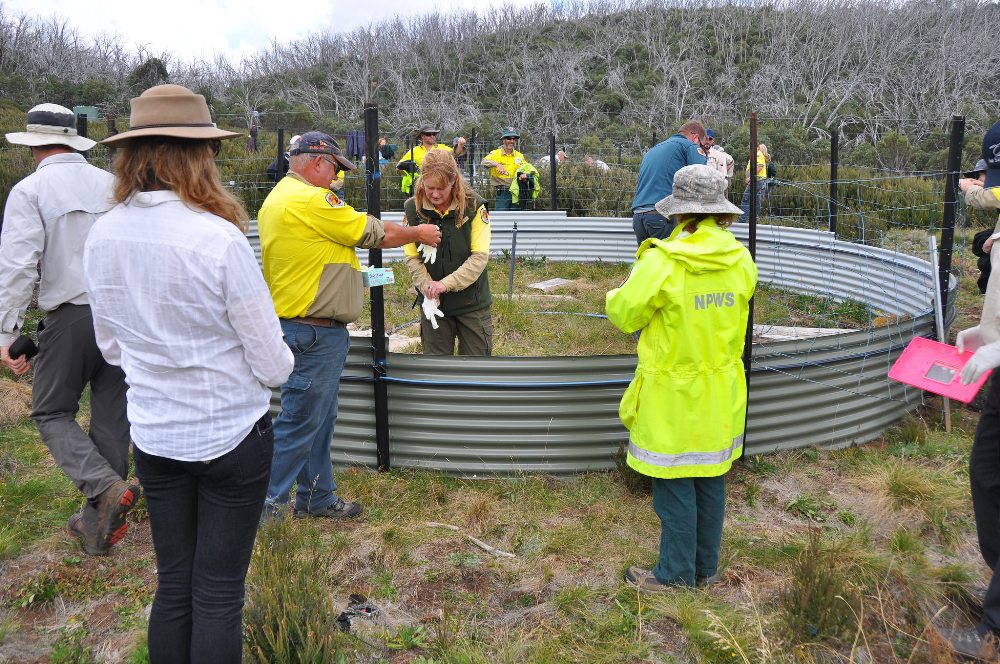 "Designing the enclosures to ensure the frogs and their mini-ecosystems remain healthy and survive the extreme weather conditions has been a challenge.
"Similar enclosures have been installed throughout Kosciusko National Park as part of a long term recovery plan to save this iconic species, but we've never before attempted to place them in such a remote area.
"The specialist skills and local knowledge of the NPWS Landforms and Rehabilitation Team was vital to work out how habitat and irrigation requirements could actually be achieved in the field.
NPWS Field officer Joel Fordham is part of the crew that constructed the enclosures and described these new frog homes as 'move-in-ready' for the tiny black and yellow striped frog.
"The enclosures are like frog resorts - ponds will have water in summer for breeding, the right vegetation for habitat shelter, plenty of ants for food and timber slabs for winter retreats," Mr Fordham said.
The construction of these enclosures was funded by the Australian Government through the Threatened Species Strategy and is part of a long term recovery plan to save this iconic species.
The frogs that were released yesterday were bred in captivity by the Taronga Zoo and Zoo Victoria.
Earlier trials with frog enclosures have already shown promising results with breeding observed at other locations.
For more information on efforts to save the iconic Southern Corroboree Frog in NSW, visit the
Saving our Species
.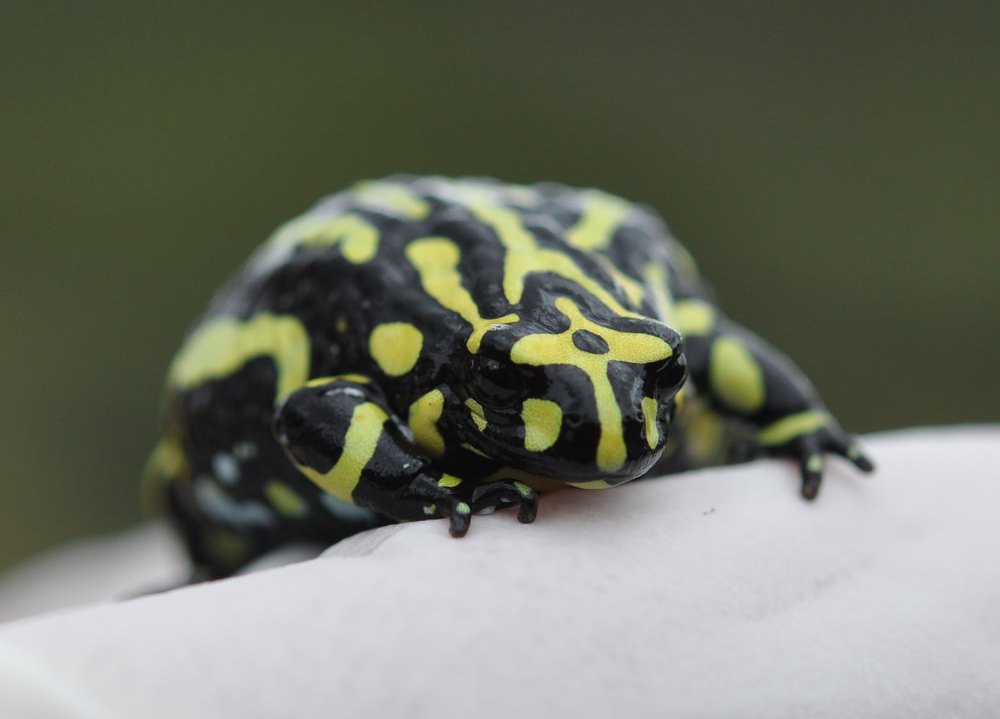 Top: One of the
specially constructed enclosures, Above:
Corroboree frogs are 2.5-3cms in length!. Photos courtesy NPWS and NSW Office of Environment and Heritage.
Taronga is heavily involved in breeding and release of Corroboree frogs into the wild in a National Recovery Program to help save this species. The program involves breeding both species of frogs in at our breeding units that contain computerised temperature and water filtration systems. They are set up with dual thermostats and alarms to ensure the temperature stays within the optimal range. One of these breeding units can be seen next to Reptile World at Taronga Zoo, Sydney.
Corroboree Frogs are Australia's most iconic amphibian species and amongst the most visually spectacular frogs in the world. These tiny frogs can be readily distinguished by their bold yellow and black strips n the body and their marbled black, white and yellow belly. All known populations of the Southern Corroboree Frog inhabit Kosciuszko National Park, which is one of the best known and best loved National Parks in Australia, attracting around 3 million visitors each year. Living in marshlands and sclerophyll forests under logs and vegetation means that catching a glimpse of these stunning creatures is a rare and exciting occurrence.
Life as a Corroboree Frog
These frogs feed mainly on small invertebrates such as ants, beetles, insect larvae and mites. Tadpoles feed on algae and small bits of organic material.
The Southern Corroboree Frog is found only within Kosciuszko National Park in the Snowy Mountains in New South Wales
. This species is found at heights of between 1,300 and 1,760 metres above sea level. Habitat critical to the survival of Corroboree Frogs includes both breeding habitat and the surrounding woodland. Corroboree frogs use pools and sphagnum bogs, wet tussock grasslands, fens and wet heath for breeding. Some water bodies dry up outside of breeding season so frogs will shelter in dense litter and under logs and rocks. Northern Corroboree Frogs are known to move over 300 metres into surrounding woodland after breeding.
Corroboree Frogs have a typical amphibian life-cycle with an aquatic tadpole stage and terrestrial frog stage. Adult males move into breeding areas in early to late summer, and call from small chambers (nests) in moss or other soft vegetation and soil at the edges of the breeding pools. The pools are often dry during the breeding season when the eggs are laid. If a female is attracted to a male, she will lay her eggs in his nest. Within the nest, the eggs develop to an advanced stage, before development stops and they enter 'diapause', where the embryos remain without developing further, until flooding of the nest following autumn or winter rains stimulates them to hatch.
After hatching, the tadpoles move out of the nest site and into the adjacent pool where they live for the remainder of the larval period as a free swimming and feeding tadpole. Corroboree Frog tadpoles are dark in colour, have a relatively long paddle shaped tail, and grow to 30 mm in total length. The tadpoles continue growing slowly, particularly over winter when the pool may be covered with snow and ice, until metamorphosis in early summer.
The Corroboree Frog is unusual in that this frog walks in a manner far more like a lizard than a frog and cannot hop. These frogs have no known predators due to its toxic skin secretions. Not only does it obtain pumiliotoxins from its diet, it also produces its own poisonous alkaloids, pseudophrynamines. The Corroboree Frog is a secretive creature and is often very hard to see in the wild. Adults become dormant during winter however the tadpoles remain active as the ice forms a layer of insulation that stops the bog freezing solid and they are able to survive with an extremely low body temperature, only a couple of degrees above freezing.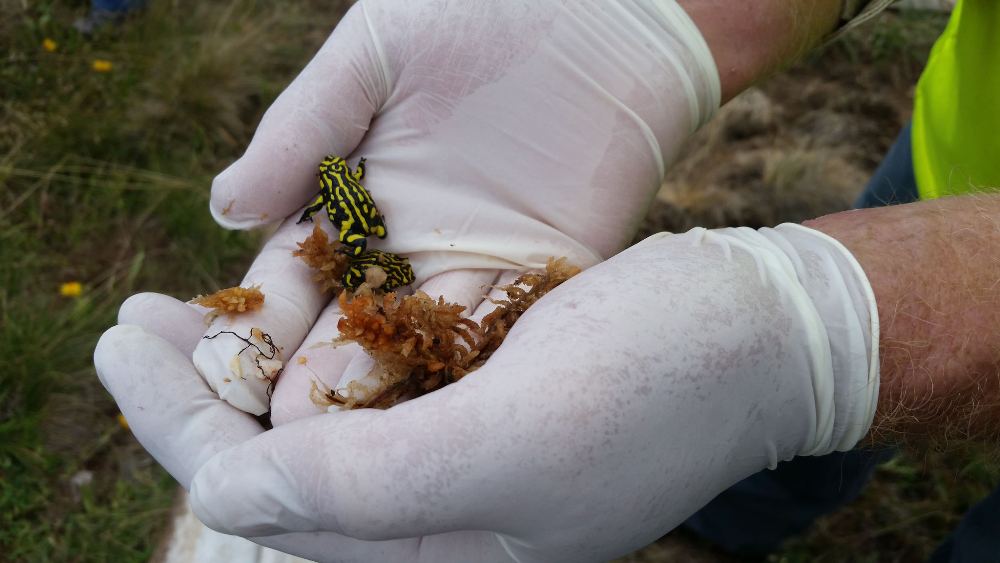 Above:
Corroboree frogs are 2.5-3cms in length!. Photo courtesy NPWS and NSW Office of Environment and Heritage.
Hydrogen On Demand
Technion-Israel Institute of Technology researchers have developed a new approach to the production of hydrogen from water using solar energy. In findings published in Nature Materials, the researchers explain that this approach will make it possible to produce hydrogen in a centralized manner at the point of sale (for example, at a gas station for electric cars fueled by hydrogen) located far from the solar farm. The new technology is expected to significantly reduce the cost of producing the hydrogen and shipping it to the customer.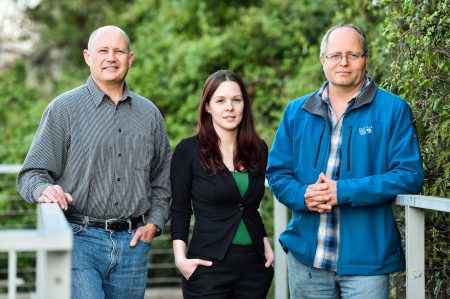 (from left) Professor Gideon Grader, Ms. Avigail Landman, Prof. Avner Rothschild

The study was led by Avigail Landman, a doctoral student in the Nancy & Stephen Grand Technion Energy Program (GTEP), and Dr. Hen Dotan from the Electrochemical Materials & Devices Lab. Ms. Landman is working on her doctorate under the guidance of Prof. Avner Rothschild from the Faculty of Materials Science and Engineering, and Prof. Gideon Grader, Dean of the Faculty of Chemical Engineering.
Hydrogen is considered one of the most promising energy carriers for vehicles and various other uses because of its salient advantages:
1. Hydrogen can be produced from water, and therefore production does not depend on access to non-renewable natural resources.
2. Using hydrogen fuel would reduce the dependence on fossil fuels such as oil and natural gas, whose availability depends on geographical, political and other factors, and would increase the energy available to Earth's population.
3. Unlike diesel and gasoline engines that emit considerable pollution into the air, the only byproduct of hydrogen fuel utilization is water.
Because of the advantages of hydrogen fuel, many countries -- led by Japan, Germany and the United States -- are investing vast sums of money in programs
for the development of environmentally friendly ("green") technologies for the production of hydrogen.
Most hydrogen is currently produced from natural gas in a process that emits carbon dioxide into the air, but it is also possible to produce hydrogen from water by splitting the water molecules into hydrogen and oxygen in a process called electrolysis. However, since electricity production itself is an expensive and polluting process, researchers at the Technion and around the world are developing a photoelectrochemical (PEC) cell that utilizes solar energy to split water into hydrogen and oxygen directly, without the need for external power source.
The main challenges in the development of PEC solar farms for the production of hydrogen are 1.) keeping the hydrogen and the oxygen separate from each other, 2.) collecting the hydrogen from millions of PEC cells, and 3.) transporting the hydrogen to the point of sale. The Technion team solved these challenges by developing a new method for PEC water splitting. With this method, the hydrogen and oxygen are formed in two separate cells -- one that produces hydrogen, and another that produces oxygen. This is in contrast to the conventional method, in which the hydrogen and oxygen are produced within the same cell, and separated by a thin membrane that prevents them from intermixing and forming a flammable and explosive mixture.
The new process allows geographic separation between the solar farm consisting of millions of PEC cells that produce oxygen exclusively, and the site where the hydrogen is produced in a centralized, cost-effective and efficient manner. They accomplished this with a pair of auxiliary electrodes made of nickel hydroxide, an inexpensive material used in rechargeable batteries, and a metal wire connecting them.
"In the present article, we describe a new method for producing hydrogen through the physical separation of hydrogen production and oxygen production," says Ms. Landman. "According to our cost estimate, our method could successfully compete with existing water splitting methods and serve as a cheap and safe platform for the production of hydrogen."
But that's not all. As stated, the vision of the Technion researchers is geographic separation between the sites where the oxygen and hydrogen are produced: at one site, there will be a solar farm that will collect the sun's energy and produce oxygen, while hydrogen is produced in a centralized manner at another site, miles away. Thus, instead of transporting compressed hydrogen from the production site to the sales point, it will only be necessary to swap the auxiliary electrodes between the two sites. Economic calculations performed in collaboration with research fellows from Evonik Creavis GmbH and the Institute of Solar Research at the German Aerospace Center (DLR), indicate the potential for significant savings in the setup and operating costs of hydrogen production.
In October, Ms. Landman won first place in the energy category in the Three Minute Thesis (3MT) competition held in Australia.
At the competition, held on the initiative of the University of Queensland, participants are required to present groundbreaking research in just three minutes.
To watch Ms. Landman's presentation, click here
.
The method developed at the Technion for separating hydrogen production and oxygen production was the basis for the development of new two-stage electrolysis technology. This technology, which was developed by Dr. Hen Dotan, enables hydrogen production at high pressure and with unprecedented efficiency, thus significantly reducing hydrogen production costs. The new technology is now in its pre-industrial development stage.
Avigail Landman, Hen Dotan, Gennady E. Shter, Michael Wullenkord, Anis Houaijia, Artjom Maljusch, Gideon S. Grader, Avner Rothschild.
Photoelectrochemical water splitting in separate oxygen and hydrogen cells.
Nature Materials, 2017; DOI:
10.1038/nmat4876