May 21 - 27, 2017: Issue 313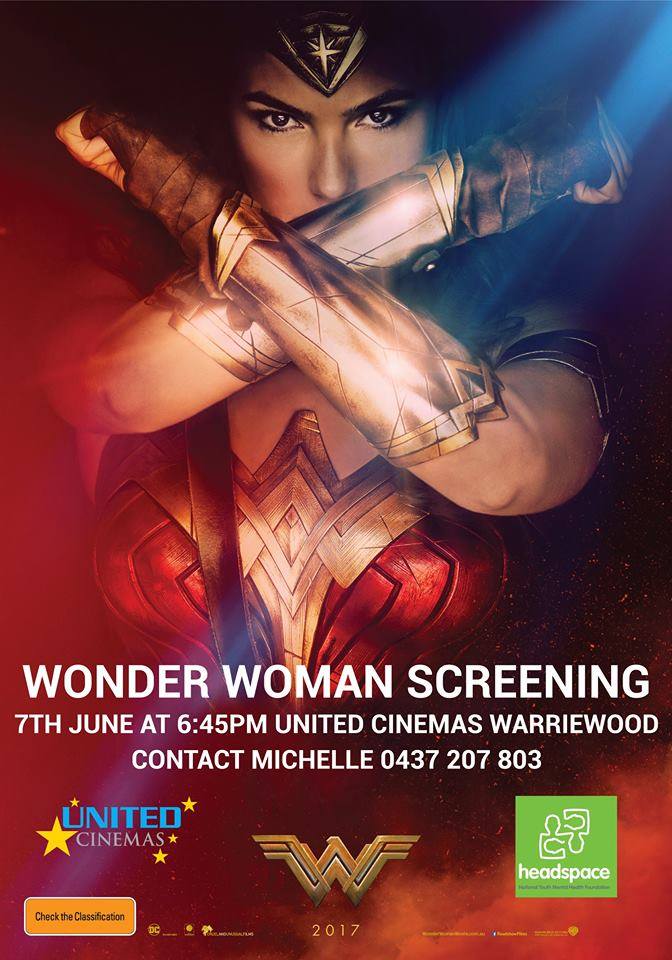 This June, headspace Brookvale needs YOU to be OUR superheros.
We are hosting a screening of Wonderwoman to raise much needed funds to allow us to provide suicide prevention servicen to young people across the Northern Beaches.
This is an event for young people to help raise awareness, help raise money and to show their support for each other by coming down to support youth mental health services like headspace Brookvale.
Tickets are $30 and include movie viewing, a regular combo of popcorn and a drink, as well as a donation to headspace Brookvale and a whole lot of fun!
There will be prizes up for grabs on the night and a chance to help us tackle youth mental health issues on the Northern Beaches.
So grab your friends, get a group together and purchase a ticket to show your support!
Coming Of Age Classics Digitally Restored By NFSA For Sydney Film Festival
Coming of age classic The Year My Voice Broke (1987) and ground-breaking documentaries Rocking the Foundations (1985) and My Survival as an Aboriginal (1978) will soon return to the big screen, digitally restored by the National Film and Sound Archive (NFSA), and premiering at the 2017 Sydney Film Festival.
The films have received the NFSA Restores treatment. NFSA Restores is an exciting digital restoration program, to revive icons from Australian cinema. The NFSA uses the best available original picture and sound material to digitise, restore and preserve, at the highest archival standards, cult, classic and hidden gems of the Australian film industry, so they can be enjoyed in today's cinemas, preserved for future generations.
Previous NFSA Restores feature films include Proof (1991) and Storm Boy (1976). Rocking the Foundations and My Survival as an Aboriginal are the first feature documentaries to undergo the digital restoration process.
John Duigan, writer/director of The Year My Voice Broke , said: 'Thanks to the care and meticulous attention to detail of the NFSA, a definitive and very beautiful digital version of the film will now be preserved, and I am delighted that it will be premiered as part of the 2017 Sydney Film Festival. The work of film preservation is of incalculable value to our culture. Without it whole swathes of our film heritage, including classics from the relatively recent past, may, sooner than we think, be lost forever.'
Associate Professor Kurt Iveson, from the University of Sydney, said about Rocking the Foundations : 'The gripping insider account of the rise and fall of the green bans will inspire anyone who cares about urban environments, and how we can make them more just and sustainable. It's decades old, but with our current public housing sell-offs, freeway projects, and developer-friendly governments, it could not be more timely.'
My Survival as an Aboriginal is presented in partnership with the Australian Institute of Aboriginal and Torres Strait Islander Studies (AIATSIS). CEO (a/g) Craig Ritchie said: 'AIATSIS is honoured to be the custodians of the original film components on behalf of producer Martha Ansara and the Muruwarri people. They have been stored and preserved for over two decades as part of the AIATSIS Collection, the world's most extensive collection of materials related to Aboriginal and Torres Strait Islander peoples. Preparation and provision of the original components to the NFSA was possible thanks to the wonderful work of our Moving Image team, and the project is another great example of collaboration by our two organisations.'
NFSA RESTORES AT 2017 SYDNEY FILM FESTIVAL
Three NFSA Restores films will premiere at this year's Sydney Film Festival:
THE YEAR MY VOICE BROKE (1987)
Sat 10 June, 5.40pm, Event Cinemas George St cinema 8
Producers: Doug Mitchell, George Miller, Terry Hayes
Director/Writer: John Duigan
Cast: Noah Taylor, Loene Carmen, Ben Mendelsohn, Harold Hopkins
This comedy-drama is both a nostalgic memoir of growing up in the countryside and a shocking denunciation of its values. Danny (Noah Taylor) is a gawky 15-year-old, in love with his best friend, the beautiful and free-spirited Freya (Loene Carmen). They're misfits in a country town in NSW in 1962. When Freya falls for Trevor (Ben Mendelsohn), football star and apprentice delinquent, Danny's sexual longing turns to jealous confusion. As he tries to win her back, Danny uncovers a dark secret in the town's past.
Detailed notes by Paul Byrnes:
ROCKING THE FOUNDATIONS (1985)
Sat 17 June, 3.30pm, Event Cinemas George St cinema 9
Producer/Director: Pat Fiske
Writers: Graham Pitts, Pat Fiske
Rocking the Foundations covers the New South Wales Builders' Labourers Federation (BLF) from 1940 until its demise in 1975. Set against the massive social and political upheavals of the 1960s and '70s – the Vietnam War, Aboriginal land rights, women's liberation and the environmental movement – the documentary depicts how the NSW BLF membership, by using their collective power, succeeded in preventing the massive destruction of many of Sydney's historic areas, residential neighbourhoods, public parks and harbour shore.
MY SURVIVAL AS AN ABORIGINAL (1978)
Sun 18 June, 2:55pm, Event Cinemas George St cinema 8
A documentary about Indigenous woman Essie Coffey and her life in the township of Brewarrina, or Dodge City, as it is also known. It was the first documentary directed by an Indigenous woman, and it offered a solution by way of continuing cultural practice.
Producers: Martha Ansara, Alec Morgan, Kimble Rendall, Rosalie Higson, Kit Guyatt, Annmarie Chandler, Essie Coffey
Director: Essie Coffey
2017 Eco Schools Grants Program Open For Applications
Media release: 26 April 2017
Educators and school communities are once again encouraged to apply for an Eco Schools Grant to ignite and nurture their students' passion to learn about the environment.
Eighty grants of $3,500 each are now available under the NSW Environmental Trust Eco Schools Grants program, which has supported a variety of environmental projects in schools from waste management to worm farms for nearly 20 years.
Office of Environment and Heritage Executive Director Ian Hunter said the grants help provide curriculum-based environmental education for children and the program proudly funded its 1000th project last year.
"Eco Schools Grants recognise the important work of educators in environmental conservation projects and I encourage schools to apply for one of the eighty grants," Mr Hunter said.
"Research shows that when young people develop an appreciation of the environment early on it influences their behaviours later in life.
"Schools are uniquely placed to teach students about sustainability, why it's important to take care of our environment and what good environmental citizenship looks like," Mr Hunter said.
Teachers from Bonnyrigg High School in Sydney's west used their Eco Schools Grant to bring history and science to life through environmental education with a medieval food garden.
"Students learned about garden functionality, soil health and sustainable living. Science students also used the plants to study photosynthesis and helped their school create a resource to facilitate hands-on learning for years to come," Mr Hunter said.
"Grants this year will be offered to student-focused environmental management projects, including water and energy conservation, recycling, bush regeneration, habitat improvement and food gardens.
"Schools are also encouraged to develop projects for students with special needs," Mr Hunter said.
Interested schools in NSW are encouraged to register on the Sustainable Schools NSW website and grant applications can be submitted until Monday 19 June, 2017.
All registered schools in NSW can apply for funding for new projects or a separate additional stage of a previous project. Schools currently delivering an existing Eco Schools Grant funded project are not eligible.
Photo - Bonnyrigg Highschool Eco Schools Grants Garden
Educators and school communities are once again encouraged to apply for an Eco Schools Grant to ignite and nurture their students' passion to learn about the environment. Photo
Courtesy OEH
Awards For Excellence
NSW Dept. of Education and Public Education Foundation
To recognise and reward outstanding teaching and learning in NSW Public Schools, the NSW Department of Education and the Public Education Foundation have launched the annual Minister's and Secretary's Awards for Excellence. Please encourage talented and committed students, teachers, principals, parents and schools to apply.
There are six award categories:
The awards highlight the remarkable contributions that students, teachers, principals and the school communities across NSW make to public education.
Applications close on: Monday June 19 2017.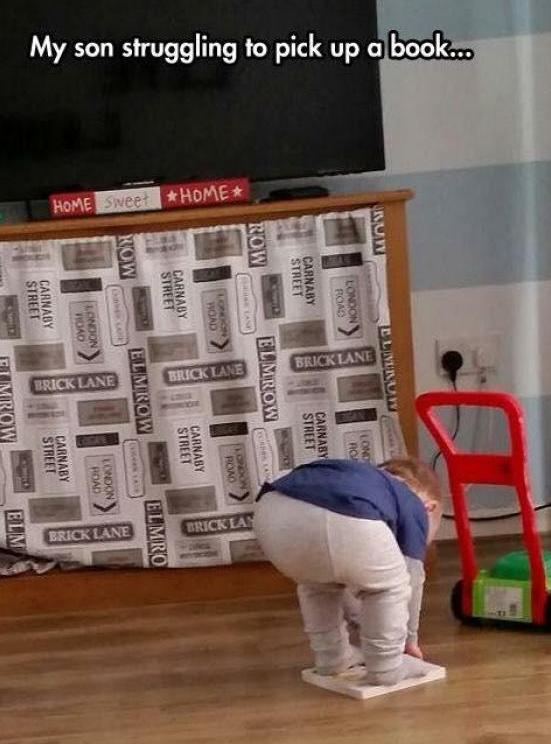 headspace Brookvale
headspace Brookvale provides services to young people aged 12-25. If you are a young person looking for health advice, support and/or information,headspace Brookvale can help you with:
• Mental health • Physical/sexual health • Alcohol and other drug services
• Education and employment services
If you ever feel that you are:
• Alone and confused • Down, depressed or anxious • Worried about your use of alcohol and/or other drugs • Not coping at home, school or work • Being bullied, hurt or harassed • Wanting to hurt yourself • Concerned about your sexual health • Struggling with housing or accommodation • Having relationship problems • Finding it hard to get a job
Or if you just need someone to talk to… headspace Brookvale can help! The best part is our service is free, confidential and youth friendly.
headspace Brookvale is open from Monday to Friday 9:00am-5:30pm so if you want to talk or make an appointment give us a call on (02) 9937 6500. If you're not feeling up to contacting us yourself, feel free to ask your family, friend, teacher, doctor or someone close to you to make a referral on your behalf.
When you first come to headspace Brookvale you will be greeted by one of our friendly staff. You will then talk with a member of our headspace Brookvale Youth Access Team. The headspace Brookvale Youth Access Team consists of three workers, who will work with you around whatever problems you are facing. Depending on what's happening for you, you may meet with your Youth Access Worker a number of times or you may be referred on to a more appropriate service provider.
A number of service providers are operating out of headspace Brookvale including Psychologists, Drug & Alcohol Workers, Sexual Health Workers, Employment Services and more! If we can't find a service operating withinheadspace Brookvale that best suits you, the Youth Access Team can also refer you to other services in the Sydney area.
eheadspace provides online and telephone support for young people aged 12-25. It is a confidential, free, secure space where you can chat, email or talk on the phone to qualified youth mental health professionals.
Click here to go to eheadspace
For urgent mental health assistance or if you are in a crisis please call the Northern Sydney 24 hour Mental Health Access Line on 1800 011 511
Need Help Right NOW??
kids help line: 1800 55 1800 - www.kidshelpline.com.au
lifeline australia - 13 11 14 - www.lifeline.org.au
headspace Brookvale is located at Level 2 Brookvale House, 1A Cross Street Brookvale NSW 2100 (Old Medical Centre at Warringah Mall). We are nearby Brookvale Westfield's bus stop on Pittwater road, and have plenty of parking under the building opposite Bunnings. More at: www.headspace.org.au/headspace-centres/headspace-brookvale
Cyberbullying
Research shows that one in five Australian children aged 8 to 17 has been the target of cyberbullying in the past year. The Office of the Children's eSafety Commissioner can help you make a complaint, find someone to talk to and provide advice and strategies for dealing with these issues.
Make a Complaint
About this form
The Enhancing Online Safety for Children Act 2015 gives the power to provide assistance in relation to serious cyberbullying material. That is, material that is directed at a particular child with the intention to seriously embarrass, harass, threaten or humiliate.
IMPORTANT INFORMATION
Before you make a complaint you need to have:
copies of the cyberbullying material to upload (eg screenshots or photos)

reported the material to the social media service (if possible) at least 48 hours ago

at hand as much information as possible about where the material is located

15-20 minutes to complete the form
Visit: esafety.gov.au/complaints-and-reporting/cyberbullying
Our mission
The Office of the Children's eSafety Commissioner is Australia's leader in online safety. The Office is committed to helping young people have safe, positive experiences online and encouraging behavioural change, where a generation of Australian children act responsibly online—just as they would offline.
We provide online safety education for Australian children and young people, a complaints service for young Australians who experience serious cyberbullying, and address illegal online content through the Online Content Scheme.
Our goal is to empower all Australians to explore the online world—safely.
Kids Helpline
If you're aged 5-25 the Kids Helpline provides free and confidential online and phone counselling 24 hours a day, seven days a week on 1800 55 1800.
You can chat with us about anything… What's going on at home, stuff with friends. Something at school or feeling sad, angry or worried. You don't have to tell us your name if you don't want to.
You can Webchat, email or phone. Always remember - Everyone deserves to be safe and happy. You're important and we are here to help you. Visit: https://kidshelpline.com.au/kids/
Sync Your Breathing with this - to help you Relax
Send In Your Stuff
Pittwater Online News is not only For and About you, it is also BY you.
We will not publish swearing or the gossip about others (this is the opposite of what we stand for) BUT: If you have a poem, story or something you want to see addressed, let us know or send to:
pittwateronlinenews@live.com.au
All Are Welcome, All Belong!
Our Youth page is for young people aged 13+ - if you are younger than this we have stuff for you on the Children's page
All Previous pages for you listed in Past Features
2017 Premier's Reading Challenge
The Challenge aims to encourage a love of reading for leisure and pleasure in students, and to enable them to experience quality literature. It is not a competition but a challenge to each student to read, to read more and to read more widely.
The Premier's Reading Challenge (PRC) is available for all NSW students in Kindergarten to Year 9, in government, independent, Catholic and home schools.
If help is required on how to do the Challenge or how to navigate the website and the answer cannot be found on the PRC Support site, please contact us at
prc@det.nsw.edu.au
The 2017 Challenge kicks off Monday 6 March and closes Friday 25 August (midnight) for students. This year coordinators will have an extra week to finalise their students' Student Reading Records. The coordinator closing date is Friday 8 September (midnight).
New books added to the PRC booklists
Welcome to Term 2 of the Premier's Reading Challenge. This term we are adding 164 new books to the PRC Booklists. Students reading new books recently acquired in your library may now be able to add these to their Student Reading Records as Booklist reads rather than Personal Choice reads. The same process will take place in Term 2, with more books added to the Booklists in early Term 3. We are aiming to make our Booklists as current as possible to reflect current reading patterns and new acquisitions in your library. We hope you enjoy this change to the PRC. You
can download the list of the new books here
.
Book Bonus is the only online read-a-thon directly associated with the NSW Premier's Reading Challenge. Book Bonus is a way for students to be the heroes of their schools and communities by seeking sponsorship for the books they've read from their friends and family.
Our goal is to place thousands of new books in the libraries and classrooms of the NSW's schools and further support students from schools that serve the highest concentrations of low socio-economic status communities in NSW, through DCC literacy support programs.
Dymocks Children's Charities will provide 50% of the value of the funds you raise for new books for selected schools in need across NSW.
In summary, Book Bonus:
Raises funds for new books for YOUR school,

Helps DCC give books to kids who really need them

Rewards students for their fundraising!
For additional information
contact us
or view the FAQ's.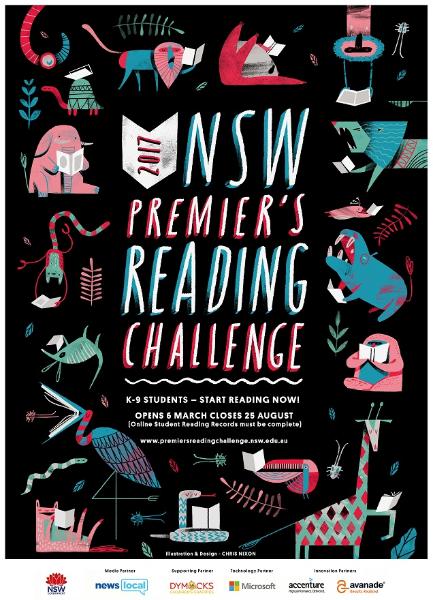 Call out for poets - 'Spirit of the Land'
Submissions are invited on the subject of the 'Spirit of the Land', the 3rd in a series of the popular Manly Art Gallery & Museum poetry readings. Twenty poems will be chosen by event curator Les Wicks for live-reading by the authors who will each receive $50.
The Gallery will be hosting an exhibition on the theme LAND (3 November – 3 December) with selected works by artists who have drawn inspiration from the theme 'LAND'… as a noun, a verb, a place, an idea, a possibility, a presence, a contested space. Landscape, headland, wasteland, landfill, landmine, landform, landed, etc. The exhibition supports and connects this region's contemporary artists with the gallery, providing a valuable opportunity to showcase their work and to challenge their art practice through their diverse responses.
Selected poems will have explored this theme. Please advise in which suburb you live.
The selected poets will perform their works on Sunday 5 November, 2 - 4pm
Manly Art Gallery & Museum & Museum, West Esplanade Reserve, Manly
At the reading, there will also be an open mic section.
Cost: gold coin donation (refreshments served)
2017 HSC Written Exam Timetable Released
28 April 2017: NSW Education Standards Authority

The timetable for this year's 118 written HSC exams was released today by the NSW Education Standards Authority (NESA).
HSC written exams start on Monday 16 October at 10:20am with a compulsory English paper, and finish on Tuesday 7 November 2017 with Design and Technology.
NESA Chief Executive, David de Carvalho, said scheduling HSC exams is a complex logistical exercise.
"Our aim is to fit the exams into as short a time frame as possible to reduce stress for students.
"At the same time we also have to ensure that we keep the number of students who have two exams scheduled for the same timeslot to a minimum.
"With more than 77 000 students sitting 118 exams totalling around 300 hours over 17 days, this is no easy feat, but ensuring that students get every opportunity to do their best in their HSC written exams is always our priority," said Mr de Carvalho.
"Invariably some students will have individual preferences for when they sit particular exams, however NESA aims to provide an exam schedule which, on balance, is fair and equitable to all students."
NESA developed the timetable after carefully analysing the HSC course patterns of over 77 000 students, following rigorous procedures to:
provide sufficient breaks between exams for popular courses

provide sufficient breaks between exams for frequently combined courses

enable all exams to be marked and students to receive their results from 6.00am on Thursday 14 December

minimise the number of students with two exams scheduled at the same time.
NESA has identified and made alternative arrangements for a very small number of students who have two exams scheduled at the same time.
Australian Bandstand 1963
At Avalon Beach SLSC!
Anzac Day Schools' Awards 2017
The Anzac Day Schools' Awards are open to all Australian primary and secondary schools. Schools can enter as an individual class or the whole school, with a limit of one entry per school.
The Anzac Day Schools' Awards are designed to encourage initiative and creativity in the way schools commemorate Anzac Day, with an emphasis on innovation balanced with tradition.
Closing date: Friday 26 May 2017
Note: It is strongly recommended that participants include a veteran in their activities, as the impression that learning first hand from an ex-service person can have on students is profound.
Who can enter?
The Anzac Day Schools' Awards are open to all Australian primary and secondary schools. Schools can enter as an individual class or the whole school, with a limit of one entry per school.
Schools with both a primary school campus and a secondary school campus can enter both categories, but the activities must be separate activities undertaken by the primary school and secondary school campuses respectively. If the activity incorporates the whole school, the most appropriate category (i.e. primary or secondary) must be entered.
Schools may combine to submit a single entry if all the schools participated in the same commemorative event and/or learning activities. If this is a winning entry, all participating schools will receive a certificate but the winning plaque and cheque will only be awarded to the school which submitted the entry.
Entries must be coordinated and submitted by a teacher with the Principal's authorisation.
What qualifies as an entry?
Broadly, any activity undertaken to commemorate Anzac Day may qualify for entry, provided that it:
• is relevant to the audience; and
• shows due care and competence.
When designing and carrying out your activity, bear in mind the judging guidelines. Note in particular that the observance of tradition is expected and the involvement of veterans in the activities, if possible, is considered valuable. However, remember always that the Anzac Day Schools' Awards are about developing fresh approaches to commemoration and resourcefulness is encouraged.
To enter, your school's activity must be supported by:
Visual evidence, which may take the form of
Photographs

Examples of students' work

PowerPoint presentations

Videos, USB presentations (30 mins max)

Websites (hardcopy print-out or USB); and

A 500 word description of the activities.
It is preferred that multimedia presentations be provided on a USB with other entry documentation.
It is anticipated that for future competitions, from 2018 onwards, DVA will accept only electronic entries.
Contact information
133 254 email :
education@dva.gov.au
Forms, Details and more information
HERE


2017 CJ McAlister Winter Longboard Festival
Join us for the 30th Snowy McAlister Winter Longboarding Festival
Manly Beach, NSW (Carlton Street, Beach side)
!!PLEASE READ!!
First division - $65.00, Additional divisions - $50.00
Maximum 3 divisions per competitor
* Fees must accompany your entry form
-Open Men's
-Open Log
-Open Women's
-Old Mal
-Juniors (Under 18)
-Junior Log (Under 18)
-Over 35
-Over 45
-Over 55
-Over 50 Log
Please make out cheques to: Manly Malibu Club, 27 Claudare Street, Collaroy Plateau NSW 2097
Bank transfer EFT details: BSB: 633-000 A/C 145285441 (Preferred method of payment)
In the description line of the EFT, please add your first initial and last name.
Entries close FRIDAY 26th May 2017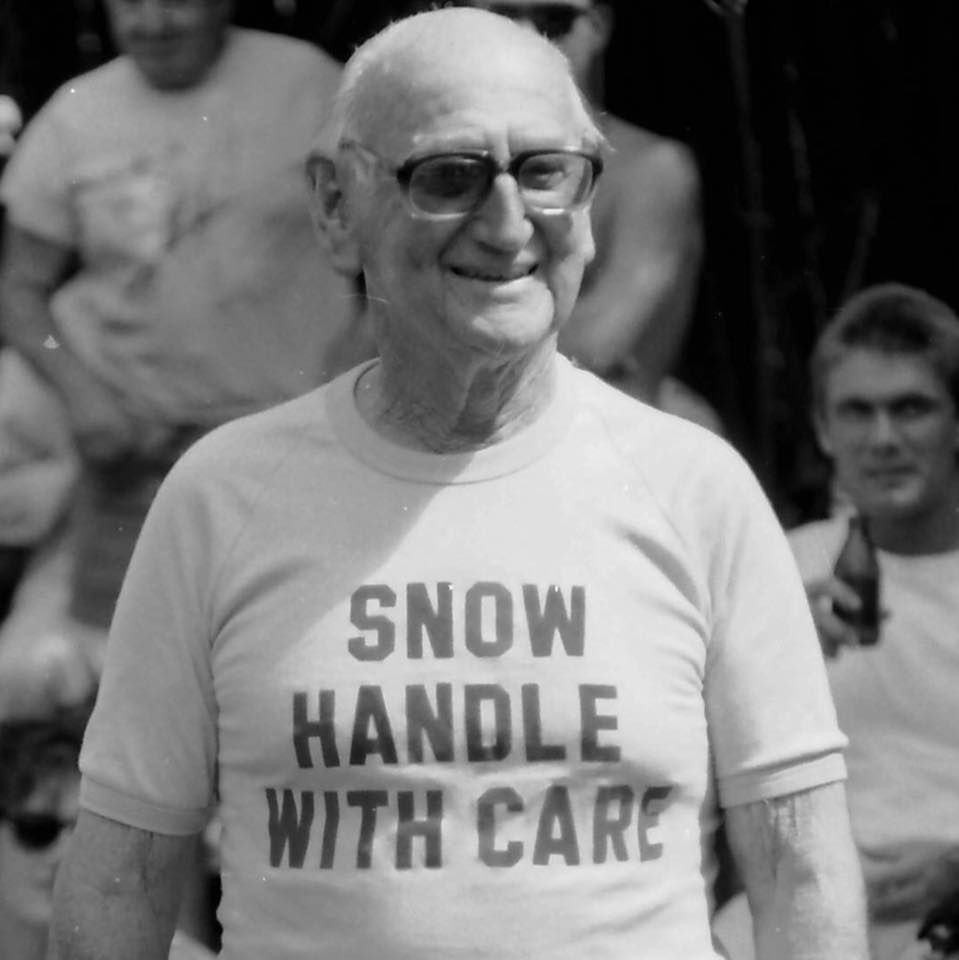 Charles Justin 'Snowy' McAlister is the 'father of Australian surfing' who nurtured the sport for over 70 years. Snowy saw it all…. Changing surfboard riding styles, progressive board shapes, the birth and development of competitive surfing and the growth of surfing from fad to mainstream support.
In 1915, he witnessed the legendary Duke Kahanamokus display of surfriding at Sydneys Freshwater Creek. Inspired by the Hawaiians grace and style on the board, the young Sydneysider threw himself headlong into the sport of surfing.
He soon developed a strong affiliation with the ocean and joined the manly R&R team in 1920 which won titles in 1924, 1825 and 1926. He also became a member of the Freshwater Lifesaving Club a year later.
During this time he participated in surfboard riding exhibitions at the Newcastle Surf Carnival up until 1936. His payment of these exhibitions was a gift voucher worth 10 shillings and sixpence, the equivalent of three weeks wages.
In 1924 he built his own hollow timber surfboard, 12 feet long, 2 wide and 3 inches thick with a solid nose for a cost of 2 pounds. With great enthusiasm he embarked on a career as a competitive boarder, holding the National Surfboard Riding Champion title for four consecutive year beginning in the late 1920's.
With the sudden popularity of the sport along Australia's eastern beaches it soon became apparent that more scope was required for competitions. With this in mind Snowy began to erect signs on the beaches around Manly advertising surfboard rallies. These rallies were nomadic relying on available swell and attracted a small crowd of 12 to 15 surfers. The meetings marked the beginning of a surfing competition structure which has produced more World Champions than any other country.
In 1962 Snow became a founding member of the Australian Surfriders Association, an organisation that today is the recognized governing body of surfing in this country. Snow was known for his active interest in our young surfers and was a visitor to most surfing events in Sydney. It was snow who often accompanied budding professionals to the airport to see them off overseas on the World Tour.
He was also a founder of the Australian Surfski Association and was an avid surfski rider in his later years.
The 1920's saw Snowy throw himself into competitive surfing where he held the National Surfboard Riding Champion title for four consecutive years. Following his success and the ever growing popularity of surfing along Australia's East Coast he constructed surf rallies at Manly beach attracting a small crowd of 12 to 15 surfers. This first meeting marked the beginning of a competitive surfing structure which today attracts over 200 professional surfers each June.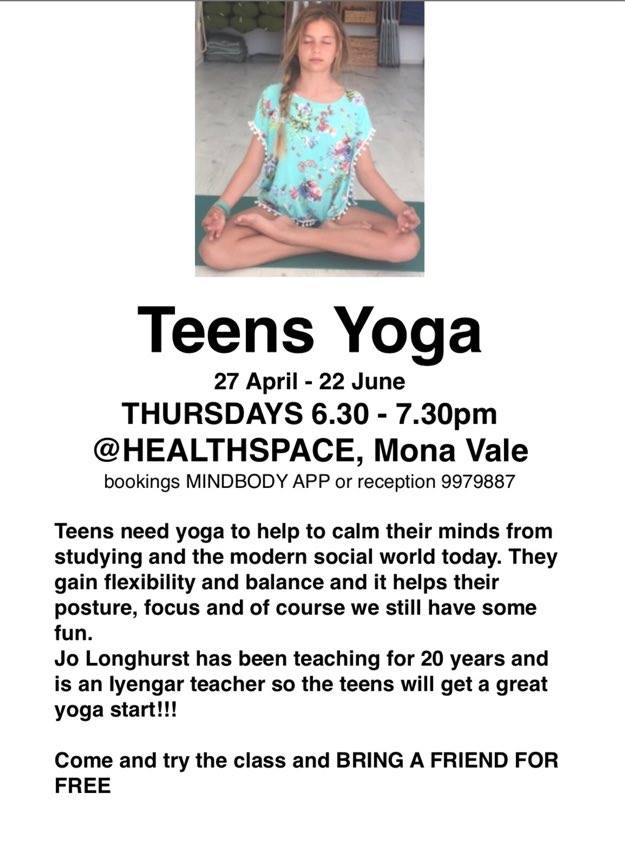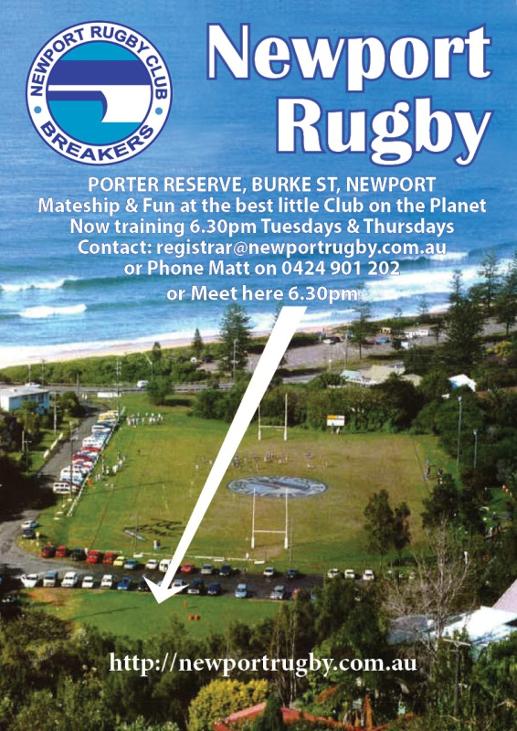 The Project Gutenberg Library of Australiana
Australian writers, works about Australia and works which may be of interest to Australians.This Australiana page boasts many ebooks by Australian writers, or books about Australia. There is a diverse range; from the journals of the land and sea explorers; to the early accounts of white settlement in Australia; to the fiction of 'Banjo' Paterson, Henry Lawson and many other Australian writers.
The list of titles form part of the huge collection of ebooks freely downloadable from Project Gutenberg Australia. Follow the links to read more about the authors and titles and to read and/or download the ebooks.
NCYLC is a community legal centre dedicated to providing advice to children and young people. NCYLC has developed a Cyber Project called Lawmail, which allows young people to easily access free legal advice from anywhere in Australia, at any time.
NCYLC was set up to ensure children's rights are not marginalised or ignored. NCYLC helps children across Australia with their problems, including abuse and neglect. The AGD, UNSW, KWM, Telstra and ASIC collaborate by providing financial, in-kind and/or pro bono volunteer resources to NCYLC to operate Lawmail and/or Lawstuff.
Industrial Finds Unearth Palaeontological Past From 112 Million Years Ago
As one of the best places in the world for fossil preservation and discovery, Alberta is an exciting window into prehistoric life. The museum's new exhibit, Grounds for Discovery, showcases some of the most significant fossils that have been discovered through industrial work.
Thousands of cubic metres of soil, gravel, and bedrock are excavated in Alberta every year through road construction, urban development, mining and other industrial activity. When fossils are exposed during these activities, Royal Tyrrell Museum scientists and industrial workers cooperate to safely excavate and protect Alberta's fossils for scientific study and display.
Each discovery that has been reported and excavated contributes to global research.
"The new Grounds for Discovery exhibit shows visitors first-hand the positive outcomes of reporting fossil discoveries and working with industry. Through personal stories and exceptional specimens, the Royal Tyrrell Museum shows us once again why it is a premier palaeontological research centre and a world-class tourist attraction in this province."
– Ricardo Miranda, Minister of Culture and Tourism
The centrepiece of the exhibit is a new species of dinosaur discovered at the Suncor Millennium Mine near Fort McMurray in 2011.
A Suncor employee spotted something unusual while excavating in the mine. Little did he know that this would turn out to be one of the most significant dinosaur discoveries in the world.
This new species of nodosaur (armoured dinosaur) is the oldest dinosaur known from Alberta –
approximately 112 million years old
– and is the best preserved armoured dinosaur ever found.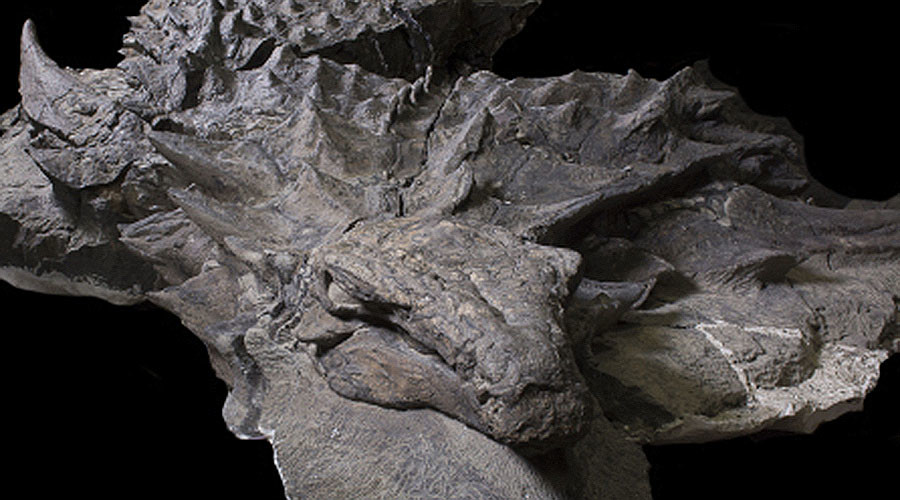 nodosaur (armoured dinosaur) - copyright
Royal Tyrrell Museum
Since its discovery, the public have been able to share in the nodosaur's journey by watching its painstaking preparation by technicians through the lab gallery window. For the first time, all the pieces have been put together so it can finally share its story.
Shawn Funk, a heavy-equipment operator, noticed the fossil because the texture and color looked different than the surrounding rock, according to National Geographic.
"It was a very slow reveal, but it was a very exciting one nonetheless," said Caleb Brown, a postdoctoral fellow at the museum, and a co-author of a study describing the new species, which he expects to be published in a peer-reviewed journal this summer (northern hemisphere).
When the dinosaur died, Alberta was warm and sat on the coast of a shallow inland seaway that stretched from the Gulf of Mexico to the Arctic Ocean. It's unclear if the dinosaur drowned in the seaway or died on land and then got swept out to sea. Either way, the carcass would have undergone a phenomenon called "bloat and float" as the body decomposed and filled with gases.
After severe bloating, the carcass would have exploded and sunk to the bottom of the seaway. "It must have been a very quiet, a very muddy, fine-grained and low-oxygenated environment where it settled, because there is no scavenging on the animal," Brown said.
"It must have fallen pretty rapidly, because we actually have a little impact crater from where it hit the bottom," Brown said. "It hit the bottom pretty hard."
Because the specimen was covered in marine sediment, museum researchers didn't know the specimen was a dinosaur. At first, they thought that the fossils belonged to a prehistoric marine creature, such as an ichthyosaur or a plesiosaur, because "we were getting marine reptiles from another mine about 20 kilometers [12 miles] away," said Donald Henderson, the curator of dinosaurs at the museum and co-author of the forthcoming study.
But after getting a good look at part of the specimen, museum technician Darren Tanke made the right call: The beast was a dinosaur, no doubt about it, Henderson said.
Mr. Henderson spent 17 days at the Millennium Mine in 2011, taking safety classes with Tanke so they could go into the mine to help excavate the specimen. The dinosaur was encased in a block of extremely hard rock known as a concretion, but the fossil inside was as soft as talcum powder, Henderson said.
The crew learned that the hard way, when they tried to remove the entire 35,000-lb. (15,800 kilograms) concretion at once. The insides were so soft, the block broke in two as they tried to remove it from the mine. After that, the paleontologists opted to remove the fossils in several thousand-pound chunks, which were then covered in burlap and plaster for protection.
After a 12-hour truck ride, the fossils arrived at the museum, still shrouded in stone. Museum technician Mark Mitchell has spent almost six years revealing the spectacular specimen, and because it was so fragile, "he's put a drop of glue or more on every square millimeter that you see," Mr. Henderson said.
The 3,000-lb. (1,360 kg) nodosaur is so complete, it looks like a statue.
"It was very low to the ground, very squat on very short legs," Brown told Live Science. "The entire back, sides, neck and tail were covered in large osteoderms — bony plates that are embedded in the skin."
Normally, osteoderms fall off and become displaced when a dinosaur dies. "In this case, those osteoderms are still preserved in the skin," Brown said. "Not only that, the osteoderms are capped with layers of keratin, the same stuff your fingernails are made of. Normally, it doesn't fossilize."
This herbivore probably ate conifers, cycads (woody plants with seeds) and ferns. "They had very wimpy teeth," Mr. Henderson explains. "They had a beak like a turtle, and they would just gather the food. [There was] very little chewing, a system of stomachs would have processed the fibrous food," he said.
The researchers found a soccer-ball-size mass of fossilized food in the stomach of the specimen that he hopes to analyze soon.
The earliest nodosaurs are known from the Jurassic (a period lasting from 199.6 million to 145.5 million years ago), but most, including the newfound beast, lived during the Cretaceous period (145.5 million to 65.5 million years ago), Brown said.
Nodosaurs have been found on every continent except Antarctica.
Though the nodosaur specimen is in superb condition, it's not the most well-preserved dinosaur on record. That honor likely goes to one of the bird-like dinosaurs with fossilized feathers that farmers and researchers have discovered in China's Liaoning province.
Research on this extraordinary nodosaur was supported through the National Geographic Society and is being featured in their June 2017 issue of National Geographic magazine,
available online today
and on print news-stands on May 30. The magazine feature includes an interactive featuring a 3D model of the nodosaur, both how it looked and lived in its day, and how it came to be fossilized for millions of years before its discovery.
Newly Unveiled Dinosaur Fossil Is Best Preserved Of Its Kind
Published on 15 May 2017 by

National Geographic
See the remains of a nodosaur, the best preserved fossil of its kind ever found. Discovered by miners in Alberta, Canada, it's a 110 million-year-old type of plant-eating armored dinosaur. The animal has two 20-inch-long spikes on its shoulders, and, in life, it was 18 feet long and nearly 3,000 pounds.
About National Geographic:
National Geographic is the world's premium destination for science, exploration, and adventure. Through their world-class scientists, photographers, journalists, and filmmakers, Nat Geo gets you closer to the stories that matter and past the edge of what's possible.
Get More National Geographic:
Click here to read more about the amazing discovery.
Ex-HMAS Sydney Retires To Western Australia
17 May 2017: Media Release - Dept. of Defence
Minister for Defence Personnel Dan Tehan said Ex-HMAS Sydney would leave Sydney Harbour today to be towed to Western Australia for recycling by Australian company Birdon Pty Ltd.
"Ex-HMAS Sydney had an illustrious career during her 32 years in service with the Royal Australian Navy," Mr Tehan said.
"The Adelaide Class Frigate was involved in operations spanning the Middle East, East Timor, Fiji and the Solomon Islands and earned a Meritorius Unit Citation during the First Gulf War in 1991.
"She was built at the Todd Pacific Shipyards in Seattle, Washington, USA, and commissioned there on 29 January 1983.
"The former Sydney was decommissioned from the Royal Australian Navy on 7 November 2015 to make way for the Hobart class guided missile destroyers, which will provide Australia with an improved war fighting capability."
Ex-HMAS Sydney's journey from Sydney to the Common User Facility at Henderson, Western Australia, will take up to 22 days.
Sydney had been offered to States and Territories for use as a dive wreck, however, there was no interest in the ship, so the Government decided to recycle her by scrapping.
HMAS Sydney (FFG 03)
HMAS Sydney (FFG 03) was an Adelaide-class guided-missile frigate of the Royal Australian Navy (RAN). The frigate was one of six modified Oliver Hazard Perry-class frigates ordered from 1977 onwards, and the third of four to be constructed in the United States of America. Laid down and launched in 1980, Sydney was named for the capital city of New South Wales, and commissioned into the RAN in 1983.
During her operational history, Sydney has been involved in Australian responses to the 1987 Fijian coups d'état and the Bougainville uprising. The frigate was deployed to the Persian Gulf on five occasions in support of United States operations during the Gulf War, War in Afghanistan, and the 2003 invasion of Iraq, and has completed two round-the-world voyages.
Sydney was originally expected to remain in service until 2013, but was retained in service until 2015; ceasing active deployments on 27 February and serving as a moored training ship until her decommissioning on 7 November. The frigate will be replaced in service by a Hobart-class destroyer.
Following the cancellation of the Australian light destroyer project in 1973, the British Type 42 destroyer and the American Oliver Hazard Perry-class frigate were identified as alternatives to replace the cancelled light destroyers and the Daring-class destroyers. Although the Oliver Hazard Perry class was still at the design stage, the difficulty of fitting the Type 42 with the SM-1 missile, and the success of the Perth-class acquisition (a derivative of the American Charles F. Adams-class destroyer) compared to equivalent British designs led the Australian government to approve the purchase of two US-built Oliver Hazard Perry-class frigates in 1976. A third (Sydney) was ordered in 1977, followed by a fourth, with all four ships integrated into the USN's shipbuilding program. A further two ships were ordered in 1980, and were constructed in Australia.
As designed, the ship had a full load displacement of 3,605 tons, a length overall of 135.6 metres (445 ft), a beam of 13.7 metres (45 ft), and a draught of 24.5 metres (80 ft). Starting in February 1989, Sydney was modified from the Oliver Hazard Perry FLIGHT II design to FLIGHT III, requiring a lengthening of the helicopter deck for the RAST helicopter recovery system, which increased displacement to 4,100 tons and pushing the overall length to 138.1 metres (453 ft). Propulsion machinery consisted of two General Electric LM2500 gas turbines, which provided a combined 41,000 horsepower (31,000 kW) to the single propeller shaft. Top speed was 29 knots (54 km/h; 33 mph), with a range of 4,500 nautical miles (8,300 km; 5,200 mi) at 20 knots (37 km/h; 23 mph). Two 650-horsepower (480 kW) electric auxiliary propulsors were used for close manoeuvring, with a top speed of 4 knots (7.4 km/h; 4.6 mph). Standard ship's company was 184, including 15 officers, but excluding the flight crew for the embarked helicopters. Sydney was the first ship of her class to carry female sailors and officers, requiring the installation of partitioning to some mess decks.
Original armament for the ship consisted of a Mark 13 missile launcher configured to fire RIM-66 Standard and RGM-84 Harpoon missiles, supplemented by an OTO Melara 76-millimetre (3.0 in) gun and a Vulcan Phalanx point-defence system. As part of the mid-2000s FFG Upgrade Project, an eight-cell Mark 41 Vertical Launch System was fitted, with a payload of RIM-162 Evolved Sea Sparrow missiles. For anti-submarine warfare, two Mark 32 torpedo tube sets were fitted; originally firing the Mark 44 torpedo, the Adelaides later carried the Mark 46, then the MU90 Impact following the FFG Upgrade. Up to six 12.7-millimetre (0.50 in) machine guns could be carried for close-in defence, and since 2005, two M2HB .50 calibre machine guns in Mini Typhoon mounts were installed when needed for Persian Gulf deployments. The sensor suite included an AN/SPS-49 air search radar, AN/SPS-55 surface search and navigation radar, SPG-60 fire control radar connected to a Mark 92 fire control system, and an AN/SQS-56 hull-mounted sonar.Two helicopters could be embarked: either two S-70B Seahawk or one Seahawk and one AS350B Squirrel.
The last ship of the Oliver Hazard Perry Flight II design, Sydney was laid down at Todd Pacific Shipyards on 16 January 1980. She was launched on 26 September 1980, and commissioned into the RAN on 29 January 1983. During construction, the ship was identified by the United States Navy hull number FFG-35.
Operational history
From commissioning until mid-1984, Sydney was attached to the United States Navy's Pacific Fleet as a unit of Destroyer Squadron 9. During this time, the frigate conducted working-up and training exercises.
In May 1987, Sydney visited Fiji, and was alongside in Suva when the first of the 1987 Fijian coups d'état occurred on 14 May. Sydney and sister ship Adelaide, alongside in Lautoka, were instructed to remain off Fiji to aid in any necessary evacuation of Australian citizens; the first component of what became Operation Morris Dance. Sydney remained on station until at least 29 May, when a phased withdrawal began.
Following the acquisition of the Vulcan Phalanx close-in weapon system and the Seahawk helicopter, Sydney underwent a modification refit to be capable of using these weapons. This refit occurred over 1987 and 1988, and also saw the installation of fin stabilisation systems.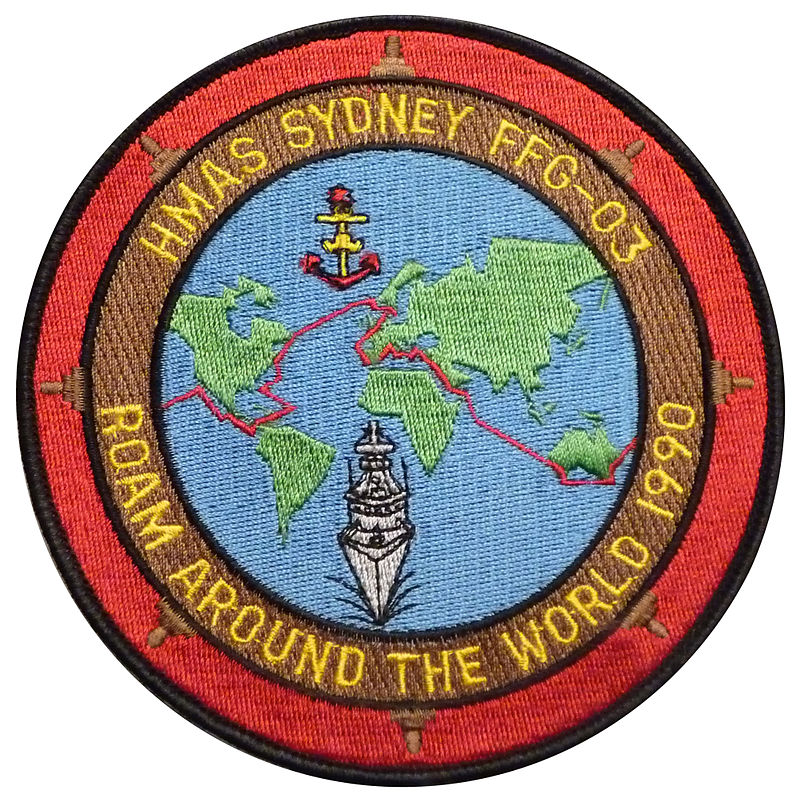 Commemorative badge of the 1990 world voyage, on display in the Australian National Maritime Museum, Sydney.
In January 1990, Sydney, Tobruk, and Jervis Bay were placed on standby to evacuate civilians from Bougainville Island following the Bougainville uprising. Sydney and Tobruk stood down in February, and the two ships departed with the submarine Oxley on a deployment to Turkey to commemorate the 75th anniversary of the landing at Anzac Cove. Following Anzac Day, Sydney continued on a round-the-world voyage, which included numerous diplomatic visits to European and American ports, the first visit of a RAN vessel to Sweden, and participation in a United States counter-narcotics operation in the Caribbean. The frigate arrived home in September.
On 3 December 1990, Sydney and the Perth-class destroyer Brisbane arrived in the Persian Gulf to relieve HMA Ships Adelaide and Darwin as part of Operation Damask; the Australian military contribution to the Gulf War. Sydney was assigned to the escort screen around Battle Force Zulu (Task Force 154), a naval force built around four United States Navy aircraft carriers, and also participated in surveillance and boarding operations.The two Australian warships remained in the area until 26 March 1991. Sydney was awarded the Meritorious Unit Citation on 4 November 1991 for this deployment, and later received the battle honour "Kuwait 1991"
Sydney was deployed back to the Persian Gulf for Operation Damask from September 1991 to February 1992, and again from June 1993 to December 1993.
On 14 March 1994, Sydney rescued the crew of a yacht which had been participating in the Trans-Tasman Yacht Race before encountering difficulties.In early October, the frigate was called on to search for survivors of a light aircraft that ditched into the Tasman Sea.
In May 1995, Sydney became the first RAN warship to visit the Russian port of Vladivostok, as support for a diplomatic and trade mission.
In 1997, Sydney was one of several RAN vessels placed on standby following the outbreak of political disturbances in Papua New Guinea as part of the Sandline affair. No action was required by the Australian warships.
Sydney was deployed to East Timor as part of the Australian-led INTERFET peacekeeping taskforce from 3 November to 19 December 1999. She received the battle honour "East Timor 1999" for this deployment.
On 1 October 2000, Sydney took over from sister ship Newcastle as the RAN vessel assigned to support the peace negotiation process in the Solomon Islands that resulted in the signing of the Townsville Peace Agreement.
In October 2001, Sydney returned to the Persian Gulf to operate in support of Operation Enduring Freedom as part of the War in Afghanistan. The frigate was joined by sister ship Adelaide and the amphibious warfare vessel Kanimbla in early December, and returned to Australia in March 2002. Sydney was sent back to the Gulf in support of 2003 invasion of Iraq, operating from May to August 1993 as part of Operations Falconer and Catalyst. The battle honours "Persian Gulf 2001–03" and "Iraq 2003" recognise these deployments.
Sydney was the first of four frigates selected to go under the A$1 billion FFG Upgrade, with HMA Ships Darwin, Melbourne and Newcastle following. The upgrade features an 8-cell Mark 41 Vertical Launch System (VLS) for 32 Evolved Sea Sparrow Missiles (ESSM), upgrades to fire control and air warning radars, and replacement of the hull-mounted sonar and diesel generators. This refit commenced in 2002, but problems with integrating the frigates' anti-missile and anti-torpedo detection and defence systems meant that when Sydney was finished in 2007, she was initially not accepted back into service. By November 2008, the problems with the upgrade had been solved.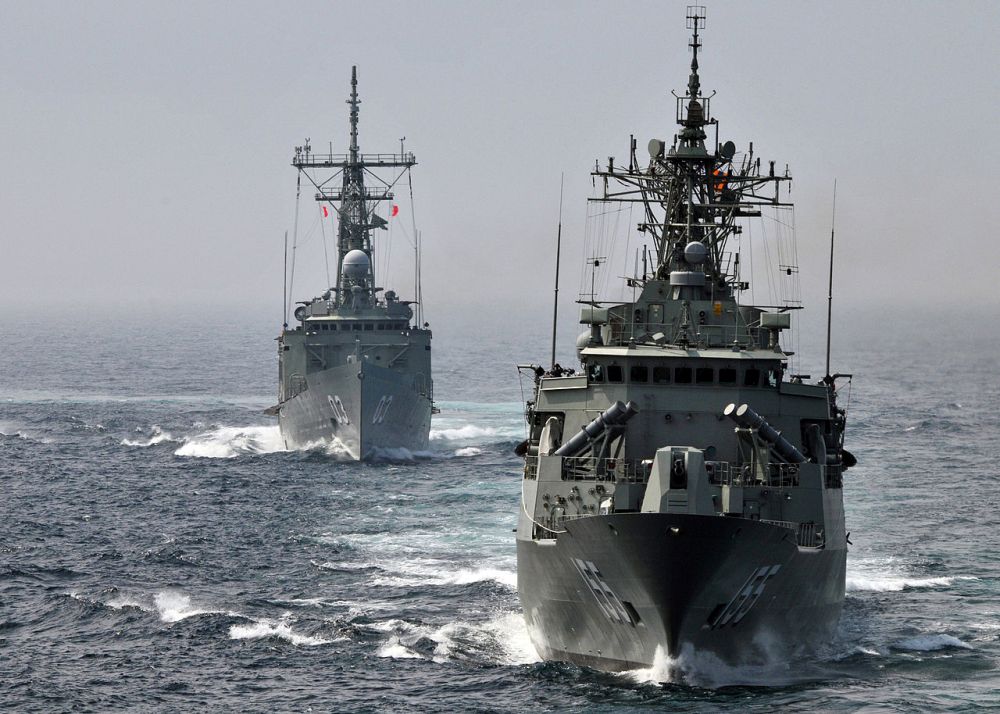 Sydney (rear) maneuvers with Ballarat in 2009 - U.S. Navy photo by Mass Communication Specialist 3rd Class Chad R. Erdmann
On the morning of 13 March 2009, Sydney was one of seventeen warships involved in a ceremonial fleet entry and fleet review in Sydney Harbour, the largest collection of RAN ships since the Australian Bicentenary in 1988. The frigate led the line of thirteen ships involved in the ceremonial entry through Sydney Heads, and anchored in the harbour for the review.
On 20 April 2009, Sydney and the Anzac-class frigate HMAS Ballarat departed from Sydney as part of Operation Northern Trident, a six-month round-the-world voyage by the two vessels, with numerous diplomatic visits and joint exercises with foreign navies. On 17 May, Sydney and Ballarat provided aid to two merchant vessels in the Gulf of Aden, driving off two separate groups of Somali pirates attacking the ships. Sydney remained in the area to report the incidents to Combined Task Force 151, while Ballarat escorted an impromptu convoy of eight ships, including the two that were attacked, to safety. The two warships visited ports in Western Europe, North America, the Pacific and northern Asia, with Sydney arriving back in her namesake city on 19 September.
In May 2013, Sydney began a three-month deployment with the United States Seventh Fleet, attached to Carrier Strike Group Five as an escort for the carrier USS George Washington.
In October 2013, Sydney participated in the International Fleet Review 2013 in Sydney.
Sydney visited Hobart in February 2015 for the Royal Hobart Regatta. During the weekend of 7–8 February,[date missing] the frigate was anchored in the River Derwent to free up wharf space for a civilian vessel. On attempting to return to Macquarie Wharf, the anchor chain broke, leaving the anchor 25 metres (82 ft) below. The anchor was later recovered by divers. The loss of the anchor prevented Sydney from fulfilling duties as the regatta flagship, as the ship would be unable to maintain a stationary position during the event.
Sydney sailed into her namesake city for the final time on 27 February 2015. Despite flying a decommissioning pennant, the ship was not paid off until 7 November 2015; two years later than originally expected. In the interim, she was moored at Fleet Base East as an alongside training ship.
On 6 November, the day prior to paying off, a parade of 350 current and former personnel from the ship marched in Sydney. At the time of decommissioning, Sydney had travelled 959,627 nautical miles (1,777,229 km; 1,104,319 mi). She will be replaced by one of the three Hobart-class destroyers.
Five ships of the Royal Australian Navy (RAN) have been named HMAS Sydney, after Sydney, the capital city of New South Wales.
HMAS Sydney (1912),
a Town-class light cruiser launched in 1912, decommissioned in 1928, and broken up for scrap
HMAS Sydney (D48),
a Leander-class light cruiser launched in 1934, and sunk following a battle with the German auxiliary cruiser Kormoran on 19 November 1941
HMAS Sydney (R17)
, a Majestic-class light aircraft carrier launched in 1944, decommissioned in 1973, and broken up for scrap
HMAS Sydney (FFG 03)
, an Adelaide-class guided missile frigate launched in 1980, and decommissioned in 2015
HMAS Sydney (DDGH 42),
a Hobart-class air warfare destroyer slated to enter service in 2020
HMAS Sydney (FFG 03). (2017, January 21). In Wikipedia, The Free Encyclopedia. Retrieved from https://en.wikipedia.org/w/index.php?title=HMAS_Sydney_(FFG_03)&oldid=761135160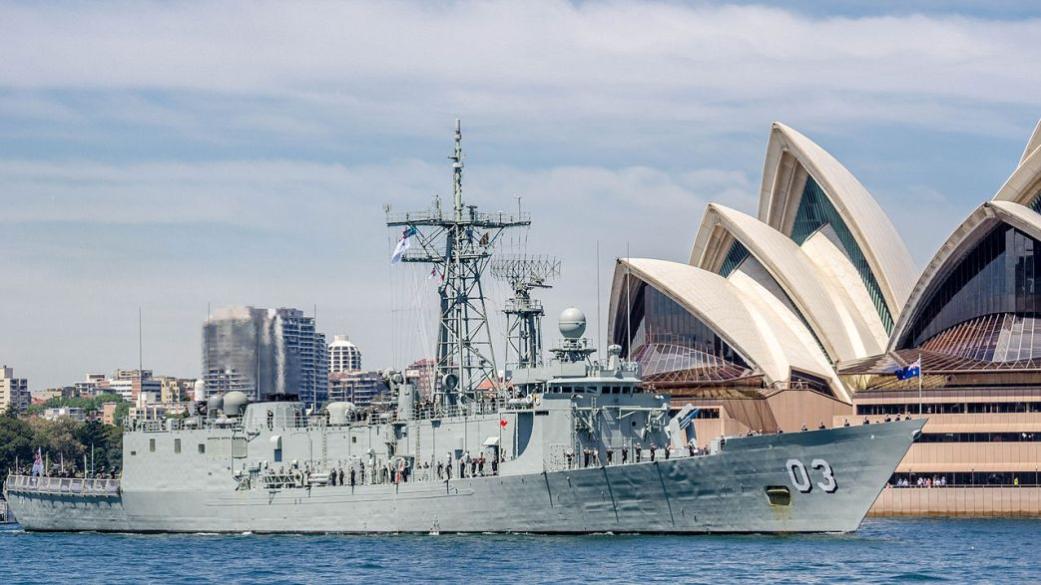 HMAS Sydney (FFG 03) during the International Fleet Review 2013 - photo courtesy H Peterswald
Australian students chance to fly to Antarctica: Name our Icebreaker!
Media release: 3 May 2017 - The Hon. Josh Frydenberg MP, Minister for the Environment and Energy

An Antarctic experience of a lifetime is on offer for Australian students who win a national competition to name the nation's new icebreaker vessel, with a flight to Antarctica on offer to the winning entry.
Up to 12 students will fly to Antarctica for a day, becoming the first children to set foot on the icy continent as part of the Australian Antarctic Program.
The winning students will fly from Hobart to Australia's Wilkins Aerodrome where they will meet Antarctic scientists, as well as expeditioners living and working at nearby Casey research station.
The 'Name our Icebreaker' competition has two categories: primary (years 5 and 6) and secondary (years 7 and 8) with classes able to enter their suggested name in a written or video format.
The competition will give young Australians the opportunity to name the sophisticated new Antarctic resupply and research vessel which will shape the future of Australia's Antarctic Program.
The icebreaker will be more than 156 metres long and accommodate 116 expeditioners. It will be equipped with an array of cutting-edge scientific equipment including a moon pool, multi-beam bathymetric echo sounders, hydrophones and underwater cameras.
Seven new curriculum-aligned modules about the icebreaker have also been developed on the Australian Antarctic Division's website, 'Classroom Antarctica'.
It is my hope this competition will inspire the Antarctic scientists and policy makers of the future, engaging them to learn about the Antarctic environment, climate, history and Australia's role there.
Entries in the 'Name our Icebreaker' competition will be judged by a panel of eminent Australians on criteria including originality, creativity, sincerity, appropriateness and alignment with the values, objectives and activities of the Australian Antarctic Program.
The competition opens today and closes on Friday 9 June. The icebreaker name and winners of the competition will be publicly announced in September 2017, with the prize flight taking place in November - December 2017.
The new icebreaker will replace the current ship Aurora Australis, also named by Australian school children, which has been an integral part of the Australian Antarctic Program since 1989.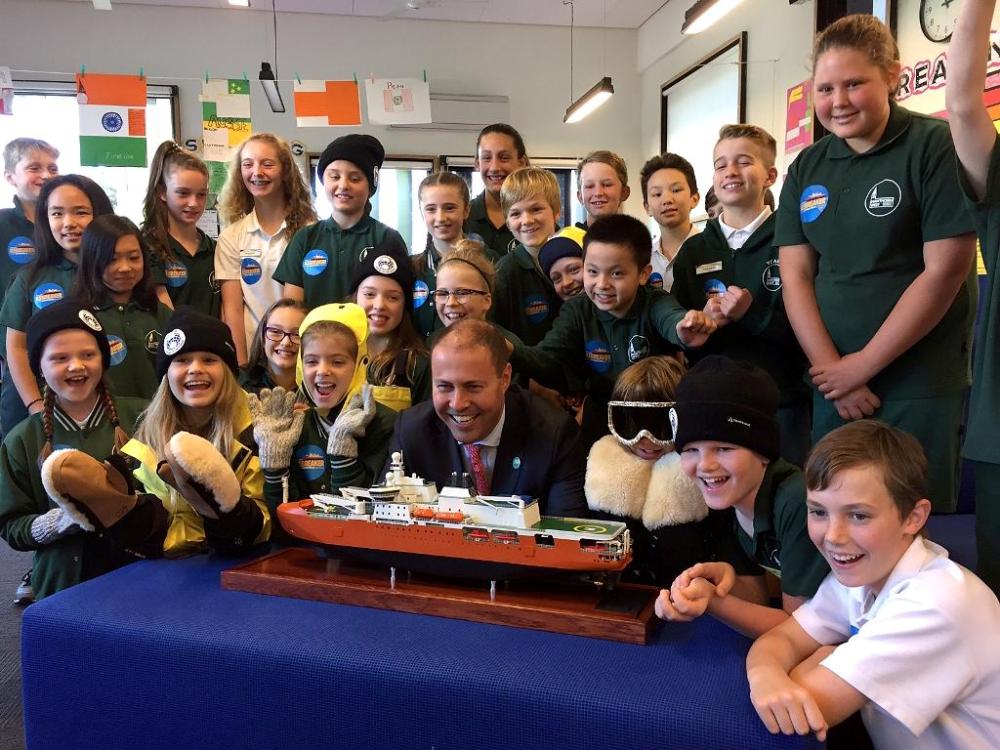 Hon. Josh Frydenberg MP, Minister for the Environment and Energy with Hawthorn West (Vic.) students at launch of Name our Icebreaker competition
The Simpson Prize
If you wish to enter the Simpson Prize, please respond to the question below.

The Simpson Prize is a national competition for Year 9 and 10 students.
The competition encourages participants to focus on the significance of Anzac Day and to consider what Anzac Day means to them and to Australia.
Question
Some historians have described 1917 as "the worst year of the Great War" for Australia and Australians. To what extent is this an accurate statement?
Instructions
The Simpson Prize requires you to respond to the quote and question above using both the Simpson Prize Australian War Memorial Source Selection (which can be found at
https://www.awm.gov.au/education/simpson-prize/
) and your own research.
You are encouraged to agree, debate with or challenge the statement from a variety of perspectives – individual, national and global – and to use sources in a variety of forms.
You are expected to make effective use of a minimum of three of the sources provided (see link above).
Up to half of your response should also make use of information drawn from your own knowledge and research.
Closing date
Submit your entry by Friday 10 November 2017.
Please see the
How to Enter section
for more details regarding student and teacher entry requirements.
Note: The Winners of this year's Simpson Prize will travel in 2018.
The competition is funded by the Australian Government Department of Education and run by the History Teachers' Association of Australia.