January 24 - 30, 2021: Issue 480

New State Library of NSW exhibition showcases defining images of 2020
From catastrophic weather events to a global pandemic and Black Lives Matters protests – the defining images of 2020 captured by Sydney Morning Herald photographers will go on public display for the first time at the State Library of NSW, from Saturday January 16th.
Now in its 10th year, the annual Photos1440 exhibition features more than 200 published and unpublished images, including award-winning photography from Herald chief photographer Nick Moir and Gold Walkley winner Kate Geraghty.
According to State Librarian John Vallance: "If anyone thinks we can do without great press photographers, think again – then visit this stunning exhibition. You will see immediately why photography is so important to the State Library's mission to document our lives."
"This year, the show looks back over a whole decade. Come and examine our lives in pictures. We have COVID safe measures in place to help protect the health and safety of everyone who comes through our doors."
Dramatic scenes of firefighters fleeing a firestorm, the wreckage of the MH17 plane crash strewn amongst sunflowers and a poignant frame of Newmarch House resident Alice Bacon, who was the 100th COVID-19 victim in Australia, are among the powerful and evocative images on show.
Mags King, The Sydney Morning Herald's Managing Photo Editor and exhibition curator said: "Our photographs are more than the first draft of history; they're powerful gut punches that force everyone from politicians and philanthropists to mums and dads to sit up and take notice. They demand a visceral response."
"This year's Photos1440 showcases some of the most poignant, powerful, spectacular and quiet moments that we have had the privilege to witness. In particular, the images from the past 12 months capture the stories that have unified – and divided – us all.
This year, whilst some of us were in lockdown, Herald photographers continued to work under trying circumstances wearing PPE and working within COVID-19 guidelines. We hope that this exhibition moves people but it is really all about sharing the stories."
Photos1440
is a free exhibition at the State Library of NSW from 16 January to 25 April 2021.
All visitors are required to wear masks
. Please read the Library's
Special Conditions of Entry
before visiting.
Brain pressure disorder that causes headache and vision problems on rise
January 20, 2021
A new study has found a brain pressure disorder called idiopathic intracranial hypertension is on the rise, and the increase corresponds with rising obesity rates. The study is published in the January 20, 2021, online issue of Neurology®, the medical journal of the American Academy of Neurology. The study also found that for women, socioeconomic factors like income, education and housing may play a role in their risk.
Idiopathic intracranial hypertension is when the pressure in the fluid surrounding the brain rises. It can mimic the symptoms of a brain tumour, causing chronic, disabling headaches, vision problems and in rare cases, vision loss. It is most often diagnosed in women of childbearing age. Treatment is often weight loss. In some cases, surgery may be required.
"The considerable increase in idiopathic intracranial hypertension we found may be due to many factors but likely mostly due to rising obesity rates," said study author William Owen Pickrell, Ph.D., M.R.C.P., of Swansea University in Wales in the United Kingdom and a member of the American Academy of Neurology. "What is more surprising from our research is that women who experience poverty or other socioeconomic disadvantages may also have an increased risk independent of obesity."
For the study, researchers used a national healthcare database in Wales to analyse 35 million patient years of data over a 15-year period, between 2003 and 2017. They identified 1,765 people with idiopathic intracranial hypertension during that time. Of the group, 85% were women. Researchers recorded body mass index measurements for study participants. Body mass index is calculated by dividing weight by height. For every one person with the disorder, researchers compared three people without it who were matched for gender, age and socioeconomic status.
The socioeconomic status of each person with the disorder was determined by where they live, using a national scoring system that considers factors like income, employment, health, education and access to services. People in the study were then divided into five groups ranging from those with the fewest socioeconomic advantages to those with the most.
Overall, researchers found a six-fold increase in the number of cases of the disorder over the course of the study. In 2003, for every 100,000 people, 12 were living with the disorder, compared to 76 people in 2017. Also, in 2013, for every 100,000 people, two were diagnosed during that year, compared to eight people in 2017.
Researchers found that the increasing number of people living with the disorder corresponded to rising obesity rates in Wales during the study, with 29% of the population being obese in 2003 compared to 40% in 2017.
"The worldwide prevalence of obesity nearly tripled between 1975 and 2016, so while our research looked specifically at people in Wales, our results may also have global relevance," said Pickrell.
There were strong links for both men and women between body mass index and risk of the disorder. For women, there were 180 cases per 100,000 people during the study for those with high body mass index compared to 13 women with a body mass index considered to be ideal. For men, there were 21 cases per 100,000 among those with a high body mass index compared to eight cases for those with an ideal body mass index.
Researchers also found that for women only, socioeconomic factors were linked to risk. There were 452 women in the group with the fewest socioeconomic advantages compared to 197 in the group with the most. The women in the group with the fewest had a 1.5 times greater risk of developing the disorder than women in the group with the most, even after adjusting for body mass index.
"Of the five socioeconomic groups of our study participants, women in the lowest two groups made up more than half of the female participants in the study," said Pickrell. "More research is needed to determine which socioeconomic factors such as diet, pollution, smoking or stress may play a role in increasing a woman's risk of developing this disorder."
A limitation of the study was that researchers identified the socioeconomic status of participants by the regions in which they lived instead of obtaining individual socioeconomic information for each participant.
Latif Miah, Huw Strafford, Beata Fonferko-Shadrach, Joe Hollinghurst, Inder Ms Sawhney, Savvas Hadjikoutis, Mark I Rees, Rob Powell, Arron Lacey, W Owen Pickrell.
Incidence, Prevalence and Healthcare Outcomes in Idiopathic Intracranial Hypertension: A Population Study.
Neurology, January 20, 2021 DOI:
10.1212/WNL.0000000000011463
Research establishes antibiotic potential for cannabis molecule
January 19, 2021
Synthetic cannabidiol, better known as CBD, has been shown for the first time to kill the bacteria responsible for gonorrhoea, meningitis and legionnaires disease.
The research collaboration between The University of Queensland and Botanix Pharmaceuticals Limited could lead to the first new class of antibiotics for resistant bacteria in 60 years.
The UQ Institute for Molecular Bioscience's Associate Professor Mark Blaskovich said CBD -- the main nonpsychoactive component of cannabis -- can penetrate and kill a wide range of bacteria including Neisseria gonorrhoeae, which causes gonorrhoea.
"This is the first time CBD has been shown to kill some types of Gram-negative bacteria. These bacteria have an extra outer membrane, an additional line of defence that makes it harder for antibiotics to penetrate," Dr Blaskovich said.
In Australia, gonorrhoea is the second most common sexually-transmitted infection and there is no longer a single reliable antibiotic to treat it because the bacteria is particularly good at developing resistance.
The study also showed that CBD was widely effective against a much larger number of Gram-positive bacteria than previously known, including antibiotic-resistant pathogens such as MRSA (methicillin-resistant Staphylococcus aureus) or 'golden staph'.
Dr Blaskovich said cannabidiol was particularly good at breaking down biofilms -- the slimy build-up of bacteria, such as dental plaque on the surface of teeth -- which help bacteria such as MRSA survive antibiotic treatments.
Dr Blaskovich's team at the Centre for Superbug Solutions mimicked a two-week patient treatment in laboratory models to see how fast the bacteria mutated to try to outwit CBD's killing power.
"Cannabidiol showed a low tendency to cause resistance in bacteria even when we sped up potential development by increasing concentrations of the antibiotic during 'treatment'."
"We think that cannabidiol kills bacteria by bursting their outer cell membranes, but we don't know yet exactly how it does that, and need to do further research.
The research team also discovered that chemical analogs -- created by slightly changing CBD's molecular structure -- were also active against the bacteria.
"This is particularly exciting because there have been no new molecular classes of antibiotics for Gram-negative infections discovered and approved since the 1960s, and we can now consider designing new analogs of CBD within improved properties."
Vince Ippolito, the President and Executive Chairman of Botanix, said the research showed vast potential for the development of effective treatments to fight the growing global threat of antibiotic resistance.
"Congratulations to Dr Blaskovich and his team for producing this significant body of research -- the published data clearly establishes the potential of synthetic cannabinoids as antimicrobials," Mr Ippolito said.
"Our Company is now primed to commercialise viable antimicrobial treatments which we hope will reach more patients in the near future. This is a major breakthrough that the world needs now."
Dr Blaskovich said collaborating with Botanix has sped up the research, with Botanix contributing formulation expertise that has led to the discovery that how cannabidiol is delivered makes a huge difference in its effectiveness at killing bacteria.
The collaboration has enabled Botanix to progress a topical CBD formulation into clinical trials for decolonisation of MRSA before surgery.
"Those Phase 2a clinical results are expected early this year and we hope that this will pave the way forward for treatments for gonorrhoea, meningitis and legionnaires disease.
"Now we have established that cannabidiol is effective against these Gram-negative bacteria, we are looking at its mode of action, improving its activity and finding other similar molecules to open up the way for a new class of antibiotics."
Mark A. T. Blaskovich, Angela M. Kavanagh, Alysha G. Elliott, Bing Zhang, Soumya Ramu, Maite Amado, Gabrielle J. Lowe, Alexandra O. Hinton, Do Minh Thu Pham, Johannes Zuegg, Neil Beare, Diana Quach, Marc D. Sharp, Joe Pogliano, Ashleigh P. Rogers, Dena Lyras, Lendl Tan, Nicholas P. West, David W. Crawford, Marnie L. Peterson, Matthew Callahan, Michael Thurn.
The antimicrobial potential of cannabidiol.
Communications Biology, 2021; 4 (1) DOI:
10.1038/s42003-020-01530-y
New discovery in breast cancer treatment
January 18, 2021
Researchers at the University of Adelaide have found new evidence about the positive role of androgens in breast cancer treatment with immediate implications for women with oestrogen receptor-driven metastatic disease.
Published today in Nature Medicine, the international study conducted in collaboration with the Garvan Institute of Medical Research, looked at the role of androgens -- commonly thought of as male sex hormones but also found at lower levels in women -- as a potential treatment for estrogen receptor positive breast cancer.
In normal breast development, estrogen stimulates and androgen inhibits growth at puberty and throughout adult life. Abnormal estrogen activity is responsible for the majority of breast cancers, but the role of androgen activity in this disease has been controversial.
Androgens were historically used to treat breast cancer, but knowledge of hormone receptors in breast tissue was rudimentary at the time and the treatment's efficacy misunderstood. Androgen therapy was discontinued due to virilising side effects and the advent of anti-estrogenic endocrine therapies.
While endocrine therapy is standard-of-care for estrogen receptor positive breast cancer, resistance to these drugs are the major cause of breast cancer mortality.
Professor Wayne Tilley, Director of the Dame Roma Mitchell Cancer Research Laboratories, and Associate Professor Theresa Hickey, Head of the Breast Cancer Group, who led the study say the need for alternative treatment strategies has renewed interest in androgen therapy for breast cancer.
However, previous studies had produced conflicting evidence on how best to therapeutically target the androgen receptor for treatment of breast cancer, which caused widespread confusion and hampered clinical application.
Using cell-line and patient-derived models, a global team, including researchers at the University of Adelaide and the Garvan Institute, demonstrated that androgen receptor activation by natural androgen or a new androgenic drug had potent anti-tumour activity in all estrogen receptor positive breast cancers, even those resistant to current standard-of-care treatments. In contrast, androgen receptor inhibitors had no effect.
"This work has immediate implications for women with metastatic estrogen receptor positive breast cancer, including those resistant to current forms of endocrine therapy,'' said Associate Professor Theresa Hickey.
Professor Tilley added: "We provide compelling new experimental evidence that androgen receptor stimulating drugs can be more effective than existing (e.g. Tamoxifen) or new (e.g. Palbociclib) standard-of-care treatments and, in the case of the latter, can be combined to enhance growth inhibition.
Moreover, currently available selective androgen receptor activating agents lack the undesirable side effects of natural androgens, and can confer benefits in women including promotion of bone, muscle and mental health.
Associate Professor Elgene Lim, a breast oncologist and Head of the Connie Johnson Breast Cancer Research Lab at the Garvan Institute, said: "The new insights from this study should clarify the widespread confusion over the role of the androgen receptor in estrogen receptor driven breast cancer. Given the efficacy of this treatment strategy at multiple stages of disease in our study, we hope to translate these findings into clinical trials as a new class of endocrine therapy for breast cancer."
Dr Stephen Birrell, a breast cancer specialist and pioneer in androgens and women's health who was part of the Adelaide based team, pointed out that this seminal finding has application beyond the treatment of breast cancer, including breast cancer prevention and treatment of other disorders also driven by estrogen.
Chloe Marshall, 33, has a breast cancer recurrence while pregnant with her second child. She said that endocrine therapy has terrible side effects and there was an urgent need for better options to prevent and treat breast cancer recurrence.
"I was diagnosed with a hormone positive breast cancer in July 2017 and subsequently found out I carried the BRACA gene,'' she said.
"I underwent a double mastectomy and neo adjuvant chemotherapy followed by two years of hormone suppressive treatment. The hormone suppressive treatment that I experienced was one of the hardest parts of having cancer. The impact it has on your mind/life/body is incredibly challenging.
"Now, three years later, I find myself with a recurrent cancer while 25 weeks pregnant. The thought of having hormone suppressive treatment for a further five to ten years is overwhelming.
"I think this study will help patients like myself have hope that there is another answer to life after the cancer diagnosis."
An international Phase 3 registration clinical trial (sponsored by VERU, Inc) evaluating Enobosarm, an androgen receptor activating agent, in patients with androgen receptor and estrogen receptor positive metastatic breast cancer who failed endocrine therapy and a CDK 4/6 inhibitor (e.g. palbociclib), will commence in the second quarter of 2021.
This work was funded by grants from the National Health and Medical Research Council of Australia, the National Breast Cancer Foundation, Cancer Australia, Movember, The Hospital Research Foundation and the US Department of Defense Breast Cancer Research Program.
Watch a video explainer about the new study below.
Theresa E. Hickey, Luke A. Selth, Kee Ming Chia, Geraldine Laven-Law, Heloisa H. Milioli, Daniel Roden, Shalini Jindal, Mun Hui, Jessica Finlay-Schultz, Esmaeil Ebrahimie, Stephen N. Birrell, Suzan Stelloo, Richard Iggo, Sarah Alexandrou, C. Elizabeth Caldon, Tarek M. Abdel-Fatah, Ian O. Ellis, Wilbert Zwart, Carlo Palmieri, Carol A. Sartorius, Alex Swarbrick, Elgene Lim, Jason S. Carroll, Wayne D. Tilley.
The androgen receptor is a tumor suppressor in estrogen receptor–positive breast cancer.
Nature Medicine, 2021; DOI:
10.1038/s41591-020-01168-7
Cosmic beasts and where to find them
January 19, 2021
Two giant radio galaxies have been discovered with South Africa's powerful MeerKAT telescope. These galaxies are thought to be amongst the largest single objects in the Universe. The discovery has been published today in Monthly Notices of the Royal Astronomical Society.
Whereas normal radio galaxies are fairly common, only a few hundred of these have radio jets exceeding 700 kilo-parsecs in size, or around 22 times the size of the Milky Way. These truly enormous systems are dubbed 'giant radio galaxies'.
Despite the scarcity of giant radio galaxies, the authors found two of these cosmic beasts in a remarkably small patch of sky.
Dr Jacinta Delhaize, a Research Fellow at the University of Cape Town and lead author of the work, said: "We found these giant radio galaxies in a region of sky which is only about 4 times the area of the full Moon. Based on our current knowledge of the density of giant radio galaxies in the sky, the probability of finding two of them in this region is less than 0.0003 per cent."
"This means that giant radio galaxies are probably far more common than we thought!"
Dr Matthew Prescott, a Research Fellow at the University of the Western Cape and co-author of the work, said, "These two galaxies are special because they are amongst the largest giants known, and in the top 10 per cent of all giant radio galaxies. They are more than 2 Mega-parsecs across, which is around 6.5 million light years or about 62 times the size of the Milky Way. Yet they are fainter than others of the same size."
"We suspect that many more galaxies like these should exist, because of the way we think galaxies grow and change over their lifetimes."
Why so few radio galaxies have such gigantic sizes remains something of a mystery. It is thought that the giants are the oldest radio galaxies, which have existed for long enough (several hundred million years) for their radio jets to grow outwards to these enormous sizes. If this is true, then many more giant radio galaxies should exist than are currently known.
The giant radio galaxies were spotted in new radio maps of the sky created by the MeerKAT International Gigahertz Tiered Extragalactic Exploration (MIGHTEE) survey. It is one of the large survey projects underway with South Africa's impressive MeerKAT radio telescope, a precursor to the Square Kilometre Array (SKA), which is due to become fully operational in the mid-2020s.
Dr Ian Heywood, a co-author at the University of Oxford, said "The MeerKAT telescope is the best of its kind in the world. We have managed to identify these giant radio galaxies for the first time because of MeerKAT's unprecedented sensitivity to faint and diffuse radio light."
Dr Delhaize adds, "In the past, this population of galaxies has been hidden from our 'sight' by the technical limitations of radio telescopes. However, it is now being revealed thanks to the impressive capabilities of the new generation of telescopes."
Construction of the highly anticipated trans-continental SKA telescope is due to commence in South Africa and Australia in 2021, and continue until 2027. Science commissioning observations could begin as early as 2023, and it is hoped that the telescope will reveal larger populations of radio galaxies than ever before and revolutionise our understanding of galaxy evolution.
J Delhaize, I Heywood, M Prescott, M J Jarvis, I Delvecchio, I H Whittam, S V White, M J Hardcastle, C L Hale, J Afonso, Y Ao, M Brienza, M Brüggen, J D Collier, E Daddi, M Glowacki, N Maddox, L K Morabito, I Prandoni, Z Randriamanakoto, S Sekhar, Fangxia An, N J Adams, S Blyth, R A A Bowler, L Leeuw, L Marchetti, S M Randriamampandry, K Thorat, N Seymour, O Smirnov, A R Taylor, C Tasse, M Vaccari.
MIGHTEE: are giant radio galaxies more common than we thought?
Monthly Notices of the Royal Astronomical Society, 2021; 501 (3): 3833 DOI:
10.1093/mnras/staa3837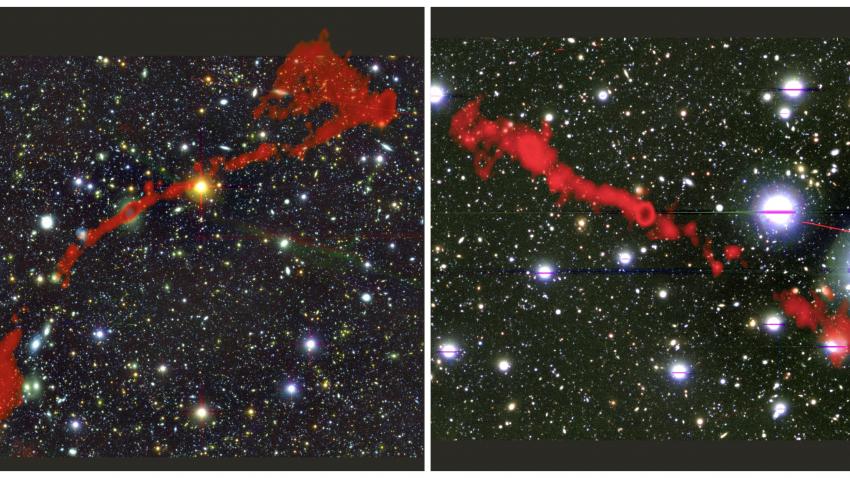 Two giant radio galaxies found with the MeerKAT telescope. In the background is the sky as seen in optical light. Overlaid in red is the radio light from the enormous radio galaxies, as seen by MeerKAT. Left: MGTC J095959.63+024608.6. Right: MGTC J100016.84+015133.0.
Credit I. Heywood (Oxford/Rhodes/SARAO)
Licence type; Attribution (CC BY 4.0)
Disclaimer: These articles are not intended to provide medical advice, diagnosis or treatment. Views expressed here do not necessarily reflect those of Pittwater Online News or its staff.