April 18 - 24, 2021: Issue 490
'I was 44 years old when diagnosed with Parkinson's disease': Parkinson's Awareness Month
April 12, 2021
Report by Emi Berry, UNSW
Darren's diagnosis took two years, but a new Parkinson's disease detection method developed by UNSW researchers could enable an early and accurate diagnosis. In its current form, the new detection method takes five hours.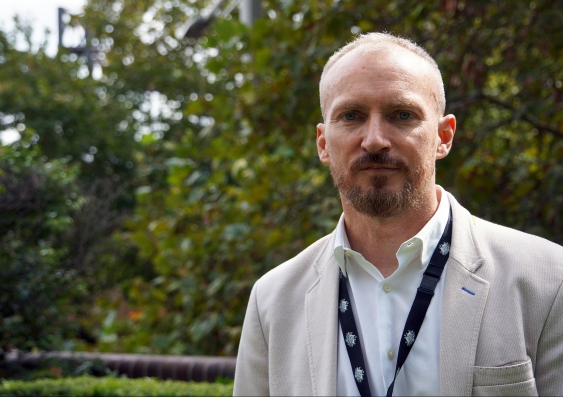 Darren Collins was 44 years old when diagnosed with young-onset Parkinson's disease. It took almost two years of tests, doctor and specialist appointments before reaching a diagnosis. Image: Emi Berry
April is Parkinson's (PD) Awareness Month.
Every day, 38 Australians are told they have PD. Currently, 100,000 Australians are diagnosed with the neurodegenerative disease which affects an individual's movement and balance. Symptoms vary from person to person but may include impulse control disorder, hallucinations, fatigue, pain and sleep difficulties.
While PD tends to be associated with elderly individuals, the sobering fact is, 20% of sufferers are under the age of 50 and 10% are diagnosed before they turn 40. It is the second most common neurological disease in Australia after dementia.
As there are no specific biomarkers to definitively diagnose PD, clinicians rely on a combination of signs and symptoms which include tremors and responsiveness to specific treatments. This means that PD diagnosis can arrive late in the progression of the disease when motor neurons have already been damaged. When younger individuals present with symptoms and their specialists are not expecting PD, the diagnosis may also be missed or delayed. Up until now, the only way to definitively diagnose PD is at autopsy.
Two years of testing
Darren Collins was 44 years old when he was diagnosed with young-onset PD. His symptoms started to occur at least two years prior. It took almost two years of tests, doctor and specialist appointments before reaching a diagnosis. During this time, his condition gradually worsened.
As a former army medic, Mr Collins had some understanding that PD could affect people at a younger age but was shocked to learn the percentage of young-onset PD sufferers.
"Currently, my condition manifests itself primarily as an asymmetric, unilateral tremor on my right side. I first noticed the slightest of tremors in my right hand, mainly my ring and little finger in 2013. The tremors have increased in intensity and frequency. Also, I have developed an unusual gait when walking, as if I'm stepping over a log with my right foot. This is accompanied by an extended right arm swing," said Mr Collins.
Mr Collins said apart from the physical manifestations of the condition, his greatest challenge is dealing with the psychological (depression) and social aspects (confidence and relationships).
"I'm very conscious of my appearance in public and if I notice people staring at the tremors, it often exacerbates the condition through anxiety and causes the tremors to increase. This impacts my confidence in everyday situations, social interactions, work interactions and public speaking. I have developed an almost constant 'tennis elbow' pain in my right forearm due to my habit of sitting on my hand to hide the tremors in public.
"I've been refused entry and service in pubs. In all instances, I have managed to convince the staff I have a condition, yet the need to explain myself and my appearance is both embarrassing and tiring," explained Mr Collins.
UNSW breakthrough in PD research
A recent breakthrough in PD research by a team at UNSW Sydney means early and accurate diagnosis for the disease, which will lead to better outcomes for PD patients.
The research team that includes Dr Emma Sierecki and Dr Yann Gambin, have created a new diagnostic method for PD that combines a single-molecule counting technique with a rapid amplification analysis to detect alpha-synuclein – a promising biomarker for the disease. Alpha-synuclein is a sticky protein that clumps in the brains of people with PD. This diagnostic method will allow clinicians to detect PD at an early stage before the onset of clinical signs. The method requires five hours of amplification followed by 10 minutes of measurement time in its current form.
"Our work follows on the recent developments in the field of PD detection. After years of unsatisfying results, the scientific community is finding evidence that the presence of alpha-synuclein aggregates actually correlates with PD diagnosis. This has reignited the interest in developing early diagnostic analysis as protein build-up occurs years before symptoms appear," explained Dr Sierecki.
"So far, we have results from cerebrospinal fluid, which is obtained following a lumbar puncture, a minor but not routine operation. Our current efforts aim at using blood as a sample to make it more accessible. Even though people may be prepared to get a lumbar puncture to have a definitive PD diagnosis, it is not a good protocol to follow clinical trials for example, where patients are required to provide samples often. We are also exploring other samples such as urine or skin."
'Having a biomarker for PD is an important milestone for PD research, but it is only the beginning' - Dr Emma Sierecki
Mr Collins said so far, his PD journey has been minor in comparison to other sufferers, and he feels fortunate. However, the research at UNSW provides hope for the PD community.
"The UNSW research in developing an early and reliable test to detect and definitively diagnose PD is a massive development. The two years I spent between the tremors first appearing, to the appointment at Westmead Hospital when I was told I had PD was an extremely anxious and frustrating period. Quick, definitive diagnosis will lead to earlier interventions and peace of mind," said Mr Collins.
Dr Sierecki said there is hope for people who have not yet been diagnosed with PD. Early diagnosis also means therapeutic intervention can commence sooner, delaying and potentially preventing the apparition of more developed symptoms.
"Parkinson's disease is a progressive disorder that is not linked to a single, well-identified cause. There is still much to understand about the origin and progression of the disease and the diversity. Having a biomarker for PD is an important milestone for PD research, but it is only the beginning."
This research is supported by a grant from the Shake It Up Australia Foundation and the Michael J. Fox Foundation.
Poor air quality in australian classrooms detrimental to kids' wellbeing and learning
April 14, 2021
Australian schools need better ventilation to improve student health and productivity, says new UNSW research.
Many Australian school kids could be learning in classrooms with poor indoor air quality that exceeds safety guidelines.
A team from the UNSW Sydney's School of Built Environment found concentrations of carbon dioxide (CO₂) in classrooms peaked significantly higher than the 850-ppm threshold prescribed by the National Construction Code due to a lack of proper ventilation.
The study
also showed that low ventilation rates raise the concentration of other contaminants in a classroom environment, such as emissions from the building materials and furniture and particulate matter from indoor/outdoor sources.
Poor indoor air quality and high indoor air temperatures in classrooms are critical problems worldwide. This is only worsened when ventilation rates are insufficient to remove excessive heat or pollutants.
The lead author of the study, Associate Lecturer Dr Shamila Haddad, said children are particularly vulnerable to the impacts of poor air quality.
"Poor indoor air quality in classrooms is a critical problem given that students spend a substantial amount of their daytime in the classroom," Dr Haddad said. "Pollutant exposure during developmental stages may produce lifelong issues such as respiratory infections and upper and lower airways disorders."
Ventilation, not just air-conditioning
Poor air quality in the classroom doesn't just affect student health and wellbeing but also learning capacity through concentration loss, tiredness and fatigue.
"High concentration of CO₂ released by the occupants of the classroom can lead to fatigue, concentration loss, and poor learning performance. Elevated CO₂ concentrations can cause headache, sleepiness, and tiredness." Dr Haddad said.
"If we want to improve productivity in the classroom, we need to revise the shortcomings of the building itself to enhance health, wellbeing and comfort.
"Improving indoor thermal and environmental quality is as important as improving the teaching material in the classroom."
Previous research conducted by UNSW Professor Mat Santamouris found CO₂ levels of up to 4000ppm in classrooms, more than four times the recommended threshold.
"Under these conditions, both the teacher and the students are sleepy and tired, and their learning capacity is reduced tremendously," Professor Santamouris said.
"School kids aren't just little adults...they need specific environmental conditions to be comfortable."
While each state in Australia has its guidelines for indoor air quality in schools, school classroom ventilation typically relies upon natural and manual airing, which is not always possible. Often, windows are closed to avoid discomfort caused by external noise from people, traffic and construction and extreme weather to prevent drafts.
However, without adequate ventilation, high concentrations of pollutants build up inside the school, and microbes are likely to circulate the environment.
"Adequate ventilation and indoor air quality in classrooms cannot be achieved by split-type air-conditioners without the supply of fresh air leading to an accumulation of contaminants," Dr Haddad said.
"A good ventilation system inside classrooms, on the other hand, can ensure good air quality and thermal comfort, which can enhance learning capacity and also protect students against the transmission of airborne diseases, like COVID-19."
"Improving indoor thermal and environmental quality is as important as improving the teaching material in the classroom."
During the study, the research team installed a demand-controlled ventilation system inside a classroom to monitor air quality and pollutants. The system uses real-time feedback to regulate indoor air quality in line with safe recommended levels by adjusting the ventilation rate in response to occupancy numbers and pollutant concentration.
Once the air quality exceeds the school classrooms' recommended thresholds, the ventilation system supplies fresh air and flushes out polluted air based on measured air quality in the classroom.
"Demand controlled ventilation with air extraction removes excessive heat and stale air and allows fresh cool air to enter the classroom and maintain indoor air quality and thermal comfort," Dr Haddad said.
"It utilises both natural and mechanical ventilation systems and provides an effective opportunity for controlling indoor air quality in school buildings by adjusting airflow rates based on indoor air quality measures such as CO₂, Total Volatile Organic Compound (TVOC) and thermal comfort parameters."
The demand control ventilation system is more reliable than natural ventilation and is more efficient and cheaper to run than other conventional ventilation systems that use open-loop controls with constant ventilation rates, Dr Haddad said.
Child-based design guidelines for schools
Dr Haddad said the study supports a growing case for developing specific health guidelines that consider the combination of indoor- based ventilation and thermal comfort needed specifically for schools.
"School kids aren't just little adults, due to several reasons, namely age-dependent morphological, physiological, and psychological factors," Dr Haddad said. "They need specific environmental conditions to be comfortable."
"This study provides evidence-based findings, which can be taken forward to develop a new set of child-based design guidelines for future school buildings...where students' thermal comfort and satisfaction, health and energy consumption measures are undertaken."
North Shore parole officers share their stories in podcast
Parole officers from across Sydney reveal what it's like to work with offenders one-on-one in a ground-breaking new podcast, Behind the Walls.
Hosted by crime author Michael Duffy, the six-part series features first-hand accounts from 30 correctional officers about what really happens behind the walls of prisons and doors of parole offices in NSW.
One such interview is with Grace Wong, who works at Hornsby Community Corrections where staff supervise parolees and offenders on community-based court sentences.
"We do get a lot of clients who walk through the door with histories of childhood trauma, sexual abuse, exposure to violence at an early age and domestic violence," Ms Wong said.
"I think a lot of the trauma that clients go through and their abuse history contributes to the reasons why they end up in our system. There are some really sad stories that walk through the door."
Community Corrections officers work one-on-one with offenders, helping them to address the reasons why they commit crime and how they can stop it. This includes developing management plans, regular monitoring and referral to necessary services and programs.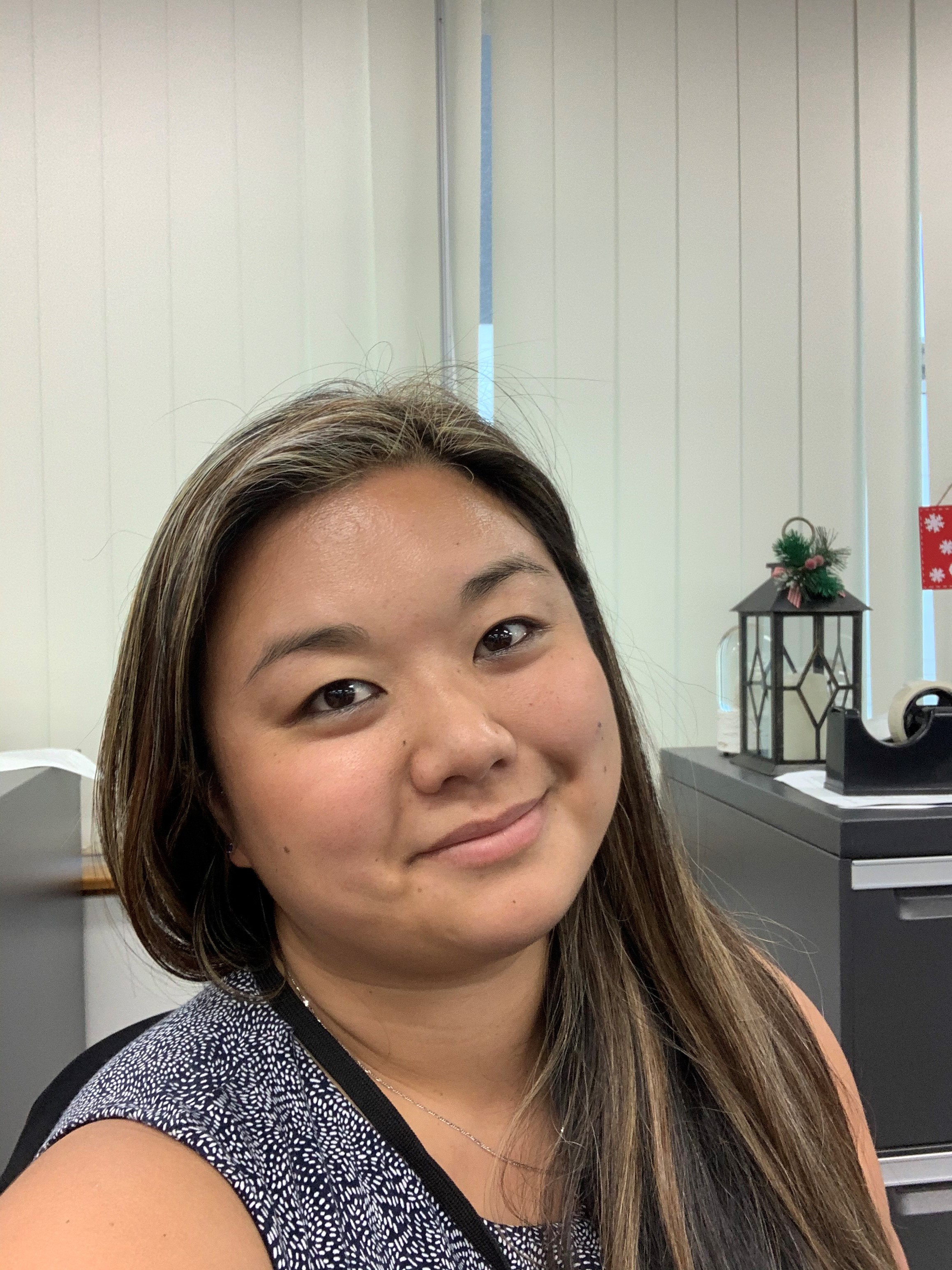 Grace Wong, Hornsby Community Corrections. Photo courtesy CSNSW
St Leonards Community Corrections officer Jessie Slattery-McDonald told the podcast that while interventions could assist a person to lead a more pro-social life, sometimes that wisdom only comes with age.
"I feel like we can do everything we can, but if someone is not ready to change in themselves, that's where it gets difficult," Ms Slattery-McDonald said.
"Whereas you can have someone that has been repeat offending for 30, 40 odd years and they finally get to a point where they're like, 'I don't want to do this anymore'. They're seeing that there's no benefit whatsoever.
"The 18-25 age group is hard because they tend to have a slight arrogance, they are a little bit invincible. They don't really see an issue, particularly if some of them are still living at home.
"So they're not working, they're just hanging out and they don't really see the consequences of their actions.
"It's when they've got more responsibilities, they're getting older, they're not achieving what their peers might be, and they kind of realise that there's no point doing what they're doing."
Episode six, Behind the Walls: Parole was released on Thursday April 16 and is available for free on all good podcast apps. It is the final episode in the ground-breaking six part series about working in prisons and parole.
Jessie Slattery-McDonald,
St Leonards Community Corrections.
Photo courtesy CSNSW
World's smartest computer recruited for future NSW transport
April 12, 2021
The world's smartest computer could be used to tackle Sydney's complex transport problems, including updating schedules in real time if there is crowding on the network.
Minister for Transport and Roads Andrew Constance said a new partnership between the NSW Government and
Australian company Q-CTRL
will look at how quantum computing technology can create and manage a more resilient transport network.
"This is a rare opportunity for some of our leading transport innovators and quantum computing experts to come together to tackle complex transport network management and congestion problems," Mr Constance said.
"Future applications of the technology could include mapping all transport modes and crowd movements simultaneously in real time, and automatically updating the schedule to solve disruption issues.
"We could see all trains, busses, ferries, trams and motorways essentially 'talking to each other' to find out where customers are and deploy resources where needed. It could be used for massive public events, like New Year's Eve or Vivid Festival."
Q-CTRL Founder and CEO Professor Michael Biercuk said Quantum computers are an emerging technology that replaces the traditional 'binary' computing concepts used in most computers today, and instead uses quantum physics to tackle tough computational challenges in a fraction of the time.
"This technology could completely transform the computing tools available to Transport for NSW in the next few years. The possibilities are endless," Professor Biercuk said.
The quantum computing research project is one of several initiatives being launched as part of the Future Transport Technology Roadmap.
Plastic planet: Tracking pervasive microplastics across the globe
April 13, 2021
Really big systems, like ocean currents and weather, work on really big scales. And so too does your plastic waste, according to new research from Janice Brahney from the Department of Watershed Sciences. The plastic straw you discarded in 1980 hasn't disappeared; it has fragmented into pieces too small to see, and is cycling through the atmosphere, infiltrating soil, ocean waters and air. Microplastics are so pervasive that they now affect how plants grow, waft through the air we breathe, and permeate distant ecosystems. They can be found in places as varied as the human bloodstream to the guts of insects in Antarctica.
Understanding how microplastics move through global systems is essential to fixing the problem, said Brahney. Her new research focuses on how these invisible pieces of plastic get into the atmosphere, how long they stay aloft, and where in our global system we can expect to find hotspots of microplastic deposition.
Plastics enter the atmosphere ... not directly from garbage cans or landfills as you might expect ... but from old, broken-down waste that makes its way into large-scale atmospheric patterns. Roads are a big source of atmospheric plastics, where vehicle tires churn and launch skyward the tiny pieces through strong vehicle-created turbulence. Ocean waves, too, are full of insoluble plastic particles that used to be food wrappers, soda bottles, and plastic bags. These "legacy plastic" particles bob to the top layer of water and are churned by waves and wind, and catapulted into the air.
Another important source for the re-emission of plastics is dust produced from agricultural fields. Plastics are introduced to the soil when fertilizers from waste treatments operations are used (virtually all microplastics that are flushed with wastewater remain with the biowaste after the treatment process). Wind can also be a factor near population centres, whisking broken-down plastic particles into the air.
Once in the atmosphere, plastics could remain airborne for up to 6.5 days -- enough time to cross a continent, said Natalie Mahowald, co-author on the paper. The most likely place for plastic deposition from the atmosphere is over (and into) the Pacific and Mediterranean oceans, but continents actually receive more net plastics from polluted ocean sources than they send to them, according to the models. The U.S., Europe, Middle East, India and Eastern Asia are also hotspots for land-based plastic deposition. Along the coasts, ocean sources of airborne plastic become more prominent, including America's west coast, the Mediterranean and southern Australia. Dust and agriculture sources for airborne plastics factor more prominently in northern Africa and Eurasia, while road-produced sources had a big impact in heavily populated regions the world over.
This study is important, said Brahney, but it is just the beginning. Much more work is needed on this pressing problem to understand how different environments might influence the process ... wet climates versus dry ones, mountainous regions versus flatlands. The world hasn't slowed its production or use of plastic, she said, so these questions become more pressing every passing year.
Janice Brahney, Natalie Mahowald, Marje Prank, Gavin Cornwell, Zbigniew Klimont, Hitoshi Matsui, Kimberly Ann Prather.
Constraining the atmospheric limb of the plastic cycle
. Proceedings of the National Academy of Sciences, 2021; 118 (16): e2020719118 DOI:
10.1073/pnas.2020719118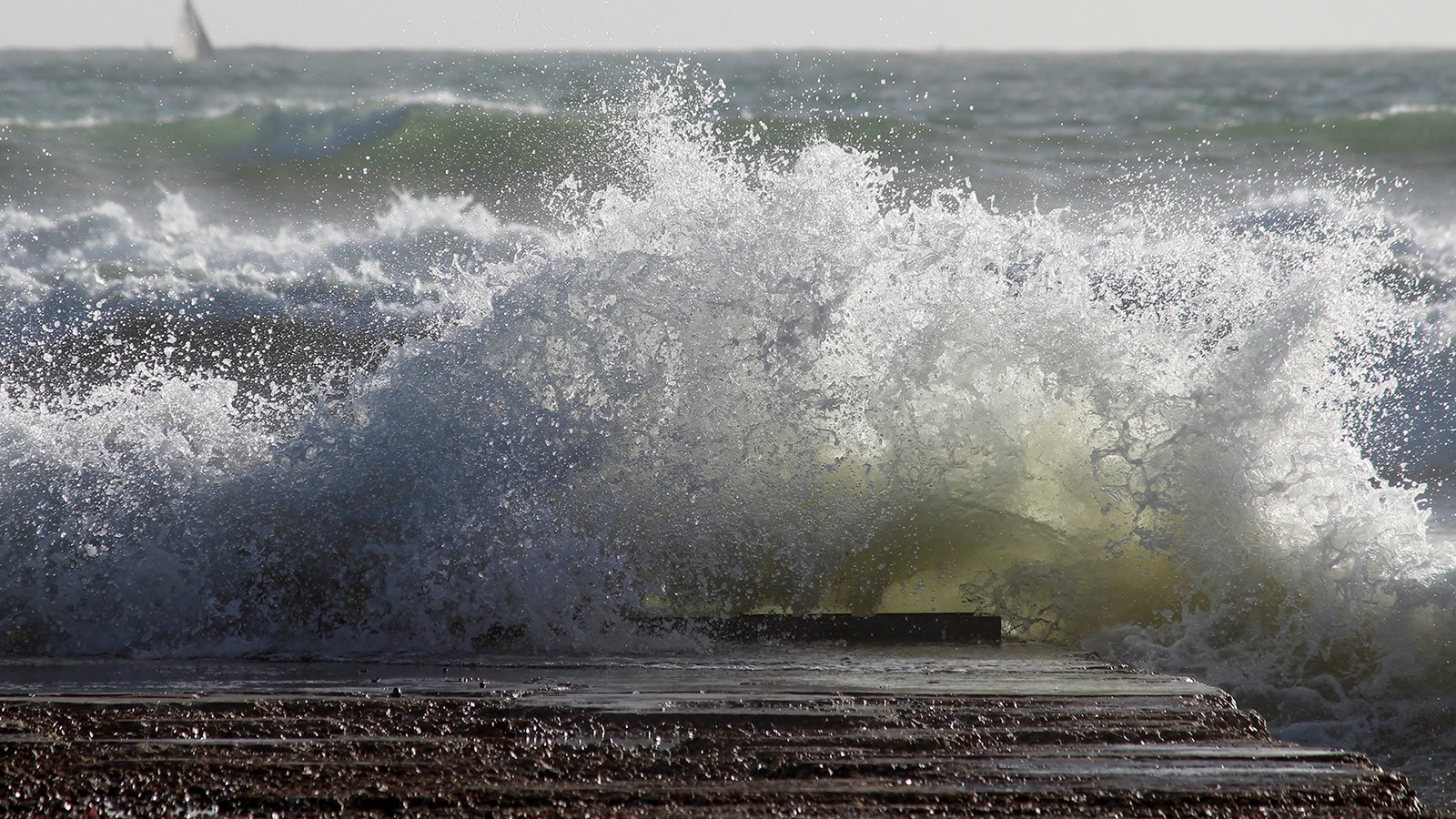 Introduced honeybee may pose threat to native bees
April 8, 2021
A Curtin University study has found the introduced European honeybee could lead to native bee population decline or extinction when colonies compete for the same nectar and pollen sources in urban gardens and areas of bush.
Published in the Biological Journal of the Linnean Society, the research found competition between the native bees and the introduced European honeybee could be particularly intense in residential gardens dominated by non-native flowers, and occurred when the bees shared the same flower preferences.
Under these conditions, it would appear that European honeybees, being very abundant, and effective foragers, with the ability to exploit a wide range of flowers, can outcompete native bees for nectar and pollen resources.
Lead author, Forrest Foundation Scholar Miss Kit Prendergast, from Curtin's School of Molecular and Life Sciences said the research was conducted over two years in urban gardens and areas of native vegetation on the Swan Coastal Plain at Perth, Western Australia and revealed a complex relationship between native and introduced bees.
"Not all native bee species were impacted, but when native bees preferred many of the same flower species as honeybees or were of larger body size, meaning they needed more food, this was when honeybees had a negative impact on native bees," Miss Prendergast said.
"This occurs due to resource competition, where honeybees were more successful at exploiting food resources from flowers, leaving not enough nectar and pollen to support native bee populations.
Unlike native bees, honeybees occur in colonies of tens of thousands of individuals, and are better at telling other colony members where flower patches are. This communication is done by using a combination of movement and vibrations known as the "waggle dance" and using scent.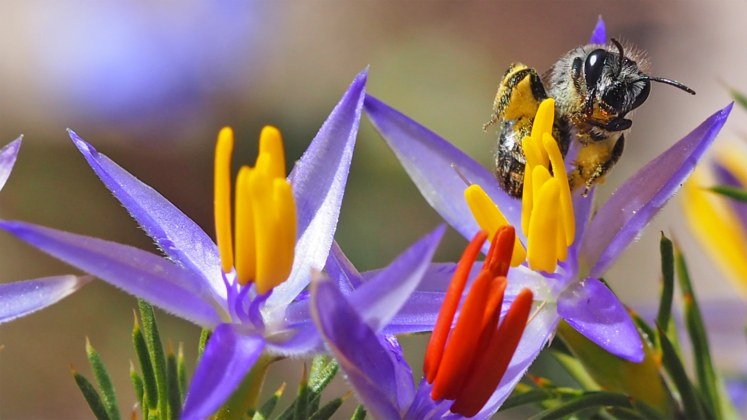 Leioproctus on Calectasia narragara. Picture: Kit Prendergast

"Competition from honeybees was particularly fierce in residential gardens where there are lower proportions of the native wildflowers that our native bees have co-evolved to forage on," Miss Prendergast said.
"This impact of competition with a super-abundant, domesticated and feral introduced bee, when combined with pressures from habitat loss as a result of increasing urbanisation and agriculture, especially livestock agriculture, places some native bee species at risk of becoming endangered or even extinct."
Miss Prendergast said planting more flowering plants, particularly those preferred by vulnerable species of native bees, could help prevent them from declining in number. Controlling the density of honeybees would also be critical in reducing the pressure on vulnerable native bees.
"Native bees are an integral and important part of any ecosystem, including in the Southwest Australian biodiversity hotspot in which our research was conducted," Miss Prendergast said.
"European honeybees have been introduced around the world and pose an added threat to many native bee species already at risk of declining numbers or even extinction due to increasing urbanisation."
Kit S Prendergast, Kingsley W Dixon, Philip W Bateman.
Interactions between the introduced European honey bee and native bees in urban areas varies by year, habitat type and native bee guild.
Biological Journal of the Linnean Society, 2021; DOI:
10.1093/biolinnean/blab024
Secret genetic switch in zebrafish key to heart regeneration
April 13, 2021
Scientists have discovered a critical new gene in zebrafish that helps them repair damaged heart muscle.
Researchers at the Victor Chang Cardiac Research Institute (VCCRI) and UNSW Sydney have identified a genetic switch in zebrafish that turns on cells, allowing them to divide and multiply after a heart attack and resulting in the complete regeneration and healing of damaged heart muscle in these fish.
It's already known that zebrafish can heal their own hearts, but how they performed this incredible feat remained unknown until now. In research published this month in
Science
, the team drilled down into a critical gene known as Klf1 that previously had only been identified in red blood cells. For the first time they discovered it played a vital role in healing damaged hearts.
VCCRI Scientist and UNSW Conjoint Senior Lecturer, Dr Kazu Kikuchi, who led this world-first research, said he was astonished by the findings.
"Our research has identified a secret switch that allows heart muscle cells to divide and multiply after the heart is injured. It kicks in when needed and turns off when the heart is fully healed. In humans, where damaged and scarred heart muscle cannot replace itself, this could be a game-changer," Dr Kikuchi explains.
"With these tiny little fish sharing over 70 per cent of human genes, this really has the potential to lead to new drug developments and save lives down the track."
The gene works by making remaining uninjured heart muscle cells more immature and changing their metabolic wiring. This allows them to divide and make new cells.
When the gene was removed, the zebrafish heart lost its ability to repair itself after an injury such as a heart attack, which pinpointed it as a crucial self-healing tool.
Professor Bob Graham, Head of the Institute's Molecular Cardiology and Biophysics Division, says they hope to utilise this world-first discovery, made in collaboration with the Garvan Institute of Medical Research, to transform the treatment of heart attack patients and other heart diseases.
"The team has been able to find this vitally important protein that swings into action after an event like a heart attack and supercharges the cells to heal damaged heart muscle. It's an incredible discovery," says Prof Graham.
"The gene may also act as a switch in human hearts. We are now hoping further research into its function may provide us with a clue to turn on regeneration in human hearts, to improve their ability to pump blood around the body."
Importantly, the team also found that the Klf1 gene played no role in the early development of the heart and that its regenerative properties were only switched on after a heart injury.
Professor Graham added: "This is clear evidence that the regeneration you get after a heart injury is not the same as what happens during the development of the heart but involves an entirely different pathway; an issue that has been debated for years."
The UNSW-affiliated authors on the Science paper include Conjoint Senior Lecturer Dr Kazu Kikuchi, Associate Professor Ozren Bogdanovic, Adjunct Lecturer Daniel Hesselson, and Conjoint Lecturer David Humphreys.
Disclaimer: These articles are not intended to provide medical advice, diagnosis or treatment. Views expressed here do not necessarily reflect those of Pittwater Online News or its staff.