October 13 - 19, 2019: Issue 424
The deeper these octopuses live, the wartier their skin
October 8th, 2019
Deep beneath the ocean's surface, surprisingly cute warty pink octopuses creep along the seafloor. But not all these octopuses look alike. While we humans love a good "Is your skin oily, dry, or combination?" quiz, members of one octopus species take variations in skin texture to a whole new level. Some have outrageous warts, while others appear nearly smooth-skinned. Scientists weren't sure if these octopuses were even members of the same species, and they didn't know how to explain the differences in the animals' looks. But in a new study, scientists cracked the case: the deeper in the ocean the octopuses live, the bumpier their skin and the smaller their bodies. DNA revealed even though the octopuses looked different, they were the same species.
"If I had only two of these animals that looked very different, I would say, 'Well, they're different species, for sure.' But variation inside animal species can sometimes fool you," says Janet Voight, associate curator of zoology at the Field Museum and the lead author of the paper in the Bulletin of Marine Science. "That's why we need to look at multiple specimens of species to see, does that first reaction based on two specimens make sense?"
To figure out if the smooth and warty octopuses were the same species, the scientists examined 50 specimens that were classified as Graneledone pacifica—the Pacific warty octopus. Plunging deep into the ocean in ALVIN, a human-occupied submersible vehicle, Voight collected some of the octopuses from the Northeast Pacific Ocean. The team also studied specimens loaned from the University of Miami Marine Laboratory and the California Academy of Sciences. They looked at specimens from up and down the Pacific, from as far north as Washington State to as far south as Monterey, California, and from depths ranging from 3,660 feet to more than 9,000 feet below the ocean's surface.
The researchers counted the number of warts in a line across each octopus's back and its head and the number of suckers on their arms. They found that the octopuses from deeper in the ocean looked different from their shallower counterparts. The deep-sea specimens were smaller, with fewer arm suckers, and, most noticeably, bumpier skin than those from shallower depths. The thing is, there weren't two distinct groups; the animals' appearances changed according to how deep they live. Comparing the octopuses' DNA sequences revealed only minor differences, supporting the idea that they were all the same species, despite looking so different.
Sometimes when animals look different from each other, scientists can be tempted to jump the gun and declare them separate species—especially in the deep sea, where very little is known about animal life and scientists often don't have many specimens to compare. But looking different doesn't necessarily mean that animals are members of different species; take Chihuahuas and Great Danes, which are both the same species of Canis lupus familiaris. Dogs' different appearances are due to selective breeding by humans, but in the case of the warty octopuses in this study, their different appearances seem to result from environmental influences, because their appearance changes depending on where the octopuses are from.
Scientists aren't sure why the variations in skin texture occur with depth. But they do have a hunch about the size difference.
Voight thinks that these octopuses usually eat creatures from the sediment on the ocean floor, passing food from sucker to sucker and then crushing their prey like popcorn. "There's less food as you get deeper in the ocean. So these animals have to work harder to find food to eat. And that means at the end of their lives, they'll be smaller than animals who have more food. If you're a female who's going to lay eggs at the end of your life, maybe your eggs will be smaller," says Voight. Smaller eggs mean smaller hatchlings.
Support for this hypothesis comes from the number of suckers on the males' arm that transfers sperm packets to females. Earlier research by Voight found that male hatchlings have a fully formed arm with all its suckers in place. The researchers documented that the number of suckers on this arm was way smaller in males from greater depth, and Voight hypothesises it relates to egg size.
"The octopus hatchlings in shallower water, only 3,660 feet, are bigger. Their eggs had more yolk. As the embryos grew, they developed farther inside the egg than the ones from 9,000 feet, who were developing in smaller eggs. They had less energy to fuel their growth before they left the egg, so they made fewer suckers," says Voight. Seeing these physical manifestations of octopuses' food limitation provides a hint of how they might fare as climate change progresses and the octopuses' food supply fluctuates.
Voight notes that this study, which shows that different-looking octopuses can still be the same genetic species, could help researchers down the line trying to identify life forms in the deep sea. Remotely operated vehicles (ROVs) collect video footage of the ocean floor, and it can be used to estimate the number of species present—if we know what they look like. That's why, Voight says, it's so important to examine specimens in person and use characteristics you can't see on video to identify species boundaries.
"There's still just so much we don't know about the deep sea. We need to be able to understand the information that's becoming available from ROV footage. And we can only do it by knowing what the animals look like."
Janet R Voight, Jessica A Kurth, Richard E Strauss, Jan M Strugnell, A Louise Allcock.
A depth cline in deep-sea octopods (Cephalopoda: Graneledone) in the northeast Pacific Ocean.
Bulletin of Marine Science, 2019; DOI:
10.5343/bms.2019.0039
NASA's Curiosity Rover finds an ancient oasis on Mars
October 7, 2019: NASA/Jet Propulsion Laboratory
If you could travel back in time 3.5 billion years, what would Mars look like? The picture is evolving among scientists working with NASA's Curiosity rover.
Imagine ponds dotting the floor of Gale Crater, the 100-mile-wide (150-kilometer-wide) ancient basin that Curiosity is exploring. Streams might have laced the crater's walls, running toward its base. Watch history in fast forward, and you'd see these waterways overflow then dry up, a cycle that probably repeated itself numerous times over millions of years.
That is the landscape described by Curiosity scientists in a Nature Geoscience paper published today. The authors interpret rocks enriched in mineral salts discovered by the rover as evidence of shallow briny ponds that went through episodes of overflow and drying. The deposits serve as a watermark created by climate fluctuations as the Martian environment transitioned from a wetter one to the freezing desert it is today.
Scientists would like to understand how long this transition took and when exactly it occurred. This latest clue may be a sign of findings to come as Curiosity heads toward a region called the "sulfate-bearing unit," which is expected to have formed in an even drier environment. It represents a stark difference from lower down the mountain, where Curiosity discovered evidence of persistent freshwater lakes.
Gale Crater is the ancient remnant of a massive impact. Sediment carried by water and wind eventually filled in the crater floor, layer by layer. After the sediment hardened, wind carved the layered rock into the towering Mount Sharp, which Curiosity is climbing today. Now exposed on the mountain's slopes, each layer reveals a different era of Martian history and holds clues about the prevailing environment at the time.
"We went to Gale Crater because it preserves this unique record of a changing Mars," said lead author William Rapin of Caltech. "Understanding when and how the planet's climate started evolving is a piece of another puzzle: When and how long was Mars capable of supporting microbial life at the surface?"
He and his co-authors describe salts found across a 500-foot-tall (150-meter-tall) section of sedimentary rocks called "Sutton Island," which Curiosity visited in 2017. Based on a series of mud cracks at a location named "Old Soaker," the team already knew the area had intermittent drier periods. But the Sutton Island salts suggest the water also concentrated into brine.
Typically, when a lake dries up entirely, it leaves piles of pure salt crystals behind. But the Sutton Island salts are different: For one thing, they're mineral salts, not table salt. They're also mixed with sediment, suggesting they crystallised in a wet environment -- possibly just beneath evaporating shallow ponds filled with briny water.
Given that Earth and Mars were similar in their early days, Rapin speculated that Sutton Island might have resembled saline lakes on South America's Altiplano. Streams and rivers flowing from mountain ranges into this arid, high-altitude plateau lead to closed basins similar to Mars' ancient Gale Crater. Lakes on the Altiplano are heavily influenced by climate in the same way as Gale.
"During drier periods, the Altiplano lakes become shallower, and some can dry out completely," Rapin said. "The fact that they're vegetation-free even makes them look a little like Mars."
Signs of a Drying Mars
Sutton Island's salt-enriched rocks are just one clue among several the rover team is using to piece together how the Martian climate changed. Looking across the entirety of Curiosity's journey, which began in 2012, the science team sees a cycle of wet to dry across long timescales on Mars.
"As we climb Mount Sharp, we see an overall trend from a wet landscape to a drier one," said Curiosity Project Scientist Ashwin Vasavada of NASA's Jet Propulsion Laboratory in Pasadena, California. JPL leads the Mars Science Laboratory mission that Curiosity is a part of. "But that trend didn't necessarily occur in a linear fashion. More likely, it was messy, including drier periods, like what we're seeing at Sutton Island, followed by wetter periods, like what we're seeing in the 'clay-bearing unit' that Curiosity is exploring today."
Up until now, the rover has encountered lots of flat sediment layers that had been gently deposited at the bottom of a lake. Team member Chris Fedo, who specialises in the study of sedimentary layers at the University of Tennessee, noted that Curiosity is currently running across large rock structures that could have formed only in a higher-energy environment such as a windswept area or flowing streams.
Wind or flowing water piles sediment into layers that gradually incline. When they harden into rock, they become large structures similar to "Teal Ridge," which Curiosity investigated this past summer.
"Finding inclined layers represents a major change, where the landscape isn't completely underwater anymore," said Fedo. "We may have left the era of deep lakes behind."
Curiosity has already spied more inclined layers in the distant sulfate-bearing unit. The science team plans to drive there in the next couple years and investigate its many rock structures. If they formed in drier conditions that persisted for a long period, that might mean that the clay-bearing unit represents an in-between stage -- a gateway to a different era in Gale Crater's watery history.
"We can't say whether we're seeing wind or river deposits yet in the clay-bearing unit, but we're comfortable saying is it's definitely not the same thing as what came before or what lies ahead," Fedo said.
For more about NASA's Curiosity Mars rover mission, visit:
W. Rapin, B. L. Ehlmann, G. Dromart, J. Schieber, N. H. Thomas, W. W. Fischer, V. K. Fox, N. T. Stein, M. Nachon, B. C. Clark, L. C. Kah, L. Thompson, H. A. Meyer, T. S. J. Gabriel, C. Hardgrove, N. Mangold, F. Rivera-Hernandez, R. C. Wiens, A. R. Vasavada.
An interval of high salinity in ancient Gale crater lake on Mars.
Nature Geoscience, 2019; DOI:
10.1038/s41561-019-0458-8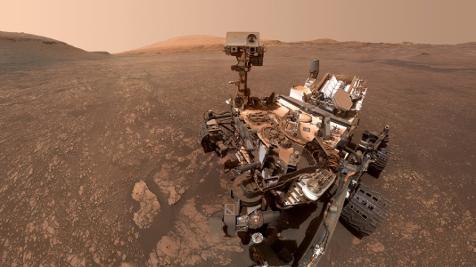 NASA's Curiosity Mars rover took this selfie on May 12, 2019.
Credit: NASA/JPL-Caltech/MSSS
Skin cancer prevention program may have reduced melanoma in Australians
October 8th, 2019
A skin cancer prevention program called SunSmart may have contributed to a recent reduction in melanoma among younger residents of Melbourne, according to a study published October 8 in the open-access journal PLOS Medicine by Suzanne Dobbinson of Cancer Council Victoria in Australia, and colleagues. According to the authors, the findings may have substantial implications for the future delivery of skin cancer prevention programs.
Recently, melanoma rates among younger Australians have dropped, suggesting that prevention programs such as SunSmart may have contributed to this decline. But measures previously used to monitor change over time in preventive behavior for this population focused on just single sun protection behaviours, omitting the effect of extent of use of both individual and combined behaviours that reduce exposure to ultraviolet radiation. This may have led to underestimates of behaviour change, given that effective sun protection involves multiple strategies including sun avoidance. To address this issue, Dobbinson and colleagues conducted a population-based survey in Melbourne in the summer before SunSmart commenced (1987-88) and across summers in three subsequent decades (1988-2017). During summer months, residents ranging in age from 14 to 69 years were recruited to participate in weekly telephone interviews assessing their tanning attitudes, sun protection behaviour and sunburn incidence on the weekend prior to the interview.
By analysing trends in sun protection behaviour for 13,285 respondents, the researchers found that the use of sun protection increased rapidly in the decade after SunSmart commenced. The likelihood of using one or more sun protection behaviors on summer weekends was three times higher in the 1990s than before SunSmart (AOR: 3.04, 95% CI: 2.52-3.68, p <0.001). There was a smaller increase in the use of maximal sun protection including shade (AOR: 1.68, 95% CI: 1.44-1.97, p <0.001). These improvements were sustained into the 2000s and continued to increase in the 2010s. However, Inferences on program effects are limited by self-reported data, the absence of a control population, the cross-sectional study design and not conducting the survey in all years. Other potential confounders may include increasing educational attainment among respondents over time and exposure to other campaigns such as tobacco and obesity prevention efforts.
Although definitive evidence of the impact of the SunSmart program on skin cancer rates remains elusive, prevention programs should be supported given that lifelong protection is beneficial in reducing the risk of skin cancer.
Tamara Tabbakh, Angela Volkov, Melanie Wakefield, Suzanne Dobbinson.
Implementation of the SunSmart program and population sun protection behaviour in Melbourne, Australia: Results from cross-sectional summer surveys from 1987 to 2017.
PLOS Medicine, 2019; 16 (10): e1002932 DOI:
10.1371/journal.pmed.1002932
2019 Nobel Prize in Physics: Evolution of the universe and discovery of exoplanet orbiting solar-type star
October 8th, 2019: Nobel Foundation
The Royal Swedish Academy of Sciences has decided to award the Nobel Prize in Physics 2019 "for contributions to our understanding of the evolution of the universe and Earth's place in the cosmos" with one half to James Peebles of Princeton University, USA, "for theoretical discoveries in physical cosmology" and the other half jointly to Michel Mayor of the University of Geneva, Switzerland, and Didier Queloz of the University of Geneva, Switzerland, and the University of Cambridge, UK, "for the discovery of an exoplanet orbiting a solar-type star."
New perspectives on our place in the universe
This year's Nobel Prize in Physics rewards new understanding of the universe's structure and history, and the first discovery of a planet orbiting a solar-type star outside our solar system.
James Peebles' insights into physical cosmology have enriched the entire field of research and laid a foundation for the transformation of cosmology over the last fifty years, from speculation to science. His theoretical framework, developed since the mid-1960s, is the basis of our contemporary ideas about the universe.
The Big Bang model describes the universe from its very first moments, almost 14 billion years ago, when it was extremely hot and dense. Since then, the universe has been expanding, becoming larger and colder. Barely 400,000 years after the Big Bang, the universe became transparent and light rays were able to travel through space. Even today, this ancient radiation is all around us and, coded into it, many of the universe's secrets are hiding. Using his theoretical tools and calculations, James Peebles was able to interpret these traces from the infancy of the universe and discover new physical processes.
The results showed us a universe in which just five per cent of its content is known, the matter which constitutes stars, planets, trees -- and us. The rest, 95 per cent, is unknown dark matter and dark energy. This is a mystery and a challenge to modern physics.
In October 1995, Michel Mayor and Didier Queloz announced the first discovery of a planet outside our solar system, an exoplanet, orbiting a solar-type star in our home galaxy, the Milky Way. At the Haute-Provence Observatory in southern France, using custom-made instruments, they were able to see planet 51 Pegasi b, a gaseous ball comparable with the solar system's biggest gas giant, Jupiter.
This discovery started a revolution in astronomy and over 4,000 exoplanets have since been found in the Milky Way. Strange new worlds are still being discovered, with an incredible wealth of sizes, forms and orbits. They challenge our preconceived ideas about planetary systems and are forcing scientists to revise their theories of the physical processes behind the origins of planets. With numerous projects planned to start searching for exoplanets, we may eventually find an answer to the eternal question of whether other life is out there.
This year's Laureates have transformed our ideas about the cosmos. While James Peebles' theoretical discoveries contributed to our understanding of how the universe evolved after the Big Bang, Michel Mayor and Didier Queloz explored our cosmic neighbourhoods on the hunt for unknown planets. Their discoveries have forever changed our conceptions of the world.
James Peebles, born 1935 in Winnipeg, Canada. Ph.D. 1962 from Princeton University, USA. Albert Einstein Professor of Science at Princeton University, USA.
Michel Mayor, born 1942 in Lausanne, Switzerland. Ph.D. 1971 from University of Geneva, Switzerland. Professor at University of Geneva, Switzerland.
Didier Queloz, born 1966. Ph.D. 1995 from University of Geneva, Switzerland. Professor at University of Geneva, Switzerland and University of Cambridge, UK.
Prize amount: 9 million Swedish krona, with one half to James Peebles and the other half jointly to Michel Mayor and Didier Queloz
Future intent: Would you let an automated car do the driving?
October 8, 2019: Queensland University of Technology
Would you be comfortable taking a nap in the driver's seat while your fully automated car did the driving?
QUT researchers in Brisbane, Australia, have released the results of two new studies that looked at drivers' willingness to one day embrace automated vehicle technology.
Associate Professor Ioni Lewis from QUT's Centre for Accident Research and Road Safety-Queensland (CARRS-Q) was co-chief investigator in an international study that surveyed 1563 drivers across Australia, France and Sweden about their intentions -- or otherwise -- to one day have a Level 4 automated car that did the driving for them.
"Under international standards, a Level 4 automated car is a high automation vehicle that can completely drive itself," she said.
"Together with colleagues in France and Sweden, we surveyed members of the general public across the three countries and asked them about their intentions to adopt this sort of technology in the future.
"We found French drivers were more keen to embrace automated cars than drivers in Australia and Sweden.
"France has been trialling automated cars for several years and is a world leader, so we think this increased level of community exposure to these cars may have contributed to the differences in intentions found between the countries.
"We also wanted to identify the psychological reasons behind people's intentions. In France and Sweden, people's 'attitude' (their emotions and beliefs) toward these vehicles was the biggest predictor but in Australia it was 'performance expectancy', which reflected how much they thought a highly automated vehicle would actually assist them.
"Realistically, we are still some time away from Level 5 cars, which completely drive themselves and don't even need a steering wheel. At the moment people can buy up to Level 2 cars -- these are vehicles that still require a driver but can do some basic tasks, like braking, by themselves. But it's important to understand driver perceptions and intentions now as we plan for the future."
Dr Sherrie-Anne Kaye is another QUT researcher looking at what drivers think of driverless cars and was the other chief investigator in the international survey.
She is a Research Fellow (Advanced Technologies) with CARRS-Q and also led another Queensland-specific survey.
"The Queensland study surveyed 505 drivers on what they perceived to be the advantages and disadvantages of automated cars," she said.
"They reported quite a few advantages, including that these cars would make driving easier for elderly people and people with disabilities, reduce the human errors that contribute to crashes, and enable people to multi-task during their commutes.
"But some of the common concerns included possible technology malfunctions, hacking and privacy issues, who was legally liable, problems with mixed traffic environments (automated and non-automated vehicles) and losing the enjoyment of driving a car themselves.
"The perceived barriers to one day driving an automated car included the high cost, a lack of trust and control, safety (for themselves and others) and current legislation."
With automated vehicle trials now getting underway in Australia, law-makers are also getting ready for the new technology.
Australia's National Transport Commission (NTC) is currently revising the country's laws to allow automated vehicles to operate safely and legally on Australian roads, and look at implications for areas like motor accident injury insurance.
By 2020 the NTC aims to have an end-to-end system of regulation for automated vehicles in Australia.
The Society of Automotive Engineers (SAE) sets the internationally-recognised standard outlining levels of driving automation.
There are six levels, ranging from Level 0 to 5.
Level 0 (No Automation) -- The driver is in charge of all the driving but the car can provide warnings about the environment.
Level 1 (Driver Assistance) -- The driver does all the driving with some basic help like automatic emergency braking.
Level 2 (Partial Automation) -- The car can automatically steer, accelerate and brake in limited situations but the driver must stay fully alert, even when the vehicle is driving.
Level 3 (Conditional Automation) -- The car can take full control of steering, acceleration and braking under certain conditions and the driver has to be ready to take over if needed.
Level 4 (High Automation) -- These cars can assume all driving tasks in nearly all conditions without any driver attention. Drivers can 'tune out' and do other things, even take a nap. But, with notice, they have to be able to take over if neded.
Level 5 (Full Automation) -- No steering wheel required! These cars do everything and have no driver, just passengers. Think robot taxi.
Both QUT studies were recently presented at the 2019 Australasian Road Safety Conference in Adelaide, Australia.
Disclaimer: These articles are not intended to provide medical advice, diagnosis or treatment. Views expressed here do not necessarily reflect those of Pittwater Online News or its staff.