February 16 - 22, 2020: Issue 438

Productivity Commission Report Exposes Falling Government Support for GPs and Their Patients: AMA
February 5th, 2020
AMA President, Dr Tony Bartone, said today that the RoGS report shows that expenditure per person on general practice was $391 per person in 2018-19, which is a decrease in real terms from $395 per person in 2017-18.
"The needs of GPs and their patients are being left behind," Dr Bartone said.
"Per capita spending on general practice is falling at a time when GPs face a rapidly growing workload due to the ageing population and the increasing complexity of conditions, many of them chronic, that patients are experiencing.
"The Government says it continues to believe in the value of general practice, but this report shows that it is failing to back this up with the necessary investment.
"The funding shortfall has hit GPs and general practice hard because it came on top of an extended period of Government freezing of Medicare rebates, which threatened the viability and livelihoods of many practices.
"The Government must acknowledge the compounding effect of under-investment in general practice over many years and increase funding immediately."
Dr Bartone said that the Medicare Benefits Schedule (MBS) General Practice and Primary Care Clinical Committee (GPPCCC) last year released its draft report, which called for greater funding for general practice.
"The Government announced some welcome additional funding for general practice in last year's Budget, but it still falls woefully short of what is needed to support general practice to meet patient needs and demands in the coming years and decades," Dr Bartone said.
"General practice is the most cost-effective part of the health system. GPs keep people out of hospital.
"But the RoGS report shows that there were about 2.9 million presentations to public hospital emergency departments that could have and should have been handled by GPs. Significant investment is needed to allow general practice to take this pressure off overstretched hospitals.
"The RoGS report highlights the worth and effectiveness of general practice with an extremely high satisfaction rate with GP services. More than 90 per cent of patients reported that their GP listened closely to them, showed them respect, and spent enough time with them.
"The report also found that only 3.4 per cent of the population reported delaying or not visiting a GP in the previous 12 months due to cost, and over 80 per cent of patients felt that they could get a GP appointment within an acceptable timeframe. Almost 75 per cent of patients seeking urgent GP care could get an appointment within 24 hours."
Feel like you're a mozzie magnet? It's true – mosquitoes prefer to bite some people over others
February 11, 2020
By Cameron Webb Cameron Webb is a Friend of The Conversation.
Clinical Lecturer and Principal Hospital Scientist, University of Sydney
It's always you, isn't it? The person busy swatting away buzzing backyard mosquitoes or nursing an arm full of itchy red lumps after a weekend camping trip.
You're not imagining it – mosquitoes really are attracted to some people more than others.
Why do mosquitoes need blood?
Only female mosquitoes bite. They do it for the nutrition contained in blood, which helps develop their eggs.
Mosquitoes don't just get blood from people. They're actually far more likely to get it from biting animals, birds, frogs and reptiles. They even bite earthworms.
But some mosquitoes specifically target people. One of the worst culprits is the Aedes aegypti species, which spreads dengue and yellow fever viruses.
Another that prefers humans are the Anopheles mosquitoes, responsible for spreading the parasites that cause malaria.
How do mosquitoes find us?
Most mosquitoes will get their blood from whatever is around and don't necessarily care if they're biting one person or another.
Although it's our blood they're after, there is no strong indicator they prefer a particular blood type over another. Some studies have suggested they prefer people with type O blood but that's unlikely to be the case for all types of mosquitoes.
Whether we're picked out of a crowd may come down to heavy breathing and skin smell.
When they need blood, mosquitoes can pick up on the carbon dioxide we exhale. Around the world, carbon dioxide is one of the most common "baits" used to attract and collect mosquitoes. If you're exhaling greater volumes of carbon dioxide, you're probably an easier target for mosquitoes.
When the mosquito gets closer, she is responding to a range of stimuli.
Perhaps it's body heat and sweat: exercise that increases body temperature and perspiration can attract mosquitoes.
Perhaps it's body size: studies indicate pregnant women are more likely to be bitten by mosquitoes.
How hairy are you? Mosquitoes may have a tough job finding a path through to your skin if there is an abundance of body hair.
More than anything else, though, it's about the smell of your skin. Hundreds of chemicals are sweated out or emitted by our body's bacteria. The cocktail of smells they create will either attract or deter mosquitoes.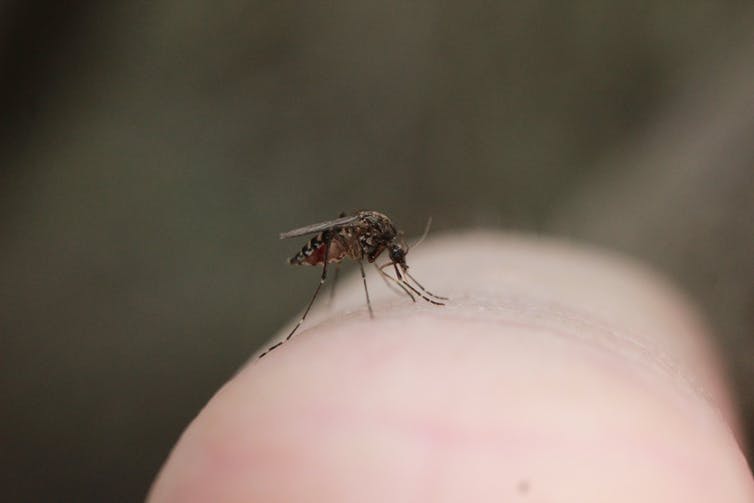 The saltmarsh mosquito is one of the biggest nuisance-biting pests in Australia. Dr Cameron Webb

It's not just who they bite but where
Mosquitoes could also have a preference for different parts of the body.
One study showed mosquitoes are more attracted to hands and feet than armpits, but that just turned out to be because of deodorant residues.
Mosquitoes may also be more attracted to our feet: studies have shown cheese sharing similar bacteria to that found between our toes attracts mosquitoes!
Who is to blame for this misery?
It's not your diet. There is no evidence that what you eat or drink will prevent mosquito bites. Some food or drink may subtly change how many mosquitoes are likely to bite you but it won't make that much difference.
Eating bananas or drinking beer has been shown to marginally increase the attraction of mosquitoes but the results aren't enough to suggest any dietary change will reduce your mosquito bites. That's why our supermarket shelves aren't full of "mozzie repellent" pills.
Your irresistibly to mosquitoes may not be your fault. Blame your parents. Studies have shown the chemicals responsible for the "skin smell" that attracts mosquitoes has a high level of heritability when twins are exposed to biting mosquitoes.
What can you do about it?
We have to be careful about generalisations. There are thousands of types of mosquitoes around the world and all will have a different preference for what or who to bite. And the attraction of individuals and the scenario that plays out in one part of the world may be much different in another.
Remember, it only takes one mosquito bite to transmit a pathogen that could make you sick. So whether you're a mosquito magnet or feeling a little invisible because you're not bitten so often, don't be complacent and use insect repellents.
This article was published first in the conversation,
read
the original article. Republished under a Creative Commons licence.
Australia to host world leaders at Innovation Summit
February 11, 2020: The Hon Greg Hunt MP, Minister for Health
Australia will host the Global Federation of Competitiveness Councils' (GFCC) Global Innovation Summit (the Summit) in Melbourne on 18 and 19 November 2020.
The Summit will bring together leaders and innovative thinkers from numerous countries, and across the business, industry, academia and government sectors.
Humanity, Technology and Health Frontiers will be the focus of the Summit, with the program covering topics such as genomics, robotics, 5G technology, private/public partnerships and artificial intelligence.
The GFCC is a global multi-stakeholder organisation represented in more than 30 nations. It promotes innovation, productivity and mutual learning between countries as a way of supporting the ongoing success of a range of sectors, including health.
Noteworthy leaders in the GFCC network Charles Holliday Jr. (Chairman, GFCC and Chairman of Royal Dutch Shell, plc.), Mehmood Kahn (Chairman, U.S. Council on Competitiveness and CEO, Life Biosciences) and Deborah Wince-Smith (President, GFCC and President and CEO, U.S. Council on Competitiveness) will travel to Australia to attend the Summit.
The Australian Government has committed $300,000 to support the delivery of the Summit.
The Summit will allow Australia to create new partnership opportunities and work with other global leaders to develop innovative health solutions to current and future problems.
Health and innovation are key priorities for our Government, including the recent commitment of $5 billion through the Medical Research Future Fund (MRFF) to support breakthrough medical research into new frontiers of science.
Areas of focus include the transformative platforms of stem cell research and genomics, being able to diagnose, treat, and help people recover with genuine precision medicine.
The Summit agenda will address Australia's future competitiveness with discussions on navigating the Australian context and opportunities for collaboration between countries.
'Women my age tend to drink -- it's normal'
February 11, 2020: Edith Cowan University
Women aged 50-70 are more likely than younger women to consume alcohol at levels that exceed low risk drinking guidelines -- and most think that's just perfectly fine.
New Edith Cowan University (ECU) research has found that despite the potential health risks of exceeding national drinking guidelines, many middle-aged and young-old women who consume alcohol at high risk levels tend to perceive their drinking as normal and acceptable, so long as they appear respectable and in control.
The study is a collaboration between ECU and Aalborg University, Denmark, led by Dr Julie Dare from ECU's School of Medical and Health Sciences. It investigated the social construction of alcohol use among 49 women aged 50 to 69 in Denmark and Australia.
According to Australian health authorities, drinking more than two standard drinks on any day increases the risk considerably of premature death over a woman's lifetime.
Key findings:
Women place more importance on appearing to be in control, behaving respectably, social pleasure and feeling liberated than the quantity of alcohol consumed or potential health risks.
While some women reported reducing their drinking due to health concerns, others suggested that positive health behaviours such as exercise served to 'neutralise' alcohol-related health risks.
Health advice and interventions relating to middle-aged and young-old women's drinking practices need to acknowledge that women may socially construct their drinking practices to prioritise matters other than biomedical impacts of alcohol.
Controlled and acceptable drinking
Dr Dare said the research highlighted the widespread use of alcohol in both samples of women in Australia and Denmark.
"Respondents from both countries indicated that alcohol use among women their age was normal and acceptable," she said.
One respondent observed:
"It has become part of the norm . . . it is something we do with our acquaintances, friends and families. That's just something we do" (D8, 59 years).
"However, the importance of 'staying in control' while drinking emerged as an important qualifier to the social acceptability of drinking," Dr Dare said.
Another respondent said:
"As long as they (women) don't make a fool of themselves, they don't want to go falling down and showing their knickers" (A9, 69 years).
"Health messaging of no more than two standard drinks per day and no more than four standard drinks on any single drinking occasion didn't seem to be relevant to women in this age group. There was a fair percentage drinking over that," Dr Dare said.
"In Australia, younger women are starting to drink less, their rates have declined, but the proportion of women aged 60 and older drinking at levels that exceed single occasion guidelines (more than 4 standard drinks on a single occasion) has increased. Similar trends are evident in Denmark and the United Kingdom."
Cultural differences
While the study highlighted many similarities between Australian and Danish women, one interesting cultural difference was the way Australian women thought about alcohol in relation to stress.
"If the Australian women had some sort of distress in their lives they believed it was acceptable to drink. They were quite open about this saying 'I just had a bad day, I needed to have a drink'," Dr Dare said.
"Danish women were not the same. They reported it wasn't 'acceptable' to drink if they were upset. They believed that you shouldn't use alcohol as a crutch to cope," she said.
Julie Dare, Celia Wilkinson, Line Traumer, Kathrine H. Kusk, Marie‐Louise McDermott, Lynsey Uridge, Mette Grønkjær.
"Women of my age tend to drink": the social construction of alcohol use by Australian and Danish women aged 50–70 years
. Sociology of Health & Illness, 2019; 42 (1): 35 DOI:
10.1111/1467-9566.12991
1 in 15 hospitalisations could be prevented through early health interventions
February 6th, 2020
Your likelihood of having a preventable hospitalisation varies by where you live, and your individual circumstances, according to a new report from the Australian Institute of Health and Welfare (AIHW).
The report, Disparities in potentially preventable hospitalisations across Australia 2012–13 to 2017–18, shows that 748,000 (1 in 15 or 6.6%) hospital admissions were classified as potentially preventable in 2017–18.
'Nationally, the rate of potentially preventable hospitalisations in 2017–18 was around 2,800 per 100,000 people. Rates were highest in the Northern Territory (around 5,800 per 100,000), and lowest in the Australian Capital Territory (around 2,150 per 100,000),' said AIHW spokesperson Mr. Richard Juckes.
Potentially preventable hospitalisations (PPH) are admissions to hospital that could potentially have been avoided through preventive care (such as vaccination), or appropriate disease management (such as treatment of infections or management of chronic conditions) in the community.
The most common cause (10%) of potentially preventable hospitalisations was chronic obstructive pulmonary disease (COPD). Vaccine-preventable pneumonia and influenza, and congestive cardiac failure accounted for the most days of hospital care.
People aged 65 years and over accounted for almost half (46%) of all potentially preventable hospitalisations, and children (aged 0–14) made up 13% (1 in 8).
The report shows Aboriginal and/or Torres Strait Islander people experienced potentially preventable hospitalisations at a rate 3 times as high as other Australians.
'There were about 45,000 potentially preventable hospitalisations for Indigenous Australians in 2017–18, an increase of 25% between 2012–13 and 2017–18,' Mr Juckes said.
PPH rates often increase with increasing remoteness and socioeconomic disadvantage. The gap between people living in very remote areas and major cities widened between 2012–13 and 2017–18. Similarly, the gap between people living in the lowest and highest socioeconomic areas widened for a number of conditions.
'Classifying a hospitalisation as "potentially preventable" does not mean that the hospitalisation itself was unnecessary, however, it indicates that management at an earlier stage may have prevented the patient's condition worsening to the point of hospitalisation,' Mr Juckes said.
'It's important to note that a higher rate of PPH doesn't always indicate a less effective health system, but PPH are useful for identifying variations between different groups, and understanding health inequalities.'
In the future, the use of linked data sets could allow for a better understanding of the complex relationships between PPH and disease prevalence, use of primary health care, use of medicines and health outcomes.
Can a river sing? ANU researchers say 'absolutely'
February 11, 2020
A remarkable new project led by researchers at The Australian National University (ANU) will showcase the beauty of the Murray River, and help re-frame the discussion about the waterway's health.
Scientists and audio specialists have teamed up to travel the entire length of the river by kayak, starting in Kosciuszko National Park in southeast NSW and ending in South Australia. They are capturing the river's sights and sounds as well as turning important data about the river into audio.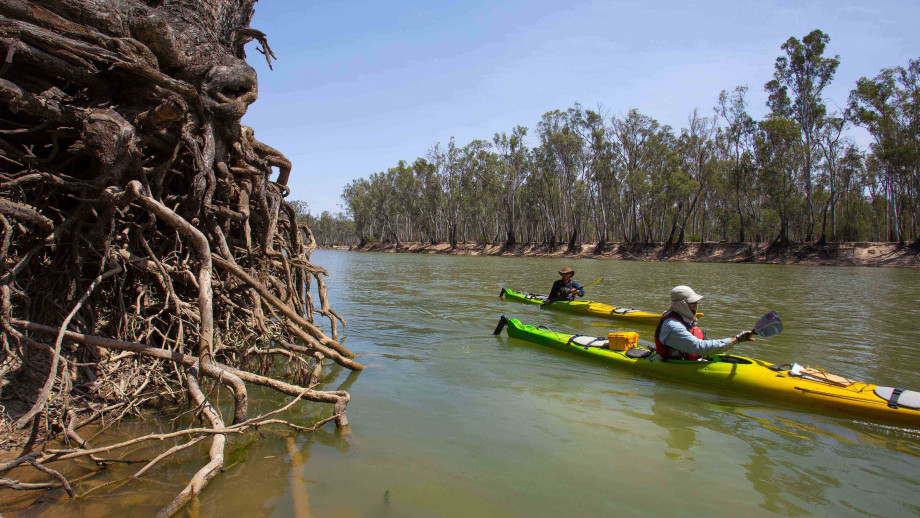 Honours student Xavier Anderson is one of those taking part in the expedition - now entering its final stages.
"It is rare to see a river all the way from source to sea. We've been through so many landscapes and have seen how the river connects to them all," Mr Anderson said.
"What's made it even more remarkable is the extreme conditions we've faced this summer as we've made our way down the river.
"We've been through dust storms, scorching temperatures, hiked through knee-deep snow, paddled in smoke and have battled against strong winds approaching the South Australian border."
Researcher Meredith Hope says they hope to "give the Murray a voice".
"The Murray-Darling system is the life-blood for millions of Australians," she said.
"It provides water to drink, grow food, provide transport and of course supports thousands of species in diverse eco-systems.
"But the health of the Murray River remains under pressure despite efforts to improve it.
"So to address this, our research team have been recording the river as they travel from source to sea over two-and-half months. And the sounds and sights we have captured are a powerful expression of the river's health.
"It's crucial that we communicate the huge importance of this system, celebrate its majestic wonder and continue efforts to preserve it."
The researchers will also create a soundscape of the river by translating publicly available data for sites right down the Murray - like flow rate, water temperature, salinity and depth - into sound for the first time.
They will also combine this "aural fingerprint" with the sounds and sights collected on the 2,500-kilometre kayaking expedition.
The intention is this will eventually form part of an interactive museum exhibition.
"This travelling exhibit will bring the river to the public," Ms Hope said.
"We really want to showcase the river's central role in regional Australia, and help people all over Australia connect with this extraordinary waterway."
Ms Hope says it's a vital mission.
"There is a risk that the Australian public may not support further investment in river health due to a lack of trust in government process and frustration at the cost involved," she said.
"'Out of the box' communication solutions are needed to cut through this negative political space."
The Helping the River Sing project is a collaboration between the ANU Fenner School of Environment Society and the ANU School of Music.
The group started their journey by hiking to the Murray's source in Kosciuszko National Park and then pack-rafting down the river on the snow-melt.
They'll finish at the Murray Mouth in South Australia on Sunday 16 February.
You can follow their progress online via Instagram, or the group's
blog
.
Oral traditions and volcanic eruptions in Australia
February 10, 2020: Geological Society of America
In Australia, the onset of human occupation (about 65,000 years ago?) and dispersion across the continent are the subjects of intense debate and are critical to understanding global human migration routes. A lack of ceramic artifacts and permanent structures has resulted in a scarcity of dateable archaeological sites older than about 10,000 years.
Existing age constraints are derived largely from radiocarbon dating of charcoal and/or optically stimulated luminescence (OSL) dating of quartz grains in rock shelter sediments, and there is a need for independent age constraints to test more controversial ages. In southeastern Australia, only six sites (located in Tasmania, New South Wales, and South Australia) older than 30,000 years are considered definitively dated by 14C and/or OSL methods, with ages spanning 37,000-50,000 years.
The strong oral traditions of Australian Aboriginal peoples have enabled perpetuation of ecological knowledge across many generations and can likely provide additional archeological insights. Some surviving traditions allude to different geological events, such as volcanic eruptions, earthquakes, and meteorite impacts. It has been proposed that some of these traditions may have been transmitted for thousands of years.
The Newer Volcanic Province of southeastern Australia contains over 400 basaltic eruption centers, a number of which are thought to have erupted within the last 100,000 years, although precise ages remain elusive for most. Technological improvements over the last decade have firmly established applicability of the 40Ar/39Ar dating technique (which relies on the natural radioactive decay of 40K in minerals) to archeological timescales, enabling many of these younger volcanoes to be dated by this method.
Rare reported occurrences of archaeological evidence beneath volcanic ash deposits and lava flows, and the longevity of Aboriginal oral histories, presents an opportunity for novel investigation into the timing of human occupation of this region. In particular, oral traditions surrounding the Budj Bim Volcanic Complex (previously Mount Eccles) in western Victoria have been interpreted to reference volcanic activity.
This new study published in Geology presents a new 40Ar/39Ar eruption age of 36,900 ± 3,100 thousand years for the Budj Bim Volcanic Complex and an age of 36,800 ± 3,800 thousand years for the nearby Tower Hill Volcanic Complex; the latter is of archaeological significance due to the historical discovery of a stone axe from a sequence of volcanic ash deposits.
These ages fall within the range of 14C and OSL ages reported for the six earliest known occupation sites in southeastern Australia. The age of Tower Hill directly represents the minimum age for human presence in Victoria. If oral traditions surrounding Budj Bim do indeed reference volcanic activity, this could mean that these are some of the longest-lived oral traditions in the world.
Erin L. Matchan, David Phillips, Fred Jourdan, Korien Oostingh.
Early human occupation of southeastern Australia: New insights from 40Ar/39Ar dating of young volcanoes
. Geology, 2020; DOI:
10.1130/G47166.1
'Rule breaking' plants may be climate change survivors
February 10, 2020: University of Queensland
Plants that break some of the 'rules' of ecology by adapting in unconventional ways may have a higher chance of surviving climate change, according to researchers from the University of Queensland and Trinity College Dublin.
Dr Annabel Smith, from UQ's School of Agriculture and Food Sciences, and Professor Yvonne Buckley, from UQ's School of Biological Sciences and Trinity College Dublin Ireland, studied the humble plantain (Plantago lanceolate) to see how it became one of the world's most successfully distributed plant species.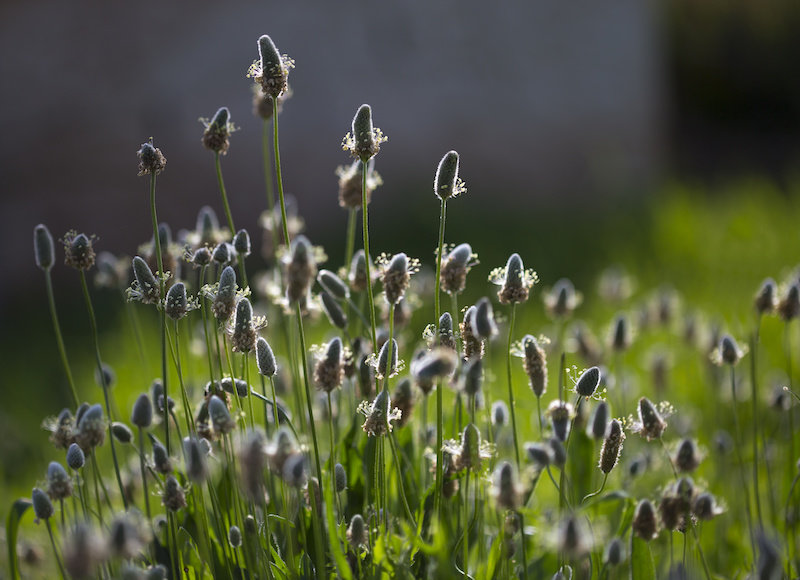 Plantago lanceolate (stock image). Credit: © Tetiana / Adobe Stock

"The plantain, a small plant native to Europe, has spread wildly across the globe -- we needed to know why it's been so incredibly successful, even in hot, dry climates," Dr Smith said.
The global team of 48 ecologists set up 53 monitoring sites in 21 countries, tagged thousands of individual plants, tracked plant deaths and new seedlings, counted flowers and seeds and looked at DNA to see how many individual plants have historically been introduced outside Europe.
What they discovered went against existing tenets of ecological science.
"We were a bit shocked to find that some of the 'rules of ecology' simply didn't apply to this species," Dr Smith said.
"Ecologists use different theories to understand how nature works -- developed and tested over decades with field research -- these are the so-called 'rules'.
"One of these theories describes how genetic diversity or variation in genes embedded in DNA are produced by changes in population size.
"Small populations tend to have little genetic diversity, while large populations with many offspring, such as those with lots of seeds, have more genetic diversity.
"Genetic diversity sounds boring, but actually it's the raw material on which evolution acts; more genetic diversity means plants are better able to adapt to environmental changes, like climate change.
"We discovered that, in their native range, the environment determined their levels of genetic diversity.
"But, in new environments, these rule breakers were adapting better than most other plants."
The team found the plantain's success was due to multiple introductions around the world.
Professor Buckley, who coordinates the global project from Trinity College Dublin Ireland, said the DNA analysis revealed that ongoing introductions into Australia, NZ, North America, Japan and South Africa quickly prompted genetic diversity,
It gave these 'expats' a higher capacity for adaptation," Professor Buckley said.
"In Europe plantains played by the rules, but by breaking it outside of Europe, it didn't matter what kind of environment they were living in, the plantains almost always had high genetic diversity and high adaptability."
Dr Smith said the finding was fascinating and critical, for two crucial reasons.
"It's important we now know that multiple introductions will mix genetic stock and make invasive plants more successful quite quickly -- an important finding given invasive species cause extinction and cost governments billions of dollars," she said.
"And secondly, research on invasive plants gives us clues about how our native plants might adapt to climate change.
Annabel L. Smith, Trevor R. Hodkinson, Jesus Villellas, Jane A. Catford, Anna Mária Csergő, Simone P. Blomberg, Elizabeth E. Crone, Johan Ehrlén, Maria B. Garcia, Anna-Liisa Laine, Deborah A. Roach, Roberto Salguero-Gómez, Glenda M. Wardle, Dylan Z. Childs, Bret D. Elderd, Alain Finn, Sergi Munné-Bosch, Maude E. A. Baudraz, Judit Bódis, Francis Q. Brearley, Anna Bucharova, Christina M. Caruso, Richard P. Duncan, John M. Dwyer, Ben Gooden, Ronny Groenteman, Liv Norunn Hamre, Aveliina Helm, Ruth Kelly, Lauri Laanisto, Michele Lonati, Joslin L. Moore, Melanie Morales, Siri Lie Olsen, Meelis Pärtel, William K. Petry, Satu Ramula, Pil U. Rasmussen, Simone Ravetto Enri, Anna Roeder, Christiane Roscher, Marjo Saastamoinen, Ayco J. M. Tack, Joachim Paul Töpper, Gregory E. Vose, Elizabeth M. Wandrag, Astrid Wingler, Yvonne M. Buckley.
Global gene flow releases invasive plants from environmental constraints on genetic diversity.
Proceedings of the National Academy of Sciences, 2020; 201915848 DOI:
10.1073/pnas.1915848117
Orb-weaver spiders' yellow and black pattern helps them lure prey
February 11, 2020: British Ecological Society
Researchers from Australia, Singapore, Taiwan and the UK placed cardboard cut-out models of the golden orb-weaver, Nephila pilipes, onto real webs in the field. Testing different combinations of colours and patterns they discovered that both the yellow colour and the black and yellow mosaic pattern are essential for luring prey during the day.
The webs of Nephila pilipes also capture prey during the night, and the experiments demonstrated that the yellow colour alone was very effective at luring nocturnal insects.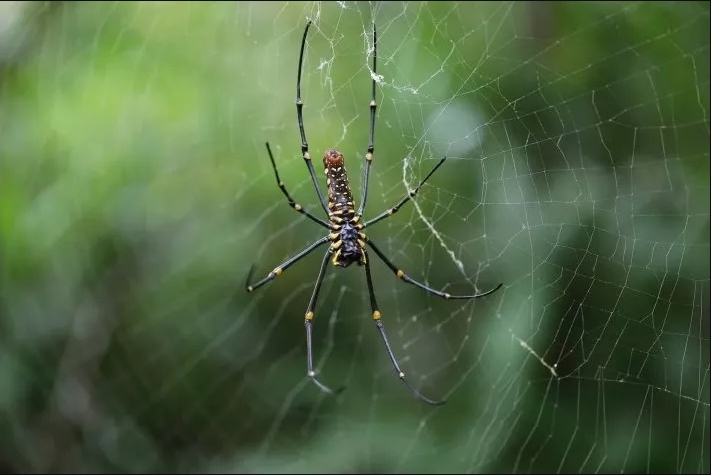 Golden orb-weaver. Nephila pilipes. Credit Bing Heng Lee

Orb-weaving spiders are found in different light conditions, and comparisons between many different species revealed a link between light environments and orb-weaver body colour patterns. Species that build their webs in well-lit environments are more likely to evolve the yellow mosaic colour pattern, found to be so effective at luring prey in these experiments.
However, this colour pattern rarely evolves in species that have little opportunity to lure prey, perhaps because they are concealed in a retreat or build their webs in dark caves.
Dr Po Peng, lead author of the study, said, "Our discoveries indicate that the effectiveness of colour-luring to attract prey might be a major driver for the yellow mosaic pattern being present in distantly related orb-weaver spiders."
The significance of the yellow colour may be due to yellow pollen and flower heads being common in flowers that signal to diurnal (active during the day) pollinators. Previous research has also found that some nocturnal (active at night) lepidoptera (moths and butterflies) can discriminate colours under dim light conditions and innately prefer yellow.
Orb weaving spiders comprise around 12,500 species, making up 28% of the 45,000 described spider species. The groups defining trait is that they construct webs which they sit in the middle of to forage for prey.
Nephila pilipes were used in these experiments as they are active both diurnally and nocturnally, making them excellent species to study visual prey lures. Flies and bees make up the majority of their diurnal prey; moths and butterflies make up the majority of their nocturnal prey.
The researchers conducted the field experiments at Huayan Mountain in Taiwan between 2008 -- 2009. They created five types of carboard models that looked like Nephila pilipes with their legs outstretched. One accurately mimicked the spiders' natural colouration. The second had blue spots rather than yellow to test the importance of colour. The third amalgamated the combined area of the yellow into one area to test the importance of the pattern. The fourth and fifth model types were entirely yellow and entirely black.
"To find paper with colour properties most similar to the body parts of N. pilipes, Szu-Wei Chen (co-author) and I did several tours over dozens of stationery stores collecting samples and measuring their reflectance." Said Po Peng.
In the field experiments the researchers removed a live spider from its web and randomly selected one of the models to be placed in the centre. They recorded the responses of insects to the cardboard spiders, collecting a combined 1,178 hours of video footage over day and night.
In this study the researchers only looked at the effects of the spiders' colour and pattern on luring prey and not how they're perceived by predators. "Previous studies suggest that the area of bright body parts is constrained by diurnally active, visually hunting predators" said Po Peng, "But our results indicated that the yellow mosaic pattern on nocturnal spiders does not represent a trade-off between prey attraction and predator avoidance." The effect of both colour and pattern on risk from predators or parasitoids is something the researchers feel warrants further investigation.
Po Peng, Devi Stuart‐Fox, Szu‐Wei Chen, Eunice J. Tan, Guan‐Lin Kuo, Sean J. Blamires, I‐Min Tso, Mark A. Elgar.
High contrast yellow mosaic patterns are prey attractants for orb‐weaving spiders.
Functional Ecology, 2020; DOI:
10.1111/1365-2435.13532
Disclaimer: These articles are not intended to provide medical advice, diagnosis or treatment. Views expressed here do not necessarily reflect those of Pittwater Online News or its staff.