February 26 - March 4, 2017: Issue 302

Pittwater Online News receives and finds a lot of information from various sources each week. This page shares some of this news relevant to you and the world you live in.
Search Pittwater Online News for past items:
Risk of Ross River virus global epidemic
February 22, 2017: University of Adelaide
Australia's Ross River Virus (RRV) could be the next mosquito-borne global epidemic according to a new research study led by the University of Adelaide and The Australian National University.
The virus has been thought to be restricted largely to Australia and Papua New Guinea where it is harboured by marsupial animals, specifically kangaroos and wallabies, and spread by mosquitoes.
Published online ahead of print in the International Journal of Infectious Diseases, the research shows that the virus may have been circulating silently in the South Pacific ever since a large epidemic of more than 500,000 cases in 1979-80, thought to have been started by an infected Australian tourist who travelled to Fiji.
"Ross River Virus is found naturally in Australia, where it was circulating in kangaroos and wallabies long before the arrival of the first Australians over 40,000 years ago," says one of the project leaders Professor Phil Weinstein, Professorial Research Fellow with the University of Adelaide's School of Biological Sciences.
"When humans arrived, first Aboriginal Australians and then Europeans, they were bitten by the same mosquitoes and became infected: they had all of the sore joints, fever, rash, and fatigue that we associate with the disease today. Although RRV has never killed anyone, it can be extremely debilitating for several months, and up to years in a few unlucky individuals."
The 1979 epidemic in the Pacific Islands Countries and Territories was the first time that RRV had 'escaped' from its marsupial reservoir. But without marsupials, the epidemic burned itself out the following year -- or so it was thought.
"The first clues about local transmission in the Pacific Islands came when more recent tourists from New Zealand and Canada who had been to the South Pacific, but not Australia, were diagnosed with RRV when they returned home," Professor Weinstein says.
In partnership with French collaborators in Tahiti and France, the researchers tested blood samples of American Samoans.
"We were surprised to find that of those who were born after the 1979-1980 epidemic and had lived in American Samoa their whole lives, a massive 63% had antibodies to RRV, strongly suggesting local transmission of the virus after 1980," says Dr Colleen Lau, NHMRC Research Fellow in ANU's College of Medicine, Biology and Environment.
"There are no marsupials in American Samoa, so the only reasonable conclusion is that the virus was able to circulate in local mammals rather than marsupials. If RRV can circulate in non-marsupials in the South Pacific, then it can find a home anywhere in the world.
"Isolation of the virus from non-marsupials will provide us with definitive evidence that RRV can become endemic globally."
Professor Weinstein says: "With the large number of Australians now travelling, it would not be unreasonable to expect one or more tourists to carry RRV overseas to seed a new epidemic. With the right conditions, this could take off globally in exactly the same way that Zika did."
Colleen Lau, Maite Aubry, Didier Musso, Anita Teissier, Sylvie Paulous, Philippe Desprès, Xavier de-Lamballerie, Boris Pastorino, Van-Mai Cao-Lormeau, Philip Weinstein.
New evidence for endemic circulation of Ross River Virus in the Pacific Islands and the potential for emergence.
International Journal of Infectious Diseases, 2017; DOI:
10.1016/j.ijid.2017.01.041
Tumor protein could hold key to pancreatic cancer survival
February 23, 2017: University of Melbourne
Research led by the University of Melbourne reported in the International Journal of Cancer, could eventually improve treatments with the identification of a protein that appears to help tumour cells become more aggressive.
In Australia this year, some 3,200 new cases of Pancreatic cancer will be diagnosed, and 2,900 patients will die of the disease.
University of Melbourne pancreatic surgeon Mehrdad Nikfarjam, and research associates, have identified a protein called p21-activated kinase 1 (PAK1), in specific tumour cells called stellate cells.
Researchers were able to slow down growth and spread of tumors by targeting this protein in stellate cells in animal models, in combination with current chemotherapies.
Stellate cells are responsible for the fibrosis or scarring that surrounds pancreatic tumour cells, reducing the effectiveness of chemotherapy.
The study investigated the role of PAK1 in these stellate cells and how they communicate with the tumour cells.
PAK1 was found to be involved in the fibrotic production, proliferation and death of these cells, and could assist tumour cells to become more aggressive.
Targeting PAK1 resulted in decreased scar tissue formation, reduced tumour growth, increased tumour sensitivity to chemotherapy and increased survival of mice.
Associate Professor Mehrdad Nikfarjam said that although further testing is needed, an inhibitor could potentially increase survival of patients with pancreatic cancer.
"Targeting PAK1 could reduce the fibrosis surrounding pancreatic tumours and allow conventional chemotherapies to have a greater effect on the tumours.
"PAK1's role as an important signalling protein in both the tumour and tumour environment is an important finding in unravelling the puzzle that is pancreatic cancer," Associate Professor Nikfarjam said.
Dannel Yeo, Phoebe Phillips, Graham S. Baldwin, Hong He, Mehrdad Nikfarjam.
Inhibition of group 1 p21-activated kinases suppresses pancreatic stellate cell activation and increases survival of mice with pancreatic cancer.
International Journal of Cancer, 2017; DOI:
10.1002/ijc.30615
Is back pain killing us?
February 23, 2017: University of Sydney
The 600,000 older Australians who suffer from back pain have a 13 per cent increased risk of dying from any cause, University of Sydney research has found.
Published in the European Journal of Pain, the study of 4390 Danish twins aged more than 70 years investigated whether spinal pain increased the rate of all-cause and disease-specific cardiovascular mortality.
Low back pain is a major problem, ranked as the highest contributor to disability in the world. Nearly four million people in Australia suffer from low back pain and the total cost of treatment exceeds $1 billion a year.
"Our study found that compared to those without spinal pain (back and neck), a person with spinal pain has a 13 per cent higher chance of dying every year. This is a significant finding as many people think that back pain is not life-threatening," said senior author Associate Professor Paulo Ferreira, physiotherapy researcher from the University's Faculty of Health Sciences.
"As this study was done in twins, the influence of shared genetic factors is unlikely because it was controlled for in our analysis.
"These findings warrant further investigation because while there is a clear link between back pain and mortality we don't know yet why this is so. Spinal pain may be part of a pattern of poor health and poor functional ability, which increases mortality risk in the older population," he said.
Lead author Dr Matthew Fernandez from the Faculty of Health Sciences, said: "With a rapidly growing aging population, spinal health is critical in maintaining older age independence, highlighting the importance of spinal pain in primary health care as a presenting symptom."
"Back pain should be recognised as an important co-morbidity that is likely to impact people's longevity and quality of life."
Associate Professor Ferreira added: "Policy makers should be aware that back pain is a serious issue -- it is an indicator of people's poor health and should be screened for, particularly in the elderly."
Recent research has also found that commonly prescribed medications for back pain such as paracetamol and anti-inflammatory drugs are ineffective in treating pain and have side effects.
"Medications are mostly ineffective, surgery usually does not offer a good outcome -- the best treatment for low back is a healthy lifestyle, including physical activity. People need to get moving," Associate Professor Ferreira said.
Few studies have examined the potential reduced life expectancy associated with spinal pain in an aging population, particularly after controlling for familial factors, including genetics.
This study follows previous research which found that people with depression are 60 per cent more likely to develop low back pain in their lifetime.
Fast facts:
Back pain effects approximately 700 million people worldwide

Back pain is the leading cause of disability globally

Back pain affects 4 million people in Australia

Total cost of treatment of back pain exceeds $1 billion a year in Australia

The lifetime prevalence of back pain is around 84 per cent.
M. Fernandez, E. Boyle, J. Hartvigsen, M.L. Ferreira, K.M. Refshauge, C.G. Maher, K. Christensen, J.L. Hopper, P.H. Ferreira.
Is this back pain killing me? All-cause and cardiovascular-specific mortality in older Danish twins with spinal pain.
European Journal of Pain, 2017; DOI:
10.1002/ejp.996
Action to deliver faster supply of medicinal cannabis products
22 February 2017: Media release - The Hon Greg Hunt MP, Minister for Health, Minister for Sport
The Turnbull Government will facilitate faster access by qualified doctors to medicinal cannabis for patients with the necessary approvals.
We will authorise controlled importation by approved providers from approved international sources for interim supply in Australia, until domestic production meets local needs.
At present, doctors approved to supply medicinal cannabis products must import the product as local production is only starting to be developed following the passage of legislation to allow domestic production late last year.
We have listened to the concerns of patients and their families that are having difficulty accessing the product on prescription whilst domestic production becomes available.
We are now making it easier to access medicinal cannabis products more rapidly, while still maintaining strict safeguards for individual and community safety.
The Office of Drug Control, within the Department of Health, will implement this policy – effective immediately.
As part of these changes, importers will be able to source medicinal cannabis products from a reputable supplier overseas and store these in a safe, secure warehouse in Australia.
This will be an effective interim supply to be provided through approved commercial importers.
Patients who have been prescribed medicinal cannabis by an authorised doctor will be able to source the medication from a company in Australia – rather than on an individual case by case basis from overseas which involves delays in importation.
This will shorten timeframes to the supply of medicinal cannabis for patients.
The Department of Health has already written to a number of companies that are interested, or potentially interested, in supplying the Australian market with product to advise them of this interim arrangement.
It is expected that within 8 weeks, possibly sooner, Australia will have a store of imported medicinal cannabis products so that approved patients can have greater confidence in the supply arrangements for their doctors.
These imports will improve the timeliness of supply while work continues on establishing the domestic cultivation and manufacture scheme.
Supply of medicinal cannabis products will remain a controlled process and there are a number of strict conditions that will be placed on importers and suppliers around handling, secure storage and accounting for cannabis products.
Funding delivered to open gut research centre
22 February 2017:
Joint Media Release -
The Hon. Greg Hunt MP
Minister for Health
Minister for Sport
David Coleman MP
Federal Member for Banks
The Turnbull Government has delivered on its election commitment to provide $4 million funding to make Australia's first dedicated micro gut health research centre a reality.
The Microbiome Research Centre at Sydney's St George and Sutherland Hospital campus will investigate microbiota in the gut, looking at how disturbance occurs and then how it causes disease, a critical step in preventing it happening in the first place.
It is estimated that half the Australian population will complain of a digestive problem over the next twelve months with some imbalances in microbiota connected to diseases including stroke, asthma, obesity, diabetes, mental health, and pre-eclampsia in pregnant women.
Having a healthy gut is essential to living a healthy life and all Australians will benefit from the findings of the Microbiome Research Centre.
St George and Sutherland Medical Research Foundation have been supporting important research for ten years and Professor Emad El-Omar and his team will lead the world with their findings around microbiota gut health.
Boosting our nation's world leading medical research capability is a priority of the Turnbull Government.
During the election campaign we committed to fund and open this research centre and today it is a reality.
This new Centre will also improve research capacity by attracting more expert researchers to the region.
Research training will also be provided to people including medical and nursing students, junior doctors and nurses, mainstream scientists and senior faculty.
This Centre's ground-breaking work will create new strategic links with national and international centres of research excellence.
It will provide an embedded research hub at the heart of a major health care campus in southern Sydney.
St George and Sutherland Hospitals serves a large proportion of the Sydney population and has a high clinical workload, making them ideal centres for research projects.
New CEO for Food Standards Australia and New Zealand (FSANZ)
22 February: Media Release - The Hon Dr David Gillespie, MP
Assistant Minister for Health
Assistant Minister for Health, Dr David Gillespie, today announced that the Board of Food Standards Australia and New Zealand (FSANZ) has appointed Mr Mark Booth as the new CEO of the internationally esteemed food standards agency.
Mr Booth has extensive experience and knowledge of Australian and New Zealand health systems, a strong policy background and detailed experience in health at the government level.
For the last six years, he has been a First Assistant Secretary at the Australian Government Department of Health, and will leave this role to take up his new position.
"Mark Booth brings a wealth of experience and technical expertise to the important work of FSANZ," Dr Gillespie said.
"His appointment will give fresh perspective and strength to this role at a time when food standards and food safety require greater scrutiny, rigour and bi-national cooperation than ever.
"I know that Mark will build on the legacy of outgoing CEO, Mr Steve McCutcheon, who leaves the role as a distinguished authority on best practice food regulation."
Mr McCutcheon held the position of FSANZ CEO for ten years up to 31 January 2017.
Minister Gillespie also expressed his appreciation for the contribution of Mr Peter May, who has acted as CEO while Mr Booth's appointment was being finalised.
FSANZ develops and administers the Australia New Zealand Food Standards Code, which lists requirements for foods such as additives, food safety and labelling.
"FSANZ has established a role as a world-leading provider of evidence-based advice about food composition and food safety," Dr Gillespie said.
"This has underpinned Australia's and New Zealand's reputations as producers of safe, high quality foods.
The CEO is responsible for the day-to-day administration of FSANZ and the control of its operations.
Online daters ignore wish list when choosing a match
February 21, 2017: Queensland University of Technology

Despite having a very clear 'wish list' stating their preference for potential ideal matches, most online daters contact people bearing no resemblance to the characteristics they say they want in a mate, according to QUT research.
The finding was revealed in the 'Preference vs Choice in Online Dating' study conducted by QUT behavioural economists Stephen Whyte and Professor Benno Torgler.
They analysed the online dating preferences and contact behaviour of more than 41,000 Australians aged between 18-80 using data from the online dating website RSVP, with the findings now published by leading international journal Cyberpsychology, Behaviour and Social Networking.
"We looked at whether or not people actually contact people who match what they say is their ideal partner in their profile, and our findings show they don't. Stating a preference for what you are looking for appears to have little to no bearing on the characteristics of people you actually contact," Mr Whyte said.
"How people go about finding a partner is changing dramatically thanks to the internet. Where once we were limited to settings such as school, work, social gatherings or local night spots, there is a much wider choice at hand online.
"The psychology employed by humans choosing a mate can definitely be environmentally sensitive and the nature of online dating is triggering changes in underlying preferences and decision behavior of those involved.
"Disclosure of 'ideal' partner preferences is a widely offered and commonly-used option for people creating a profile on online dating websites, but whether it's effective or useful in helping people find that special someone is unclear.
"This study provides quite unique findings in that people may state a preference for an ideal partner but they are more than happy to initiate contact with potential love interests that bear no resemblance whatsoever to that 'Mr or Mrs Perfect' they initially think they prefer over all others.
"I think it's really encouraging findings for people searching for that special someone online.
"In our fast-paced world, and with the myriad of options the internet now offers, time spent searching and exploring all available potential partners can be costly."
Mr Whyte said instead of searching until they find the exact match to their stated criteria, people may actually prefer to settle on an acceptable threshold of qualities or characteristics in a potential mate, rather than hold out.
"As Internet and cyber dating continues to grow at a rapid rate further research is required into the decision-making process and the links between stated preferences and actual choice," he said.
The research is the largest ever behavioural economic analysis of Australian online dating behaviour, with this body of work reviewing 219,013 participant contacts by 41,936 members of RSVP during a four-month period in 2016.
"Our study reviewed the interactions of people whose ages ranged from millennials to octogenarians, which in itself demonstrates how widespread online dating is and how it is changing traditional ways in which people find potential love interests," Mr Whyte said.
QUT is part of a national collaborative group of five major Australian universities that form the ATN (Australian Technology Network of Universities).
Stephen Whyte, Benno Torgler.
Preference Versus Choice in Online Dating.
Cyberpsychology, Behavior, and Social Networking, 2017; DOI:
10.1089/cyber.2016.0528
Popular heartburn drugs linked to gradual yet 'silent' kidney damage
February 22, 2017: Washington University in St. Louis

Taking popular heartburn drugs for prolonged periods has been linked to serious kidney problems, including kidney failure. The sudden onset of kidney problems often serves as a red flag for doctors to discontinue their patients' use of so-called proton pump inhibitors (PPIs), which are sold under the brand names Prevacid, Prilosec, Nexium and Protonix, among others.
But a new study evaluating the use of PPIs in 125,000 patients indicates that more than half of patients who develop chronic kidney damage while taking the drugs don't experience acute kidney problems beforehand, meaning patients may not be aware of a decline in kidney function, according to researchers at Washington University School of Medicine in St. Louis and the Veterans Affairs St. Louis Health Care System. Therefore, people who take PPIs, and their doctors, should be more vigilant in monitoring use of these medications.
The study is published Feb. 22 in Kidney International.
The onset of acute kidney problems is not a reliable warning sign for clinicians to detect a decline in kidney function among patients taking proton pump inhibitors, said Ziyad Al-Aly, MD, the study's senior author and an assistant professor of medicine at Washington University School of Medicine. "Our results indicate kidney problems can develop silently and gradually over time, eroding kidney function and leading to long-term kidney damage or even renal failure. Patients should be cautioned to tell their doctors if they're taking PPIs and only use the drugs when necessary."
More than 15 million Americans suffering from heartburn, ulcers and acid reflux have prescriptions for PPIs, which bring relief by reducing gastric acid. Many millions more purchase the drugs over-the-counter and take them without being under a doctor's care.
The researchers -- including first author Yan Xie, a biostatistician at the St. Louis VA -- analyzed data from the Department of Veterans Affairs databases on 125,596 new users of PPIs and 18,436 new users of other heartburn drugs referred to as H2 blockers. The latter are much less likely to cause kidney problems but often aren't as effective.
Over five years of follow up, the researchers found that more than 80 percent of PPI users did not develop acute kidney problems, which often are reversible and are characterized by too little urine leaving the body, fatigue and swelling in the legs and ankles.
However, more than half of the cases of chronic kidney damage and end-stage renal disease associated with PPI use occurred in people without acute kidney problems.
In contrast, among new users of H2 blockers, 7.67 percent developed chronic kidney disease in the absence of acute kidney problems, and 1.27 percent developed end-stage renal disease.
End-stage renal disease occurs when the kidneys can no longer effectively remove waste from the body. In such cases, dialysis or a kidney transplant is needed to keep patients alive.
"Doctors must pay careful attention to kidney function in their patients who use PPIs, even when there are no signs of problems," cautioned Al-Aly, who also is the VA's associate chief of staff for research and education and co-director of the VA's Clinical Epidemiology Center. "In general, we always advise clinicians to evaluate whether PPI use is medically necessary in the first place because the drugs carry significant risks, including a deterioration of kidney function."
Yan Xie, Benjamin Bowe, Tingting Li, Hong Xian, Yan Yan, Ziyad Al-Aly.
Long-term kidney outcomes among users of proton pump inhibitors without intervening acute kidney injury.
Kidney International, February 2017 DOI:
10.1016/j.kint.2016.12.021
Disclaimer: These articles are not intended to provide medical advice, diagnosis or treatment. Views expressed here do not necessarily reflect those of Pittwater Online News or its staff.
ASEAN-Australia Special Summit 2018
23 February 2017

Prime Minister
Premier of New South Wales
We are delighted to announce that Sydney will be the host city for the upcoming ASEAN-Australia Special Summit.
The event, expected to be held in March 2018, will mark the first time Australia has hosted a summit with ASEAN.
The summit is an historic and unprecedented opportunity to strengthen Australia's strategic partnership with ASEAN and deliver tangible economic and security benefits to Australia.
As a group, ASEAN is Australia's third largest trading partner. This summit provides an important forum to discuss how we can continue to make our region safer and more prosperous.
The centrepiece of the ASEAN-Australia Special Summit will be the Leaders' Summit and Retreat. There will also be two major side-events: A Business Summit which will bring together leaders of industry and Small and Medium sized Enterprises (SMEs) to unlock new opportunities for job-creation, investment and enterprise; and a Counter-Terrorism Conference that will underscore our global leadership and collective regional action to combat terrorism.
The ASEAN-Australia Special Summit will create an enormous economic opportunity for Sydney, increasing visitor numbers to the city for the critical global forum.
Australian Desks join the internet of things
February 23, 2017
The
internet of things
promises to revolutionise the way we live, connecting the objects in our homes to one another and to the vast array of information available online. The possibilities are enormous, and one benefit may be improving our health.
Texas A&M School of Public Health researchers have already shown that stand-capable workstations -- those in which the worker could raise or lower the desk to stand or sit as they wished throughout the day -- boost productivity in office workers, help students' cognitive functioning and improve kids' BMI.
However, one challenge with stand-capable desks is that people forget to change positions when they become involved in a task. Therefore, Mark Benden, PhD, CPE, associate professor at the Texas A&M School of Public Health, director of the Texas A&M Ergonomics Center and member of the Center for Remote Health Technologies and Systems, and one of his doctoral students have tested the use of a computer prompt to remind people to stand at various times throughout the day.
"We are testing to see if we can break up those long periods of sedentary time during the day," Benden said. "We think technology might be good at encouraging behavior we want."
Now, the researchers are taking it one step further. Using software connected to the desks themselves, Benden and another graduate student, Parag Sharma, are studying what factors and behavioral prompts affect the behavior of about 1000 people in three offices in Sydney, Melbourne and Canberra, Australia.
"We're trying to increase and sustain the usage of stand-capable workstations by making it as easy as possible," Sharma said. "A notification will pop up on the screen when it's time to change the desk position, and with just a click of the mouse, the desk will raise or lower itself." Yes, lower -- sometimes people become so used to standing that they forget to take sitting breaks, and that's not healthy for long periods either.
The researchers are monitoring the usage of the desks to determine the number of movement changes during the day. The software can determine whether the people are actually at their desks as well as very nuanced metrics of their computer usage, from number of words typed per minute and mouse clicks to where their eyes go on the screen. At the end of the study, the team will have over 100 metrics to analyze for each person over the course of many months.
"We know that being inactive for long periods of time is bad for you," Benden said, "and this is an example of technology actually affecting the very furniture to prompt behavioral change and make good choices that over many years add up to good outcomes."
Materials
provided by Texas A&M University. Original written by Christina Sumners.
Nash welcomes ACCC involvement on the speed of broadband plans
22 February 2017: Media Release
Minister for Regional Communications Fiona Nash has welcomed news the Australian Competition and Consumer Commission has announced further work to help consumers get the information they need to compare NBN Co broadband plans.
The ACCC's consultation on fixed broadband speeds found 80 per cent of customers are confused about the speed their plan is meant to provide. Those customers wanted broadband plan speed presented in a simple, standard way so they could compare plans easily.
Some regional customers have recently complained about the speeds being delivered by their plans.
"The NBN is a wholesaler and so doesn't sell to households – it sells to retail companies, which sell plans on to households and businesses," Minister Nash said.
"It seems some companies are buying less access – slower speeds – and then selling those plans without clearly stating the speed, or just labelling the plans 'NBN' plans without clearly stating the speed.
"This results in disappointed customers. This is not the fault of NBN Co.
"Using the term 'NBN' to suggest a very fast speed when that's not what you're actually selling is unacceptable. I'd also be deeply disappointed if retail companies were trying to deflect brand damage onto NBN if they've not passed on the full benefits of NBN to customers. Plans selling NBN cover a range of speeds and pricing and customers need to be able to easily tell which speed they're paying for.
"If some retail companies are not being clear about the speeds they're selling to customers then I'm glad the ACCC is involved.
"The ACCC will issue new guidelines and working with retailers to make sure customers are clearly informed about the speed of the plan they are purchasing."
Our Focus – Bullied project launches
22nd February 2017: ABC
The ABC has launched Our Focus – Bullied, a pan-ABC project coordinated by the Content Collaborations team.
This encompasses online resources on the Our Focus website, a collection of iview programs, an ABC2 program hosted by Tara Moss called Cyberhate, and an ABC TV series hosted by Ian Thorpe called Bullied.
Cyberhate explores the darkest corners of the web to uncover the cyber violence that impacts so many people today, while Bullied gives a compelling insight into the issue of bullying that brings victims and their classmates together in an effort to help understand the impacts of bullying and create strategies for change.
Ten year roadmap released for energy resources sector
22 February 2017: Media Release - Senator the Hon Matt Canavan

Minister for Resources and Northern Australia
Minister for Resources and Northern Australia Matt Canavan has welcomed the release of a ten year roadmap for the Australian energy resources sector, to ensure it stays competitive.
Minister Canavan said National Energy Resources Australia (NERA) has developed a 10-year plan for Australia's oil, gas, coal and uranium energy resources industries designed to help ensure a strong future.
NERA's Energy Resources Sector Competitiveness Plan will be launched today at the Australasian Oil and Gas Expo in Perth.
Minister Canavan said the report identifies steps for continued prosperity for the sector – despite numerous challenges.
"The resources sector continues to underpin the national economy, creating jobs and investment in regional Australia.
"However the global energy and resources sector is facing challenges from volatile commodity prices in a rapidly evolving marketplace.
"NERA's plan has identified how the sector can work together to enhance operational models and technology capabilities; improve capacity, skills and culture; and address the regulatory environment in which it operates.
"The Australian Government has established six growth centres to encourage collaboration in areas of competitive strength.
"I welcome this plan to provide a long-term road map for the sector, to ensure it continues to create jobs and opportunities in regional Australia."
Note:
NERA is one of six growth centres established under the Australian Government's Industry Growth Centres Initiative. With base funding from the Australian Government, NERA is industry-led and works with energy resources companies, their supply chains, research and innovation partners and with governments under a shared vision to drive the sector forward.
NASA & TRAPPIST-1: A Treasure Trove Of Planets Found
Published on 22 Feb 2017 by NASA Jet Propulsion Laboratory
Seven Earth-sized planets have been observed by NASA's Spitzer Space Telescope around a tiny, nearby, ultra-cool dwarf star called TRAPPIST-1. Three of these planets are firmly in the habitable zone.
Over 21 days, NASA's Spitzer Space Telescope measured the drop in light as each planet passed in front of the star. Spitzer was able to identify a total of seven rocky worlds, including three in the habitable zone, where liquid water might be found.
The video features interviews with Sean Carey, manager of the Spitzer Science Center, Caltech/IPAC; Nikole Lewis, James Webb Space Telescope project scientist, Space Telescope Science Institute; and Michaël Gillon, principal investigator, TRAPPIST, University of Liege, Belgium.
The system has been revealed through observations from NASA's Spitzer Space Telescope and the ground-based TRAPPIST (TRAnsiting Planets and PlanetesImals Small Telescope) telescope, as well as other ground-based observatories. The system was named for the TRAPPIST telescope.
NASA's Jet Propulsion Laboratory, Pasadena, California, manages the Spitzer Space Telescope mission for NASA's Science Mission Directorate, Washington. Science operations are conducted at the Spitzer Science Center at Caltech in Pasadena. Spacecraft operations are based at Lockheed Martin Space Systems Company, Littleton, Colorado. Data are archived at the Infrared Science Archive housed at Caltech/IPAC. Caltech manages JPL for NASA. For more information about Spitzer, visit
http://www.nasa.gov/spitzer
and
http://spitzer.caltech.edu
.
Israeli PM's Visit Cements a Warm, Old Friendship
22 February 2017

Prime Minister of Australia
The Hon. Malcolm Turnbull
Our friendship is as old as the state of Israel itself.
Australia was the first country to vote in favour of the 1947 UN partition resolution adopted by the General Assembly, which led to the establishment of Israel in 1948. Following the vote, Israeli representative Abba Eban acknowledged Australia's contribution: "The manner in which you steered to a vote this second historic resolution … the warmth and eloquence with which you welcomed Israel into the family of nations, have earned for you the undying gratitude of our people."
The key role Australia played in ensuring the security and prosperity of the Jewish people should be a source of pride for us all.
This week our friendship will take a historic step forward. For the first time, a serving Israeli prime minister will visit Australia. The government is honoured to host Prime Minister Benjamin Netanyahu.
Our peoples are bound together first and foremost by the values we share — a mutual commitment to freedom, democracy and the rule of law.
And as a majority Christian nation, we share the rich cultural inheritance of the Bible, its stories and values a foundation and a context for our history, our literature, our imagination.
And we could not imagine modern Australia, the most successful multicultural society in the world, without the brilliance and the enterprise of our almost 120,000-strong Jewish-Australian community.
To paraphrase the great Shimon Peres, Australia and Israel understand the value of creativity and innovation. Together our scientists and businesspeople are partners in every field of technology. Australia is vast, Israel is tiny. But both are short of water and we lead the world in making every drop count so that deserts can bloom.
I'm particularly keen to discuss with Prime Minister Netanyahu the progress of our "landing pad" in Tel Aviv — the second of five innovation hubs to be established globally — which is helping Australian entrepreneurs make the connections they need to link into Israel's world-class start-up and innovation ecosystem.
While in Australia, Prime Minister Netanyahu and I will oversee the signing of an air services agreement to enhance air links; explore opportunities for greater collaboration in cyberspace; commit to negotiations on an agreement on science and technology co-operation; and announce a declaration of intent to create a fully operational and commercial farm around Wagga Wagga. The new facilities will provide Australian farmers with an opportunity to benefit from world-leading Israeli dairy and agricultural technology.
Israel is a miraculous nation. It has flourished despite invasion, conflict and an almost complete lack of natural resources, other than the determination and genius of its people.
And yet in a region racked by war, it succeeds as the sole liberal democracy, a world leader in every field of science and technology, its culture of innovation the envy of the world.
Despite these achievements and the breadth of our relationship, many view Israel exclusively through the lens of its conflict with the Palestinians. They demand that the government take the side of those in the international community who seek to chastise Israel — and it alone — for the continuing failure of the peace process. In a speech to the UN General Assembly in 2015, Prime Minister Netanyahu pointed out that in the preceding 12 months, the General Assembly had adopted 20 resolutions critical of Israel, compared to just one in response to the war in Syria, which has resulted in more than 250,000 killed and millions driven from their homes.
My government will not support one-sided resolutions criticising Israel of the kind recently adopted by the UN Security Council and we deplore the boycott campaigns designed to delegitimise the Jewish state.
At the same time, we recognise that Israel and the Palestinians need to come to a settlement and we support a directly negotiated two-state solution so that Palestinians will have their own state and the people of Israel can be secure within agreed borders.
We believe that with so many other larger, more destructive and intractable disputes in the Middle East, this is a time when Israeli and Palestinian leaders, supported by the global community, should return to the negotiating table and work towards a solution that upholds the rights of both peoples to live side by side in peace and security.
Agriculture in 2050: Recalibrating Targets for Sustainable Intensification
Published on 12 Jan 2017 by Mitch Hunter

Presented by Mitchell Hunter on November 7, 2016 at the annual meeting of the American Society of Agronomy in Phoenix, AZ.
The speaker is a PhD Candidate in Agronomy at Penn State University. More information on Mitch's research is available at
www.ecoagronomy.org
.
Widely accepted vision for agriculture may be inaccurate, misleading
February 22, 2017: Penn State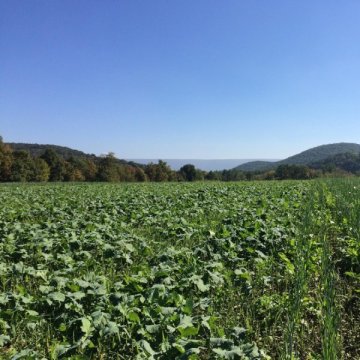 Agricultural scientists, like Penn State researchers, have been experimenting with cover crop mixtures (like the one shown growing at the Russell E. Larson Agricultural Research Center) to determine which ones best limit the runoff of nutrients and provide the most ecosystem services.
Credit: Mitch Hunter
"Food production must double by 2050 to feed the world's growing population." This truism has been repeated so often in recent years that it has become widely accepted among academics, policymakers and farmers, but now researchers are challenging this assertion and suggesting a new vision for the future of agriculture.
Research published in Bioscience suggests that production likely will need to increase between 25 percent and 70 percent to meet 2050 food demand. The assertion that we need to double global crop and animal production by 2050 is not supported by the data, argues Mitch Hunter, doctoral student in agronomy, in Penn State's College of Agricultural Sciences. He says the analysis shows that production needs to keep increasing, but not as fast as many have claimed.
However, clarifying future food demand is only part of the story.
"In the coming decades, agriculture will be called upon to both feed people and ensure a healthy environment," said Hunter. "Right now, the narrative in agriculture is really out of balance, with compelling goals for food production but no clear sense of the progress we need to make on the environment. To get the agriculture we want in 2050, we need quantitative targets for both food production and environmental impacts."
Specifying quantitative targets, the researchers contend, will clarify the scope of the challenges that agriculture must face in the coming decades, focusing research and policy on achieving specific outcomes.
"Food production and environmental protection must be treated as equal parts of agriculture's grand challenge," says study co-author David Mortensen, professor of weed and applied plant ecology, Penn State.
These new findings have important implications for farmers. Lower demand projections may suggest that prices will not rise as much as expected in coming decades. However, the authors note that economic forecasting models already are based on up-to-date quantitative projections, so price forecasts may not be affected greatly by this new analysis.
At the same time, farmers will need to ramp up efforts to hold nutrients on their fields, reduce greenhouse gas emissions and improve soil health.
This analysis builds on the two most commonly cited food-demand projections, one from the United Nations Food and Agriculture Organization and one led by David Tilman, a prominent ecologist at the University of Minnesota. Hunter and his colleagues did not dispute these underlying projections; they simply updated them to help reframe the narrative.
"Both of these projections are credible and important, but the baseline years they used are over a decade past now, and global production has ramped up considerably in that time," Hunter explained.
So, while Tilman's study showed that the world will demand 100 percent more calories in 2050 than in 2005, that is the equivalent of only a 68 percent increase over production levels in 2014, the most recent year with available data. To meet the FAO projection, which used different assumptions and projected lower demand, production would have to increase only 26 percent from 2014 levels.
"Given how much production has increased recently, it is pretty misleading to continue to argue that we need to double our crop output by 2050," Hunter said.
Aiming to double food production makes it much harder to move the needle on our environmental challenges.
"To double food production, we would have to increase global agricultural output faster than we ever have before, and we are at a point in the developed world where we already are pushing our farming systems to the max. We don't know how to double yields in these systems, especially without multiplying our environmental impacts," Hunter said.
Despite increased discussion of sustainability in agriculture, the common narrative that we need to drastically increase food production is seldom challenged in agricultural circles, according to the researchers. This is partly because definitions of sustainability vary widely, ranging from "not increasing agriculture's environmental footprint" to achieving "major reductions in environmental impact."
The researchers present hard data and quantitative goals to help clear up this confusion. For global greenhouse gas emissions and nutrient pollution in the Mississippi River Basin, the data show that agriculture's environmental performance is going in the wrong direction, with aggregate impacts steadily increasing. Science-based goals indicate that these impacts must fall sharply over the coming decades to avoid the worst impacts of climate change and reduce the size of the "dead zone" in the Gulf of Mexico.
The authors argue for research and policy efforts to help identify production methods that can meet growing global food demand while also hitting sustainability targets.
"Even with lower demand projections, growing enough food while protecting the environment will be a daunting challenge," Hunter said. "We call on researchers, policymakers and farmers to embrace this recalibrated vision of the future of agriculture and start working toward these goals."
Mitchell C. Hunter; Richard G. Smith; Meagan E. Schipanski; Lesley W. Atwood; David A. Mortensen. Agriculture in 2050: Recalibrating Targets for Sustainable Intensification. Bioscience, February 2017
Golden Whistler - Chiltern Track biodiversity