August 20 - 26, 2017: Issue 326

Pittwater Online News receives and finds a lot of information from various sources each week. This page shares some of this news relevant to you and the world you live in.
Search Pittwater Online News for past items:
NSW Health encourages mothers to take iodine for baby brain development
15 August 2017:
NSW Health
NSW Health is encouraging pregnant and breastfeeding women to take iodine supplements, following the release of a report yesterday by the COAG Health Council that found the majority of pregnant women in Australia do not consume enough iodine.
Senior Clinical Advisor in Obstetrics at NSW Health, Professor Michael Nicholl, said while most pregnant women have heard about the importance of folic acid, few know the essential role of iodine in protecting their baby's brain development.
"Rapid brain growth occurs in the first 1000 days of a baby's life, but most pregnant and breastfeeding women have inadequate iodine levels," Professor Nicholl said.
"Since mandatory iodine fortification of bread in 2009 we've seen a 30 per cent reduction in iodine deficiency among pregnant women, but there is room for improvement.
"Iodine supports the healthy development of the nervous system, coordination, alertness and the five senses of sight, hearing, smell, taste and touch."
Pregnant and breastfeeding women need more iodine than the average person – 220 and 270 micrograms per day respectively.
"While women can obtain a good proportion of iodine through a healthy diet, we recommend they consume 150 micrograms per day through supplements," Professor Nicholl said.
"Most foods in Australia contain only small amounts of iodine. Seafood is an excellent source, but pregnant and breastfeeding women should limit themselves to two serves of cooked seafood per week to avoid the high levels of mercury that are present in some fish."
Other sources of iodine in food include bread, eggs, dairy and iodised salt.
Jo Dunlop, who is 38 weeks pregnant, takes one pregnancy multivitamin tablet a day that she bought from her local pharmacy.
"Like every mother my baby's health means the world to me. Thankfully, increasing my iodine levels through supplements has been easy and I strongly encourage other mothers to do this," Ms Dunlop said.
Human intrusion on fruit bat habitats raises exposure risk to Hendra virus in Australia
August 15, 2017: University of Sydney

Reported in Scientific Reports by researchers from the University of Sydney, University of Melbourne and State University of New York, the study traces how pressures such as expanding human populations, urbanisation and forest fragmentation altered the shape and size of the habitats of pteropid fruit bats (flying foxes) in the decades between 1980 and 2015.
In recent years, bats from the Pteropodidae family have been pinpointed as 'natural reservoirs' of several emerging zoonotic viruses, such as Hendra virus (HeV), Nipah (NiV) and Ebola, which can cause death in humans.
Pteropid fruit bats carry HeV without becoming ill. Research has shown the black flying fox (Pteropus alecto) and the spectacled flying fox (Pteropus conspicillatus) harbor the infectious HeV and can shed HeV particles in their urine.
Their suitability as reservoirs has been linked to their capacity for flight, adaptability to different food sources, population structure, longevity and immune function.
"Pteropid fruit bats are essential pollinators and seed distributors in tropical and subtropical forests," says Dr Michael Walsh of the University of Sydney's Marie Bashir Institute for Infectious Diseases and Biosecurity, who led the study.
"Human-caused changes in their habitat exemplify the precarious balance between ecosystem integrity and human public health.
"The opportunity for the transmission of animal-borne viruses to human populations arises when these changes in natural habitats create new configurations of ecosystems and animal populations that subsequently generate increased or unprecedented contact between human, domestic animal and wildlife communities."
Hendra virus was first identified during the first recorded outbreak of the disease in the Brisbane suburb of Hendra, Australia, in 1994. The outbreak involved 21 stabled racehorses and two human cases.
This newly emerging infectious disease made several further sporadic occurrences between 1994 and 2010 until in 2011 an unprecedented number of 18 distinct 'spillovers' more than doubled the number of known incidents.
A spillover event is defined as transmission of a pathogen such as HeV from a reservoir such as such as a pteropid fruit bat to a domestic animal such as a horse. It also includes pathogen transmission from an infected domestic animal such as a horse to a human.
As of August 2017, there have been 60 known outbreaks of Hendra resulting in the death of 102 horses, all occurring in the north-eastern coastal region of Australia.
To date, seven humans have contracted HeV in spillover events arising from the care or autopsy of ill or dead horses. Of those who tested positive for HeV, four died of the disease, including two veterinarians.
"The epidemiology of HeV spillover events indicates that expanding suburban communities may draw foraging flying foxes from nearby forest ranges into encroaching residential and community gardens and thereby, closer to horses," Dr Walsh says.
The researchers did two sets of analyses to assess whether an expansion of the HeV reservoir was associated with an increasing trend in spillover risk.
First, they modeled changes in 1713 geo-located sightings of pteropid fruit bats P. alecto and P. conspicillatus at three different time points between 1980 and 2015 in response to factors such as climate, topography, and human migration in the preceding decade.
They found that rainfall, altitude, temperature, and human migration were highly associated with decadal changes in the ecological niche (as measured by sightings) of the black flying fox and the spectacled flying fox.
"The predicted habitat suitability for HeV reservoir pteropids expands geographically southward along the eastern coast of Australia from the earliest period in 1980-1989 to the latest in 2000-2015," Dr Walsh says.
"These changes predict that southeastern Queensland and northeastern NSW show consistently high habitat suitability, while advancing toward and beyond Sydney. There is also a corridor along the northern coast of the Northern Territory that shows a high degree of predicted habitat suitability."
In their second analysis, the researchers assessed whether HeV infections in horses and humans (spillover incidents) between 2000 and 2015 were associated with decadal changes in the ecological niche (as measured by sightings) of P. alecto and P. conspicillatus from 1980 to 2015.
They found a high association between the two, meaning the inter-decadal expanding reservoir niche of pteropid fruit bats was highly associated with a concurrent increasing trend for risk of HeV infections in humans.
Furthermore, the risk of HeV infection increased threefold as the ecological niche expanded along the coast in Queensland and NSW during the first two decades under study (1980-1999) and increased further still as habitat suitability continued to change from 2000-2015.
"The shared history between HeV spillover and the ecological niche of flying foxes notwithstanding, reservoir habitat suitability alone was insufficient to describe the spatial dependence of HeV spillover," says Dr Walsh.
"The human footprint, proximity to woody savanna, and vegetation loss were additional components of the landscape required to adequately describe the spatial dependence of spillover across eastern Australia."
The findings supported the researchers' hypothesis that the risk for HeV infection in Eastern Australia between 2000 and 2015 was associated with changes in the ecological niche of pteropid fruit bats in the decades between 1980 and 2015.
Furthermore, this risk was highly associated with human intrusion into their habitats, human proximity to woodlands and vegetation loss.
Michael G. Walsh, Anke Wiethoelter, M. A. Haseeb.
The impact of human population pressure on flying fox niches and the potential consequences for Hendra virus spillover.
Scientific Reports, 2017; 7 (1) DOI:
10.1038/s41598-017-08065-z
Teen career dreams fit gender stereotypes
Media Release — 15 August 2017 - Australian Government's Australian Institute of Family Studies.
Six in ten Australian 14-15 year-olds know what career they would like to have in the future but the jobs that boys aspire to are quite different to those that girls aspire to.
The Institute's Director, Anne Hollonds said 60 per cent of 14-15 year-olds – who know what job they would like – aspire to a professional or a managerial job. This figure is high when compared to the 35 per cent of workers currently in professional or managerial jobs.
"Boys most wanted to work as engineering or transport professionals; in information and communications technology; or in construction – which girls rarely stated as their desired jobs," Ms Hollonds said.
"Girls rank being an educator; a legal or social professional as their top career choices. None of these occupations were in the boys' top ten selections.
"Some jobs were ranked highly by boys well as girls, including doctors and other medical professionals, and design, planning and architecture.
"The highly gendered career aspirations may have been shaped at a much younger age by parents' occupations, the local area labour market, or their own interests and perceptions of available jobs."
Ms Hollonds said very few teenagers aspired to work in what may be regarded as less prestigious jobs, such as in retail, hospitality or manufacturing.
Around 11 per cent of teens desired to get into less realistic jobs, such as for boys, being a professional footballer, a you-tuber or a technology expert 'apple-genius' and for girls, an actor or ballet dancer.
AIFS Senior Research Fellow, Dr Jennifer Baxter said four in ten 14-15 year-olds in the study did not know what career or occupation they would like to have.
"Career uncertainty at this age may not be a problem and in fact, it can actually be beneficial if it means teens get to explore a range of options," Dr Baxter said.
"Where it is less of a positive is for teens who are less motivated to explore the various options, who are less certain about their own abilities or whose school outcomes are poorer.
"For example, around half of those expecting to complete no education after secondary school were uncertain about their career future.
"This group of teens were also the least likely to be talking to parents, teachers or school counsellors about their future and may need extra guidance to avoid leaving school early.
"Even those doing well in school were not always clear about future plans. A high proportion of girls with high Year 9 NAPLAN numeracy scores did not know what career they might pursue.
"By contrast, both boys and girls in the lowest quartile of Year 9 NAPLAN numeracy results were the most likely to know what they want to do. These teens could often visualise specific jobs, such as working as plumbers or hairdressers."
"All teens need good information to help them identify the range of jobs that may be suitable to them and the pathway to achieve their aspiration. Some may also need help to modify their plans to suit their skills and the nature of the labour market."
Download a copy of the AIFS' Longitudinal Study of Australian Children 2016 Annual Statistical Report
Premier's Teacher Scholarships
August 14, 2017: NSW Dept. of Eduation

Ten of the best public school teachers across the State were rewarded for their commitment to quality education with a 2017 Premier's Teacher Scholarship at a reception at the State Library of New South Wales on Wednesday (9 August).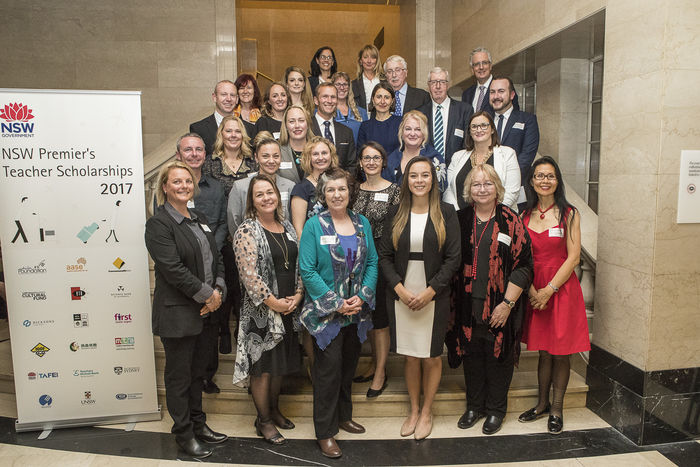 The scholarships provide recipients with $10,000-$15,000 in funds for a five-week study tour to some of the world's most highly acclaimed schools and centres for teaching and learning.
Recipients will use the scholarships to study a range of topics, including youth depression, educational outcomes for students with disabilities, financial literacy, health education and harnessing digital technologies for the classroom and the enhancing of professional development.
Education Minister Rob Stokes said the scholarships were a wonderful chance for exemplary educators to get the opportunity to further pursue their fields of knowledge.
"This is an amazing opportunity that can really transform a teacher's professional career by broadening their knowledge and expanding their horizons," Mr Stokes said.
"It's all about enriching the learning experiences of our students by providing our best teachers the opportunity to become world experts in education."
Since 1999 more than 400 teachers have received Premier's Teacher Scholarships.
Open to all NSW teachers from government and non-government schools and preschools, as well as TAFE NSW Institutes, the 2017 program saw 21 scholarships being awarded across 17 program areas.
NSW public education winners:
Premier's Anika Foundation Youth Depression Awareness Scholarships
Emma Sue San, Redbank School (Westmead)
Sandra Scott, North Sydney Girls High School
Deborah Costa, Cessnock West Public School
Premier's Australian Association of Special Education NSW Chapter Research To Practice Special Education Scholarship
Monika Bray, Camden High School
Premier's Copyright Agency Creativity Across the Curriculum Scholarship
Alana Lewis, Asquith Girls High School
Premier's English Teachers Association English Scholarship
Paula Madigan, Coffs Harbour High School
Premier's First State Super Financial Literacy Scholarship
Cassandra Portelli, Hunter School of the Performing Arts
Premier's Hicksons Lawyers Health Education and Wellbeing Scholarships
Darren Lang, Kingswood High School
Premier's Leadership Scholarship
Geoffrey Childs, Canobolas Rural Technology School
Premier's Vocational Education Scholarship
Louise Pamment, Teaching and Learning Directorate, Department of Education
David Attenborough gains new species namesake
August 16, 2017
A new species of damselfly from the Cretaceous period has been named after the iconic naturalist and TV presenter Sir David Attenborough.
The new discovery, described in detail in Journal of Systematic Palaeontology, was made in the Hukawng Valley of Kachin Province in Myanmar. The fossil was found in a piece of mid-Cretaceous Burmese amber. The full scientific name for the new species, belonging to a group more commonly known as shadowdamsels, is Mesosticta davidattenboroughi. Researchers decided to name the new species after David Attenborough because of his long-standing appreciation of dragonflies, and to celebrate his recent 90th birthday.
Co-author Professor Edmund A. Jarzembowski said, "Dragonflies in amber are extremely rare and the recent discoveries by my Chinese colleagues are a new window on the past. It is tradition in taxonomy (the naming of a new species) to contact the person concerned. Sir David was delighted because he is not only interested in the story of amber, but also a president of the British Dragonfly Society."
The fossil itself is extremely well preserved as it is encased in yellow transparent amber and includes a complete set of wings. With the aid of photo technology, researchers were able to digitally enhance and build a clear three-dimensional picture of the new species, showing that it differed from previously described fossils, notably in the shorter wing length.
Lead author Daran Zheng from the Nanjing Institute of Geology and Palaeontology, Chinese Academy of Sciences, commented, "Mesosticta davidattenboroughi is quite unique because we have uncovered a new species and it confirms the previous attribution of Mesosticta to the Platystictidae. It is the first fossil group of modern platystictid damselflies and documents the appearance of Platystictidae as early as mid-Cretaceous."
The discovery of insect remains in amber is not uncommon, however this particular family of damselflies are much less frequently found and their fossil record is poor compared to many other families making the discovery especially unusual.
Mesosticta davidattenboroughi joins a long list of animals which have been named after Sir David Attenborough, including a weevil and fossil species of a plesiosaur and a fish.
"Dragonflies in amber are extremely rare," said Edmund Jarzembowski, a scientist at the Natural History Museum in London and co-author of the study that describes the insect and officially registered the new name.
"Sir David was delighted because he is not only interested in the story of amber, but also is a president of the British Dragonfly Society."
This research was supported by the National Natural Science Foundation of China, Youth Innovation Promotion Association of the Chinese Academy of Sciences and the HKU Seed Funding Program for Basic Research.
Daran Zheng, Bo Wang, André Nel, Edmund A. Jarzembowski, Haichun Zhang, Su-Chin Chang.
Mesostictinae subfam. nov., an archaic group of platystictid damselflies (Odonata: Zygoptera) from mid-Cretaceous Burmese amber.
Journal of Systematic Palaeontology, 2017; 1 DOI:
10.1080/14772019.2017.1348395
Disclaimer: These articles are not intended to provide medical advice, diagnosis or treatment. Views expressed here do not necessarily reflect those of Pittwater Online News or its staff.
Surfing Australia Appoints National High-Performance Director
COOLANGATTA/QLD
Wednesday 16th August, 2017:
Sporting high-performance specialist Kim Crane, who has a lifelong connection with the ocean through surfing, outrigger canoe racing and stand up paddle-boarding and who is also a former member of the Australian Women's Hockey Team, has accepted the position of Surfing Australia's National High-Performance Director, further bolstering Australian surfing's Olympic gold medal ambitions heading into the 2020 games in Japan.
Tailor made for the position, Crane not only has a genuine passion for surfing, but extensive knowledge and industry experience in high performance sport. Her impressive background includes involvement in multiple Olympic campaigns, sports administration and competing as a top-flight athlete.
Crane's recent role as the Australian Institute of Sport (AIS) Performance Manager has been the perfect primer to her new role. At the AIS, Crane was responsible for leading the engagement of key internal and external partners to develop high quality, effective high-performance plans and strategies in order to increase the likelihood of achieving and sustaining performance targets.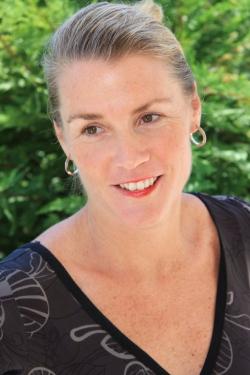 Surfing Australia's Newly appointed National High-Performance Director Kim Crane.

Surfing Australia is confident that Crane can deliver these key objectives regarding Australian World Champions and gold medallists at the upcoming 2020 games in Japan. Crane will start in the role on the 11th September 2017 and will be based at the Hurley Surfing Australia High Performance Centre.
Prior to her AIS role, Crane worked at the New South Wales Institute of Sport (NSWIS) as Manager High Performance Sport & Excellence. This role required her management oversight of up to 16 Olympic sports, and she led the NSWIS Coach Excellence Program, including facilitation of a Coach Development Tour to the London Olympics. In the final year of the London Olympic Cycle, she also spent time as Hockey Australia's National High-Performance Manager.
Kim Crane commented "I'm both humbled & genuinely thrilled to accept this new position. Having been blessed to grow up at Bells Beach Torquay, I truly respect Surfing's grass roots and the cultural significance the sport holds within Australia. Surfing has an enormous history of success, and this is such an exciting time for the sport.
To lead Surfing Australia's High-Performance Program which supports our athletes to become the world's best surfers and people is without doubt a once in a lifetime opportunity. I sincerely acknowledge the work completed by previous organisational leaders who established the foundations for Surfing Australia to be ready for its first Olympic Games in 2020. There's much work to do, not just to ensure we are ready for Tokyo, but to build upon the talent programs creating the next generation of athletes striving for continued World Championship and Olympic success.
The vision and values, and the quality of the people at Surfing Australia is one thing that attracted me to the role. I look forward to starting this journey working beside Andrew Stark (CEO), Bede Durbidge (Elite Program Manager), HPC staff, the State bodies, and all the partners in the national sport network and surf industry. "
Surfing Australia couldn't be happier with the team's new addition and is looking forward to seeing Crane's reputation of building a culture of excellence, accountability and continuous improvement at work. The organisation is confident that Crane will benefit Surfing Australia's national program and network for leading sustainable success at both a sport and team level moving forward towards Surfing's first Olympic appearance in 2020.
Newly appointed Surfing Australia Elite Program Manager and current World Surf League (WSL) competitor Bede Durbidge was stoked with the news of Crane's appointment.
"I'm so excited I'll be working alongside Kim in her new role. She will be a massive asset to Surfing Australia and the high-performance program. What she brings to the table from her Olympic back ground is going to be so valuable to Australia's success over the coming years. On top of Kim's amazing career back ground, she has a deep passion and love for surfing. I couldn't ask for a better boss," said Durbidge.
Surfing Australia CEO Andrew Stark commented "We were extremely fortunate to have an international field of outstanding applicants for this newly created role. Kim was a standout given her understanding and affinity with surfing coupled with her Olympic experience and knowledge and network of the Australian sporting system. Kim is extremely highly regarded in the Australian High-Performance sport industry and brings the exact experience, knowledge and leadership credentials and style we were looking for in the role. We welcome Kim to the team as we embark on this exciting new journey towards the 2020 Olympics and beyond.
Surfing Australia Chair Layne Beachley was thrilled by the announcement and commented: "Kim's wealth of Olympic knowledge, sporting experience and passion for surfing makes her the perfect candidate to take on this position. Obviously Surfing Australia has wholeheartedly embraced the challenge of preparing for a new and exciting chapter as an Olympic sport and Kim's appointment strengthens our team and demonstrates our commitment to providing the best opportunity for our athlete's success on the world stage."
Australian Sports Commission CEO Kate Palmer said "In a short period of time, Kim has made a tremendous contribution to the AIS through her role as Performance Manager. Her background as an athlete (Hockeyroo), business leadership, and time within NSWIS and more recently the AIS has strengthened the overall high-performance network. We are confident that Kim will provide strong high-performance leadership to support Surfing as they head into their first Olympic Campaign in Tokyo."
Victory in the Pacific Day
Tuesday, 15 August 2017: The Hon Dan Tehan MP, Minister for Veterans' Affairs
Minister for Veterans' Affairs Dan Tehan today encouraged Australians to pause and reflect on the 72nd anniversary of Victory in the Pacific Day, marking the end of the Second World War.
"Victory in the Pacific Day marks Japan's unconditional surrender to the Allies after more than three years of war," Mr Tehan said.
"During the Second World War almost one million Australian men and women served, almost 40,000 Australians lost their lives, many more were wounded and more than 30,000 were taken prisoner of war—of those taken prisoner, more than 8,000 died in captivity.
"On Victory in the Pacific Day we recognise those who served our nation, honour those veterans who remain and remember those who are no longer with us.
"Today we reflect on our country's experience of all wars, the values our service men and women fought to protect and the price they paid for doing so.
"We owe those men and women a great debt of gratitude and we will never forget.
"In the coming months the Australian Government will hold national services for the 75th anniversaries of the battles of Milne Bay, El Alamein, and Kokoda and the Beachheads.
"I encourage all Australians to attend these services, hear the stories of Australians who served, and honour the sacrifice of those who lost their lives in the Second World War."
Last Post ceremonies for these important Second World War anniversaries will take place at the Australian War Memorial in Canberra on the following dates:
25 August 2017 - 75th anniversary of the Battle of Milne Bay,
23 October 2017 - 75th anniversary of the Battle of El Alamein and the culmination of the North Africa campaigns,
2 November 2017 - 75th anniversary of Kokoda and the Beachheads.
ABC announces new Head of Investigative and In-depth Journalism
August 15, 2017: ABC

JOHN Lyons, one of Australia's leading journalists, is to join ABC News as Head Investigative and In-depth Journalism.
He will lead Australia's premier current affairs teams and programs across broadcast and digital, including 7.30, Australian Story, Four Corners, Q&A, Insiders, Offsiders, Lateline, Foreign Correspondent, Behind the News, AM, PM, The World Today and Correspondents Report, as well as finding the best ways to deliver the ABC's finest investigative and long-form content to new audiences.
A three-time Walkley Award winner, Lyons' previous roles include being the Editor of The Sydney Morning Herald, Executive Producer of the Nine Network's Sunday program, a foreign correspondent in Washington, New York and Jerusalem and, currently, Associate Editor (Digital Content) at News Corp's The Australian.
ABC Director, News Gaven Morris said Lyons was an outstanding editorial leader.
"As platforms and channels change, information outlets multiply and fake news proliferates, the demand for trusted sources of information, well-told stories and quality, news-breaking journalism is greater than ever," he said.
"The centrepiece at ABC News is always the journalism, and John will play a key role in delivering our best in-depth and investigative reporting to all Australian audiences when, where and how they want to consume it."
Lyons said: "After ten great years at The Australian, I'm delighted to be joining the ABC in this important role at a time when independent public interest journalism is more vital than ever.
"With people increasingly getting their news and information through different means, it is crucial we are able to present strong investigative journalism on digital platforms. The ABC is committed both to investigative journalism and to telling stories in ways relevant to a changing society."
Lyons takes over from Bruce Belsham, who held the role (previously called Head of Current Affairs) with distinction for five years.
John Lyons
A three-time Walkley Award winner and one of Australia's leading journalists, John Lyons is currently Associate Editor (Digital Content) at The Australian. He has previously been the Editor of The Sydney Morning Herald and Executive Producer of the Nine Network's Sunday program. John has been a foreign correspondent in Washington, New York and most recently Jerusalem. From the Middle East he won the Walkley for best investigative journalism for a report he presented on the ABC's Four Corners. While based in Jerusalem, he also won three United Nations human rights awards and wrote his recently-published memoir, "Balcony Over Jerusalem". John has also won the Graham Perkin Award for Australian Journalist of the Year.
Community safety drives smarter disqualification laws
Monday, 14 August 2017: Media Release - NSW Roads & Maritime
The NSW Government is toughening sanctions on those who repeatedly flout driver licence laws, but also providing a road back to lawful driving for disqualified drivers who can demonstrate they can be trusted.
The reforms were announced today by Attorney General Mark Speakman, Minister for Roads, Maritime and Freight Melinda Pavey and Minister for Aboriginal Affairs Sarah Mitchell alongside Member for Tamworth Kevin Anderson.
Mr Speakman said, "This overhaul of driver licence disqualification laws rebalances the system in favour of people who prove they can steer their lives back on track, while providing police with extra on-the-spot powers to punish repeat disqualified driving offenders."
The NSW Government reforms adopt recommendations of the multi-partisan Legislative Assembly Committee on Law and Safety and will do the following:
Allow police to confiscate number plates or vehicles (for 3 or 6 months) for repeat unauthorised drivers and those who commit certain serious driving offences.




Allow the courts to lift the disqualification period for those who can demonstrate a commitment to lawful behaviour and who have been compliant with their disqualification period for 2 or 4 years. They can then reapply for a licence.




Introduce automatic and minimum disqualification periods for unauthorised driving offences and revise maximum imprisonment terms for unauthorised driving offence penalties.




Abolish the Habitual Traffic Offender Scheme, which has been proven not to be a deterrent. There is no equivalent scheme in any other Australian jurisdiction.




Exclude anyone ever convicted of driving offences involving death or grievous bodily harm from applying to reduce their disqualification term.



"The reforms put road safety front and centre giving disqualified drivers an incentive to return to lawful driving. For those who continue to break the rules, magistrates will continue to have maximum disqualification periods available to them," Mrs Pavey said.
Minister for Aboriginal Affairs Sarah Mitchell said, "Lengthy disqualification periods, which can currently exceed 10 years, are often ineffective, provide no incentive to return to lawful driving and disproportionally affect the disadvantaged, including Aboriginal people."
Meadow of dancing brittle stars shows evolution at work
August 14, 2017
Newly-described fossil shows how brittle stars evolved in response to pressure from predators, and how an 'evolutionary hangover' managed to escape them.
Researchers have described a new species of brittle star, which are closely related to starfish, and showed how these sea creatures evolved in response to the rise of shell-crushing predators during the late Palaeozoic Era. The results, reported in the Journal of Systematic Palaeontology, also suggest that brittle stars evolved new traits before the largest mass extinction event in Earth's history, and not after, as was the case with many other forms of life.
A fossilised 'meadow' of dancing brittle stars -- frozen in time in the very spot that they lived -- was found in Western Australia and dates from 275 million years ago. It contains several remarkably preserved 'archaic' brittle stars, a newly-described genus and species called Teleosaster creasyi. They are the last known complete brittle stars of their kind, an evolutionary hangover pushed to the margins of the world's oceans by the threat from predators.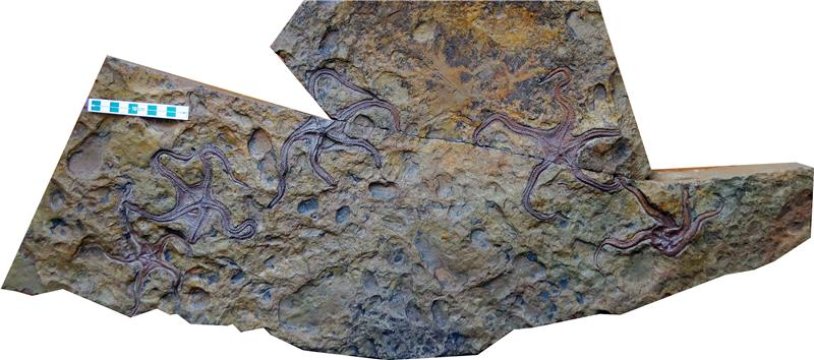 Dancing Brittle stars.
Credit: Kenneth McNamara
The researchers, from the University of Cambridge, suggest that while other species of brittle stars evolved in response to predators such as early forms of rays and crabs, these archaic forms simply moved to where the predators weren't -- namely the seas around Australia, which during the Palaeozoic era was pushed up against Antarctica. In these cold, predator-free waters, the archaic forms were able to grow much larger, and lived at the same time as the modern forms of brittle star, which still exist today.
Brittle stars consist of a central disc and five whip-like appendages, which are used for locomotion. They first appear in the fossil record about 500 million years ago, in the Ordovician Period, and today there are about 2,100 different species, mostly found in the deep ocean.
Early brittle stars were just that: brittle. During the Palaeozoic Era, when early shell-crushing predators first appeared, brittle stars made for easy prey. At this point, a split in the evolutionary tree appears to have occurred: the archaic, clunky brittle stars moved south to polar waters, while the modern form first began to emerge in response to the threat from predators, and was able to continue to live in the warmer waters closer to the equator. Both forms existed at the same time, but in different parts of the ocean.
"The threat from predation is an under-appreciated driver of evolutionary change," said study co-author Dr Kenneth McNamara of Cambridge's Department of Earth Sciences. "As more predators began to appear, the brittle stars started to evolve more flexible bodies, which enabled them to either burrow into the sediment, or to move more rapidly to escape."
About 250 million years ago, the greatest mass extinction in Earth's history -- the Permian-Triassic extinction event, or the "Great Dying" -- occurred. More than 90% of marine species and 70% of terrestrial species went extinct, and as a result, most surviving species underwent major evolutionary changes as a result.
"Brittle stars appear to have bucked this trend, however," said co-author Dr Aaron Hunter, a visiting postdoctoral researcher in the Department of Earth Sciences. "They seem to have evolved before the Great Dying, into a form which we still see today."
Meadows of brittle stars and other invertebrates such as sea urchins and starfish can still be seen today in the seas around Antarctica. As was the case during the Palaeozoic, the threat from predators is fairly low, although the warming of the Antarctic seas due to climate change has been linked to the recent arrival of armies of king crabs, which represent a real threat to these star-filled meadows.
Aaron W. Hunter and Kenneth J. McNamara.
Prolonged co-existence of "Archaic" and "Modern" Palaeozoic ophiuroids – evidence from the early Permian, Southern Carnarvon Basin, Western Australia.
Journal of Systematic Palaeontology, 2017 [
link
]
Why expensive wine appears to taste better: It's the price tag
August 14, 2017
Previous work from INSEAD Associate Professor of Marketing Hilke Plassmann's research group did show that a higher price, for instance for chocolate or wine, increased the expectation that the product will also taste better and in turn affects taste processing regions in the brain. "However, it has so far been unclear how the price information ultimately causes more expensive wine to also be perceived as having a better taste in the brain," says Prof. Bernd Weber, Acting Director of the Center for Economics and Neuroscience (CENs) at the University of Bonn. The phenomenon that identical products are perceived differently due to differences in price is called the "marketing placebo effect." As with placebo medications, it has an effect solely due to ascribed properties: "Quality has its price!"
The researchers assessed how different prices are translated into corresponding taste experiences in the brain, even if the wine tasted does not differ. 30 participants took part in the study, of which 15 were women and 15 were men, with an average age of around 30 years.
Wine tasting while lying down
The wine tasting took place lying down in an MRI scanner, allowing brain activity to be recorded "online" while participants were tasting the wines. Each time, the price of the wine was shown first. Only then around a milliliter of the respective wine was administrated to the test person via a tube in their mouths. The participants were then asked to rate via a button on a nine-point scale how good the wine tasted to them. Their mouths were then rinsed with a neutral liquid and the next identical wine sample was given for tasting. All of the experiments were performed in the brain scanner at the Life & Brain Center at the University of Bonn.
"The marketing placebo effect has its limits: If, for example, a very low-quality wine is offered for 100 euros, the effect would predictably be absent," says Prof. Weber. This is why the researchers conducted the tests using an average to good quality red wine with a retail bottle prize of 12 €. In the MRI scanner, the price of this wine was shown randomly as 3, 6 and 18 €. In order to make the study as realistic as possible, the participants were given 45 euros of initial credit. For some of the tastings, the displayed sum was deducted from this account in some of the trials.
"As expected, the subjects stated that the wine with the higher price tasted better than an apparently cheaper one," reports Professor Hilke Plassmann from the INSEAD Business School, with campuses in Fontainebleau (France), Singapore and Abu Dhabi. "However, it was not important whether the participants also had to pay for the wine or whether they were given it for free." Identical wine leads to a better taste experience when a greater quality expectation is associated with the wine due to its price.
The measurements of brain activity in the MRI scanner confirmed this. The research team discovered that above all parts of the medial pre-frontal cortex and also the ventral striatum were activated more when prices were higher. While the medial pre-frontal cortex particularly appears to be involved in integrating the price comparison and thus the expectation into the evaluation of the wine, the ventral striatum forms part of the brain's reward and motivation system. "The reward and motivation system is activated more significantly with higher prices and apparently increases the taste experience in this way," says Prof. Weber.
How can placebo effects be inhibited?
"Ultimately, the reward and motivation system plays a trick on us," explains INSEAD post-doctoral fellow Liane Schmidt. When prices are higher, it leads us to believe that a taste is present that is not only driven by the wine itself, because the products were objectively identical in all of the tastings. "The exciting question is now whether it is possible to train the reward system to make it less receptive to such placebo marketing effects," says Prof. Weber. This may be possible by training one's own physical perception -- such as taste -- to a greater extent.
Liane Schmidt, Vasilisa Skvortsova, Claus Kullen, Bernd Weber, Hilke Plassmann.
How context alters value: The brain's valuation and affective regulation system link price cues to experienced taste pleasantness.
Scientific Reports, 2017; 7 (1) DOI:
10.1038/s41598-017-08080-0