June 16 - 22, 2019: Issue 409
Cost a barrier for life-saving asthma treatments, new study finds
June 11, 2019: The George Institute/UNSW
Out-of-pocket costs are preventing many people from taking vital asthma medication, the new study says.
Half of all adults and a third of children with asthma are missing out on essential treatment due to out-of-pocket costs, a new study has found.
A team of researchers led by The George Institute for Global Health and the Woolcock Institute of Medical Research surveyed 1400 people with asthma (adults with asthma and parents of children with asthma) across Australia and found that half of the adults and one-third of the children in the study were either decreasing or skipping doses of asthma medicines to make them last longer.
Senior Research Fellow Tracey-Lea Laba, of The George Institute, said the results published in the journal JACI : In Practice were especially concerning because around two-thirds of adults and children had poorly controlled asthma symptoms.
"Asthma affects around one in nine Australians and is one of the world's leading causes of death and disability. We know that preventer inhalers can be incredibly effective at controlling symptoms and preventing people from being hospitalised or even from dying of asthma, yet our study has found that out-of-pocket costs are preventing Australians from accessing medicines which can be life-saving."
The most commonly prescribed preventer treatments for asthma contain inhaled corticosteroids (ICS), which if taken regularly reduce the severity of the disease and the number of asthma related deaths. Unlike many other countries, Australia has a national medicines subsidy program through the Pharmaceutical Benefits Scheme (PBS), but most patients still have a co-payment. In Australia, patients with healthcare cards (pensioners, unemployed, single parents and people with a long term disability) pay $6.50 per prescription. Everyone else (around 40% of people with asthma) pays up to $40.30.
The study, which was funded by the National Health and Medical Research Council (NHMRC), NPS MedicineWise, and Asthma Australia, found out-of-pockets costs were leading many people to either skip or decrease dosages to make medicines last longer, and that young male adults were the most likely to under-use asthma treatments. This was compounded by GPs being largely unaware that out-of-pocket costs were a significant concern for many of their patients, or that some preventers had lower out-of-pocket costs for patients than others.
Key findings
52.9% of adults and 34.3% of parents reported under-using treatments due to cost.
Three-quarters of children and adults had partly or poorly controlled asthma symptoms.
About 40% of adults with asthma had not used an ICS-containing medication in the previous year, despite Australian guidelines recommending that these should be taken by almost all adults with asthma.
45% of adults and 64% of children had required urgent healthcare treatment for their asthma in the previous year.
While differences in income did not appear to be a driving factor in underuse, a sub-class of 'working poor families' with asthmatic children was identified as having higher levels of underusing medications for asthma.
Fellow author Professor Helen Reddel, of the Woolcock Institute, said it was clear that prescription costs were off-putting for many people with asthma in Australia.
"It all adds up and $40 a prescription is a lot of money for people on a budget. So you can start to understand why so many people with asthma are not taking preventer medications either correctly or at all.
"But asthma is a long-term disease and one where you really need to keep the inflammation under control by taking a preventative medicine and not just relying on short-term symptom relief from a blue inhaler. We need doctors to talk to their patients to stress that this Band-Aid approach does not work, and can leave them hospitalised or even worse as a result."
The paper called for urgent interventions to promote discussions between patients and their GPs about the cost of medicines, including the availability of lower cost preventer treatments.
The study was funded by the NHMRC, NPS MedicineWise, and Asthma Australia and was a collaboration of The George Institute, The Woolcock Institute of Medical Research, UNSW Sydney, the University of Sydney and the University of South Australia.
BHI shows effect of early flu season
June 12th, 2019: NSW health
Between January and March this year public hospitals across NSW have experienced the busiest period of emergency department activity on record, with the early start to the flu season already making its impact felt.
The latest independent quarterly Bureau of Health Information figures on public hospital performance, released today, shows more than 750,000 patients presented to emergency departments during January to March 2019.
NSW Health Deputy Secretary Susan Pearce said this was an increase of around 42,000 people, a 5.9 per cent increase from the same quarter in 2018 and higher than any previous quarter on record.
"While many people will remember the 2017 winter, our worst flu season on record, we saw thousands more patients this quarter, and these figures do not even show the full winter months," Ms Pearce said.
Ms Pearce said despite the challenges posed by the record rise in patients, hospital performances across the state maintained a high standard, with nearly three-quarters of emergency department patients, 543,000 people, starting treatment on time.
"While there is always room for improvement, it was pleasing to see that some of our hospitals improved their performance despite large increases in presentations and very unwell patients".
"These results are a testament to the efforts of our doctors, nurses and paramedics, but NSW Health continues to urge people to get their flu shots to protect them during the cold days ahead, because it's not too late, and the flu jab is an important step in reducing the risk of succumbing to the potentially lethal virus," she said.
NSW Ambulance experienced a very busy quarter, responding to close to 307,000 responses, up by 10.2 per cent or an additional 28,359 responses, on 2018's quarter.
Almost 170,000 patients in emergency departments arrived by ambulance, also a 10 per cent increase, and almost 90 per cent (88.8 per cent) were transferred from paramedics to hospital staff within the benchmark time of 30 minutes.
Ms Pearce said elective surgery also continued to lead the nation in elective surgery performance, with 96.4 per cent of all elective surgeries were performed within recommended time frames.
In 2018-19, the NSW Government is investing a record $22.9 billion in health, an increase of $1.1 billion on the previous financial year. This includes $19.2 billion towards improving services in hospitals in NSW this year.
An investment of $759 million for acute patient services will fund an additional 40,000 emergency department attendances in addition to 2.9 million already provided and an extra 3,200 elective surgeries in addition to the 225,500 already provided.
The NSW Government's record $1 billion 2018-19 NSW Ambulance budget includes a commitment to provide an additional 700 paramedics and 50 Triple Zero control centre staff over the next four years.
The 2018-19 Budget also added 1,370 health staff, including 950 nurses and midwives, 300 medical practitioners and 120 allied health professionals – resulting in a record frontline clinical and clinical support staff of over 105,000.
Combating mosquito-borne diseases with bacteria
June 10, 2019
Viruses, spread through mosquito bites, cause human illnesses such as dengue fever, Zika and yellow fever. A new control technique harnesses a naturally occurring bacterium called Wolbachia that blocks replication of viruses and breaks the cycle of mosquito-borne disease, according to an international team of researchers.
"Wolbachia is present in around 50 percent of all insects," said Beth McGraw, professor and Huck Scholar in Entomology at Penn State, who did this research while at Monash University. "Interestingly it is not present in some of the major mosquito vectors (insects that transmit pathogens). After researchers put Wolbachia into mosquitoes, they found that, quite excitingly, Wolbachia effectively vaccinates mosquitoes, preventing viruses from replicating."
Spread by Aedes aegypti mosquitoes, dengue virus affects millions of people each year. Symptoms include fever, body aches and nausea, although a more severe version, known as dengue hemorrhagic fever, can be fatal.
In the tropics and subtropics where Ae. aegypti resides, several large releases of Wolbachia are underway to test whether Wolbachia can reduce the incidence of human disease.
In a paper published today in Virus Evolution, McGraw and her team report that dengue virus failed to evolve resistance to Wolbachia in controlled lab-based experiments. These findings show promise for the long-term efficacy of Wolbachia following field release.
"I am continually surprised by Wolbachia," said McGraw. "I thought we would get dengue variants that would evolve resistance. Wolbachia is doing a better job than I expected at controlling virus replication in cells."
The researchers took dengue virus and infected mosquito cells that either had Wolbachia or were free of bacteria. After five days, they collected the viruses that had been released from the cells and used them to infect fresh cells.
"Dengue takes over the machinery of the host cells, makes lots of copies of itself, and then it buds or burst out of the cell," explained McGraw.
After nine rounds of passaging the virus through mosquito cells, the team found that the amount of virus released was stable in the Wolbachia-free cells. However, in the presence of Wolbachia, virus levels crashed -- and in some cases, disappeared completely.
Dengue viruses grown with Wolbachia were also less effective at infecting mosquito cells and had reduced ability to replicate, compared to viruses grown without the bacterium.
Although this is good news for the control of dengue and other mosquito-transmitted diseases, the researchers note the study has limitations. The researchers used mosquito cells -- which may not reflect what happens within the whole insect. And outside the lab, where mosquito populations are much larger, there may be more opportunities for the virus to develop resistance to Wolbachia.
"I think our study suggests that the evolution of resistance to Wolbachia in the virus is challenging," said McGraw. "I don't think it's a guarantee that the virus is not going to evolve under field conditions because the natural system is much more complex. The real experiment is being done in the field right now, because Wolbachia has been released into communities in Australia, Indonesia and Brazil, among others. Monitoring in release areas will be needed to test for the emergence of resistance in the virus."
Other control methods for dengue have largely been unsuccessful. Because Ae. aegypti is active during the day, bed nets are ineffective at reducing mosquito bites. Spraying of insecticides to control the mosquito and removing standing-water breeding sites have also been difficult to implement in urban environments where the mosquito thrives.
Wolbachia is an attractive control option because it blocks the replication of many disease-causing viruses. It is also self-spreading because of a curious effect, where Wolbachia-containing male mosquitoes cannot reproduce successfully with Wolbachia-free females. According to McGraw, this means that these males prevent Wolbachia-free females from reproducing. Because the bacterium is transmitted from mother to offspring, each generation has successively more mosquitoes containing Wolbachia.
Researchers are still unsure exactly how Wolbachia reduces virus replication in the mosquito.
"We think it might have to do with competition between Wolbachia and the virus for physical space (inside the cell) or for nutrition they both need from the mosquito," said McGraw. "Or it could be that Wolbachia is increasing the immune capacity of the mosquito. There are a whole range of theories, none of which are entirely satisfying."
Cassandra Koh, Michelle D Audsley, Francesca Di Giallonardo, Emily J Kerton, Paul R Young, Edward C Holmes, Elizabeth A McGraw.
Sustained Wolbachia-mediated blocking of dengue virus isolates following serial passage in Aedes aegypti cell culture.
Virus Evolution, 2019; 5 (1) DOI:
10.1093/ve/vez012
Carbon dioxide levels in atmosphere hit record high in May
June 4, 2019: NOAA
Atmospheric carbon dioxide continued its rapid rise in 2019, with the average for May peaking at 414.7 parts per million (ppm) at NOAA's Mauna Loa Atmospheric Baseline Observatory.
The measurement is the highest seasonal peak recorded in 61 years of observations on top of Hawaii's largest volcano and the seventh consecutive year of steep global increases in concentrations of carbon dioxide (CO2), according to data published today by NOAA and Scripps Institution of Oceanography. The 2019 peak value was 3.5 ppm higher than the 411.2 ppm peak in May 2018 and marks the second-highest annual jump on record.
Monthly CO2 values at Mauna Loa first breached the 400 ppm threshold in 2014.
"It's critically important to have these accurate, long-term measurements of CO2 in order to understand how quickly fossil fuel pollution is changing our climate," said Pieter Tans, senior scientist with NOAA's Global Monitoring Division. "These are measurements of the real atmosphere. They do not depend on any models, but they help us verify climate model projections, which if anything, have underestimated the rapid pace of climate change being observed."
The concentration of CO2 in the atmosphere increases every year, and the rate of increase is accelerating. The early years at Mauna Loa saw annual increases averaging about 0.7 ppm per year, increasing to about 1.6 ppm per year in the 1980s and 1.5 ppm per year in the 1990s. The growth rate rose to 2.2 ppm per year during the last decade. There is abundant and conclusive evidence that the acceleration is caused by increased emissions, Tans said.
The Mauna Loa data, together with measurements from sampling stations around the world, are collected by NOAA's Global Greenhouse Gas Reference Network and produce a foundational research dataset for international climate science.
CO2 and the Keeling Curve
The highest monthly mean CO2 value of the year occurs in May, just before plants start to remove large amounts of the greenhouse gas from the atmosphere during the northern hemisphere growing season. In the northern fall, winter and early spring, plants and soils give off CO2, which cause levels to rise through May.
Charles Keeling was the first to observe this seasonal rise and subsequent fall in CO2 levels embedded within annual increases, a cycle now known as the Keeling Curve.
Life in Australia: Melbourne in 1966
BY NFSA
Made by The Commonwealth Film Unit 1966. Directed by Douglas White. Episode 10 of the Life in Australia series. This series was made to encourage immigration to Australia and to highlight the various social activities, employment and educational opportunities and lifestyles of the various cities and regional centres throughout Australia. This film shows an idyllic picture of life in the Victorian capital of Melbourne in the mid 1960s.
UNSW PhD candidate takes up research fellowship at The Julliard School
June 12, 2019: Nick Rafferty, UNSW Media
Receiving the Australian government's Endeavour Research Award will enable Marco Susino from the School of the Arts & Media to further explore the emotional language of music.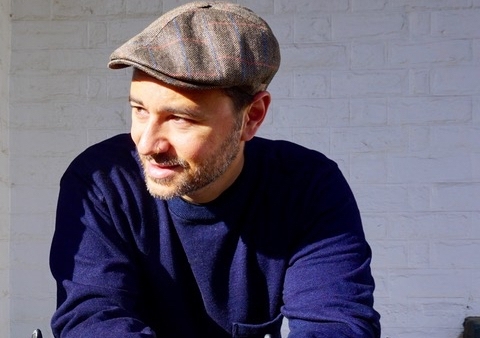 Marco Susino will be working alongside some of the world's most renowned composers, choreographers and dancers. Photo: Marco Susino
Marco Susino will move to the renowned Juilliard School in New York as a visiting scholar and research fellow to work on his project The Music that Moves Us.
"I feel humbled and honoured," he says. "I am humbled because of the prestige of the fellowship I am being honoured with, but more so because of the people and institute I am about to collaborate with, artists and academics from The Juilliard School.
"The fellowship will bring an overwhelming wealth of knowledge and will have a profound effect, to be recognised as an international expert in my area of research. To be working alongside some of the world's most renowned composers, choreographers and dancers will give me a new understanding of artistic and academic imagination, developing practice-based research and exploring new artistic and research areas."
Marco will co-create six bodies of work with composers and choreographers at Julliard that express specific emotions and investigate how emotion in music is embodied in dance. He will explore the emotional language of music expressed in movement and how psychological processes are responsible for the embodiment of musical emotions. His expertise is in emotion in music, and how these are experienced across cultures and across the arts.
His path to postgraduate research in this field was seeded in India in 2010, when he was performing at a concert that was part of several months of performances throughout Asia. In this concert, he observed some of the audience's unusual emotional reaction to one of the standard repertoire songs – it was something he hadn't seen anywhere else.
Noting this, Marco proceeded to investigate and play a recording of the song to people from different cultures. He noted that most North Indian listeners appeared to respond emotionally and similarly to the music, but differently to non-Indian and even South Indian listeners.
This sparked his interest in the field of music psychology and led him to read This is Your Brain on Music, by Daniel Levitin. By the end of the book, Marco was even more fascinated by the subject and decided he had to investigate the effects of culture further. This was his first step on the road to his research career, and eventually winning the Endeavour Fellowship.
As a session musician, Marco has recorded for major labels and enjoyed international performances in Asia, Australia, Europe, the Americas and the UK, including a broadcasted performance for the 2008 Beijing Olympics in China, a performance at the Queen Elizabeth Hall in London, and in 2018 he conducted an orchestra at the Concert Hall of the Sydney Opera House.
In 2017, he received a Gerry Farrell Travelling Scholarship from the Society for Education and Music Psychology in the UK to conduct research in Havana, Cuba, and since 2015 he has been invited to work with world-leading music psychologists on their Australian Research Council (ARC) projects, contributing on the effects of cultural stereotyping of emotion in music.
"Most of us, regardless of our culture, will voluntarily listen to music in our daily lives, most likely because we want music to affect, enhance or affirm our emotional disposition.
"Understanding the processes of how these experiences occur, and if they occur across cultures or not, informs research beyond the discipline of music, but across the fields of creative arts, artistic performance, social behaviour, consumer decision-making, psychology and wellbeing."
Marco's advice to postgraduate students is to "stay curious" about their research topic.
"Many of us who embark on an academic career do it for a deep interest to answer a burning question about a topic or field of interest. For me, it is the same curiosity and passion which makes me enjoy what I do and never see it as a job.
"If you appreciate both the ups and the downs, and critically construct and de-construct your own work, in the end, it all contributes to shaping you as a person, as an artist and a scholar."
Night owls can 'retrain' their body clocks to improve mental well-being and performance
June 10, 2019
A simple tweak to the sleeping patterns of 'night owls' -- people with extreme late sleeping and waking habits -- could lead to significant improvements in sleep/wake timings, improved performance in the mornings, better eating habits and a decrease in depression and stress.
New international research by the Universities of Birmingham and Surrey in the UK, and Monash University in Australia, showed that, over a three-week period, it was possible to shift the circadian rhythm of 'night owls' using non-pharmacological and practical interventions.
The study, recently published in Sleep Medicine, showed participants were able to bring forward their sleep/wake timings by two hours, while having no negative effect on sleep duration. In addition, participants reported a decrease in feelings of depression and stress, as well as in daytime sleepiness.
"Our research findings highlight the ability of a simple non-pharmacological intervention to phase advance 'night owls', reduce negative elements of mental health and sleepiness, as well as manipulate peak performance times in the real world," lead researcher Dr Elise Facer-Childs from Monash University's Turner Institute for Brain and Mental Health said.
'Night owls' are individuals whose internal body clock dictates later-than-usual sleep and wake times -- in this study participants had an average bedtime of 2.30am and wake-up time of 10.15am.
Disturbances to the sleep/wake system have been linked to a variety of health issues, including mood swings, increased morbidity and mortality rates, and declines in cognitive and physical performance.
"Having a late sleep pattern puts you at odds with the standard societal days, which can lead to a range of adverse outcomes -- from daytime sleepiness to poorer mental wellbeing," study co-author Dr Andrew Bagshaw from the University of Birmingham said.
"We wanted to see if there were simple things people could do at home to solve this issue. This was successful, on average allowing people to get to sleep and wake up around two hours earlier than they were before. Most interestingly, this was also associated with improvements in mental wellbeing and perceived sleepiness, meaning that it was a very positive outcome for the participants. We now need to understand how habitual sleep patterns are related to the brain, how this links with mental wellbeing and whether the interventions lead to long-term changes."
Twenty-two healthy individuals participated in the study. For a period of three weeks participants in the experimental group were asked to:
Wake up 2-3 hours before regular wake up time and maximise outdoor light during the mornings.
Go to bed 2-3 hours before habitual bedtime and limit light exposure in the evening.
Keep sleep/wake times fixed on both work days and free days.
Have breakfast as soon as possible after waking up, eat lunch at the same time each day, and refrain from eating dinner after 7pm.
The results highlighted an increase in cognitive (reaction time) and physical (grip strength) performance during the morning when tiredness is often very high in 'night owls', as well as a shift in peak performance times from evening to afternoon. It also increased the number of days in which breakfast was consumed and led to better mental well-being, with participants reporting a decrease in feelings of stress and depression.
"Establishing simple routines could help 'night owls' adjust their body clocks and improve their overall physical and mental health. Insufficient levels of sleep and circadian misalignment can disrupt many bodily processes putting us at increased risk of cardiovascular disease, cancer and diabetes," Professor Debra Skene from the University of Surrey said.
Dr Facer-Childs said 'night owls', compared to 'morning larks', tended to be more compromised in our society due to having to fit to work/school schedules that are out of sync with their preferred patterns.
"By acknowledging these differences and providing tools to improve outcomes we can go a long way in a society that is under constant pressure to achieve optimal productivity and performance," she said.
This intervention could also be applied within more niche settings, such as industry or within sporting sectors, which have a key focus on developing strategies to maximise productivity and optimise performance at certain times and in different conditions.
Elise R. Facer-Childs, Benita Middleton, Debra J. Skene, Andrew P. Bagshaw.
Resetting the late timing of 'night owls' has a positive impact on mental health and performance.
Sleep Medicine, 2019; DOI:
10.1016/j.sleep.2019.05.001
Trailblazing findings on the properties of daguerreotypes
June 10, 2019
The Metropolitan Museum of Art (The Met) and The University of New Mexico (UNM) today announced the groundbreaking findings of a two-year study of the plasmonic properties of daguerreotypes.
Using atomic force microscopy and scanning electron microscopy, together with numerical calculations, the team of scientists from The Met and UNM, in collaboration with Century Darkroom, Toronto was able to determine how the light scattered by the metallic nanoparticles on the surface of a daguerreotype determines the characteristics of its image, such as shade and colour.
The pioneering research -- recently published in the journal PNAS -- not only provides an in-depth understanding of these 19th century photographs that are crucial for their preservation, but also introduces new possible approaches for colour printing where nanostructures are directly manufactured by light.
"We are thrilled by these findings that help us better understand the fascinating properties of daguerreotypes and shed light on how to continue to advance the preservation of these incredible works of art," said Silvia A. Centeno, Research Scientist in the Department of Scientific Research at The Metropolitan Museum of Art.
"The team at the University of New Mexico embarked on this study to achieve a better understanding of the mechanisms that give rise to the optical response of daguerreotypes and to contribute to the development of protocols for preserving these fragile artefacts," said Alejandro Manjavacas from the Department of Physics and Astronomy at The University of New Mexico. "Thanks to the fantastic teamwork between scientists from both the cultural and scientific communities we were able to accomplish what we set out to do."
Unlike other types of photographs, daguerreotypes rely on light scattering by metallic nanoparticles to create images that project off a reflective silver substrate. These early photographs can be recognised as the first examples of plasmonic colour printing, an emerging research field that exploits the interactions between light and metallic nanostructures to produce vivid colours.
The image tones of a daguerreotype are dynamic and unique in that they can change with the viewing angle and, for the first time, this effect is explained by the authors, who found that the morphology and size of nanoparticles determines how these will scatter thus creating the visual outcome of the daguerreotype. Studies of the image properties of daguerreotypes serve to inform the development of preservation protocols, as well as novel approaches to future colour printing technologies inspired by past ones.
Andrea E. Schlather, Paul Gieri, Mike Robinson, Silvia A. Centeno, Alejandro Manjavacas.
Nineteenth-century nanotechnology: The plasmonic properties of daguerreotypes.
Proceedings of the National Academy of Sciences, 2019; 201904331 DOI:
10.1073/pnas.1904331116
Disclaimer: These articles are not intended to provide medical advice, diagnosis or treatment. Views expressed here do not necessarily reflect those of Pittwater Online News or its staff.