January 19 - 25, 2020: Issue 434
Molecular probe maps misfolded proteome state in live cells
January 9, 2020
The folding state of the proteins in live cells often reflect the cell's general health. Australian scientists have developed a molecular probe that senses the state of the proteome -- the entire set of the proteins -- by measuring the polarity of the protein environment. The fluorescence signal of the probe quantifies unfolding and its chameleon-like colour shift maps the cellular regions of enhanced misfolding, says the study published in the journal Angewandte Chemie.
If live cells are stressed, protein-synthesis and folding-correction mechanisms are out of balance. Misfolded proteins remain stuck, enhanced degradation occurs, and inactive proteins and protein debris aggregate to form granules and condensates in the cytoplasm. Such aggregates play an important role in neurodegenerative diseases and cancer. One driving factor for the aggregation of misfolded proteins seems to be the polarity -- the electronic distribution in an environment. Yuning Hong and colleagues at La Trobe University Melbourne and The University of Melbourne, Australia, have designed a two-modal fluorogenic probe to monitor protein aggregation in greater detail.
In one mode, the probe senses misfolded proteins. Correctly folded proteins are often stabilized by bridges made of the amino acid cysteine. These bridges are usually deeply buried, whereas misfolded proteins expose the cysteine residues at the surface. When the probe binds to cysteine exposed by a misfolded protein chain, fluorescence is switched on, explain the authors.
In the other mode, the probe assesses the polarity. Polar environments indicate an unbalanced electronic distribution, which can be measured by the dielectric constant. To measure this parameter, the researchers added an electronic "push-pull" chemical group to the fluorogenic probe. They observed that, in polar solutions with a high dielectric constant, the fluorogenic probe called NTPAN-MI emitted its fluorescence signal with a color shift. This "chameleon-like" color change thus indicates a polarity change.
The authors tested the NTPAN-MI probe on a human cell line, which they stressed by adding drugs that interfered with protein synthesis and folding. The scientists observed normal fluorescence in untreated cells, but bright fluorescence when unfolded or misfolded proteins accumulated in cells treated with toxins or infected by virus. In addition, the color shift signaled the polarity of the environment and thus the proteome state of each cellular compartment. The researchers reported that they visualized the "unfolded protein load" in the nucleus for the first time. Previous methods could only measure unfolded proteins in the cytoplasm.
With its two sensing modes -- measuring unfolding and the polarity of the protein environment -- the NTPAN-MI probe provides a sharper picture of the stress responses of live cells than what can be obtained with only one-modal probes or different methods. The authors point out that their method would allow scientists to obtain more accurate knowledge of the crosstalk of the cellular components in response to stress.
Tze Cin Owyong, Pramod Subedi, Jieru Deng, Elizabeth Hinde, Jason J. Paxman, Jonathan M. White, Weisan Chen, Begoña Heras, Wallace W. H. Wong, Yuning Hong.
A Molecular Chameleon for Mapping Subcellular Polarity in an Unfolded Proteome Environment
. Angewandte Chemie International Edition, 2020; DOI:
10.1002/anie.201914263
Australian Meteorite contains the oldest material on Earth: 7-billion-year-old stardust
January 13, 2020
Stars have life cycles. They're born when bits of dust and gas floating through space find each other and collapse in on each other and heat up. They burn for millions to billions of years, and then they die. When they die, they pitch the particles that formed in their winds out into space, and those bits of stardust eventually form new stars, along with new planets and moons and meteorites. And in a meteorite that fell fifty years ago in Australia, scientists have now discovered stardust that formed 5 to 7 billion years ago -- the oldest solid material ever found on Earth.
"This is one of the most exciting studies I've worked on," says Philipp Heck, a curator at the Field Museum, associate professor at the University of Chicago, and lead author of a paper describing the findings in the Proceedings of the National Academy of Sciences. "These are the oldest solid materials ever found, and they tell us about how stars formed in our galaxy."
The materials Heck and his colleagues examined are called presolar grains-minerals formed before the Sun was born. "They're solid samples of stars, real stardust," says Heck. These bits of stardust became trapped in meteorites where they remained unchanged for billions of years, making them time capsules of the time before the solar system..
But presolar grains are hard to come by. They're rare, found only in about five percent of meteorites that have fallen to Earth, and they're tiny-a hundred of the biggest ones would fit on the period at the end of this sentence. But the Field Museum has the largest portion of the Murchison meteorite, a treasure trove of presolar grains that fell in Australia in 1969 and that the people of Murchison, Victoria, made available to science. Presolar grains for this study were isolated from the Murchison meteorite for this study about 30 years ago at the University of Chicago.
"It starts with crushing fragments of the meteorite down into a powder ," explains Jennika Greer, a graduate student at the Field Museum and the University of Chicago and co-author of the study. "Once all the pieces are segregated, it's a kind of paste, and it has a pungent characteristic-it smells like rotten peanut butter."
This "rotten-peanut-butter-meteorite paste" was then dissolved with acid, until only the presolar grains remained. "It's like burning down the haystack to find the needle," says Heck.
Once the presolar grains were isolated, the researchers figured out from what types of stars they came and how old they were. "We used exposure age data, which basically measures their exposure to cosmic rays, which are high-energy particles that fly through our galaxy and penetrate solid matter," explains Heck. "Some of these cosmic rays interact with the matter and form new elements. And the longer they get exposed, the more those elements form.
"I compare this with putting out a bucket in a rainstorm. Assuming the rainfall is constant, the amount of water that accumulates in the bucket tells you how long it was exposed," he adds. By measuring how many of these new cosmic-ray produced elements are present in a presolar grain, we can tell how long it was exposed to cosmic rays, which tells us how old it is.
The researchers learned that some of the presolar grains in their sample were the oldest ever discovered-based on how many cosmic rays they'd soaked up, most of the grains had to be 4.6 to 4.9 billion years old, and some grains were even older than 5.5 billion years. For context, our Sun is 4.6 billion years old, and Earth is 4.5 billion.
But the age of the presolar grains wasn't the end of the discovery. Since presolar grains are formed when a star dies, they can tell us about the history of stars. And 7 billion years ago, there was apparently a bumper crop of new stars forming-a sort of astral baby boom.
"We have more young grains that we expected," says Heck. "Our hypothesis is that the majority of those grains, which are 4.9 to 4.6 billion years old, formed in an episode of enhanced star formation. There was a time before the start of the Solar System when more stars formed than normal."
This finding is ammo in a debate between scientists about whether or not new stars form at a steady rate, or if there are highs and lows in the number of new stars over time. "Some people think that the star formation rate of the galaxy is constant," says Heck. "But thanks to these grains, we now have direct evidence for a period of enhanced star formation in our galaxy seven billion years ago with samples from meteorites. This is one of the key findings of our study."
Heck notes that this isn't the only unexpected thing his team found. As almost a side note to the main research questions, in examining the way that the minerals in the grains interacted with cosmic rays, the researchers also learned that presolar grains often float through space stuck together in large clusters, "like granola," says Heck. "No one thought this was possible at that scale."
Heck and his colleagues look forward to all of these discoveries furthering our knowledge of our galaxy. "With this study, we have directly determined the lifetimes of stardust. We hope this will be picked up and studied so that people can use this as input for models of the whole galactic life cycle," he says.
Heck notes that there are lifetimes' worth of questions left to answer about presolar grains and the early Solar System. "I wish we had more people working on it to learn more about our home galaxy, the Milky Way," he says.
"Once learning about this, how do you want to study anything else?" says Greer. "It's awesome, it's the most interesting thing in the world."
"I always wanted to do astronomy with geological samples I can hold in my hand," says Heck. "It's so exciting to look at the history of our galaxy. Stardust is the oldest material to reach Earth, and from it, we can learn about our parent stars, the origin of the carbon in our bodies, the origin of the oxygen we breathe. With stardust, we can trace that material back to the time before the Sun."
"It's the next best thing to being able to take a sample directly from a star," says Greer.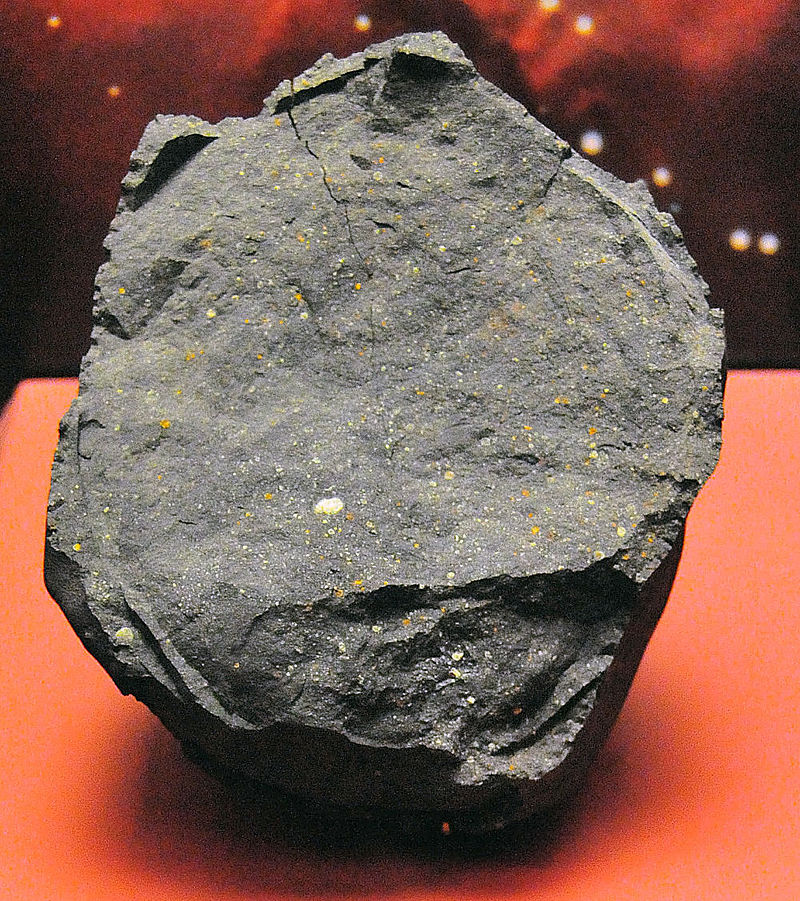 Murchison meteorite at the The National Museum of Natural History (Washington)

This study was contributed to by researchers from the Field Museum, University of Chicago, Lawrence Livermore National Laboratory, Washington University, Harvard Medical School, ETH Zurich, and the Australian National University. Funding was provided by NASA, the TAWANI Foundation, the National Science Foundation, the Department of Energy, the Swiss National Science Foundation, the Brazilian National Council for Scientific and Technological Development and the Field Museum's Science and Scholarship Funding Committee.
Philipp R. Heck, Jennika Greer, Levke Kööp, Reto Trappitsch, Frank Gyngard, Henner Busemann, Colin Maden, Janaína N. Ávila, Andrew M. Davis, Rainer Wieler.
Lifetimes of interstellar dust from cosmic ray exposure ages of presolar silicon carbide.
Proceedings of the National Academy of Sciences, Jan. 13, 2020; DOI:
10.1073/pnas.1904573117
Novel avian species: 10 new bird taxa in islands of Wallacea
January 10, 2020
Birds are the best known class of animals, and since 1999, only five or six new species have been described each year on average. Recently, a joint research team from the National University of Singapore (NUS) and the Indonesian Institute of Sciences (LIPI) made a quantum leap in the discovery of cryptic avian diversity by uncovering five bird species and five subspecies new to science.
The team, led by Associate Professor Frank Rheindt from the Department of Biological Sciences at NUS Faculty of Science, found the birds in three small island groups off Sulawesi, Indonesia. The islands are situated in Indonesia's Wallacea region, an archipelago at the interface between the Oriental and Australian biogeographical realms, named after Sir Alfred Wallace, who was the most famous historical collector exploring the area.
The results of the study, which were published in the journal Science on January 10th 2020, provide evidence that our understanding of species diversity of complex areas such as Wallacea remains incomplete even for relatively well-known groups such as birds. The findings also suggest that modern exploration to find undescribed species diversity can be targeted to areas of high promise.
Insights from paleo-climatology and history guided discovery of new taxa
Sea depth is an important and long-neglected factor in determining the distinctness of an island's terrestrial communities. The Earth undergoes periods of glacial-interglacial cycles, leading to the formation of land bridges between shallow islands during ice ages, allowing fauna of the different islands to interbreed. Deep sea islands, which have always been isolated, and high elevation islands are more likely to harbour endemism due to absence of land connections even during glacial cycles.
Guided by this knowledge, Assoc Prof Rheindt and his team concentrated their research efforts on the islands of Taliabu and Peleng, which are located off the north-eastern coast of Sulawesi, as bathymetric data indicate the presence of deep sea between these islands and Sulawesi.
The research team also examined the accounts of historic collectors such as Sir Alfred Wallace, and sought to focus on parts of Wallacea that had received the least coverage by historic collectors, as these areas would hold the highest promise of harbouring undescribed avian diversity.
The islands that the team targeted were characterised by such incomplete historic coverage: Taliabu and its neighbours, together forming the Sula group, were only briefly visited by eight historic collecting expeditions, all of which remained in coastal areas and failed to penetrate the highlands of the interior because of poor accessibility; and Peleng and the remaining islands of the Banggai group were visited along their coastline by only three historic collectors who never ventured far uphill into the interior.
New taxa found
Assoc Prof Rheindt and his team undertook extensive fieldwork in the three remote islands for six weeks, from November 2013 to January 2014, and collected 10 new, long-overlooked avian forms.
By integrating genomic and phenotypic research methodologies, the team successfully described five new songbird species and five new subspecies:
On Taliabu, they found three new species: the Taliabu Grasshopper-Warbler, the Taliabu Myzomela and the Taliabu Leaf-Warbler; as well as three subspecies: the Taliabu Snowy-browed Flycatcher, Taliabu Island Thrush and Sula Mountain Leaftoiler.
On Peleng, two new species -- the Peleng Fantail and the Peleng Leaf-Warbler -- and a new subspecies -- the Banggai Mountain Leaftoiler -- were discovered.
On Togian, a new subspecies -- the Togian Jungle-Flycatcher -- was found.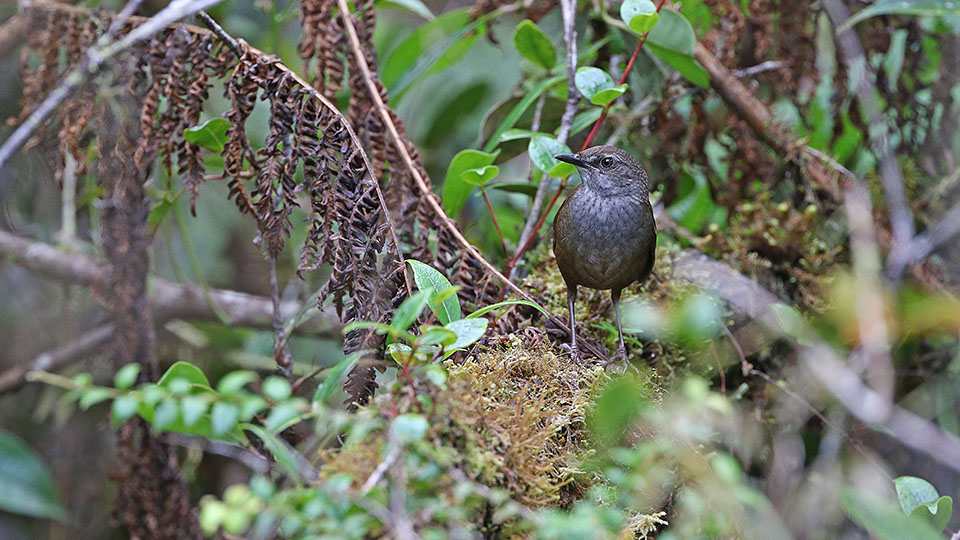 The Taliabu Grasshopper-Warbler is one of the new bird species discovered by the NUS-LIPI team led by Assoc Prof Frank Rheindt, during their expedition in Indonesia's Wallacea region (Photo: James Eaton/Birdtour Asia)

"Studying the routes and operations of historic collecting expeditions and identifying gaps has been a fruitful approach to pinpoint focal areas in our case. The description of this many bird species from such a geographically limited area is a rarity," shared Assoc Prof Rheindt.
He added, "Going forward, the use of earth-history and bathymetric information could also be applied to other terrestrial organisms and regions beyond the Indonesian Archipelago to identify promising islands that potentially harbour new taxa to be uncovered."
Implications for conservation
During the expedition, the research team found that both Taliabu and Peleng have suffered from rampant forest destruction. There is virtually no primary lowland forest on both islands, and most highland forests have been impacted by some form of logging or forest fires.
"While most of the avifauna we described seems to tolerate some form of habitat degradation and is readily detected in secondary forest and edge, some species or subspecies are doubtless threatened by the immense levels of habitat loss on these islands. As such, urgent, long-lasting conservation action is needed for some of the new forms to survive longer than a couple of decades beyond their date of description," said Assoc Prof Rheindt.
Frank E. Rheindt, Dewi M. Prawiradilaga, Hidayat Ashari, Suparno, Chyi Yin Gwee, Geraldine W. X. Lee, Meng Yue Wu, Nathaniel S. R. Ng.
A lost world in Wallacea: Description of a montane archipelagic avifauna.
Science, 2020 DOI:
10.1126/science.aax2146
Disclaimer: These articles are not intended to provide medical advice, diagnosis or treatment. Views expressed here do not necessarily reflect those of Pittwater Online News or its staff.