Subcellular chatter regulates longevity
May 19, 2020
As people get older, they often feel less energetic, mobile or active. This may be due in part to a decline in mitochondria, the tiny powerhouses inside of our cells, which provide energy and regulate metabolism. In fact, mitochondria decline with age not only in humans, but in many species. Why they do so is not well understood. Scientists at the Max Planck Institute for Biology of Ageing in Cologne set out to understand how mitochondrial function is diminished with age and to find factors that prevent this process. They found that communication between mitochondria and other parts of the cell plays a key role.
For their studies, the scientists used the simple roundworm, Caenorhabditis elegans, an important model system for ageing research. Over half the genes of this animal are similar to those found in humans, and their mitochondria also decline with age. From their research, the scientists found a nuclear protein called NFYB-1 that switches on and off genes affecting mitochondrial activity, and which itself goes down during ageing. In mutant worms lacking this protein, mitochondria don't work as well and worms don't live as long.
Unexpectedly, the scientists discovered that NFYB-1 steers the activity of mitochondria through another part of the cell called the lysosome, a place where basic molecules are broken down and recycled as nutrients. "We think the lysosome talks with the mitochondria through special fats called cardiolipins and ceramides, which are essential to mitochondrial activity," says Max Planck Director, Adam Antebi, whose laboratory spearheaded the study. Remarkably, simply feeding the NFYB-1 mutant worms cardiolipin restored mitochondrial function and worm health in these strains.
Because cardiolipins and ceramides are also essential for human mitochondria, this may mean human health and ageing can be improved by understanding on how such molecules facilitate communication between different parts of the cell. This work has been recently published in Nature Metabolism.
Rebecca George Tharyan, Andrea Annibal, Isabelle Schiffer, Raymond Laboy, Ilian Atanassov, Anna Luise Weber, Birgit Gerisch, Adam Antebi.
NFYB-1 regulates mitochondrial function and longevity via lysosomal prosaposin.
Nature Metabolism, 2020; DOI:
10.1038/s42255-020-0200-2
Researchers go cuckoo: Antarctic penguins release an extreme amount of laughing gas
May 19, 2020
More than 1600 kilometers east of the Drake Passage between South America and Antarctica lies the Atlantic island of South Georgia.
Here, king penguins live in huge colonies. Their days are spent chomping on krill, squid and fish, feeding their chicks and producing 'guano', which means poo in penguin. Nothing mind-boggling about that, you might say.
However, there is something very special about the comings and goings of king penguins. Tremendous amounts of nitrous oxide, better known as laughing gas, are released via their guano, according to a 2019 study completed by researchers from the University of Copenhagen and their colleagues.
"Penguin guano produces significantly high levels of nitrous oxide around their colonies. The maximum emissions are about 100 times higher than in a recently fertilised Danish field. It is truly intense -- not least because nitrous oxide is 300 times more polluting than CO2," explains Professor Bo Elberling, of the University of Copenhagen's Department of Geosciences and Natural Resource Management.
Besides being a strain on the climate, nitrous oxide has an effect very similar to the sedative laughing gas used in the dentist's office. Bo Elberling explains:
"After nosing about in guano for several hours, one goes completely cuckoo. One begins to feel ill and get a headache. The small nitrous oxide cylinders that you see lying in and floating around Copenhagen are no match for this heavy dose, which results from a combination of nitrous oxide with hydrogen sulphide and other gases."
How penguin poop turns into nitrous oxide Penguins' favourite foods are fish and krill, both of which contain large amounts of nitrogen absorbed from phytoplankton in the ocean.
Once penguins have filled their bellies, nitrogen is released from their faeces into the ground. Soil bacteria then convert the substance into nitrous oxide, a greenhouse gas.
"It is clear to us that the level of nitrous oxide is very high in places where there are penguins -- and thereby guano -- and vice versa, lower in places where there is none," explains Bo Elberling.
Knowledge of how penguin droppings affect the Earth and atmosphere is highly relevant in the fight against climate-damaging greenhouse gases. Elberling continues:
"While nitrous oxide emissions in this case are not enough to impact Earth's overall energy budget, our findings contribute to new knowledge about how penguin colonies affect the environment around them, which is interesting because colonies are generally becoming more and more widespread."
He concludes by asserting that, "we should learn from this in relation to Danish agriculture, where large quantities of nitrous oxide are emitted by nitrogen fertilisers in fields. One of the things we can learn, for example, is how and when to fertilise vis-à-vis the optimal conditions for soil bacteria to produce nitrous oxide."
Peiyan Wang, Ludovica D'Imperio, Elisabeth M. Biersma, Reti Ranniku, Wenyi Xu, Qingjiu Tian, Per Ambus, Bo Elberling.
Combined effects of glacial retreat and penguin activity on soil greenhouse gas fluxes on South Georgia, sub-Antarctica.
Science of The Total Environment, 2020; 718: 135255 DOI:
10.1016/j.scitotenv.2019.135255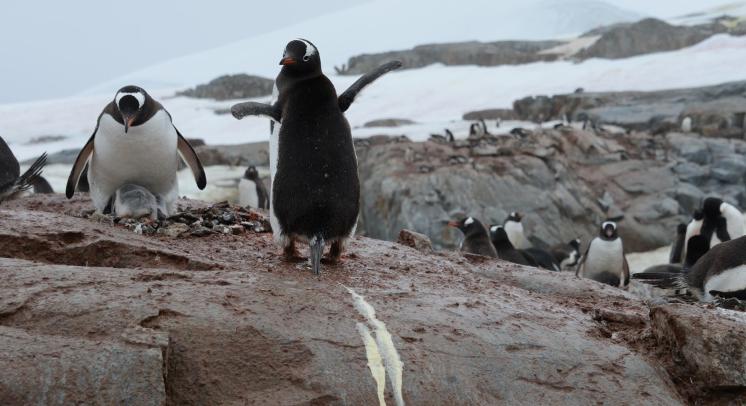 Photo: Sophie Elise Elberling
All pumped up for new-age rubber
May 18, 2020
Imagine a self-repairing rubber, or super-adhesive made entirely from waste materials.
It sounds like science fiction, but researchers have discovered a new kind of rubber and catalyst that together can be used with low energy consumption to make flexible, repairable, sustainable objects -- including car tyres.
The new rubber material, made from cheap and plentiful industrial waste products sulfur, canola cooking oil and dicyclopentadiene (DCPD) from petroleum refining, can be completely repaired and returned to its original strength in minutes -- even at room temperature -- with an amine catalyst.
The new type of rubber can be seamlessly repaired if damaged and can also be recycled, says research leader Flinders University Associate Professor Justin Chalker, whose team's breakthrough findings are described in leading international journal Chemical Science.
The amine catalyst used to trigger the reaction that causes the rubber to self-repair occurs within minutes in some cases and it is all done at room temperature, scientists say.
"This study reveals a new concept in the repair, adhesion and recycling of sustainable rubber," says Associate Professor Chalker, adding too many plastics, rubbers and ceramics are not recyclable.
Each year in Australia, the equivalent of 48 million tyres reach the end of their life, only 16% of these are domestically recycled. Around two-thirds of used tyres in Australia end up in landfill, are stockpiled, illegally dumped or have an unknown fate.




This represents both a waste of resources and creates health and environmental issues. Each passenger car tire contains approximately 1.5kg of steel, 0.5kg of textiles and 7 kg of rubber

. --

Source: Planet Ark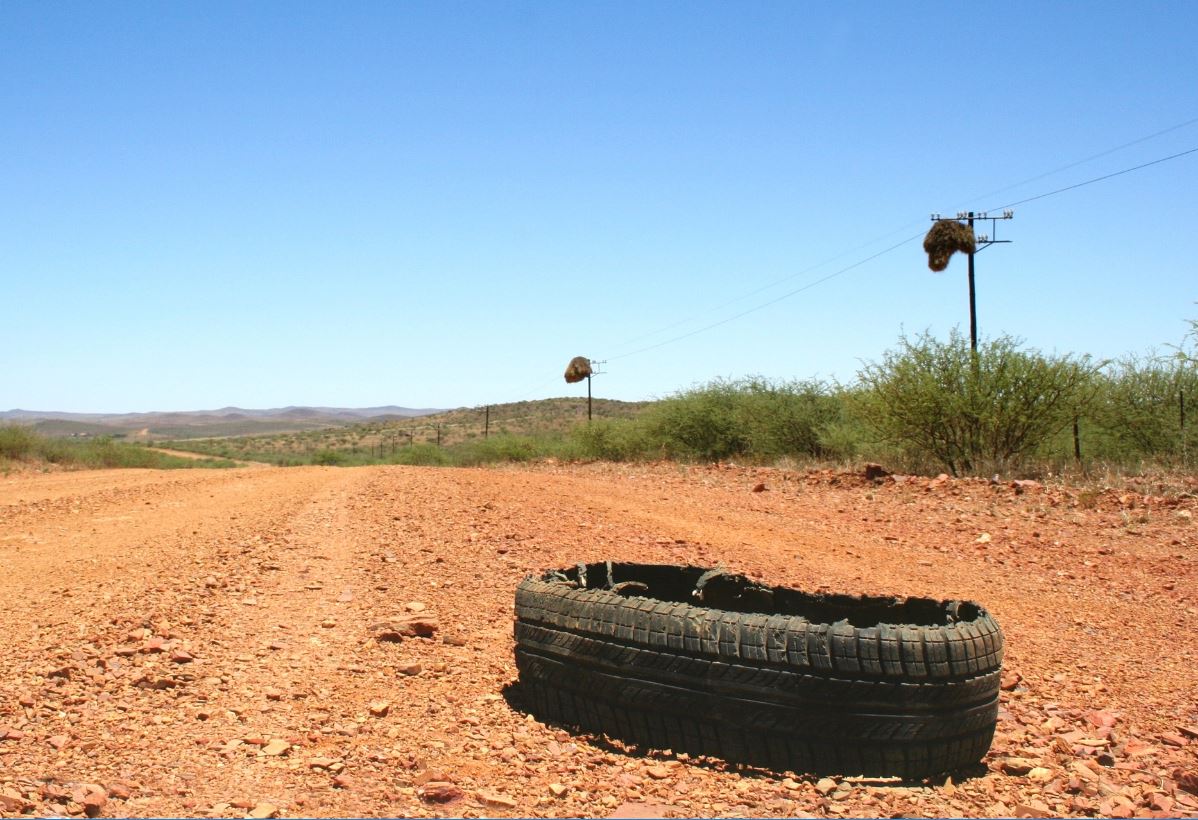 "It is exciting to see how the underlying chemistry of these materials has such wide potential in recycling, next-generation adhesives, and additive manufacturing."
Researchers from the Chalker Lab at the Flinders University Institute for Nanoscale Science and Technology, with University of Liverpool and University of Western Australia colleagues, say the new rubber can be used as a "latent adhesive."
"The rubber bonds to itself when the amine catalyst is applied to the surface. The adhesion is stronger than many commercial glues," says University of Liverpool researcher Dr Tom Hasell.
"The polymer is also resistant to water and corrosion."
Rubber bricks made out of this polymer can be chemically joined by applying the catalyst.
"In some cases, the amine catalyst causes the rubber to bond in just minutes, and it can be done at room temperature," explains Flinders University lead author Sam Tonkin.
"The rubber can also be used as a latent adhesive, where it bonds to the surface of another piece of rubber when the amine catalyst is applied.
"Basically the rubber is not 'sticky' until the catalyst is applied."
In addition to the highly useful practical applications, the new paper gives detailed fundamental studies on the mechanisms of the rubber repair.
Samuel J. Tonkin, Christopher T Gibson, Jonathan Campbell, David A. Lewis, Amir Karton, Tom Hasell, Justin M Chalker.
Chemically induced repair, adhesion, and recycling of polymers made by inverse vulcanisation.
Chemical Science, 2020; DOI:
10.1039/D0SC00855A
Disclaimer: These articles are not intended to provide medical advice, diagnosis or treatment. Views expressed here do not necessarily reflect those of Pittwater Online News or its staff.