September 27 - October 10, 2020: Issue 468

Potential drug target for dangerous E. coli infections identified: UNSW
September 25, 2020
Escherichia coli, known as E. coli, are bacteria which many people associate with causing mild food poisoning, but some types of E. coli can be fatal.
UNSW Science microbiologists studied an E. coli strain that causes a severe intestinal infection in humans: enterohemorrhagic E. coli (EHEC). Their findings were published this week in the journal PNAS (Proceedings of the National Academy of Sciences).
EHEC is a food-borne pathogen that releases Shiga toxins during infection, resulting in kidney and neurological damage.
Dr Jai Tree, the study's senior author, said the researchers' discovery of a new molecular pathway that controls Shiga toxin production was important because there was no commercially available treatment for EHEC infections.
"Antibiotic treatment of these infections is generally not recommended because antibiotics stimulate production of the Shiga toxin, leading to an increased risk of kidney failure, neurological damage, and death," Dr Tree said.
"The new pathway that we have found reduces toxin production and is not expected to be stimulated by antibiotic treatment. So, our results identify a potential new target for the development of drugs that can suppress Shiga toxin production during EHEC infection.
"It's still early days, however, and we need to conduct a lot more research to understand if our findings apply to a broad range of clinical EHEC isolates and to both types of Shiga toxins produced by human EHEC isolates."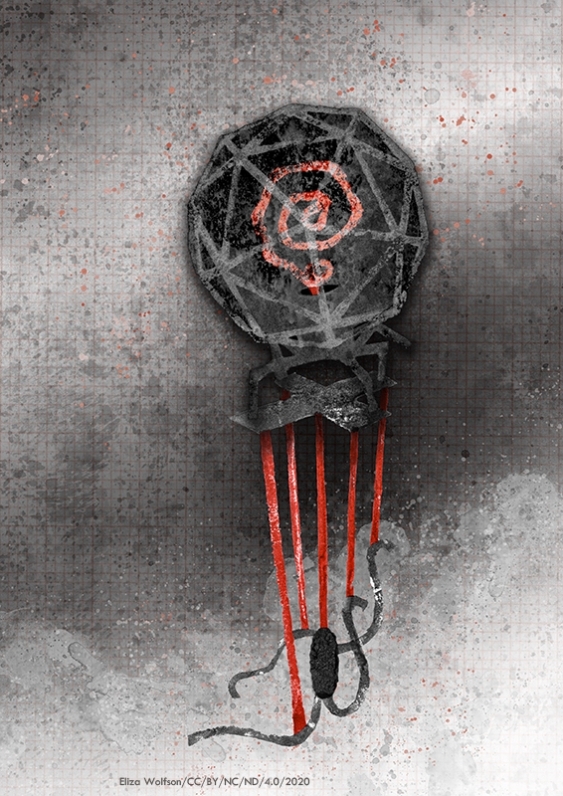 The spider-like icosahedral shape is an abstract depiction of the Shiga toxin bacteriophage with a red genome, stylised as the puppet master of a potentially deadly EHEC infection. Image: UNSW Science
How EHEC infections start
Dr Tree said there were several ways in which people could become infected with EHEC.
"EHEC is mainly found in the faeces of cows and sheep and people can become infected through contact with farm animals and their faeces, or via person-to-person infection if people come into contact with tiny amounts of faeces from a sick person – for example, directly or indirectly by touching contaminated surfaces," he said.
"This strain of E. coli can also spread through ingesting the bacteria by eating undercooked minced meat (for example, in hamburgers), eating contaminated fresh produce like salad vegetables, or drinking contaminated water or unpasteurised milk.
"Children under five years old and older people are at greatest risk of developing an EHEC infection."
EHEC outbreaks less common but deadly
Dr Tree said while the prevalence of EHEC was low compared to other foodborne pathogens, the disease could be very severe or even fatal. EHEC is a type of STEC (Shiga toxin-producing Escherichia coli).
"EHEC outbreaks occur sporadically in Australia and worldwide. The most significant outbreak occurred in South Australia in 1995 and was caused by contaminated mettwurst, a semi-dry fermented sausage made from raw minced pork preserved by curing and smoking," he said.
"In that outbreak, 143 people were infected – 23 of them suffered kidney and neurological damage. Many of these severe cases were in infants who suffered permanent kidney damage and later required kidney transplants.
"A four-year-old girl suffered multiple strokes and died three days after admission to hospital. This episode triggered a major food safety investigation and outbreaks since 1995 have been smaller."
Dr Tree said globally, Shiga toxin-producing E. coli was still a major food safety concern after a large outbreak in Germany in 2011.
"The strain in Germany was spread mostly via consumption of contaminated sprouts and in several cases, from close contact with an infected person," he said.
"During this outbreak more than 4000 people were infected and 50 people died."
New pathway 'hiding in plain sight'
Dr Tree said the UNSW research was the first discovery of a new pathway that controls the Shiga toxins in almost 20 years.
"In 2001, researchers at Tufts and Harvard universities first showed how production of the Shiga toxin was controlled by a bacterial virus, known as a bacteriophage, within the genome. This has been the only known pathway that controls Shiga toxin production for almost two decades," he said.
"We have extended that work to show a new mechanism of toxin control that is, surprisingly, buried within the start of the DNA sequence that encodes the Shiga-toxin messenger RNA – a working copy of the gene.
"We discovered a very short piece of the toxin messenger RNA is made into a regulatory non-coding RNA that silences the toxin and promotes growth of the pathogen."
Dr Tree said their findings were a surprise because Shiga toxin genes have been well studied, with almost 7000 published studies in the past 40 years.
"Only recently have we been able use advances in RNA sequencing technology to detect the presence of the new regulatory non-coding RNA embedded within the Shiga toxin messenger RNA," he said.
"This new regulatory non-coding RNA had been hiding in plain sight for almost 20 years."
Implications for treating EHEC infections
Dr Tree said the researchers' findings opened up new possibilities for the treatment of EHEC infections.
"Patients largely receive supportive care to manage disease symptoms and to reduce the effects of the toxin on the kidneys," he said.
"Our work shows a new mechanism for controlling toxin production that may be amenable to new RNA-based therapeutics to inhibit toxin production during an infection. We anticipate this would expand intervention options and potentially allow use of antibiotics that are currently not recommended because they stimulate Shiga toxin production.
"New treatments could therefore reduce the risk of kidney damage, neurological complications and death. We look forward to testing these new interventions in the next stage of our research."
This tiny device can scavenge wind energy from the breeze you make when you walk
September 24, 2020
Most of the wind available on land is too gentle to push commercial wind turbine blades, but now researchers in China have designed a kind of "tiny wind turbine" that can scavenge wind energy from breezes as little as those created by a brisk walk. The method, presented September 23 in the journal Cell Reports Physical Science, is a low-cost and efficient way of collecting light breezes as a micro-energy source.
The new device is not technically a turbine. It is a nanogenerator made of two plastic strips in a tube that flutter or clap together when there is airflow. Like rubbing a balloon to your hair, the two plastics become electrically charged after being separated from contact, a phenomenon called the triboelectric effect. But instead of making your hair stand up like Einstein's, the electricity generated by the two plastic strips is captured and stored.
"You can collect all the breeze in your everyday life," says senior author Ya Yang of Beijing Institute of Nanoenergy and Nanosystems, Chinese Academy of Sciences. "We once placed our nanogenerator on a person's arm, and a swinging arm's airflow was enough to generate power."
A breeze as gentle as 1.6 m/s (3.6 mph) was enough to power the triboelectric nanogenerator designed by Yang and his colleagues. The nanogenerator performs at its best when wind velocity is between 4 to 8 m/s (8.9 to 17.9 mph), a speed that allows the two plastic strips to flutter in sync. The device also has a high wind-to-energy conversion efficiency of 3.23%, a value that exceeds previously reported performances on wind energy scavenging. Currently, the research team's device can power up 100 LED lights and temperature sensors.
"Our intention isn't to replace existing wind power generation technology. Our goal is to solve the issues that the traditional wind turbines can't solve," says Yang. "Unlike wind turbines that use coils and magnets, where the costs are fixed, we can pick and choose low-cost materials for our device. Our device can also be safely applied to nature reserves or cities because it doesn't have the rotating structures."
Yang says he has two visions for the project's next steps: one small and one big. In the past, Yang and his colleagues have designed a nanogenerator as small as a coin, but he wants to make it even tinier and more compact with higher efficiency. In the future, Yang and his colleagues would like to combine the device to small electronic devices such as phones, to provide sustainable electric power.
But Yang is also looking to make the device bigger and more powerful. "I'm hoping to scale up the device to produce 1,000 watts, so it's competitive with traditional wind turbines," he says. "We can place these devices where traditional wind turbines can't reach. We can put it in the mountains or on the top of buildings for sustainable energy."
Xin Chen, Xingchen Ma, Weiwei Ren, Lingxiao Gao, Shan Lu, Daqiao Tong, Fayang Wang, Yu Chen, Yi Huang, Hao He, Baoping Tang, Jiajia Zhang, Xiaoqing Zhang, Xiaojing Mu, Ya Yang.
A Triboelectric Nanogenerator Exploiting the Bernoulli Effect for Scavenging Wind Energy.
Cell Reports Physical Science, 2020; 1 (9): 100207 DOI:
10.1016/j.xcrp.2020.100207
Disclaimer: These articles are not intended to provide medical advice, diagnosis or treatment. Views expressed here do not necessarily reflect those of Pittwater Online News or its staff.
NSW leads the way on agricultural workers' code
September 23, 2020
The NSW Government will become the first jurisdiction to write the new Agricultural Workers Code into public health orders, paving the way for the $15.9 billion NSW primary industries sector to find skilled workers for the upcoming harvest.
Premier Berejiklian said the code was critical to supporting the agricultural industry and ensuring regional communities can capitalise on this year's bumper crops.
"NSW is an agriculture production powerhouse and the Agricultural Workers' Code enables the state's farmers to be the launching pad for NSW to commence recovery from the economic impact of COVID-19," Ms Berejiklian said.
"The code means that farmers from Warialda to Wagga Wagga can get the best skilled workers to help them with this year's harvest, regardless if they're from Queensland, South Australia, Victoria or the Northern Territory."
Acting Deputy Premier Paul Toole said the code was common sense policy that would ensure farmers could access the workers they need to run their farms.
"I'm glad NSW has worked proactively to ensure our farmers can tap into the skills they need despite the unprecedented COVID-19 restrictions impacting movement across state borders – from shearers to contract harvesters and fruit pickers," Mr Toole said.
"This is a win for farmers and will support jobs in agriculture right across the state."
Minister for Agriculture and Western NSW Adam Marshall said the NSW Government had been a driving force behind the interjurisdictional agreement.
"Our farmers have just come out of the worst drought on record, and they are now poised to begin their recovery with the largest winter crop harvest since 2016, and they need the workforce to take advantage of that," Mr Marshall said.
"This code will allow the critical free movement of agricultural workers across state borders so that primary industries can not only continue to feed and clothe the nation, but be the driving force behind the economic recovery from COVID-19."
Agricultural workers travelling between NSW and Victoria will need a permit and relevant identification and will be required to use Personal Protective Equipment (PPE) as appropriate.
Travelling workers will also need to keep records of their movements. Agricultural employers need to support workers to perform self-isolation in the first 14 days after entry into NSW, and must have a COVID safety plan in place.
Help Harvest NSW
The agriculture industry is facing a significant labour shortage as a result of COVID-19.
If you are looking for employment opportunities, now is a great time to consider agriculture and farm work. Learning how food is produced and harvested is an exciting regional experience.
The agriculture industry has a range of jobs on offer including fruit picking, grain harvesting and working on a cattle station.
Farmers will be able to capitalise on what is predicted to be the best harvest in many years, with the launch on Monday August 24th of a new one-stop resource which will help the agriculture industry overcome a COVID-induced labour shortage and get unemployed Australians into critical work.
Minister for Agriculture Adam Marshall announced the launch of the 'Help Harvest NSW' website today, which will connect unemployed Australians with farm work opportunities across the State as part of the NSW Government's COVID Recovery Plan.
With NSW at the forefront of this year's big winter crop comeback after drought and horticulture about six weeks from harvest
, Mr Marshall said it was critical to act now as there would be a shortage of between 3,500 and 5,000 workers needed in the state.
"Farmers are desperate to find contractors and employees willing to work to make the most of the bumper harvest we're about to have," Mr Marshall said.
"A high volume of primary industries labour generally comes from overseas and due to COVID-19 international travel restrictions there simply isn't the number of farm workers the ag industry needs at the moment.
"The Help Harvest NSW website will help to overcome this challenge by connecting job-seeking Australians with agricultural work opportunities in NSW.
"I want to see more Aussies climb off the couch and get out into the regions where there's plenty of good paying work on until the end of the year.
"At a time when we are just beginning to emerge from drought, our State's farmers cannot afford to miss out on the financial uplift that comes from a strong harvest."
With higher than average unemployment due to COVID-19, Mr Marshall said that 'Help Harvest NSW' was a way to get the State's workforce moving again.
"Never before and never again will Australians have a better chance to take up farm work, earn a decent wage and see first-hand our beautiful regions where the food we buy every day from the supermarket is produced," Mr Marshall said.
"My message to the increasing number of people looking for a job at the moment is this: get off your bum and get into agriculture – we need you.
"Take a look at Help Harvest NSW and see what job opportunities are around the corner."
Browse the job boards and recruitment services here: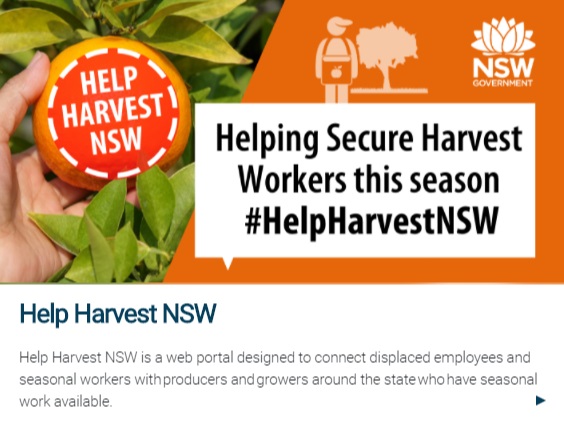 When does a second COVID-19 surge end?
September 24, 2020
Mathematicians have developed a framework to determine when regions enter and exit COVID-19 infection surge periods, providing a useful tool for public health policymakers to help manage the coronavirus pandemic.
The first published paper on second-surge COVID-19 infections from US states suggests that policymakers should look for demonstrable turning points in data rather than stable or insufficiently declining infection rates before lifting restrictions.
Mathematicians Nick James and Max Menzies have published what they believe is the first analysis of COVID-19 infection rates in US states to identify turning points in data that indicate when surges have started or ended.
The new study by the Australian mathematicians is published today in the journal Chaos, published by the American Institute of Physics.
"In some of the worst performing states, it seems that policymakers have looked for plateauing or slightly declining infection rates. Instead, health officials should look for identifiable local maxima and minima, showing when surges reach their peak and when they are demonstrably over," said Nick James a PhD student in the School of Mathematics and Statistics at the University of Sydney.
In the study, the two mathematicians report a method to analyse COVID-19 case numbers for evidence of a first or second wave. The authors studied data from all 50 US states plus the District of Columbia for the seven-month period from 21 January to 31 July 2020. They found 31 states and the District of Columbia were experiencing a second wave as of the end of July.
The two mathematicians have also applied the method to analyse infection rates in eight Australian states and territories using data from covidlive.com.au. While the Australian analysis has not been peer-reviewed, it does apply the peer-reviewed methodology. The analysis clearly identified Victoria as an outlier, as expected.
"What the Victorian data shows is that cases are still coming down and the turning point -- the local minimum -- has not occurred yet," Dr Menzies said. He said from a mathematical perspective at least, Victoria should "stay the course."
Dr Menzies, from the Yau Mathematical Sciences Center at Tsinghua University in Beijing, said: "Our approach allows for careful identification of the most and least successful US states at managing COVID-19."
The results show New York and New Jersey completely flattened their infection curves by the end of July with just a single surge. Thirteen states, including Georgia, California and Texas, have a continuing and rising single infection surge. Thirty-one states had an initial surge followed by declining infection to be followed by a second surge. These states include Florida and Ohio.
Mr James said: "This is not a predictive model. It is an analytical tool that should assist policymakers determining demonstrable turning points in COVID infections."
Methodology
The method smooths raw daily case count data to eliminate artificial low counts over weekends and even some negative numbers that occur when localities correct errors. After smoothing the data, a numerical technique is used to find peaks and troughs. From this, turning points can be identified.
Dr Menzies said their analysis shows governments should try not to allow new cases to increase, nor reduce restrictions when case numbers have merely flattened.
"A true turning point, where new cases are legitimately in downturn and not just exhibiting stable fluctuations, should be observed before relaxing any restrictions."
He said that the analysis wasn't just nice mathematics, using a new measure between sets of turning points, the study also deals with a very topical problem: looking at state-by-state data.
Mr James said that aggressively pushing infection rates down to a minimum seemed the best way to defeat a second surge.
Peaks and Troughs
To determine the peaks and troughs, the algorithm developed by the mathematicians determines that a turning point occurs when a falling curve surges upward or a rising curve turns downward. Only those sequences where the peak and trough amplitudes differ by a definite minimum amount are counted. Fluctuations can occur when a curve flattens for a while but continues to increase without going through a true downturn, so the method eliminates these false counts.
Both from Australia, the two mathematicians have been best friends for 25 years. "But this year is the first time we have worked on problems together," Mr James said.
Mr James has a background in statistics and has worked for start-ups and hedge funds in Texas, Sydney, San Francisco and New York City. Dr Menzies is a pure mathematician, completing his PhD at Harvard in 2019 and his undergraduate mathematics at the University of Cambridge.
Nick James, Max Menzies.
COVID-19 in the United States: Trajectories and second surge behaviour.
Chaos: An Interdisciplinary Journal of Nonlinear Science, 2020; 30 (9): 091102 DOI:
10.1063/5.0024204