December 9 - 15, 2018: Issue 387
First statewide milk bank for premature babies
December 2nd, 2018: NSW Minister for Health, The Hon. Brad Hazzard
Vulnerable premature babies will have a better chance of fighting off life-threatening infections and disease with the first statewide donor human milk bank to open in NSW.
Health Minister Brad Hazzard said donor human milk will be pasteurised in a purpose-built centre, run jointly by the Australian Red Cross Blood Service and NSW Health.
"Around 1000 babies are born every year in NSW at less than 32 weeks gestational age, or of a very low birth weight and many need specialised care," Mr Hazzard said.
"Breast milk is liquid gold for these little ones at this critical time, as it contains all the vital nutrients essential for growth and protection against disease.
"Many mums of premmie babies can experience problems with their milk supply but now mums can access donor milk, while efforts to boost their own supply continue."
Pasteurised donor human milk is recommended by the World Health Organisation as a first alternative to infant formula when there is insufficient mother's milk available.
Australian Red Cross Blood Service spokesperson Jenni Mack said the Milk Bank based at Alexandria in Sydney will operate under world's best practice standards.
"Just like a blood bank, the Milk Bank will screen donors, collect, process and test the donated breast milk, then track and distribute this precious resource," Ms Mack said.
For very low birth weight infants and those born before 32 weeks gestational age research shows human milk reduces the risk of the potentially life-threatening gut- disorder necrotizing enterocolitis and bacterial infections.
Medicines for severe asthma and growth hormone deficiency listed on the PBS
December 1, 2018: The Hon Greg Hunt MP, Minister for Health
The Australian Government will list new medicines for severe asthma, and severe growth hormone deficiency on the Pharmaceutical Benefits Scheme (PBS), saving patients up to $21,000 a year.
From today Fasenra® (benralizumab), a new treatment option for patients with uncontrolled severe eosinophilic asthma, will be available on the PBS.
Around 670 patients a year will now be able to access this medicine, which would cost more than $21,000 per year of treatment without the PBS subsidy. When this medicine is subsidised under the PBS, patients will pay 39.50 per script or just $6.40 a script for concessional patients.
Severe eosinophilic asthma is a condition where there are too many eosinophils (a type of white blood cell) in the airways, which can worsen asthma, or increase the number of asthma flare-ups a person suffers.
Fasenra works to reduce the levels of eosinophils in the blood and airways, and the number of ongoing maintenance injections required to control asthma is reduced to every eight weeks, rather than once a month in comparison with existing PBS listed therapies.
Uncontrolled severe asthma can be debilitating and in some circumstances life threatening. It is estimated that 2.5 million Australians live with asthma, with up to 10 per cent suffering from severe asthma.
Those with the condition face regular flare ups, increased hospitalisations and chronic exposure to oral corticosteroids — all of which affect their overall health and quality of life.
Most people with asthma can manage their symptoms with regular use of their inhalers. However, with uncontrolled severe asthma more medications are often needed.
Despite their best efforts, it is estimated that up to 30 per cent of people living with uncontrolled severe asthma do not find standard treatments effective, even with high doses of standard-of-care inhaled asthma medicines. For these people, the listing of this medication could offer a new treatment option.
I am also pleased to announce that the current listing of Genotropin® and Genotropin GoQuick® (somatropin) will be extended to include eligible adults. It is currently only available for children through the PBS.
This medicine will help people with severe growth hormone deficiency, whose quality of life has been significantly affected by their condition.
People suffering from this condition don't produce enough natural growth hormone. Genotropin and Genotropin GoQuick works to stimulate body growth and regulate their metabolism.
Around 780 patients per year will now be able to access this medicine which would otherwise cost over $10,000 for a year of treatment.
These new and amended listings were all recommended by the independent expert Pharmaceutical Benefits Advisory Committee (PBAC).
The Committee is independent of Government by law and in practice. By law the Federal Government cannot list a new medicine without a positive recommendation from the PBAC.
Since coming into Government, the Coalition has helped improve the health of Australians by subsidising around $10 billion worth of new medicines.
Our commitment to the PBS is rock solid. Together with Medicare, it is a foundation of our world-class health care system.
Gene that lets you eat as much as you want holds promise against obesity
December 4, 2018: Flinders University
It sounds too good to be true, but a novel approach that might allow you to eat as much food as you want without gaining weight could be a reality in the near future.
When a single gene known as RCAN1 was removed in mice and they were fed a high fat diet, they failed to gain weight, even after gorging on high fat foods for prolonged periods.
The international team behind the study are hopeful a similar approach that inhibits this gene will also be effective with humans to combat obesity and serious diseases like diabetes.
Led by Professor Damien Keating at Flinders University, the study used a huge genetic screen in rodents to identify novel genetic candidates that may cause obesity, potentially paving the way for new drug therapies.
"We know a lot of people struggle to lose weight or even control their weight for a number of different reasons. The findings in this study could mean developing a pill which would target the function of RCAN1 and may result in weight loss," Professor Keating says.
Obesity is a major global health epidemic, resulting in increased risk of serious diseases like type 2 diabetes, and heart disease, but avenues for effective therapeutic treatments are lacking.
There are two types of fat in the human body- brown fat burns energy, while white fat stores energy.
Professor Keating says blocking RCAN1 helps to transform unhealthy white fat into healthy brown fat, presenting a potential treatment method in the fight against obesity.
"We have already developed a series of drugs that target the protein that this gene makes, and we are now in the process of testing them to see if they inhibit RCAN1 and whether they might represent potential new anti-obesity drugs,"
"In light of our results, the drugs we are developing to target RCAN1 would burn more calories while people are resting. It means the body would store less fat without the need for a person to reduce food consumption or exercise more."
Two thirds of Australian adults and a quarter of children are either overweight or obese, and the statistics are just as concerning in Britain and the US.
"We looked at a variety of different diets with various timespans from eight weeks up to six months, and in every case we saw health improvements in the absence of the RCAN1 gene."
The researchers say these findings open up a potentially simple treatment but further studies are required to determine if they translate the same results to humans.
"Our research is focused on understanding how cells send signals to each other and how this impacts health and the spread of disease."
"We really want to pursue this, it's exciting and we have research funding from the Australian government through the National Health and Medical Research Council to continue to explore viable options. These results show we can potentially make a real difference in the fight again obesity."
David Rotter, Heshan Peiris, D Bennett Grinsfelder, Alyce M Martin, Jana Burchfield, Valentina Parra, Christi Hull, Cyndi R Morales, Claire F Jessup, Dusan Matusica, Brian W Parks, Aldons J Lusis, Ngoc Uyen Nhi Nguyen, Misook Oh, Israel Iyoke, Tanvi Jakkampudi, D Randy McMillan, Hesham A Sadek, Matthew J Watt, Rana K Gupta, Melanie A Pritchard, Damien J Keating, Beverly A Rothermel.
Regulator of Calcineurin 1 helps coordinate whole‐body metabolism and thermogenesis.
EMBO reports, 2018; e44706 DOI:
10.15252/embr.201744706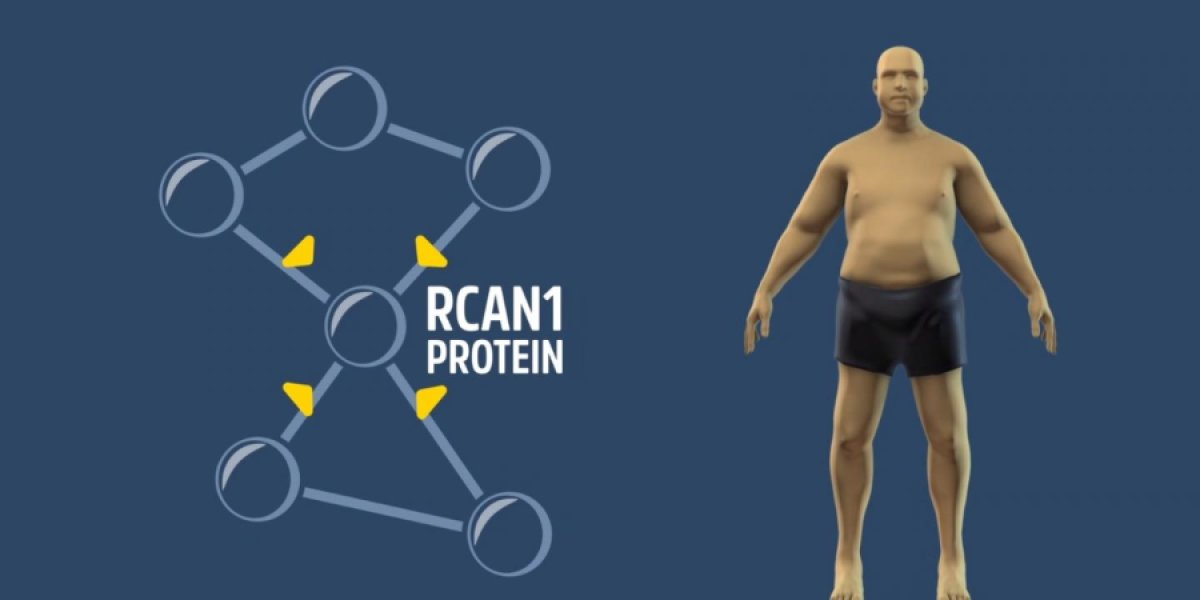 When a single gene known as RCAN1 was removed in mice and they were fed a high fat diet, they failed to gain weight, even after gorging on high fat foods for prolonged periods. The international team behind the study are hopeful a similar approach that inhibits this gene will also be effective with humans. Credit: Flinders University
Disclaimer: These articles are not intended to provide medical advice, diagnosis or treatment. Views expressed here do not necessarily reflect those of Pittwater Online News or its staff.
Improving perinatal mental health care
December 3rd, 2018: NSW Minister for Mental Health, The Hon. Tanya Davies
Groundbreaking Australian research released in Sydney today has highlighted the potential for digital mental health screenings to be used to assist in identifying new and expecting mothers who may need additional mental health care.
The Perinatal Integrated Psychosocial Assessment (PIPA) study evaluated the effectiveness of a new online psychosocial self-assessment and electronic clinician aids and compared it to the current method of face-to-face assessment.
Minister for Mental Health Tanya Davies joined Professor Marie-Paule Austin, the architect of best practice perinatal mental health care in Australia, and Member for Coogee Bruce Notley-Smith to launch the study at Sydney's Royal Hospital for Women.
"The PIPA study shows that this new approach is effective in quickly detecting women in need of additional care. The online tools also helped midwives and health professionals to better manage referrals and follow up care when it was needed," Mrs Davies said.
"We know it is so important that expectant parents are screened for mental health and psychosocial needs both antenatally and postnatally, and the study will be invaluable in helping Government consider how to improve our existing universal screenings in future."
The research, led by Professor Austin, involved interviews with 25 midwives and 1212 women, and reviewed data over several years from more than 6,800 women.
"This new system improved on the current process by including clinical questions into a digitalised approach that was trialled in a real maternity setting," Professor Austin said.
"Untreated perinatal anxiety and depression can have an enduring negative impact on the woman, her developing infant, and her partner and family, so it's important we refine methods to improve screening and referral processes."
Mr Notley-Smith said he was delighted at the impact the study is already making in the care of local women.
"Around one in 10 women experience clinical depression or anxiety in the perinatal period, and I'm proud that here at the Royal Hospital for Women we are leading the way in improving care for expectant and new mothers," Mr Notley-Smith said.
The full findings of the research report will be released in early 2019.
$7 million to help reduce stillbirth in Australia
December 4, 2018: Joint Media Release - The Hon. Greg Hunt MP, Minister for Health, Nicolle Flint MP, Federal Member for Boothby and Senator Jim Molan AO, DSC, Senator for NSW
Stillbirth is one of the greatest tragedies to happen to any family.
The Australian Government will convene a national roundtable to address the rate of stillbirth in Australia, along with an initial commitment of $7.2 million for medical research and education programs.
The funding is the Coalition Government's immediate response to the report from the Select Committee on Stillbirth Research and Education.
The Government understands the importance of this issue not only for the women affected, but for their partners, families and the broader community.
We will develop a National Action and Implementation Plan in collaboration with clinicians, researchers and all of the advocacy groups who have already done so much to raise awareness and provide care for families who have experienced the tragedy of stillbirth.
Education, counselling, research and clinical care will be among the key points for discussion at the roundtable.
The roundtable will also set the funding priorities and consider the recommendations made in the Select Committee's report.
The Australian Institute of Health and Welfare defines stillbirth as fetal death occurring after 20 weeks gestation or weighing 400 grams or more.
It is estimated that one in 137 women will have a stillbirth with the cause unknown in more than 40 per cent of cases.
Our Government will provide $3 million for stillbirth education and awareness programs for women and medical practitioners across Australia.
The University of Melbourne will receive $1.2 million in funding from the National Health and Medical Research Council (NHMRC) for research to minimise preventable stillbirth through the use of biomarkers and ultrasound in late pregnancy.
We will also provide $3 million for stillbirth research through the Medical Research Future Fund with research priorities to be guided by the national roundtable. A competitive process will be held to allocate the funding for researchers wishing to apply.
We look forward to working together with women and stakeholders to develop a national approach to stillbirth in Australia.
NSW health warns of cryptosporidiosis risk
December 2nd, 2018: NSW Health
With cases expected to rise over summer, NSW Health is warning people to be vigilant about the spread of cryptosporidiosis in swimming pools.
It is important that people affected by diarrhoea avoid swimming for two weeks after their symptoms are resolved to avoid contaminating pools and spreading the infection.
Dr Jeremy McAnulty, Director of Health Protection at NSW Health, said people of all ages, particularly parents and carers of young children, should take steps to prevent the spread of the parasitic intestinal infection.
"Cryptosporidiosis is easily spread from person to person in swimming pools, splash parks, interactive fountains, spas or jacuzzis," Dr McAnulty said.
"We usually see cases increase over summer and there have been plenty of outbreaks caused by contaminated swimming pools.
"If an infected person gets into a pool and another swimmer swallows even a small amount of pool water, they can get infected and will start experiencing diarrhoea a few days later.
With the weather heating up, notifications of cryptosporidiosis remain low, with 38 cases reported in October and 41 cases so far this month.
Case reports tend to peak between November and March, with the highest monthly notifications in the past five years in March 2017 with 325 cases.
Dr McAnulty explained that this is an underestimation of case numbers as many people with diarrhoea aren't tested for cryptosporidiosis, which requires a stool test at the doctor.
Symptoms include lots of diarrhoea, stomach cramps, nausea and sometimes vomiting or fever. There is no specific treatment for the condition and symptoms may last a few weeks.
The Public Health Act was recently amended to expand the maintenance requirements for swimming pools to include splash parks and interactive fountains to help reduce the risk of cryptosporidiosis outbreaks.
For further information, see the NSW Health cryptosporidiosis
factsheet
.
Combination of space-based and ground-based telescopes reveals more than 100 exoplanets
December 3, 2018: National Institutes of Natural Sciences
An international team of astronomers using a combination of ground and space based telescopes have reported more than 100 extrasolar planets (here after, exoplanets) in only three months. These planets are quite diverse and expected to play a large role in developing the research field of exoplanets and life in the Universe.
Exoplanets, planets that revolve around stars other than the Sun, have been actively researched in recent years. One of the reasons is the success of the Kepler Space Telescope, which launched in 2009 to search for exoplanets. If a planet crosses (transits) in front of its parent star, then the observed brightness of the star drops by a small amount. The Kepler Space Telescope detected many exoplanets using this method. However, such dimming phenomena could be caused by other reasons. Therefore, confirmation that the phenomena are really caused by exoplanets is very important. The Kepler space telescope experienced mechanical trouble in 2013, which led to a successor mission called K2. Astronomers around the world are competing to confirm exoplanets suggested by the K2 data.
An international research team involving researchers at the University of Tokyo and Astrobiology Center of the National Institutes of Natural Sciences investigated 227 K2 exoplanet candidates using other space telescopes and ground-based telescopes. They confirmed that 104 of them are really exoplanets. Seven of the confirmed exoplanets have ultra-short orbital periods less than 24 hours. The formation process of exoplanets with such short orbital periods is still unclear. Further study of these ultra-short period planets will help to advance research into the processes behind their formation. They also confirmed many low-mass rocky exoplanets with masses less than twice that of the Earth as well as some planetary systems with multiple exoplanets.
Mr. John Livingston, a Ph.D. student at the University of Tokyo and lead author of the papers reporting the exoplanets, explains, "Although the Kepler Space Telescope has been officially retired by NASA, its successor space telescope, called TESS, has already started collecting data. In just the first month of operations, TESS has already found many new exoplanets, and it will continue to discover many more. We can look forward to many new exciting discoveries in the coming years."
John H. Livingston, Ian J. M. Crossfield, Erik A. Petigura, Erica J. Gonzales, David R. Ciardi, Charles A. Beichman, Jessie L. Christiansen, Courtney D. Dressing, Thomas Henning, Andrew W. Howard, Howard Isaacson, Benjamin J. Fulton, Molly Kosiarek, Joshua E. Schlieder, Evan Sinukoff, Motohide Tamura.
Sixty Validated Planets from K2 Campaigns 5–8.
The Astronomical Journal, 2018; 156 (6): 277 DOI:
10.3847/1538-3881/aae778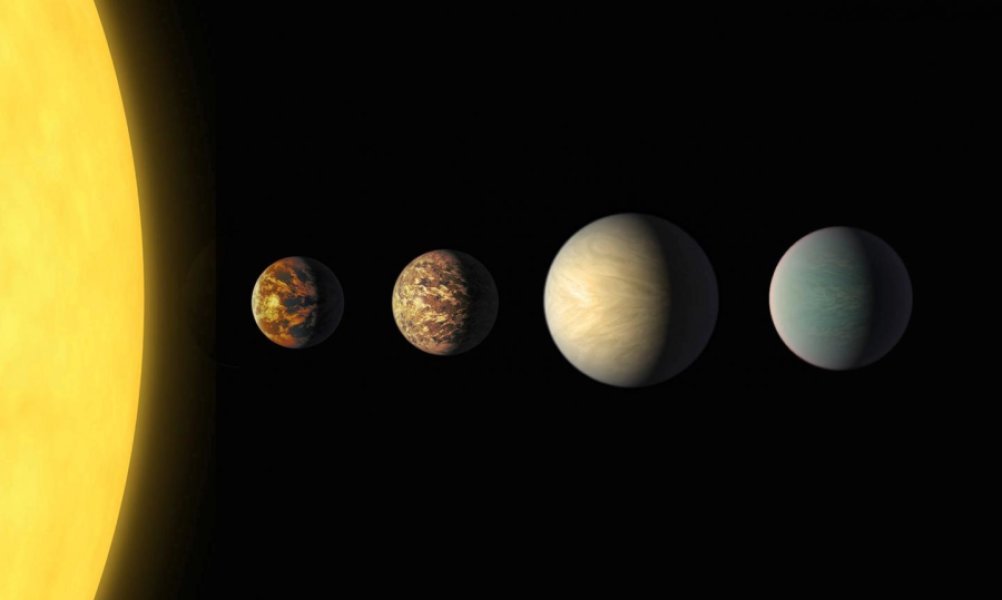 This is an artist's impression of the planets orbiting K2-187. Credit: NASA/JPL-Caltech/R. Hurt, T. Pyle (IPAC), UTokyo/J. Livingston