March 19 - 25, 2017: Issue 305

Pittwater Online News receives and finds a lot of information from various sources each week. This page shares some of this news relevant to you and the world you live in.
Search Pittwater Online News for past items:
Securing Australia's Energy Future with Snowy Mountains 2.0
16th of March, 2017
The Prime Minister of Australia, The Hon. Malcolm Turnbull
The Turnbull Government will start work on an electricity game-changer: the plan for the Snowy Mountains Scheme 2.0.
This plan will increase the generation of the Snowy Hydro scheme by 50%, adding 2000 megawatts of renewable energy to the National Electricity Market - enough to power 500,000 homes.
In one hour it could produce 20 times the 100Mwh expected from the battery proposed by the South Australian Government, but would deliver it constantly for almost a week (or 350,000 Mwh over seven days).
The unprecedented expansion will help make renewables reliable, filling in holes caused by intermittent supply and generator outages. It will enable greater energy efficiency and help stabilise electricity supply into the future.
This will ultimately mean cheaper power prices and more money in the pockets of Australians.
For too long policymakers have put ideology and politics ahead of engineering and economics. Successive governments at all levels have failed to put in place the necessary storage to ensure reliable power supply to homes and businesses.
We are making energy storage infrastructure a critical priority to ensure better integration of wind and solar into the energy market and more efficient use of conventional power.
By supercharging the Snowy Hydro precinct, we can ensure affordable and reliable electricity for Australian households and businesses.
The Government, through the Australian Renewable Energy Agency (ARENA), will examine several sites, which could support large scale pumped hydroelectric energy storage in the precinct. These sites would involve new tunnels and power stations, connecting existing storages.
Snowy Hydro was originally built with the capability to be expanded and the Turnbull Government intends on maximizing that capacity.
Every Australian should be confident that they can turn the lights on when they need them.
That is why an "all of the above" approach - including hydro, solar, coal and gas - is critical to future energy supplies.
We will always put sensible, considered energy decisions ahead of reckless targets that cannot guarantee power supply to Australians.
Snowy Hydro already provides back up energy to New South Wales and Victoria and could extend to South Australia when expanded.
This exciting plan would lead to job creation and economic security for thousands in the construction and engineering sectors.
It will have no impact on the scheme's ability to supply water to irrigators in New South Wales, South Australia and Queensland.
A feasibility study is expected to be completed before the end of the year, and construction can commence soon after.
Older women taking statins face higher risk of diabetes
March 15, 2017: University of Queensland
Older Australian women taking cholesterol-lowering statins face a significantly increased risk of developing diabetes, according to a University of Queensland study.
UQ School of Public Health researcher Dr Mark Jones said women over 75 faced a 33 per cent higher chance of developing diabetes if they were taking statins.
The risk increased to over 50 per cent for women taking higher doses of statins.
"We found that almost 50 per cent of women in their late seventies and eighties in the study took statins, and five per cent were diagnosed with new-onset diabetes," Dr Jones said.
"Statins are highly prescribed in this age group but there are very few clinical trials looking at their effects on older women.
"The vast majority of research is on 40- to 70-year-old men."
Statins, a class of drugs that lower cholesterol in the blood, are prescribed to reduce the incidence of cardiovascular events such as heart attacks and strokes.
"What's most concerning was that we found a 'dose effect' where the risk of diabetes increased as the dosage of statins increased.
"Over the 10 years of the study most of the women progressed to higher doses of statins," Dr Jones said.
"GPs and their elderly female patients should be aware of the risks.
"Those elderly women taking statins should be carefully and regularly monitored for increased blood glucose to ensure early detection and management of diabetes."
The research was based on prescription and survey data from 8372 women born between 1921 and 1926 who are regularly surveyed as part of the Women's Health Australia study (also known as the Australian Longitudinal Study on Women's Health)
Mark Jones, Susan Tett, Geeske M. E. E. Peeters, Gita D. Mishra, Annette Dobson.
New-Onset Diabetes After Statin Exposure in Elderly Women: The Australian Longitudinal Study on Women's Health.
Drugs & Aging, 2017; 34 (3): 203 DOI:
10.1007/s40266-017-0435-0
Veterans to benefit from improved mental health support
14 March 2017: media Release - The Hon Dan Tehan MP
Minister for Veterans' Affairs
Minister for Defence Personnel
Minister Assisting the Prime Minister for Cyber Security
Minister Assisting the Prime Minister for the Centenary of ANZAC
Minister for Veterans' Affairs Dan Tehan was encouraged by progress on how to further improve mental health support for veterans and their families at the National Advisory Committee for the Veterans and Veterans Families Counselling Service (VVCS) meeting held in Canberra.
"We owe it to the veterans community and their families to continually build on current mental health support services, and to provide them with a range of options to help improve their quality of life," Mr Tehan said.
"We can only do this by engaging and working with both the ex-service community and health professionals."
The National Advisory Committee (NAC) brings together mental health professionals, GPs, psychologists and psychiatrists with former Australian Defence Force (ADF) members and family representatives.
Mr Tehan said the NAC highlighted the importance of early access to mental health treatment for veterans and their families and how much they valued the changes made in the most recent Federal Budget.
"Last year, the Government made treatment for post-traumatic stress disorder, depression, anxiety and alcohol and substance misuse free for anyone who has served one day in the ADF without having to prove their condition is related to their service," Mr Tehan said.
"This treatment is demand driven and fully funded, so if someone needs treatment, it is available — it is not limited by budget. To access treatment is as simple as contacting VVCS on 1800 011 046 or at
nlhc@dva.gov.au
.
"This initiative also provides access to VVCS, which can link veterans and their families to mental health professionals with expertise in military mental health and dealing with the impact of trauma."
Mr Tehan also attended an event to acknowledge the 35th year of VVCS services, which was attended by a cross-section of representatives from the ex-service community.
"VVCS is the legacy of our Vietnam veterans, who recognised a need for mental health services specifically for those who had served in the ADF," Mr Tehan said.
"Since 1982, VVCS has provided more than 1.6 million counselling sessions to more than 300,000 veterans and family members.
"VVCS today is a specialised 24/7 service that supports all generations of veterans and their families, which includes 26 counselling centres, an afterhours support line and a network of more than 1,100 outreach clinicians.
"Importantly, this service is able to deliver quality mental health counselling to veterans and families wherever they are in Australia, whenever they need support.
"VVCS has made, and continues to make, a difference to the lives of so many in the veteran community."
More information on the NAC can be found on the
VVCS website
.
Grants support the innovative ideas of small and medium businesses
14 March 2017: Media Release - Senator the Hon Arthur Sinodinos AO, Minister for Industry, Innovation and Science

I'm delighted that 20 small and medium businesses will share in more than $1.8 million in initial funding to develop innovative solutions to solve public sector challenges under the Business Research and Innovation Initiative (BRII).
The fact that we received 180 applications for feasibility study grants for the first round of the BRII demonstrates the innovative ecosystem of Australia's SMEs is well placed to develop bright ideas to drive the country's economy and create jobs and growth in Australia.
The BRII provides opportunities for SMEs to develop innovative products and services with genuine commercial potential. The initiative allows government agencies to work with SMEs to develop innovative solutions and then have the option to purchase those solutions. This gives the SMEs a commercial income and the ability to grow with a global mindset.
The BRII is a National Innovation and Science Agenda initiative and shows government as an exemplar for opening up purchasing opportunities with SMEs.
This round of BRII is aimed at encouraging SMEs to create new products and services that meet five challenges identified by the government –biosecurity, child protection, water markets, information product tracking and policy design.
SMEs with the most promising ideas and products arising from these 20 initial grants may be eligible for a further grant of up to $1 million each. This would be to develop a prototype or proof of concept of their solution with government having the option of being the first customer.
BRII is based on overseas programs which have resulted in global success stories like security firm Symantec and telecommunications equipment and semiconductor maker Qualcomm.
Round Three of the Bridges Renewal Programme now open
16 March 2017: Media Release - The Hon.
Darren Chester,
Minister for Infrastructure and Transport
The Coalition is getting on with the job of building better bridges throughout the nation, with funding now up for grabs under the third round of a specialised funding program which keeps communities connected and regional industries profitable.
Federal Minister for Infrastructure and Transport Darren Chester said Round Three of the $360 million Bridges Renewal Programme would accept submissions from state, territory and local governments from tomorrow (Friday 17 March 2017).
"From coast to coast, communities are getting the bridges they deserve with the help of this programme. It has been a resounding success since it started in 2014–15, with $211 million invested in 204 projects across the nation under the first two rounds," Mr Chester said.
"By working together with governments at all levels—particularly local Councils which often need a hand to get big-ticket projects underway—we are upgrading and repairing bridges in all corners of the country.
"Better bridges enhance safety and access for local communities, and keep local businesses and the road freight sector powering on—delivering dollars into the pockets of local businesses and supporting local jobs.
"Successful applicants can receive up to 50 per cent of the cost associated with fixing their ageing bridges, with submissions going through a competitive merit-based selection process.
"State, territory and local governments are eligible to apply for up to $5 million in Australian Government funding per project."
Mr Chester said proponents should discuss priorities with their local communities, industry stakeholders, Regional Development Australia committees and relevant government road agencies early in the process of compiling their proposals.
Round Three is open for applications until 15 May 2017. Guidelines and proposal forms are now available on the Bridges Renewal Programme website at: www.infrastructure.gov.au/bridges
Gina Field named 2017 NSW Business Woman of the Year
14 March 2017
Minister for Women Tanya Davies today named Gina Field the 2017 NSW Business Woman of the Year as part of the NSW Women of the Year Awards at the International Convention Centre Sydney.
"Gina is an exceptional business woman who built a respected and award-winning security business from scratch. She gives back to the Penrith and Nepean community through sponsorship of community events and encouraging girls to venture into male dominated employment fields," Mrs Davies said.
"This is the first year we've recognised an outstanding business woman as part of the NSW Women of the Year Awards, and I'm pleased to see there are so many women contributing in different ways to the NSW economy.
"On International Women's Day 2017, the Women of the Year Awards recognises the many women leading the way in cultural and economic progress in NSW," Mrs Davies said.
Gina is also the President of the Penrith Valley Chamber of Commerce, where she is considered a 'pocket rocket' in the business community and is a champion for women chasing their dreams.
The NSW Business Woman of the Year Award, one of six award categories in this year's NSW Women of the Year Awards, recognises excellence in business.
The Awards support the NSW Government's commitment to building an equitable, inclusive and safe society where all women are valued and respected, can contribute meaningfully, and can enjoy the rights, freedoms and protections to which everyone in NSW is entitled.
Child protection crisis worsening
16 March 2017: Media Release - Senator the Hon. Zed Seselja, Assistant Minister for Social Services and Multicultural Affairs.
The Australian Institute of Health and Welfare (AIHW) report released today,
Child protection Australia 2015-16
, shows the number of children in the out-of-home care system in Australia has increased to 46,448 in 2015-16 up from 43,399 the year before.
"Now we have over 30,000 children that have been in out-of-home care for more than 2 years and almost 19,000 for more than 5 years," said Senator Zed Seselja, Assistant Minister for Social Services and Multicultural Affairs.
"In the last year we only saw 196 children adopted in Australia, which is not even 1% of the children who have been in care for more than 2 years.
"Obviously reunification with their family is the first priority for children, but when this is not a viable option most children are left in the out-of-home care system and are moved from family to family with no stability. This makes them far less likely to have good education outcomes and more likely to end up as part of the youth justice system.
"These are our most vulnerable children and we need to do more to get this right," said Senator Seselja.
At the meeting with State and Territory Community Services Ministers in November, Ministers agreed "the Commonwealth, State and Territory governments would work collaboratively to develop a set of guiding principles to drive improvement in the achievement of permanency outcomes for children in out-of-home care".
"While this is a good step in the right direction, we need to remember this is urgent and we need to do everything we can as soon as we can.
"The New South Wales Government have made huge improvements by having legislating timeframes for decision making and utilising a taskforce to break down the barriers to the adoption process. I would encourage all states and territories to follow their lead on this and do everything in their power to give these children stable homes," Senator Seselja concluded.
Changes recommended for Campbells Stores in The Rocks
March 15, 2017: Department of Planning and Environment
A landscaped outdoor terrace has replaced the proposed three-storey building in an amended application to restore the iconic Campbell's Stores site in The Rocks following community feedback.
Tallalowdah's application to restore the historic storehouses that were originally constructed in the 1800s was assessed by the Department of Planning and Environment and referred to the independent Planning Assessment Commission (PAC) for final decision.
Anthea Sargeant, Executive Director, Key Sites and Industry Assessments, said the original proposal raised many concerns during the public exhibition period in late 2015 and last year.
"After receiving more than 100 submissions objecting to the proposed building, we sought independent expert heritage and design advice," Ms Sargeant said.
"It was found that this building was not compatible with the heritage and surrounding buildings at the site and shouldn't be included."
Located within The Rocks historic precinct, the restoration of Campbell's Stores would revitalise a significant heritage site in an iconic tourist area on Sydney's harbour foreshore.
"Works to the site include internal and external changes, including removing temporary structures like the existing awnings, as well as landscaping and creating more public space. These works would make it easier to move in and around the site and would allow the public to be able to use and appreciate this historical icon," she said.
Development works would also generate around $30 million during construction and create more than 350 jobs, including 200 construction jobs and 165 jobs once operational.
"If the PAC approves this application, it would enable this site to be used in future for restaurants, bars and cafes. However, development applications would still need to be lodged with the council for the new venues to actually open."
The PAC will now determine the proposal.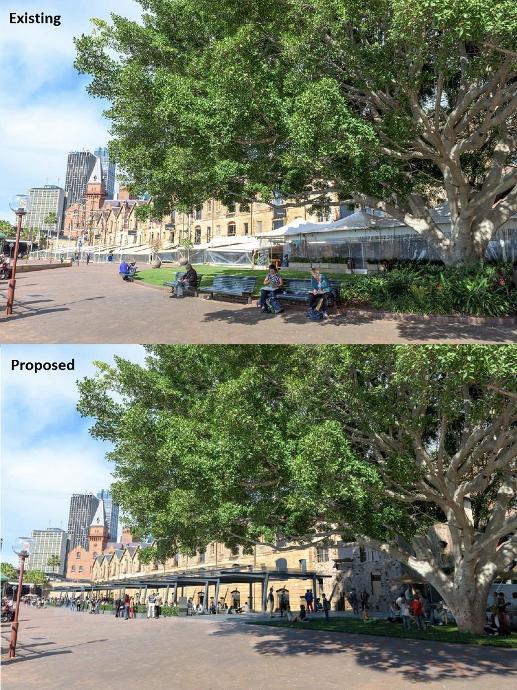 Recognising Australia's east coast gas crisis
14 March 2017

Speakers:
Mr Rod Sims, Chairman
Conference:
5th Annual Australian Domestic Gas Outlook 2017
ACCC Chairman Rod Sims said events following the ACCC's April 2016 Inquiry into the east coast gas market have confirmed the Commission's worst fears.
Speaking in Sydney today at the 5th Annual Australia Domestic Gas Outlook Conference 2017, Mr Sims said, "One year ago at this conference I warned of "…an urgent need for both new and importantly more diverse sources of gas supply into the domestic market."
"The outlook for gas supply is now even worse than it was a year ago; indeed, our worst fears are being realised," Mr Sims said.
Mr Sims noted the word "crisis" can be overused but that the scarcity of available gas on the east coast has seen prices increase 1 ½ - 4 times above historic levels. These price increases have seen a significant reduction in gas used for electricity generation and are expected to flow through to significantly higher prices for residential customers.
"The most important problem, however, perhaps the real crisis, is the difficulties faced by industrial companies who rely on gas as a feedstock or as an energy source," Mr Sims said.
"Some are experiencing difficulties gaining supply; all are, or seem likely to, face huge price hikes that will perhaps permanently damage their businesses."
Mr Sims pointed out that Australia has a surprising number of industrial companies for whom gas makes up 15-40% of their costs; for many other companies, gas as an energy source is around 5% of their costs.
"At best, it makes it hard for these companies to invest and plan with such high and uncertain gas prices and with considerable supply uncertainty. At worst, plants will close and jobs will be lost purely as a result of the current gas crisis," Mr Sims said.
"Australia often makes it hard to be involved in manufacturing. We are now making it extremely difficult, if not impossible, for some", Mr Sims said.
Mr Sims referred to the April 2016 Inquiry's description of a "triple whammy" affecting east coast gas supply. First, the introduction of LNG exports tripled the demand for gas; second, oil prices fell faster than the optimistic forecasts underpinning these projects; third, regulatory uncertainty and exploration moratoria have significantly limited, or delayed, gas supply.
"Arising out of this triple whammy we now have a strange debate about the three Queensland LNG projects," Mr Sims said.
"As our ACCC Inquiry pointed out Australia has enormous gas resources; gas availability is clearly not the issue. The Inquiry also pointed out that Australia has and will benefit enormously from the three large LNG projects in Queensland," Mr Sims said.
"These three projects also saw gas resources developed that otherwise would not have been."
"If there is a criticism of the three LNG producers it is that they fell into the usual commodity project trap of assuming then-high $100 plus oil prices would continue, when long run average prices of around $55 would have been a better planning assumption."
"The three LNG producers, however, could not have foreseen that after their investment decisions were made east coast onshore gas exploration and development would be largely prevented," Mr Sims said.
"I doubt anyone in the industry expected Victoria to ban all onshore gas exploration and production which has stopped even conventional gas projects; nor could they have foreseen the delays and uncertainty over projects in NSW and the NT."
"It is of course up to Governments to make such decisions. Having made them, however, it is difficult to see how people can then criticise the commercial contracts that were freely entered into by the LNG producers at a time when the likely supply outlook was very different," Mr Sims said.
"That said, if I was providing private advice to the LNG producers, I would say they would be well advised to support the domestic market as much as they can at this critical time," Mr Sims said.
"They could, for example, weigh carefully their willingness to sell gas on the LNG spot markets above meeting their contractual commitments. Alternatively, they could develop additional gas for the domestic market."
Mr Sims went on to discuss some recent supply developments and progress with some of the other recommendations from the Inquiry's 2016 report.
Menin Gate lions to go on display in Ieper, Belgium
Tuesday 14 Mar 2017 by Australian War Memorial
The iconic Menin Gate lions, past which thousands of Australian and other allied forces marched on their way to the Belgian battlefields of the Western Front, will return to their original home in the city of Ieper (Ypres), Belgium, as part of commemorations of the First World War.
From 1822 the stone sculptures bearing the Ypres coat-of-arms stood at the entrance to the Cloth Hall, the town's civic and commercial centre, before being moved to either side of the street leading to the Menin Gate in the mid-nineteenth century. They remained there during the First World War even as Ypres was reduced to ruins by German artillery fire.
The lions, broken and scarred, were later recovered from the war rubble, and in 1936 the Burgomaster of Ypres presented them to the Australian government as a token of friendship and an acknowledgement of Australia's sacrifice in the region during the war. Since 1991 they have been displayed inside the front entrance of the Australian War Memorial in Canberra.

This joint initiative between the Belgian, Flemish and Australian governments will see the lions temporarily returned to the Menin Gate, coinciding with the centenary anniversaries of one of the most notorious and costly campaigns of the First World War, the Third Battle of Ypres. This campaign included the battles of Menin Road, Polygon Wood, Broodseinde, Poelcappelle, and Passchendaele. The names of 6,191 Australians are among the 54,000 British and Dominion soldiers listed on the Menin Gate Memorial to the Missing, commemorating those who died in the fighting in Flanders and have no known grave.
Director of the Australian War Memorial, Dr Brendan Nelson, said that the powerful bond between Australia and Belgium, forged in the service and sacrifice of those who walked through the Menin Gate on the way to the front, is honoured with this joint initiative.
"We will be forever linked with the City of Ieper and the people of Belgium. In recognition of these deep bonds forged in bloody sacrifice the Australian War Memorial will deliver the Menin Gate lions, with the assistance of the Royal Australian Air Force, back to their original home," Dr Nelson said.
"The lions will arrive in time for Anzac Day and stand sentry once again as Flanders and Australia remember the cataclysm that was the First World War. They will act as a reminder of the price paid by so many in battles in which many thousands of allied soldiers perished."
Dr Nelson also said the Memorial has commissioned a documentary feature on the loan of the Menin Gate lions to Ieper. The film will include the historical context of the lions and how they relate to the story of Australians at war in Belgium in 1917.
While the lions are on display at the Menin Gate in Ieper, there will be a small exhibition at the In Flanders Fields Museum to outline the history of the sculptures from their creation in 1822 to the present day. The lions will return to the Australian War Memorial after Remembrance Day 2017.
Star discovered whipping around a black hole twice an hour
March 13, 2017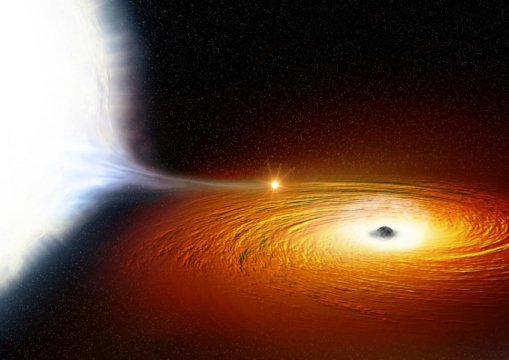 Astronomers have found evidence for a star that whips around a black hole about twice an hour. This may be the tightest orbital dance ever witnessed for a black hole and a companion star.
Credit: Courtesy of NASA
Astronomers have found evidence for a star that whips around a black hole about twice an hour. This may be the tightest orbital dance ever witnessed for a black hole and a companion star.
Michigan State University scientists were part of the team that made this discovery, which used NASA's Chandra X-ray Observatory as well as NASA's NuSTAR and the Australia Telescope Compact Array.
The close-in stellar couple -- known as a binary -- is located in the globular cluster 47 Tucanae, a dense cluster of stars in our galaxy about 14,800 light years away from Earth. While astronomers have observed this binary for many years, it wasn't until 2015 that radio observations revealed the pair likely contains a black hole pulling material from a companion star called a white dwarf, a low-mass star that has exhausted most or all of its nuclear fuel.
New Chandra data of this system, known as X9, show that it changes in X-ray brightness in the same manner every 28 minutes, which is likely the length of time it takes the companion star to make one complete orbit around the black hole. Chandra data also shows evidence for large amounts of oxygen in the system a characteristic of white dwarfs. A strong case can, therefore, be made that that the companion star is a white dwarf, which would then be orbiting the black hole at only about 2.5 times the separation between Earth and the moon.
"This white dwarf is so close to the black hole that material is being pulled away from the star and dumped onto a disk of matter around the black hole before falling in," said Arash Bahramian, lead author with the University of Alberta (Canada) and MSU. "Luckily for this star, we don't think it will follow this path into oblivion, but instead will stay in orbit."
Although the white dwarf does not appear to be in danger of falling in or being torn apart by the black hole, its fate is uncertain.
"For a long time astronomers thought that black holes were rare or totally absent in globular star clusters," said Jay Strader, MSU astronomer and co-author of the paper. "This discovery is additional evidence that, rather than being one of the worst places to look for black holes, globular clusters might be one of the best."
How did the black hole get such a close companion? One possibility is that the black hole smashed into a red giant star, and then gas from the outer regions of the star was ejected from the binary. The remaining core of the red giant would form into a white dwarf, which becomes a binary companion to the black hole. The orbit of the binary would then have shrunk as gravitational waves were emitted, until the black hole started pulling material from the white dwarf.
The gravitational waves currently being produced by the binary have a frequency that is too low to be detected with Laser Interferometer Gravitational-Wave Observatory, LIGO, that has recently detected gravitational waves from merging black holes. Sources like X9 could potentially be detected with future gravitational wave observatories in space.
An alternative explanation for the observations is that the white dwarf is partnered with a neutron star, rather than a black hole. In this scenario, the neutron star spins faster as it pulls material from a companion star via a disk, a process that can decrease the rotational period of the neutron star to a few thousandths of a second. A few such objects, called transitional millisecond pulsars, have been observed near the end of this spinning-up phase. The authors do not favor this possibility as transitional millisecond pulsars have properties not seen in X9, such as extreme variability at X-ray and radio wavelengths. However, they cannot disprove this explanation.
Arash Bahramian, Craig O. Heinke, Vlad Tudor, James C. A. Miller-Jones, Slavko Bogdanov, Thomas J. Maccarone, Christian Knigge, Gregory R. Sivakoff, Laura Chomiuk, Jay Strader, Javier A. Garcia, Timothy Kallman.
The ultracompact nature of the black hole candidate X-ray binary 47 Tuc X9.
Monthly Notices of the Royal Astronomical Society, 2017; 467 (2): 2199 DOI:
10.1093/mnras/stx166
Disclaimer: These articles are not intended to provide medical advice, diagnosis or treatment. Views expressed here do not necessarily reflect those of Pittwater Online News or its staff.