August 2 - 8, 2020: Issue 460

Science sweetens australian stingless bee species honey health claims
July 22, 2020: University of QLD.
Science has validated Indigenous wisdom by identifying a rare, healthy sugar in native stingless bee honey that is not found in any other food.
University of Queensland organic chemist Associate Professor Mary Fletcher said Indigenous peoples had long known that native stingless bee honey had special health properties.
"We tested honey from two Australian native stingless bee species, two in Malaysia and one in Brazil and found that up to 85 per cent of their sugar is trehalulose, not maltose as previously thought," she said.
Dr Fletcher said trehalulose was a rare sugar with a low glycaemic index (GI), and not found as a major component in any other foods.
"Traditionally it has been thought that stingless bee honey was good for diabetes and now we know why -- having a lower GI means it takes longer for the sugar to be absorbed into the blood stream, so there is not a spike in glucose that you get from other sugars," Dr Fletcher said.
"Interestingly trehalulose is also acariogenic, which means it doesn't cause tooth decay."
Dr Fletcher said the findings would strengthen the stingless bee honey market and create new opportunities.
"Stingless bee honey sells now for around AUD $200 per kilogram, which is up there with the price of Manuka and Royal Jelly honey," she said.
"The high commercial value also makes it a risk for substitution, where people could sell other honey as stingless bee honey, or dilute the product.
"But due to this research, we can test for this novel sugar, which will help industry to set a food standard for stingless bee honey.
"People have patented ways of making trehalulose synthetically with enzymes and bacteria, but our research shows stingless bee honey can be used as a wholefood on its own or in other food to get the same health benefits."
The work of Dr Fletcher and the research team has led to a new project funded by AgriFutures Australia and supported by the Australian Native Bee Association.
Working with Dr Natasha Hungerford from UQ's Queensland Alliance for Agriculture and Food Innovation and Dr Tobias Smith from the School of Biological Sciences the new project will investigate storage and collection, to optimise the trehalulose content of Australian stingless bee honey.
Stingless bees (Meliponini) occur in most tropical and sub-tropical regions, with more than 500 species across Neotropical, Afrotropical and Indo-Australian regions.
Like the well-known Apis mellifera honeybees, stingless bees live in permanent colonies made up of a single queen and workers, who collect pollen and nectar to feed larvae within the colony.
Dr Fletcher said keeping native stingless bees was gaining in popularity in Australia, for their role as pollinators as well as for their unique honey.
As well as having health benefits, stingless bee honey is valued for its flavour and is in high demand from chefs.
Mary T. Fletcher, Natasha L. Hungerford, Dennis Webber, Matheus Carpinelli de Jesus, Jiali Zhang, Isobella S. J. Stone, Joanne T. Blanchfield, Norhasnida Zawawi.
Stingless bee honey, a novel source of trehalulose: a biologically active disaccharide with health benefits.
Scientific Reports, 2020; 10 (1) DOI:
10.1038/s41598-020-68940-0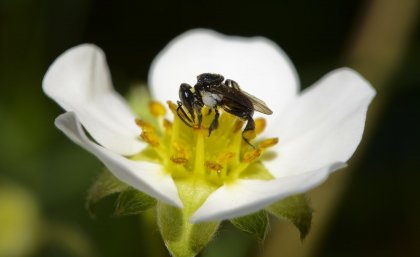 Australian native stingless bee (Tetragonula carbonaria). Credit: Tobias Smith
How renegade protein interrupts brain cell function in Alzheimer's disease
July 28, 2020
Dozens of molecules may tangle up with rogue bundles of tau, a protein that normally gives nerve fibers structure, to cause brain cell damage that contributes to neurodegenerative diseases, a new study shows.
Neuroscientists have previously found that tau can become toxic when extra chemical molecules accumulate with its structure in the brain, causing it to form tangles of protein that destroy surrounding tissue.
Led by researchers from NYU Grossman School of Medicine, the new study analysed the makeup of such tangles and found 12 proteins that they say have not before been tied to both tau and Alzheimer's disease. They also uncovered several dozen other proteins that appear in the latest stages of the disease as well as in the earliest phases of dementia.
"Our findings expand our understanding of the molecular interactions that drive Alzheimer's and other brain-damaging diseases related to misbehaving tau proteins," says study co-lead author Eleanor Drummond, PhD, a research assistant professor in the Department of Neurology at NYU Langone Health.
"Now that we have better insight into possible 'key players' in neurodegeneration, we may have clearer targets for potential therapies," says co-lead author Geoffrey Pires, a doctoral student in neurology at NYU Langone.
An estimated 5 million Americans are living with Alzheimer's, a progressive disease that affects mostly those over 65 and interferes with memory, language, and decision making. Currently, there are no effective treatments or prevention strategies for Alzheimer's. Experts have long linked it to a buildup of extra phosphate molecules on tau proteins. However, how these tangles damage neurons and what other proteins are involved in the development of Alzheimer's signature bundles have been poorly understood, says Drummond.
The new study, publishing online July 28 in the journal Brain, provides what Drummond and her colleagues say is the largest overview to date of proteins present in these tau tangles.
For the investigation, the research team analysed donated brain tissue samples from 12 men and women with Alzheimer's disease. After separating the tau knots from the surrounding tissue, the researchers examined the bundles to identify the many proteins tangled within.
According to the findings, the tangles were composed of 542 different proteins in total, some of which are involved in essential processes within cells, such as energy production (vacuolar-ATPase subunit ATP6V0D1), the reading of genetic material (RNA binding protein HNRNPA1), and cell breakdown and digestion (PSMC 1 through 5). These results provide clues to how the tangles lead to neuron death, says Drummond.
"Alzheimer's has been studied for over a century, so it is eye opening that we are still uncovering dozens of proteins that we had no idea are associated with the disease," says study senior author Thomas Wisniewski, MD, the Gerald J. and Dorothy R. Friedman Professor in the Department of Neurology at NYU Langone.
Wisniewski, also a professor in the departments of Pathology and Psychiatry at NYU Langone, plans next to investigate the newly identified proteins in tissue samples of people with other tau-linked neurodegenerative diseases, such as Pick's disease and chronic traumatic encephalopathy, as well as other forms of dementia.
Funding for the study was provided by National Institutes of Health grants P01AG060882, P30AG066512, RF1 AG058267, and 1S10OD010582-01A1, as well as the Bluesand Foundation and
Dementia Australia
.
Materials provided by NYU Langone Health / NYU School of Medicine.
Gene variations at birth reveal origins of inflammation and immune disease
July 28, 2020
A study published in the journal Nature Communications has pinpointed a number of areas of the human genome that may help explain the neonatal origins of chronic immune and inflammatory diseases of later life, including type 1 diabetes, rheumatoid arthritis and celiac disease.
The research, led by scientists at the Cambridge Baker Systems Genomics Initiative, identified several genes that appear to drive disease risk at birth, and which could be targeted for therapeutic intervention to stop these diseases in their tracks, well before symptoms occur.
Dr Michael Inouye, Munz Chair of Cardiovascular Prediction and Prevention at the Baker Institute and Principal Researcher at Cambridge University, said chronic immune and inflammatory diseases of adulthood often originated in early childhood, with an individual's genetic make-up causing changes to the function of different genes involved in disease.
For this study, the team collected cord blood samples from more than 100 Australian newborns as part of the Childhood Asthma Study, and investigated the role of genetic variation in DNA in changing how genes are expressed in the two main arms of the immune system.
The neonatal immune cells were exposed to certain stimuli, to see how the cells responded and to identify genetic variants that changed these responses.
"We looked for overlap between these genetic signals and those that are known to be associated with diseases where we know the immune system plays a role," Dr Inouye said.
"We then used statistical analysis to search for possible links between the cell response in newborns and immune diseases in adulthood."
Chronic immune diseases -- including type 1 diabetes, celiac disease and multiple sclerosis -- are caused by an overactive immune system and affect about 5 per cent of Australians. Allergies are immune-mediated too and affect one in five Australians, with hay fever, asthma, eczema, anaphylaxis and food allergies the most common. Inflammation and autoimmunity are also known to be driving factors in cardiovascular diseases, for example when an overactive immune system mistakenly attacks the heart.
Dr Qinqin Huang, lead author of the study and now a researcher at the Wellcome Sanger Institute in Cambridge, said the findings were unique in their scale, with thousands of genetic variants driving gene expression across different immune and inflammatory conditions, some of which had wide-ranging effects.
"Our study showed the potential roles of gene expression in disease development, which has helped us to better understand the link between DNA variation and disease risk," Dr Huang said.
"To date, similar studies have only been conducted in adult immune cells. Given the huge difference between neonatal and adult immunity, it is not surprising to see many signals that were unique to newborns."
The study is part of the Cambridge Baker Systems Genomics Initiative's wider work in developing polygenic risk scores to predict an individual's likelihood of developing particular chronic diseases. To date, the team have already developed potential methods to test for future risk of stroke and coronary artery disease.
"Disease is partly due to changes, both large and small, in our genome -- the DNA that we're born with and which is a major driving force in all our cells. That means, genomics can be used to estimate disease risk from a very early age," Dr Inouye said.
"Common diseases, such as type 2 diabetes and cardiovascular disease, tend to be polygenic -- influenced by a large number of genetic variants scattered throughout the genome, which combine with environmental and lifestyle factors. By using new genomic technology and supercomputing capabilities, we can sift through this DNA data and piece together the puzzles that underlie each disease.
"With so many diseases sharing a root in the immune system and inflammation we can leverage this information to better understand where each disease has a molecular weak spot and to what extent these are shared among different diseases.
"We've shown this can be dissected using genetics and polygenic risk, hopefully leading to targeted preventative interventions for those who need them most, with the aim of keeping people living healthier for longer."
Qin Qin Huang, Howard H. F. Tang, Shu Mei Teo, Danny Mok, Scott C. Ritchie, Artika P. Nath, Marta Brozynska, Agus Salim, Andrew Bakshi, Barbara J. Holt, Chiea Chuen Khor, Peter D. Sly, Patrick G. Holt, Kathryn E. Holt, Michael Inouye.
Neonatal genetics of gene expression reveal potential origins of autoimmune and allergic disease risk.
Nature Communications, 2020; 11 (1) DOI:
10.1038/s41467-020-17477-x
Disclaimer: These articles are not intended to provide medical advice, diagnosis or treatment. Views expressed here do not necessarily reflect those of Pittwater Online News or its staff.
naturally occurring Lithium in drinking water linked with lower suicide rates
July 27, 2020
Naturally occurring lithium in public drinking water may have an anti-suicidal effect -- according to a new study from Brighton and Sussex Medical School (BSMS) and the Institute of Psychiatry, Psychology & Neuroscience at King's College London.
Published in the British Journal of Psychiatry, the study collated research from around the world and found that geographical areas with relatively high levels or concentration of lithium in public drinking water had correspondingly lower suicide rates.
Professor Anjum Memon, Chair in Epidemiology and Public Health Medicine at BSMS and lead author of the study, said: "It is promising that higher levels of trace lithium in drinking water may exert an anti-suicidal effect and have the potential to improve community mental health. The prevalence of mental health conditions and national suicide rates are increasing in many countries. Worldwide, over 800,000 people die by suicide every year, and suicide is the leading cause of death among persons aged 15-24 years."
"In these unprecedented times of COVID-19 pandemic and the consequent increase in the incidence of mental health conditions, accessing ways to improve community mental health and reduce the incidence of anxiety, depression and suicide is ever more important."
Lithium, sometimes referred to as the 'Magic Ion', is widely and effectively used as a medication for the treatment and prevention of manic and depressive episodes, stabilising mood and reducing the risk of suicide in people with mood disorders. Its anti-aggressive properties can help reduce impulsivity, aggression, violent criminal behaviour and chronic substance abuse.
Lithium is a naturally occurring element and is found in variable amounts in vegetables, grains, spices and drinking water. It is present in trace amounts in virtually all rocks, and is mobilised by weathering into soils, ground and standing water, and thus into the public water supply.
The health benefits and curative powers of naturally occurring lithium in water have been known for centuries. The Lithia Springs, an ancient Native American sacred medicinal spring, with its natural lithium-enriched water, is renowned for its health-giving properties. In fact, the popular soft drink 7-Up contained lithium when it was created in 1929.
Recent studies have also linked lithium to reduced incidence of Alzheimer's disease and other dementias. This raises the potential for its preventative use to combat the risk of dementia.
Professor Allan Young, Chair of Mood Disorders at King's College London, said: "This synthesis and analysis of all available evidence confirms previous findings of some individual studies and shows a significant relationship between higher lithium levels in drinking water and lower suicide rates in the community. The levels of lithium in drinking water are far lower than those recommended when lithium is used as medicine although the duration of exposure may be far longer, potentially starting at conception. These findings are also consistent with the finding in clinical trials that lithium reduces suicide and related behaviours in people with a mood disorder."
Professor Memon added: "Next steps might include testing this hypothesis by randomised community trials of lithium supplementation of the water supply, particularly in communities (or settings) with demonstrated high prevalence of mental health conditions, violent criminal behaviour, chronic substance abuse and risk of suicide. This may provide further evidence to support the hypothesis that lithium could be used at the community level to reduce or combat the risk of these conditions."
Professor Carmine Pariante from the Royal College of Psychiatrists, commented: "This study shows that the boundaries between medication and nutritional interventions are not as rigid as we used to think, opening up the possibility of new treatments that span both domains. More knowledge of the beneficial properties of lithium and its role in regulating brain function can lead to a deeper understanding of mental illness and improve the wellbeing of patients with depression and other mental health problems."
The study involved systematic review and meta-analysis of all previous studies on the subject -- conducted in Austria, Greece, Italy, Lithuania, UK, Japan and USA -- which correlated naturally occurring lithium levels in drinking water samples and suicide rates in 1,286 regions/counties/cities in these countries.
Anjum Memon, Imogen Rogers, Sophie M. D. D. Fitzsimmons, Ben Carter, Rebecca Strawbridge, Diego Hidalgo-Mazzei, Allan H. Young.
Association between naturally occurring lithium in drinking water and suicide rates: systematic review and meta-analysis of ecological studies
. The British Journal of Psychiatry, 2020; 1 DOI:
10.1192/bjp.2020.128
If you or anyone you know needs help:
Lifeline on 13 11 14
Kids Helpline on 1800 551 800
MensLine Australia on 1300 789 978
Suicide Call Back Service on 1300 659 467
Beyond Blue on 1300 224 636
Headspace on 1800 650 890
ReachOut at au.reachout.com
Care Leavers Australasia Network (CLAN) on 1800 008 774
Deep sea microbes dormant for 100 million years are hungry and ready to multiply
July 28, 2020
For decades, scientists have gathered ancient sediment samples from below the seafloor to better understand past climates, plate tectonics and the deep marine ecosystem. In a new study published in Nature Communications, researchers reveal that given the right food in the right laboratory conditions, microbes collected from sediment as old as 100 million years can revive and multiply, even after laying dormant since large dinosaurs prowled the planet.
The research team behind the new study, from the Japan Agency for Marine-Earth Science and Technology (JAMSTEC), the URI Graduate School of Oceanography, the National Institute of Advanced Industrial Science and Technology, the Kochi University and Marine Works Japan, gathered the ancient sediment samples ten years ago during an expedition to the South Pacific Gyre, the part of the ocean with the lowest productivity and fewest nutrients available to fuel the marine food web.
"Our main question was whether life could exist in such a nutrient-limited environment or if this was a lifeless zone," said the paper's lead author Yuki Morono, senior scientist at JAMSTEC. "And we wanted to know how long the microbes could sustain their life in a near-absence of food."
On the seafloor, there are layers of sediment consisting of marine snow (organic debris continually sourced from the sea surface), dust, and particles carried by the wind and ocean currents. Small life forms such as microbes become trapped in this sediment.
Aboard the research drillship JOIDES Resolution, the team drilled numerous sediment cores 100 meters below the seafloor and nearly 6,000 meters below the ocean's surface. The scientists found that oxygen was present in all of the cores, suggesting that if sediment accumulates slowly on the seafloor at a rate of no more than a meter or two every million years, oxygen will penetrate all the way from the seafloor to the basement. Such conditions make it possible for aerobic microorganisms -- those that require oxygen to live -- to survive for geological time scales of millions of years.
With fine-tuned laboratory procedures, the scientists, led by Morono, incubated the samples to coax their microbes to grow. The results demonstrated that rather than being fossilised remains of life, the microbes in the sediment had survived, and were capable of growing and dividing.
"We knew that there was life in deep sediment near the continents where there's a lot of buried organic matter," said URI Graduate School of Oceanography professor and co-author of the study Steven D'Hondt. "But what we found was that life extends in the deep ocean from the seafloor all the way to the underlying rocky basement."
Morono was initially taken aback by the results. "At first I was sceptical, but we found that up to 99.1% of the microbes in sediment deposited 101.5 million years ago were still alive and were ready to eat," he said.
With the newly developed ability to grow, manipulate and characterise ancient microorganisms, the research team is looking forward to applying a similar approach to other questions about the geological past. According to Morono, life for microbes in the subseafloor is very slow compared to life above it, and so the evolutionary speed of these microbes will be slower. "We want to understand how or if these ancient microbes evolved," he said. "This study shows that the subseafloor is an excellent location to explore the limits of life on Earth."
Before looking ahead to future research, D'Hondt took time to reflect on Morono's achievement. "What's most exciting about this study is that it shows that there are no limits to life in the old sediment of the world's ocean," said D'Hondt. "In the oldest sediment we've drilled, with the least amount of food, there are still living organisms, and they can wake up, grow and multiply."
This study was supported by the Japan Society for the Promotion of Science (JSPS), the Funding Program for Next Generation World-Leading Researchers, and the U.S. National Science Foundation. This study was conducted using core samples collected during Expedition 329, "South Pacific Gyre Subseafloor Life," of the Integrated Ocean Drilling Program.
Morono, Y., Ito, M., Hoshino, T. et al.
Aerobic microbial life persists in oxic marine sediment as old as 101.5 million years.
Nat Commun, 2020 DOI:
10.1038/s41467-020-17330-1
Plato was right: Earth is made of cubes
Plato, the Greek philosopher who lived in the 5th century B.C.E., believed that the universe was made of five types of matter: earth, air, fire, water, and cosmos. Each was described with a particular geometry, a platonic shape. For earth, that shape was the cube.
Science has steadily moved beyond Plato's conjectures, looking instead to the atom as the building block of the universe. Yet Plato seems to have been onto something, researchers have found.
In a new paper in the Proceedings of the National Academy of Sciences, a team from the University of Pennsylvania, Budapest University of Technology and Economics, and University of Debrecen uses math, geology, and physics to demonstrate that the average shape of rocks on Earth is a cube.
"Plato is widely recognised as the first person to develop the concept of an atom, the idea that matter is composed of some indivisible component at the smallest scale," says Douglas Jerolmack, a geophysicist in Penn's School of Arts & Sciences' Department of Earth and Environmental Science and the School of Engineering and Applied Science's Department of Mechanical Engineering and Applied Mechanics. "But that understanding was only conceptual; nothing about our modern understanding of atoms derives from what Plato told us.
"The interesting thing here is that what we find with rock, or earth, is that there is more than a conceptual lineage back to Plato. It turns out that Plato's conception about the element earth being made up of cubes is, literally, the statistical average model for real earth. And that is just mind-blowing."
The group's finding began with geometric models developed by mathematician Gábor Domokos of the Budapest University of Technology and Economics, whose work predicted that natural rocks would fragment into cubic shapes.
"This paper is the result of three years of serious thinking and work, but it comes back to one core idea," says Domokos. "If you take a three-dimensional polyhedral shape, slice it randomly into two fragments and then slice these fragments again and again, you get a vast number of different polyhedral shapes. But in an average sense, the resulting shape of the fragments is a cube."
Domokos pulled two Hungarian theoretical physicists into the loop: Ferenc Kun, an expert on fragmentation, and János Török, an expert on statistical and computational models. After discussing the potential of the discovery, Jerolmack says, the Hungarian researchers took their finding to Jerolmack to work together on the geophysical questions; in other words, "How does nature let this happen?"
"When we took this to Doug, he said, 'This is either a mistake, or this is big,'" Domokos recalls. "We worked backward to understand the physics that results in these shapes."
Fundamentally, the question they answered is what shapes are created when rocks break into pieces. Remarkably, they found that the core mathematical conjecture unites geological processes not only on Earth but around the solar system as well.
"Fragmentation is this ubiquitous process that is grinding down planetary materials," Jerolmack says. "The solar system is littered with ice and rocks that are ceaselessly smashing apart. This work gives us a signature of that process that we've never seen before."
Part of this understanding is that the components that break out of a formerly solid object must fit together without any gaps, like a dropped dish on the verge of breaking. As it turns out, the only one of the so-called platonic forms -- polyhedra with sides of equal length -- that fit together without gaps are cubes.
"One thing we've speculated in our group is that, quite possibly Plato looked at a rock outcrop and after processing or analyzing the image subconsciously in his mind, he conjectured that the average shape is something like a cube," Jerolmack says.
"Plato was very sensitive to geometry," Domokos adds. According to lore, the phrase "Let no one ignorant of geometry enter" was engraved at the door to Plato's Academy. "His intuitions, backed by his broad thinking about science, may have led him to this idea about cubes," says Domokos.
To test whether their mathematical models held true in nature, the team measured a wide variety of rocks, hundreds that they collected and thousands more from previously collected datasets. No matter whether the rocks had naturally weathered from a large outcropping or been dynamited out by humans, the team found a good fit to the cubic average.
However, special rock formations exist that appear to break the cubic "rule." The Giant's Causeway in Northern Ireland, with its soaring vertical columns, is one example, formed by the unusual process of cooling basalt. These formations, though rare, are still encompassed by the team's mathematical conception of fragmentation; they are just explained by out-of-the-ordinary processes at work.
"The world is a messy place," says Jerolmack. "Nine times out of 10, if a rock gets pulled apart or squeezed or sheared -- and usually these forces are happening together -- you end up with fragments which are, on average, cubic shapes. It's only if you have a very special stress condition that you get something else. The earth just doesn't do this often."
The researchers also explored fragmentation in two dimensions, or on thin surfaces that function as two-dimensional shapes, with a depth that is significantly smaller than the width and length. There, the fracture patterns are different, though the central concept of splitting polygons and arriving at predictable average shapes still holds.
"It turns out in two dimensions you're about equally likely to get either a rectangle or a hexagon in nature," Jerolmack says. "They're not true hexagons, but they're the statistical equivalent in a geometric sense. You can think of it like paint cracking; a force is acting to pull the paint apart equally from different sides, creating a hexagonal shape when it cracks."
In nature, examples of these two-dimensional fracture patterns can be found in ice sheets, drying mud, or even the earth's crust, the depth of which is far outstripped by its lateral extent, allowing it to function as a de facto two-dimensional material. It was previously known that the earth's crust fractured in this way, but the group's observations support the idea that the fragmentation pattern results from plate tectonics.
Identifying these patterns in rock may help in predicting phenomenon such as rock fall hazards or the likelihood and location of fluid flows, such as oil or water, in rocks.
For the researchers, finding what appears to be a fundamental rule of nature emerging from millennia-old insights has been an intense but satisfying experience.
"There are a lot of sand grains, pebbles, and asteroids out there, and all of them evolve by chipping in a universal manner," says Domokos, who is also co-inventor of the Gömböc, the first known convex shape with the minimal number -- just two -- of static balance points. Chipping by collisions gradually eliminates balance points, but shapes stop short of becoming a Gömböc; the latter appears as an unattainable end point of this natural process.
The current result shows that the starting point may be a similarly iconic geometric shape: the cube with its 26 balance points. "The fact that pure geometry provides these brackets for a ubiquitous natural process, gives me happiness," he says.
"When you pick up a rock in nature, it's not a perfect cube, but each one is a kind of statistical shadow of a cube," adds Jerolmack. "It calls to mind Plato's allegory of the cave. He posited an idealized form that was essential for understanding the universe, but all we see are distorted shadows of that perfect form."
Gábor Domokos, Douglas J. Jerolmack, Ferenc Kun, János Török.
Plato's cube and the natural geometry of fragmentation.
Proceedings of the National Academy of Sciences, 2020; 202001037 DOI:
10.1073/pnas.2001037117