August 19 - 25, 2018: Issue 371
Discovery Casts Dark Shadow On Computer Security
August 15th, 218: CSIRO
Two international teams of security researchers have uncovered Foreshadow, a new variant of the hardware vulnerability Meltdown announced earlier in the year, that can be exploited to bypass Intel Processors' secure regions to access memory and data.
The vulnerability affects Intel's Software Guard Extension (SGX) technology, a new feature in modern Intel CPUs which allows computers to protect users' data in a secure 'fortress' even if the entire system falls under an attacker's control.
The two teams that independently and concurrently discovered Foreshadow have published a report on the vulnerability, which causes the complete collapse of the SGX ecosystem and compromises users' data.
"SGX can be used by developers to enable secure browsing to protect fingerprints used in biometric authentication, or to prevent content being downloaded from video streaming services," Dr Yuval Yarom from CSIRO's Data61 and the University of Adelaide's School of Computer Science said.
"Foreshadow compromises the confidentiality of the 'fortresses', where this sensitive information is stored and once a single fortress is breached, the whole system becomes vulnerable."
The researchers reported these findings to Intel earlier this year, and the company's own analysis into the causes of the vulnerability led to the discovery of a new variant of Foreshadow, called Foreshadow-NG which affects nearly all Intel servers used in cloud computing.
Foreshadow-NG is theoretically capable of bypassing the earlier fixes introduced to mitigate against Meltdown and Spectre, potentially re-exposing millions of computers globally to attacks.
"The SGX feature is widely used by developers and businesses globally, and this opens them up to a data breach that can potentially affect their customers as well," Dr Yarom said.
"Intel will need to revoke the encryption keys used for authentication in millions of computers worldwide to mitigate the impact of Foreshadow.
"Intel's discovery of the Foreshadow-NG variant is even more severe but will require further research to gauge the full impact of the vulnerability."
Intel has since released patches, updates and guidelines to resolve both Foreshadow and Foreshadow-NG.
Researchers have not yet tested if similar flaws exist in processors of other manufacturers.
Adrian Turner, CEO of CSIRO's Data61, said this is a significant discovery that shows the far-reaching impact of Meltdown and Spectre and reinforces the role of research for discovering and preventing flaws.
"Experts like Dr Yarom play a vital role in finding vulnerabilities, responsibly disclosing them and developing trustworthy systems to keep critical infrastructure secure," Mr Turner said.
"Data61 has also joined the RISC-V Foundation's security task group which aims to prevent the likes of Meltdown and Spectre from occurring again."
The two teams that discovered Foreshadow include:
Jo Van Bulck, Frank Piessens, Raoul Strackx (imec-DistriNet, KU Leuven) Marina Minkin, Mark Silberstein (Technion), Ofir Weisse, Daniel Genkin, Baris Kasikci, Thomas F. Wenisch (University of Michigan), Yuval Yarom (CSIRO's Data61 and University of Adelaide)
For Australians concerned about security, more information on how to be protected can be found at: Foreshadow
PHYSICIST APPOINTED AS CSIRO CHIEF SCIENTIST
August 14, 2018: CSIRO
Australia's national science agency has appointed Dr Cathy Foley to the position of CSIRO Chief Scientist - a unique role which will help champion science, its impact and contribution to the world.
Dr Foley is a world-renowned physicist and science leader most noted for her work developing superconducting devices and systems which have assisted in unearthing over $6 billion in minerals worldwide.
Dr Foley will start in the role at the end of September. She said her priority will be promoting science, STEM and women in science.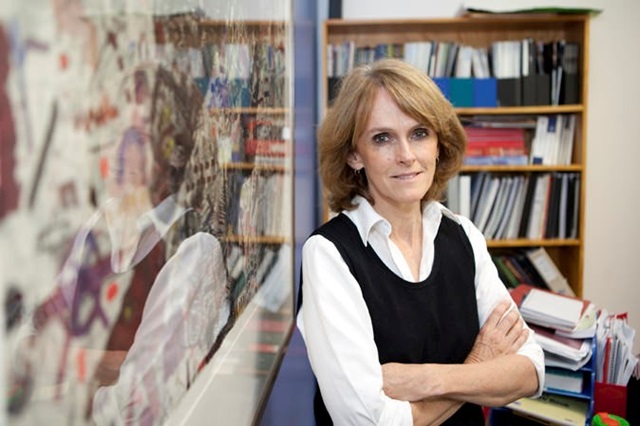 Dr Cathy Foley.
"Australia's future prosperity will be fuelled by science," Dr Foley said.
"Science which creates new industries, new jobs and shapes the minds and aspirations of our future leaders.
"We can't keep thinking about science as something which is locked away in a lab. It connects and drives everything we touch and do.
"I'm looking forward to not just spreading the word, but helping shape the science agenda and raising the profile of the role of women in STEM."
Dr Foley is currently the Deputy Director and Science Director of CSIRO's manufacturing business unit. She has been an advocate for women in science, for the communication of science and science education over the past 30 years.
She is credited with helping to create LANDTEM, a technology which uses superconductors to detect minerals deep underground. In 2015, Cathy and her team were awarded the prestigious Clunies Ross award for the innovation.
CSIRO Chief Executive Dr Larry Marshall said Dr Foley was an incredible leader and scientist.
"Cathy is a great contributor, with a passion for turning excellent science into powerful solutions for Australia," he said.
"I am looking forward to seeing her make this role her own, and bringing the voice of CSIRO science to help Australia navigate a path to prosperity through global disruption."
Dr Foley was awarded a Public Service Medal on Australia Day in 2003. In the same year, she won the Eureka Prize for the promotion of science.
In 2013 she was awarded the NSW Premier's Award for Woman of the Year. She is a Fellow of the Institute of Physics in the UK, Past-President of both the Australian Institute of Physics and Science and Technology Australia that represents 65000 Australian scientists and a Fellow of the Academy of Technological Sciences and Engineering (ATSE) and past national winner of the Telstra Business Women's Award for Innovation in 2009.
She joined the CSIRO Division of Applied Physics in 1985 as a National Research Fellow, being promoted to Senior Research Scientist in 1991, Principal Research Scientist in 1996, Senior Principal Research Scientist in 2000 and Chief Research Scientist in 2008.
Microfossils, Possibly World's Oldest, Had Biological Characteristics
August 16, 2018
Scientists have confirmed that the 3.4-billion-year-old Strelley Pool microfossils had chemical characteristics similar to modern bacteria. This all but confirms their biological origin and ranks them amongst the world's oldest microfossils. The work is presented at the Goldschmidt geochemistry conference in Boston, with simultaneous publication in the peer-reviewed journal Geochemical Perspectives Letters.
A team of scientists, led by Dr Julien Alleon (IMPMC, Paris, France; and MIT, Cambridge, MA, USA) have been able to show that the chemical residuals from ancient microfossils match those of younger bacterial fossils, and so are likely to have been laid down by early life forms.
They compared the results of synchrotron-based X-ray absorption spectroscopy analysis of the Strelley Pool microfossils with more recent ones from the Gunflint Formation (1.9 billion years old, found on the shores of Lake Superior, Ontario, Canada) and with modern bacteria. All showed similar absorption features, indicating that the residual chemicals were made from the same building blocks, thereby supporting a biological origin (see illustration below).
Dr Jullien Alleon said:
"There are a couple of important points which come out of this work. Firstly, we demonstrate that the elemental and molecular characteristics of these 3.4 Ga microfossils are consistent with biological remains, slightly degraded by fossilization processes. This effectively supports the biological origin of the Strelley Pool microfossils. There are competing claims over which microfossils are actually the world's oldest, this analytical strategy needs to be applied to other ancient samples to help settle the controversy.
Secondly, it is remarkable that these echoes of past life have survived the extreme conditions they have experienced over the last 3.4 billion years: we know from the molecular structure of the microfossils that they have been exposed to temperatures of up to 300 °C for long periods. And yet we are still able to see signs of their original chemistry.
This is a step forward to confirming that these are indeed the oldest fossils yet discovered."
Commenting, Professor Vickie Bennett (Australian National University) said:
"This is exciting work with the new types of analyses providing compelling evidence that the cherts contain biogenic microfossils. This is in line with other observations for early life from the Strelley Pool rocks, including stromatolites interpreted as microbial mats, and further confirming that the minimum age for life on Earth is 3.4 billion years.
The techniques used here are not applicable to the older rocks that host the claims for the oldest terrestrial life, as these rocks were exposed to much higher temperatures. These samples include the 3.7 billion year old stromatolites from Isua, Greenland and the 4.1 billion year old Canadian microfossils. However, this work shows how quickly the field is developing and that new capabilities for testing and confirming earlier evidence of life are in reach."
Journal References:
J. Alleon, S. Bernard, C. Le Guillou, O. Beyssac, K. Sugitani, F. Robert. Chemical nature of the 3.4 Ga Strelley Pool microfossils. Geochemical Perspectives Letters, 2018; 37 DOI: 10.7185/geochemlet.1817
Kenichiro Sugitani, Koichi Mimura, Tsutomu Nagaoka, Kevin Lepot, Makoto Takeuchi. Microfossil assemblage from the 3400Ma Strelley Pool Formation in the Pilbara Craton, Western Australia: Results form a new locality. Precambrian Research, 2013; 226: 59 DOI: 10.1016/j.precamres.2012.11.005
Hubble paints picture of the evolving universe
August 16, 2018
Astronomers using the ultraviolet vision of NASA's Hubble Space Telescope have captured one of the largest panoramic views of the fire and fury of star birth in the distant universe. The field features approximately 15,000 galaxies, about 12,000 of which are forming stars. Hubble's ultraviolet vision opens a new window on the evolving universe, tracking the birth of stars over the last 11 billion years back to the cosmos' busiest star-forming period, which happened about 3 billion years after the big bang.
Ultraviolet light has been the missing piece to the cosmic puzzle. Now, combined with infrared and visible-light data from Hubble and other space and ground-based telescopes, astronomers have assembled one of the most comprehensive portraits yet of the universe's evolutionary history.
The image straddles the gap between the very distant galaxies, which can only be viewed in infrared light, and closer galaxies, which can be seen across a broad spectrum. The light from distant star-forming regions in remote galaxies started out as ultraviolet. However, the expansion of the universe has shifted the light into infrared wavelengths. By comparing images of star formation in the distant and nearby universe, astronomers glean a better understanding of how nearby galaxies grew from small clumps of hot, young stars long ago.
Because Earth's atmosphere filters most ultraviolet light, Hubble can provide some of the most sensitive space-based ultraviolet observations possible.
The program, called the Hubble Deep UV (HDUV) Legacy Survey, extends and builds on the previous Hubble multi-wavelength data in the CANDELS-Deep (Cosmic Assembly Near-infrared Deep Extragalactic Legacy Survey) fields within the central part of the GOODS (The Great Observatories Origins Deep Survey) fields. This mosaic is 14 times the area of the Hubble Ultra Violet Ultra Deep Field released in 2014.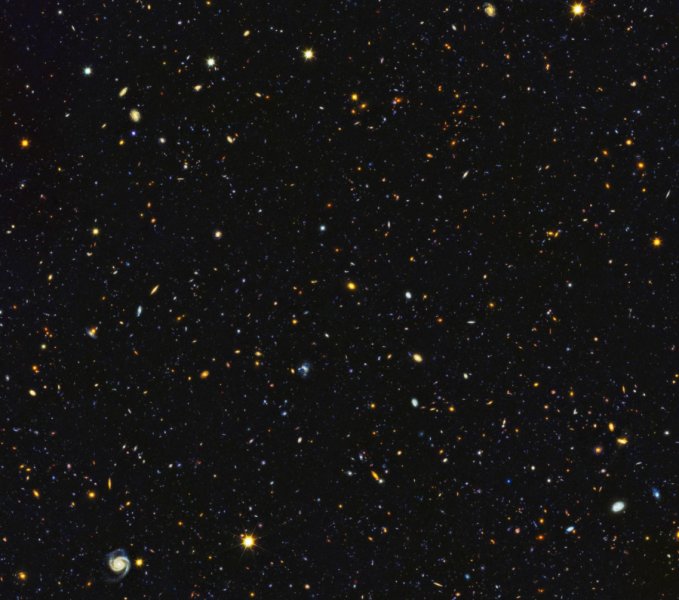 This image is a portion of the GOODS-North field, which is located in the northern constellation Ursa Major.
The Hubble Space Telescope is a project of international cooperation between NASA and ESA (European Space Agency). NASA's Goddard Space Flight Center in Greenbelt,
Maryland, manages the telescope. The Space Telescope Science Institute (STScI) in Baltimore, Maryland, conducts Hubble science operations. STScI is operated for NASA by the Association of Universities for Research in Astronomy in Washington, D.C.
Astronomers have just assembled one of the most comprehensive portraits yet of the universe's evolutionary history, based on a broad spectrum of observations by the Hubble Space Telescope and other space and ground-based telescopes. In particular, Hubble's ultraviolet vision opens a new window on the evolving universe, tracking the birth of stars over the last 11 billion years back to the cosmos' busiest star-forming period, about 3 billion years after the big bang. This photo encompasses a sea of approximately 15,000 galaxies -- 12,000 of which are star-forming -- widely distributed in time and space. This mosaic is 14 times the area of the Hubble Ultra Violet Ultra Deep Field released in 2014.
Credit: NASA, ESA, P. Oesch (University of Geneva), and M. Montes (University of New South Wales)
Puerto Sherry To Host 2019 Para World Sailing Championships
August 15, 2018: World Sailing
Puerto Sherry, El Puerto de Santa María, Cadiz, Spain has been selected by World Sailing to host the 2019 Para World Sailing Championships from 1-7 July 2019.
The Para World Sailing Championships showcases the best-of-the-best in Para World Sailing, creates sporting heroes and engages sailing and sports fans as well as sponsors and broadcasters.
World Sailing and Marina Puerto de Santa Maria will work collaboratively to deliver the Championships.
Massimo Dighe, Para World Sailing Manager, commented, "World Sailing is delighted that Puerto Sherry will be hosting the 2019 edition of the Para World Sailing Championships.
"The Marina has an outstanding track record of hosting major international sailing events. The facilities for Para World Sailing athletes are world class and we're looking forward to working with the organisers to deliver a memorable event for all those involved.
"I am sure all the sailors' attending will receive a warm welcome."
Valle de la Riva, President of Club Náutico Puerto Sherry & Marina Puerto Santa Maria, said, "The sailors will be overwhelmed by the wind and sea conditions as well as the entertainment on land in Puerto Sherry. Sailors will have high hopes of the venue and we have a unique venue in every way that they will fall in love with."
Rafael Martín-Prat, CEO of Puerto Sherry Para World Sailing Championships 2019 added, "Cadiz Bay is renowned for its wind and world class sailing. Alongside the on-water competition, the sailors will get to visit an ancient historic town steeped in history.
"Andalusia is a place out of this world and I encourage all the sailors to not just hear about it, but come and enjoy it. We will aim to deliver one of the best Championships in Para World Sailing history and we're waiting for the competitors to come and discover it."
Kiel, Germany hosted the most recent edition of the Para Worlds in 2017 and more than 80 sailors' from 37 nations competed across the Open 2.4 Norlin OD, Men's Hansa 303 and Women's Hansa 303.
From 16-22 September 2018, the US Sailing Center of Sheboygan in Sheboygan, Wisconsin, USA will host the 2018 edition with racing to take place across the Open 2.4 Norlin OD, Men's Hansa 303, Women's Hansa 303 and the RS Venture Connect. New formats will be trialled in Sheboygan to ensure an exciting competition for the competitors and those watching locally and from afar.
First biomarker evidence of DDT-autism link
August 16, 2018: Columbia University's Mailman School of Public Health
A study of more than 1 million pregnancies in Finland reports that elevated levels of a metabolite of the banned insecticide DDT in the blood of pregnant women are linked to increased risk for autism in the offspring. An international research team led by investigators at Columbia University's Mailman School of Public Health and the Department of Psychiatry published these results in the American Journal of Psychiatry. The study, conducted in collaboration with investigators at the University of Turku and the National Institute of Health and Welfare in Finland, is the first to connect an insecticide with risk for autism using maternal biomarkers of exposure.
Researchers identified 778 cases of childhood autism among offspring born from 1987 to 2005 to women enrolled in the Finnish Maternity Cohort, representing 98 percent of pregnant women in Finland. They matched these mother-child pairs with control offspring of mothers and offspring without autism. Maternal blood taken during early pregnancy was analyzed for DDE, a metabolite of DDT, and PCBs, another class of environmental pollutants.
The investigators found the odds of autism with intellectual disability in offspring were increased by greater than twofold for the mother's DDE levels in the top quartile. For the overall sample of autism cases, the odds were nearly one-third higher among offspring exposed to elevated maternal DDE levels. The findings persisted after adjusting for several confounding factors such as maternal age and psychiatric history. There was no association between maternal PCBs and autism.
While DDT and PCBs were widely banned in many nations over 30 years ago, including the U.S. and Finland, they persist in the food chain because their breakdown occurs very slowly, as long as several decades, resulting in continuing exposure to populations. These chemicals are transferred across the placenta in concentrations greater than those seen in the mother's blood.
"We think of these chemicals in the past tense, relegated to a long-gone era of dangerous 20th Century toxins," says lead author Alan S. Brown, MD, MPH, professor of Epidemiology at Columbia University's Mailman School of Public Health and of Psychiatry at Columbia University Medical Center. "Unfortunately, they are still present in the environment and are in our blood and tissues. In pregnant women, they are passed along to the developing fetus. Along with genetic and other environmental factors, our findings suggest that prenatal exposure to the DDT toxin may be a trigger for autism."
The researchers offer two reasons for their observation that maternal exposure to DDE was related to autism while maternal PCB exposure was not. First, maternal DDE is associated with low birthweight, a well-replicated risk factor for autism. In contrast, maternal PCB exposure has not been related to low birthweight. Second, they point to androgen receptor binding, a process key to neurodevelopment. A study in rats found DDE inhibits androgen receptor binding, an outcome also seen in a rat model of autism. In contrast, PCBs increase androgen receptor transcription.
Alan S. Brown et al. Association of Maternal Insecticide Levels With Autism in Offspring From a National Birth Cohort. American Journal of Psychiatry, 2018 DOI: 10.1176/appi.ajp.2018.17101129
Moderate Carbohydrate Intake May Be Best For Health, Study Suggests
August 17, 2018: The Lancet
Eating carbohydrates in moderation seems to be optimal for health and longevity, suggests new research published in The Lancet Public Health journal.
The observational study of more than 15,400 people from the Atherosclerosis Risk in Communities Study (ARIC) in the USA found that diets both low (< 40% energy) and high (>70% energy) in carbohydrates were linked with an increase in mortality, while moderate consumers of carbohydrates (50-55% of energy) had the lowest risk of mortality.
The primary findings, confirmed in a meta-analysis of studies on carbohydrate intake including more than 432,000 people from over 20 countries, also suggest that not all low-carbohydrate diets appear equal -- eating more animal-based proteins and fats from foods like beef, lamb, pork, chicken and cheese instead of carbohydrate was associated with a greater risk of mortality. Alternatively, eating more plant-based proteins and fats from foods such as vegetables, legumes, and nuts was linked to lower mortality.
"We need to look really carefully at what are the healthy compounds in diets that provide protection," says Dr Sara Seidelmann, Clinical and Research Fellow in Cardiovascular Medicine from Brigham and Women's Hospital, Boston, USA who led the research.
"Low-carb diets that replace carbohydrates with protein or fat are gaining widespread popularity as a health and weight loss strategy. However, our data suggests that animal-based low carbohydrate diets, which are prevalent in North America and Europe, might be associated with shorter overall life span and should be discouraged. Instead, if one chooses to follow a low carbohydrate diet, then exchanging carbohydrates for more plant-based fats and proteins might actually promote healthy aging in the long term."
Previous randomised trials have shown low carbohydrate diets are beneficial for short-term weight loss and improve cardiometabolic risk. However, the long-term impact of carbohydrate restriction on mortality is controversial with prospective research so far producing conflicting results. What's more, earlier studies have not addressed the source or quality of proteins and fats consumed in low-carb diets.
To address this uncertainty, researchers began by studying 15,428 adults aged 45-64 years from diverse socioeconomic backgrounds from four US communities (Forsyth County, NC; Jackson, MS; Minneapolis, MN; and Washington County, MD) enrolled in the ARIC cohort between 1987 and 1989. All participants reported consuming 600-4200 kcal per day for men and 500-3600 kcal per day for women, and participants with extreme (high or low) caloric intake were excluded from the analysis.
At the start of the study and again 6 years later, participants completed a dietary questionnaire on the types of food and beverages they consumed, what portion size and how often, which the researchers used to estimate the cumulative average of calories they derived from carbohydrates, fats, and protein.
The researchers assessed the association between overall carbohydrate intake (categorised by quantiles) and all cause-mortality after adjusting for age, sex, race, total energy intake, education, exercise, income level, smoking, and diabetes. During a median follow-up of 25 years, 6283 people died.
Results showed a U-shape association between overall carbohydrate intake and life expectancy, with low (less than 40% of calories from carbohydrates) and high (more than 70%) intake of carbohydrates associated with a higher risk of mortality compared with moderate intake (50-55% of calories).
The researchers estimated that from age 50, the average life expectancy was an additional 33 years for those with moderate carbohydrate intake -- 4 years longer than those with very low carbohydrate consumption (29 years), and 1 year longer compared to those with high carbohydrate consumption (32 years). However, the authors highlight that since diets were only measured at the start of the trial and 6 years later, dietary patterns could change over 25 years, which might make the reported effect of carbohydrate consumption on lifespan less certain.
In the next step of the study, the authors performed a meta-analysis of data from eight prospective cohorts (including ARIC) involving data from 432,179 people in North American, European, and Asian countries. This revealed similar trends, with participants whose overall diets were high and low in carbohydrates having a shorter life expectancy than those with moderate consumption.
As Seidelmann explains, "A midrange of carbohydrate intake might be considered moderate in North America and Europe where average consumption is about 50% but low in other regions, such as Asia, where the average diet consists of over 60% carbohydrates."
In further analyses examining whether the source of proteins and fats favoured in low-carbohydrate diets -- plant-based or animal-based -- was associated with length of life, researchers found that replacing carbohydrates with protein and fat from animal sources was associated with a higher risk of mortality than moderate carbohydrate intake. In contrast, replacing carbohydrates with plant-based foods was linked to a lower risk of mortality (table 3).
"These findings bring together several strands that have been controversial. Too much and too little carbohydrate can be harmful but what counts most is the type of fat, protein, and carbohydrate," says Walter Willett, Professor of Epidemiology and Nutrition at Harvard T. H. Chan School of Public Health and co-author of the study.
The findings show observational associations rather than cause and effect. Considering evidence from other studies, the authors speculate that Western-type diets that heavily restrict carbohydrates often result in lower intake of vegetables, fruit, and grains and lead to greater consumption of animal proteins and fats -- some of which have been implicated in stimulating inflammatory pathways, biological aging, and oxidative stress -- and could be a contributing factor to the increased risk of mortality. Whilst high carbohydrate diets (common in Asian and less economically advantaged nations) tend to be high in refined carbohydrates such as white rice, may also contribute to a chronically high glycaemic load and worse metabolic outcomes.
"This work provides the most comprehensive study of carbohydrate intake that has been done to date, and helps us better understand the relationship between the specific components of diet and long term health," says Dr Scott Solomon, The Edward D Frohlich Distinguished Chair at Brigham and Women's Hospital and Professor of Medicine at Harvard Medical School, and senior author on the paper. "While a randomized trial has not been performed to compare the longer term effects of different types of low carbohydrate diets, these data suggest that shifting towards a more plant-based consumption is likely to help attenuate major morbid disease."
The authors note some limitations including that dietary patterns were based on self-reported data, which might not accurately represent participants' food consumption; and that their conclusions about animal-based sources of fat and protein might have less generalisability to Asian populations which tend to have diets high in carbohydrates, but often consume fish rather than meat. Finally, given the relatively small number of individuals following plant-based low-carb diets, further research is needed.
Writing in a linked Comment, Dr Andrew Mente and Dr Salim Yusuf from McMaster University, Hamilton, Canada say, "Such differences in risk associated with extreme differences in intake of a nutrient are plausible, but observational studies cannot completely exclude residual confounders when the apparent differences are so modest. Based on first principles, a U-shaped association is logical between most essential nutrients versus health outcomes. Essential nutrients should be consumed above a minimal level to avoid deficiency and below a maximal level to avoid toxicity. This approach maintains physiological processes and health (ie, a so-called sweet spot). Although carbohydrates are technically not an essential nutrient (unlike protein and fats), a certain amount is probably required to meet short-term energy demands during physical activity and to maintain fat and protein intakes within their respective sweet spots. On the basis of these principles, moderate intake of carbohydrate (eg, roughly 50% of energy) is likely to be more appropriate for the general population than are very low or very high intakes."
Sara B Seidelmann, Brian Claggett, Susan Cheng, Mir Henglin, Amil Shah, Lyn M Steffen, Aaron R Folsom, Eric B Rimm, Walter C Willett, Scott D Solomon. Dietary carbohydrate intake and mortality: a prospective cohort study and meta-analysis. The Lancet Public Health, 2018; DOI: 10.1016/S2468-2667(18)30135-X
Disclaimer: These articles are not intended to provide medical advice, diagnosis or treatment. Views expressed here do not necessarily reflect those of Pittwater Online News or its staff.