Help the Island Kindy Get a Playground
Start voting TODAY for Scotland Island & Offshore Children's Services to win a recycled playground worth $45,000 – thanks to Garnier!
Once you click on the link, go to the bottom right hand corner of the page and there will be a "Cast your vote" section. If you fill out your details and then type "Scotland" into the school section our kindy will come up.
Below is a picture of our current playground – as you can see we need some help!
You can also help by saving all your empty cosmetic containers and packaging. Examples include; shampoo, conditioner, body wash, hand cream, hand wash, face cleanser, face wash, moisturiser, makeup, lipstick, lipgloss etc etc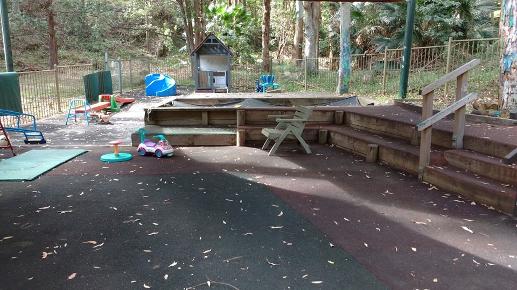 Larger Signs or Ranger Patrols Needed at Church Point
Residents of our offshore areas are finding the frustrations with the building of new car park works at church point compounded by visitors not being aware, or disregarding how to use the new areas already finished.
On weekends Restaurant diners have taken every spot in the 10min unloading zone, not good for residents who may have items they wish to drop off to their boats.
One resident spent 40 minutes trying to find a parking spot yesterday (Saturday November 18th) resulting in the ruination of ice-cream - not something those with easier access to a car-park and their freezer will have to explain to youngsters.
A little consideration, paying attention to what you can do when and where, or a few fines may remedy the problem of onshore people not looking out for or after offshore people.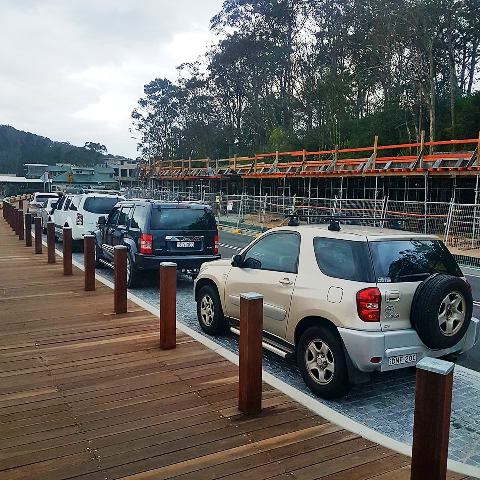 Church Point 10 minute drop-off zone yesterday
CABRA AGM 2017
Monday November 27th at &;30 p.m.
Avalon Sailing Club
Hudson Parade,
Clareville
Special Guest: Dr. Suzanne Daly
Our local doctor fighting to retain medical services at Mona vale Hospital
Infrastructure Grants Now Open
Member for Pittwater Rob Stokes is encouraging local community organisations to apply for funds under the latest round of the NSW Government's Infrastructure Grants Program.
The Infrastructure Grants Program supports new or upgraded community facilities across three key areas – sport and recreation, arts and culture, and emergency preparedness.
The funding comes from the ClubGrants Category 3 Program, which enables registered clubs to reinvest profits from gaming machine revenue back into local communities.
"These grants provide an opportunity for our local community organisations to dream big and help equip them to make a real difference in our community," Rob Stokes said today.
"Recent improvements to the program include the introduction of four funding rounds per year, instead of just one – and the application process is now more streamlined.
"Funding ranges are $50,000 to $200,000 for arts and culture, $10,000 to $200,000 for emergency preparedness, and $100,000 to $300,000 for sport and recreation.
"There are many local organisations that have great plans and ideas – but just need a financial boost to help make them happen.
"Applications for this round of funding close 20 November, 2017," Rob Stokes said.
Further information is available at:
Environmental Planning and Assessment Amendment Bill 2017 Passes
Proclamations commencing Acts
Parole Legislation Amendment Act 2017 No 57 (2017-627) — published LW 17 November 2017
Visit: Visit: New South Wales Government
Notification of the making of statutory instruments, NSW Government Gazette and Bill information
Major overhaul for NSW planning system
5.11.2017:
Ministerial Media Release -
The Hon. Anthony Roberts, Minister for Planning and Housing
The Bill to change the Environmental Planning and Assessment Act 1979 (EP&A Act) that will see the biggest overhaul of the NSW planning system since the legislation's inception almost 40 years ago, has passed through Parliament.
"The changes reflect the Government's commitment to thriving, safe and well-designed communities with local character and heritage," Minister for Planning and Housing, Anthony Roberts, said.
Mr Roberts said the changes have a key focus on enhancing community participation by requiring planning authorities to prepare and implement community participation plans that detail how they engage with their community.
"These plans include mandatory minimum periods such as a 14-day exhibition period for Development Applications, unless the Community Participation Plan says otherwise. For Local Environmental Plans (LEP's) the minimum exhibition period is 28 days. Authorities will be encouraged to go beyond the minimum requirements, in order to ensure the consultation suits the community's needs".
Mr Robert said the changes ensured a simpler, faster planning system, and will build community confidence in planning decisions and outcomes. "There is no denying that NSW is a great place to live and work, however, the best places do not just happen, they are planned, and planning for the future of our state is critical.
"By focusing on community participation, strategic planning, clarity in decision making and simpler and faster processes, the Bill will help strengthen community confidence in the planning system.
"Greater confidence and participation is essential to accommodating an extra 2.2 million people in NSW over the next 20 years, while at the same time maintaining livability and the richness of our natural and built environment."
The changes strengthen councils' focus on strategic planning, which builds on the recent introduction of Independent Hearing and Assessment Panels (IHAPs) in Greater Sydney and Wollongong.
For the first time, the Act will recognise the role of councils in strategic planning for the local area through their preparation of new local strategic planning statements.
"These statements will see councils and communities formulate the vision for land use in the local area, capturing local character and what the community wants for the future. At the same time, the statements will translate the directions in regional and district plans into actions at the local level.
"Through the changes, councils will also be given the ability to impose a levy on complying development certificates, as well as being able to stop work for up to seven days on a complying development site to investigate whether construction aligns with the certificate."
Other changes to the EP&A Act include:
Modernising and expanding the objects of the Act, which sets out the goals of the legislation. The new goals include promoting good design of the built environment, management of heritage, and proper construction and maintenance of buildings.




Strengthening and streamlining local development processes by ensuring NSW government agencies give advice and approvals in a timely way and giving the Secretary of Department of Planning and Environment the authority to step in where there is delay or conflict in advice.




Strengthening compliance by introducing enforceable undertakings, which are a powerful tool that enables breaches of the Act to be fixed, compensated or prosecuted.




Requiring councils to do an LEP check at least every 5 years to consider whether the LEP is still fit for purpose given any changes in demographics, infrastructure, strategic plans and other key indicators.




Strengthening the rules for regional planning panels in line with the local IHAPs – this includes ensuring property developers and real estate agents cannot sit on the panels, and that meetings are held in public.




Closing off the transitional arrangements for former Part 3A projects with all future modifications to these projects to be assessed under the State significant development or State significant infrastructure pathways.



The draft Bill was exhibited from 9 January to 31 March 2017, with 478 submissions received and the Department of Planning and Environment. This valuable feedback helped to refine the Bill that has been passed through Parliament.
2018 George Bass Marathon
Warriewood and Perth SLSC Members are joining up for the George Bass!
These clubs competed against each other in the Junior Surf Boat Final - 1983 Australian Surf Life Saving Championships, Clifton Beach Tasmania – pretty amazing.
Warriewood women are joining with Avalon women to form a crew to row this year as well
The 2018 George Bass Surfboat Marathon will run from Sunday 31 December 2017 until Saturday 6 January 2018 -
7 days, 7 legs and 190km's of the best coastline in Australia!
Below runs that to be remembered 1983 Championship
Avalon Craft Cottage
With Christmas coming all too quickly, the Craft Cottage members are in the middle of their busiest season, with two more big shows before we shut down for the year.
For the information of our Lower North Shore customers, we will opening at ST.IVES VILLAGE, on Monday the 13th November.
This time we will be upstairs, outside the coffee shop, and near the Concierge. Just come in from the top entrance.
Once again you will be able to buy beautiful Christmas gifts for family and friends, wonderful hand-made greeting cards and Christmas decorations, bunting, kid's t-shirts etc.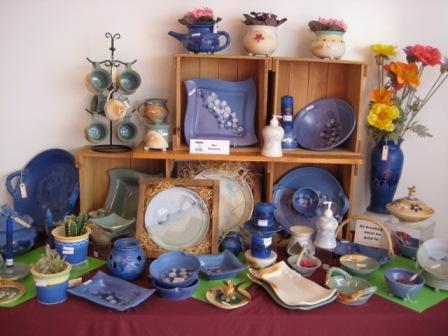 And then, just a couple of weeks later, we head back to Avalon for our big CHRISTMAS SHOW This show is for THREE DAYS ONLY ….Thursday 30th November, Friday 1st December and Saturday 2nd December.
We will be open from 10am to 4pm daily, and with so much extra room the members are really able to put up a good display of their beautiful art & craft.
The room will be very festive with a Christmas table, and many items made especially for the Christmas Season….colourful bunting, little Christmas dresses & bibs, Christmas jewellery for the ladies, lovely decorations for the tree, and plenty of Christmas gift ideas.
We are having a Christmas giveaway at this show. Every customer coming in the door will be given a FREE ticket and go in the draw to win a big basketful of Christmas goodies… wine, biscuits, cake, pudding, crackers etc.
You don't even have to buy anything…just come, have a look at our display, hopefully be tempted to spend a few dollars, and maybe go home with a lovely prize put together by the Craft Cottage members.
Once again, from all the Avalon Craft Cottage members, a huge THANK YOU for you support this year.
And please be a Facebook friend, and share our page with your family & friends.
Maureen Darcy-Smith
Youth Hub in Pittwater
Friday November 17, 2017: The Burdekin Association
We are planning to open a Youth Hub in Pittwater and need your help to make sure it meets community needs.... please take a minute and take this short but important survey! We will love you for it.
The Youth Hub is a response to the lack of permanently based youth services in the Pittwater region and the need to support our community from the North to the South. Many Youth Services are coming together to deliver this service in the area to support 12-24 year old's and their family/support people.
You will be able to make an appointment to see a trained support worker or drop in as required. The worker will chat to you about the reason for coming in and then connect you with the most appropriate professional service.
We hope many services will be able to deliver support out of the Youth Hub to ensure young people and their family/carers have access to appropriate and professional intervention for such things as (but not limited to);
* Overwhelming or stressful feelings
* Drug and alcohol use
* Sexual Health issues
* Mental Health concerns
* Homelessness
* School disengagement
Member for Mackellar, Jason Falinski MP, Updates
Foodbank for Christmas
This Christmas we are supporting Foodbank Australia, so please drop off any non-perishable food items to my Electorate Office at 1238 Pittwater Rd in Narrabeen before 18 December and we will make sure it goes to the most needy Aussie.
Mr Falinski's office is at 1238-1246 Pittwater Rd, Narrabeen.
NBI Pittwater Paddle 2017
Well done to the winners and participants of this year's NBI Pittwater Paddle.
A great and fun event to raise money for additional needs children and their families on the Beaches.— at Winnererremy Reserve bay Mona Vale.
The results are in...
If you participated in Sunday's Pittwater Paddle, click on the following link to find out your time and place.:
HERE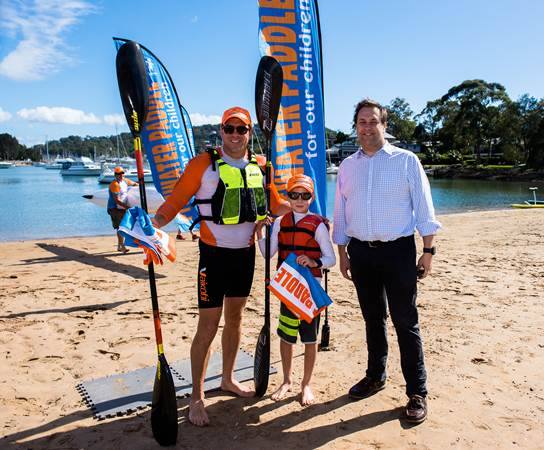 B-Line Newport Consult Closes December 1st
Residents are reminded that Transport for NSW want your feedback on the proposal to construct a roundabout on the corner of Neptune and Barrenjoey Roads to turn the buses around.
Your feedback will help TfNSW understand what is important to the community, and help them prepare a Review of Environmental Factors that will be released for consultation early next year.
Or by mail to: B-Line Newport Extension Locked Bag 6501, St Leonards NSW 2065
Feedback should be sent by 5pm Friday 1 December 2017.
Pittwater Online readers report investigative surveys have been carried out this week, one surveyor apparently entering private property. The B-Line Newport webpage advises that this is:
Night work at Newport
Services investigation work on Barrenjoey Road and Neptune Road, Newport between Monday 13 November and Monday 27 November 2017.
Details of work activities
Surveying and services investigation work will continue in November to help identify where existing water, sewer and electricity services are located.
The majority of the service investigation work will be completed on Barrenjoey Road and Neptune Road over five nights between Monday 13 November and Monday 27 November, weather permitting. Most of the work will be completed at night to minimise impacts to traffic and for the safety of motorists and our team.
• night work hours are 7pm to 5am
• day work hours, should it be required, are 7am to 6pm
This work will help us understand where services are and help us prepare a concept plan which will be included in a Review of Environmental Factors (REF). The REF will be out for community consultation early next year.
How will the work affect you?
There may be some noise associated with this work, but we will make every effort to minimise it by completing the noisier work before 11pm.
Equipment being used includes:
• concrete saws
• vacuum trucks
• power and hand tools
• light vehicles for site and traffic control
There will be no interruptions to your utility services while this work takes place. The work will take place on the road verge and public areas. Access to private property is not required.
Traffic and pedestrian changes
There may be some temporary traffic and pedestrian changes to ensure the work zone is safe. Please keep to speed limits and follow the direction of traffic controllers and signs.
For the latest traffic updates call 132 701, visit livetraffic.com or download the Live Traffic NSW App.
Contact information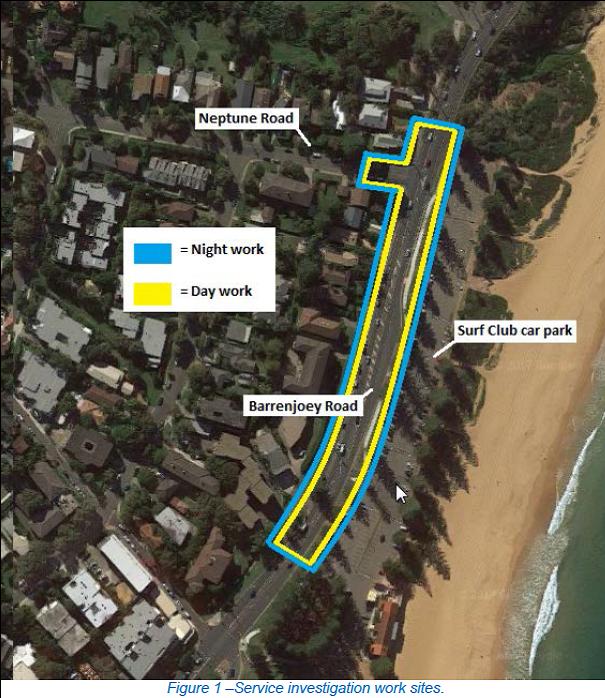 2017 SNB Interbranch Team
We thank everyone who nominated and congratulate the athletes below for gaining selection to this years SNB Interbranch Team
AGE GROUP MALE FEMALE
U/12 WATER
Conner Maggs: Manly
Georgina Prowse: Nrth Curl Curl
Braden Crichton-Browne: Nrth Curl Curl Ashleigh Windsham: Manly
U/12 BEACH
Artie Leiper – Freshwater
Nina van der Ryden - Manly
U/13 WATER
Jake Morris - Newport
Kimberley Doyle - Manly
Mitchell Morris - Newport
Katelynn Doyle - Manly
U/13 BEACH
Joshua Gedz - Manly
Stefanie Fejes - Freshwater
U/14 WATER
Isaac Crews – Nrth Curl Curl
Charlotte Ward - Manly
Joel Piper - Newport
Jodie Louw - Newport
U/14 BEACH
Dylan Calderon - Manly
Zoe Couzens - Bilgola
U/15 WATER
Oscar Smith - Newport
Piper Harrison - Manly
Mitchell Stuart - Nrth Curl Curl
Alex Lefevre - Newport
U/15 BEACH
Aiden Helu - Manly
Madeleine Wallace - Collaroy
U/17 WATER Zach Morris - Newport
Madison Louw - Newport
Taylor Gabb - Newport
Jami Prowse- Newport
James Finn - Newport
Emily Doyle - Manly
U/17 BEACH
Reuben Sharma - Newport
Bailee Radford - Newport
U/19 & OPEN
Isaac Smith(U/19) - Newport
Naomi Scott(U/19)- Manly
WATER
Max Brooks(CAPT) - Newport
Taylar Puskaric - Manly
Jay Furniss – Manly
Lara Moses - Newport
U/19 & OPEN
Blake Drysdale - Newport
Laura Shorter(CAPT) – Newport
BEACH HEAD COACH Chris Allum
TEAM MANAGER Greg Heard
ASSISTANT COACH(water) Tim Hayes
ASSISTANT COACH(beach) Michael Gedz
Green light for draft consolidated Central Coast Local Environmental Plan
14.11.2017: Departmental Media Release - The Department of Planning and Environment
The decision allows the Central Coast Council to consolidate the existing Gosford and Wyong LEPs into a single
Central Coast LEP
.
Coordinator General Central Coast Lee Shearer said the preparation of a LEP is the logical next step following the creation of the Central Coast Council.
"Following the creation of Central Coast Council it is important that we approve creation of the draft LEP, to ensure our environmental planning instruments are simplified and consistent," Ms Shearer said.
A key feature of the application process is a pilot study to implement an online mapping tool on the draft LEP.
The web tool will provide online access to zone and development standards mapping resources during the LEP approval process.
The tool gives the Central Coast community better access to LEP mapping resources and presents an ideal opportunity to explore the feasibility of an online mapping tool for LEP map production.
Many of the elements needed to produce the web mapping tool are already in place and this pilot study will explore how to best apply the technology.
"This online mapping tool will reduce time and costs to the council and position the Department and council as leaders in online land use mapping resources," Ms Shearer said.
"The Central Coast is the ideal region for a pilot study into the tool because it involves a single local government area."
Council will provide access to the online tool for people without computer access, as well as hard copies, which will be available on request.
A 12-month time frame is anticipated to make the consolidated plan, including periods for agency consultation and public exhibition.
New app puts city planning in young people's hands
November 15,2017: Greater Sydney Commission

Greater Sydney's next generation is being given the chance to use their creativity to help shape the city's future, through a new app launched by the Commission, in partnership with the NSW Office of the Advocate for Children and Young People (ACYP).
The free app,
My Metropolis
, is an interactive tool that encourages our younger members of the community to think about what makes an ideal city, allowing them to plan and build elements such as schools, public transport, cafes, places to work and sporting facilities.
Chief Commissioner Lucy Turnbull AO and NSW Advocate for Children and Young People, Andrew Johnson, were joined by Commission CEO Sarah Hill to unveil the app to an audience of young people at the ACYP 's Strawberry Hills offices, encouraging them to have their say on the future of Greater Sydney.
Lucy highlighted the importance of providing opportunities for children and young people to share their views.
"We want to get feedback and submissions from as many Sydneysiders as possible on the future of our city and My Metropolis is a great way for us to engage with children and young people in a way they're comfortable and familiar with.
"It's their city too and they should have a say in it – it's just one of the many ways we're involving young people," Ms Turnbull said.
The app is part of the Commission's commitment to ongoing and innovative engagement. It will be supported by a survey conducted by the Advocate for Children and Young People.
The Commission will be considering survey results along with feedback and formal submissions from a range of other organisations that represent young people in Greater Sydney.
Kialoa II Crew Growing Mo's For The Bro's
November 1, 2017
November 1 is the start of Movember, the annual men's health awareness campaign and fundraiser, and both the delivery and Rolex Sydney Hobart race crew of Kialoa II are getting into the 70s vibe in anticipation of the 73-footer's arrival into Sydney at the end of the month.
The Sparkman Stephens design that took line honours in the 1971 Sydney Hobart yacht race (
video
) is making for Albany in Western Australia having left the UK in August following a tough Rolex Fastnet Race.

"As a throwback to the 1970s, to get us into the spirit of emulating the prowess of the Kialoa II crew who won the Sydney to Hobart race in '71, the male contingent of the Kialoa II crew of 2017 are going to grow mo's to help the bro's as part of Movember," says shore manager Melinda Broughton adding, "and the two women crew will be suitably accessorised to complete the look.

"Support the KiaMOa II campaign sprouting mo's and mutton chops to raise research funds all the way to Hobart. And bring back the terry-towelling hat!" she added.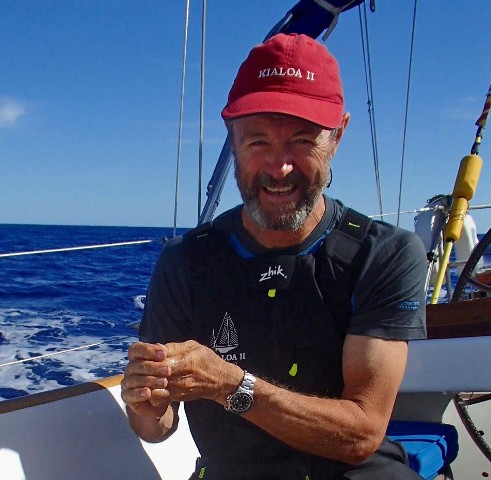 Paddy Broughton during the delivery of Kialoa II to Cape Town - photo courtesy Kialoa II


In keeping with the 1970s theme, a terry-towelling hat each is the latest addition to Kialoa II's Rolex Sydney Hobart crew uniform of boat branded Zhik Isotak foul weather gear.
Kialoa II's small delivery crew is en route to Sydney for the start of one of the great bluewater classics which will set off from Sydney Harbour on Boxing Day. Theirs is a 13,000 nautical mile voyage to recreate Jim Kilroy's '71 line honours victory and transport the boat to co-owner Patrick Broughton's hometown.
Patrick, better known as Paddy, and brother Keith who is based in the UK bought Kialoa in 2016 to compete in the same ocean classics as Kilroy did with the boat back in the late '60s and early '70s.
The final stages of Kialoa II's delivery to Sydney can be tracked via the boat's website
Kialoa2.com.au

For the Hobart Race Dallas Kilponen, the son of Kilroy's longstanding navigator, the late David 'Fang' Kilponen, will be on board along with a UK crew component plus a number of ex-Brindabella legends including Lindsay May (44 Hobarts, three time overall winner) and Tony Hearder.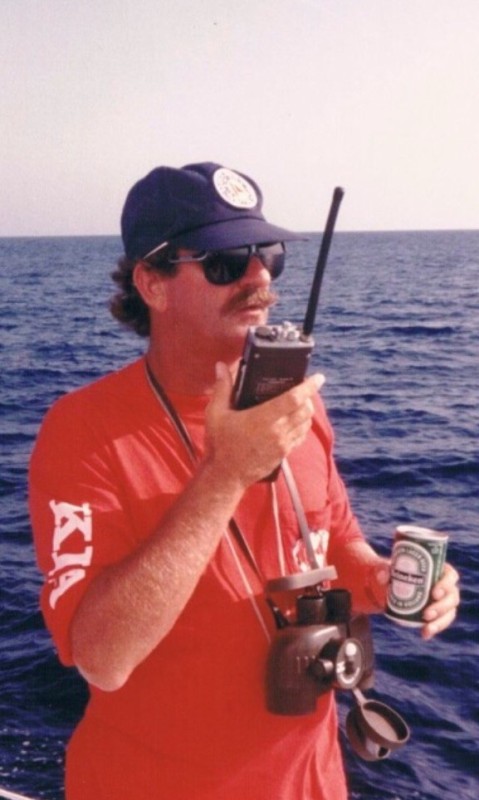 David Fang Kilponen on board Kialoa III - photo courtesy Kilponen family


Kialoa II's ETA in Sydney is the weekend of November 25-26, leaving the crew just one month to switch from cruising to race mode before lining up against this year's Rolex Sydney Hobart fleet.

Kilroy's 1971 line honours winning time for the 628 nautical mile was 3 days 12 hours 46 minutes 21 seconds compared to the current race record of 1 day 13 hours 31 minutes 20 seconds set by Anthony Bell's 100-footer Perpetual Loyal in the 2016 event.
23-27 Warriewood Rd, Warriewood: DA Number: N0460/17
Council is seeking public comment on this proposal
prior to determination. The proposal is for construction
of a three storey residential flat building comprising
32 residential apartments with 83 basement parking
spaces, and a three storey multi-dwelling housing
development comprising 12 dwellings with associated
parking spaces, extension to Lorikeet Grove, new
internal roadway, associated landscaping and
remediation works to the existing creek line corridor.
Applicant: J & G Knowles & Associates Pty Ltd
Consent authority: Northern Beaches Council.
Sydney North Planning Panel has the function of
determining the application.
This proposal is an integrated development and requires a
Water Activity Approval from the NSW Office of Water
under Section 91 of the Water Management Act 2000.
During the exhibition period, any person may make a submission or inspect application plans and related documents via northernbeaches.nsw.gov.au. **
Alternatively, documents can be viewed at Council's
Mona Vale Customer Service Centre during business
hours. Written submissions marked with
the application number
may be sent to the CEO,
Northern Beaches Council, 725 Pittwater Rd, Dee Why.
If required, submissions must be accompanied
by a Political Donations and Gifts Disclosure
Statement, which can be downloaded at
northernbeaches.nsw.gov.au
Please note that all submissions are public
documents and may be made available or reproduced
in Council reports.
Exhibition: Sat 28 Oct - Tue 28 Nov
Enquiries: Rebecca Englund, 9970 1111
Documents on Council website HERE
Pasadena Progress?
Church Point residents report that the gentleman who owns the Pasadena has workmen working on it - he has said to them council have not offered to buy it, and he's going to refurbish it.
We'll follow up on this by hopefully talking to the owners ourselves ASAP.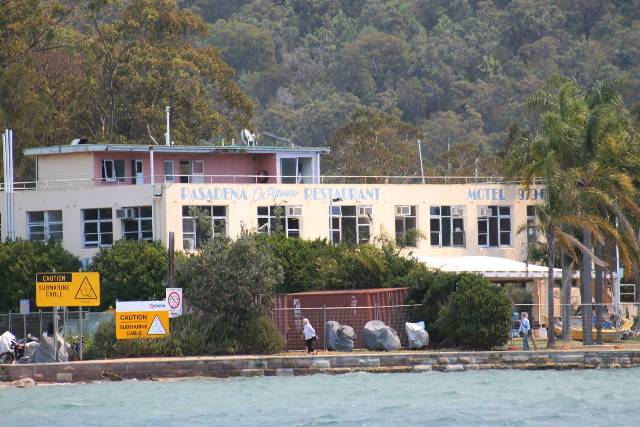 Sydney Wildlife Critter of the Month: The Long Hop To Freedom
It was a chilly day in August last year when we received a call from Scott to attend to a fatally-ill female swamp wallaby who was having trouble hopping and could hardly stand. She had cataracts in both eyes and could barely see. She was also carrying a joey.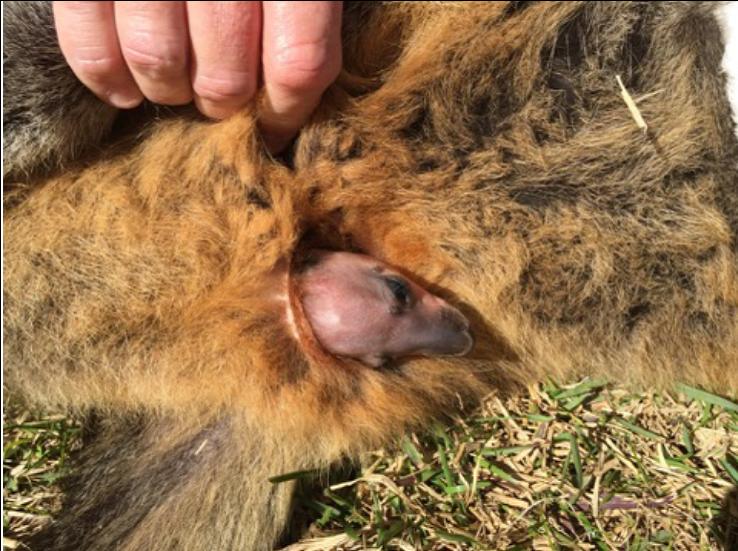 The mother wallaby was sedated for transportation to a veterinarian. Her cute little joey was a very curious critter and kept peering out of the pouch to see what was happening. Dr Ward examined the mum but she was already moribund and he decided to extract the joey before the situation became too stressful for them both. The joey was a tiny furless 300g boy. He was in good health and after a quick examination, Dr Ward popped him into a fleecy pouch to stay warm. Before the mum passed away, we allowed her to 'say goodbye' to her joey. It was a very moving moment for all of us. We promised her that we would take good care of her baby. And then she slipped away.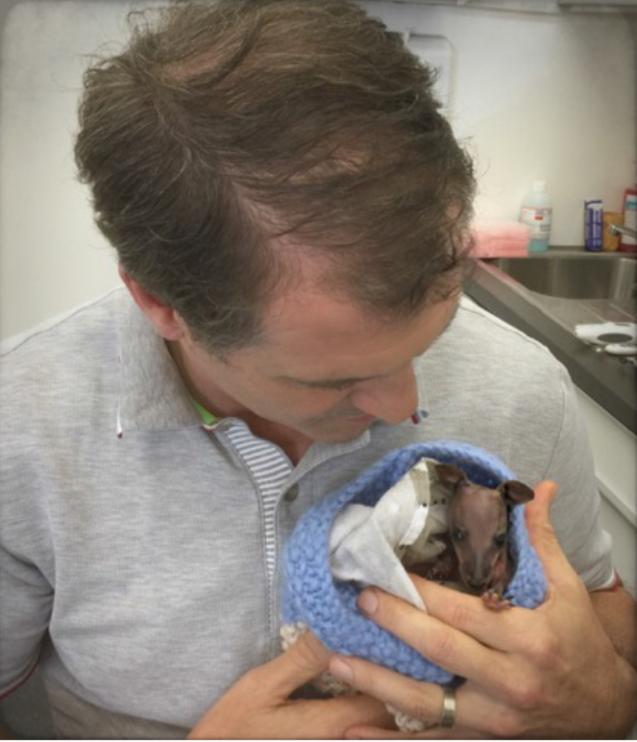 Cassius with Dr Ward after being extracted from his mum's pouch.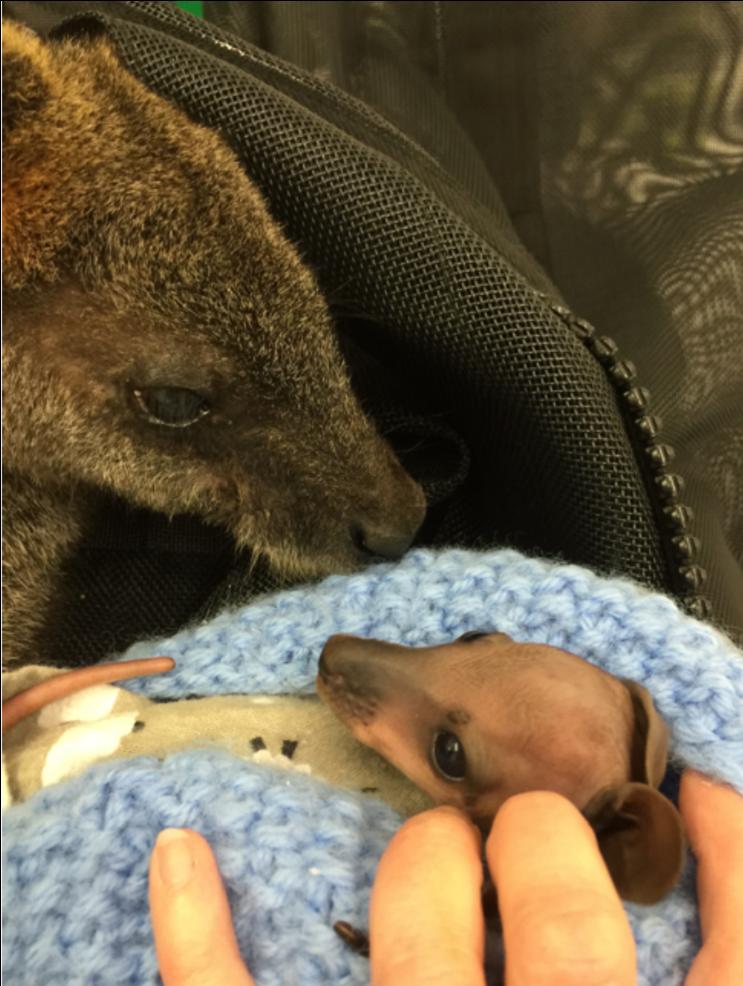 The tiny boy tried to box his way out of his new artificial pouch and he put up his dukes whenever we looked in on him. So a friend suggested we call him Cassius (Clay) aka Mohammed Ali.
Cassius was quite the character from the start. He did what joeys are meant to do - drink milk, grow fur, venture from the pouch - but he tried to do all these things in a mad hurry. He was trying to stand and hop long before his time! He never seemed to sleep. Was always looking out of his pouch and desperate not to miss out on anything. FOMO could've been his middle name! FOMO (Fear Of Missing Out) was almost the death of him. He tried to follow me up the stairs one day - long before he was hopping ably. And he fell… We rushed him straight to the vet, fearing that he may have fractured something but the x-rays were clear. Phew! Then - instead of staying in his heated pouch like a normal wallaby joey - he kept venturing out to find everyone and ended up getting pneumonia. Sigh. Back to the vet.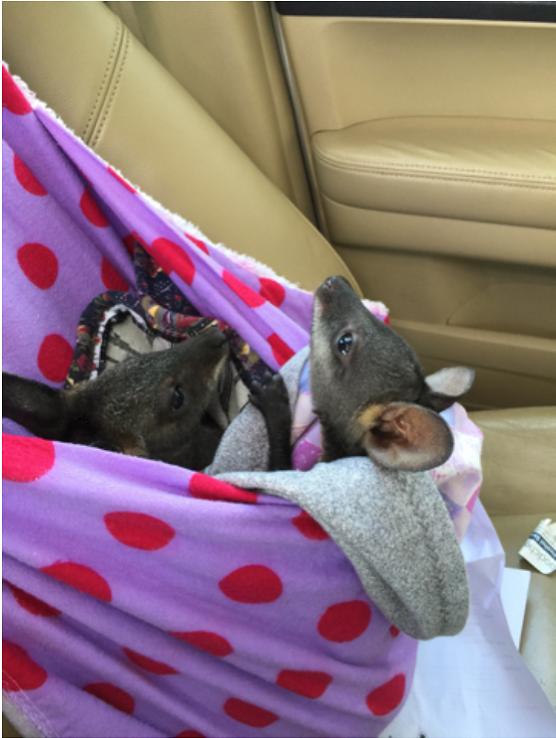 Cassius and his little play-mate, Xena.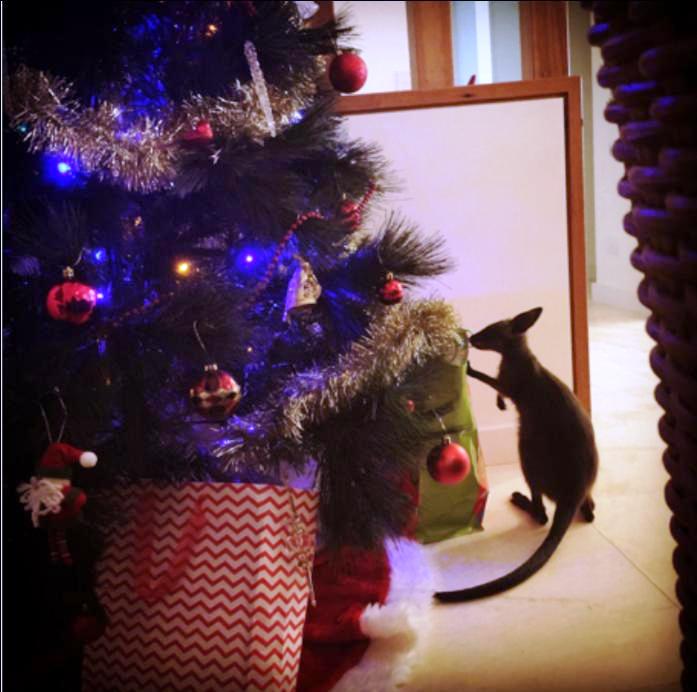 Cassius inspecting the Christmas Tree.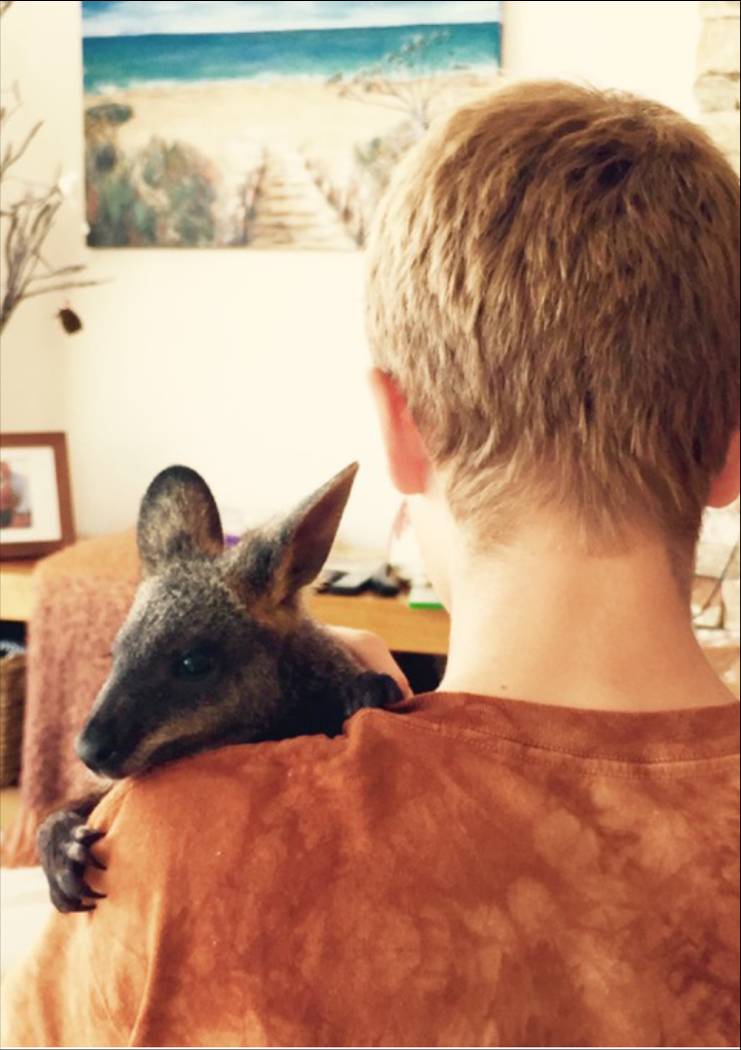 Cuddles from his big brother.
Well, Cassius tried everything, went on exploration adventures, got up to mischief, posed for photos and all the time he grew and grew.
5 months from the date of his rescue he had grown from 300g to 3kg. It was time for Cassius to graduate to 'Big School' aka The Sydney Wildlife Rehabilitation Facility.
Our Rehab Facility is also known as Waratah Park. It is where "Skippy the Bush Kangaroo" was filmed many years ago. (Our lovely Facility Manager, Joan Reid, was granted permission from the Metropolitan Local Aboriginal Land Council - MLALC - to utilise a section of Waratah Park for wildlife rehabilitation. The first thing she did was build a big fenced area for a macropod yard. The word macropod is derived from Greek and literally means 'big foot'. Kangaroos, wallabies and wallaroos are all examples of macropods. In addition to the macropod yard, Joan also organised for the volunteers to build a 'rubber room'. The rubber attached to the walls allows the joeys or injured macropods to jump around without injuring themselves.)
In contrast to the chilly day when Cassius was rescued, the day of his 'soft release' was sizzling! I think it was close to 38 degrees. Joan had the sprinklers on for all the animals and one of our members - Nicole Wedlock - captured a gorgeous photo of Cassius dripping in water from the sprinklers. It was quite weird to leave him there. I felt a bit like we'd abandoned him but we knew it was time for him to become a proper wallaby. In preparation for his release back to the wild, Cassius would need to become dehumanised. This meant reducing his contact with humans and allowing him the chance to experience storms, rain, parasites, fending for himself around other wallabies etc.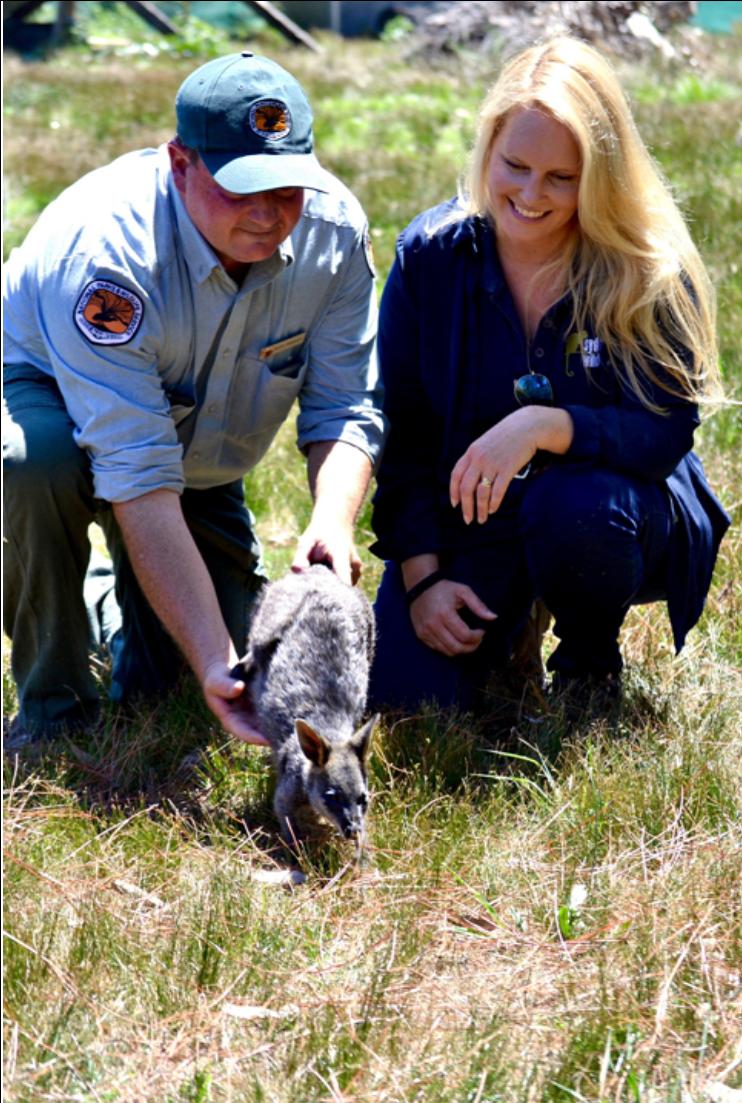 Scott 'soft releasing' Cassius at Waratah Park.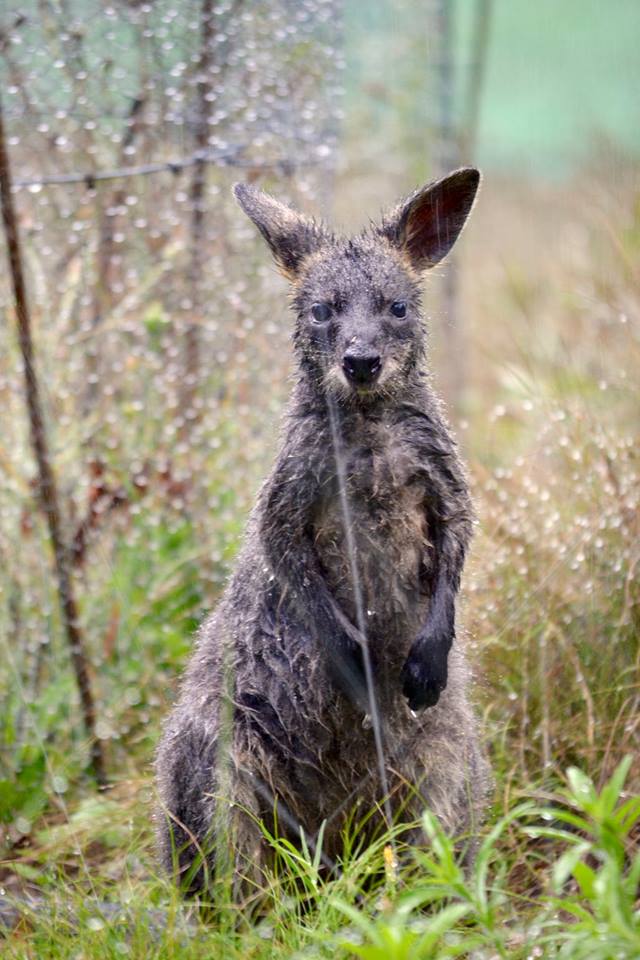 Nicole Wedlock's gorgeous photo of Cassius in the sprinkler.
Well, luckily he integrated quite well with the others and quickly settled down to life as a big boy.
Cass-cass spent almost 8 months in the Rehab Facility. The wonderful volunteers that keep the facility running like clockwork make sure that all the animals are fed, clean and safe. They are always careful not to interact with the joeys that are being dehumanised and keep their visits limited to once a day. When Cassius reached 7kg and was entirely independent, it was time to go back to his site of rescue and be a wild wallaby.
14 months from the day he was rescued, he was captured, sedated and transported to his release site. The day was cool and the gentle rain added to the beauty of the very picturesque setting where Scott could keep an eye on him from afar.
We
released him
from the transportation bag and waited for the sedative to wear off. He blinked his eyes at the new surrounds and then gently hopped off.

Freedom.
Finally.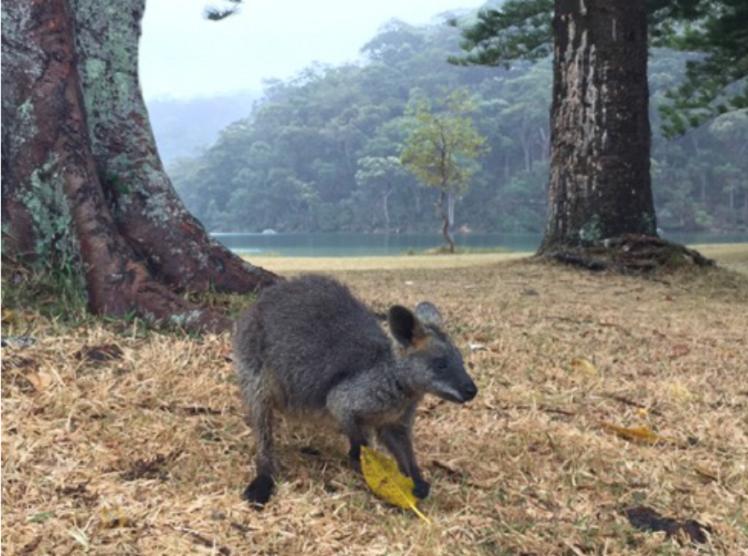 His day of release. Such a big boy!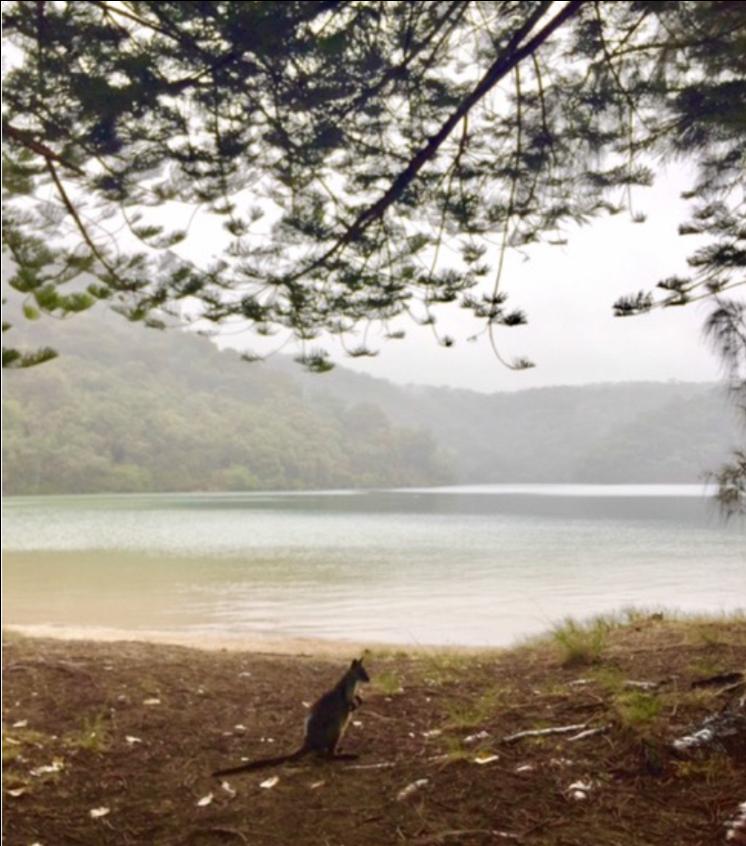 By Lynleigh Grieg
Sydney Wildlife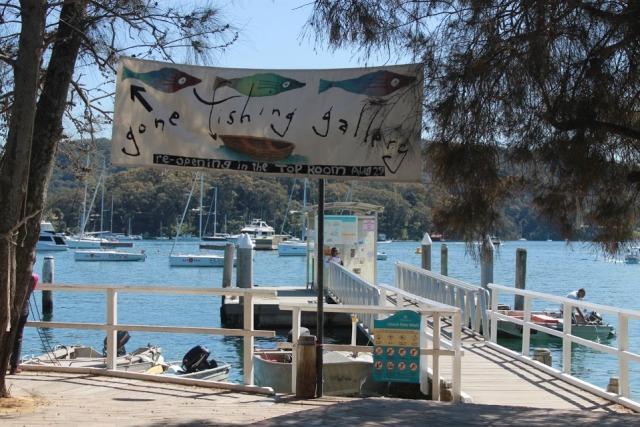 Gone Fishing Gallery at Waterfront Store Church Point
Open again TODAY in the top room Waterfront Store. Open mainly weekends as an addition to the waterfront cafe. Keep up to date on their Facebook page

The purpose of www.westpittwater.com.au - is best defined by the vision of the West Pittwater Community Association.
To be a supportive community, encouraging and promoting civic pride, interest in community affairs and goodwill amongst residents.
To protect local fauna and flora and generally preserve West Pittwater and its environs.
To secure essential facilities including public wharves and reserves and to protect private and public property.
To speak with one voice and represent the interests of the Western Foreshore community when in discussion with Pittwater Council and other relevant government bodies. The WPCA website provides a forum for the better realisation of these objectives. Visit: www.westpittwater.com.au
New Season for Sailability Pittwater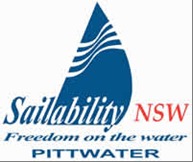 Sailability Pittwater is a volunteer organisation which provides sailing for people with a disability. Our main recreational sailing activities are at Rowland Reserve, Bayview, and we run competitive sailing for people with a disability out of RPAYC Newport. We are currently looking for new volunteers for our Saturday morning program at Rowland Reserve and Tuesdays at RPA. For more information at www.sailability.org/au/pittwater or call John on 9982 5656