Ingleside Draft Plan
April 19, 2017: MEDIA RELEASE - SIAG
Sustainable Ingleside Advocacy Group (SIAG) is calling on the Ingleside Planners to have another go.
The community group formed 2 years ago to advocate for Ingleside to be a 'lighthouse' development and exemplar of a modern sustainable community living in harmony with the natural environment. But their aim to work with the planners and community to achieve this goal has been shattered by the Draft Plan that was released by the Department of Planning and Environment late last December.
The Draft Plan looks to deliver 3,400 dwellings to house over 9,000 people across the Ingleside precinct. However 73% of the 429 submissions received by the Department from organisations, and over 80% of the personal submissions, had serious concerns about the quality of the planned development. The major criticisms are that the Plan will lead to a car dependent community, will be a bland urban sprawl, and will have insufficient green space to sustain the projected population or provide connectivity to the iconic National Parks and reserves that surround the precinct.
Despite a commitment from the Department of Planning and Environment that they shared the goal of a' lighthouse' development, SIAG says the Draft Plan does not work with the landscape, does not provide the infrastructure, does not plan for carbon neutrality, and does not lay the foundations for a liveable, walkable urban precinct.
SIAG spokesperson Graeme Jessup said 'they might have agreed with the lighthouse concept but someone forgot to turn on the light'.
Other Government Departments also found fault with the Plan. The submission from the Office of Environment and Heritage stated that the Plan had 'missed key opportunities to achieve exemplar status in sustainable precinct planning'; while Transport for NSW simply stated 'In the absence of a funding commitment for both Mona Vale Road upgrades and increased bus service levels, Transport for NSW cannot support the potential rezoning…'.
In a preliminary submission SIAG also flagged issues about the planning process. Many of the documents and maps were of poor quality, or missing information, and there was a lack of analysis of the overall plan.
Given the paucity of information and the largely negative public and organisational responses SIAG is calling on the Department of Planning and Environment to release an amended Draft Land Use and Infrastructure Strategy and Precinct Structure Plan and to hold a further non-statutory exhibition and consultation period before precinct planning progresses to the statutory exhibition stage.
'We are not against the development of Ingleside', said Graeme Jessup, 'but given changing climatic conditions, the range of sustainable urban design measures currently available, and the projected 20 year development phase we need to raise the bar for Ingleside. Otherwise it will be white elephant territory'.
New Leadership Team at Scotland Island Rural Fire Brigade
At its recent Annual General Meeting the Scotland Island Rural Fire Brigade the following people were elected to leadership positions:
• Community Fire Unit Leader – Annette Ritchie
• Deputy Captains - Stewart Hasell, Craig Laslett
• Senior Deputy Captain – Ian White
• Captain – Peter Lalor
• President – Graeme Crayford
• Secretary – Geoff Bullock
Tim Byrne was also appointed a Life Member of the Brigade in recognition of his many years of service to the Brigade.
The team may have changed a bit but we will still be doing the same thing – providing the residents of Scotland Island and surrounds with the best support we can in emergency situations.
For storm damage please call SES on 132 500
For all life threatening emergencies and fires please call 000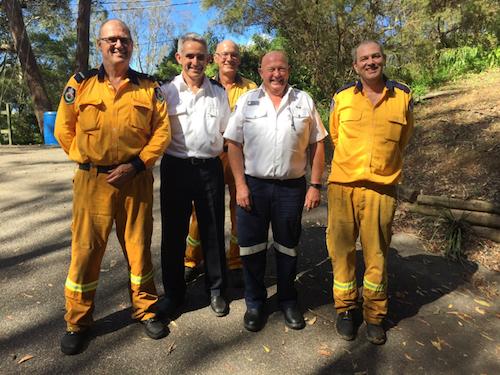 From Left to Right – Craig Laslett, Peter Lalor, Graeme Crayford, Ian White, Stewart Hasell
________________________________________
Thinking of doing a pile burn?
With summer behind us and the end of the official Bushfire Danger Period some people may be thinking of burning off excess vegetation to tidy up their properties and reduce bushfire fuel load.
There are some basic rules that need to be followed to ensure that burns are conducted safely and comply with government and fire regulations.
The first step is to determine the reason for the burn. If the burn is to reduce bush fire hazards you can get a Bush Fire Hazard Reduction Certificate free of charge from the Rural Fire Service. You should contact the Northern Beaches Fire Control Centre on 02 9450 3000.
If your planned burn is for some other purpose you should contact Pittwater council for advice about what approval you require. You can access the application form for an RFS Hazard Reduction Certificate and other useful information here
At least 24 hours before you commence your burn you must notify the Northern Beaches Fire Control Centre on 02 9450 3000 of your intention to burn. You must also notify your neighbours at least 24 hours before you start your burn.
For further information please refer to the Rural Fire Service web site
www.rfs.nsw.gov.au
or contact Scotland Island RFS on 02 9999 4404.
George Repin's Reflections
The staff and supporters of Pittwater Online News would like to send our love and best wishes to George Repin who is kicking back at what age can do to us all. We wish you a speedy recovery Sir, and if we could sneak Matilda into your room without a nurse becoming aware we had done so, to administer lots of puppy kisses, we would!
In lieu of one of your wonderful insights into somewhere beautiful here on earth this week we reprise one that is timely and brought a tear to many a Reader's eye when first run in your page: -
And something just for you dear George - one of this week's snaps of our growing bigger furry darling: - sorry she looks filthy, has been rolling around in mud!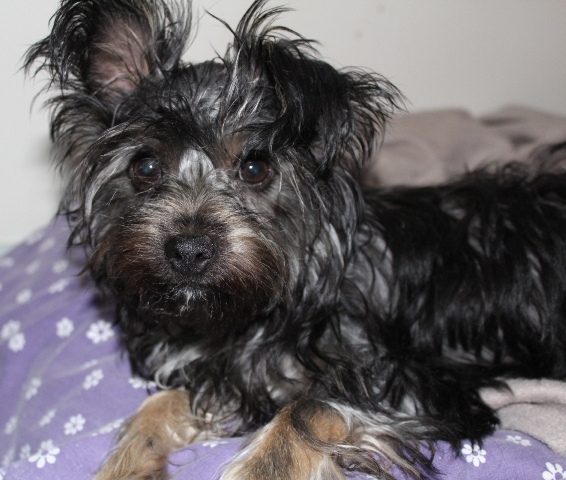 Pittwater Offshore Newsletter Update 23/4/2017
click on Logo:

To contact Julian: editor@scotlandisland.org.au
Vale Bill Goodman OAM
Tuesday April 18, 2017
Surf Life Saving NSW is saddened to hear of the recent passing of Life Member, Order of Australia Medal recipient, and Collaroy identity Mr William 'Bill' Goodman.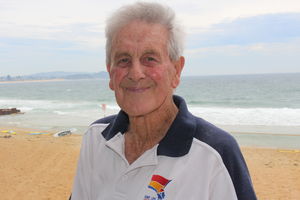 The 91-year-old became a member of Collaroy SLSC in 1941 and since then has lived and breathed Surf Life Saving. Bills enthusiasm, commitment, devotion and loyalty to his beloved surf club for over 76 years and equally the organisation of Surf Life Saving at all levels, has never been in question.
Bill obtained his Bronze Medallion in 1943 and held many positions in the club throughout his time including Club Treasurer for 60 years.
As well as his Treasurer duties he was on numerous club committees such as; Constitution, Life Membership, Premises and the Building Committee. For many years he was delegate to the SLSA and on several organising committees for major surf lifesaving events held at Collaroy.
In 1950 he was awarded Life Membership of Collaroy SLSC and only eight years later achieved Honour Blazer Membership which is the highest honour in the clubs 106 year history.
Life Membership was also achieved with Sydney Northern Beaches Branch in 1989 and Surf life Saving NSW in 2001.
In 1995 he was awarded the Order of Australia Medal (OAM) for services to Surf Life Saving and Basketball.
Bill's other love was basketball where he was the first Australian to qualify to referee at an Olympic games and was awarded Life Membership of all Basketball Associations. Having commenced basketball refereeing in 1953, by 2016 he had refereed in over 30,000 games.
"Bill lived and breathed Collaroy and in one way or another for over 7 decades, he left his own personal impression on hundreds of members," Collaroy SLSC Vice-President Geoff Small said.
"Simply because of his unassuming manner, every member who joined Collaroy in his mind was to become part of a family, either in looking after the beach going public or in administration, each with something to contribute no matter how large or small." Surf Life Saving NSW extends its sympathies to his family and friends.
The funeral service for Bill is being held at;
St Faiths Anglican Church, 5-9 Clarke St Narrabeen on Monday 24 April at 1:30pm. The service will be followed by a wake in the Goodman lounge at the Collaroy Surf Club.
Report on the ABHS General Meeting on Tuesday 11 April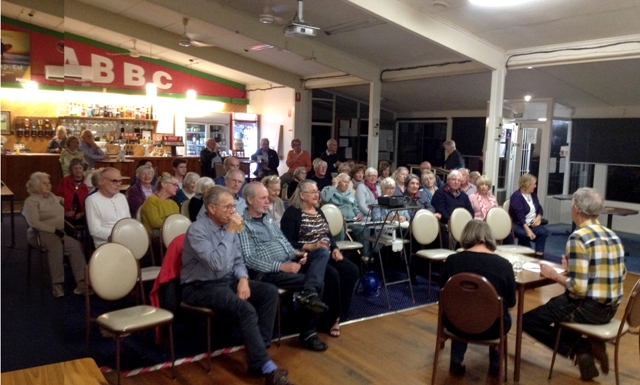 Fifty-one locals ventured out in rather inclement weather to attend the meeting of the Avalon Beach Historical Society held in the Avalon Beach Bowling Club's mighty "Bowlo" last Tuesday night.
It was another excellent attendance and the main item on the agenda was a presentation on recent research concerning Governor Phillip and West Head Beach. Relevant photographs were shown and commentary provided by the researchers, Roger Sayers and President Geoff Searl.
Apart from the historical event having taken place in our own backyard of Pittwater, it was made even more pertinent for the audience by the observation that weather conditions on the night and during the past March …cold, wet and windy… were similar to those experienced by Governor Phillip and his men exploring Pittwater for the first time, camped out at West Head Beach on the night of 5 March 1788 …cold, wet and windy….
At least we didn't have the thunder and lightning as in the past March and as Phillip did on that night – also we were cosy and warm inside the "Bowlo".
An attempt was made to play part of one of the many audio cassettes recorded by Geoff in 1983 in which he talked at length with the late Tim and Hilda Gonsalves and Fred Verrills. More refinement is required for playing in a hall to a large audience.
However photos of the "Rendezvous" and early Palm Beach were shown with a commentary provided by Fred's son Peter Verrills and Geoff.
Please note that new members and guests of members are always welcome to attend.
Notice was also given of the deferment of the proposed historic photographic exhibition on the October long weekend this year to the June long weekend next year. We will hopefully be able to occupy the main hall of the Recreation Centre then and exhibit over 1000 of our photos illustrating the local history of the area from Barrenjoey Headland south.
Or type in Avalon Beach Historical Society and enter.
Geoff Searl
President Avalon Beach Historical Society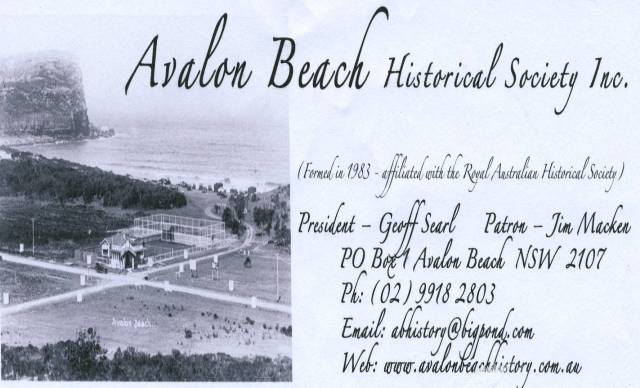 Charity Golf Day 2017
N E W D A T E!
Friday 19th May 2017
Bayview Golf Club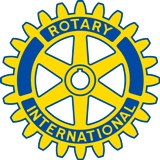 After a postponement due to recent heavy rains, our Golf Day is back on track on a new date.
If you've already registered, we'll be in touch with you directly. If you'd like to sign up, we'd love to have you join us. For all the details, see below.
Join us at beautiful Bayview Golf Club for a morning of golf and fun with lunch to follow.
Golf experience optional! A great day out for men and women of all skill levels!
Format: 4- ball Ambrose / Shotgun start
Teams of four: Register your own team or join one of ours
Golf + Lunch package: $150 per person includes:
18 holes golf (Ambrose format)
Morning tea -
Snack/drinks cart -
Gift bag-
Two course lunch
Golf only: $100
Lunch only: $60
To register:
Hand your completed form and payment details to an UNB Rotary club member
OR drop it at Bayview Golf Club reception during business hours
OR post it to: The Rotary Club of Upper Northern Beaches, P.O. Box 321, Mona Vale N.S.W. 1660

Manly Arts Festival 2017
HEAR music + talks + tours
PLAY workshops
OPEN studios
Artist market
This year we're coming together to celebrate 24 years of the Festival and the magic of creativity in Manly and beyond. A broad range of exciting events featuring prominent musicians, visual artists and dance performers in a host of different venues from creative studios to Manly Art Gallery & Museum and the Warringah Creative Space will ignite the region.
Since 1994 the Manly Arts Festival has grown into one of the State's leading community-based arts festivals. Each year, arts and cultural organisations in the region and Council, supported by local businesses, join forces to develop a creative and entertaining program of events for residents and visitors.
CALL-OUT for ARTISTS
Invitation to be part of the Manly Arts Festival
8 - 24 September 2017
Artists, musicians, performers, arts organisations and the community are invited to participate in the festival by running their own events to celebrate the creative activity on the Northern Beaches area. Venues such as galleries, cafes, restaurants, surf clubs, community centres and other spaces are also invited to host and/or organise arts-related events during the Festival. This year's Festival will be held across the Northern Beaches from 8 – 24 September 2017 and will include:
Visual Arts exhibitions and events
Music events
Literary and theatre events
Film events
Dance and Performance events
Youth events
Creative Workshops
Children's events
The Manly Arts Festival is a celebration of the achievements, dedication and innovation of the Northern Beaches creative community. Local artists are able to participate by organising arts-related events across the Northern Beaches.
The Manly Arts Festival is created by the community for the community - a two week extravaganza of arts events. Artists and members of the community come together by supporting each other through entrepreneuring and administering arts events, attending arts events, providing venues for artists and organisations and providing sponsorship and in-kind support for the Manly Arts Festival.
The Manly Arts Festival is managed by Rachel Carroll. Rachel wants to hear from all artists and arts/cultural organisations and potential venues interested in running their own events for a highly focussed program throughout the Northern Beaches. If you have any questions about how to be involved or you would like to propose an event or activity, phone Rachel Carroll on - 0466 486 352 and fill out the form on the Apply Here link below.
Grants to highlight the benefits of philanthropic partnerships
5 April 2017: Media Release - The Hon. Christian Porter MP, Minister for Social Services
Community organisations can now apply for a share of $160,000 in Commonwealth Government funding for projects that showcase their philanthropic partnerships.
In opening the grants round today, Minister for Social Services, Christian Porter, said that community organisations working with philanthropic or business partners could apply for up to $10,000 to demonstrate the success of their partnerships in strengthening communities during Community and Philanthropy Partnerships Week.
This year's Week, to be held from 20-26 November, will focus on 'building stronger communities together'.
"The Week celebrates philanthropic partnerships with community groups around Australia, to advance our culture of philanthropy and volunteering," Minister Porter said.
"It is a great opportunity for community organisations and their philanthropic or business partners to highlight their collaborative work."
The grants round is managed by Philanthropy Australia, in partnership with the Foundation for Rural and Regional Renewal, and closes on 12 May 2017.
Highlighting the impact of philanthropy in Australia, today the Minister also released new research commissioned for the Prime Minister's Community Business Partnership. Minister Porter said that more Australian philanthropists are involved in collective giving and young philanthropists are giving while building wealth rather than waiting until later in life.
"These new trends are identified in the Philanthropy and Philanthropists report, part of the Giving Australia 2016 project," he said.
"Giving Australia 2016 is Australia's largest ever review and analysis of giving and volunteering, with Commonwealth Government funding of $1.7 million.
"This research will establish benchmark data to measure progress on philanthropic giving, and a strong basis for policy decisions to encourage charity in Australia."
Minister Porter, who is Deputy Chair of the Community Business Partnership, said it was important to recognise the enormous contribution made to strengthen Australian communities at the grassroots.
"Local champions of philanthropy, volunteering and investment will also be acknowledged through the Australian Government Community Business Partnership Awards in the lead up to Community and Philanthropy Partnerships Week celebrations," he said.
"These initiatives reflect the Government's strong commitment to recognising the impact of community, business and philanthropic collaboration to building a culture of corporate social responsibility, strategic philanthropy and volunteering to help us build a strong civil society."
Call for expressions of interest in the lease of officers mess and annexe at north head sanctuary
21 March 2017: Sydney Harbour Trust
The Harbour Trust is now seeking expressions of interest to lease two landmark former defence buildings inside Manly's North Head Sanctuary at 33 North Head Scenic Drive.
Expressions of interest close on 24 May 2017 at 4pm.
Call To Local Councils As Floodplain Management Grants Open For Applications
Media release: 16 March 2017
Grant funding to assist councils in carrying out floodplain management projects to help manage flood risk open for applications today, announced the NSW Government.
The Office of Environment and Heritage (OEH) Executive Director Ian Hunter said grant funding is available to assist local government with flood studies, flood risk management studies and plans and major projects such as flood levees, gates, warning systems and house raising and purchase in high risk areas, under the 2017-18 Floodplain Management Program.
"This grant program funds important projects that assess risk and help reduce flood impacts across NSW," Mr Hunter said.
"I encourage local councils to apply for this funding round.
A
pplications close on 27 April 2017.
"The last funding round supported forty-four projects which shared $6.72 million.
This grant program supports the implementation of the NSW Flood Prone Land Policy which aims to reduce the impacts of flooding and flood liability on communities," Mr Hunter said.
Local councils, county councils and other government bodies with floodplain risk management responsibilities (refer to program guidelines) equivalent to those of local councils are eligible to apply.
Further information and application forms are available here:

The purpose of www.westpittwater.com.au - is best defined by the vision of the West Pittwater Community Association.
To be a supportive community, encouraging and promoting civic pride, interest in community affairs and goodwill amongst residents.
To protect local fauna and flora and generally preserve West Pittwater and its environs.
To secure essential facilities including public wharves and reserves and to protect private and public property.
To speak with one voice and represent the interests of the Western Foreshore community when in discussion with Pittwater Council and other relevant government bodies. The WPCA website provides a forum for the better realisation of these objectives. Visit: www.westpittwater.com.au
Sydney Wildlife: April 2017
A Week In The Life Of A Sydney Wildlife Volunteer
Sydney Wildlife is turning 20 in May! I would've loved to be one of the original members but, alas, I only joined 5 and a half years ago.
In celebration of our 20 Year Anniversary, I have been asked to share a typical "Week in the Life of a Wildlife Rescuer"…
One always begins the week with all kinds of plans for scrubbing out the aviaries, tidying out the overflowing cupboard of animal-feeding accoutrements and attacking the ever-burgeoning pile of paperwork. But wild critters have no idea about these plans, apparently…
The first call comes through. A wallaby has managed to get its head stuck in a plastic lid. Without opposing digits, it has no hope of releasing itself from its rather ridiculous-looking bib.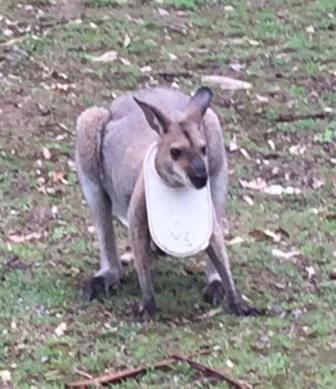 So it's off to the safe to pack up the tranquilliser rifle and the myriad darts, needles, meds, cartridges and other things that are required to sedate the poor critter for the removal of the plastic noose. Then the long trip up the mountain to find a wallaby that is not in an enclosed space but has been sighted in 1 of 4 different places. Sigh. A long day ahead…
Well, after about 3 hours of searching, we eventually find him at exactly the location where we started our search - typical. Load the dart into the rifle, aim and fire. In around 5 minutes this rather large boy is in sleepy mode, dreaming of pink unicorns. The plastic was not difficult to remove. And there's time for a quick health-check before he wakes.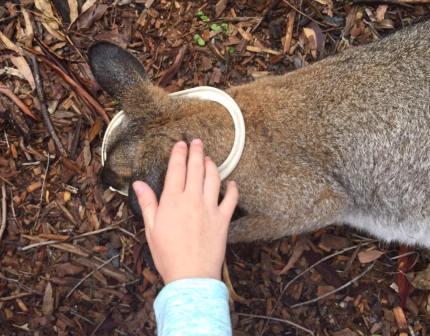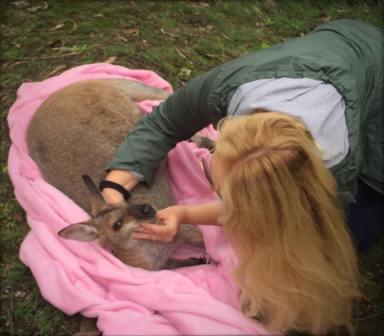 Back to the 'Big Smoke' where a tawny frogmouth has been found on a school oval near the soccer nets. The grounds staff are keeping a watchful eye on it as I'm not sure they believe me when I mention that it is not an owl but a nightjar. I drive onto the oval to find the tawny struggling to stand and flopping onto his face. I scoop him up and pop him into a carry-cage and head straight to a veterinarian. I suspect that he may have been clipped by a car and ended up on the field. A clinical examination and x-rays reveal that he has a fractured tibiotarsis (leg bone). Poor critter. The veteriarian reduces the fracture and starts to splint it. Immobilising the fracture reduces the pain significantly. The tawny gets pain relief and a pretty blue vet-wrap bandage. On the trip home, I stop off to buy tawny food from Pat's Rats. Fuzzy mice - yum!
Once the tawny is set up in an enclosure, it's time to feed all the other critters in care. The blue-tongue lizards get pinkie mice, the snakes get rats and the dragons get a smorgasbord of crickets, mealworms and woody cockroaches. Bleugh. Glad my dinner is a little less revolting…
First job of the next day is a simple python relocation. Yeah, right.
I arrive at the home of a fairly anxious member of the public. The diamond python is curled up on her deck beside a pot-plant. Apparently she's been there for a couple of days. I've seen pythons in lots of places - draped over balcony railings, up in stable rafters, beneath shrubs, in kitchen cupboards… So this isn't particularly strange. But as I pick her up, I feel a really large and firm lump right near her cloaca (bottom). I manipulate the bulge a bit to try to ascertain what it is. Well, whatever it is, she can't be relocated without further investigation. So into the bag she goes and off home for a soak in a bucket of warm water. With a heat-mat under the the bucket, the water will stay warm enough for a nice hour-long soak. I am still under the impression that she is suffering a faecal impaction and that the warm water might move things along a bit. After an hour and a half in the water… Nothing. So another hour's bath. Nothing. My son gets the dubious honour of holding the 'bitey' end while I do some manipulation of the colon to see if that helps. Nothing.
Hmmmmm. Maybe we'll try again tomorrow.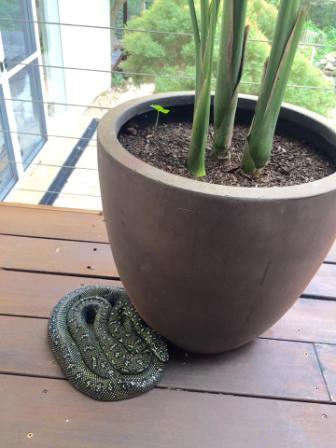 Meanwhile it's time to weigh the ringtail babies to see if they are ready to be transferred to our Pre-Release Facility in Duffy's Forest. Joan Reid, our Facility manager, is busily preparing the large aviary for the arrival of my batch of 5 ringtails. She has also just received 2 adorable wallaby joeys who are ready for 'big school' and is simultaneously attempting to capture one of the bigger wallaby boys who is ready for release back to the wild.
I weigh the biggest ringtail of the batch - a beautiful and gentle boy called Diggle. The other male is a nut-case. He wants nothing to do with being weighed and almost takes a chunk of flesh out of the back of my hand. Two of the little females are just as unwilling to be handled which is a good thing as we need them to be wary of humans before their release. The third little female is like a pocket-rocket. In her quest to be surgically attached to me, she is as quick as lightning. The second she hears the aviary door opening, she prepares to catapult herself onto my face. Sheesh - another scratch to add to the growing collection. She loves me. Which is a problem. Little Felicity is small and rather hyperactive but for some reason (despite being raised exactly the same way as all the other 4) she has decided she would rather be a human than a possum. The reason the Pre-Release Facility was started by Joan, was for exactly this situation. Hand-raised orphans can sometimes become too 'humanised'. Releasing a humanised animal into the wild doesn't give them very good odds for survival. So Joan is in charge of 'tough love'. At the Pre-Release Facility, the orphans learn to be wild and become 'dehumanised'. They learn to cope with the weather, parasites, finding their own food and mingling with other wild animals. They learn not to depend on humans - all in a predator-free environment. This will stand them in good stead for assimilation into the wild.
With the weigh-in complete, I decide with a heavy heart that my babies are ready to graduate. After a quick call to Joan, I hop in the car and drive the nest of babies up to Duffy's Forest. Along the way I pick delicious foliage for the babies to add to their new aviary. I also stop off at Petstock to buy some more turtle food for the rehabilitating turtles up at the Facility. As I arrive, the heavens open. Yay… Not. Soggy wallabies bound around inside the paddock. Soooooo cute. Joan is attempting to catch a kookaburra inside one of the enclosures for a visit to the local veterinarian. His flight training isn't going as well as expected so he needs a health-check.
Joan and Jenny have been prepping the aviary and the babies are ensconced into their new palatial digs.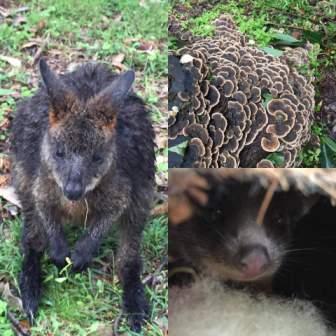 On the way home, I see a rainbow lorikeet standing on a driveway with its head bowed. This is not normal lorikeet behaviour. I pull over and grab a towel from the boot. In silent gesture, I put my hand up to halt a lady walking her three dogs as they are approaching the lorikeet unawares. They stop and watch as I try to gently cover the lorikeet with a towel. Does it go to plan? Ha! He perks up and starts screeching like a banshee and running about like a headless chook. One thing's for sure, though - he can't fly. My guess is that he has collided with a vehicle. So back to the local veterinarian. As I arrive, I'm called out to assist one of my snake-handlers who is grappling with a tonne of firewood on a property where the owner has filed a report of a tiger-snake! The lorikeet is whisked off to the holding area and I'm ushered out. I jump in my car in excitement. A tiger snake!!! Haven't seen one of those in that particular area in over 10 years!!!
Before I can get there, my trustee snake-wrangler - Georgie - has taken on the big fellow single-handedly and won! What a gal :) She's dripping sweat and adrenaline and is talking faster than a teenager on their 6th Red Bull. I am completely in awe of this amazing woman :)
She definitely thinks the big boy requires a health check as she noticed a rather raw injury to his dorsal scutes and she also noted that he felt a little underweight. I am very happy to oblige with the health-check and pop the precious cargo into an escape-proof lockable box for transportation back to my 'examination table'. The examination table is a little less amazing than it sounds. In reality, it's just a pool table with a cover, but it works a treat.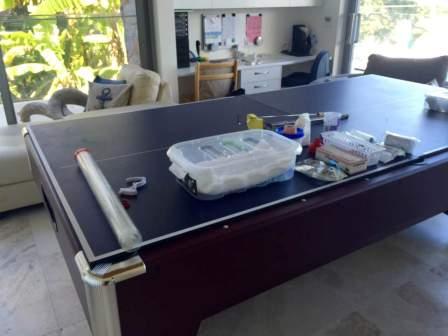 The tiger snake has been named Nash by the member of the public from whose woodpile he was expertly extracted by our Georgie.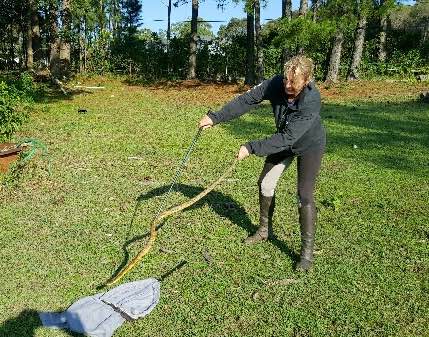 Georgie grappling with the 1.4m tiger snake. What a woman!
I tip Nash out of his bag and he comes out swinging! What a firecracker! Woooooohooooo!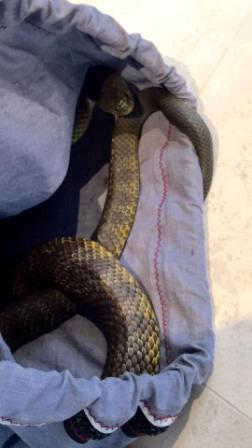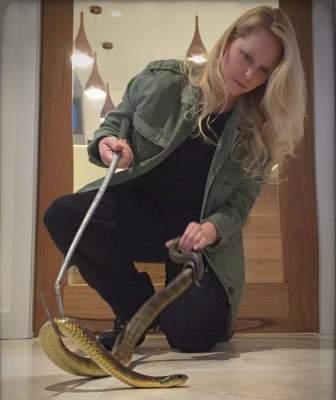 We chase each other around for a while and I eventually get him into the tube for a closer inspection of that wound.
Georgie was right - he's very underweight and I need to find out why. I slowly extract him from the tube until I can restrain his head. And I have a good look into his mouth. Hmmmm - very red, inflamed and sore. Possible stomatitis. This would certainly be a symptom of a systemic infection. After consulting with a Reptile Veterinarian, I start him on intramuscular antibiotics and wash out his mouth with an antiseptic. I give subcutaneous fluids to address his dehydration. He's soon dozing on a lovely warm heat-mat in his temporary home.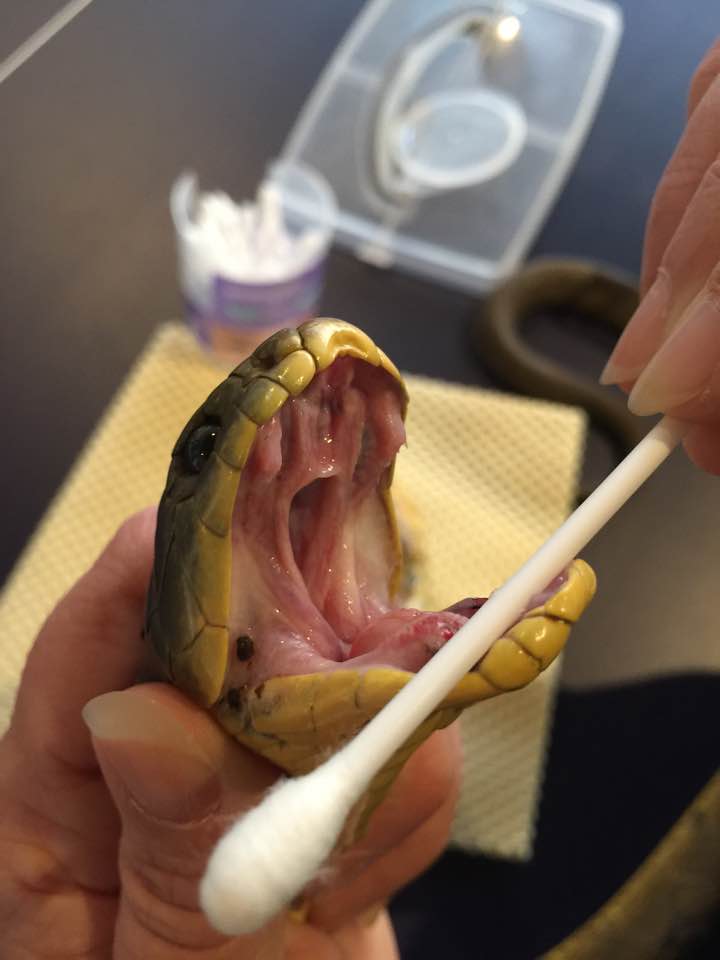 "To Be Continued" in our Anniversary month of May…