January 17 - 23, 2021: Issue 479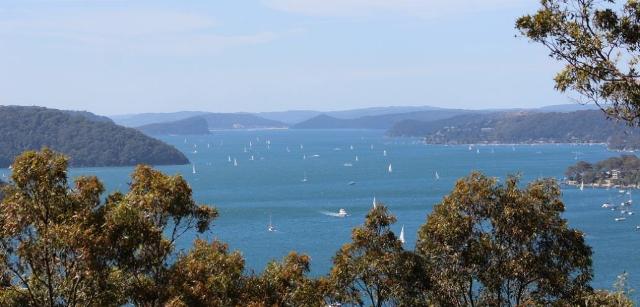 This Issue: full list in Contents page
Pittwater Offshore Newsletter: January 17, 2021
Click on Logo to access latest PON:

To contact Julian: editor@scotlandisland.org.au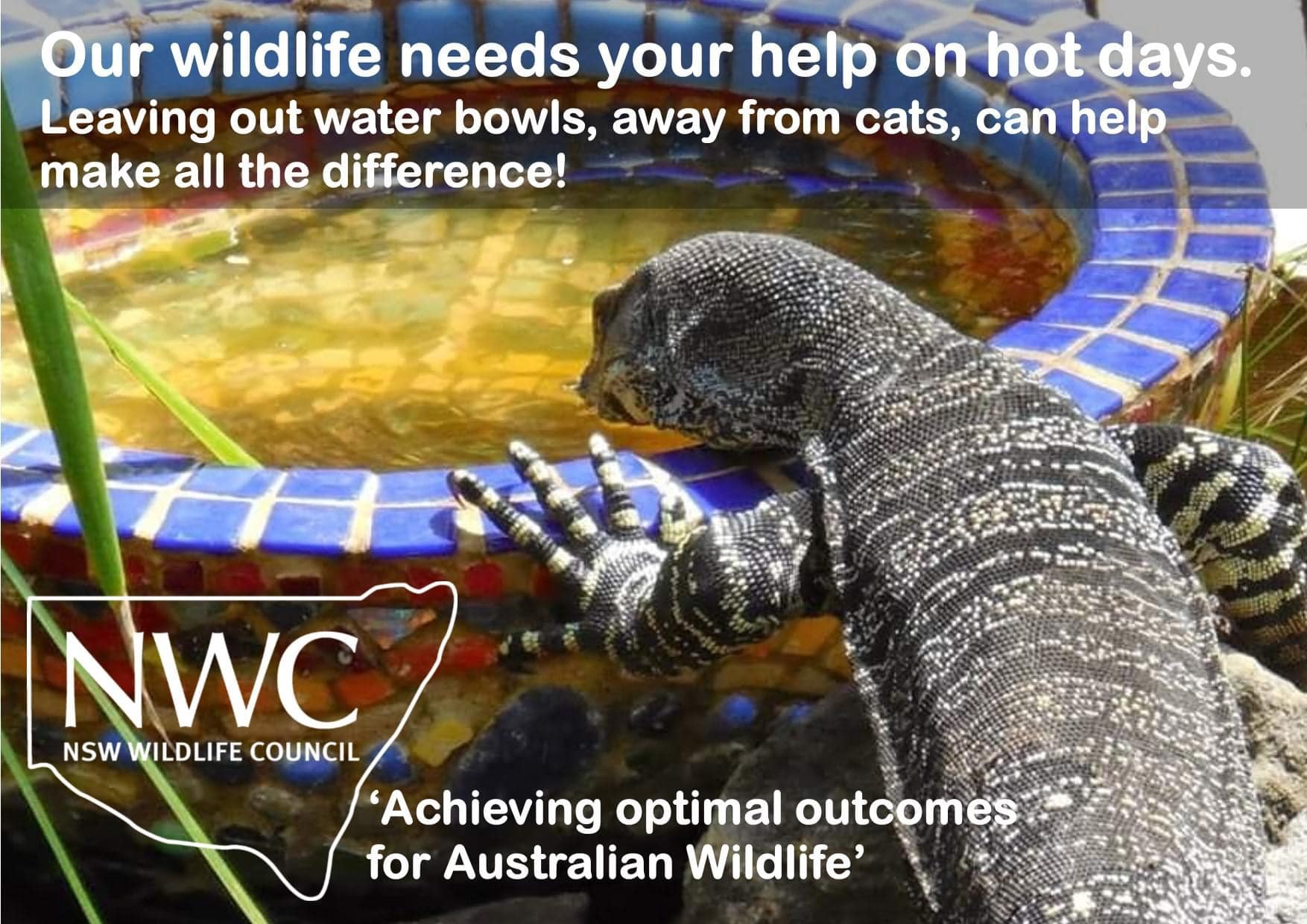 These hot days are tough on our wildlife - please put out some water in a shaded location and if you come across an animal that is in distress, dehydrated or injured - please contact your local wildlife rescue group:
Photo: Bronwyn Gould
Second Freshwater ferry retained
January 14, 2021
A second Freshwater class vessel will continue to operate on Sydney Harbour, following further consultation and feedback from the community.
Minister for Transport and Roads Andrew Constance said the oldest in the fleet, the MV Freshwater, will continue to operate alongside the MV Collaroy on weekends.
"I want to thank the local member for Manly who has continued to fight on behalf of his community to save an additional Freshwater," Mr Constance said.
"This decision is about balancing the needs of all our customers, with the community feedback and additional maintenance costs, and moving forward with a solution that we can all get onboard with."
The two Freshwaters will see services run between Circular Quay and Manly every hour on weekends and public holidays, year round.
"Weekday commuters, who want faster and more frequent services, will be served exclusively by the new generation Emerald class vessels, which are fully accessible, more energy efficient and cheaper to run," Mr Constance said.
Member for Manly James Griffin has welcomed the decision to save a second Freshwater class ferry on the Manly to Circular Quay route.
"I want to thank the Minister for Transport and Transport for NSW for listening to my community's feedback and retaining another Freshwater," Mr Griffin said.
"This decision strikes the right balance between keeping the grand old boats for tourists and residents who want to enjoy the scenic trip to Manly on weekends and public holidays, and a more frequent service that commuters want during the week."
The Freshwater will temporarily cease operation in the first quarter of 2021 while it undergoes major maintenance.
During this time, the remaining three Freshwater ferries will continue to run services.
The Narrabeen and Queenscliff will officially retire around the middle of the year when the Freshwater returns from major maintenance and the Emerald Class vessels begin operation on the F1 Circular Quay – Manly route.
Transport for NSW will update the community about farewell plans for the MV Queenscliff and MV Narrabeen early this year.
All four Freshwater class vessels will operate throughout this summer.
Have your Say on Classification of land: 62 & 85 Hillside Road Newport
Those who fought to ensure the green space atop Newport Hill could be added into the Reserves for people and wildlife may like to provide feedback on the current Council's proposal to classify this land into two parcels. Under Section 31 and 34 of the Local Government Act 1993, prior to acquisition of land Council is required to classify land as either 'operational' or 'community' land and give public notice of this proposed resolution.
Council is proposing classification of 85 Hillside Road (Lot 2 DP 1036400) as operational land and 62 Hillside Road (Lot 1 DP 408800) as community land within the meaning of the Local Government Act 1993.
The primary distinction between community land and operational land classifications is that
Operational land can be alienated from the public, ie: sold or leased for more than 21 years.
Community land cannot be sold, is subject to restrictions to ensure its long term retention for the public and is required to be used and managed in accordance with an adopted plan of management.
Have your say, until January 31st, 2021, at:
Have your say: Local Housing Strategy
The NSW Government requires all Councils to prepare a local housing strategy to address the short-term housing targets identified in the relevant District Plan.
The Draft Northern Beaches Local Housing Strategy has been prepared and is now open for public comment from Friday January 15th, 2021 to Sunday February 21st 2021.
The documents state the peninsula of the northern beaches (Manly to Palm Beach) needs to plan for approximately 12,000 new dwellings by 2036.
The draft document has been uploaded in 8 Sections to provide as much clarity on each component as possible.
Section 4 (The right locations for new housing) states that Brookvale, Dee Why and Mona Vale are classified as strategic centres in State level planning, and Manly Vale and Narrabeen, while smaller, offer many opportunities to build on their existing characteristics, along the existing B-Line, are all suited to medium to higher density development in the medium term.
Low to medium density housing will be investigated in the one kilometre radius around other local centres including Avalon, Newport, Warriewood, Terrey Hills, Belrose, Forestville, Beacon Hill, Freshwater, Balgowlah and Manly, excluding areas with environmental and other constraints.
In the longer term, if a second B-Line to Chatswood goes ahead, centres such as Forestville and Beacon Hill could also be a focus for medium to higher density housing.
Local centres suited to low to medium density housing such as dual occupancies, seniors accommodation and boarding houses include the strategic, town and village centres that are not on the existing B-Line or not proposed for significant housing renewal. These include: Avalon, Newport, Warriewood, Terrey Hills, Belrose, Forestville, Beacon Hill, Freshwater, Balgowlah and Manly.
Find out more and provide feedback at:
Have your say: Councillor use of Social Media Policy
In June 2020, Council endorsed a Notice of Motion (No 25/2020) to develop a Social Media Policy for Councillors. Subsequently, the draft policy was prepared in late 2020 and resolved by Council in November to be placed on public exhibition.
This policy will provide guidance for Councillors with regards to confidentiality, governance, privacy, record keeping and other legal and regulatory risks when using social media.
The draft policy defines a set of principles to ensure communication between Councillors and the community will be in a manner that:
informs the community about the decisions of Council, policies, programs, services and decisions
promotes two-way communication
builds a highly informed and engaged community
accurately responds to community comments and requests
complies with relevant laws and regulations, and ensures the confidentiality of Council information
respects the democratic process acknowledging Council resolutions represent the majority view.
Feedback on this Policy until from Monday January 11 to Wednesday 10 February 2021.
Surf Life Saving NSW Receives Wave of Hand Sanitiser
Tuesday January 12, 2021
Thanks to an anonymous donation and the assistance of Good360 and JJ Lawson, Surf Life Saving Clubs across NSW will this week start receiving boxes of free hand sanitiser to assist with preventing the spread of COVID-19.
Good360 is an organisation that matches donated product with the needs of not-for-profits. It recently connected Surf Life Saving NSW with a donation of eight pallets of hand sanitiser which will be distributed across its 11 branches and 129 surf clubs.
The donation has meant a cost saving in the order of $64,000 in keeping frontline volunteer surf lifesavers COVID-safe whilst on patrol.
Not only was the hand sanitiser donated but so was the transportation of the products to Surf Life Saving NSW headquarters in Belrose, Sydney, by the good people at JJ Lawson.
When told about this generous donation, Mike Hallahan of the Far South Coast Branch said, "We would be thrilled to receive the donated hand sanitiser on behalf of our clubs".
Club Development Officer at Surf Life Saving Sydney, Karen Byron, who accepted the donation on behalf of the Sydney Branch and its 15 clubs said, "How fortunate are we to receive this!".
Surf Life Saving NSW branches will coordinate the distribution of the hand sanitiser to each of their clubs so they can start making use of it as part of the COVID-19 Safety Plans every surf club is required to have in place.
Chief Executive of Surf Life Saving NSW, Steven Pearce said that the safety of volunteer lifesavers is paramount, particularly because they are frontline first responders in an emergency service charged with the responsibility of lifesaving and coastal aquatic rescue.
"Not only has COVID presented many challenges in terms of our operations, but it has also had a financial impact on our 129 Surf Life Saving clubs who have to comply with new health and safety regulations and also manage member safety."
President of Surf Life Saving NSW, George Shales OAM, said the donation could not have come at a better time.
"The donated product will provide much needed budget relief and additional personal safety assurance for our clubs. It's just one less thing they need to worry about and we are delighted and extremely appreciative to be able to facilitate this for them," George Shales said.
Surf Life Saving NSW encourages all clubs and branches to visit
www.good360.org.au
and take advantage of the free registration to keep abreast of other donated products that may assist in day-to-day operations.
Surf Life Saving NSW would like to thank the anonymous donor, Good360 and JJ Lawson for the generous donation and for making the distribution of the hand sanitiser possible.
Your invitation to come join us: Manly to Church Point Bike Ride 26th January 2021 - Ride with Aboriginal Peoples
This is not a race, just a friendly ride to show respect for Aboriginal People. You can do the full 24km or join the ride at Dee Why or Narrabeen and Mona Vale.
There will be a support car with you all the way so no one is left behind. The cost, a smile.
Meet at West Esplanade, Manly
At the monument between Manly wharf and Manly Art Gallery, where Wil-Le-Me-Ring a Garigal Aboriginal man Speared Governor Captain Arthur Phillip 1778.
We will be sent off to the sound of the didgeridoo.
Meet 7.00 to leave Manly 7.30 am - 7km to Dee Why – via Queenscliff, Freshwater, Curl Curl
8.15am Meet at the Dee Why Beach at the southern crossing, then we do not have to cross Pittwater Road until out of Dee Why.
8.30am leave - 7km to Narrabeen – via Pittwater/Sydney Road.
9.15am Meet at North Narrabeen Surf Club car park.
9.30am leave – 3km to Mona Vale – via Ocean Street and Narrabeen Park Parade.
9.40am Meet at Robert Dunn Reserve at Coronation Street.
9.50am leave – 7km to Church Point Wharf – via Pittwater Road
10.30am - be welcomed by friends at Church Point.
Meet local Aboriginal Garigal man, Neil Evers. Hear stories about the Aboriginal people who once lived in the area while you enjoying a well-deserved rest.
While you listen to the haunting sound of the didgeridoo echo across Pittwater and you play the clap sticks. (clap sticks provided) Listen and learn to dance along to the Aboriginal language.
Please pass this on to your friends.
For more information and to book in: please contact Colin Hutton
Curriculum overhaul
January 15, 2021: NSW Government
NSW Curriculum Reform is powering on with the first stage of decluttering that will see a reduction of more than 80 courses developed by schools classified as unnecessary.
As part of the NSW Curriculum Reform, new criteria have been developed to ensure elective courses developed by schools provide students with strong foundations for future learning and life beyond school.
Premier Gladys Berejiklian said the NSW Government has exceeded its target to reduce the number of elective courses developed by high schools by at least 20 per cent.
"We need our schools to be focussed on the core learning areas," Ms Berejiklian said.
"Removing unnecessary courses allows schools and teachers the time and resources to deliver the essentials for students."
Minister for Education Sarah Mitchell said that she wanted to ensure schools are delivering high quality syllabuses to set students for success after school.
"New criteria will ensure that courses are only approved where the course provides a high quality elective option for students, and does not duplicate or overlap with existing opportunities within the syllabus," Ms Mitchell said.
"While courses will be cut, students will still have opportunities to explore their interests. For example, courses like print-making would no longer be standalone courses, but they could still be options as part of a core course like Art.
"Removing these courses is the first step in our curriculum reform with the development of the new, streamlined K-2 English and Maths syllabuses also on track to be released for consultation in March this year."
With the exception of languages, Auslan and Braille, all Year 9 and 10 elective courses developed by schools will be phased out by 2022. Year 9 and 10 students will have the opportunity to select elective subjects that will be developed by the NSW Education Standards Authority and will be available statewide.
Pittwater High School 2021
December 16, 2020
Our latest newsletter contains really important information for 2021, we advise all parents to check their emails. This includes a schedule of important dates (see image) including our student and parent information evenings to be held the beginning of next year.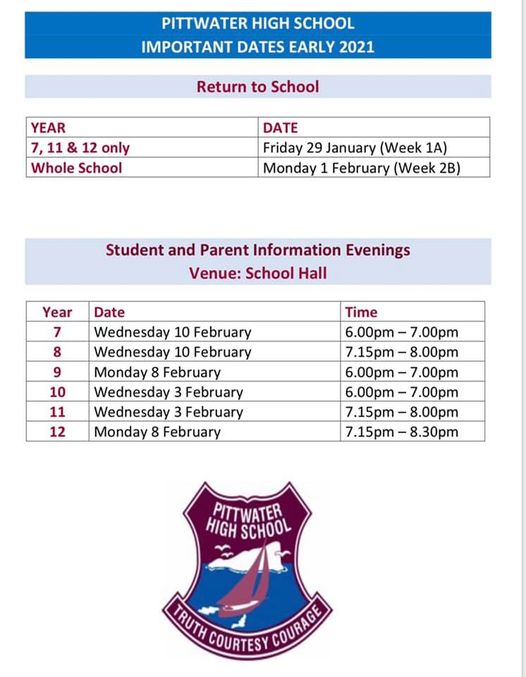 Barrenjoey High School 2021 uniforms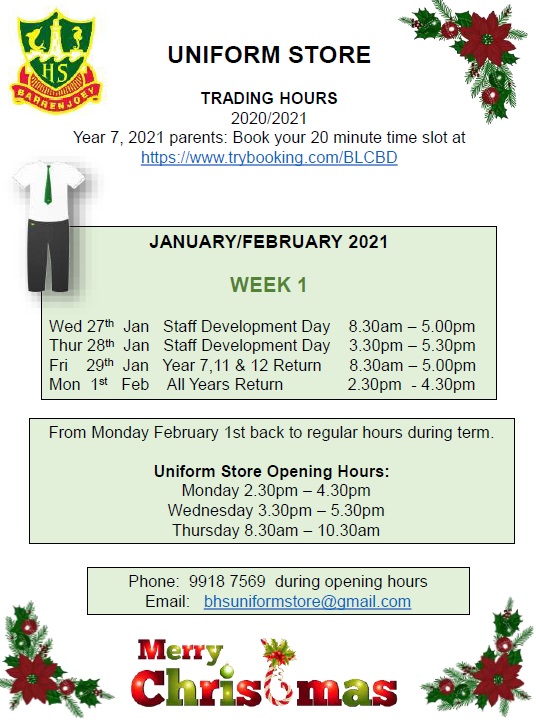 Newport Surf Life Saving Club Building extensions
Input welcome until January 22nd, 2021
Over the past two years Council have worked closely with Newport Surf Life Saving Club, architect, coastal, geotechnical and structural engineers as well as Council's heritage team to refine the building extension concept plan for Newport Surf Life Saving Club.
The building extension proposal, first exhibited in August 2017 was based on a masterplanning concept commissioned by the Newport Surf Life Saving Club.
Following the initial consultation Council engaged an architect and carried out additional detailed investigations to inform the development of the updated concept plan.
The updated concept addresses the building site conditions, heritage constraints and the requirement for coastal protection works.
The building extension concept plan provides a design that addressed the need to maintain the important heritage elements, provide increased floor space and improve access.
Key design features include:
increased equipment storage
a new internal lift, foyer and improved circulation
two dedicated training rooms with secondary access
extension of north facing terrace
grouping amenities
a buried seawall
Images (courtesy NBC) : East elevation, North east Corner, North elevation, West Elevation, South Elevation.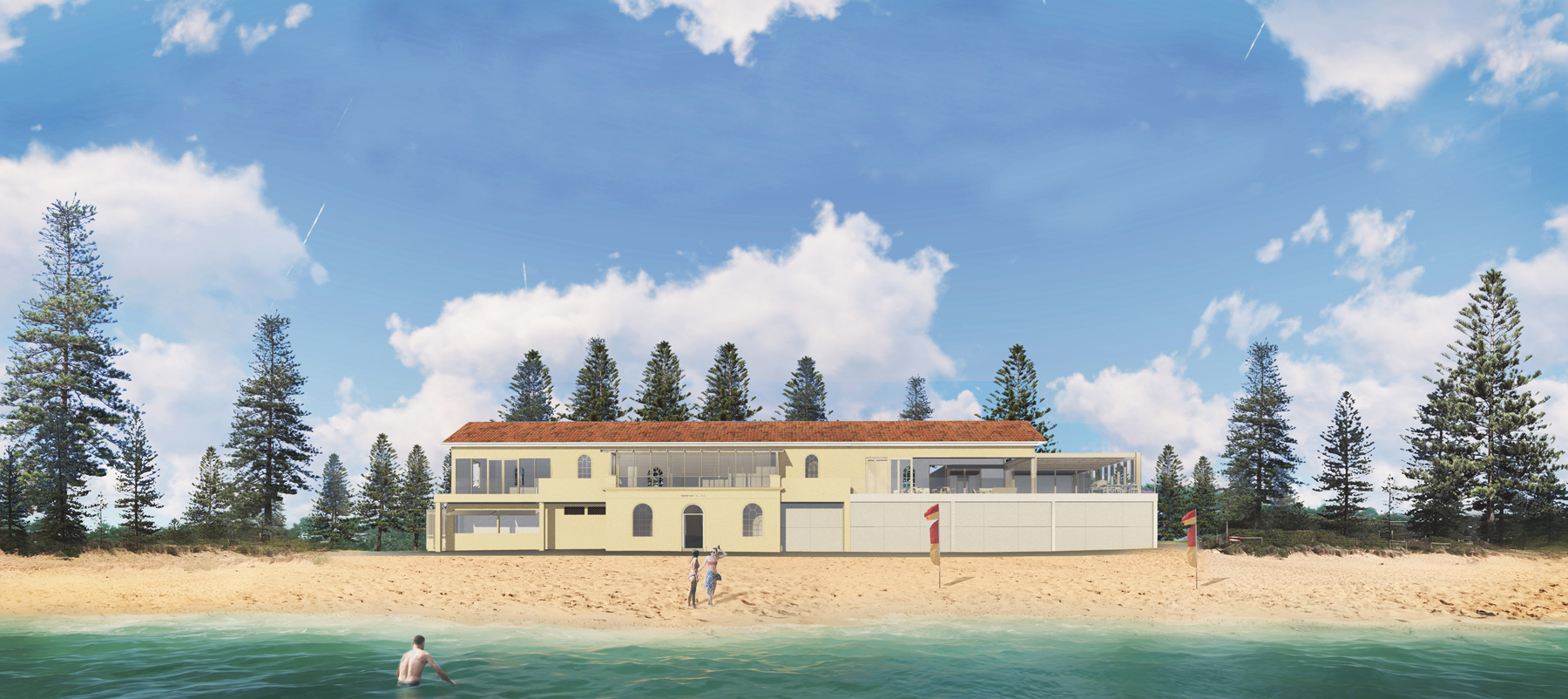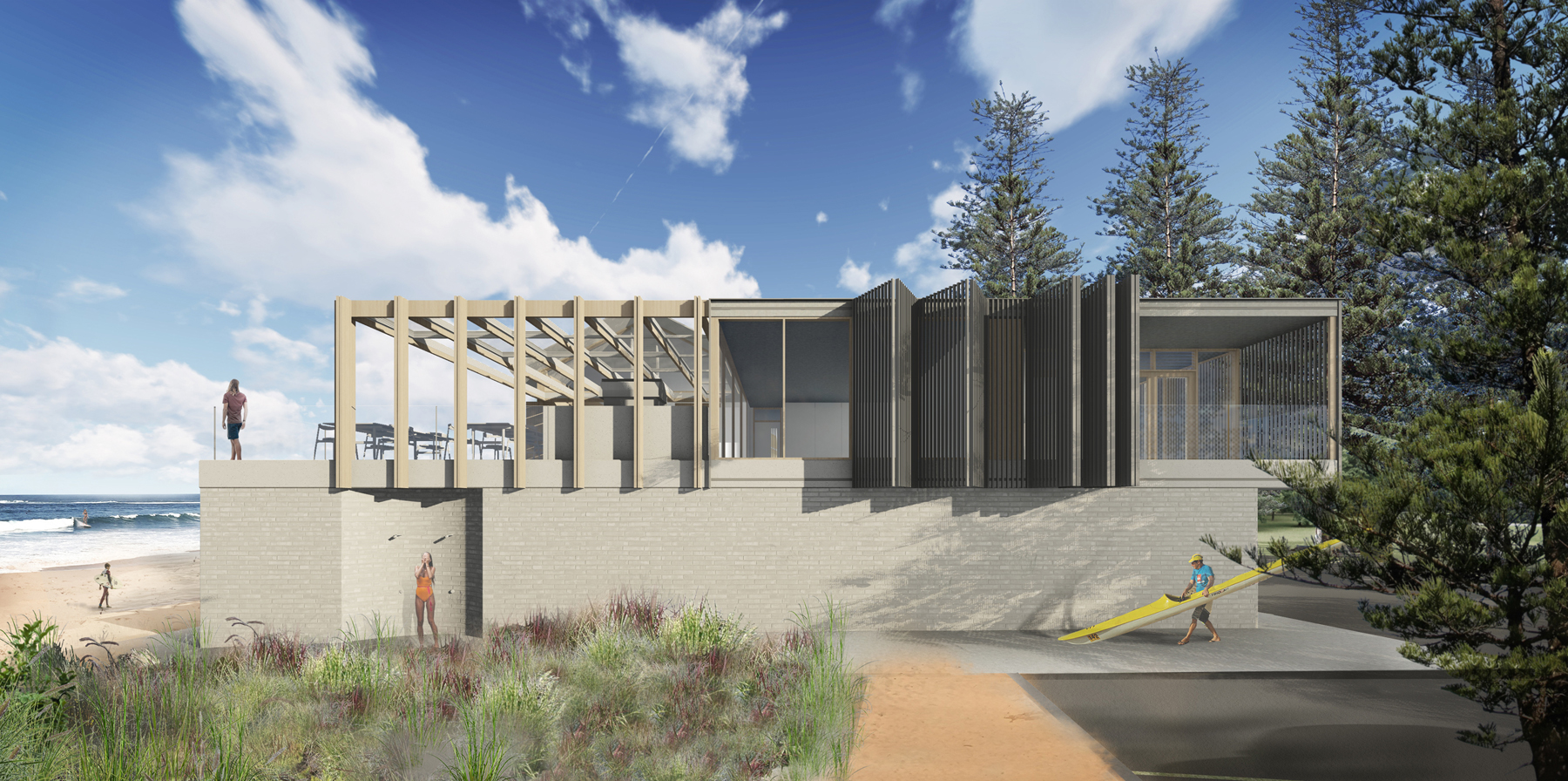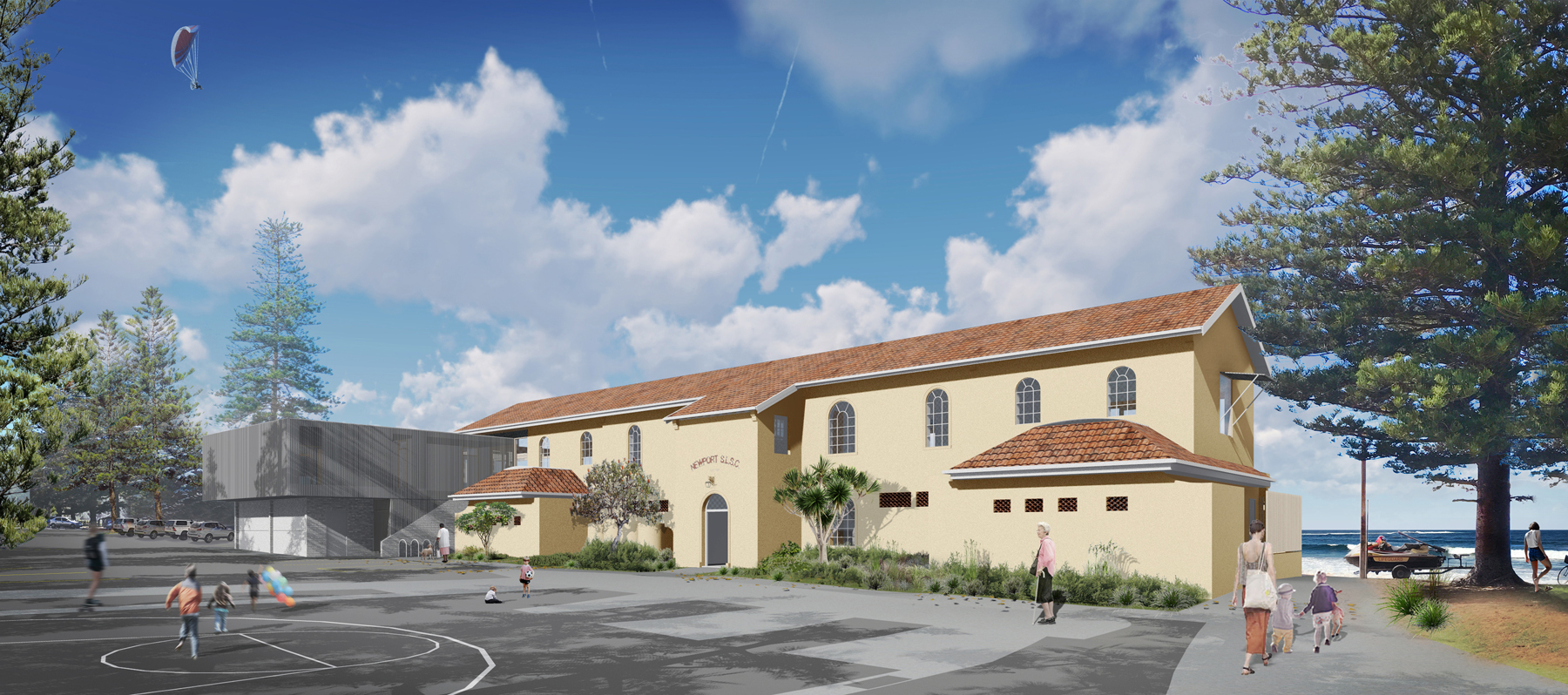 2021-2023 NSW Heritage Grants now open: Closes Feb 8, 2021
Grants totalling more than $5 million over a two-year period are now available for heritage projects across NSW.
Minister for Aboriginal Affairs and the Arts Don Harwin said the 2021-23 NSW Heritage Grants Program will identify, conserve and celebrate our state's rich heritage.
"I have witnessed first-hand the impact recent disasters have had on our Aboriginal cultural heritage, built heritage and the natural environment," Mr Harwin said.
"So this year, we are offering grants that will help those impacted to remediate sites and improve resilience.
"Protecting and celebrating Aboriginal cultural heritage continues to be a key focus for the NSW Government."
There are three grant categories including Aboriginal Cultural Heritage, Caring for State Heritage and Community Heritage. The program has also been expanded to help owners and custodians of heritage places affected by natural disasters.
The Aboriginal Cultural Heritage Grants category aligns with the NSW Government's commitment to strengthen and empower Aboriginal communities across NSW and increase understanding, respect, celebration and cultural participation in Aboriginal cultural heritage.
"Projects in this category can include works to Aboriginal cultural heritage sites, as well as projects that celebrate and promote greater understanding of Aboriginal cultural heritage," Mr Harwin said.
"Owners of state significant heritage can apply for grants for works to restore, activate and interpret those items through the Caring for State Heritage Grants category."
The Community Heritage Grants category is for projects that engage communities in the celebration and promotion of heritage especially projects that connect future generations with our heritage.
The 2021-23 NSW Heritage Grants funding round is now open for applications until 8 February 2021. Funding is also available for local government initiatives.
$10 million grants program to assist women to get back into the workforce
Women across the state will have access to grants of up to $5000 through the NSW Government's new $10 million Return to Work program, as part of the 2020-21 NSW Budget.
Premier Gladys Berejiklian said the program would provide women with financial assistance and targeted support including mentoring, advice and training to help them return to the workforce.
"These grants will help women whose employment has been affected by COVID-19 to overcome some of the obstacles in returning to the workforce," Ms Berejiklian said.
"I encourage women from all walks of life to apply for these grants and use this springboard to jump back into their former career or even start a new one."
Treasurer Dominic Perrottet said helping more women get back to work will not only provide a financial lifeline for them and their families, it will also boost the economy.
"We know that many part-time or casual positions and female-dominated industries were severely impacted by COVID-19, so we are looking to empower as many women as possible to be able to get back into paid employment," Mr Perrottet said.
It is estimated that women make up 53 per cent of directly affected industries and 65 per cent of secondary industries impacted by the pandemic. These include accommodation and food services, retail, arts, and professional services.
Minister for Women Bronnie Taylor said the grants are available to all women who have been out of work for at least one month.
"There are so many costs involved in starting up again, so it is great that women looking to return to work will be able to use these grants towards things like training and education, office supplies, or whatever it is they need to get back into a job," Mrs Taylor said.
"The money can also be used for childcare, including before and after school care and transport, which will really help mothers overcome some of the biggest barriers to getting back into work."
Eligible recipients will be given a Return to Work Coordinator to develop a plan, which will set out the resources that will assist them getting back in the workforce. They must be a resident of NSW and plan to start paid work within six months.
The Return to Work Program aligns with the NSW Women's Strategy, which sets the NSW Government's priorities for supporting women and girls, especially following times of crisis.
Find out more information about the program here:
Pittwater Community Groups:

The purpose of www.westpittwater.com.au - is best defined by the vision of the West Pittwater Community Association.
To be a supportive community, encouraging and promoting civic pride, interest in community affairs and goodwill amongst residents.
To protect local fauna and flora and generally preserve West Pittwater and its environs.
To secure essential facilities including public wharves and reserves and to protect private and public property.
To speak with one voice and represent the interests of the Western Foreshore community when in discussion with Pittwater Council and other relevant government bodies. The WPCA website provides a forum for the better realisation of these objectives. Visit: www.westpittwater.com.au