December 8 - 14, 2019: Issue 432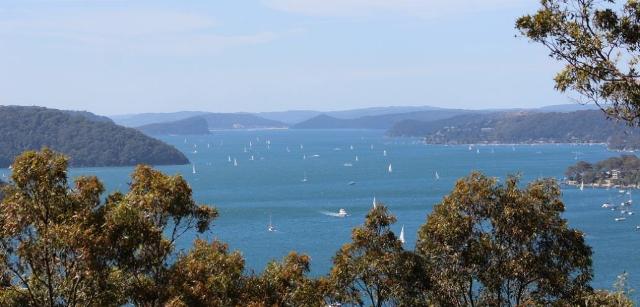 Articles This Week
Pittwater Offshore Newsletter Update December 1st, 2019
click on Logo:

To contact Julian: editor@scotlandisland.org.au
Christmas Drought Drive for farmers families done!
December 5th, 2019
Words cannot express the wonderful generosity of the Pittwater Community. A small group of people yesterday, came through the towns of Cumnock and Yeoval. With them they bought the Christmas Spirit and shared their Love with our local farming families. Even Santa managed to fight through the drought to find over 50 farm kids through this region. They also bought family hampers, women's and men's gift packs, precious water and a tonne of organic Fresh Fruit and Vegetables for our farmers, pre-paid visa cards for all families who attended, the massive donations of dog food for our working dogs, the crisp wine and cold beer, clothes, tonnes and tonnes of groceries, the 15,000 baby wipes and nappies, aeroguard and sunscreens and even some plum puddings and special treats for Christmas.
They came to say thank you to us for being farmers. I say we need to thank the community of Pittwater for believing in us and what we do.
I (Krystal) would like to thank the Amazing Lisa Hewitt and her kids Josh and Ellie, it has taken a month of late night phone calls. I can't thank you guys enough for your determination and dedication to bringing the best drought drive one would ever see to the small town of Yeoval.
A huge shout out the 6 beautiful people from Avalon who spent yesterday helping, above and beyond 150 people from the local district.
A massive thank you to those who donated:
The Avalon, Bilgola and Newport communities.
Kennards, Johnson Brothers Mitre10, Palm Beach Kindy, Newport Public School, Peninsula Bridge Club, Palm Beach RSL, Avalon Beach RSL, to my amazing past and present swimming parents and kids, Anne Wilson funerals, Avalon Bulldogs, Newport Red Cross, Avalon - Palm Beach Chamber of Commerce, Cabana Avalon, Pest Rid, Kobi Avalon school canteen, Lara Rowell, Tammy Carter and Kelly Schott
for the most awesome wrapping, Trina Leslie, Simone Sinclair, Stone Real Estate, The Fruitful Boxes, Bilgola Organic Deli, Harris farm, Dianne Cutrie and her husband Darren, Matt and Eliza Cutrie, Lisa Swinton, Scotty Wilcox,
Oliver's
Pies, Amber Waves, Julie and Richard of PB Kindy who came on board at the last minute to help with transport, and Virginia Upton who decorated the vans, trailers and trucks heading west. If I've missed anybody I'm sorry.
I (Lisa) have been incredibly humbled by this whole experience, the generosity and kindheartedness of everyone involved, we as one huge community are going to have some sort of a positive effect on over 150 drought stricken farmers.
So THANK YOU so much.
You have made an entire towns' Christmas one to remember.
Krystal Haycock
Yeoval, NSW.
Lisa Hewitt
Avalon Beach, NSW.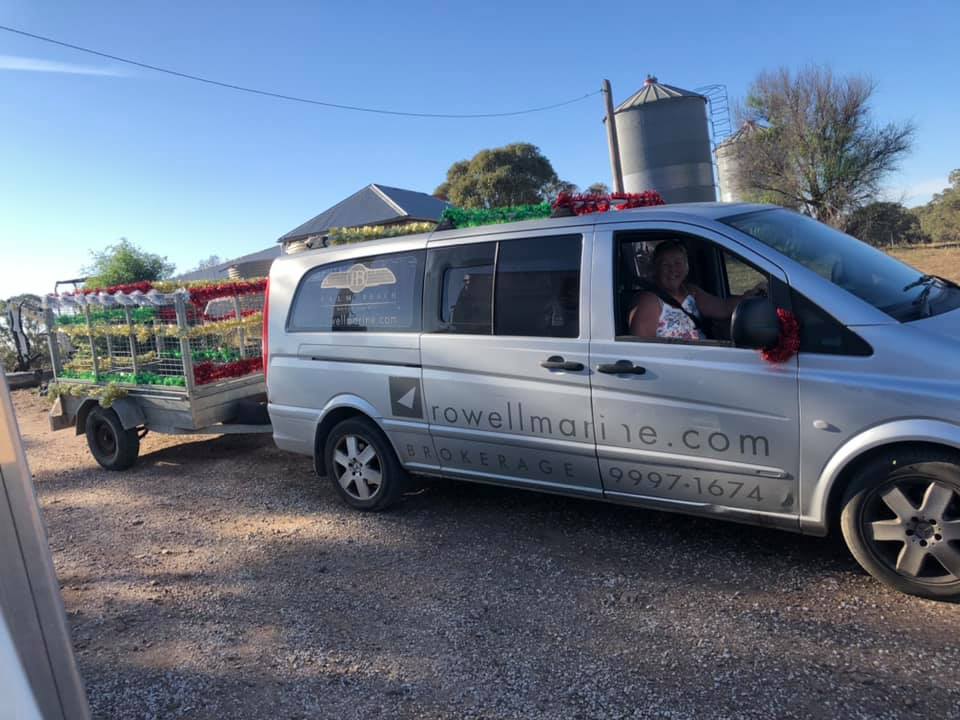 Men Of League Northern Sydney Branch's Xmas Function At North Narrabeen SLSC
December 6th 2019
Photos and report from Brian Friend OAM: We had the best time with great blokes and ladies. There was laughter all around as this is what's needed during Christmas time. Thick skin was the order of the day and tall tales and unbelievable stories from the past were resurrected and exaggerated.
Big thanks to Trevor Bailey, Ken Vessey, Norm Pounder, Fred Jackson, Ian Dodds and many others who made it a great function. And of course our Manly Sea Eagles players led by Wayne Cousins. And we can't forget John Gibbs as interviewer and Steve 'The Race caller' Windbank for his call on the Melbourne Cup replay.
More photos in this Issue's Pictorial; Christmas Cheer!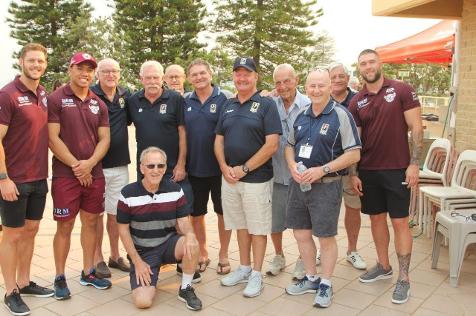 Talk story
Avalon Bowling Club, 6pm Thursday 19 December 2019.
Don't miss this community event as a wide range of surf publishers and documenters discuss their work and the future of surfing.
Guest speakers include: John Ogden, photographer, author of Saltwater People, publisher of Cactus - Surfing Journals from Solitude; Rob Bain, director and part owner of White Horses; Tim Boreham, director and founder of North Journal; Sean Doherty, author, and editor of Surfing World; Luke Kennedy, editor of Tracks magazine; Mandy Zieren, photographer and blogger; and Tom Carroll, surf legend and photographer.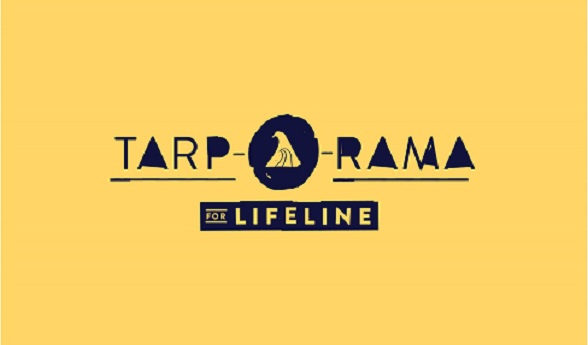 Saturday, February 8, 2020 at 11 AM – 6 PM
Curl Curl Youth & Community Centre - Sydney, Australia
ENTRY FEE $15 for all ages with all proceeds donated to Lifeline Northern Beaches
Tarp-O-Rama for Lifeline is a community event to engage, educate and empower our community about mental health and wellbeing.
The festival will include live bands and DJ's, food trucks of all kinds, merchandise and market stalls, local art, chillout zones, photobooth, live artist, demos, mini ramps, kids' zone, plus loads of prizes and giveaways.
With Cooper Chapman and Alex Hayes confirmed on the judging panel, WIN yourself cool prizes for best tarp surfing! Bring your skateboard, skates, scooter, roller blades, paddle skateboards, surfboards with wheels, anything!
Get yourself and your kids riding the plastic blue wave!
Heats: Mini Groms 5-10 years, Groms 11-16 years, Open 16+ plus free ride sessions. Get epic shots and video taken by our unstoppable media team!
Tarp surf for a purpose with funds raised supporting Lifeline Northern Beaches so that they can continue to create connection with people in crisis and empower individuals and communities to be safe from suicide.
Not only will it be fun, but we are opening up more talk about mental health, support and education. Come down for some Northern Beaches all ages fun! Get involved, get connected and get the conversation started. Tarp-O-Rama for Lifeline welcomes our local community and beyond, and aims to ensure the day is as welcoming, safe and accessible as possible for all.
All ages welcome.
Netball Courts 1-7, Abbott Road, North Curl Curl (outside Curl Curl Youth and Community Centre)
CAR: Located 500m from North Curl Curl Beach and under 40 minutes from Sydney's CBD on the B-Line, with loads on and off-street parking, plus access for people with disability.
BUS: 159 from Manly, Stop Abbott Rd opposite Hudson Oval, North Curl Curl, 7-minute walk to event
BUS: 136 from Manly & North, Stop Griffin Rd at Abbott Rd, North Curl Curl, 12-minute walk to event
Google Map: https://goo.gl/maps/ukALYvsRoLitgPTq7
Are you a brand or local business that wants to be involved?
Doggie Rescue's 2020 Calendar Is Out Now!
We are proud to launch our 2020 Doggie Rescue Calendar
- our major fundraising activity for the whole year.
Its finally here, our 2020 calendar is a tribute to the beautiful lives we have saved. This year's edition is extra special, thanks to the stunning professional photos by Lyndall of Floppy Ears Photography.
The 2020 DoggieRescue calendar makes a lovely Christmas gift and with limited print numbers this year, you need to act quickly to secure your copy. I do not want you to miss out!
People like you who purchase our calendar not only give the gift of life but also share the successes of our work and help to rescue more animals like Grayson and Meg (featured in the calendar), offering them a bright future.
Three easy ways to get your calendar
Online via the DoggieRescue website
Over the phone by calling 02 9486 3133
Visiting the shelter at Ingleside
At just $20 the DoggieRescue calendar makes the perfect Christmas gift, knowing that 100% of the proceeds go directly to the animals in our care.
For more information call Doggie Rescue on 9486 3133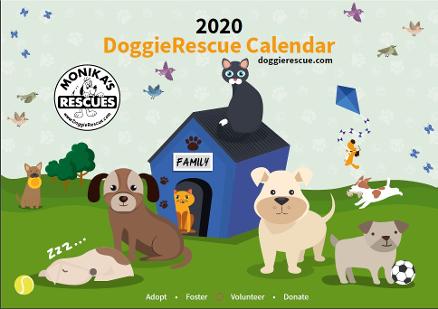 Proposal to upgrade a mobile phone base station at warriewood and bilgola plateau
Telstra is proposing to upgrade the existing mobile phone infrastructure at the below locations to allow for the introduction of 5G to Telstra's network and reconfiguration of existing technologies if required. Any works considered ancillary to the proposal may include works for reasons of safety, junction boxes, cables, feeders, removal of redundant equipment, antenna mounts, and general works within the existing compound may be included.
Telstra proposes undertaking the works at the locations below:
92A Mona Vale Road, WARRIEWOOD NSW 2102, RFNSA: 2102002
Works to consists of the addition of NR3500 (5G) and LTE2100 and LTE2600 (4G). Works include six (6) new panel antenna and six (6) new remote radio units. The proposal will remove six panel antenna and six redundant RRU's.
146 Plateau Road, BILGOLA PLATEAU NSW 2107 RFNSA: 2107001
Works to consists of the addition of NR3500 (5G) and LTE2100 and LTE2600 (4G). Works include three (3) new panel antenna and three (3) new remote radio units. The proposal will remove three panel antenna and twelve redundant RRU's
Telstra regards the proposed installation as a Low-impact Facility
under the Telecommunications (Low-impact Facilities) Determination 2018 ("The Determination") based on the description above.
In accordance with Section 7 of the C564:2018 Mobile Phone Base Station Deployment Code
we invite you to provide feedback about the proposal.
Requests for further information should be directed to Petra Patrocinor, town planner on behalf of Telstra, at
telco@petrapatrocinor.com
or by calling 0421 699 789.
Written submissions can be sent to ATT: Thierry/Petra Telstra C/Cyient, 8 Freight Road, Ravenhall VIC 3023.
Further information can be obtained at
www.rfnsa.com.au
by entering the RFNSA no. provided above.
The closing date for all submissions is the COB 5pm,
12 December 2019
Surfing NSW Unveils 2020 Event Calendar
With less than a month until the end of the year, Surfing NSW has unveiled its 2020 event calendar.
Over 40 events are already confirmed to be taking place over the calendar year, with proceedings getting underway from the 14th – 16th January when the Rip Curl GromSearch National Final kicks off in the Illawarra.
The full list of events can be found
here
- also available to download as a PDF below.
Benchmark events on the calendar include The Sydney Surf Pro, The Vissla NSW Pro Surf Series (Carve Pro, Mothernest Great Lakes Pro and Vissla Central Coast Pro), The Port Stephens Pro and the Australian Surf Championships.
Surfing NSW will be conducting daily media services at over 35 of the events.
Dates for the 2020/2021 Woolworths Surfer Groms Comp Series, the Rip Curl GromSearch series and the nudie Australian Boardriders Battle series will be confirmed in the coming months.
More information on specific events can be found by checking out the Surfing NSW events page.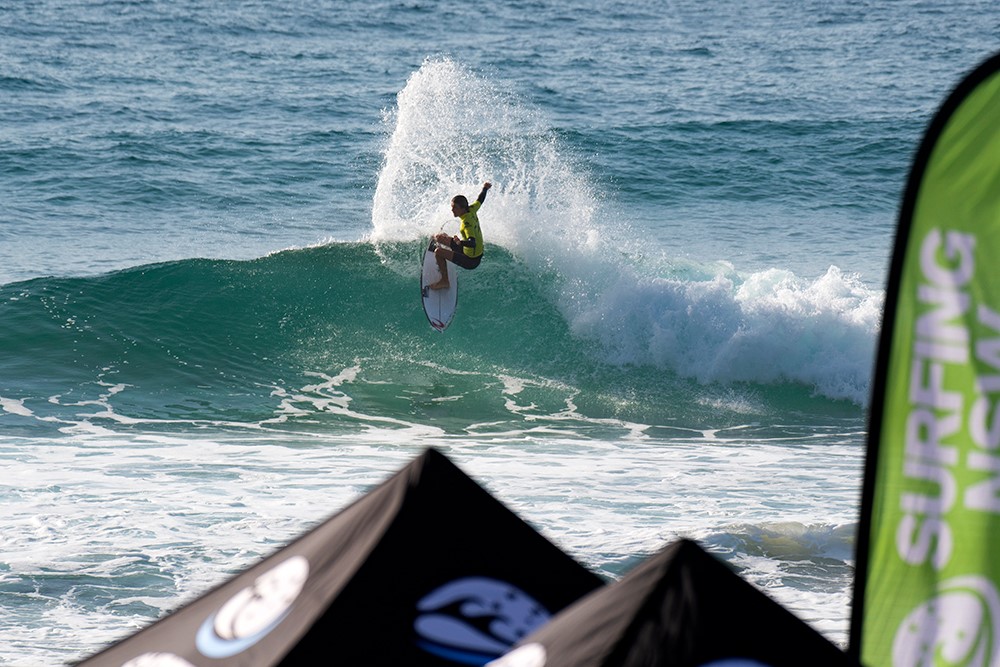 photo by Ethan Smith/Surfing NSW
Major crime categories remain stable across the state
December 4, 2019
Almost all major crime categories have continued to remain stable or trend downwards, according to the latest Bureau of Crime Statistics and Research (BOCSAR) data released today, Member for Manly James Griffin said.
Mr Griffin said of the 17 major crime categories across NSW – only one had increased in the 24 months to September 2019, while most have remained stable and four had fallen.
The five categories that recorded major trends across the State included:
Steal from retail store has increased by 8.8 per cent;
Break and enter dwelling has decreased by 6.1 per cent;
Steal from dwelling has decreased by 2.8 per cent;
Steal from person has decreased 5.8 per cent; and
Malicious damage to property has decreased by 3.7 per cent.
Mr Griffin said Northern Beaches Police Area Command has continued to do an outstanding job driving down crime in the local community and bringing offenders to justice.
"The dedicated men and women of our local Police here on the Northern Beaches work incredibly hard to keep us safe," Mr Griffin said.
"This includes our General Duties police, high-visibility officers and Region Enforcement Squad that maintain the thin blue line and crack down on petty crimes like theft and shoplifting.
"They also work with retailers on ways to prevent crime and safeguard their stores from shoplifters in the future."
Mr Griffin said while it's not pleasing to see an increase in theft from retail stores on the Northern Beaches, stealing from dwellings has dropped significantly.
"Increased awareness and reporting as well as more police on the beat proactively targeting criminals and putting them before the courts are reflected in BOCSAR's results," Mr Griffin said.
Mr Griffin said at the same time NSW Government was delivering 1,500 new police – the biggest increase to the Force in more than 30 years – as part of a record $583 million investment over four years.
"Community safety will always be our number one priority and this major boost in police means we'll continue to have to have more police doing the right jobs in the right places to help keep people safe," Mr Griffin said.
More information about police's shoplifting prevention strategies can be found
here
Roads and Maritime Services has joined with TfNSW
On 1 December 2019, Roads and Maritime Services and Transport for NSW (TfNSW) joined together to create one integrated TfNSW so we can deliver better outcomes for customers and communities across NSW.
All functions and responsibilities will now be performed by TfNSW and any references to Roads and Maritime Services will be legally taken to mean TfNSW automatically.
Other than a name change from Roads and Maritime Services to TfNSW, our customers don't need to do anything but continue to enjoy our services.
Historic Reforms for Better Transport
Published November 19, 2019 - TfNSW
Customers and the community are set to benefit from historic reforms to the NSW Government's transport agency, which will result in better thinking, planning and delivery of services now and into the future.
Roads and Maritime Services (RMS) will cease to exist following the passage of the Transport Administration Amendment (RMS Dissolution) Bill 2019 through the NSW Parliament tonight.
The RMS functions will now be transferred into a new, fully integrated Transport for NSW.
Minister for Transport and Roads Andrew Constance and Minister for Regional Transport and Roads Paul Toole said the passage of the Bill marked a historic shift for all transport.
"The passing of this Bill enables a more integrated and strategic approach to transport for everybody in the State, leading to better roads and services," Mr Constance said.
"With a single transport agency we will no longer have roads being built in one corner and transport delivered in another, without anybody talking to each other. These changes will better serve our community with a new fit-for-purpose, ready-to-respond transport agency."
"With $55.6 billion being invested in transport and roads infrastructure over the next four years, an integrated transport agency that meets the needs of the community is vital."
Mr Toole said changes enabled by the Bill's passage will strengthen the NSW Government's focus on delivering integrated transport solutions across the entire state.
"We know how important transport is to our regional and rural communities," Mr Toole said.
"Transport for NSW is now better placed to plan and deliver roads, transport, and freight movements across the regions to support communities, create jobs and drive economic growth. This re-organisation is not about cuts, we have given a solid commitment that there will be no job losses in regional NSW."
Mr Constance and Mr Toole said there has been significant progress in bringing the two agencies together since the changes were first announced in April.
The passing of the Bill formalises these changes and provides clarity and certainty for staff and businesses that previously interacted with RMS.
New Structure of federal Government Departments
December 5, 2019
The Hon. Scott Morrison, Prime Minister of Australia
Today, I am announcing changes to the structure of the Australian Public Service (APS) as part of our reform agenda to put Australians at the centre of Government.
This morning, the Governor-General approved my recommendation to reduce the number of Government departments from 18 to 14, to ensure the services that Australians rely on are delivered more efficiently and effectively.
Australians should be able to access simple and reliable services, designed around their needs. Having fewer departments will allow us to bust bureaucratic congestion, improve decision-making and ultimately deliver better services for the Australian people.
The new structure will drive greater collaboration on important policy challenges. For example, better integrating the Government's education and skills agenda and ensuring Australians living in regional areas can access the infrastructure and services they need.
The following changes will take effect on 1 February 2020:
The creation of the Department of Education, Skills and Employment, which will consolidate:
the current Department of Education; and
the current Department of Employment, Skills, Small and Family Business.
The creation of the Department of Agriculture, Water and the Environment, which will consolidate:
the current Department of Agriculture; and
environment functions from the current Department of the Environment and Energy.
The creation of the Department of Industry, Science, Energy and Resources, which will consolidate:
the current Department of Industry, Innovation and Science;
energy functions from the current Department of the Environment and Energy; and
small business functions from the current Department of Employment, Skills, Small and Family Business.
The creation of the Department of Infrastructure, Transport, Regional Development and Communications, which will consolidate:
the current Department of Infrastructure, Transport, Cities and Regional Development; and
the current Department of Communications and the Arts.
The Department known as Services Australia (formerly known as the Department of Human Services) will be established as a new Executive Agency, within the Social Services Department.
Ten departments remain unchanged.
I am also announcing today that the remit of the North Queensland Livestock Industry Recovery Agency will be expanded to include drought. The Hon Shane Stone AC QC will lead the new National Drought and North Queensland Flood Response and Recovery Agency, providing national leadership and a whole-of-government response to support our farmers and regional communities as they respond to, and recover from, the drought and the north Queensland flood from earlier this year.
The Agency will sit within the Department of the Prime Minister and Cabinet and report to the Minister for Water Resources, Drought, Rural Finance, Natural Disaster and Emergency Management, the Hon David Littleproud MP.
As a consequence of these machinery changes, there will be movement and change amongst the Secretaries of departments. The following Secretaries will not continue to hold office in the new structure when it takes effect on 1 February 2020:
Ms Kerri Hartland;
Ms Renée Leon PSM;
Mr Mike Mrdak AO;
Mr Daryl Quinlivan; and
Dr Heather Smith PSM.
Each of these senior officials has served their country with dedication, commitment and a deep sense of public service over many years, and their advice, achievements and leadership have been valued by governments past and present.
On behalf of the Government and all Australians, I thank Ms Hartland, Ms Leon, Mr Mrdak, Mr Quinlivan and Dr Smith for everything they have done to advance Australia's interests, and for their service, and I wish them all the best in their future endeavours.
Mr David Fredericks, currently the Secretary of the Department of the Environment and Energy, will move to be Secretary of the Department of Industry, Science, Energy and Resources.
Mr Andrew Metcalfe AO will take up the position of Secretary of the Department of Agriculture, Water and the Environment. Mr Metcalfe was Secretary of the Department of Immigration and Citizenship from 2005 to 2012 and Secretary of the Department of Agriculture, Fisheries and Forestry in 2013. Since then he has been a partner at EY (Ernst and Young). He will bring considerable public policy leadership experience to the Department of Agriculture, Water and the Environment and to the Secretaries Board.
The new structure will be implemented before Parliament returns next year. A full list of the new departments and Secretaries is provided below.
I have a deep respect for public servants and their work in delivering the Government's agenda. I look forward to continuing to work with the public service to achieve the best outcomes for the Australian people.
The new structure of departments and Secretaries, on 1 February 2020, will be:
Department of Agriculture, Water and the Environment
Mr Andrew Metcalfe AO
Attorney-General's Department
Mr Chris Moraitis PSM
Department of Defence
Mr Greg Moriarty
Department of Education, Skills and Employment
Dr Michelle Bruniges AM
Department of Finance
Ms Rosemary Huxtable PSM
Department of Foreign Affairs and Trade
Ms Frances Adamson
Department of Health
Ms Glenys Beauchamp PSM
Department of Home Affairs
Mr Michael Pezzullo
Department of Industry, Science, Energy and Resources
Mr David Fredericks
Department of Infrastructure, Transport, Regional Development and Communications
Mr Simon Atkinson
Department of the Prime Minister and Cabinet
Mr Philip Gaetjens
Department of Social Services
Ms Kathryn Campbell AO CSC
Department of the Treasury
Dr Steven Kennedy PSM
Department of Veterans' Affairs
Ms Liz Cosson AM CSC
Mona Vale Hospital Auxiliary Stalls 2019
Christmas Craft Stall at Avalon Beach
December 6th from 8am to 3pm
Outside ANZ Bank
selling sewing, knitting, craft and jam,
Sausage Sizzles at Bunnings, Narrabeen: 8am to 3pm
December 14th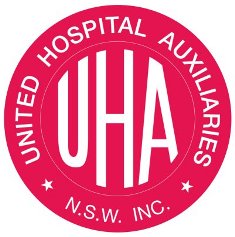 Mona Vale Road East Upgrade Update - November To December 2019
Our last day of work for 2019 will be Friday 20 December and we will return to work on Monday 6 January 2020. We wish you all a safe and restful Christmas and New Year and thank you for your patience during 2019.
The NSW Government is investing $140 million to upgrade Mona Vale Road between Manor Road, Ingleside, and Foley Street, Mona Vale, from two to four lanes to improve safety and traffic efficiency.
Work has now started in all areas along Mona Vale Road between Manor Road, Ingleside, and Foley Street, Mona Vale.
Map of activities in Mona Vale Road East upgrade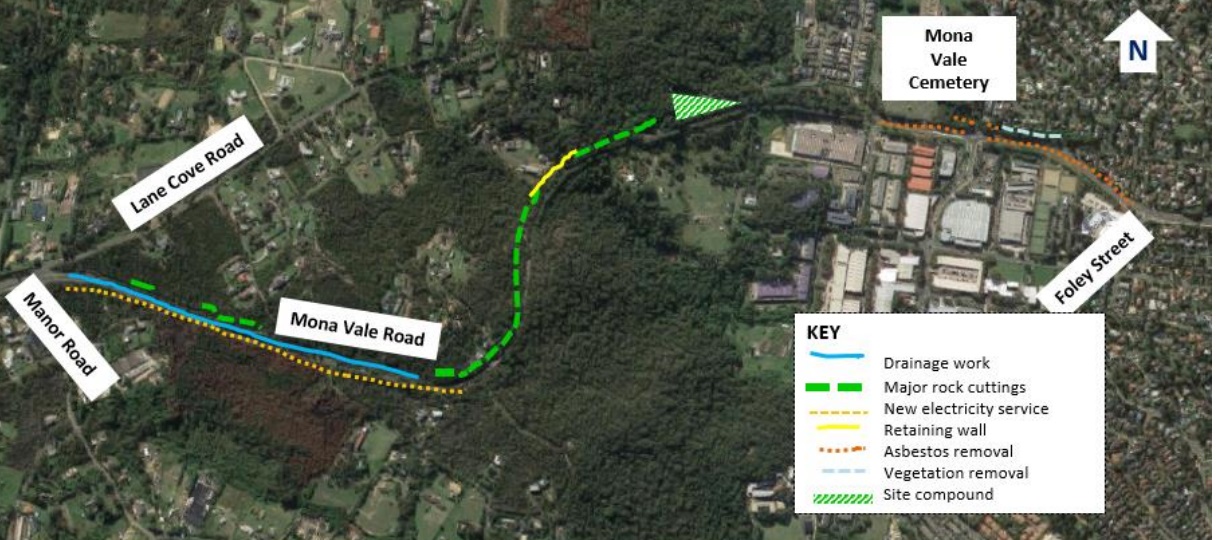 Note: Shaded areas are not to scale and for general information and illustrative purposes only
Work between Manor Road and Mona Vale Cemetery
We have moved into the earthwork stage along Mona Vale Road between Manor Road and Mona Vale Cemetery. We expect to complete earthwork in late 2020, weather permitting.
Earthworks include removing top soil, scaling and breaking rock between Manor Road and Mona Vale Cemetery.
The cutting of the rock faces and filling of the gullies along the road corridor will widen and bring the adjacent ground levels to meet the level of the existing roadway. We are also relocating utilities and installing new drainage.
During the earthwork stage we will:
remove about 210,000 cubic metres of sandstone and soil
install over 140 rock anchors and shotcrete (spray concrete) to stabilise the excavated rock faces.
Activities to the end of 2019 include:
continuing rock breaking along Mona Vale Road between the descending section and the site compound
erecting electrical poles and connecting the new electricity service along the southern side of Mona Vale Road
constructing permanent retaining structures and commencement of the fauna bridge overpass abutment
installing new stormwater and the start of major filling at the Western Early Works area, between Kimbriki Road and Tumburra Street, using the excess material from the Mona Vale Road East project
continuing installation of permanent fauna fencing along Mona Vale Road to protect fauna crossing the road.
Work between Mona Vale Cemetery and Foley Street
The following activities started at the eastern end of the project in mid-October and will continue to the end of the year:
survey and confirming locations of existing utility assets
clearing vegetation on the southern side of Mona Vale Road. Some clearing is still required near the Cemetery and near Emma Street on both sides of Mona Vale Road
removing asbestos contaminated soils and buried construction debris in areas between Mona Vale Cemetery and Foley Street
relocating signs and adjusting private property assets for some commercial properties in the area
retaining work near Ponderosa Parade.
Pedestrians and cyclists
For safety reasons, pedestrians and off-road cyclists are advised to avoid Mona Vale Road between Daydream Street, Mona Vale, and Manor Road, Ingleside. There is no footpath or cycle way and the road shoulders are not available during construction.
We apologise for any inconvenience and thank you for your patience and understanding.
Construction Speed Zone
We have implemented a 40km/hr construction speed limit along our work corridor to maintain safety. The increased truck movements at the multiple construction access gates also require safe entry and exit speeds along the road corridor.
For the safety of motorists and construction workers please follow the speed limits during our day and night work.
How will the work affect you?
There is noise, vibration and dust associated with our work. We make every effort to minimise the impact by notifying residents before work starts near their property.
During night work we direct light away from residential properties, use noise shields where possible, and turn off equipment and vehicles when not in use. Eligible residences will be offered alternative accommodation.
Our work schedule
Our standard working hours are between 7am and 6pm Monday to Friday and between 8am and 1pm on Saturdays. Due to daytime traffic restrictions and safety considerations, out of hours work will need to continue for some activities. Out of hours work may happen on a Monday, Tuesday, Thursday or Friday night from 8pm to 5am with up to three shifts per week, weather permitting. The out of hours work will not be carried out for more than two consecutive nights in the same area. We will advise you before we start night work near your property.
For more information
If you have any enquiries, feedback or concerns, or would like to sign up for our emailing list, please:
Call: 1800 413 640 (24 hour number)
Email: monavaleroad@georgiou.com.au
Website: www.rms.work/mvreast
If you need help understanding this information, please contact the Translating and Interpreting Service on 131 450 and ask them to call us on 1800 413 640
Pittwater Community Groups: