April 18 - 24, 2021: Issue 490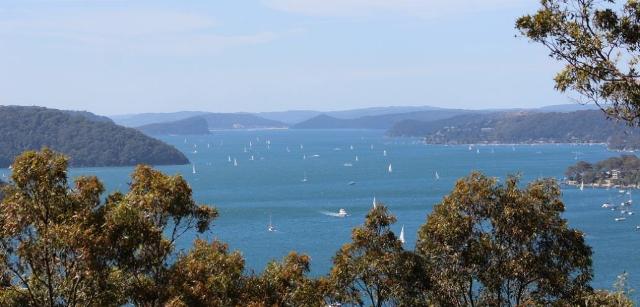 This Issue: full list in Contents page
North Narrabeen Welcomes Back Championship Tour At Rip Curl Narrabeen Classic Pres. By Corona
Stop PEP-11 Paddle-Out At Mona Vale Shares Community's Vision For End Of This Licence

2021 Junior Lifesavers Of The Year Announced: Warriewood's Vivek Sirkari

Pittwater Action To Save Koalas: What You Can Do To Help Prevent Their Extinction

Australia SailGP Team For Season Two From (Mostly) Around Here

Enchanted Forest Immersive Dinner Show At Currawong: April 24 Or 25th - Don't Miss This!

Pictures NSW Seniors Festival 2021 Celebration By Local Senior Kevin Murray on a Walk along the Cowan Track: It's In Our Nature To Connect To Beaches, Bays, Birds, Bush, Beauty
Aquatics Branch - State Surf Boat Carnivals Go Ahead Give A Good Splash For Local Crews At Season's End
Newport's Marlon Riley Wins 2021 NSW Bodyboard State Titles + locals win place in NSW Team

Park Bench Philosopher Bayview Koala Sanctuary - a reprise of our 2012 history page
DIY Ideas It's starting to get Cold: 10 Ways to keep your home warm and save money
Food Café Relish at North Avalon - As the days cool we all start looking for a nice sunny corner to enjoy a catch-up with friends and some great food. Café Relish in North Avalon road, which was opened in January 2012 by Phil and Nick Parr, has built a substantial following in our community solely due to delicious food incorporating the best ingredients each season has to offer and scrumptious coffees.
Avalon Place Plan Open For Feedback - Feedback Closes May 16
Seaweed Forests Festival, Manly: April 9th - May 9th, 2021
Seniors Festival 2021: Local Events + Mona Vale and Dee Why Mini Expos Will Showcase Local Seniors Groups - April 13 - 30, 2021
Youth Week 2021: Local Events Set To Inspire Creatives, Musicians, Good Sports and Lovers Of Recycled Fashion - April 16 - 24, 2021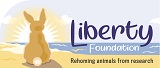 Profile
Liberty Foundation - service rehoming animals from research
From 19-24 April 2021, a special rehoming service will open its doors to Australians wanting to support animals coming out of research facilities.
Liberty Foundation is Australia's first service dedicated solely to rehoming a wide range of animals from science and research, as pets and companions.
The launch week is significant for another reason, according to founder and director of Liberty Foundation, Paula Wallace: "We think World Laboratory Animal Week is a good time to let everyone know that we are here and to take a moment to remember that there are many animals in laboratories around the world, including here in Australia.
"The good news is that an increasing number of them are finding a new life outside of research as pets and valued members of families and communities around Australia."
Liberty Foundation started rehoming in late 2017 and since that time has found loving forever homes for more than 350 animals from research facilities. They include rats, mice, guinea pigs, rabbits, fish, dogs and cats. It has rehoming agreements in place with a number of large research establishments in New South Wales and plans to expand nationally.
"We have built up the charity to a point where we can officially launch as a professional, effective and sustainable service that puts the needs of animals at the forefront of everything we do," said Ms Wallace.
There are literally millions of animals used for research and scientific purposes in Australia each year, across a wide range of species from livestock to natives and companion animals. They are used in a range of settings such as universities, hospitals, agriculture, medical and veterinary research and government facilities.
Liberty Foundation was recognised last October at the Jetpets Companion Animal Rescue Awards, taking out the category of Outstanding New Rescue Group.
The organisation works on a foster/adopt model and places animals within the community. It hopes to establish a sanctuary in the future with the support of donors and people joining the organisation for an annual membership fee.
You can find out more about Liberty Foundation at: www.libertyfoundation.org.au and in this Issue's Profile of the Week
On Facebook: https://www.facebook.com/LibertyFoundationAustralia
You Tube channel: https://www.youtube.com/channel/UCISjfihJnJ6BCs8KVYaW_3g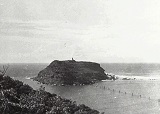 History
BROKEN SECTION: The Story Of Pittwater's Anti-Submarine Boom Net
By John Illingsworth, Pittwater Pathways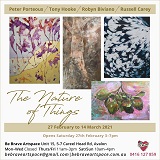 Artists of the Month March/April 2021: Artists Exhibiting at the Be Brave Art Space - two exhibitions; The Nature of Things and Artful Reflections
Be Brave Artspace is a community based art gallery that showcases original art by emerging and established artists. Established in 2017 and located in Avalon, its conception came from an idea that grew out of a love of all things creative.
The space hosts one or two new exhibitions each month of the year.
On street level is a light, spacious gallery delivering dynamic exhibitions of local and other Sydney based artists. Downstairs is an extension of the gallery plus a workshop and studio for creators to teach and to come and be bold and fearless.
This is a space where artists can exhibit, create, connect and be inspired.
After a Summer hiatus, impacted by Covid lockdowns, Tina Berkeley, founder of the Be Brave Art Space reopened the doors on Saturday February 27th.
The gallery and studio will host two Exhibitions through March, The Nature of Things, February 27th to March 14th 2021, and Artful Reflections, March 20th to April 5th 2021.
The Nature of Things features works by Peter Porteous, Tony Hooke, Robyn Biviano and Russell Carey.
Artful Reflections is a group exhibition by three artists – Dianne Bradley, Anna McClure and Anne Kearne.
Pittwater Offshore Newsletter: April 13, 2021
Click on Logo to access latest PON:

To contact Roy: editor@scotlandisland.org.au
From April 1st, 2021 PON (above)
Time to Go!
Nearly 13 years ago I hesitantly took over the editorship of the PON from Paul Purvis. I had little idea what it really involved, nor did I realise I would get so involved that I would still be doing it 13 years later! Having looked after the PON on one or two occasions when Paul was away, I knew enough to want to continue the fine tradition of the newsletter which had been an important part of this community for such a long time.
Looking back, I can now say that the experience of managing the PON over the years has been an extraordinary one. It has been educational, great fun, inspiring, very satisfying, frustrating, tiring, time consuming and, far too many times, incredibly sad. I am pleased to say that over the years our readership has grown, and the introduction of the PON's Facebook page has proven successful and has become a relevant source of information in the community in its own right.
But none of it would have happened without you the contributors, the artists, the people in the stories and articles, the contentious issues, the meetings, the floods, the fires, the storms, the celebrations, the races, the festivals, the exhibitions, the dinners and the unbearable losses that many have endured. To all of you, I thank you, and to those who have stopped and praised me for the work done, I am humbled by your generosity.
I need to acknowledge two people who have been so incredibly supportive throughout my tenure. Nathalie, my darling partner who has never complained when I disappear into the study to do yet another PON most Sundays, and to Cass Gye for her incredible source of knowledge and information, her endless reminders and messages that helped fill the newsletters. But most of all her beautiful encouragement and consistent praise over the years. To both of you I am truly grateful.
I leave feeling proud of having being able to continue the tradition of the PON, and I leave in the knowledge that someone with equal interest in preserving our tradition is taking over. Roy Baker, as many would know, has been on the island, well, forever! He knows the lay of the land, so-to-speak, with diverse interests and involvement in this community, and with a keen interest in our history he is more than capable of taking the PON to the next level. He will be an excellent editor!
So, with a twinge of sadness I say farewell as editor and hand it over to you, Roy.
Julian
RSL NSW 2021 ANZAC Day Commemorations
The COVID-19 pandemic has changed the way Australians can commemorate this ANZAC Day. RSL NSW has been working with the NSW Government since September 2020 to ensure that the following commemorations can take place across the state this year, in accordance with
current NSW Health
advice and
Controlled Outdoor Event
guidelines:
Marches
Dawn Services
All other commemoration services
An exemption to the Public Health Order issued to RSL NSW on March 9 2021 stipulates that a maximum of 5000 people can participate in the Sydney CBD March.
To register for a ticket to participate in the March, please
click here
.
An exemption was granted to communities across Greater Sydney and outside of Greater Sydney for a maximum of 3,000 people to attend an ANZAC Day March or service and must not exceed one person per 2 square metres of space.
The nominated organiser of an outdoor ANZAC Day march or service must develop and comply with a COVID-19 Safety Plan required for outdoor protests.
Each person participating in an outdoor ANZAC Day March or service must provide their name, telephone number of email address to the nominated organiser and take reasonably practicable steps to comply with the COVID-19 Safety Plan developed by the nominated organiser.
The health and safety of veterans, current serving members of the Australian Defence Force, and NSW communities is a priority for RSL NSW.
As the COVID-19 landscape evolves in NSW, updates and changes may be made to ANZAC Day commemorations at any time. To register for the Sydney CBD March, please enter your details in the form located on
this page of our website
.
Information and FAQs regarding the Sydney CBD March can be found on our website
here
.
If you have any questions about 2021 ANZAC Day commemorations in NSW please contact
support@rslnsw.org.au
or contact your local sub-Branch volunteers.
Narrabeen RSL: ANZAC March & Wreath Laying Ceremony
The Narrabeen RSL sub-Branch annual ANZAC Service is to be held this year (2021) at the Narrabeen RSL Club. Due to COVID there will be no march this year.
The ANZAC Service will be held on Sunday 18th April (the Sunday prior to the actual ANZAC Day) starting at 11:30 (near the SUNK Bar and car park area).
Sub-Branch members and their partners are invited to attend.
ANZAC Day 2021 - Pittwater RSL
The Pittwater RSL Club and Sub-Branch are very pleased to be hosting this year's ANZAC Commemorative Services. Both Services will be COVID safe! Service NSW QR code check-in will be available at both venues
as well as pre-registration for the Dawn Service via the Club's website.
Sunday 18 April 2021
12:40pm
-
March commences at the corner of Vineyard Street and Pittwater Road, Mona Vale.
1:00pm
-
Service at Mona Vale Park.
Sunday 25 April 2021
05:30am
-
Commemorative Service at the Pittwater RSL Club Cenotaph in the lower carpark.
1:00pm - 2 Up

ANZAC DAY 2021 - Church Point
Thomas Stephens Reserve (ferry wharf) - 11am.
As in previous years a community Anzac Day ceremony will be held at Church Point at 11.00 am
Gather around the flagpole at Thomas Stephens Reserve, Church Point before 11am.
ANZAC Day 2021 – Avalon Beach RSL sub-Branch
Dawn Service: 5.30 am
Address: Dunbar Park, Old Barrenjoey Road, Avalon Beach
NO MARCH this year.
11am Service: Dunbar Park, Old Barrenjoey Road, Avalon Beach
ANZAC Day 2021 – Forestville RSL sub-Branch
Dawn Service: 5.25 am
Address: Forestville RSL Club Cenotaph
NO MARCH this year
Main Service: 2.30 pm - Conducted on Sunday 18 April. This is a ticketed event, in a controlled area within the grounds of the Forestville RSL Club.
Palm Beach RSL sub-Branch
Address: 1087 Barrenjoey Road
11am Service at Cenotaph outside the RSL
Newport: as below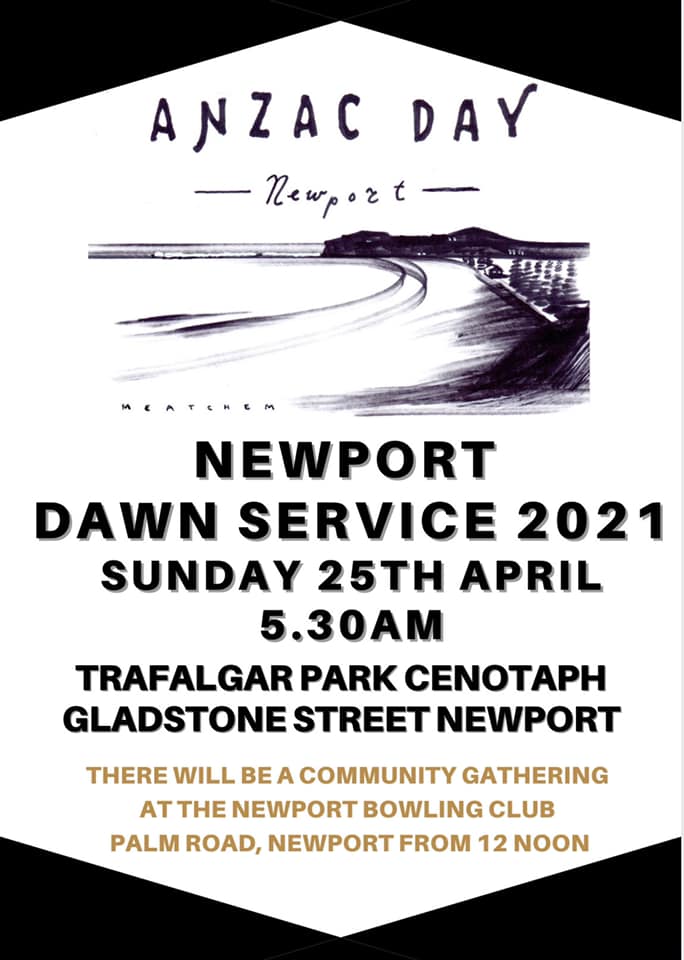 New-look website for WPCA
West Pittwater Community Association's website has been given a makeover and, along with its refreshed look, provides more information than ever about living offshore. If you haven't delved into the site recently now is an excellent time to check out its many features, including updates on important matters such as Ausgrid's West Pittwater Reliability Project and NBN installation. There is detailed information about West Pittwater Rural Fire Brigade and a broad range of matters associated with bush fire risks, management and safety; you can learn about local history, fauna and flora and the groups dedicated to bush regeneration; and keep up to date on forthcoming community events.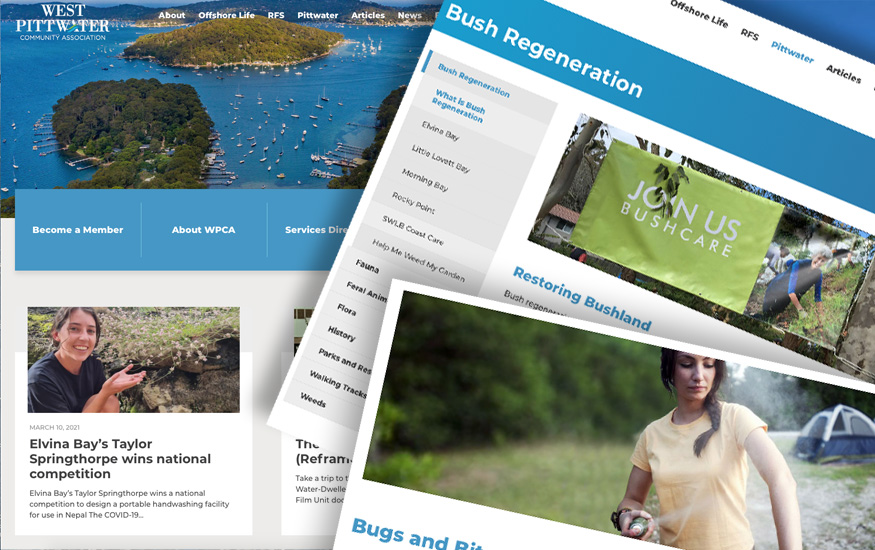 A wonderful addition is a comprehensive list of weeds (found in the Pittwater section). It helps you identify invasive species that harm the local ecology and gives advice on what action you can take.
There is much more to enjoy, so please take some time to explore. And if you are not already a member of West Pittwater Community Association, please go to Member Benefits in the site's About section. You will discover why it's good to join and how to do it.
The WPCA committee is profoundly grateful to Wayne and Sandra Lazarides for their development of the new site, with special thanks to Sandra for her heroic work on weed identification. Wayne and Sandra's generosity is inspiring and the entire community benefits from their expertise.
Draft Avalon Beach Place Plan now Open for Feedback
The Draft Avalon Beach Place Plan opened for feedback on Friday February 19th. The consult runs until Sunday May 16th, 2021.
Pittwater Online has received feedback and input from the three local community residents associations, as well as residents who are not members of these.
Jump in and have a look
HERE - - also available:
Avalon Place Plan Open For Feedback - Feedback Closes May 16
There is also information available within the village itself with a display. APA has installed a display of major documents in the window of the empty shop across the arcade from Avalon Floral Art at 55 Old Barrenjoey Road (opposite Barefoot Boulevarde).
PUBLIC MEETING TO PROVIDE INFORMATION ON THE
DRAFT AVALON PLACE PLAN
SUNDAY 2nd MAY 2021 3.00PM to 430 PM
AVALON BOWLING CLUB Green 1 Bowling Green Lane Avalon Beach
FORMAT- PANEL OF SPEAKERS followed by Q & A
Welcome to Country Neil Evers - Garigal Man, Chairperson- Aboriginal Support Group- Manly,
Warringah, Pittwater.
The Essence of Avalon………………………………………………………… Councillor Alex McTaggart
A Vision for Avalon…… (to be confirmed) …………………. Professor Richard Leplastrier AO Architect
A Vision for our Future- A Local's Perspective……….……………… Nic Laidlaw
__________________________________________________________________________
Draft Avalon Place Plan- Have Your Say Submission Questions Explained
Question 1 Do you support the draft Avalon Beach Place Plan? What are you being asked to support?
Refer to Avalon Beach Place Action Plan Priority Items 1-58 Pages 83-89 Draft APP.
The Action Plan …Where to access. What are your priorities? What else?....................Ros Marsh
Question 2 Do you support the proposed shared zone on Old Barrenjoey Road? In moving forward, a temporary one way south bound shared zone of Old Barrenjoey Road north (between Avalon Parade and the entrance to the Woolworths car park) will be established for a trial period (minimum of six months). Refer pages 38-41 Draft APP
The NBC One Way Trial Concept Explained…………………David Poppleton-Property, Planning and Market Expert
Impact on the Village/Business Owners……………………Chris Kavanagh - President, Peninsula Business-Mona Vale to Palm Beach
Question 3 Do you support the proposed bike path/cycleway designs? Refer Pages 47-49 Draft APP
Question 4. Do you have any comments on the Avalon Beach Pedestrian Bike Path - Alternative Connections design Page 43 The alternative design was prepared by Avalon Preservation Association and endorsed by Clareville and Bilgola Plateau Resident Association and Palm Beach Whale Beach Association.
The Bike Plan NBC Concept and The Alternative APA Concept explained ………………. Ros Marsh
__________________________________________________________________________
DCP's, LEP's Character Statement and impact on Place Plan ............ David Poppleton - Property, Planning and Market Expert
Innovation, Character & Priorities………………………… Peter Stutchbury - Architect
Community Priorities Local Resident Association Priorities and Panel Members
Avalon Preservation Association ………………………........................…..Conrad Grayson
Clareville Bilgola Plateau Residents Association……………………………..Catherine Kerr
Palm Beach Whale Beach Association…………………………… ……………. Frank Bush
Q & A Panel Speakers and Resident Associations 30 mins
Summary……………………………………………………………Councillor Alex McTaggart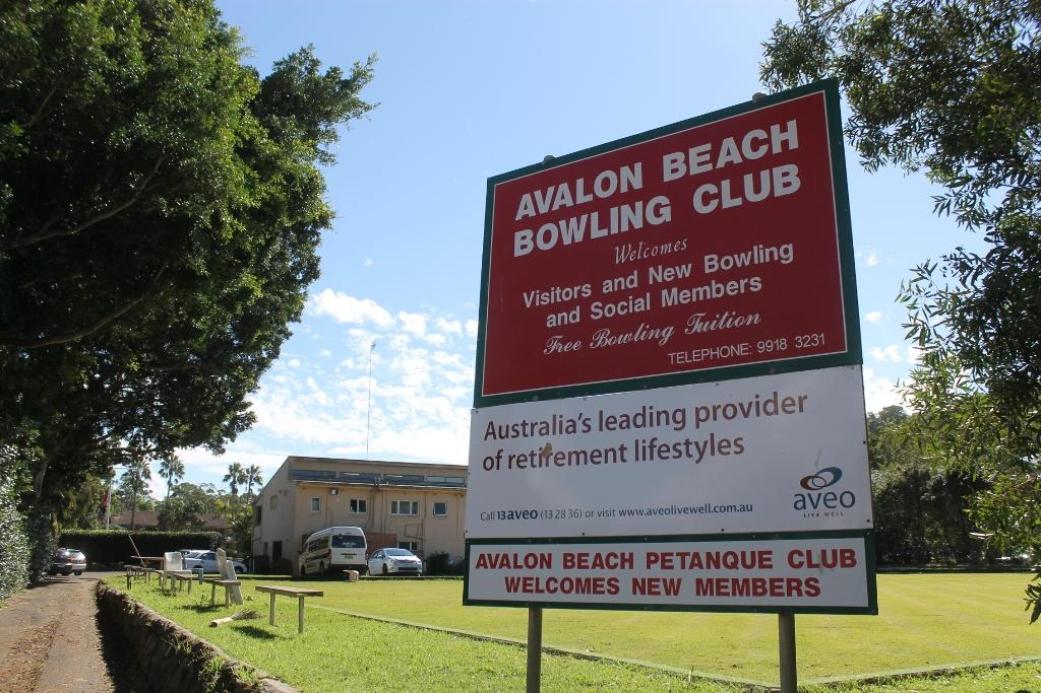 Newport Residents Association: Newport Village Future and Improvements Survey

NEWPORT NEEDS YOUR HELP:
This is your chance to help shape the future of Newport Village. We would like your ideas and thoughts.
We'd like to know what is important to you, as our community tries to attract new businesses and revitalise village life.
Click on the link below and take our short survey - it will take no more than 5 minutes to complete – we promise! however if you have filled out the hard copy version before there is no need to do this one.
Review of the rate peg to include population growth
The Minister for Local Government has asked IPART to recommend a rate peg methodology that allows the general income of councils to be varied annually on a total basis to take into account population growth.
This is to support the NSW Government's commitment to allow councils to align their rates revenue with population growth.
The review is focused on ensuring local councils can continue to provide quality services to their communities, including in those areas experiencing population growth.
IPART has been asked to recommend a rate peg methodology that allows the general income councils receive through rates to be varied annually in a way that accounts for population growth. The review will make recommendations on the adequate levels of revenue required by councils to service growth, with a focus on changes to total rates revenue not individual rates. IPART invites submissions to its Issues Paper on the impact of population growth on council costs.
The rate peg is based on the annual change in the Local Government Cost Index (LGCI), which measures the average costs faced by NSW councils.
Under the current system, an increase in the population of a council area does not necessarily result in an increase in revenue from rates. The costs incurred by councils to service growth are recovered from special variations, developer contributions and supplementary valuations.
IPART's review of the rate peg will look at population growth in rural and regional NSW, as well as across Sydney. In our Issues Paper, IPART will explore a number of key issues, including:
the different types of income councils can source to cover the costs of population growth and the role of the rate peg.
varying population growth between councils in NSW, including how to define population growth.
the impact of population growth on council costs.
We will present a Final Report to the Minister for Local Government in September 2021.
Taste of the Beaches supports local businesses to delight your senses this May
A raft of new dining experiences have been announced in the Taste of the Beaches event program, with over 30 local businesses getting involved to make the month of May the tastiest the Beaches have ever seen.
Running from 1-30 May, hospitality businesses throughout the peninsular will be hosting unique culinary experiences, along with a number of signature events including the Council-run Manly Beach Front Restaurant presented by The Steyne Hotel and the Palm Beach Wine Garden.
Mayor Michael Regan said he was delighted that Council could support so many local businesses that will be participating in this flagship event through the grants program, that will showcase all the best food and drinks made and created locally.
"Taste of the Beaches will bring together some of the best restaurants, cafes, craft brewers and wineries in a family-friendly environment for a month-long celebration of gastronomic delights.
"Northern Beaches residents have had a tough year, and now we can enjoy a vigilant return to normal daily life with a celebration of everything that makes this a great community."
International travel may be off the menu for now, but Taste of the Beaches will have you around the world, and back again this May.
Take in the beautiful Sardinia with Giovanni Pilu's degustation, visit a Tokyo style street market with Daniel San, take a spice journey at Coya, dress up and enjoy a Eurovision themed dinner at Fika, walk through the rich history of Israel at Fuel by Night, feel the vibe at an Austrian pork knuckle party or take the family to Italy with a hands-on pizza making at Sale Pepe.
Blend that together with local brew events at 4 Pines and 7th Day, charcuterie at the Park House, roasting and tasting coffee at Nine Yards and a five-course degustation dinner by renowned chefs at the Dunes in Palm Beach and you have your month covered.
In accordance with current COVID Health Orders, the traditional Taste of Manly event could not run this year, however, this tasty initiative will celebrate our region's diverse culinary experiences and support our local businesses through the Taste of the Beaches grants program.
While more events are still being added, for a full list of Taste of the Beaches special events and dining experiences so far, go to
Pets of the Week
Brie
AGE/SEX: 18 months / F
BREED: Cattle X Bull Arab?
Brie is an active and boisterous but sweet dog who has had some basic training and can walk on a halti. She is good with children and would suit 10+yo just because of her strength. She is strong and can lunge at other dogs when on lead. She is social with most dogs and loves to play fetch and retrieve but can play rough. She is a friendly happy girl who can get easily over excited and mouthy. She is interested in guinea pigs but takes a wide berth from cats who swipe at her. She has a short coat and weighs 28.6kg. She comes desexed, C5 vaccinated, heartworm free and microchipped. Also included for the love and health of our dogs is a free Health and Wellness Voucher with our DR Vet. Her adoption cost is $450
Glacier
Glacier and her brother Arctic are sweet very gentle long haired kittens, part albino. Both are deaf but that does not stop them enjoying life. They are looking for an indoor life with someone who loves brushing cats. They were born Nov 20.
She comes desexed, vaccinated wormed and chipped. Her adoption fee is $250. She is located at Ingleside.
I
f you are interested in meeting her,
call DoggieRescue on 9486 3133 or email
cats@DoggieRescue.com
Foster Carers Needed
Not everyone is in a position to adopt a dog, which is why DoggieRescue runs a foster program making it easy for caring dog lovers to make an immediate difference.
Rehoming Organisation No R251000024.
Google misled consumers about the collection and use of location data
April 16, 2021
The Federal Court has found that Google LLC and Google Australia Pty Ltd (together, Google) misled consumers about personal location data collected through Android mobile devices between January 2017 and December 2018, in a world-first enforcement action brought by the ACCC.
"This is an important victory for consumers, especially anyone concerned about their privacy online, as the Court's decision sends a strong message to Google and others that big businesses must not mislead their customers," ACCC Chair Rod Sims said.
"Today's decision is an important step to make sure digital platforms are up front with consumers about what is happening with their data and what they can do to protect it."
The Court ruled that when consumers created a new Google Account during the initial set-up process of their Android device, Google misrepresented that the 'Location History' setting was the only Google Account setting that affected whether Google collected, kept or used personally identifiable data about their location. In fact, another Google Account setting titled 'Web & App Activity' also enabled Google to collect, store and use personally identifiable location data when it was turned on, and that setting was turned on by default.
The Court also found that when consumers later accessed the 'Location History' setting on their Android device during the same time period to turn that setting off, they were also misled because Google did not inform them that by leaving the 'Web & App Activity' setting switched on, Google would continue to collect, store and use their personally identifiable location data.
Similarly, between 9 March 2017 and 29 November 2018, when consumers later accessed the 'Web & App Activity' setting on their Android device, they were misled because Google did not inform them that the setting was relevant to the collection of personal location data.
The Court also found that Google's conduct was liable to mislead the public.
"We are extremely pleased with the outcome in this world-first case. Between January 2017 and December 2018, consumers were led to believe that 'Location History' was the only account setting that affected the collection of their personal location data, when that was simply not true," Mr Sims said.
"Companies that collect information must explain their settings clearly and transparently so consumers are not misled. Consumers should not be kept in the dark when it comes to the collection of their personal location data."
The Court dismissed the ACCC's allegations about certain statements Google made about the methods by which consumers could prevent Google from collecting and using their location data, and the purposes for which personal location data was being used by Google.
The ACCC is seeking declarations, pecuniary penalties, publications orders, and compliance orders. This will be determined at a later date.
"In addition to penalties, we are seeking an order for Google to publish a notice to Australian consumers to better explain Google's location data settings in the future. This will ensure that consumers can make informed choices about whether certain Google settings that personal collect location data should be enabled," Mr Sims said.
Google LLC is a multinational company incorporated in the United States with its headquarters in Mountain View, California. It is a subsidiary of Alphabet Inc. Google Australia Pty Ltd is a subsidiary of Google LLC and conducts certain aspects of Google LLC's business in Australia, including the distribution of Pixel phones.
The ACCC instituted proceedings against Google LLC and Google Australia Pty Ltd in October 2019.
If Android phone users want to stop Google collecting personally identifiable location information, they may do so by switching off the 'Location' setting in their Google Account as well as the 'Web & App Activity' setting. Consumers can delete personal data that Google has already collected about them through their Google Account.
The Federal Court found that a number of representations published by Google LLC to Australian consumers between January 2017 and December 2018 were false or misleading and that Google LLC engaged in misleading or deception conduct, in contravention of the Australian Consumer Law.
Uber taps on for discounted public transport
World-leading technology will see Opal digital customers gain credit to their account when they transfer to public transport from Ubers and other rideshare services.
Minister for Transport and Roads Andrew Constance announced participants in the Opal digital card trial will be the first people in the world to use the new technology.
"From the middle of this year up to 10,000 Opal digital card users will be able to pay for an Uber, a fixed fare Ingogo taxi trip or a Lime bike journey using their Opal card. If they then catch public transport within 60 minutes they will receive a credit to their Opal account of up to $3," Mr Constance said.
"We know how convenient using one card is and this is just the beginning. If the trial is successful we will look into rolling it out across the network and we'll be inviting other providers to get on board too."
Uber Australia's General Manager Dom Taylor said the trial was an exciting next step.
"This is a fantastic example of how government and industry can work together to deliver better ways to move people from A to B. Sydneysiders can already access public transport information via the Uber app. Now they can use Uber to take the stress out of getting to and from a public transport hub and be rewarded for it as well," Mr Taylor said.
As part of the trial My Fast Ferry customers will save 10 per cent on their ferry fare during peak times and 25 per cent when travelling off peak with NRMA's Managing Director of Transport Samantha Abeydeera welcoming the inclusion.
"My Fast Ferry is an essential connection for people moving between Manly and Circular Quay, receiving a reward for pairing this up with another public transport trip will make a massive difference for commuters," Ms Abeydeera said.
Transport for New South Wales has partnered with Mastercard, Commonwealth Bank of Australia and EML Payments Limited to deliver the 12-month Opal digital card trial. The trial was launched as part of the Future Transport Technology Summit and supports the release of Transport for NSW's Future Transport Technology Roadmap 2021-2024
Pittwater Community Groups:
Speed humps on McCarrs Creek Rd: please share Wildlife Data
Local wildlife rescuers are asking all members of the public to report any roadkill
on McCarrs Ck Rd or any other road in the NB (Wakehurst Parkway or Mona Vale Road for instance) on www.wildlifemapping.org
It records the GPS position, date, sex, species. Photos can be added as they help in identification
The data is then forwarded to OEH and Transport NSW as it can help establish the best places to place mitigation.
Thanking
you all in advance for your help with
this
.
We need your help. Thank you for reporting wildlife road fatalities. There is so much wildlife on the move in our area at present due to various pressures. Although we have had pictures
sent to us
, many of these have no date or location.
There is a database that volunteers maintain but this needs three pieces of information:
The position via GPS or road and suburb
The date
The animal
The details can be entered into the database directly by you at: