Abel Tasman Visits Pittwater YHA
May 17, 2017

Just another day at Pittwater YHA!
Catch the Church Point Ferry from Church Point to Halls Wharf, then enjoy a 15min walk uphill to hostel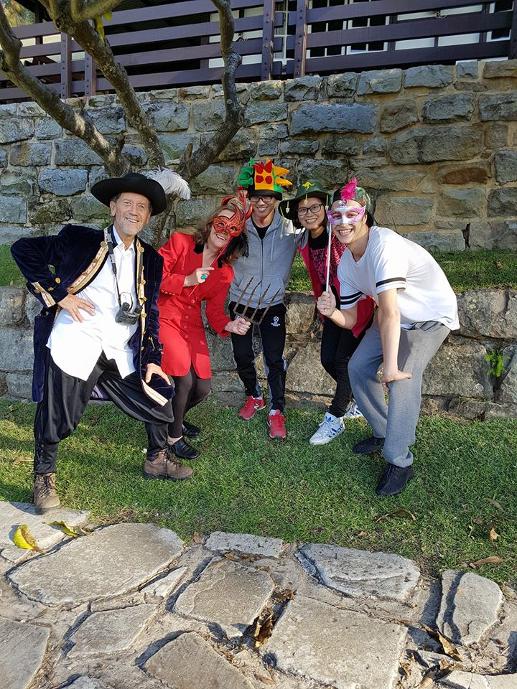 Avalon Boomerang Bags
Tuesdays

11am-5pm @ sewcraft cook
Unit 20/14 Polo Ave Mona Vale
Boomerang Bags is a bag-share initiative involving the installation of a number of 'Boomerang Bag' boxes throughout any given business district, shopping centre, street or market. Each box is stocked with re-useable bags for customers to borrow if they have forgotten to bring their own.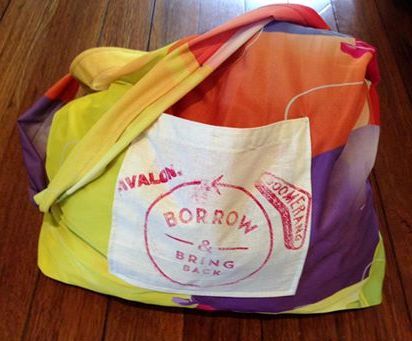 Unlike the traditional purchase-and-keep approach, Boomerang Bags are free, and local community members are responsible for returning the bags once they're no longer required. The availability of free re-useable bags reduces the reliance of local businesses to supply bags to all customers, and encourages a mentality of re-use among local communities, thereby reducing the amount of plastic bag material entering our landfills and waterways.
So who makes the Boomerang Bags? Well, you do! Boomerang Bags are made by local communities for local communities, and are sewn from recycled and donated materials.
Get in touch if you'd like to donate materials, join us making bags, or implement Boomerang Bags in your own local area!
Successful Lake Jindabyne Initiative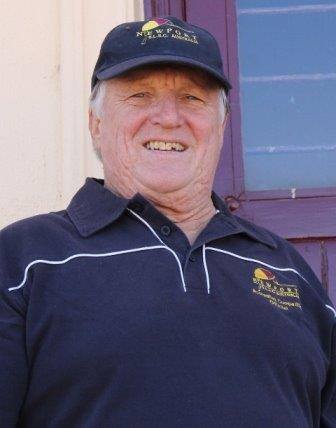 Lake Jindabyne Junior SLSC is in better shape with much need resources thanks to the combined efforts of five Sydney Northern Beaches surf clubs.
North Steyne, Queenscliff, South Curl Curl, North Palm Beach and Newport SLSCs came to the party with various donations, including nipper boards, new safety rash vests, fibreglass and soft top rescue boards, older style Ambu Manikins, face masks, a Bennett racing technology Malibu board, beach relay batons and an IRB hull and floor in good working order.
Newport stalwart Gary Cook took it upon himself to organise, coordinate and collect the donations and, with the terrific support of Newport club member Greg Randall, all items were transported to the Yabbies gear storage area. Greg made three trips to Lake Jindabyne.
Lake Jindabyne President Duane Burke and club captain Marty Firle were very appreciate of Gary's efforts and particularly those generous SNB clubs.
''We are a small club and don't have much sponsorship so to receive all these donations was just fantastic,'' Marty said.
''To receive nine rescue boards has made life so much easier for us.
''The IRB will be good, too. I still need to work out how we can get a motor and trailer. At the moment it is out of the weather and in my shed.''
In text: Gary Cook organised SNB clubs to support Lake Jindabyne Junior SLSC - SLS SNB Report AJG pic.
Warriewood Beach Clean
I love this bloke; he's at Warriewood pretty much every day doing his own private beach clean!!!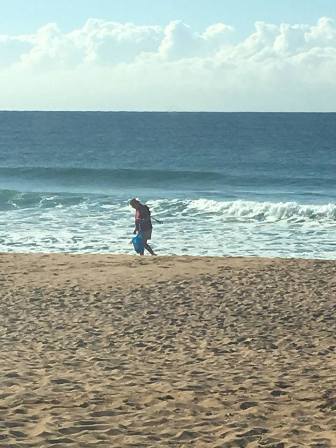 Photo and insight courtesy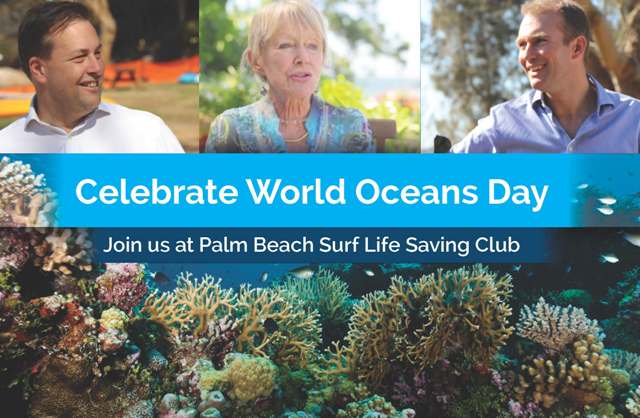 World Ocean Day Palm Beach Event
Monday, June 05, 2017 at 06:00 PM
Rob Stokes MP, Palm Beach SLSC, the Save Our Marine Life partnership, and Jason Falinksi MP, invite you to celebrate World Oceans Day (it's technically on Thursday, but who's counting).
Special guest speaker, Valerie Taylor AM, will share her stories as ocean explorer and filmmaker before a special screening of The Last Sea Treasure, an exploration of the Coral Sea – the cradle to the Great Barrier Reef and one of the last places on Earth where ocean giants still thrive.
Volunteers from the Palm Beach Surf Life Saving Club will be manning the cash bar, so stick around, mingle, and have a drink at the end.
Let me know below if you can make it. Tickets are FREE but please book today as seats are limited.
Please note: you will receive a confirmation email. If you do not receive a confirmation email then there was a glitch in the system and we will sort it out ASAP - just call my office (8484 0300), or shoot me an email (
jason.falinski.mp@aph.gov.au
)
I will see you there!
Spring Concert 2017
by Rotary Club of Upper Northern Beaches

We have an exciting announcement about our seventh annual Northern Beaches Spring Concert. Save the date -- we'll have more details and ticketing information soon!
Sponsors wanted!
Contact us if you want to be part of this fabulous community event!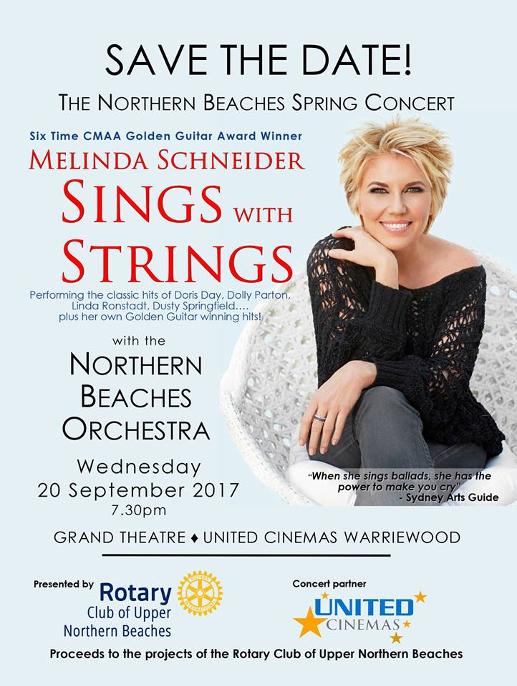 Manly Art Gallery and Museum: INFORMATION CALL-OUT: FRANK HURLEY
Searching for Frank Hurley along our northern beaches
Did you know that Frank Hurley was a very keen gardener and photographer of wild flowers?
In the lead up to a special exhibition entitled Frank Hurley – Sydney Harbour photographer: From Circular Quay to Collaroy, MAG&M is seeking long-term residents who may have information about this famous Australian and his search for plants along the Northern Beaches, his life in Collaroy Plateau and other stories.

The gallery is now reaching out to ask if any long-term residents know of other stories or have information about this famous Australian and his search for plants along the Northern Beaches.
Up till now Frank Hurley has been famous for his exploits in both world wars, for his journeys to the Antarctica, and through his films and photographs. This exhibition presents a wonderful opportunity for the Northern Beaches to claim him back as a local celebrity and as part of the garden history of the area.
If you have any information on Frank Hurley and his life in Collaroy Plateau – or know of anyone else who may be able to assist, please contact Katherine Roberts, Manly Art Gallery & Museum on (02) 9976 1418 or
katherine.roberts@northernbeaches.nsw.gov.au
.
Photo: Wildflowers by the sea, flannel flowers at Palm Beach [Sydney] by Frank Hurley.
Created/Published: between 1910 and 1962 - courtesy National Library of Australia, nla.obj-15752
Mr Hurley was once a resident of Whale Beach - visit: Frank Hurley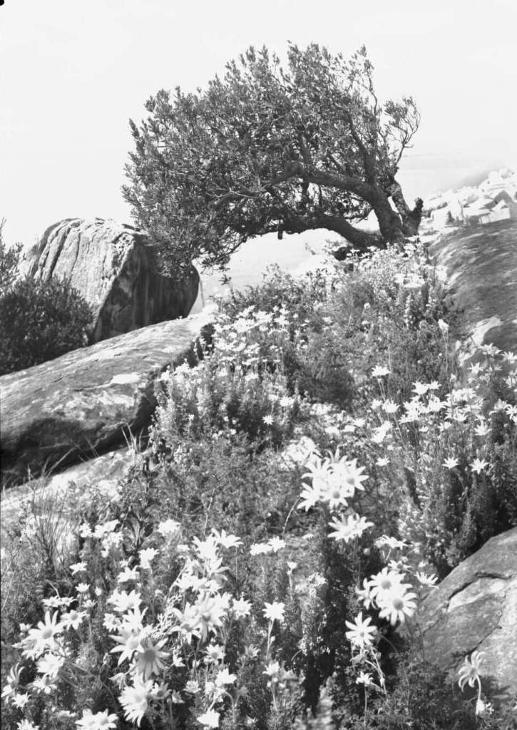 Australia council delivers more than $7 Million for 270 Arts projects
16 May 2017
The Australia Council for the Arts has today announced more than $7 million to support 270 projects delivered by individuals, groups and small-to-medium organisations through the first of three grant rounds for 2017.
The $7.2 million announced today includes $2.7 million to support projects by 158 individual artists; $0.9 million to support 36 groups of artists; and $3.6 million to support 76 arts organisations.
Last week the Australia Council also announced $3.2 million in funding which has been invested through Playing Australia ($2.0 million); Contemporary Touring Initiative ($577,000); Visual Arts and Craft Strategy-individuals ($445,000); and Contemporary Music Touring Program ($190,000).
Australia Council CEO Tony Grybowski said this grant round was highly competitive and that he was pleased to see the new model continuing to support such a diverse range of activity and attracting a large number of new applicants.
"The Council's grants program supports all facets of the creative process, enabling Australian artists to undertake professional development, create new work through individual and collaborative processes, and present their work to audiences in all parts of Australia and across the globe. The findings of the Council's third National Arts Participation Survey will be released in late June and they tell a compelling story about the role of the arts in the lives of Australians, one that reinforces the importance of this type of investment," Mr Grybowski said.
Australia Council analysis of the February grant round reveals that:
21% of funding was awarded to applicants in regional and remote areas;

39% of the successful applicants had an international component to their project;

33% of successful applicants to the Arts Projects programs nominated audience engagement and access and participation in the arts as the primary outcomes of their project;

115 peers assessed this round, including 22% from regional and remote areas; and

15% of the peer assessors identified as being culturally and linguistically diverse and 19% identified as being Aboriginal and/or Torres Strait Islander people.
Two years after its launch the new grants model continues to deliver increased accessibility and flexibility, with new applicants making up 32% of the February grant round, and one in five successful applications coming from first time applicants.
Applications are assessed against one of four criteria which align with the Australia Council's strategic goals. The applicant chooses which criteria best reflects the primary outcome of their project: creation of new work; audience engagement; access to and participation in the arts; and international profile of Australian arts.
Successful grant recipients will be published on the Australia Council website from Tuesday 16 May.
Successful Grants
Sharing Stories Foundation
- Community Arts and Cultural Development Arts Projects Organisations: $99,500.00
01-MAY-2017 to 08-FEB-2017 MACKELLAR
Nominations open for top nurses and midwives
12 May 2017: NSW Minister for Health. The Hon. Brad Hazzard

Outstanding nurses and midwives will be recognised for their tireless work with nominations now open for the fifth annual Excellence in Nursing and Midwifery Awards.
Health Minister Brad Hazzard today marked International Nurses Day by encouraging anyone who knows of a top nurse or midwife to nominate them.
"I encourage community members, patients and colleagues to put forward any nurse or midwife working in the public health system who has made a real difference to the lives and experiences of their patients," said Mr Hazzard.
"The NSW Government is right behind our nurses and midwives, expanding the workforce by an extra 6280 since March 2011 – representing a 14 per cent increase.
"We now employ a record 49,900 nurses and midwives and I want to personally thank each and every one of them for their tireless dedication and compassion.
"We have also recruited a record 2200 nursing and midwifery graduates this year, a quarter of them in rural and regional NSW."
The NSW Government has committed $120 million in 2016-2017 for 900 additional nurses, doctors, allied health and other hospital staff to support the increasing patient demand for health services.
Another $9.8 million has been committed to recruiting 65 more specialist nurses and midwives and 30 clinical support officers for nurses and midwifery services.
NSW Chief Nursing and Midwifery Officer Jacqui Cross also paid tribute to the state's nurses and midwives.
"I wholeheartedly thank our nurses and midwives for providing quality, patient- centred care and making a difference for people in our communities," Ms Cross said.

The purpose of www.westpittwater.com.au - is best defined by the vision of the West Pittwater Community Association.
To be a supportive community, encouraging and promoting civic pride, interest in community affairs and goodwill amongst residents.
To protect local fauna and flora and generally preserve West Pittwater and its environs.
To secure essential facilities including public wharves and reserves and to protect private and public property.
To speak with one voice and represent the interests of the Western Foreshore community when in discussion with Pittwater Council and other relevant government bodies. The WPCA website provides a forum for the better realisation of these objectives. Visit: www.westpittwater.com.au
Sydney Wildlife: May 2017
A Week In The Life Of A Wildlife Rescuer - Part 2
To celebrate Sydney Wildlife's 20-Year Anniversary, I was asked to recount a typical week in the life of wildlife rescuing. It took so long that we had to break it into 2 parts!
For those of you who missed Part 1 of "A Week in the Life of a Wildlife Rescuer" in our April edition: the first 3 days of the week comprised of darting a wallaby to remove plastic from around its neck; rescuing a tawny frogmouth with a broken leg and then a concussed lorikeet; a visit to Waratah Park to drop off some ringtail possums; an attempt to manipulate a faecal impaction from a very uncomfortable diamond python and grappling with a grumpy tiger snake...
Come Thursday and our sweet diamond python still hasn't been able to expel whatever is clogging her cloaca… Many soaking baths haven't shifted the mass so it's off to one of our wonderful veterinarians who give of their time for free. Dr Andrew at Dee Why Vet takes a close look and decides to take x-rays. A large white sphere shows up. Oh, no - we hope she hasn't swallowed a golf ball…
Whilst we are poring over the radiographs, Dr Andrew has lubricated the cloaca and begun physically manipulating the area as gently as possible. He has oodles of patience and doesn't rush her at all. And sure enough, out pops a large white oval shape. And then another large white oval shape. And another. Not golf balls. But eggs! The poor girl has dystocia (she's been egg-bound)! She must've dropped a clutch of eggs but the last 3 were abnormally large and she was unable to expel them. Well, I can guarantee she feels 100% better. She even looks thankful! Dr Andrew gives her some anti-inflammatories and some pain relief and we are on our way again.
Poor diamond python looking very sorry for herself :(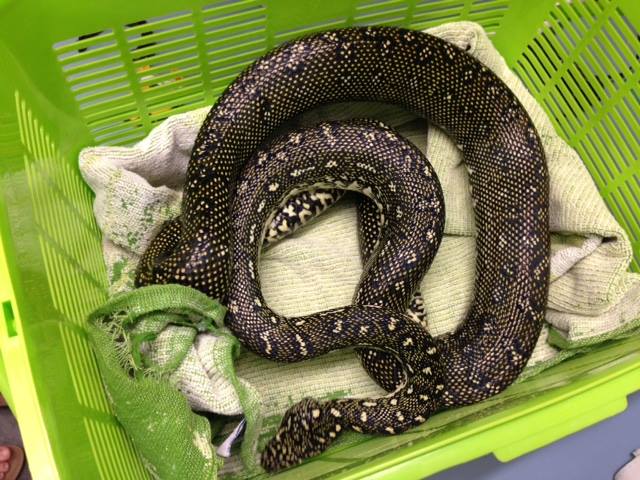 Turned out to be dystocia (egg-binding) not faecal impaction!
Later that week she is released back to her glorious home in the bush: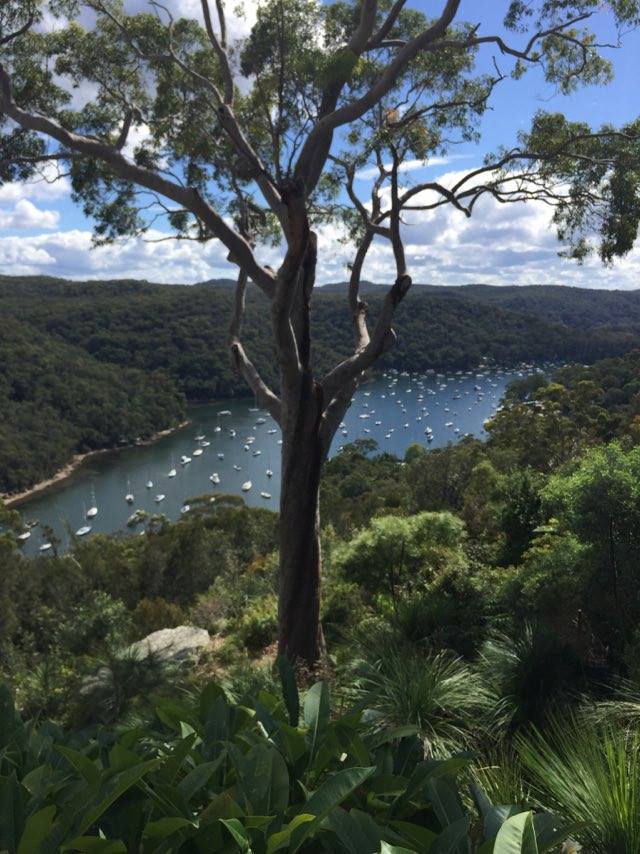 From there it's off to a Fundraising Meeting with Joan - our Pre-Release Facility Manager. We have been madly raising funds to buy a Mobile Wildlife Clinic. The idea behind the Sydney Wildlife Mobile Clinic is to provide first-class treatment to our injured and sick wildlife. The clinic is to be staffed by veterinarians who are experienced at treating wildlife and who can provide hands-on training for veterinary students. The van is to provide first aid and emergency medical treatment for injured animals and is to be deployed to areas where natural disasters have occurred.
So today we're on a reconnaissance mission to check out a few venues for our next big fundraiser. First port of call is to grab two coffees (NOT in takeaway cups, but in our environmentally-friendly 'keep cups') and then scout around for a great but inexpensive location. We visit a few venues in Terrey Hills and Newport but we feel they may not be central enough to any non-Northern Beaches attendees. So it's back to the drawing board. Dr David Ward (our head veterinarian for the Mobile Clinic) has suggested we contact the International College of Management in Manly. We pop it onto our 'To Do' list for the next meeting.
We then contact our wonderful graphic designer - Laurie Sword - who is doing all the marketing work for us Pro Bono. She has designed this amazing concept photo of the van for us: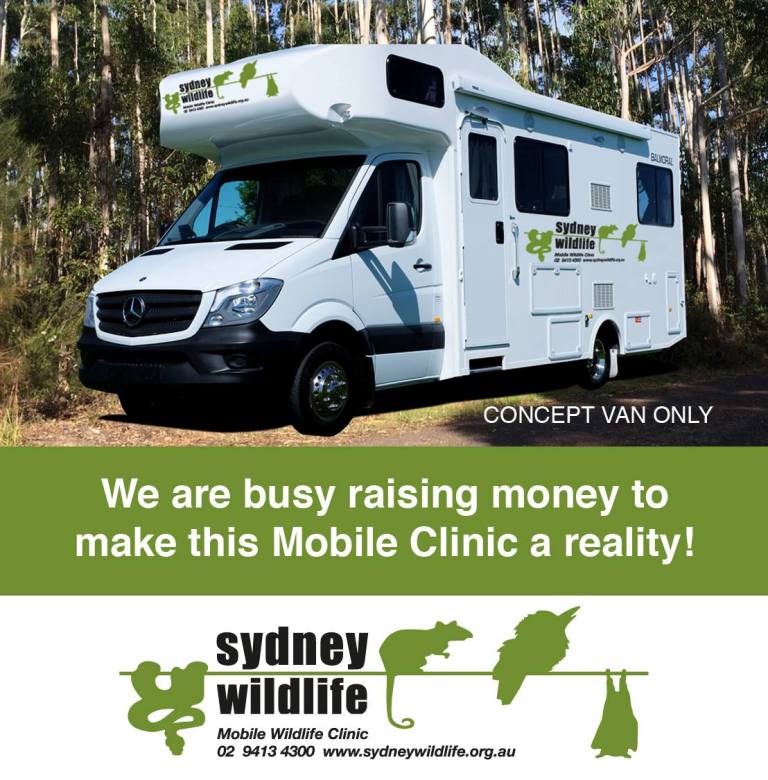 We then pop back to Joan's place to finish applying for some Community Grants and to feed her critters, one of whom is this adorable wombat joey, Mulan: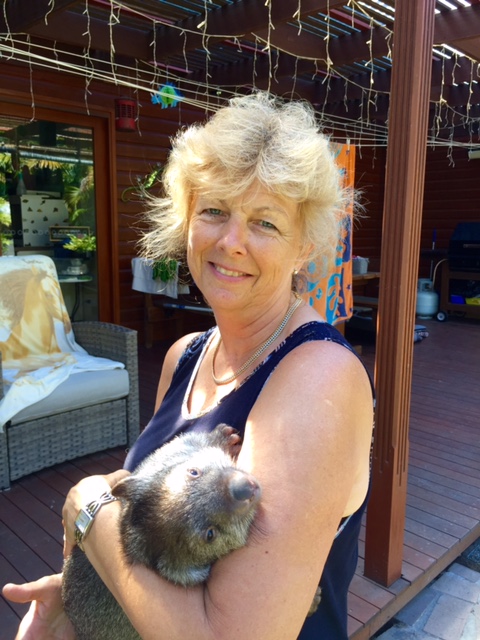 Joan Reid with her little wombat joey, Mulan.
When Friday rolls around, it's time for Nash the tiger snake to have another injection and to have his mouth cleaned out. So, it's time to chase each other around the room again ha ha :D He surprises me by being a complete angel and not giving me a hard time. Straight in the tube for his injection and subcutaneous fluids and then onto the mouth treatment. He's so good for his treatment that I reward him with some unrestricted 'sun-time' outside under my watchful gaze: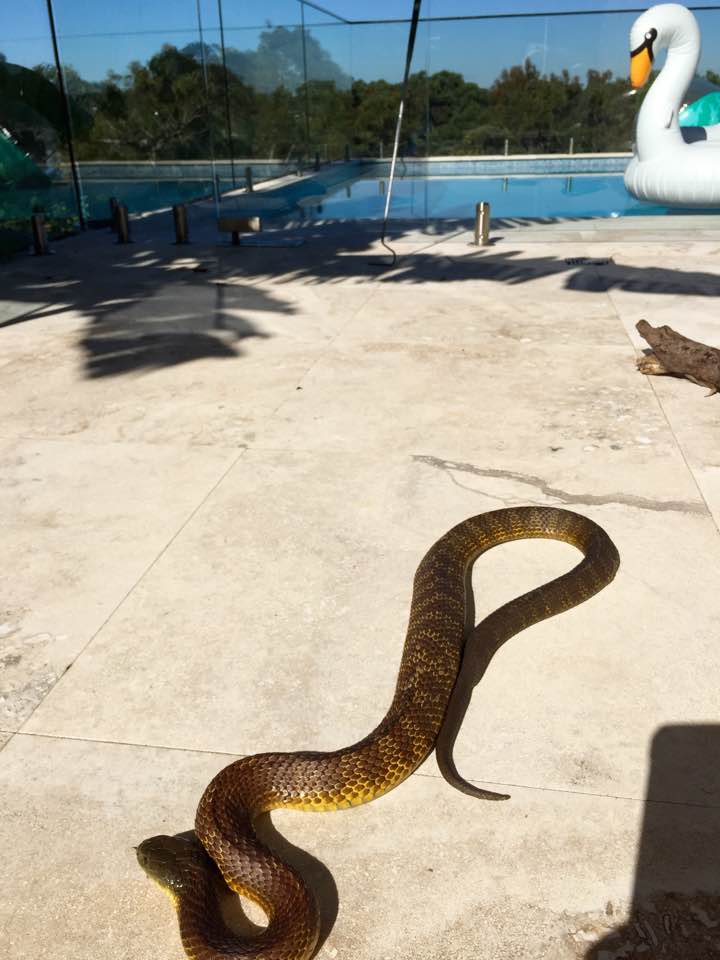 Nash the tiger snake enjoying his time in the sun on the warm tiles.
When Nash has had his fill of sunshine, it's time to pack up all our educational brochures and habitat decor for a talk at a local school. As part of our Sydney Wildlife charter, we are committed to educating the public about the needs of our wildlife and the importance of habitat protection. Our Community Education coordinator, Eira Battaglia, does talks all over the Northern Beaches - to schools, to age-care facilities, to TAFEs and even to Scout gatherings. She's amazing and very enthusiastic! As part of our education plan, we often collaborate with the wonderful folks at the Coastal Environment Centre (CEC) in Narrabeen. Today's talk has been organised by the dedicated team at the CEC and they have invited us to join them to talk about how the general public can do more to protect habitat for our wildlife.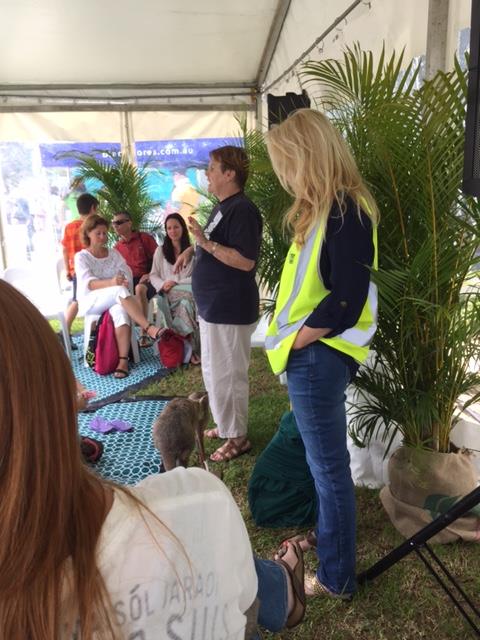 Eira Battaglia educational talk
The CEC team have organised the kids into groups. The first group are invited to build a "Bee Hotel" with Tim the Bee-Man. It's so much fun and the kids learn about the invaluable job that our bees perform through pollination. The second group are being coached by Dave about how to do small things in their own backyard to provide habitat for little birds, blue-tongue lizards and other visiting critters. The third group are gathered in the hall and we (Sydney Wildlife) are giving a talk on the right and wrong things to do when bush-walking. Ably assisted by the passionate Kate Murray - one of our newest members - we re-enact a bush-walk that was done incorrectly. The 'naughty' bushwalker rumbles through the bush talking loudly on their mobile-phone, throws their litter on the ground, moves pieces of bark and logs around without thinking and throws rocks into the adjacent lake. The children are asked to identify aspects of the person's behaviour that could be problematic. As always, they are always spot-on! At the end of the presentation, the kids are able to identify many of our local wildlife species and the type of habitat that they require. They are also well-versed on the correct behaviour to undertake whilst bush-walking. It's very important to get kids to connect with nature and fall in love with wildlife because they will only grow up wanting to protect something that they love.

During the talk, a call comes through about a snake in a toilet. This ought to be easy, so I pop up to Avalon expecting to scoop a little slithery critter out of a toilet bowl, give it a wash and pop it back in the bush. Riiiiiiiiiiight….

Instead of being in the toilet-bowl, the sweet little green tree snake has sought refuge from the family's cat in the pedestal of the toilet. The only access to the snake is through a tiny 20c piece-sized hole in the bottom part of the toilet which is - obviously - fused to the toilet floor… Sigh.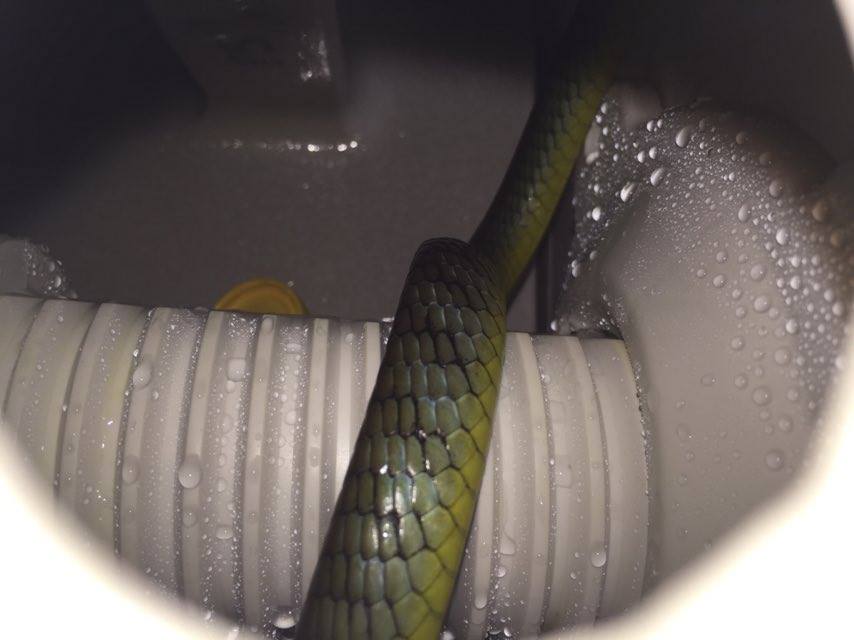 This photo was taken through the tiny hole...
The lady's dad makes an excellent suggestion - build a tunnel from the hole into a box which will make capture much easier.
While we are running about gathering vacuum-cleaner hose, bedding for the box and tape, the little critter sneaks out, climbs the towel-rail and plops herself into a reusable shopping-bag hanging off the end of the towel-rail... Well that's what I call gift-wrapping yourself for the snake-catcher :)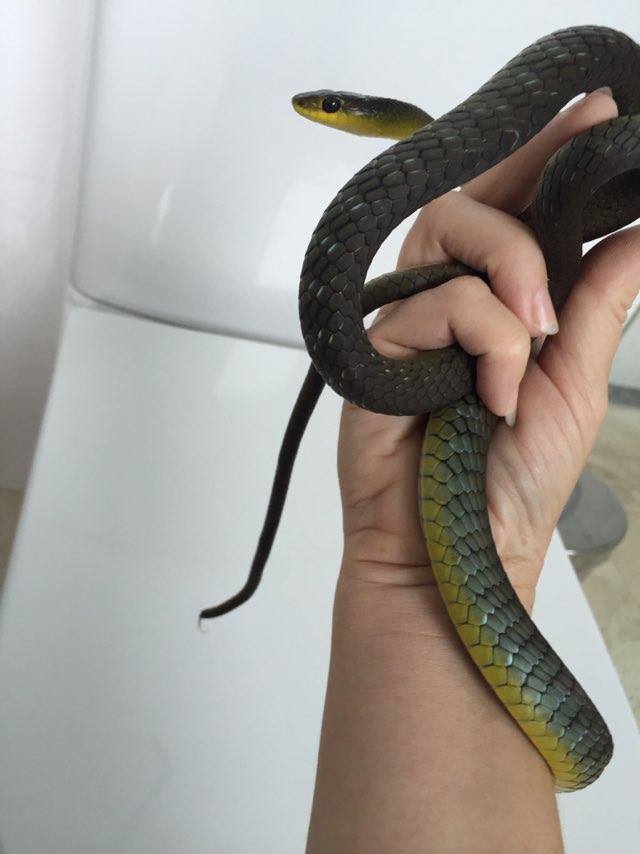 With Friday almost over, there's just enough time to pick up the kids from school, collect foliage for the animals in care, feed them all and get some sleep before the weekend.
Who knows what the weekend will bring...!?!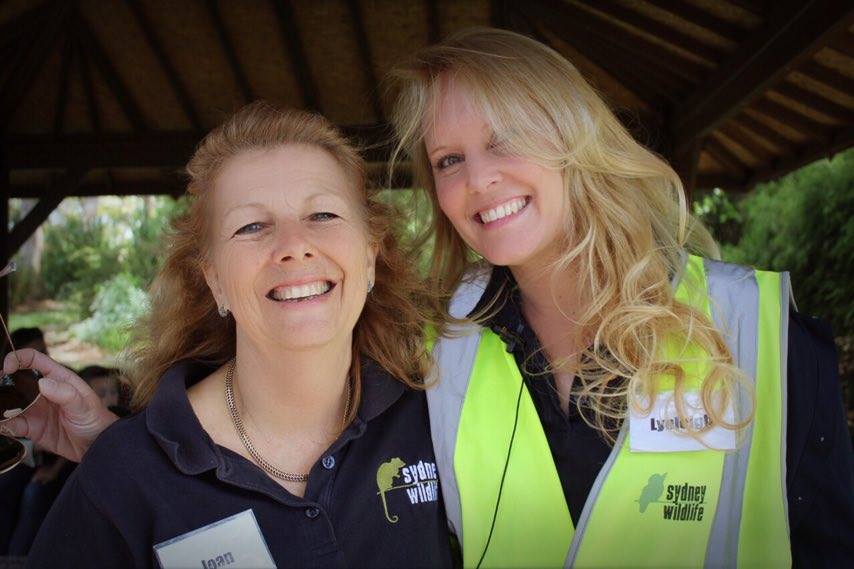 Joan's and I at our most recent fundraiser.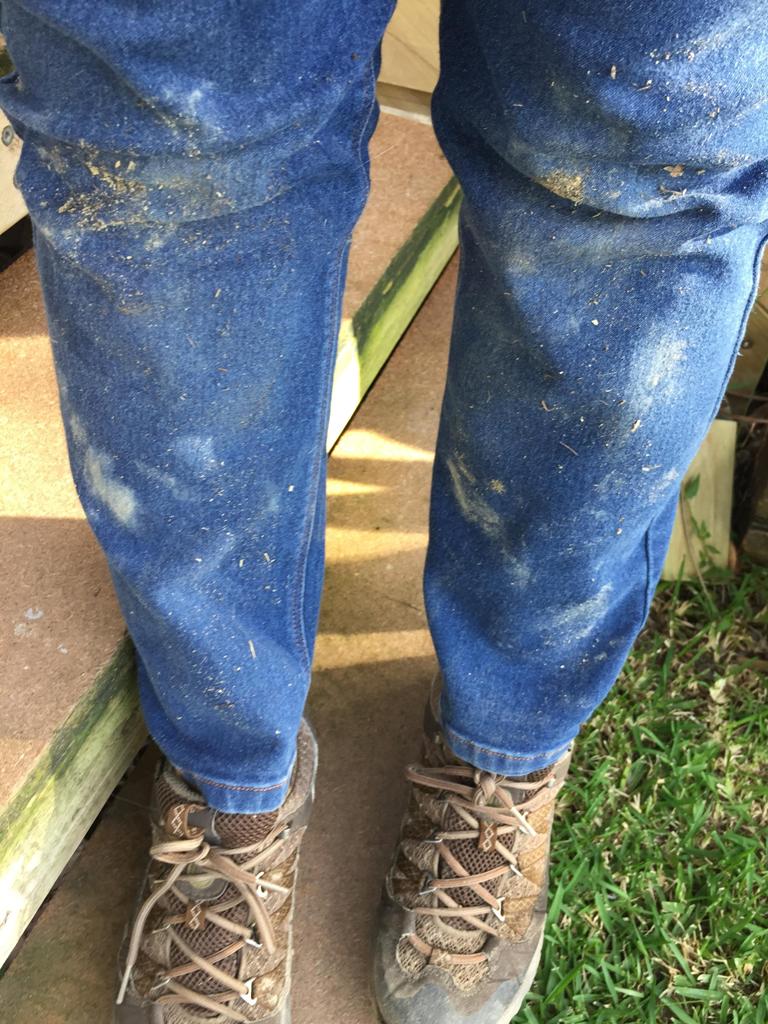 The glamour of wildlife rescue... Post-clambering-under-a-house to look for the source of a random scratching sound...
Previously: A Week In The Life Of A Sydney Wildlife Volunteer by Lynleigh Greig