October 25 - 31, 2020: Issue 471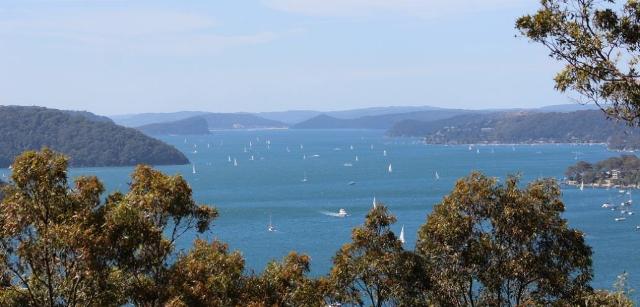 This Issue: full list in Contents page
PEP 11 Proponents Announce New Board Members Same Week as Marine Environment Motion Debated - The Parliamentary Sitting Notice Paper for Monday October 26th 2020 Lists Resumption of debate (from 19 October 2020) on the motion of Mr Falinski - Advent state a drill target site has been identified and that it is 'committed to continuing to explore for and ultimately exploit any petroleum accumulations which may be identified in this title area…'
Slingsby and Darmanin Reprise Top Honours At Australian Sailing Awards 2020

Pictures The Towlers Bay Loop + A Hike To Mount Murray Anderson - Photos By Kevin Murray and Joe Mills
Food Kindred Peanut Butter: Great Food For A Good Cause From A Local Producer
Website: kindredfoods.square.site - On Facebook: www.facebook.com/kindredfoodsau
Local girl Katherine Halliday, 'Kat', has launched a great new business for those who like an Australian product from an Australian producer. This isn't all about the love of the peanut though as Kat and her team are also donating 100% of their profits to food security projects around the world. The uptake from the Narrabeen-Warriewood-Elanora Heights community has been brilliant and kept Kindred pretty busy the past few weeks.
''I've been experimenting and dreaming this up for about a year but Kindred is only 2 months old. While we may be new it has been encouraging to see the passion that our community has for this! We've actually already been able to make our first donation which we're thrilled to have done so early on.'' Kat explains
DIY Ideas Perfect Tomatoes, Capsicums and Spring Onions - Summer Salad Staples + what to plant now: With a wetter than average Spring forecast late October is the perfect time to plant out those Summer Salad basics that you know will go through the roof, price wise, by Christmas. There's nothing nicer then picking the components of a great Summer salad from your own garden; it doesn't get any fresher, with enough rain forecast, it's not going to cost you too much, and, if you follow a few tips from the experts, gathered here for your enjoyment, you will be growing vegetables/fruits with the kind of taste and quality you only find on deep rich soil farms far from the big smoke.

Park Bench Philosopher Protect Antarctica Now: Over 280 Women In STEMM Call For Marine Protected Area - The Thirty-ninth Meetings of the Commission for the Conservation of Antarctic Marine Living Resources and the Scientific Committee is taking place, online, until Friday, 30 October 2020. A team of female scientists, led by Australians, are urgently calling for a Marine Protected Area around the Antarctic Peninsula.
Reflections by George Repin: MALTA
Aquatics: Three Ferries Named Narrabeen (1883 To 1984) + One Named Barranjoey (1913-1985)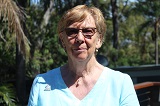 Profile
Margaret White
The year long 100th anniversary celebration of the formation of Zonta is drawing to a close. Zonta was first formed on November 8th 1919 in Buffalo, New York, by journalist and playwright Marian de Forest who envisioned a network of women working to support each other in establishing themselves in their chosen professional careers in what was a male dominated workforce. In the States women were only just getting to vote and graduate from Colleges, their status and rights were still being determined by men.
Then and now 'Zonta Clubs still select, fund and participate in community projects fundamental to promoting women's economic self-sufficiency, political equality, access to education and health care and the elimination of violence against women.'
Unfortunately some of the activities usually undertaken by our local chapter, Zonta Northern Beaches, have been curtailed in 2020 due to Covid-safety measures and at a time when the need for assistance has risen sharply.
One of their members, and the lady who is front and centre during each annual Birth Kit Packing Day at Barrenjoey High School is Margaret White, shares a few insights into her decades long Nursing career and catches us up on what Zonta Northern Beaches has been doing and plans to do for the remainder of 2020 and into 2021.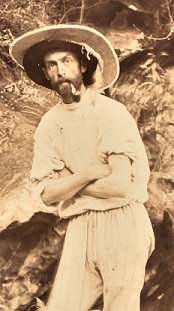 History
Harry Wolstenholme
June 21, 1868 - October 14, 1930
Ornithologist Of Palm Beach, Bird Man Of Wahroonga
Although considered an 'amateur ornithologist' Harry Wolstenholme's observations and notes of birds over several decades actually contributed to the knowledge of Australian birds and their presence in all landscapes - aquatic or shore birds, at forest or tree level, and in the open fields. His 1926 published ''The Official Checklist of the Birds of Australia: With Appendix: Scientific Names-Notes and Pronunciation'' is still a refence work for many, while his membership of the Royal Australasian Ornithologists Union, to which he was a generous benefactor, and a member of its Council, as well as serving as a trustee of Ku-ring-gai Chase National Park, point to a lifelong passion for our area.
It is important to remember this as residents contribute to the 2020 Australian Back Yard Bird Count - that it is those who live here and regularly photograph or note the return of annual birds along international flyways, as well as observing those that are permanent year-round residents on our shores, in our bush reserves, and in their own back yards, that help those seeking to protect these species. The ongoing work of the Powerful Owl Project, which had its origin in our area, serves as one example, while ANTSO and UNSW scientist Dr Kate Brandis calling for bird feathers to be sent in to collate data on estuarine and wetlands birds, provides another.
The presence or sudden absence of birds in habitats where they once were, and reporting this, is one sure method of ensuring where there is a problem, what is causing the problem, and how that may be addressed. In this we are all custodians and can help look after this years chicks and fledglings to ensure the survival of the gene pools of these birds that live here, in Pittwater.
Under NSW State Law all species of wildlife are protected. In notifying local and state authorities where and when a bird has been put at risk, attacked, or even driven from its home, you provide an opportunity for that birds' others to not experience the same. In looking after all the wildlife that makes an environment healthy, we are not only ensuring the survival of species, including our own, we are staking a claim for yet to be born generations getting to experience first-hand the wonders we are now enriched by.
For the 2020 Aussie Back Yard Bird Count (October 19-25) and National Bird Week 2020 insight into local birds and those who worked to protect them, simply through celebrating them, another local connection in Palm Beach resident, and one of the original Directors of the Barranjoey Land Company, the first-born son of Maybanke Selfe-Wolstenholme-Anderson features this year.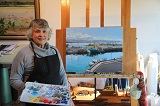 Artist of the Month October 2020: Pamela Ann Griffith
Pamela Griffith - Wollongong Then And Now
An exhibition of Illawarra landscapes painted by Pamela Griffith in 2019, and photographs from the collection by Charles Kerry depicting the same locations some 130 years apart.
In continuing the Pittwater Online focus on encouraging residents to get out of Pittwater and visit and support our regional areas and peoples during a very challenging year, an insight into a wonderful Australian Artist with local connections could not be passed up - we wanted to run this earlier in 2020 and are thrilled that the time has now come!
Pamela Griffith visits our area regularly to spend time with her daughter, also a mum, and Academic, Design Thinker, Entrepreneur, Public Speaker, Board Director and ex-Pittwater Councillor Selena Griffith. Pamela is also visiting our area to develop a project along similar lines to the current Pamela Griffith - Wollongong Then and Now exhibition and was thrilled to hear from the Editor of Pittwater Online that Mr. Kerry visited and photographed everywhere along our peninsula, including the newly gazetted Ku-ring-gai Chase National Park - and was one of several early Australian photographers to do so, including Robert Hunt, Henry King, Charles Bayliss, Samuel Woods, E A Macpherson, Rex Hazlewood and even a resident of here in Arthur Vogan, and many others. Mr. Kerry was a frequent visitor to our area and one of the gentlemen behind a scheme to run motor omnibuses to Pittwater, as announced at the official opening of George Brock's 'The Oaks' at Mona Vale in 1906. His images illuminate many a History page run here and show the changes between the landscapes of early Pittwater and what is present now.
More on that project, and Pamela, as it comes to fruition.
In the meantime - if you fancy a train trip or journey by road to Wollongong now is the time to do it. By train the scenery is marvellous and if you go by road you can take in the magical engineered Sea Cliff Bridge. This feature segment of the Grand Pacific Drive has quickly become an international icon. Port Kembla Harbour is going though a transformation and there are the marvellous rock pools and sandy beaches along the way, and of course, Spring is a great time for a landscape artist to capture the stunning beauty of the Illawarra should you wish to head south to develop your practice.
For over 50 years Pamela Griffith has made aspects of the Australian landscape the prime subject of her art. Her closeness to her grandparents who grew up in Wollongong and came from pioneering families in the area encouraged Pamela to paint a series of works on this beautiful city as a process of getting to know the family history. By showing Griffith's paintings and etchings in conjunction with the colonial photographer Charles Kerry, that are part of the Galleries permanent collection, this exhibition enables the viewer to simultaneously look at both times past and time present. It is possible therefore to imagine a future time when a viewer will see Griffith's work as a unique record of the Illawarra in the years leading up to 2020 and marvel at how times have changed.
Covid19 prevented the exhibition opening in March and the Gallery was closed until July 1st. Already many people have visited the exhibition and have allowed time to enjoy both the 19th century photography and Griffith's delightful works on canvas, etchings and watercolours. Her work ranges from the landscape of the Illawarra and its natural life to the edges of the Royal National Park in the north. In the south it stops near Windang beach, taking in Lake Illawarra along the way. Ever-present is the backdrop of the escarpment with the wonderful blue-greens of the slopes. Her large study of Governor Game Lookout near Garie Beach shows off the vivid colour of the Gymea Lilies against the clear blues of sky and sea.
It is not surprising that this outstanding show has been kept on display by the gallery for more people to be able to see it, but Pamela Griffith - Wollongong Then and Now will close on the 25th of October - so if you want to see the works in their place and then wander through their physical landscapes - head south this October and enjoy a taste of Wollongong and an Illawarra Spring.
Pittwater Offshore Newsletter: October 11, 2020
Click on Logo to access latest PON:

To contact Julian: editor@scotlandisland.org.au
Vale Thomas Knox
It is our melancholy duty to inform this community of the passing of Mona Vale gentleman Thomas 'Tommy' Knox.
Our sincere condolences and deepest sympathies are extended to his children and grandchildren at this time.
Tommy was born In Glasgow, Scotland
on February 9, 1925. He served in WWII with the
Royal Air Force - Warrant Officer and in
Bomber Command and as a Parachute Instructor. Two members of the crew he flew with were Australians who must have shared stories Tommy recalled after being demobbed and finding himself shovelling snow.
Tommy emigrated to Australia in 1950 and met up with one of these men, met his wife and had children.
Earlier this year a special 'street parade' organised by his proud grandchildren gave his neighbours an opportunity to pay their respects in a very different ANZAC Day 2020.
He was a vey kind and humble gentle man, with a twinkle in his eyes and sharp as a tack even though the years had rolled on.
Thank you for your Service sir.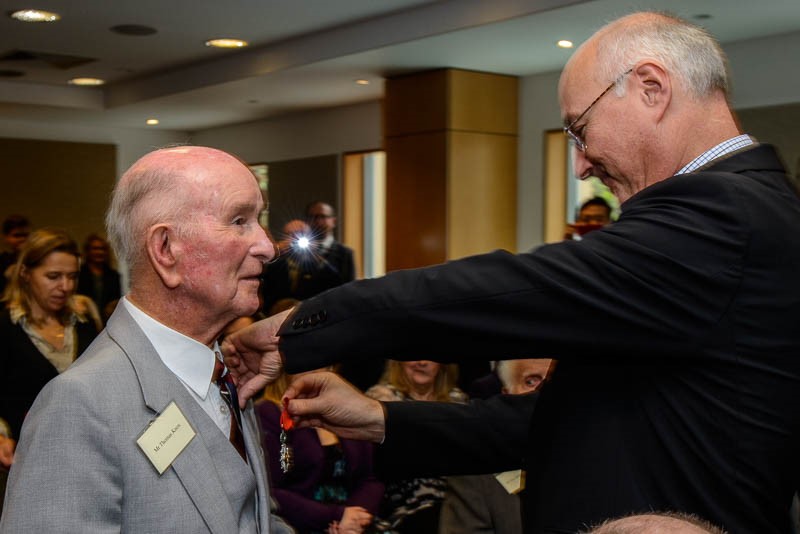 Tommy Knox - Receiving the Legion of Honour from the French Consulate in September 2015. Photo by Michael Mannington.
A run to Palm Beach in an old Bus History Page held Over
News as we go to press that over 4 million birds have already been counted in the annual Aussie Backyard Bird Count has staffers so excited, with so many local contributors too!, that Barranjoey Land Company Director and amateur Ornithologist
Harry Wolstenholme
is staying up for another week in the hope he will inspire Readers to get their counts in - you have until 4pm today, Sunday October 25th. Visit:
aussiebirdcount.org.au
For those of you groaning because you LOVE the History pages - please visit this week's Aquatics feature and catch a ferry ride on the 1913 launched 'Barranjoey' - or have a look at some of the long winding sea trails of three named 'Narrabeen'.
Covet Problems at warriewood
A post on a community social media forum page points to a growing problem in Warriewood where teenagers are standing over slightly younger teenagers and demanding they hand over items of clothing or shoes. The items targeted are the 'name' brands all teenagers want and save hard, or mum or dad works hard to purchase for them.
Apparently this is occurring every weekend, in the middle of the day, with those being approached to hand over wanted items being threatened with assault if they do not comply.
The most recent incident, Saturday October 24th at 12:20 pm was a child in his first year of being a teenager being surrounded by 4 a few years older than that, and part of a group of around 30 teenagers. His mother, a single mum, had to go without so he could have these few precious items.
The matter was reported to police.
Her plea is that we all speak to our children and ensure if they have experienced the same that it is reported to our local police as other teens aren't telling their parents it is happening on a regular basis due to threats and warnings there will be repercussions if they do.
Her plea is that we all work together as a community to address this behaviour before it escalates.
If your teenager is coming home with items you know you have not bought for them, and they could not have bought for themselves, where are they coming from?
Marine Rescue Broken Bay News
Out on the water this weekend? Stormy weather is on the way!
Thunderstorms can generate strong, squally winds, heavy rain with reduced visibility, hail, waterspouts and lightning.
If you are out on the water, storms, possibly severe, are forecast for many parts of NSW this weekend. Storms pose a hazard to boaters and it is important that you check the forecast before heading out and make plans to return before conditions deteriorate. You can also call Marine Rescue NSW on VHF Channel 16 for the latest weather forecast while out on the water.
The Bureau of Meteorology advise that warnings for thunderstorms or severe thunderstorms are NOT provided for Coastal Waters areas. Mariners should refer to the Coastal Waters forecast for the likelihood of thunderstorms.
The Bureau also advise that when thunderstorms are forecast for capital city Local Waters areas, it is important to check whether Severe Thunderstorm Warnings have been issued for the capital city area. Severe Thunderstorm Warnings are issued when wind gusts exceeding 48 knots, or large hail, or heavy rainfall, or tornadoes are expected.
Stay safe and if in doubt, don't head out!
Marine Rescue Broken Bay member Ian McFarlane thanked Dan Murphys at Mona Vale for supporting the Broken Bay unit by giving us the opportunity to setup donation boxes in their store. COVID19 has prevented our unit from doing fundraising activities so every little bit helps.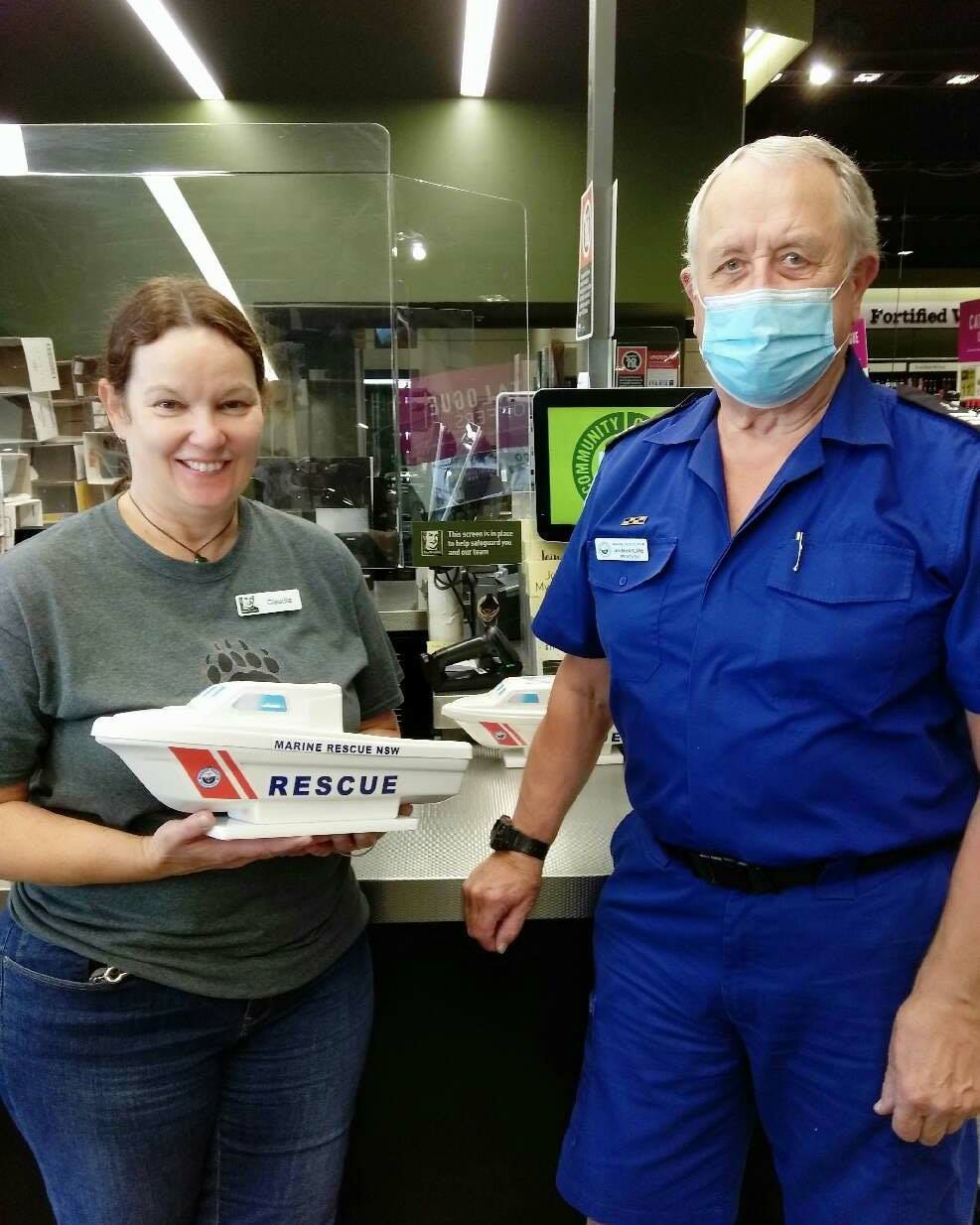 Thanks to our colleagues in Cottage Point, 6 members from Broken Bay joined them and Middle Harbour on a First Aid and Advanced Resuscitation Course. This culminated in the team dealing with a major incident on the beach involving several badly injured people with a variety of wounds and requiring CPR. Fortunately this was only simulated, but this kind of realistic exercise is an essential part of preparing our teams. Hoping everyone stays safe on the water and we don't need to put these skills to use this summer.

Surf Life saving Squad at the Basin
A few weeks back Peter Bodman, a Reader sent in a photo and query and said he'd send in a few of his family photos to share with the community. This week they turned up - from Peter:
''Sally Morris known as Peg was prominent during my childhood as Peg's cottage stood near the wharf site. One time after a storm when we were camping our tent ripped and the Ranger allowed us to stay in Peg's Cottage and that would be late 50's early 60's. The cottage should've been saved, but sadly is no longer there.
On the hillside in the Inner Basin on an old walking track there is a gravesite, as I recall properly constructed with an iron surround. I'm now wondering who is buried there as it was something we visited as kids. Both my mother's and sister's ashes are spread at The Basin on the hillside behind where our tent site, so they form part of the people who chose The Basin as their final resting place.
Some photos;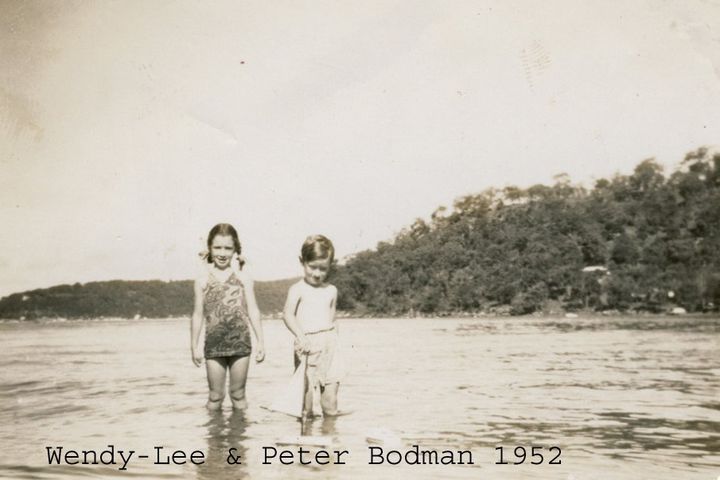 My sister Wendy-Lee & myself, early days for us camping at The Basin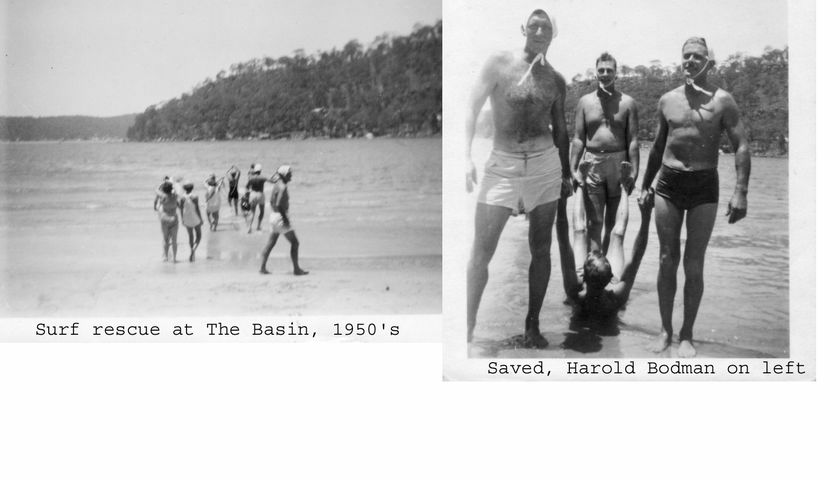 The campers during extended holidays at Christmas, no doubt under my father's guidance, set up mock surf rescues and patrols.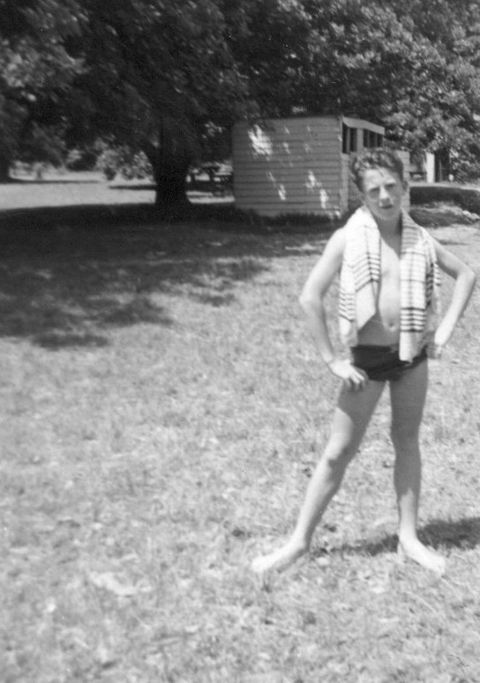 A boyhood friend with the old cold water shower and change shed in the background. There were two sheds for men and women, close the the fenced off baths with a large diving platform at the Inner Basin.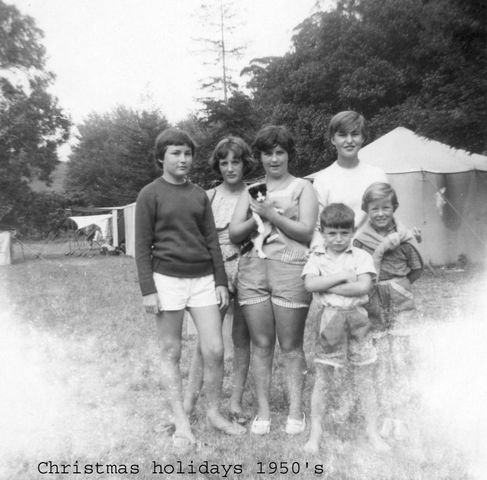 A group of kids & the typical camp sites behind, most campers had large family tents app. 15 foot x 15'.
Peter Bodman,
October 2020
North Head Sanctuary – Hazard reduction burn breach
October 19, 2020: Harbour Trust
On 17 and 18 October, a NSW National Parks and Wildlife Service hazard reduction burn at North Head in Manly breached its containment lines and burnt a significant part of the headland.
While it appears there has been no damage to Harbour Trust buildings, there has been significant damage to the local flora and fauna as well as many of the bush paths.
The Harbour Trust is working with NSW National Parks and Wildlife Service and the Fire and Rescue NSW to ensure public safety, and with the Australian Wildlife Conservancy to understand the impact on the environment.
The Harbour Trust will now take immediate steps to help in the recovery of the local flora and fauna.
NOTE: North Head Sanctuary is currently closed to visitors, with all tracks and walks closed. Access is currently only available to tenants located within the School of Artillery and visitors of these premises.
Gap Year 2021: Go Bush!
October 12, 2020
Despite closed international borders, taking an adventure fuelled gap year is still an option.
The Australian Government is investing $33.7 million to support farmers by encouraging and incentivising Australians to take a 'domestic gap year', which includes eligible temporary visa holders, to work in the agriculture sector this coming harvest season.
Member for Mackellar, Jason Falinski said this week the agriculture sector across the country is facing unprecedented pressure on labour supply as a result of COVID-19.
"Through the 2020 Budget the Government is investing $17.4 million in relocation support and $16.3 million in temporary Youth Allowance and ABSTUDY eligibility changes to incentivise people to take up seasonal farm work this summer.
"Relocation allowances of up to $6,000 for Australians and up to $2,000 for eligible visa holders will be available from November 1st to undertake seasonal work in agriculture," Mr Falinski said.
"Under the Youth Allowance and ABSTUDY new criteria, a person who earns $15,000 through employment in the agricultural sector in regional Australia between 30 November 2020 and 31 December 2021 will be considered as independent for the purpose of YA (student) or ABSTUDY.
"This will significantly reduce the time needed for a young person to gain 'independent' status and claim Youth Allowance or ABSTUDY faster than under the existing criteria.
"These changes will not only support our agricultural sector, but also offer Beaches school leavers an alternative option for their post high school life."
From November 1st 2020, relocation assistance will be available to people who relocate to harvest and regional areas to take up at least 6 weeks of agricultural work, including Australians who are not receiving income support and those with the right to work in Australia.
The Australian Government is also investing a further $9 million in the Seasonal Worker Programme (SWP) to ensure employers can meet critical seasonal labour needs.
This funding will help ensure that the SWP has the resources to accommodate the significant growth of the program and ensure appropriate oversight of the program is in place to protect the welfare of workers.
The Australian Government has been working with farmers since the onset of COVID-19. Measures already introduced to fill labour shortages in the agriculture sector:
providing visa extensions to allow temporary visa holders already here to continue to work in agriculture and for agriculture workers to stay with one employer for a longer period,
initiating a targeted recruitment trial under the Seasonal Worker Programme (SWP) to meet labour needs of Northern Territory mango growers which saw 162 experienced workers arrive from Vanuatu to help with the harvest;
announcing on 21 August the recommencement of targeted recruitment under the Pacific Labour Scheme and SWP to help meet the workforce needs of critical sectors, including agriculture.
In addition to the measures already rolled out to date, and announced in the budget, the Federal Government is continuing to look at how it can support our agriculture sector by ensuring they have access to the workers they need now and into the future through the development of the National Agriculture Workforce Strategy.
The Australian Government has
also delivered a National Agriculture Workers' Code to provide for the COVID-safe travel between states – with five of eight Australian jurisdictions having implemented it - except for Queensland, Western Australia and Tasmania.
Remembrance Day 2020
Each year, at the 11th hour of the 11th day of the 11th month, we pause to pay our respects to all those who've made the ultimate sacrifice for our country.
Pleasingly, Remembrance Day Services will still be able to go ahead this year.
The NSW Government have approved an exemption to allow up to 100 people to gather at community war memorials (with social distancing) to pay their respects.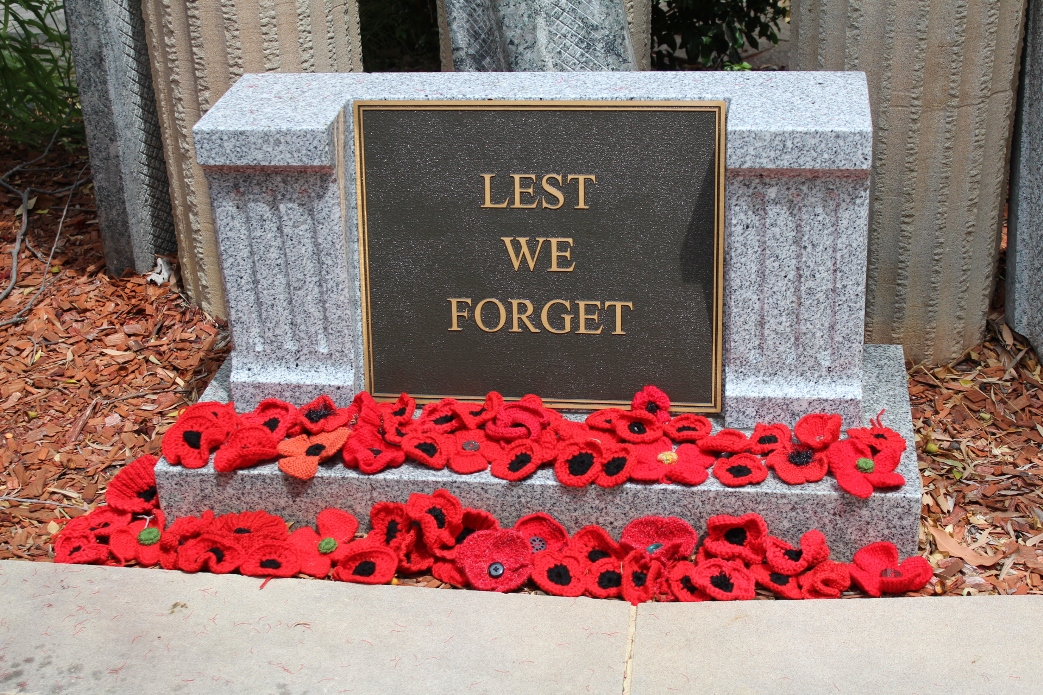 Grants to support local domestic violence projects
October 19, 2020
Domestic Violence Committees across NSW are encouraged to apply for a share of $80,000 in grant funding to support local projects that raise awareness in their communities.
Attorney General and Minister for the Prevention of Domestic Violence Mark Speakman said this year's Local Domestic and Family Violence Committee Grant program has increased to $1800 per grant.
"COVID-19 has put increased pressure on domestic violence committees, so we want to ensure that there is plenty of support for this year's events and projects that coincide with the 16 Days of Activism Against Gender Based Violence next month," Mr Speakman said.
"The pandemic demonstrated the vital role local communities and local services play in addressing domestic and family violence and ensuring people know how to access help."
All formally recognised Domestic and Family Violence Committees in NSW are encouraged to submit an application for the grant, which has increased from $1200 to $1800.
Projects could include educating people on the impacts of domestic violence, promoting frontline services and how victims can access them, and engaging local organisations to lead calls for change by rejecting violence and promoting positive behaviour.
"These grants can support numerous projects like engaging men's organisations, groups or schools to call for leadership on domestic violence and cultural change," Mr Speakman said.
Committees are comprised of government and non-government organisations in local areas that provide services to those experiencing domestic and family violence. They provide a forum in which to discuss issues and enhance inter-agency support for victim-survivors.
The Local Domestic and Family Violence Committee Grants program launched in 2014. It has previously funded projects like prevention workshops at local schools and businesses, theatre performances and the distribution of flyers promoting local support services.
The 16 Days of Activism Against Gender Violence
is a global campaign dedicated to ending gender-based violence that runs from 25 November 2020 (International Day for the Elimination of Violence Against Women) to 10 December 2020 (International Human Rights Day). Visit
www.16dayscampaign.org
for more information.
Consultation extended on draft gaming machine harm minimisation laws
Consultation on the NSW Government's proposed gaming machine harm minimisation laws has been extended to December 11 2020 to allow more time for submissions.
Minister for Customer Service Victor Dominello said that since the release of the draft bill on 25 September there had been significant interest in the reforms from across the community including industry and the NGO sector.
"There is substantial agreement on the objective of enhancing the current self-exclusion scheme and reducing problem gambling in gaming machine venues," Mr Dominello said.
"The extension of public consultation provides a further opportunity for us to work with pubs and clubs and other stakeholders to find solutions, potentially using technology to meet this objective.
"I am hopeful that we can find an industry-led solution that takes into account the different size, scale and risk profile of the 3,000 pubs and clubs across our state."
The Gaming Machines Amendment (Gambling Harm Minimisation) Bill 2020 will help registered clubs and hotels to minimise gambling harm and provide additional support to gaming machine players.
Instead of only needing to provide support when someone specifically asks for help, clubs and hotels would need to actively identify and assist gaming machine players who display problematic gambling behaviours.
The proposed changes respond to the need to support gaming machine players experiencing problems and improve the way clubs and hotels can minimise gambling harm as they continue to get back to business.
Some of the changes would include:
Venues to have a person on duty that has completed advanced Responsible Conduct of Gambling training and will identify and respond to problematic gambling behaviours (Gambling Contact Officer).
A new exclusion scheme in clubs and hotels, so family members can ask venues to ban someone whose problematic gambling behaviours are causing harm to themselves or others.
Making it easier for venues to issue and enforce their own exclusion orders.
Allowing a person to self-exclude via an online portal.
A state-wide exclusion register, so that different exclusion schemes and individual venues can record exclusions in one place.
Requiring that venues suspend an excluded person's player account and membership of any player reward scheme.
New and increased penalties.
Whistle-blower protections for club and hotel staff who inform Liquor & Gaming NSW or the Independent Liquor & Gaming Authority when a hotel or club breaks harm minimisation rules.
Any winnings by people who've been excluded or are under 18 will be forfeited to the Responsible Gambling Fund, which funds programs and initiatives to help reduce gambling harm.
The measures proposed in the draft Bill reflect a commitment made by the Government and ClubsNSW in a Memorandum of Understanding signed on 13 October 2018. They also form part of a 2019 election commitment.
Join the conversation on North Head Sanctuary: Survey Closes November 30
The Harbour Trust has invited the community to have a say on a treasured public parkland on Sydney Harbour – North Head Sanctuary in Manly.
The Harbour Trust's Management Plan for North Head Sanctuary sets the direction for the site. The current Plan was made in 2011 and, through its implementation, the Harbour Trust maintained this loved destination.
What we are doing
We are now in the early stages of refreshing our approach at North Head Sanctuary. We want to know what you think this historically significant site should look and feel like in the future. Your input will help shape how the Management Plan could evolve.
We invite you to explore North Head Sanctuary, reflect on its important First Nations history, immerse in the unique flora and fauna, marvel at its historic buildings and underground tunnels, and give us your valuable input to help shape the site's future.
Have your say
To have your say on North Head Sanctuary, text "Hello Harbour Trust" to 0480 018 889 or complete our online survey. Our online feedback will close on Monday 30 November 2020. We will publish a consultation outcome report shortly after.
PLUS: When you next visit, look out for the yellow signs and follow the instructions to strike up a friendly conversation with objects and landmarks across the site. We've brought to life a number of objects so they can share their history and ask you a few questions.
This is the first of many opportunities to share your views with the Harbour Trust. We look forward to continuing the conversation and consulting with the community further in early 2021.
Further details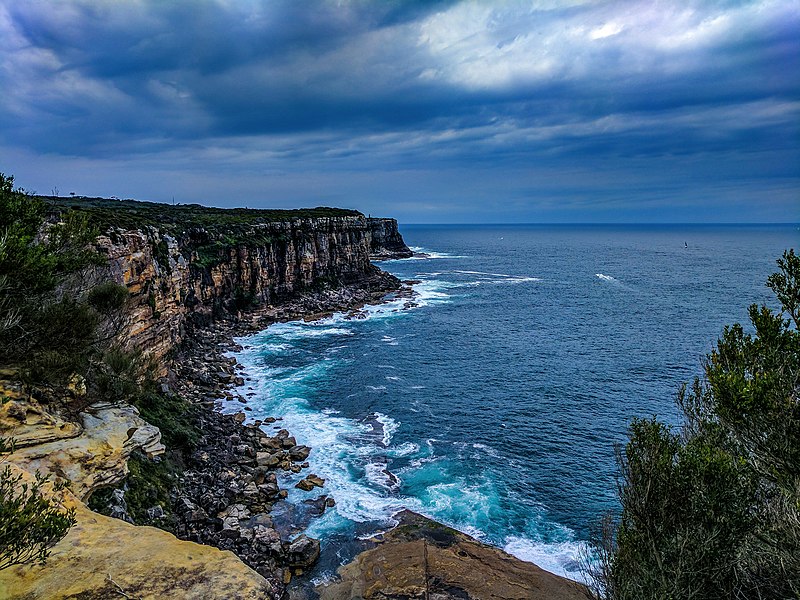 North Head sanctuary, Manly - photo by Danesk1

Halloween in 2020: NSW Health
If your children are planning on trick or treating this Halloween, there are a few important guidelines to follow to keep the event COVID-19 safe.
Providing levels of community transmission remain low, NSW Health is supportive of Halloween celebrations going ahead – with some caveats:
It should be a front-yard event, not a front-door event (keep it outdoors)
Instead of communal lolly bowls, consider other ways of distributing treats (eg strewn along the front fence, have hand sanitiser at the front gate)
Trick or treat on a household basis (eg a supervising adult and children from the same household), rather than groups of young people together
Maintain physical distancing between trick or treating households – don't all crowd together in a pack
Keep it local – put effort into decorating the front yard rather than focusing on well-known "treat streets"
Don't share costume face masks.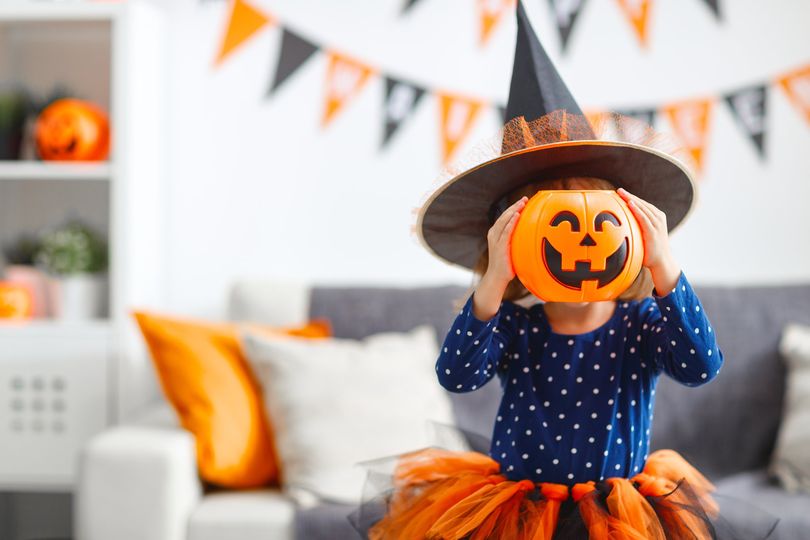 Creating places for people: public space vision and design guidelines open for comment
Northern Beaches Council is seeking community feedback on a new set of guidelines that will improve the design of public spaces in the Northern Beaches.
The Public Space Vision and Design Guidelines aim to provide consistency in the planning and 'look and feel' of public spaces, using the principles of best practice urban design, while also respecting the individual character of our unique centres and villages.
Mayor Michael Regan said the guidelines will simplify the separate sets of rules used by the three separate councils prior to amalgamation.
"Our new urban design guidelines will direct how we complement the unique character and identity of public places in our community," Cr Regan said.
"Putting people at the centre of all our urban design is fundamental. We want to create public places where people can connect, feel safe and reach a sense of belonging.
"Local character is what makes an area distinctive. It is the interplay of land use and built form, public and private spaces and cultural heritage."
As well as prioritising spaces for people, the guidelines give precedence to key environmental priorities and focus on trees and water-sensitive designs.
Earlier, limited pre-testing of the guidelines attracted 235 comments from community members – with overall positive feedback.
Six key objectives form the foundation of the guidelines which are derived from state government public domain targets and previous engagement with the community.
The six objectives are:
Enhance and protect the bush, beach & water character;
Encourage social activation through street design;
Inspire healthy and active lifestyles through safe & inclusive footpath & cycleway networks;
Implement traffic calming interventions to create safe environments;
Integrate water sensitive urban design into streets and open spaces; and
Increase canopy cover on streets.
Submissions on the
Public Space Vision and Design Guidelines
close on 1 November
, 2020. Go to
Council's Your Say web page
for more details.
Local Scientists Wanted
Organisations and individuals on the Northern Beaches with ideas for exciting National Science Week events for next year are being encouraged to apply for a grant to make their idea a reality.
Member for Mackellar, Jason Falinski MP said preparations for next year's annual festival of science are now underway, with grants of up to $20,000 available for those who are ready to inspire Australia's next generation of big picture thinkers.
"The idea is to make science fun and accessible to everyone and I urge qualified local people with good ideas to put them forward for grants," Mr Falinski said.
"Successful grant applications will mean that you can have a positive impact on your community and set an example for others. Let's get involved and show what the Northern Beaches can do!"
"This year's event organisers showed incredible ingenuity in delivering their events online due to COVID-19 restrictions. It was great to see people from all over the country come together to participate in virtual tours, online events and DIY science and citizen science projects."
National Science Week will run from 14 - 22 August 2021 and is Australia's largest festival with over a million people participating in thousands of events each year.
Applications for 2021 National Science Week grants are now open, and close on 28 October 2020.
Avalon Boomerang Bags workshop news
New Tuesday workshop times in the Avalon Recreation Centre 11am - 3pm. All are welcome, if you can't sew we will teach you.
Bags and plastic free reusable goodies are for sale during the workshops so please pop in.
Remember there is no excuse for single use plastics, even during wretched COVID19, and washed reusables are best. Do our ocean, waves and beaches a favour and BYO bags, bottles, cups and straws.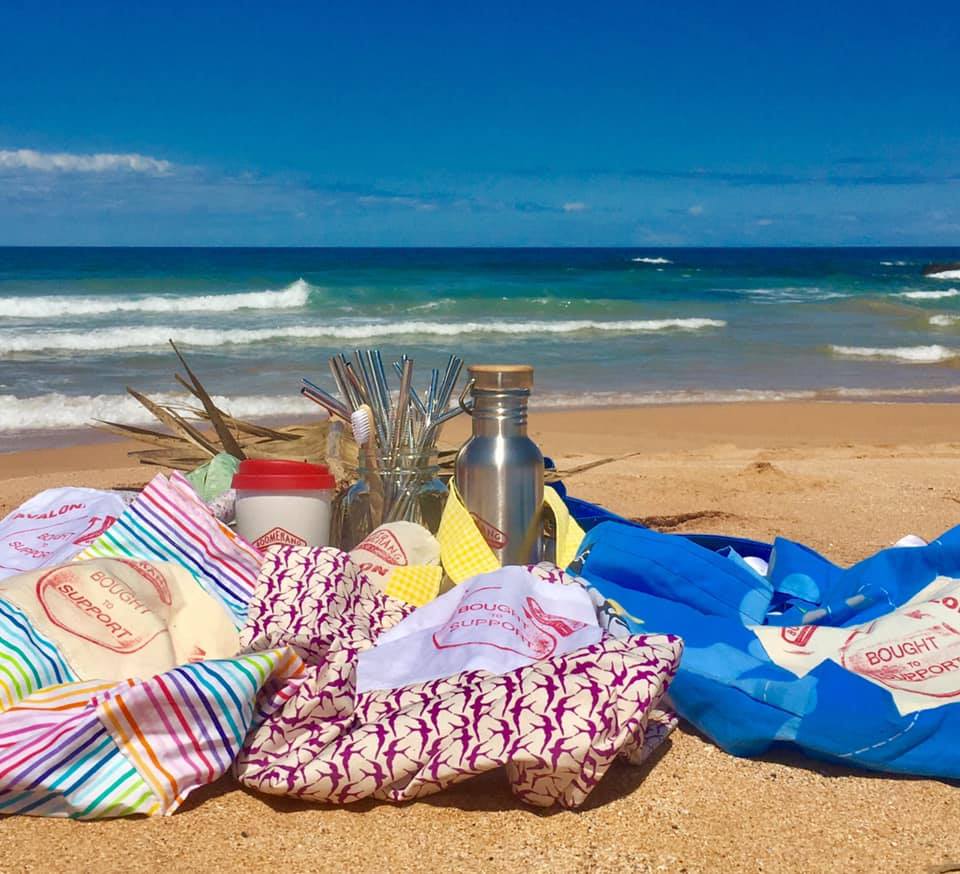 2021 Doggie Rescue Calendar
Monika's Doggie Rescue have just opened orders for their 2021 Superheroes calendar.
This is the major fundraising activity for the whole year for this organisation to save all these darling dogs, cats, rabbits (and others) and these wonderful calendars make an excellent Christmas gift that brings delight to those you give it to all year round - for 12 months in fact!
Pittwater Online has already secured ours and no, we will not be handing them over should you miss out - staff and family have already put their hands up, and there will be howling, literally, should anyone find theirs has been 'reallocated'.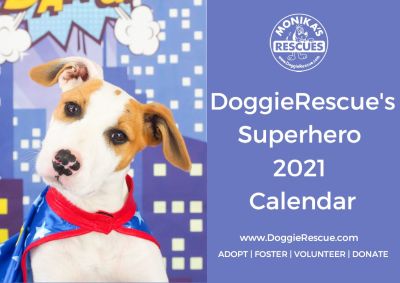 Pittwater Community Groups:

The purpose of www.westpittwater.com.au - is best defined by the vision of the West Pittwater Community Association.
To be a supportive community, encouraging and promoting civic pride, interest in community affairs and goodwill amongst residents.
To protect local fauna and flora and generally preserve West Pittwater and its environs.
To secure essential facilities including public wharves and reserves and to protect private and public property.
To speak with one voice and represent the interests of the Western Foreshore community when in discussion with Pittwater Council and other relevant government bodies. The WPCA website provides a forum for the better realisation of these objectives. Visit: www.westpittwater.com.au
Gone Fishing Gallery at Waterfront Store Church Point
Open again TODAY in the top room Waterfront Store. Open mainly weekends as an addition to the waterfront cafe. Keep up to date on their Facebook page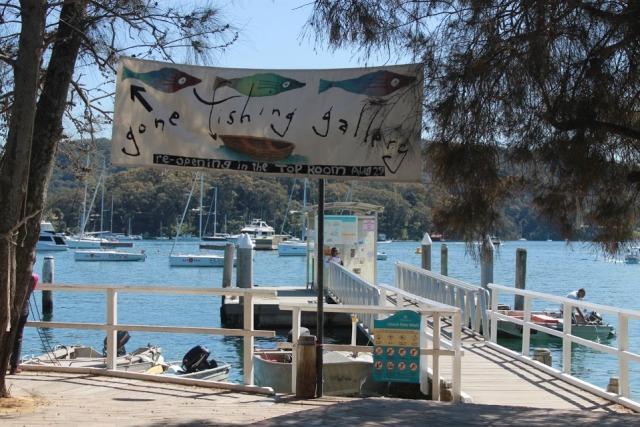 TOMMY GILBERT
This poem says most of what I observed of Tom over the 60 years I had known him. 'The Jolly Big Giant' might be an apt description, especially in his later years.
He was thrilled when I received my OAM – "At last we have royalty in Albert Road" he quipped, although he had been the undisputed Mayor of Albert Road in Avalon Beach for many years previously.
When you recall early Avalonians
Tommy Gilbert's name always stands out
He was a leading pupil of the old school
And knew what life was about
A good mate of Tommy Gilberts
Meant that you were one for life
Especially if you struck hard times
Or found yourself in strife
His mum was truly Avalon-born
Along with twelve other kids
All born at home in Etival Street
They must've cost 'em quids
Tom apprenticed with a sparky
To try and learn a trade
With an electrician at North Sydney
A few quid was all he got paid
Tom left and joined the 'tyre brigade'
With 'Avalon-Narrabeen Tyres'
It all looked pretty good for a while
And besides he was now sick of wires
Tom became a wizard with tyres
For any model or make
A few of the servos tried to compete
But he left them in his wake
His boss got shitty with Tom one day
"how long's that gonna take"
"I'm fixin' this nice lady's tyre for her
So go jump in the bloody lake"
With this Tom moved across the road
Not far but just enough
'Totally Toms' was about to be born
"No-one's gonna call my bluff"
'Totally Toms' took off with a bang
At times with fourteen employees
Customer's cares were his main concern
Which 'Totally' handled with ease
'Friendly' became one of Tommy's best mates
But could only work partly part-time
'Friendly' was a Water Policeman
But a decent mechanic part-time
Another good mate was Pete Verrills
A 'shippy' from way, way back
You'd look out when these two got together
And run for your life or change tack
'The Doggies' was one of Tom's great loves in life
For three years he was president
And he also loved Manly Sea Eagles
These two he supported, hell bent
Dawn was the only true love of his life
She endured him but loved him for years
To everyone they were inseparable
For Dawny, her Tom had no peers
The servo had closed 'cause the freehold was sold
But Tommy was not finished yet
If they need some tyre changes in heaven
He'll put his hand up first, I'll bet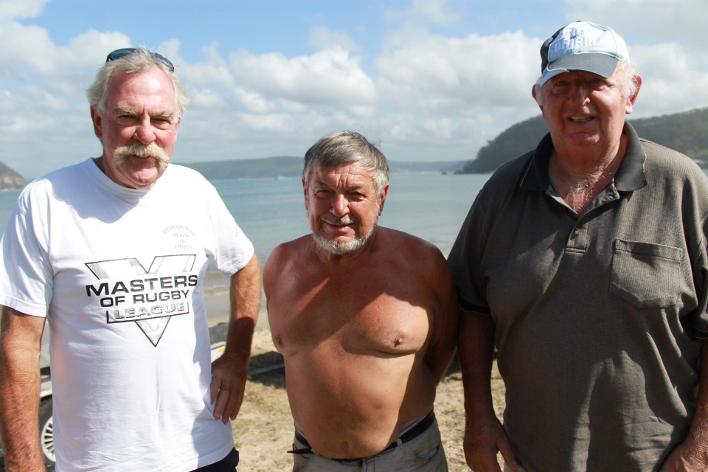 Friendly (OAM), Peter Verrills, Tom.
AJG photo.
Avalon Bulldogs 2020 Presentation Day
Avalon Bulldogs had their 59th. Annual Presentation Day at Hitchcock Park, Avalon Beach on 17th October, 2020.
Club Person of the Year : was Virginia Leigh
Mum of the Year : was Emma Wake
Club Coach of the Year : was Bjorn Wolthers.
The club conducted the 'presentation' under the strict Covid guidelines and all attendees completed the 'register' prior to meeting at the area adjacent to the club house. Trophies were presented to many players and 'Premiership Jackets' awarded to the Under 13 Premiership winning side.
SPECIAL THANKS must go to our 'Guest of Honour' Sam Verrills (Sydney Roosters Premiership winning hooker 2019) who first played for the club in the Under 6's in 2003 and 2004. He won the Under 17 Grand Final on Brooky Oval in 2017 for the Mighty Avalon Bulldogs, was selected in the Sea Eagles Representative sides before signing with the Roosters.
We thank the Roosters Staff for allowing Sam to present trophies which he then had photos taken with players, parents and old coaches. As he had other commitments, Sam graciously said farewell and thanked all the crowd for their efforts during this Covid effected season. He is a credit to the NRL, the Sydney Roosters and his family and we are all proud of how he presents himself as a gentleman and Rugby League player.
Brian Friend, OAM
Avalon Bulldogs Life Member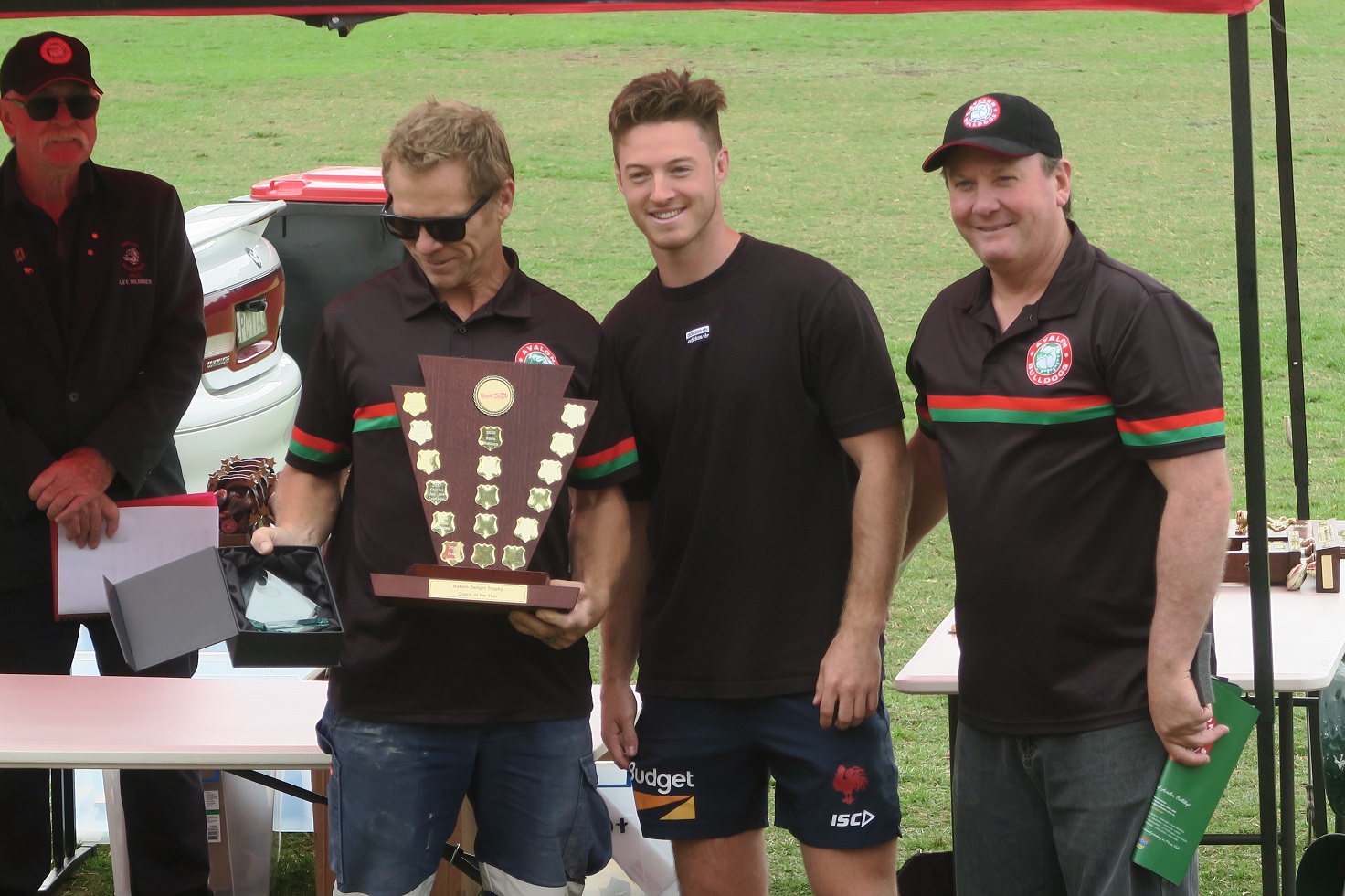 Coach of the Year Bjorn Wolthers with Sam Verrills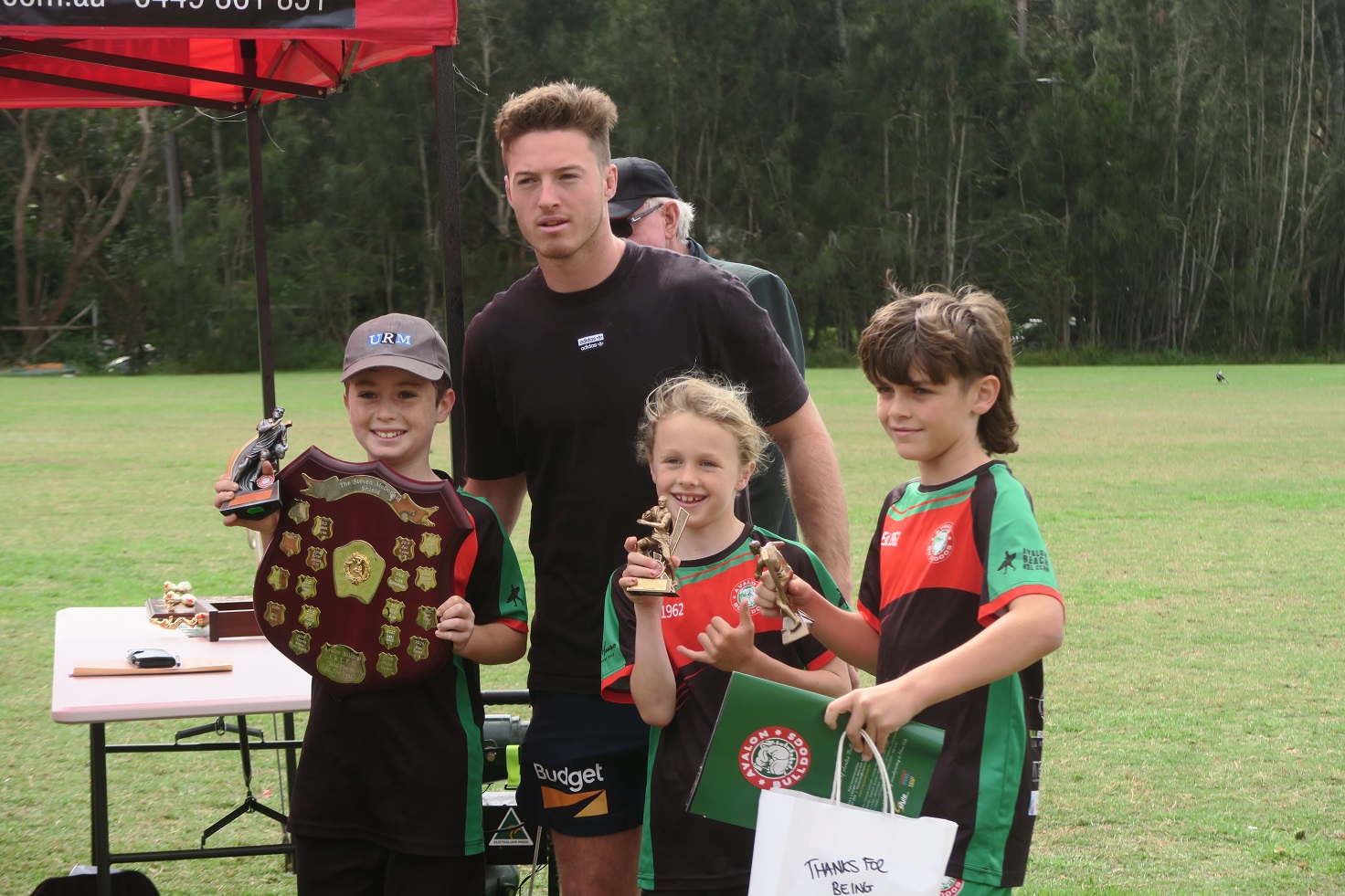 Player of the Year - holding the shield - Isaac! Congratulations!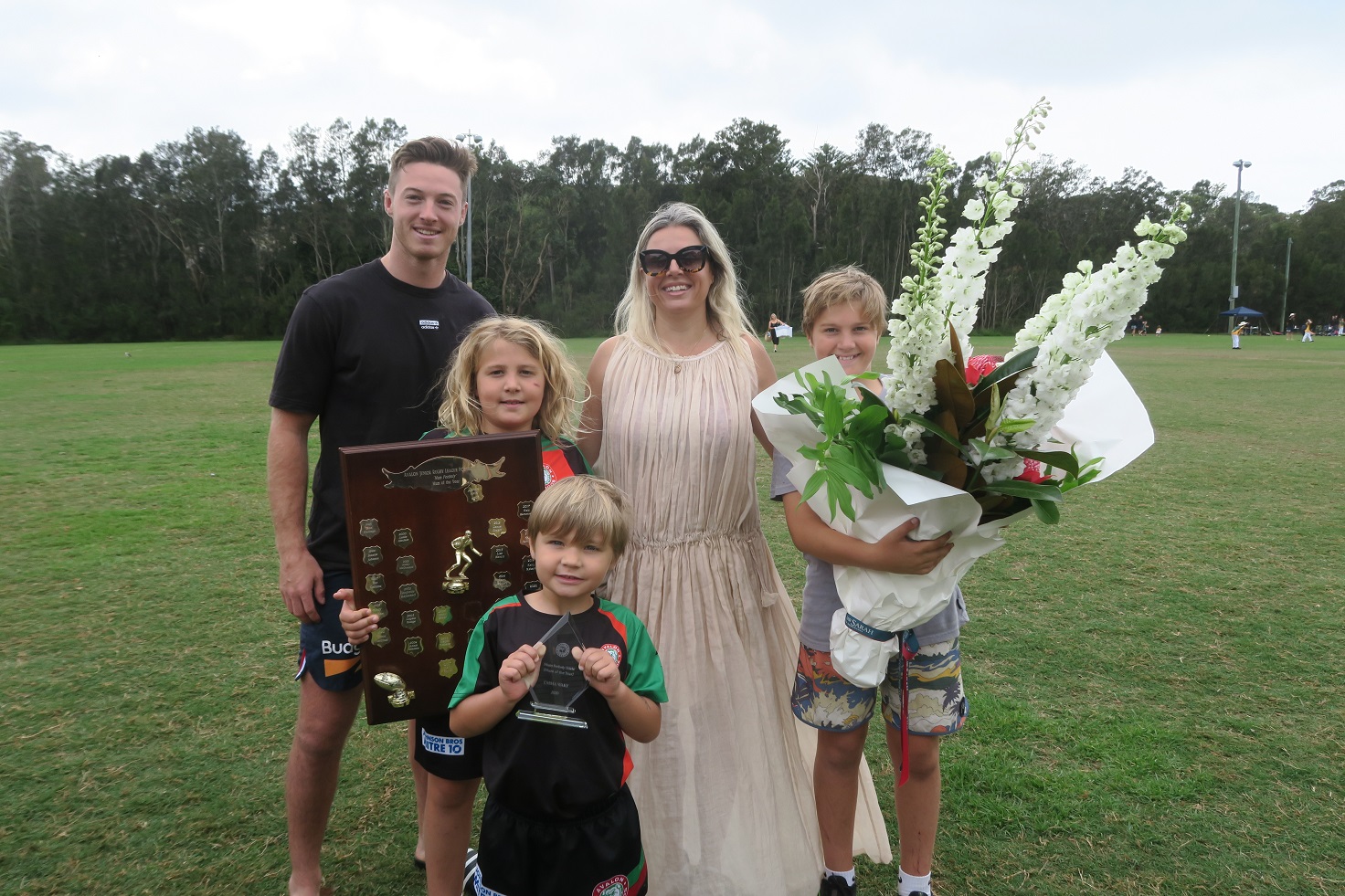 Sam Verrills congratulates Emma Wake 'Mum of the Year'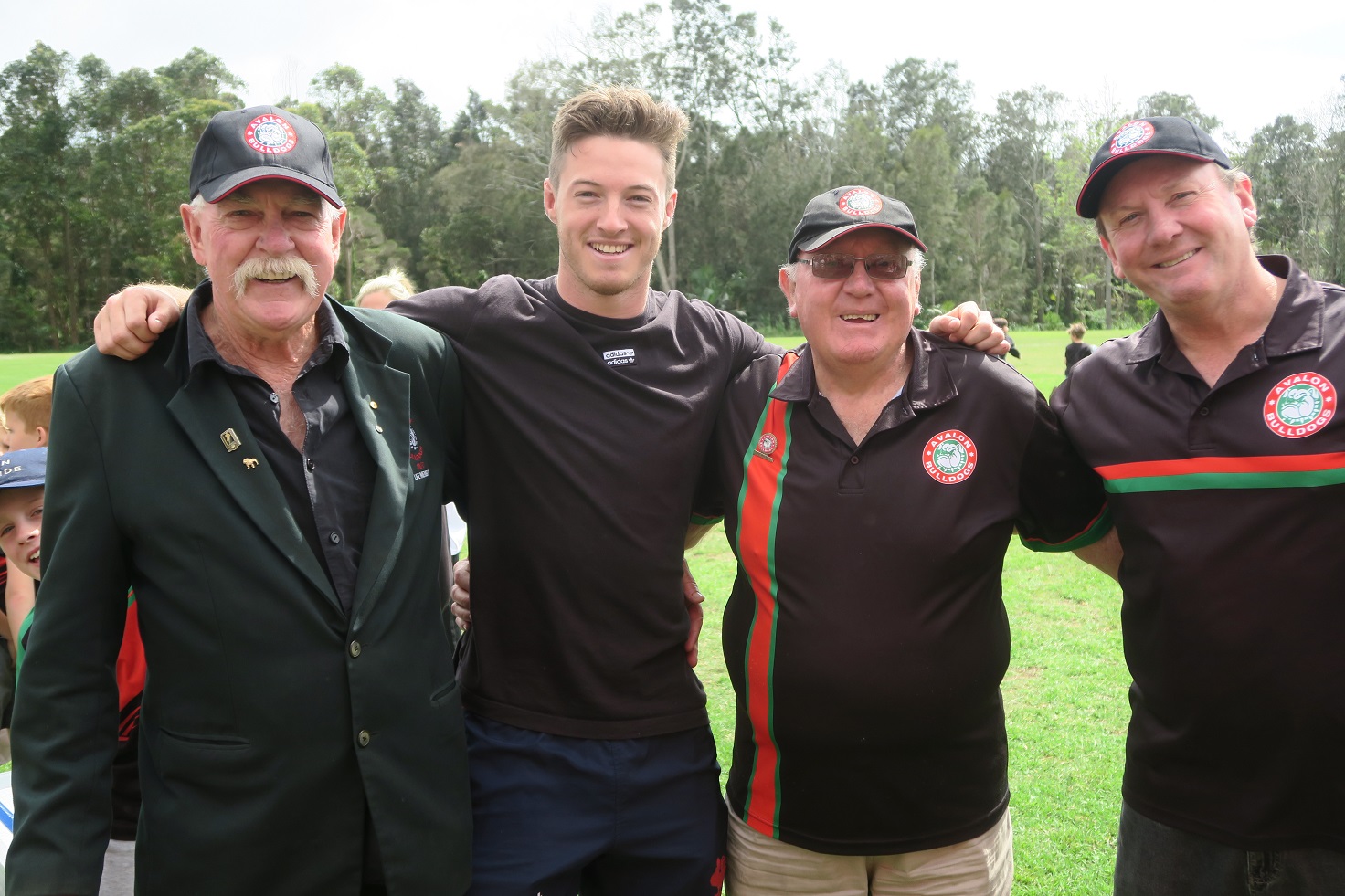 A BIG thank you to former Bulldog Player Sam Verrills - Friendly, Sam, PC and AC!
Grandparents Day 2020
Celebrate NSW Grandparents Day on Sunday October 25 and say thanks to the wonderful grandparents and seniors in your life!!
NSW Grandparents Day celebrates the contributions grandparents make to their families and communities. The campaign recognises the diversity of grandparent relationships across age groups, cultural backgrounds, and geographical locations. Grandparents, grand-friends, kin, and those who take on the role of a grandparent in their family or community are celebrated for their contributions. It aims to foster intergenerational learning and offers older people ongoing opportunities to participate in their local communities.
It's a day to spend time with an older loved one and connect across the generations.
NSW Grandparents Day is held every year on the last Sunday in October. In 2020 it will be celebrated today, Sunday 25 October.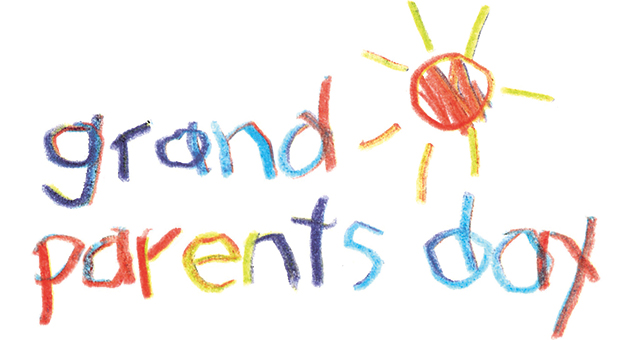 Wakehurst Senior Robert Stark Awarded Grandparent Of The Year 2020
A busy volunteer and proud community leader has been honoured as the 2020 NSW Grandparent of the Year.

Robert Stark is a retired police officer from Sydney's Northern Beaches who has been the primary carer for his 9 year old

granddaughter

Ruby since she was 6 months old.
Acting Minister for Seniors Geoff Lee and Member for Wakehurst Brad Hazzard congratulated Mr Stark on Friday at NSW Parliament House.
"The NSW Grandparent of the Year Award recognises and celebrates the amazing contribution grandparents make to their families and our society," Mr Lee said.
"Grandparents like Robert Stark help make communities stronger with their energy and commitment and I am so happy to present him with this year's top prize."
Alongside caring for Ruby, Mr Stark volunteers at the Long Reef Surf Life Saving Club, Cromer Public School and the Collaroy Cromer Strikers Football Club.
"I am really pleased to be named the 2020 NSW Grandparent of the Year," Mr Stark said.
"Throughout my life I have always strongly believed in giving back to the community so being recognised in this way is a great honour."
Mr Stark won a Nokia smart phone with a six month 5G plan courtesy of Pennytel and a $1,000 Mitre 10 voucher courtesy of Metcash.
"We are so proud to have Mr Stark crowned Grandparent of the Year. His attitude to his community and his love and care for his granddaughter is so inspiring and he's such a worthy winner," Mr Hazzard said.
Grandparents Day will be celebrated across NSW this Sunday, 25th October and is an opportunity to thank our seniors for the unique part they play in supporting their families and communities.
"Whether you call them granny or gramps, nan or pop, Grandparents Day is a great opportunity to remind them how much they are appreciated," Mr Lee said.
"This has been a challenging year for our seniors so keeping connected and showing support is especially important.
$133,000 fine for environmental pollution of Pittwater
October 22, 2020
Transport for NSW and the Land and Environment Court has sent a strong message to would-be polluters after a protracted investigation into illegal waste management in Sydney waters.
NSW Maritime A/ Executive Director Andrew Mogg said East Coast Wharf Constructions Pty Ltd and its director, Benjamin King, 45, were charged with transportation of waste to a site that was not a waste facility, and occupying a place and using it as a waste facility under the Protection of the Environment Operations Act.
"Transport for NSW investigators had Mr King and his company in their sights from as far back as 2015 when large sections of a pontoon which had been demolished by the company were stored at Mr King's mooring, and were subsequently found on the seabed at Pittwater," Mr Mogg said.
"Underwater searches using divers and hydrographic survey found almost three tonnes of inorganic building material in sections measuring from 7.5 to 9 metres in length.
"After the longest ever maritime investigation by Transport for NSW, we were able to secure a prosecution. The court has issued a significant penalty for this kind of environmental damage in maritime waters," he said.
Mr King, who pleaded guilty on behalf of himself and his company, will be required to pay $133,000 in fines, plus costs which are yet to be determined, in what will hopefully become a significant deterrent for others who might think about where they put their rubbish out of boats.
Specialist in environment and planning law, Dr Nick Brunton, from Norton Rose Fulbright Australia, said he was proud to have been involved in the maritime prosecution.
"Once this case becomes known, it will send a strong message to those foolish enough to consider our waters are a waste disposal facility," Dr Brunton said.
"Some 20 years ago I wrote my doctorate on coastal water pollution and it's nice to feel that progress is being made to stop it."
Avalon PS Art 2020
The Avalon Public School 2020 Art Gallery will be spread along the front fence on Old Barrenjoey Rd. Each child will have one piece of magnificent artwork displayed within their class which will be clearly labelled. These special artworks have been laminated and will be on display brightening up our front fence from the 26th to the 30th of October.
Please stop by and browse through all of the brilliant artworks and marvel at our aspiring artists!
During these special times, please be mindful of other adults and stay 1.5 metres apart when viewing the APS gallery.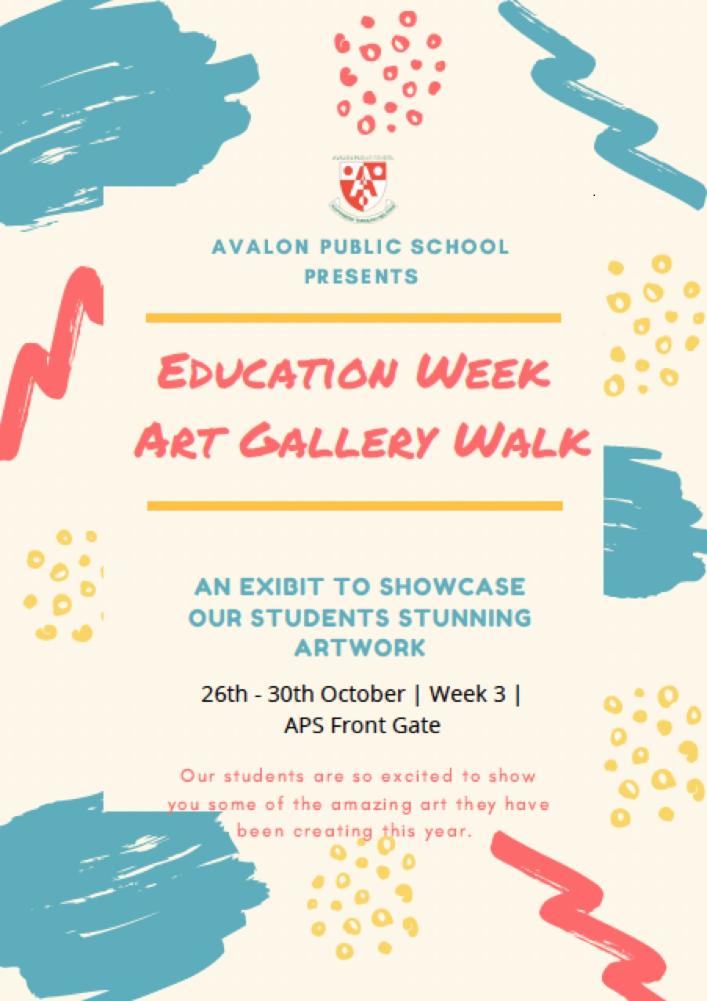 Infrastructure Funding for Forest High School
Frenchs Forest High School students have received much welcome upgrades to their outdoor learning area.
The completed construction of a covered outdoor area will provide shade and protection from rain to teachers and students as they continue their educational journey outdoors.
Member for Mackellar has congratulated the school on the completion of the project.
"It's great to see the completed construction of a covered outdoor area at Forest High. It benefits the students, staff and entire community, especially as we come into summer. Gail and her team deserve great credit." Mr Falinski said.
The COLA [Covered Outdoor Learning Area] will be used for outdoor learning particularly in the rain or hotter days, by the children.
It will also be used for parent functions including the schools fair, BBQs and musical evenings. Located next to the canteen, the COLA will also be used for afternoon tea and breakfast functions run by the P&C.
Frenchs Forest High School principal, Gail Smith has expressed her gratitude in having the project completed.
"The community grant allowed us to build a much-needed covered outdoor learning area (COLA). ​The space will allow us to run outdoor learning programs for the children as well as offering a sheltered place to eat and play." Ms Smith said.
"Families will enjoy the space for our annual band event 'concert under the stars' and it will make a perfect outdoor café for our fairs."
"It's beautiful and functional and we are delighted!"
The grant was provided under the $30.2 million Local Schools Community Fund. As of 1 October 2020, of the 15 projects approved for the electorate of Mackellar, the department has received 7 submissions and of those, 6 project closure reports have been finalised.
Photo: The completed COLA at Frenchs Forest High School
Mona Vale Road East upgrade – Temporary closure of Foley Street at Mona Vale Road from Monday 19 October
The NSW Government is investing $140 million to upgrade Mona Vale Road between Manor Road, Ingleside, and Foley Street, Mona Vale, from two to four lanes to improve safety and traffic efficiency.
Work is progressing on the eastern end of the Mona Vale Road East upgrade between the Mona Vale Cemetery and Foley Street. To continue this work, Foley Street will be closed at Mona Vale Road from Monday 19 October to Thursday 29 October from 9am to 4pm Monday to Friday, weather permitting.
We will close Foley Street at Mona Vale Road each day during this period while we dig across Foley Street to install underground electrical cables and install new overhead power cables.
Traffic changes
Traffic detours via Ponderosa Parade will be in place as per the map below. Access for Foley Street residents will be via Jubilee Avenue, Warriewood Road or Vineyard Street. Traffic controllers will be on site to direct motorists and pedestrians safely past our work zone and assist residents in and out of their driveways. Access to Pittwater RSL will be from Jubilee Avenue.
Please allow extra travel time, follow displayed speed limits and the direction of traffic controllers and signs.
How will the work affect you?
There may be some increased noise each day however we will minimise noise where possible and ensure we turn off equipment and vehicles when not in use.
The upgrade of the Foley Street and Mona Vale Road intersection will occur in stages. The first stage includes widening the intersection and building a new footpath. We will write to you again before starting the next stage of work.
Pedestrians and bus passengers
The affected bus stops on Foley Street (shown below) will be closed during the work from 9am to 4pm.
Alternative bus stops are located further to the south on Warriewood Road or on Mona Vale Road. Signs will be in place to direct bus passengers and other pedestrians.
Contact
We are committed to minimising the impact of construction on the community and will continue to keep you informed. If you have any questions, please contact our delivery contractor Georgiou Group.
Thank you for your patience during this important work.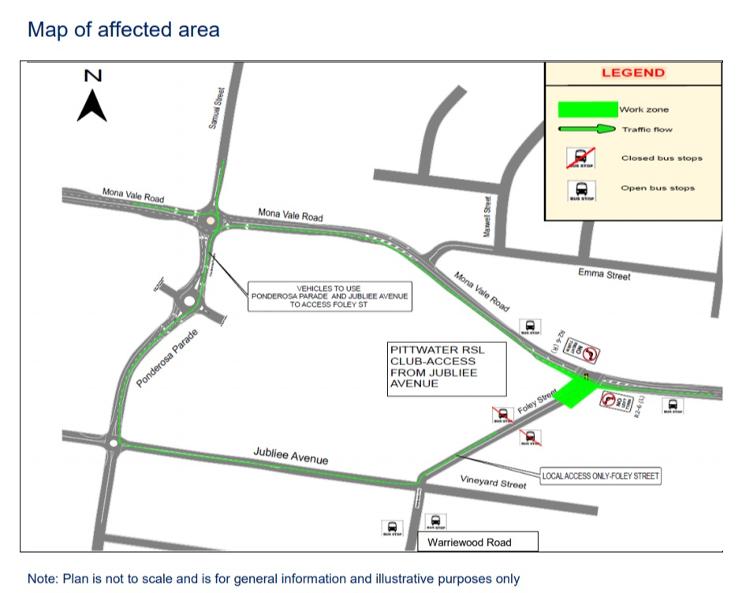 Mona Vale Road East upgrade Out of hours work: to October 30
Out of hours work is planned from 8pm to 6am on the below dates, weather permitting. If work is delayed due to wet weather, we will try and work a different night that same week. We will notify highly impacted residents if there is a change of date.
Work along the eastern end of the project (from Mona Vale Cemetery to Foley Street, will occur on:
Tuesday 20, Thursday 22 and Friday 23 October
Tuesday 27, Thursday 28 and Friday 29 October
Our work includes:
digging trenches along Samuel Street from the Mona Vale Road/Ponderosa Parade roundabout to Fazzolari Avenue
removing of asphalt at the Mona Vale Road/Ponderosa Parade roundabout
installing/moving of barriers along the section of road from the roundabout to Foley Street
ongoing road maintenance.
(Refer to Mona Vale Road East Upgrade map below)
Work along the western end of the project (from Manor Road to Mona Vale Cemetery) will occur on:
Monday 19, Tuesday 20, Thursday 22 and Friday 23 October
Monday 26, Tuesday 27, Thursday 28 and Friday 29 October
Our work includes:
removing rock from the existing rock cuttings near the end of Laurel Road ( cut 3), Lane Cove Road (cut 4) and Walana Crescent (cut 5)
excavating and constructing stormwater drainage in the area east of the site compound
hauling material away from our work zones at cut 3, 4, and 5 to the Western Early Works site
ongoing road maintenance.
(Refer to Mona Vale Road East Upgrade map below)
Work at our Western Early Work site off Tumburra Street, Ingleside includes:
tipping spoil collected from the western end work sites and then spreading and compacting it in this area
removing rock from the cutting next to Mona Vale Road.
(Refer to Western Early Work map below)
During our night work we will use excavators with rock hammers, large bulldozers, backhoes, tipper trucks, elevated work platforms, a roller, a paver, a profiler, street sweepers, vacuum trucks, light vehicles and lighting towers.
The Environment Protection Agency has approved a trial of increased night work, to four nights a week, over a six week period for the western end of the project. This is necessary to remove the remaining rock along Mona Vale Road. The trial began on Monday 12 October.
We will contact highly and moderately impacted residents during the trial to seek your feedback and agreement for the four nights per week to continue beyond the six week trial.
For more information call us on 1800 413 640, email monavaleroad@georgiou.com.au or visit rms.work/mvreast.
If you need help understanding this information, please contact the Translating and Interpreting Service on 131 450.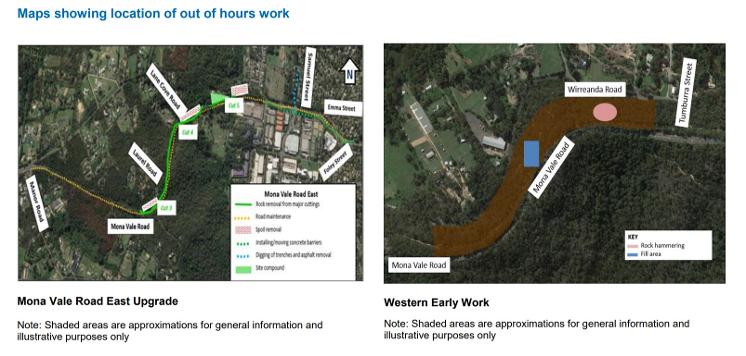 mums for mums xmas 2020 fundraiser
These 'Gingerbread Folk' gingerbread house kits are a wonderfully festive family activity, and come in three varieties – Original, Gluten Free, and Chocolate, complete with lollies to decorate!
Assembled house approx 16cm (h) x 15cm (w) x 12cm (d)
packaging dimensions 20cm (h) x 27.5cm (w) x 4.7cm (d)
Made in Australia
Vegan
Nut free
Palm oil free
No added colours or flavours
No added preservatives
Compostable wrapper
Kosher
Order your kits with us between now and FRIDAY NOVEMBER 20th. Pick up locally from the Newport Rugby Club House on SUNDAY DECEMBER 6th between 10 am and 2 pm.
Order at: www.mumsformums.org.au/christmas-gingerbread-houses
2021 Road Safety Calendar 'best of' collection
An eye-catching reminder of road rules for the family or workplace, the 2021 Road Safety Calendar features a 'best of' collection bringing together some of the best road safety messages from the past four calendars.
Catchy slogans, vintage poster art, and interesting facts highlight a road safety message each month in a fun and engaging way. The calendar is available free to all northern Sydney residents by contacting your local council or picking up from various community locations.
The calendar year begins in January with a reminder on driveway safety and ends with a December specials pub menu, listing options for a night out in the festive season. Other topics include driving safely in school zones, the importance of driving to the conditions, being a courteous road user and sharing the road safely with all road users.
The calendar is an important reminder for all drivers, riders, cyclists and pedestrians alike, and has been delivered to residents since 2001 with the aim of educating and encouraging positive behaviour for all road users, across all ages.
The 2021 Road Safety Calendar is a collaboration between six northern Sydney councils: North Sydney, Hornsby, Ku-ring-gai, Lane Cove, Northern Beaches and City of Ryde. Please contact your local council for a copy of the calendar.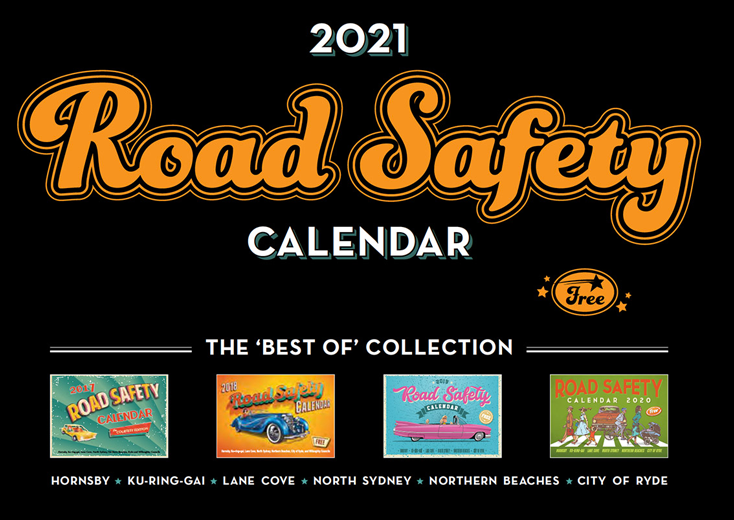 Council 2019-2020 Annual Financial Statements: Have Your Say
In accordance with Section 418 (3) of the Local Government Act 1993, Northern Beaches Council advises that the Ordinary Council Meeting to be held on Tuesday 27 October 2020 will include the presentation of the audited Financial Statements and the Auditor's Reports for the financial year ended 30 June 2020.
In accordance with Section 420 of the Local Government Act 1993, any person may make a submission in writing to Council with respect to Council's Audited Financial Statements or the Auditor's Reports.
Share your feedback today by:
For more information please contact Renae Wilde, Team Leader Financial Accounting, on 1300 434 434.
Comments Opened Friday October 16, 2020
Comments close Tuesday November 3rd, 2020
Visit: https://yoursay.northernbeaches.nsw.gov.au/2019-2020-annual-financial-statements
Proposed minor amendments to flood prone land planning requirements
Council is currently seeking feedback regarding the Flood Prone Land Clause within the Development Control Plan (DCP), which describes the planning requirements for flood prone land.
The 'Have Your Say' page states;
A recent review of the clause has identified an opportunity to simplify the text and incorporate associated standards and policies into the single DCP clause.

The proposed amendments will clarify how we manage development and risk on flood prone land in the Northern Beaches and create a 'one-stop-shop' for applicants.

They do not affect the number of flood prone properties or change the severity of the controls, and they do not change the type of information required to be submitted with Development Applications.

At its meeting on 29 September 2020, Council resolved to publicly exhibit minor amendments to the flood prone land planning requirements.
View the proposed amended clause, along with the existing clause and the summary of the changes. You can also download these below. For further info, you can read the Council Report and FAQs - also on the page linked to below.

Submissions close November 9, 2020
Visit: https://yoursay.northernbeaches.nsw.gov.au/amendment-flood-prone-land-dcp-clause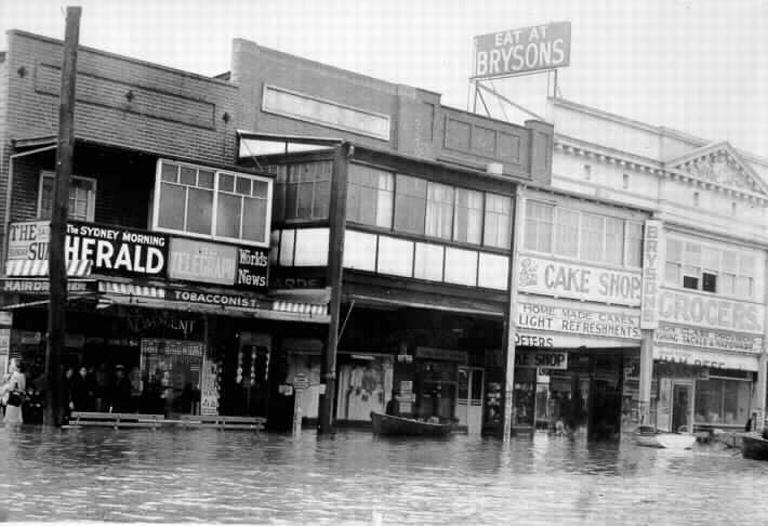 Belrose: proposed junior bike skills area
Council have developed a concept plan for a Wyatt Avenue, Belrose reserve, directly adjacent to the school. They want to ensure the reserve is used and enjoyed by the local community.
With the growth of cycling on the Northern Beaches, we're seeking to provide opportunities for young local riders to develop their skills and confidence.
The plan includes a junior bike trail loop, an informal grassed open space for practicing bike skills (e.g. bunny hop), a seating/picnic area, an accessible entry path loop and other landscape elements.
View the concept plan and let Council know what you think in the comment form here.
Feedback received will help finalise the plan before construction begins later this year. If you have any questions, please contact the Senior Asset Management Officer by email or on 1300 434 434.
Comments close Monday 9 November 2020.
Soibada Update
Friends of Soibada and the community in the village want to say thank you!
Don't forget, please share our crowdfunding campaign to as many people as you can. We are about half way to our target and you can see in
this video
what a difference your generosity is making!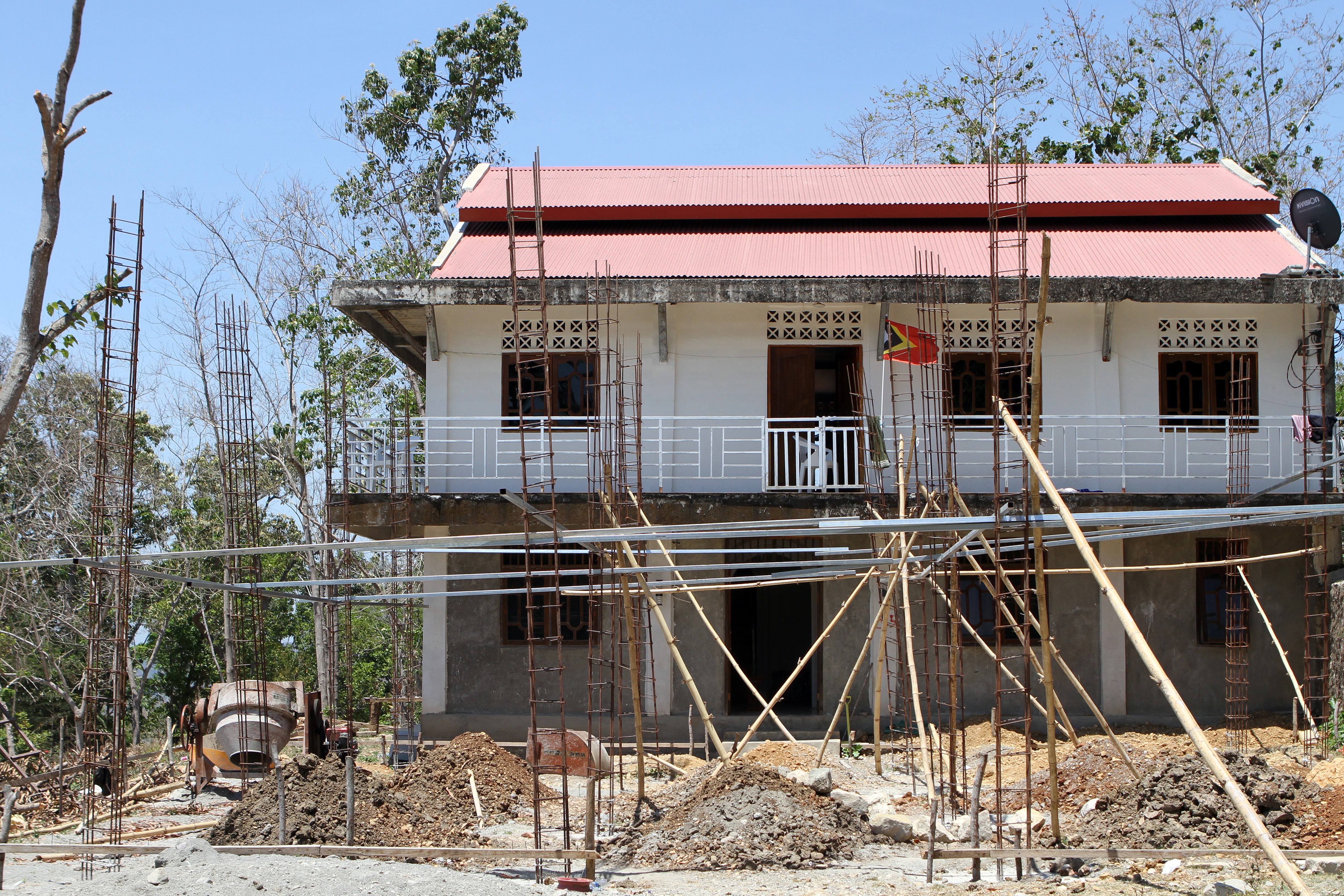 Pets of the Week
Blaze

AGE/SEX: 4 years / M
BREED: Cattle X Staffy
Blaze is an active friendly boy. In his previous life he was living with a homeless person. Our trainer says: "He loves toys and balls but can get over excited and bit rough and there suit teenage children. He is quite athletic and we be a great agility dog. Nice temperament. Will sit politely for treats." Blaze is keen for his walks and pulls on lead a bit and can lunge playfully at other dogs. Walkers say "very well behaved overall. Just a little pulling on lead". He has a smooth coat and weighs 26kg. He comes desexed, C5 vaccinated, heartworm free and microchipped. Also included for the love and health of our dogs is a free Health and Wellness Voucher with our DR Vet. His adoption cost is $400.
Silver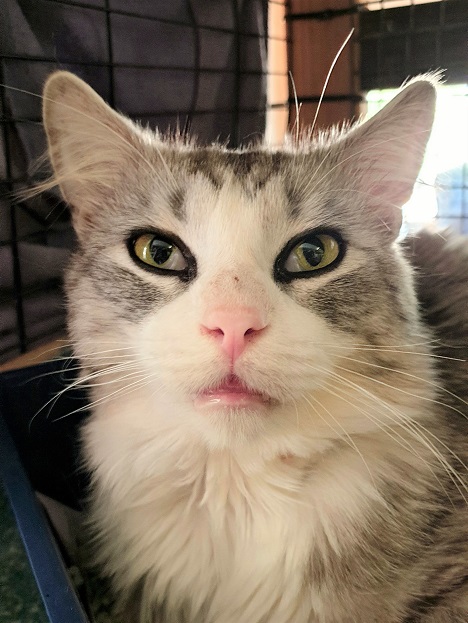 Silver appears to be a Burmilla and is approximately 5 years old. He is a very sweet though a bit shy with people. He is social with other cats. His coat is medium and silver/tabby in colour. He comes desexed, wormed, F3 vaccinated, FIV/FeLV tested and microchipped. His adoption fee is $220. He is located at Ingleside.
If you are interested in meeting him call DoggieRescue on 9486 3133 or email cats@DoggieRescue.com
DOG WALKING is recommencing
DoggieRescue is delighted to announce restrictions have been lifted on walking at our shelter, we are looking forward to welcoming you back onsite.
We have had some changes occur during COVID-19 that we want you to be aware of. We no longer require you to sign up in advance for dog walking. However, due to the large number of successful adoptions we have very few child friendly dogs available to walk so we may not be able to accommodate walking for your family at this point, also due to the sheer number of adoptions we have fewer dogs onsite who are ready to walk with the public. This means there may be a delay in getting a dog for you to walk. We ask for your patience with our team at this time.
We continue to practise social distancing onsite and have plenty of hand sanitiser ready for your return.
We look forward to seeing familiar faces and welcoming new ones to our shelter and appreciate your ongoing support during these difficult times.
We are in urgent need of Topical Heartworm Treatment(Advocate or Revolution), Breeder's Choice Cat Litter, cat food, cable ties and latex gloves.
Foster Carers Needed
Not everyone is in a position to adopt a dog, which is why DoggieRescue runs a foster program making it easy for caring dog lovers to make an immediate difference.
Rehoming Organisation No R251000024.
Public space tools for all
October 20, 2020
The NSW Government today launched the draft NSW Public Spaces Charter and the draft Evaluation Tool for Public Space and Public Life - two initiatives that will enable more quality public spaces for every community across NSW.
The draft NSW Public Spaces Charter is a resource to support the planning, design, management and activation of public spaces in NSW. The draft Evaluation Tool will help government, councils, industry and communities identify how to deliver more and better quality green, open and public space.
Alex O'Mara, Group Deputy Secretary at the Department of Planning, Industry and Environment, said community input is now sought for the draft Charter and Evaluation Tool. Both support the Premier's Priority for Greener Public Spaces, which aims to increase walkable access to quality public space.
"COVID-19 is changing the way we use public space and has shone a light on how vital these places are to support healthy, happy, resilient communities. We want to use everything in our toolbox to consolidate and improve what we have and create more. We're asking the community to help us design a tool that will allow people to tell us what they like about public spaces and where we can improve", Ms O'Mara said.
The draft Charter identifies ten principles, developed with evidence-based research and consultation with public space experts, that will guide planning, delivery and management of quality public space. The principles are: open and welcoming; community-focused; culture and creativity; local character and identity; green and resilient; healthy and active; local business and economies; safe and secure; designed for people; and well-managed.
A series of videos will promote the ten principles of the NSW Public Spaces Charter, including one featuring NSW Resilience Commissioner, Shane Fitzsimmons, supporting the 'green and resilient' principle.
The draft Evaluation Tool is a simple site survey, developed with an international peer review panel, that anyone can use to evaluate a public space and identify its strengths and areas for improvement. The free download from the Department's Festival of Place website is the first step to identify how to improve and optimise our public space.
The draft NSW Public Spaces Charter and draft Evaluation Tool will be on public exhibition 20 October – 17 November 2020. All NSW Government agencies will be asked to endorse the final Charter. Local government, industry and groups caring for and using public space across NSW will be encouraged to adopt the principles in their strategies and planning.
The draft NSW Public Spaces Charter and draft Evaluation Tool are components of the year-long Festival of Place.
The draft NSW Public Spaces Charter and draft Evaluation Tool are available at: www.dpie.nsw.gov.au/festival-of-place
Please also join our webinar exploring the draft Evaluation Tool with international placemaking experts on Tuesday 27 October 10.00-11.00 am. REGISTER HERE

Domestic Violence support during Covid-19
NB: Where to get help Fact Sheet is below. Simply click on PDF and 'save as' on your own device
People experiencing domestic violence can be assured police and frontline services are ready to support them and their families as NSW continues to respond to the coronavirus threat.
Member for Manly James Griffin said the Northern Beaches community should not hesitate to seek help and support at this time.
"If you are in danger or in an emergency call Triple Zero (000)," Mr Griffin said.
"If you are in need of support services, such as housing or counselling, our hard working frontline staff are also available to help those suffering domestic violence."
"No person, whether they live on the Northern Beaches or anywhere in Australia, should in live in fear of violence and I urge people to seek the help they need when it is safe to do so."
Mr Griffin added that perpetrators are on notice and that police have increased efforts to combat violence in the home including more proactive operations to enforce protection orders.
"Police will continue to conduct Apprehended Domestic Violence Order (ADVO) compliance checks to keep victims safe."
NSW Police Force Domestic Violence Corporate Spokesperson, Assistant Commissioner Mark Jones, said police are monitoring rates of domestic violence.
"High-risk and repeat offenders are being targeted by specially trained police to ensure that all orders are strictly followed and complied with and offenders are arrested if violence is detected," Assistant Commissioner Jones said.
"Police are also able to vary existing interim or final ADVOs if we know that violence is escalating, without needing to first go to court, so victims are immediately protected.
"NSW Police are working together with government agencies, including NSW Health, to ensure there is no increased health risk to the community in the current environment."
The NSW Government is constantly adapting as the COVID-19 emergency evolves, which includes various justice, housing and policing responses to combat domestic violence.
Where You Can Get Tested In Our Area:
Mona Vale Hospital
- Building 14, Community Health Centre, Coronation Street, Mona Vale.
Please ring to register for testing. PHONE: 9998 6296
Mona Vale Hospital message: The recent changes to our mask guidelines means patients, carers and visitors are to wear a mask at our hospital. Staff will also wear a mask when they are delivering care or when they can't socially distance 1.5 metres. Open 9am-4:30pm, 7 days.
Dee Why Respiratory Clinic
- G/5 Mooramba Road, Dee Why. 8am-5pm Monday-Saturday
Booking required via (02) 8416 5005
Booking web address; https://www.hotdoc.com.au/medical-centres/dee-why-NSW-2099/dee-why-respiratory-clinic/doctors?purpose=respiratory
Brookvale Community Health Centre Clinic
- 612-624 Pittwater Road, Brookvale. 8am-6pm 7 days. No booking required
Frenchs Forest Douglass Hanly Moir Pathology
- 5 Forest Way, Frenchs Forest, 8am-4pm Monday to Friday.
Booking required via 1800 026 622 or (02) 9111 3405
Frenchs Forest MedLab Pathology
- 8 Hilmer Street, Frenchs Forest, 9am-4pm Monday to Friday, 9am-1pm Saturday
No booking required.
North Narrabeen Clinical Labs Pathology
- 1416 Pittwater Road, Narrabeen. 10am-4pm Monday to Friday. No booking required.
Northern Beaches Hospital
- 105 Frenchs Forest Road (West), Frenchs Forest; Rear of Emergency Department (secluded mental health entry) 8am- 5pm, 7 days - No booking required.
Drive directly to the clinic by following the signs, please do not use the main car park.
For people walking or travelling by public transport, follow the red line outside the hospital, then ring the Emergency Department intercom and they will be escorted to the clinic for testing.
PATIENTS:
We are now temperature checking all staff and visitors ahead of elective surgery returning to the hospital next week.
These checks will help us ensure the safety of our staff and visitors during this time.
Entry is via the main entrance or emergency department and all other entry points are closed. There is also screening at the dock for deliveries.
The team conducting the checks will take temperatures and ask a few simple questions about wellbeing and possible contact with COVID-19.
Please be patient with our staff conducting the checks.
If you have a high temperature (37.5C or above) or have been unwell with a new cough, sore throat or difficulty breathing, you should call the COVID-19 hotline or visit our COVID-19 clinic for assessment.
VISITORS:
To ensure the safety of all patients and staff, we need to limit the number of visitors to our hospitals and services.
Patients will be asked to nominate one visitor
, preferably your next of kin, for the duration of your hospital stay. We understand this will difficult for families, but we need everyone to help to protect patients and staff.
Visitors must NOT have travelled overseas in the last 14 days, NOT been in close contact with a person who has been diagnosed positive for COVID-19 in the last 14 days, or have fever, cough, sore throat, shortness of breath.
Visitors to Patient with COVID-19 (or awaiting results)
In order to provide strict infection control,
no visitors
will be allow to patients who have a confirmed diagnosis of COVID-19 or those awaiting test results for COVID-19.
We understand there will need to be some exceptions to this, especially with children and also with extremely unwell patients, so we ask that you talk to your families and if you have any questions, please speak to your clinical care team.
Mask requirements:
In line with NSW Health guidelines, please note all patients will be required to wear a mask when presenting to the hospital and when outside of their rooms. Visitors must wear a mask before entering the hospital. Please bring a mask from home where possible.​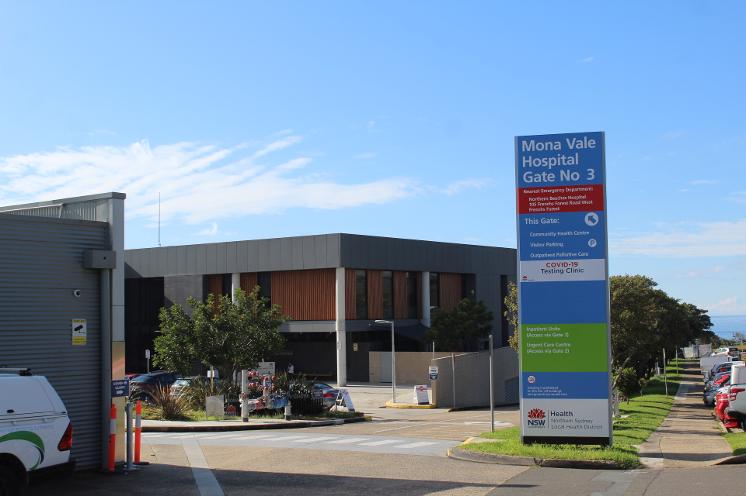 Speed humps on McCarrs Creek Rd: please share Wildlife Data
Local wildlife rescuers are asking all members of the public to report any roadkill
on McCarrs Ck Rd or any other road in the NB (Wakehurst Parkway or Mona Vale Road for instance) on www.wildlifemapping.org
It records the GPS position, date, sex, species. Photos can be added as they help in identification
The data is then forwarded to OEH and Transport NSW as it can help establish the best places to place mitigation.
Thanking
you all in advance for your help with
this
.
Please Register Wildlife Road Strikes
We need your help. Thank you for reporting wildlife road fatalities. There is so much wildlife on the move in our area at present due to various pressures. Although we have had pictures
sent to us
, many of these have no date or location.
There is a database that volunteers maintain but this needs three pieces of information:
The position via GPS or road and suburb
The date
The animal
The details can be entered into the database directly by you at: