January 19 - 25, 2020: Issue 434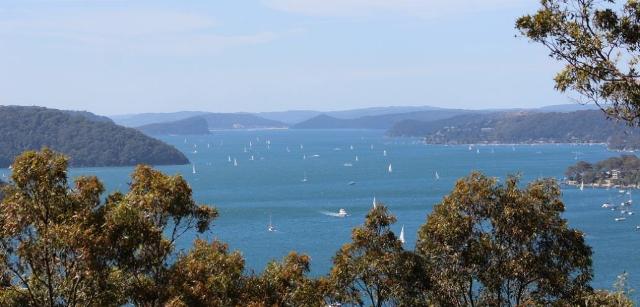 This Issue: full list in Contents page
Front Page Issue 434: Pittwater Swim Series 2020
Aquatics Bush to Beach 2020
Pictures: Our Firies: Their Words, Pictures, Videos - 2019/2020 Fire Storms

Park Bench Philosopher
2020: A Leap Year, Year Of The Metal Rat, The UN's International Year Of Plant Health, International Year Of The Nurse and The Midwife [WHO] and A Brand New Decade Of Positivity!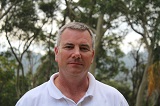 Profile
Mark Trollope: New South Wales Rural Fire Service Volunteer
When Mark Trollope agreed to provide a few insights into his deployments as a Tumbledown Dick Rural Fire Brigade volunteer during the 2019-2020 bushfire season, which commenced for many Firies on July 1st 2019 and is still going, while the 2018-2019 fire season closed on April 30th 2019, the proviso was we include insights into what every other of the 17 NSW RFS Brigades in our area have been doing and ensure Readers understand they have been backed up by every other emergency service agency and many others - their fellow NSW RFS Brigades across the state, NSW Police and Ambulances services, Fire & Rescue units, the SES, Marine Rescue NSW and Surf Life Saving NSW, all of which have sent trained people and equipment into fire zones, the Wildlife Carers and those who have been making pouches for injured animals, the people in the towns they have been to providing food and shelter, the fundraisers that have sent food and water into firegrounds for people and animals, the family members waiting anxiously at home, the Australian Defence Forces.
It is often said of our fire fighters that when everyone else is running away from danger, they run into it. By Christmas 2019 NSW RFS Strike Teams in the East Region had 'run towards danger' 792 times.
There are four NSW RFS Regions, and a large area in New South Wales that is not a NSW RFS Region - they went in there too, supporting their fellow brigades.
A single NSW RFS Strike Team comprises five fire trucks and a Strike Team Leader's vehicle, all filled with firefighters - sometimes five Strike Teams have been sent into one Fireground, up to 100 people of the 1200 local volunteers. Most of our NSW RFS Brigades have been on rolling deployments (24/7), day after day, for five months now.
This NSW RFS document shows you an overview of Fireground Organisation - This NSW RFS document shows you the four NSW RFS Regions.
To convey the enormity of what the 17 brigades have been doing and have done their social media posts, if they have a platform for those, was enlisted. Even those who do not have social media are there among the mix, as part of teams that have worked together as one. These platforms are used by the Brigades to assure loved ones at home they are safe, to communicate urgent fire warnings to communities, to share vision of 70 metre flame walls or explain back-burning operations, to thank those who have made donations of equipment or provisions, to educate, to share the cards and messages from children, but mostly to exhort residents to ensure their Fire Plan is up to date.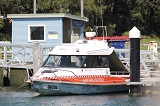 History
Pittwater Fire-Boats: A History
-
During Winter's cooler months
combined training exercises
are undertaken by the West Pittwater, Scotland Island, Mackerel Beach, Ingleside, Tumbledown Dick, Terrey Hills, and combined district NSW RFS Brigades, sometimes
locally
and at other times 'up river' - in the
Hawkesbury
are focused on fire-boats. During January 2020 members of our local 'water brigades' have been deployed evacuating people from along the Shoalhaven River and gathering intelligence on fire behaviour and spread.
In 2013 a series of 'on water organisations' History pages ran, and included a timeline of Marine Rescue NSW, Broken Bay - also staffed by volunteers and also active in fighting these recent fires, as well as our Water Police and Pittwater's Fire-boats. As we prepare to commence our 10th year of this news service Readers who have recently joined in looking forward to each weekly edition may be interested in how we began fighting fires not just on the land, but from the water too.
The history of fire brigades in NSW, at first following the UK system during the 1830's-40's where insurance companies provided fire fighters and people had to pay to have them attend, did not become a Government overseen and regulated practice until 1884. Although discussed in parliament as early as June 15, 1854 after the Tooth and Co brewery on Broadway burnt for five days, prior to 1884 most fires were fought by convicts and soldiers. Insurance company brigades would only attend fires with their badges affixed to the premises.
News of another fire in the Summer of 1850, which was racing towards Pittwater, tells how ill-equipped people were to defend life and property from bushfires:
CONFLAGRATION ON THE NORTH SHORE.— Since Wednesday last, raging and wide-spreading fires, caused by the prevailing hot winds, and the unusual heat and dryness of the weather, have destroyed property of considerable value on the North Shore; and it is feared that the lives of two persons (known as John the Frenchman and Joseph Curran) have also been sacrificed. At the time of our going to press, the casualties, as far as could be ascertained, were as follows:- Mr. Cook's premises, Lane Cove, have been burned, and two of his horses destroyed. Mr. Archbold's premises, furniture, ... feet of sawn timber, and twelve tons of hay, burned. Mr. Simpson's orchard and fencing: Mr. Clarke's hut and furniture: John Macmillan's orchard and fencing; Mr. Lyon's hut and furniture : Mr. Murphy's two houses and furniture ; Mr. Ross Donnelly's outhouses ; F. M'Cudden's house and furniture; all entirely destroyed. The premises of Colonel Harney, Mr. Derry, Mr. Stirling, and Mr. Bloxsome, have been partially damaged, and almost all the fencing burned. It is to be feared, that no chance of arresting the progress of the main current of the fire presents itself until it reaches the basin of Pittwater. We regret to state that among the sufferers are several who, with their families, are plunged into utter destitution by this visitation; but we sincerely hope that the sympathy of the public, if appealed to, will assist in relieving their calamities to some extent. It is perhaps useless now to express surprise at the absence of all precautions against the attack of a foe whose progress it is so difficult to arrest when once he commences his march of devastation. Here we find valuable plantations entirely unprotected, when by a little labor and outlay in clearing the grass and brushwood, the ruinous consequences we are recording might have been considerably modified if not entirely prevented. Intelligence has also been received that the bush between Wollongong and Kiama was one entire mass of flame. Communication between the two localities was wholly impossible. LOCAL INTELLIGENCE. (1850, January 12). Bell's Life in Sydney and Sporting Reviewer (NSW : 1845 - 1860), , p. 2. Retrieved from http://nla.gov.au/nla.news-article59770026
Pittwater Offshore Newsletter Update: January 16, 2020
Click on Logo to access latest PON:

To contact Julian: editor@scotlandisland.org.au
Ella Apology
Apologies to those looking for the Ella McFadyen History celebrations due - one just for youngsters and one for adults. NSW RFS Volunteer tributes run in her stead.
Her love of Pittwater, wildlife, trees and the environment will run next week. In the meantime:
SANDS OF MORNING.
by Ella McFadyen.
Summer breathed over the hills to-day,
A waft of the bush and a wind from the bay,
And my truant thoughts went straying:
Pittwater flickered with nor'east flaws,
The surf ran high 'tween the Lion's paws,
And the spring-fed runnels' were playing.
I saw the hills that drop to the sea,
And a honey-bird's call was a call for me
And the great grey sandstone boulders
Were elephant's browsing, heath to the knees.
And the rosy waxflowers, clotted with bees,
Fondled their lichened shoulders.
Tomorrow I'll rise and be ready to roam
In the starlit hour when the cats come home,
Ere ever the birds are waking,
When each needlewood thorn is a dewdrop's place,
And her thread-like blossoms are fairy lace,
And the whole world's mine for taking!
I must seek the lairs where I used to lie,
Curtained by trees and under the sky;
I must find and touch and recover
The sights and sensations laid away,
Where the Lion lies couchant at Broken Bay,
To welcome me back like a lover.
The strong white feet of the winter rains
Have trodden the campfire's cold remains,
The lizards my hearth are keeping;
I must find the cave where the fairy-mouse
And her wee pouched kindred kept their house,
And-the nest where her babes are sleeping.
Grape-blue the hills in the dawn shall be,
And the sun shall rise from a white-gold sea,
With light for the day's adorning,
Where the rain-washed track is a virgin sheet
For the printed tale of a pilgrim's feet;
My feet on the sands of morning.
SANDS OF MORNING. (1935, March 14). The Sydney Morning Herald (NSW : 1842 - 1954), p. 2 Supplement: Women's Supplement. Retrieved from http://nla.gov.au/nla.news-article17171195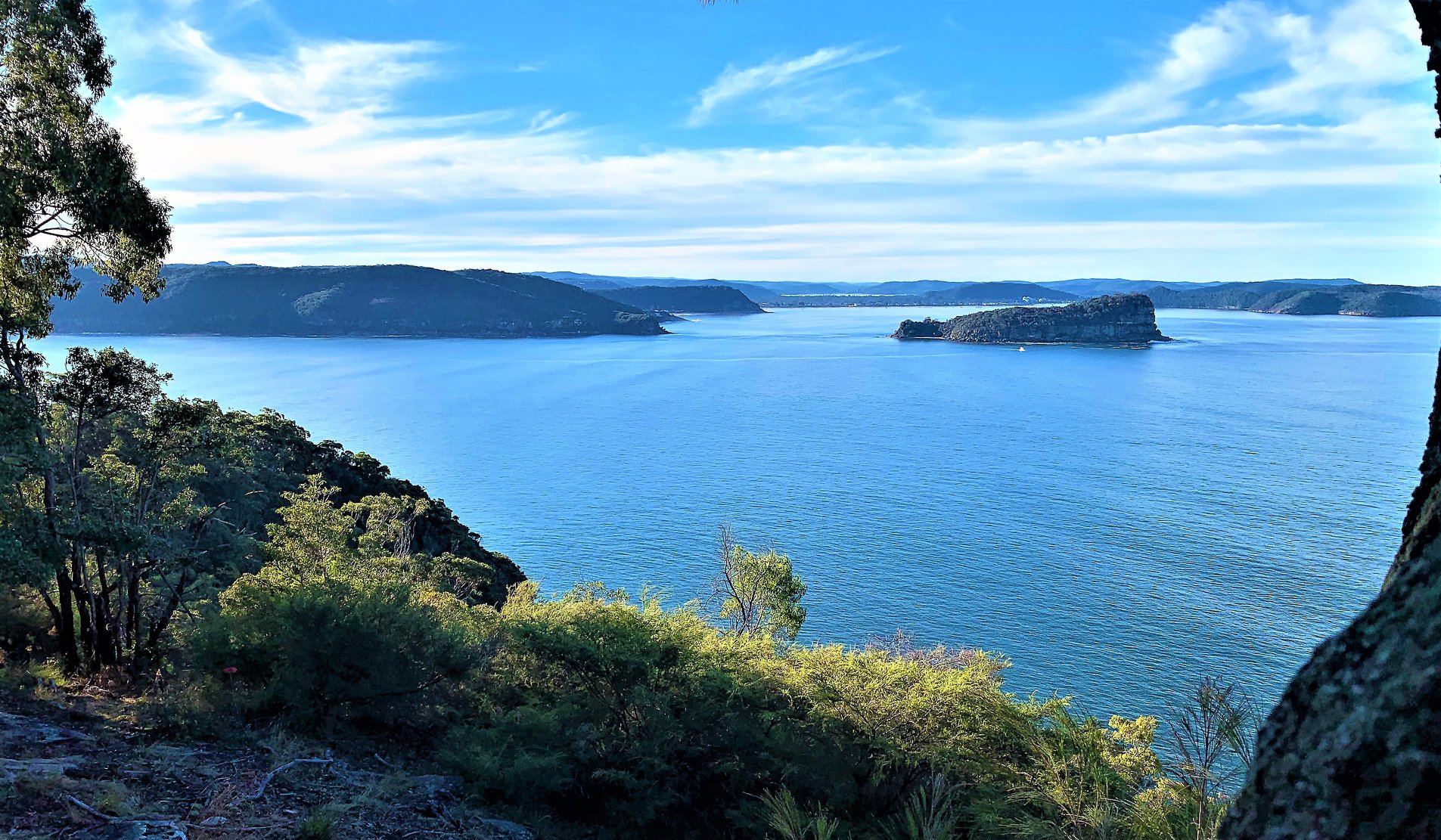 Lion Island from West Head - photo by John Vaughan
While On Local History: ABHS Summer Hours
After another very successful year (our 36th) the Avalon Beach Historical Society has gone into its usual summer recess until March 2020.
That doesn't mean we'll be out of range until then.
The Society has its office at 15 Bowling Green Lane and is open Thursday, Friday and Saturday. Geoff is available most Saturdays from 10am to 1pm and keen to help answer any questions and discuss matters of a historic nature.
The Society conducts 4 meetings each year. Speakers on local historic topics and experiences are the usual drawcards.
Geoff and John also run some old fashioned 'slide nights' in a digital format on the big screen at the Avalon Beach Bowling Club or, as it's more popularly known, the 'Bowlo'. They usually feature recent acquisitions by the Society or early 'forgotten' photos unearthed from the huge collection as it is progressively digitised.
If you or your family have any photos of early Avalon Beach from any era, the Society would love the opportunity to scan them and add them to the collection. They can then be used for research, exhibition or as an educational tool when Geoff visits the local schools to give one of his many talks.
To see some of the great photos we have in the collection check out our website under Avalon Beach Historical Society or go to
abhs.org.au
Geoff Searl OAM
President
Avalon Beach Historical Society

Mums for Mums 2020
Have you joined our mailing list yet??
Jump over to the website and sign up to receive our newsletter, and don't miss out on any Mums For Mums events in 2020 - creating a supportive space for mums in our local community!
Cakes for Koalas raises over $400
Local Avalon Groms raised over $400 in one and a half hours.
Thank you to the locals for your support.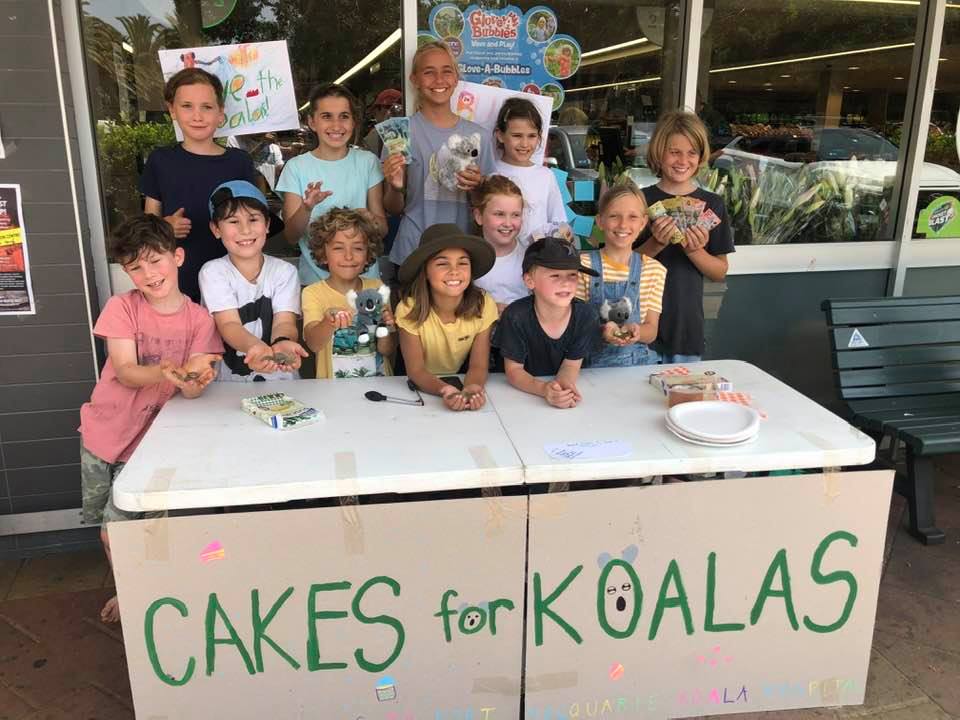 Photo by Adriaan van der Wallen
Avalon Beach SLSC Sends Waves of care to South Coast
A 10-day effort by the Avalon community and beyond:
- An estimated 360 cubic metres of goods delivered to communities in need.
- An estimated $14,000 of gift cards distributed.
- An estimated 250+ volunteers from the Avalon community and beyond sorted, packed, loaded and transported.
- 1000s of people donated goods and offered help.
- A Foodbank NSW semi-trailer delivered our goods to the Narooma Evacuation Centre.
- 28 volunteer drivers delivered 21 loads early in the crisis and directly into communities including Nelligen, Cobargo, Mossy Point, Bimbimbie and Batemans Bay. All came back moved by what they saw and people they met.
- 2 x 3000w Briggs & Stratton generators donated to families in need
- Provided 64,000 litres of water to refill water tanks for the residents of Nelligen.
- Multiple other donations at a more personal level to affected families.
Due to the fast pace of the appeal, it's impossible to thank all those who have made it happen – you know who you are.
While our big drive is over, our efforts to help the South Coast communities are not.
Modus Operandi Brewing Co. Busfire Fundraiser: 15k realised
January 4, 2020
Thanks to our community, you legends have helped us raise nearly $15,000 yesterday in beer sales and tips. This is going directly to the good folk at Australian Red Cross and NSW Rural Fire Service. Thanks for sharing a beer with us yesterday at Modus, needless to say we are overwhelmed with the community response.
Stay safe guys
with love from all the Modus community and staff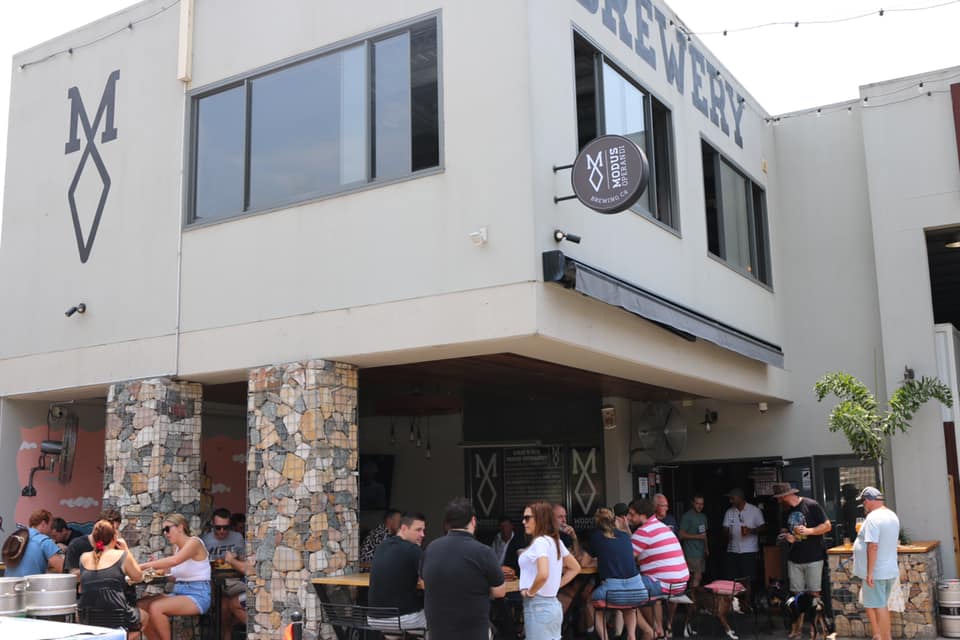 The Green Team Bushfire Fundraiser Nets 20k
Our BANDS 4 BUSHLANDS fire fundraiser raised over $20,000 for NSW RFS, WIRES and The Salvation Army Australia disaster appeal. The event wouldn't have been so successful without the amazing help of the Park House at Mona Vale - thank you.
Massive thank you to all of the volunteers who made the event run so seamlessly! and to everyone who showed up/spread the word and donated. H
uge thank you to all of the bands & DJ's; Doko Dominic Breen The Uplifting Bell Ends The Dolphin Show Scoot the Loot Carlos Avilés & Harry Sarin.
And another huge thank you to all of the brands that donated to the raffle - it was a hit!
Young Henrys
The Hemp Temple
Monster Children
ST. AGNI
Sancia
BLAEK Design Studio
Elka Collective
Barney Cools
SAUCE swim
ZUBI cafes
The Critical Slide Society
Onboard Store
Adventure Reels
Natalie Marie jewellery
Chamber Cellars
Fishing Station
Morning Bay Boat Shed
LXXI
The Boathouse Palm Beach
F45 Training Avalon
Childe Eyewear
ONETEASPOON
Thrills
Qudos Bank Arena
Also thanks to Upstate & Jameson Irish Whiskey
our awesome photos by Dylan Grant are uploaded to
our page
!
Rotary Club of Upper Northern Beaches Bucket Filled with funds for Firies
Thanks to the enthusiastic community spirit of our event partners, The Newport on New Year's Eve we were able to raise almost $3,000 for our local NSW Rural Fire Service brigades.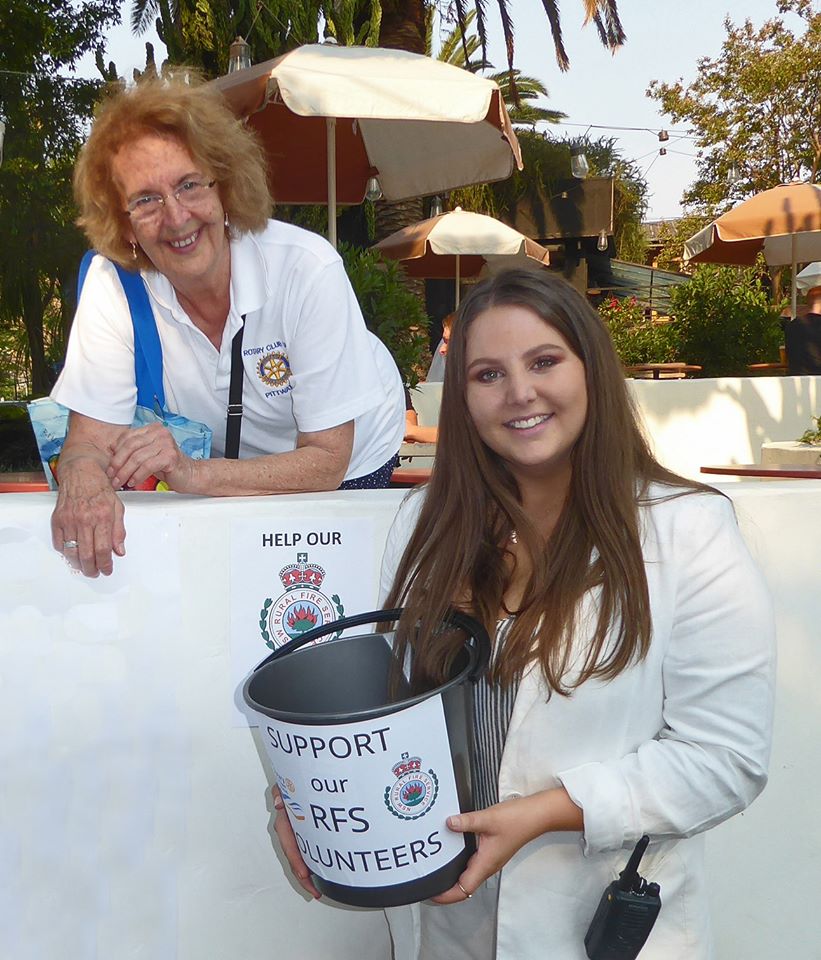 Neighbourhood Safer Places: Pittwater
Neighbourhood Safer Places are a place of last resort during a bush fire emergency.
They are to be used when all other options in your bush fire survival plan can't be put into action safely.
You should be aware of any Neighbourhood Safer Places in your area, and note them in your bush fire survival plan before a bush fire occurs. You should also know how to get there, as well as alternate routes in case the road is blocked or too dangerous to drive on.
Not all areas will have a Neighbourhood Safer Place. If there is no Neighbourhood Safer Place in your area, you should identify other safer locations you can go to as a last resort. This might include a nearby home which is well prepared, a shopping centre or oval which is well away from the bush.
A Neighbourhood Safer Place is designed as a Place of Last Resort in bush fire emergencies only. Please note that travelling to or sheltering at a Neighbourhood Safer Place does not guarantee your safety.
Remember:
Your safest option will always be to leave early.
People with special needs, such as the elderly and people with a disability, should always leave before the threat of bush fire.
If it is unsafe to leave the area or stay and defend your property, and the path is clear, you should move to your pre-identified Neighbourhood Safer Place, or other safer location, prior to the impact of a bush fire.
Be aware that when you are travelling to your Neighbourhood Safer Place there may be heavy smoke and poor visibility.
It is important that you are familiar with the area. Gather at the Neighbourhood Safer Place location and remain there until the bush fire threat has passed.
The conditions at the Neighbourhood Safer Place may be uncomfortable and you may be affected by heat, smoke and embers.
Water, toilets and food may not be available at the Neighbourhood Safer Place and emergency service personnel may not be present.
Neighbourhood Safer Places
Lakeside Park

Open Space, Lake Park Road, North Narrabeen
North Narrabeen Reserve Car Park (Pittwater Rugby Park), Open Space: 1472 Pittwater Road, Warriewood
Nelson Heather Centre, Building: 4 Jacksons Road, Warriewood
Pittwater Rugby Park, Building:1472 Pittwater Road, Warriewood


Apex Park, Open Space: Surfview Road, Mona Vale
Northern Beaches Indoor Sports Centre,Building: Namona Street, Mona Vale
Mona Vale Golf Club, Building: Golf Avenue, Mona Vale
Pittwater RSL, Building: 82 Mona Vale Road, Mona Vale
Kitchener Park Sports Centre, Building: 1610 Pittwater Road, Mona Vale
Mona Vale Headland Reserve, Open Space: Coronation Street, Mona Vale
Mona Vale Memorial Hall, Building:1606 Pittwater Road, Mona Vale

Pittwater Place, Building:10 Park Street, Mona Vale
Kitchener Park, Open Space:1610 Pittwater Road, Mona Vale
Winnererremy Bay Park, Open Space:Mona Street, Mona Vale


Bayview Golf Club, Building:1825 Pittwater Road, Bayview
Bayview Park, Open Space: Pittwater Road (adjacent to Boat Ramp), Bayview
Church Point Reserve (Thomas Stephens Reserve) Carpark, Open Space: McCarrs Creek Road, Church Point


Newport Arms Hotel, Building: Kalinya Street, Newport

Newport Park, Open Space: Bishop Street, Newport

Newport Community Centre, Building:11 - 13 The Boulevarde, Newport

Newport Beach Surf Club, Building:394 Barrenjoey Road, Newport
Dearin Reserve, Open Space: Cnr Kalinya Street and Gladstone Street, Newport
Newport Beach Reserve, Open Space: Barrenjoey Road, Newport Beach
Beyond the Bends:
Dunbar Park Reserve, Open Space: Old Barrenjoey Road, Avalon Beach
Avalon Beach Reserve, Open Space: Barrenjoey Road, Avalon Beach
Whale Beach Surf Club, Building:Surf Road, Whale Beach
Lucinda Park, Open Space: Iluka Road, Palm Beach (opposite Nabilla Road)

North Palm Beach Surf Lifesaving Club, Building:Governor Phillip Park, off Beach Road, Palm Beach
South and West of Pittwater:
Clontarf Reserve, Open Space: Sandy Bay, Clontarf
Manly Beach - South Steyne, Open Space: South Steyne, Manly
Balgowlah Oval, Open Space

Sydney Road, Balgowlah
Manly West Park, Open Space: Quirk Road, Manly West
Little Manly Beach, Open Space: Stuart Street, Little Manly
North Balgowlah Community Centre, Building:Corner of Bardoo Avenue and Wonga Street, North Balgowlah
Forestville Memorial Hall, Building:Cnr of Warringah Road and Starkey Street, Forestville
Abbot Road Fields, Open Space: Abbot Road, North Curl Curl
Brookvale Park, Open Space:Federal Parade, Brookvale
Beverley Job Reserve, Open Space: McIntosh Road, Naraweena
Patanga Reserve, Open Space: Patanga Road, Frenchs Forest
Bambara Reserve (Belrose Oval) & Belrose Community Centre, Open Space: Forest Way (near Bambara Road), Belrose
Lionel Watts Oval, Open Space: Blackbutts Road, Forestville
Cromer Park, Open Space:South Creek Road, Cromer

St Mathews Farm Reserve, Open Space: Grover Avenue, North Cromer

Vic Huxley Oval (Collaroy Plateau Oval), Open Space: Blandford Street, Collaroy Plateau

Kurara Reserve, Open Space: Kurara Close, Terrey Hills
Woolgoolga Reserve, Open Space: Woolgoolga Street, North Balgowlah
The Greenway Reserve, Open Space:The Greenway, Duffys Forest
Allambie Heights School - Community Centre, Building:165 Allambie Road, Allambie Heights

Belrose Public School, Open Space: Cotentin Road, Belrose
Cooleena Reserve, Open Space: 28-30 Cooleena Road, Elanora Heights

Frank Beckman Reserve, Open Space:Yulong Avenue, Terrey Hills
Killarney Heights Oval, Open Space: Starkey Street and Melwood Avenue, Forestville

Millers Reserve, Open Space: Campbell Parade, Manly Vale
Passmore Reserve, Open Space: Campbell Parade, Manly Vale
Truman Reserve, Open Space: Corner of Macquarie Street and Toronto Avenue, Cromer

Terrigal Reserve, Open Space: Terrigal Road, Terry Hills
Pittwater Community Groups:
New Season for Sailability Pittwater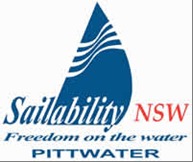 Sailability Pittwater is a volunteer organisation which provides sailing for people with a disability.
Our main recreational sailing activities are at Rowland Reserve, Bayview, and we run competitive sailing for people with a disability out of RPAYC Newport. We are currently looking for new volunteers for our Saturday morning program at Rowland Reserve and Tuesdays at RPA. For more information at www.sailability.org/au/pittwater or call John on 9982 5656

The purpose of www.westpittwater.com.au - is best defined by the vision of the West Pittwater Community Association.
To be a supportive community, encouraging and promoting civic pride, interest in community affairs and goodwill amongst residents.
To protect local fauna and flora and generally preserve West Pittwater and its environs.
To secure essential facilities including public wharves and reserves and to protect private and public property.
To speak with one voice and represent the interests of the Western Foreshore community when in discussion with Pittwater Council and other relevant government bodies. The WPCA website provides a forum for the better realisation of these objectives. Visit: www.westpittwater.com.au
Bad News Can Wait Until Next Week
Two reports that were going to run in the first Issue for 2020 have been held over as after so much distress in recent weeks everyone could use a break from it and a few smiles to begin the year.
One Billion Innocent Wildlife Lives Lost in Bushfires
The Sydney Wildlife Mobile Care Unit commenced its inaugural run on January 11th, heading to the South Coast. This idea has sprung from residents, been funded, supported and realised by locals, and now is staffed by local volunteering Veterinarians and Wildlife Carers is trying to save animals that have survived in the firegrounds. With estimates that we have lost at least a billion animals, without counting insects, the work being done by these stalwarts cannot be overestimated. However, it is particularly heartbreaking and testing during its first week, as Pittwater Online's Wildlife columnist, Lynleigh Greig reports:
Being in the fire grounds has been gobsmackingly sobering. The sheer scale of devastation, desolation and decimation is beyond description.

We were invited onto people's properties to assess the kangaroos at their places and - even though they have lost absolutely everything themselves - they are still putting out food and water for the wildlife. We just want to throw our arms around the entire community.

Our contribution is puny compared to what needs doing but we are so grateful to everyone.



One bright spot amongst this horrific loss is Sydney Wildlife founder Sonja Elwood, who alike so many hasn't had the day off they thought they may get over this Christmas-New Year's break, has this week been able to get Vets Beyond Borders and the International Fund for Animal Welfare (iFAW) to join HUHANZ and the Sydney Wildlife and many resident Wildlife Carers on the South Coast now. The German group - Animal Disaster Response Germany - flew in yesterday and Aussie Mobile Vets are also coming on board. Sonja has also reached out to a number of shooters and darters who are also mobilising to help find those that need medical treatment.
Best to let them all get on with it for another week.
Station Beach Turned into Conflict Beach
Incredibly poor timing, poor judgement and a follow through of children being run over by dogs, residents and visitors being stood over, threatened, and told to leave, shorebirds being chased, endangered species seagrass being torn up and a dog urine tide lapping to the edge of a national park has been the result of a Motion slyly introduced on December 16 2019, passed on the 17th and commenced on the 20th. All without due diligence, required licences, and with a Land and Environment Hearing pending.
Best leave that too until a few replies to queries come in.
Bush fire fund raising for Bilpin
Open again today at 9am, Sunday, January 19th at 1 Catalina Crescent, Avalon
Bilpin Bushfire relief: when a community can help a community in need
Our beautiful friends in Bilpin have lost homes and belongings in those fires and need our help.
So we are organising a big garage sale with coffee and cakes at Billy's place in 1 Catalina Crescent.
How you can support us:
Bring stuff you don't longer need to Billy's house on Thursday and Friday and we will sell it for you during the weekend (what hasn't been sold needs to be taken back)
Bake a cake and bring it in the morning of the 18th, so people can enjoy a slice while looking around
Make something from scratch that is environmentally friendly for us to sell over the weekend
Buy raffle tickets via our online raffle
Share this event with all your friends and come along on Saturday the 18th or Sunday the 19th.
All the funds from the sales will be donated to the Bilpin community to rebuild homes and being able to buy necessary tools to do so, as well as help those helping the Wildlife.
Thank you.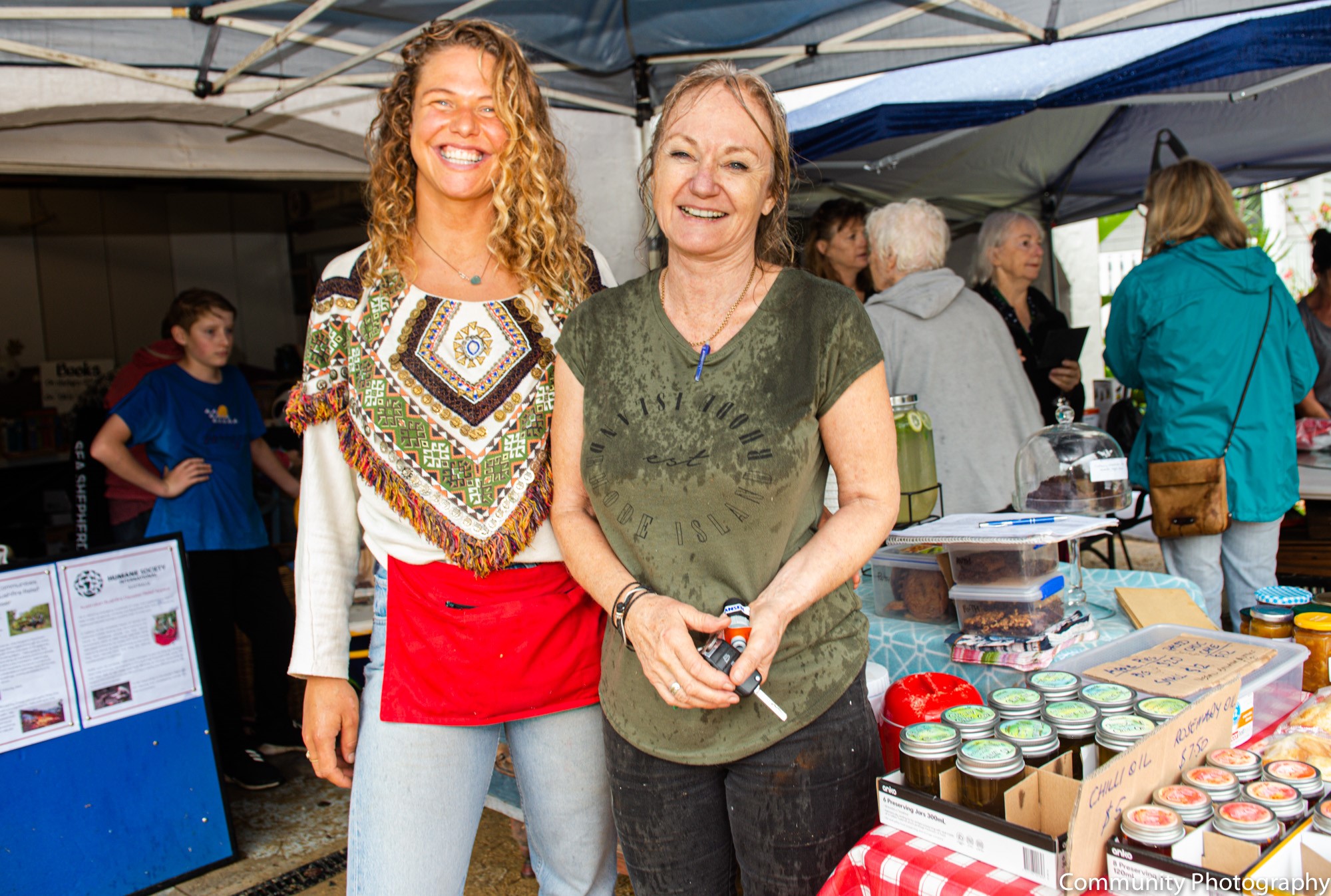 Organisers Dominique Frey and Billy Bragg - photo by Michael Mannington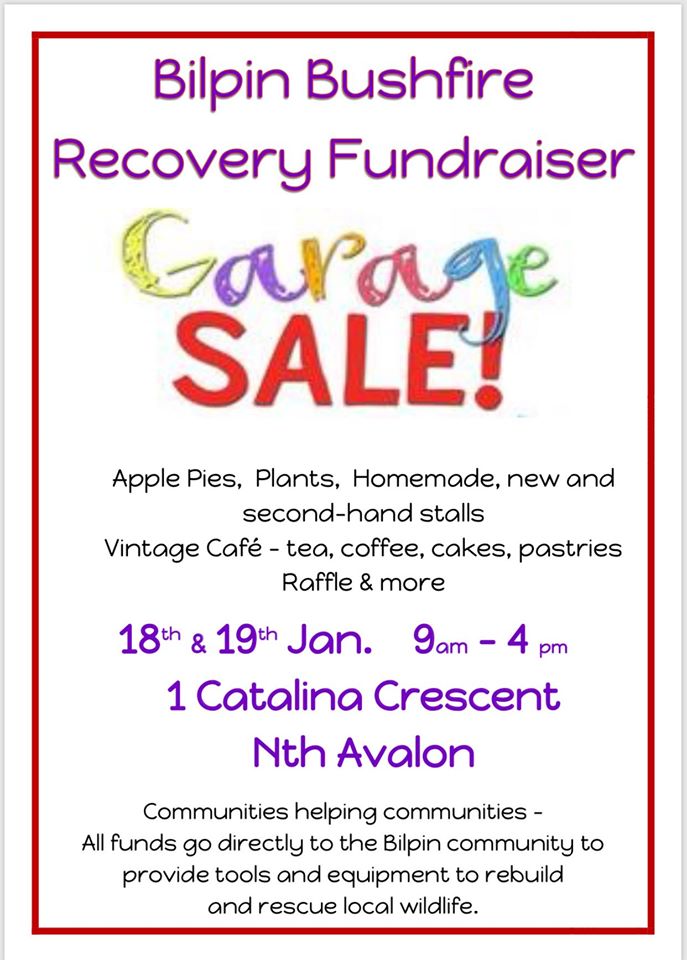 Newport Breakers BlazeAid Task Force to braidwood: Opportunity to help
President Jake has approx 20 players (so far) - arranged to go and help fix some of the mess down at Braidwood as part of supporting "BlazeAid".
This would be a great way to start off our Footy season giving practical support to our less fortunate Australians down south who are in desperate need of our assistance.
The Newport Breakers Rugby Club, and those who wish to join, are partnering with BlazeAid to offer practical assistance to an affected community.
BlazeAid is a volunteer-based organisation that works with families and individuals in rural Australia after natural disasters such as fires and floods.
All communities have times of need. The Newport Breakers feel It is important that we support this initiative.
It would be a 3 hour 40min trip by car - leaving from the Fortress at 11am on Fri 31 Jan 2020 and returning on the Sunday Feb 2, after camping at the Showground for 2 nights.
We will do some physical work - fence fixing etc.
Bobby Standbridge wishes to know if any Broken Breakers would like to make it there too.
Jake also tells us...
We would supply our own camping equipment, tools etc.
Tradies will want to take their own tools, otherwise they are provided (BBs take note).
Blaze Aid provide food (Breakfast/ Dinner), showers & toilets.
We can take whatever else we like eg: Snacks.
The Meeting point for the convoy and departure time...
Two waves. 1 meeting at Goulburn Maccas 3pm. Second wave meeting Goulburn Maccas 6-7pm.
The BBs will probably want to go in the first wave, the 2nd being for Tradies who can't get away early on Friday.
We still need to fix a time for our return on the Sunday so we can inform spouses of our eta..
Whatever time suits. Ideally after 3pm.
Thank you.
Peninsula Bridge Club Bush Fire Fundraising for red cross
We will be having a special bridge session so that members and visitors can come together to raise some funds. We all know it will be a long rebuild process and all the dollars count. The details are as follows:
When: Sunday 2nd February, 12.00 for 12.30 pm.
Where: Nelson Heather Centre, 4 Jacksons Road, Warriewood
Table money $20. Red point event . All funds going to the
Red Cross
. Details of how the funds will be used can be found through the link.
Raffle: 1st Prize – dinner or lunch for 2 with wine at Bert's Restaurant at The Newport (value $400). Raffle tickets $5.00 or 3 for $10.00.
*** Tickets can be purchased before PM sessions on Mon/Wed/Fri and on 2/2/20 ***
Unpartnered players welcome. All levels of player will be accommodated. Visitors from other clubs as well as other family and friends welcome
Bring something to share for afternoon tea – but if we have too much you may take it home
Thank you.
Avalon Bowlo Bushfire Benefit
A Super Sunday of Music is being held at Avalon Bowling Club on Sunday 26 January to show appreciation and support for the firefighters of the local Rural Fire Service (RFS).
In the wake of the devastating bushfires that have scorched Australia, the club will present seven hours of live music from 1pm – 8pm on Australia Day, with the peninsula's best musicians donating their services. All visitors will be encouraged to donate to the Terrey Hills RFS.
Avalon Bowlo Club Secretary, Don Willesee, said that so far this summer the Northern Beaches have not had a serious threat from fire, but everyone still needs to be aware.
"Many people had asked us to organise an event to say thanks, to show support for the work the firies do, and to raise funds to make their job a little easier," Willesee said. "Our regular club musicians approached us to help and everything quickly fell into place."
The lineup includes 2 Shots, Kate Lush, Nothing Too Serious, Backbeat, The Red Herrings, Barry Leef, The Cullens, Tommy Grules, Chris Raggatt and Paul Christie. The music mini marathon will also provide food stalls and a jumping castle for the kids.
"There is still a long way to go this bushfire season and our goal for the Avalon Bushfire Benefit is to bring our community together to show practical support for the local firies at Terrey Hills," Willesee said.
"Their crews have been at the firefront already, tackling the disastrous blazes we've had, as well as working in the NSW RFS Headquarters at Sydney Olympic Park, and they will be there to help protect us and our neighbours."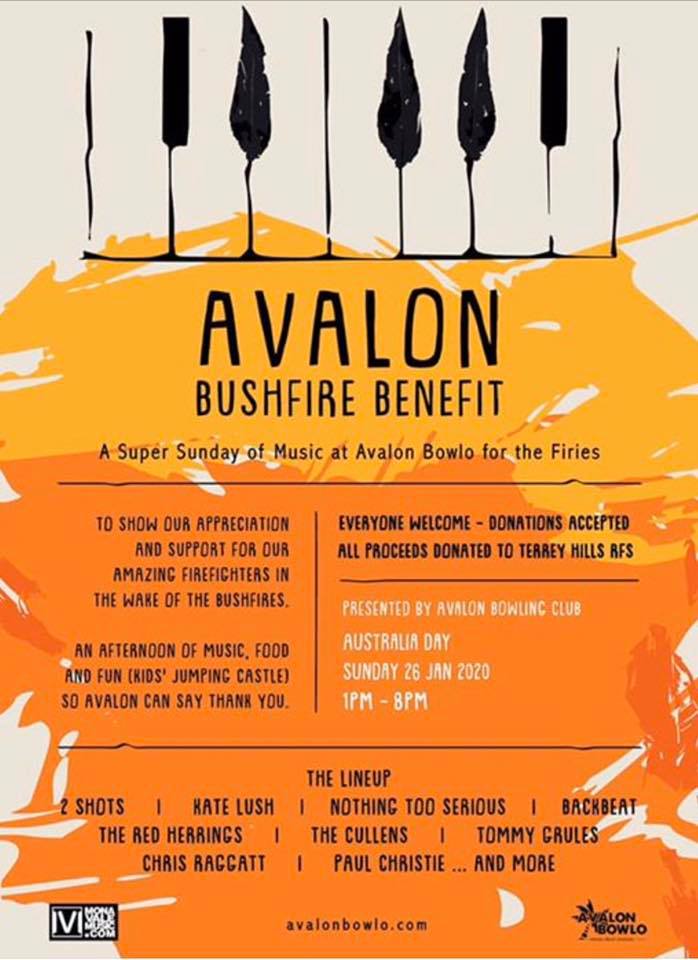 Avalon Beach SLSC Bushfire Appeal
We are in contact with a family of five who has lost everything in the fires. They have managed to find some unfurnished rental accommodation and we are hoping to help them get set up with some items they need and some things the kids are really missing. Please see the list below:
Lounge (L-shape or 2x2 seaters)
Coffee Table
Tall Boy/Chest of Drawers
Television
**Microwave**
Large washing machine
Large dryer
Kettle
**Toaster**
** Kitchen goods including crockery/cutlery/utensils/pots and pans **
**Vacuum cleaner**
**Iron**
Ironing board
Laptop/iPad/tablet
Trampoline
**Item(s)** have been donated
If you can help with any of these items, please call Louise on 0414 997 320.
We'll keep this post up to date as we collect by putting ** around the items that have been donated.
Thank you.
Wildlife Care this Summer
Some excellent advice from the veterinary team at NEVS in Terrey Hills: Sydney is facing a catastrophic fire danger ratings, with high temperatures, hot gusty winds, and dry conditions. But what does this mean for our wildlife?
Native wildlife are struggling to cope with bushfires combined with habitat loss. Although our wildlife has evolved with fire, urbanisation has made their habitat so limited they are at great risk. During bushfires wildlife are forced to come to the ground where they get hit by cars and attacked by domestic dogs.
We can help our wildlife by creating refuge areas, that are shady, cool and somewhat wet. You can leave out shallow water dishes, and place a rock in them so smaller animals and birds don't accidentally drown. Keep your dogs contained indoors and away from smoke for their own benefit as much as for the safety of wildlife. Avoid driving into fire areas unnecessarily where wildlife are likely to be present on the roads trying to escape, and instead await updates from online sources. If you encounter any injured or burnt wildlife, take them immediately to a vet hospital that you can safely access. Do not attempt to handle any bats unless you are vaccinated against Lyssavirus (the rabies vaccine covers this virus). Never chase wild animals in an attempt to capture them as they are prone to capture myopathy brought on by stress which is fatal.
For assistance or advice do not hesitate to phone NEVS on 9452 2933 and Sydney Metropolitan Wildlife Service on 9413 4300.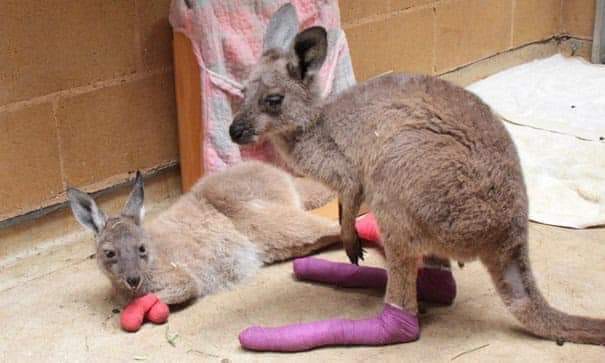 Refresh/Learn Bridge
Personalised, small-group beginner courses "on demand" start January 2020 at Peninsula Bridge Club in the Nelson Heather Centre Warriewood - at agreed times to suit YOU!
Cost $100. Four lessons. 2 hours max. Text book included. The Bridge Ed Team also offers a refresher course "on demand" for those returning to bridge.
As soon as we have 4 people registered to learn at their preferred time, one of our Bridge Ed Team will be appointed to contact you to arrange payment and provide details.
All of our team are experienced ABF accredited teachers. Your personal teacher will plan lessons (based on our modern standard system) to suit your group. Each player's development will be monitored, with individualised practice play follow-up suggestions including other club session options and/or online. Your teacher can also provide a Buddy when you're ready to help you transition to our regular Rookie duplicate sessions (if you'd like).
We also offer Improve Your Declarer Play and Defender Play courses and introduce a bridge convention each month in extra lesson sessions.
So many options are waiting for you in 2020 at Peninsula Bridge Club!
2020 ASRL Open:
Mollymook Confirmed as Host Venue
ASRL Statement - January 17, 2020
As previously noted your ASRL Committee have been in contact with all the stakeholders re the suitability of Mollymook hosting Team Navy ASRL Open since bushfires devastated parts of the NSW South Coast.
We have now received written confirmation from the RFS and Shoalhaven City Council letting us know that Mollymook is the preferred venue for the Open. However, we are currently updating a final safety plan in consultation with local authorities, and we expect this to be completed in the next 72 hours.
This is encouraging news and we ask boaties from across Australia to attend the Open and support the local area by bringing the economic impact to the region that comes with such a major event.
With all fires contained and rain falling in the area things have taken a major turn for the better.
We'd also like to give a shout out to the Elouera SLSC and Sutherland Shire Council who didn't hesitate to put their collective hands up as our plan B if the fires were going to stop the Open from proceeding at Mollymook.
With awesome support from Team Navy, Destination NSW, Shoalhaven City Council and the Mollymook SLSC we are excited to be heading to Mollymook for the 2020 ASRL Open.
If your looking to support those affected by the bushfires the best thing we can do is head to Mollymook and drop some coin into the local economy. We are excited to bring our economic benefit to the area and show Australia that the Shoalhaven area is back open for business. We encourage everyone within our movement to come to the ASRL Open and provide their support to the locals with your attendance as the community desperately need the help.
Should you have any questions please feel free to email
asrlopen2020@asrl.com.au
or personal message Team Navy ASRL on Facebook
Pets of the Week
Pierre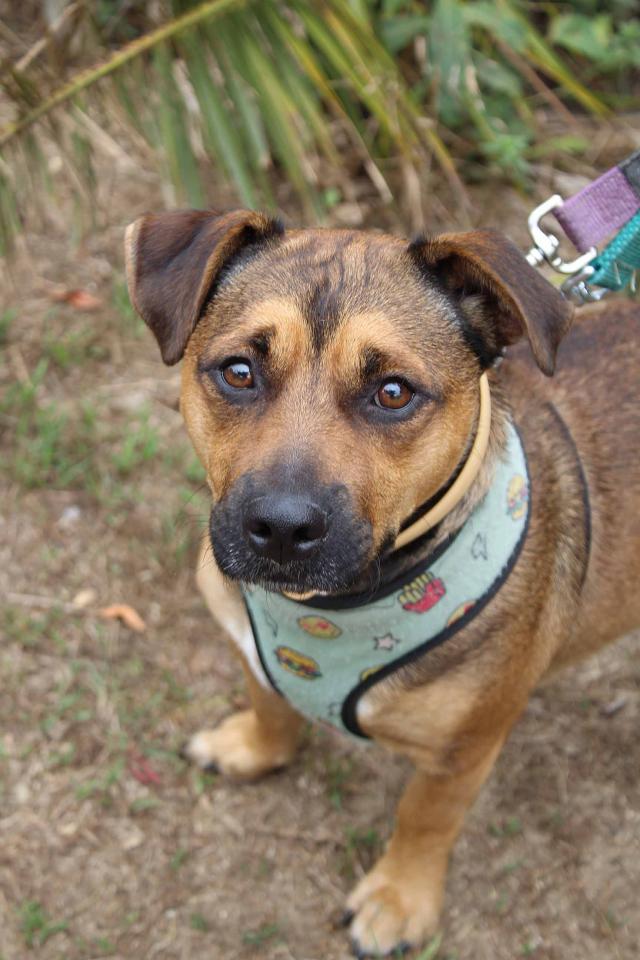 AGE/SEX: 18 months / M
BREED: Dachsy X Staffy
Pierre is a lovely friendly 18 month Dachsy X Staffy boy who enjoys playing with kids (suits 8+ yo). He takes treats gently and loves playing tug games. Our trainer says "He copes well with unfamiliar sounds and objects. Nice family dog". Pierre does need training on lead. It all seems unfamiliar to him so needs a family to take him to their local community dog training club. He has a smooth coat and weighs 10.5kg. He comes desexed, C5 vaccinated, heartworm free and microchipped. Also included for the love and health of our dogs is a free Health and Wellness Voucher with our DR Vet. His adoption cost is $400
Eleven
Eleven is a sweet domestic short haired girl who was found heavily pregnant in a plastic bag outside the pound. She came to our clinic with her "Stranger Things" kittens Nancy, Maxine, Bart and Dustin. She is understandably a little timid and so would be best in a quiet home that will give her the love needed to come out of her shell. Eleven is friendly with other cats.
She comes with desexing, wormed, F3 vaccinated, FIVtested and microchipped. Adoption fee is $220.
Rehoming Organisation No R251000024.
Qualifiers Locked And Loaded For nudie Australian Boardriders Battle Series Final: Wildcard Nominations Open!
January 14, 2020
Eighteen qualified boardrider clubs are ready to do battle on February 15th and 16th at Newcastle's Main Beach when bragging rights as the country's best club go on the line in the nudie Australian Boardriders Battle Series National Final.
Some of the world's best current, former and up-and-coming World Surf League (WSL) stars will don the comp singlet to help their club in the quest for national glory.
Burleigh Heads Boardriders Club young gun Liam O'Brien was on the cusp of qualifying for the WSL Men's World Tour in 2019 and is ready to kick start his 2020 qualifying campaign the best way possible, a club win in Newcastle.
"The pressure you experience in the team environment is another level again on individual surfing. Burleigh is a proud club and will be aiming for the win which makes it the perfect event to kick off the year with. For me personally, this event is the perfect start to the competitive season," said O'Brien.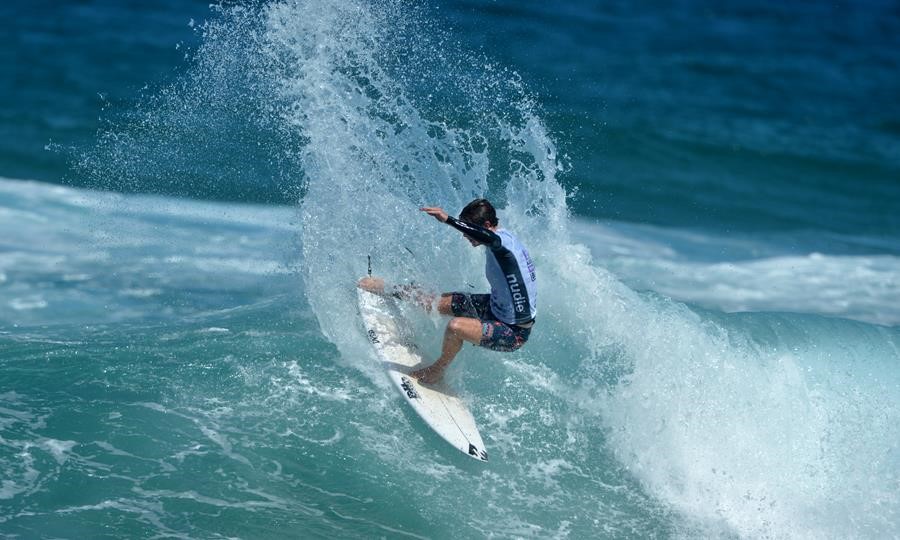 Wildcard nominations are still open to other clubs wanting a crack at the big show. To put in an application click through the link below.
nudie Australian Boardriders Battle Series National Final Qualified Clubs:
Noosa BRC (QLD)
Point Lookout BRC (QLD)
North Shore BRC (QLD)
Burleigh Heads BRC (QLD)
Queenscliff BRC (NSW)
Curl Curl United BRC (NSW)
Nth Narrabeen BRC (NSW)
Le Ba BRC (NSW)
Coffs Harbour BRC (NSW)
Kingscliff BRC (NSW)
Elouera BRC (NSW)
Bondi BRC (NSW)
Culburra BRC (NSW)
Margaret River BRC (WA)
Seaford BRC (SA)
South Arm BRC (TAS)
Torquay BRC (VIC)
Phillip Island BRC (VIC)
Now in its seventh season, the nudie Australian Boardriders Battle is the country's biggest grassroots boardriders event, involving more than 60 of Australia's best boardrider clubs and $110,000 in prize money.
The series is officially sanctioned by the World Surf League (WSL), which allows Australian WSL World Tour surfers (Men and Women) the opportunity to represent their local boardriders club at respective State qualifying events and the National Final.
Adding to the high stakes at the State qualifying events will be two speciality awards. The Oakley Prizm Performer will be awarded to the standout surfer, while the AirAsia Big Air will be presented to the surfer who does the biggest and best aerial manoeuvre at each event.
The 2019/20 nudie Australian Boardriders Battle is proudly supported by nudie, Oakley, Woolworths, Hyundai, BFGoodrich, Acciona, Destination NSW, City of Newcastle, AirAsia, 2XP, WSL, mySURFtv, Fox Sports and Surfing Australia.
By Surfing Australia
Image: Burleigh's rising star Liam O'Brien on a tear at last year's nudie Australian Boardriders Battle Series Final in Newcastle. Photo credit: Blainey Woodham / Surfing Australia
Australian Surfing Awards Nominations now Open
Nominations are now open for the 2020 Australian Surfing Awards incorporating the Hall of Fame.
Australian surfing's night of nights will be hosted in Queensland for the next two years with the 2020 Awards night to be held on Wednesday 25th March 2020 at QT Gold Coast.
Tourism Industry Development Minister Kate Jones said Queensland was a natural fit to host the awards and that Tourism and Events Queensland support the event because it attracts visitors to the region which creates jobs in tourism.
"It's only natural that Queensland also plays host to the annual celebration of Australia's surfing community. We're honoured to have secured this prestigious event for a further two years."
2018 World Surf League (WSL) Women's World Champion Stephanie Gilmore and 2018 WSL Men's Runner-up Julian Wilson took the honours last year for the Male and Female Surfer of the Year awards, while Wendy Botha became the 41st inductee into the Hall of Fame.
Located in the heart of Surfers Paradise, The QT Gold Coast couldn't be a more suitable venue for celebrating and crowing winners across a variety of categories. Adding to the high stakes will be new award categories; Coach of the Year and the Innovation Award.
Other awards to be presented on the night will be:
MALE SURFER OF THE YEAR
FEMALE SURFER OF THE YEAR
GRIFFITH UNIVERSITY RISING STARS (MALE & FEMALE)
HEAVY WATER AWARD
ASB GREATER GOOD AWARD
PETER TROY LIFESTYLE AWARD
SURF CULTURE AWARD
SIMON ANDERSON CLUB AWARD
COACH OF THE YEAR
INNOVATION AWARD
NIKON SURF VIDEO OF THE YEAR
NIKON SURF PHOTO OF THE YEAR
AUSTRALIAN SURFING HALL OF FAME INDUCTEE
NOTE: Nominations close February 14th, 2020.
The winner of the Nikon Surf Video of the Year Award will receive the award-winning Nikon Z 6 with the NIKKOR Z 24-70 f/4 S and FTZ adapter, while the winner of the Nikon Surf Photo of the Year Award will take home the high-resolution Nikon Z 7 with the NIKKOR Z 24-70 f/4 S and FTZ adapter.
World-renowned Surf Journalist Nick Carroll continues in the role of Curator of the Australian Surfing Awards incorporating the Hall of Fame.
Operated with the support of Tourism and Events Queensland, the Australian Surfing Awards is renowned for recognising the best in surfing talent.
The Australian Surfing Awards incorporating the Hall of Fame is proudly supported by Tourism and Events Queensland, QT Gold Coast, Nikon, nudie, Hyundai, Griffith University, Australasian Surf Business Magazine and 2XP.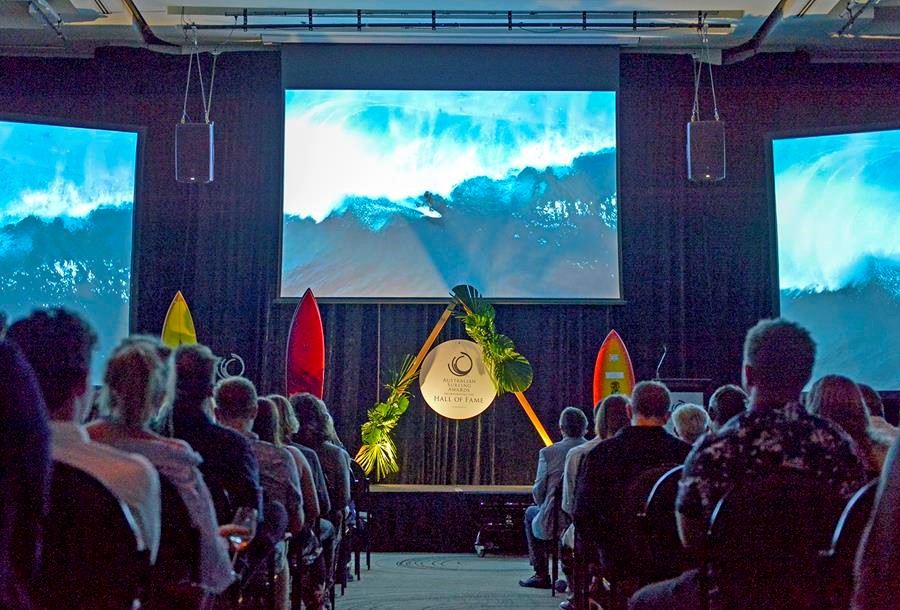 The Australian Surfing Awards incorporating the Hall of Fame will again be on the Gold Coast in 2020. Photo credit: Surfing Australia / Nikon Australia
Please Register Wildlife Road Strikes
We need your help. Thank you for reporting wildlife road fatalities. There is so much wildlife on the move in our area at present due to various pressures. Although we have had pictures
sent to us
, many of these have no date or location.
There is a database that volunteers maintain but this needs three pieces of information:
The position via GPS or road and suburb
The date
The animal
The details can be entered into the database directly by you at:
The RMS are using this information to plan mitigation. So please, if you can, add the information in directly.
Gone Fishing Gallery at Waterfront Store Church Point
Open again TODAY in the top room Waterfront Store. Open mainly weekends as an addition to the waterfront cafe. Keep up to date on their Facebook page