March 19 - 25, 2017: Issue 305

Coastal Wings
An amazing video by UNSW Water Research Laboratory drone pilot Chris Drummond highlighting some of the amazing footage he captured in 2016 around Sydney and NSW.
Older Women Taking Statins Face Higher Risk Of Diabetes
March 15, 2017: University of Queensland
Older Australian women taking cholesterol-lowering statins face a significantly increased risk of developing diabetes, according to a University of Queensland study.
UQ School of Public Health researcher Dr Mark Jones said women over 75 faced a 33 per cent higher chance of developing diabetes if they were taking statins.
The risk increased to over 50 per cent for women taking higher doses of statins.
"We found that almost 50 per cent of women in their late seventies and eighties in the study took statins, and five per cent were diagnosed with new-onset diabetes," Dr Jones said.
"Statins are highly prescribed in this age group but there are very few clinical trials looking at their effects on older women.
"The vast majority of research is on 40- to 70-year-old men."
Statins, a class of drugs that lower cholesterol in the blood, are prescribed to reduce the incidence of cardiovascular events such as heart attacks and strokes.
"What's most concerning was that we found a 'dose effect' where the risk of diabetes increased as the dosage of statins increased.
"Over the 10 years of the study most of the women progressed to higher doses of statins," Dr Jones said.
"GPs and their elderly female patients should be aware of the risks.
"Those elderly women taking statins should be carefully and regularly monitored for increased blood glucose to ensure early detection and management of diabetes."
The research was based on prescription and survey data from 8372 women born between 1921 and 1926 who are regularly surveyed as part of the Women's Health Australia study (also known as the Australian Longitudinal Study on Women's Health)
Mark Jones, Susan Tett, Geeske M. E. E. Peeters, Gita D. Mishra, Annette Dobson.
New-Onset Diabetes After Statin Exposure in Elderly Women: The Australian Longitudinal Study on Women's Health.
Drugs & Aging, 2017; 34 (3): 203 DOI:
10.1007/s40266-017-0435-0
AvPals Newport Courses 2017
Avalon Computer Pals for Seniors has a new program of computer courses for seniors over 55 to be held at the Newport Community Centre.
There are courses for a range of subjects to assist beginners or those who need to keep up with the new technologies. These include the popular topics such as:
Beginners introduction to computers, Windows 10, Skype, iPads, Social media – Facebook and Twitter, Apple MAC, Digital Photography (extended 5 week course), Android Tablets, Smart phones, Genealogy, Scanning and printing.
Want more information? Prefer the idea of one-to-one courses? Ring Peter on 02 8064 3574 or
use the form here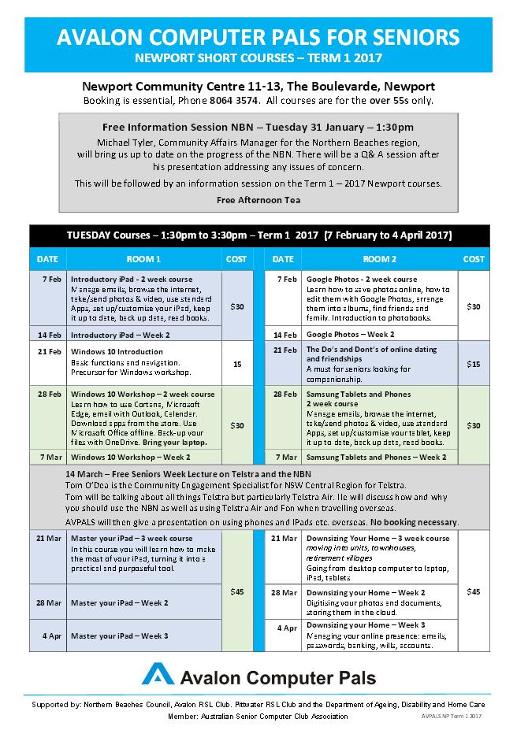 Boating Anthology Seeks Contributors
Calling all ladies who have ever been on any boat. Do you have a story to tell about a boating experience - funny? Serious? Motivational? Whatever? If you have would you like to have it published in book form as part of an anthology. There is no cost involved.
If you answered yes then Frances Black and Margi Law's project is for you. They are both published authors.
Each year or so they choose a theme that they would like to write about themselves. They then assemble a group of like-minded contributors. Each person writes their own story. Frances and Margi edit and produce a published book available on Amazon. The price will be set as low as Amazon will permit.
If you want to buy a copy then you purchase one on Amazon.
The motivation is the pleasure of writing and providing a legacy for family and community of the contributors.
If you are interested in learning more please email fran@blacks.id.au
Seniors Festival Right Here in 2017
The Northern Beaches Council has uploaded a PDF of all the great activities available for you this March as part of their focus on the Seniors Festival. The program of just about everything you could wish for runs from
Friday, March 3, 2017 - 10:00am to Friday, March 24, 2017 - 4:00pm
This is available to download or peruse at:
HERE
Bobby Benton's Classic 60's
Sunday, April 2 at 4:30 PM - 7:30 PM
The Beach Club Collaroy
Arlington Hall, 1058 Pittwater Road,
Collaroy Beach
Featuring members of The Swinging Sixties, this energetic four piece faithfully dishes up nostalgic excitement by the truck load, with over 40 carefully chosen songs guaranteed to have any audience up dancing and singing along.
Artists covered include The Beatles, The Rolling Stones, The Kinks, The Monkees and The Easybeats to name but a few.
Come and escape back to the 60's with Bobby Benton's Classic Sixties.....and don't forget to wear your dancing shoes!
Ensemble Aspherical Brings Celestial Music To Forestville

Sunday 30th April at 4:00pm
Our Lady of Good Counsel Catholic Church, 9 Currie Rd, Forestville
Sydney's exciting new chamber group, Ensemble Asperical, will open Wyvern Music Forestville's 2017 concert season with a program of elegant and engaging classical music entitled Celestial Fantasies. Come and hear this inaugural event at Formed by four leading Sydney musicians, Ensemble Aspherical combines the vibrancy and warmth of the violin and viola strings with the ethereal qualities of the flute and harp to create sounds and evoke images for the listener both congenial and colourful.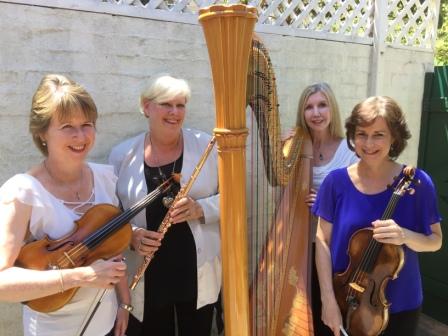 The varied program will include classical and romantic music from Europe and Japan and conclude with a taste of Argentinean tango. The four instrumentalists have all been long-standing members of the Sydney Symphony Orchestra –Louise Johnson (SSO Principal harp) and Janet Webb (former SSO Principal flute), Marina Marsden (SSO Principal violin) and Justine Marsden (viola).
Tickets are available at the door 30 minutes before the concert and include refreshment: Full: $25 Concession: $20 Students: $15 Children under 16 Free
Contact: Russell at Wyvern Music Forestville Tel: 9416 5234
Volunteer Drivers Needed To Help Our Elders Get Out And About

Easylink, a local not-for-profit organisation, is calling for new volunteer bus drivers to help meet growing demand from community elders and people with a disability for their community transport service.
Serving the northern beaches for 32 years, Easylink relies on over 60 passionate volunteer drivers to help people who have difficulty using public or private transport get out on social outings with their affordable, door-to-door service.
Rod Smith, a volunteer driver at Easylink said, "Some of our customers are so challenged mobility-wise they'd be isolated if it weren't for us.
"When I retired two years ago, I knew I had a small window of opportunity to do something for the community, and volunteering at Easylink is rewarding and gives me the social interaction I miss from work.
"I really get a buzz when, after a few of my jokes, I see customers interacting and enjoying themselves!
"I take people on our social outings, so I've been to great places such as historic houses, the Blue Mountains, Mount Tomah Botanic Gardens and the Sydney Mounted Police stables.
Volunteer drivers need a C-class licence for Easylink's cars or a Light Rigid licence to drive their minibuses.
Easylink also welcomes other volunteers, from bus assistants to office staff.
Formerly Manly Warringah Pittwater Community Transport, Easylink has evolved into an organisation with a 20 vehicle fleet, serving over 2000 northern beaches residents with door-to-door transport and care, and public transport travel training.
People interested in volunteering should call Pat Lang, Administration Manager on 9919 0700 or visit easylink.com.au.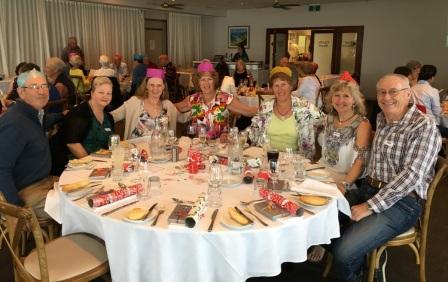 Easylink volunteers at 2016 Christmas party - Peter Wilson, Yvonne Vodanov, Diane Hunter, Gaye McLindin, Laurelei Moore, Carolyn Rolfe and Rod Smith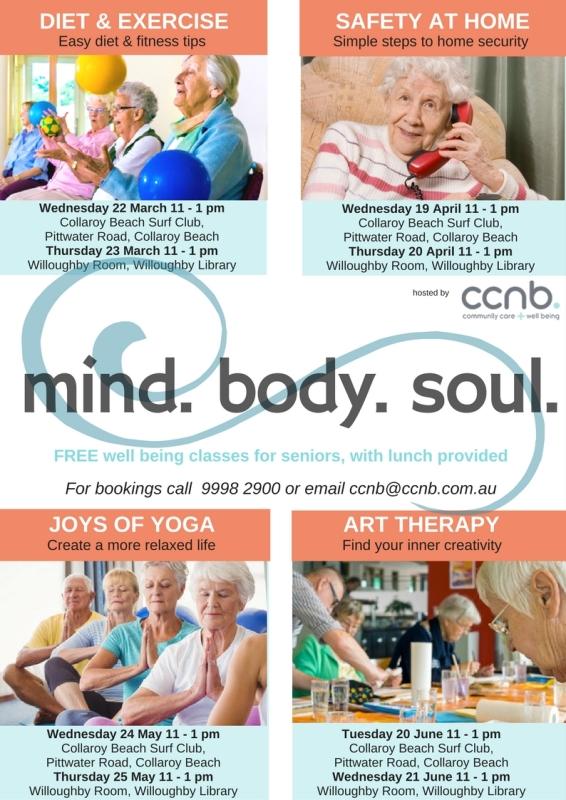 WIND, BRASS AND PERCUSSION PLAYERS!!!!!
Northern Beaches Concert Band is looking for flute, clarinet, saxophone, tuba and trombone adult players. We cater for players from beginner to advanced and have a varied and exciting repertoire.
Come and join us during school term time at 7.30pm, Pittwater High School, Mona Street, Mona Vale.
Details 9970 7131 or 0414 560 263.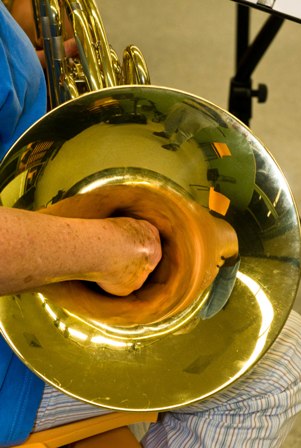 Download Your 2017 Senior Card Discount Directory
NSW Seniors Card is pleased to provide members with the 2017 Seniors Card Directory, your guide to the best discounts and special offers from thousands of participating businesses around the state.
Each year five directories are released, one for each region in NSW. The regions are: Sydney & Surrounds, Central Coast & Hunter, Northern NSW, Southern NSW and Western NSW.
Copies of the directory are also available for pickup from Australia Post Outlets, MP Offices as well as participating Local Councils and Libraries.

Manly Warringah Pittwater Community Aid
Do you know someone we could help?
We're a local not-for-profit that help over 2,000 elderly members of the Northern Beaches community live happy, healthy and independent lives in their own homes.
If you know someone that could use our help, please let us know!
COTA – NSW - cotansw.com.au
ABOUT US
The Council on the Ageing NSW (COTA NSW) is the peak organisation for people over 50 in our state. We're an independent, non-partisan, consumer-based non-government organisation. We work with politicians, policy makers, and service providers as well as media representatives to make sure your views are heard and your needs are met. COTA NSW works to empower and engage people over 50. For decades, we've shaped the policies and programs that change lives.
Since our beginning in 1956, COTA NSW has introduced policies and programs that make a real difference to peoples' lives. We have proud record, having created:
■Meals on Wheels, ■Retirement Village Residents Association, ■Australian Seniors Computer Clubs Association, ■Seniors Clubs, ■Seniors Information Service, ■OM:NI – Older Men: New Ideas, ■Grandfriends, ■Grandparents, Relatives and Kinship Care Alliance, ■Medication Management for Older People, and the ■Mature Employment Line.
COTA NSW, through constant contact with consumers and consumer groups across the state, through the research it conducts and through partnerships with other NGOs, research bodies and universities, is also an important source of information and advice on issues and decisions that people will navigate through as they live long, healthy, and productive lives. We have always made this information and advice available publically through telephone advice and over eighty Fact Sheets. Browse through our website or contact us and help COTA NSW continue its work in advancing the interests of people over 50.
Keep your Wits About You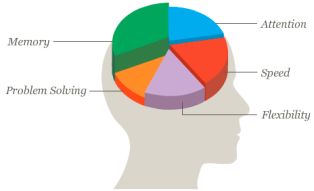 A regular contributor suggests we all look at Lumosity to see if will suit keeping active mentally. Their website states: "improve Brain Health and performance. Designed by neuroscientists, Lumosity exercises improve core cognitive functions. Researchers have measured significant improvements in working memory and attention after Lumosity training. Dozens of research collaborations help improve the Lumosity training program and its effectiveness." You can visit their website to decide for yourself at: www.lumosity.com/app/v4/personalization
Seniors Toy Repair Group needs your help
Volunteers are sought to help out on Wednesday mornings (7.30am to midday) at the group's workshed in Ingleside. Volunteers need their own transport and be willing to sort and clean toys that are picked up at different collection points on the Northern Beaches.
Prospective volunteers can email Mary Kitchen to arrange a visit to the workshed. To arrange a donation pickup please call Terry Cook on 0410 597 327 or email him. Find out more about this great community group HERE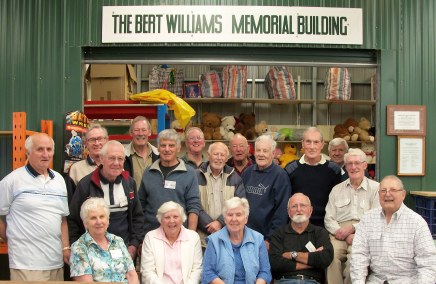 Senior Movers is a wonderful resource for the Pittwater senior community who are thinking about downsizing from their property. Senior Movers want you to stop worrying about downsizing from the family home and let us take care of you. Senior movers gives you peace of mind during stressful times of downsizing and moving to a smaller home. No retirement living plan is too large or too small. We are glad to help whether it is a move to a loved one's home, assisted living or to a seniors apartment. We want you to we help you gracefully downsize with our experience and care. www.seniormovers.com.au
Also see Belinda Grundy's Profile and other great Business; www.bgpropertystyling.com.au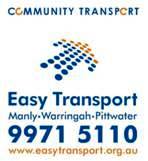 Profile
Easy Transport Manly Warringah Pittwater - medical appointments, shopping trips, mystery tours and Saturday Lunch - this great non-profit organisation offers great ideas and solutions
Disclaimer: These articles are not intended to provide medical advice, diagnosis or treatment. Views expressed here do not necessarily reflect those of Pittwater Online News or its staff.
One in 4 elderly Australian women have dementia
March 17, 2017: University of Queensland
At least a quarter of Australian women over 70 will develop dementia according to University of Queensland researchers.
The researchers used a new technique to provide an up-to-date estimate for dementia in the Australian population. Dr Michael Waller from the UQ School of Public Health said the nation's population was aging, but there was conflicting information being presented.
"On one hand we expect the number of women living with dementia to increase, but on the other hand there is international research suggesting rates might be decreasing," Dr Waller said.
"Having an up-to-date, local estimate of dementia rates is important so that policy makers and the health care and aged care industries can meet the needs of older Australians.
"There's no national registry for dementia, so Australian policy makers have had to rely on dementia rates from international studies, or extrapolated from clinical assessments made on small groups of people.
"We needed a new approach so we used a method ecologists call 'capture-recapture'.
"Where an ecologist works with animals, we work with data.
"So instead of capturing, tagging, releasing and then recapturing animals to estimate a population size we are applying the same technique to health data to estimate the number of cases.
"The prevalence of dementia is often underestimated and this technique allows us to compare different data sources and estimate the number of cases that may have been missed."
The researchers looked at data from 12,000 Australian women born between 1921 and 1926 who participated in the Women's Health Australia study (also known as the Australian Longitudinal Study on Women's Health).
For the past 20 years participants answered detailed surveys on their lifestyle, activities, and physical and mental health.
Survey data was linked to aged care assessments, the National Death Index, the Pharmaceutical Benefits Scheme, and hospital admissions data to find any instance where the women participating in the study were diagnosed with dementia by a doctor.
"Previously, an elderly participant with dementia would have just dropped out of the survey, but by linking to additional health records we can find out what happened to them and their contribution isn't lost," Dr Waller said.
"The women in the study have been very loyal over the years and I think that they, and their families, would appreciate that their contribution to women's health research will continue despite their diagnosis."
Michael Waller, Gita D. Mishra, Annette J. Dobson.
Estimating the prevalence of dementia using multiple linked administrative health records and capture–recapture methodology.
Emerging Themes in Epidemiology, 2017; 14 (1) DOI:
10.1186/s12982-017-0057-3
Elder Abuse. Speaking of the unspoken
March 14, 2017

Older Women's Network NSW are running free community seminars around the state to speak openly about the unspoken scourge within our community that is elder abuse.
Expert speakers from the Elder Abuse Helpline, Seniors Rights Service and NSW Police will assist you to:
Understand the many forms of elder abuse and the signs it is happening.

Empower yourself with knowledge of your rights.

Learn where and when to seek assistance.

Know how to respond if someone discloses abuse.
The seminars will be held in the following areas:
Chatswood - The Annex, Dougherty Community Centre, 7 Victor Street, Chatswood, Thurs 23rd Mar, 10am - 12:20pm
Newtown - OWN NSW Head Office, 8-10 Victoria Street, Newtown, Tue 28th Mar, 10am - 12:20pm
Campbelltown - Campbelltown RSL, 1 Carberry Ln, Campbelltown, Wed 19th April, 10am - 12:20pm
Wollongong - Corrimal Library, Short Street, Corrimal, Thurs 27th April, 10am - 12:20pm
Newcastle - The Sydney Junction Hotel, 8 Beaumont St, Hamilton, Thurs 4th May, 10:30am - 12:50pm
Blacktown - 34a Rooty Hill Road, Rooty Hill, Wed 10th May, 10:30am - 12:50pm
Nowra - Wesley Centre, Berry Street, Nowra, Fri 19th May, 10:30am - 12:50pm
Central Coast - Central Coast Leagues Club, 1 Dane Dr, Gosford, Fri 26th May 10:30 - 12:50pm
Port Macquarie - Panthers, 1 Bay Street Port Macquarie, Fri 9th June 10:30 - 12:50pm
Bankstown - Bankstown Library, 80 Rickard Rd, Bankstown, Thurs 15th June 10am - 12:20pm
Sutherland - Club on East, 7 East Parade, Sutherland, Fri 30th June, 10am - 12:20pm
Quality Aged Care – Have Your Say
9 March 2017: The Hon Ken Wyatt AM, MP
Minister for Aged Care
Minister for Indigenous Health
Quality aged care for older people is vital for the whole community. This is why the Australian Government is introducing a Single Aged Care Quality Framework across aged care from July 2018.
Consultation papers about two key parts of this framework are now open for comment. These are:
a draft single set of quality standards for all aged care services; and
options for a streamlined approach for assessing provider performance against this single set of standards.
The Minister for Aged Care, Ken Wyatt AM, MP, said he wanted to hear from anyone who is interested in the quality of aged care, including people who use or provide aged care.
"The quality of our aged care services is everyone's business," he said.
"The aged care reforms the Government is putting in place have been designed in consultation with the sector and consumer representatives.
"We have an opportunity to shape the future of an affordable, sustainable and flexible aged care sector and the two consultation papers I have released today are a crucial part of this important process.
"The papers propose changes that will apply to Australian Government subsidised aged care services.
"This includes aged care services for residential care, home care, flexible care, the Commonwealth Home Support Programme and the National Aboriginal and Torres Strait Islander Flexible Aged Care Program.
"What we are proposing will affect consumers, their families and carers, aged care organisations, staff of organisations, and other professionals in the aged care sector and related sectors.
"We want to hear if we've got it right. We want to hear from you."
For information and updates on the single aged care quality framework, visit the
department's website
.
The closing date for submissions is Friday 21 April 2017.
Be Part Of Something Beautiful
Bureau calls for Australian Weather Calendar 2018 entries
The Bureau of Meteorology's Capture the Weather photo competition gives entrants the chance to feature in the 2018 edition of the iconic Australian Weather Calendar.
This year, judges will be on the hunt for 13 unique images that capture Australian weather in a dramatic, captivating or creative setting. Interesting interpretations of frost, clouds, rainbows or sunshine have been the top picks in previous years.
The competition closes on 31 March 2017,
giving amateur and professional photographers one more month to scour the Australian countryside for the perfect cloud formation, rainbow or lightning strike and capture the moment to share with the world.
Winners could have their image displayed in homes across Australia and overseas as part of a weather calendar tradition that has spanned more than 30 years.
CEO and Director of Meteorology Dr Andrew Johnson is looking forward to seeing images submitted for the 2018 calendar, published jointly by the Bureau and the Australian Meteorological and Oceanographic Society.
"We encourage photographers to send in work showcasing the diversity of Australian landscapes and weather including images that show the interaction of extraordinary weather phenomena with industry, infrastructure or communities."
You can view the winning images for 2017 by grabbing one of the final remaining Australian Weather Calendars online at
shop.bom.gov.au
.
Board Collector Surf Swap
Boards Bands Beers Burgers
Featuring
STAB Magazine Filmlyfe Film festival

Films and Q&A with surfing and shaping legends

"Show and Shine" 100 Vintage surfboards display

Pre-1990 surfboards for sale and swap.

Warung of Knowledge

Free Vintage appraisals

"The best of the cutting edge", new surfboards and contemporary shapers

Photography, art, clothing and accessories stalls

Micro brewery beers and gourmet food stalls
Calling on collectors the reserve a spot to display and sell their boards and volunteers to be part of the family and help us wrangle surfboards and crowds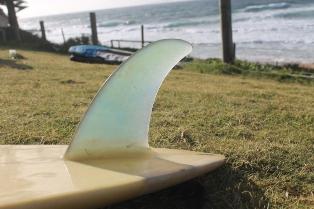 Manly-Warringah Choir Concert
6th May 2017
I am delighted to tell you that the Manly-Warringah Choir and Orchestra will soon be performing one of the great works of the choral repertoire – Brahms' German Requiem.
This is a special occasion for us, because not only will we be performing it at our usual venue in Manly in May, but the choir has now established an international reputation and has been invited to join other choirs later in May to perform it at Carnegie Hall, New York.
The concert is on Saturday 6 May starting at 7:30pm at the Cardinal Cerretti Chapel at St Patrick's in Manly.
Details of the performance and ticketing are in this Issue's Events page. Please note that the box office for ticketing opens on the morning of Monday 6 March.
I do hope that you can come and enjoy this sublime work with us.
President – Manly-Warringah Choir.
2017 NSW Premier's History Awards Now Open
27 February 2017: History Council NSW
The State Library of NSW has opened nominations for the NSW Premier's History Awards 2017. A total of $75,000 in prize money will be presented to the winners at an awards ceremony in September 2017.
Administered by the State Library of NSW, in association with Arts NSW, the NSW Premier's History Award will offer prizes in five categories this year:
Australian History Prize ($15,000)
General History Prize ($15,000)
New South Wales Community and Regional History Prize ($15,000)
Young People's History Prize ($15,000)
Multimedia History Prize ($15,000)
All works nominated for the 2017 NSW Premier's History Awards must be first published, screened, broadcast or made publicly available between 1 April 2016 and 31 March 2017
. Nominations may be made by authors or by their authorised representative: agent, publisher, professional theatre company, film distributor, production company, or broadcasting company or corporation.
You can read more about each award
here
.
Nomination forms and guidelines for the awards are available
here.
Entries close 5pm Friday 7 April 2017.
For more information please contact: Senior Project Officer, Awards at the State Library of NSW on (02) 9273 1605 or (02) 9273 1582 or
awards.library@sl.nsw.gov.au
NLA Ebooks - Free To Download
The National Library of Australia provides access to thousands of ebooks through its website, catalogue and eResources service. These include our own publications and digitised historical books from our collections as well as subscriptions to collections such as Chinese eResources, Early English Books Online and Ebsco ebooks.
Ebooks are books published in an electronic format. They can be read by using a personal computer or an ebook reader.
This guide will help you find and view different types of ebooks in the National Library collections.
Peruse the NLA's online ebooks, ready to download -
HERE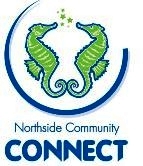 Community Connect
Need help on where to go to find the community information and assistance you need?
At Community Connect Northern Beaches, our professional staff and trained volunteers are knowledgeable, friendly and approachable and we will be only too pleased to help you find the service you want. We provide information and support, as well as advocacy and referral to other non profit community services and government agencies.
If we can't help you we will get you someone who can. If you are newly arrived or do not have an English speaking background we can offer individual advice and support. Or Why not come to Specialist Community Support Workshops: Family Law, Power of Attorney plus Wills and Executors; Domestic Violence Support and Prevention; Positive Community Integration ; Crime Prevention; Or Our Free English Classes.
We also provide information on: Family Services: Child Care, Personal Support & Counselling; Health (Including Mental Health) ; Material and Practical Assistance ; Advocacy to access state and federal MP assistance; Accommodation and Tenancy (help with form filling); Legal and Financial Matters ; Consumer Affairs ; Multicultural Issues; Conservation and the Environment ; Employment and Education; Accessing Community Facilities -You are welcome to call in for: Brochures, booklets and fact sheets on a range of topics; Service Directories e.g. Council Guides and Migrant Directories; Publications e.g. The Senior newspaper and Nova.
Access to our community information data base, internet, email, fax and photocopying.(Please note there is a small charge for photocopying and use of the fax to cover the cost of paper, toner and fax call). We also offer: A Legal Referral Program - Monday 1pm to 2pm at our 30 Fisher Road, Dee Why office. Taxation Assistance for low income earners and pensioners from July to October.
What does it cost?: Our services are free, however we are always grateful for a small donation where possible. The program is supported by NSW Department of Family & Community Services (FACS). CONTACT US: Phone: 02 99317777.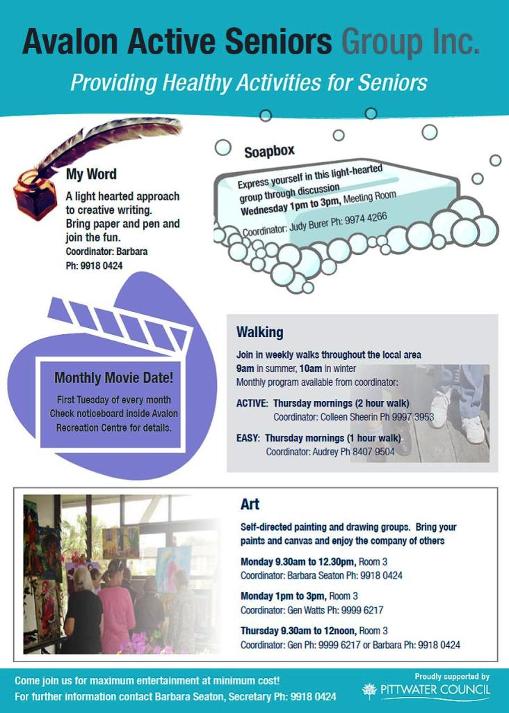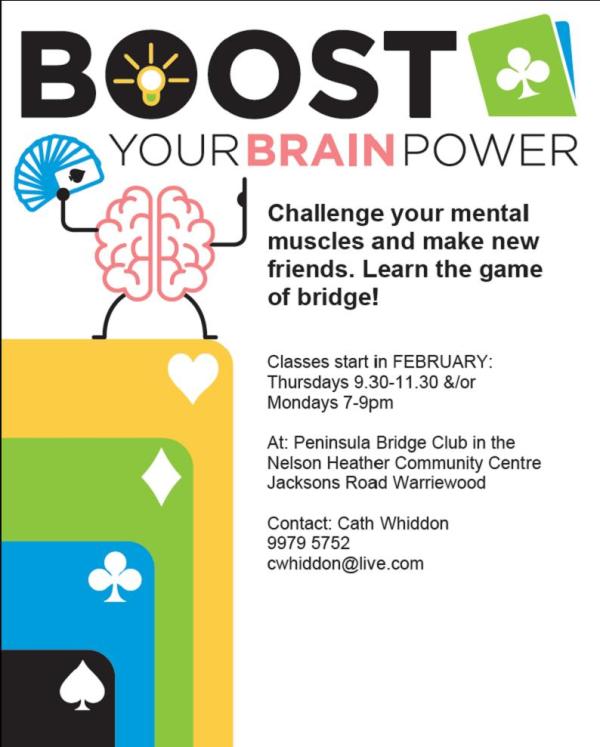 Contact Community Care Northern Beaches HERE: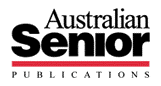 The Senior Newspaper Online
Media Releases concerning Seniors this week from National Seniors Australia
With around a quarter of a million members, National Seniors is Australia's largest consumer organisation for the over 50s and fourth largest group of its kind in the world.
Australian Ageing Agenda
Australian Ageing Agenda (AAA) is an independent and authoritative bi-monthly publication for people who work in or around the aged care and retirement sectors in Australia. It provides a broad range of news, education and opinion with an emphasis on knowledge sharing and research translation.
Each issue also contains regular updates on relevant business and financial issues along with a selection of well researched features on crucial systems and operations, clinical care, technology, built environment and other issues relevant to the 'ageing sector'. AAA leads the way with the industry's most comprehensive conference details and remains Australia's number one source of news and information about ageing issues and aged care.
Have a look at their comprehensive website HERE
Avalon Computer Pals (Avpals)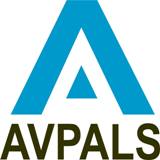 VPALS is a volunteer organisation dedicated to helping seniors improve their computer skills. Started in 2000 it now has 20+ trainers and many hundreds of students. At a really low cost (about $30 a school term) they can provide one-to-one training on most matters connected with computing and related technologies like mobile phones and digital cameras. From the smallest problem (how to hold the mouse!) to much more serious matters, there is a trainer who can help.
The training rooms are under the Catholic Church in Avalon and training is conducted Monday to Friday from 9am to 4pm. For more information visit AVPALS web site www.avpals.com or phone 02 8064 3574
Keep up to date on our Facebook page
Aged Care Complaints Commissioner
Any person can make a complaint to the Commissioner, including care recipients, family members, friends, staff, volunteers, or professionals.
Complaints may relate to any aspect of services including care, choice of activities, discrimination, catering, communication or the physical environment.
The 1800 550 552 helpline is staffed 9am to 5pm (AEDST) Monday to Friday.
Out of hours callers can leave a message, or contact the Commissioner at anytime through the Aged Care Complaints Commissioner website.
________________________________________
In 2014-15, there were 10,924 contacts to the Aged Care Complaints Scheme.
3,725 were assessed as a complaint, 3,812 'other' contacts includes non-compulsory notifications, own motion investigations and compliance referrals. There were also 3,387 out of scope contacts which were not related to an approved provider or an approved provider's responsibilities under the Aged Care Act.

Heartmoves is a low-moderate intensity exercise program. Regular participation in Heartmoves will help to: Better manage weight, blood sugars, blood pressure and cholesterol; Improve fitness, balance, co-ordination and flexibility; Enhance your quality of life and meet other people. Ingrid Davey is a qualified Older Adult Instructor and accredited Heartmoves Leader who will guide you through an exercise program that is fun, safe and modified to suit you. Tuesday 9.30am and Thursday 10.30am at Nelson Heather Centre, 4 Jackson Road Warriewood. The cost per class is $10.00 casual now and $17.00 for two classes. Phone Ingrid to secure your spot on 0405 457 063. www.heartfoundation.org.au