June 18 - 24, 2017: Issue 317

For you this week:
35th America's Cup Final Stage Begins - Pittwater's James Spithill focussed despite Day 1 dramas

6th Peninsula Community Of Schools Art Exhibition At Warriewood Square - Silent Auction now open

Pictures: Careel Bay Marina Winter Festival 2017: Owners Gordon "Bluey" and Anne-Marie Woolcott have shared their love of classic timber boats with the community again this year - great stalls, great food!
Aquatics:
Club Marine Pittwater To Paradise 2018 Regatta Entry Now Open
DIY Ideas
DIY Dolls House Or Garage Or Boatshed
-
In a few weeks the July school holidays commence (July 1 to 17) and little hands will want to do something creative.
Profile: Surf Collective www.surfcollective.com.au
Tired of looking like everyone else in the same branded gear everyone wears? Want to support a local business and local creators and businesses? Want to find something unique and further the development, or redevelopment of independent makers of Australian products? - then the Surf Collective is where you need to look. Read about their BHS project!
This week co-founder Mark Rannuci helps us share a small insight into a local business in the business of promoting others' business and giving us back access to so many great producers - all in one place!
2017 NSW Grandparents Day event grants program open
June 14, 2017: NSW Government

Applications are now open for grants to help community organisations, small businesses and local councils host events to celebrate NSW Grandparents Day.
This year's NSW Grandparents Day will be held on Sunday 29 October. It is a time for everyone to come together and recognise the value grandparents and older people bring to our communities.
NSW Government funding for local community events on NSW Grandparents Day has doubled this year to $200,000.
There are three funding categories available:
Tier 1 grants of up to $1000 for small-scale local events or activities targeted at community organisations and schools

Tier 2 grants from $1001 to $5000 for local community events

Tier 3 grants from $5001 to $10,000 for large-scale community events targeted at local councils in partnership with organisations and groups.
Minister for Ageing, Tanya Davies said Grandparents Day is a special day to connect across generations and to appreciate the wide-ranging benefits gained from the knowledge and wisdom shared by older people.
"I encourage organisations planning NSW Grandparents Day events to focus on activities that help older people, regardless of their age or ability, stay connected and contribute to their communities," Mrs Davies said.
Last year 100 projects were successful in securing funding for events.
Applications for the grants program will close at 5pm on Friday 14 July 2017. Apply here
Call to action – end elder abuse
Thursday 15 June 2017
To coincide with World Elder Abuse Awareness Day, the Australian Human Rights Commission is calling on all Australians to recognise the rights of older people and end the abuse and neglect so many of them face.
The call comes as the Australian Law Reform Commission today releases its findings and recommendations following a 15-month Federal Inquiry into elder abuse.
The report, Elder Abuse - A National Legal Response, is the result of 117 national stakeholder meetings and more than 450 submissions.
The Age Discrimination Commissioner, Dr Kay Patterson AO, said the Report is a seminal piece of research that has the power to change lives.
"The Report contains 43 recommendations and my plan is to work with Governments and stakeholders to drive the adoption of these recommendations. This includes a national plan to protect the rights and well-being of older Australians with a goal to end elder abuse," she said.
Elder abuse includes psychological or emotional abuse, financial abuse, physical abuse, neglect and sexual abuse. It has a devastating impact on individuals, families and communities across the country.
Dr Patterson said the Report puts all Australians on notice, in particular those working with older people, that they have a responsibility to understand what elder abuse is and to commit to its elimination.
"I'd like to thank Professor Rosalind Croucher and her team at the ALRC for developing an outstanding Report that deserves the attention of all jurisdictions and stakeholders," said Dr Patterson.
"I also commend the Attorney-General, Senator the Hon George Brandis QC for initiating and launching this Inquiry, as well as the contributions from individuals, community groups, government authorities, businesses and other stakeholders."
Country Pensioner
Excursion ticket:
NSW Public Transport
Parents missing out on REAL face time? If they have a Pension Card, sign them up & they could get unlimited $2.50 Country Pensioner Excursion tickets*.
Call 13 22 32 to sign up.
Country Pensioner Excursion ticket (CPE)
A Country Pensioner Excursion (CPE) ticket is an affordable ticket for eligible pensioners and seniors to travel by train in regional NSW and the ACT.
For $2.50 you can book an economy class seat on a NSW TrainLink
Regional train service. You will need to book 7 days or less in advance
Gluten-Free Beer From Witkop Teff Grains
June 14, 2017: American Chemical Society
For celiac patients and others on gluten-free diets, it seems like gluten is everywhere -- cakes, cookies and breads. It's even in most beers. But now, one team reports in the Journal of Agricultural and Food Chemistry that beers made with Witkop teff grains may be a good alternative to traditionally brewed barley beers.
Gluten based sensitivities impact millions of people each year, leading to a dramatic rise in gluten-free food products on grocery store shelves. According to the Celiac Disease Foundation, one percent of the global population has celiac disease, which results in the immune system attacking the small intestine when gluten is consumed. Currently, no medicinal treatments are available, and the only option is to follow a strict, gluten-free diet. As a result, breweries have been exploring alternative grains, such as corn, rice and buckwheat, to replace barley in the malting and brewing process. Teff, a small cereal native to Ethiopia that doesn't contain gluten, is another possibility that researchers have tested. Now, Valeria Sileoni and colleagues wanted to examine, for the first time, the potential of a variety of teff called Witkop as a raw material for malting and brewing.
The researchers examined the Witkop teff malting process, in which grains are steeped, germinated and dried, to determine the optimum conditions. Witkop teff took longer to malt than barley, and the team found that the teff had different enzymes to break down sugars than barley. The researchers concluded that Witkop teff grains have potential as a raw material for beer production but would likely require custom malting equipment on an industrial scale.
Lidia Di Ghionno, Ombretta Marconi, Eung Gwan Lee, Christopher J. Rice, Valeria Sileoni, Giuseppe Perretti.
Gluten-Free Sources of Fermentable Extract: Effect of Temperature and Germination Time on Quality Attributes of Teff [Eragrostis tef (zucc.) Trotter] Malt and Wort.
Journal of Agricultural and Food Chemistry, 2017; 65 (23): 4777 DOI:
10.1021/acs.jafc.7b01717
ASCCA Notice Board
8 & 9 November, 2017 - The 19th Australian Computer Conference for Seniors
will take place at
the Rydges World Square Hotel, Sydney - with the ASCCA AGM to take place at 3.30 pm at the
conclusion of the first day of the Conference
Have you put the Dates in your Diary yet? Nan has already invited some exciting new
speakers and some of your old favourites have already put the dates aside for ASCCA.
Please help by letting ASCCA know if you have news of an event that will be of interest or benefit to our
ASCCA Members from other States in Australia, please share the details with us at ASCCA. We are
interested in news about ASCCA Clubs throughout Australia.
A Better MBS For All Australians
7 June 2017: Fed. Dept. of Health
The clinician-led Taskforce that is reviewing more than 5,700 items covered by the Medicare Benefits Schedule (MBS) to see if they are up-to-date, today released its third round of recommendations for public consultation.
Professor Bruce Robinson, chair of the MBS Review Taskforce commissioned by the Federal Government, said the MBS review is aimed at ensuring that subsidised procedures covered by the MBS are up-to-date, clinically effective, provide value for the healthcare system and support the best quality care for patients.
"Consultation with clinicians, consumer representatives, and the Australian public on committee recommendations is a critical step prior to the Taskforce delivering final recommendations to the Government," Professor Robinson said.
The latest round of public consultation includes over 40 recommendations effecting over 170 items, from the Spinal Surgery, Renal Medicine, Dermatology, Allergy & Immunology, Diagnostic Imaging – Knee Imaging, and Diagnostic Imaging – PE/DVT Imaging clinical committees.
The consultation also includes a preliminary MBS Review Taskforce report on Urgent After-Hours Primary Care Services funded through the MBS.
The draft recommendations include restructuring the spinal surgery items with a new schedule of items that better describe current spinal surgery best practice. Streamlining the description of these services will ensure the MBS benefits provided to patients are appropriate and consistent.
A new item is proposed to provide funding for the delivery of dialysis by appropriately trained nurses, Aboriginal and Torres Strait Islander health practitioners and Aboriginal Health Workers in very remote areas of Australia.
"This will have significant health, social and economic impacts, for the patient and their families," Professor Robinson said.
Changes are also proposed to make sure people access high quality and clinically appropriate after-hours GP home visits.
"The Australian medical community recognises the need to remove MBS funding from unnecessary, outdated, ineffective and potentially unsafe services.
"It was the strong view of the Urgent After-hours Working Group and the Taskforce that the current use of urgent after-hours services does not reflect clinical need in Australia.
"The growth in use of urgent after-hours GP services does not seem to reflect patients' clinical needs."
"After-hours services are important, but we must ensure that patients get the right test or treatment first time, every time and not be subjected to unnecessary and inappropriate care," Professor Robinson said.
The Taskforce's work is continuing and further draft recommendations will be released for public consultation throughout the year.
Express Trains To The Blue Mountains
The More Trains, More Services program has introduced more express services, more seats and reduced travel times to the Blue Mountains.
Commuters and tourists to the Blue Mountains will benefit from the new changes, including:
twenty-four new express services between Sydney and the Blue Mountains on weekends

dedicated eight car express tourist trains with around 20-minute cuts to return travel times

an additional 25,000 additional seats every week

an extra 18,000 seats on weekends

a new weekday Sydney – Lithgow express service.
Weekday Sydney – Lithgow return express trains will also better service regional customers who interchange at Lithgow on their way to and from Sydney.
The government will also fast track some improvements in the coming weeks by:
doubling capacity on six current weekend Blue Mountains services from four to eight carriages

providing more than 4000 additional seats on weekends.
Minister for Transport and Infrastructure Andrew Constance said the Blue Mountains was a huge domestic and international tourist drawcard with more than a million visitors each year.
"We know many weekend trains are packed to the brim, so we're taking action right now, ahead of the new timetable due to be implemented late this year," Mr Constance said.
NFSA Online Exhibition of Graham Kennedy
Celebrating the life and work of Graham Kennedy, 'The King' of Australian television.
The boy from Balaclava conquered the small screen, and for four decades was Australia's greatest television star.
As well as clips from his all-conquering TV career, this collection features highlights from his parallel professions as a radio broadcaster and film actor.
Also included are the crown and throne that symbolised his TV status, personal letters and photos and his Gold Logie Hall of Fame award. Extracts from oral history interviews with Graham's friends and colleagues reveal something of his private life and what it was like to be part of the inner circle of The King.
Avalon Computer Pals - Avpals Term 2
Some great news today, please share with your family and friends.
Term 2 Is Now Upon Us. The Grandchildren Have Gone Back To school. It Is Now Time For You To Go Back To School And Learn About Technology That Will Stun Your Grand Children.Don't Let Them Fool You.
We Have Some Great Courses:
May 16 & 23 -MASTER Your Ipad-You Will Show The Young Ones A Thing Or Two. Or Samsung Tablets & Phones-Really Learn To To Use Them Properly-Cost $30 For Samsung & $45 For Master Your iPad.
The Term 2 Schedule - All Courses Are On Tuesdays 1.30-3.30 Pm At Newport Community Center The Boulevarde Newport. Places Still Available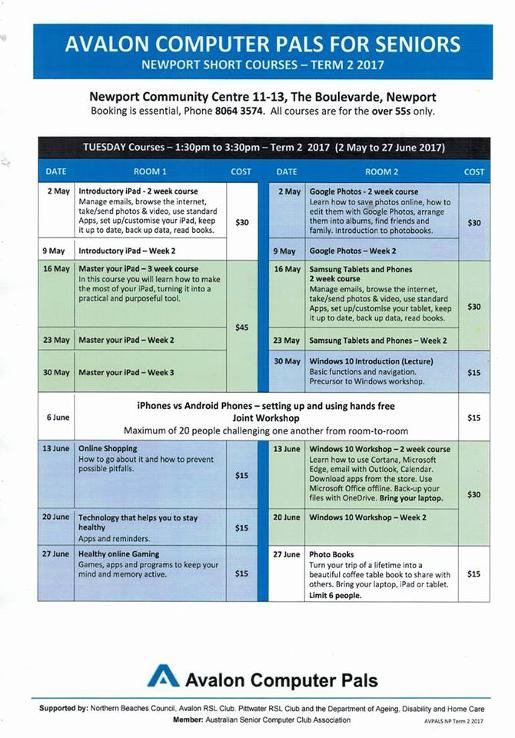 2017 Concert Program
Become a member or renew
your membership for 2017
Help us keep his valuable cultural
experience on the Peninsula by joining now,
so we can continue to bring talented and
professional Australian & International
Artists to perform for us in our own unique
area.
Four concerts a year are held at
St Luke's Grammar School, Bayview
Campus 1977 Pittwater Rd.
Friday nights at 8pm
Sunday afternoons at 2.30 pm
Postal address
The Hon Secretary Peninsula Music Club
16/67 Lynwood Ave, Dee Why 2099
Enquires Phone 9999-1937 or 0407-441-213
A feature of our concerts are the suppers
we serve after each performance, where you can meet the artists and socialise with
other members and friends.
Sunday 23rd July: First Prize Winner 2016 Sydney

International Piano Competition, Andrey Gugnin
Andrey will perform a wonderful program featuring
works by J.S.Bach, Franz Schubert, Dmitri Shostakovich,
Leonid Desyatnikov and Michael Kieran-Harvey.
Friday 3rd November: Ensemble Aspherical
A new and exciting chamber group formed by four
leading Sydney classical musicians who enjoy performing
elegant and engaging music. The vibrancy and warmth of
the violin and viola strings combine with the ethereal
qualities of the flute and harp to create sounds and evoke
images for the listener both congenial and colourful.
Featuring sisters Marina and Justine Marsden (violin and
viola) harpist, Louise Johnson and Flautist, Janet Web.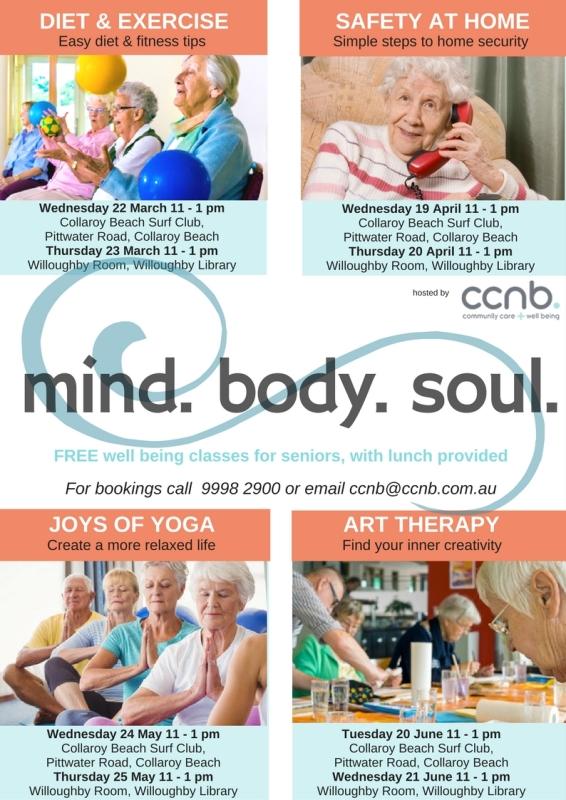 Senior Movers is a wonderful resource for the Pittwater senior community who are thinking about downsizing from their property. Senior Movers want you to stop worrying about downsizing from the family home and let us take care of you. Senior movers gives you peace of mind during stressful times of downsizing and moving to a smaller home. No retirement living plan is too large or too small. We are glad to help whether it is a move to a loved one's home, assisted living or to a seniors apartment. We want you to we help you gracefully downsize with our experience and care. www.seniormovers.com.au
Also see Belinda Grundy's Profile and other great Business; www.bgpropertystyling.com.au
Avalon Computer Pals (Avpals)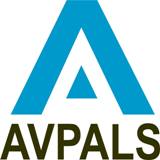 VPALS is a volunteer organisation dedicated to helping seniors improve their computer skills. Started in 2000 it now has 20+ trainers and many hundreds of students. At a really low cost (about $30 a school term) they can provide one-to-one training on most matters connected with computing and related technologies like mobile phones and digital cameras. From the smallest problem (how to hold the mouse!) to much more serious matters, there is a trainer who can help.
The training rooms are under the Catholic Church in Avalon and training is conducted Monday to Friday from 9am to 4pm. For more information visit AVPALS web site www.avpals.com or phone 02 8064 3574
Keep up to date on our Facebook page
COTA – NSW - cotansw.com.au
ABOUT US
The Council on the Ageing NSW (COTA NSW) is the peak organisation for people over 50 in our state. We're an independent, non-partisan, consumer-based non-government organisation. We work with politicians, policy makers, and service providers as well as media representatives to make sure your views are heard and your needs are met. COTA NSW works to empower and engage people over 50. For decades, we've shaped the policies and programs that change lives.
Since our beginning in 1956, COTA NSW has introduced policies and programs that make a real difference to peoples' lives. We have proud record, having created: ■Meals on Wheels, ■Retirement Village Residents Association, ■Australian Seniors Computer Clubs Association, ■Seniors Clubs, ■Seniors Information Service, ■OM:NI – Older Men: New Ideas, ■Grandfriends, ■Grandparents, Relatives and Kinship Care Alliance, ■Medication Management for Older People, and the ■Mature Employment Line