April 23 - 29, 2017: Issue 309

For you this week:
Surf Lifesavers Prepare To Lower Flags: Volunteer surf lifesavers will lower the flags on NSW beaches this Tuesday 25 April - 21,000 active patrolling members have collectively given over 560,000 hours of their time to ensure that beachgoers around NSW were protected throughout the season

'Don't Be Developed Out Of Pittwater' Rally At Mona Vale's Memorial Hall: Motion to Fight to Restore Pittwater Council Passed Unanimously

Junior Lifesavers Crowned NSW Best - Matilda Shirley (Byron Bay SLSC) and Elliott Prasad (Narrabeen Beach SLSC) win Junior Lifesaver of the Year award - from Surf Life Saving NSW

Around The Bends Ocean Swim Challenge - The Inaugural Swim Report by Rogers Sayers with great photos by Warren Young OAM, Christine Hopton OAM and Tim Hixson

Clifton Gardens Mosman: An Eternal Green and Saltwater Space, and Of Many Captains - for those who requested this, and in particularly for Mrs. Audrey Jackson

Reflections by George Repin: ANZAC COVE (ARI BURNU) - 25 April, 1997
Aquatics: The Caley Wetlands - Going, Going...GONE

Pictures: 20th International 2.4 Metre Yacht Australian Championship 2016/17 - Hosted By Sailability Crystal Bay by Allan Jones
Lifeline Classic Living Ocean Team Raises The Bar To Support Those Who Will Always Answer The Call For Anyone In Crisis - local students and surfers quickly raised 5k and need your support to reach 10!
Help Tamara Honour Aussie Debt To The Timorese With Education by Pittwater Friends of Soibada
Profile: Walter (Wal) Williams is a legend in Pittwater, a World War II Veteran, Mr. Williams has worked tirelessly for decades when Pittwater RSL Sub-Branch President to look after members and was present, along with fellow WWI Veteran Brian Sargeson at the May 16, 1999 dedication and Official opening of the original Cenotaph at Pittwater RSL.
Taken prisoner at the fall of Singapore, Wal worked on the Burma Railway prior to being sent to Japan to work, and experienced being sunk en-route. He survived Changi, he survived Burma, he survived being in the open ocean prior to being picked up again and sent to Japan for a year of hard work and being the focus of anger when the bombing of Japan began. He survived
the firebombing of
Tokyo and Yokohama by Allied bombers and finally returned home on October 10th, 1945 - his 23rd birthday.
Australian Bandstand 1963:
Filmed at Avalon Beach SLSC
Milk study improves understanding of age-related diseases
April 20, 2017: Australian National University
A new study on UHT milk is helping scientists to better understand Alzheimer's, Parkinson's and type 2 diabetes, opening the door to improved treatments for these age-related diseases.
About 500 million people worldwide suffer from these diseases, which cause millions of deaths each year.
Co-lead researcher, ANU Professor John Carver, said that two unrelated proteins aggregate in UHT milk over a period of months to form clusters called amyloid fibrils, which cause the milk to transform from a liquid into a gel.
He said the same type of protein clusters are found in plaque deposits in cases of Alzheimer's and Parkinson's.
"Parkinson's, dementia and type 2 diabetes are big problems for the ageing population in Australia and many other countries around the world," said Professor Carver from the ANU Research School of Chemistry.
"Our interest in milk proteins led to a discovery of the reason for this gelling phenomenon occurring in aged UHT milk."
"The research does not suggest UHT milk can cause these age-related diseases."
Professor Carver said milk proteins changed structurally when heated briefly to around 140 degrees to produce UHT milk, causing the gelling phenomenon with long-term storage.
He said normal pasteurised milk did not form amyloid fibrils.
ANU worked with CSIRO, University of Wollongong and international researchers on the study, which is published in the journal Small.
Jared K. Raynes, Li Day, Pauline Crepin, Mathew H. Horrocks, John A. Carver.
Coaggregation of κ-Casein and β-Lactoglobulin Produces Morphologically Distinct Amyloid Fibrils.
Small, 2017; 13 (14): 1603591 DOI:
10.1002/smll.201603591
The Sydney Northern Beaches Retirement Village Expo
Sunday 7th & Monday 8th May 2017
10am to 3pm both days
Bayview Golf Club
1825 Pittwater Road
Mona Vale
Free admission
Devoted exclusively to retirement villages and over 55's resorts, the Northern Beaches (Sydney) Retirement Village Expo provides visitors with a wonderful opportunity to ask questions and gather information about many different retirement villages and resorts in a short period of time, and all with free admission.
Whether you or someone you love is exploring the idea of over 55's Resort Living, or looking for a retirement village that offers independent living, assisted or specialist care; this expo can help you. Don't miss this wonderful opportunity, it really could change your life!


2017 Concert Program
Become a member or renew
your membership for 2017
Help us keep his valuable cultural
experience on the Peninsula by joining now,
so we can continue to bring talented and
professional Australian & International
Artists to perform for us in our own unique
area.
Four concerts a year are held at
St Luke's Grammar School, Bayview
Campus 1977 Pittwater Rd.
Friday nights at 8pm
Sunday afternoons at 2.30 pm
Postal address
The Hon Secretary Peninsula Music Club
16/67 Lynwood Ave, Dee Why 2099
Enquires Phone 9999-1937 or 0407-441-213
A feature of our concerts are the suppers
we serve after each performance, where you can meet the artists and socialise with
other members and friends.
Friday 12th May: Monet: The Flowers of War
Be transported to France in the last days of the Belle
Epoque, in the story of an iconic artist losing his greatest
gift – his ability to see. Facing the death of everything he
loves, everything meaningful to him, he creates more
work than any other artist during WW1, as he looks back
on the world that is being lost - "le monde perdu". This
concert of sublime visual projections and French music
brings together the paintings Monet created at Giverny
during the Great War including his Japanese Bridges,
Water Lilies, Weeping Willows, and the Alley of Roses,
alongside music written in 1914-1918 by serving or
volunteering French composers such as Debussy, Ravel,
Koechlin and Boulanger. This is a music+art / multimedia
concert, featuring artists Jane Rutter, flute, Andrew
Goodwin, tenor, Tamara-Anna Cislowska, piano,
Christopher Latham, violin and David Pereira, cello.
Sunday 23rd July: First Prize Winner 2016 Sydney

International Piano Competition, Andrey Gugnin
Andrey will perform a wonderful program featuring
works by J.S.Bach, Franz Schubert, Dmitri Shostakovich,
Leonid Desyatnikov and Michael Kieran-Harvey.
Friday 3rd November: Ensemble Aspherical
A new and exciting chamber group formed by four
leading Sydney classical musicians who enjoy performing
elegant and engaging music. The vibrancy and warmth of
the violin and viola strings combine with the ethereal
qualities of the flute and harp to create sounds and evoke
images for the listener both congenial and colourful.
Featuring sisters Marina and Justine Marsden (violin and
viola) harpist, Louise Johnson and Flautist, Janet Web.
myMoves for Seniors
Dear Editor,
I am writing to you to provide you with some information regarding an exciting new program, myMoves for Seniors, that has been developed by a team of physiotherapists and psychologists at Macquarie University and which may be of interest to some of your members.
The myMoves Program is a new and innovative self-management program that has been designed to provide good information and to build the skills that allow seniors living with a chronic condition to create an active lifestyle that is right for them. It is a program delivered via email and telephone with support from an experienced physiotherapist. We are looking for people who are 65 years or over and are interested in improving their levels of physical activity to help us test this new program. Participation in this course is entirely free to participants.
Please don't hesitate to contact me should you have any questions or would like more information about this program or the research project.
Kind Regards
Victoria Podmore.
Government Releases Innovative Superannuation Income Stream Regulations For Consultation
March 21, 2017: Media Release - The Hon Kelly O'Dwyer MP, Minister for Revenue and Financial Services
The Minister for Revenue and Financial Services, the Hon Kelly O'Dwyer MP, today released draft superannuation income stream regulations and an explanatory statement for public consultation.
The regulations, when made, will continue the implementation of the Government's superannuation taxation reforms and introduce a new set of design rules for lifetime superannuation income stream products that will enable retirees to better manage consumption and longevity risk in retirement.
The regulations are intended to cover a range of innovative income stream products including deferred products, investment-linked pensions and annuities and group self-annuitised products.
Superannuation funds and life insurance companies will receive a tax exemption on income from assets supporting these new income stream products provided they are currently payable or, in the case of deferred products, held for an individual that has reached retirement.
"These new rules will remove taxation barriers to the development of new products that will provide greater flexibility in the design of income stream products to give more choice to consumers, while ensuring income is provided throughout retirement," Minister O'Dwyer said.
"The development of these new products is a precursor to the development of Comprehensive Income Stream Products for Retirement, or CIPRs.
"I encourage all interested stakeholders to provide their views so that we can give effect to these important reforms as effectively as possible."
AvPals Newport Courses 2017
Avalon Computer Pals for Seniors has a new program of computer courses for seniors over 55 to be held at the Newport Community Centre.
There are courses for a range of subjects to assist beginners or those who need to keep up with the new technologies. These include the popular topics such as:
Beginners introduction to computers, Windows 10, Skype, iPads, Social media – Facebook and Twitter, Apple MAC, Digital Photography (extended 5 week course), Android Tablets, Smart phones, Genealogy, Scanning and printing.
Want more information? Prefer the idea of one-to-one courses? Ring Peter on 02 8064 3574 or
use the form here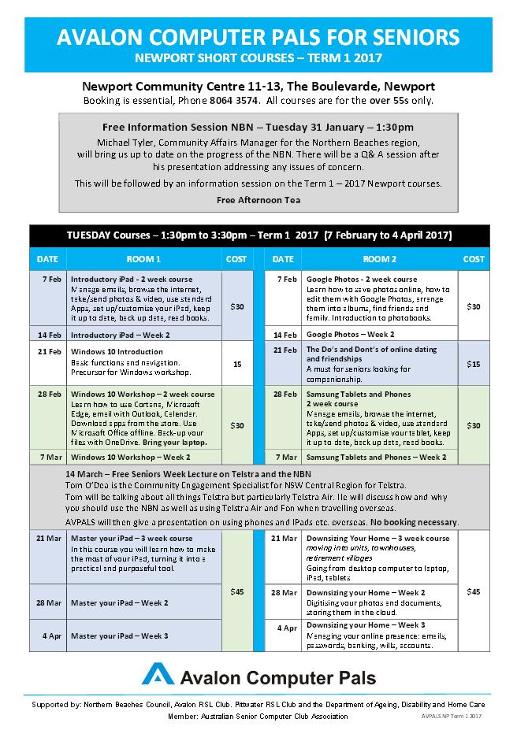 Boating Anthology Seeks Contributors
Calling all ladies who have ever been on any boat. Do you have a story to tell about a boating experience - funny? Serious? Motivational? Whatever? If you have would you like to have it published in book form as part of an anthology. There is no cost involved.
If you answered yes then Frances Black and Margi Law's project is for you. They are both published authors.
Each year or so they choose a theme that they would like to write about themselves. They then assemble a group of like-minded contributors. Each person writes their own story. Frances and Margi edit and produce a published book available on Amazon. The price will be set as low as Amazon will permit.
If you want to buy a copy then you purchase one on Amazon.
The motivation is the pleasure of writing and providing a legacy for family and community of the contributors.
If you are interested in learning more please email fran@blacks.id.au
Bobby Benton's Classic 60's
Sunday, April 2 at 4:30 PM - 7:30 PM
The Beach Club Collaroy
Arlington Hall, 1058 Pittwater Road,
Collaroy Beach
Featuring members of The Swinging Sixties, this energetic four piece faithfully dishes up nostalgic excitement by the truck load, with over 40 carefully chosen songs guaranteed to have any audience up dancing and singing along.
Artists covered include The Beatles, The Rolling Stones, The Kinks, The Monkees and The Easybeats to name but a few.
Come and escape back to the 60's with Bobby Benton's Classic Sixties.....and don't forget to wear your dancing shoes!
Ensemble Aspherical Brings Celestial Music To Forestville

Sunday 30th April at 4:00pm
Our Lady of Good Counsel Catholic Church, 9 Currie Rd, Forestville
Sydney's exciting new chamber group, Ensemble Asperical, will open Wyvern Music Forestville's 2017 concert season with a program of elegant and engaging classical music entitled Celestial Fantasies. Come and hear this inaugural event at Formed by four leading Sydney musicians, Ensemble Aspherical combines the vibrancy and warmth of the violin and viola strings with the ethereal qualities of the flute and harp to create sounds and evoke images for the listener both congenial and colourful.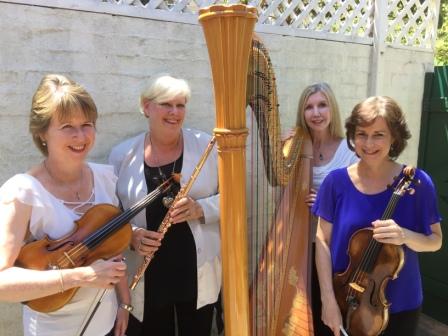 The varied program will include classical and romantic music from Europe and Japan and conclude with a taste of Argentinean tango. The four instrumentalists have all been long-standing members of the Sydney Symphony Orchestra –Louise Johnson (SSO Principal harp) and Janet Webb (former SSO Principal flute), Marina Marsden (SSO Principal violin) and Justine Marsden (viola).
Tickets are available at the door 30 minutes before the concert and include refreshment: Full: $25 Concession: $20 Students: $15 Children under 16 Free
Contact: Russell at Wyvern Music Forestville Tel: 9416 5234
Volunteer Drivers Needed To Help Our Elders Get Out And About

Easylink, a local not-for-profit organisation, is calling for new volunteer bus drivers to help meet growing demand from community elders and people with a disability for their community transport service.
Serving the northern beaches for 32 years, Easylink relies on over 60 passionate volunteer drivers to help people who have difficulty using public or private transport get out on social outings with their affordable, door-to-door service.
Rod Smith, a volunteer driver at Easylink said, "Some of our customers are so challenged mobility-wise they'd be isolated if it weren't for us.
"When I retired two years ago, I knew I had a small window of opportunity to do something for the community, and volunteering at Easylink is rewarding and gives me the social interaction I miss from work.
"I really get a buzz when, after a few of my jokes, I see customers interacting and enjoying themselves!
"I take people on our social outings, so I've been to great places such as historic houses, the Blue Mountains, Mount Tomah Botanic Gardens and the Sydney Mounted Police stables.
Volunteer drivers need a C-class licence for Easylink's cars or a Light Rigid licence to drive their minibuses.
Easylink also welcomes other volunteers, from bus assistants to office staff.
Formerly Manly Warringah Pittwater Community Transport, Easylink has evolved into an organisation with a 20 vehicle fleet, serving over 2000 northern beaches residents with door-to-door transport and care, and public transport travel training.
People interested in volunteering should call Pat Lang, Administration Manager on 9919 0700 or visit easylink.com.au.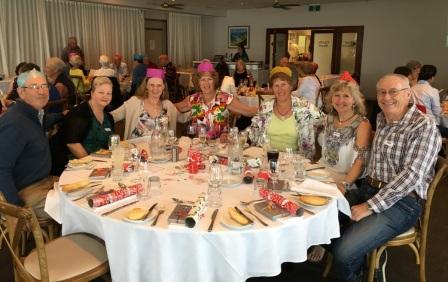 Easylink volunteers at 2016 Christmas party - Peter Wilson, Yvonne Vodanov, Diane Hunter, Gaye McLindin, Laurelei Moore, Carolyn Rolfe and Rod Smith
Download Your 2017 Senior Card Discount Directory
NSW Seniors Card is pleased to provide members with the 2017 Seniors Card Directory, your guide to the best discounts and special offers from thousands of participating businesses around the state.
Each year five directories are released, one for each region in NSW. The regions are: Sydney & Surrounds, Central Coast & Hunter, Northern NSW, Southern NSW and Western NSW.
Copies of the directory are also available for pickup from Australia Post Outlets, MP Offices as well as participating Local Councils and Libraries.

Manly Warringah Pittwater Community Aid
Do you know someone we could help?
We're a local not-for-profit that help over 2,000 elderly members of the Northern Beaches community live happy, healthy and independent lives in their own homes.
If you know someone that could use our help, please let us know!

Senior Movers is a wonderful resource for the Pittwater senior community who are thinking about downsizing from their property. Senior Movers want you to stop worrying about downsizing from the family home and let us take care of you. Senior movers gives you peace of mind during stressful times of downsizing and moving to a smaller home. No retirement living plan is too large or too small. We are glad to help whether it is a move to a loved one's home, assisted living or to a seniors apartment. We want you to we help you gracefully downsize with our experience and care. www.seniormovers.com.au
Also see Belinda Grundy's Profile and other great Business; www.bgpropertystyling.com.au
Disclaimer: These articles are not intended to provide medical advice, diagnosis or treatment. Views expressed here do not necessarily reflect those of Pittwater Online News or its staff.