August 18 - 24, 2019: Issue 417

It's Business Time for Older Workers
August 2019
The NSW Government is stepping up the fight against age discrimination in the workplace announcing a new toolkit to help employers, managers and HR professionals engage and retain older workers.
Minister for Seniors John Sidoti said it makes no sense to have such a highly skilled, experienced section of the community sidelined from work.
"Research shows that potential employers too often overlook, poorly manage and disregard older workers," Mr Sidoti said.
"That's why we've worked with our partners at the Australian Human Rights Commission to develop a toolkit to help employers recognise and reject unlawful age discrimination and start discovering the benefits of older workers."
Mr Sidoti urged businesses to use the guide as a first step in changing their workplaces for the better.
"Employers have the power to build broadly skilled, multigenerational workplaces that contribute to longer, healthier and more productive working lives for Australians," Mr Sidoti said.
"That's good for business, great for the community, and excellent for older Australians."
Age Discrimination Commissioner, Dr Kay Patterson, said the guide showed how excluding older workers, deprived employers of willing, skilled and dedicated staff with a lifetime of varied experiences.
"Australians are increasingly continuing to work and wanting to work as they get older," Dr Patterson said.
"But data shows that 30 per cent of employers are still reluctant to hire workers over a certain age and for most of those employers that age is 50".
Australia Calling: 1932 Film
Published August 6th, 2019 by NFSA
Scientists reverse aging process in rat brain stem cells
August 14, 2019: University of Cambridge
New research, published today in Nature, reveals how increasing brain stiffness as we age causes brain stem cell dysfunction, and demonstrates new ways to reverse older stem cells to a younger, healthier state.
The results have far reaching implications for how we understand the ageing process, and how we might develop much-needed treatments for age-related brain diseases.
As our bodies age, muscles and joints can become stiff, making everyday movements more difficult. This study shows the same is true in our brains, and that age-related brain stiffening has a significant impact on the function of brain stem cells.
A multi-disciplinary research team, based at the Wellcome-MRC Cambridge Stem Cell Institute (University of Cambridge), studied young and old rat brains to understand the impact of age-related brain stiffening on the function of oligodendrocyte progenitor cells (OPCs).
These cells are a type of brain stem cell important for maintaining normal brain function, and for the regeneration of myelin -- the fatty sheath that surrounds our nerves, which is damaged in multiple sclerosis (MS). The effects of age on these cells contributes to MS, but their function also declines with age in healthy people.
To determine whether the loss of function in aged OPCs was reversible, the researchers transplanted older OPCs from aged rats into the soft, spongy brains of younger animals. Remarkably, the older brain cells were rejuvenated, and began to behave like the younger, more vigorous cells.
To study this further, the researchers developed new materials in the lab with varying degrees of stiffness, and used these to grow and study the rat brain stem cells in a controlled environment. The materials were engineered to have a similar softness to either young or old brains.
To fully understand how brain softness and stiffness influences cell behavior, the researchers investigated Piezo1 -- a protein found on the cell surface, which informs the cell whether the surrounding environment is soft or stiff.
Dr Kevin Chalut, who co-led the research, said: "We were fascinated to see that when we grew young, functioning rat brain stem cells on the stiff material, the cells became dysfunctional and lost their ability to regenerate, and in fact began to function like aged cells. What was especially interesting, however, was that when the old brain cells were grown on the soft material, they began to function like young cells -- in other words, they were rejuvenated."
"When we removed Piezo1 from the surface of aged brain stem cells, we were able to trick the cells into perceiving a soft surrounding environment, even when they were growing on the stiff material," explained Professor Robin Franklin, who co-led the research with Dr Chalut. "What's more, we were able to delete Piezo1 in the OPCs within the aged rat brains, which lead to the cells becoming rejuvenated and once again able to assume their normal regenerative function."
Dr Susan Kohlhaas, Director of Research at the MS Society, who part funded the research, said: "MS is relentless, painful, and disabling, and treatments that can slow and prevent the accumulation of disability over time are desperately needed. The Cambridge team's discoveries on how brain stem cells age and how this process might be reversed have important implications for future treatment, because it gives us a new target to address issues associated with ageing and MS, including how to potentially regain lost function in the brain."
Michael Segel, Björn Neumann, Myfanwy F. E. Hill, Isabell P. Weber, Carlo Viscomi, Chao Zhao, Adam Young, Chibeza C. Agley, Amelia J. Thompson, Ginez A. Gonzalez, Amar Sharma, Steffan Holmqvist, David H. Rowitch, Kristian Franze, Robin J. M. Franklin, Kevin J. Chalut. Niche stiffness underlies the ageing of central nervous system progenitor cells. Nature, 2019; DOI: 10.1038/s41586-019-1484-9
17th Australian Masters Games in Adelaide
80-year-old South Australian retiree, Mick Hunt is prepped and primed for the powerlifting competition at the 17th Australian Masters Games, taking place in Adelaide from 5 – 12 October this year.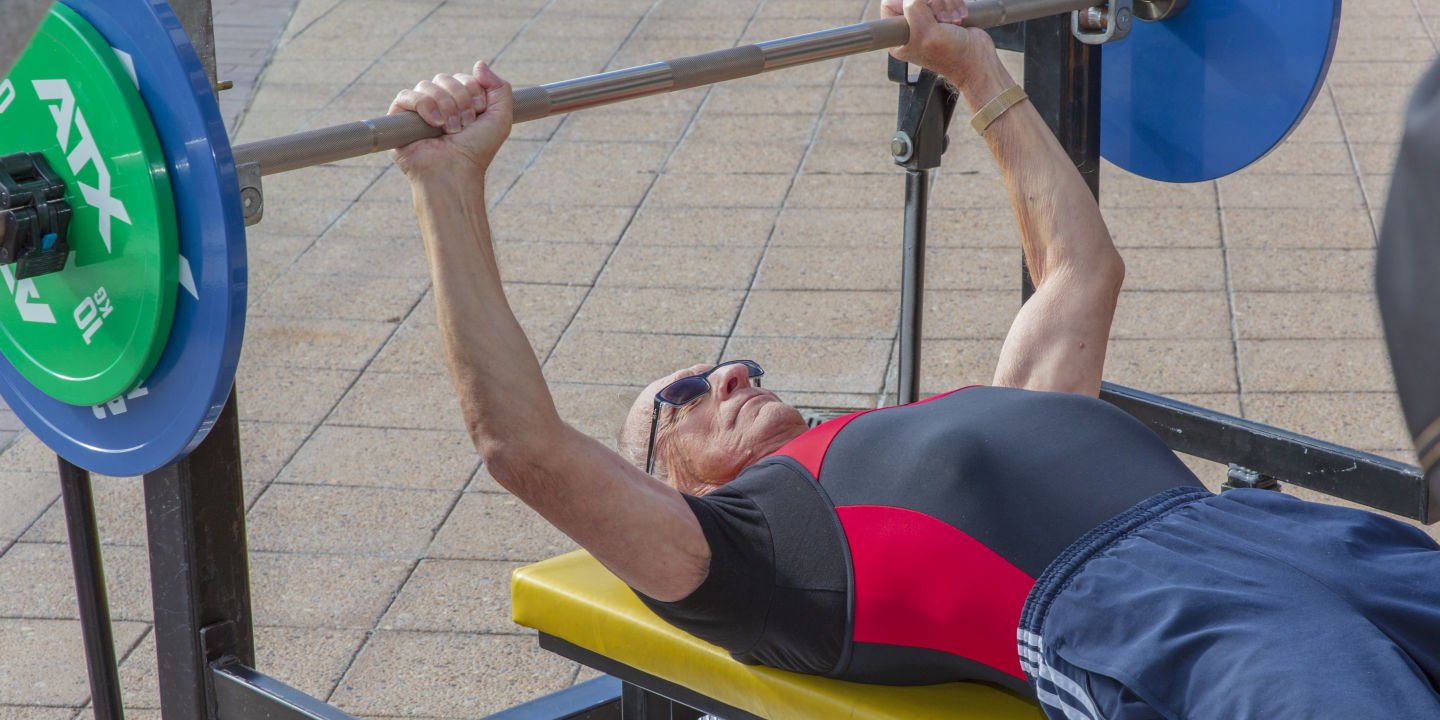 Mick has been powerlifting at his local gym for 67 years, although this Games will mark his triumphant return to competition after a 50 year hiatus when he steps up for the bench press event in the 60kg weight class for the 80+ age category.
"As long as I'm alive, I'm there," Mick enthused.
It's not the first sport that comes to mind when you think of retirees, but it is a sport that Mick is passionate about, having first started pumping iron as a young teen in England. He is living proof of the benefits of an active, healthy lifestyle and is a role model for his three sons and eight grandchildren, with his three-times per week training regime.
Mick's got big goals for the 17th Australian Masters Games, which he didn't shy away from at the official launch of the Games in his hometown today.
"I want to do well obviously. I'm probably close to an Australian record, which would be very nice. But it all depends on the day, doesn't it?"
"It's a bit of an ego thing," Mick said.
Tomorrow marks three months to go. The whistle will blow, the gun will fire, the siren will sound and Mick along with 8,000+ other weekend warriors will be underway across 51 sports for the 17th edition of the Australian Masters Games.
And when the sun goes down, the band will play across the eight-day festival, which is renowned for its social program almost as much as the sports program.
The Australian Masters Games aims to promote the benefits of long-term health and wellbeing by providing a platform through which adult Australians can get active, and socialise through sport.
South Australia is the spiritual home of the Games, and 2019 will be the seventh time Adelaide has hosted the biannual festival.
Minister for Trade, Tourism and Investment, David Ridgway, said the Marshall Liberal Government was delighted to welcome the Australian Masters Games and its 10,000 participants, volunteers and spectators to South Australia.
"We look forward to once again hosting this world-class event that will attract thousands of participants from interstate and around the world, and inject more than $12 million into the state's visitor economy," said Minister Ridgway.
"The Australian Masters Games creates enormous buzz and excitement in our city and will have significant positive flow-on economic benefits for hotels, restaurants and local retailers. We encourage all our visitors to extend their stay in South Australia and head out into our regions to experience all our wonderful state has to offer."
Organisationally, the Games are tracking well with entries on target to exceed the 7,910 event participants from 2015 (the last time the Games were held in Adelaide). 75% of the entries received to date come from interstaters or international competitors from 17 different countries. A team of sport convenors and volunteers are preparing to deliver the 51 sports, being held across over 70 of Adelaide's finest sports venues. Some strong event partnerships are also in place to add to the participant experience, including:
Adelaide Convention Centre as the host venue for the Games Expo and Games Village
Official charity partner, the Heart Foundation
Adelaide based Sports Centre as the official merchandise supplier to the Games
All Sports Travel as the official Games travel partner
National Seniors Australia as the official healthy ageing partner
Games general manager Gary O'Donnell encouraged anyone over the age of 30 years to consider participation in this year's event, and local businesses to get behind the Games.
"It's never too late to get back into the sport you enjoyed as a youngster, or take up a brand new sport that you've never tried before," O'Donnell said.
"The only criteria to participation are that you meet the minimum age limit, which in most sports is 30-years. We have entrants of all standards and abilities, and many who come just for the social occasion."
"We encourage all South Australians, including local businesses, to get behind the Games by putting together a team and signing up for one of the many sports on offer," O'Donnell said.
Participants can access the reduced Games entry fee of $110 through the Early Bird entry period, which extends to Friday 2 August.
Enter now at www.AustralianMastersGames.com
The Australian Masters Games is proudly sponsored by the South Australian Tourism Commission through Events South Australia.
17th Australian Masters Game snapshot:
When: Saturday, 5 October – Saturday, 12 October 2019
Where: Adelaide, South Australia
Who: Approximately 8,000 participants from across Australia and overseas. The event does not impose any qualifying standards and is open to anyone who meets the age requirements of their sport of choice, which in most sports is 30 years.
Participants from the following countries have entered to date:
Australia, Brunei, Canada, China, Germany, Guam, Hong Kong, India, Malaysia, New Zealand, Pakistan, Palau, Scotland, Singapore, South Africa, Sri Lanka, United Kingdom, United States.
What: A week-long festival of sport and festivities. Australia's premier regular multisport Games will feature 50 plus sports, ranging from lawn bowls to dragon boat to softball and tennis.
Entertainment:
As well as an extensive sporting schedule, the Australian Masters Games will also comprise social events, including an Opening and Closing Ceremony headlined by Adelaide cover band Blackjack and tribute act Celebrating the Music of Billy Joel with Anthony Mara respectively, and a mid-week party featuring Immaculate Madonna.
The 17th Australian Masters Games is managed by UniSport Australia Limited under the direction of the Confederation of Australian Sport.
AvPals: Term 3 2019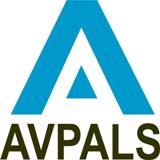 The AvPals Term 3 2019 Timetable for Newport Classes is now
available
.
Avalon Computer Pals (AVPALS) helps Seniors learn and improve their computer skills. It is a not for profit organisation run by volunteers.
Started in 2000 it now has 20+ trainers and many hundreds of students. At a really low cost (about $30 a school term) they can provide one-to-one training on most matters connected with computing and related technologies like mobile phones and digital cameras. From the smallest problem (how to hold the mouse!) to much more serious matters, there is a trainer who can help.
We offer "one to one" personal tuition or special short courses in the training rooms under the Catholic Church in Avalon. Training is conducted Monday to Friday from 9am to 4pm. For more information visit AVPALS web site www.avpals.com or phone 02 8064 3574
Keep up to date on our Facebook page
Find out more at: www.avpals.com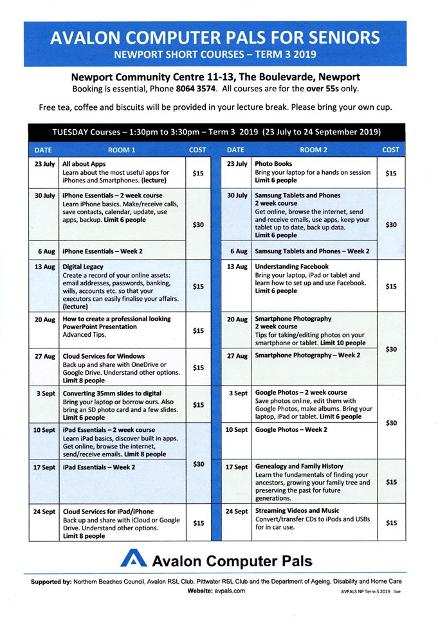 Nominations Open For The Premier's Volunteer Recognition Program
The program will recognise the contributions volunteers have made to their local communities.
The Premier's Volunteer Recognition Program celebrates all volunteers – from students selflessly working with charities to veterans who've dedicated decades of their lives to causes close to their heart.
There are four categories open for nominations:
People with a lifetime of volunteering experience – over 40 years
People with over 25 years of volunteering experience
Significant volunteering at any age
Student volunteering.
Since the program launched in 2015, 28,600 volunteers have been recognised for their contribution to NSW communities.
In NSW, more than 2.1 million people volunteer, contributing a combined 240 million hours of their time each year, valued at $5 billion to local communities.
Minister for Families, Communities and Disability Services Gareth Ward said volunteers are the backbone of our society.
"It's so important for all of us to acknowledge this invaluable work, and I urge all NSW residents to nominate someone who's making a difference," Mr Ward said.
The Premier's Volunteer Recognition Program is part of the NSW Government's Volunteering Strategy 2016-2020.
Nominations close 27 September 2019 for the adult categories and 30 September 2019 for the student category.
Find out more about the Premier's Volunteer Recognition Program and Nominate someone HERE
NSW Ageing and disability Commissioner to protect our most vulnerable
Adults with disability and older people on the Northern Beaches now have a powerful advocate in their corner with the appointment of Robert Fitzgerald AM as NSW's first Ageing and Disability Commissioner.
Stepping On Program at Mona Vale
Stepping On is a free program for people over the age of 65 years living in the community. The program is considered one of the most effective evidence-based falls prevention programs available and has been shown to reduce participants' risk of falling by 31% (Clemson et al 2004). Participants attend seven two-hour group sessions, during which they learn about strengthening and balance exercises, safe footwear, medication management, vision, nutrition, moving safely in the community and reducing hazards around the home that can lead to accidents. Read more about the Stepping On program here
www.steppingon.com
Stepping On - Mona Vale
Mona Vale Memorial Hall, 1 Park Street
Mona Vale
Contact Details
Phone: 8598 8503
Program Details
A FREE 7 week program that combines gentle strength and balance exercises with educational sessions.
Opening Hours:
Contact us to register for the next group
Unsuitable Participants:
People need to walk independently or with a walking stick. Not suitable for anyone with cognitive impairment or progressive neurological disease
Minimum Experience:
Beginner
Steady and Strong - Mona Vale
Mona Vale Community Health Centre
Phone: 9998 6111
Program Details
Steady and Strong is a 6 week exercise program designed and run by physiotherapist to reduce risk of falls, classes are held twice per week.
Participants need to enrol in My Aged Care and will be assessed by a physiotherapist prior to commencing
Opening Hours:
Classes are held Monday and Wednesday am and pm
Cost Per Visit: FREE
Target Age: Over 65
Unsuitable Participants: program suitability determined at individual assessment
Minimum Experience: Beginner
Group-Based Exercise
When you're over 65, it is important to build in some exercises to train your muscle strength, balance and co-ordination. Activities such as dance, yoga and Pilates all have a strong balance component. The exercises should be safe, but should challenge balance and develop strength. Group-based strength and balance classes are monitored by fitness leaders and health professionals, and are also an opportunity for social engagement. You can use this website to identify Exercise Programs that have specific exercises to improve balance and strength, available in your local area. You can also identify exercise programs that can improve your general fitness and help build your strength.
We've done a Search and all local programs can be seen
HERE
- simply click on the link of which one interests you for details and how to contact the organisers.
Tai Chi
Tai Chi is a good way to exercise your balance. It uses slow and rhythmical movements of the trunk and limbs whilst controlling your balance. Tai Chi can improve balance in older adults as this type of training involves walking, balance, co-ordination, and muscle strengthening exercises. Tai Chi is widely recognised as being one of the most effective approaches to preventing falls.
Appliance replacement scheme slashes power bills
by NSW Government
The NSW Government's "new for old" appliance replacement scheme is saving households an average of $325 a year in power bills.
Eligible households, including low-income, concession card holders and energy hardship customers, can receive a 40-50% discount when replacing their old fridge or TV with a newer, energy efficient model.
Minister for Environment Gabrielle Upton said the Home Energy Action appliance replacement program is on track to cut around $40 million from power bills over the next 10 years.
"Households that need savings the most are helping the environment," Ms Upton said.
"This is cutting greenhouse gas emissions by 16,600 tonnes a year, which is the same as taking 4160 cars off the road."
Since August 2016, the Home Energy Action appliance replacement scheme has replaced more than 32,600 old, inefficient appliances in 28,100 homes across NSW.
What's on offer?
For eligible residents of NSW, we are offering discounts on new energy efficient fridges and televisions.
When you replace your old, inefficient model, you can receive:
40% off the cost of a fridge




50% off the cost of a television



The offer applies to selected fridge and television models.
How will this help your household?
Fridges and televisions have been chosen for this offer because significant energy savings can be made by replacing old, inefficient models.
The amount you can save on your energy bill varies. On average:
Replacing an old, inefficient fridge can save between $100 and $200 per year on your energy bills.




Replacing a plasma or cathode ray tube (CRT) television with an LCD television can save between $50 and $125 per year on your energy bills.



Who's eligible?

To replace your fridge, your current fridge must be at least 6 years old.
To replace your television, you must own a plasma or cathode ray tube (CRT) television.
To receive this offer you must be a NSW resident and hold one of the following:
Pensioner Concession Card




Health Care Card or Low Income Health Care Card from Centrelink




Veterans' Affairs Gold Card



A Commonwealth Senior Health Card is not sufficient eligibility for this offer. You will need to hold one of the above cards.
If you do not meet the criteria above, you may be able to access the offer through a participating community service organisation. Please contact a community service organisation directly to discuss your application.
Apply now
You can apply online for the appliance replacement offer. If your application is successful, you'll receive instructions on how to buy your appliance through The Good Guys.
Make sure you have your valid concession card with you when you apply.
WIND, BRASS AND PERCUSSION PLAYERS!!!!!
Northern Beaches Concert Band is looking for flute, clarinet, saxophone, tuba and trombone adult players. We cater for players from beginner to advanced and have a varied and exciting repertoire.
Come and join us during school term time at 7.30pm, Pittwater High School, Mona Street, Mona Vale.
Details 9970 7131 or 0414 560 263.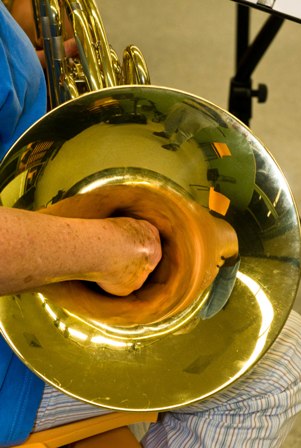 Seniors Toy Repair Group needs your help
Volunteers are sought to help out on Wednesday mornings (7.30am to midday) at the group's workshed in Ingleside. Volunteers need their own transport and be willing to sort and clean toys that are picked up at different collection points on the Northern Beaches.
Prospective volunteers can email Mary Kitchen to arrange a visit to the workshed. To arrange a donation pickup please call Terry Cook on 0410 597 327 or email him. Find out more about this great community group HERE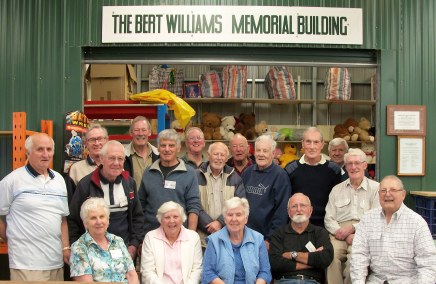 Profile Bayview Yacht Racing
Association (BYRA)
1842 Pittwater Rd,

Bayview
BYRA has a passion for sharing the great waters of Pittwater and a love of sailing with everyone aged 8 to 80 or over!